How long is medium hair for men? A medium length hair for men can be may vary between 2 and 4 inches (5 and 10 cm) long. Medium haircuts for men are very much in style right now. However, most men are afraid of constant upkeep. Therefore, men tend to stick to short haircuts that do not require a lot of styling and maintenance.
Quite the contrary, medium length men's haircuts don't have to be burdensome. Today men go for shorter sides and/or back with the majority of length on the top. This leaves room for styling options such as pompadours, fohawks and bowl cuts.
Modern medium length hair cuts for men harken back to a buzz cut, which is the most popular style haircut for men. Buzz cuts have progressed over the years to include styles such as fades, tapered cuts, and undercuts.
Still, not convinced that medium haircuts for men are right for your lifestyle? Check out our guide to mid-length men's cuts and allow us to broaden your hair horizons.
The Pompadour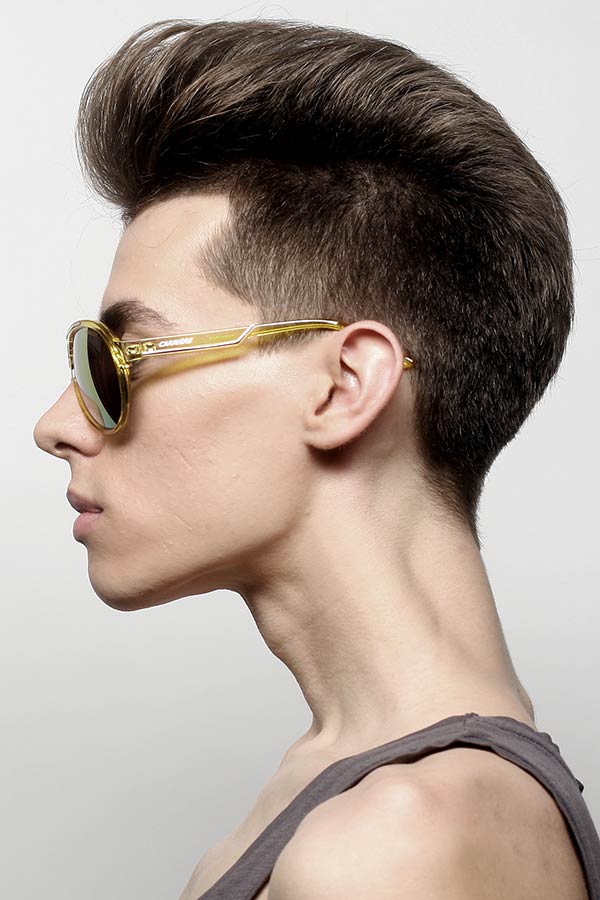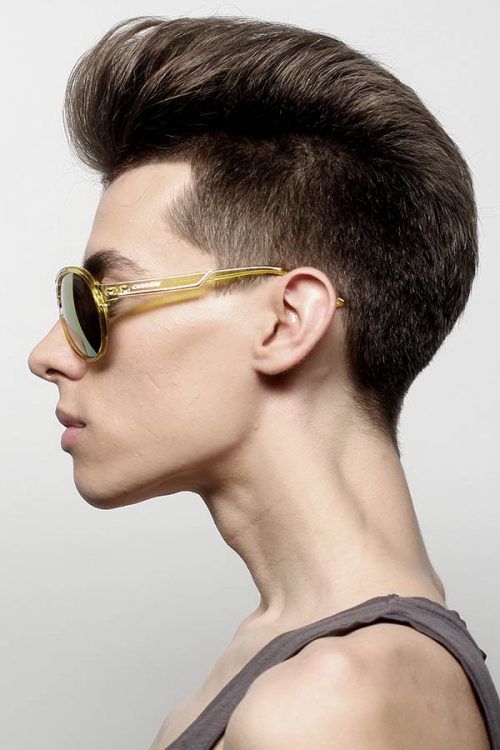 The Pompadour, otherwise known as the James Dean, has been around for ages and is making a huge comeback. It can be worn with either straight or curly hair, but if you want to mimic James Dean's impeccable pompadour, you should either have naturally wavy hair or curl your hair to duplicate the look.
The traditional pompadour has a bit of hair on the sides, but the bulk of the length is on the top of the head, as you need a decent amount of length to comb your hair back to form the pompadour. If your hair is too short, you will end up resembling a porcupine. The purpose of this style is to comb the length of your hair back and to the side so ask your barber to make sure there is enough length to achieve a pompadour hairstyle. Do not go to a stylist that is unfamiliar with this cut, or the results could be disastrous.
However, the pompadour fade, such as the one pictured here, is also a very trendy look. Ask for shaved sides or an undercut to sport the modern version of this classic cut.
Whichever style you choose, you will need some hair product. We recommend a quality volumizing product as well as pomade and grooming cream.
The Comb Over
Source: @rhysgreen via Instagram
Comb overs have gotten a bad rap over the years, but they are now becoming quite a popular look. The main condition of comb over haircut is that hair on the sides must be shorter than hair on top (it can be paired with a fade or undercut), and the longer hair on top parted to the side. A comb over fade like the one shown here is quite trendy with its taper fade and full volume on top.
To style a comb over, first towel dry your hair to remove any excess moisture and then blow it dry. Use a pea-sized ball of hair wax and work it into your hair. Decide where you want the side part and comb that section forward neatly. Then make a slightly diagonal part under your cow-lick and toward the front, near the temple. Then separate your hair with your fingers to create a messy part and style the rest of your hair as desired.
The Fohawk
Source: @roque_80 via Instagram
Everyone remembers the famous Mohawk from the 1980s. And right now, the closely related, fohawk is catching on like wildfire for men who want a more edgy look. Fohawks are much less distracting medium haircuts for men than the traditional Mohawk and are not always frowned upon in the workplace.
The typical modern fohawk haircut is longer in the back and sides with more length on the top, which is used for spiking to create the faux hawk effect. While Mohawks were most commonly associated with the punk rock crowd, fohawks are now becoming quite mainstream, as more and more men opt for this funky hairstyle.
You will need quality styling mousse or pomade for this look, but the best part is that it is very low maintenance as the overall effect is a carefree messy look that women will find extremely sexy.
Tapered Haircut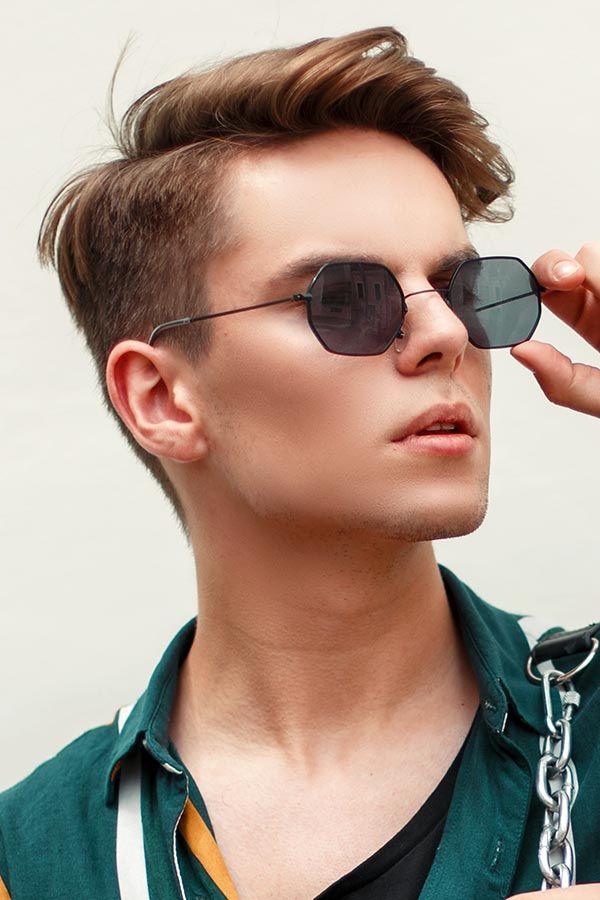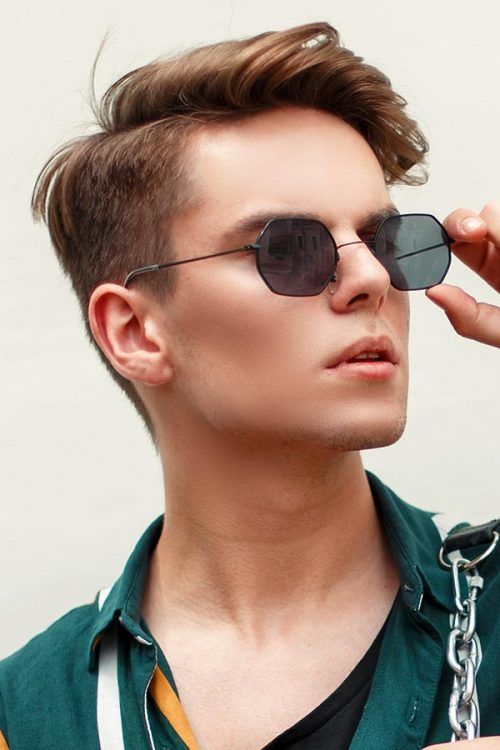 Taper haircut is becoming more popular day by day. This cut balanced between versatility and sophistication: it's not too wild and too boring and newer go out of style.
Taper haircut it is technology of cutting when men's hair is trimmed on the sides and back shorter gradually. With hair clippers barbers slowly blend or taper the longer hair at the top into short hair at the back and sides of your head.
There are a lot of different types of tapers and most popular its taper fade combination: where one haircut smoothly turns into another.
Top of the head you can style in a lot of ways: from slick back and pompadour to spiky or messy hairstyle. Fantasize and be original and your taper haircut is no tired for you. Try taper medium haircuts for men and make sure its universality.
The Bowl Cut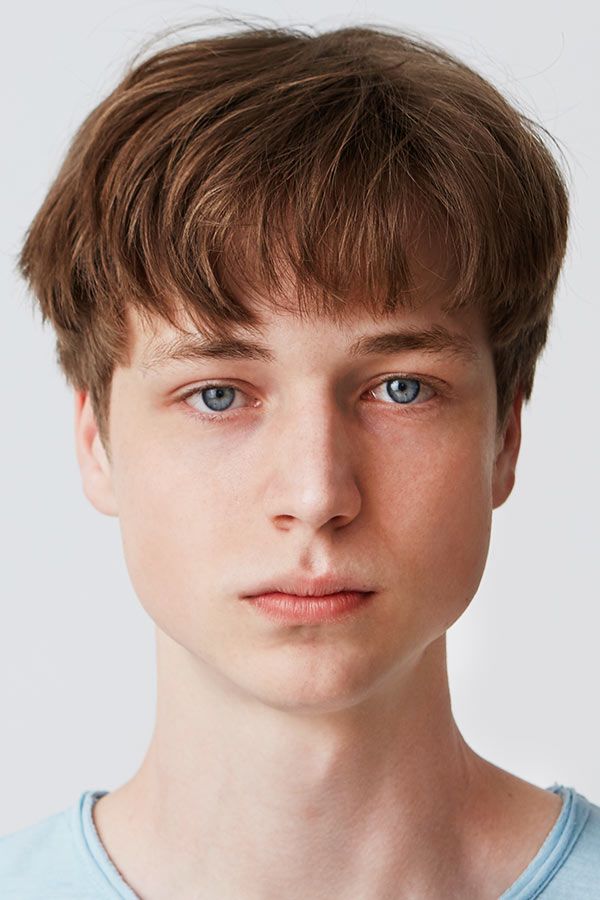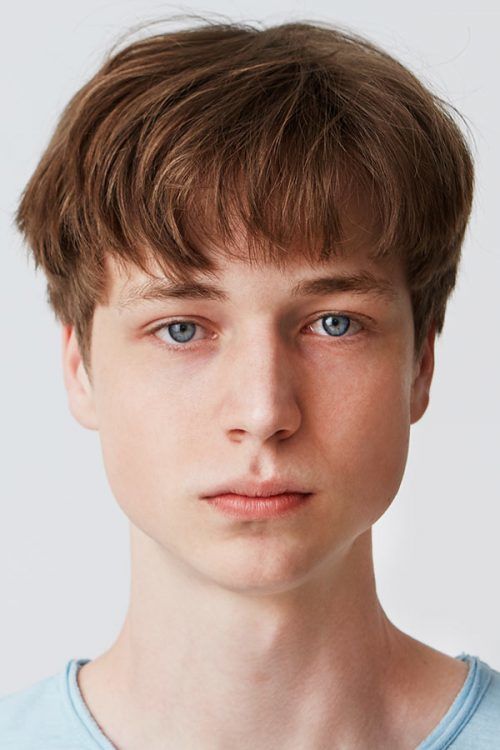 Bowl cuts tend to get a bad rap as they bring back the images of early childhood when your mother cut your hair. However, believe it or not, the bowl cut is now considered to be quite edgy and stylish.
Mens bowl cuts are actually becoming quite a popular look for haircuts for medium hair men. With both classic and modern variations to choose from, you will be certain to find a bowl haircut that catches your eye, if you fancy this style from the days of your youth.
The reason bowl cuts were so popular, to begin with, is that they were easy to cut, style and maintain. They are generally a drastic undercut with longer strands of hair going down the sides, back and front to create the effect of an upside-down bowl.
To style a bowl cut, you would use hair clay to style the fringe the way you want and then pull the sides and back down into a bowl shape. For a bit of a longer bowl cut , like the one shown here, you would use a straightening product to slick down the sides for a sleek and polished finish. However, if you want a messy bowl cut, you could use sea salt spray for more texture.
Mullet Haircut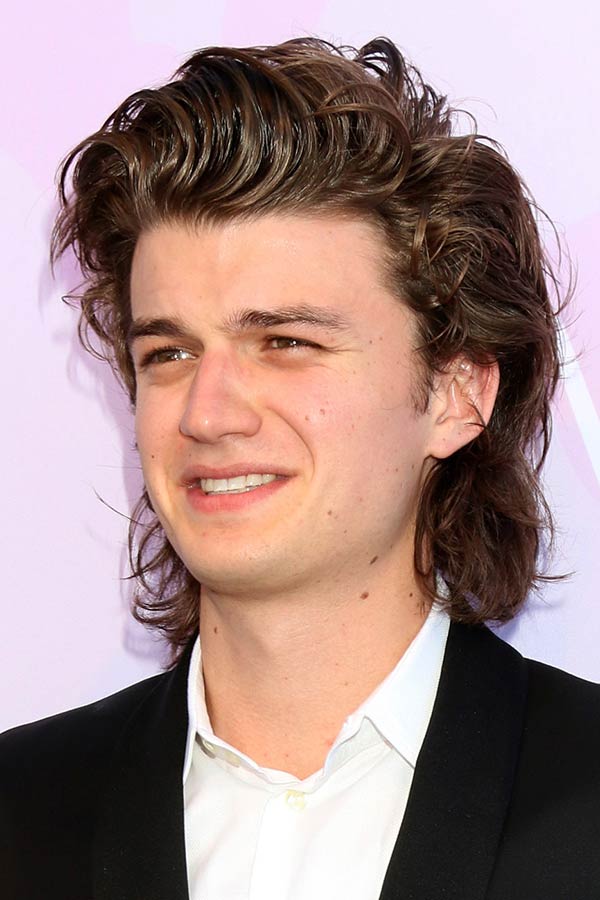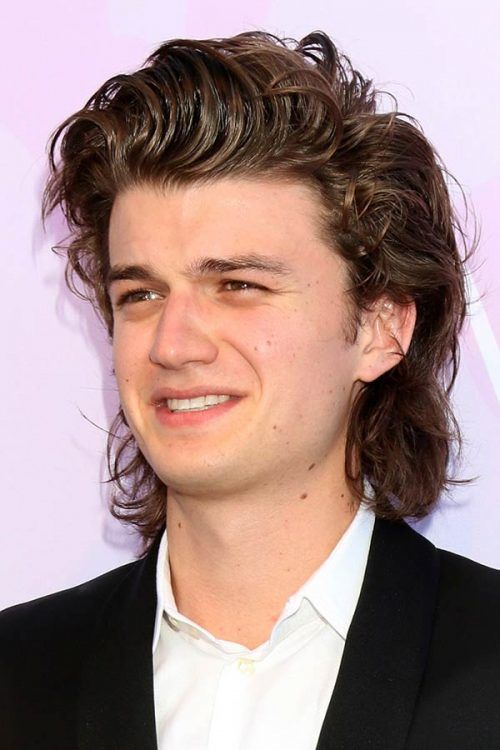 Kathy Hutchins/Shutterstock
Yes, mullets are making a comeback. Those of the younger generation might wonder "What is a mullet haircut?" Anyone who grew up in the 80s is all too familiar with this radical hairstyle that boosted as being "business in the front and party in the back." Mullets in the 80s were very dramatic and quite full of volume, so they sometimes got a bad rap.
However, modern mullet haircuts, while still being a throwback to the vintage mullet style, are a bit tamer and thus become quite trendy as medium haircuts for men. Today's mullets are less dramatic as they are slightly shorter in the back and sides than the 80s style mullet. And they are styled so that you can rock this updated version of the classic look with a grade of hair, whether wavy or straight, or thick or fine.
To jazz up your modern mullet, you can add contrasting colors or ask for an undercut fade to create a fohawk. Whatever style you choose, you will be ready to party all night long with your contemporary mullet haircut for men!
Layered Haircut For Medium Hair
Source: @sidsottungacademy via Instagram
For those who prefer a more refined look, there are plenty of stylish medium layered haircuts to give you more professional flair. Layered haircuts are a great way to get rid of some of the length of your mid length hair while adding volume and texture. This style is very polished and dignified but still modern and very sexy.
The French Crop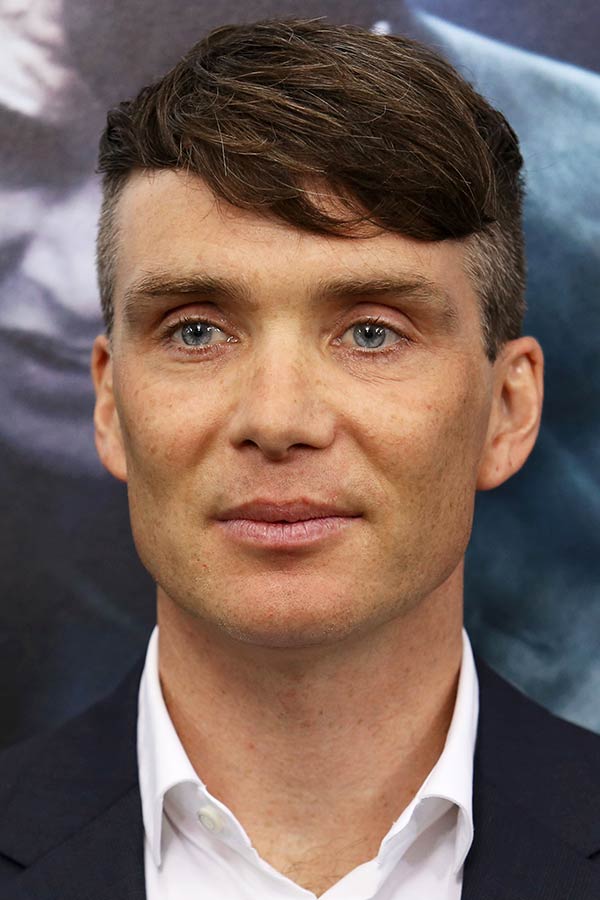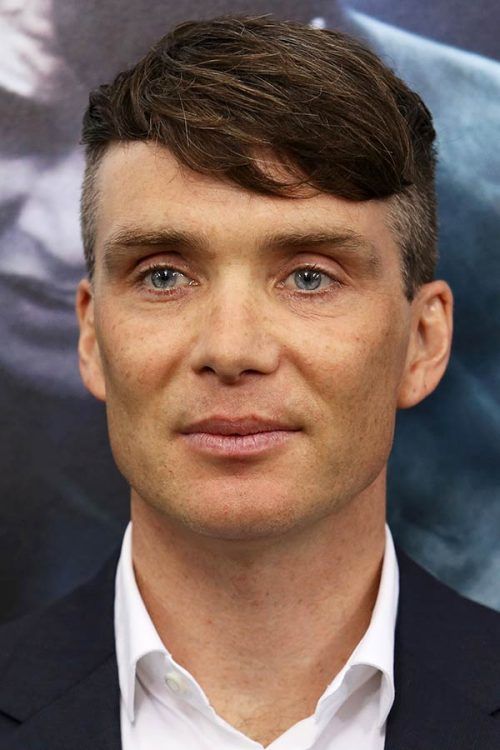 JStone/Shutterstock
Medium haircuts for men is an excellent choice for messy-haired guys. If you want something new you must try French crop haircut. This is a classic short or medium cut oftentimes involving a taper fade or undercut with longer hair on top. The main feature а crop, which distinguishes it from others, is the presence of a long bang. The length of the fringe varies depending on personal preference. Some men will prefer to keep the fringe on the shorter side.
Before to cut French crop you will have to grow out your hair below your ears. For crop cut use as much gel to give the hair a sleek look. You can use treatment and apply it while crunching hair in your hands to give the top hair a curly look. Set the look with hair spray.
Flow Hair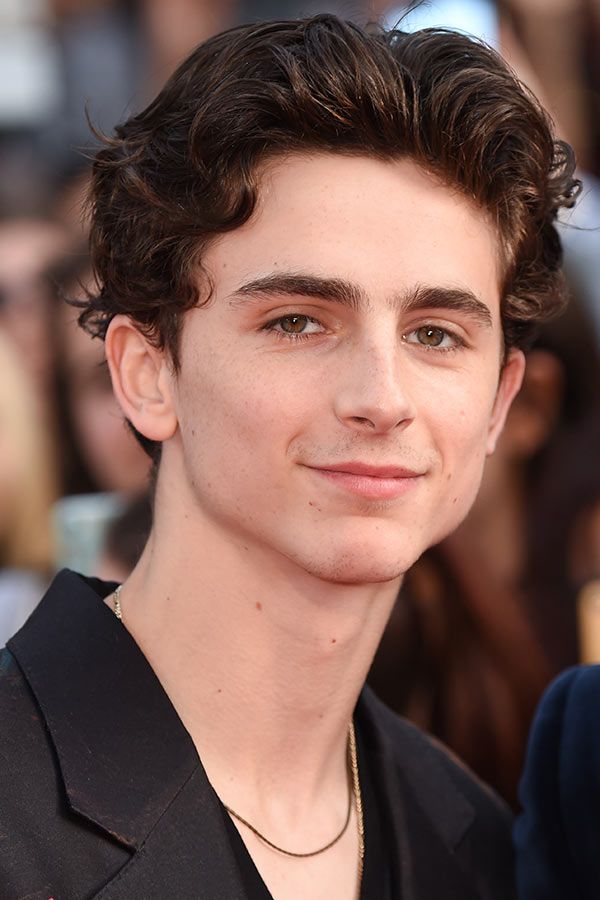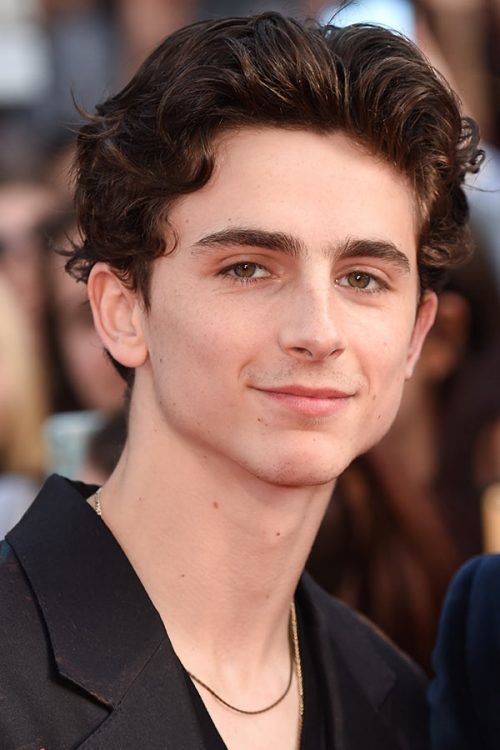 Featureflash Photo Agency/Shutterstock
If you are looking for an effortless and low maintenance hairstyle with a breezy and relaxed feel, try out this flowing look. It creates an impression of the hair swept to the side by the light wind, which looks intriguing and attractive. It is also a perfect hairstyle solution while you are waiting for your mane to grow long.
Quiff Hairstyle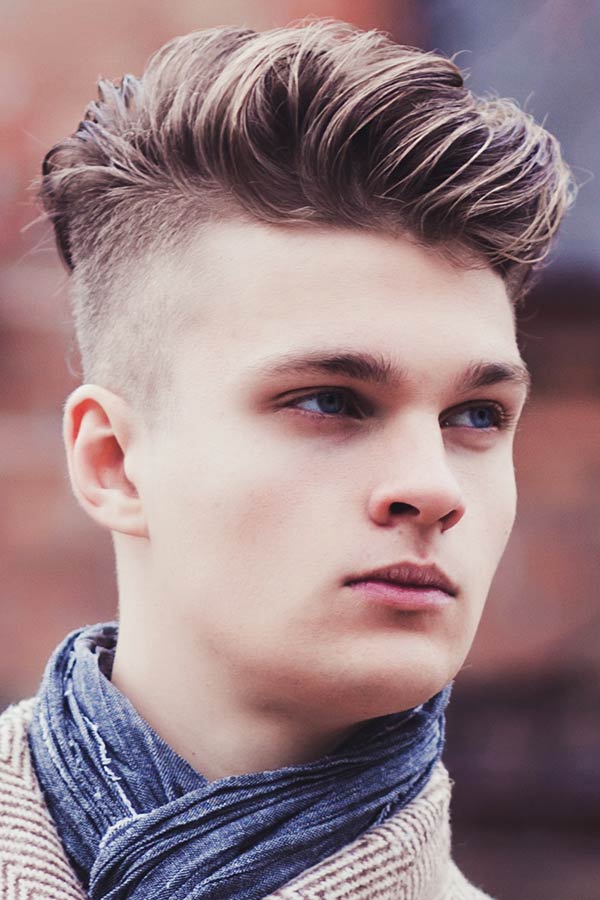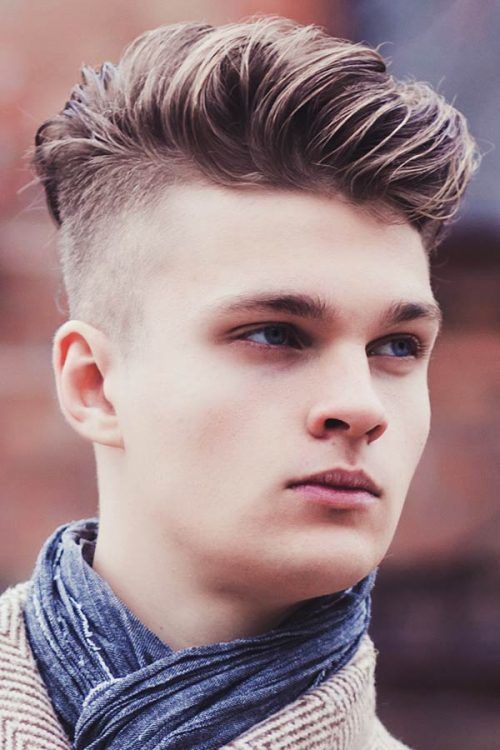 Source: @luiiisc_ via Instagram
How do you style a quiff men? Ruffle your hair with your hands, after first grinding in your palm a small amount of wax for styling. After using the hair dryer, do not forget to shape the hair. Finish styling with hair spray.
A quiff is one of those medium length haircuts for men that will probably never go out of fashion. It has set off many different styling options yet has never disappeared completely. For medium length hair, it's an optimal way to go, as it allows you to sport a trendy hairstyle and keep your thatch in order.
The Blowout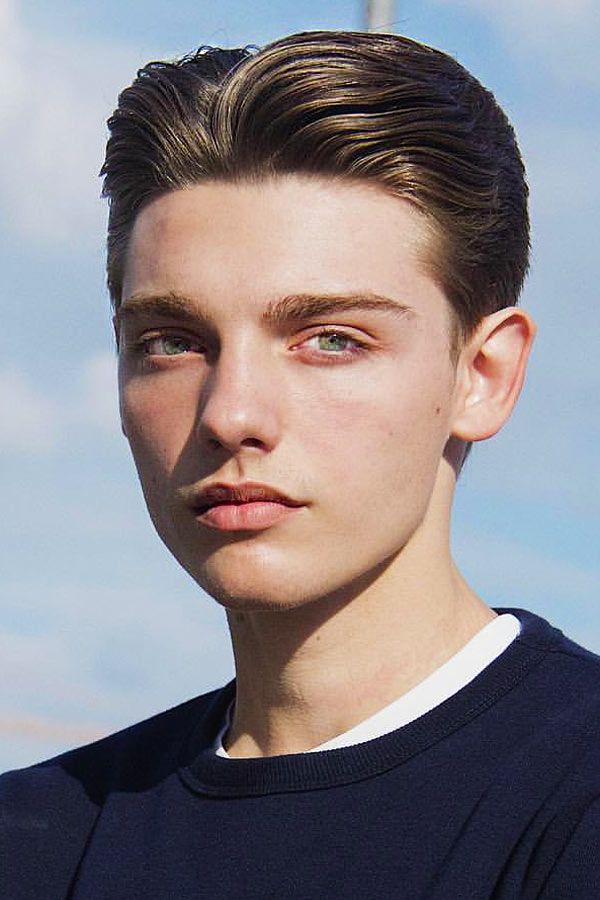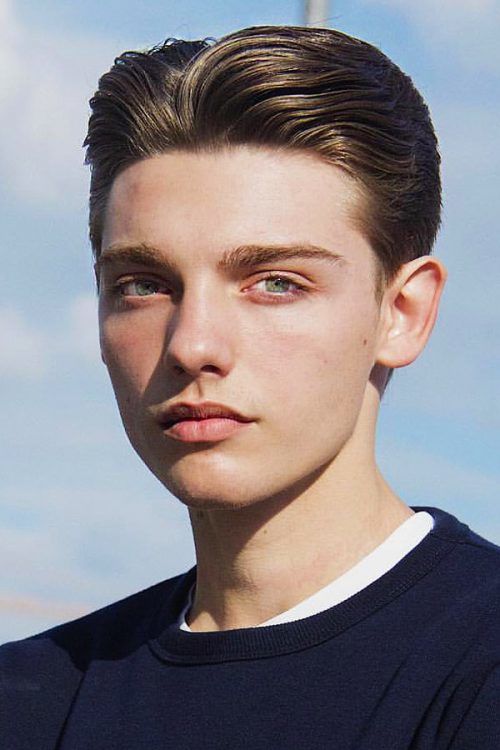 Source: @meha_barber via Instagram
Here's another hairstyle inspired by the way your locks look after the wind styles them. However, a blowout would be probably created by a stronger wind than a flow. Thus, pushing a couple of strands to the side isn't enough. To recreate the look, you need to employ a powerful blow dryer and a strong hold hairstyling product.
The Undercut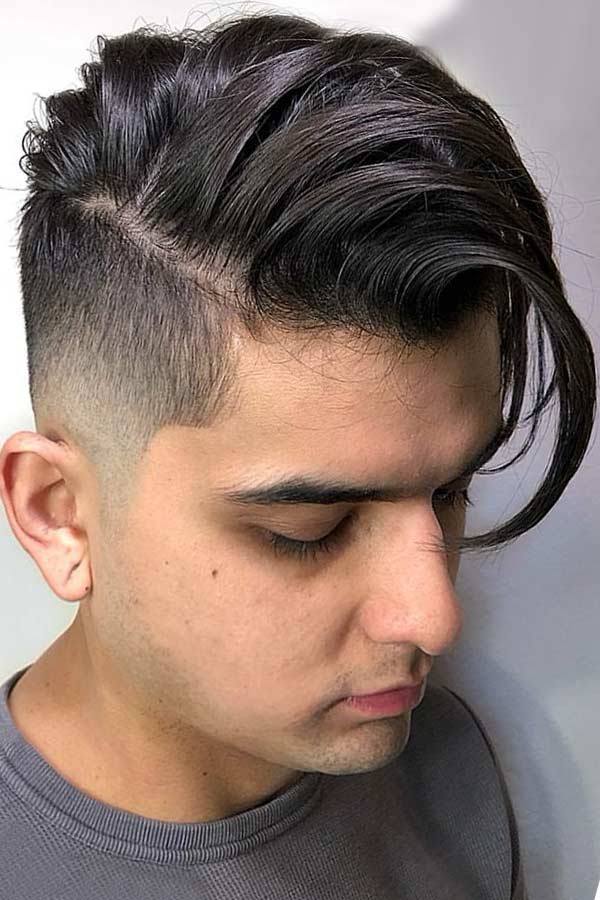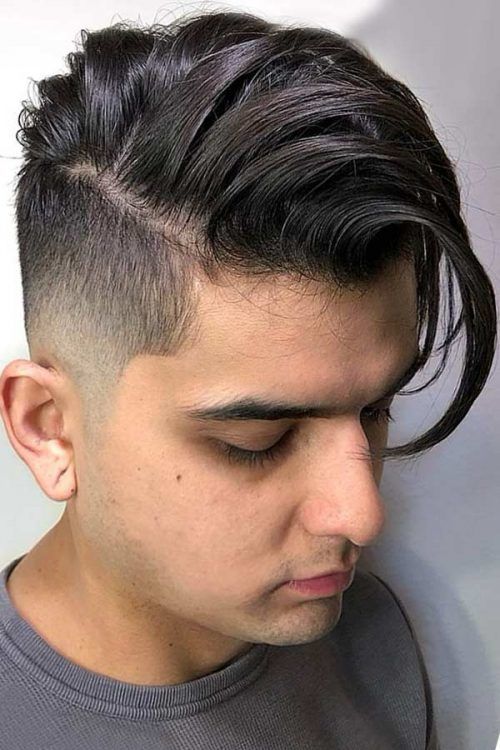 Source: @luiiisc_ via Instagram
To give your medium hairstyle a neat appearance, complement it with an undercut. In this way, you will keep the focus on the top of your head as well as add a stylish and dapper touch to your look. Thus, make sure to shape the hair atop so that it would refuse to let your bypassers look away.
Fade With Mid Length Top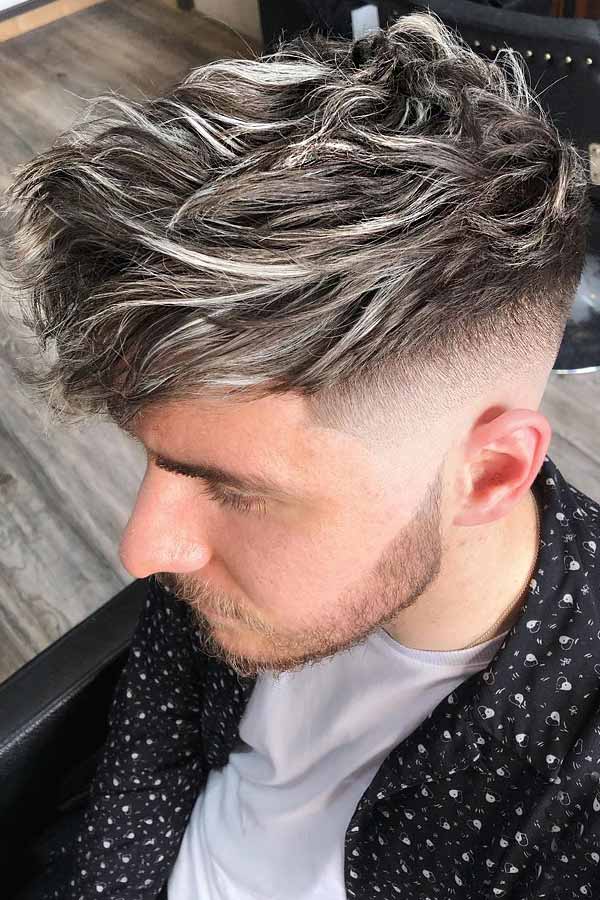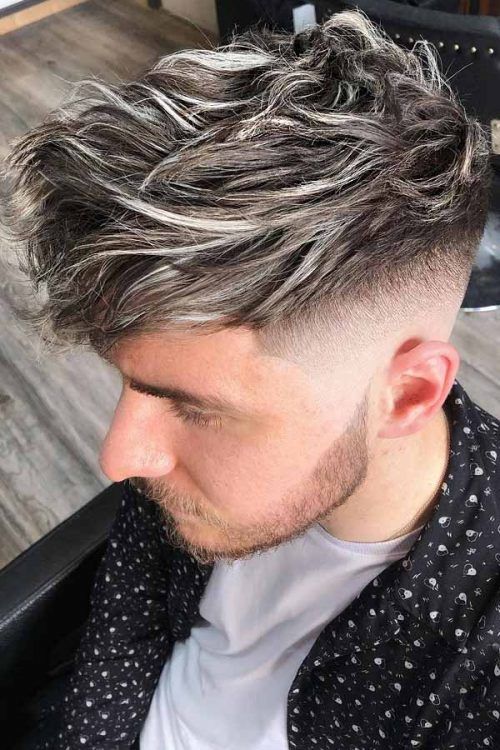 Source: @ryancullenhair via Instagram
All types of fades pair with medium length hair perfectly. For a more contrasty and edgy look, go for a high skin fade on the sides and back. If you want something more low key, turn to a plain low fade. Apart from helping you to create a look with different levels of boldness, a fade also allows for a myriad of styling options for your mid length top.
Mohawk Haircut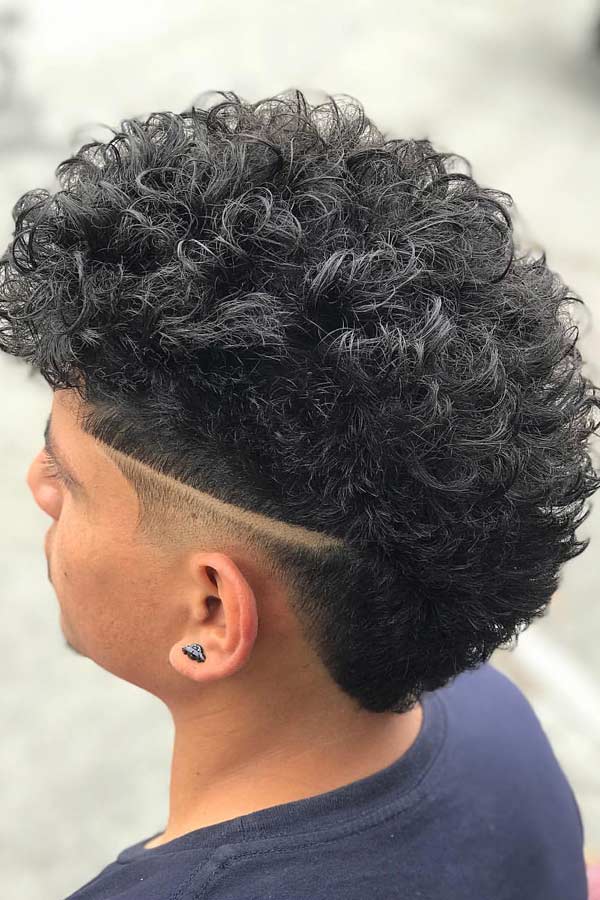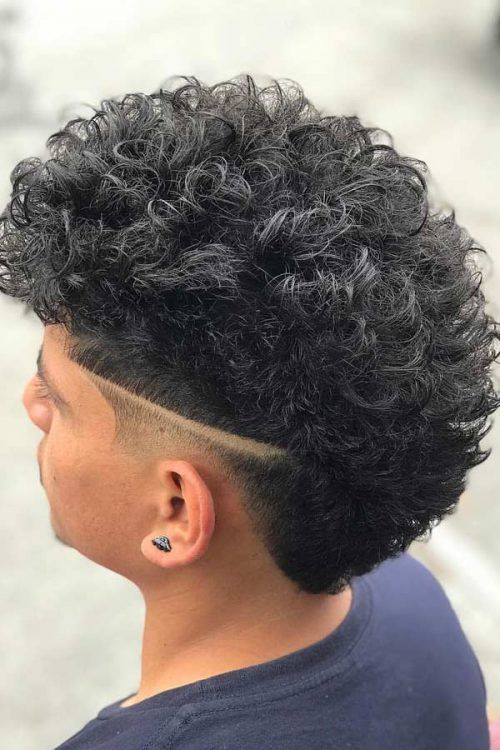 Source: @shrunknheads via Instagram
A modern mohawk hairstyle doesn't have anything to do with any subcultures. It's just a way to rock your medium length hair. To pull it off, you need to get the hair on the sides trimmed short or ideally shaved to the skin while leaving the central section of your locks notably longer.
High Top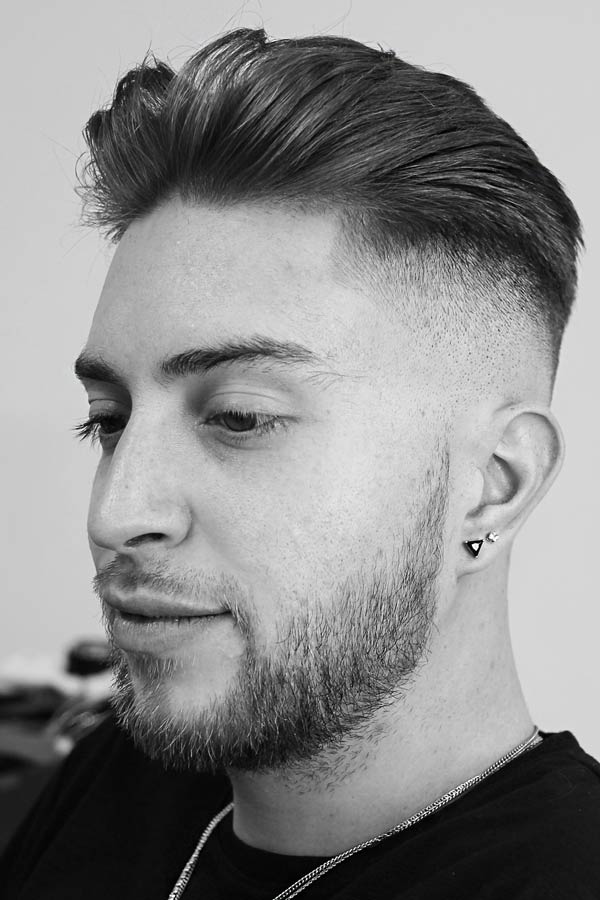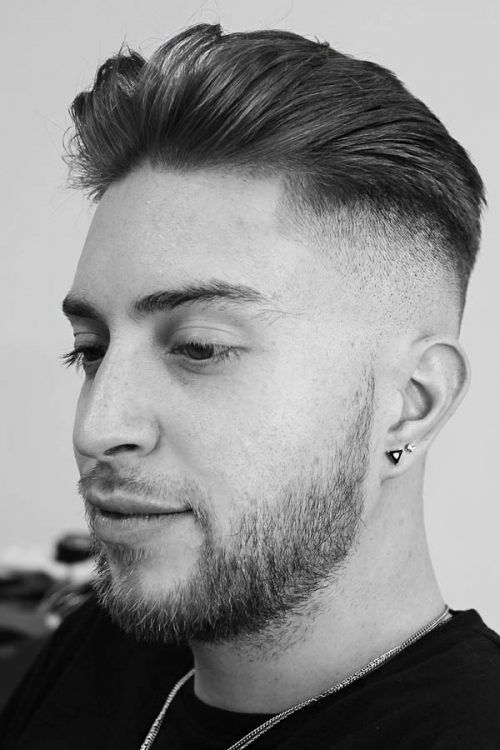 Source: @hayden_cassidy via Instagram
A high top is a very popular hairstyle among medium length hair men. Although it has somewhat hip-hop origins, it has successfully adjusted to modern trends. Thus, nowadays it is rocked by all men regardless of their music preferences. Apart from looking stylish, it helps you to take your mid length hair away from your face.
Heavy Fringe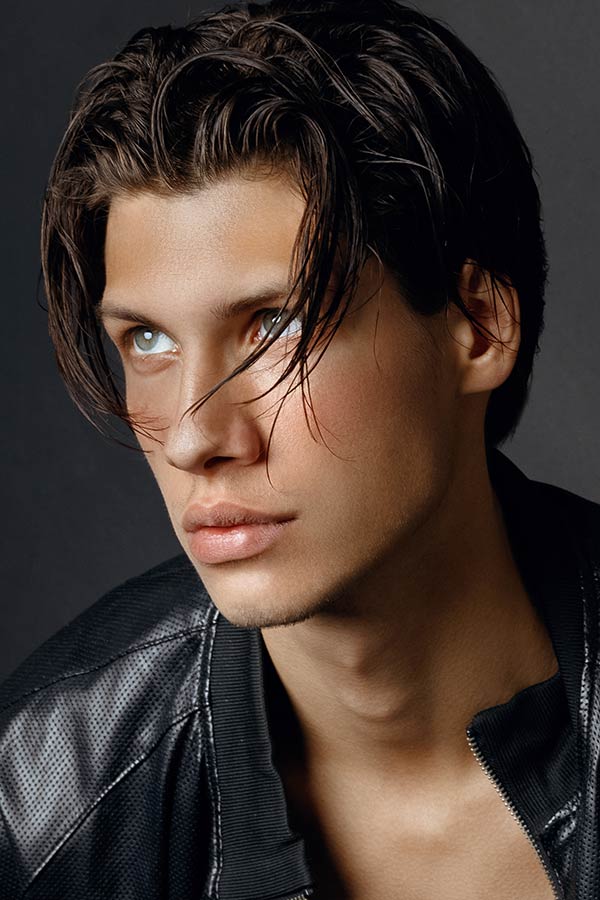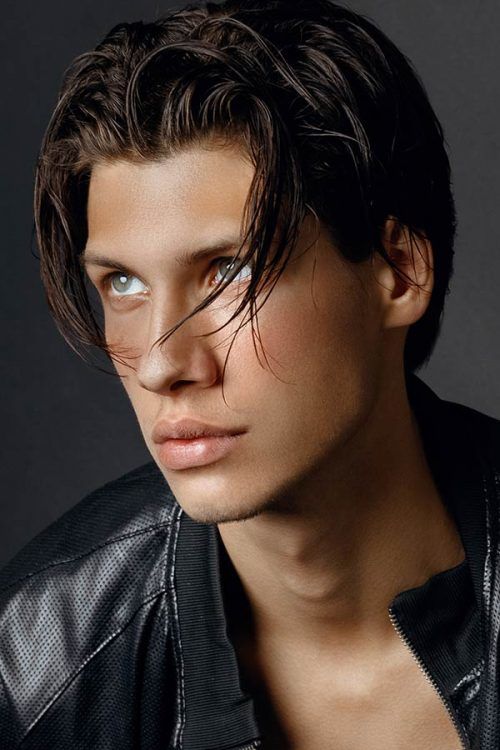 Source: @shrunknheads via Instagram
This hairstyle is much easier to pull off on thick or even curly locks. The heavy fringe is achieved thanks to the layers in which your mane is cut. If your hair allows it, you can get the sides trimmed short to keep the whole focus on the bold fringe. For styling purposes, you need to employ some sort of hair product, such as wax or pomade, and stack your quiff so that the layers would be prominent.
Taper Fade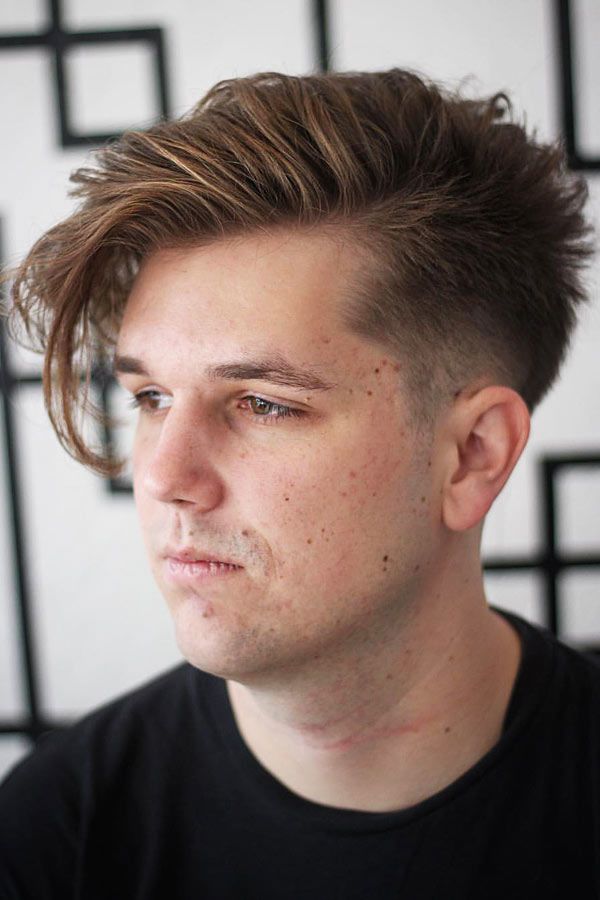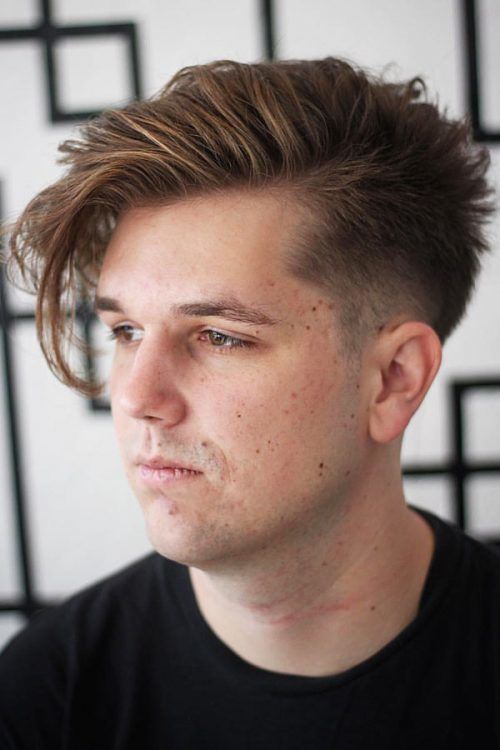 Source: @shrunknheads via Instagram
A taper fade is one of the best haircuts for medium hair men. No matter whether you have thin or thick locks, it won't impede their thickness. Besides, it creates a clean-cut appearance with short sides and a long top. Moreso, even though you end up with a contrasty hairstyle, the transition from the longer to the shorter hair is smooth and gradual, so it doesn't look jerky.
Slick Back Medium Hair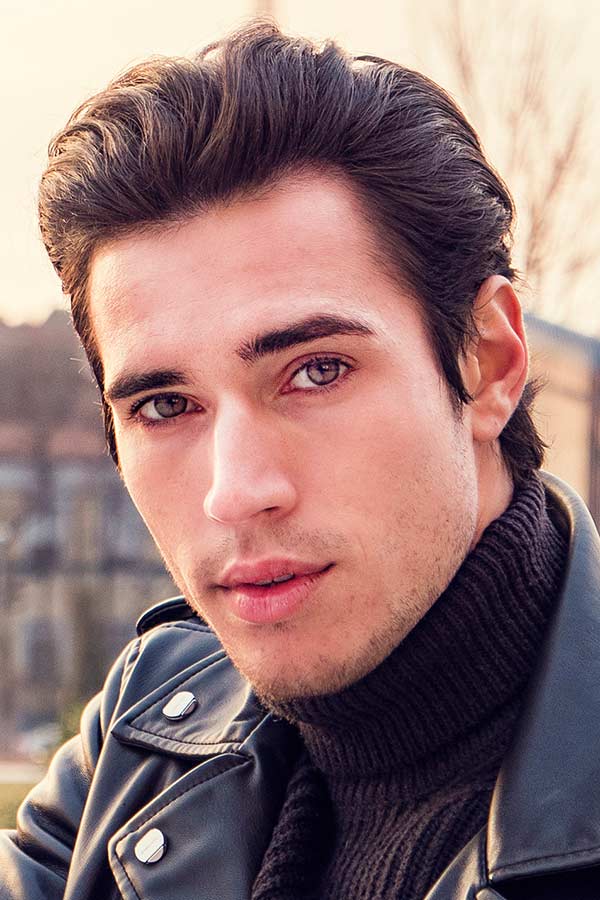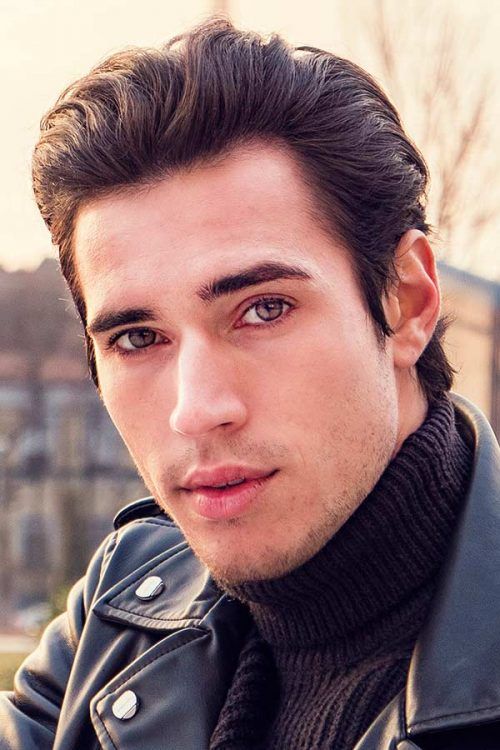 To give your medium length hair a refined and polished look, brush all of your locks back with the help of a hair brush and a hair styling product, such as wax or pomade. In this way, you will get a look that opens every door for you.
Hard Part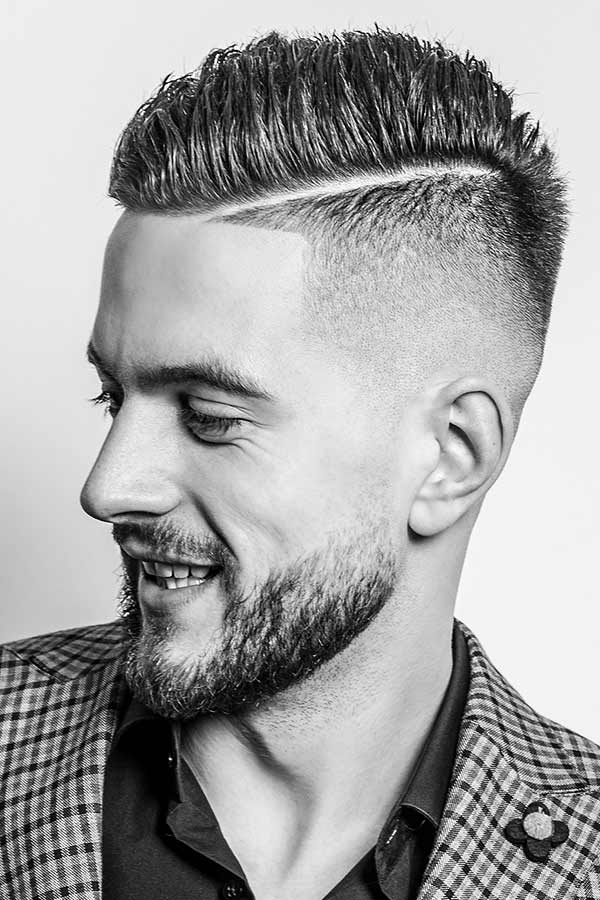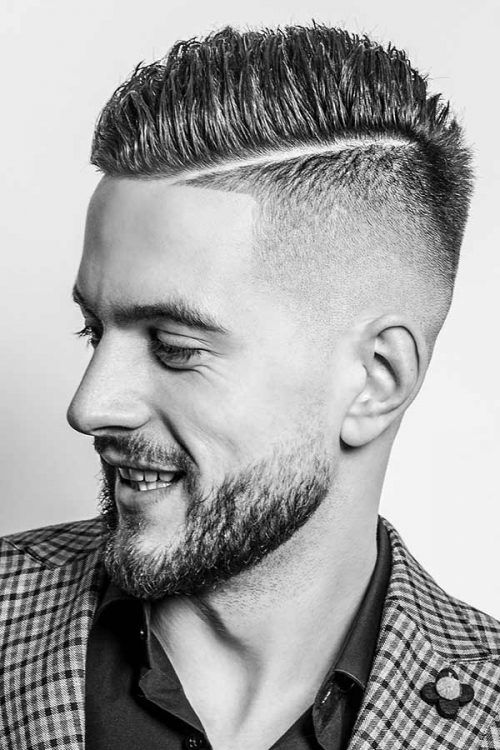 A hard part allows you to spruce up any haircut as well as give it a trendy touch. If you do not want to bother with styling your hair elaborately, just shave in a straight bold line along the side of your head and you are good to go.
Tousled Hairstyle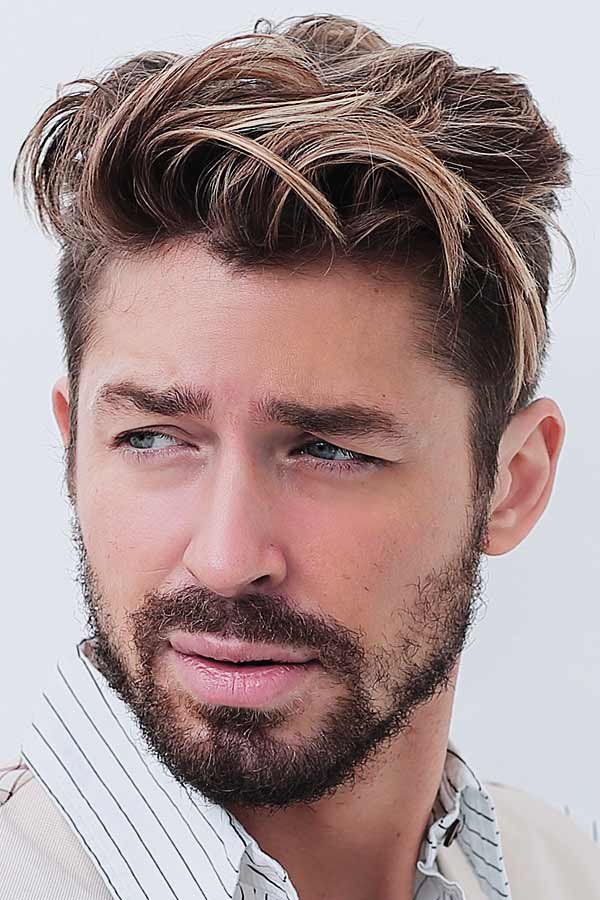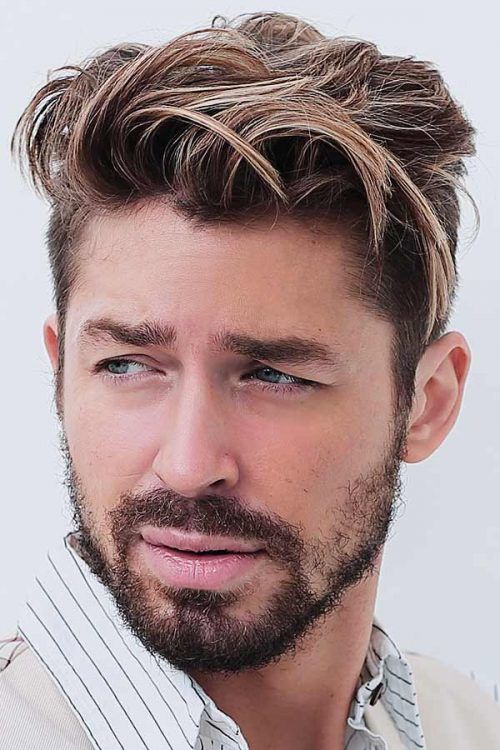 As dress code rules at the offices are becoming less and less strict, medium haircuts for men are also gaining more casual and effortless vibes. To get a fashionable yet office-appropriate look, tousle your locks on top of the head and spritz them with a hair spray for a defined appearance with a long-lasting effect.
Man Braids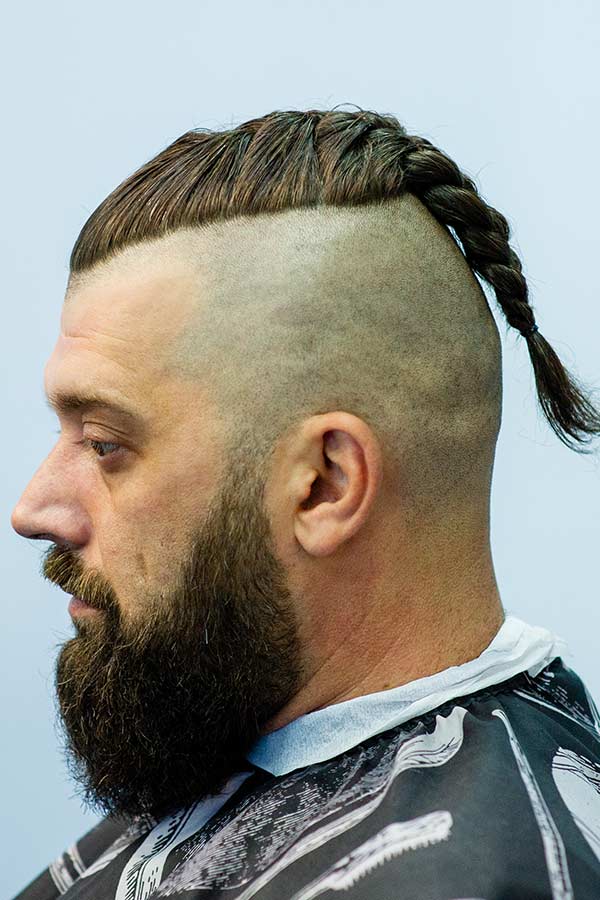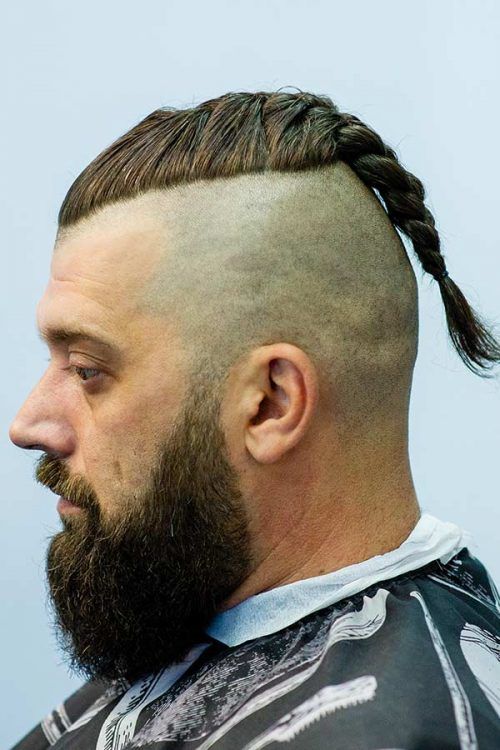 Men's braids are not something that you will be shocked by. Today, they are a very popular man's hairstyle. There are so many different braid styles, that you are guaranteed a new look for every day. All you need is a bit of patience to grow out your mane until you would be able to catch it and plait.
Jewfro Curls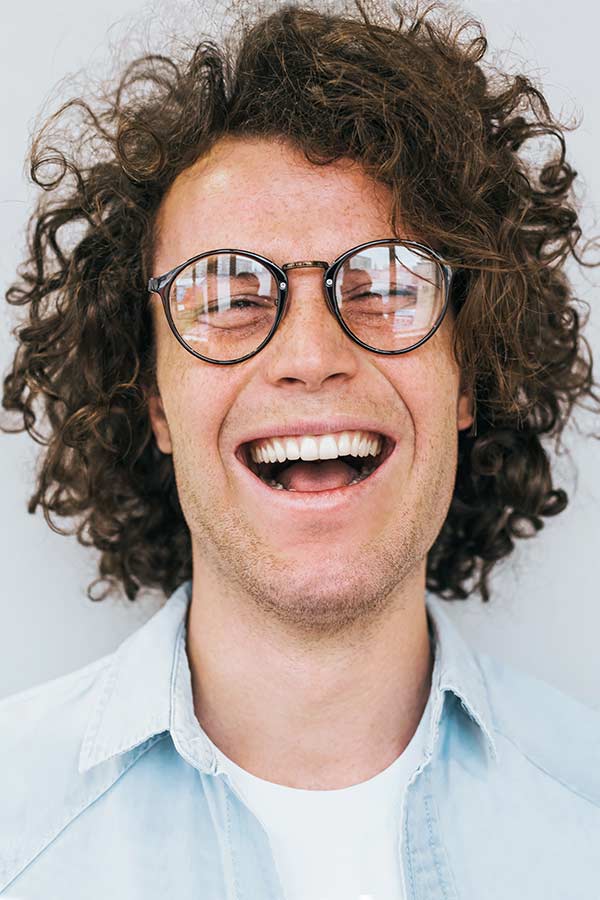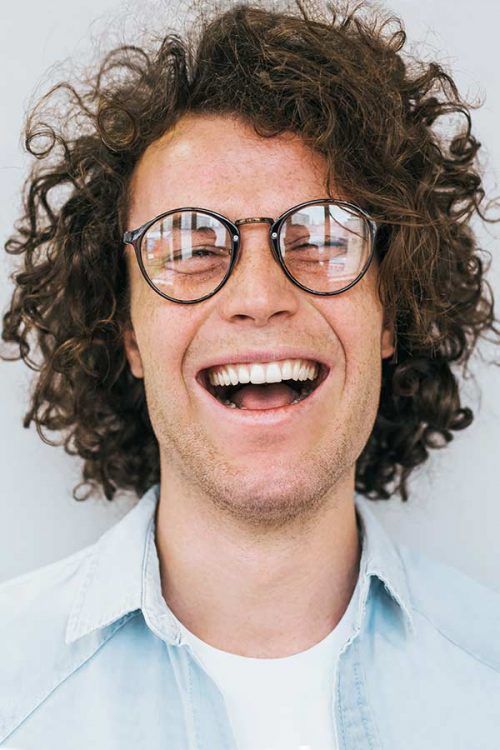 If you were blessed with a coily thatch, do not get upset. Even though it is quite challenging to tame, the final result fully pays you off with a ton of compliments you are going to collect left, right and center. Try out a Jewfro hairstyle, for example. It does not require much effort yet looks flattering for most guys.
Man Bob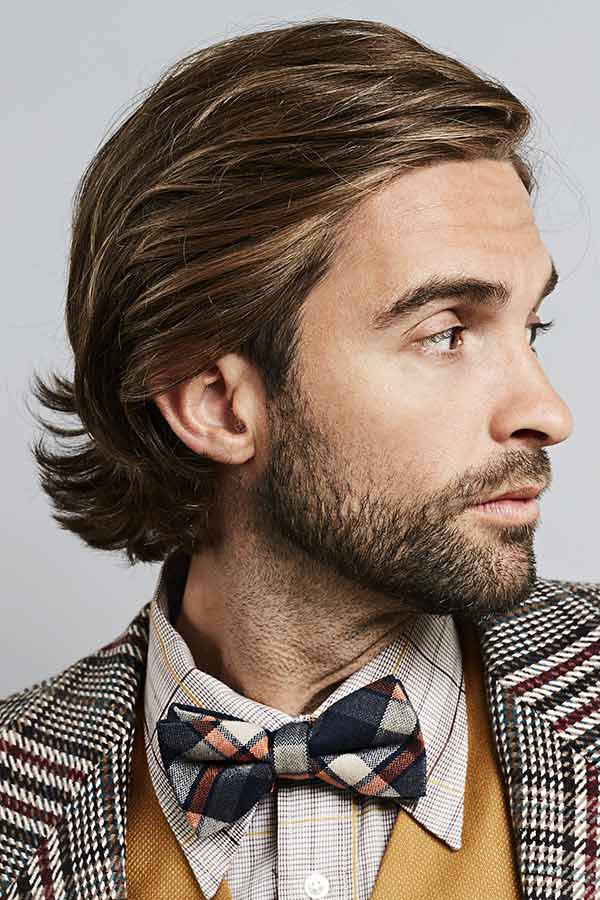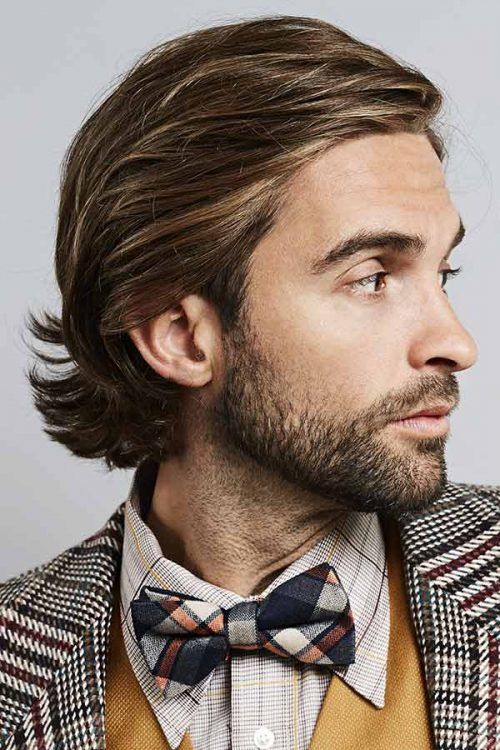 Nowadays, a bob belongs to classic medium haircuts for men. If you want to give it a try, do not go for a very long or overly elaborate style. For a start, try something more traditional, such as a regular man bob. After you get used to it, you will be able to transform it into a more intricate look.
Voluminous Waves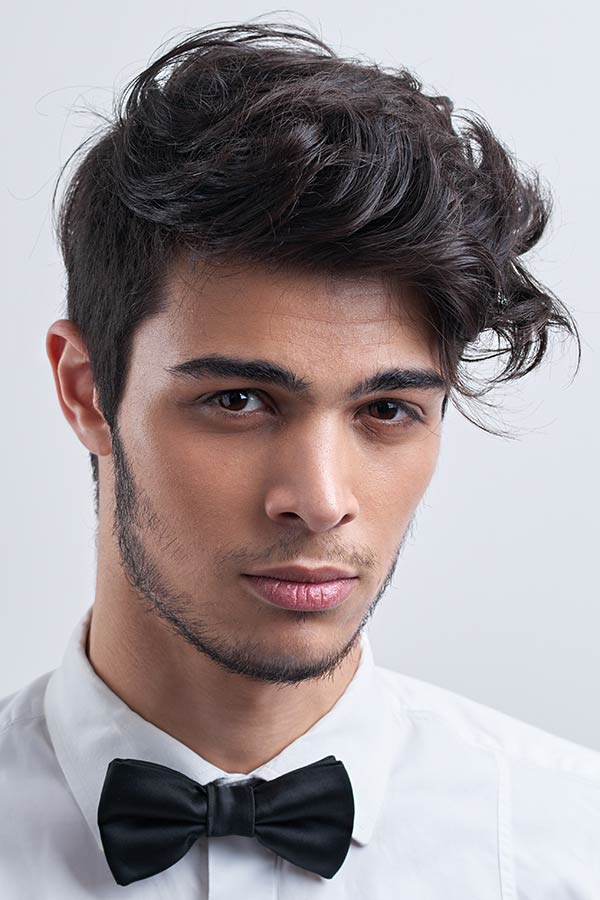 If your hair lacks body and density, then these voluminous waves should become your hairstyle of choice. Thanks to a random order in which your locks relax on your head, there is an illusion of an ampler and thicker mane.
How To Style Men's Medium Length Hair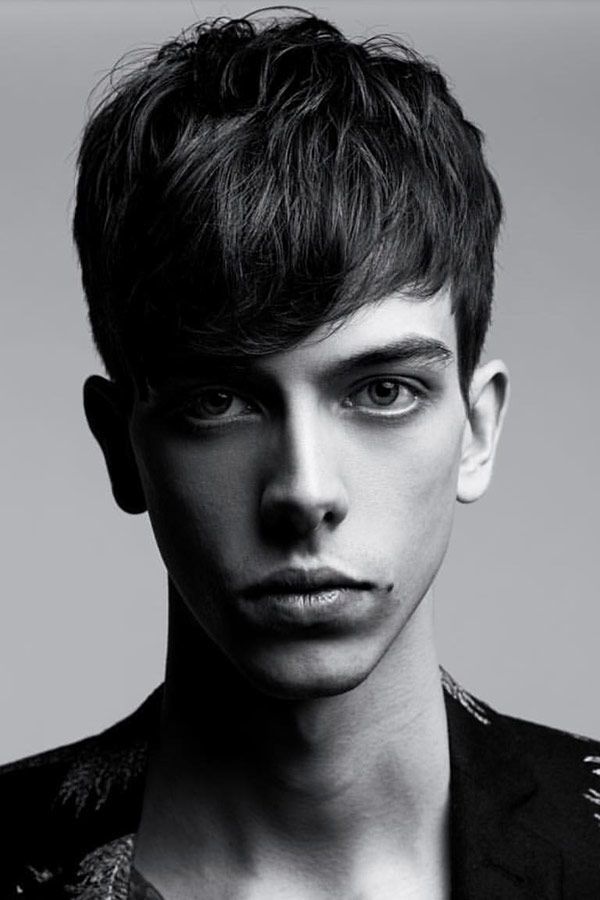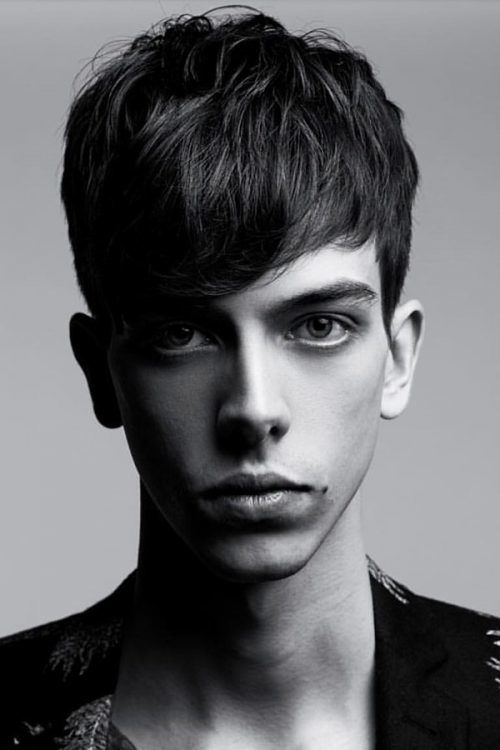 Source: @sidsottungacademy via Instagram
One of the best things about styling medium haircuts is that it doesn't take you much time and effort. Hence, if you are a complete novice in a grooming world, start with something easy maintenance. Long top short sides hairstyles are a perfect way to go in this case. You are offered a wide range of options here. For the sides, you can go with a fade, a taper or an undercut. And for the top, the selection is even broader – from elegant and neat comb overs, pomps and slick backs to trendy and messy fringes, spikes and mohawks.
As a rule of thumb, when choosing a haircut for your medium locks, you need to consider their length, texture and type to achieve the best result.
Have you found the style you are looking for to add new life to your mid length locks? We hope our selection of medium haircuts for men has given you some fun and stylish options for a sexy new look.