Did you know that haircuts for balding men can be as versatile and stylish as other men hair looks? If not, then you have come to the right place. Below, we have gathered the best haircuts for balding men sported by celebrities to match any taste and preferences, from extremely short and simple to relatively long and intricate. Now your task is to scroll through our guide and pick out the bald haircut idea that resonates with you most.
Jude Law's Buzz Cut
Who could have thought that in a few years instead of bouncy curls, Jude Law would sport a balding buzz cut? Not us for sure. Yet, the famous Hollywood heartthrob pulls it off with ease. And now it is actually hard to tell what looks best on him – long locks or a bald hair cut.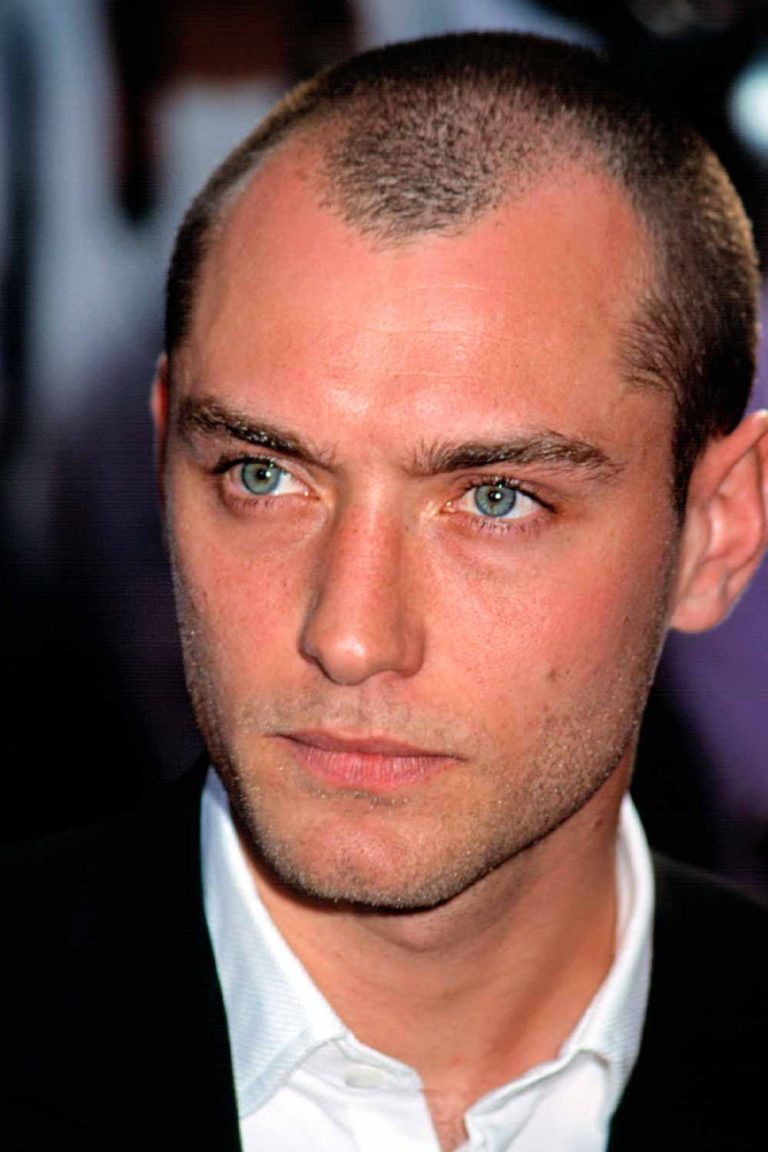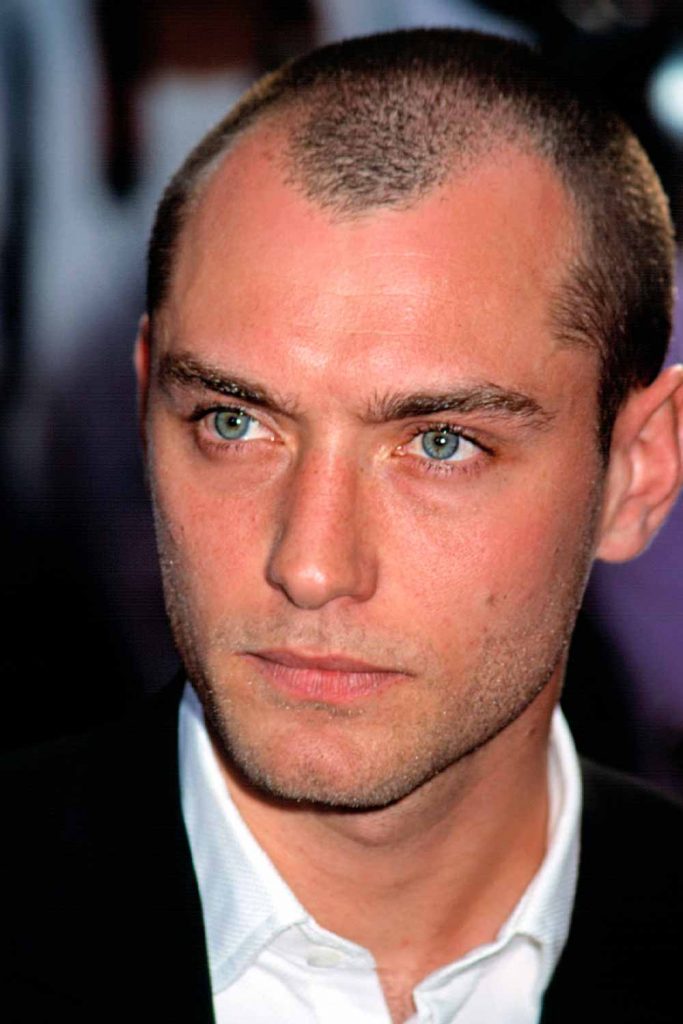 Everett Collection/Shutterstock
Kevin Costner's Crew Cut
Kevin Costner is the epitome of style and good taste. So, if you want to look your best even if you have balding hair, it is a good idea to draw inspiration from him. The actor goes for a classic crew cut, which he styles a bit pushed up in the front for an added volume.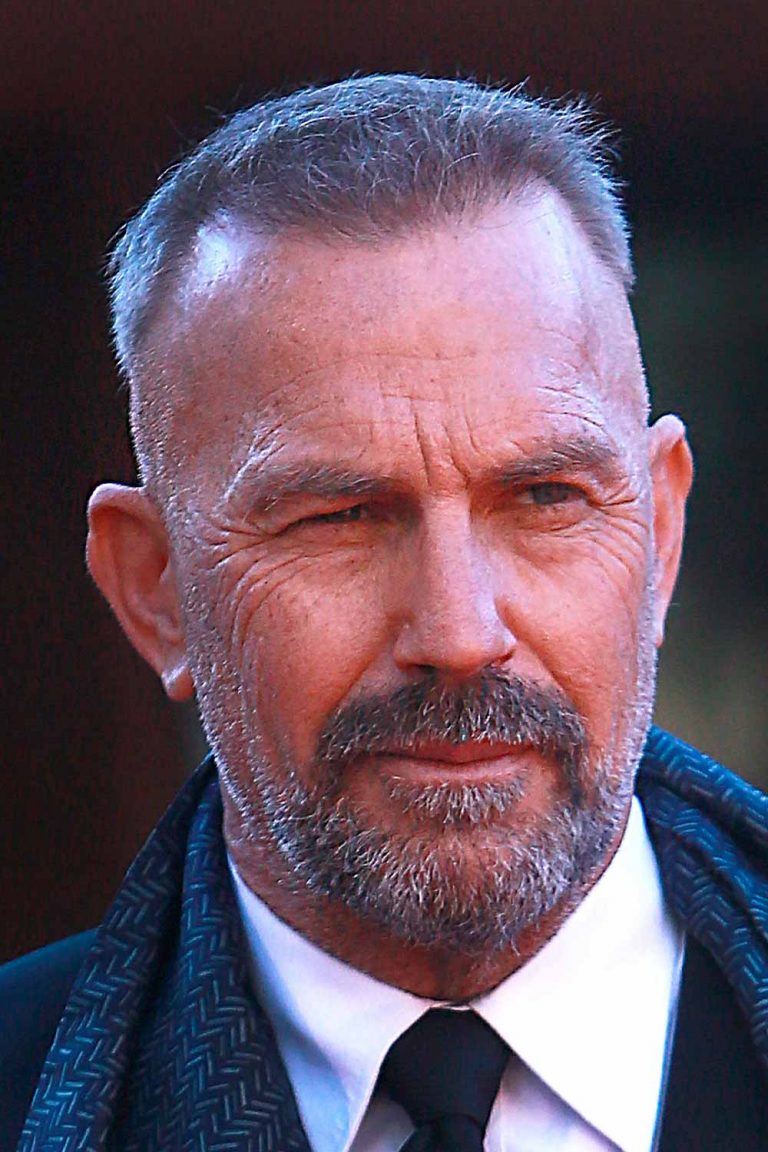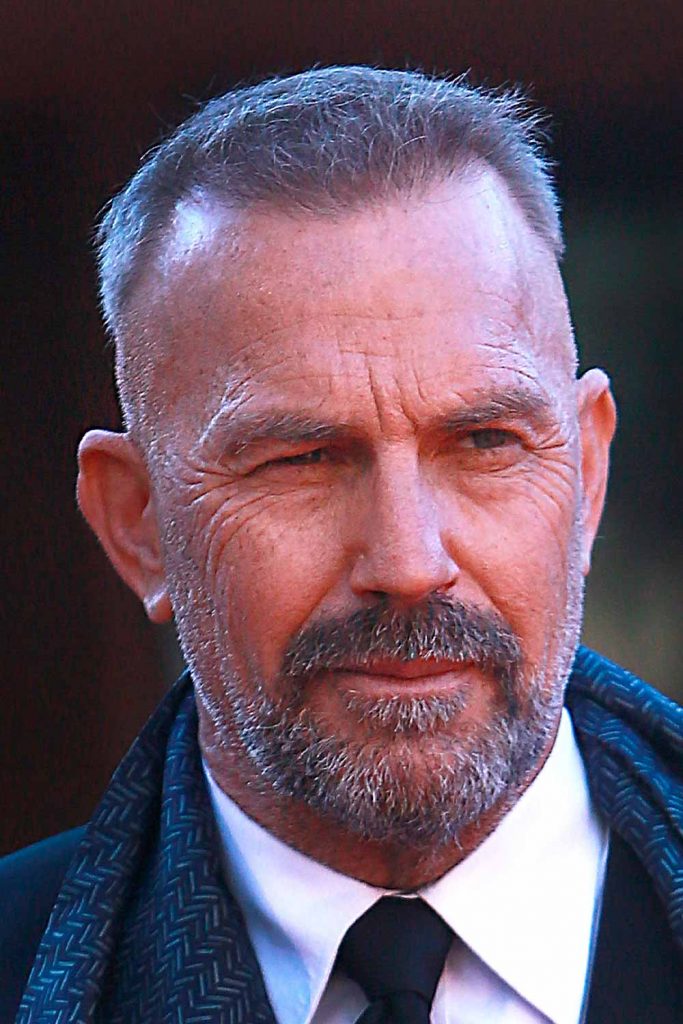 Lucky Team Studio/Shutterstock
Bruce Willis' Bald Shave
If you had to name the hottest balding men on the planet, we are pretty sure Bruce Willis would be at the top of the list. The Die Hard actor embraced his diminishing hairline and crown bald spot long ago. And since that time everyone has seemed to love his bald haircuts and shaves.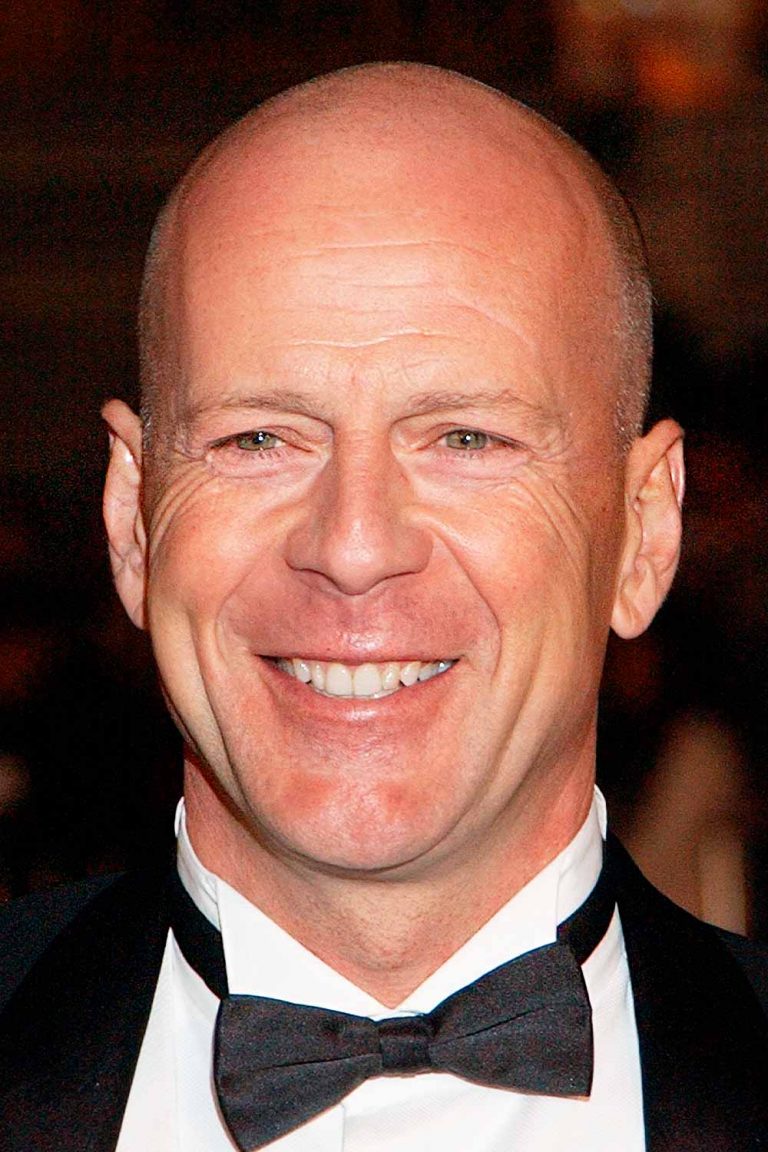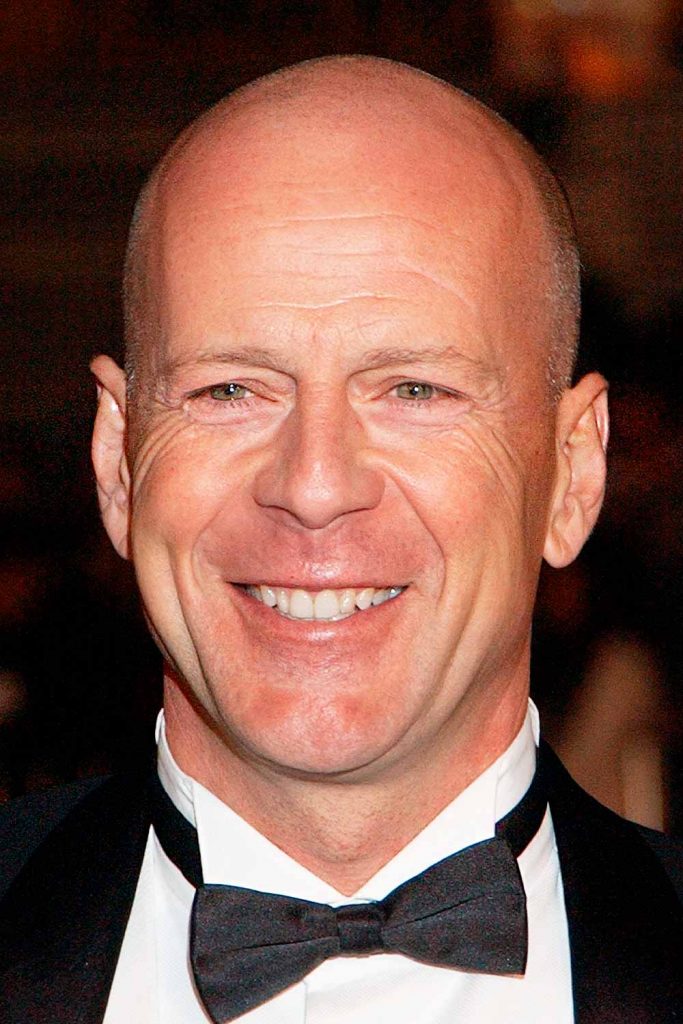 Everett Collection/Shutterstock
David Beckham's Side Parting
Did you know that the soccer superstar David Beckham had to resort to balding hairstyles before he got his hair transplant? Yes, even such genetically blessed guys sometimes have to deal with a receding hairline and crown balding. Becks tried different haircuts for thinning hair men but his side part was one of the most flattering.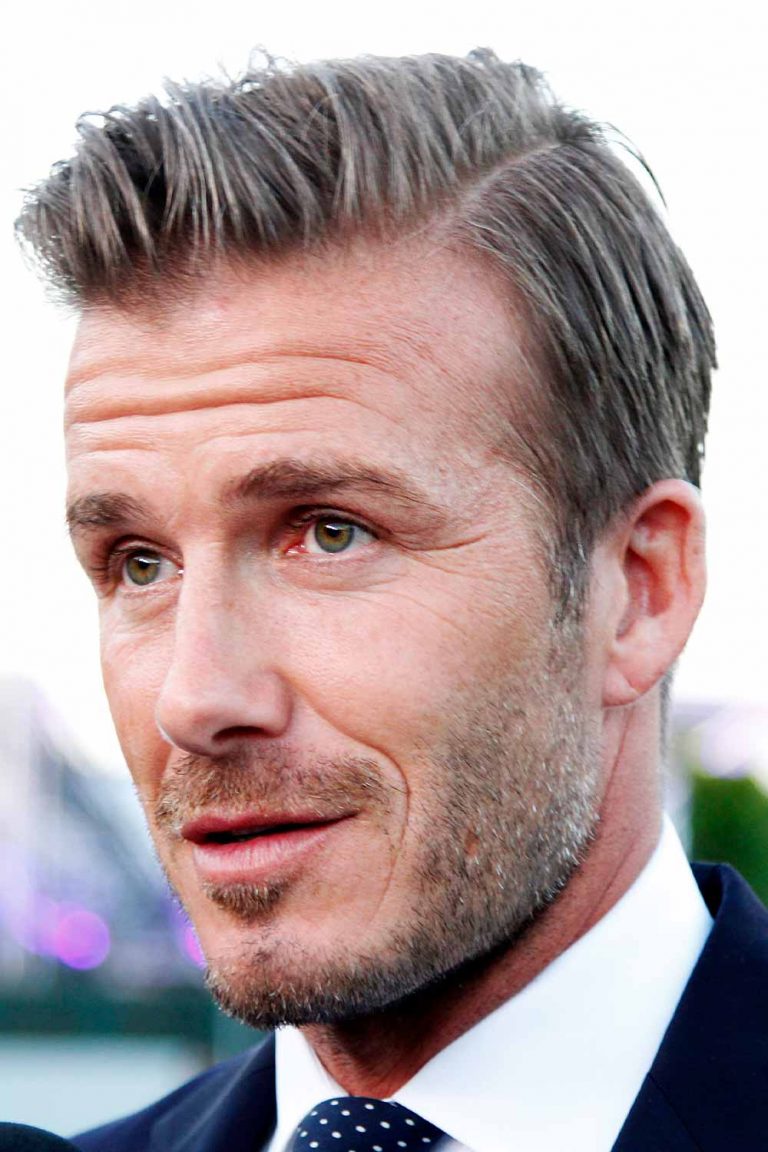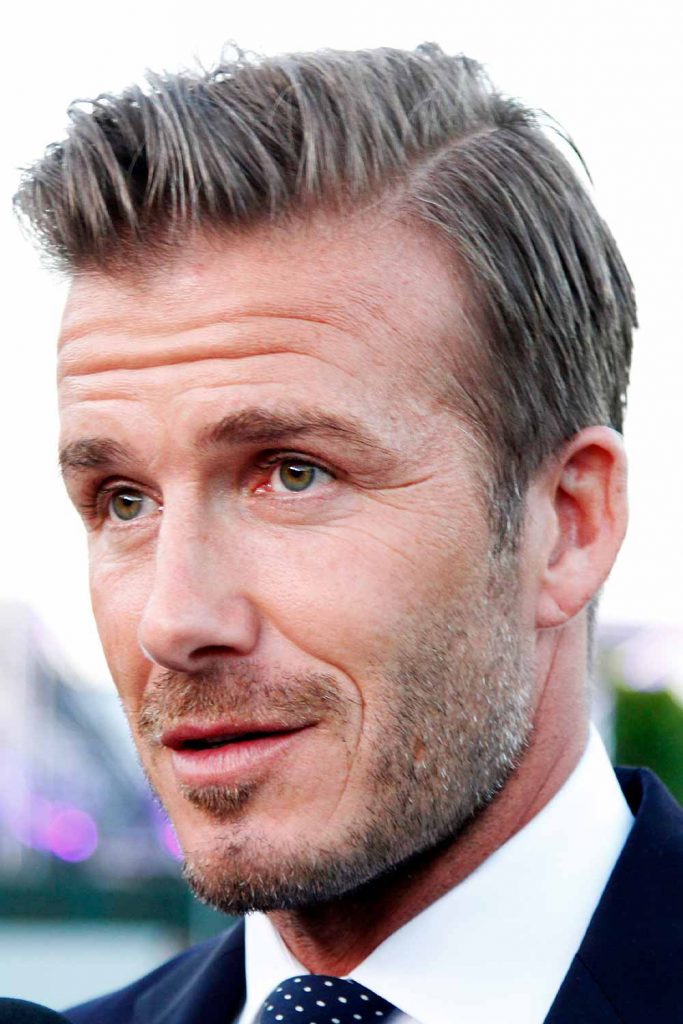 Joe Seer/Shutterstock
Leonardo DiCaprio's Slicked Back
Not that Leonardo DiCaprio has ever been considered a balding man, but his natural hairline sometimes looks as if it is receding. And instead of hiding it under the locks, the actor takes it to the center of attention by slicking his hair back. The final result comes out neat and polished and not least, thanks to Leo's attitude.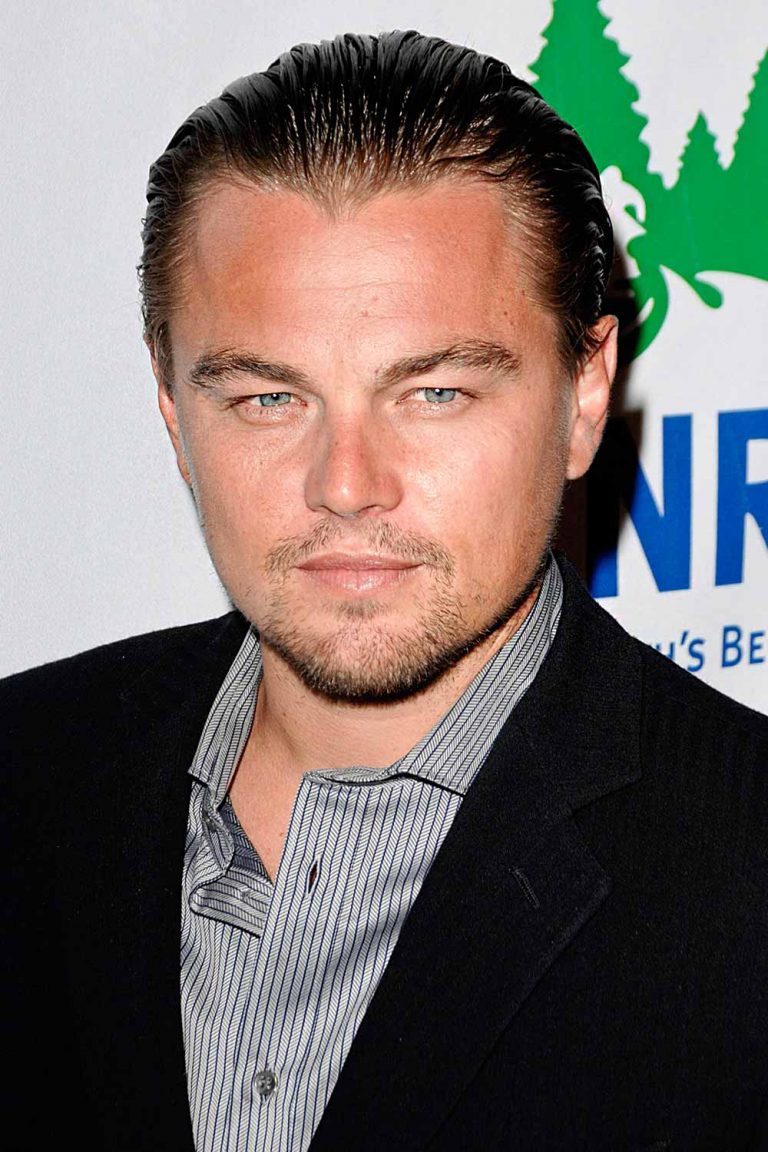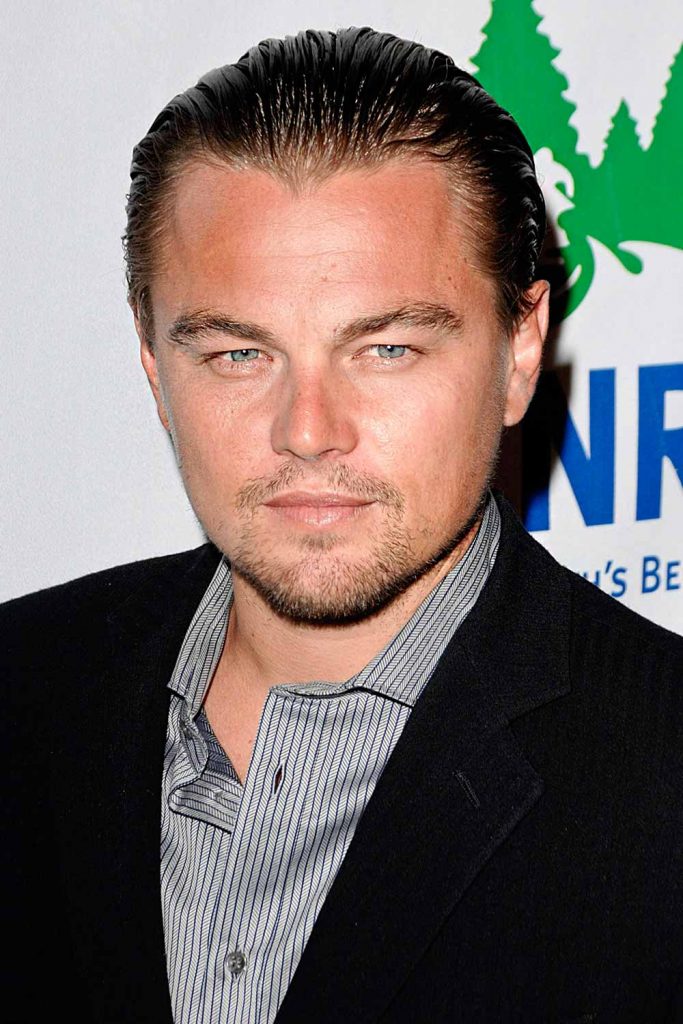 Everett Collection/Shutterstock
Christopher Nolan's Parted And Brushed Back
If you think that long hair for balding men is not a viable option, we are here to prove you wrong. Look at Christopher Nolan's side parted and brushed back long hair balding men style. It turns out so elegant and refined that you can hardly notice a receding hairline.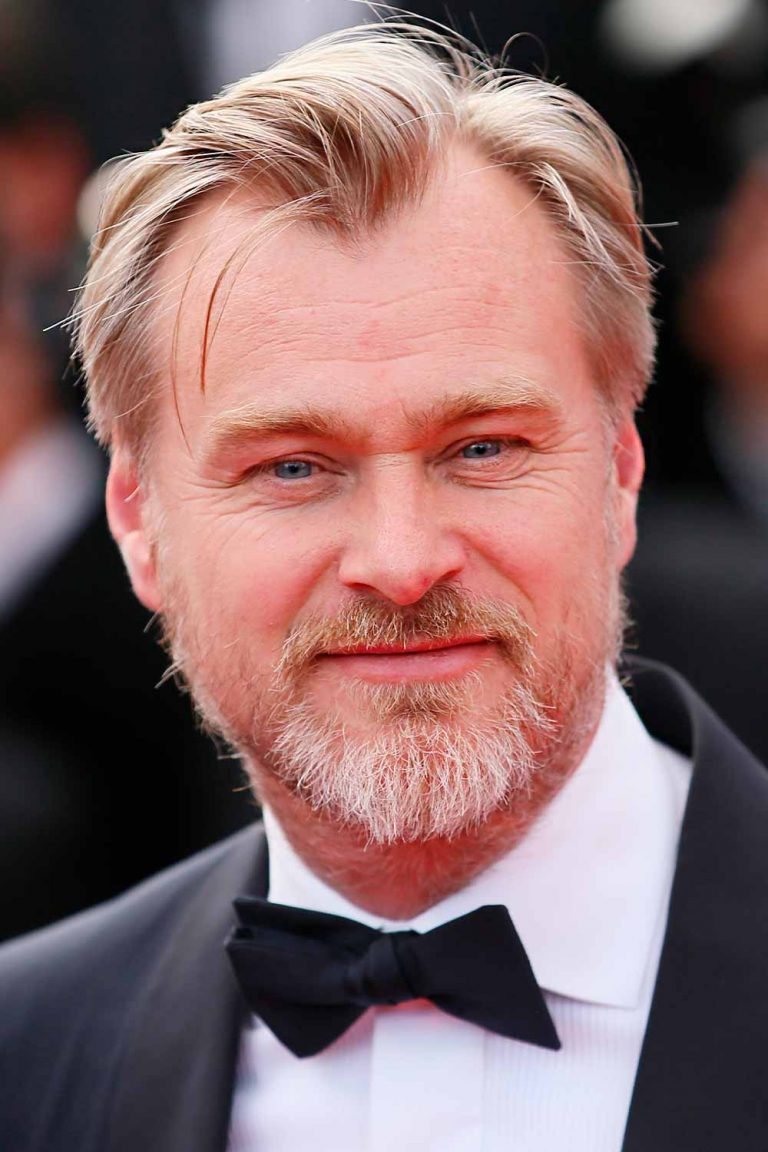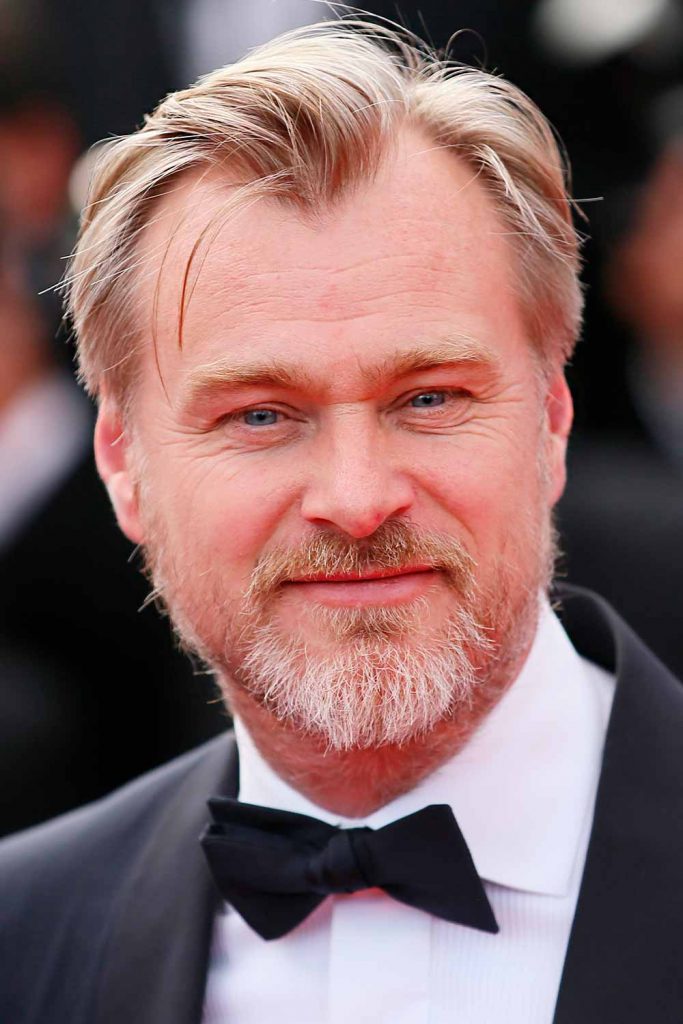 Denis Makarenko/Shutterstock
Hugh Grant's Salt And Pepper Waves
It seems that Hugh Grant has been loyal to his signature wavy hairstyle for all his life and no wonder. Relaxed waves look incredibly attractive on him. Besides, they create an illusion of fuller hair. So, when his locks started to get thinner, it does not strike the eye. Gray streaks add depth and create a classy salt and pepper hair look.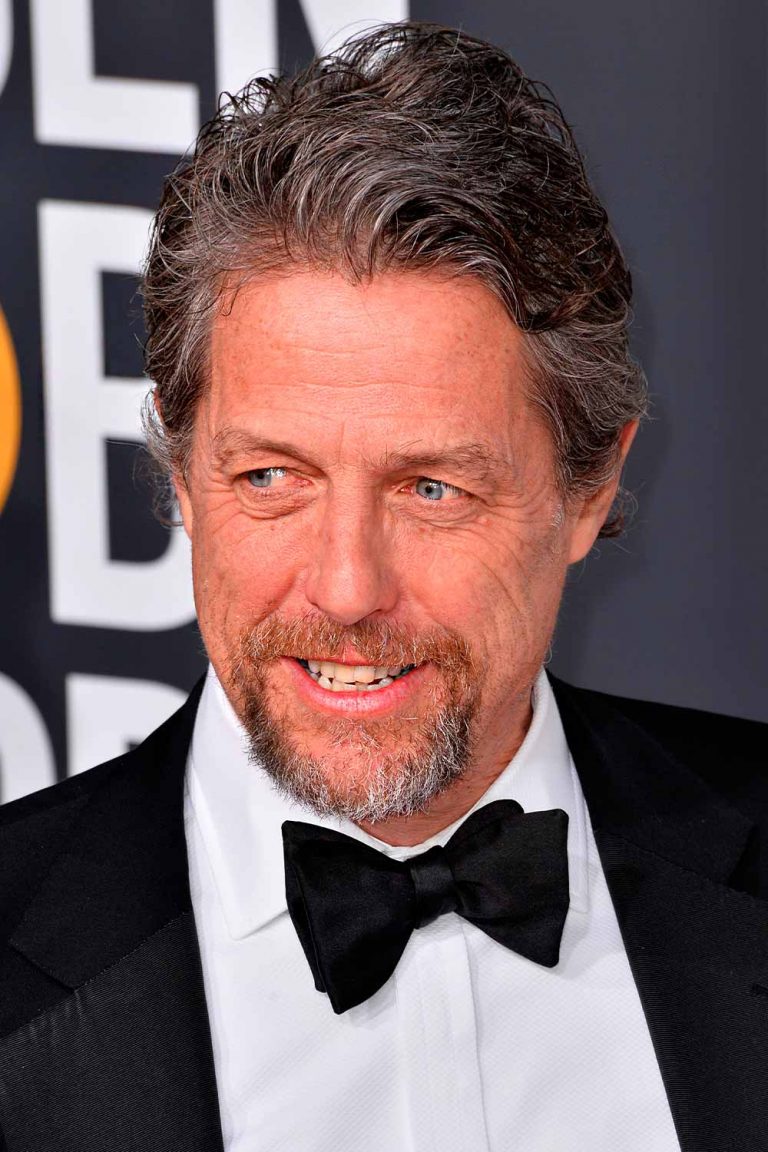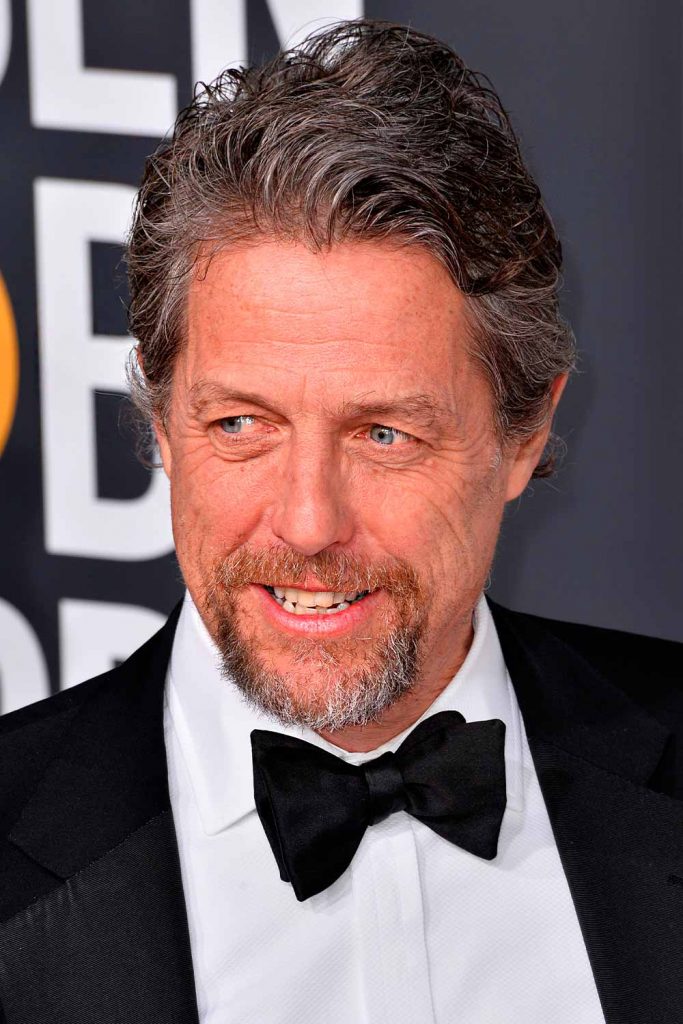 Featureflash Photo Agency/Shutterstock
Bryan Cranston's Bald Head And Beard
When you have a bald on top haircut, it is not hard to achieve a clean and neat appearance. So, if you feel like adding some hair to your look, you can go for a beard of any length and fullness. For the Red Carpet event, Bryan Cranston chooses a full circle beard to pair with his shaved haircut for balding men.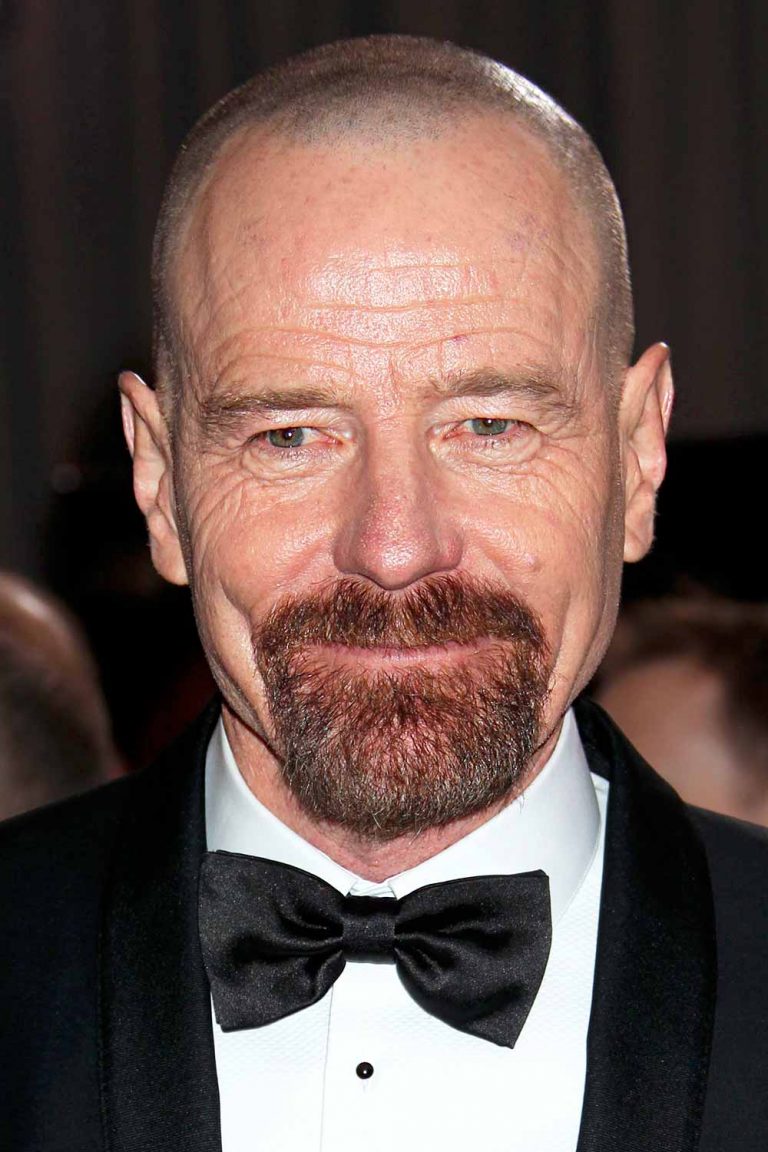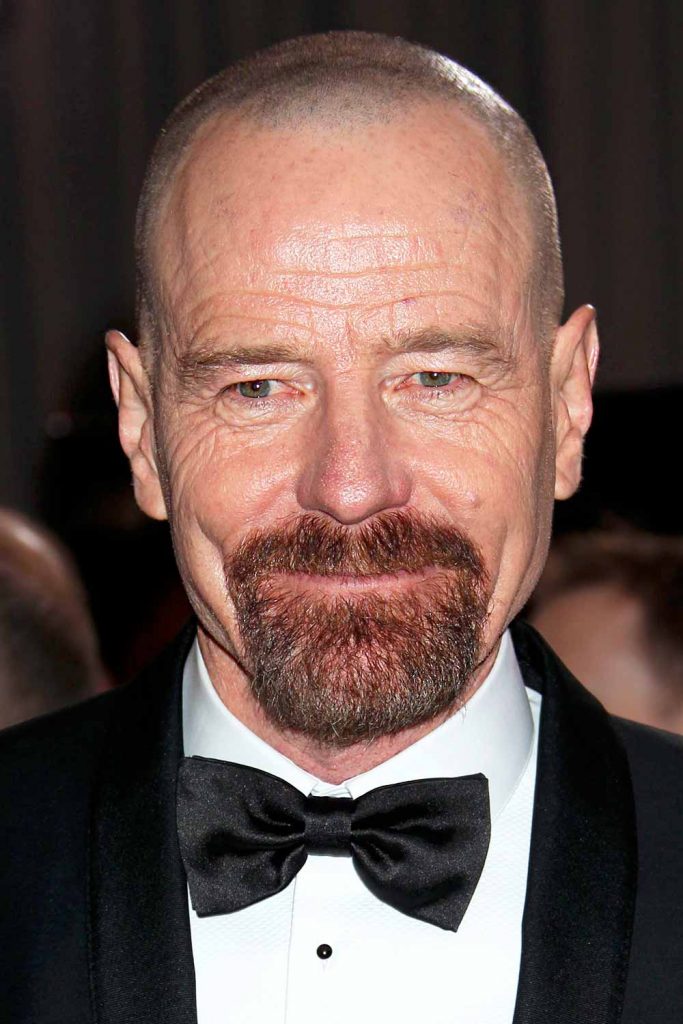 Kathy Hutchins/Shutterstock
Mel Gibson's Short Brushed Back
We all are getting older and our favorite celebrities are not immune to aging too. What we all can learn from them though is how to make the most out of every life stage. Check out Mel Gibson's haircut for balding top. The actor goes with short hair and styles it brushed back to make it appear ampler.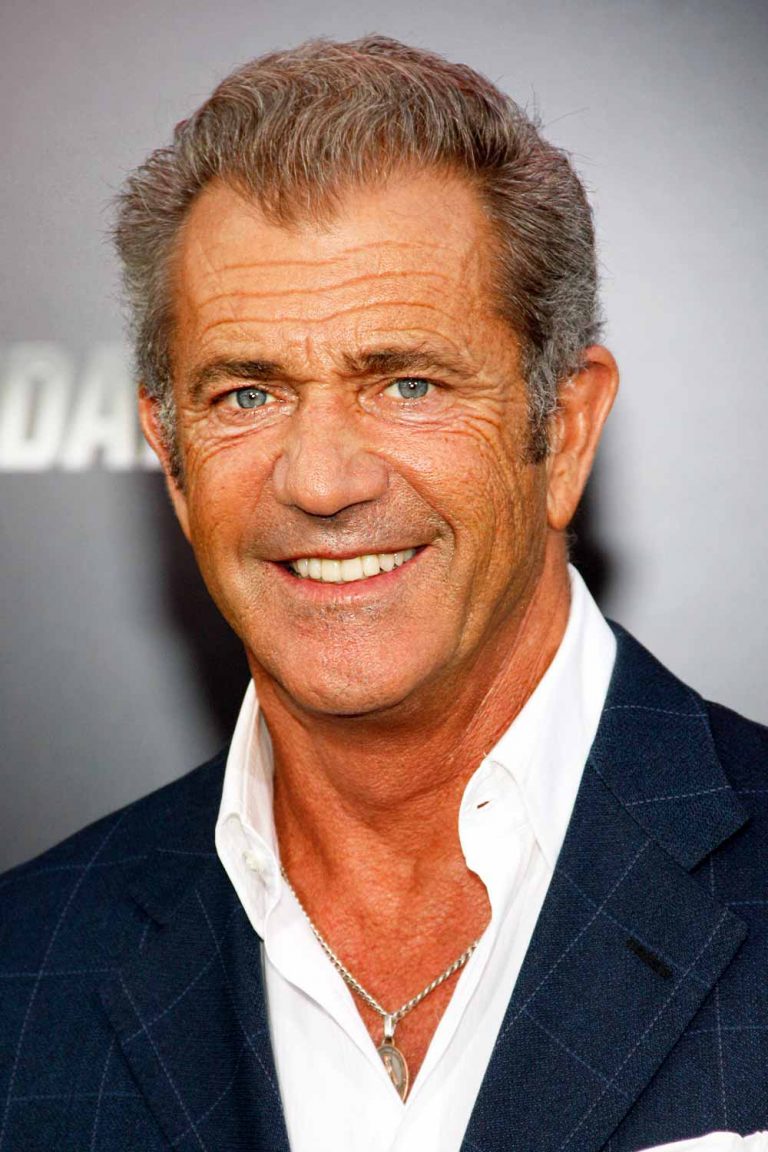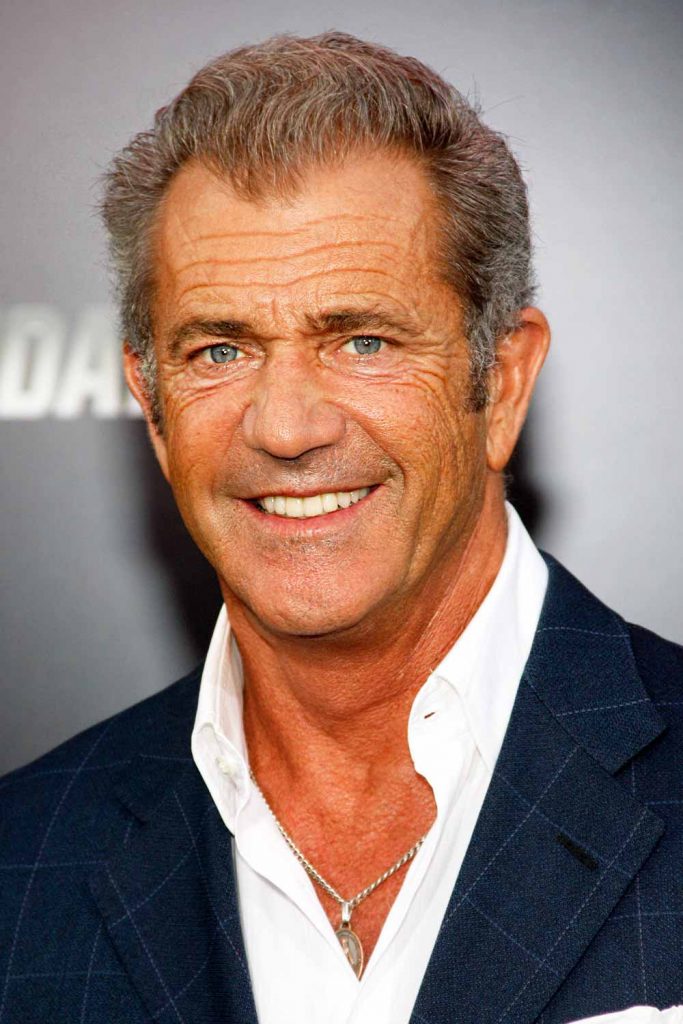 Tinseltown/Shutterstock
Prince Harry's Short Messy Curls
Prince Harry's messy curls are ultimately his signature hair look. Yet, this is not only a surefire way of self expression but also one of the best hair loss hairstyles for thinning hair on crown. Tousled strands stock up so that they cover the burgeoning bald spot on the top of the head.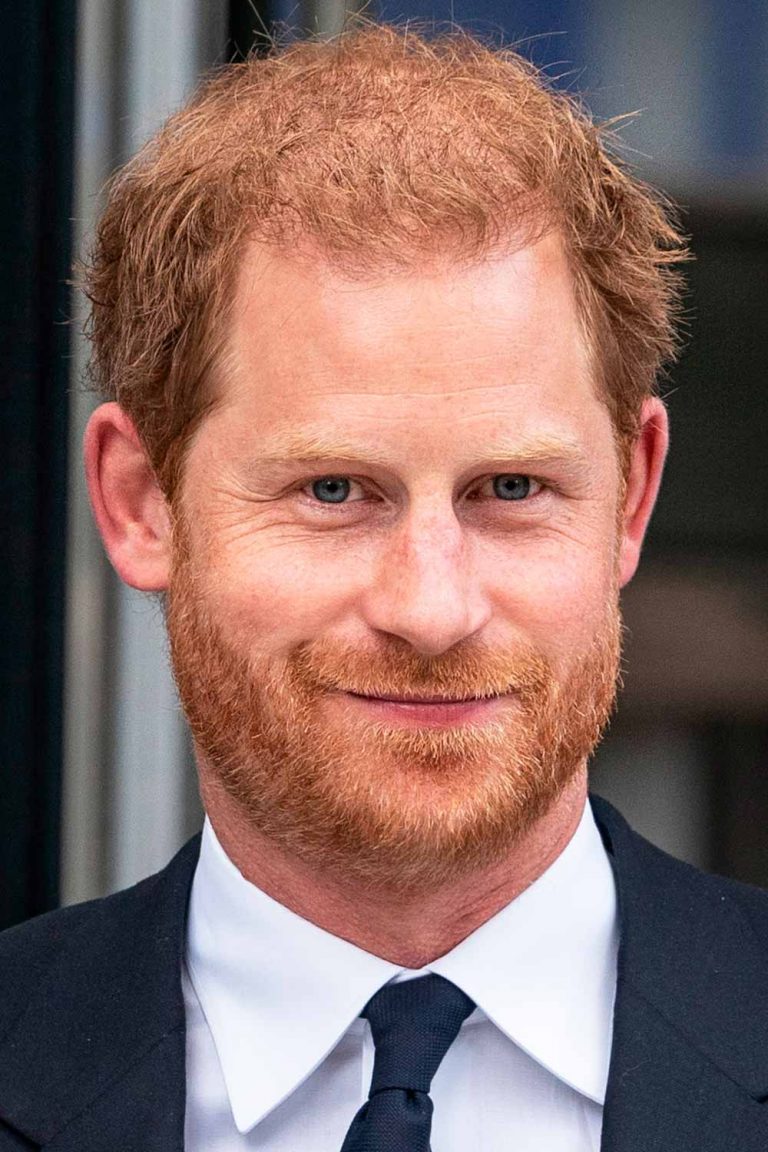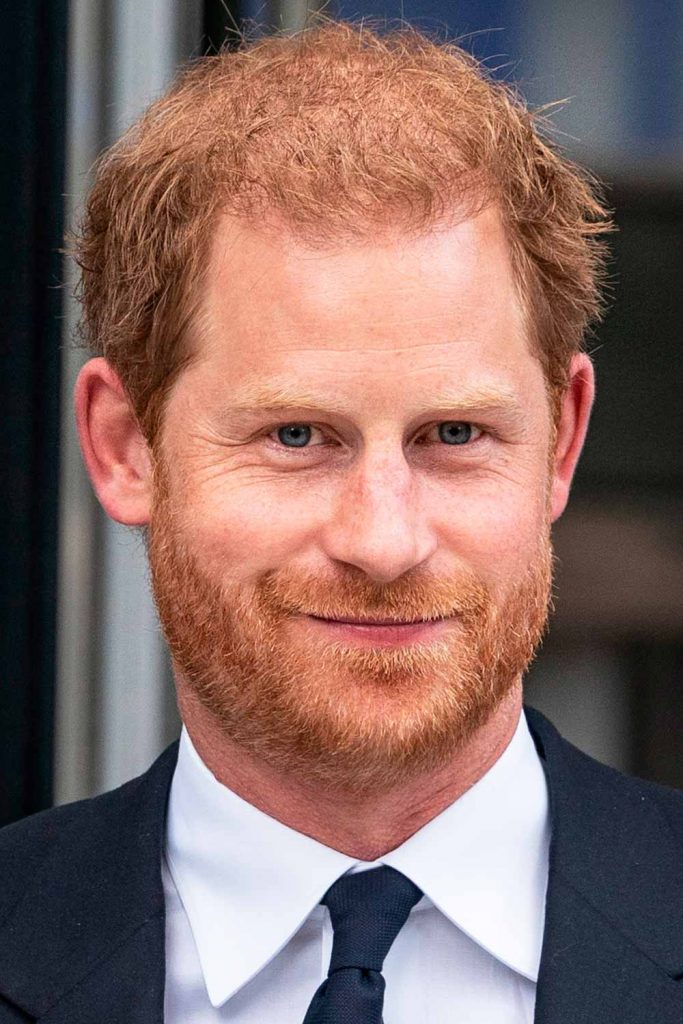 lev radin/Shutterstock
Daniel Craig's Ivy League
Daniel Craig is sporting one of the best male pattern baldness hairstyles, which is an Ivy League. It does not require your hair to be particularly long or thick to look decent. Moreover, in this way, you get a hairstyle that is suitable for any ambiance and looks cool with any outfit.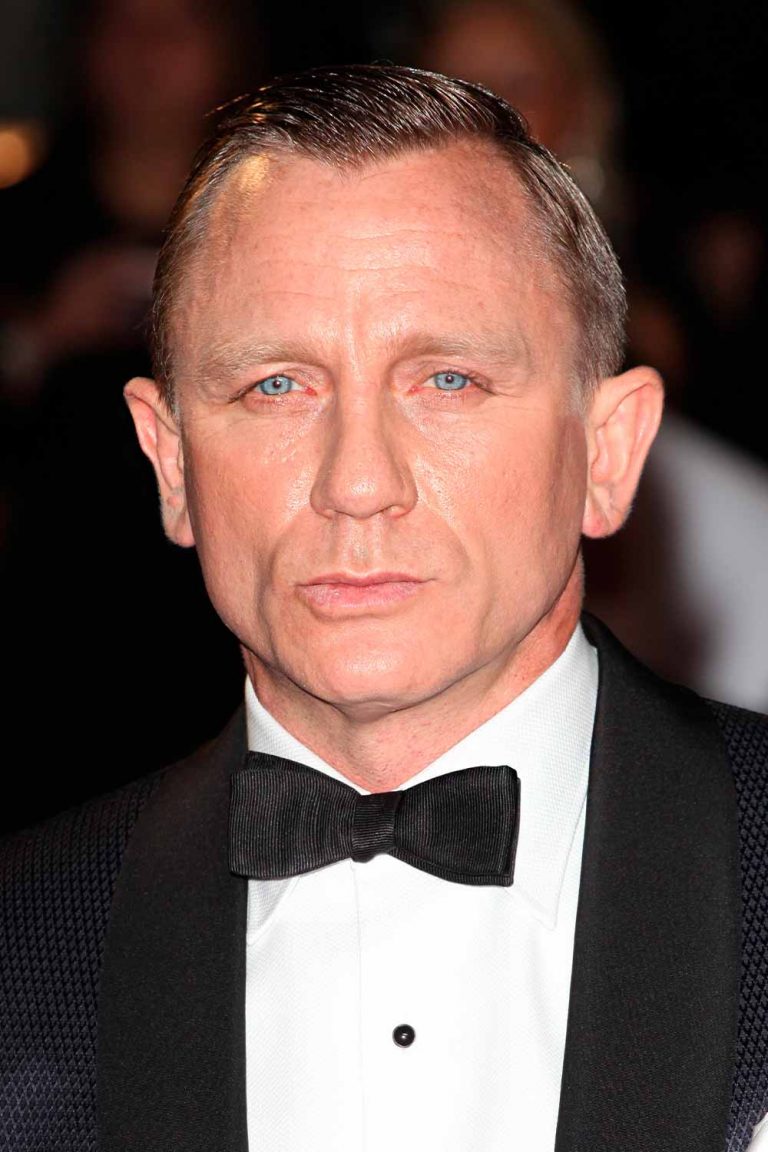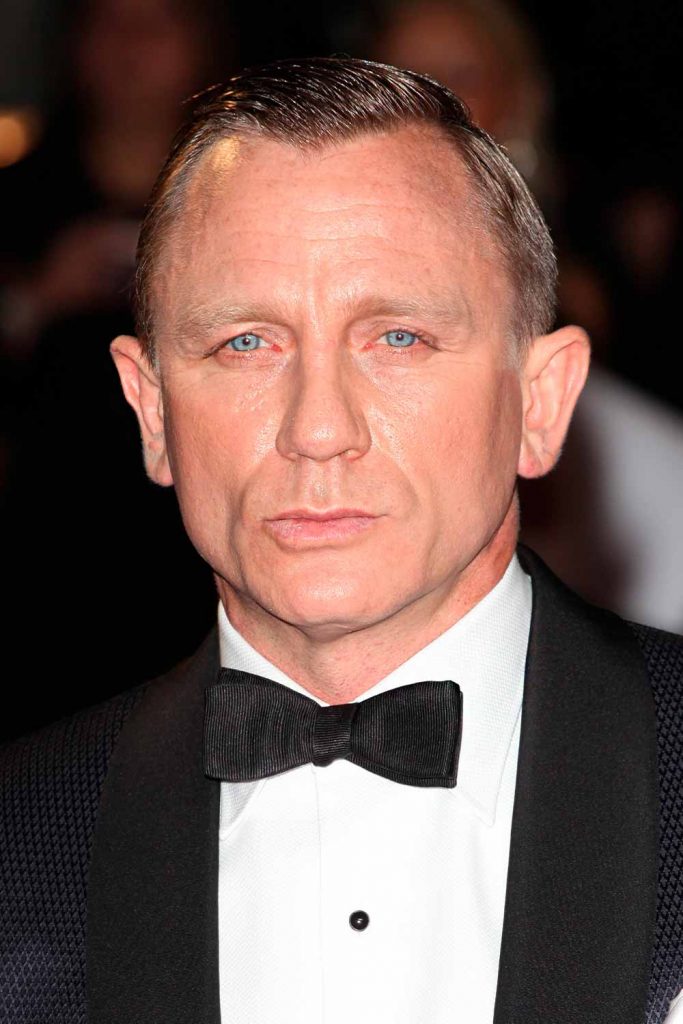 Featureflash Photo Agency/Shutterstock
Brendan Fraser's Brushed Up
You can never go wrong with brushed up haircuts for balding men on top. They look as if you have a full head of hair even if you do not. Brendan Fraser is well aware of this hairstyling hack and uses it quite often. His brushed up hairstyle does not give away the balding crown.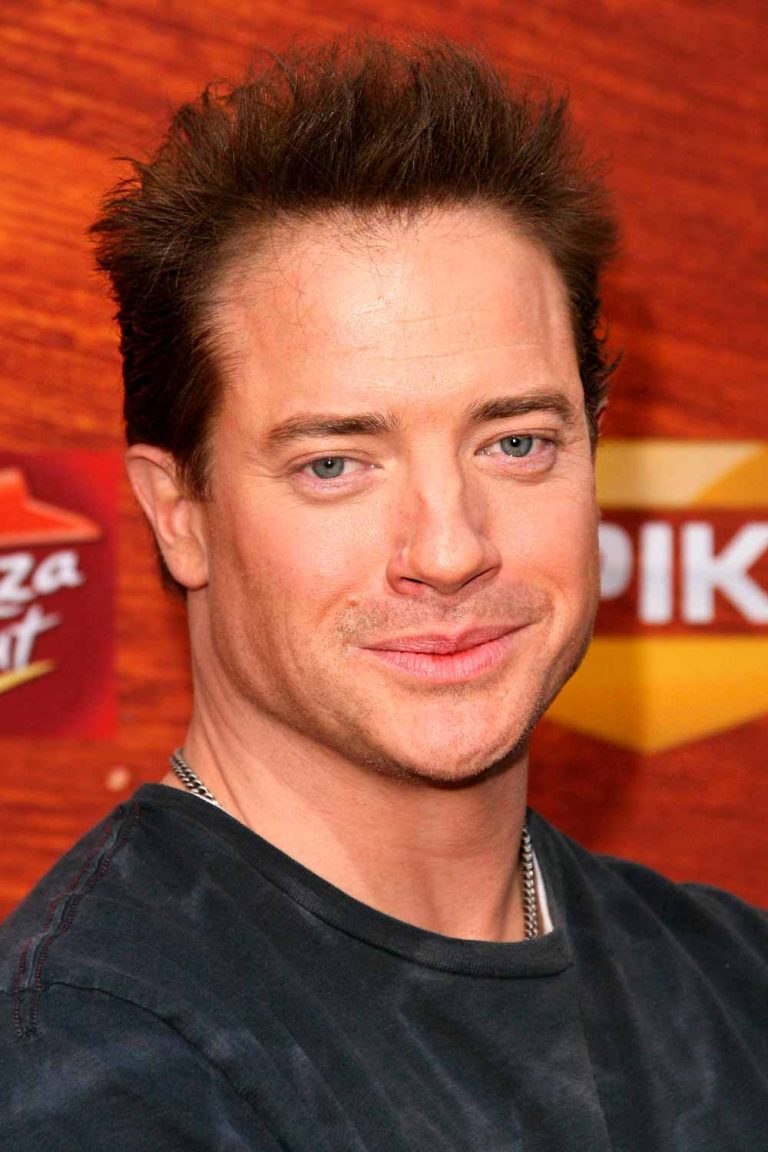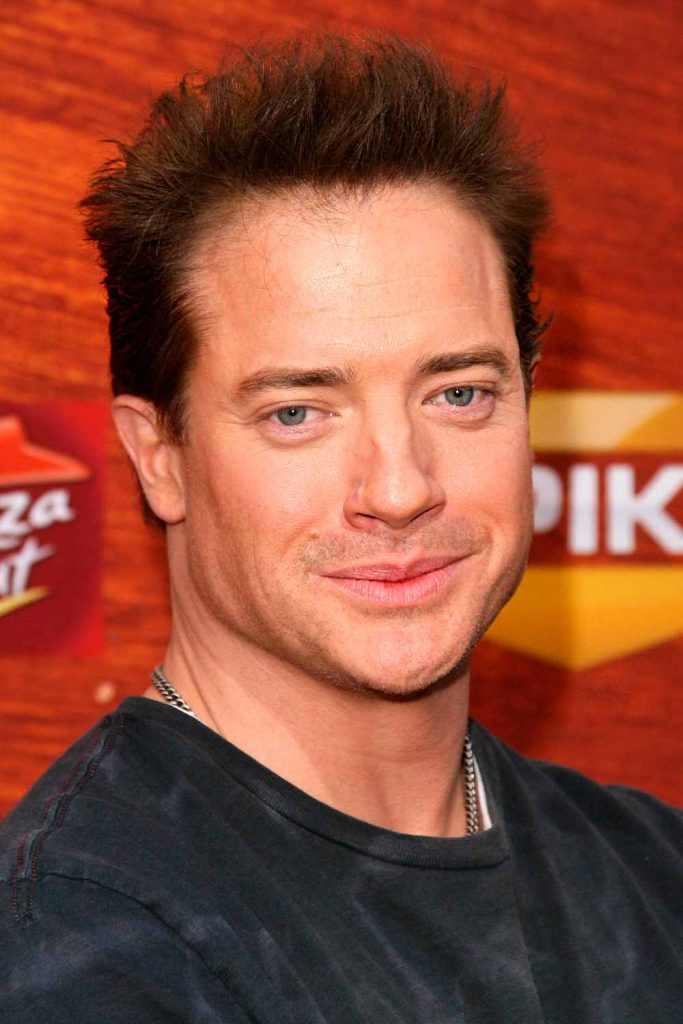 s_bukley/Shutterstock
Nicolas Cage's Brushed Back
Nicolas Cage always has the best look for bald men even though he is not actually bald. Let's say folically challenged. Most of the time, the actor rocks his locks brushed back and proves in this way that with long hair balding men can look stylish and hot.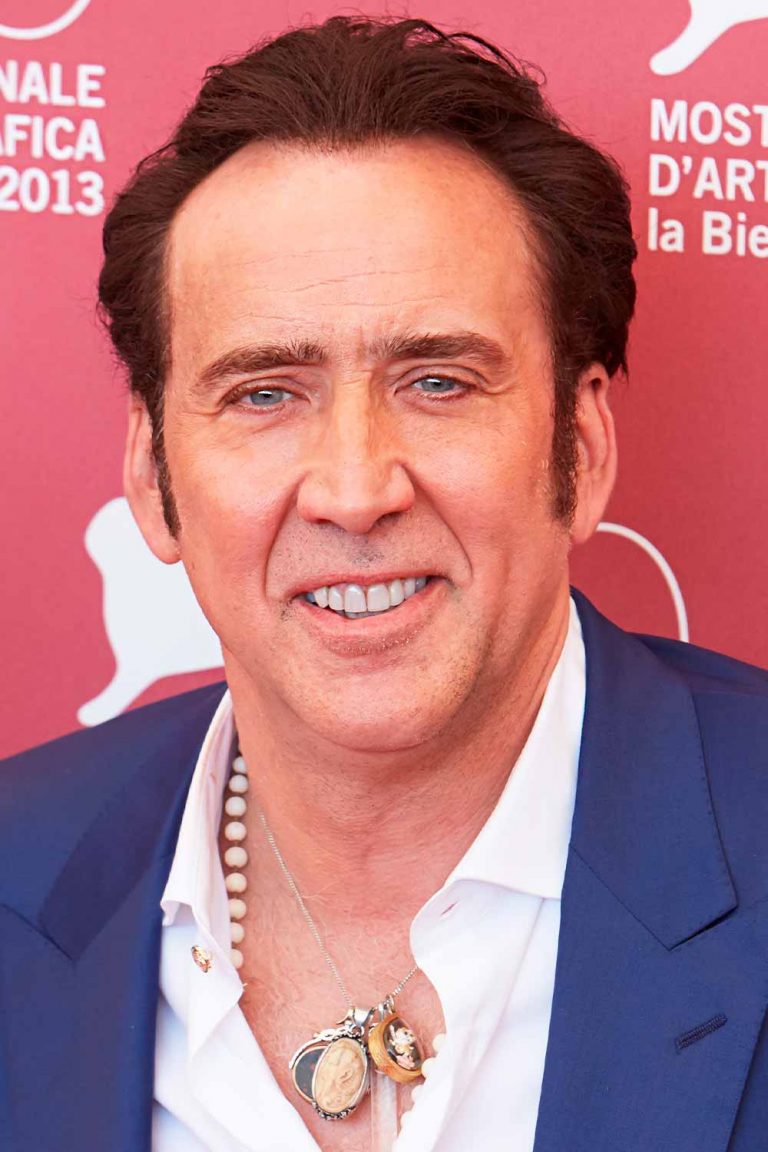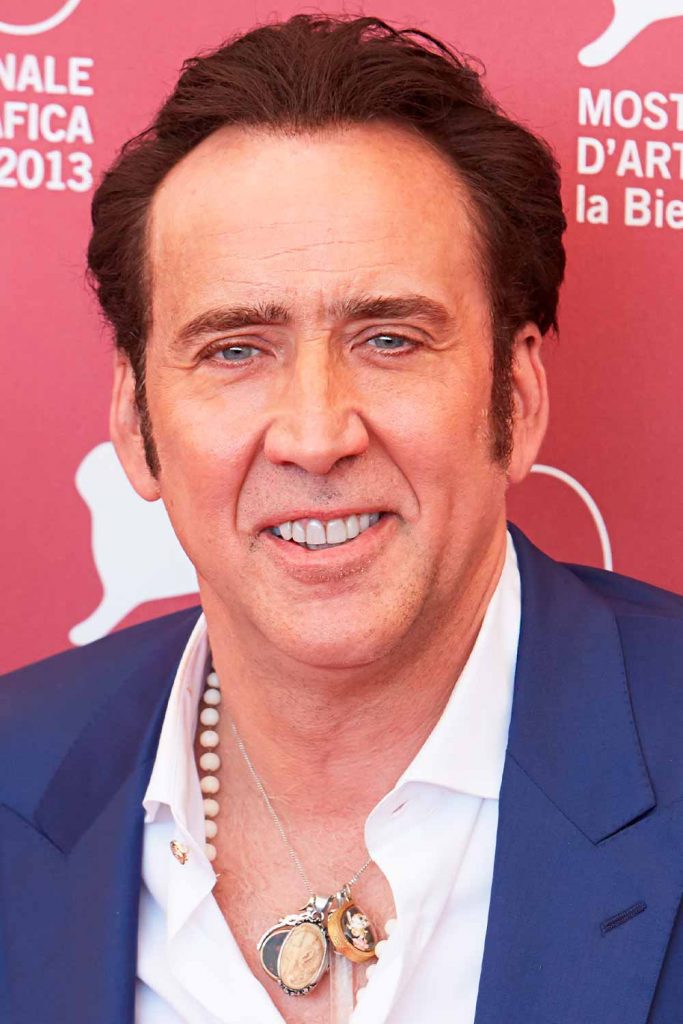 andersphoto/Shutterstock
Billy Bob Thornton's Side Bang
Billy Bob Thornton goes with one of the most popular balding haircuts for men, which is a side swept bang. For extra definition and ease of maintenance, he gets textured cut strands all over the head. To recreate the look, you will just need to ruffle the locks with a touch of a hairstyling product.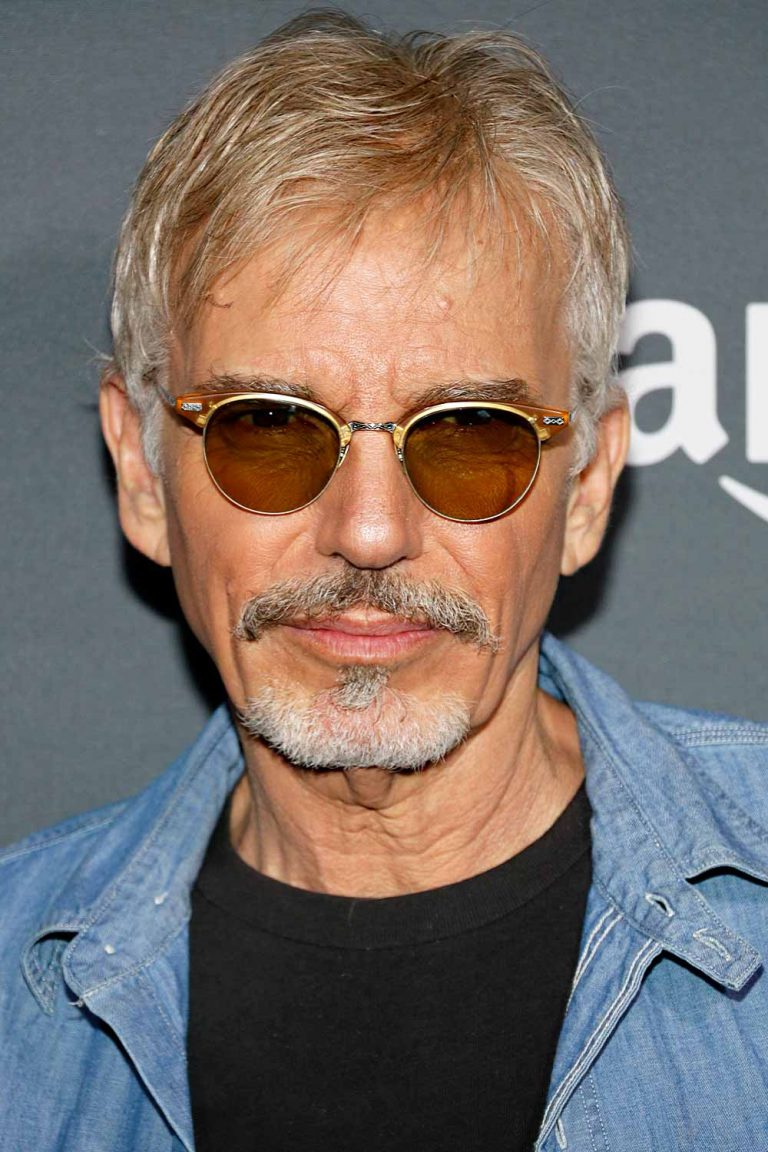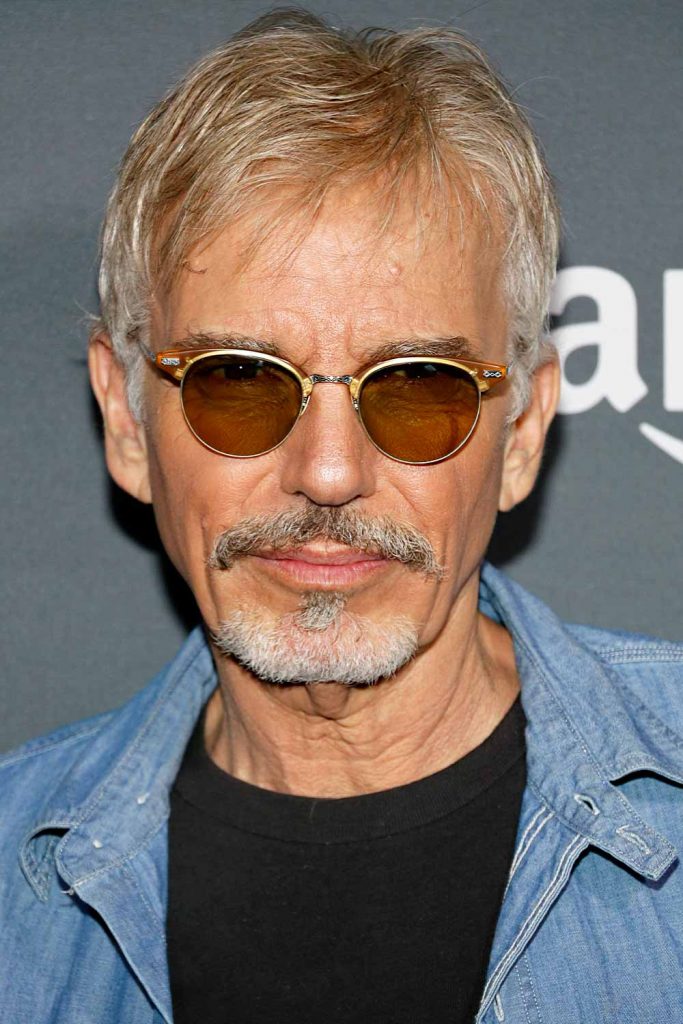 Tinseltown/Shutterstock
Tom Arnold's Short Faux Hawk
Tom Arnold shows that a faux hawk is the best haircut for balding crown. Yet, to pull it off, you need to get your hair cut pretty short on the top, leaving only a subtle strip on top, which you are going to style pushed together to resemble a crest.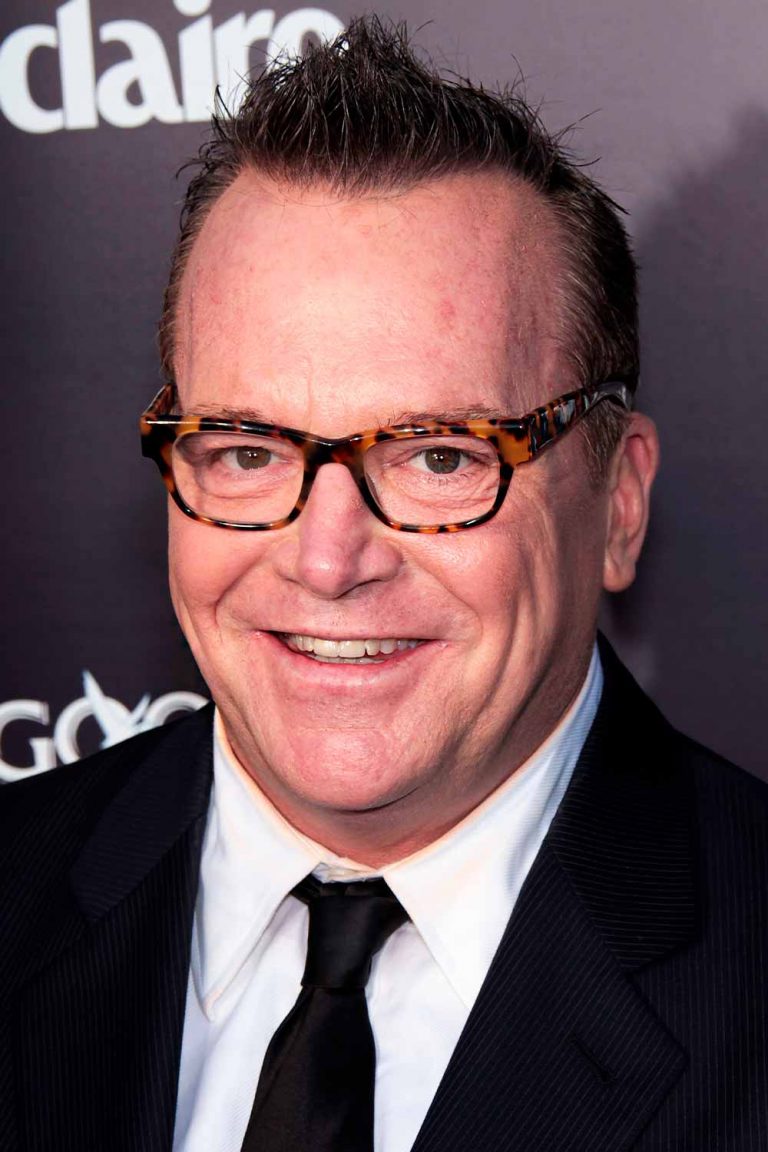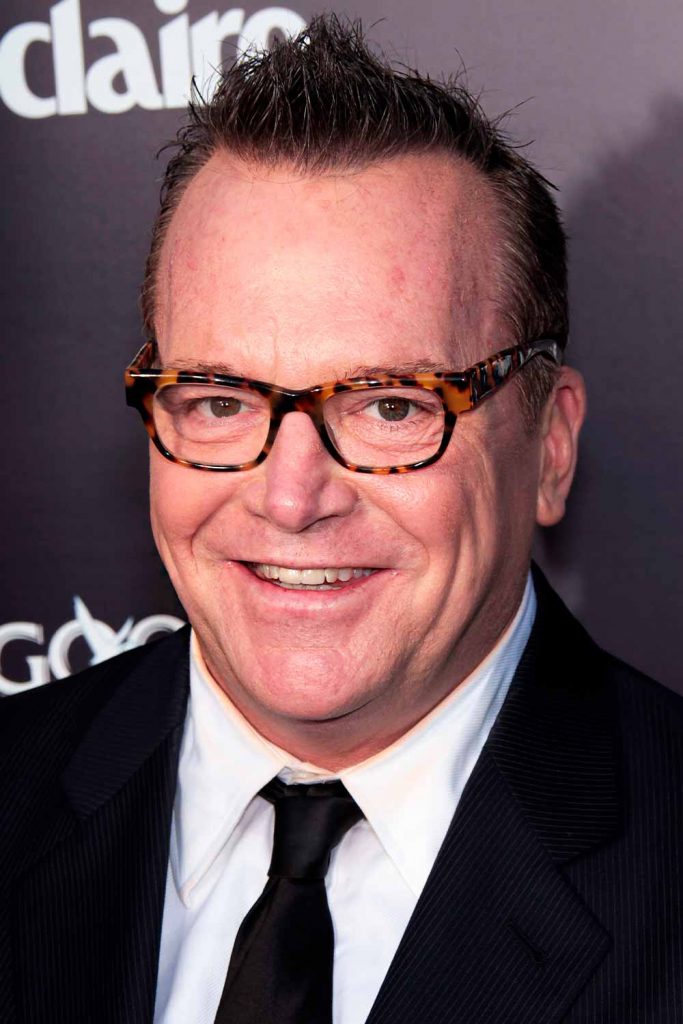 DFree/Shutterstock
Hopefully, we have managed to change your view on haircuts for balding men. As you can tell, the range of styles is almost endless with an option for every type and length of hair. And do not forget, that a hairstyle does not make the men. And it is up to you to decide what to look like and what to wear.
FAQs
What haircut is best for balding?
For men with a balding crown or a receding hairline crew cut is one of the best options. As it is a military cut, it features pretty short hair. As such, the difference in length between the sides, back and top is not very striking, which makes your thinning hair less noticeable.
What looks good on bald guys?
If none of the hairstyles for balding men works for you, you can get away by following these tips:
1. Opt for outfits in bold colors.
2. Accentuate your top part of the body.
3. Try on different patterns and designs.
4. Choose pants that are tailored to fit your figure.
5. Complement your look with headwear, such as a hat, a cap or a bandana.
6. Buy a pair of glasses suitable for your face shape.
7. Let your facial hair grow long and get a beard.
Is shorter hair better for balding?
A balding man can conceal his hair loss issues by going for short haircuts. They also make your hair look elevated and a bit thicker as a result.
Do girls like bald guys?
According to a survey conducted among women of various national and age groups, most girls are attracted to balding men. Almost 90% of respondents claimed that they like guys with bald hairstyles.