When at first started getting tattoos for men, guys snuck off their military ships at the ports and usually opted for standard pieces of flash art. Some of these well-known designs included roses, pink-up girl tattoos, tigers, and let us not forget the heart tattoos paying tribute to Mom. Because the world of art is always evolving, tattoo styles for men have become personalized, custom, and unique. Take a look at some of our favorite tattoos for men. They're sexy, masculine, and worth all the pain.
Crow Tattoo
There are many meaningful tattoos for men but a crow tattoo is arguably one of the most popular. And there is a good reason for this. The inked crow most often signifies wisdom. But it has other meanings too. It is also a harbinger of transformation. Thus, if some change is coming your way or has already happened to you, you can never go wrong with the crow tattoos design for men to demonstrate it.
Source: @amanda.mypreciousink via Instagram
i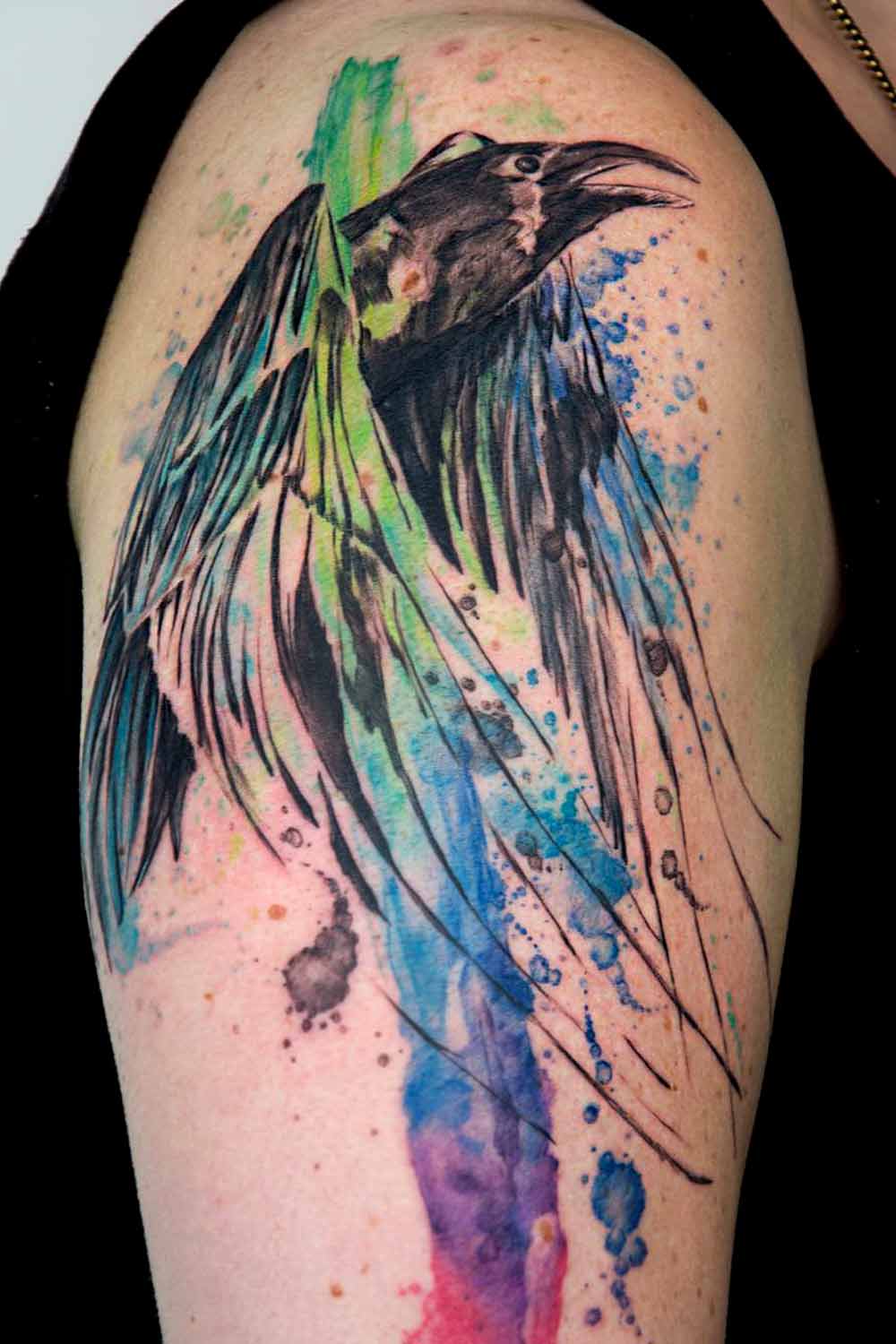 Source: @koray_karagozler via Instagram
i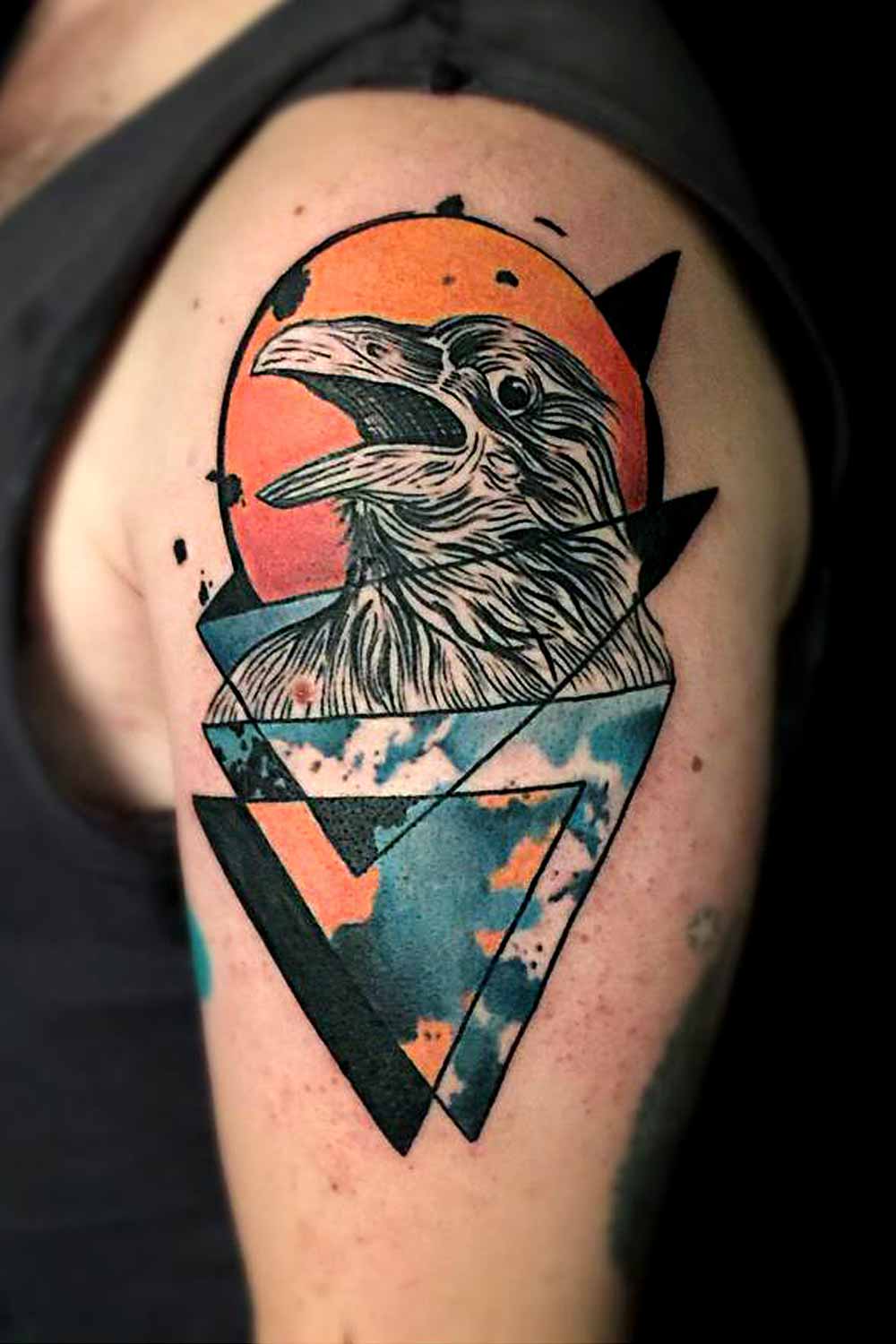 Source: @barberking_kh via Instagram
i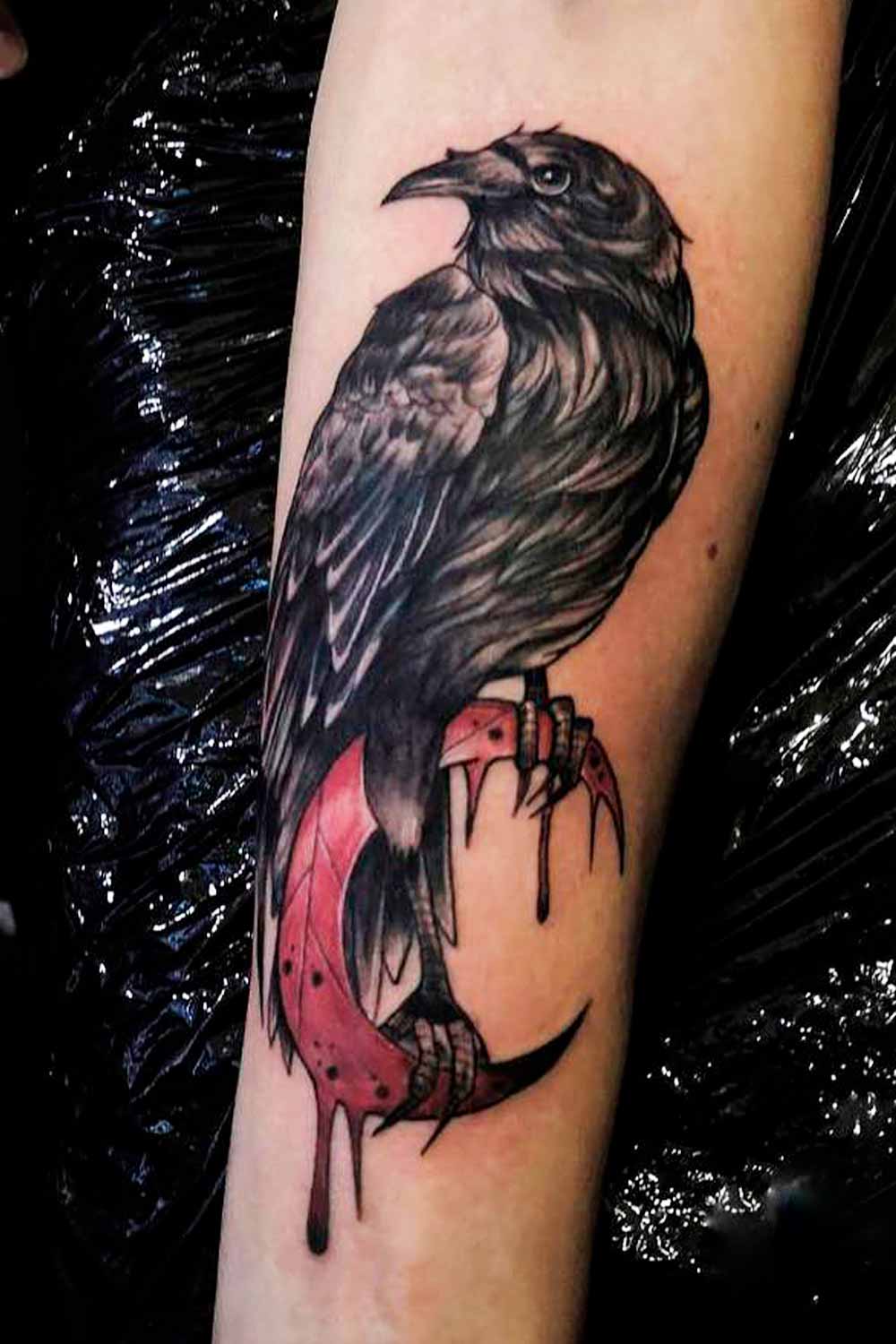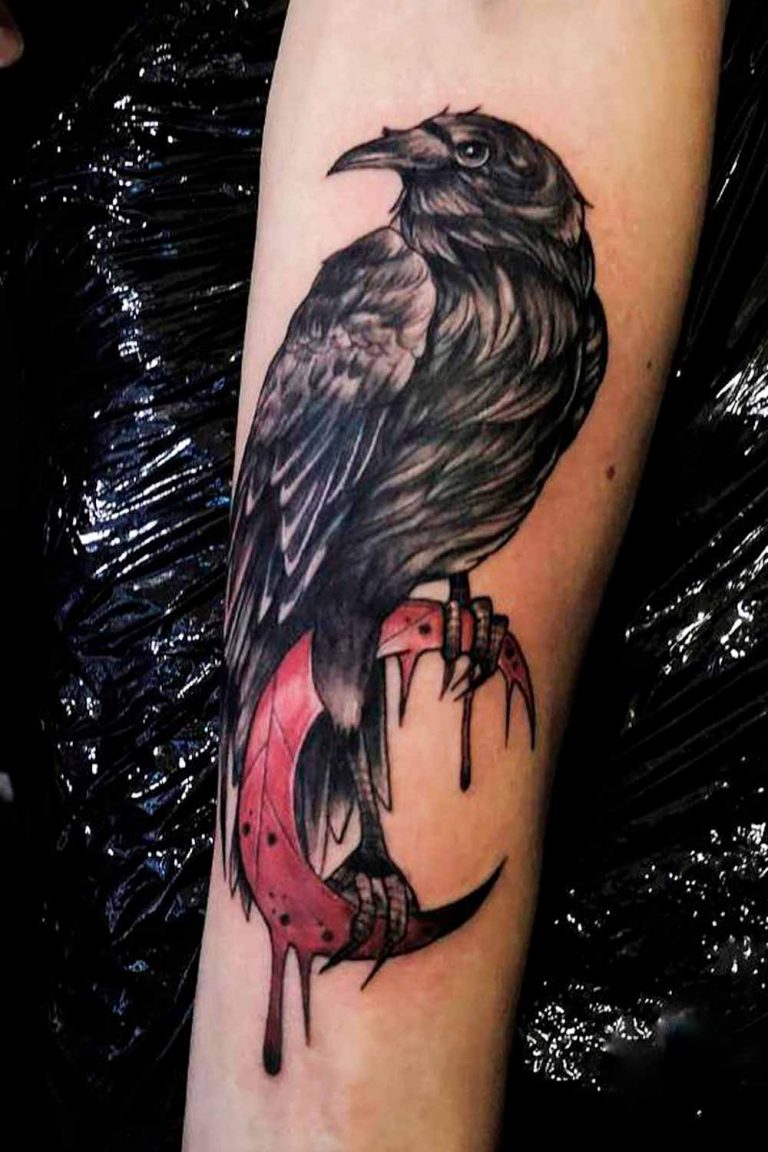 /
Wolf Tattoo
Feeling a little wild? Why not pay homage to the animal kingdom and choose a tattoo style that roars? Lions, wolves, tigers, and bears…they're all a call to your ferocious and brave spirit.
Source: @lukovnikovtattoo via Instagram
i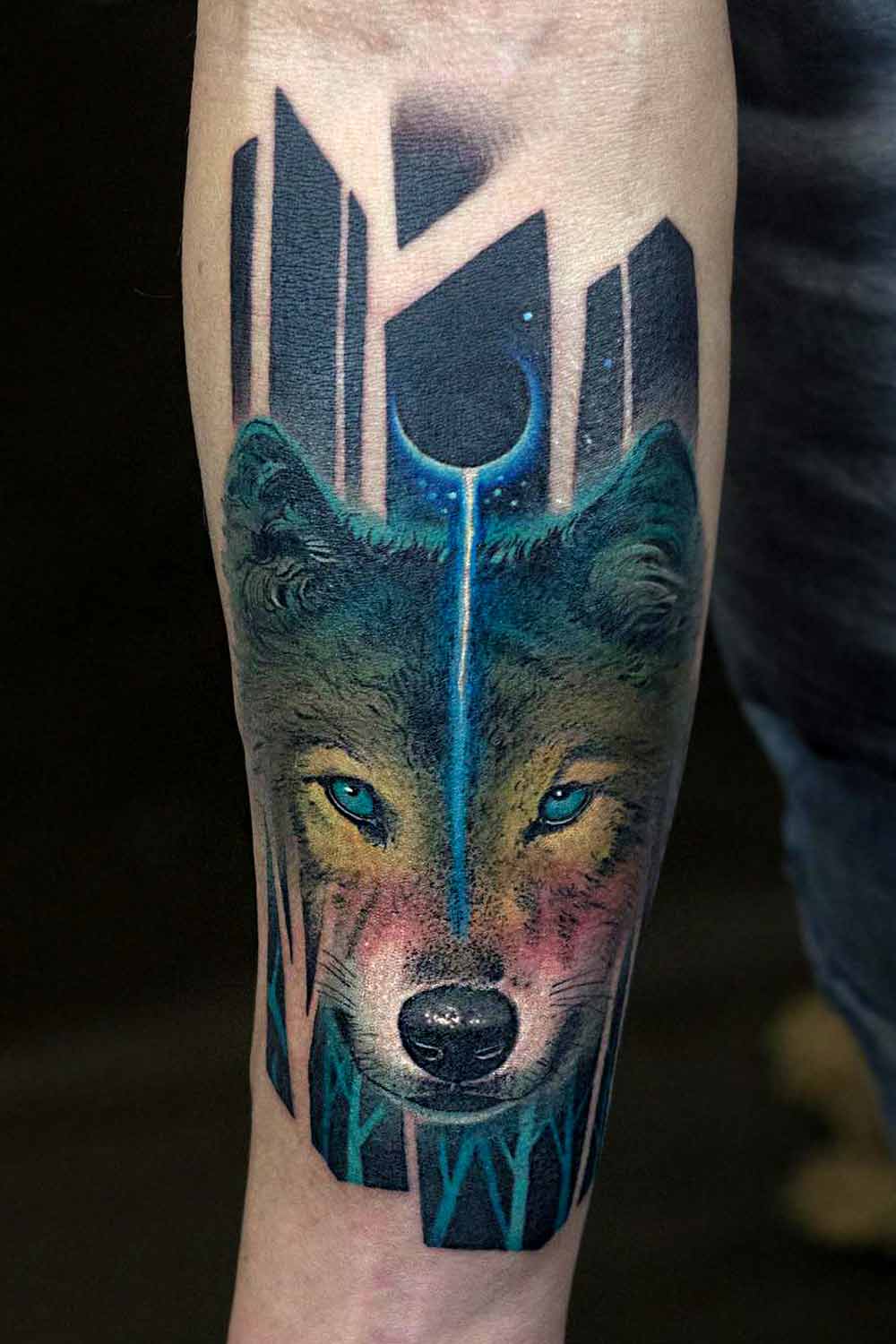 Source: @lukovnikovtattoo via Instagram
i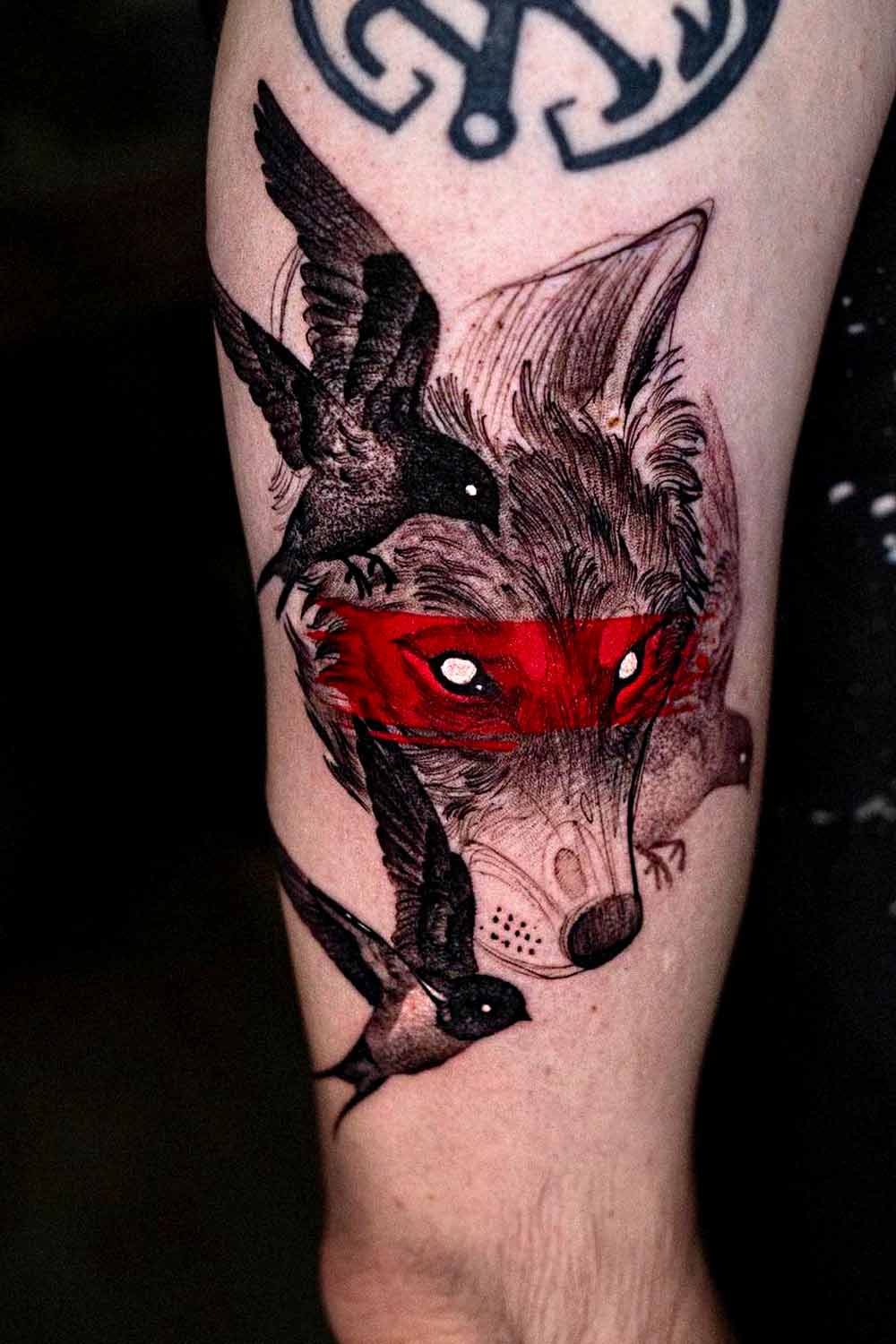 Source: @barberking_kh via Instagram
i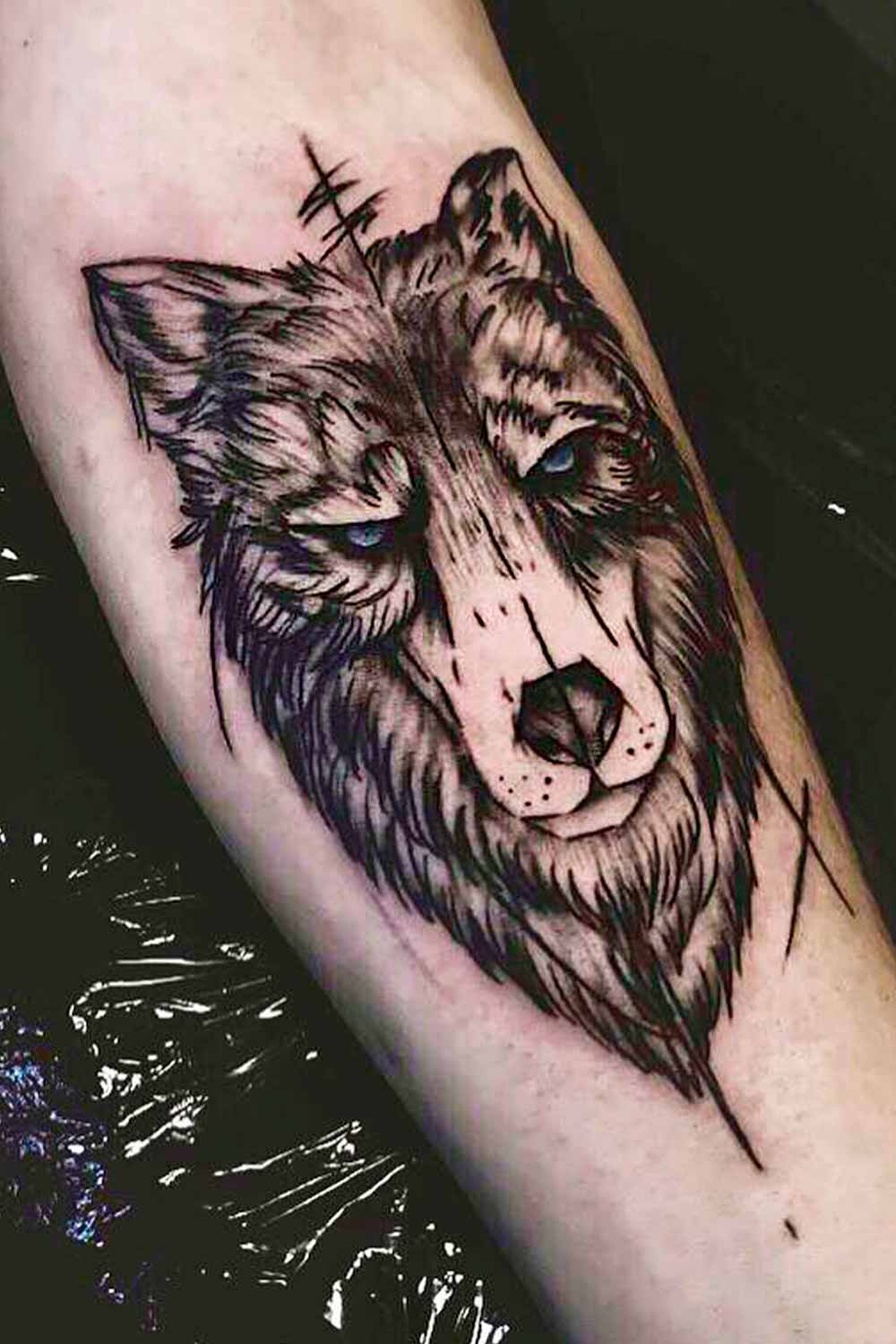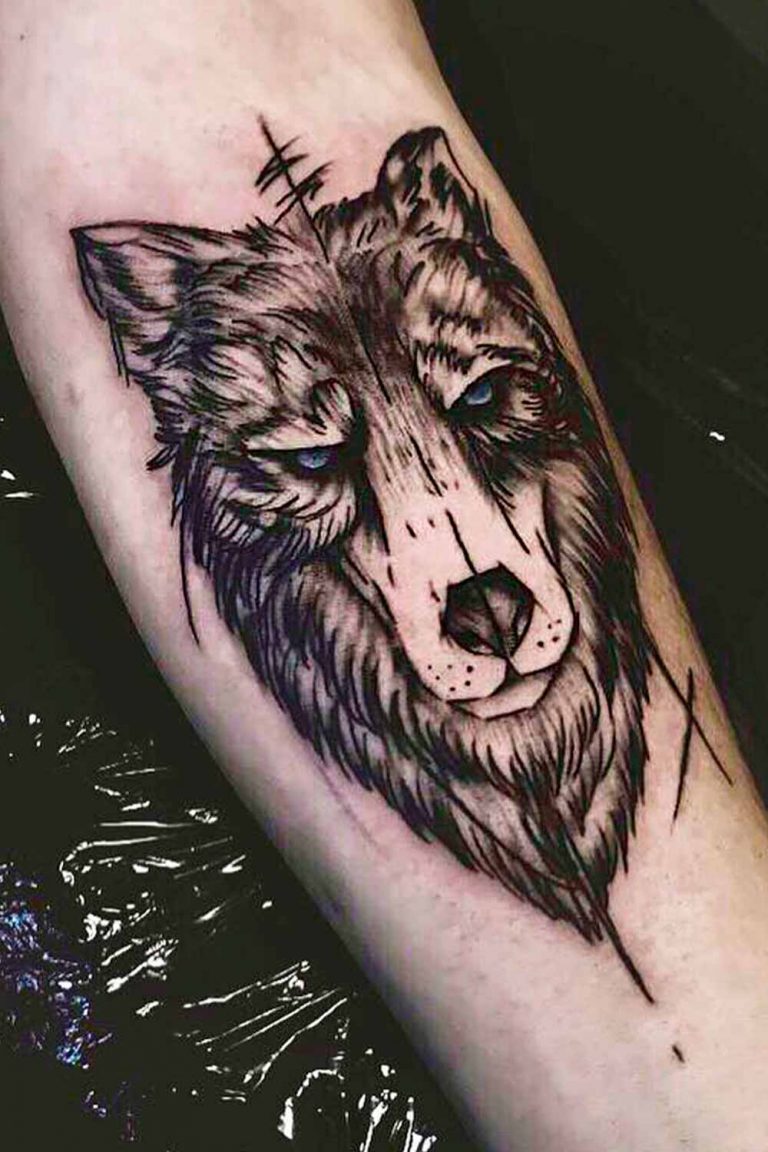 /
Koi Fish Tattoo
For China and Japan, Koi fish means much more than just a fish. So, when a person gets a Koi fish tattoo, it suggests that they are determined, strong and persevering. What is more, thanks to a great number of species existing, it can give you plenty of unique tattoo ideas. The color of the Koi fish tattoo matters too. If you get it in red, it will symbolize desire and love, orange or yellow is believed to bring luck and wealth, while blue is linked to reproduction and masculinity.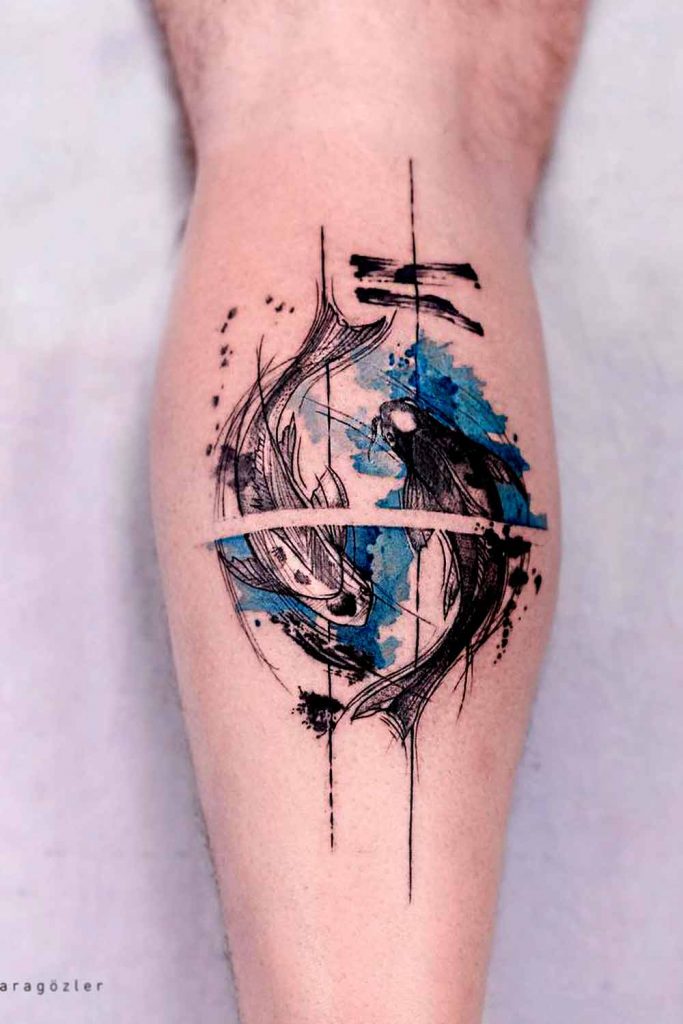 Source: @koray_karagozler via Instagram
Skull Tattoo
For the classic design enthusiast, a skull tattoo never fails. Firefighters and policemen often choose this design because it's a reminder of their occupational risks. Skull tattoos are also a popular men's tattoo ideas within the biker crowd.
Source: @koray_karagozler via Instagram
i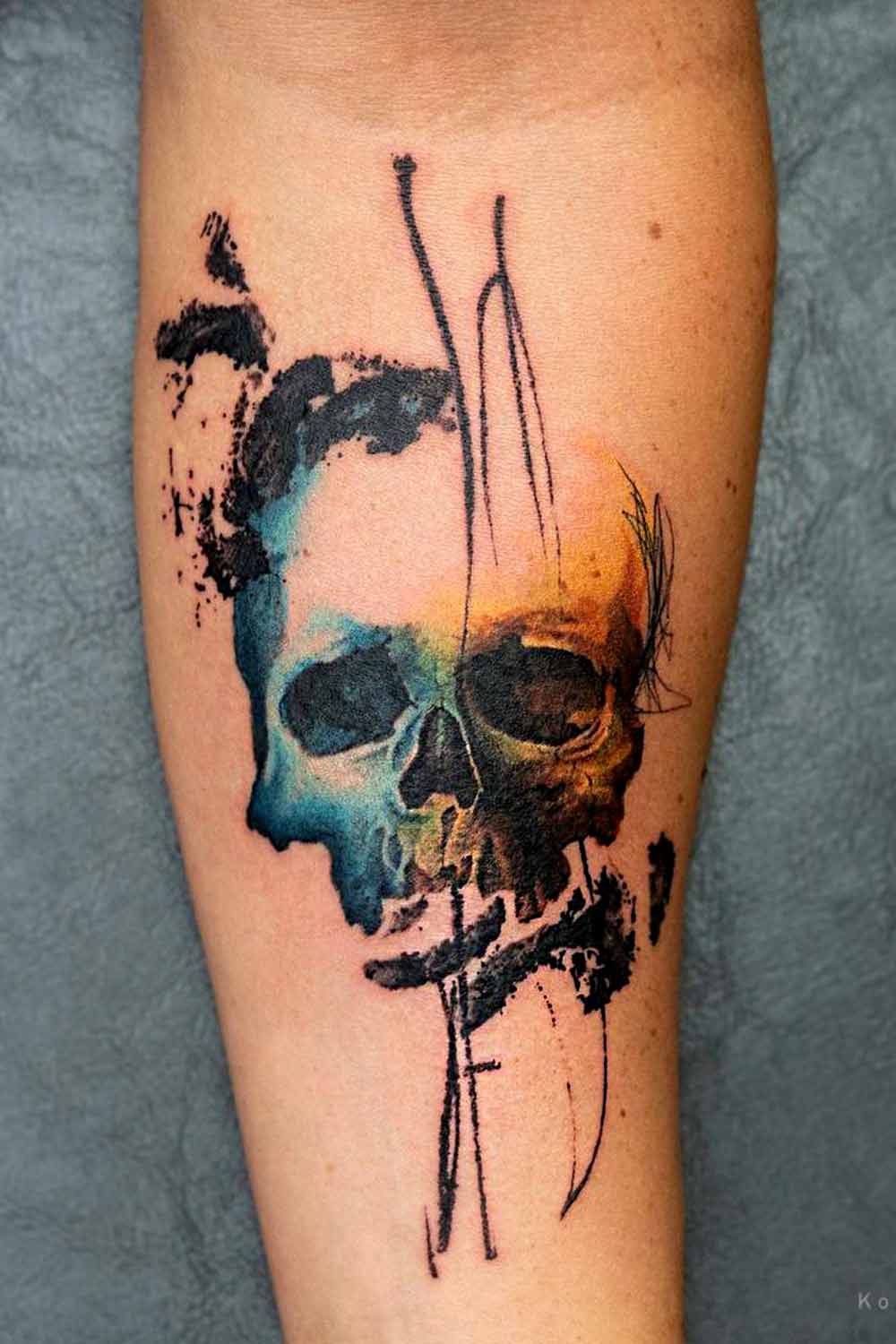 Source: @uncl_paul_knows_upk via Instagram
i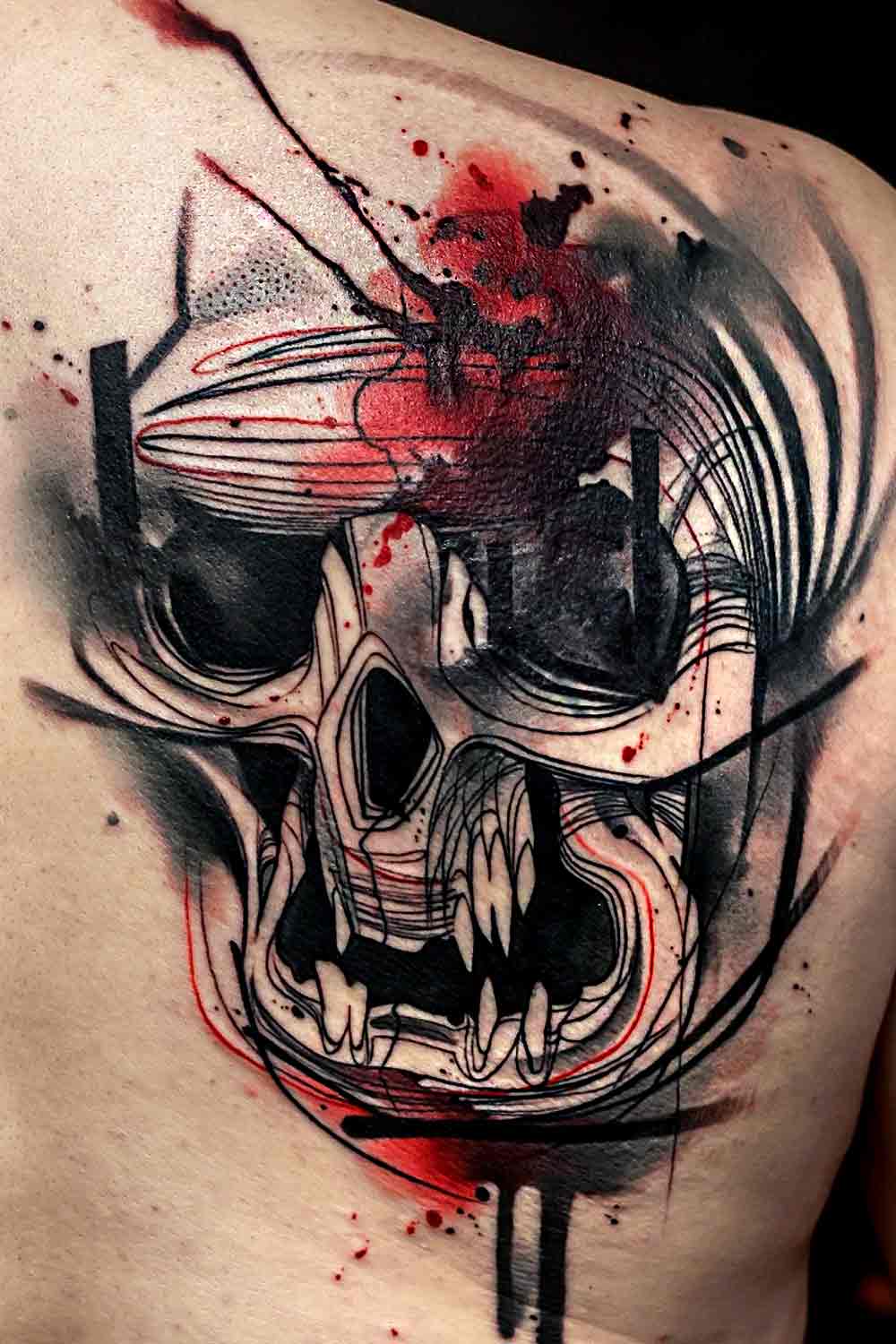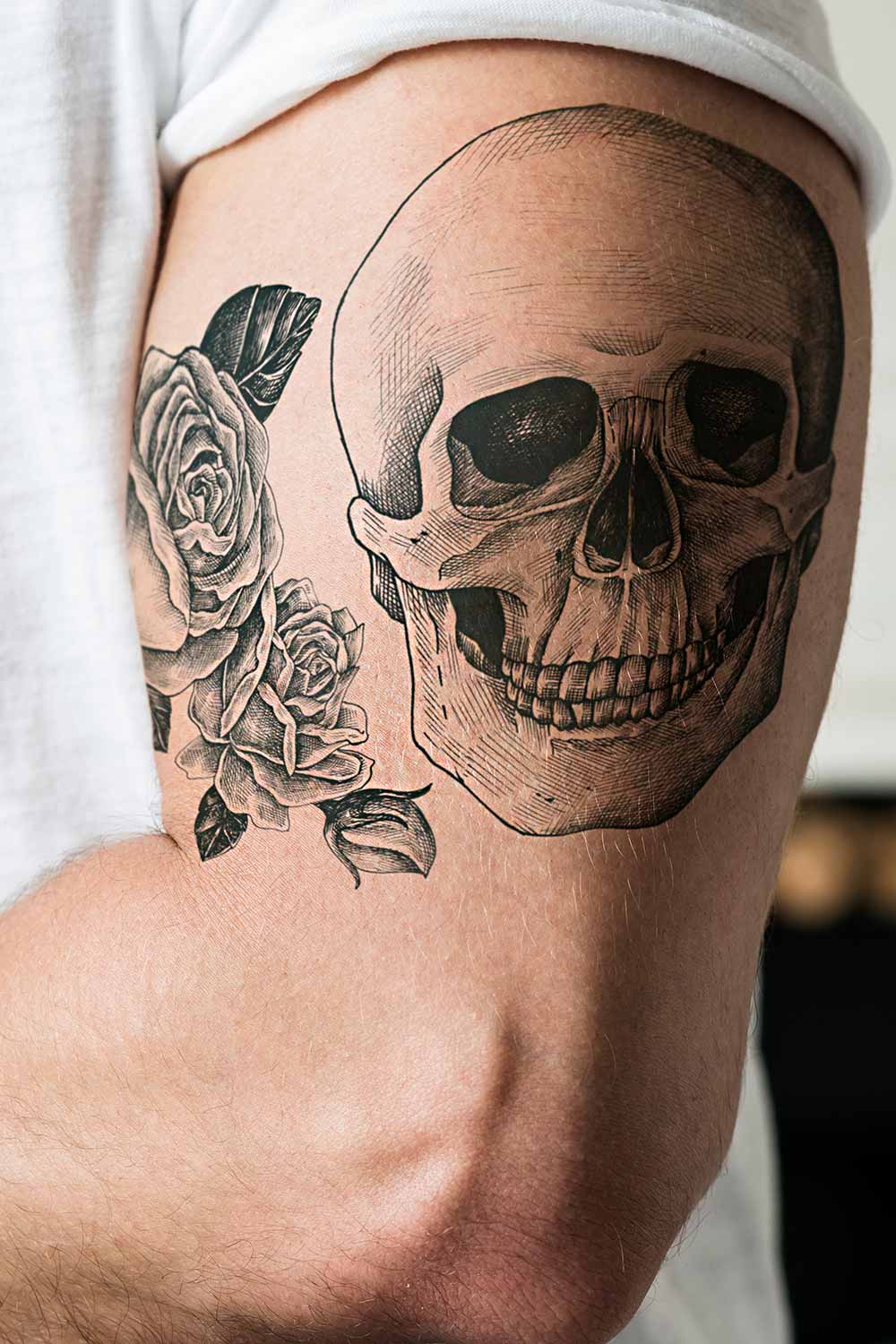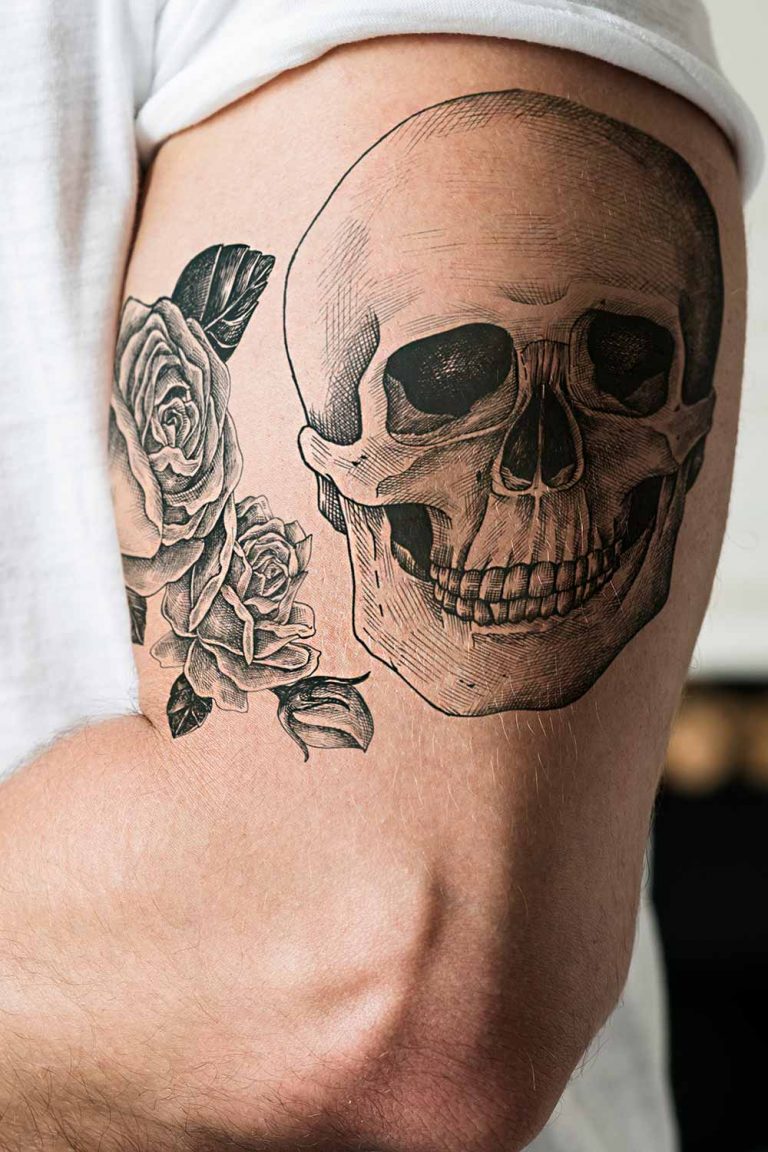 /
Music Tattoo
Music tattoos for men are a great way to show your passion for good sound. To get it inked, you should not necessarily be a musician yourself. You may be into music even without playing a musical instrument. There are multiple music tattoo ideas men can choose to embellish their bodies, like musical notes or instruments, phrases from their favorite songs or even their music idols.
Source: @robcarvalhoart via Instagram
i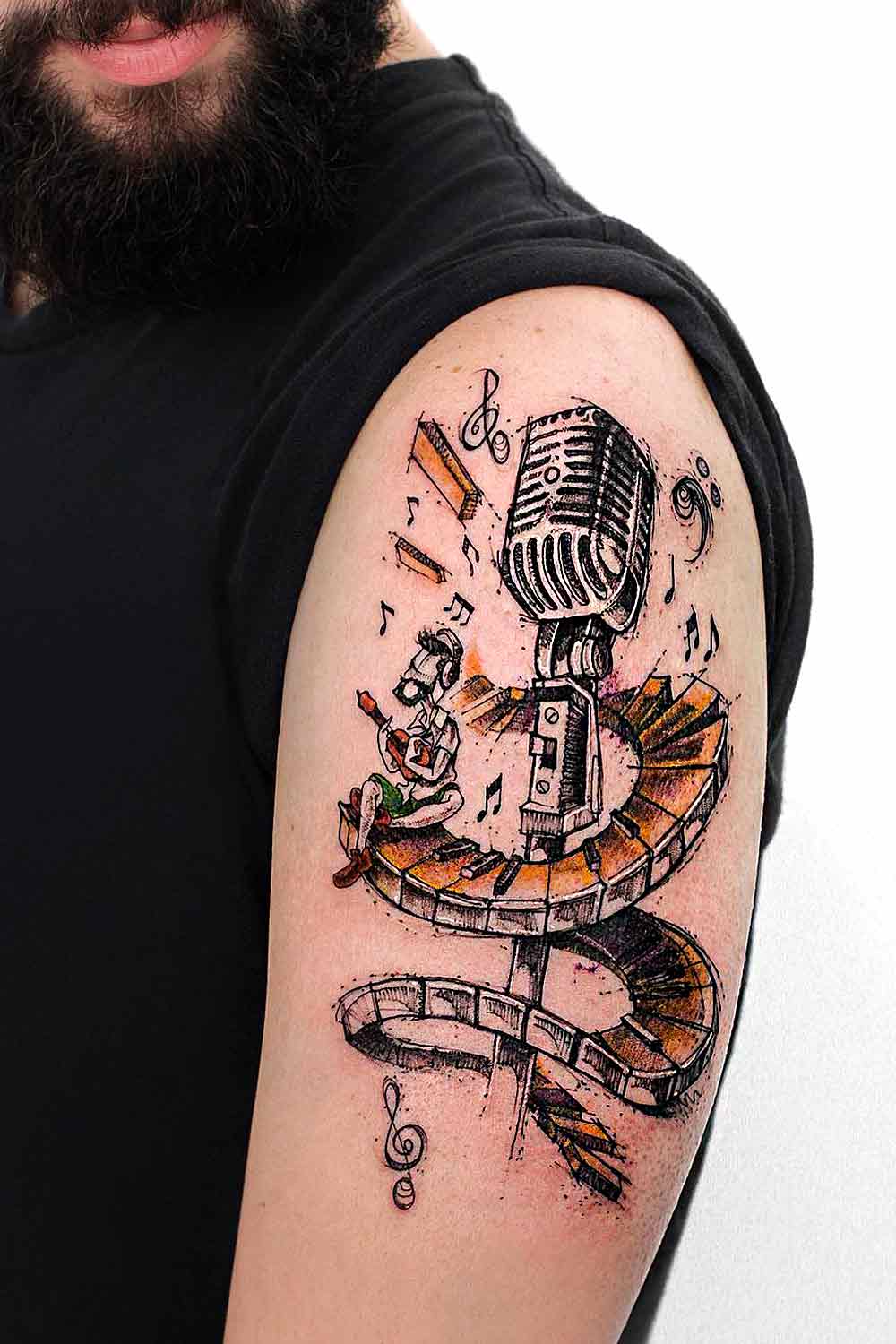 Source: @robcarvalhoart via Instagram
i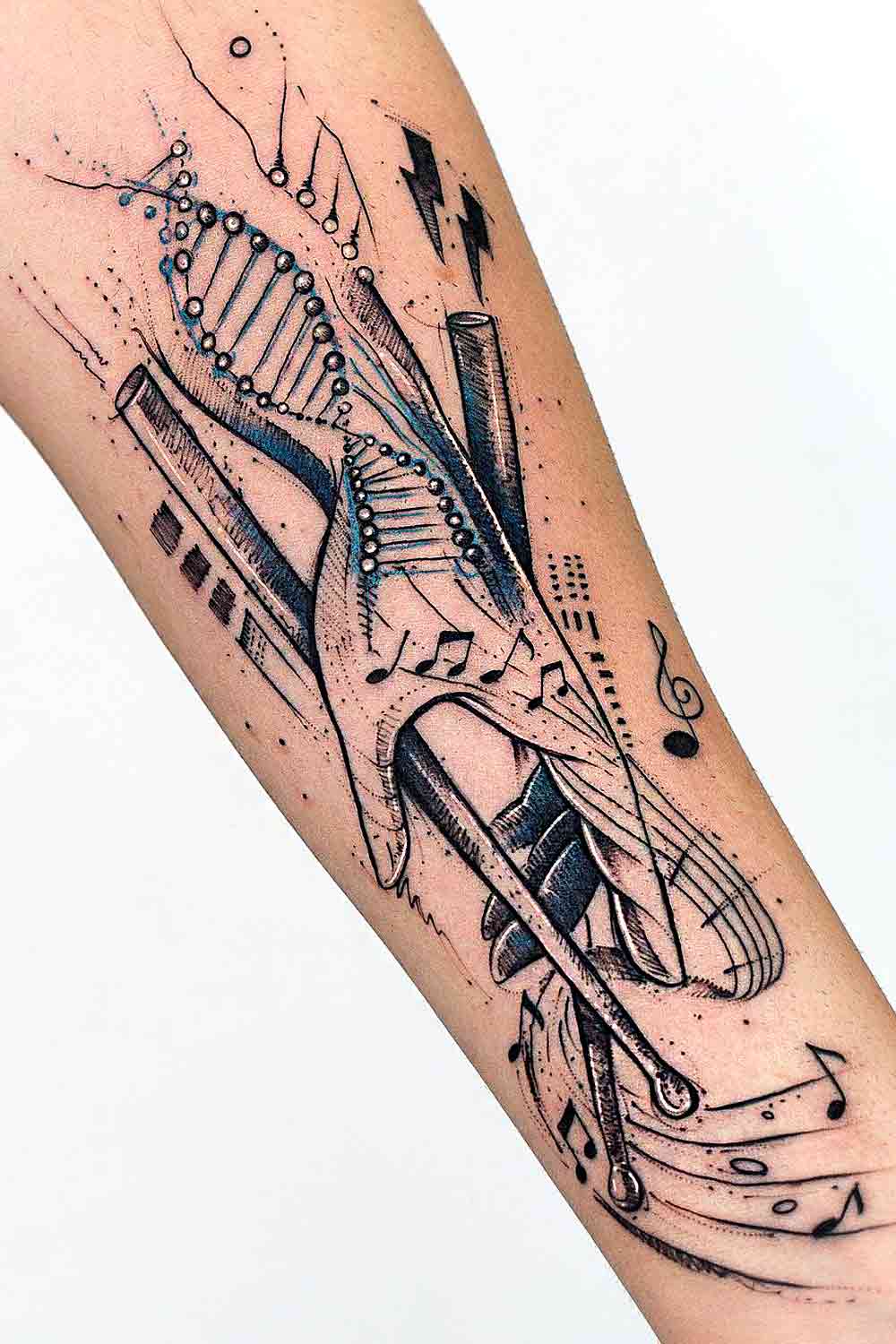 /
Mountain Tattoo
Guys who prefer tattoos that are meaningful should opt for a mountain tat. While it may represent various things, the most common message that mountain guy tattoos deliver is that you are adventurous, keen on traveling and determined. So, if you have an accomplishment that you want to have visual evidence of, a mountain tattoo is a good idea.
Source: @neskatattoo via Instagram
i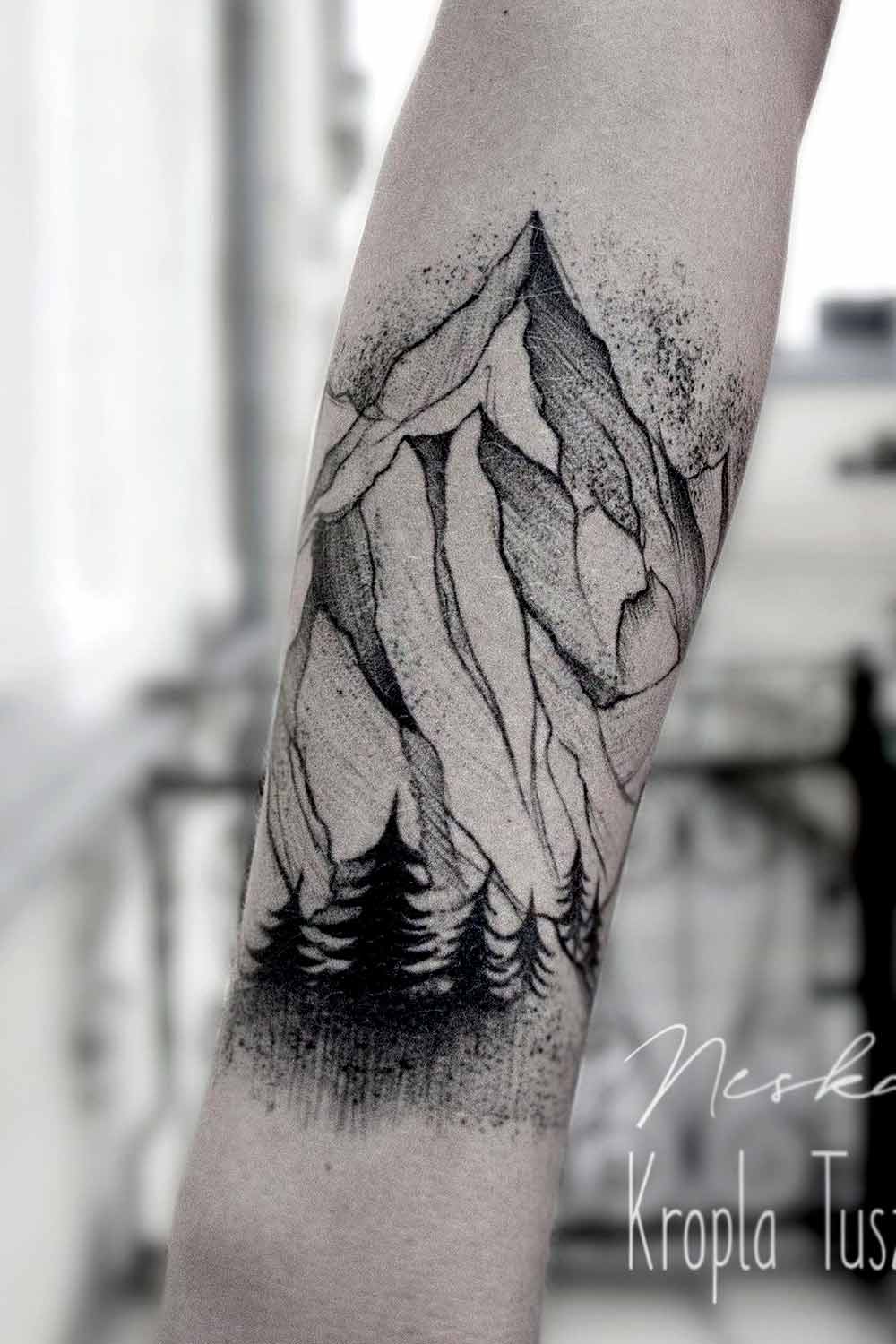 Source: @koray_karagozler via Instagram
i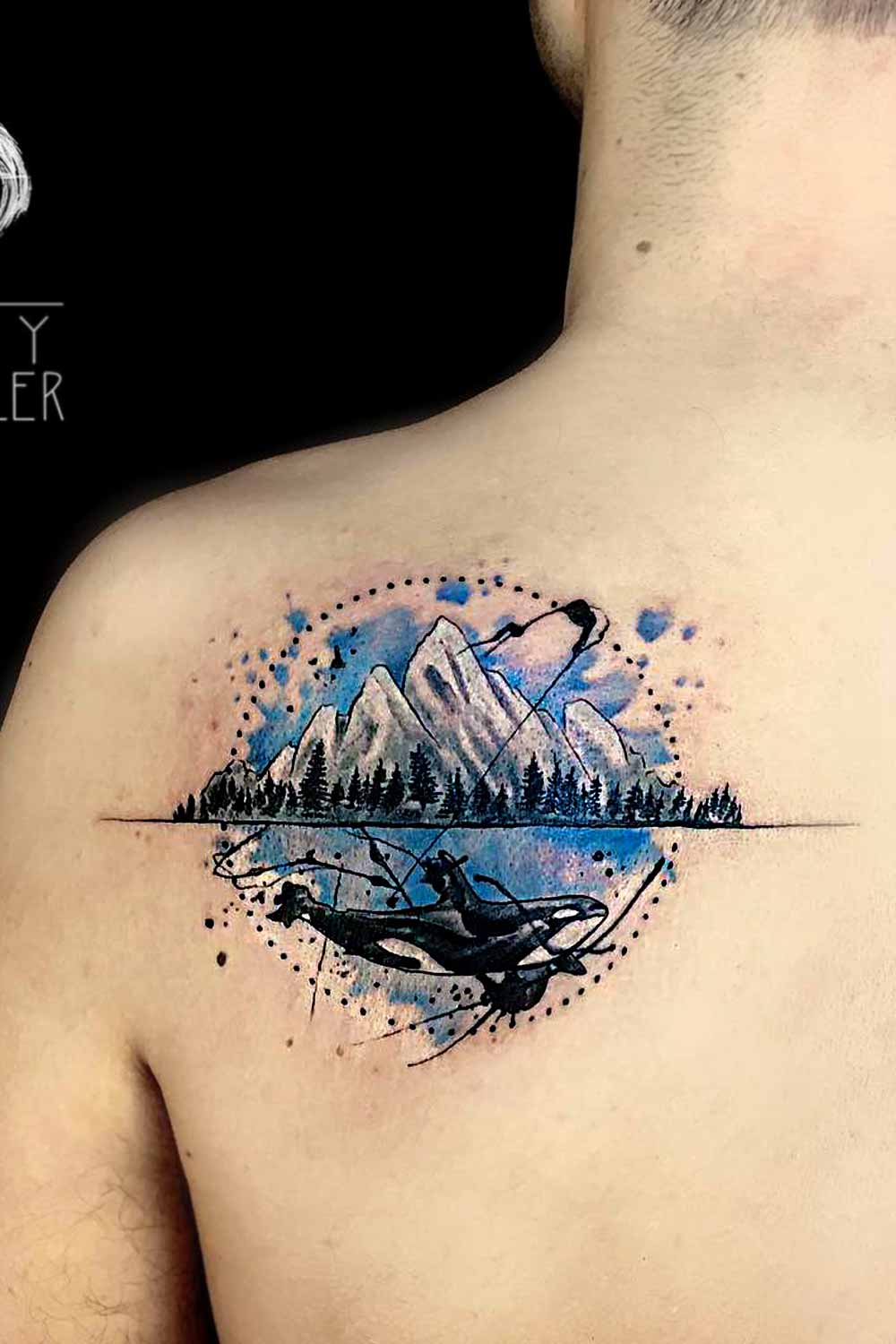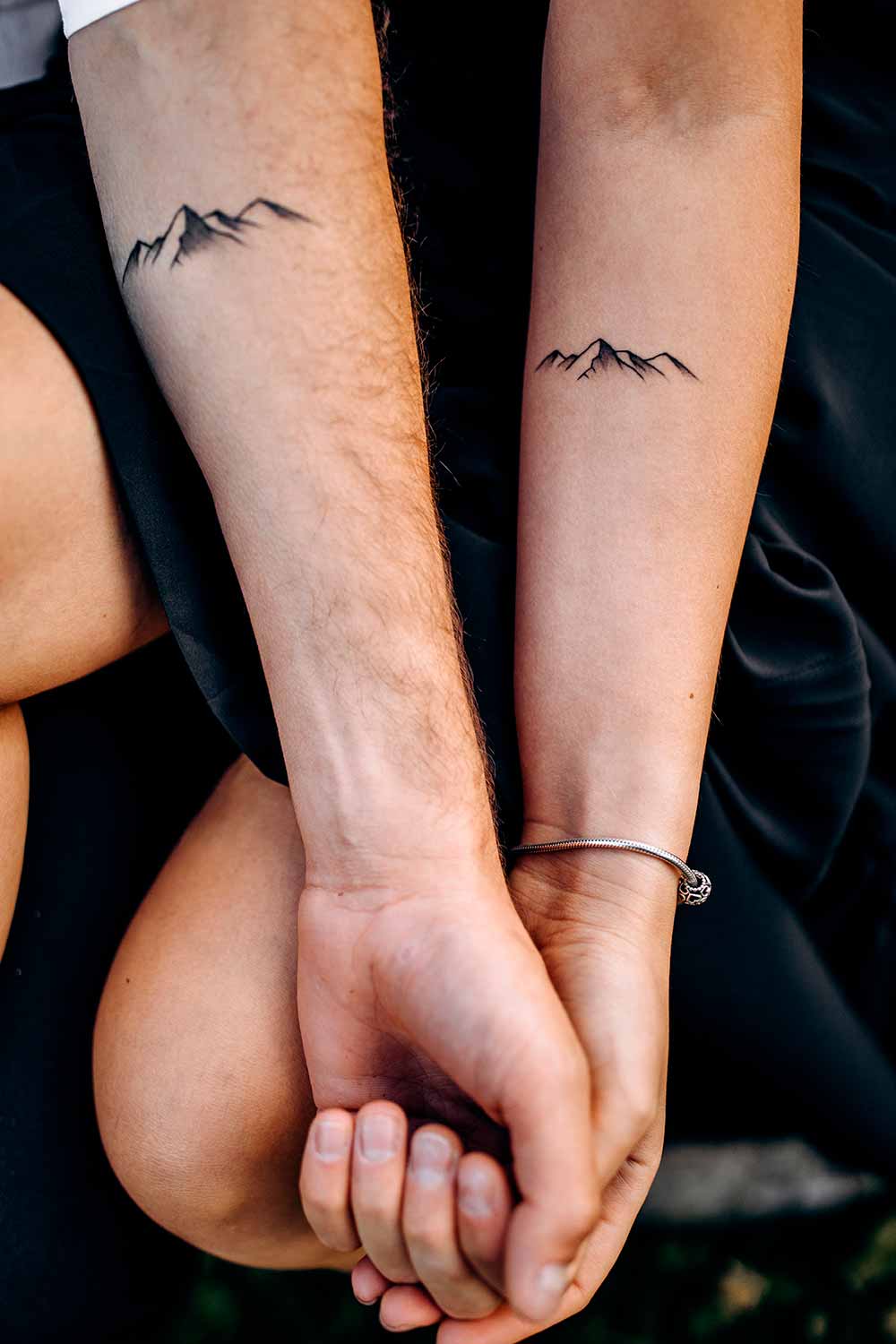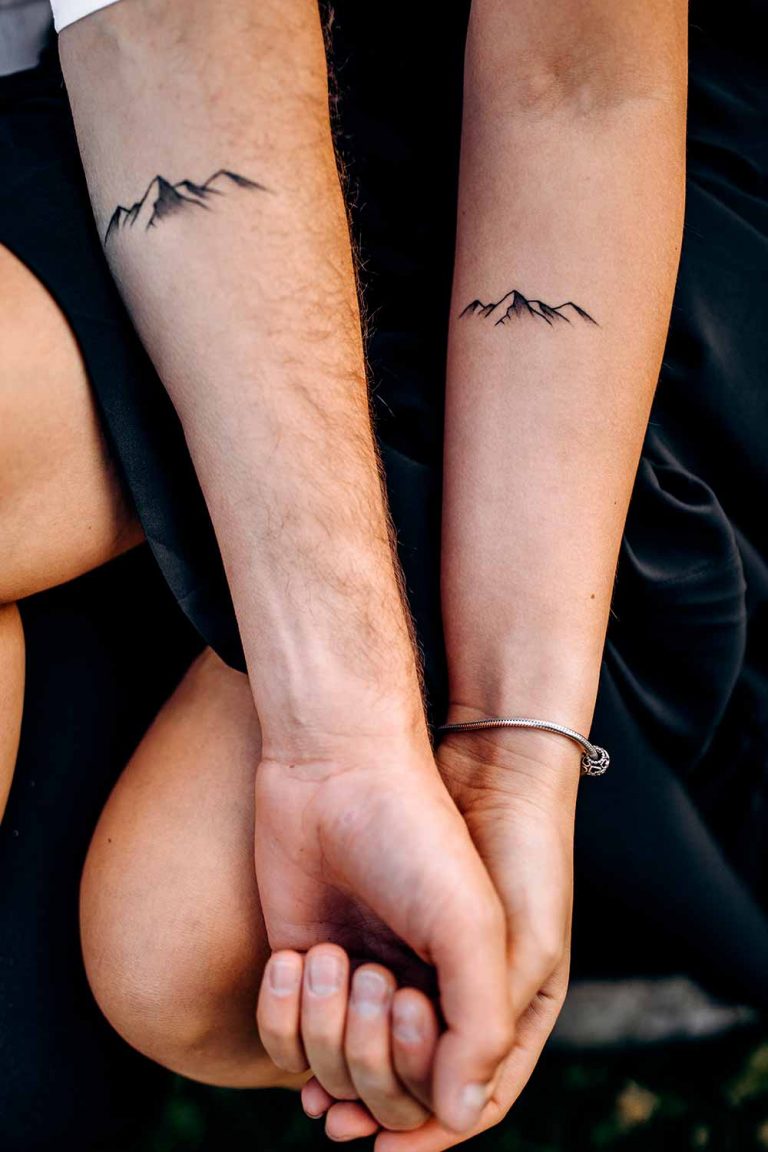 /
Feather Tattoo
Who sometimes does not want to be as light as a feather to fly high up in the sky from all the troubles and bustles of everyday life? If you are a dreamer and looking for good tattoo ideas, then a feather tattoo is your sure bet. Feathers may also represent spiritual tattoos. Christians believe that it symbolizes virtue and Indigenous peoples of the US give it a spirit and soul meaning.
Source: @lukovnikovtattoo via Instagram
i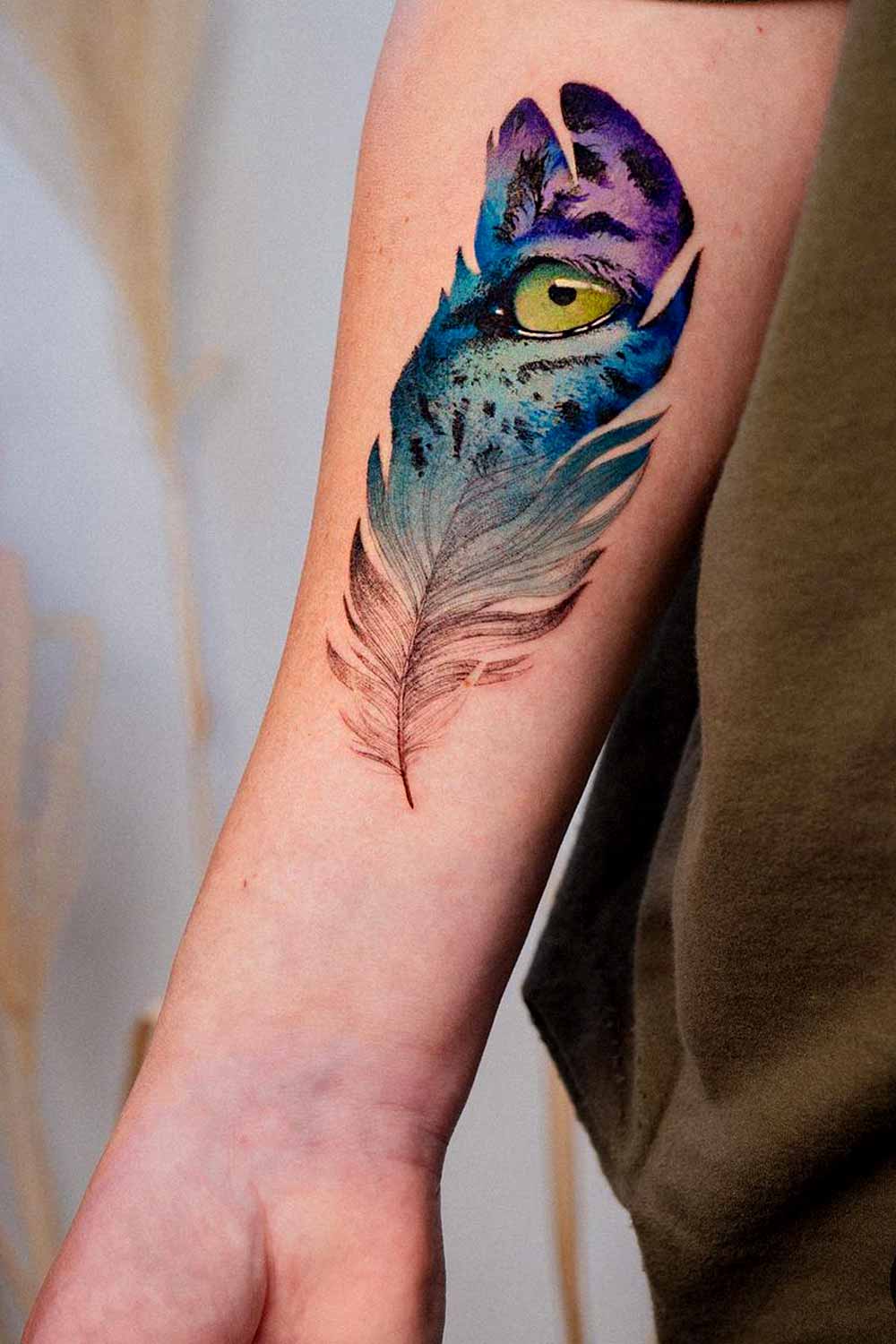 Source: @
irenebogachuk via Instagram
i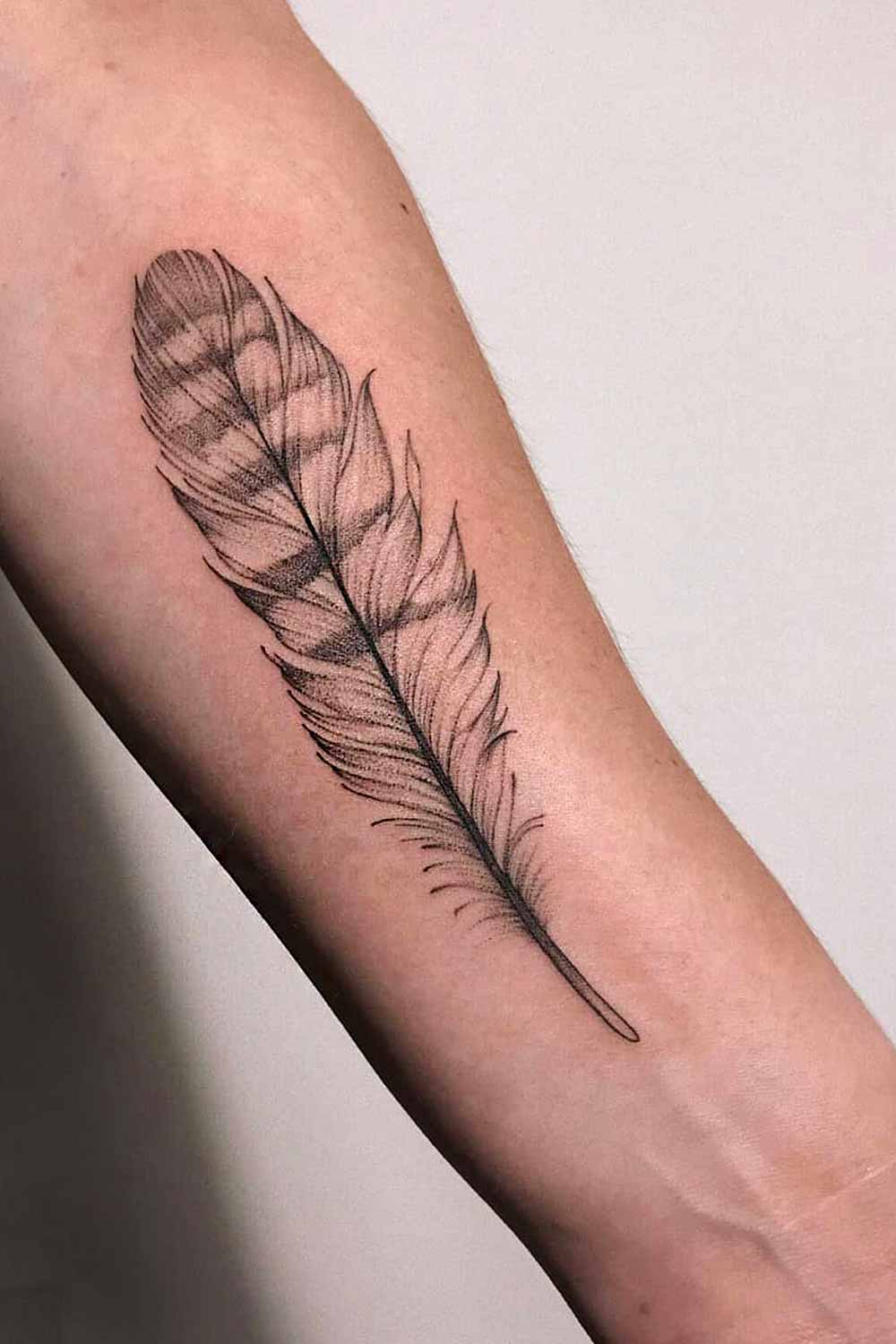 /
Small Tattoo
When it comes to the choice of the best tattoos, the size does not really matter. There are plenty of small tattoo ideas for men that look cool and impactful. Inking just a small image is also a great option for first tattoo ideas when you are not sure whether it is going to work for you or if you will be able to handle the pain.
Source: @chloejanetattoos via Instagram
i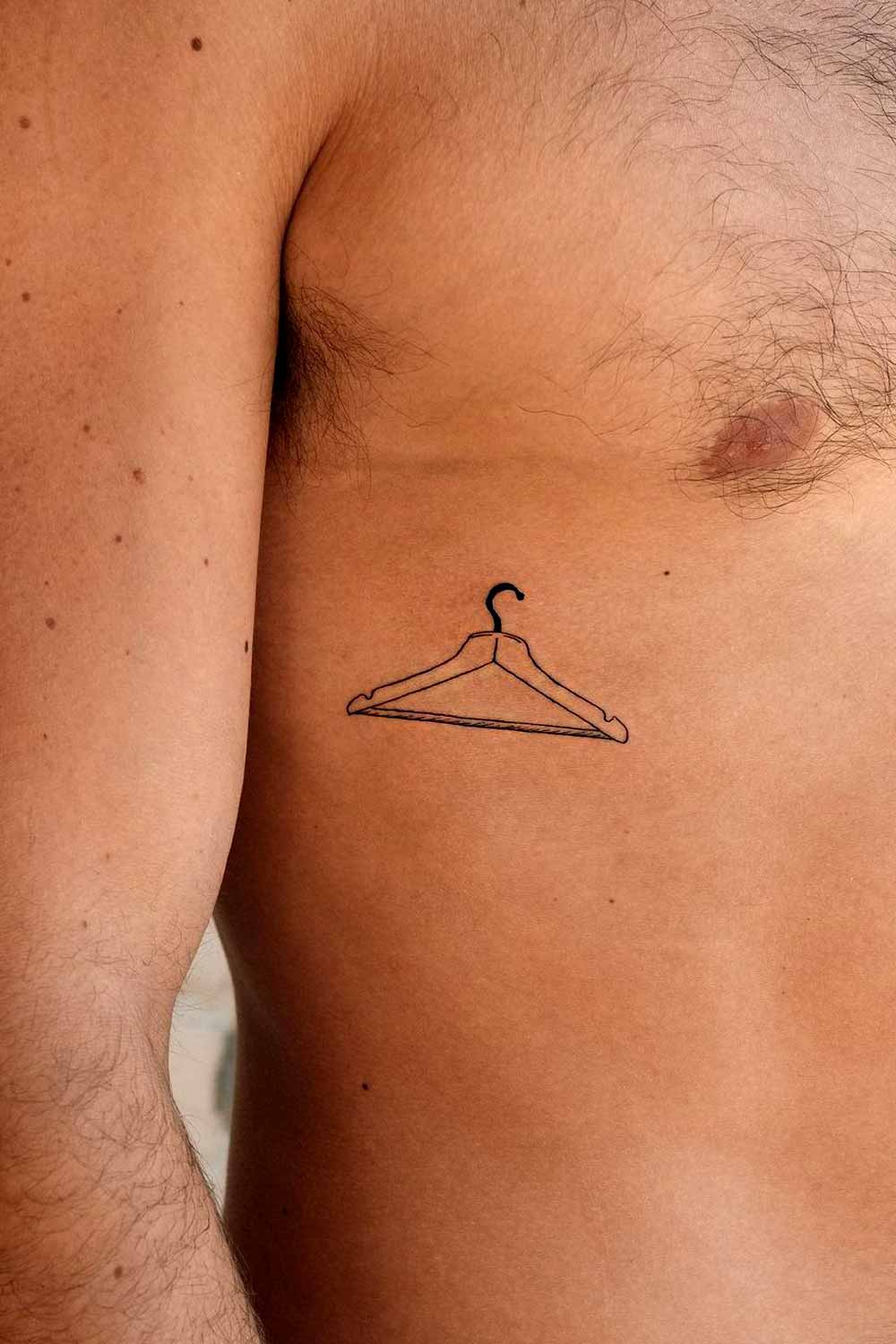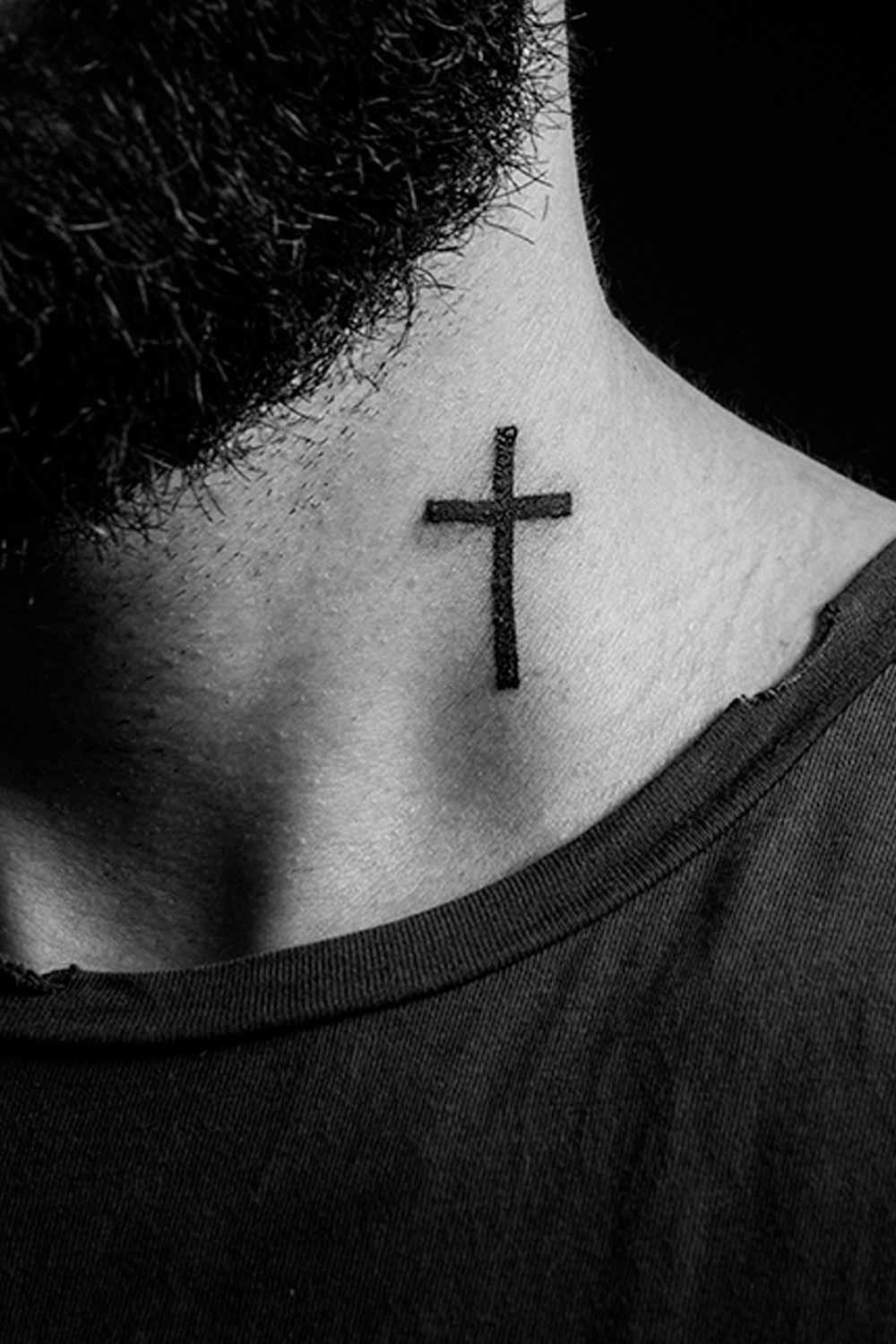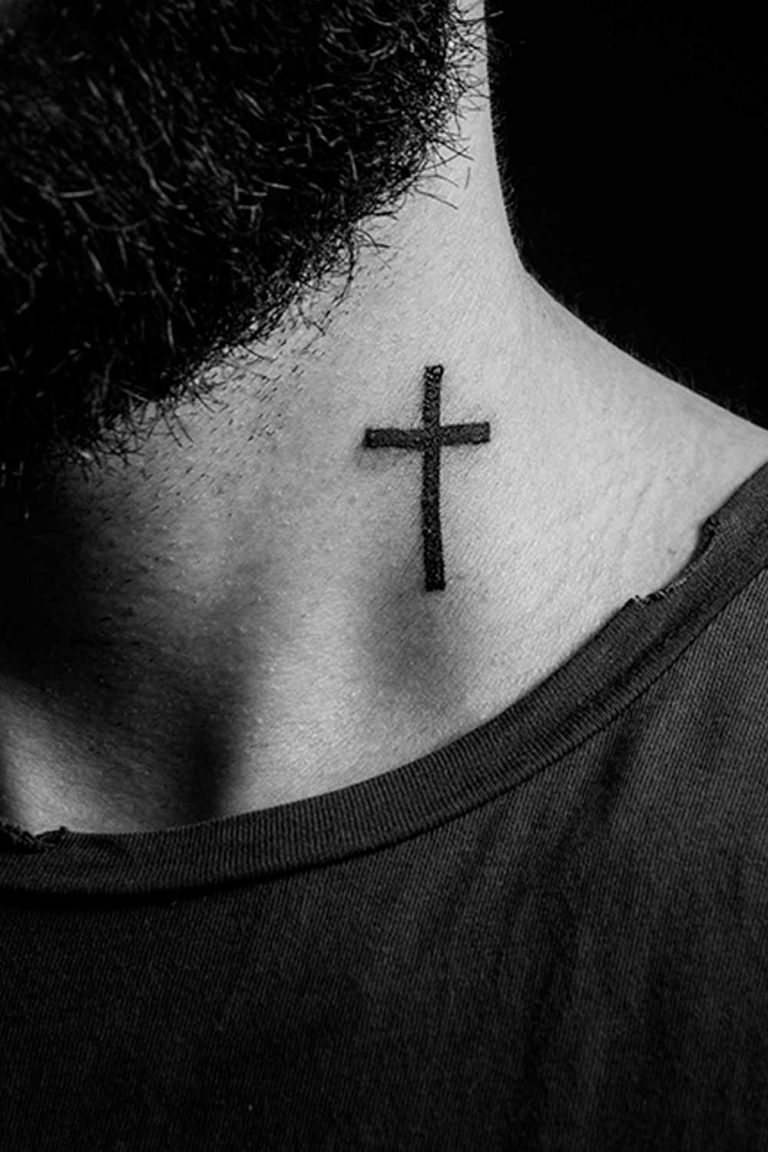 /
Simple Tattoo
Simple tattoos are your way to go if you prefer the minimalistic style and do not want to pay many visits to your tattoo artist. Because they can be performed in one session, you will be able to flaunt your freshly inked tat as soon as it heals. Besides, you will most definitely end up with the desired result, as simple tattoos for guys do not require any special skills on your tattooist's part.
Source: @chloejanetattoos via Instagram
i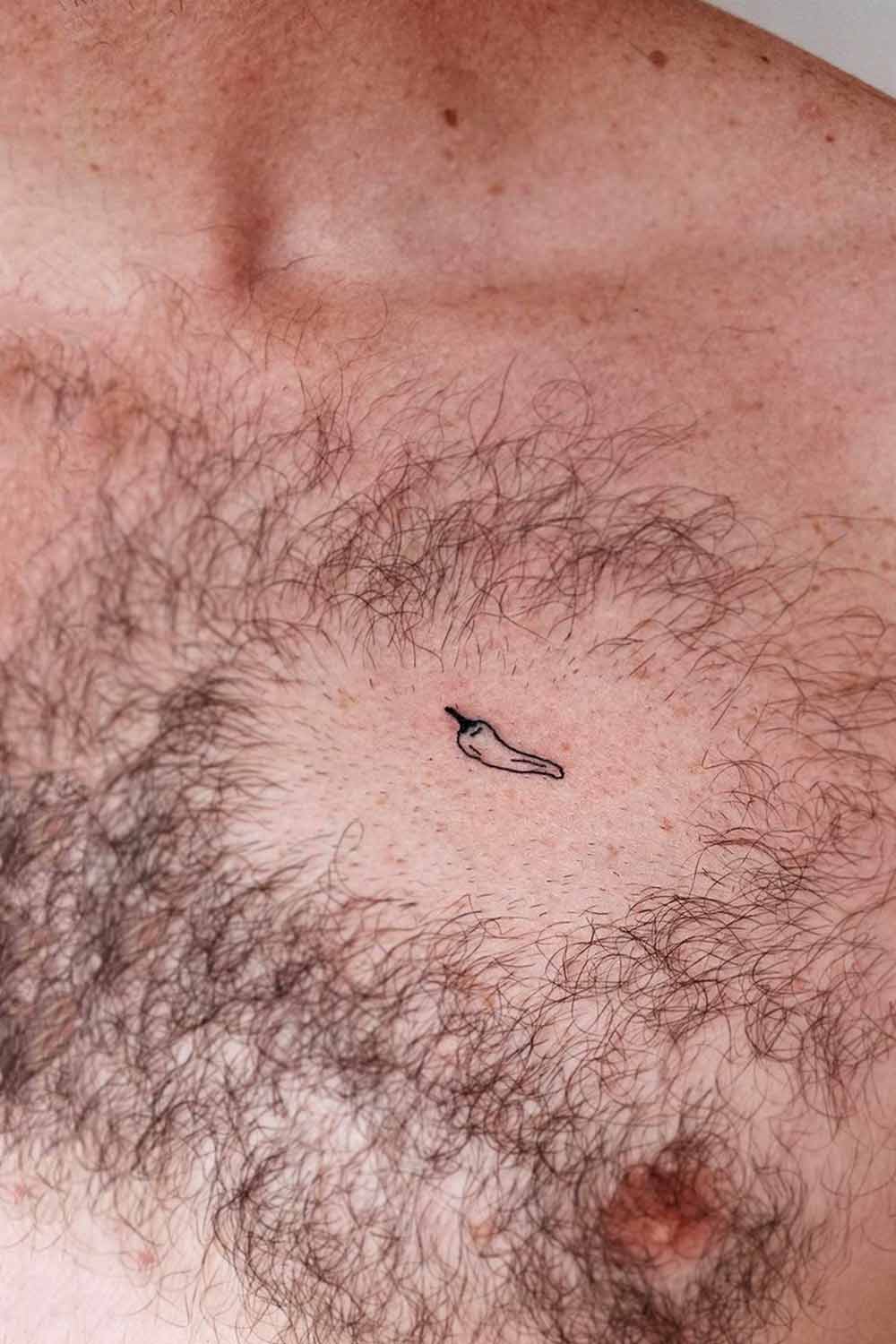 Source: @castillo_13 via Instagram
i
/
Lion Tattoo
A lion symbolizes power and strength, which is why it is one of those tattoo designs men choose to emphasize their masculinity and vigor. It can be a realistic image or something more creative, depending on your preferences and the skillfulness of the person inking you. Also, you can make it in color for a bolder image or keep it low key by going for black ink only.
Source: @lukovnikovtattoo via Instagram
i
Source: @neskatattoo via Instagram
i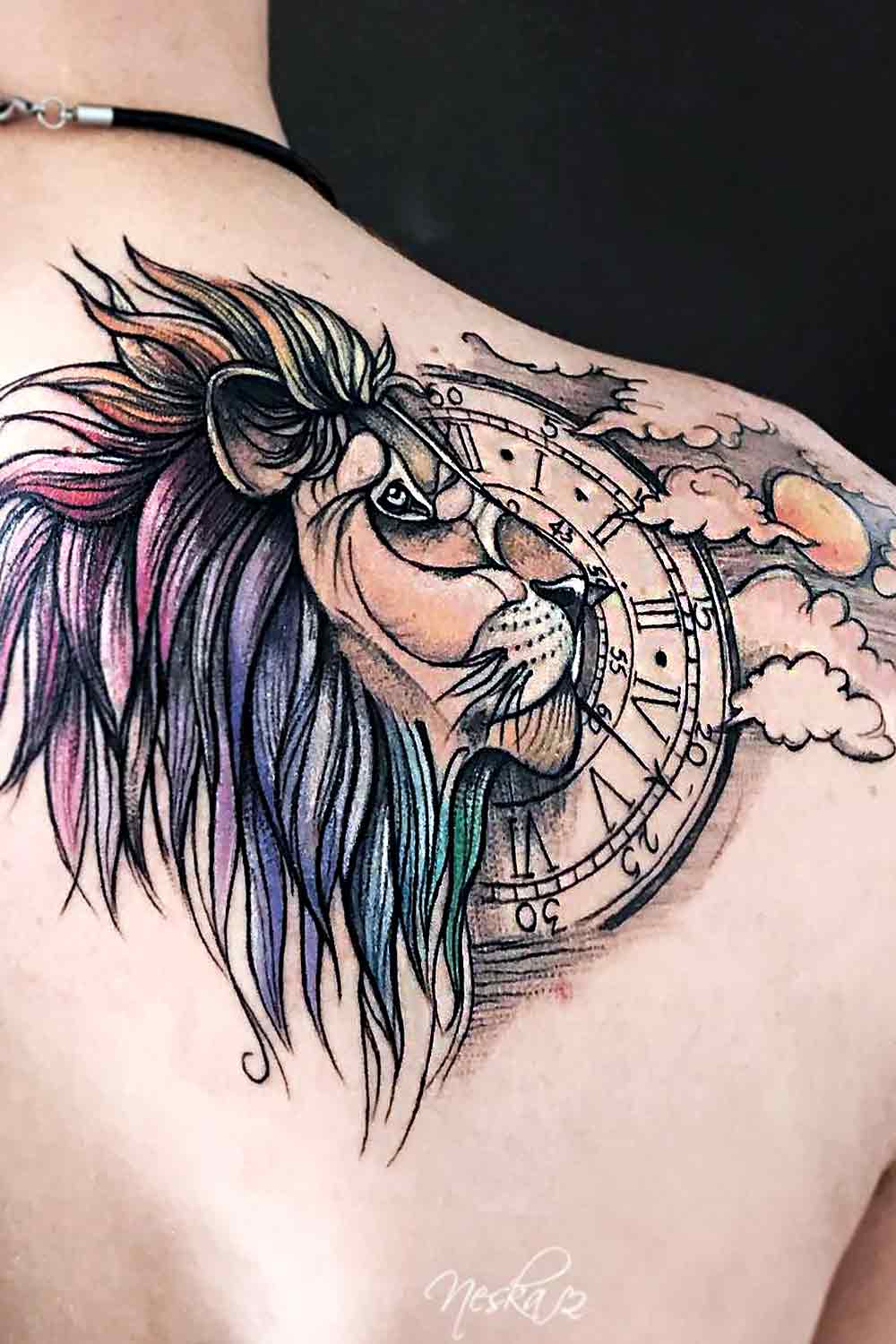 Source: @barberking_kh via Instagram
i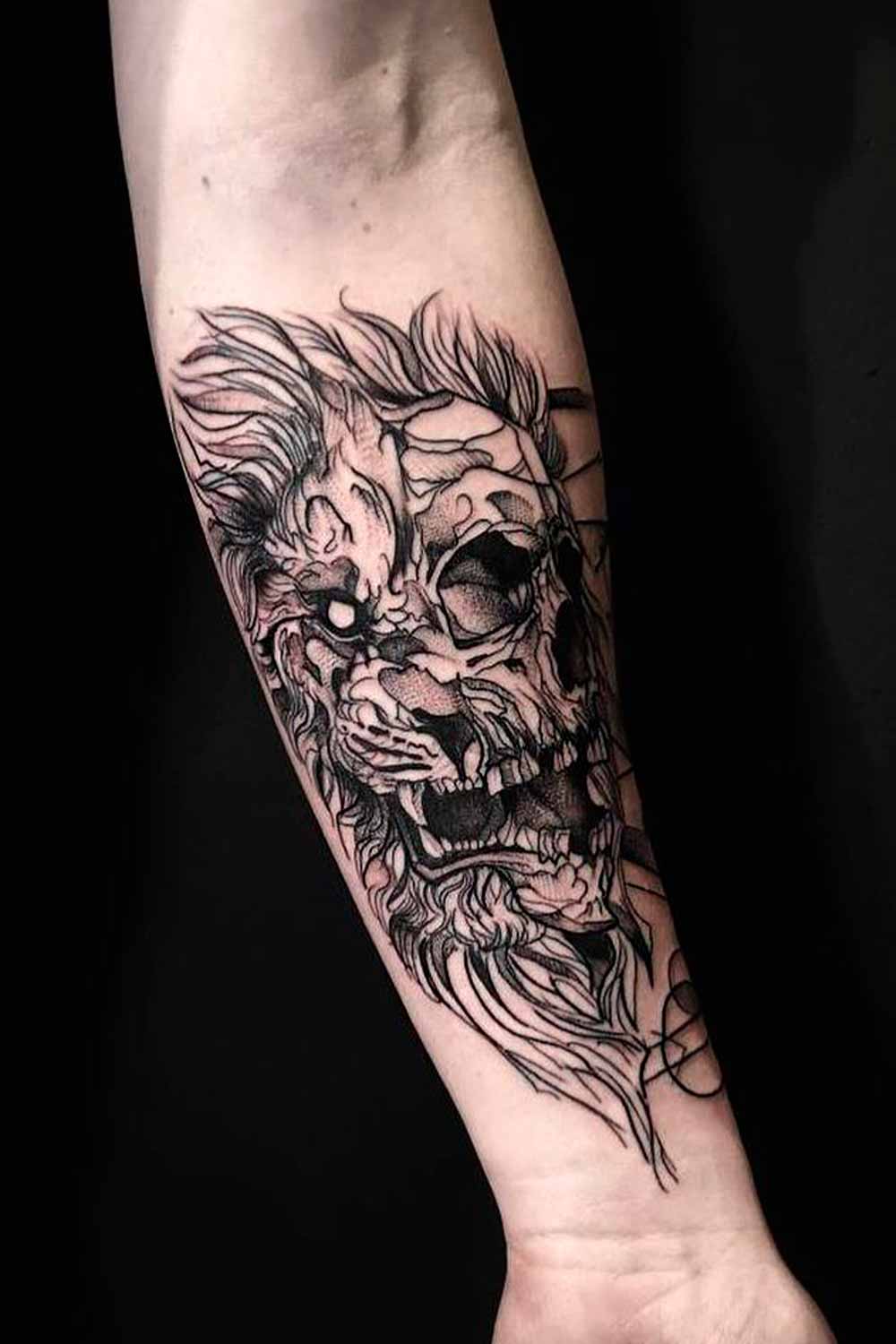 /
Wings Tattoo
Are you a person who values freedom? Why not express it by means of popular tattoos for men? You can hardly think of a better option to do this than getting a wings tattoo. The best places to get wings are considered your chest and back, as they allow you to get a symmetrical image.
Source: @neskatattoo via Instagram
i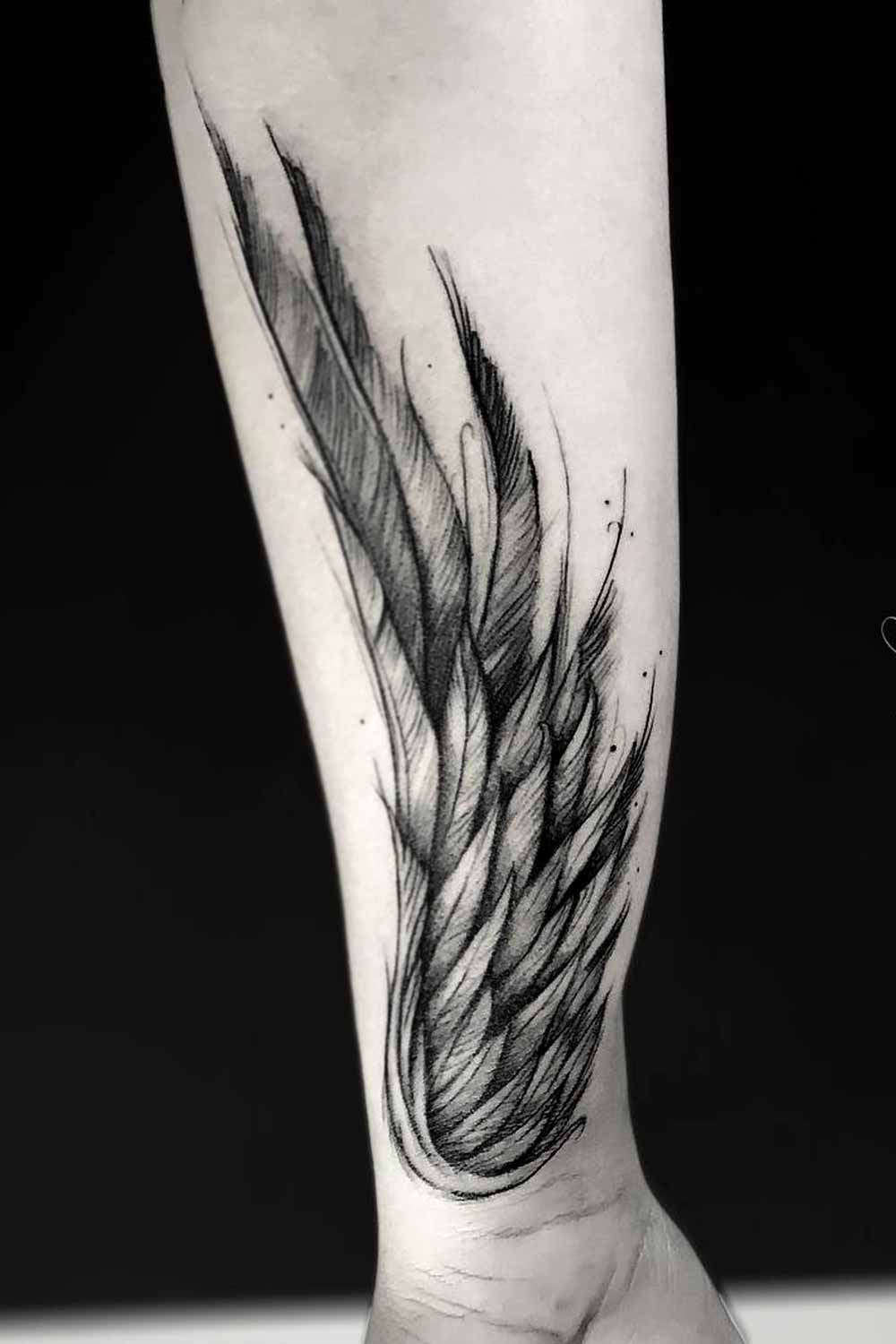 Source: @neskatattoo via Instagram
i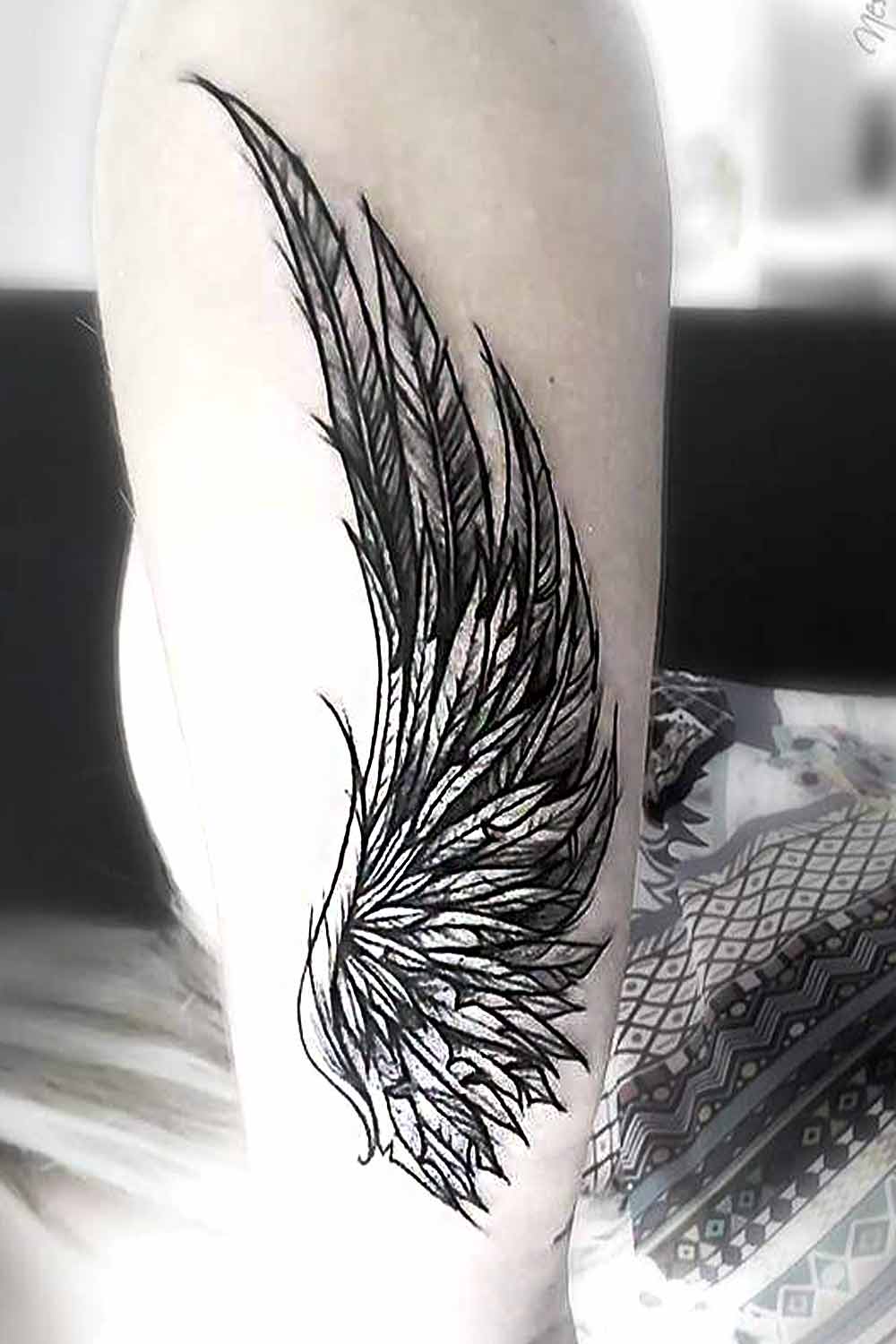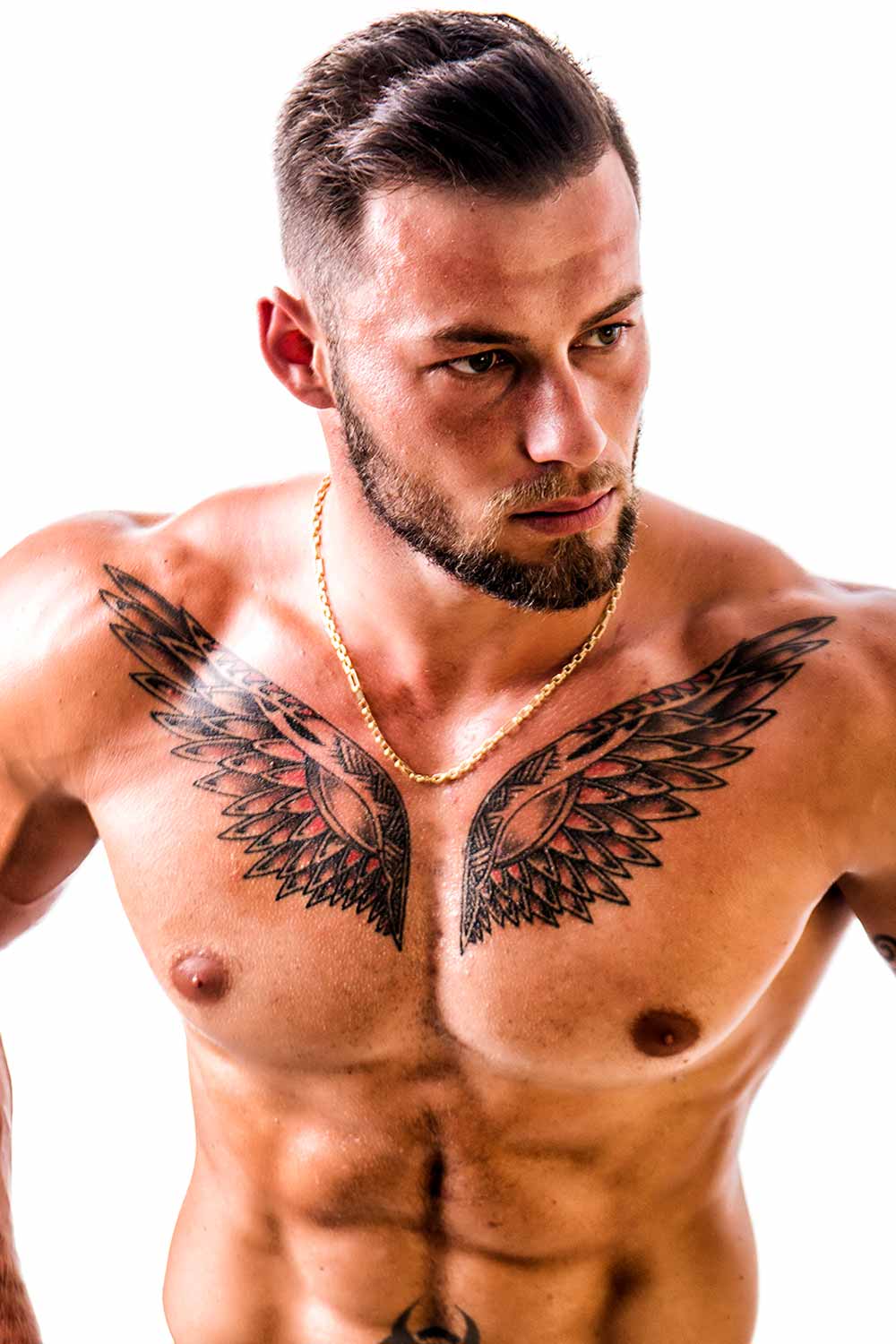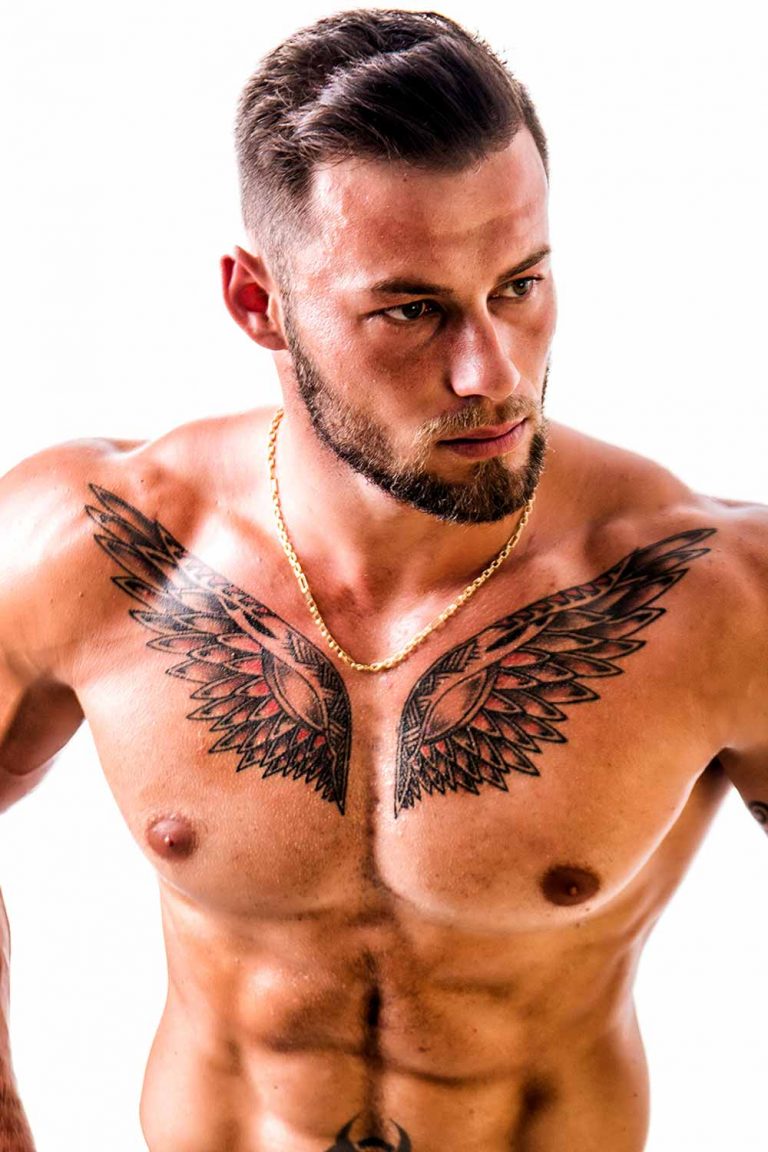 /
Compass Tattoo
A compass is one of the best tattoo ideas for men who travel a lot. It can denote a really deep meaning, like wherever you go, it will always show you the way back home. Also, it can be paired with some cool quote tattoos for men for added emphasis.
Source: @neskatattoo via Instagram
i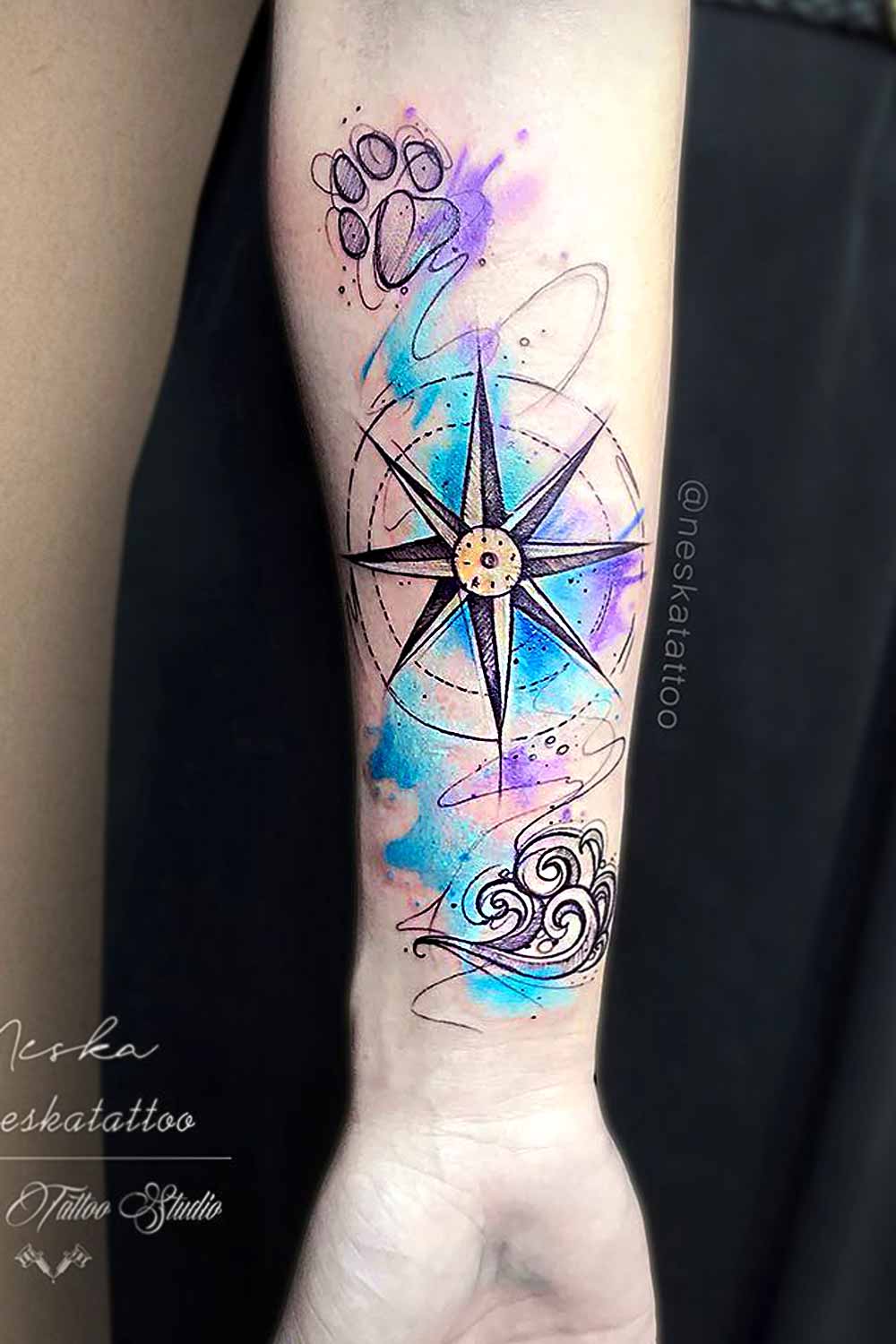 Source: @robcarvalhoart via Instagram
i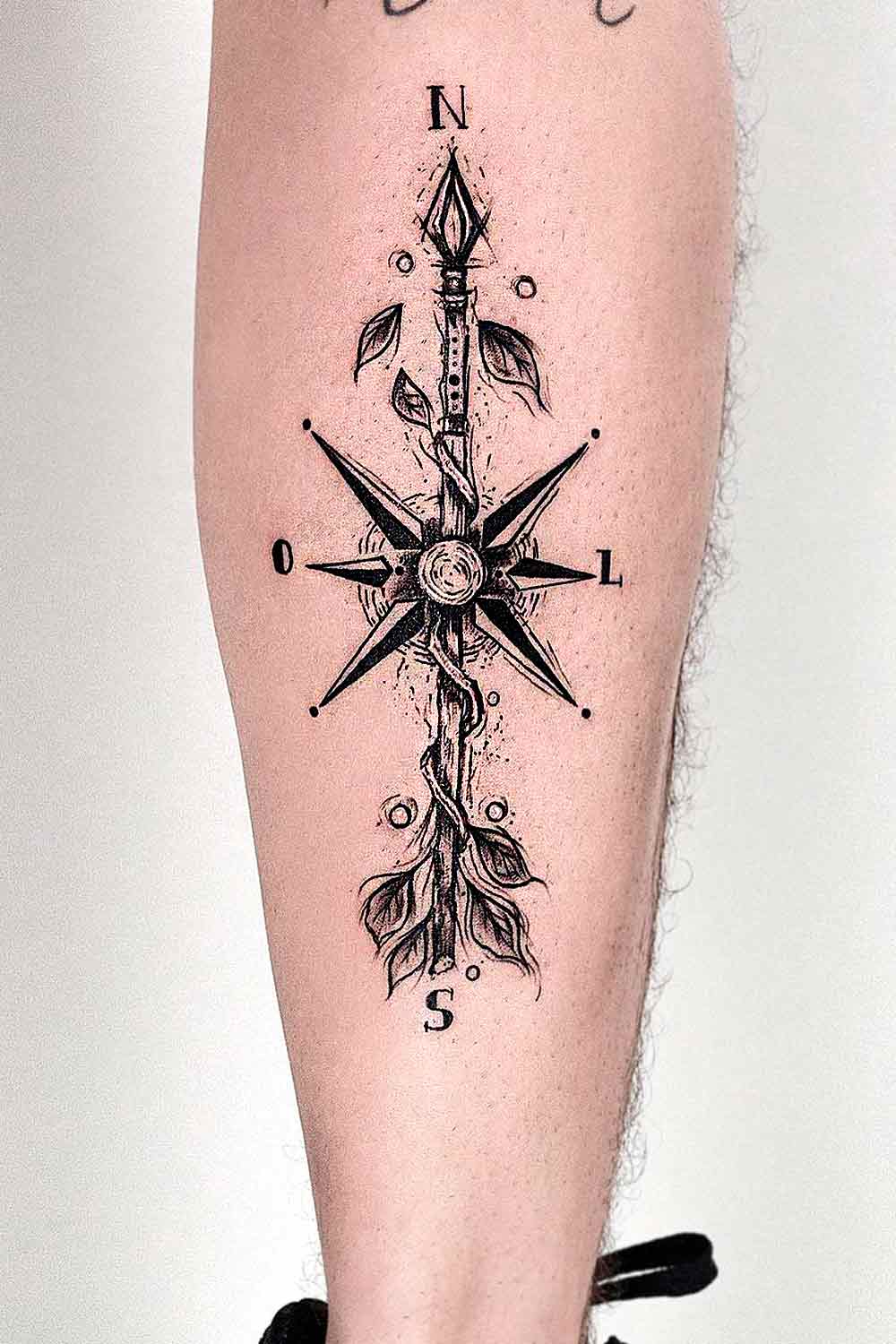 /
Scorpio Tattoo
You should not necessarily be born under the Scorpio sign to get a scorpion tat. Regardless of its placement, it will create a strong impression. So, getting one guarantee that your tattoo will not go unnoticed.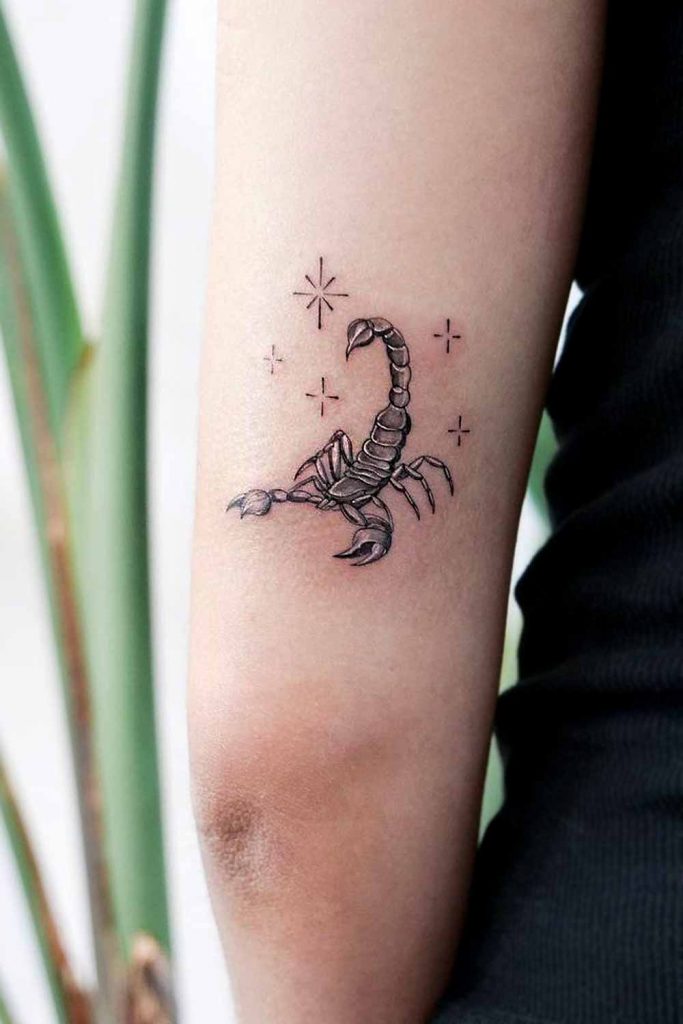 Source: @firstjing via Instagram
American Flag Tattoo
There are many reasons to be proud of being American and one of the best ways to show it is getting a tattoo of the American flag. There are many tattoo drawing ideas of how to embellish your body with such a patriotic symbol. The best parts of the body to get it inked are your arm, shoulder and your chest to have it closer to your heart.
View this post on Instagram
3D Tattoo
Ankle tattoos for men look especially impressive when they feature 3D images. Not every tattooist is able to deliver such an intricate design, so you should take care to search for a very skillful one. Also, keep in mind that 3D tattoos require quite a lot of time and effort to create, so you should get ready to commit to it.
Source: @evgenymel via Instagram
i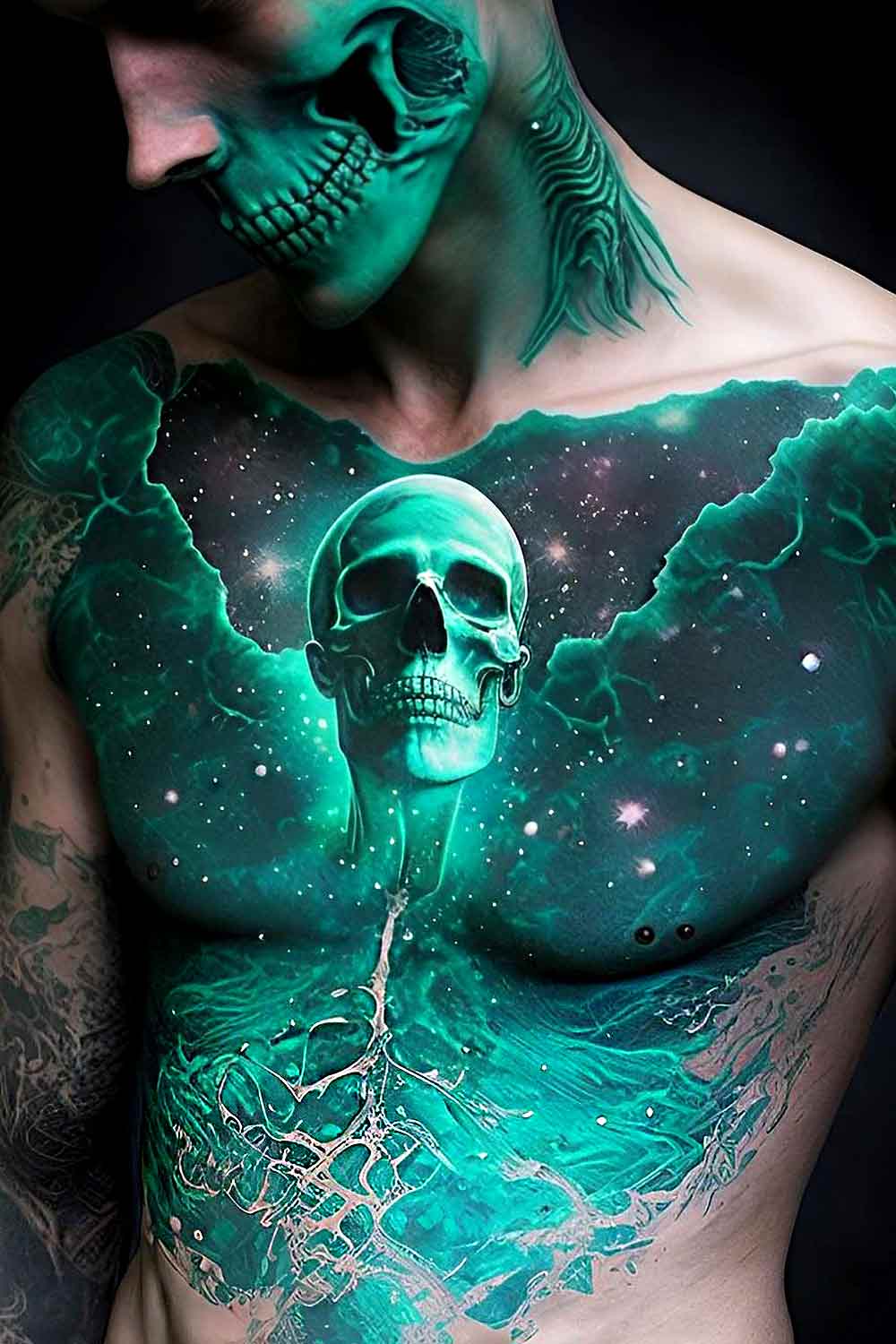 Source: @evgenymel via Instagram
i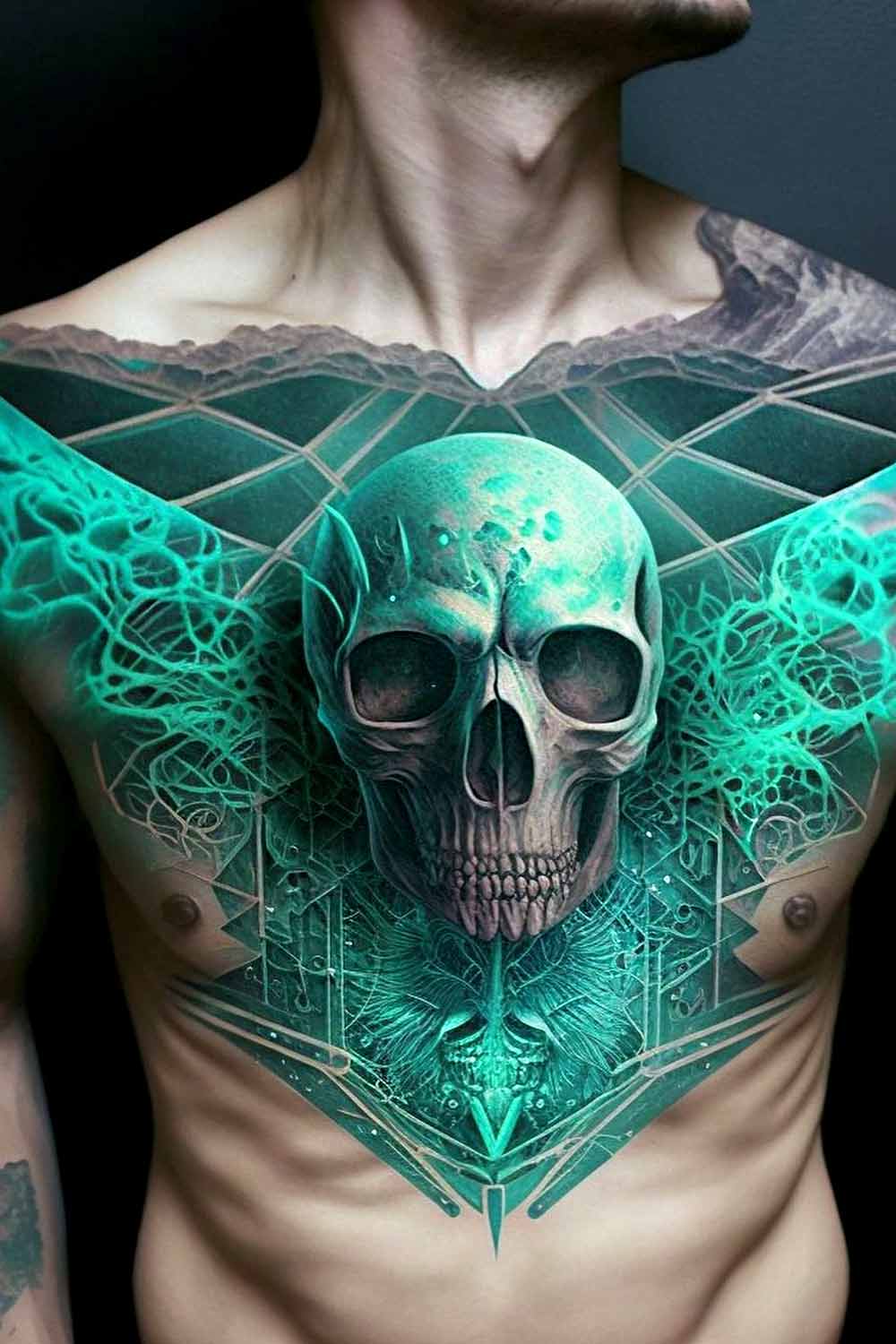 Source: @evgenymel via Instagram
i
Source: @evgenymel via Instagram
i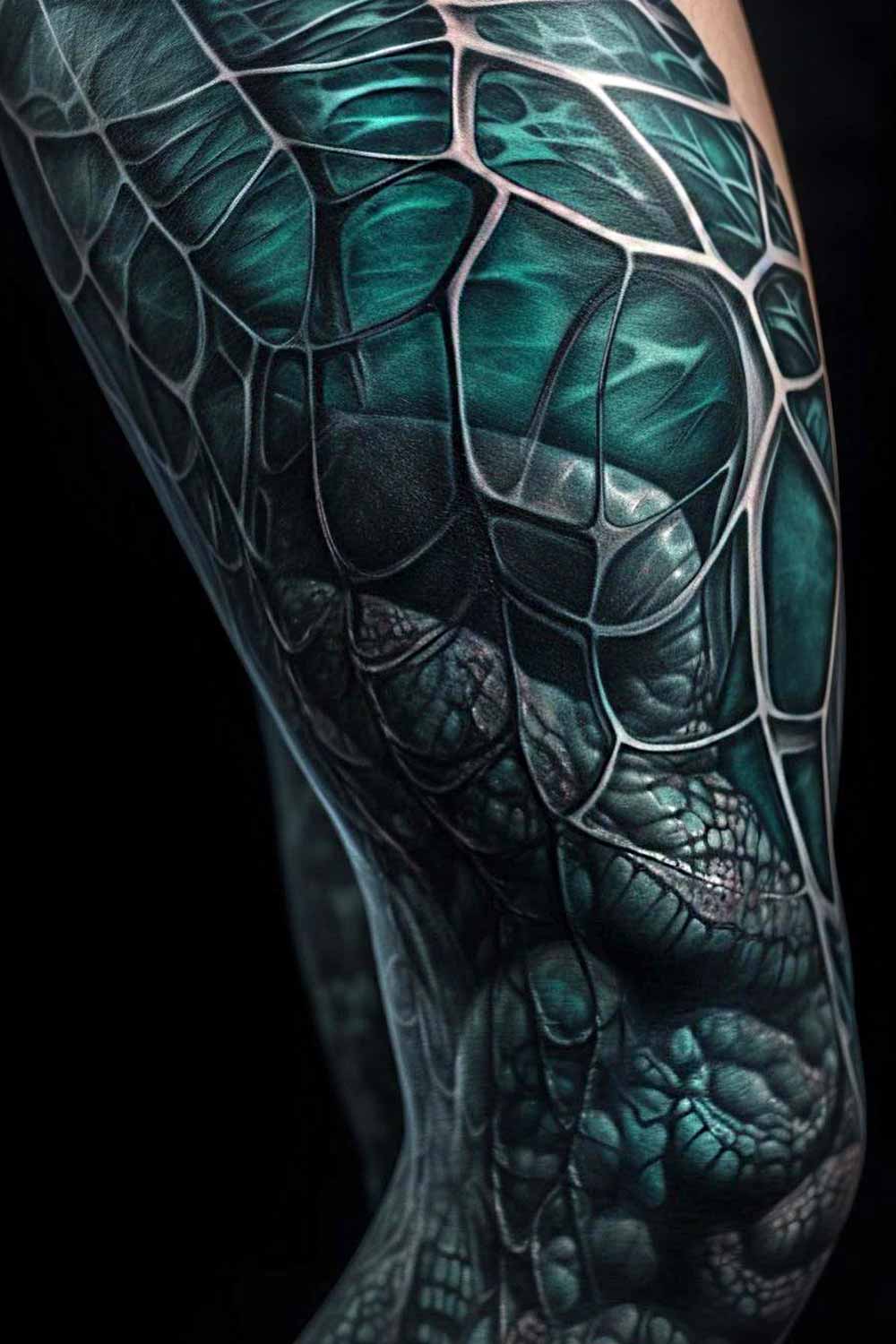 /
Tiger Tattoo
Tigers are beautiful and majestic. They are usually associated with strength, supremacy and independence. Thus, a tiger tattoo will also have a powerful vibe no matter where it is or how it is depicted. You may go for a solo image covering your whole limb or match it to other tattoos ideas.
Source: @amanda.mypreciousink via Instagram
i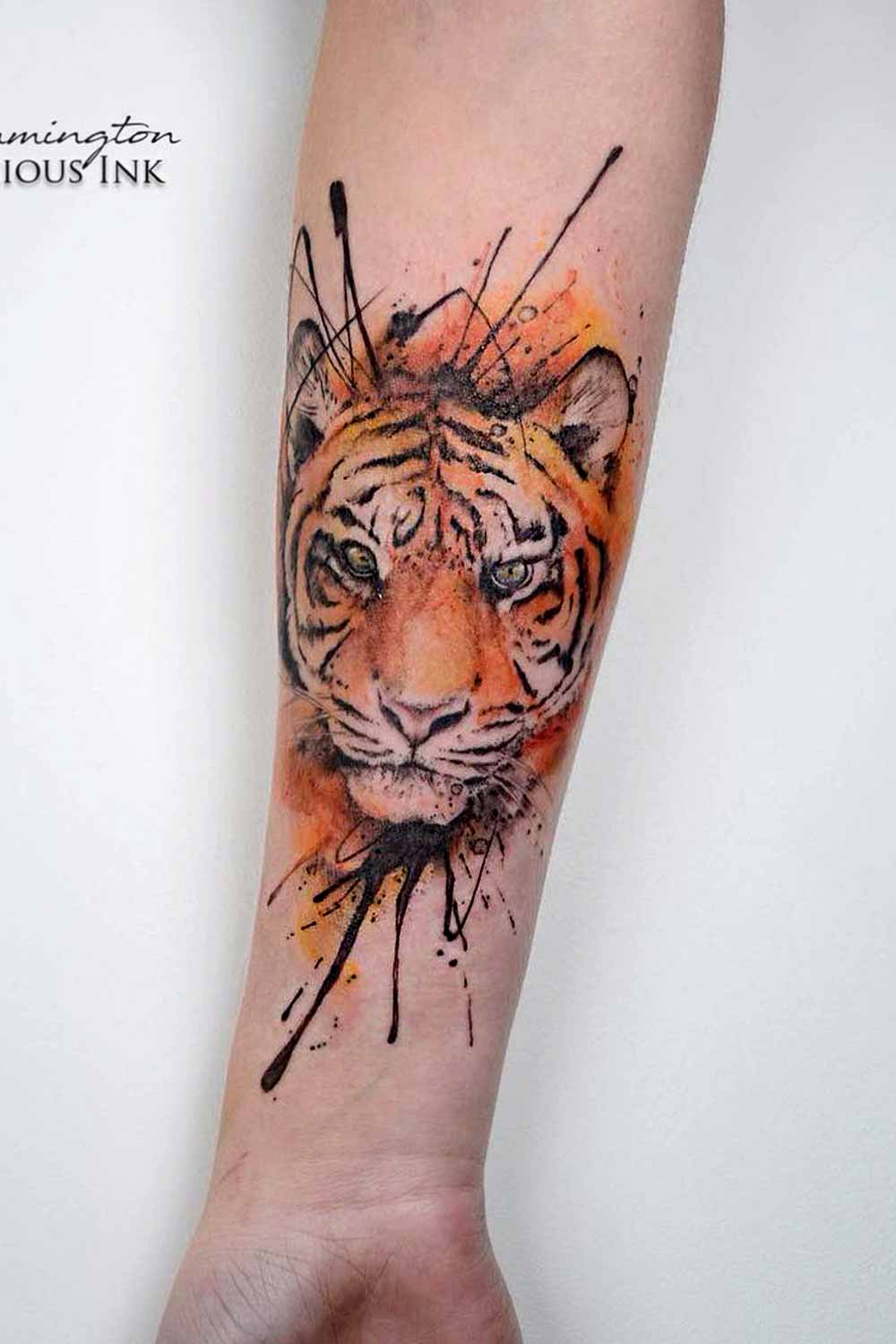 Source: @uncl_paul_knows_upk via Instagram
i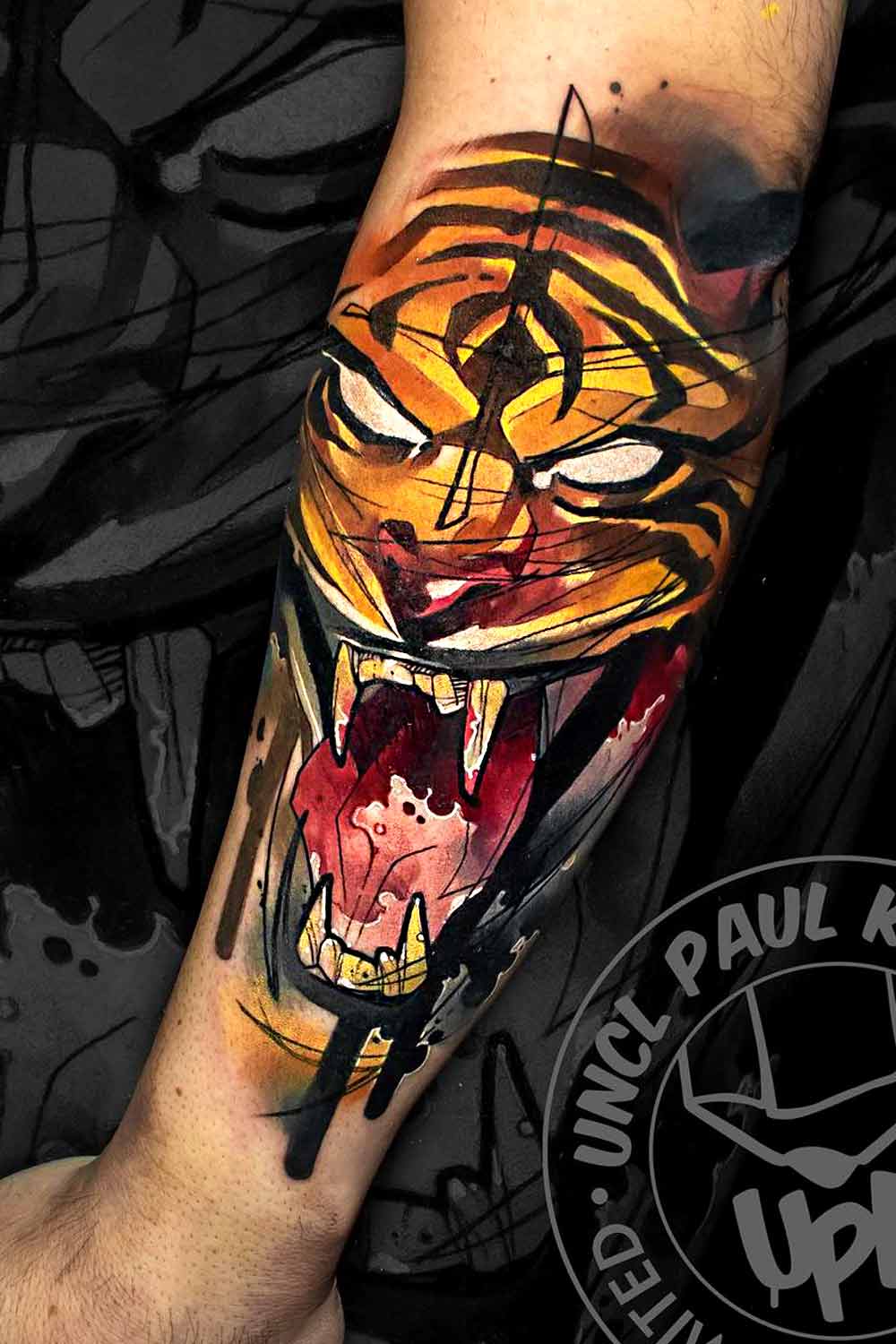 Source: @barberking_kh via Instagram
i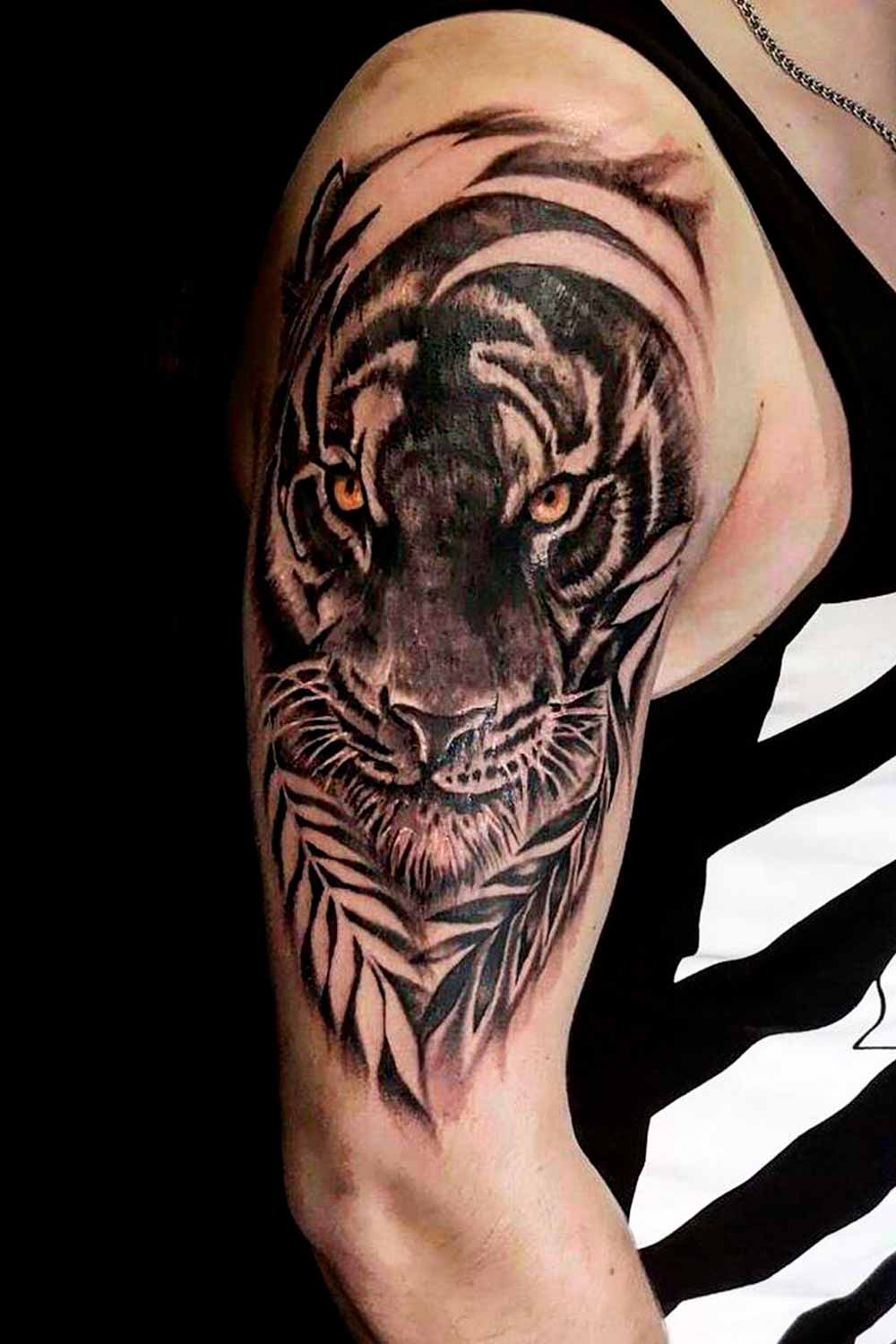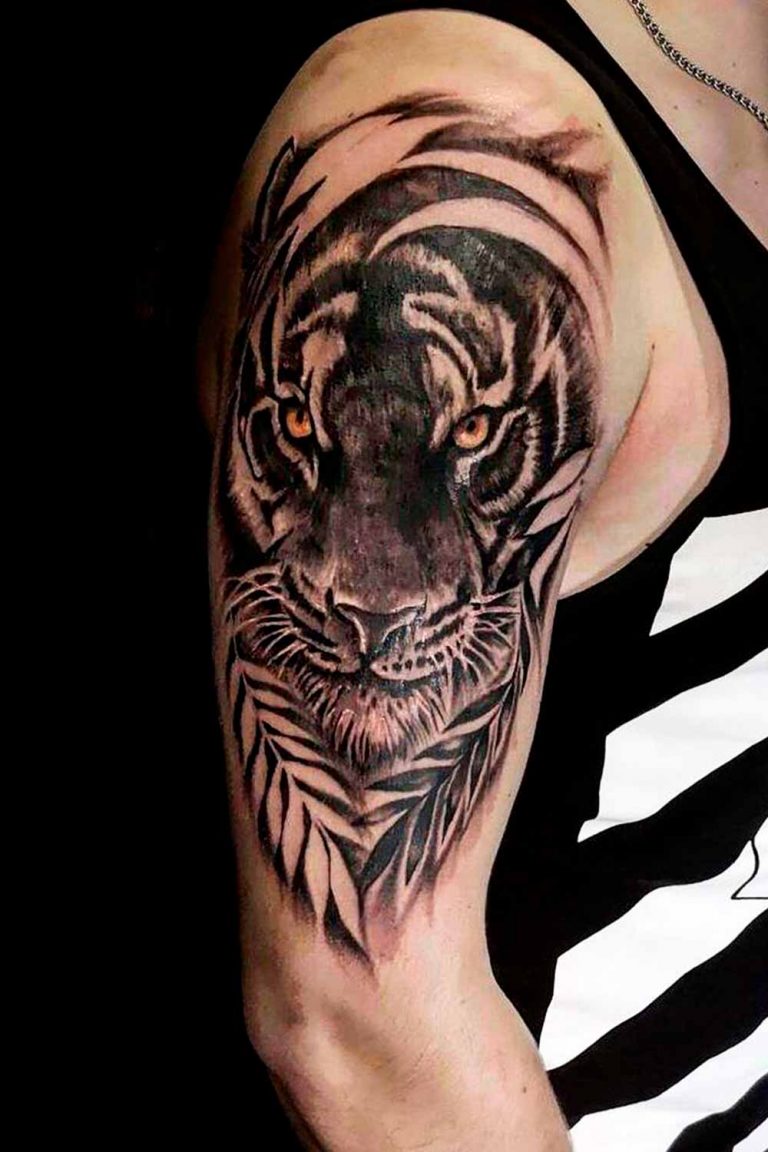 /
Owl Tattoo
If wisdom and intelligence are your top priorities, then you can convey thia by means of a tattoo. And an owl imagery is one of the best ways to do it. The size, design and color are less important in this case, as the meaning comes first. Get a huge owl on your whole back or ink a barely there owl on the inner part of your finger, you are free to choose absolutely any owl tattoo style.
Source: @firstjing via Instagram
i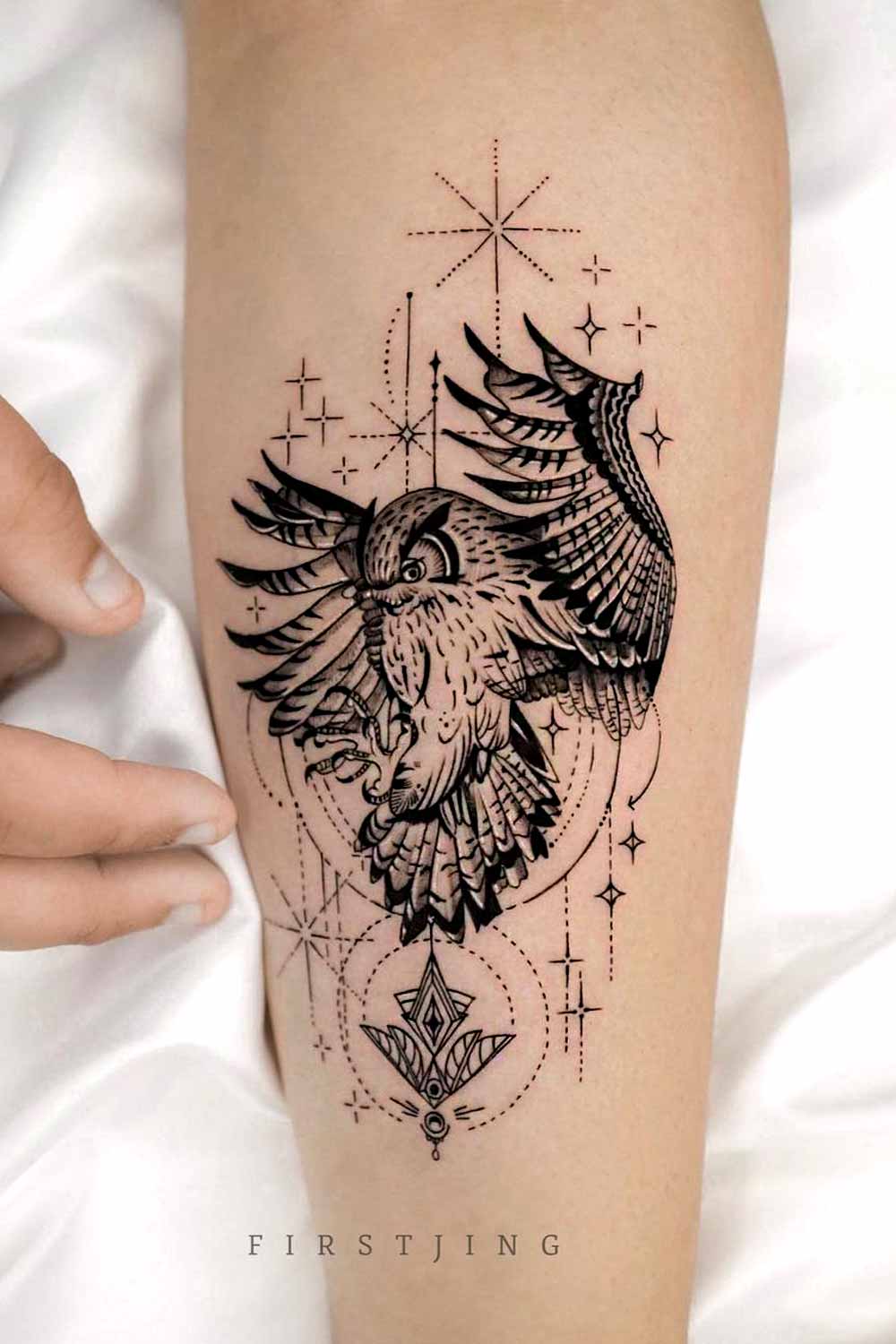 Source: @uncl_paul_knows_upk via Instagram
i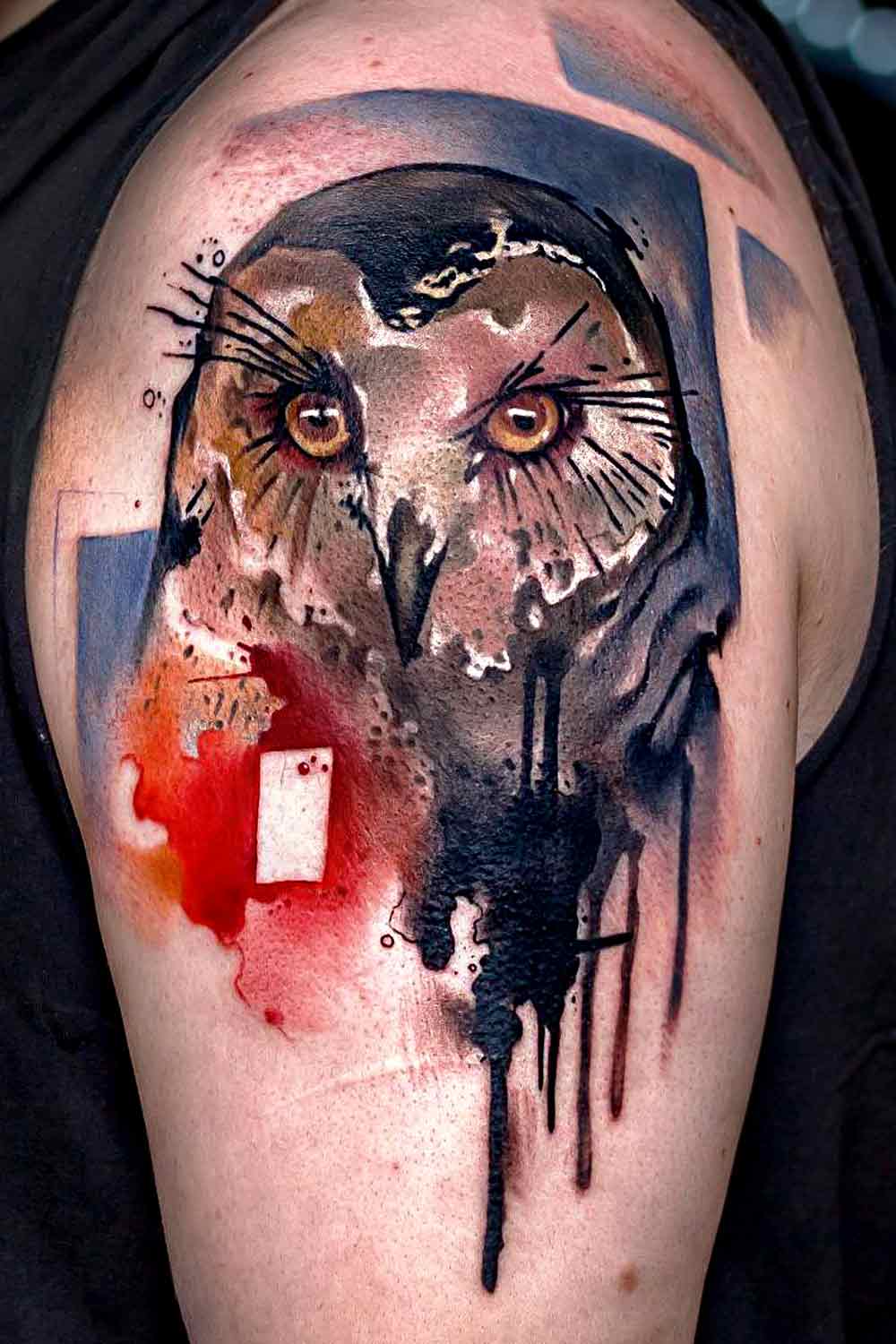 Source: @barberking_kh via Instagram
i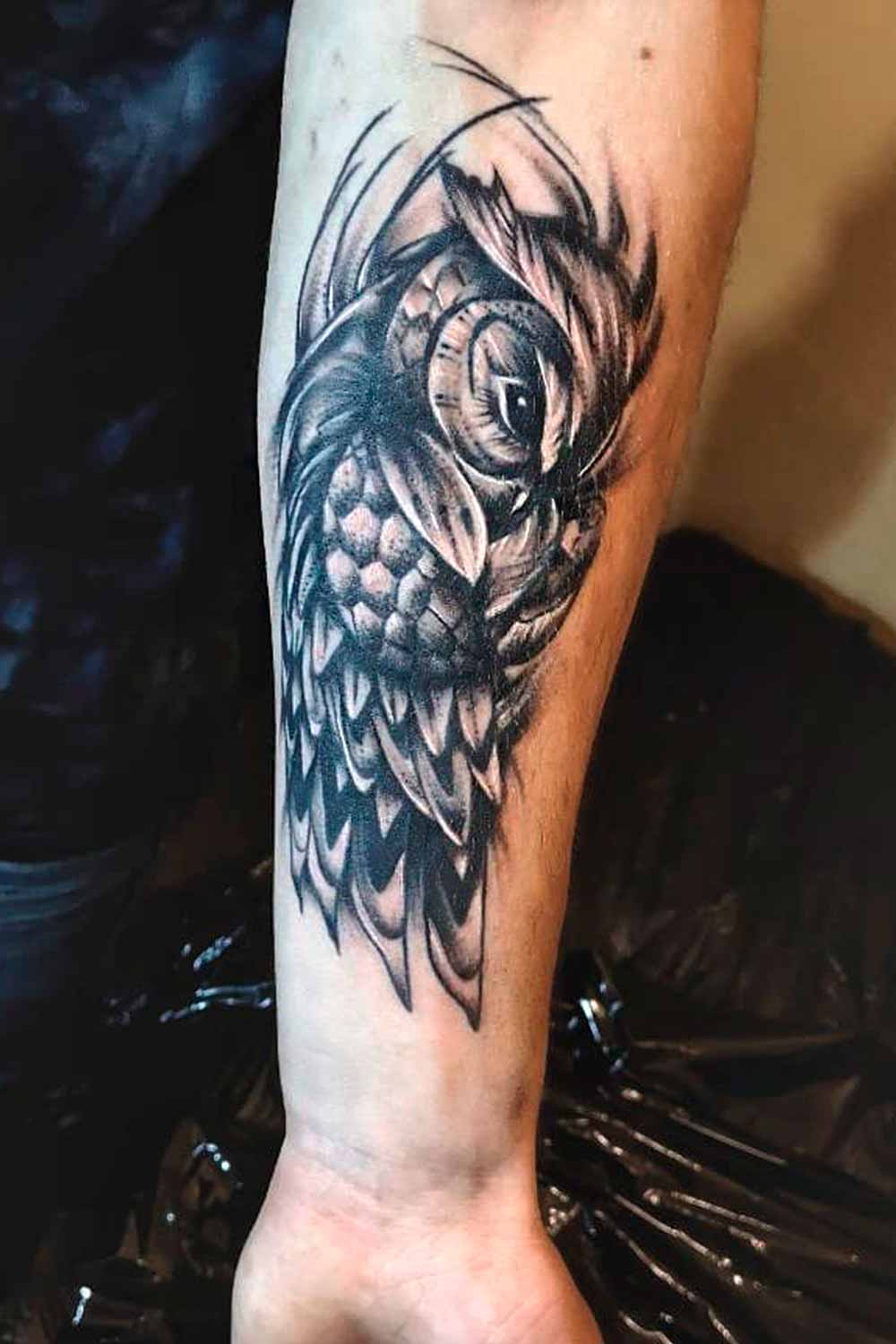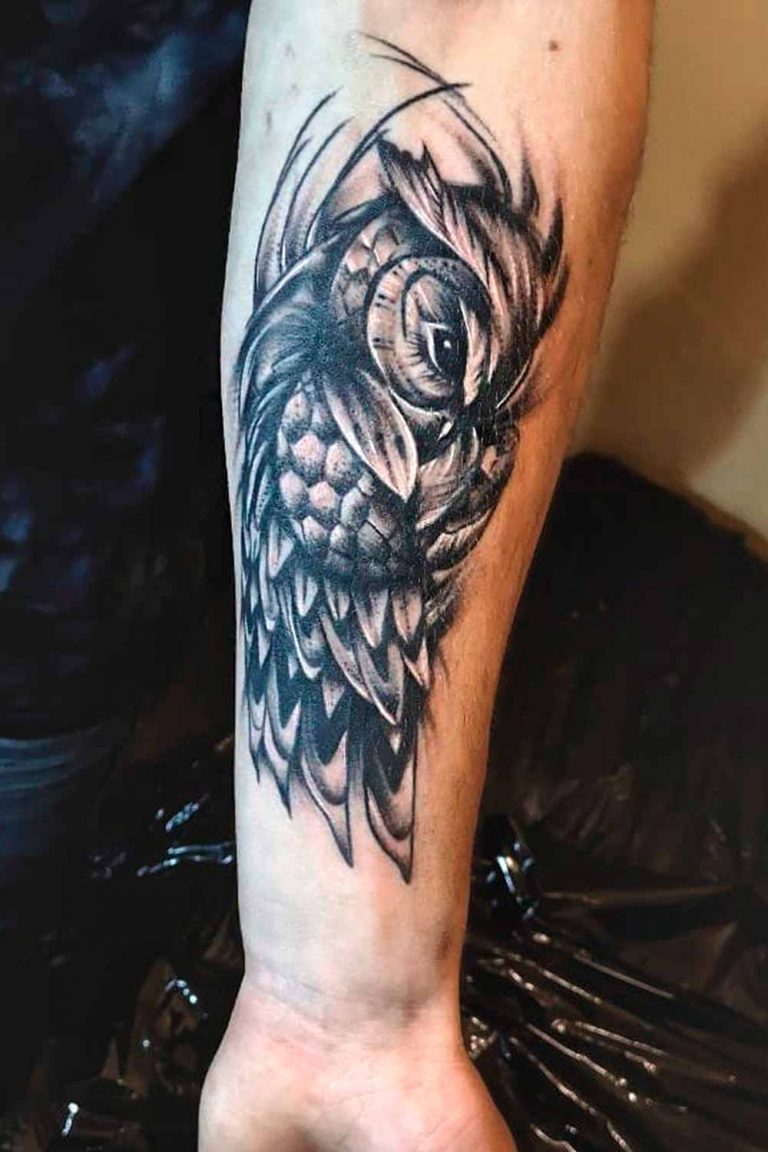 /
Elephant Tattoo
The elephant never forgets. An elephant tattoo depicts the strength and courage of this gentle beast. You carry the weight of the world on your feet. An elephant tattoo makes an excellent back piece, shoulder blade tattoo, and for the (so inclined) an intimate design that hints towards your manliness.
Source: @koray_karagozler via Instagram
i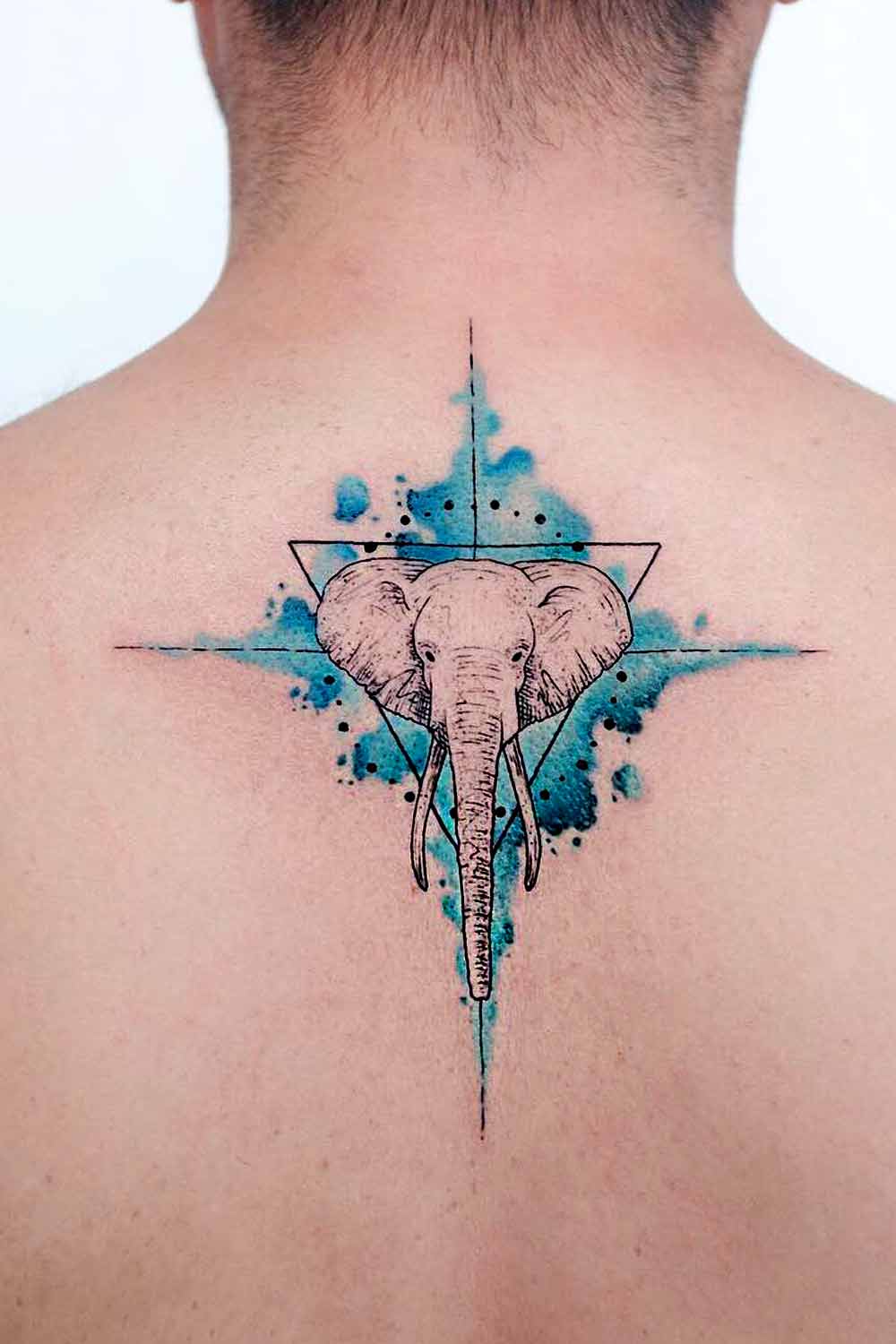 Source: @amanda.mypreciousink via Instagram
i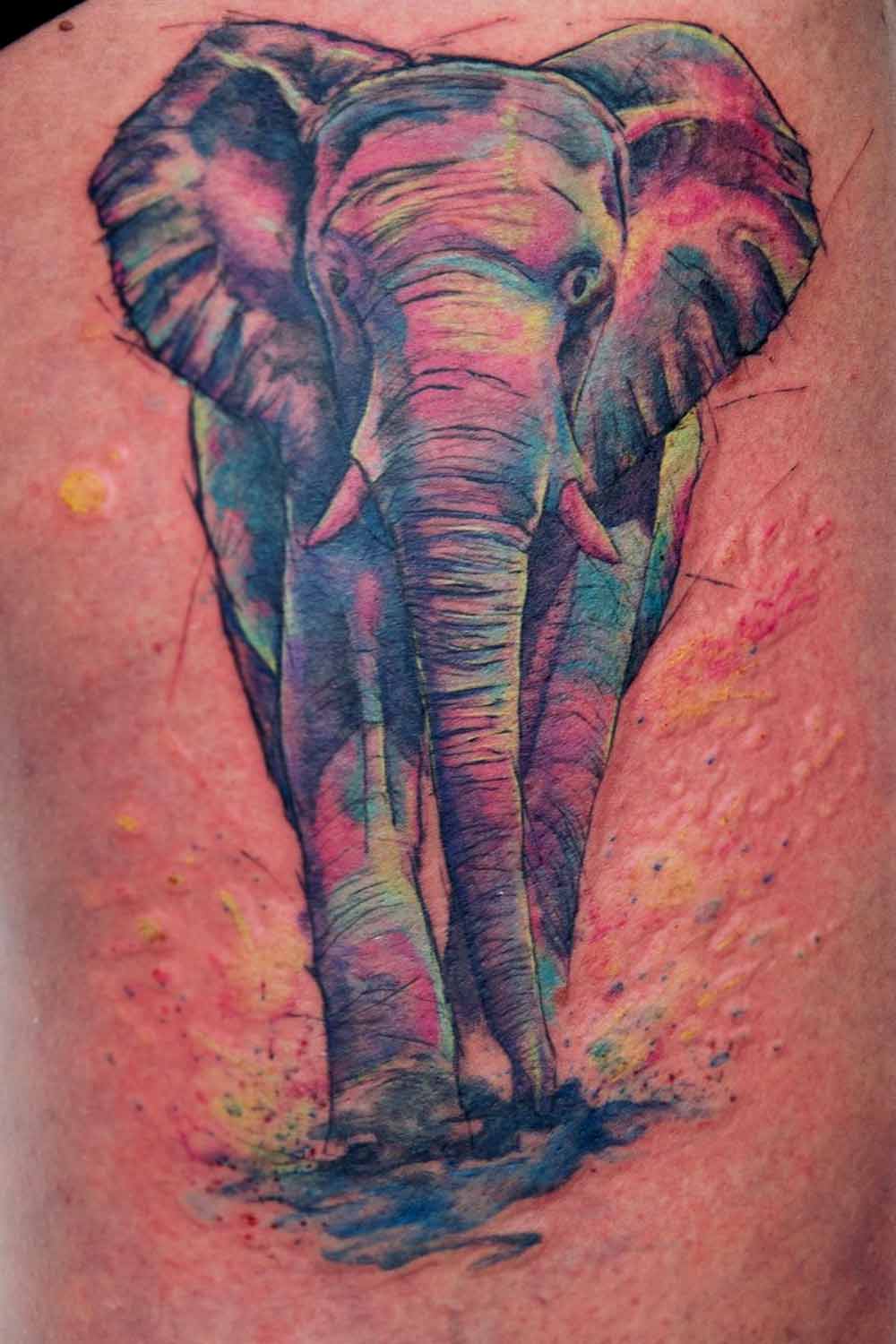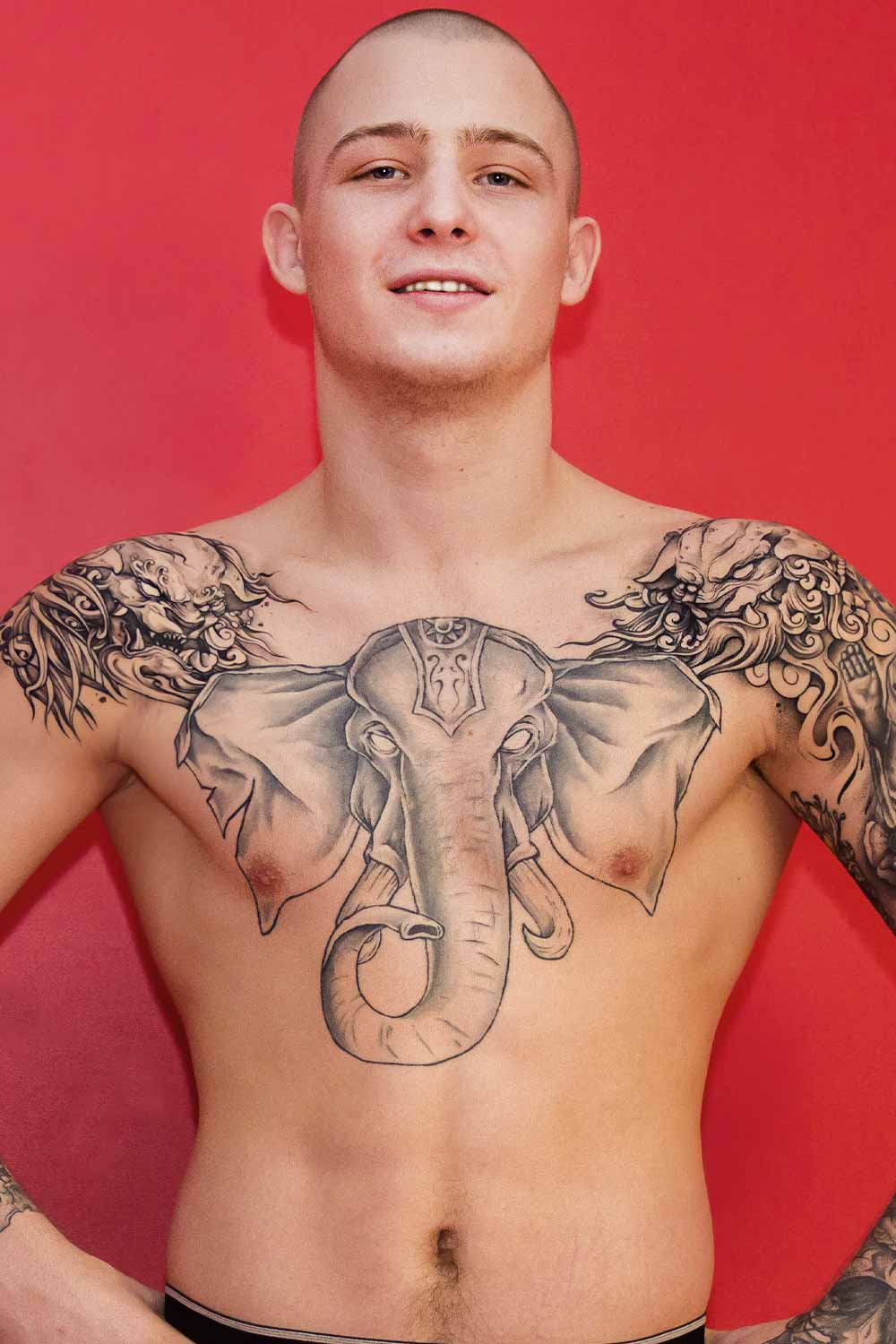 /
Rose Tattoo Men
Don't call them girly. A rose is one of the most popular flower tattoo designs for men. You can incorporate a rose into a black and grey tattoo sleeve, add the name of your beloved, or place one right on your kneecap for an incredibly cool look.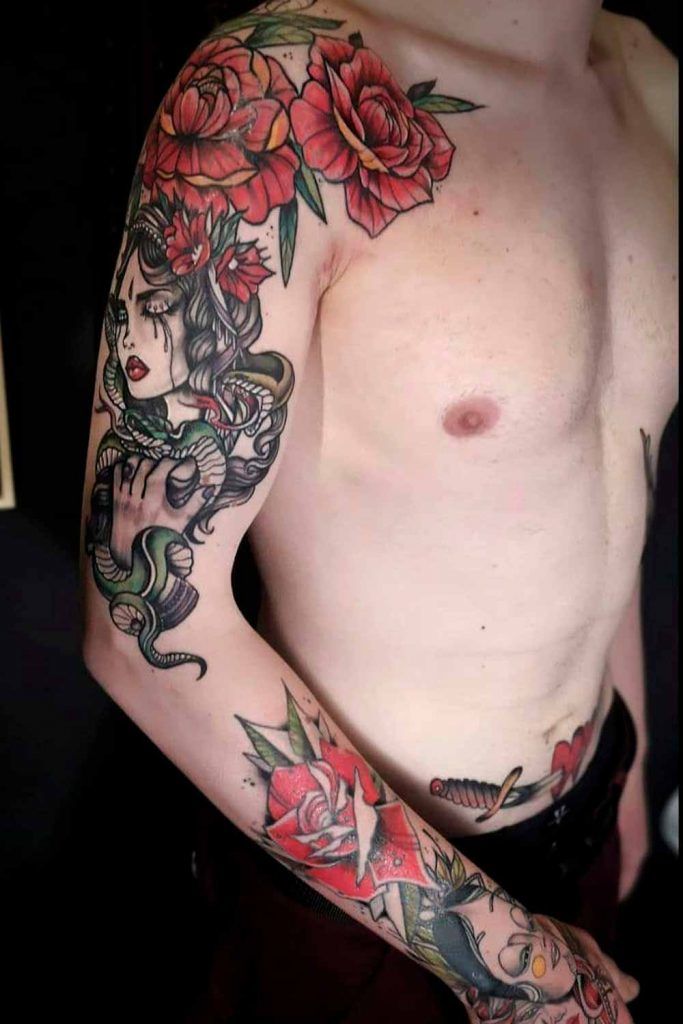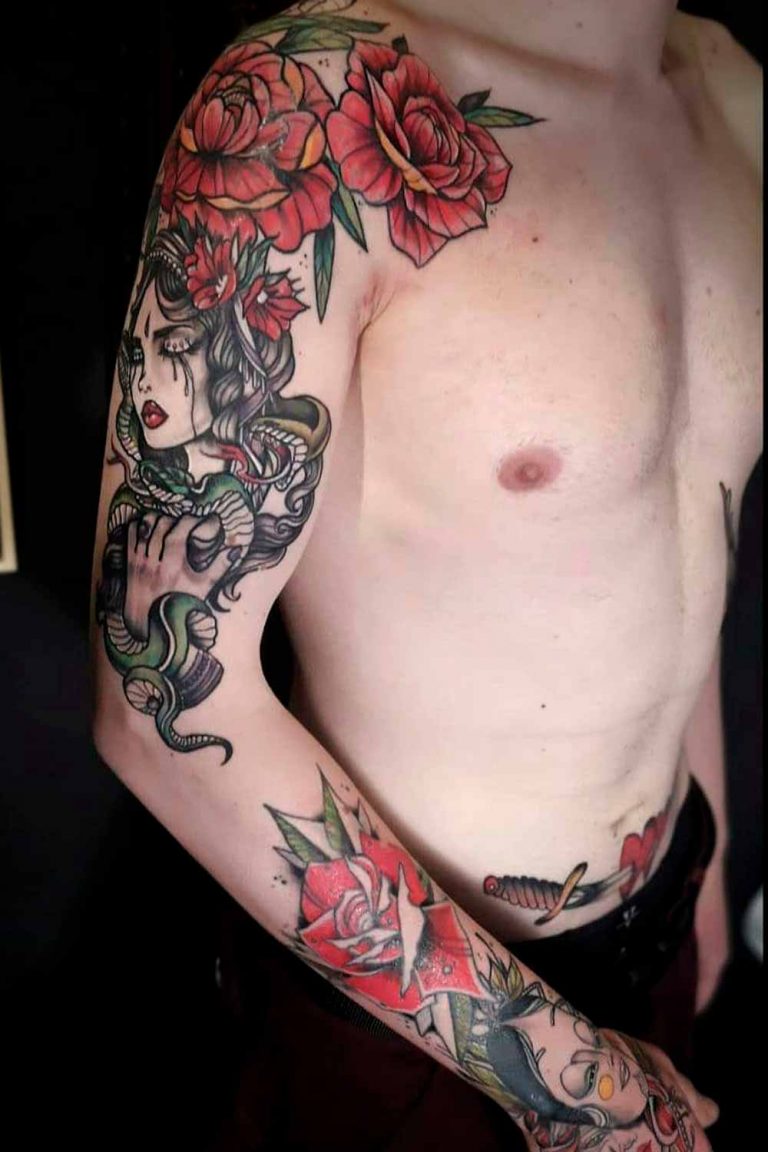 Source: @barberking_kh via Instagram
Star Tattoo
Often serving to offer balance, guidance, and protection, star tattoos can be simplistic or can cover vast areas of the body. Think of constellations, the galaxy, and shooting stars, and find a place to ink a few of these shining symbols.
Source: @mackatatzz via Instagram
i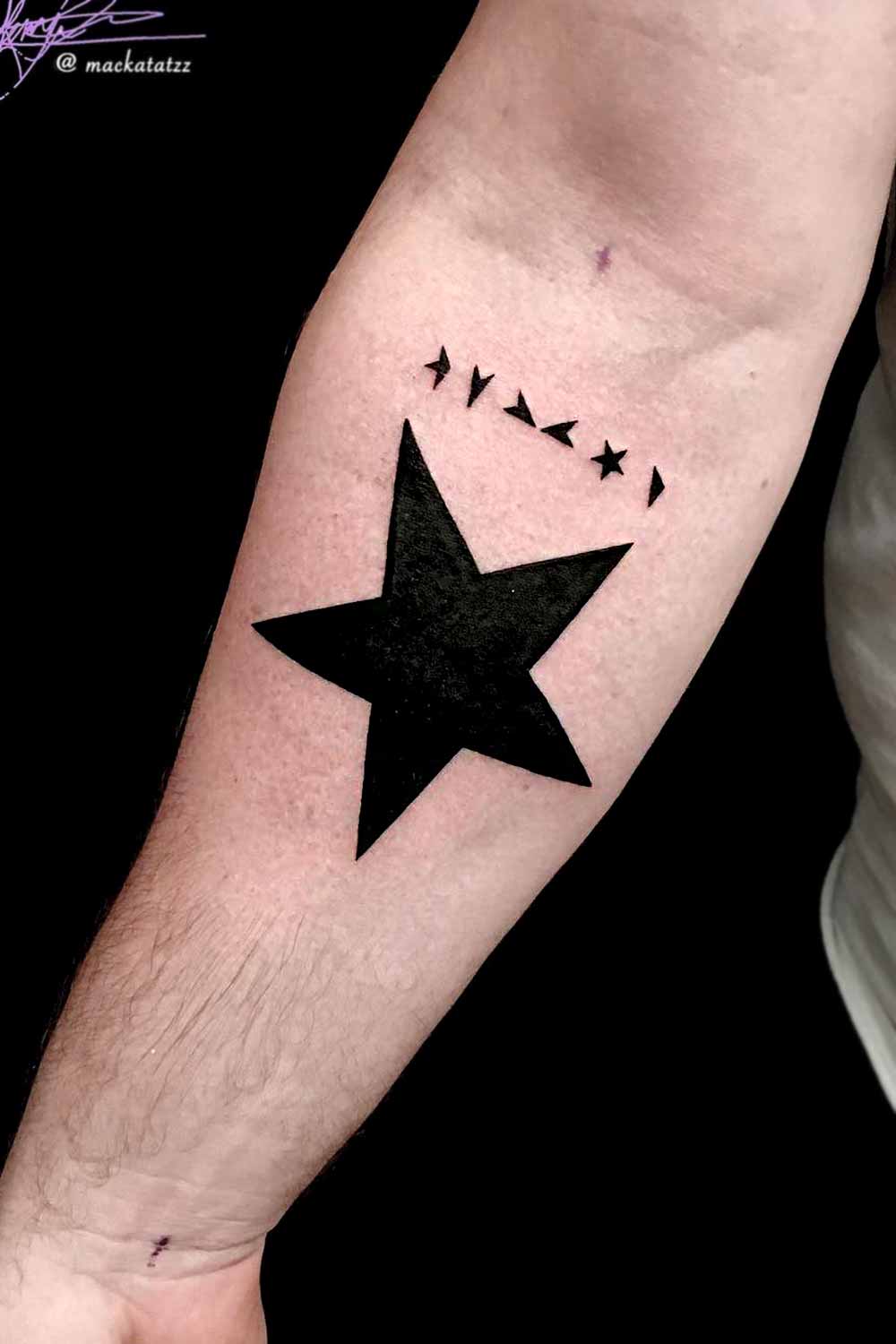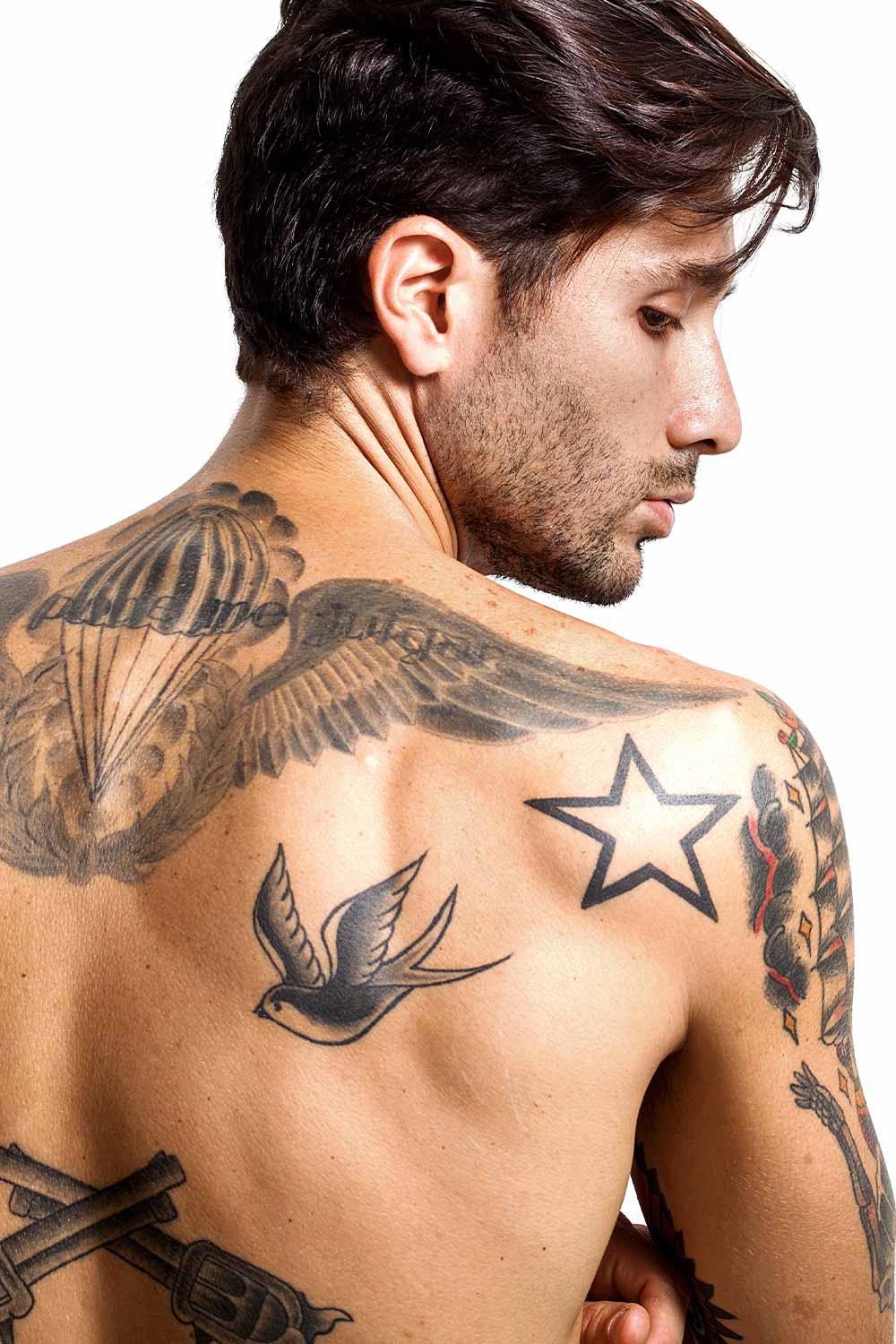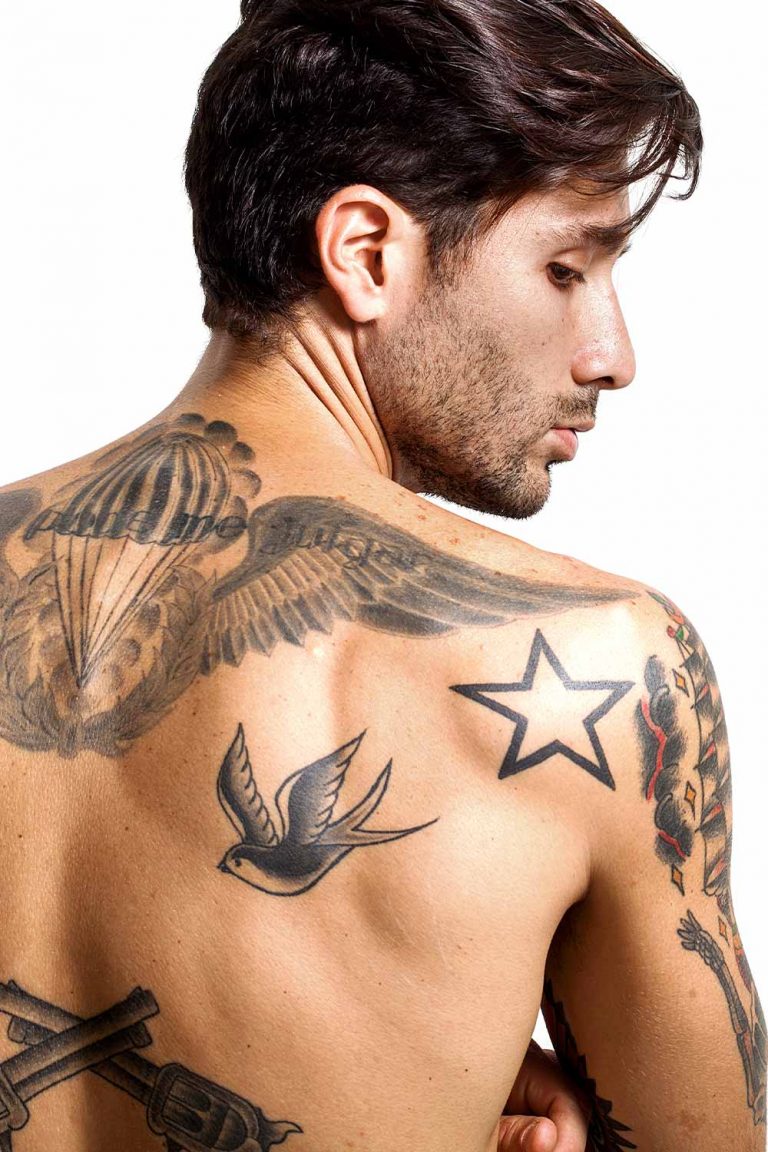 /
Cross Tattoo
Wear your faith on your sleeve, on your chest as a rosary, or even on your neck. A cross is one of the most popular Christian tattoo designs and will serve as a constant reminder of your beliefs.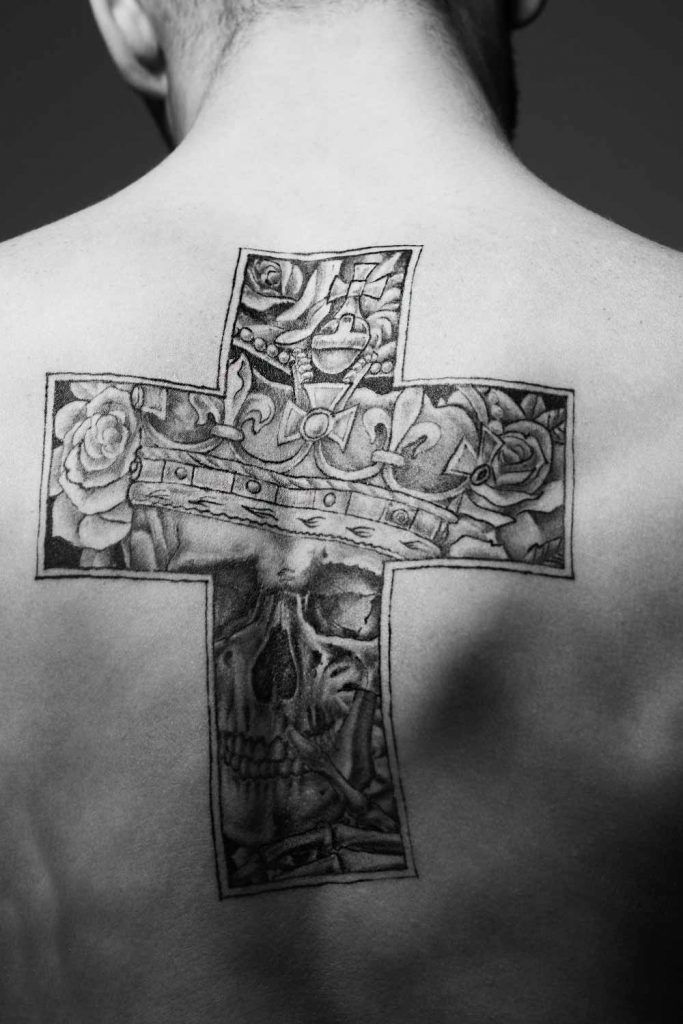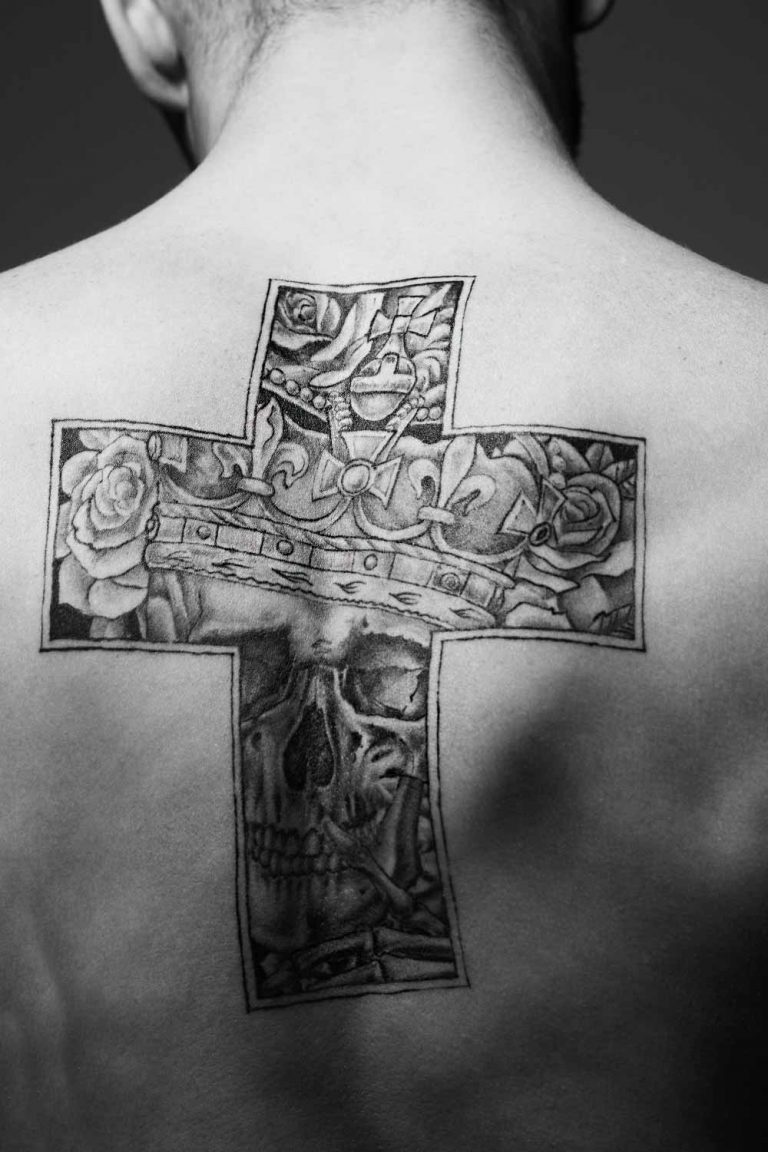 Eagle Tattoo
The eagle signifies freedom, prey, and bravery. A popular patriotic tattoo design for veterans, the eagle is an excellent tattoo design for those with a warrior spirit. Eagle tattoos reflect the chaotic and hectic rhythm of the modern world. It reminds of a gigantic comic book featuring numerous vivid caricatures of animals and other incredible images. We have super cool tattoos for men. This one is on top of them all for sure, don`t you agree?
Source: @tattooist_banul via Instagram
i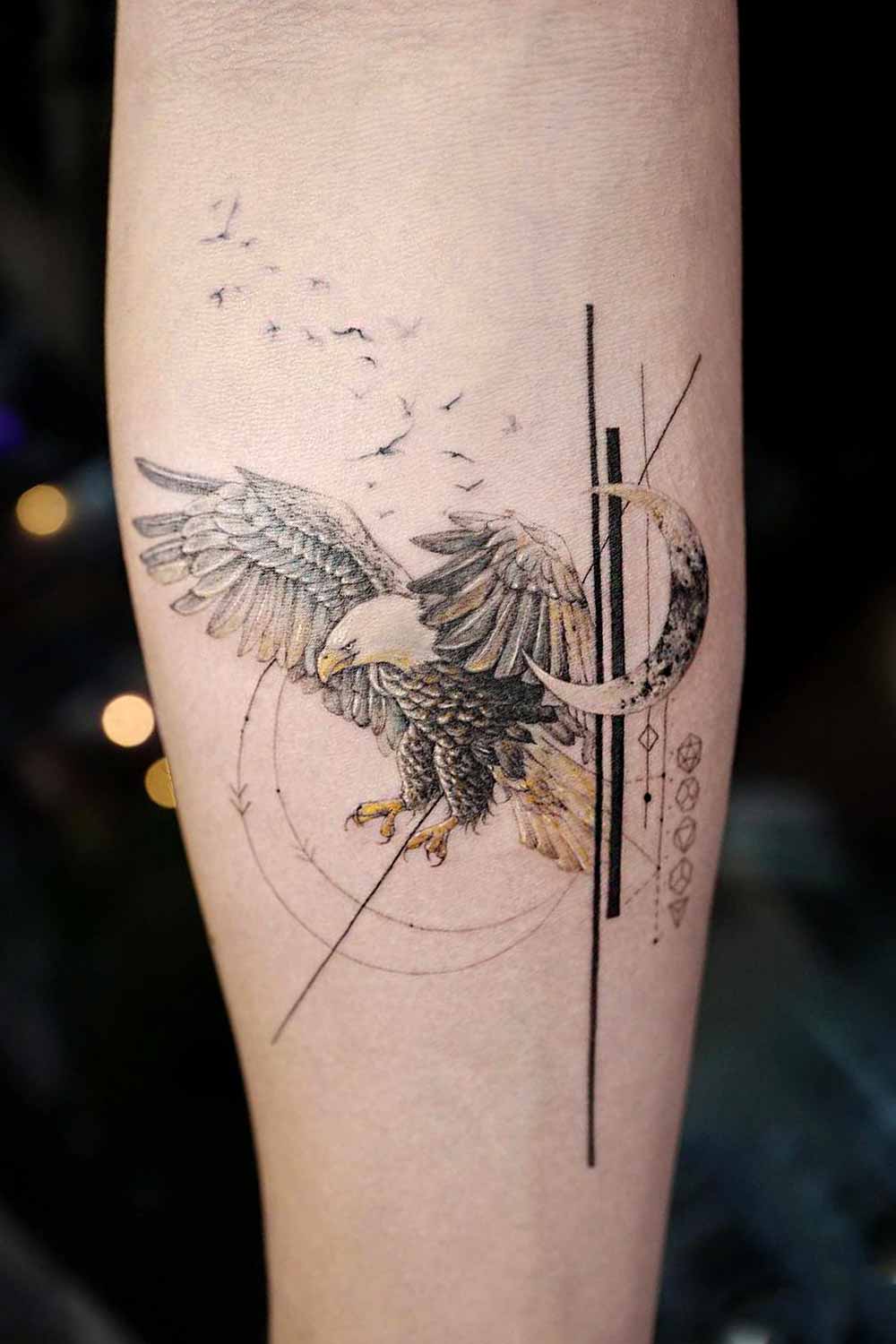 Source: @irenebogachuk via Instagram
i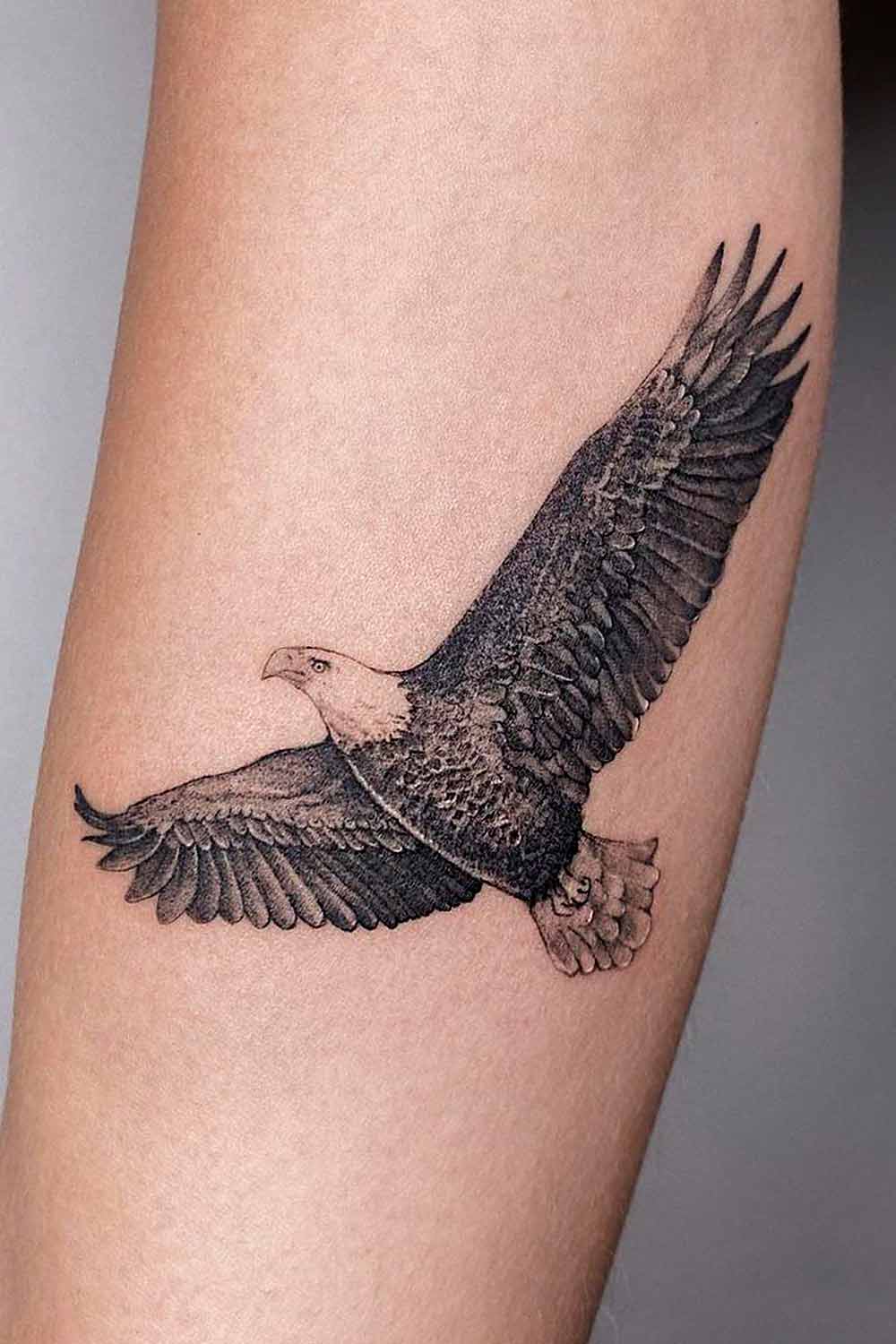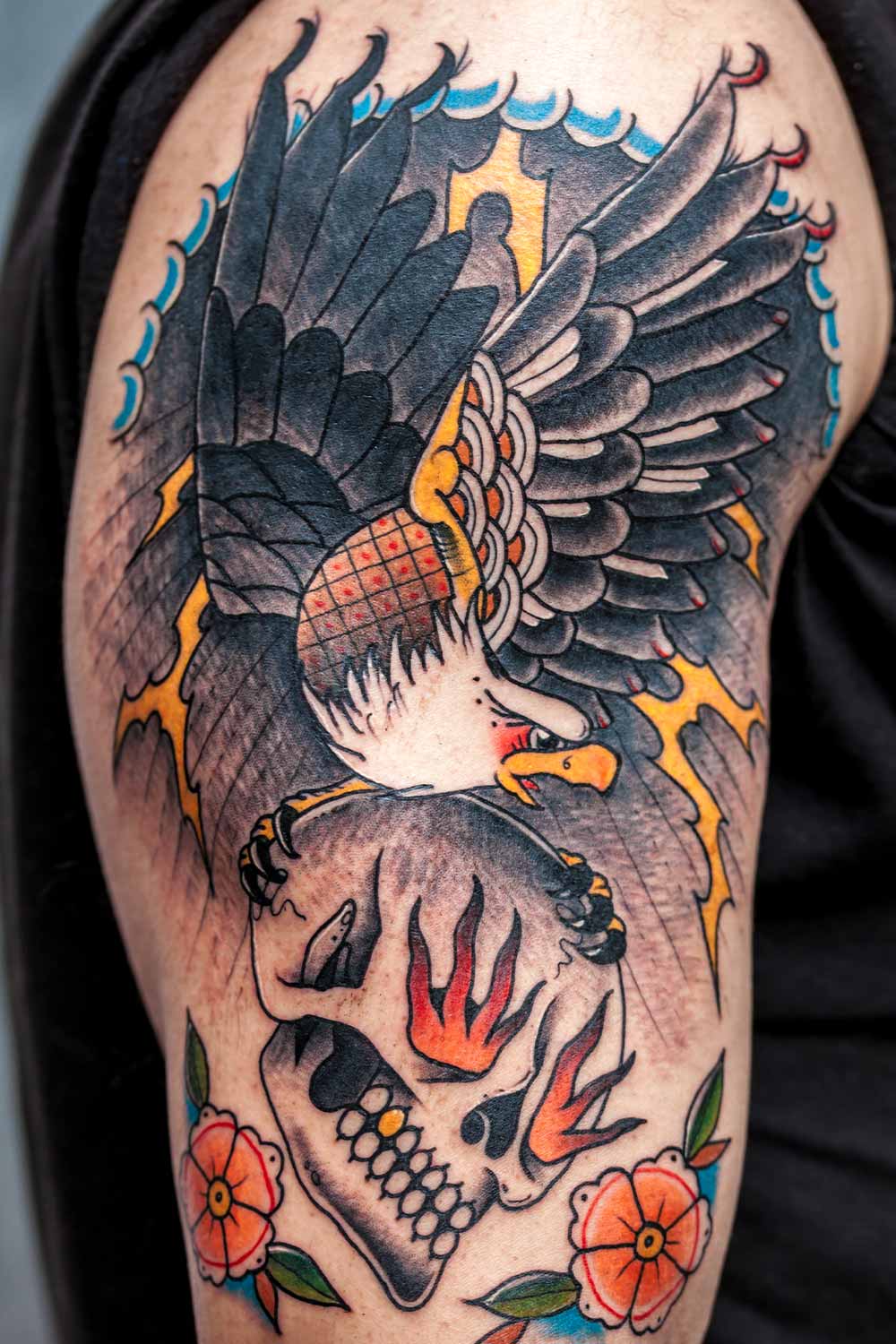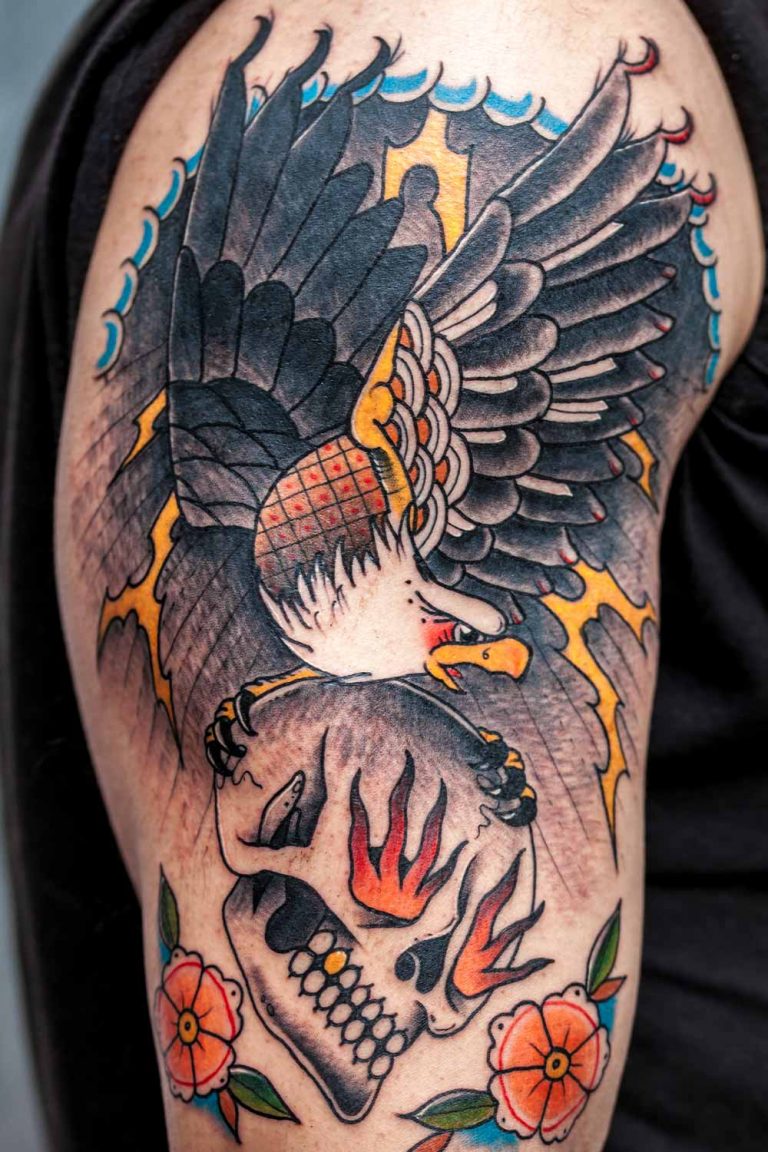 /
Dragon Tattoo
The mythical dragon makes an excellent full backpiece design for men. Whether you're paying tribute to your Chinese astrological symbol or are a fan of Asian style tattoos, a dragon is a fierce and fiery choice.
Source: @kottattoo.studio via Instagram
i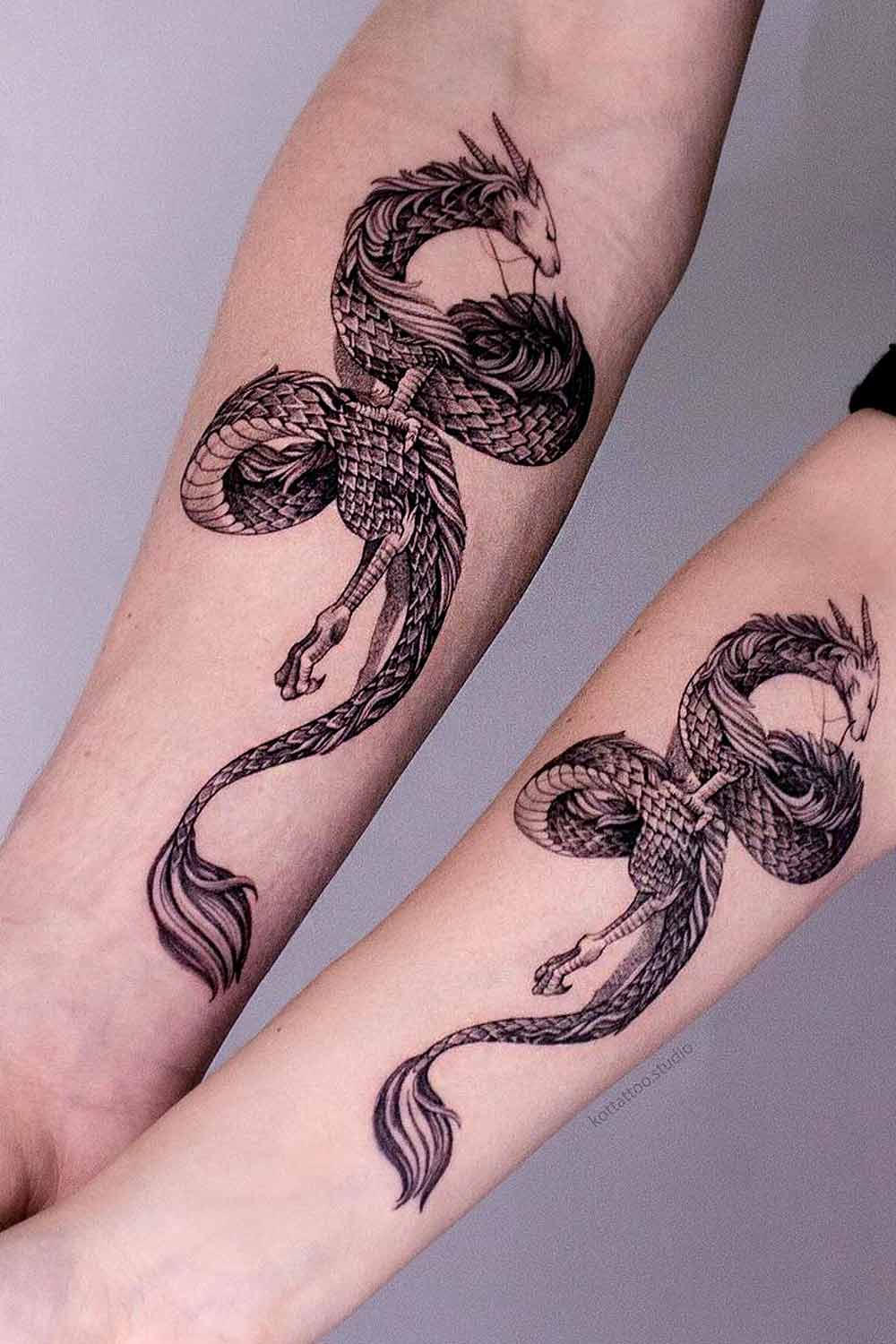 Source: @irenebogachuk via Instagram
i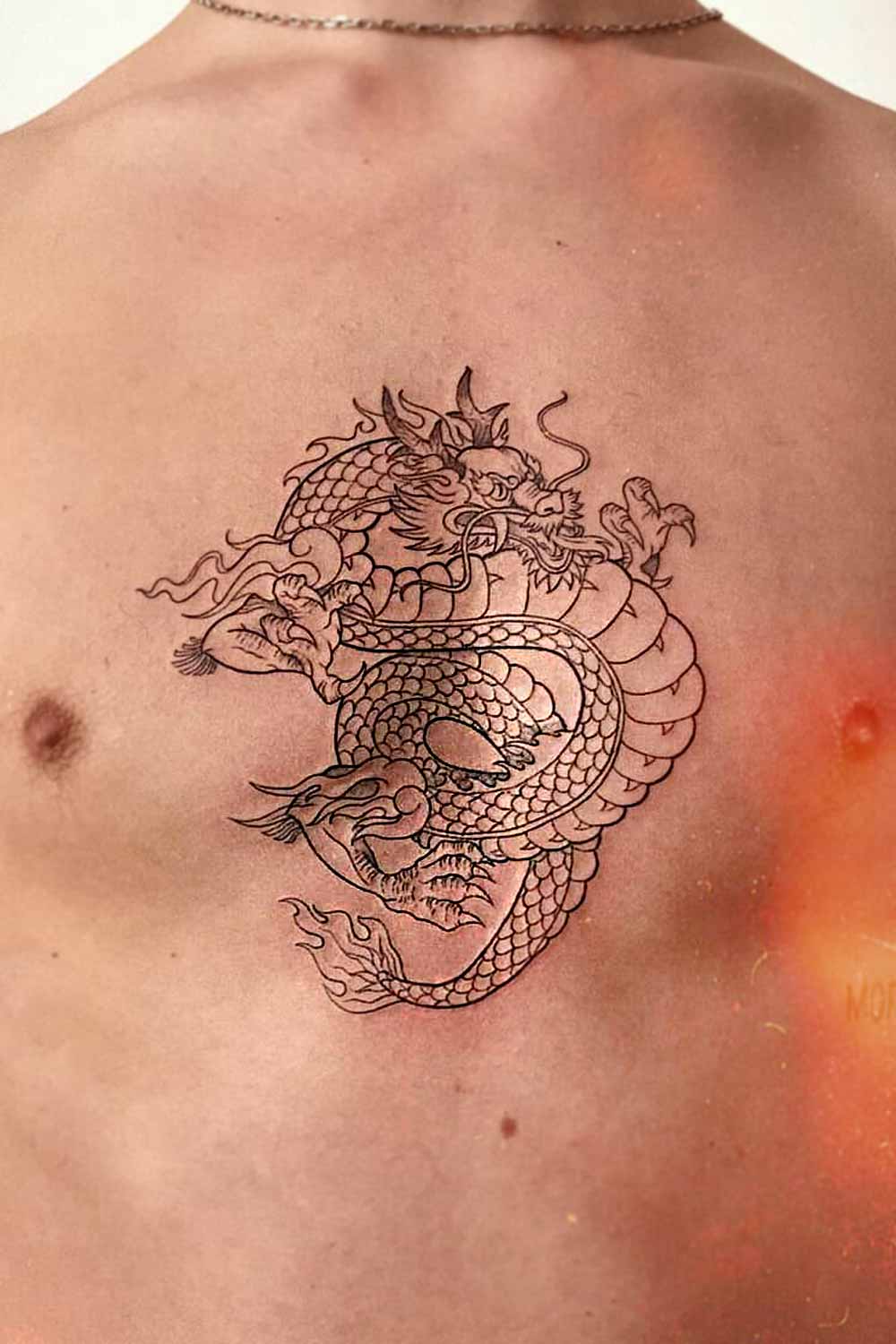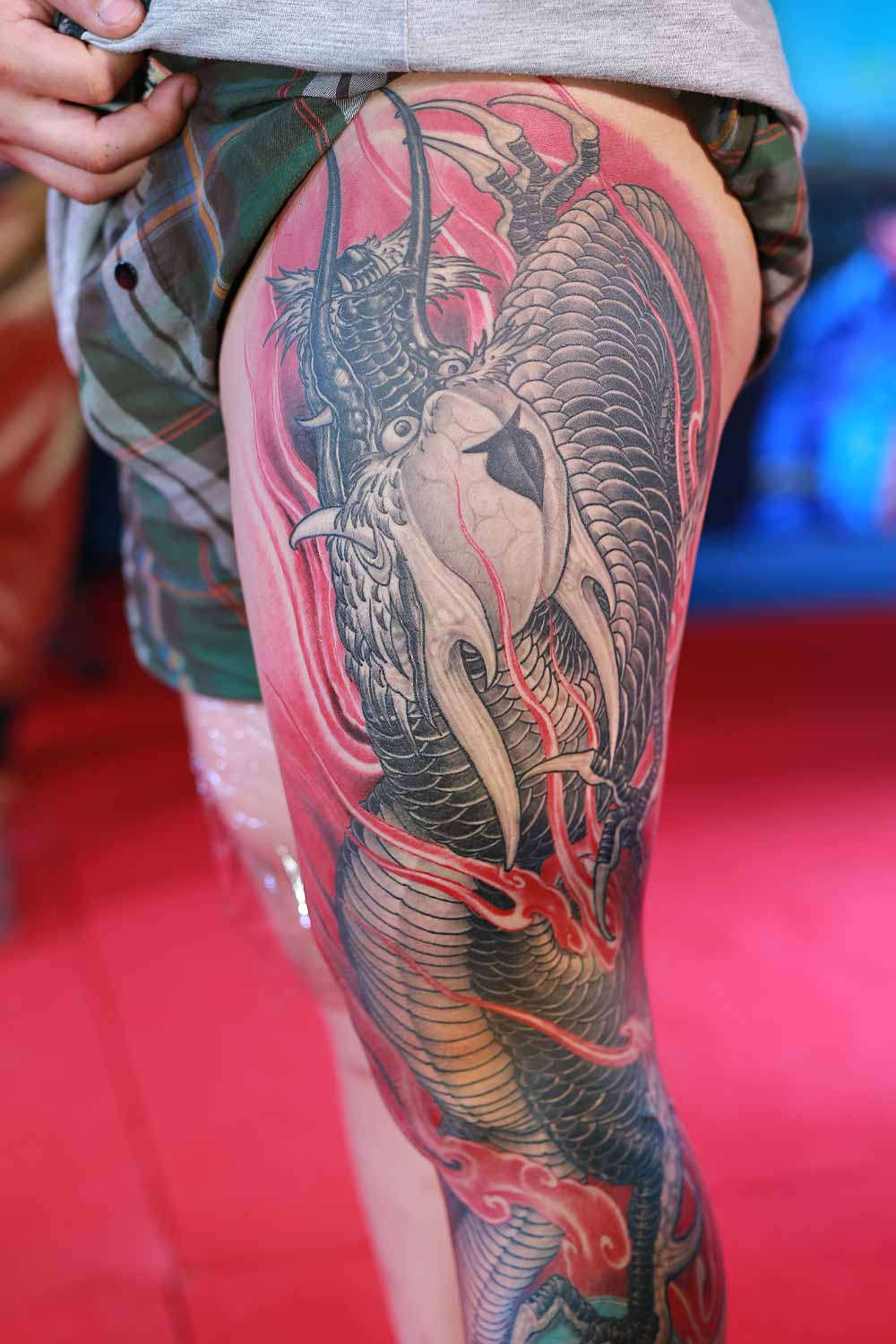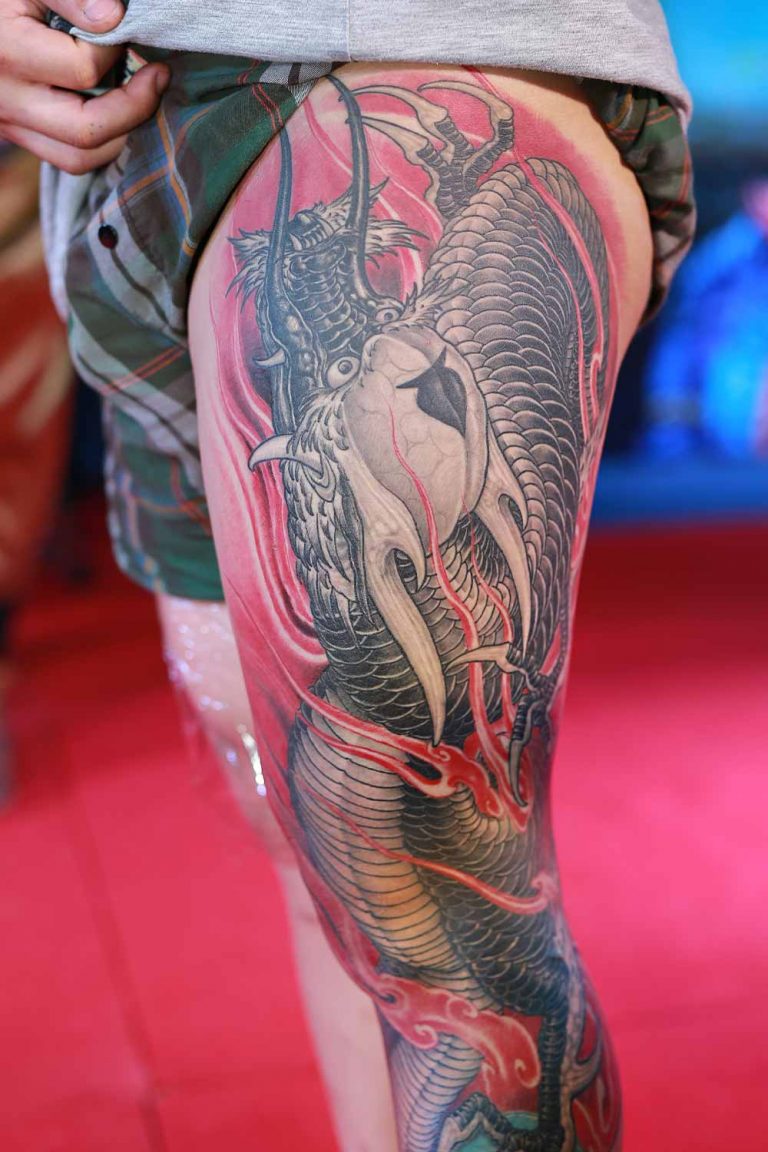 /
Snake Tattoo
They slither and they can depict evil, but that doesn't stop the popularity of a serpent tattoo. Wrap one on your bicep or leg for a sexy tattoo design that's quite tempting. Here is one of the most inspirational tattoos we have come across lately. As we said before, forearm tattoos form a very unique and wholesome piece of design and this nun tattoo with a bit of horror air is a vivid example of this fact.
Source: @lukovnikovtattoo via Instagram
i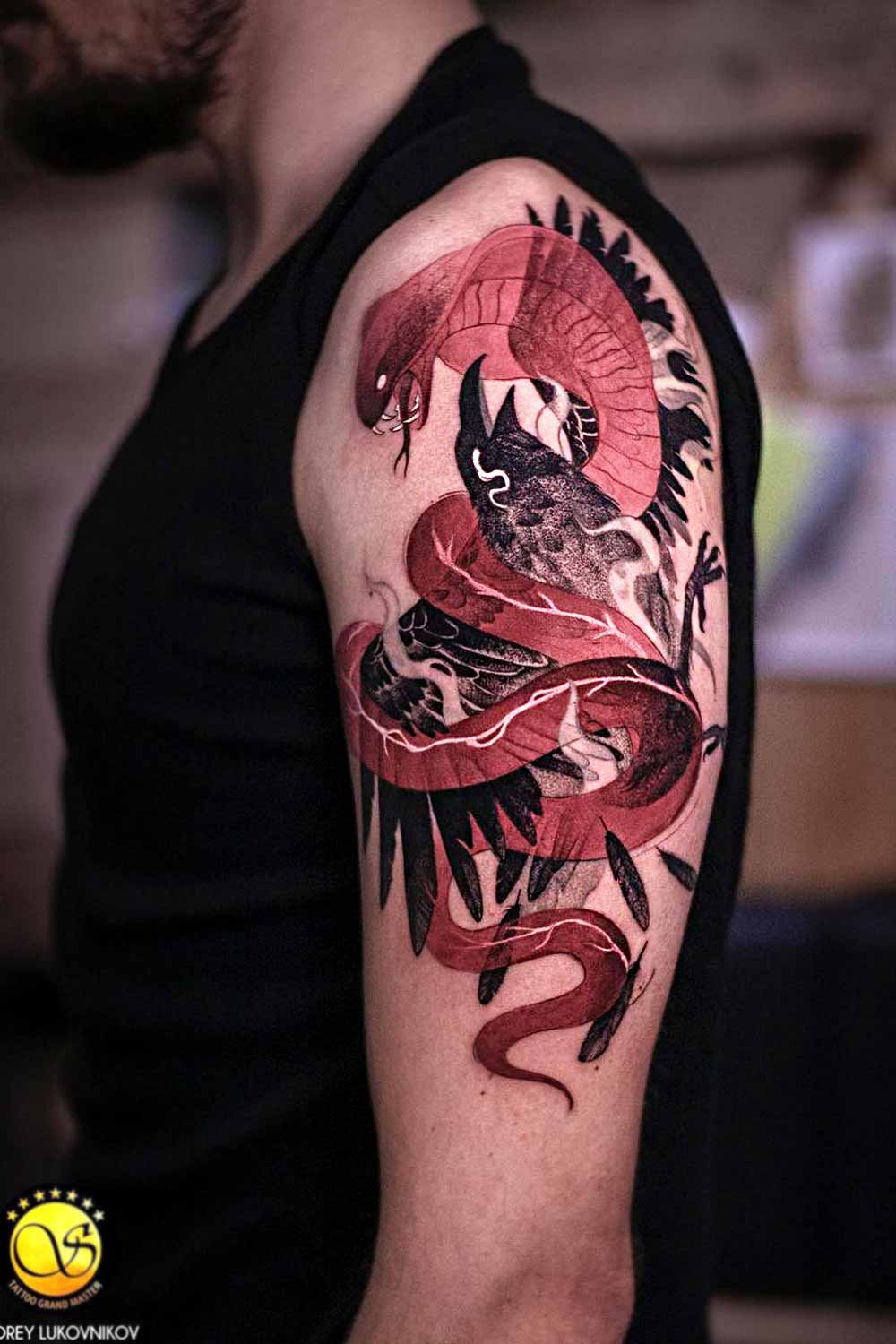 Source: @dasha_sumtattoo via Instagram
i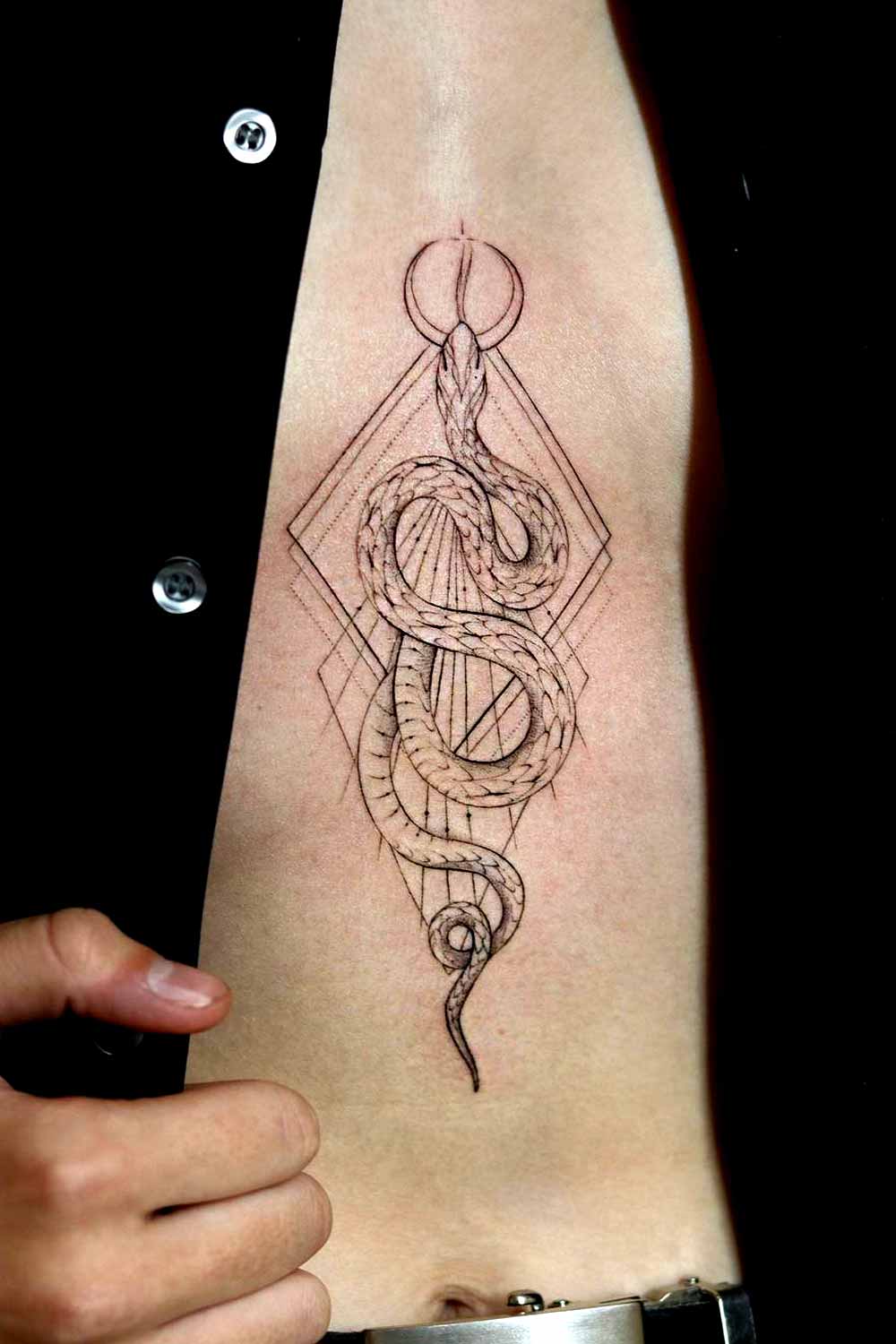 Source: @barberking_kh via Instagram
i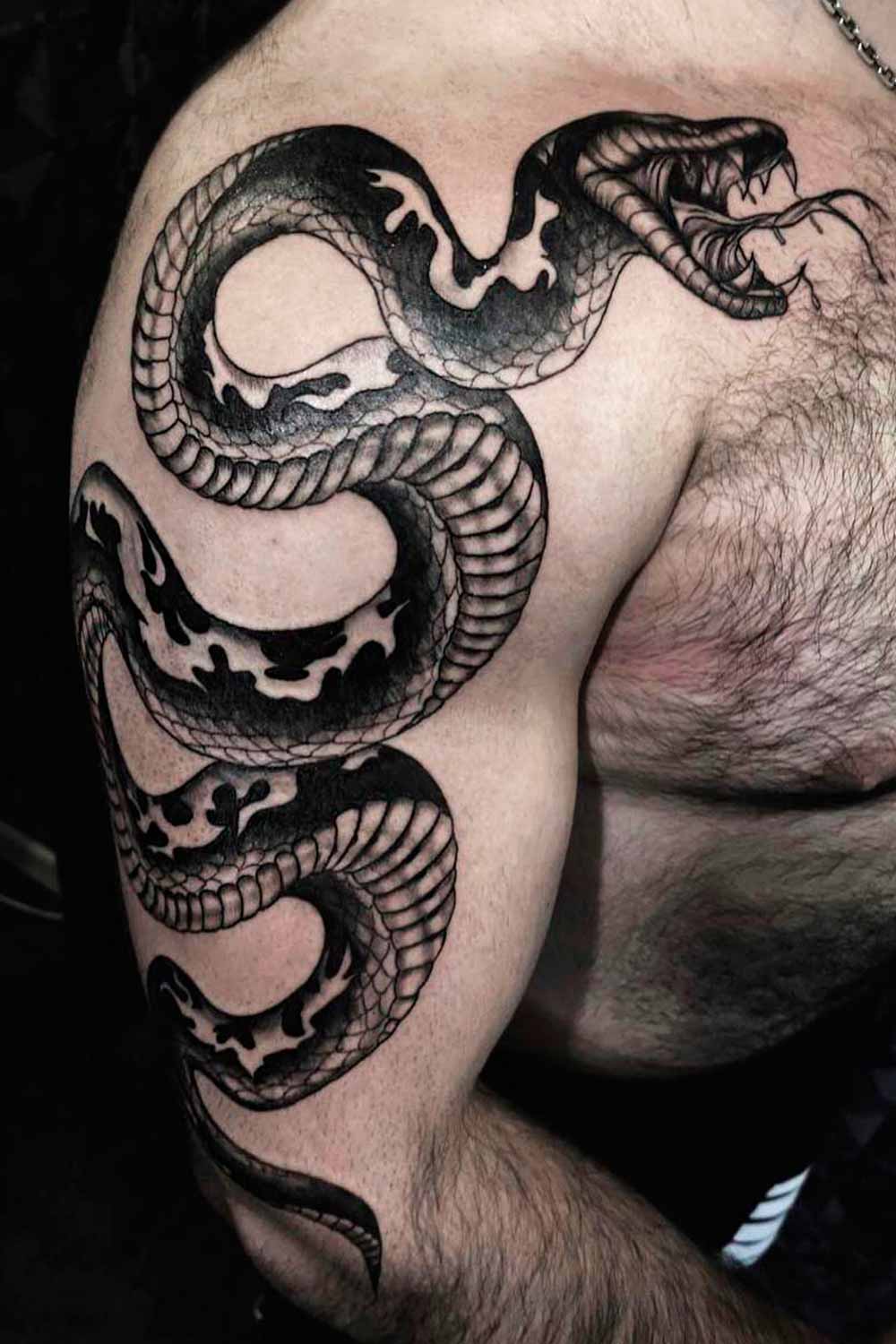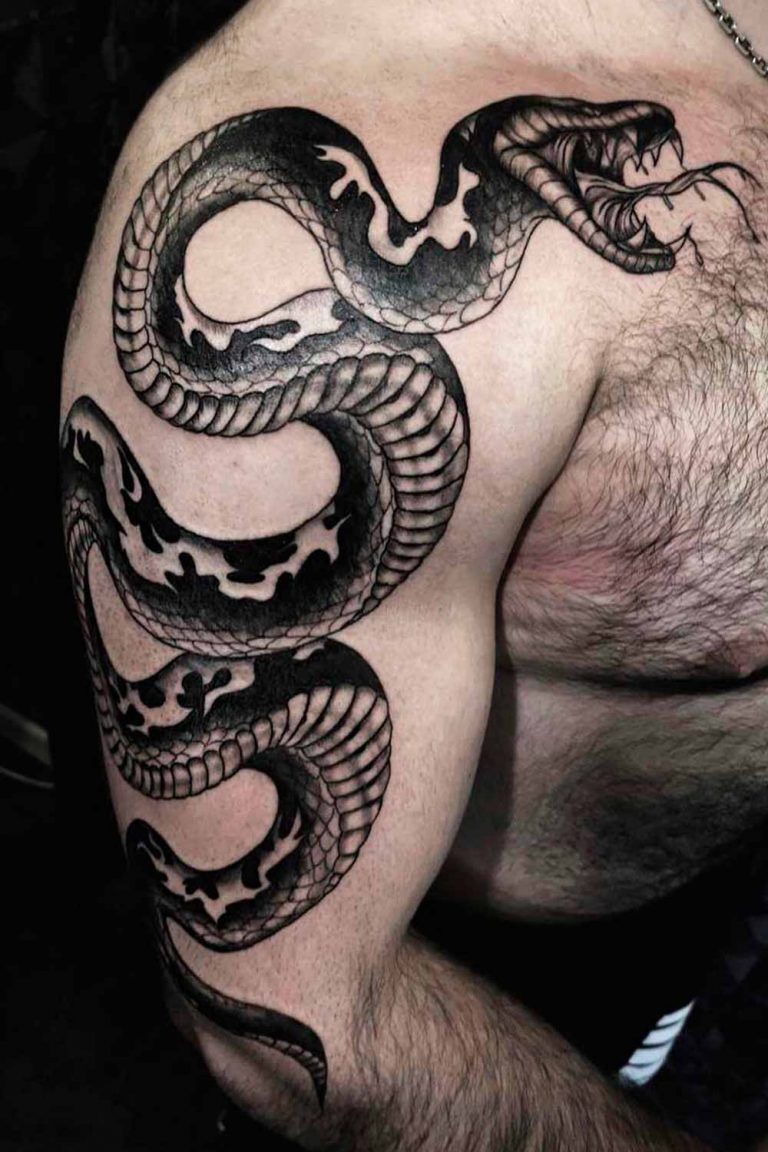 /
Japanese Tattoo
Japan has been a source of inspiration for many industries and tattoo is no exception. Irezumi, a Japanese tattoo style, is still very popular. Moreover, it has set off many modern takes on traditional artworks. It is characterized by extensive designs, covering your whole body, except for the head.
A colorful and creative idea among other back tattoos for men.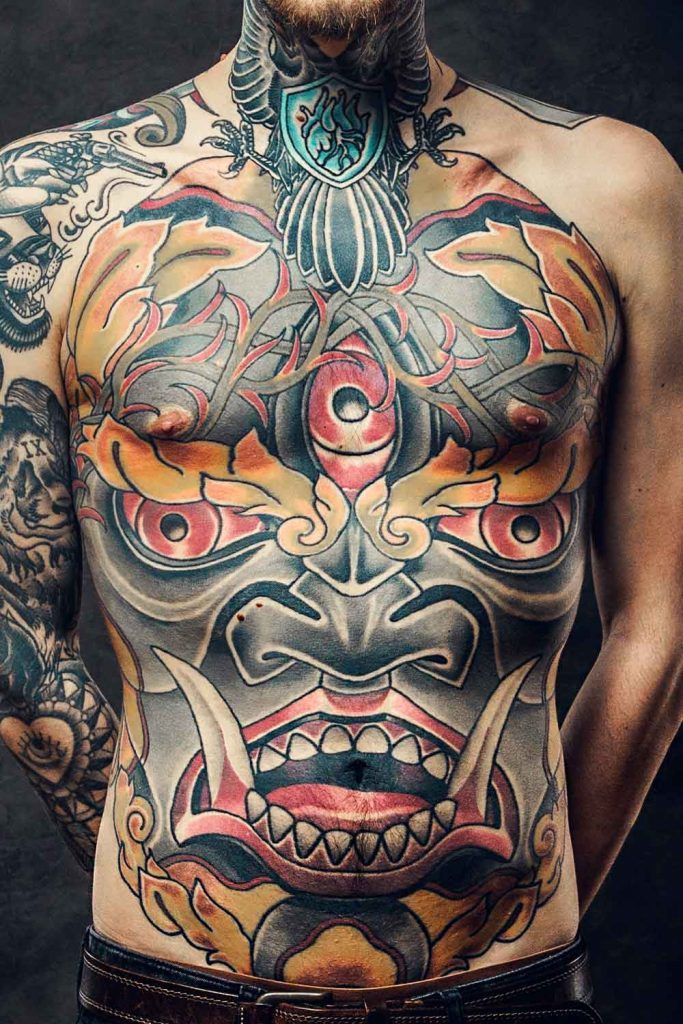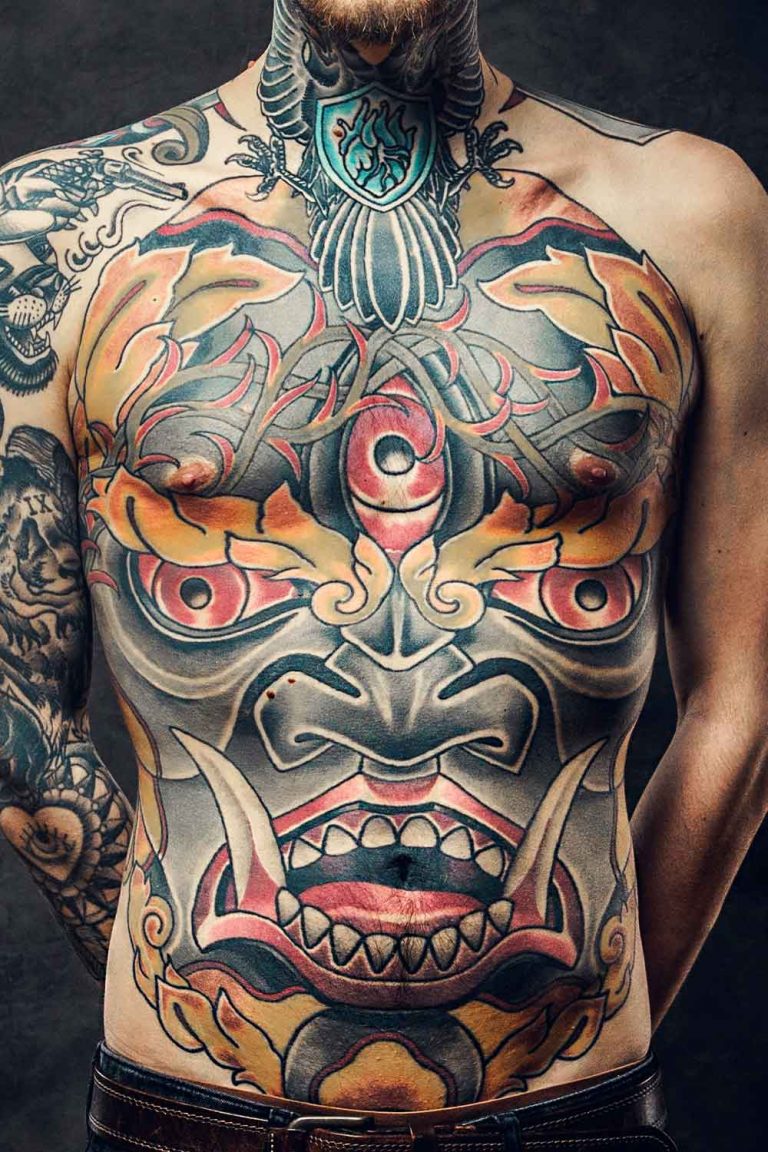 Portraiture
Portraiture never seems to lose its popularity. Getting a person who is significant to you inked on your body is one of the highest degrees of admiration. Renditions are detailed and realistic, with a play of color or monochrome, which allows for a great variety of unique tattoo designs.
Source: @the_bloody_butcher via Instagram
i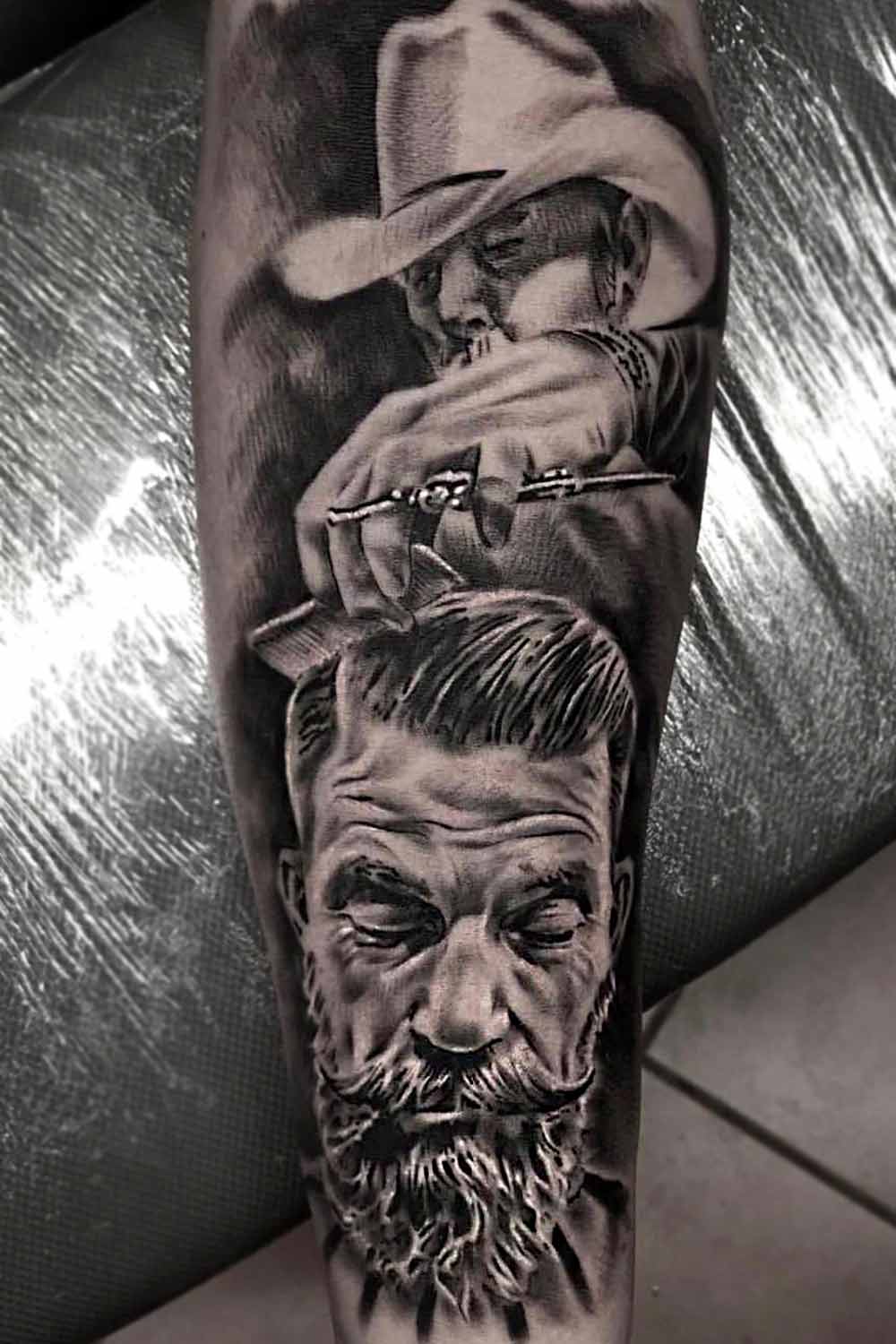 /
Horror Tattoo
Almost any sketch can be designed in accordance with the Horror Tattoo Style. A tattoo artist can use any tchniques and combinations. Yet, the most popular are those made with detailed and realistic precision. There are no restrictions when it comes to the Horror Style. You are allowed to ink any part of your body using any color palette. Yet, images are usually deep, dark and high-contrast. Also, black and gray horror tattoos for men are known to be very popular.
Source: @lukovnikovtattoo via Instagram
i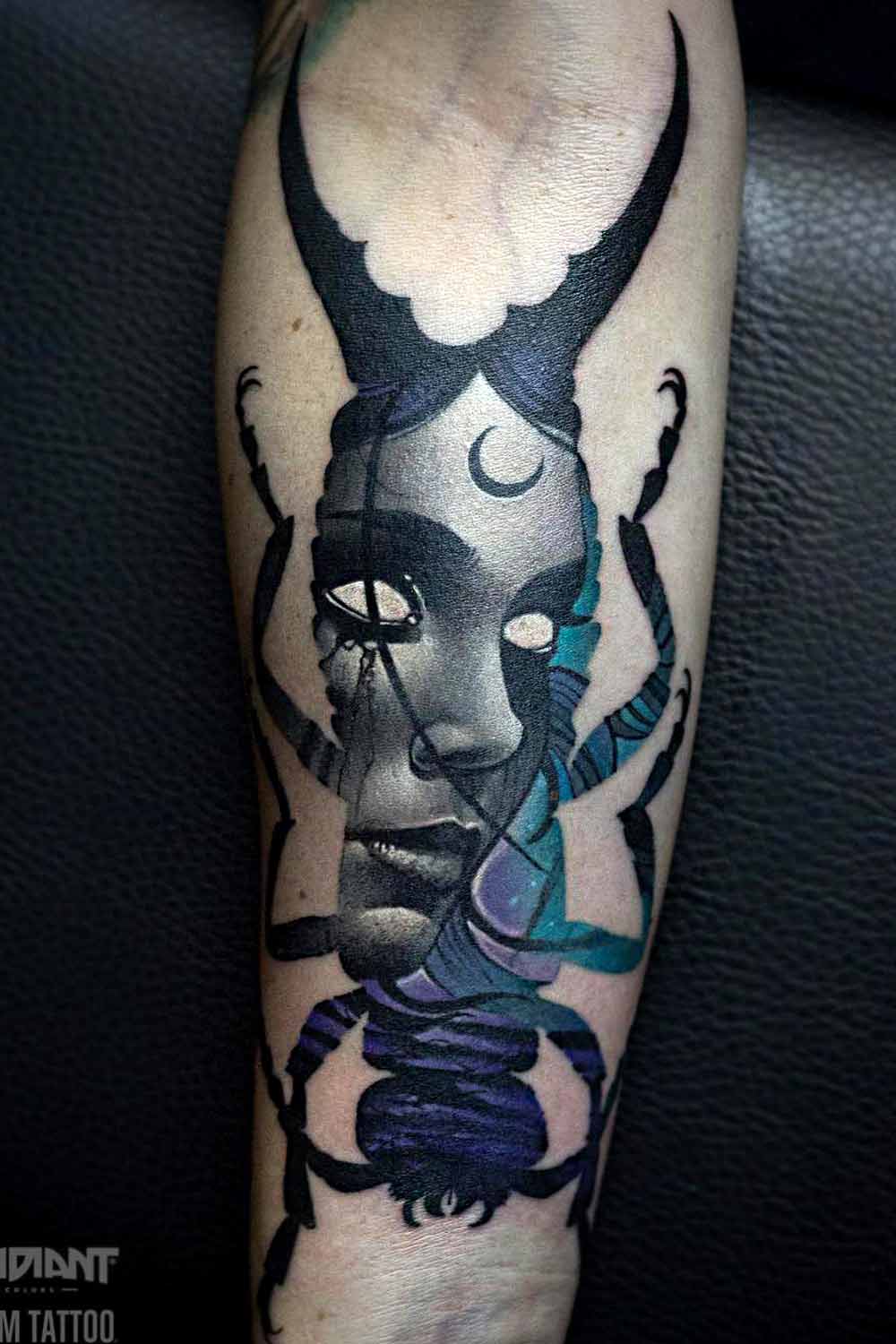 Source: @lukovnikovtattoo via Instagram
i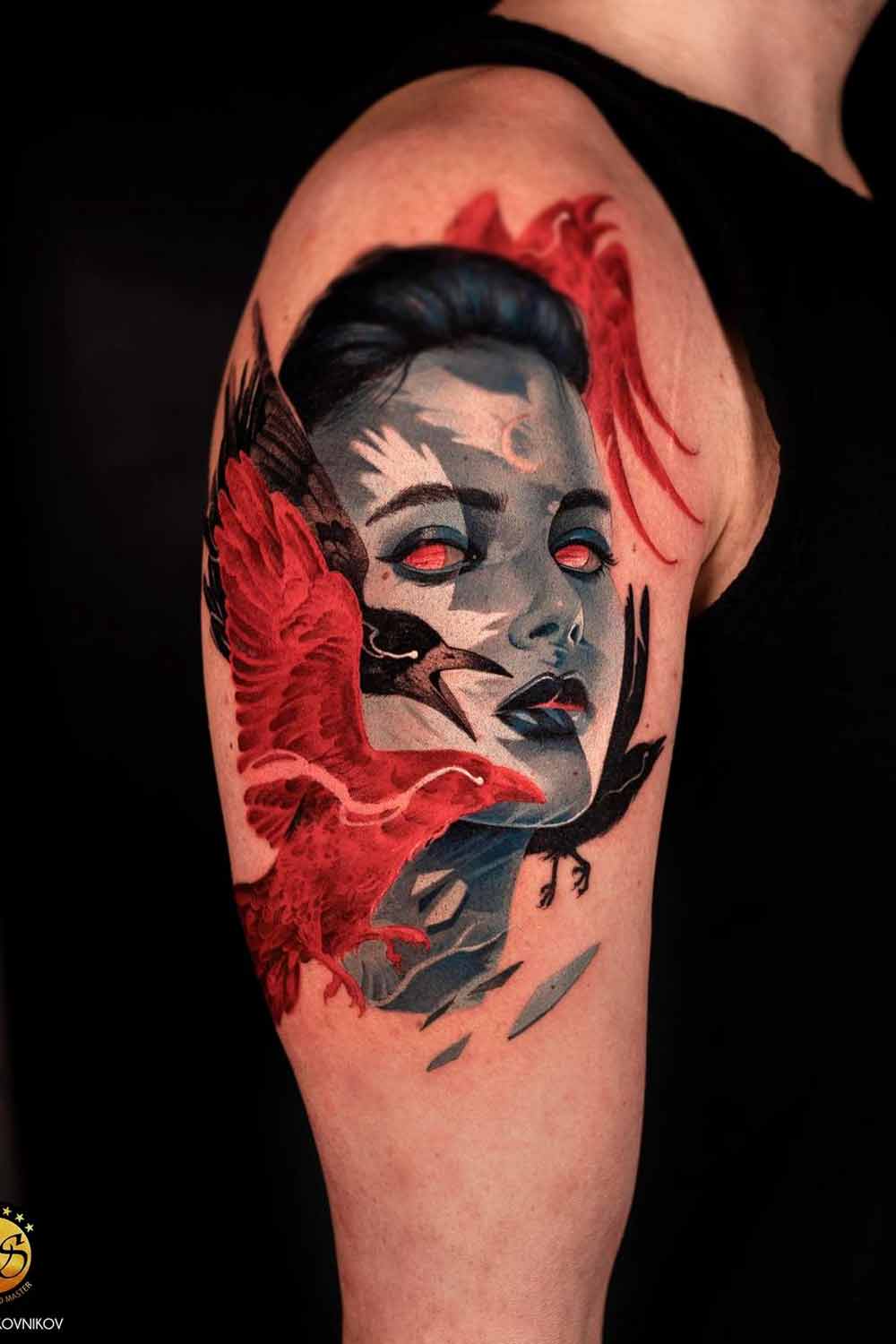 Source: @barberking_kh via Instagram
i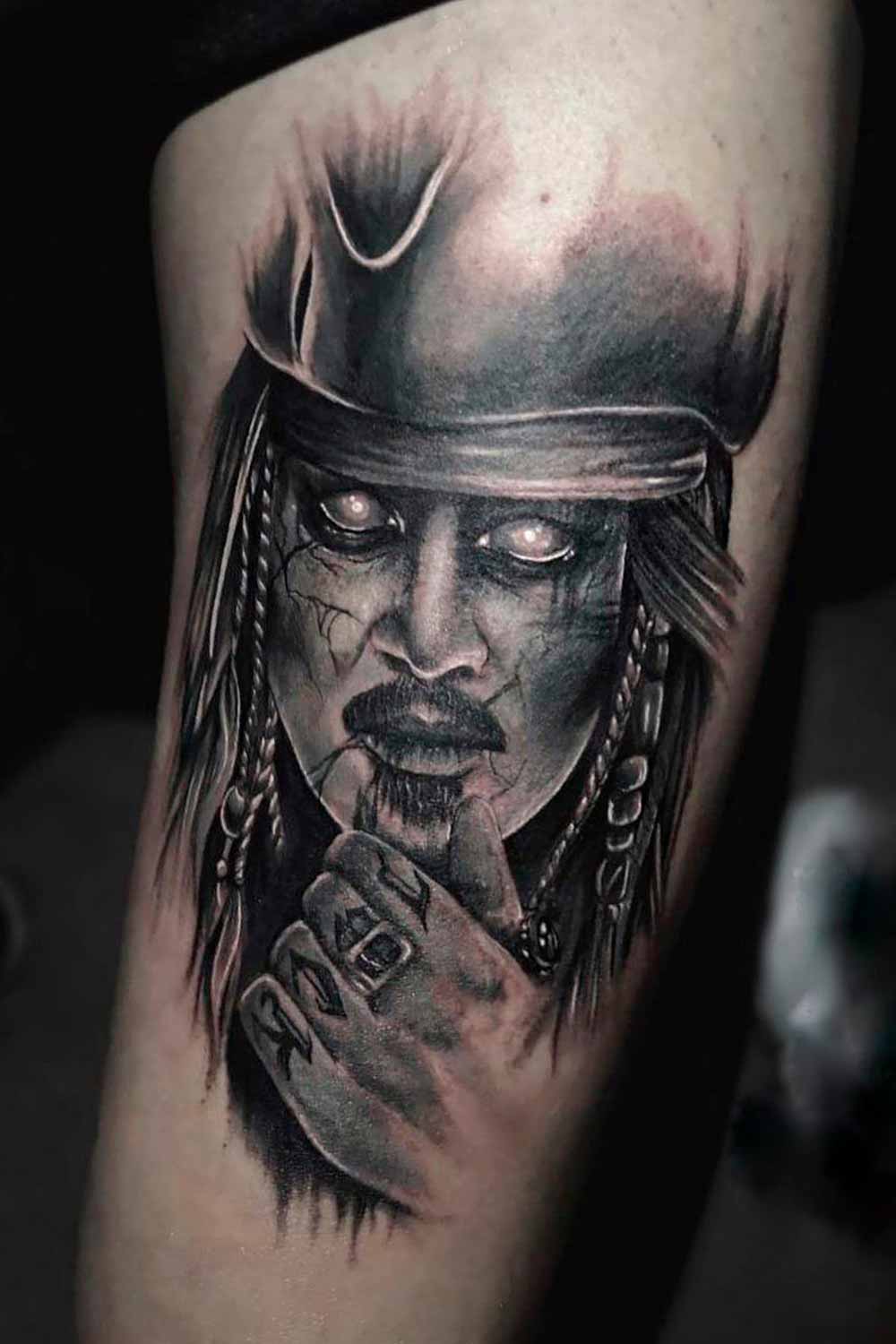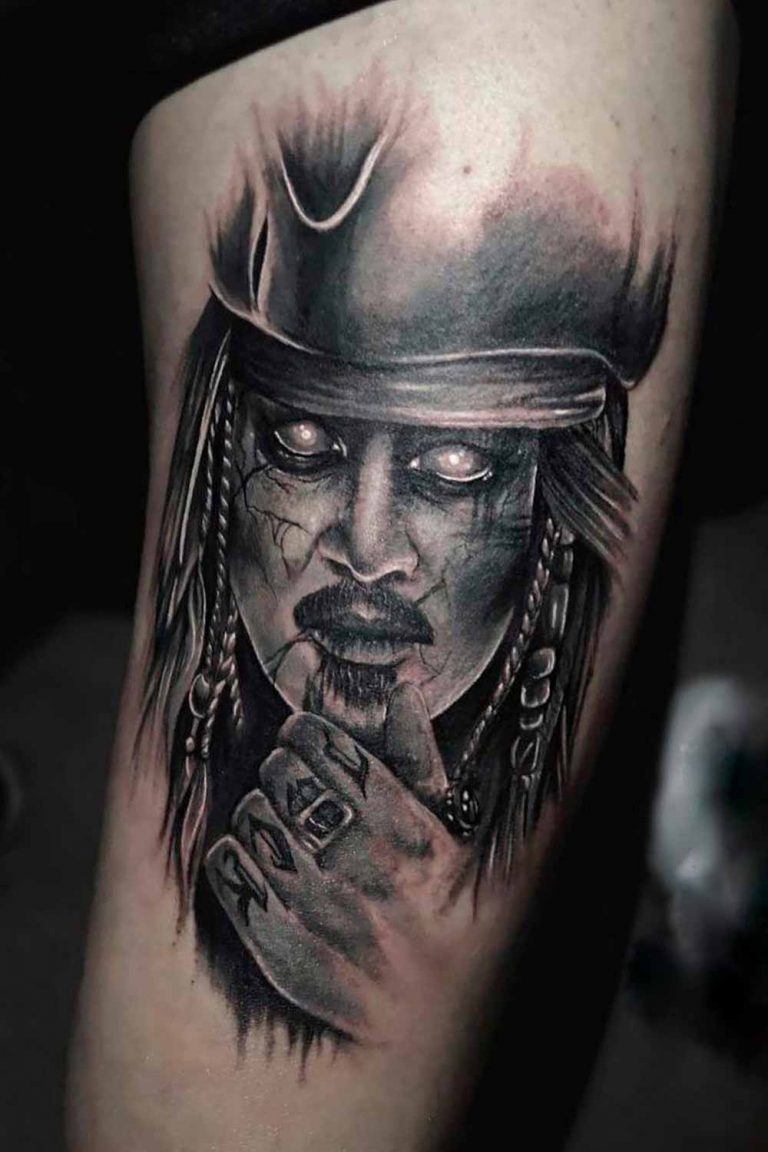 /
Blackwork
Blackwork has origins in the ancient Tribal Tattoo Style. Images consist of bold and thick lines forming a wide range of geometric patterns. As the style never stops to evolve, more elaborate designs and shapes are appearing. Obviously, Blackwork warrior tattoos are not for guys who like minimalistic style. Thus, if you are looking for ideas for small tattoos for men, then this is not an option for you. However, in case you are ready to adorn your body with these amazing tattoos, then you can rest assured that you will not go unnoticed.
Biomechanical Tattoo
When opting for a Biomechanical tattoo, you can rest assured that it will come out unique and personalized. The main feature of the style is that the image is adjusted to the curves of your body. Not only that, but the tattoo looks as if your skin hides pieces of machinery underneath, which gives a very strong, out-of-this-world impression.
Source: @uncl_paul_knows_upk via Instagram
i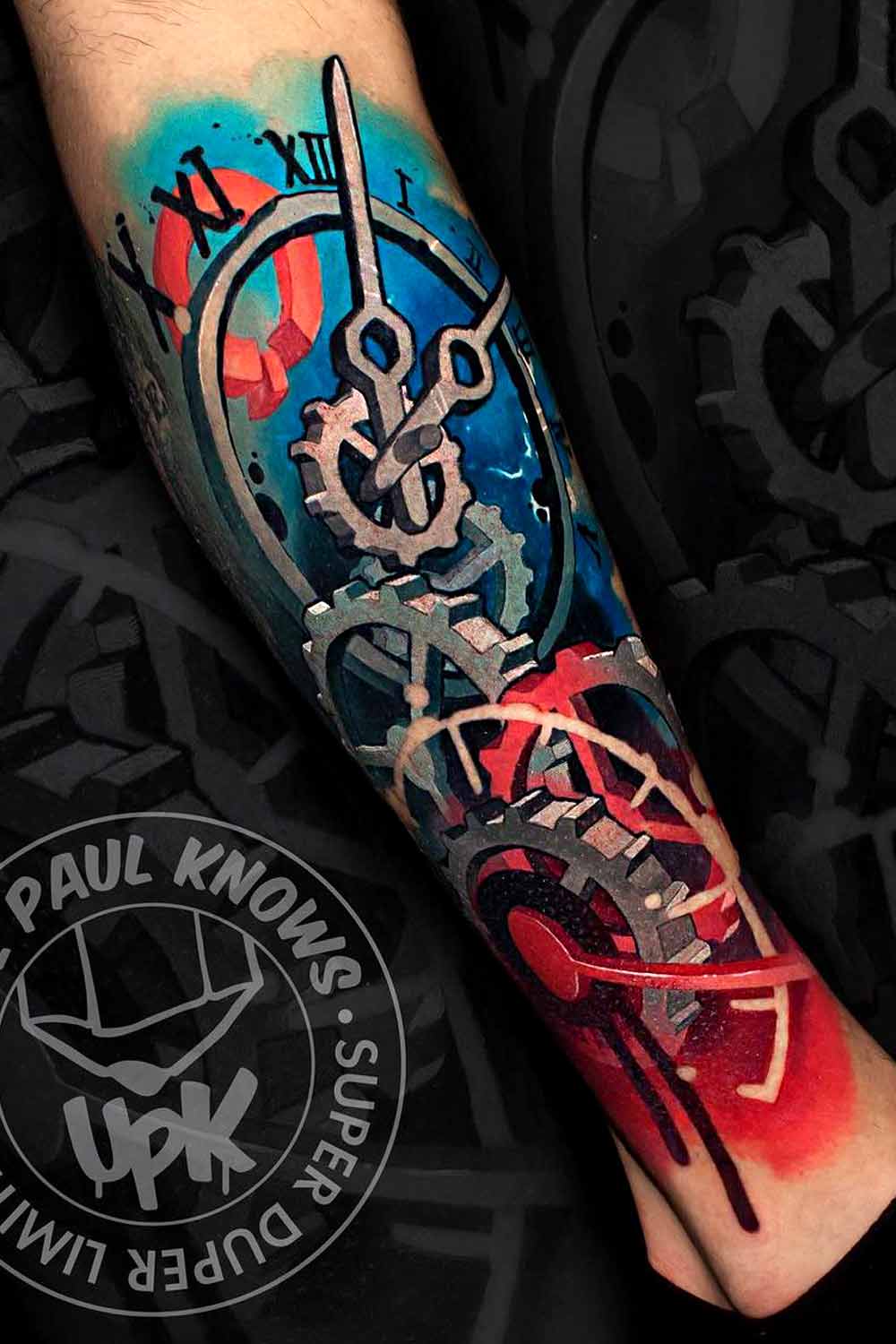 Source: @barberking_kh via Instagram
i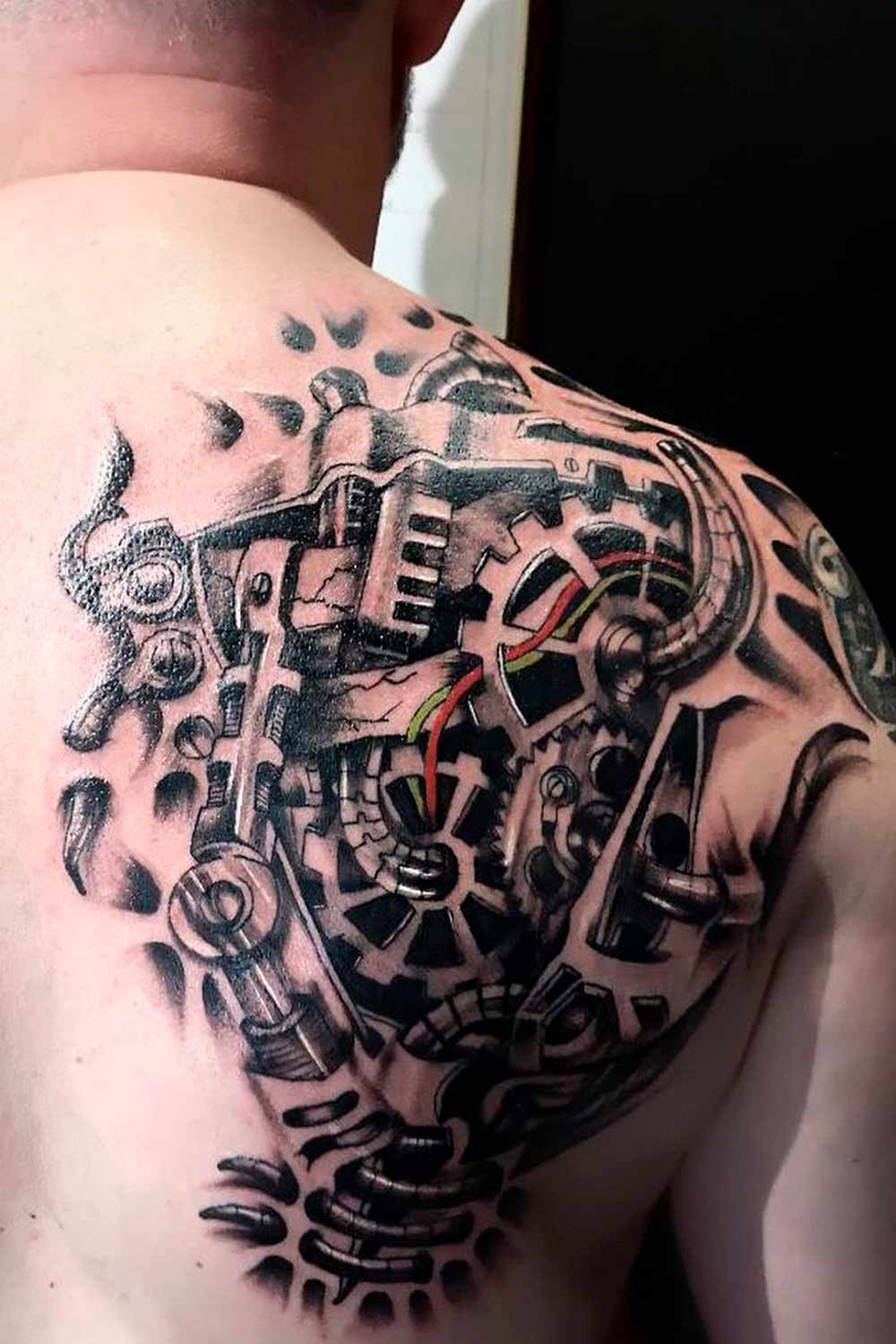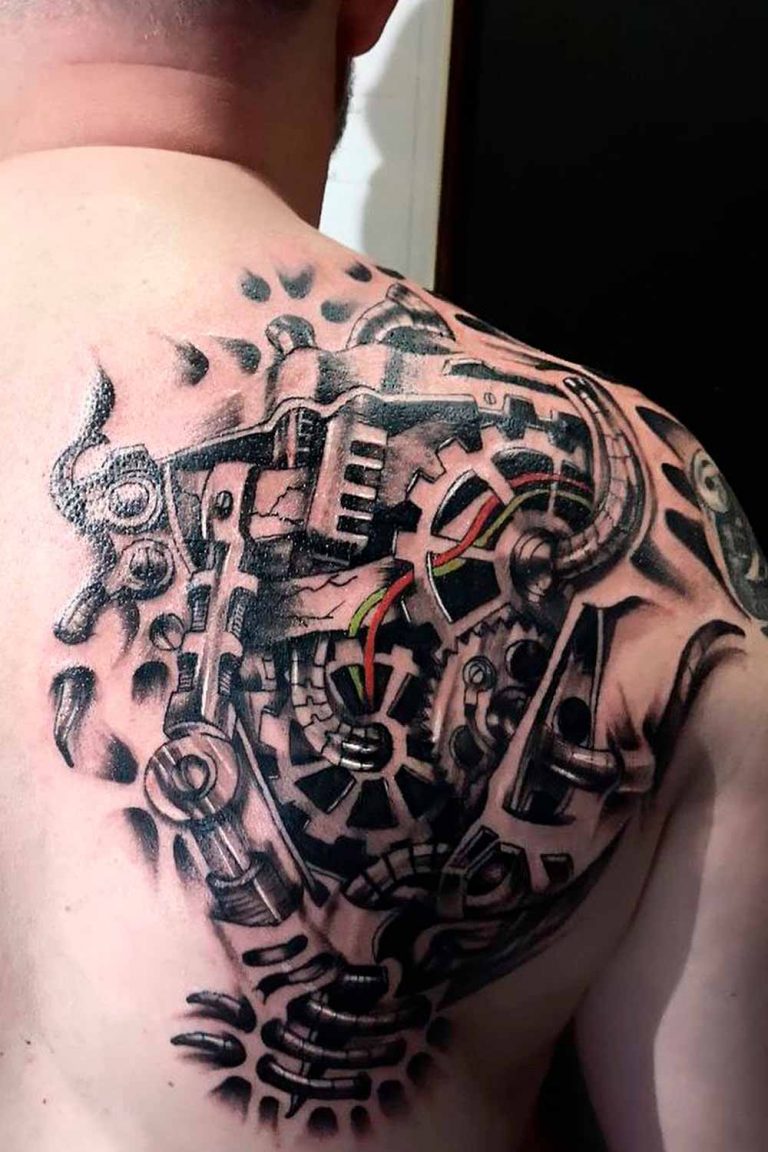 /
Trash Polka
You will not confuse Realistic Trash Polka with any other tattoo style, as it has very distinctive features. The structure resembles a collage, with elaborate imagery borrowed from the press, books and other printed sources.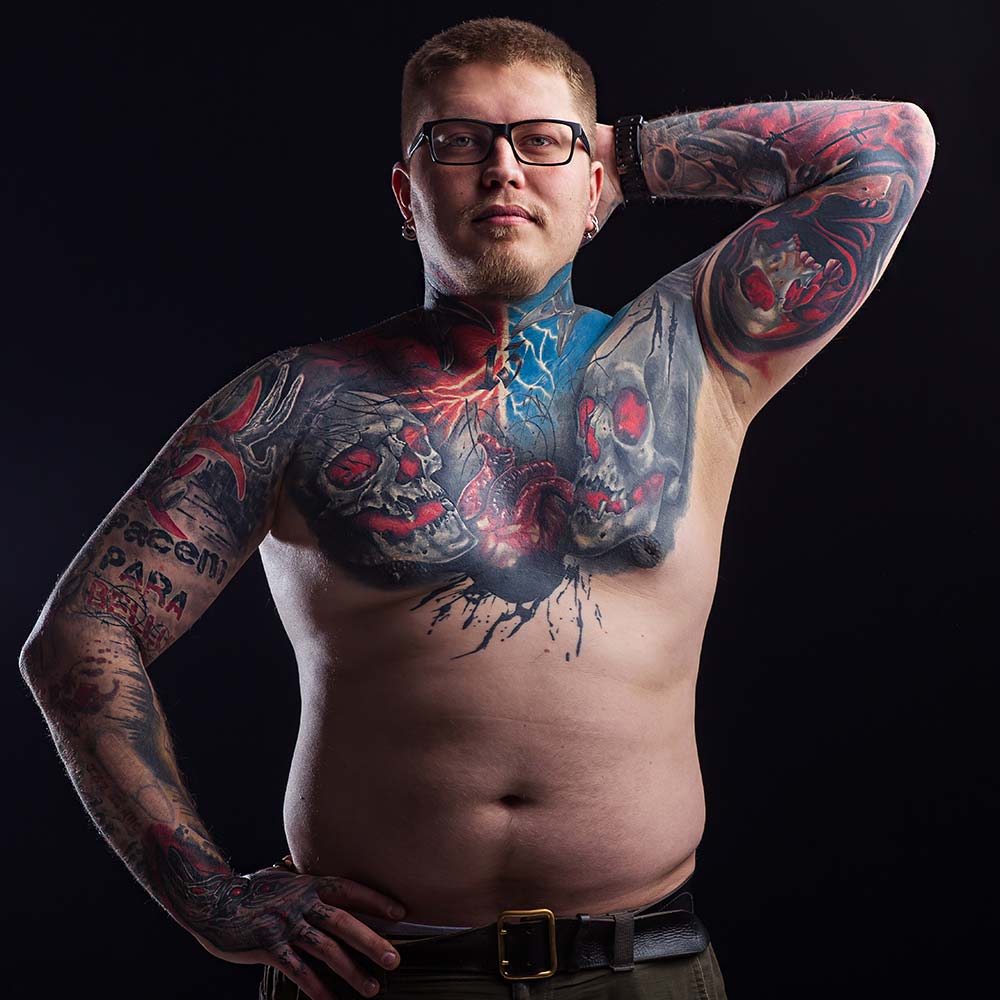 Surrealism
Hardly any other genre of art allows for so many creative ideas as surrealism. While changing the subject and style, the purpose of the artist is to make the viewer experience the sublime fantasy sensation. Thus, tattoo designs can be as intricate and unreal as the author considers appropriate.
View this post on Instagram
View this post on Instagram
Watercolor Mens Tattoo Ideas
The Watercolor Tattoo Style is all the rage now, being especially popular with millennials. As you can guess from its name, the style is characterized by pastel-like imagery and blurry colors. Although it may look pretty easy at first sight, this effect is actually quite hard to achieve. Yet, the final result fully pays off with admiring gazes of everyone who sees these masterpieces.
Source: @koray_karagozler via Instagram
i
Source: @koray_karagozler via Instagram
i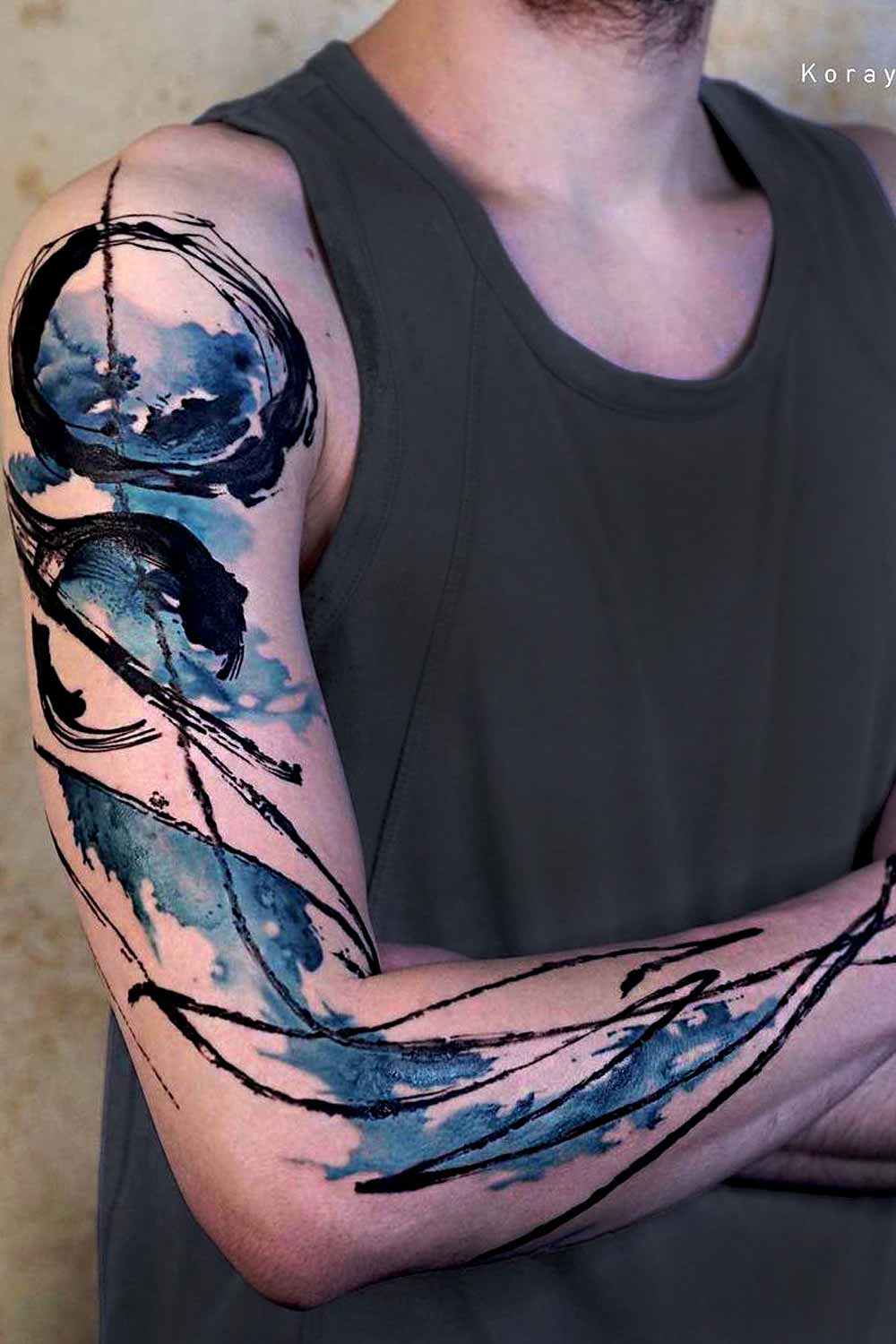 /
Tribal Tattoo
Being the world's oldest tattoo style, Tribal tattoo designs feature a number of versatile styles as well as worldwide traditions. Despite looking pretty similar for a common person, a real pro will easily tell the difference between Maori, Polynesian and Marquesan tattoos. Still, they all have some similar features, such as intricate patterns inked in black shades.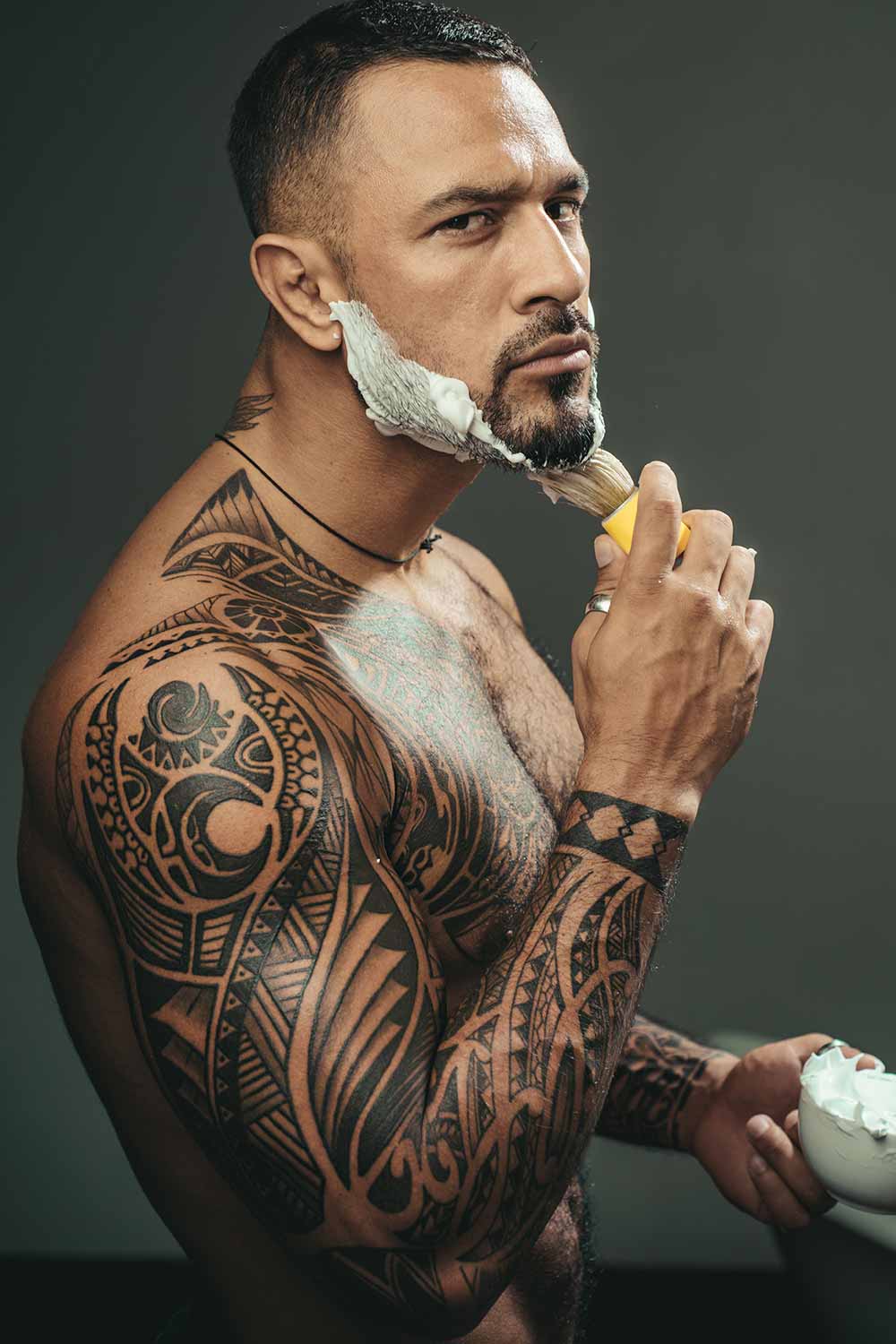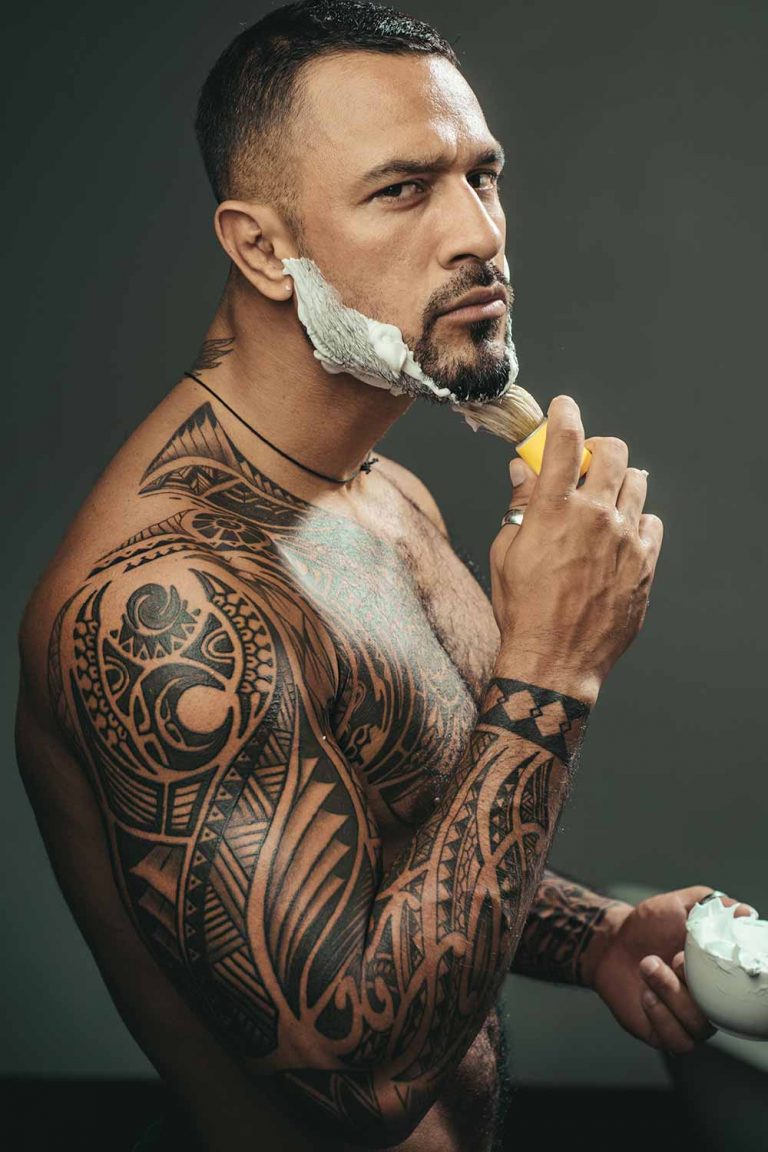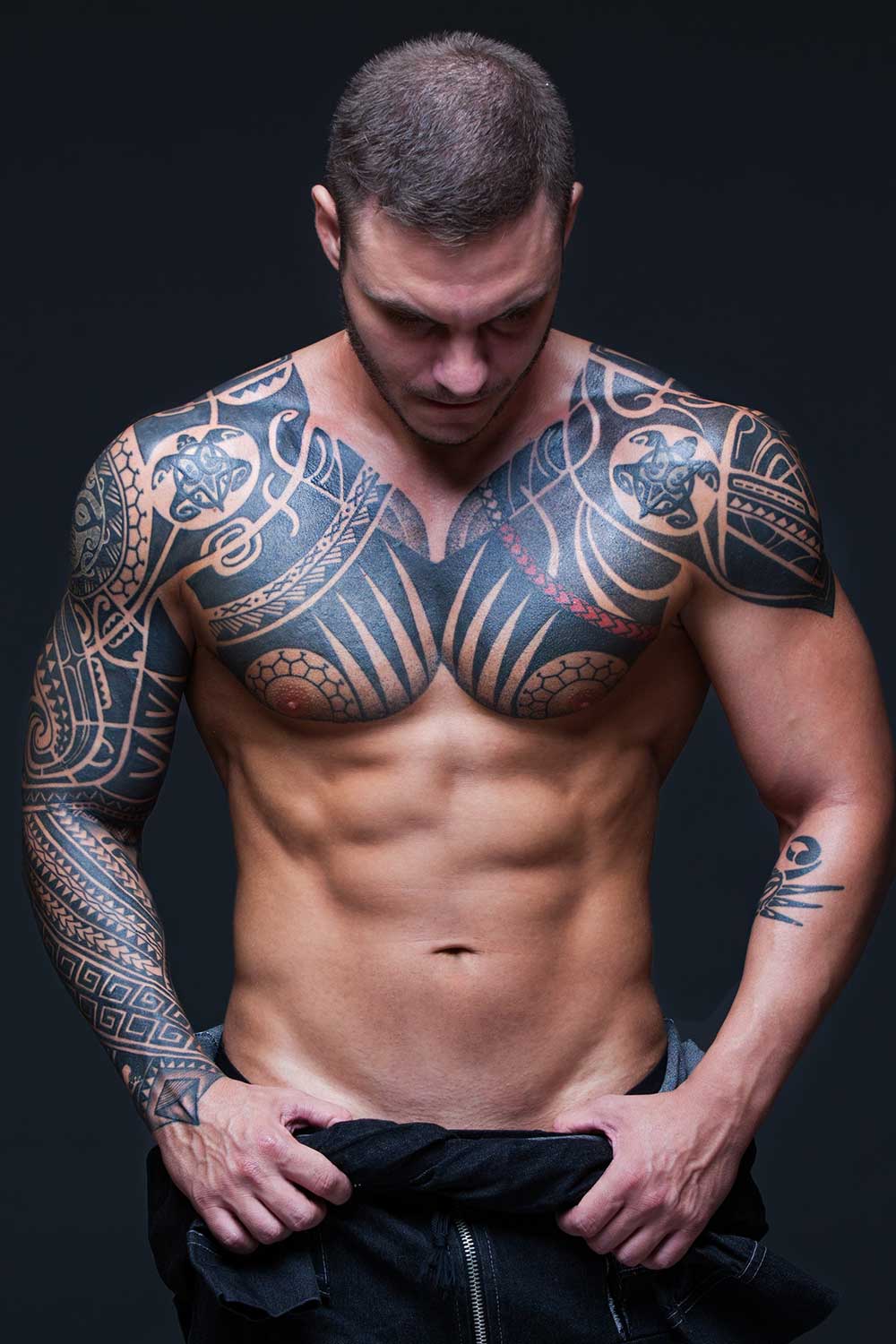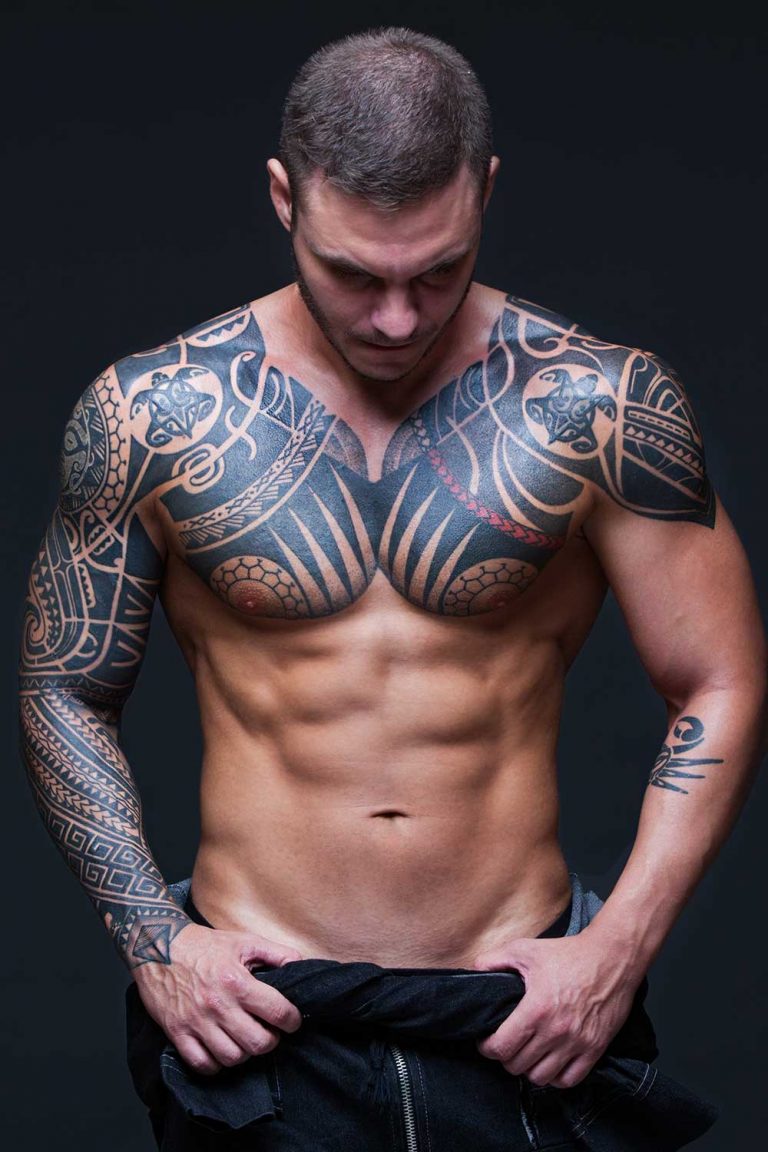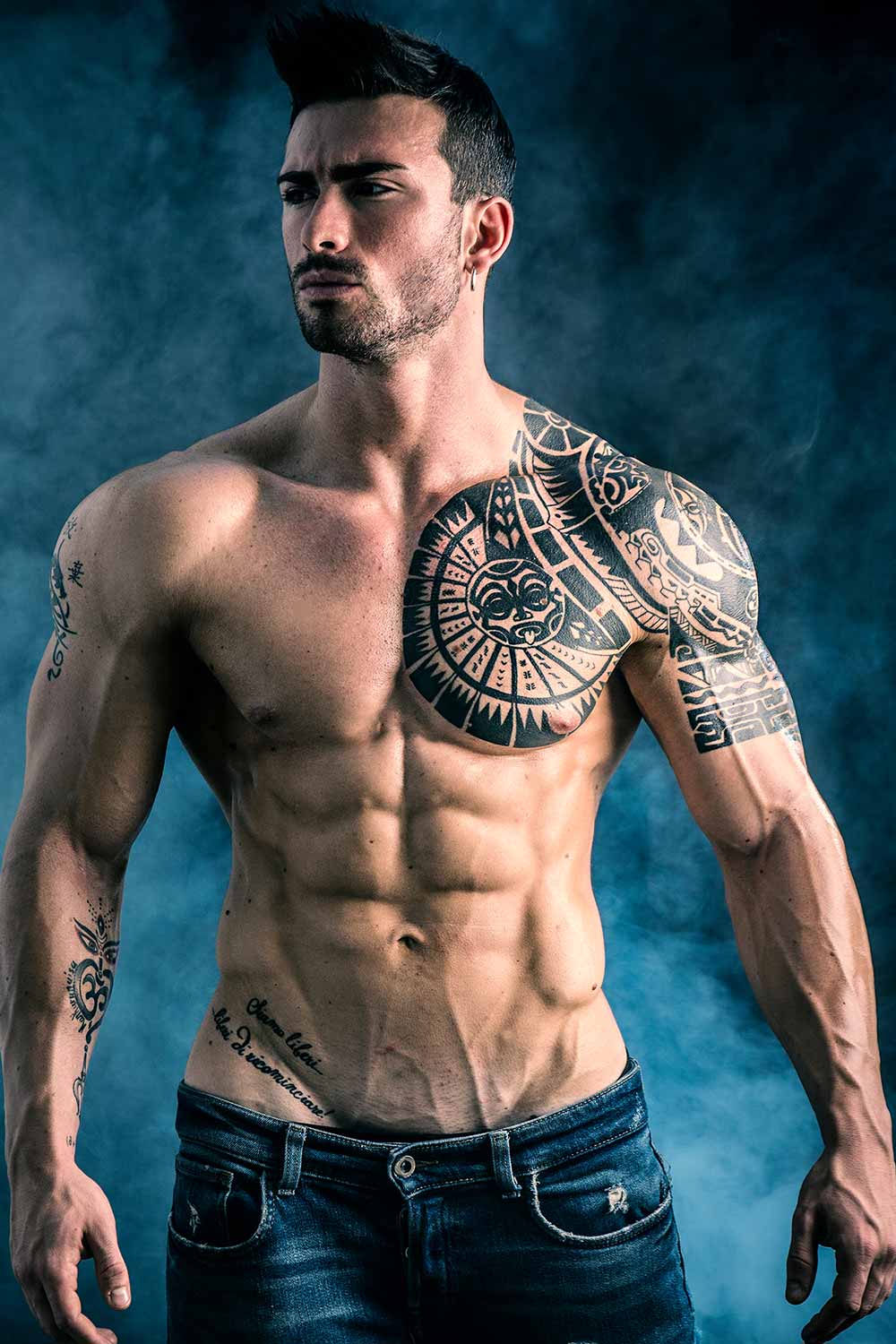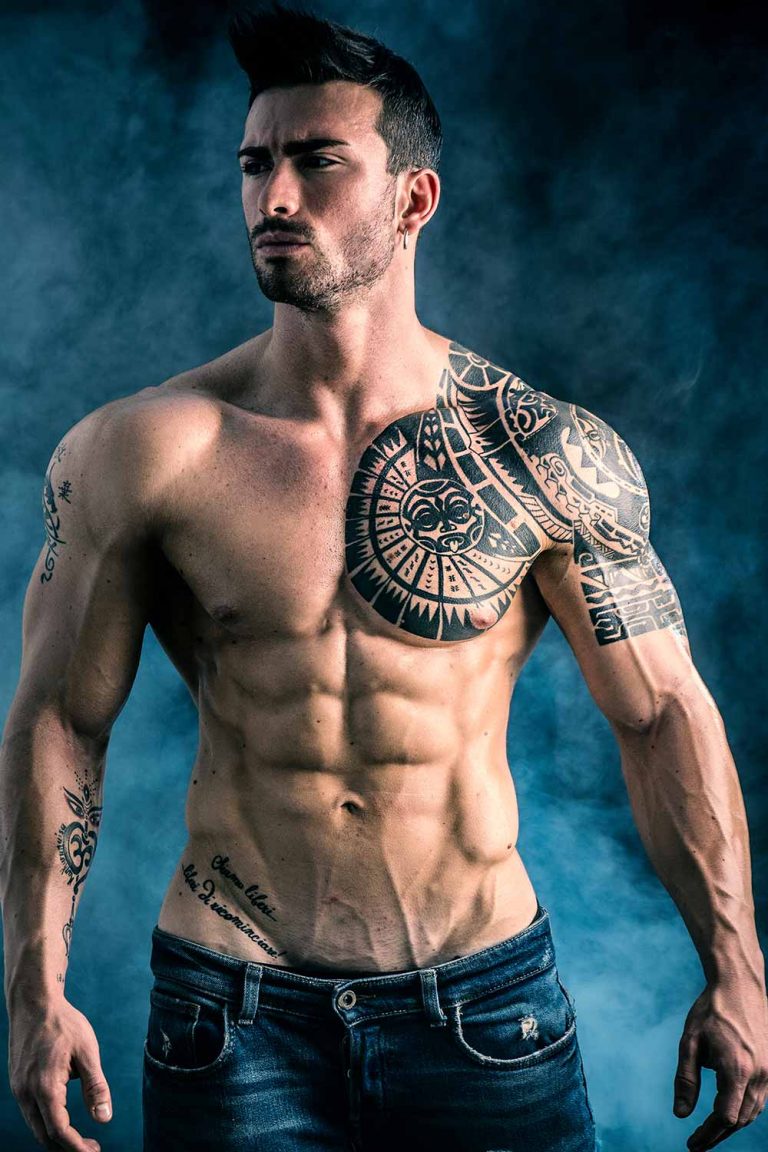 /
Indian Tattoo
Simple but beautiful Indian tattoos for men have a lot of meaning. We love how attractive these tattoos look on the skin.
A sleeve tattoo is a great option for guys who are not afraid to stand out in the crowd. If you want to express yourself through mens tattoos, then there is hardly a better way for you. For a start, you can try shoulder tattoos and when you decide that you like the way it comes out, you can proceed with a forearm tattoo.
Source: @irenebogachuk via Instagram
i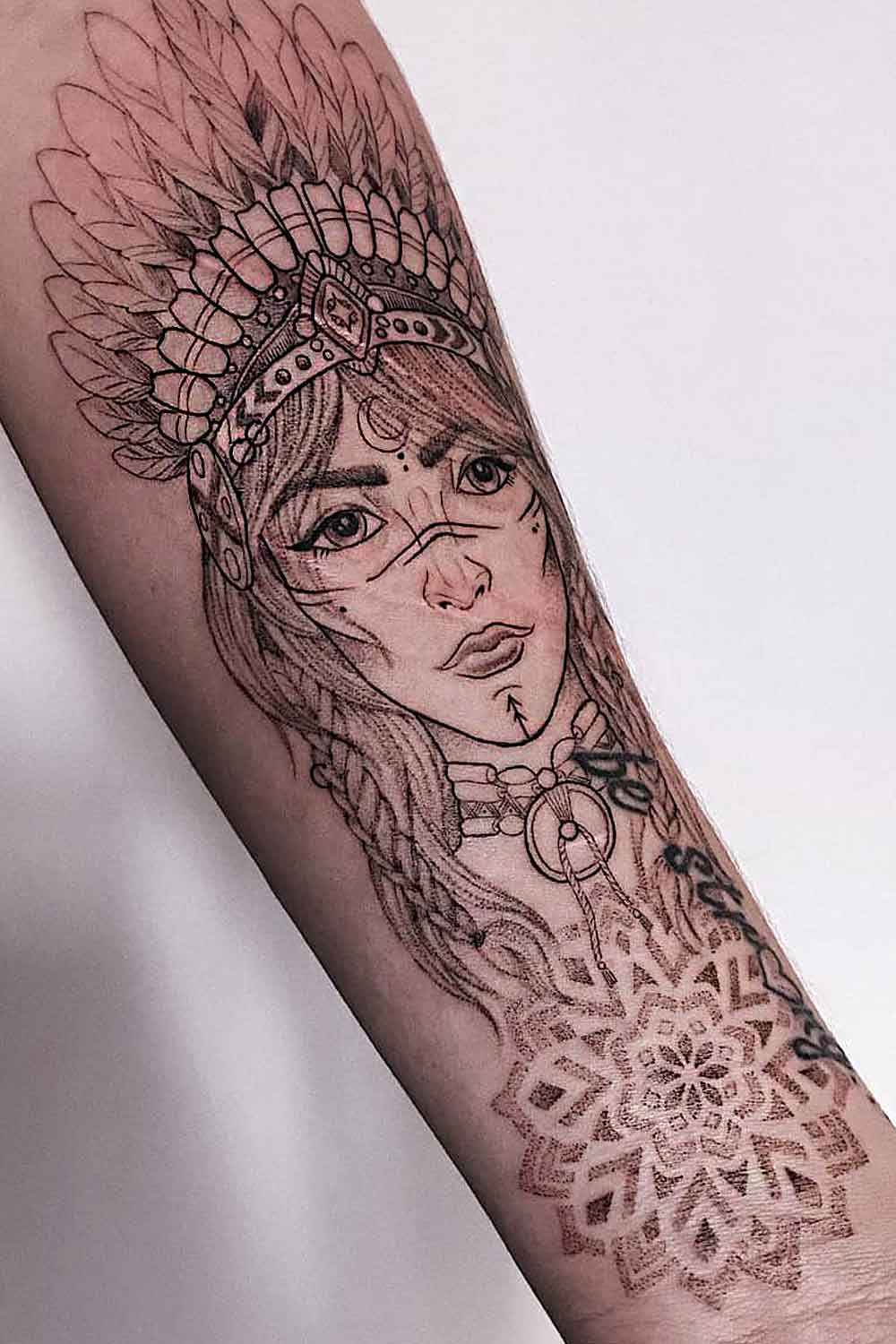 Source: @robcarvalhoart via Instagram
i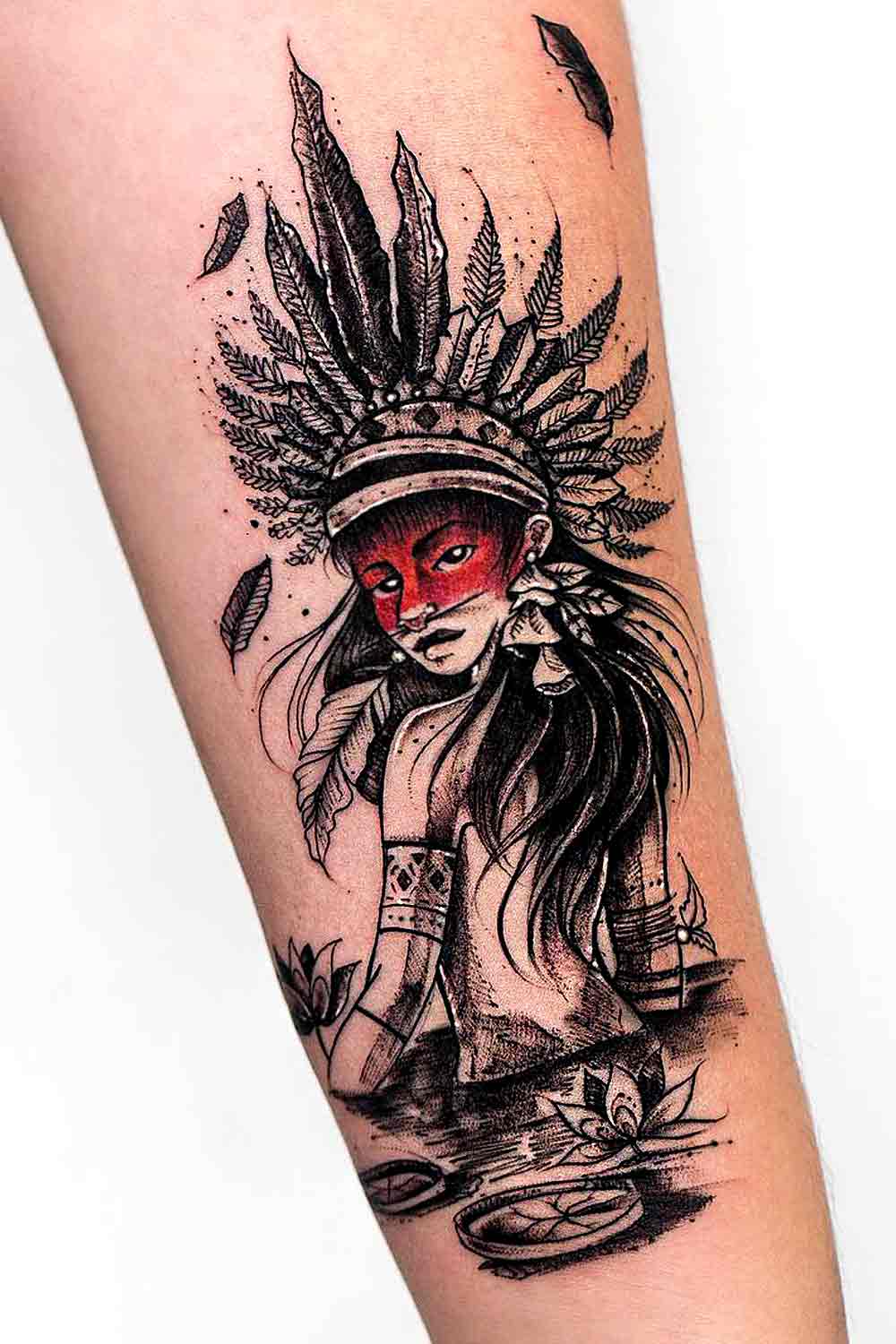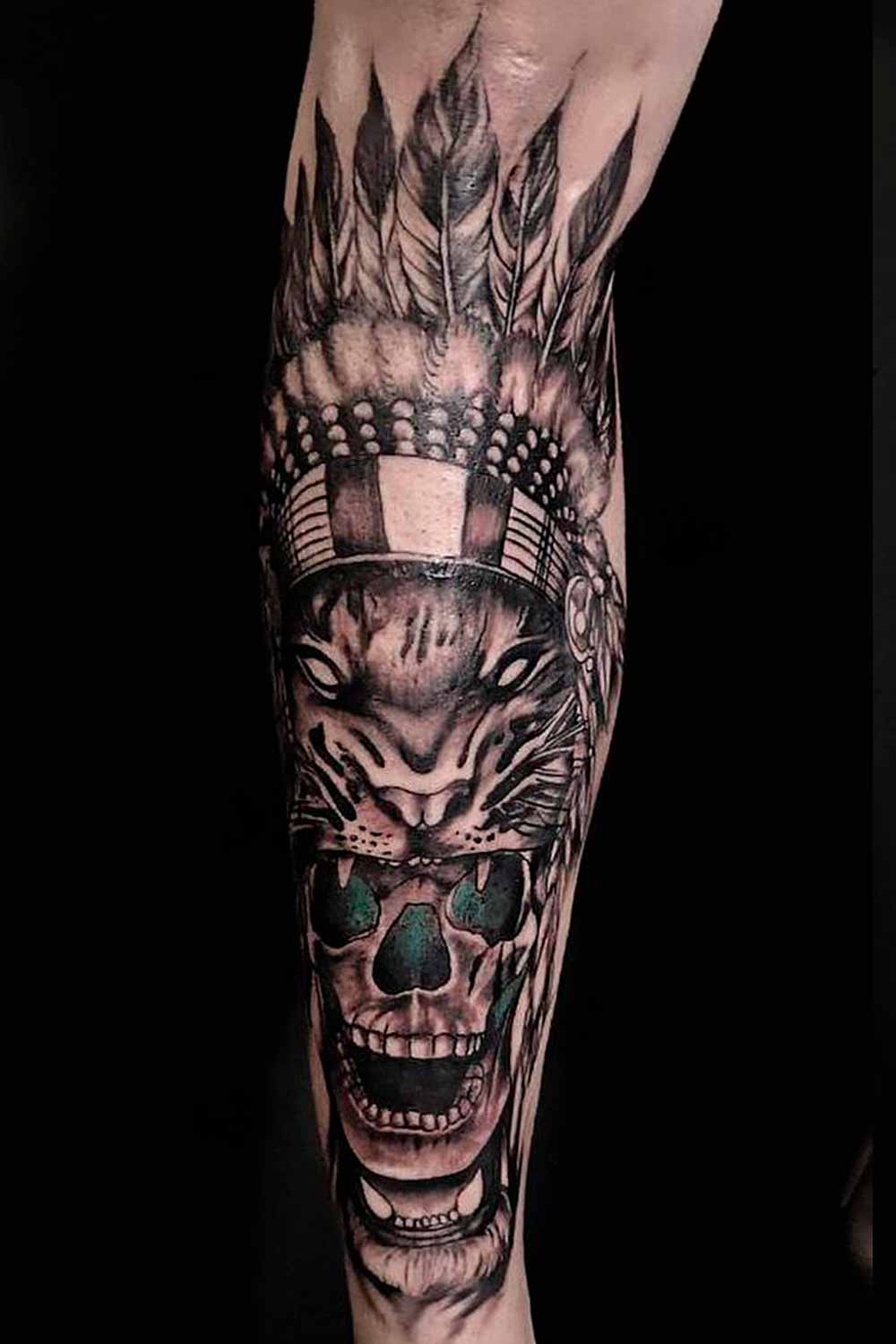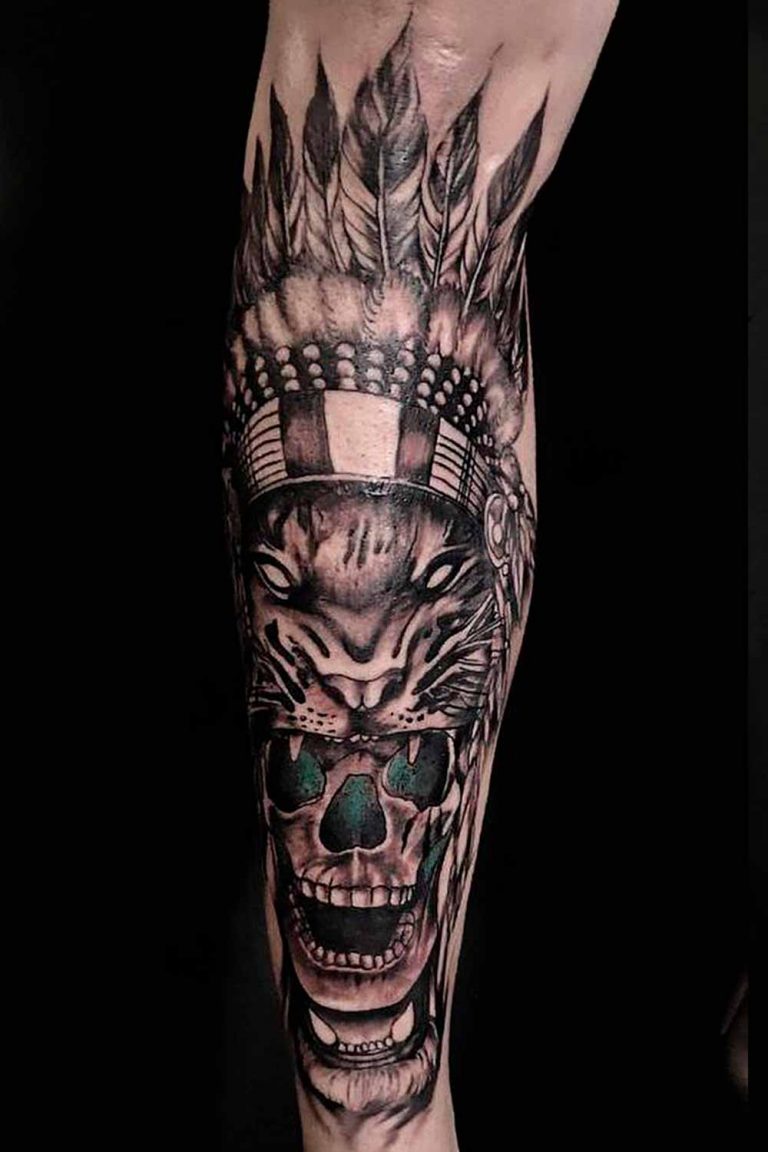 /
Chicano Men's Tattoos
Not only was the Chicano Style influenced by many different cultures but it itself has had a great impact on various styles. Initially, it emerged in prison, with artists depicting missed and loved things, using those limited resources that were in their possession. Chicano tattoos typically feature thin lines and use a black and gray color palette, resulting in outstanding designs.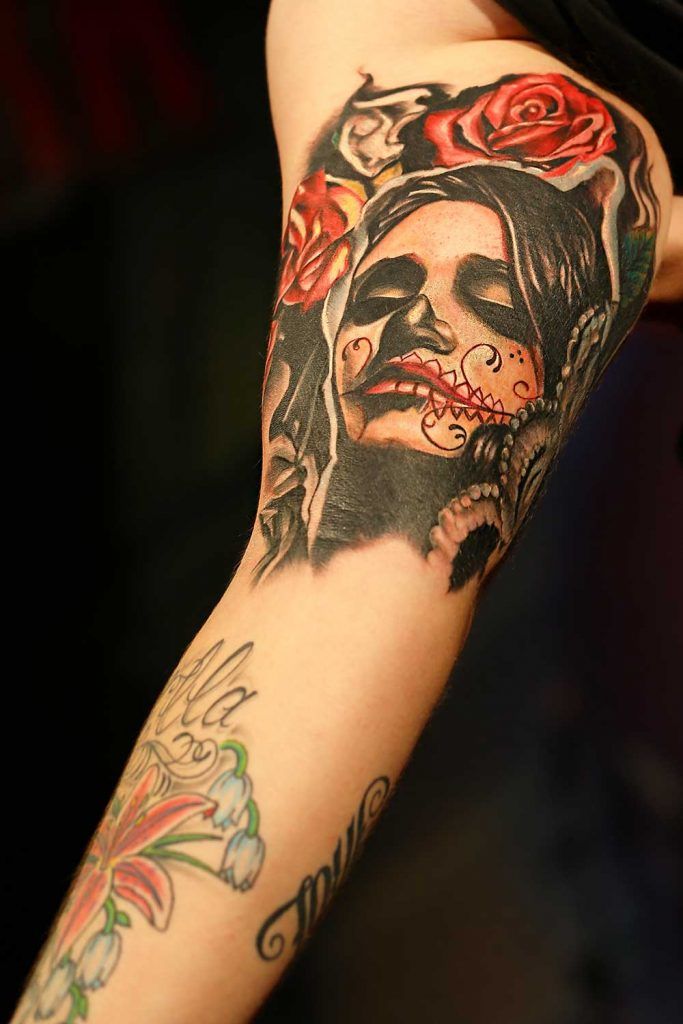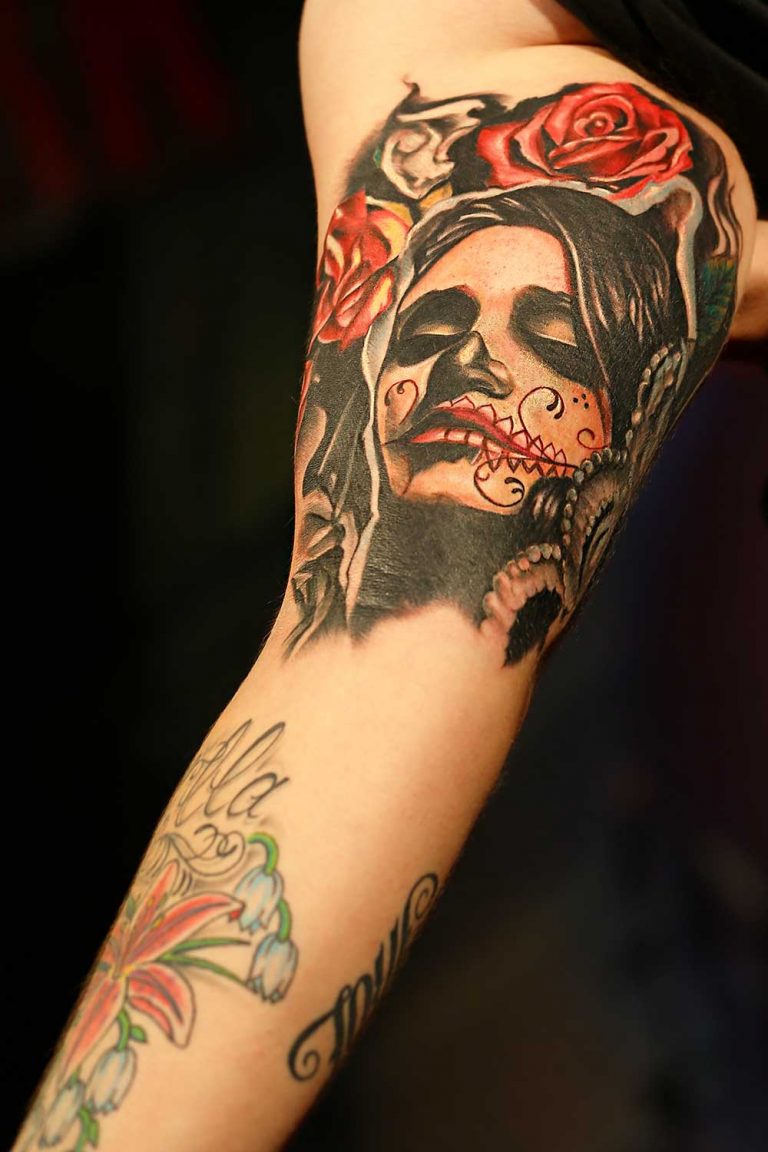 Lettering Tattoo
Lettering tattoos have been very popular in recent years. They usually feature movie and philosophers quotes, significant postulates, names or any other important phrases inked in the most intricate fonts. Yet, the color palette is usually limited to black and gray colors.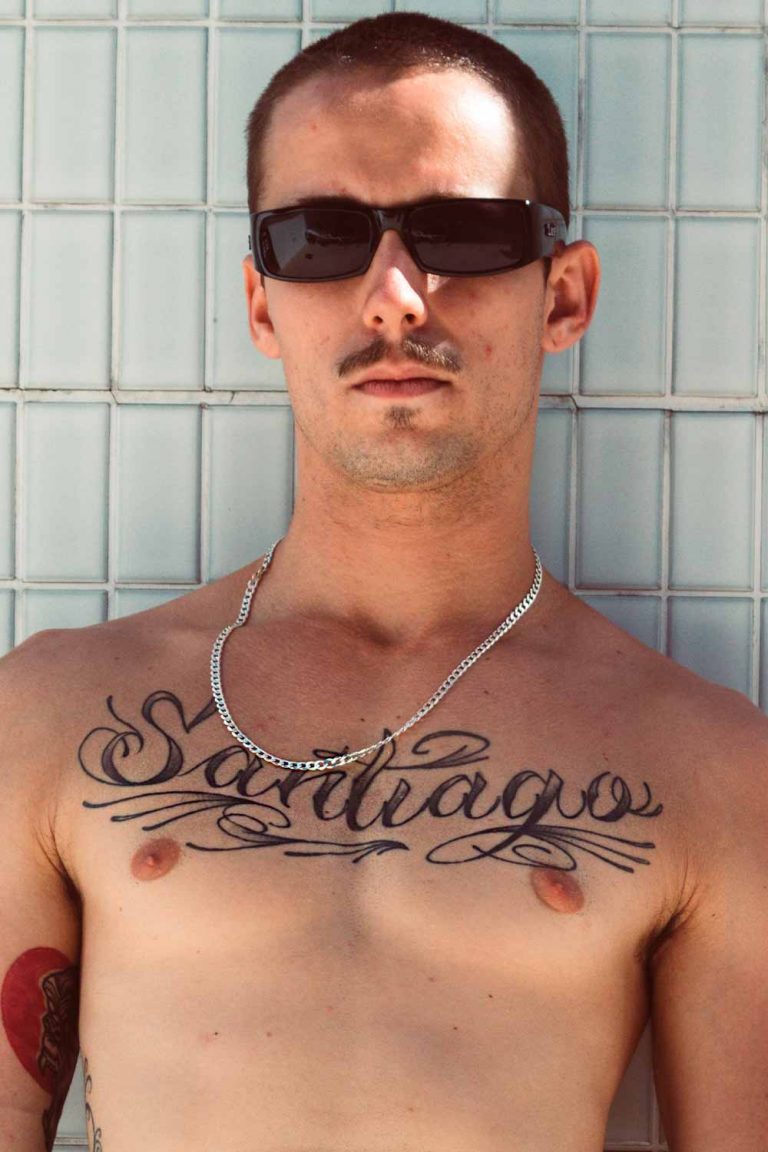 Religion Tattoo For Men
Christian tattoos for men are not a simple image on their bodies. In most cases, they have a deep sacral meaning. Besides, Christian tattoos offer you a multitude of design options, from crosses and Bible verses to icons and faces of the saint.
Source: @ksuarrow_tattoo via Instagram
i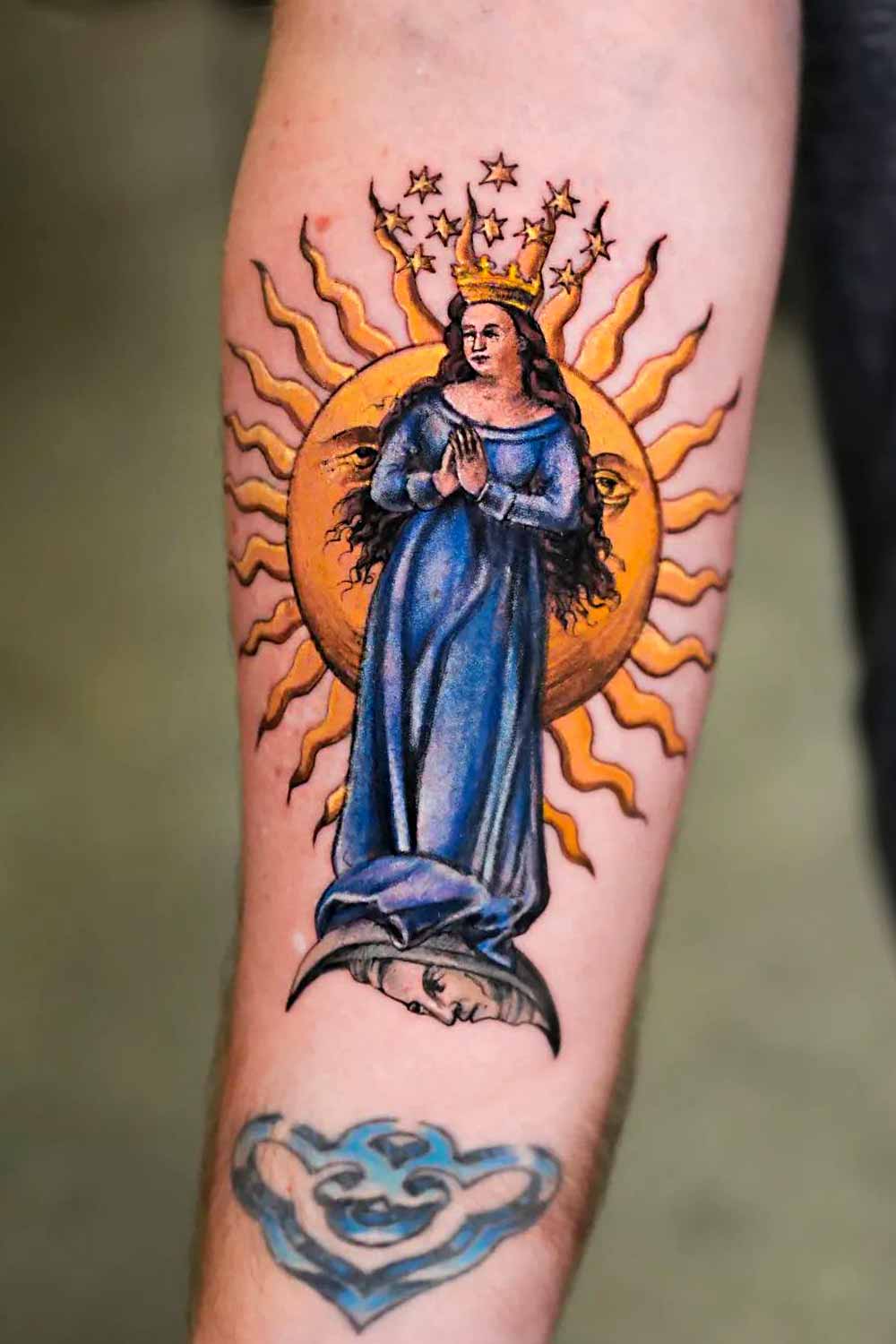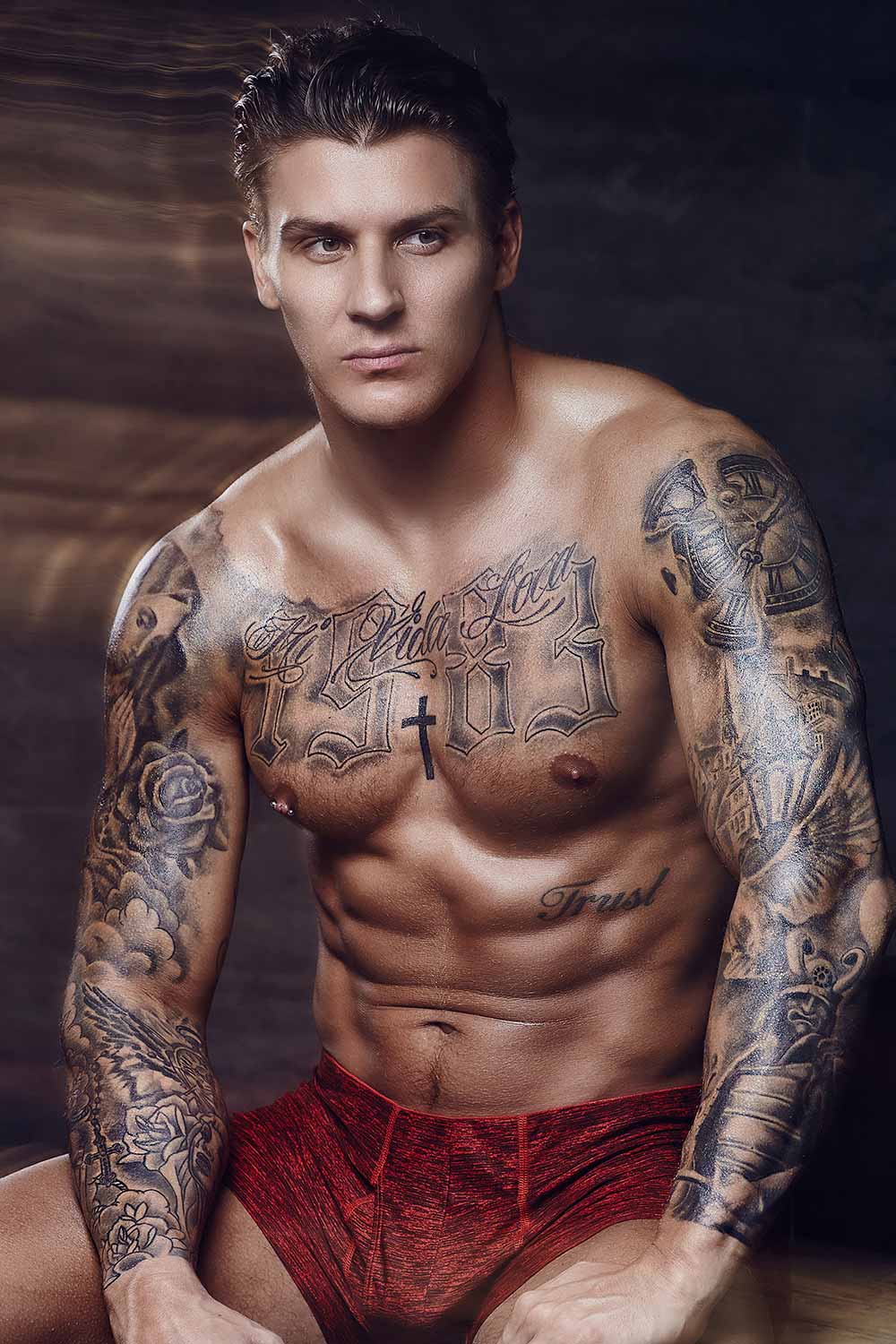 /
Minimalism
A minimalistic design makes a mysterious and simple guy tattoo. You can choose from a geometric shape, lines, or a scripted verse to define your physique in subtle art. (Just be ready to explain its meaning to everyone!)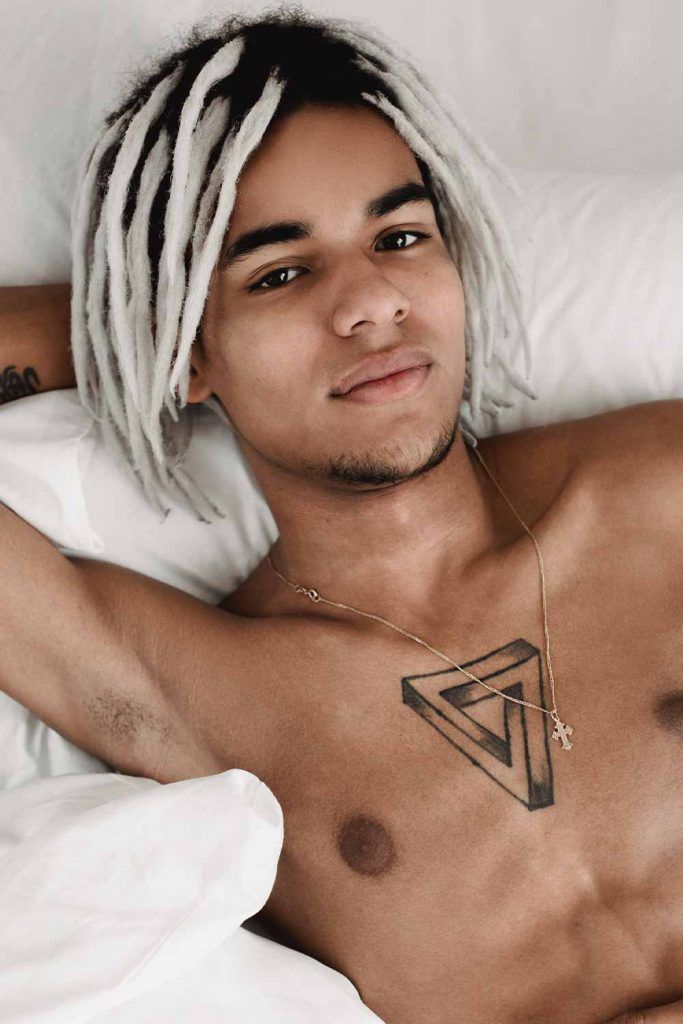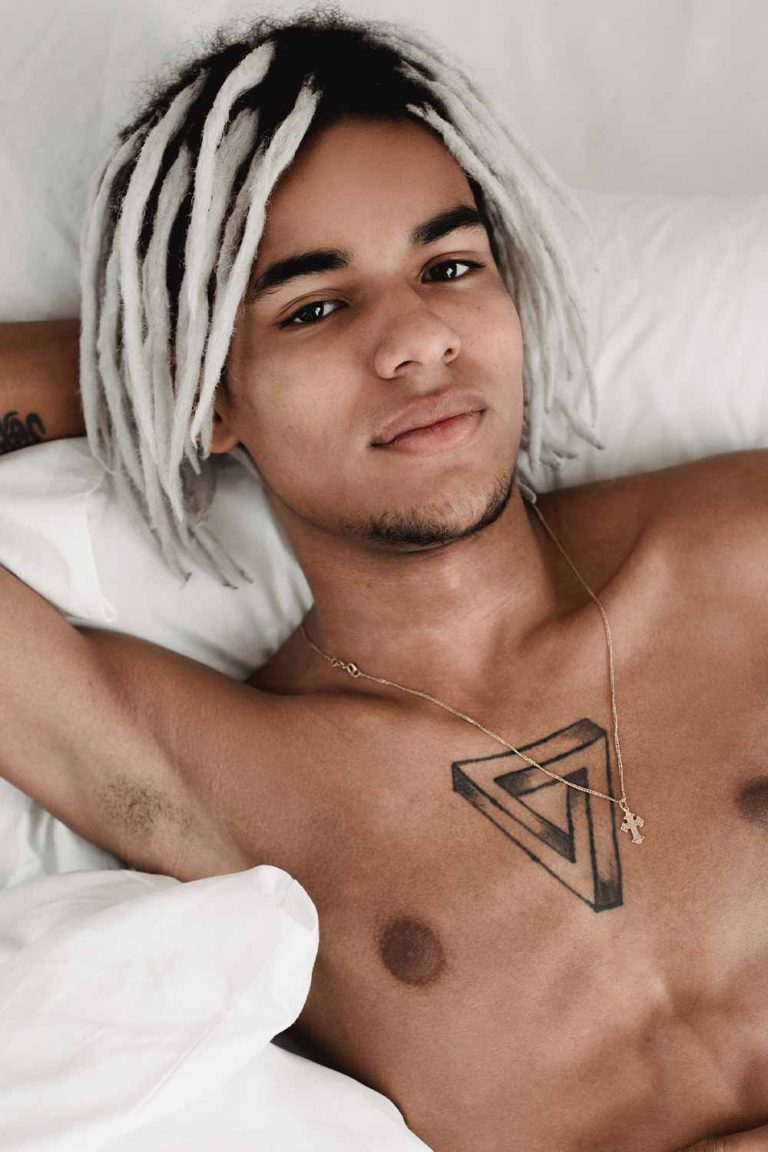 Greek Style
Serving as an ode to mythical Greek figures and creatures, Greek tattoos are powerful and carry significant meaning. Some of the most popular Greek God tattoos include Apollo, Hermes and Ares. If you're a tattoo artist, why not celebrate your craft and draw up your very own Hephaestus tattoo? This God of artisans can help inspire you to keep drawing any of these awesome tattoos for men.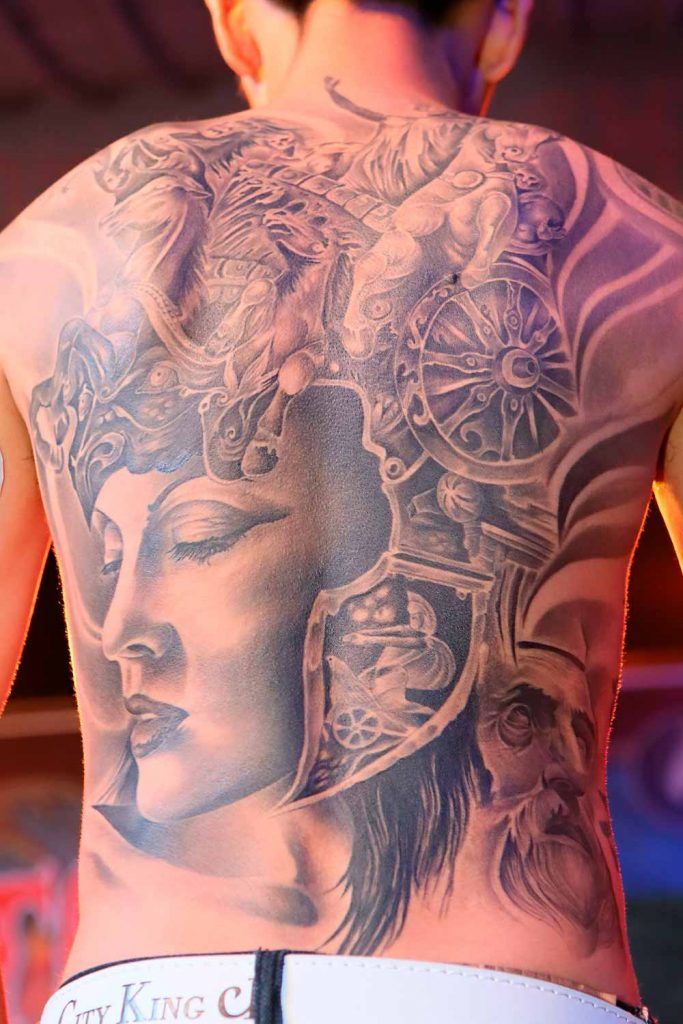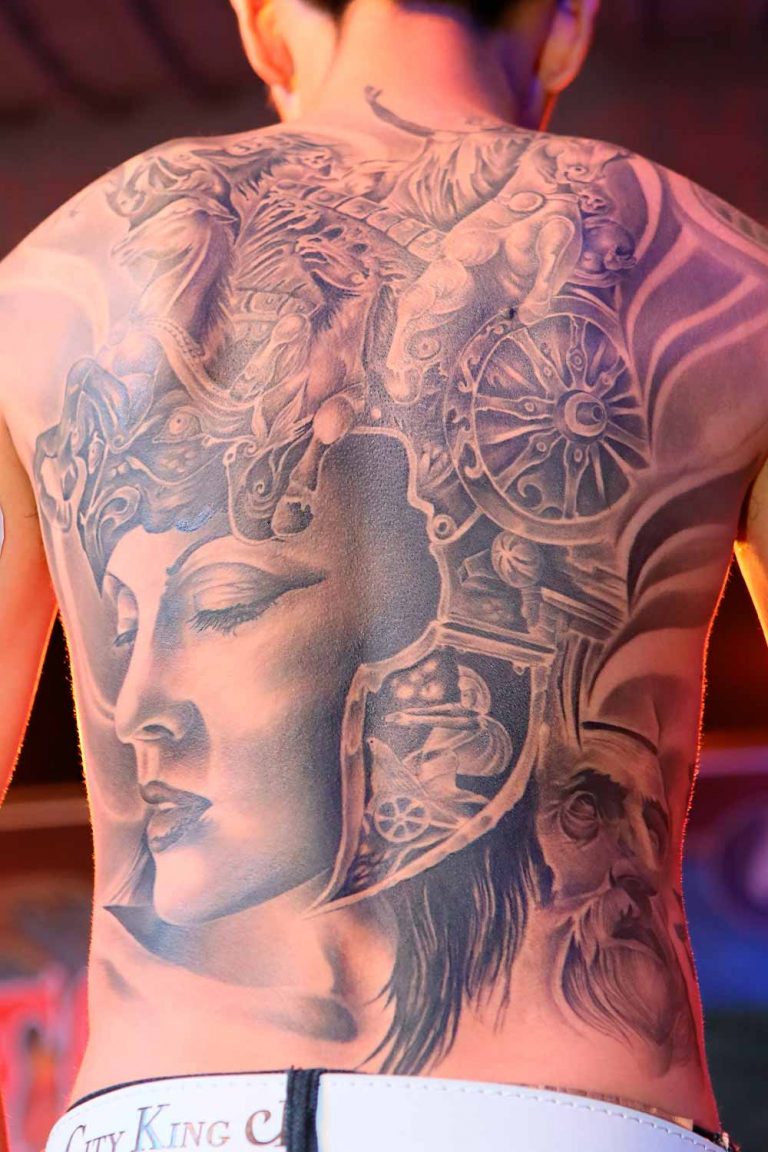 Samurai Tattoo
A Samurai tattoo is one of the most popular forearm tattoo ideas among men for good reason. It signifies power, courage and honor. So, if these virtues resonate with you, then why not get this elite Japanese warrior inked on your body? The forearm is one of the best placements for it, as it allows you to show off and hide your tat whenever you want.
Source: @barberking_kh via Instagram
i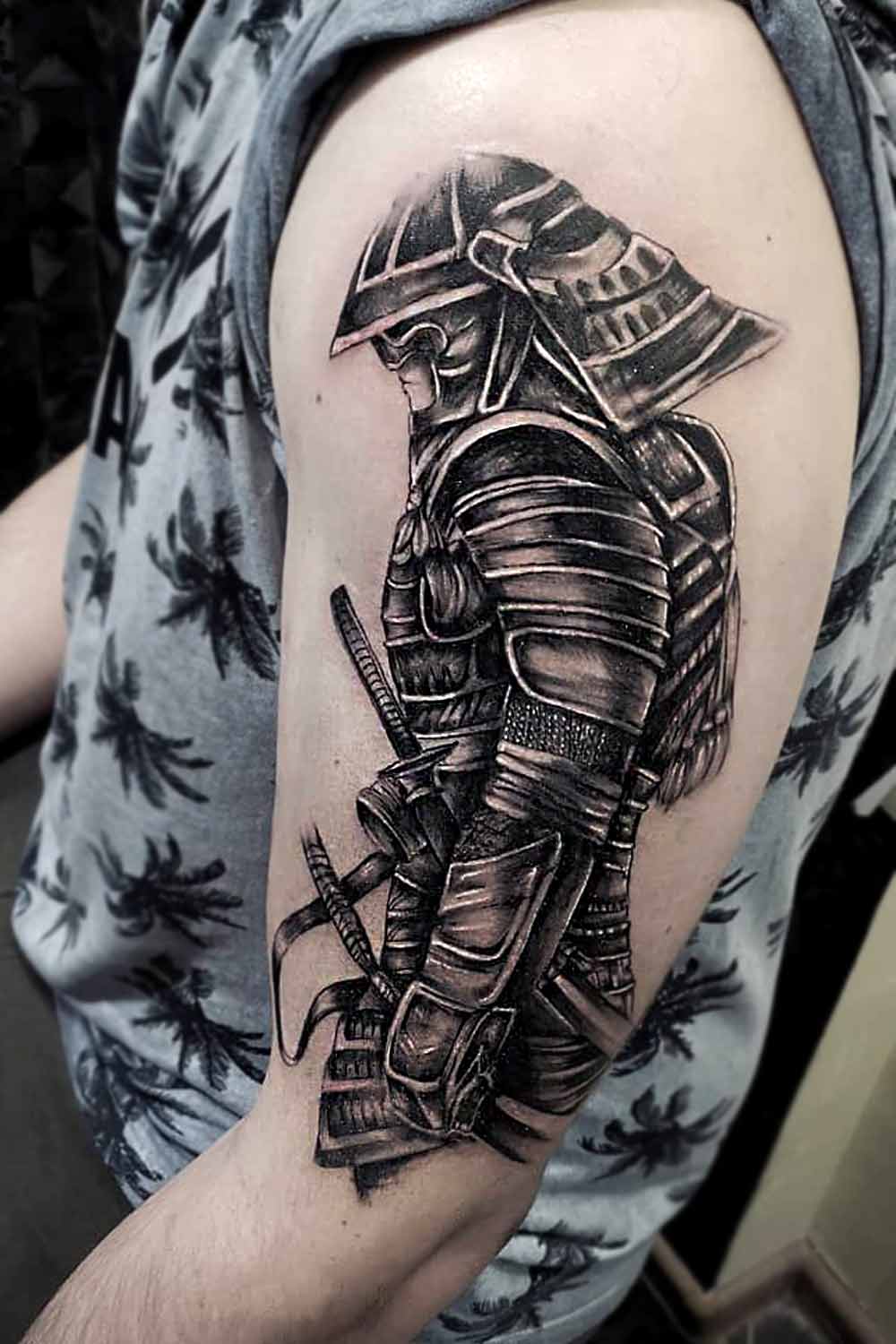 Source: @frappeink via Instagram
i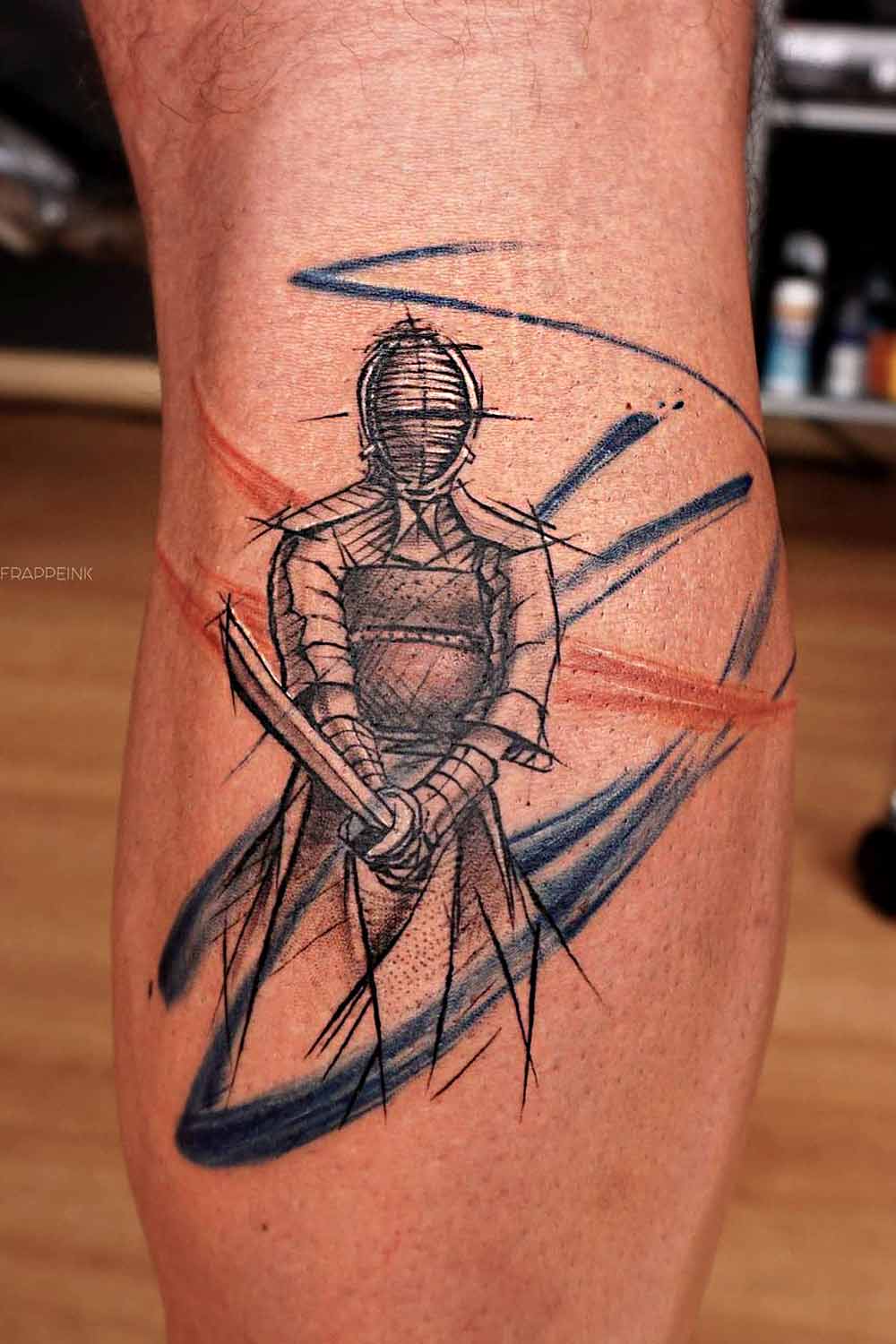 /
Warrior Tattoo
Yet, to highlight your strength and masculinity, you do not have to stick to any specific type of warrior tattoos. Choose whatever style you like, be it a mighty Viking or a noble ninja. As for the placement, it is up to you. However, it often requires more space, so consider it as one of your mens forearm tattoos.
Source: @evgenymel via Instagram
i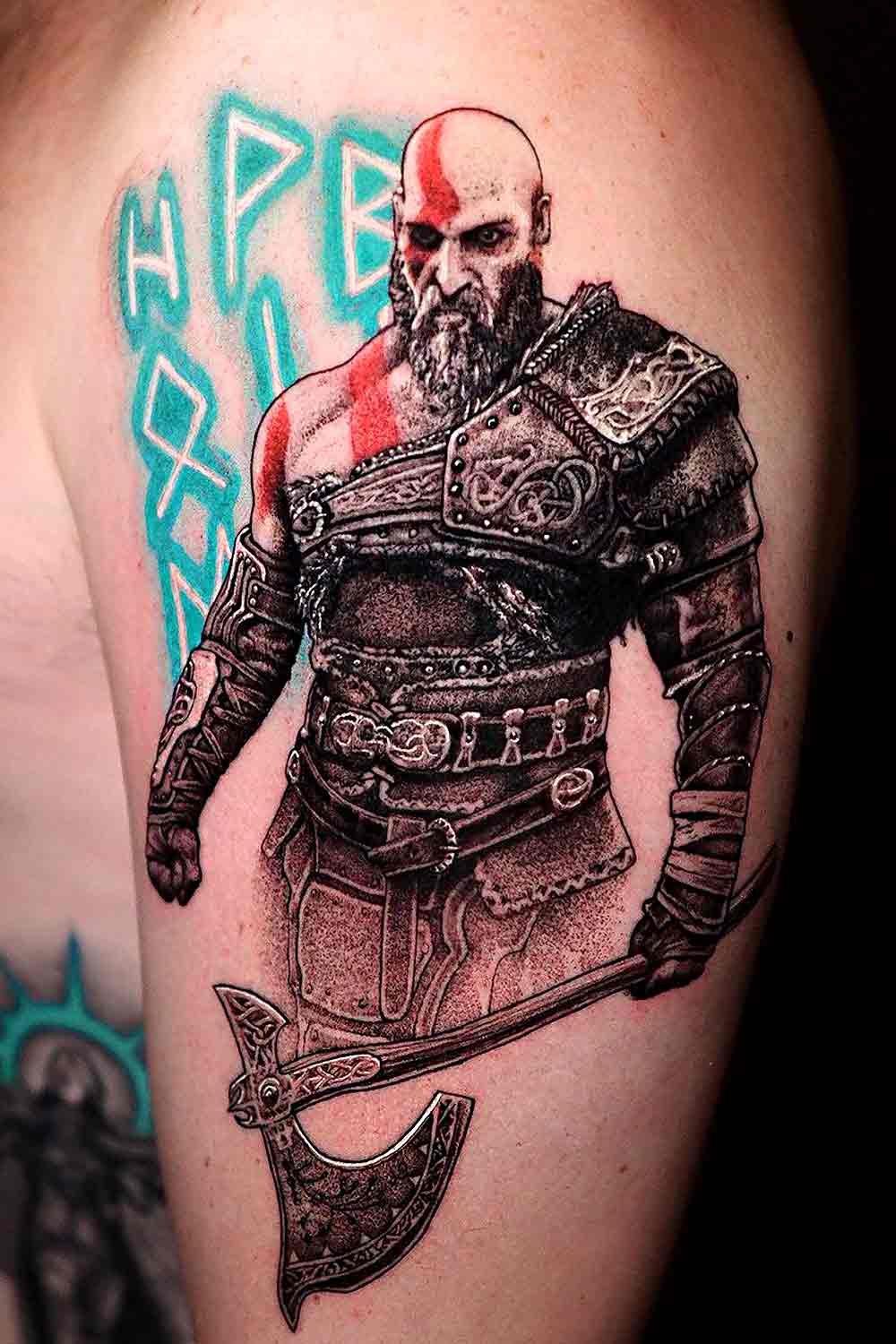 Source: @lukovnikovtattoo via Instagram
i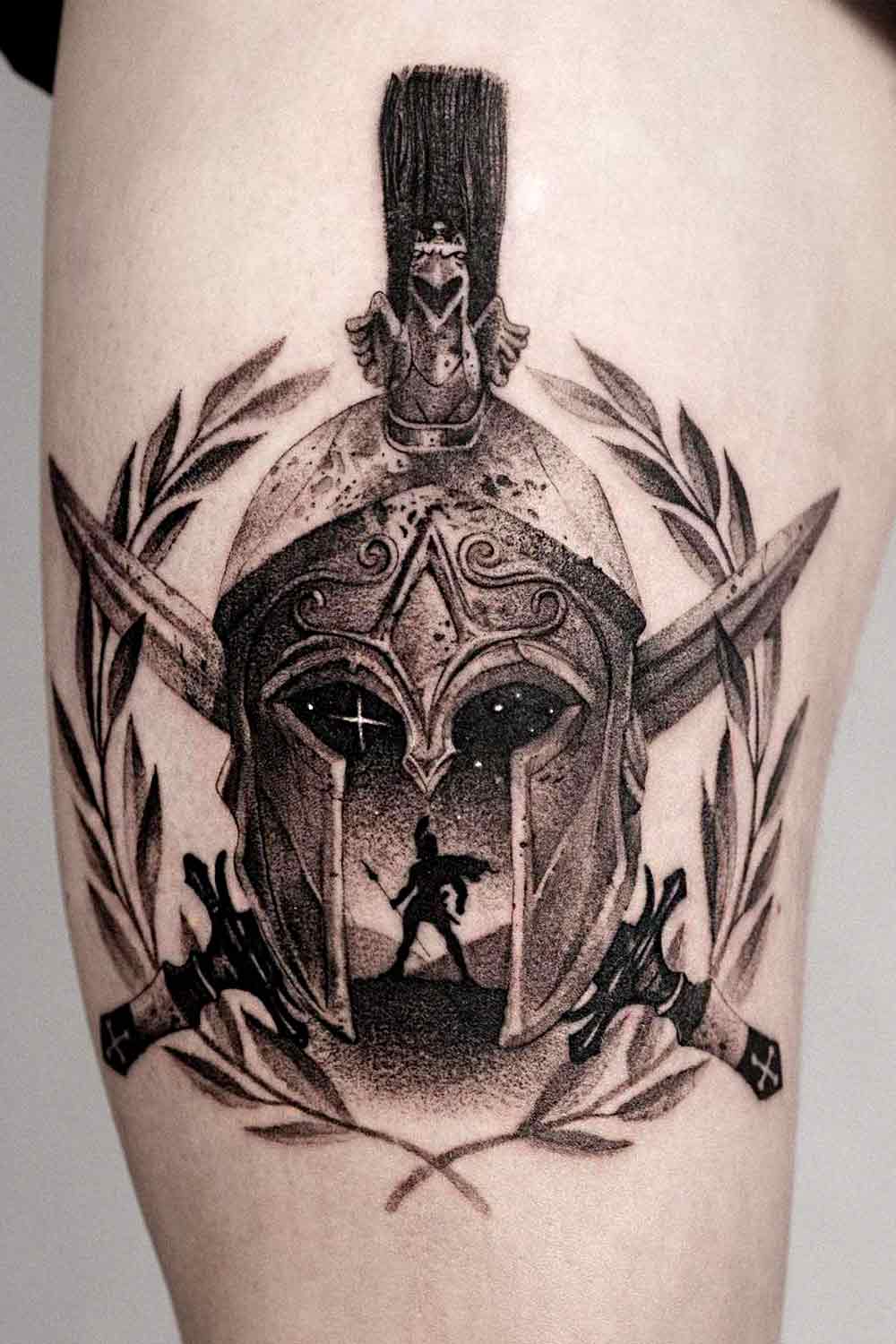 /
Praying Hands Tattoo
In case you are devoted to higher forces and want to emphasize it, praying hand tattoos men or women – it does not really make a big difference in this case – are always a great idea. You are free to choose any style, size and placement. It all depends on your preferences.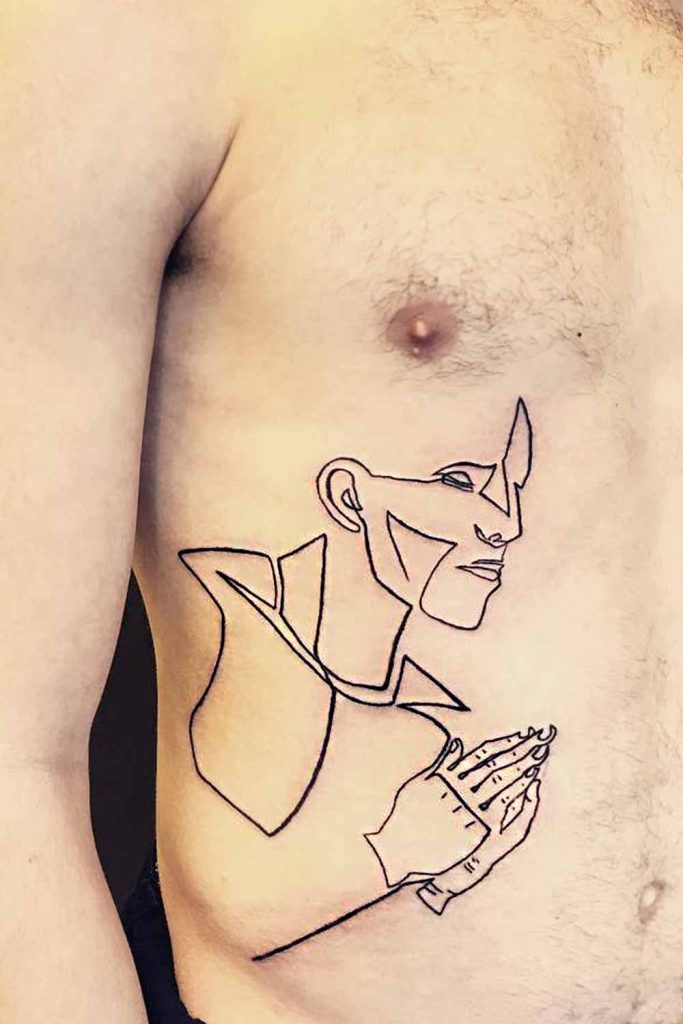 Source: @joho.steve via Instagram
Anime Tattoo Ideas
Are you a fan of the anime genre? Take your hobby to another level by getting one of these cool hand tattoos inked on your arm, chest or another part of the body. Though, we bet you have your favorite character, so you may simply ask your tattoo artist for it.
Source: @uncl_paul_knows_upk via Instagram
i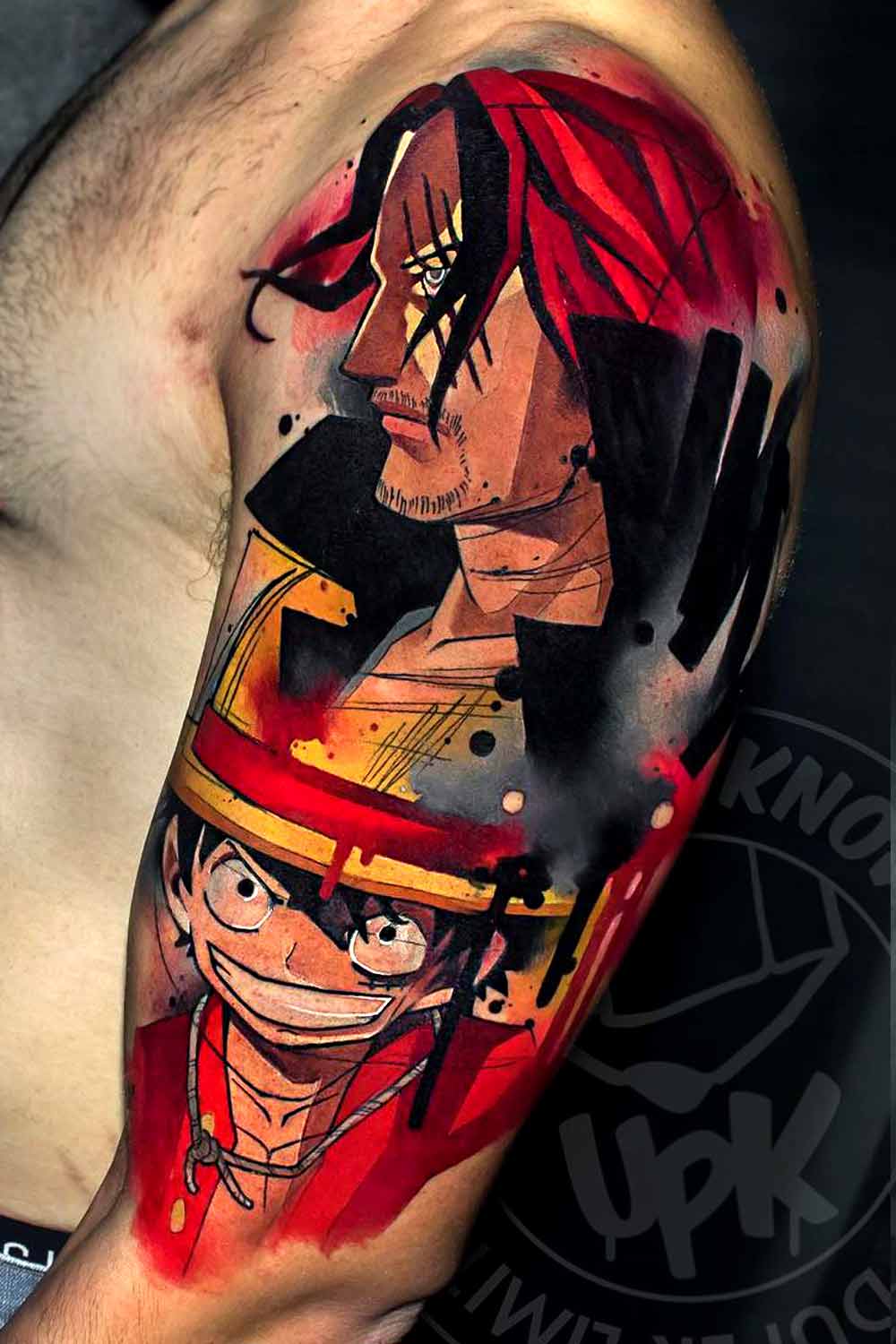 Source: @uncl_paul_knows_upk via Instagram
i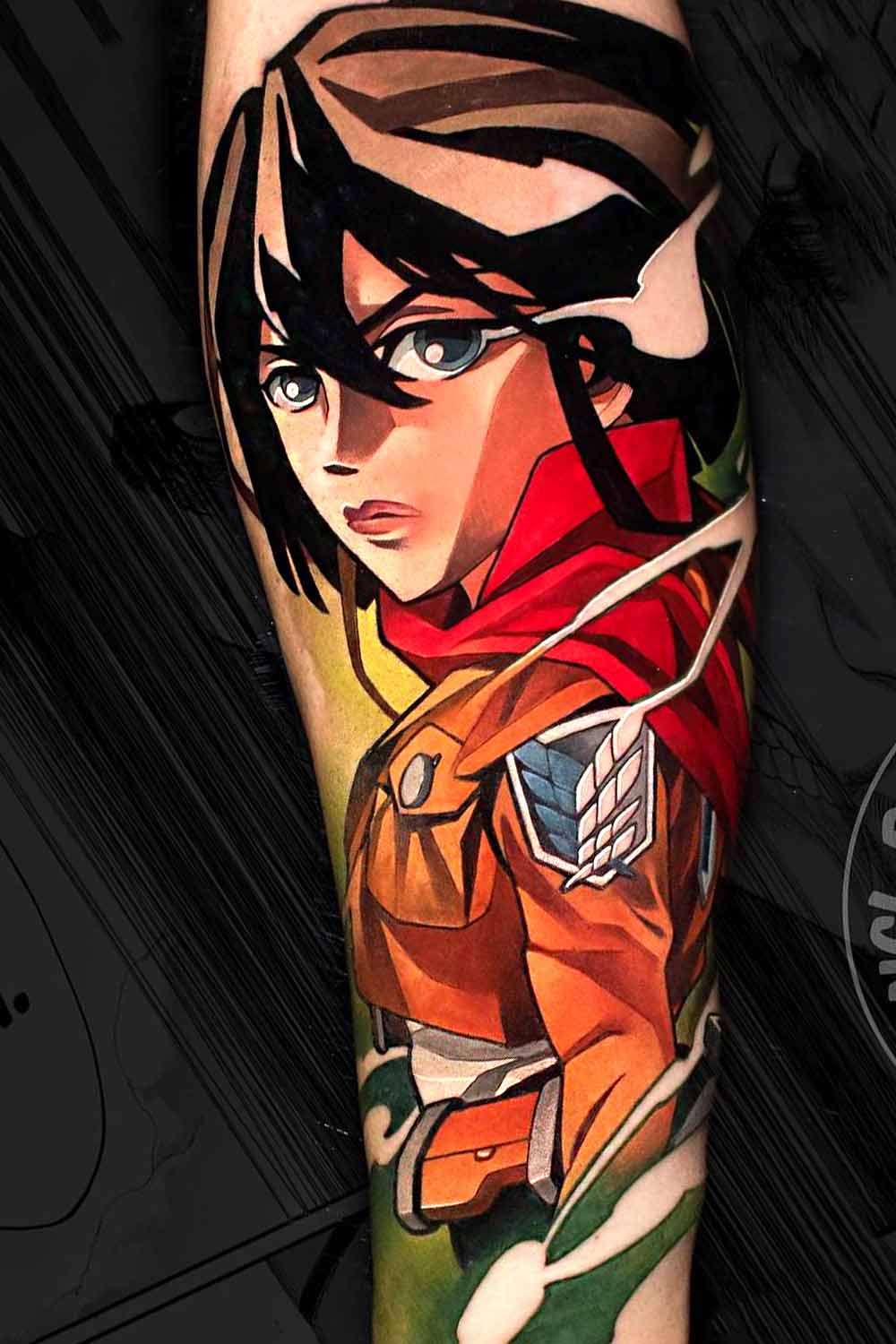 /
Gothic Tattoos
Want something mystical and unique? You can never go wrong with gothic inspired tattoos ideas for men. Yet, make sure to find a really skillful tattooist, as they will need a lot of experience and a sturdy hand to deliver the desired image. Alternatively, you can get something small and easy first and then upgrade it to a whole masterpiece.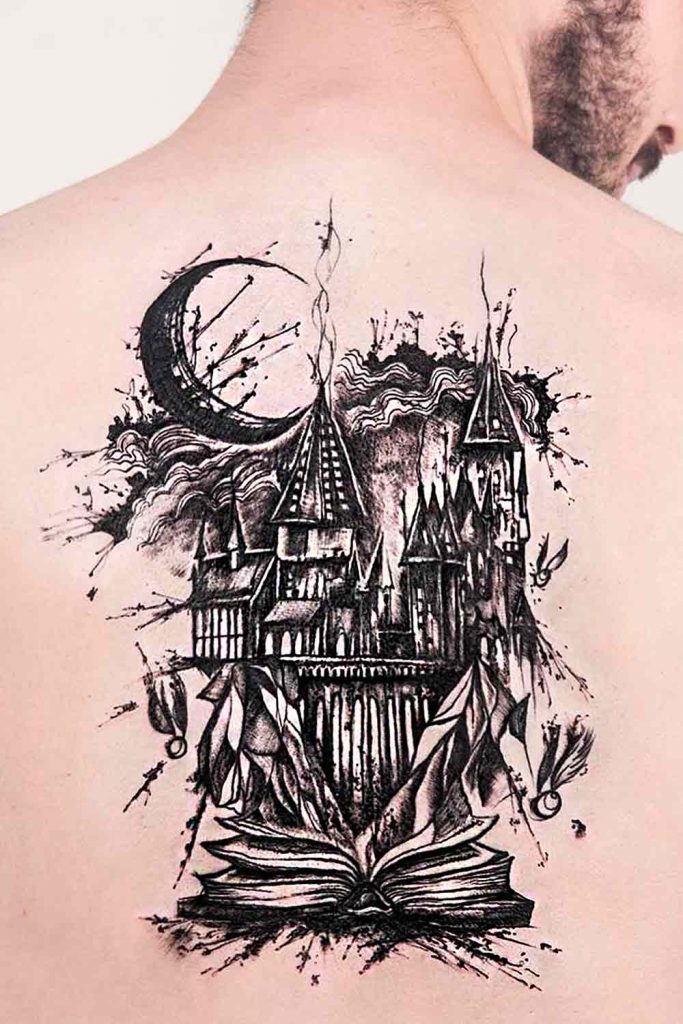 Source: @robcarvalhoart via Instagram
Tarot Card Tattoo
If you believe in a tarot reading, then you may want to have yours imprinted on your body. It would be great if the person tattooing you also offers some spiritual practices that can be done during your inking session. Tarot cards make really cool arm tattoos with a deep meaning.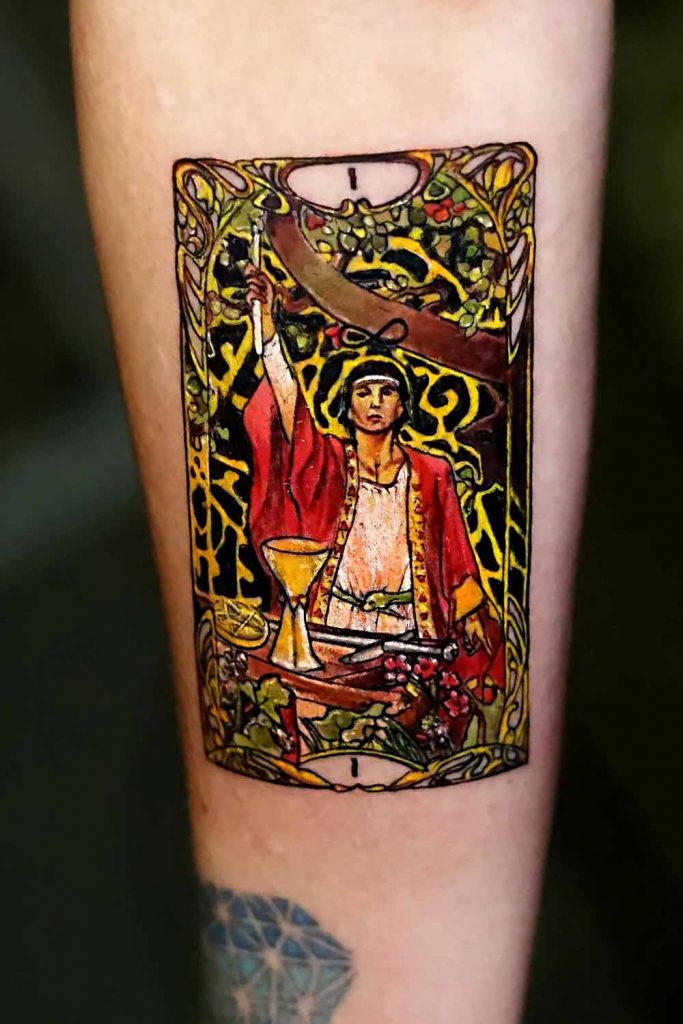 Source: @ksuarrow_tattoo via Instagram
Leaf Tattoo
You should not think that leaf tattoos for men are inked just for aesthetic purposes. While they can, this is not necessarily the case. Sometimes getting leaf back, chest, arm or wrist tattoos for men can be associated with freedom from any social standards, vitality, the power of nature, etc.
Source: @the_bloody_butcher via Instagram
i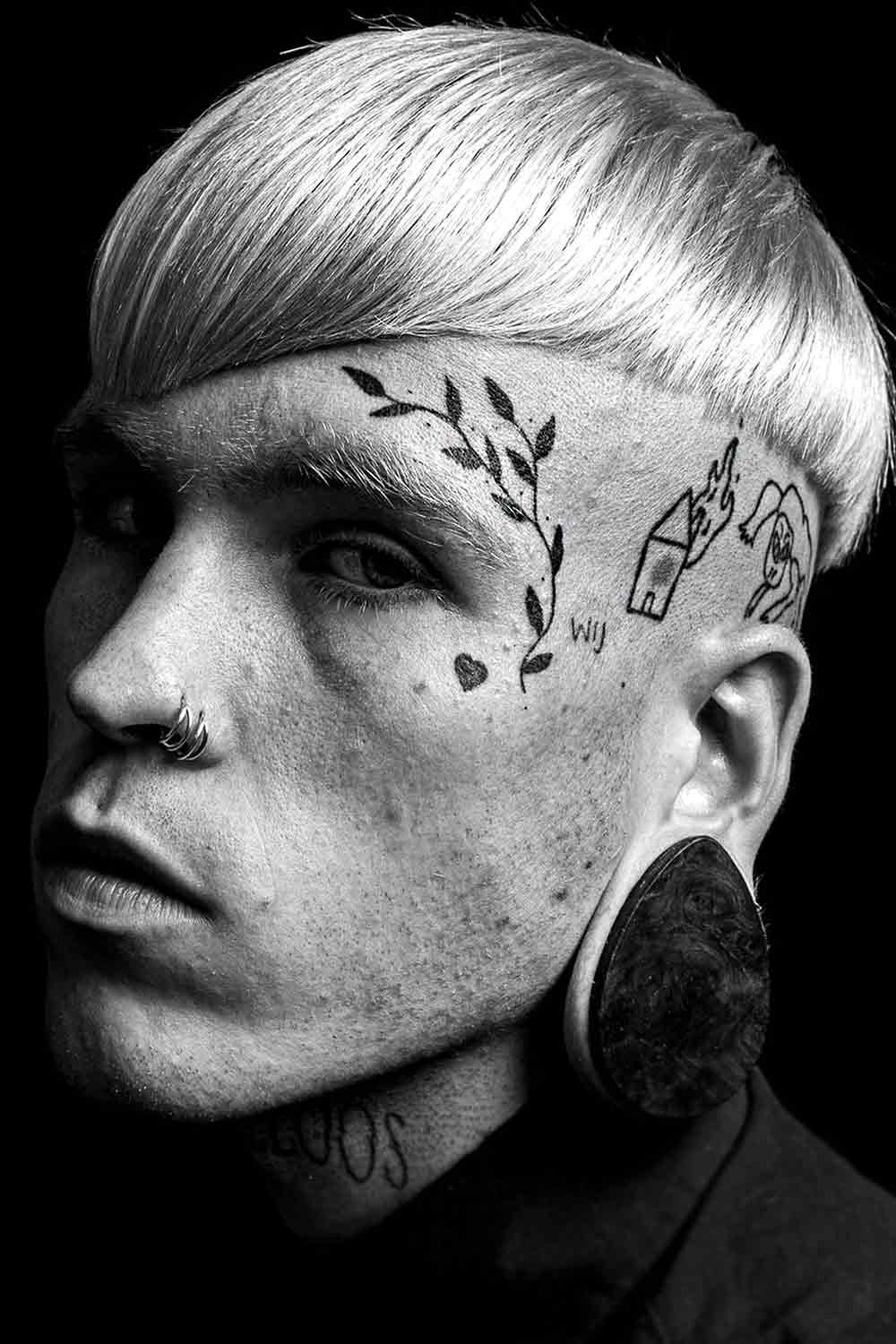 Source: @chloejanetattoos via Instagram
i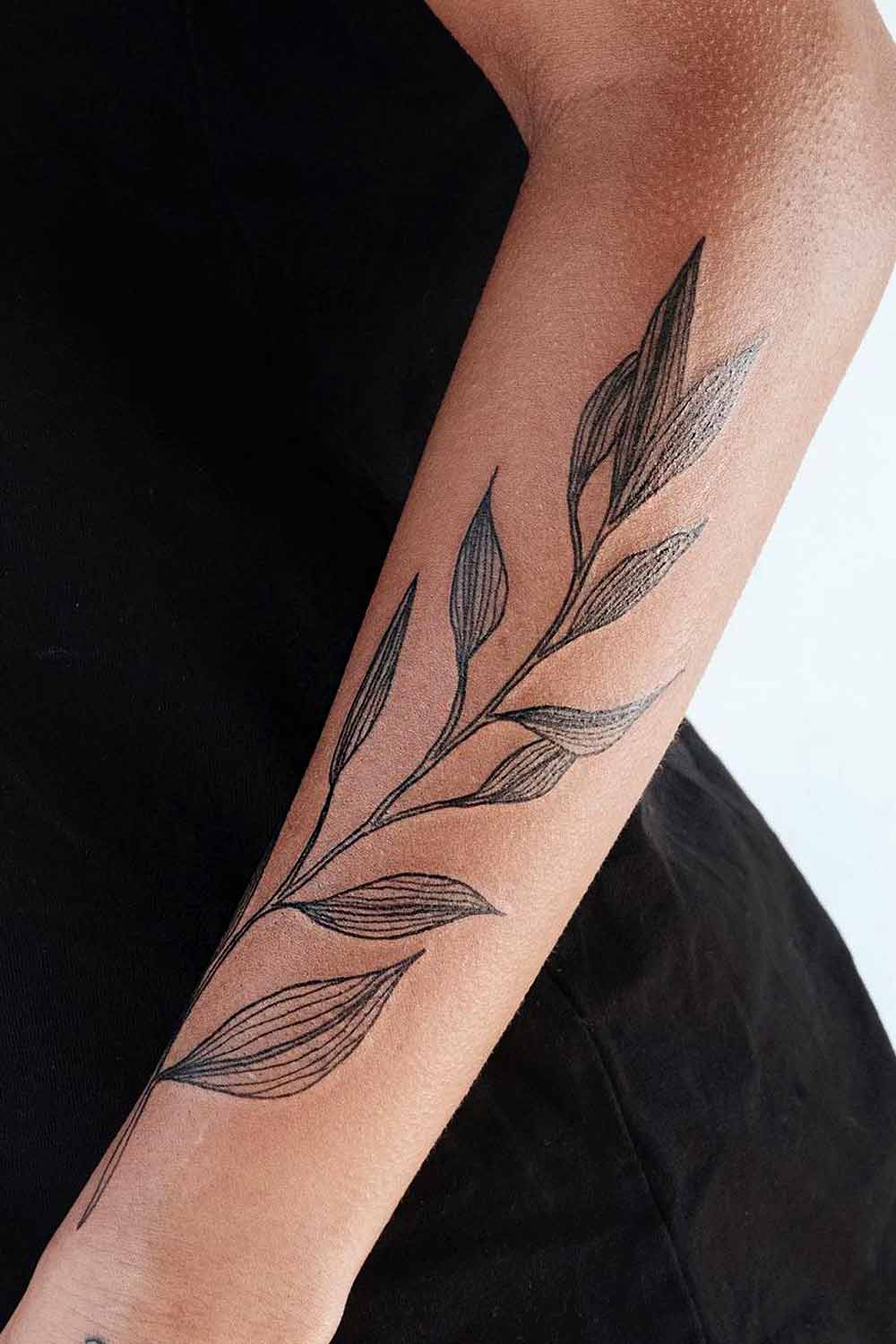 /
Airplane Tattoo
In case you are fond of traveling, you will love these airplane arm tattoos for men. They are made for adventurous people who choose to take risks and achieve their goals, who know what they want in life and who make the most out of it. Sounds like you? Then an airplane tat is your sure bet.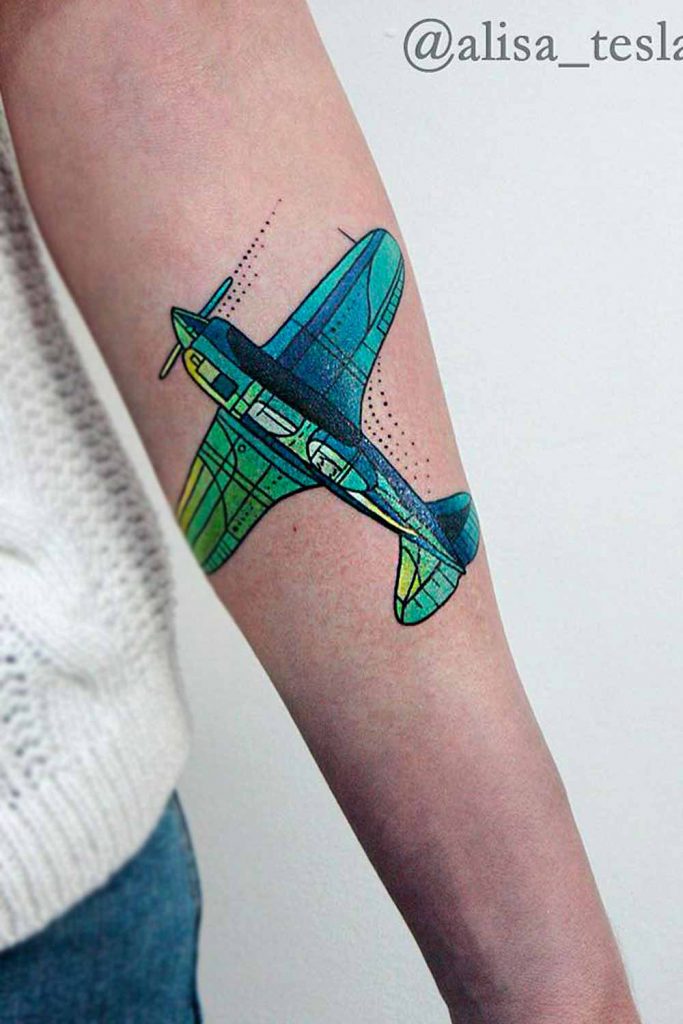 Source: @alisa_tesla_art via Instagram
African Tattoos
There are plenty of ways to pay tribute to your heritage with tattoos being one of the most popular. African back tattoos for men allow them to tell a lot about their legacy. Plus, as there is plenty of room to incorporate even the most extensive tattoo with a lot of detailing, you can give it multiple meanings.
View this post on Instagram
Motorcycle Tattoos
Your love for freedom, speed and risk should be rewarded and motorcycle chest tattoos for men are one of the best ways to do it. After all, your iron horse is most likely already in your heart, so it makes sense to get it tattooed close to it. But even if you do not have a bike yet, this may be a great method to manifest it.
Source: @robcarvalhoart via Instagram
i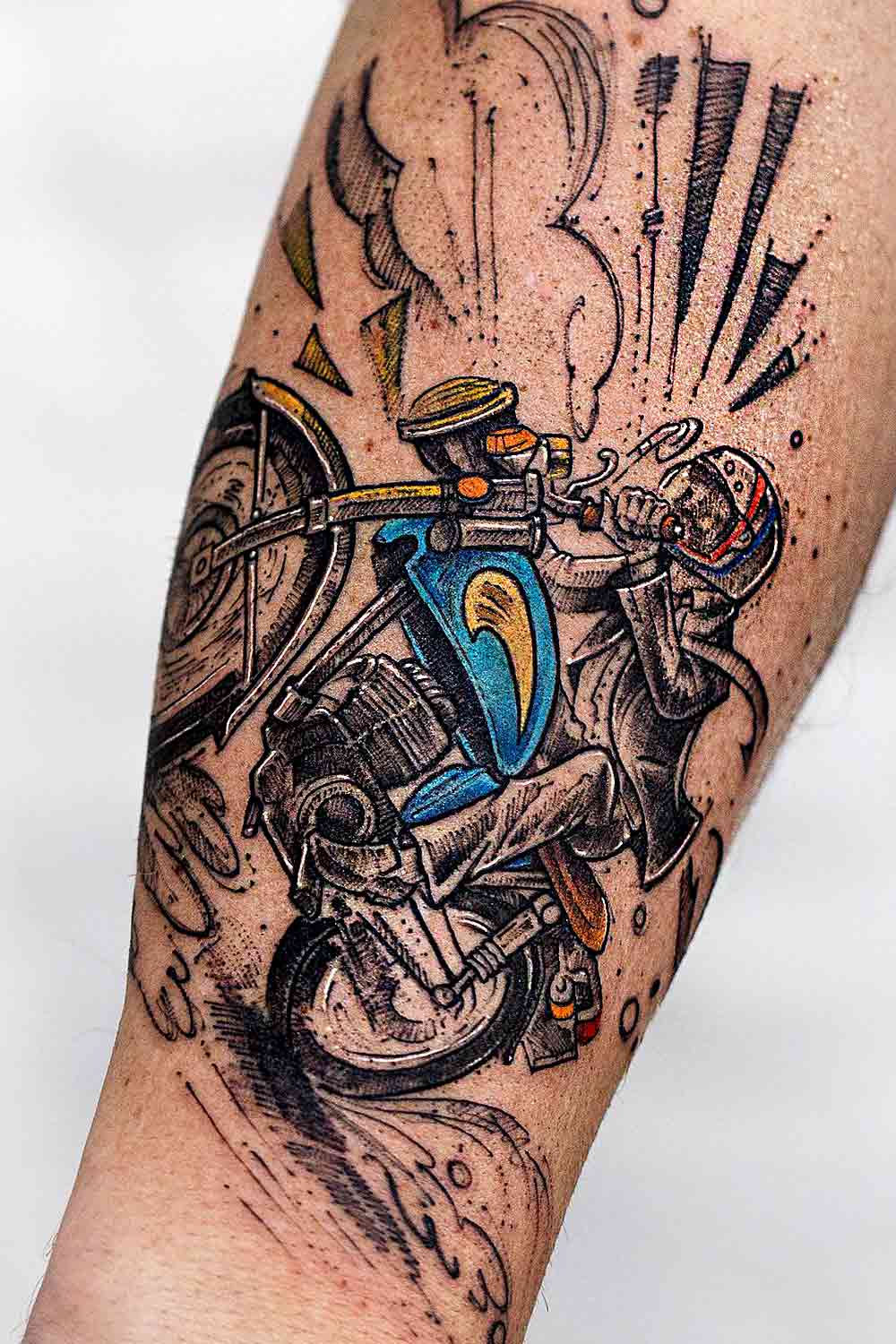 Source: @robcarvalhoart via Instagram
i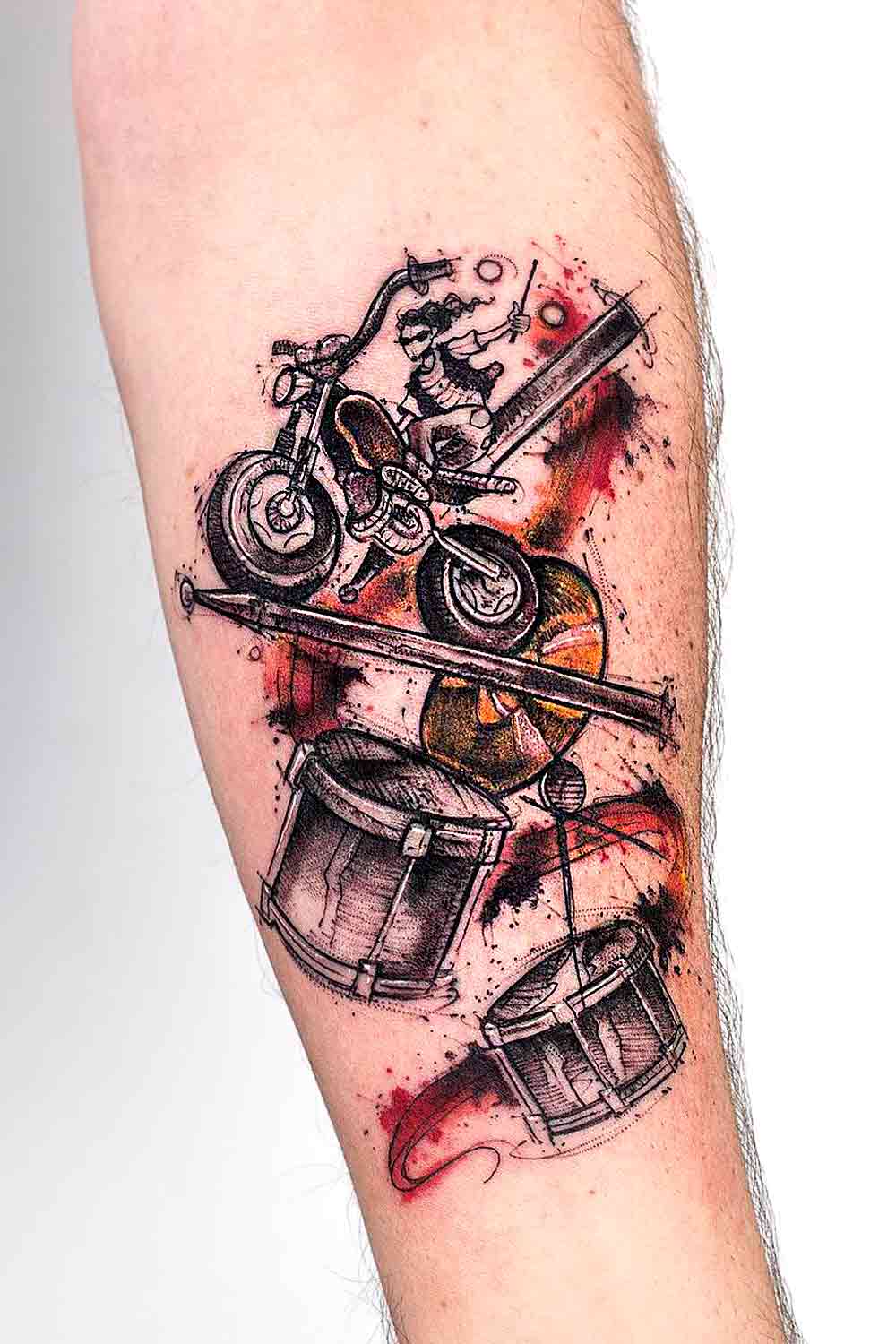 /
How To Get A Tattoo
No matter what design you choose, you should set a few rules for yourself that you have to follow before to get a male tattoo. In our opinion, they will get you as close as possible to having the tattoo of your dreams.
What would you like your tattoo to be like? A beautiful picture of male tattoos that will be your own idea of creativity and imagination, or you would prefer for it to have a deeper meaning? If the last option is what you think of then how much are you ready to show with its help about your personality and inner world? In what form would you like your idea to be? We believe that answering these main questions may help you a lot with figuring out what type of tattoo you would like to get an understanding of how far you can go with creativity.
Tattoos for men have come a long way from their old school ways. New techniques, colorful inks, and increased artist skills have made the world of tattooing exciting and limitless. Although classic flash will always be cool, why not make a more personal statement with the following tattoo ideas?
Deciding on a tattoo takes some thought. After all, you'll likely be wearing your design for a lifetime. The most attractive tattoo designs accentuate your best features and aren't chosen on a whim. While you can have tattoos removed through a laser removal process, why go through all that? Many people love the look of tattooed men. So long as you can think it, your artist can ink it. Check out some of our favorite tattoos for men.
Choose The Right Tattoo Artist
What do we mean with this advice? Well, not every tattoo artist is the professional that will be able to ink your skin with a desirable idea, so you have to be responsible here. Find the one that has for sure worked with the kind of technique you would like to have and there will be no difficulty for both of you in understanding each other.
Listen To The Professionals
If your tattoo artist asks you to do something or gives you some advice, be sure to do it all. The person who has worked in this sphere for sure knows some inside secrets that will make the process of healing, for example, faster and less painful.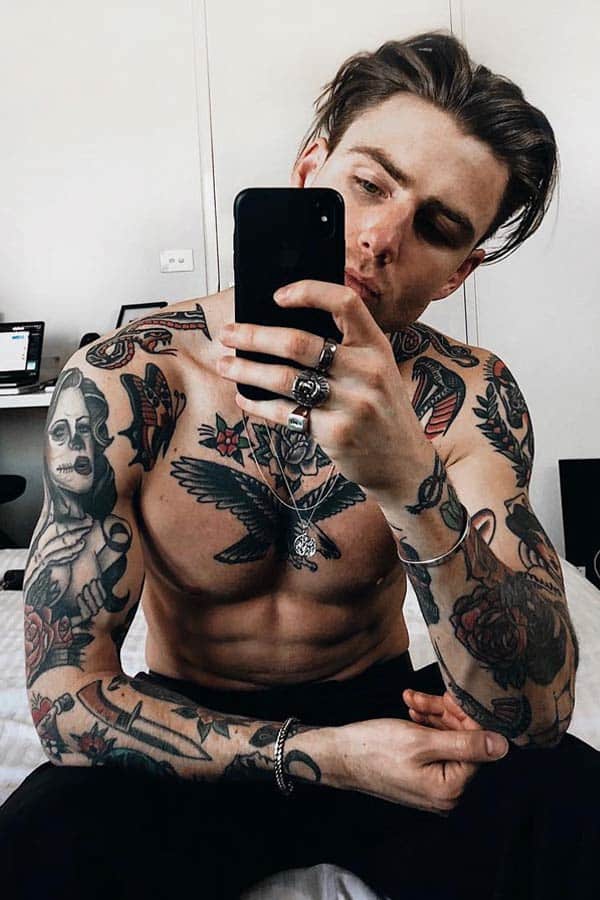 Source: @thomasdavenport via Instagram
Select Something With Meaning
Whether you like it to be your main goal that you see in a hot tattoos or no, you should definitely consider your tattoo having a meaning. A personalized tattoo is far more significant for your heart through all your life than a picture you just liked and decided to ink into your skin.
Play It Safe
Be a responsible grown-up man who thinks of his own future. Choose the place for your tattoo and also think if its meaning is appropriate for your future career.
Don't Worry About The Pain
You may have hurt that the process of tattooing can hurt a bit. However, it is not the end of the world. A bit uncomfortable but bearable. Even if it hurts in sensitive places where skin is thinner, well the results are worth it.
Take Care Of Your Tattoo
Source: @spizoiky via Instagram
Don`t forget to look after your tattoo and do the routine that your tattoo artist advised you to do. Otherwise, the quality of the technique may become smudged, and you can easily get an infection that is not the best thing that can happen to a sensitive spot like that.
Does A Tattoo Make You More Attractive?
Well, it is one of the most demanded questions on the web. Women seem to split into two sides. Those who are crazy about men covered with pictures and those who don`t care or don`t like them that much.
If you want your body to be covered with tattoos, a body suit idea is right here for you. Isn`t it marvelous? Those who look for stomach tattoos for men should consider getting it too.
There are pretty many places for leg tattoo designs for men, from your hip to the ankle. A calf is one of the best areas to get tattoos for men, as they will wrap around intricately. Besides, the space tattoos will cover is quite extensive. Leg tattoos can be both simple and elaborate. No matter what kind you are going to choose, the most awesome tattoos should express your personality. So keep that in mind, when picking out the design for your leg. If you are a complete newbie, then we recommend starting with simple yet cool tattoo ideas.
FAQs
What is the best tattoo for a man?
The best man tattoo is a relative concept, as it is very individual. It can be just anything, provided it combines personal meaning with an attractive image.
What are the most attractive tattoos?
The attractiveness of the tattoo greatly depends on its artistry, location and style. The most attractive area to get a tattoo for a man is the upper arm. As for the style, people who are into tattoos are attracted to illustrative images, whereas those who feel indifferent about them lean toward minimalistic designs.
Do girls like guys with tattoos?
Most girls are turned on by tattooed guys, as they consider them virile, authoritative and vigorous. However, when looking at the guy in terms of a life partner, tattoos have no weight for girls.
Can u remove tattoos?
Luckily, you can. But this does not mean you can go reckless with your tattoos. The procedure of removing the ink from your skin can be performed using a laser or a scalpel. It may be painful, costly and time-consuming. Besides, it could leave scars. So, think more than twice before venturing out for a tat.
REFERENCES:
A tattoo is a form of body modification where a design is made by inserting ink, dyes and pigments, either indelible or temporary, into the dermis layer of the skin to change the pigment. Source
Was this article helpful?