A Guide To Tattoos For Men
Tattoos for men can complicated, we agree, and here we are to help you with everything that you may have difficulties with. Whether you are searching for inspiration or creativity or would like to know how to make a perfect choice. We would love to help you out. There are so many options of tattoos for men that we understand how lost it all can make you feel. Get ready and let`s start our tattoo exploration journey.
What's Your Goal?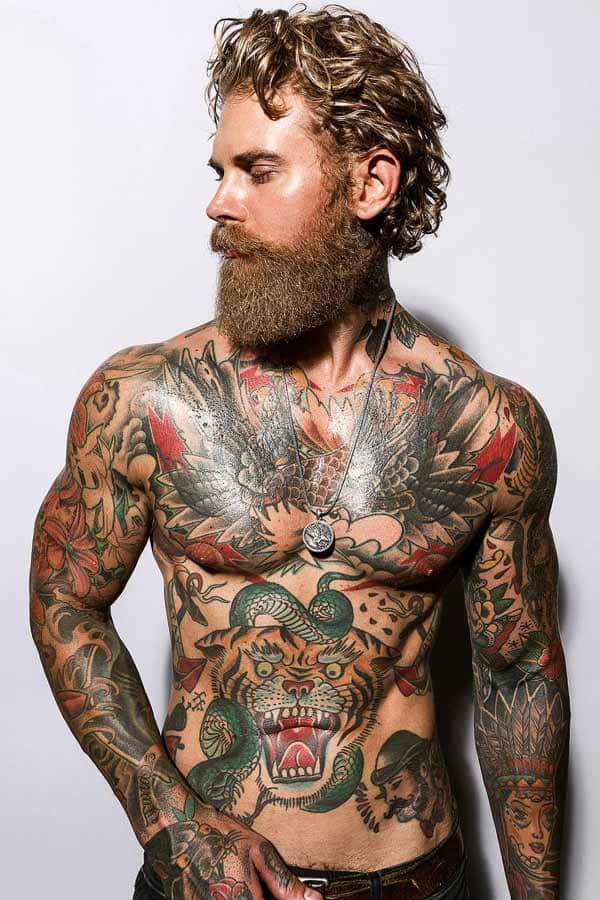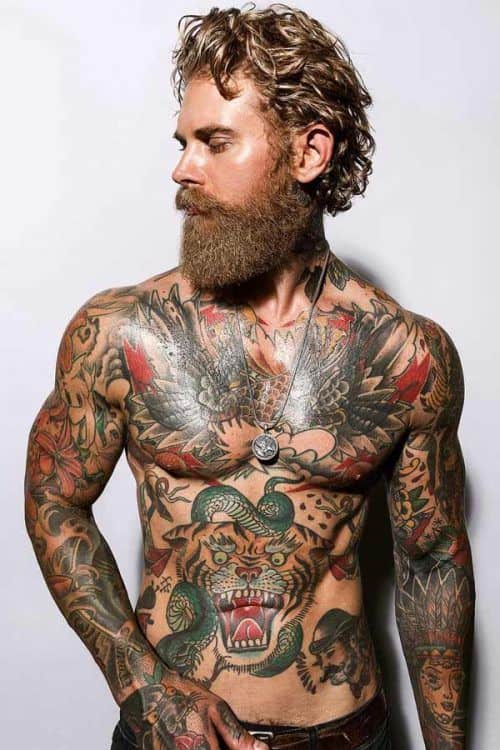 Source: @spizoiky via Instagram
What would you like your tattoo to be like? A beautiful picture that will be your own idea of creativity and imagination, or you would prefer for it to have a deeper meaning? If the last option is what you think of then how much are you ready to show with its help about your personality and inner world? In what form would you like your idea to be? We believe that answering these main questions may help you a lot with figuring out what type of a tattoo you would like to get an understanding how far you can go with creativity.
How To Get A Tattoo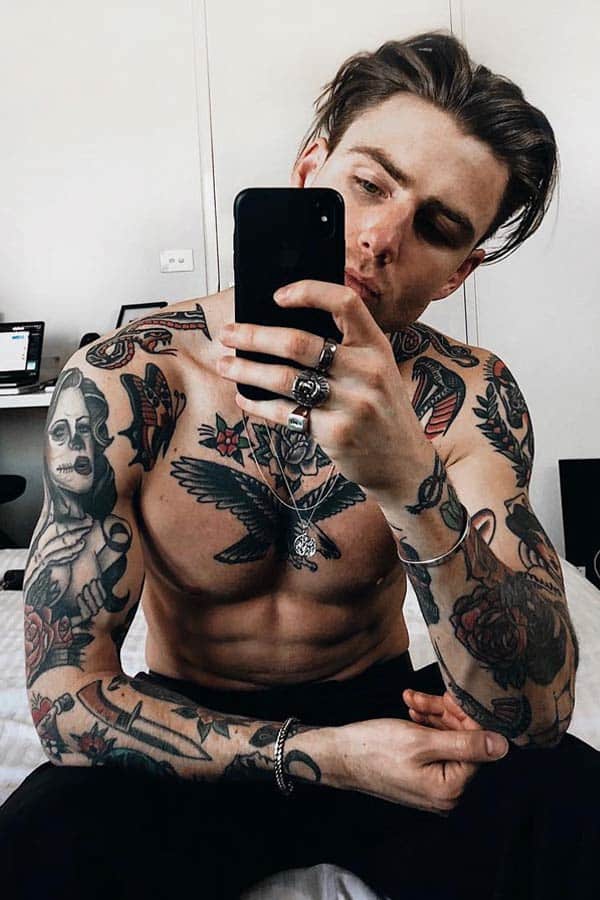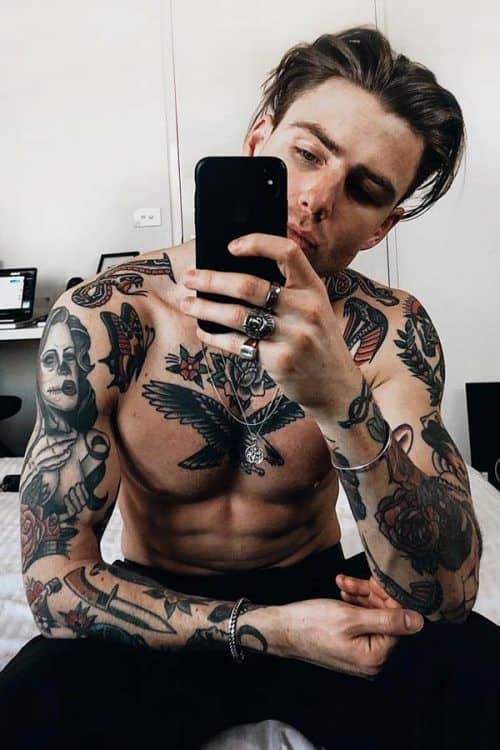 Source: @thomasdavenport via Instagram
No matter what design you choose, you should set a few rules for yourself that you have to follow. In our opinion, they will get you as close as possible to having the tattoo of your dreams.
Choose The Right Tattoo Artist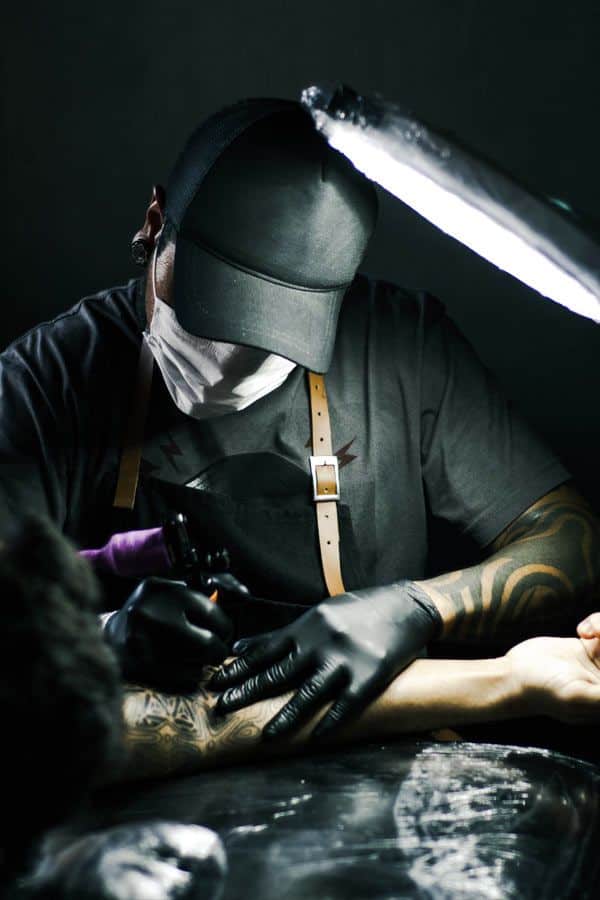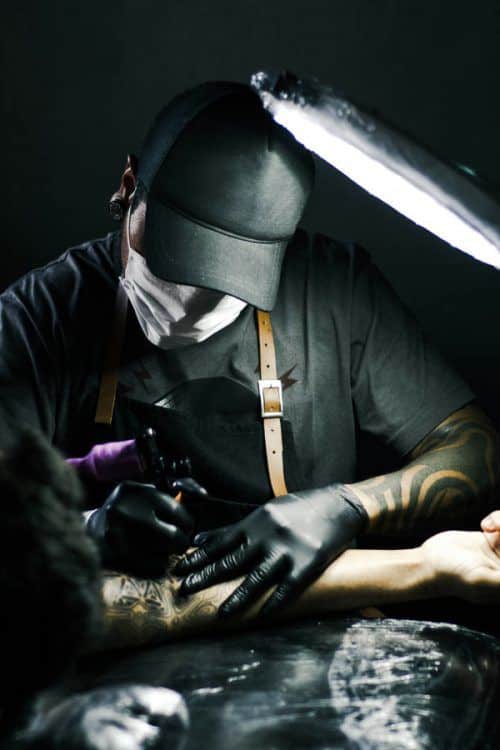 What do we mean with this advice? Well, not every tattoo artist is the professional that will be able to ink your skin with a desirable idea, so you have to be responsible here. Find the one that has for sure worked with the kind of technique you would like to have and there will be no difficulty for both of you in understanding each other.
Listen To The Professionals
Source: @thomasdavenport via Instagram
If your tattoo artist asks you to do something or gives you some advice, be sure to do it all. The person who has worked in this sphere for sure knows some inside secrets that will make the process of healing, for example, faster and less painful.
Select Something With Meaning
Source: @luiiisc_ via Instagram
Whether you like it to be your main goal that you see in a tattoo or no, you should definitely consider your tattoo having a meaning. A personalized tattoo is far more significant for your heart through all your life than a picture you just liked and decided to ink into your skin.
Play It Safe
Be a responsible grown-up man who thinks of his own future. Choose the place for your tattoo and also think if its meaning is appropriate for your future career.
Don't Worry About The Pain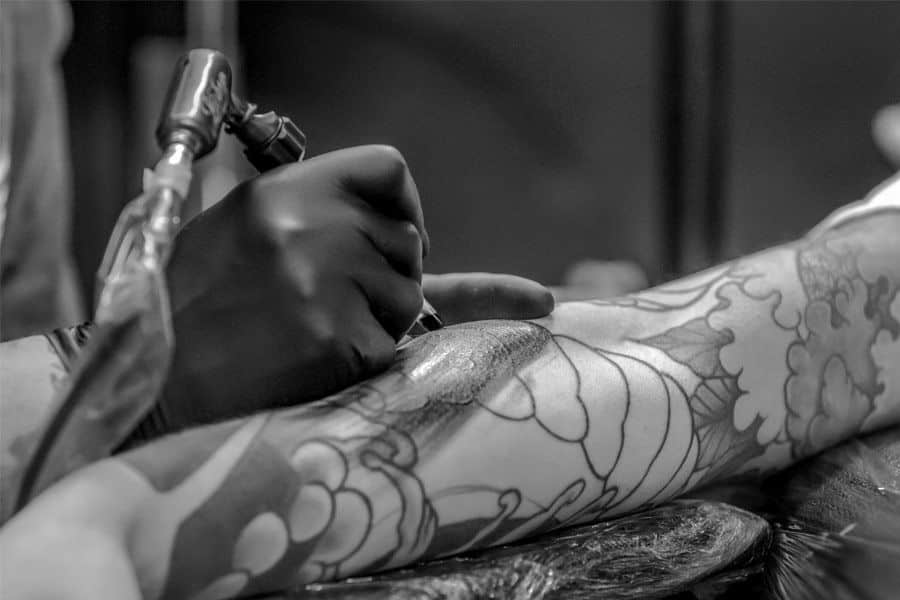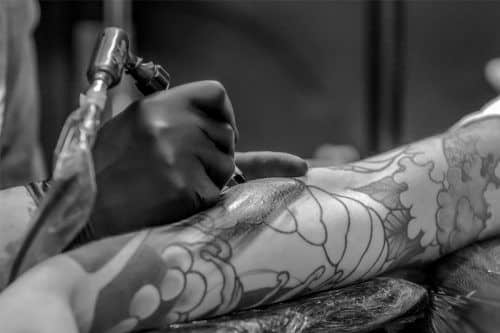 You may have hurt that the process of tattooing can hurt a bit. However, it is not the end of the world. A bit uncomfortable but bearable. Even if it hurts in sensitive places where skin is thinner, well the results are worth it.
Take Care Of Your Tattoo
Source: @spizoiky via Instagram
Don`t forget to look after your tattoo and do the routine that your tattoo artist advised you to do. Otherwise, the quality of the technique may become smudged, and you can easily get an infection that is not the best thing that can happen to a sensitive spot like that.
Does A Tattoo Make You More Attractive?
Source: @patrickdossantosaveiro via Instagram
Well, it is one of the most demanded questions on the web. Women seem to split into two sides. Those who are crazy about men covered with pictures and those who don`t care or don`t like them that much.
Best Ideas And Designs
We have prepared the best ideas we could find for you about tattoos for men. Are you excited? Then let's look at what we have.
Lettering Tattoo On Neck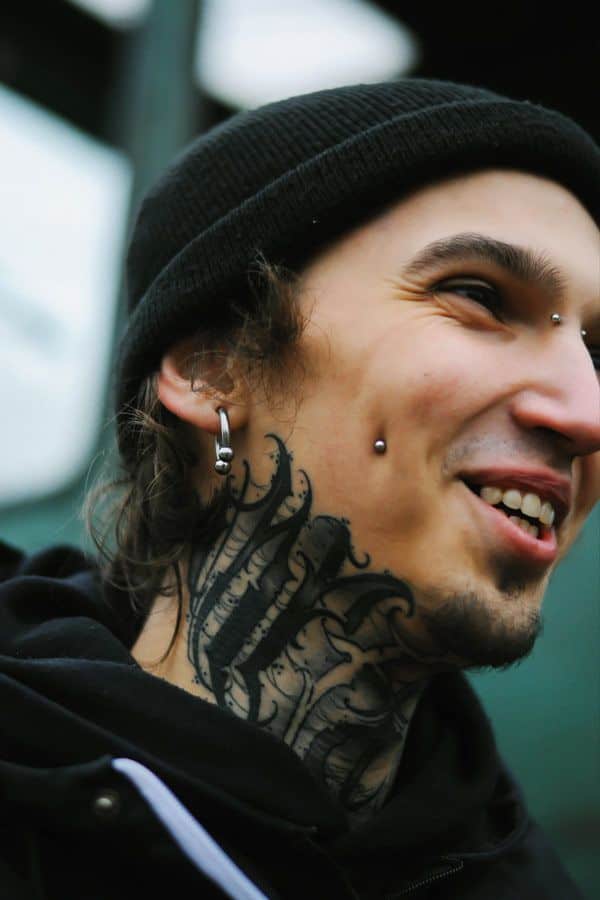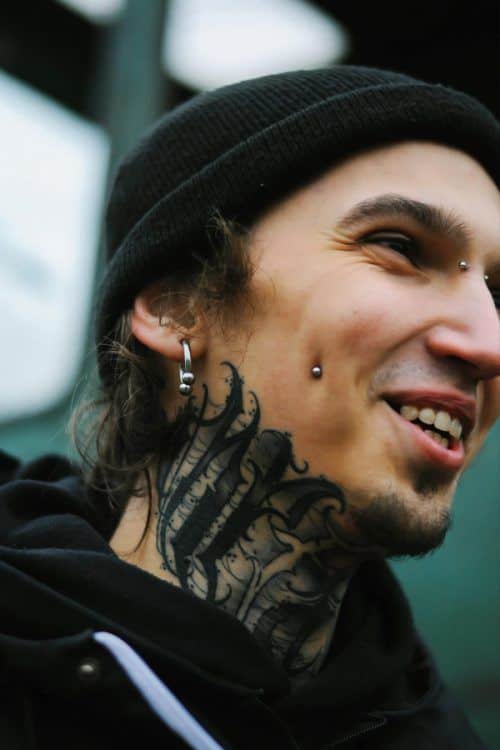 Source: Pryanett/Shutterstock
Consider trying one of the neck tattoos for men that is done with lettering. Not only words that you ink into your skin will be meaningful but also the script you choose for them and the design you think of. One of the most beautiful of simple tattoos for men.
Full-Hand Lettering Design
Source: @sidsottungacademy via Instagram
If you are looking for hand tattoos for men, then we have one with lettering for you. Such a design looks super attractive on such a visible place. Don`t you agree?
Blackwork Tattoo
Obviously, Blackwork warrior tattoos are not for guys who like minimalistic style. Thus, if you are looking for ideas for small tattoos for men, then this is not an option for you. However, in case you are ready to adorn your body with these amazing tattoos, then you can rest assured that you will not go unnoticed.
Christian Tattoo
Source: @NAME via Instagram
Christian tattoos for men are not a simple image on their bodies. In most cases, they have a deep sacral meaning. Besides, Christian tattoos offer you a multitude of design options, from crosses and Bible verses to icons and faces of the saint.
Tiger Tattoo
Source: @spizoiky via Instagram
If you want a massive tattoo that one of the half sleeve tattoos for men, then why don`t you think of a tiger on your arm? Beautifully and detailed it is a great idea.
Colored Scorpio Tattoo For Men
View this post on Instagram
We love tattoos and this colored Scorpio especially. Don`t you?
Flowers And Skull Tattoo Design
We have super cool tattoos for men. This one is on top of them all for sure, don`t you agree?
Odin Mask Tattoo Design
View this post on Instagram
Viking tattoos for men have become super popular nowadays. Would you like to join the move and ink one on yourself?
Tribal Tattoo For Men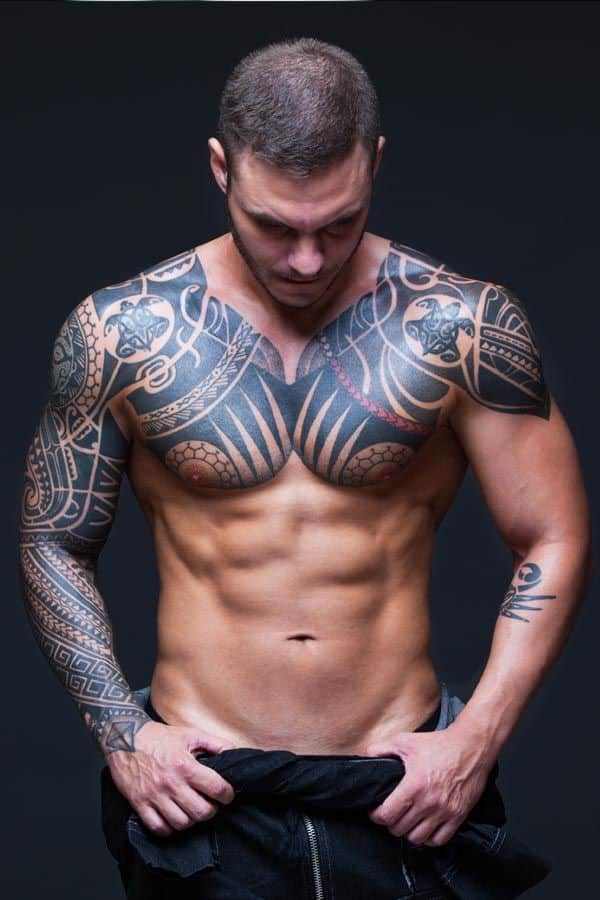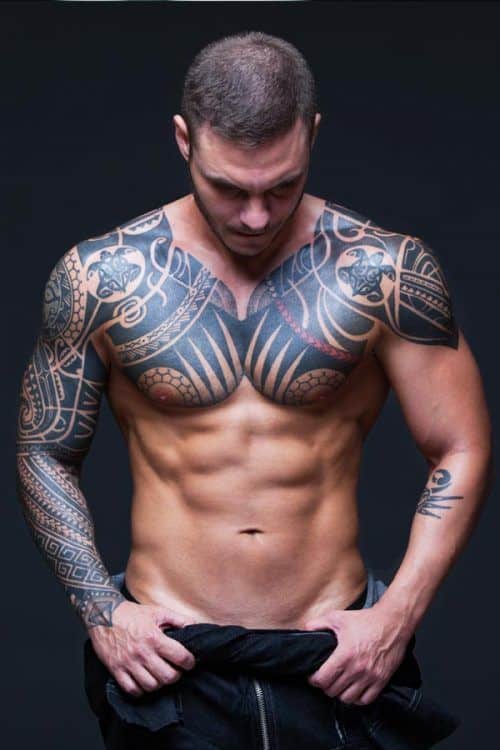 Source: Satyrenko/Shutterstock
Simple but beautiful tribal tattoos for men have a lot of meaning. We love how attractive these tattoos look on the skin.
Amazing Girl Tattoo
Source: @ninothenice via Instagram
A girl tattoo is a classic in the tattoo designs. You can get so creative with such images that they might become your favorite.
Dragon Tattoo
A colorful and creative idea among other back tattoos for men.
Summer Girl Tattoo Design
View this post on Instagram
Other tattoos design for men include these summer girls ideas. Aren`t they looking bomb?
Wolf Tattoo Design
Source: @alexmapeli via Instagram
Hand tattoos for men should always have a few choices with wolf designs, as they are super powerful and meaningful.
Devil Woman
View this post on Instagram
Are you looking for a naughty tat? Then choose a devil woman tattoo.
Rose Tattoo For Men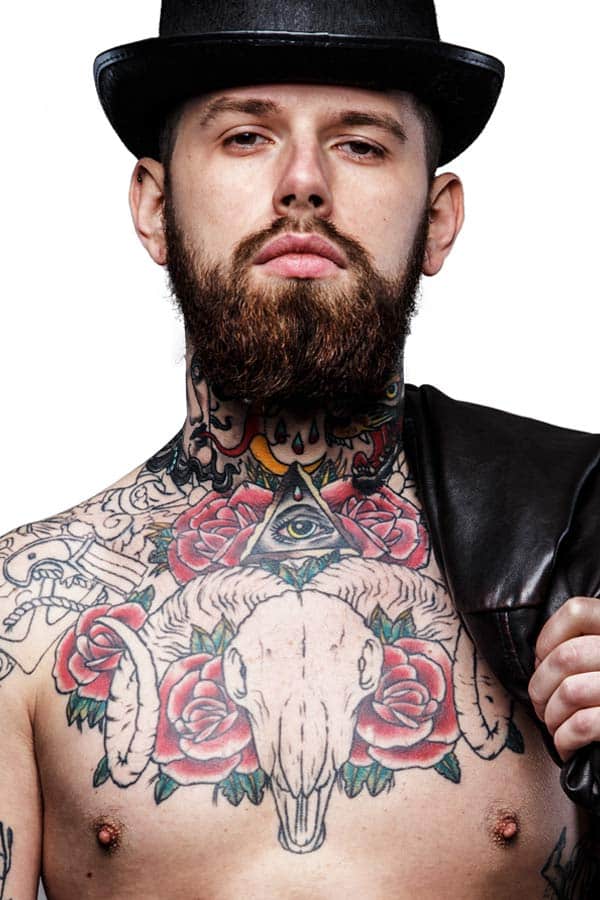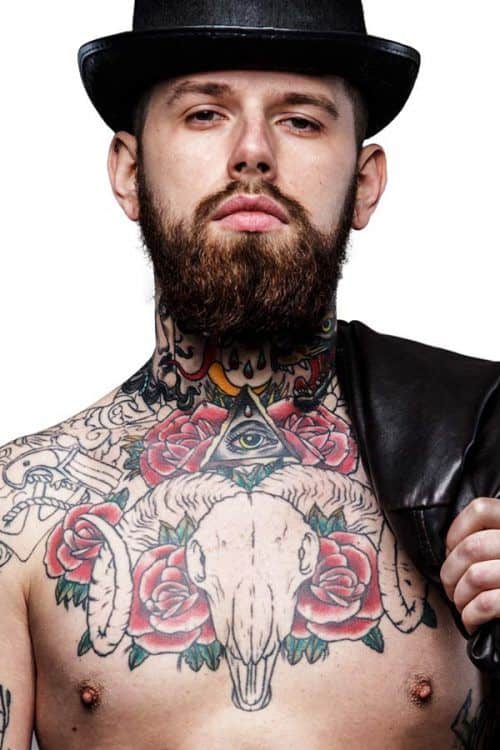 Source: FXQuadro/Shutterstock
Rose tattoos for men don`t lose their popularity and style winning the true classic name.
Snakes Japanese Tattoo
View this post on Instagram
Best tattoos for men in our opinion should have snakes Japanese tattoo in their collection. Just have a look.
Skull Tattoo For Men
Back tattoos for men are usually creative and well done. Think of skull tattoos for men and combine both.
Lion Tattoo For Men
View this post on Instagram
A lion tatoo should definetely be in our list of tattoo ideas.
Tattoo Body Suit
Source: @lanedorsey via Instagram
If you want your body to be covered with tattoos, a body suit idea is right here for you. Isn`t it marvelous? Those who look for stomach tattoos for men should consider getting it too.
Bird Tattoo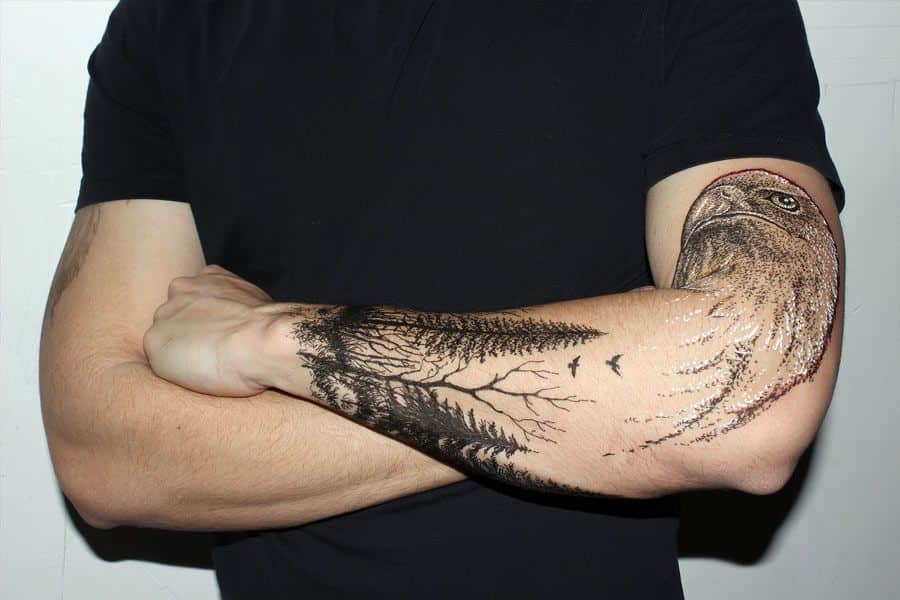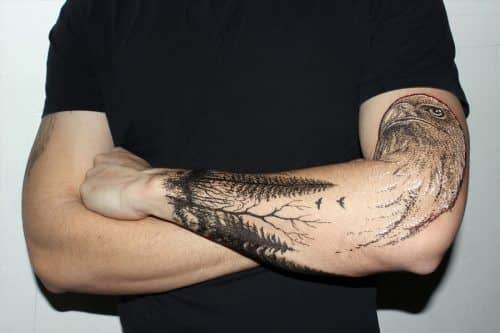 Source: Sagitov Timur/Shutterstock
Small tattoos for men are one of the most popular choices, and we completely understand why. Think of them for arm tattoos for men and you won`t be disappointed with the results.
Wrist Tattoo
Source: @patrickdossantosaveiro via Instagram
A wrist is a popular place to get your men tattoos, as it is almost always in sight. Depending on whether you will be covering it or not, you can go for a tattoo inked on the inner or outer part of your wrist. Either way, this area is perfect for simple tattoo styles, which will also become an appropriate option for a workplace ambiance.
Small Tattoo
Source: @sidsottungacademy via Instagram
Regardless of whether this is your first tattooing or you just need something work-appropriate, it is always safe to go for small tattoo ideas for men rather than big ones. After all, size does not matter. When choosing the place where to have it, consider such factors as the need to hide it and your pain threshold.
Sleeve Tattoo
Source: @patrickdossantosaveiro via Instagram
A sleeve tattoo is a great option for guys who are not afraid to stand out in the crowd. If you want to express yourself through mens tattoos, then there is hardly a better way for you. For a start, you can try shoulder tattoos and when you decide that you like the way it comes out, you can proceed with a forearm tattoo.
Chest Lettering Tattoo
Source: @chadius_maximus via Instagram
If you think that lettering tattoos designs are only about the meaning of the words, then we are here to prove you wrong. It is also about the style the script has. Thus, when you are pondering lettering tattoos ideas, take into account this fact as well. As for the place, the chest is considered one of the best areas to get it, as it allows a lot of space for letters to accommodate.
Halloween Sleeve
Source: @luiiisc_ via Instagram
This cool tattoo is for those guys who have a great sense of humor and can easily laugh at themselves. At the same time, Halloween-themed sleeve tattoo styles can denote quite a deep meaning, not necessarily funny. Instead, you can opt for forearm and shoulder tattoos for men with rather serious and even creepy design.
Simple Leg Tattoo
Source: @luiiisc_ via Instagram
Leg tattoos can be both simple and elaborate. No matter what kind you are going to choose, the most awesome tattoos should express your personality. So keep that in mind, when picking out the design for your leg. If you are a complete newbie, then we recommend starting with simple yet cool tattoo ideas, such as the one you can see in the photo.
Calf Tattoo
Source: @ roque_80 via Instagram
There are pretty many places for leg tattoo designs for men, from your hip to the ankle. A calf is one of the best areas to get tattoos for men, as they will wrap around intricately. Besides, the space tattoos will cover is quite extensive.
Elephant Tattoo
Animal tattoos are better to pull off on your forearm. This area allows you to get an orbicular piece of design or at least complete pieces of forearm tattoos for men. Besides, it will not be overly painful in case you cannot tolerate pain. An elephant, especially Ganesha, is a great tattoo design to go for.
Nun Tattoo
Here is one of the most inspirational tattoos we have come across lately. As we said before, forearm tattoos form a very unique and wholesome piece of design and this nun tattoo with a bit of horror air is a vivid example of this fact.