Korean hairstyles men have become popular far beyond the country and not for nothing we should say. They not only follow all the latest men grooming trends but also set them, thus making a lot of stir in the fashion world. If you are considering pulling off one of the Korean hair styles yourself, then our guide will certainly come in handy for you. So, check it out to pick the most flattering look for yourself.
Two-Block Korean Men Haircut
So, essentially, what is the Korean haircut? When it comes to Asian hairstyles men can be described as refined, elegant and stylish. A classic Korean haircut is one of those you see on college students in the West, namely an Ivy League or a comb over. However, in Korea, men rock such posh hairstyles not only to work or uni but in their everyday life too.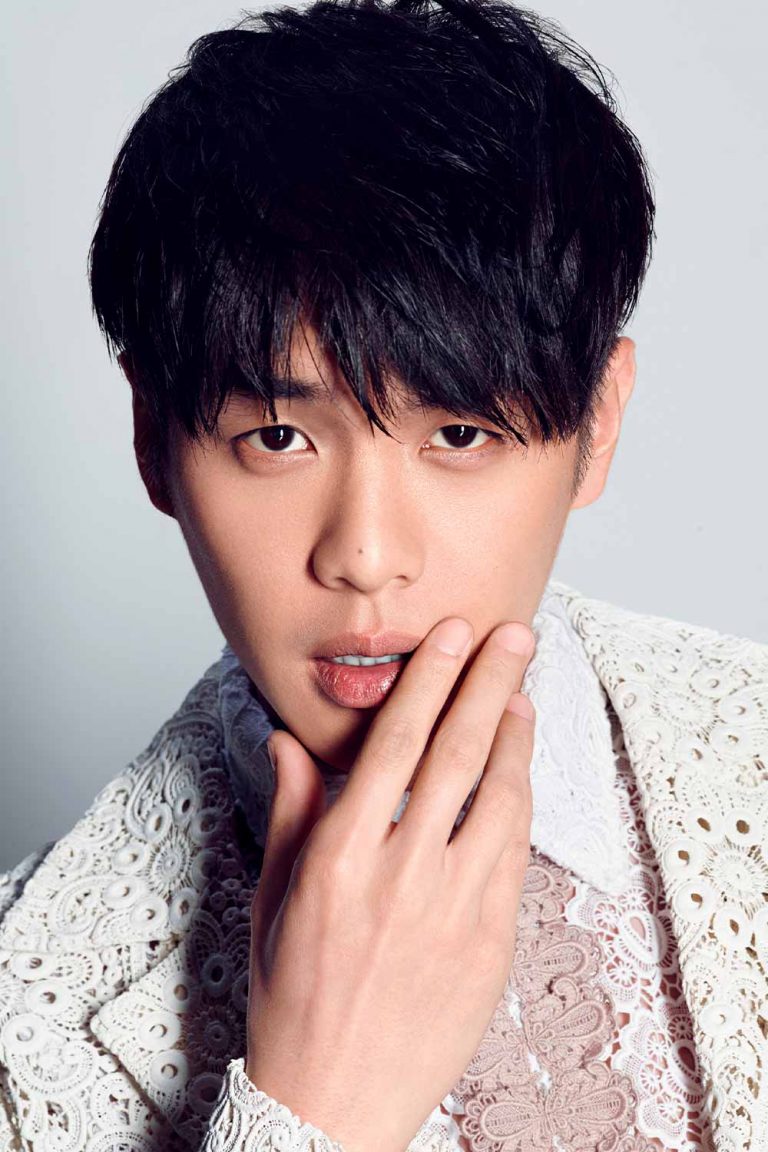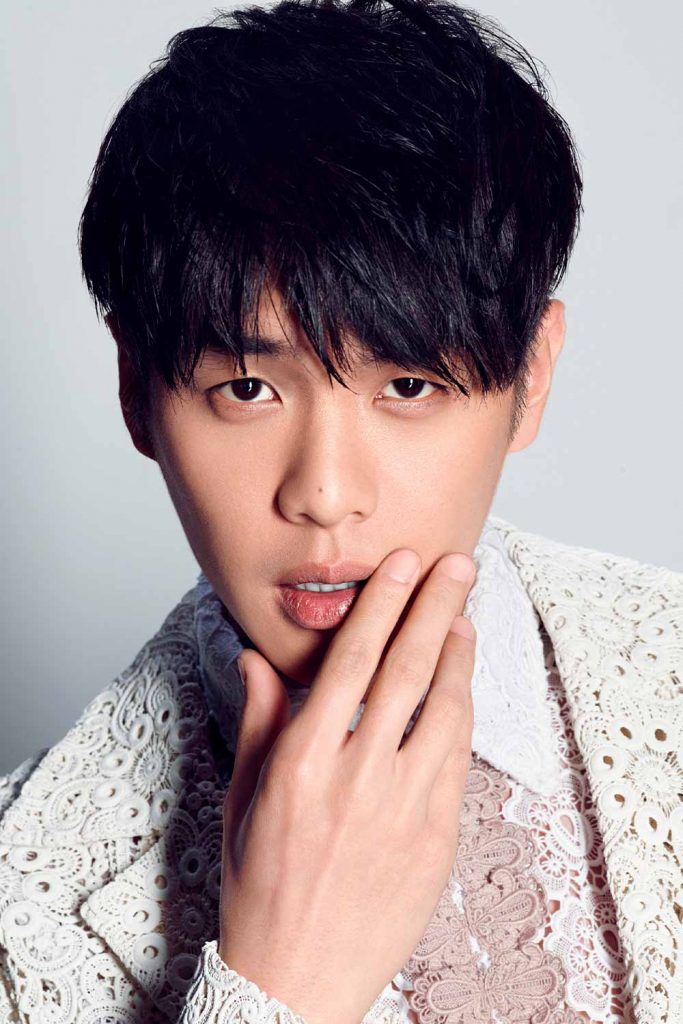 supermodel\Shutterstock
Curtains Fringe
Korean curtain bangs can be fairly called iconic. They perfectly accentuate the most attractive features on your face while balancing out its proportions. Thus, they are universally flattering no matter your head shape or hair texture.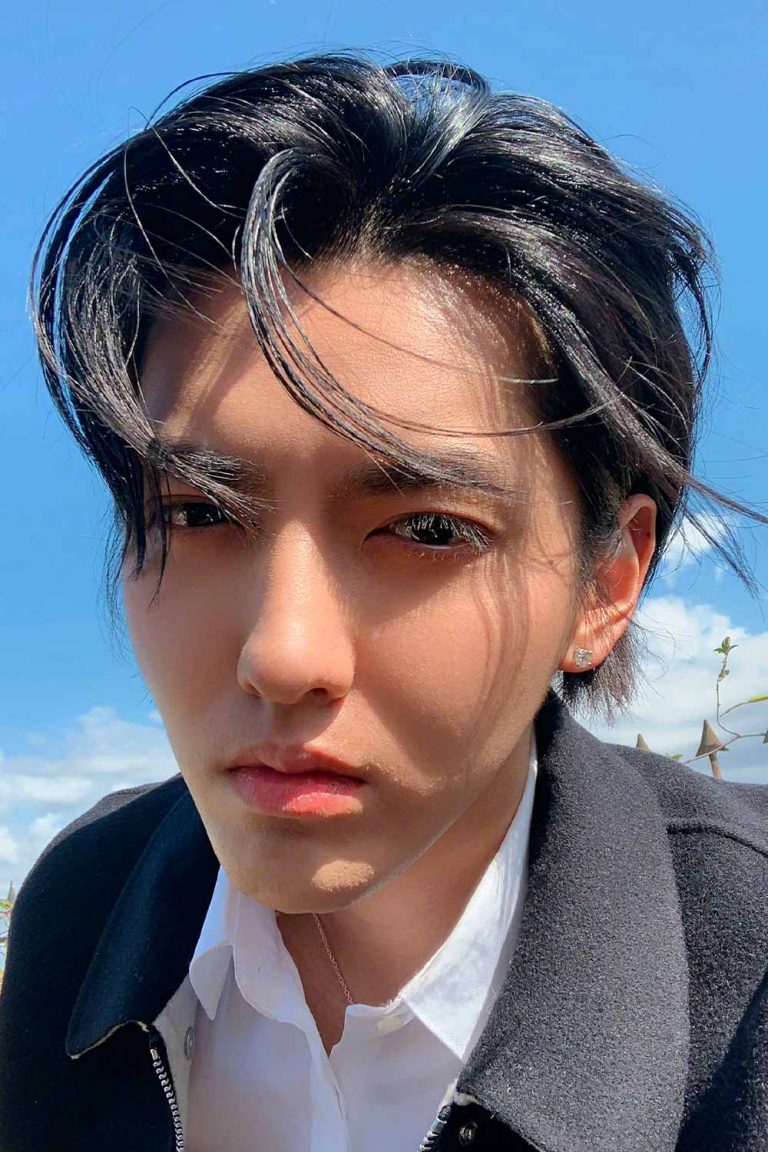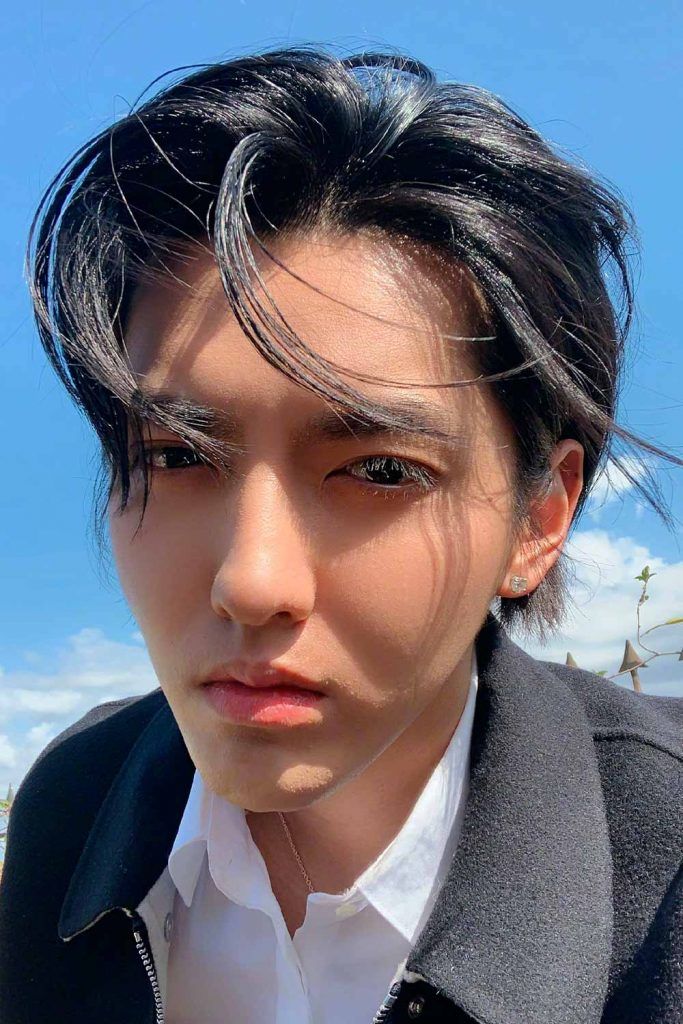 supermodel\Shutterstock
Permed Mullet
In pursuit of a trendy Korean haircut men resort to different methods. When a mullet came back as a fashion trend, it made men not only cut their hair shorter in the front and on the sides while leaving the back relatively long but also perm their locks. The look got the name a permed mullet and deserves the title of one of the most fashionable Korean hairstyles.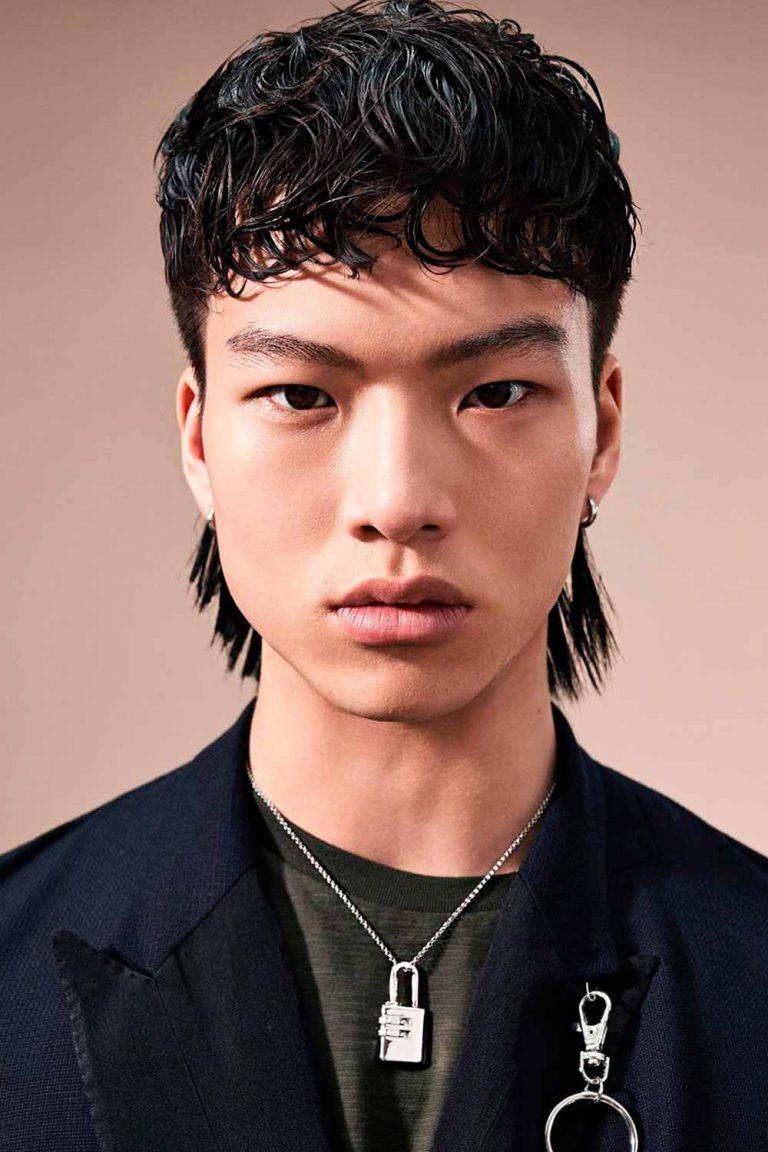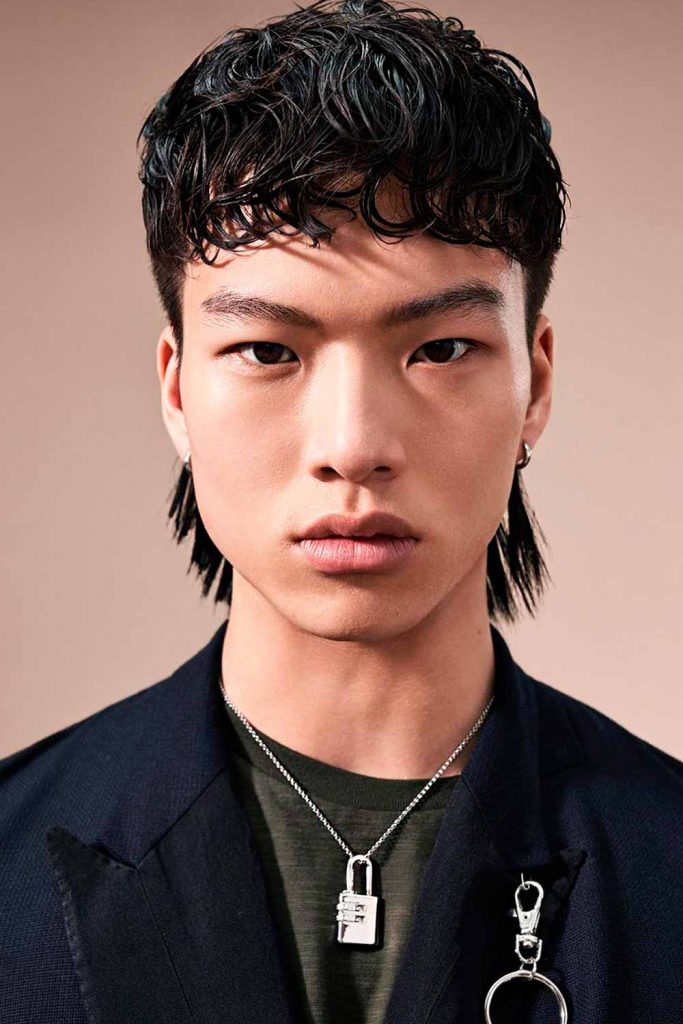 Source: @dexterdapper via Instagram
Shaggy Korean Hairstyle
Thanks to the abundance of volume Korean hair has, you can style it in any way you like. If you want your appearance to make a carefree and relaxed impression, then go for a shaggy black Korean men hairstyle.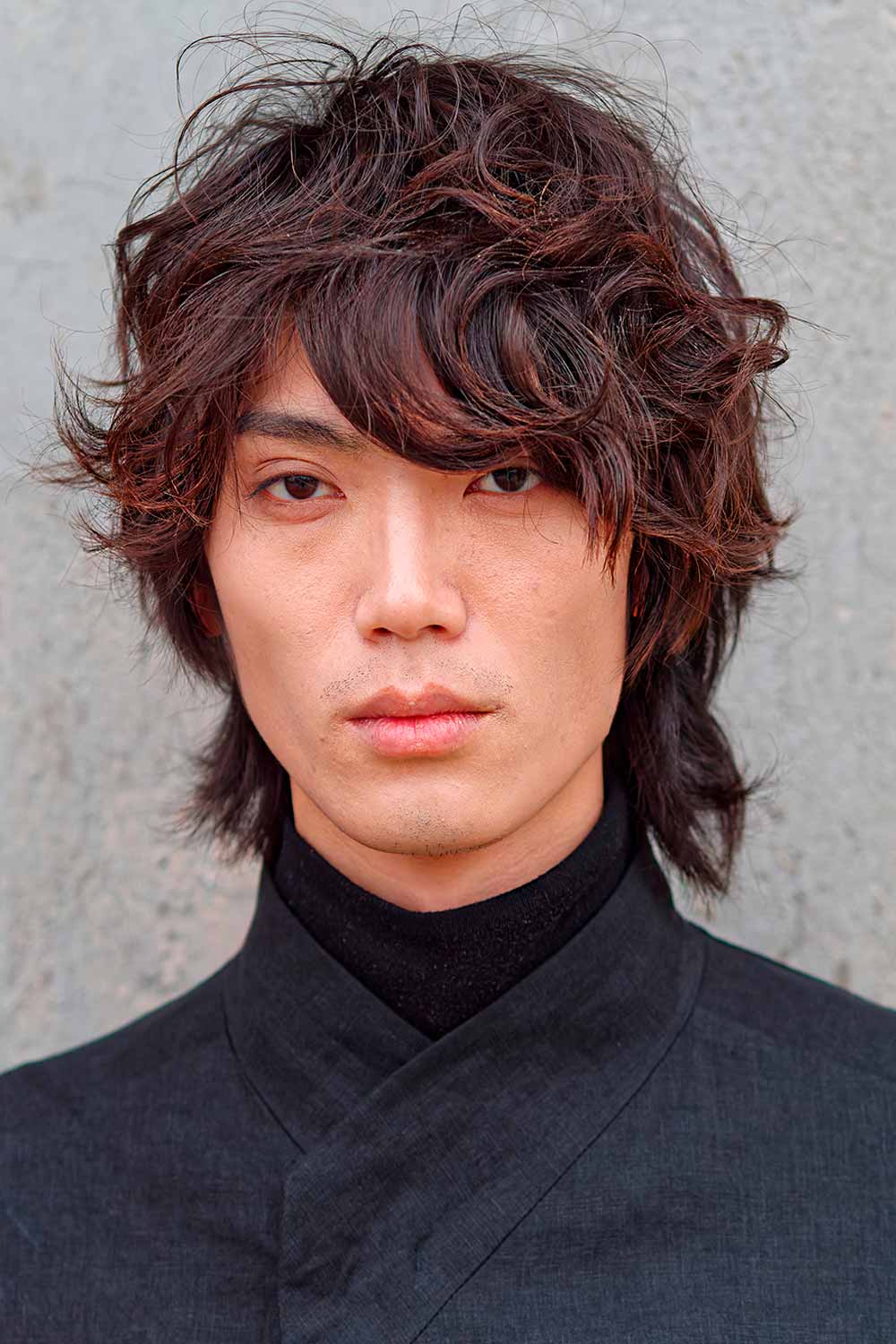 supermodel\Shutterstock
i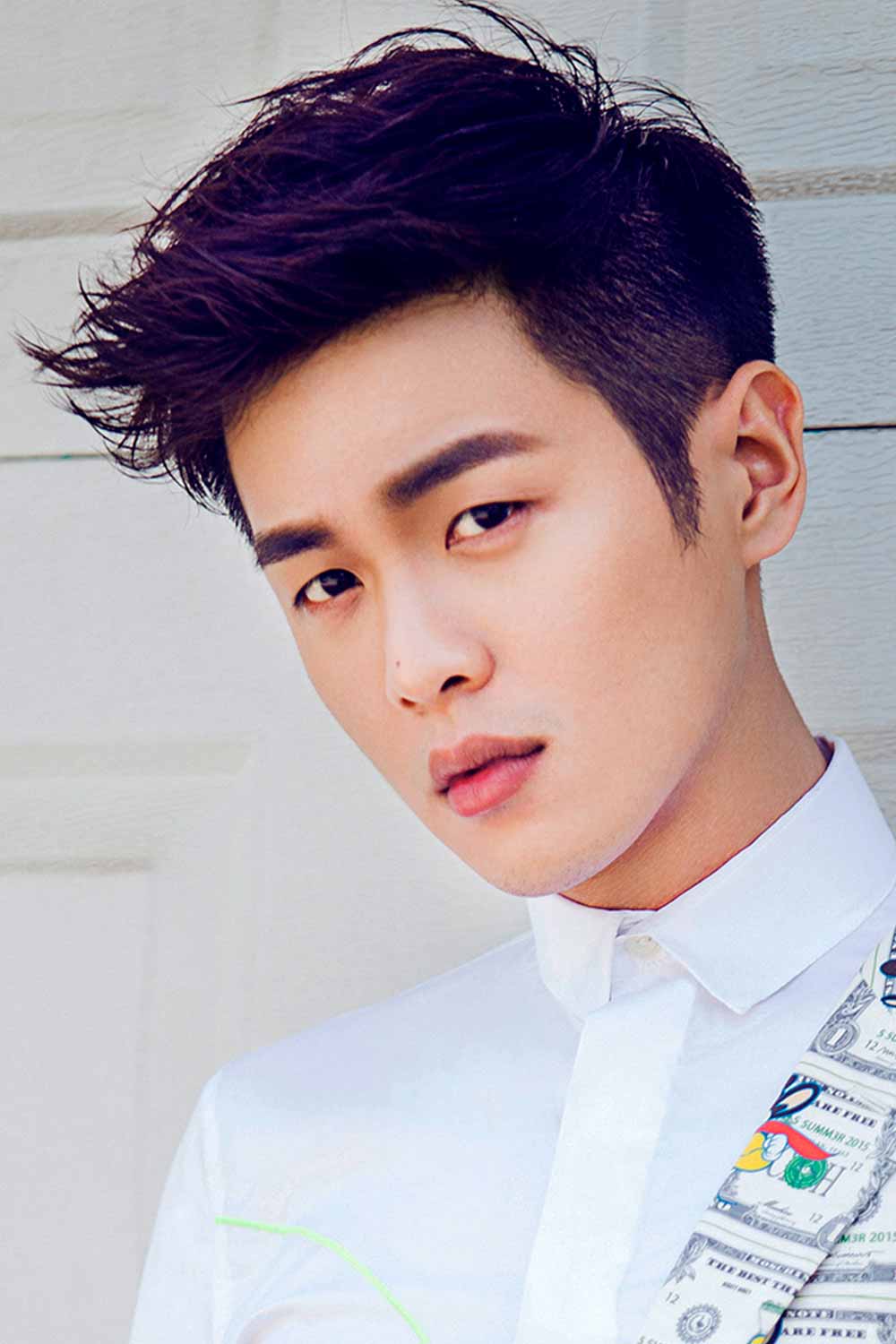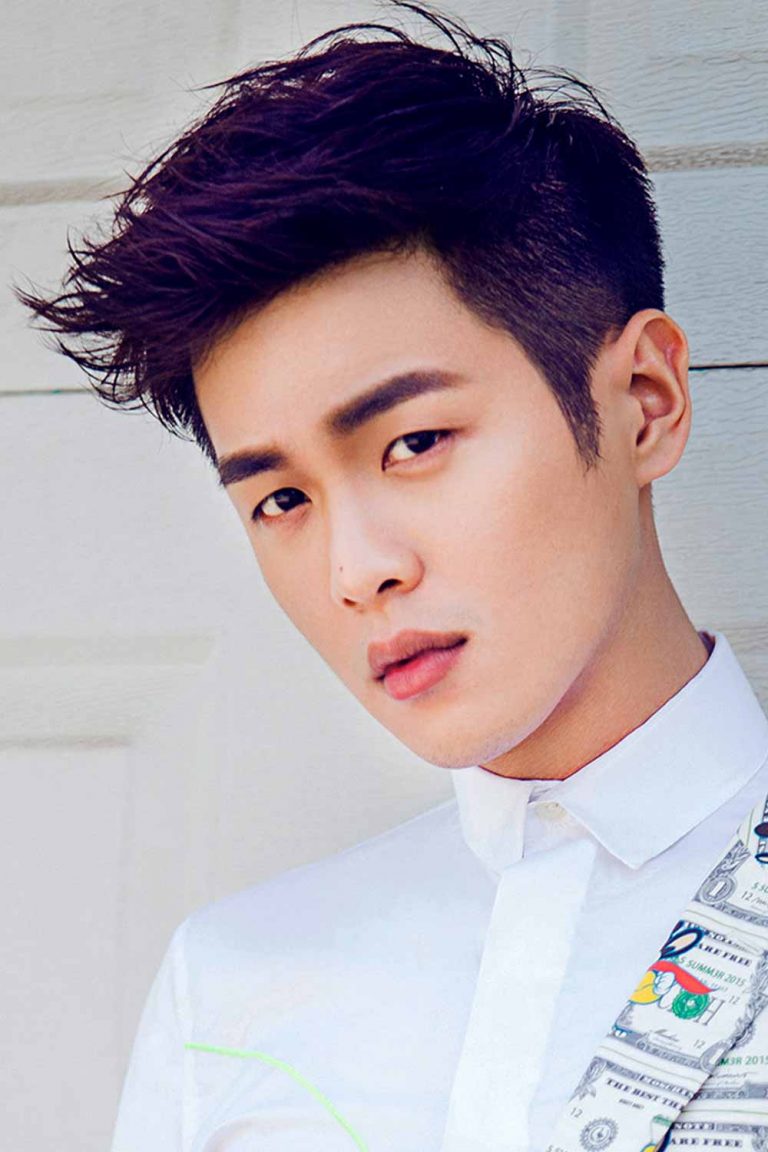 /
Short And Spiky
Short Korean men hairstyles look most flattering when spiked and disheveled. To accentuate the separated strands, you will need to employ a bit of a hair styling product.
Source: @andrewdoeshair via Instagram
i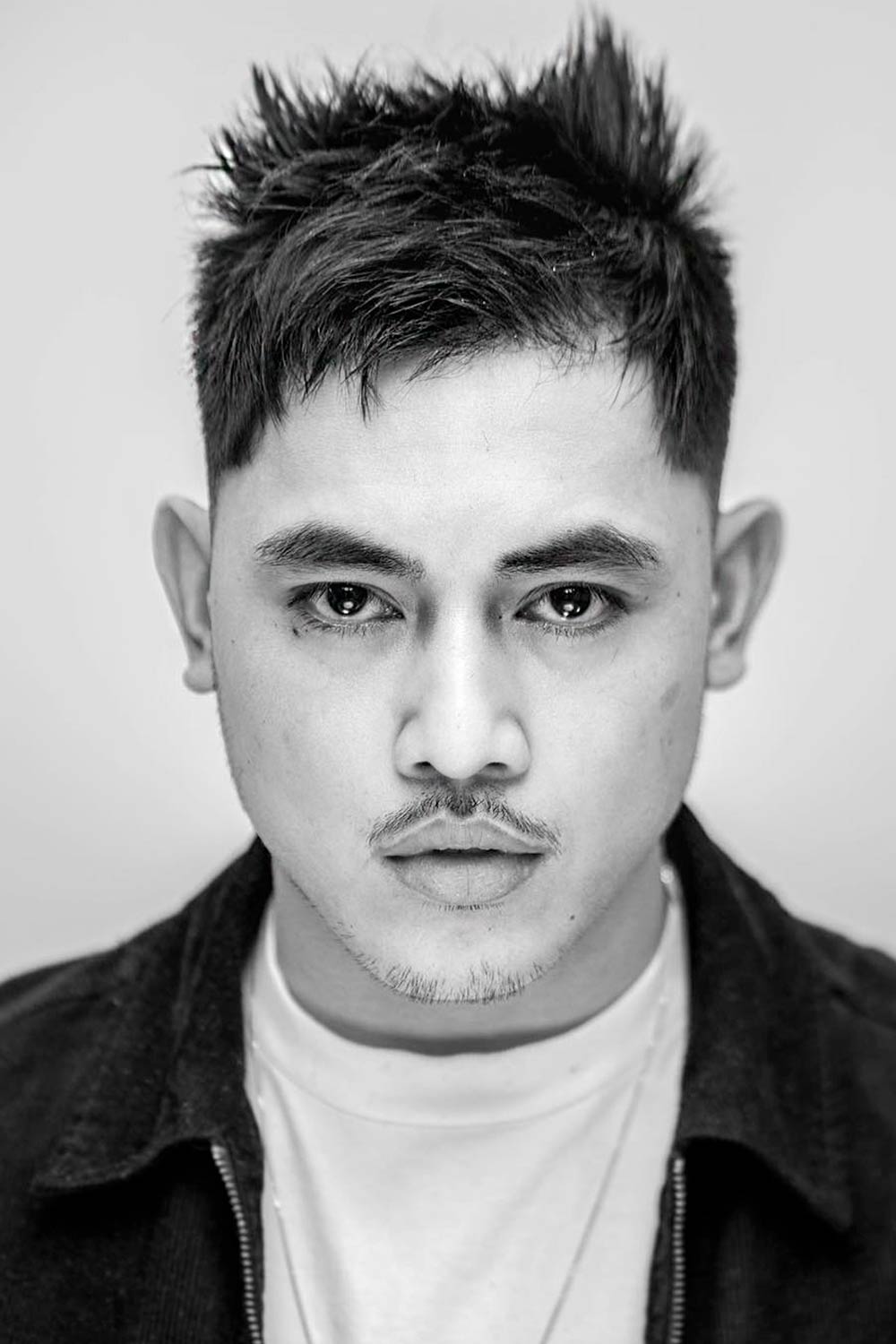 Source: @andrewdoeshair via Instagram
i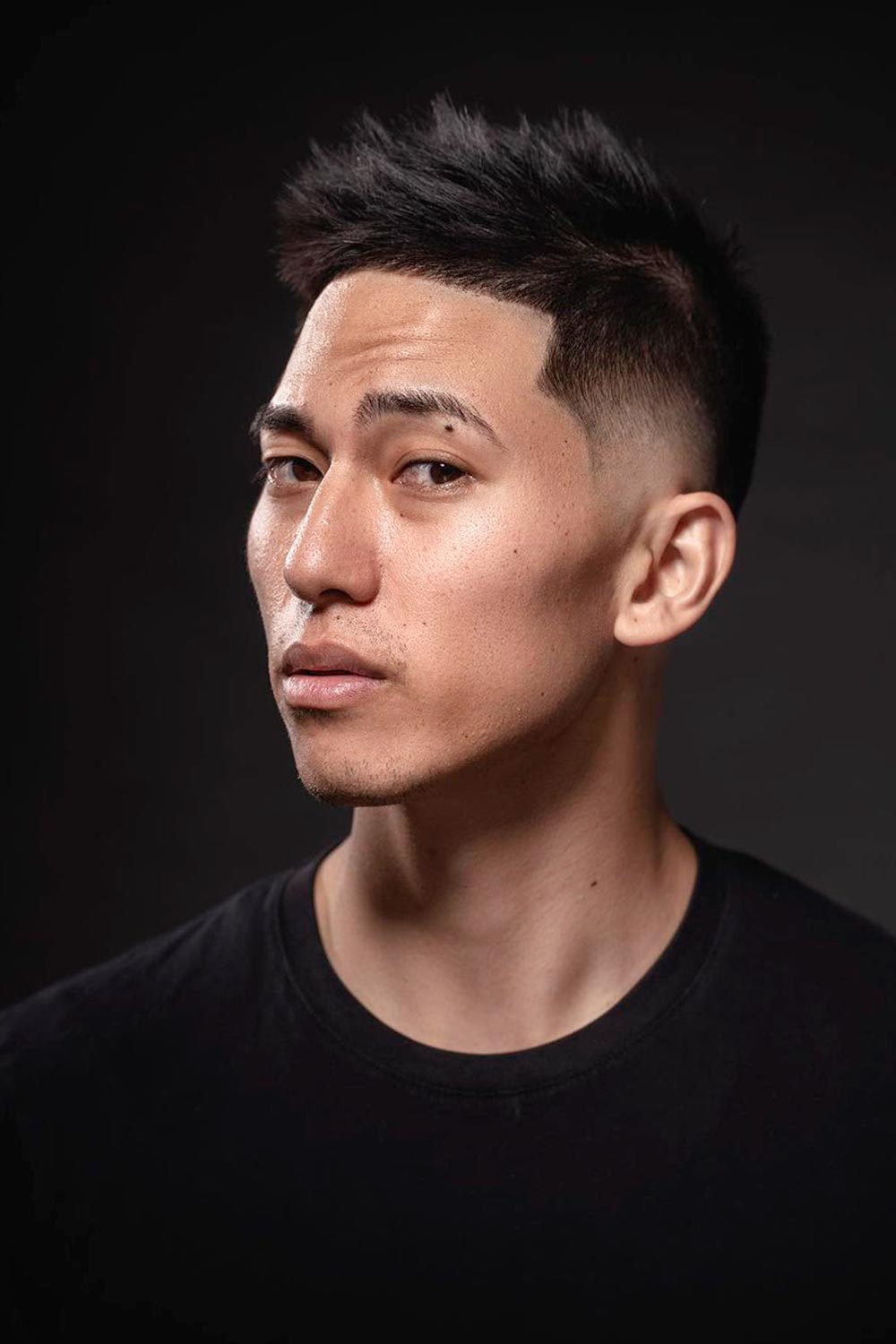 Source: @fernthebarber via Instagram
i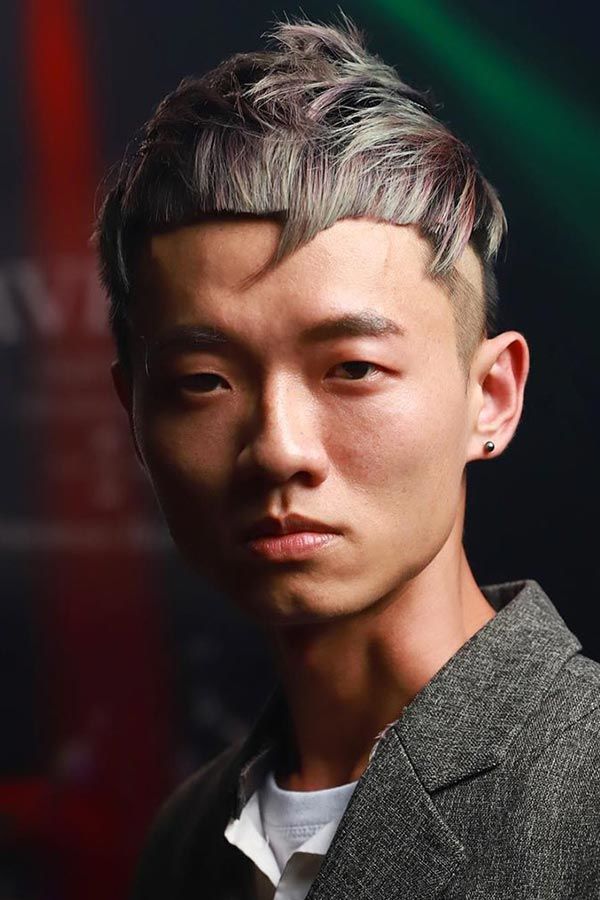 /
Mullet Korean Hairstyle Men
A mullet is a staple KPop haircut. With the Korean men aesthetic, it gains an ultimately stylish feel. Being one of the most popular KPop hairstyles male mullet often incorporates tapered or faded sides with the back left slightly longer to create a contrast.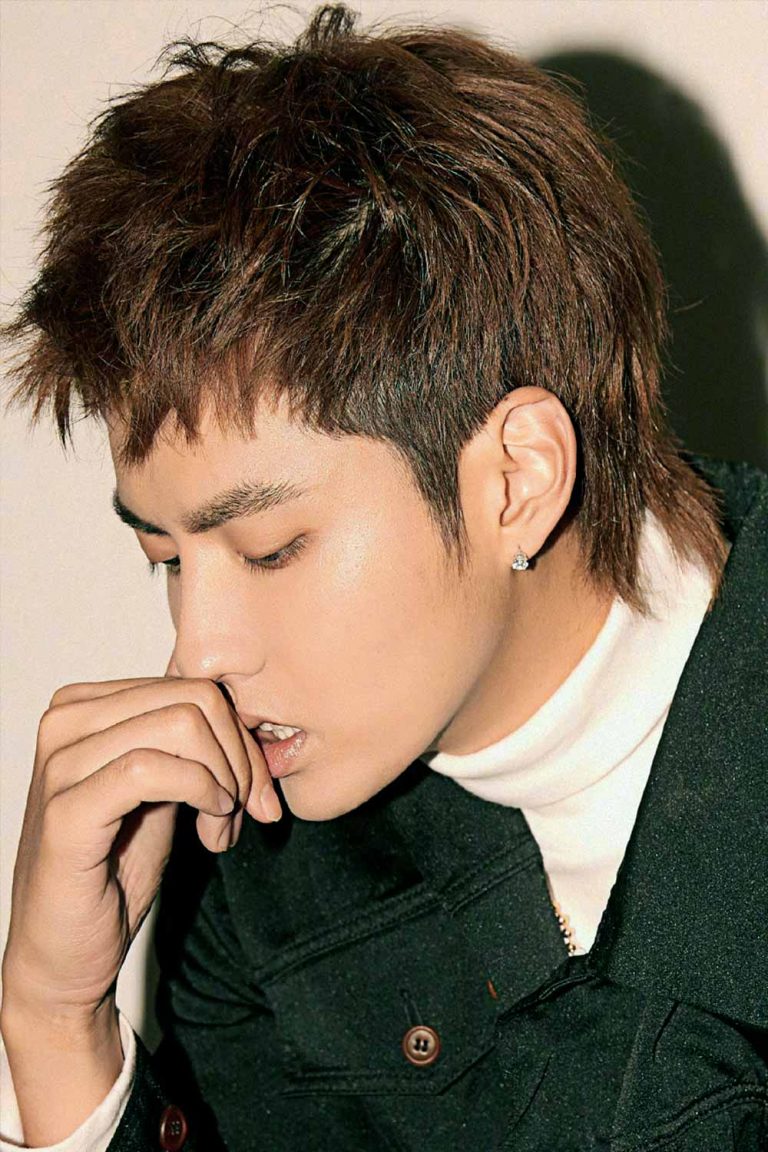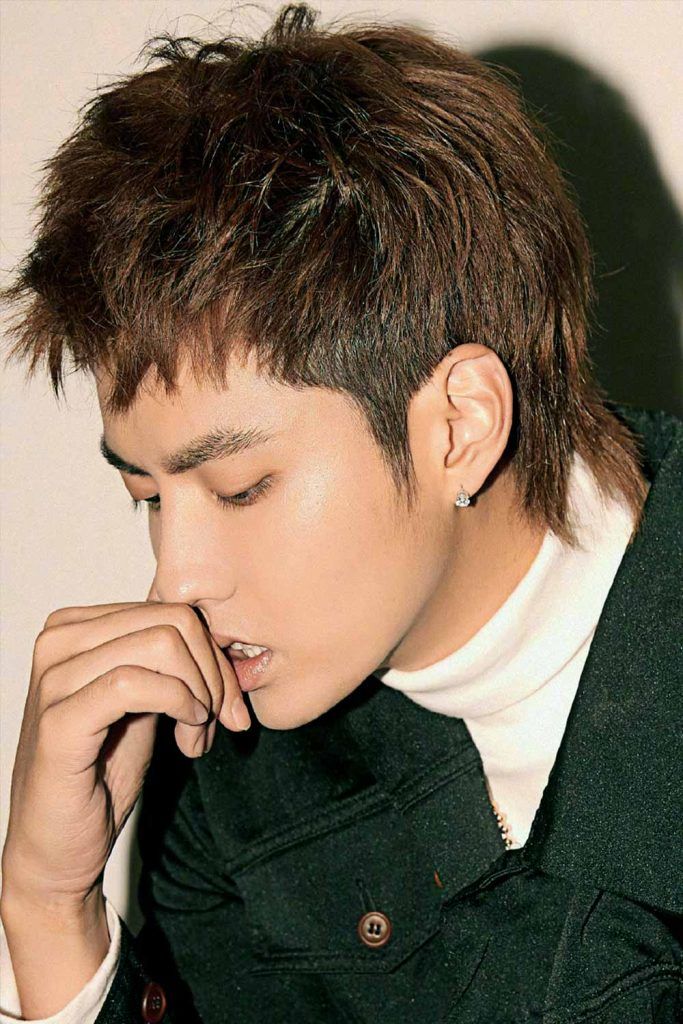 supermodel\Shutterstock
Slicked Back With Side Part
Whenever you need to look your best, you can never go wrong with a slicked back hairstyle. One of the best things about it is that almost any hair look, from a curtain bangs Korean style to a mullet, can be transformed into it. A side part is also a great accompaniment to the look.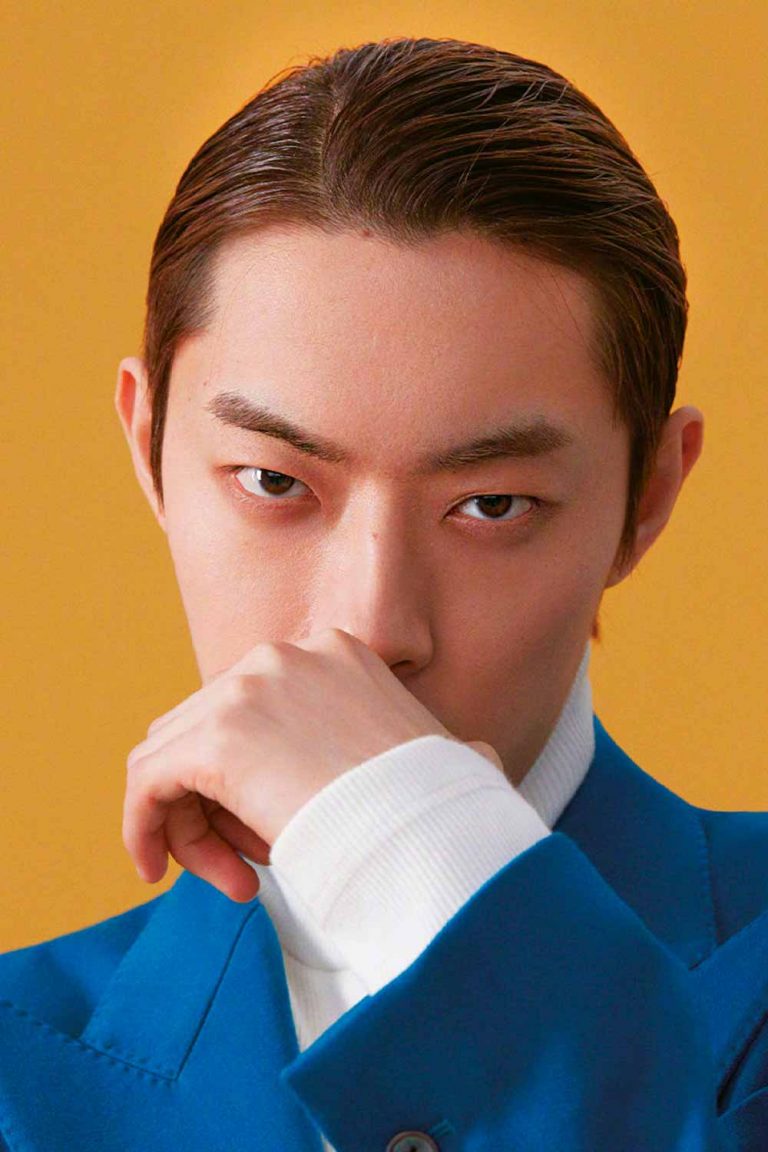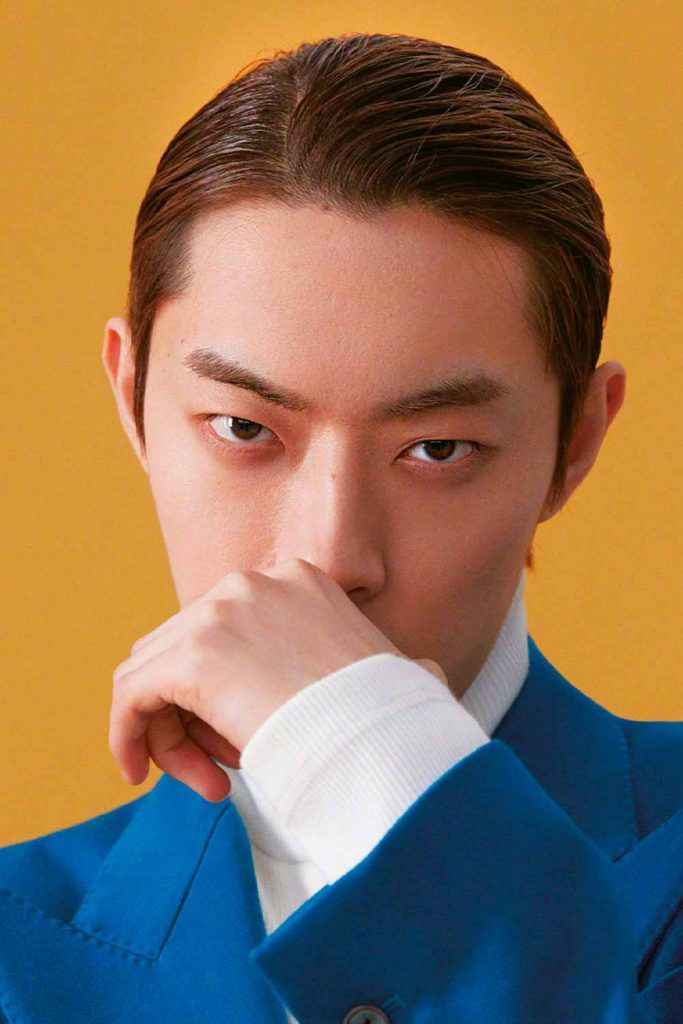 supermodel\Shutterstock
Disconnected Undercut And Brushed Back Top
Among the trendiest Korean hair styles, a disconnected cut is one of the most popular. It helps to easily create a sharp and contrasty look thanks to the striking difference in length between the hair on top and the sides. Just make sure not to get the sides faded, as this is a totally different Korean hairstyle.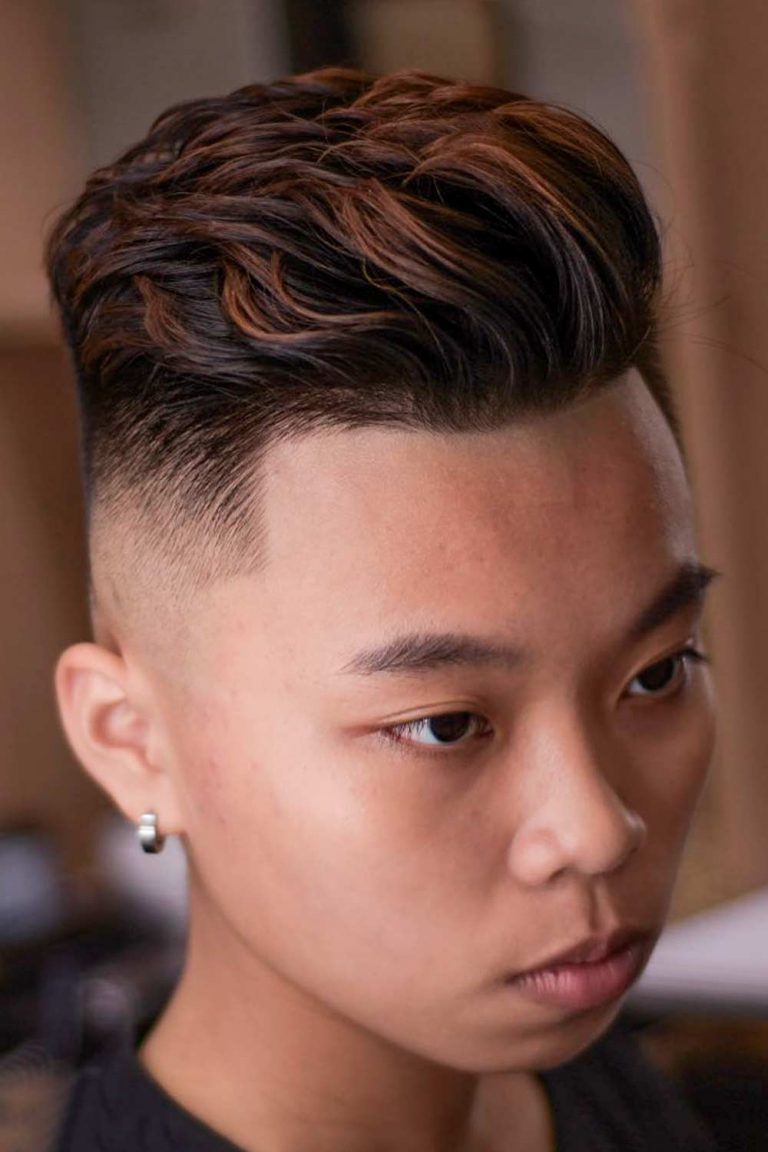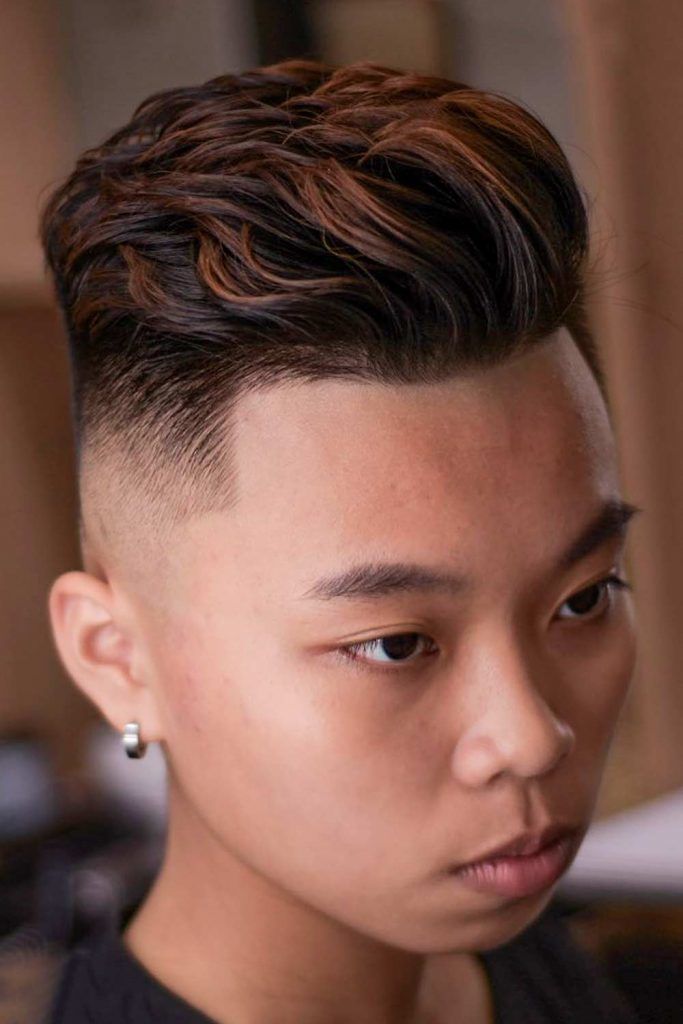 Source: @barber_er_liang via Instagram
The Medium And Layered Korean Hairstyle
Many Korean haircuts, such as a two block haircut, for example, are of medium length for good reason. The thing is that when styling medium Korean hair men do not have to make much effort. As it is naturally straight and thick, it falls forward and stays in place quite easily. Don't know what is a 2 block haircut? This is a type of the trendiest Kpop hairstyles where the lower back and the sides are trimmed very short or even shaved, whereas the hair on top remains much longer.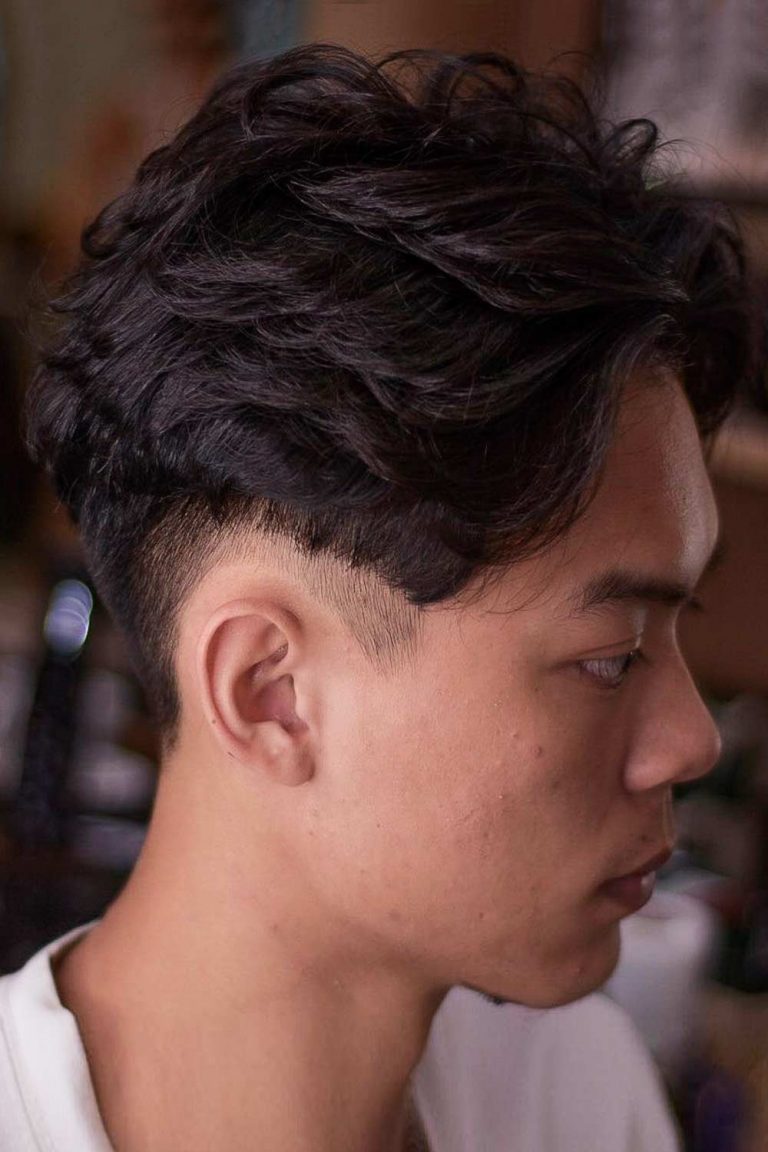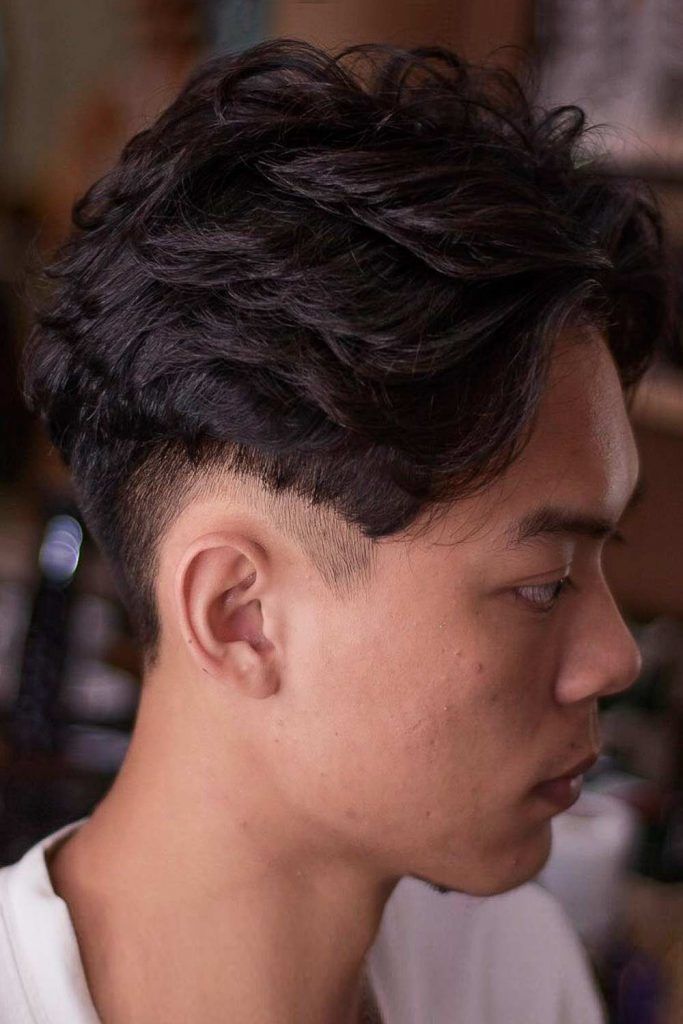 Source: @barber_er_liang via Instagram

Quiffed Korean Hairstyle
When pulling off Korean hairstyles men often incorporate a quiff. The reason for this is that it can easily make any look suit a professional ambiance while still looking trendy.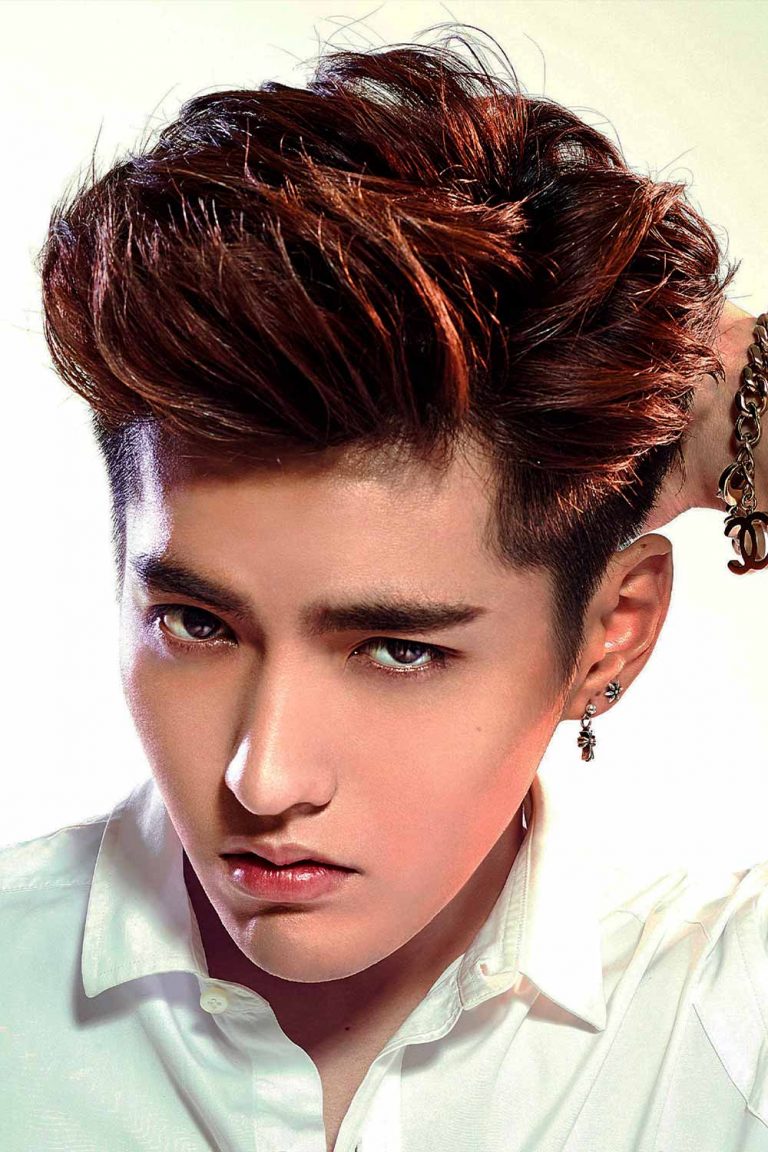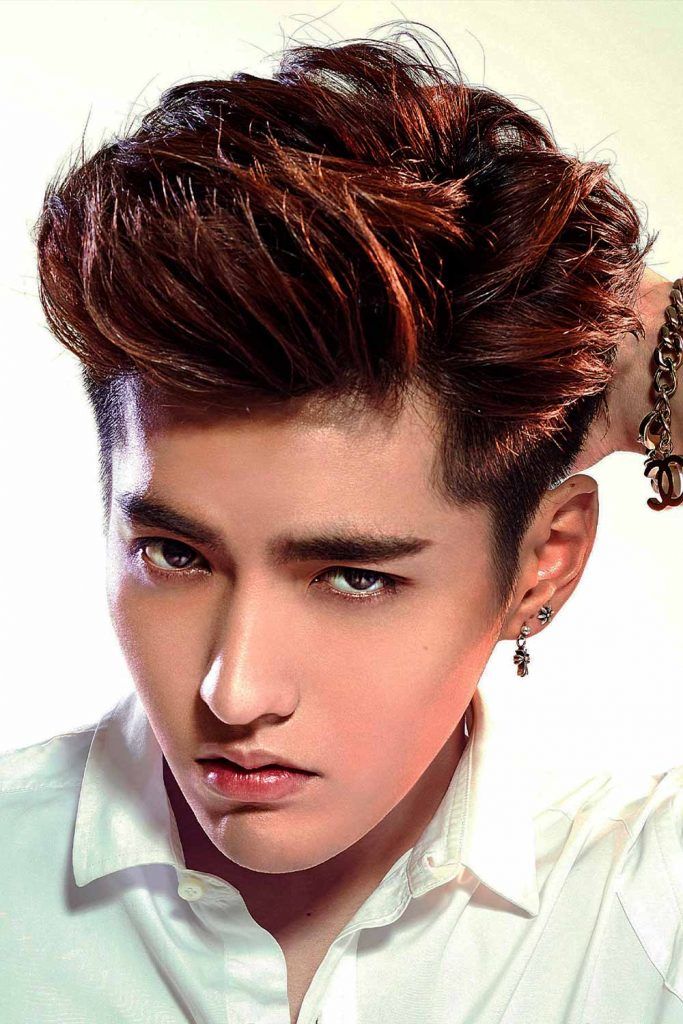 supermodel\Shutterstock

Buzz Cut Korean Men
Although Korean hairstyles are mostly medium length and long, this does not mean that you should necessarily grow your hair long. There are plenty of short Asian haircuts. Thus, if you want to show off your masculinity and self esteem, then it is hard to think of a better option than a buzz cut.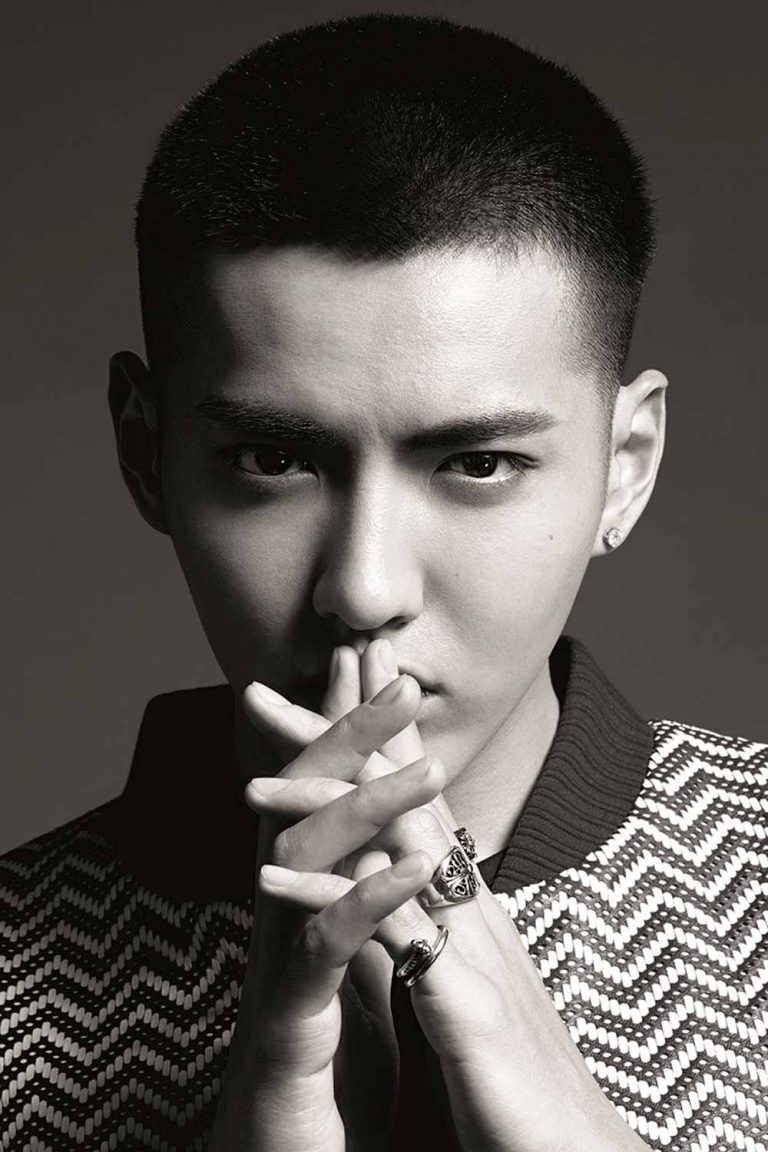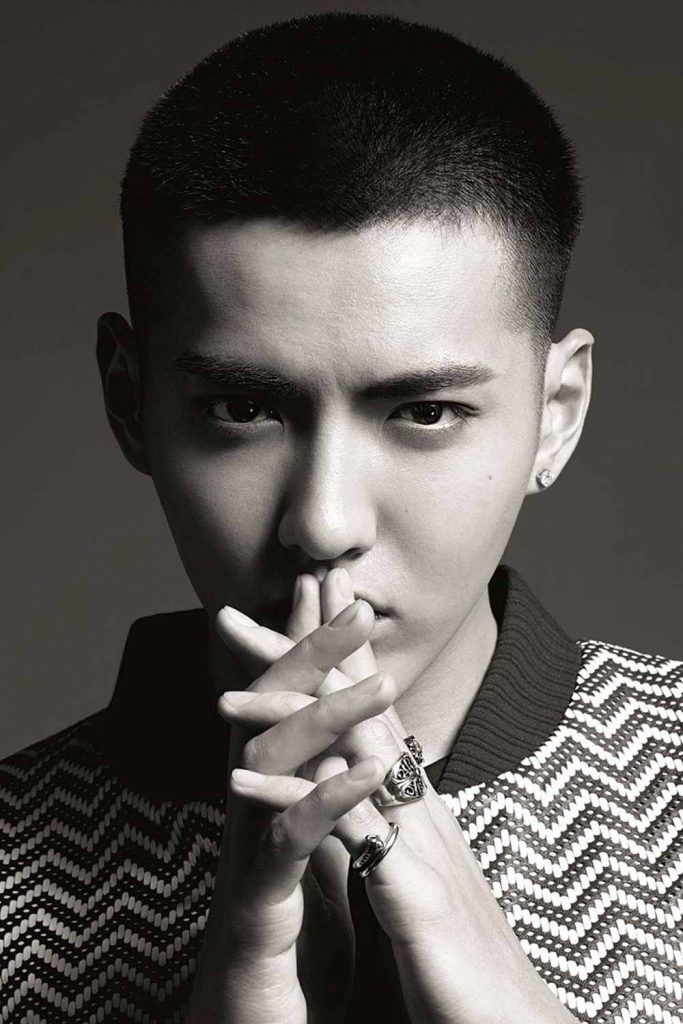 supermodel\Shutterstock
Side-Parted Asian Hair
As Korean hair color is naturally deep black, it does not take a man much effort to achieve a bold hair look. Thus, it is sometimes enough to simply divide your hair with a side part and you are good to go.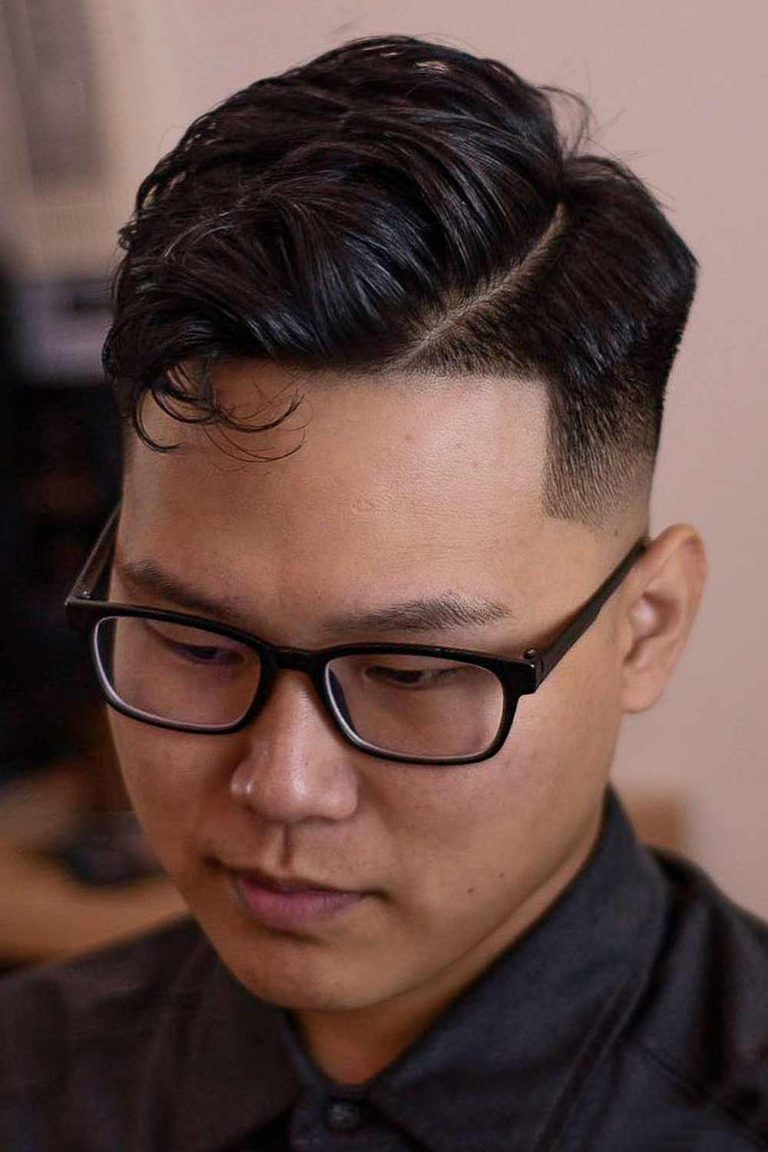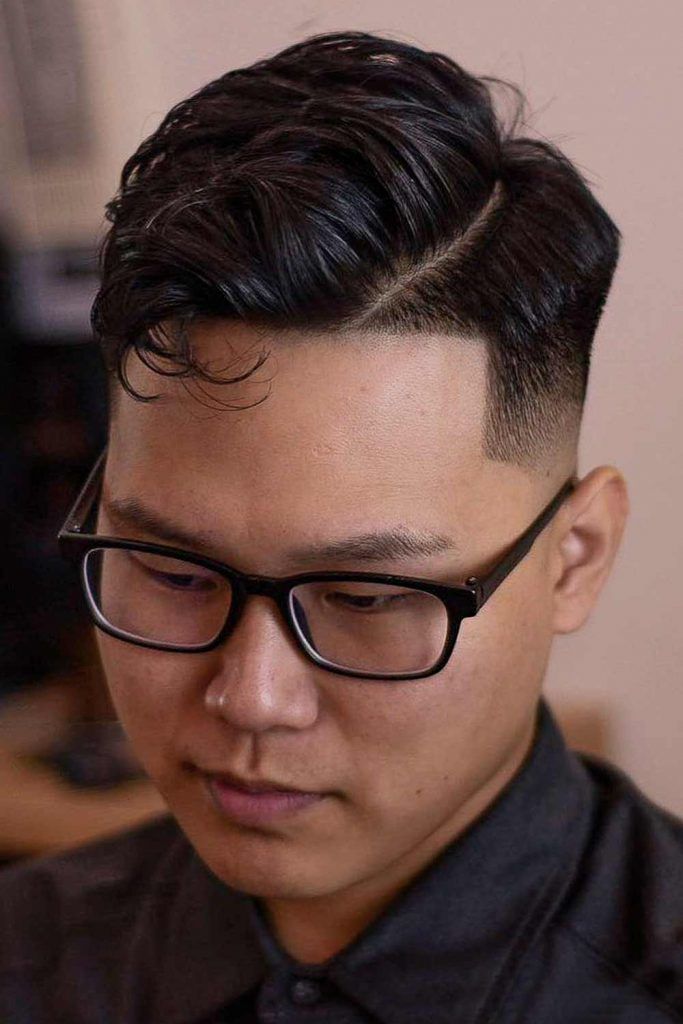 Source: @barber_er_liang via Instagram

Korean Perm
With the Korean perm men achieve an unusual and striking hair look since in the majority of cases Korean locks are straight. So, if you have been considering an Asian perm male style, you may rest assured that you will never go unnoticed.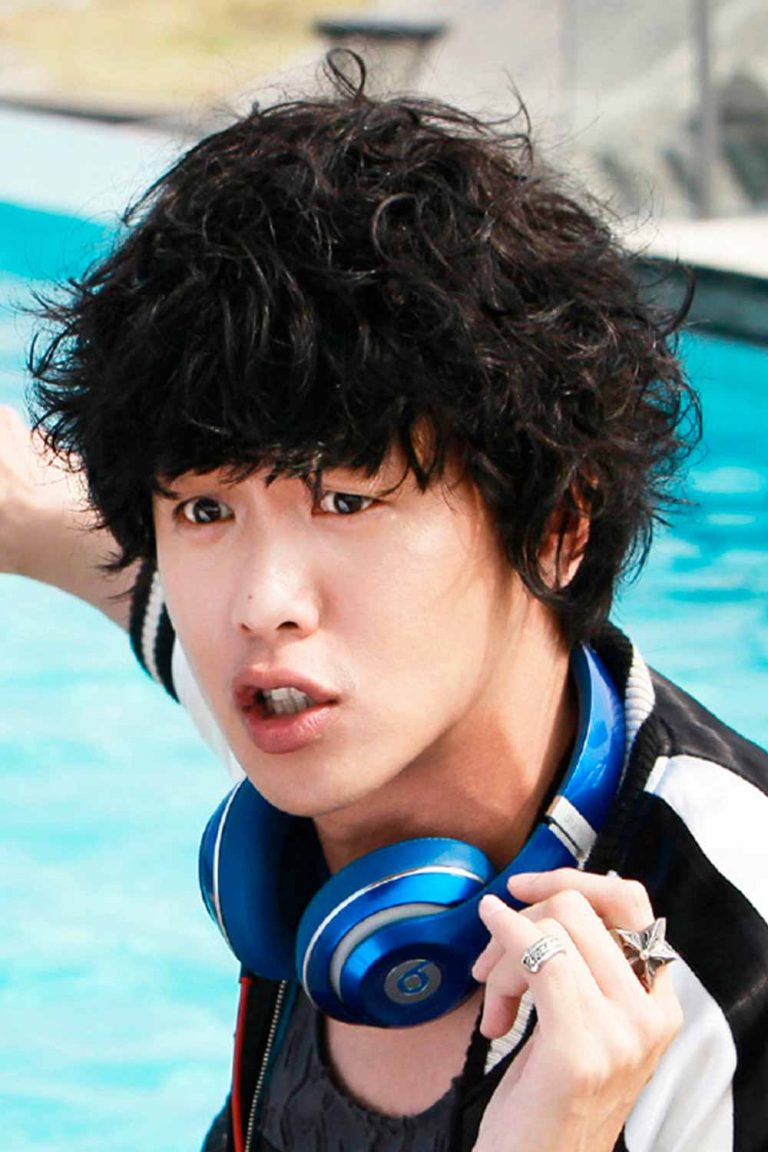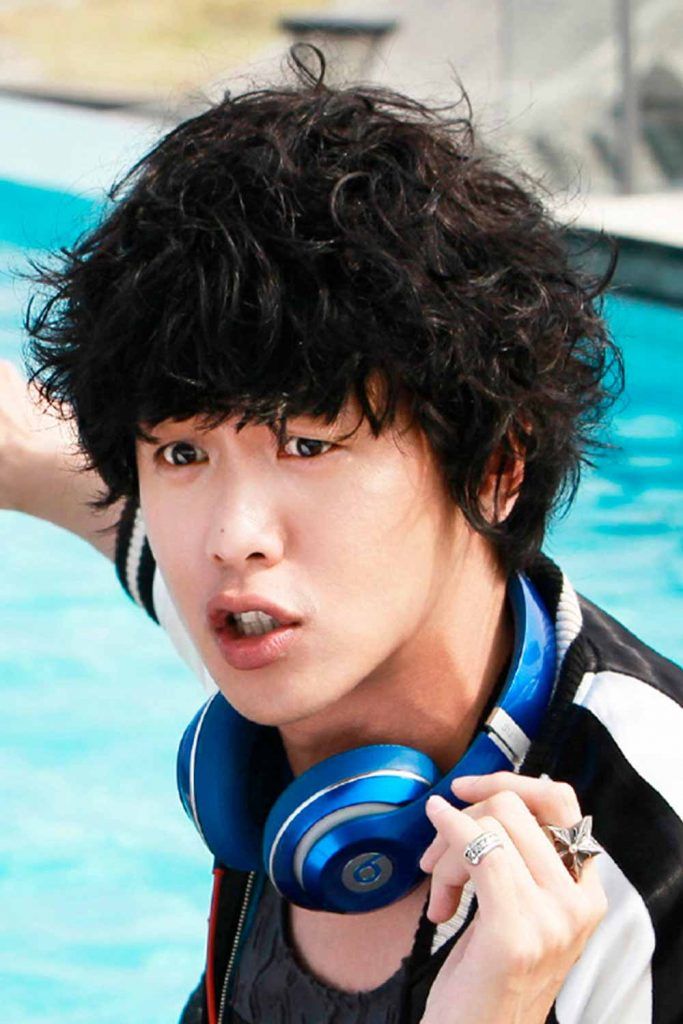 supermodel\Shutterstock
Ponytail Korean Men Haircut
This classy ponytail is a Korean take on a fashionable warrior hairstyle. It can be paired with a curtain bangs Asian haircut for a stylish touch to the look. Besides, you can easily turn it into a men bun or a top knot to take it up a notch.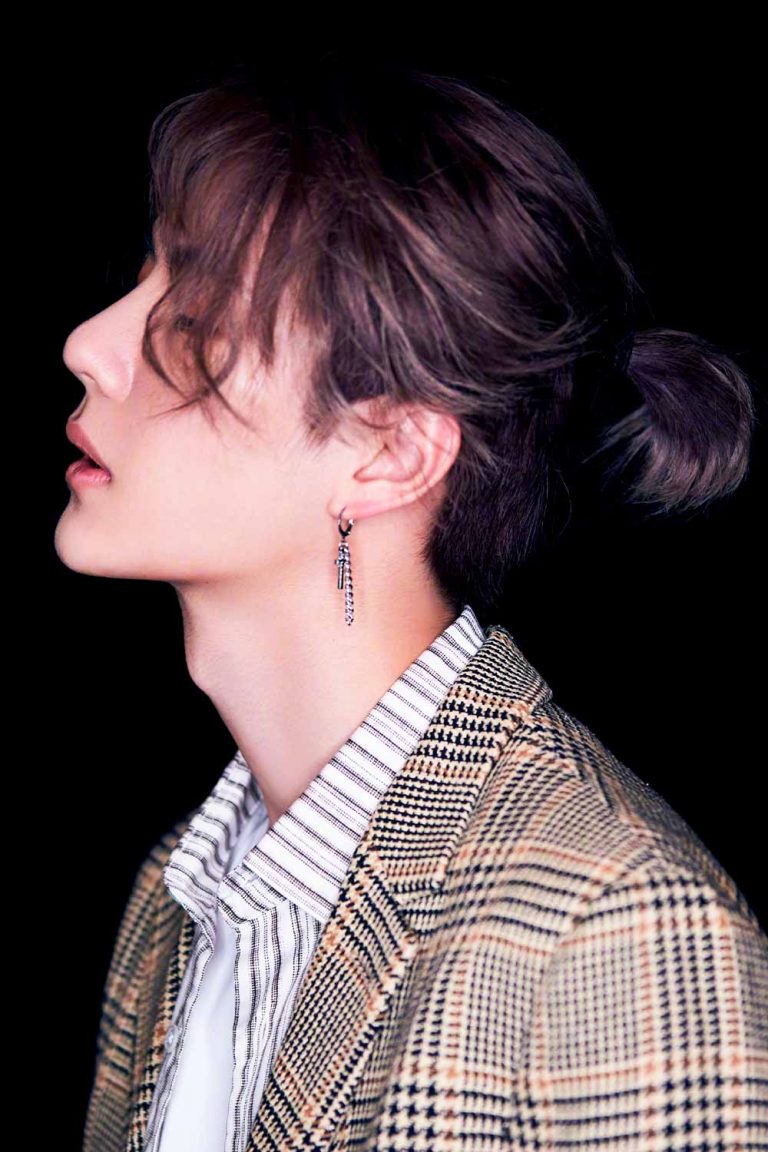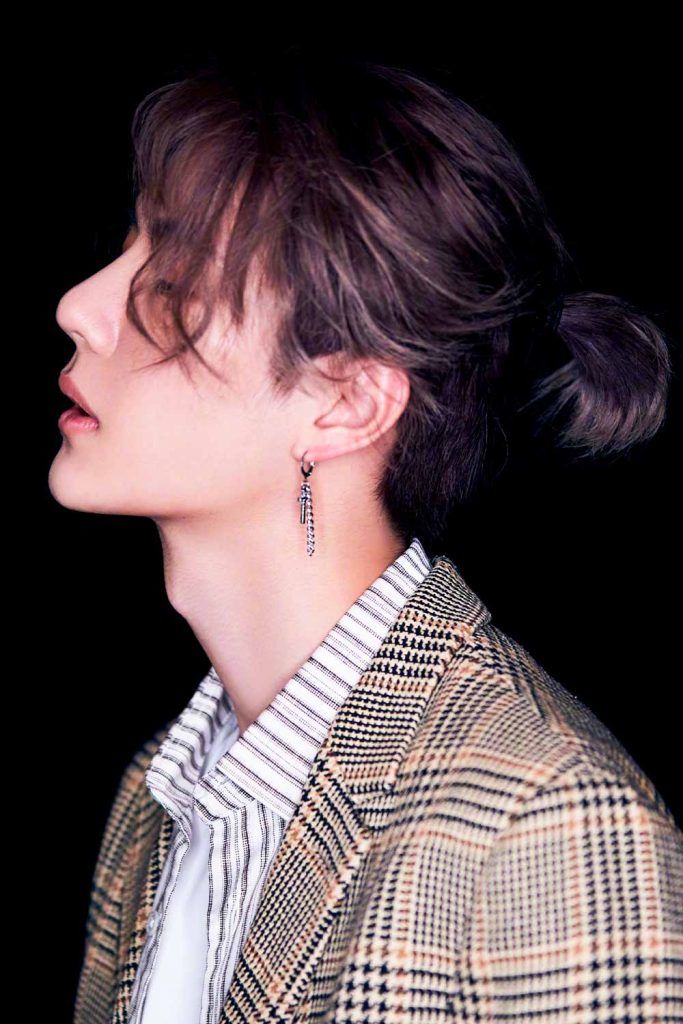 supermodel\Shutterstock
Long 4/6 Bangs
Korean bangs are truly iconic. The 4/6 Korean male hairstyle has a neat and clean appearance, while the bangs that slightly fall over the eye give it a mysterious and attractive air.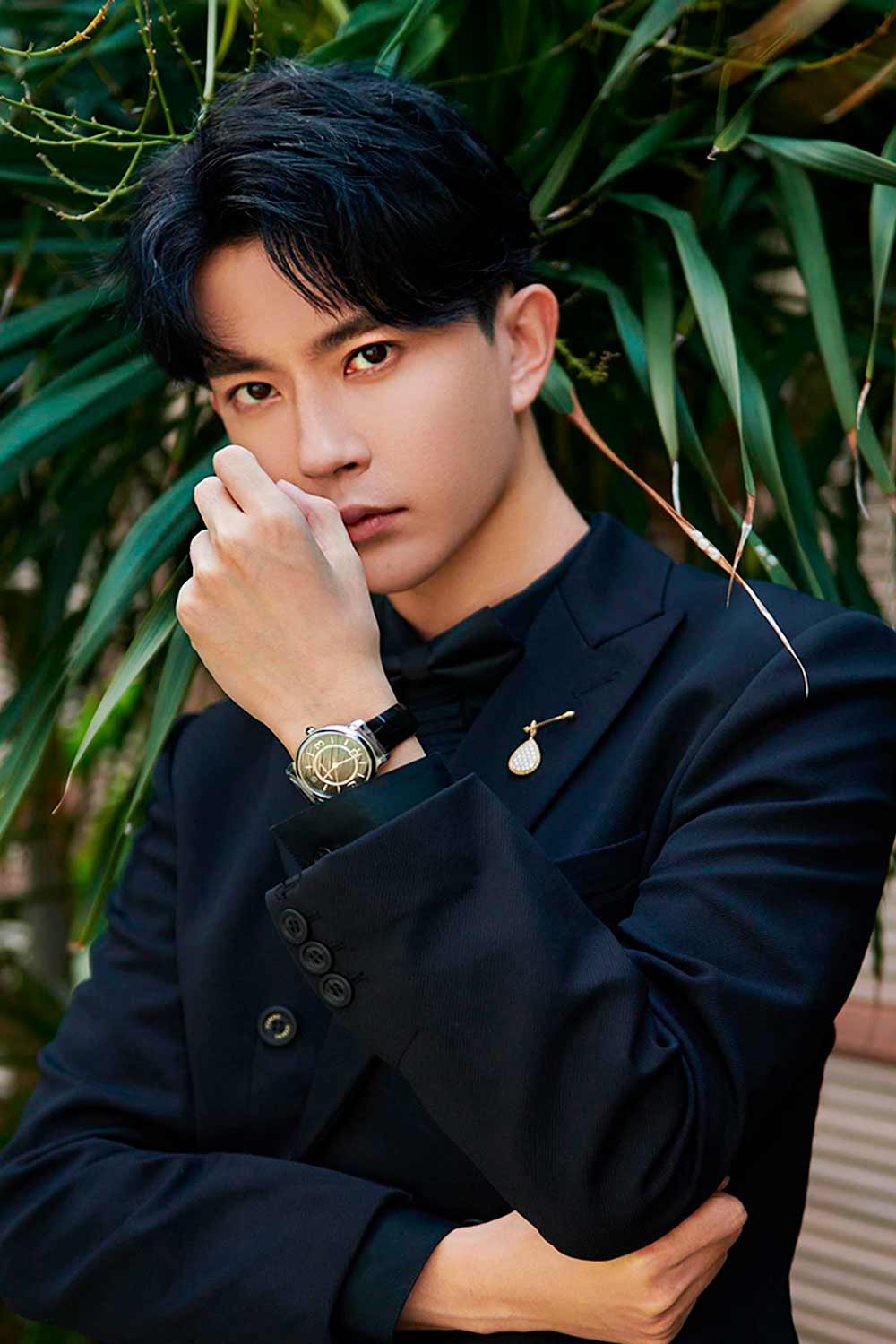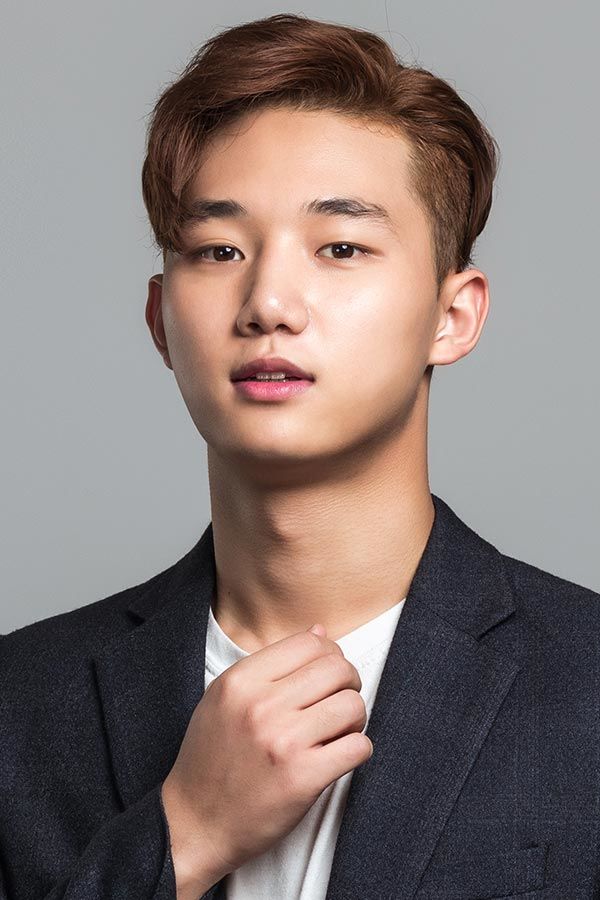 /
The Chin Length Haircut
You do not see Asian men with long hair very often. Thus, when choosing this Korea hairstyle man can rest assured that he will not go unnoticed.
Source: @the_bloody_butcher via Instagram
i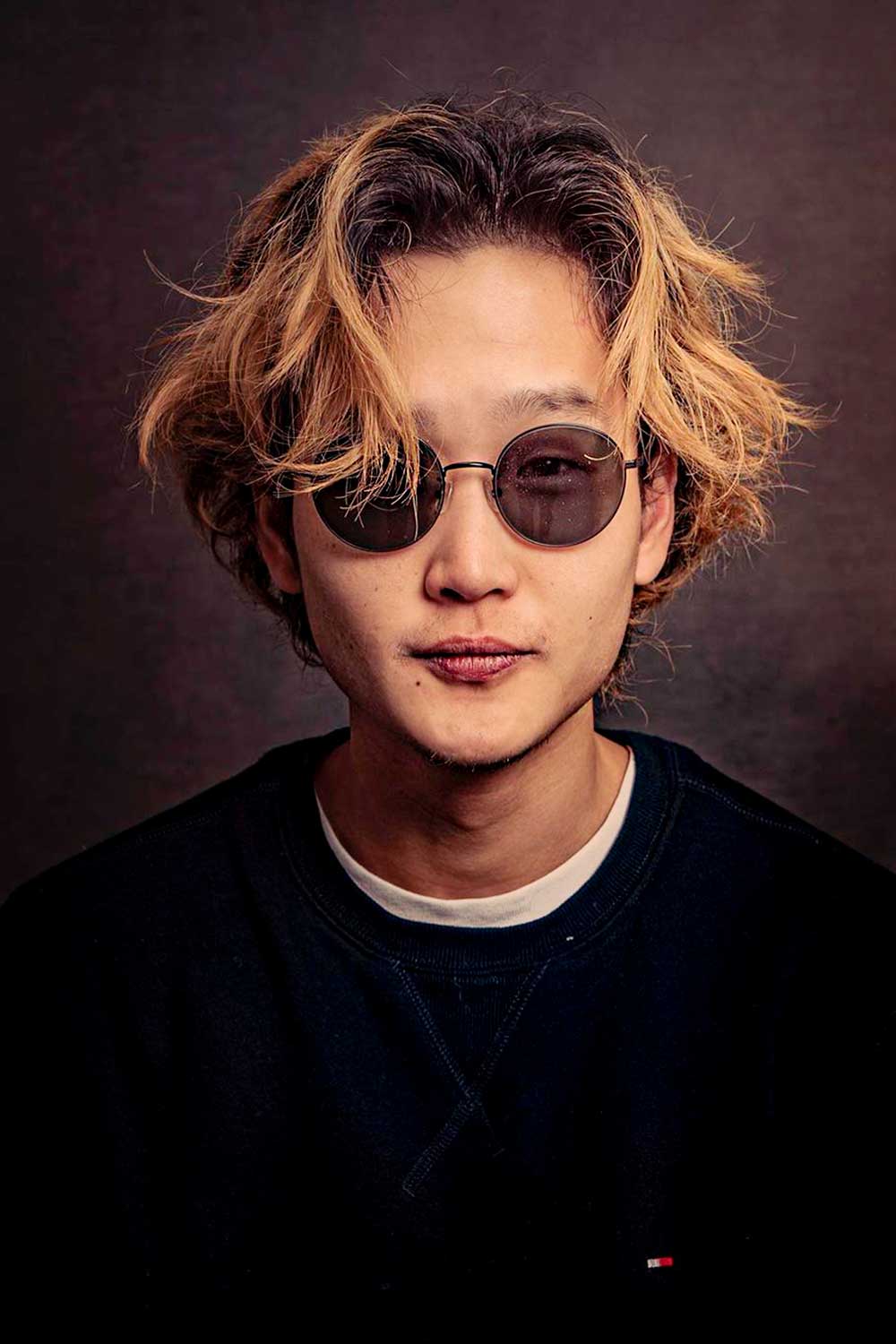 /
Fohawk Korean Hairstyle
Thanks to its density and thickness, Korean short hair keeps an upright shape pretty easily. Thus, if you want to get a really daring and sharp look, then go for a fohawk.
Source: @andrewdoeshair via Instagram
i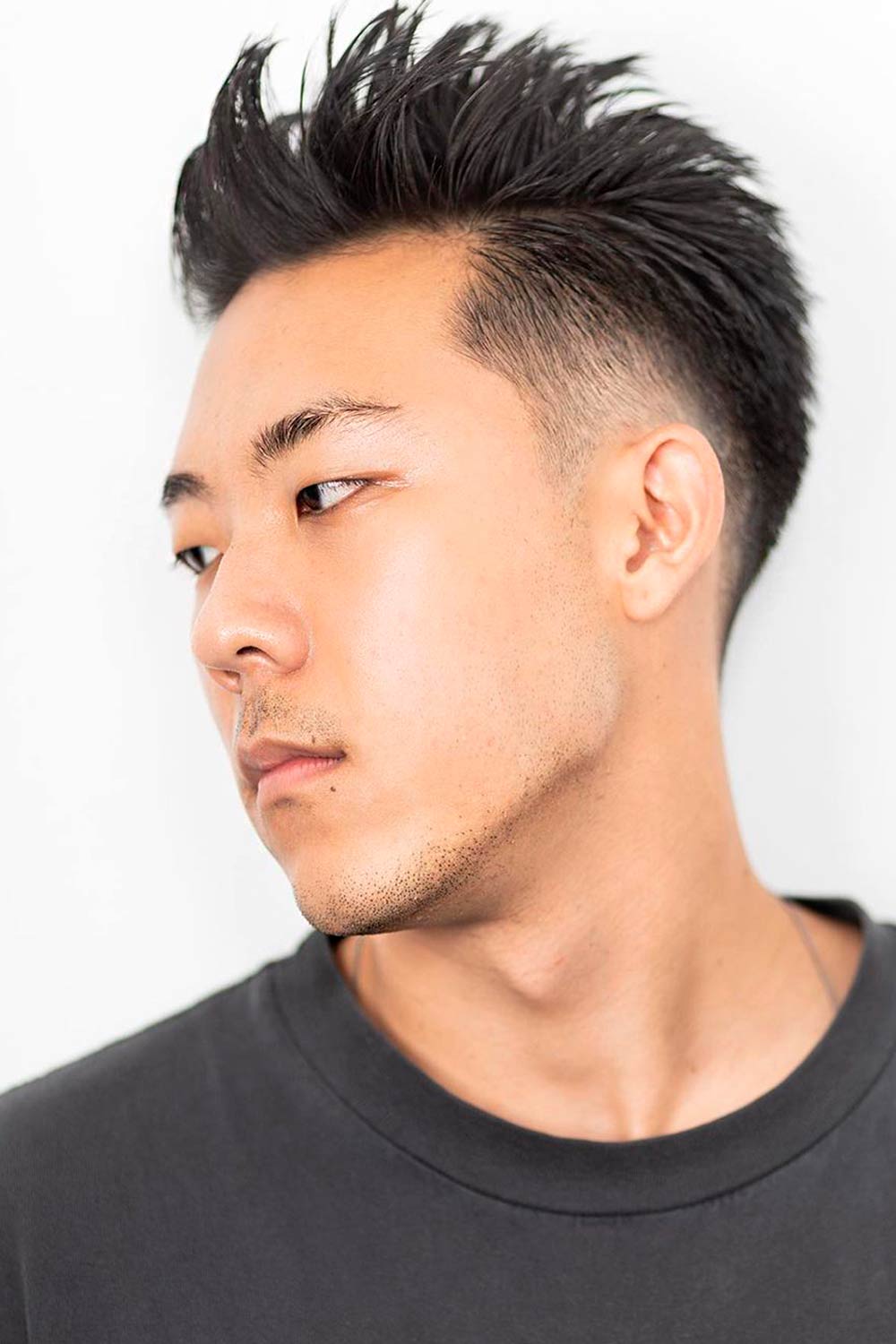 Source: @johnny_snips via Instagram
i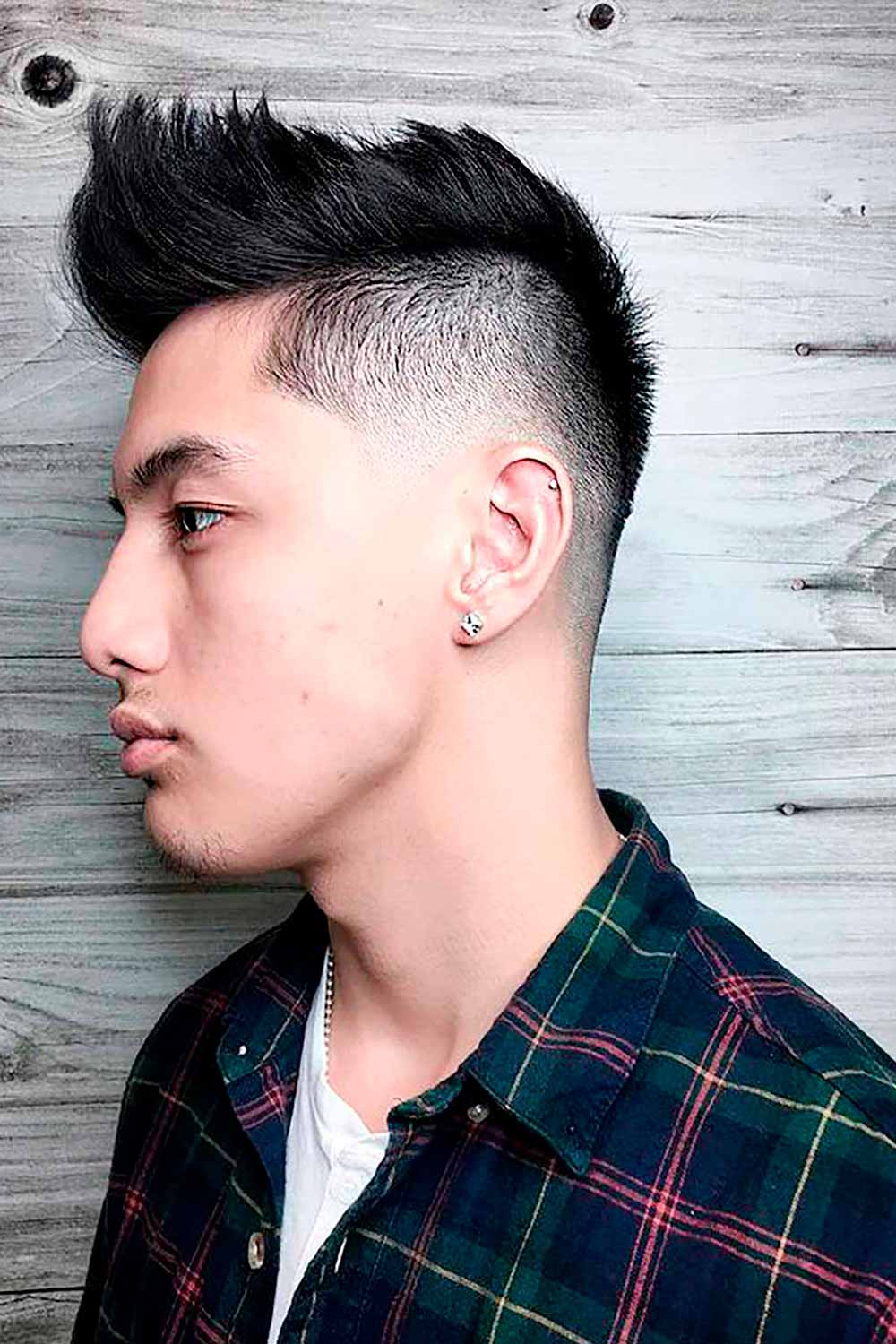 Source: @shrunknheads via Instagram
i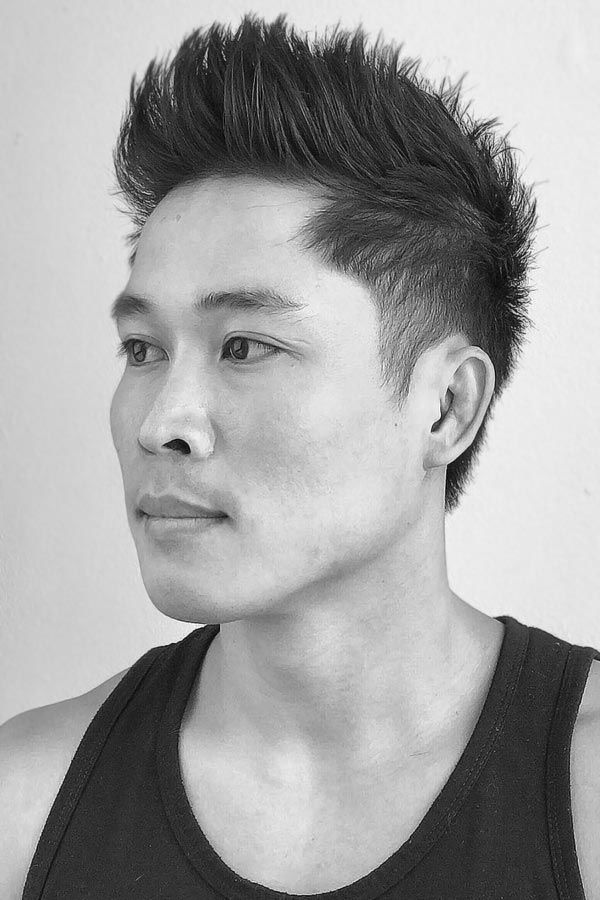 /
Messily Slicked Back Korean Hairstyle
Sometimes it seems that Korean male hairstyles are simply made to be flaunted slicked back. In this way, your locks will look even more glaring and silky. However, to give your appearance a slightly casual touch, wear your hair messily slicked back undercut.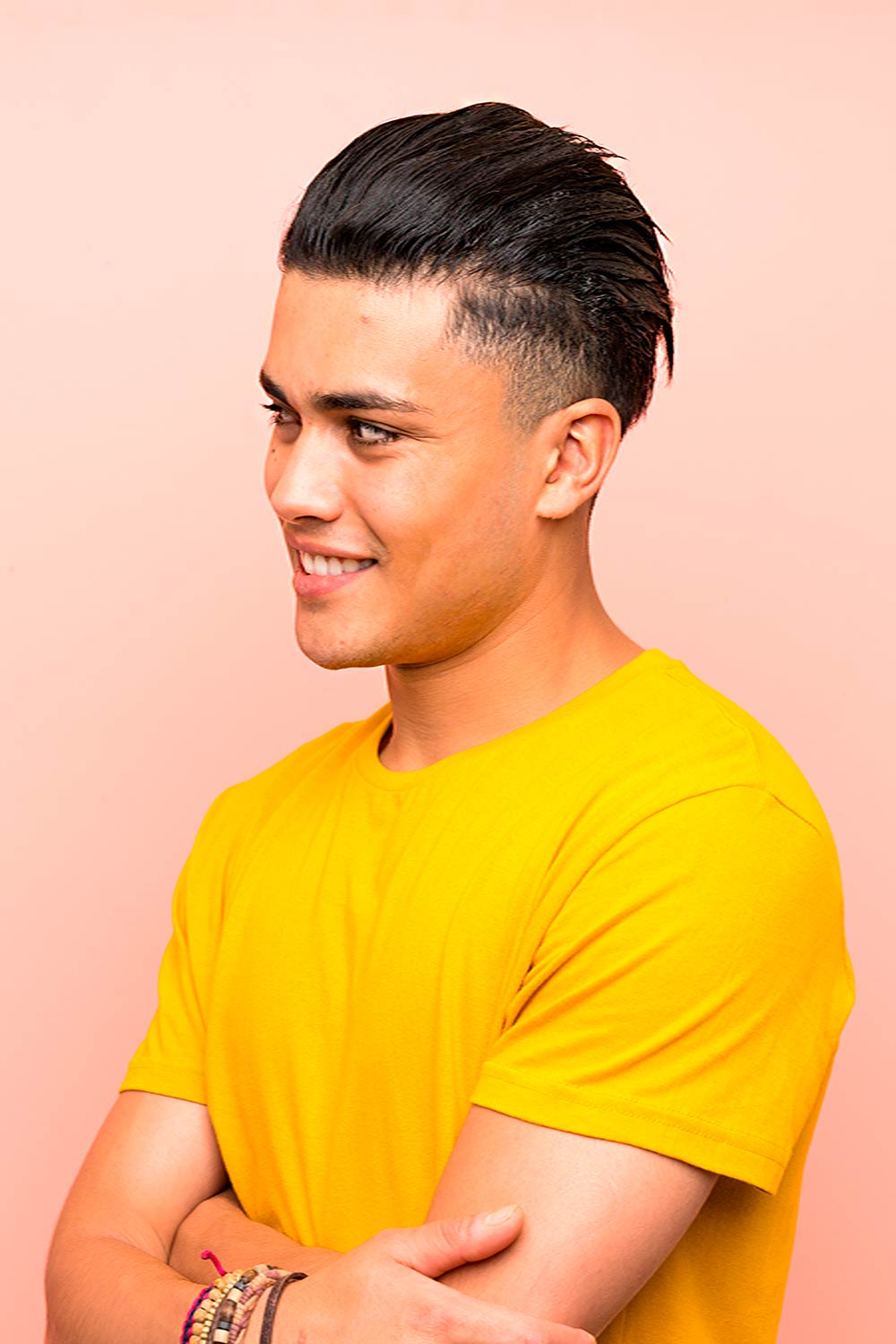 Source: @shrunknheads via Instagram
i
/
Slightly Disheveled Quiffed Korean Hairstyle
When thinking of the most flattering Korean hairstyles male quiff is often considered the best. To make it suitable not only for a business environment but for casual as well, dishevel the quiff slightly and complement with a fade on the back and sides.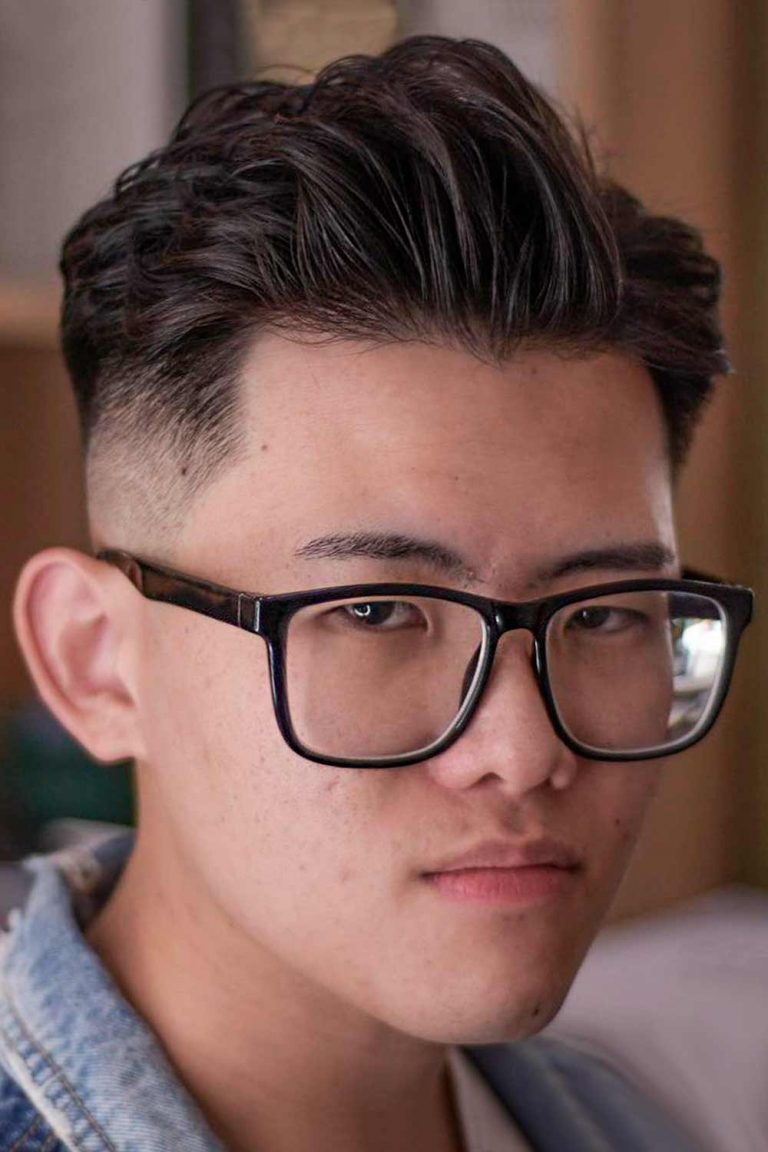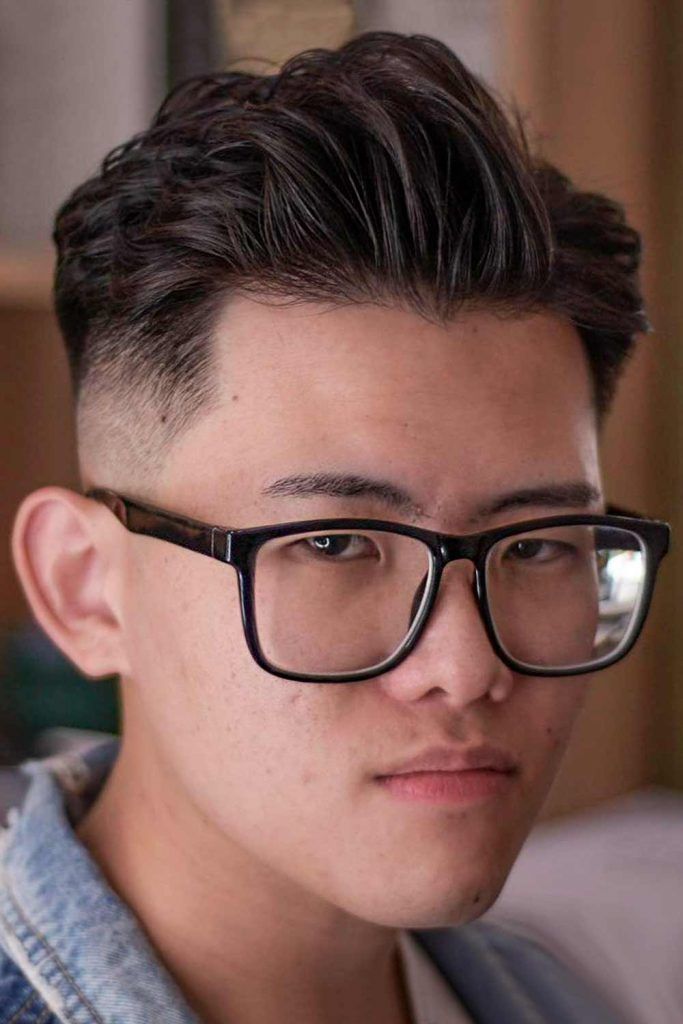 Source: @barber_er_liang via Instagram

The T.O.P. Haircut
Have ever heard of such popular Korean hairstyle men often call the T.O.P. cut? Then you must know that this is a polished and refined parted hair look that is popularized by the famous Korean rapper whose stage name is T.O.P.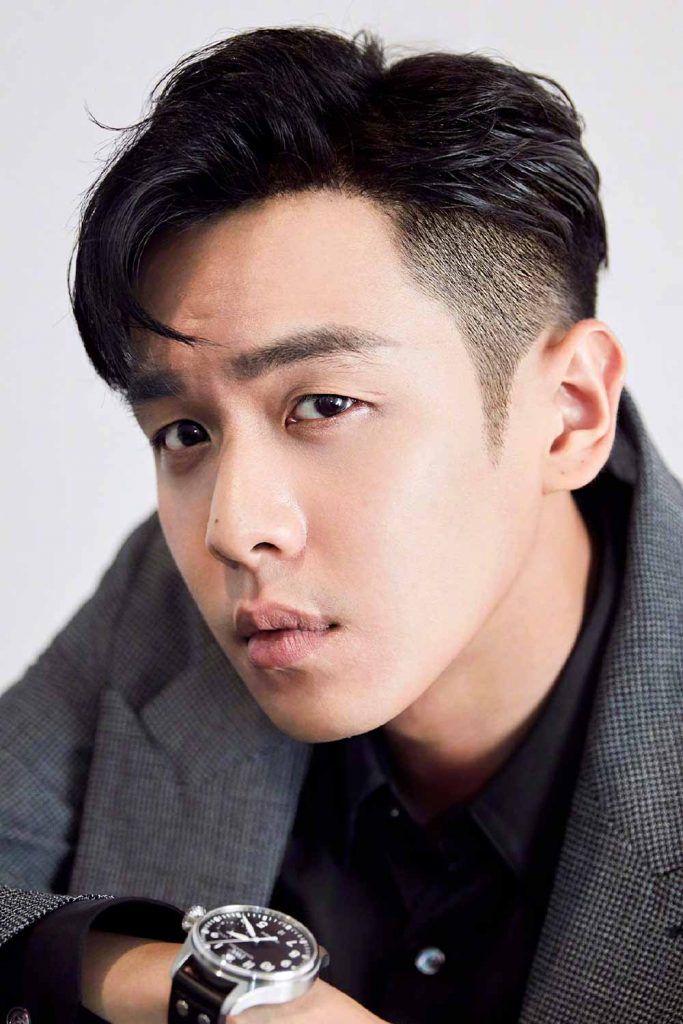 supermodel\Shutterstock
Side Part And Brushed Up Bang
Korean hairstyles with bangs are very versatile. They offer you a myriad of styling ways to suit any ambiance and situation. To give the style a trendy twist, complement it with a half-nape cut in the back.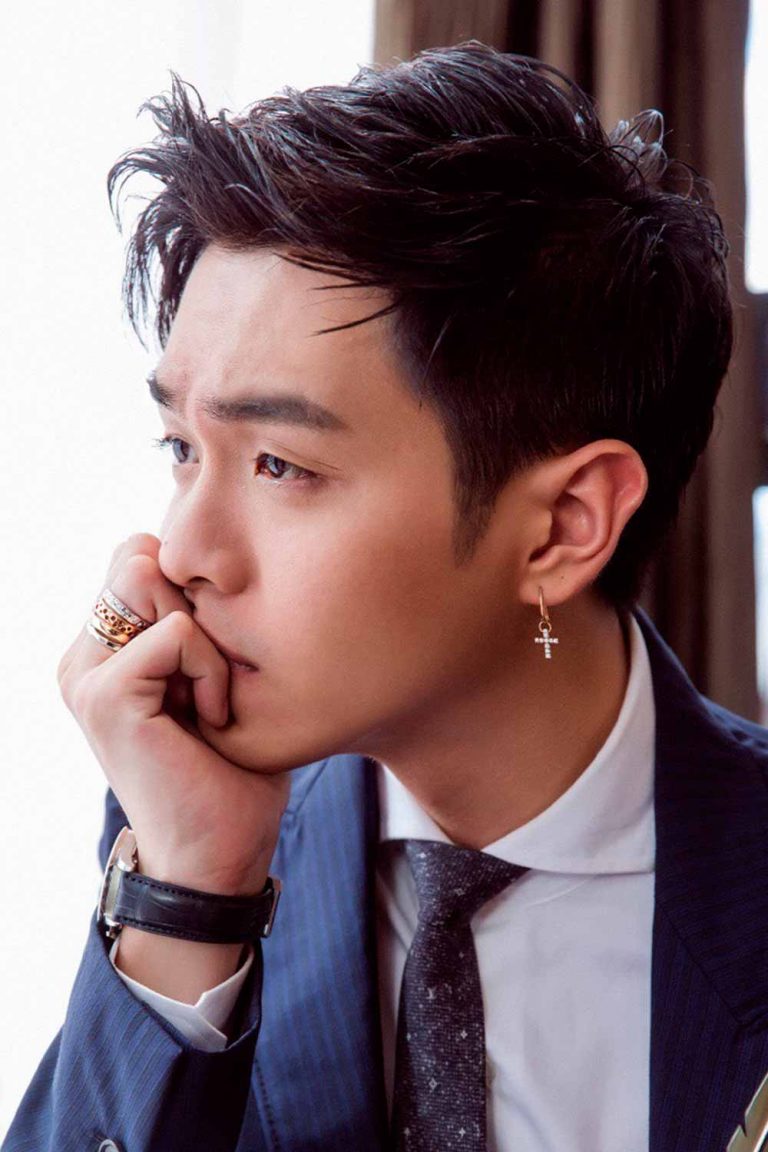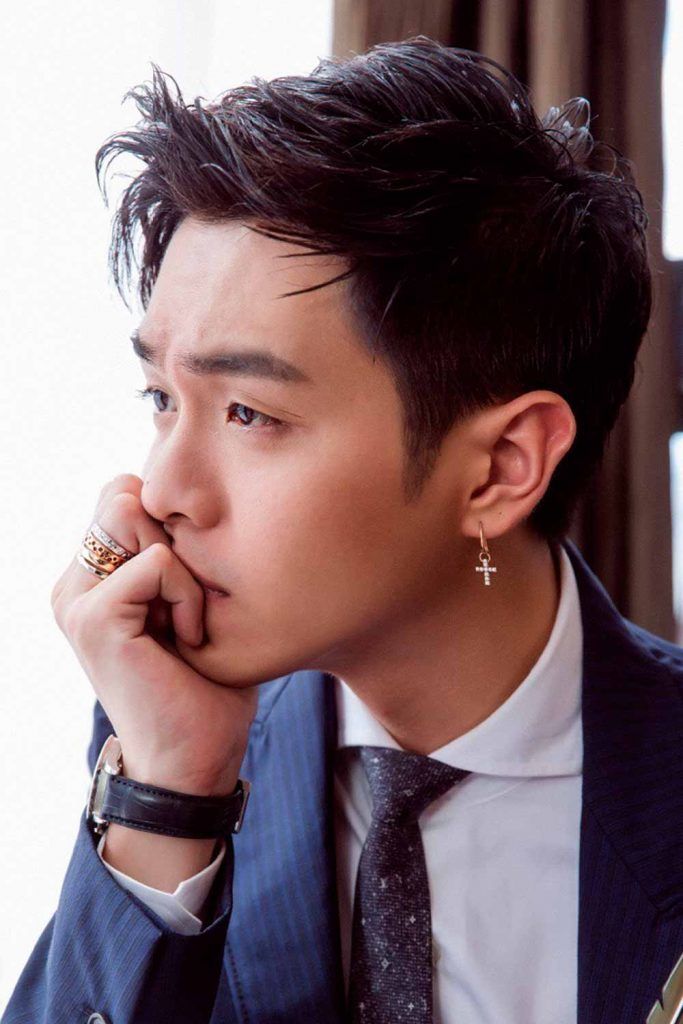 Shaggy Bowl Cut
It is no surprise that a Korean bowl cut has its own interpretation. As a classic bowl cut may look rather geeky and preppy, its Korean version is styled a little shaggy for a casual feel.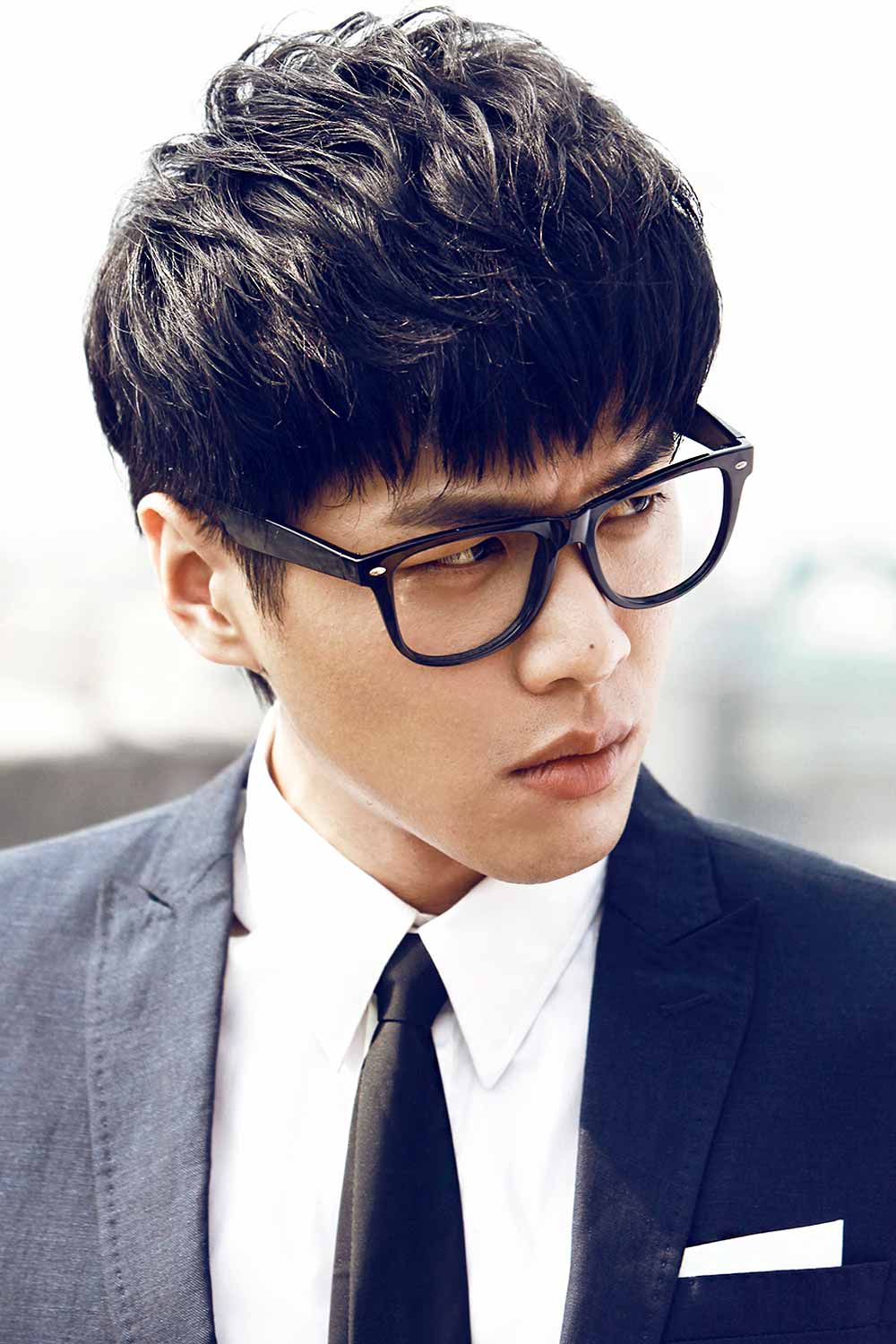 /
The Gong Yoo Haircut
Gong Yoo, who is a popular Korean actor, has given us plenty of ideas for trendy and fashionable Korean men's hairstyles. When opting for one of his hairstyles and a little Asian beard, you can rest assured that you will be in the spotlight wherever you go.
Messy Parted Light Bangs Korean Hairstyle
One of the best things about Korean hairstyles is that they manage to look effortlessly classy and tasteful. Thus, to create a nifty look, go for undercut Asian bangs and make them a bit messy. A natural side part will add a definition to this look.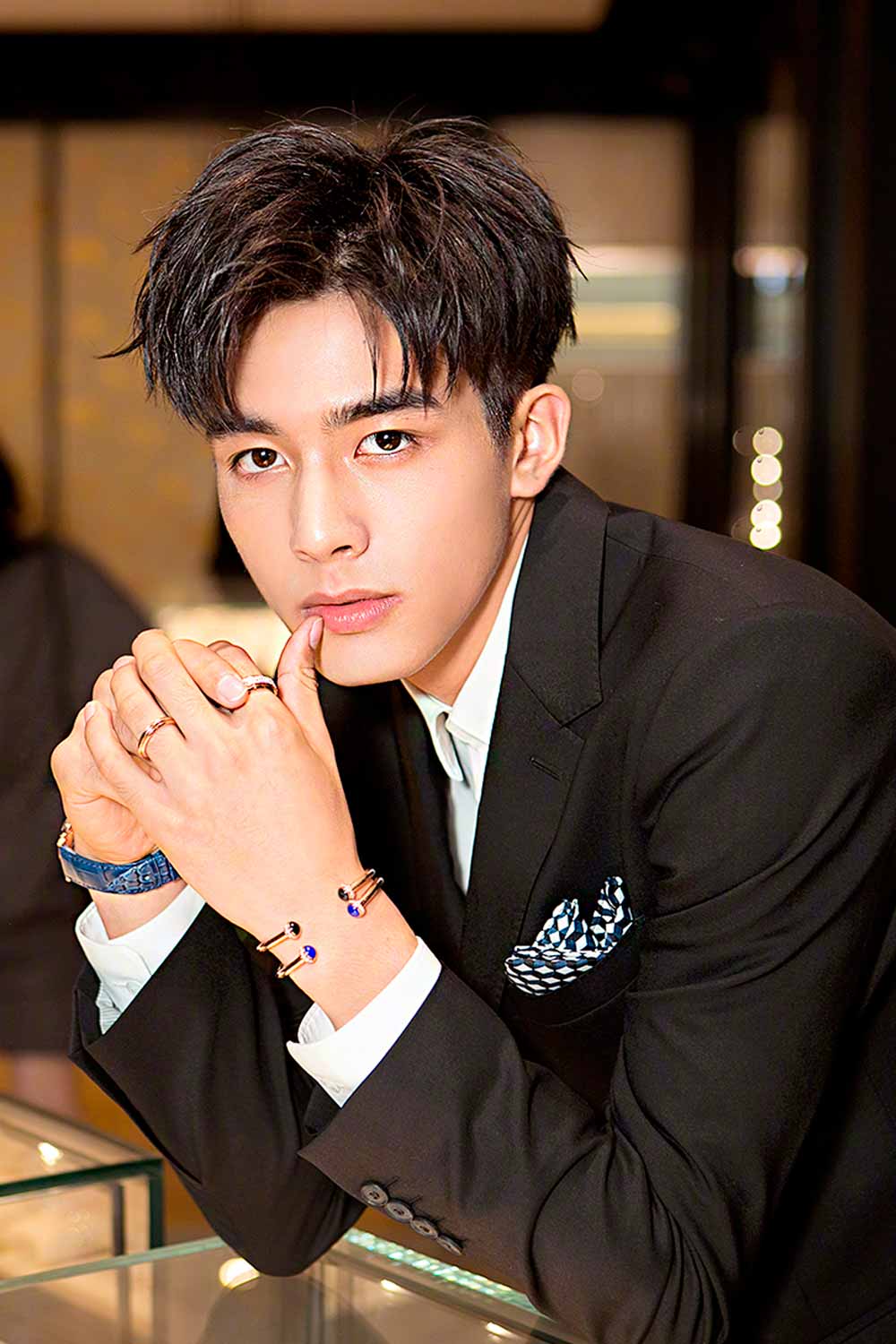 /
Tousled Two-Block Haircut + Undercut
A Korean undercut, which is a sharp take on a two-block haircut, is a surefire way to stand out in the crowd. Yet, for an extra boldness, you can bleach your locks and style them tousled.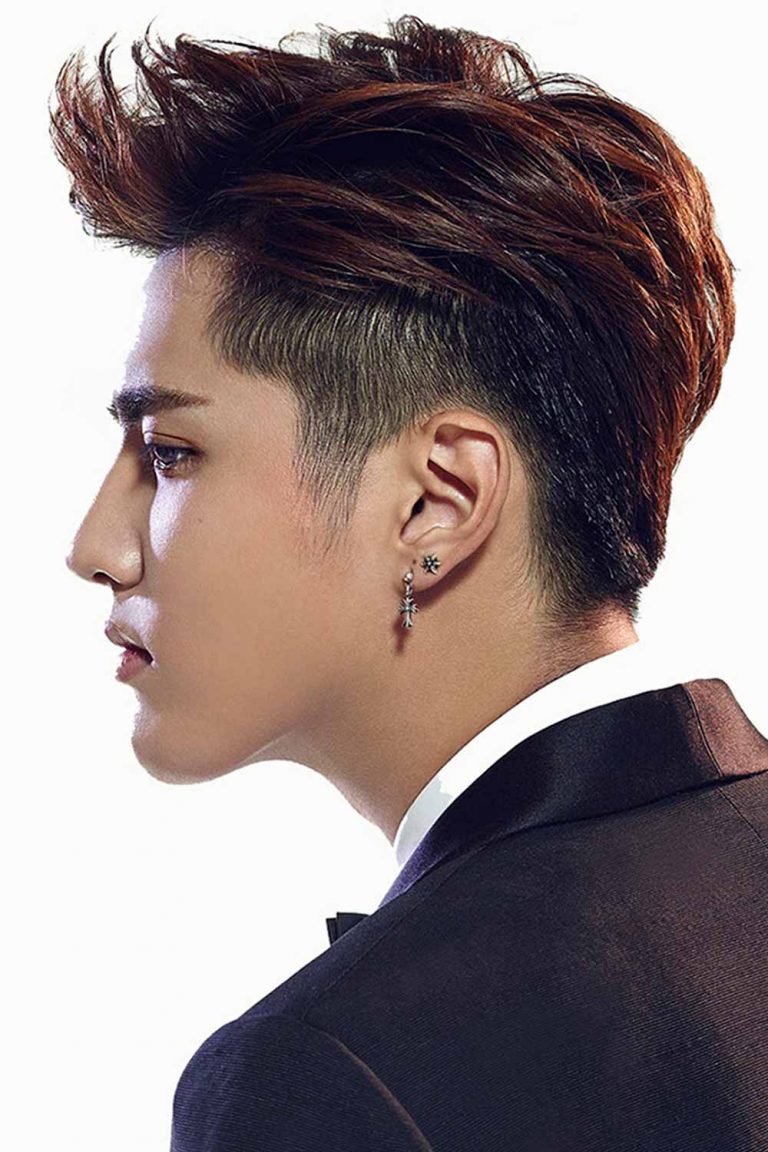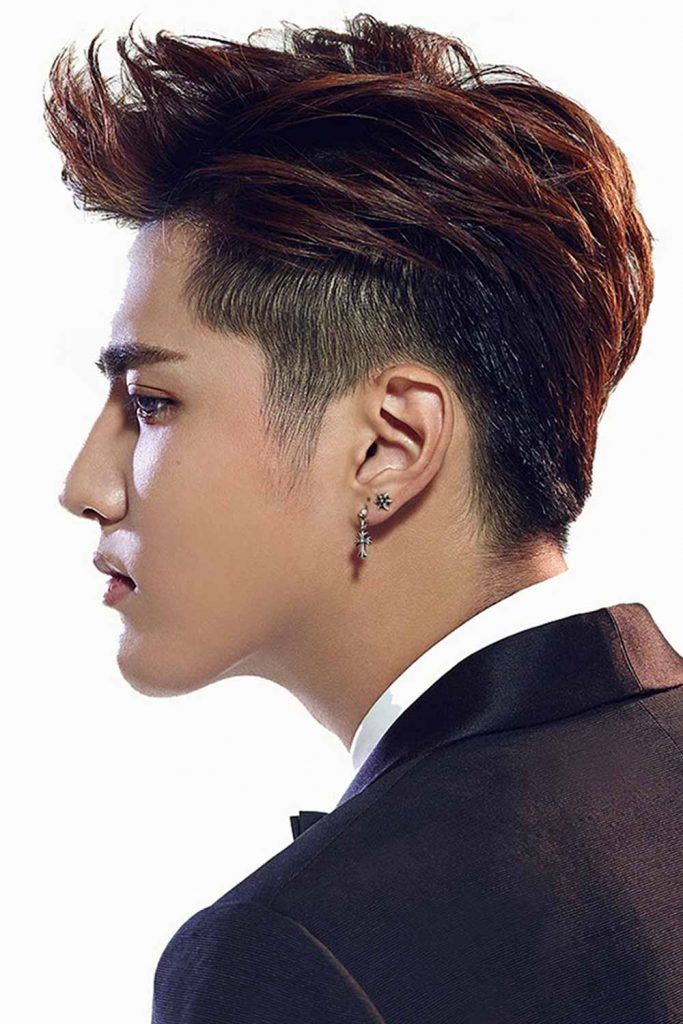 supermodel\Shutterstock
Korean Side Bangs
Bangs accompany almost every Korean hair cut. They provide the look with versatility and frame the face to accentuate your most beautiful features. While you may style them in a myriad of different ways, side swept bangs are usually on the top of the list for the majority of guys. Do not make them too neat though. A bit messy finish will not hurt for sure.
Source: @spukthebarber via Instagram
i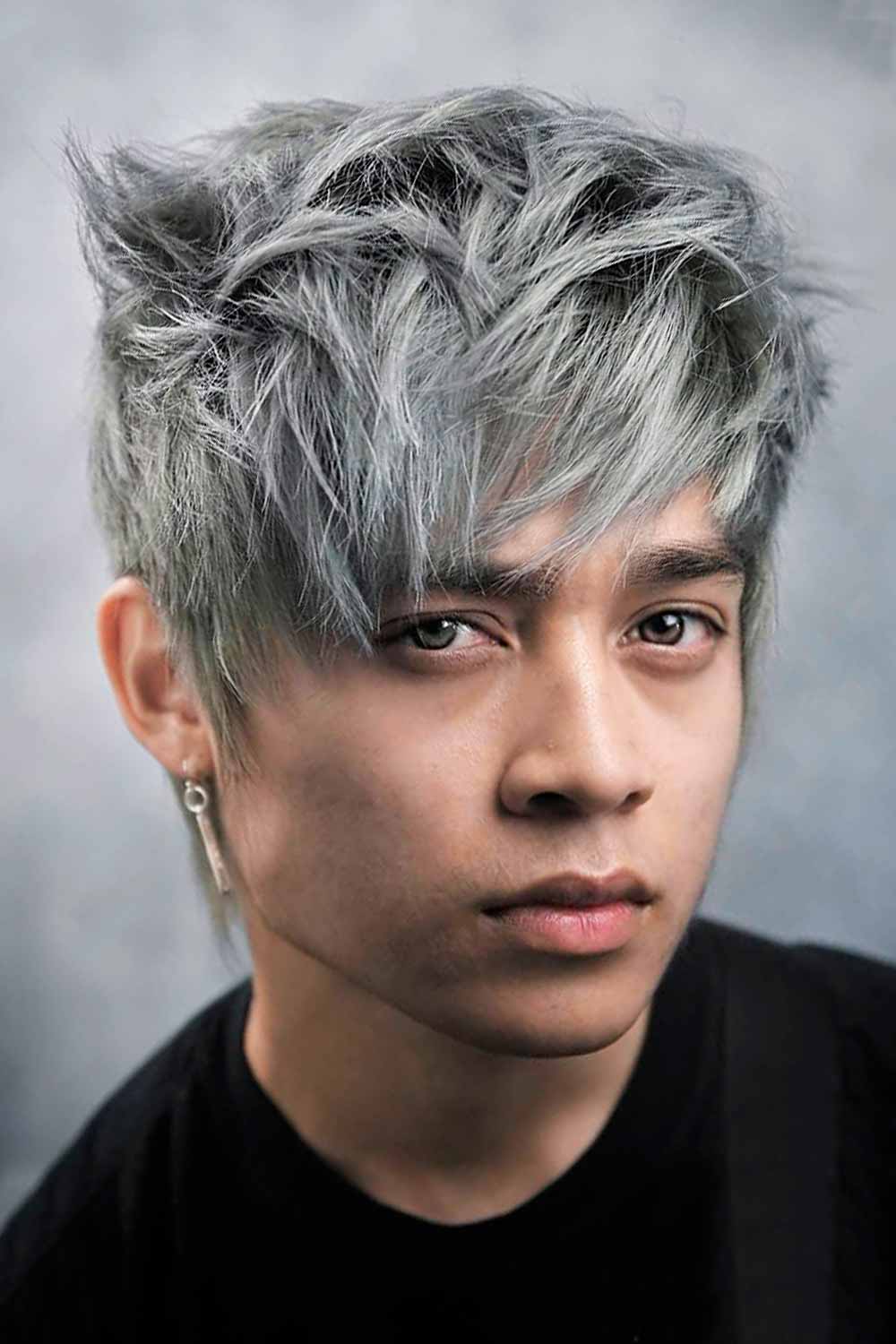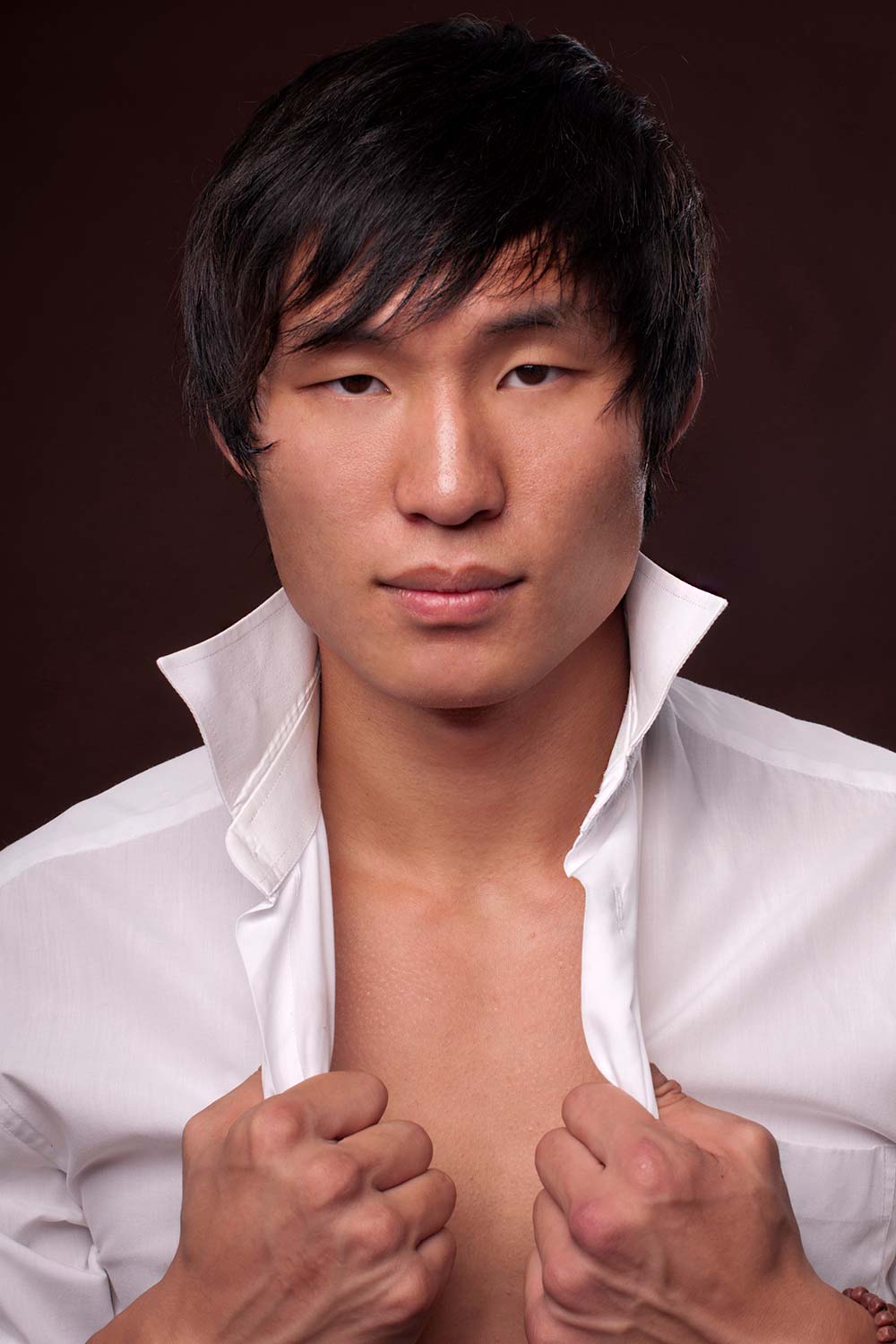 /
Korean Middle Part Fade
If you have ever googled what haircut is the trendiest at the moment, chances are the eBoy haircut, also known as the Korean middle part, has popped up in the front row. This is a signature hairstyle of modern heartthrobs. Its main features are the strands that skim the outer corners of the eyes. No wonder the Asian middle part cannot leave anyone indifferent.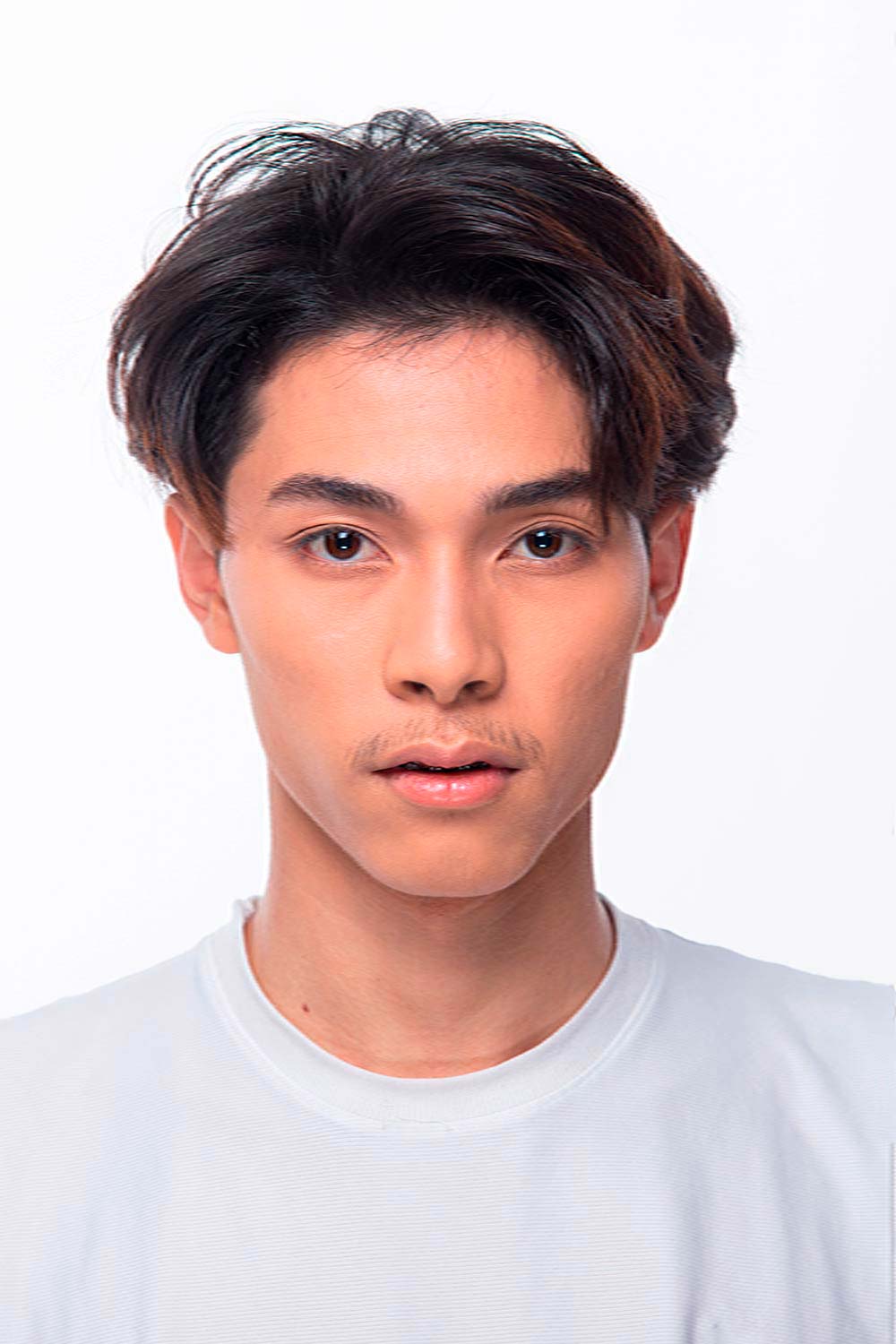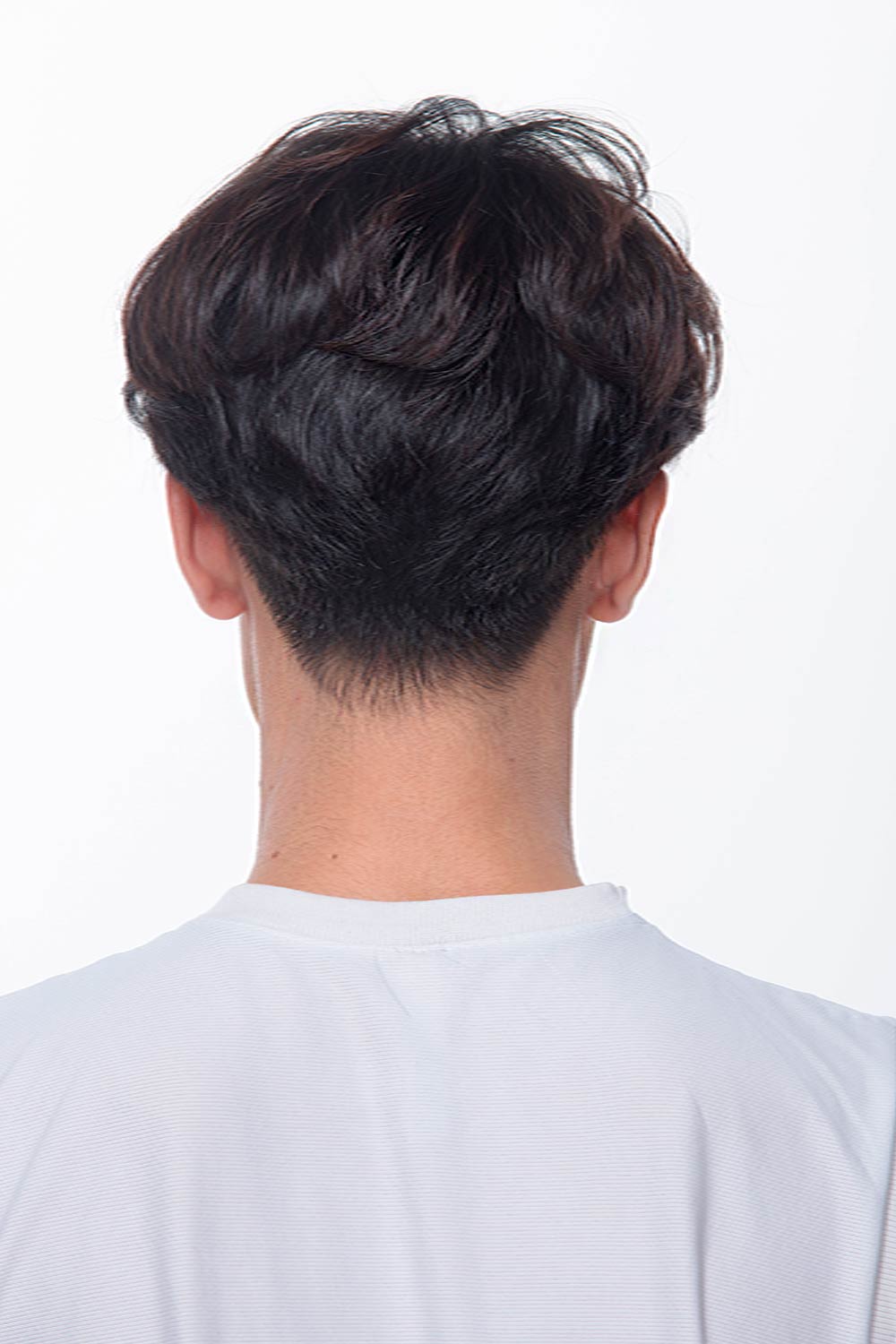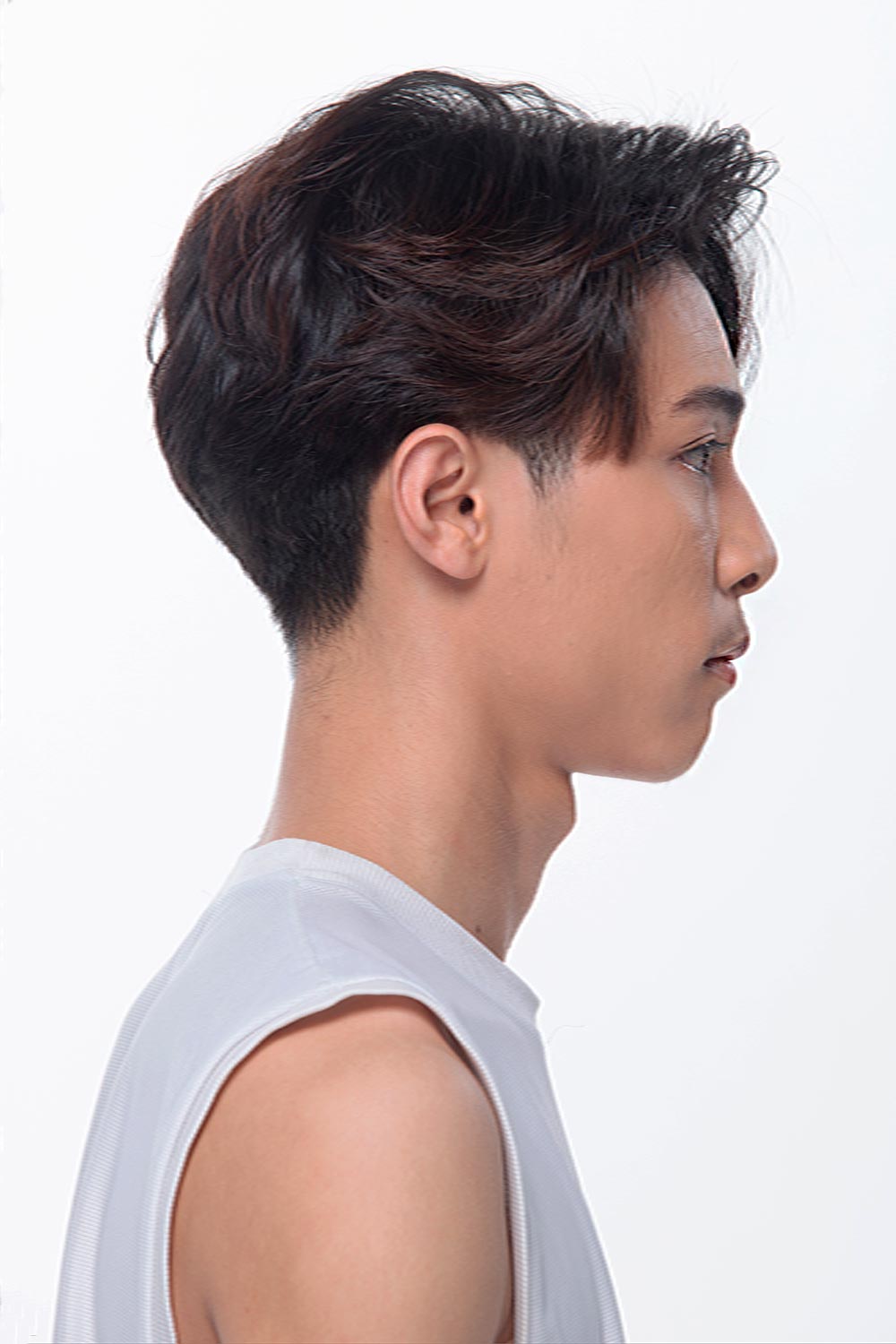 /
Korean Undercut
With an undercut Korean hair looks more contrasty and defined. It allows you to make the top the focal point of the whole look. So, feel free to style it in whatever way your imagination is capable of. Want to complement it with a trendy accent? Get a bold hair design on the side.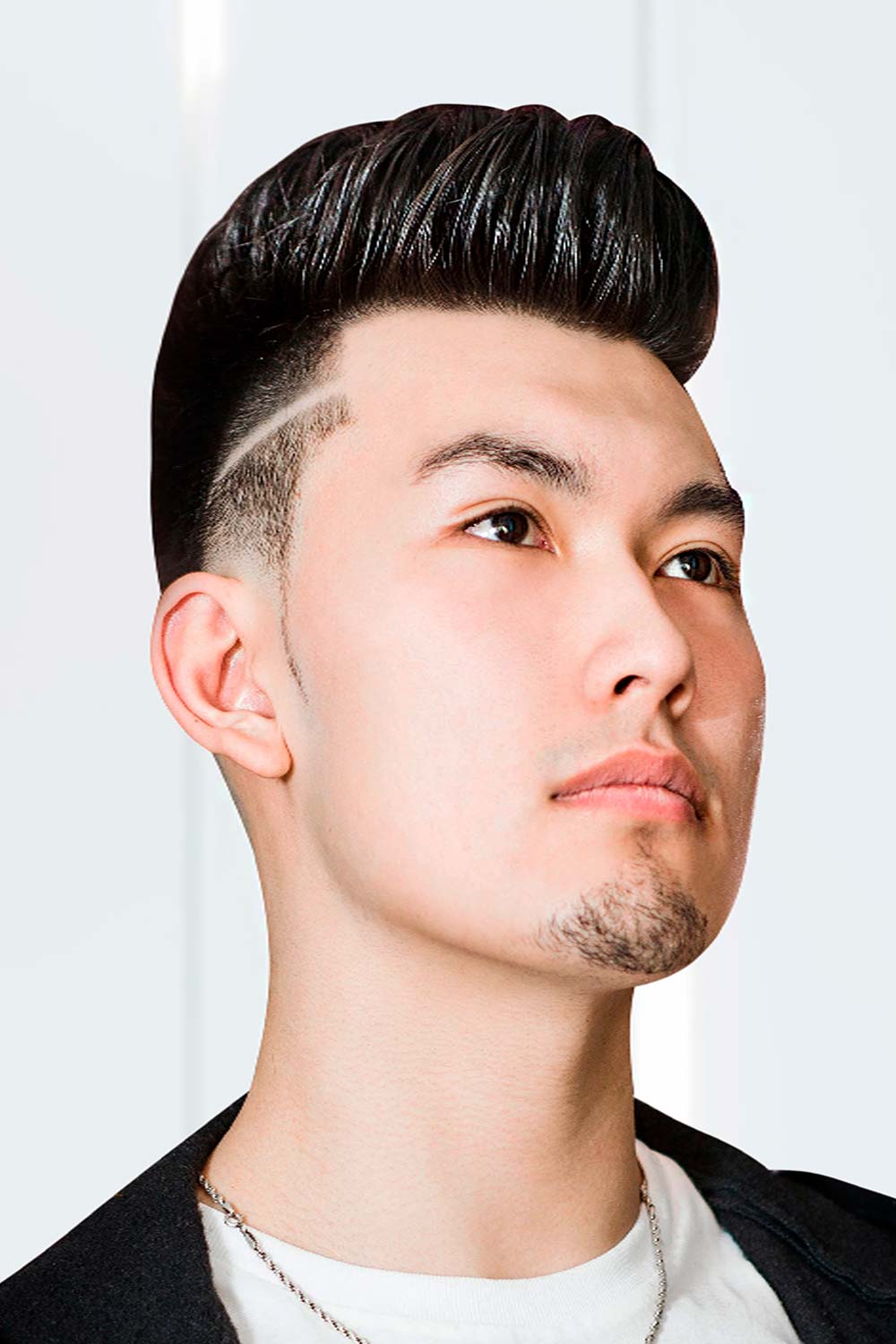 Source: @a.nizhnick via Instagram
i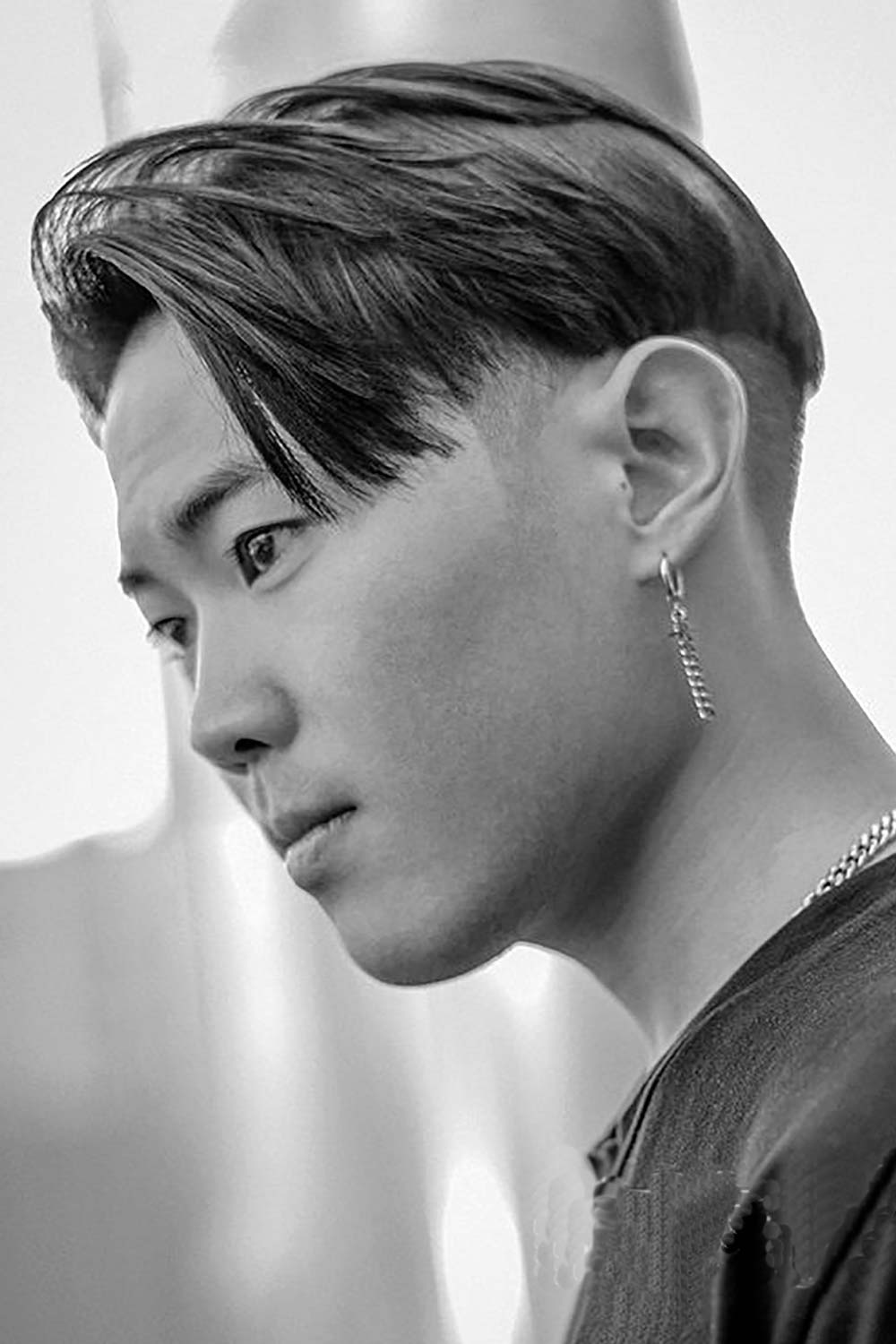 /
Short Pomp
Korean short hairstyles are so underrated. They oftentimes look as cool and trendy as long ones, if not more. Take, for instance, a short pompadour, which is one of the classiest and most sophisticated short Korean hairstyles. While it is also elegance at its finest, it does not require much maintenance, unlike its long version.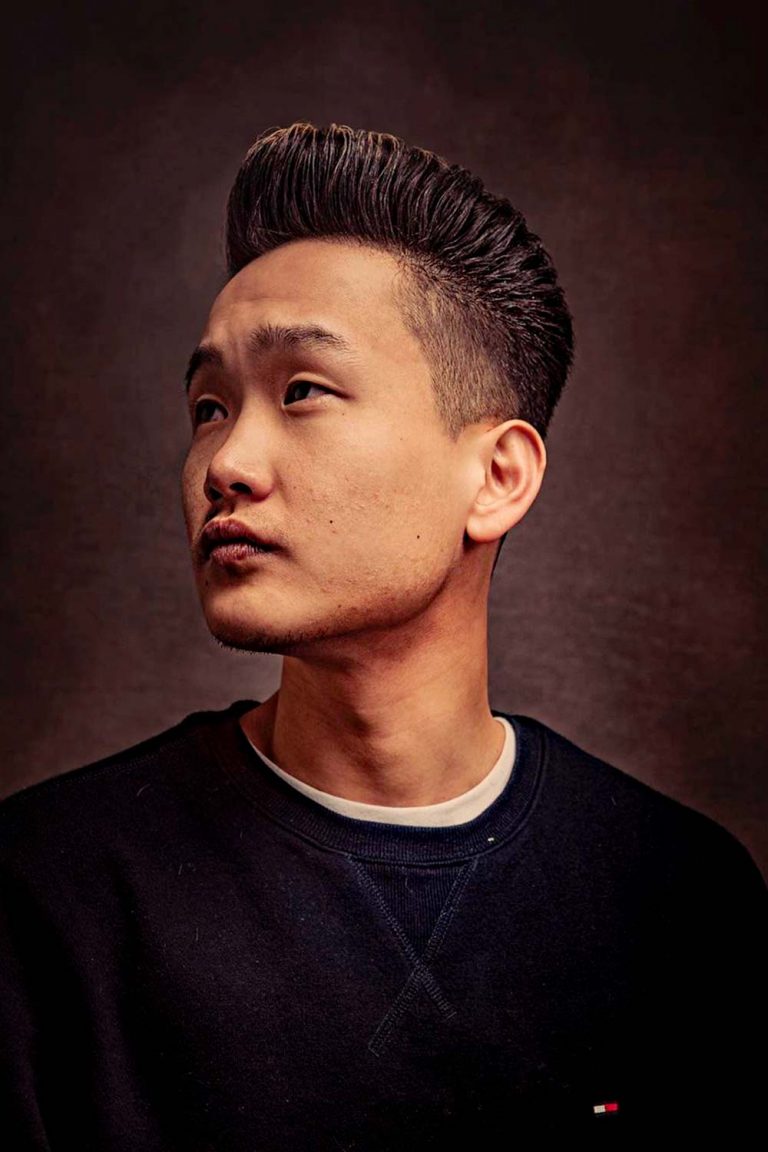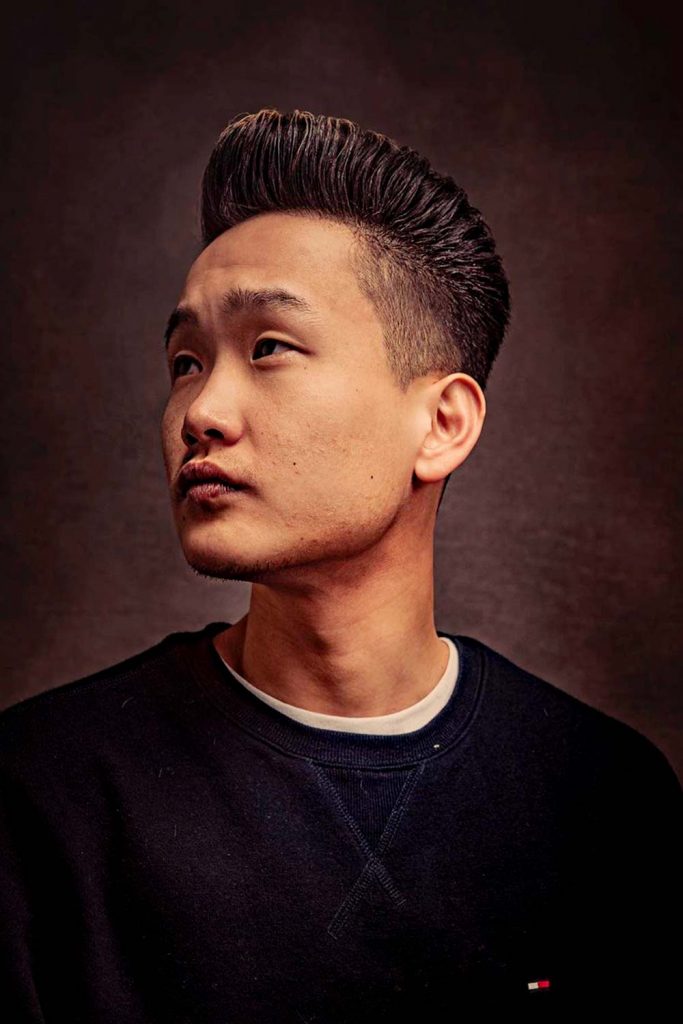 Source: @the_bloody_butcher via Instagram
Korean Bowl Cut
A bowl cut usually gets a lot of criticism, but not when it is a Korean boy haircut. Since it involves quite a lot of texturizing and layering, it has a much edgier shape. Styling the Asian mushroom haircut is a piece of the pie. Rub a texture enhancing product into the strands and stack them the way you like it.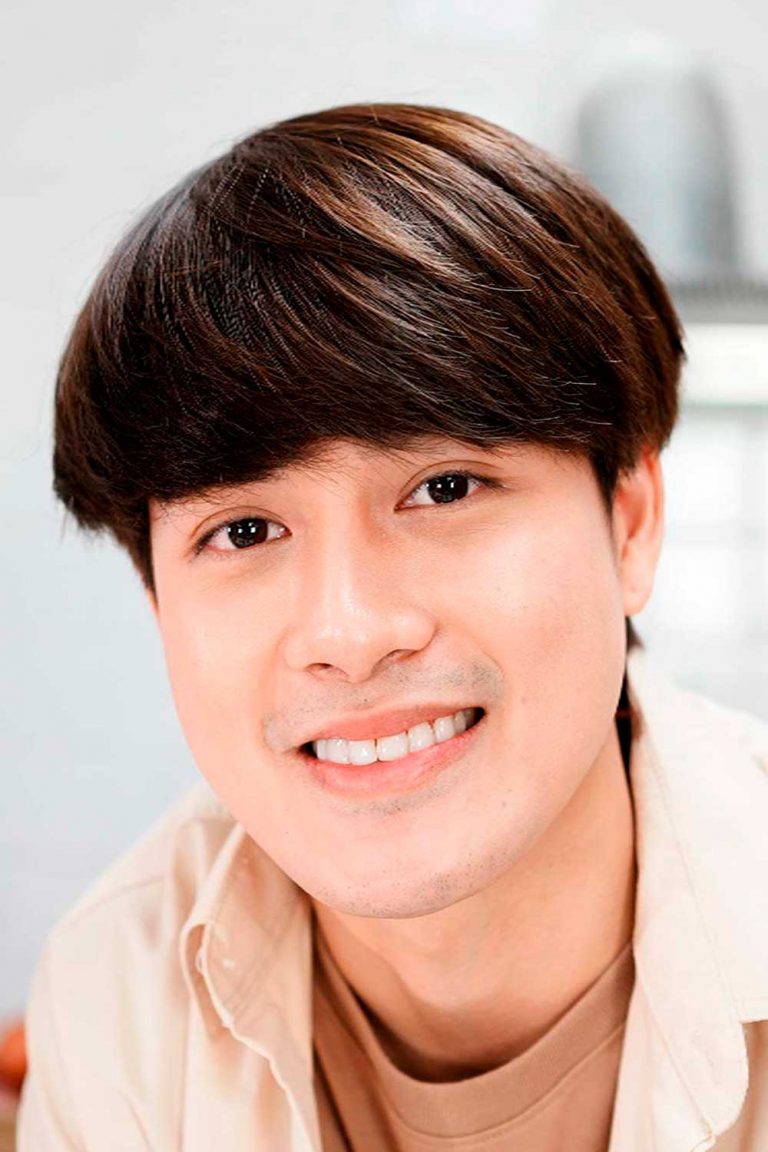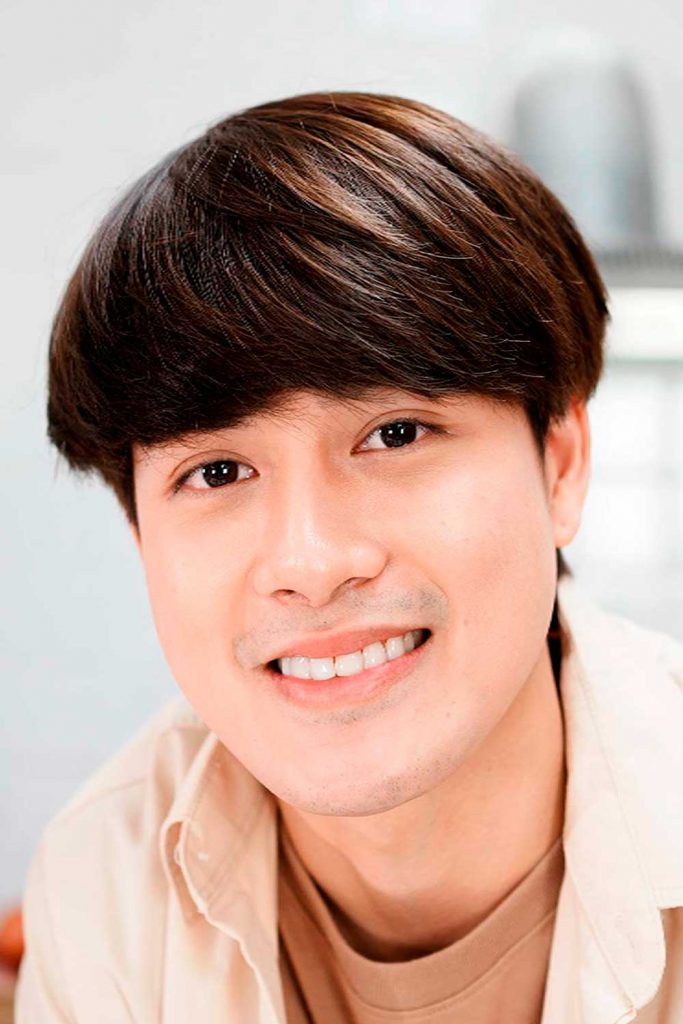 We are pretty sure that our refined collection of the best Korean hairstyles has given you tons of ideas for your next haircut. Now we hope, you will not struggle with the choice of the look you will ask your barber for. Yet, when you feel like you need some more inspiration, do not hesitate to come back for more ideas, as we always keep the latest hairstyle trends under the radar.
FAQs
What is the Korean hairstyle called?
Among all Korean hairstyles men often opt for a two block haircut, which features short sides and back and a noticeably longer top. The hair on top can be styled to your liking. Although it originates in Korea, it is now popular far outside the country.
What is Taehyung's haircut called?
Singer Taehyung, also known as V, sports a modern version of a mullet, which he also bleached for added emphasis. Such a hair look makes him resemble Prince Charming, a Disney character.
Why do Korean guys have bangs?
Since Korean men often have oval or oblong head shapes, adding bangs helps to frame their faces and give them definition. As the bangs are usually wispy and airy, they do not disguise the facial features, thus accentuating them instead.
How do you get Korean messy hair?
Koren guys often choose to style their hair messy for extra volume and an effortless feel. To achieve the look, the hair should be cut so that there is enough length on top while the rest of the head can be trimmed short. Apply a hair wax or texturizing spray to your tresses and dishevel them with your hand to give a messy finish.
REFERENCES:
Korea is a region in East Asia. Source