Which is the best hairstyle for boys? In today's world, finding the right boys haircuts can be pretty tough, especially when it comes to following some strict dress codes. Modern kids, whether they attend primary, middle, or high school want to keep their style unique and on point, which, sometimes goes against school standards.
Fortunately, we've found something absolutely versatile: the haircuts you're going to see today will not only suit kids with different tastes but will also fit both casual and formal occasions. Alongside with fancy and appropriate for school cuts, you will learn some styling tips that will help you to keep up with your amazing style.
Boys Haircuts Ideas
Looking presentable is essential for a man, regardless of his age. So it's time for you to individualize your uniform style and stand out in the class! And to help you accomplish this, we selected the trendiest boys haircuts that will make you want to get up earlier in the morning to spruce up your mane. They will range in length, type of hair, complexity and ambiance. Thus, you will easily be able to choose a cut for any situation.
Classic Kids Undercut
Source: @ryancullenhair via Instagram
The everyone's favorite undercut is so popular, not for nothing: it works awesome for many different school and business environments, keeping a wearers style presentable and strict at once. If you're looking for cool boys haircuts that can offer you flexible maintenance and a lot of different boy hairstyles, look no further. You can flip the top to the side or make it spiky if it's very short, as this cut proves there are no boys haircuts short hair can't keep up with.
Smooth Boy Taper Fade
Source: @alexthegreatvivar via Instagram
What is a good hairstyle for boys? A bit of neatness will never hurt, notably if your school stands for accuracy and immaculacy in terms of schoolboy hair. Instead of cutting boy's haircuts short, you can shorten the sides and spice them up with a boys fade haircut, where the longer top gradually blends with neatly tapered sides.
Buzz Cut With Shaved Line For Your Child
Source: @nickthebarber via Instagram
Believe it or not, the simple and strict military buzz can turn into one of the fresh and cool haircuts for boys! A clean outline that makes your look precise and neat and an outstanding shaved line on the side is the detail that will prove all boys short haircuts can be fun! As for styling, such short boy haircuts will save you some time in the mornings.
Slick Back Style For Your Sun
Source: @alexthegreatvivar via Instagram
Some boy haircuts can reveal the real men of a kid, showing him a new, smart and mature light. The accurately tapered sides abrupted with a clean shaved line. Cut finished with a voluminous slick back top makes this idea another example of cool haircuts for boys.
Precise Crew Cut
Source: @nickthebarber via Instagram
Meet the new face of the popular sports cut that stands among the best short haircuts for boys. Yes, the modernized classics never fail: the good-old crew cut with its little pomp and shorter sides has become one of the immaculate, super clean and defined kid hairstyles one could ever see.
Chic Boys Ivy League Cut
Source: @katemagicru via Instagram
What is the best haircut for kids? The Ivy League cut is a longer version of the crew hair cut for kids that allows a wearer to style the top to the side. Unlike most short haircuts for boys, this idea will keep your hair short enough while giving you a touch of stylishness and place for little experiments. To style such cool boys haircuts for special occasions, a fine comb and mid hold gel are your best buddies.
Medium Length Layered Boy Cut
Source: @shrunknheads via Instagram
This idea is probably one of the most popular boys long haircuts. Of course, it's designed for semi-free dress code as it involves quite a messy look due to layering. The best thing about this boys hairstyle is that it offers a great styling versatility. With the help of a comb and styling gel, you can change many awesome boys haircut styles throughout the semester.
Scissor Cut With Design For Your Little Guy
Source: @shrunknheads via Instagram
A scissor cut hairstyle is a perfect way to accentuate the ruffian character and save some time on styling, which is so precious in the morning. To achieve such a disheveled look, a barber will run the scissors in random directions. This textured hairstyle allows for some trendy design elements. A shaved in lightning is a perfect enhancement for such a daring look.
Modern Kids Mohawk
Source: @nickthebarber via Instagram
Boys with modern and carefree lifestyle will love the way this kids mohawk shows off their sense of style. Though it requires regular maintenance, its unbelievable silhouette and play of texture is worth trying, just like many black boys haircuts.
Disconnected Boy Taper Fade
Source: @meha_barber via Instagram
This hairstyle is all about definition. The top is cropped and disconnected from the sides with a shaved-in line. As the look comes out sharp and edgy, you want to balance it out with the help of a soft taper fade on the sides.
Fun & Curly High Top
Source: @alexthegreatvivar via Instagram
Haircuts for boys with curly hair that focus on the texture are the trickiest to maintain. That means they're not really appropriate for school, but in case of some special school event, they are the must-try haircuts for kids. The sides are slightly shorter, and the top shows off the curls: the classic pattern of head-turning hairstyles for boys. To make your curls more distinctive, you can apply some oil or foam to the top.
Classic Crop With Fade & Fringe
Source: @alexthegreatvivar via Instagram
The modern idea of the classic crop is here to change your image about the familiar boys hair cut. This time, the one-length haircut gives a great sense of modernity: the sides are accentuated with a fade, and the top is finished with a choppy fringe. Aren't these the must-have features of boys haircuts?
Textured Comb Over For You Sun
Source: @alexthegreatvivar via Instagram
You may did not expect that, but the famous comb overs can actually come as 10 years old boy haircuts. Its restrained and sophisticated swept silhouette is the happy medium between occasional and casual look, which makes it not only perfect haircut for boys but also for men of all ages. In terms of styling, this cut is very flexible: based on your styling product and the parting you choose, it will give you different and fresh looks.
Spiky Top Boys Haircuts
Source: @alexthegreatvivar via Instagram
If your school doesn't have harsh restrictions about boys hairstyles and cuts, you can go for something more statement-making and carefree. The key to spiky styling is a good, strong hold gel that you'll need to work throughout your hair, creating spikes wherever you please. Luckily, such styling can work for any hair cuts for boys.
Fresh & Neat Quiff
Source: @alexthegreatvivar via Instagram
This boys haircut seems to be the opposite for the previous idea. Quiff boy hairstyles are designed to keep a kid comfy with his hair while creating a very tidy look that fits all school dress codes. To give some precision, some non-glossy pomade on top won't hurt.
Faux Hawk For Little Guy
Source: @alexthegreatvivar via Instagram
Since this faux hawk boy haircut is the slight version of the punky mohawk. You can keep your style unique and modern without breaking school rules. Such hairstyles for boys are absolutely stylish and low-maintenance which is a win-win for those who want to freshen up their uniform.
Awesome Pompadour
Source: @meha_barber via Instagram
The dramatic pompadour doesn't care how old you are; it aims to give you a versatile and masculine look. You can style it up, down, to the side or to the back: it's all up to your mood. It's one of those boys short haircuts that can let your creativity fly; isn't that cool?
Accentuated Side Part For Baby-Gentleman
Source: @katemagicru via Instagram
If you want to diversify the familiar side-parted kid's hair styles, a light shaved design will be there for you. You can ask your barber for a soft shaved line in the place you usually part your hair. In this way, you will master wearing one of the most iconic boy's hair styles. To make the style stay longer, don't forget to secure the top with holding gel or pomade.
Fade Haircut With Angular Fringe
Source: @egobarbers via Instagram
Want to combine several trendy cuts in one hairstyle? A high skin fade on the sides and an angular fringe will give you what you're looking for. Although it looks so elaborate, in fact, it's one of those boys haircuts that doesn't require much maintenance.
Brushed Up Ivy LeagueFor Your Naughty Kid
Source: @egobarbers via Instagram
At times, an Ivy League haircut can look too preppy on boys. To avoid that impression, try to upgrade the hairdo a little. By simply brushing the hair on top of your head up, you get a cool and trendy hairstyle. For added emphasis, you can go for a mid fade and carved in hair design.
Textured French Crop With Straight Fringe
Source: @barbersofbt45 via Instagram
French crop boys haircuts are still on a roll, as they have many different variations. For added flair, the fringe can be chopped straight. Even though it doesn't require much effort, the look comes out stylish and unique.
Boys French Crop With Angled Fringe
Source: @bangsandbalance via Instagram
Alternatively, for your French crop, you can go with an angled fringe instead. A slight asymmetry will give your rather blunt haircut an unusual turn. To accentuate the hair on top even more, complement it with a mid skin fade on the sides.
Plain Faded Crop
Source: @ryancullenhair via Instagram
If you want to leave the cropped top as it is, you're welcome to do so. However, you might find a high bold fade a nice accompaniment to such a look, as it helps to create quite a lot of contrast with a neatly chopped and brushed top.
Clean Side Brush Taper Fade
Source: @alexthegreatvivar via Instagram
This hairstyle is for real fashionists, as it's ample, bold and trendy. The top should be cut in different layers of length with the longest in the front and the shortest in the back while the sides should be embellished with a taper fade. Divide the hair on top with a side part and brush it all up and to the side for a dapper appearance.
Textured Top With A Line-Up
Source: @nickthebarber via Instagram
For naturally textured hair, such as coily or wiry, there's arguably no better hairstyle than a textured top. It's good to get the sides faded for a clean-cut look though. If you want to add a trendy element to your hairstyle, a line up can be your cut of choice.
Kids Undercut Slicked Back
Source: @nickthebarber via Instagram
It's never too early to start cultivating your exquisite sense of style, and the haircut is a great way to do it. A classic and stylish slicked back hairdo is always the right choice. So that it would give away its modern flair, enhance it with undercut sides.
Neat Push Back with Faded Sides
Source: @alexthegreatvivar via Instagram
Perfect boy haircuts for school look both stylish and neat. Besides, it is most likely that you will want a low maintenance cut to save those precious ten or even twenty minutes in the morning. Thus, consider this elegant and trendy look that features a pushed back top and faded sides.
Longer Bang For Toddler Boy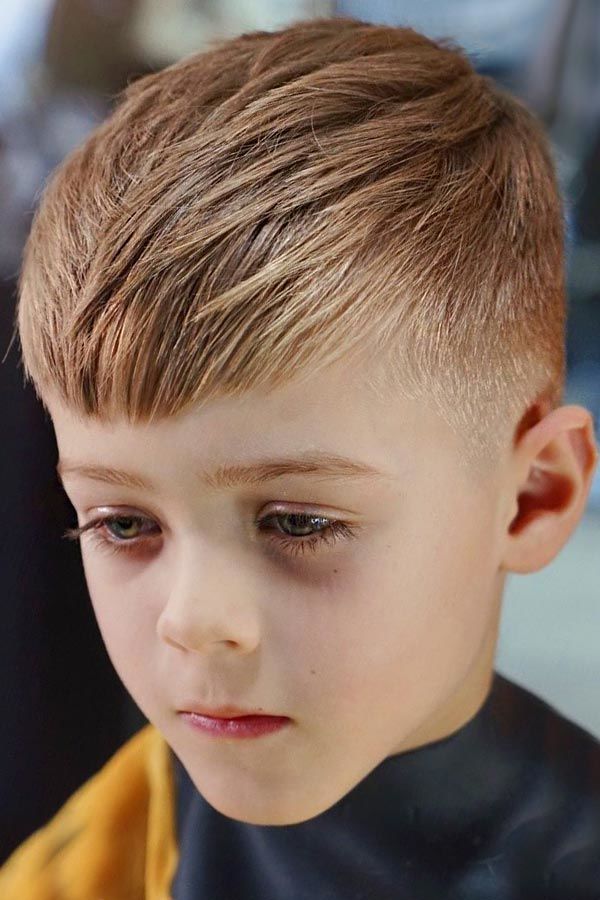 Source: @groomed_barber_club via Instagram
Nobody wants to look overly preppy and conservative for school. Your kid is obviously no exception. Hence, if you have decided to pull off such a popular boys haircut as bangs, make them longer than usual. Thus, he will be able to push them to the side, add texture or style in any other way the occasion calls for.
Teenage Layered Spiky Cut
Source: @egobarbers via Instagram
Are spiky haircuts for boys with an attitude? Sure, they are. If you want your kid to express his unique personality and taste, it is hard to think of a better option than a layered spiky cut. It provides him with everything required for a stylish yet effortless look – a malleable shape and a low maintenance style.
Shaved Sides Design With Faux Hawk
Source: @alexthegreatvivar via Instagram
Is your kid a real trendsetter? Then you should definitely consider a haircut with shaved sides design, which is one of the most popular boys haircuts 2019. If your school dress code is not too strict, then the best option would be a faux hawk hairstyle, as it allows for enough room to create even the most intricate hair tattoo.
Side Swept
Source: @groomed_barber_club via Instagram
Cute boys like elegant and classy hairstyles. If your kid is one of them, then choose a side swept look for him. It does not require much styling while giving a refined and trendy impression. Just remember to go easy on a hair styling product so that the hair retains a relaxed and carefree feel.
Classic French With High Fade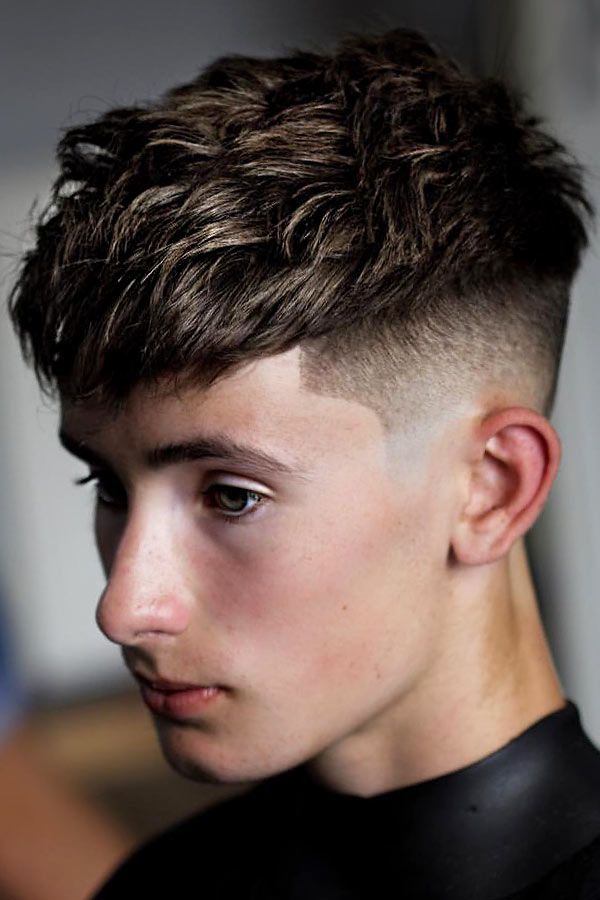 Source: @ryancullenhair via Instagram
A classic French crop is a great option for your cute boy. It looks stylish yet low-key with its shortly trimmed sides and textured top. For an added boldness, go for a high fade on the back and sides, which instantly focuses the whole attention on the top. Such kids hairstyles work perfectly for both school days and holidays.
Boys Curly Fringe With Faded Sides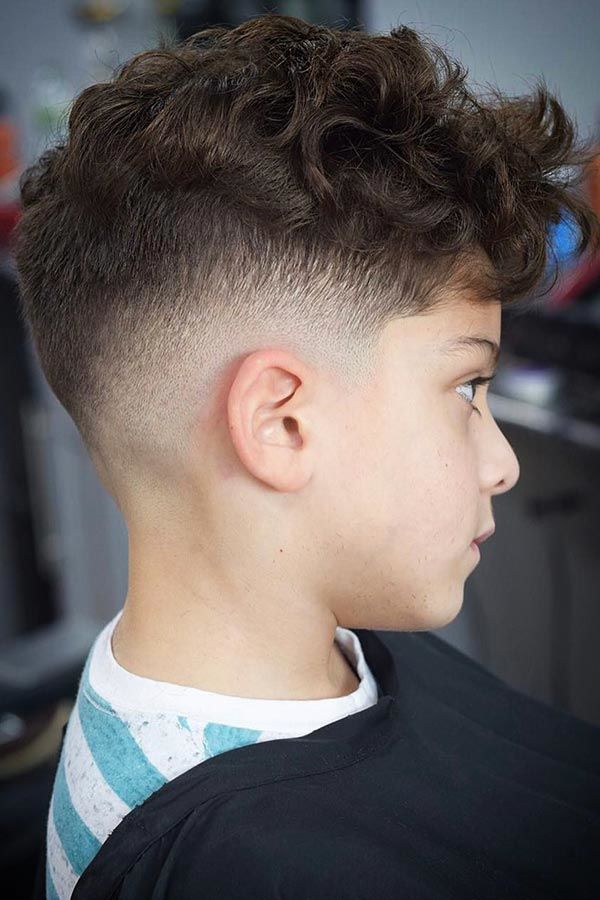 Source: @mikes_custom_kuts via Instagram
If your kid is lucky enough to have curly locks, then you should definitely take advantage of it. Boys hairstyles with a curly fringe are a surefire way to emphasize the defined texture of the hair. To make it even more prominent, go for a fade on the sides and back. Remember, the higher the fade, the bolder the hairstyle looks.
Finger Brushed Up Short Hair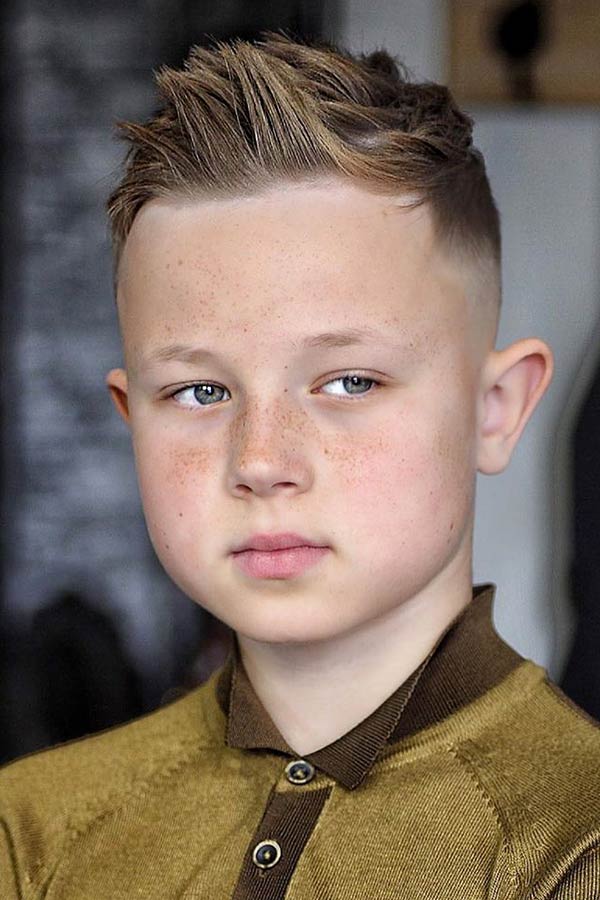 Source: @ryancullenhair via Instagram
Apparently, you are looking for boy hairstyles that are easy to get and maintain. How about a look that can be achieved with the help of fingers only? Get one of those short on the sides long on the top little boys haircuts and brush up the lock atop by raking the fingers through them.
Cool Spikes For Cool Sun
Source: @mikes_custom_kuts via Instagram
Do you want your little mod to sport one of those really cool hair cuts for boys? Then we can barely think of anything else but spikes. To pull them off, you will need to trim the sides short while keeping the hair on top relatively long. Such boys hair cuts are ideal for creating different textured styles, including sharp spikes.
Brush Up Taper Fade
Source: @egobarbers via Instagram
Boy hair cuts with a taper fade allow for multiple styling options. However, we are pretty sure that you will not want your kid to sport something classic and boring while he can rock a really stylish look.
Undercut With Short Textured Top
Blonde Flipped Ends
Brushed Back Wet Curls
Side Boys Crew Cut
Medium Messy Undercut
Source: @shrunknheads via Instagram
Short Layered Kids Cut
Side Parted Ivy League
Layered Cut With Side Bang
Side Styled Top With Faded Sides
Source: @hayden_cassidy via Instagram
Short Texture
Source: @groomed_barber_club via Instagram
Jewfro Boys Hairstyle
Source: @barbersofbt45 via Instagram
Colored Top
Source: @ryancullenhair via Instagram
Slicked Back Undercut
Source: @mensworldherenkappers via Instagram
Textured Little Boy Buzz With Line Up
Source: @f4fade via Instagram
Messy Crop For Little Guy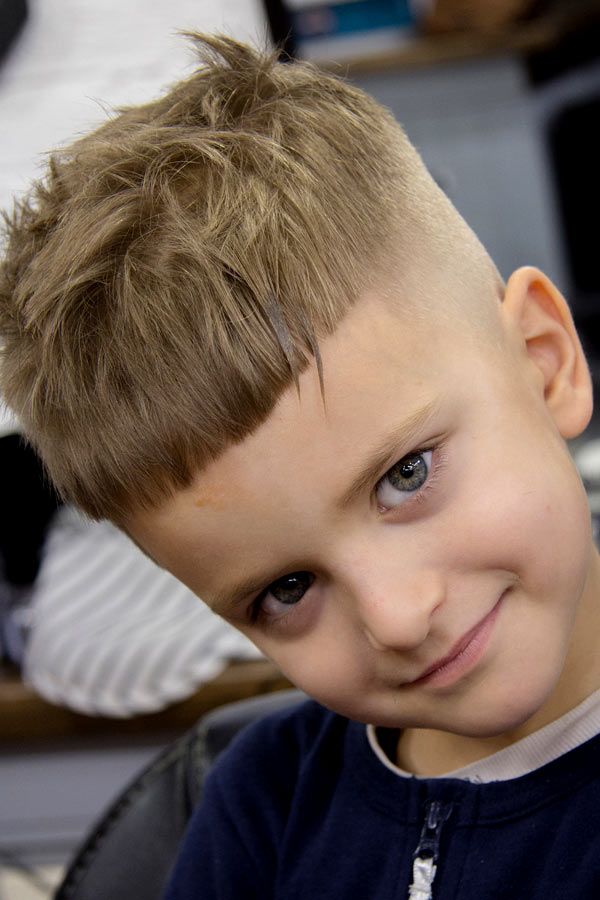 Source: @meha_barber via Instagram
On that note, brush up your little fella's front hair so that it creates an abundance of volume and a prominent silhouette. You've just seen with your own eyes that looking stylish while sticking to dress codes is possible. All these ideas are here to show you how to wear the classics differently, making modern ideas look appropriate, and simply freshen up your daily style.
How To Cut Boys Hair Tutorials & Tips
There are several ways of how to cut boys hair, ranging in difficulty, style and type of tools used. Here is a rundown on the most popular of them.
Using Electric Clippers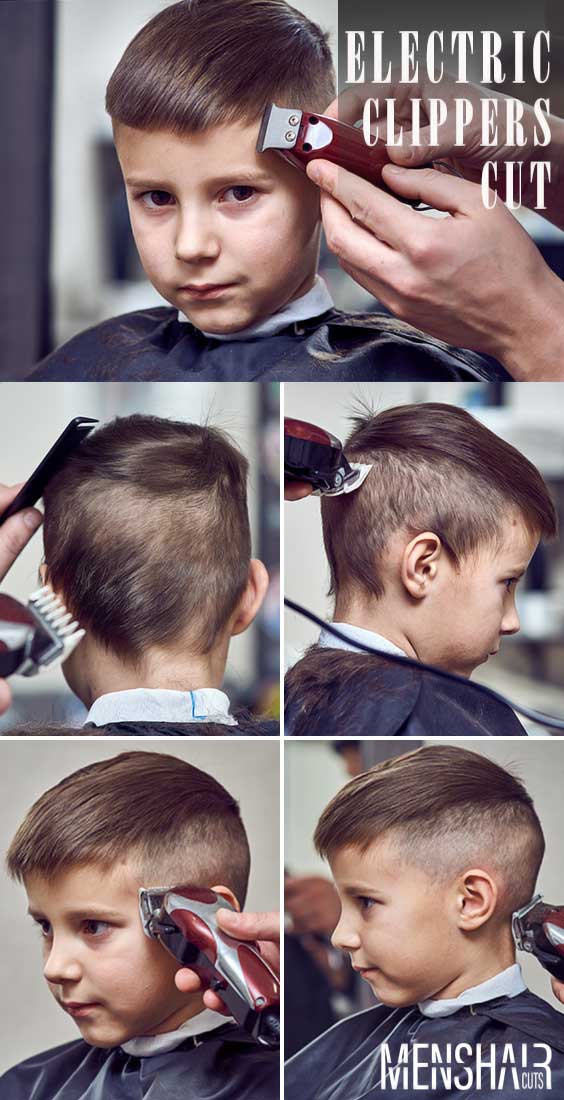 To learn how to cut boys hair with clippers, follow the next steps:
No matter how to cut little boys hair, with scissors or clippers, you always need to cover his shoulders with a towel or a hair cutting cloak.
Pick out the guard size depending on the length of the cut.
Choose the area that you are going to cut with clippers.
Run the clippers upward starting at the bottom and stop once you reach the hair on top.
Remove the attachment and define the hairline with a line-up for added emphasis.
Using Scissors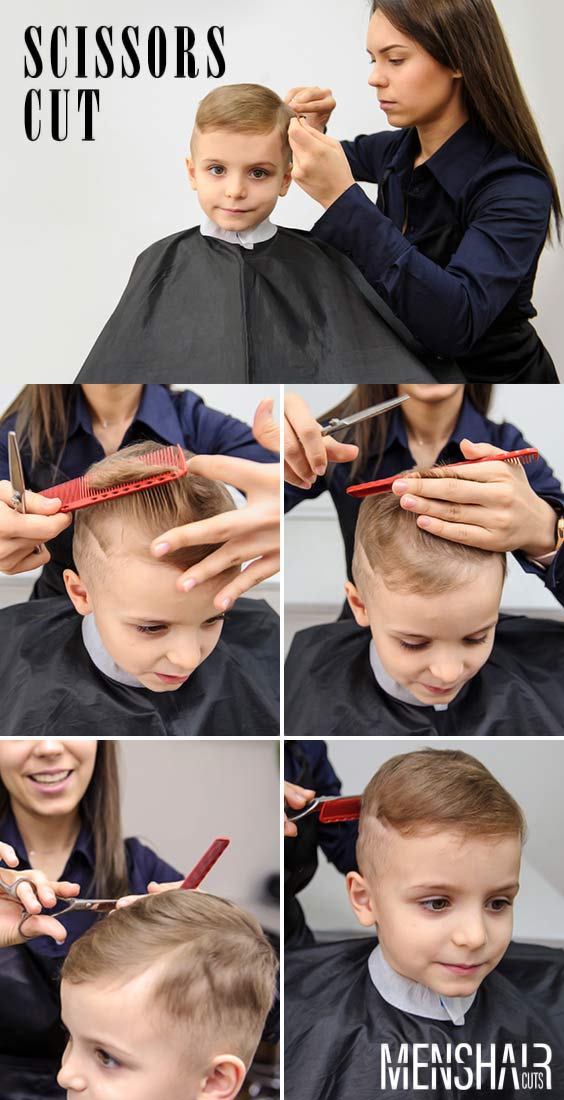 Now that you have trimmed the sides and back, it is time to find out how to cut boys hair long on top. The best way to do this is to employ scissors. So, here is how to cut boys hair with scissors:
Decide on the amount of the boy's hair you are going to remove from the top.
With the help of your fingers, section off the portion of hair you need to cut off. Hold your hand above the head sideways.
Chop off all the hair above the fingers.
Move on to the other section, leaving a strand of hair from the previous section to make the cut even.
Cut the hair around the boy's ear to create a sharp outline.
Blending A Clipper Cut With A Scissor Cut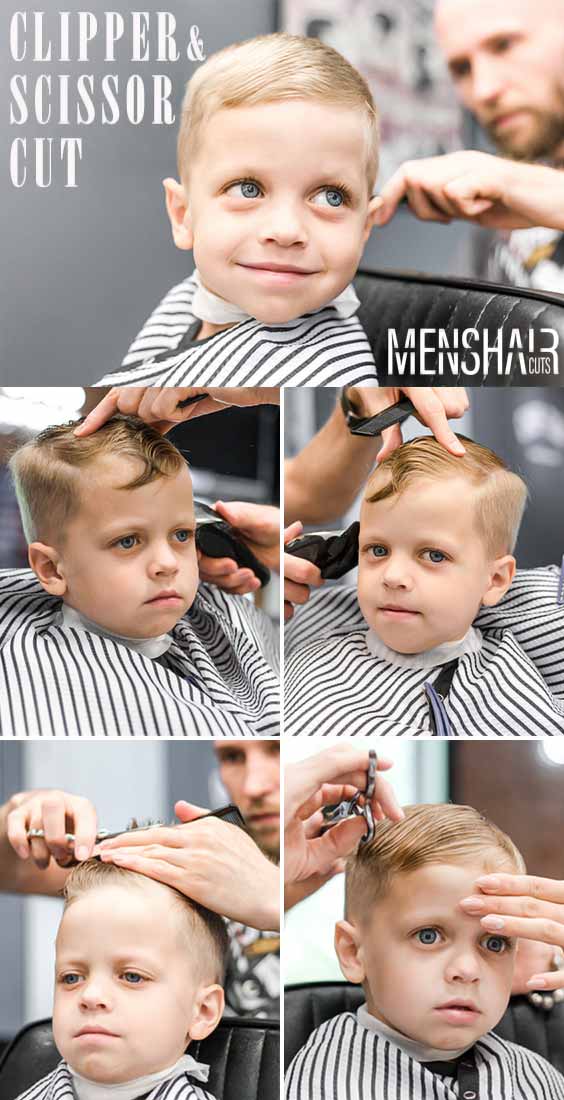 Blending is essential when it comes to mastering how to cut a boys hair. It allows you to join the two cuts, clipper and scissor, together. Here is what you should do:
Holding the comb with the teeth looking down, section off a narrow strand of both scissor and clipper cut hair.
Put the strand between the index and middle fingers of nondominant hand.
Holding the shears upward, remove the hair that is sticking out.
Tips & Warnings
In case you are uncertain how to cut a little boys hair, stick to the rule that it is better to underdo than to overdo. Thus, don't chop off a big chunk of hair at once, cutting little by little instead.
Do not skimp on the tools. High-grade clippers and scissors are worth investment.
To achieve the best result, utilize both clippers and shears to cut boy's hair.
One of the top advice on how to cut a toddler boys hair is to take care not to cut himself or yourself with sharp scissors or clippers.
REFERENCES:
How to Cut Boys Hair. If you have the right tools, cutting a boy`s hair can be easy and certainly less expensive than going to the salon every month. Source
Looking for hair inspiration for little gents. These cute little boy haircuts are sure to provide you with all the hairstyle ideas you need. Source