Medium length hairstyles haven't always been popular. Some time ago, they were just the intermediate stage between short and long hair. Today, the variety of medium hairstyles allows men to create the most attractive looks with their hair. Remarkably, the structure of your hair doesn't make any difference. What really matters is your overall appearance, including the shape of your face and the style preferred.
Source: @roque_80 via Instagram
How To Grow Medium Length Hair
Source: @alexthegreatvivar via Instagram
The first thing that you need to know when considering the medium length mens hairstyles is how to make your hair grow. It's very important that your hair receives a sufficient amount of micronutrients and water from the inside of your body. So, ensure your diet is sensible and keep an eye on the water balance. You might wonder how to grow hair faster. There are, actually, special hair treatment products that can boost your hair growth, so don't neglect to use them. Also, don't think that growing your hair out means skipping the hair salon. You'll still need to trim your split ends regularly because this will help to maintain a healthy and strong mane.
How To Style Men's Medium Length Hair
Source: @alexthegreatvivar via Instagram
Now when the mission to grow out the hair is complete, it's time to learn how to do the mid-length hairstyles. When styling, it's very important to choose the appropriate hair styling product. If your hair is short to medium length, apply a wax, paste or pomade to it. However, if you have longer locks, a special grooming cream, leave-in conditioner or serum will work best. These products will help not only to create the coolest hairstyles for medium length hair but also to keep it protected, moisturized and lightweight at the same time.
Men's Medium Length Hairstyles: Tips And Tricks
Source: @sidsottungacademy via Instagram
Of course, we can't leave you without a bunch of tips and tricks for medium length hairstyles for men.
Wash your hair and dry it with a towel.
Use a heat protecting product, like spray or oil.
Blow-dry the hair in the upward directions until it is completely dry.
Reduce any excessive volume with a brush.
For the wavy mid-length hair, apply a matte cream or paste. For the straight hair, utilize a wax with sheen.
Best Men's Medium Hairstyles
For inspiration on how to wear your medium length hair, we've compiled an inspiring gallery of medium length hairstyles. Check out these pictures before your next visit to the hair salon!
Side Part
Source: @shrunknheads via Instagram
This side part fade has a number of advantages. First, it's quite easy to style. Second, you can wear it with great success both to work and on a date. And third, a skin fade and an undercut don't let the side part haircut look dull and nerdy. Combo!
Quiff
Source: @meha_barber via Instagram
Do you see yourself as a refined, saucy and self-sufficient man? Then you have to get a quiff haircut. To create the perfect quiff hair look, you'll need to use a styling product, such as a gel. There are two possible ways how to pull off the quiff hairstyle. You can brush the quiff up to create some volume and then sweep it back. Or you can create a flip-up of the hair on the crown.
Sweep Back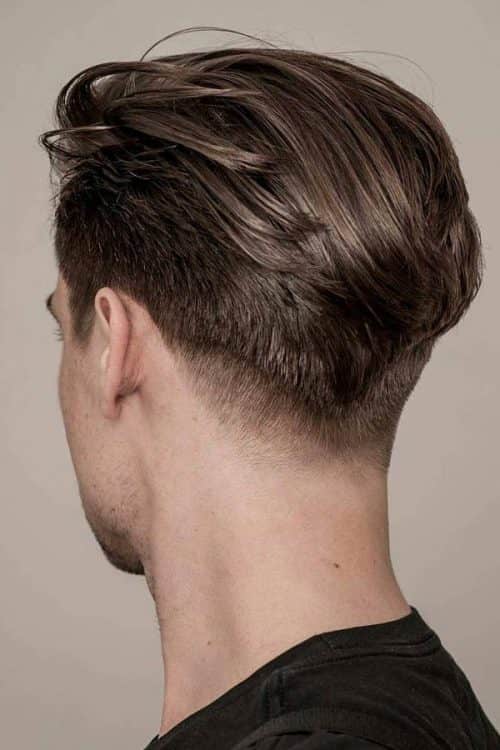 Source: @urednistvo.pricesk.robert via Instagram
The swept back hair is another great alternative to vary the medium hair look. It appears polished yet quite breezy so that the perfect balance is easily achieved.
Pompadour
Source: @kamilnizinski via Instagram
We're one hundred percent sure you know this pompadour haircut even if you've never tried it yourself. The one and only King of Rock 'n' Roll Elvis Presley popularized it in his time so greatly that it's still on top. The pompadour hairstyle is a classic and chic way to get the most out of your medium length hair. To get it right, make the top hair at the forehead voluminous and high. If you want to rock the world completely, get yourself the pompadour fade.
Slick Back
Source: @alexthegreatvivar via Instagram
The slick back hair look impresses with its elegance and charm. Even though it doesn't have any daytime limits, it perfectly lights up the evening period. To get the slicked back hair, dip your fingertips into a styling gel or mousse and run them through the top of your crown. Take a comb with fine teeth to smooth your hair back and you're done!
Blown Dry
Source: @emilsebastiian via Instagram
It's crucial to know that perfect medium length hairstyles men try to pull off so desperately are almost impossible without a good blow dryer. No matter how strong the hold of your hair styling product is, the highest and the steadiest volume on the crest can be achieved only with the help of this device. Among almost all the hairstyles medium length ones require blow-drying the most, so don't be a scrooge and make a really good investment.
Spikes
Source: @egobarbers via Instagram
Spiky hair looks dangerously attractive yet appropriate for a nine-to-five job. You can easily transform the messy and tousled top into a spick-and-span one. The spiked hair is a good way to cover your morning bed-head and spice up your look.
Long Straight Fringe
Source: @spizoiky via Instagram
Not every guy would be brave enough to give hairstyles with bangs a shot. If you're one of the daredevils, good for you. To get the look, grow out your fringe hair long so that you could comb it over to one side. If you ask your hairstylist to buzz cut the hair on the sides and back of your head, you'll get the fringe haircut men request the most.
Flow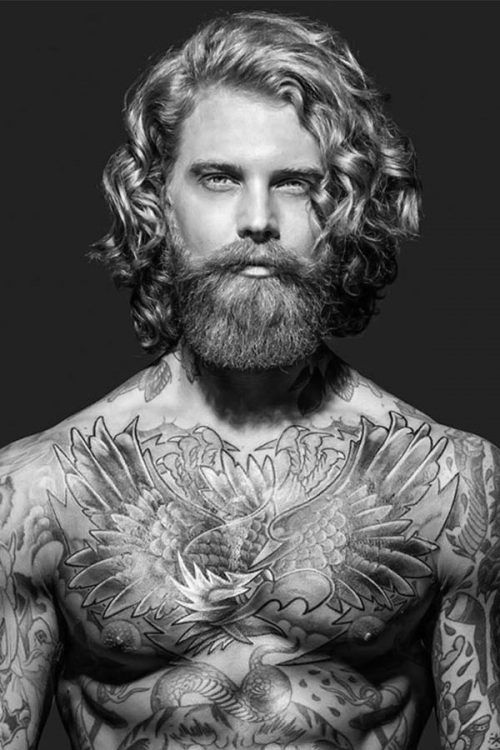 Source: @spizoiky via Instagram
The flow hair would be highly appreciated by those men who don't mind having all the eyes glued to their seductive haircut. Create a good volume at the roots by brushing the locks against the grain. Don't use too much styling product. Just let your hair create natural soft waves.
Blowout
Source: @travbeachboy via Instagram
Looking for some daring hairstyles for medium hair? We bet you are. Why don't you try the blowout hair? The name is not a coincidence. Your task here is to copy the wind effect with your hair blowout. A powerful blow-dryer will definitely help you out. With this hairstyle, you can not only allure your crush but also blow out the brains of your haters at first sight.
Comb Over
Source: @sidsottungacademy via Instagram
A comb over haircut is absolutely timeless. It looks flattering at any age, from your first hair till the last one. Talking about the last one. In case, you, for some reason, have thinning hair, the comb-over hairstyle will be a real lifesaver. What's more, it doesn't require a lot of effort or skills. Just a bit of a styling gel and a comb.
Braided
Source: @barbersofbt45 via Instagram
Now, this hairstyle requires skills, time, practice and patience, but the man braid is a totally worth effort. For sure, all braided hairstyles look sophisticated, but braids for men are something absolutely over the edge. You are free to choose among all the possible braid styles – plaits, cornrows or even dreadlocks. You won't make a poor shot.
Undercut Pompadour
Source: @hayden_cassidy via Instagram
One of the best medium length hairstyles is undoubtedly a pompadour. This timeless haircut fits perfectly into a modern day fashion when adding to the sides an undercut bald fade and a hard part haircut for more definition.
Curly Bro Flow
Source: @spizoiky via Instagram
If you're looking for medium length hairstyles for men with curly locks, look no further. A brow flow allows you to show off your defined hair texture while keeping the whole look breezy.
Mohawk as a Medium Lenght Hairstyles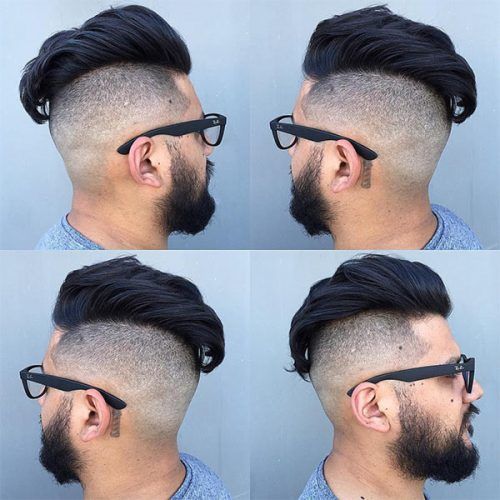 Source: @fernthebarber via Instagram
If you want to showcase your rebellious temper, there are no better mens medium length hairstyles than a mohawk haircut. You have to show your patience though if you want to rock a true mohawk. Go for a cut only when you've grown a sufficient length.
Textured Hair On Top
Source: @ryancullenhair via Instagram
Medium length mens hairstyles are perfect for experimenting with cuts and styles. With such a length, it won't take you much effort to pull off a unique and intricate hairstyle. Pair, for example, an undercut with a hard part fade on the sides and a textured hair men style on top.
Tapered Pompadour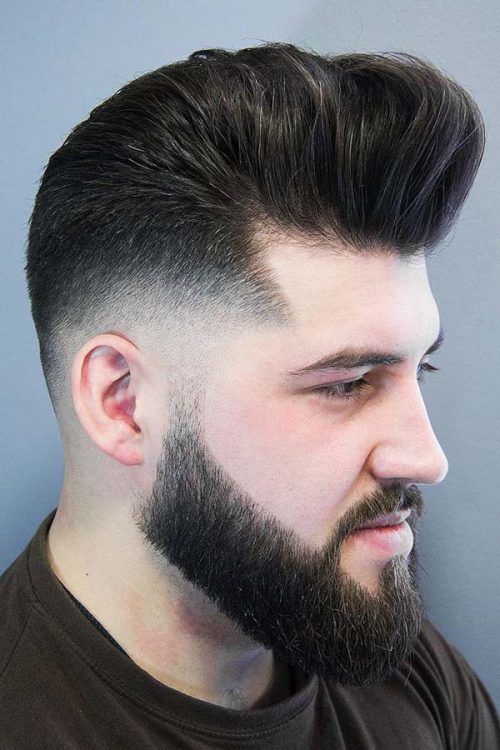 Source: @meha_barber via Instagram
We've already mentioned that this timeless medium length hair style can be adjusted to contemporary fashion by employing different cuts. For a less harsh yet defined look, go for a taper haircut on the sides and a blended line-up around the forehead.
Tapered Side Part
Source: @alexthegreatvivar via Instagram
For those gents who prefer more classic men's medium hairstyles, a side part haircut is a perfect choice. To enhance it with a bit more of style, add a low taper fade to the sides and a high side part.
Longer Thick Hair Blown Dry
Source: @alexthegreatvivar via Instagram
If you have thick thatch, you don't have to think hard on suitable haircuts for medium hair because basically any medium hair cut will do. Besides, styling can be as low key as you want. Simply blow drying your locks after washing them will give you an ample and glorious hairstyle look.
Medium Slick Back With Beard
Source: @hailwormatron via Instagram
Another staple of classic and elegant hairstyles for medium length hair is slicked back hair. For an edgier look, go for a short sides long top hairstyle, which will help create more definition atop despite the hair being slicked back.
Brushed Up Hair
Source: @egobarbers via Instagram
If you go with one of the medium hairstyles for men, it's always better to have the sides short while leaving the top longer. In this way, your hairstyle looks bold yet neat. A low fade is a great accompaniment for a brushed up cape of hair.
Textured Pomp Hairstyle
Source: @egobarbers via Instagram
And back to the pomp again. You'll be pleased to know that by emphasizing your hair texture, this legendary mid length hair style gains relaxed and carefree vibes.
Punky Medium Length With Hair Design
Source: @shrunknheads via Instagram
It is time to embrace your inner punk. And there is arguably no better way to do it than by means of a stylish haircut. Get the sides trimmed and leave enough hair on the top of the head so that it shapes up a faux hawk. To give your hairstyle an intricate twist, adorn the sides with elaborate hair design.
Hard Part
Source: @nickthebarber via Instagram
You do not have to go for overly sophisticated medium length hairstyles if you do not want to. However, you still can give your look some definition and edge by simply garnishing it with a hard part. This subtle yet essential element will allow you to style the rest of your hair in any way you like.
Messy Curly Top With Shaved Sides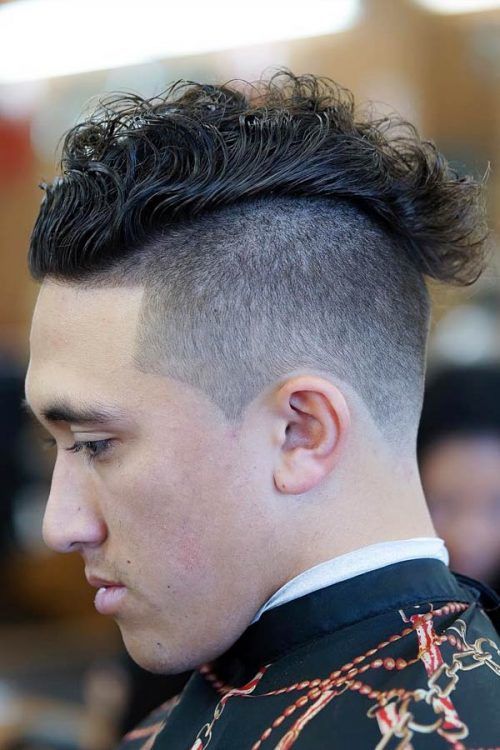 Source: @nickthebarber via Instagram
For men with curly locks, there is a myriad of trendy medium length hairstyles. Take, for instance, this messy curly top with shaved sides. Thanks to the high contrast this cut creates, it will not take you much effort to keep the focus on the prominent structure of your locks.
Men's medium length hairstyles can look extremely attractive and complimenting if handled with care. By care, we mean giving it special treatment and well-timed trim. If you remember these simple rules, the things will go easy for you, and your hairstyle will live its life to the fullest.