If you have mens hairstyles for thin hair, it does not mean that a shaved head or a buzz cut is your only hairstyle option. There are plenty of cool and trendy thin hairstyles to choose from. The range of options guarantees that everyone will be able to select a hair look that meets and exceeds their expectations. Do not take our word for granted? See for yourself in this inspirational guide.
*We may earn money from affiliate links on this page. Please check out our disclosure policy for more details.

The Best Mens Hairstyles For Thin Hair To Make It Look Thicker
There are many different causes of thinning hair types ranging from genetics to ecology. Trying to battle them in most cases equals fighting with your own shadow. Instead, find men hairstyles that not only mask your dispersed hair but also flatter your face shape, its features and your overall style.
How can I hide my thinning hair?
There are a lot of options actually. You can simply chop off your locks a little bit so that they become lighter, thus not looking weighed down. Also, if your hair has started to show the signs of aging, do not rush into dyeing it this instant. The trick is that grey hair adds volume to the cuticle of the hair by expending it. Moreover, you can make your mane look ampler by drying it with a hair dryer and a round brush. And do not neglect those special products for thinning hair. Volumizing shampoos and conditioners, texturizing mousses and hairsprays, as well as hair building fibers, will work wonders for your diminishing locks. Finally, you can turn to hair extensions, wigs, or even a hair transplant if the problem really bothers you.
Ryan Reynold's Quiff
A quiff is one of the most popular men's haircuts for thin hair. However, styling is the key to mastering this 'do. Don't place your quiff over the forehead! Style it a bit forward and up, like Ryan Reynolds haircut which will give a daring and upscale appearance.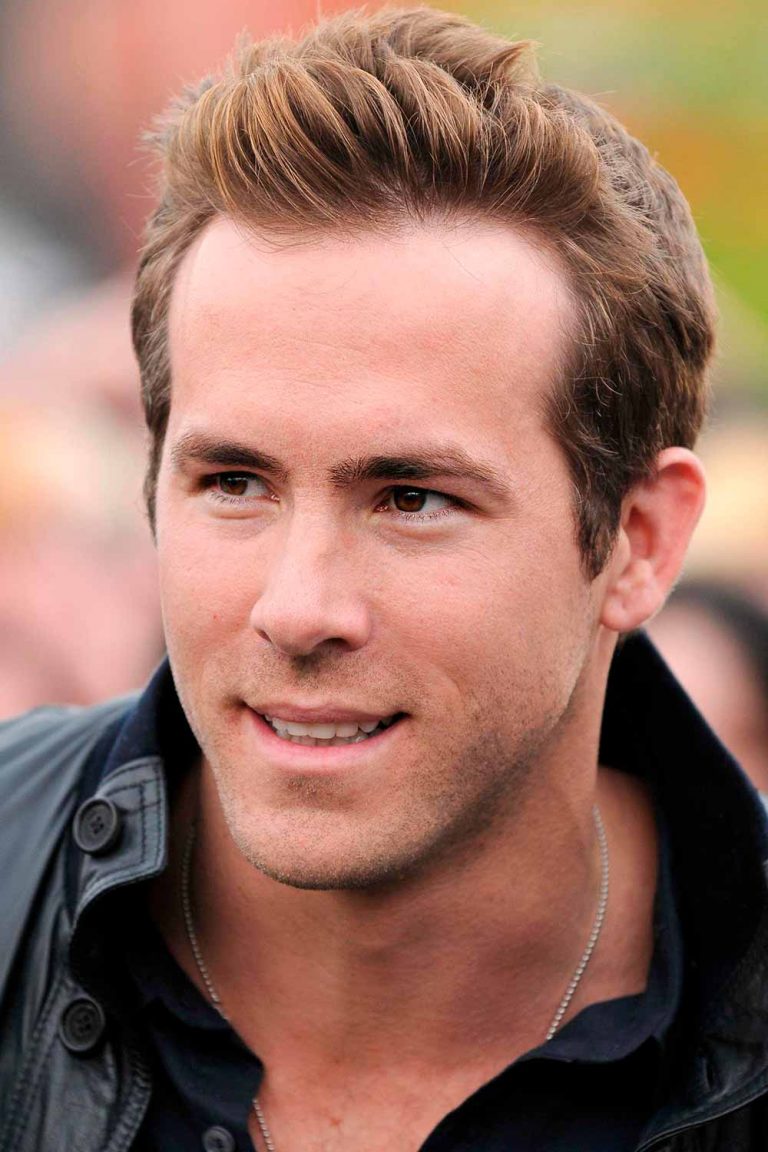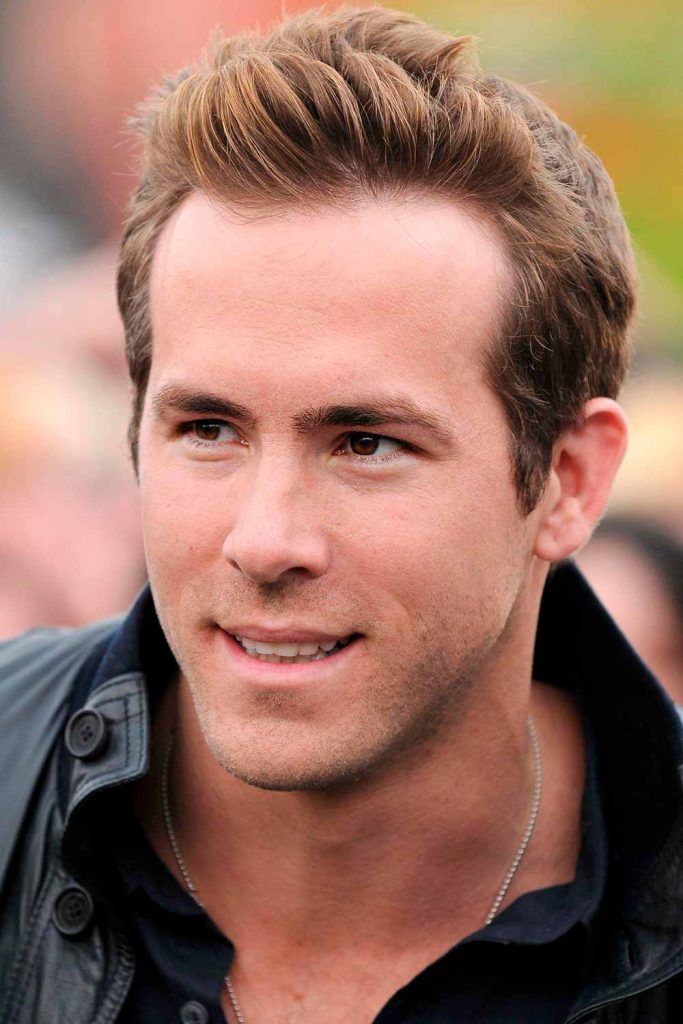 s_bukley/Shutterstock
Colin Farrell's Messy Spiky Top
Messy hairstyles for thin hair men are a must. Forget about sleeking and smoothing. The more spiky hair you have the less visible your thinning hairline is.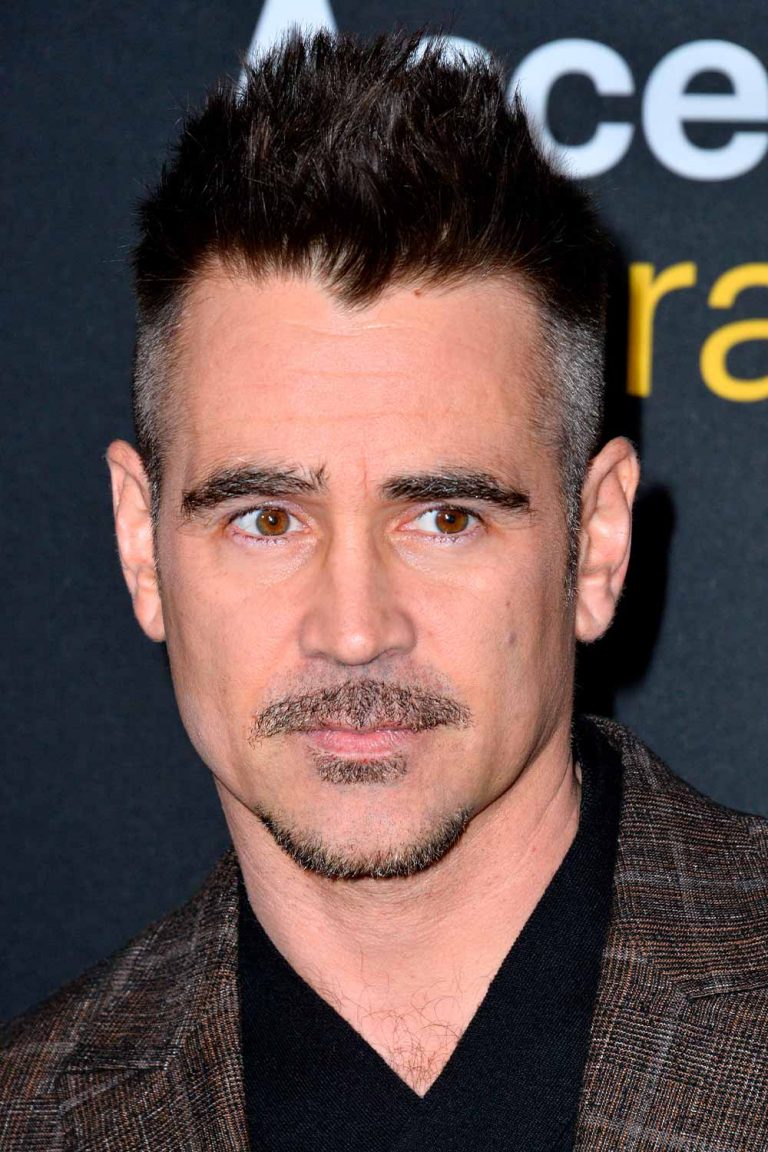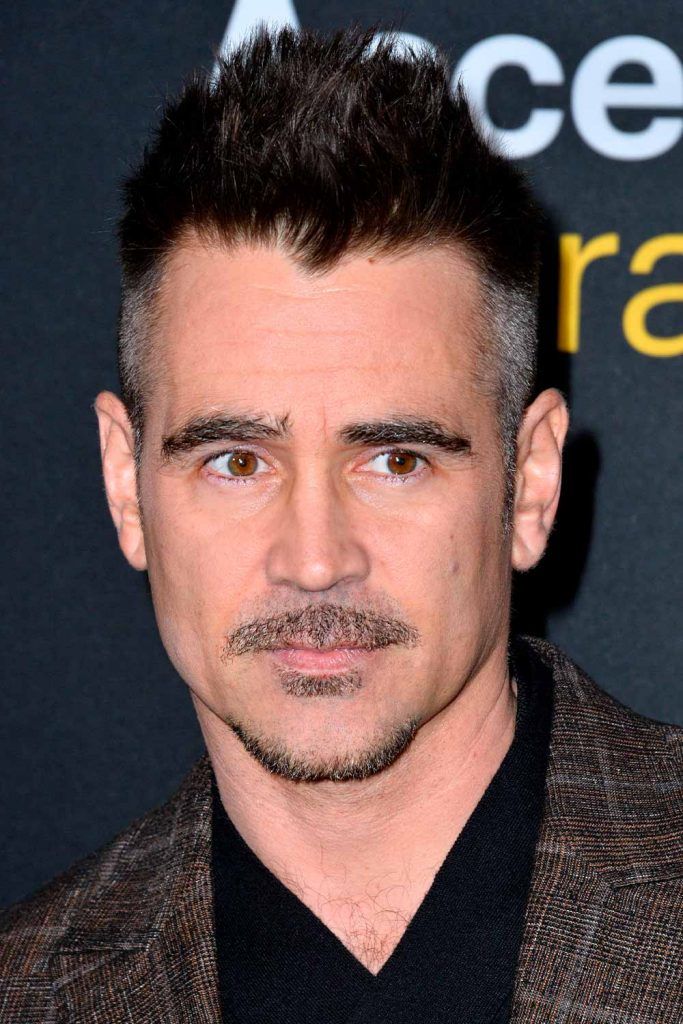 Featureflash Photo Agency/Shutterstock
Clean Taper Fade
When choosing the best haircuts for thin hair men can never go wrong with a taper fade. Thanks to the smooth transition from the longer top to the shorter hair on the sides, your haircut looks fuller and more dimensional. And if you blend the hair into the skin, you will get a clean and neat silhouette.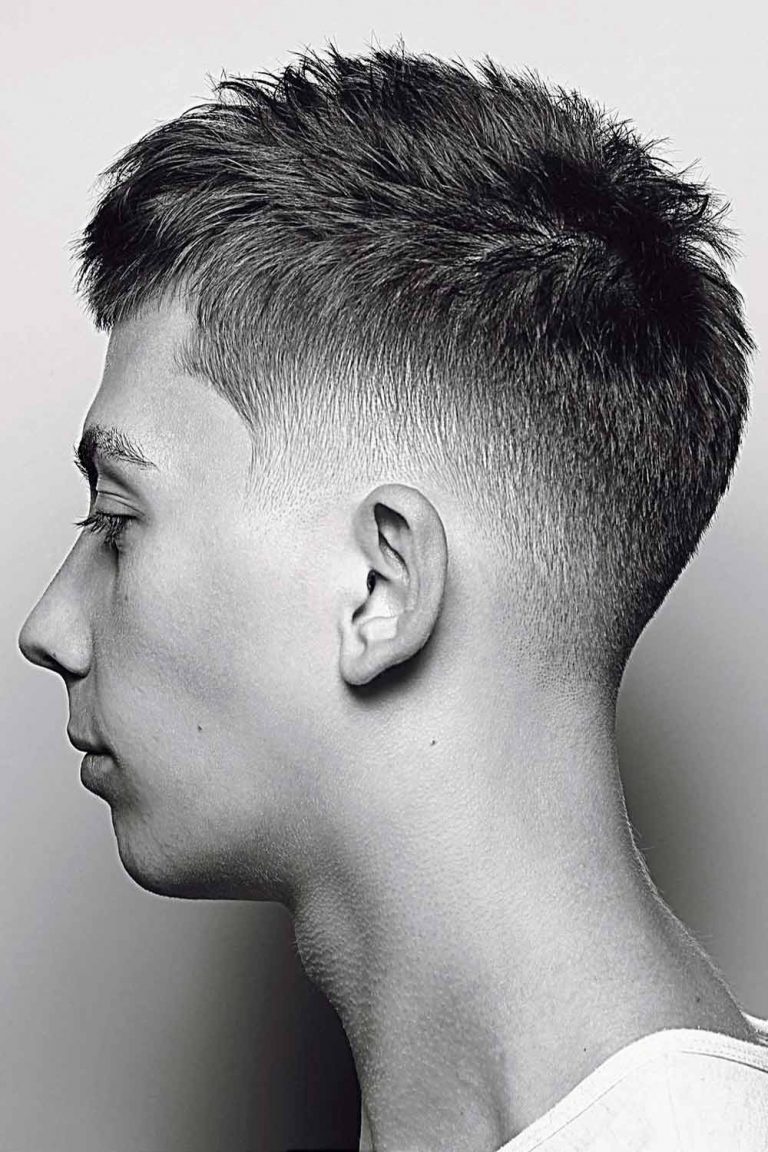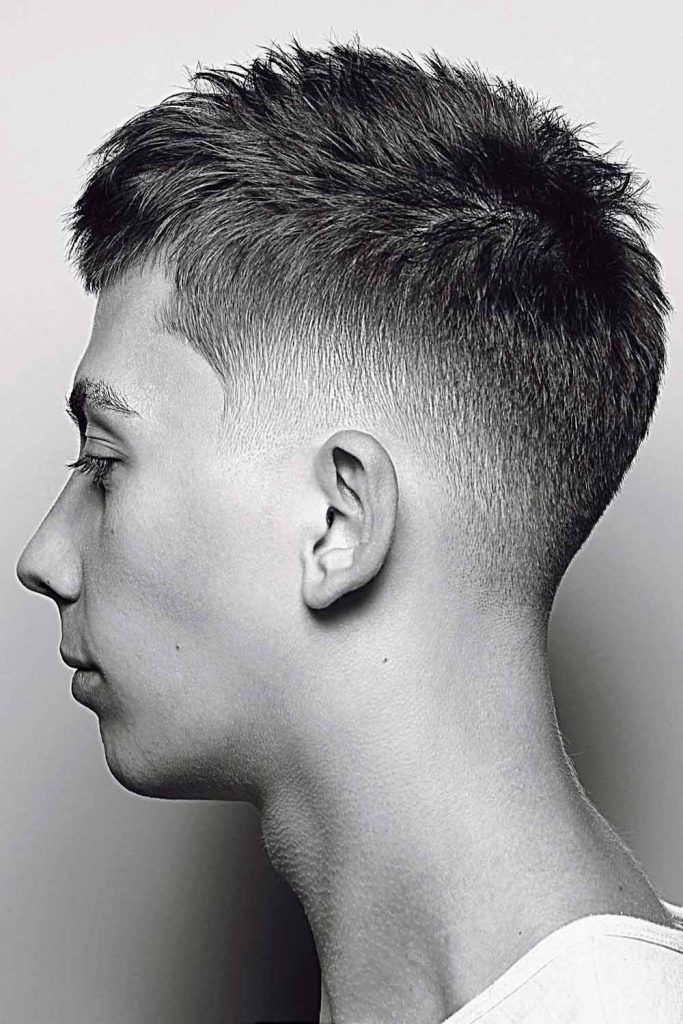 Source: @a.nizhnick via Instagram
Ryan Gosling's Side Part
Ryan Gosling haircut has become more mature as the actor himself. From boyish messy spikes to a classic La-La Land comb over. What a welcome change!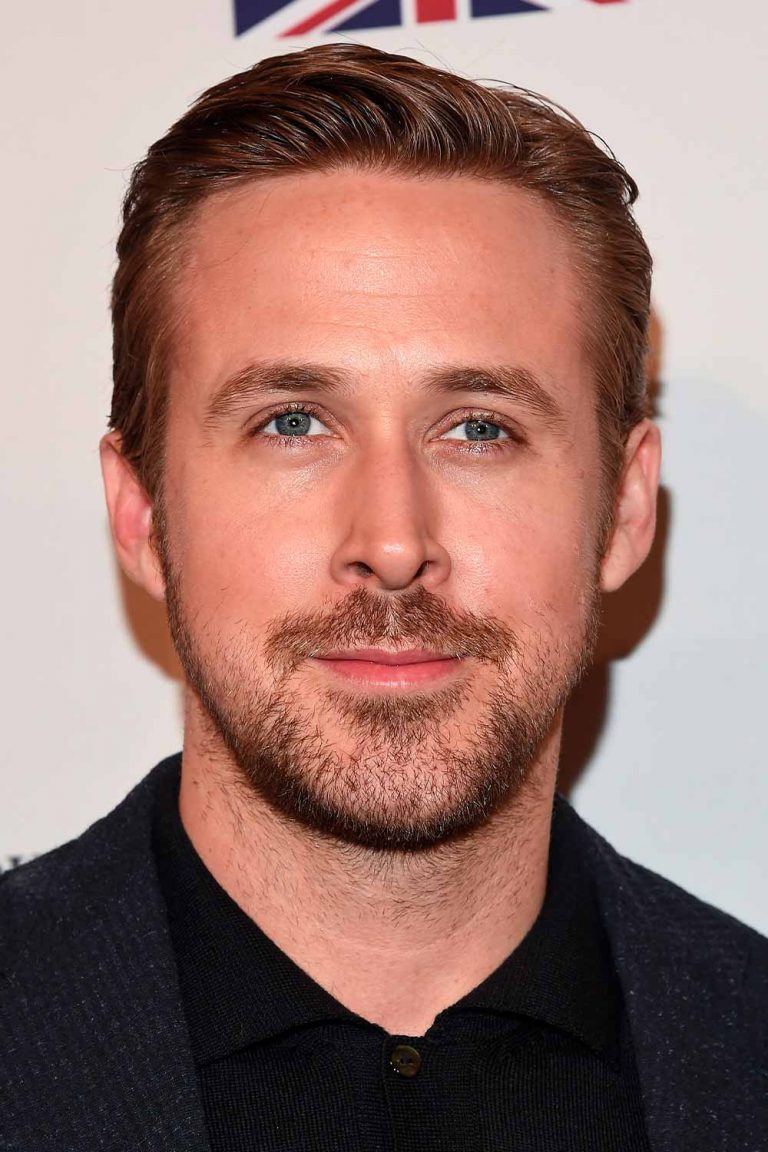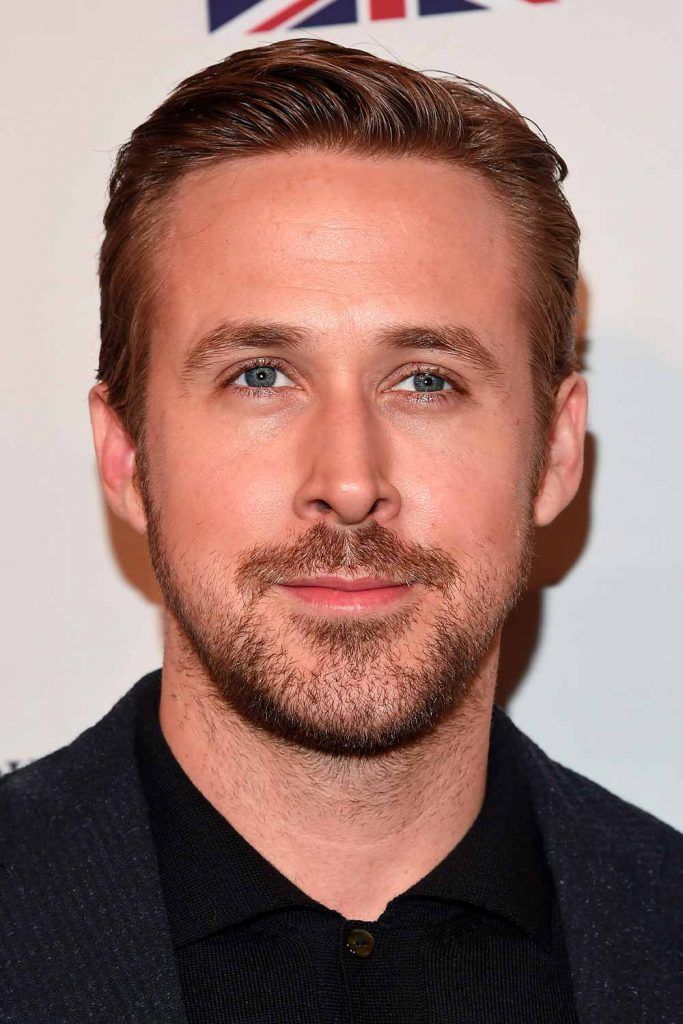 DFree/Shutterstock
Matt Damon's Messy Ivy League
You may speculate that we included Matt Damon in our list of hairstyles for men with thin hair too early or off-base at all. However, we can already trace the signs of thinning hair on his head. His all-time favorite Ivy League haircut is the one that deserves some credit for Matt's timeless look.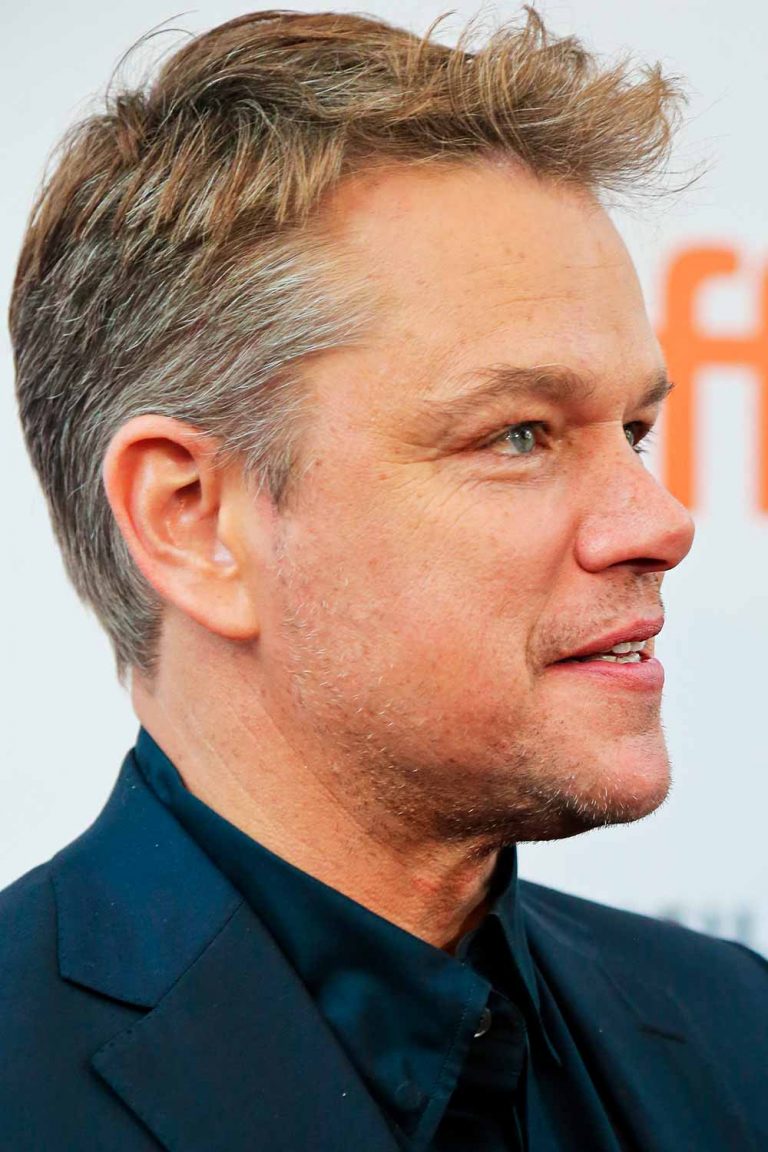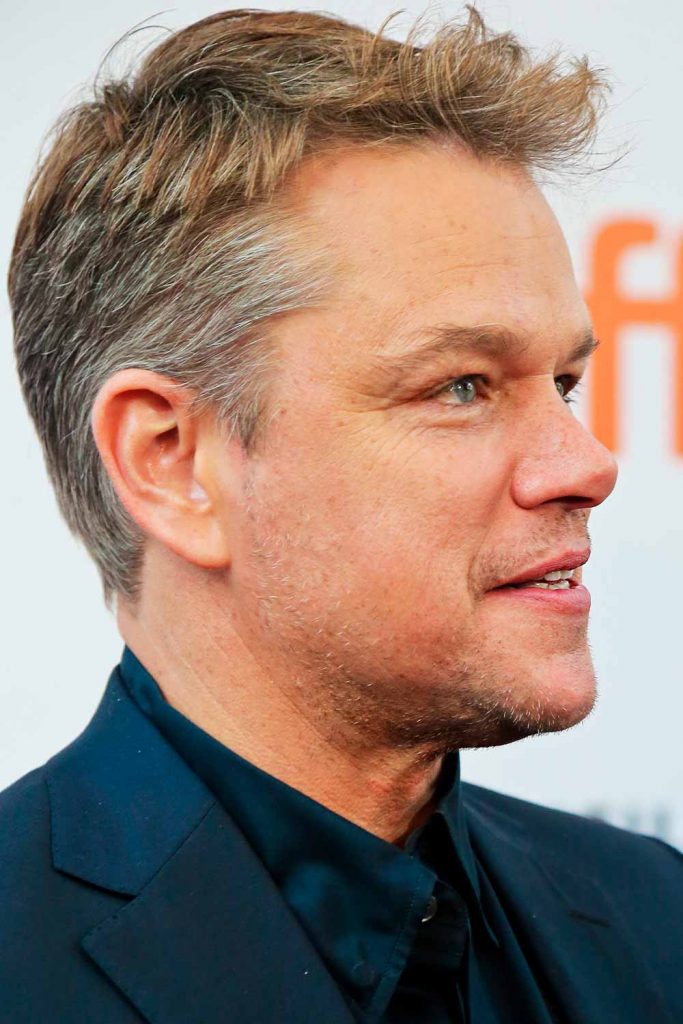 Debby Wong/Shutterstock
Tom Hiddleston's Wavy Slick Back
If you look at Tom Hiddleston, you may not realize at first that he is wearing one of mens haircuts for thin hair. His locks appear absolutely full and ample. The trick is that the actor prefers to style his wavy locks slicked back. Thanks to the pronounced hair texture, it creates an illusion of a full head of hair.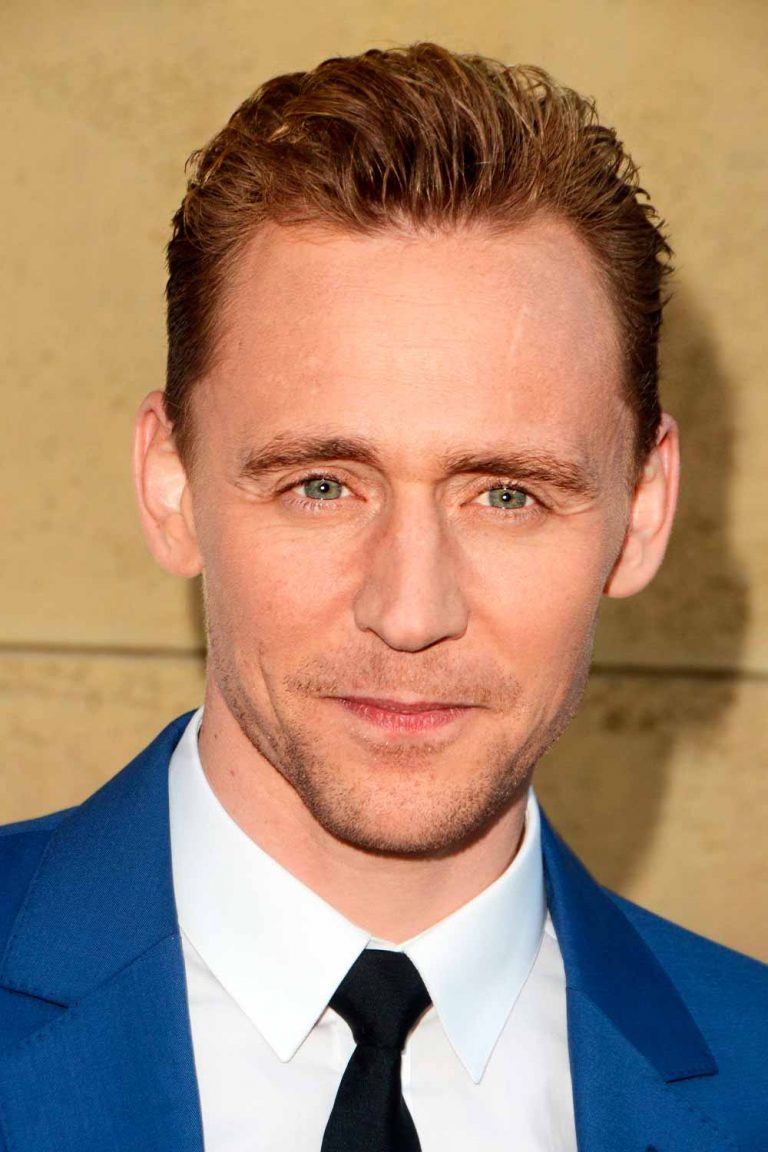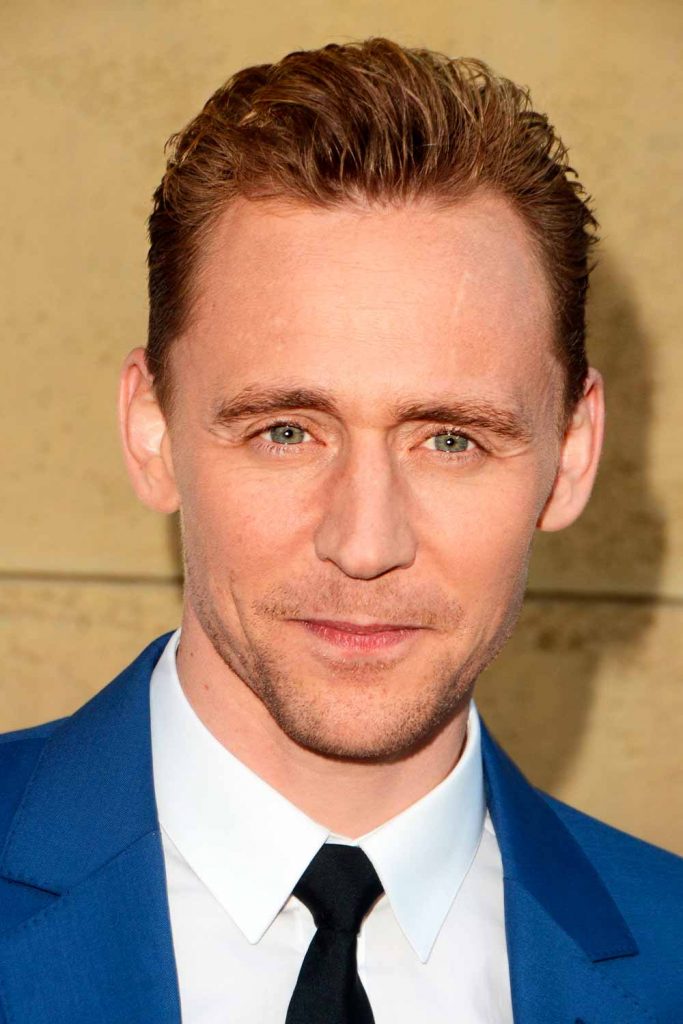 Kathy Hutchins/Shutterstock
Henry Cavill's Side Part Curls
Henry Cavill always looks his best from head to toe and his hairstyle is no exception. Yet, the actor actually has pretty thin hair. We bet you did not notice that, as his hairstyle does not give it away. Side parted curly hair comes out more defined and voluminous.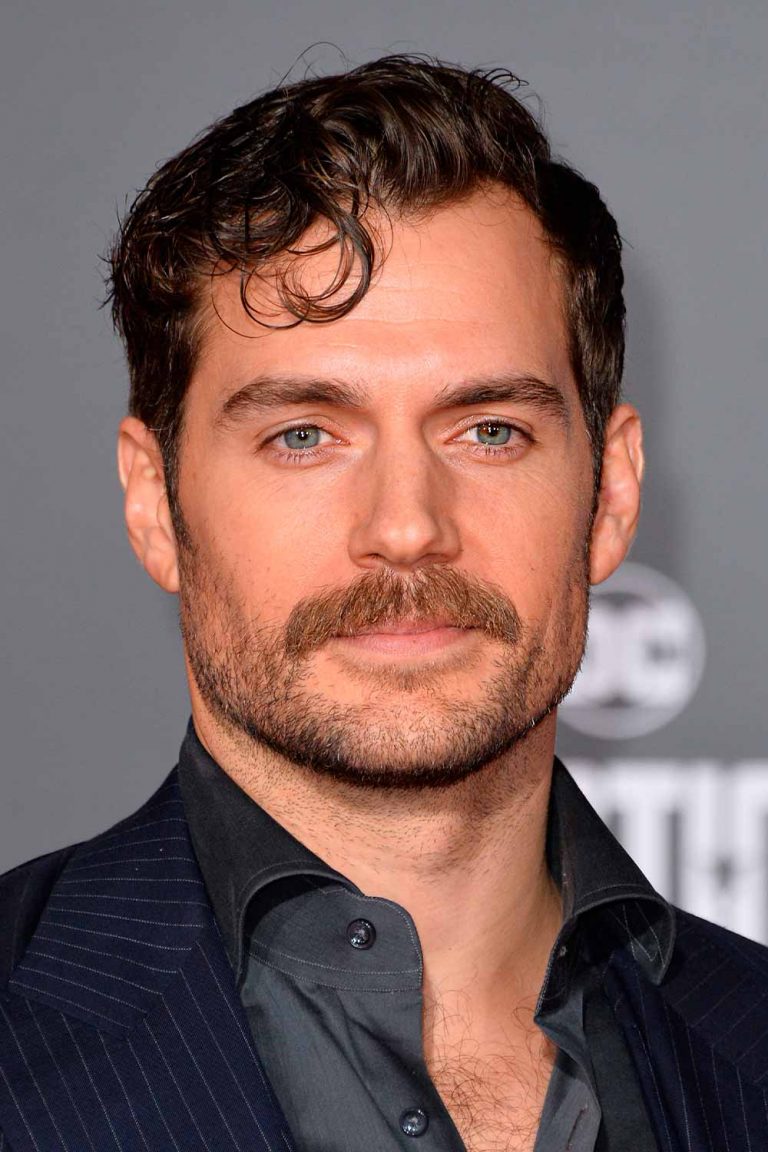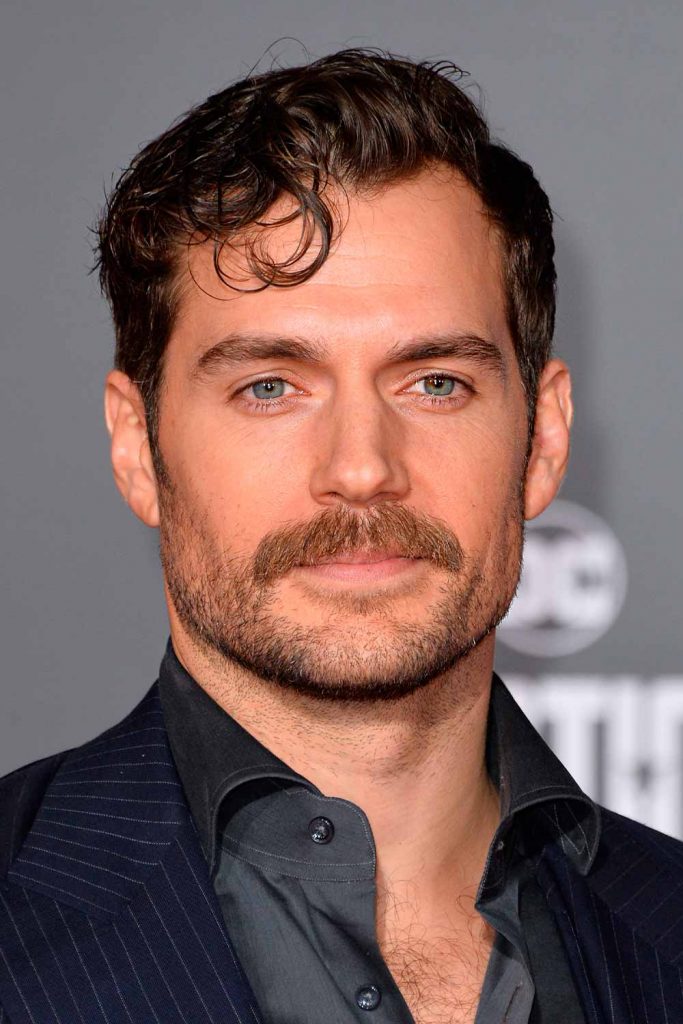 Featureflash Photo Agency/Shutterstock
Chace Crawford's Messy Hair
If in addition to a haircut for thinning hair men you are also looking for a way to disguise your gray hair, then Chace Crawford's messy hairstyle is your failsafe option. Thanks to a layered cut, it is much easier to create an impression of a full head of hair and draw attention away from silver strands when you style them messy.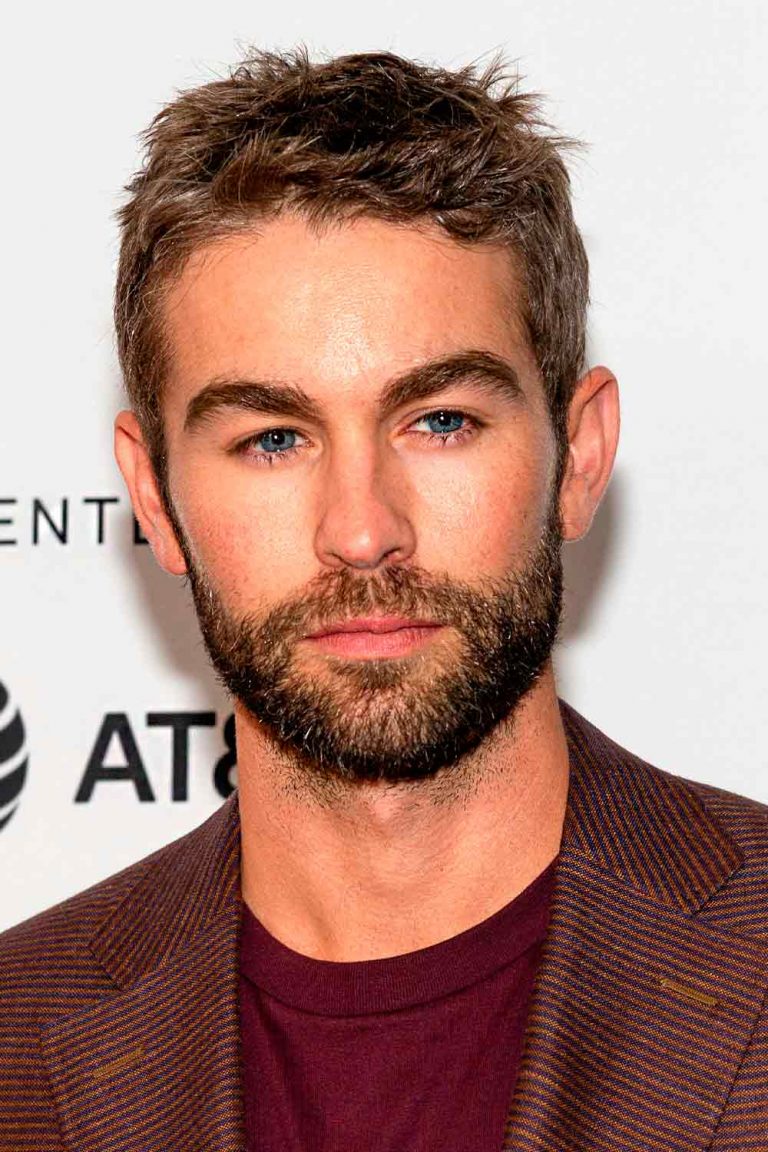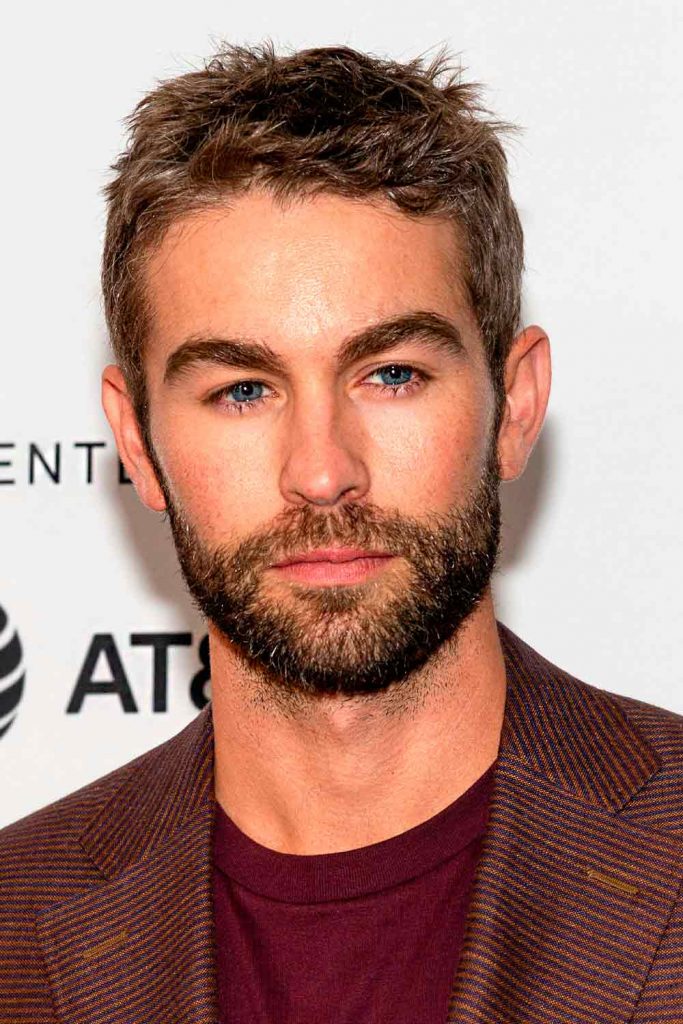 Ovidiu Hrubaru/Shutterstock
Ed Westwick's Fade
A fade is still one of the best hairstyles for thin hair men. Because it takes the hair off the sides, it becomes less noticeable that you have rather scarce locks. Plus, thanks to a striking difference in length, the hair on top seems thicker and denser. And this is exactly what fine hair men usually look for in a perfect haircut.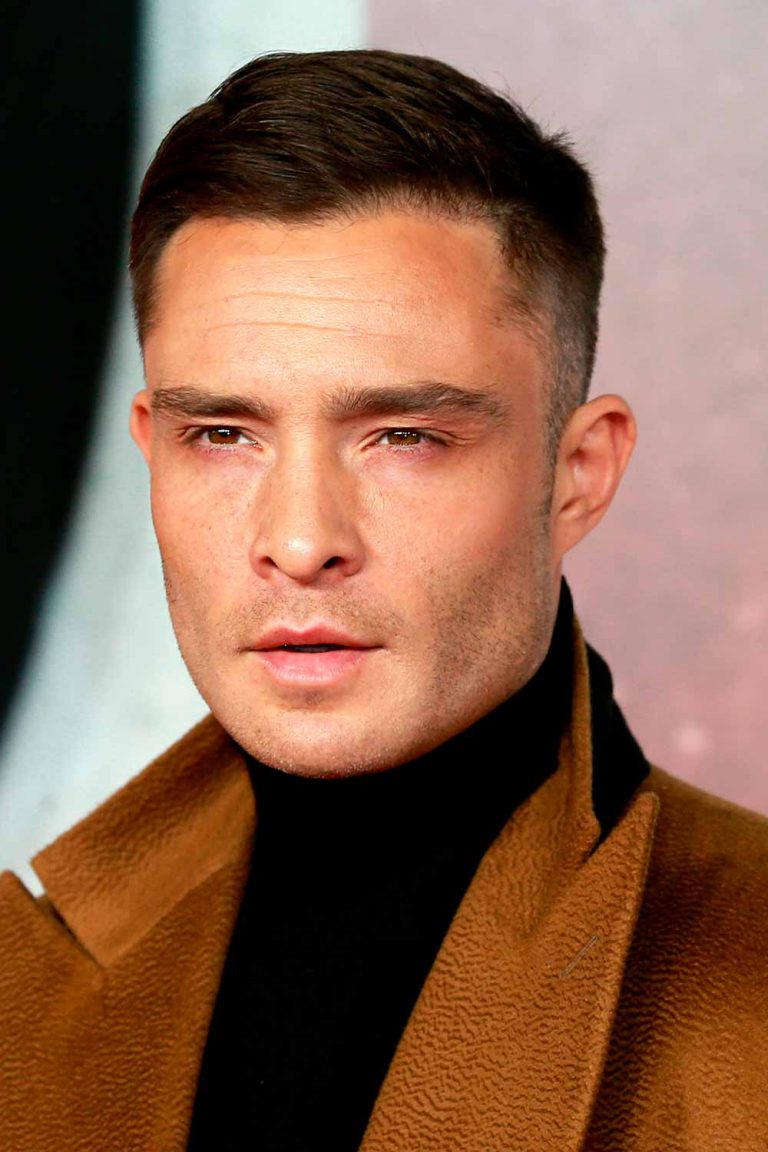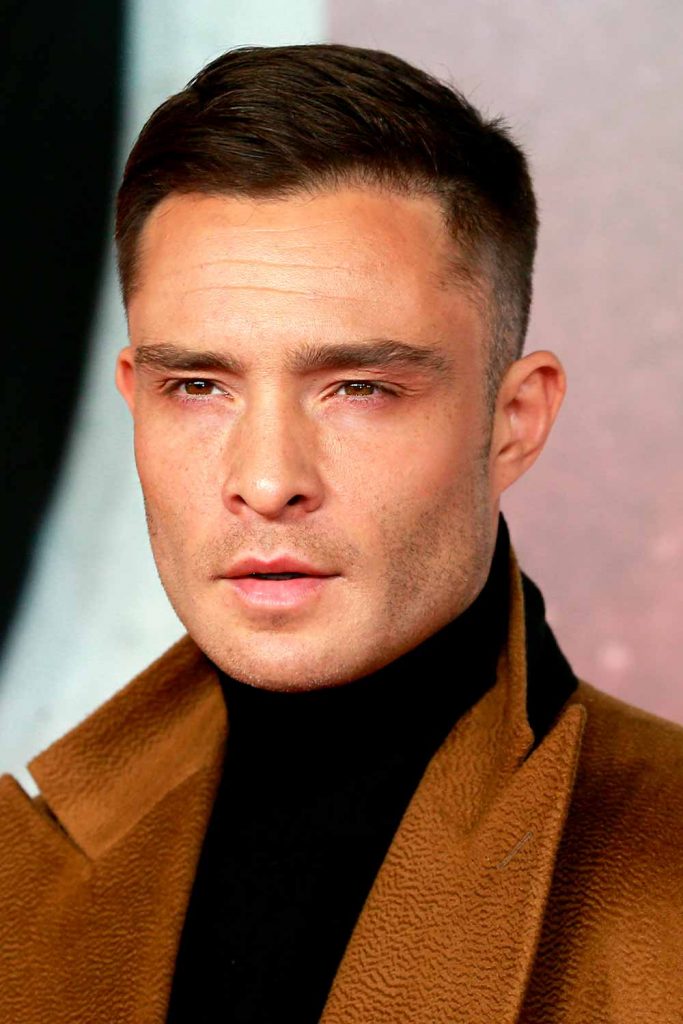 Cubankite/Shutterstock
Ed Sheeran's Layered Side Sweep
Ed Sheeran's haircut for thin hair mens is a great option for guys who do not like to spend much time styling their tresses in the morning. Layering does wonders for hairstyles for thinning hair men. Thus, you should not hesitate to get a layered cut and style it by swiping to the side, like Ed does.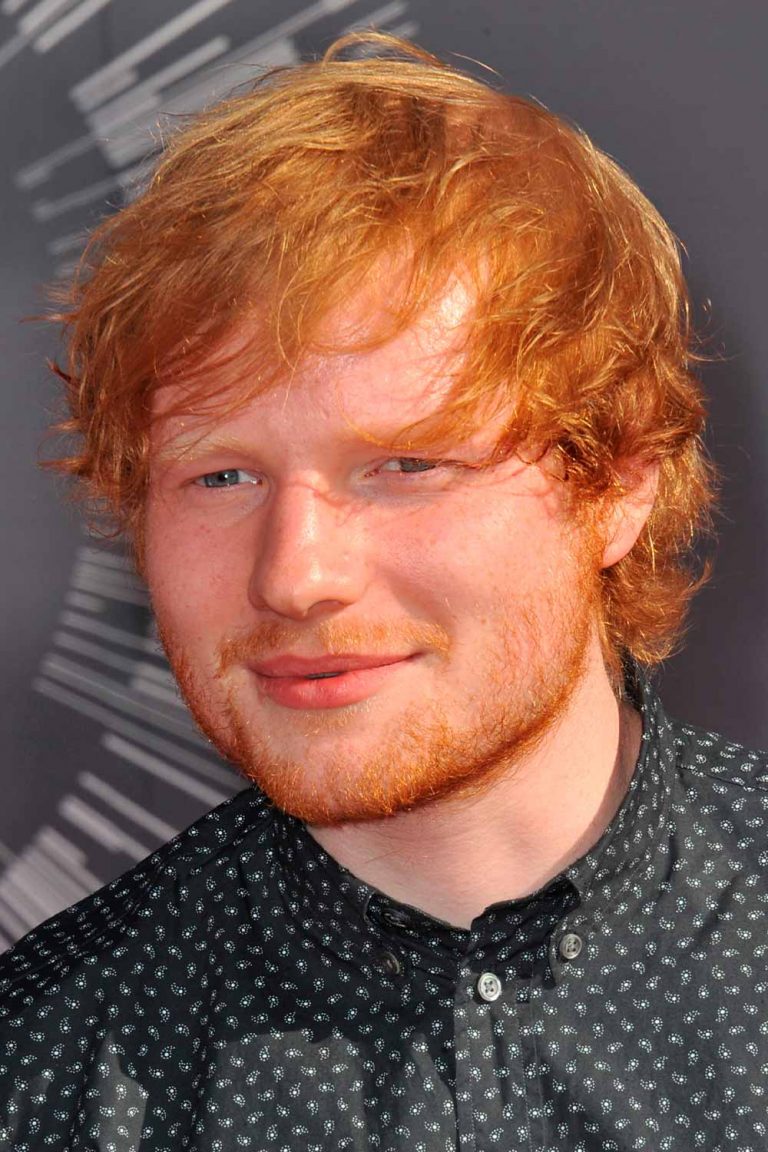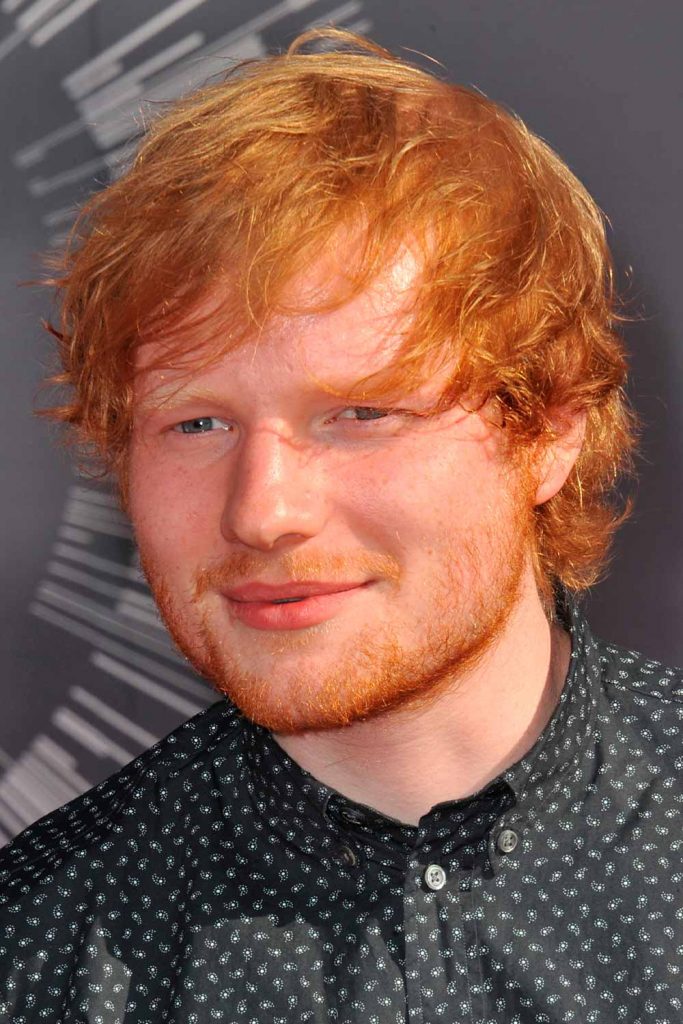 Jaguar PS/Shutterstock
Charlie Hunnam's Long Slick Back
There is arguably no hairstyle for Charlie Hunnam that he would not be able to pull off. Usually, to style their thin hair haircuts men opt for tousled and messy strands, which make an impression like you have a lion's mane. Though, the actor chooses a long slick back hairstyle and he cannot go wrong with it.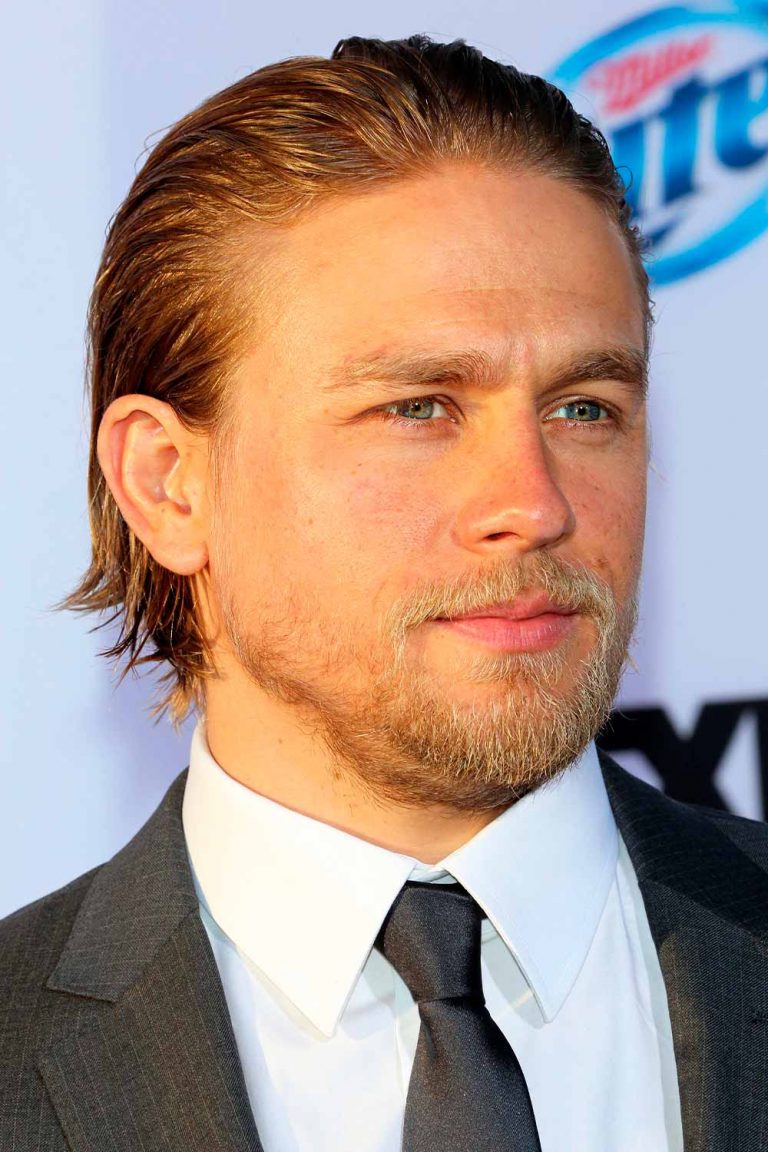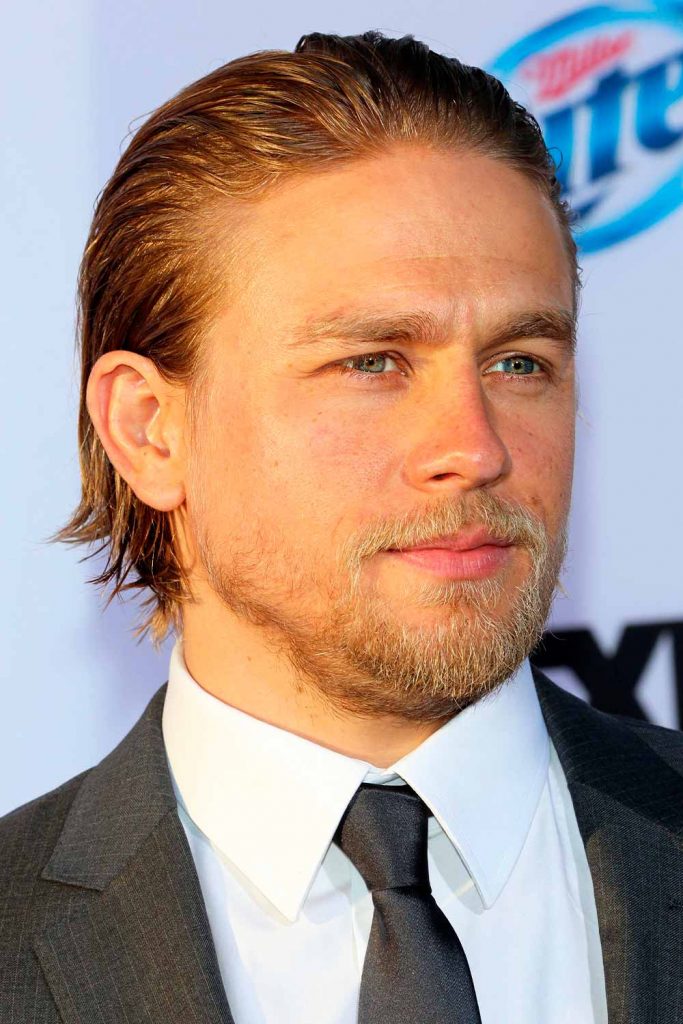 s_bukley/Shutterstock
Short Thin Curls
If you have curly but thin locks, do not go reckless with the clippers. Leave a bit of length on top so that the curl is shaped up. This will allow you to create an illusion of a fuller mane. Apply a blob of a hair mousse when styling your curls for an added volume.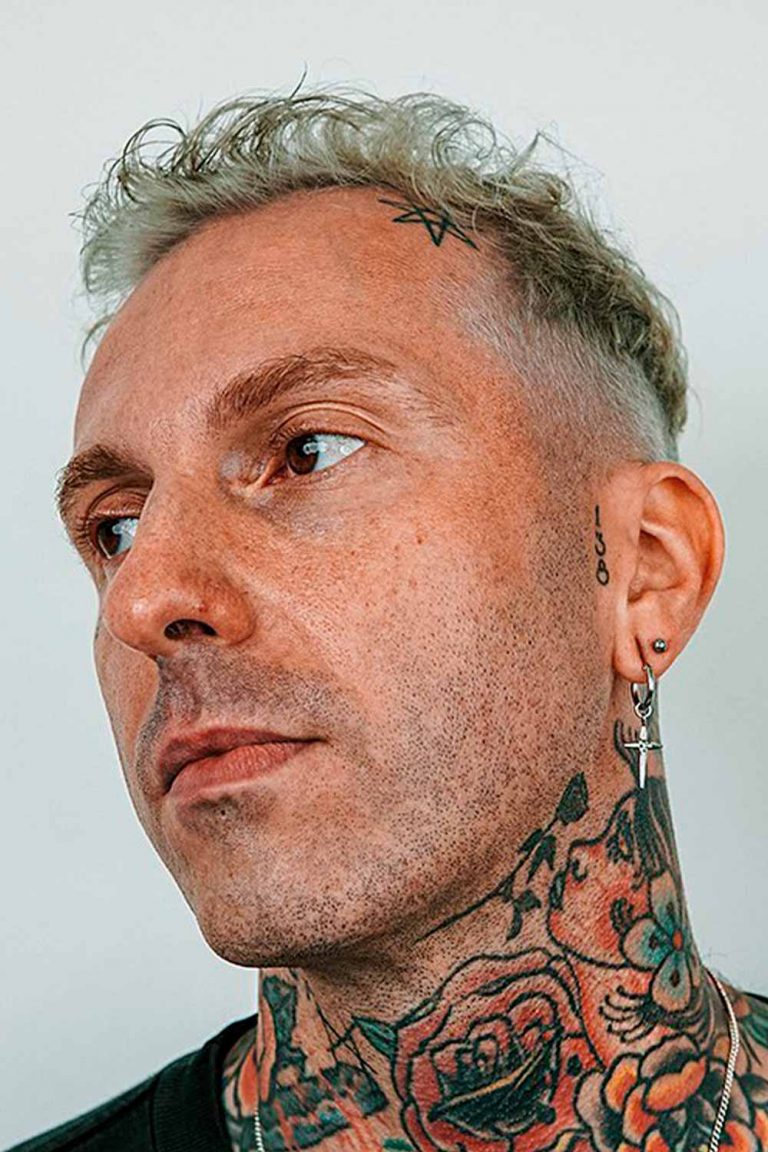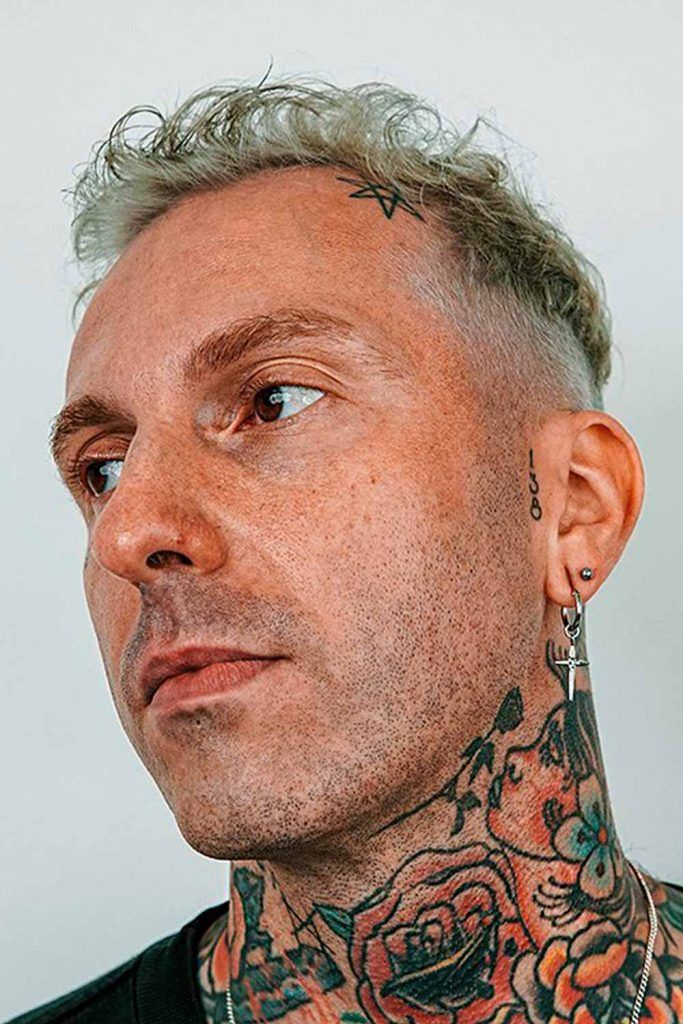 Source: @glassboxbarbershop via Instagram
David Beckham's Slicked Back Undercut
Believe it or not, but David Beckham hair has also undergone some aging changes. Though, the soccer legend doesn't seem to get upset about it and successfully sports the hippest haircut styles for men with thin hair.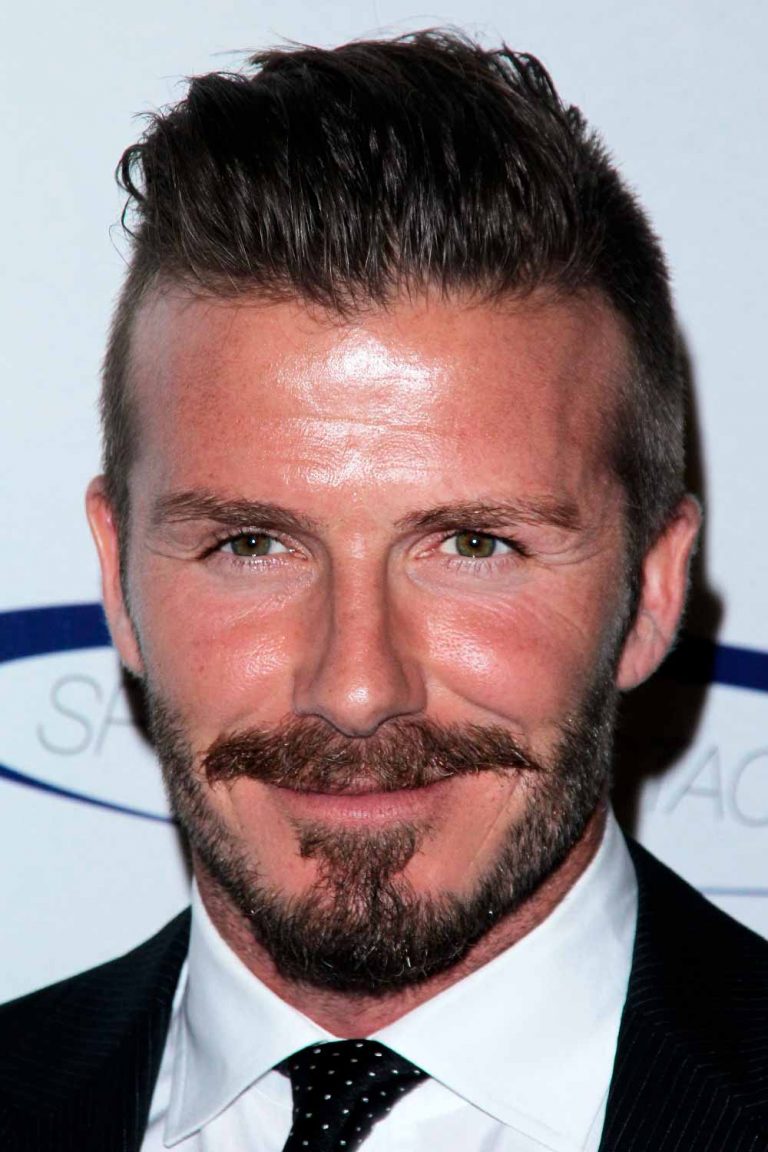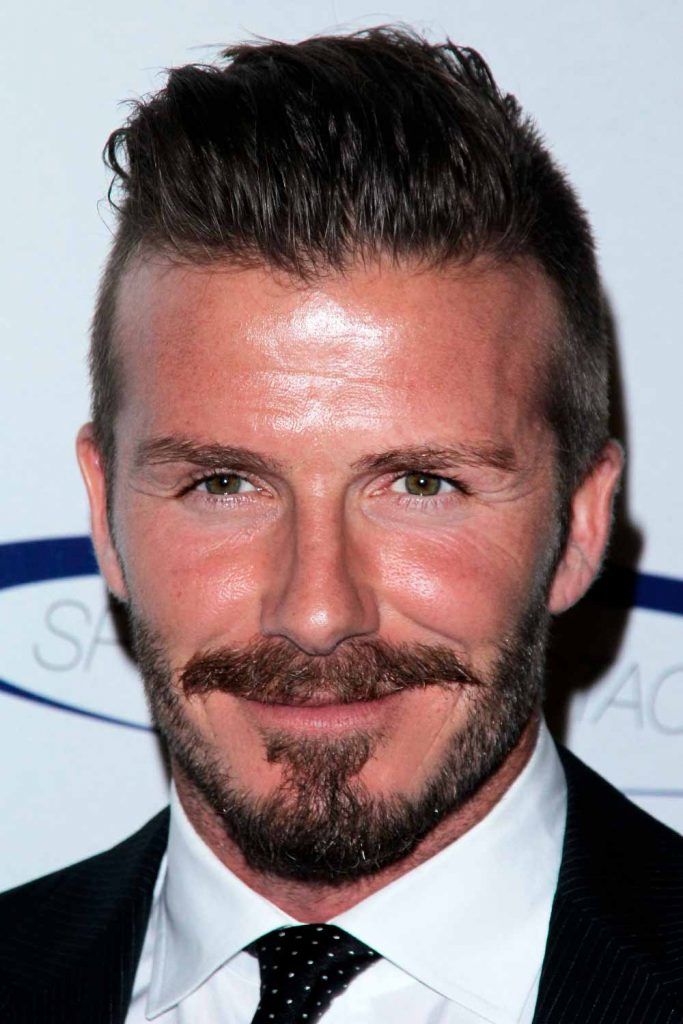 s_bukley/Shutterstock
Tom Hardy's Wet Spikes
Our list of hairstyles men with a bad hairline rock wouldn't be full without a bad boy Tom Hardy haircut. The fact that his hair is getting thinner has been noticed for quite a while now. However, it doesn't stop him from being one of the biggest heartthrobs of Hollywood.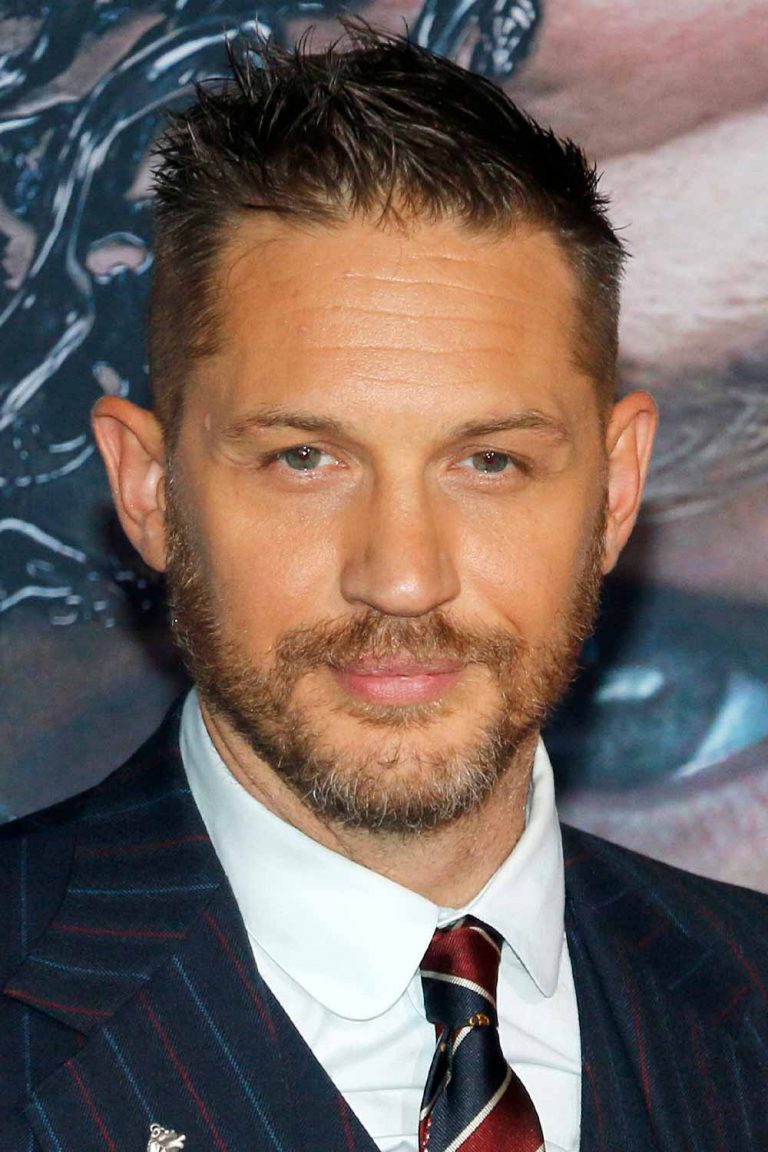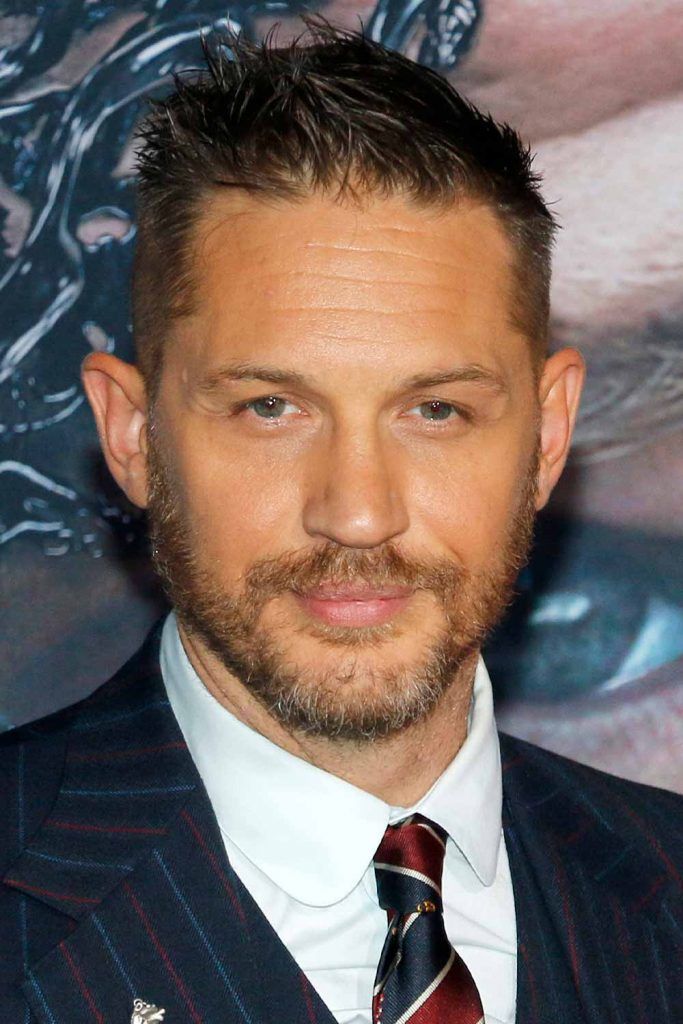 Tinseltown/Shutterstock
Side Part Fade
A fade is one of the best mens haircuts for thin hair. As it removes much hair from your sides and back, it allows you to disguise the fact that you were not particularly folically blessed. A side part will give your haircut definition.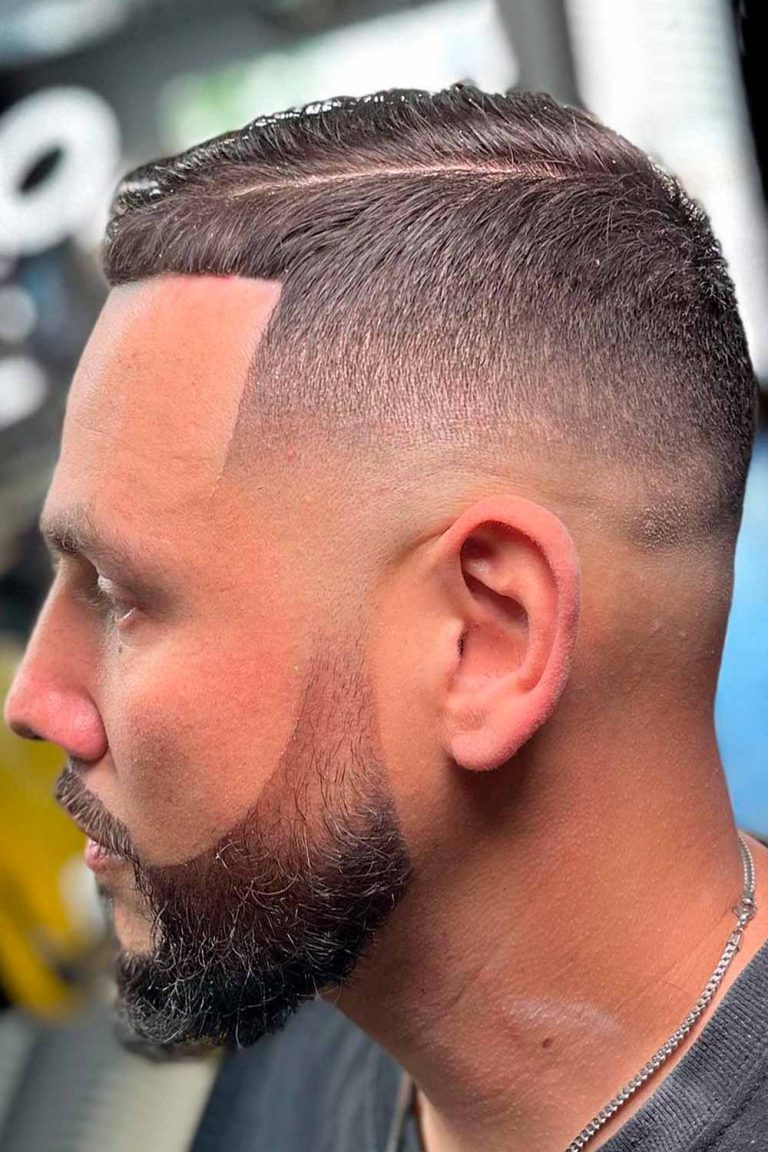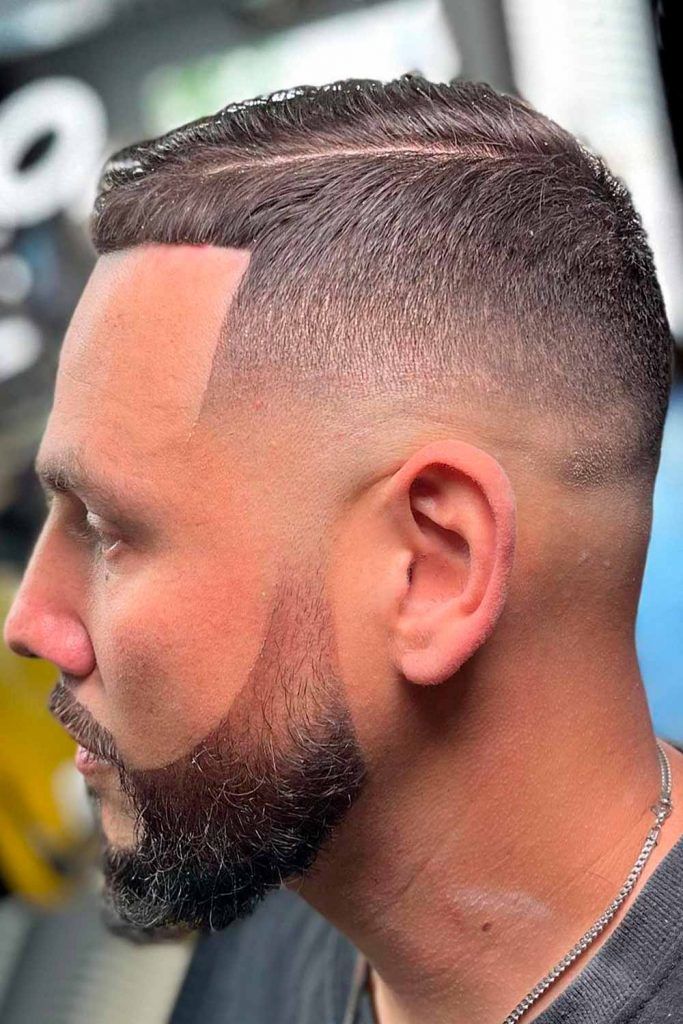 Source: @frankdabarber via Instagram
Caesar Haircut
The main feature of the Caesar haircut is a textured cut on top, which is why it is among the most popular short haircuts for men with thin hair. What is more, it is a great way to balance out your facial features if you have a prominent forehead or an elongated face.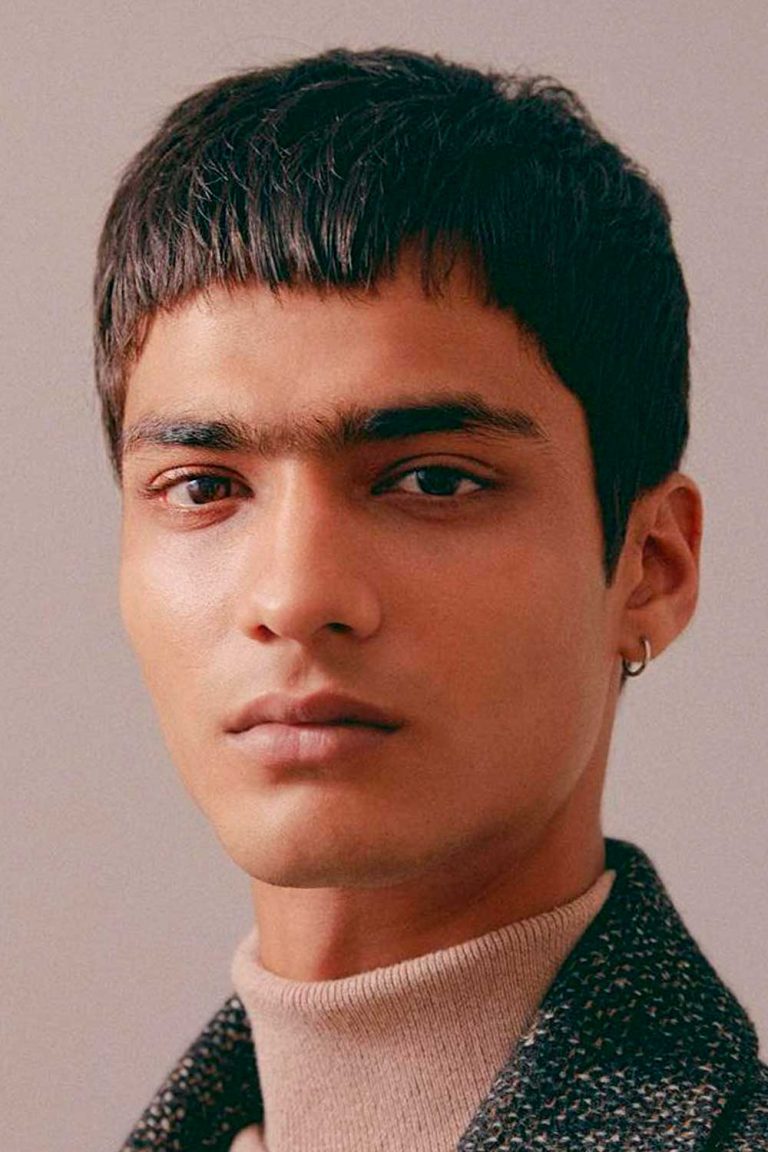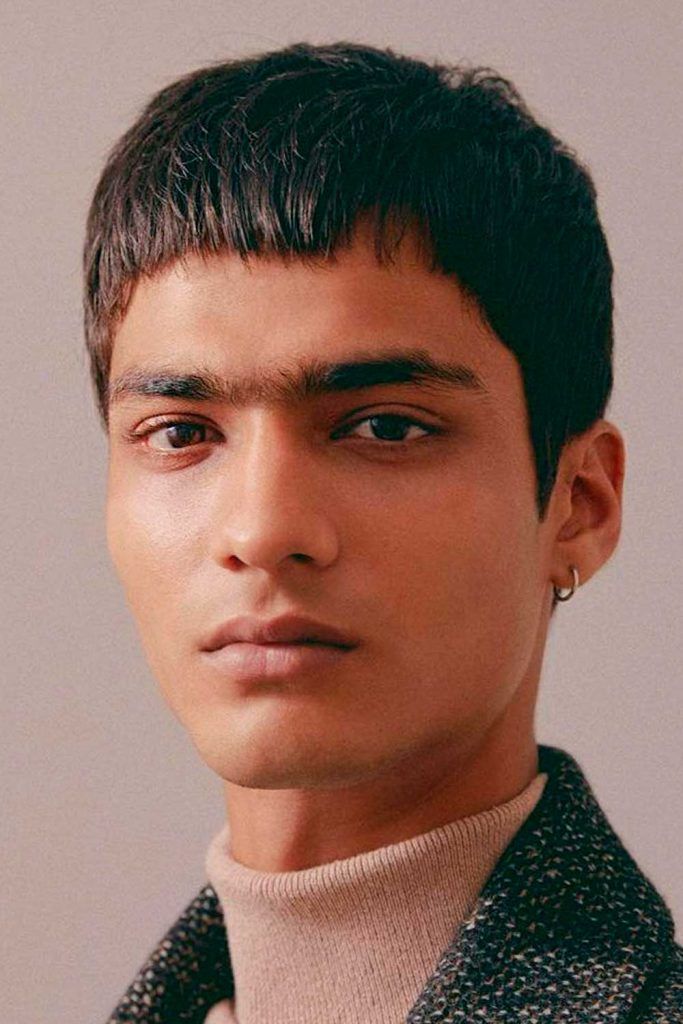 Source: @hayden_cassidy via Instagram
Dolph Lundgren's Side Swept
Even with all their possibilities and money, even though appearance is their calling card, celebrities also have thin hair and aren't afraid to reveal it. Dolph Lundgren knows how to sport his receding blonde locks so that they make him a real hunk. Messy and spiky haircuts for men with sparse hair are always a winning solution.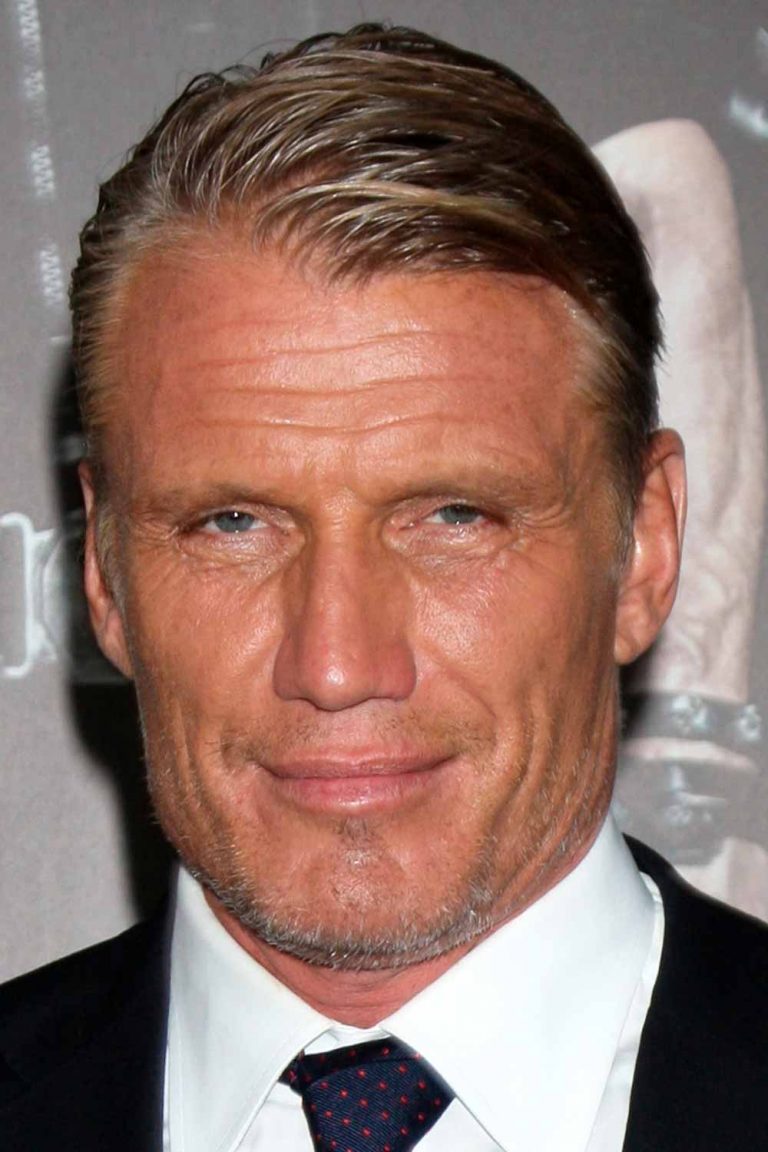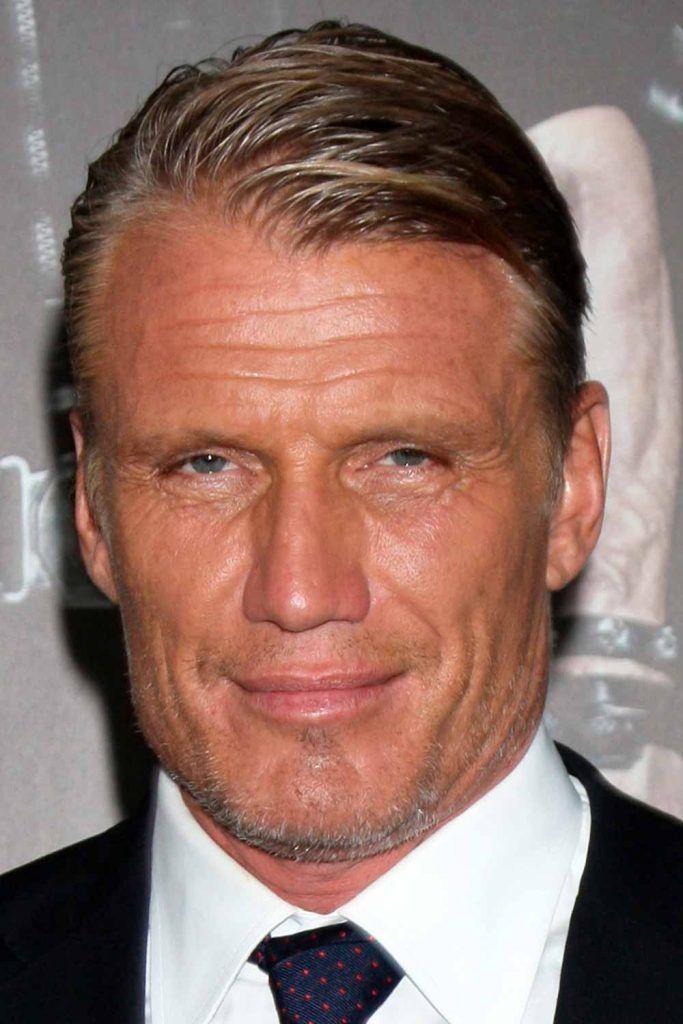 Kathy Hutchins/Shutterstock
High And Tight Haircut
A military take on the haircuts for thin hair is high and tight. With its extremely short sides and a smattering of hair on top, it creates the impression of a fuller head of hair.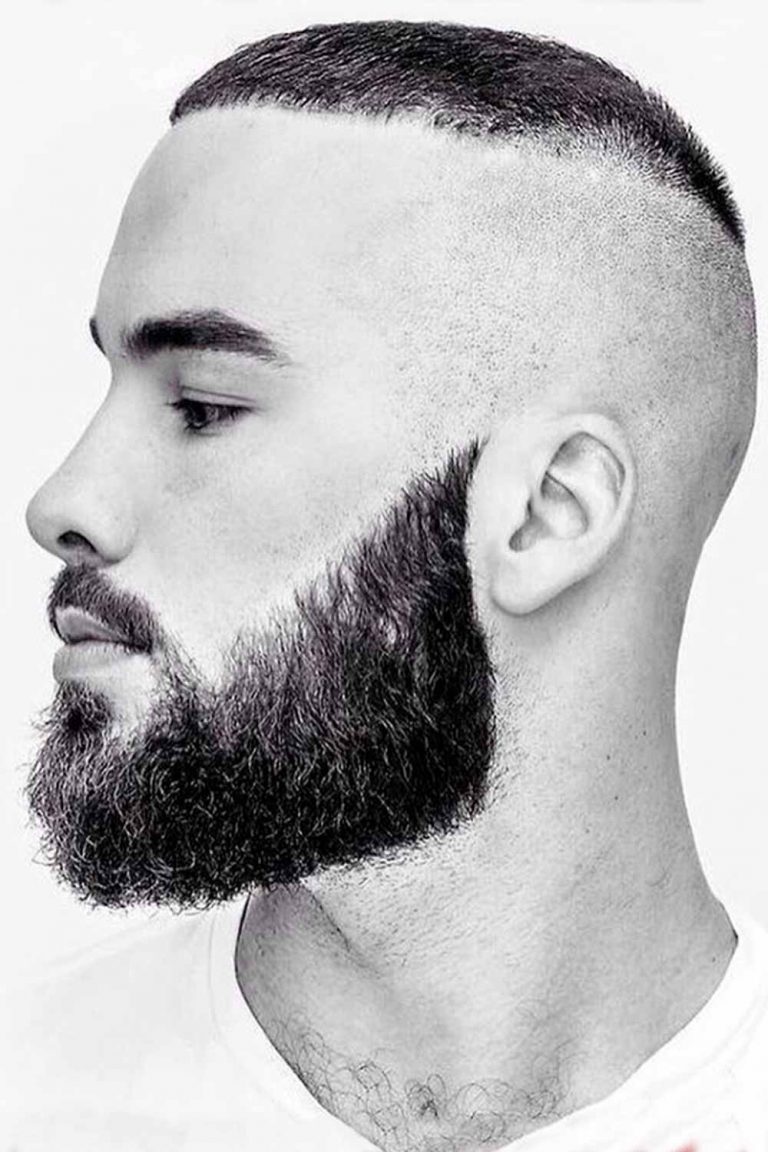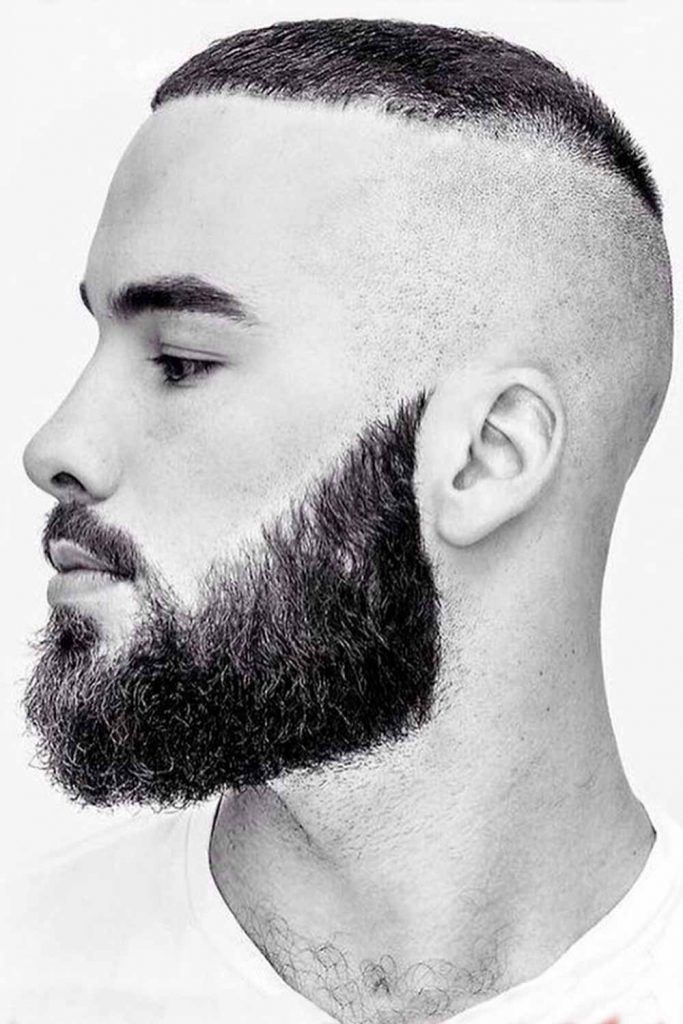 Source: @hairraribarber via Instagram
Ashton Kutcher's Side Swept
Ashton Kutcher makes sure his hair always looks camera ready with a side swept men thin haircut. It does not require much effort and time to style. Plus, it is easy to maintain. So if you prefer to deal with your hair in one simple step, this is your surefire way to go.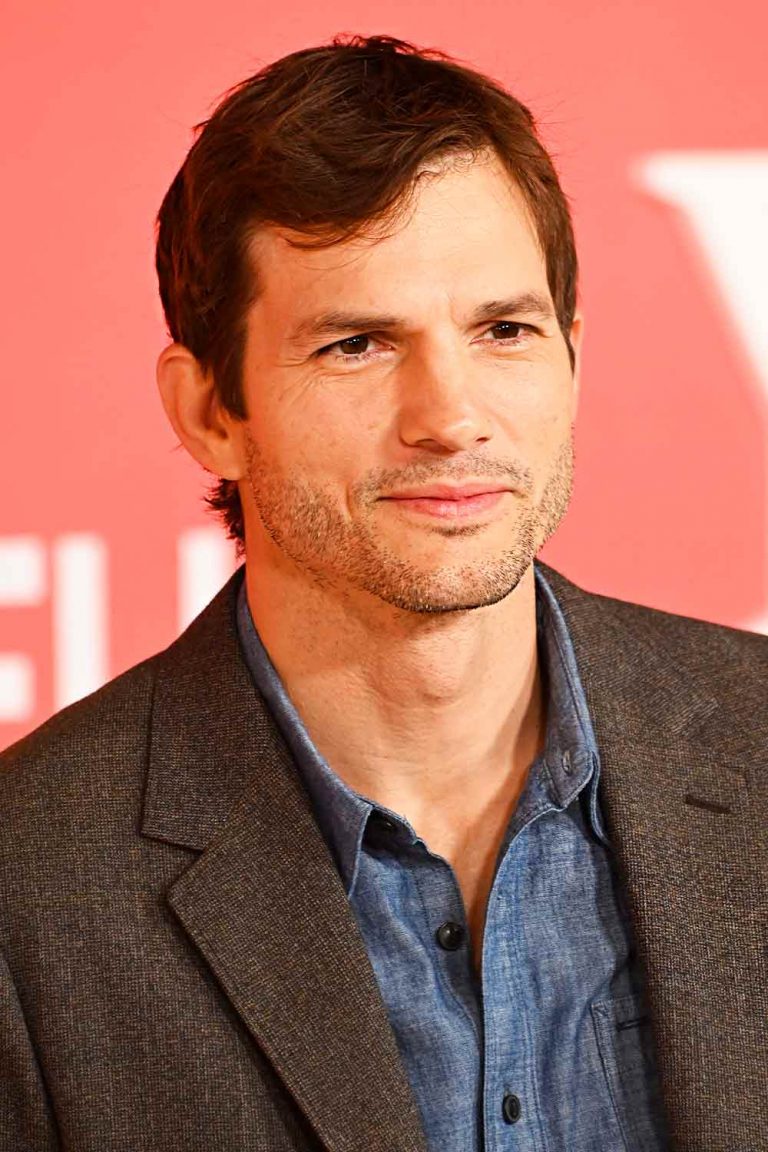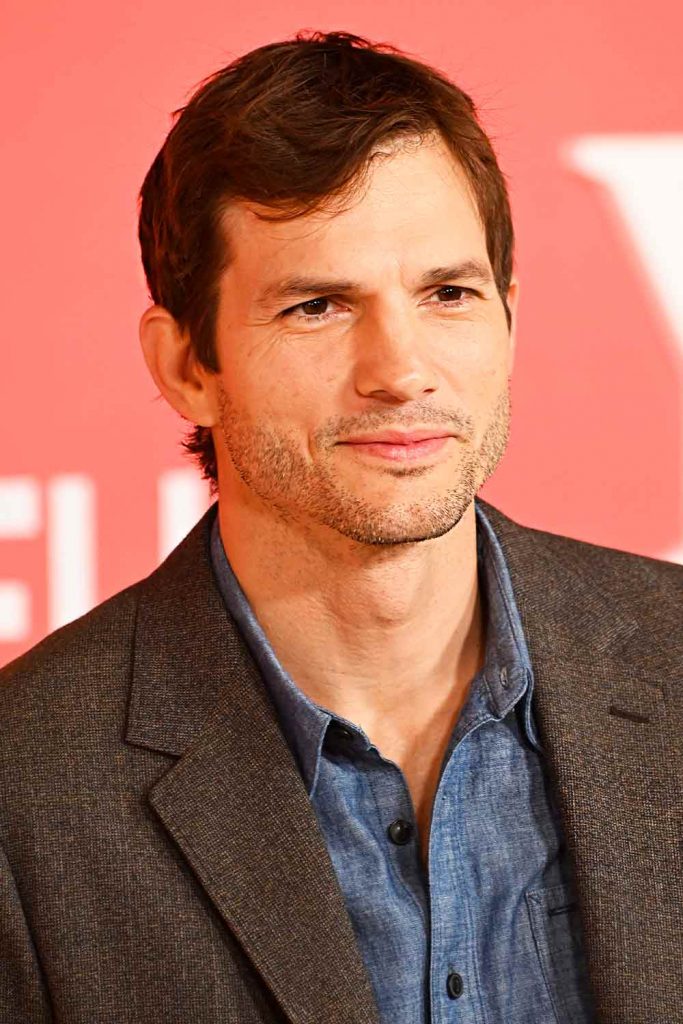 Featureflash Photo Agency/Shutterstock
Buzz Cut For Thin Hair Men
Another staple of short hairstyles for thin hair is a buzz cut. In addition to disguising your balding scalp, it offers you low maintenance and business-appropriacy.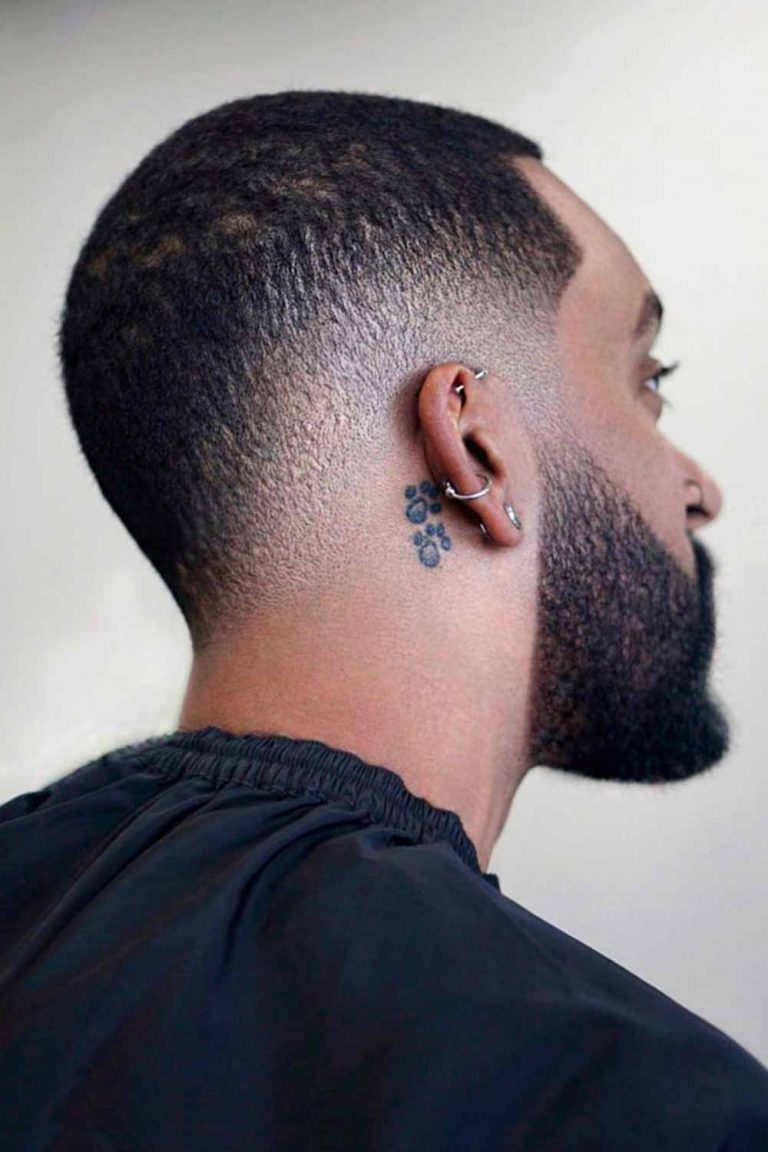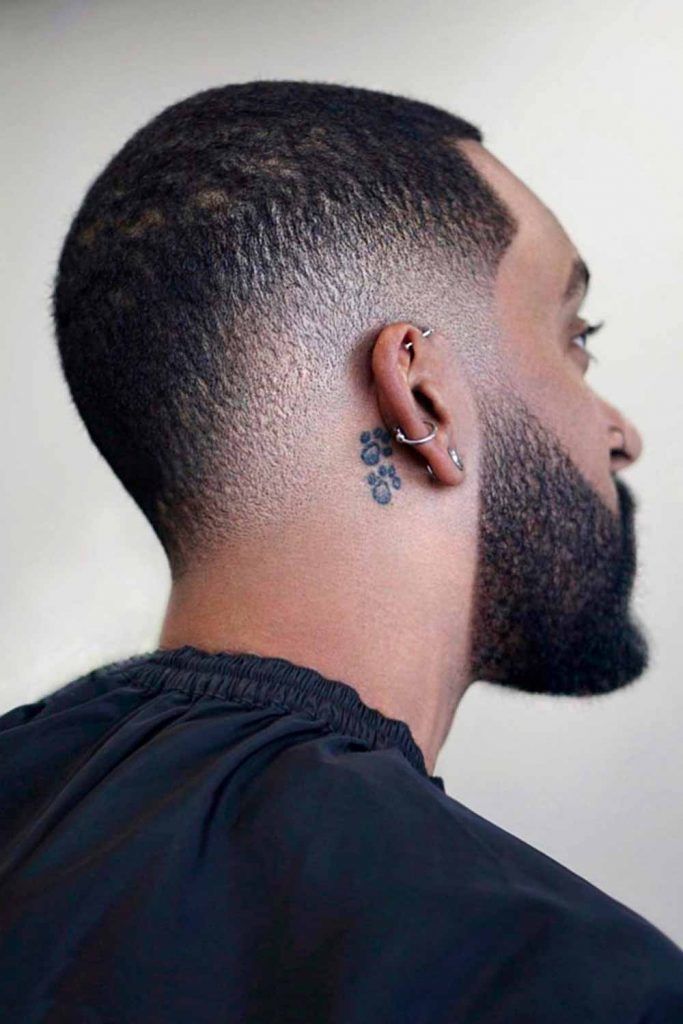 Source: @xbigwesx via Instagram
Jude Law's Messy Haircut
It's a common fact that Jude Law's luxuriant mens hair has been replaced with a widows peak. Of course, we were upset at first. But, at the end of the day, it wasn't his only attractive feature, right?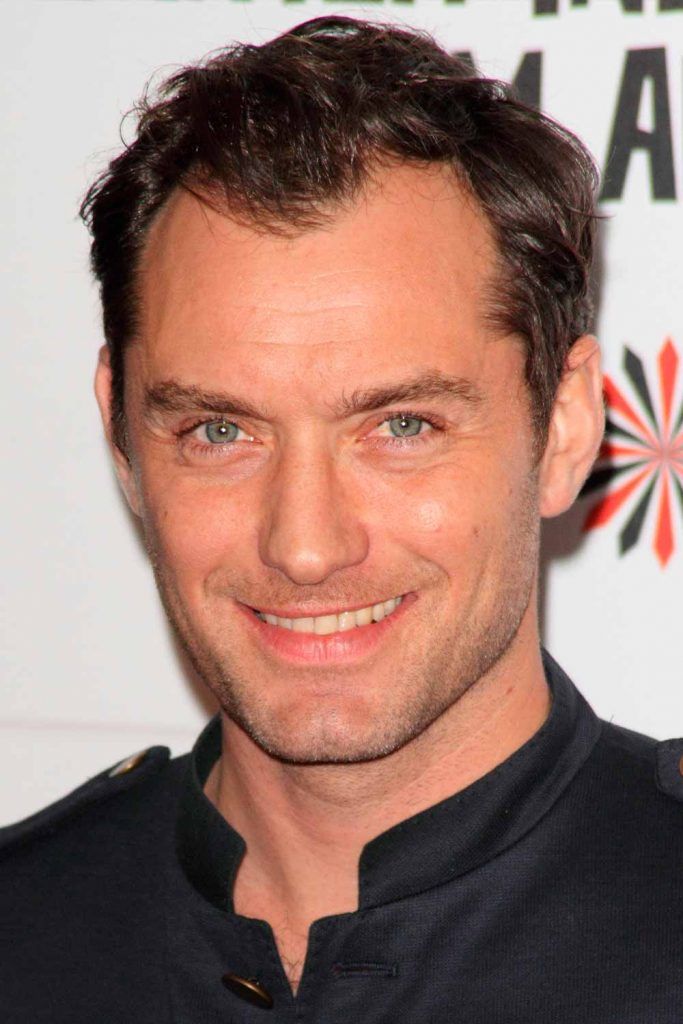 landmarkmedia/Shutterstock
Daniel Craig's Textured Mens Hairstyles For Thin Hair
Layered haircuts for men are a perfect choice if you want to give the illusion of having voluminous and dense thatch on the head. To create enough texture, use special styling product for guys haircuts.
Is layered hair good for thin hair?
So, when it comes to the choice of a cut, is layered hair good for thin hair? It certainly is. When you have a layered cut, it gives your hair more structure and body. Besides, it is much easier to style such a cut so that your mane looks voluminous and full.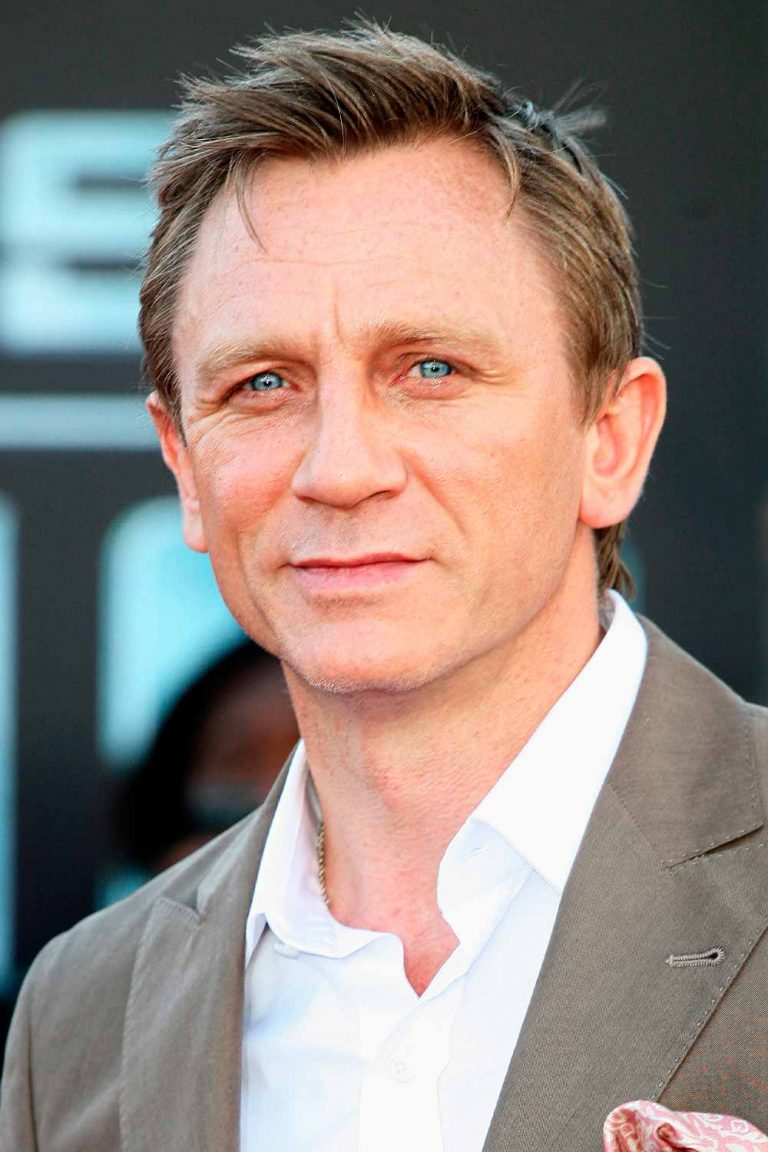 Featureflash Photo Agency/Shutterstock
Short Back And Sides Haircuts For Thin Hair
Short mens haircuts may seem the answer to all of the thinning hair questions. However, short doesn't mean bald, so think twice before grabbing clippers or, what's worse, a razor. Opt for the cut with much shorter sides and back, as by creating contrast, they garner all the attention instead of the top.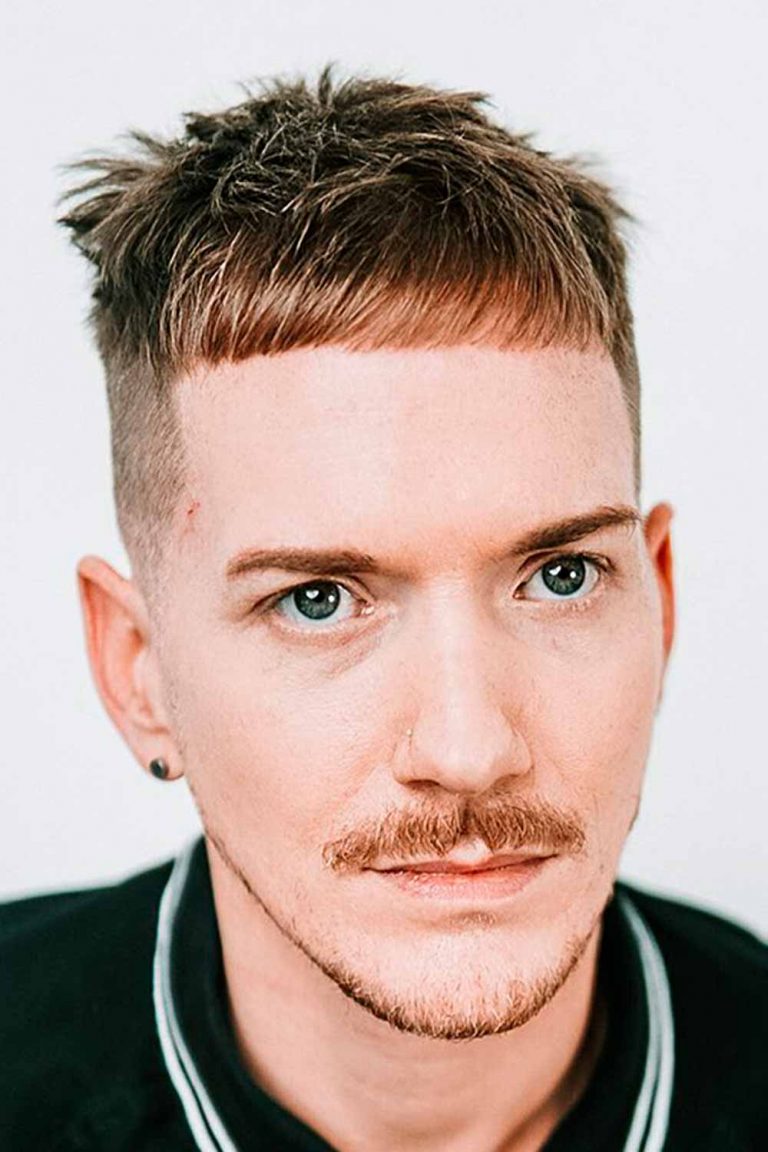 Source: @glassboxbarbershop via Instagram
Short Mohawk Mens Hairstyles For Thin Hair
If you gravitate to punk short hair cuts, thinning hair isn't the reason to give up on them. Give the sides a skin fade while leaving some hair on top and back of the head. Push the top hair together so that it looks pointy and reminds of a real Mohawk.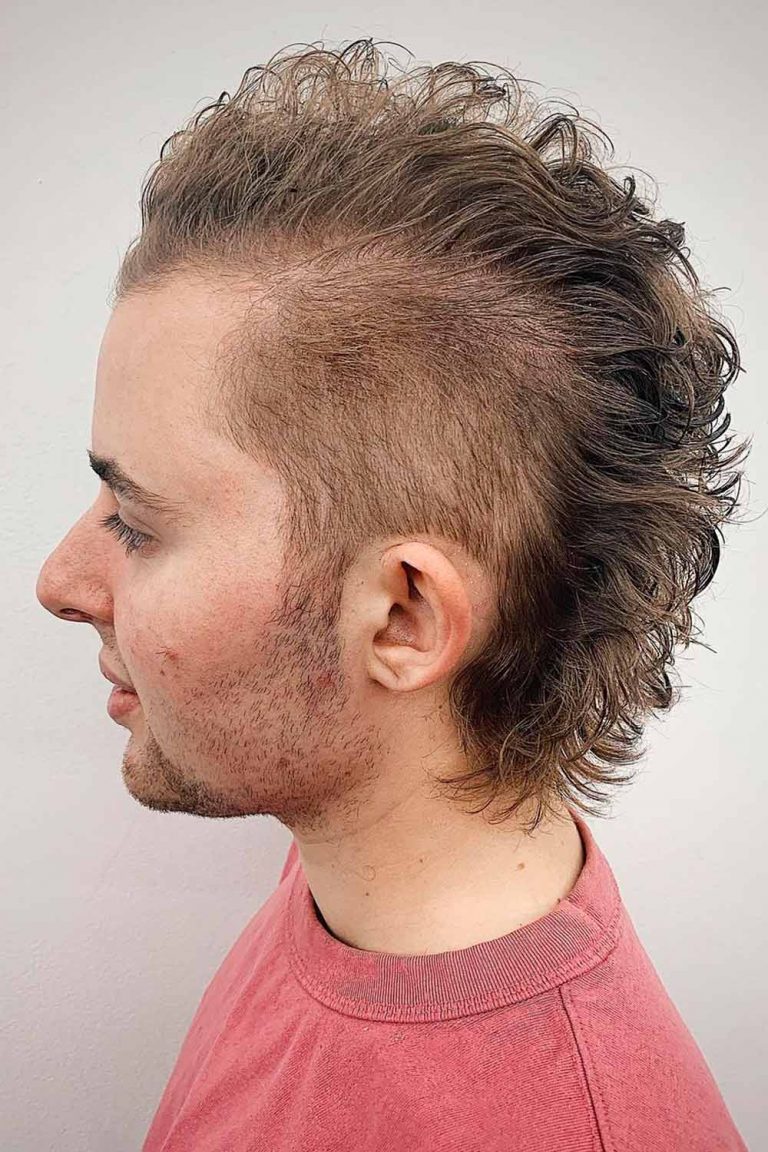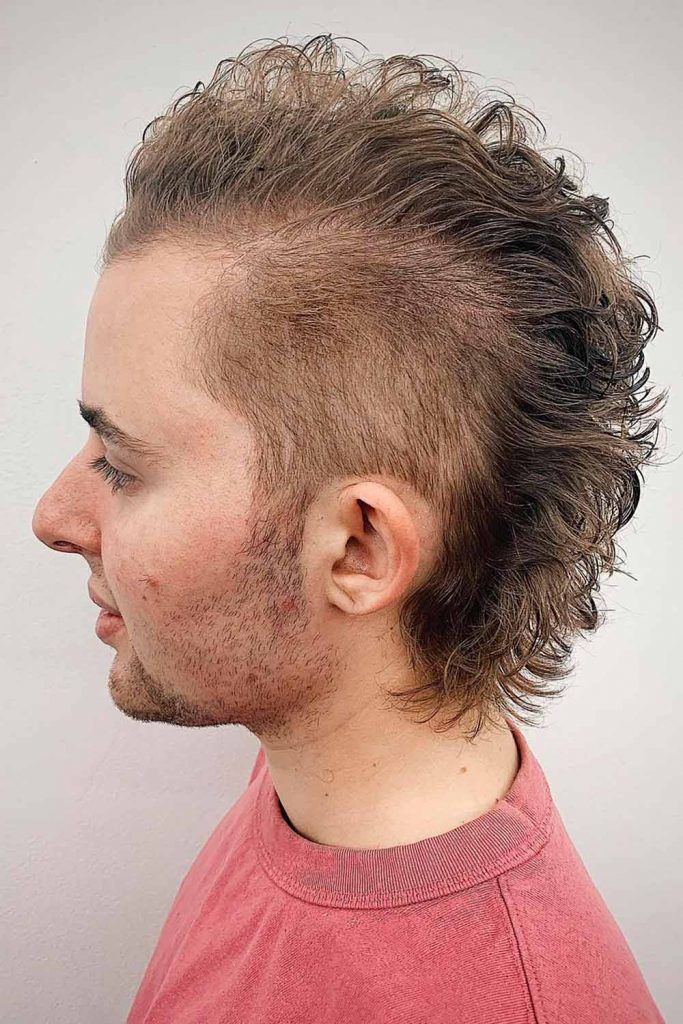 Source: @hairraribarber via Instagram
Matthew McConaughey's Swept Back
We still insist that slicked medium haircuts for men aren't the best choice for thin hair. Unless your thatch is thinning not in the front but in the crown instead. In this case, you can try to pull off a swept back hairstyle to cover your problem area.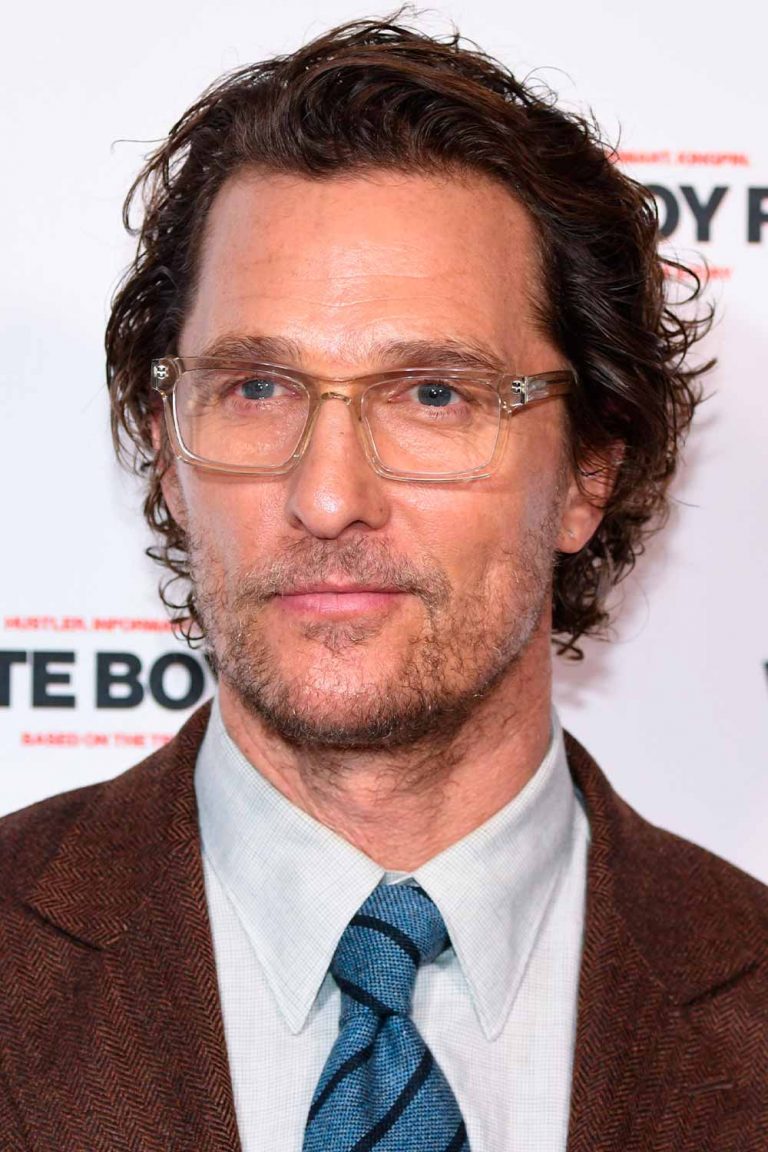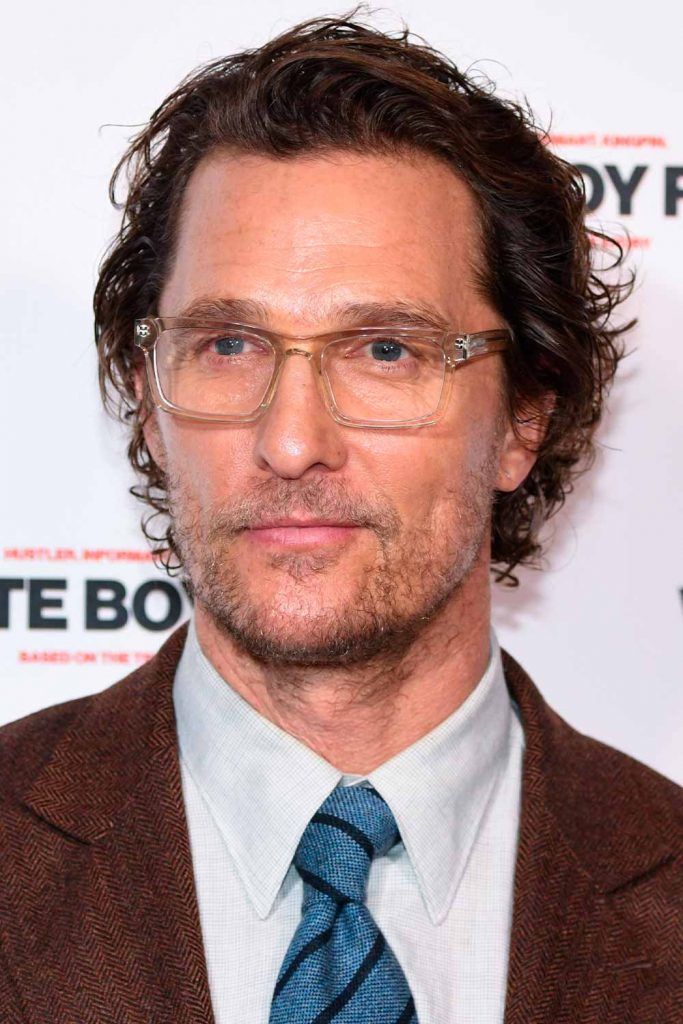 Featureflash Photo Agency/Shutterstock
Pompadour Mens Hairstyles For Thin Hair
A traditional pompadour is a gold standard of mens short haircuts for follically challenged guys. A pompadour fade draws the whole attention away from the back and focuses it to the front.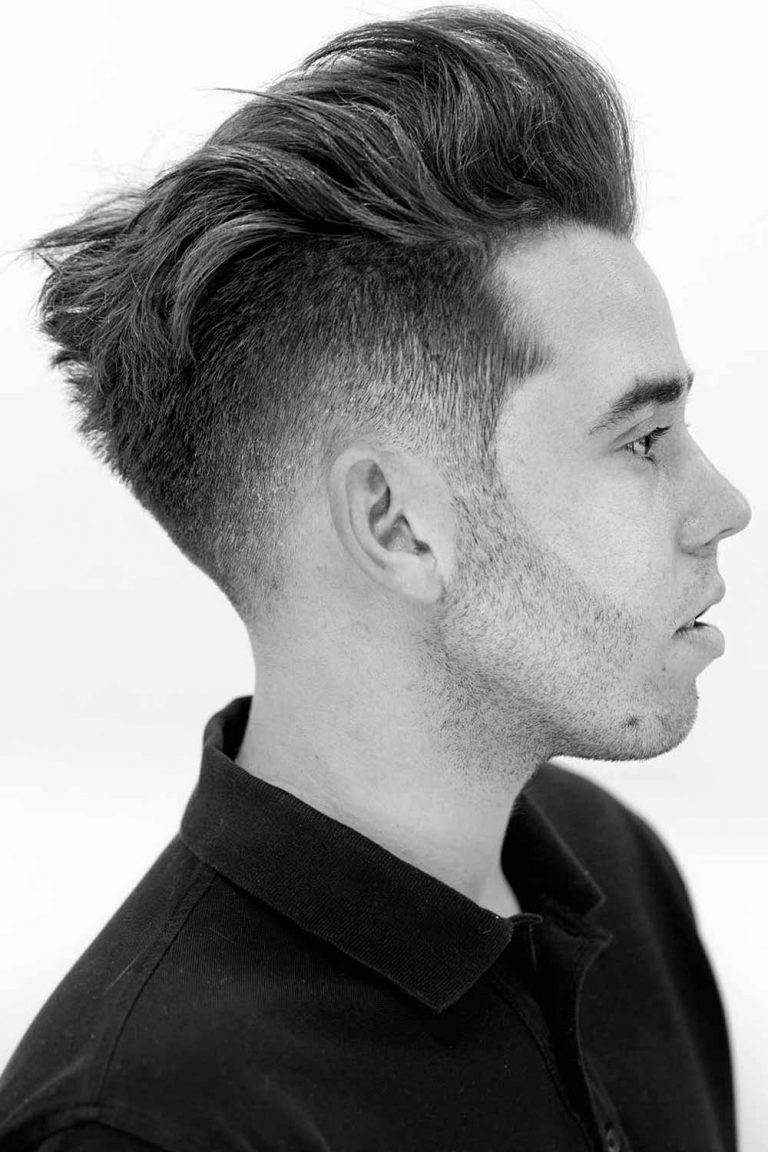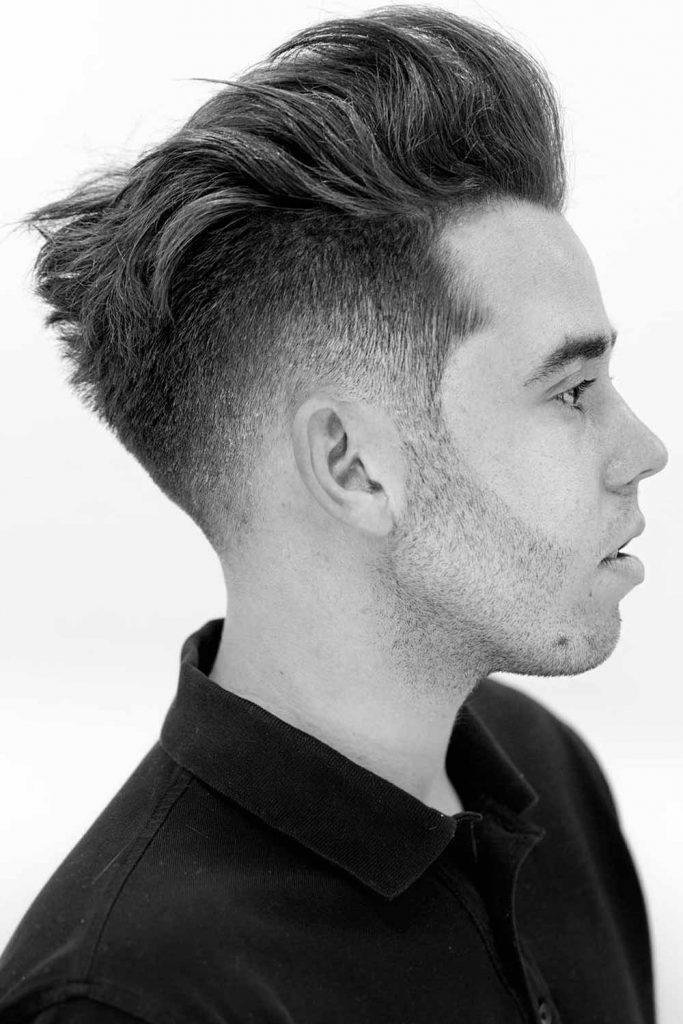 Source: @andrewdoeshair via Instagram
Robert Pattinson's Slicked Back
Robert Pattinson is one of those guys who look good with any hairstyle, be it a short messy hair look or long hairstyles for thin hair men. The latter is especially worth our attention, as it does not give away that your hair is thin. Take a look at this slicked back hairstyle, which you can never go wrong with.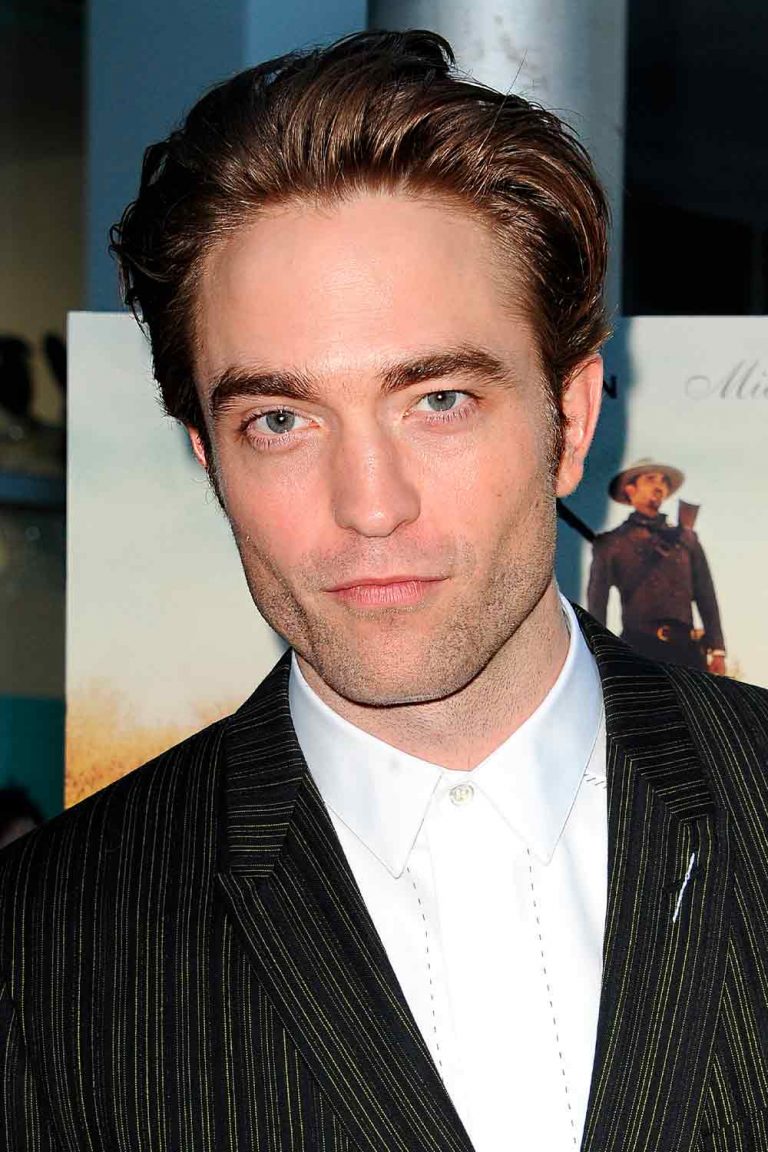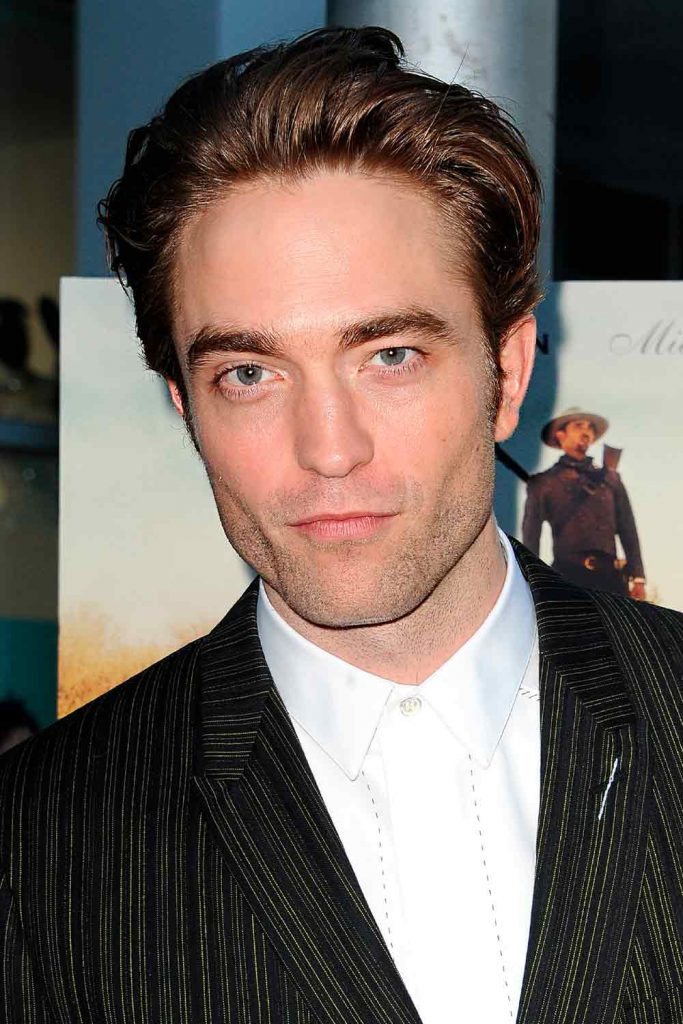 Tinseltown/Shutterstock
Slicked Back Comb Over And Undercut
This hipster slicked back haircut with an undercut or fade proves that mens short haircuts for thinning hair can be stylish and trendy.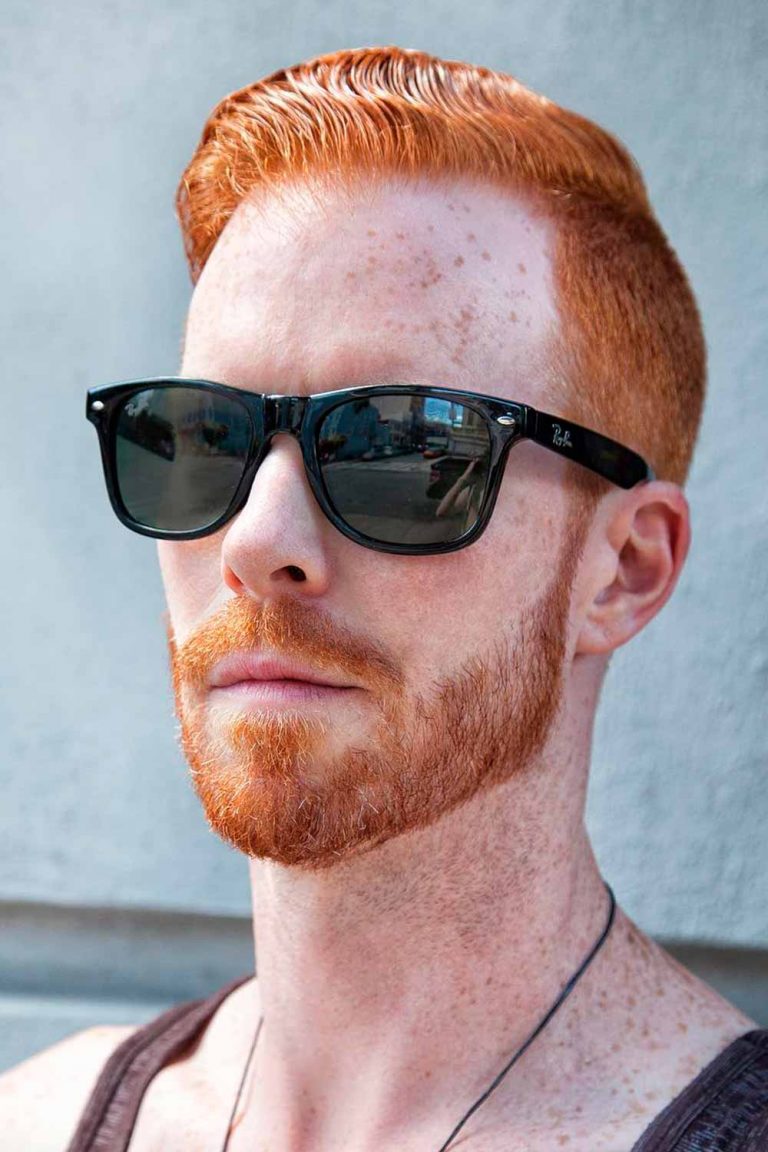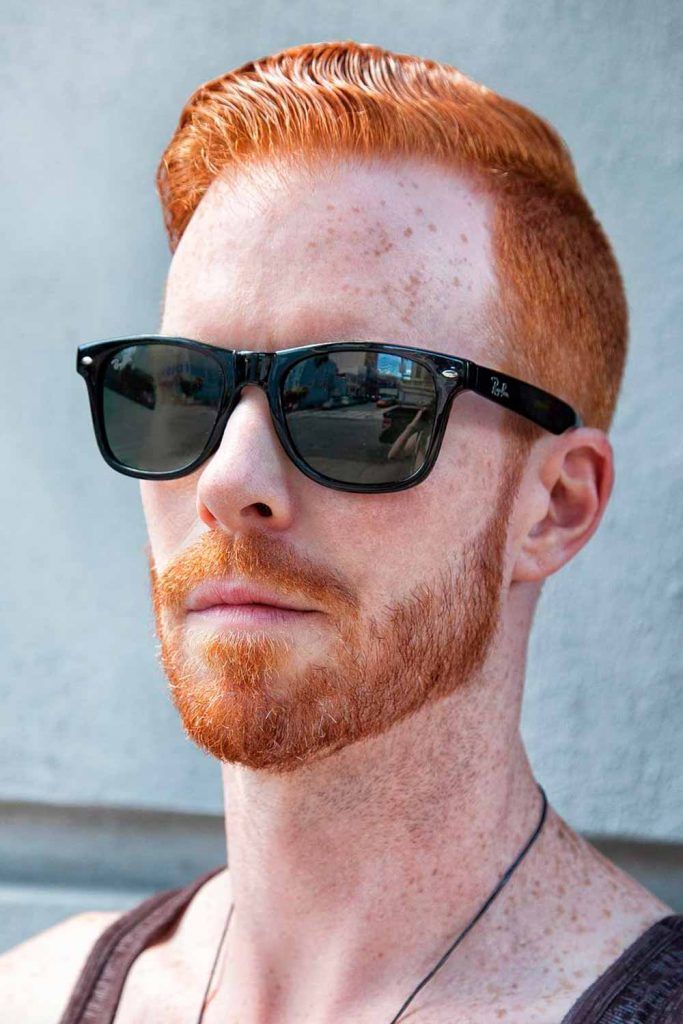 Source: @hairraribarber via Instagram
Leonardo Di Caprio's Comb Over
Who could have thought that Leo would have to choose hairstyles for men with thin hair? Yet, no one is immune to this issue, and Jack from Titanic is no different.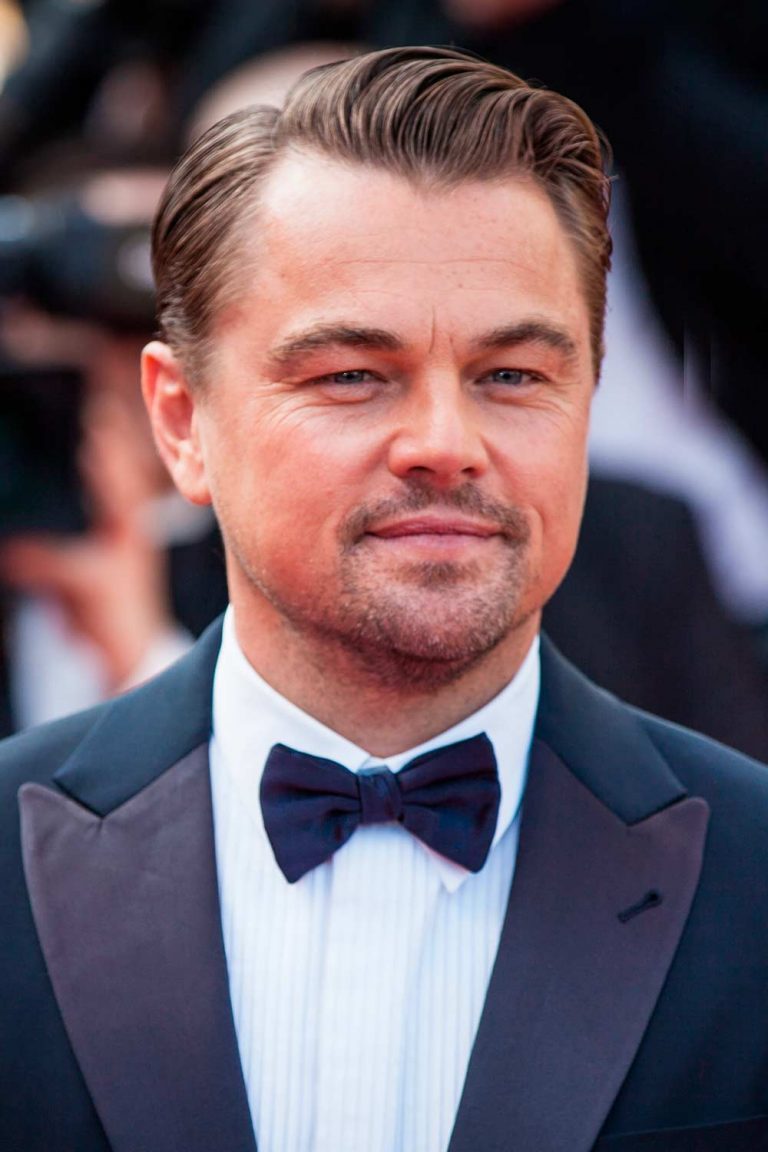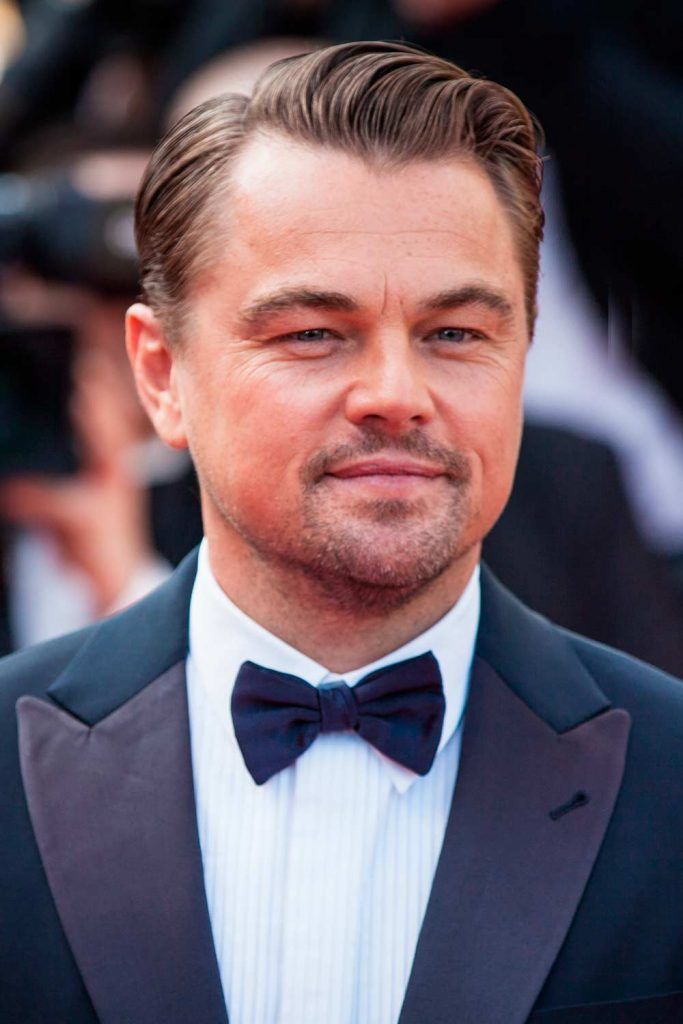 taniavolobueva/Shutterstock
Chris Hemsworth's Spiked Up
Chris Hemsworth knows everything about looking his best, so you should really look up to him when considering the best Thor Ragnarok Haircut for men with thinning hair. Wearing your locks spiked up makes them look fuller.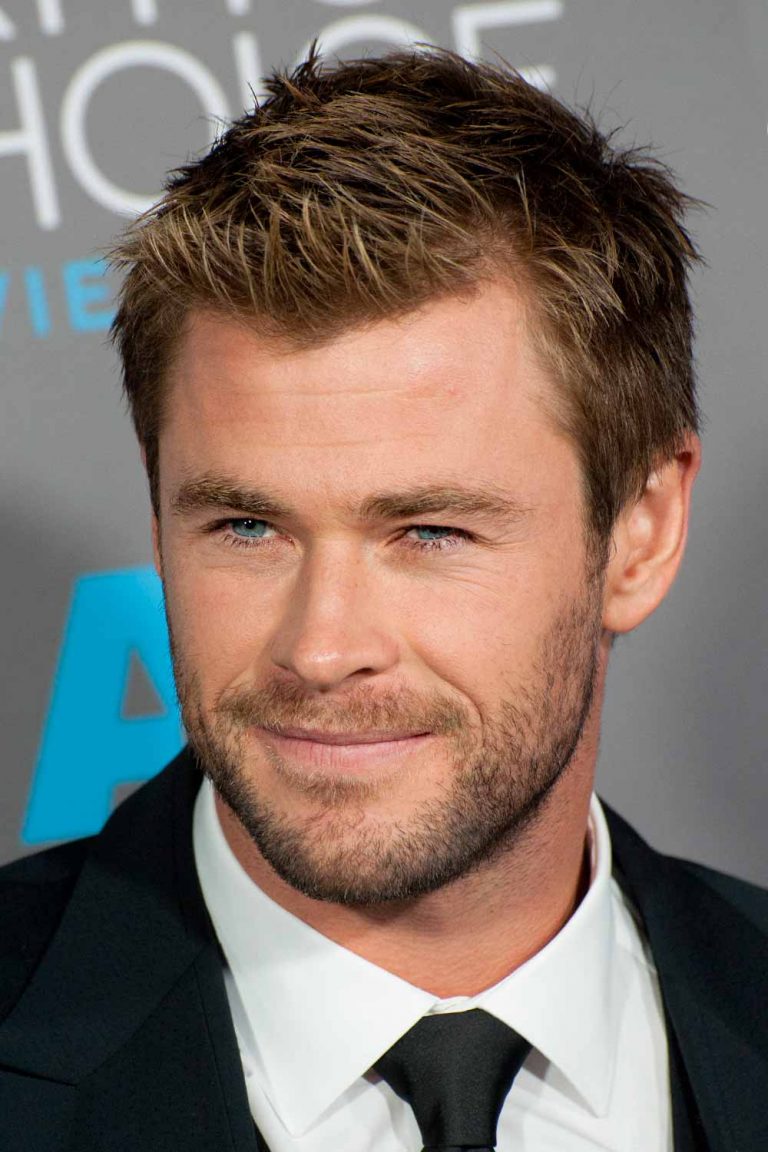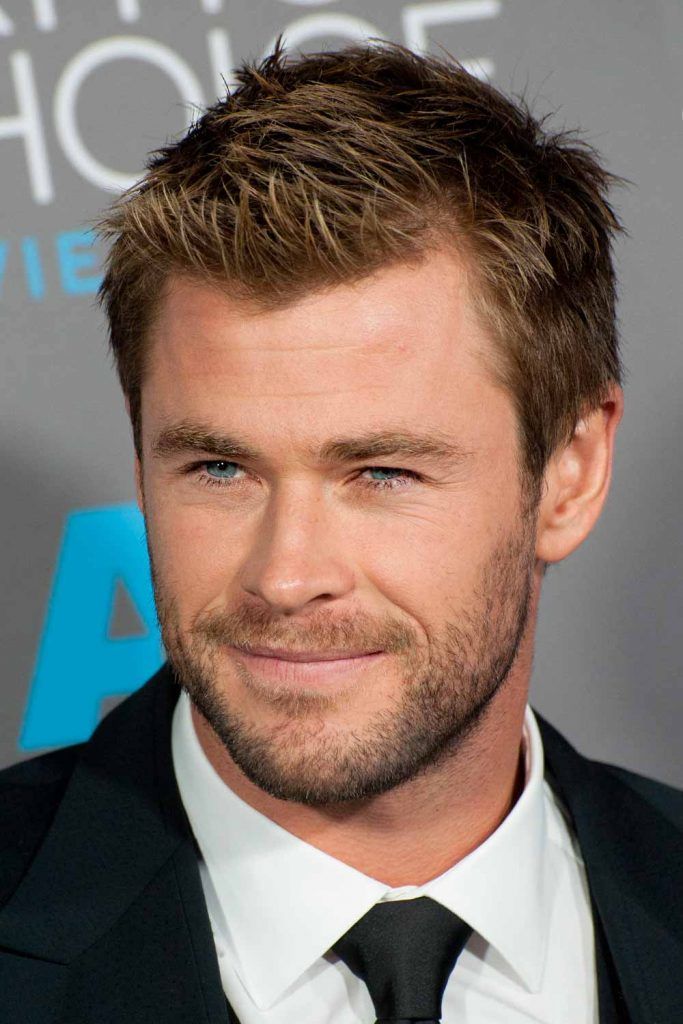 Featureflash Photo Agency/Shutterstock
Rupert Grint's Medium Layers
Men with thin hair can take attention away from your thinning hair not only by means of modern layered haircuts for men but also by growing out some facial hair.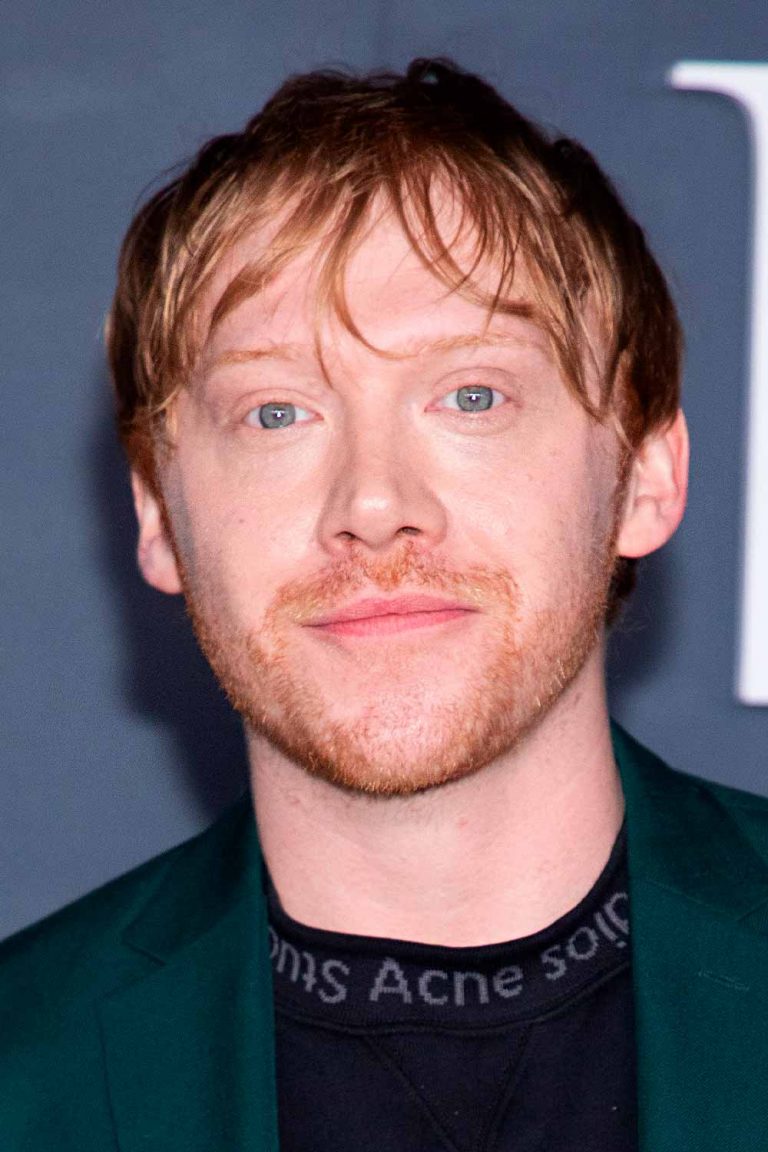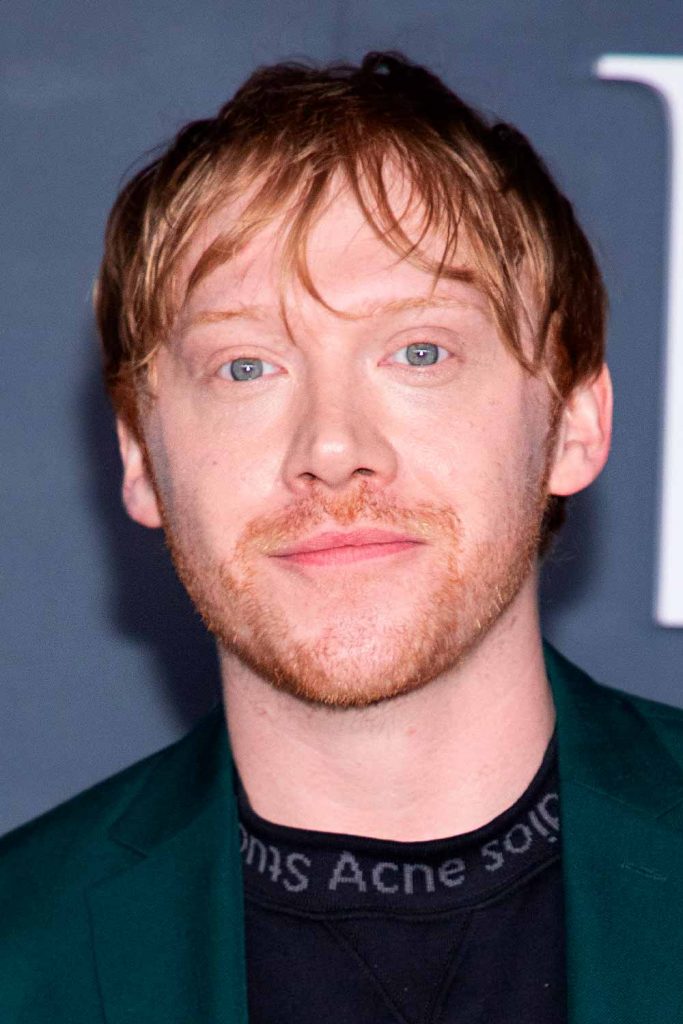 Sam Aronov/Shutterstock
Buzz Cut With Fade Mens Hairstyles For Thin Hair
Even though a buzz cut is so short, it doesn't mean you can't pair it with a fade haircut. This combo works perfectly for even the most coily locks, which makes it one of the most popular black men haircuts.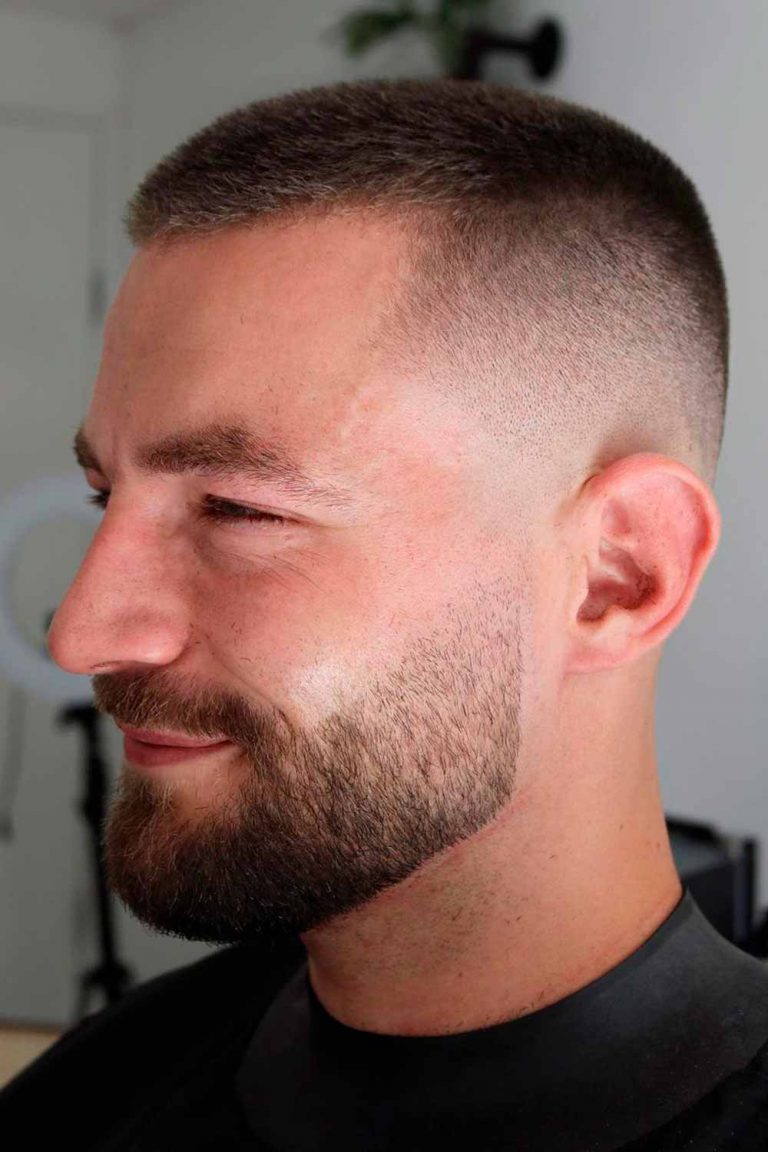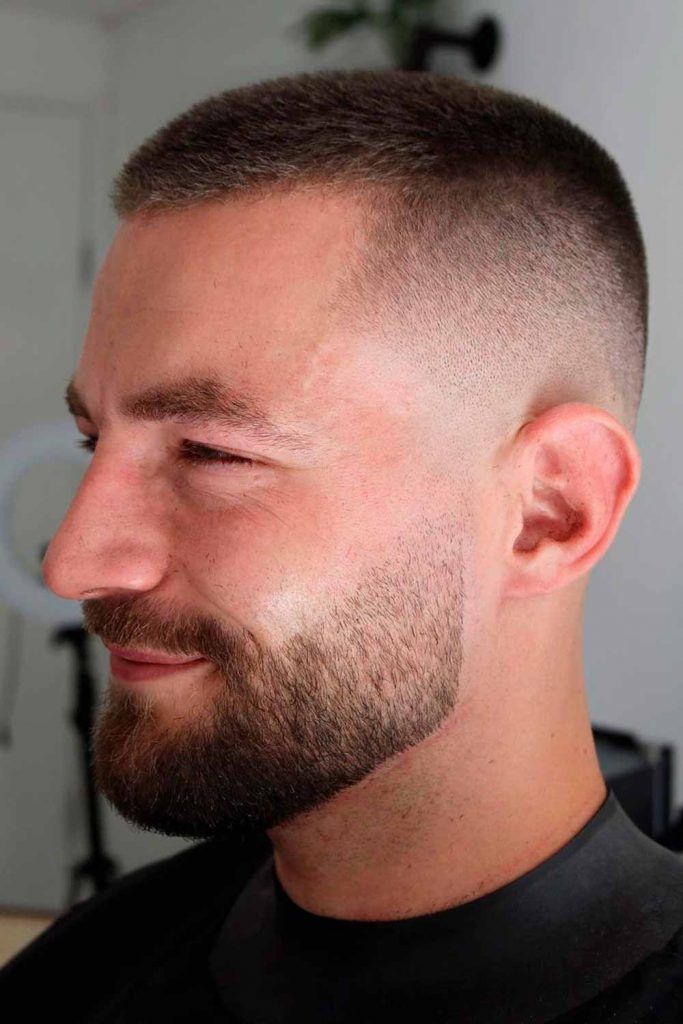 Source: @hayden_cassidy via Instagram
Kevin Costner's Short Brushed Back
If you're struggling with a receding hairline, you most likely shy away from long haircuts. For older mens hairstyles thinning hair is quite a common case. That is why there are so many styling options existing nowadays. Kevin Costner goes with short brushed back thin haircuts for men that allow him to always look his best, whether he is at the Red Carpet event or the weekend getaway with the family.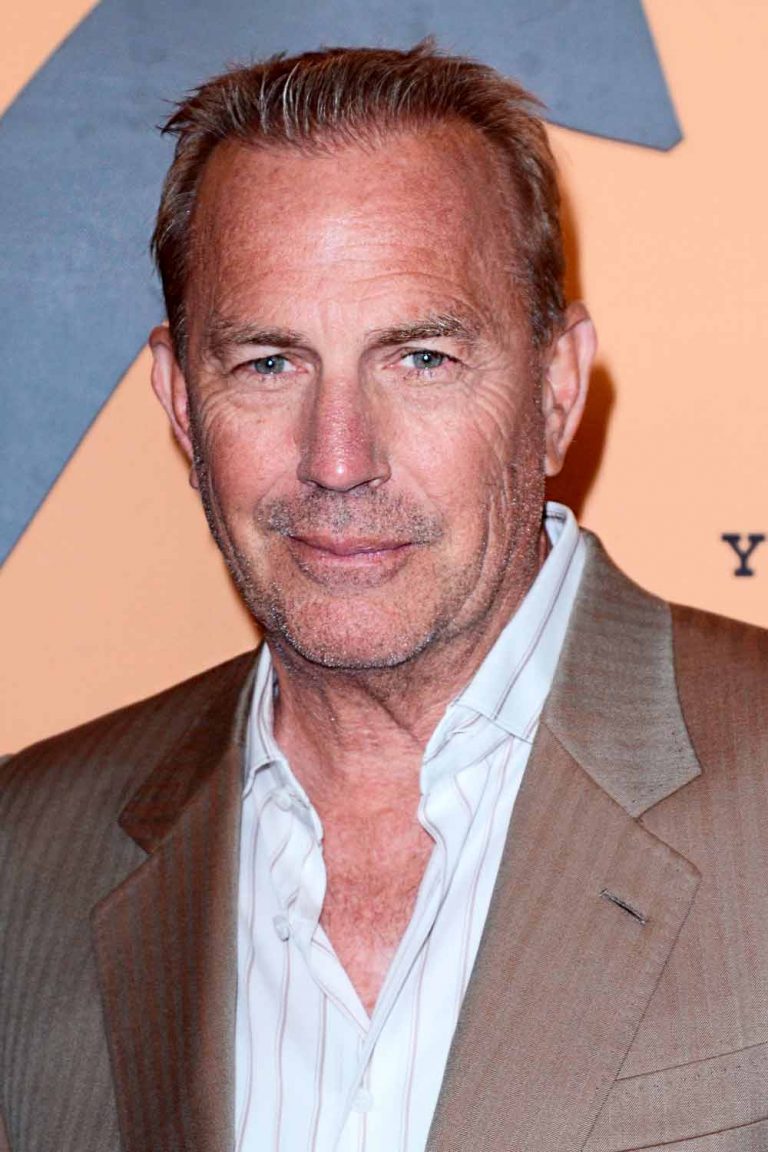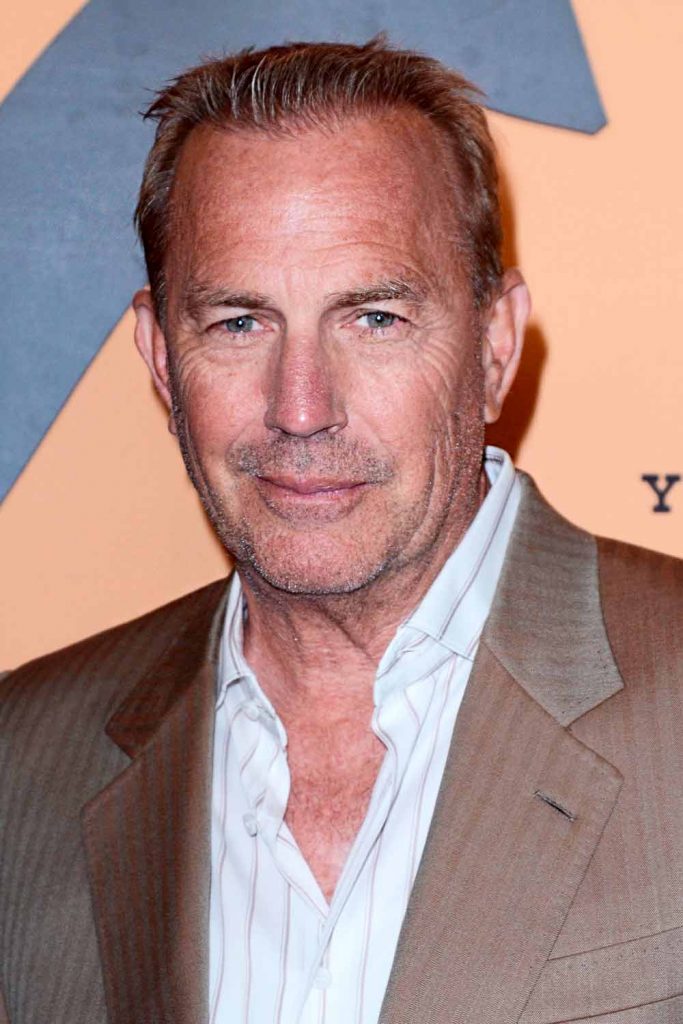 Kathy Hutchins /Shutterstock
Dominic Monaghan's Messy Hairstyle
Dominic Monaghan is no stranger to hairstyles for guys with thin hair. And this messy hairstyle proves how well he handles it.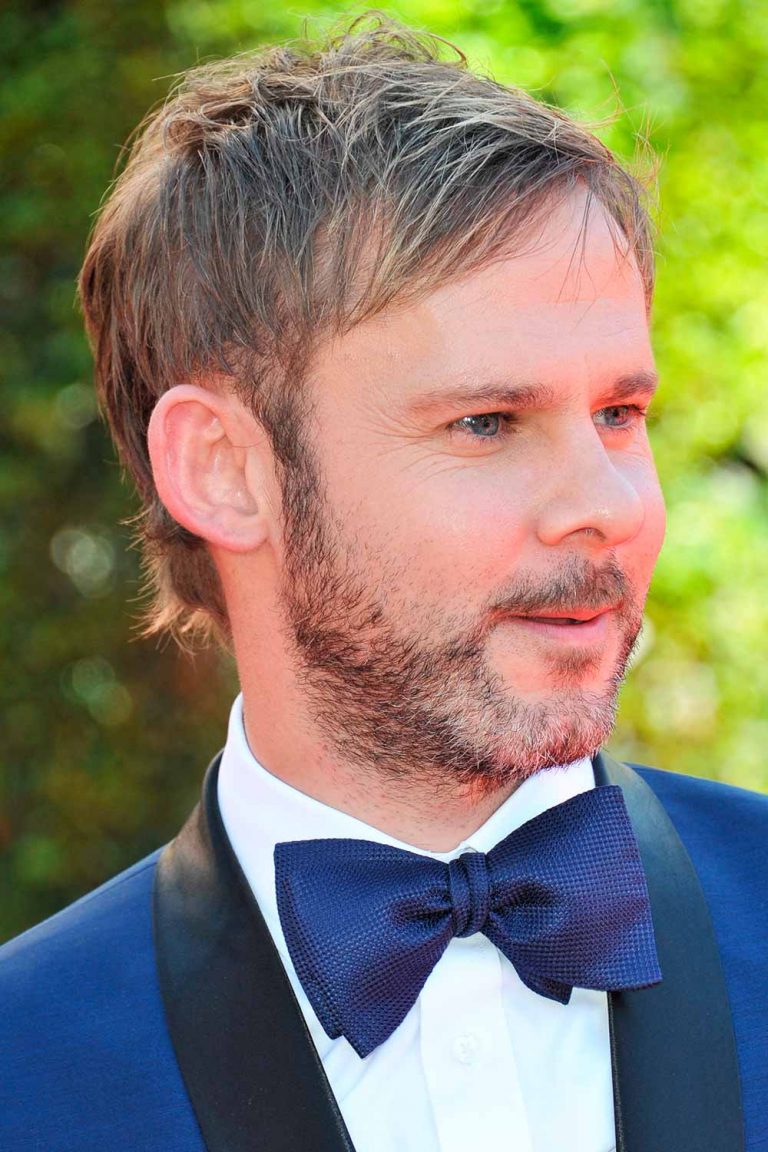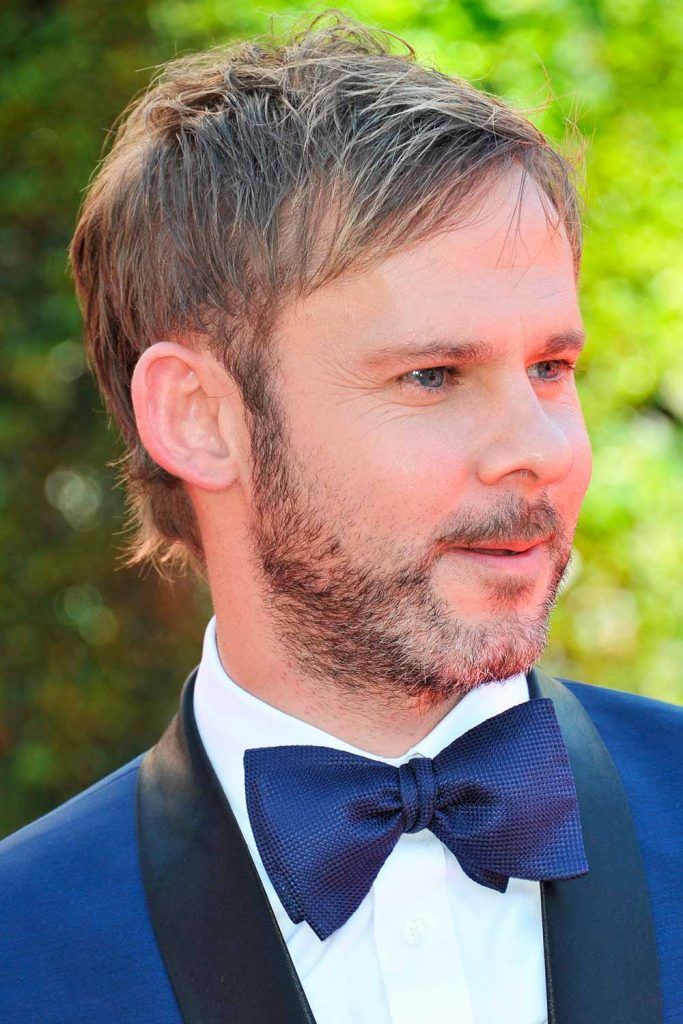 Jaguar PS/Shutterstock
Haircut For Mid Length Hair
For mid length hair, the beard style possibilities are endless. You can go with long or short facial hair for a contrasty look or trim it to the medium length to echo the hairstyle.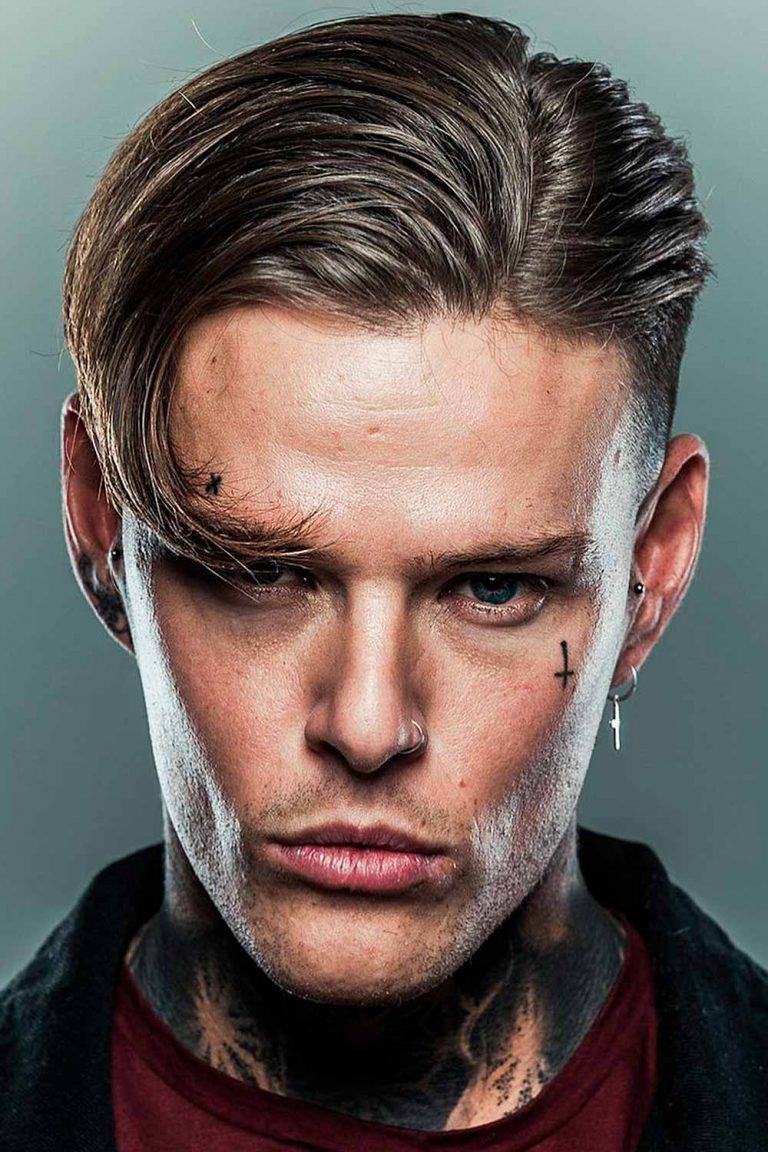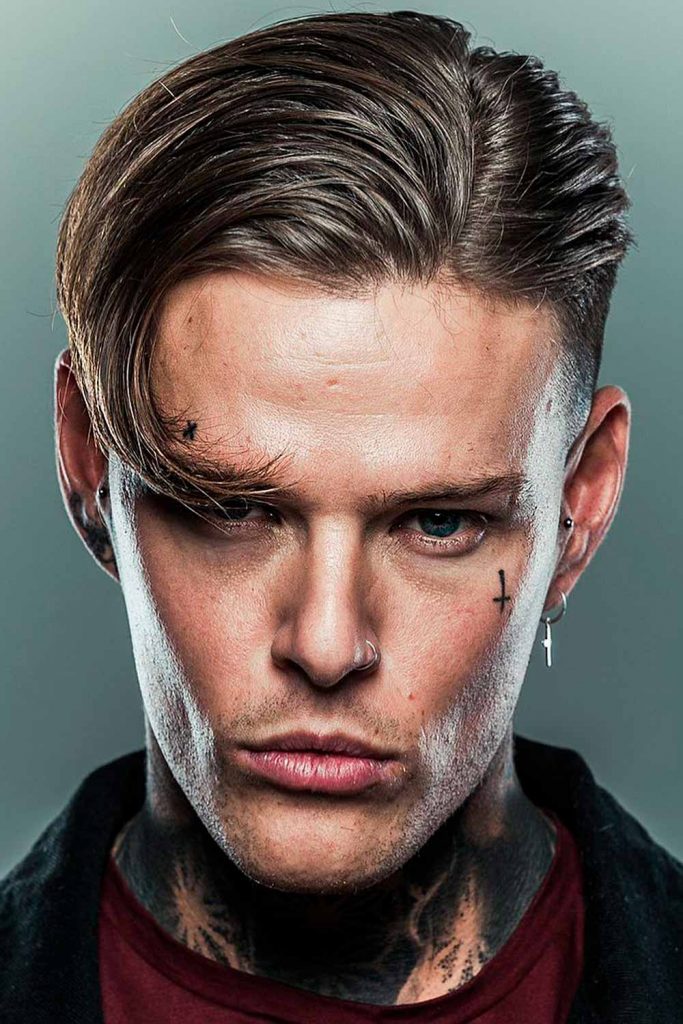 Source: @joshconnollybarber via Instagram
Choppy And Cropped Mens Hairstyles For Thin Hair
If you do not feel like hiding anything with extra hair, then go for a cropped hair look with choppy layers. You can complement this look with a full coarse beard, which will counterweigh the absence of hair on the head.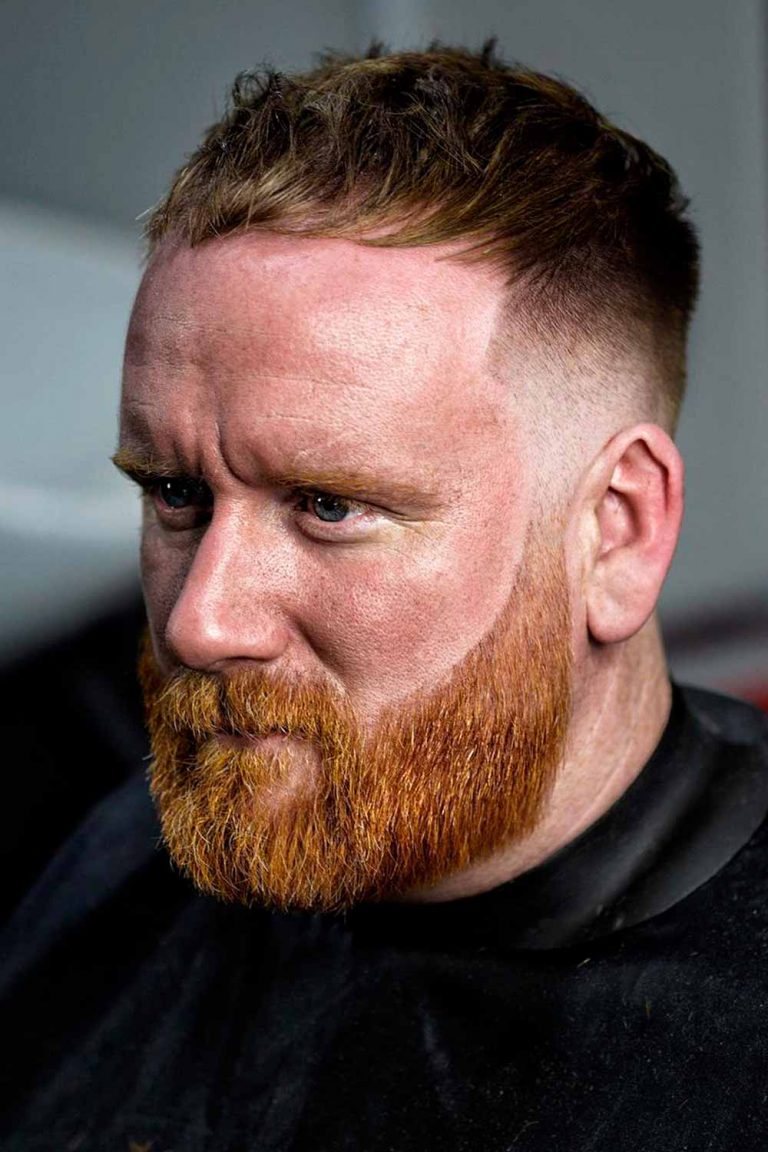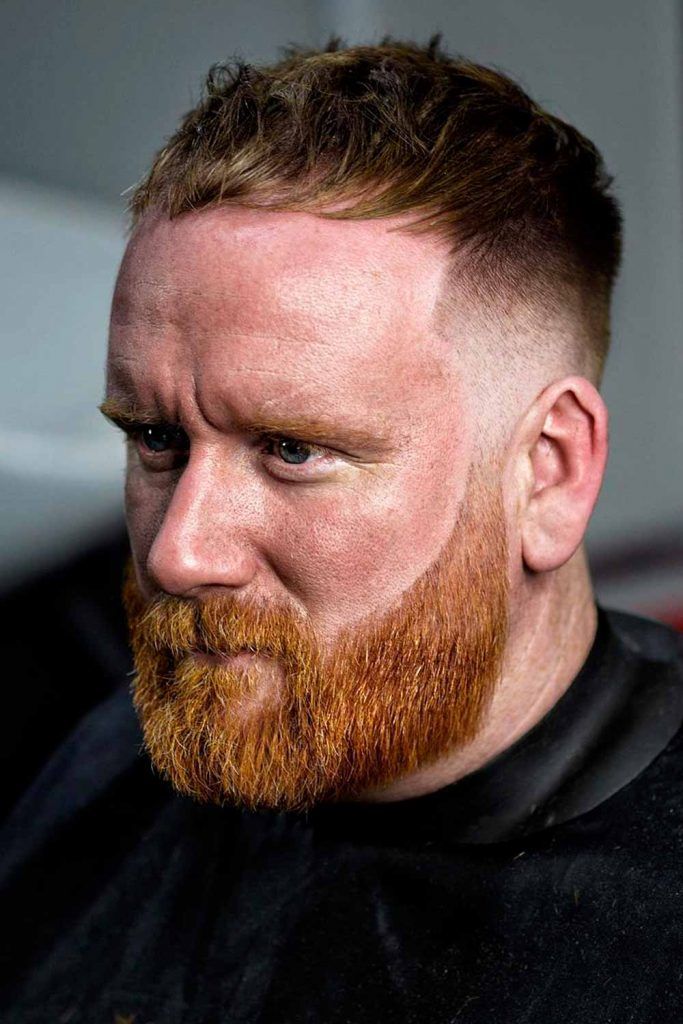 Source: @ryancullenhair via Instagram
Long Thin Hair Slicked Back
As a rule of thumb, the mens thin hair style should not be shorter than medium length. Thus, you will have the material to cover your burgeoning bald spot.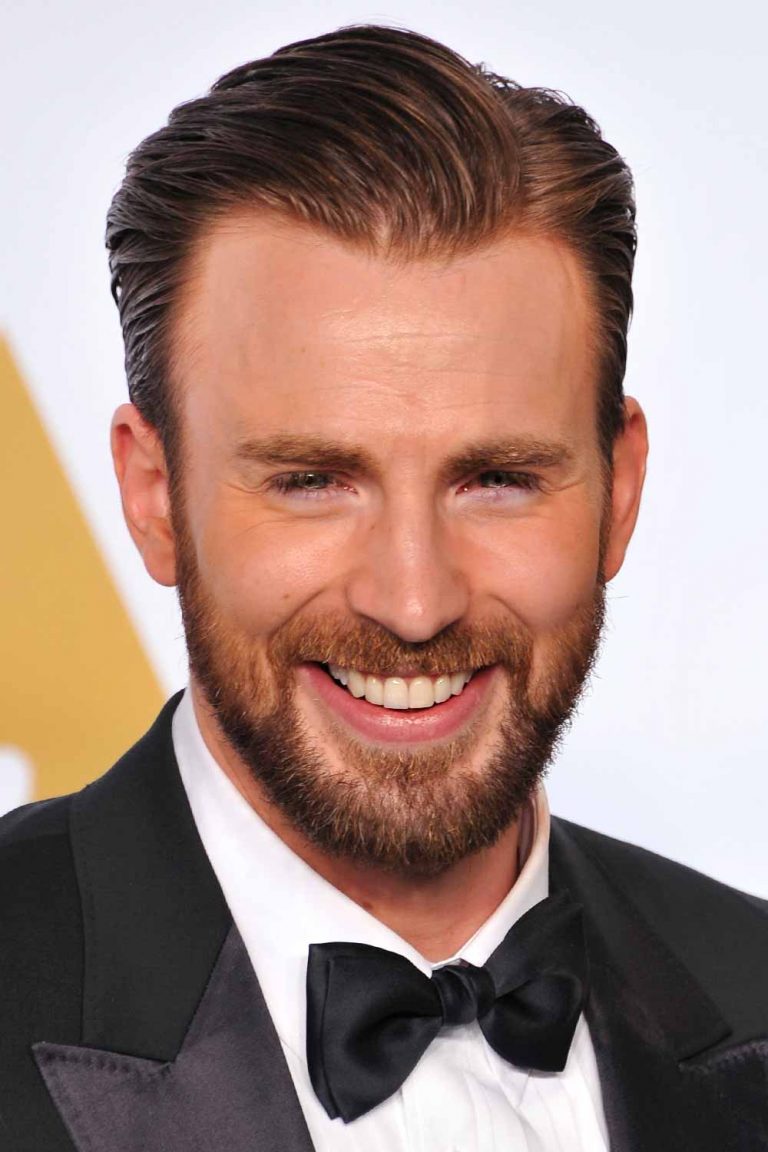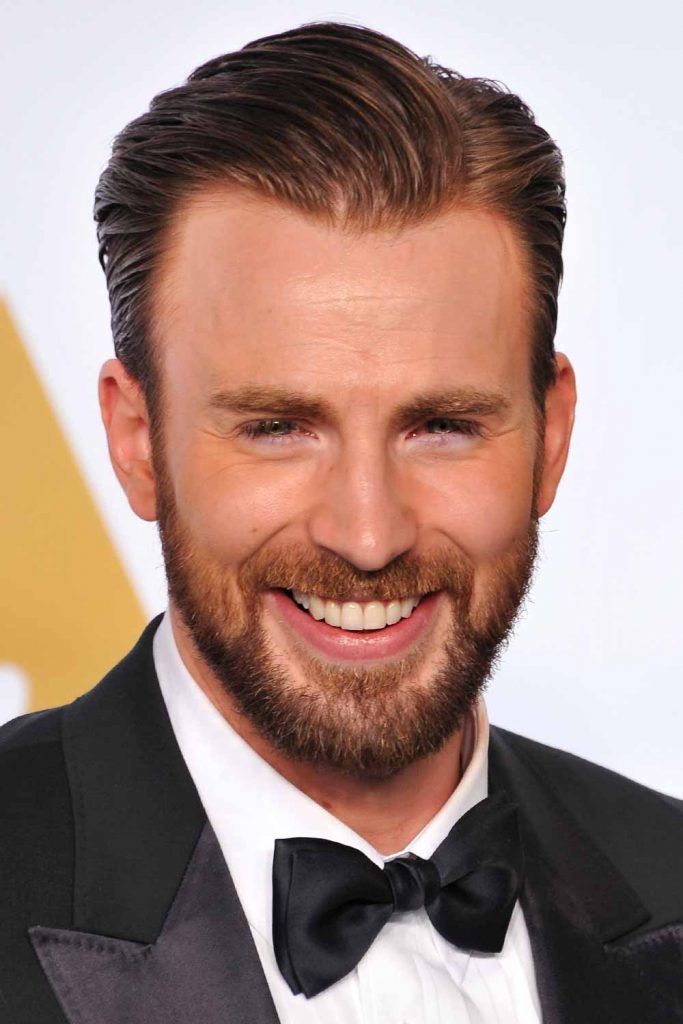 Jaguar PS/Shutterstock
Long Wavy Thin Hair Men
All men with wavy locks have to do is to embrace their natural hair texture and emphasize it with a hair product. Wavy tresses seem denser and ampler than straight locks.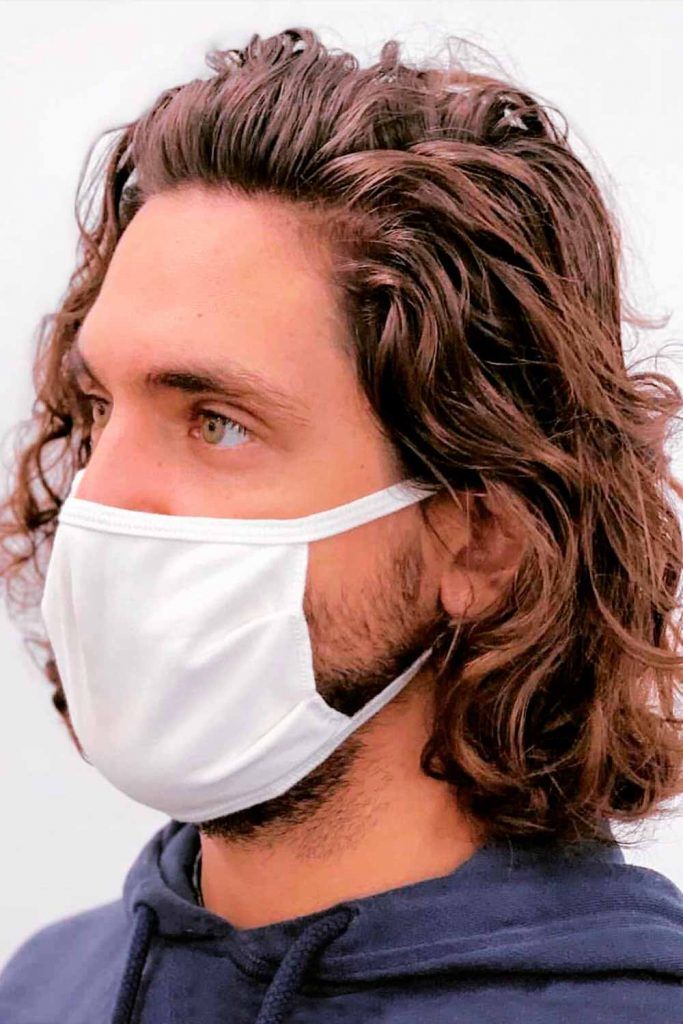 Source: @hairraribarber via Instagram
Faux Hawk Mens Hairstyles For Thin Hair
Thinning hair is not the reason to shy away from stylish and edgy hair looks. So, a faux hawk is a great hairstyle for thin hair men too.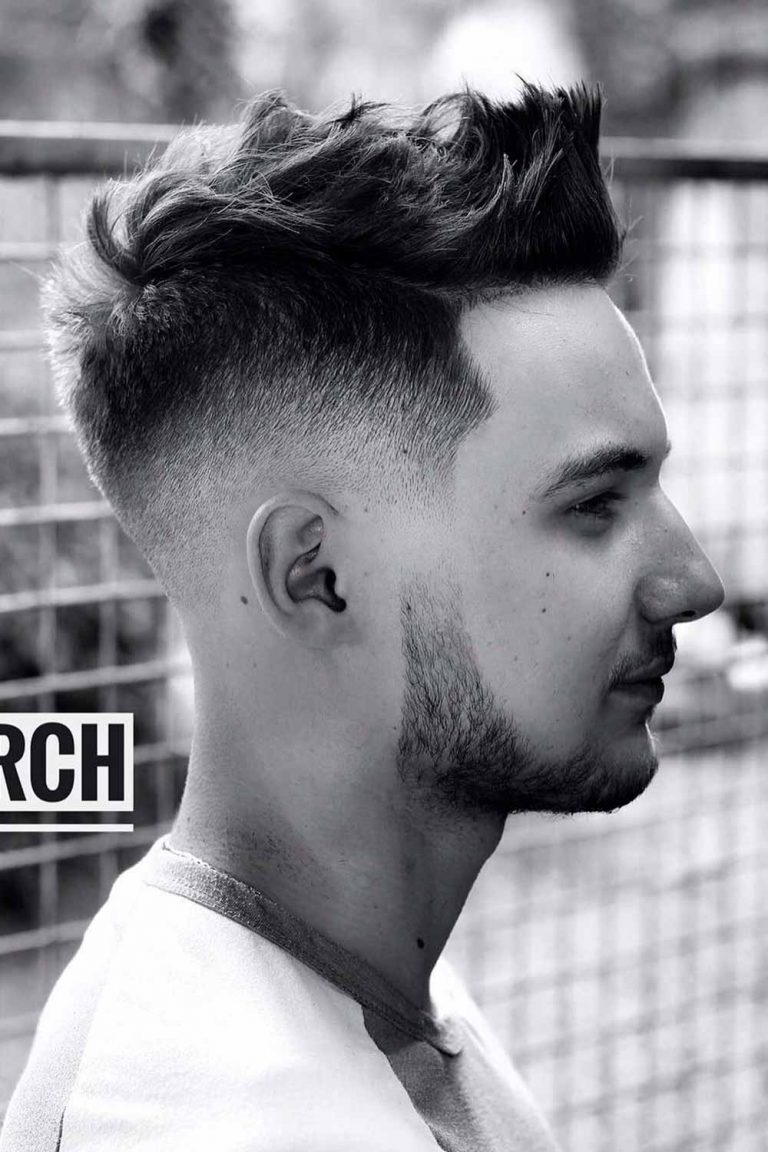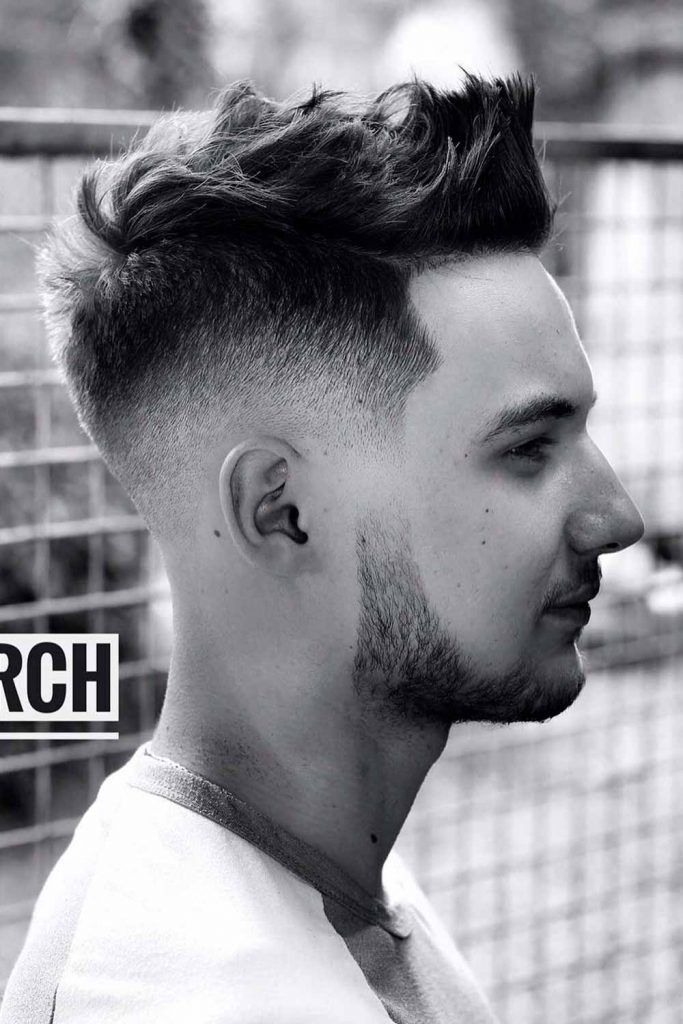 Source: @ryancullenhair via Instagram
Wavy Forward Hairstyle
In case your mane has started to get thinner in the front, then try to camouflage it by pushing the rest of the hair forward. This trick works especially well for men with wavy kinks.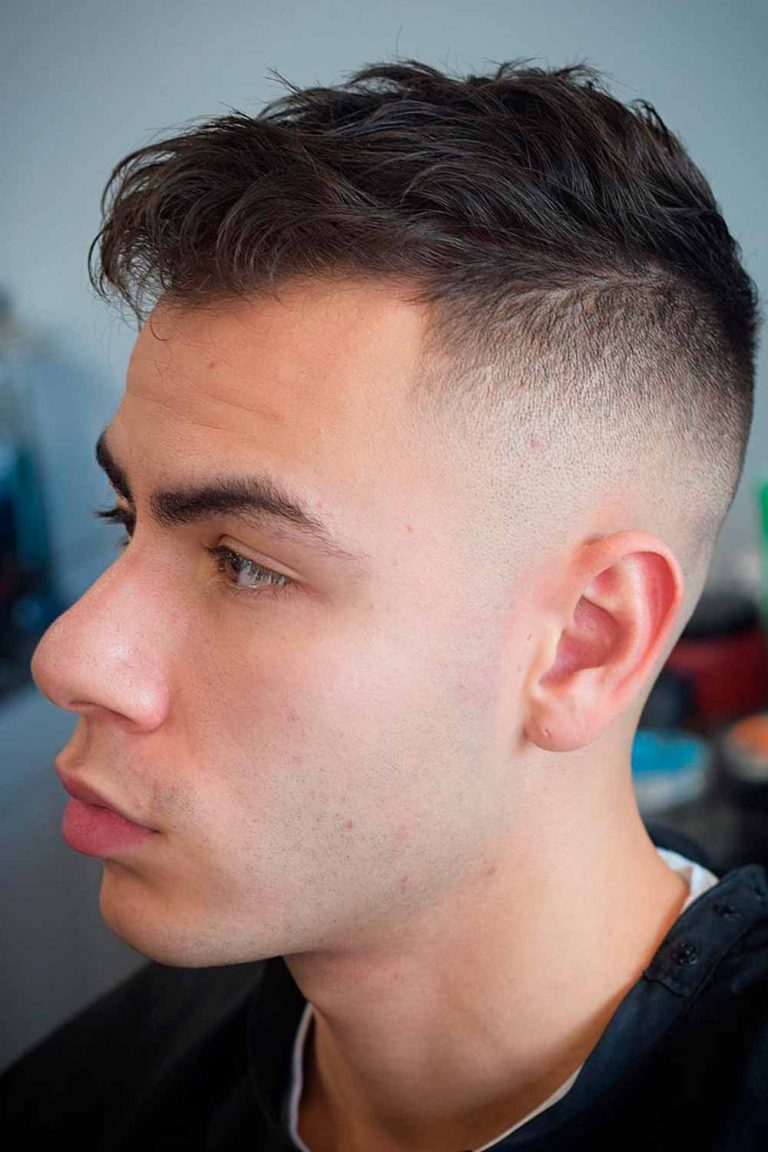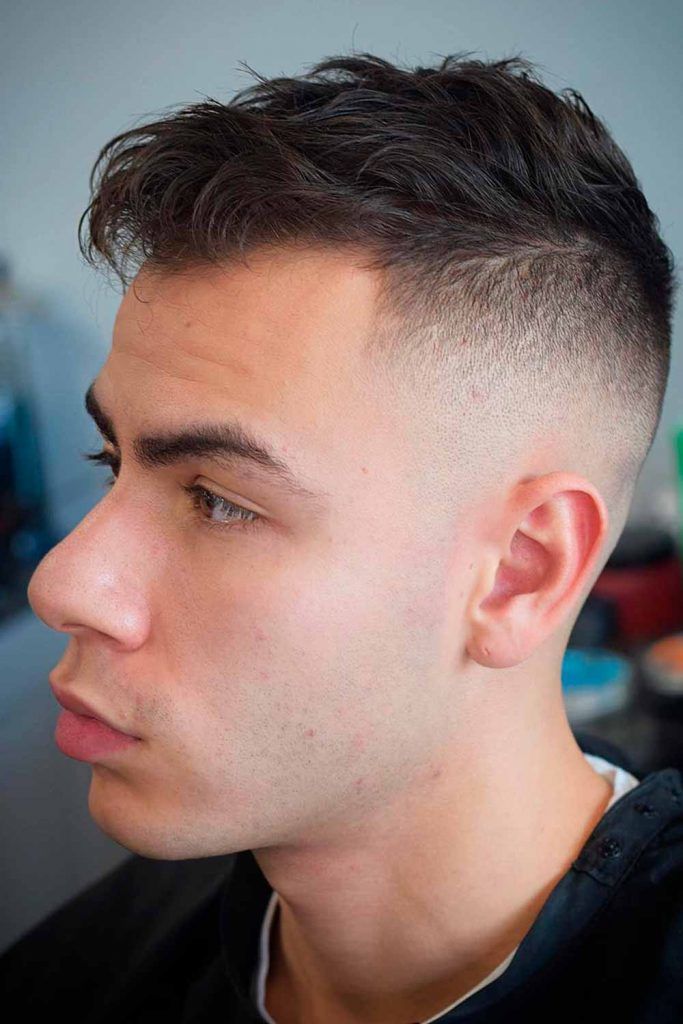 Source: @mikes_custom_kuts via Instagram
Ivy League Mens Hairstyles For Thin Hair
An Ivy League is one of those mens short haircuts for thin hair that you can wear in any ambiance and situation without worrying that it will give away your secret.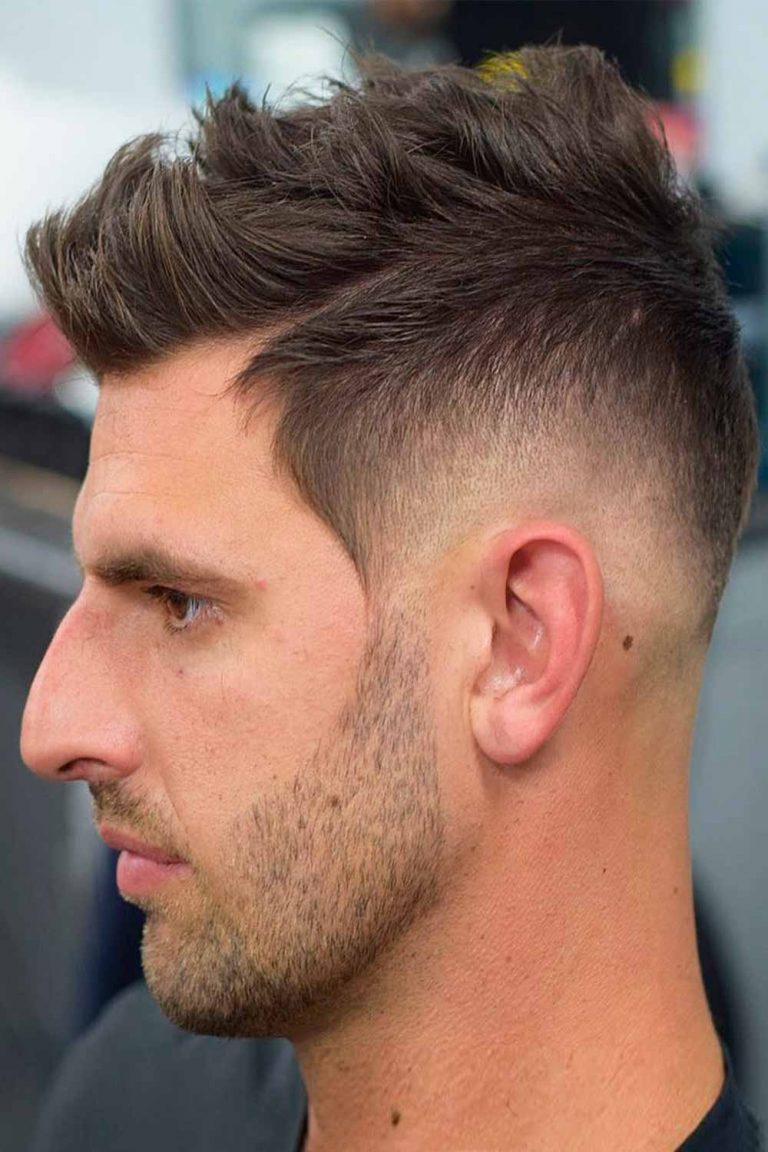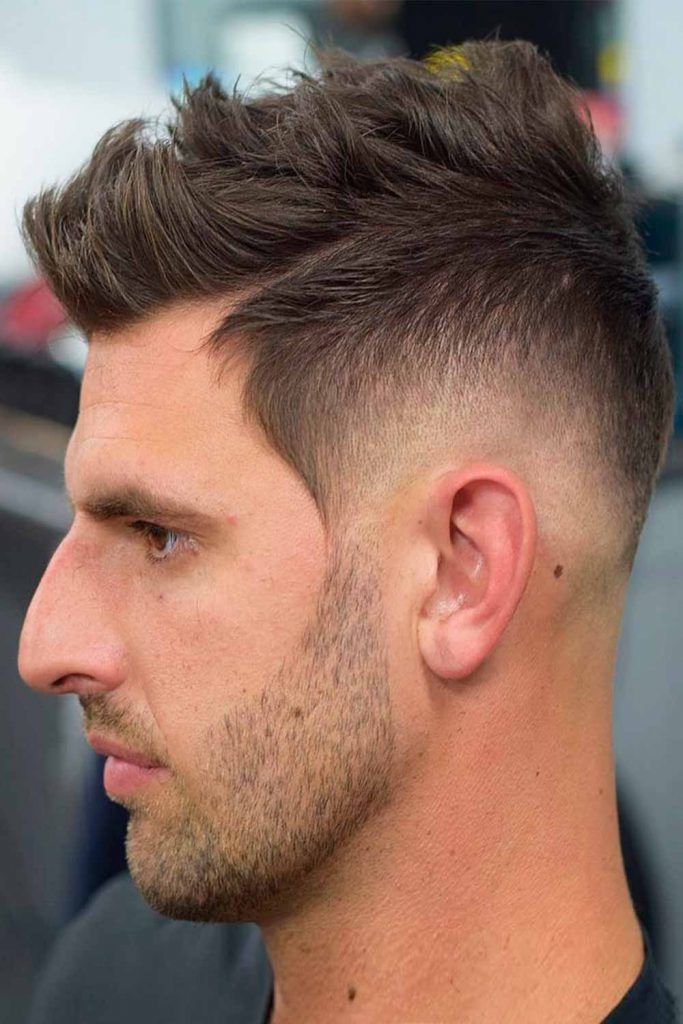 Source: @mikes_custom_kuts via Instagram
Gelled Slicked Back Hairstyles For Thin Hair
When styling haircuts for thinning hair men should employ hairstyling products that will not overload their locks yet help to make an impression of a thicker mane, such as a hair gel.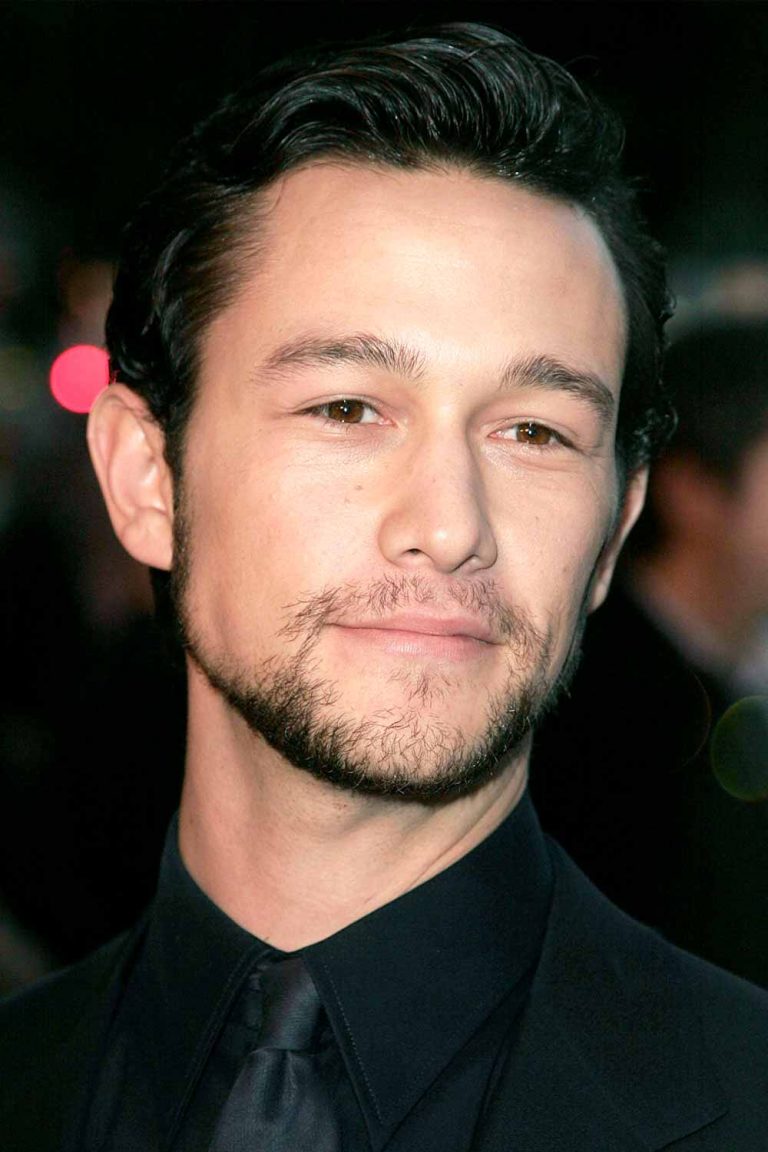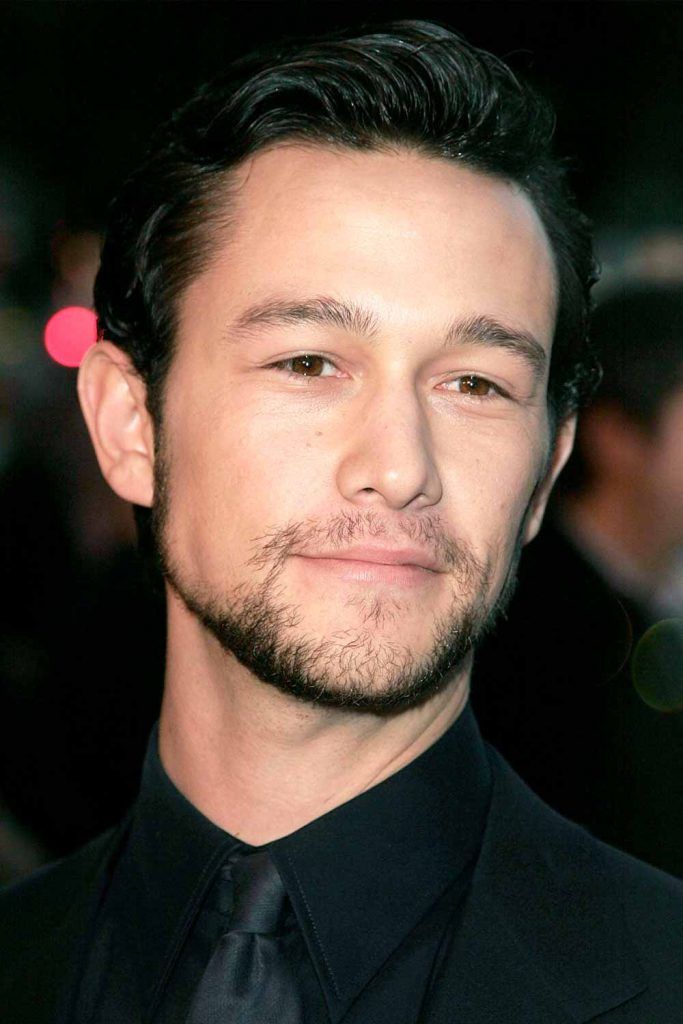 Everett Collection/Shutterstock
Ben Affleck's Crew Cut
Ben Affleck opts for one of the most popular short thin mens haircuts, which is a crew cut. When your hair is so short, it is less noticeable that it is thinning or receding. Besides, you can easily give it a more voluminous look by ruffling the strands on the top of the head.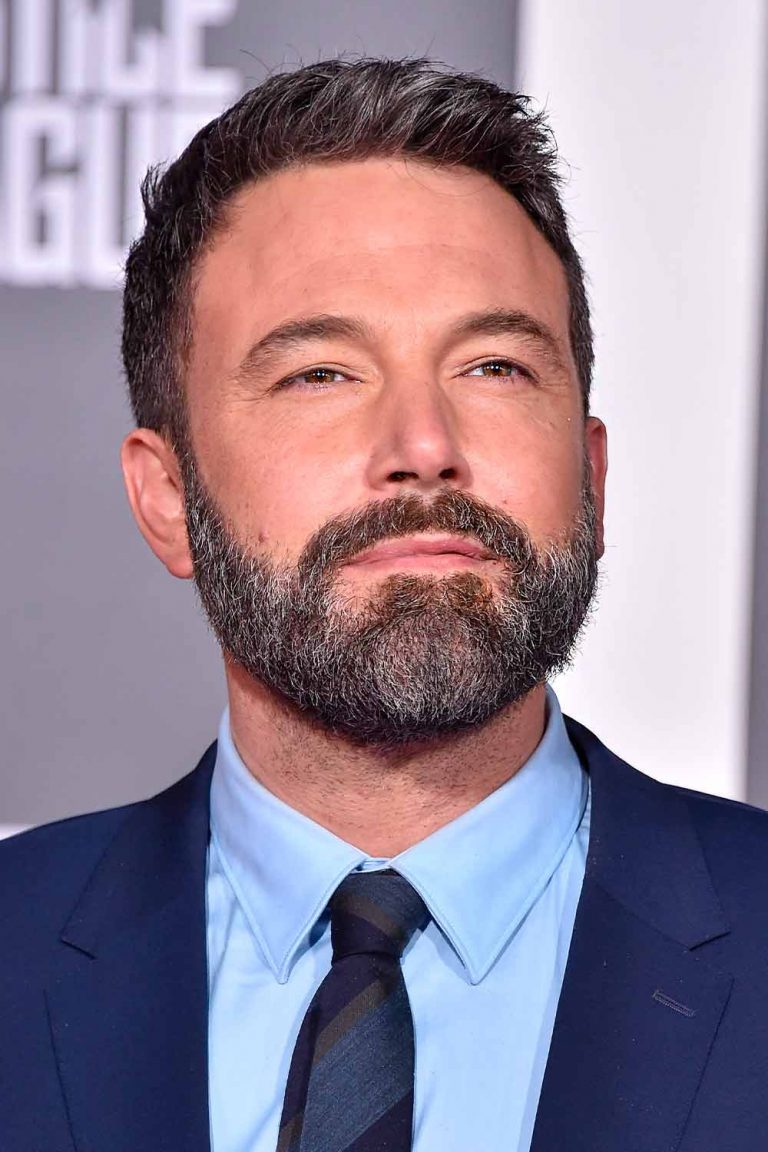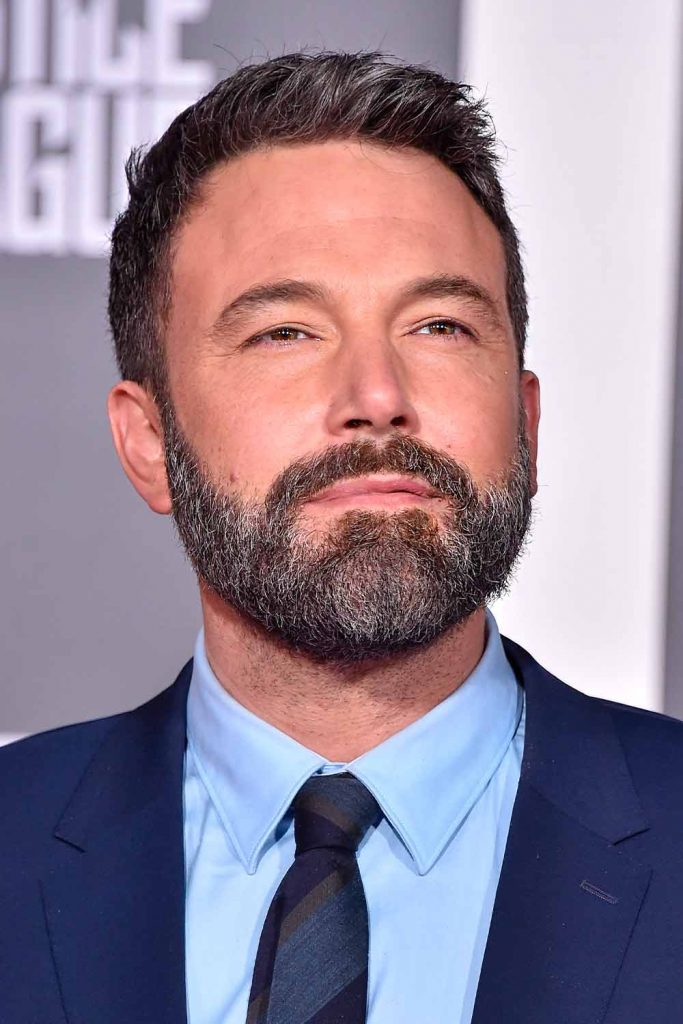 DFree/Shutterstock
Channing Tatum's Buzz Cut
Channing Tatum does not hide behind long locks, so his choice of a men thin hair cut falls on a buzz cut. It is extremely masculine and daring, which boosts your self esteem and confidence. Of course, you will need to get regular trims to keep it clean. Yet, it should not be a problem, as you can easily do it at home.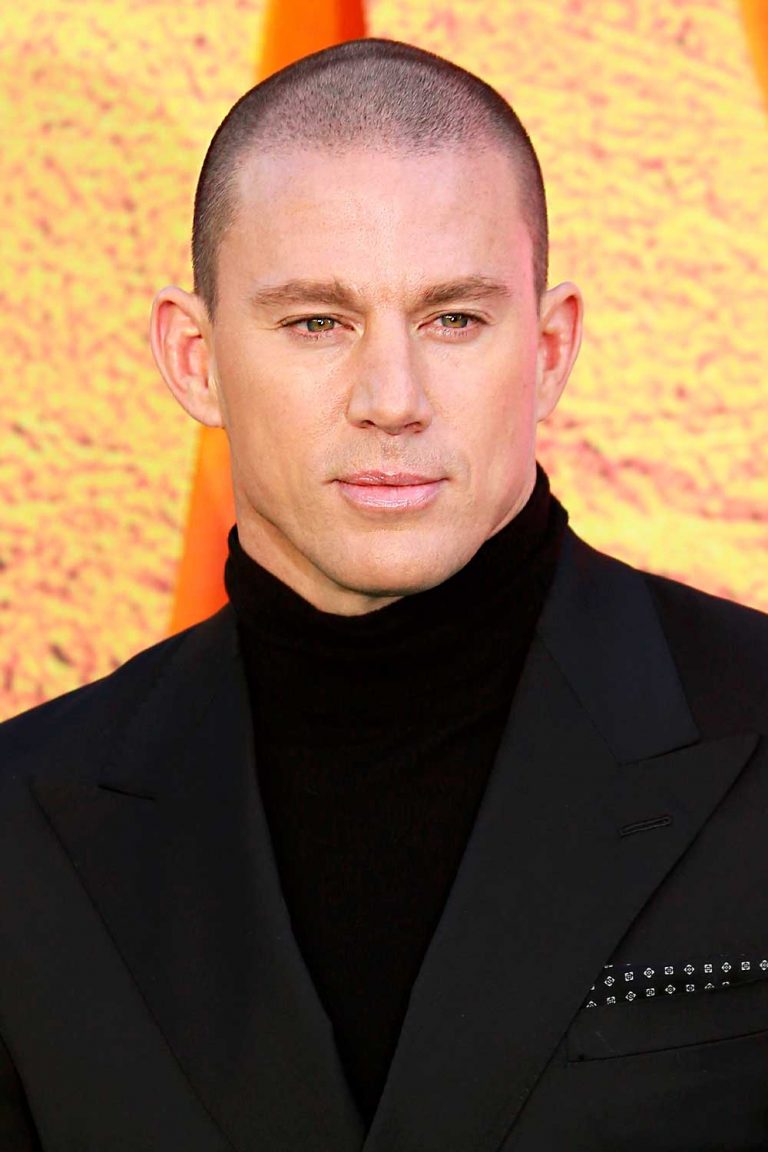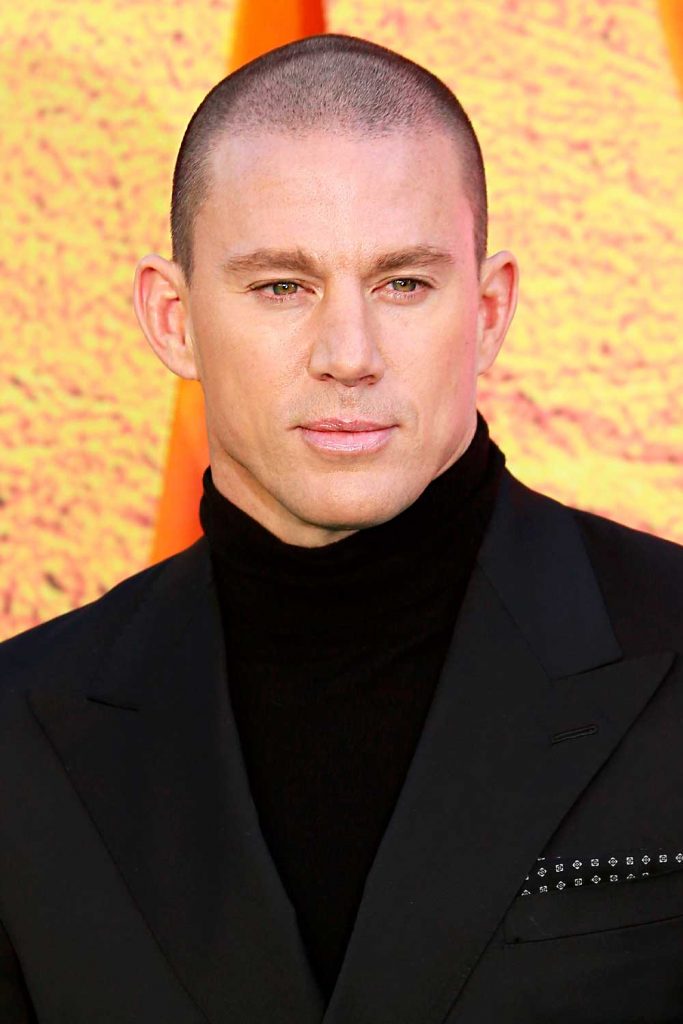 Fred Duval/Shutterstock
Chris Pratt's Short Side Swept
Thin curly hair men should make the most out of their hair texture. Take, for instance, Chris Pratt, who styles his short curly locks side swept. The look turns out elegant and polished, so it is safe to wear it to even the fanciest events. A short scruff will not ruin the style. Instead, it will give it a trendy touch.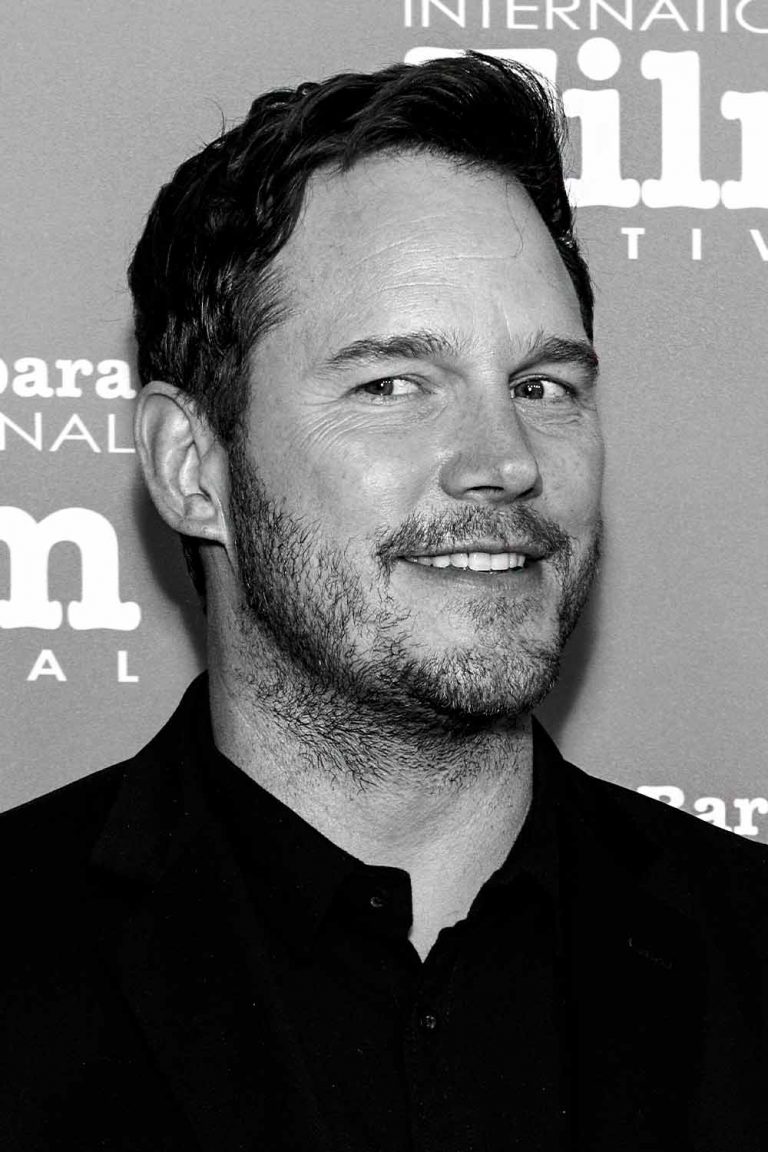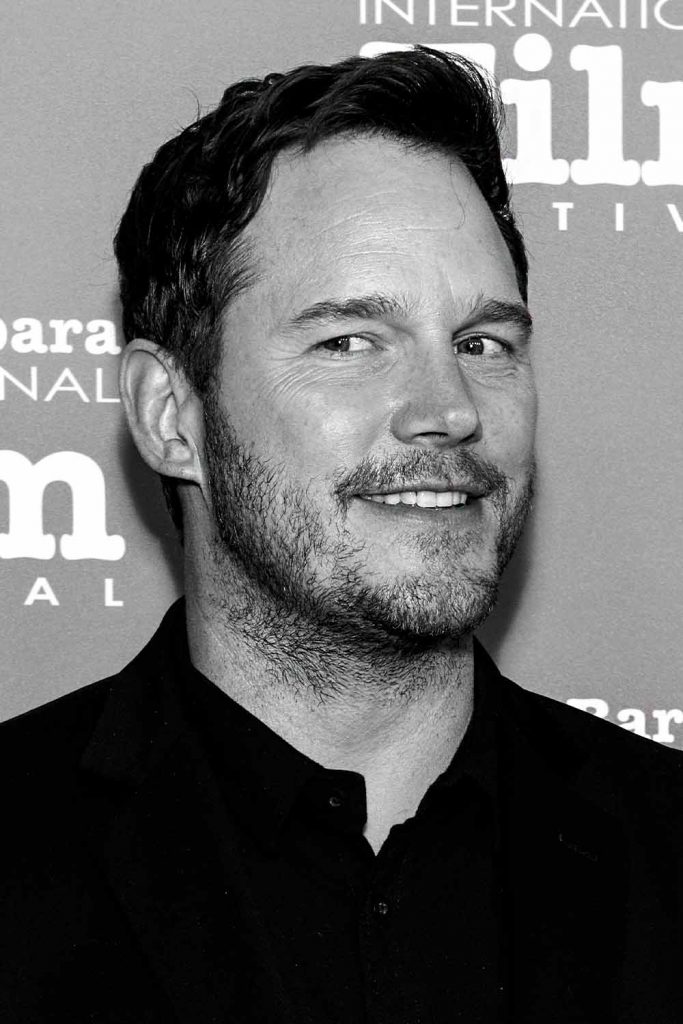 Ovidiu Hrubaru/Shutterstock
Tips For Men With Thin Hair
Some men with thin hair avoid sporting really cool male hairstyles in fear of looking pathetic. So that you would have nothing to be ashamed of, here are several simple rules to follow in order to get a killer look instead of wretched:
Keep the sides shorter than the top.
Opt for messy hairstyles rather than slicked ones.
Pair your hairstyle with a bunch of facial hair.
Use styling products with matte finish.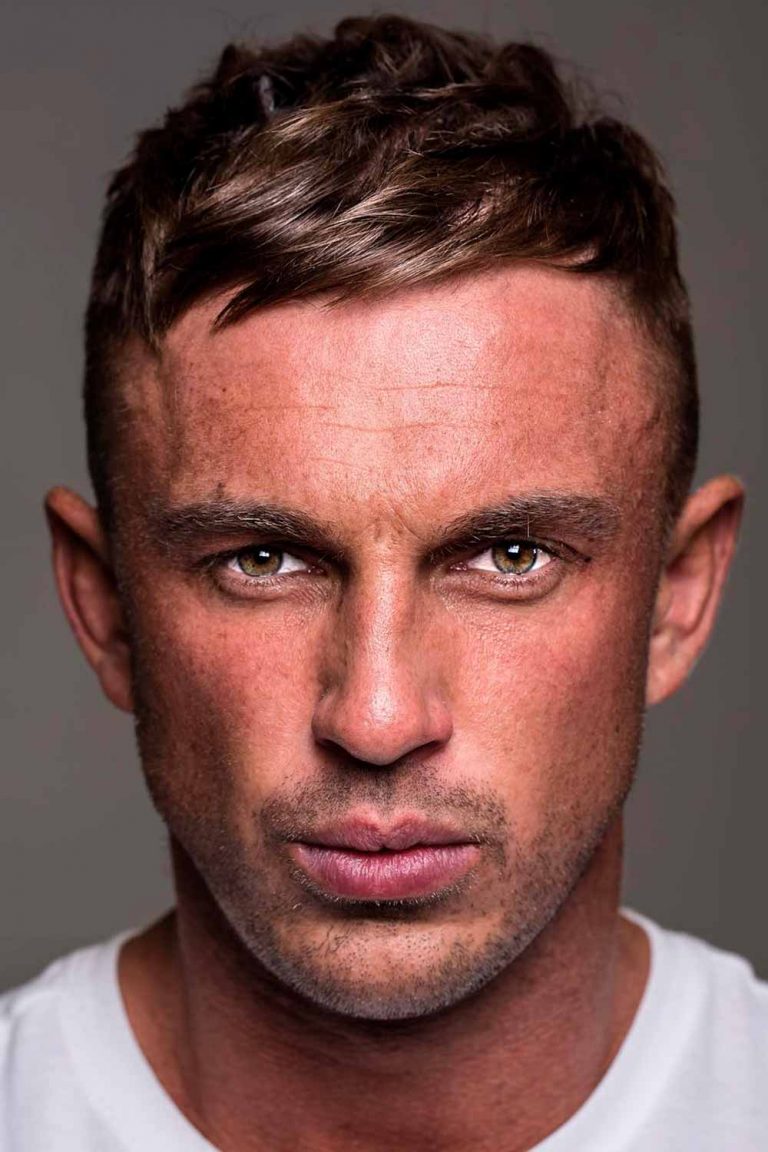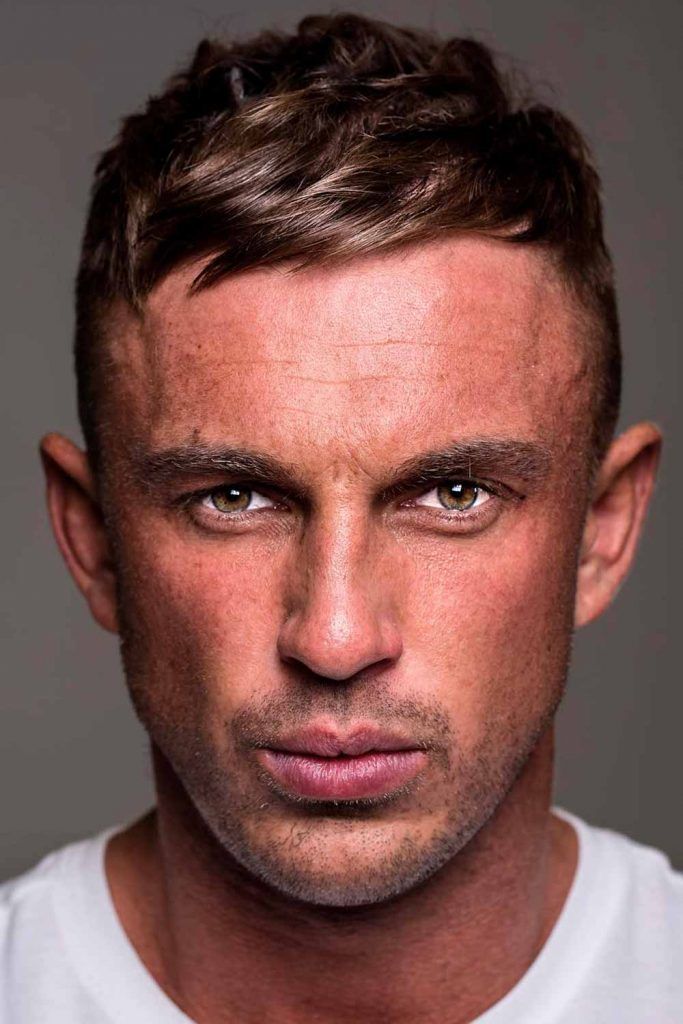 Source: @tombaxter_hair via Instagram
How Do You Make Thin Hair Look Thicker?
There are plenty of ways of how to get thicker hair for men. One of them is getting a heavy layered cut, which creates an illusion of a full head of hair. To achieve it, as the barber to scissor cut your hair around the face in different levels of layers while leaving the back full. Another one is getting highlights painted in random strands to make your locks look more dimensional and thus voluminous.
Moreover, you can use special hair care and styling products, such as thickening shampoos and conditioners as well as volumizing texturizers, hairsprays and mousses. Also, there is a blowdrying technique, which implies drying your locks flipped over first and then flipped back in sections with the help of a round brush. In addition to that, you can try some natural ways of how to get thicker hair, namely rinsing with apple vinegar, applying aloe vera plant and castor oil as well as taking some vitamins. Finally, you can turn to such drastic measures as a hair transplant or extensions.
Don't Groom Yourself Bald
If you have ever wondered how to get your hair thicker, then you have most likely heard of such a method as disguising your balding areas by combing long sections of hair over them. However, this has been proven to not only look pathetic but also be ineffective and even harmful. The thing is that the more manipulations you do with your locks, the more hairs fall out. Besides, your bald scalp is going to peekaboo from under the hair covering it, so you will only fool yourself in the end.
Do Thickening Shampoos Work?
One of our suggestions for how to get hair thicker has been to use a thickening shampoo. But, does it really do what it says? Well, actually it does. However, it does not change the natural thickness of your hair. It only creates the appearance of a fuller mane by attaching protein molecules to hairs. Though, the final result is pretty decent. So, let's dig into some of the hair thickening shampoos known to be the most effective.
Should You Have A Hair Transplant?
If you were looking for the best ways of how to get thicker hair fast, then you might have come across such an option as a hair transplant. But, is it really worth the effort and money? There are many reasons for and against a hair transplant. Like any other surgery, it may implicate some risks. Thus, before getting it, you should give a try to all other methods. If none of them works, then it may be the time to arrange an appointment with a hair transplant surgeon.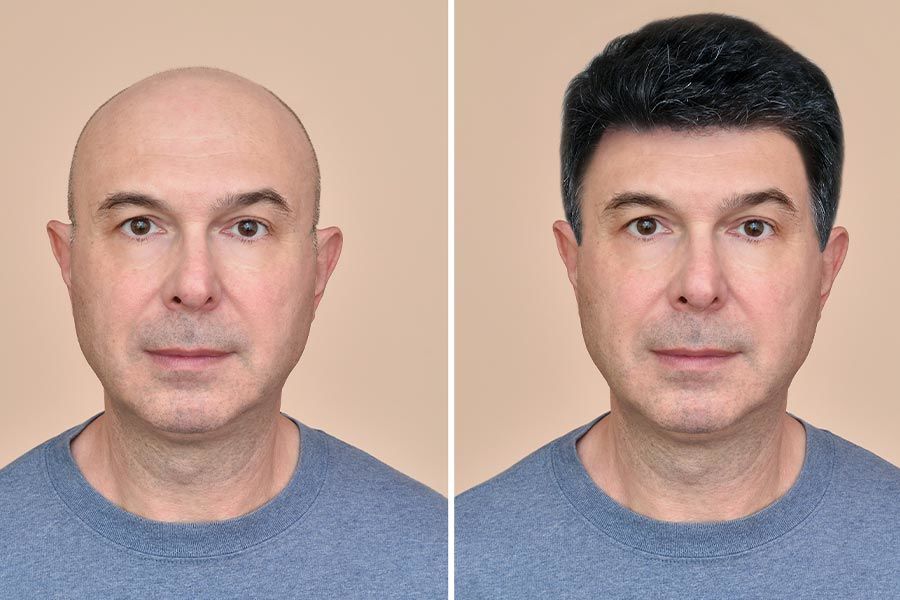 Is Minoxidil An Option?
Many men who experience a thinning hair issue sooner or later start considering minoxidil as a remedy for good reason. Thanks to the fact that the blood flow near your hair follicles is stimulated, their growth phase extends. However, it has several side effects, which cannot be overlooked. One of them is the so-called effect of interruption. That is when you stop using the medicine and your hair starts to fall out severely. So, be very careful when using it.
Other Treatments
Apart from Minoxidil, there are several other treatments that can work for you. For example, you can use Finasteride after the treatment with Minoxidil. It will stop testosterone from converting to DMT, which is one of the causes of thinning hair. The same properties are intrinsic in a Serenoa extract, which can be considered a natural alternative to Finasteride. Also, you can try out the Platelet Rich Plasma treatments, also known as PRP, which implies being your blood separated into plasma, platelet-rich plasma and red blood cells to be injected later on in the balding spots for the hair density boost. Last but not least, there is Low Level Laser Light Therapy, which will increase the blood flow around follicles and scalp in general.
Take The Plunge Without The Plugs
In case you do not want to resort to any complex treatments or medical procedures, then there are some gentler ways to create a more abundant silhouette. You can employ either hair fibers, which are cotton fibers that bond with the follicles of your hair, or cosmetic hair systems instead.
Surely, we can't say that hair loss is a blessing. However, it's not a death sentence either. With the sheer variety of hairstyles for thin hair, there's definitely at least one that's worth having in your stylistic box.
FAQs
What is the best haircut for thin hair?
The best haircuts for men with thin hair are mid-length and textured, as they allow you to create the appearance of thicker locks.
How can a guy with thin hair look good?
How good thinning hair men look depends, first of all, on their attitude and not on the haircut. However, to feel confident in your look, opt for mens hairstyles for thin hair that make it look as if you have a full head of hair.
How do you style thinning hair men?
To master how to add volume to hair men should follow the next steps:
1. Blow dry your hair after washing it in the shower for added volume.
2. Scoop a dime sized amount of a mattifying hair product, such as pomade or paste, rub it between palms and work into your locks.
3. Push the top hair to the side and back to disguise any thinning spots.
4. Perfect the hairstyle using a fine tooth comb to eliminate sticking out hairs.
How can I hide my scalp with thin hair?
There are many ways to cover up your scalp when you have thinning hair, and a dry shampoo is one of the most effective. Not only does it help to conceal bald spots, but it also adds volume to your hair and absorbs excess grease.
REFERENCES:
How to Choose a Haircut for Guys with Thinning Hair. Source
Whatever the occasion we have the inspiration you need to style your hair any which way. Source
The latest on men's hairstyles from GQ. Everything you need to know about men's hair including trends, ideas, recommended products and styling tips. Source