Fantastic Fade Haircut Ideas To Give A Try To
Before we proceed with types of fade haircut is should be mentioned what is a fade haircut after all, since not all of you may be familiar with it so far. The thing is that a fade cut is a type of short haircuts for men which is extremely versatile without being too dramatic lengthwise. The cut is done in such a way that some part of your hair is cut very closely to the scalp, but then the length changes gradually leaving all the fun at the top. There are many types and styles of how you can get it done, and we are going to provide you with the complete compilation of existing and trending haircuts with fade there are. So, let's have a closer look!
Fade Haircut Types
Since we have already figured that fade cuts are ones of the most requested for these days, it is time to have a look at types of a fade haircut. It is true that this haircut is exceptionally versatile, but there are three main types of it, depending on how high you want to take the fade to: low, medium and high fade. There are also some other variations of these three but worry not, we will discuss all of them today!
Low Fade
The low fade haircut will suit those of you who are willing to preserve the most natural look there is. Low skin fade touches only the back of your head while the length is increased as the cut moves up. This type of fade cut mostly suits men with diamond or triangular head shape.
Mid Fade Haircut
Source: @kevinelezaj via Instagram
When it comes to mid fade, it is safe to say that many men opt for it these days. The reason why medium fade haircut is so popular is that you can experiment with the variety of longer top cuts, like a pompadour. What is more, it is less reserved than low fade and less dramatic than a high one. Try it out, and you will not regret it!
High Fade Haircut
Source: @nickthebarber via Instagram
To tell you the truth, high fade is all about the contrast and most often about the low maintenance since most of your hair is cut closer to the scalp. However, that does not mean that there are no looks to experiment with – they are still plenty, even with a high top fade. Besides, high fade haircut black men like the most!
Bald Fade / Skin Fade Haircut
Source: @bradcanning via Instagram
Bald fade cut is different from all the described above in the way the fade is cut itself. The thing is that bald skin fade is cut right at the scalp. Bald fade haircut will suit those of you who would like to accent the border between your beard and haircut.
Drop Fade Haircut
Drop fade is called so because the fade drops right behind the ear. There is a visible arch from the temple to the ear and that is exactly what makes this cut a little different from all the others described. If you are looking for something new to experiment with we suggest you try this one out!
Scissor Fade
It is true that not all the men are equally fond of clippers that is why we suggest to your attention the scissor fade cut. As you may have already guessed, the barbers use scissors instead of clippers to succeed with this cut. What makes it so unique is that it is a little bit softer than all the fades described, if you are not a fan of experimentation then this is the cut you need.
Temple Fade
Temple fade haircut is very popular among men with tight curls or afro hair. The thing is that it is tapered around the temples and sharp lines are created. These lines are what make the cut so special, so you better not try to pull it of on your own but visit an experienced barber instead.
Taper Fade
Taper fade haircut can be easily called the most classic one when it comes to fades. The thing is that when you compare taper vs fade, there is no dramatic fade at all, there is no skin exposure, just a neatly cut low taper fade. If you are not looking for a dramatic change, then this cut will suit you perfectly.
Comb Over Fade
Fade comb over hairstyles are pretty required these days too. However, this is a cut that needs some time and effort spent on while styling. In case you are ready to waste your precious time on your hair then high fade comb over is the perfect option for you!
Undercut Fade
Fade undercut will suit those of you who are all about the business in the back and party on the top. The thing is that any skin fade undercut requires back and sides to be closely shaved, while you can experiment with the hair on the top the way you like.
Hairstyles To Wear With A Fade Haircut
Now, when we have it covered what a fade haircut is and what types of it there are it is the time you get to know about all possible styles to pull off with this cut! Enjoy!
Side Part Hairstyle With A Fade Haircut
Side part haircut is surely the classiest one, what is more, it works with all possible types of fades there are. All you need to do is to pick your fav side part fade and get it professionally done!
Hard Part Hairstyle and Fade Combo
The best thing about a hard part haircut is that it brings contrast to the cut so that all the details are noticeable. However, you need to be aware that hard part fade will require some time, effort and means to style it properly.
Pompadour With Fade
Pompadour hairstyle is the one that has been trending for decades now. However, it is time you freshen up your favorite pompadour with a fresh update. The mixture pompadour and fade is the perfect blend of class and style!
Faux Hawk Fade
Faux hawk haircut is surely the one that requires courage to pull off. What is more faux hawk fade also begs for some styling skills to be at hand. In case that is something you think you can easily deal with, then this daring and stylish cut is what you have been looking for!
Spiky High Top With A Fade Haircut
Those of you who are willing to combine high fade with some longer hair on the top may as well opt for this spiky hair on the top option.
Slick Back Top With A Fade
Source: @mensworldherenkappers via Instagram
Slick back hair is something that not everyone would appreciate, however, if you have soft and straight hair and you would like to keep it longer but out of your face – slick back fade is undoubtedly the best choice for you!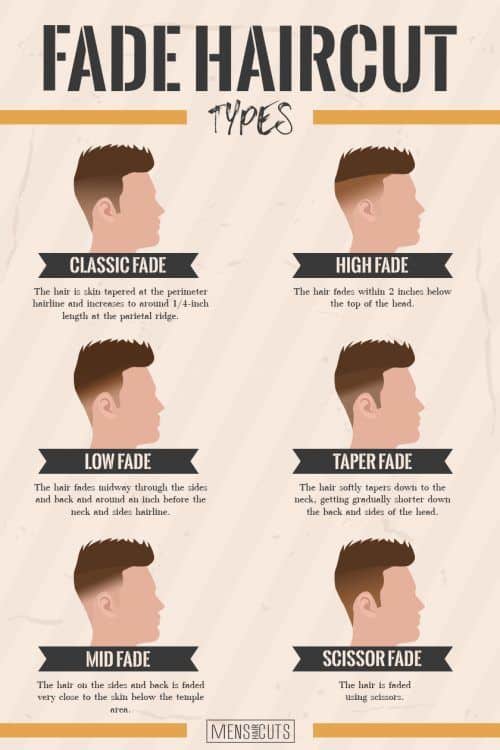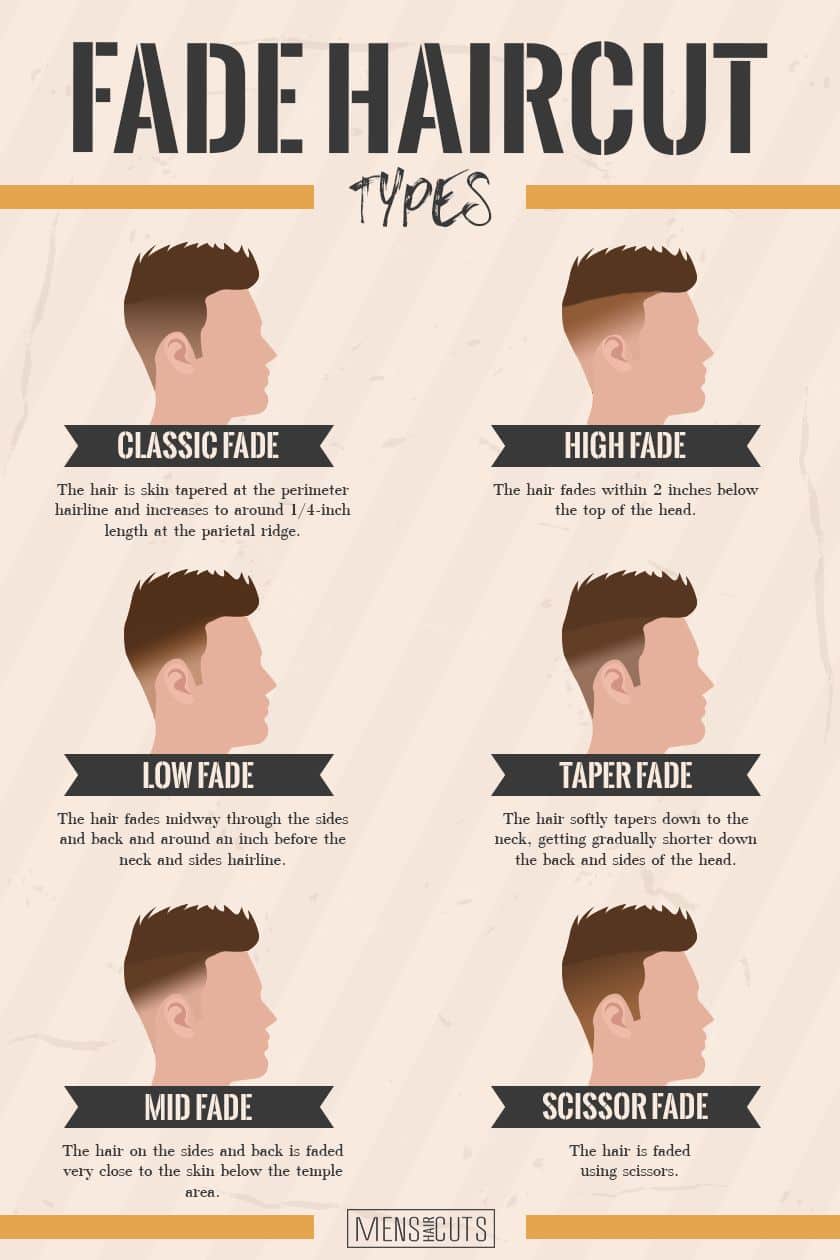 The fade haircut is the most requested for these days. That is why we suggest to your attention the fullest compilation of all possible fade types and styles to experiment with. Enjoy!
Main photo by @Reza_jax