Because A Taper Fade Can Upgrade Any Hairstyle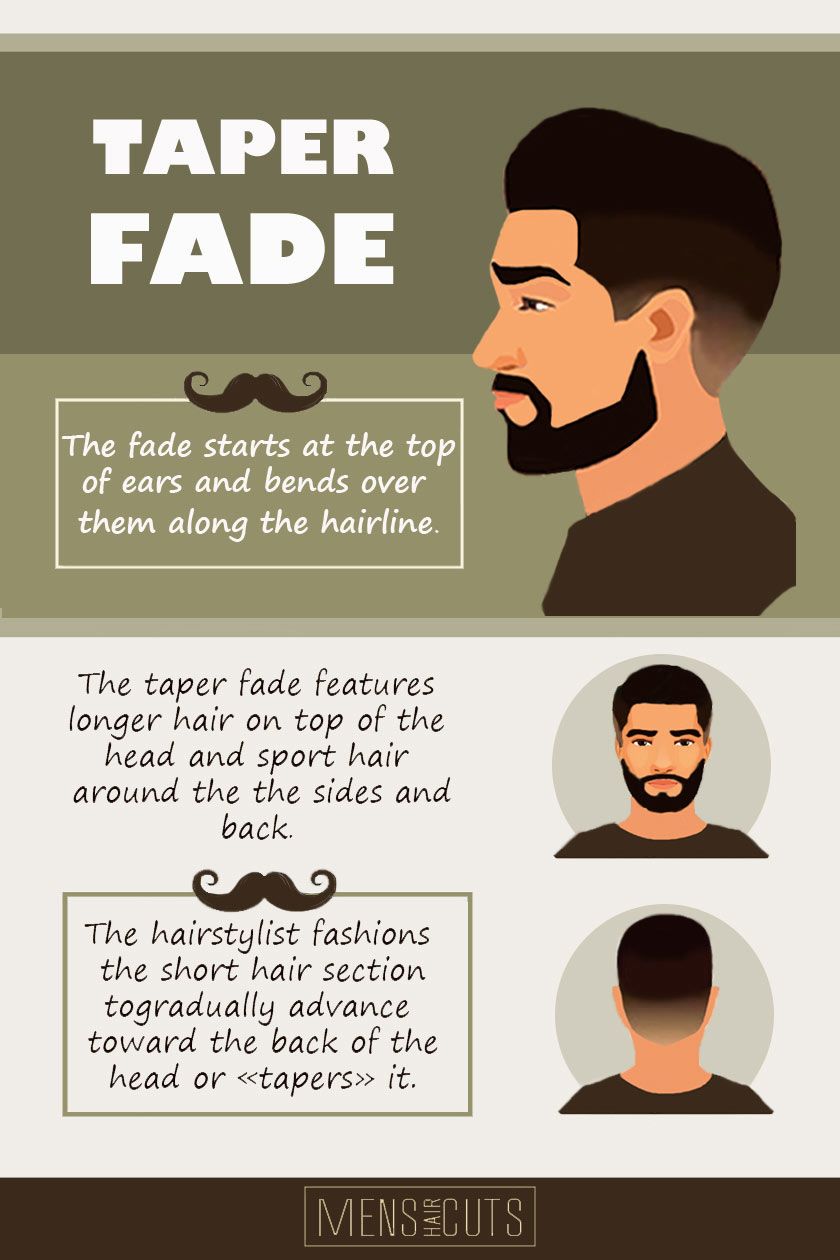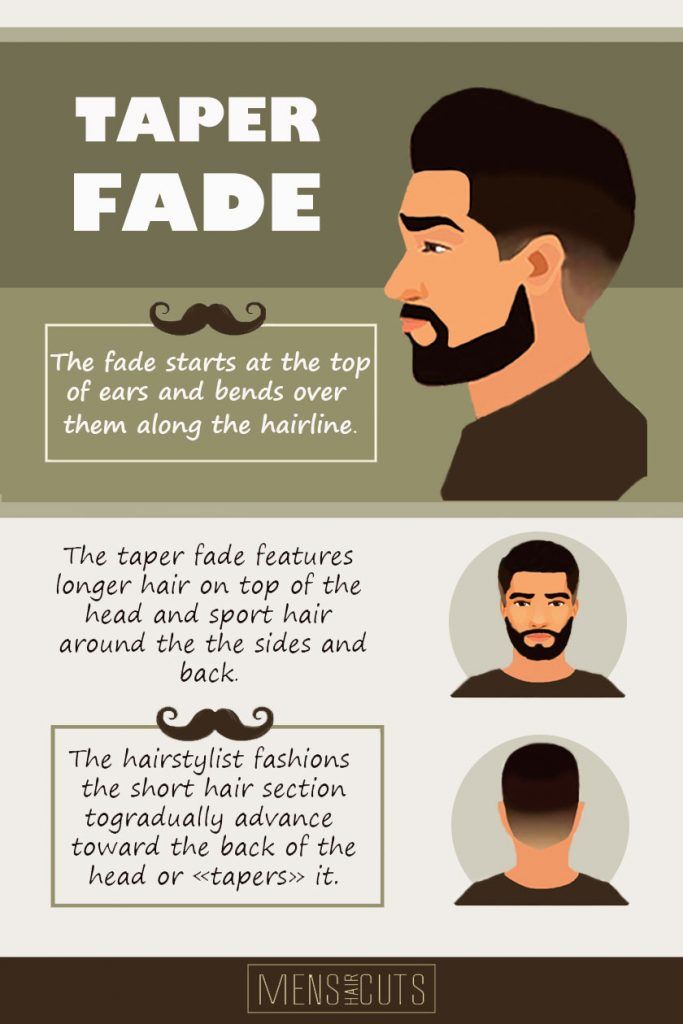 The versatility of a taper fade allows any man to find a style that matches his tastes. It can be side-parted, combed back, tousled or spiked up. And these are just a few of the styles you can do. Most looks work best with hair styling products and/or pomades, so don't hesitate to use them. To get more insight into the cut and draw some inspiring ideas, keep on reading.
What Is A Taper Fade Haircut?
Source: @shrunknheads via Instagram
A taper fade haircut is similar to its brother, a taper haircut. Both haircuts feature longer hair on top of the head and short hair around the sides and back. The short hair section is about four inches but can be longer (high, low or medium fades). The hairstylist works with the short hair section and fashions it to gradually advance toward the back of the head or "tapers" it.
What Is The Difference Between A Taper And A Fade?
Source: @londonschoolofbarbering via Instagram
When you compare taper vs fade, you may notice that the taper section can be buzzed or scissor cut, whereas the fade section is progressively buzzed to appear as though it's merging into the skin. Another difference in fade vs taper comparison is that with the former, some areas of the head may have no hair at all, which generated the term "bald fade," whilst with the latter, the locks are gradually cut in different levels of length.
What Do I Need For The Taper Fade Haircut?
Source: @alexmapeli via Instagram
The taper fade haircut belongs to rather short styles. To pull it off, your hair should be around 2 to 4 inches long. You can leave it longer, of course, if you like. But keep in mind that striving for length, you can lose neatness. So, decide what you would sacrifice more readily.
Apart from the optimal hair length, you should also figure out whether a tapered fade will suit you or not. As this haircut is so revealing, it will most likely emphasize any flaws you have on your head, such as scars, bumps and alike.
How To Get The Taper Fade Haircut
Source: @joeltorresstyle via Instagram
Well, the answer is simple – ask your barber for it. However, if you are not sure that they will get you right, here is what it should look like. The top section of your hair should be left longer and decrease gradually in length toward the hairline. There is a myriad of taper fade styles, so choose the one that resonates with you and show its picture to your hairstylist.
Types Of Tapered Fade
There are basically three main types of the taper fade: low, medium and high. Let's work out the meaning of each of them.
Low Fade Taper
Source: @londonschoolofbarbering via Instagram
To get the low taper fade, you'll need to start it at the top of your ears, bend it over them along the hairline and land to the nape. This is a professional looking haircut, so you're welcome to sport it on any occasion. As the low fade taper focuses on back and sides, the top should be left longer for a contrasty look.
Mid Fade Taper
Source: @hairraribarber via Instagram
What is a medium taper fade? Unlike the low taper, the mid taper fade starts at the center of your sides and back. It's not overly bold yet not too plain, which makes it a perfect choice for guys who like to have a balance in all areas of their lives. No matter what hairstyle you're flaunting, a faux hawk or Afro tapered fade that starts at the middle of the head can complement them all.
High Fade Taper
Source: @meha_barber via Instagram
It's not hard to guess that the high taper fade starts high on the sides and back, a bit below the crown area. Guys who choose to live on the edge are bound to enhance their look with such a daring element. The high fade haircut makes any style very contrasty, so you won't need to go overly creative on the top to get a really distinguished look.
How To Style A Taper Fade Haircut
Source: @londonschoolofbarbering via Instagram
The way you're going to style your fade tapered hair is fully dependent on the type of the cut you're trying to pull off. For more intricate hairstyles, such as a high fade faux hawk, you'll need a generous amount of the styling product with a strong hold. If you're going for something lighter, say, a classic tapered fade haircut, it's up to you to decide whether to style it or not.
So that you didn't have to spend much time choosing the look that will suit you best, we've selected the most stylish options below.
Classy Taper Fade
Source: @alexthegreatvivar via Instagram
If you choose a classic and elegant style, but want it to appear more up-to-date, this haircut will help you to get the desired look. The haircut type depends on the effect you want to achieve. For more definition, get asimple side part in above the tapered area.
Faux Hawk Top
Source: @shrunknheads via Instagram
A faux hawk haircut is the first that you'll want to pair with a taper fade. To achieve this hairstyle look, you'll need to have your hair on top long enough to form a crest, while the sides, unlike the traditional mohawk, shouldn't be shaved but tapered instead.
Comb Over Fade
Source: @meha_barber via Instagram
The comb over fade offers several styling options. This model side parted his and then slicked it back. Bald men and those with thinning hair like the taper fade comb over as it allows them to conceal hairless patches.
Caesar Inspired Taper
Source: @londonschoolofbarbering via Instagram
Do historical figures inspire you for life changes? Why don't you try a Caesar haircut then? It pairs perfectly with a fade tapered haircut and an elaborate design.
Short Blowout
Source: @meha_barber via Instagram
For a dapper look that doesn't require much maintenance, turn to a blowout haircut on top and a tapered low fade haircut on the sides and back. To make it even edgier, add a line-up along the forehead and temples.
High Top Fade
Source: @londonschoolofbarbering Instagram
This model's high top hairstyle elicits the 1990s hip hop beats. Well, the look is back, and the high top fade modernizes it. It looks great on African American men and those with tight curly hair. These days, it's extremely trendy. This model's high top sits above a mid taper fade, which begins around the temple level and ends above the ears.
Tapered Mohawk
Source: @ninothenice via Instagram
Mohawk hair, in some form or fashion, has YET to go out of style. This Mohawk fade, though spiked and atop a scruffy beard, nonetheless can still be sophisticated, if that's what this model needs. It'll be anything he wants, really. The Mohawk haircut isn't just for punk rockers anymore.
Tapered Side Part
Source: @hayden_cassidy via Instagram
Here's another variation of a side part fade. This model's hair is extra long on top, so he's able to create a deep side part. As you can see, this side part haircut works especially well for wavy and curly hair. A man with straight hair can use a curling iron or wand to achieve the curl. Macho men absolutely use heat styling tools.
Brushed Back Haircut
Source: @alexthegreatvivar via Instagram
Brushed back hair, along with a low taper fade, that is usually within one or two inches of the hairline, looks most dapper with coarse, thick hair, as this model sports.
Textured Crop
Source: @londonschoolofbarbering via Instagram
Although a French crop is somehow a controversial hairstyle, as not everybody is able to pull it off, the taper can make it more versatile. Go for a high tapered fade to keep the textured top a focal point of the whole look. If you have kinky and unruly locks, a French cropped fade black male hairstyle will become a perfect solution to not only tame them but also bring a stylish touch to the whole look.
The Tapered Pompadour
Source: @meha_barber via Instagram
A pompadour hairstyle or pomp has short hair on the sides and back, long hair on top, and lots of hair in the front. So that the pomp can be fashioned, the hairstylist creates a high fade taper with the front hair. Those in the fifties slick back their pomp. This model shows us the contemporary pompadour fade. While the pomp is high, the tapered cut can be whatever the wearer wants (low, mid, or high).
Quiff Top Taper Fade
Source: @alexthegreatvivar via Instagram
The quiff hairstyle somewhat looks like a pomp. They're both swept back and high. The quif, however, has more bulk on the sides. This model's snazzy mens quif with a mid taper fade shows how you have some choice about the length. It could be worn longer and more voluminous if you want.
Spiky Hairstyle
Source: @londonschoolofbarbering via Instagram
Even if the hair on top isn't very long, you can still add pizzazz with a taper fade. This model's short spiky hair looks amazing and would suit any occasion. The taper fade nicely compliments the spiky hair and keeps it neat, fresh, and modern. Taper fades make so many styles ideal, even those you'd swear would be wrong. If you're a conservative type, try out one of the short spiky hairstyles. You'll definitely look handsome.
Curly Top
Source: @londonschoolofbarbering via Instagram
It's not usually easy to find trendy hairstyles for men with curly hair. Not so anymore. This model shows how taper fades make curly hair men look fantastic. This model's fabulous curls will instantly make women want to run their hands through them.
Choppy Top
Source: @ninothenice via Instagram
Men with thick hair no longer need to get thinned out, short cuts. Choppy haircuts with taper fades will give them edge, polish, and sophistication. They can even choose whether they want short choppy hair or, like this model, wear it longer. Taper fades offer so many options.
Afro Taper Fade
Source: @f4fade via Instagram
A taper fade is an awesome way to tame such unruly locks as Afro. Having your sides and back tapered gives your hairstyle a neat and dapper appearance. At the same time, you get a really trendy and stylish look, thus killing two birds with one stone. Do not forget to emphasize the bold texture of your kinks on top with a blob of a hair styling product.
Afro Fade With A Hair Tattoo
Source: @rusty_fred via Instagram
With taper fades, you can even create hair designs or tattoos. Tattoos work especially well for black men haircuts taper fade. Just check out this model's afro fade. Imagine the possibilities. You can imprint your team logo, a cartoon character, your initials, name, etc. You're limited only by your imagination.
Brushed Up Tapered Haircut
Source: @egobarbers via Instagram
A taper fade is a perfect accompaniment for a brushed up hairstyle, as it allows you to easily keep the focus on the prominent top. Being a hugely eye-catching and stylish, this hairdo does not require a lot of effort and time.
Slicked Pompadour + Taper Fade
Source: @egobarbers via Instagram
For an elegant and refined slicked pompadour, there is hardly a better company than a taper fade. It does not clash with the ambiance of the style yet gives it a modern and fashionable twist. All you need to get the style is a wide-tooth comb and a hair styling product with a matte finish.
Long Curly Bangs + Taper Fade
Source: @egobarbers via Instagram
If you have naturally curly locks, then a taper fade should be your haircut of choice. It gives the unruly coils definition and outline while accentuating their structure and pattern. For styling, you can simply run your fingers covered in a hair styling product through the curly bangs and you are good to go.
Taper Haircut + Long Beard
Source: @barberjustin via Instagram
As the taper haircut makes your look clean and neat, you can pair it with the longest beard you want. If you are a really rough guy with a ton of patience, go for a chest-length full beard, which will look impressive with a tapered hairstyle.
Short Turquoise Tapered Pomp
Source: @barberjustin via Instagram
There are plenty of ways to give emphasis to your hairstyle. If you do not want to turn to overly sharp cuts, then you can dye your locks in a bright color. Turquoise will give boldness and prominence even to the plainest and most modest style, such as a short pompadour.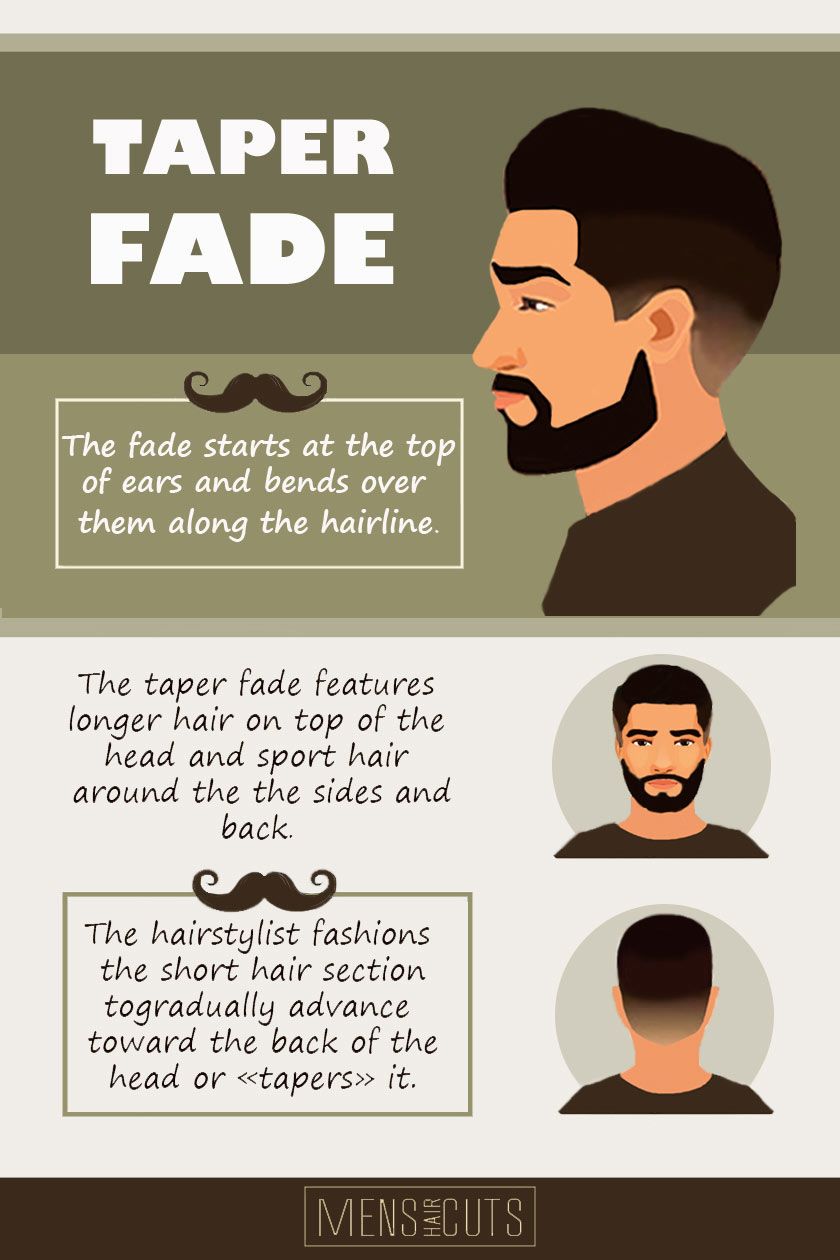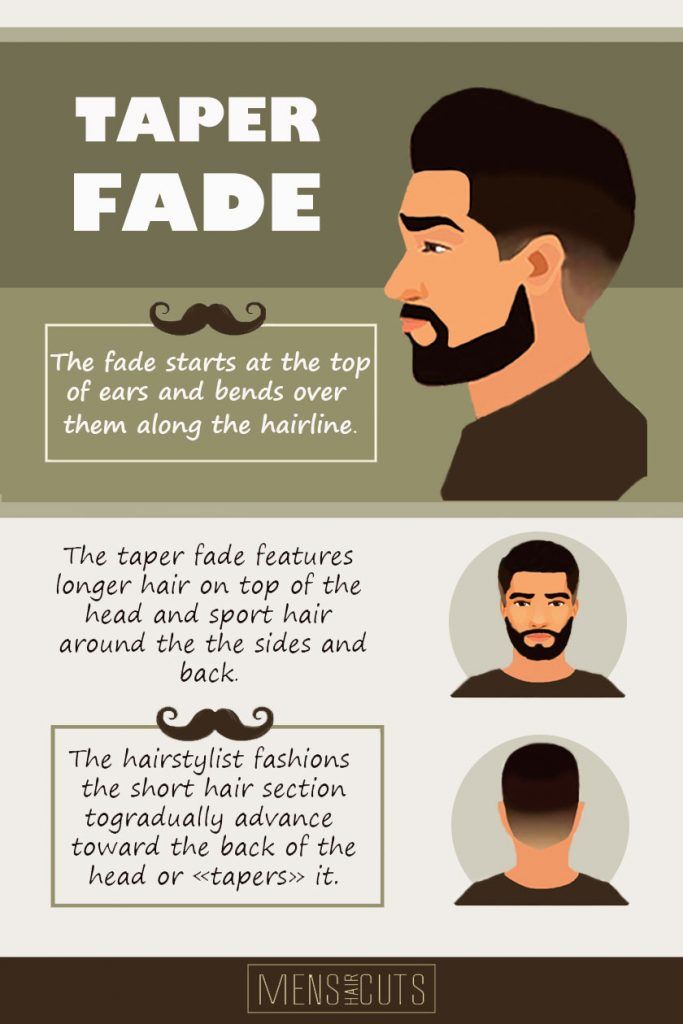 You will definitely find a taper fade haircut that will suit you, whether you have coarse hair, thick curly hair, or even if your hair is thinning. Try a style you never thought would look good on you. It could simply be a matter of changing a part or adding a few spikes. That's how the fade works. You'll look great, feel great, no matter what you do, and everywhere you go.
REFERENCES:
Have no new ideas about men's hair styling? Find out the latest and trendy men's hairstyles and haircuts in 2020. Source
See the best men's hairstyles and haircuts for 2020 with our expert advice for your next barber visit. Source
Find your next haircut or hairstyle this year by browsing some of 2020's most popular looks. Source