Short haircuts for men are very trendy right now! More guys than ever are opting for 1 to two inches of length up top and buzzing the hair close to the skin on the sides of the head. These styles are easy to maintain, take mere minutes to style, and give short hair a clean-cut feeling.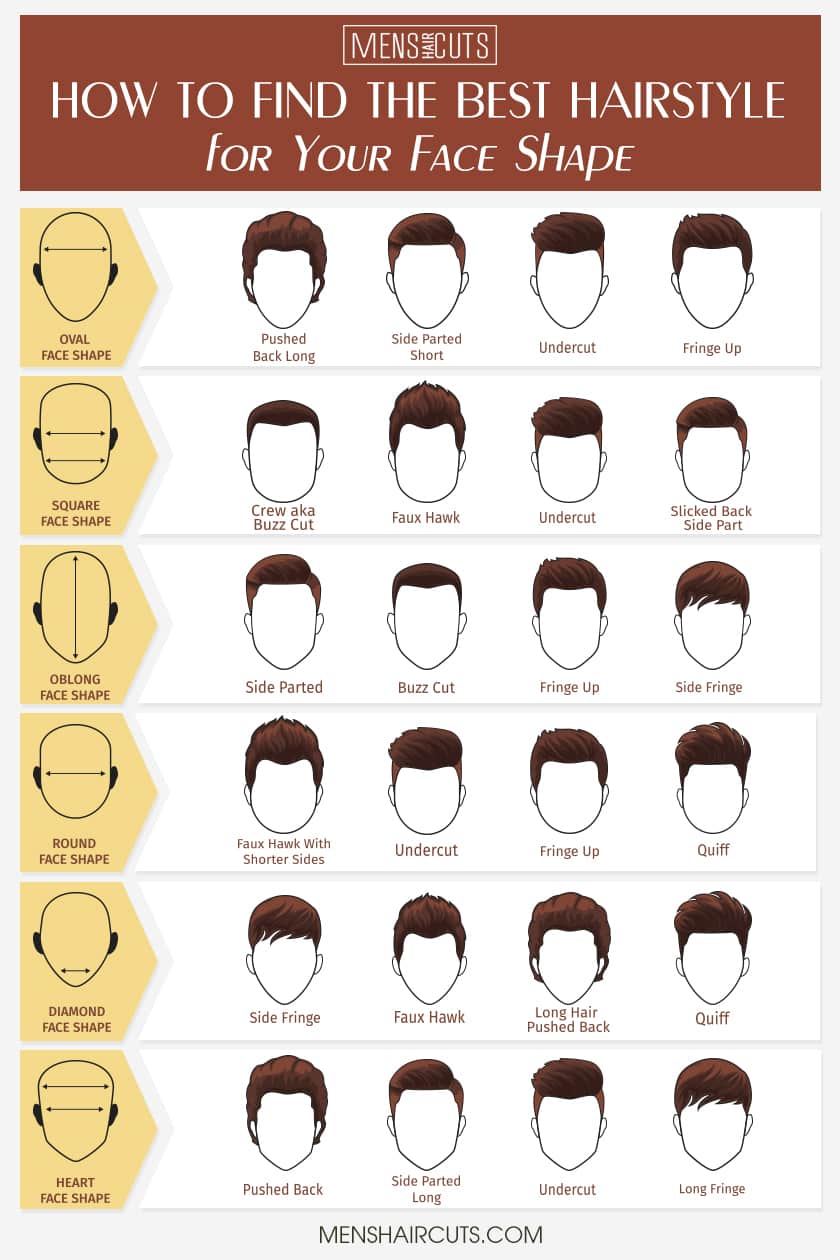 Maybe you're searching for your next perfect cut, or you're a mom or loving significant other who is wondering, what short haircut should I get men? To choose the perfect fade haircut, focus on the time willing to be spent on daily styling, the preferred go-to length, and if any facial hair is involved.
Source: @tombaxter_hair via Instagram
i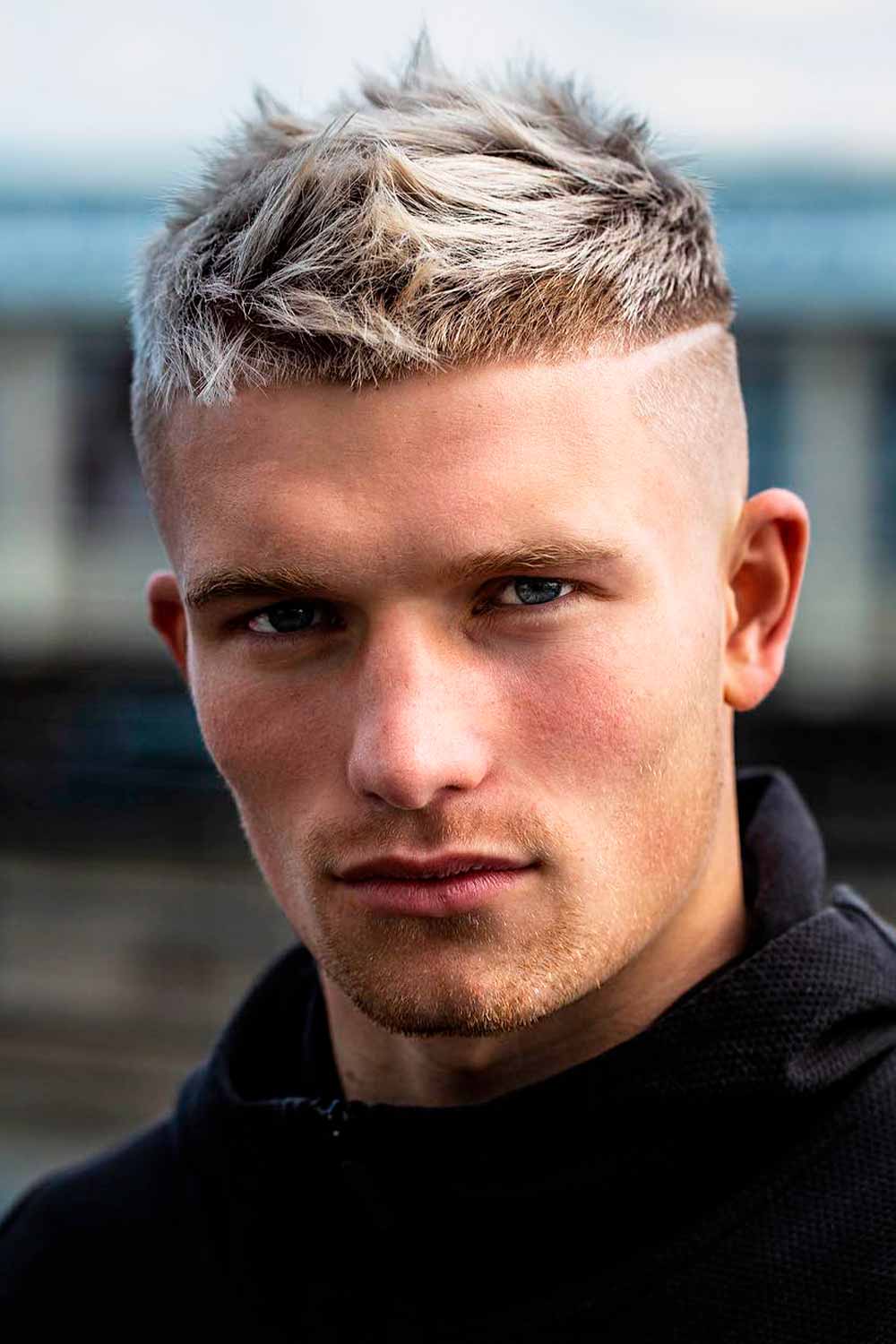 Source: @joshconnollybarber via Instagram
i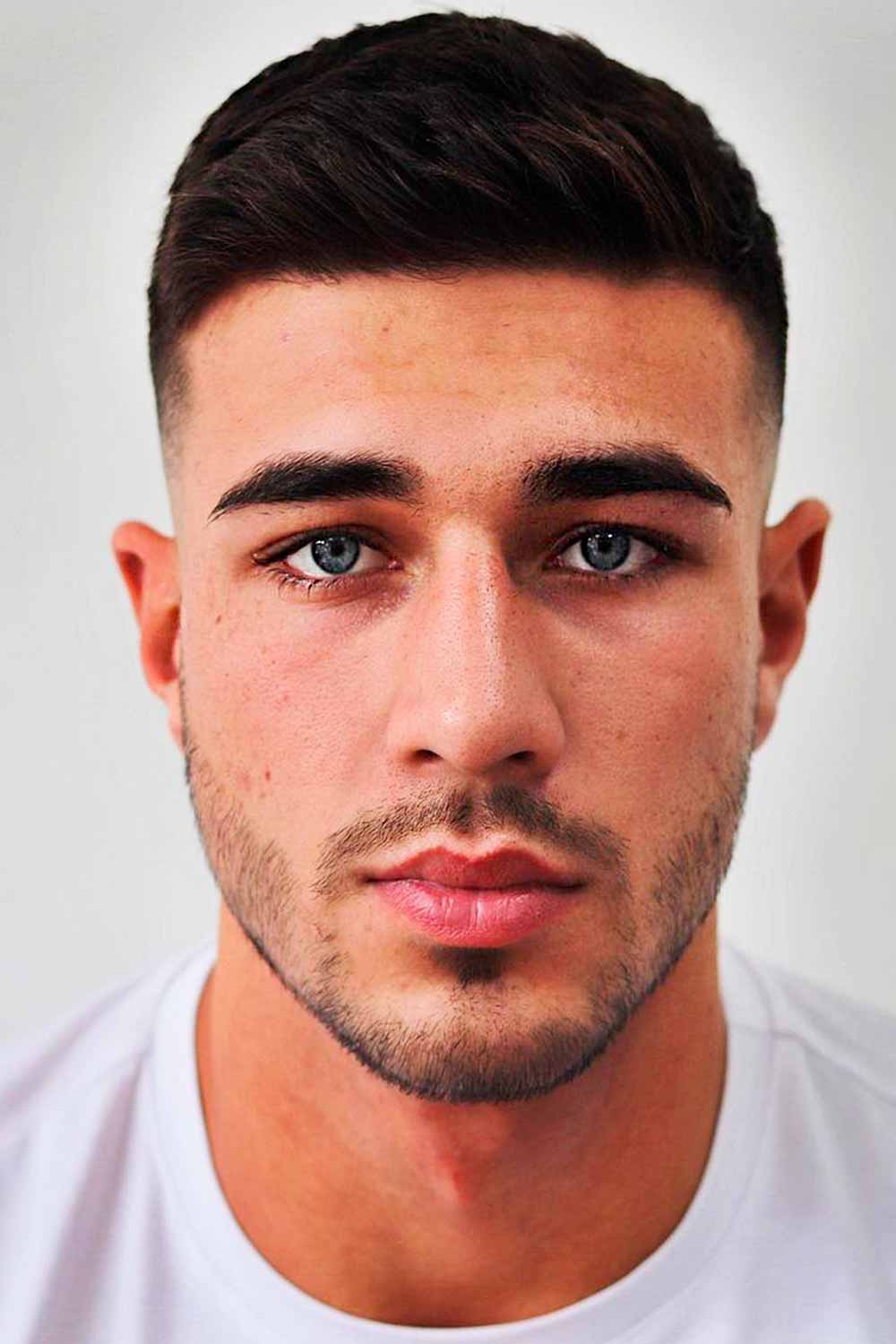 Source: @r.braid via Instagram
i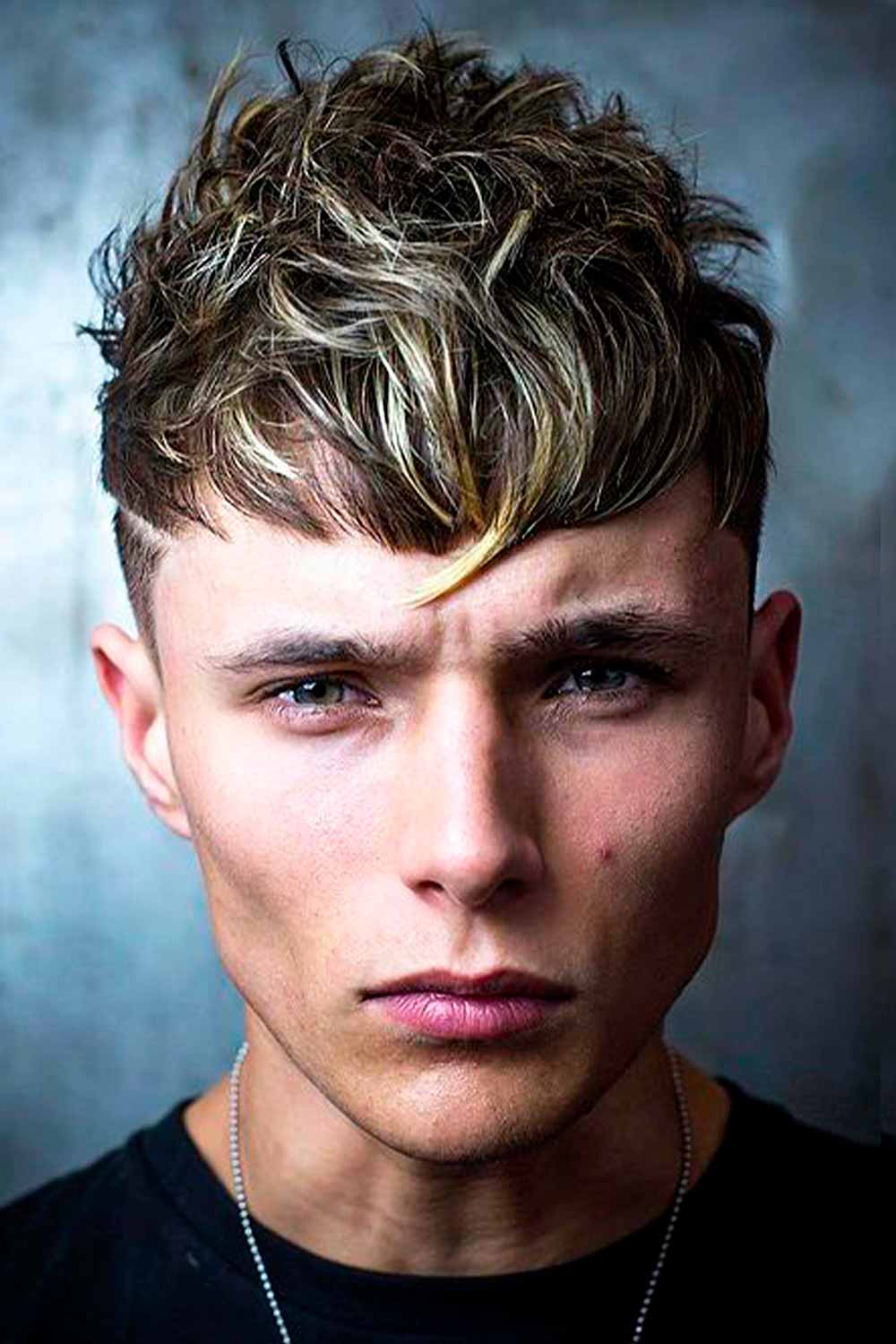 Source: @horatiuthebarber via Instagram
i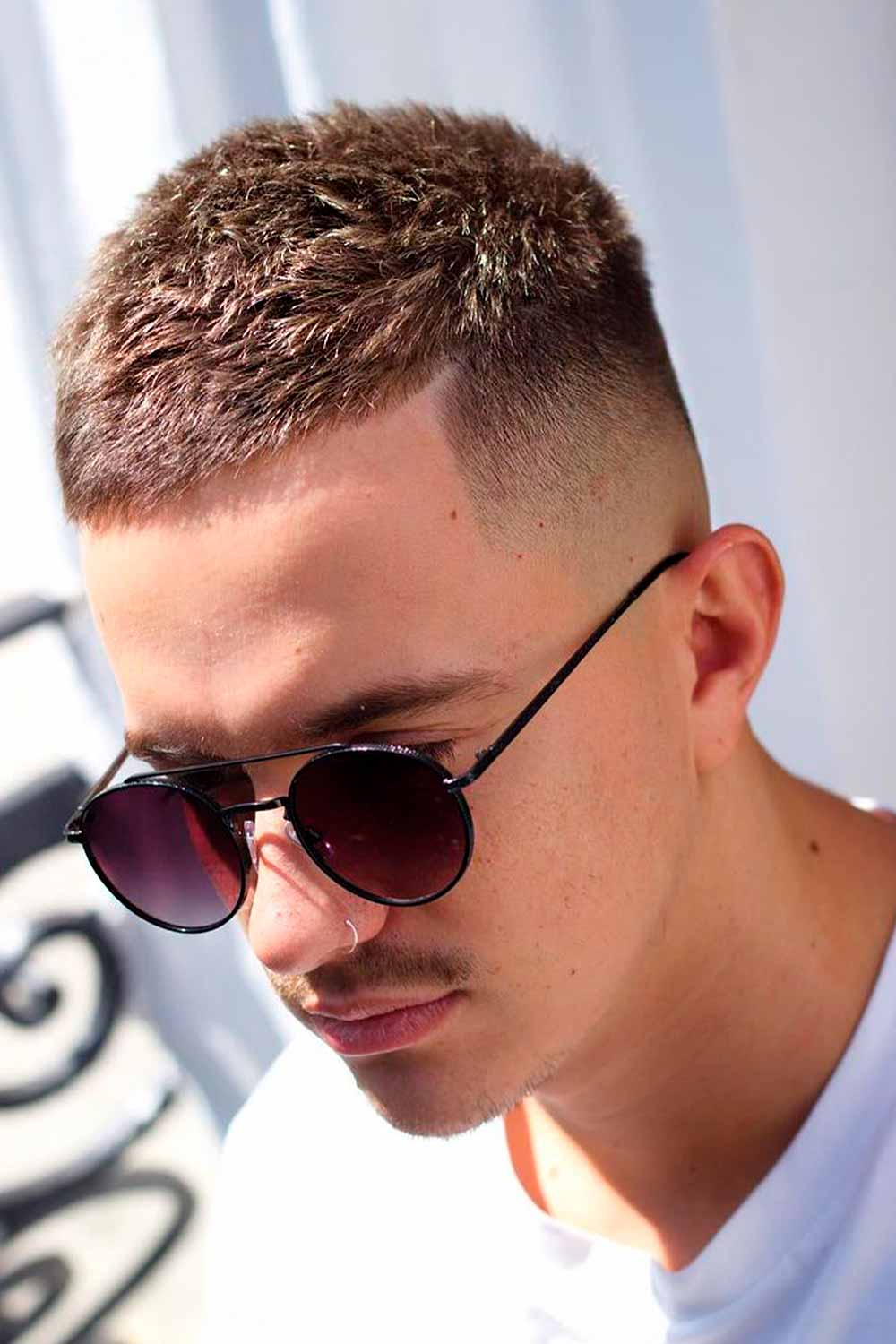 Source: @z_ramsey via Instagram
i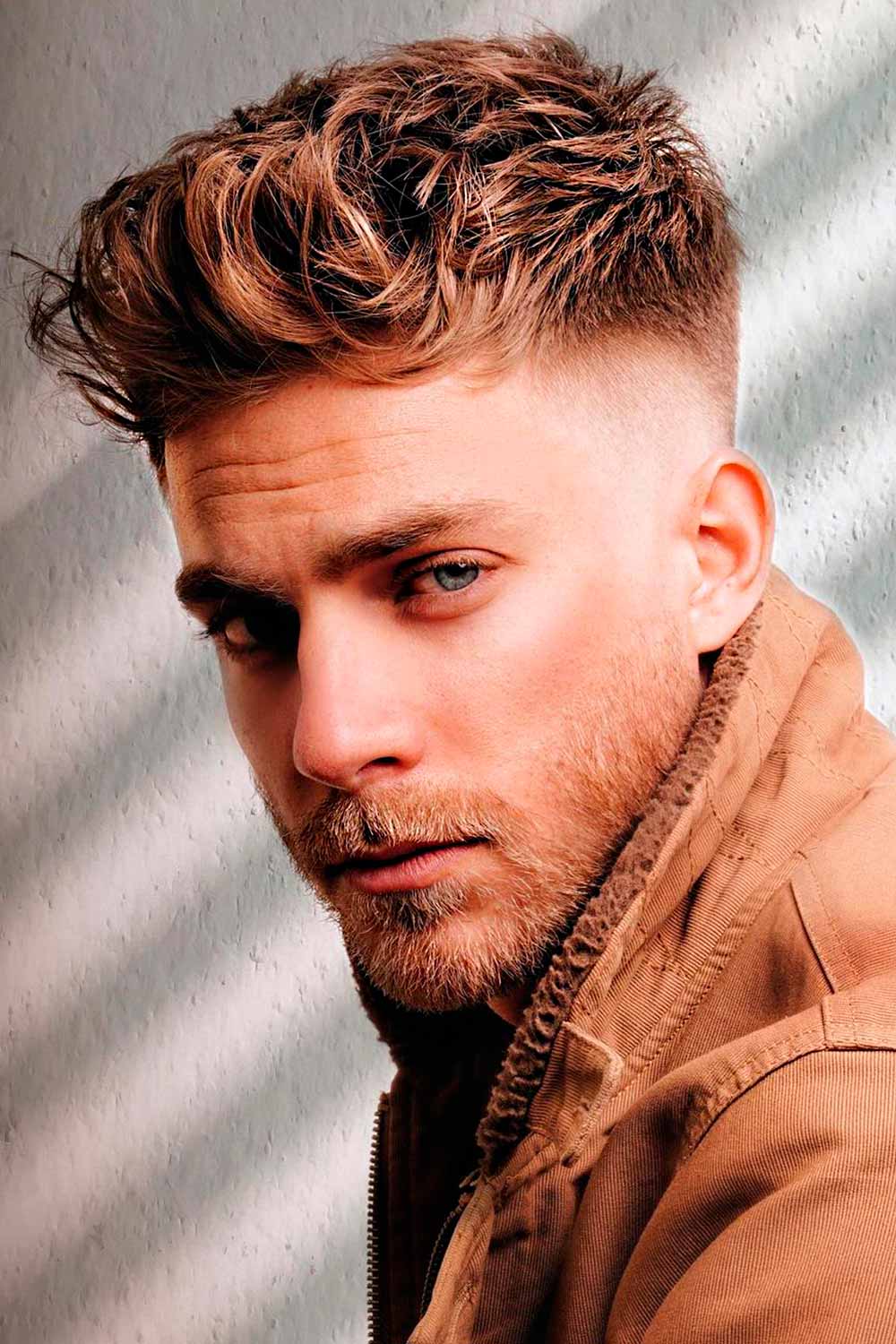 /
Some guys still rock the long hair, man bun look, but the high and tight trend that incorporates details like an undercut, or buzz cut, is clearly here. Still wondering what is the best haircut for short hair? Below are 10 cool and trendy styles that will answer your question- and then some!
Blowout Men's Short Haircuts
A blowout haircut is a trendy hairstyle that instantly gives your appearance a breezy and carefree vibe. To enhance its flair, you can team it with a faded cut on the back and sides. Besides, you can adjust its boldness and contrast by opting either for a high bald or low taper fade.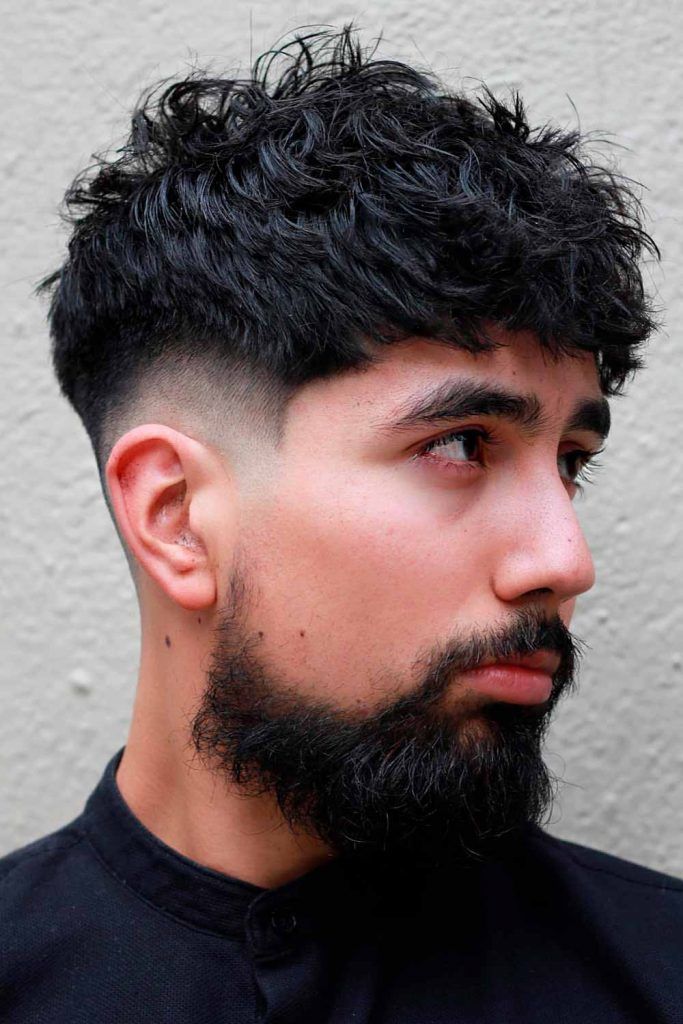 Source: @hayden_cassidy via Instagram
Simple Buzz Cut
Buzz cuts are the most popular haircuts for men 2023 who want a cut that is short and is of low maintenance. This look is well-known as the military style haircut but is also very well-liked by both athletes and businessmen. Men's buzz cuts are extremely versatile and require no maintenance as they are simply "wash and go."
This buzz cut fade is trending this season with the faded back and sides with all the length on the top. The best thing about this style is that it is appropriate for any age or lifestyle and is considered very masculine and sexy.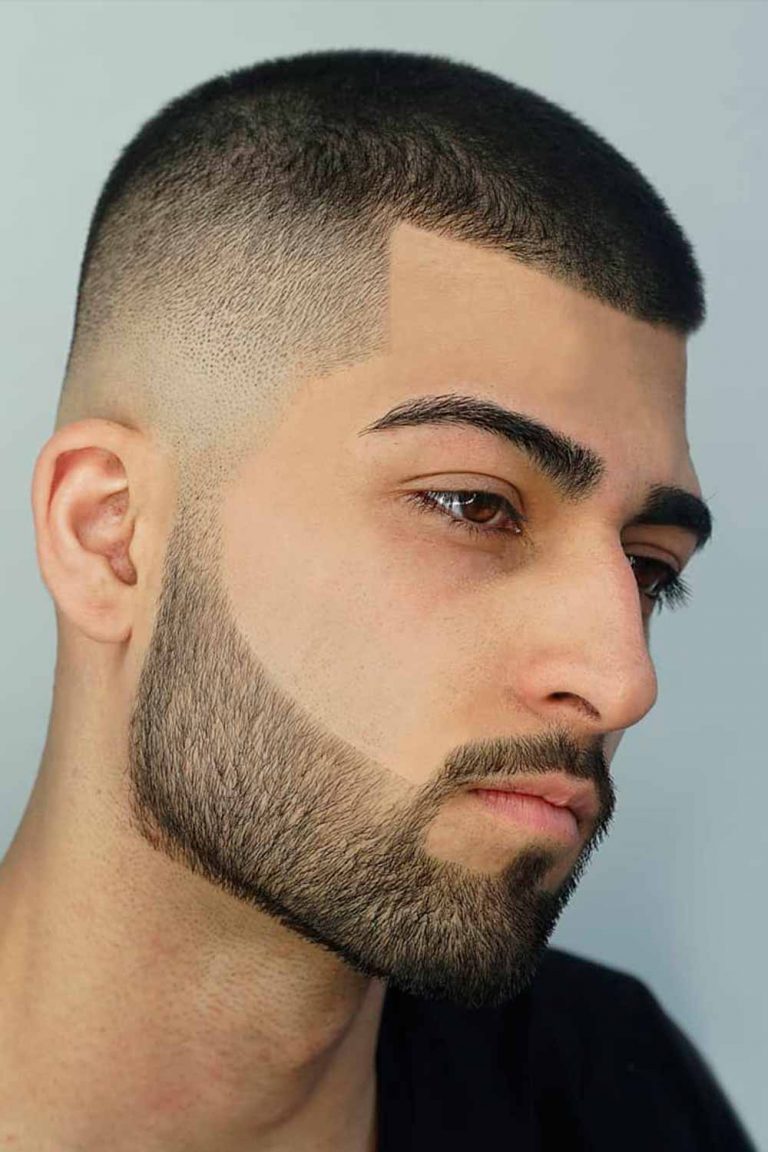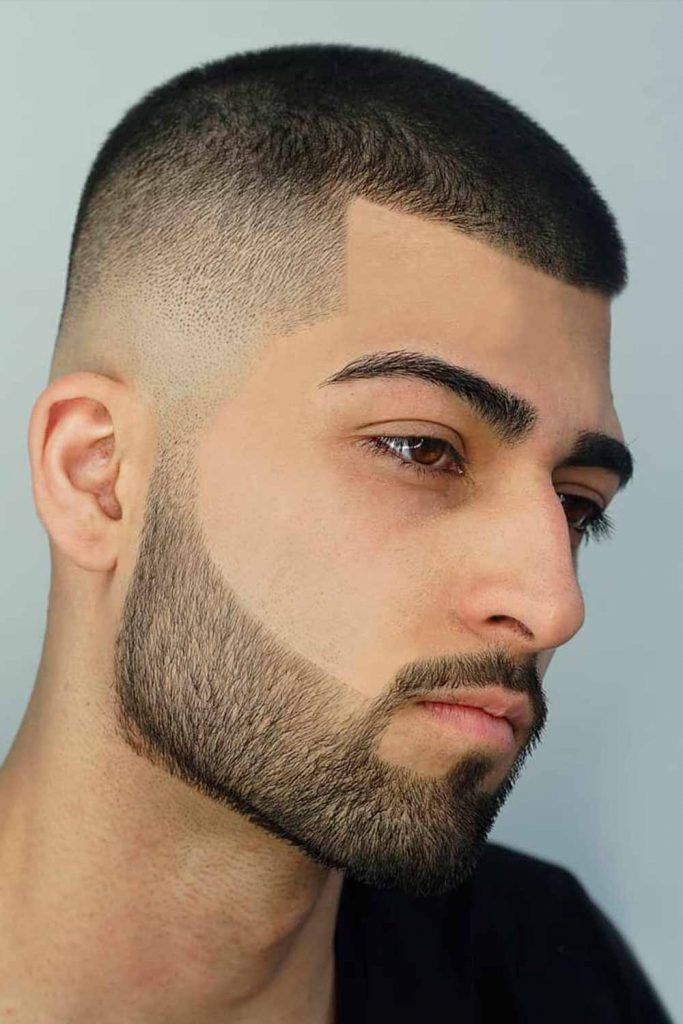 Source: @keller_konturen via Instagram
What is the best short haircut for guys in 2023?
What is the shortest haircut?
Undercut Long Top Short Haircuts For Men
This men's disconnected undercut fade is very stylish if you need a more polished look. The closely shaved beard is very sleek and nicely blends with the shaved sides. The length on top forms a messy faux hawk that adds volume and a look that's professional and classy.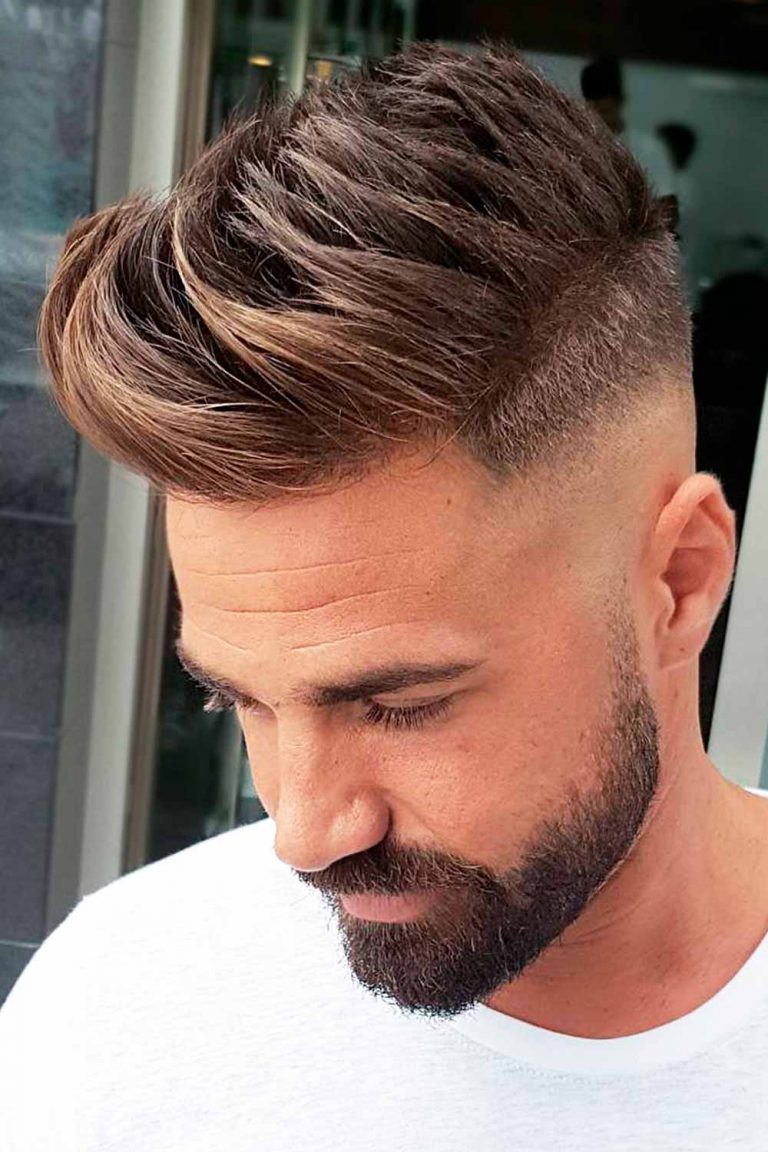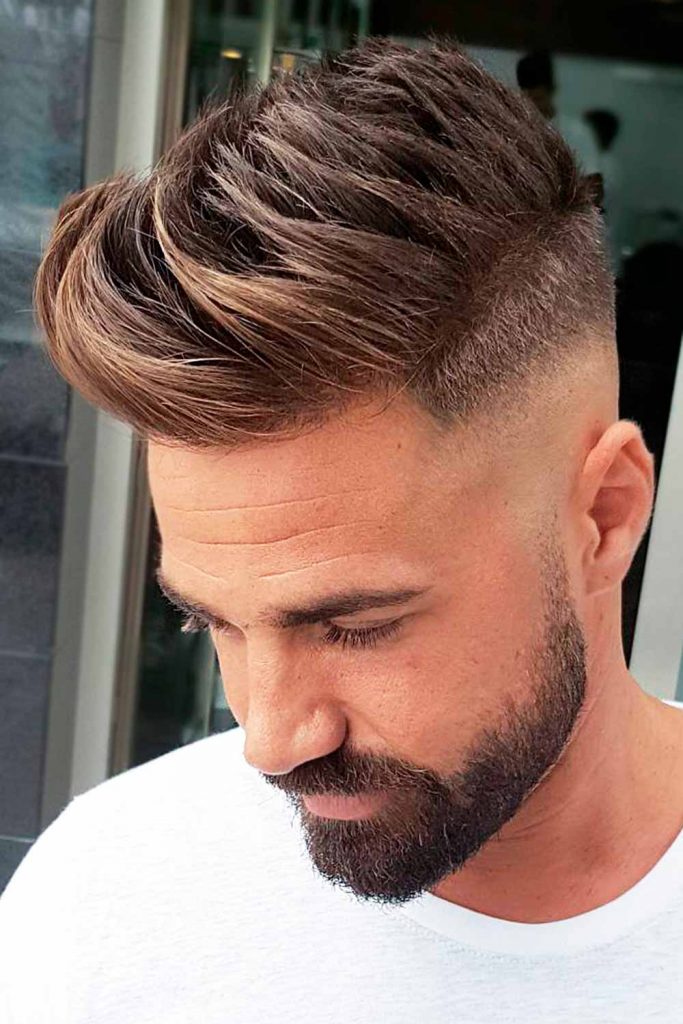 Source: @ayozecastellano via Instagram
Spiky Taper Fade
This spiky taper fade is great if you want a trendy style that is also sleek and professional. It takes very little time to style so it is great for those who are always on the go and will work well with any hair texture.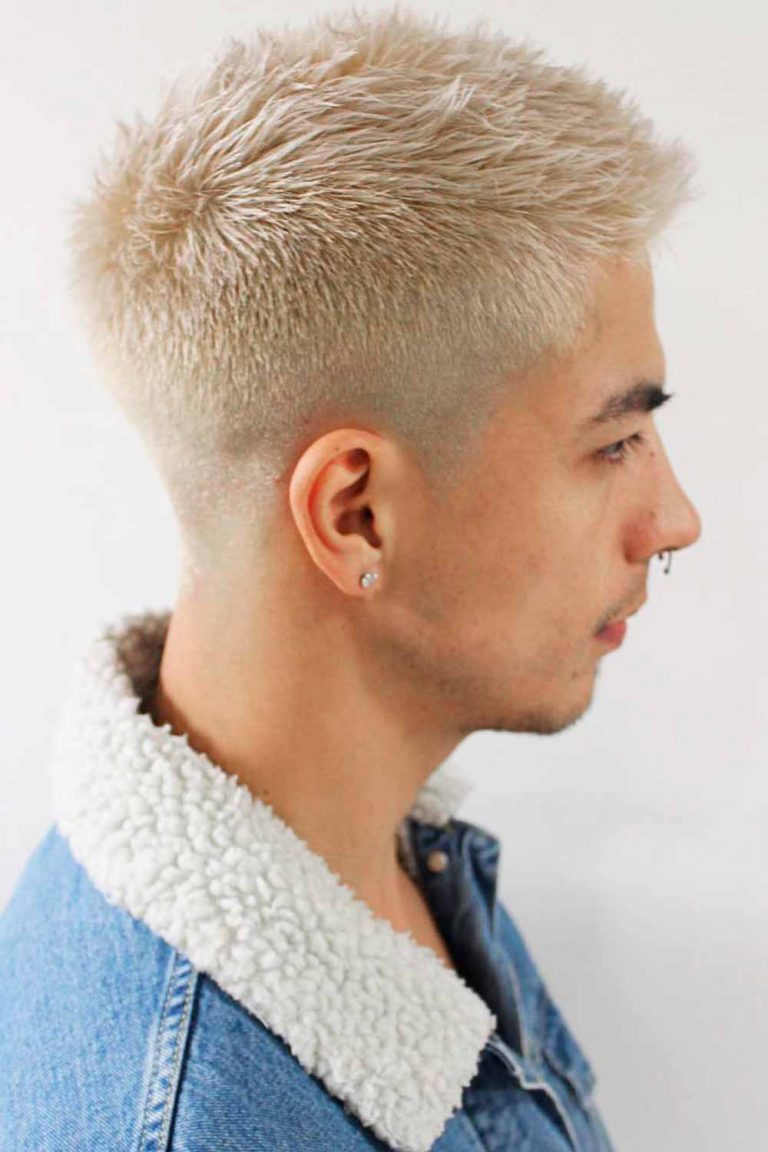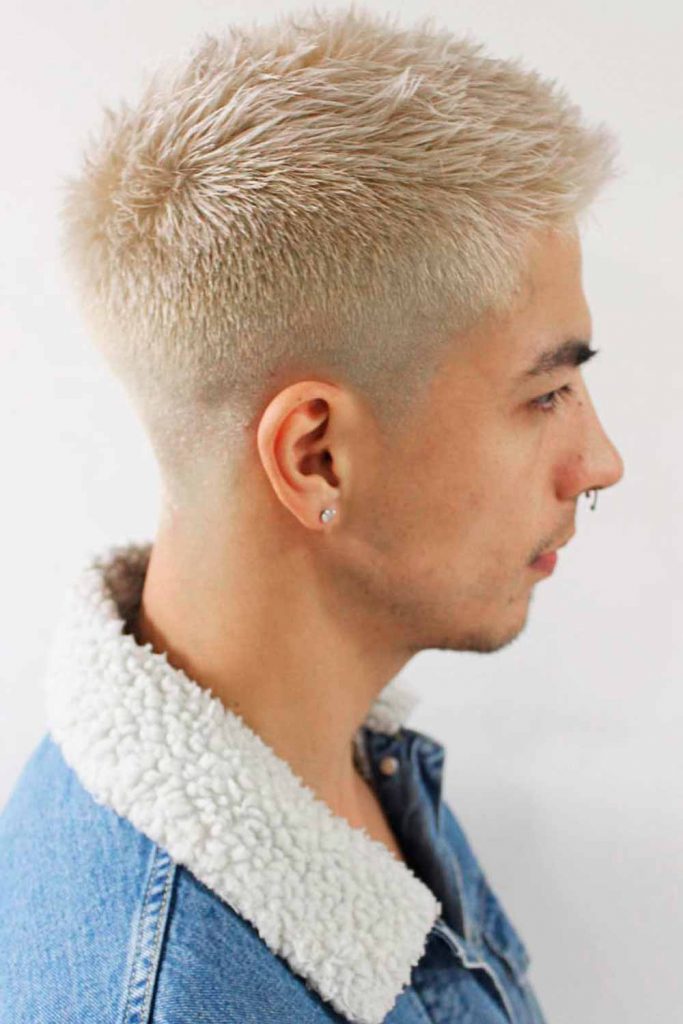 Source: @dexterdapper via Instagram
WHAT SHORT HAIRCUT DO YOU PREFER?
Anonymous quiz
Buzz Cut
Cropped Top
Mullet
Flat Top
High And Tight
WHAT SHORT HAIRCUT DO YOU PREFER?
Voted : 748
Clean Side Swept Short Haircuts For Men
To embellish your pestered hairstyle, you can choose from high, mid or low fade. Moreover, if you feel like going really edgy, you can opt for a low fade. On top of that, if the fade seems too plain for you, you can go with a side part. As you can see, the possibilities are almost endless.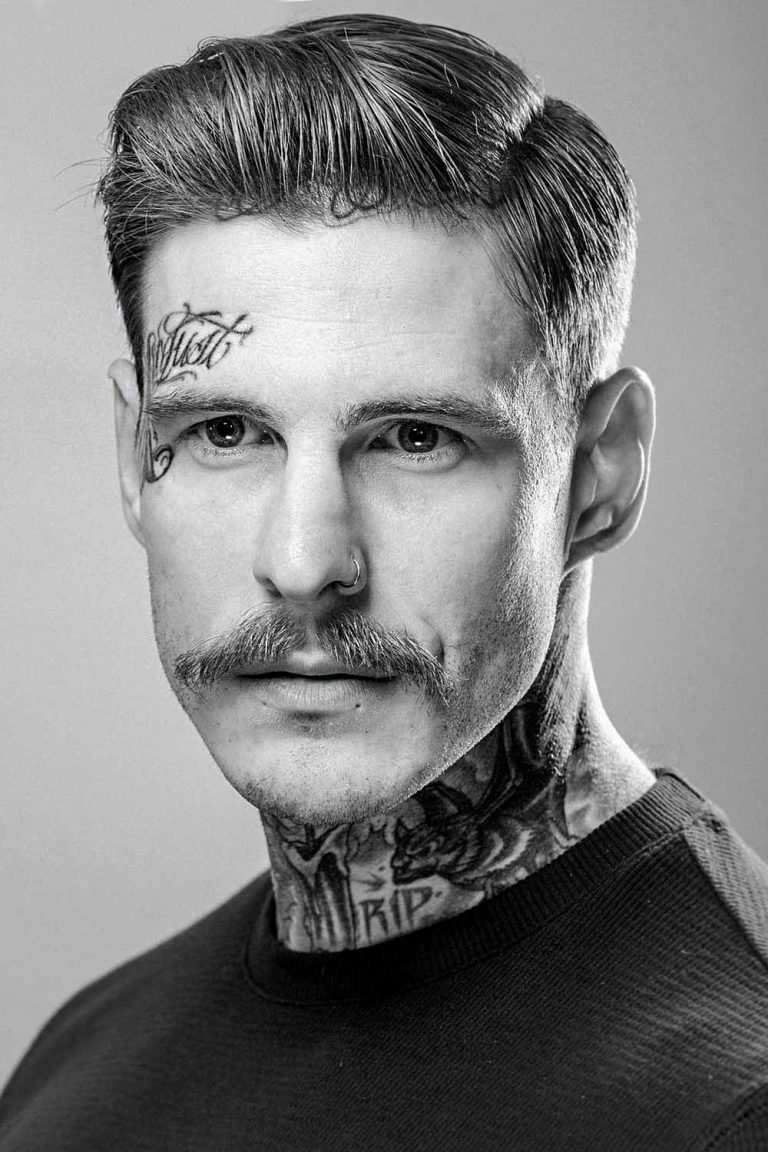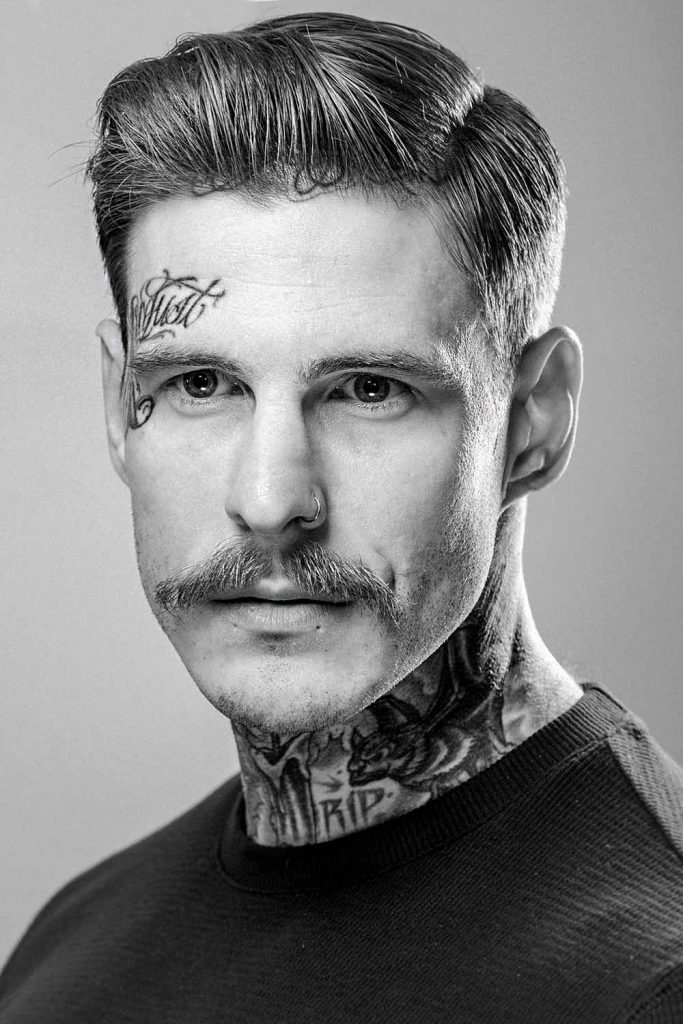 Source: @andrewdoeshair via Instagram
French Crop Short Haircuts for Men
Such timeless short hair cuts as a French crop will always find their followers' thanks to the low maintenance and a clean-cut look they deliver. A French crop features a faded or undercut sides and a relatively short hair on top. Though, unlike many other short sides long top haircuts, it involves quite a prominent fringe. The main advantage of such a men's haircut 2023 is that it creates the illusion of luxuriant hair on the head, thus being very beneficial for guys with a receding hairline.
Source: @ryancullenhair via Instagram
Asymmetrical Bang Mens Hairstyles Short
To play up short male haircuts, you can use various methods. An asymmetrical bang creates an eye catching and unusual appearance of your mens short hair style and draws attention to your eyes. Depending on the styling, you can vary how impactful your hair is going to look.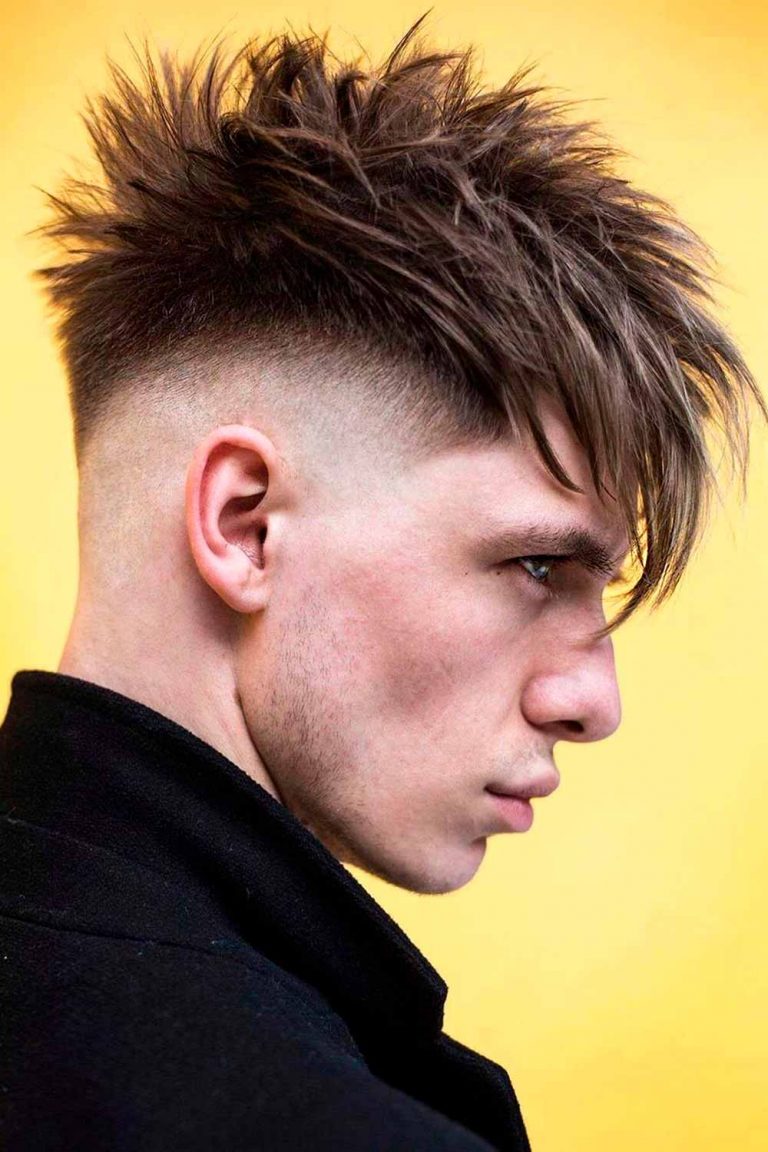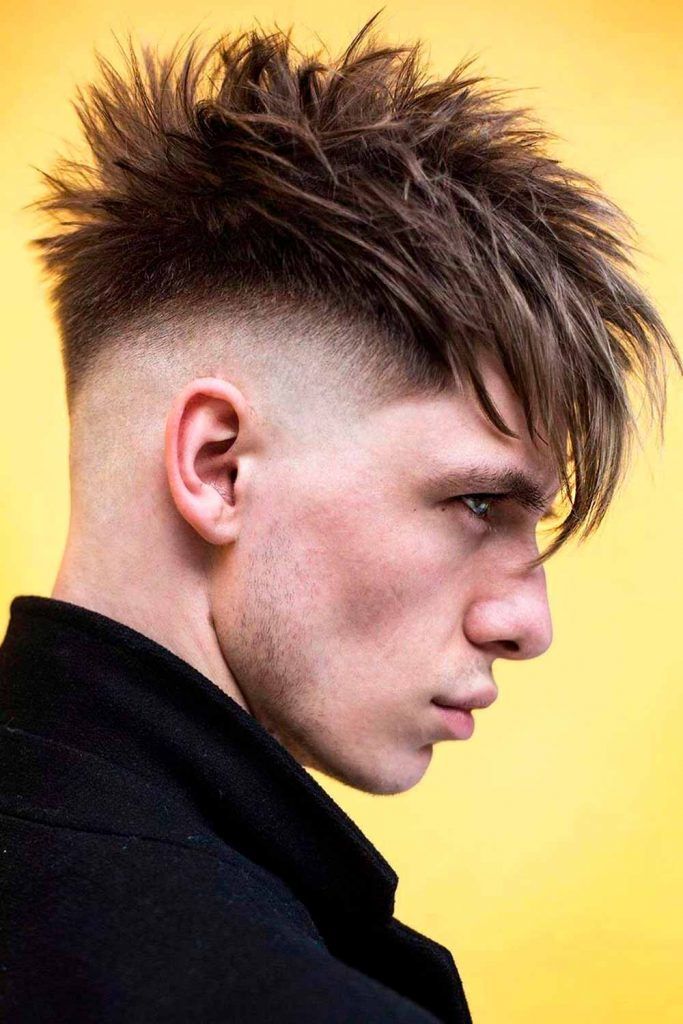 Source: @r.braid via Instagram
Disconnected High and Tight Short Haircuts Men
High and tight is one of the most popular mens short hairstyles. There are many ways to pull it off, from low key and simple to bold and intricate. In case you are leaning toward the latter, why not try on a disconnected high and tight? While it comes out more daring than a classic version, it can still be suitable for almost any ambiance.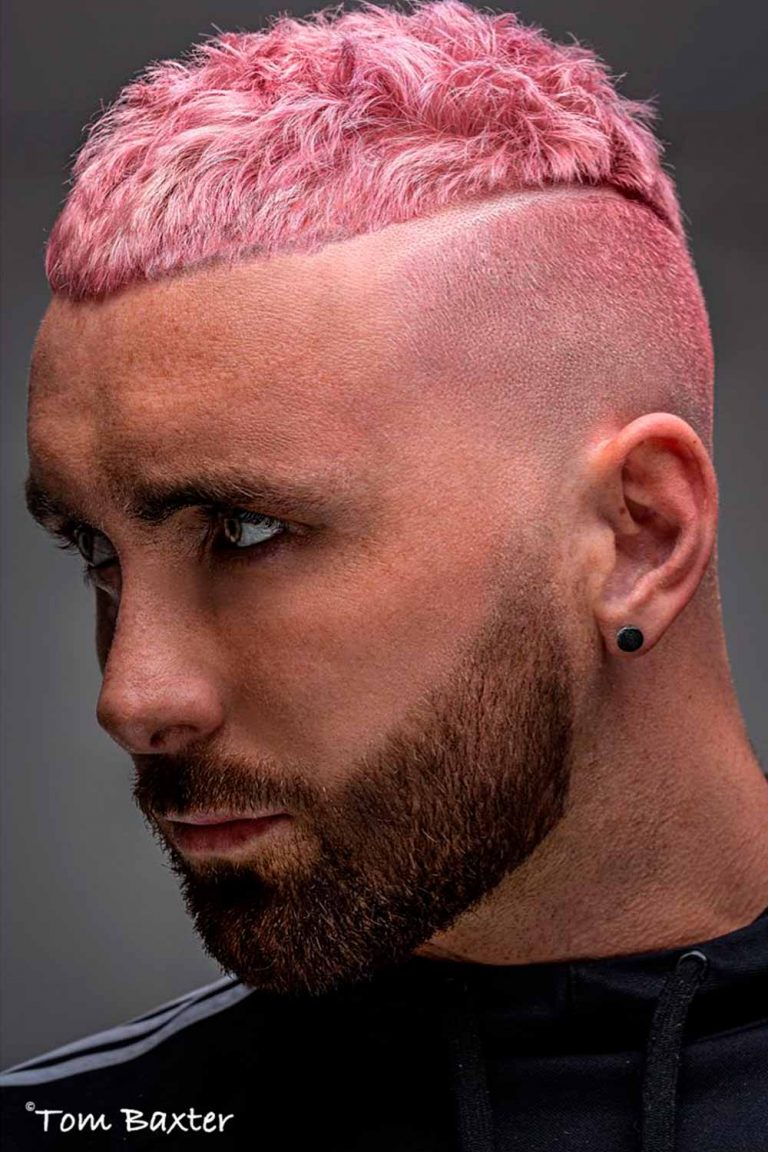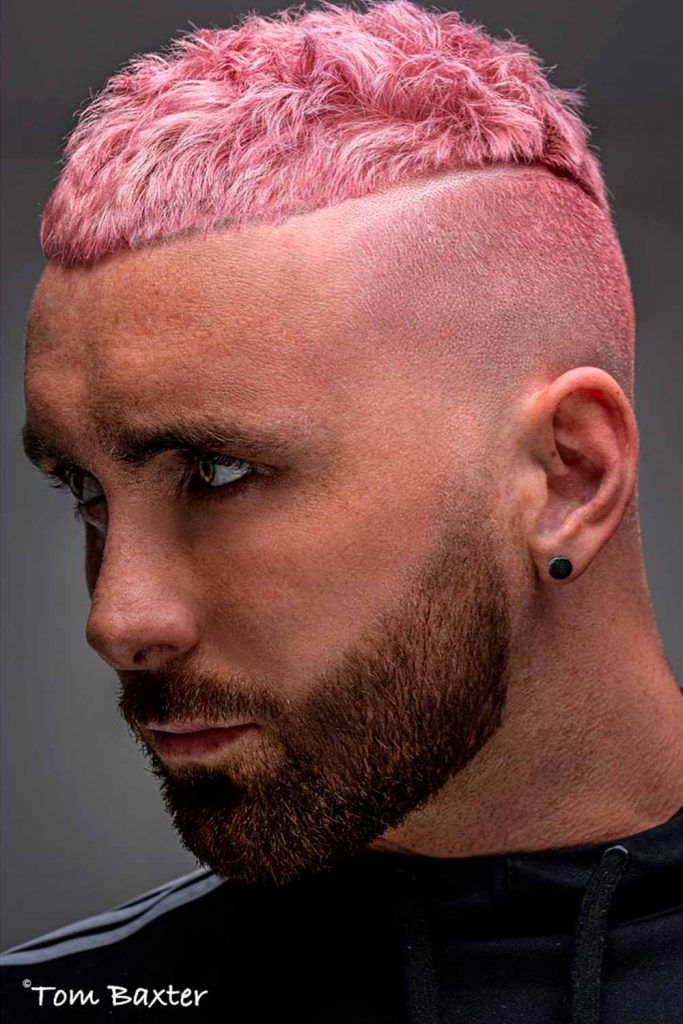 Source: @tombaxter_hair via Instagram
Spiky Texture & Bald Fade
Mens short haircuts allow for plenty of texture on top. To accentuate it, you can spike up the hair with the help of a styling product. Not to overdo it, accompany the haircut with a fade on the back and sides. If you are up to an edgy and high contrast look, consider going for a bald fade that starts at the crown and blends into the skin.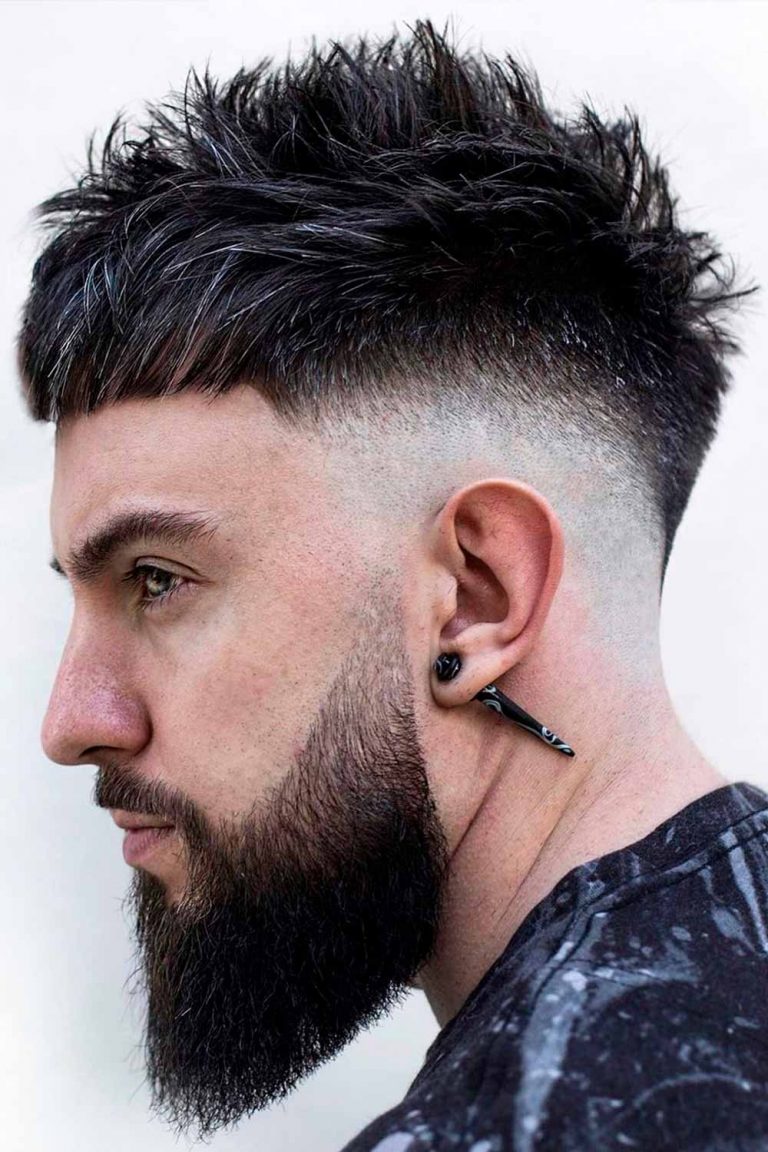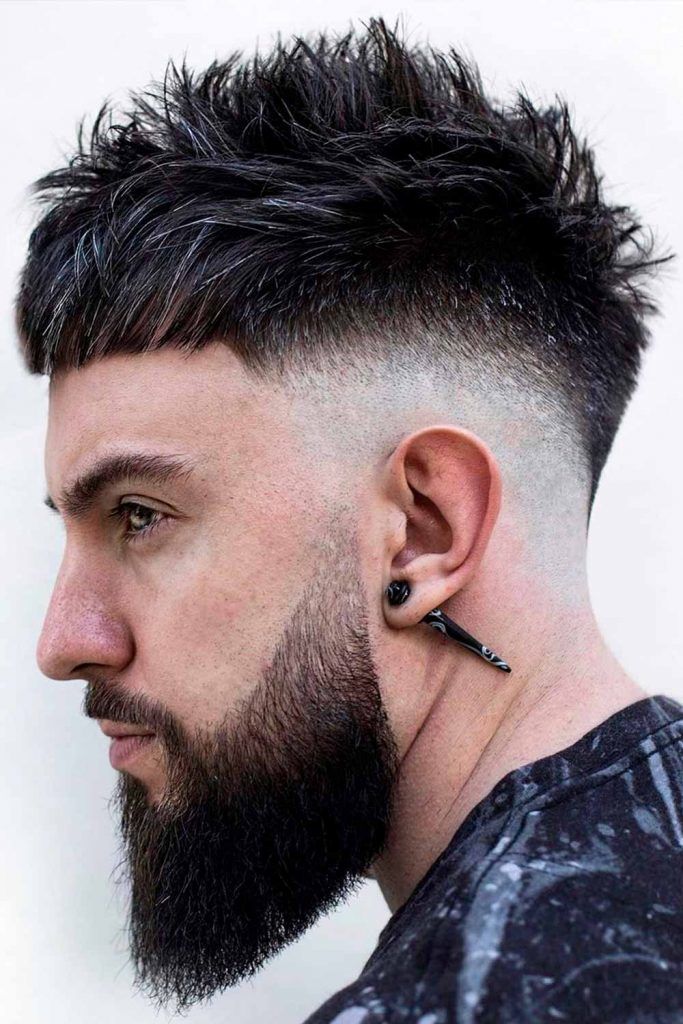 Source: @r.braid via Instagram
Modern Asymmetrical Caesar Haircut
A Caesar Cut, named of course after the Roman emperor, Julius Caesar. It is are short haircuts for men with straight horizontal fringe that is usually cut in layers of 1-2 inches, and the bangs are styled forward.
Source: @hayden_cassidy via Instagram
Crew Cut For Wavy Hair
If you like crew cut hair, this crew cut fade is a great choice as it is very versatile. The top is cut so that it can either be brushed back or styled to the side for a more textured look. It requires very little product and looks great with or without facial hair.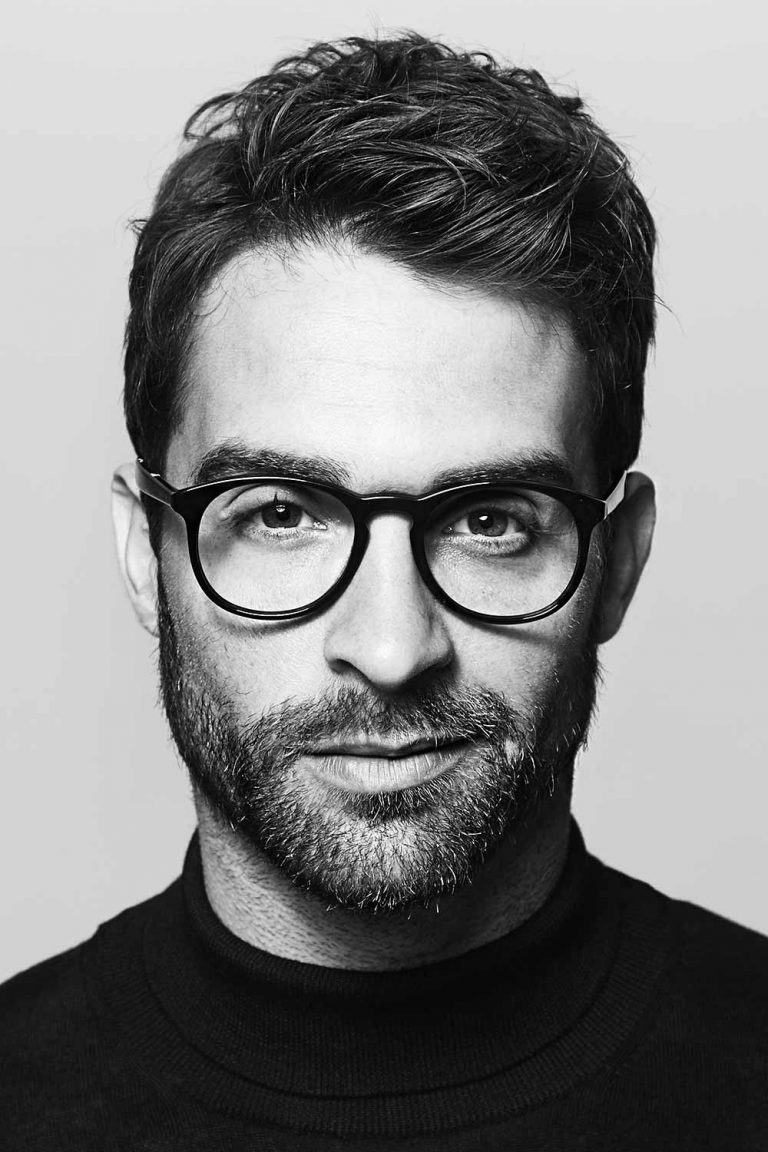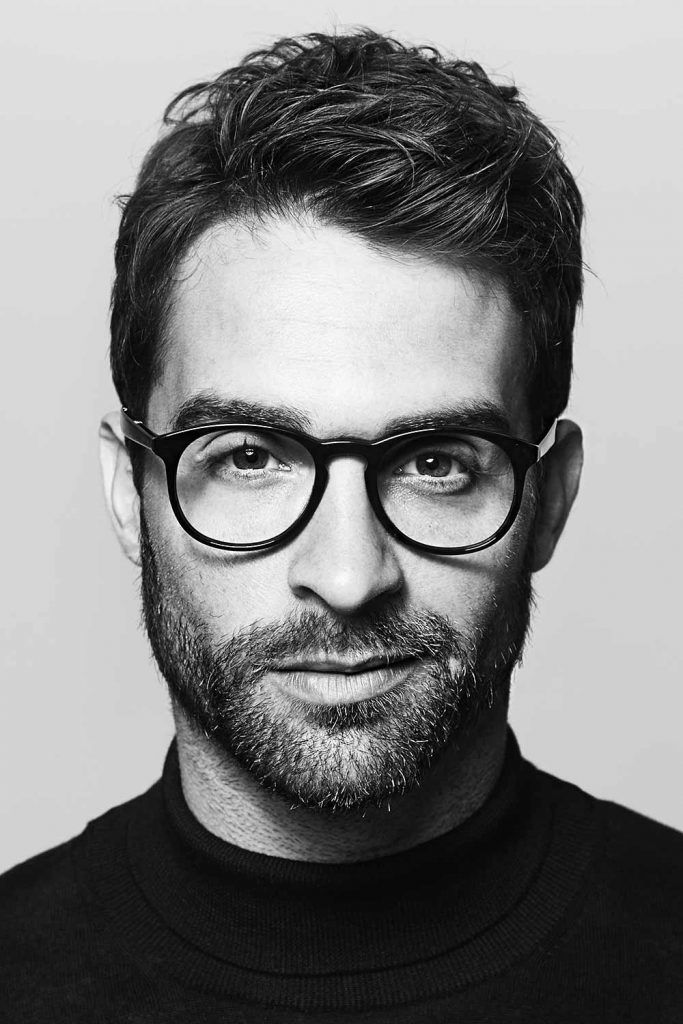 Source: @alexthegreatvivar via Instagram
High And Tight Haircut And Bald Sides
High and tight haircuts are a military style cuts that center on maintaining a short style without giving the impression of a bland look. They typically consist of short sides that fade to an extremely short length with a longer patch on the top. It is one of the most popular short 2023 men haircuts.
Source: @urednistvo.pricesk.robert via Instagram
Low Taper Fade Short Haircuts For Men
Short haircuts have been the style of choice for men in the professional field for years. Men's crew cuts are shorter in the back and on the sides but longer and tapered or faded on the top. The sides and back can be either very short or buzzed, normally to a low taper fade.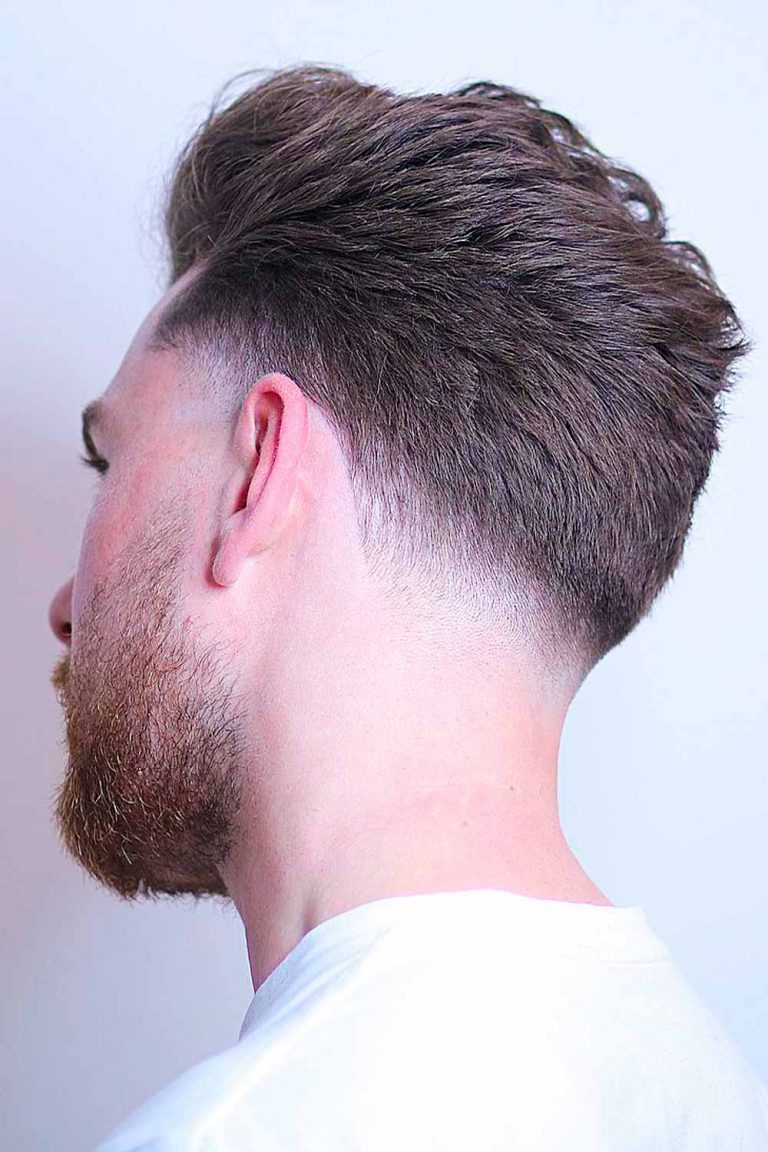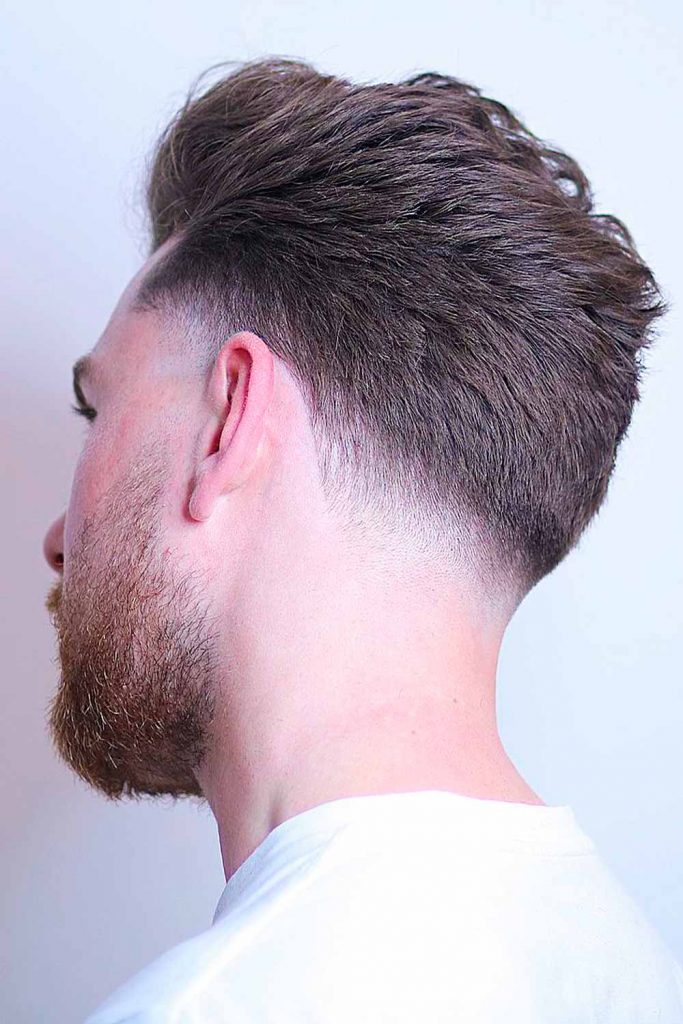 Source: @diego_djdgaf via Instagram
Disconnected Undercut Side Brush
If you want an undercut, but want a look that's suitable for the office, why not get a disconnected undercut fade? This look is known for its shorter sides with more length on top. However, unlike other undercuts, the sides do not blend with the hair on top. Instead, there is a dramatic transition which forms a disconnection, hence the name.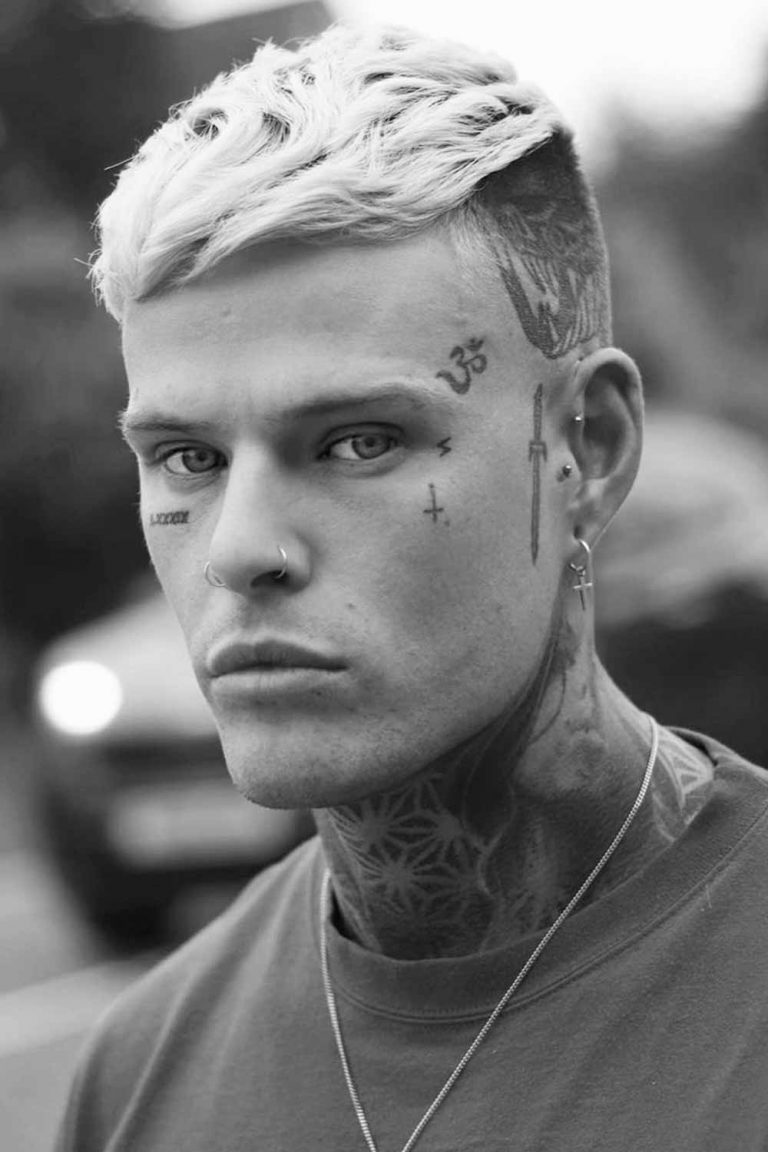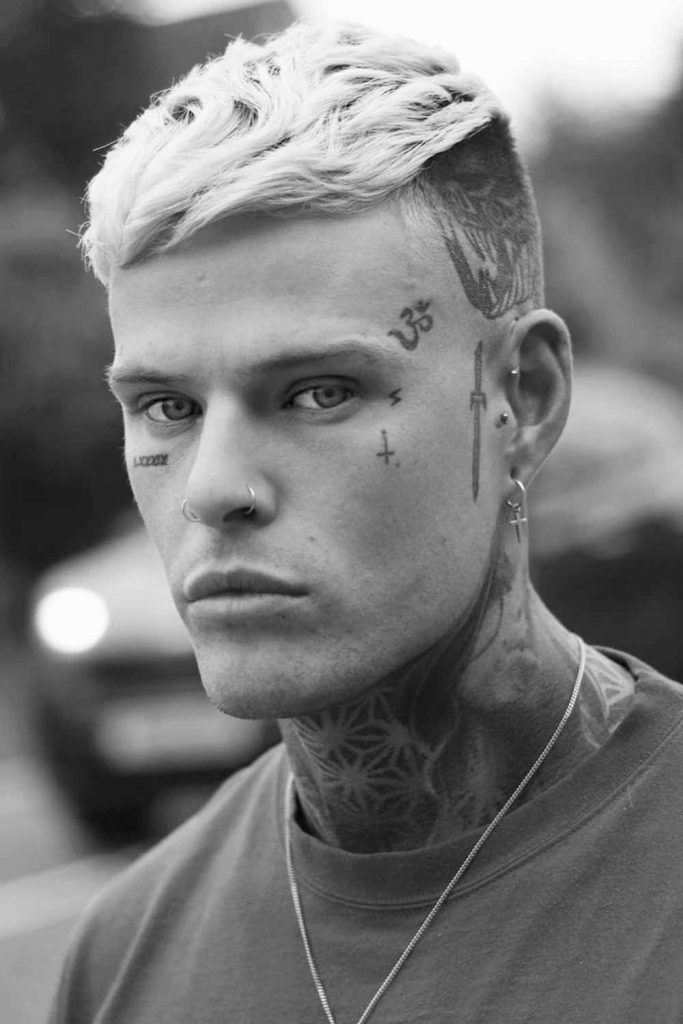 Source: @alan_beak via Instagram
Short Sides Long Top Hair Style
Short sides long top hairstyles need no introduction, as they've been on a roll lately. Roughly speaking, they are the foundation for a huge number of modern hairstyles for men. Their versatility along with low maintenance is what made them so popular. You can easily play around with the length either on the sides or on the top or both. Also, you can opt for a fade or taper on the sides as well as go for a fringe, faux hawk or pompadour on the top.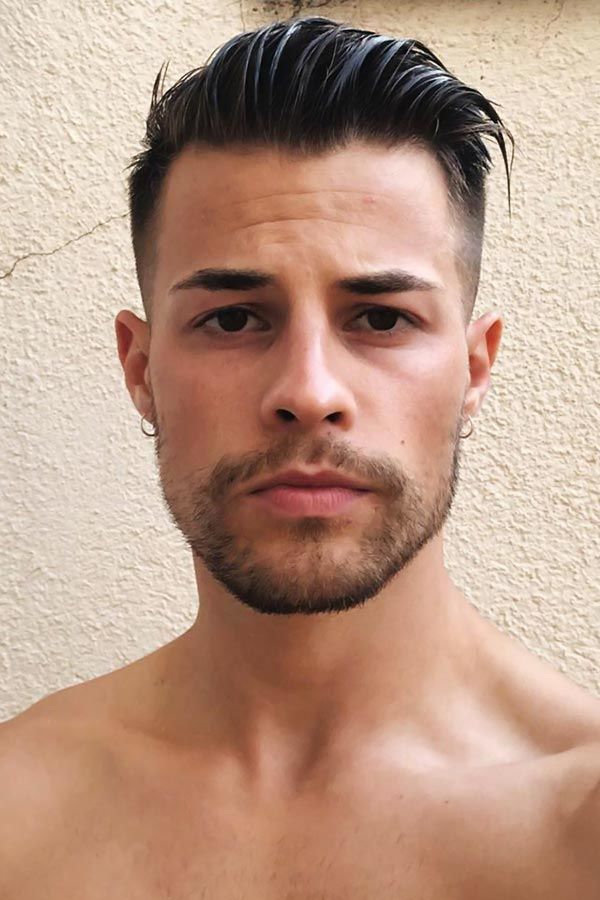 Source: @kevinelezaj via Instagram
Comb Over Short Haircuts For Men
If you are looking for a cut that is office ready yet still stylish, a comb over haircut it is. Comb-overs have gotten a bad rap over the years but today's comb-over styles are debunking that myth. The contemporary comb-over fade is stylish with its classy side part that styles the hair over to one side. This style only takes 5 minutes of your time and is ideal for any hair texture and will flatter any face shape.
Source: @londonschoolofbarbering via Instagram
Messy Faux Hawk Haircut
A faux hawk isn't as daring as the traditional mohawk. Still, it delivers the same amount of stylishness and boldness. With the amount of hair left on the sides, it allows embellishing them with different hair designs. Also, its moderate intensity makes a faux mohawk an appropriate choice for all kinds of men. By simply styling your hair on top in a different way, you can receive a hairstyle that suits almost any occasion.
Source: @ryancullenhair via Instagram
Side Spikes & Fade
This side spikes fade has a ton of volume. It is cut short in the back, but what makes this cut stand out is the trendy high fade on the side. High fades are very trendy, and there is no limit to style the top you can choose from.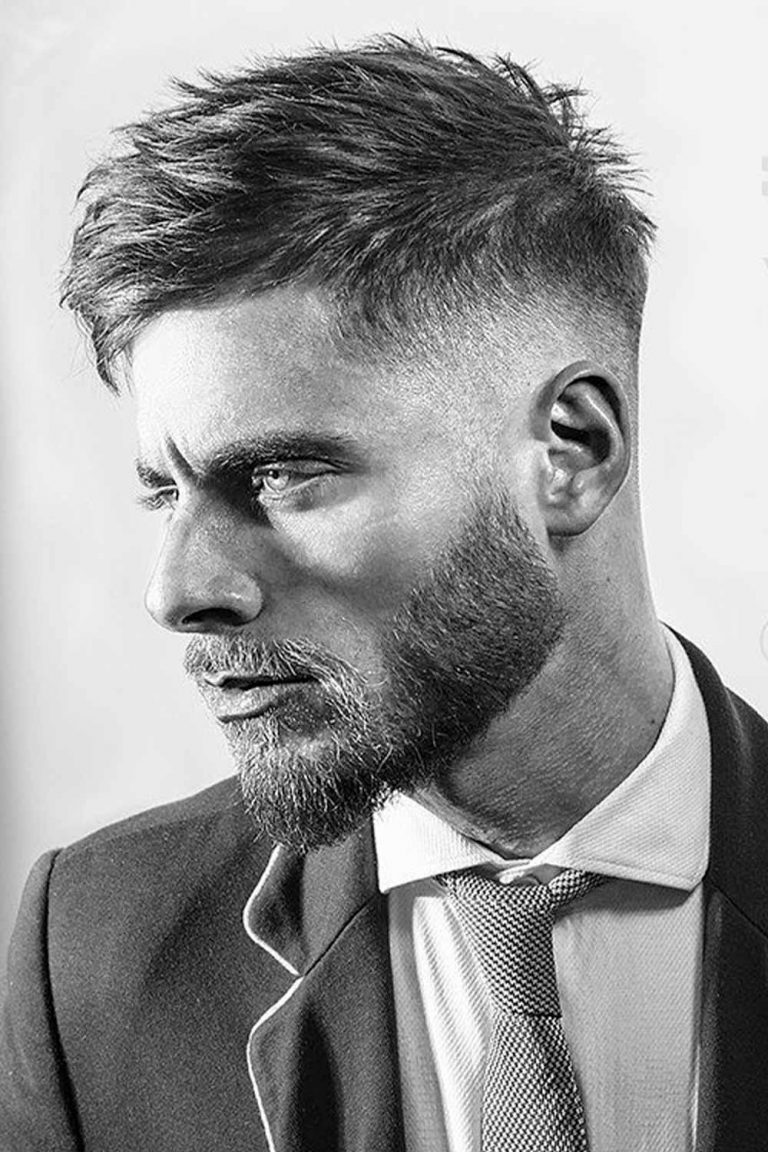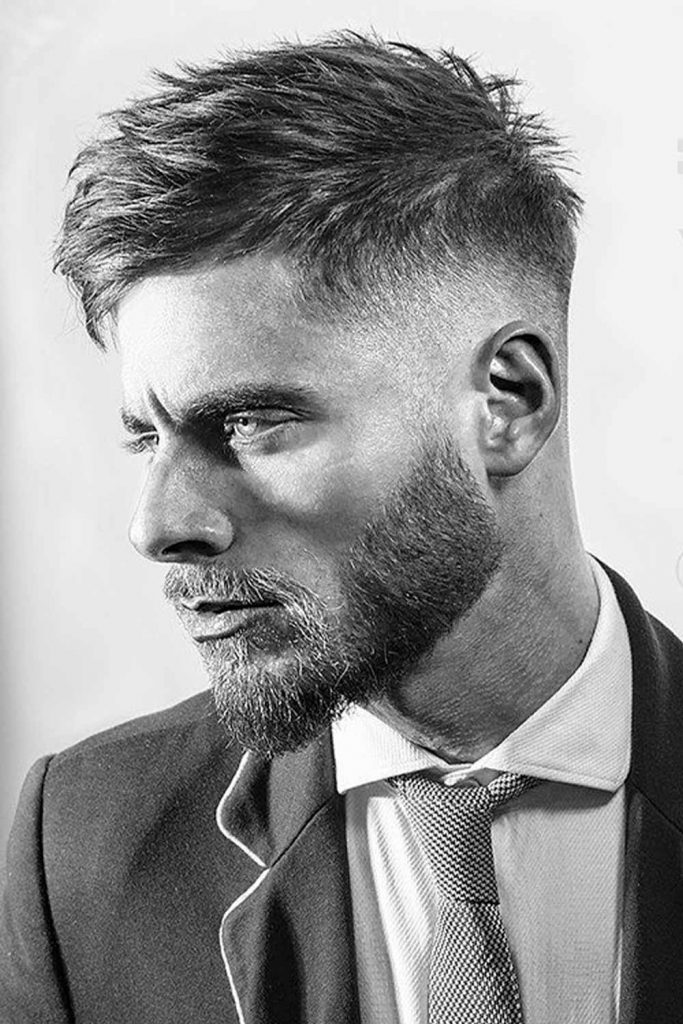 Source: @ayozecastellano via Instagram
Flat Top Short Haircuts
Obviously, a flat top haircut is one that has been styled or cut so that it is leveled and flat on the top of the head. This style is usually shorter in the back and on the sides so that it elongates the face.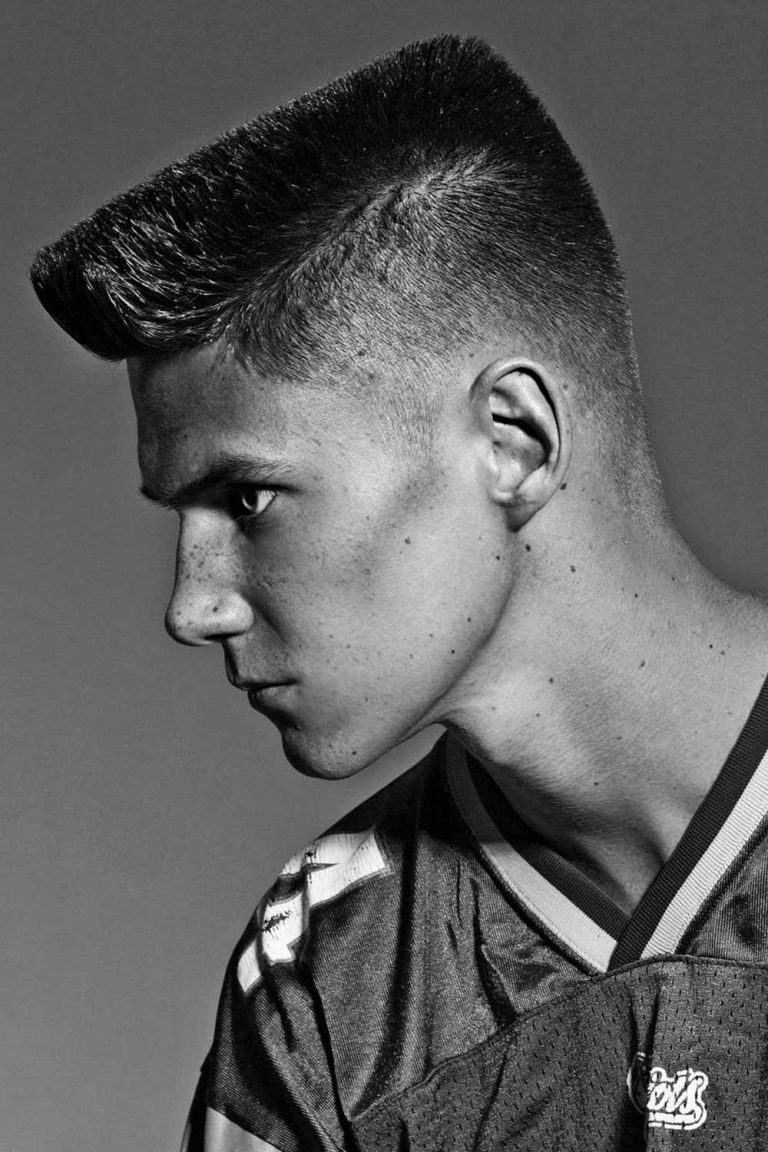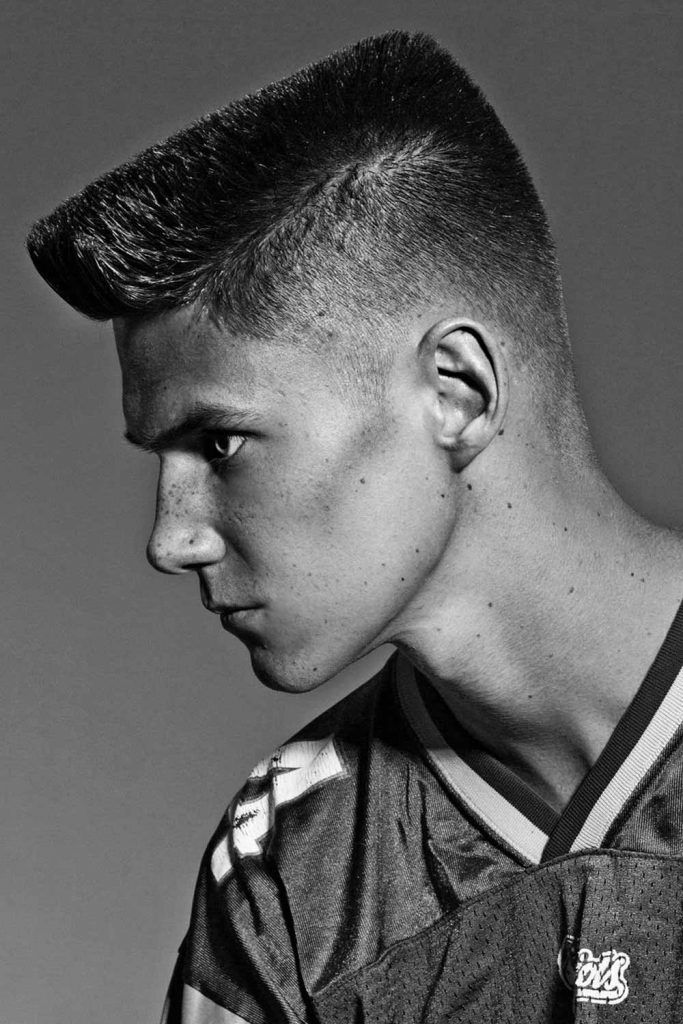 Source: @sergeyshapochka via Instagram
Pomp + Skin Fade Hairstyles For Short Hair
Give a classic pompadour a modern twist by complementing it with a skin fade on the sides and back. If you want to make it look less harsh, opt for a low skin fade. In case you are after an edgier look, feel free to go for a high skin fade.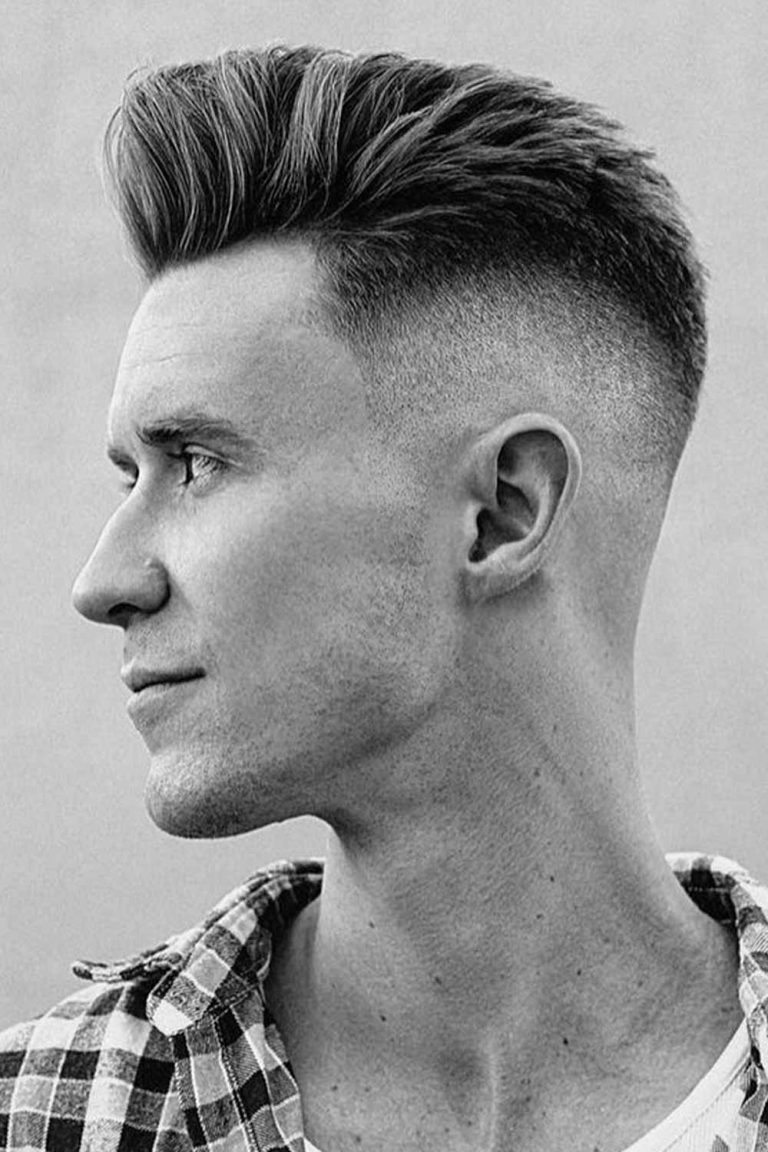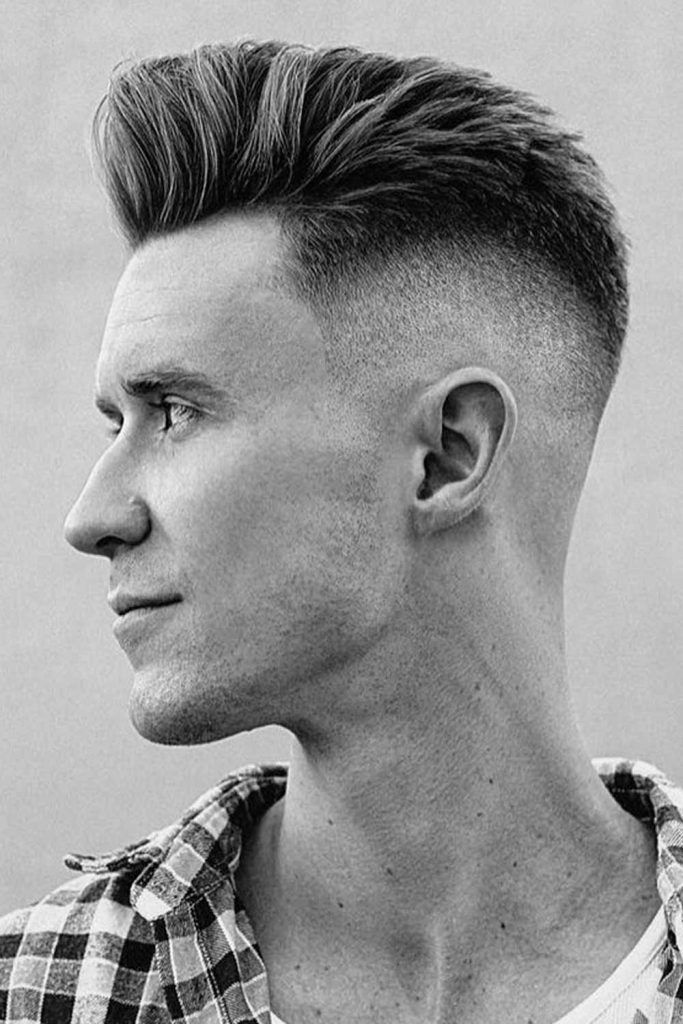 Source: @a.nizhnick via Instagram
Quiff + Line Up
A quiff is a hairstyle that can be enhanced in many different ways. A line up is one of the best options though, as it instantly makes your hair look more defined and prominent. Also, it allows you to keep the focus on the quiff itself. So, you will not need to be exceptionally innovative when it comes to its styling. Just brush the front section of your hair up and you are good to go.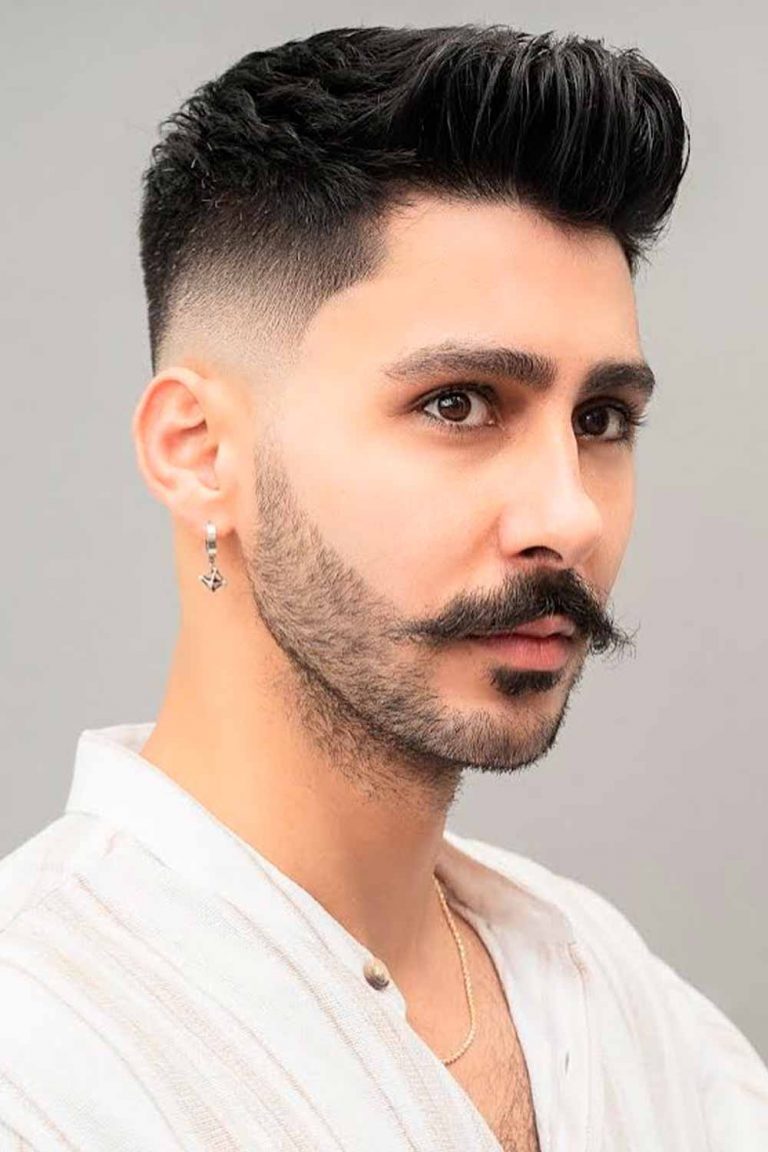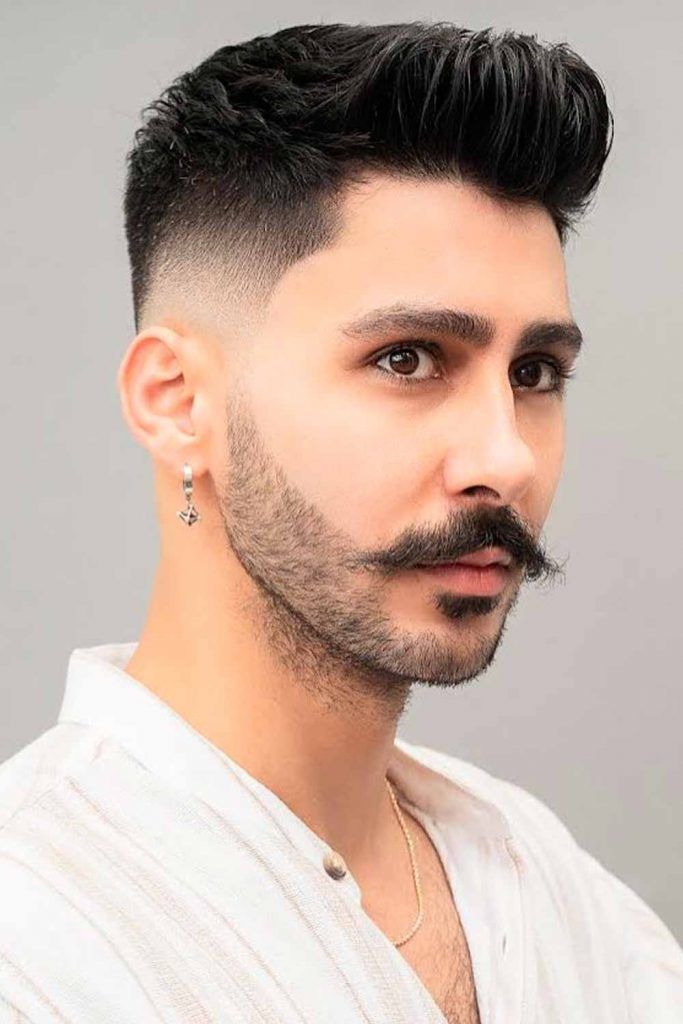 Source: @keller_konturen via Instagram
Bleached Side Swept
The short sides long top is one of the most common short hairstyles for men. It doesn't require much maintenance while looking stylish and spruce. All you need to do for styling it in the morning is to run a comb with a blob of a styling product through the top section of your hair.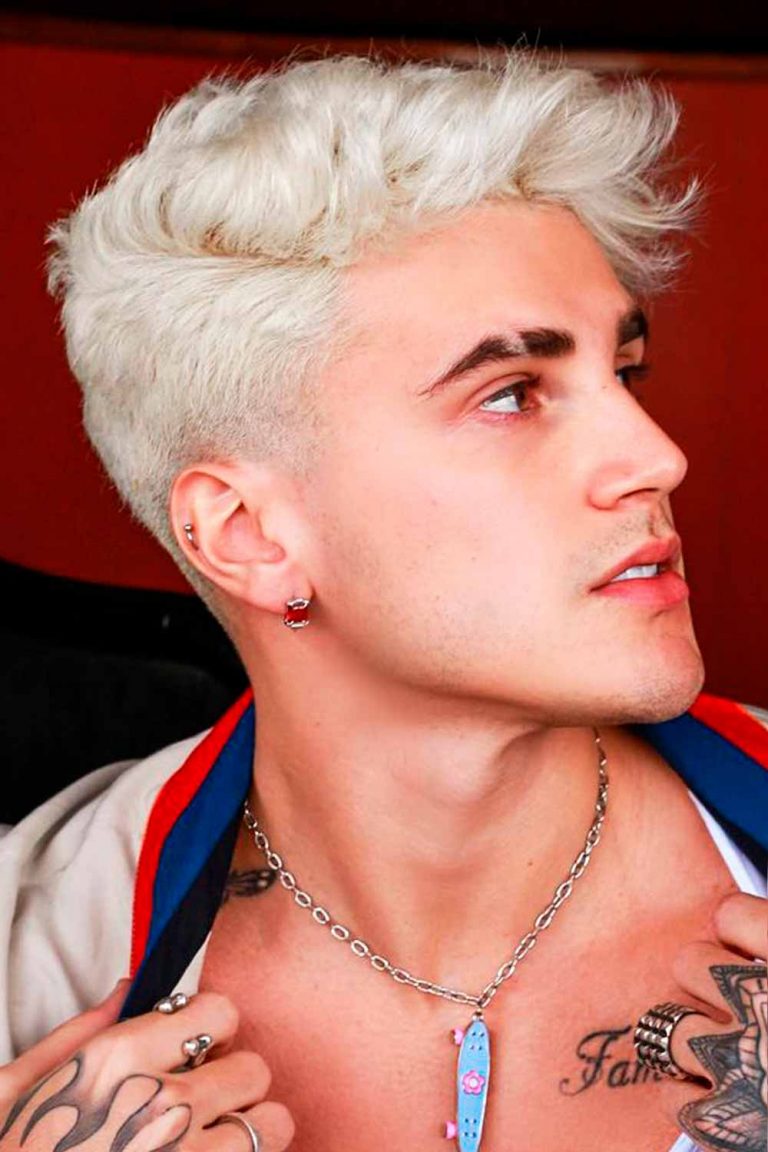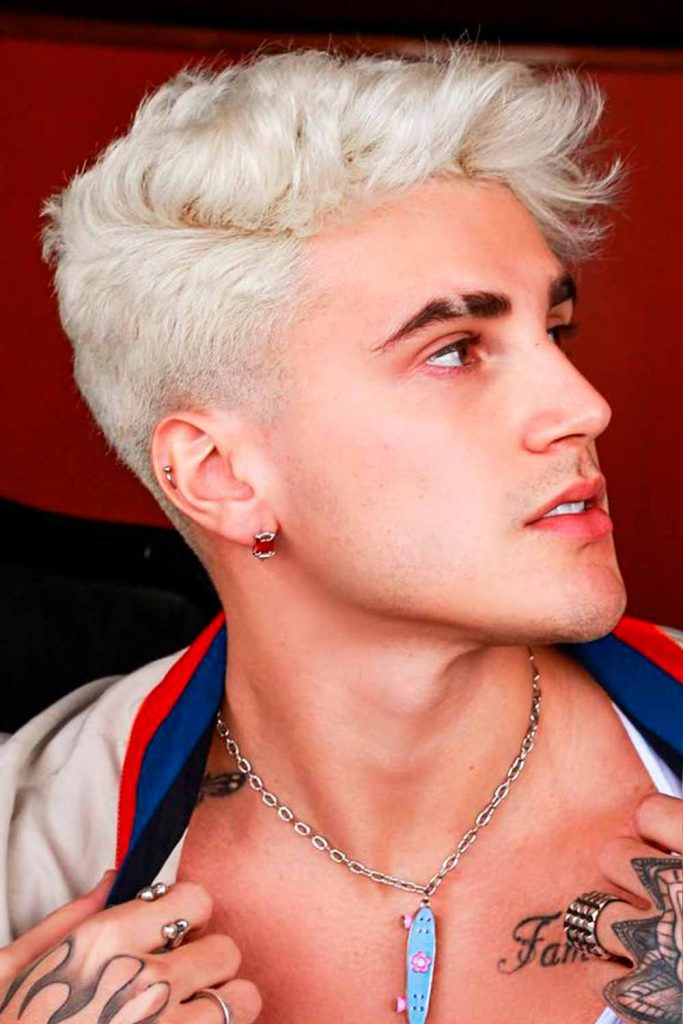 Source: @alexmapeli via Instagram
High Fade Haircut And Layers
It's hard to image modern mens 2023 hair styles without a fade. This simple yet versatile haircut can bring a welcome change to basically any hairstyle. Such popularity of these short hairstyles for men is not for nothing. There are many types of fade to match basically any preferences as well as face shape and hair type.
Source: @hayden_cassidy via Instagram
Mullet Short Haircuts For Men
A modern mullet has nothing to do with an old-fashioned geeky style. It looks classy and fashionable, Yet, its main principle, namely all business in the front, and all party in the back, is respected. The rest of the adjustments is up to you. We like how defined this mullet in the photo looks with a hard part and bald fade on the sides.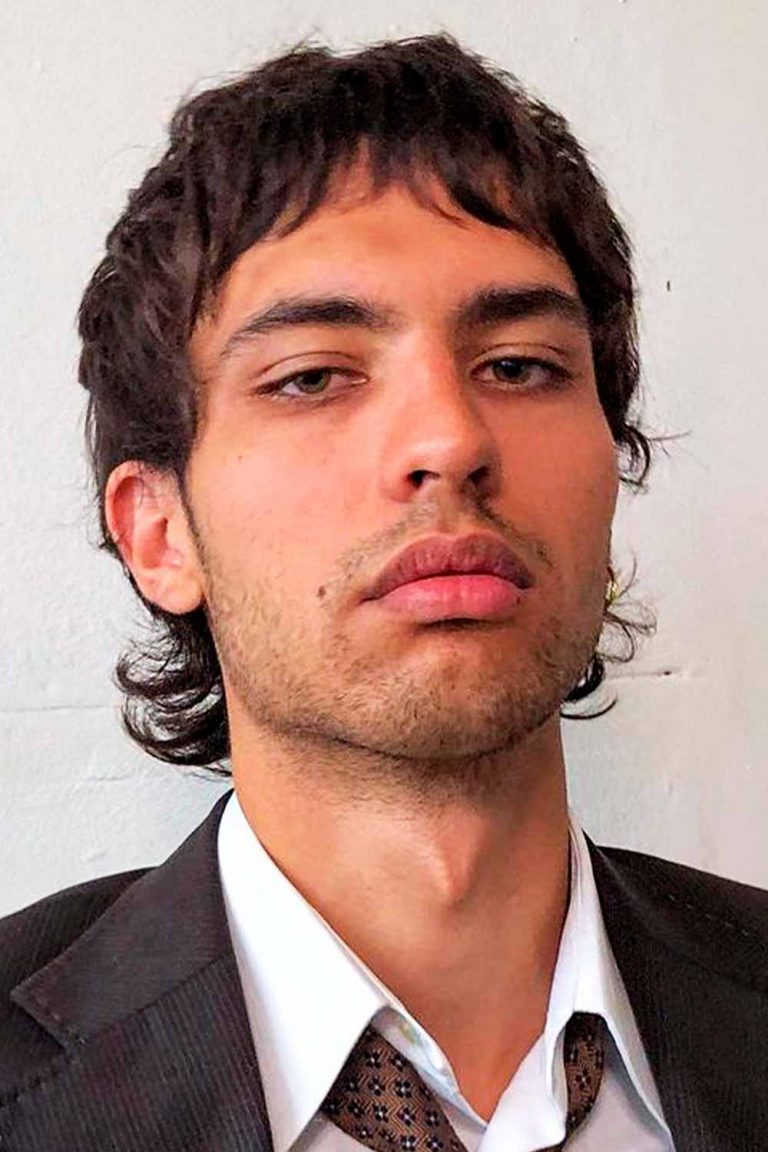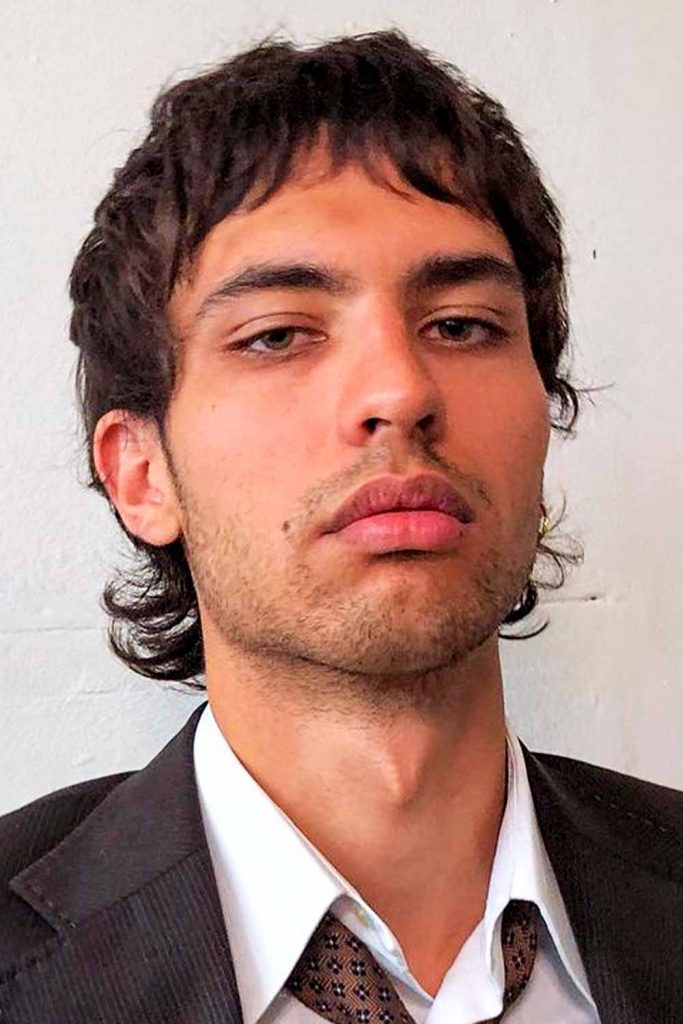 Source: @coiffeurstory via Instagram
Caesar Inspired
This light to dark Caesar haircut with salt and pepper hair is a modern take on the classic Caesar cut and looks even more stylish with a well-groomed salt and pepper beard. This look made a huge comeback in the 1990s and is still going strong today.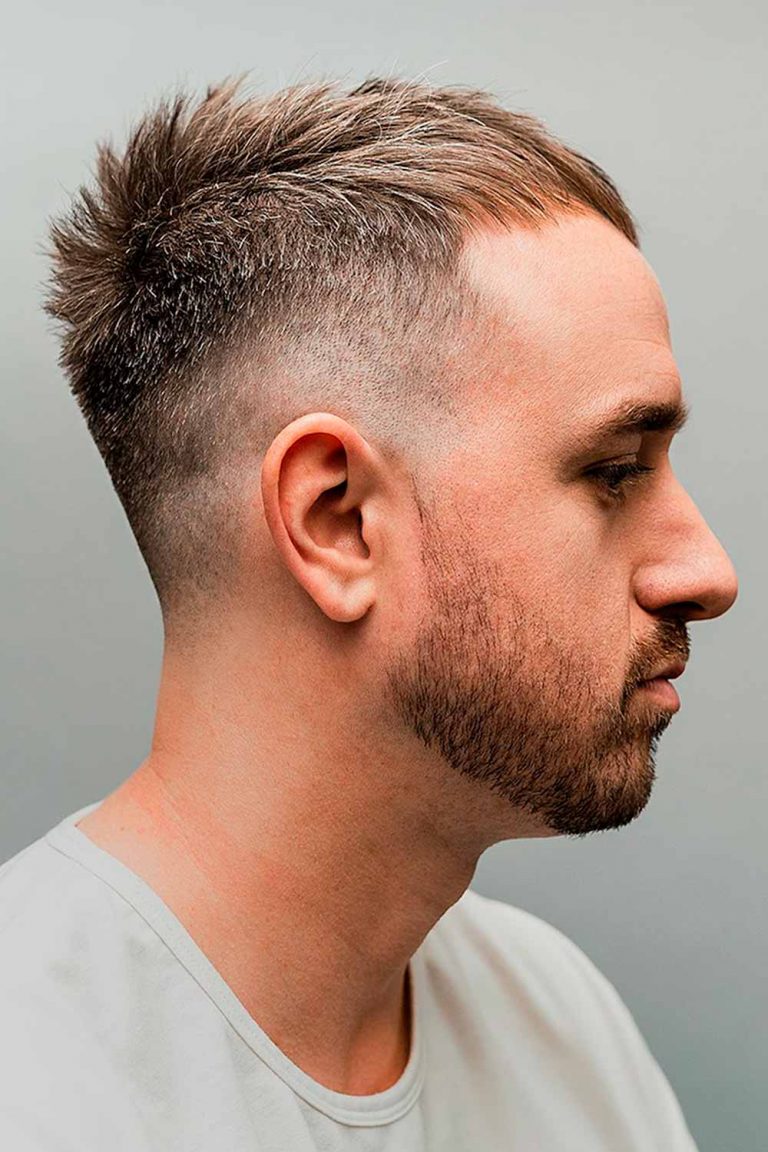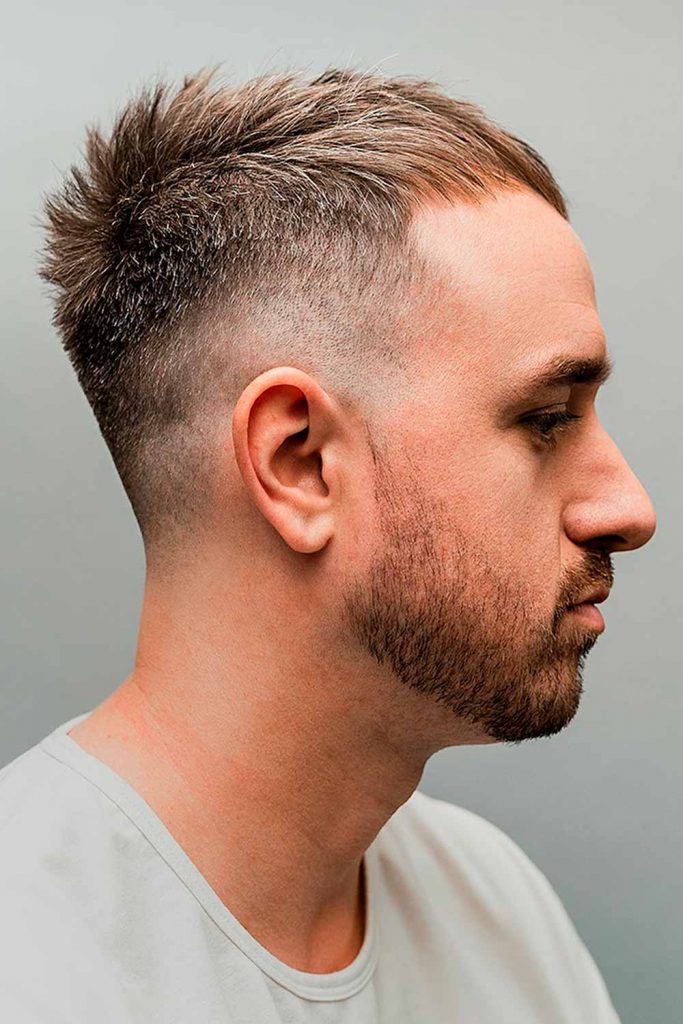 Source: @johnny_snips via Instagram
High Fade Haircut Cropped Bang
A high fade is a perfect choice for those guys who would rather play around with the hair on top making it a focal point. Because there's so little hair on the sides and back of the head, nothing will distract onlookers from your textured top or luxurious pompadour or whatever bold hairstyle you choose to rock on top. Besides, this clean and neat cut is perfect for balancing really long or messy short hairstyles for men.
Source: @hayden_cassidy via Instagram
Mid Fade Haircut And Highlighted Quiff
If you gravitate to a middle ground in life, you should take a closer look at a mid skin fade. Chances are it's going to become the 2023 men's haircuts of your choice for many years to come. What's cool about it is that it's balanced itself, as it involves a sufficient amount of hair yet exposes quite a lot of bald skin. A mid fade allows you to sport your hair on top whatever style you like. For the most contrasty look, pair your black hair on the sides and back with the bleached curly top. To add edginess to the cut, define your hairline with a line-up.
Source: @ryancullenhair via Instagram
Low Fade Short Haircuts For Men
A low fade haircut is a right fit for those guys who aren't after revealing too much of naked skin. It delivers the smoothest and the most gradual transition from longer top to shorter side hair among all three types of fade. A line-up and a smattering of facial hair will work as a perfect enhancement to the look.
Source: @hayden_cassidy via Instagram
Bald Fade Men's Short Haircut
What is a zero fade haircut? If you're aiming for a really bold and daring look, a bald fade will surely give it to you. There's only a small strip of faded hair around the head, while the rest of the hair is shaved off. As the cut is so clean, you can team it with a really ample top. A pompadour is a perfect choice for this case. A line up and a perfectly trimmed facial hair ooze the sharpness of the style.
Source: @hayden_cassidy via Instagram
Undercut Brushed Up Top
Undercut hair style is one of the most significant looks this season in men's short haircuts. And undercut men styles are taking the world by storm with some of the trendiest cuts around. Undercut hair is basically any style that has a length on the top and while the sides or back are either faded, completely buzzed or very closely cropped.
This undercut fade is very masculine with its side shave and asymmetrical cut that is drastically longer and styled to one side. What makes it even cooler is the long, textured beard that gives this look some more attitude.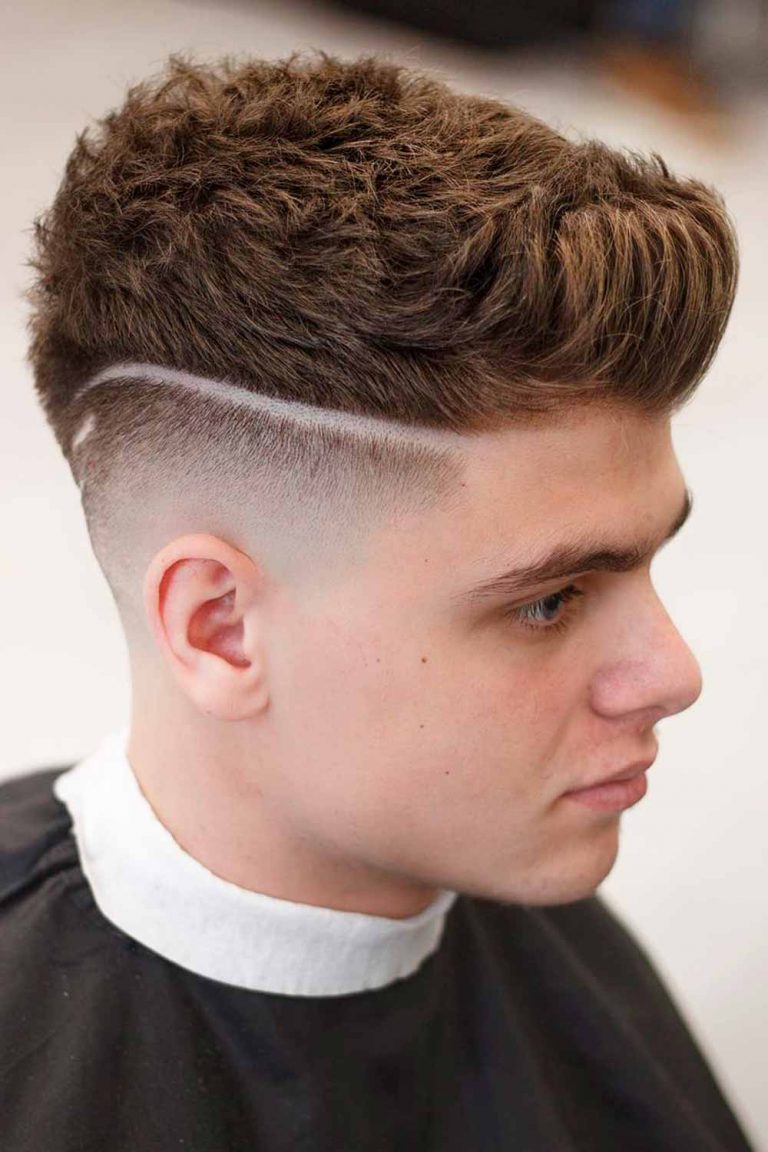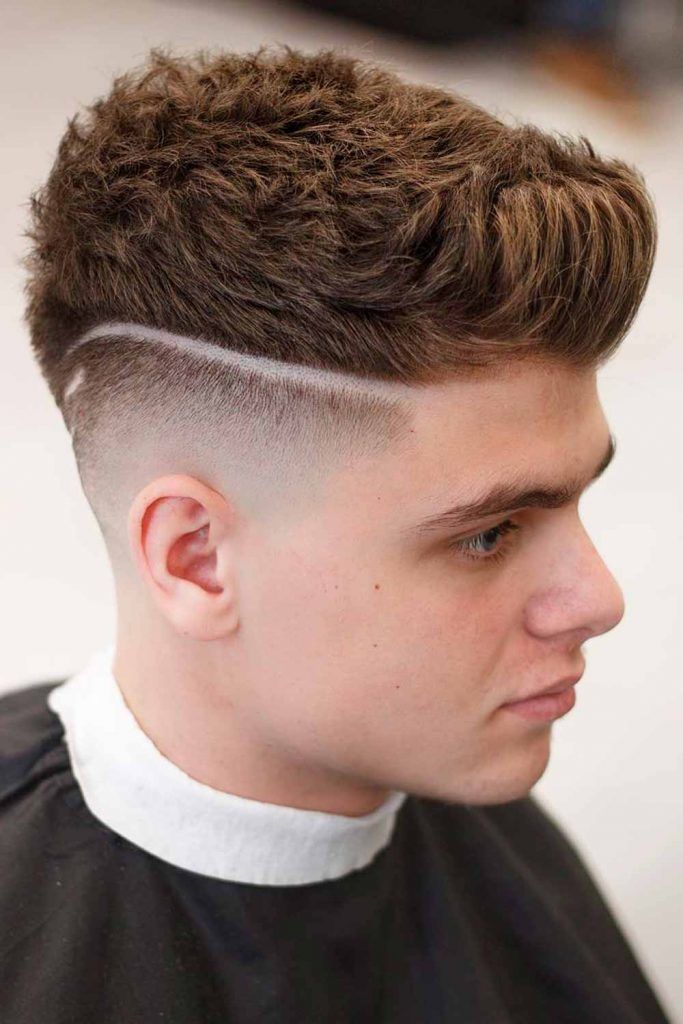 Source: @horatiuthebarber via Instagram
Undercut Fade And Messy Quiff
If you are looking for a fade haircut that is a bit edgier, you should go for a faded undercut like the one pictured here. Thanks to the high contrast it creates, you don't have to resort to overly elaborate styling. The back is shaved closely while the length on top is voluminous and messy to give it more of a bold edge. This is one of those men's short haircuts that help you create a sharp and prominent appearance without additional effort.
Men undercut fade styles are super trendy, as they are cool and edgy for those who are looking for a daring look. They also pair nicely with luxuriant facial hair, so a coarse beard will become a perfect accompaniment for such a 'do.
Source: @ryancullenhair via Instagram
Short Taper Haircut
What is a men's tapered haircut? If you ask your barber for a tapered haircut, you can expect them to shorten your hair curving your ear about 1 cm higher and drop toward your nape. When the top features longer hair, then you got a men's tapered haircut. A taper haircut differs from a drop fade in the manner the gradient is formed. It goes from the longer hair on the top to the shorter hair as it approaches the hairline. Most of the short hairstyles for men use tapering in some way, especially closer to the base. A taper short men's haircuts make the hairstyle easy manageable and symmetrical. Because it allows leaving more hair on top of the head, tapering pays a tribute to modern trend on long hair.
Bowl Cut
The best thing about modern short hair styles men is that there are no limitations to your creativity. You need to try the modern bowl cut; you are allowed to go against the classic patterns of the cut, playing around with layers and changing the way fringe falls on your big forehead.
Source: @hayden_cassidy via Instagram
Mohawk Haircut
For men who aren't afraid to show off their inner (or maybe outer as well) punk, a Mohawk is the staple men haircuts 2023. It's so edgy and contrasty that all eyes will be guaranteed on you. As this style doesn't contain any hair on the sides, you're welcome to pair it with some facial hair. A chin strap beard will work just fine.
Source: @ryancullenhair via Instagram
Hard Part Short Haircuts
For real gents who pay respect to classic short hairstyles for men, a hard part is the number one choice. This shaved line dapper and elegant, it doesn't look overly preppy or boring. You can enhance the look with a comb over and a line up, which will add edginess, while a mid fade will bring some dimension and smoothness to balance the look.
This hard part with comb over fade is very modern and can smoothly go from work to the gym to date night with little to no maintenance. A well-groomed beard as a bonus will make the ladies swoon!
Source: @hayden_cassidy via Instagram
Slicked Back & Wet & Curly
Slick back hair is one of the most popular mens haircuts styles of yesterday, today and tomorrow. It gives you a polished and refined look while doesn't require excessive styling. To get the look right, you just need to brush or comb your hair back with a dime of a styling product.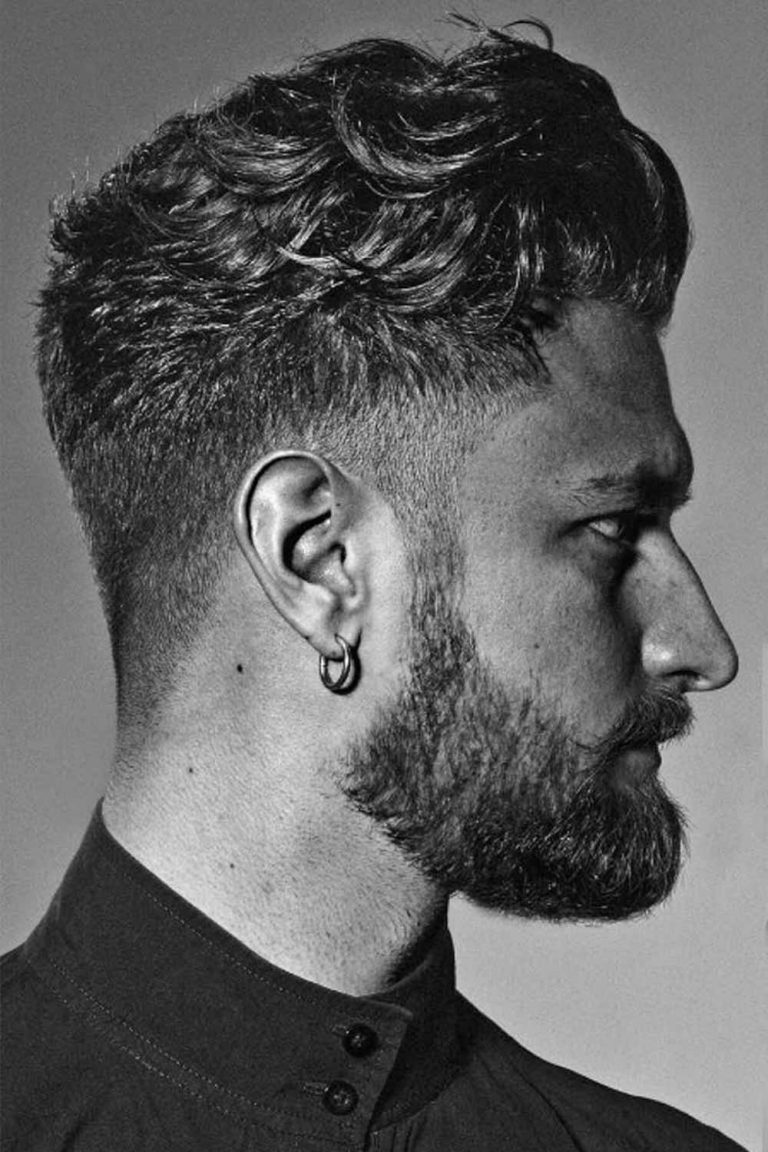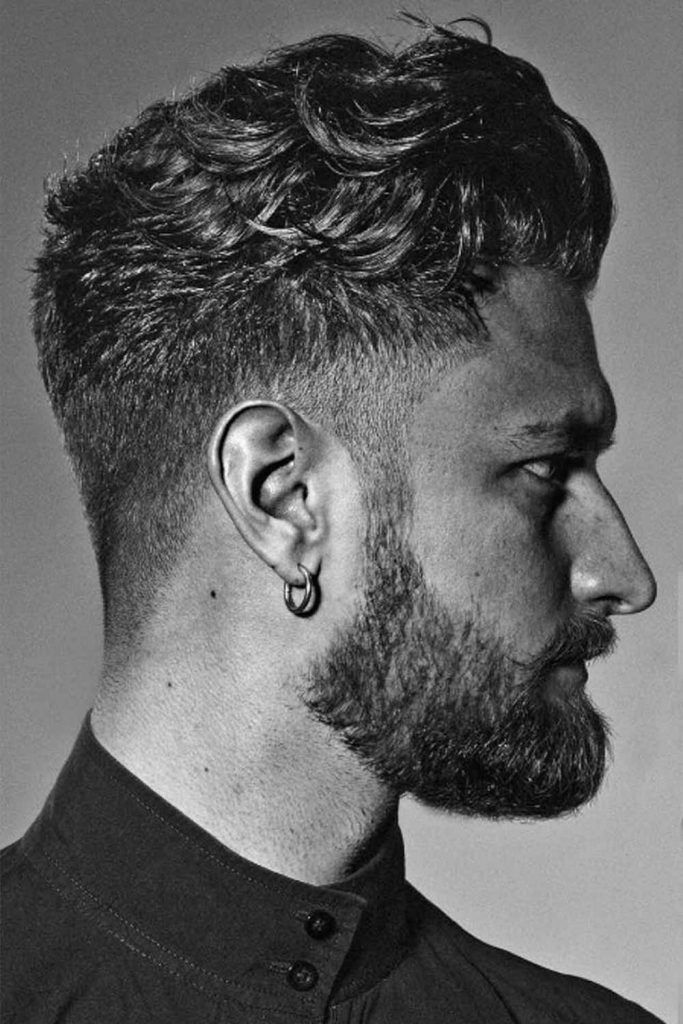 Source: @sergeyshapochka via Instagram
Wavy Ivy League Haircut
Men's Ivy league haircut is also known as the Princeton or Harvard cut. The Ivy League cut is a sophisticated version of a crew cut with the short style and a side-swept, slick side part. It is the perfect choice for men who want a modern yet classy cut.
This spiky Ivy League cut has a ton of volume on the top with its "shape up," which is another name for styling the hair upwards and slightly toward one side for spiky, textured effect. This look is great for those with square-shaped faces.
Crop Top Men's Short Haircut
High fades are all the rage for men's short haircuts 2023. This look concentrates short hair on the top of the head. Subtle layers up top make it the perfect short crop for thick hair. Baby bangs aren't for everyone, but this rounded shape is very suitable for strong and angular cheekbones.
Source: @hayden_cassidy via Instagram
Textured Taper Fade Short Haircut
High and tight styles give the overall illusion of short hair while allowing for longer length up top. Tapered fades are ideal men's short haircuts. Clean up the cut around the ears while maintaining gorgeous locks up top so nothing gets messy. If you prefer length and especially facial hair, try this textured top with high taper fade and beard style.
Source: @ryancullenhair via Instagram
Side Part Fade
The side part is a classic way to separate one's hair, but why not use it as an opportunity for boldness? Instead of setting aside the entire texture and layering just around your face in order create an edge-to-edge look like we see here.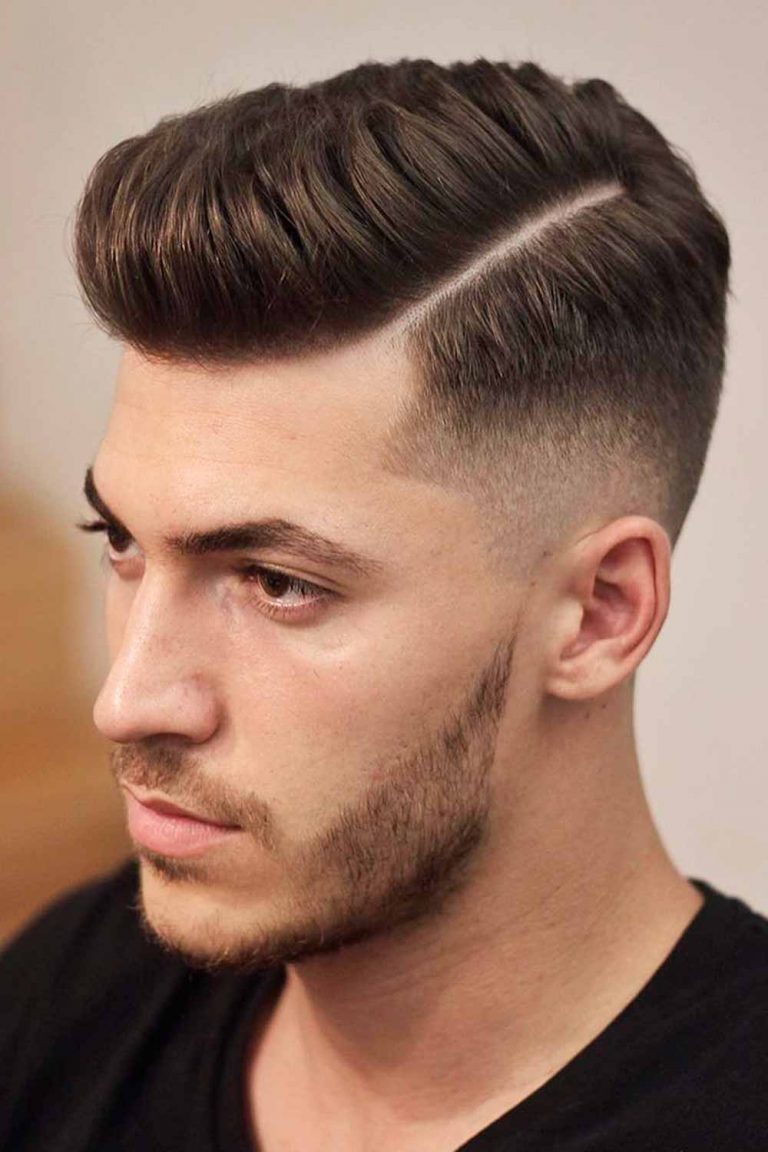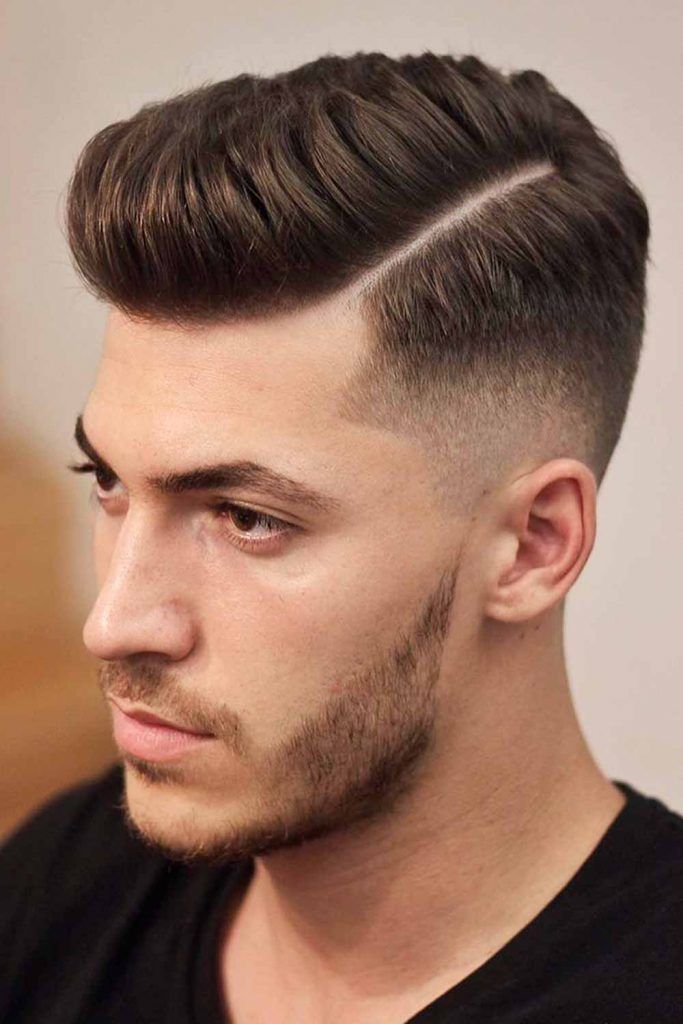 Source: @horatiuthebarber via Instagram
Crop Top Fade
The top is softly textured, with a gentle fade and precisely trimmed fringe. The light tone of this crop top fade helps balance out all the elements on display here for an unexpectedly neat finish that you won't be able to take your eyes off–and we doubt anyone else will either!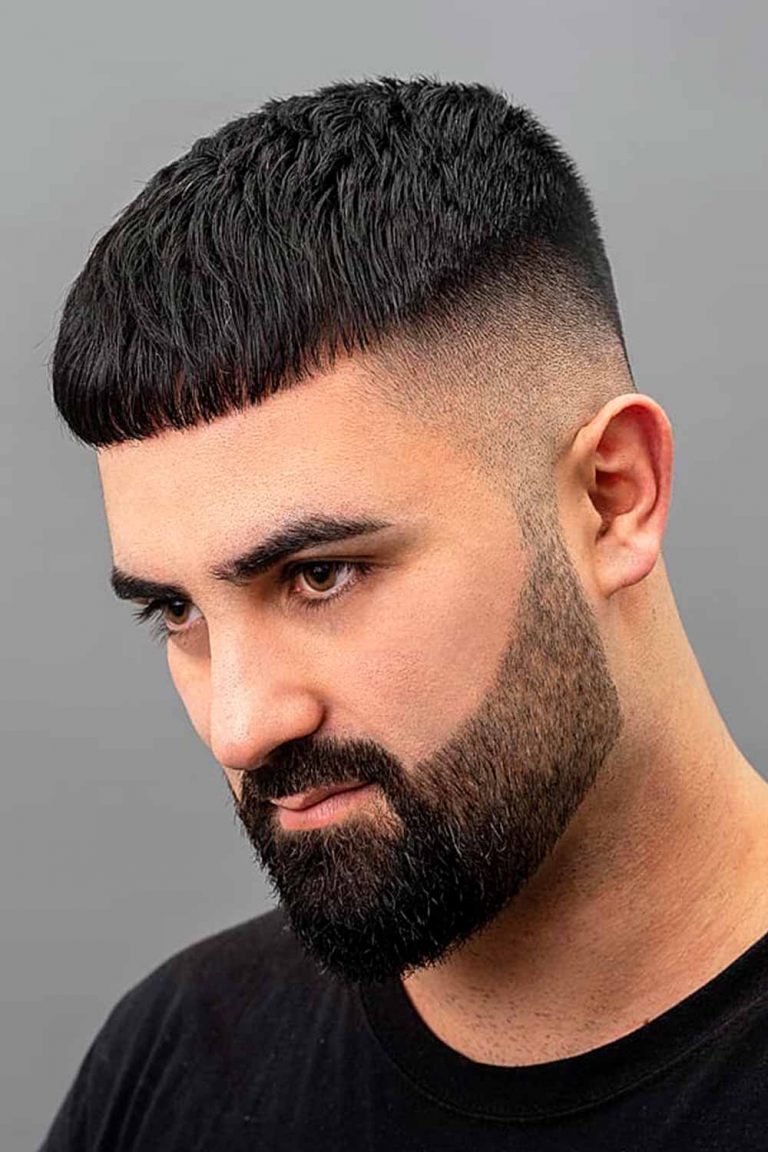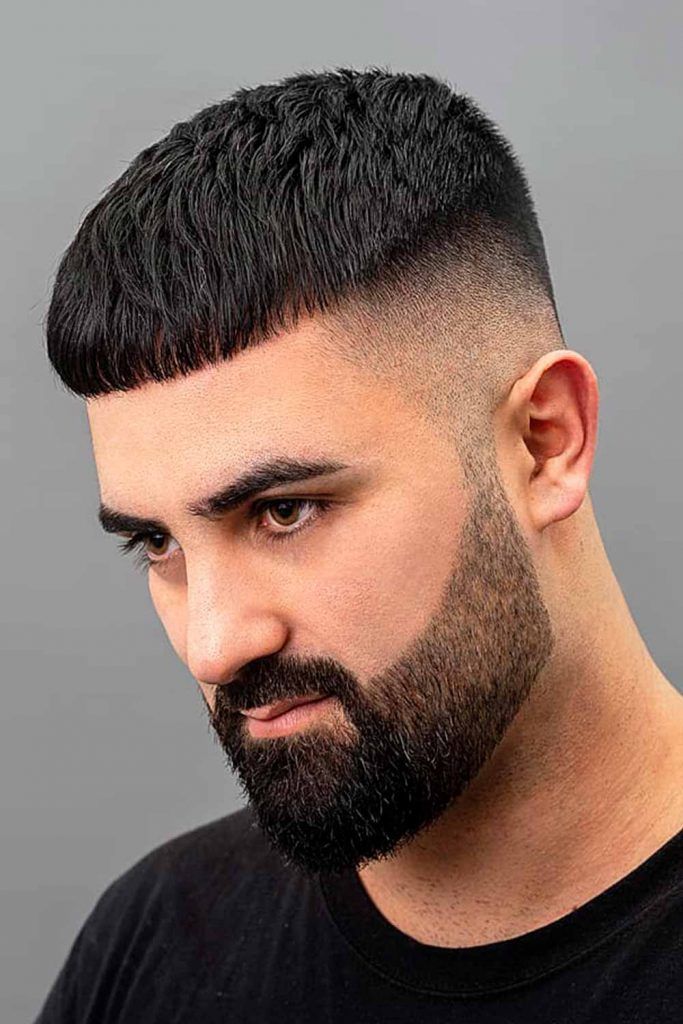 Source: @keller_konturen via Instagram
Slicked Back Military Short Haircuts
A military haircut will probably never come out of style. These short hairstyles for men have become the preferred choice of many guys thanks to their low maintenance and broad versatility. Of course, today's grooming world has made a lot of changes in classic military hairstyles modernizing them and adapting to current trends. They've become a bit longer here and there and are often enhanced with different elements like a hard part, a fade or a line up.
Blunt Bang + Fade + Layers
A blunt bang hairstyle looks elaborate and eye-catching. However, you can make it even more prominent by complementing with a fade haircut and layers. What type to choose is for you to decide. Take into account such factors as your personal style, preferences and time you can allocate for its maintenance.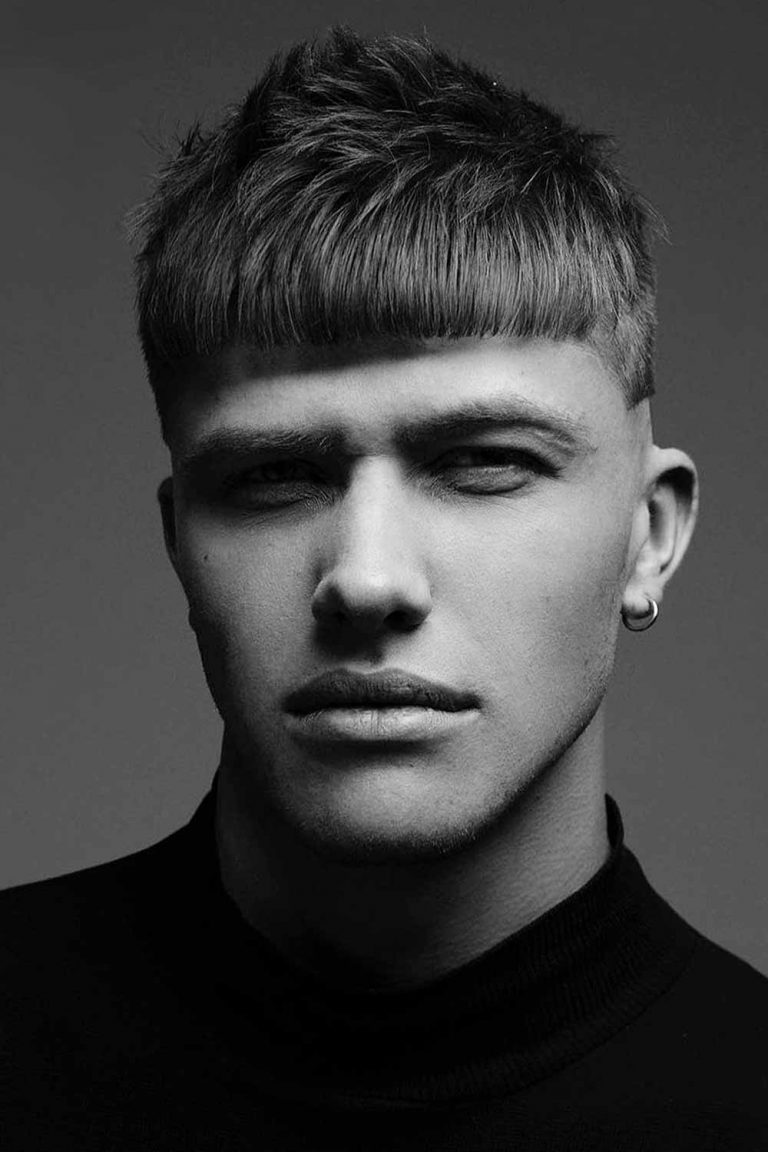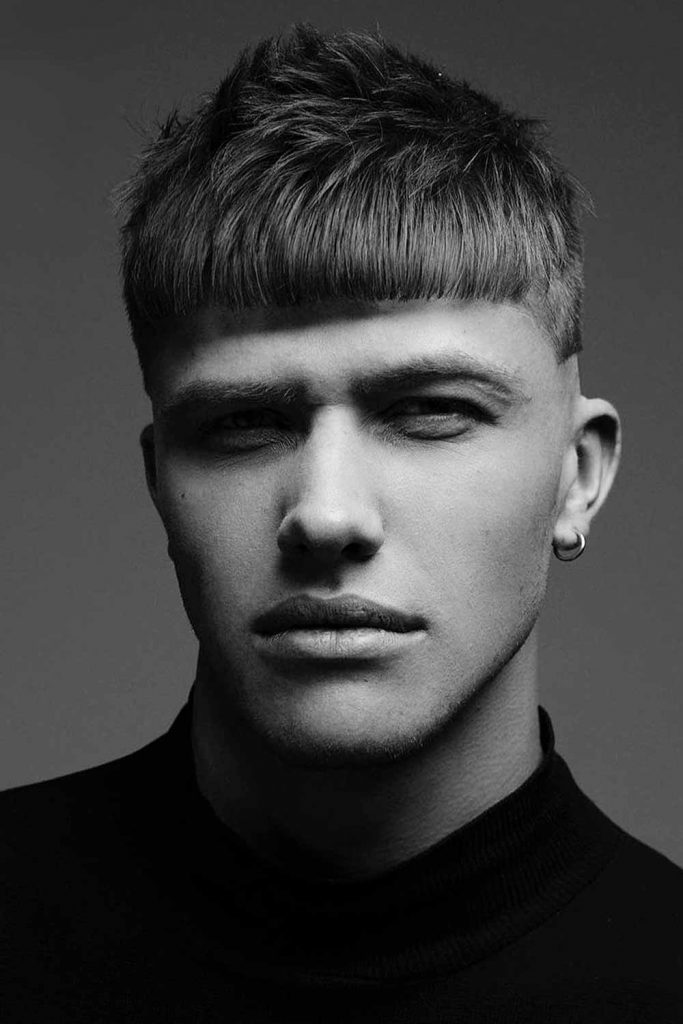 Source: @cut_and_color via Instagram
Brushed Up Fringe With Bald Fade
One of the most popular men's short hairstyles 2023 is the brushed up fringe with high bald fade undercut. This makes a polished effect possible even as guys rock a few inches up top. A slightly faux hawk fringe frames the face while a line up separates the length and the bald fade for a modern approach.
Source: @hayden_cassidy via Instagram
Textured Quiff With Fade Short Haircuts For Men
Thick, voluminous hair and an even thicker beard looks cleaned up and elegant on a low fade and textured quiff. Buzz hair close to the scalp right in front of the tops of ears for the perfect prune on all that hair. It lets the gorgeous quiff up top do all of the talking.
Source: @shrunknheads via Instagram
Spiked Textured Top Men's Short Haircuts
We see a lot of round and soft lines on men's short haircuts today. However, short spiky hair for men looks dynamic with high, bald fades and even faint beards. If your hair is straight but you desire texture, cut short, choppy layers for a spiked effect.
Source: @hayden_cassidy via Instagram
High and Tight With An Undercut Fade
Undercut fades are a defining characteristic of current short men's haircuts. They are perfect for guys who love wearing hair very short, but want noticeable texture up top. High fades are ideal on ultra-cropped hair for a high and tight haircut. The round shape on these short bangs provides good balance for strong, square jaws.
Source: @hayden_cassidy via Instagram
Buzz Cut With Skin Fade and Line Up
Probably the trending mens hairstyles 2023 is the buzz cut with skin fade and line up style. Also called an edge up, this bald line separates the top of the hair from the fade underneath. This can be done on a variety of styles and works well with a fade beard, too.
Source: @ryancullenhair via Instagram
Classic Short With High Fade
A fade is your failsafe way out when you want to add a trendy twist to your mens short haircut without making it overly fancy. There are several types of fades to choose from. But, when you want to achieve a neat and pronounced look, it is hard to think of a better option than a high fade.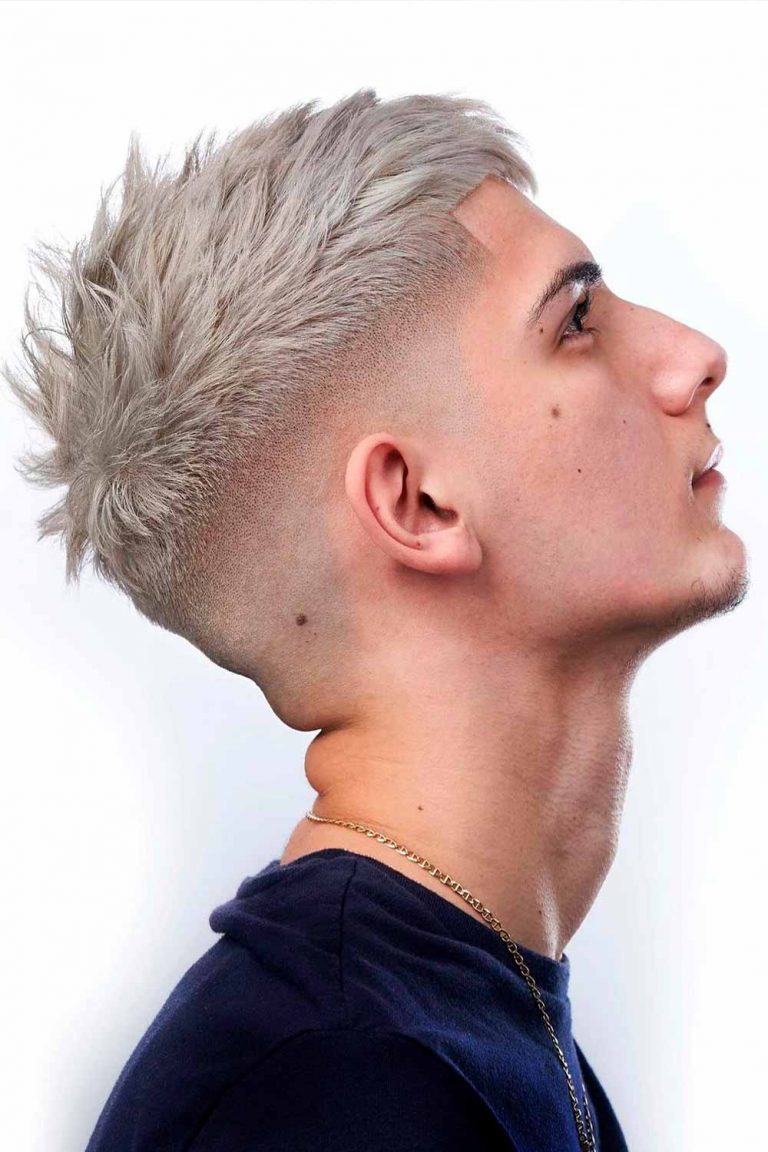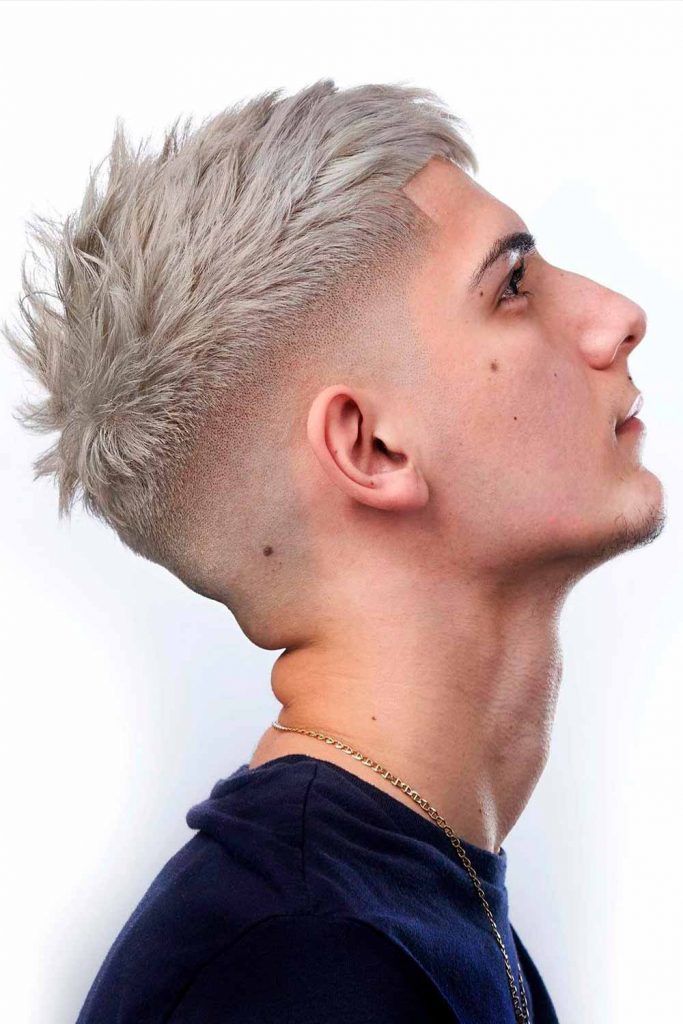 Source: @los_cut_it via Instagram
Clean Crop Short Men Haircuts
A great thing about a crop men short hair cut is that it creates a clean and elegant appearance. So, those who need to abide by dress code rules at work may feel free to wear it. What is more, you can easily complement it with basically any facial hair style, from a short stubble to a full coarse beard.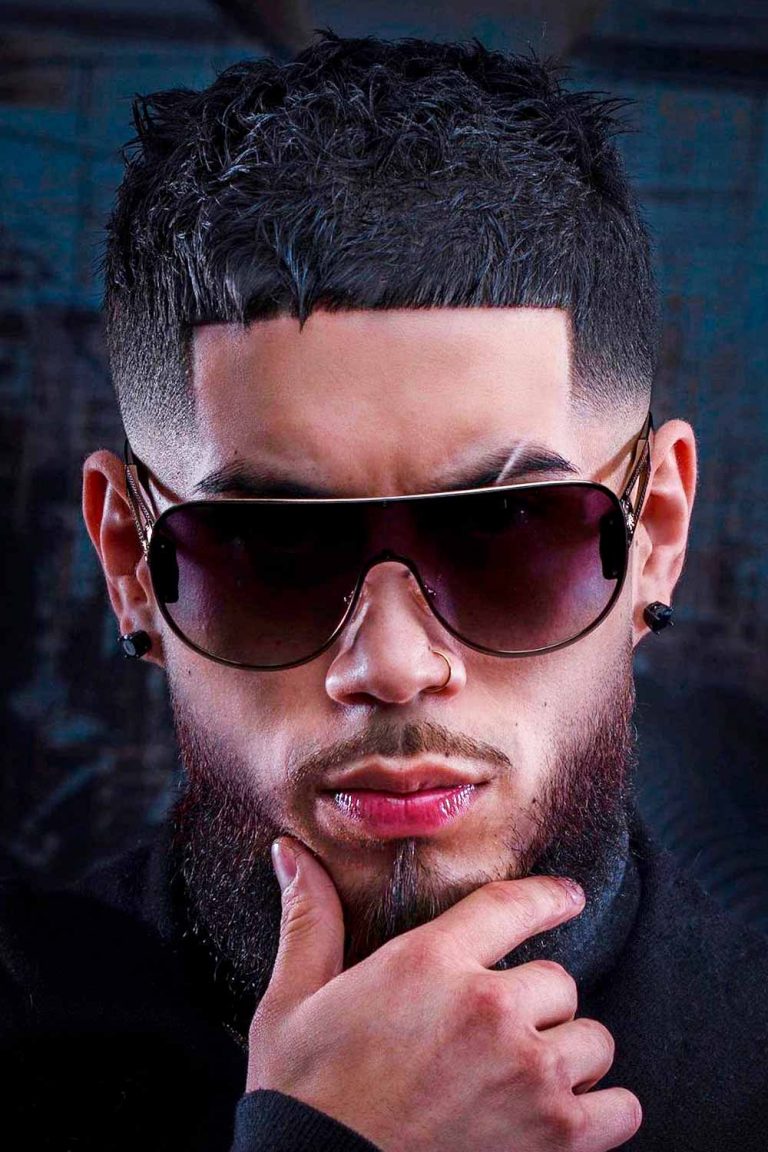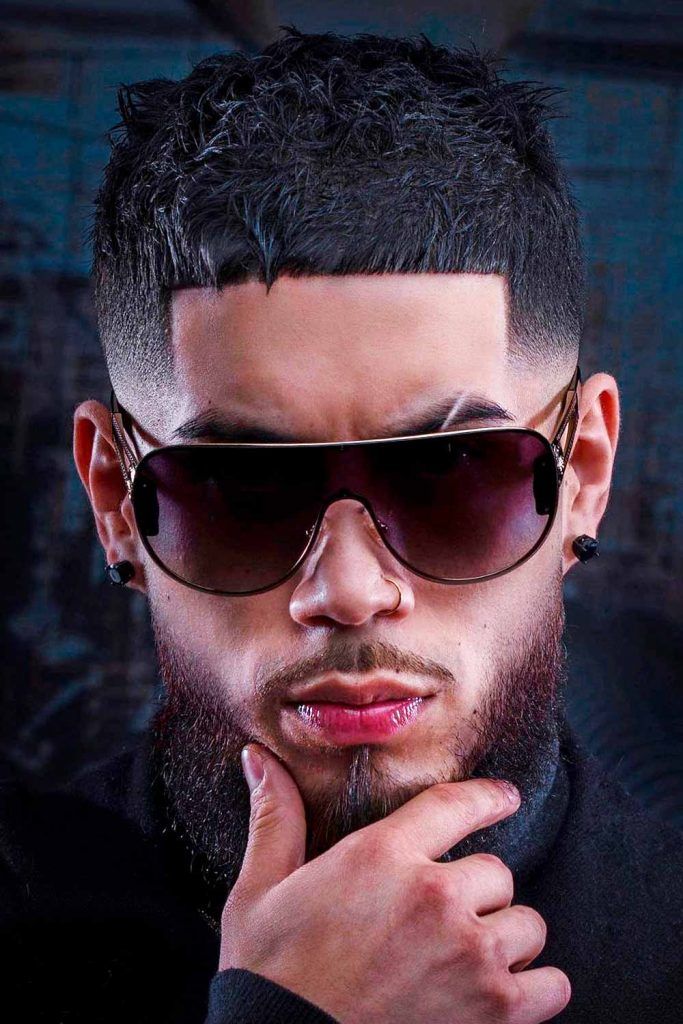 Source: @los_cut_it via Instagram
Classic Short Haircuts For Men
It is a known fact that you can never go wrong with classic short mens haircuts. They look appropriate no matter where you go and what outfit you wear. Besides, it can be adjusted to any situation. For a business meeting, push the hair on top to the side or brush it back, whereas for a casual dinner with friends, tousle the locks with a tad of a product.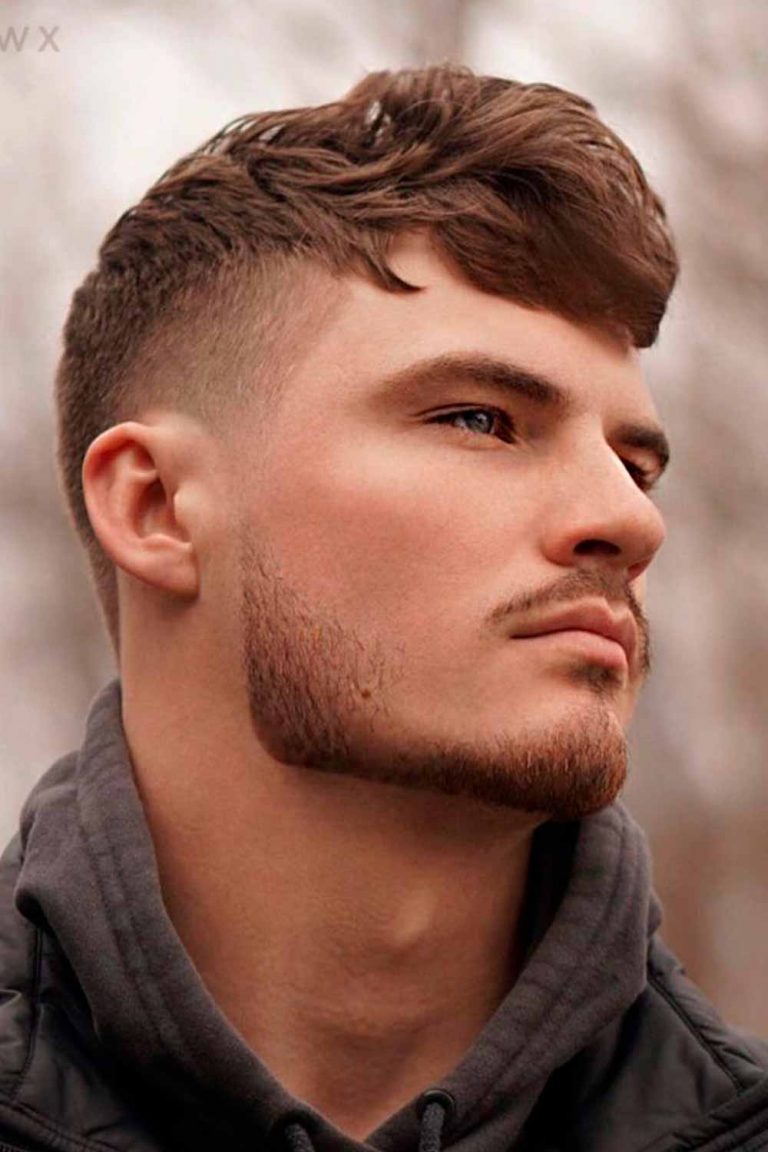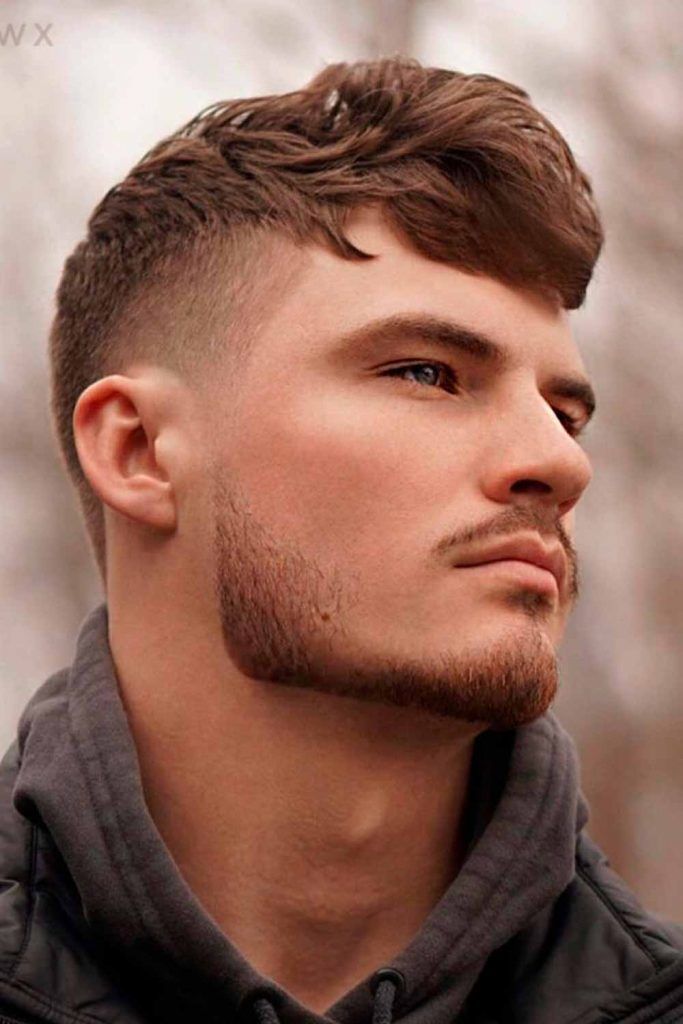 Source: @xbigwesx via Instagram
Side Texture Men Short Haircuts
Those with thick hair may want to remove weight from their locks and that is when getting mens haircuts short and textured comes in really handy. When you cut your hair in different levels of layers, you make it lighter while keeping the volume. For an added touch, sweep the front of the hair to your most flattering side.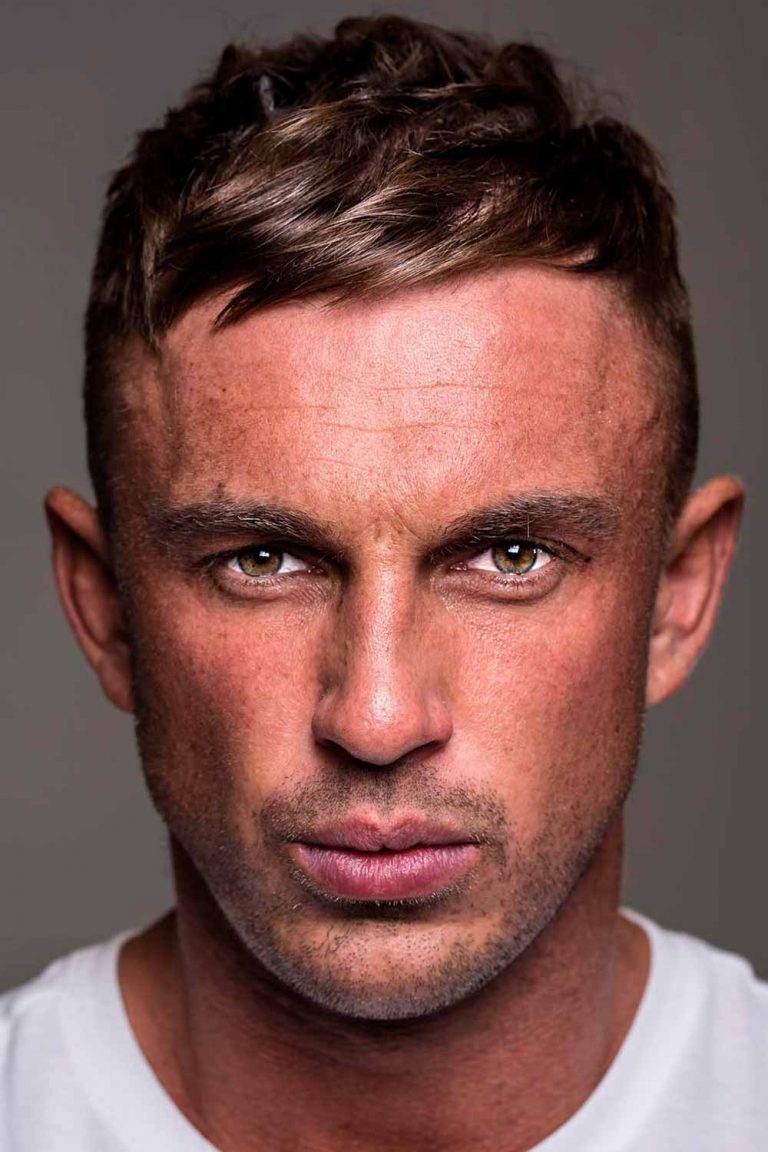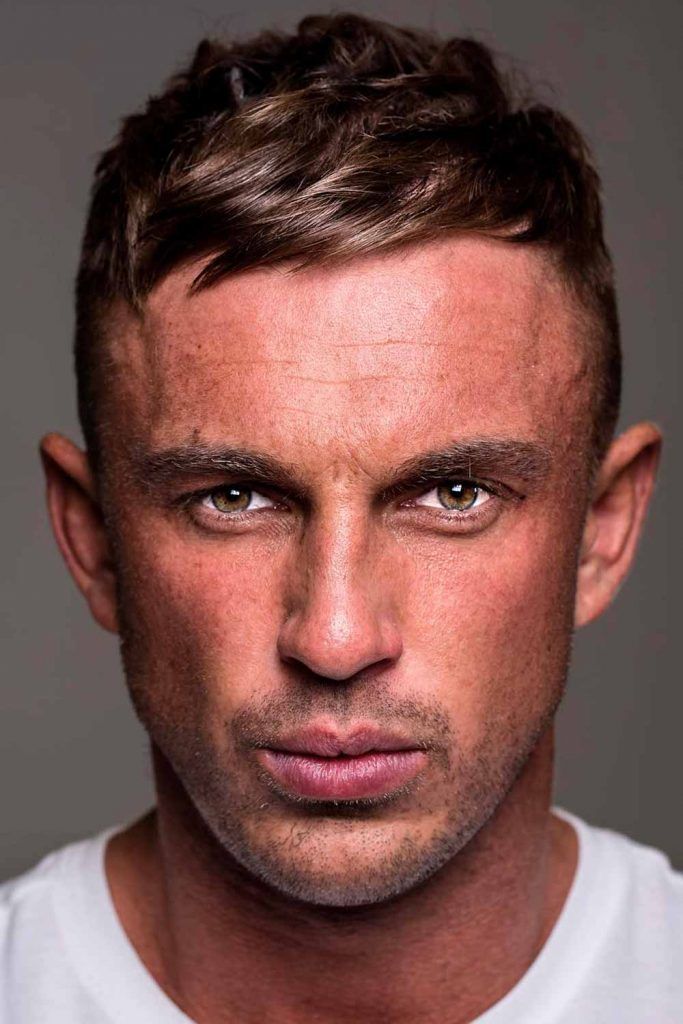 Source: @tombaxter_hair via Instagram
Push Up With Surgical Line
Are you one of those guys who like to stand out in the crowd? In that case, a pushed up men short hair style is your way to go. Complement it with a surgical line on the side and your hair look will never go unnoticed.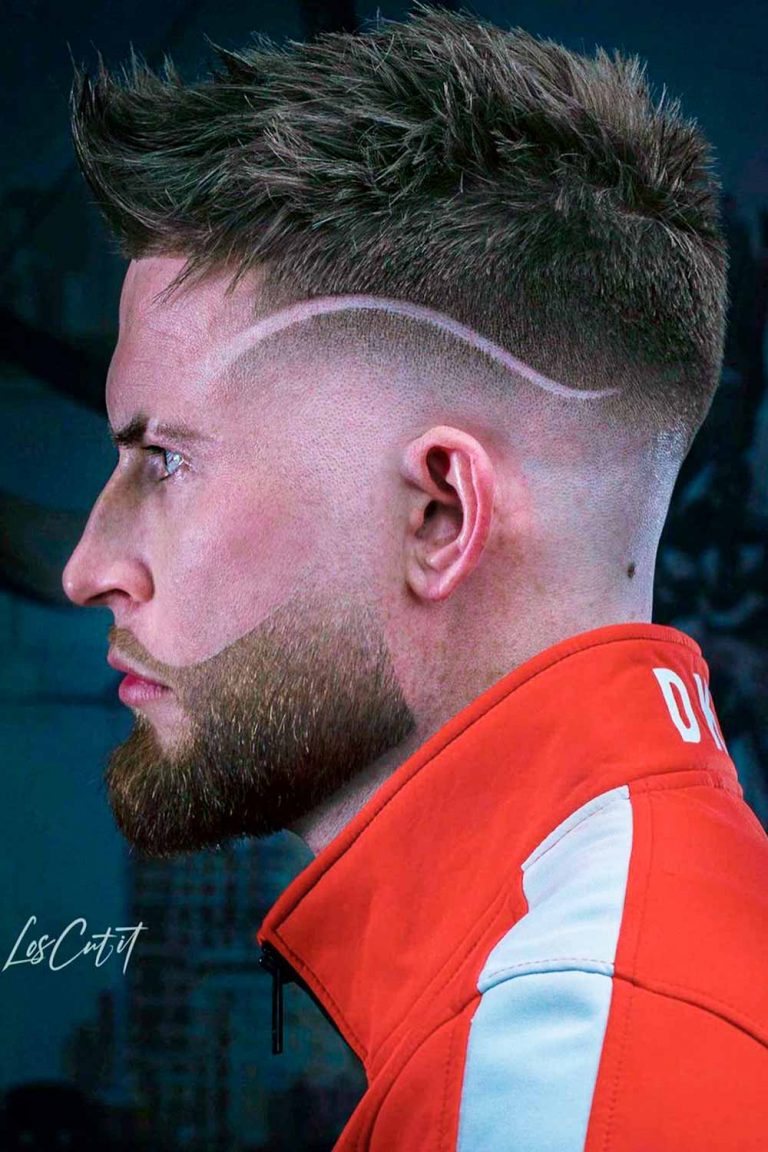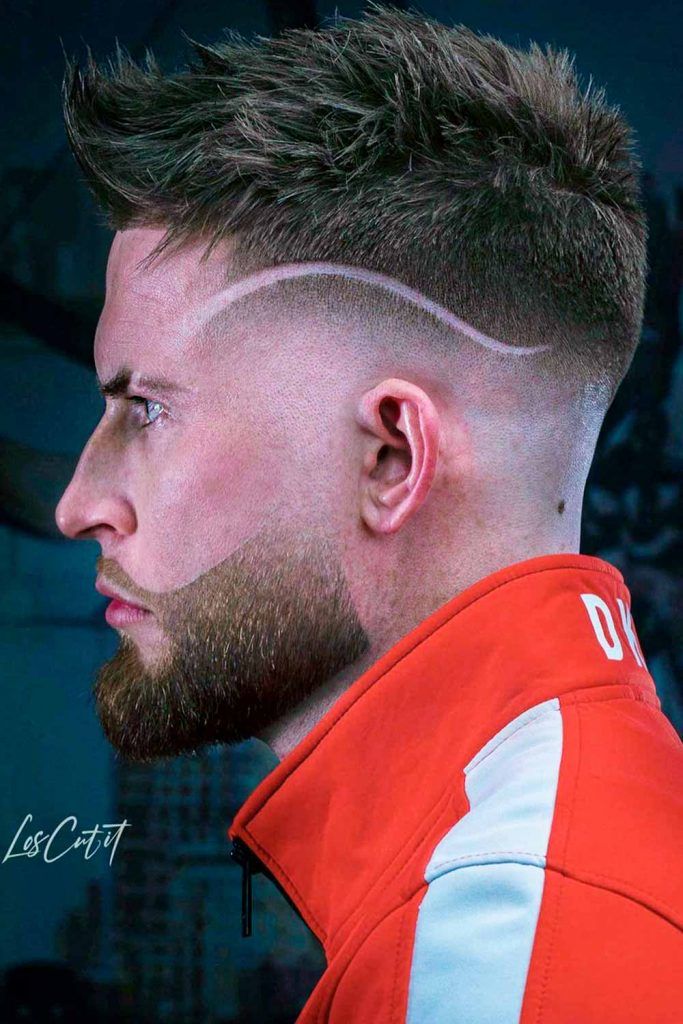 Source: @los_cut_it via Instagram
Curly Hair With Bald Fade
Don't let these sleek, short hair men styles fool you, hair with lots of texture and curls can handle an edgy cut. In fact, a short curly hair with mid bald fade cut looks awesome and unique. The bald fade highlights curls while tidying up your overall look.
Source: @egobarbers via Instagram
Blonde Curls Short Haircuts For Men
Creating a short haircut men will love is easy if your natural texture is tight, springy ringlets. Keep those curls cut close to the head and tapered it off at the top of the temple with a high fade on the sides. You can't go wrong with this curly fade haircut.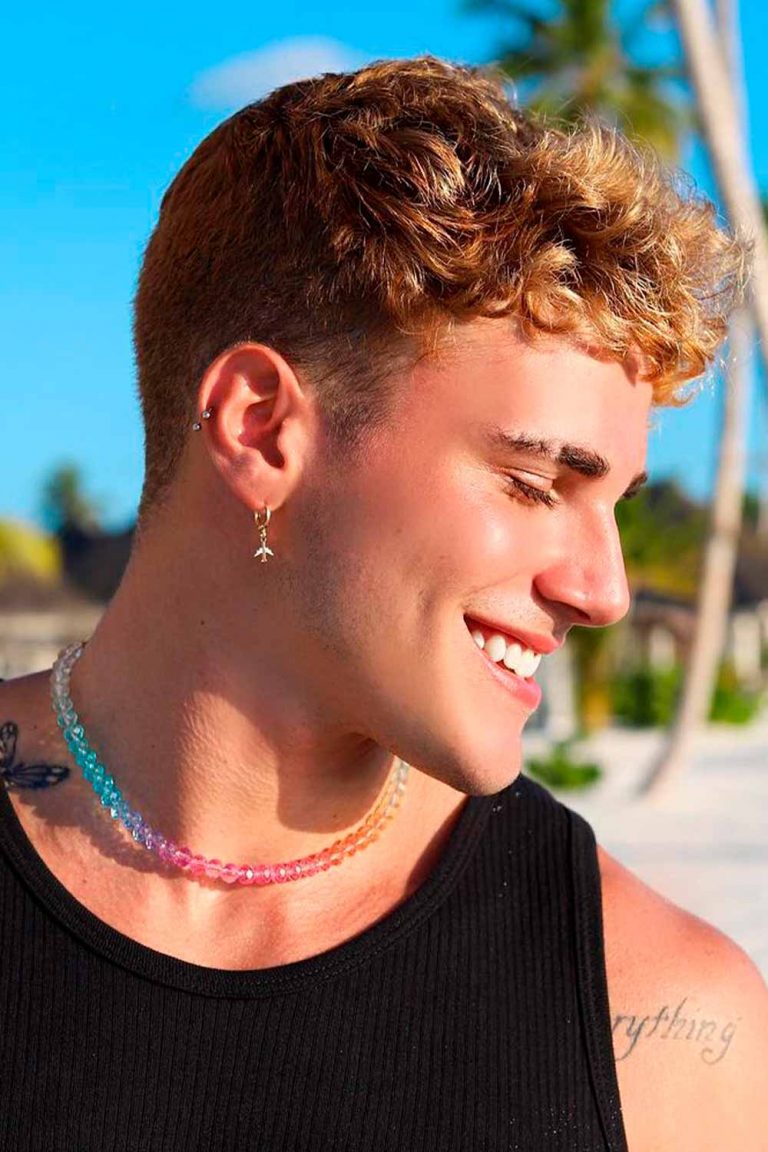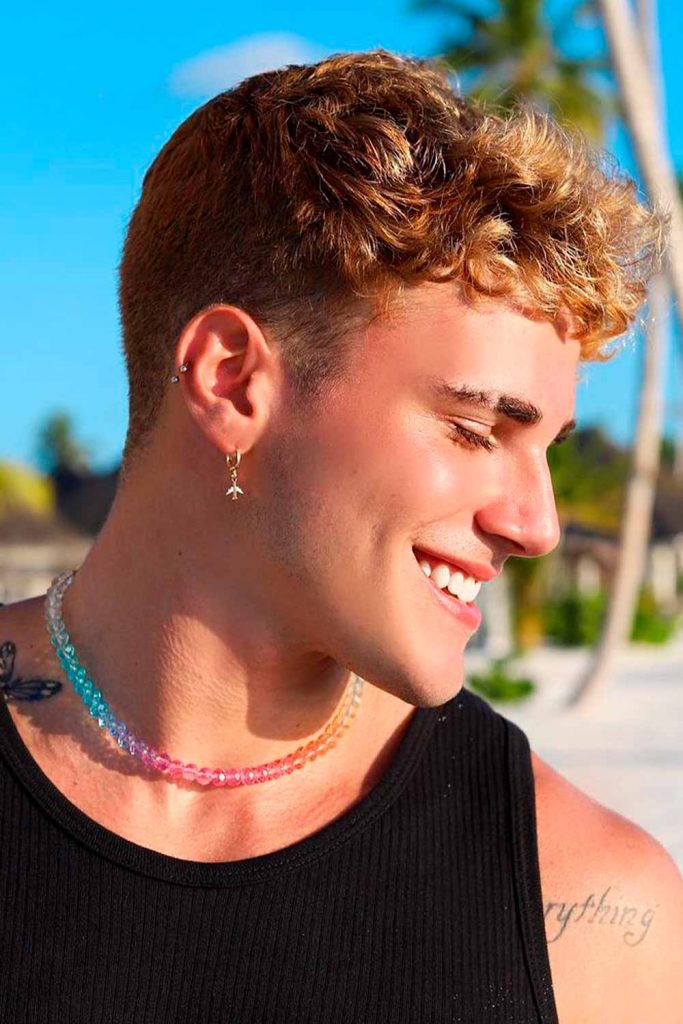 Source: @alexmapeli via Instagram
Pompadour Fade Men's Short Haircuts
When looking for men's hairstyles, short lengths can be hard if you have beautiful hair that you like keeping 3-4 inches long. However, fades make hair tidy without having to sacrifice your gorgeous locks. A high skin fade with pompadour provides a polished effect that is undoubtedly modern short hairstyles men, too.
Source: @hayden_cassidy via Instagram
Edgar Haircut
Not every man will be able to pull off such this trendy, unique, and controversial look. While some people may frown upon Edgar haircut, others find them daring and stylish. If you feel like trying this short hair styles for men on, consider accentuating it with the textured top.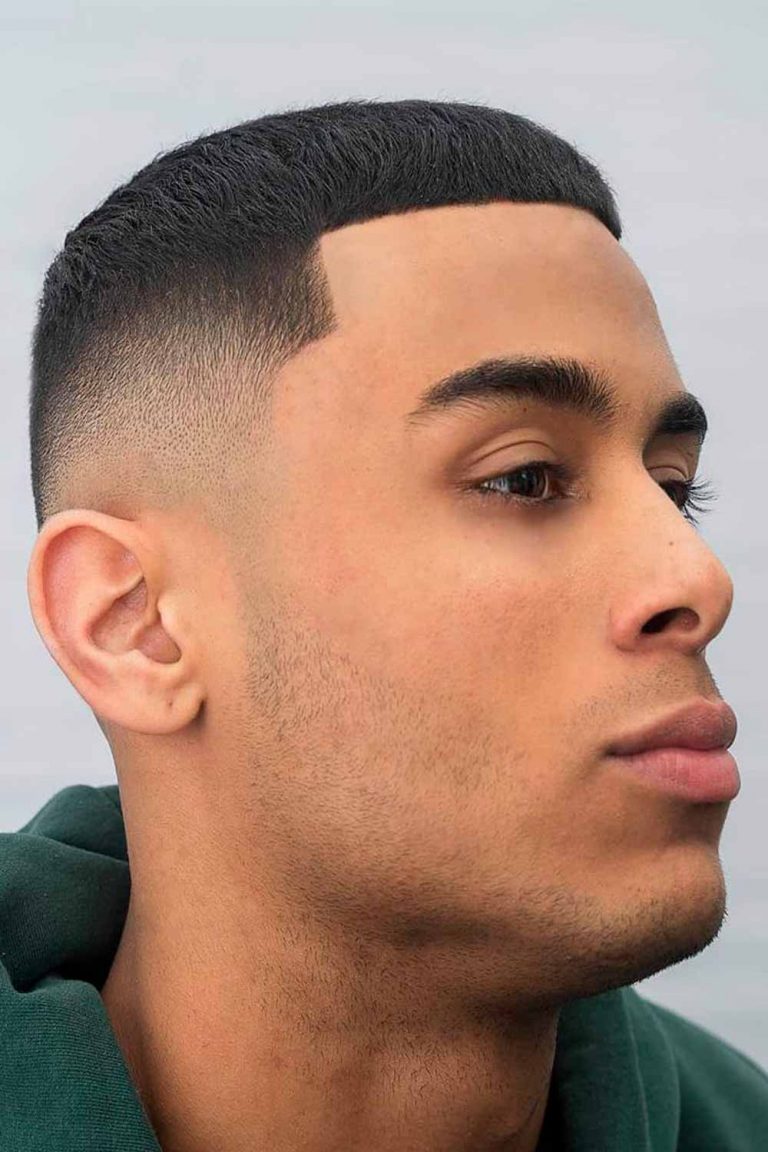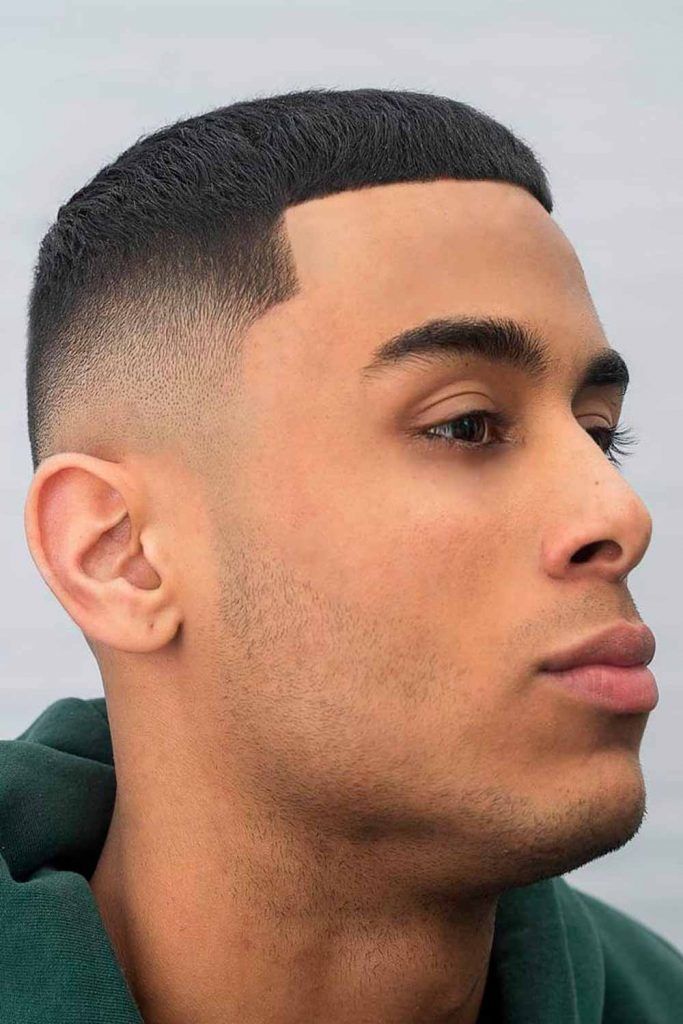 Source: @keller_konturen via Instagram
We hope you have found inspiration in our guide to cool men's short haircuts.
FAQs
What is the best haircut for guys?
Undoubtedly, any short haircut can be considered the best option for a guy. No matter what style you will choose, you can rest assured that you will look bold and daring. Just look for the style that flatters your facial features, enhancing the most attractive ones and disguising any potential imperfections.
What is a regular men's haircut?
To be considered regular, your haircut should feature a long top, which you would be able to comb, and a prominent side part. As for the sides, your hair can be anything from medium, semi-short and short to long and even extra-long.
What are the different hairstyles for men?
Every now and then, barbers invent new and fresh takes on a regular men's haircut. They add trendy features and apply modern techniques so that your hairstyle follows the latest fashion. Thus, different hairstyles emerge all over the world.
This cut is a variation of a shaved haircut that is closely shaved on the top and shaved completely on the sides. It is the hairstyle choice of many athletes as it requires no maintenance and you can easily trim it yourself at home.
What is the shortest haircut?
The shortest haircut is 0 in buzzed cuts. No clippers are used for this haircut.
REFERENCES:
Get the facial hair grooming tips, hair advice, and product recommendations from the editors of Esquire. Source
The latest on men's hairstyles from GQ. Everything you need to know about men's hair including trends, ideas, recommended products and styling tips. Source
From short style ideas to longer haircuts and everything in-between, scroll through before your next salon visit. Source