A mullet haircut is making a huge comeback as a fashion trend from 90s hairstyles men. But this time, it is going to stick around for a while. If you have no idea what these medium-length hairstyles for men look like, then you have come to the right place. Below, we have gathered all the information you need to know about mullets and how to pull off one so that it comes out modern and stylish.
What Do We Call A Mullet Haircut?
So, what is a mullet in the first place? This is a kind of joint medium-length hairstyles for men, which features short hair in the front and on top as well as long locks in the back. Thanks to such a shape, a mullet definition can be summarized in one simple phrase – all business upfront, all party behind.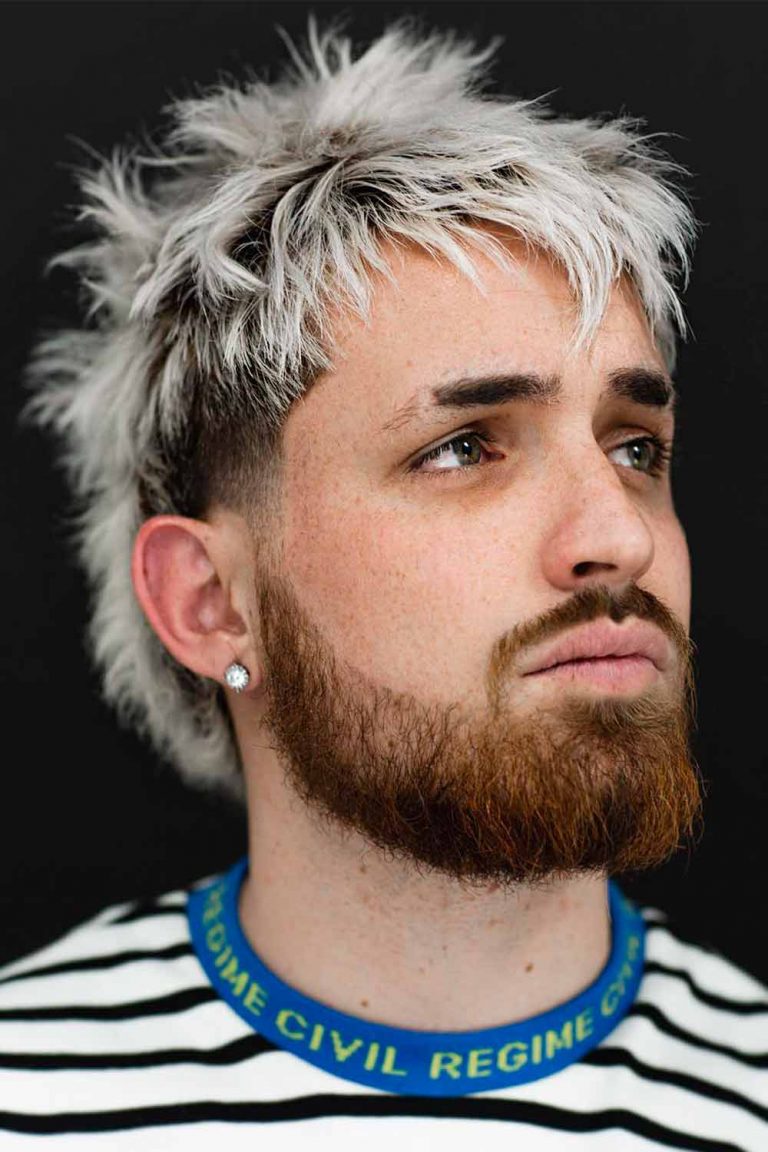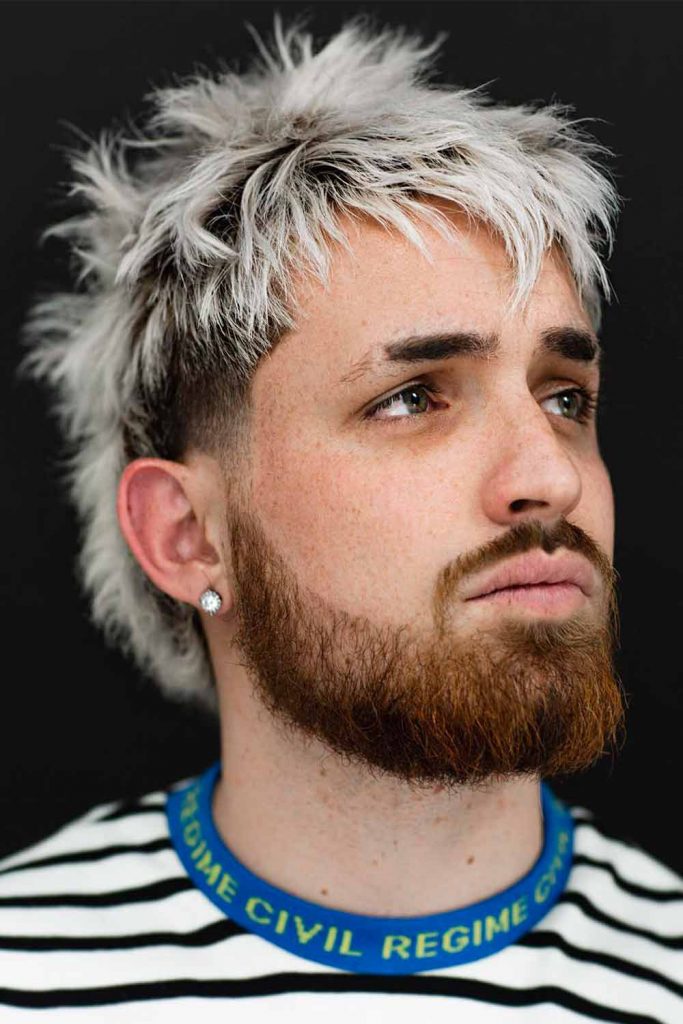 Source: @andrewdoeshair via Instagram
Is Mullet Coming Back?
A mullet haircut has reemerged as a 90s hairstyles fashion trend and it does not seem to disappear anytime soon. Although originally sportsmen and celebrities used it as a form of protest against then-popular hairstyles, nowadays it has become mainstream itself. Yet, a modern mullet haircut features a medium-length top and long hair in the back. The short sides are usually faded or tapered for a more contemporary look. Another difference between an old-fashioned mullet and its modern version is that today it works for any hair type and can be styled in a dozen of different ways. As such, there is a curly hair mullet, a messy undercut mullet, a permed mullet, and many others.
What Is The Meaning Of The Mullet?
It is unknown for sure why a mullet man haircut is called like that. But one version attributes its name to the hip-hop band Beastie Boys. There was a song called "Mullet Heads" released by the band in '94. It featured people rocking mullet haircuts accompanied by an explanation of the look.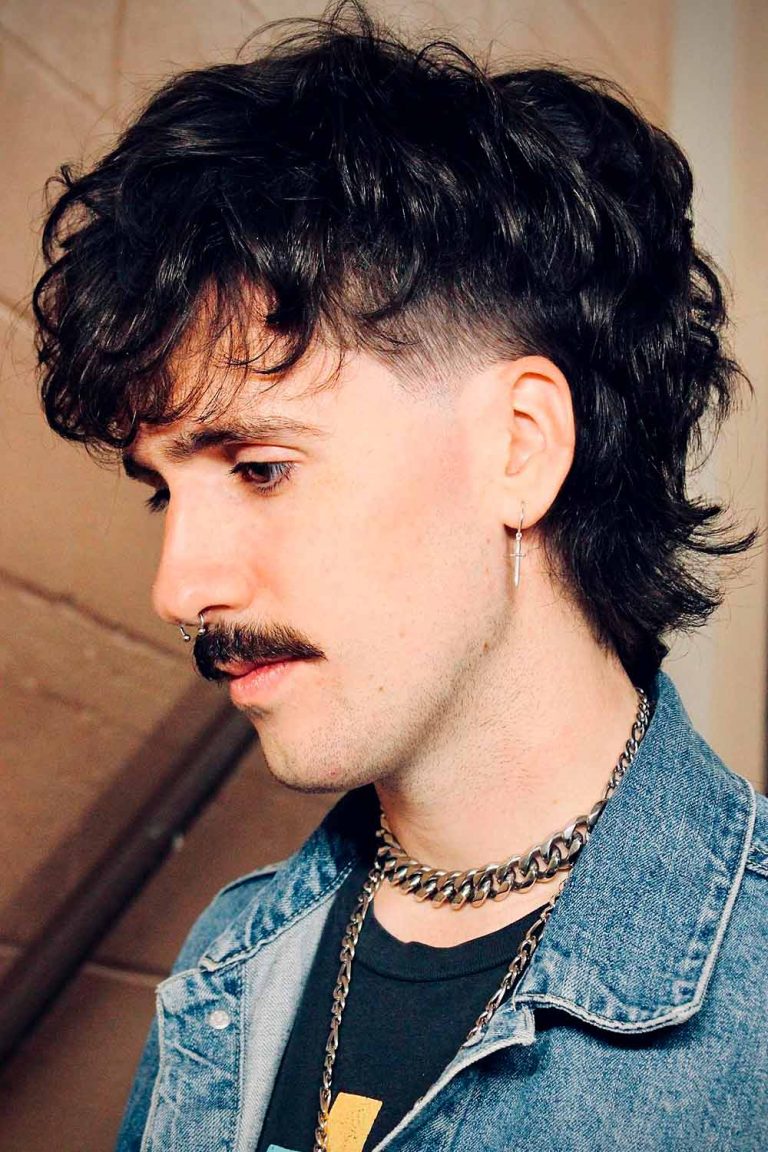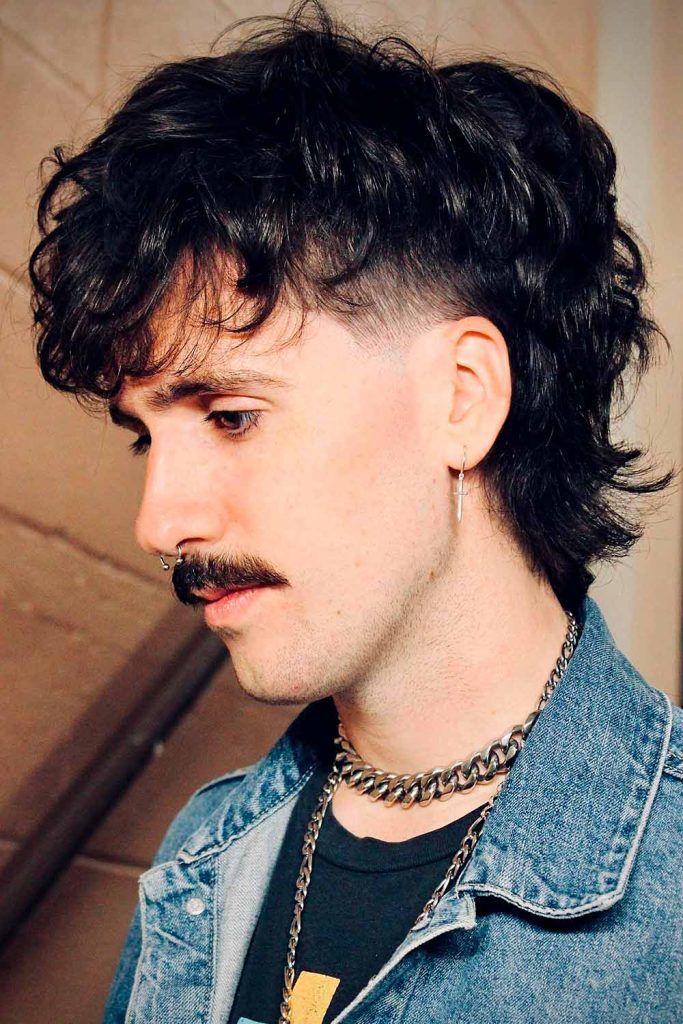 Source: @alexthegreatvivar via Instagram
What Is The Best Way To Wear A Mullet
You may not know but mullet hairstyles are quite versatile. Hence, there are plenty of ways to pull off the look. On the sides, you can complement it with other trendy cuts, such as a fade haircut or a taper haircut. As for the top and the back, it is possible to style them differently than that of a classic mullet: spiked up, messy, slicked back, side-parted, etc. Moreover, you can play around with your hair length, texture, and color, of course, giving your hair a completely new look. To provide you with a dose of inspiration, here are the best mullets you should definitely give a try.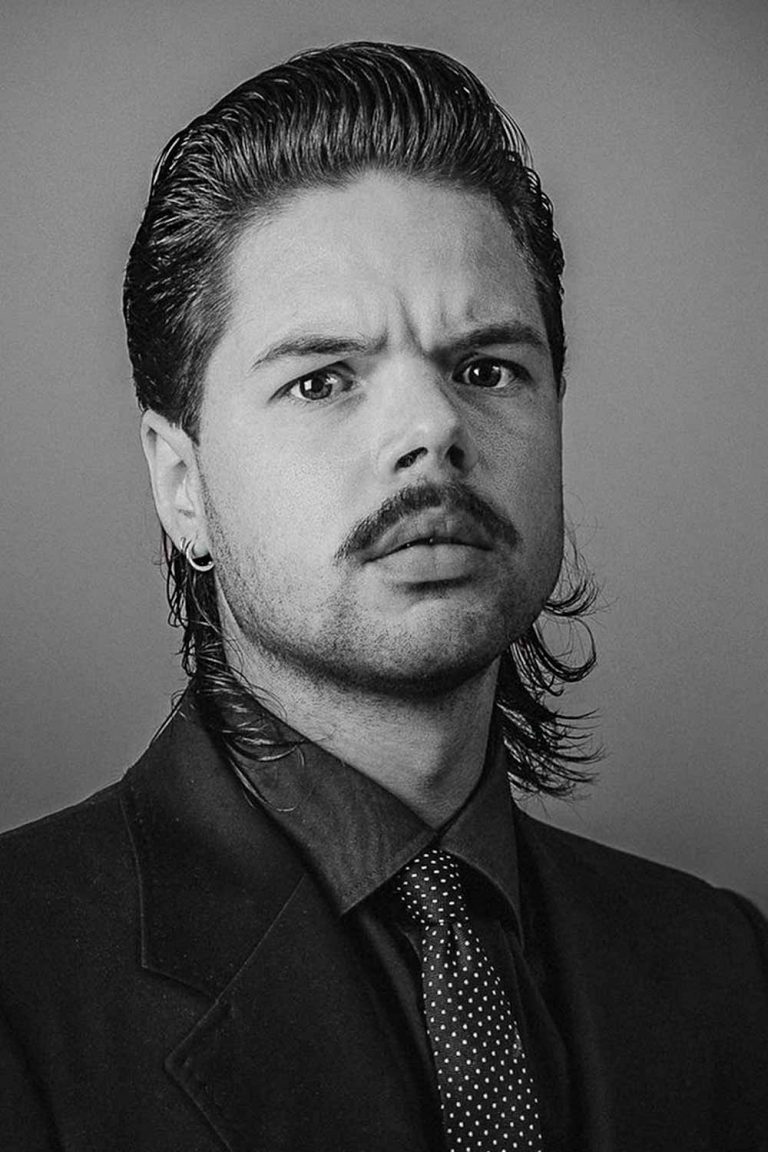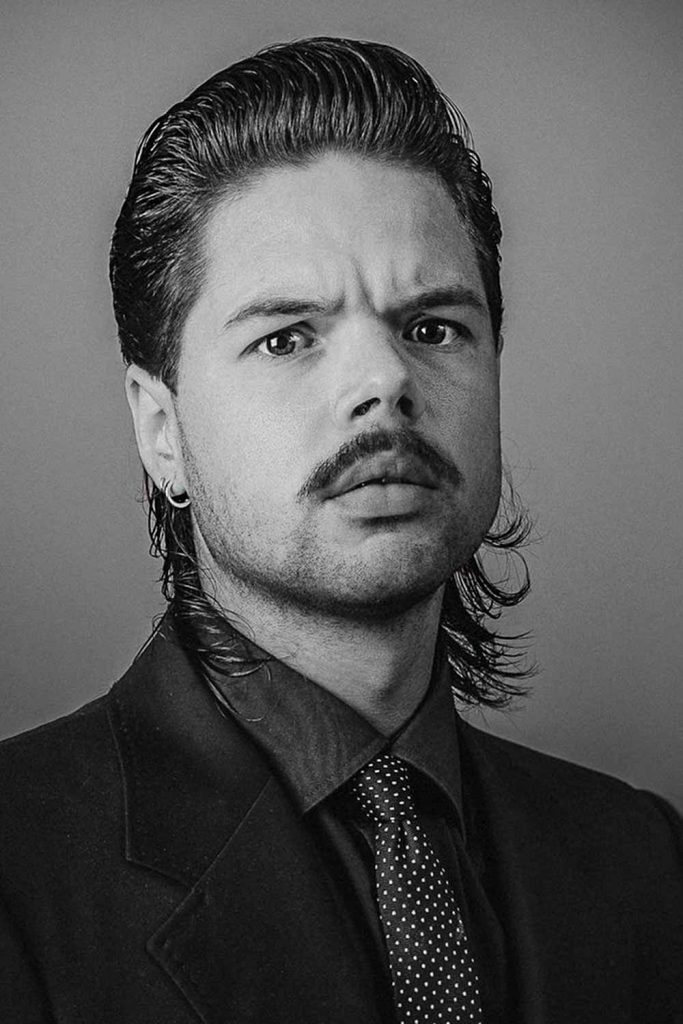 Source: @the_bloody_butcher via Instagram
Mullet Haircut Types And Styles
Even though a mullet is a quite old-school style, it has a fair share of modern options, and in case you are interested in this haircut type, we are ready to share!
Shaggy Mullet 2023
Shaggy hairstyles are extremely popular at the moment. So, if you are looking for a trendy 2023 mullet idea, then you can never go wrong with a shag mullet. As it requires quite a little styling, the look is effortless in every sense. Besides, it is a great way out for those who have thin and limp locks, as shaggy mullets 2023 are all about volume.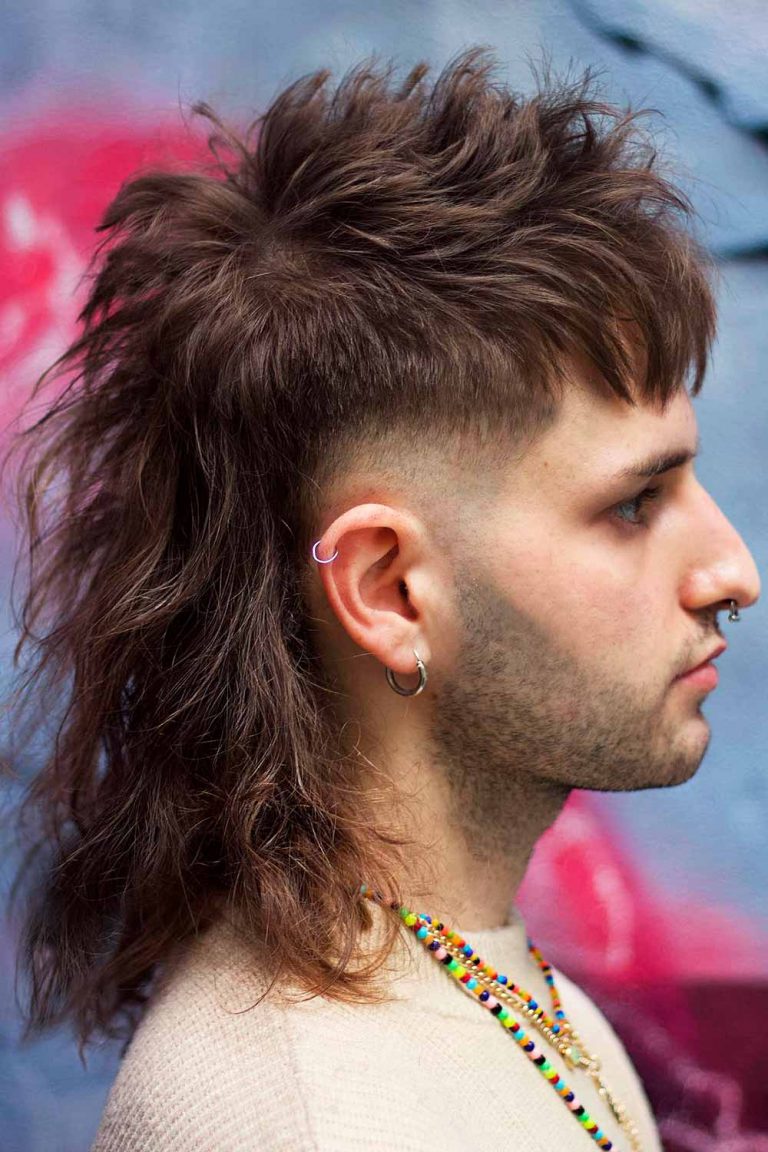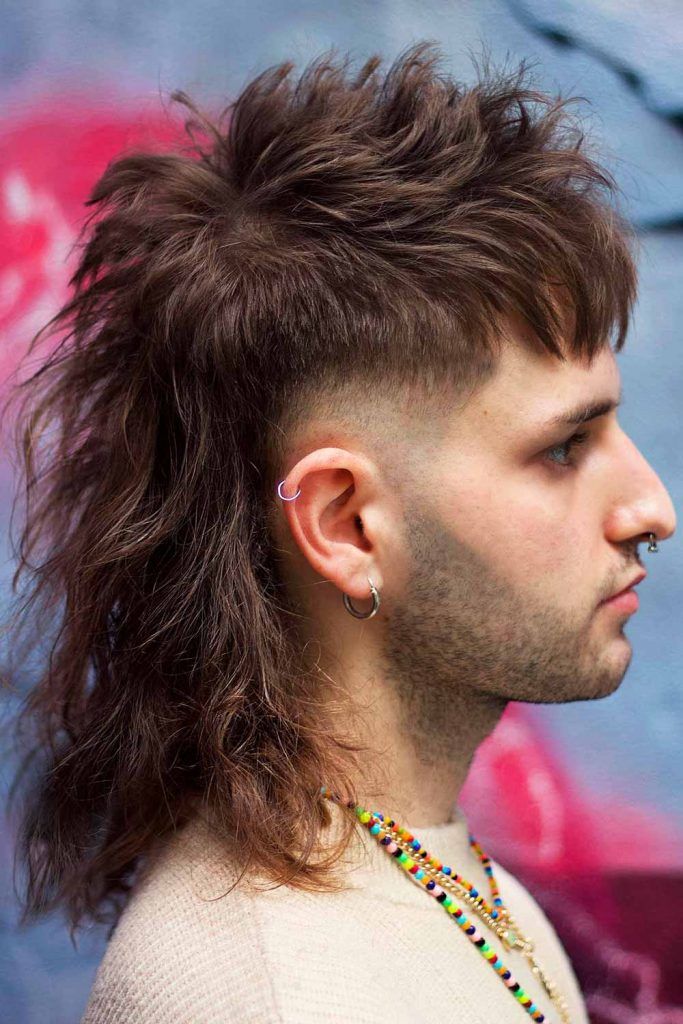 Source: @paulmacspecial via Instagram
Mullet Fade
You can upgrade to the mullet 2023 version by getting the sides faded. Although this hairstyle comes out less sharp and impactful than an undercut mullet, it is still high contrast and eye-catching. Besides, you can adjust the boldness of your men's mullet, choosing from a low, medium, and high type of mullet fade.
Source: @r.braid via Instagram
Flat Top Mullet
Mullet styles can be paired easily with other popular men's haircuts. Thus, if you are looking for a style that will allow you to stand out, a flat top mullet is your way to go. It is not hard to guess that it features a flat haircut on top, meaning the hair is trimmed so that it is level. The sides are cut short, while the hair in the back is left long.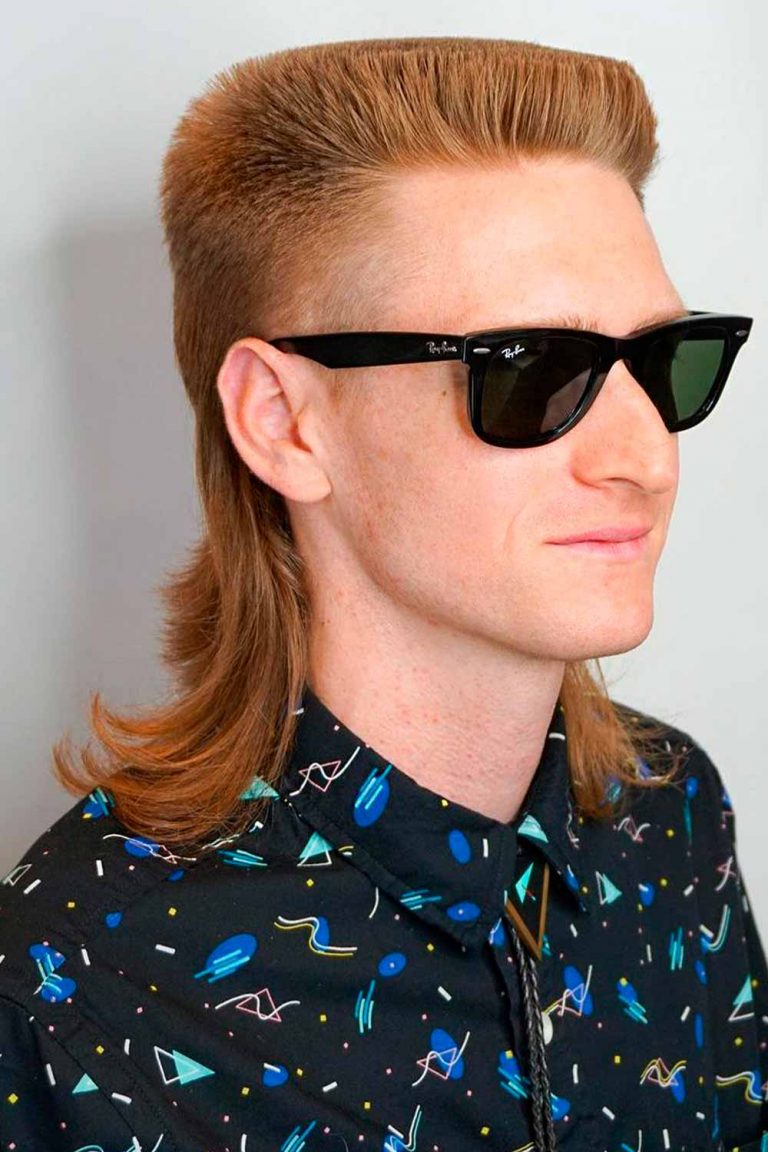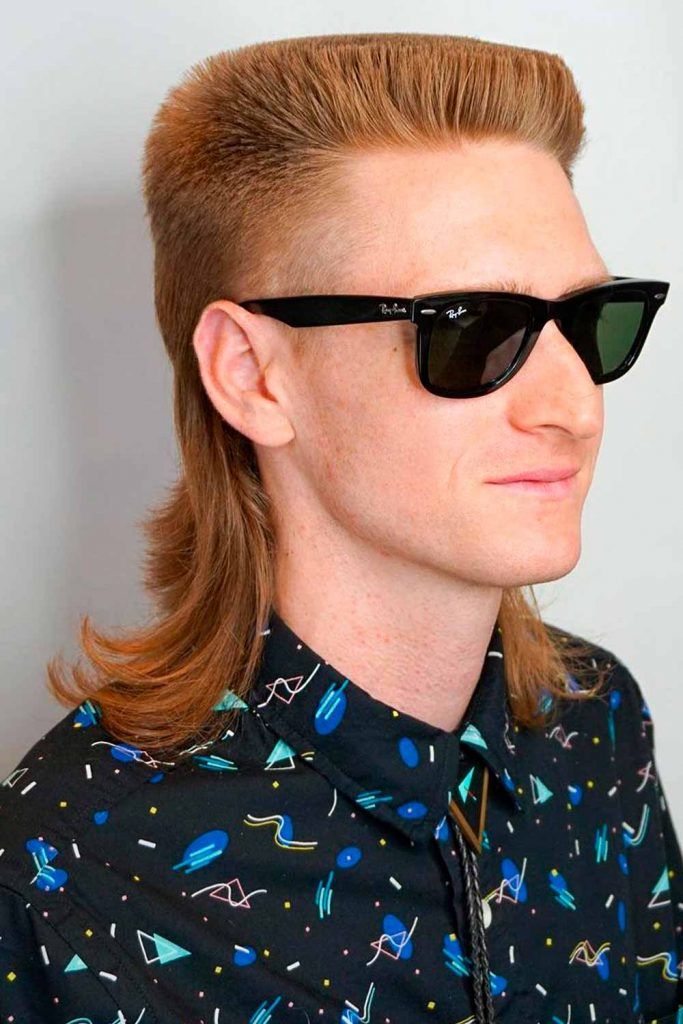 Source: @anthonythebarber916 via Instagram
Curly Mullet
Even if you have curly hair, you can still flaunt this hairstyle. Yet, for such a hair type, you will want to choose a short mullet rather than a long one so that it would look neat and clean. A curly mullet allows you to tame your unruly locks without sacrificing their texture.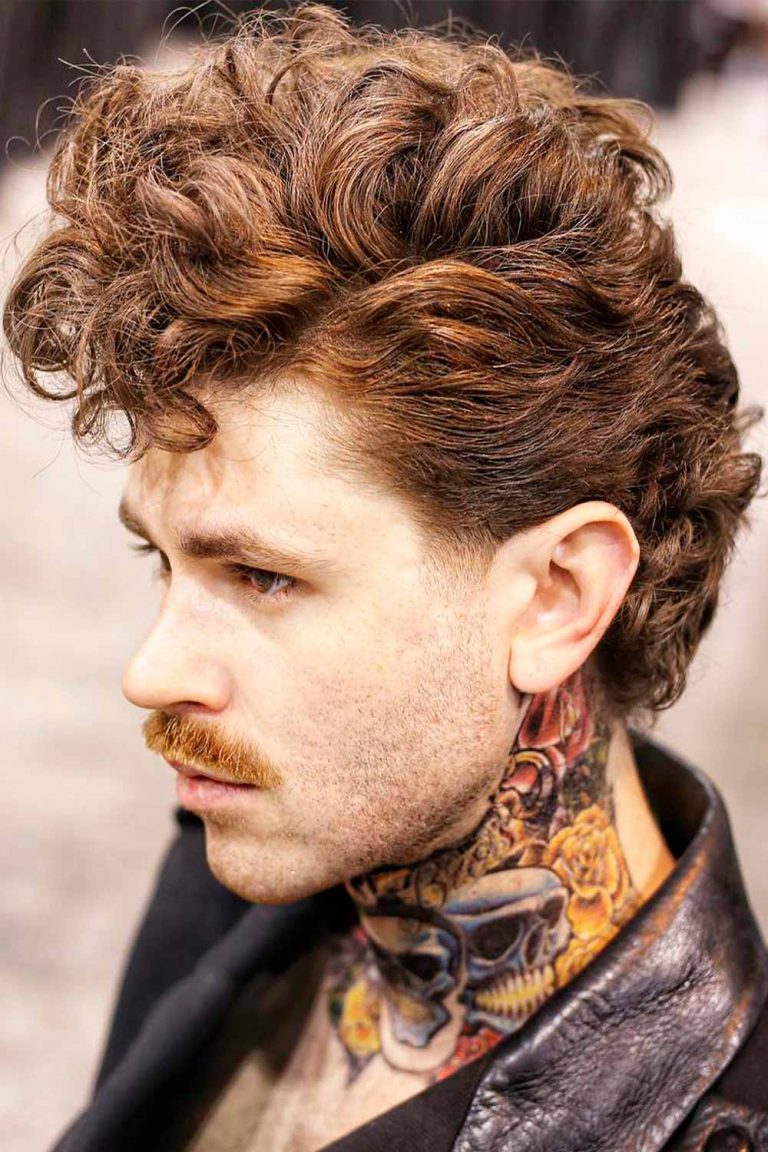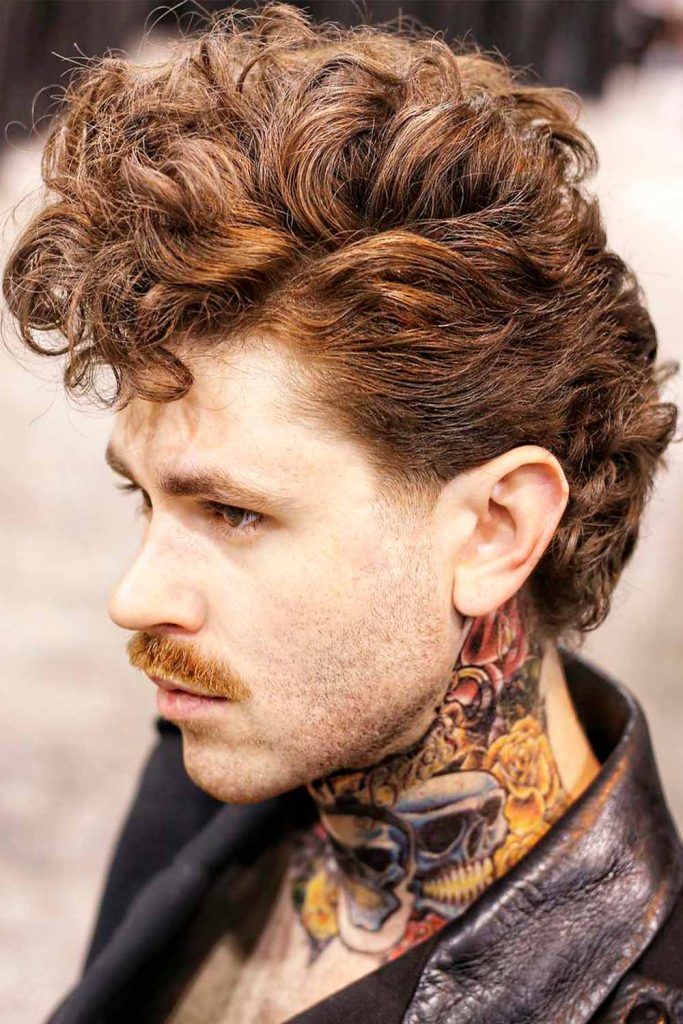 Source: @mikeyyyyyyy_ via Instagram
Blonde Mullet
Blonde mullet proves that it is not a haircut that makes you look cool, it is you who gives a haircut a stylish flair. The cool guy pulls off the mulet effortlessly. This take on the style with business in the front party in the back has become truly iconic and is still copied by mods all over the world.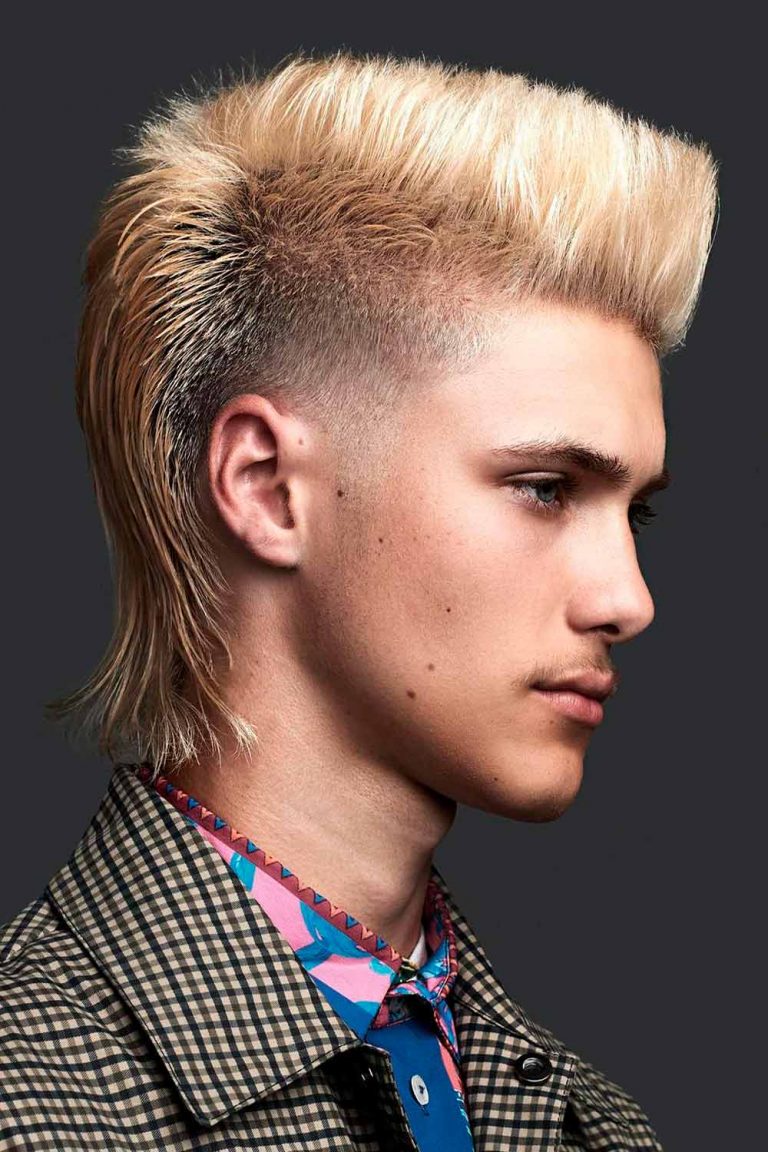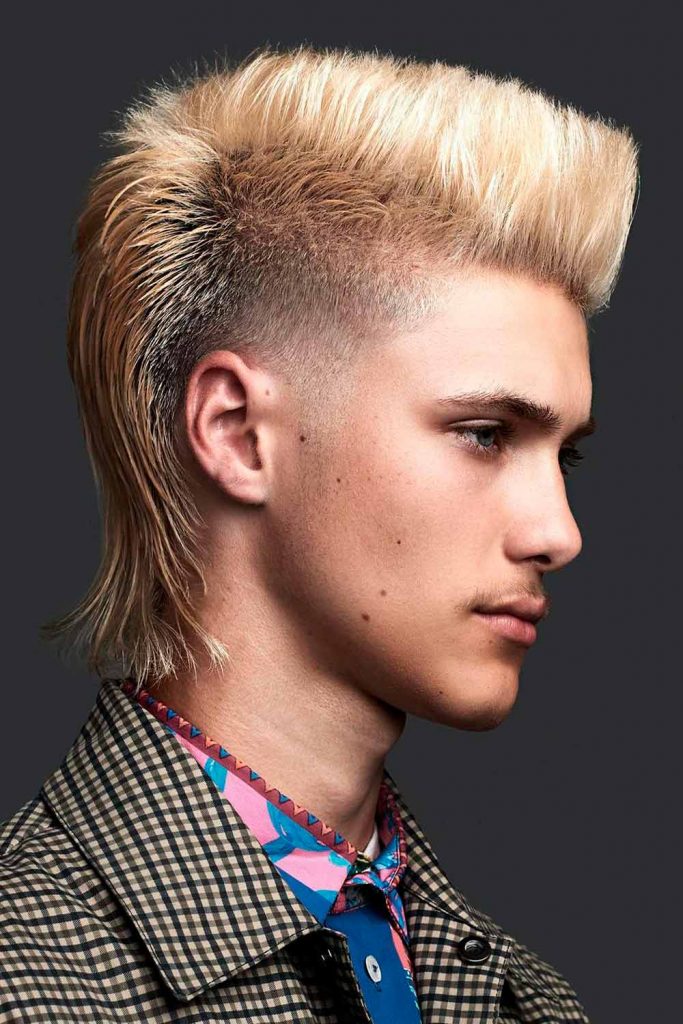 @dexterdapper via Instagram
Permed Mullet
For curly hair mullet is a surefire way to show off your intricate hair texture while keeping the cut pretty low maintenance. No wonder a curly mullet is one of the trendiest haircuts for men these days. If naturally, your hair is straight, then a perm mullet is your way out.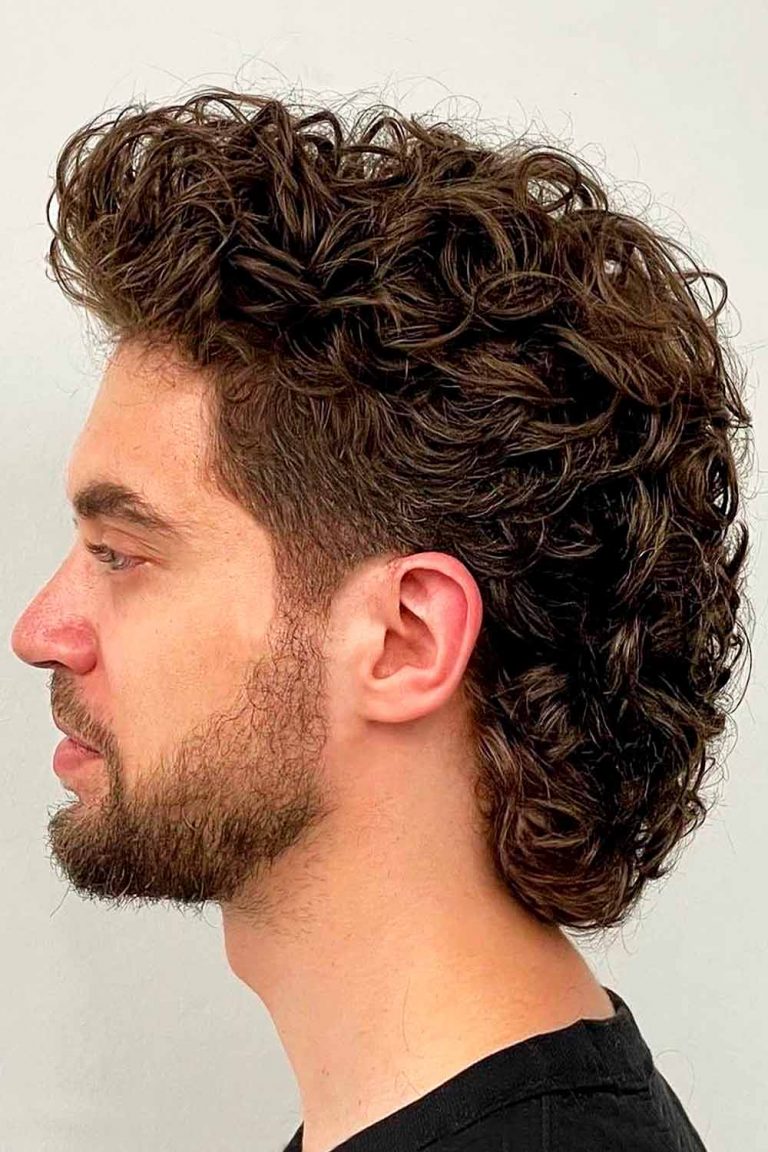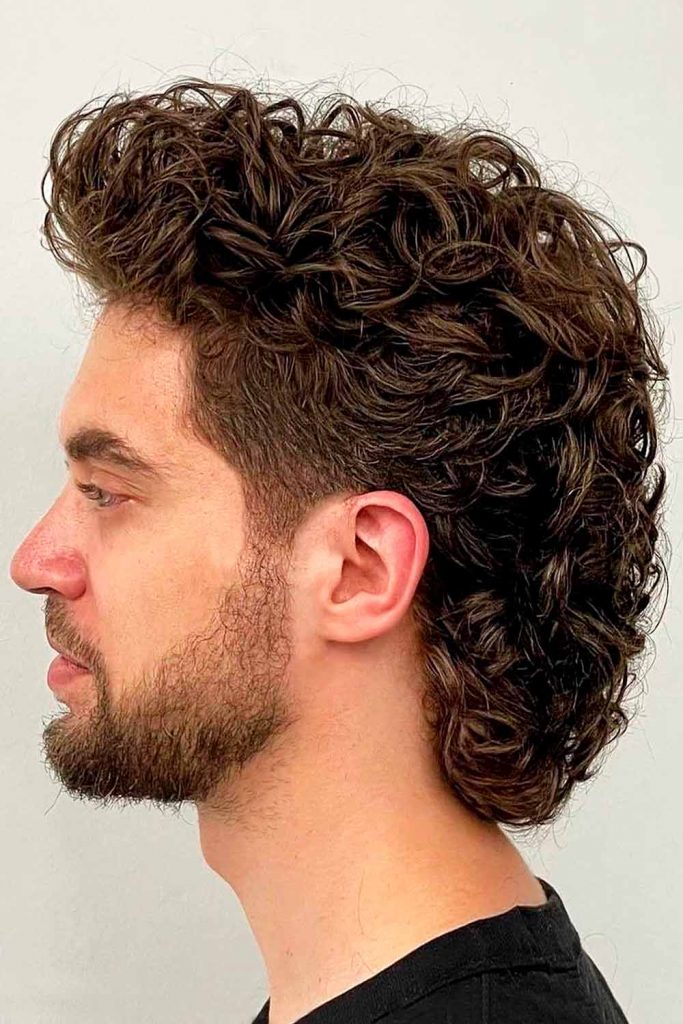 Source: @shefer_andrew via Instagram
80s Mullet
A mullet can gain quite an intricate turn. You can leave long hair on the crown and slick back the side section. In such a way, you will get quite a balanced look, as the hair in the front and back will be of equal length. This is also a very popular 80s mullet style.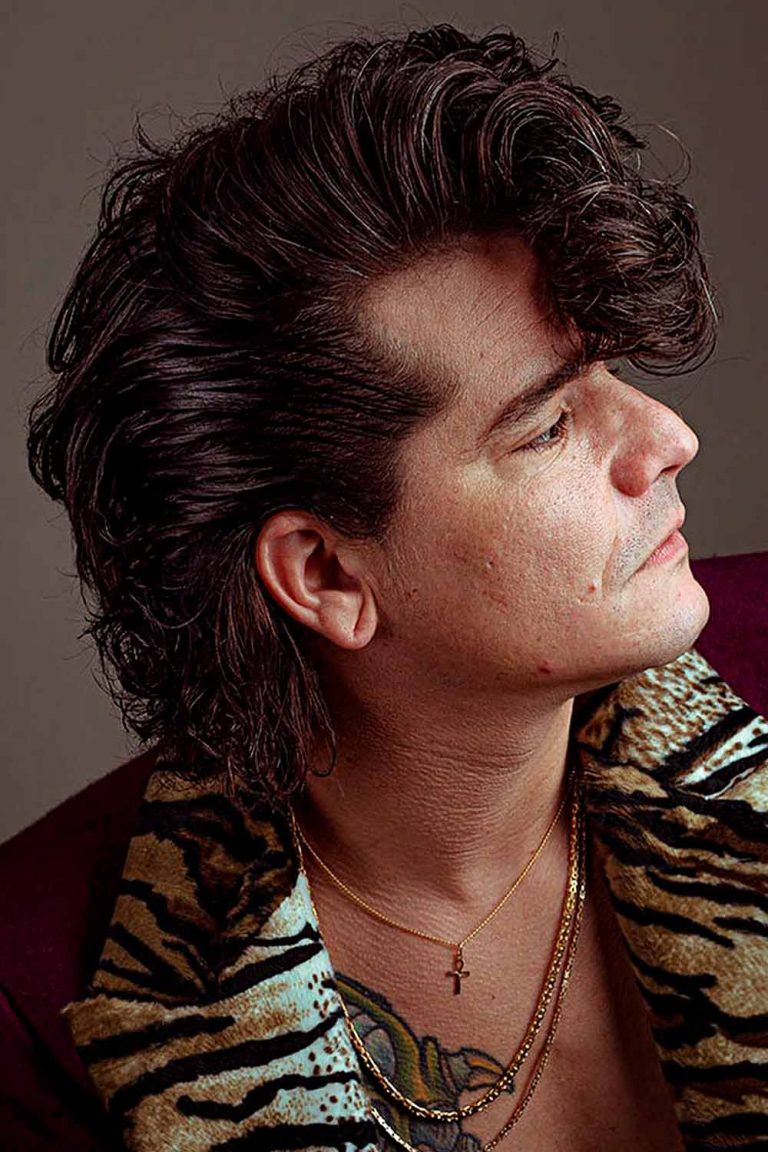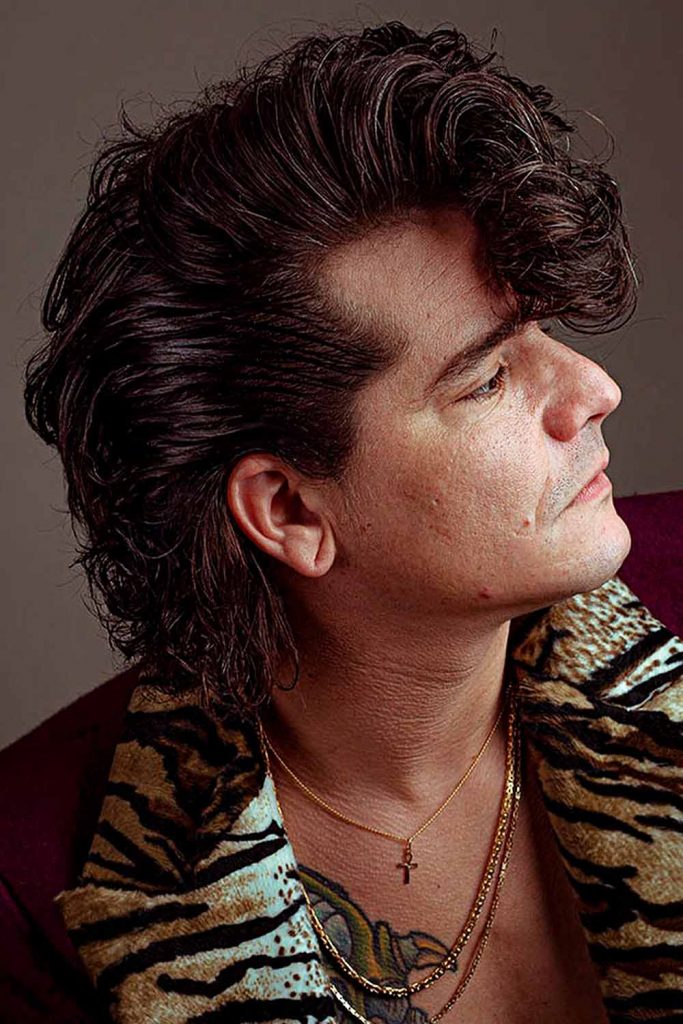 Source: @the_bloody_butcher via Instagram
Short Mullet
If you think that a mullett is just about the long hair – you are mistaken. You can easily rock this hairstyle with short hair so it is safe to say that a mullet cut belongs to short haircuts for men as well.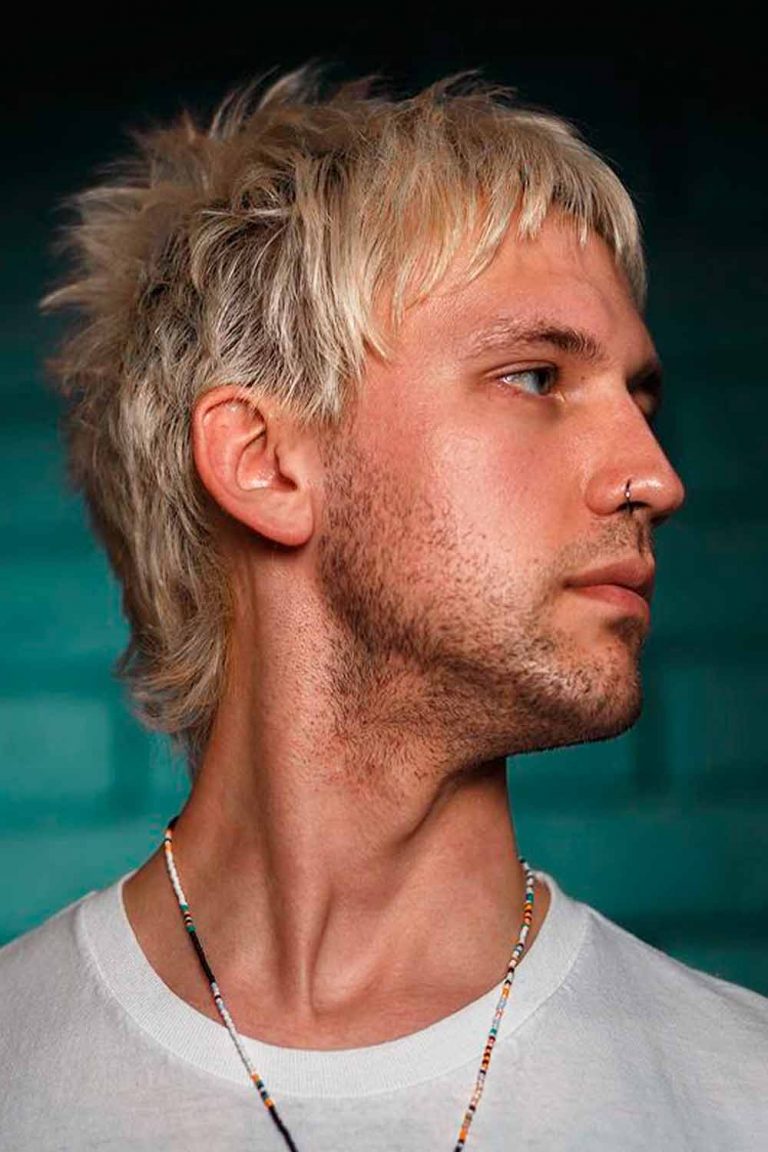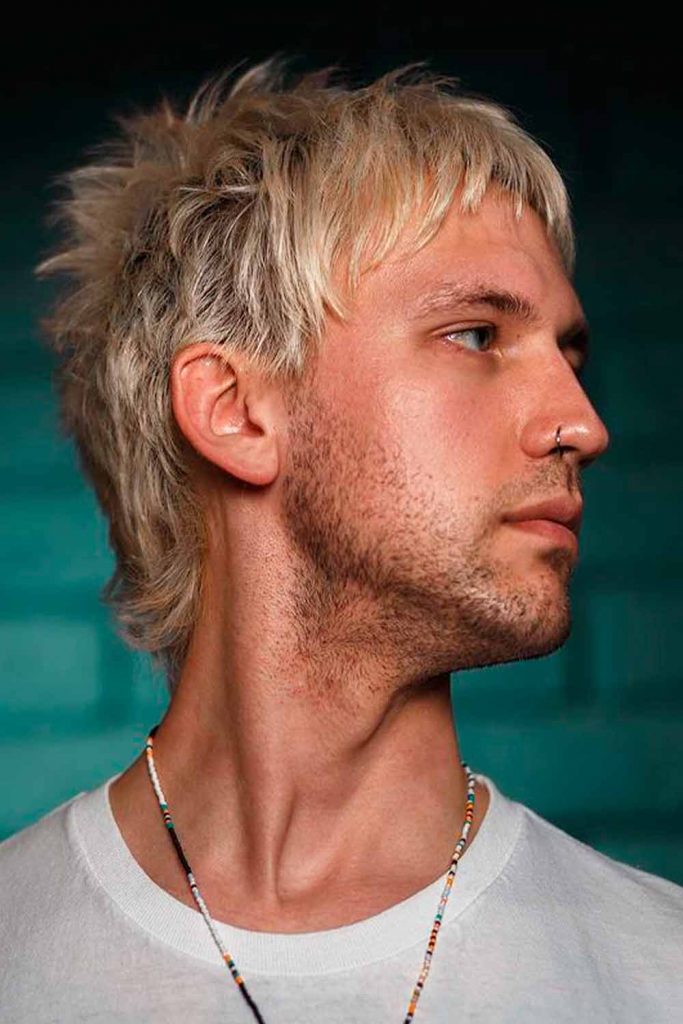 Source:@andrewdoeshair via Instagram
Choppy Mullet Haircut
No matter how many mullet haircut pictures you browse through you will come to a point when you understand that most of them are about choppy hair. Even this rattail with choppy layers looks differently, trendier and edgier!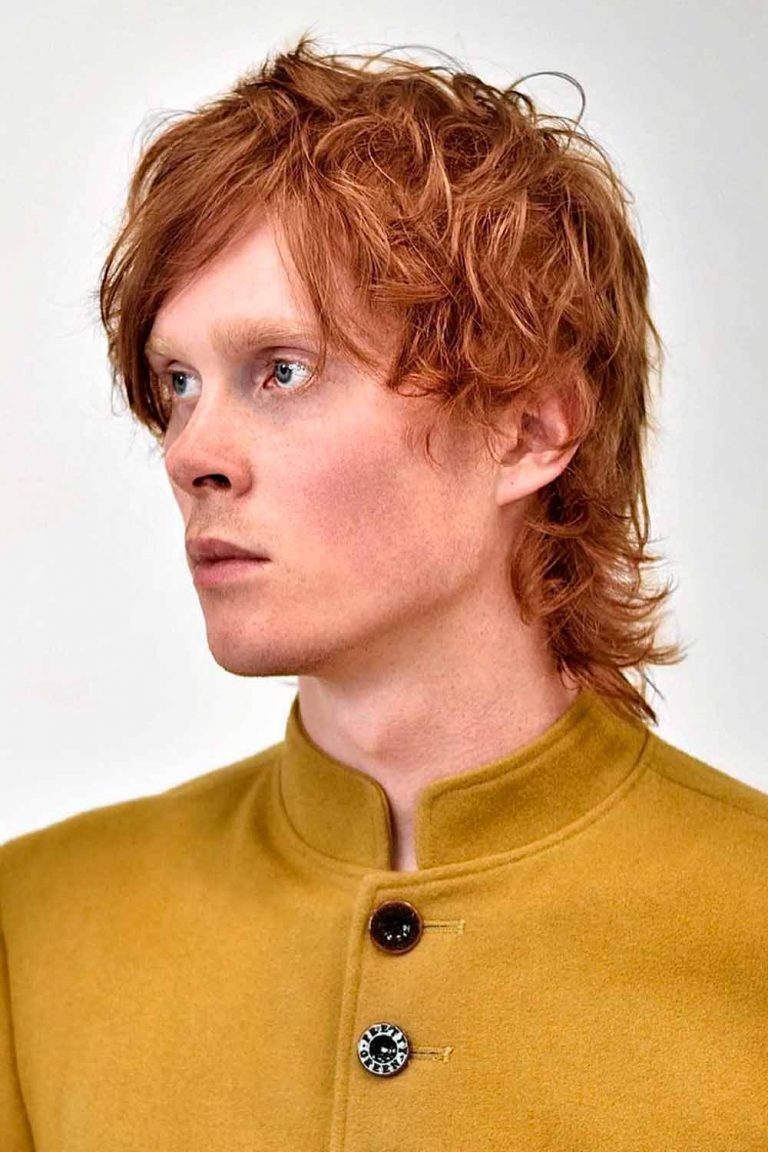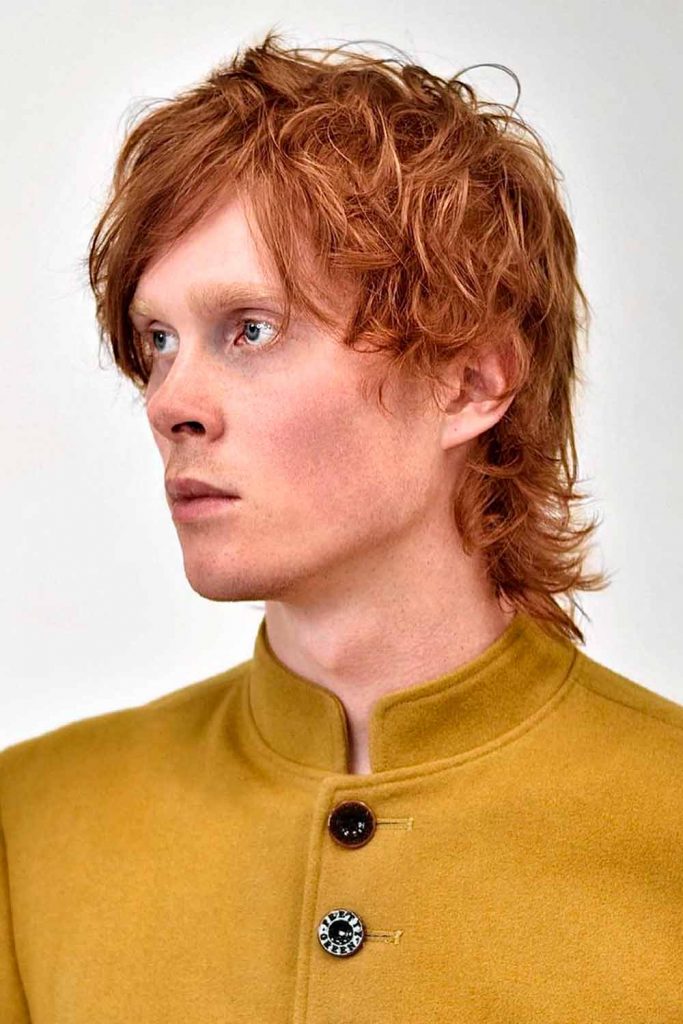 Source: @iisakkinummi via Instagram
Taper Short Mullet Fade
A male modern mullet is actually pretty different from the classic version. The overall haircut is much shorter and neater, while the sides feature a trendy haircut. So, if you are leaning toward rather low-key hairstyles, opt for a short taper mullet. But, if you want to take it to another level, a taper mullet fade is your way to go.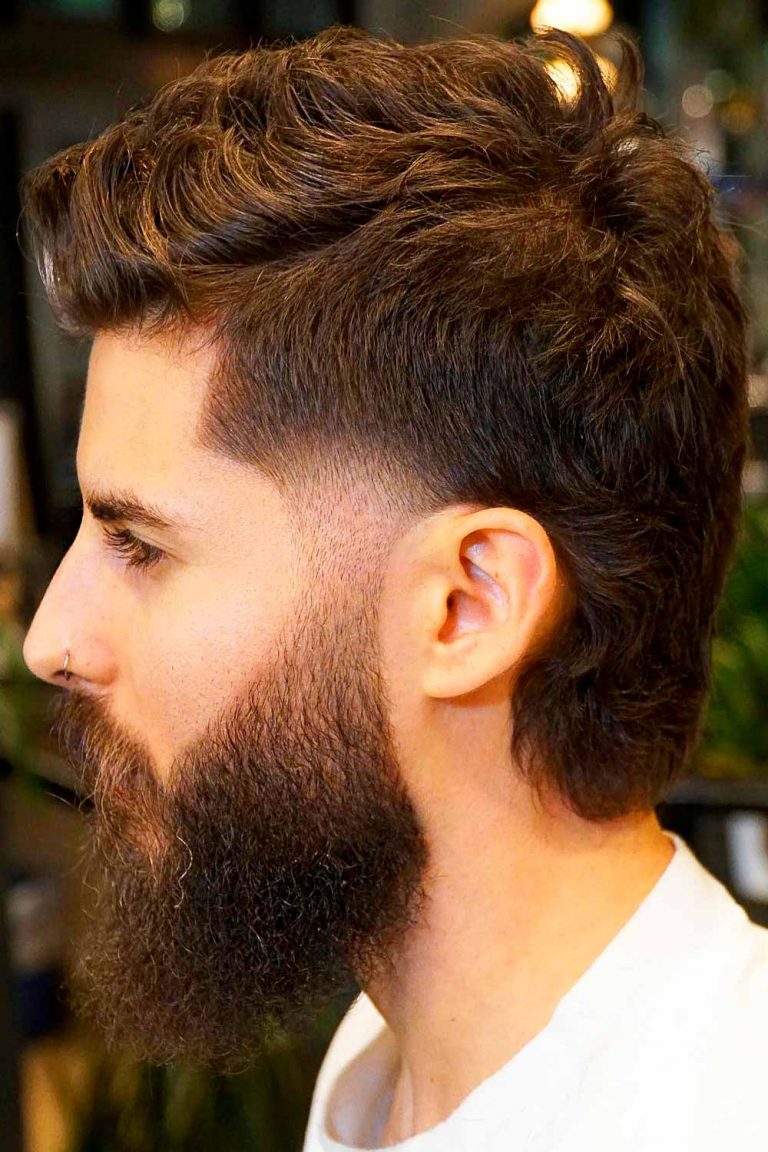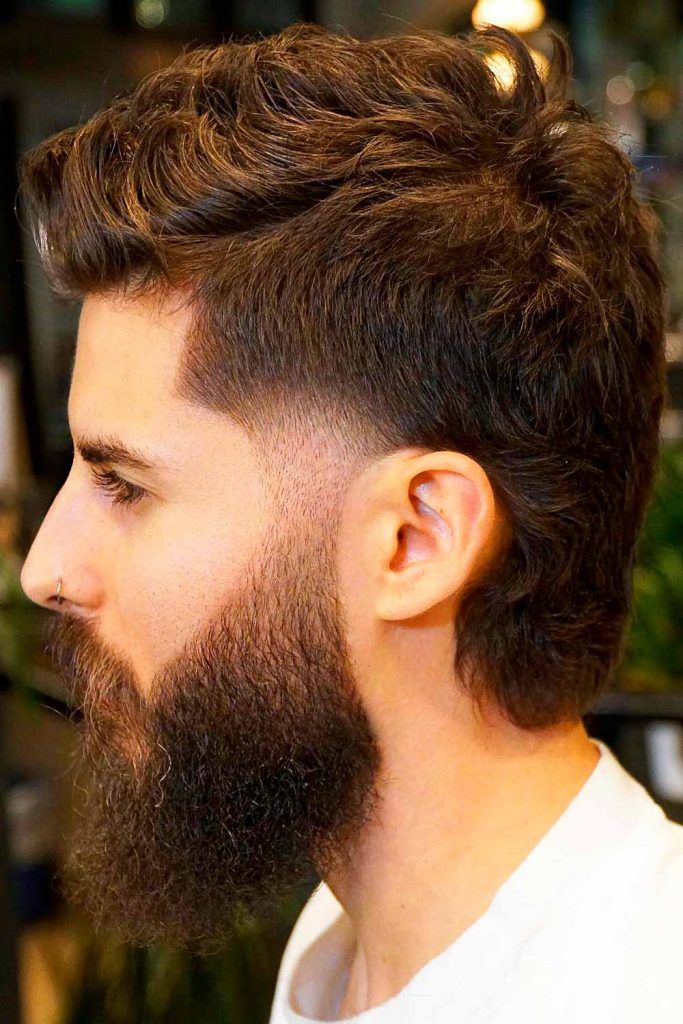 Source: @anthonythebarber916 via Instagram
Short Hair Mullet
Guys with curly hair can pull off a mullet too. Just do not make it too long so that it would not look scruffy. A short curly mullet is a perfect choice in this case. For an added contrast, the sides can be tapered or faded, depending on the length of the hair on top.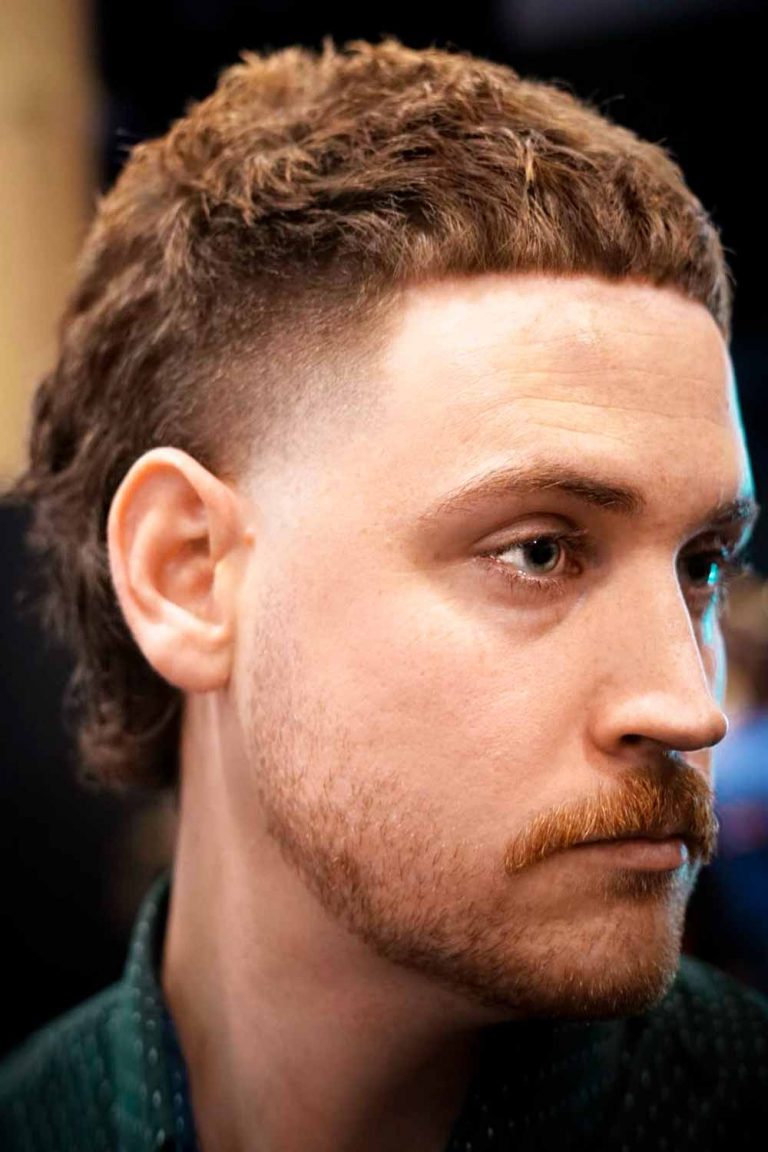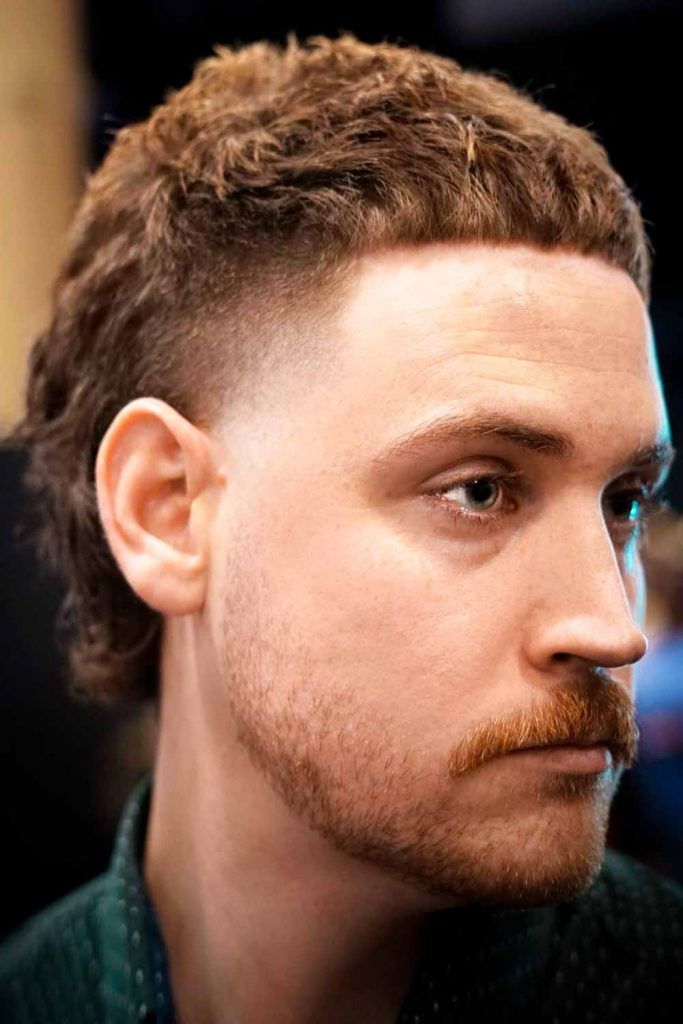 Source: @frankdabarber via Instagram
Slicked Back Mullet
The best part about slick back hair mullet is that you can preserve the same length on the top and bottom and for many men, it is the key. What is more, slicked-back hair always looks elegant and masculine!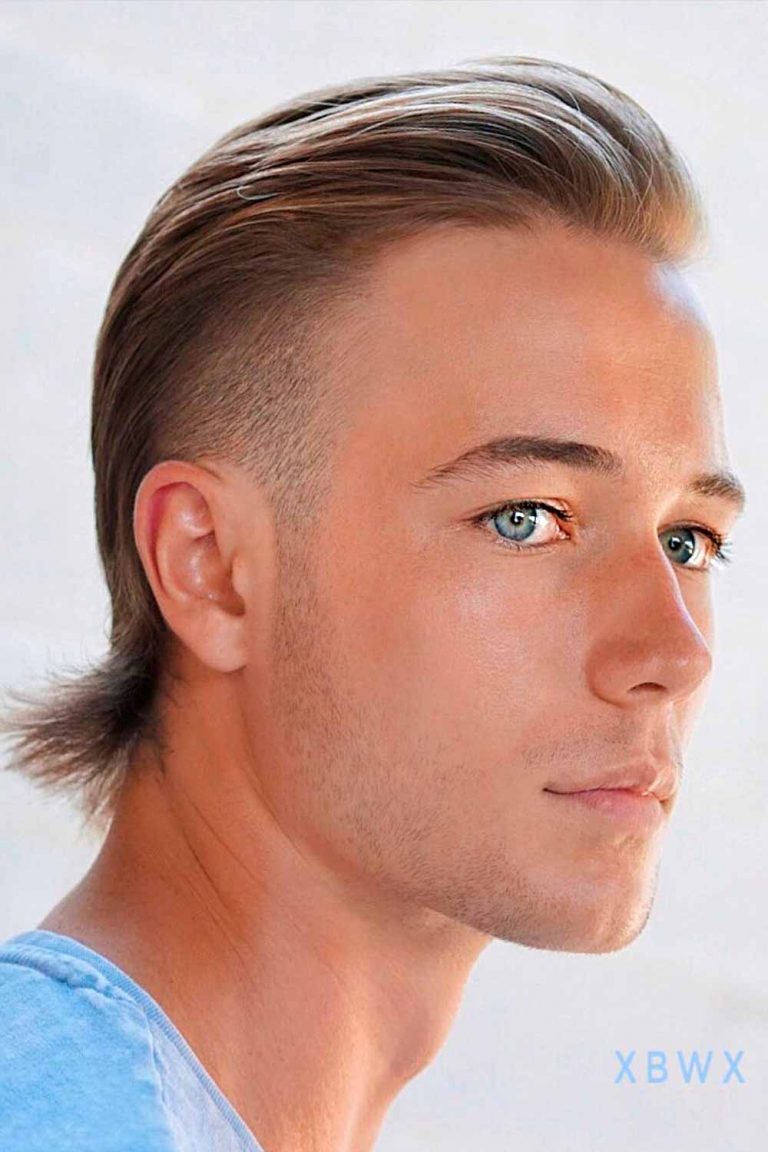 Source: @xbigwesx via Instagram
Layered Mullet On Long Hair
The thing about layers is that they fit any hairstyle or hair type. So with mullet hair, there is no such thing as too many layers. Keep it in mind if you are going for mullets!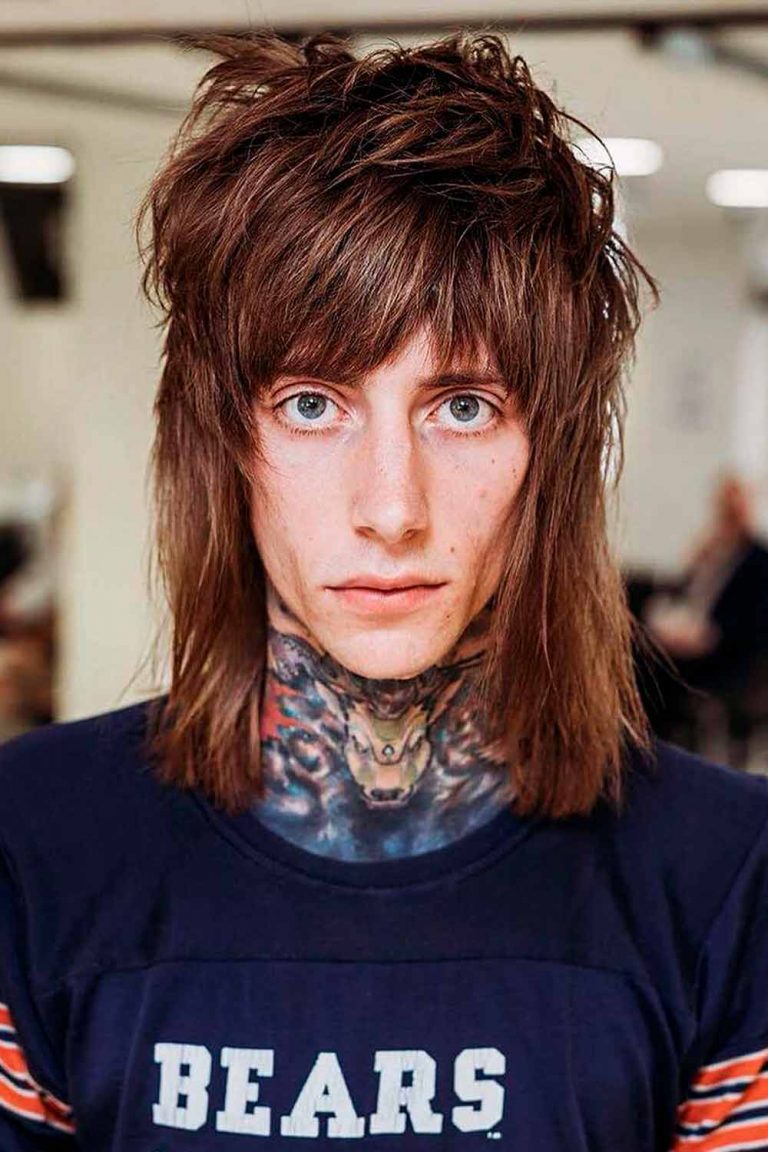 Source: @dexterdapper via Instagram
Modern Mullet
Modern mullet is all about the ways you cut it and style it afterward. It is essential that a barber finds the best shape and silhouette to suit you personally, and then you can adapt your mullet hair cut with a few quick moves granting it a little messy vibe. There you go!
Source: @noblandhair via Instagram
Burst Fade Mullet
A burst curly mullet fade is another way to make a mullet work for curly locks. It creates a clean silhouette, taking the hair on top to the center of attention. So, in case you would like to make your hair texture stand out, this is your sure bet.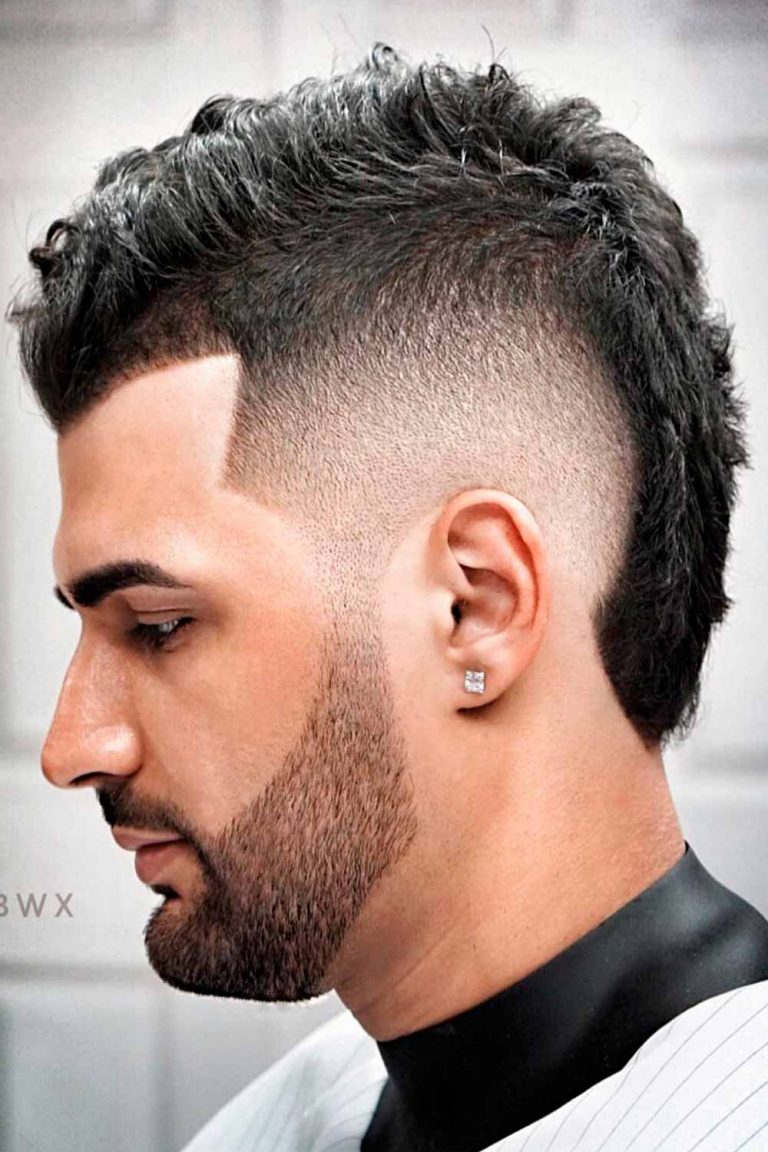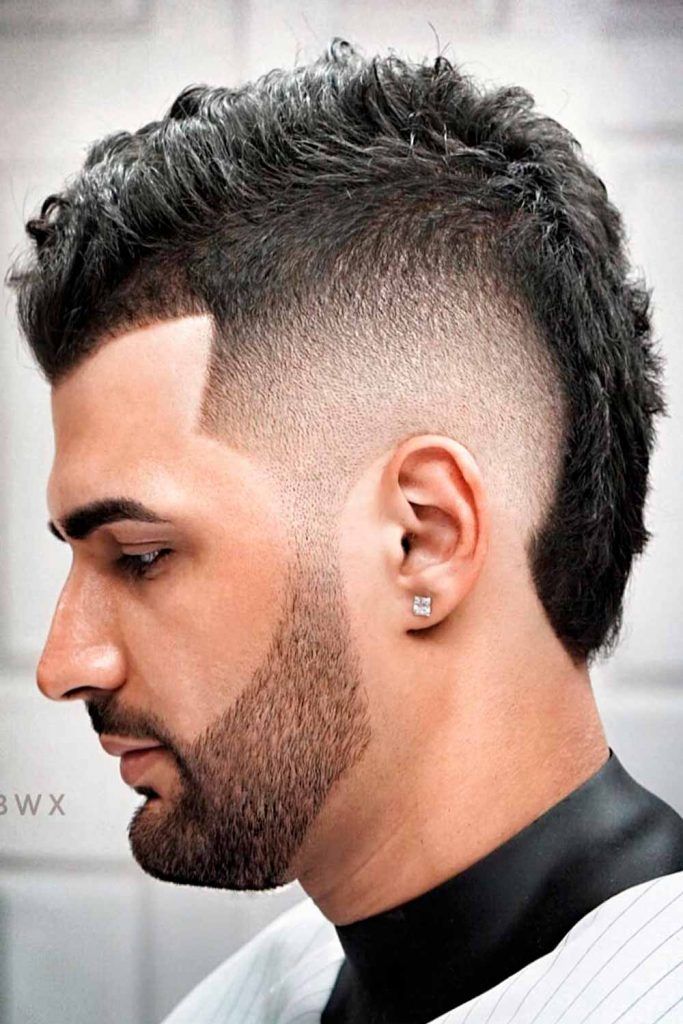 Source: @xbigwesx via Instagram
Middle Part Mullet
To give a baseball mullet a modern feel, you can style it middle parted. This look actually draws inspiration from another popular men hairstyle, namely a curtain bang. Not only does it turn out unusual but it also allows you to show off your facial features.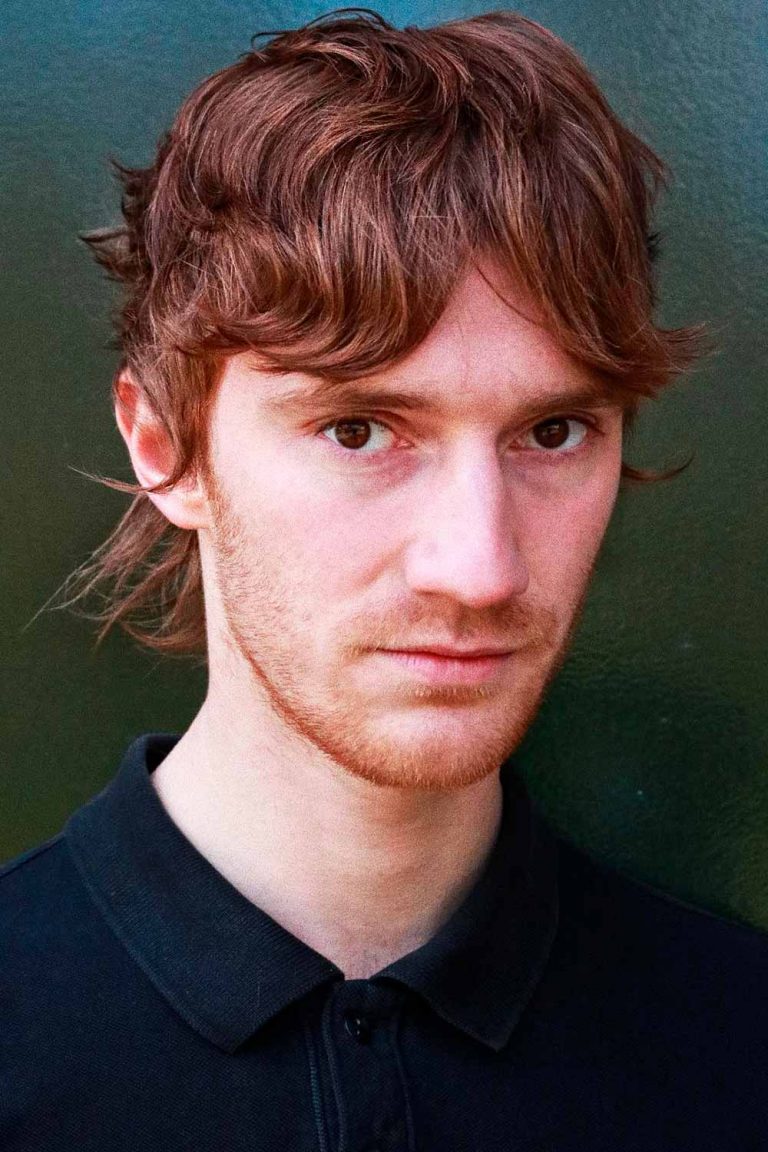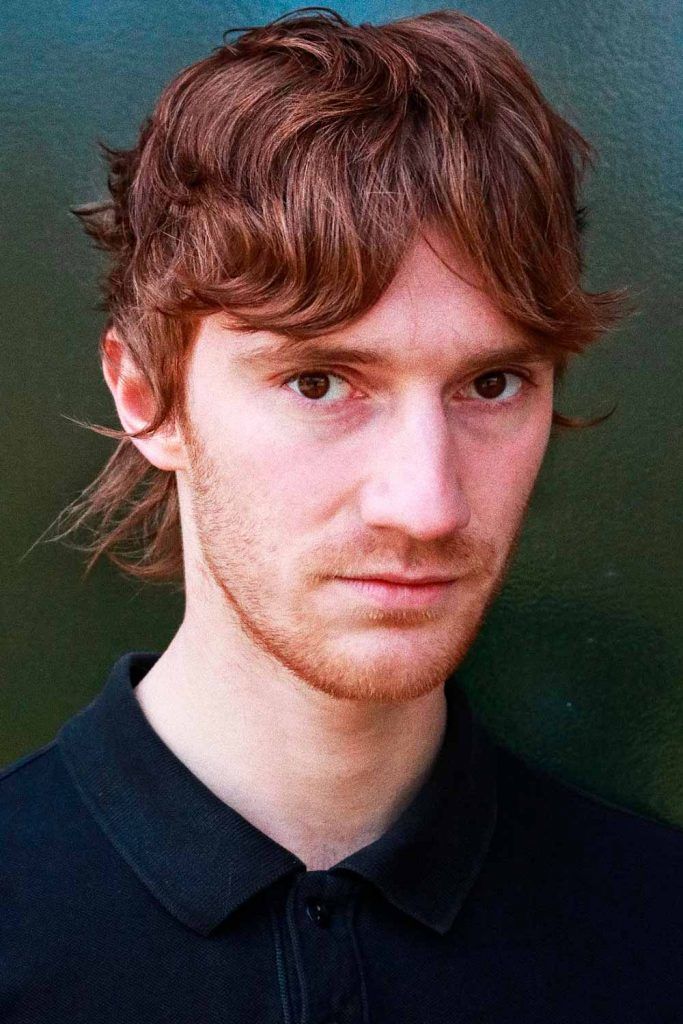 Source: @hayden_cassidy via Instagram
Straight Hair Mullet
Of course, for a mullet curly hair and waves are not the only possible hair textures. You can also get it on straight locks. Moreover, you are free to play around with intricate hair cutting and styling without worrying that your hairstyle will look over the top.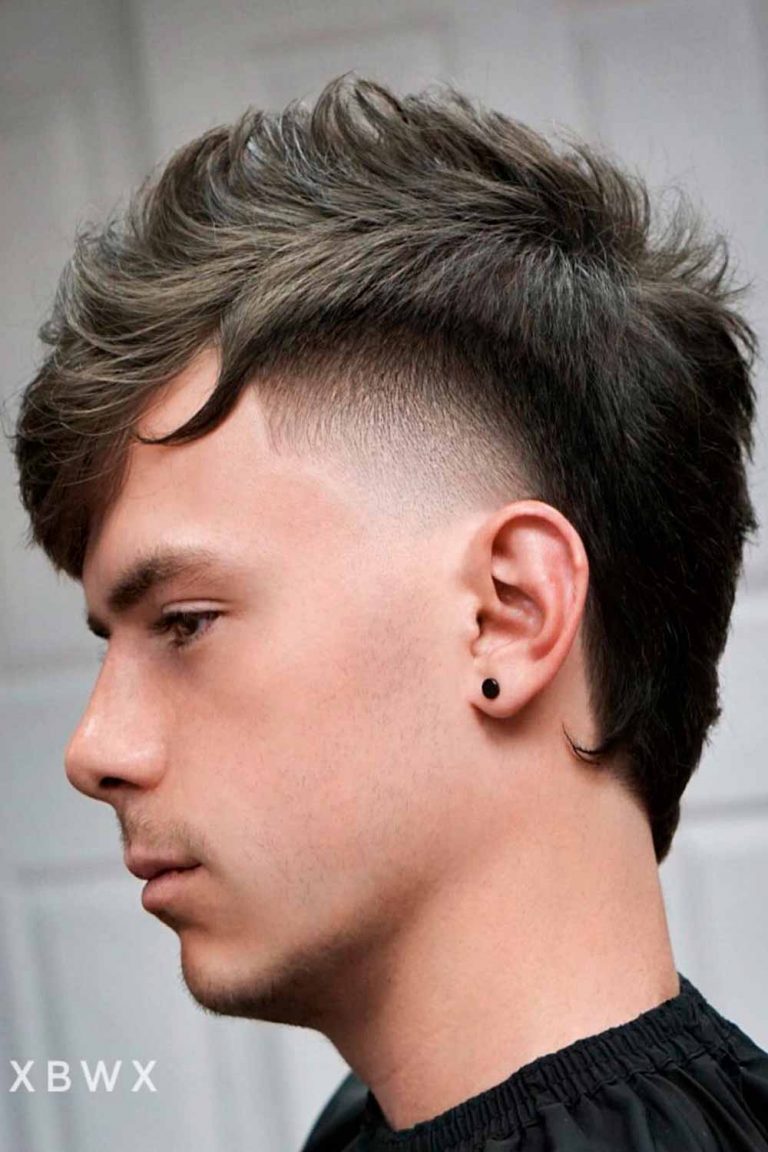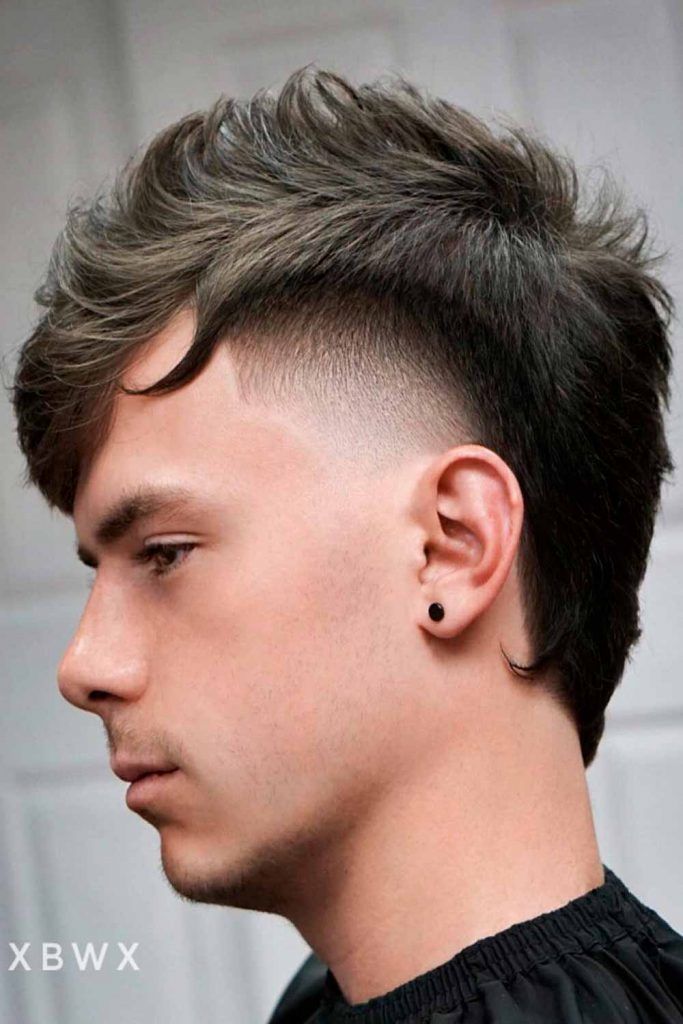 Source: @xbigwesx via Instagram
Mullet Haircut Men With Side Part
If you are overwhelmed by the number of types of mullets existing and cannot decide what variation to choose, a side part mullet is always a good idea. It is versatile, practical, and suits most face shapes and hair textures. And when you are ready to experiment, you can easily upgrade it to a faded mullet or another trendy interpretation of the style.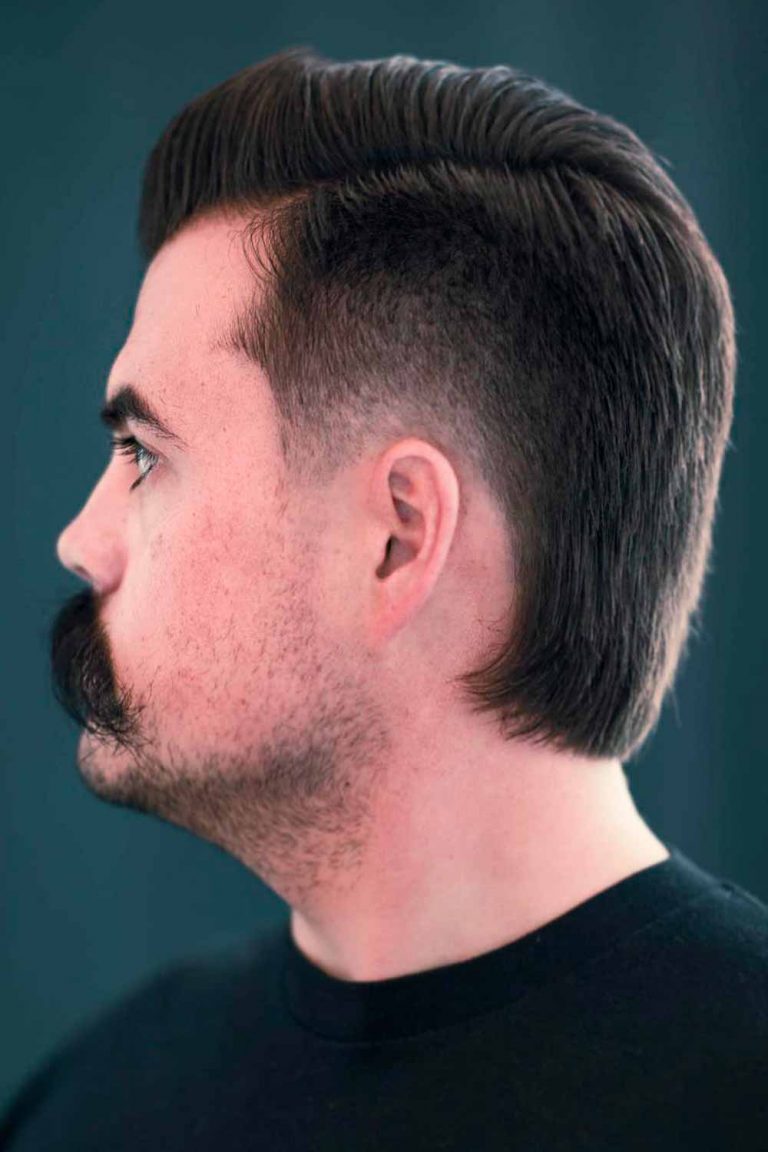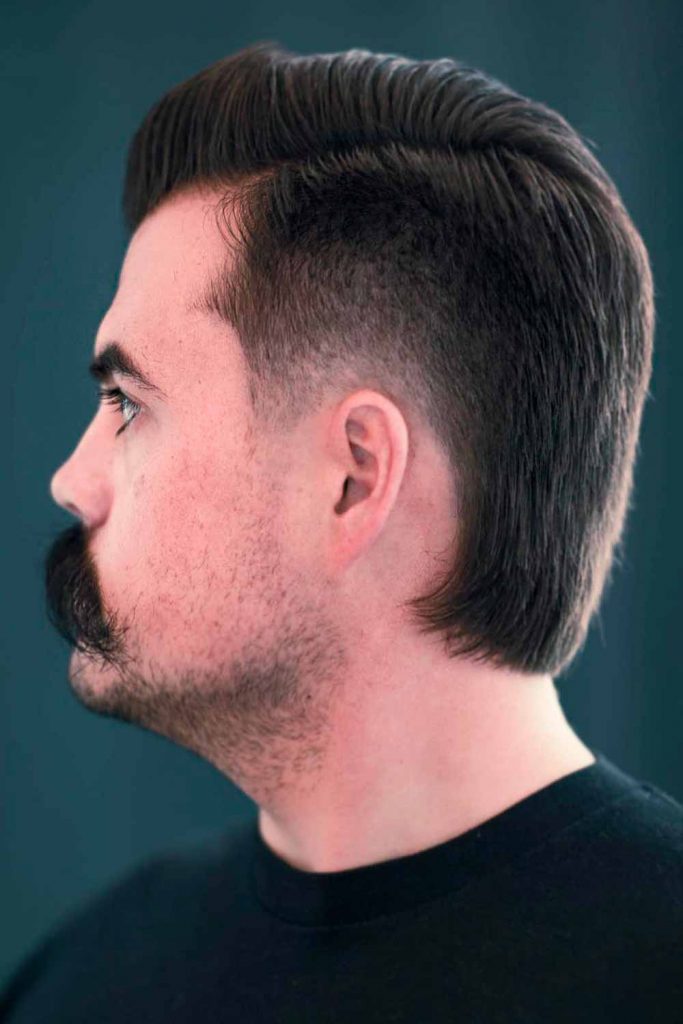 Source: @andrewdoeshair via Instagram
Wolf Cut Men
A mens wolf cut is a fashionable take on a classic mullet. It is disheveled and effortless, featuring a lot of layering all over the head. Thanks to it, the strands remain moveable and it is easy to create much volume on top. While straight hair is the most suitable for a wolf cut male cut, other hair types can also pull it off.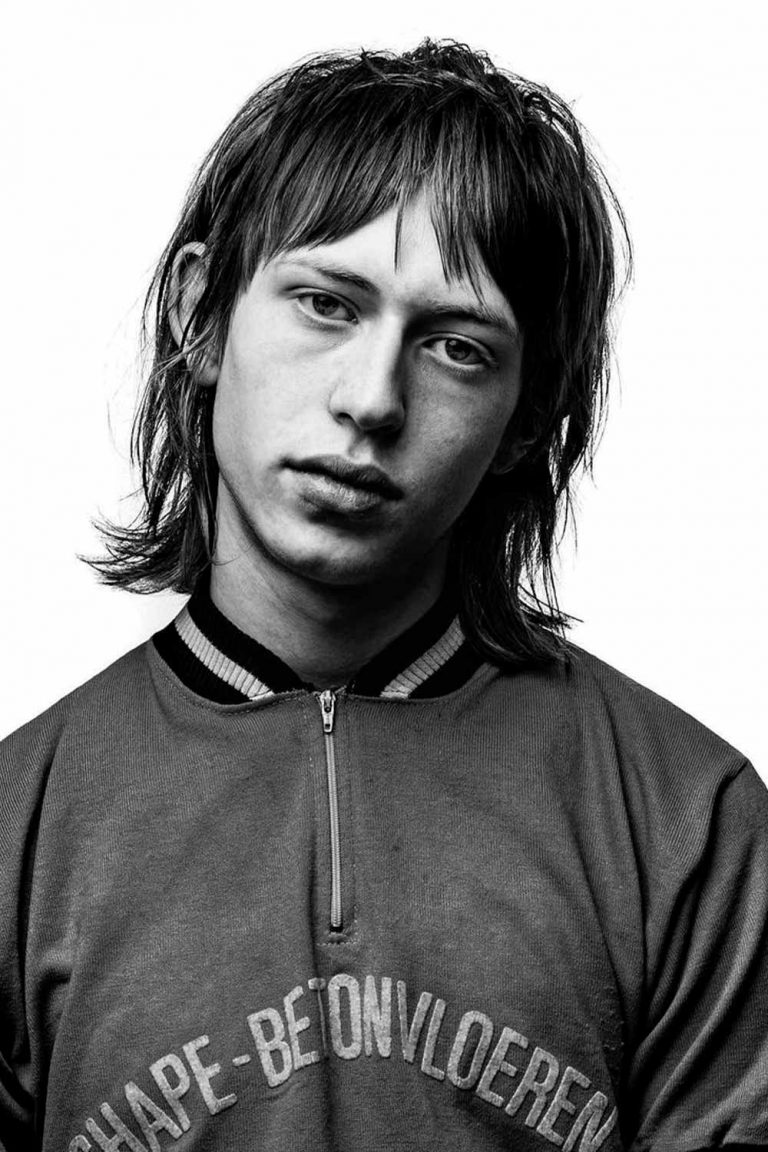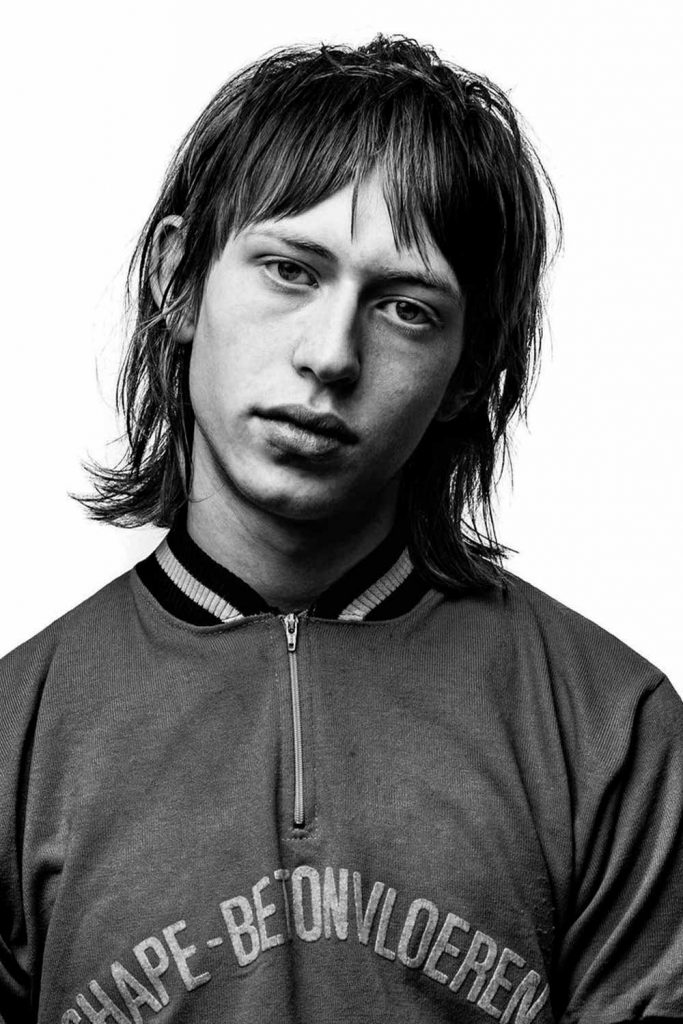 Source: @the_bloody_butcher via Instagram
Spiky Mullet
Very often, a lot depends not on the haircut itself but on the way you style it. That is why spiked hair mullet looks more like a Caesar haircut and that spiky hair together with a fade look super edgy and stylish!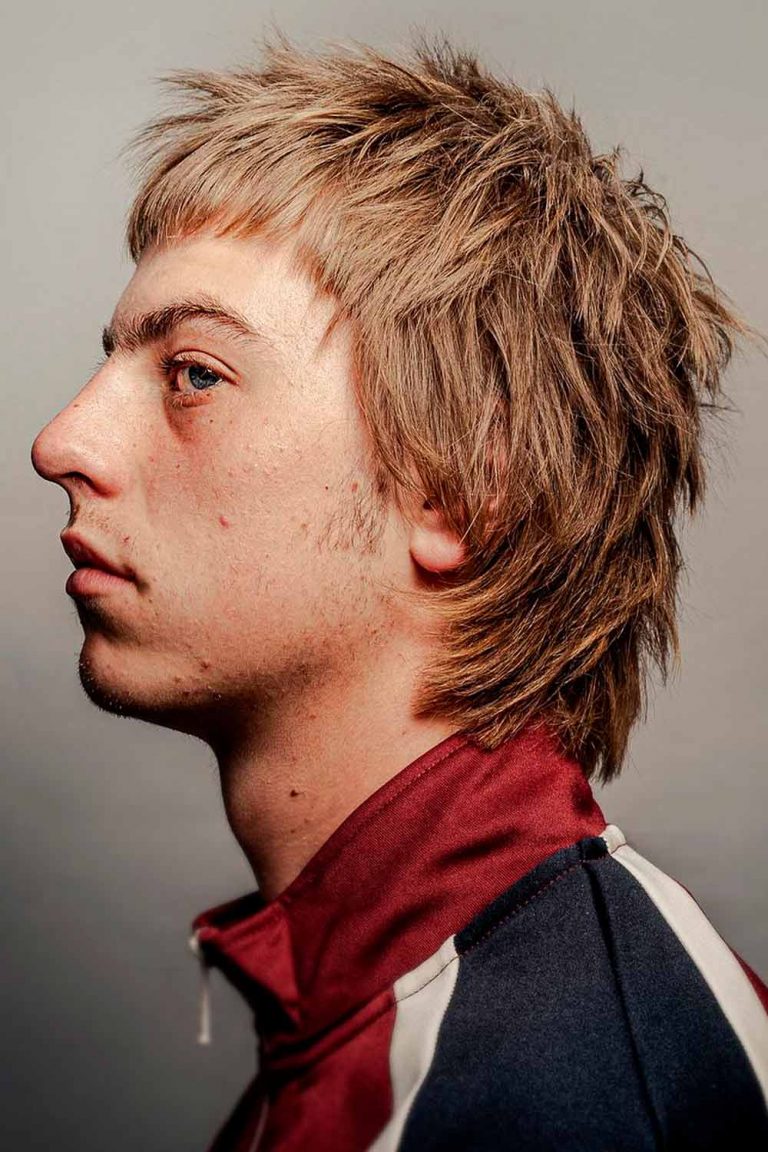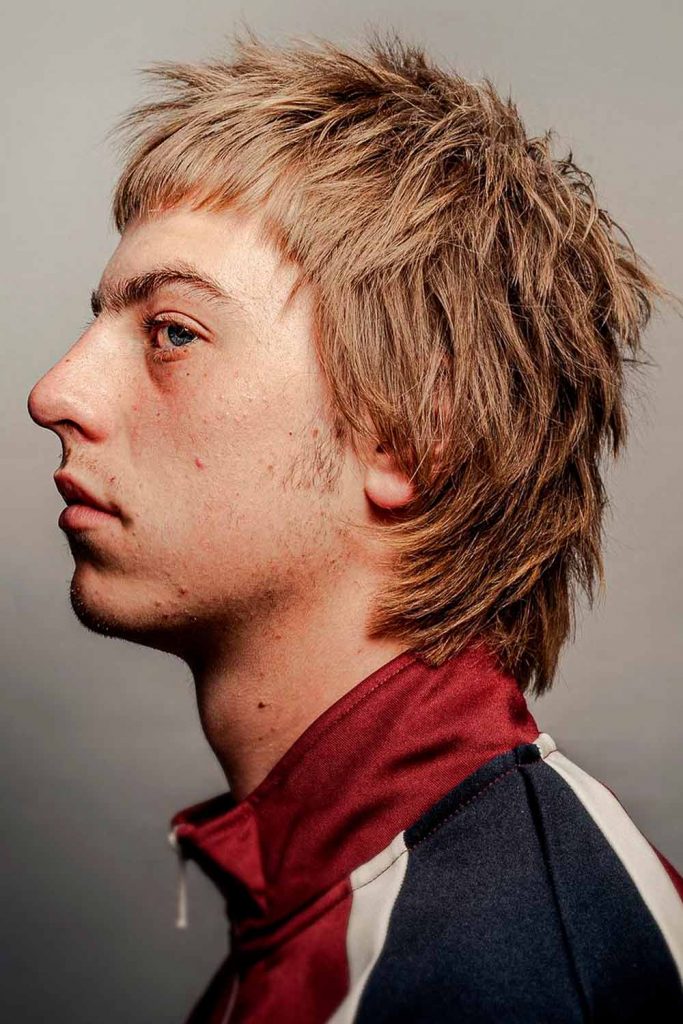 @the_bloody_butcher via Instagram
Straight Mullets For Men
The fade haircut is beyond popular these days however those of you who want to introduce some unique vibe into their looks, will surely appreciate the addition of a mullet to the picture. In such a way, you keep the hair both elegant and edgy at the same time!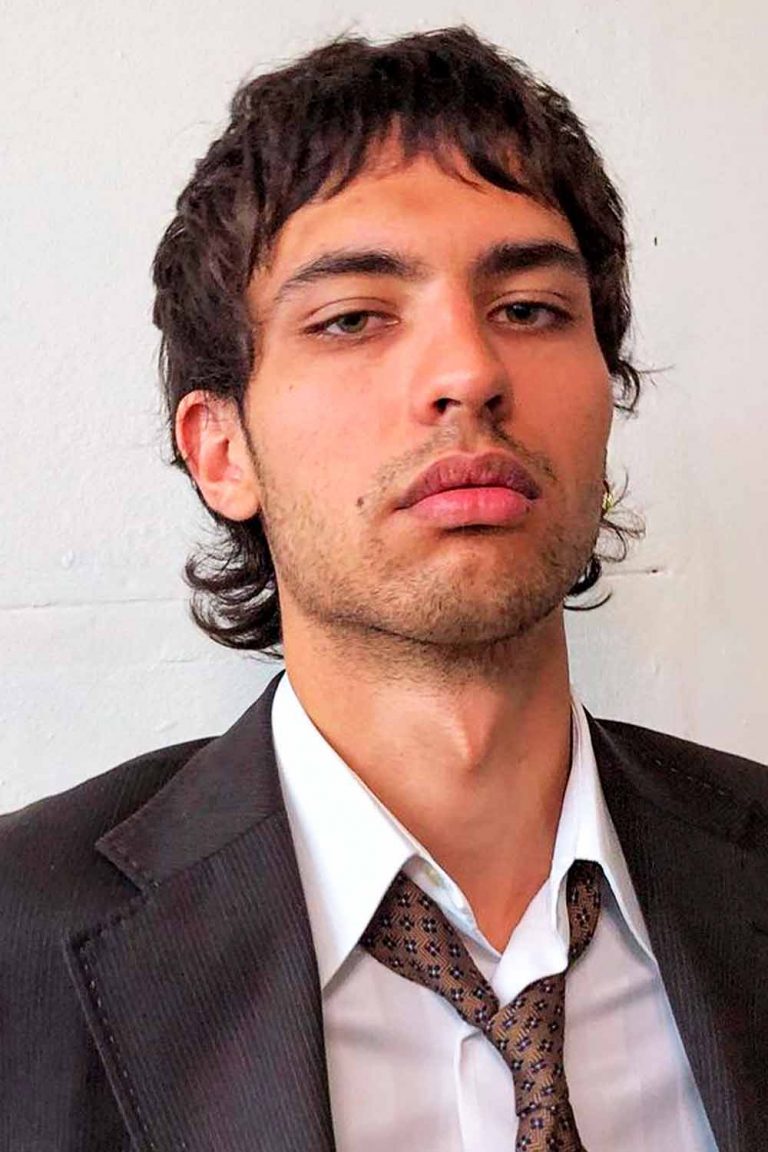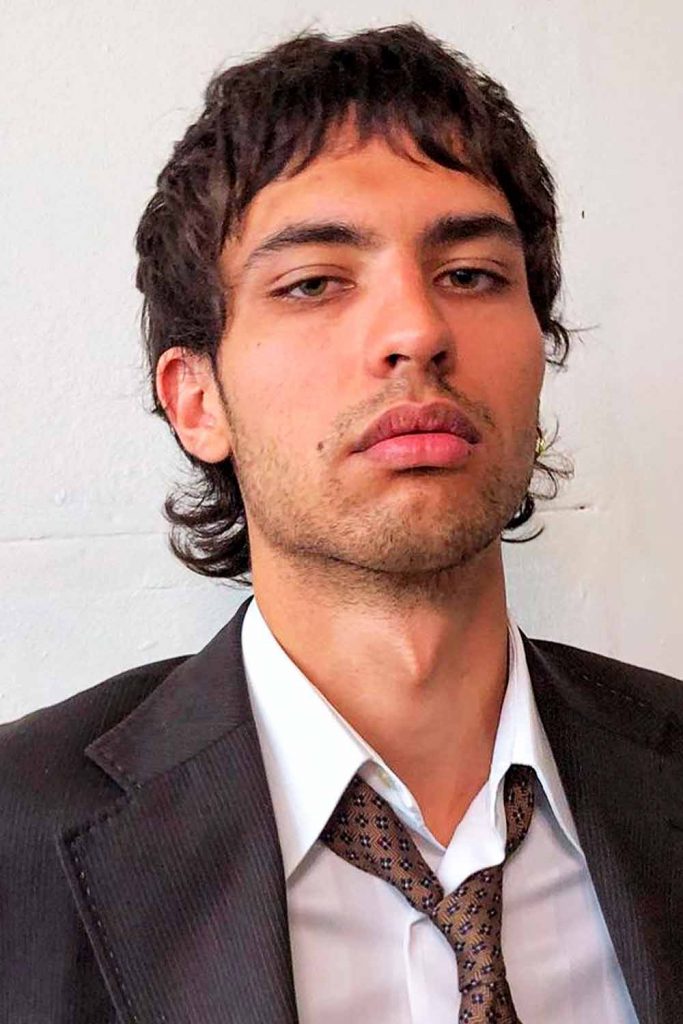 @coiffeurstory via Instagram
Punk Mullet
Punk hairstyles is beyond trendy for a while now, no matter whether men or women wear them. However, punk hair combined with a mullet looks just gorgeous with its edginess and class!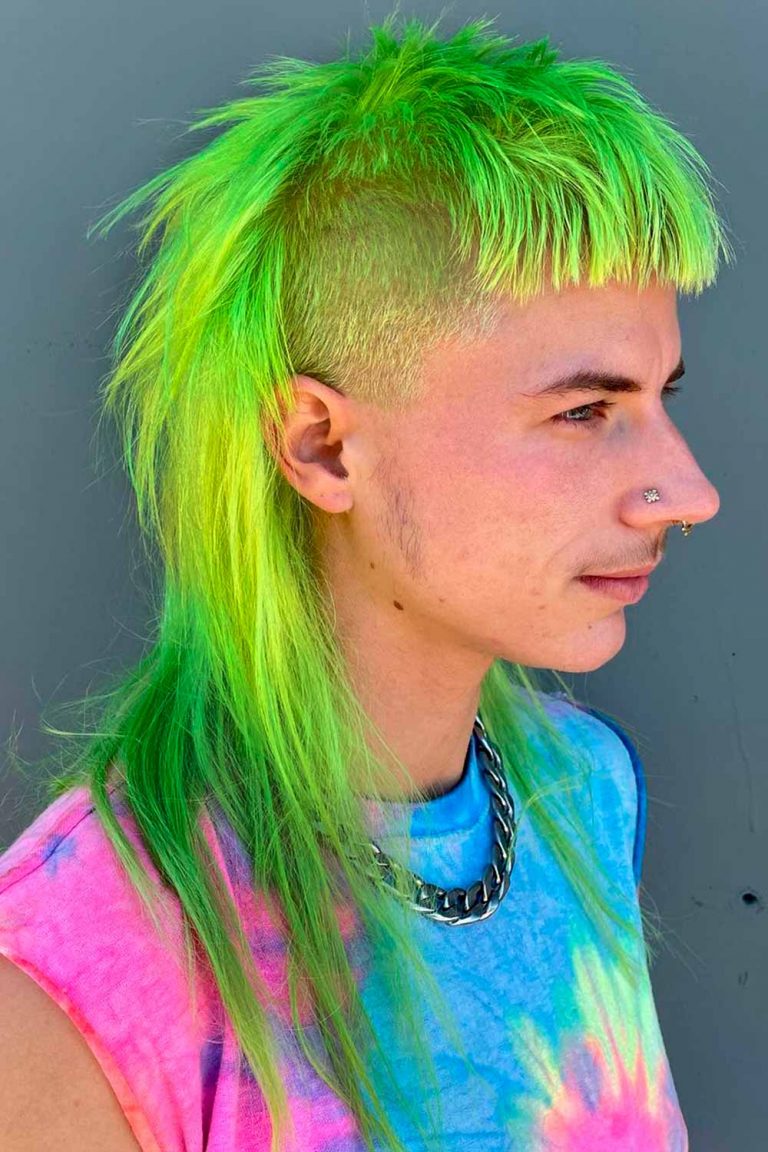 Source: @noblandhair via Instagram
Pink Punk Mullet
An undercut is what you need to stand out from the crowd. In addition, pink hair looks super stylish not to mention sassy. So that it is truly a win-win cut!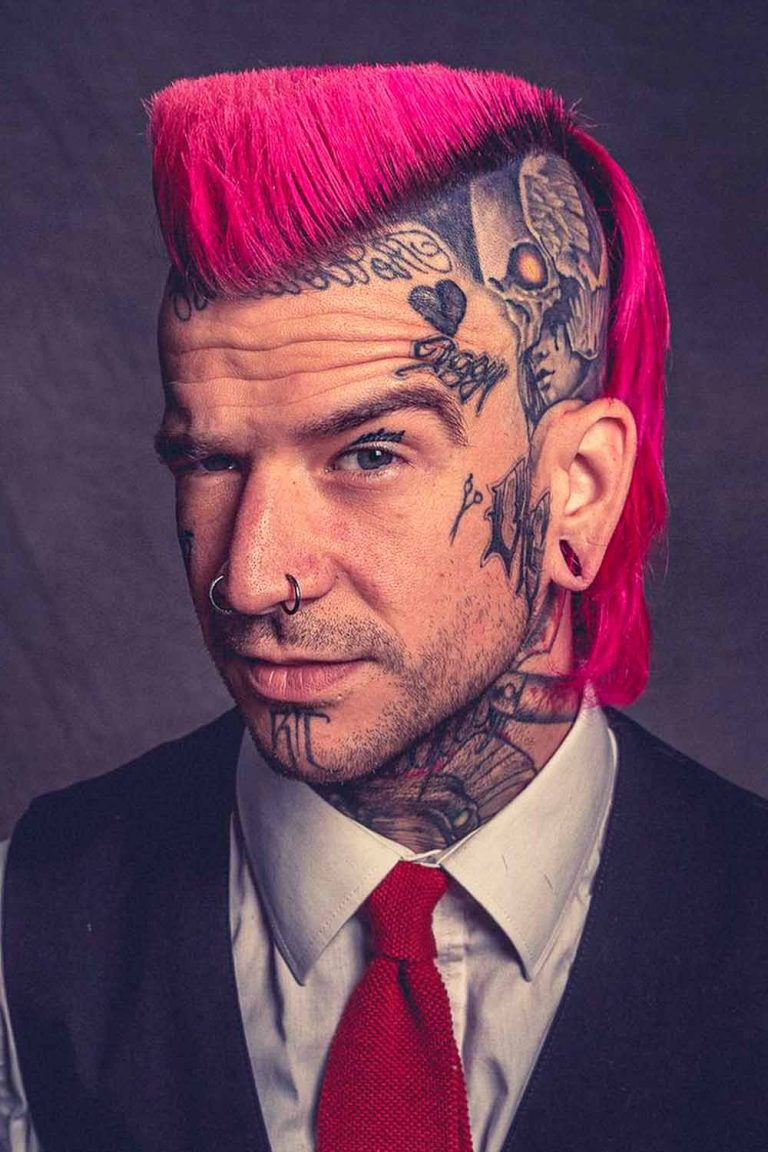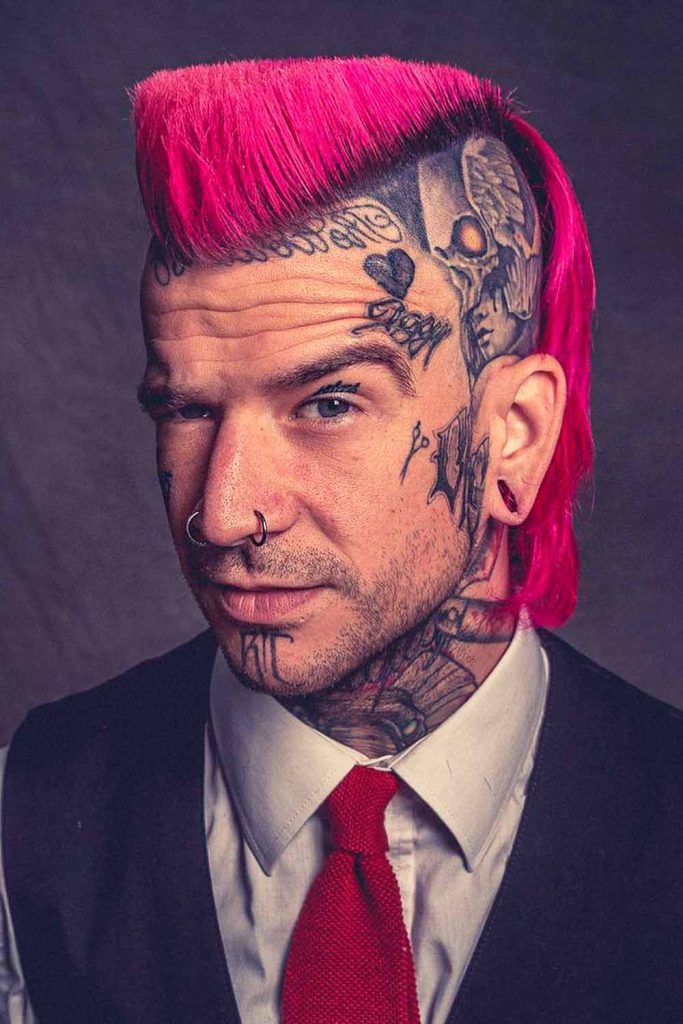 Source: the_bloody_butcher via Instagram
Long Tail Mullet Haircut
Those of you who can't decide between a mullet haircut and a rattail – there is a perfect way out. The thing is that you can combine both, rat tail haircut and mullet combo looks perfect and will suit best those of you with straight hair!
Source: @exotismos via Instagram
Punk Inspired Mullet
As the mullet has a lot in common with a mohawk, it can give off a punk vibe. As such, to get a rebellious look with their modern mullet men should accentuate the texture of their hair on top, making it spiked up. The beard will be an awesome accompaniment to such a hairstyle.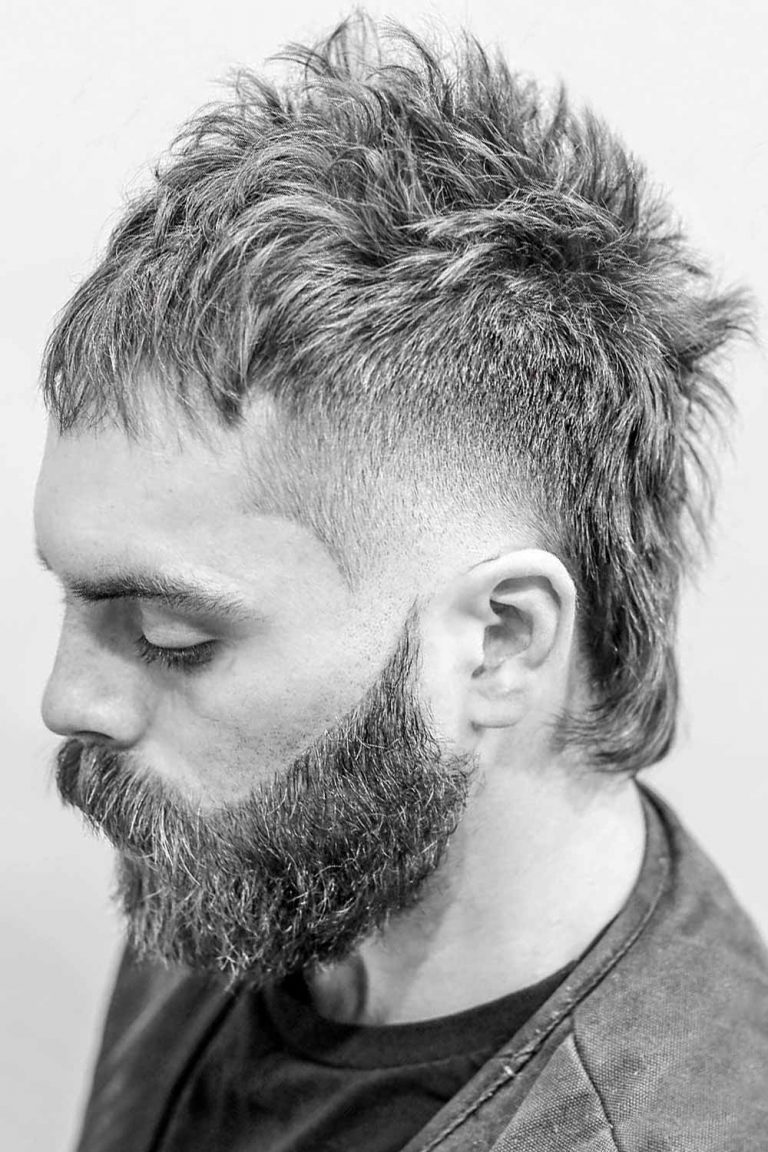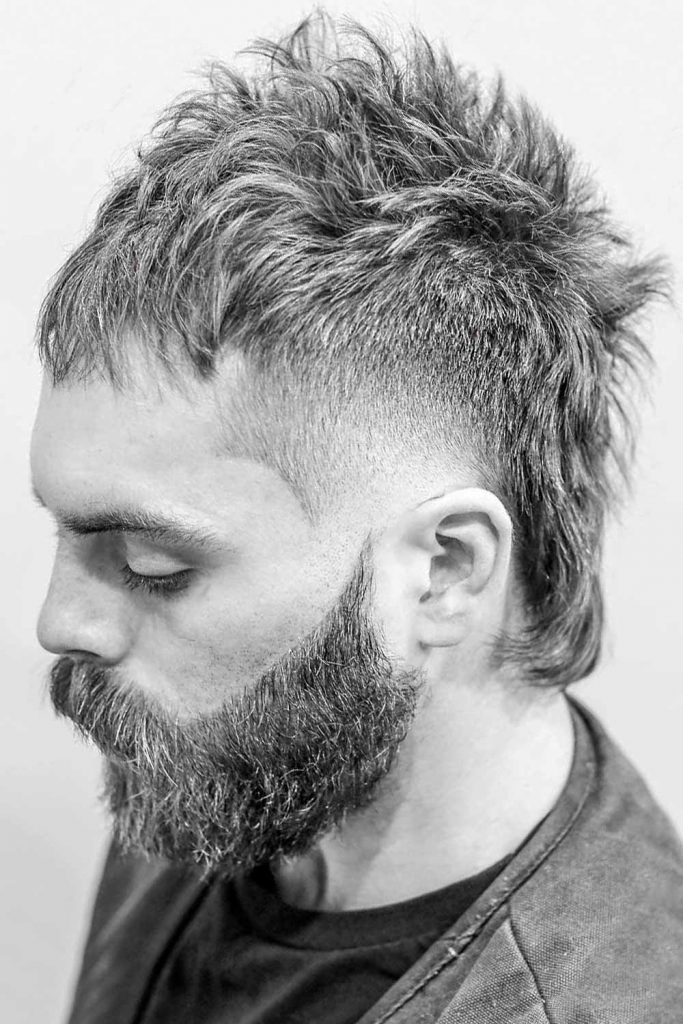 Source: @mikeyyyyyyy_ via Instagram
Asian Mullet
Asian tastemakers are those who we should blame for the grandiose mullet haircut 2023 comeback and no wonder. With the rising popularity of the K Pop culture, the hairstyles sported by its most outstanding representatives could not go unnoticed. A Kpop mullet is usually thick and textured thanks to the natural hair texture. Also, it looks great when accentuated with rich colors on the tips that pop against dark roots.
supermodel/Shutterstock
Longer Colored Mullet
Those of you who wish to stand out from the crowd – we have a perfect idea in mind! The thing is that a full beard and a rat tail hair spiced up with colorful strands is difficult to miss. What is more, it looks super trendy and sexy!
Source: @shrunknheads via Instagram
Buzz Cut Mullet
Short mullet exists, and it is also very popular and required these days. That is why if you are a fan of buzz cut styles this one may as well come to your liking and become the skullet!
Source: @glassboxbarbershop via Instagram
Long Mullet
If you know that long hairstyles for men look awesome on you, then you ought to try a mullet hairstyle with an extended tail. To pull it off, you can chop the hair atop of your head quite short. The key is to grow out the hair in the back utterly long.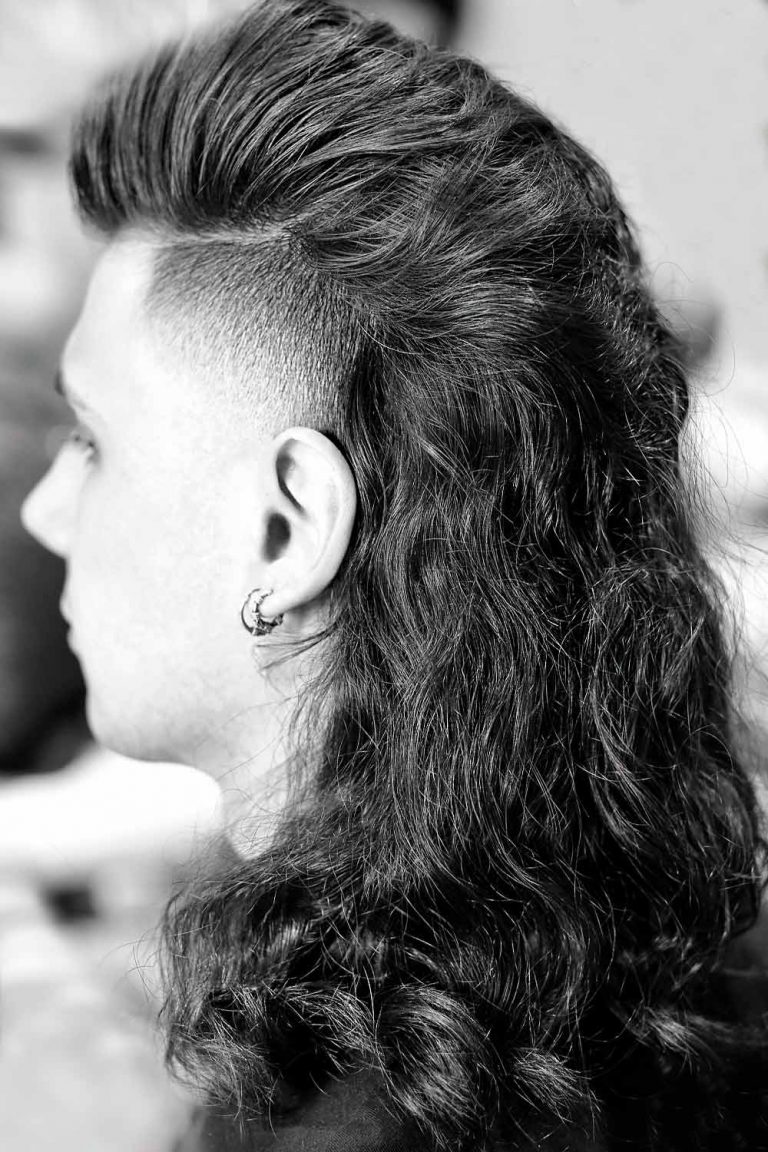 Source: @mikeyyyyyyy_ via Instagram
Mohawk Mullet
The resemblance between a mullet and a mohawk is quite obvious. Both hairstyles feature a longer stripe of hair that goes along the center of the head and short sides. Yet, a mohawk has a noticeably shorter tail than a mullet hair cut. In turn, a mullet features shorter hair on the top of the head compared to a mohawk. So, why not join them together? A mullet mohawk looks unusual and eye-catching, which makes it a perfect hairstyle for guys who like to stand out from the crowd.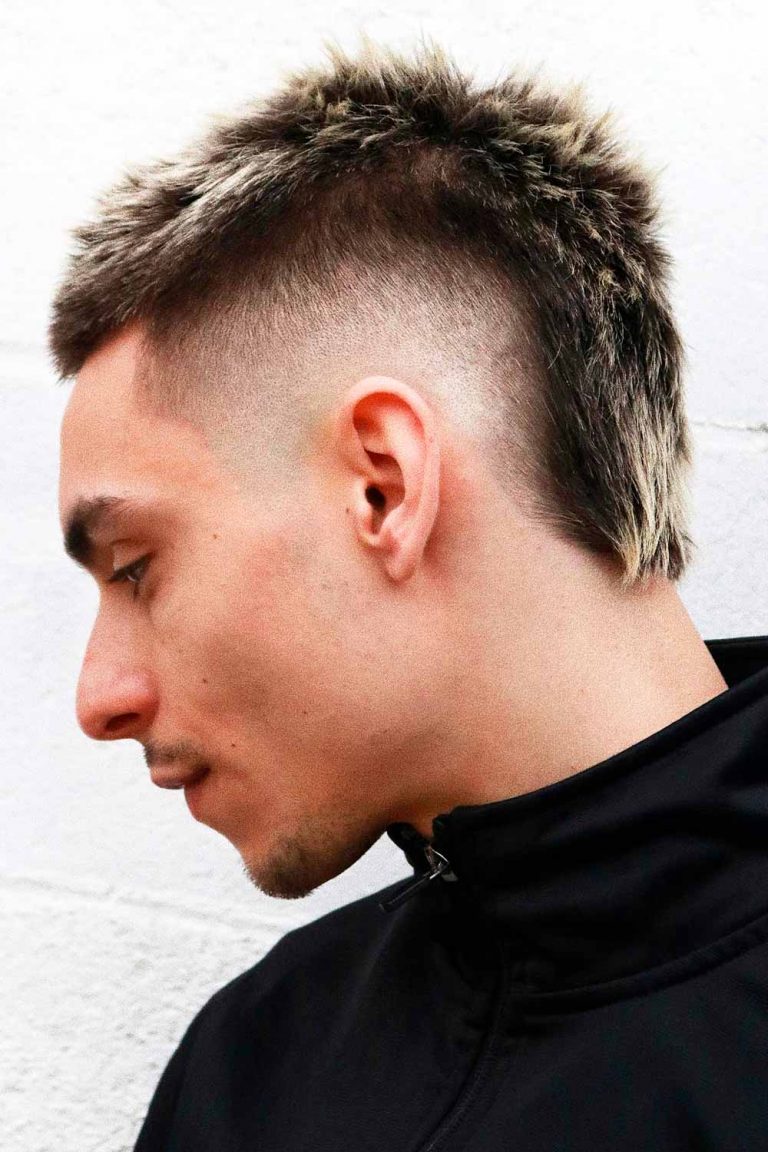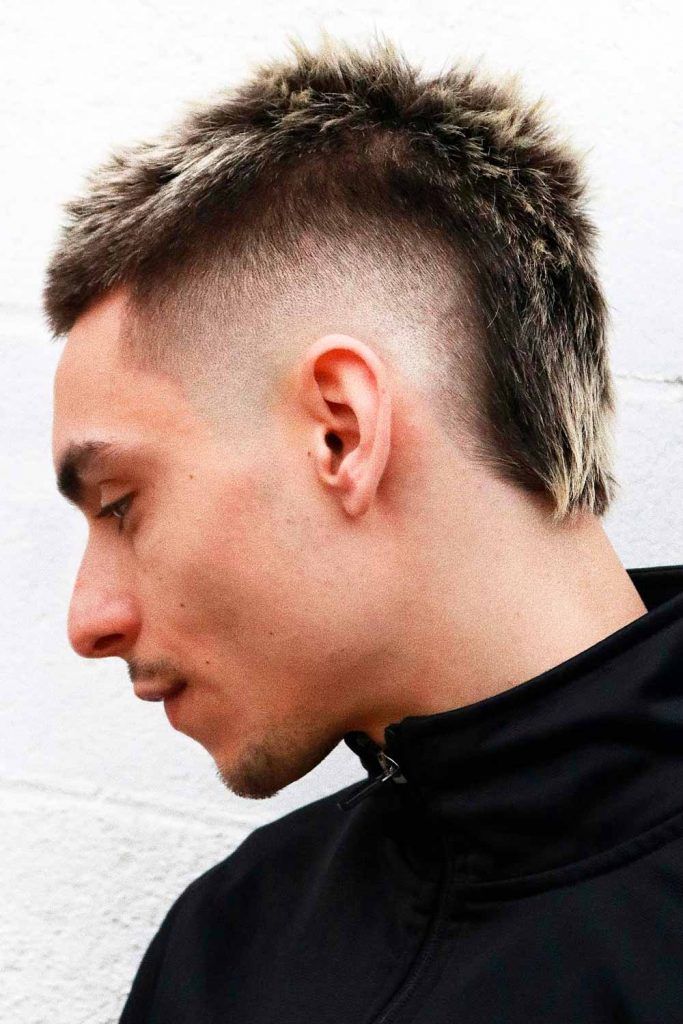 Source: @hayden_cassidy via Instagram
Undercut Design
A modern mullet can also include quite a lot of features inherent in other stylish hairdos. For instance, you can complement it with an undercut haircut on the sides for an added contrast. If this does not seem like enough for you, adorn the sides with your personalized elaborate haircut design. This hairstyle also makes up quite a great scullet for those who started to lose their locks.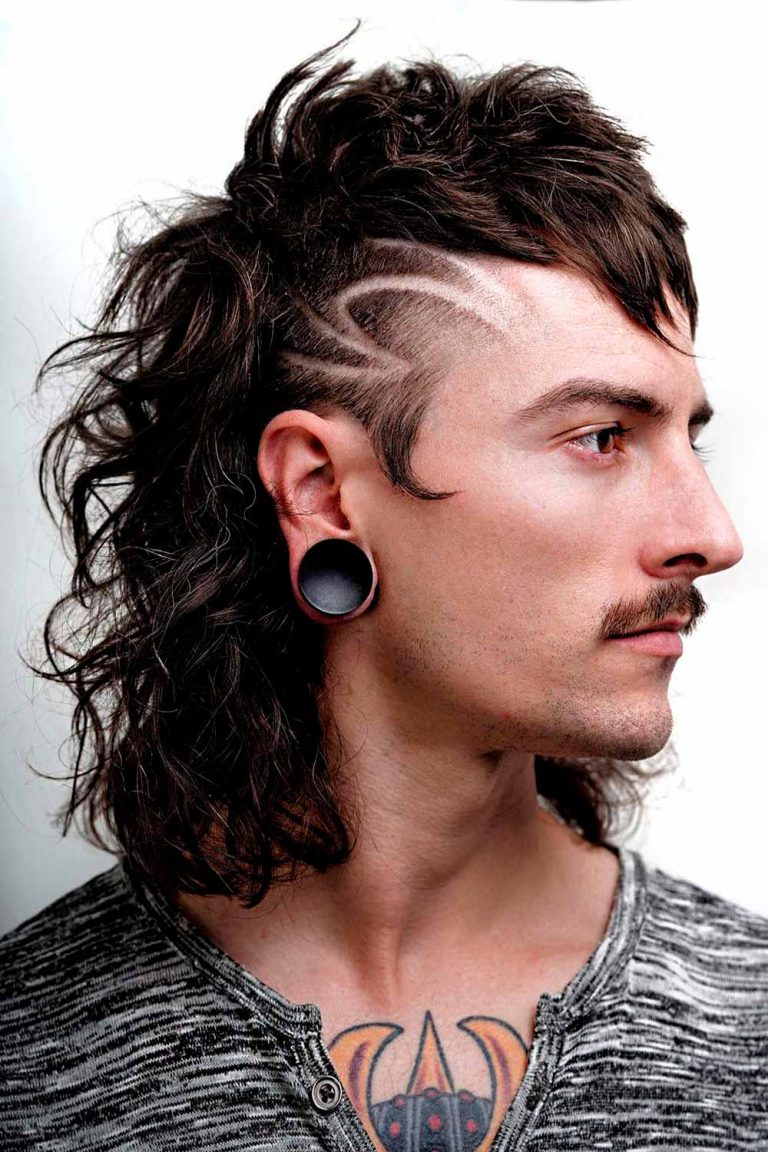 Source: @r.braid via Instagram
Korean Mullet
Guys with mullets can experiment with their hair looks as much as they want. So, you can let your imagination do the job to come up with a unique and fashionable hairstyle. Try to incorporate various colors, add designs or accessories or at least switch the length from classic long to an extremely short mullet haircut.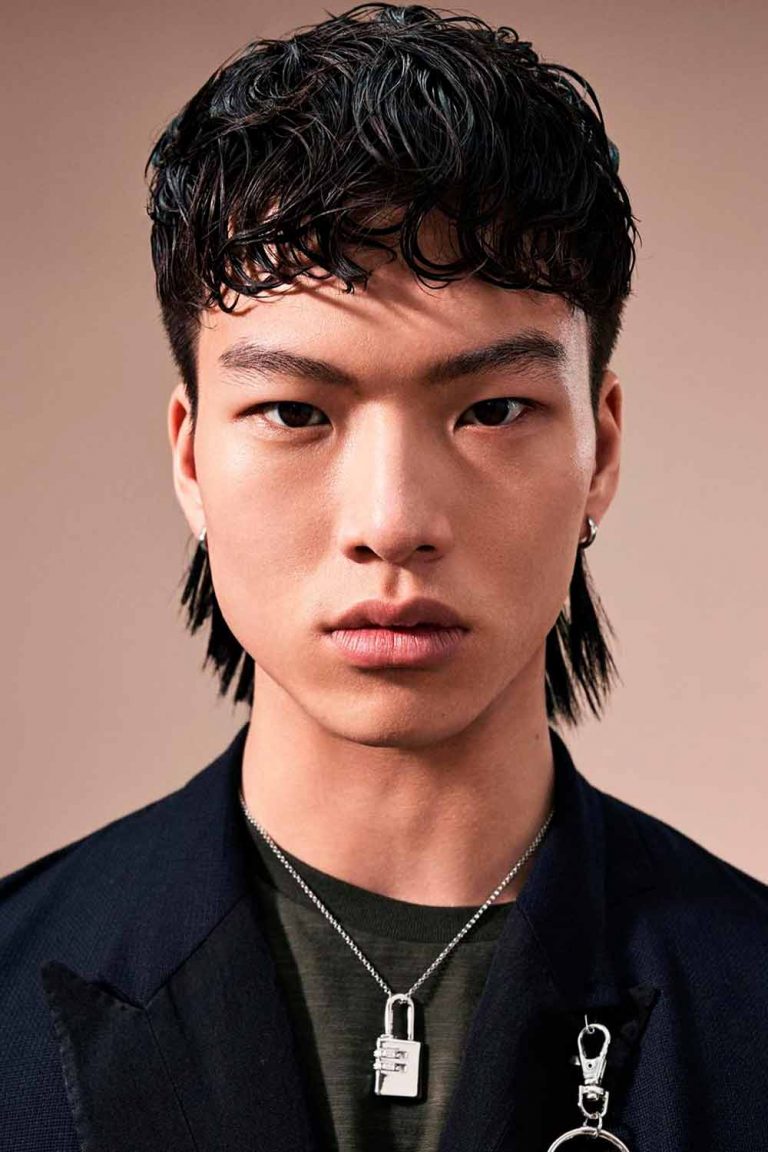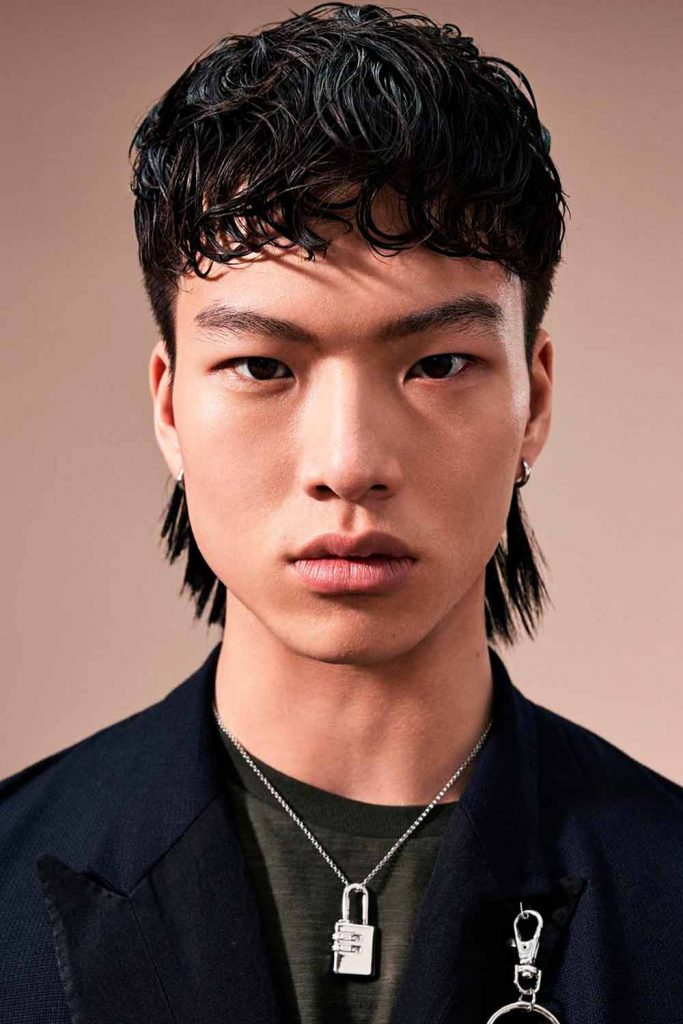 Source: @dexterdapper via Instagram
Baseball Mullet
A modern mullet fade is a staple of baseball haircuts, which is why it is also called a baseball mullet. The shape of the cut resembles a baseball cap worn backward, hence the name. Thanks to faded sides, the haircut has a clean silhouette with the top and back being the focal point of the look.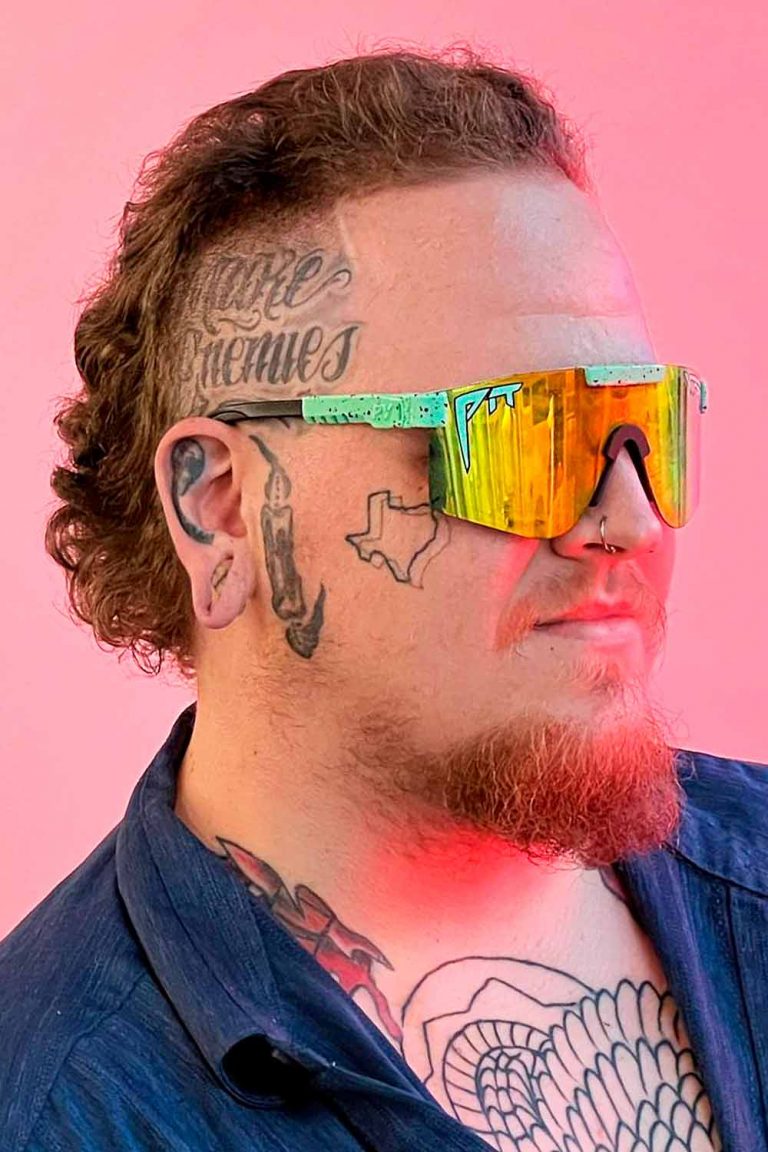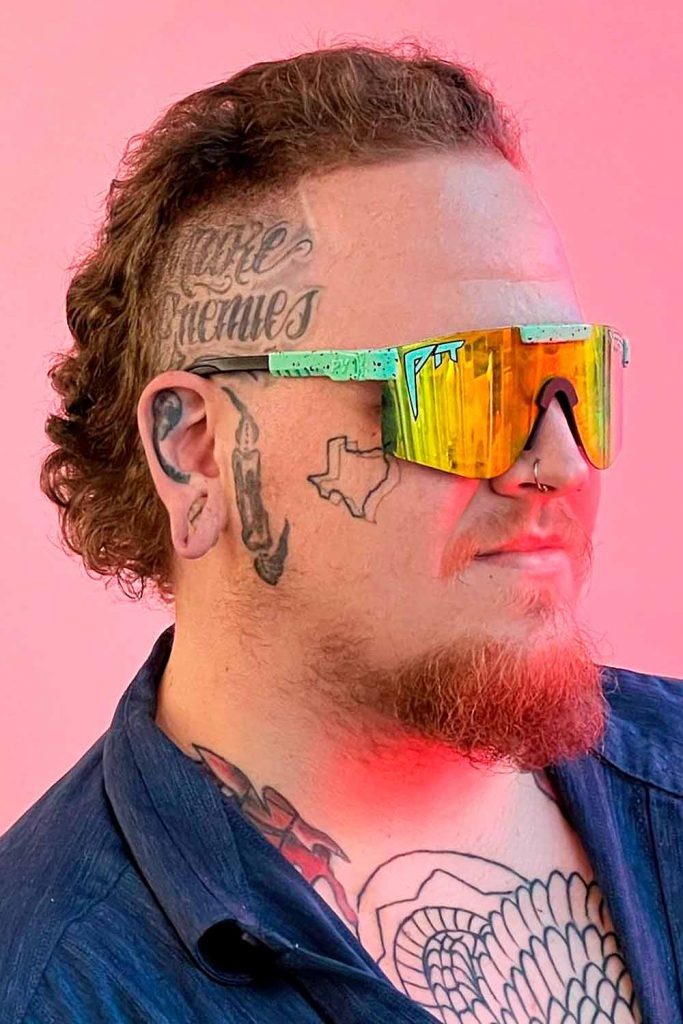 Source: @iamaustinbrody via Instagram
Kentucky Waterfall Haircut
A Kentucky waterfall mullet is not for the faint-hearted. This impactful haircut will allow you to make a strong fashion statement and easily stand out in the crowd. Though, you can hardly call it universally flattering or easy to maintain. You will need to grow your hair pretty long in the back while keeping the top short and the sides even shorter. Quite an unconventional look, right?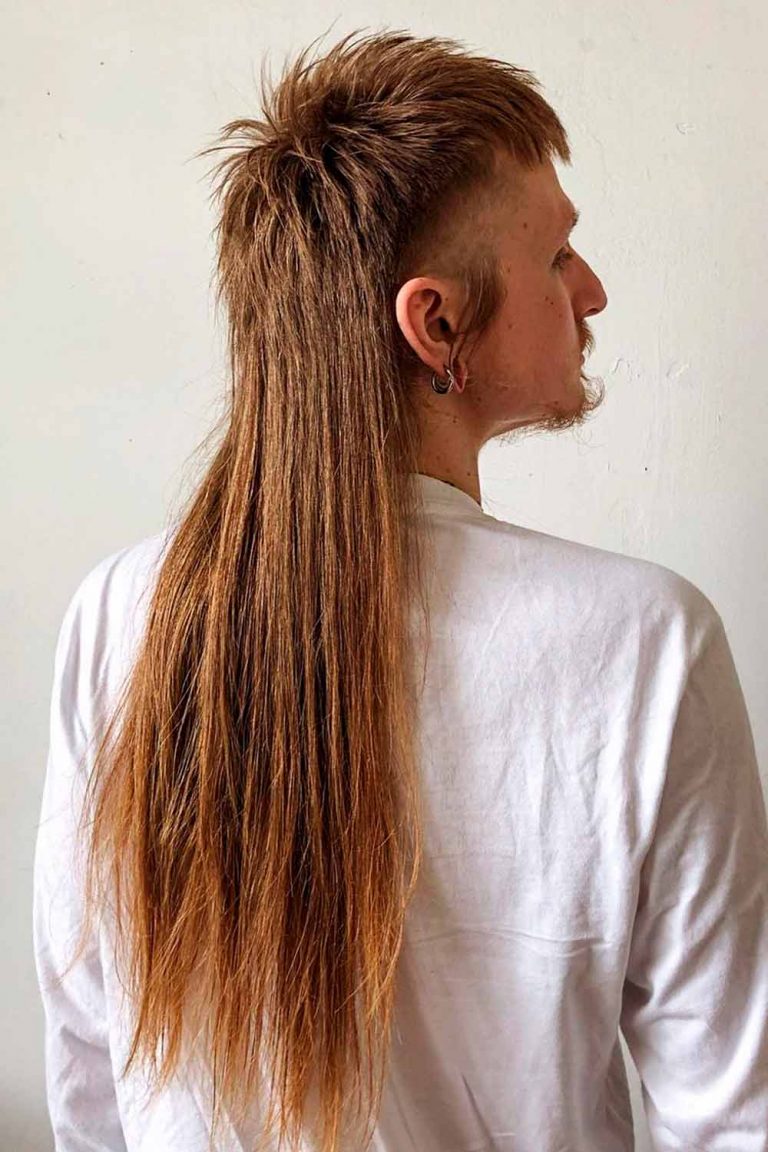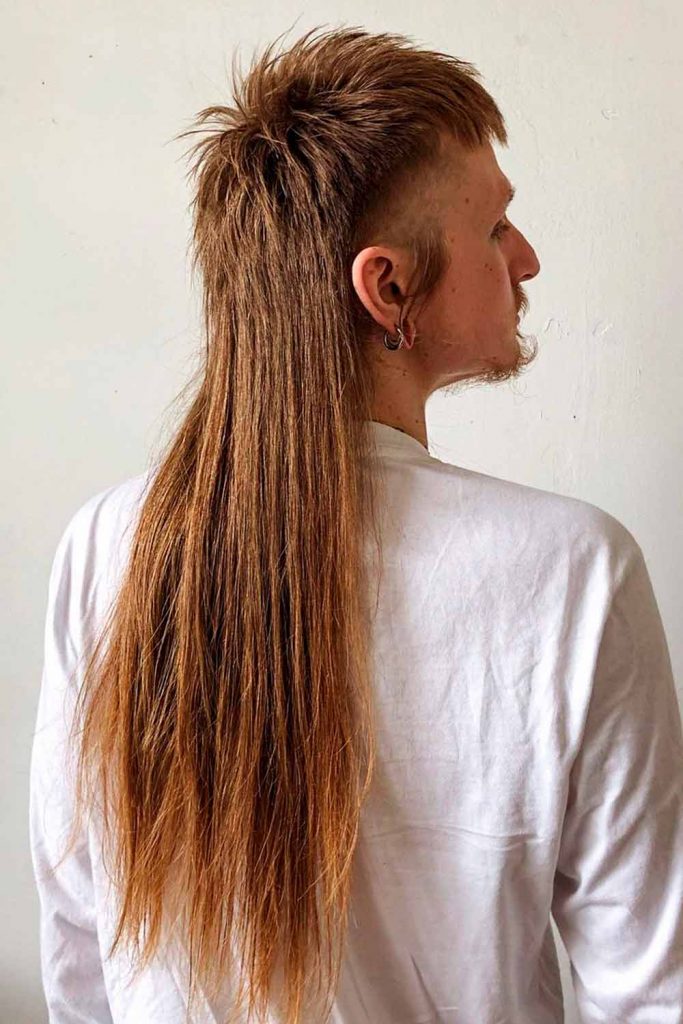 Source: @coiffeurstory via Instagram
Bowl Cut Mullet
To have all eyes on you, you may combine several bold haircuts in one look. Take, for instance, a bowl cut and a mullet, which are surprisingly a perfect match. The final look still retains the idea of business in the front and party in the back, yet it comes out more contrasty and edgy.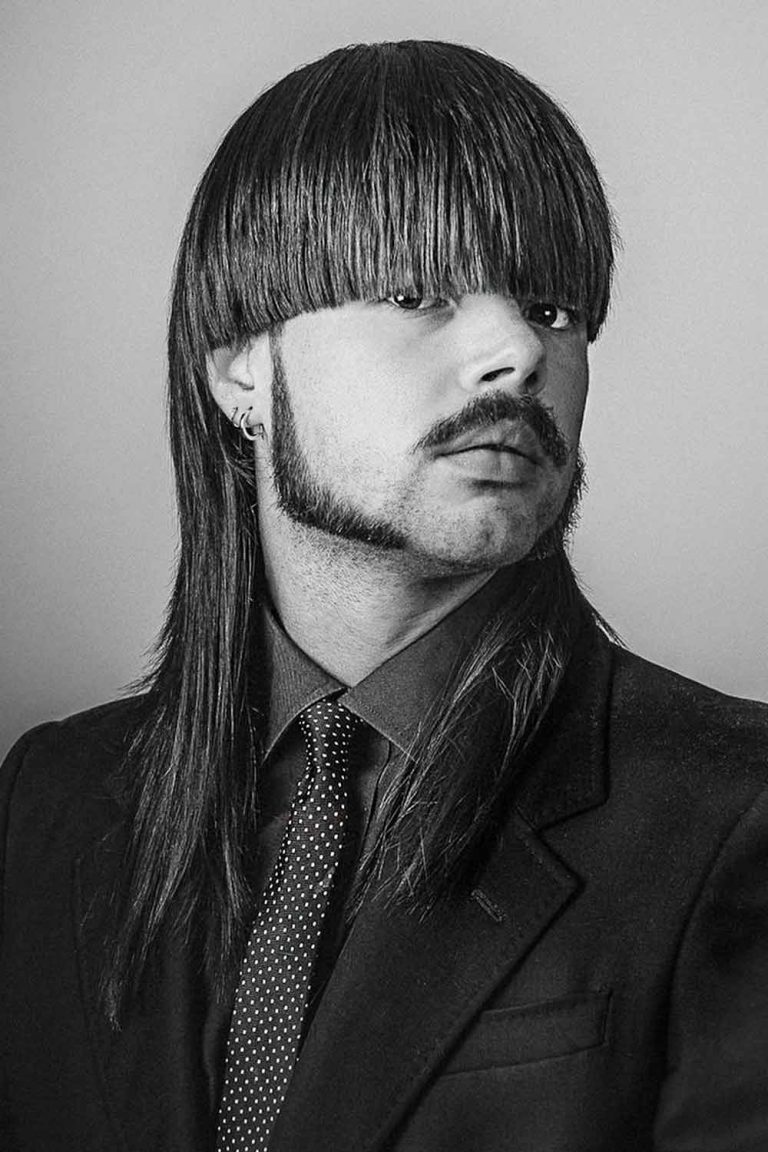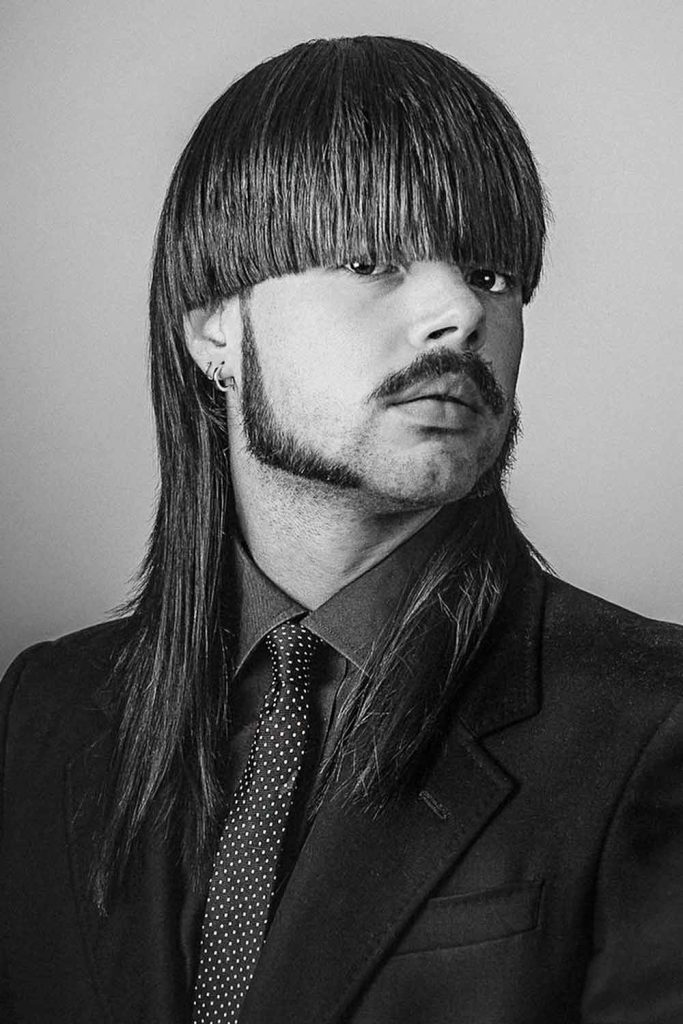 Source: @the_bloody_butcher via Instagram
FAQs
Is the mullet coming back 2023?
It sure is. For mullet 2023 has become the year when it was redefined. Although it used to be mocked a lot in the past, today it is one of the most favorite hair looks of many celebrities.
How much does a mullet cost?
A mullet haircut is relatively easy to get so it is not particularly pricey. It may cost anywhere between $30 and $50. The price varies depending on many factors though. As such, a burst fade mullet may cost a little extra than a classic version. Besides, every salon has its own price policy.
Is a mullet a professional haircut?
As a rule of thumb, a mullet is not considered professional. Yet, depending on how strict your dress code in the office is and what variation of the haircut you choose, it may look quite appropriate at work.
How do you ask for a mullet haircut?
Most barbers know what a mullet haircut is so you can simply ask for it. Yet, if you have a certain style on your mind, then it makes sense to clarify what exactly you want. Ideally, bring a photo of the desired hair look for a reference.
Are mullets attractive?
Mullets can be attractive when cut in the right way. A long hair mullet may look unkempt and unflattering. So, opt for a medium long cut with short or faded sides. Also, remember to keep your hair neat and clean.
How do you make a mullet look good?
Good mullets are those with a lot of texture and shine. If your hair lacks any of it, then you may need to enlist the help of a texturizing product or a sea salt spray. To create waves, apply several spritzes to your locks and style them using your fingers.
Why is it called a mullet haircut?
A mullet owes its name to the 1994's song "Mullet Head" performed by the hip hop band Beastie Boys. However, the haircut itself appeared much earlier. It was described in the poem The Iliad by Homer, the legendary poet of Ancient Greece.
Can a mullet ever look good?
Of course, it can. Modern versions of a mullet are nothing like its old-fashioned unattractive original. Moreover, a mullet flatters almost any face shape. It is just important to find a suitable look and get it right. Then it will look good.
Can I pull off a mullet?
With the right attitude and proper styling, anyone can nail this awesome haircut. It is all in your hands.
REFERENCES: