Source: @lasselom via Instagram
When choosing the best mens long hairstyles for every day, you should keep in mind several crucial points. Otherwise, all the magic of your stately hair will be wasted. First, you should listen to your genes and base your choice on the natural type of your hair. If you were lucky enough to inherit really good hair, then you should opt for a layered hairstyle reaching down to the shoulders or a bit shorter. In case you go for the punk hair look, add to your layered ends some spiky edges. And don't forget that it looks best on straight hair. One more thing to remember: don't overuse styling products.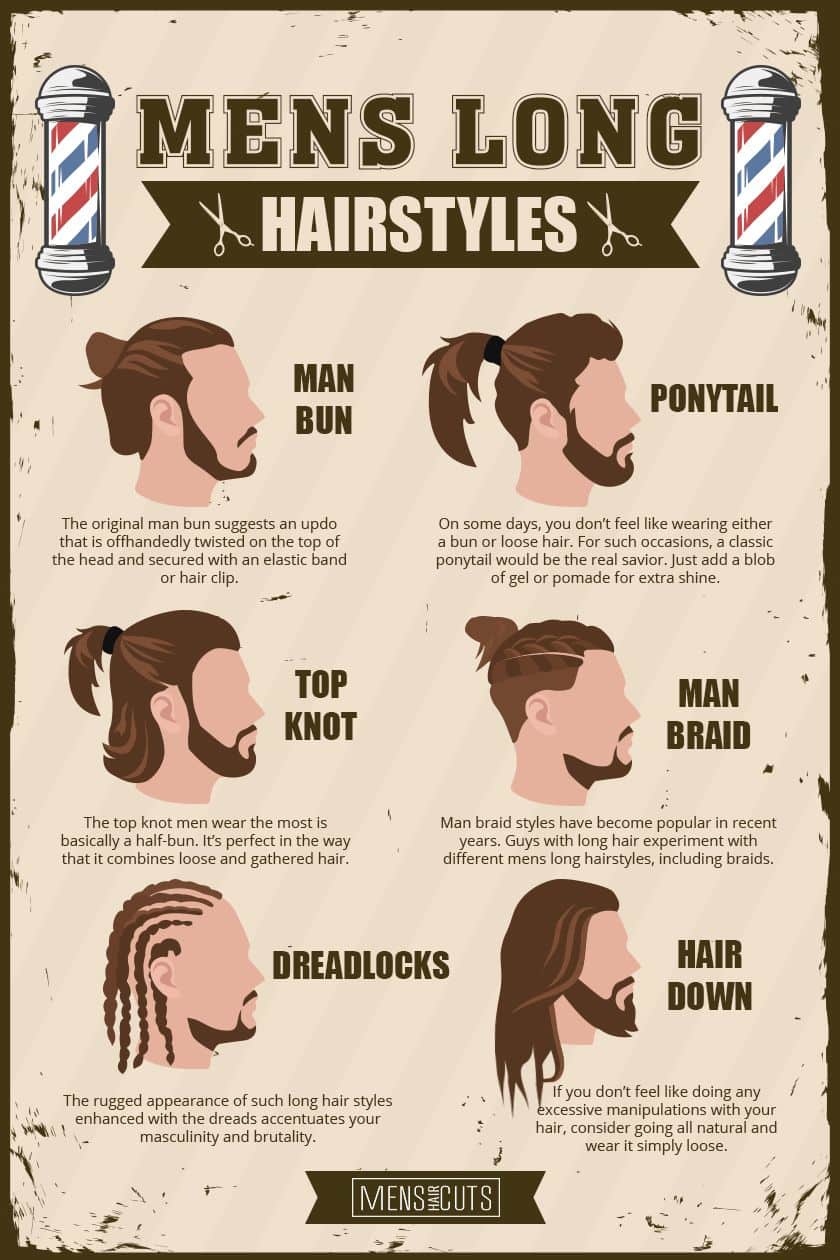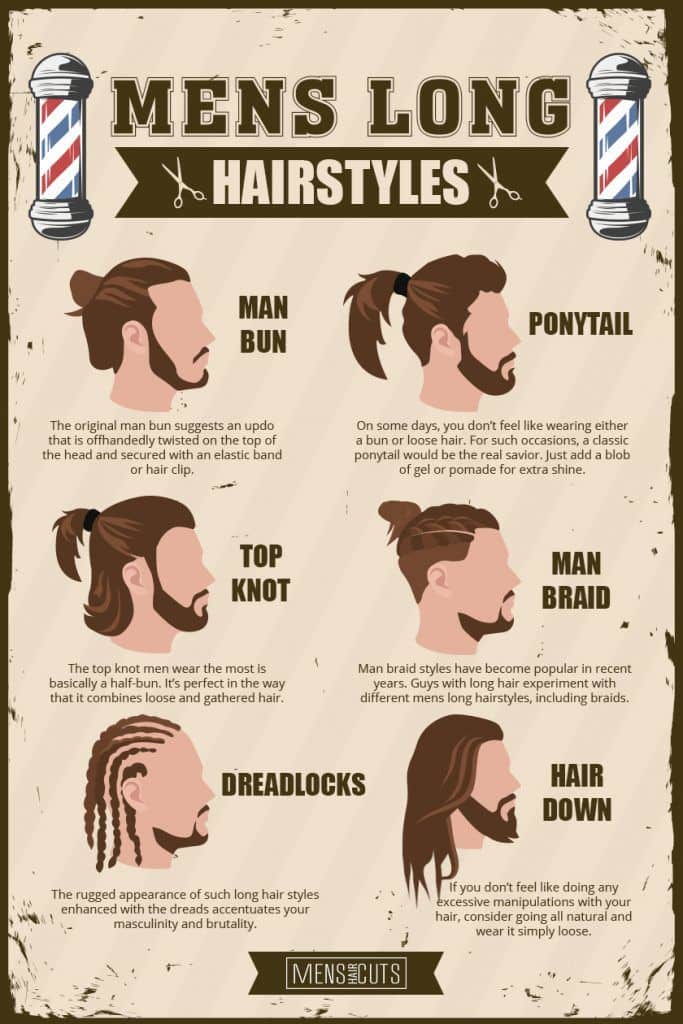 How To Style Long Hair
Obviously, the way you are going to style your hair greatly depends on the look you are striving to achieve. You can wear it loose and messy on casual weekends with friends. When you are headed at a formal event, it is better to tie your locks in a ponytail or a man bun. In the times when you are feeling playful, go for something intricate and eye-catching, such as a man braid. As you can tell, the variety of options is endless. Just pick out the style that suits your mood and occasion best.
Man Bun
Unlike many predictions, a man bun has not gone into oblivion, keeping its leading positions among the trendiest man's hairstyles. On the contrary, it has evolved into many other rockabilly forms.

Source: @spizoiky via Instagram
High Messy Man Bun
Source: @lanedorsey via Instagram
Ask yourself, "What is a man bun?" Even if you're not really into long hairstyles for men, most likely, the first thing that comes to your mind would be "a messy knot." And you'd be more than right. The original man bun suggests an updo that is offhandedly twisted on the top of the head and secured with an elastic band or hair clip. In case you've ever wondered how to do a man bun, this could be a quick guide for you.
High And Full Braided Man Bun
gorgeoussab/Shutterstock
Such an impressive hairstyle for truly long hair is actually very easy to recreate. Just brush your hair up into a ponytail, divide it into equal strands and braid them. When it's done, roll the braids around the bottom of the ponytail and fix their ends with the pins. Even though this braided bun does require some of effort, after you master the braids for men, it will be like a piece of cake for you.
Low Messy Man Bun
Source: @lanedorsey via Instagram
Being one of the fanciest man bun styles, this disheveled yet stylish look would be appropriate for any occasion, whether formal or casual. By combining the man bun and beard, you can gain even more refined look. Also, as low messy man bun doesn't require any special skills or practice, it would really benefit those guys who have no idea how to do a man bun.
Messy Man Bun With An Undercut
Source: @spizoiky via Instagram
Are you looking for something casual still don't want to lose the edge? Try this undercut man bun, which perfectly balances the messy man bun with clean and neat buzzed sides. Having a man bun undercut gives your hairstyle a non-trivial look, which makes it stand out among mens long hairstyles.
Straight And Sleek Man Bun
Cookie Studio/Shutterstock
Are you totally a man bun guy but planning to attend some formal event? Or you just want your hair to look smart and elegant? Here's a nice option for you. Simply pull your hair back into a small bun and use a bit of styling product to tame any flyaways. Such straight mens long hairstyles always look appealing and sophisticated.
Ponytail
Some days, you don't feel like wearing either a bun or loose hair. For such occasions, a classic ponytail would be the real savior. Just add a blob of gel or pomade for extra shine. Another advantage of a ponytail is that it allows you to take your locks away from your face. Such mens long hairstyles can be exceptionally flattering. On the one hand, they emphasize your masculine facial features, and on the other hand, they don't sacrifice the length of your hair.
High And Flowing Ponytail
Source: @lasselom via Instagram
Even though there is a great number of ponytail hairstyles, the traditional man ponytail gives the edgiest and chicest touch to your look. To achieve such a sleek men ponytail, just gather all the hair high at the top of the head and voila! The star of the mens long hairstyles is up.
Low Straight Ponytail
Low ponytail styles look extremely elegant in any environment. To get the most out of them, make sure your hair is moisturized enough. Brush it thoroughly and create a low ponytail at your neck-level.
Top Knot
Source: @lanedorseyvia Instagram
The top knot men wear the most is basically a half-bun. It's perfect in the way that it combines loose and gathered hair. Another reason that makes the top knot so popular is the opportunity to style the second-day hair in it.
Man Braid
View this post on Instagram
Man braid styles have become popular in recent years. Guys with long hair experiment with different mens long hairstyles, including braids. Check out our collection of men's braids below.
Double Dutch Braid
Source: @game_of_braids via Instagram
If you want to really pop with your OMG man bun hairstyles, then you should definitely try the braided man bun. We strongly recommend starting with this unbelievable double Dutch man braid. It's very eye-catching and graphic due to the undercut sides with carved partings. To bring this hairstyle to the highest level, divide the top part of your hair with a zigzag central parting.
Viking Style Faux Hawk
restyler/Shutterstock
In case you're seeking some simple updos for long hair, this look might come in handy. Just create several braids of different sizes and separate the top part of your hair. This will give your look a faux hawk braid effect.
Box Braids
gorgeoussab/Shutterstock
Still looking for simple updos for long hair? Have a look at these box braids. Unlike the Viking style faux hawk braid, the box braids create a more neat and modest look.
Colored Cornrows
Source: @game_of_braids via Instagram
Long vertical cornrow braids are absolutely stunning on their own. However, you can enhance the crazy cornrows with razor undercut sides and a hint of color.
The Heart Braid
View this post on Instagram
This look only pretends to be one of the most difficult braid hairstyles for long hair men to recreate. In reality, it requires four braids to achieve a heart shape effect at the back of your head.
Long Fishtail Braids
View this post on Instagram
A fishtail braid look is an unforgettable experience. However, you can double this bohemian effect of the mens long hairstyles by doubling the number of the fishtail braids.
Dreadlocks
Source: @lanedorseyvia via Instagram
If you were genetically gifted with the thick mane, play around it with dreadlocks. The rugged appearance of such long hair styles enhanced with the dreads accentuates your masculinity and brutality.
High Pony Dreadlocks
Kanashkin Evgeniy/Shutterstock
Your dreadlocks do not differ much from loose hair in terms of their ability to be tied or braided. Thus, if you want to pull off a high ponytail, you are very welcome to do so. It will not only look cool and unusual but also take away hair from your face, thus revealing your masculine features.
Hippie Dreadlocks
BDLook/Shutterstock
Do hippie values resonate with you? Then you should definitely try on one of the most iconic hippie hairstyles, which features long dreadlocks. This look allows you to complement it with any kind of facial hair style, from short to long, but a full coarse beard pairs with it best.
Classic Dreadlocks
DiversityStudio/Shutterstock
You can never go wrong with a classic hairstyle, even if it is dreadlocks. If you do not like to experiment with your hair look much, just go for traditional dreads. As they already appear quite intricate and elaborate, they do not require additional styling while a short stubble of facial hair will not hurt.
Hair Down
Source: @grahamsnaturalcurls via Instagram
However, if you don't feel like doing any excessive manipulations with your hair, consider going all natural and wear it simply loose.
Side Part Hairstyle
Source: @lanedorseyviavia Instagram
It's not a secret that people are asymmetric. This natural phenomenon caused the emergence of the concept "best-looking side of the face." If you want to really compliment your "best selfie half," define its beauty with the side part haircut.
Slicked Back Hair
Evannovostro/Shutterstock
If you're wondering how to sleek back hair, just always remember to fix it with some styling products after brushing the locks back. Classy and exquisite, slick back hair will become an apparent gem of the mens long hairstyles collection.
Mid-Part Straight Hair
Source: @lanedorseyviavia via Instagram
Apparently, guys with long hair, especially if they're straight hair men, don't have to make much effort in order to style their divine hair. Just a mid-parting will be more than enough.
Surfer Hair
Source: @lanedorseyviavia via Instagram
Amid wavy hairstyles for men, the surfer hair look is out of the competition. This sexy and breezy coiffure looks best with shoulder length hair.
Long Curly Hair
Featureflash Photo Agency/Shutterstock
You can infinitely look for the best hairstyles for men with curly hair. However, no matter what curly hairstyles for men you choose, your ringlets will always look stunning because they were born to be like that.
Curly Afro
Aleem Zahid Khan/Shutterstock
Tight and bouncy, curly Afro hair is a genuine wonder of nature. You can leave it to grow completely independent to get an incredible Jewfro hairstyle, or you can choose the trendiest look for yourself from the variety of Afro hairstyles for men.
Long Hair And Beard
Source: @lasselom via Instagram
Long hair can sometimes make men feel compromised. So that it will not happen, you may want to complement your look with something that shows off your virility as much as possible. And that is when a beard comes into play. What facial hair style you are going to rock is up to you. Yet, you can rest assured that when you pair your long hairstyle with a beard, no one will question your masculinity.
Long Hair Undercut
Truly, this is one of the most elegant long hairstyles for men we have ever seen. Thanks to the undercut sides and back, the focus of the look shifts to your long top. Besides, this cut keeps your hair looking neat and clean despite the length. So, for a formal ambiance, you can brush your hair back, while for a casual one, you can dishevel it and push to the side.
Layered Man Bob And Silver Beard
Source: @lanedorsey via Instagram
Brushed Back Straight Hair
Quick Man Bun
Faux Hawk With Undercut
Low Straight Blond Bun
Layered Long Hair Men
Glossy Surfer Hair And Full Beard
Source: @spizoiky via Instagram
Red Bun And Beard
Thin Blonde Dreads
Styled Man Bob
Curly Sun-Kissed Hair
Viking Haircut
Half Up Curly Bun
Undercut With Braided Top
Full Bun Dreads
You Asked, We Answered
How long is long hair for guys?
Not sure how long is long hair for guys? Well, it all depends on the desired hairstyle. Ideally, to grow out your hair long enough to be able to pull off the trendiest long hairstyles for men, you should leave it alone for about a couple of years. It does not mean though that during this period you cannot cut it. Instead, you should regularly visit your barber to chop off split ends. Once your hair reaches your chin level, it can be considered long.
What long hair says about a man?
Have you ever wondered what long hair says about a man? At first sight, you might think that your personality is not linked to your hairstyle. However, many people believe it is. To some, long hair means that the person sporting it is persistent, determined and patient. He or she is ready to devote as much time to their goal as possible, which means that they are also committed.
Is men's long hair unprofessional?
Many people have prejudice when it comes to long hair on a man. They consider it appropriate only for specific ambiance, namely formal. But, is mens long hair unprofessional? Like most things in our life, it depends. There are certain jobs where long hair is not welcomed or even not allowed. However, the way you have your long hair styled defines whether it goes against or with the dress code rules. So, if you want to flaunt long hairstyles for men to work, you are free to do so. Just be picky when you choose a look.
What can men do with long hair?
So, what can men do with long hair? You will be pleasantly surprised by the diversity of options you have. First, you can tie it in a top knot, which is a middle ground between a high pony and man bun. For an elegant and professional look, you can pull your long tresses in a low pony. If you feel yourself skilled enough, you can braid your locks, thus achieving an intricate and eye-catching hairstyle. If you do not feel like styling your hair, just wear it loose. This is a great opportunity to show off your mane. Besides, you can give your locks some movement and dimension by adding highlights. Or, if you are up to a drastic change, you can even get them dyed. Finally, in case you are pretty much fed up with your long hair, it could be high time to get a cut.
Hairstyles for men with long hair have plenty of forms and variations. They allow the guys to get the most out of their natural gift and enhance its beauty. When there is always a brilliant idea for your long hairstyle, you can finally enjoy the process of wearing it.
SOURCES:
* Whatever the occasion we have the inspiration you need to style your hair any which way.
* Guides about grooming shaving products, reviews and How To Instructions so you can achieve the perfect shave with a DE or Safety razor.
* Get the facial hair grooming tips, hair advice, and product recommendations from the editors of Esquire.