Straight hair is definitely something to be envied. Besides looking effortlessly dapper and shiny, it allows you endless styling possibilities. You can basically rock any hairstyle, as straight locks can be tousled, waved, curled and given any other possible shape. Whether you were lucky enough to inherit this superior hair texture or you opted for induced straightening, we've composed your ultimate guide to the straight type of hair and backed it up with inspiring hairstyle ideas.
How Can I Get My Hair Straightened?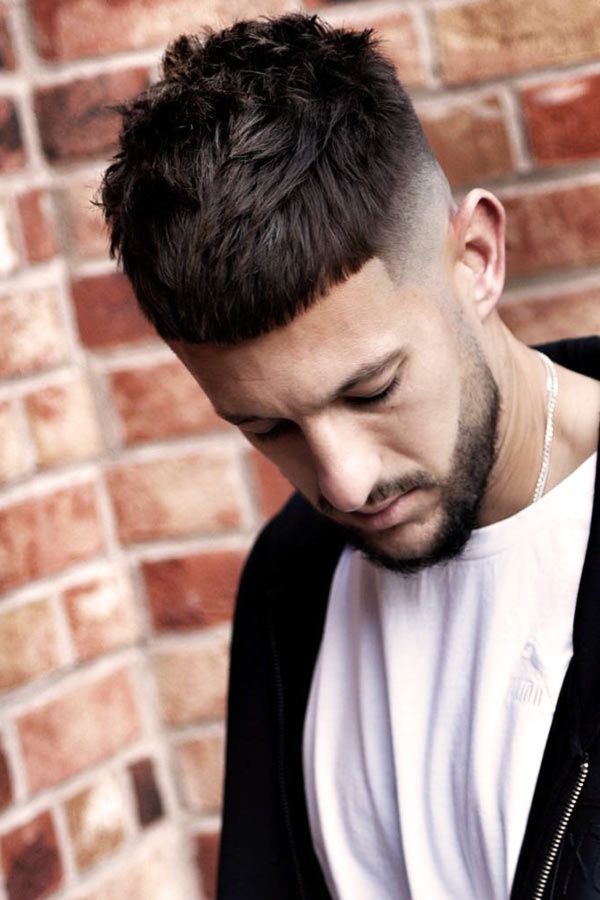 Source: @ryancullenhair via Instagram
Although it's much easier to pull off straight hair hairstyles when you already have the right hair texture, there are many both DIY and professional ways to straighten your locks.
DIY Straightening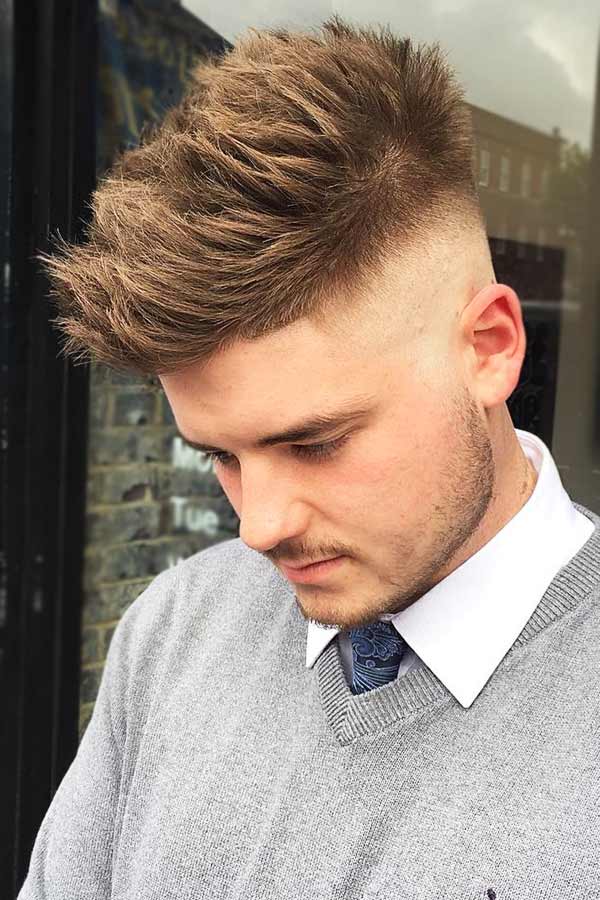 Source: @egobarbers via Instagram
If you decide to straighten your hair at home, it's not necessary to buy special hair straightening products. You can get away with those you have in your fridge. Here's your home hair straightening cookbook:
Mix a couple of eggs with a half cup of olive oil and apply at least twice a week for an hour.
Use honey milk on your hair (2 tbsp. of honey and 1 cup of cow milk).
Apply a combo of an egg white, a couple of tablespoons of rice flour and a cup of fuller's earth for an hour.
Puree two to three celery leaves, squeeze the juice through a cheesecloth and apply it for an hour.
Apply coconut paste (blended pieces of coconut and water or milk) 2-3 times per week, which will in addition to straightening, help soften hair and tame frizziness.
Professional Straightening
Source: @roque_80 via Instagram
In case you're not into homemade straightening and prefer to let the professionals do their job, here what options they can offer you:
Blow out the hair using a hair dryer and a brush with a round barrel.
Resort to Brazilian Keratin therapy.
Use a flat iron.
Employ a relaxer.
Cut the hair to let it grow straight.
How To Maintain Straight Hair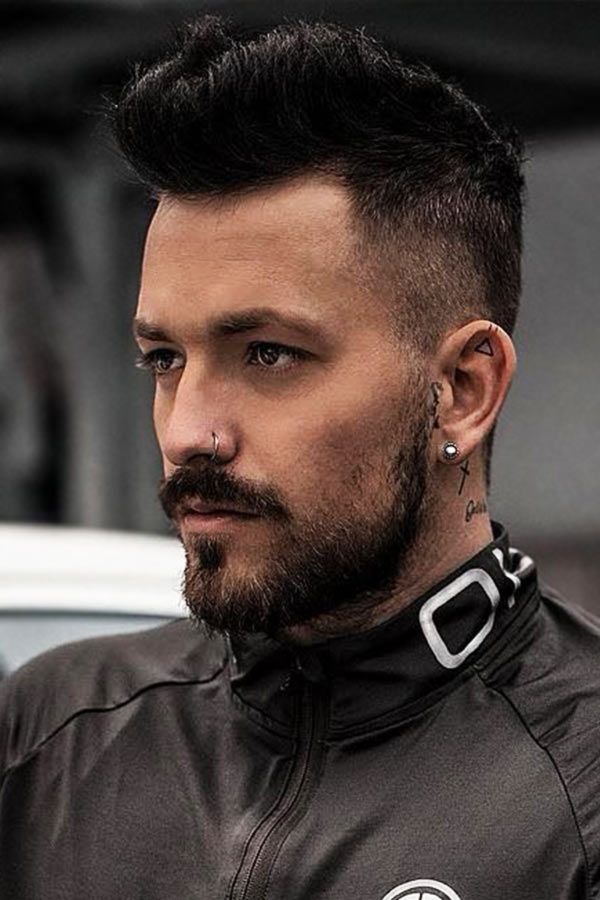 Source: @patrickdossantosaveiro via Instagram
To keep their hair texture in check, straight hair men should follow simple but essential rules.
If this is the first time you comb your hair today, take a shower beforehand.
When drying, leave the hair a bit damp for ease of combing.
Apply the styling product with your fingers.
Don't apply the product directly to the roots.
Let your barber assist you in styling your hair.
Apply the styling product for the final touch.
Don't overuse a hair blower.
Part your hair and deal with tangles with a comb.
Choose a styling product based on the aspired hairstyle.
Match the hairstyle to the shape of your face and the type of your hair.
To help you choose the right haircut, we've handpicked the best hairstyles for straight locks. Your barber is already looking for an appointment.
Straight Hair Ideas
The Faux Hawk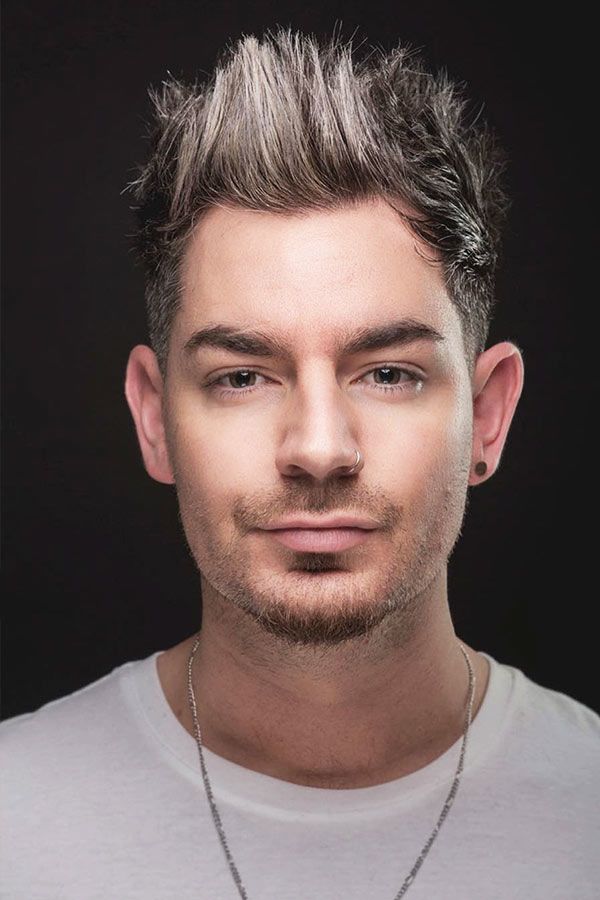 Source: @ryancullenhair via Instagram
One of the biggest advantages of a Faux hawk haircut, besides its edgy look, is that you can reshape it in whatever way you like. Also, it works equally well no matter whether you have long or short straight hair.
Rockabilly Pompadour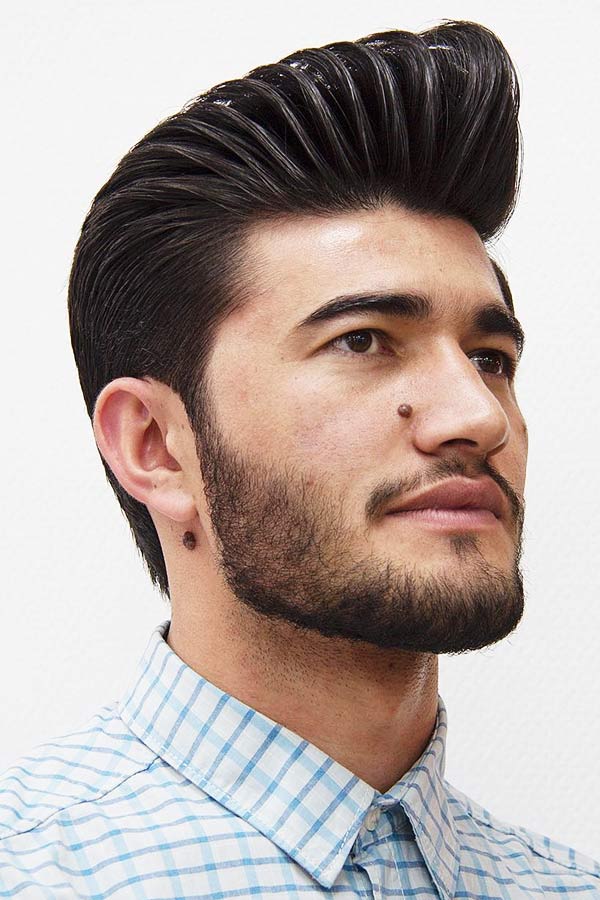 Source: @meha_barber via Instagram
A rockabilly pompadour haircut is one of the most elegant timeless hairstyles for men with straight hair. Such a hair texture allows you to shape the top and keep it in place much easier.
Slicked Back Straight Hair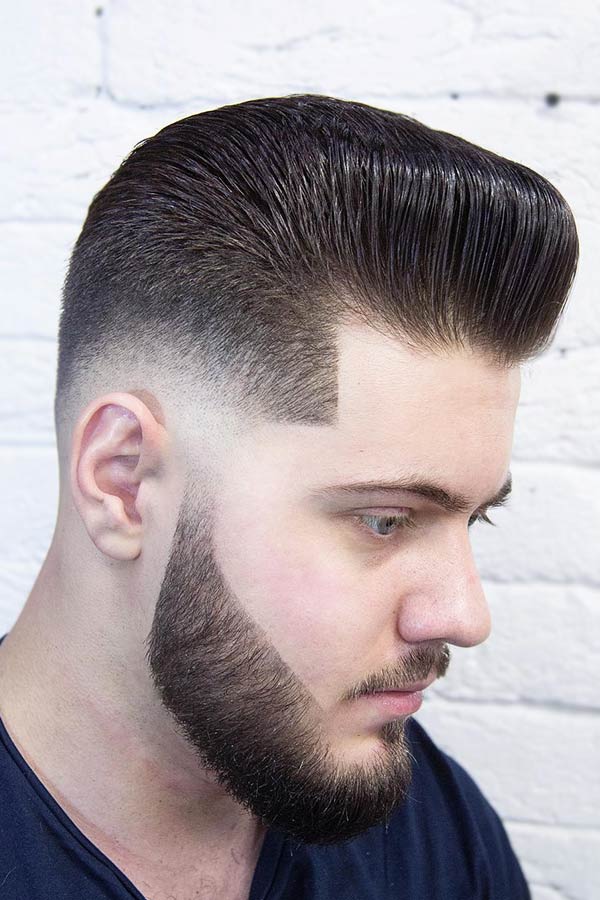 Source: @meha_barber via Instagram
Slick back hair is another classic hairstyle that can be effortlessly achieved on straight locks. To make the top the focal point of the whole look, go for a taper fade on the sides and back.
Textured Hair
Source: @bradcanning via Instagram
To get texture hair men shouldn't necessarily have wavy or curly locks. Straight hair texture also works well for such a hairstyle, especially on blonde hair men.
Side Part Straight Hairstyle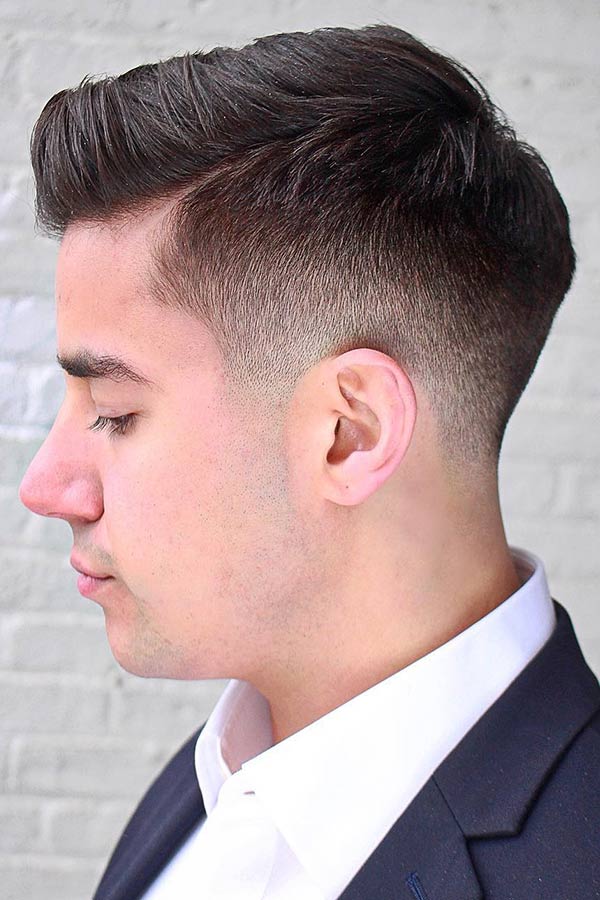 Source: @alexthegreatvivar via Instagram
Straight hair in most cases is very obedient, thus you'll have no difficulty in sporting a side part haircut. To create an even neater profile, go for a side part fade.
Blend Style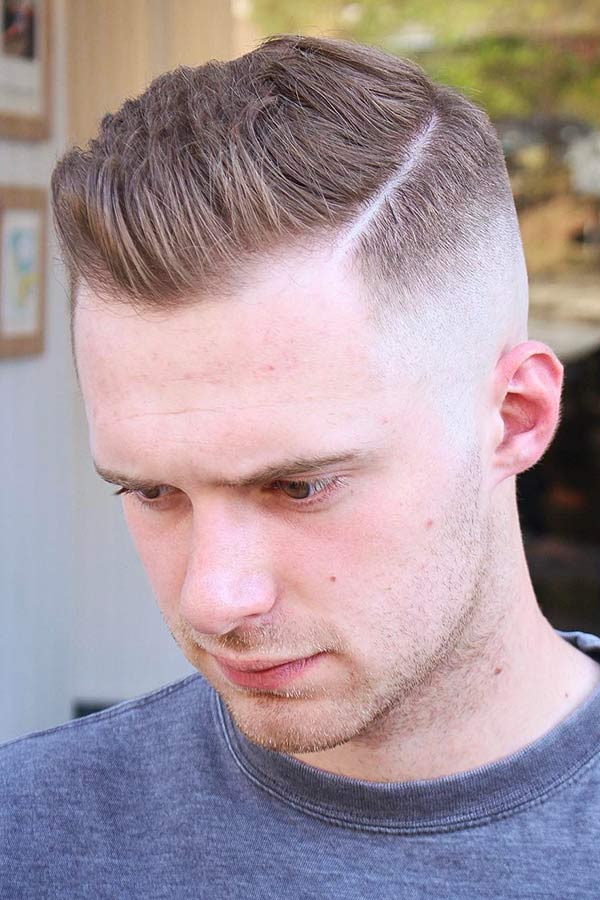 Source: @alexthegreatvivar via Instagram
For men with straight hair, there are nearly no limits when it comes to hairstyles. You can mix them together for outstanding results. Blend, for example, a pomp, a hard part and a fade or taper haircut, and you'll get a head-turning combo.
French Crop
Source: @hayden_cassidy via Instagram
A French crop haircut is one of the edgiest haircuts for men with straight hair. Disconnect the skin fade on the sides from the textured top with a hard part for added contrast.
Long Mohawk Style
Source: @egobarbers via Instagram
When you have straight hair, it won't take you much effort to create a perfect Mohawk hair style. Although it looks bold with any hair length, to make your Mohawk really stand out, go with a noticeably longish top.
Short Spiked Hair
Source: @kevinelezaj via Instagram
Spikes are a popular man hair style that gives your look a daring and trendy air no matter the length, especially if you have straight locks.
Undercut Long Bang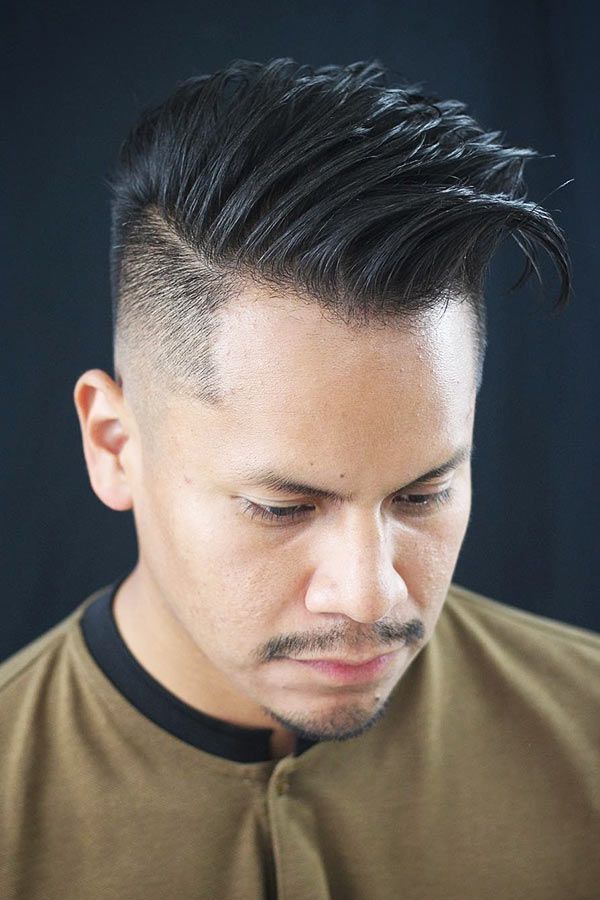 Source: @shrunknheads via Instagram
There's arguably no better way to enhance your hair texture on top than to get an undercut haircut on the sides and back. Well, maybe a hard part haircut only.
Extreme Straight Undercut
Source: @barbersofbt45 via Instagram
If you're looking for a longer haircut for men with straight hair, consider a disconnected undercut with an extensive top. This haircut will give you multiple styling options to show off your defined hair texture.
Cornrow Side Braid
Source: @barbersofbt45 via Instagram
Men medium hairstyles also work nicely for straight hair. The perfect length allows you to style your locks in various ways while still looking neat when sported loose. Adorn your hairstyle with a side man braid or try on cornrows for a bolder look.
Slicked Back Long Hair
Source: @flanagansbarbers via Instagram
When flaunting long straight hair men never go unnoticed. Besides, it's much easier to keep such a men hair style looking dapper no matter what, especially when you slick it back.
Messy Man Bun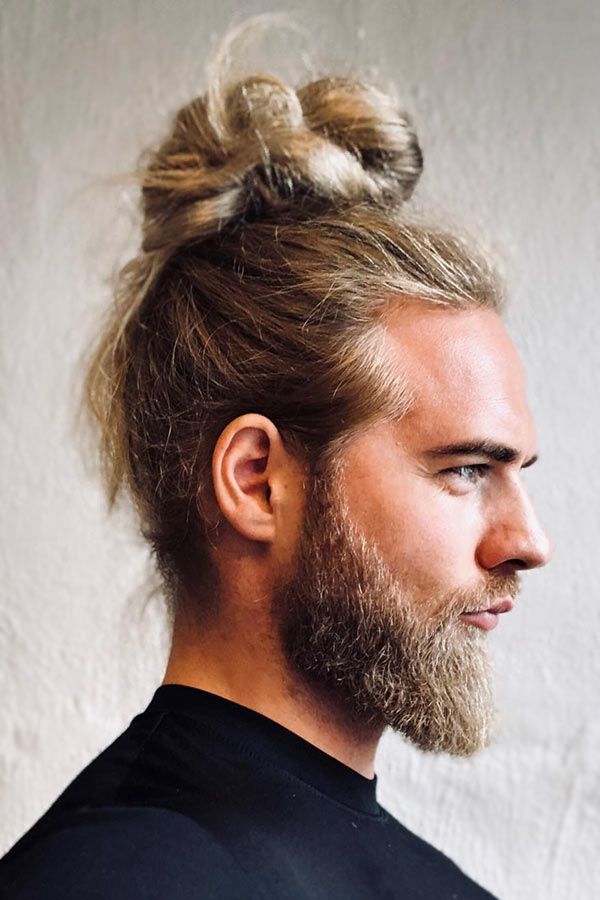 Source: @lasselom via Instagram
If you have enough will and patience to grow out long straight hair, you can be sure it will totally pay you off. The trendiest hairstyles, such as a messy man bun, can now grace your head collecting bazillion compliments.
Blunt Fringe With Skin Fade
Source: @joeltorres via Instagram
If you are looking for a haircut that is both stylish and effortless, then a blunt fringe is your sure way to go. It gives you a wide range of styling options to suit any situation. For an added contrast, you can complement it with a high skin fade on the sides and back.
Front Fringe Haircut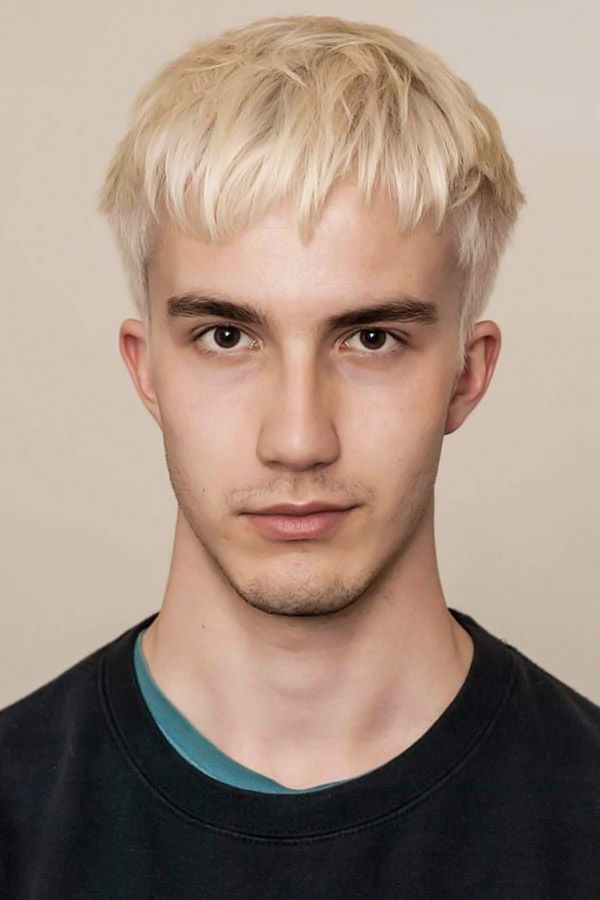 @urednistvo.pricesk.robert via Instagram
When you do not want to bother with an overly elaborate hairstyle, go for a plain front fringe haircut. Although you may consider it rather utilitarian, not everybody will be able to pull it off. When you sport it with the right attitude, it actually comes out pretty stylish and fashionable.
Disconnected Undercut Hairstyle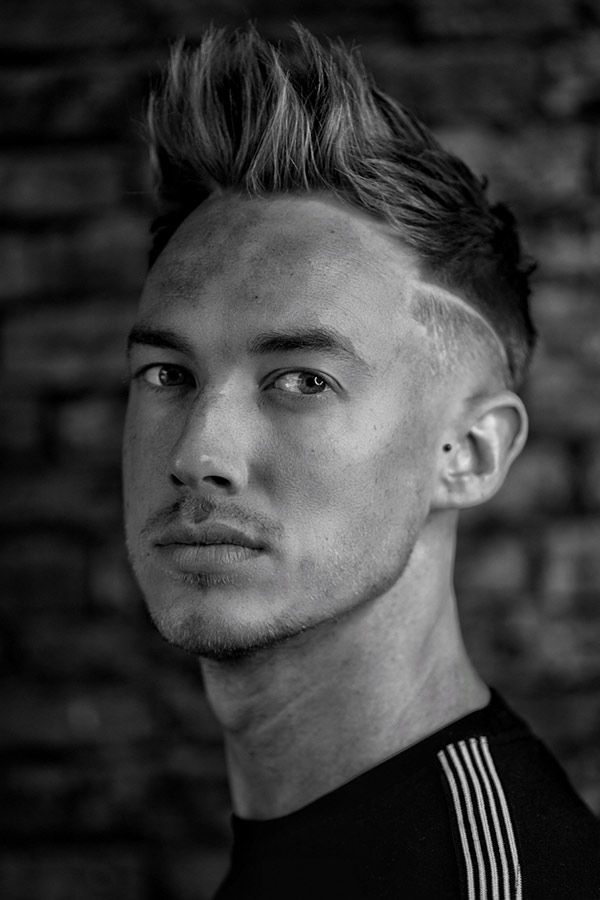 Source: @ryancullenhair via Instagram
It is hard to think of a better option for a high contrast hairstyle than a disconnected undercut. It allows you to shift the focus of the whole look to your hair on top of the head. Thus, you are welcome to style it in any way you like, from an elegant slicked back to a trendy spiked up look.
Side Fringe Haircuts For Straight Hair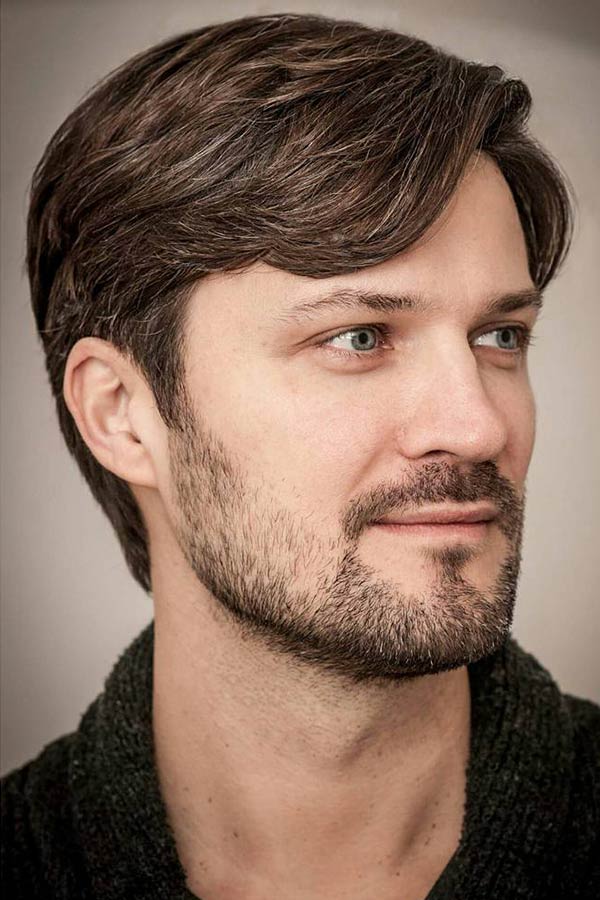 @urednistvo.pricesk.robert via Instagram
Your straight hair type allows you to push your fringe to the side and end up with an attractive style that flatters your facial features greatly. Even though it looks quite ornate, it does not require much maintenance or styling. A light scruff will become an awesome accompaniment to such a look.
Short Pomp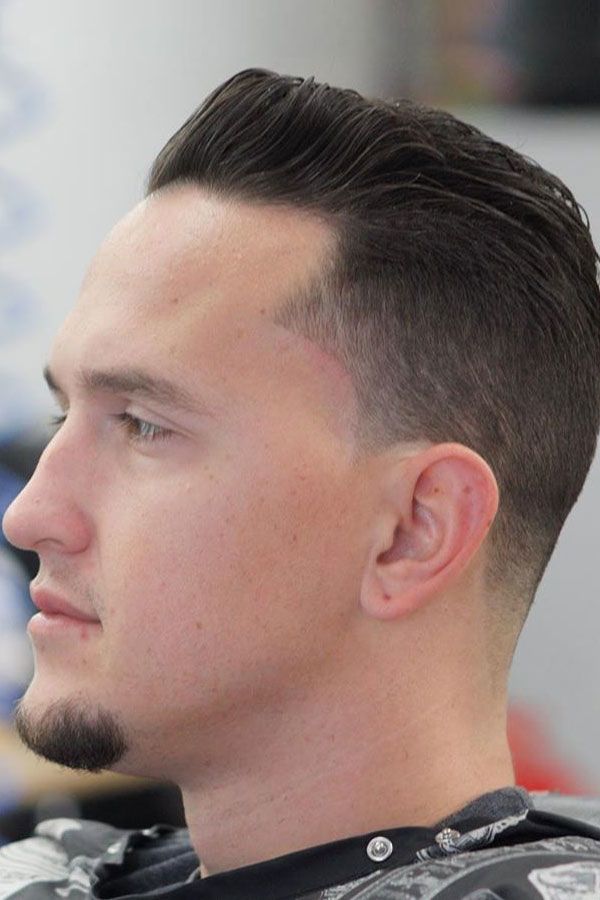 Source: @notorious.edd via Instagram
One of the most flattering hairstyles for men with straight hair is a pompadour. However, if you think that your tresses should necessarily be long for this hair look, we are here to prove you wrong. You just need to make sure that your hair on the top of the head is long enough to be brushed slightly back with an amplified volume.
Caesar Haircut + Skin Fade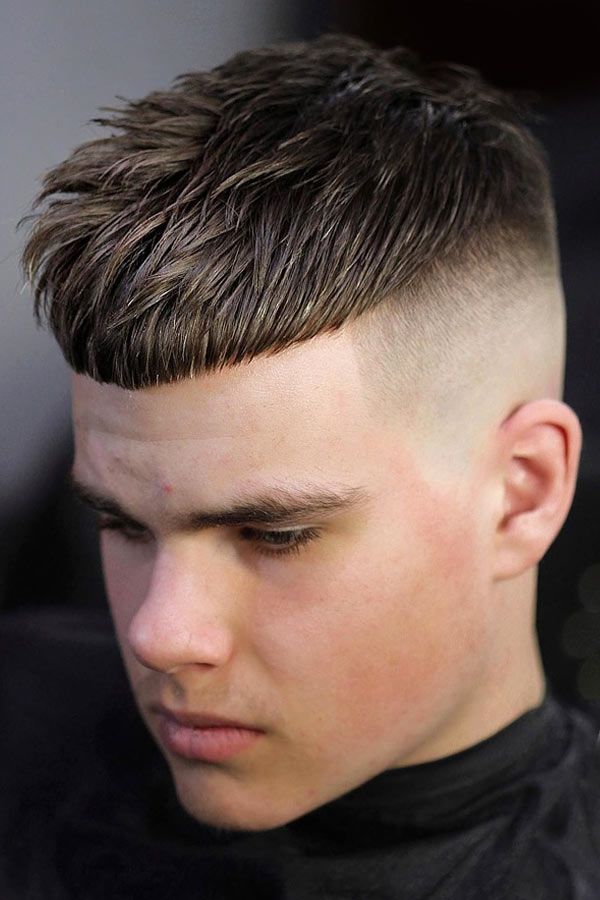 Source: @ryancullenhair via Instagram
When pulled off on straight hair, a Caesar haircut looks especially sharp and textured. To give it a modern turn, you can complement the look with a trendy cut on the back and sides. A skin fade works perfectly for such a style, as it brings the whole attention to your defined top.
Quiff Hairstyle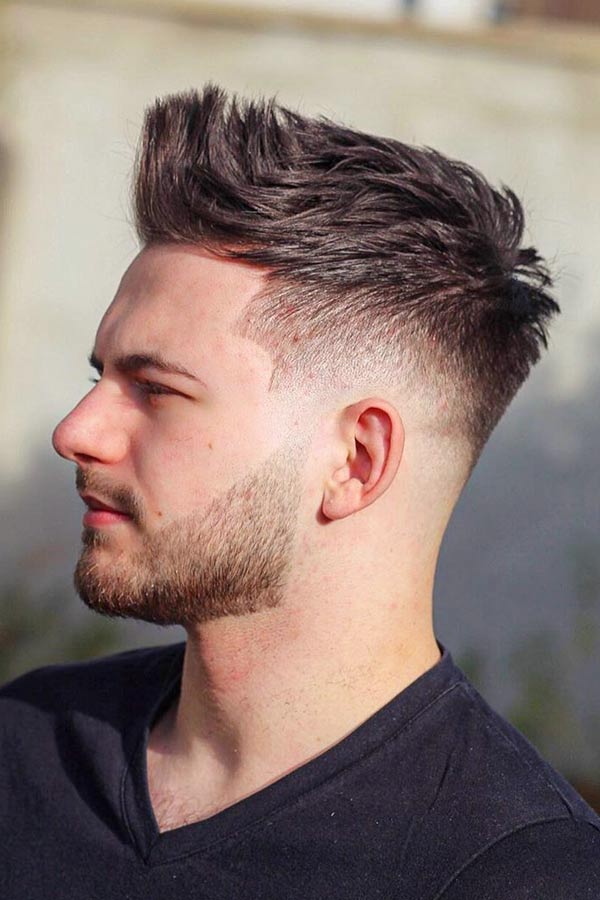 Source: @ryancullenhair via Instagram
A straight quiff hairstyle is bold and edgy. Even though it may seem like it requires a lot of styling, in reality, it will not take you more than several minutes to create. You just need to apply a hair styling product of your choice to define texture and secure the quiff in place and you are good to go.
Frequently Asked Questions
How can men get straight hair?
There are three main ways to make your hair straight, except for being born with it, of course. You can blow it out using a hair dryer and a comb after the shower. Also, you can use a straightener on your dry locks. And finally, you can apply a relaxing treatment.
Is straight hair boring?
Despite the great number of benefits, straight tresses still have several drawbacks and one of them is the fact that it can be a bit boring. The thing is there is not enough texture and body in straight hair, which makes it difficult to manipulate. Thus, it will be pretty challenging for you to create an interesting hairstyle.
How can I make my hairs straight?
When it comes to natural ways of straightening your hair, you are offered six options. First, you can brush your hair after the shower once in five minutes till it is fully dry. Next, depending on your hair length, you can comb it over to the opposite side, secure with hairpins and allow to air dry. For the third method, you need to employ hair rollers with a big diameter. Just roll your hair in sections when it is still wet around the rollers and allow to fully dry.
Alternatively, after washing, tie your hair in two ponytails. Make them low and secure with elastics all the way down until you reach the ends. Also, you can make a low pony with your wet hair, twist it and tie in a bun. After it is dry, you will need to brush it out. Finally, it is possible to make your own straightening mask by mixing a cup of coconut or whole milk with a tablespoon of honey. Apply it two times per week for a couple of months.
What makes straight hair curly?
A hair follicles have muscles near their base. Sometimes, as we age, these muscles change. As a result, your hair texture changes as well. This can also be caused by alterations in hormones, such as during menopause, puberty or chemotherapy. Besides, as with aging, your follicles start to grow slower than before, the texture of your hair may change.
REFERENCES:
How to Straighten Men's Hair Source