A mid fade, or a medium fade, as the name implies, offers a middle ground between a low and high faded cut. It is still bold and edgy but may be appropriate even in a rather professional environment. To get the mid fade hair cut, the hair on the sides and back is taper cut starting from the top of the ears. As there is a wide range of mid fade haircuts out there, the midfade is considered extremely versatile. It can complement absolutely any hairstyle on top and works for any hair texture, from a buzz cut mid skin fade to a mid fade curly hair pomp. To explore a mid fade haircut in depth, feel free to study our guide.
The Medium Fade Haircut
The medium fade haircut is one of the most sought after cuts. Men opt for this style because it provides them with a very distinctive, but yet unique look. Due to balance in the length and versatility, it easily adapts to any styling preferences, especially to those that are meant to emphasize the longer top.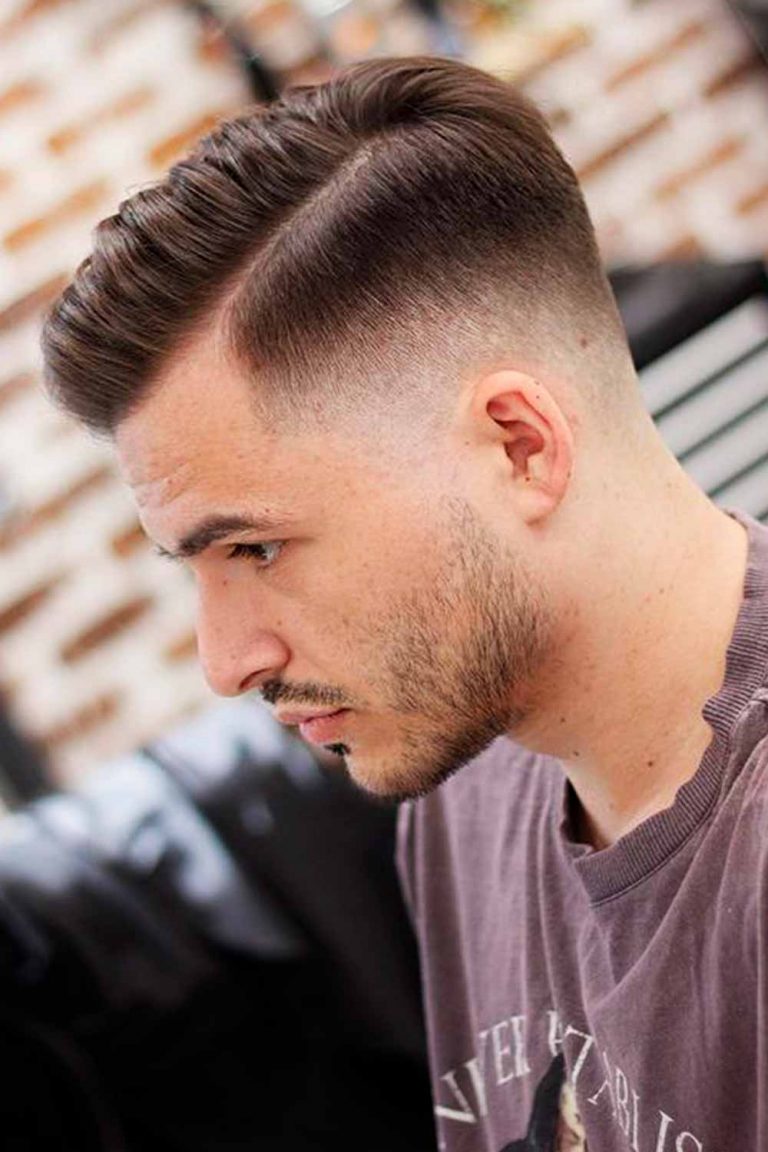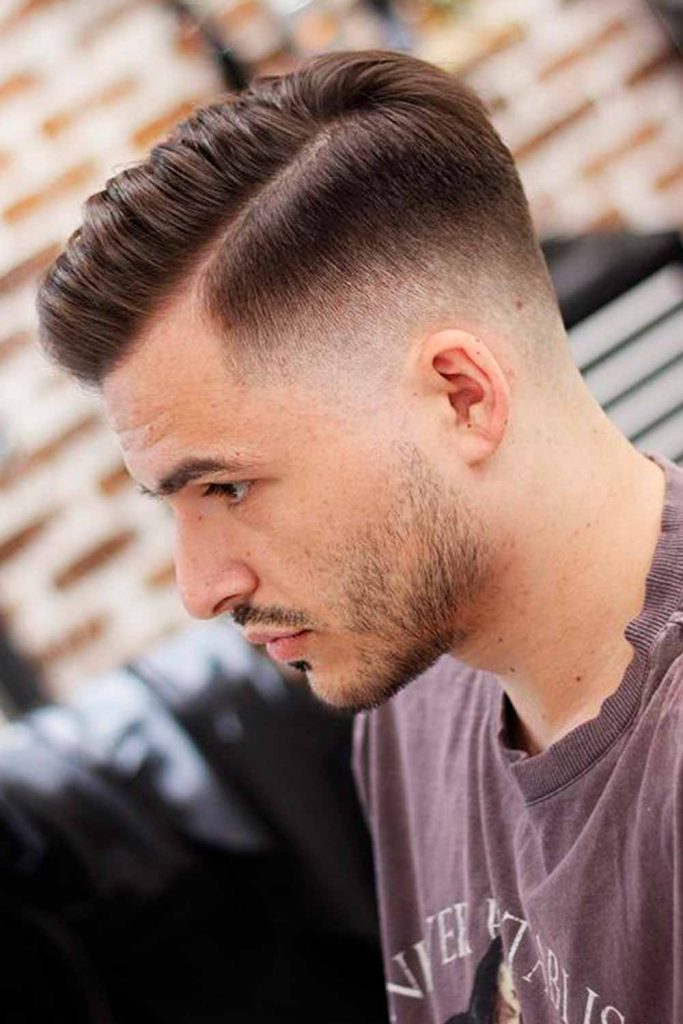 Source: @horatiuthebarber via Instagram
Fresh Ideas For Medium Fade Haircuts And Hairstyles
Now it's time to get inspired by the mid fade haircuts that stylish men sport today! The latest, versatile ideas are ready to be copied.
Mid Fade Short Hair
Even if you have short hair, it does not mean you cannot complement it with a fade. This haircut is so versatile that it can be paired with any hair length and style on top. Even if your mane is short, you can still opt for a medium fade for an added contrast in your look.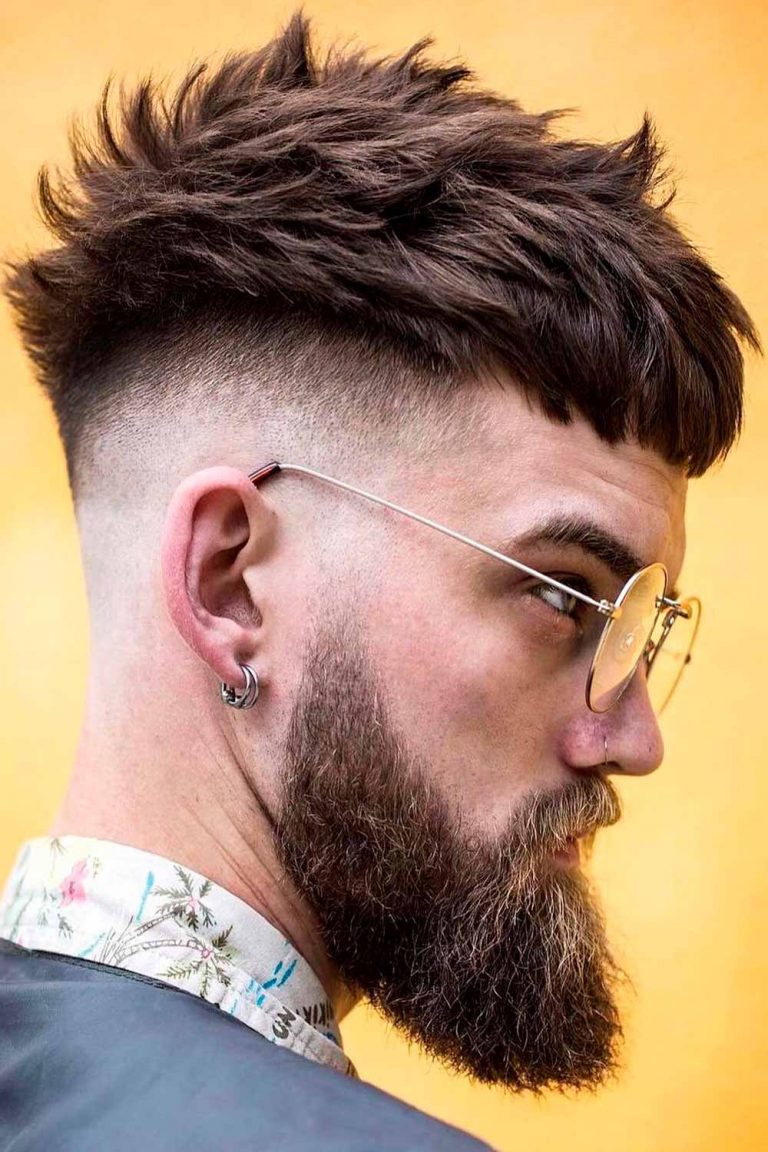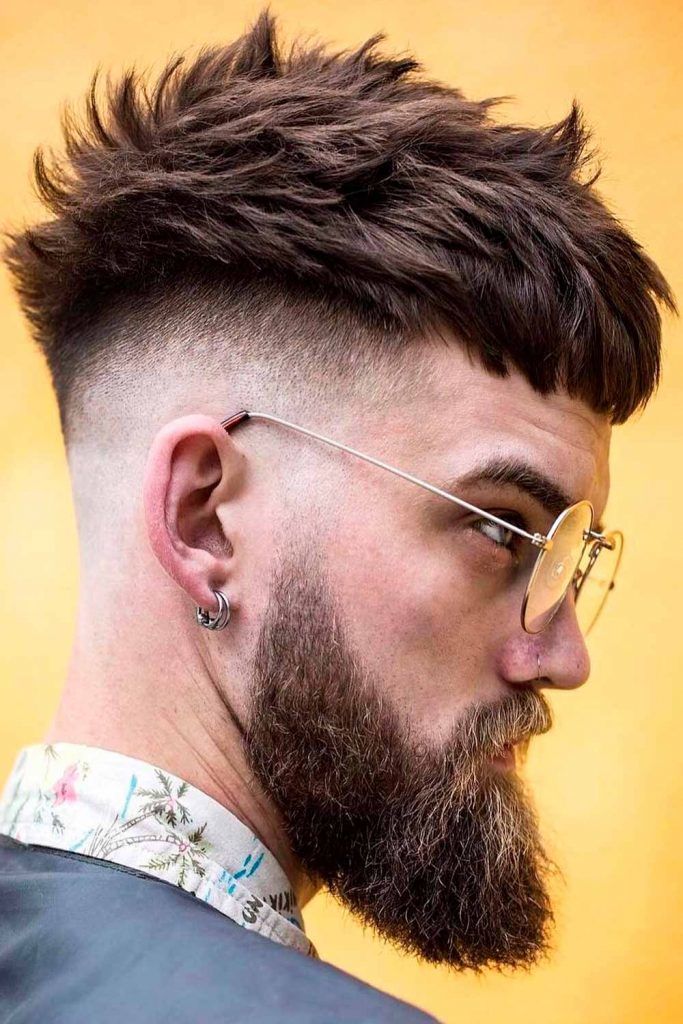 Source: @r.braid via Instagram
Short Wavy Top
There's no need to describe the harshness of thick hair styling routine. Let's just talk about solutions that medium cuts can bring to your styling life. Short haircuts for men that involve textured tops and sides tapering are probably the most iconic way to give thick textures a well-groomed look.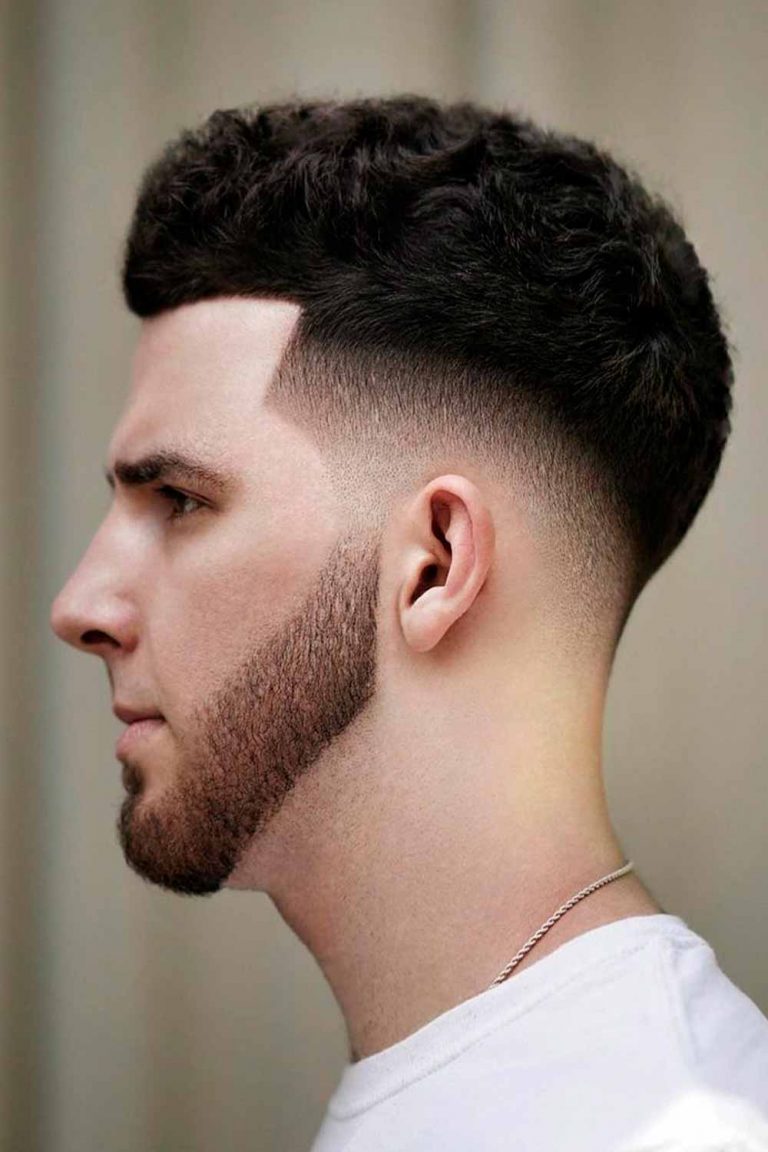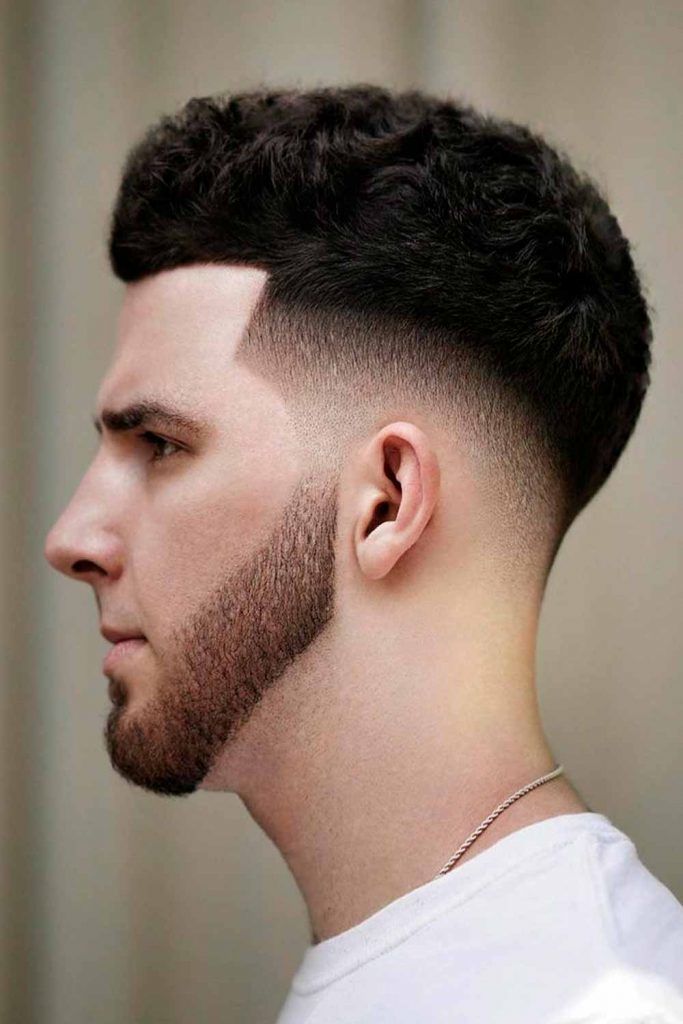 Source: @xbigwesx via Instagram
Mid Fade Taper
The iconic taper fade is popular with men's fashion community for the smart, minimalistic, and pretty sharp looks that it gives to wearers. When a guy experiences a taper vs fade struggle, a wise barber offers to try a mid taper fade that mixes the gradual length of a mid fade taper and clean sides of a fade. It gets darker as it gets higher, moving from the nape to the parietal ridge.
Source: @ryancullenhair via Instagram
Fade With Textured Top
Those who'd like to focus on the texture should experiment with their top. Your cut can be cleanly shaped with a mid skin fade, leaving less transition on the sides to put the textured hair on top in the spotlight. This style looks fresh and pretty uncommon, notably if it comes with light stubble.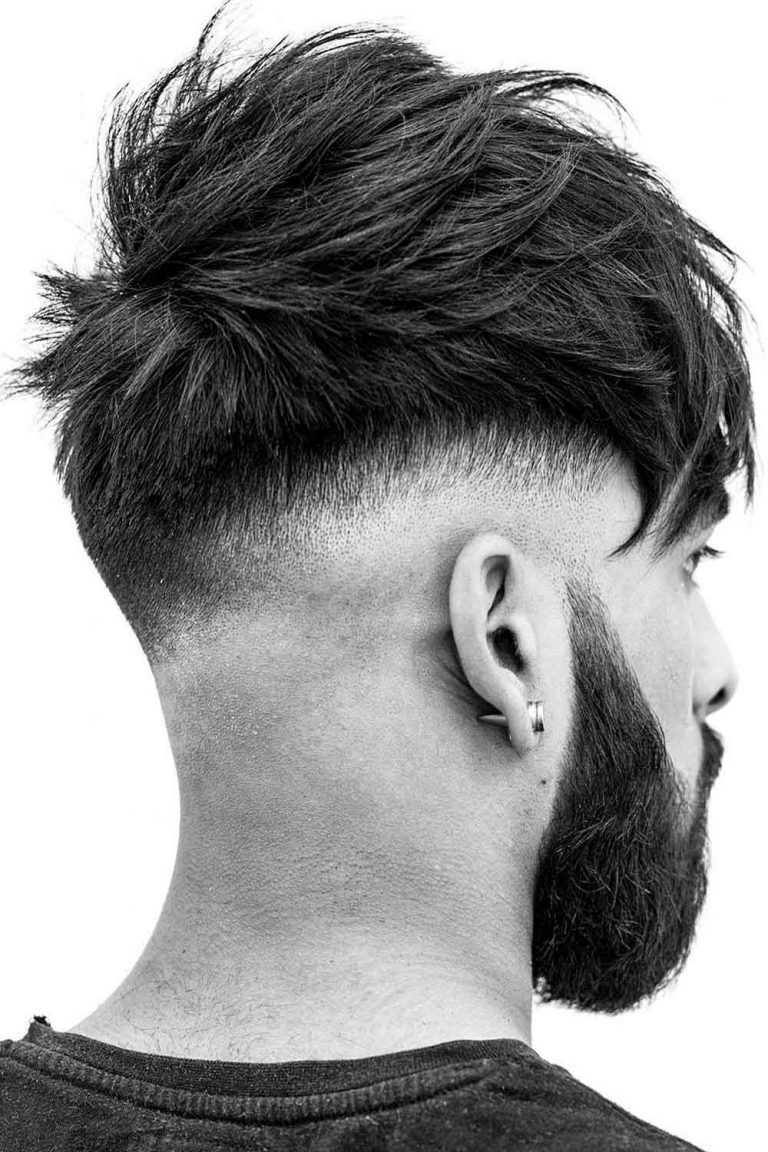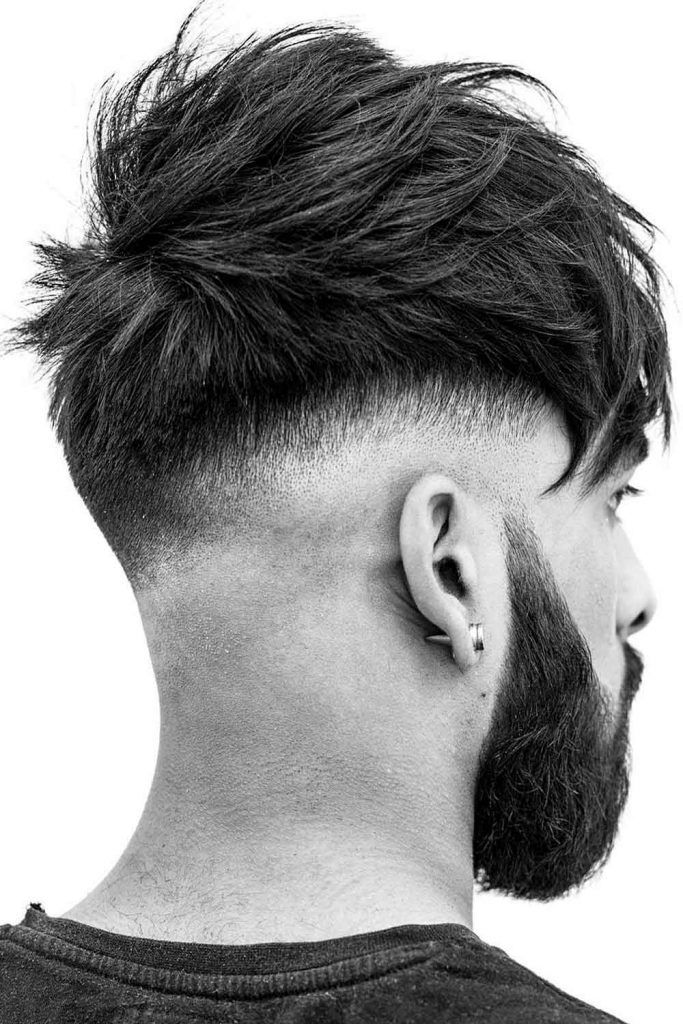 Source: @r.braid via Instagram
Short & Cropped
To achieve a natural look, opt for a short cropped hair, which apparently made a huge comeback as a fashion trend. One of the biggest benefits of a cropped texture is that it doesn't require much effort to keep it up. To style their short hair men simply apply a bead of a styling product to the top and dishevel it with a hand.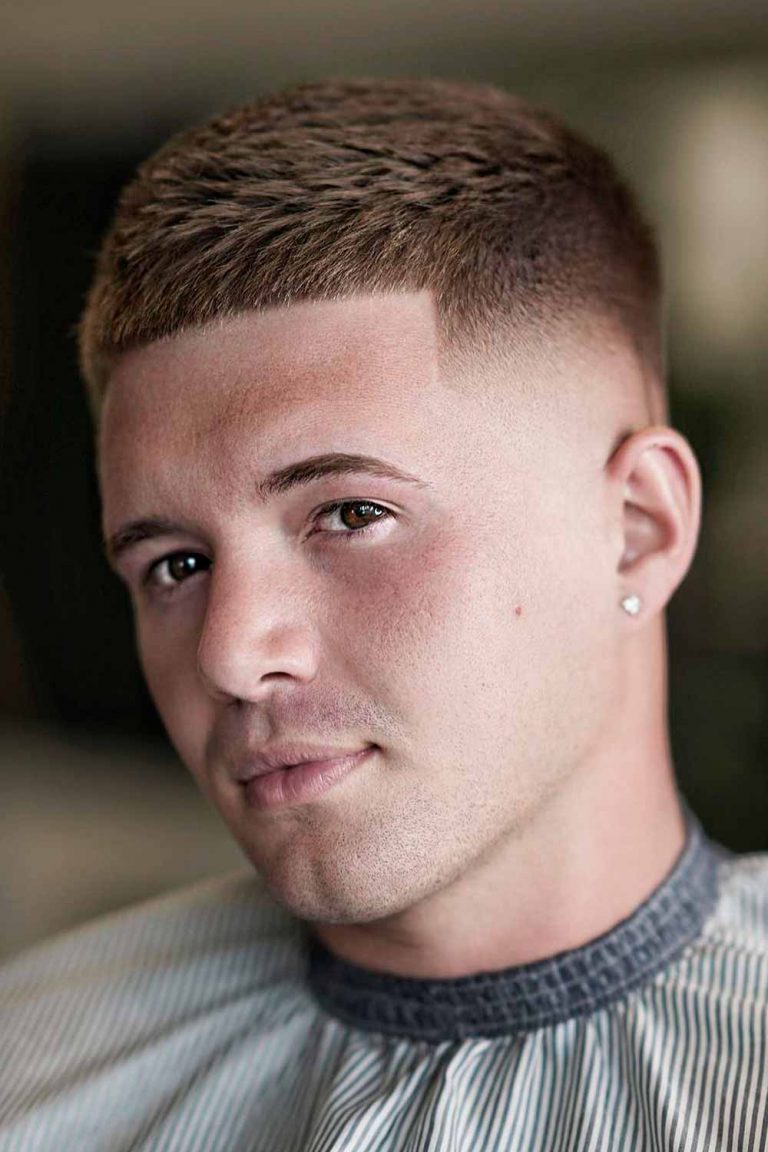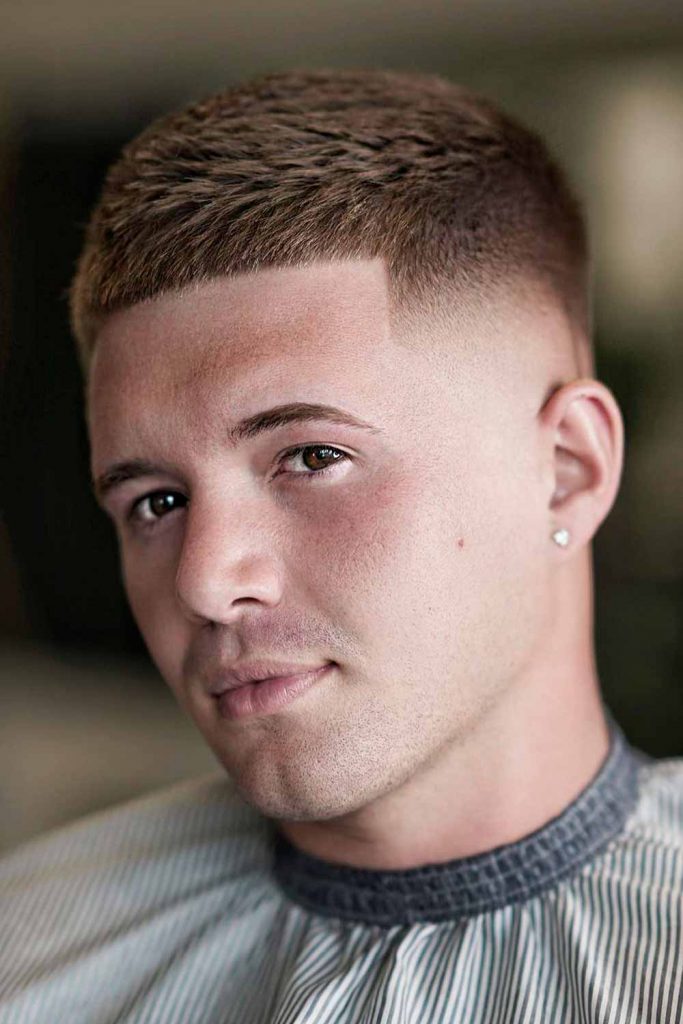 Source: @xbigwesx via Instagram
Fade With Quiff
A quiff haircut partnered with a medium fade turns out a real masterpiece, yet remaining quite low-maintenance. All you need to do is to brush your hair back and run through it with the fingers covered in a styling product. This will give your quaff hairstyle an extra texture and bring it on top!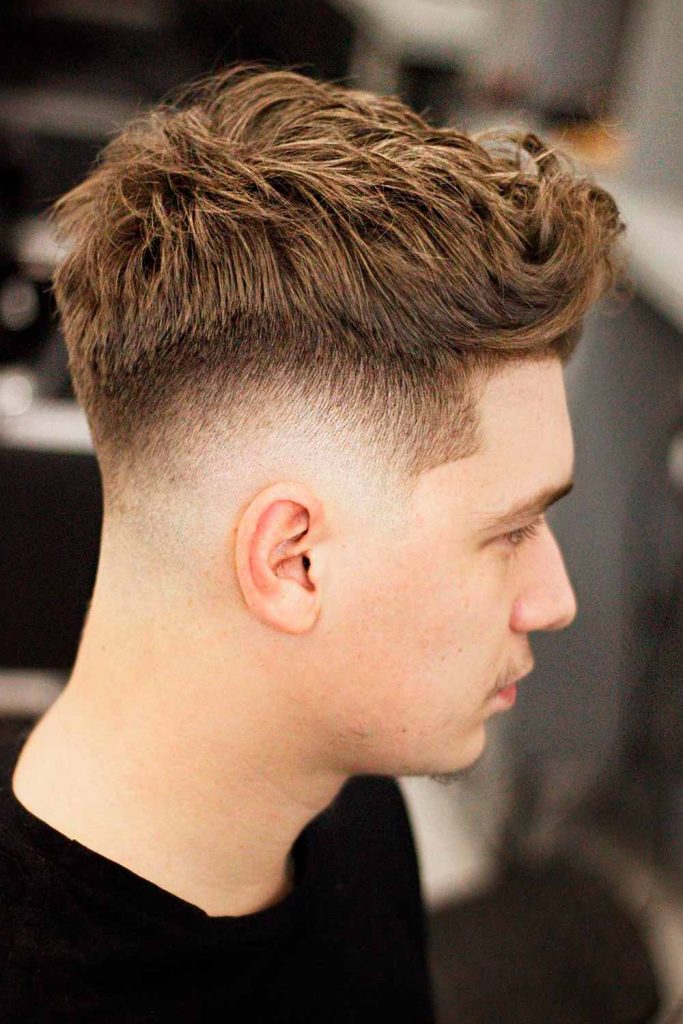 Source: @

horatiuthebarber

via Instagram
Medium Fade With Curly Top
A medium fade is an ideal cut for those men who have curly locks. It helps you not only shape up your unruly hair but also emphasize its texture. When your sides and back are faded, the hair on top becomes a focal point of the whole look. Thus, take care to style it so that it looks its absolute best.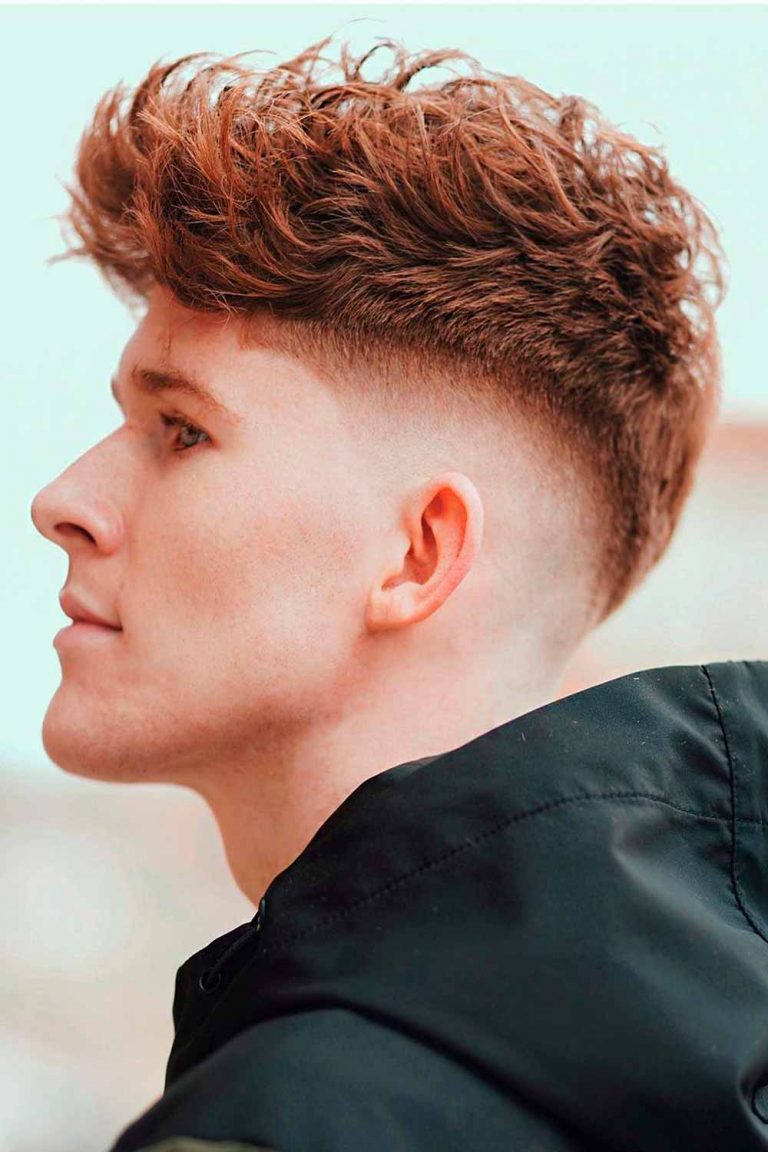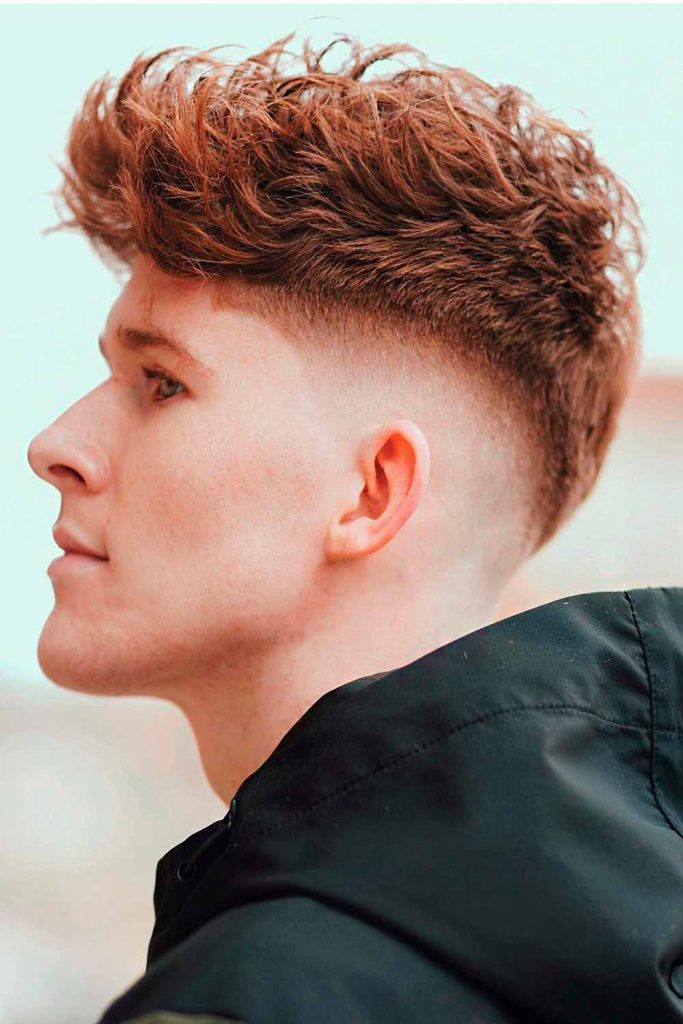 Source: @z_ramsey via Instagram
Spiked Crew Mens Mid Fade
If you are leaning toward a short mid fade haircut, then a crew cut is your best bet. Although it does not offer a myriad of styling options, since it does not feature a lot of hair on top, you can still make it spiked up for added definition.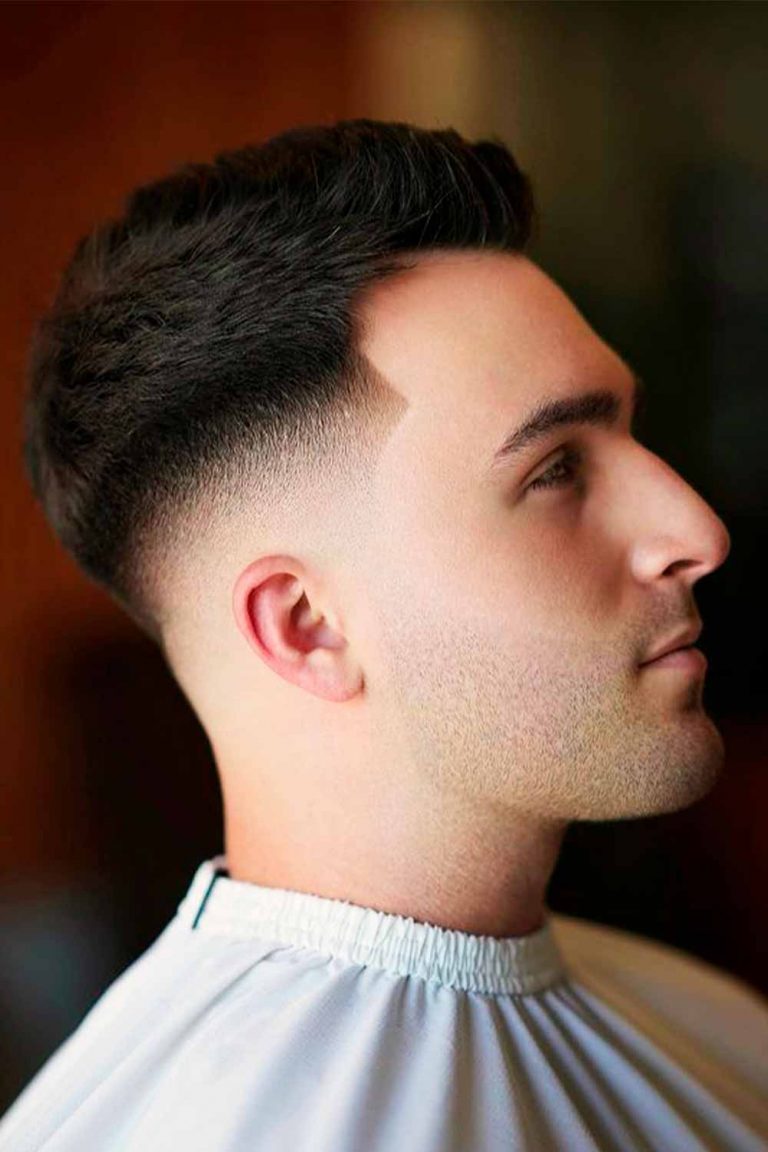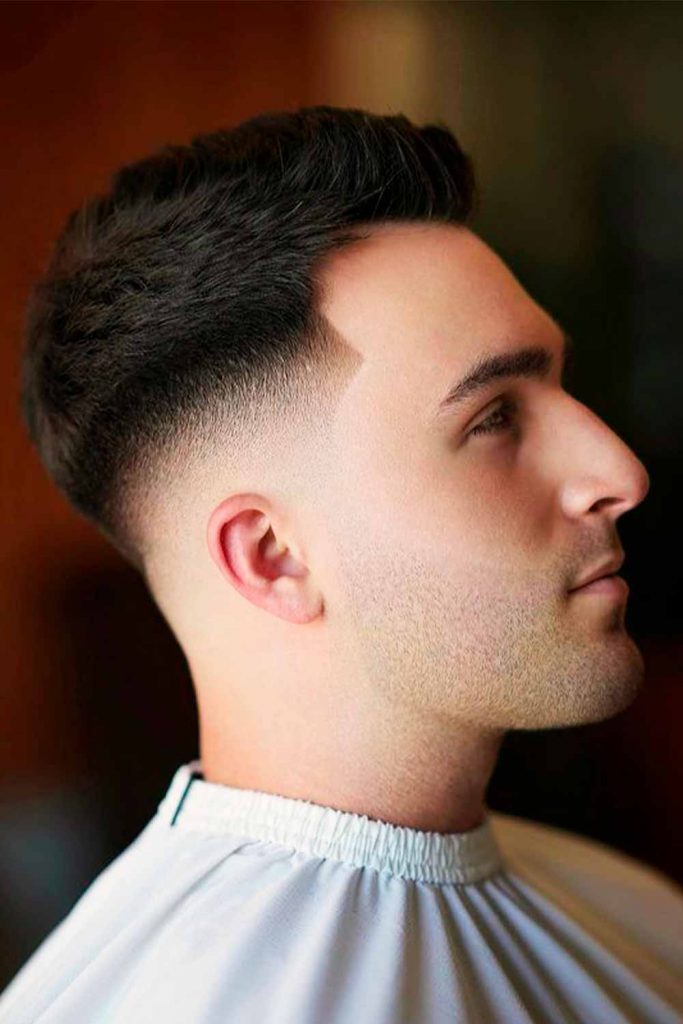 Source: @xbigwesx via Instagram
Buzz Cut Mid Fade
With a well-defined medium fade, the strict and timeless buzz cut looks even more authentic and manful. Adding a fade to the simple and familiar cuts is a nice way to freshen up or customize them. If you like sporting a buzz cut with beard, try to add some neatness to spice it up.
Source: @hayden_cassidy via Instagram
Short Sides, Long Top
The "long on top short on sides" haircuts have always been on everyone's lips. It just so happens that we're keen on contrasts, and the point is that a fade can take the most out of it. To enhance the charm of the short sides long on top cuts, don't look any further than this undercut fade idea.
Source: @ryancullenhair via Instagram
Medium Fade Comb Over
Men who like mixing classic and modern approaches that add something unique to their styles will love the mid fade comb over with a shaved stripe. You can play around with side and nape designs to make your comb over fade pop. With a contemporary touch of a fade, the good old comb over shows up in a new, amazing light.
Source: @hayden_cassidy via Instagram
Effortless Pompadour
How do you like the idea of highlighting your pompadour hairstyle with a medium fade? Adding a sense of contemporaneity to vintage hairstyles is always fun and exceptional. A pompadour, where the voluminous top is accentuated with a soft fade will definitely take your style to the next level.
Source: @ hayden_cassidy via Instagram
Brushed Up
Thanks to the moderate impression a medium fade gives, it pairs nicely with formal and elegant hairstyles. Thus, if you just slick your locks back, you will get the look that allows you to knock doors on any occasion, as you can rest assured that your hair looks presentable.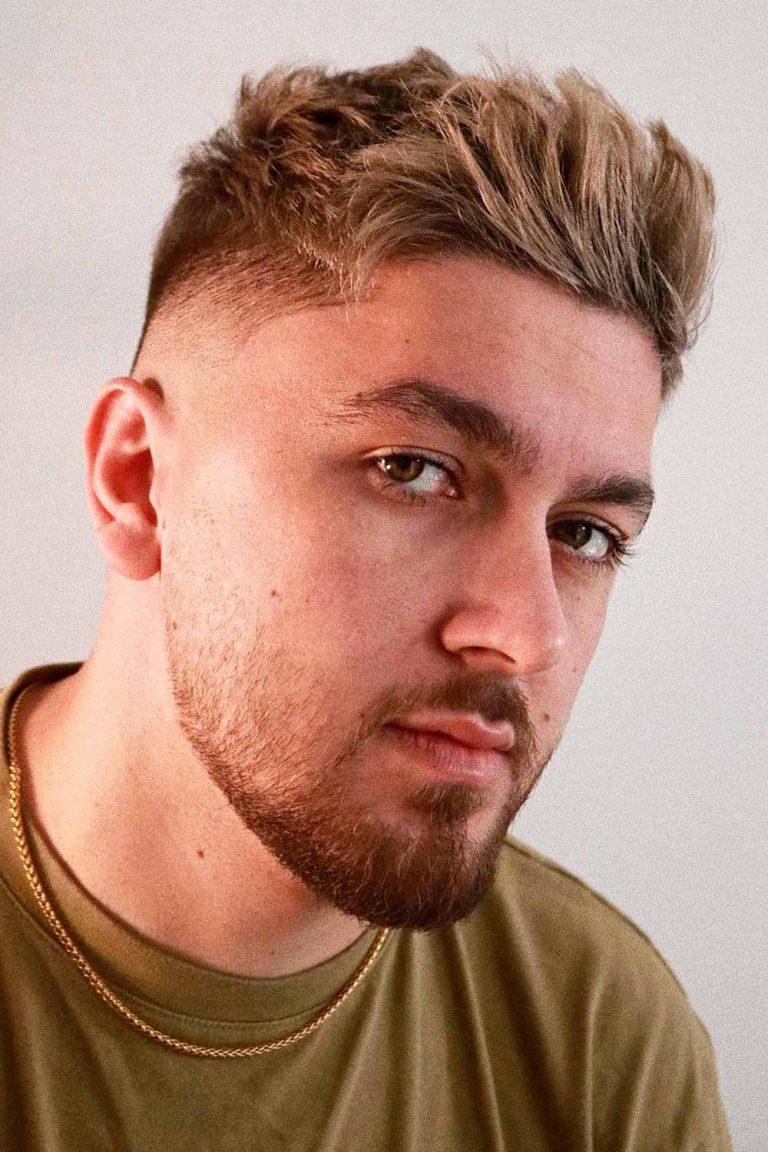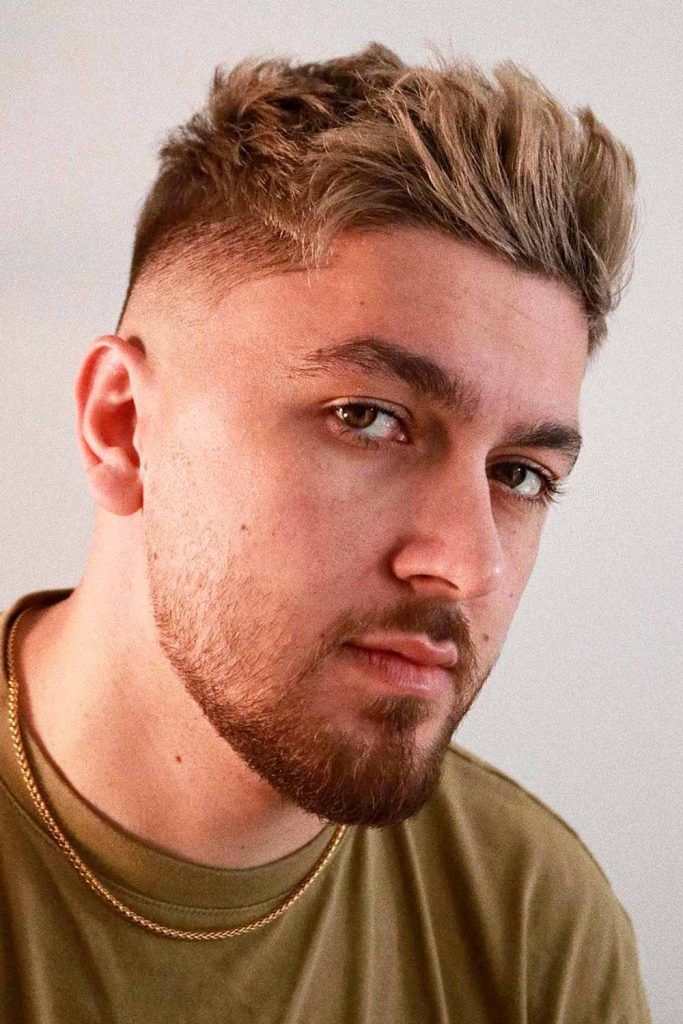 Source: @hayden_cassidy via Instagram
Cornrow Top
If you like to stand out in the crowd, then a cornrow top is your way to go. It pairs perfectly with all mid fades, but to create a more contrasty and bold hair look, opt for a mid high fade.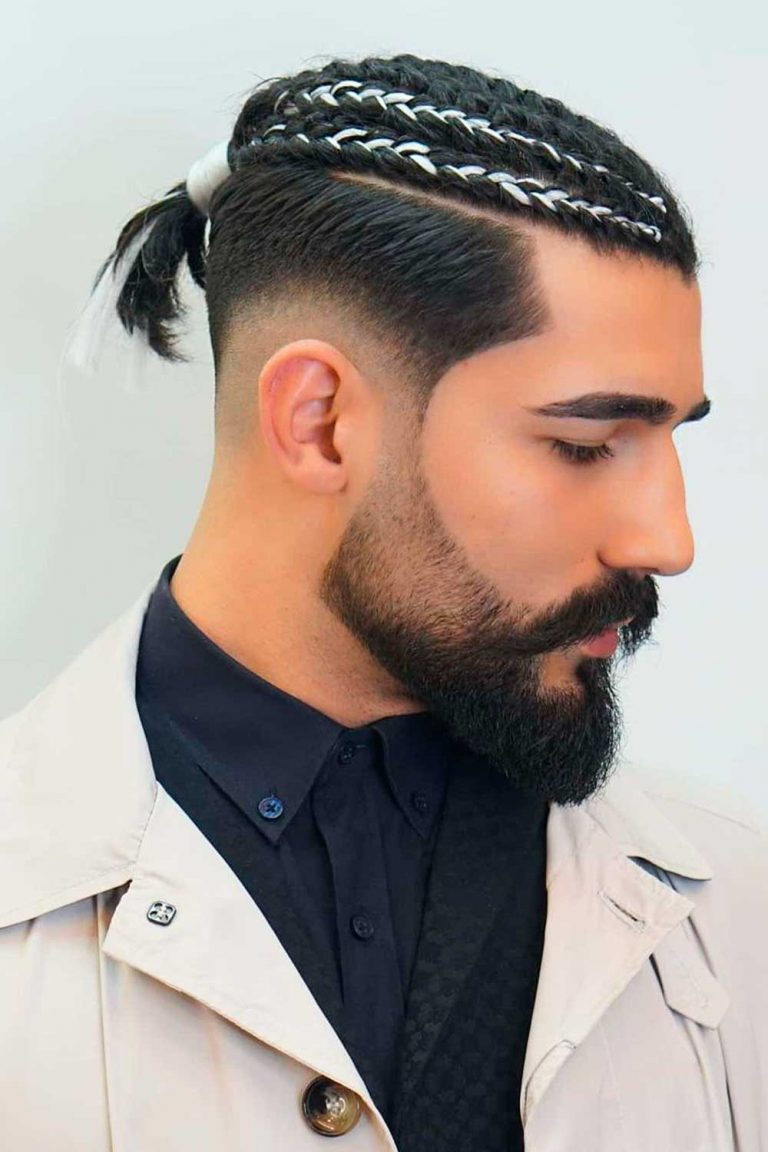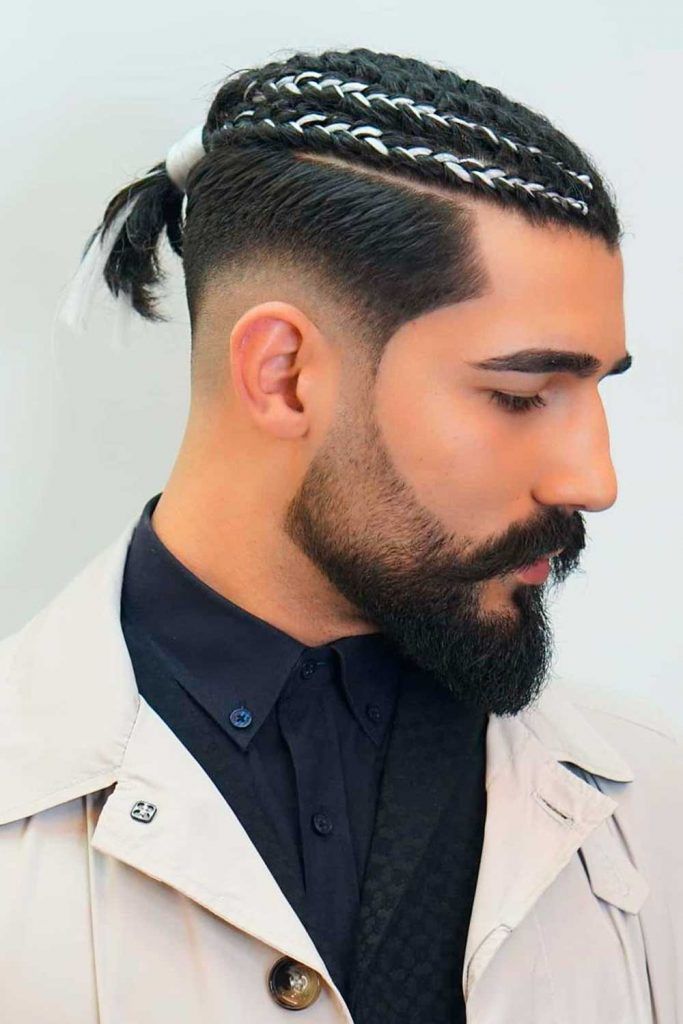 Source: @ahmetaslanhairsalon via Instagram
Brush Up
Give your mens medium fade haircut a quirky and daring feel by brushing the front of your hair up. Not only will it make your face visually longer and narrower but it will also allow you to show off your masculine facial features.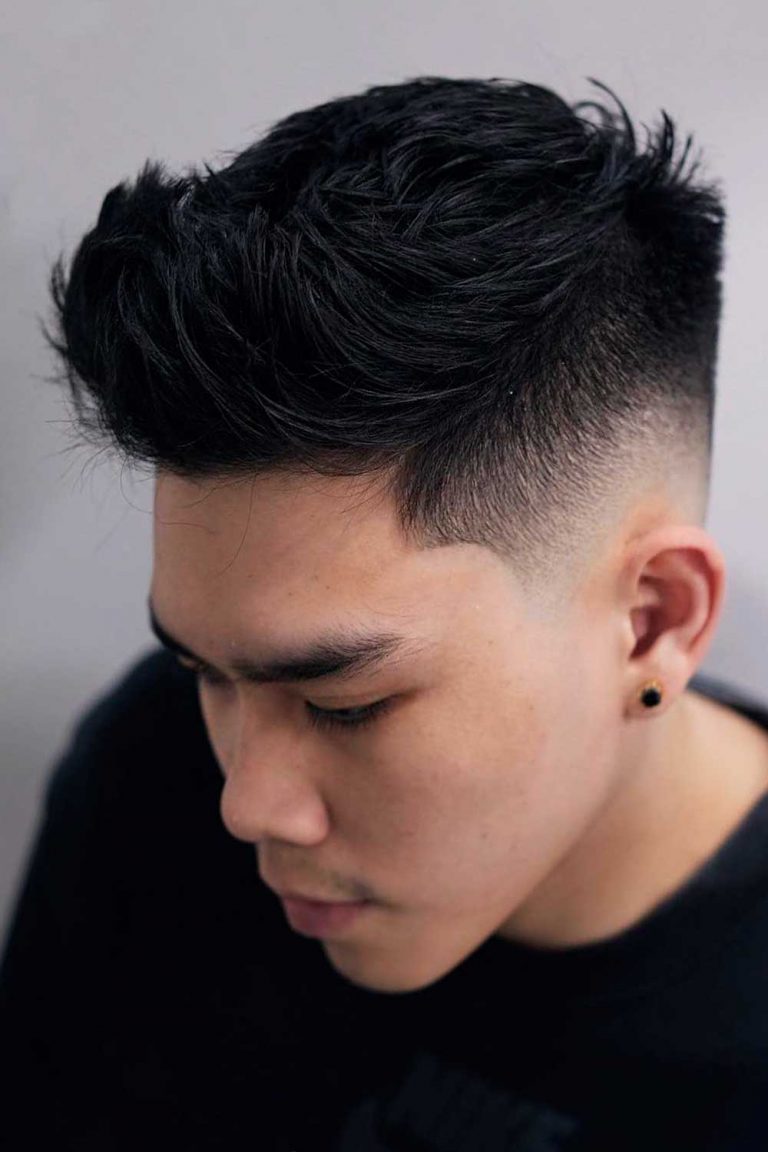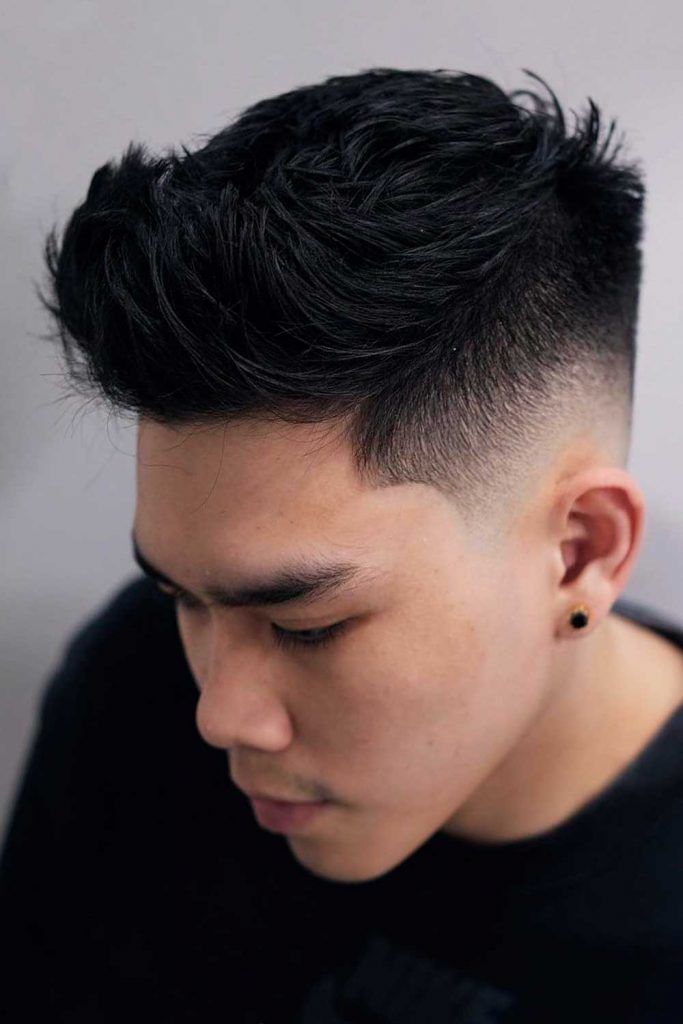 Source: @barbersdream via Instagram
Short Curls With Beard
With the help of a skilled barber, you can get yourself a style that matches your inner self. So if you want to complement your beard with the right cut, let the professional work on your short curly hair. Keep in mind that it's crucial to regularly maintain short curly hair men find to be so unruly, as only in this way you can get a decent look.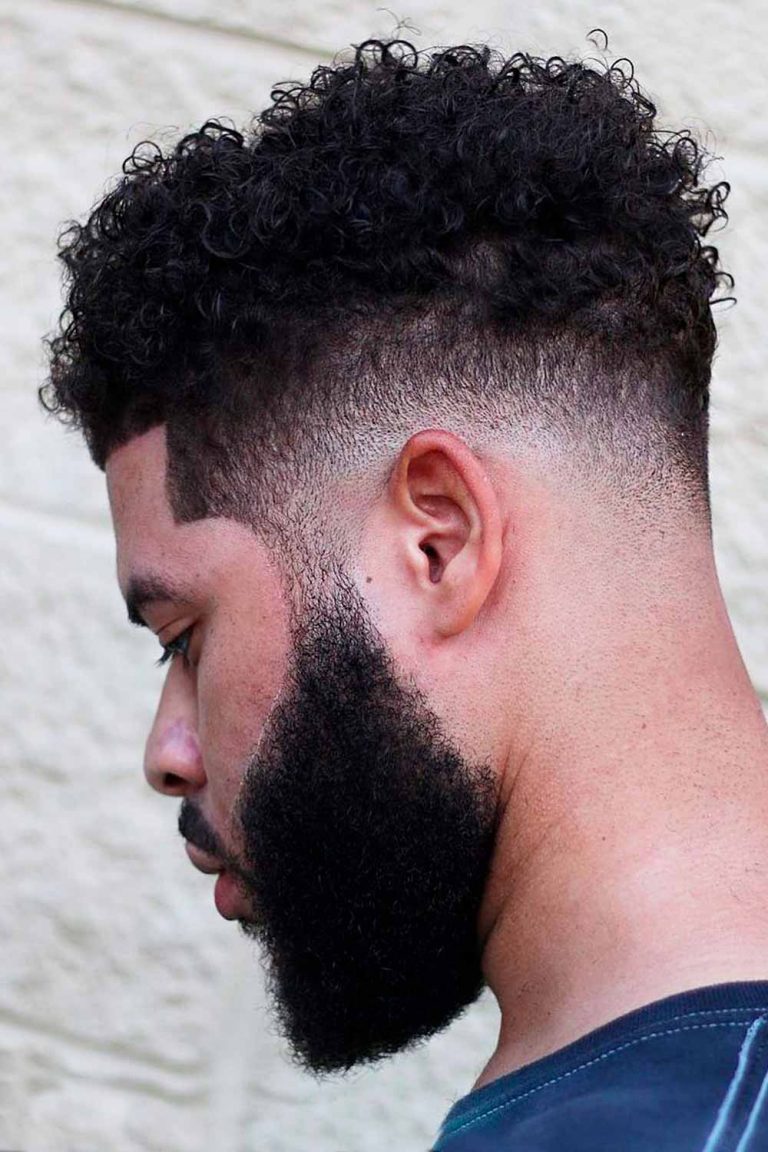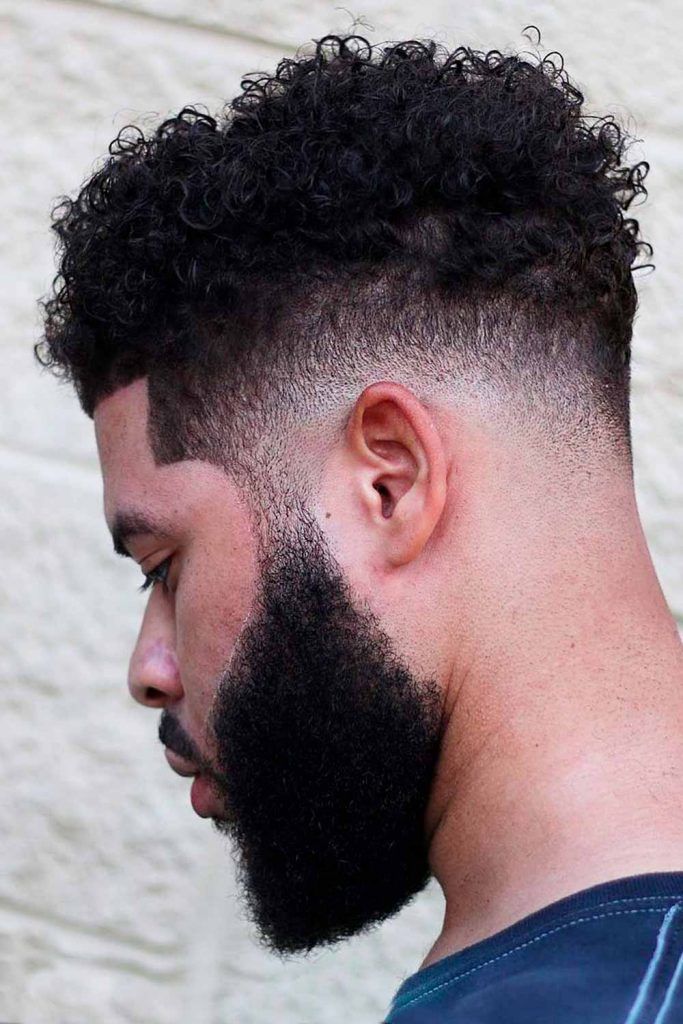 Source: @cool_cutz via Instagram
Mid Fade Undercut Waves
An undercut fade allows you to complement it with face accessories, such as a beard or mustache. Note though, if you leave the hair on top quite long, opt for shorter beard styles. The top hair can be slicked back or tied in a top-knot. Though for a breezy, rather hipster look, just sweep it over to one side.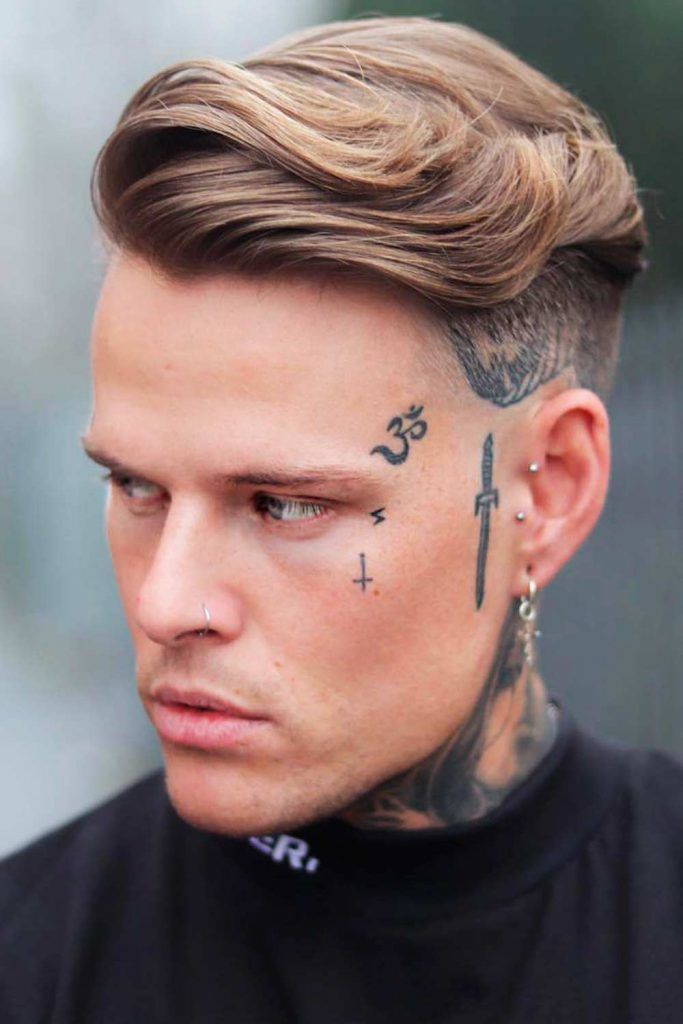 Source: @alan_beak via Instagram
Sharp Mid
A skin fade undercut with lengthy top hair looks edgy and sharp. For added texture, style the hair on top in waves and complete the whole look with a mustache. In this way, you'll achieve a modernized version of the style sported by the king of Rock 'n' Roll, Elvis Presley.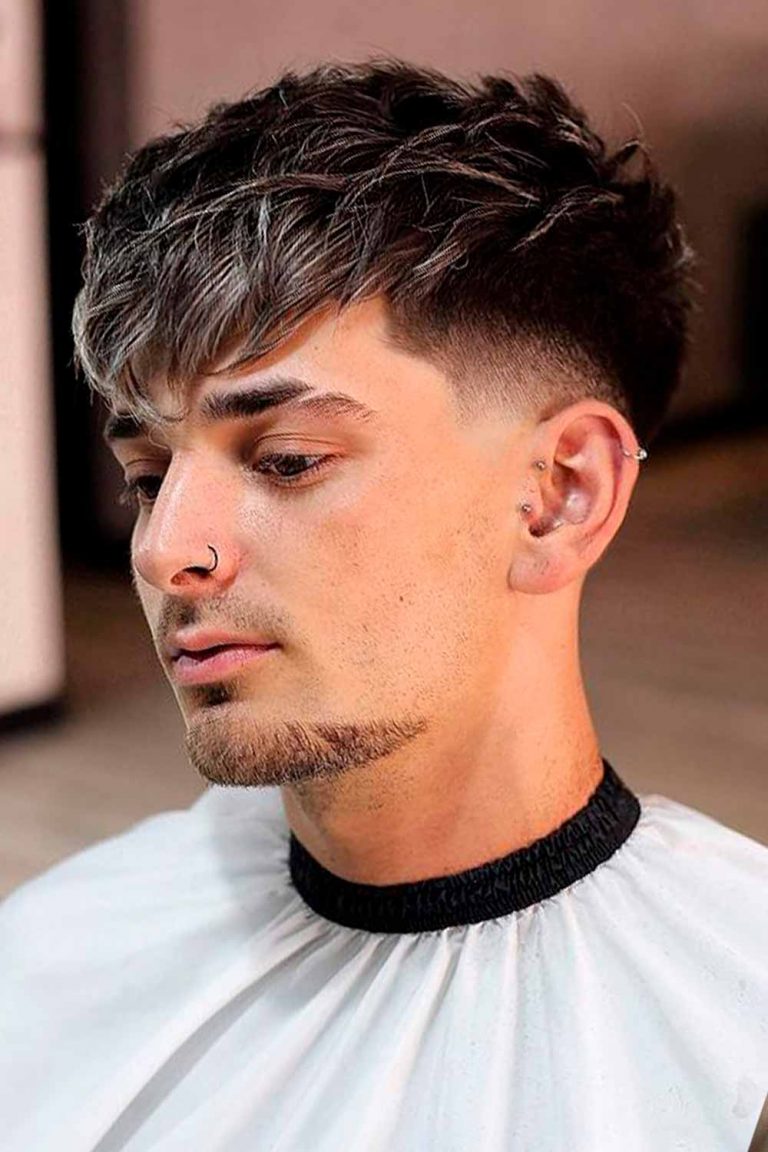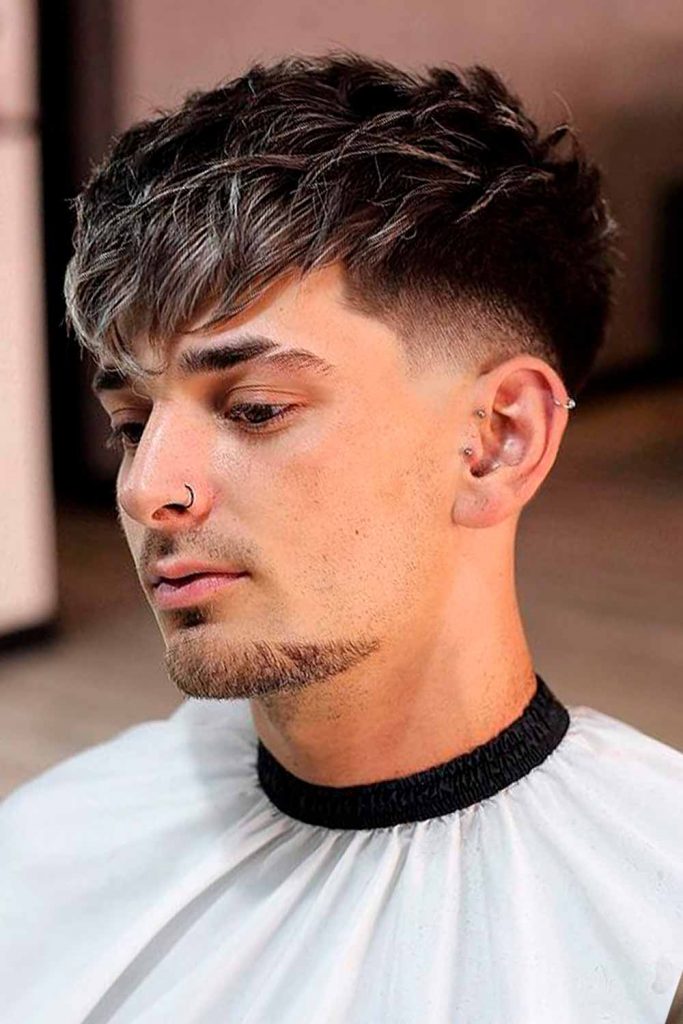 Source: @ryancullenhair via Instagram
Military Cut
If you want to accentuate your roughness and masculinity, go with a military fade haircut. It may seem a little retro and modest; however, a military fade instantly gives the manly and virile touch to the look.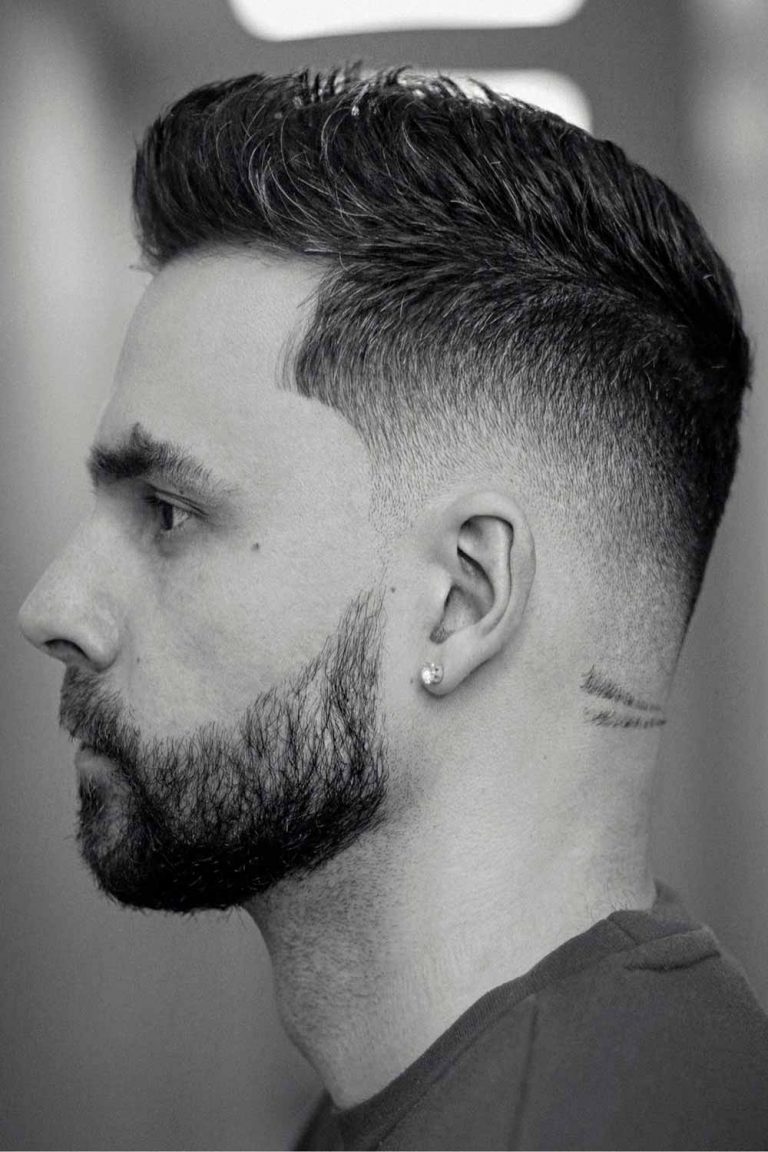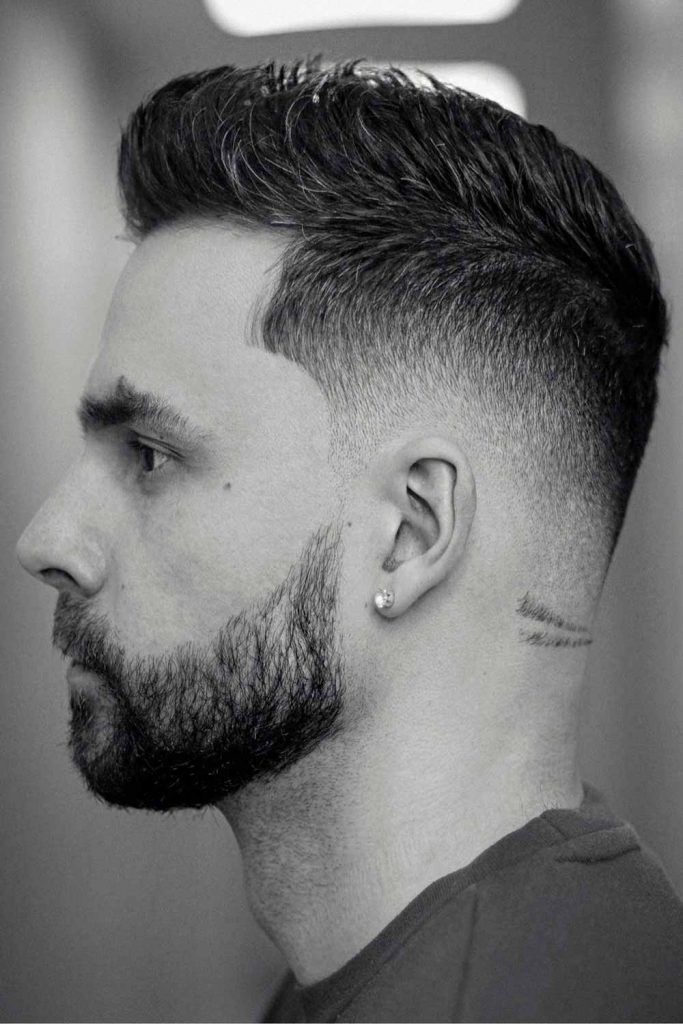 Source: @a.nizhnick via Instagram
Slick Back Hair
For the gents who prefer more refined and elegant looks, the slick back fade becomes an obvious choice. Because the slick back hair is cut in layers, it doesn't appear too preppy. The medium fade helps to balance out the slicked back top and enhances the sauciness of the cut.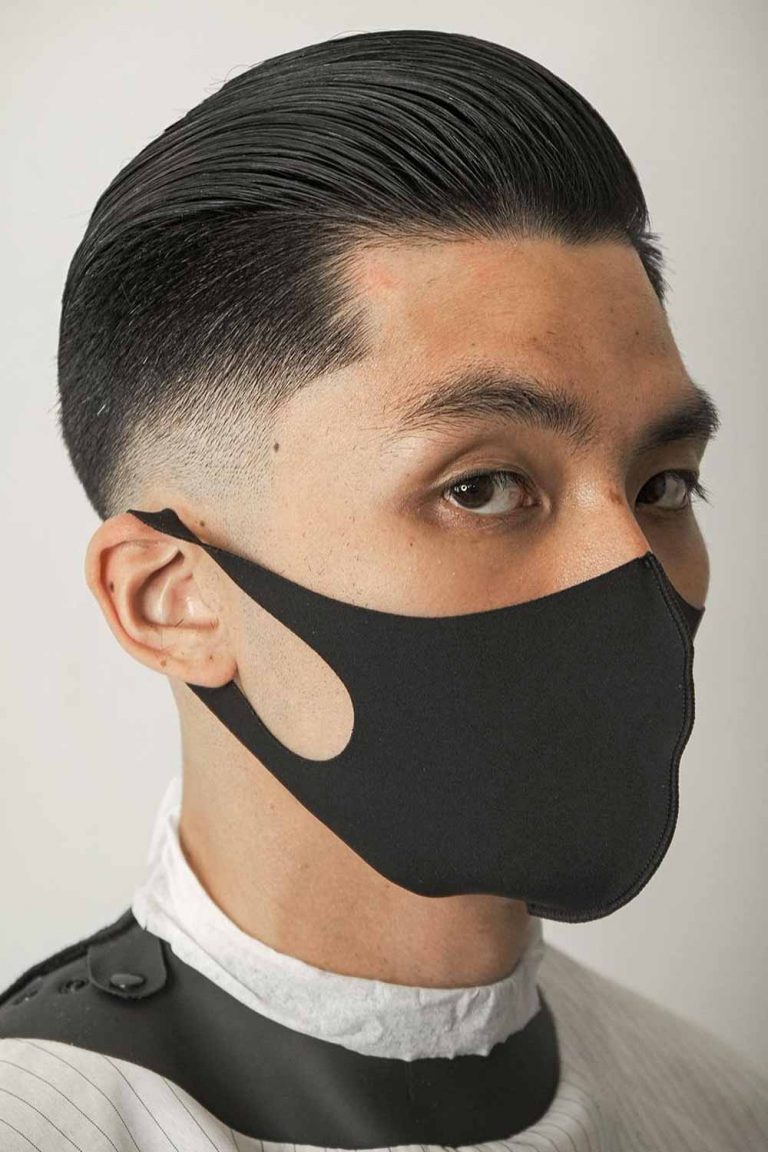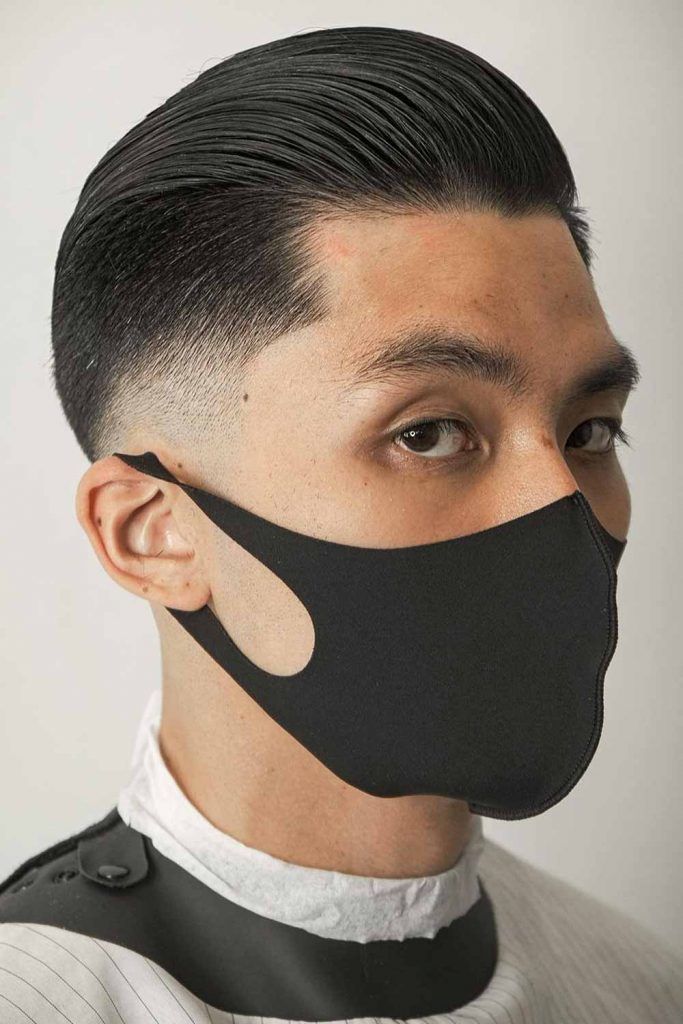 Source: @chadius_maximus via Instagram
Curly Bang
There's no better way to emphasize the texture of your hair than to pair it with a fade. Whether you have naturally curly hair or you prefer such styling, bangs will match it perfectly. And once you combine with this haircut with man bangs, you'll know how the attractive curly styles look like.
Source: @egobarbers via Instagram
Undercut With Medium Fade
Undoubtedly, a mens undercut fade has the ideal set of styling elements, namely a medium fade and an undercut. They're basically meant for each other. An undercut seems flawless paired with a long top comb over. In case you're up for some experiments, try to sport the fade undercut with a handlebar mustache.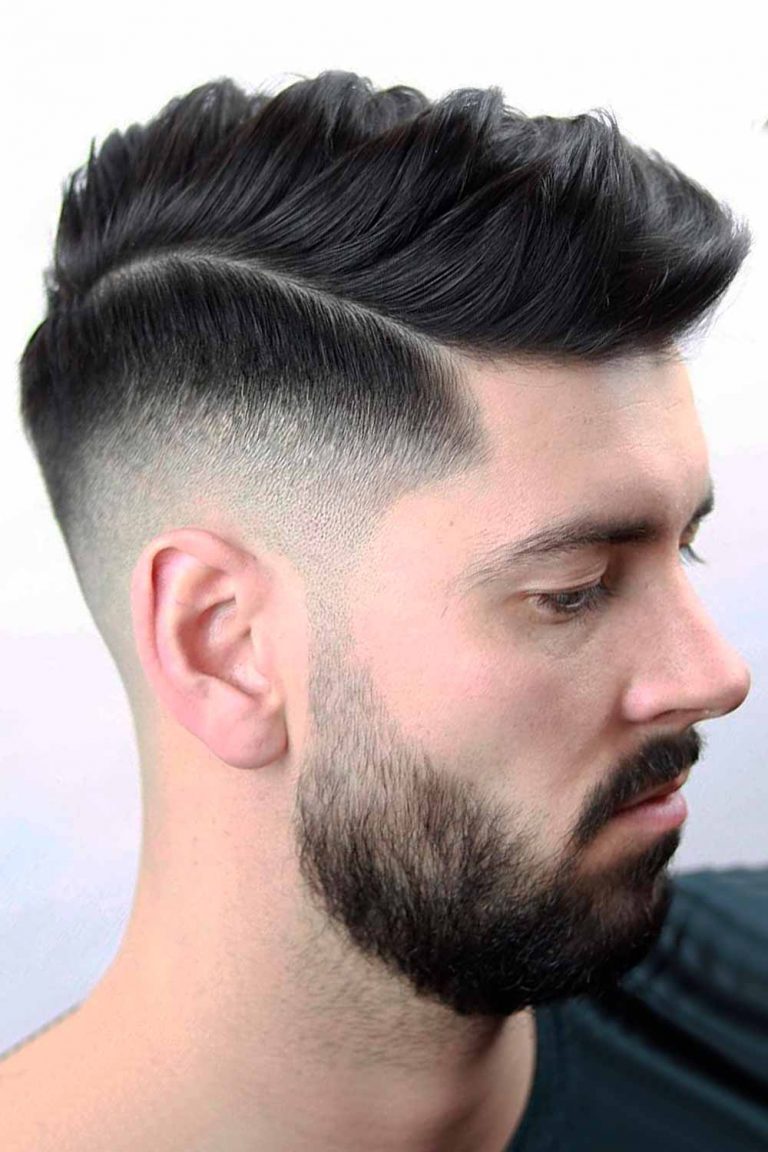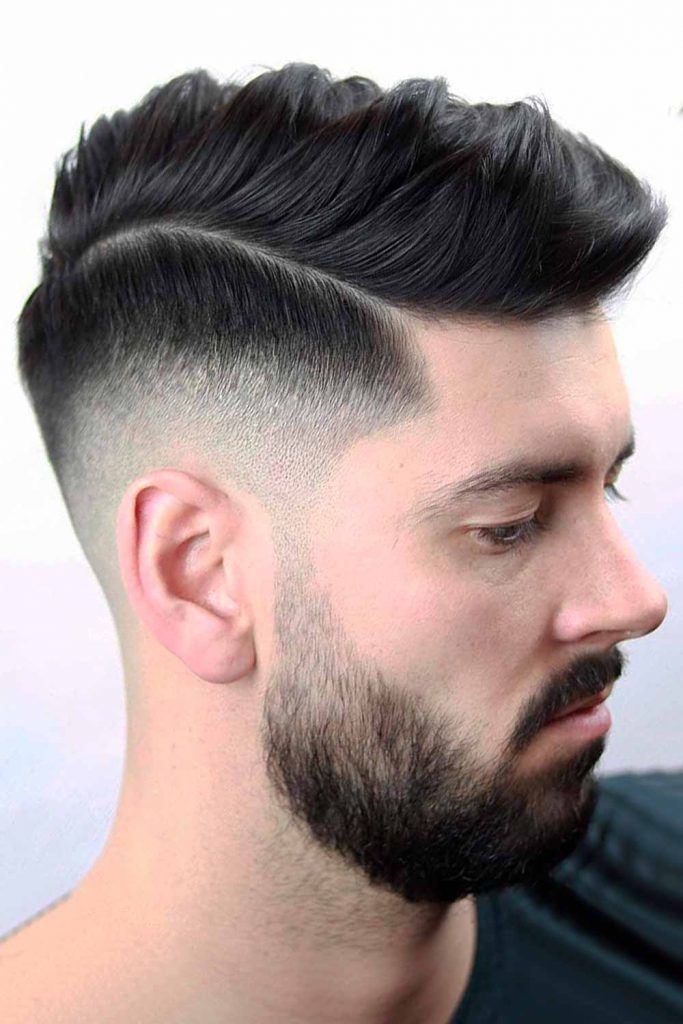 Source: @corneliucrihan via Instagram
Mid Fade Black Men
The Afro fade is one of the most popular black men haircuts for good reason. It keeps the look on top while helping tame your kinky locks. Feel free to partner the look with some facial hair, like a mustache or beard. Alternatively, go with both.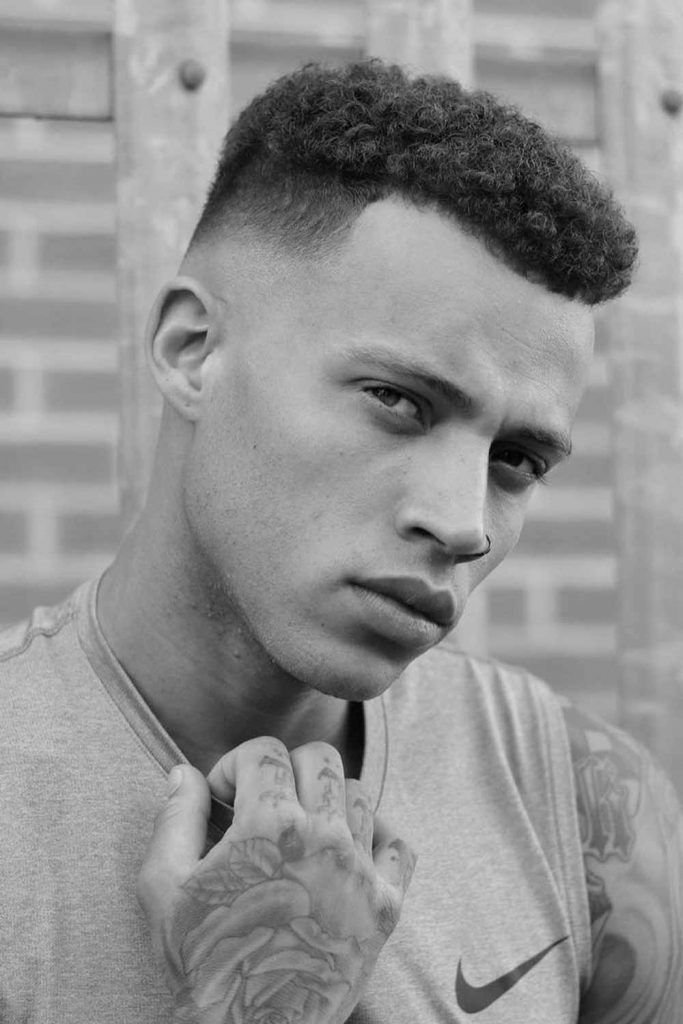 Source: @alan_beak via Instagram
Side Parted Hair
If you feel like changing something in your slicked back haircut or the like, consider upgrading it with a side part. For a side part haircut with a retro touch, request a hard part from your barber.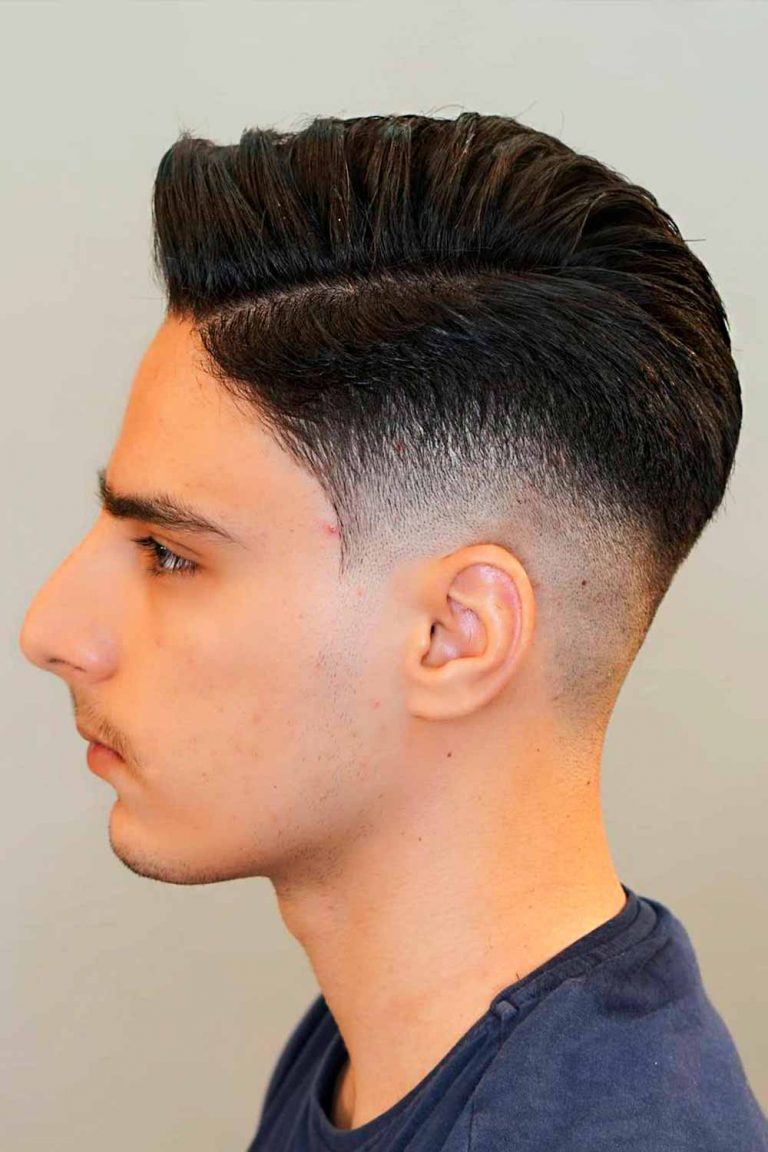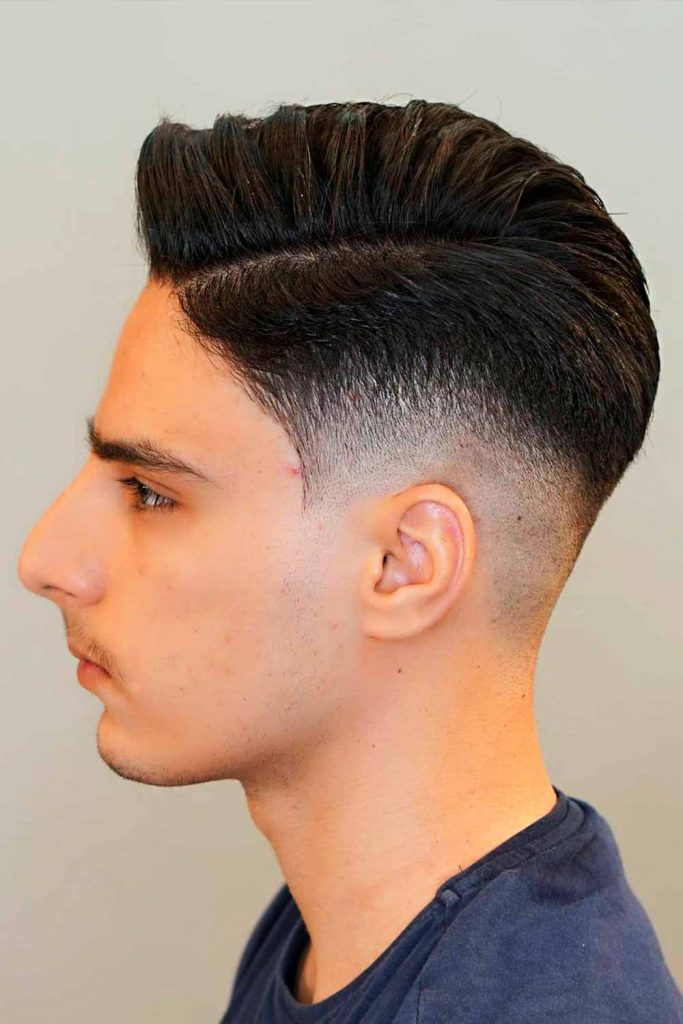 Source: @ahmetaslanhairsalon via Instagram
Medium Fade With Dreads
To refresh your dreadlocks a bit, give your sides and back the Afro haircut. Black hairstyles welcome a mid skin fade and a line-up, which make the hairdo geometrically defined and edgy. As the hairstyle implies quite a lot of volume on top, keep the face clean and neat. A small goatee and a thin line of mustache are the absolute maxima you should go for.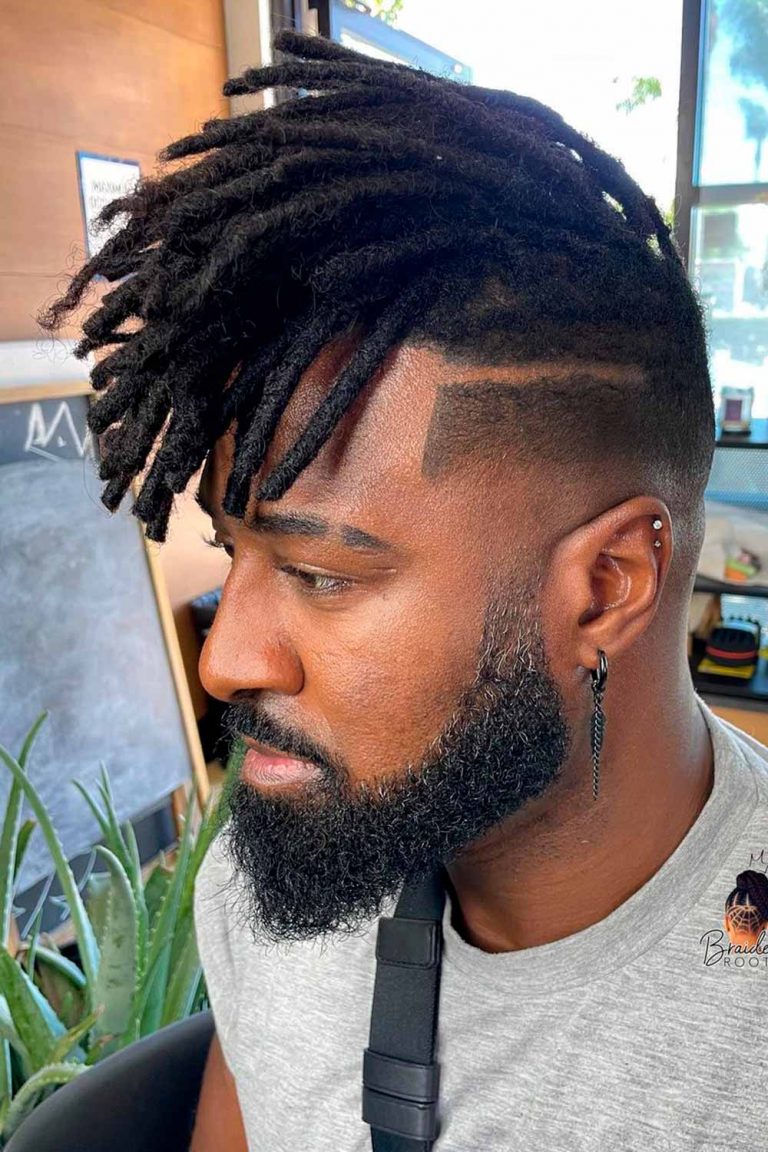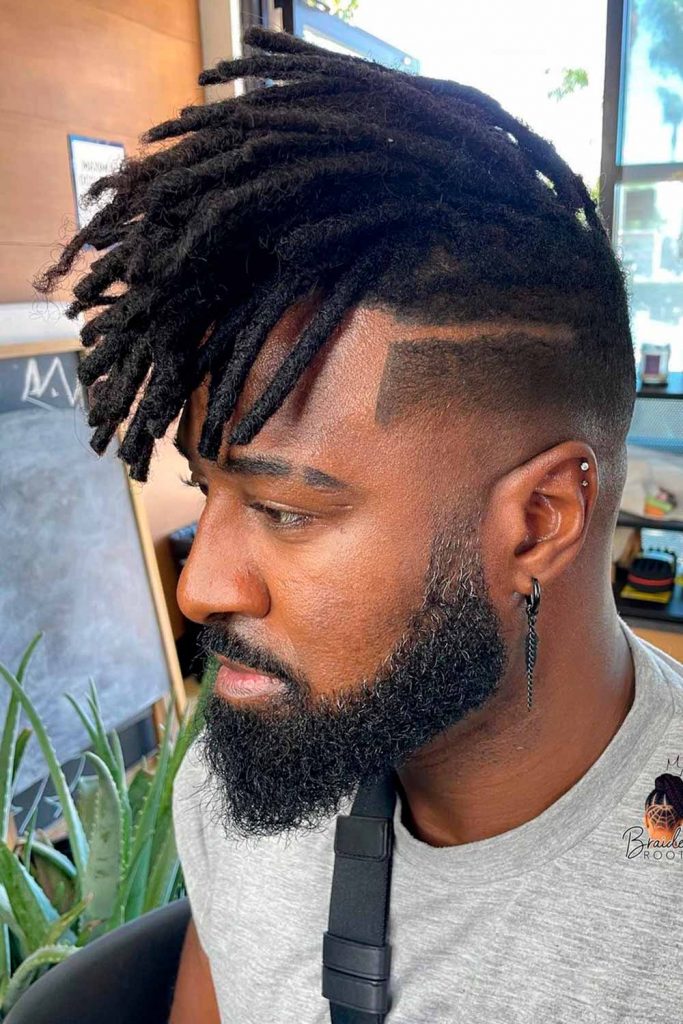 Source: @braidedroots via Instagram
Mid Top Fade
This mid top fade hairstyle features long hair on the top of the head as well as faded sides and back. The transition between long and short locks is gradual yet prominent. Thanks to the abundant upper section, this hairstyle gives you plenty of styling options varying in ambiance and complexity.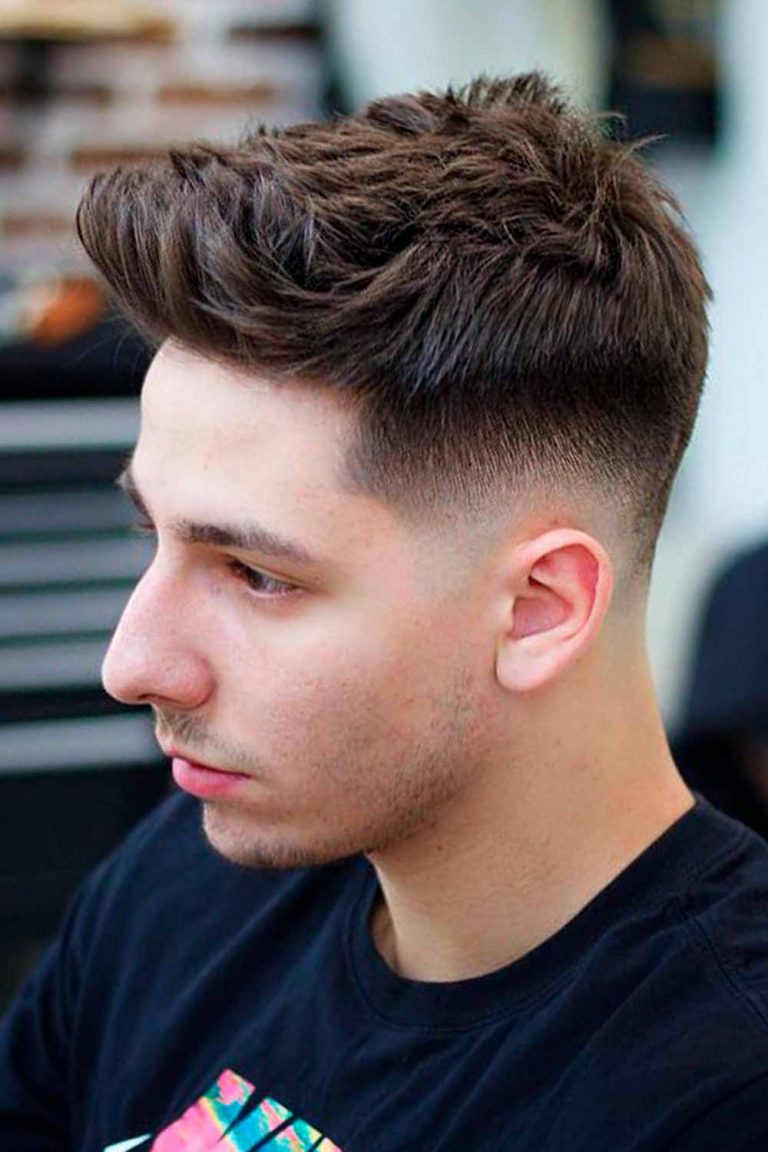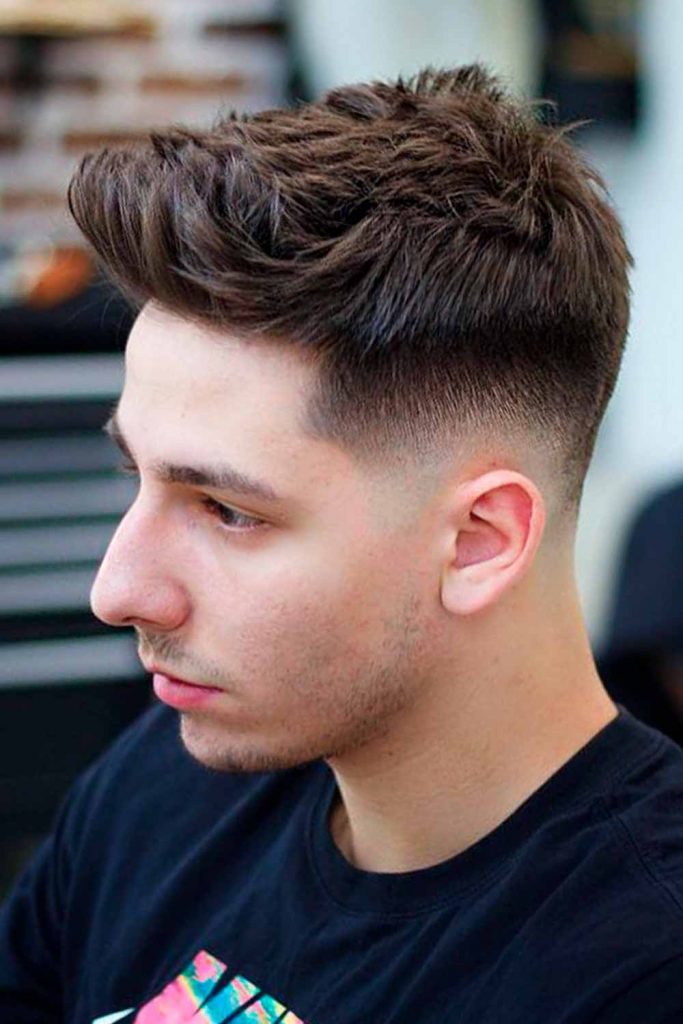 Source: @horatiuthebarber via Instagram
Mid Drop Fade & Spikes
There are actually quite a lot of ways how you can pull off a medium fade. One of the most interesting and flattering is a mid drop fade. Although it creates a clean-cut appearance, it still leaves quite a lot of hair on the back, which allows you to sport it even if you have a nine-to-five job.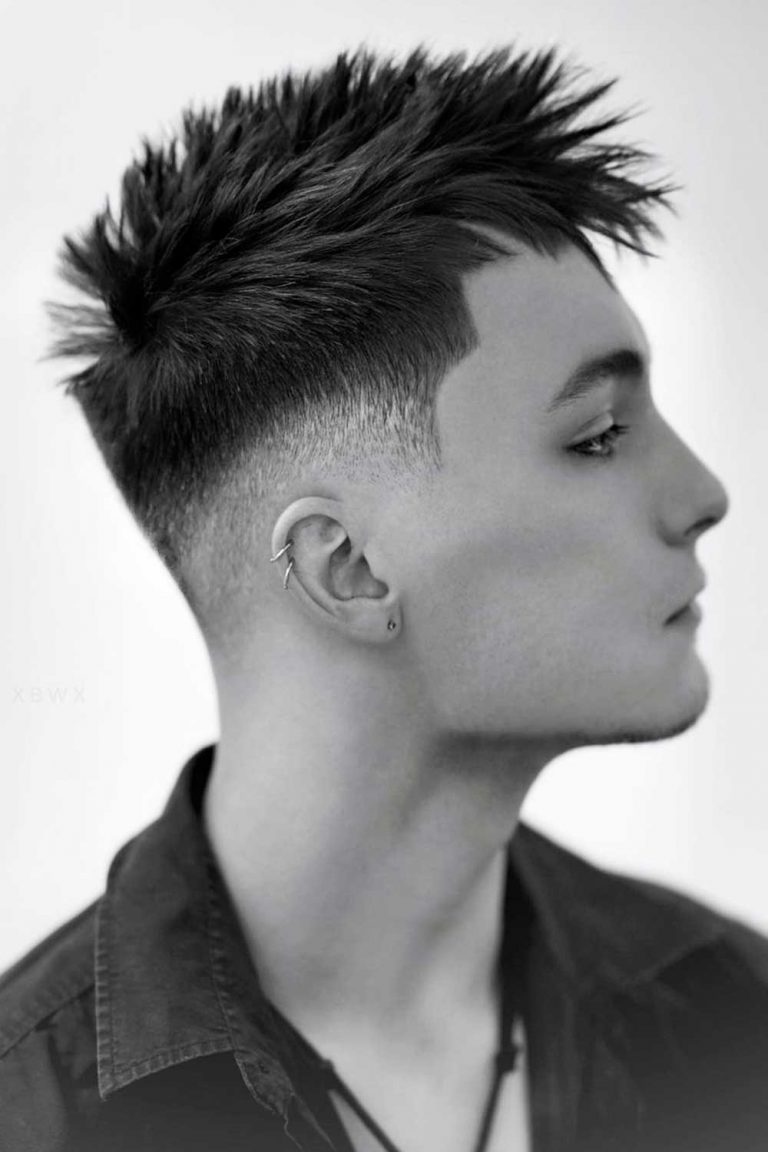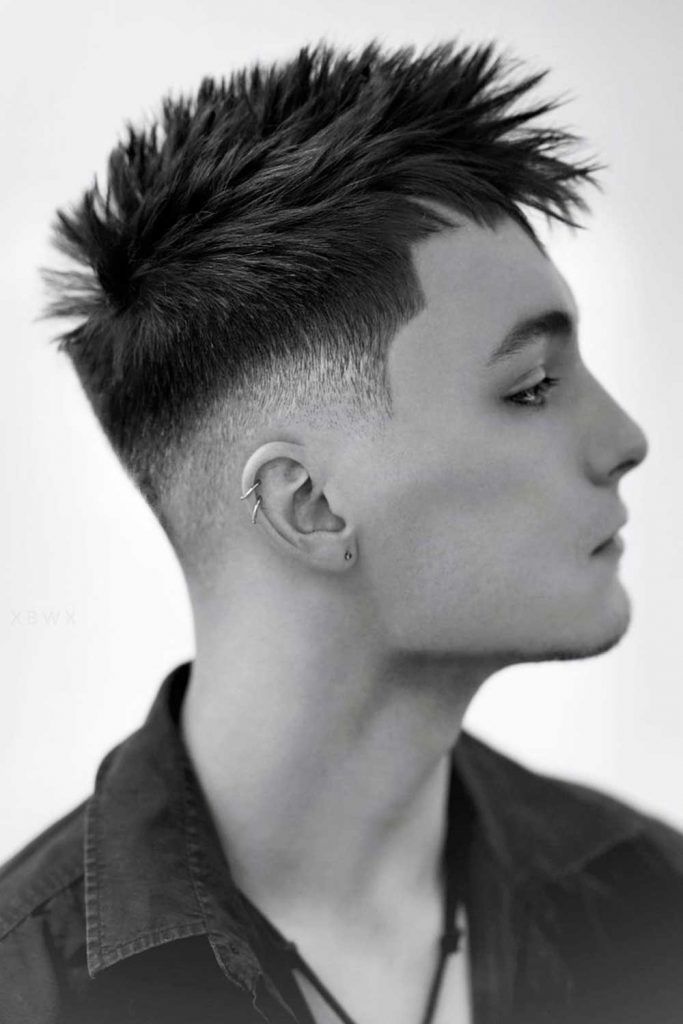 Source: @xbigwesx via Instagram
Medium Style With Afro Curls
Most black men hairstyles you may come across feature taper. Mainly because clean sides and back can deal with unruly natural hair, whipping it into shape immaculately. Want to show off your curls keeping the balance? Ask your barber for short spiky hair that will not only give you a low-maintenance but also a stylish spiky hair look.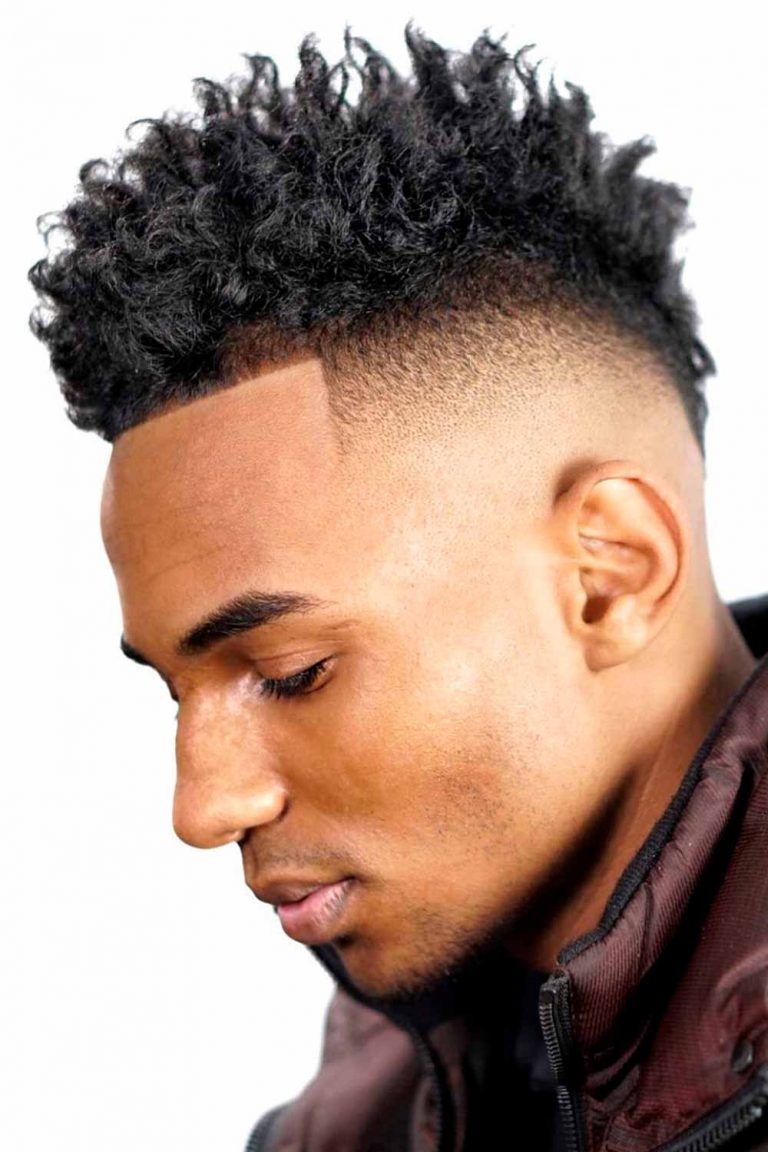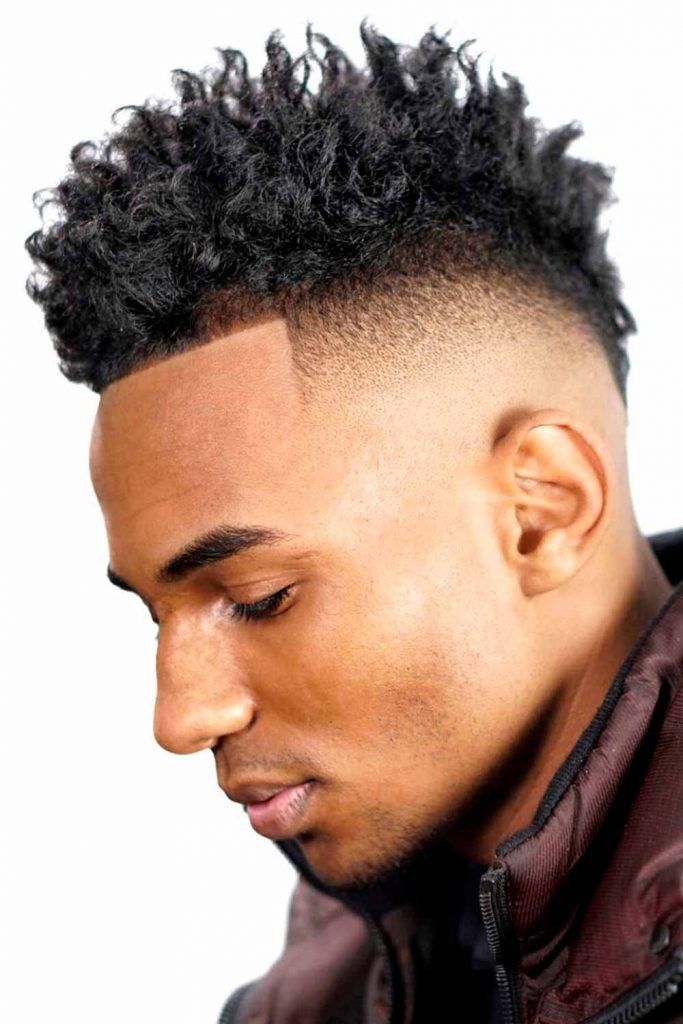 Source: @z_ramsey via Instagram
Caesar Inspired Cut
The Caesar cut can sometimes look a little bit outdated. To give it a modern touch, complement it with a fade. This take on the classic hairstyle comes out bold and trendy. For an added casual flair of the look, dishevel the locks on the top of the head and go for a full beard.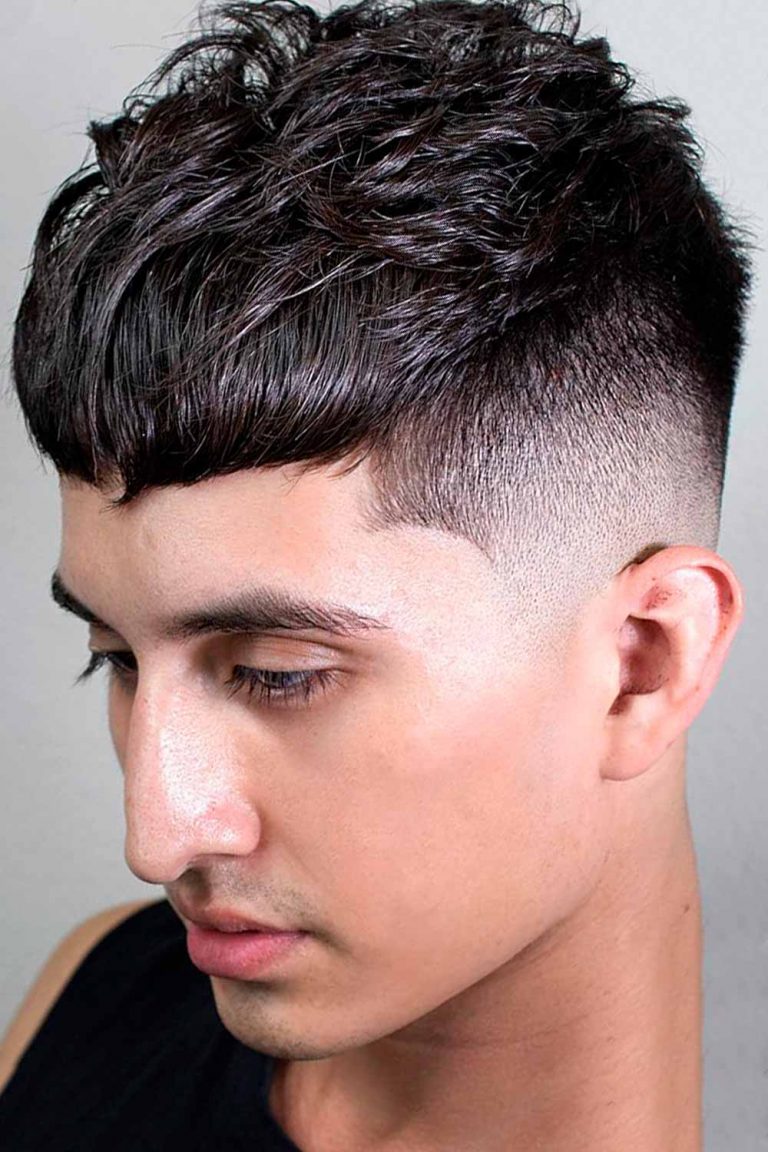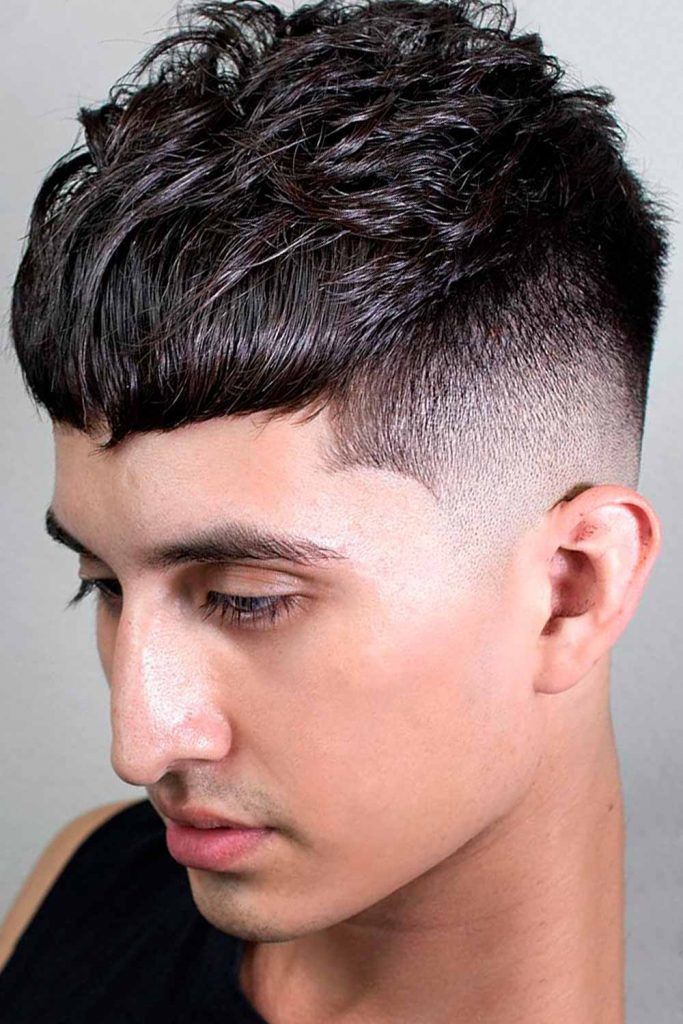 Source: @a.crowleyy_ via Instagram
Razor Part And Mid Haircut
A hard part haircut is something that barbers love to be asked for. A truly outstanding haircut with a soft fade that reaches a hard part, razored on the midway is a statement in its purest. Also, it goes well with a mid bald fade and requires a simple styling routine.
Source: @egobarbers via Instagram
Spiked Textured Top With Design
There is only one step from a formal to ruffian hairstyle when you have your sides and back faded. To pull off the look, you need to give your locks on the top of the head enough texture and definition. Make sure to use a generous amount of a hair styling product to spike up your hair.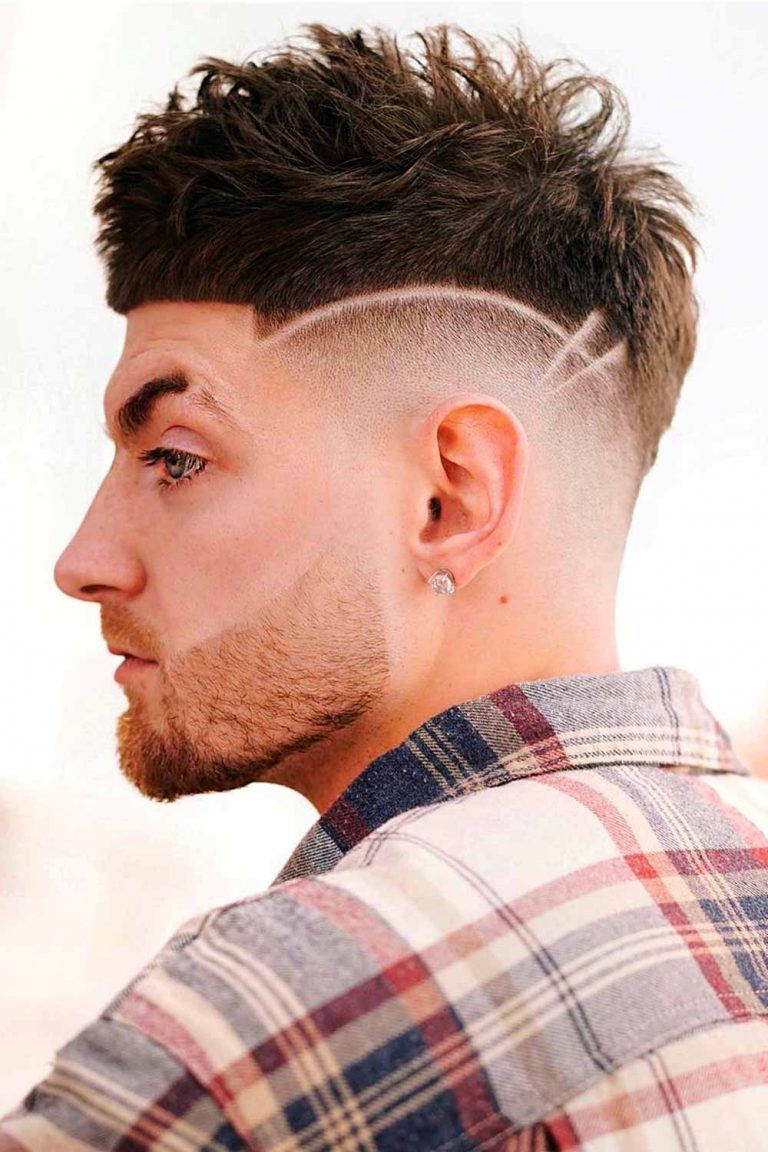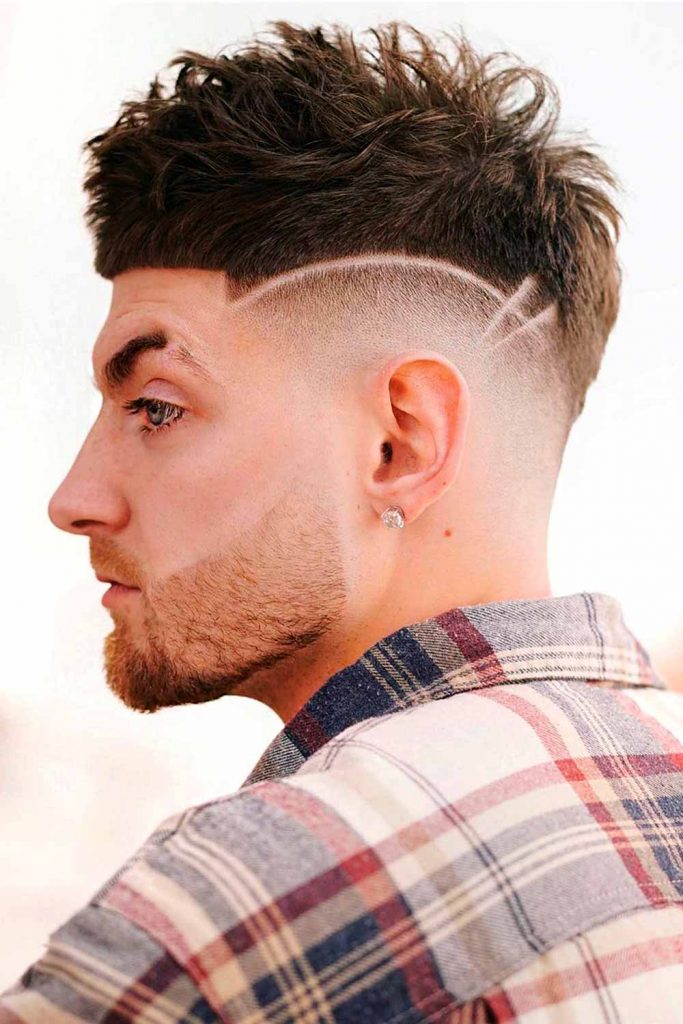 Source: @z_ramsey via Instagram
Shadow Fade Haircut
Those who prefer a more reserved style should take a closer look at a shadow medium fade mens haircut. While it does blend into your skin around the hairline, unlike a bald mid fade, it does not remove too much hair from the back and sides. So, it is suitable for both formal and informal ambiance.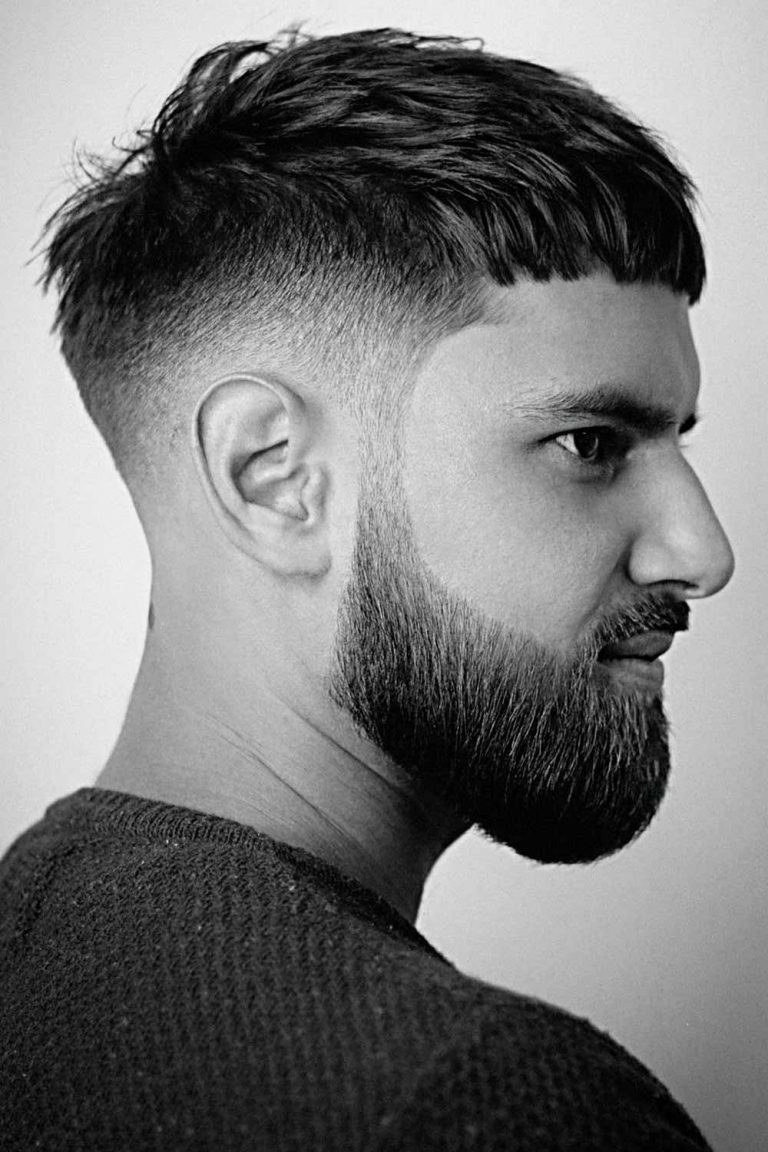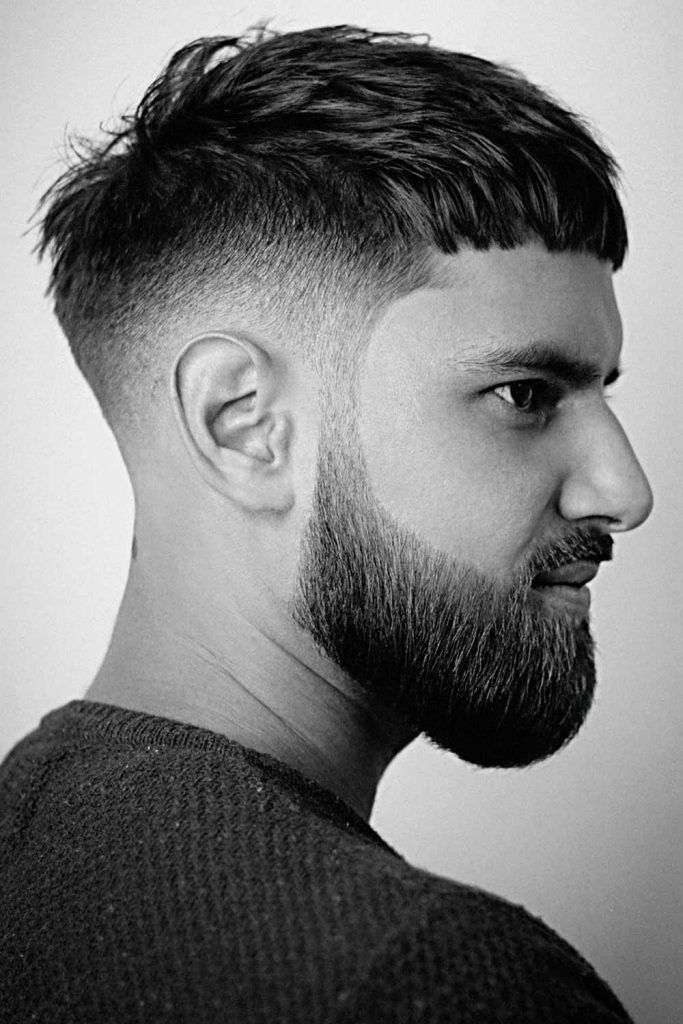 Source: @a.nizhnick via Instagram
High Volume
Men who are folically challenged should take care to add extra volume to their locks on top. Use a blow dryer after washing your hair and secure the result with a spritz of a hair spray. The medium bald fade on the sides and back will help you to draw attention to the top, thus making it the focal point of the look.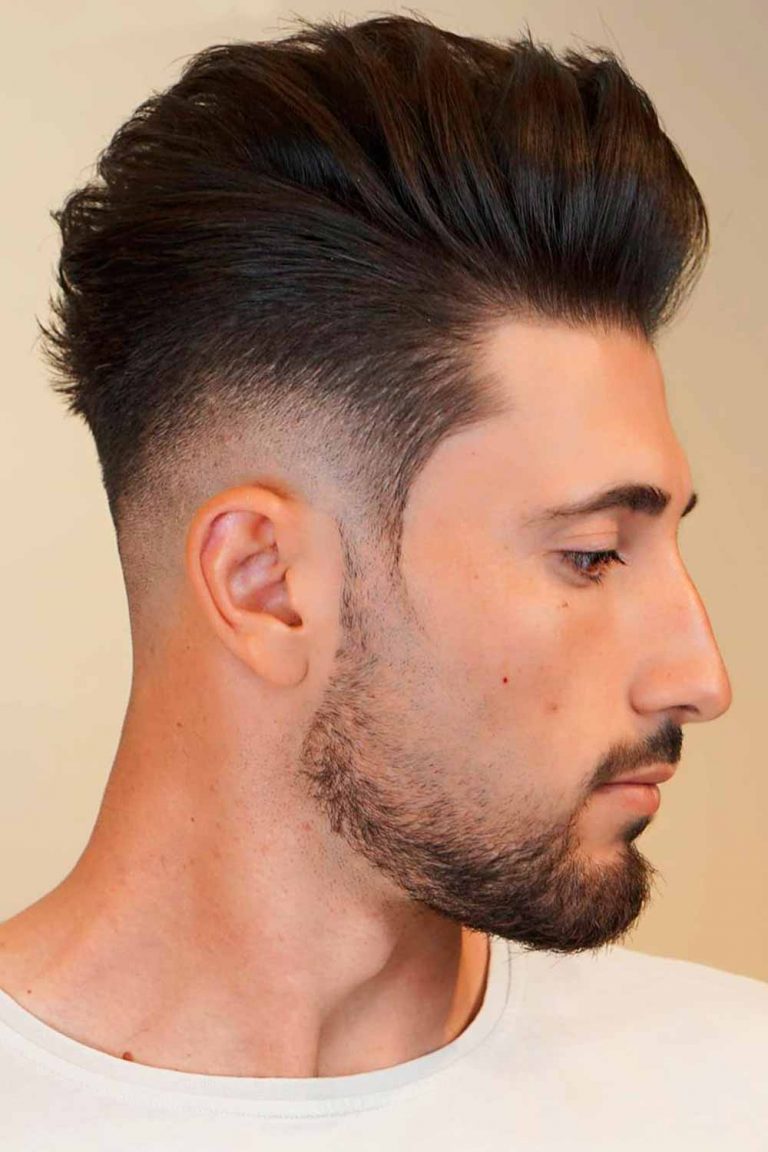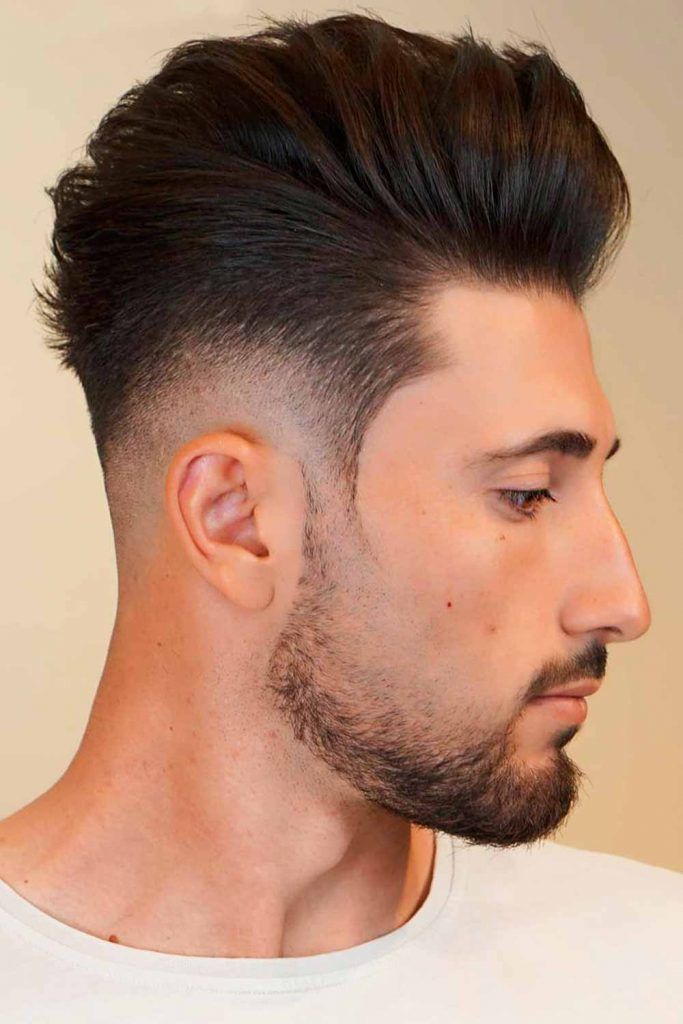 Source: @ahmetaslanhairsalon via Instagram
Tousled Fade
A medium fade cut is so beneficial that you can make little to no effort to style your locks on top and nevertheless achieve a trendy and fashionable look. So that your hair gives relaxed and carefree vibes, tousle the locks on the crown and enhance them with a fade.
Source: @egobarbers via Instagram
Long Textured Medium Fade
This hairstyle will be not easy to pull off. However, if you manage to do so, it will fully pay you off with tons of compliments you are going to collect. Leave a sufficient amount of hair on the top of the head and give it a pronounced texture. Add a short side for shifting the accent to the hair up top.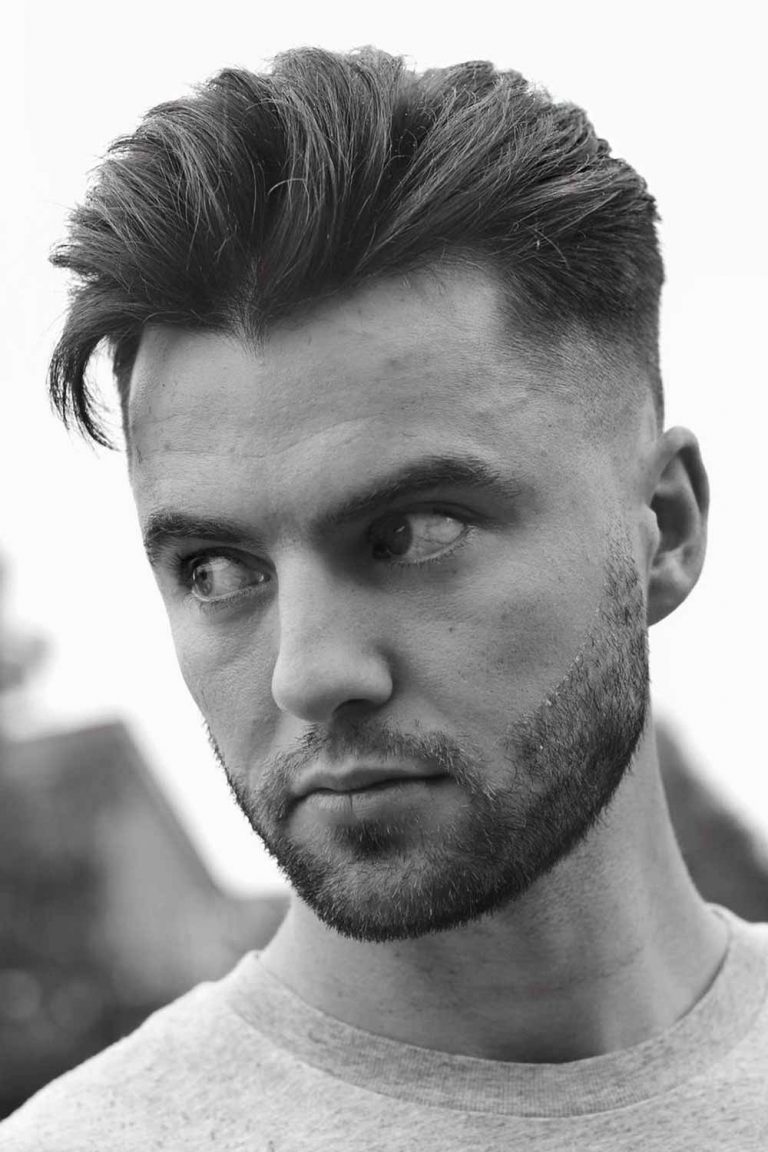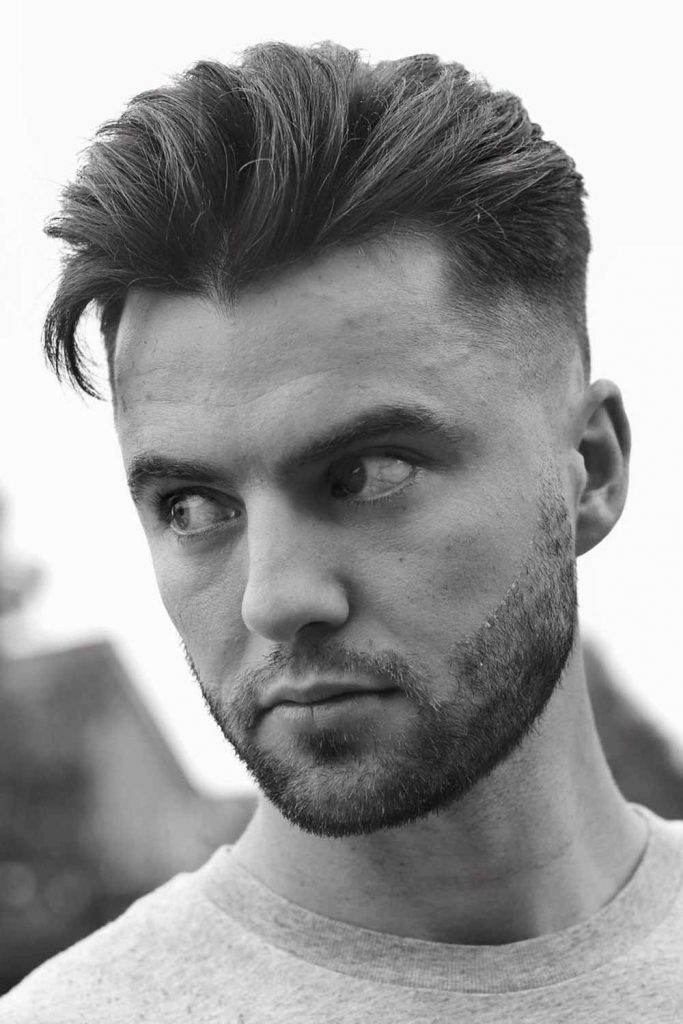 Source: @alan_beak via Instagram
Undercut Taper Mid Fade
Because a mid skin fade haircut is quite reserved, especially when it is a taper mid fade, you can give it extra boldness by enhancing it with an undercut. Since it requires regular upkeep, you cannot call it low maintenance. However, the final result is so sharp and clean that it is totally worth it.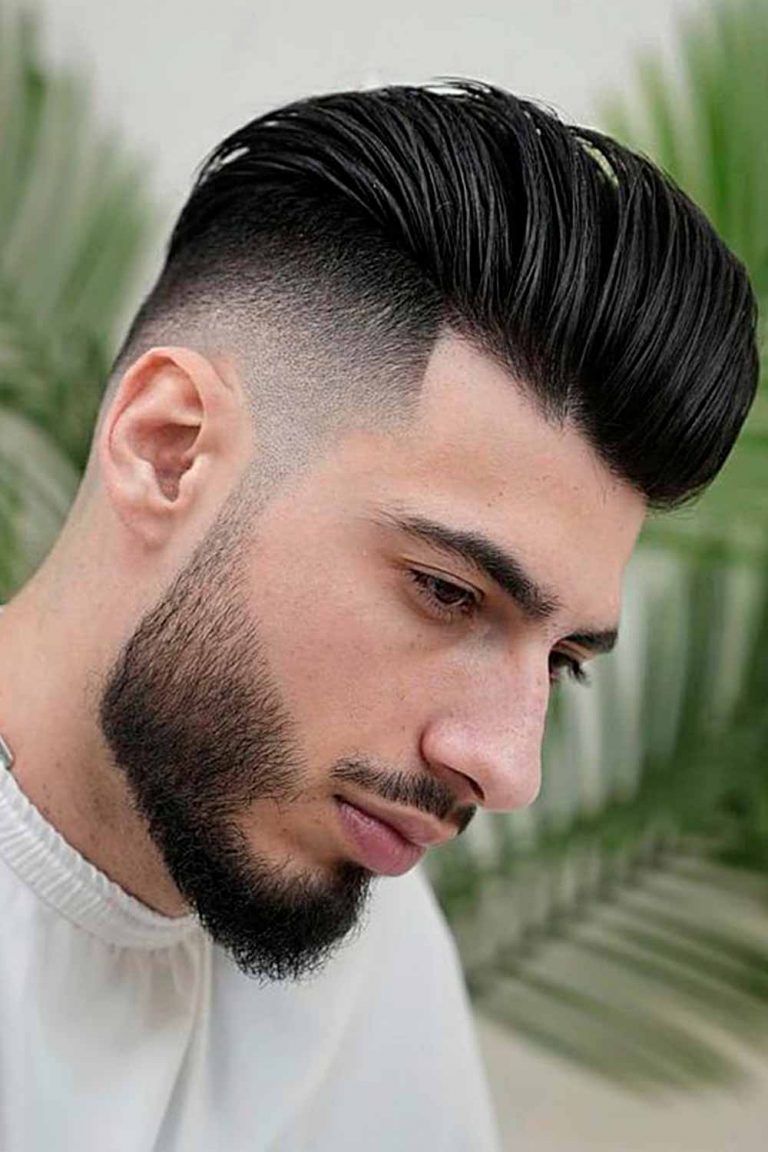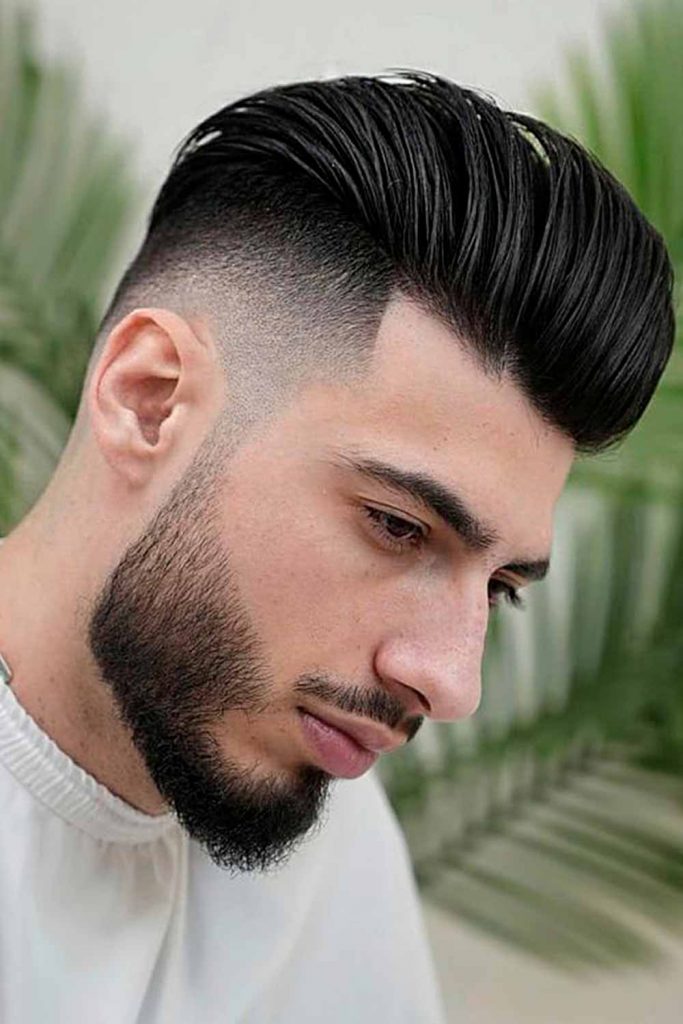 Source: @spukthebarber via Instagram
Brushed Back Mid Taper
It comes as no surprise that with a mid fade long top draws more attention. So, it is up to you how to style it. If you are not into anything overly impactful, why not simply brush the hair on the top of your head back? This will create a very neat yet pronounced hair look.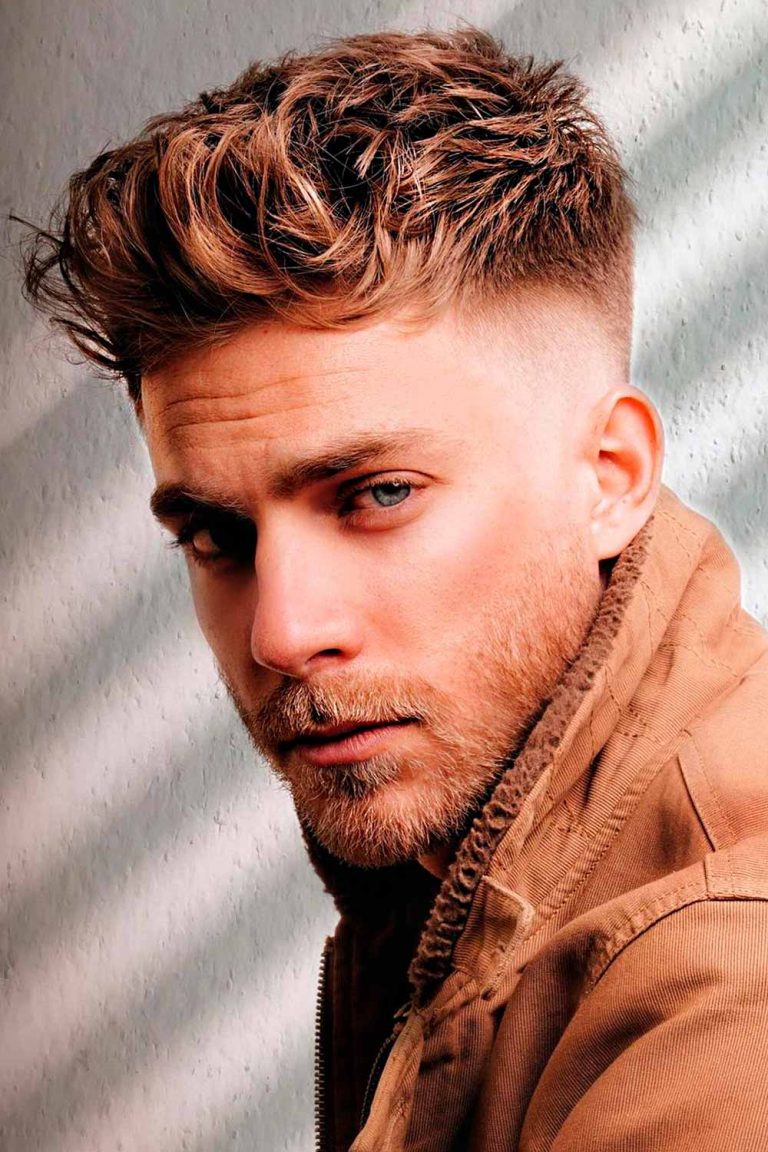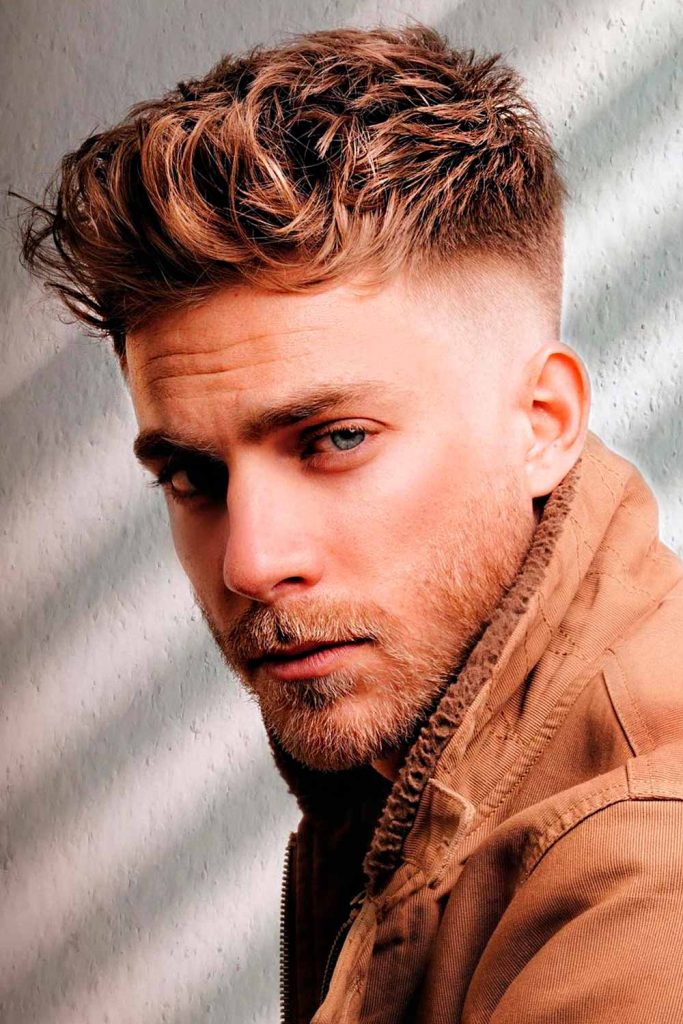 Source: @z_ramsey via Instagram
Brush Back Medium Drop Fade
A mid fade drop haircut looks stunning no matter what you pair it with on top. When you need something elegant and sophisticated, you can never go wrong with a brushed back top. With such a hair look, you can feel free to knock on any door, as it makes you look your best.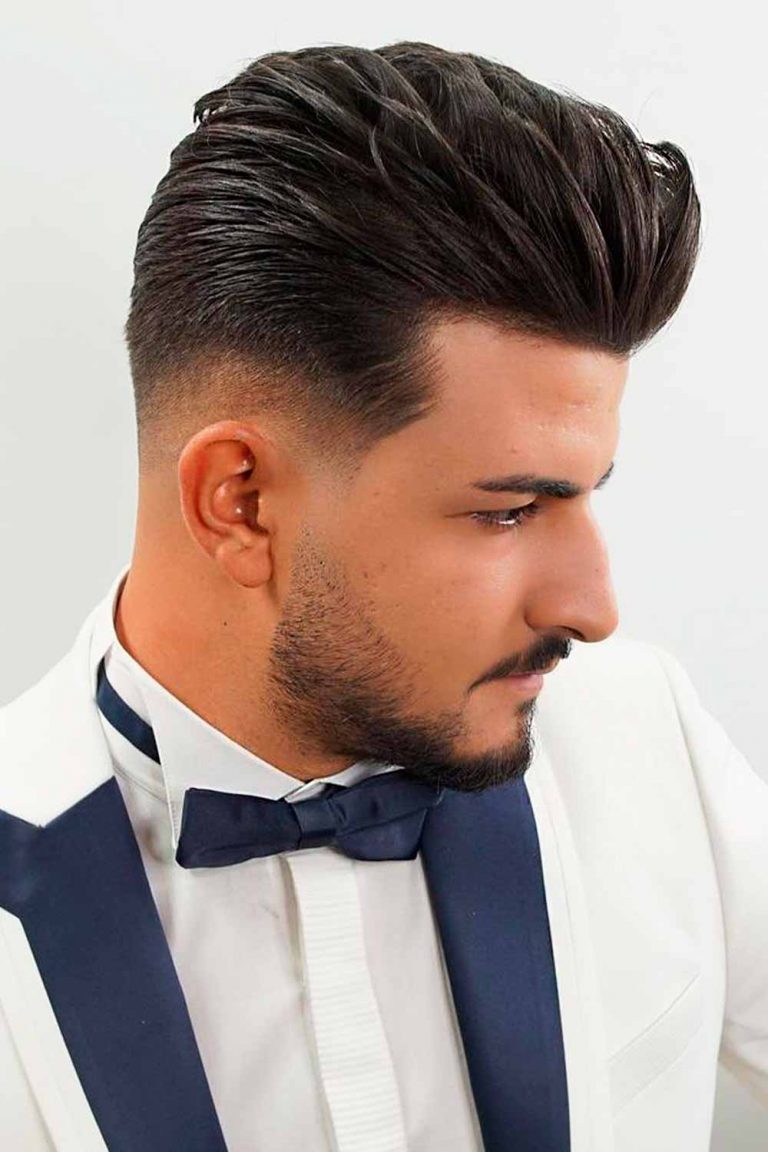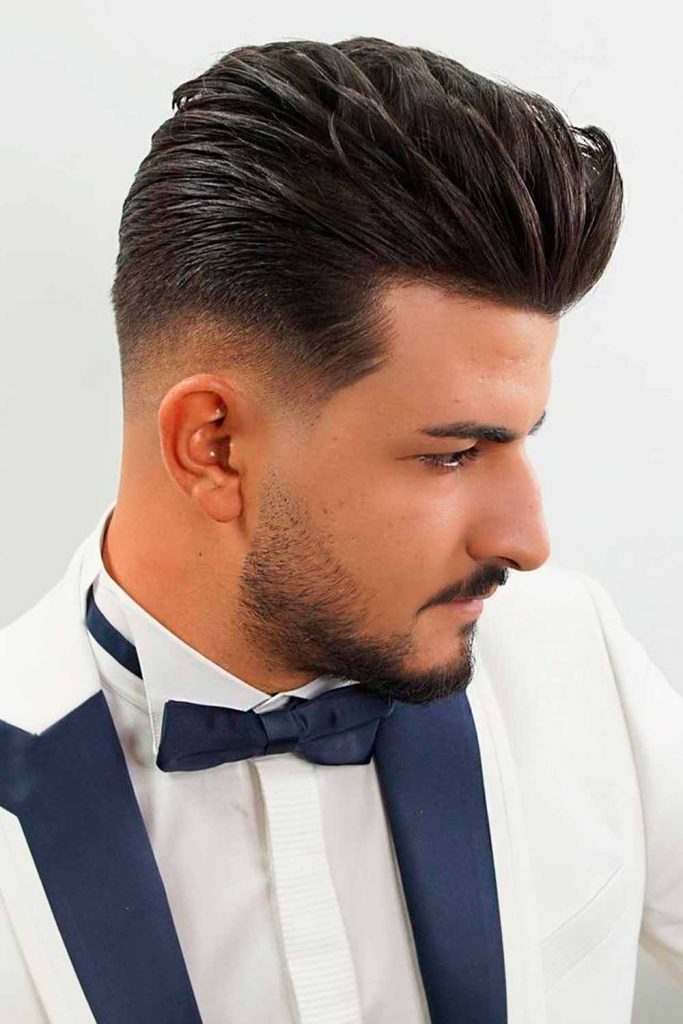 Source: @ahmetaslanhairsalon via Instagram
Flow Mid Taper Haircut
Those who generally prefer to have longer hair on top so that it could be styled flowy but are tired of maintaining the locks should take a closer look at a mid taper paired with a fade. Not only will it make taking care of your hair easier but it will also keep it in line with fashion.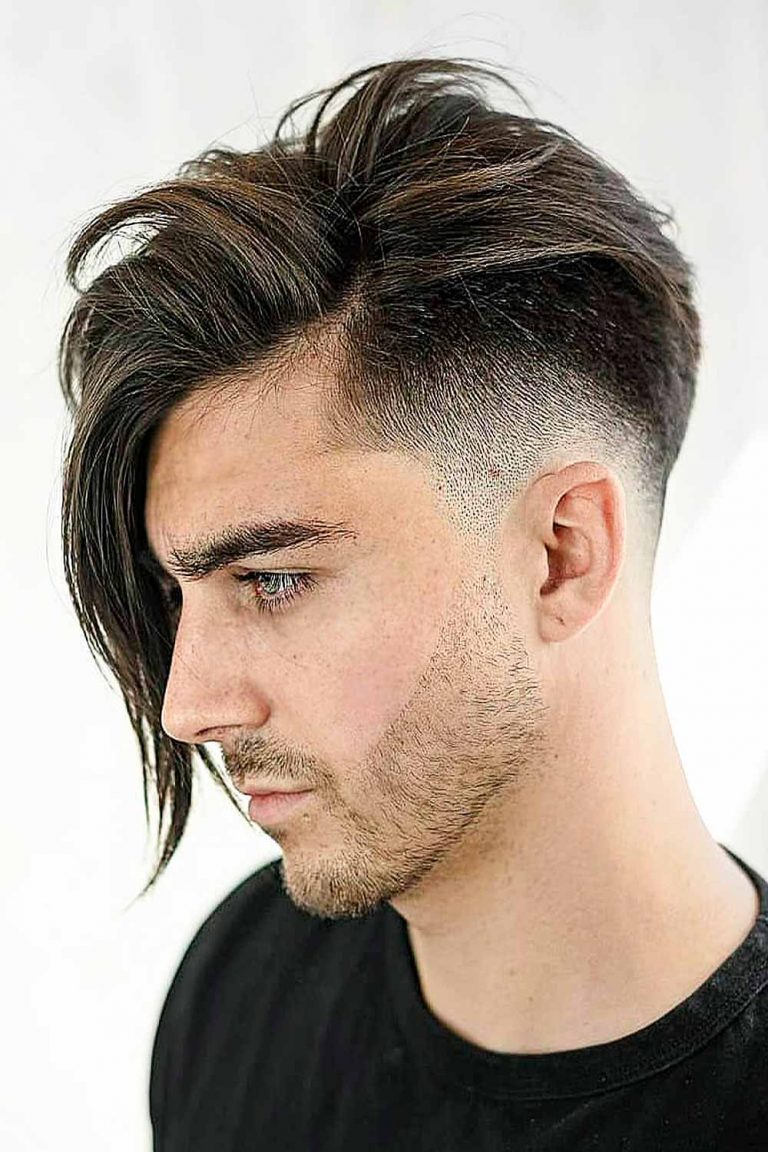 Source: @spukthebarber via Instagram
Bald Fade With Beard
Sleek on the top and smooth on the sides; this is how the mid bald fade works for guys who opt for it. This idea, alongside with medium skin fade cuts, looks its best when it's worn with a beard, setting balance to the whole look so that the front doesn't outweigh the silhouette.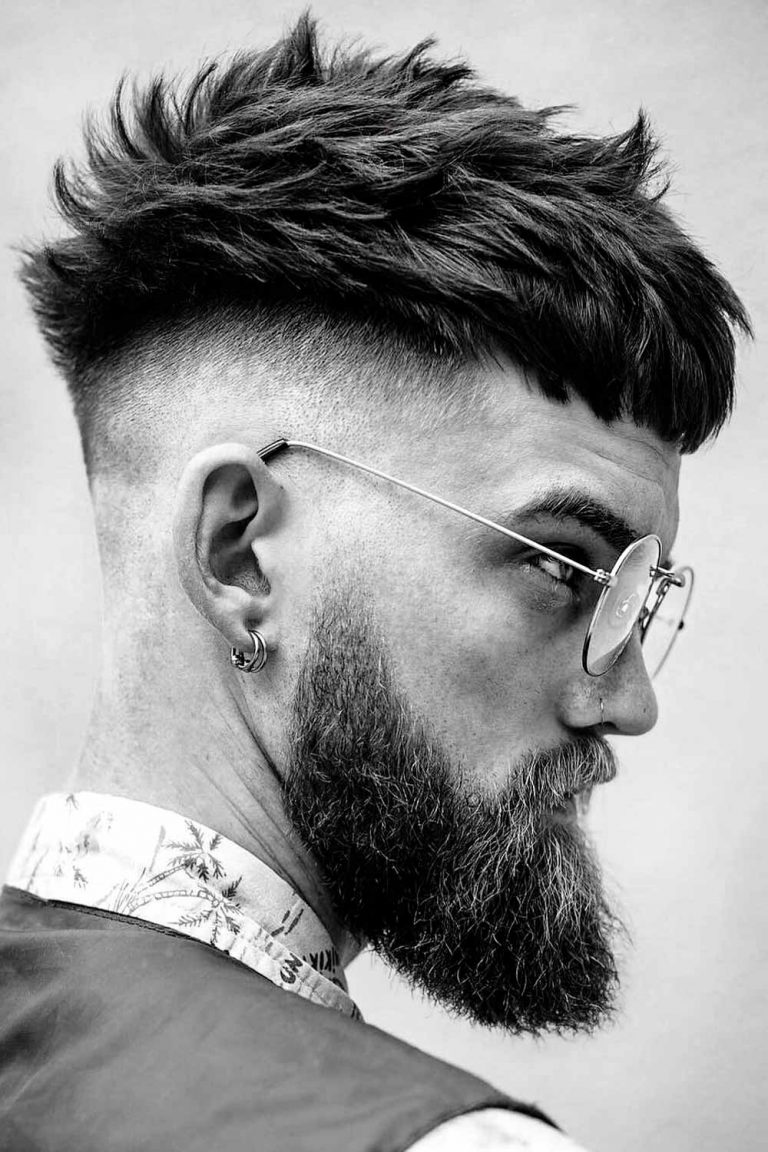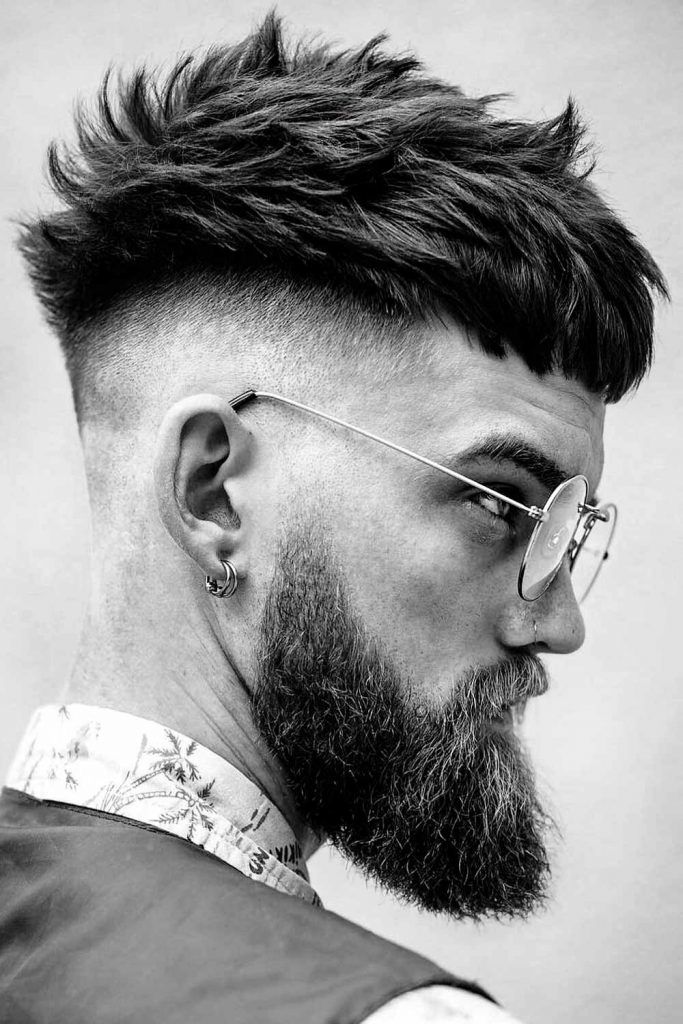 Source: @r.braid via Instagram
Medium Fade: Who's It For?
Mid fade haircuts are for those who want that professional look with a drop of modernization. The versatility of this haircut makes it possible to inculcate it into other styles.
It looks great on men of different races, ages, hair texture, and lifestyle. This style works ravishingly for masculine looks accompanied with beards or stubble.
Just be sure that you've got a nice wax or pomade, and you've got all you need to flaunt with the fade.
Source: @ryancullenhair via Instagram
How Do I Get the Mid Fade Haircut?
If you've finally made up your mind to switch to mid fade haircut, here are the steps you need to follow:
Your desired look determines if you are to texture the central area of your hair with the scissor-over-fingers method.
Using the shear-over-fingers method, repeat step one.
Proceed with the scissor-over-comb method by using a bigger barber shear.
Using the blade-on-skin method, cut the hair on the back and sides of your head with the 1/2 inch blade.
Repeat step 4 step using the 3/8 inch blade, and then repeat again using the 1/8 inch blade.
To reduce the fade's length, repeat step 5 with the blade's flat side.
Use the half-closed adjustable clipper to move to the mid-end.
Close the lever of the adjustable clipper and repeat step 7.
Wrap up with the scooping motions.
Clean the sideburns, ears and neck with a t-outliner.
Source: @alexthegreatvivar via Instagram
The mid fade haircut is the ageless trend that seems never to become outdated. With the wide choice and the huge variety of styling ways, this cut will never lose its popularity. That's why we want you to stay up to date with the latest men's trend and advise you to make one of the today's ideas real. Just call your barber and go for an upgrade!
FAQs
What is a mid fade?
A mid fade is a men's haircut that implies gradually taking the hair on the sides and back from longer to shorter, starting from the middle of the head.
What number is a mid fade?
For a medium fade, you can use any number of fade from 0 to 4, which will indicate the starting point of the process of fading.
How do you get a mid fade?
To get a mid faded haircut, you need to ask your barber for it. They will then do the following:
1. Damp your hair with water.
2. Separate the hair on top and secure it with a hair clip to take out of the way.
3. Using hair clippers with the #3 guard, trim the hair on the back and sides, moving the clippers upward.
4. When getting to the line of the fade, run the clippers along it from side to side.
5. Switch to a smaller guard, such as #2 and trim the hair, starting from the bottom of the hairline and moving upright. Though, it is important to indent from the top a couple of inches.
6. For a smoother transition, put on an even smaller guard size, like #1, and trim the hair along the hairline.
7. Use the method of clippers over the comb to remove any sticking out hairs.
8. Cut the hair on top in the desired way.
9. Create a sharp outline with the help of the trimmer or razor.
What is the difference between a mid fade and a low fade?
With a low fade, you start tapering the hair near your hairline. A mid fade suggests beginning to taper the hair from the middle of the head.
Where does a mid fade start?
A medium fade haircut starts somewhere in the ear and temple area.