A low fade is one of the most popular mens haircuts and not for nothing. It works for all hair types and flatters most face shapes. Besides, it can be used to complement absolutely any hairstyle on top, from a crew cut to box braids. However, if you want something stylish yet low key, it is hard to think of a better option than a low faded cut. Elegant and sophisticated, it is suitable for every ambiance, even the most formal. So, if you are looking for a dose of inspiration, you have come to the right place.
What Is Low Fade Haircut: Stylish And Simple
A low fade haircut has a big number of variations. And in this post, we would like to show you the most trending options. In general, a fade varies from low to mid to high – these cuts are as versatile as your favorite tennis shoes. The low fade cut is started above the ear and neckline that's why it is called «low». With less contrast and more texture on the sides, fade hair cut are great for medium-length and long hairstyle combinations that require a thicker look. Even though they have a wide range of styles, each style is nearly as easily maintained as the other.
Source: @r.braid via Instagram
High Fade vs Low Fade: Difference
When comparing a low fade vs high fade, you may easily notice that the main difference between them is in the transition from longer to shorter length on the sides and back. In a high fade, fading starts right at the parietal ridge, while in a fade, the hair begins to decrease in length 1-2 inches above the ear area.
The Best Low Fade Haircuts
There are a lot of different types of fade haircuts. And as a low-maintenance haircut that requires no styling, almost all the best short sides and long top haircuts require some kind of tapered or faded cuts. So the low fade have a lot of different types, some of which are presented below.
Are you ready to pick the new haircut for you?
Source: @a.nizhnick via Instagram
For a lot of cool men's hair ideas, let's take a look at the different haircuts to wear with low fade you can try in 2023. You'll know that haircut works well with short haircuts for men, medium and long hair on top, as well as a variety of textures and hair types.
Today huge variety which you can try and combine with each other. We offer a selection of the latest trends of hairstyles that you can wear with a low fade haircut.
Low Skin Fade
No longer is your hairstyle a simple number on the clippers, as seen in the low skin fade. The cuts are more artistic than ever. The low bald fade is the same cut as the low skin fade with one exception. The length of hair at the base of the cut. A skin fade haircut starts out thick and thins out toward the bottom. These cuts are here to stay.
Source: @hayden_cassidy via Instagram
Low Drop Fade
If you desire to add contrast to the sides of your cut, then the low drop fade is the perfect cut for you. This type of fade haircut leaves a little more hair in the back while chopping the sides almost completely off. It allows you to create quite a bold and contrasty look thanks to the prominent top. The drop fade gives you plenty of styling options to fit any ambiance. For a casual and relaxed environment, tousle the hair on the top of your head in a free way. This haircut also looks cool when it is styled in a sleek manner for a more professional flair. On top of that, it works especially well for the bearded look.
Source: @londonschoolofbarbering via Instagram
Low Taper Fade Haircut
It is important to recognize that there is a huge difference in a low fade vs taper. Although these two cuts are similar in the way they are cut, they are distinctly different cuts. With that being said, these two cuts can be integrated into each other and create what is called a low taper fade haircut.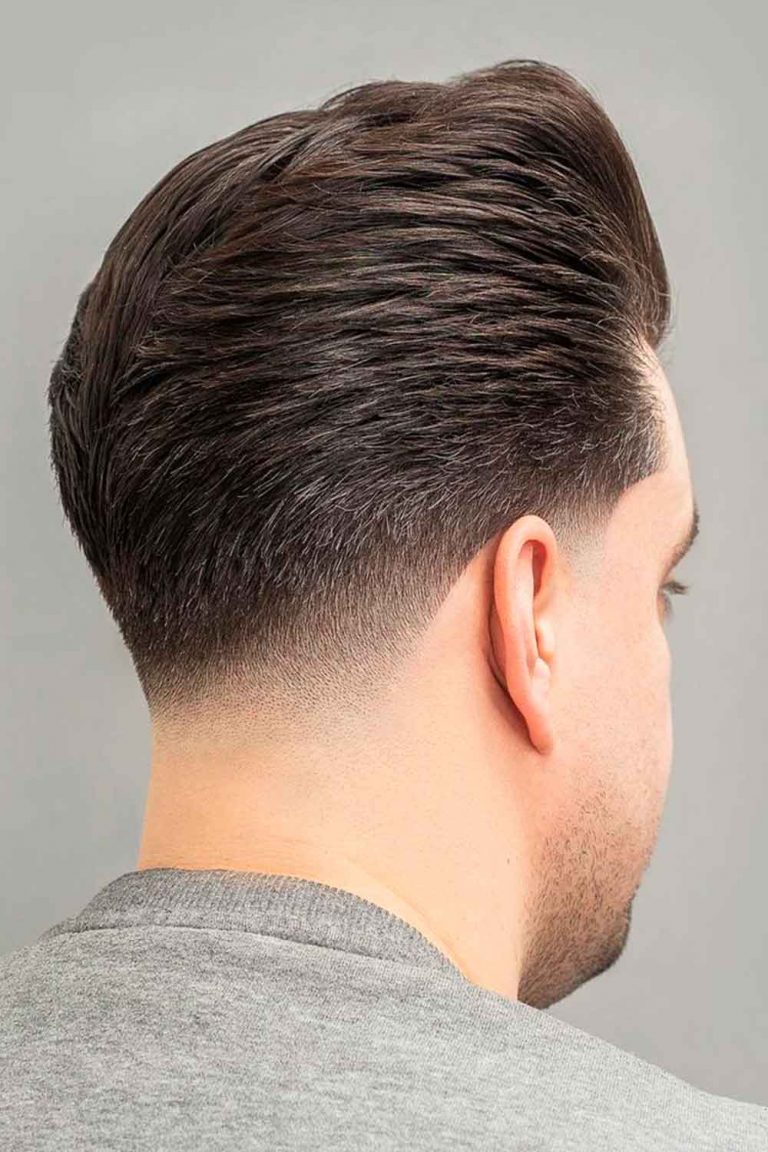 Source: @keller_konturen via Instagram
Heavy Layers
If you have your hair on top heavily cut, then a low shadow fade will become a great accompaniment to it. Not only will it shift the whole focus to the top, but it will also make your hairstyle appear generally neater and more refined. Do not forget to apply a tad of a texturizing product to enhance the structure of the cut.
Source: @groomed_barber_club via Instagram
Low Fade Long Hair
Because this cut is so reserved, it works for any hair length, from extremely short to pretty long. That said, if you have a long mane, then a cut is your way to go with long hair low fade.
Source: @ahmetaslanhairsalon via Instagram
Bleached And Spiky
If you want to really stand out in the crowd, consider bleaching your locks blonde and styling them spiked up. To finish off this punkish hair look, opt for a low taper haircut. As it is so reserved, it does not distract attention from your striking top. Yet, do not forget to stock up on the hair dye, as the color needs to be refreshed pretty often.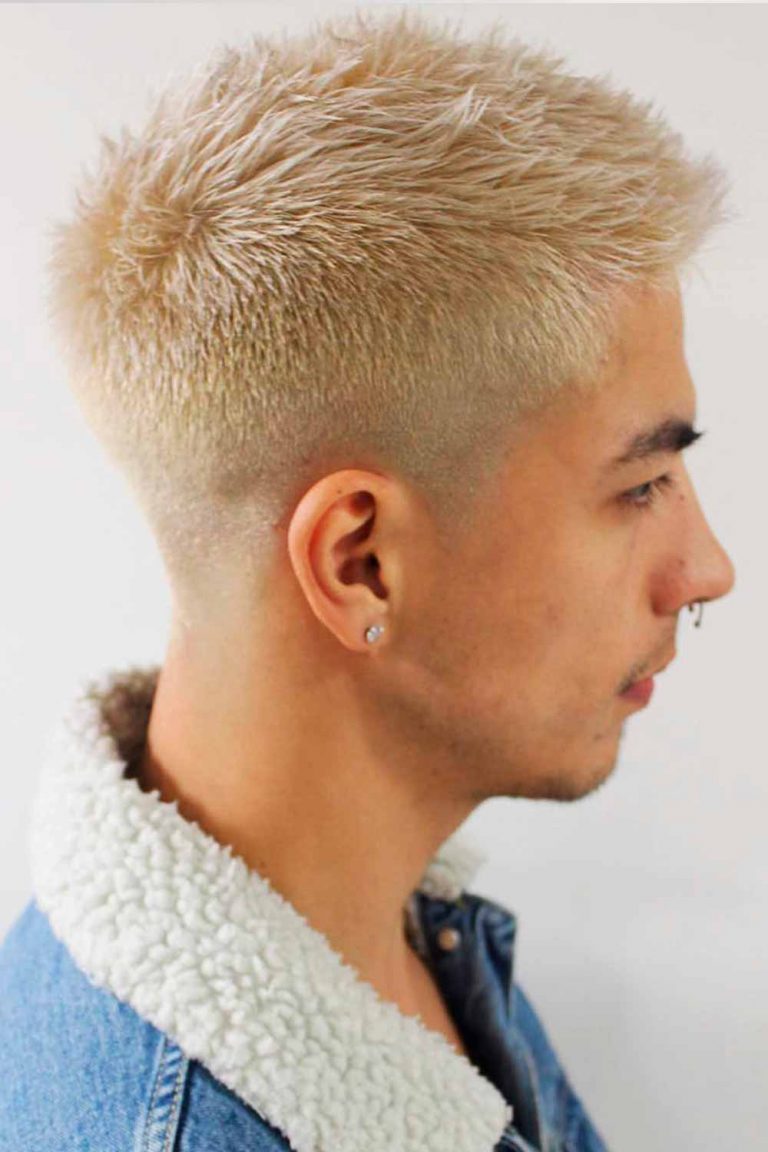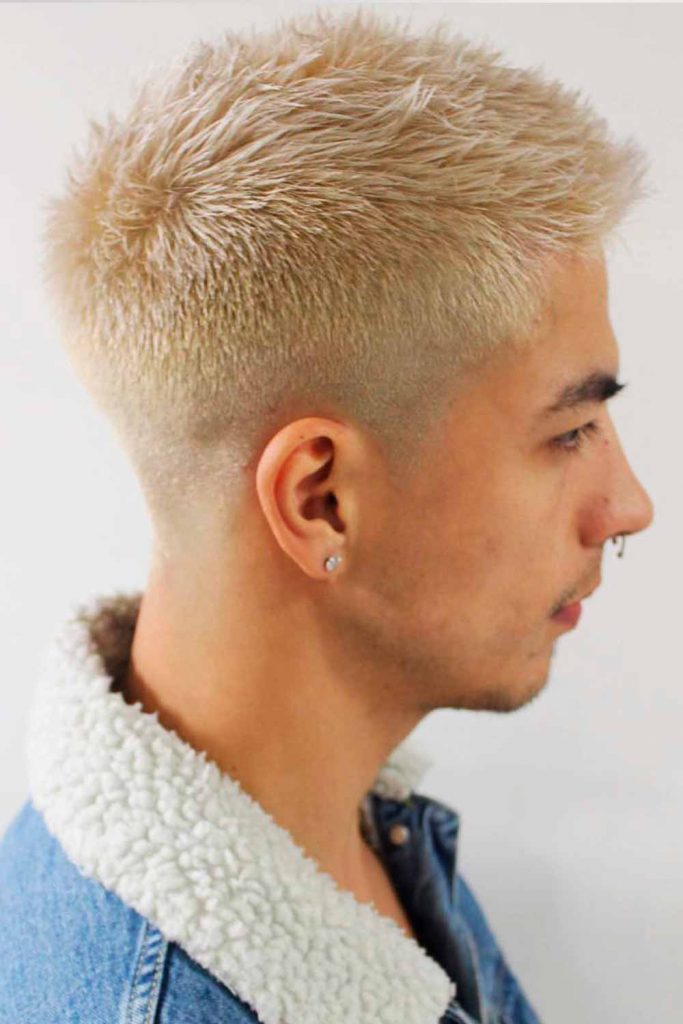 Source: @dexterdapper via Instagram
Low Fade Buzz Cut
Even if you have short hair, you can still pull off this haircut. Just make sure the hair on the back and sides is noticeably shorter than that on the top.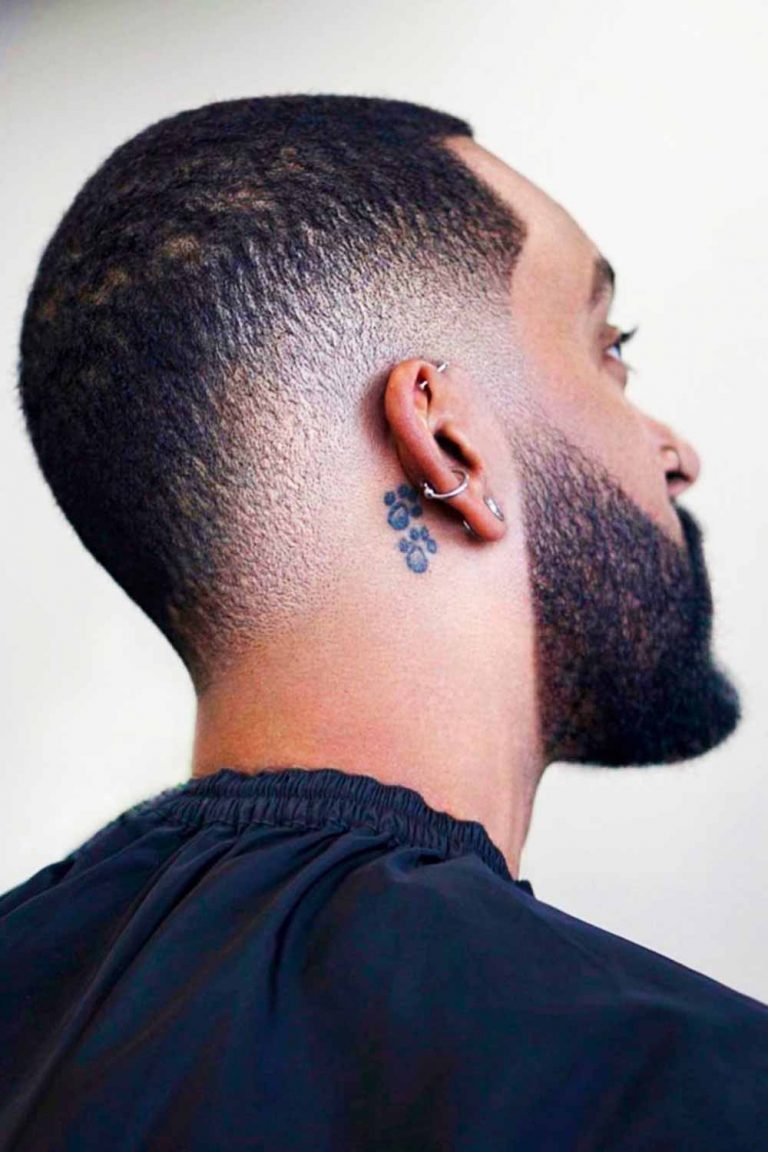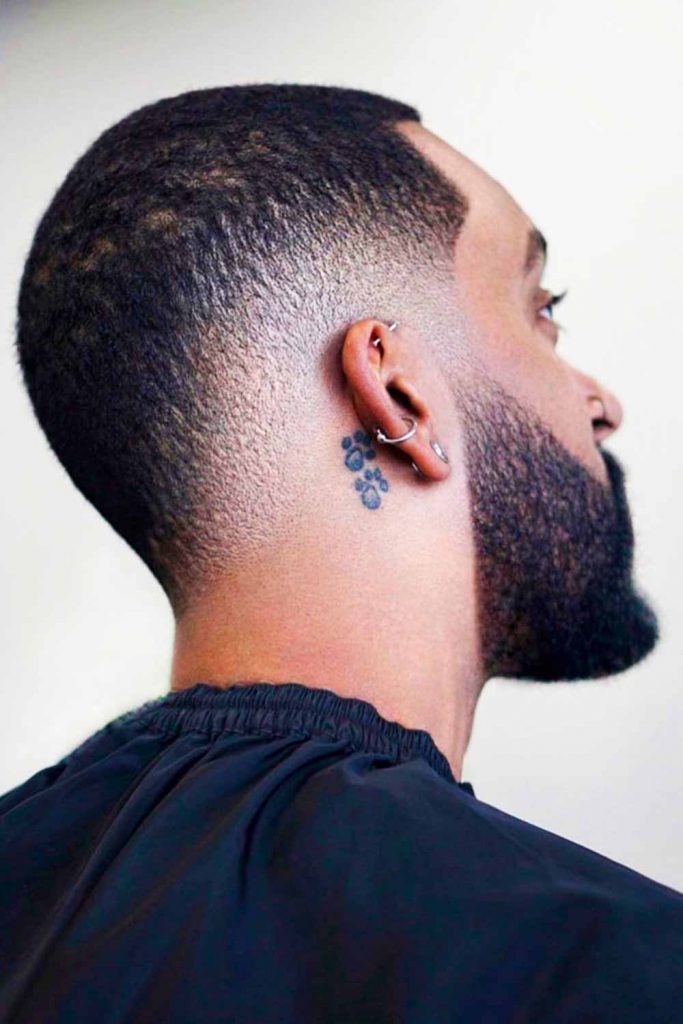 Source: @xbigwesx via Instagram
Low Fade Blowout
Because a low fade makes your look seem cleaner, you can opt for quite a messy style on the top of your head. Try pairing it with a trendy blowout, which brings some movement and dimension to your look. To achieve it, you will need a blob of hair mousse and a powerful blow dryer.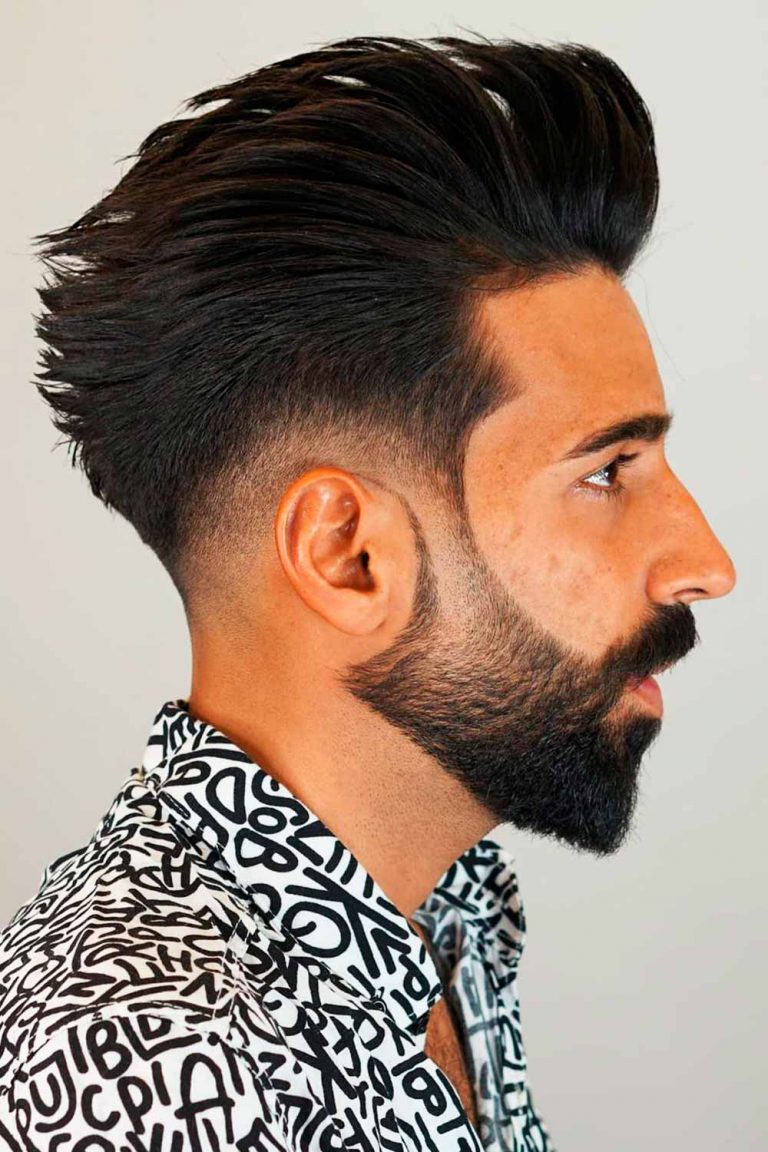 Source: @ahmetaslanhairsalon via Instagram
Comb Over Low Fade
The low fade comb over is a prime example of how important it is that a man's hair looks fantastic no matter what angle you may be looking at it from. Especially when looking at this hairstyle from the back, the contrast of the comb over fade provides a clean and interesting look.
Source: @shrunknheads via Instagram
Undercut Low Fade Haircut Men
Here we have another example of the merging of two separate haircuts that create a fresh new look with the undercut. The undercut fade is a unique modern look that has burst onto the scene to provide an additional option in men's hairstyles. There is a key to obtaining the fade undercut for it to have the proper appearance. The hair should be in three separate sections. The longest part of the skin fade undercut will be on top, the undercut section will be below the crown and fade in around the temples and ears. This provides a clean, well-blended cut that is stunning to look at.
Source: @ryancullenhair via Instagram
Low Burst Fade
Low hair cuts look reserved and low key. And if you want to give them an intricate twist without overdoing it, go for a low burst fade haircut. The overall silhouette remains neat and clean. However, because of the curved pattern of the cut, it comes out more pronounced and explicit.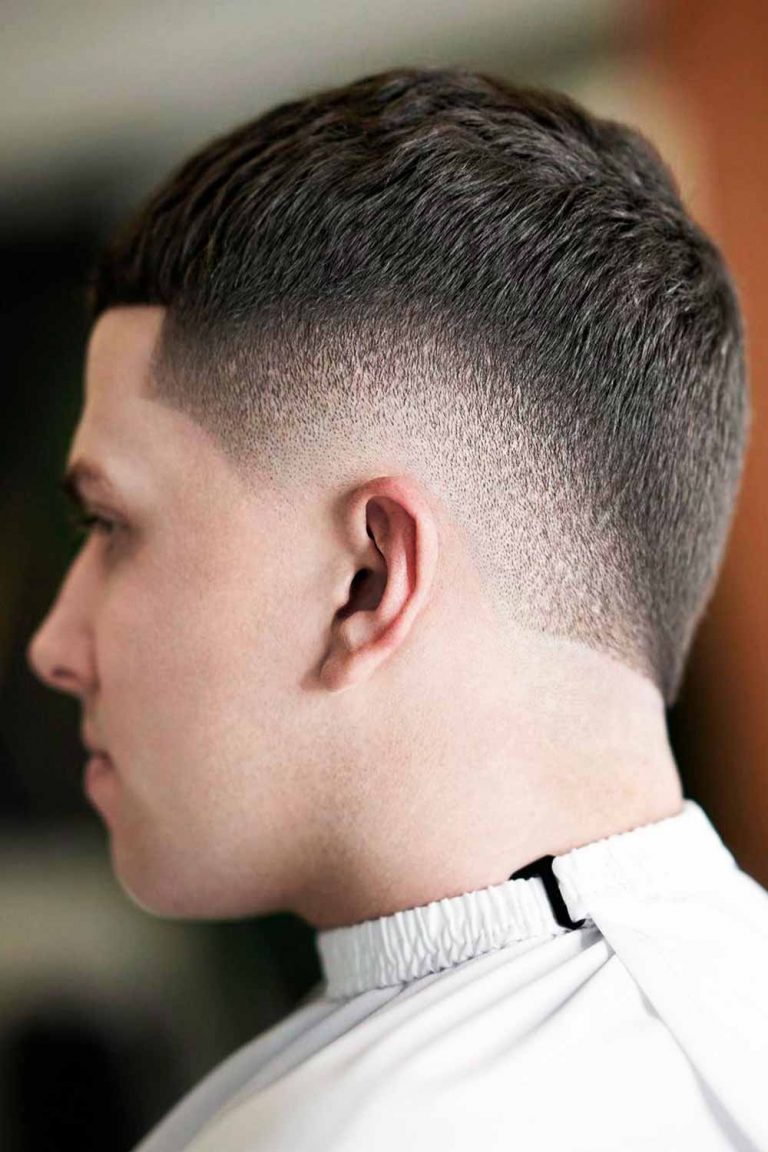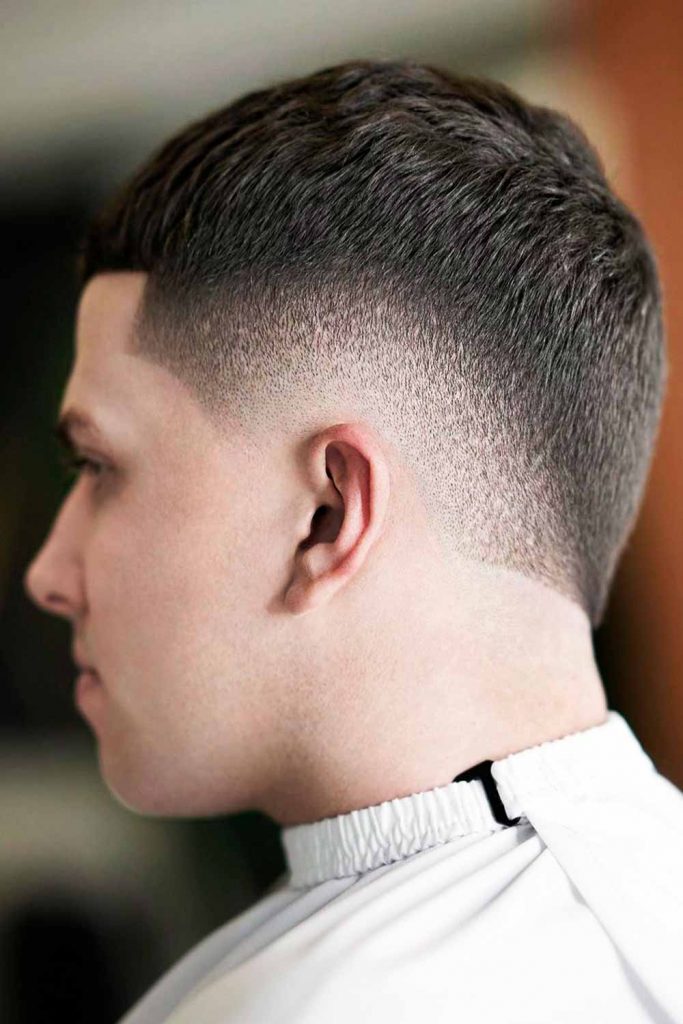 Source: @xbigwesx via Instagram
Long Top Short Sides
One of the most popular variations of the classic long top short sides is a low fade long on top hair cut. Because the hair on the back and sides is cut a bit graduated, the look turns out not as sharp and high contrast as its traditional version. Yet, this does not mean that it is not edgy or bold. A short low fade on the sides makes your haircut suitable for any ambiance, from casual to formal.
Source: @egobarbers via Instagram
Quiff
A low skin taper is often paired with a quiff and no wonder. It makes the hair on top the focal point of the look, which is why there is no need to style the rest of the hair elaborately. Just work the blob of the styling product into the top and push the front strands upwards.
Source: @ryancullenhair via Instagram
Undercut Low Fade With Hair Design
A low fade undercut successfully combines the smoothness of the fade and the sharpness of the undercut, thus resulting in a well balanced edgy hair look. For added emphasis, you can complement the haircut with a simple yet prominent hair design. Keep in mind that this haircut requires frequent upkeep to remain chiseled and defined.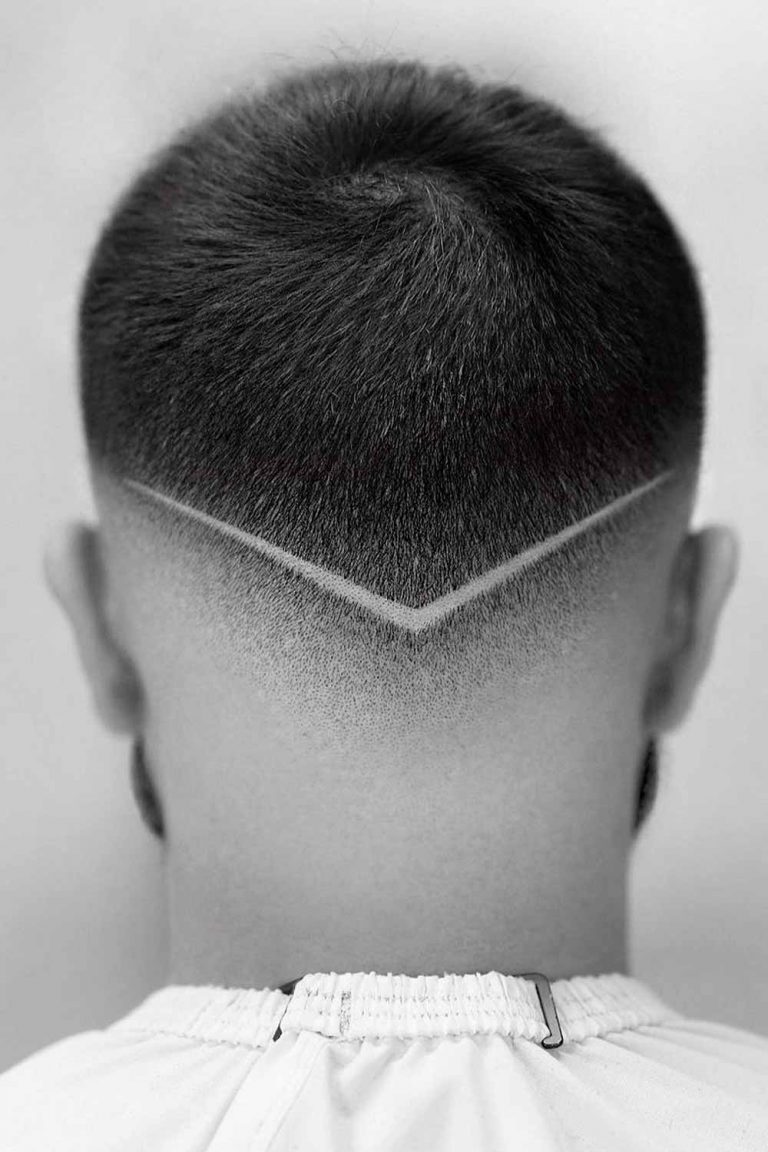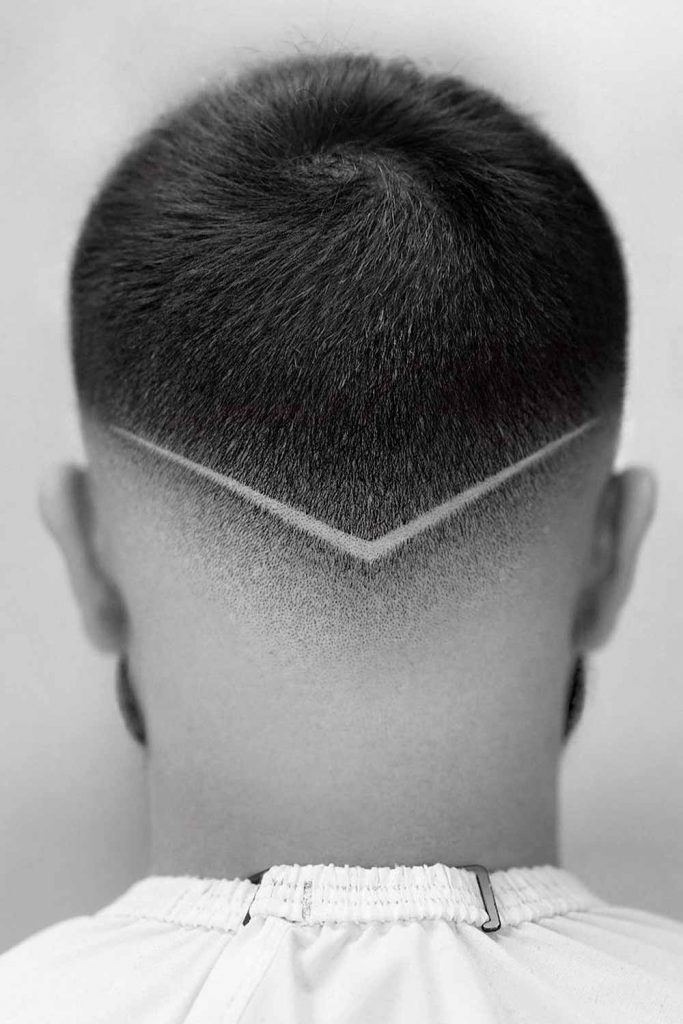 Source: @xbigwesx via Instagram
Curly Faux Hawk
This photo is a gorgeous example of a faux hawk fade. It is a milder version of the Mohawk and looks absolutely amazing with this model's curly hair. The faux hawk haircut does not have disconnected sides that are shaved. On the contrary, it has a tapered fade that creates the Mohawk style with the length on top.
Source: @londonschoolofbarbering via Instagram
Low Fade Pompadour
Here we have a classic version of a pompadour fade. A pompadour hairstyle is typically worn in a very sculpted and structured manner. But with the messy hairstyle being a hot new trend, it is possible to wear the hairstyle by adding a cut to steer clear of a bedhead look. Pompadour hair is notorious for a neat and tidy look, so it is important to keep the sides, and lower portions of the style trimmed to assure the look maintains its sharpness.
Source: @hayden_cassidy via Instagram
Side Part Hairstyle
This hairstyle with a side part fade is a modern look that has sprung onto the scene of the hair industry in the recent years. When coupled with this cut, side part hairstyles look amazing. It is important to take into consideration your facial shape when obtaining side part hairstyles men desire. Due to the facial shape, you should alter the fade from a low fade to a high fade. With a men's side part, a high fade can make a face look more oblong, so it is important to have the sides longer to prevent the style from looking awkward.
Source: @londonschoolofbarbering via Instagram
Brushed Back Top
If you want to achieve the look of slicked back hair, it is vital that you give this classic look a modern upgrade in order to prevent the look from seeming outdated. When you choose to wear your hair slicked back, you can achieve one of the two effects. You will either look modern and dramatic, or you will appear dapper but outdated. By incorporating a fade into your hairstyle, you will be able to have a contemporary and sophisticated look without seeming as if you were from a different era.
Source: @hayden_cassidy via Instagram
Man Bun
If you are seeking a modern and edgy look, the fade with long hair is an option for you to consider. This cut allows you to rock the man ponytail that is a look that not just any man can pull off. The fade option integrated into this cut is a great combination with the beard and gives a classy appearance. When applying this look with bearded man bun takes on a more macho look than ever before with low fade with long hair.
Source: @ahmetaslanhairsalon via Instagram
Slicked Back Hair
As with this cut you take the hair off the sides, you will want to balance out your look somehow. A beard is a great solution in this case. Whether to go with a scruff or a full beard is up to you. However, to channel a really trendy look, consider styling your hair on top slicked back.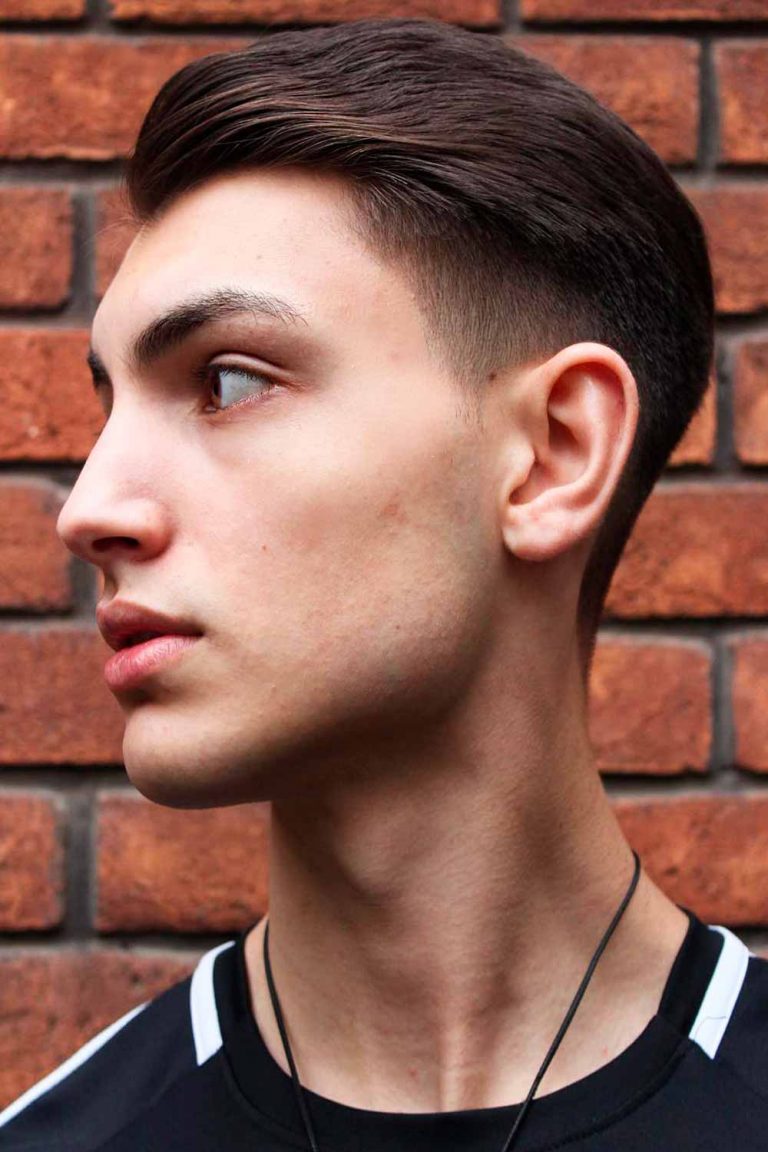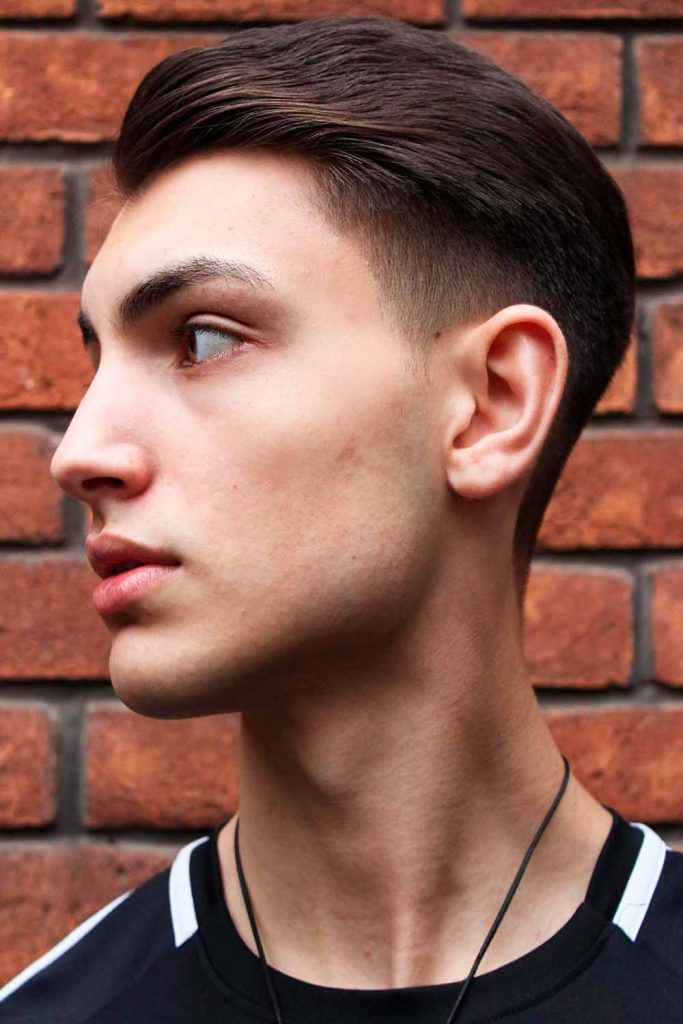 Source: @dexterdapper via Instagram
Brushed Up Fringe
If normally you wear a fringe and want to upgrade it a little, simply brush it up and get a tapers on the sides. Thus, you can transform your boring and inexplicit hairstyle into a really fashionable and stylish 'do. This is also a great way to visually elongate your face and look a bit taller.
Source: @ryancullenhair via Instagram
Messy Pompadour
Classic will never go out of style, especially if it's a combo of two iconic hairstyles – a pompadour. Their benefits are undoubted. Along with a dapper and chic look, you get a hairstyle that fits any ambiance. Though, you might want to bring it more up to date by opting for a low fade on the sides and back.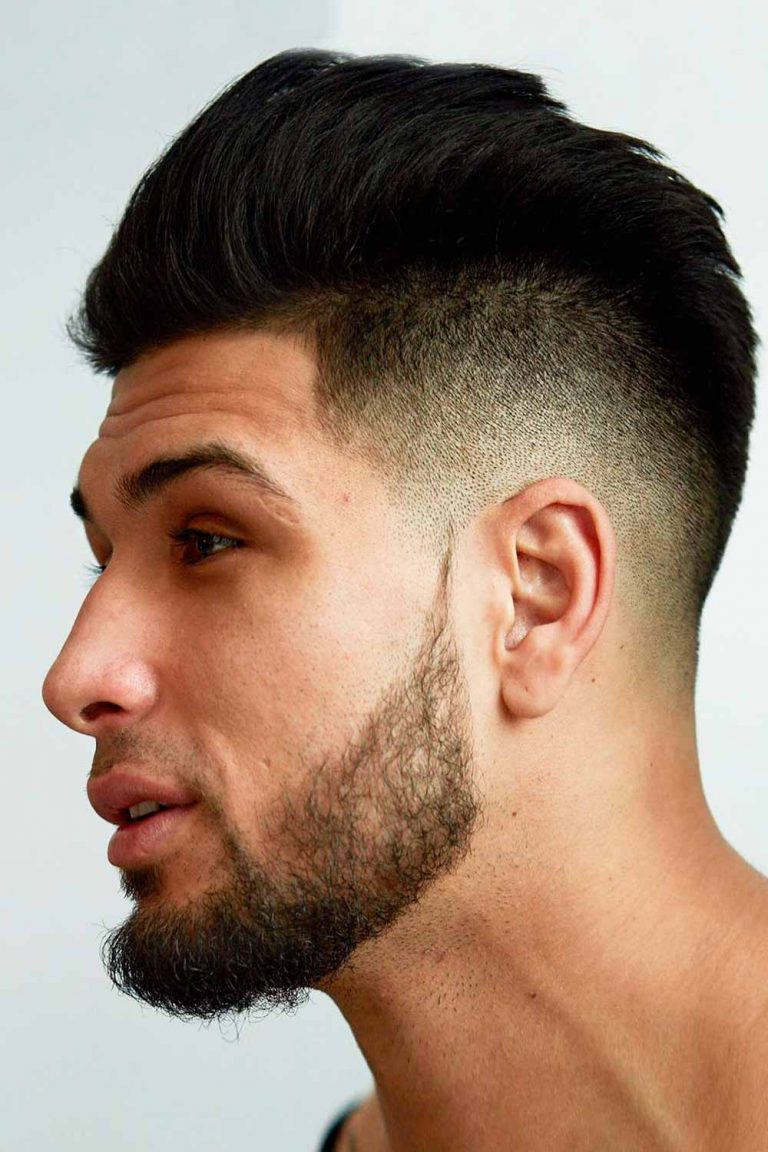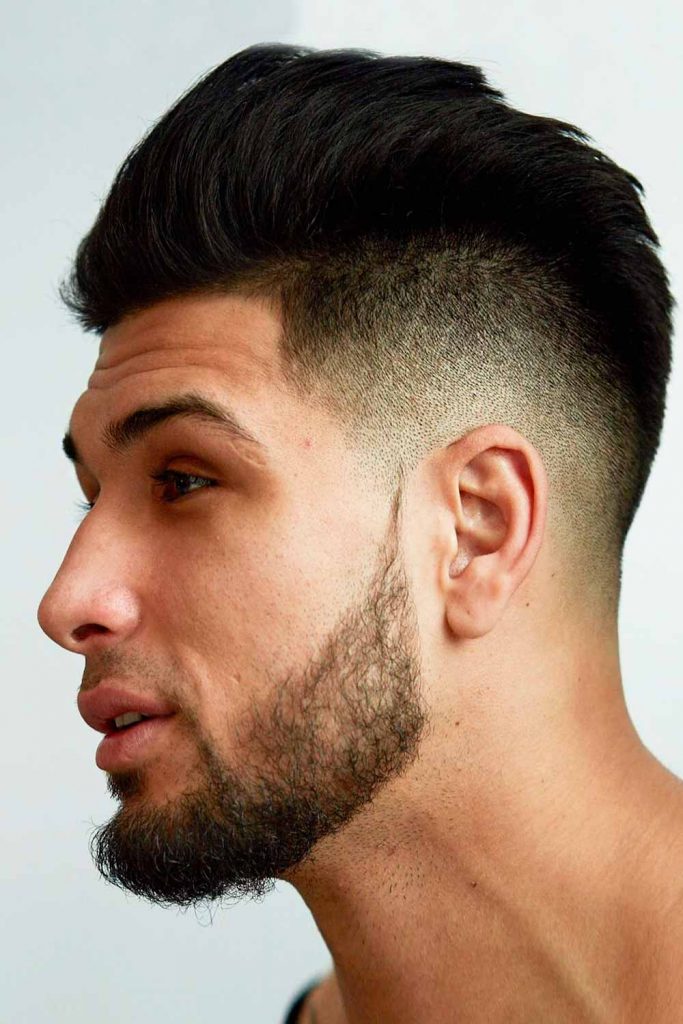 Source: @edouardclipperhand via Instagram
Flat Top
One of the biggest advantages of a low skin fade is that it instantly makes any hairstyle look neat and clean. Even if a bedhead is your go-to look, the fade will allow you to wear it so that it won't give an impression as you've actually just jumped out of the bed.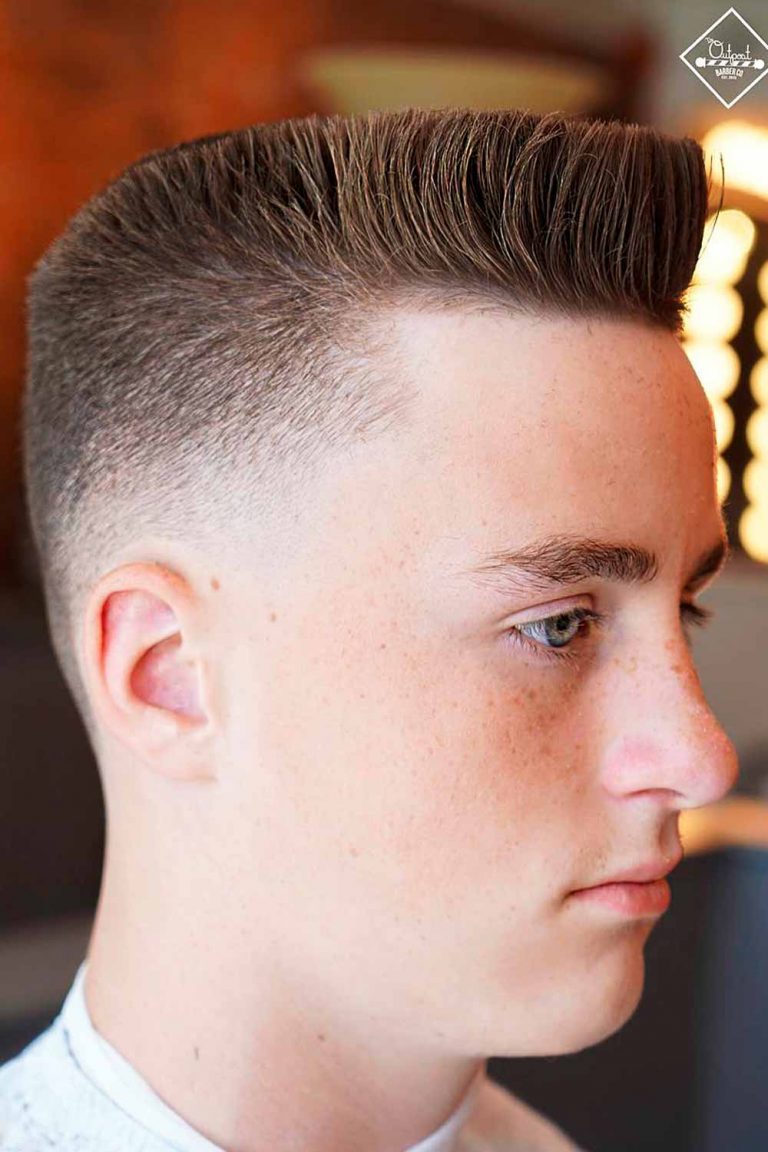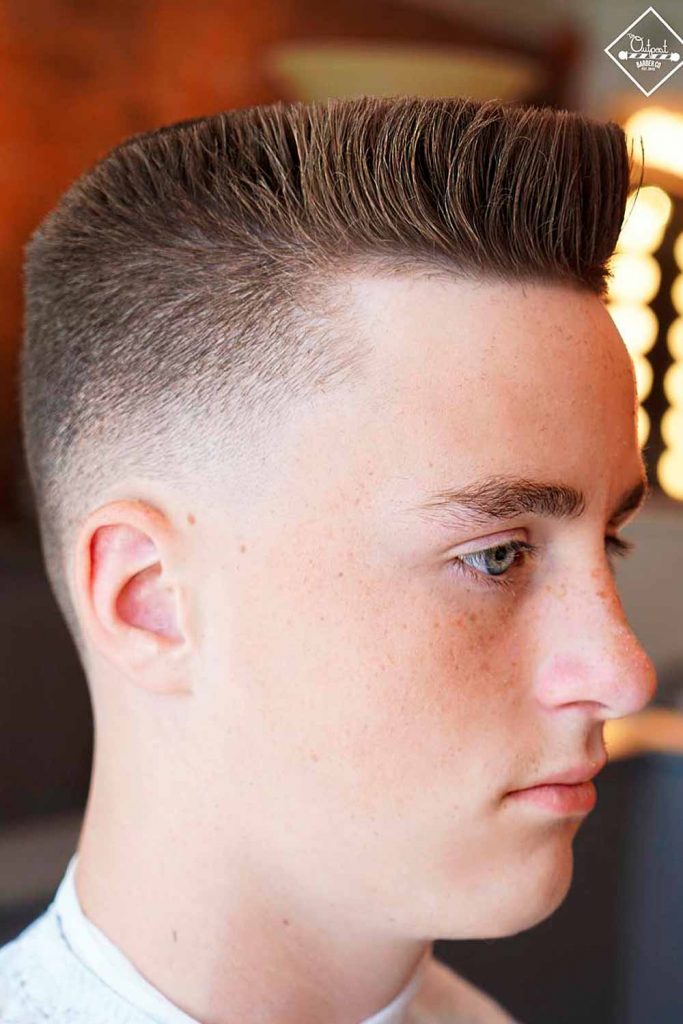 Source: @z_ramsey via Instagram
Curly Texture
If you're blessed with naturally curly locks, then a fade haircut is a must for you. Typically, curly hair is unruly and requires high maintenance. A fade helps you not only tame your locks effortlessly but also upkeep your hairstyle with ease. Go for this cut, as it allows you to show off your defined hair texture at its best.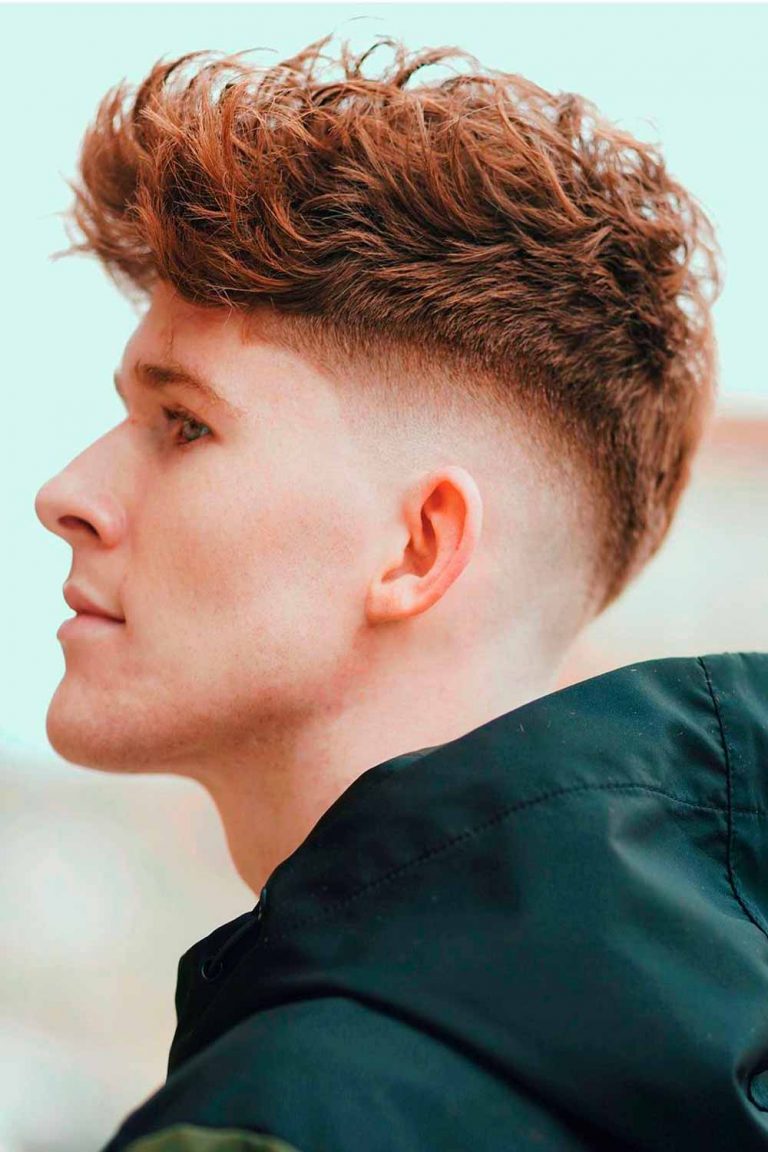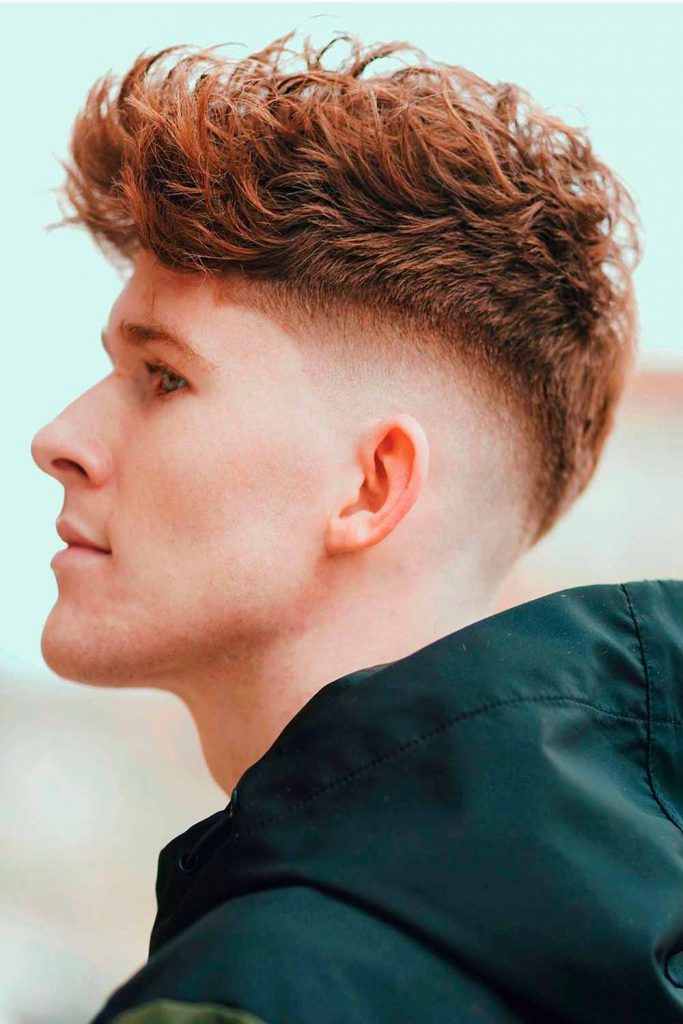 Source: @z_ramsey via Instagram
Swept Back Long Top
Guys who prefer longer hairstyles are bound to take advantage of a fade. It makes the maintenance of their long locks much easier without sacrificing on the length. Thus, all their effort to grow out hair won't be wasted. Besides, you can simply sweep your hair on the top back and get a neat and classy look.
Source: @lena_piccininni via Instagram
Side Sweep
This hairstyle is for more daring gents who do their best to keep up with the latest fashion trends. It may seem a bit complicated at first sight. However, if you look at it closer, you may notice that the top part of the hair is side swept whereas the sides and back are low. Together, they create a hairstyle that won't leave you unnoticed.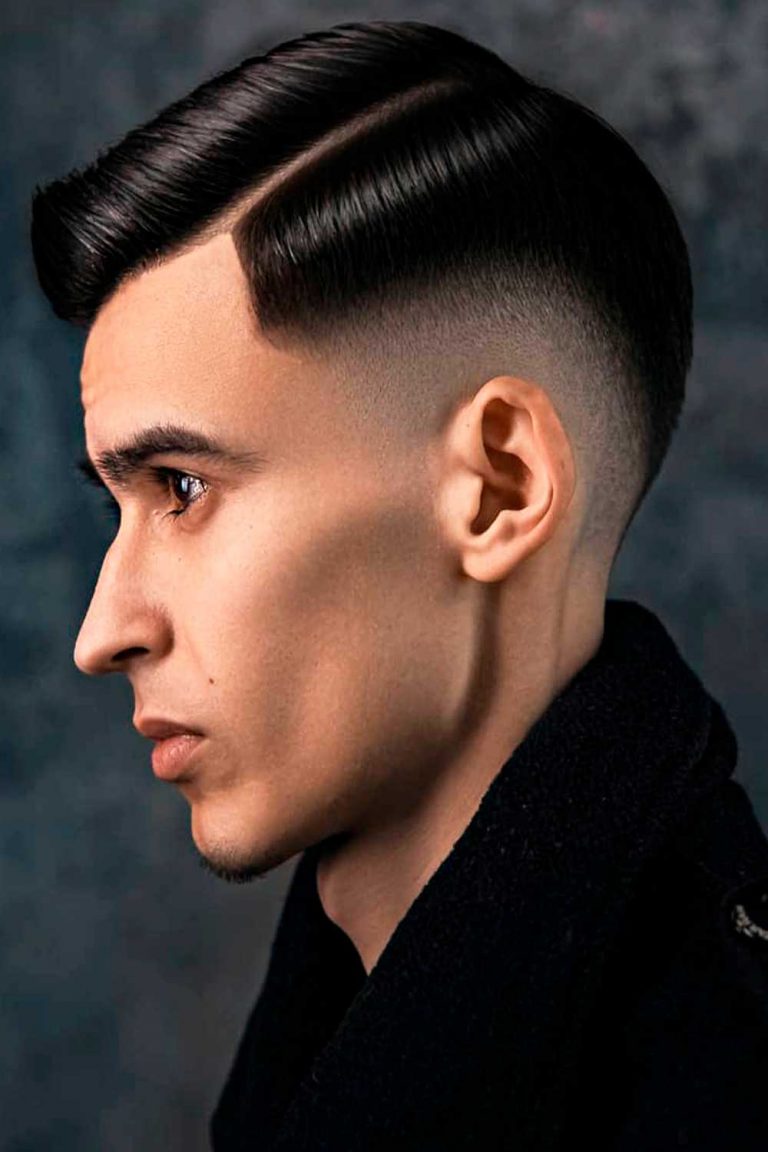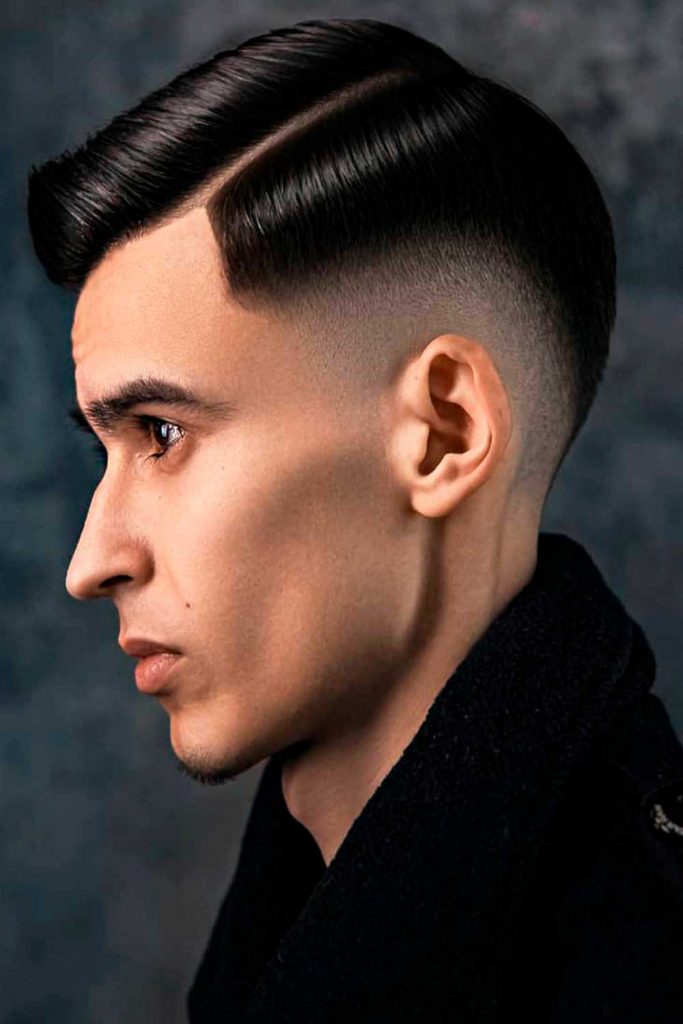 Source: @barberking_kh via Instagram
Slicked Back Tapered Cut
To add a dose of elegance to your look, turn to slicked back hairstyles. They always come out neat and dapper. Such hairdos are much easier to pull off when paired with a taper haircut. Besides, this smooth transition from the long top to the bold sides makes up a very eminent profile.
Source: @sidsottungacademy via Instagram
Spiky Hair On Top
Do you gravitate to rebellious or even ruffian hairstyles? A spiky top with a low skin fade is a perfect match for you then. Ensure you have enough styling product to make the spikes very distinctive. For added flair, use a hair gel, which will give your thorns a crunchy effect.
Source: @alexthegreatvivar via Instagram
Textured Hair
If you want to make your hair on top a focal point of the whole look, there's no better accompaniment for it than a low taper fade. It allows you to go as creative with styling your top hair as you like. A good option is to add some texture to your mane by raking through it with fingers covered in a hair styling product.
Source: @alexthegreatvivar via Instagram
Side-Parted Pompadour
You make think that with a side-parted pompadour your hair gives away an ultimately sophisticated and trendy impression. Yet, you can enhance its appearance by complementing your hairstyle with a low tapers. It will not create much contrast, however, it will add a stylish and tasteful turn to your look.
Source: @urednistvo.pricesk.robert via Instagram
Slick Comb-Over
A comb over is the hairstyle that will suit any ambiance and occasion. It looks elegant and refined. If you want to give it a trendy yet low-key touch, then complement your hairstyle with a low fade. As it removes the hair from the sides, the focus shifts to the hair on top, so ensure your style is flawless.
Source: @urednistvo.pricesk.robert via Instagram
Low Top Fade
Low fades are versatile and flatter many, if not all, hairstyles on top. Thus, there are many low top fade hairstyles out there, from a mohawk and pomp to a low fade slick back and comb over low fade.
Source: @egobarbers via Instagram
Low Fade Haircut Black Man
When it comes to this haircut men with black hair are among the first to give it a go and no wonder. This understated yet sophisticated cut can spruce up any hair look and help you to keep your unruly kinks in check.
Irregular Fringe
With a low fade men can play around with their haircut on top as much as they want. An irregular fringe looks bold and daring while creating an illusion of a full head of hair. This makes it a perfect choice for guys with thin and limp locks.
Source: @r.braid via Instagram
Faux Hawk Low Fade
Because a faux hawk is so edgy and sharp, a low fade mens haircut becomes a perfect accompaniment for it. Together, they create a well balanced and consistent hair look.
Source: @a.nizhnick via Instagram
Low Black Haircuts
A low haircut comes out very good on black hair. Not only does it keep it looking neat and clean, but it also makes it easier for you to maintain your kinks. Add a line up to it and you will end up with a trendy and tasteful hairstyle.
Source: @nickthebarber via Instagram
Unusual Bang
Low cut hair on the back and sides will make an intricate top the focal point of the look. So, if you are seeking a way to give your unusual looking bangs an added emphasis, a low skin fade haircut is your way to go.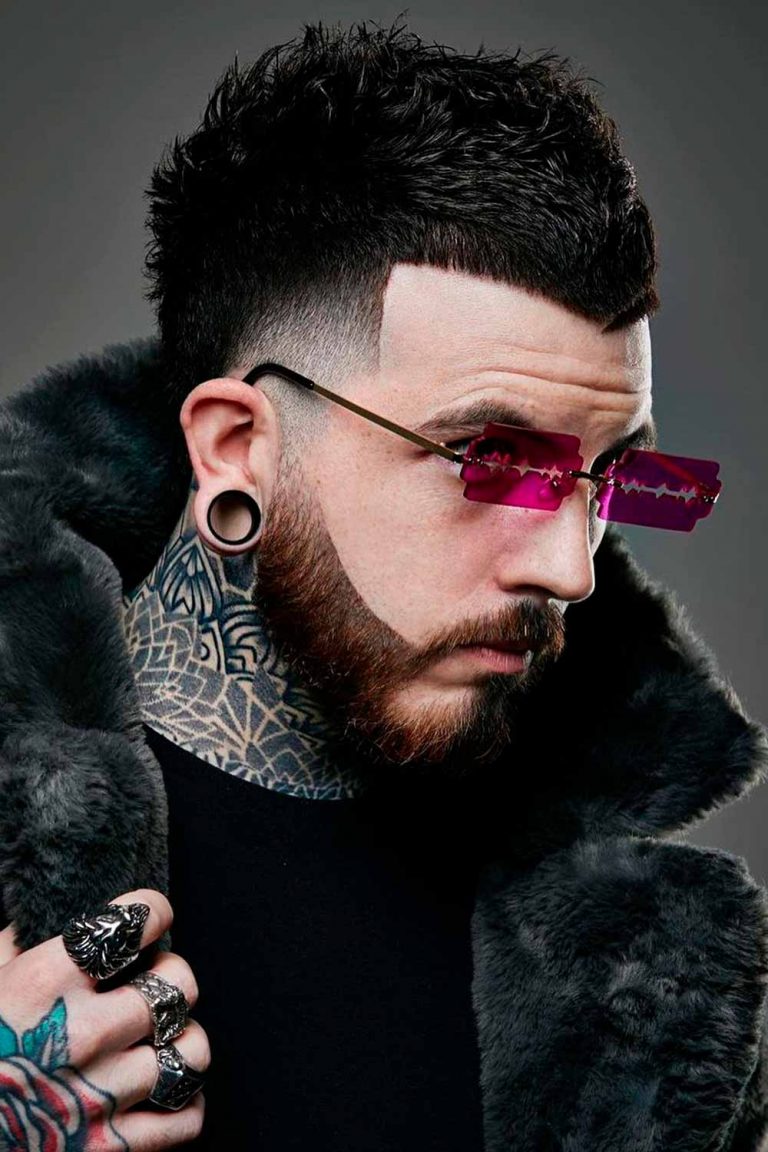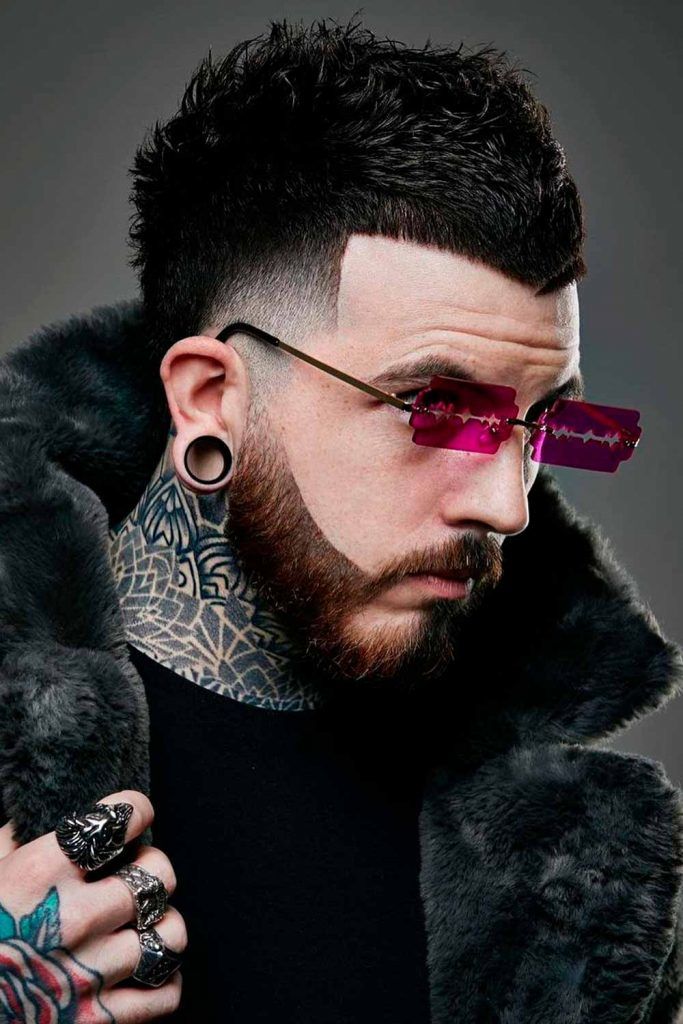 Source: @r.braid via Instagram
Crew Cut Low Fade
A mens low fade is a great accompaniment to a crew cut, as it gives this classy haircut a trendy twist.
Source: @egobarbers via Instagram
Low Fade Curly Hair
Low fades are a real savior for curly hair guys, as they allow you to tame your locks in almost one clip.
Source: @hayden_cassidy via Instagram
Low Fade With Design
As a low fade taper does not take much hair off the sides and back, it allows you to adorn it with an intricate hair design. So, do not limit your imagination.
Source: @egobarbers via Instagram
Afro Curls
Another trendy look is a low fade black men tend to prefer this cut to tame their look. A reason for the selection of the low fade haircut black man prefers is the neat and tight appearance and a chance to still keep some length in his curls. The best option for the low fade haircut black gentlemen wear is to fade down to the skin to create contrast.
Source: @cool_cutz via Instagram
Faded Side Part
Not sure how to accentuate a short low fade haircut? Try a simple yet impactful side part. It instantly adds interest to your hair and makes the cut more groomed. If you want to take it to another level, go for a hard part, which is basically a shaved line on either side of your head.
Source: @sirpaulcharles via Instagram
Voluminous Wavy Pompadour With Low Fade
Source: @groomed_barber_club via Instagram
A low fade has been around for ages and, like most haircuts, tends to evolve with the times. However, its basic structure remains the same. This timeless cut is sure to continue its evolution but will remain at the forefront of men's styles for decades to come. A low fade is a cut you can always rely upon to give you a clean, classic look that compliments your personality.
FAQ
How do you fix low fade?
To fix a mens low fade haircut, follow the next steps:
1. Using clippers with no attachment and the lever in the long position, trim the hair on the back and sides, working from the bottom upward to the middle of the head.
2. With the lever in the middle position, run the clippers under the area previously trimmed.
3. Moving the lever to the shortest position, repeat the previous step.
4. Using the clippers with the zero attachment and the lever in the short position, blend the trimmed back and sides into the longer hair.
5. Attach guard size #1 and leaving the lever in the short position, run the clippers over the line where the short and long hair meet.
6. To get rid of any patches and achieve a smooth transition, move the lever to the long position and run the clippers all over the hair on the back and sides.
7. Attach guard size #5, move the lever to the short position and blend the hair on the back and sides into the top.
8. Using clip #4, eliminate any unevenness or patchiness.
9. Clean around the edges using the clippers with no clip attached.
Is a drop fade a low fade?
A drop fade is a type of a fade cut. Just like a straight-lined fade, it can be low, medium or high.
How long does a low fade haircut last?
Tight low haircuts may last up to 2-3 weeks. If you go for a classic version, then you will not need upkeep for 4-6 weeks.
Should I get a low fade?
While it is totally up to you to decide whether you should get a lowfade or not, for some men, it can be much more beneficial than other fade types. Thus, if you have long locks and looking for a low key way to spice up your hairstyle, then a low fade may be your best bet.
What is the lowest fade?
The lowest fade haircut extends only an inch or two above your hairline.
How do I ask my barber for a low fade?
As a low cut fade is quite a popular mens haircut, it is most likely that your barber knows how to create it. Though, what you should specify is how low and how long you want it to be as well as what hairstyle on top you are planning to pair it with.