Braids for men have gained huge popularity among gents with different lifestyles and hair textures. Such hairdos can also be referred to as cornrows, which are primarily popular with guys who have natural hair. And now, the men's braids have become more diverse, ruining the stereotype that braiding techniques apply to women's fashion only.
So today many modern guys rock their fades with superb textures and a great feeling of stylishness.
As well as man bun or top knot hairstyles, a man braid is another unique, yet socially acceptable styling trend. With medium-to-long hair length, you can get yourself not only a fancy, manful look but also provide yourself with a super sharp and comfortable-to-wear style.
What Is The Man Braid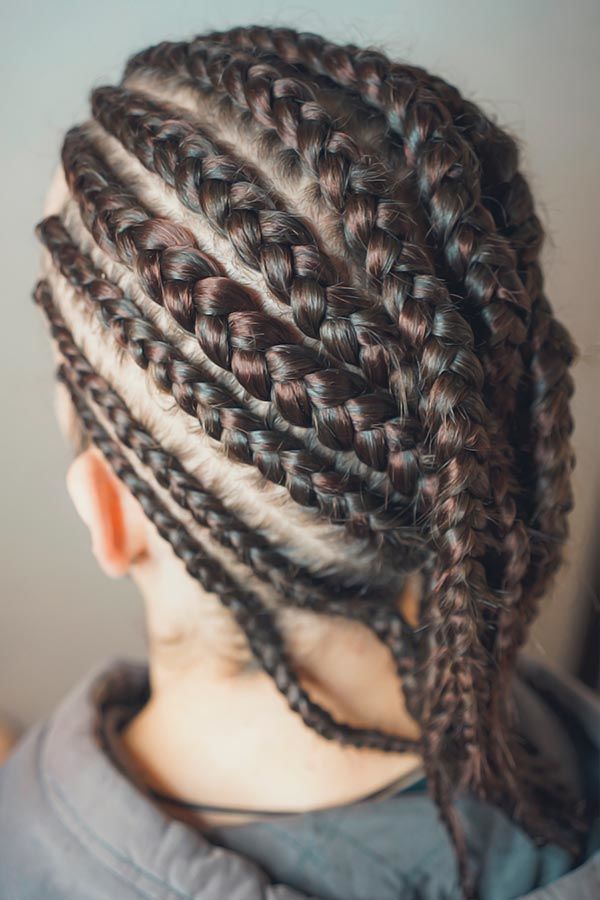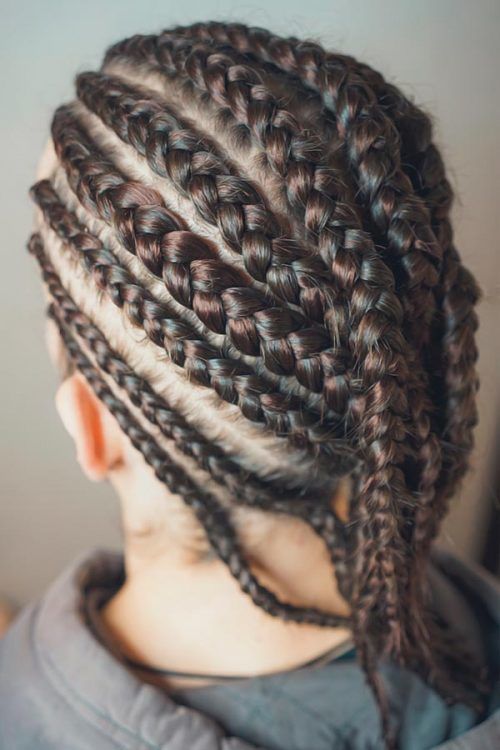 Source: gorgeoussab/Shutterstock
As a growing trend, a braid is one of the men's long hairstyles have lots of variations and techniques, but the French braid is considered the most length-versatile one. One of the best things about such hairstyles is that they can flatter all face shapes, drawing attention from flaws with their textured silhouette or enhancing some features with minimalist ideas.
What Do I Need To Get A Man Braid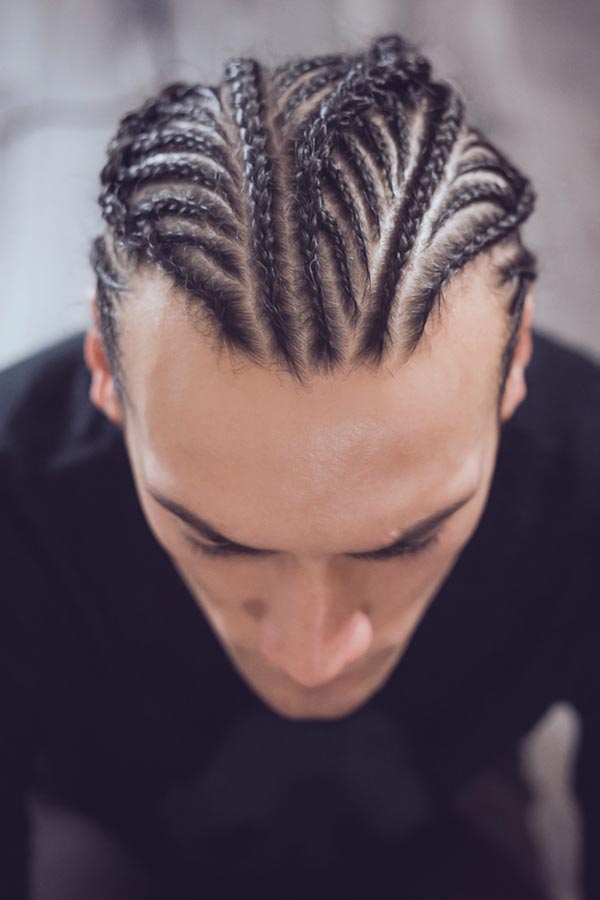 Source: gorgeoussab/Shutterstock
How long does your hair have to be to braid for guys? The length required for braiding depends on the braider. If your hairstylist is skillful enough to catch very short hair, then you can arrange an appointment once your hair has reached 2 inches length. Yet, intricate plaiting is hardly possible on such hair. Thus, you should wait until your hair reaches 4 inches length to try elaborate braid styles.
How To Do Braid Hairstyle?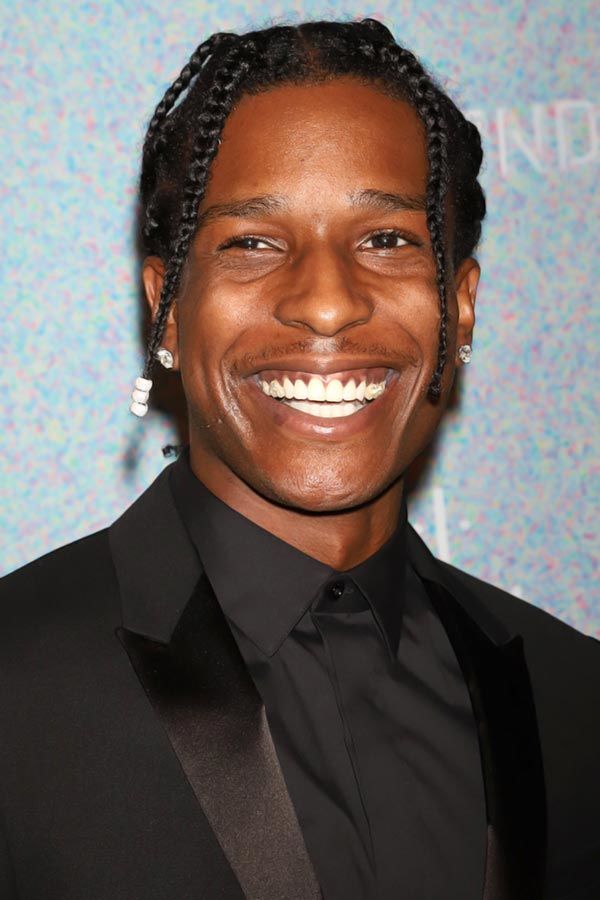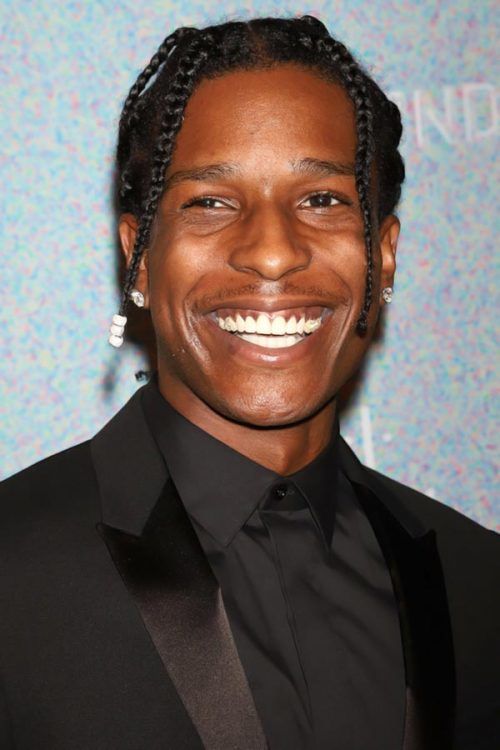 Source: JStone/Shutterstock
If you are about to learn how to braid hair, the French braid will be your perfect start. The process may seem tricky to you, but with a little practice you will master braiding and be able to get a man braid hairstyle yourself. Follow the basic steps!
For comfortable parting, always work with damp hair. Comb the section that you want to braid.
Then, section off the front section of your hair and split it into three strands.
Start braiding your hair by crossing the right strand over the middle and then the left strand over the middle one.
Pick a new strand from a bit further to the back of your head and incorporate it into your left strand, working with the left side.
Then, do the same with the right side.
Go on braiding until all of your hair is brought into a braid, and when it's done, secure it with a tie.
Types Of Braids For Men
There are lots of unique designs and man braid variations. So every man, regardless of his image and age, can get himself a perfect and comfy hairstyle. Since braided hairstyles for men can be as diverse and creative as one wants, we've gathered the most iconic and sophisticated ideas that will inspire you for creating your own man braid.
Braided Hairstyle For Short Medium Hair Men Of Any Age Can Try
Source: @lena_piccininni via Instagram
Braiding your short hair is extremely hard, yet there are some ways of getting braided short hair men find to be tricky when styling; just choose the right braiding approach. You can opt for very thin braids that go along or under your hairline, securing them with gel so that they won't fall apart.
Braids And Undercut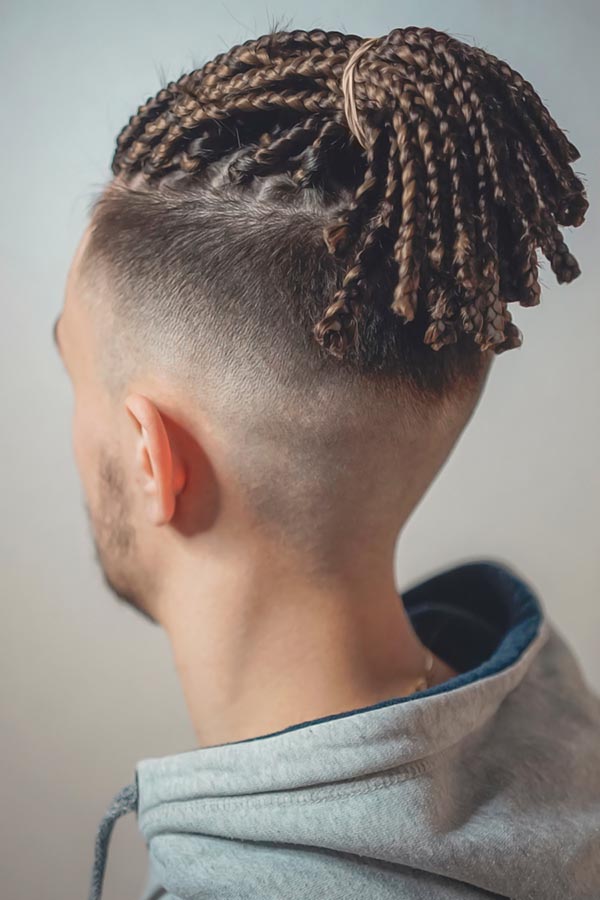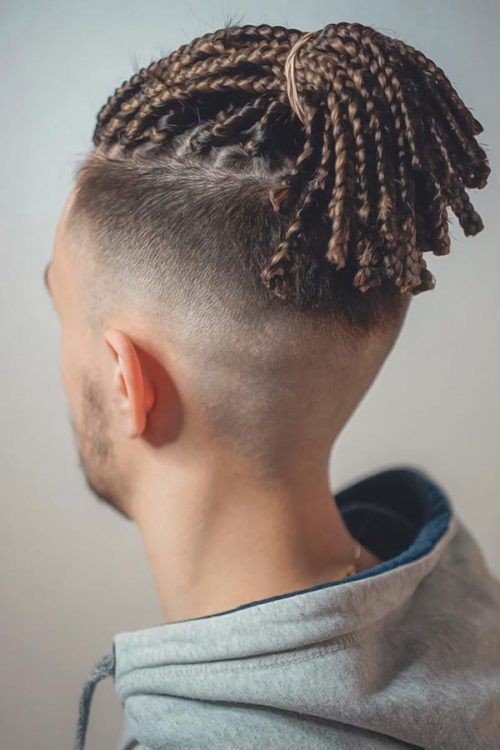 Source: gorgeoussab/Shutterstock
The undercut, enhanced by a couple of thick braids that fall on cleanly shaved sides is probably one of the most distinctive braids styles. If you're looking for a way to make your hairstyle stand-out, don't look any further the idea.
Tied Up Braids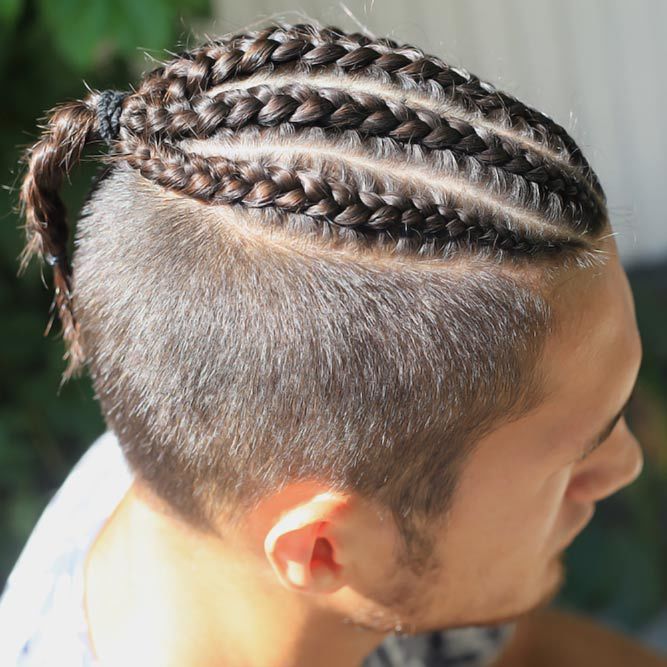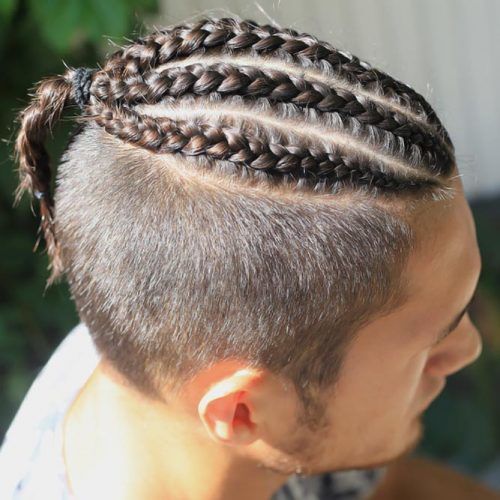 Source: gorgeoussab/Shutterstock
Practical, versatile, and outstanding: the man bun braids look that you can have with lots of medium, tight cornrows gathered together. You can wear these braids as they are or put them into a braided man bun that will emphasize the captivating design on the top.
Small Side Braids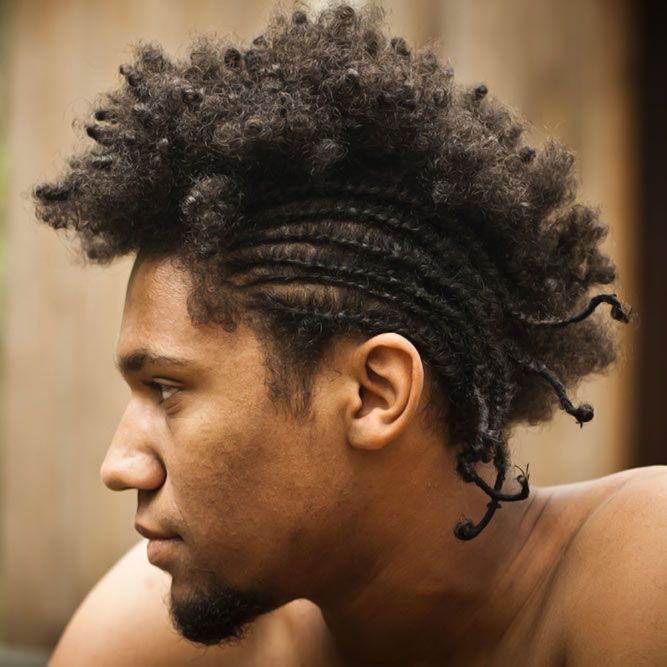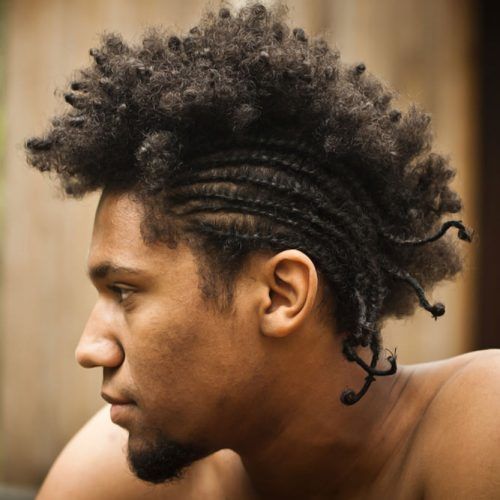 Source: Katarzyna Wojtasik/Shutterstock
How do you like the idea of spicing up your dramatic long hairstyle with a one side braided look? This idea will give a fresh take at the familiar pompadours or long undercuts, just braid one side and see the difference.
French Man Braid Down On Top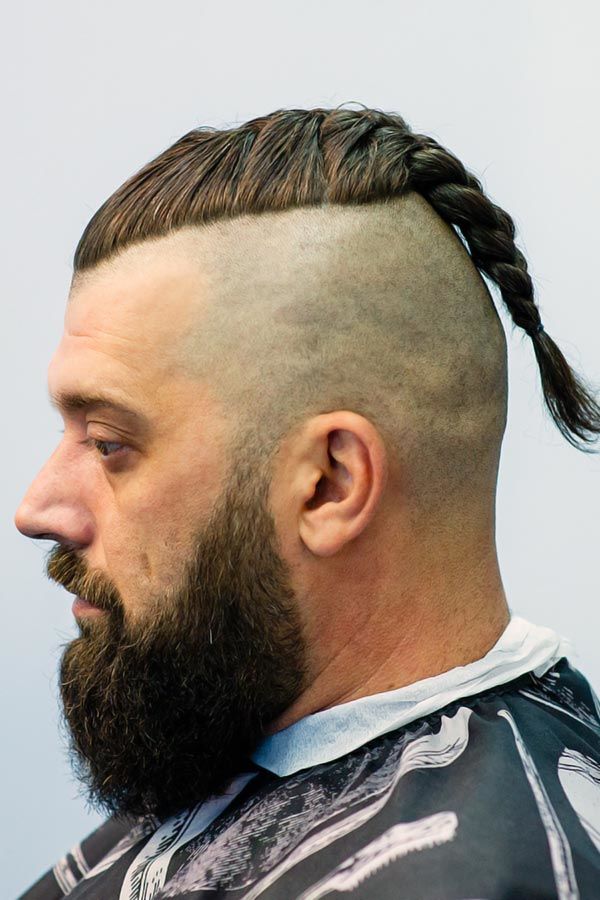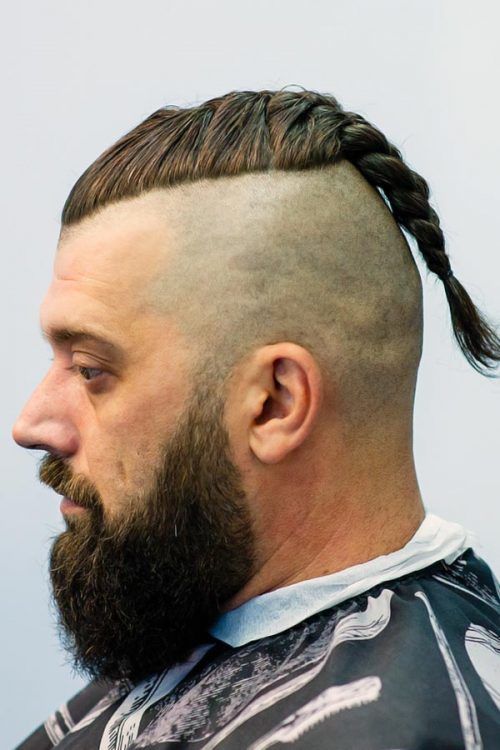 Source: Lesia Kapinosova/Shutterstock
Meet a fresh and super attractive way to play around with your long hair on top. A loose French braid with pulled edges and an extraordinary ombre will show off your incredible sense of style at its best, introducing modern man braid hairstyles in a whole new light.
Braided Bun And Beard Shape
Source: @lena_piccininni via Instagram
Why don't you mix all the men's trends to get a truly irresistible and masculine hairdo? This idea has everything a stylish man would like to wear: a precise texture, a neat fade, the ageless man ban, and a beard. A braid fade haircut is the style precision in its purest!
Braids For Men With Top Knot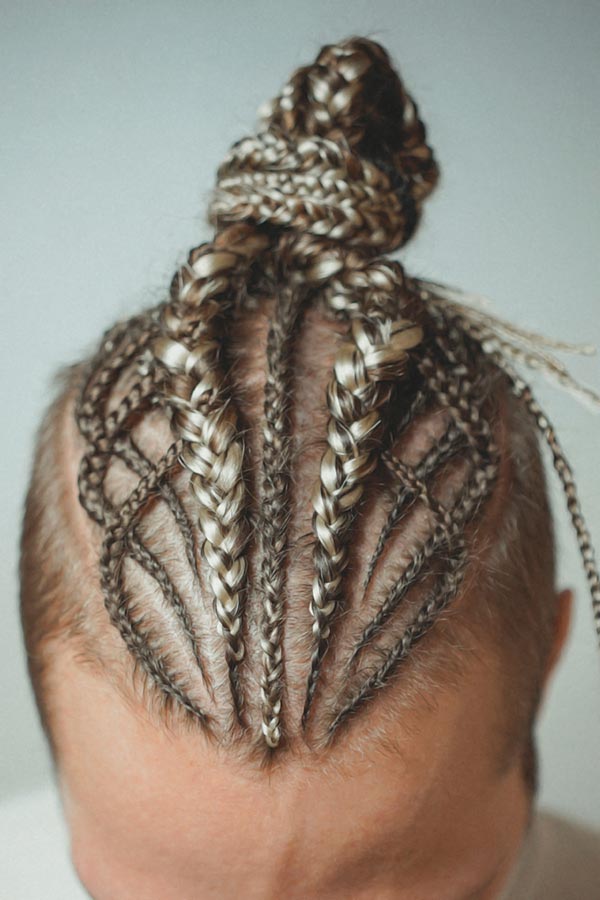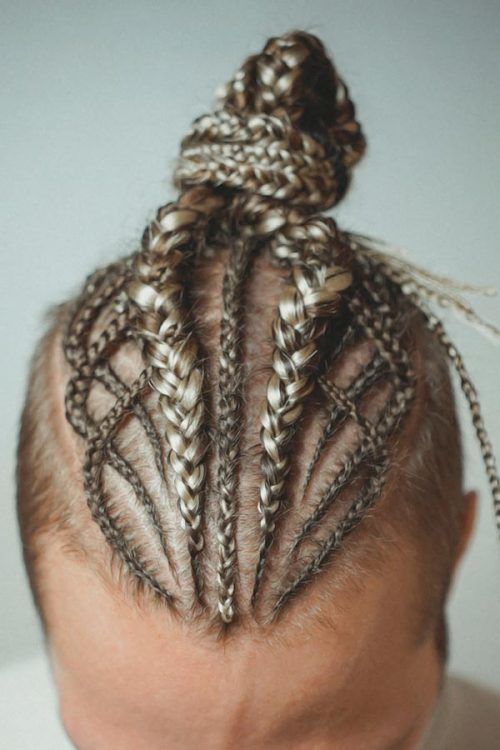 Source: gorgeoussab/Shutterstock
If you'd like to set the focus on the top, top knot braids are a must-try for you. First, start with simple cornrows, choose the parting and the gap between them, and once they reach the very top, twist them tightly into a knot. A fade will look awesome with this contemporary style.
Man Braids Hairstyles For Extra Long Hair
Nowadays, instead of opting for simple and low-maintenance cuts and styles, modern gentlemen tend to grow out their hair. If you think that getting more distinctive and masculine looks requires extra long hair length, we'd like to share with you the top man braid hairstyles you can do to tame or emphasize your long and full mane.
Long Fishtail Braid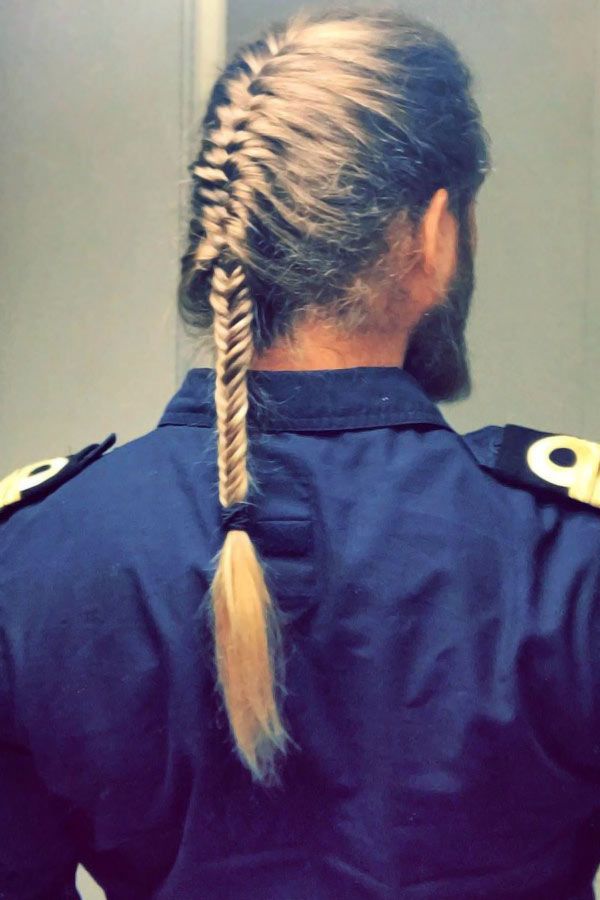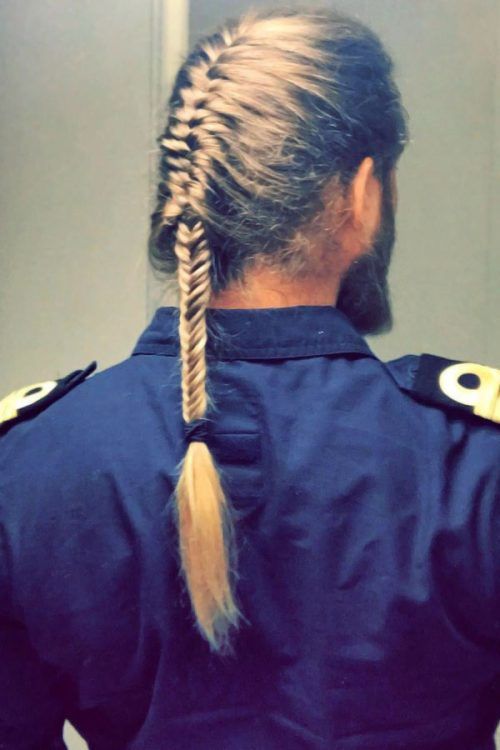 Source: @lasselom via Instagram
Wearing a fishtail braid on long hair is one of the simplest ways to show off your strong nature, especially when such Viking braids are accompanied with an undercut and beard. The point is that the style has a Viking-inspired spirit, that's why it looks so manful.
Colorful Cornrows
Source: @game_of_braids via Instagram
These stand-out colorful braids are here to get you out of your comfort zone and add some colorful boldness to your look. Men who are not afraid to be in the spotlight can accentuate their long cornrows with bright colors, thus making a great statement.
Long Braids For Men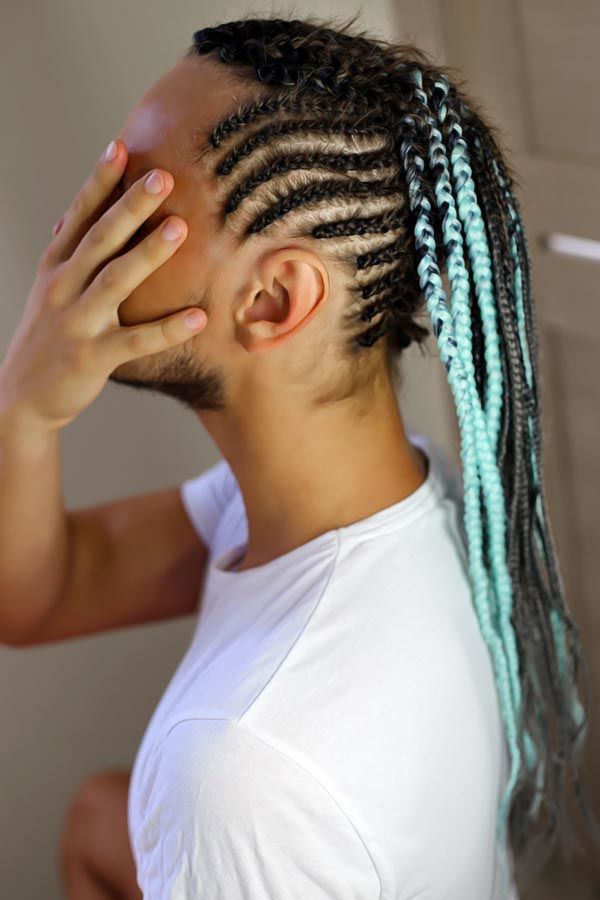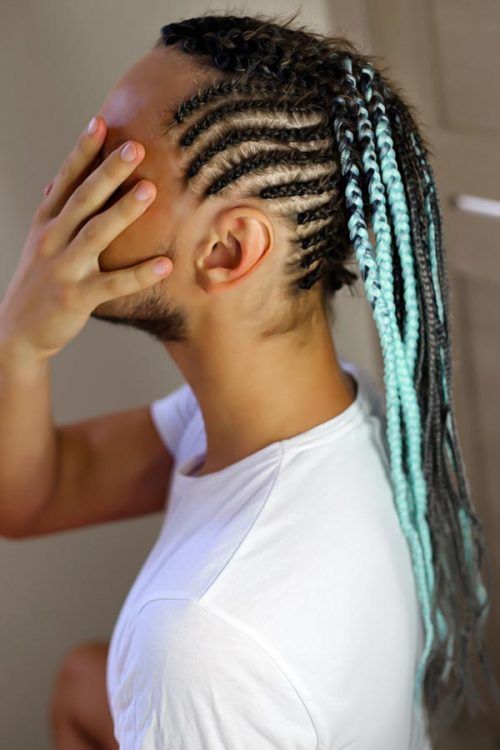 Source: gorgeoussab/Shutterstock
You've done a great job growing out your long hair, so how about showing it off? A full set of box braids, no matter if they're thick or thin, will look simply amazing and also will get the most out of your long locks.
French Man Braid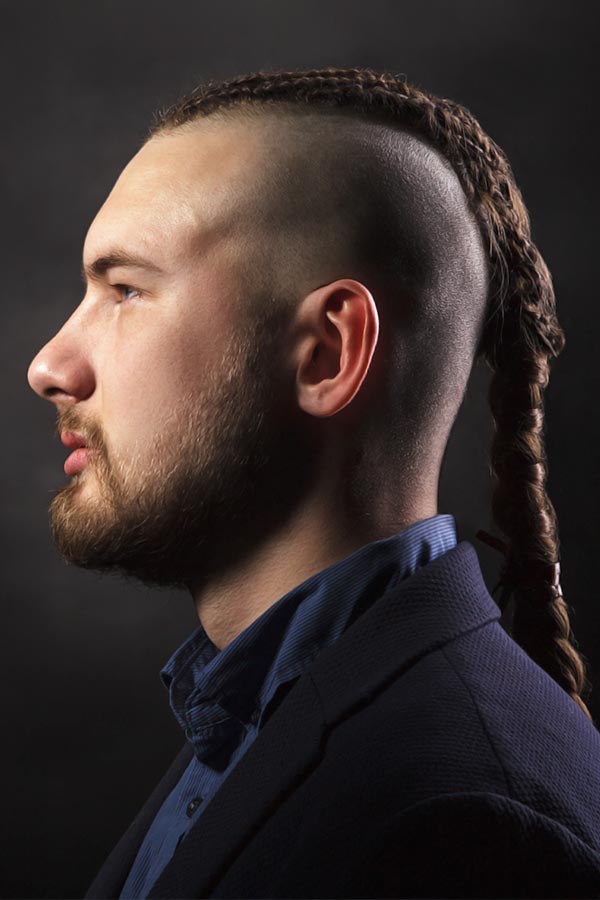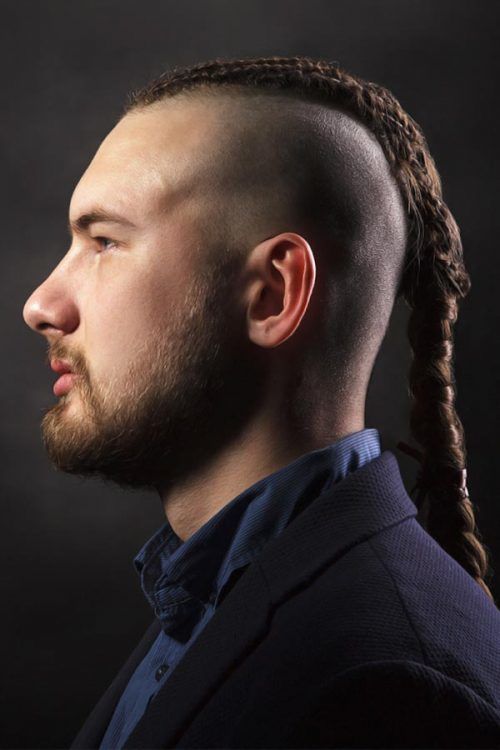 Source: restyler/Shutterstock
When we speak of hairstyles for men braids offer the best examples. Even though sporting a man French braid may be quite a common decision, nothing can compare to the comfort that the style gives to a wearer. And if you want it to look unique, you can try to freshen it up with a new color on the ends.
Long Dreadlocks
Source: @katemagicru via Instagram
Besides the unbearably eye-catching looks, dreadlocks hairstyles also embrace some cultural vibes. If you're into the style, congrats! There are lots of ways to achieve the look: from crochet braiding to freeform locs method.
Red Mohawk Braid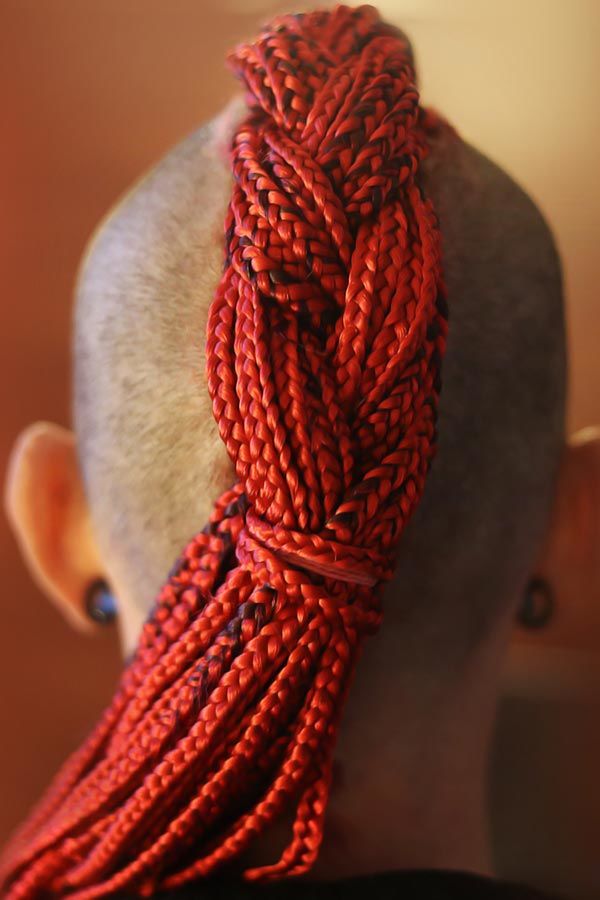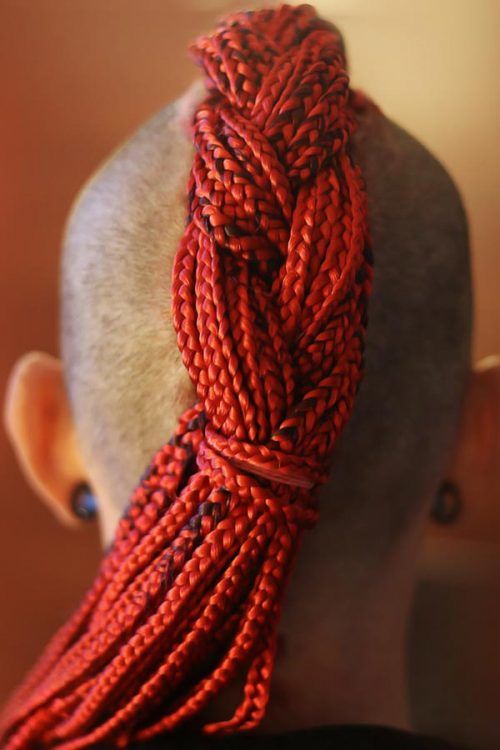 Source: gorgeoussab/Shutterstock
Although braids already look quite eye-catching, do not limit yourself in creativity. If your inner punk wants to come outside, there is no reason to restrain him. Weave the braids to form a mohawk and dye them in a bright red color for added boldness. If this is going to be your go-to look, you can even shave off the hair on the sides.
Braided Pony With Faux Locks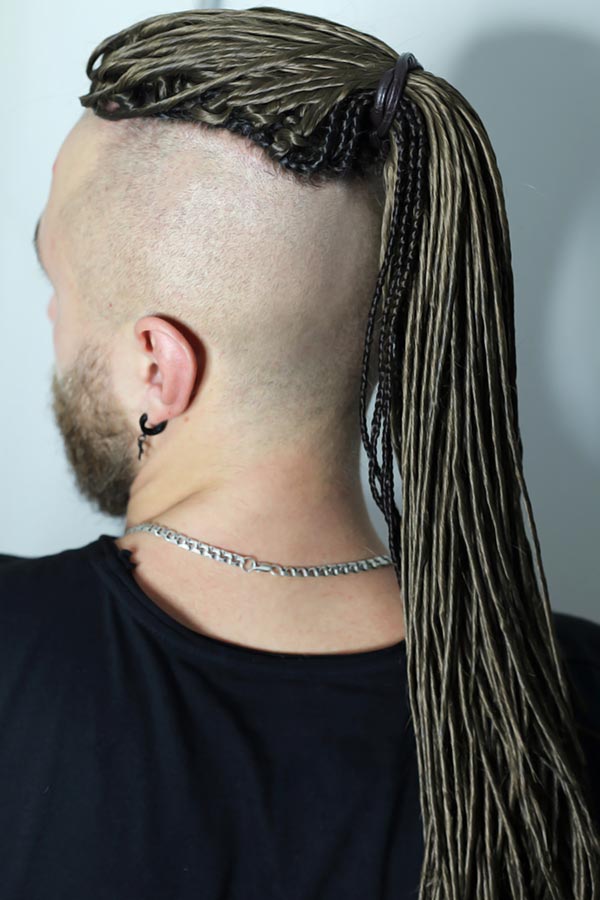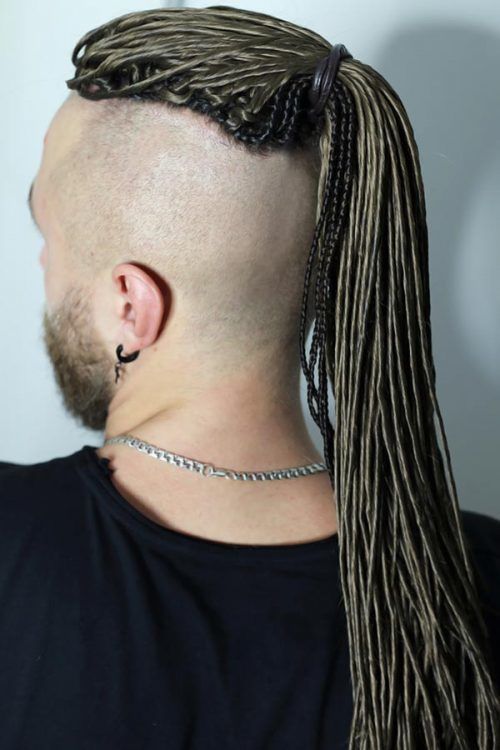 Source: gorgeoussab/Shutterstock
In case your natural hair lacks thickness, you can always resort to faux strands. This rule also works for a man braid. To wear your braids in a high ponytail, add sufficient amount of faux pieces to make it look fuller.
Thick Tight Braids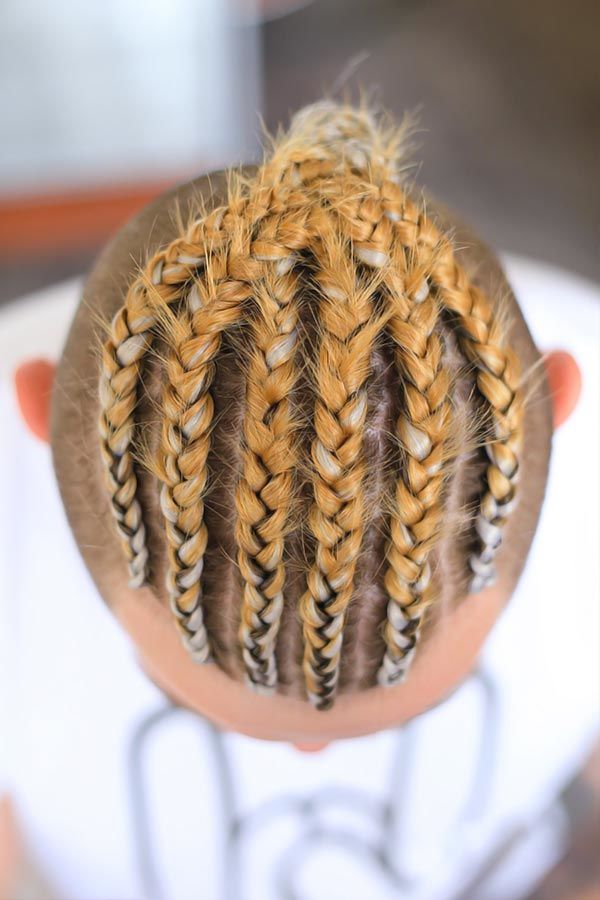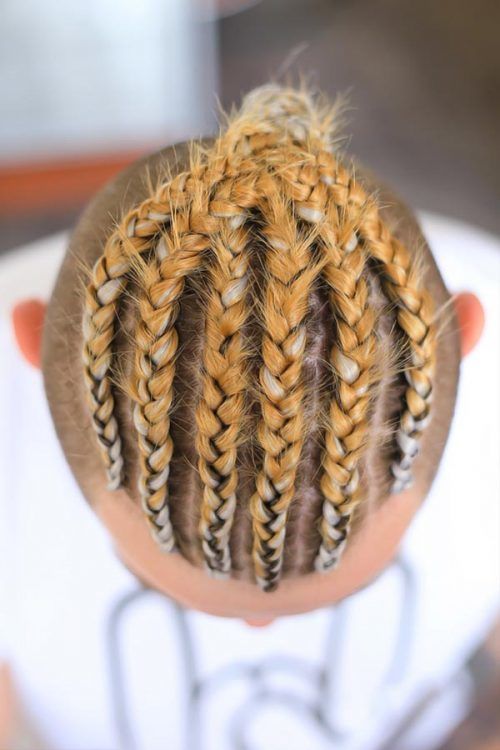 Source: gorgeoussab/Shutterstock
You do not always have to make your braids so thin. If you are after an effortless hairstyle, just make your braids thicker and tighter. In this way, they will not lose their shape no matter what you do, which makes them a low maintenance style.
Thin Braids Undercut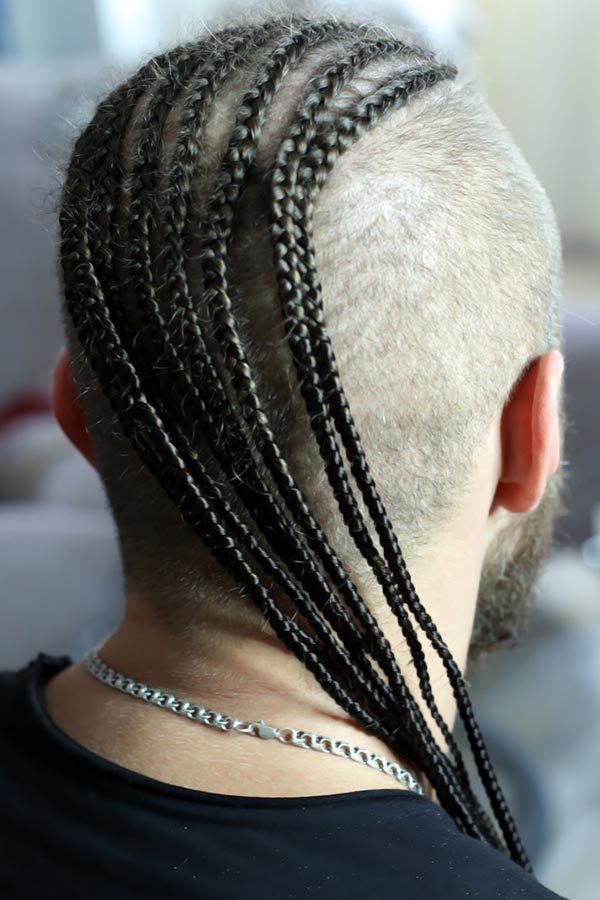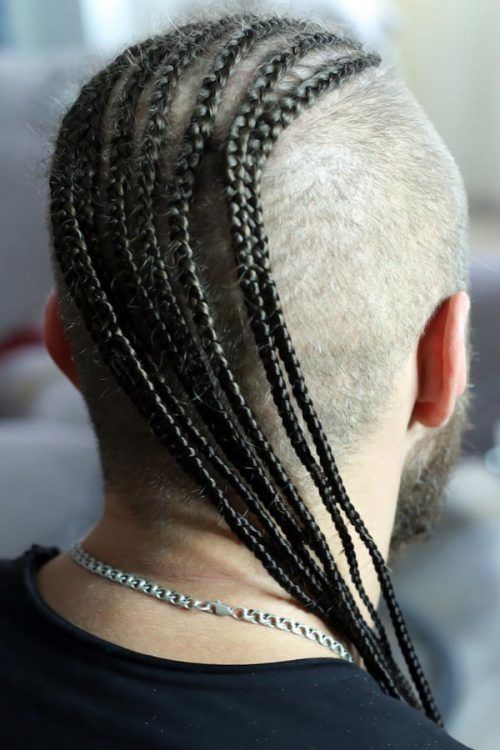 Source: gorgeoussab/Shutterstock
Thin braids seem intricate and offbeat. They make you want to look closely at them in order to identify the pattern. To accentuate the braids even more, you can complement your hairstyle with an undercut. When your sides are so much shorter than the top, the whole focus shifts to the latter.
Cornrows Crown Style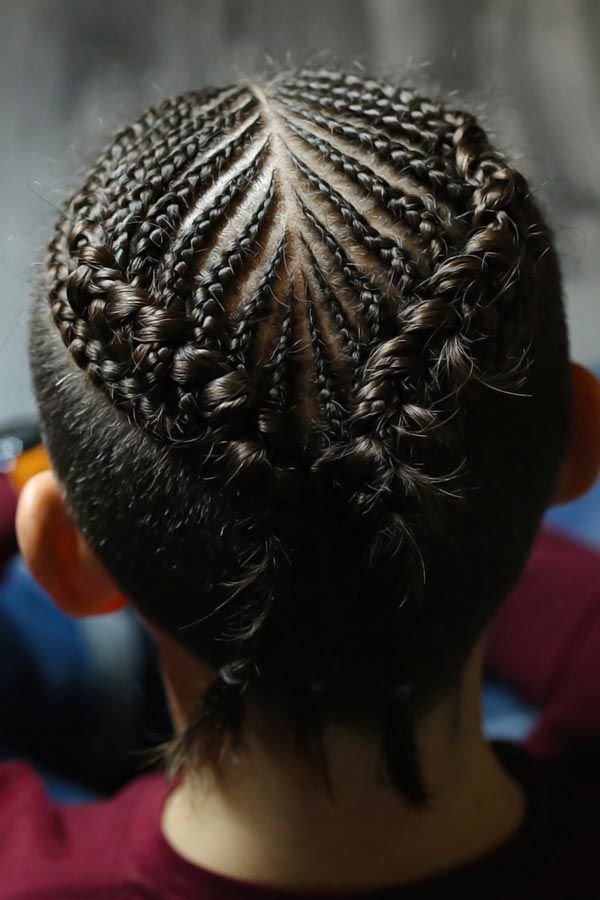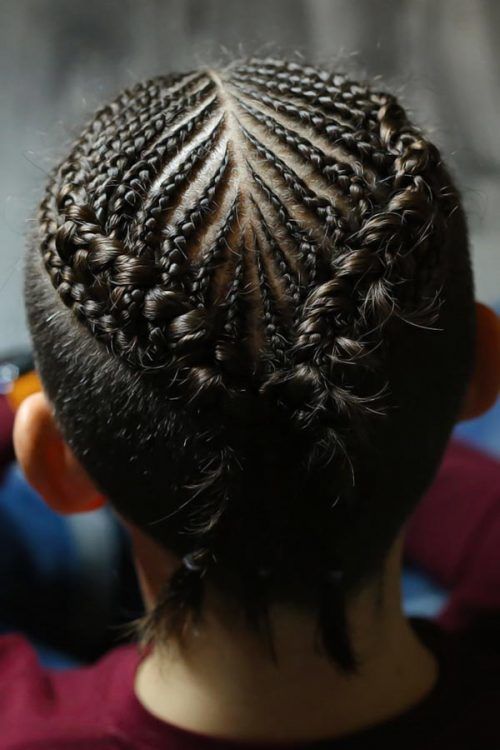 Source: gorgeoussab/Shutterstock
If you are lucky enough to find a really talented and skillful braider, then you should definitely try out this hairstyle. The hair on your crown is braided so that the cornrows form an elaborate pattern. With such a look, it does not matter what you are going to wear or say, as it will instantly make you stand out from the crowd.
Four Dutch Braids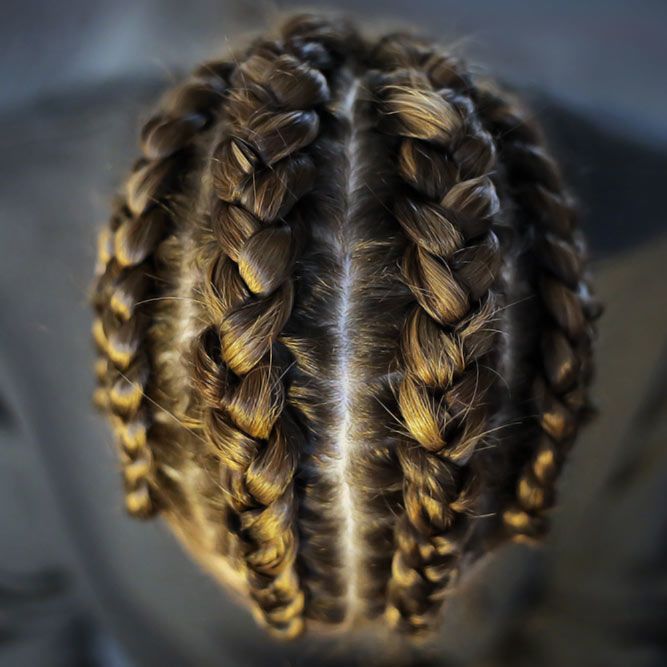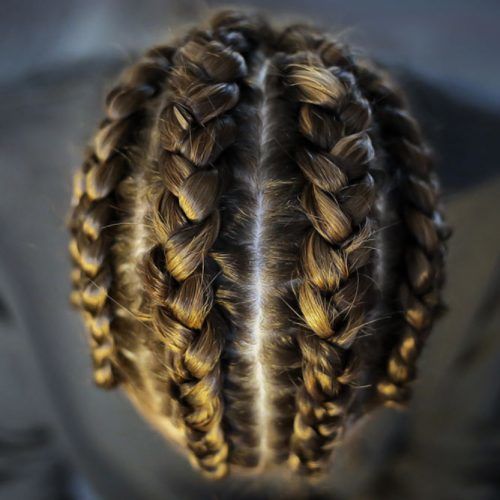 Source: gorgeoussab/Shutterstock
If you have not tried Dutch braids yet, then we honestly do not know what you are waiting for. This hairstyle is perfect for any kind of hair, thin and thick, as it creates an ample yet neat look. To achieve an edgier and more abundant appearance, go with four Dutch braids instead of two, which the African community calls Ghana braiding in case you are wondering.
How do you do a Dutch braid?
To create a Dutch braid, you need to do the following:
Brush the hair until all knots and tangles are gone.
Separate your hair on the crown of the head from the hair on the bottom.
Divide the top section into three even parts.
Take the right section into your right hand and place it under the middle section.
Take the left section of your hair into your left hand and place it under the section that is now in the middle (the former right section).
Add some hair from the right to the right section and place it under the middle section.
Repeat the previous step with the left section.
Repeat steps 6 and 7 until there is no hair left.
Tie the braid off with an elastic band.
Box Braids Style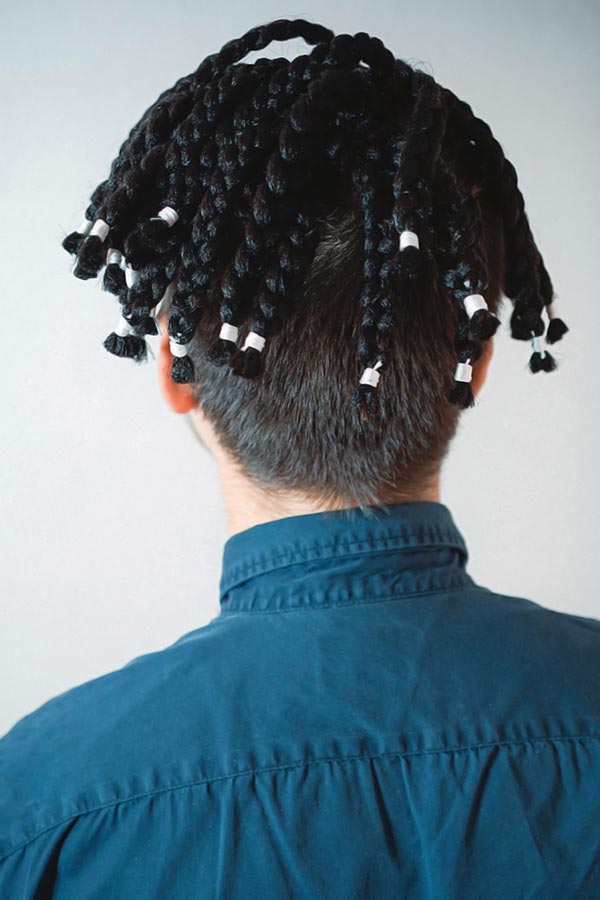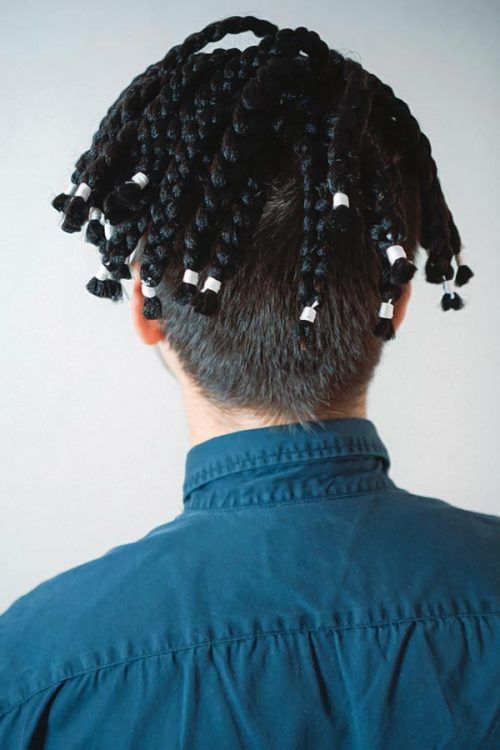 Source: gorgeoussab/Shutterstock
In case your hair is not long enough to be braided, box braids are your way to go. To pull them off, you will attach extensions, so it does not really matter how long or thick your natural hair is. Also, this hairstyle will protect your fragile tresses from breakage and other damage.
How do you maintain box braids?
To keep your box braids look their best as long as possible you should take the following steps:
Put on a satin or silk scarf every time when you go to sleep to protect your hair from frizzing.
Apply a leave-in conditioner every two or three days so that your scalp remains hydrated.
Keep your braids clean by washing them every two weeks. Dry-wash (a damp washcloth soaked in shampoo and warm water) or dry shampoo can be used between washes.
Redo the edges of your box braids to refresh the hairstyle.
Undo your braids no longer than eight weeks after you got them.
Layered Long Braids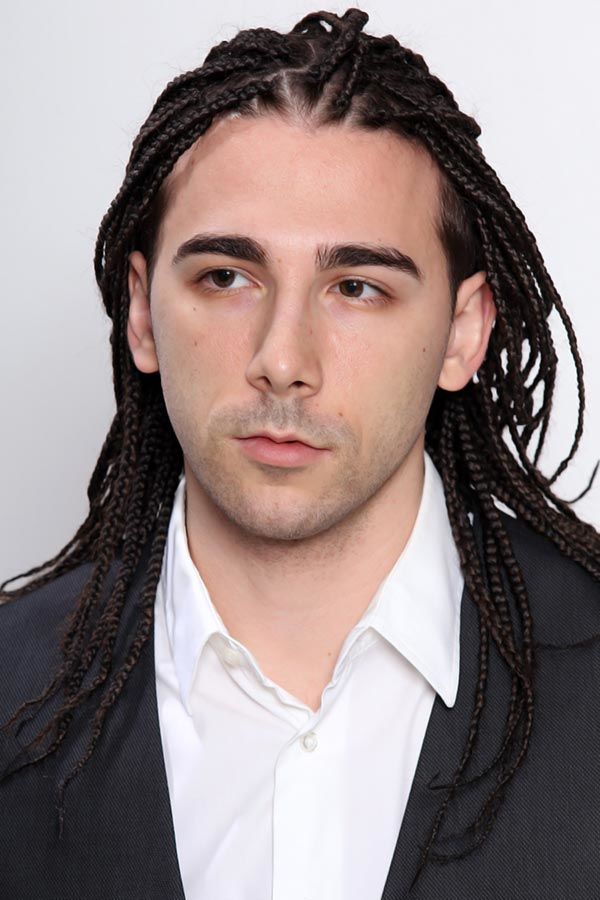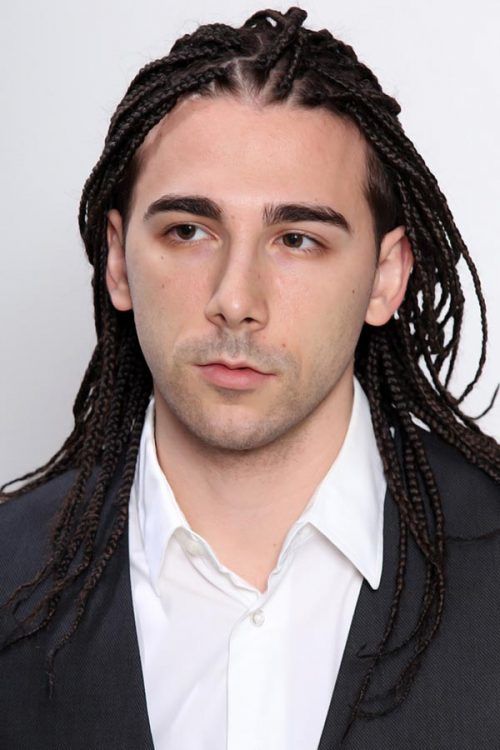 Source: Bojan Culibrk/Shutterstock
Long braids allow you to tame even the most unruly locks in a blink of an eye. However, with such a style, you may sometimes have to sacrifice the thickness of your hair. So that it will not happen, opt for layered braiding. Thanks to the different levels of layers, your hair retains fullness and density.
Single Plait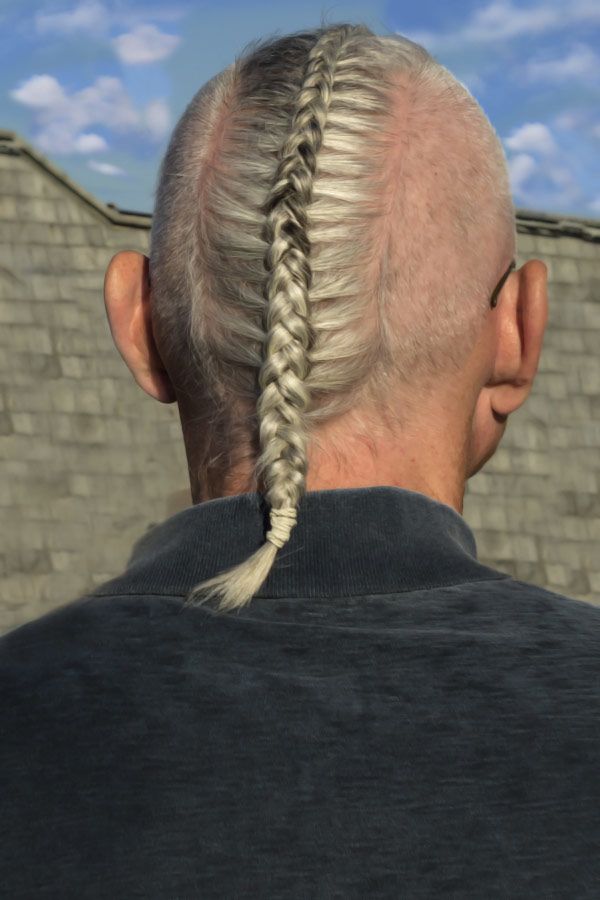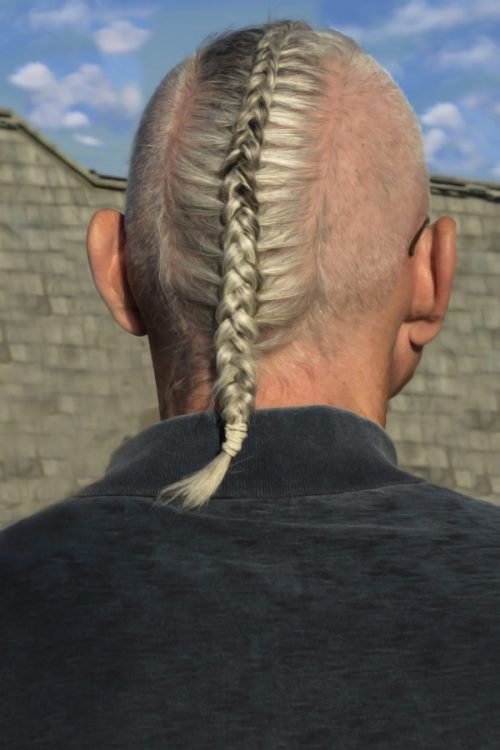 Source: ivanoel/Shutterstock
There are many ways of how you can pull off a single plait. If you are just looking for a utilitarian hairstyle that will take your locks away from your face, then choose a plain braid. In case you are interested in something more unconventional, go for a plait created with the central section of your locks while shaving off the hair from the sides for a more daring look.
Xzibit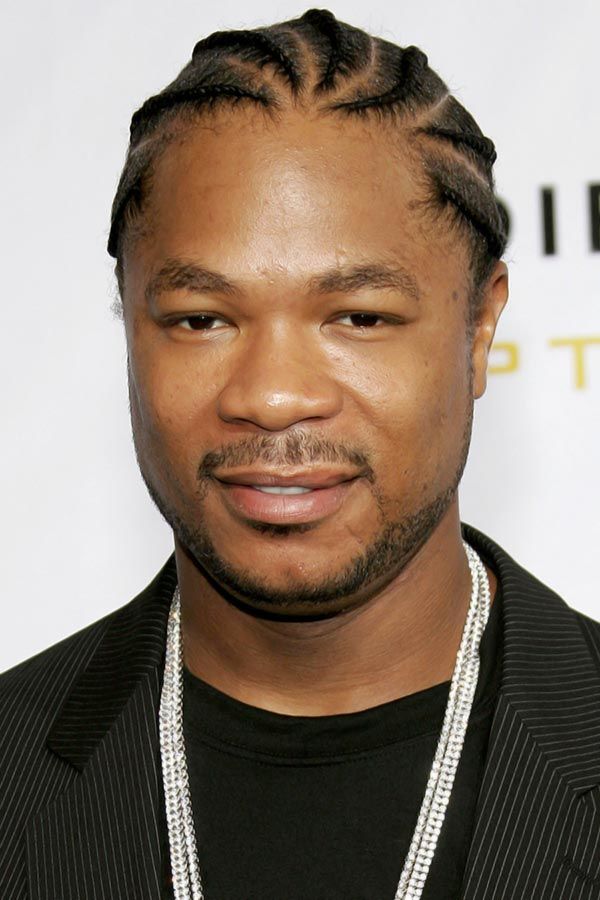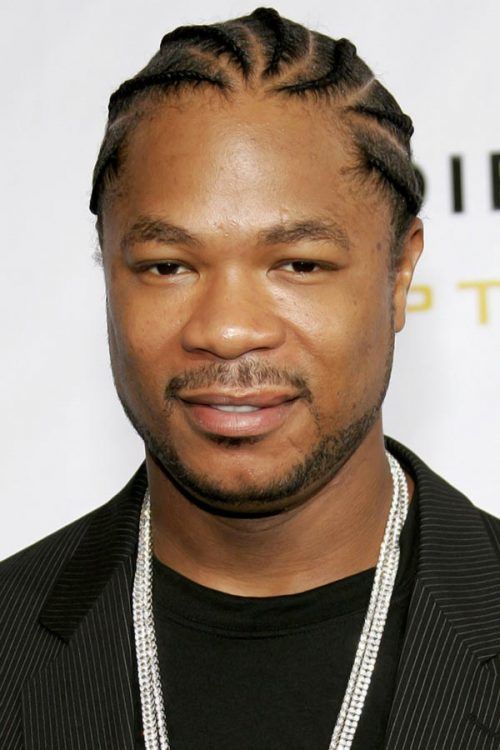 Source: Tinseltown/Shutterstock
It is always a good idea to draw some inspo from a celebrity. And when it comes to a man braid hairstyle, it is hard to think of a better example than Xzibit. The popular television host and rapper has made this cornrows pattern his signature look for good reason. It is low maintenance yet stylish and elaborate. On top of that, it works for any kind of locks.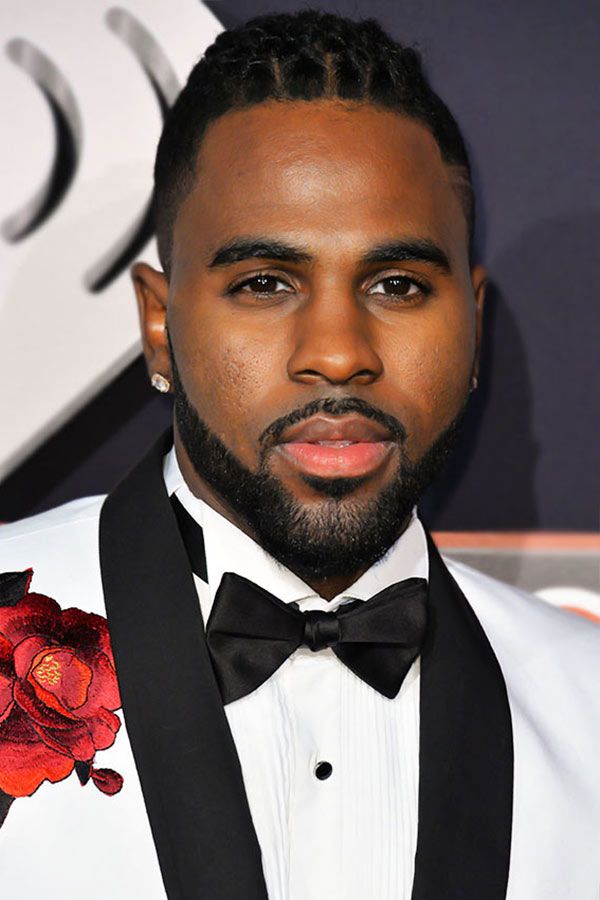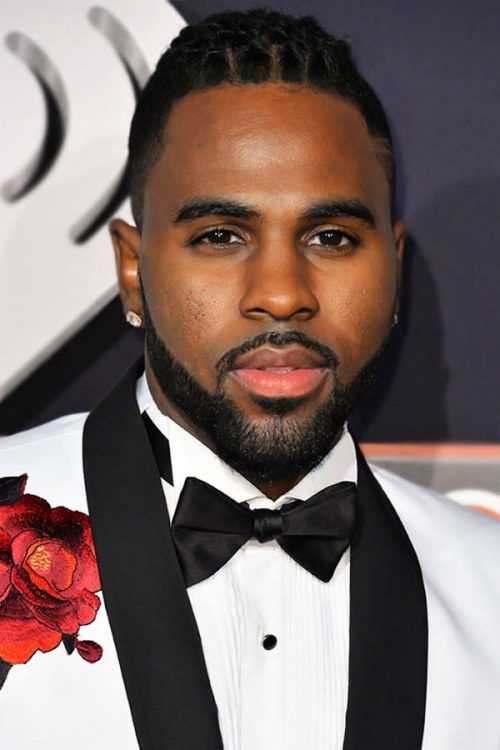 Source: Jaguar PS/Shutterstock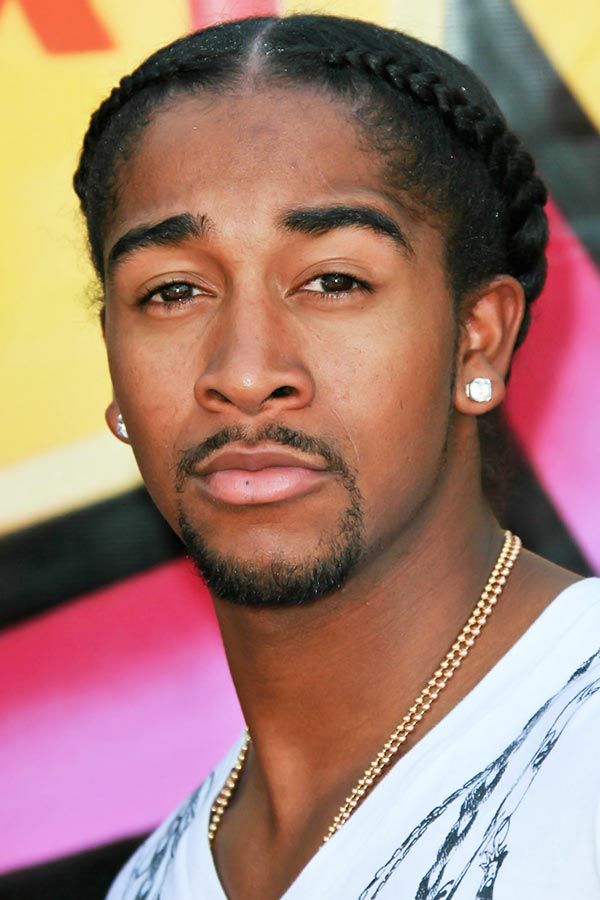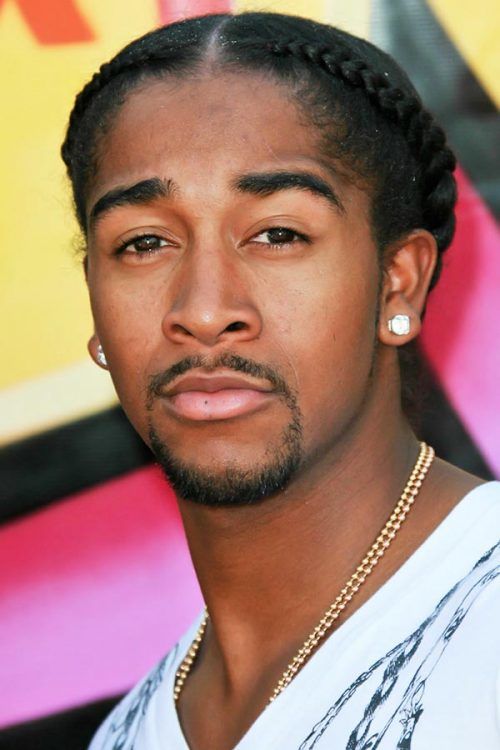 Source: s_bukley/Shutterstock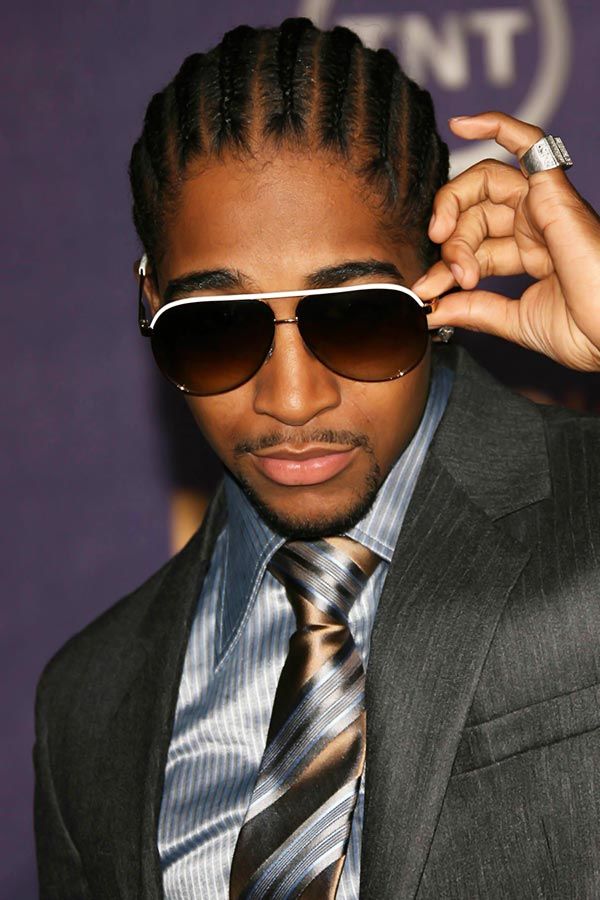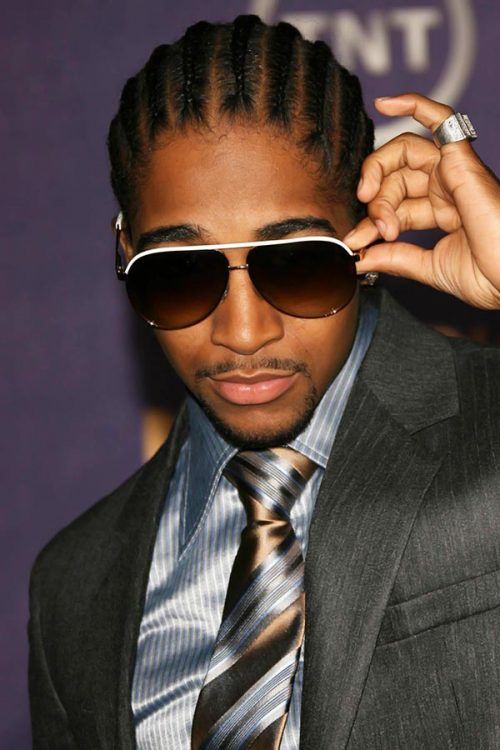 Source: s_bukley/Shutterstock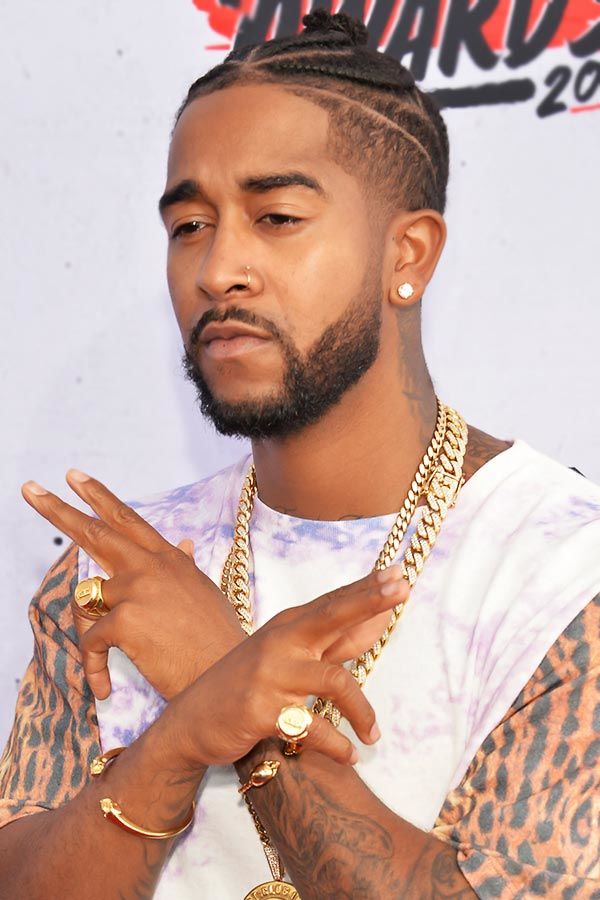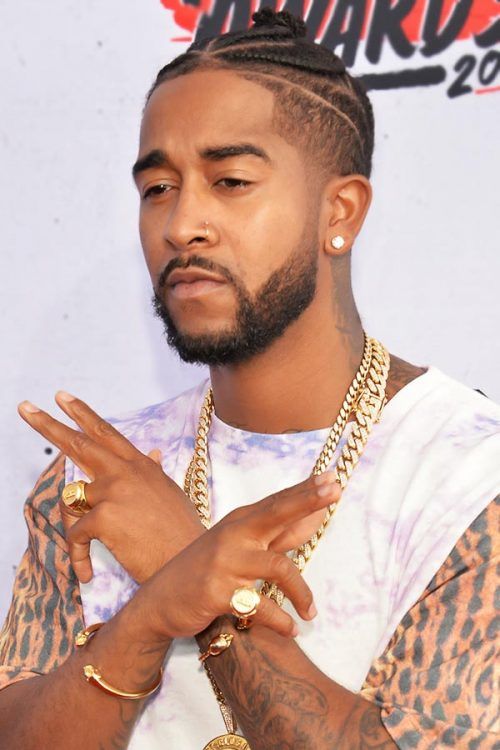 Source: Featureflash Photo Agency/Shutterstock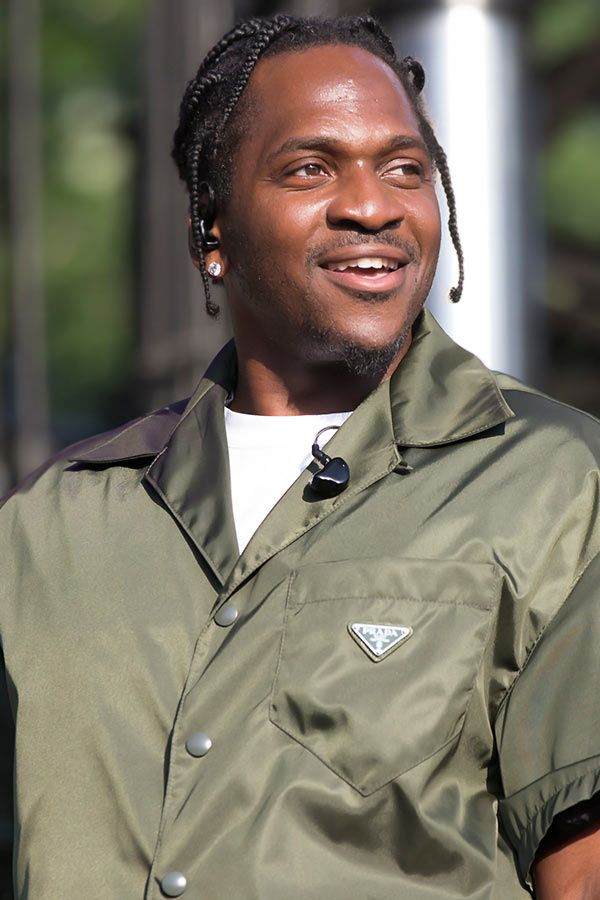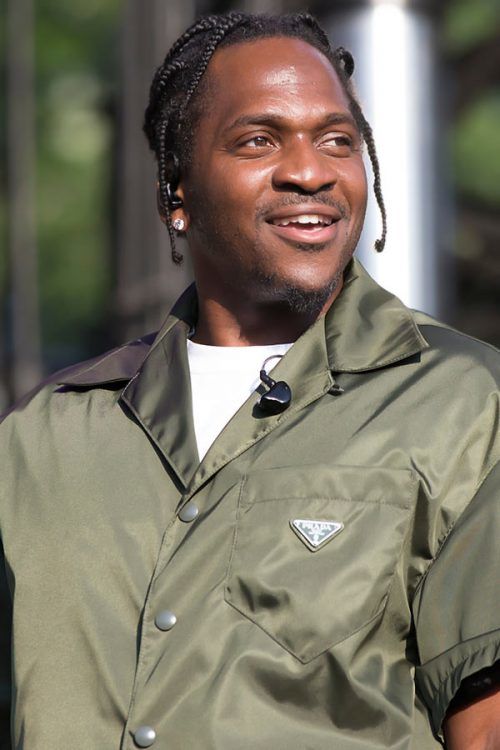 Source: Sterling Munksgard/Shutterstock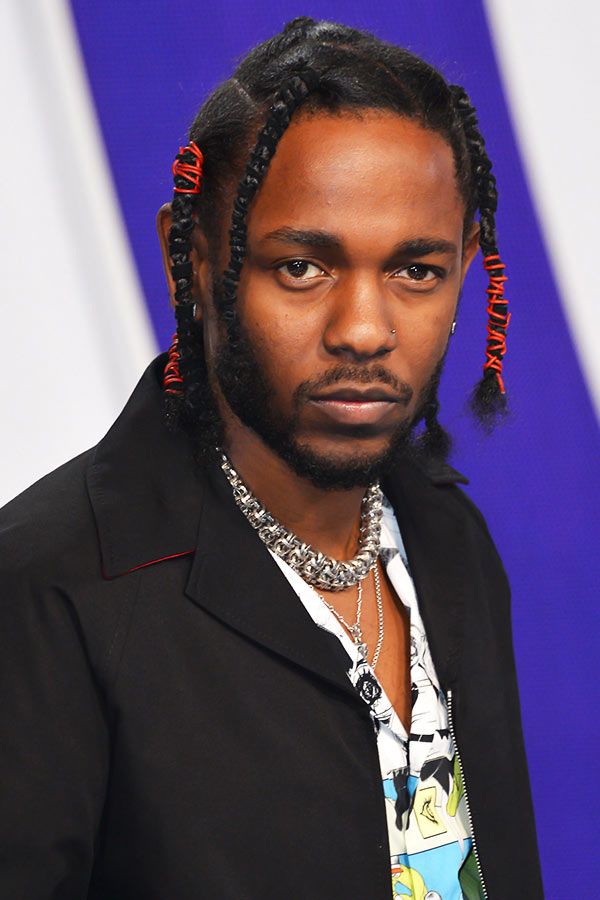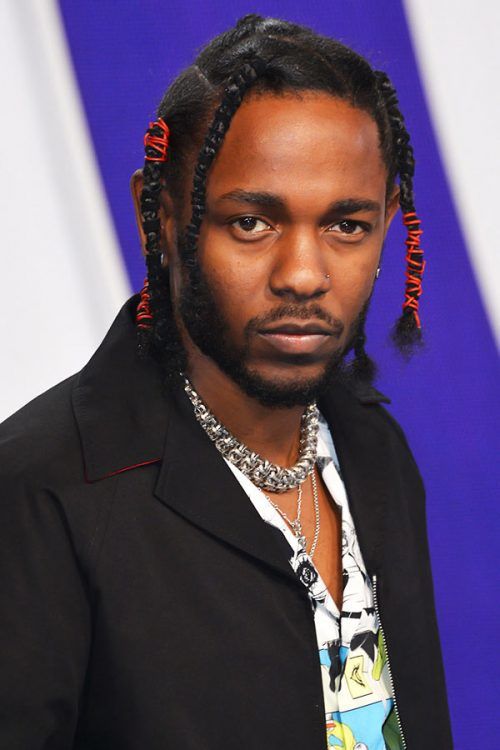 Source: Featureflash Photo Agency/Shutterstock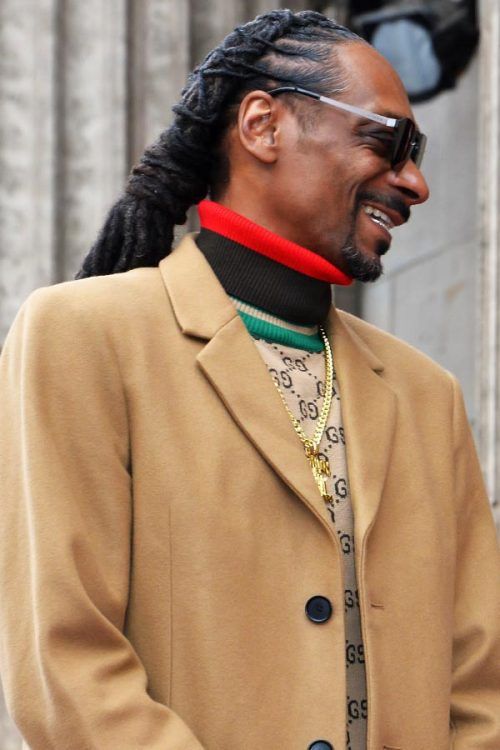 Source: Featureflash Photo Agency/Shutterstock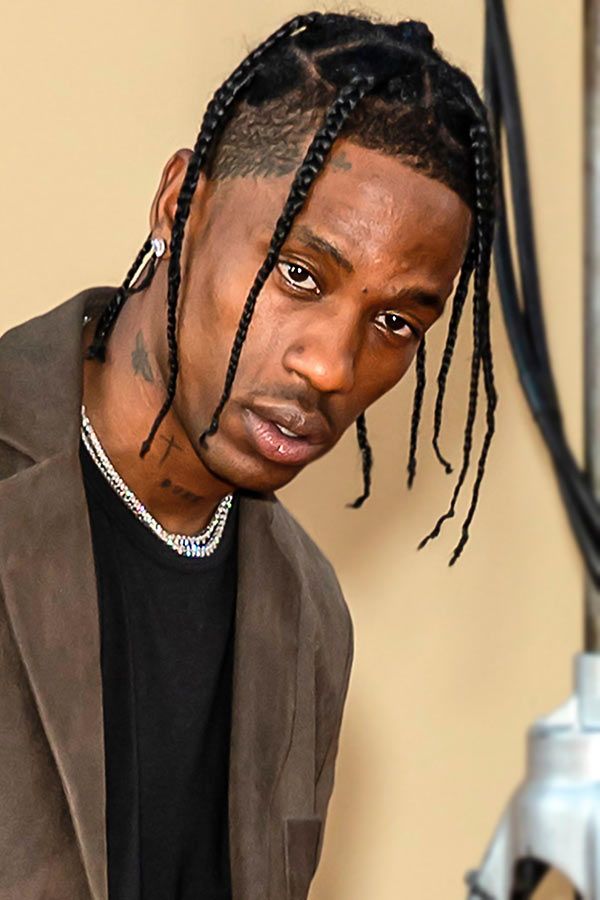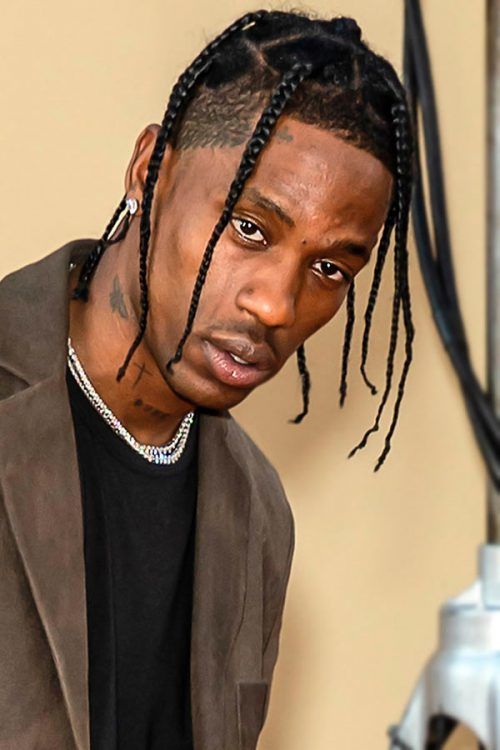 Source: Ovidiu Hrubaru/Shutterstock
Now you know why man braids are so popular today: they're an attention-grabbing and classy way to experiment with medium to long hair styling. With our today's ideas and tips, you can easily recreate the hairstyles you see on famous musicians and sports players. Go and give one of the styles a try!