Haircuts for men can be classic or trendy, depending on the variation and of course how you style it. Whether you want a low-maintenance cut that's truly washed and go, or you seek a flattering hairstyle that's stylish and handsome, we've got you covered.
Take a look at the best haircuts for men that we've lined up. Why not go bold and make head-turning mens haircuts this season?
Get inspired for a new look this season. The following men's short haircut ideas flatter a variety of face shapes, hair types, and lifestyles. See our gallery and find a cut that suits you this fall.
See below the hottest men's medium length hairstyles that are popular right now. Awesome long men's hairstyles to try out this year are presented in our photo gallery.
Crew Cut Fade Mens Hair
Always a striking and classic choice, the crew cut is a cropped men's style that can be left as long or as short as you'd like. Whether you slick it back or spike it, a crew has endless potential.
Source: @horatiuthebarber via Instagram
Skin Fade + Spiky Texture
Skin fade is another way to add some more drama to your outlook. The truth is that this type of hair fade does not involve much hair at that point since the cut is actually incorporated into your skin. The best way to pair such a fade would be with short to medium hair on top and quite sick facial hair.
Source: @r.braid via Instagram
Textured High And Tight Haircut For Men
Another short haircut men seem to never stop rocking. Just like the buzz, this cut has a military origin. But when it comes to men's fashion, nothing stands still, and the high and tight idea is no exception. Today, you can pair the cleanly shaved sides with a textured top, thus keeping the look neat yet striking.
Source: @tombaxter_hair via Instagram
Undercut Fade Guys Haircuts + Side Part
Pay homage to the skater days with a stylish undercut. This cut has lots of variations and is an excellent choice if you want to leave some length to work with.
Source: @jose_the_barber_10 via Instagram
Neat Curly Quiff
For occasions when you need to look polished and refined, you can go for a neat quiff hairstyle. To approach it, you need to brush all of your hair back. Yet, try not to overdo it, as you want your quiff to retain body and volume. As a finishing touch, spritz it with hairspray to keep things in place.
Source: @r.braid via Instagram
Taper Haircut + Brushed Up
To complement a brushed up hairstyle, all kinds of tapers work perfectly. If you want to achieve a sharper look, then go with a high skin taper haircut whereas for a more low-key appearance, you should opt for a low taper.
Source: @horatiuthebarber via Instagram
Regular Haircut
Whenever you are stuck with the choice of your future cut, go for a regular haircut. Simple and chic, it flatters any face shape and works for any hair type. What is more, it allows for various accompaniments, such as a taper fade on the sides or a hard part hairstyle for men.
Source: @alan_beak via Instagram
Spiky Military Guy Haircuts
Really cool haircuts for men if you have thin hair are those that can be adjusted to match any ambiance. Thus, you can brush back your long top and end up with a perfect military hair look.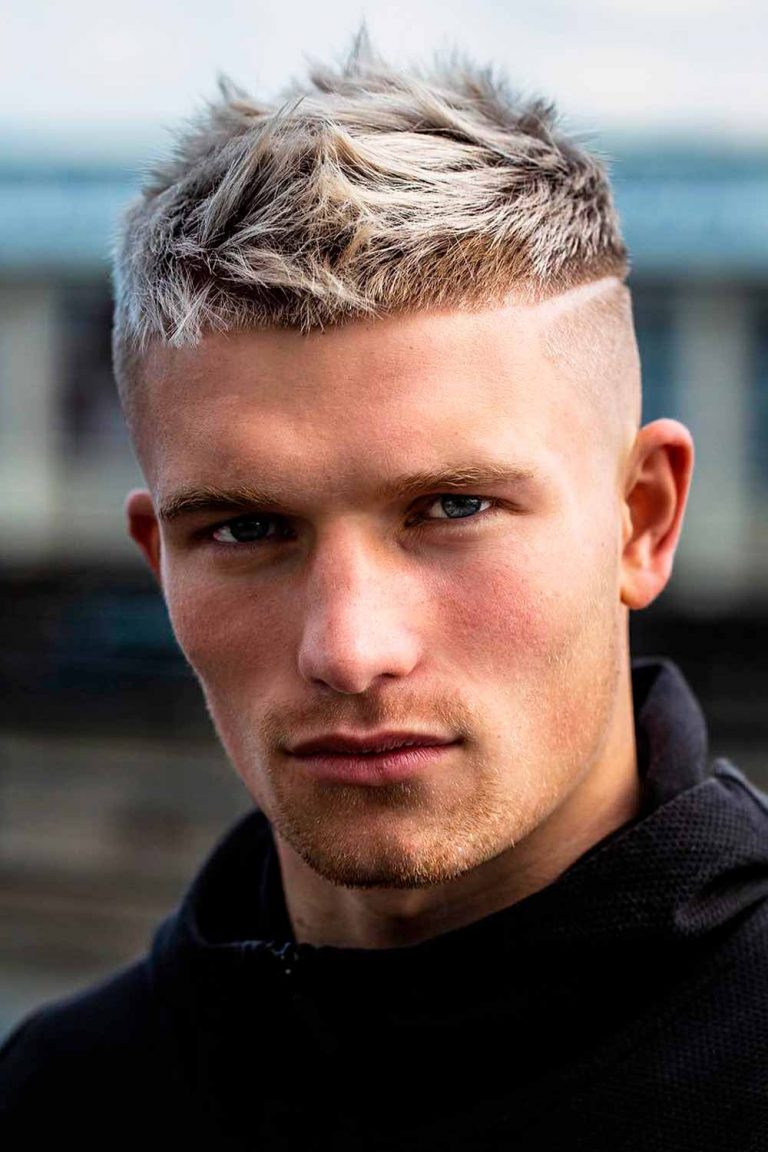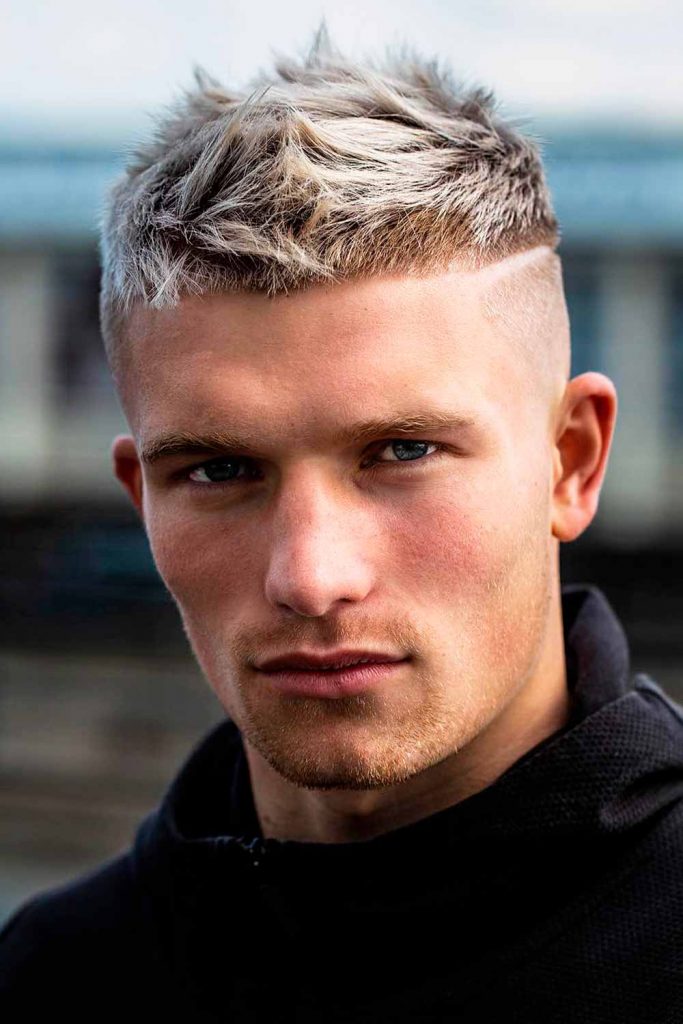 Source: @tombaxter_hair via Instagram
Flow Hairstyles With Short Sides
Express you fashion forwardness by opting for flowing long hairstyles for men. They seem cool and trendy yet do not require much styling or maintenance. Just push your locks on the top freely back and accentuate them with shortly trimmed sides. A line up along the forehead and temples will finalize the look.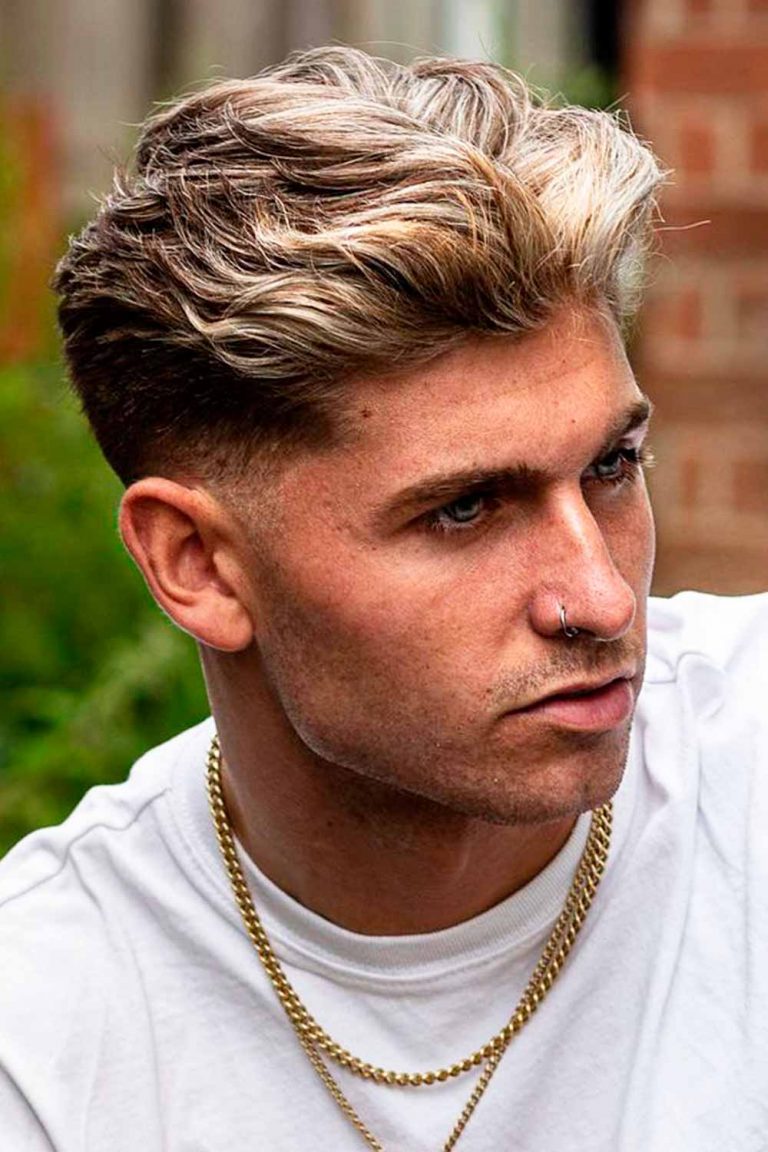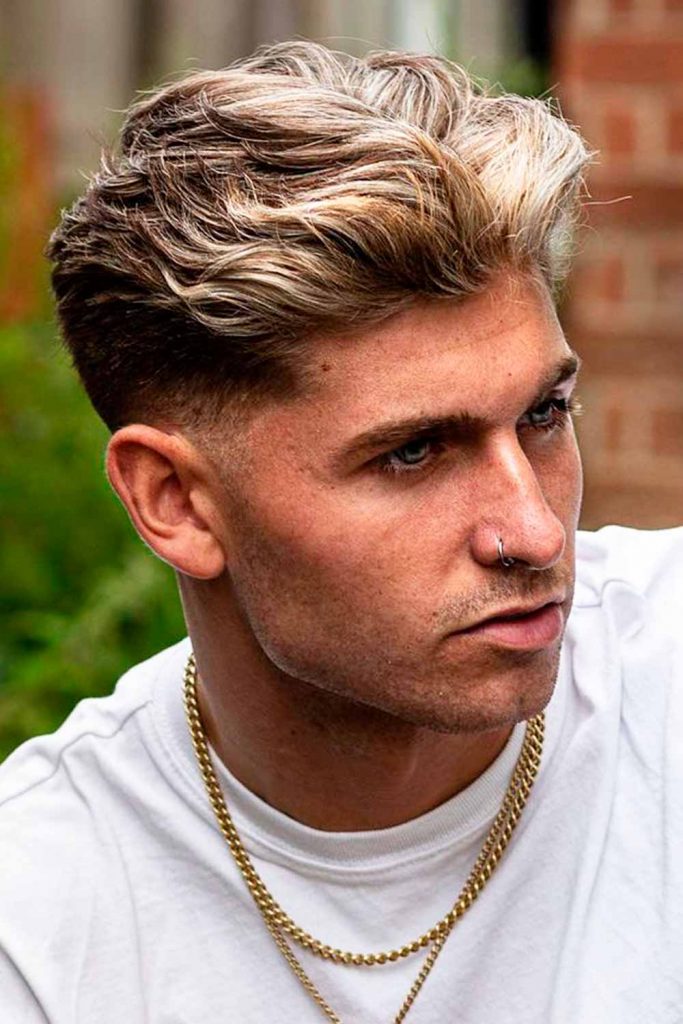 Source: @tombaxter_hair via Instagram
Asymmetrical Layers Men Hair
Cutting your hair in different levels of asymmetrical layers is highly beneficial for both thin and thick hair men. For guys with thin tresses, it creates an illusion of a fuller and more voluminous mane, whereas men with thick locks will get a lightened hairstyle without sacrificing the body and thickness of their thatch.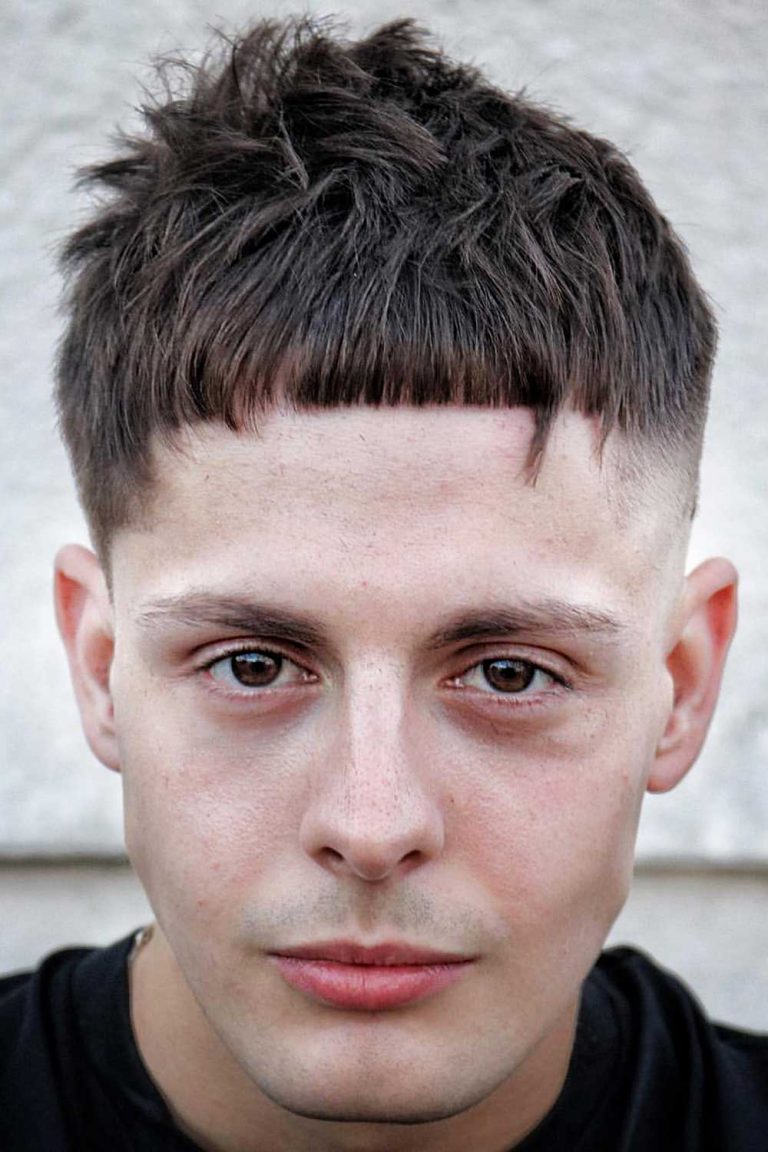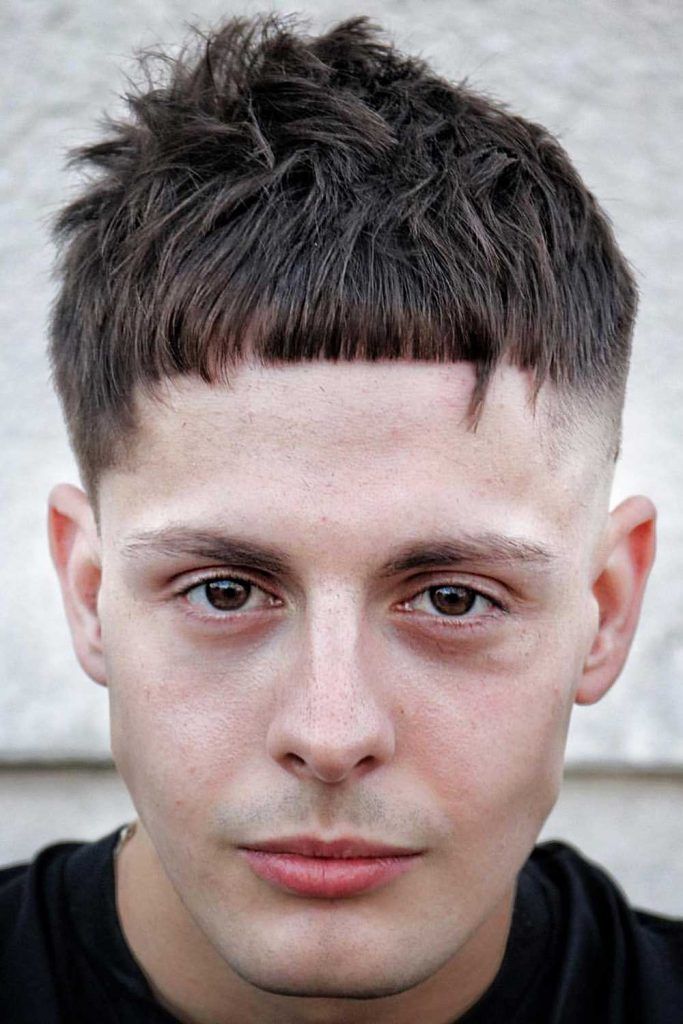 Source: @hayden_cassidy via Instagram
Low Fade Spiky Top + Highlights
A low fade is a versatile take on the high fade style. Instead of shaving hair high and tight, your stylist will leave a weight line that adds interest and shape to the style. You can jazz up this popular haircut for men with lines and unique designs.
Source: @cheobarberpr via Instagram
French Crop Men Hairstyle
An attractive hair style for most men's hair types, a French crop is similar in fashion to the iconic Caesar cut. The main difference between the two is that a French crop is left with a little more length on the top, increasing the styling options.
Source: @r.braid via Instagram
Medium Quiff Haircut For Men With Undercut Fade
In case you are looking for some medium haircuts for men then we may have something special stored for you. However, you need to remember that despite being trendy quiff haircut requires a fair share of styling. If you are okay with it, then this example may come in handy when you are heading to your stylist the next time.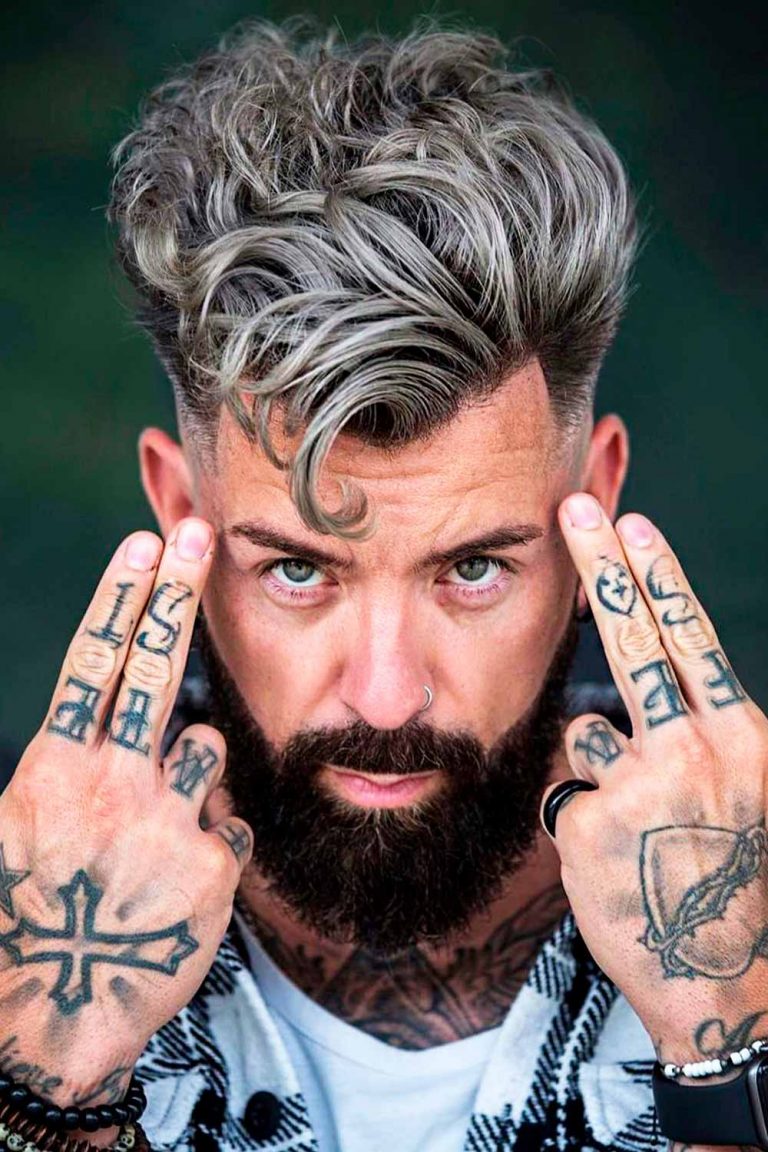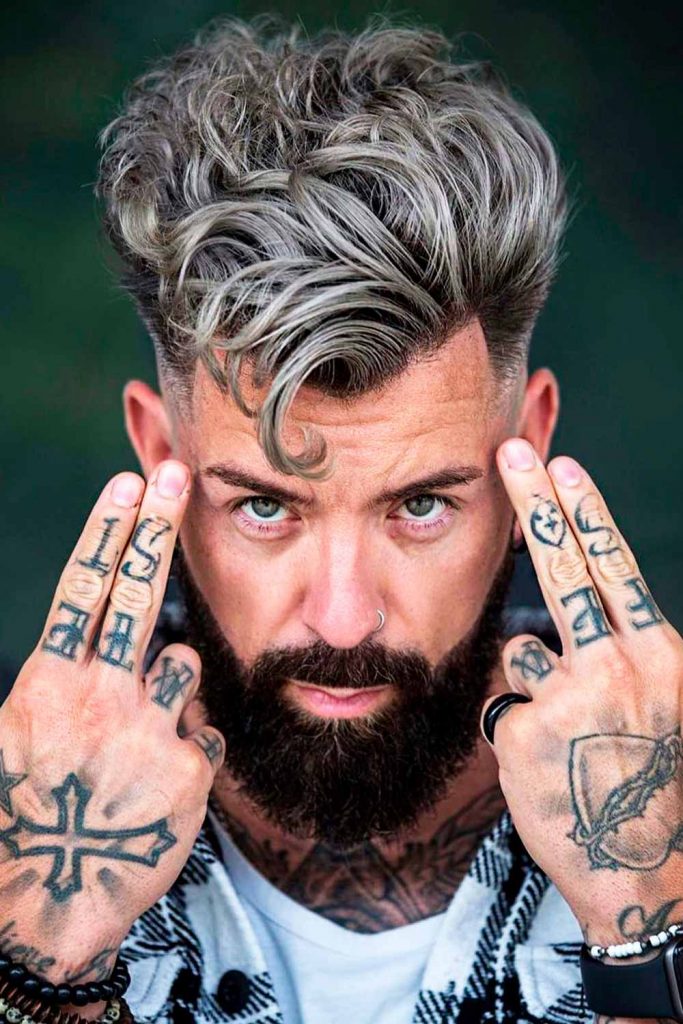 Source: @r.braid via Instagram
Brushed Up And Back Waves Hairstyle
Wavy locks can easily be tamed with such elegant and sophisticated hair styles for men as brushed back. Yet, you do not want them to look flat or volumeless. Thus, you should brush your hair up first to amp up and then only brush it back.
Gentleman's Haircut
Are you more into elegant and sophisticated mens hair styles? Then, consider this neat gentleman's haircut. One of its main advantages is that it is suitable for any ambiance, from absolutely formal to rather casual.
Source: @ahmetaslanhairsalon via Instagram
Brushed Up Undercut Fade
Give your hairstyle a playful twist by brushing it up and spiking up the ends.
Source: @ahmetaslanhairsalon via Instagram
Short Crop Top Fade + Hard Part
Short haircuts for men are a popular choice among those guys who value their time, as they do not require much styling or maintenance. Thus, opting for a short crop top fade will save you a lot of time and effort. Still, if you want to get a pronounced and eye-catching appearance, give the top a textured cut and complement it with a fade on the sides and back.
Source: @alan_beak via Instagram
Side Part Hairstyles Men
Nothing looks quite as cool as a side part, especially when it's paired with a low fade, medium fade, or high fade men's cut. You can have your stylist make a large line or a fine line, and you can go back as far as you'd like. Keep your hair in place and define your hard part with a wax or styling gel.
Source: @alexthegreatvivar via Instagram
Long Hair Brushed Back Men's Hairstyle
Want to look camera-ready? Then why don't you go for this brushed back men's style? Still, you need to take care to grow your hair pretty long for this hair look, as you want to create an abundant volume with it. Thus, do not make it overly polished. Even if several strands stick out, this will give your appearance some appeal.
Source: @keller_konturen via Instagram
High Top Fade Haircuts For Men
With the high top fade, you will not only easily achieve a contrasty and bold look but also adjust your facial features. This style will make your face look longer and traits appear sharper. And in general, you will seem taller. As a high top fade gives you such a clean-cut look, you can go for any facial hair style you like. Even a full coarse bead will not be able to ruin it.
Source: @alan_beak via Instagram
Disconnected Undercut Brushed Back
A disconnected undercut is classic and cool. In fact, once you add detailing such as a hard part, this popular style keeps evolving into something more dapper. If you're new to a disconnected style, be sure to visit a talented stylist who specializes in this men's haircutting trend.
Source: @chadius_maximus via Instagram
Medium Curls With Middle Part
If you have naturally curly men hair, it is high time to embrace it. Go for a medium length mens hair cut and define it with a middle part and you get an eboy haircut.
Blonde Butch Cut
Men who feel confident in themselves prefer not to hide behind their locks, opting for extremely short men haircuts. If you are one of them, go for a butch cut, which implies trimming almost all of your hair off.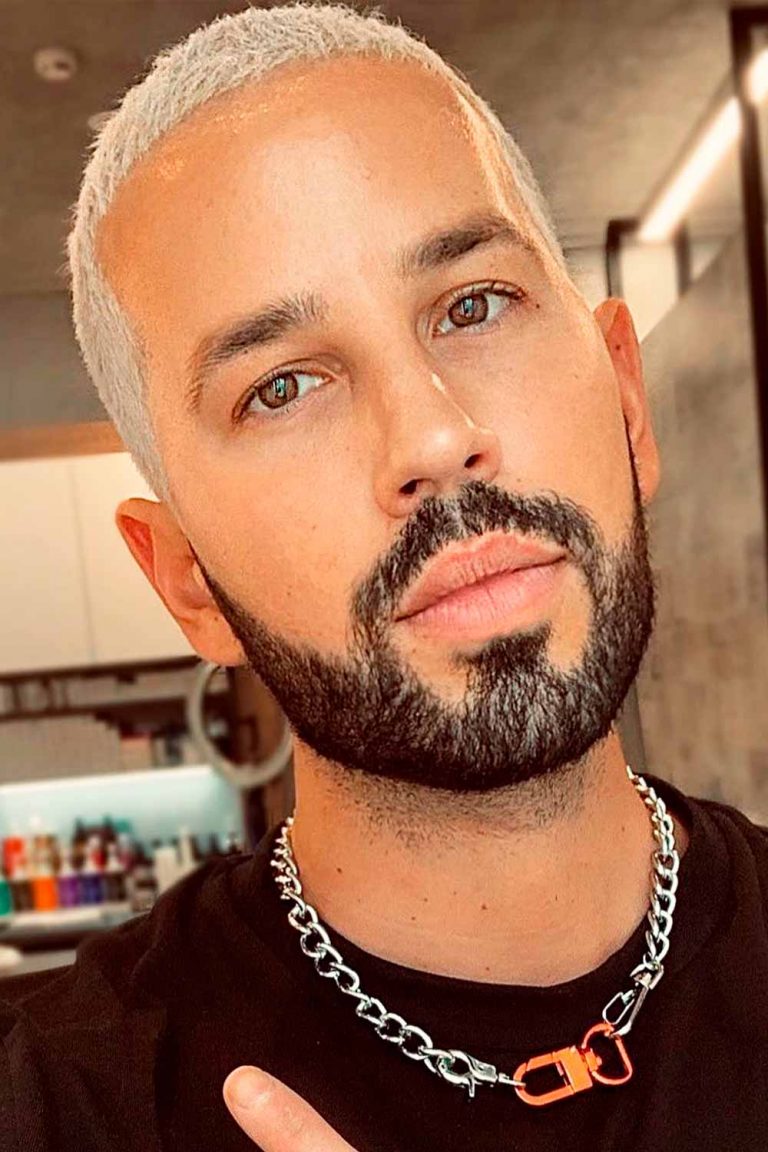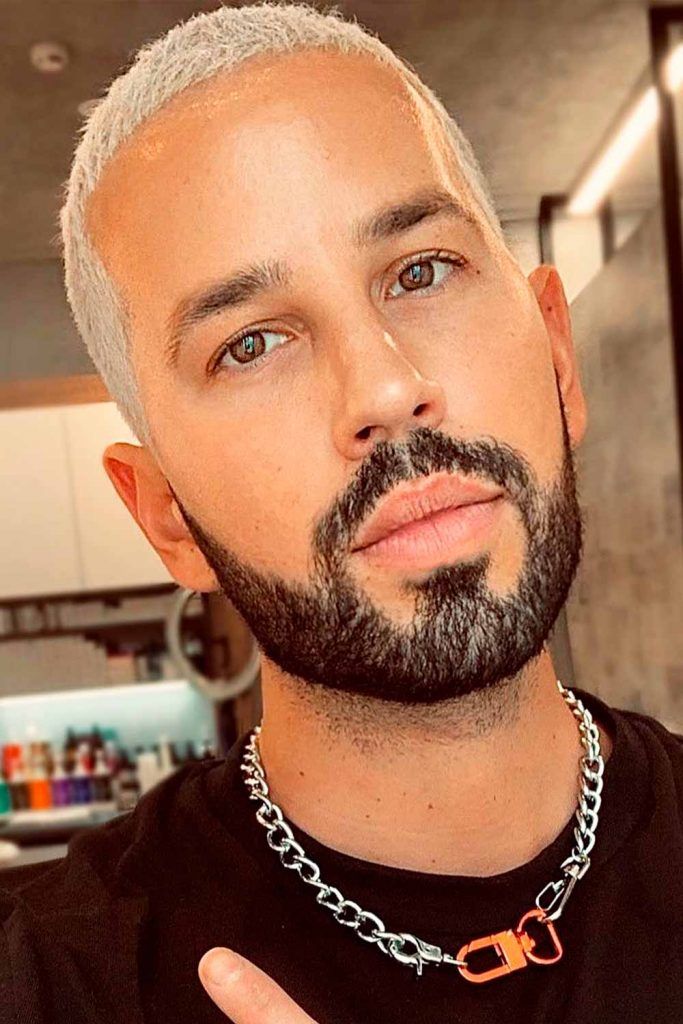 Source: @sheffpavelstylist via Instagram
Modern Mullet
A modern mullet has little to do with its forerunner – a classic mullet. The modern version is a bit shorter in the back, while the top remains ample and prominent. The sides, in their turn, usually feature a fade or a taper for added emphasis. As a result, the hairstyle comes out much more fashionable and edgy.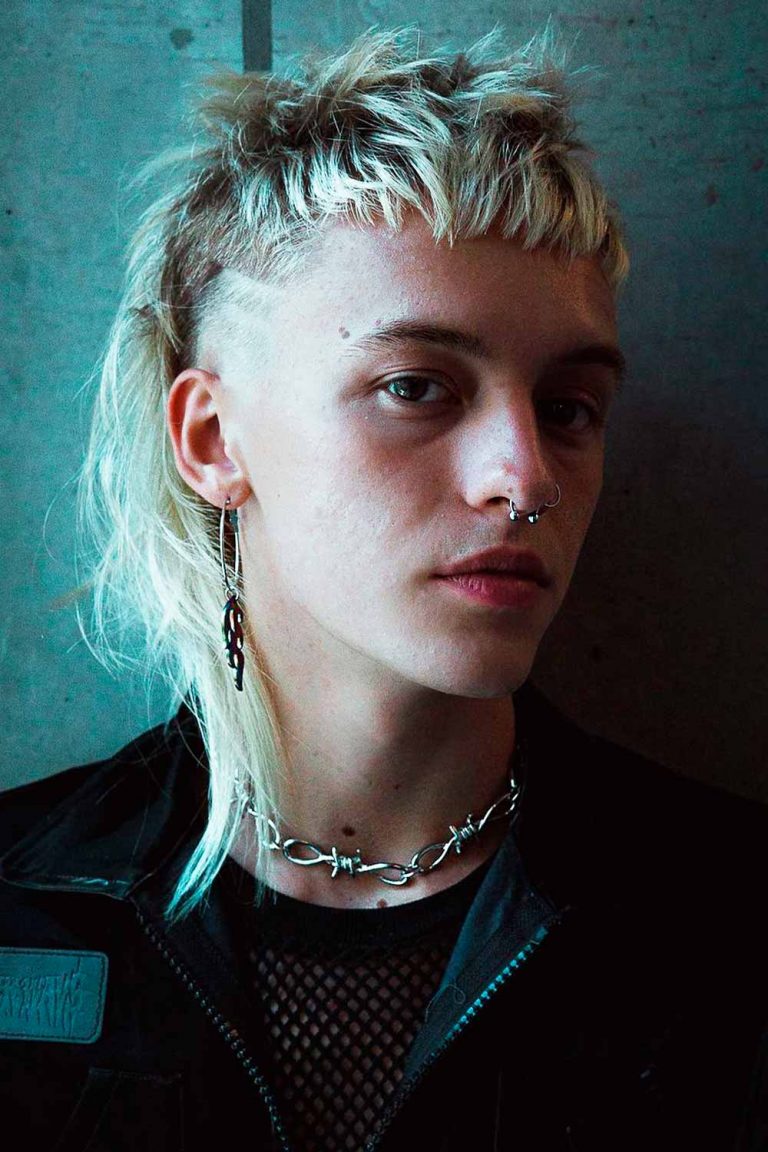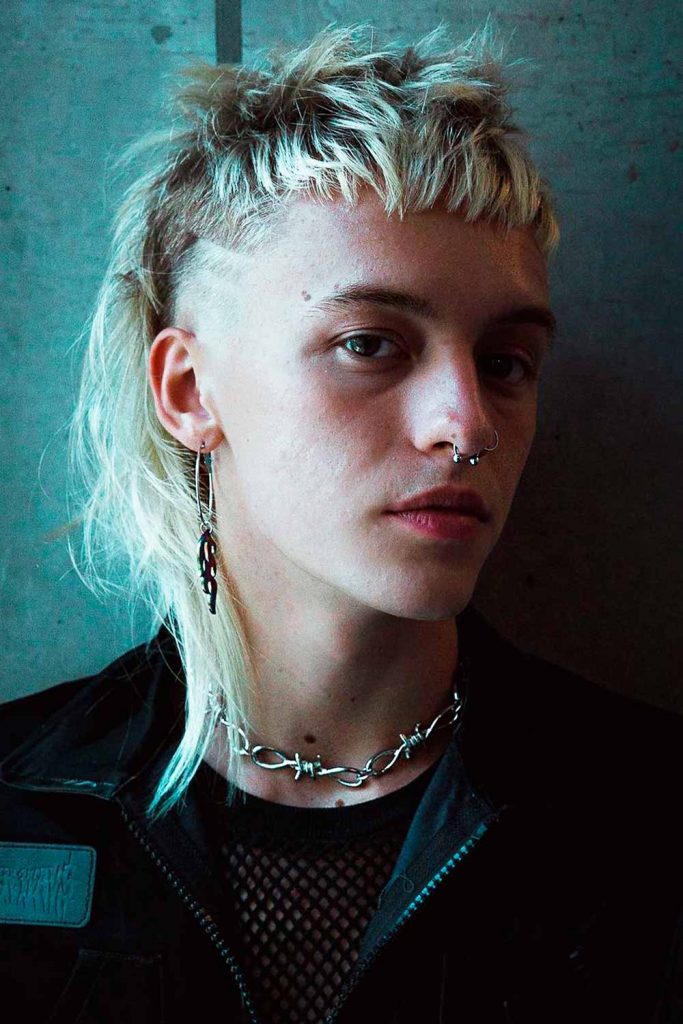 Source: @joeltorresstyle via Instagram
High Fade Curls Hair Cut Styles For Men
A high fade is considered a popular military cut. The shortest part of the hair is taken high and then blended with just a bit more length on the side. It's all about the fade technique, especially if you have dark hair. Be sure to visit a reputable barber or stylist for a high fade.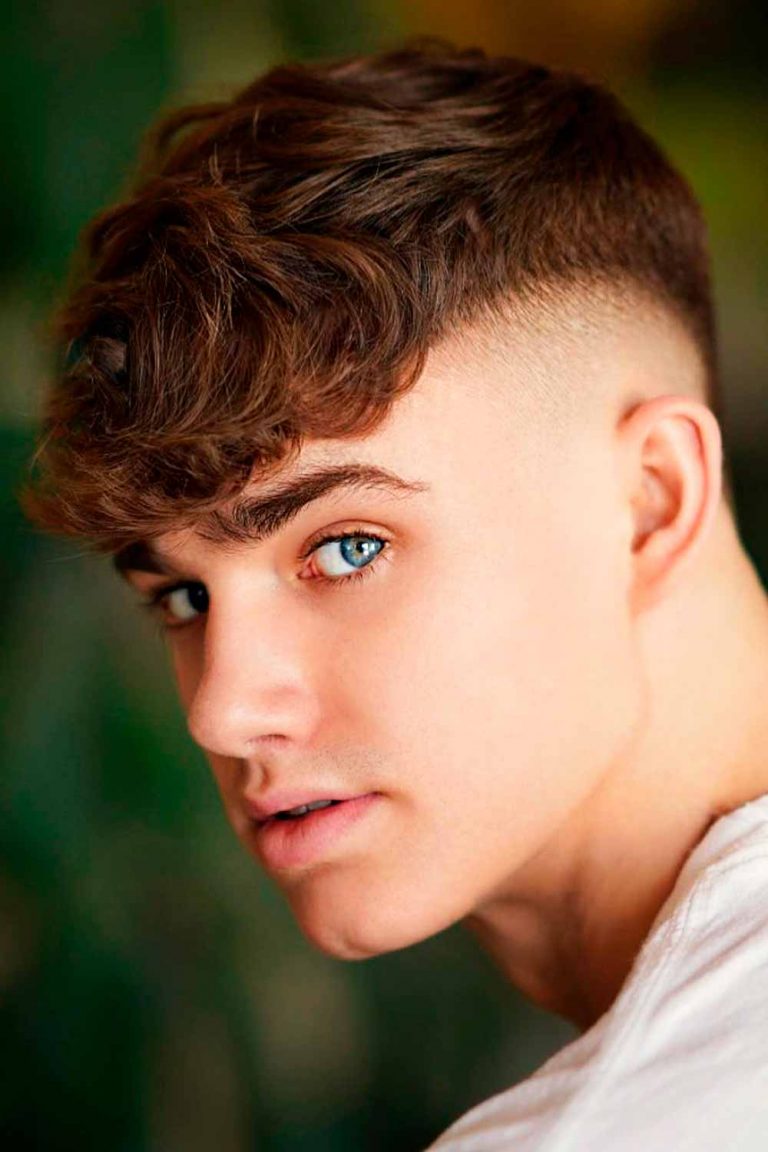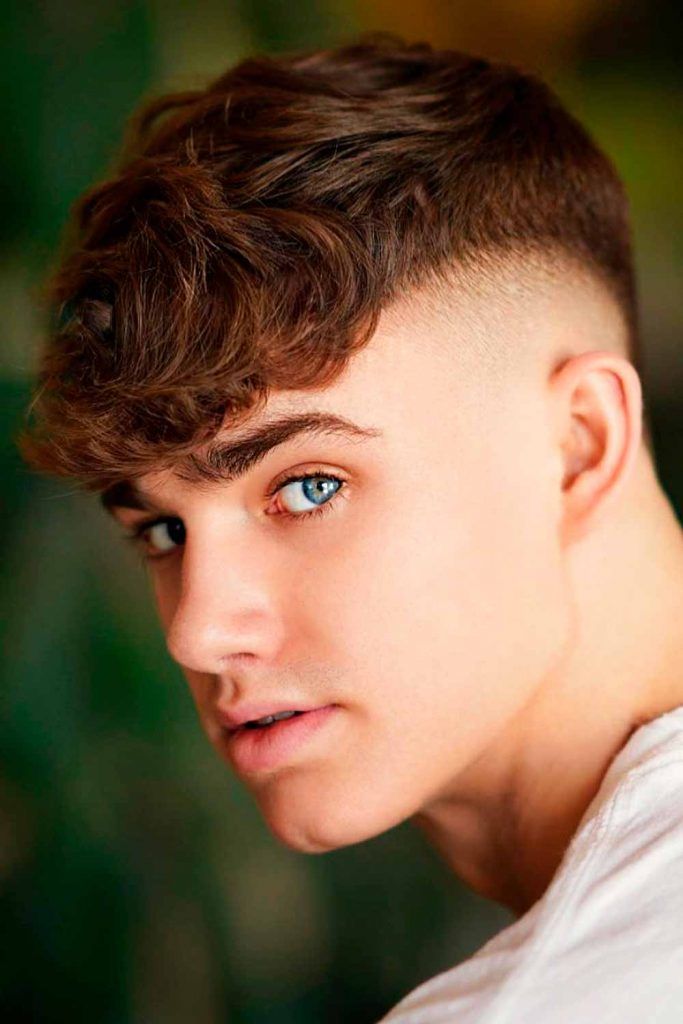 Source: @xbigwesx via Instagram
Mid Fade + Design
If you're seeking a style that can meet in the middle, why not opt for a medium fade cut? This tapered style is a good starting option if you can't decide between long and short mens haircuts 2023.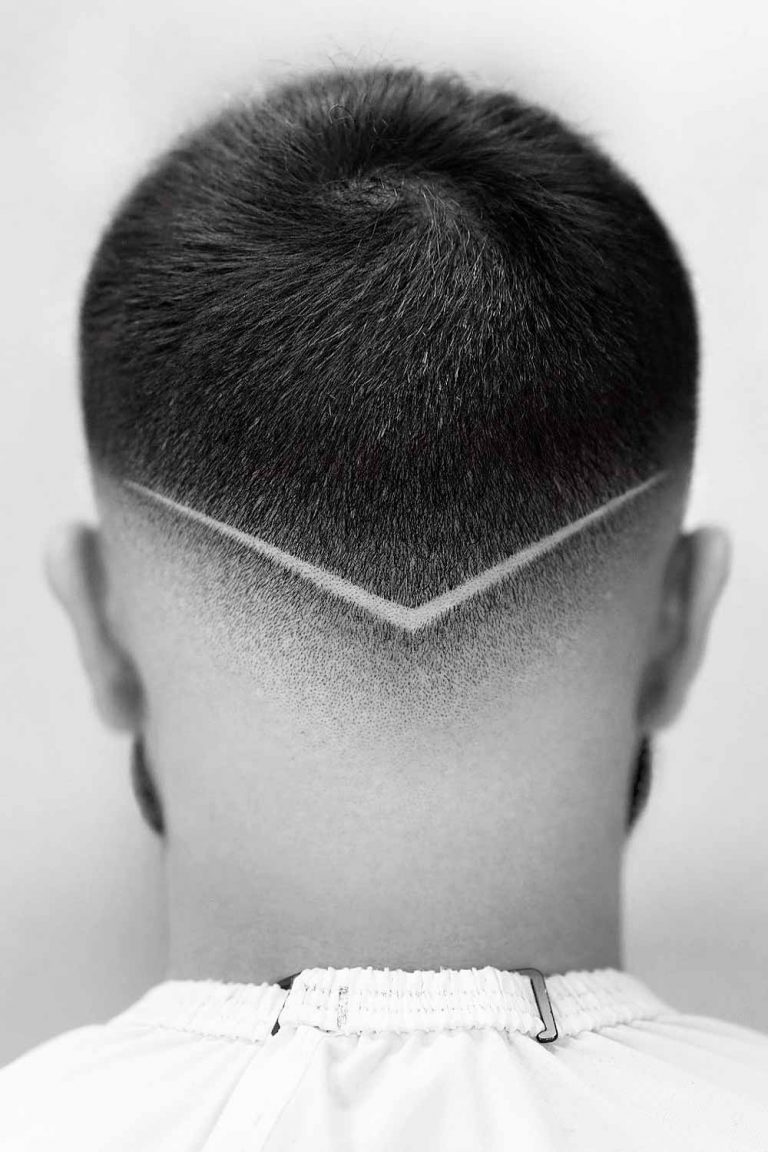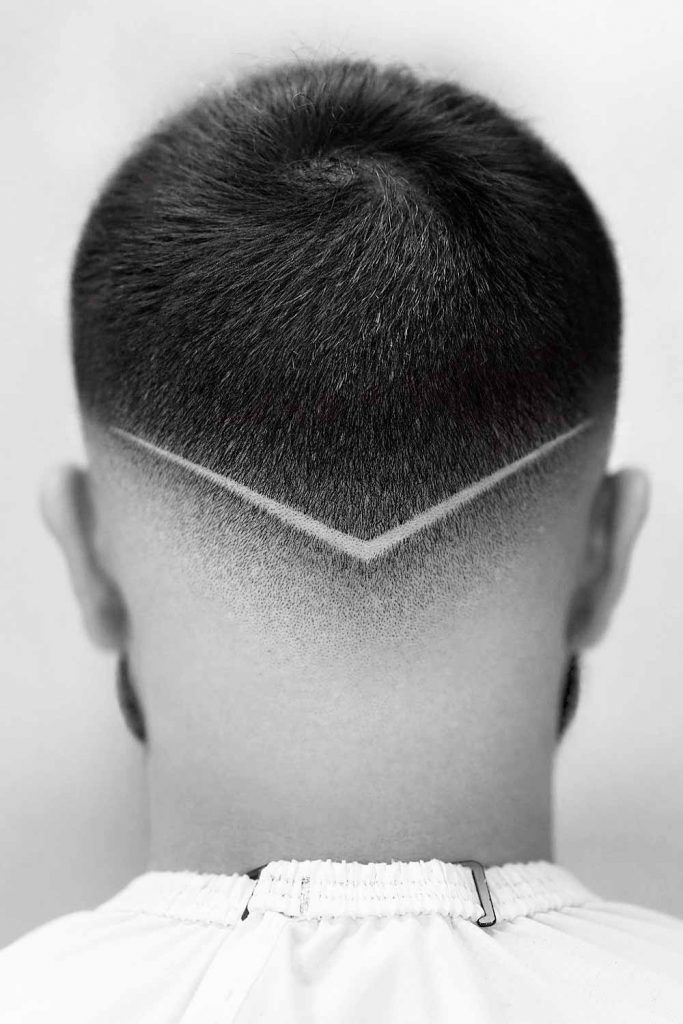 Source: @xbigwesx via Instagram
Caesar Haircut
A Caesar haircut is a unique choice if you want a crop with a little more versatility. Rather than a full-on buzz cut, the Caesar cut is tapered on the side and paired with horizontal bangs. Seize the day with this cut, it's suitable for most face shapes and guys with big foreheads!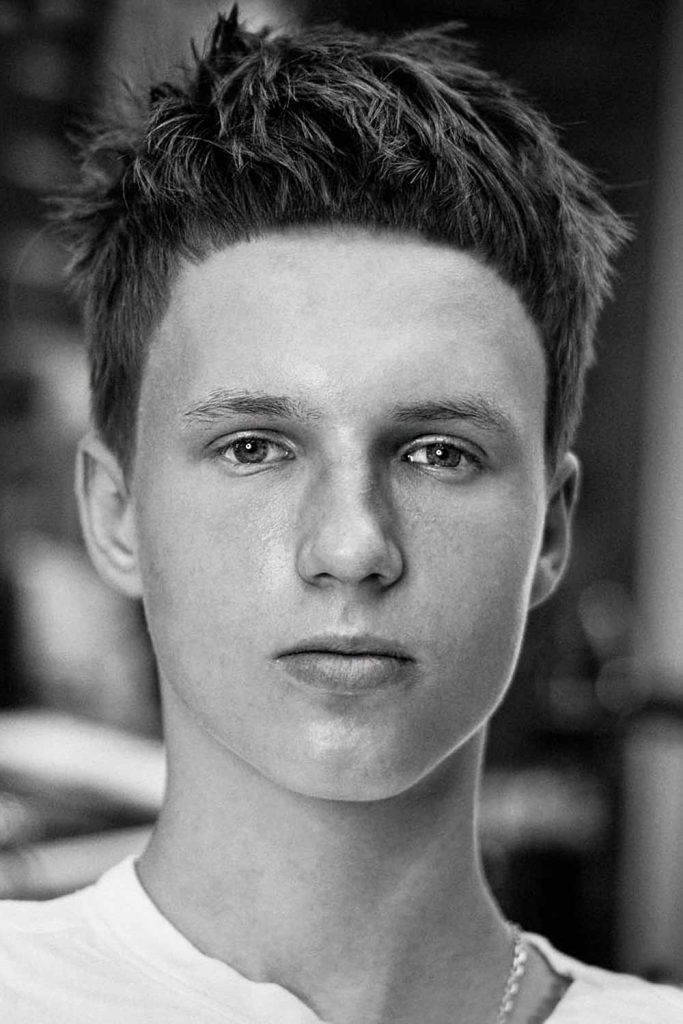 Source: @a.nizhnick via Instagram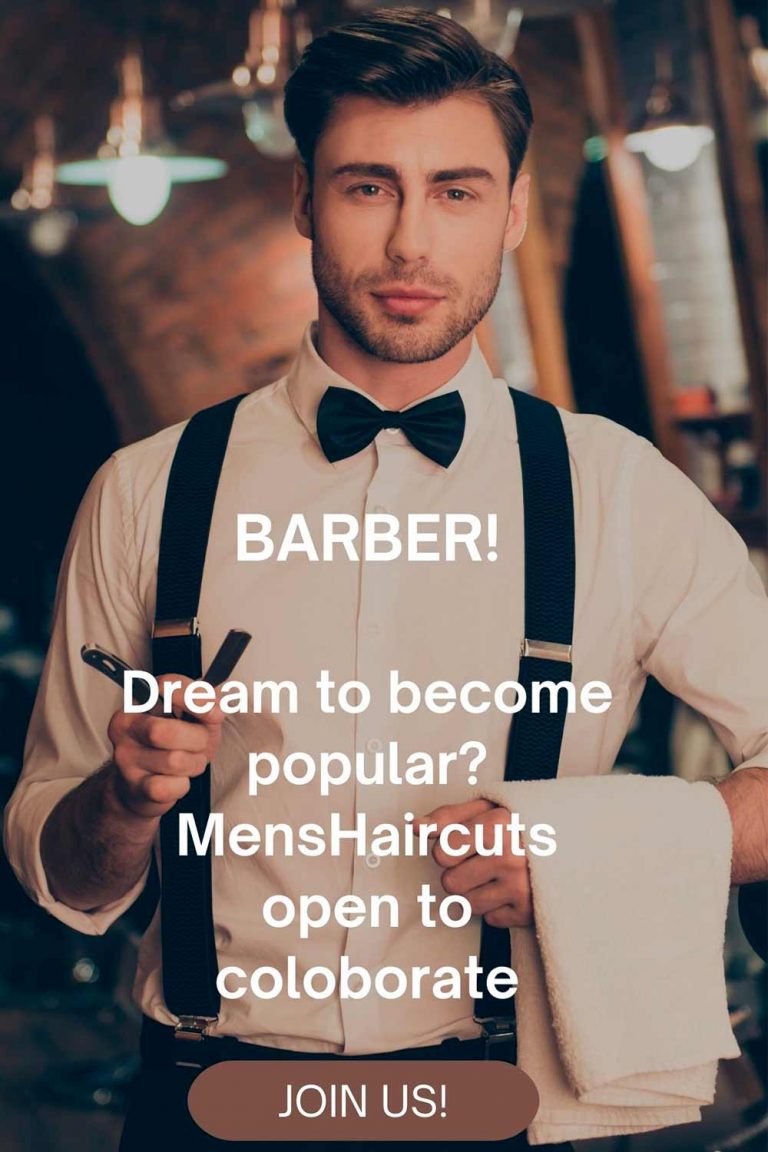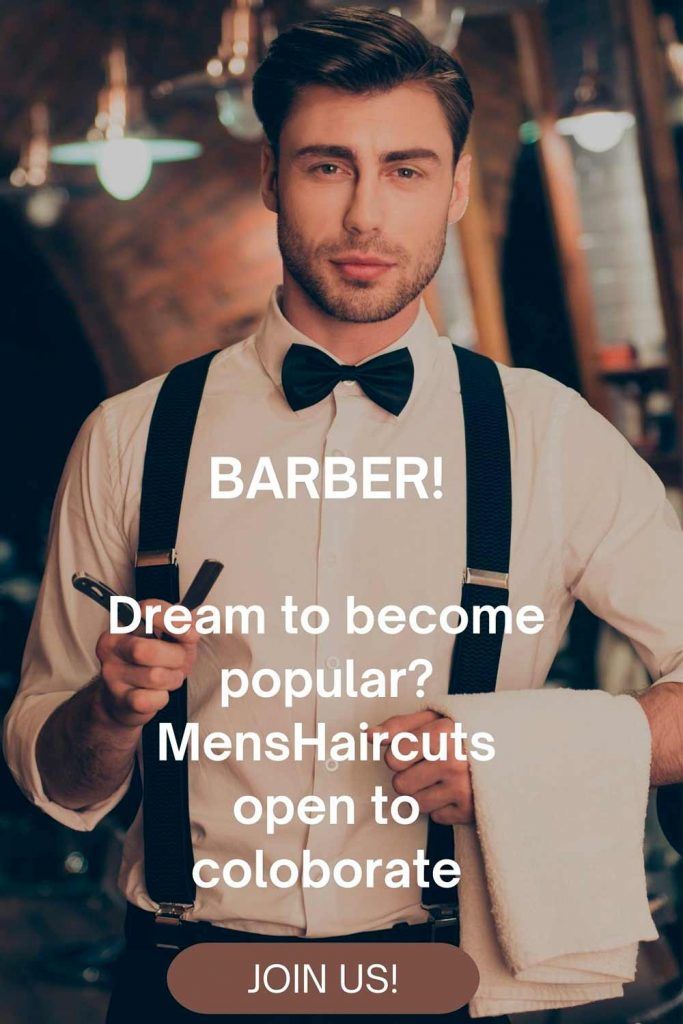 Blowout Haircut For Men
There is no doubt that with a blowout haircut you will look stylish and eye-catching. This style gives your look an effortless and relaxed air yet does not seem overly unkempt or careless. To bring more edge to it, you can dye your hair in a contrasting color and complement the sides with an undercut fade.
Source: @sidsottungacademy via Instagram
Two Level Haircuts
This contemporary take on the two level haircut guarantees that you will be in the spotlight wherever you go.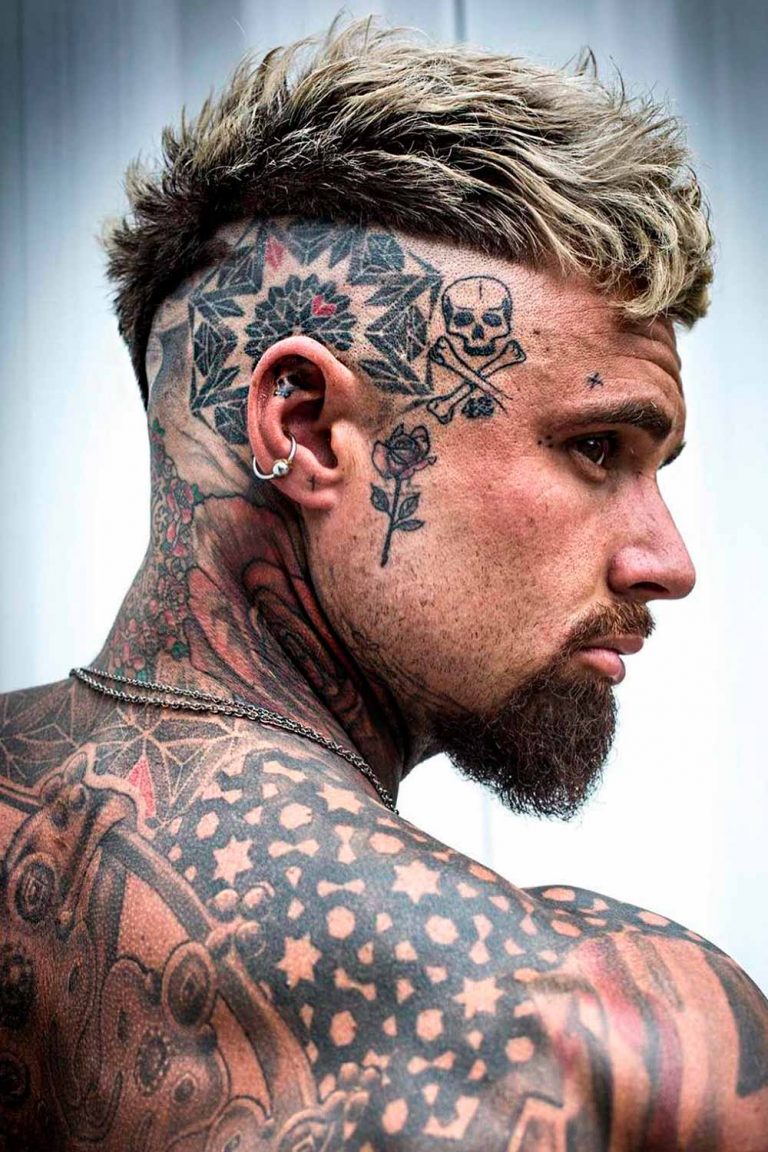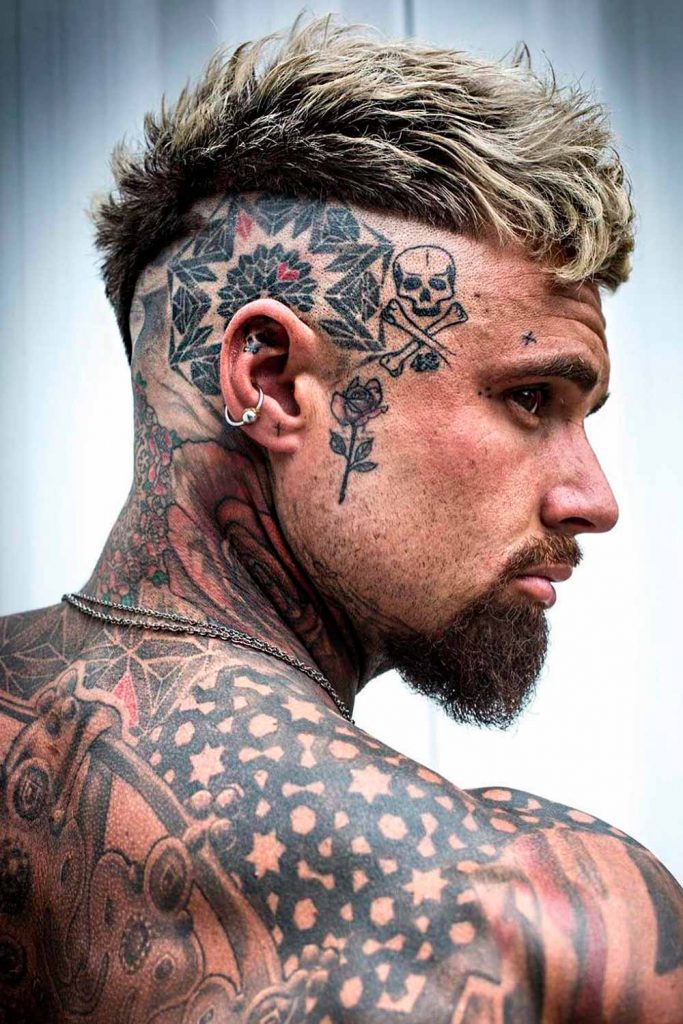 Source: @r.braid via Instagram
Undercut Fade Men's Hair Styles
Guys with thick locks may find an undercut fade a particularly beneficial hair look. As it removes bulk from their hair, it becomes much easier to style and maintain. Though, the thick top still allows you to show off your luxuriant mane. No matter how you style it, you can rest assured that your hair will never go unnoticed.
Source: @ryancullenhair via Instagram
Buzz Cut Male Hair
If you're the type that would rather throw caution to the wind and opt for a men's cut that does all the work itself, a buzz cut is for you. No fuss, zero effort, and entirely sexy and cool.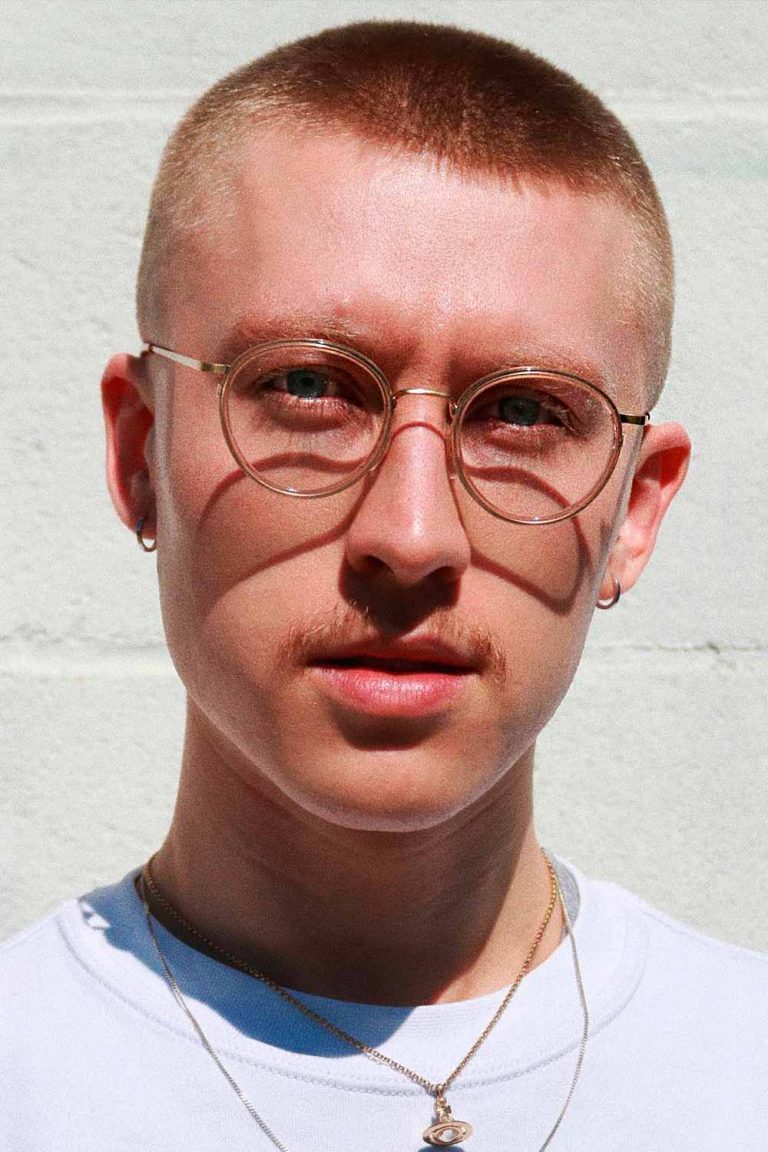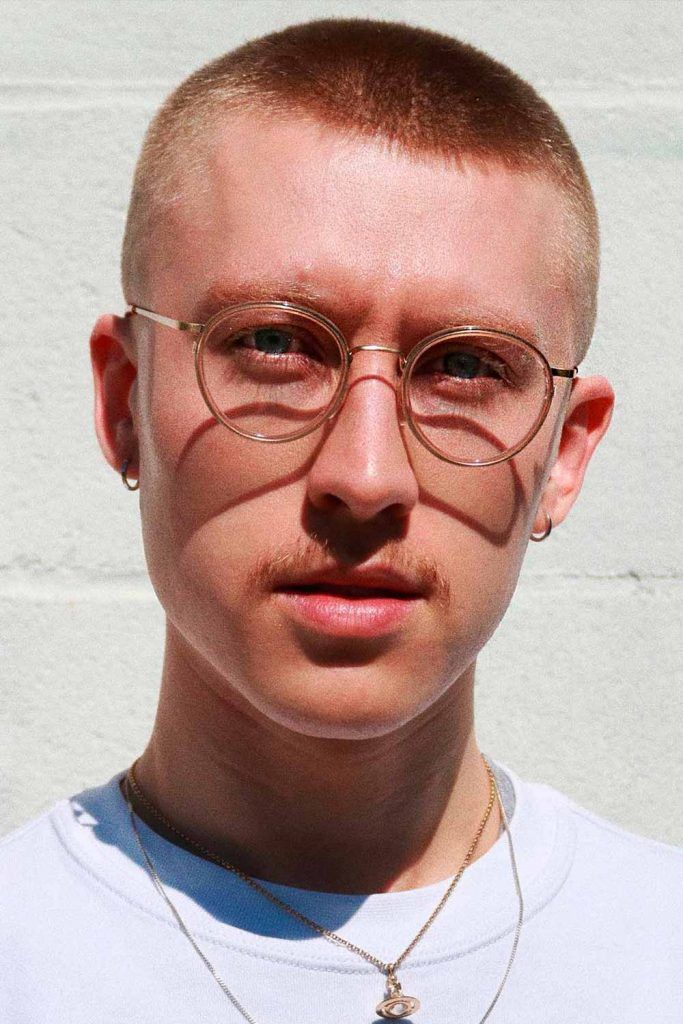 Source: @hayden_cassidy via Instagram
Buzz Cut Fade + Line Up
For a long time, buzz cuts were regarded as rather utilitarian short haircuts for men. But, with the rising popularity of faded mens haircuts has brought us, a buzz cut has transformed from only practical to also attractive. Any kind of fade (drop fade now) can make a buzz cut look edgier and sharper thanks to the contrast it creates.
Source: @sirpaulcharles via Instagram
Ivy League Men's Haircuts
The Ivy League haircut has been in style for more than a century, not for nothing. Remember the good old crew cut? That's another version of the classic men's haircut. This time, the hair on top is left significantly longer, allowing for sleek and side-parted styles. Such an idea will work for anyone from a college graduate to a businessman, and, needless to say, that's why it's one of the most popular mens haircuts.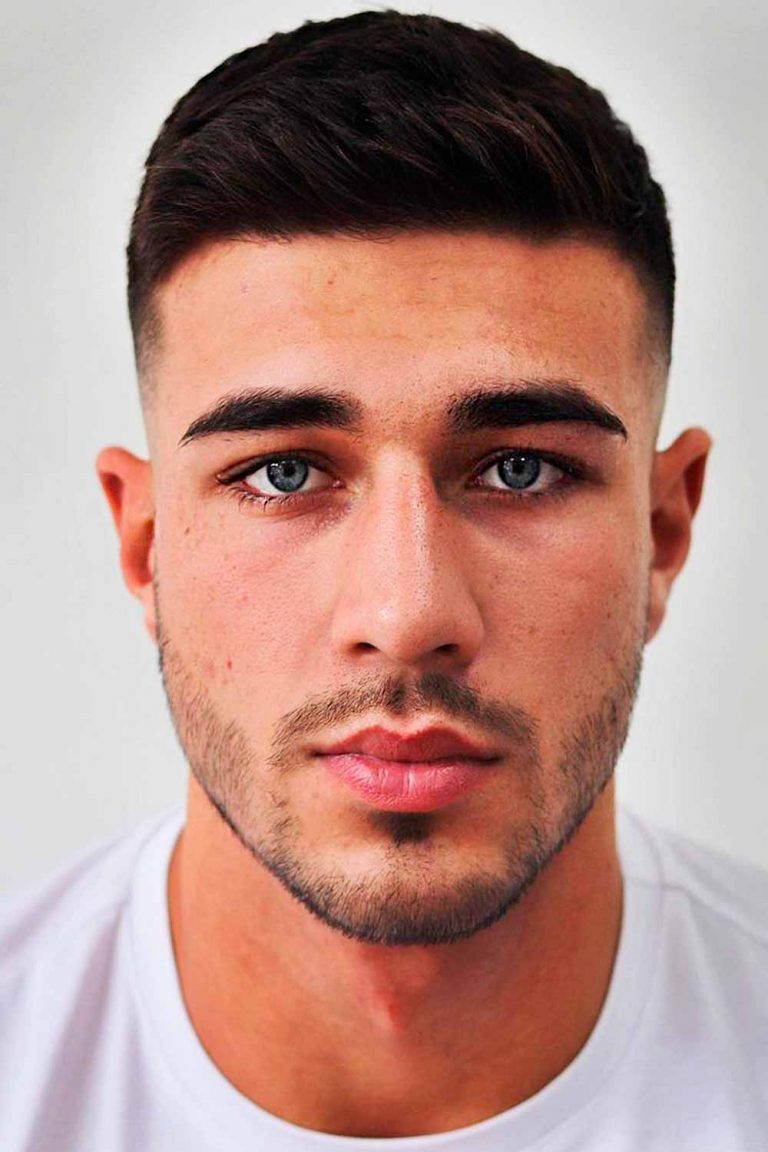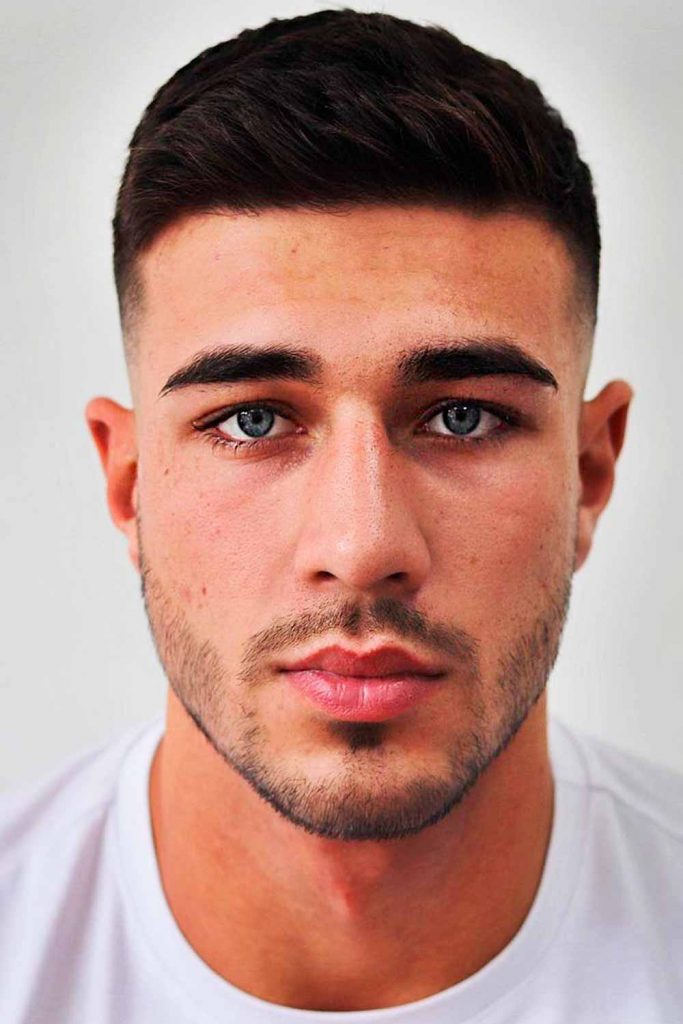 Source: @joshconnollybarber via Instagram
Side Swept Quiff
Feeling like a fashion-forward guy? Then why not try to pull off several trendy hairstyles in one look? Get your sides undercut to provide much contrast for your ample quiff. To give it a stylish touch, sweep the quiff to the side, and rake with your fingers for added texture.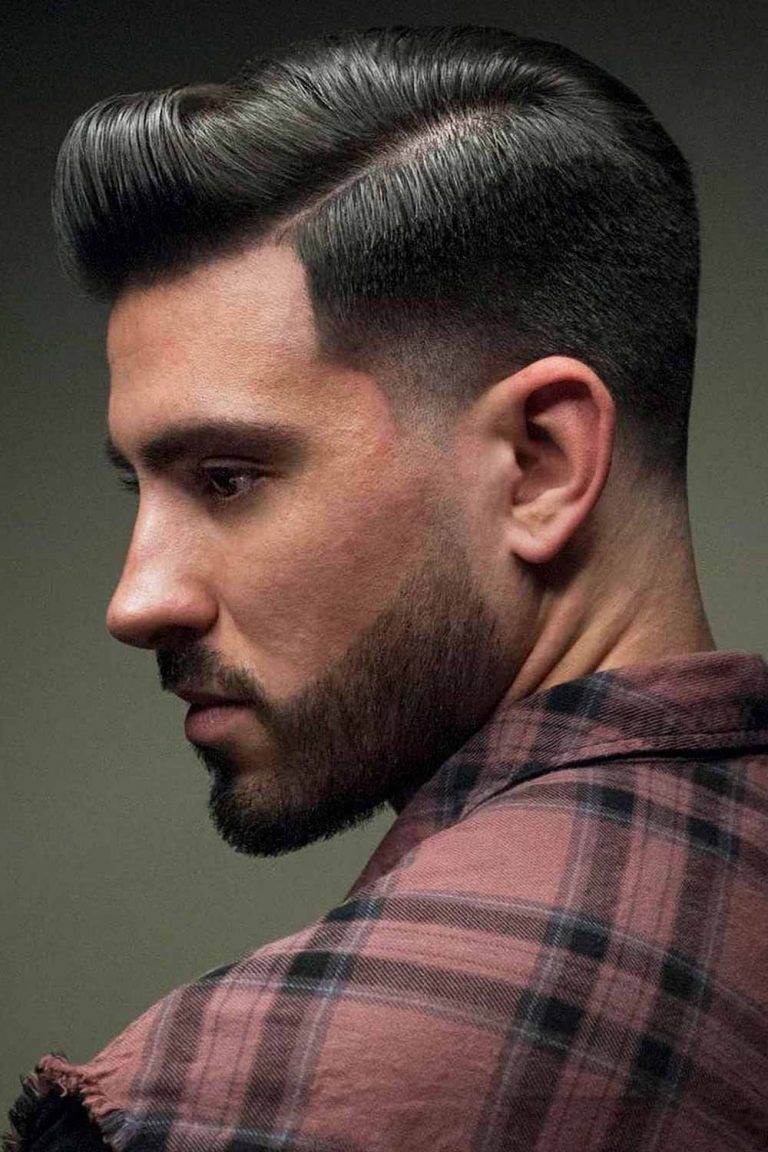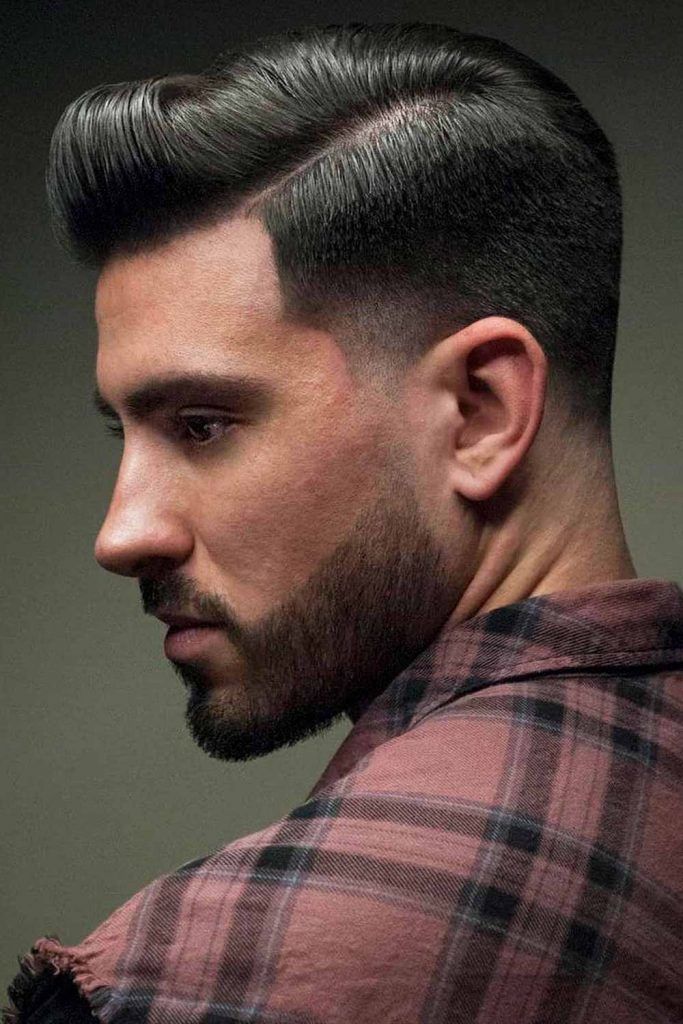 Source: @r.braid via Instagram
Asymmetrical Haircut For Men
The crop is surely one of the best short haircuts for men. The thing is that out of all mens hair cuts textured crop is that one that grants you trendy look without lots of styling involved. It is certainly a winning option for busy men.
Source: @ryancullenhair via Instagram
Messy Hairstyle
Messy men hair styles will arguably never lose their relevance. They are really easy to get, as you simply need to dishevel your locks on top with a tad of a hair styling product. The impact they give though should not be underestimated.
Source: @tombaxter_hair via Instagram
Faux Hawk Men's Hairstyle
Edgy men's short haircuts are not that many, but faux hawk fade is undoubtedly one of them. The thing is that with that dramatic hint the cut still remains quite reserved. That means that with one cut you can kill two styles!
Source: @ryancullenhair via Instagram
Flat Top Haircut
With the creativity of barbers, the world of mens haircuts is changing with lightning speed. Still, there's one constant haircut that seems to never change or become outdated. The flat top, where the hair on top stands outright, is the calling card of men with good taste.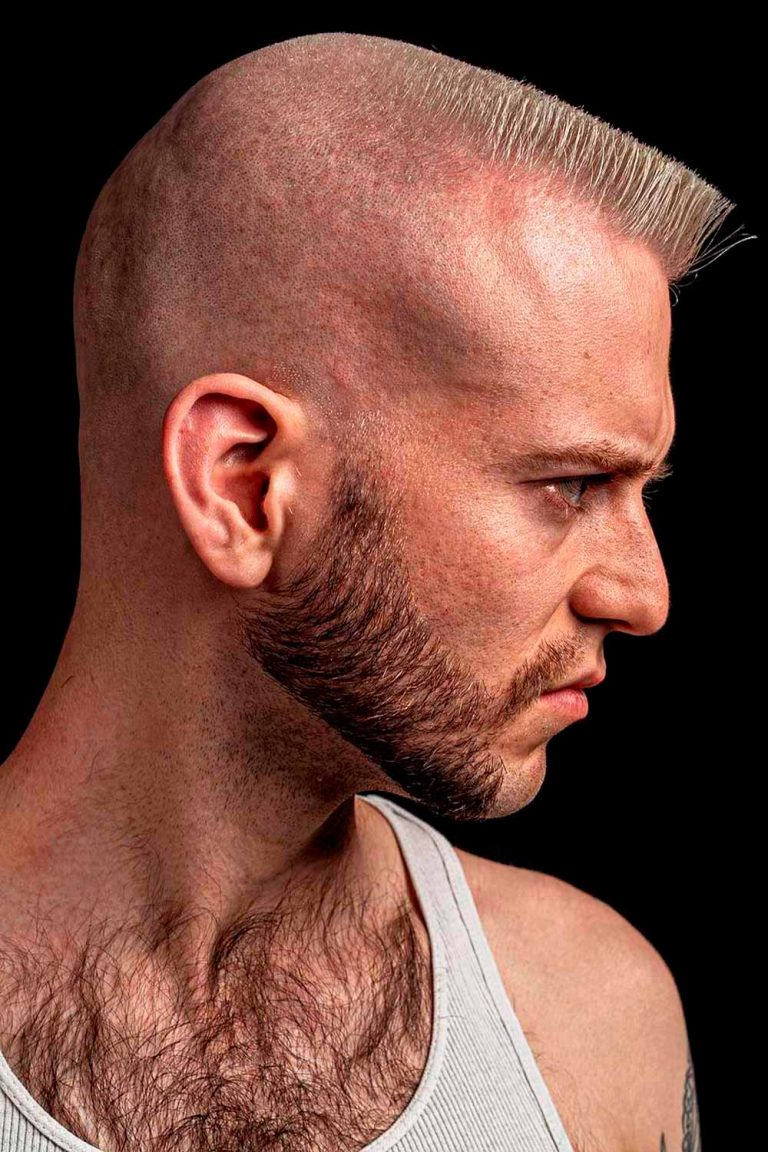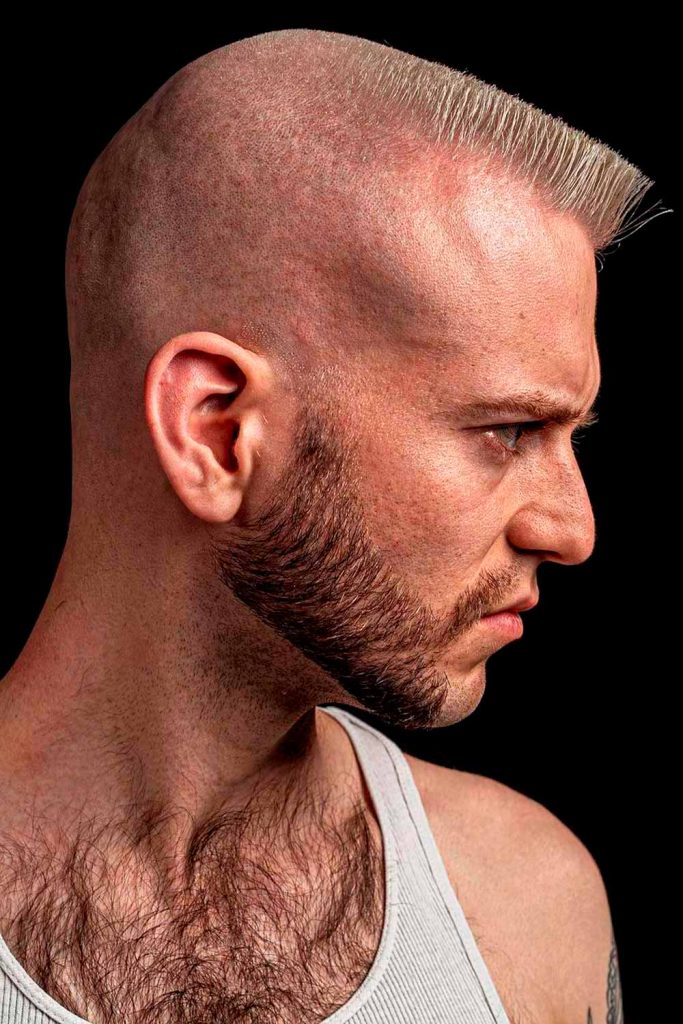 Source: @the_bloody_butcher via Instagram
Bro Flow Eboy Haircut
A bro flow is one of the most popular mens hairstyles for good reason. It allows you to flaunt long tresses while looking office-appropriate.
Source: @keller_konturen via Instagram
All Over Curls
If you were blessed with curly hair, then you are extremely lucky. Although this hair type is not particularly easy to maintain, it looks intricate and attractive when styled in a proper way. Yet, should you want to simply embrace your curls, you are very welcome to do so. Go for an all-over curly perm mens style to show off your hair texture at its best.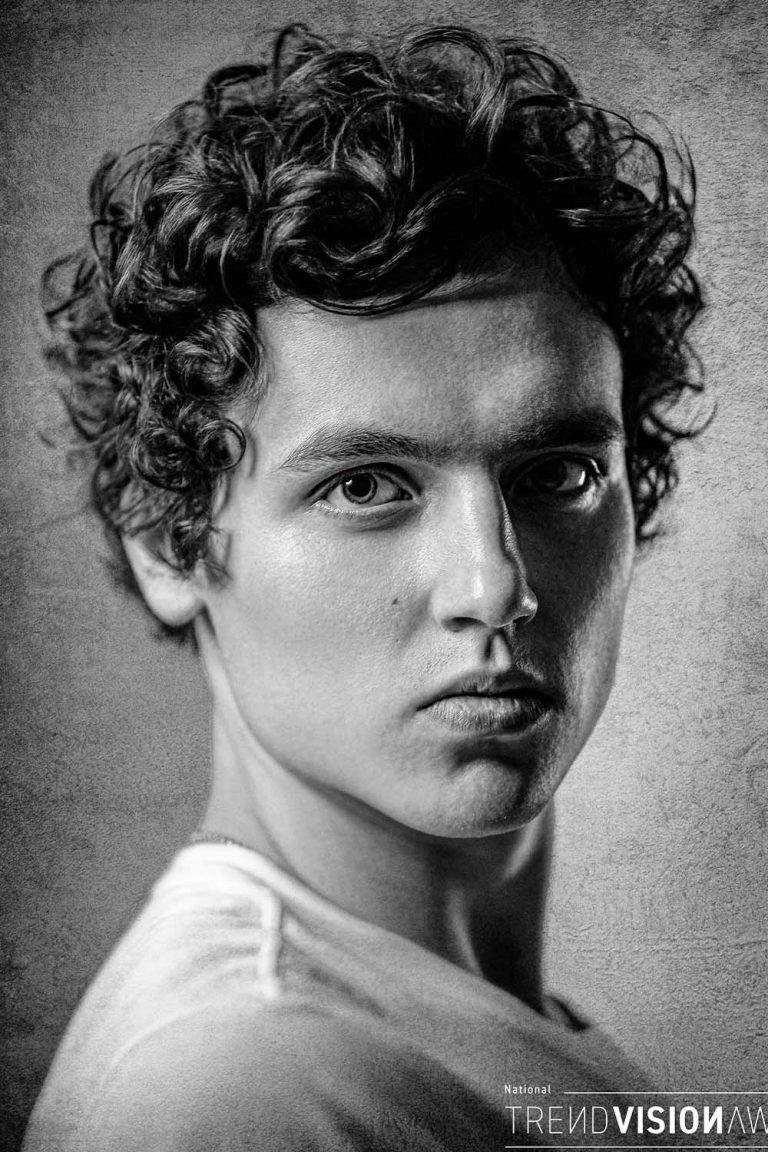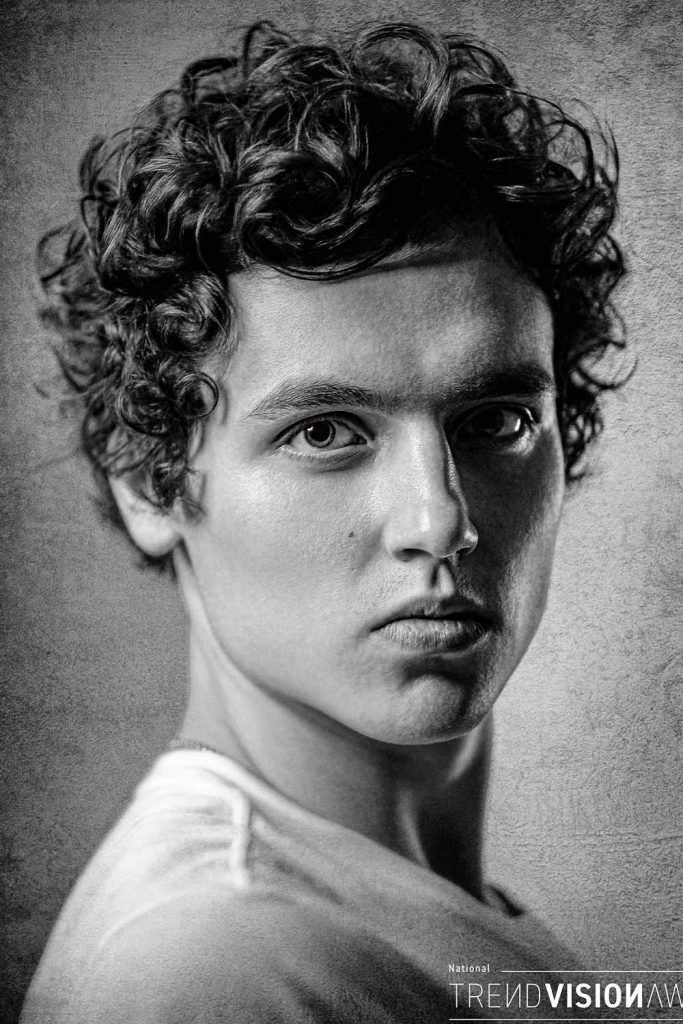 Source: @a.nizhnick via Instagram
Short Angular Cut With Tapered Sides
Although originally a crew cut belongs to short hair cuts for men, you may customize it in any way you like. For instance, you can go for longer hair on the top while tapering the sides. Such a combo will help you create a contrasty and bold look without any ado.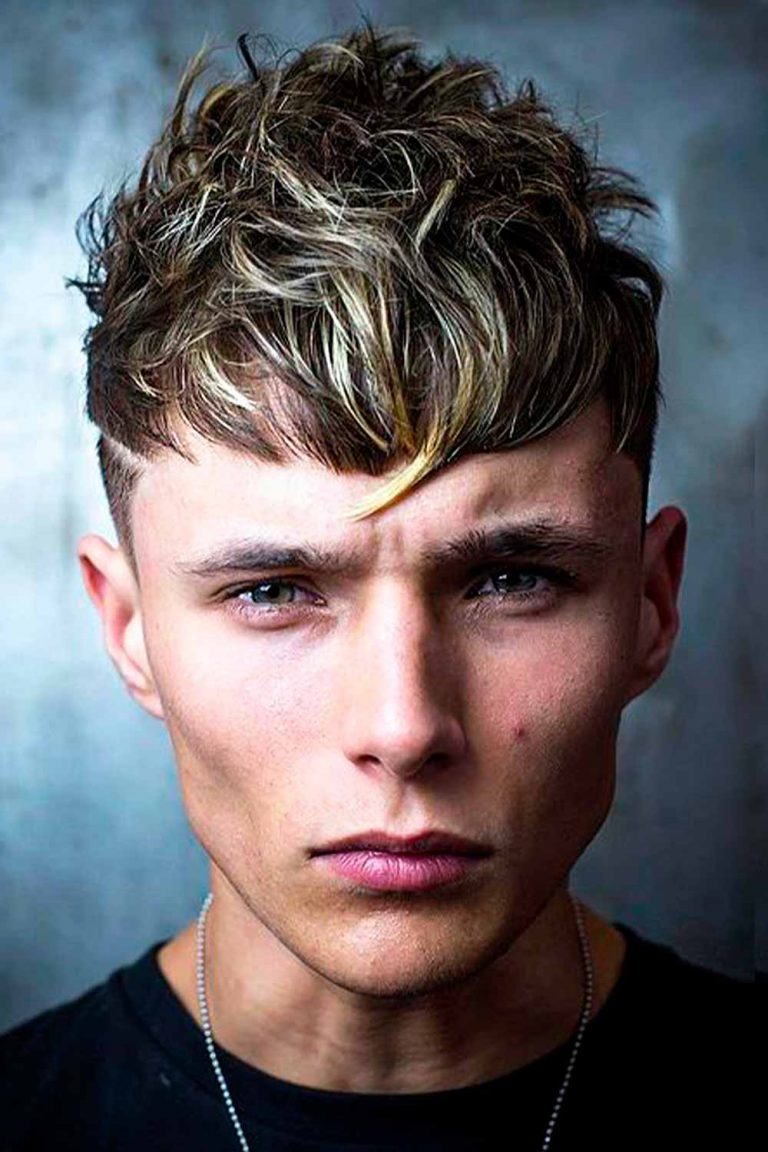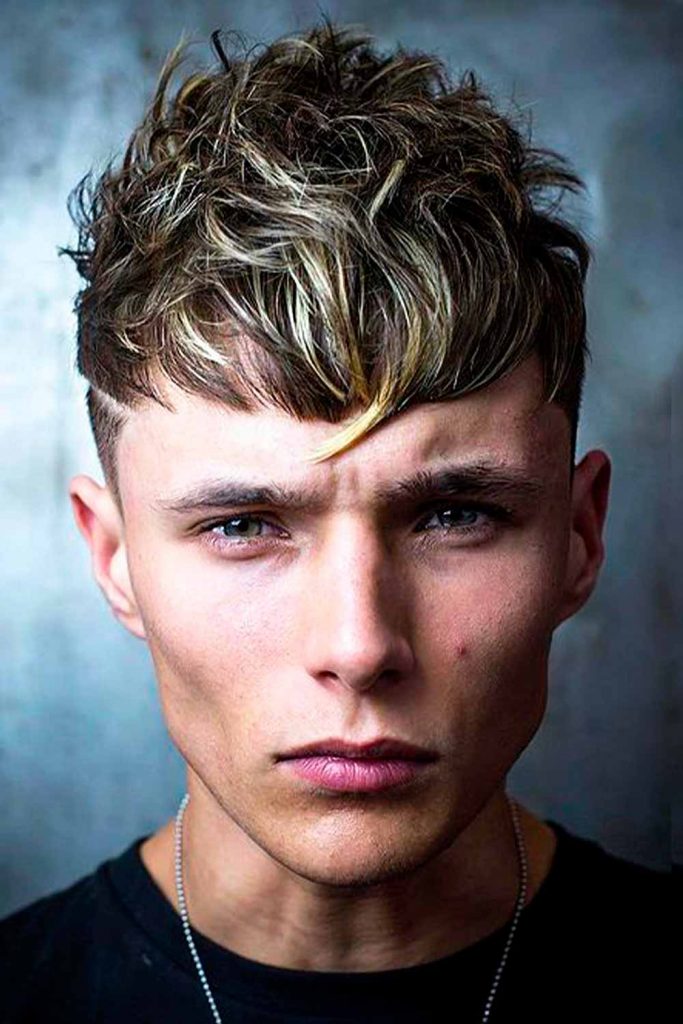 Source: @r.braid via Instagram
Spiky Mohawk Fade
It is hard to imagine any other haircut paired with a mohawk fade. Not only does it instantly shift the focus to your hair atop, but it also gives you plenty of haircut options. You can get the sides faded to the skin for a sharper look or leave some hair instead to incorporate a hair design.
Source: @corneliucrihan via Instagram
High and Tight Fade Military Haircut
A high and tight is one of the most popular military haircuts for men for good reason. It offers you practicality and low-maintenance teamed with a virile and daring appearance. As it allows you to show off your facial features, it makes a strong fashion statement. If it still seems not edgy enough for you, complement it with a fade on the back and sides then.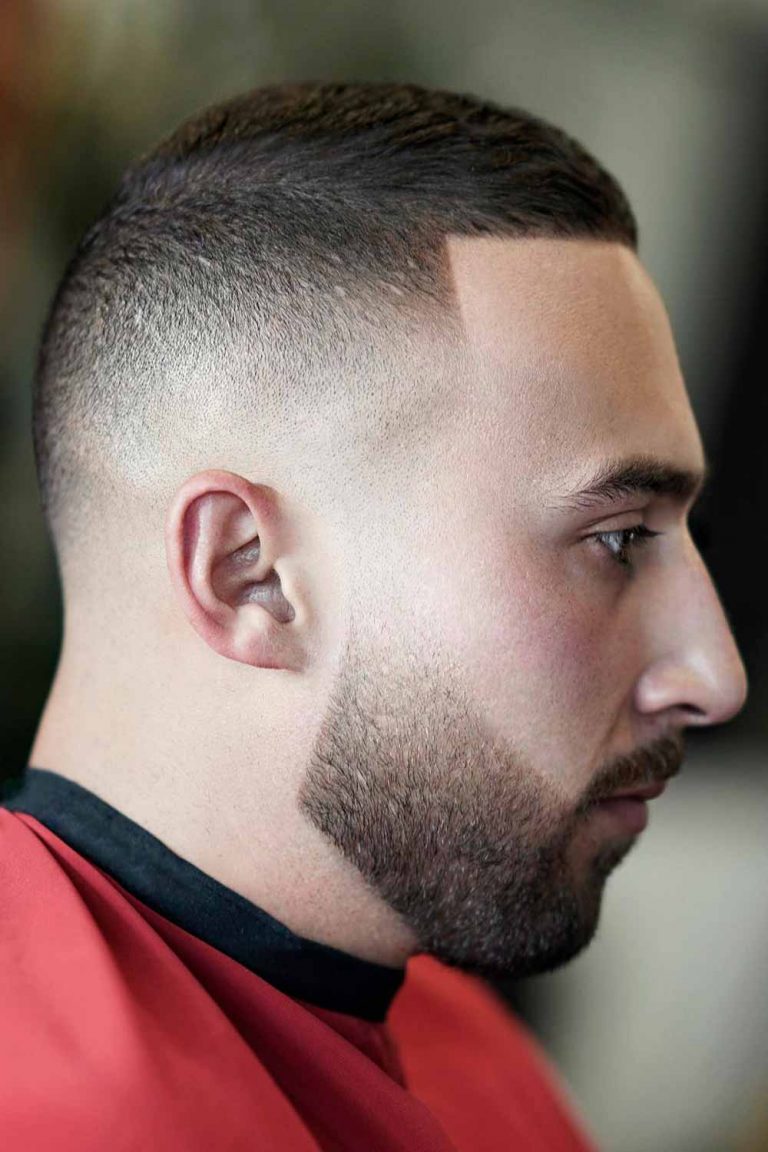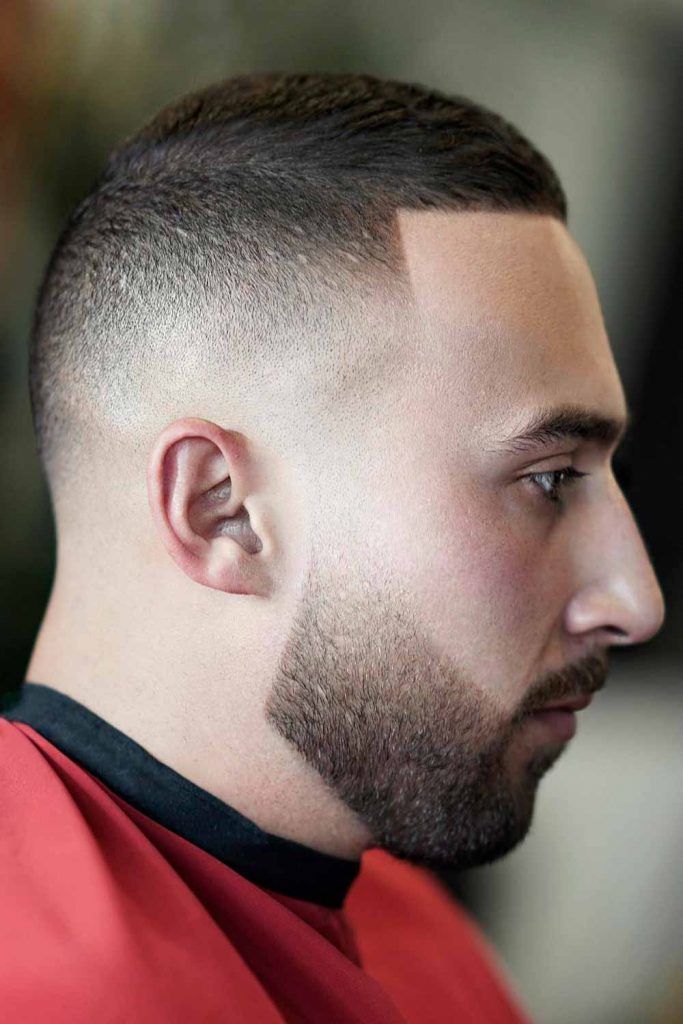 Source: @xbigwesx via Instagram
Silver Curls & Undercut
One of the best ways to tame your unruly curly tresses is to go for a short cut with silver hair color. It does not mean that you are going to sacrifice your hair texture though. Instead, when you choose a short on the sides, long on top hairstyle, it allows you to make the hair up top the focal point of the whole look, thus keeping your curls in the spotlight.
Source: @ryancullenhair via Instagram
Thick Short Curly Hairstyle
If you want to put emphasis on your curls, then it is hard to think of a better option than a short curly hairstyle. Yet, make sure to choose the right hair product to style it. A texturizing pomade or cream will do the job of accentuating the texture of your hair and keeping it secured.
High Fade Pompadour
A pompadour is a classic hairstyle that will arguably never go out of fashion. Yet, if you want to bring it up to date, there are multiple ways to do it and a fade cut is one of the most popular. Depending on how striking or soft you want it to look, you can opt for different fade haircuts for men. Yet, for the most salient look, go for a high fade.
Source: @hayden_cassidy via Instagram
Faux Hawk With Shaved Sides
Although a faux hawk removes much less hair from the sides than its counterpart, a mohawk, you can still incorporate some bald skin there. Just instead of a shadow fade, consider a bald fade, which is achieved by shaving the hair on the sides of your head to the skin.
Source: @alexthegreatvivar via Instagram
Low Taper Fade
A fade is a great addition to any men's hairstyles that features a textured top, and a crop top is no exception. If you are aiming for an edgy and daring look, go for a high bald fade on the back and sides. But in case you are leaning toward a more restrained appearance, stick to a low taper fade.
Source: @ryancullenhair via Instagram
Edgar Haircut
Those who have been considering a fringe haircut might want to start with a textured crop. As it only features a short fringe that blends with the rest of the hair on top, it will not be difficult to pull off. However, if you want to emphasize it even more, get the sides faded. For an ultimately edgy Edgar haircut look, a high skin fade will do you a favor.
Source: @ryancullenhair via Instagram
Wet Spiky Quiff Men's Hairstyles
To pull off a quiff, you do not have to grow your hair long. It can actually be as short as you like. Just make sure that your locks in the front are long enough to be styled up and you are good to go. A skin fade is what will give this look definition and contrast.
Source: @alexthegreatvivar via Instagram
Short Textured Haircut For Men
It is hard to think of a better option for guys who choose easy to style and maintain haircuts for men than a short textured cut. For styling, you will just need to apply some texturizing hair product to the top and for touch-ups, you can simply tousle your locks with a hand.
Source: @meha_barber via Instagram
Highlighted Faux Hawk Undercut Fade
There are so many ways to spice up a faux hawk that it can literally make your head spin. So that it will not happen, why don't you start with a haircut that has gained large popularity lately – an undercut fade? While creating a tidy and clean-cut silhouette, it also lets your quiff take center stage.
Source: @ryancullenhair via Instagram
Slicked Back Wavy Men's Hairstyle
If you naturally have wavy locks, then a slick back hairstyle is just made for you. While it will help you to tame those unruly tresses, it will also not take away from their definition and texture. Thus, you will be able to display your waves and look dapper at the same time.
Source: @londonschoolofbarbering via Instagram
Silver Messy Spikes Hair Styles For Men
To give your appearance a daring and ruffian vibe, go for a messy spiked up hairstyle. So that the top becomes the focal point of the whole look, complement it with a skin fade on the sides and back and get the spikes painted in a contrasty trendy color, such as silver gray.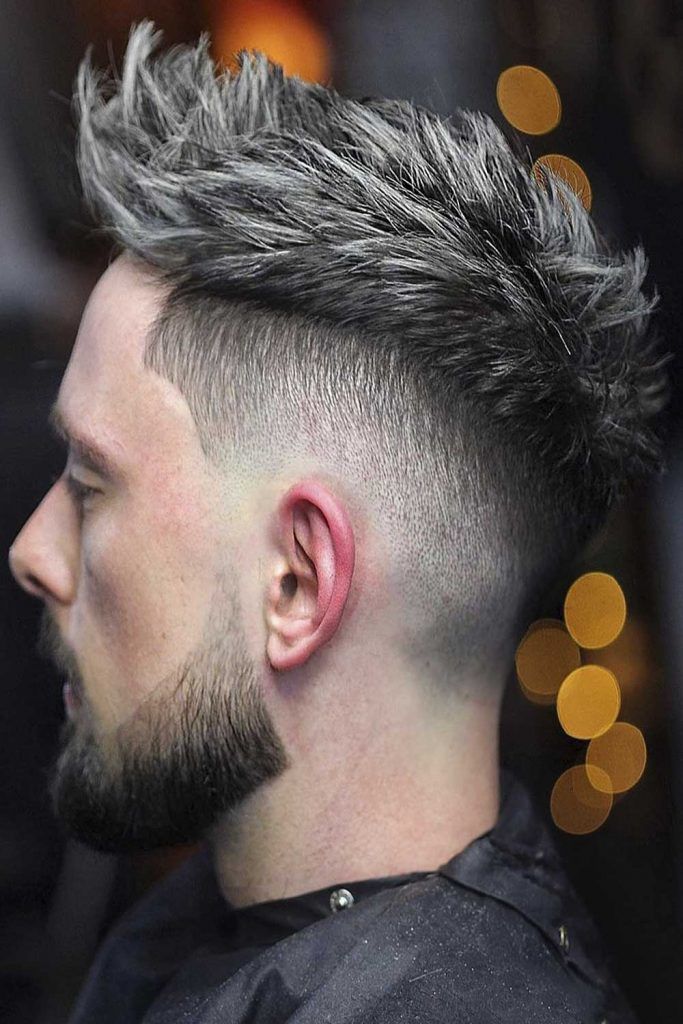 Source: @ryancullenhair via Instagram
Mid Length Curly Hair Fade + Line Up
One of the best ways to show off the curly texture of your hair is to grow it out long. However, long curls may be quite difficult to tame. So that they appear neat and tidy, get the sides faded. A line up will help you to make the look more defined.
Source: @nickthebarber via Instagram
Curly Angular Fringe
One of the best ways to pull off a curly men hairstyles is to make it angular. When cut this way, it does not require much styling, if any. You just can tousle your locks with a dollop of a hair styling product after washing them and leave to air dry.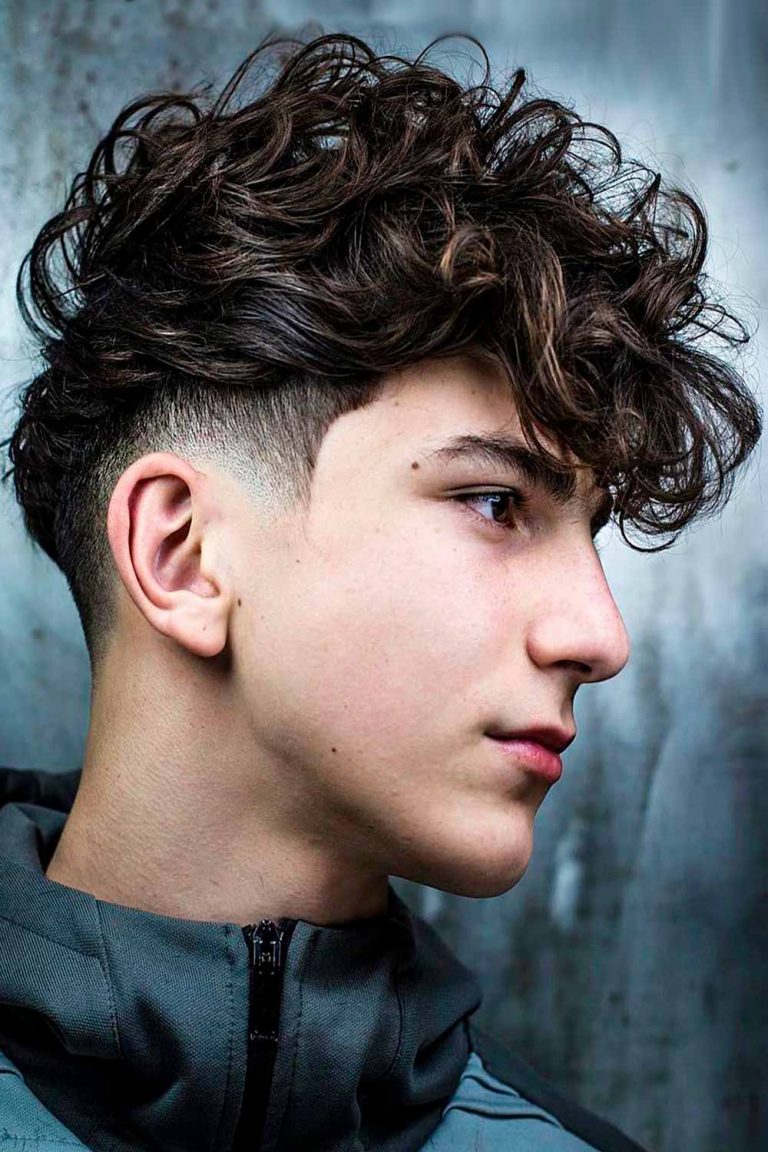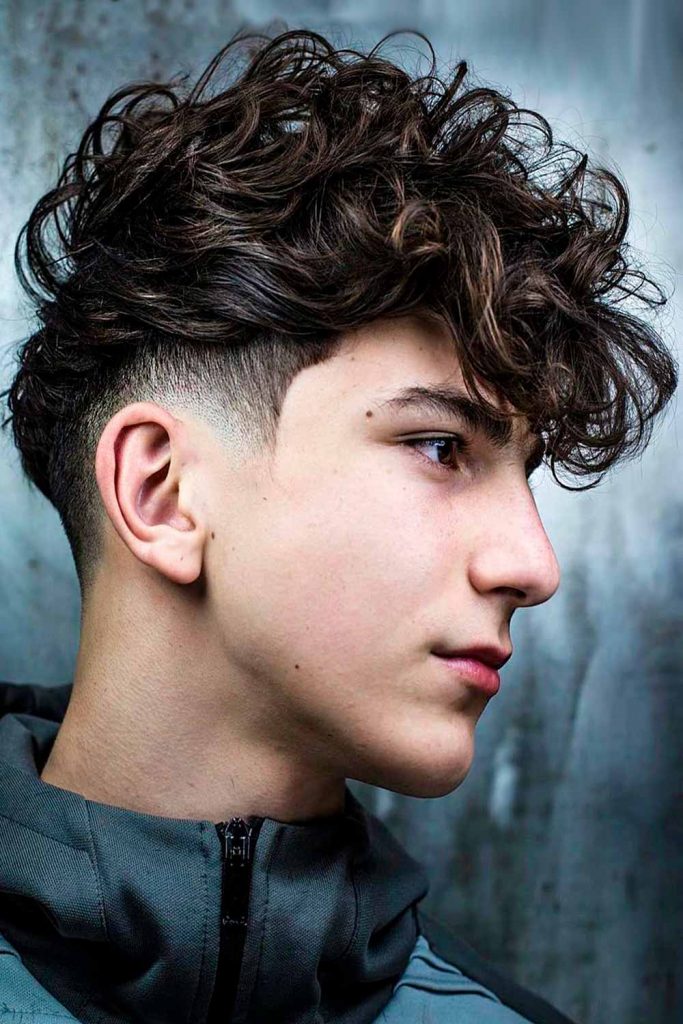 Source: @r.braid via Instagram
Textured Bowl
There are many ways of how you can make your bowl cut look more classy and modern. If you are up to drastic measures, then go for a skin undercut fade on the sides and back. In case you prefer to get away with intricate styling, then add some texture to the hair on top of your head using a hair styling product.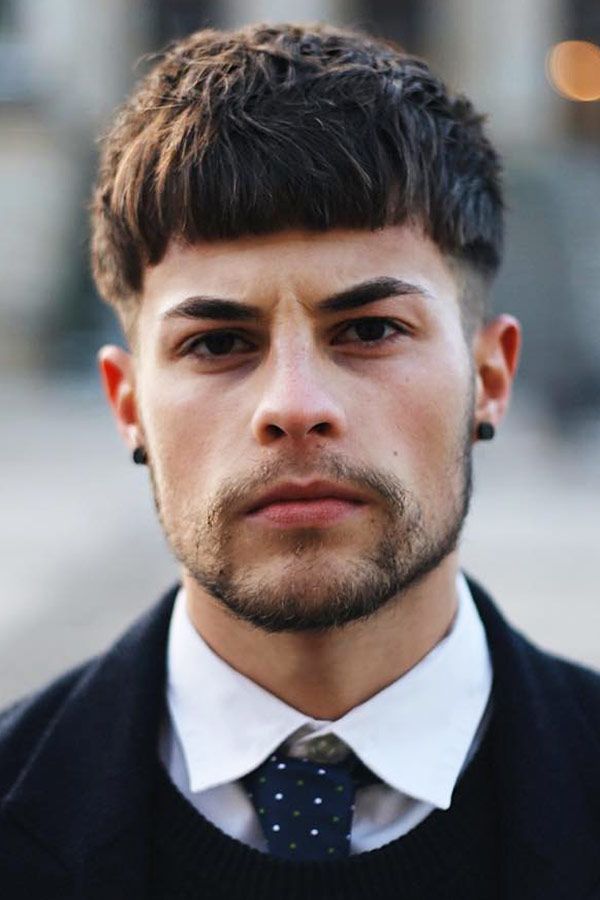 Ducktail Haircut
Retro male haircuts are a great source of inspiration for contemporary hair looks. You just need to adjust them a little to follow modern trends. So, take a ducktail hair cut for men and style it with an added texture and definition.
Source: @z_ramsey via Instagram
Box Braids Men
Box braids men allow you to kill two birds with one stone. On the one hand, you get your unruly kinks tamed. And on the other hand, you will end up with a unique and eye catching hair look.
Source: @horatiuthebarber via Instagram
50s Hairstyle
The 1950s hairstyles can be considered the golden era of mens haircut styles. They used to be elaborate, tasteful and classy. So, it is a good idea to opt for one of the guy hairstyles popular in the 50s. Of course, you can accentuate it with modern haircuts for men, like a fade, a taper or undercut.
Source: @los_cut_it via Instagram
Medium Length Haircut + Mid Undercut Fade
A perfect male haircut for those who prefer the golden mean. The mid length top makes it suitable for both casual and professional environment while faded sides give it definition and boldness.
Source: @corneliucrihan via Instagram
Modern Pompadour
The most popular mens hairstyles draw inspiration from classic male hairstyles, such as a pompadour, and no wonder. This elegant and sophisticated hairstyle is timeless.
Source: @a.nizhnick via Instagram
Spiky Textures + Shorter Sides
Modern haircuts for men usually entail a lot of texture and contrast. Thus, a medium-length textured top with short sides can easily become your go-to look this year.
Source: @sergeyshapochka via Instagram
Curly Jewfro Male Hairstyles
If you were blessed with particularly curly locks, it is time you embrace their texture. Instead of cutting them short or, what is worse, shaving them off, opt for a curly Jewfro hairstyle. Even though it looks so prominent, its styling and maintenance will not take you much time and effort.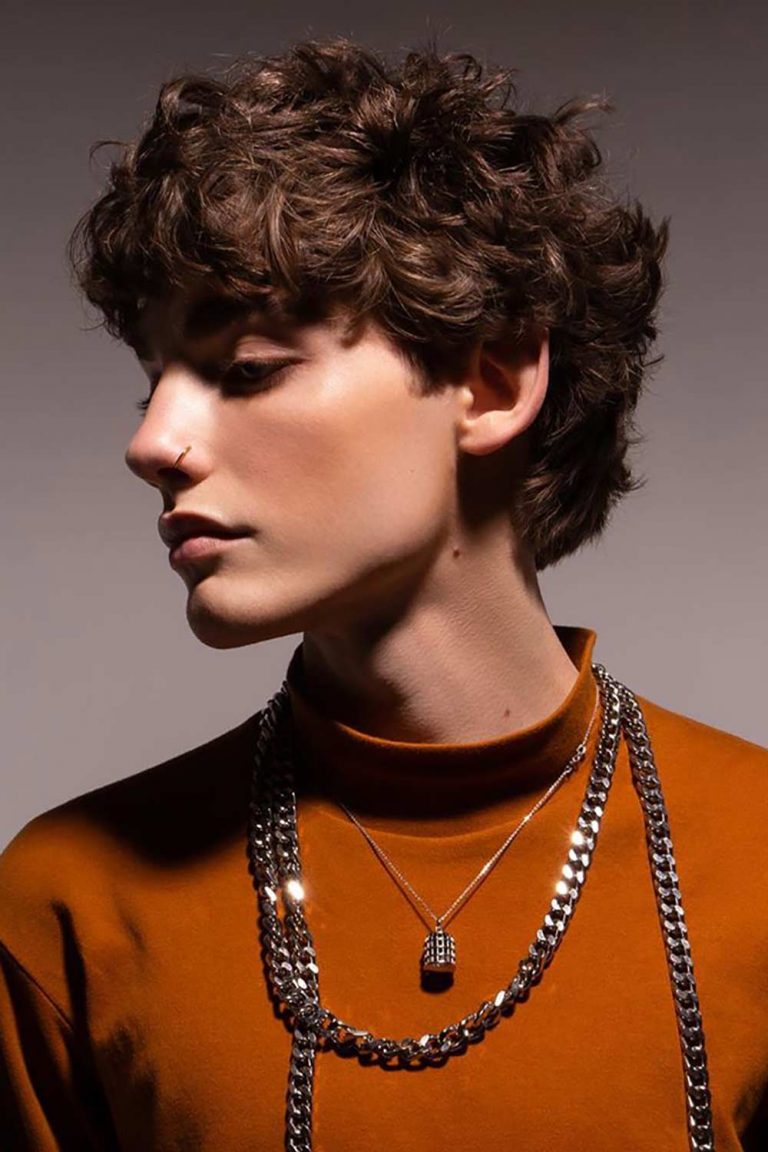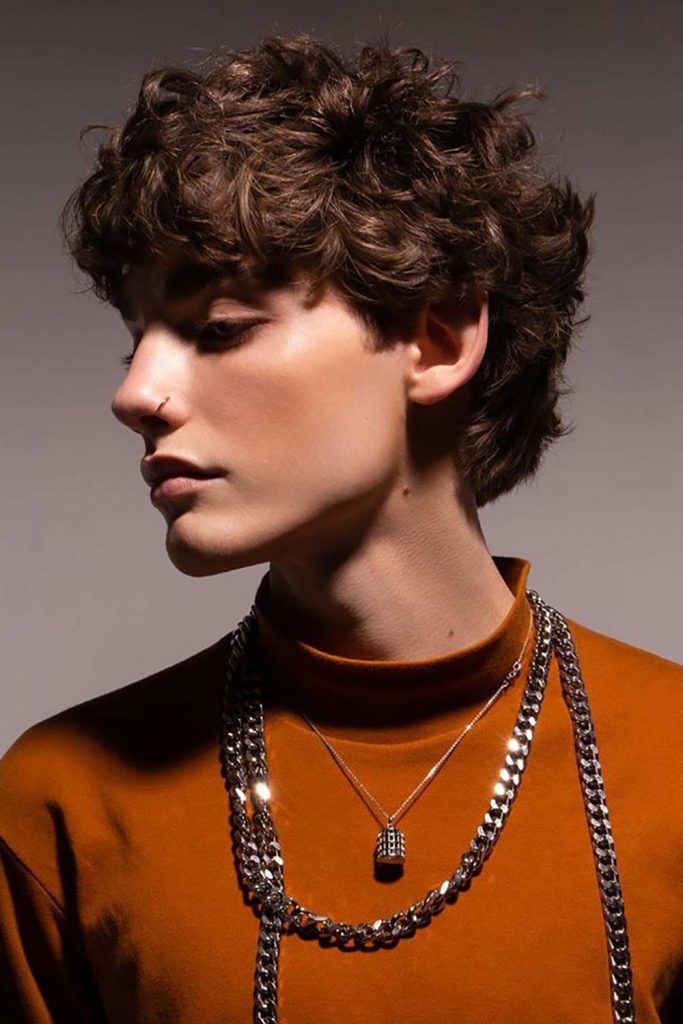 Source: @meha_barber via Instagram
Slicked Back Modern Undercut
With the variety of modern haircuts men can rest assured that they will look stylish and classy. A slicked back hairstyle with undercut sides is a vivid proof of this fact.
Long Swept Back Hair And Mustache
They say that classic is always in fashion, and we can't agree more. Swept back men's hairstyles look up-to-date no matter what. If you're afraid that you won't be able to pull it off and will end up looking rather old-fashion, team your hairstyle with a coarse beard. Thus, you'll be rocking one of the trendiest mens hairstyles in 2023.
Source: @hayden_cassidy via Instagram
Classic Side Part
Good haircuts for men are those that create a lot of impact with little effort. And a side part is one of such cool mens haircuts.
Textured Fuckboy Haircut
Textured fuckboy haircuts for men are a surefire way to look cool and fashionable.
Layered Fringe
A layered haircut with a fringe is one of those nice haircuts that will never go out of style.
Curly Medium Length Men's Haircut + Taper Fade
If you want your hairstyle to look sharp without going over the top, consider a mid length top with a tapered fade on the back and sides.
Source: @z_ramsey via Instagram
"Ivy League" Comb Over
You can never go wrong with a classic mens hairstyle and comb over is no exception.
Curtains Hairstyle
Even though a curtain hairstyle is not a new hair trend, it does not make it any less fashionable. Though, a modern take on this look is a bit shorter and more textured. Yet, its main distinctive feature, a center part, is still where it belongs – right in the middle of your head. Another way to give it a modern feel is to pair it with the fade on the sides and back.
Source: @tombaxter_hair via Instagram
Rockabilly Hair
A rockabilly hairstyle has made a huge comeback to stay for as long as possible. Inspired by legends of rock and roll music, it has many versatile variations so that you would be able to adjust your hairstyle to the event you are headed to.
Medium Side Swept Men's Hairstyle
A mid length style is a golden mean of haircuts for men. Its main advantage is that it is extremely versatile, as you can style it to suit any ambiance and occasion. For an elegant appearance with a relaxed air, sweep your locks on top to the side and allow them to fall naturally. This hairstyle especially flatters straight hair and wavy locks, as they hold the shape best.
Source: @lanedorsey via Instagram
Fiery Red Spiky Quiff Men's Hairstyle
As a quiff is really versatile and customizable, it provides you with a myriad of styling opportunities. Hence, you can sport a new look every day. Considering something easy to get yet attention-grabbing? Take a closer look at a spiky quiff. With all that texture and separation it offers, your hairstyle will not be ignored for sure.
Source: @alexmapeli via Instagram
Undercut Quiff For Silver Hair
A quiff will arguably never lose its popularity. However, if you want to make it the focal point of the whole look, complement it with an undercut haircut on the back and sides. As for styling, you are offered a myriad of options. You can flaunt it spiked up, side-swept, angled and in many other ways.
Source: @mikes_custom_kuts via Instagram
Long Fringe
If your fringe haircut has become overly long, not so fast with chopping it off. This season, we choose to go to extremes. Thus, a long fringe guarantees you the title of one of the most stylish and fashion-savvy guys.
Undercut + Thick Hair On Top
To complement your thick hair, opt for an undercut haircut on the back and sides. Not only will it help you to tame your dense locks but it will also give them more sharpness and emphasis.
Medium Brushed Back Undercut
The main difference between an undercut and a fade lies in the fact that with the undercut the sides and the back of the head are cut at the same length. Although, there are exceptions to the rules – as you may have guessed that would be an undercut fade. Well, let's have a closer look at popular undercut styles to introduce into your new 2023 look!
Source: @ryancullenhair via Instagram
Two Block Haircut
If you are looking for a haircut that will bring a lot of contrast and boldness to your appearance, then a two block haircut is your way to go. Thanks to the noticeable difference in length between the sides and the top, you will easily achieve a sharp and edgy look.
Long Comb Over Hairstyle + Spiky Design
A comb over is a timeless hairstyle that suits any ambiance, from casual to formal. Even though it is already considered trendy, you can still modernize it by teaming with a fade. As it instantly makes the top the focal point of the whole look, you can give it more pronunciation by growing out longer hair and creating more volume with it.
Source: @mensworldherenkappers via Instagram
Short Sides Long Top
Here comes a haircut that barbers can do with their eyes closed. Short sides, long top; they hear this name more often than any other short haircuts for men. Well, the reason for that is quite simple. This haircut is nothing but a canvas to your creativity: you can play around with the top and experiment with the sides at the same time. Plus, it always gives a smart, sophisticated look to a wearer.
Source: @hairraribarber via Instagram
Modern Bowl Cut
A bowl cut is often considered an old-fashioned or at least just boring hairstyle. To give it a modern twist, you can taper the sides and dishevel the top instead of making it brushed down. This will add a bit of casual flair to an initially preppy look.
Brushed Back Medium Hair
Although modern mens haircut is all unique and different, they have a common aim: to keep a wearer stylish and comfy at once. To tell you the truth, keeping your hair at a moderate, medium length and brushing it to the back is enough to make it fit not only a casual but also a formal look. Also, ask your barber for soft layers at the front; it will provide easier styling.
Source: @egobarbers via Instagram
Slick Back With Flow Mens Haircut
To give such a stiff hairstyle as a slick back a touch of casual flair, allow your hair on top of the head to flow. No matter how high maintenance it may seem, it is actually much easier to get than its classic version. Simply apply less hair product to your locks and do not sleek them back so thoroughly.
Source: @hayden_cassidy via Instagram
Slicked Back Side Part
If your office dress code or personal preferences call for a refined and tasteful hairstyle, then it is hard to find a better option than slicked back hair. So that it will not look plain and flat, give your hairstyle a sharp outline and definition with a side part.
Source: @meha_barber via Instagram
Top Knot Men's Hairstyles
In case you are a fan of long haircut styles for men then we have something in store for you. Man bun and an undercut complete each other perfectly, especially if you have quite thick hair. What is more, you can always gather your hair up and make a top knot to show off the undercut or let it loose to hide it away.
@urednistvo.pricesk.robert via Instagram
High Skin Fade + Messy Spiky Hair
Any kind of fade will make your hairstyle look bolder and edgier. Yet, the sharpest of them is a high skin fade. As it takes off the hair from the sides and back, your hairstyle instantly seems cleaner and neater. Thus, you can go as messy with the top as you like, especially if it is spiky hair.
Source: @ryancullenhair via Instagram
Modern Mohawk Fade
A mohawk is obviously not for everyone. However, those guys who decide to venture out for it will not regret their decision even for a fraction of time, as the look appears daring and sharp. Yet, if you are not ready to make a full commitment to it, consider going for faded sides instead of bald.
Source: @londonschoolofbarbering via Instagram
Long Layered Fringe With Low Fade
Such a prominent hairstyle as a long fringe calls for some neat accompaniment and that is when a fade comes in really handy. If you do not want to make it excessively bold, then you can get away with a low fade, which does not take off much hair from the sides and back.
Source: @emilsebastiian via Instagram
Medium Hair Brushed Back
Want to collect compliments left, right and center? Why don't you give a try to a medium brushed back hairstyle? While offering you a middle ground between long and short looks, it will also allow you to open any door. Besides, it flatters most face shapes and hair types, thus being an all-time favorite hairstyle of many men.
Source: @meha_barber via Instagram
Slicked Back Undercut Arabic Men's Haircuts
No matter what hairstyle you have on top, an undercut will inevitably make it appear more defined even if it is such a polished and refined look as a slicked back. To pull it off, your hair should be from medium to long for the most noticeable contrast.
Source: @f4fade via Instagram
Man Bun
Even though a man bun belongs to rather controversial male hairstyles, it doesn't make it less popular or trendy. Many fashion-savvy guys are happy to pull their mens long hairstyles into a bun. It not only takes the hair away from your face but also adds a touch of virility to your whole look, especially when paired with a rough beard.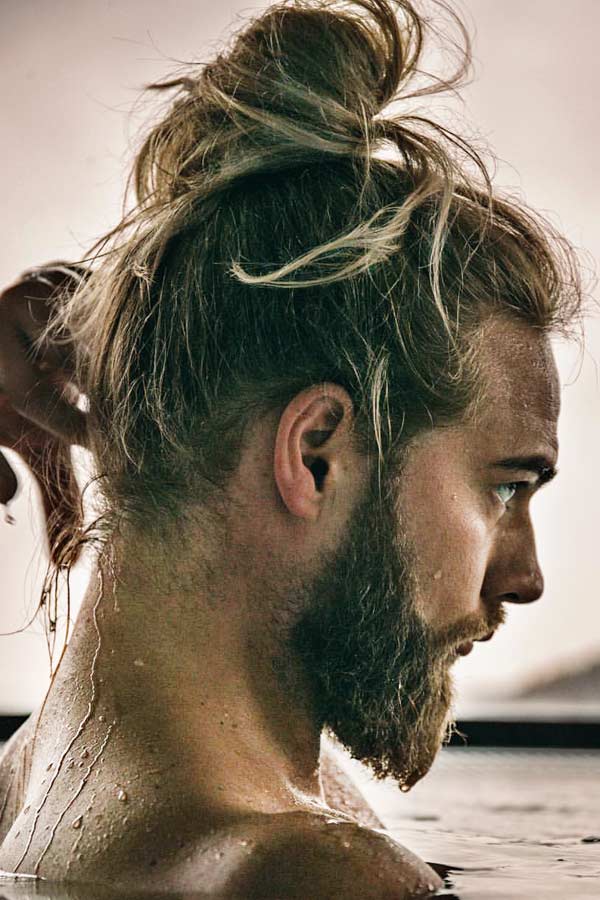 Source: @lasselom via Instagram
Long Curly Man Bob Mens Hairstyles
For those gents who are fond of long locks, a man bob may become a go-to option. This style appears especially flattering for curly hairstyles for men. While it does not require too much maintenance, the look comes out carefree and relaxed. Just run your fingers with a hair styling product through the strands to allow them to flow.
Half Up Man Bun
The beauty of a man bun is unfading. Now we can say with confidence that it has withstood the test of time. Although to nail it, there is no need for your hair to meet some specific criteria, it looks best on long curly locks. In this way, it gains texture paired with a relaxed air.
Samurai Knot Men's Hairstyles
If you are bored with your top knot but still do not want to get rid of it, then you can simply upgrade it by transforming into another style. Thus, samurai hair looks unconventional and trendy, especially when paired with a full coarse beard.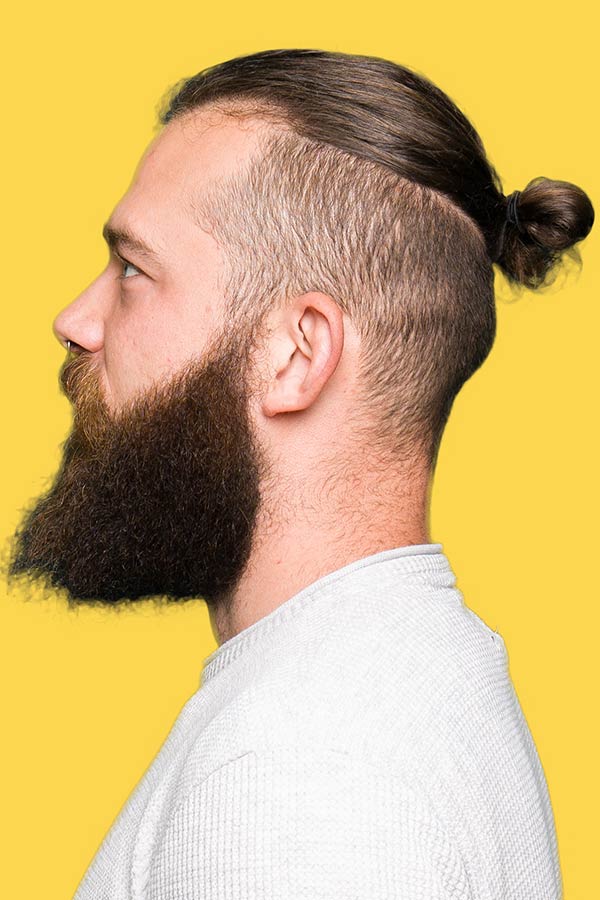 Surfer Hair
You can hardly imagine any men's hairstyles that would look as effortless and breezy as surfer hair. To pull off the look, there's no need to spend hours on the beach. However, you will need to grow out your hair at least medium length. For styling purposes, you'll need a sea salt hairspray, as it's hard to achieve the desired effect without it. Spritz it all over your locks after washing and towel drying them and leave air dry or use a blower with a special diffuser attachment.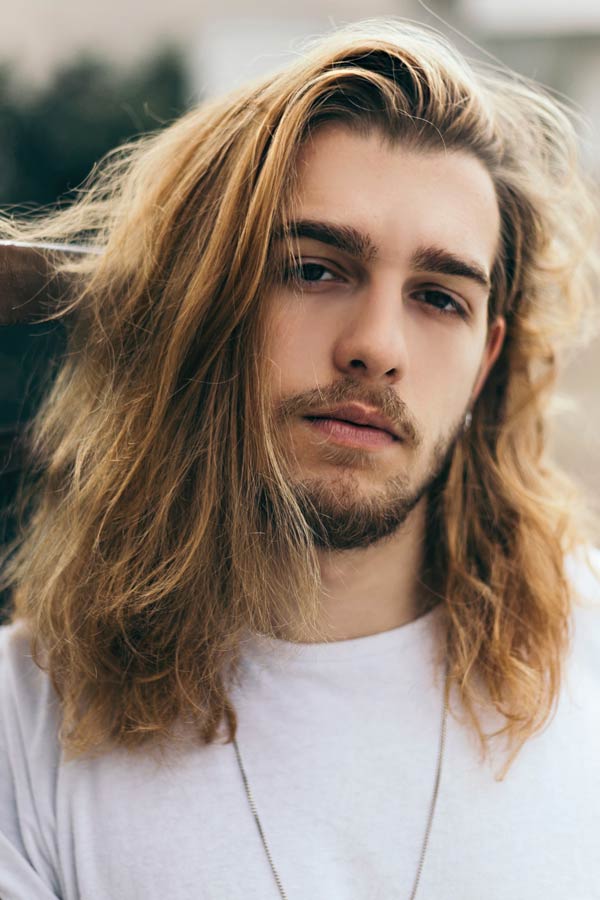 Braided Hair
Braids for men raise a lot of controversies. Despite that, they remain one of the trendiest hair styles men all over the world opt for. There is a bazillion of ways to have your hair braided, so you'll definitely find a style to your taste. Good news is that your hair shouldn't be that long to plait it, as four-inch locks can be turned into cool cornrows.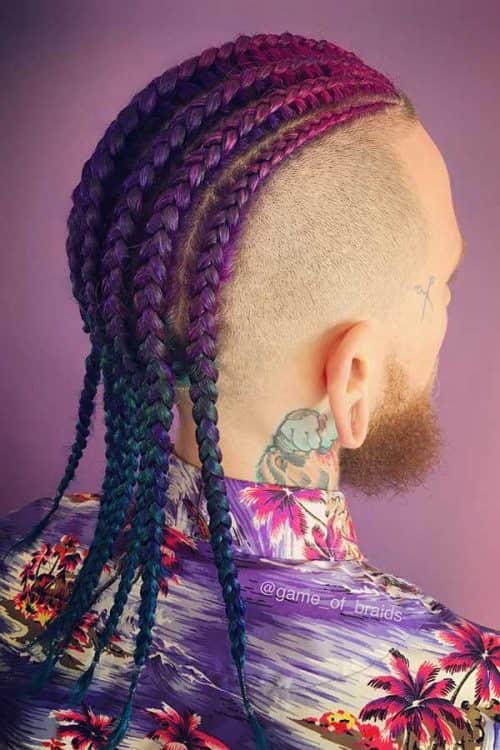 Source: @game_of_braids via Instagram
Dreadlocks
Dreads are another timeless men's hairstyle that generated many creative variations. Dreadlocks range in length, size and shape. They can be paired with various mens short hairstyles on the sides, such as an undercut or fade. Besides, they can be styled in a bun, ponytail, braid or any other hair styles that come to your mind.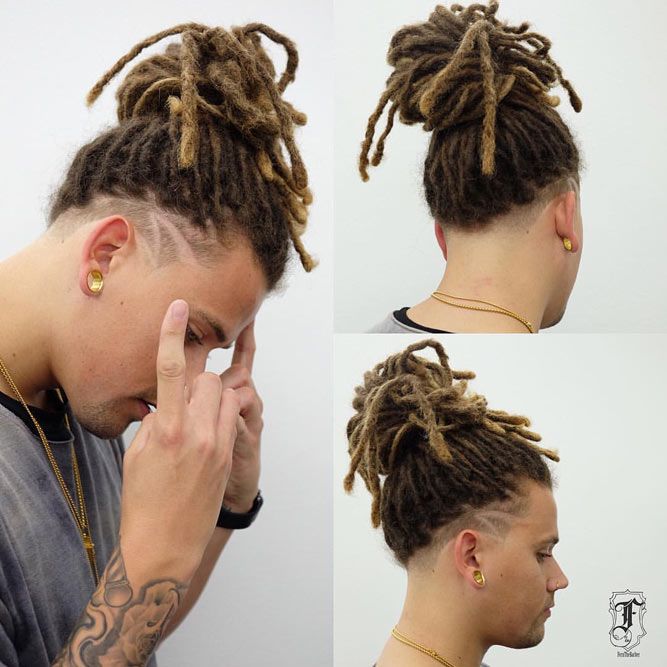 Source: @fernthebarber via Instagram
Man Bob With Undercut
Want to spice up your man bob? Get the sides undercut and you are good to go.
Hairstyles and Haircuts for men are as versatile as they are for women. All you need is a complete guide to help you with a range of cuts to be on the edge when this year hits. That is precisely what we are offering you here. It is time you choose your perfect hairstyle for the next year!
Nowadays, mens hairstyles and haircuts range is so broad that it basically makes your head spin. Thus, it's always a good idea to get some help from a reliable source. Hopefully, our exclusive collection has provided you with lots of inspiration on your next cut.
Hair Salons

Hair Cut
Beard Trim
Haircuts Prices Start From
M Room
$38.00
$20.00
Gambuzza's Barbershop
$25.00
$15.00
Shorty's Barber Shop
$37.00
$15.00
Stag Barbershop
$40.00
$15.00
Persons Of Interest
$55.00
$20.00
Frank's Chop Shop
$55.00
$25.00
Taylor's Barbershop
$30.00
$35.00
State St. Barbers
$30.00
$15.00
The Barbers
$21.95
$10.00
QB House
$23.00
$20.00
FAQs
What is the most popular mens haircut?
The most popular men's haircuts 2023 are all kinds of fades, tapers, undercuts, slicked-back men's hair, a quiff, pomp, a comb over, and other stylish haircuts for guys.
What is the easiest haircut to maintain?
As a rule of thumb, the shorter the men haircut is, the easier it is to maintain. Thus, the most effortless are a crew cut, a butch cut, an ivy league, a buzz cut, a clean shave, an induction cut, and a French crop.
What hairstyles are in style right now men?
The hottest hair trends in 2023 for guys are military and messy, cropped bangs, and low taper fade.
What is the best haircut for guys in 2023?
It is difficult to single out only one best haircut for men, as there are plenty of them. An undercut haircut, a side part, a Caesar cut, slicked back hair and long wavy locks are known to be one of the best haircuts for men.
REFERENCES:
Get the facial hair grooming tips, hair advice, and product recommendations from the editors of Esquire. Source
The undercut is a hairstyle that was fashionable from the 1910s to the 1940s… Source
Pinterest. Best Hairstyles For Men. Source