Male grooming routines have expanded significantly over the course of years. While modern men have unlimited access to the fanciest cuts the fashion can offer, they still prefer the ease of maintenance when it comes to everyday styling. Despite that, the simple hair style men choose nowadays isn't limited to buzz cuts solely. There is a variety of options to decide on, no matter the preferred length. Care to learn more? Browse through our expanded hairstyle for fashionable men collection!
Buzz Cut Easy Haircuts For Men
It is natural to start with short low maintenance haircuts men like, and Channing Tatum's buzz cut suits the description better than most. The closely shaven hair draws more attention to his facial features, and for a good reason. If you want to show off your masculine characteristics and save time and effort during the morning routine with your short haircuts for men, a buzz cut should be considered.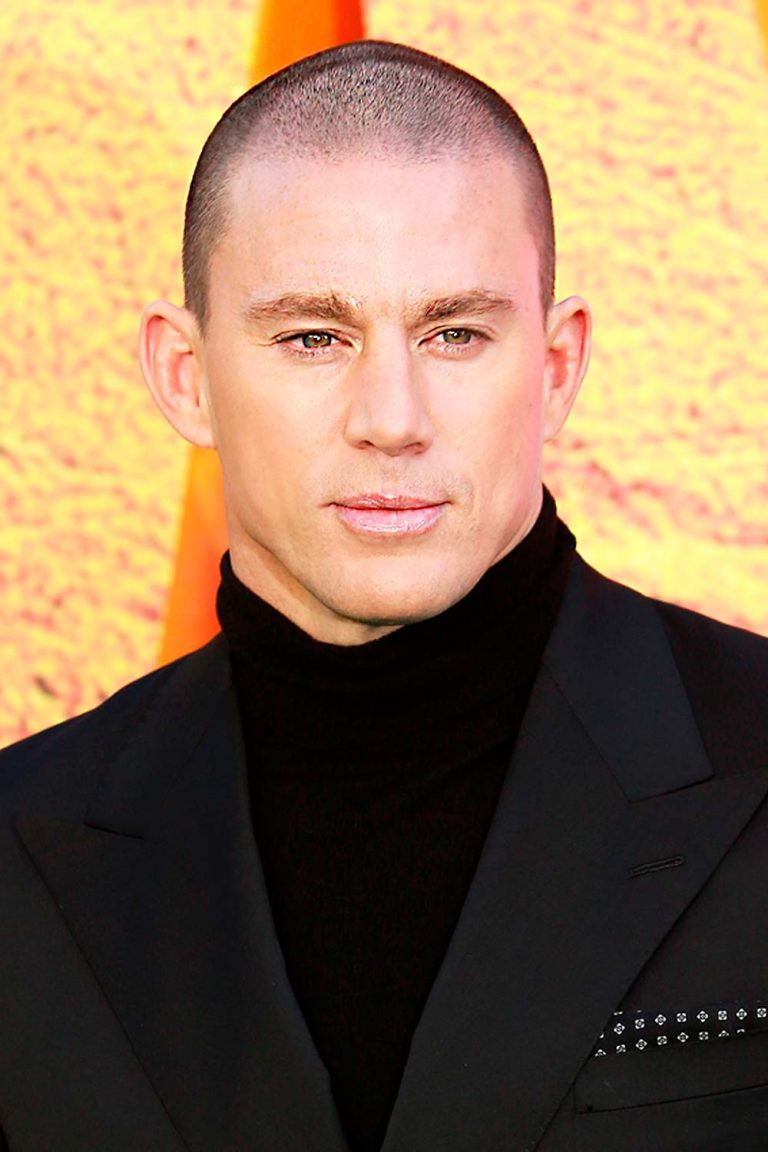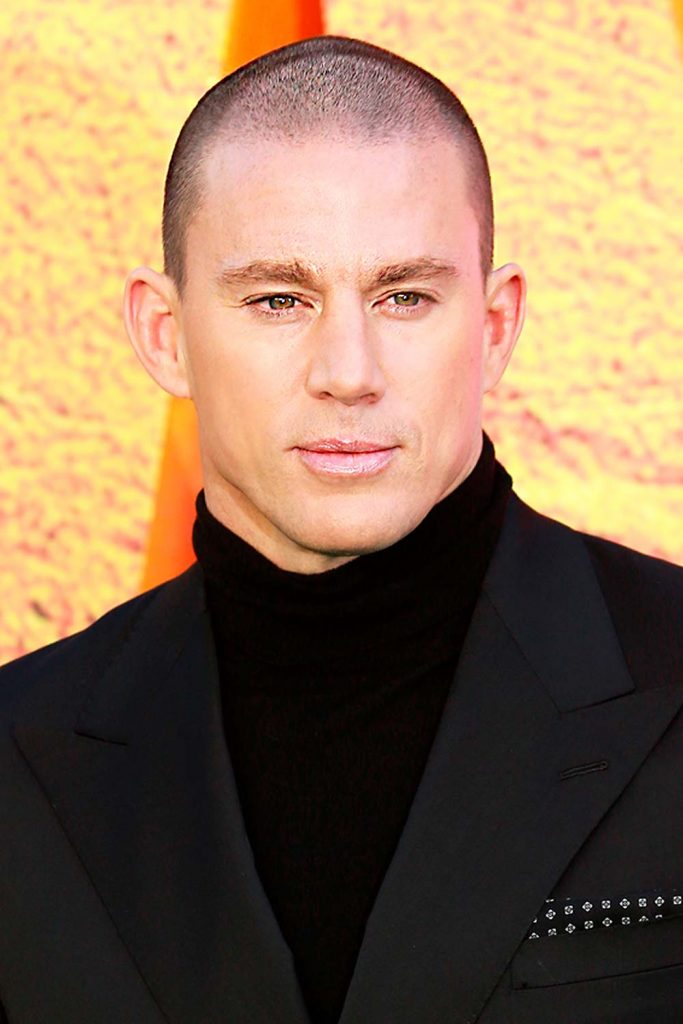 Fred Duval/Shutterstock
Messy Bowl Mens Haircuts
Did you know that a messy bowl cut belongs to mens low maintenance haircuts? Well, now you do! It is hard to deny the sassy flair of the look, and some of you may assume it takes ages to achieve. While, in fact, all you require is a dedicated professional to get the cut from and two minutes of your time in the morning to run that styling gel through your well-layered tresses.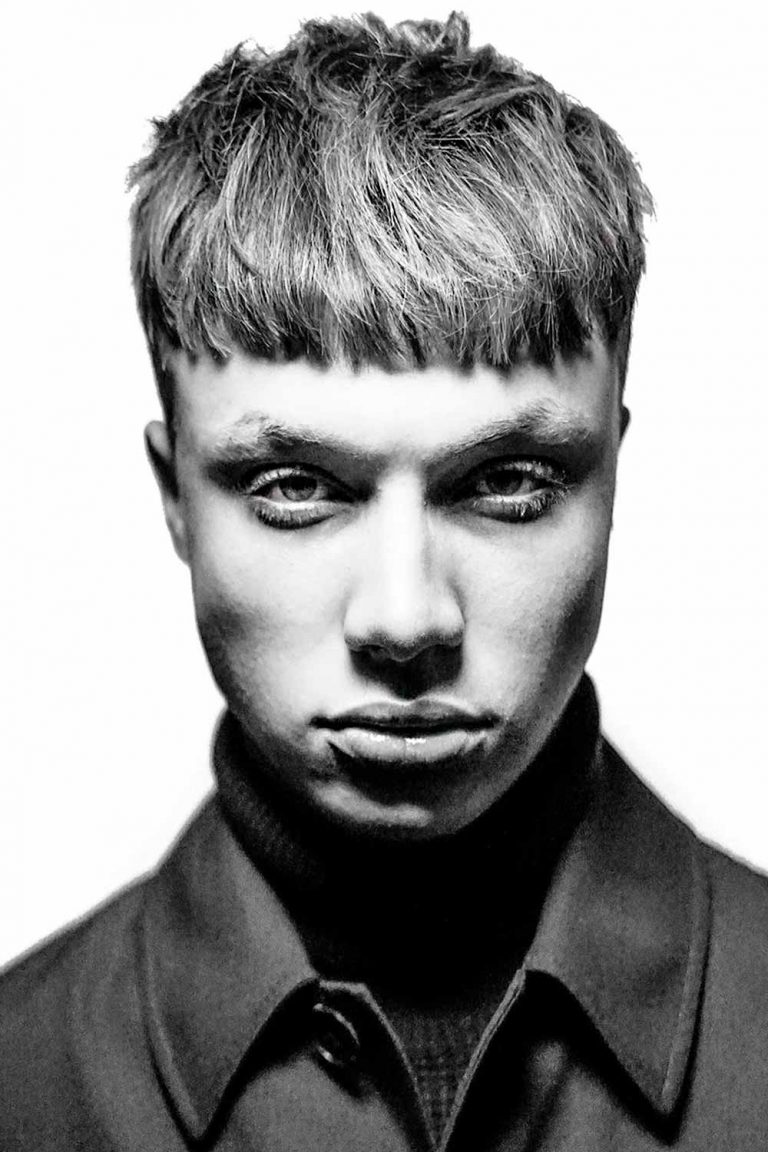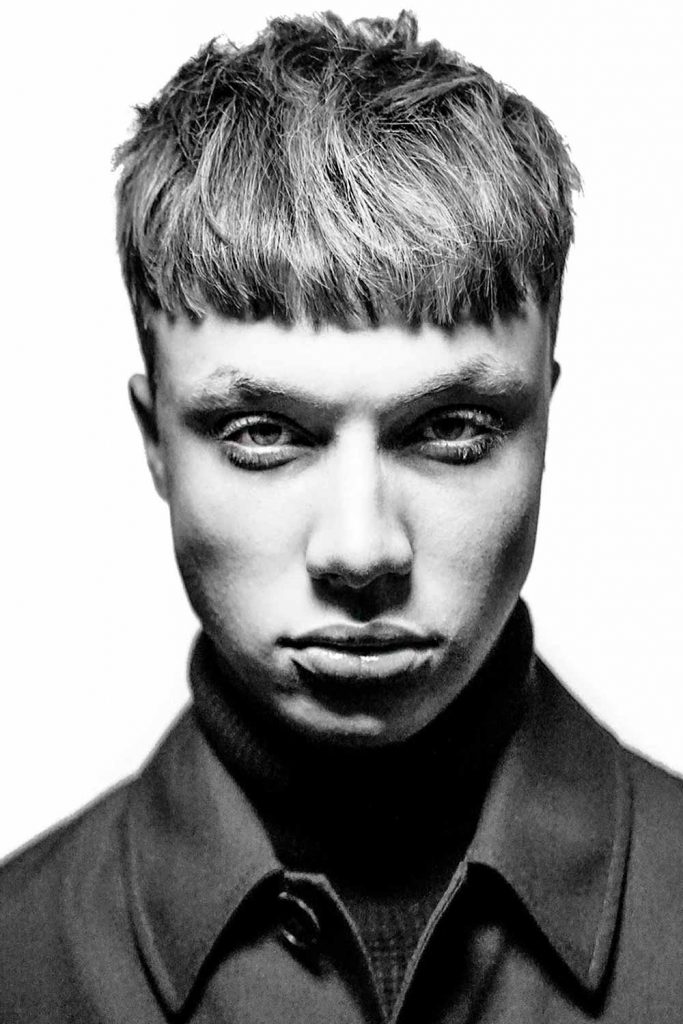 Source: @mattyconrad via Instagram
Curtained Low-Maintenance Mens Haircut
Brad Pitt is known for his passion for long hair. This time he showcases the gorgeous appeal that messy low maintenance mens medium hairstyles can grant. Grow your mane to classy bob length, and tuck it gently behind the ears. You can work on some styling products to hold the style in place. That's about it – a celebrity-like look is achieved!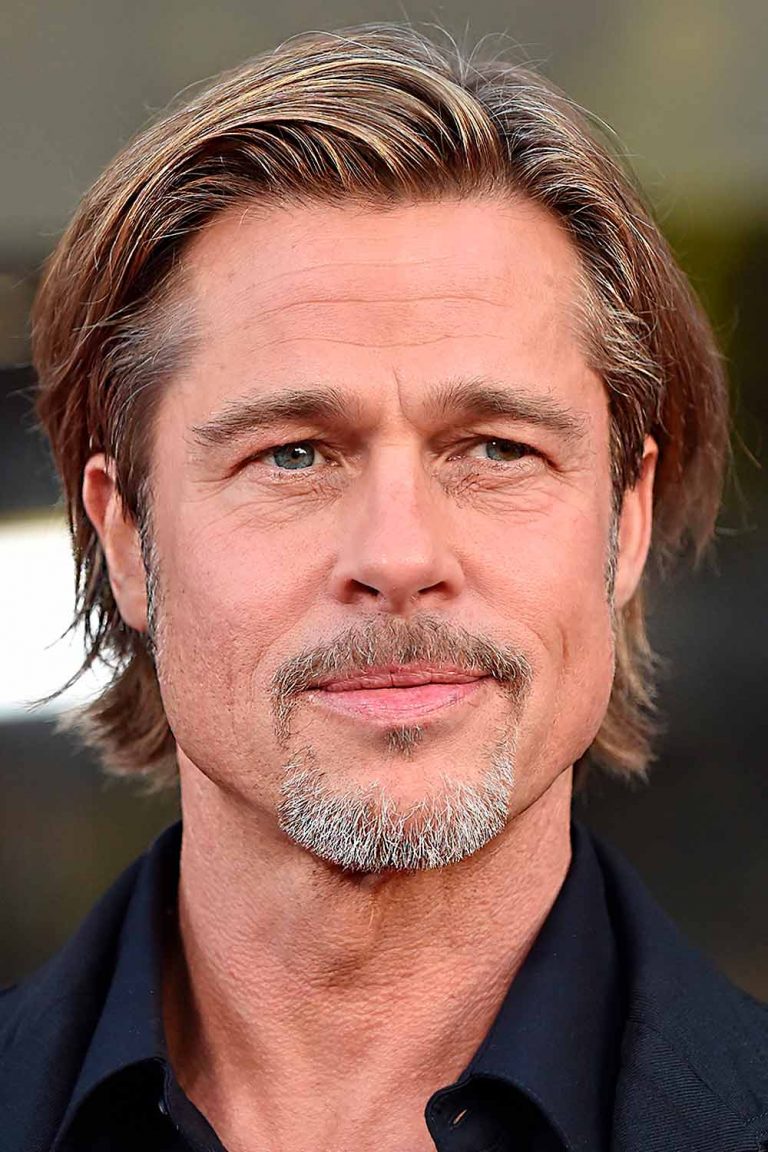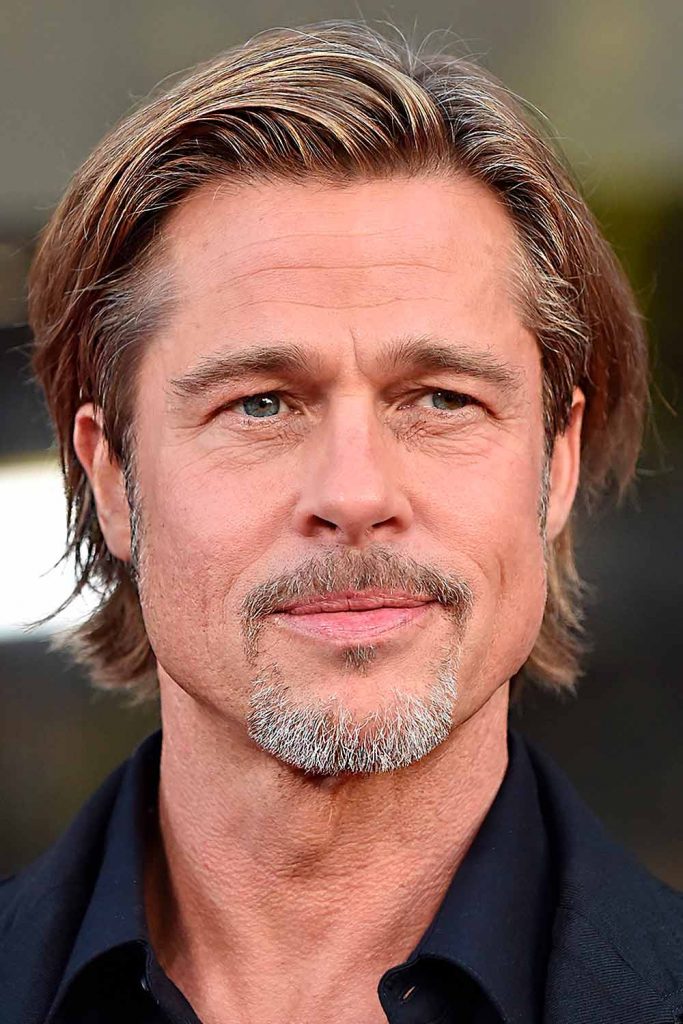 DFree/Shutterstock
Short Crop With Skin Fade Sides
The beauty of a high fade lies in its ability to underline the textured top. You may not even need to put in any product to upkeep the style. Besides, as the high fade grows out, it will transform into a tapered fade so that you don't have to visit your barber as often.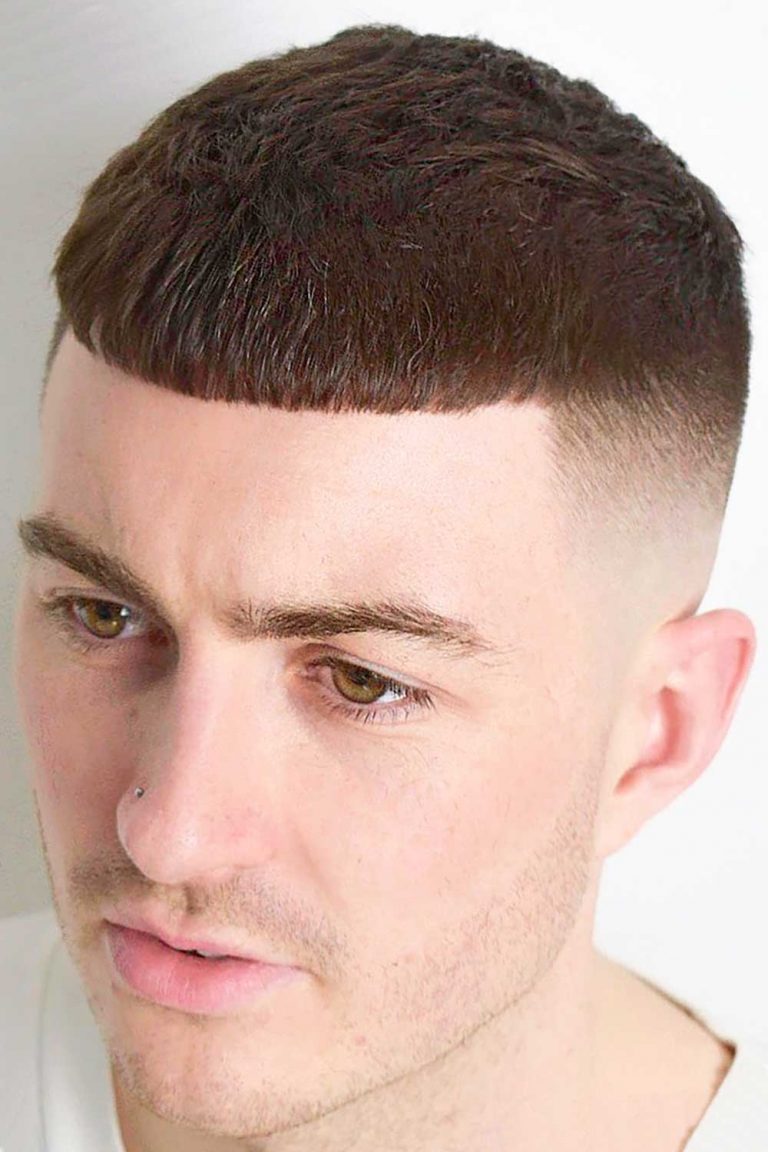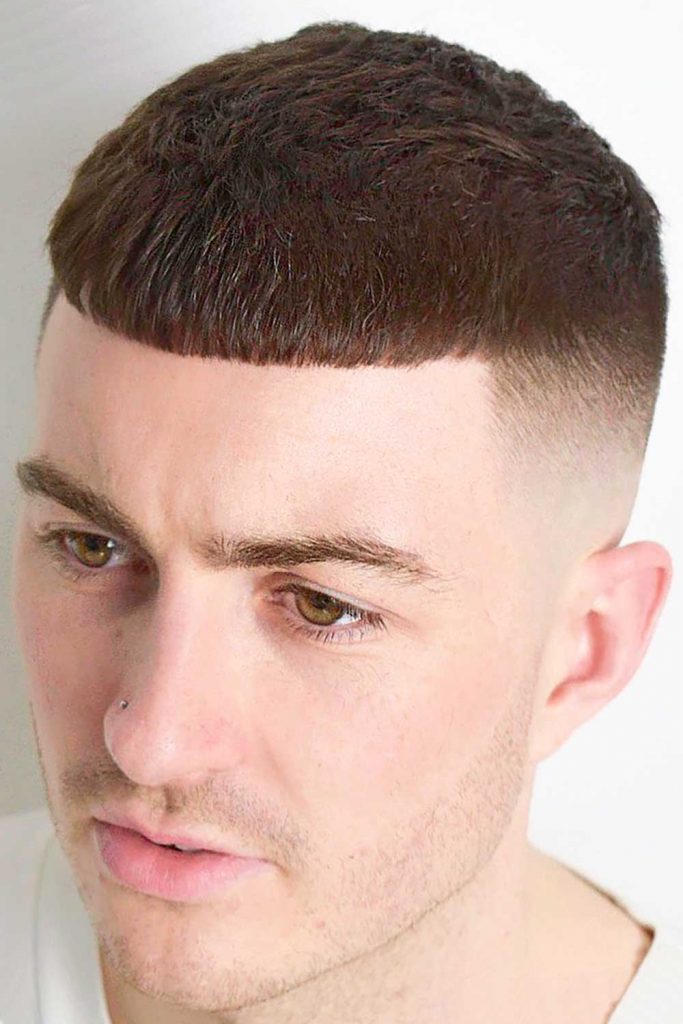 Source: @nickleehair via Instagram
Brushed Up Spikes Low Maintenance Hairstyles For Men
Among messy low maintenance mens hairstyles for fine tresses, brushed-up spikes take a significant spot. The simple layering and a swift brush of your fingertips coated in a styling product are all you need to sport a stylish look and spread confidence everywhere you go.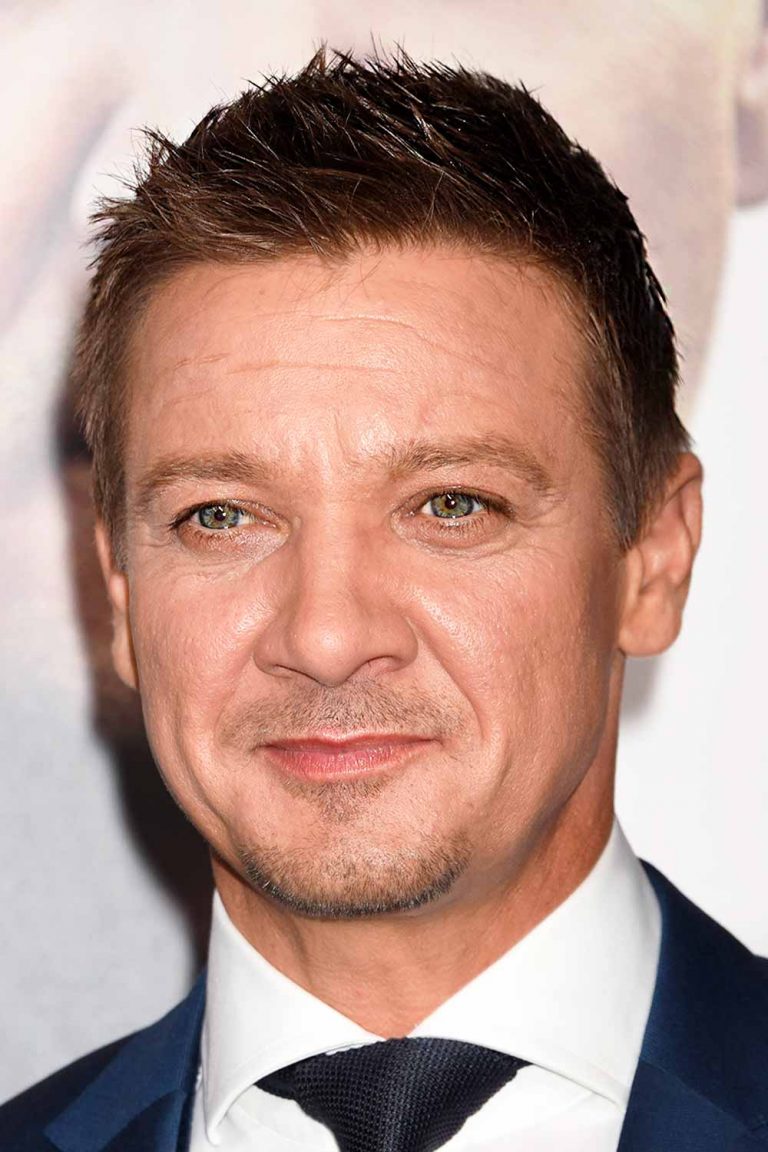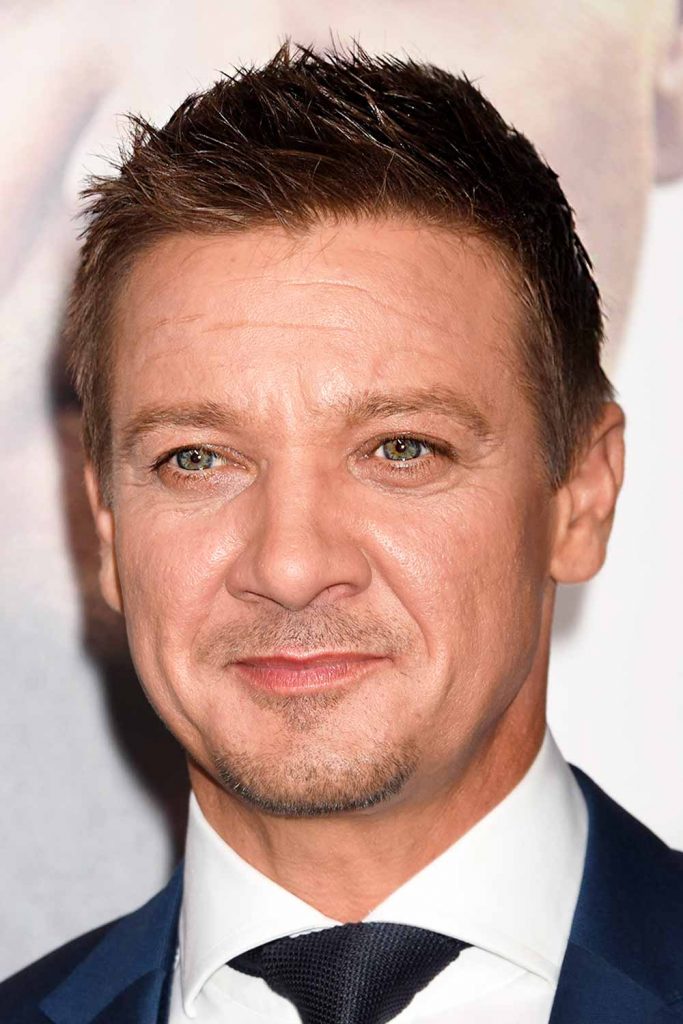 Ga Fullner/Shutterstock
Crew Cut Simple Haircut For Men
Even when you decide to take on low maintenance mens short haircuts, you shouldn't rule trendy hair coloring out. In fact, the bold shades that you want to experiment with would suit the case perfectly. Not to mention that you can always cut of the colored tresses when the hue does not seem to suit your taste. Should you decide to keep the tone longer, it helps to remind you that outgrown roots are still a thing too.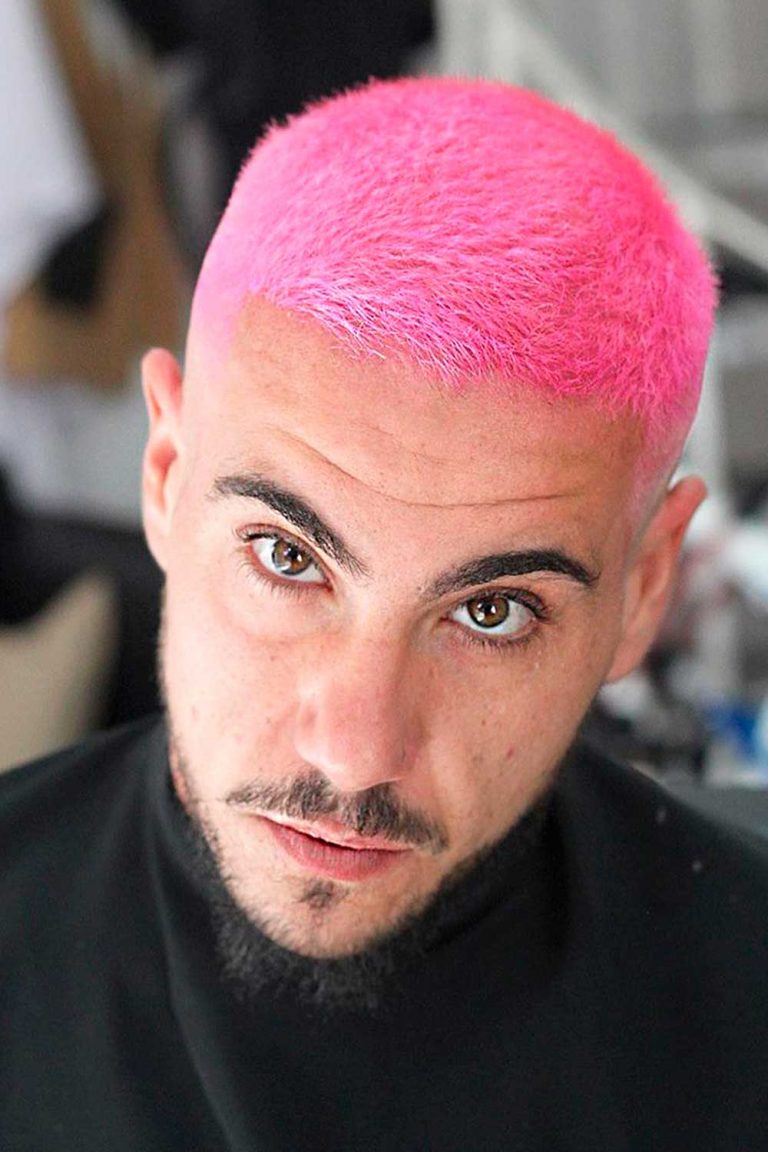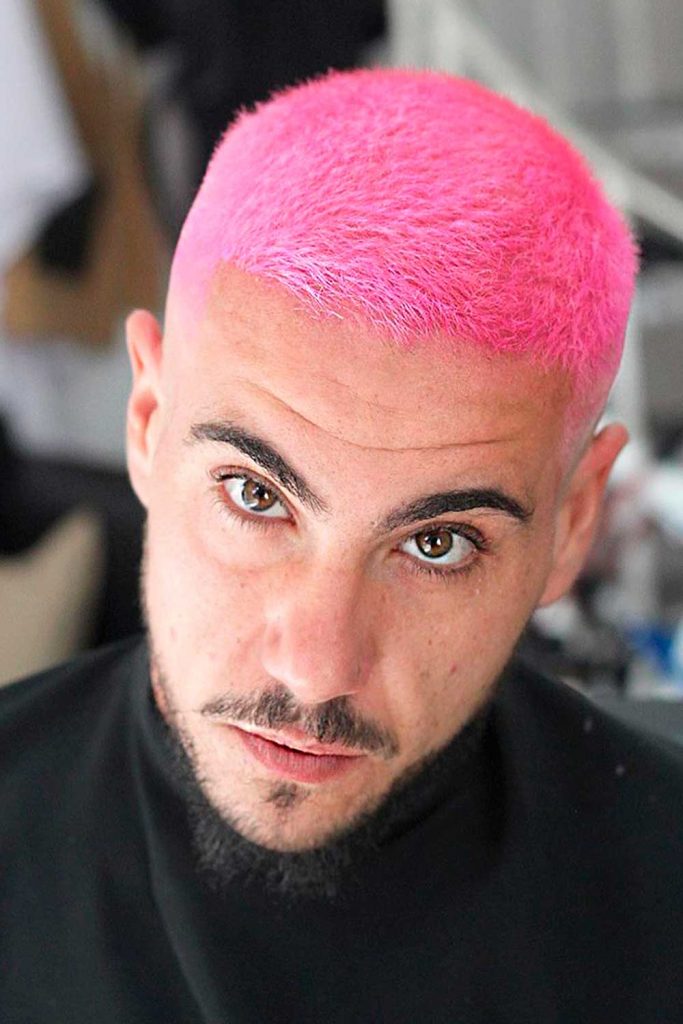 Source: @jcbarber_ via Instagram
Quiff Simple Mens Haircuts
When going full-on mohawk isn't an option for whatever reason, but you want to showcase your daring nature, a layered quiff comes help. Due to skillful layering, the style isn't difficult to succeed with. However, more frequent visits to a barbershop will be required.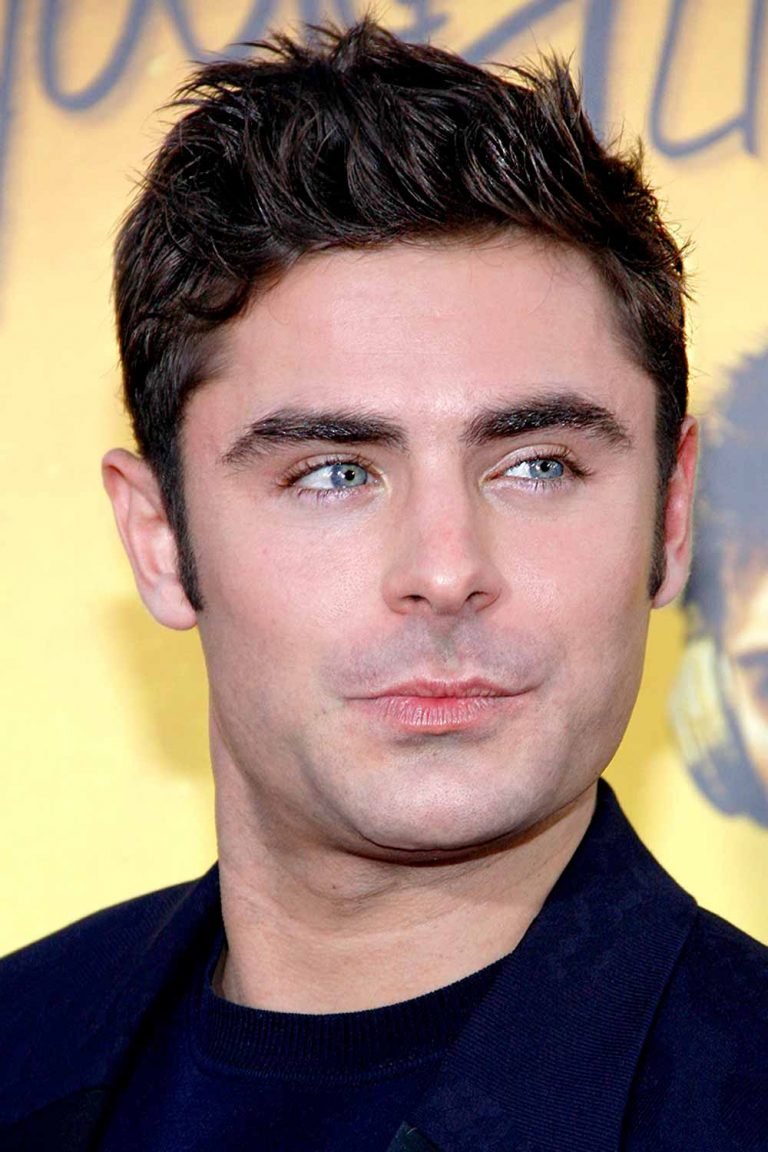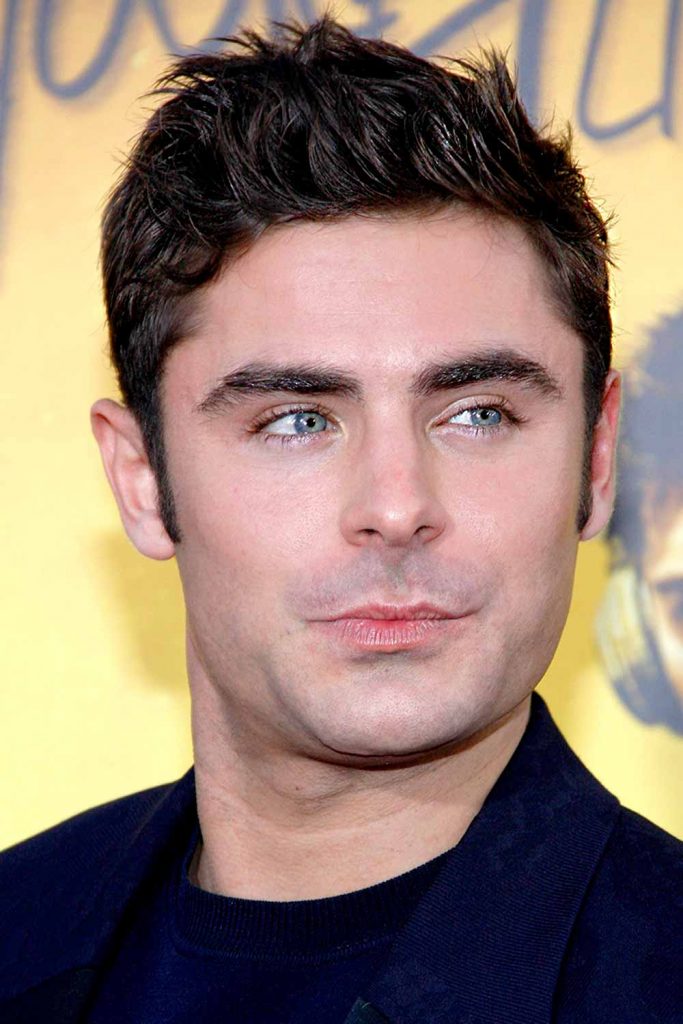 Tinseltown/Shutterstock
Faux Hawk High Fade Mens Low Maintenance Haircut
A faux hawk is something in-between a reserved quiff and a mohawk. It is utterly stylish and simple to look after. Moreover, the cut works well with a disconnected beard style. High fade also ensures that you require less frequent touch-ups, which is a benefit not to take lightly.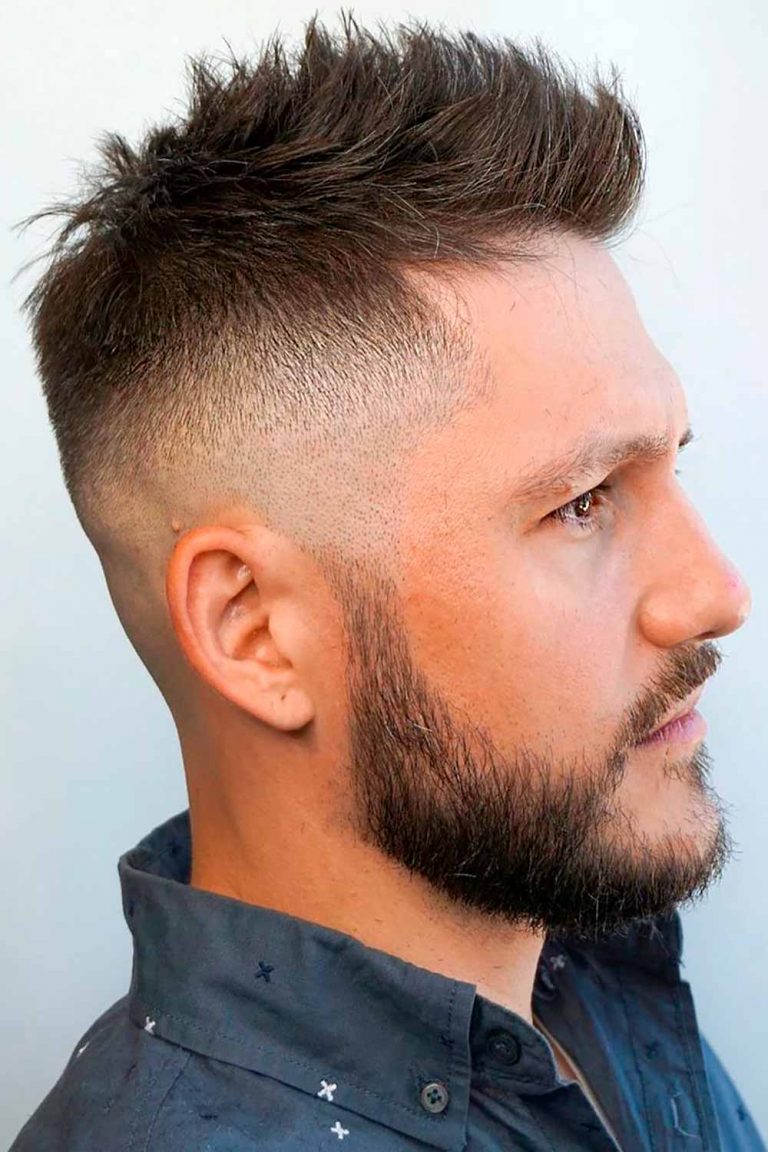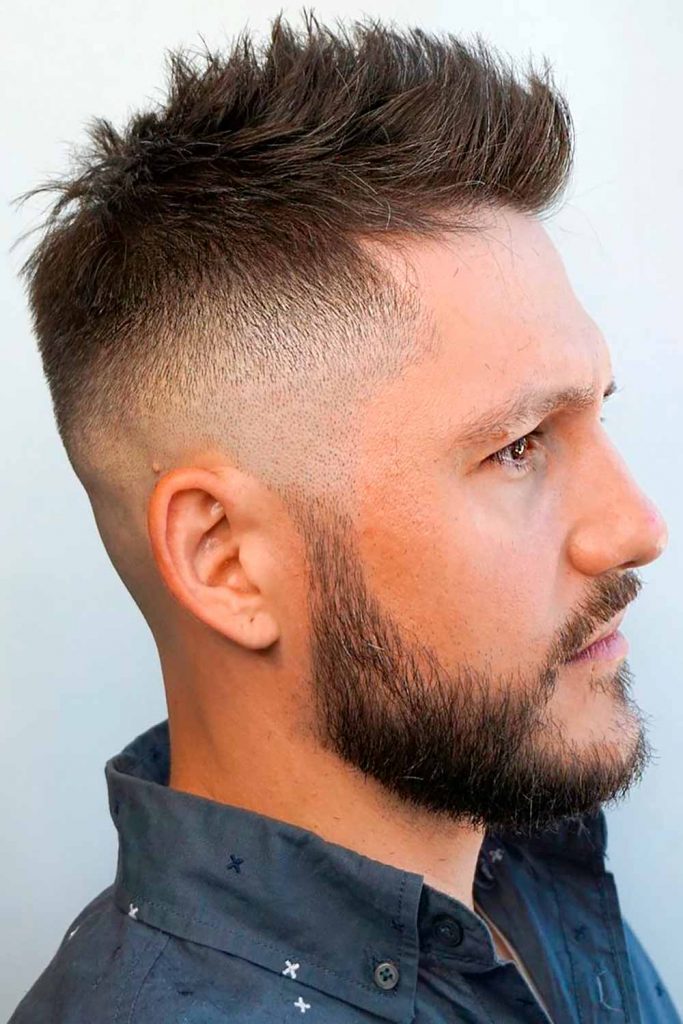 Source: @anthonythebarber916 via Instagram
Medium Length Curly Low Maintenance Mens Hairstyles
One of the best ways to tame your wavy mane is through medium length curly low maintenance mens hairstyles. All it takes is to grow your natural locks out and comb them back, keeping the hair in place with a touch of styling product. Should your look turn out to be a little messy, the unkempt curls will introduce additional appeal to your style and appearance.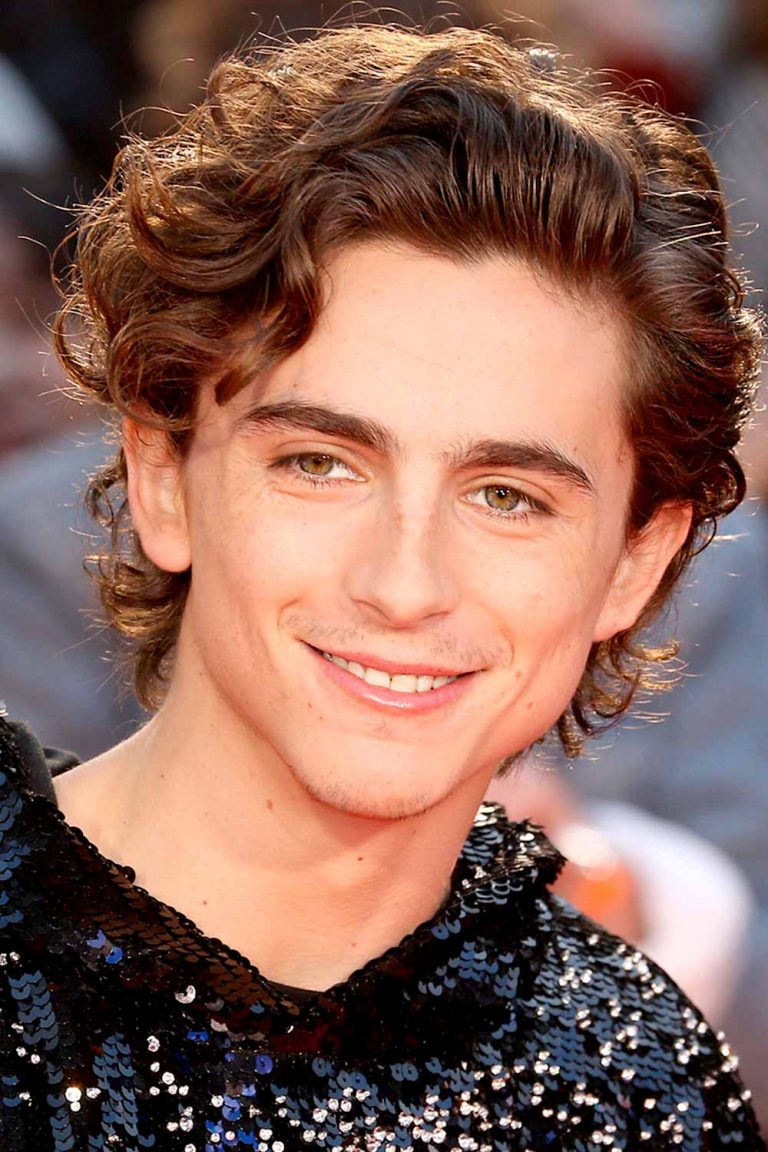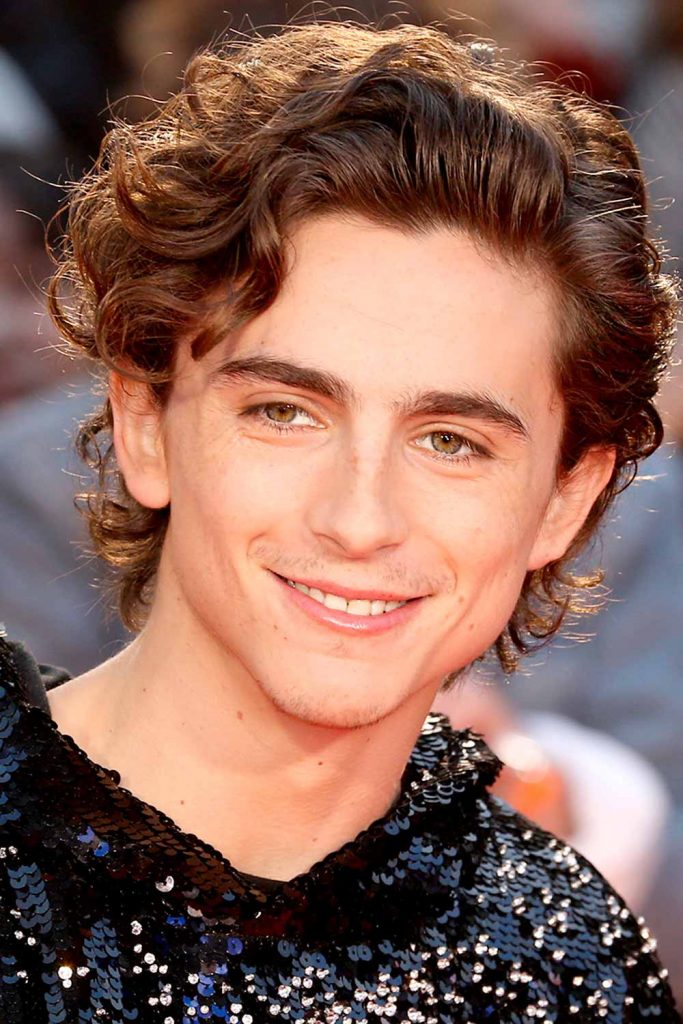 Fred Duval/Shutterstock
Textured French Crop Simple Hair Styles Men
When you look at this textured French crop, it may be challenging to assume that it belongs to low maintenance male haircuts. However, due to particular cutting techniques, you will require as much as a scoop of styling product to keep your mane neat and great-looking. Yet, it takes a thick mane to succeed with the style.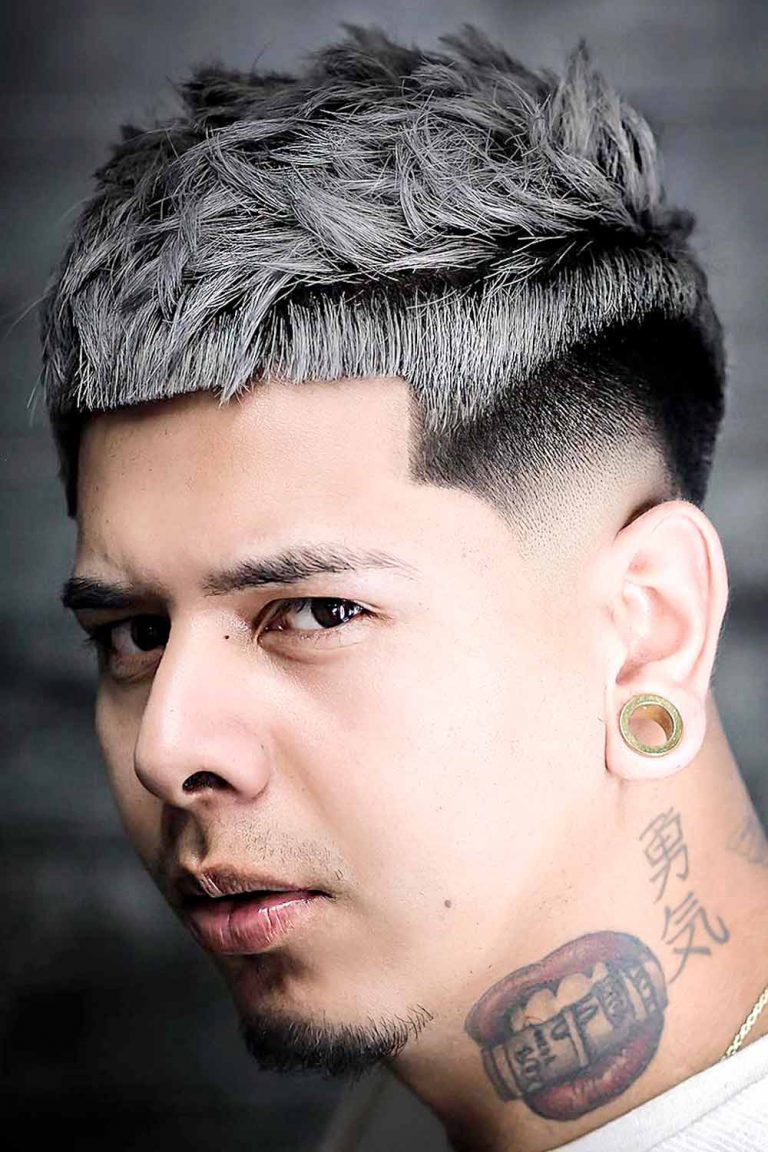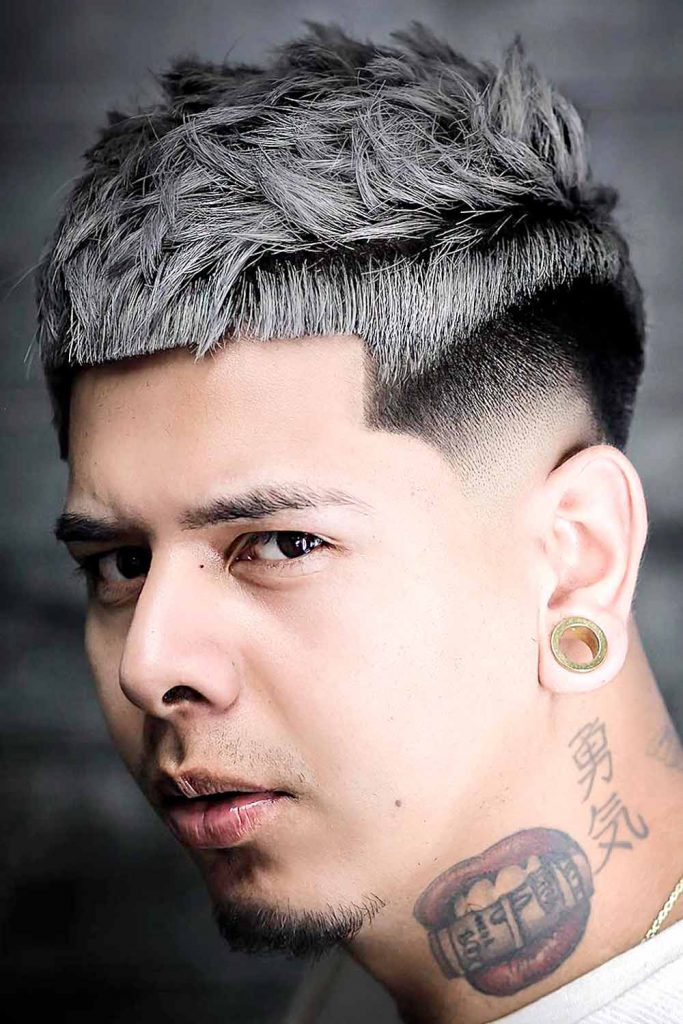 Source: @diego_djdgaf via Instagram
Short & Clean Simple Haircut For Afro Men
Should you be interested in low maintenance short simple mens haircuts for African-American men, a neat crop is what you need. We suggest you ask for a low or tapered fade to add some spice to the look. The cut projects that elegant and confident vibe many men will find to their taste.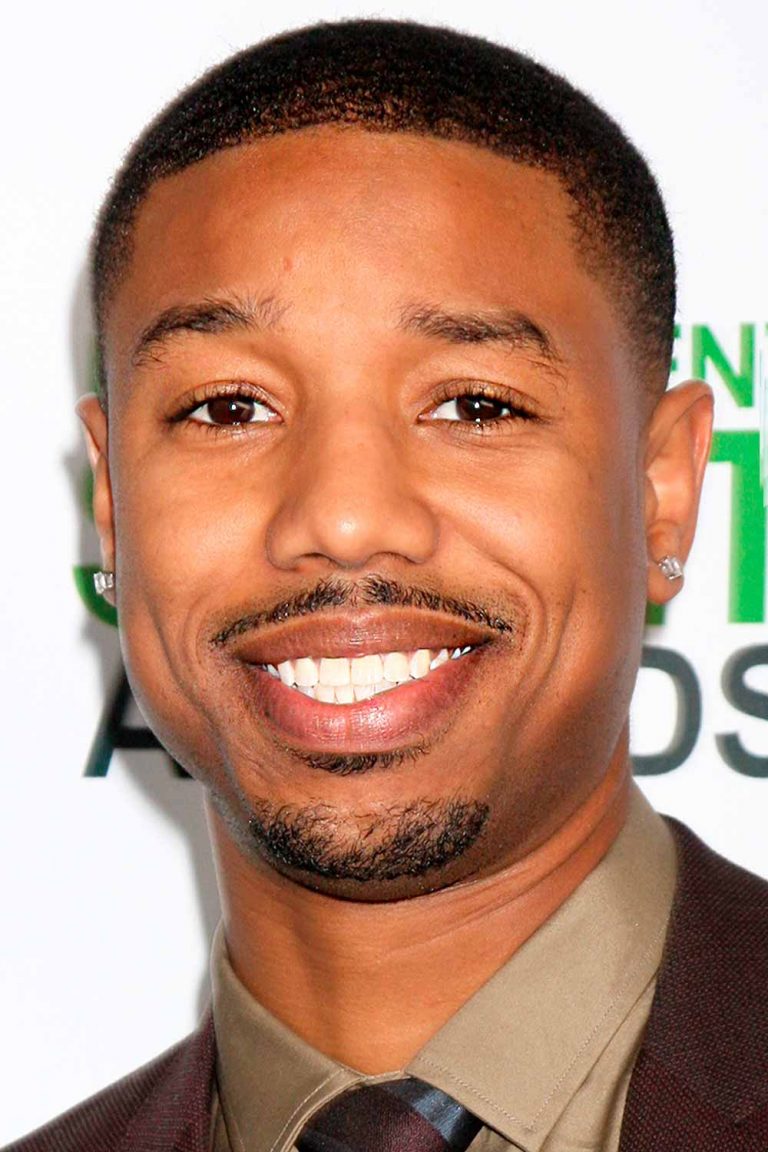 Kathy Hutchins/Shutterstock
Short Brush Up Low Maintenance Mens Haircuts
It may be trickier to come up with a thick hair low maintenance teenage guy haircut that will suit the modern boy's preferences. But there is always a way out. We advise that you pay increased attention to a short brush-up. All it takes is a bit of styling product to add edgy spikes to the look. There is barely a teenager who would resist the appeal.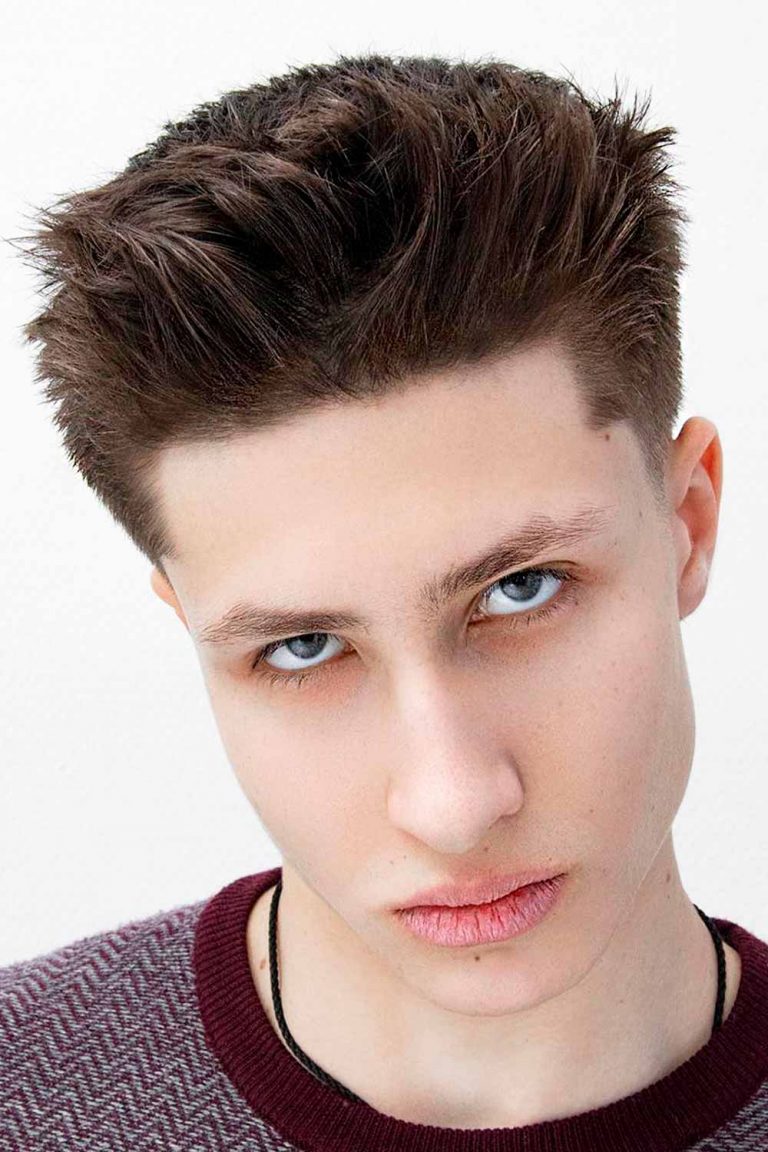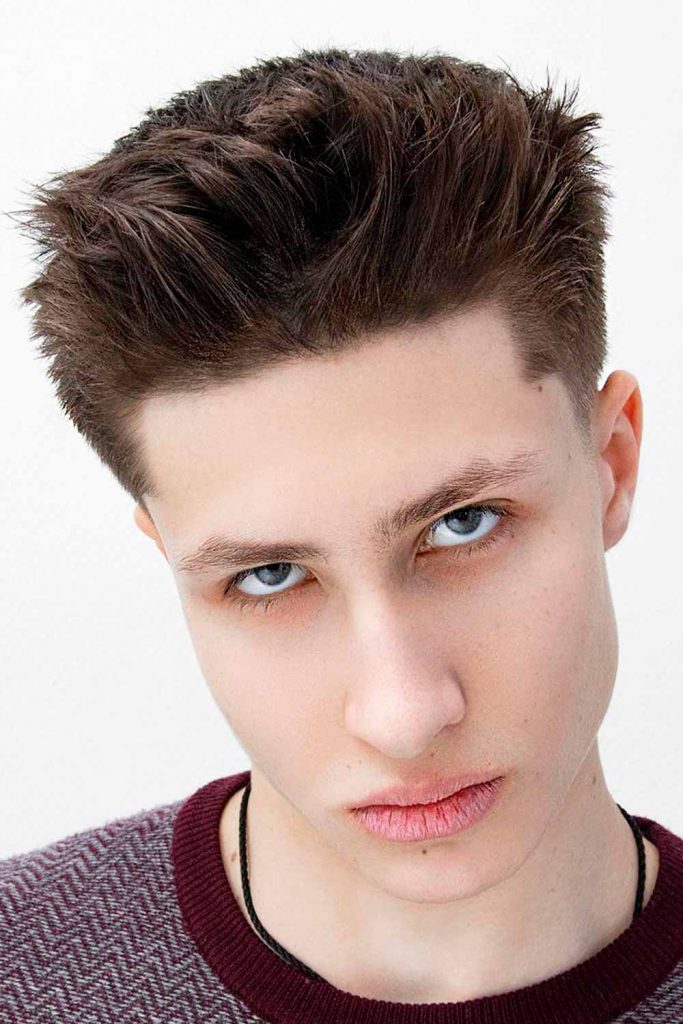 Source: @meha_barber via Instagram
Slicked Back Undercut Simple Hair Style Men
Low maintenance mens short haircuts for thin hair usually don't get that much attention since most men prefer to cut their hair short to keep on the safe side. Yet, we say that you can sport a more intricate look with a longer mane even if your hair is of fine texture. Ask your stylist to give you an undercut and grow the top to stylishly slick it back. As you can see, Collin Farrell here sports just the look you may want to add to your to-try list.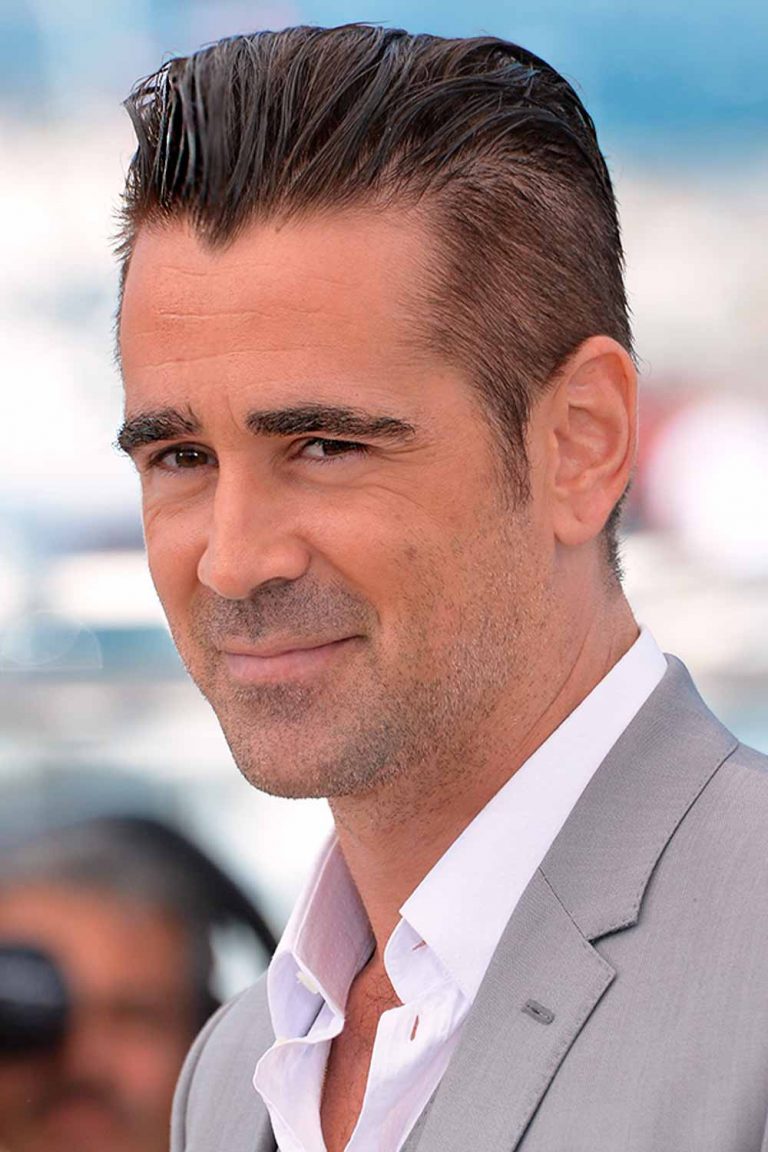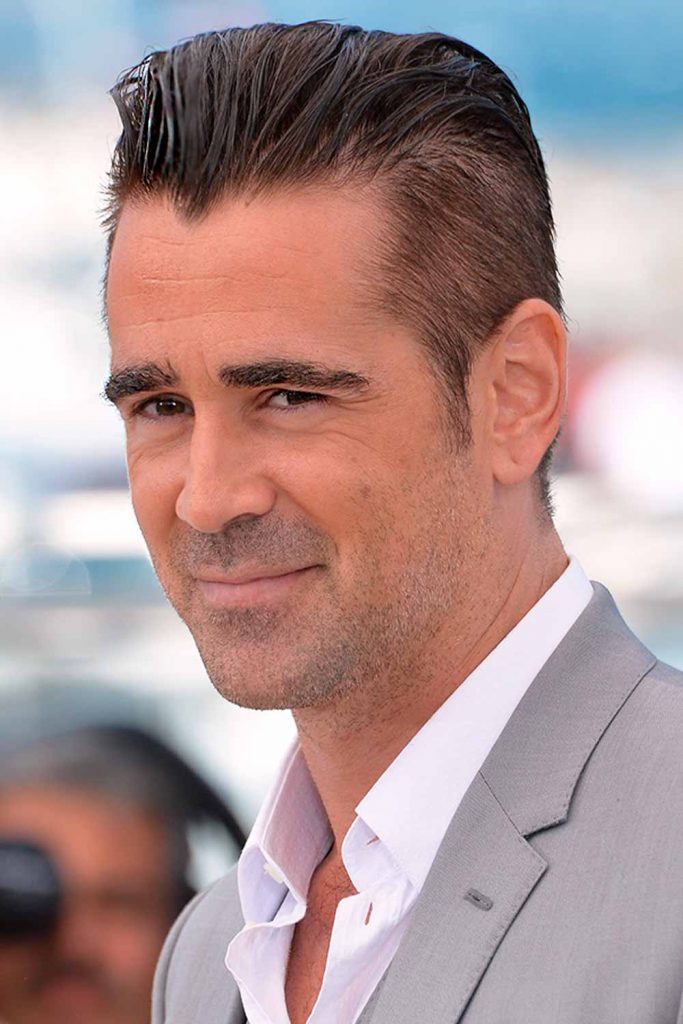 Featureflash Photo Agency/Shutterstock
Clean Shave Low-Maintenance Haircuts For Men
We will not reveal an unknown secret if we tell you that a clean shave belongs to one of the most low maintenance haircuts men have been wearing recently. Whether you lead an active lifestyle or your hair is thinning out, you can make use of a clean shave. The Rock emphasizes how well the style matches with a neat beard and mustache.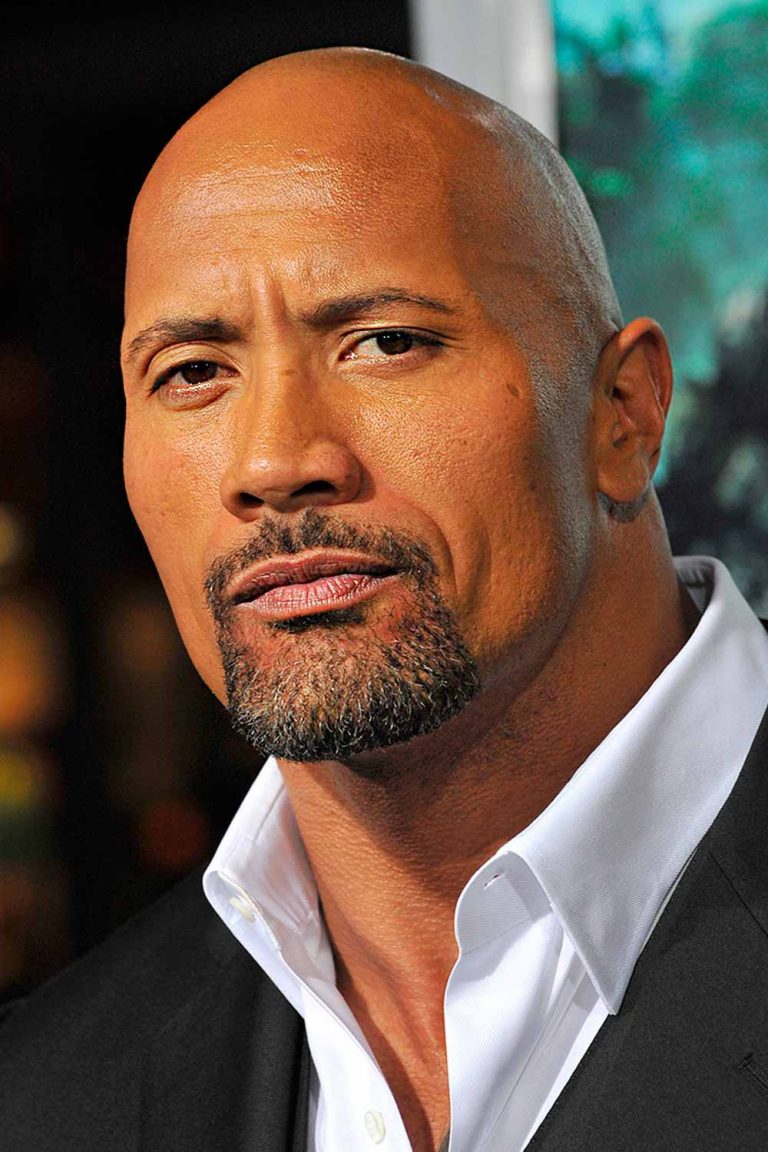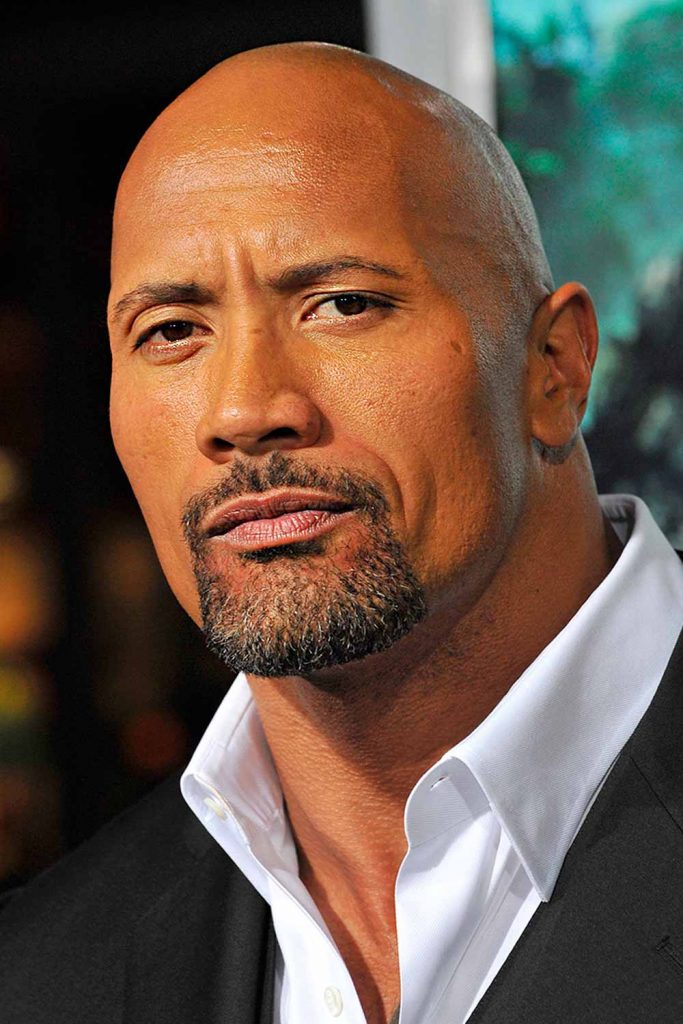 Jaguar PS/Shutterstock
Simple Texture With Low Volume Simple Hair Style Men
Skin fades aren't the only option to play around with when you want to maintain an elegant and stylish yet simple-to-style look. A textured crop suits the purpose well. Besides, such a haircut will breathe new life into your wavy texture.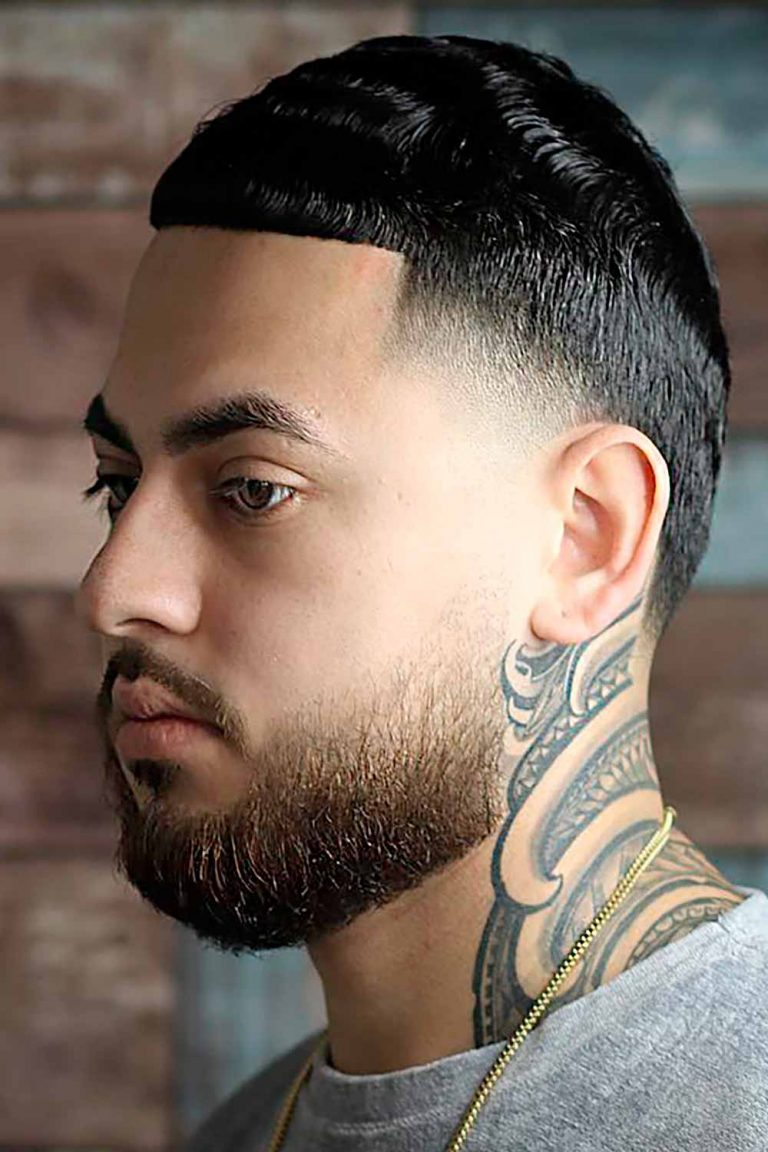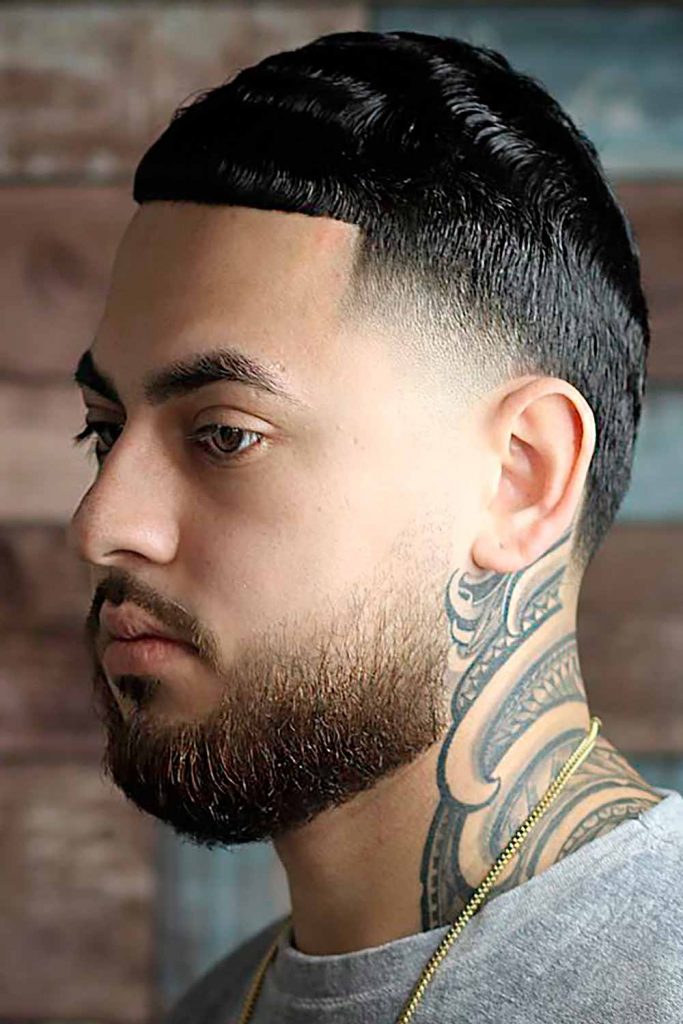 Source: @diego_djdgaf via Instagram
Short Top with Soft Parting Simple Hair Style Men
The variety of messy low maintenance mens short hairstyles is more extensive than you allow yourself to assume. For instance, this edgy spiky top with a soft side part isn't something you'd decide to consider before reading this article. It is true that the look is a tad more intricate than those described above, yet it is utterly effortless to achieve once you get the hang of it. Besides, you can easily grow it into a fancy, longer mane in no time.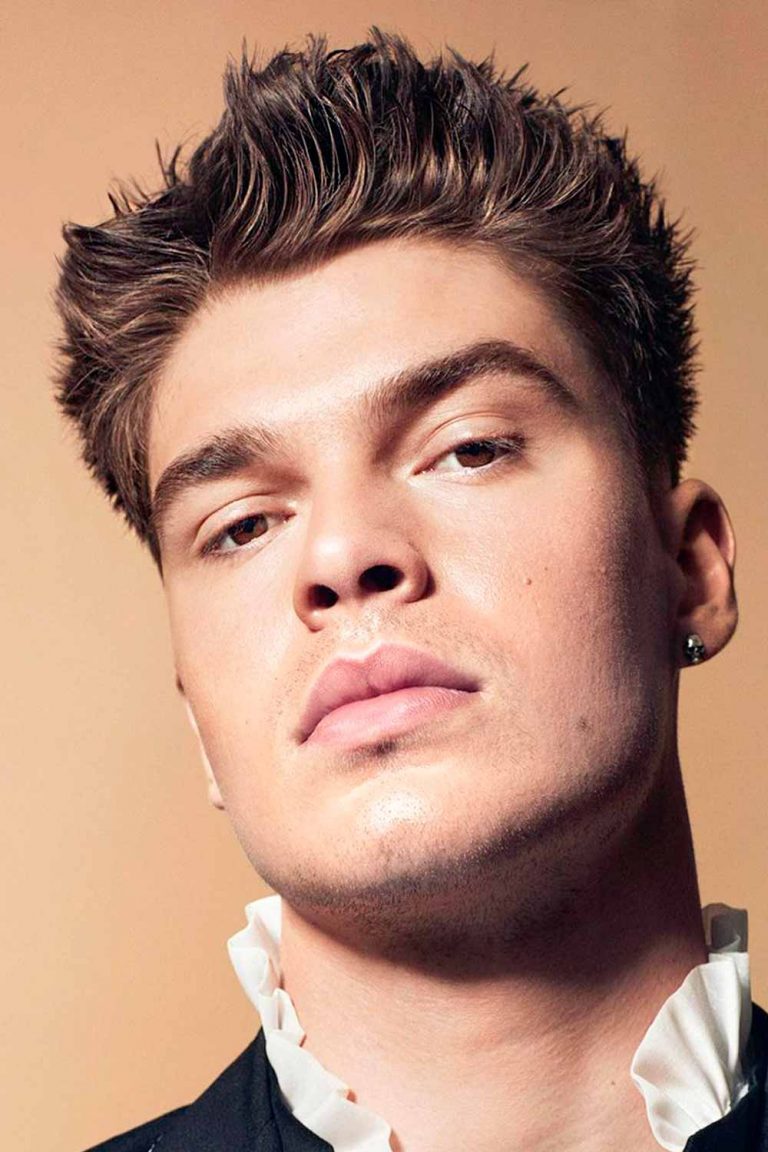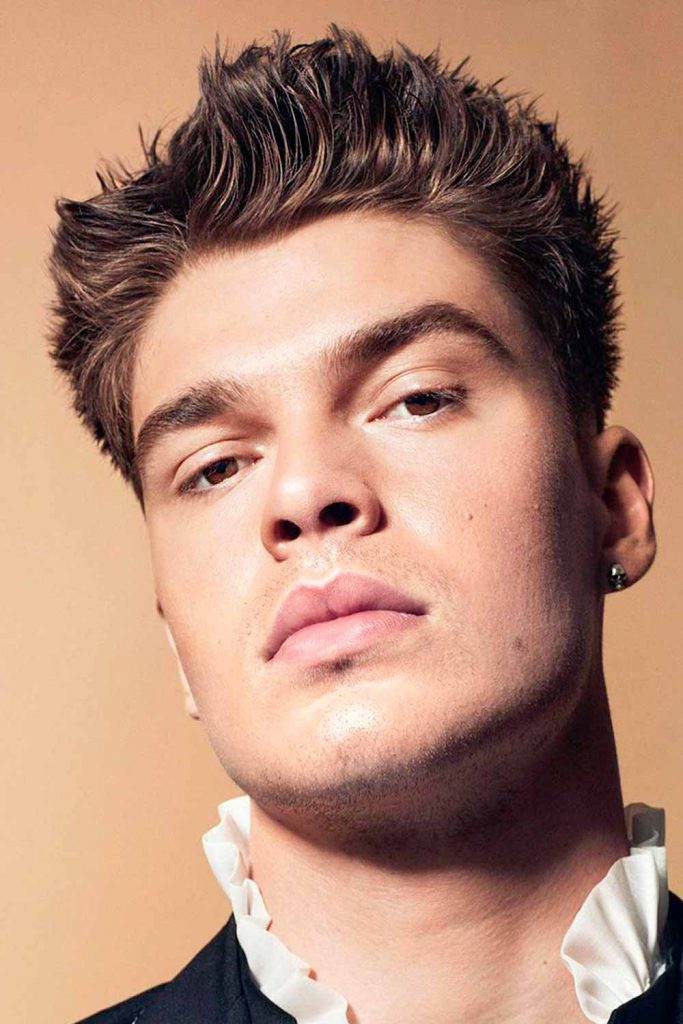 Source: @dexterdapper via Instagram
Medium Quiff Wash-and-Go Haircut
Some low maintenance mens medium hairstyles imply all the upkeep to do is to wash your tresses regularly. If that is the styling shortcut you seek, a medium quaff will steal your troubles away. Don't trust us? Well, Robert Pattison is here to have our backs!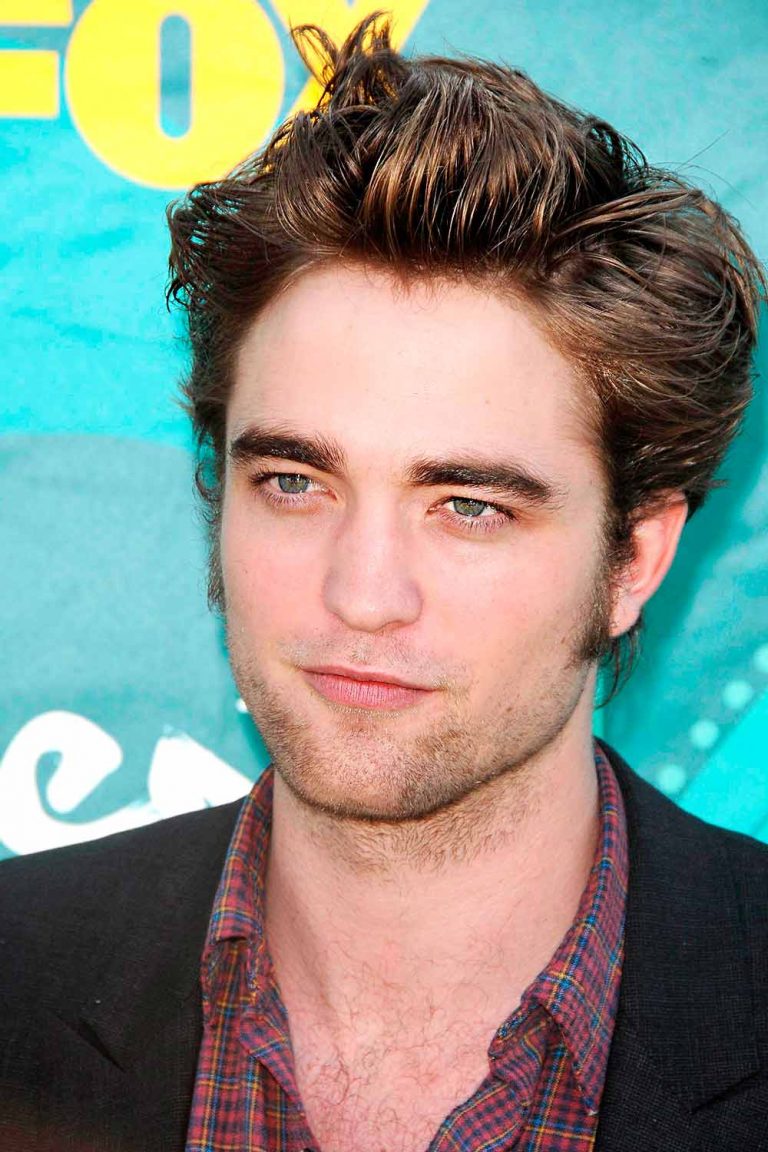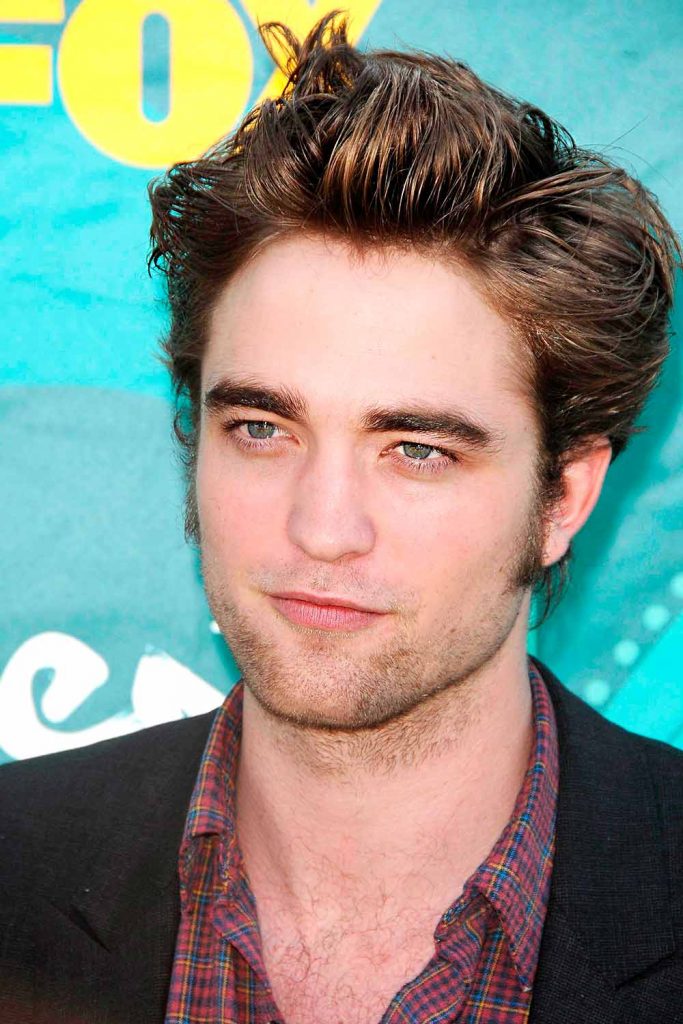 s_bukley/Shutterstock
Modern Middle-Parted Top Simple Hair Style Men
The moment you imagine low maintenance messy mens hairstyles, you may think about something you couldn't wear to the office on a daily basis. Well, the assumption isn't entirely true. As you can see, this middle-parted top can't be named the most reserved cut of all, and it is casual enough to wear to work and a friends' gathering. Grow your beard out, and you will double the intended effect.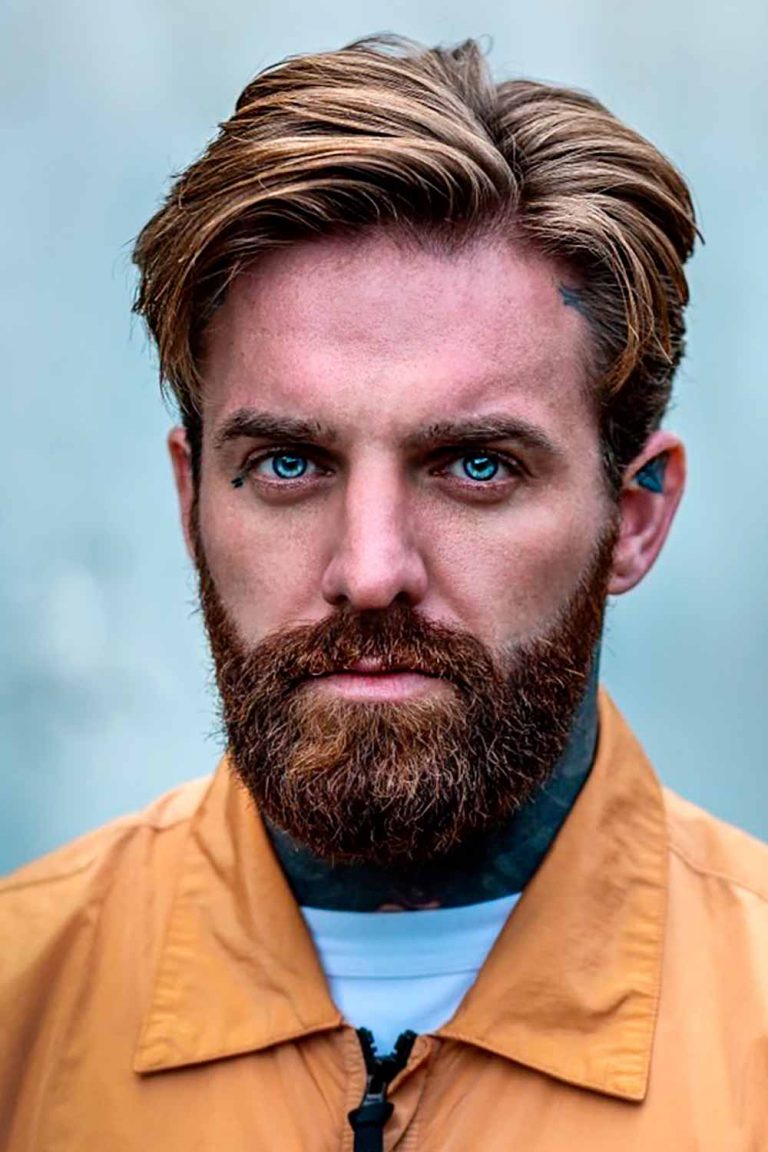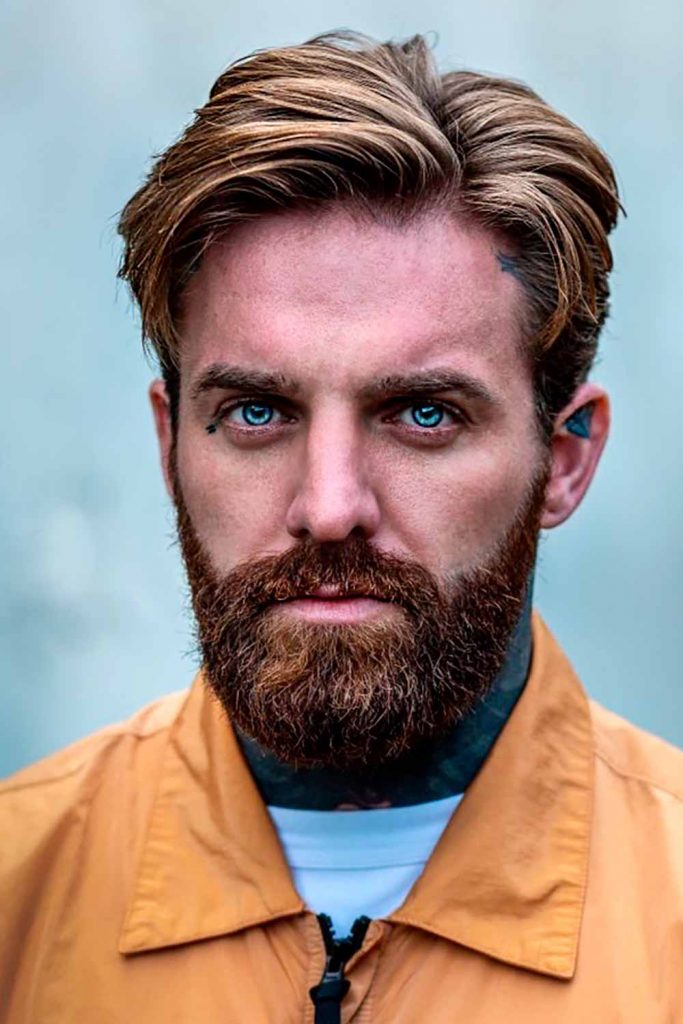 Source: @tombaxter_hair via Instagram
Low Maintenance Men's Long Hairstyles
Low maintenance mens long hairstyles don't exists…Or, wait, they actually do! Jared Leto has been a fashion icon for decades, but it does not mean he does not like to save on his hair styling time. A layered shoulder-length cut with outgrown highlights shows that he may not be the most regular guest at the barbershop, touch-ups-wise. Yet, high-quality hair products are a must.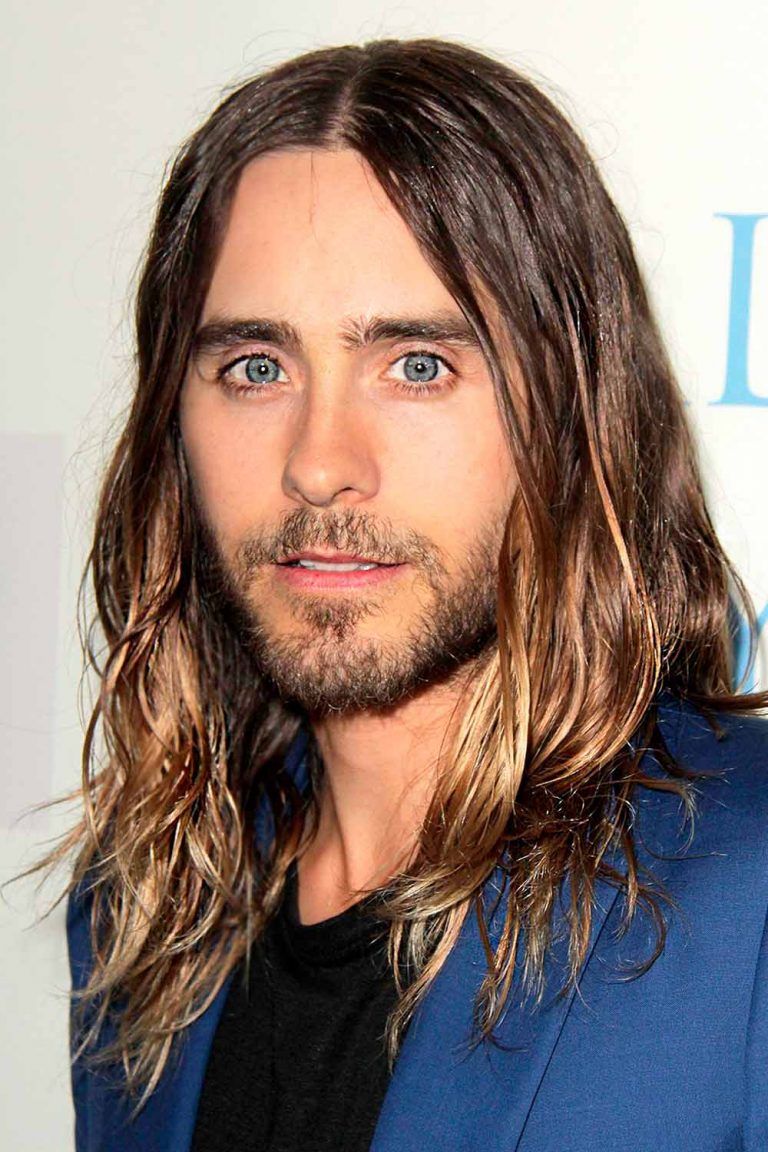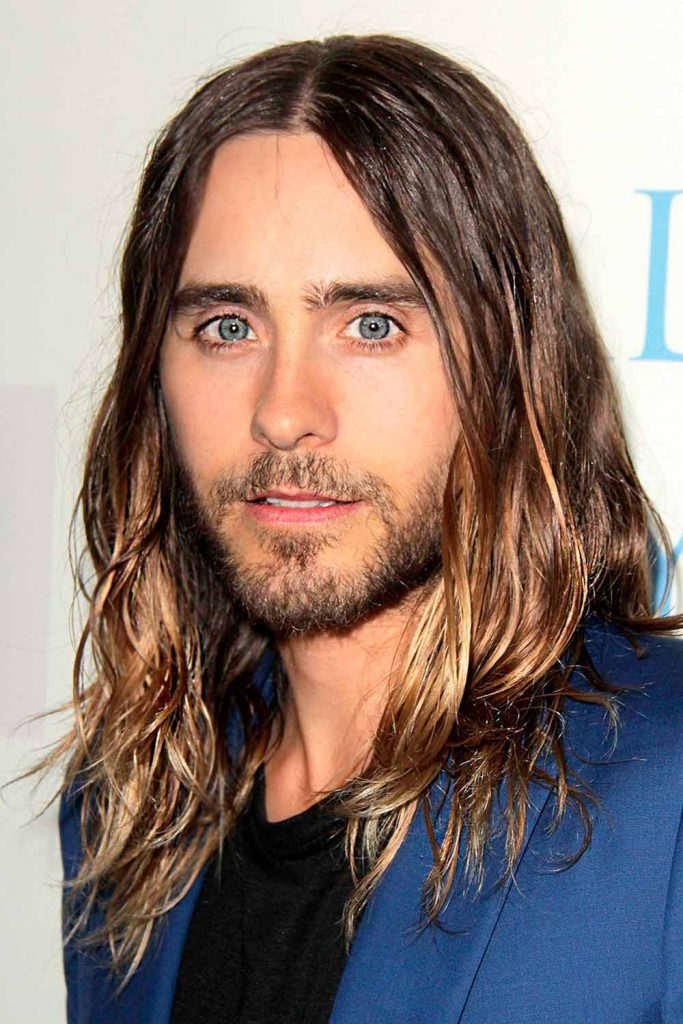 Kathy Hutchins/Shutterstock
Curly Fringe Men's Low-Maintenance Haircuts
Another low maintenance teenage guy haircut that embraces natural hair texture is an extended fringe paired with a neat skin fade. It does not take a daily visit to a barbershop to add definition to the curls. A scoop of hair gel or wax will do the trick!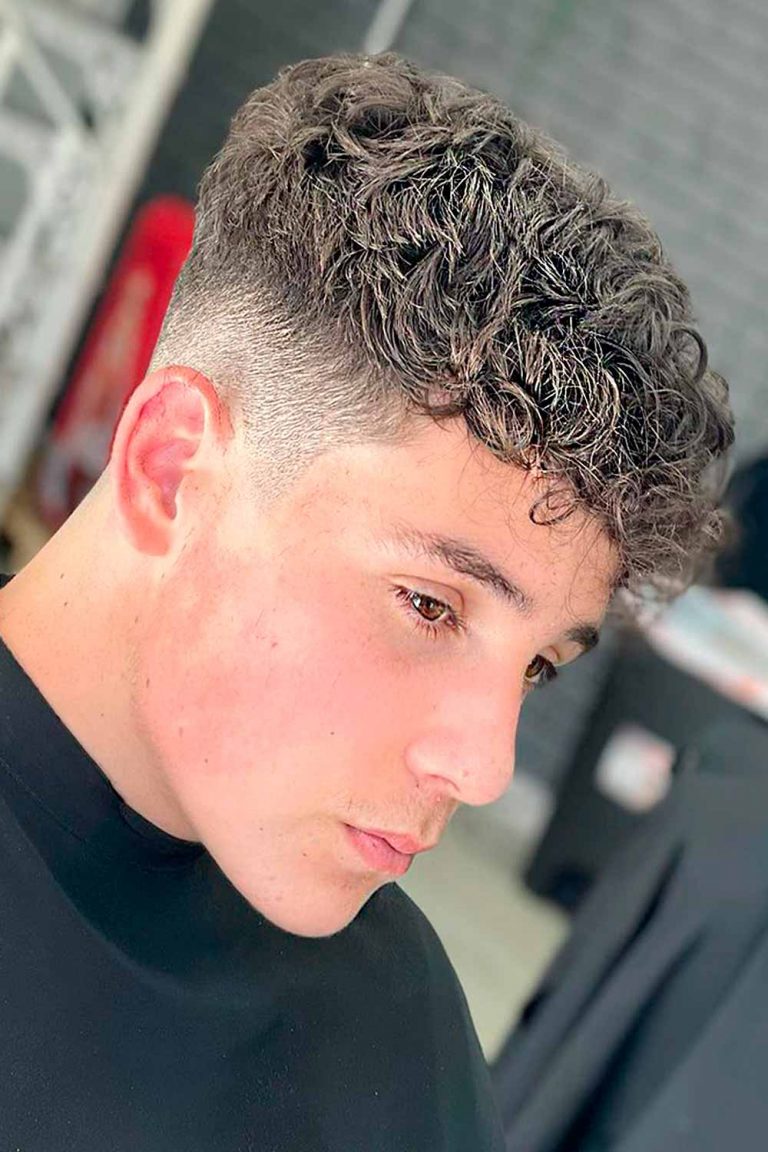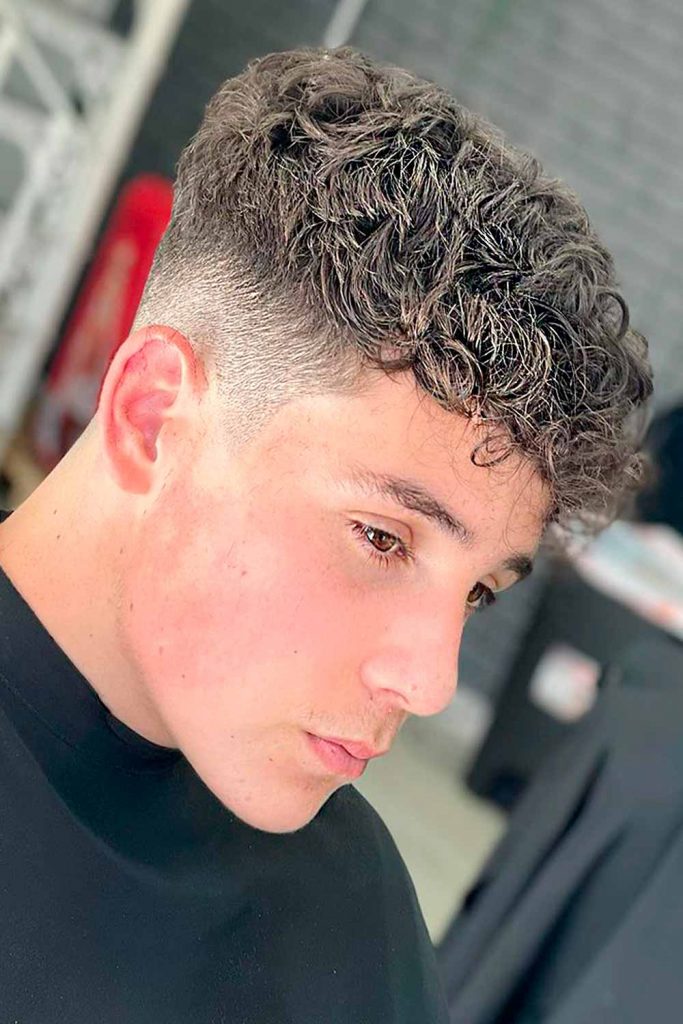 Source: @jcbarber_ via Instagram
FAQs
What is the easiest hairstyle for men?
Short cuts remain among the simplest to look after. To ease the maintenance, you should consider getting a haircut that does not require frequent touch-ups.
What hair is easiest to style?
Short styles such as French crop, Caesar, and buzz cut are easy to style. Long, layered haircuts are on the list if you prefer longer styles.
What is the most attractive mens haircut?
According to a recent study, attractive men's cuts range from fancy undercuts with slightly extended tops to shoulder-length manes.
Which hairstyle is best for men?
The simplest way to find your perfect haircut is to consider cuts that suit your face shape best.