Get A Zac Efron Haircut That Will Flatter Your Style
Zac Efron haircut has probably as many fans as the celebrity himself. No matter what style Zac chooses, his hair always looks stunning. We've lost count of the hair trends he has set. If you're into Efron's hairstyle or simply looking for some inspiration, take a glance at the best ideas we've picked out for you.
How To Get Zac Efron Haircut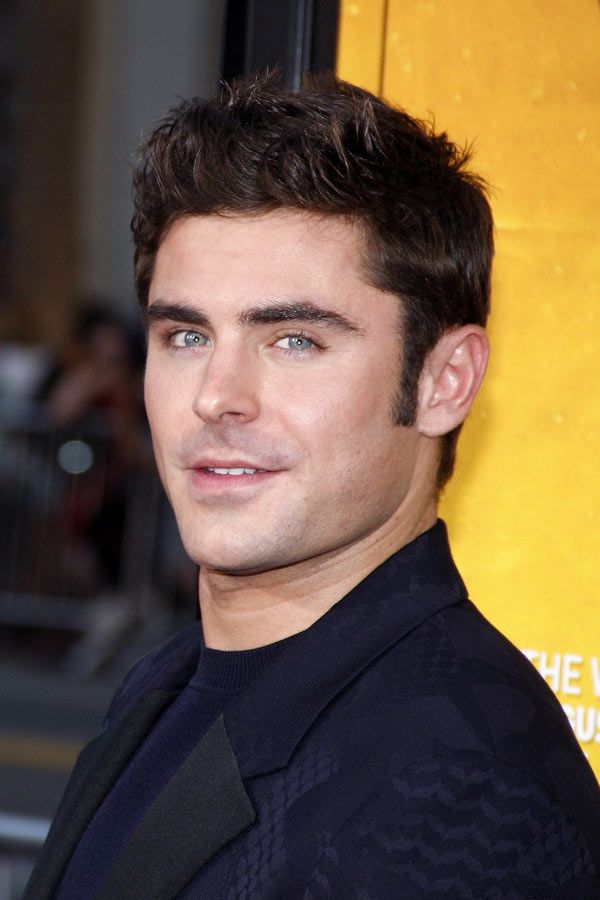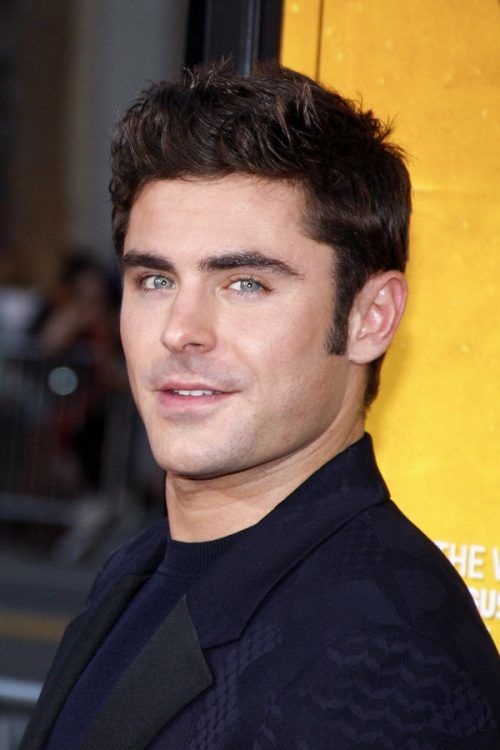 Tinseltown/Shutterstock
Zac Efron hair not only keeps in pace with the latest tonsorial fashion, but it's also often ahead of time. Although his hair is impressively thick and his facial features are unbelievably attractive, it's not necessary to win the genetic lottery to sport one of Zac Efron haircut styles. Their broad versatility, ranging from a manly ultra-short buzz cut to romantic beachy waves, allows you to find the hairstyle that will suit your face shape and hair type flawlessly.
Best Zac Efron Haircuts
Here are the best hairstyles to pull off, from Zac Efron Baywatch pompadour to Zac Efron New Year's Eve Faux Hawk.
Blonde Zac Efron Haircut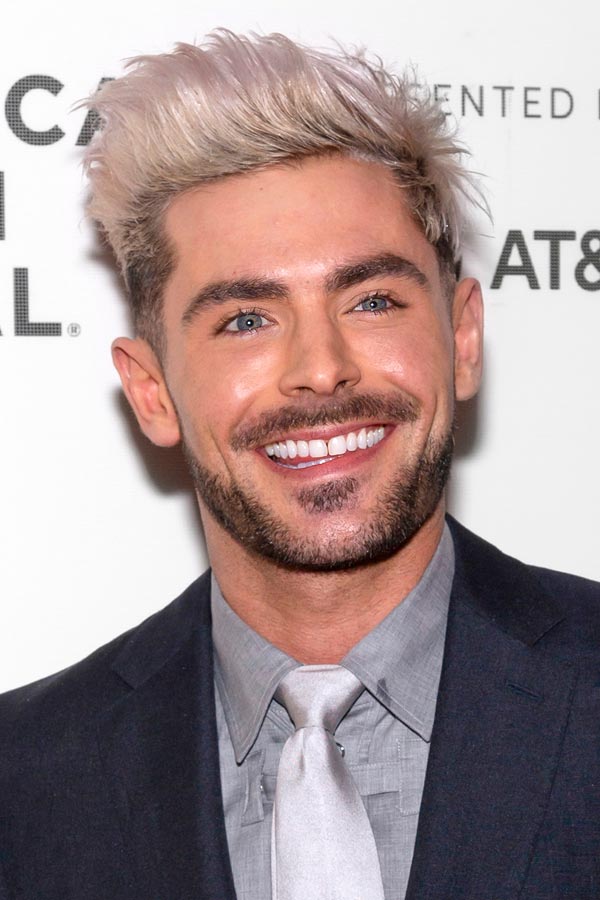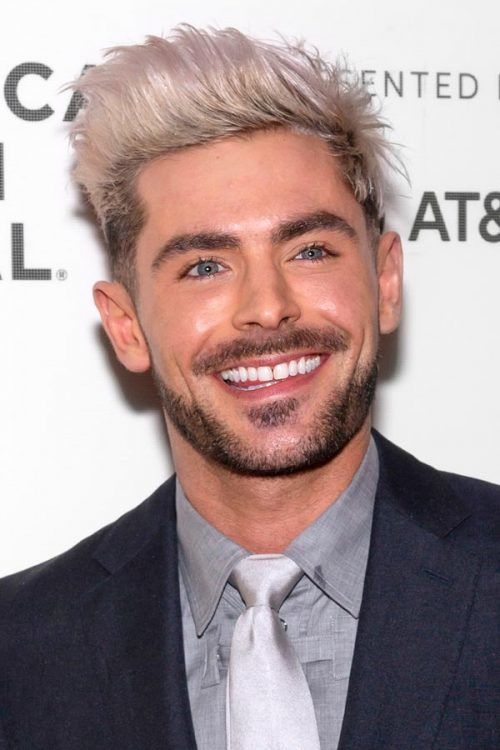 Source: Ovidiu Hrubaru/Shutterstock
Zac Efron is one of those guys who look amazing regardless of what hair color they have. Thus, to add contrast to his appearance, Zac decides to bleach his locks. However, he does not go all-out blonde. The roots remain of his natural color, which adds depth and dimension to his hair.
Zac Efron Curly Quiff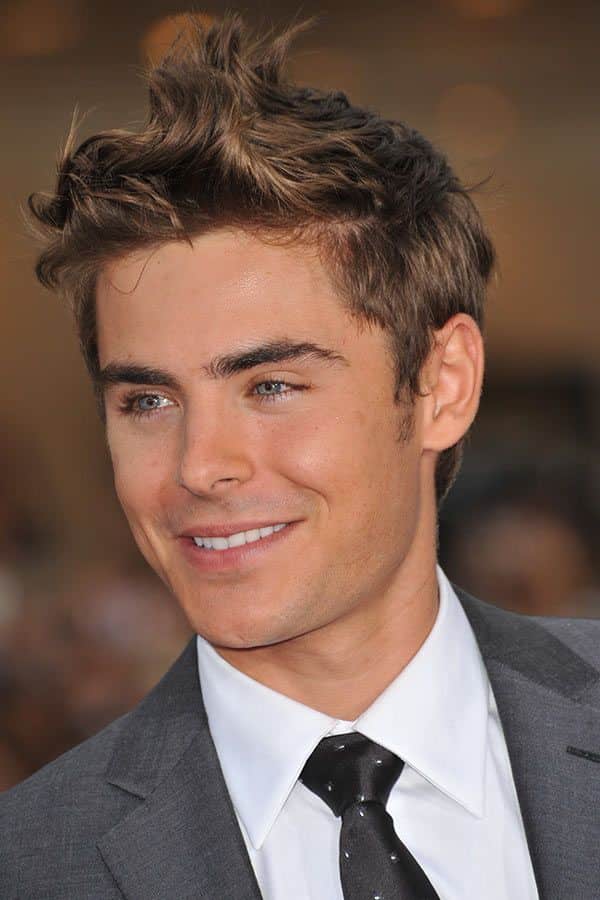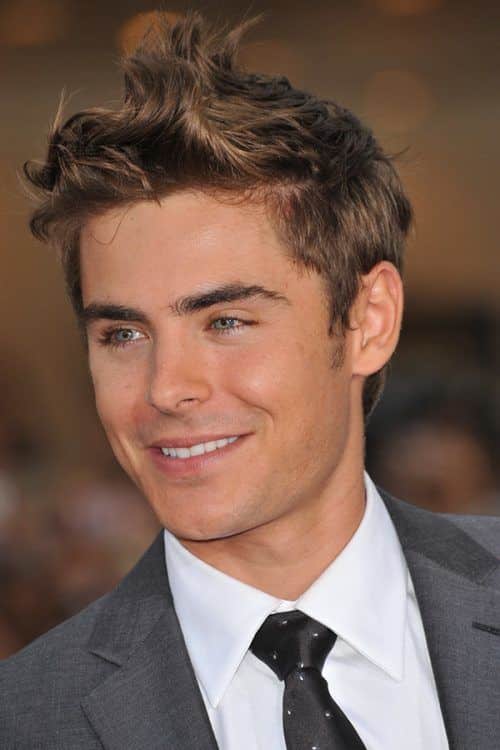 Jaguar PS/Shutterstock
The quiff is one of those mens hairstyles that have stood the test of time and adjusted to current trends. Zac Efron's curly quiff with its unusual flick can certainly pass for such a modernized version.
Slicked Back Hair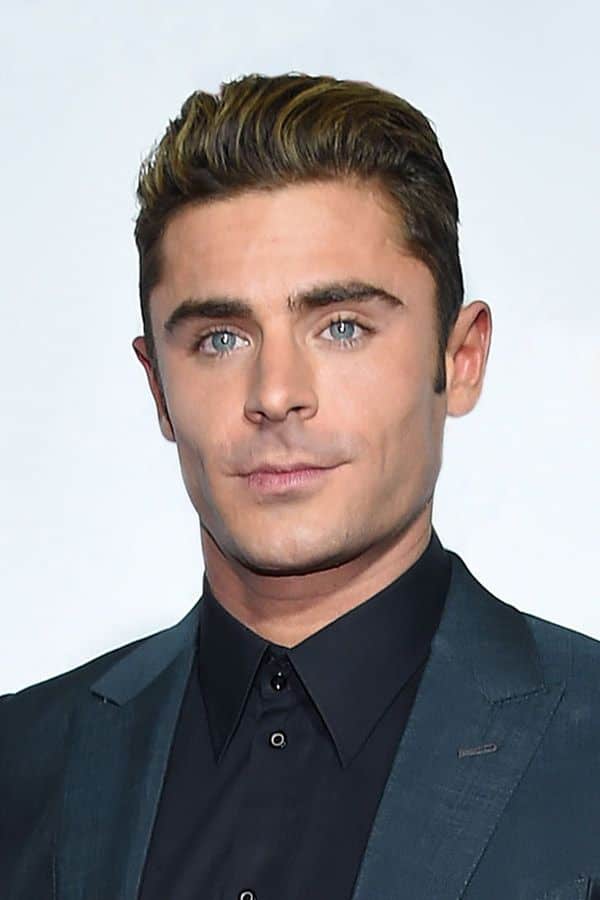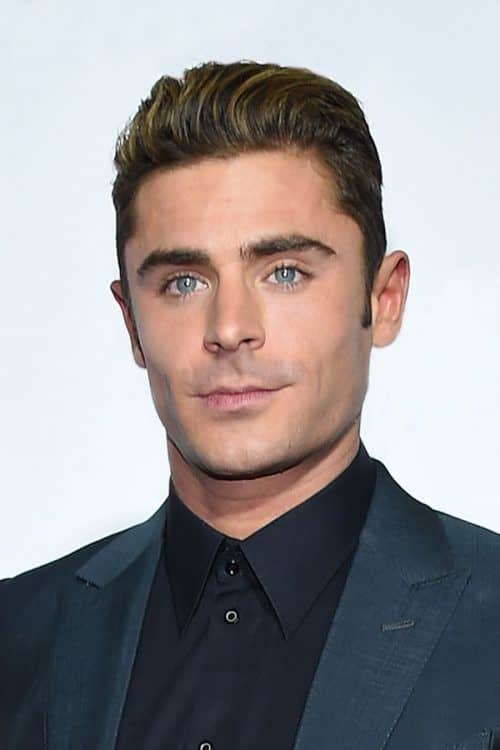 DFree/Shutterstock
The diversity of Zac Efron hairstyles really impresses. As late as yesterday, he sported all messy and textured spikes on the beach, whereas today, he flaunts perfectly slicked back hairstyle on the Red Carpet. What a makeover!
Messy Zac Efron Haircut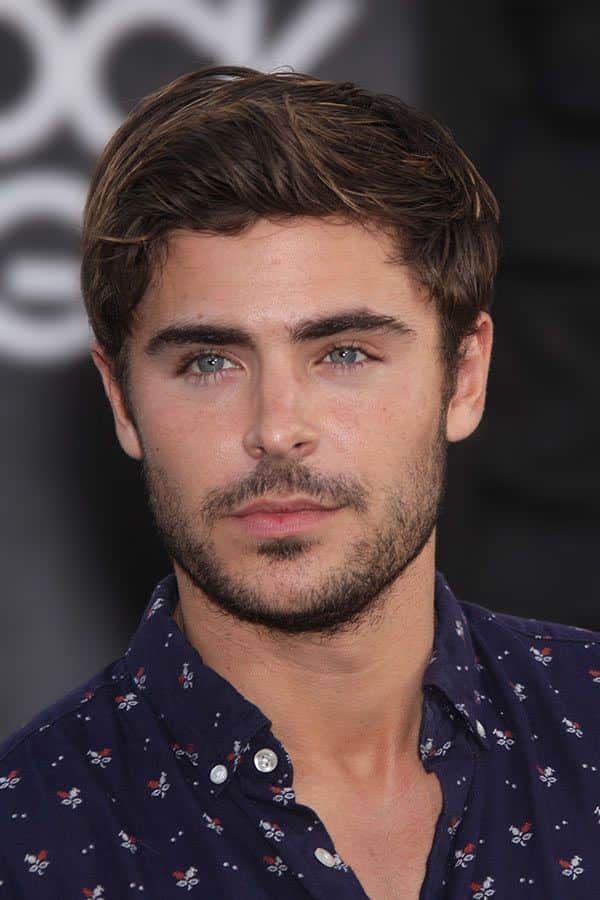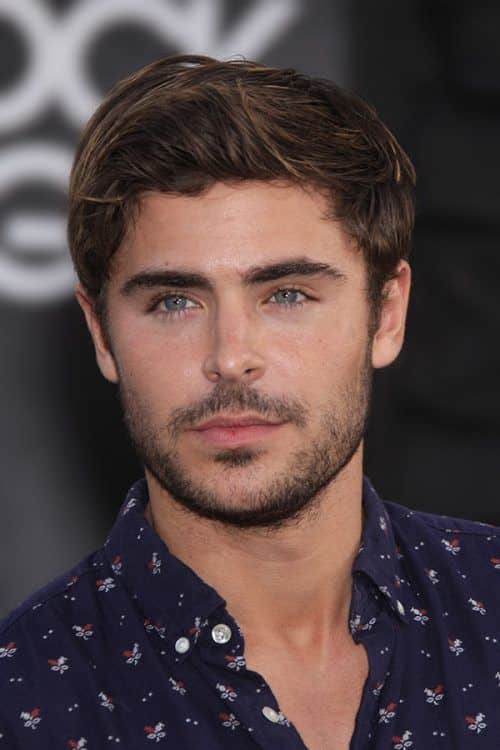 DFree/Shutterstock
That said, Zac Efron pulls off messy medium length hairstyles like no other. They're highly beneficial not only because of the careless and breezy appearance, but also thanks to the effortless styling and low maintenance.
Spiky Hair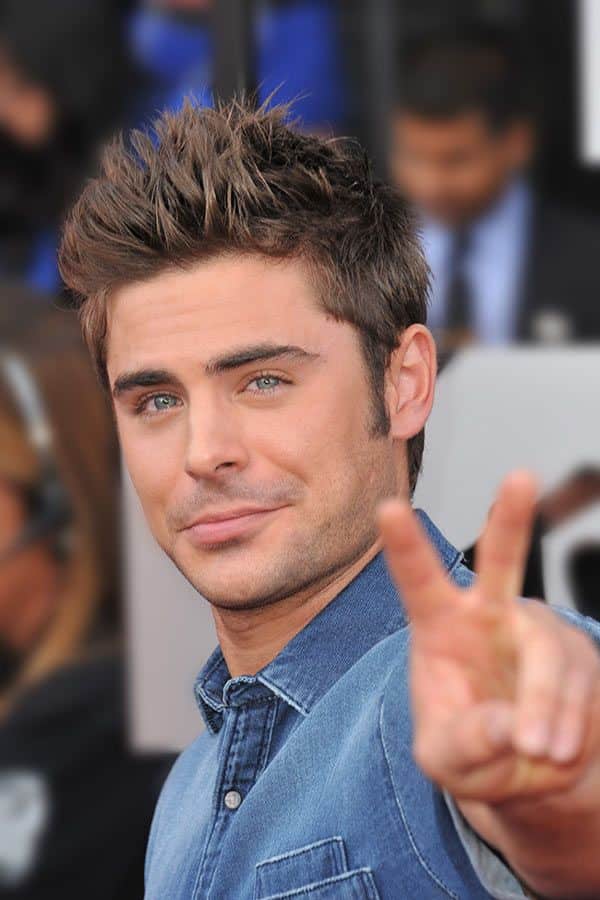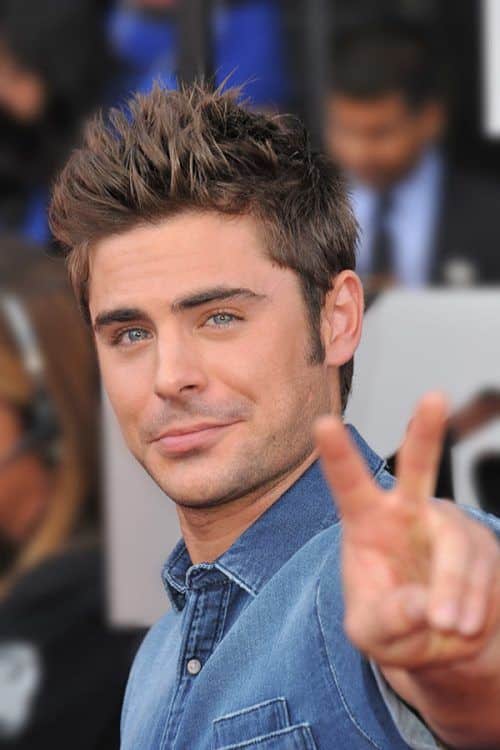 Featureflash Photo Agency/Shutterstock
Spiky hair is a real staple of the coolest Zac Efron's male haircuts. The hair is again cut medium length with shorter sides and longer top for added contrast. The front section is pushed together and the crown is spiked up. Altogether, it creates a sharp and daring look.
Zac Efron Pompadour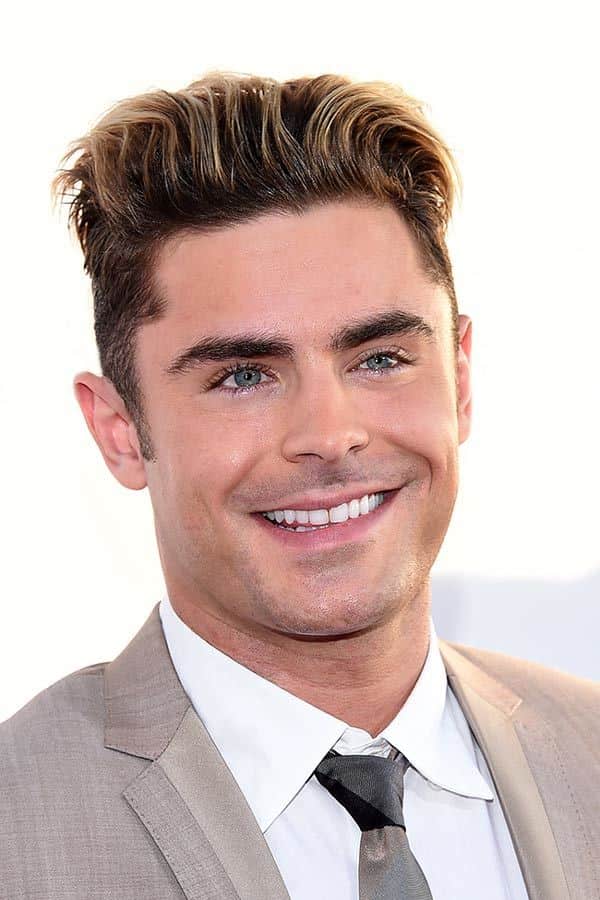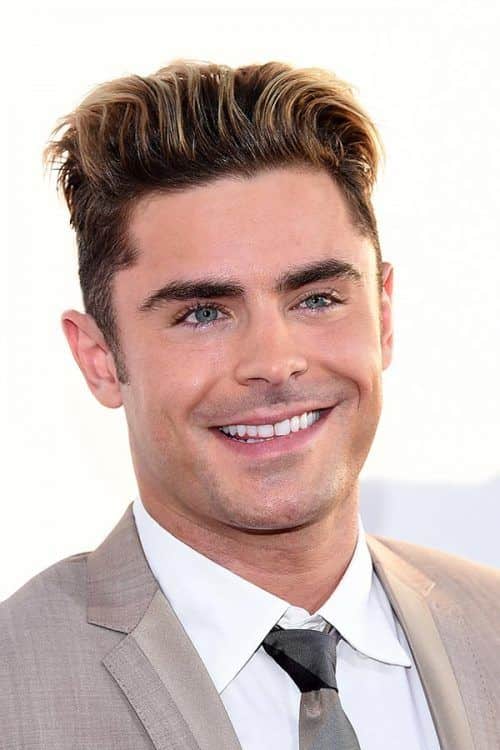 DFree/Shutterstock
And back to the dapper elegance. Zac Efron's take on a classic pompadour haircut is extremely trendy and modern. It's a bit looser than the original version and is embellished with blond streaks, which oozes the texture and gives the hairstyle another dimension.
Buzz Cut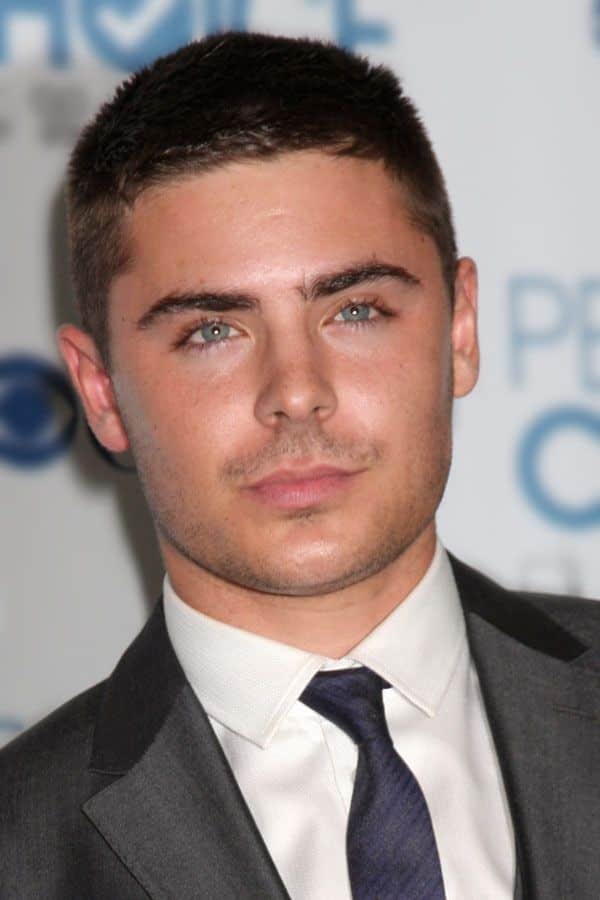 Kathy Hutchins/Shutterstock
The buzz cut isn't for everybody, obviously. This bold and intrepid style will suit those guys who choose to show off their virility and sharp facial features. Of course, Zac Efron is one of them.
Faux Hawk Haircut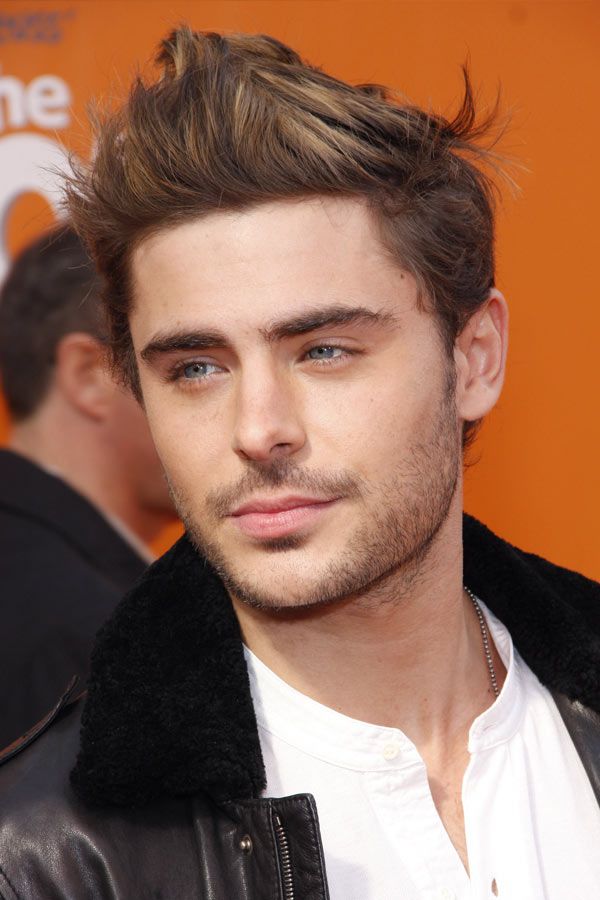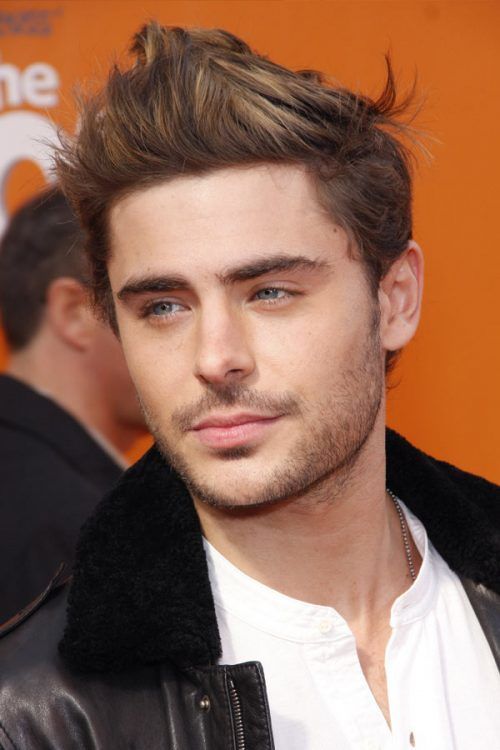 Tinseltown/Shutterstock
When Zac Efron recalls that in addition to acting, he's also a talented singer, he styles his hair in a textured Fawk hawk like a real rockstar. His secret though is that his every men hairstyle can be easily transformed into another one. Thus, a polished pompadour becomes a faux Mohawk without a hitch.
Beachy Waves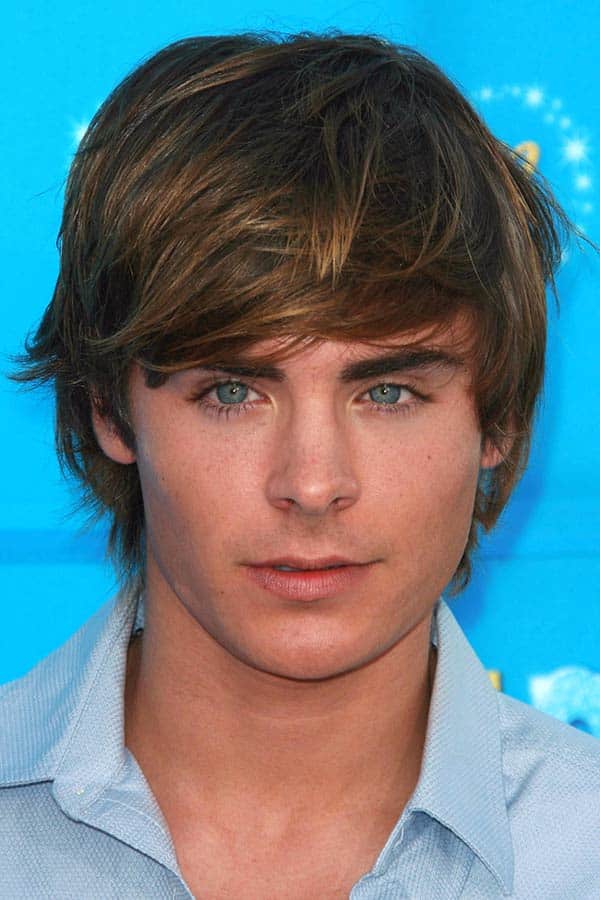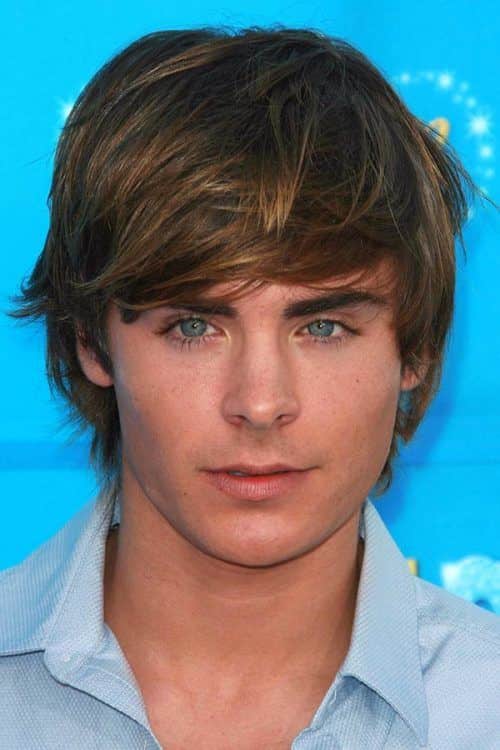 s_bukley/Shutterstock
Zac had rocked mid length hair styled in beachy waves long before he even dreamed of starring in Baywatch. To create such a relaxed impression of the look, Efron goes for a layered haircut that perfectly frames his face.
Medium Curly Haircut
View this post on Instagram
Often, curly hair men find their hair texture difficult to tame, and that's when mens medium hairstyles come into play. They allow showing off the defined hair structure without additional effort. Zac Efron's side parted curly hairstyle is a good case in point.
Slick Side Part Haircut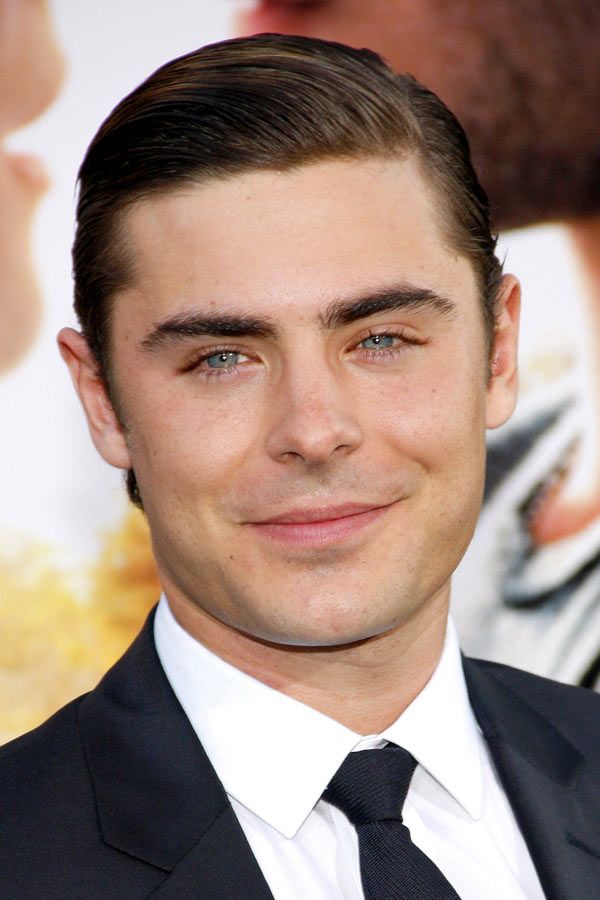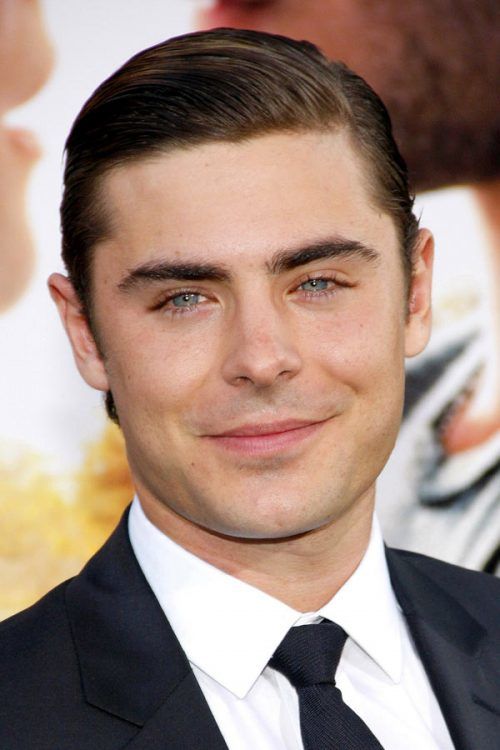 Source: Tinseltown/Shutterstock
Obviously, Zac Efron often attends the events when his hair needs to look elegant and sophisticated. One of the most flattering styles that Zac frequently flaunts on the Red Carpet is a slick side part cut. With it, his locks look polished and glossy, which makes the celebrity camera-ready right away.
Medium Haircut With Flipped Ends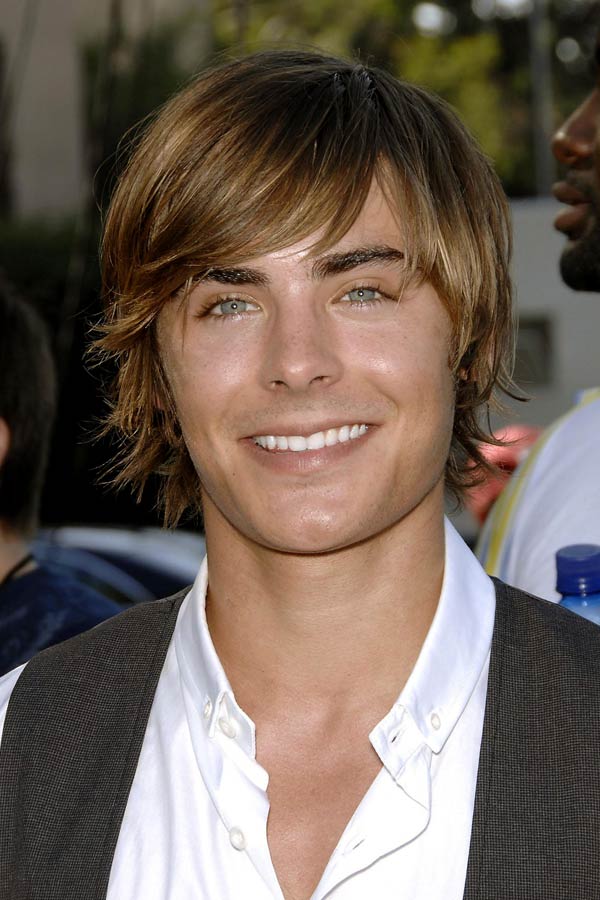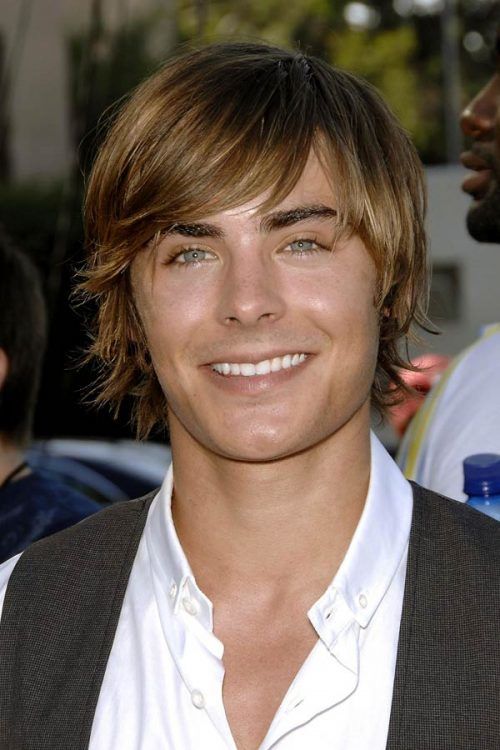 Source: Everett Collection/Shutterstock
The actor manages to give a classic medium bowl haircut his signature twist by opting for flipped ends and pushed to the side bangs. In this way, his hair looks stylish and intricate instead of old-school. Besides, those careless strands falling over his forehead make us stand in awe.
How To Style Your Hair Like Zac Efron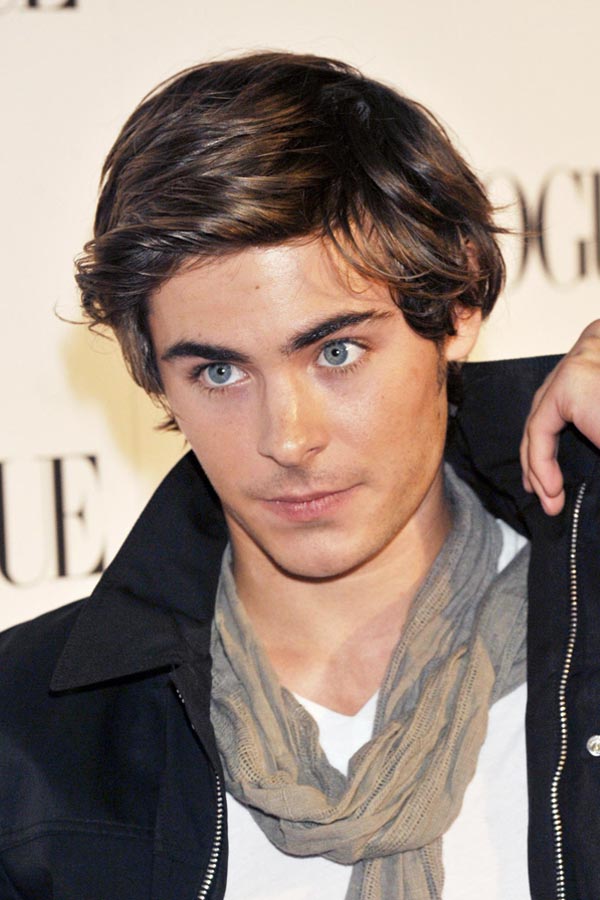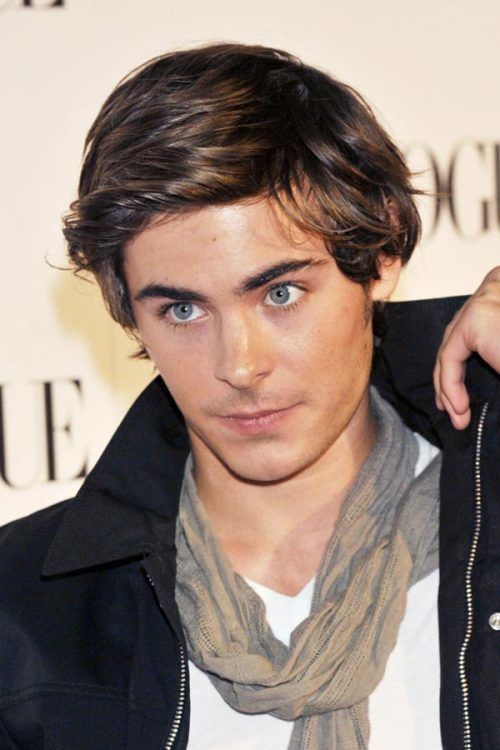 Source: Everett Collection/Shutterstock
If you cannot enlist the help of a celebrity groom squad to do your hair like Zac Efron's, it does not mean you will not be able to pull off one of his looks. You just need to find a skillful barber in your neighborhood and your hair will surely look as good as Zac's if not better. Just take a photo of the desired hairstyle with you and you are guaranteed success.
It's definitely worth having at least one of Zac Efron haircut styles in your personal look book. No matter your hair type or personal taste, there's always a hairstyle to match your preferences. All you need to do is to pick out a cut and arrange an appointment with your barber.