After the Captain America haircut was introduced to the world, it has become one of the most requested mens haircuts. Of course, it owes its popularity greatly to the fact that it is the signature look of the national hero. But even if this were not the case, it is still a very classy and chic hairstyle. To learn how to pull off the Cap'n America hair style, keep on reading.
What Is The Captain America Infinity War Haircut Called?
Chris Evans hairstyle in the Captain America: Infinity War is nothing more than a standard mid length haircut with a five-six inch long swiped back top and shorter sides, styled so that they curve the ears for a defined appearance.
View this post on Instagram
What To Tell The Barber
To get the Cap'n America hairstyle, you need to ask your barber for a proper cut. Thus, tell them that you want the hair on the top cut so you would be able to push it back. For the hair on the back and sides, choose the guard size between 2 and 3, depending on how dense and dark you want your hair to look. Make sure to specify that the hair above the parietal ridge should be left intact yet blended into the hair on the sides to keep the silhouette square and severe.
View this post on Instagram
How To Style
Because the transition between longer and shorter hair is smooth, styling Chris Evans long hair does not take much effort. However, proper timing is what is really important. You should not allow your hair to dry completely, thus styling it while it is still damp. Remember to only pat the hair dry with a towel without excessive rubbing or twisting. Use a hair styling product that has a subtle finish, such as a matte paste or a cream with medium hold.
View this post on Instagram
How To Maintain This Beard Length
We could not help but notice Chris Evans beard in the movie and no wonder. It instantly adds a ton of virility and oomph to his look. Hence, if you decide to nail the Captain America haircut, it would be incomplete without a bunch of facial hair. As the Captain America beard is quite flush to his face, you will be able to maintain it yourself pretty easily. Just run the trimmer with the guard size between 1.5 and 2 all around your facial hair and clean the outline with the T blade. To give a smooth and shiny finish to the Capt'n America hairstyles on both the face and the head, use a hair balm on them.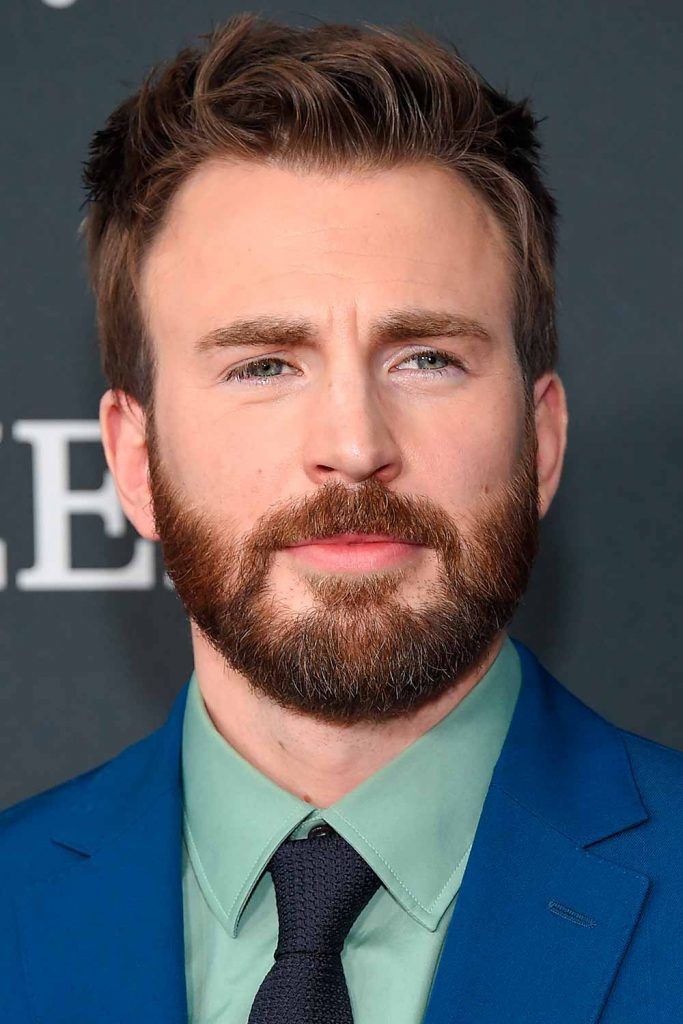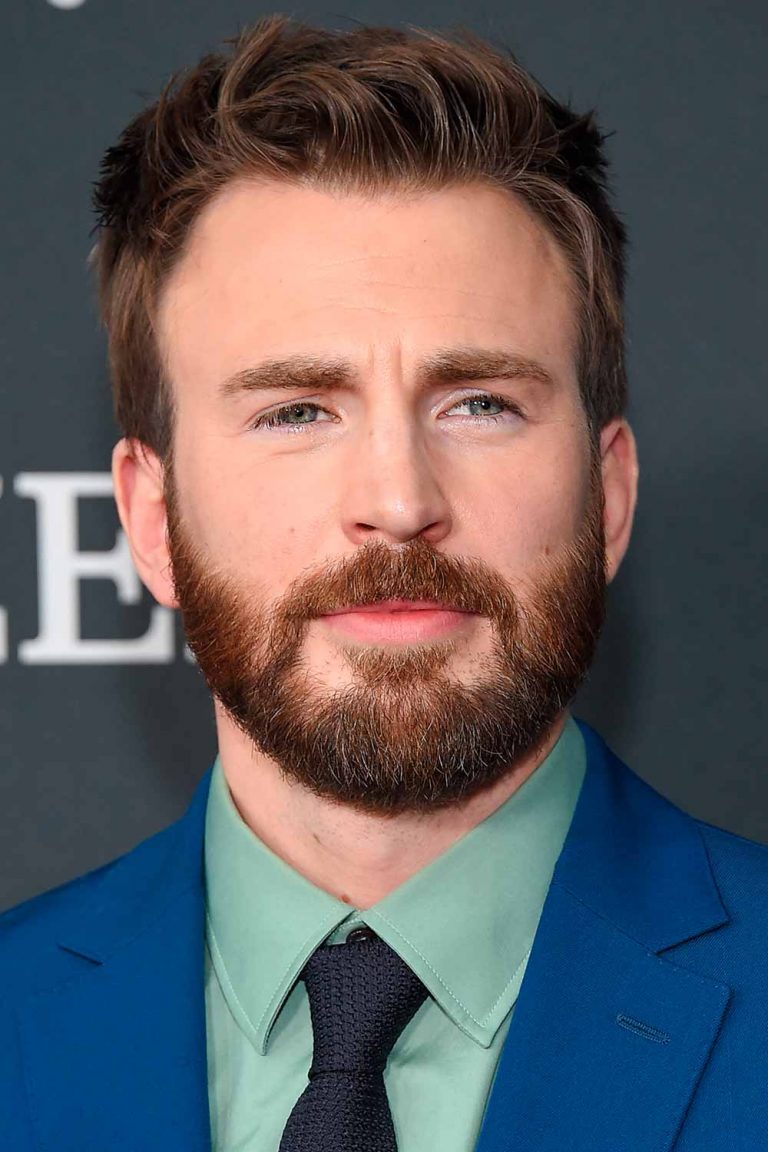 DFree/Shutterstock
Other Iconic Chris Evans Hair Styles
Although the Captain America with beard can already be considered an iconic look, this is not the only popular hairstyle that the actor sports. Here is a dose of inspiration on the hottest Chris Evans haircut styles.
Short Spikes
When it comes to hair, Chris Evans is all about the appearance. He has been rocking his signature short spikes for years now and we just can't get enough! So we compiled some of our favorite looks from Chris so you know what style works well with your face shape or personality type when considering a new cut like Captain America's own.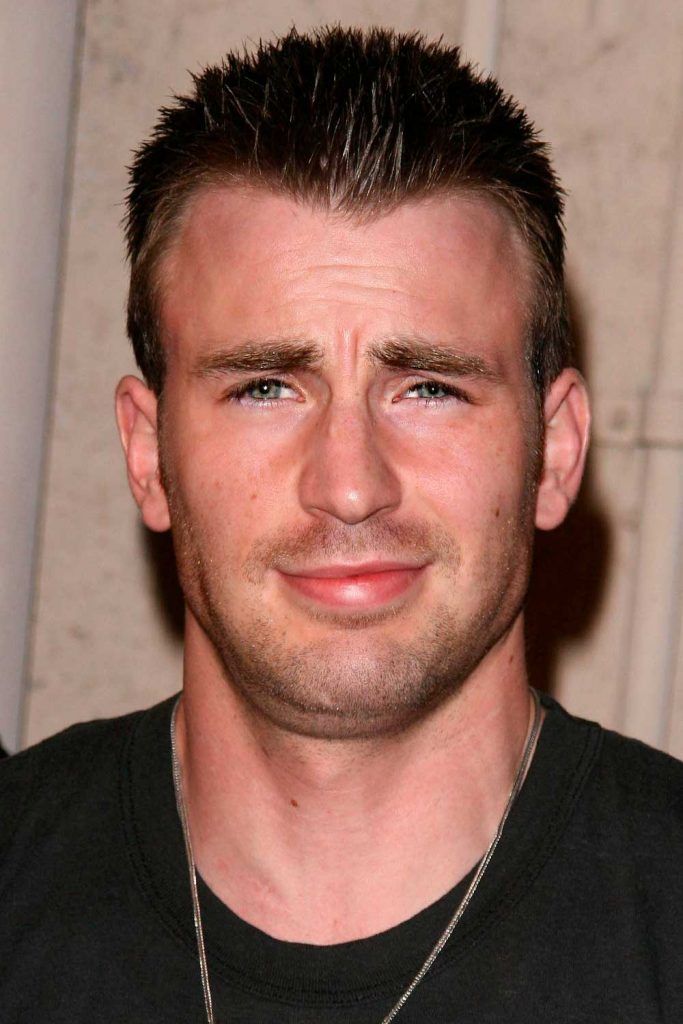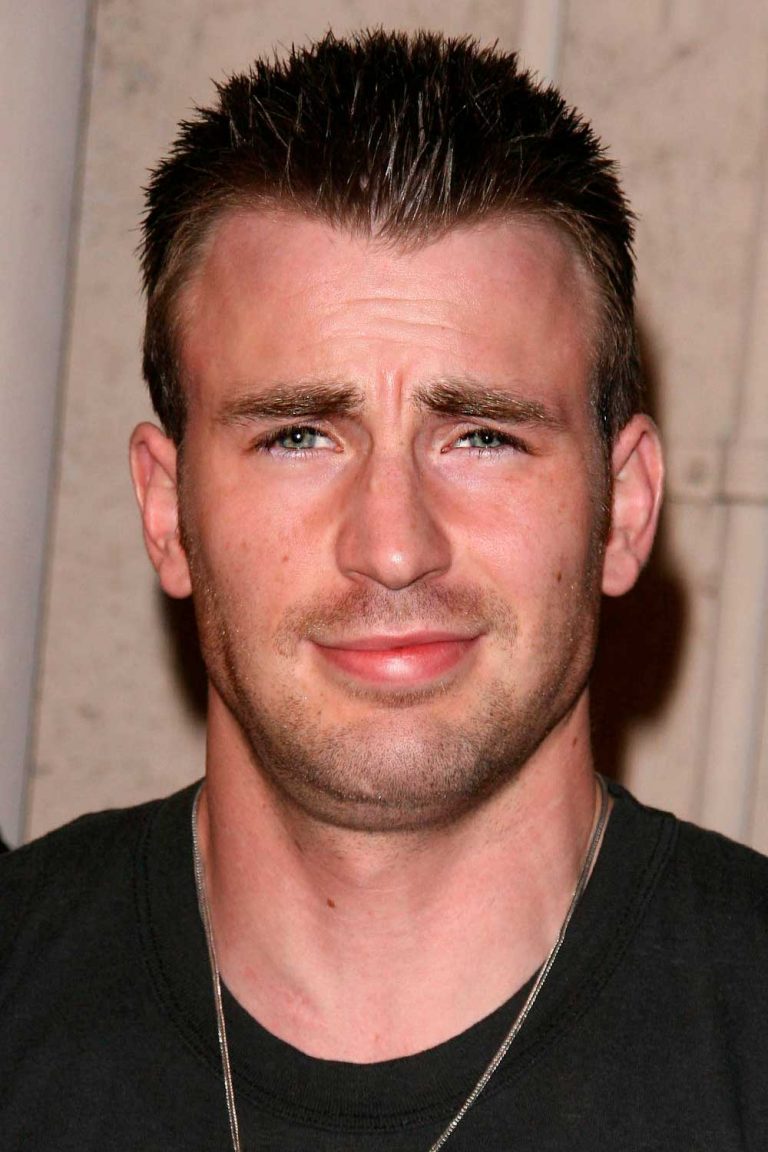 s_bukley/Shutterstock
Medium Length Quiff
Chris Evans's haircut is a medium length style that's lightly inspired by the quiff. This bold combination of captain america long hair and beard provokes casual confidence, giving him an air about himself which defines his jawline perfectly in its strong lines or angles whichever way you look at it; what better way to project power than with these characteristics?!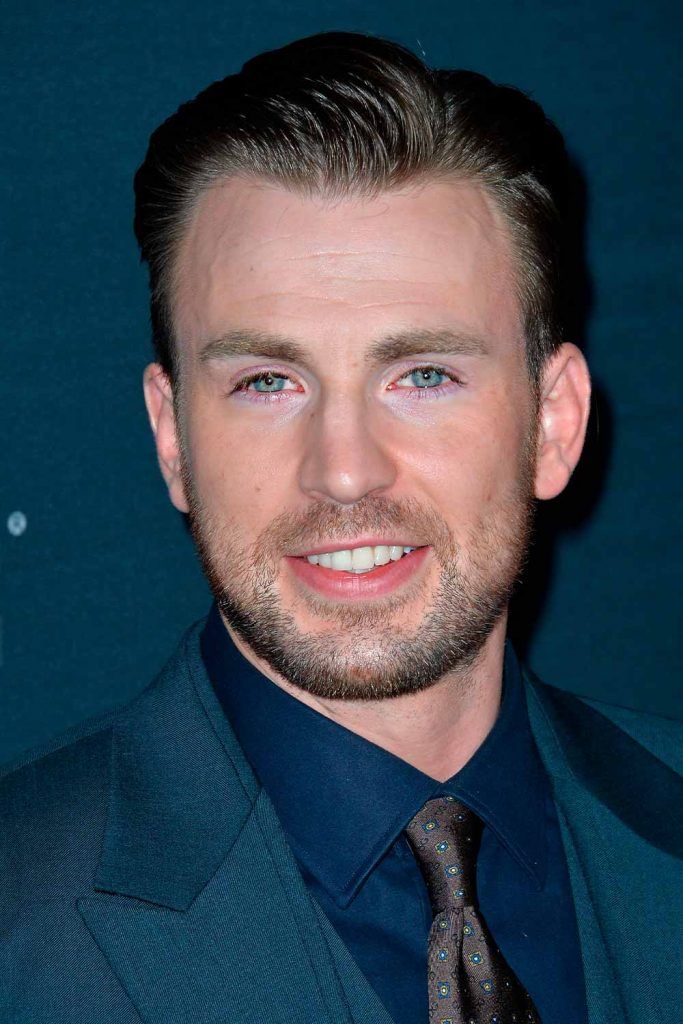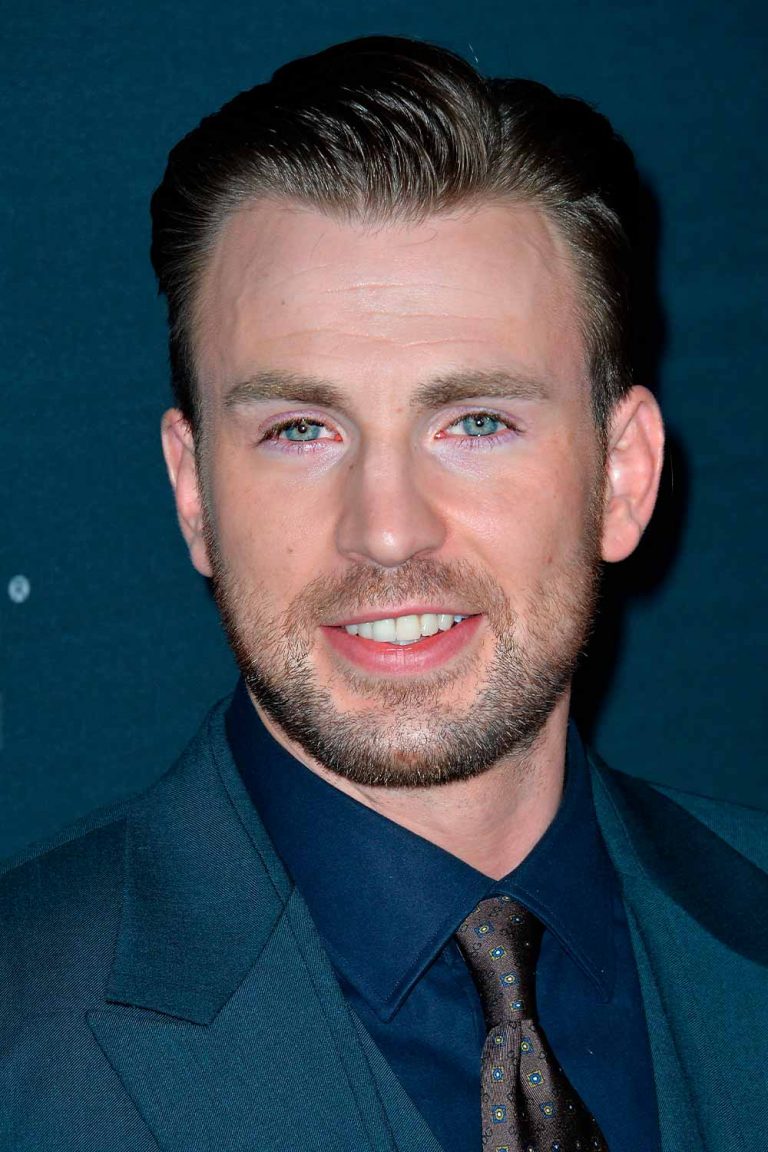 Jaguar PS/Shutterstock
Side Part Haircut
Chris Evans's latest haircut is a sleek and sophisticated style that was achieved by brushing his hair to one side. He applied styling product for volume before parting it off with precision, resulting in an elegant look that does not overpower the facial features of its wearer or distract from them at all!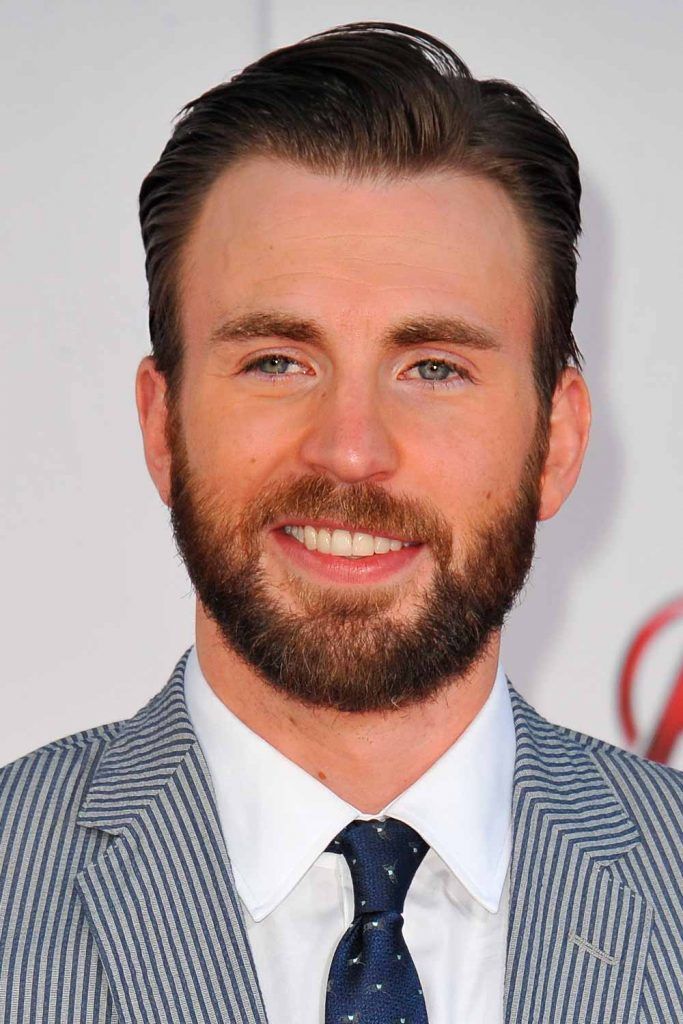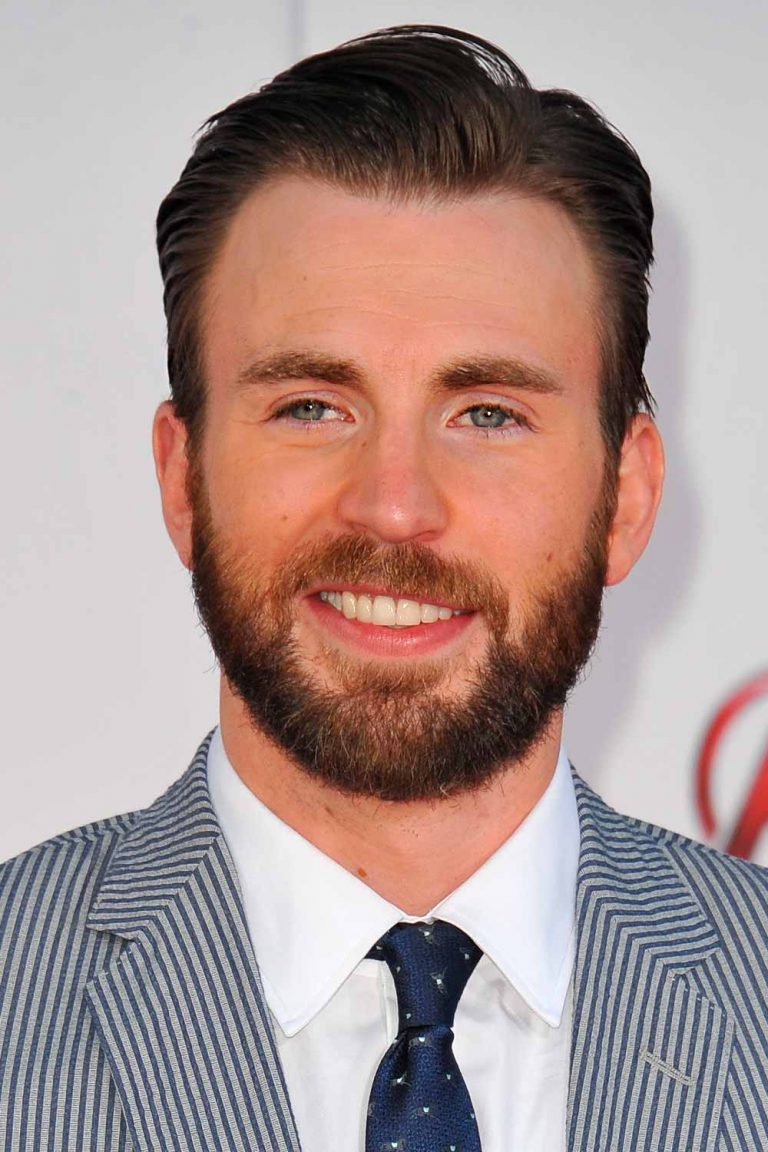 Featureflash Photo Agency/Shutterstock
Buzz Cut with Beard
Chris Evans buzz cut is down to its most laid-back style with an unkempt beard. Without going completely bald, it's close enough that you can feel the smoothness of being scalp on your hands as if they were wiping away drops in wet pavement after a storm has passed by for good measure too!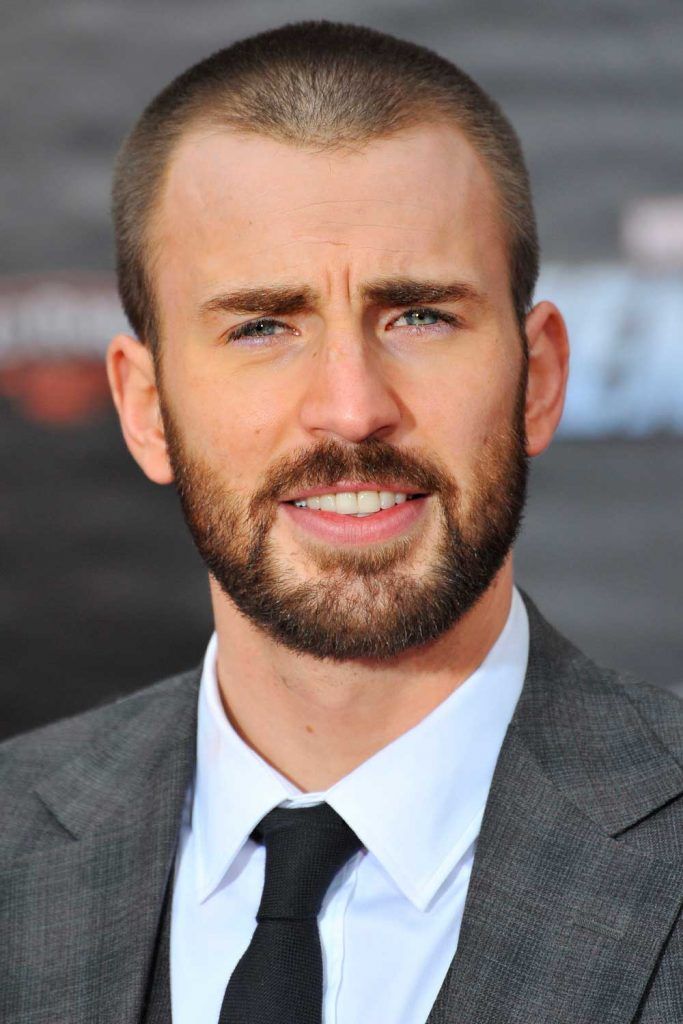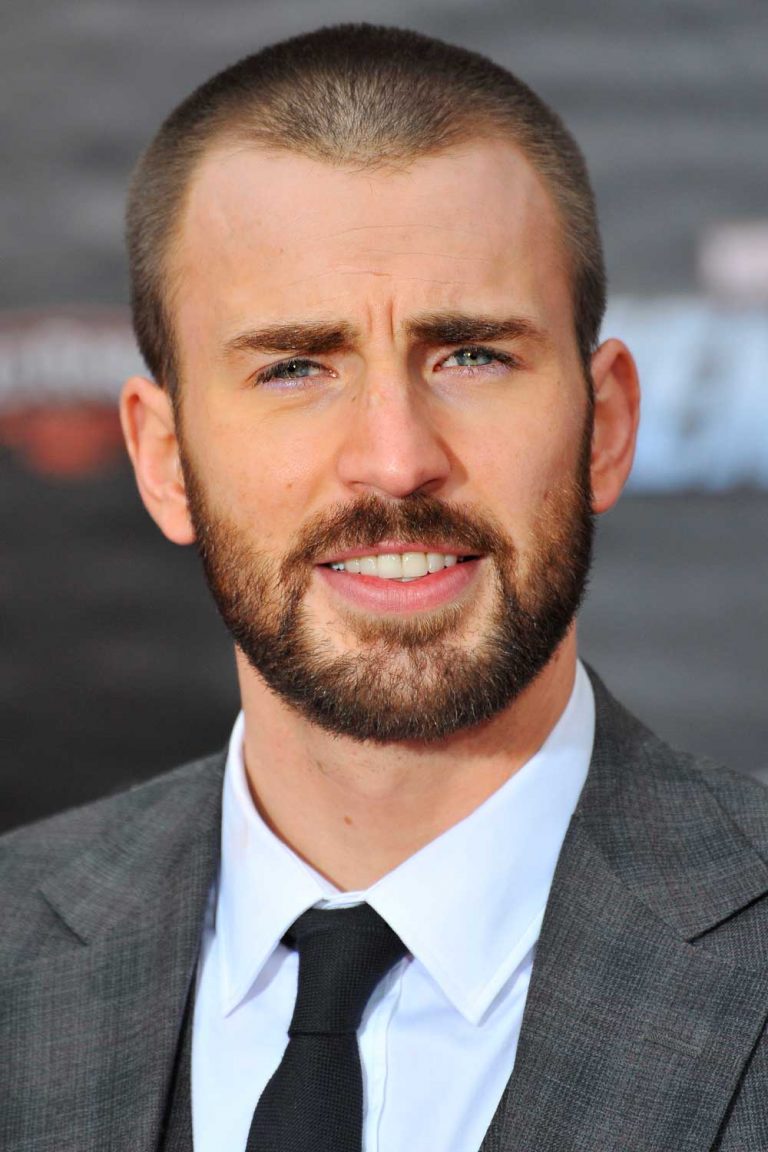 Featureflash Photo Agency/Shutterstock
Textured Comb Over
For formal and business affairs, Chris Evans dresses up for public appearances with a hairstyle that's long enough to comb back. The pompadour technique works best on longer hair so it can be styled as needed!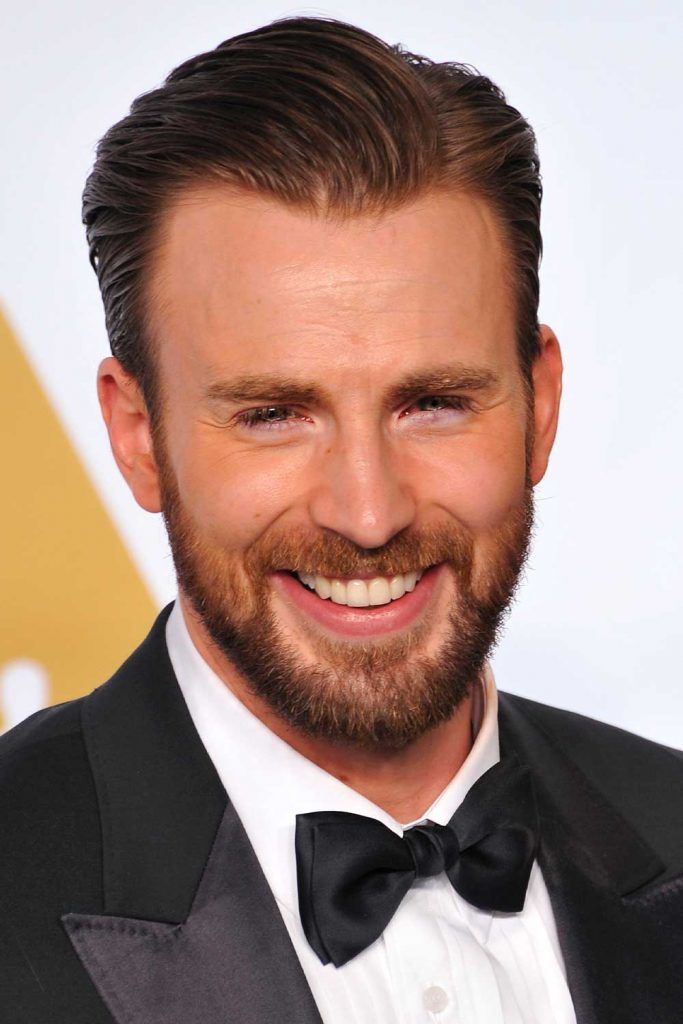 Jaguar PS/Shutterstock
Crew Cut
Before debuting on Broadway, Chris Evans promoted his work with a fresh crew cut similar to the Captain America haircut. The chris evans short hair has a fade that pushes outwards and makes it seem fuller from side views of this style.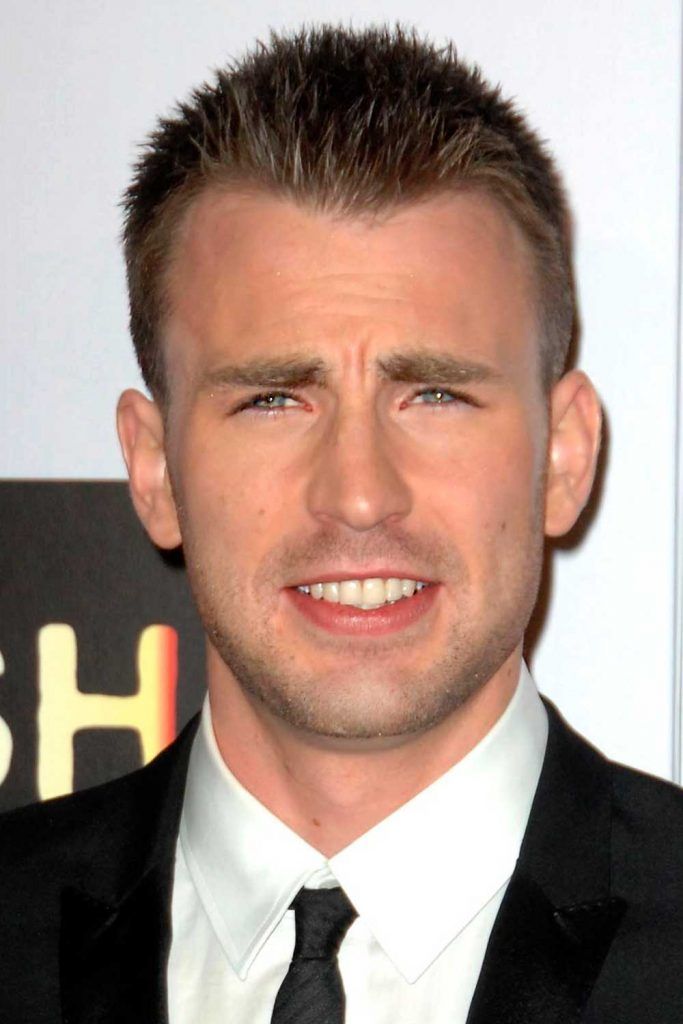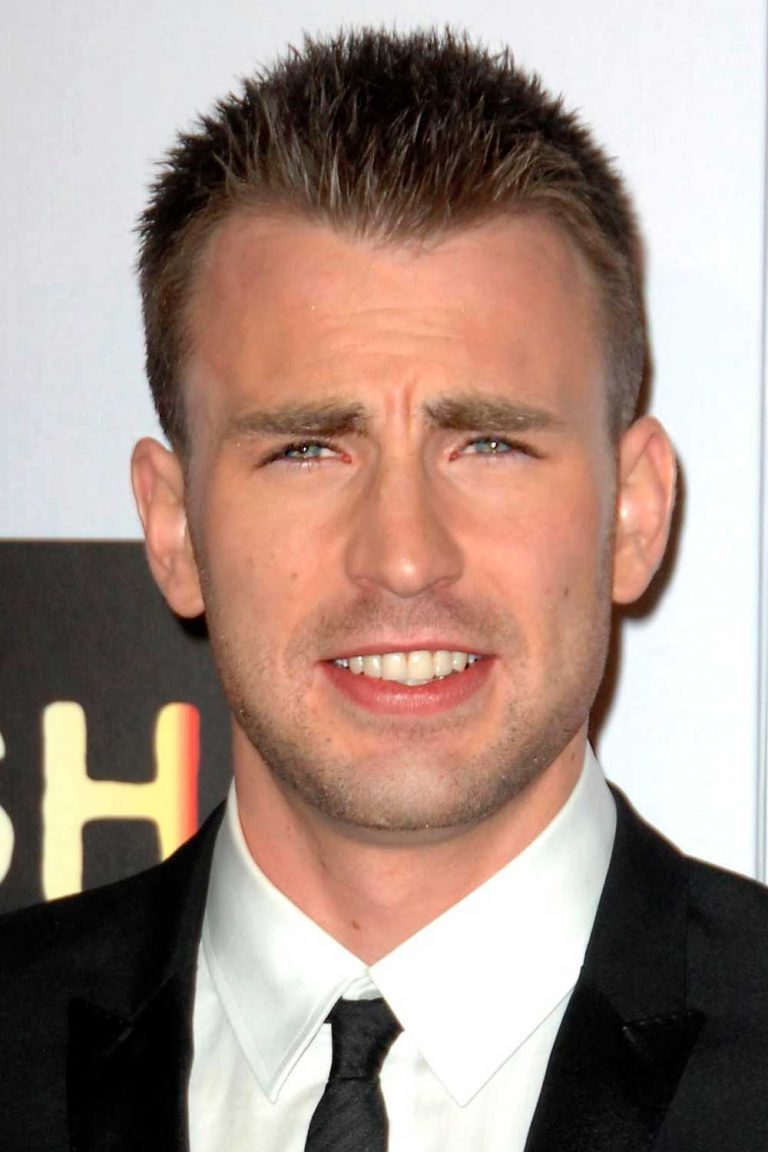 Everett Collection/Shutterstock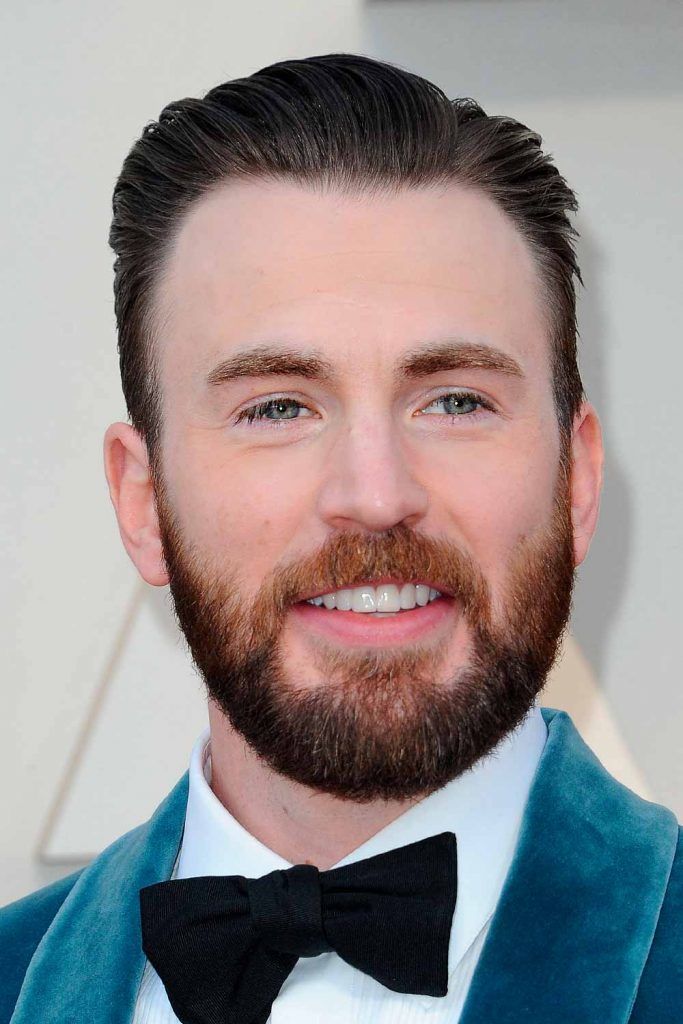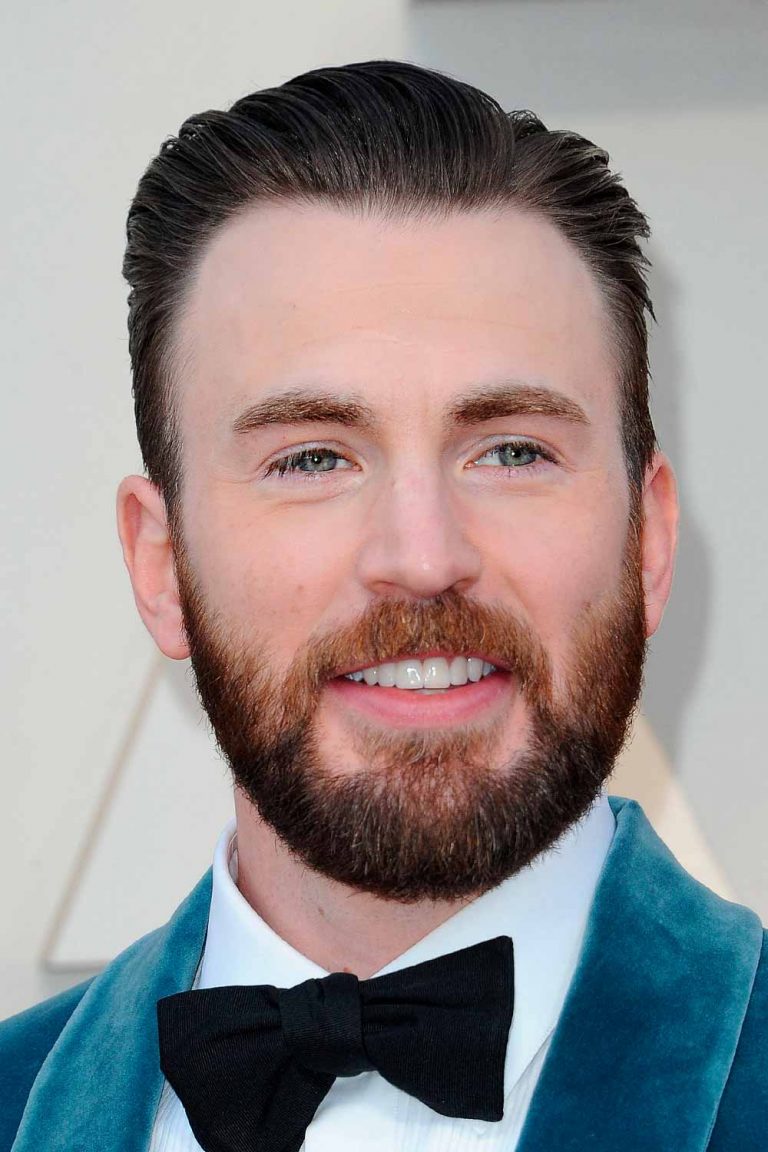 Tinseltown/Shutterstock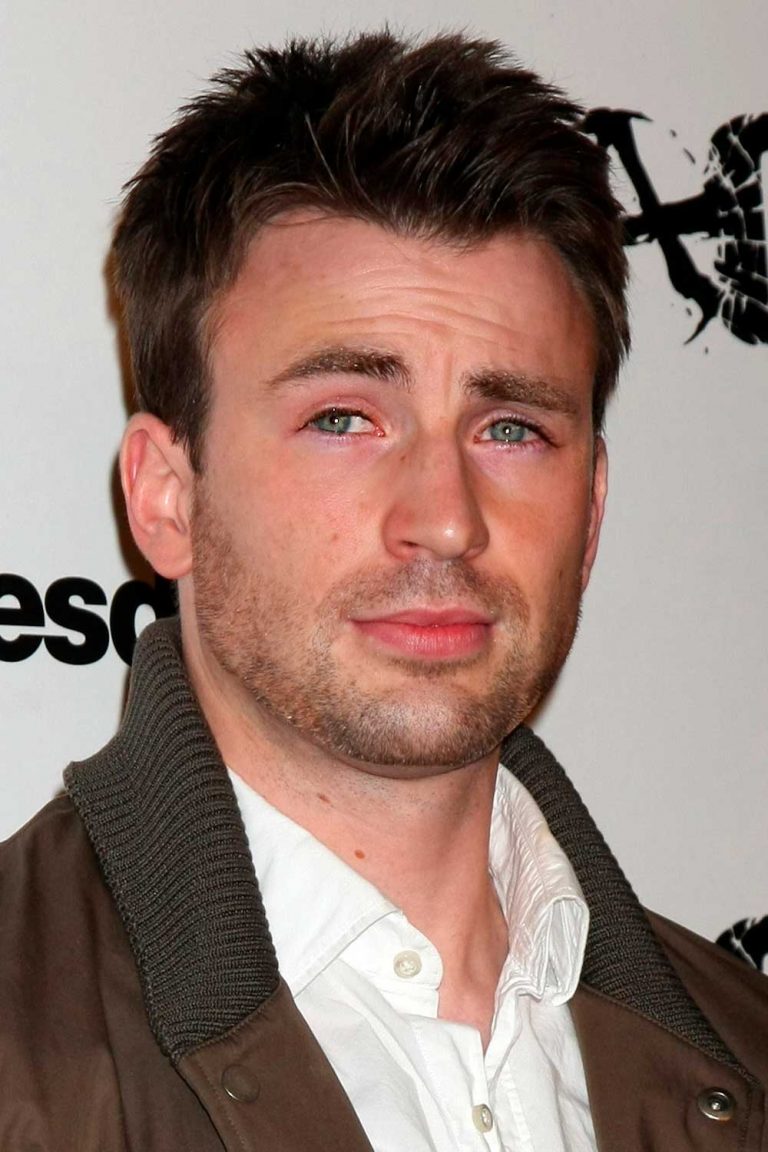 Kathy Hutchins /Shutterstock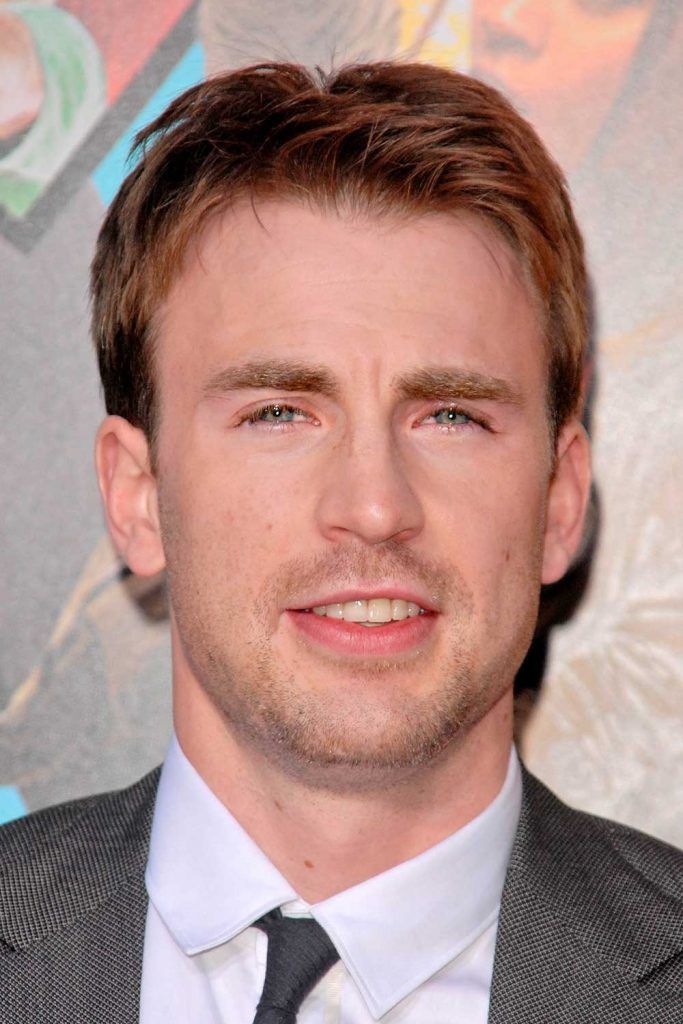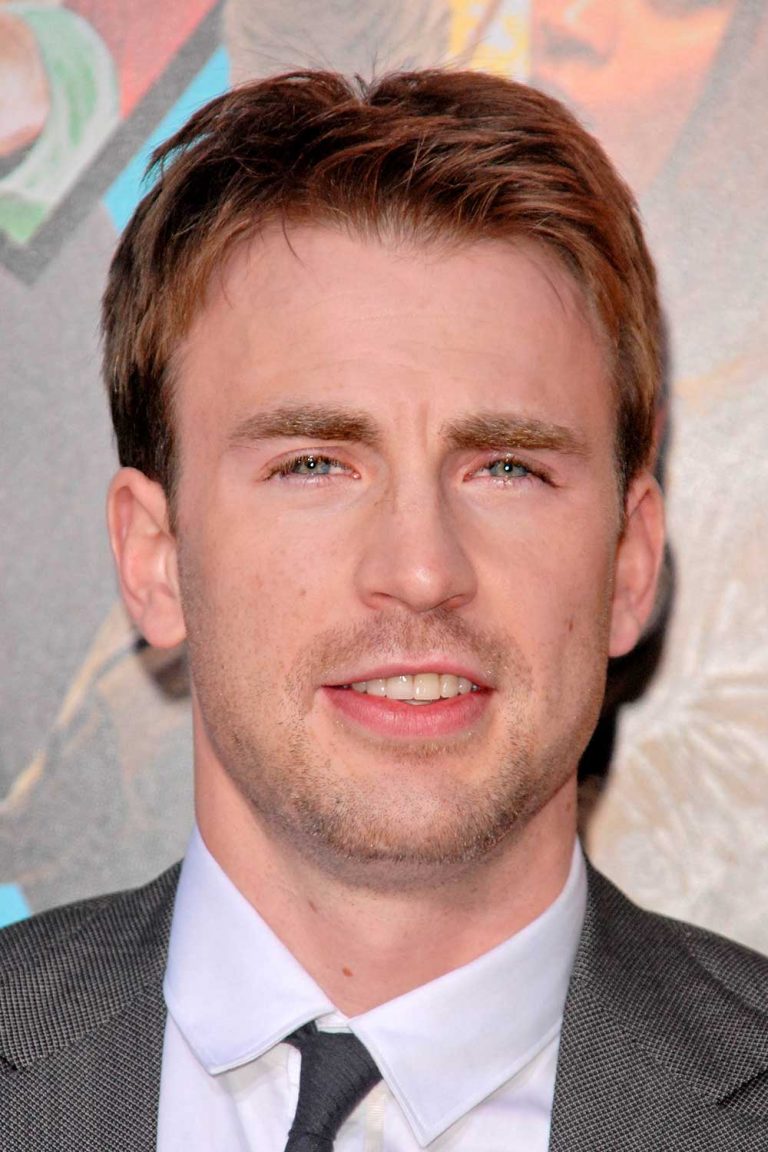 s_bukley/Shutterstock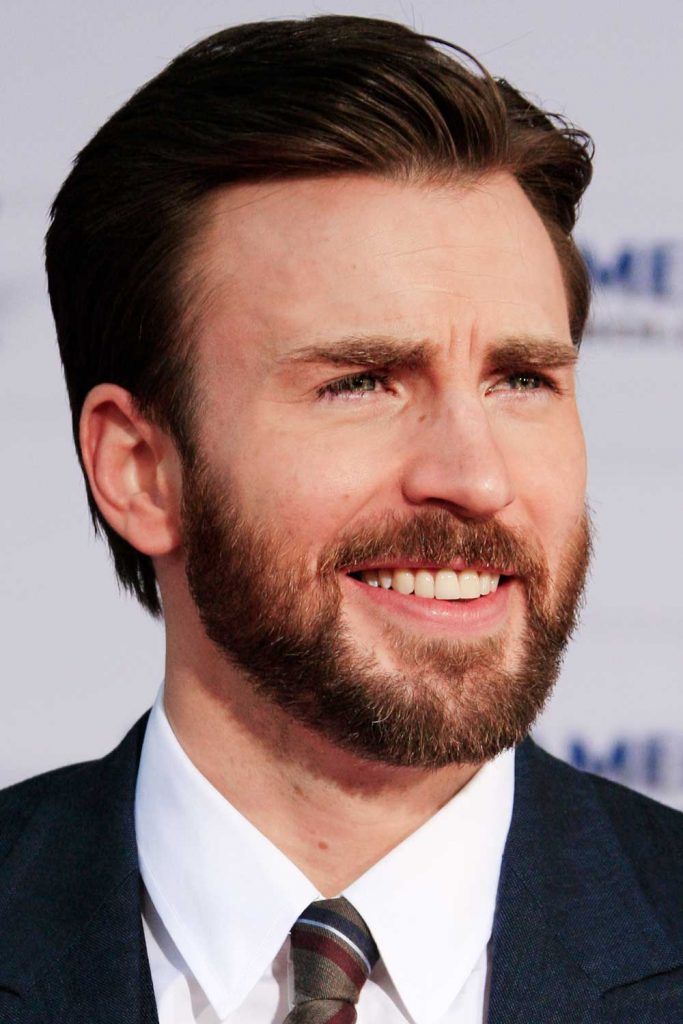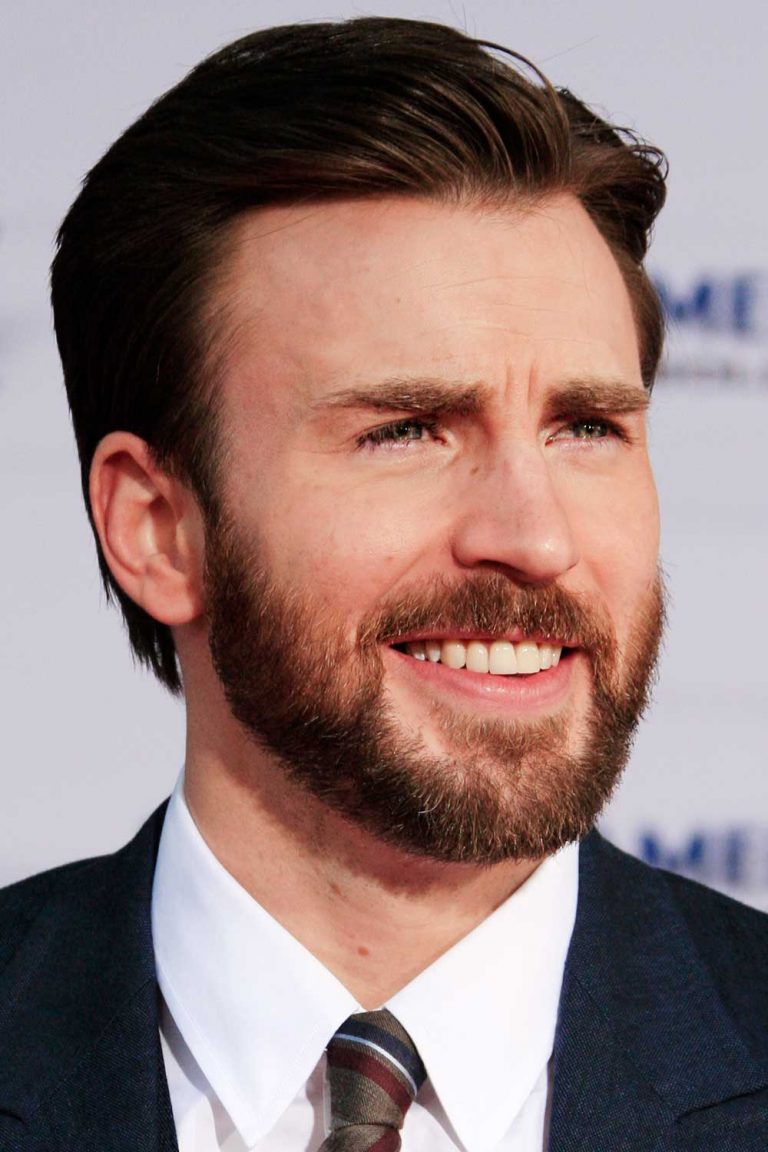 Kathy Hutchins/Shutterstock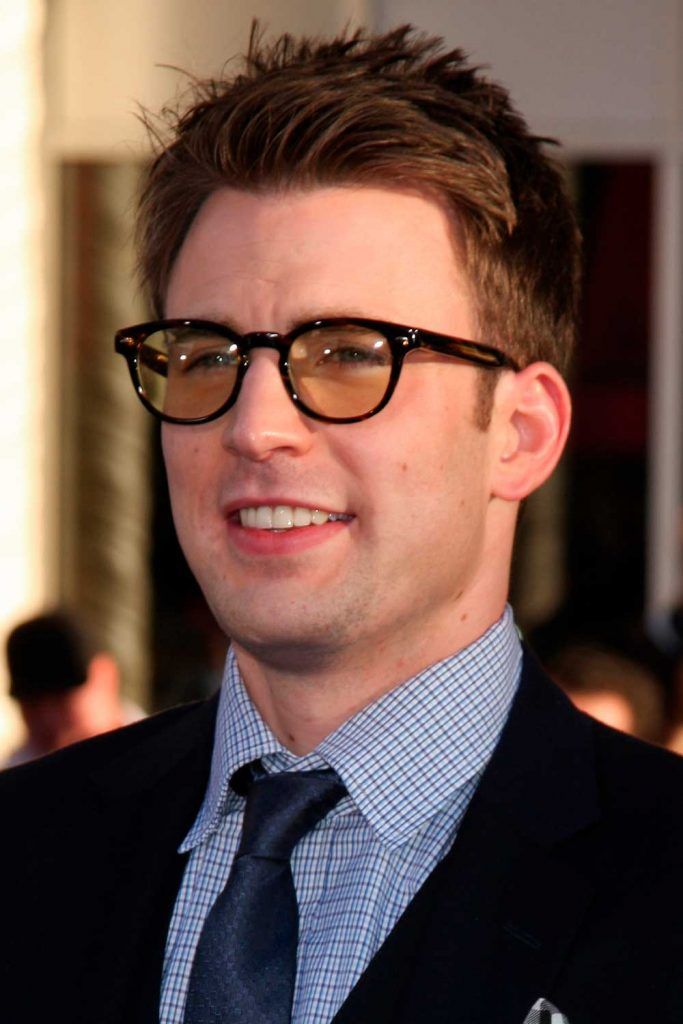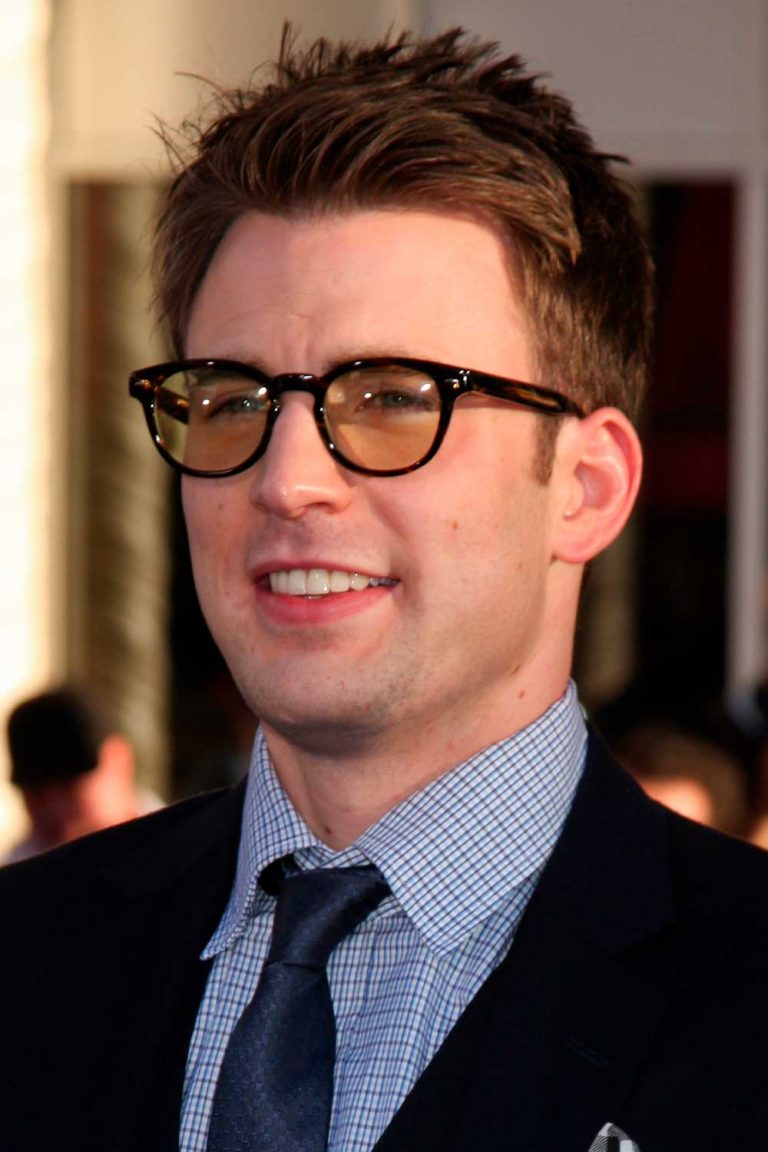 Kathy Hutchins /Shutterstock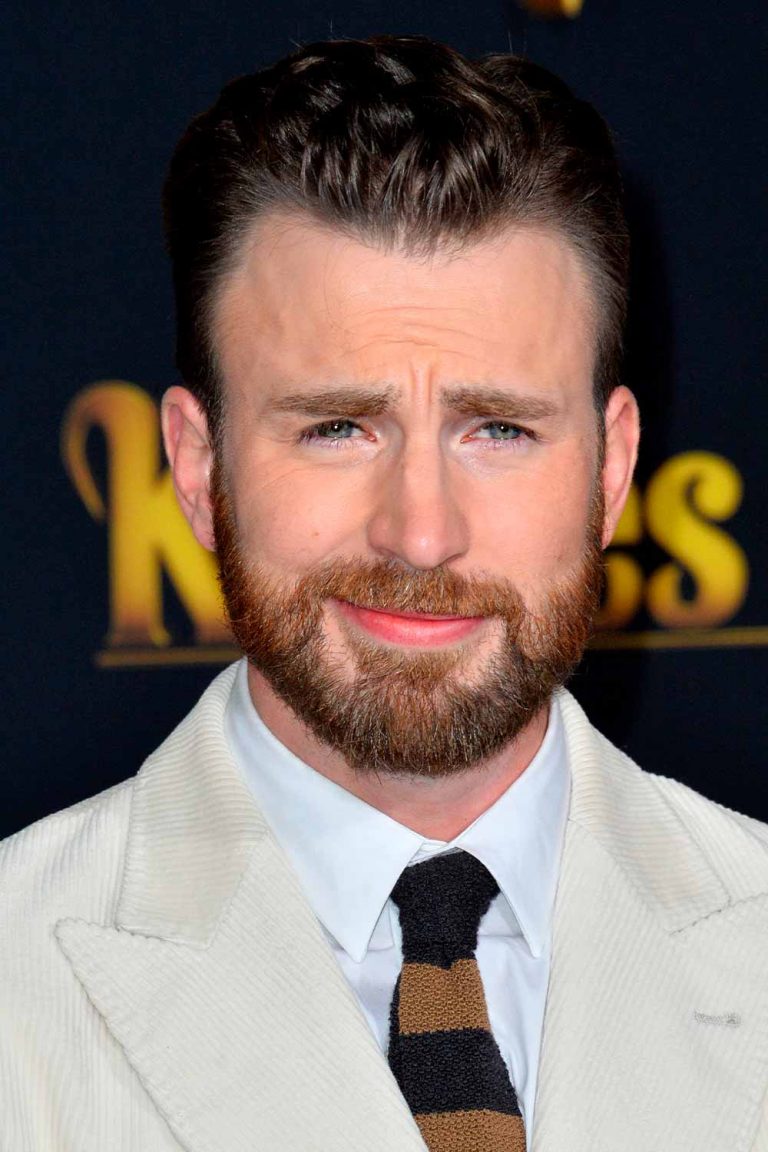 Featureflash Photo Agency/Shutterstock
Hopefully, we have provided enough information for you to be able to pull off the Captain America haircut. As you can tell, it is not so difficult to accomplish, yet the result is beyond expectations. If the bearded Captain America is not really up to your street, there are many other Chris Evans no beard hairstyles that may resonate with you.
FAQs
What is Captain America haircut called?
The Captain America hair cut is a traditional mid-length cut styled swiped back.
What haircut does Chris Evans have?
In real life, Chris Evans hair cuts are low key and easy to maintain while giving the actor a boyish look. Usually, he chooses either a shortly trimmed buzz cut or a straight smooth mid-length hairstyle.
How do you cut a Captain America haircut?
To get the Cap'n America haircut, here are the steps to follow:
1. Wet and comb through your hair.
2. Divide it with a side part.
3. Take the strand of hair from the side and holding it between fingers, cut down to the required length, which is around 2 inches. Repeat this step for all of the hair on the sides
4. Comb down the section of the hair from the top and cut it so that it reaches the ears. Continue for the rest of the hair on top.
5. Comb the hair back and cut it diagonally to the head section by section.
6. Cut the hair around the ears to create a clean line.
7. Holding the scissors upright, taper cut the hair on the back of the head and blend it into the top.
8. Define the neckline by cutting the hair straight along it.
How do you get your hair like Captain America in Infinity War?
To recreate the Captain America hairstyle in the Infinity War, follow the next steps:
1. Wash your hair and blow it dry.
2. Rub a blob of a medium hold pomade between your palms.
3. Work in the product evenly into the hair.
4. Push back the hair on the top and define its texture by raking your fingers through the strands.
REFERENCES:
Christopher Robert Evans began his acting career in typical fashion: performing in school productions and community theatre. Source
The latest news in entertainment from USA TODAY, including pop culture, celebrities, movies, music, books and TV reviews. Source
Was this article helpful?