Mens wigs aren't only embellishment to your overall style. They add to your confidence and comfort if you're experiencing noticeable hair loss either because of aging or due to some medical treatment. Though, choosing a wig can be a really challenging task, especially if you're doing this for the first time. Save yourself a great deal of time, nerves and money with our comprehensives guide to choosing a men's wig.
Select A Wig
Even though the process of buying mens wigs isn't as enjoyable as we'd like it to be, with the right approach, it becomes much less of a problem. So, here's what you should decide on before going shopping for a wig.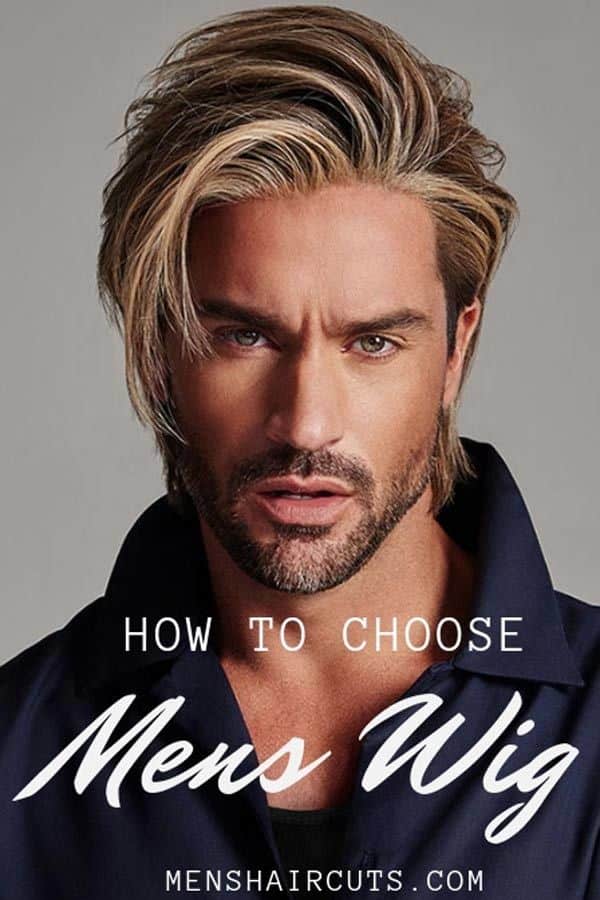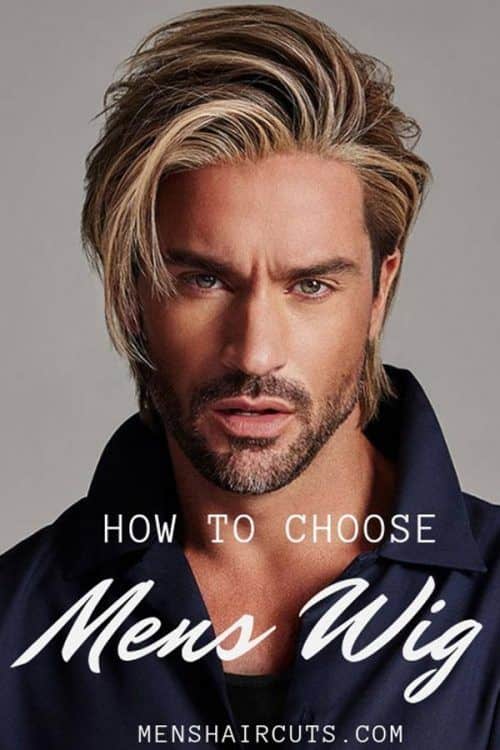 Courtesy of brand
Decide On The Price, Material And Cap
What you should regard first when choosing mens wigs are the material and price range. These two factors directly affect one another. Here are some points to consider:
Real hair is pricier than synthetic fibers, thus if you're looking for a short-term option, it may be reasonable to opt for a wig with artificial hair.
In case you're considering something more long-term and naturally-looking, stick to the mens wigs made of genuine hair.
You can strike a happy medium though by going for a synthetic wig with incorporated genuine mens hair pieces.
You may want to find a wig with a lace cap in the front, as it sits more naturally than those with a rugged hair seam.
Adjust To Your Lifestyle
Consider the time you can allow for maintenance and styling of the wig. Remember that sometimes it's better to go with a less elaborate hairstyle than make it in a slipshod way.
Finding The Wig That Fits
Now that you decided what mens wig to look for, it's time for a try-on.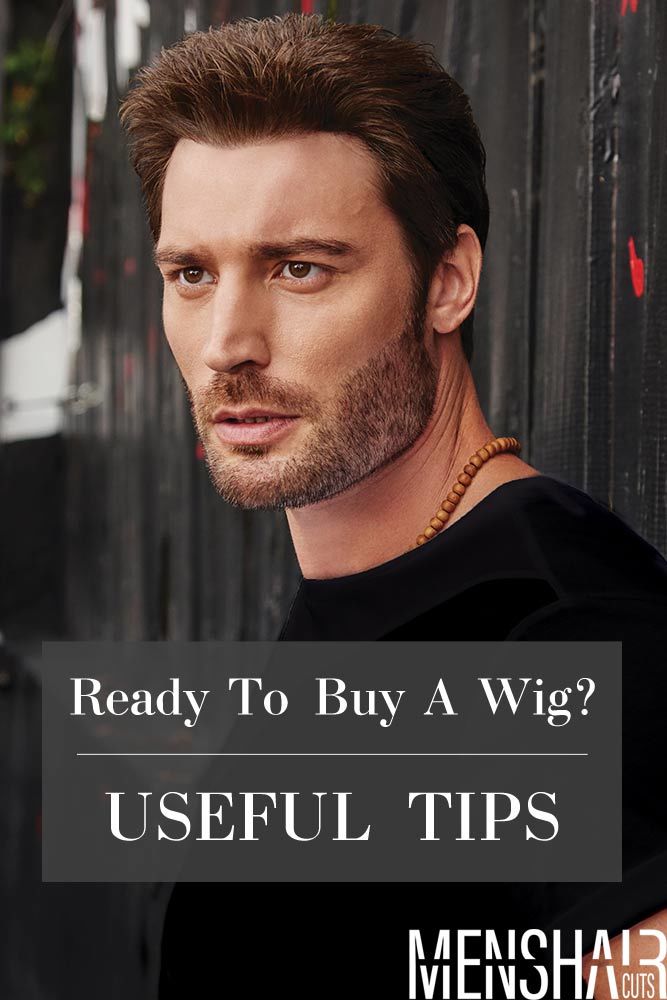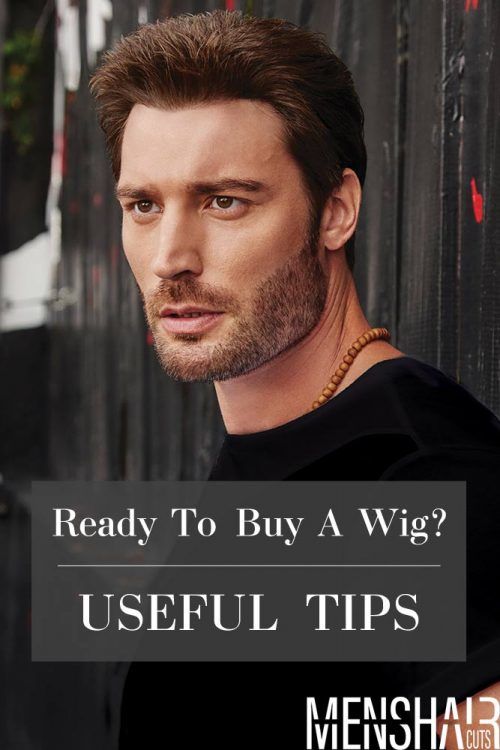 Source: HIM
Visit A Wig Store
Even if you prefer online shopping, it's a good idea to find the nearest store that has a wide selection of men wigs. This won't let you buy a pig in a poke. Once you've found the one that flatters you in all respects, compare the price with an online store and go with the cheapest option.
Find Out Your Head Size Of Your Mens Wigs
A wig is pretty much an item of closing. Thus, it's important to find your right size, so that it would sit perfectly. For this purpose, you can wrap a measuring tape around the head starting from the forehead and following the skull base.
Take Into Account Your Face Shape
Male wigs should both complement your personal style as well as flatter your appearance. Thus, the wig should enhance your face shape in the first place. If you have an oval face, go with layered and voluminous wigs for a fuller appearance. For a round face, opt for a side-parted short or medium hair. If your face is heart-shaped, choose a textured messy wig with bangs. A square face looks better with center-parted medium-length layered hair.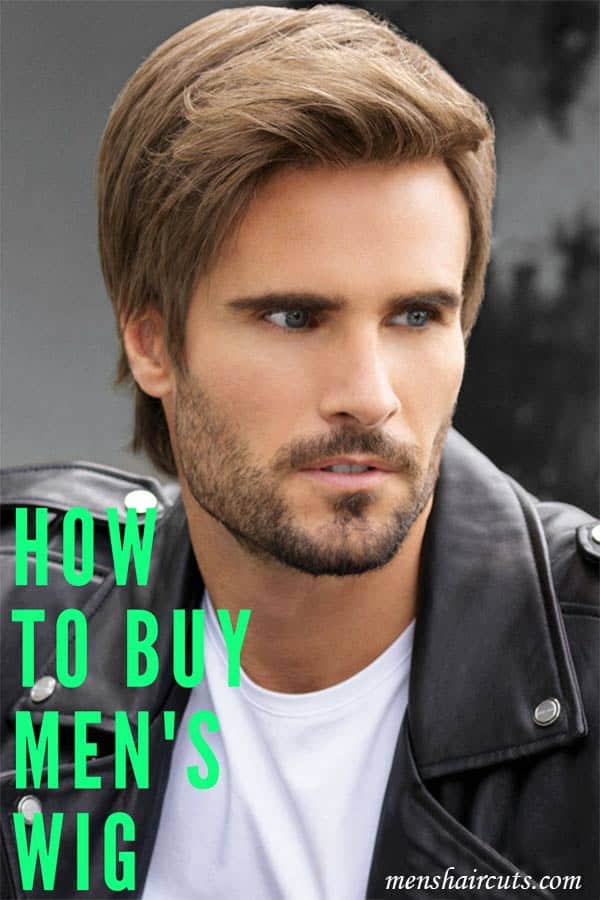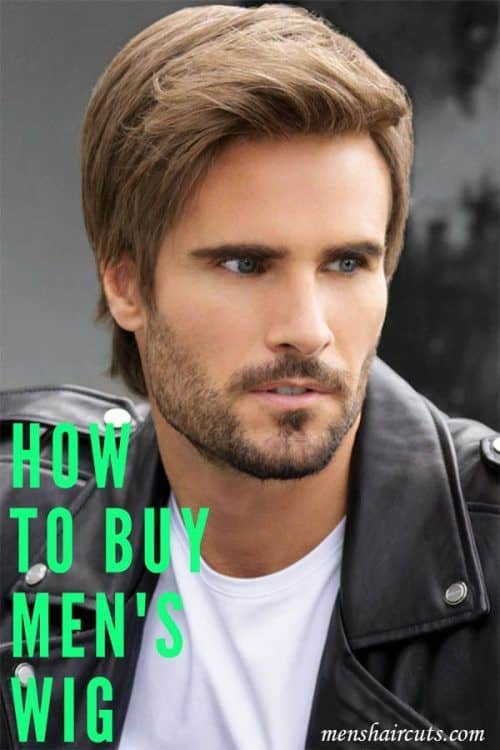 Courtesy of brand
Don't Forget About Your Skin Tone
Besides the face shape, you should consider your skin tone. If you have warm skin, choose from copper-red, honey-blonde, chestnut-brown and ebony-brown shades. For cool skin tones, decide between raven-black, auburn-red, platinum-blond and ahy-brown hues of hair pieces for men.
Check If The Wig Feels Comfortable
A try-on is the main stage of the process of buying a men's wig. So that it won't irritate your scalp, ensure the wig fits snugly.
A lot of wigs caps feature tabs that you can adjust so it fits your scalp size. However, make sure to get a wig that sits as close as possible based on your head's circumference measurement.
You can also use double-sided tape to keep your wig in place if it features one.
A wig can irritate the skin on the scalp of bald men. If this is the case, you should opt for skull cap pieces that are adjusted on the inner part of the cap.
Those who want to secure a wig to their natural locks can use comb pieces and hairpins.
Do not buy a wig without a return policy. You may want to take it back or swap for another one in case of scalp skin irritation.
The return policy rule also applies to the mens wigs that you buy online.
Use The Adjustable Band
If you don't want your wig to move while you're wearing it, opt for the one with an adjustable band.
It is also possible to get a cushion band. This is the headband that is filled with gel. You wear it under your wig to make the latter feel comfier. Also, your wig may cause pressure points and the cushion band helps to relieve them.
To secure the wig in its place, you can enlist the help of a wig gripper. This is a fabric headband that can be adjusted to create friction near the hairline.
Toupee clips are also a great option if you want the wig to stay in place. You clip them into both the wig and your hair.
Take Care Of Your Wig
If you want your men's hairpieces stand in good stead, you should take care of them properly. Here's what you should do.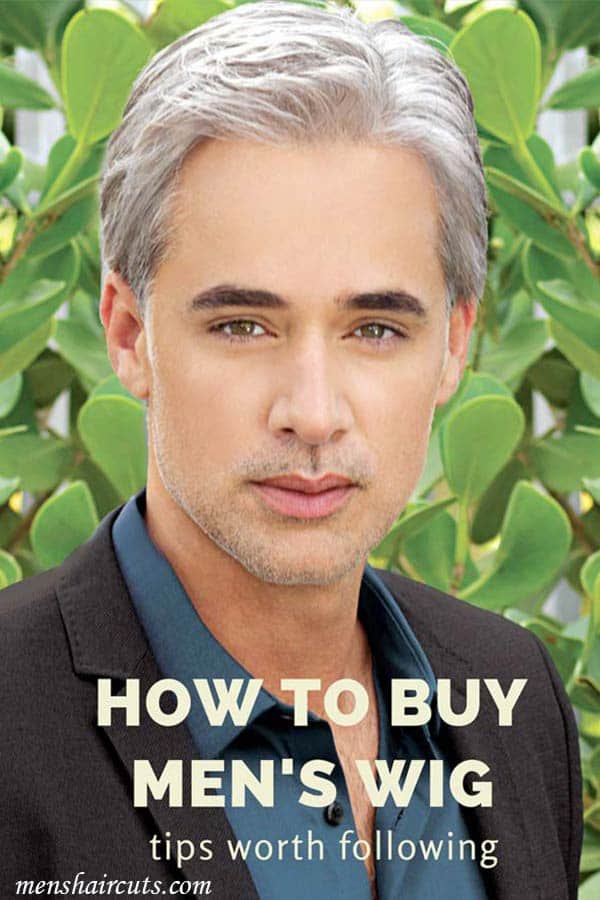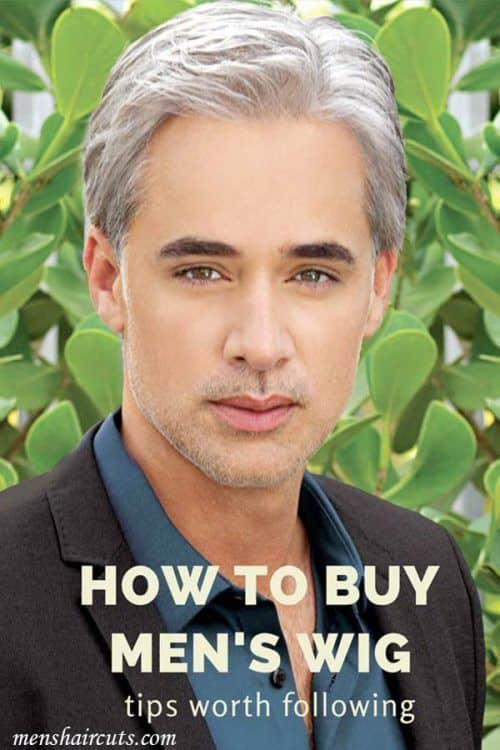 Courtesy of brand
Beware Of Heat
Heat can damage your wig even while you're cooking, as well as a blower, styler and curler, so don't forget to protect your head from potential sources of danger.
Use A Mild Shampoo And Conditioner For A Natural Hair Wig
No matter the material, every male wig requires regular cleaning. You should wash your natural wig after you have worn it six or, at the very most, eight times. Also, despite the material of the wig, do not forget to brush it carefully using a special brush before every wash. This will eliminate all the tangles. In case you have a curly wig, use your fingers to brush it.
Before washing a wig, you should turn it inside out. Fill in a bowl with cold water and add a bit of mild shampoo. You need to whirl the wig carefully in the solution and leave to soak for at least 5 mins.
Use lukewarm water to rinse it once or twice to remove the shampoo. Next, apply mild conditioner to your wig and leave it in for about 2 mins. Rinse your wig with cold water to remove the conditioner.
After the conditioner is gone, you need to use a dry towel to wrap your wig and pat it carefully. Optionally, you can finish off with a spritz of conditioning spray. Ensure to spray it from a 10-12-inch distance.
Use a wig stand to dry the wig and comb or brush it with a corresponding tool after. Do not place your wig directly in sunlight and never brush a wet wig.
For Faux Hair Wig, Use A Synthetic Shampoo And Conditioner
A synthetic hair wig requires a shampoo and conditioner that are made especially for it. So, look for the word "synthetic" when choosing the products for wig washing. Usually, the hair supply store located in your neighborhood offers it. You should wash the wig not less than after you have worn it for eight times.
Run a basin or sink of water (make sure it is cold) and add several capfuls of shampoo for synthetic mens wigs. When you immerse the wig in the solution, it should be turned inside out. Carefully, whirl your wig in the solution and allow it to soak for at least 5 mins. Rinse it with cool water to remove the shampoo.
Apply wig conditioner to the wig and leave it for about 2 mins to penetrate the hairs. With cold water, rinse the wig until the conditioner comes off.
Use a dry towel to wrap the wig and pat it. Do not rub the wig to dry it!
Spritz the wig with a revitalizing conditioner if you want extra conditioning for the fibers of the wig. Leave it on a wig stand to dry and only then brush your wig.
Brush Your Mens Wigs Before You Put It
After washing, your wig may lose its shape a little. Therefore, don't forget to brush it when it's dry.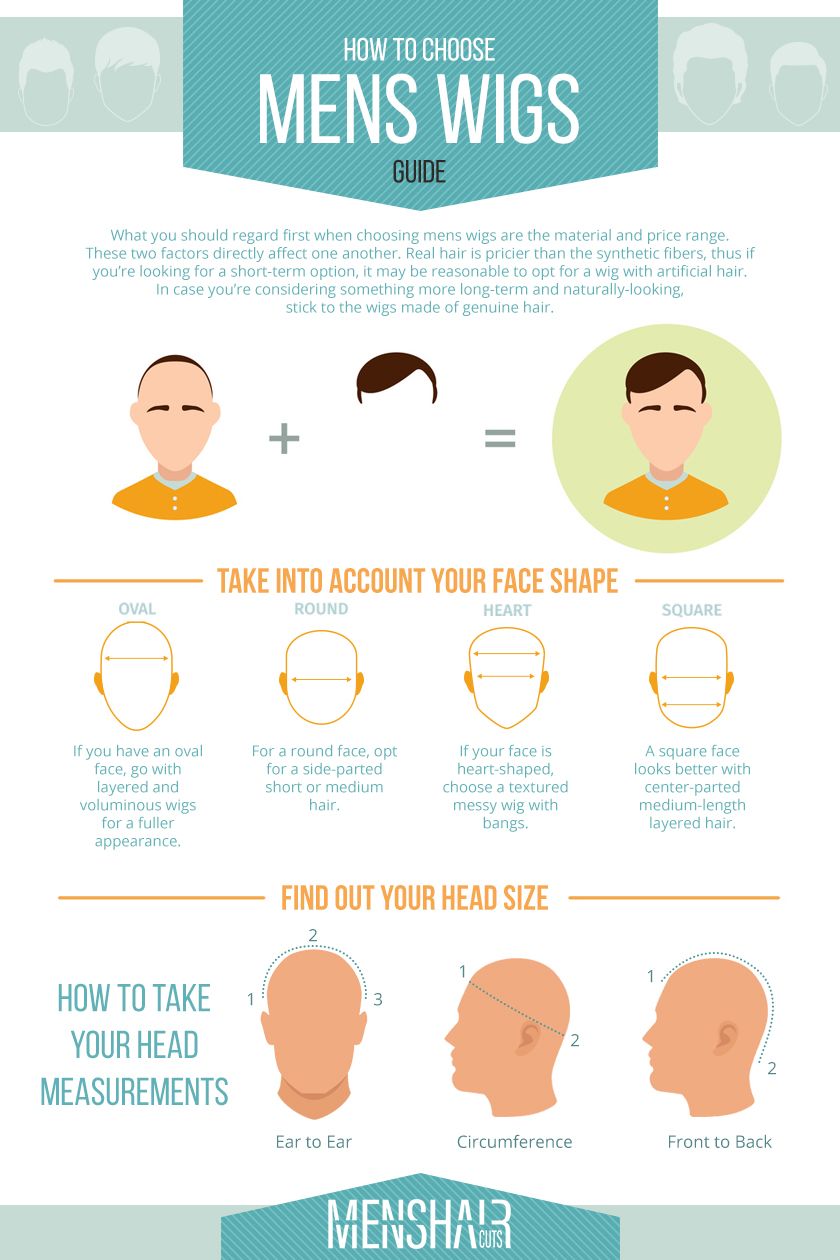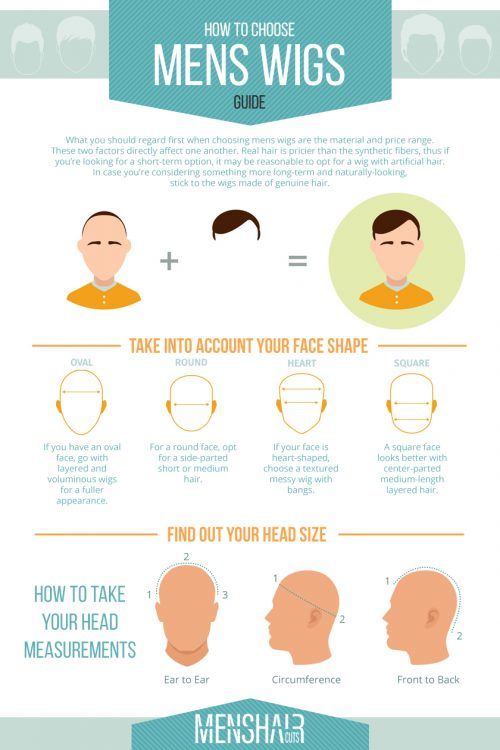 Choosing a wig may be not your favorite activity. Though, it can become much less stressful when you've prepared in advance. We really hope that our guide helped you to succeed in this business.