Can you name a more eye-catching facial accessory than the handlebar mustache? Having an air of Imperialism, its defining feature is particularly long and dense ends. The culture of facial hair, namely beards and mustaches, is given much attention nowadays. To succeed in growing handlebar whiskers, you should keep up with some simple rules. If you're ready to give it the whirl, keep your eyes on our fundamental guide to one of the most exquisite and unique mustache styles.
What Is A Handlebar Mustache?
The famous handlebar mustache is a facial hairstyle that you will recognize among thousands of other mustache styles. Its resemblance to a handlebar of a bicycle is uncanny, hence the name. Bold and defined whiskers with extended curved ends come in many variations nowadays, so the term can be used to describe a wide range of mustache styles. The main difference between them is in where exactly the facial hair grows and how long it is.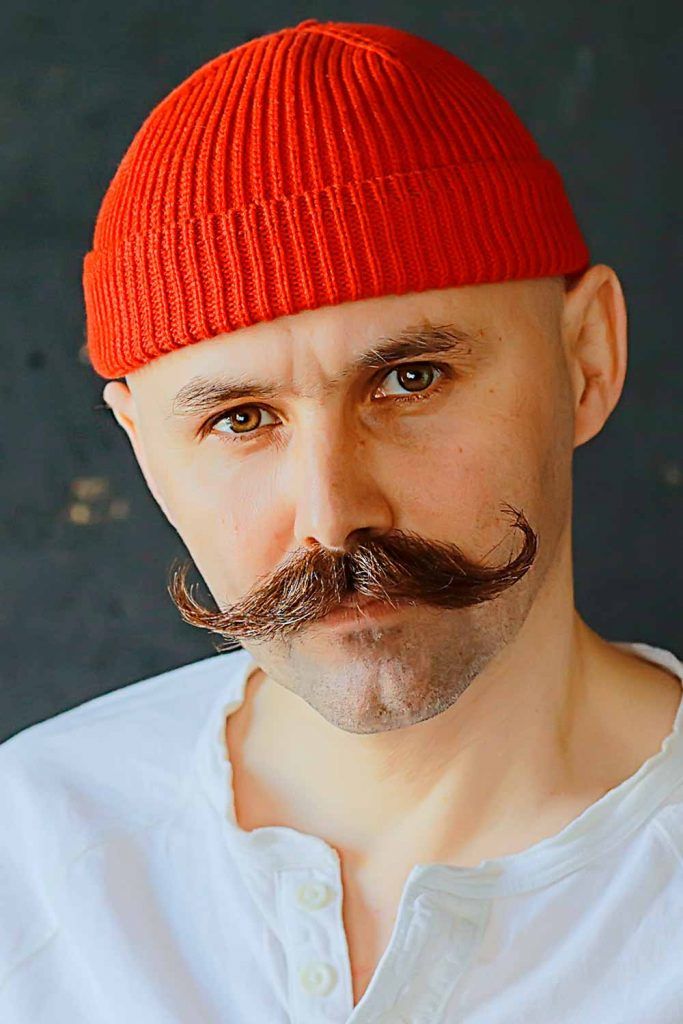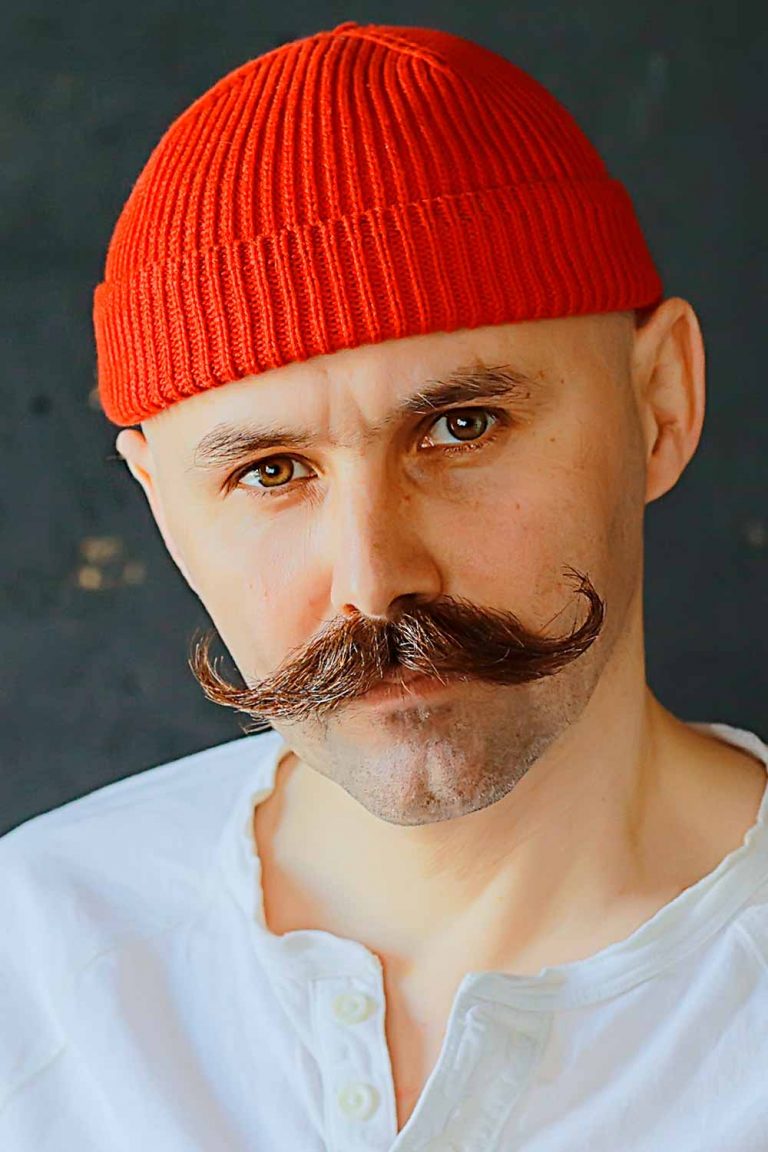 You won't confuse this hipster mustache with any other moustache styles, as they can be recognized easily by curled and twisted long thin tips. To keep them shaped, you need to employ many different kinds of styling products for grooming; otherwise, the tips will fall and look flat.
How To Grow A Handlebar Mustache
Of course, you'd like to know how to grow a mustache that has such a fancy shape. First of all, you need to be patient. To grow a mustache long enough to be shaped in a handlebar, it will take you at least one and a half months. In its defense, we can say that most facial hair styles require this long to grow. Second of all, you must start training your whiskers at the very beginning so that by the end of the growth period, they would be properly shaped.
Prepare Your Supplies
So, how to train your mustaches to reach their very best? Start with choosing a suitable mustache wax. For dense and kinky facial hair, opt for a stiff product. For softer and finer hair, on the contrary, go with a soft wax. Moreover, you'll want to brush out and trim your mustache, so buy a comb with fine teeth and special scissors for hair trimming. The majority of beauty supply stores offer you this stuff.
Don't Shave Your Upper Lip
We've already mentioned that most elaborate beard and mustache styles require your patience. Your facial hair may need up to a quarter of a year to grow into bushy and gorgeous handlebar whiskers. To create all favorable conditions for their growth, you should stop shaving the area of the face that may take part in shaping the mustache style. Primarily, these are your upper lip and mouth corners zones.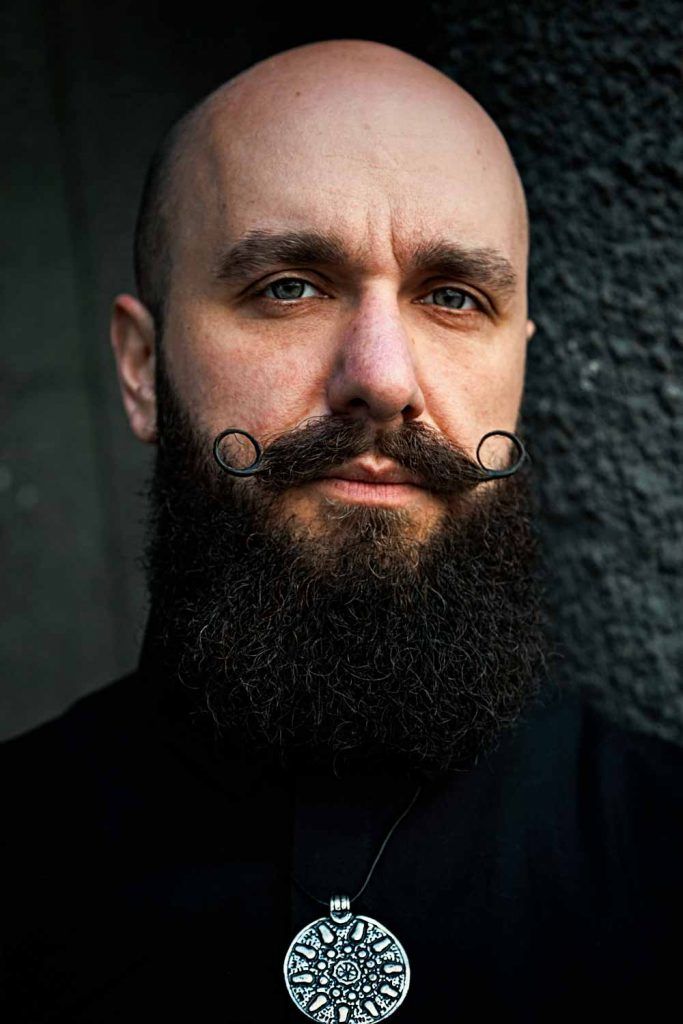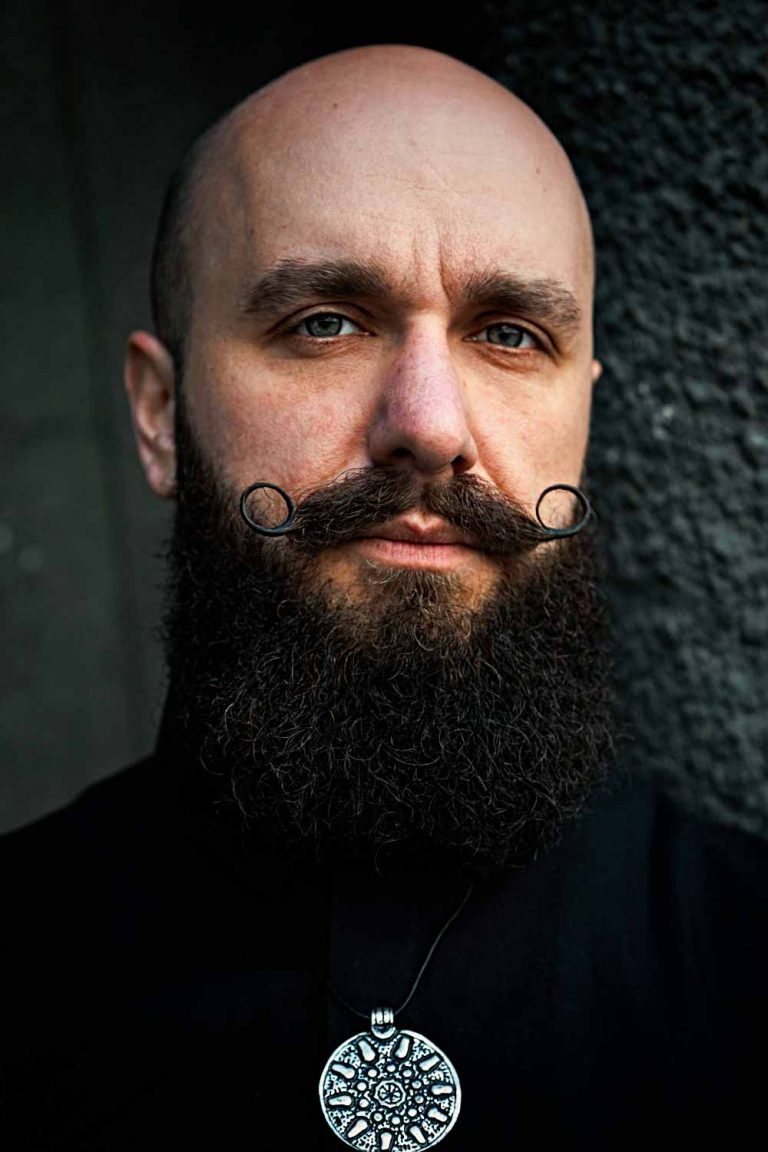 Make A Shape For Your Hair
The training begins as soon as your whiskers reach the length that allows combing. Then, the steps you should take are:
For a wax in the tube, pre-heat a tiny bead of it in your hands before the application. For a wax in a stick, move to step
Apply the best mustache wax to your upper lip hair to keep it in place.
Comb it through the hairs to distribute evenly (as you would normally do for most of the beard styles).
Divide the mustache into two sections with a center parting.
Comb out the sections in the opposite to each other directions.
Do Experiments
Now, to the fun part. To get the curly mustache shape, you need to twist the ends of your facial hair once they've started to sick out. Even though you won't be able to shape a nice coil yet, you'll get a preview of your future look. This is also when you're welcome to create versatile forms by side trimming. Note though that you shouldn't trim the area above the lip because short stubble of hair isn't easy to brush into a mustache. If there are still some untamed hairs, don't jump the gun trimming them. When they become longer, you'll be able to deal with them.
Shape Your Handlebar Mustache
The handlebar whiskers offer many different types of mustaches to match your personal tastes and physical features. The thickness and length are totally up to you, as well as the beard style you're going to pair the mustache with. However, to keep your mustache on top, you need to ensure it's strong, healthy and well taken care of. So, here's what you need to do!
Choose Your Style
As soon as the ends of the whiskers allow them to be curled, ponder the final look you want to attain. You should definitely take into account the length. If you're aiming at short mustache styles, resort to undercutting the tips once they become too lengthy.
If you're more into longer styles with huge curls, give your facial hair a chance to grow out. You shouldn't trim the section of the mustache that is closest to the upper lip, as you'll need those hairs to comb them away from your lips. The handlebar mustaches can be successfully partnered with different beard styles and haircuts, from razor shaved skin to long tresses.
Use A Blow Dryer
To give your mustache a proper shape, you should employ a blow dryer. This won't become part of your regular mustache grooming routine. Once your hair is used to the new shape, you'll be able to skip the step. The procedure is simple:
Dry your mustache with a towel after taking a shower.
Part the mustache into two equal sections with a comb.
Curl the tips of the mustache into the desired shape.
Set the curled edges by drying them with a blow dryer.
Apply The Mustache Wax
Men's facial hair styles stand on the use of high-quality hair styling products. If you go with a mustache wax, you'll know that it comes in two types of containers. The main difference between them is that a wax in a stick can be directly applied to the hair, while a wax in a tube requires pre-heating with fingers. No matter what format you choose, don't forget to comb through the mustache thoroughly. If the wax remains visible, consider buying a tinted one. But first, try to brush it out a little in case you've just applied too much.
Shape Your Mustache
A lot of the mustache and beard styles for men take much of your time and effort. The handlebar is no exception. There are very high chances that after you comb your mustache, the curls will need re-shaping. Thus, use your fingers to twist the tips into the desired shape, which will be secured as soon as the wax dries. If you're still not happy with the coils, help yourself with a curling iron.
Handlebar Mustache + Hairstyle Combinations
Apart from an eye catching look, moustach handlebars offer you a lot of versatility. To back that up, we have picked out the trendiest hair and handlebar mustache styles combos below.
French Crop + Mustache
Since the mustache handlebar has a rather vintage flair, it pairs nicely with such a classy hair look as a French crop. You can play around with the texture of your hairstyle, of course, giving it a layered finish for a more defined profile.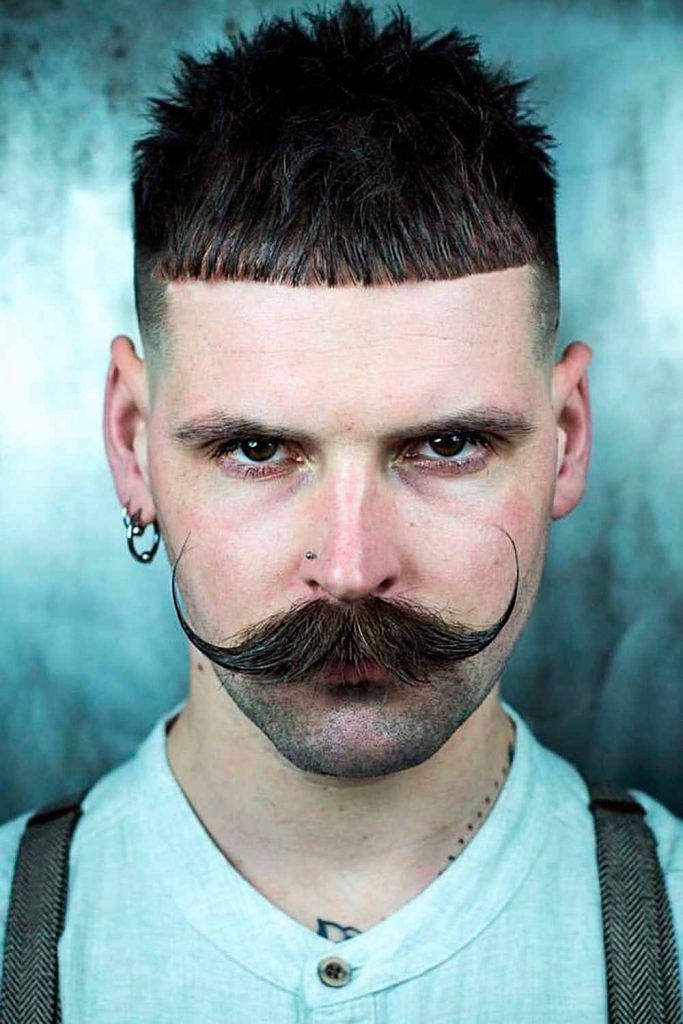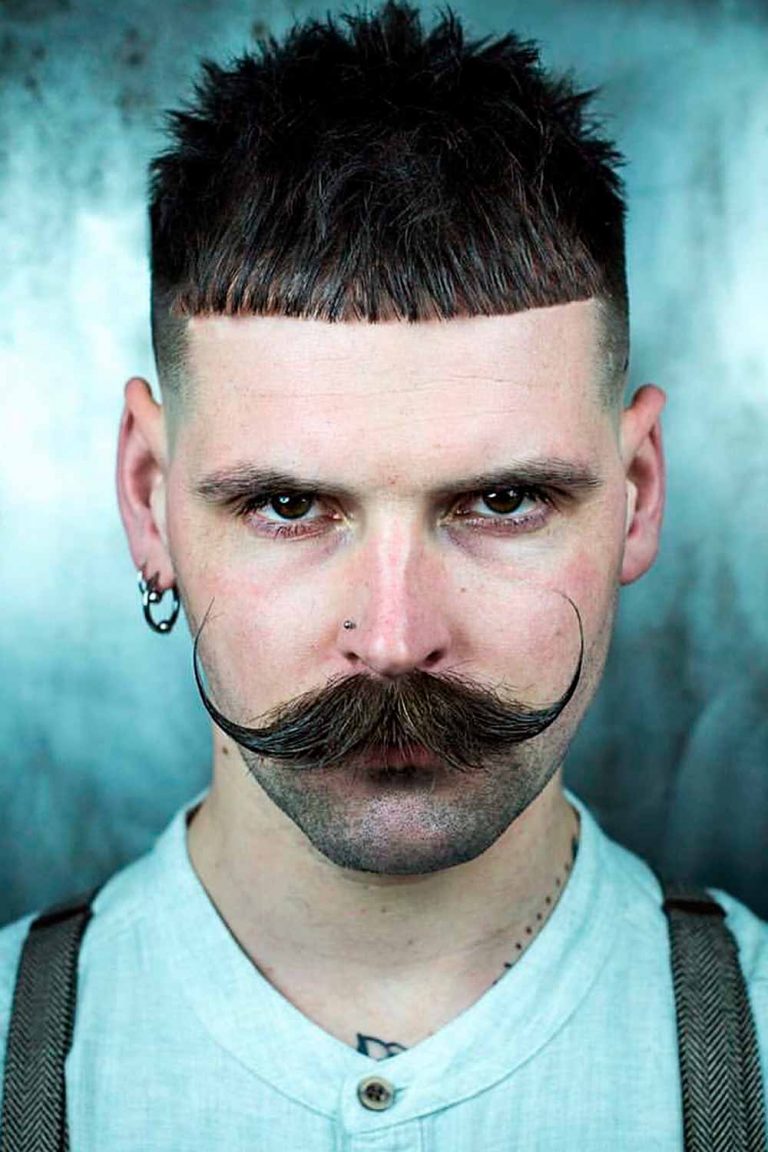 Source: @r.braid via Instagram
Handlebars Mustache Mullet
Arguably, one of the trendiest haircut and mustache combinations is handlebars and a mullet. These two styles have a long history, so joining them in one look guarantees that you will never go unnoticed. If you feel like adding a modern twist to your hairstyle, you can complement it with a taper fade on the sides.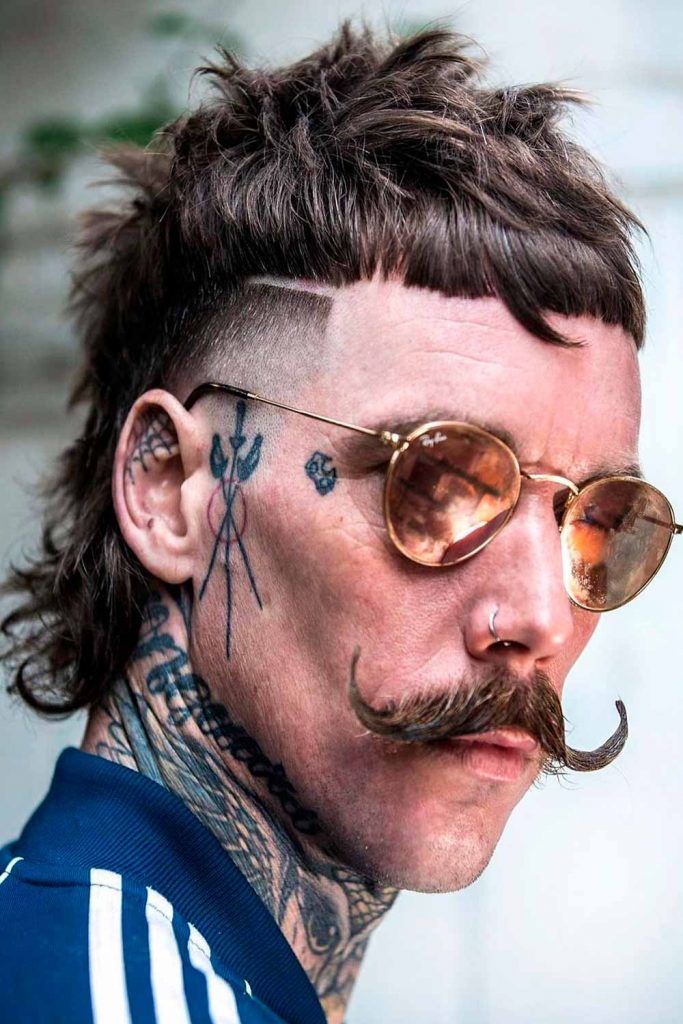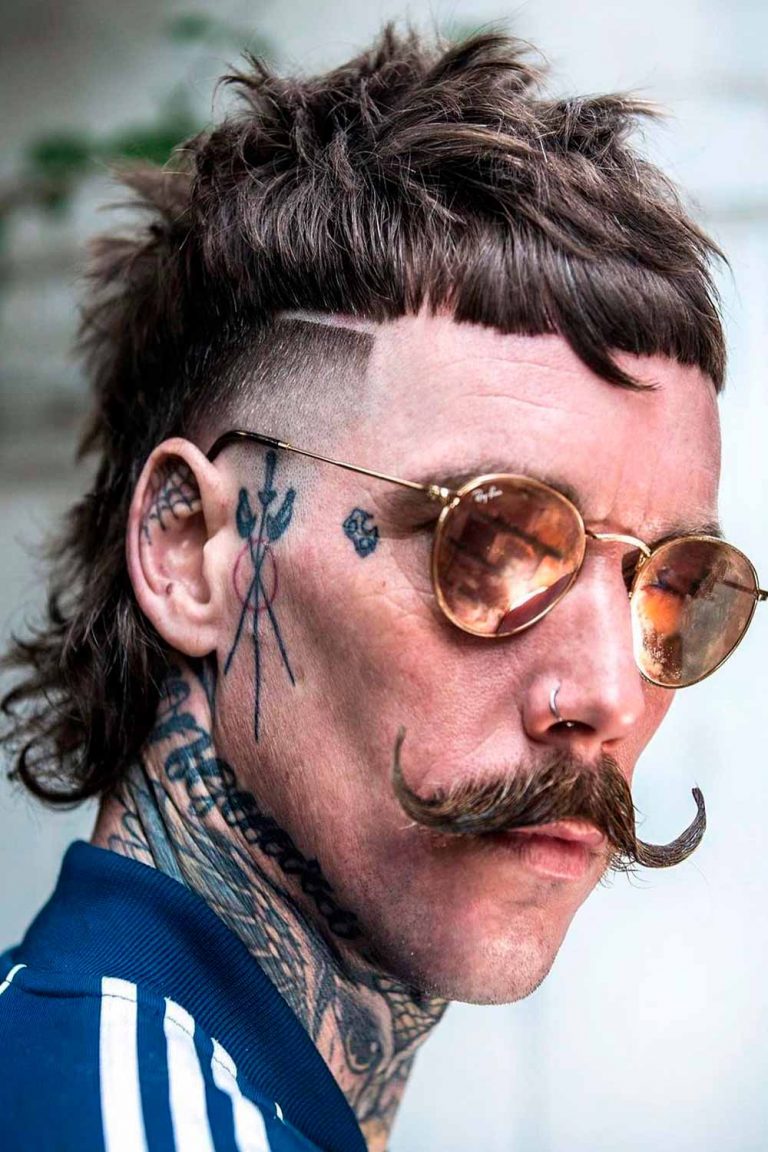 Source: @r.braid via Instagram
Handlebar + Pompadour
A handlebars and pompadour combo is elegance at its finest. Both your mustache and hairstyle look polished and refined, so you can be sure that you will look appropriate in any ambiance, even the most formal. Do not make your staches overly thick though, as you do not want them to draw the whole attention.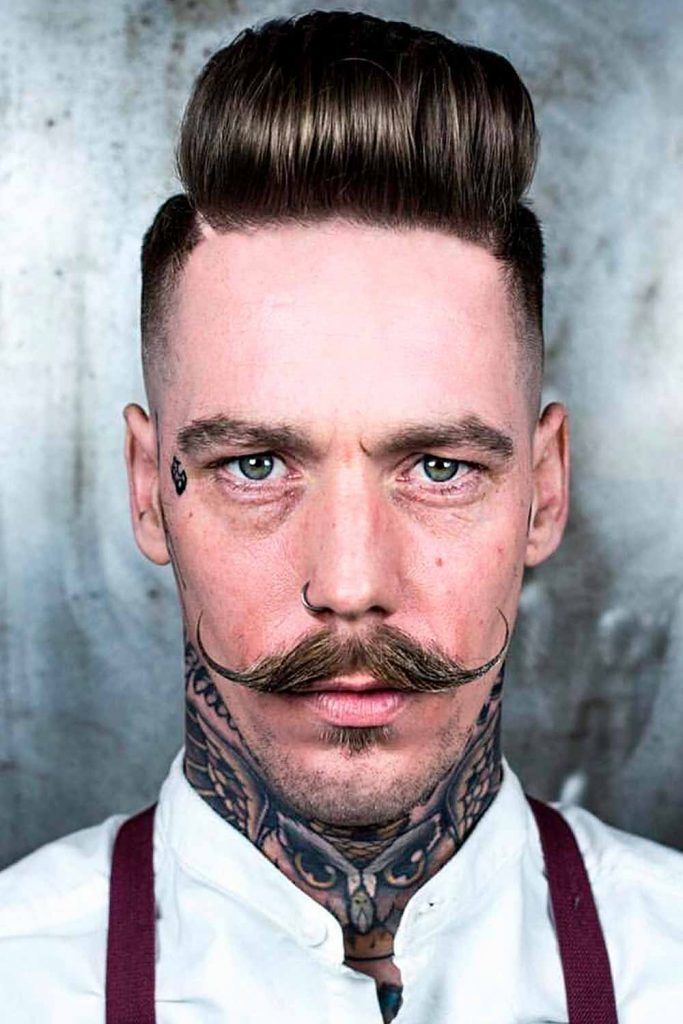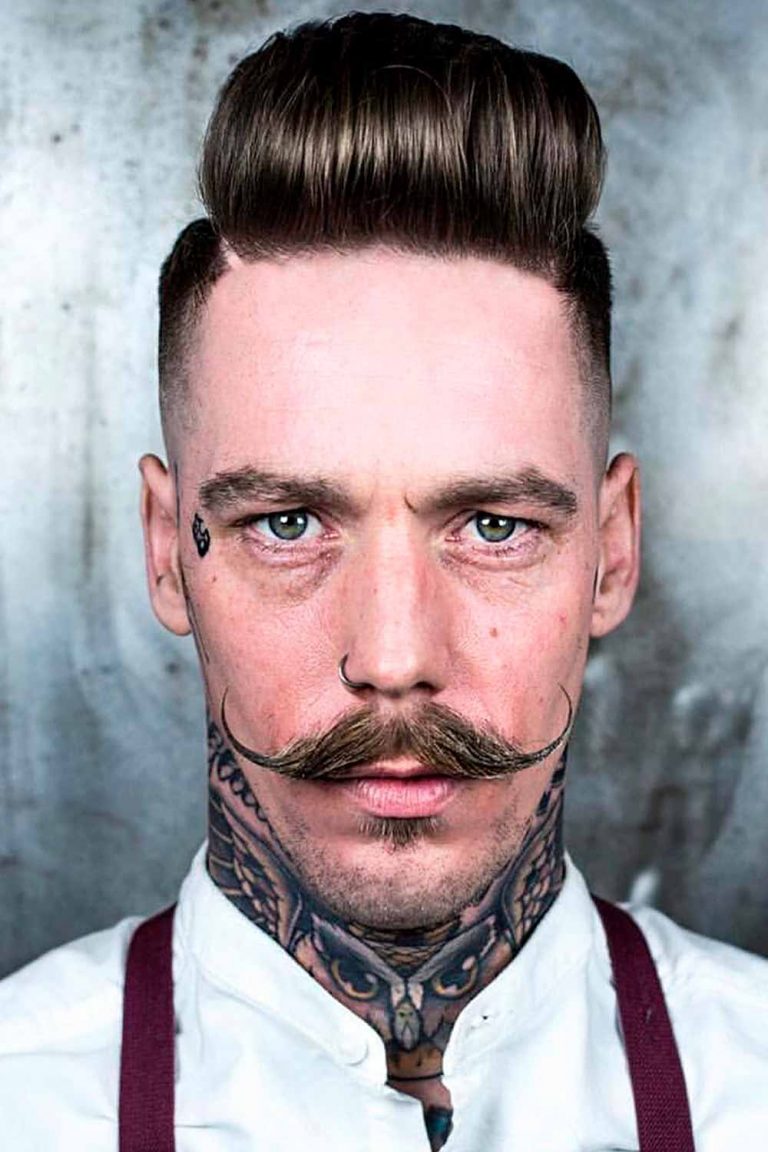 Source: @r.braid via Instagram
Moustache + Top Knot
All handlebar mustache styles can be accompanied by the majority of modern hairstyles. So, if you are a really fashion savvy man, why not try to marry handlebars with a top knot, which is still one of the trendiest men hairstyles? Besides, it does not require much effort in terms of styling. Even if it comes out messy, it will still look great.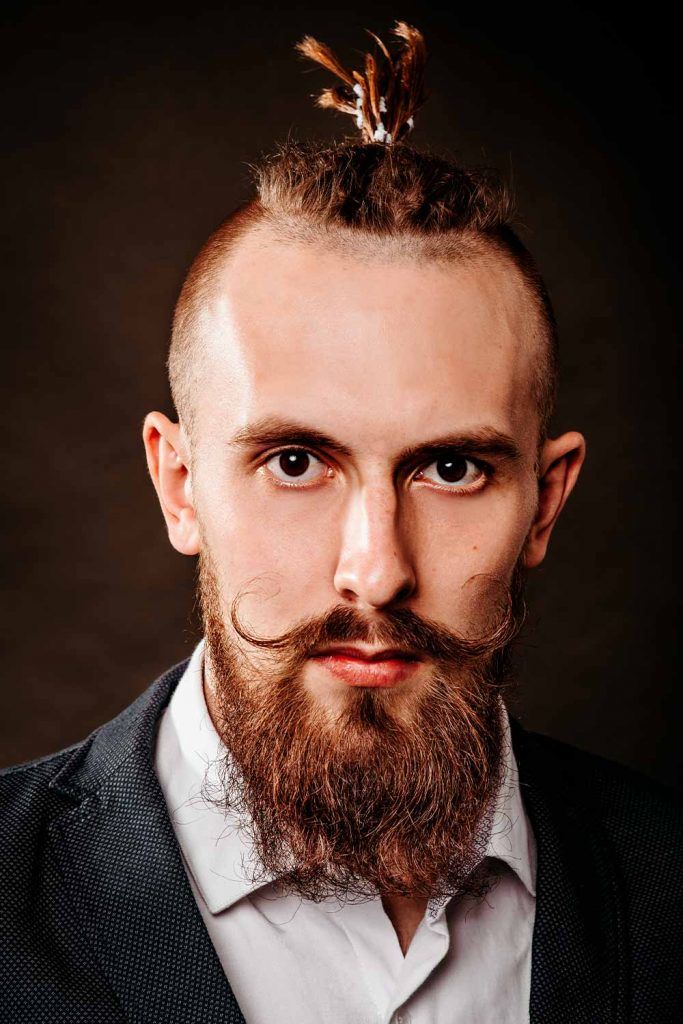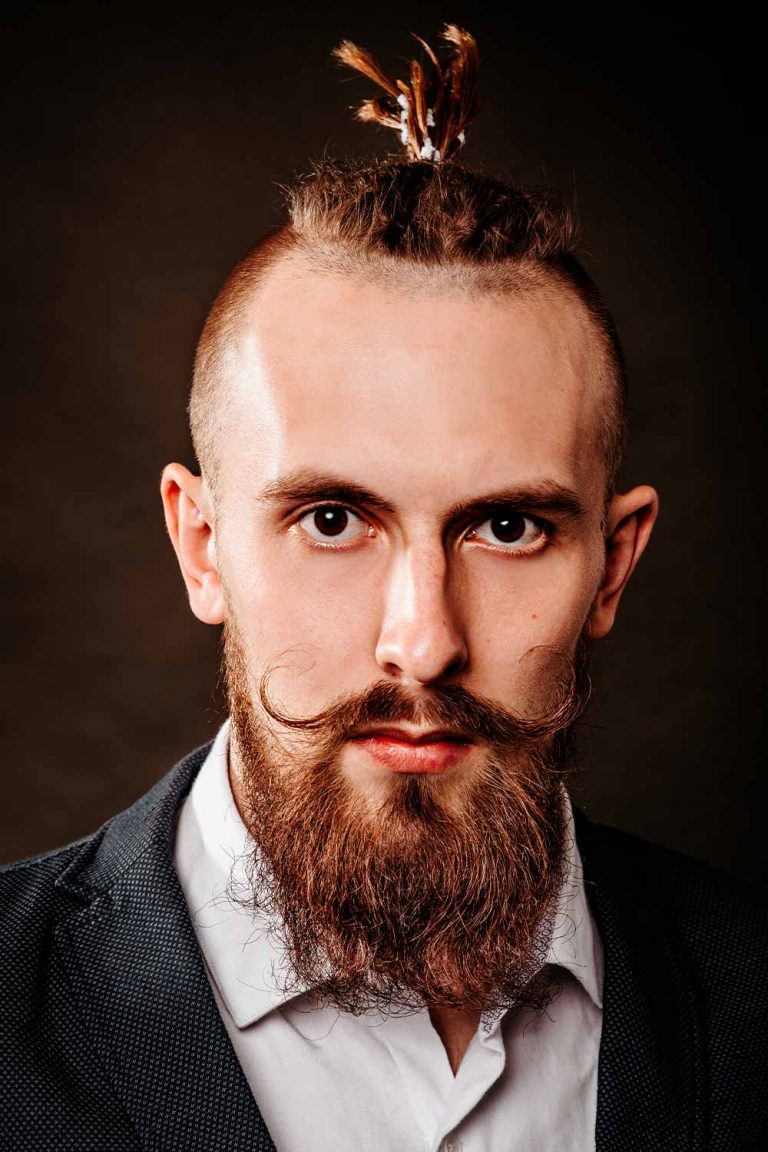 Handlebars + Crew Cut
Not sure how to trim a handlebar mustache so that it matches a crew cut on your head? Go for moderately long whiskers with narrow ends. In this way, the look will come out balanced and solid.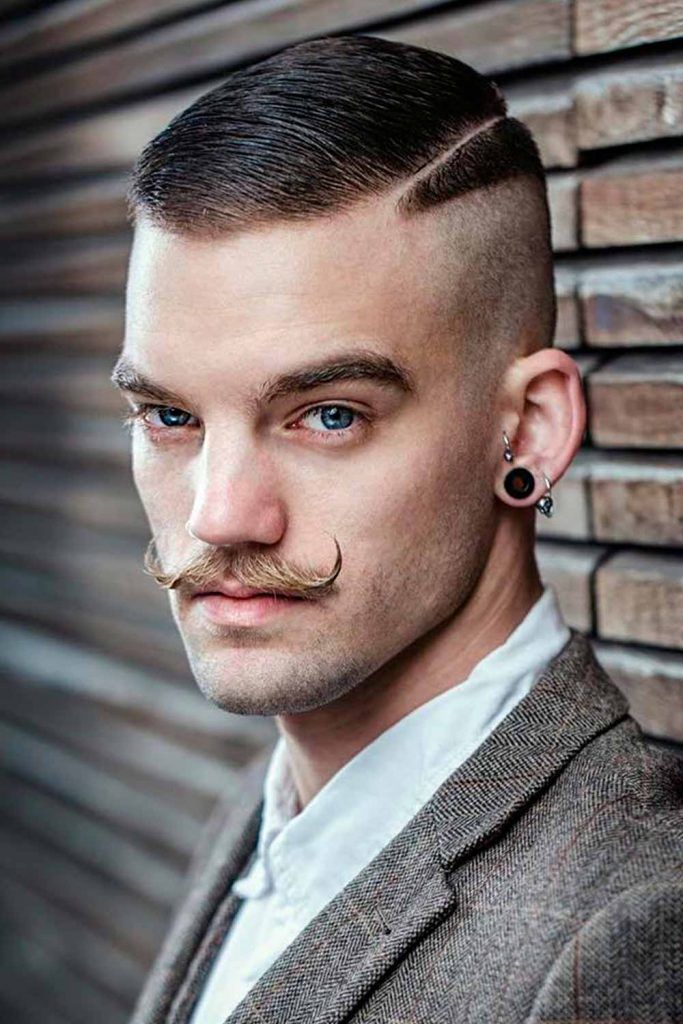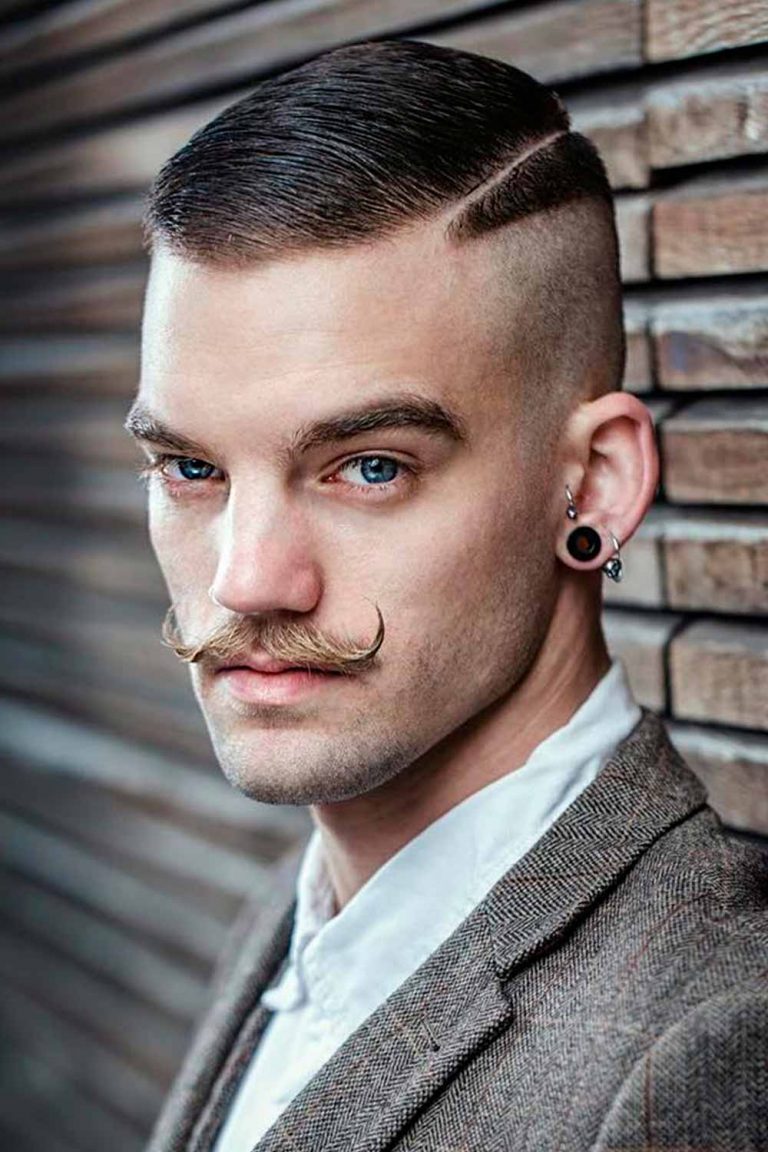 Source: @r.braid via Instagram
Long Brushed Back Hair
Guys with long locks can add a stylish touch to their appearance opting for a Western handlebar mustache. This whiskers style is a bit longer and bushier than classic handlebars. So, you may find it more difficult to grow. Yet, it is worth your effort.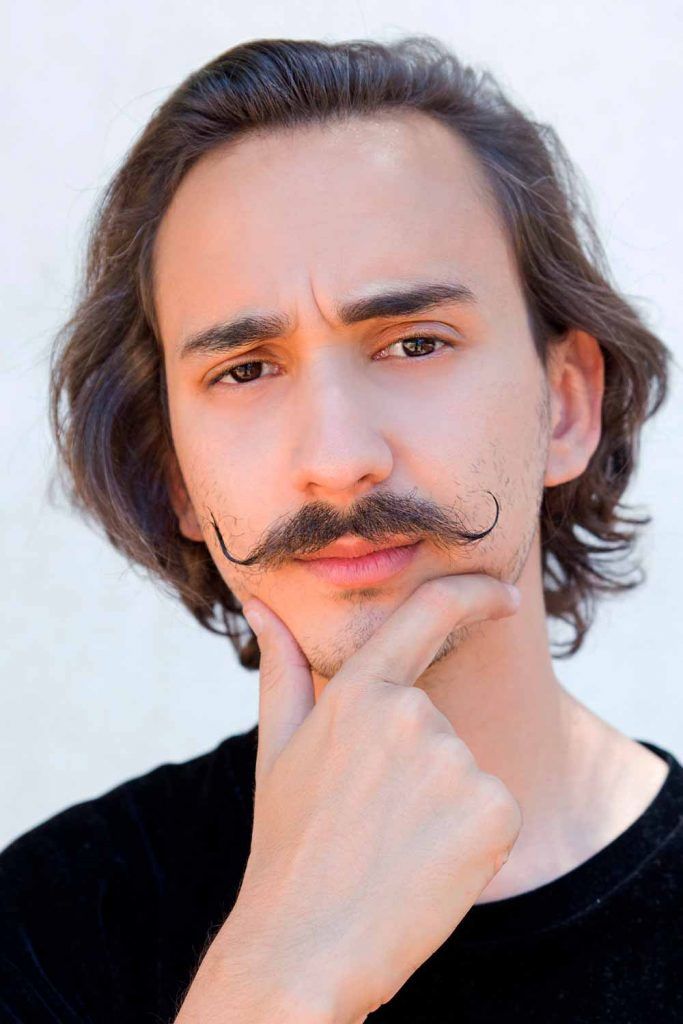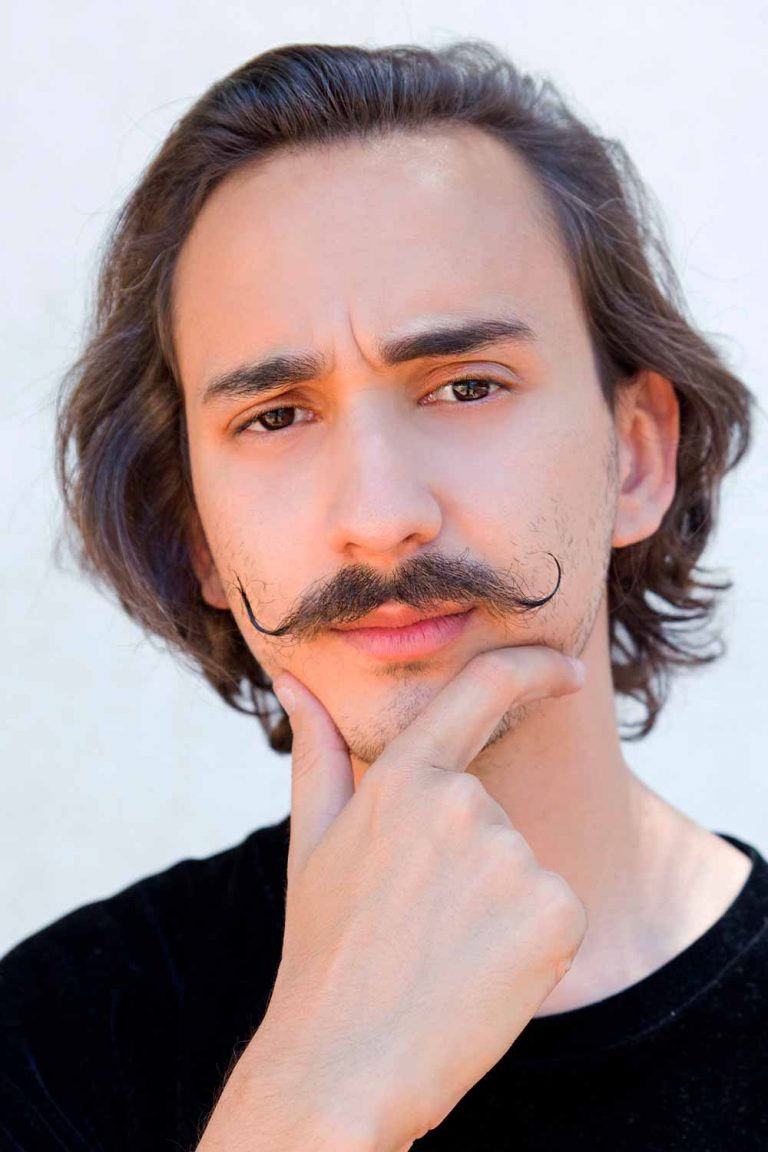 Rockabilly Wave
Rockabilly hair is still an extremely popular mens style. So, if you are leaning toward hair looks with retro chic, then it is hard to think of a better option. A rockabilly wave enhanced with a handlebar mo' will make a strong fashion statement.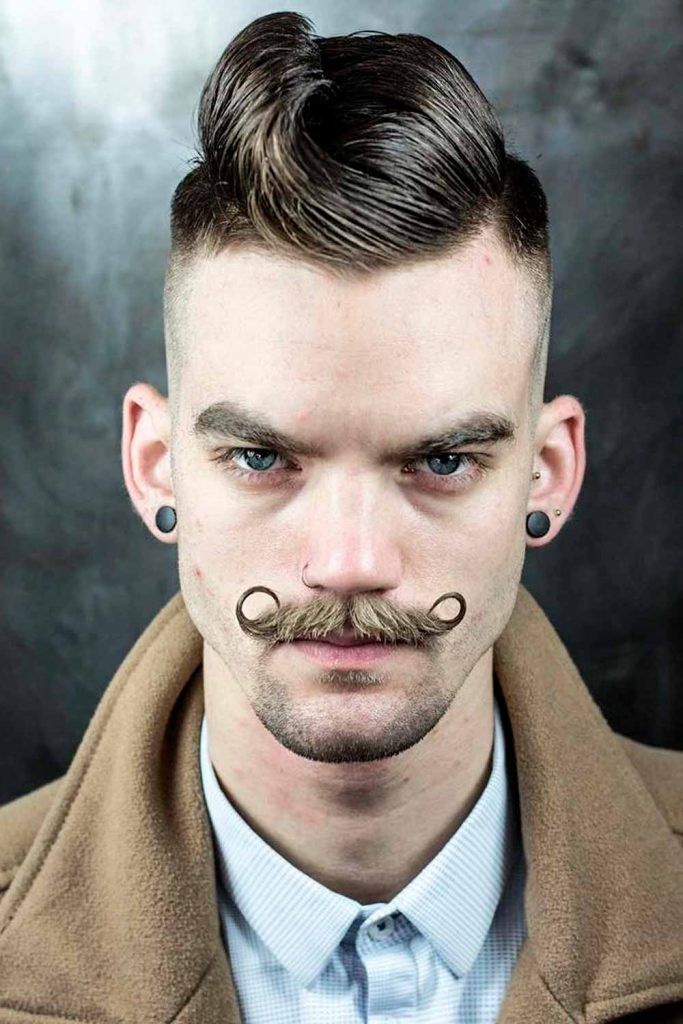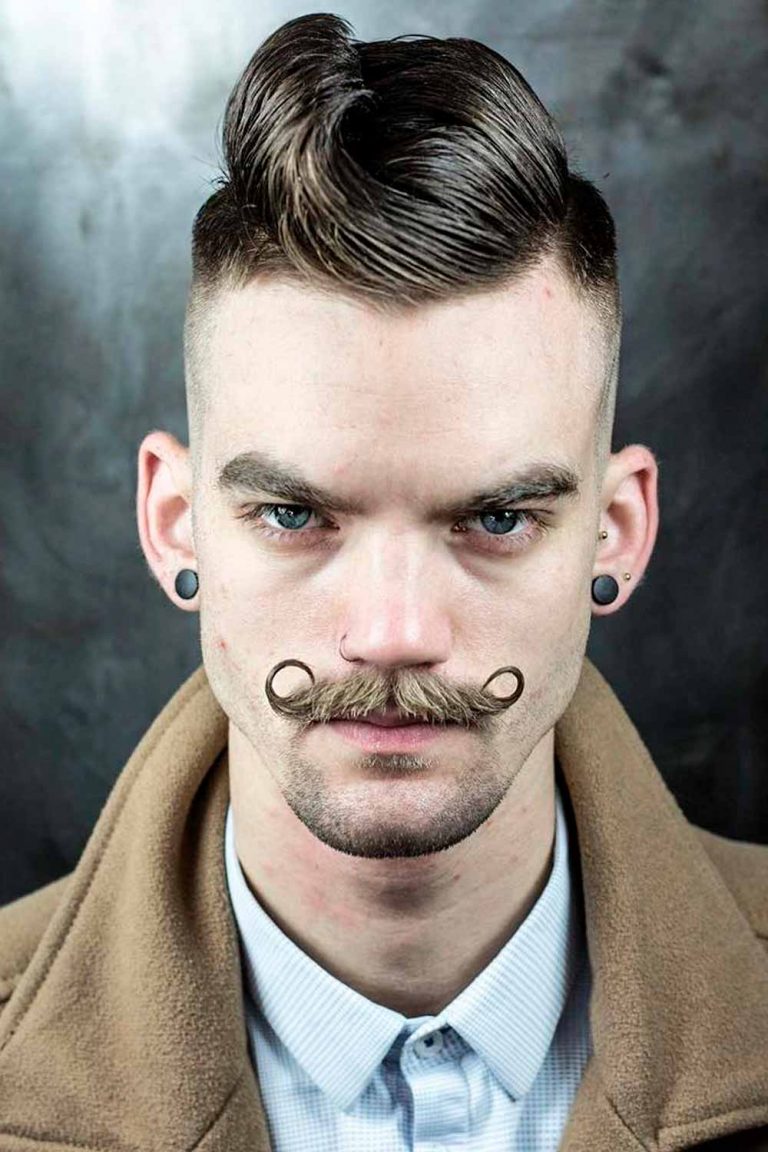 Source: @r.braid via Instagram
Handlebar Mustache + Short Sides Long Top
Sometimes, simplicity is the ultimate sophistication. So, do not reinvent the wheel and just get a regular short sides long top hairstyle for your handlebars. Because this hairstyle is low key, you can even venture out for a subtle beard. As such, a handlebar mustache with goatee will be a failsafe option in this case.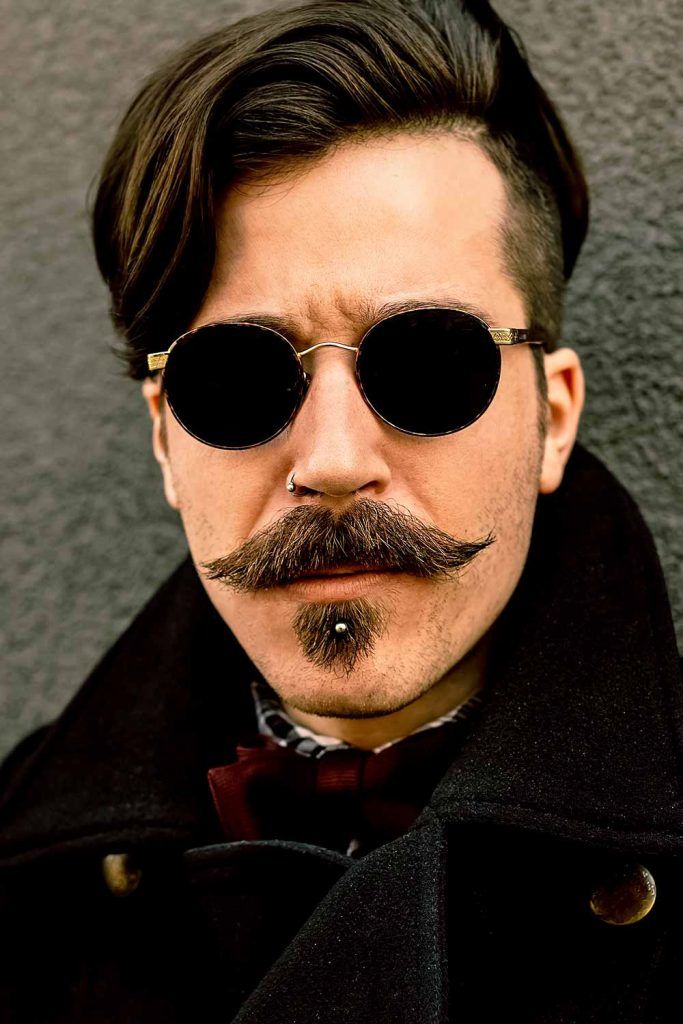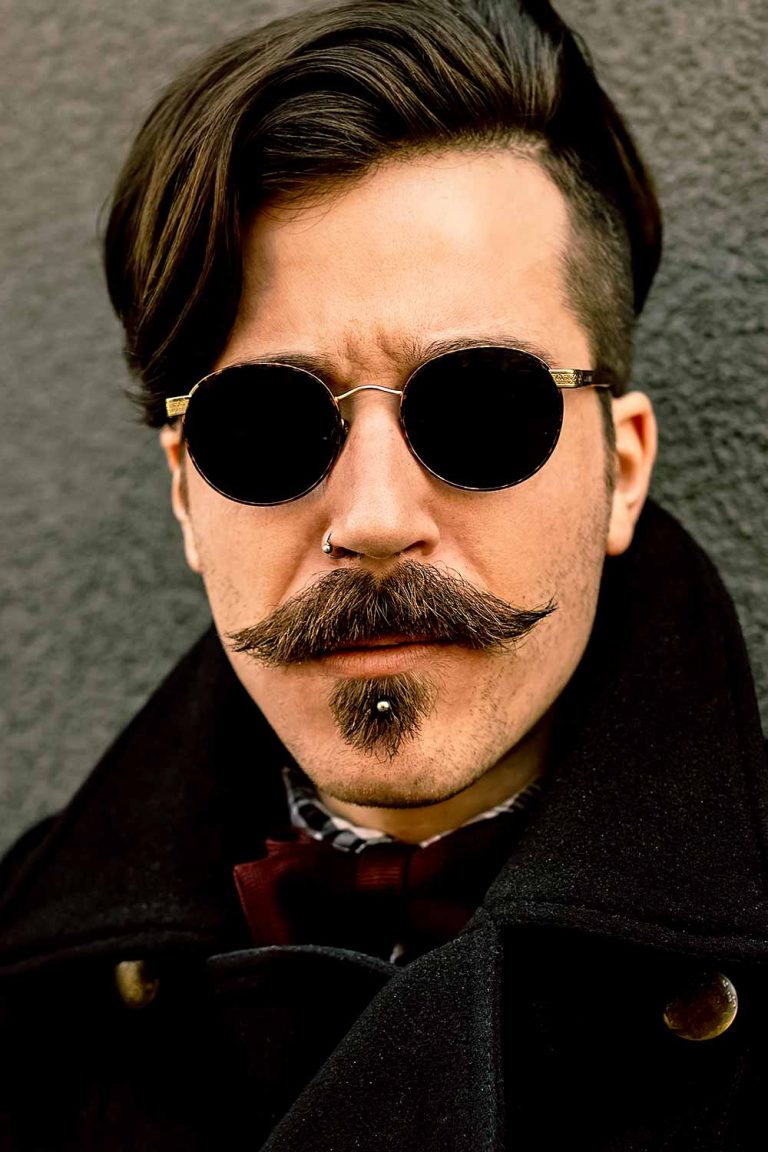 Handlebar Mustache With Beard For Short Hair
As a rule of thumb, you add to a short beard long mustache to make it stand out. Yet, when you have both your beard and mustache long, you can upgrade this fashion rule a bit by getting a short haircut. What it is going to be is up to you. There is a wide selection of haircuts existing nowadays.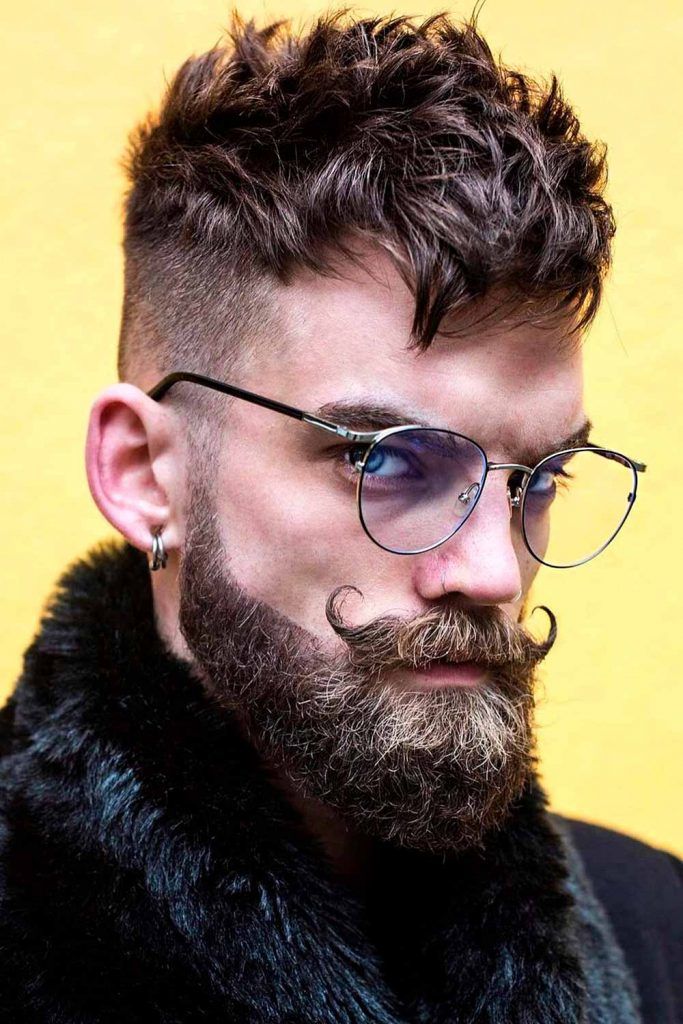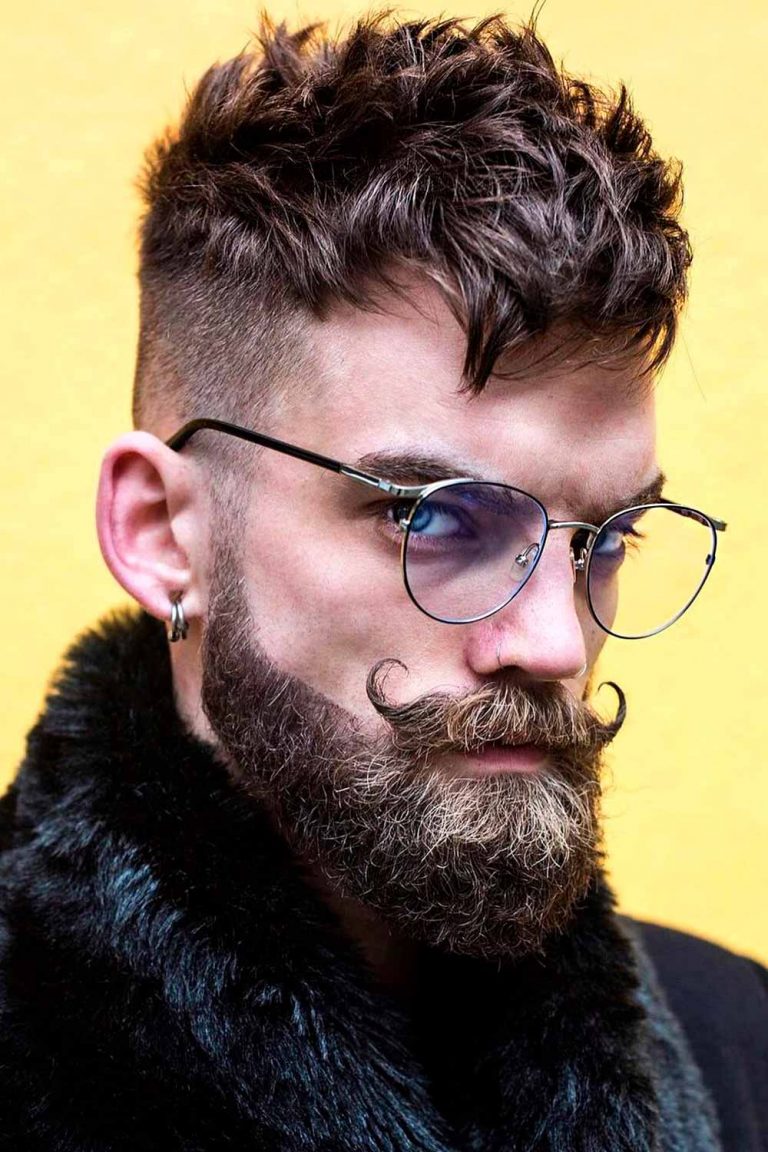 Source: @r.braid via Instagram
Slicked Back Hair
Another surefire way to pull off a long mustache is by teaming it with a slicked back hairstyle. The look comes out elegant and neat, so you can wear it to a Black Tie event without hesitation. Though, in a casual ambiance, it will look great too.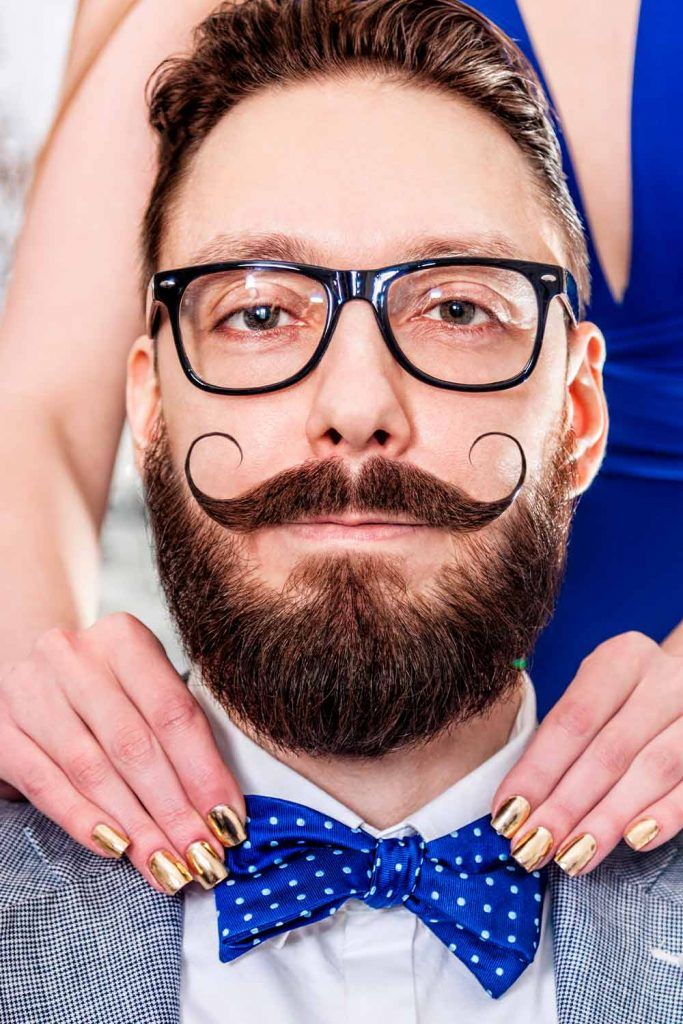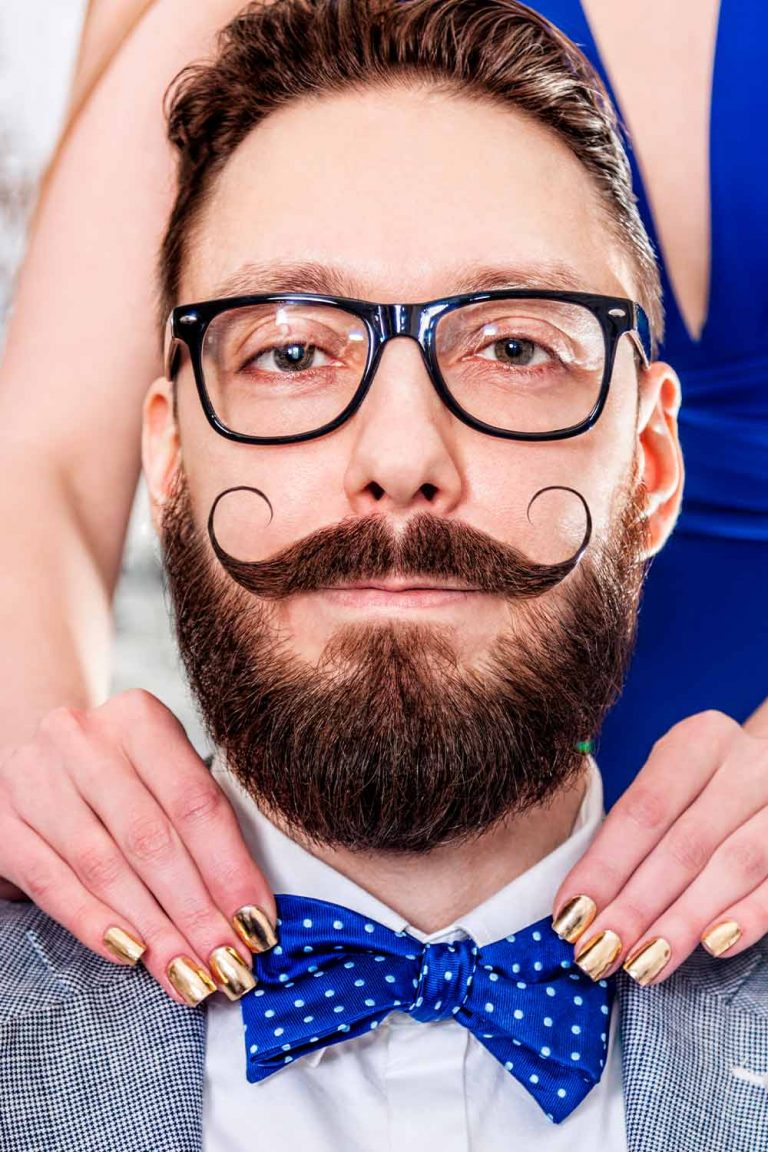 Take Care Of Your Mustache
To take proper care of his handlebar mustache man should stick to the following rules:
Wash the mustache with a shampoo and exfoliate dead skin with a toothbrush every day.
Eat and drink carefully. Don't let anything stay in your mustache. Apply a little of wax before the meal to the bottom mustache area. Often wipe the mouth.
Consume the nutrients that enhance the hair growth. Opt for some seafood, veggies and proteins.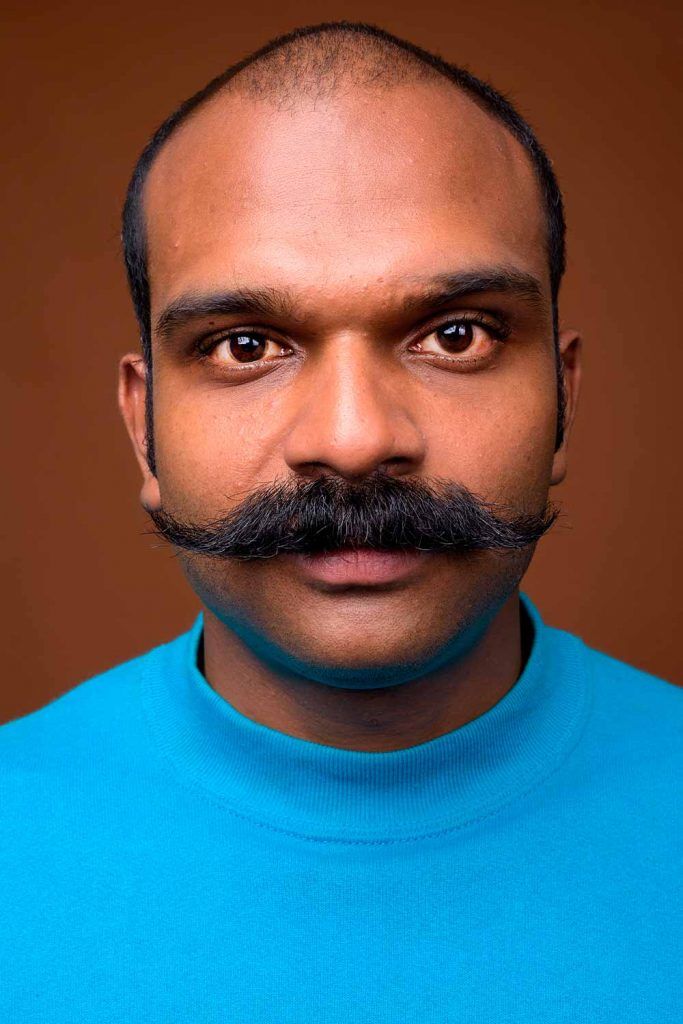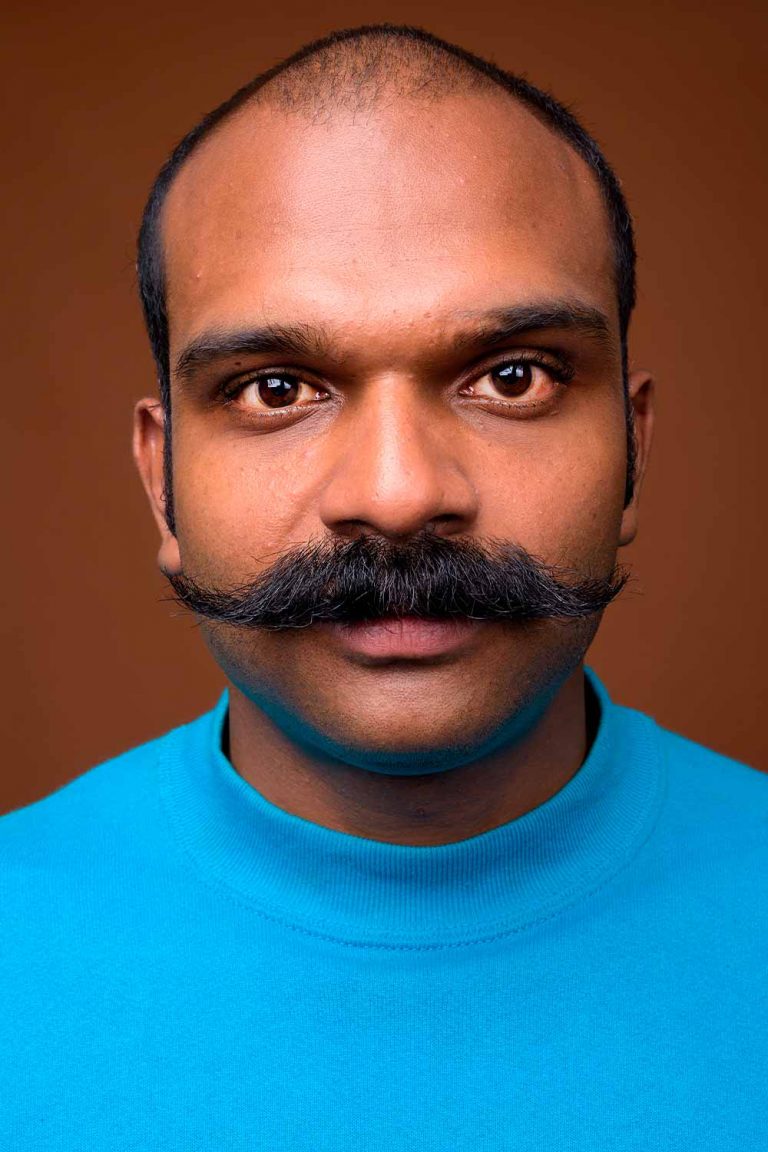 The handlebar mustache came to today's fashion from the 18th century Great Britain. The gents who sport it immediately gain this incredibly sophisticated and exquisite touch. We hope you've already started twisting your mustache tips. If not, we highly recommend keeping it up.
FAQs
What is a handlebar mustache called?
Handlebars are a facial hair style that features extremely long ends, turned upward. Since they are often associated with Italians, they are also called a spaghetti moustache, which is quite a stereotype.
What does a handlebar mustache represent?
The handlebar whiskers are a classic mustache style that you cannot confuse with any other. Yet, they are not just two elongated pieces of facial hair curved up at the ends. They are much more than that. Wearing a handlebar mustache nowadays is a way to pay tribute to the modern trend of being authentic.
Is a handlebar mustache in style?
The handlebar mustache is timeless. So, you may rest assured that it will never go out of style. Men wearing it give off a strong fashionable and masculine vibe.
How long does it take to grow a handlebar mustache?
When opting for moustache handlebars, you should keep in mind that they will not grow overnight. So, allow your facial at least ninety days to grow before it could be shaped up in perfect handlebars.
REFERENCES:
A handlebar moustache is a moustache with particularly lengthy and upwardly curved extremities. Source
Was this article helpful?