These days there are so many trendy cuts for men that it may be quite easy to get lost. That is why we are reaching out a helping hand! The thing is that faux hawk is surely one of the classic cuts 2023 stays. What makes it so special, you may wonder? The truth is that there are many benefits that come together with this cut: it is comfortable, stylish and versatile, not to mention the fact that it can be suited to any lifestyle or hair length. Now, when you know why you should at least consider it we are going to dwell upon all the details!
What Is The Faux Hawk Haircut?
Faux hawk haircut is also called fohawk, which makes it sound something like Mohawk. The truth is that these two cuts are pretty similar, but the faux hawk is a little bit more conservative. When you think about the mohawk the first things that comes to mind are shaved sides and a strip of hair in the middle of your head. Well, fohawk is not that dramatic since the sides can be faded or an undercut can be incorporated so that when your haircut does not fit the dress code, you can easily change it.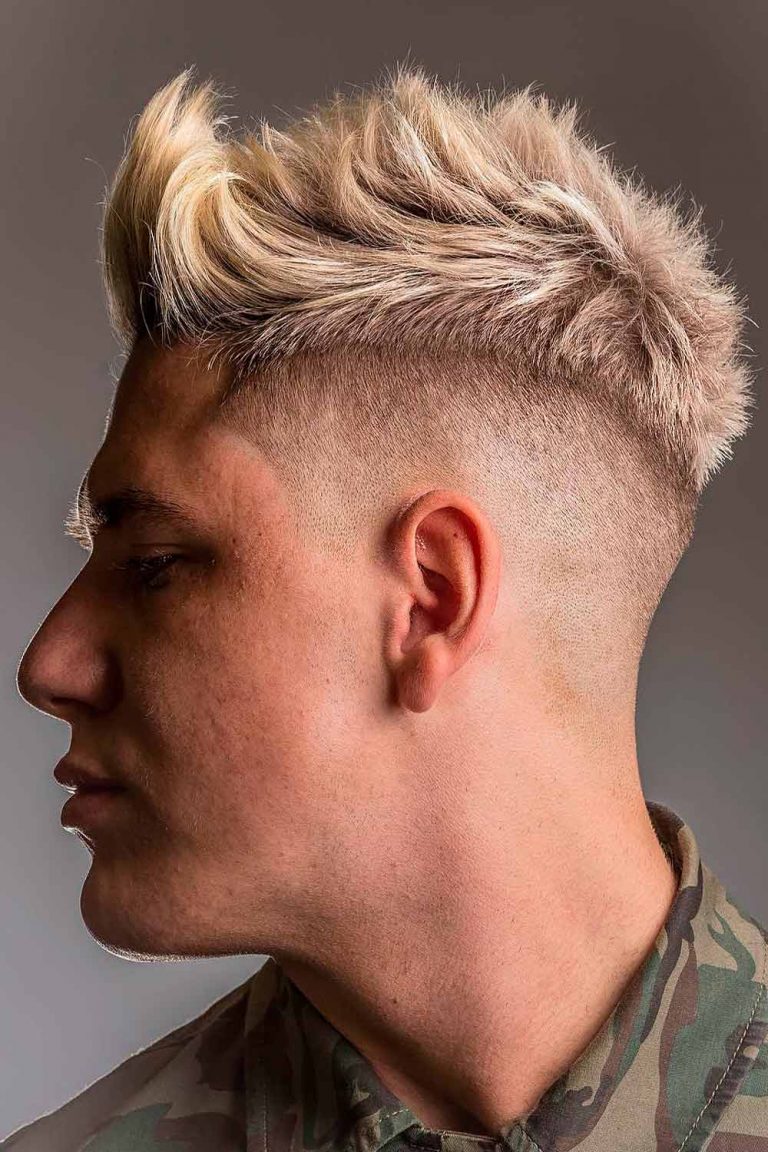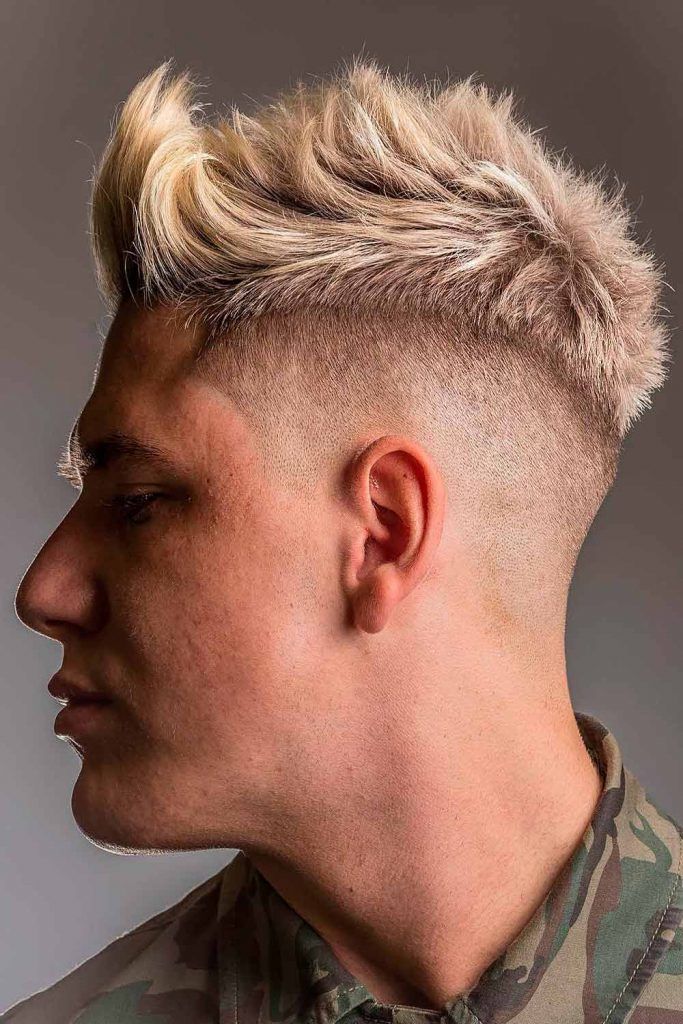 Source: @xbigwesx via Instagram
Should I Get The Faux Hawk Haircut?
Very often the question arises – why should I get a faux-hawk? Well, the thing is you are not bound to if you do not want it. But, if you are looking for something fresh and a little daring to be added to your style without ruining your career then faux hawk it is! Faux hawk men look fresh and stylish all the time due to the number of options they can pull off. Think about it!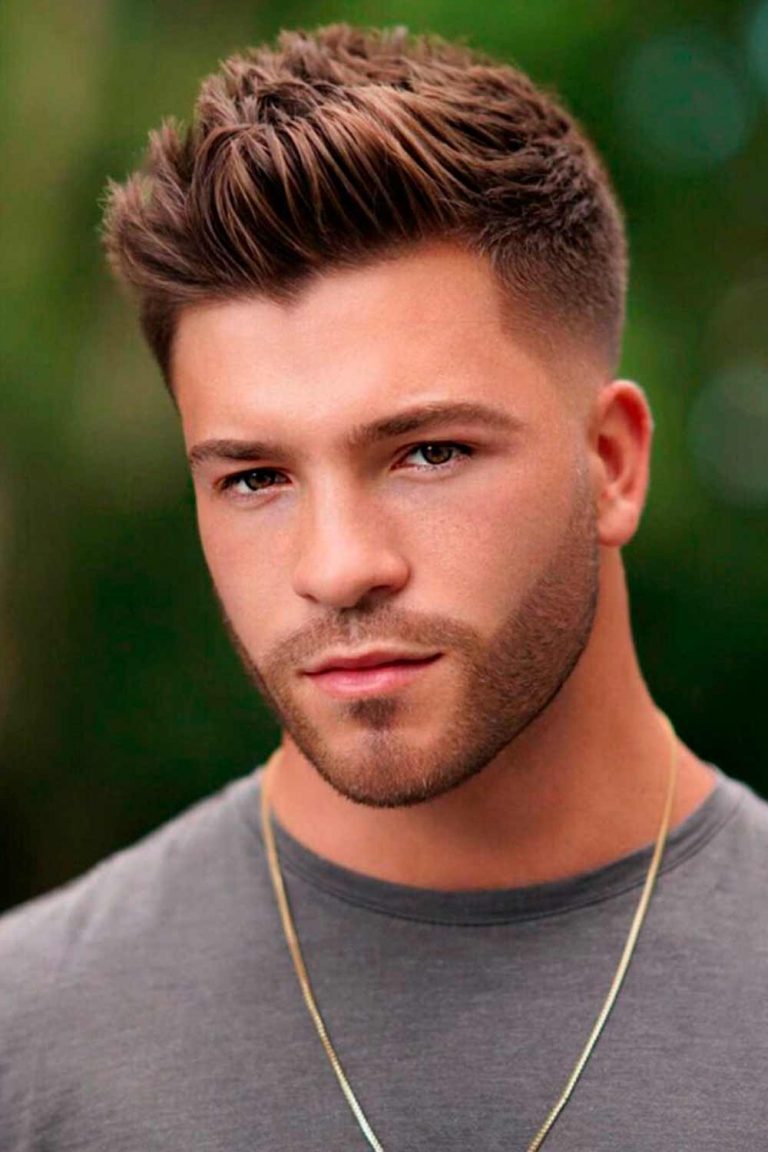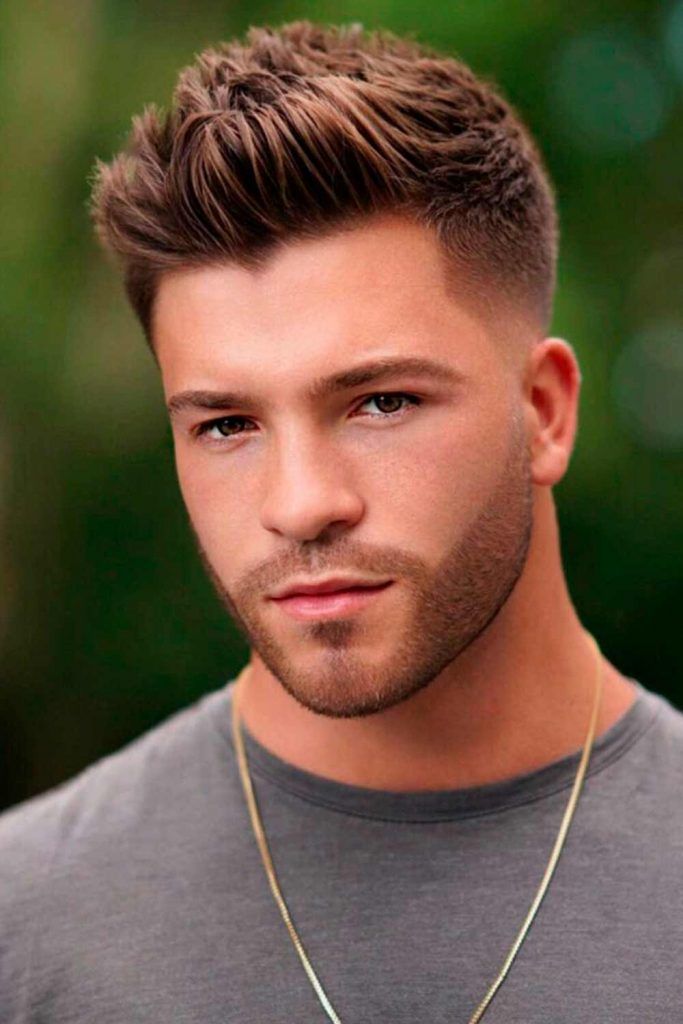 Source: @xbigwesx via Instagram
Mohawk vs Faux Hawk: What The Difference?
How is fohawk haircut different from Mohawk? To tell you the truth the main difference lies on the sides, to be more precise when it comes to how to cut a faux hawk you leave the sides at mid-length while Mohawk requires clean-shaved sides. Another difference concerns the top part; the thing is that with Mohawk you opt for a thin strip of hair left while fohawk allows the top to be as thick as you would like it.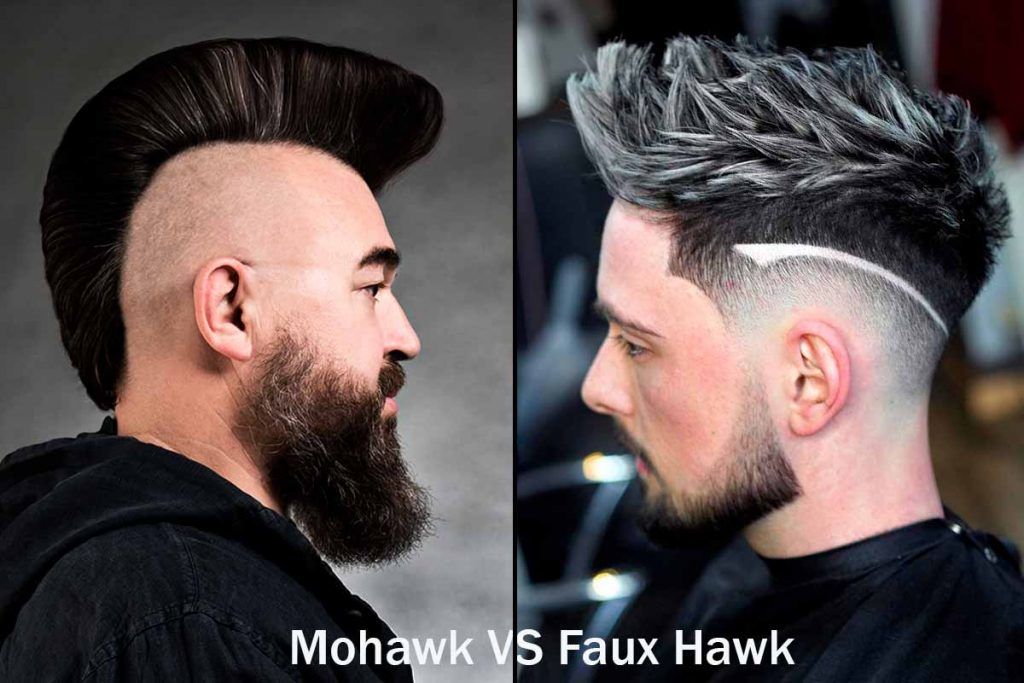 Source: @ryancullenhair via Instagram
Best Hair Products
Faux hawk men styling products are usually pomades, waxes, and clays that can offer a strong and lasting hold. If you'd like a natural, textured finish apply a generous amount of hair wax before styling. This can provide hold without stiffness to increase the fullness of your hairstyle. Molding clay or cream can also give you a similar effect when it comes to controlling and texture for styling fauxhawks.
Source: @ryancullenhair via Instagram
How To Style A Faux Hawk
Styling a faux hawk gives you limitless possibilities, but you'll need some styling products and a good blow dryer to succeed with the styling process. To achieve the best results, you'll want to:
Start with towel-dried hair that's clean and fresh
Apply a generous amount of styling product throughout your hair, working the product completely
This next step will vary depending on the type of faux hawk you want. For textured volume, use a blow dryer to direct your hair up and toward the center of your head. For a pointed fohawk, use your hands to put your hair together in the center. You can even slick your hair back for a different hairstyle if you're tired of the faux hawk style.
Finally, add more product to achieve a strong hold.
Remember to have fun and experiment until you find your absolute favorite way to style your hair and proceed with it. There are endless possibilities to get inspired with!
Check out more examples below:
Faux Hawk Fade
Faux hawk fade is that one cut that is closest to being universal. Fohawk fade does not require dramatically shaved sides, instead, the fade itself creates necessary contrast, and that is what makes fade fohawk so special. Besides, if you are looking for cool black haircuts – this one may be the one for you!
Source: @ryancullenhair via Instagram
Classic Faux Hawk
The classic faux hawk hairstyle looks precisely as depicted on the picture. The sides are neat, but the top is left longer so that you can experiment with it, style it mohawk-like. Such a haircut will suit any job or occasion that is for sure!
Source: @glassboxbarbershop via Instagram
Short Faux Hawk
A short fohawk is the best option for those of you who wish to add some boldness to your look but realize that the lifestyle won't accept much of it. The short faux hawk is both classy and sassy and can be fitted into any professional kind of environment.
Source: @ryancullenhair via Instagram
«Swirl» Faux Hawk
There are times when a faux hawk appears to be slightly different from what you may have been used to. For example, this hair swirl is still considered to be a fohawk but as you can see it is absolutely unique-looking not to mention supers stylish and sexy!
Spiky Fohawk
A faux hawk does not always have to form a sharp crest looking like a fin. It can also be styled in a myriad of other ways. Take, for instance, a spiky fohawk. Although it pays tribute to the original style, it has a very fashionable twist. You can opt for either orderly or messy spikes, which depends on your personal preferences mainly.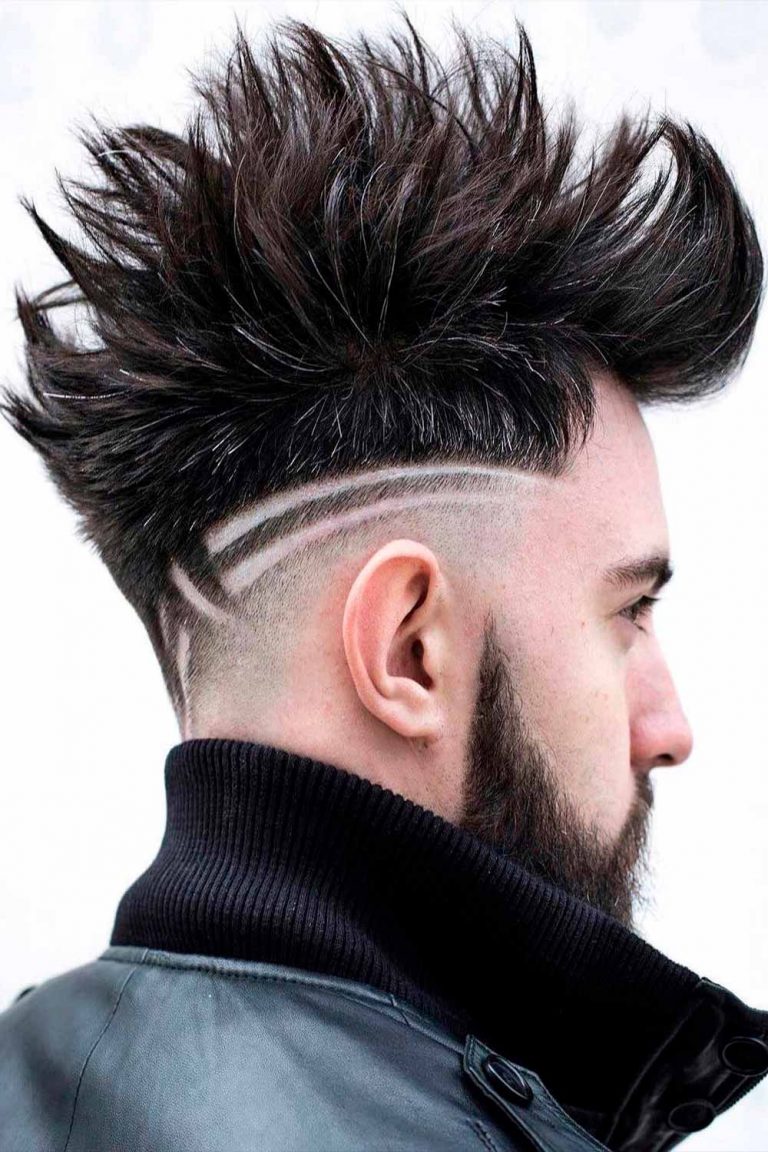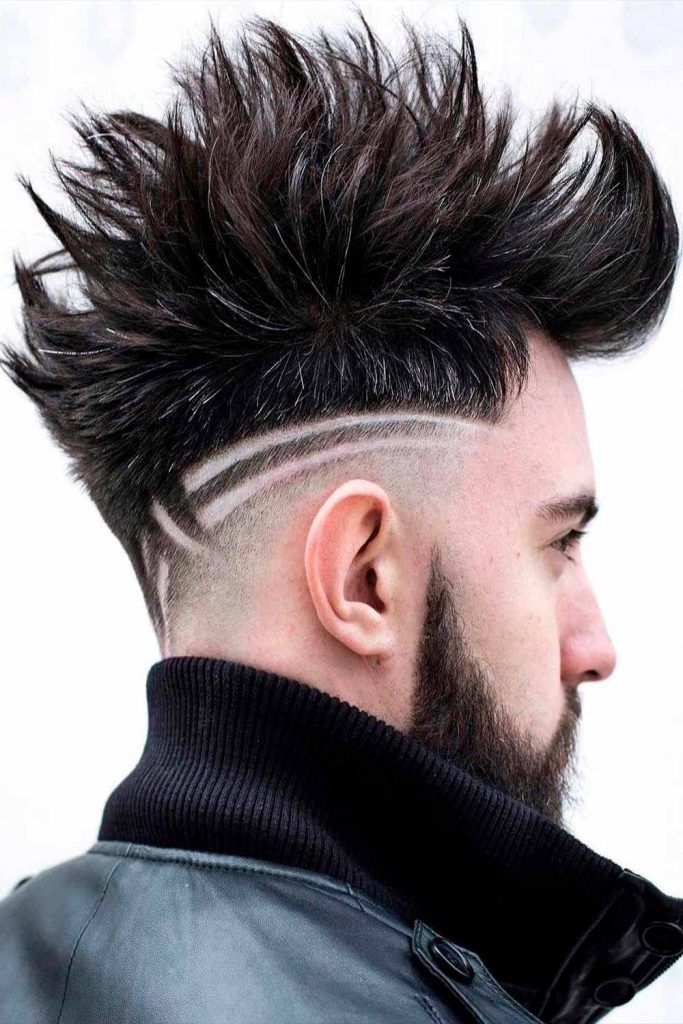 Source: @r.braid via Instagram
Taper Fade Faux Hawk
The taper fade faux hawk can blend hair nicely on the side of the face, and if you want to maximize the proportions of this cut you'll want to know what length will look best with your individual features. The safest option is to stick with medium length hair for this hairstyle.
Source: @ryancullenhair via Instagram
Textured Hair Style
Many guys shy away from harnessing the natural texture of their hair until the moment when they find their perfect fade haircut. The tapered sides and naturally textured top create perfect haircut men would be showing off proudly. Besides, when you have your hair chopped in such a way, it makes up a low-key take on a classic faux hawk. This hairstyle is amazingly versatile, as you can sport it in both a professional and casual environment. Just don't forget to accentuate your hair grain with a blob of a styling product.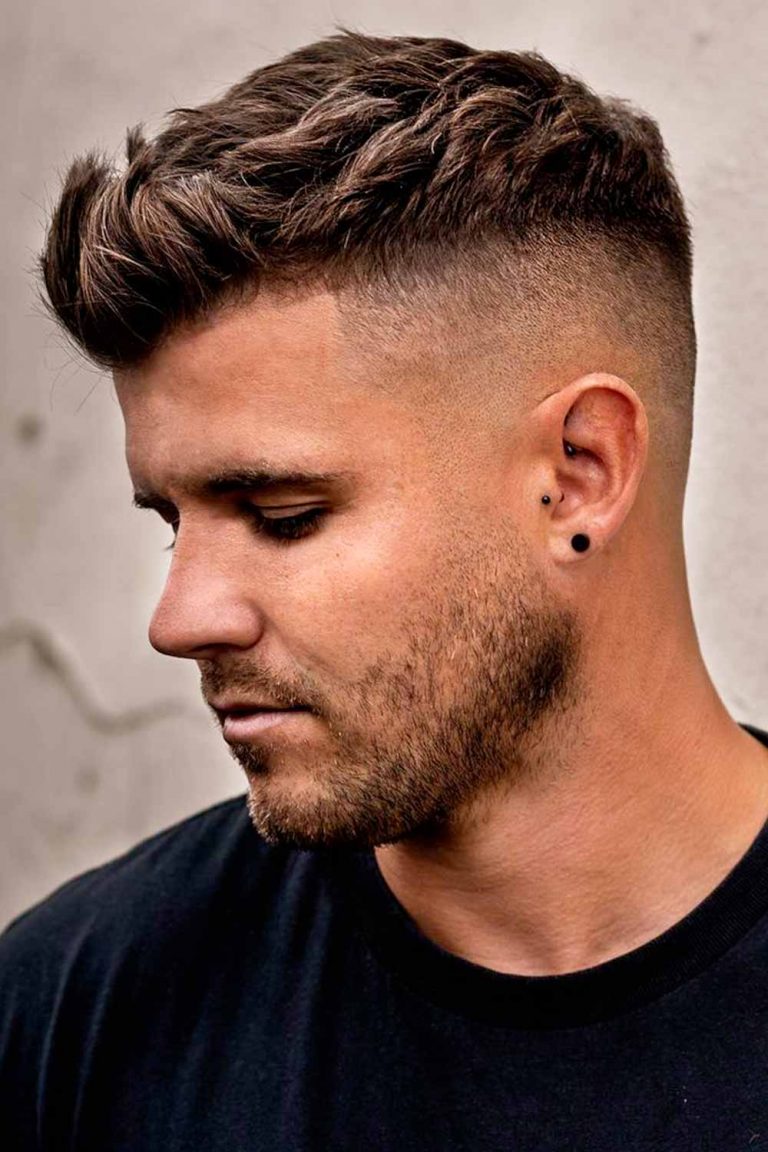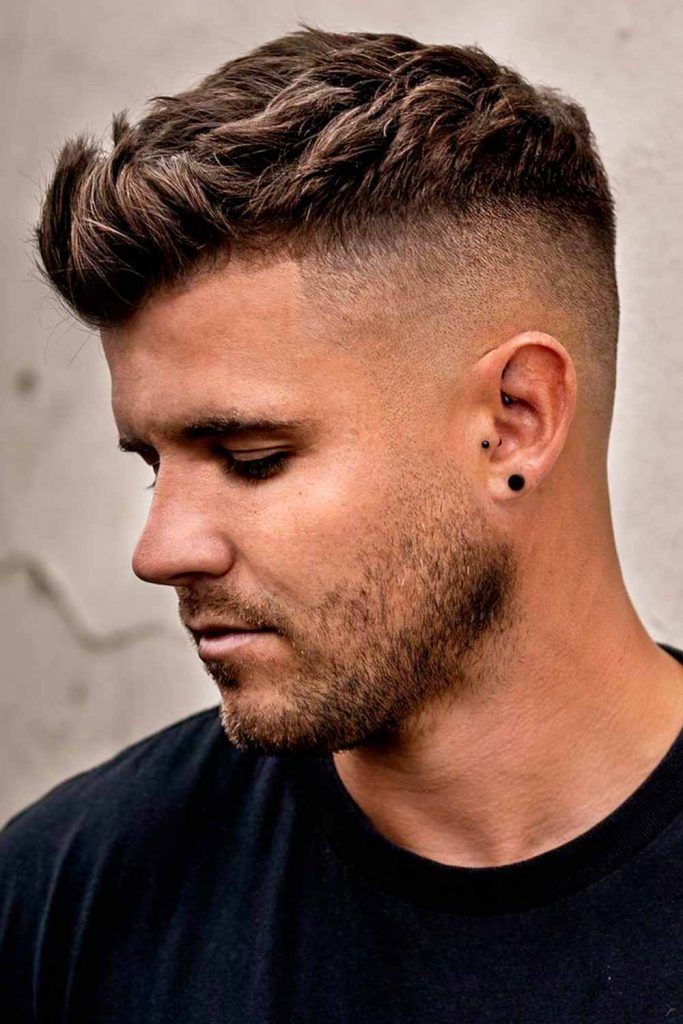 Source: @tombaxter_hair via Instagram
Extreme Volume
If you're not afraid to sport daring and bold popular mens haircuts, go for an ample faux hawk. The sides should be either faded or trimmed very short for additional contrast. Ensure that you're using a high-quality hair styling product with a strong hold to keep the hawk vertical and pointy.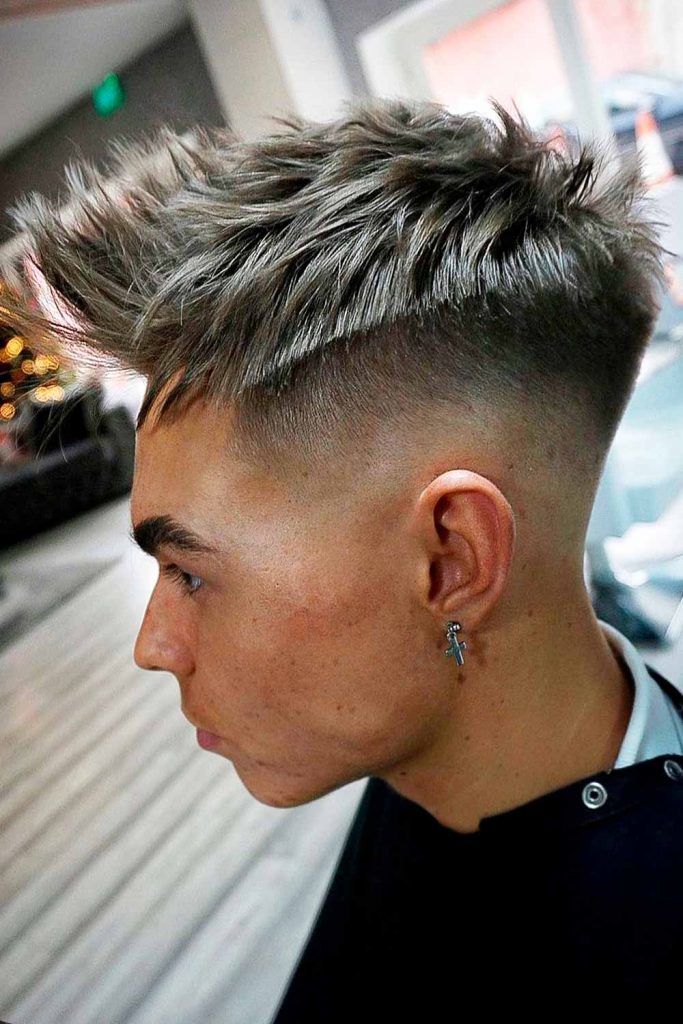 Source: @ryancullenhair via Instagram
Faux Hawk Undercut
An undercut is another great way to complement a faux hawk. It helps to create an even more edgy and contrasty appearance of this hairstyle while keeping the focus on the prominent locks atop. Thus, be creative when pondering your styling options, as all eyes will be on your hair on the top of the head.
Source: @mikes_custom_kuts via Instagram
Wide Faux Hawk Haircut For Men
The wide faux hawk expands over the whole head, from the crown to the neck. This men's hairstyle doesn't feature short side hair. Rather, the top hair covers a wider area of the head while the sides are faded to the skin.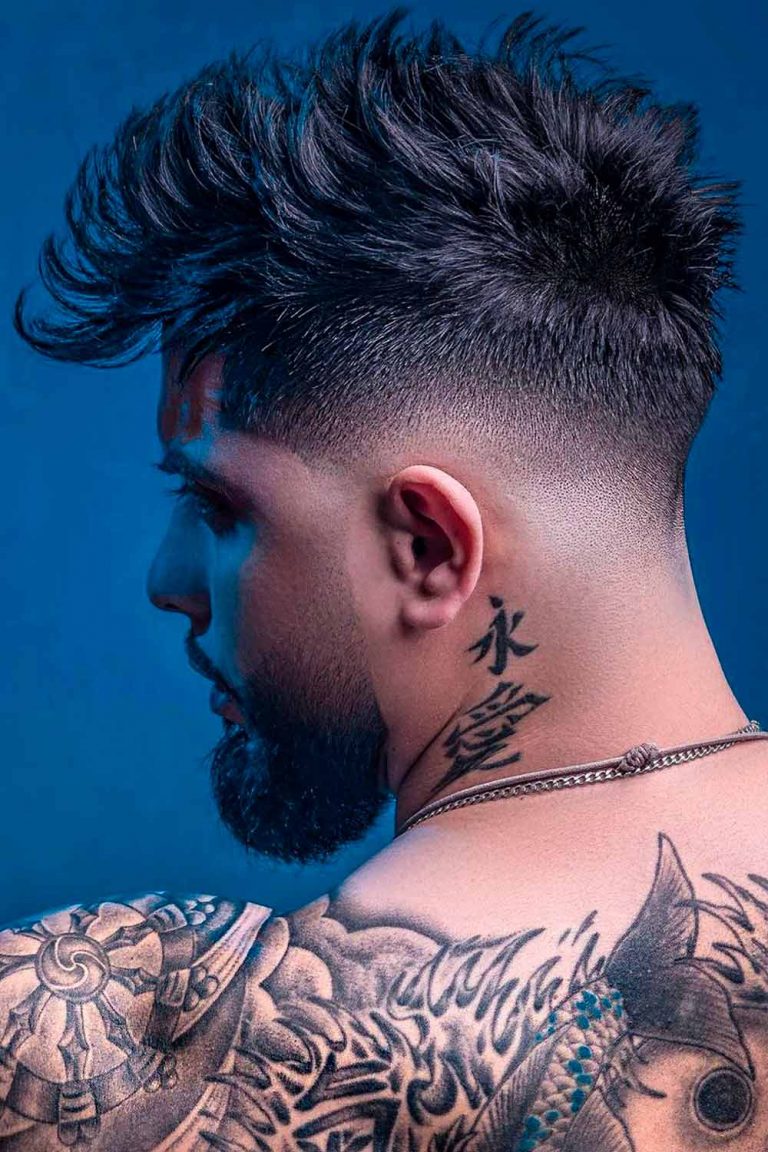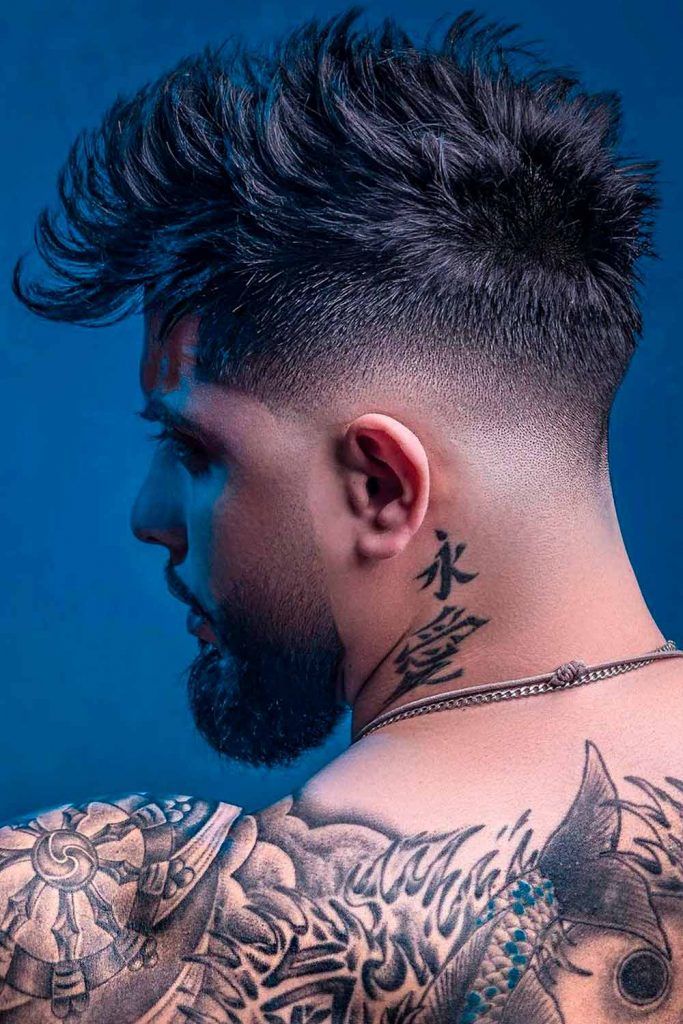 Source: @los_cut_it via Instagram
Curly Fohawk
Men with curly hair know how difficult at time sit may be to tame them. Well, the perfect way out exists – all you need is a curly faux hawk! With this cut, you will not only be able to finally tame your curls but will also look super sweet and trendy!
Source: @mensworldherenkappers via Instagram
Wavy Faux Hawk
From the first sight, this hairstyle very distantly reminds of the traditional faux hawk hairstyles for men. That's all because of the top, which is, unlike the classic one, is flat and short. However, if you go into detail, you'll see that this is just an unusual variation of a very familiar hairstyle. The top section is styled in sophisticated backward swirls while the sides are skin shaved. The curls for such modern haircuts can be done naturally or induced.
Source: @alexmapeli via Instagram
Long Dropping Sides
This fauxhawk hairstyle works best for those men who prefer to leave their thatch intact. The top section of the hair should be grown in medium length and combed over towards the face while leaving the back and sides a bit longer to create a falling impression. Such hair styles men can successfully harness on both casual and formal occasions.
Source: @kamilnizinski via Instagram
Natural Look
Going for men haircut styles that accentuate your natural hair attractiveness is always a great decision. The hair on the sides of the head should be cut short, which automatically focuses everybody's attention on the top of your head. Thus, for added texture, style it in messy spikes or intricate curls.
Source: @kevinelezaj via Instagram
Buzzing Short
The faux hawk haircuts come in many different variations, ranging in lengths and colors. You can ask your barber for a short faux hawk, which he or she will buzz cut with what looks like fine tooth combs. To create an even more striking contrast, separate the sides from the top with a shaved-in side part.
Source: @ryancullenhair via Instagram
Wavy Quiff With Bangs
Quiffs are very nice haircuts for men if styled properly. Here's an interesting and hassle-free way to sport a quiff hairstyle. Instead of making the front section of your hair straight, give it a wavy textured look. Just draw the quiff forward and leave it falling over like bangs. The sides meanwhile can be tapered down to the skin.
Source: @egobarbers via Instagram
Pompadour Inspired Fohawk
Pompadour hairstyle can be easily combined with a faux hawk. All it takes is to ask your barber for a bald fade and then style your fohawk like a pompadour. When you are tired of pompadour fade, you can just transform it into fohawk one!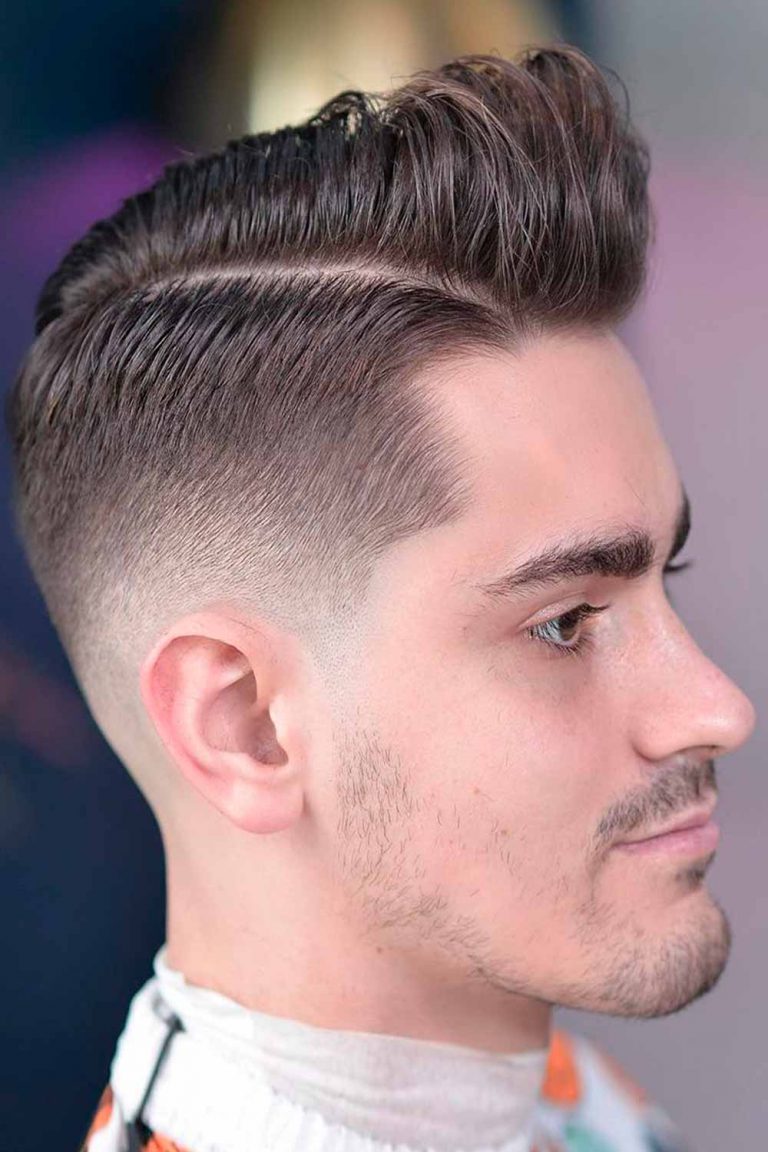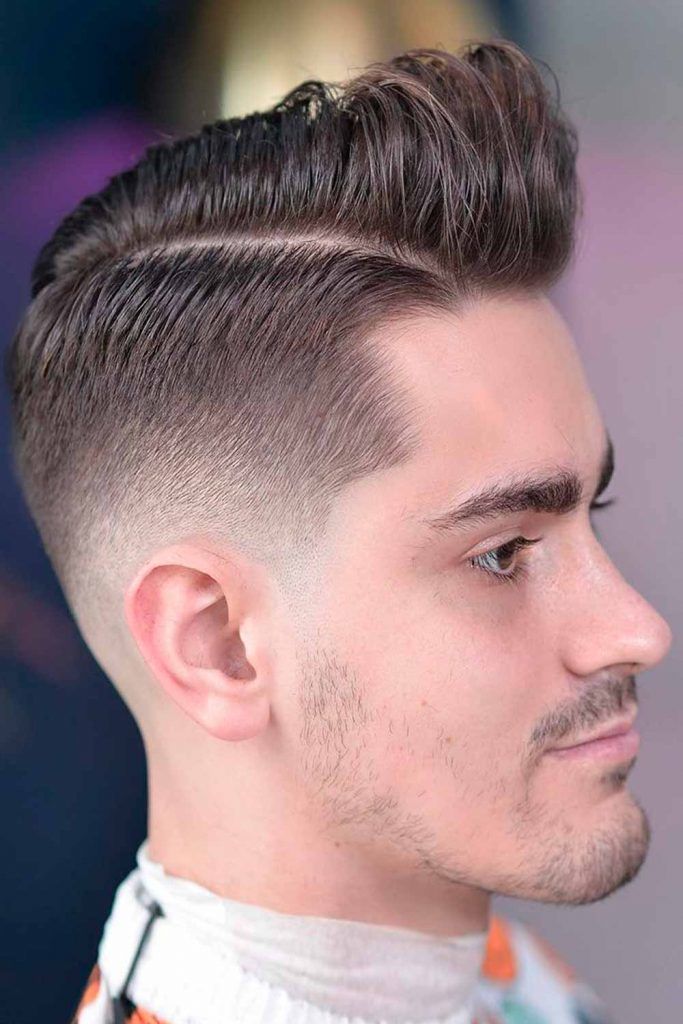 Source: @sirpaulcharles via Instagram
Wavy Flat
Even though the genuine faux hawk male haircuts should form a canopy on top, their variations may have different shapes of the edge. To vary the common hawk, go for a flat top. You can style it waved or curled while keeping the sides faded.
Source: @joeltorres via Instagram
Tapered Faux Hawk
The tapered hair faux hawk blends perfectly with the facial hair. Such modern mens haircuts offer you sheer versatility, which makes them look flattering to any face shape. If you're a newbie, start with the hair medium in length.
Source: @sidsottungacademy via Instagram
Shaped Up Waves
If you're seeking for low-maintenance haircuts for men, a messy faux hawk is a nice style to try on. It's a middle-length cut with naturally hanging top hair and a bit shorter sides. For extra texture, you're welcome to add a spritz of hairspray.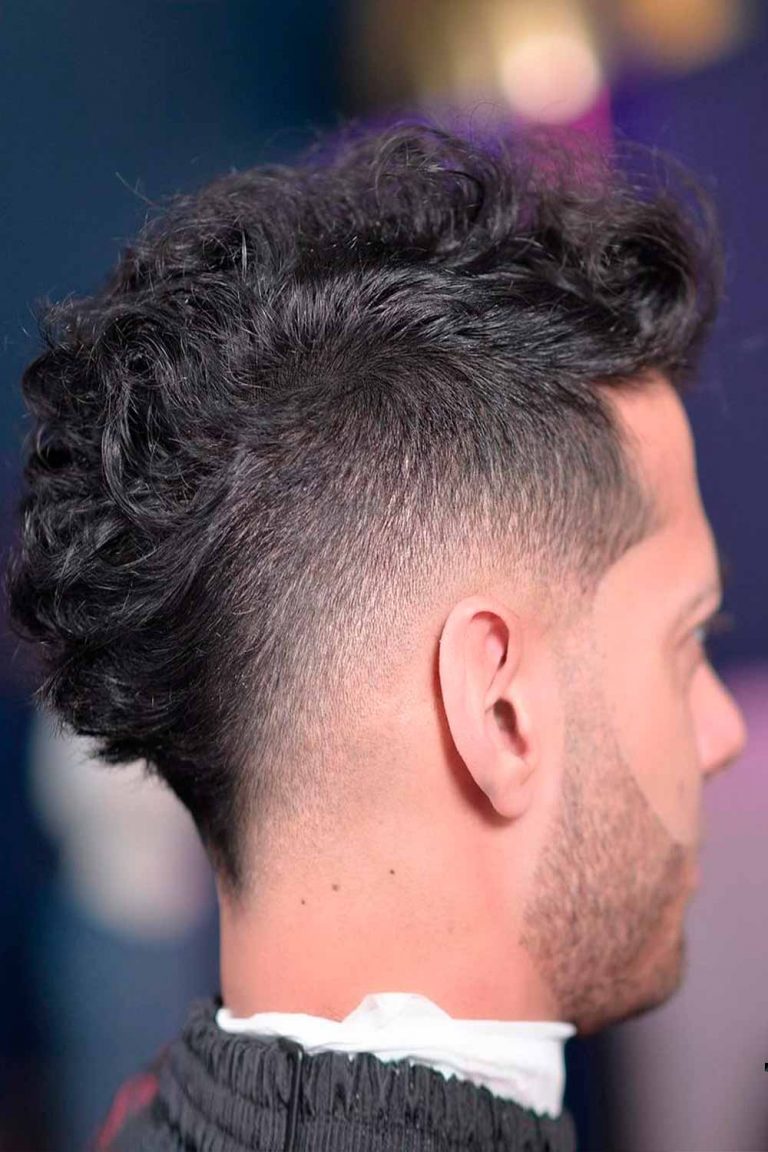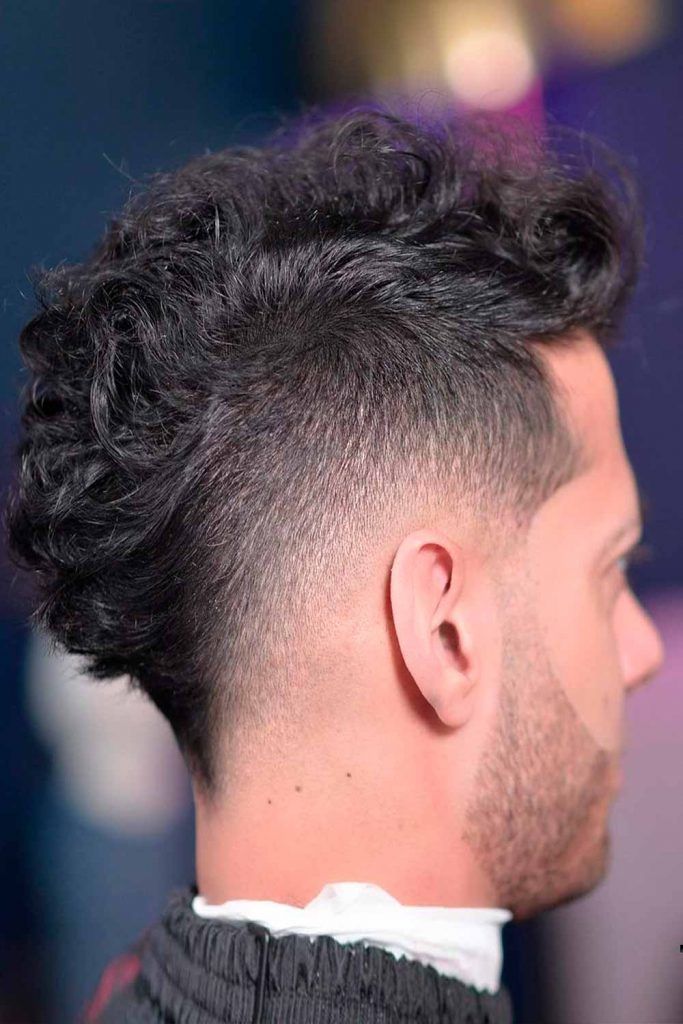 Source: @sirpaulcharles via Instagram
Long Loose Curls Faux Hawk
To rock a faux hawk, the hair on the top of your head shouldn't always be styled upright with a generous amount of a hair styling product. You're welcome to let it flow naturally, especially if you have long curly locks. In this way, your hairstyle comes out careless and breezy without any effort.
Source: @alexthegreatvivar via Instagram
Parted Faux Hawk With Fade
One of the biggest benefits of a faux hawk hairstyle is that it can be modified to fit any ambiance. You need your hair to look elegant and dapper today? Divide your locks atop with a side part and comb them over. To bring all the attention to your neatly styled crown, you can complement your hairstyle with a mid fade.
Source: @alexthegreatvivar via Instagram
Clean Cut Faux Hawk
If this is not a one-time occasion that your hair should look neat, then turn to a clean cut faux hawk. It doesn't feature much hair on top and the sides are given a blurry high fade for a soft look. Thus, you can rest assured that your hairstyle will be a welcomed guest on any occasion, whether it's a casual weekend or important business meeting.
Source: @chadius_maximus via Instagram
Relaxed Faux Hawk
If you fall for a more casual and carefree style, consider this relaxed faux hawk then. It features a high skin fade on the sides and a wide strip of hair on the top. To style it, utilize a drop of a hair styling product and push the hair atop together to form a dome.
Source: @bradcanning via Instagram
Loose Faux Hawk
A faux hawk hairstyle comes out unbelievably flattering when flaunted loose. It has this unique flair enhanced with a touch of breeze that's hard to replicate. A high fade always works perfectly for this hairstyle, keeping an accent on the hair up top and adding sharpness and definition to the look.
Source: @hailwormatron via Instagram
Volume Fohawk
If you're feeling extra adventurous then go ahead and choose the voluminous fohawk. It allows you to create a sharp line in a disconnected fade to give the impression of extra volume and it can add a chic, modern touch to your everyday style.
Source: @hayden_cassidy via Instagram
Layers With Skin Fade
This style combines a fohawk and a pompadour, which results in a unique style that feels both trendy and classy. If you're a fan of the pompadour, but you need a little change this is a great way to liven things up a bit.
Source: @egobarbers via Instagram
High Volume Top
Faux hawks can help you achieve extremely voluminous hairstyles, and if that's what you're looking for you'll appreciate the high volume top style. This faux hawk style can give you plenty of height that will be sure to have you turning heads.
Source: @mikes_custom_kuts via Instagram
Longer Faux Hawk Brushed Up
Cuts that are extremely voluminous definitely have their time and place–this tall fohawk is a stylish choice for any occasion where you want to achieve a daring look. The messy faux hawk style provides motion, while the brush up adds volume to the style.
Source: @mikes_custom_kuts via Instagram
Low Fade Fohawk
If you're looking to keep your fohawk taper short this style features a thick shaved line on the sides. The short to medium spikes create a rebellious look, emphasizing the voluminous style on top.
Source: @hayden_cassidy via Instagram
Fohawk With Undercut Design
This drop-fade look is intersected by close cuts where the design is disconnected–it creates a contrast in texture which fades making it a compelling look for anyone adventurous enough to try it.
Source: @ryancullenhairvia Instagram
Layered Faux Hawk
Of course, fohawk can also be a little dramatic. To succeed with such a look all you need is short spiky hair. Spiky hair combined with fohawk hairstyle looks fabulous together, that is the fact that no one can deny!
Source: @sidsottungacademy via Instagram
Smooth Faux Hawk
It may seem that with faux hawk haircut all you can achieve is the spiky outlook. However, we are here to prove you wrong! The thing is that smooth hair is what you can easily pull off with this cut too. Besides undercut design grants this cut that unforgettable charm that can't go unnoticed!
Tall Faux Hawk
A tall faux hawk looks extremely sharp and contrasty thanks to the striking difference in hair length on the sides and back. This hairstyle is better pulled off on thick locks, as you should have quite a lot of volume to make your hairstyle look decent. Also, you will need a really trusty hair styling product with a strong hold, as you will have to keep all that abundant hair in place.
Source: @ninothenice via Instagram

Source: @egobarbers via Instagram
Faux Bang
Source: @hayden_cassidy via Instagram
Classic Brushed Up
Source: @ryancullenhair via Instagram
Undercut And Spikes
Source: @mikes_custom_kuts via Instagram
Blonde Texture
Source: @shrunknheads via Instagram
Surgical Line
Source: @hayden_cassidy via Instagram
FAQs
Are Faux Hawks still in style?
The faux hawk haircut is less intense than the tradition mohawk, and yet it's just as stylish this year with a lot of room to change it up daily. The faux hawk makes an excellent hairstyle choice for men. Did you know you can get a punk-inspired style that's sure to rock your world and we've got all the tips and tricks to do so.
How do you ask for a faux hawk?
The faux hawk can be achieved by asking your barber to taper fade the sides with longer hair on top. You can make the decision to get a low or high fohawk fade. A fohawk haircut also means you get a variety of choices when it comes to styling your hair.
REFERENCES: