How To Do A Man Bun As Nobody Else Does: 3 Steps
How to do a man bun the most asked question of recent timeis. It remains one of the most requested hairstyles for men. Not every hair is suitable for this style though. First and foremost, you need to ensure that your locks are long enough to form a bun. So, give your hair somewhat about six to seven month to grow six to eight inches long. For the process to run smoothly, follow our practical advice.
Step 1: Condition Your Hair
When they grow out long hair men usually don't change anything in their hair treatment routine, which is, to be honest, not the best approach. Mens long hairstyles reveal a lot and if your hair has any flaws or looks dry and unhealthy, be sure everybody will see it. That's why it's important to start with conditioning. Hair shampoo pulls out the oils and moisture from your hair, while conditioner restores them.
Step 2: Play With Hair Products
If you've already grown out your hair for a top knot bun, it's time to reconsider the products you use to style it. Without the appropriate styling cream or oil, even the basic top knot will be wasted. Remember, you won't spot any difference in staying power but the look will speak for itself. Your hair will gain more body and any flyaways will be tamed.
Step 3: Put A Bun On It
At last, all the pre-styling stages are left behind, and we're ready to get to the manbun styling. But all of a sudden, you're stuck again. The abundant range of man buns gives you a headache? Hopefully, our suggestions will help you out. Ideally, your hair bun should be tied at eye level. This style is universally flattering on everybody. Still, if you feel like doing something more cheeky and dramatic with your hair, tie it on top of the head, at the crown. In case you're considering a low man bun, which is created at the shoulder area, it's better to think twice. This bun style looks way too messy and feminine.
How To Tie A High Man Bun (Tutorial)
Now you know how to make a bun, which is to grow your hair long, and you have a full head of hair ready to be styled. What's next? The reasonable question that pops up is how to do a bun. To answer that, we've prepared a step-by-step tutorial on how to put your hair in a bun.
Take a brush and run it towards the grain of your hair so that the hairs become smooth and tangle free.
Tilt your head forward, flip your hair to one side and brush it through carefully to create additional volume. Repeat with another side.
Apply the product that will give your mane additional volume and matte texture, such as a sea salt hairspray.
Blow-dry your hair in all directions creating volume, shape and height.
Run your fingers through the hair and bunch it all up towards the area of the future bun.
Start twisting your hair into a wisp, moving from the roots to the ends.
When the wisp starts curving, wrap it around the base until the bun is formed.
Secure your bun with an elastic band or hair tie.
This is only one of the methods how to put hair in a bun and when you master it, you'll be welcome to learn others.

ASOSMenswear via YouTube
How To Do A Man Bun With Undercut (Top Knot)
Wash your hair, towel dry it and slick back using a comb.
Apply a hair styling product, such as a matte texture paste, to your hair atop.
Spread it all over your hair thoroughly, focusing the most amount in the back.
Brush the hair back to ensure it is sleek and tangle-free.
Take an elastic band in one hand and push the hair back with the other hand.
Pull your hair through the elastic band until there is one loop left.
Pull the hair through the elastic band half-way and eliminate any flyaways with some more of the product.

Alex Costa via Youtube
How To Make A Half-Up Man Bun (Tutorial)
There are many ways of how to do man buns. They vary depending on the style, hair length, texture and the ambiance they should suit. If you are looking for a hairstyle that would take your hair away from your face while still showing off its length, a half up men bun is your way to go. So, here is how to make a man bun half up:
Step 1. Preparation. For the best result, you should make sure your hair is clean and conditioned. So, wash it with a shampoo suitable for your hair type and apply a moisturizing hair conditioner. Towel dry it to soak in extra moisture and leave to air dry.
Step 2. Sectioning. Divide your hair into two sections so that you could see what you are going to work with. Separate the top section by creating a horizontal parting at the level of your brows and brush it either with a hair brush or your fingers for a messier effect.
Step 3. Tying. Push together all of the hair on the top of your head and tie it into a pony on the crown. The ponytail should be twisted then and wrapped around its base. If it does not come out particularly neat, do not worry. Fasten the bun with an elastic band and bobby pins.
Step 4. Finishing. Finish off by smoothing out any fly away hairs with a hair moose. And there you go. Now you know how to man bun half up in a few easy steps.

GrahamsNaturalCurls via YouTube
Is The Man Bun For You?
Whether the man bun hairstyles are for you is totally up to you; if you feel like sporting one, why not give it a try?
How To Choose The Right One
As for the bun itself, there are also several ways how to tie it. Depending on your hair length, cut or personal preferences, you can go with a semi, half or full man bun. If you have a short or long undercut, which means that you can use the top hair only, opt for a knot or semi bun. This version also works for a man bun fade.
For a more casual homelike medium length style, gather most of the hair into a bun while leaving several strands loose. This will give you a half bun, which is a combo between a ponytail and a full bun. And finally, here comes the full bun: sleek, bold and voluminous. It pulls together all your hair, which should be of its supreme length.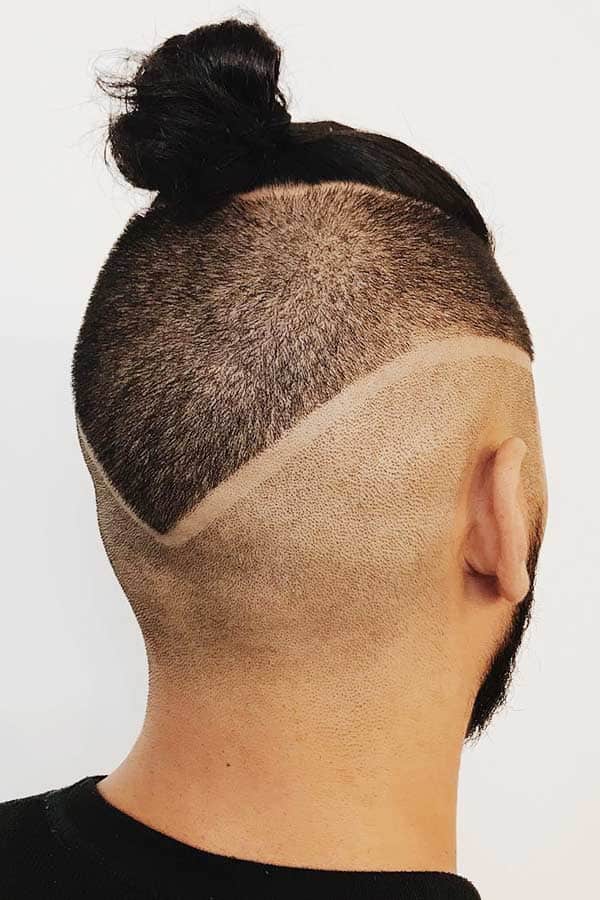 Source: @hairraribarber via Instagram
Man Bun Mistakes To Avoid
Those were all the dos. What about don'ts? Here's the top list of the most common mistakes that can ruin all the long hairstyles for men:
Source: @spizoiky via Instagram
Don't harness your hair filthy, uncombed and oily.
Do not jump the gun when styling a bun. Take your time to go through all the stages carefully.
Don't pull your hair buns too tight.
Do not use too much product.
Don't try to create a bun with too short hair.
Keeping all these tips in mind, you'll manage to create a flawless man bun.
We're very happy about the fact that the man bun offers so many styling opportunities. Basically, anybody can pull off the look with some effort and supplies. That's why grab your elastic band and go get it, man.
Was this article helpful?