Top knots have become a very popular men's hairstyle in the last few years. Moreover, what is a better way to keep your hair off your back on a hot summer's day than to slick it back into a trendy top knot hairstyle?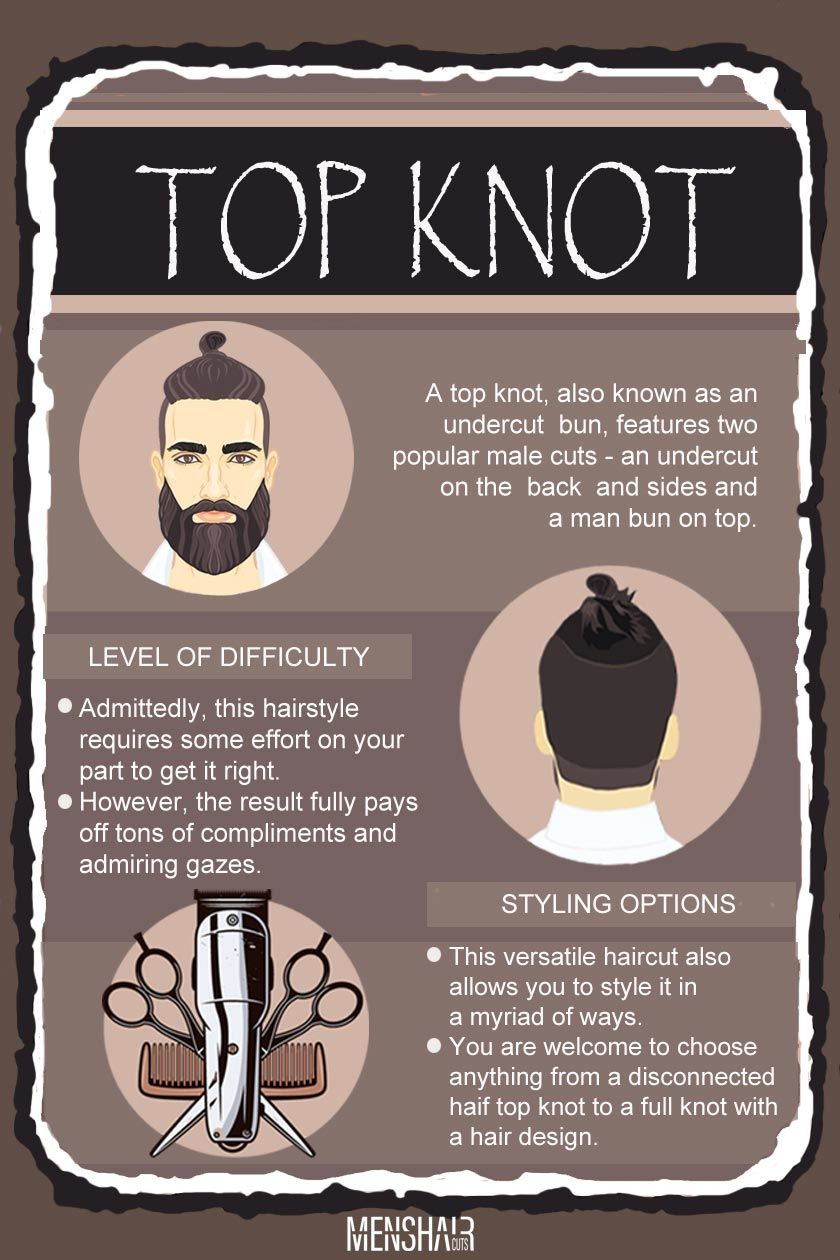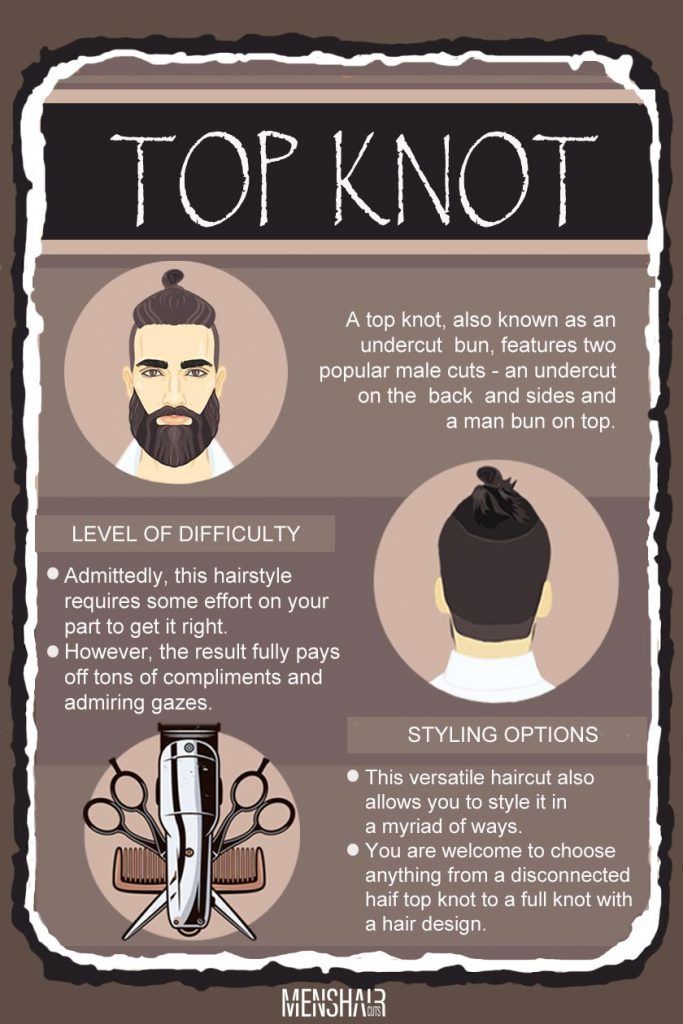 A top knot is similar to the fashionable man bun. The difference is that a top knot is closer to the top of the head and take only half of your hair while the man bun is more toward the back and is generally styled to create a knotted texture and take all of your hair. If you have a mid-length to long hair and you are looking for an alternative to the standard man bun, a top knots could be just what you are looking for.
How To Make A Top Knot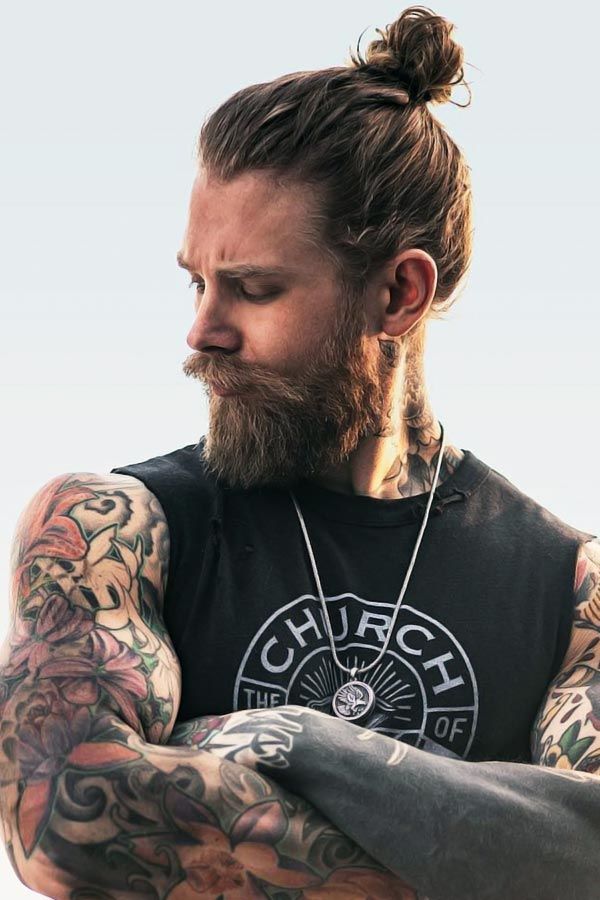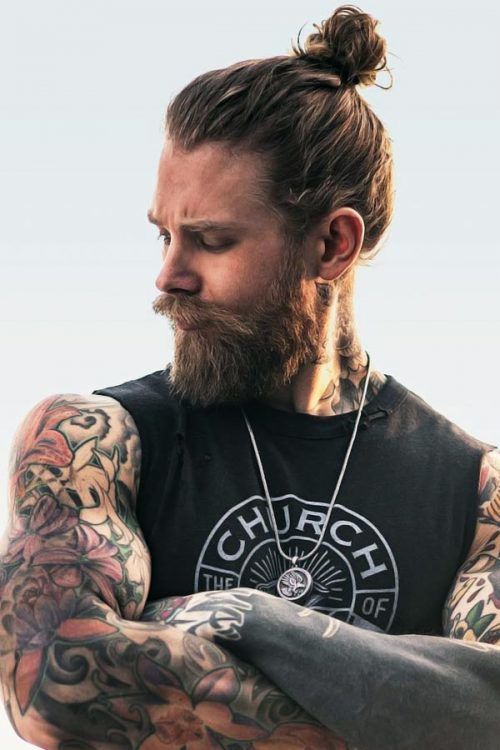 Source: @spizoiky via Instagram
Follow these steps to create a top knot hairstyle:
Determine where you want to place the top knot. Typically, it should be in the center of your head right on the top. If you want to mix it up, you can place it a little bit off-center.
Gather all of your hair as though styling a man bun. When your sides and back are shaved in an undercut, you could use all of your hair. If not you should use about 6 to 10 inches of your hair.
Take an elastic band or hair tie and pull the hair through it once.
Make a second pull to form the top knot.
Do not tie it too tight. This could lead to hair loss as well as headache.
Everyone's hair is different so you might need to practice a bit to get the style that works best for you. If you are still having trouble, you can find a tutorial video on Instagram, Pinterest or YouTube.
Will A Man Bun Or Top Knot Suit Your Face Shape?
No matter whether you are going for a man bun or a top knot, it is important to choose the style that is flattering for your face shape. So, how does one know whether these hairdos match their facial features or not? Here is our quick rundown.
If you happen to have an oval or square face, then all we can say is lucky you are! Both a top knot and a man bun suit perfectly these shapes. Oval-faced guys are free to choose any style. Yet, try not to run to extremes, as this can ruin your perfect proportions.
Men with square faces should turn to an angular top knot complemented with bald sides for an added accent to their facial features. As for the bun, they can try out different styles but should be careful with overly contrasty looks.
If you have a triangle face shape, it means that your jawline is quite heavy. Thus, you can balance it out with a man bun. The same concerns men with diamond faces, who should also remember that their hairstyle should not emphasize their ears.


Those whose faces are heart-shaped will avoid most man bun and top knot styles because they put an unnecessary emphasis on their prominent forehead. One way to pull off this look for them is to go for a messy bun and frame the face with a fringe and loose strands of hair.
A man bun can look quite flattering for guys with oblong faces when it is not tied high on top. To avoid making your face look even longer, opt for a low bun. A top knot, however, cannot be your hairstyle of choice, as it will add extra height because of the shaved sides.
It is hard to think of a better option for guys with a round face shape than a top knot that is angular and undercut. In this way, you will make your sides look squarer and elongate the face. A man bun though will just make your traits appear softer and rounder, so it is better to avoid it.
How To Maintain And Style The Top Knot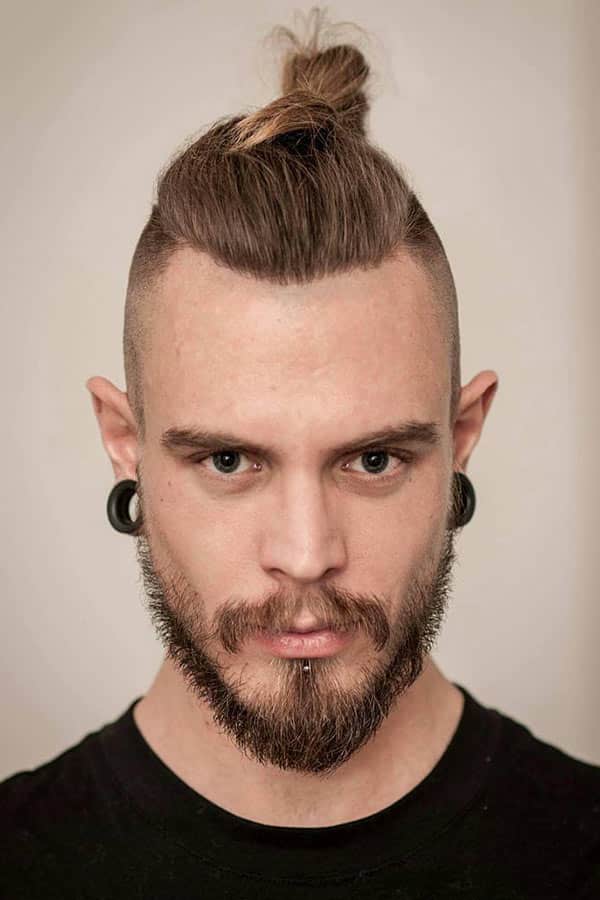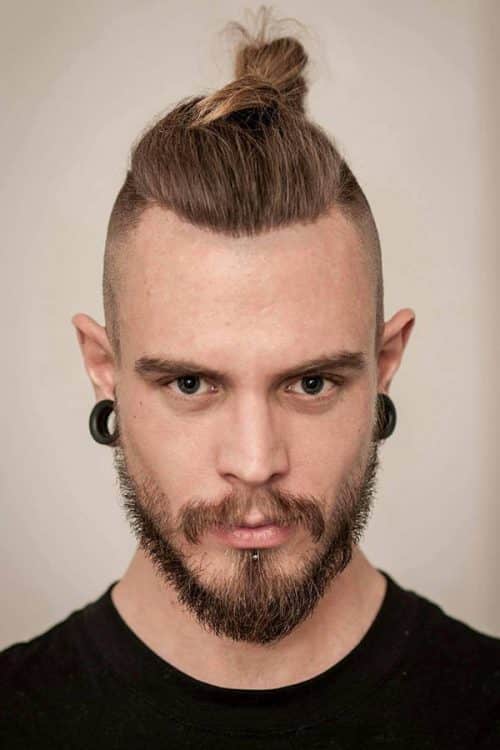 Source: @urednistvo.pricesk.robert via Instagram
Now that you know how to do top knot, it is important to know how to maintain and style this men's long hairstyles. Follow these tips to keep your hair stylish and healthy.
Shampoo your hair only two or three times a week as this will keep your scalp and hair from getting dry.
Use dry shampoo between washings. You should wash it one day, condition it the next and dry shampoo the third, as a rule. Keep repeating this process to keep your hair healthy.
Top Knot Man Bun Combo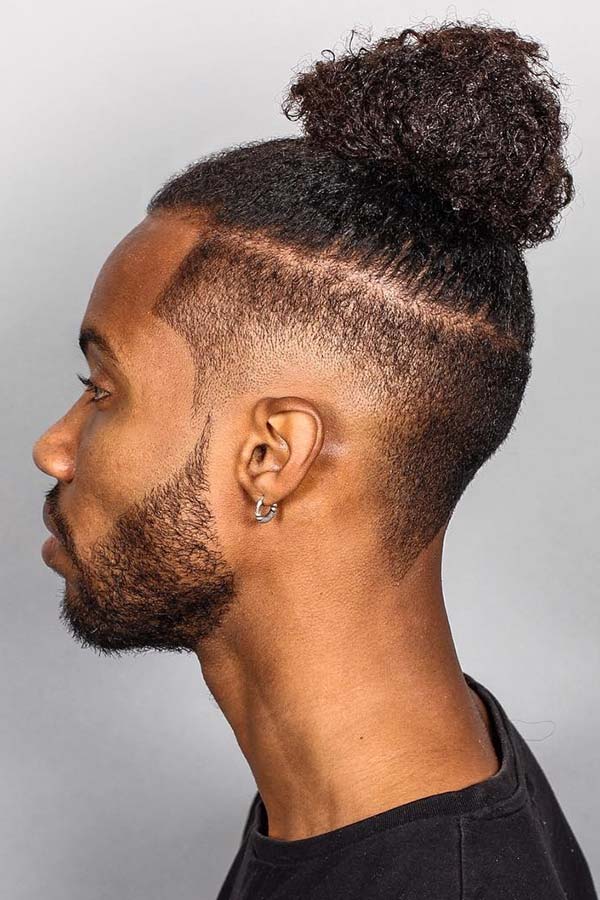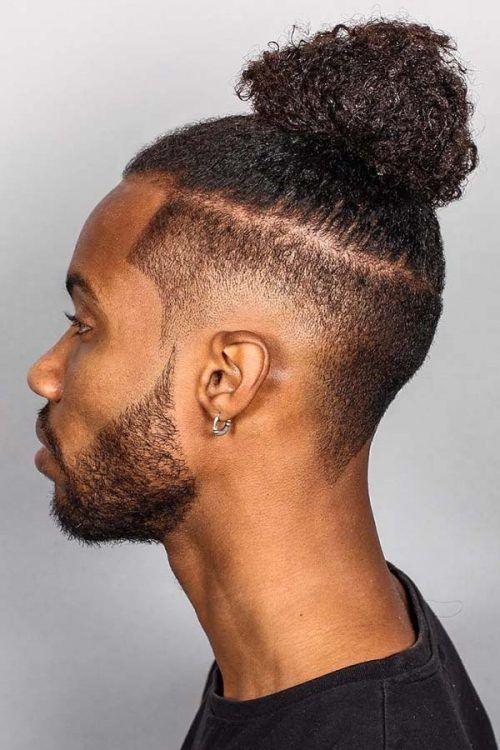 Source: @londonschoolofbarbering via Instagram
If you want to combine these two popular trends, you can form a top knot bun close to the top of your head. Simply gather all of your hair as you would while forming a man bun hairstyles, but form it closer to the middle of your head. Leave it loose in the front to add some volume.
This style looks great with a bushy beard and mustache that is trimmed close to your face.
Half Up Top Knot For Men With Wavy Hair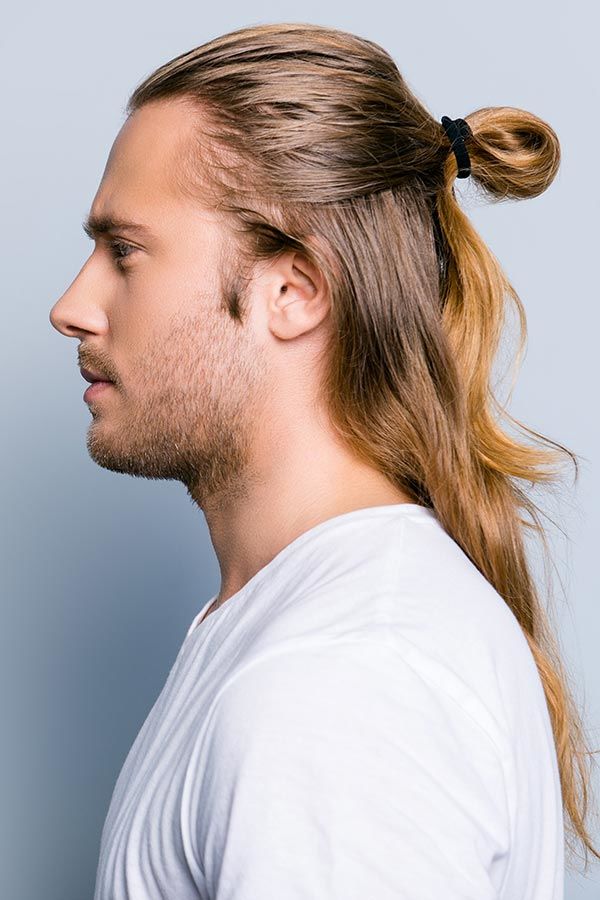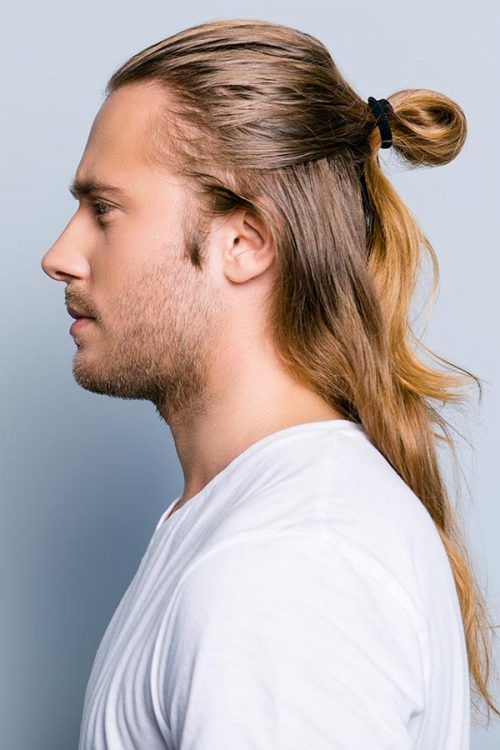 Roman Samborskyi/Shutterstock
Men with naturally wavy hair are the envy of both other men and women. If you got it, why not flaunt it? Instead of pulling your hair into a full top knot men hairstyle, you could wear a half knot instead so you could allow your wavy hair flow freely.
Merely pull the desired amount of hair into a half top knot and then use some sea salt spray to add volume and texture to the remaining hair.
Full Knot For Men With Curly Hair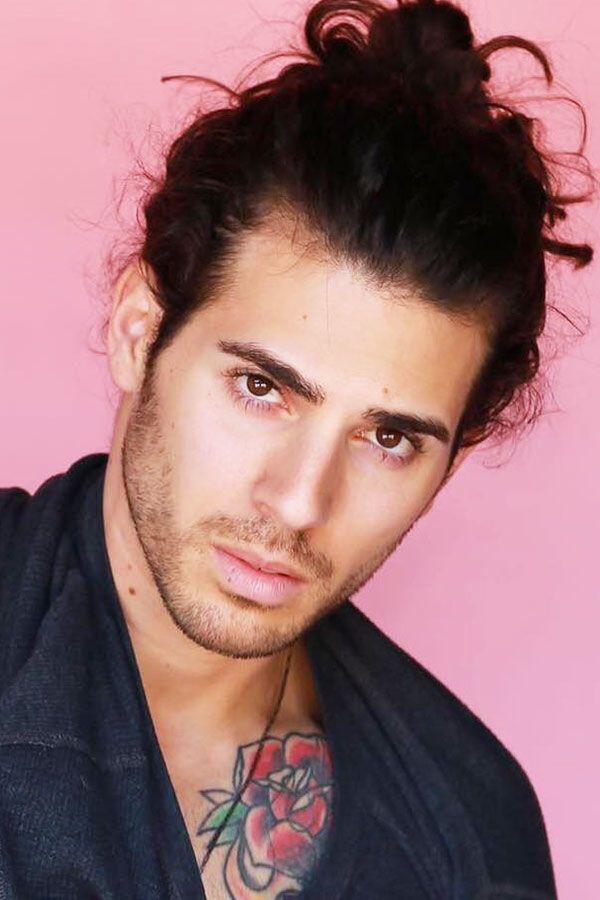 Source: @enrico.ravenna via Instagram
Updo curly hairstyles for men are the ideal solution for men with curly hair, and there is nothing better than a curly top knot. This style is great for those hot summer days or windy days when you want your hair out of your way and off your neck, but still, want to rock your curls with some style.
Pull your hair into a top knot as usual, but let the bun loose. Curly updos should be teased with just a bit of hairspray or mousse to add texture.
French Braid Top Knot Hairstyle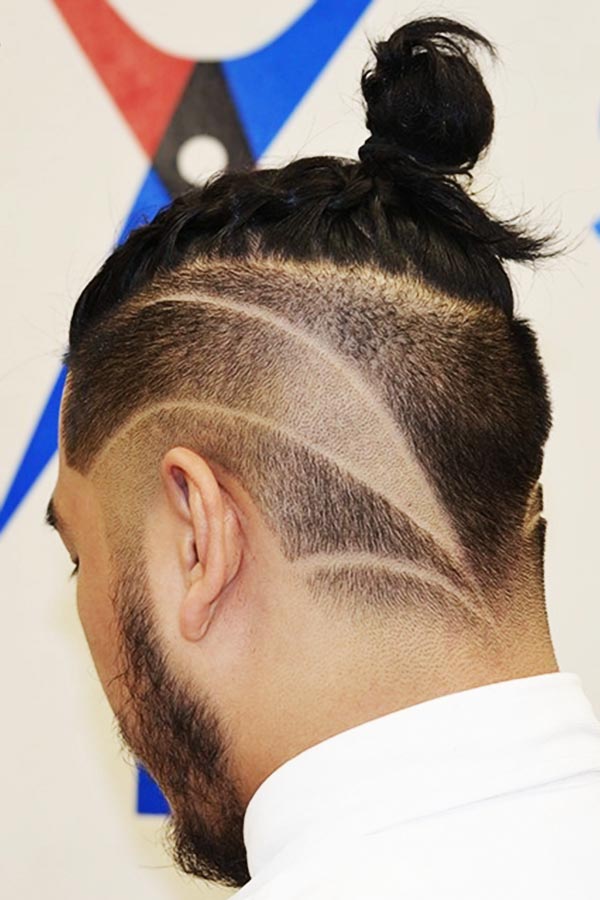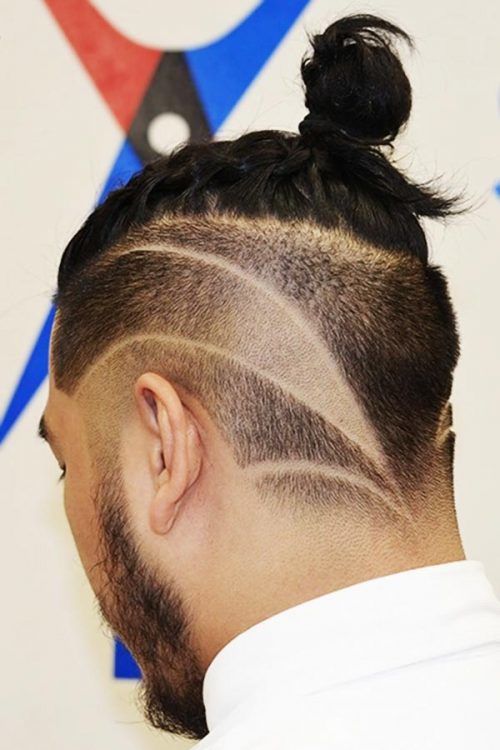 Source: @londonschoolofbarbering via Instagram
If you want a look that's a bit more avant-garde, you should consider a man braid. Man braids are a great style option for men with medium to long hair. All you need to do is make a French braid starting at the front of your head, stopping it in the midsection on the top and then pull the rest of your hair into a top knot. You can leave it loose to add some volume and texture. The French braid man bun looks really hip with shaved sides.
Dutch Braids With Braided Knot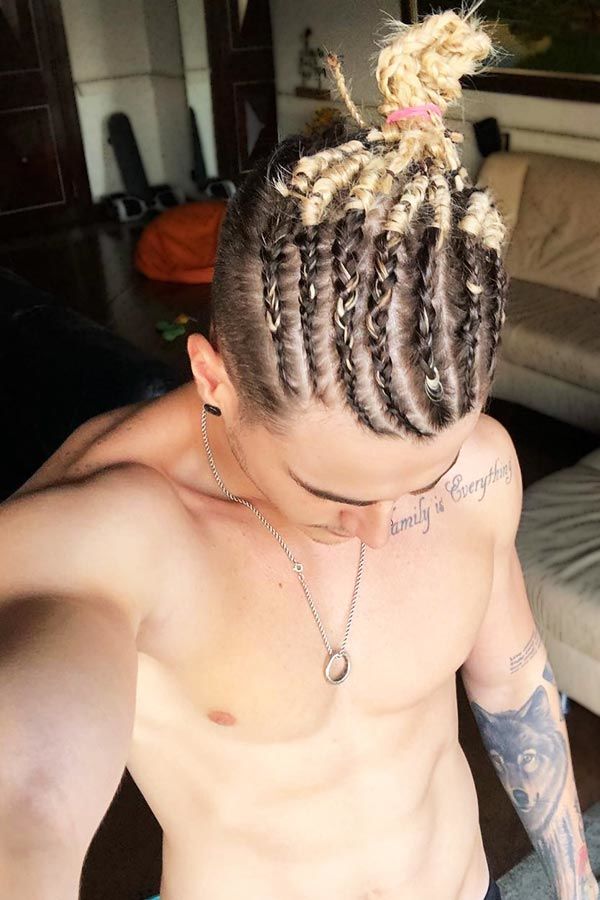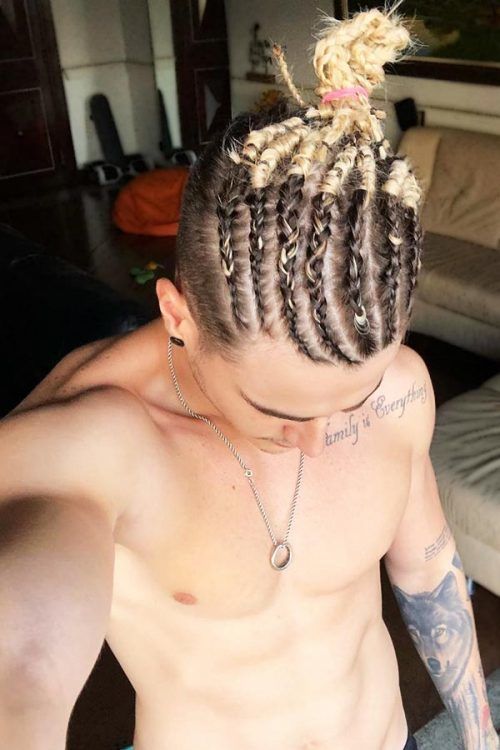 Source: @alexmapeli via Instagram
If your hair is of mid length, but you still want to sport man braids, Dutch braids are an easy way to style your hair. Make two thin Dutch braids starting from the top and sides of your head and continue until they meet. Keep going until all of your hair is braided. Form a top knot at the back of your head using the remains of the braid. Wrap it tightly, so it stays secure. Man braid buns are all the rage with men's updo hairstyles.
Dreadlocks In A Knot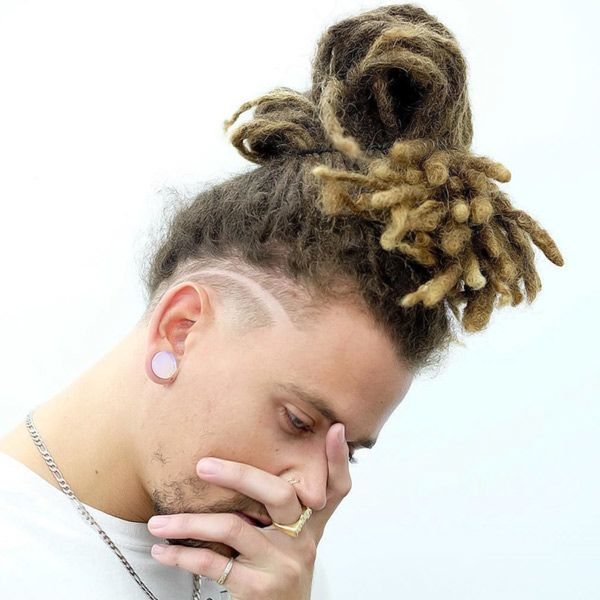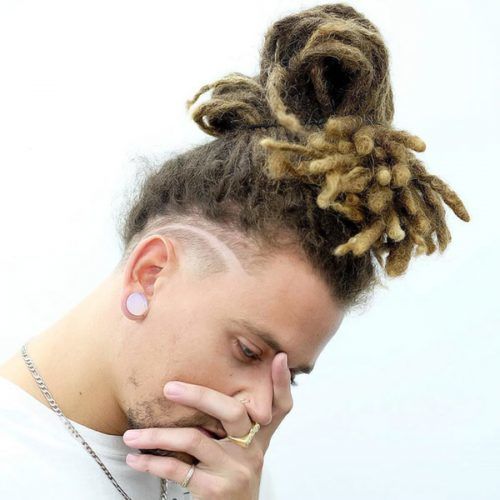 Source: @fernthebarber via Instagram
Dreadlocks are some of the most popular black hairstyles for both men and women. And dreadlocks styles for men go hand-in-hand with a stylish top knot. What makes this look even more debonair is a slick undercut for a look that is off the charts.
Textured Top Knot With Hair Tattoo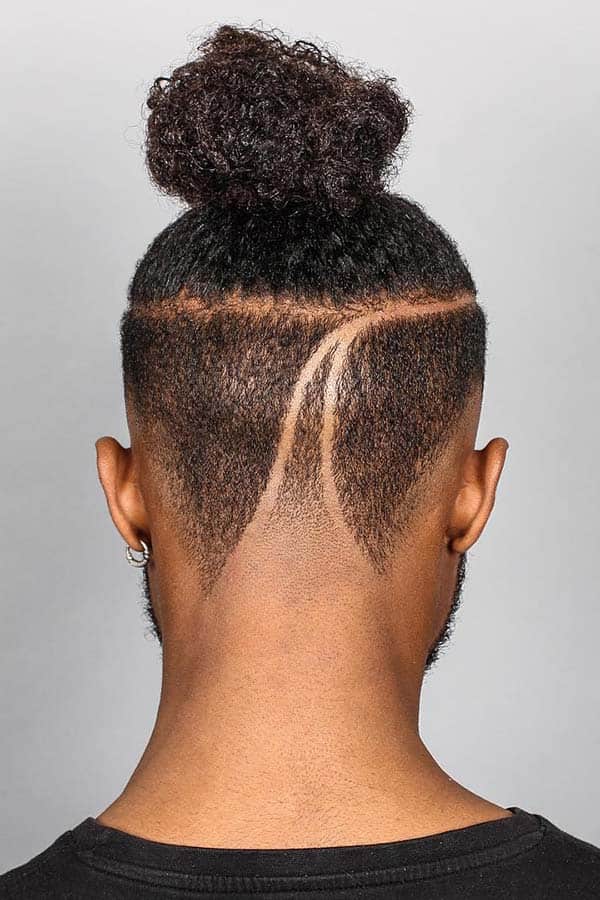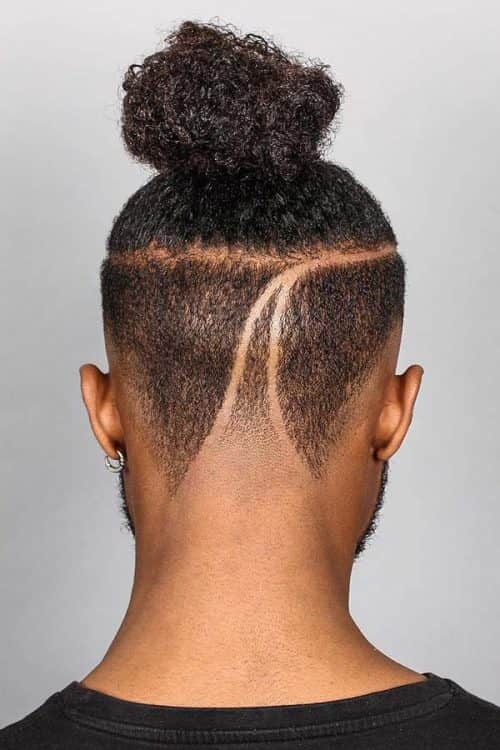 Source: @londonschoolofbarbering via Instagram
Hair tattoos are also popular among black men hairstyles. Hair tattoos are a great style option you can change them up each time you go to the barber. Ask for an undercut and shaved sides. Style the length of your hair into a textured top knot to show off your hair tattoo.
Undercut Fade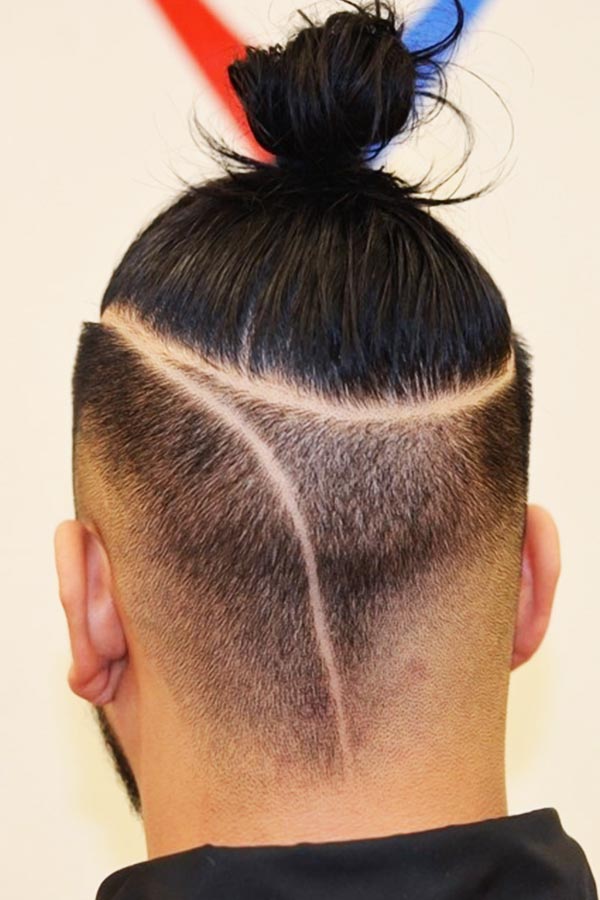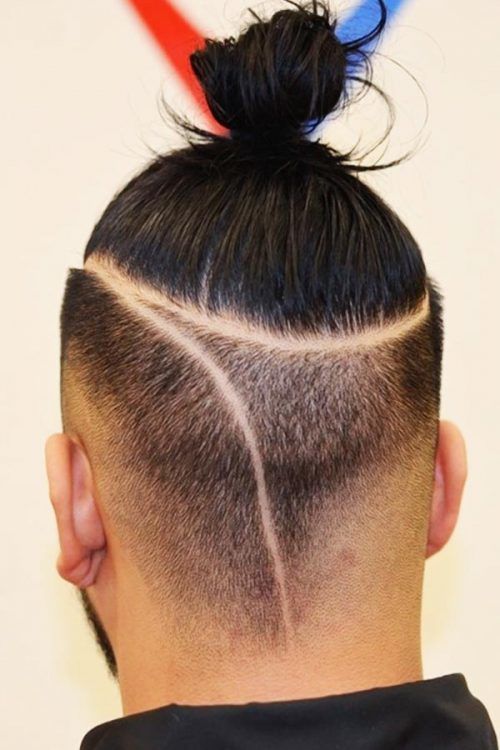 Source: @londonschoolofbarbering via Instagram
Undercut hair styles are so in right now, and an undercut fade with topknots is a super cool way to show off your undercut men hairstyle. Close-shaved sides and back to form a slick undercut with a messy top knot and flyaway hair hanging down the side are very sexy-looking. Add up a neatly trimmed beard to drive all the women wild!
Tight Top Knot With An Edgy Hair Design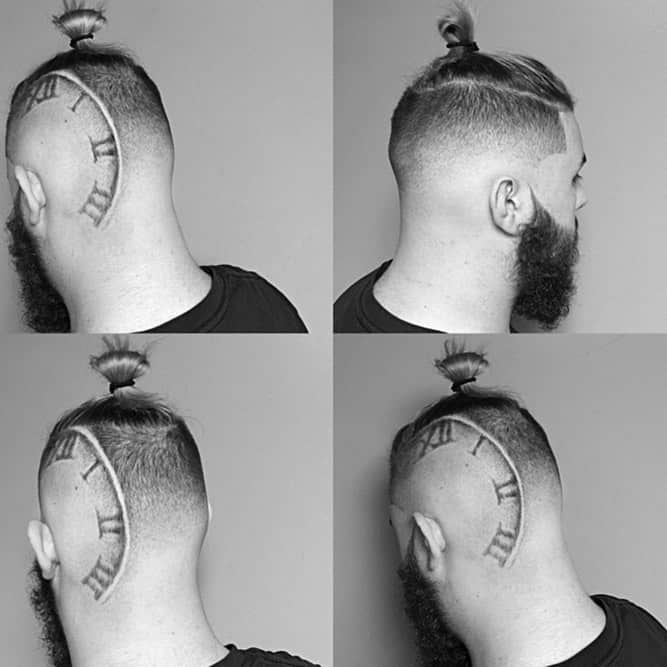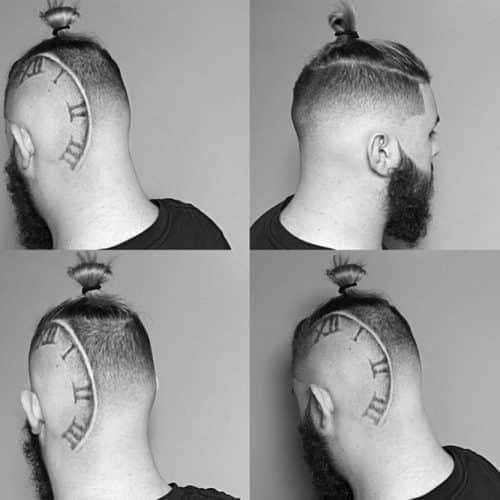 Source: @nickthebarber via Instagram
Razored hair designs or hair tattoos are a great way to show off your edgy style. Hair designs for men and women are in high demand right now. This bold look with a tight top knot will prove that you aren't afraid to show off a look that is a bit off the beaten path.
Short Sides Top Knot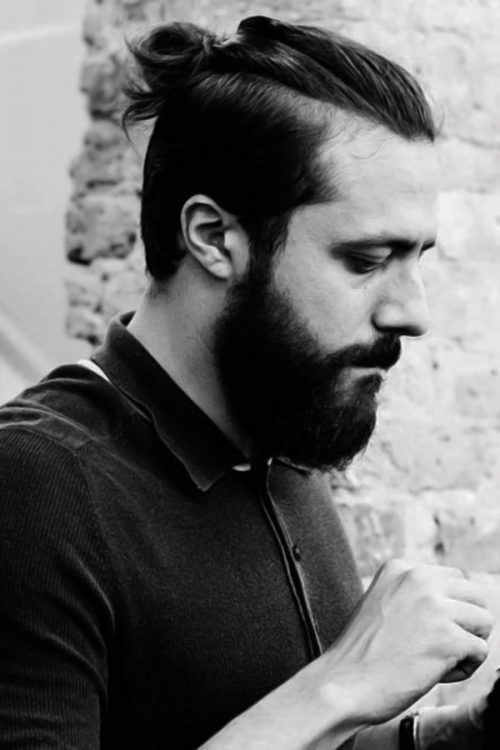 Source: @londonschoolofbarbering via Instagram
If you're looking for an office-appropriate top knot hairstyle, you've found it! With short sides, your top knot looks elegant and dapper. Use your trusty hair styling product to eliminate any flyaways and add a touch of sheen. Such a hairdo comes out so neat that you can easily team it with a thick clean-cut beard.
Messy Knot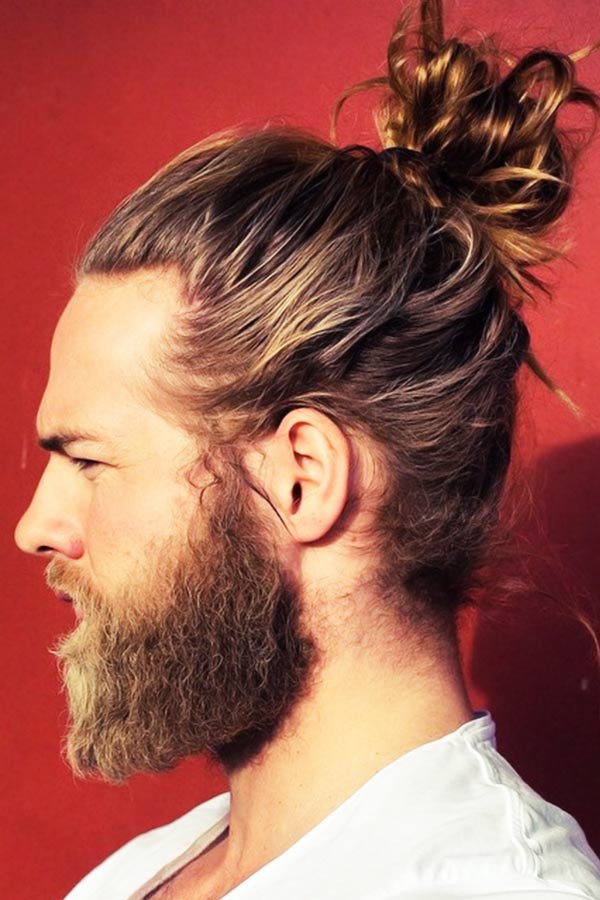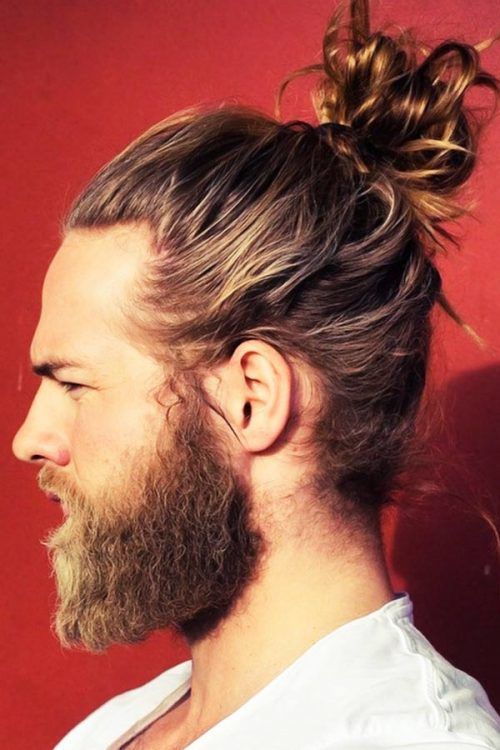 Source: @lasselom via Instagram
If you don't need to follow a dress code or you simply don't like preppy hairstyles, you're welcome to tie your hair in a messy top knot. Forget about a comb or brush! Just rake through your locks with the fingers pulling the hair to the area where you want your knot to be.
Knot With Undercut Tapered Sides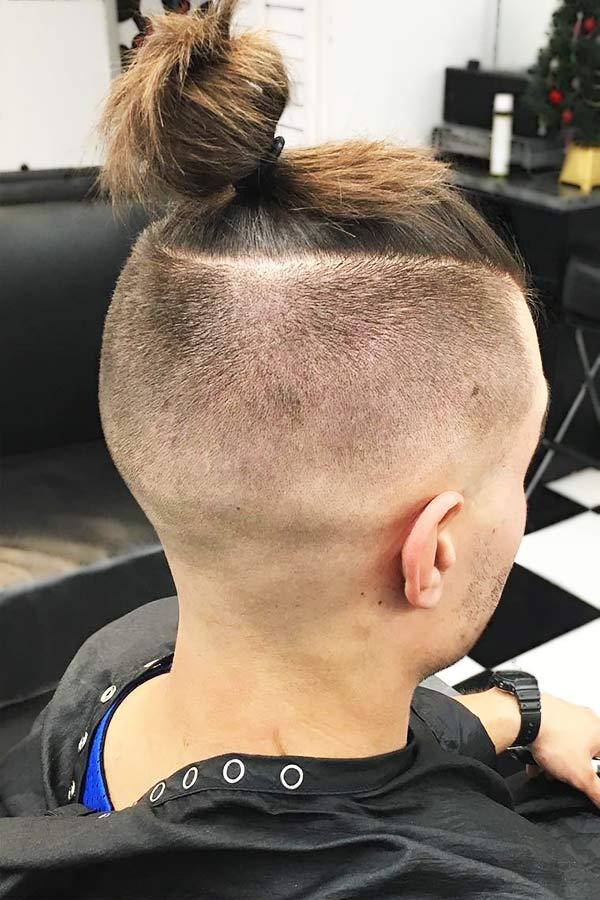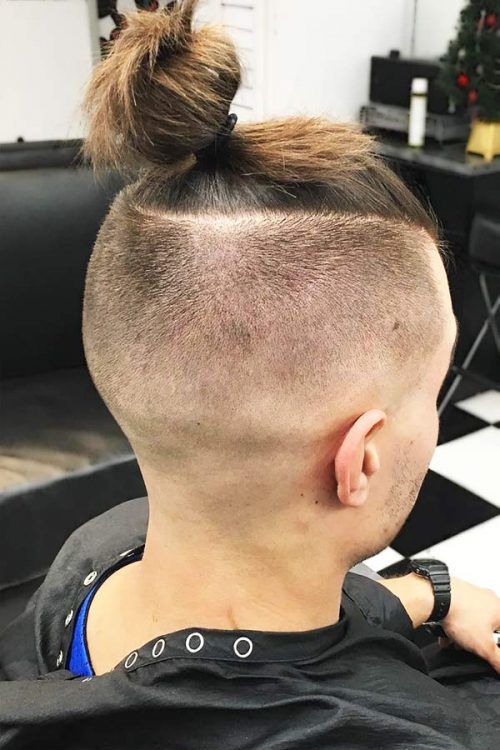 Source: @notorious.edd via Instagram
This hairstyle is for real fashionists, as it combines several trendy cuts in one. The sides are tapered so that the top appears undercut, which creates a striking contrast. In such a way, you don't sacrifice the length of your locks, which is really beneficial if you've spent ages growing them out.
Disconnected Undercut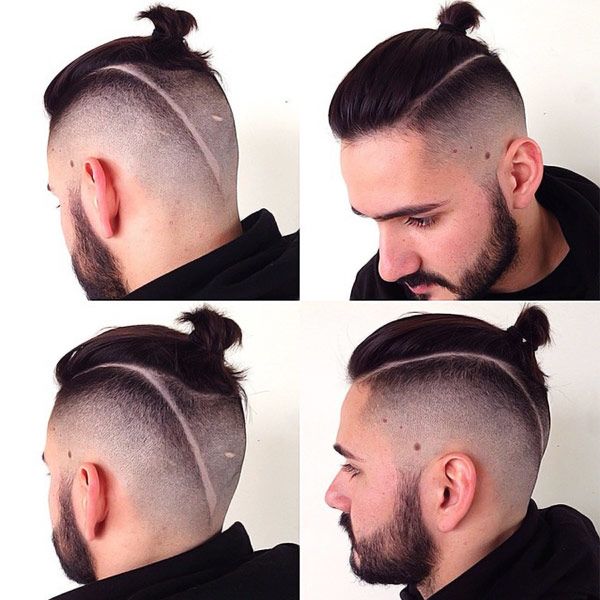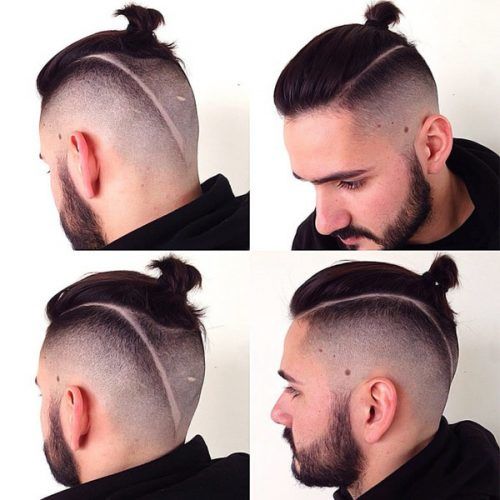 Source: @fernthebarber via Instagram
For those guys who are after more contrasty and edgy looks, there's an option too. Get a high skin fade on the sides and disconnect them from your top knot with a shaved in line that traces your hairline. No matter how long your hair on top is, you're sure to get a killer look.
Slicked Back Sides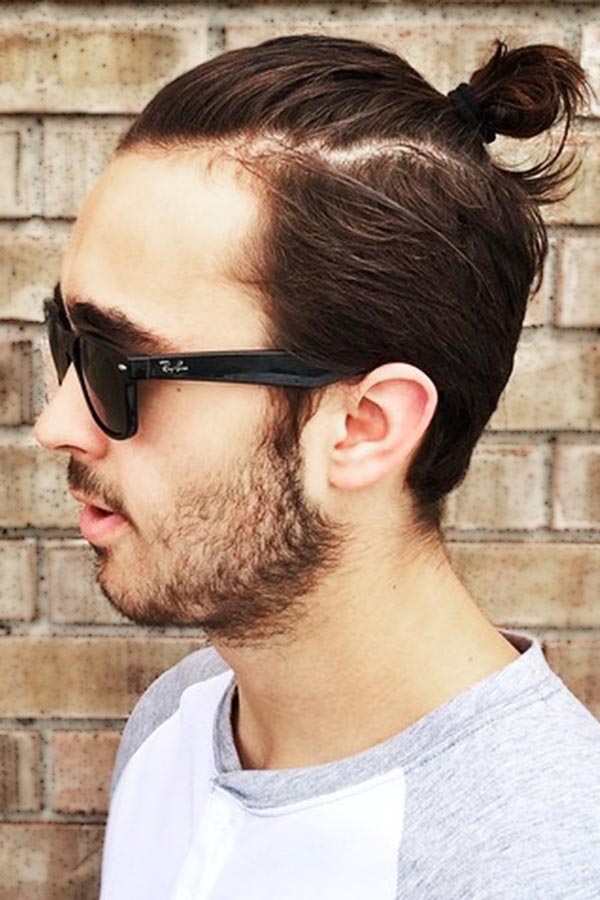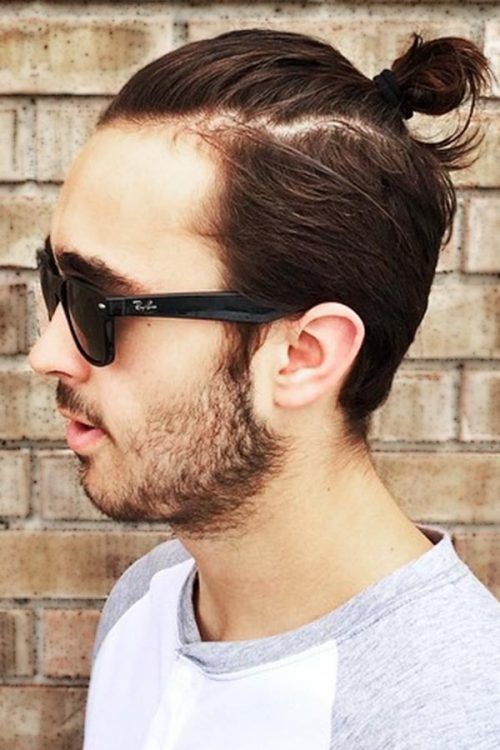 Source: @loriandson via Instagram
Here's another amazing combo that will suit basically any event, from casual to formal. It also allows the guys whose hair isn't long enough to be tied in a top knot to sport a trendy hairstyle. Just slick the sides back while pulling the top in a knot and you're done!
Sleek Top Knot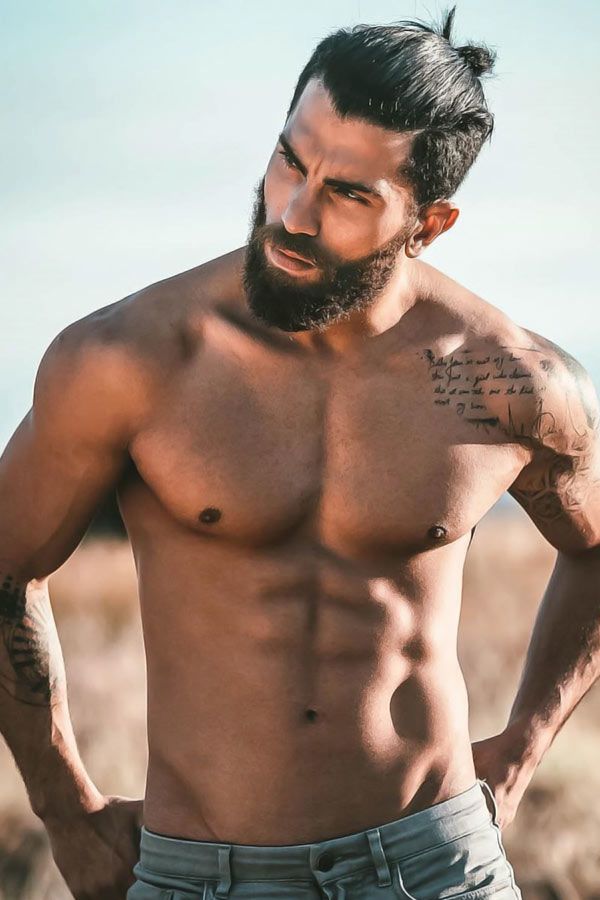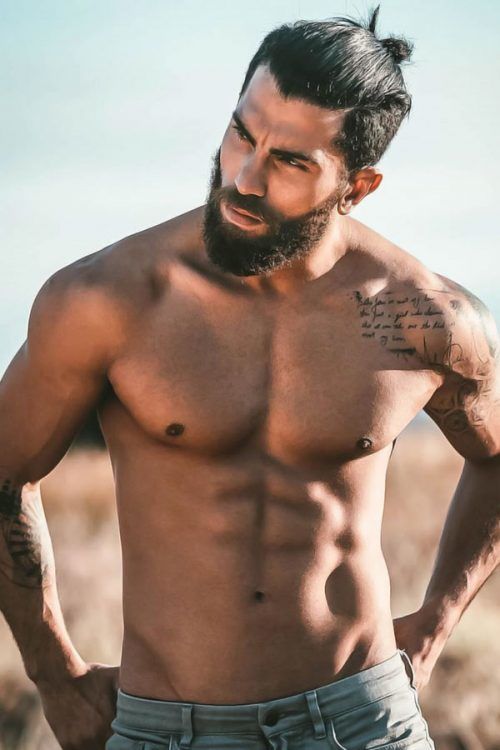 Source: @reza_jax via Instagram
Do you strive to look effortless and casual? Then a sleek top knot is a way to go for you. Run your fingers through the locks and pull them all back. Tie in quite a loose knot for a more relaxed appearance. To achieve an even sleeker result, comb your hair before you style it.
The Samurai Top Knot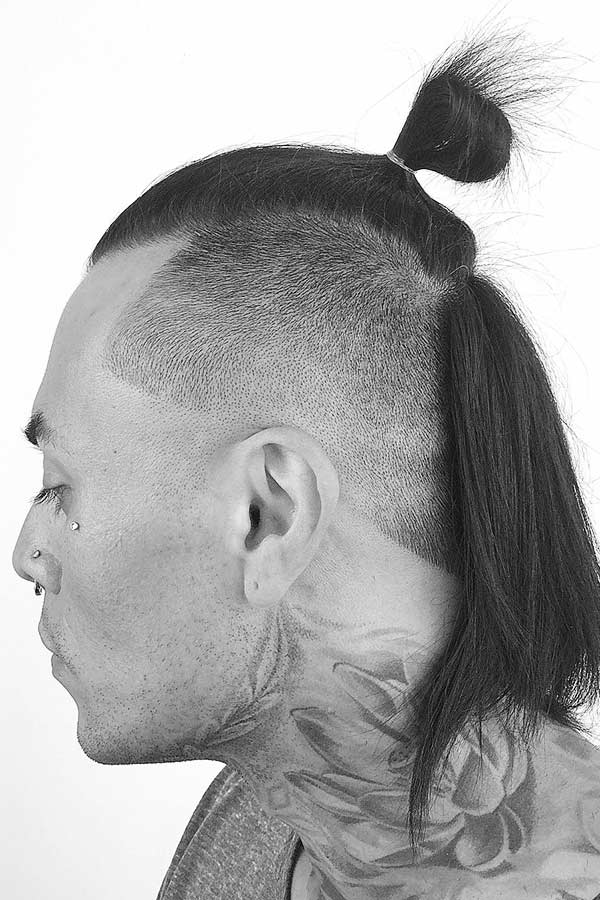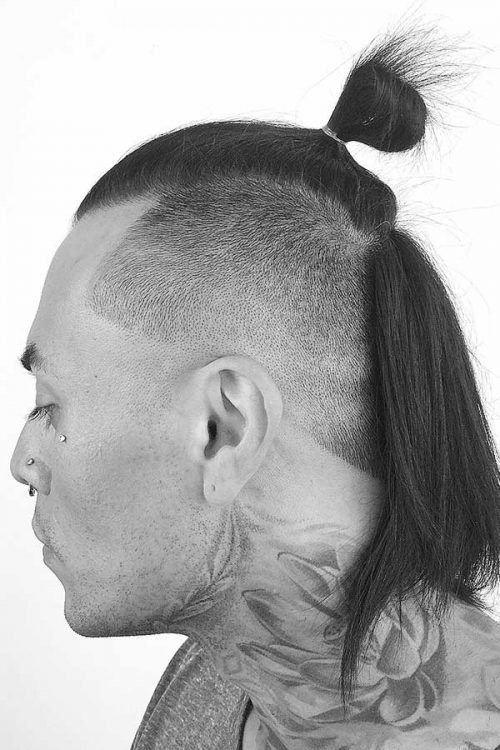 Source: @shrunknheads via Instagram
The samurai top knot is a hairstyle that not anybody can pull off. But if you do, you're guaranteed to be in the spotlight. This hairstyle will require a skilled barber to perform, so ensure you have one. To add sharpness to your look, complete it with a line up along your hairline.
The Full Head Bun Knot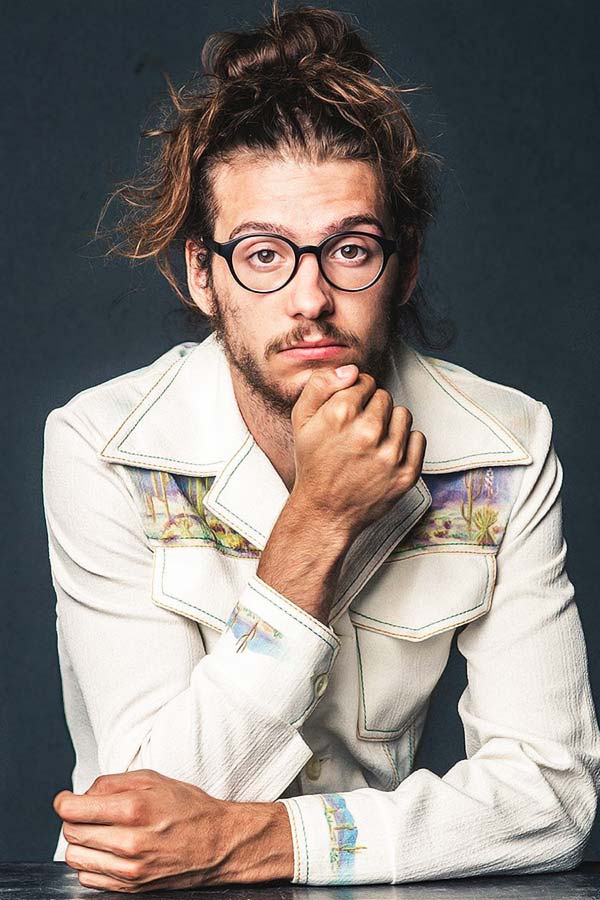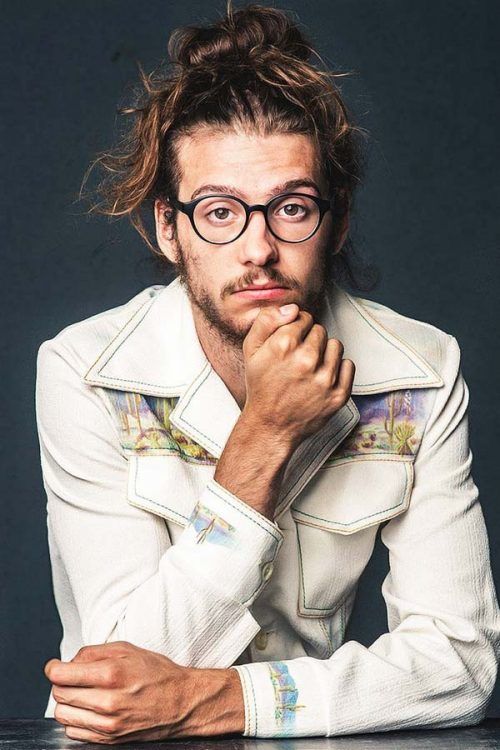 Source: @lanedorsey via Instagram
Style your hair in a bulky bun knot that looks as if you've just jumped out of the bead. In addition to creating an impression of an abundance of hair, it makes you look careless and easy-going. To add a dose of smartness, put on some fancy glasses and pull on a trendy shirt.
Knot With A Beard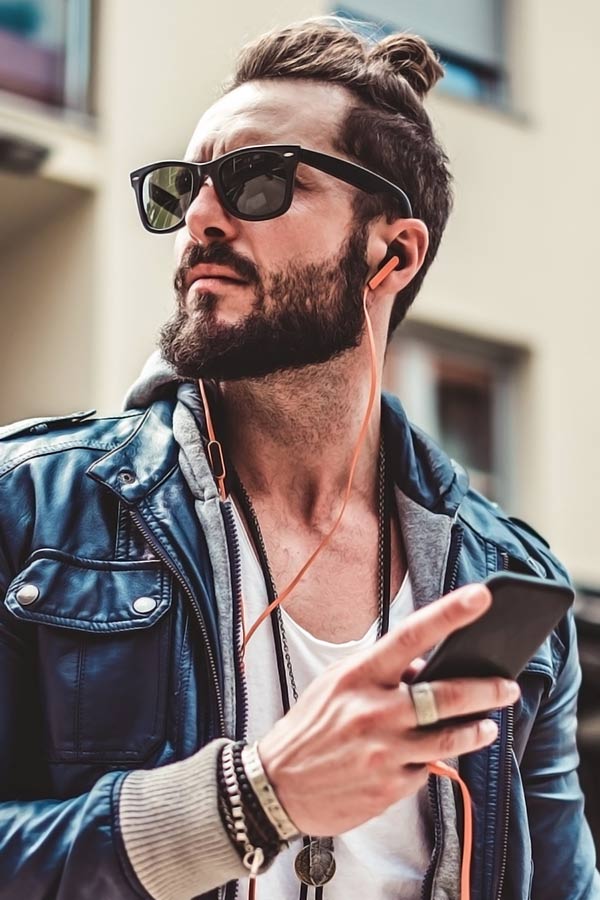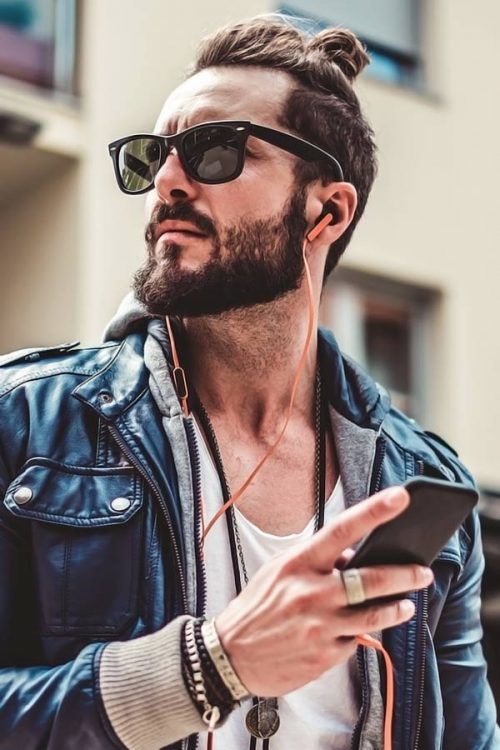 Sjale/Shutterstock
If a top knot is still a little bit controversial hairstyle for you, pair it with a true sign of virility and men power – a beard. It doesn't really matter whether you'll go with a fine stubble or luxuriant facial hair, as it will come out hot and attractive in any case.
High Knot With Undercut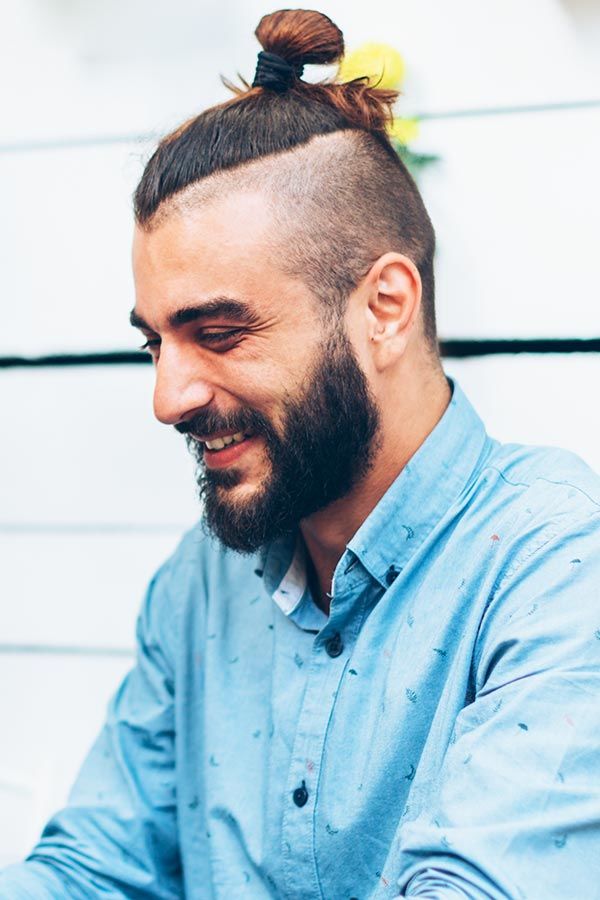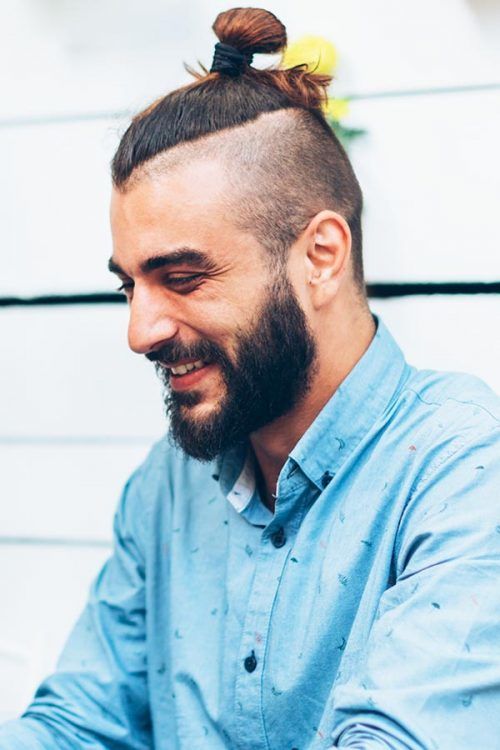 astarot/Shutterstock
Can you think of another haircut combo that would go together as nicely as a top knot and an undercut? We neither. It gives you multiple styling options, as there are plenty of ways how you can have your hair undercut as well as ways of styling your high knot.
Half Up Top Knot And Dreads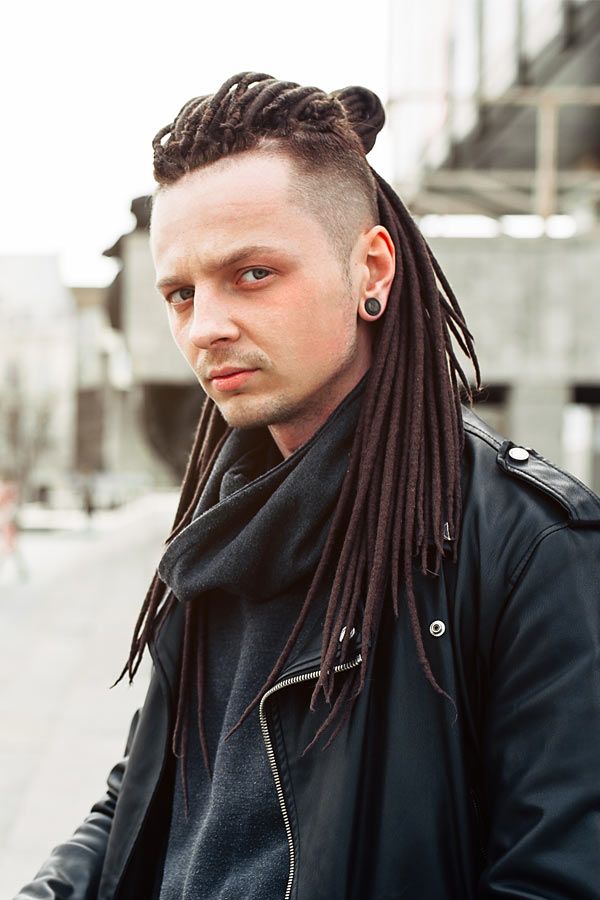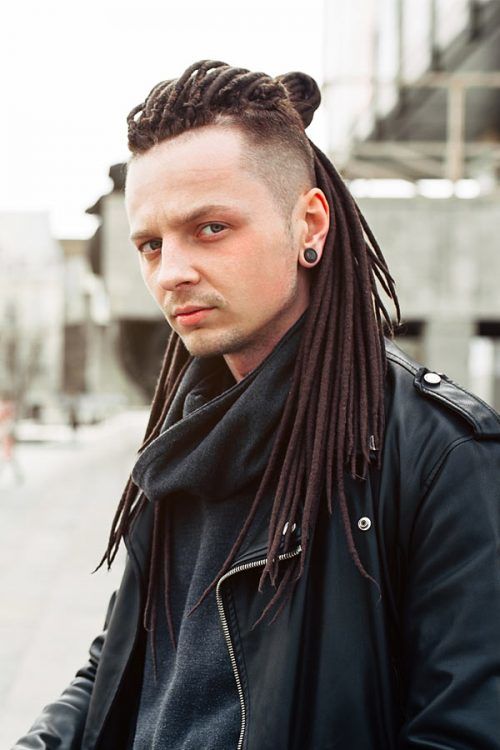 andreonegin/Shutterstock
Did you know that you can combine two trendy hairstyles in one? If you normally wear dreads, the desire to pull off a top knot is not the reason to get rid of them. You can pull your dreadlocks into a half up top knot and kill two birds with one stone.
Top Scaled Dense Knot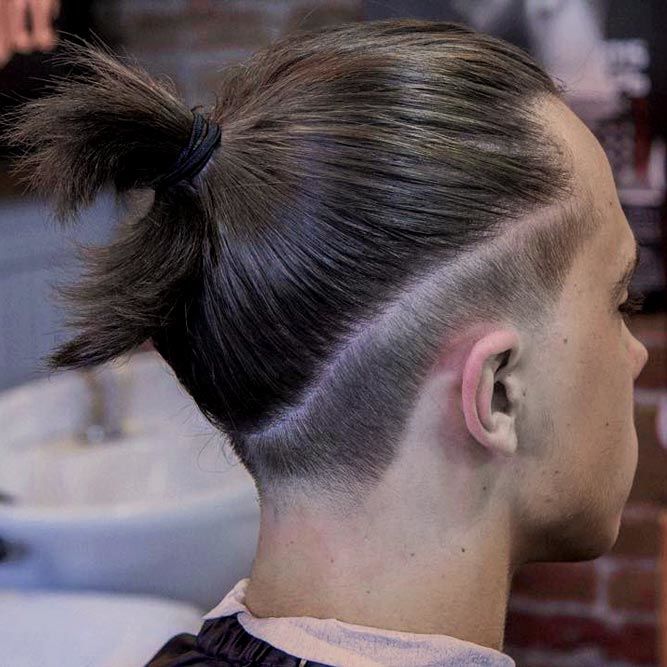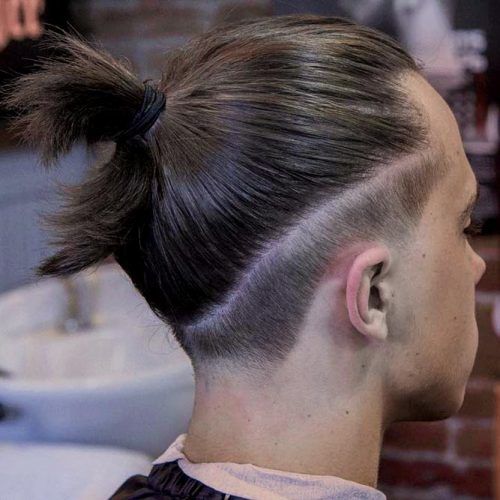 Source: @meha_barber via Instagram
This hairstyle is for men with really dense locks. It helps to lighten up your mane without looking too bald. Tie your hair into a top knot while having the strip of the hair around the hairline trimmed. Thus, you will achieve a high contrasty look thanks to the striking difference in the length between the hair on the sides and top.
Neckline Hair Design With Top Knot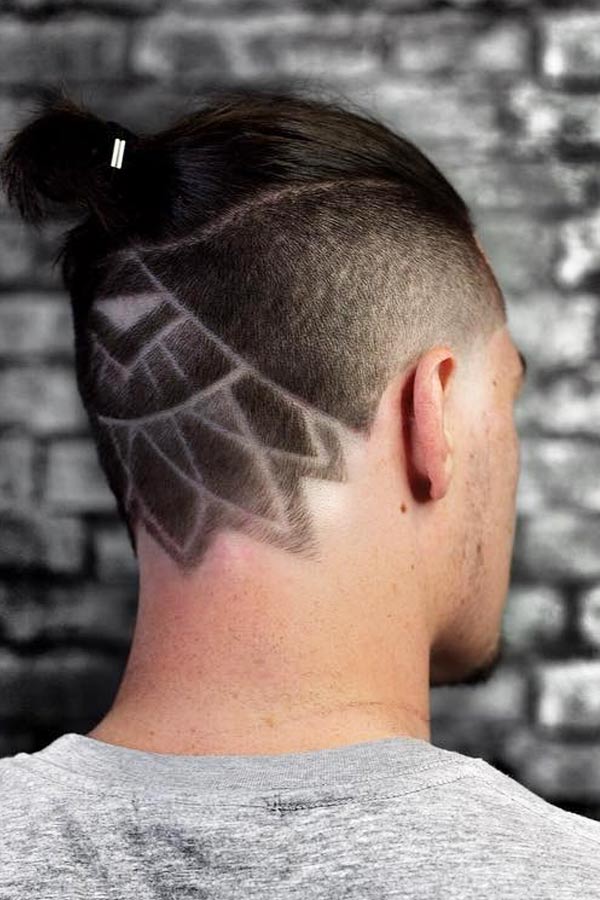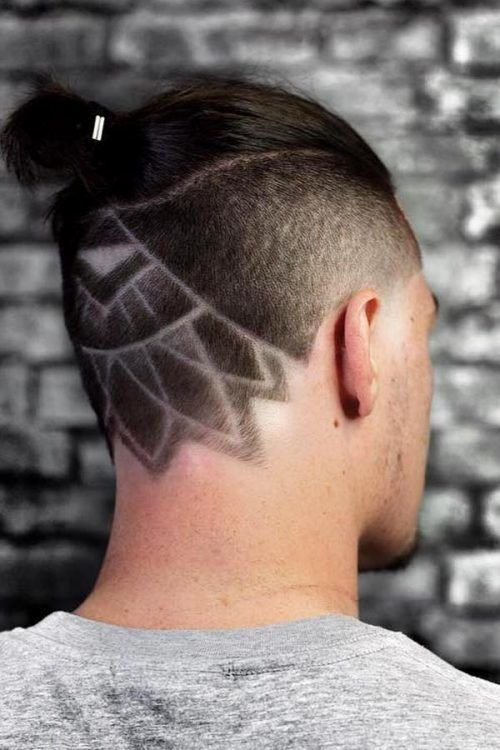 Source: @ryancullenhair via Instagram
One of the best ways to upgrade a classic top knot hairstyle is to adorn it with hair design. Where to get it is up to you to decide, as well as what pattern to go for. Yet, we would suggest opting for design on the neckline area, as there is plenty of room to pull off even your most creative ideas.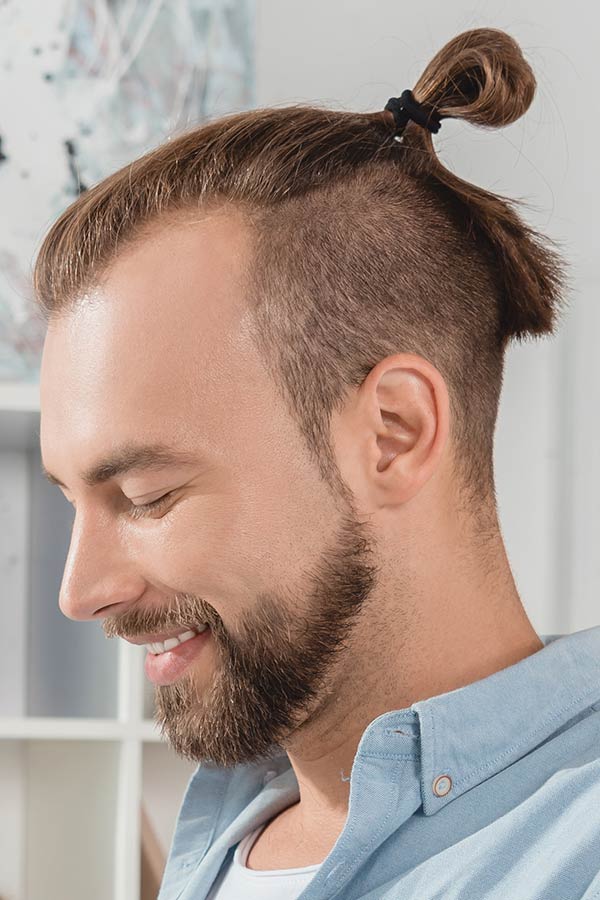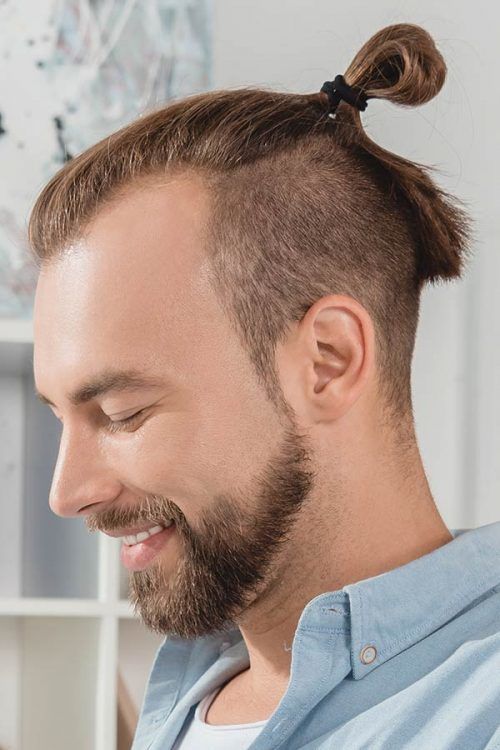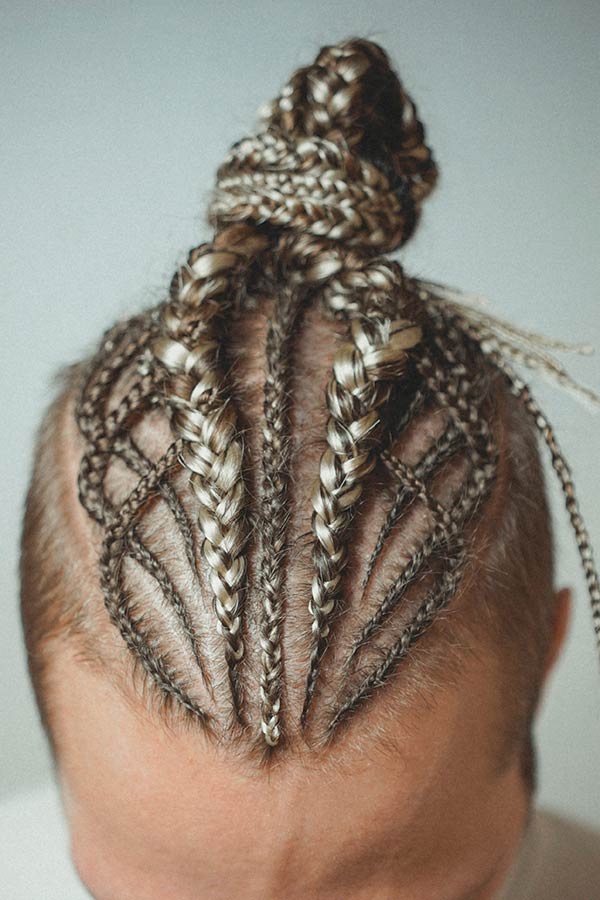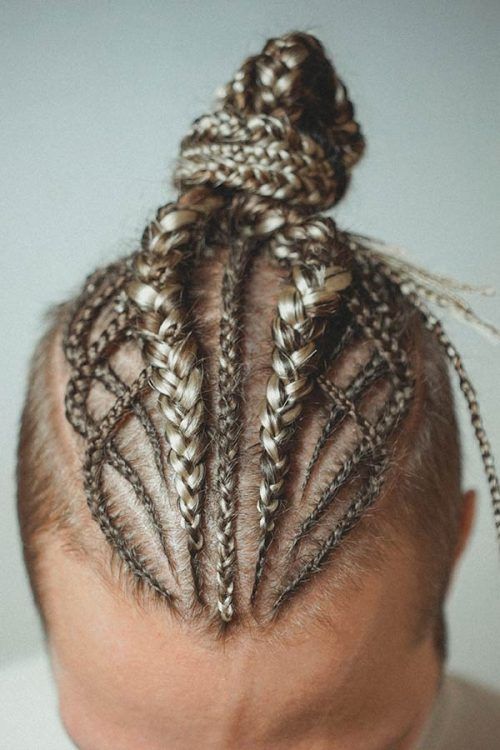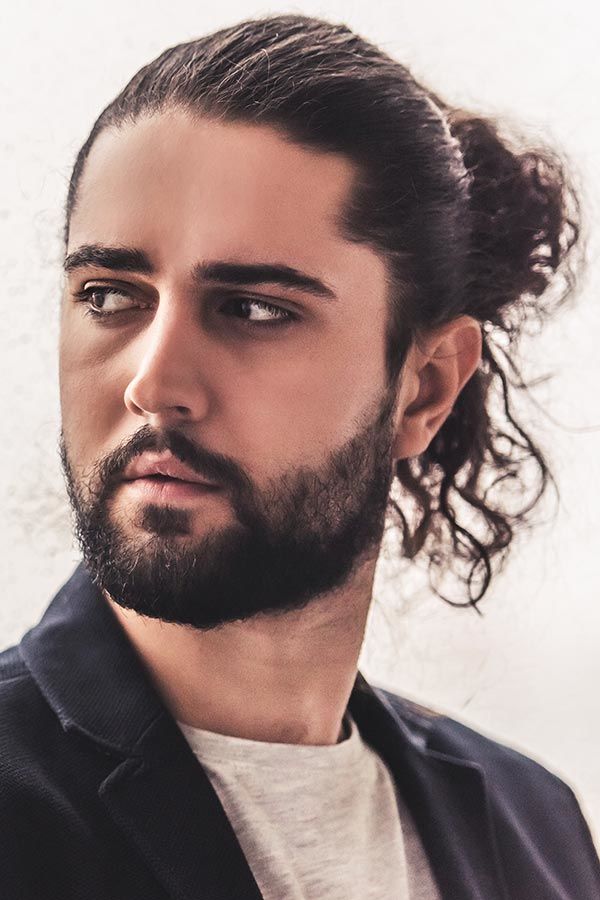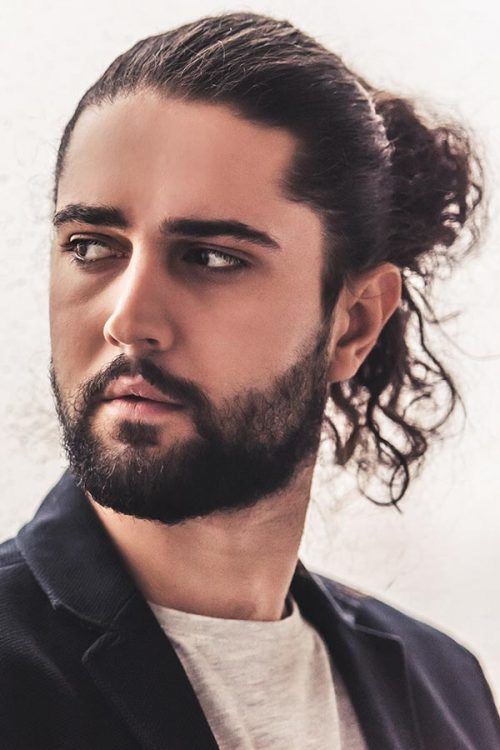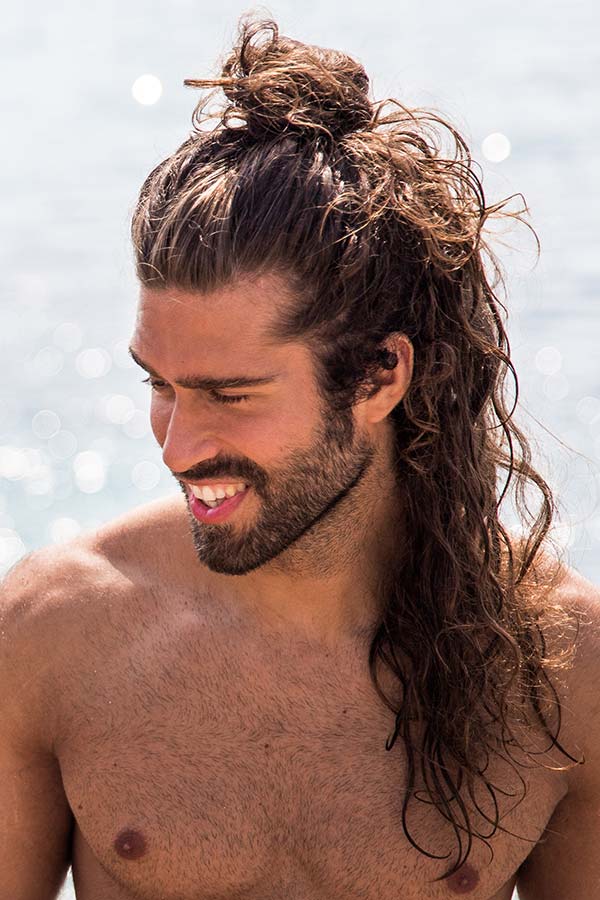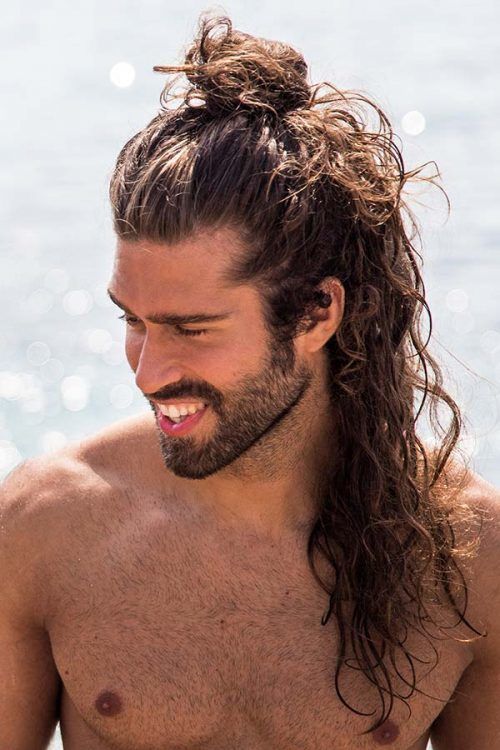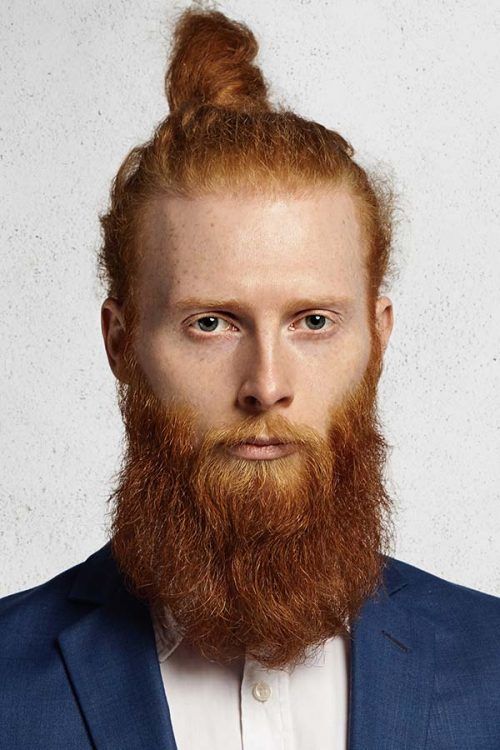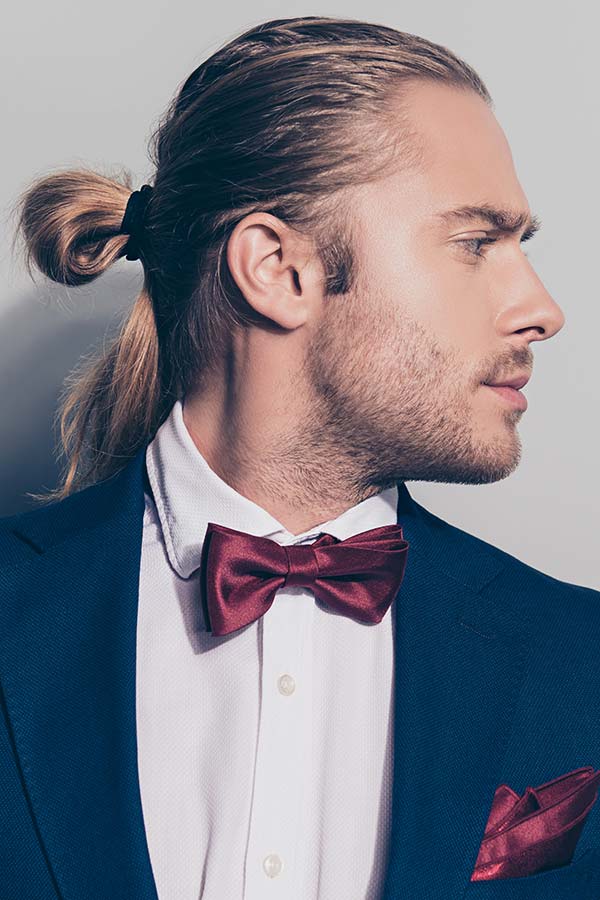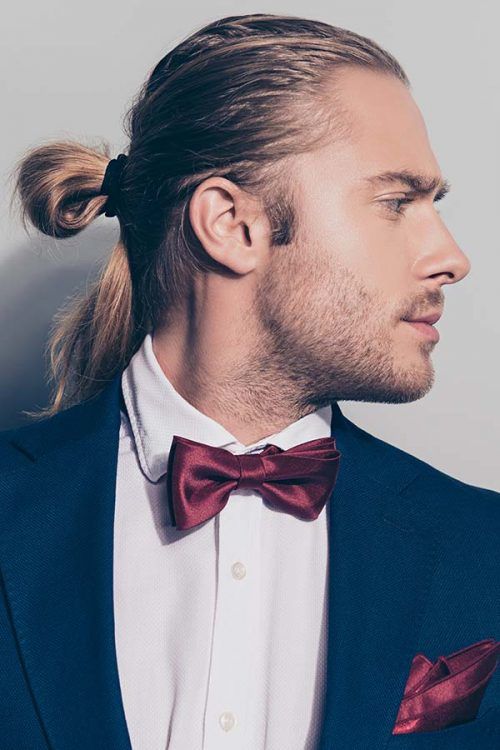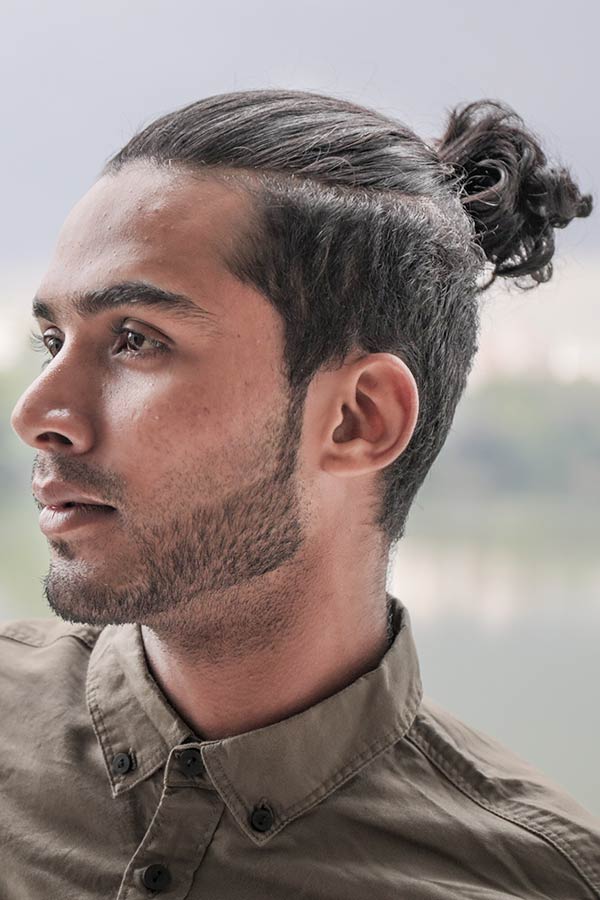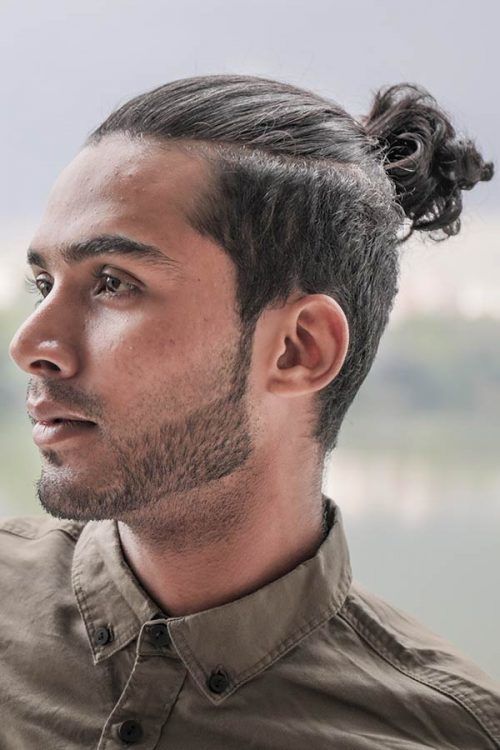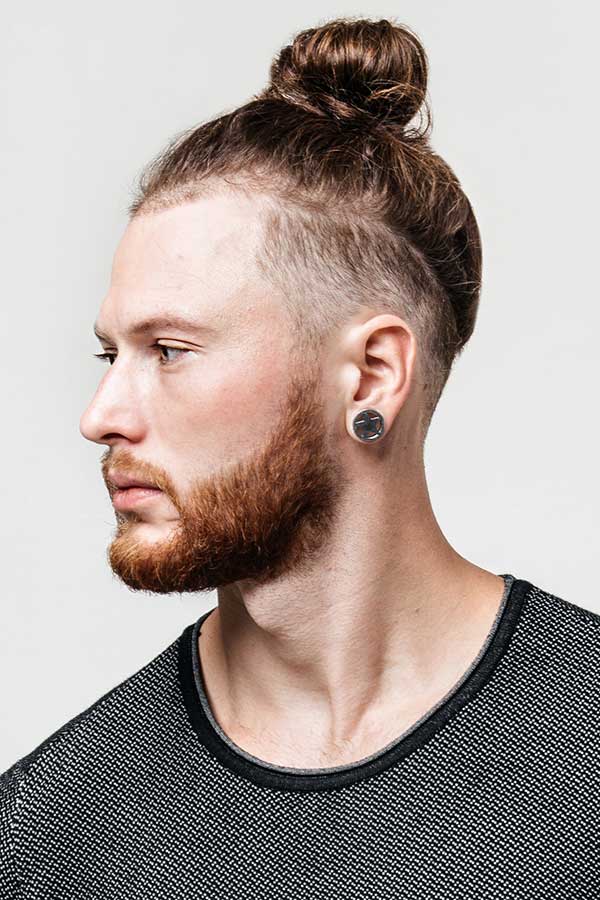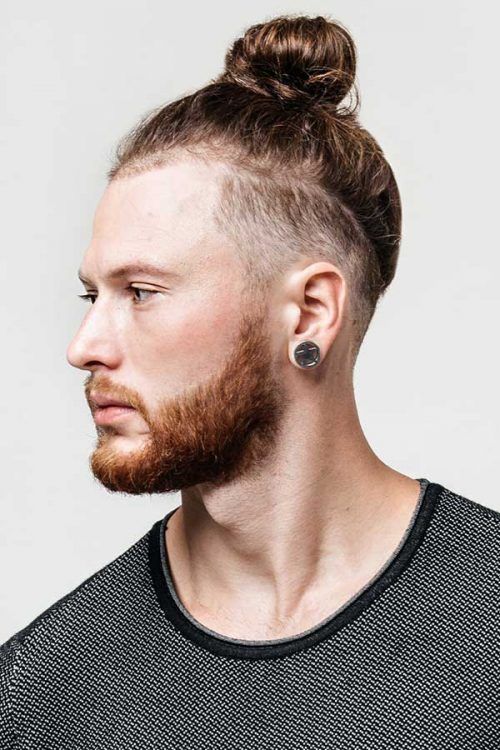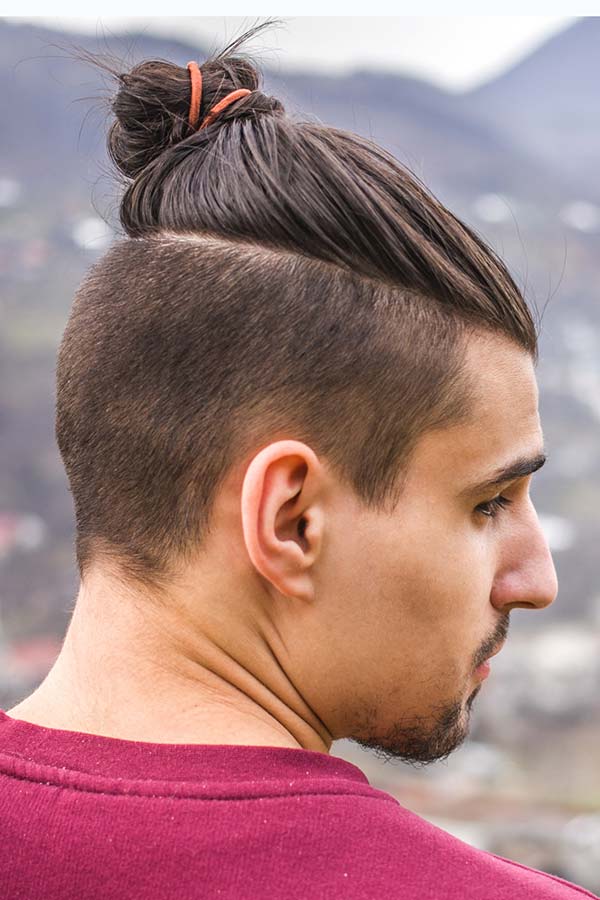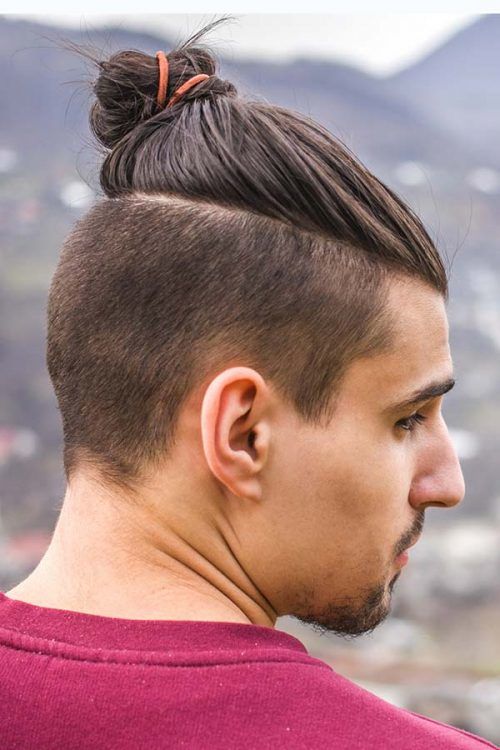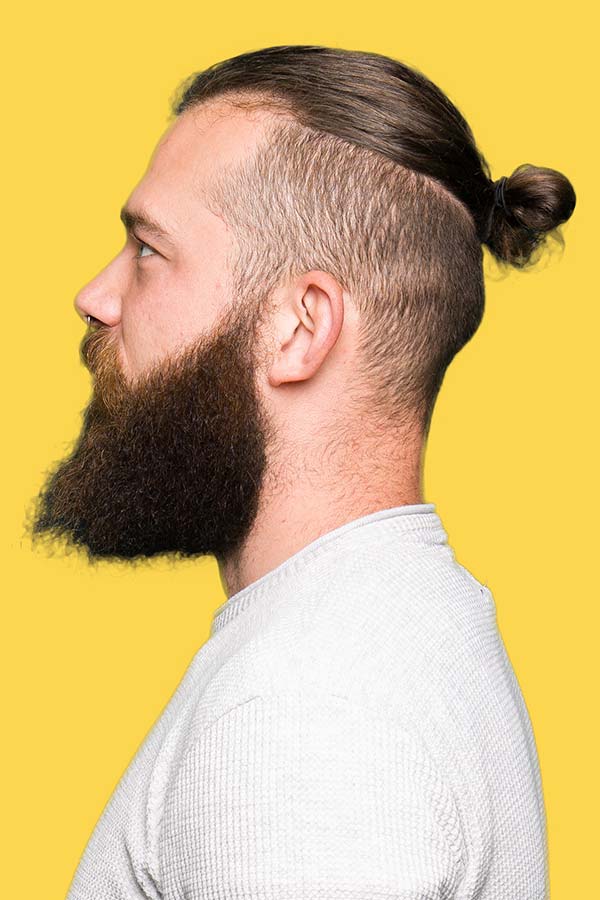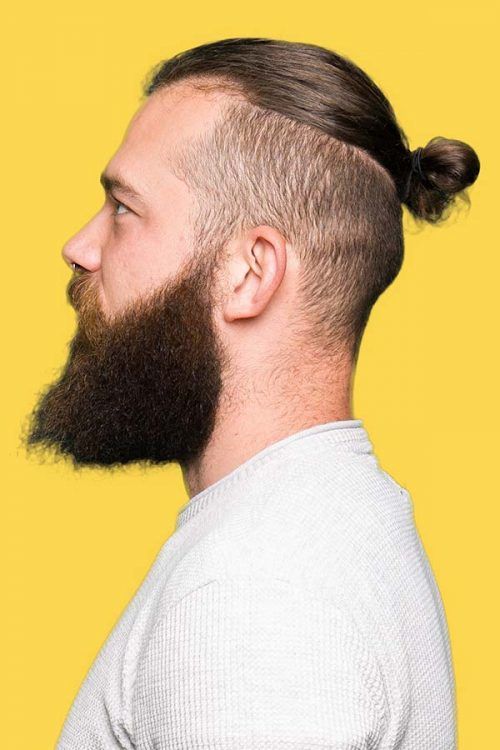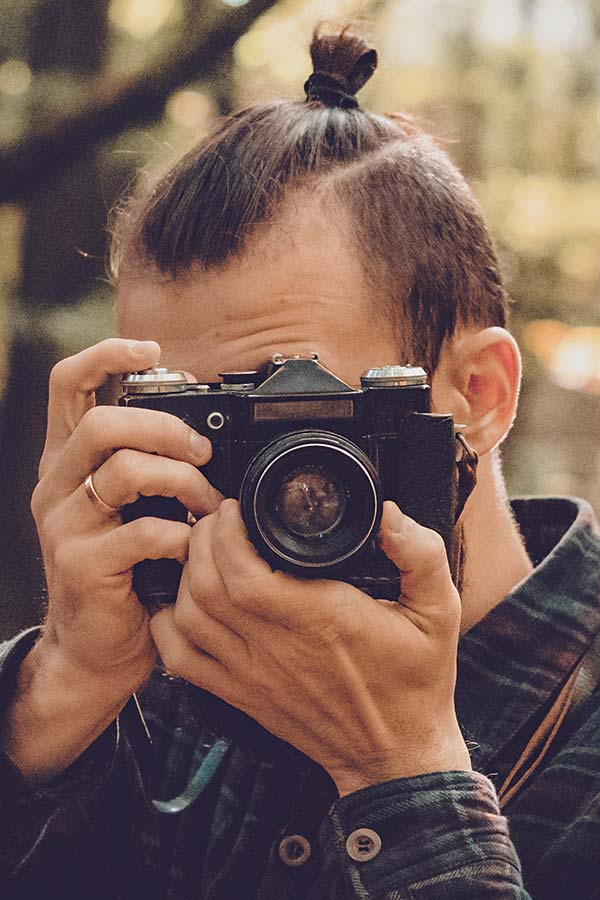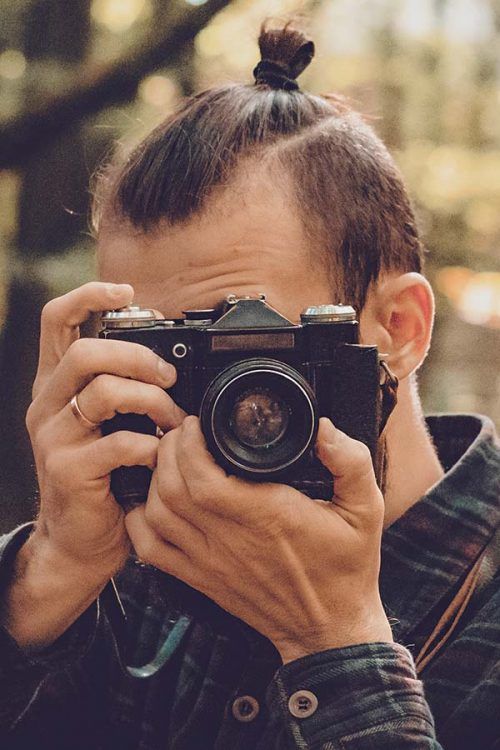 We hope our top knots for men have inspired you with some ideas for a bold and edgy brand new look!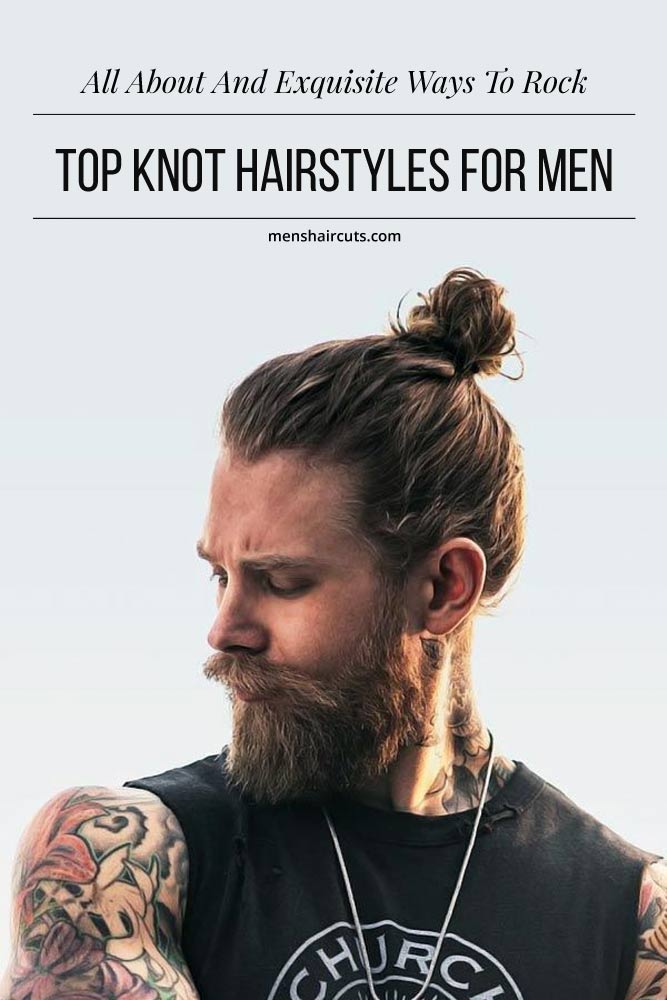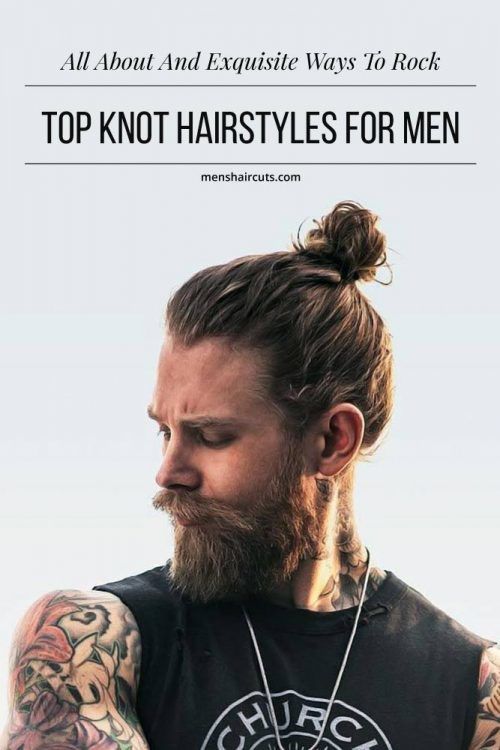 REFERENCES: