How to trim a beard is the main question to consider when cracking the code for the best beard styles. It's been a long time since growing a beard was only about stopping shaving. Nowadays, a beard is not a symbol of laziness, untidiness and economy anymore but rather is a stylish accessory. It has become totally acceptable at the office as well as formal receptions. Thus, you need to know and follow seven simple but essential steps to trimming your beard in the proper way.
Before You Start
Prior to actually trimming the beard, you need to take several important steps that will prepare your facial hair for a trim. So, make sure it is clean and hydrated. To achieve this, you need to wash the beard with a special shampoo and apply a conditioner afterward. Once the beard is dry, you should brush it through. However, go in the direction opposite to the grain. In this way, your hairs will stick out and you will be able to notice uneven ends.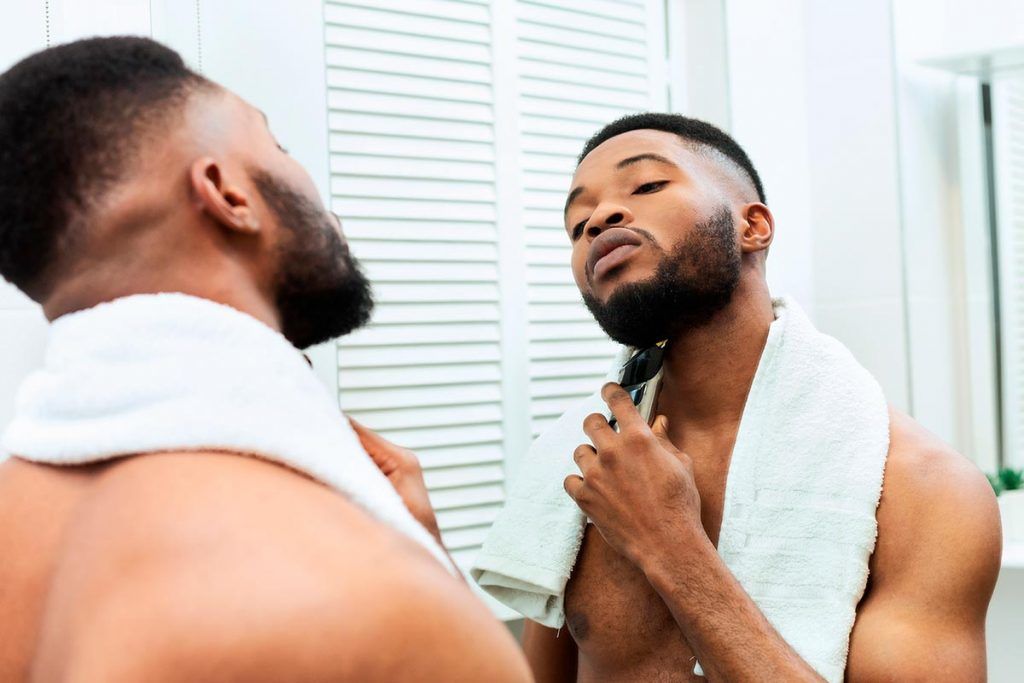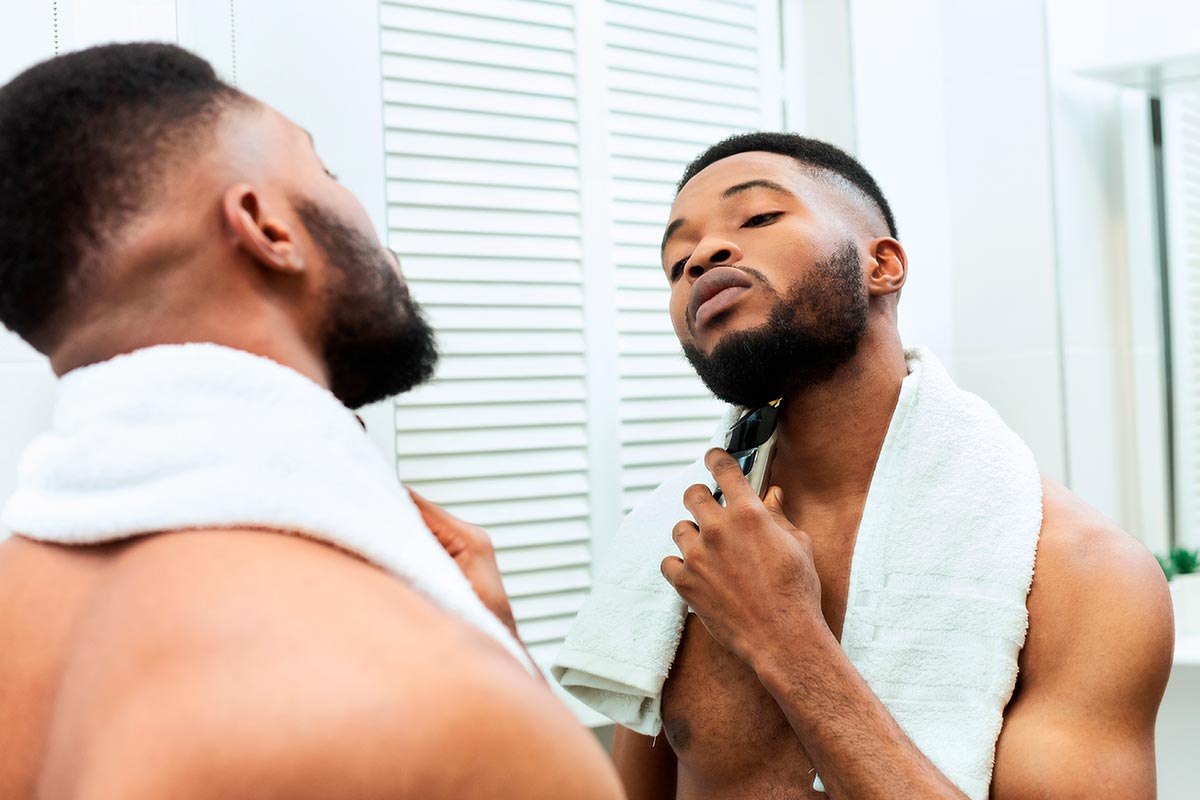 Evaluate Your Beard Hair Type
Before giving your beard a trim, examine it carefully. It is crucial to know what beard type you are dealing with, whether it is dense, kinky and scratchy or fine, skimpy and steady. Also, to succeed, you need to know how to grow a beard long enough because you don't really want to trim the stubble, do you? In case you are wondering why on earth you don't want to do this, we'll tell you only one word – ingrowns. The awareness of your beard type can benefit you greatly as based on this information, you are going to choose not only beard styles but also tools and hair styling products. So, make yourself comfortable and let's learn how to trim a beard at home.
Choose Your Tools
Apparently, you don't need to have all the barbershop equipment at your place. However, several essential tools for beards and mustaches are worth buying. First thing on the list is a razor, especially an electric one. Even though it seems that any will do, this impression is misleading. You need to pick a razor or clippers in accordance with your hair type.
So, it would be a good idea to ask for an expert's consultation. The second important thing in your beard shape tools kit is a comb or a brush. You will make good use of them when your beard gets tangled. Another useful tool in the arsenal is scissors that you will use for detailing. And last but not least is moisturizer or oil for your beard because you want to keep it soft and healthy.
Choose Beard Design
At this stage, when you have already decided on your hair type and chosen your go-to equipment, it's time to consider how to shape a beard. The first thing to take into account here is your face shape. With the help of a beard, you can amusingly complement your facial features by adding some sharp contour lines. Or you can make your jawline visually heavier and thus more masculine. In any case, there are plenty of long beard styles that will make you look more attractive.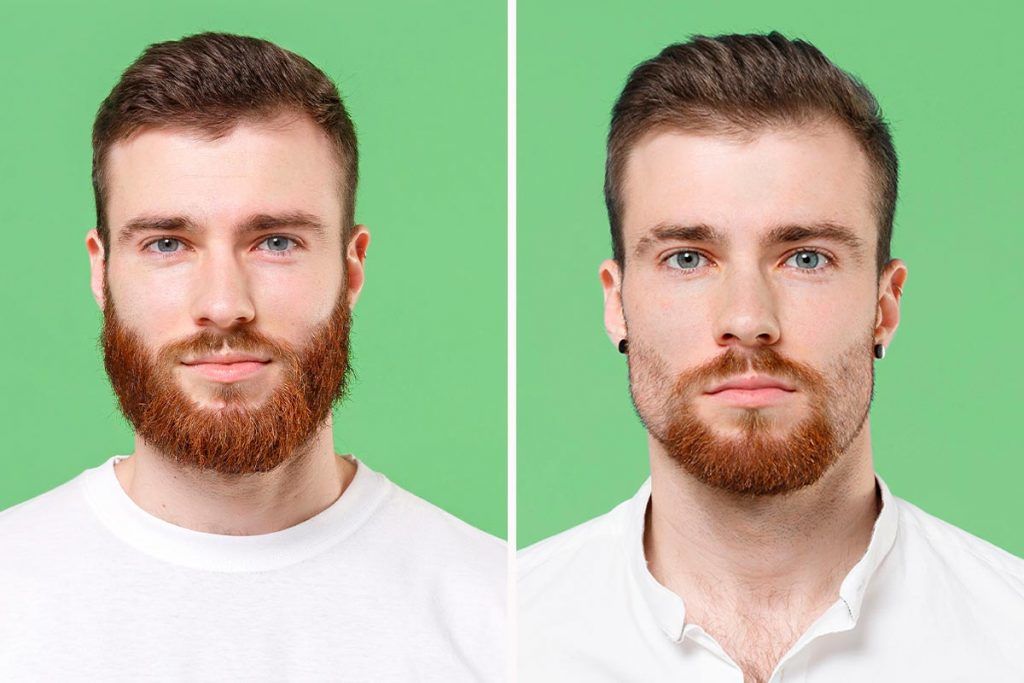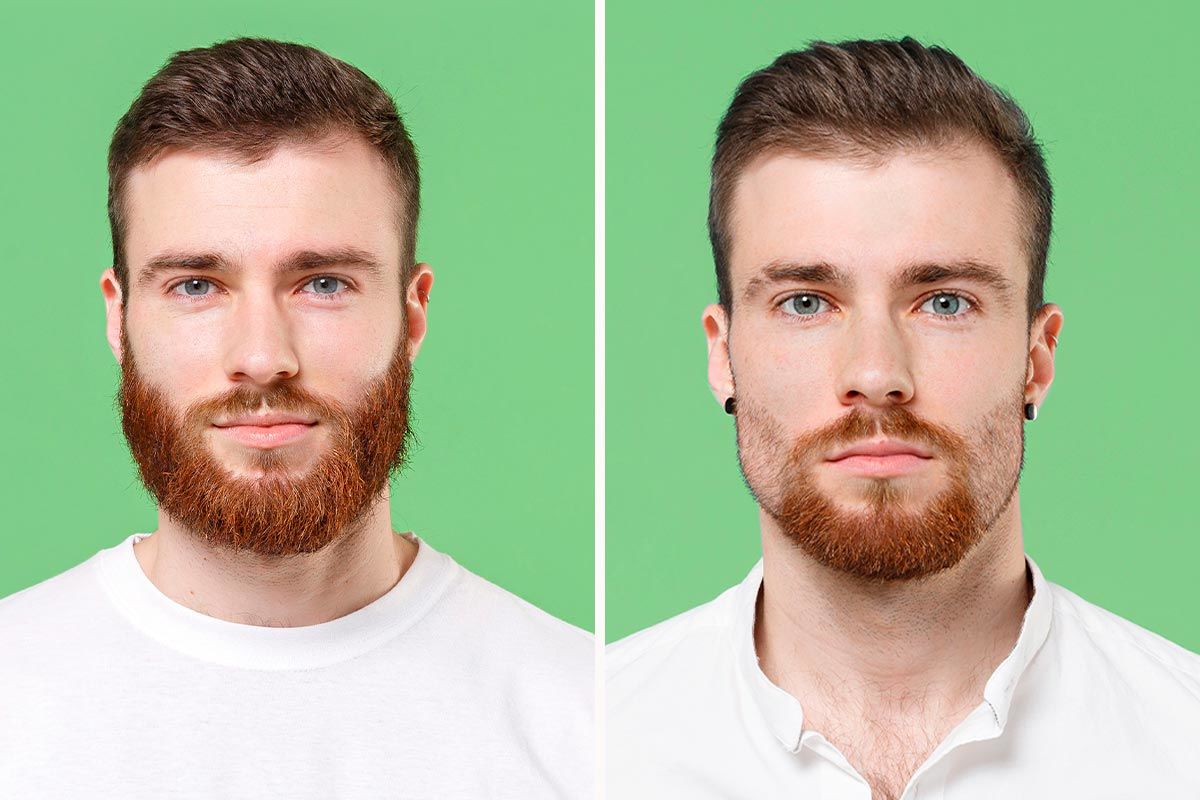 Get To Cutting: 7 Steps To Follow
Ready or not, here we go. In fact, you'd better be ready by now because it's time for beard grooming. Apply clippers with the guard size depending on the hair length you have. If you are going for an extremely short cut, you should leave out the guard. For the cleaner and closer result, you can move against the grain.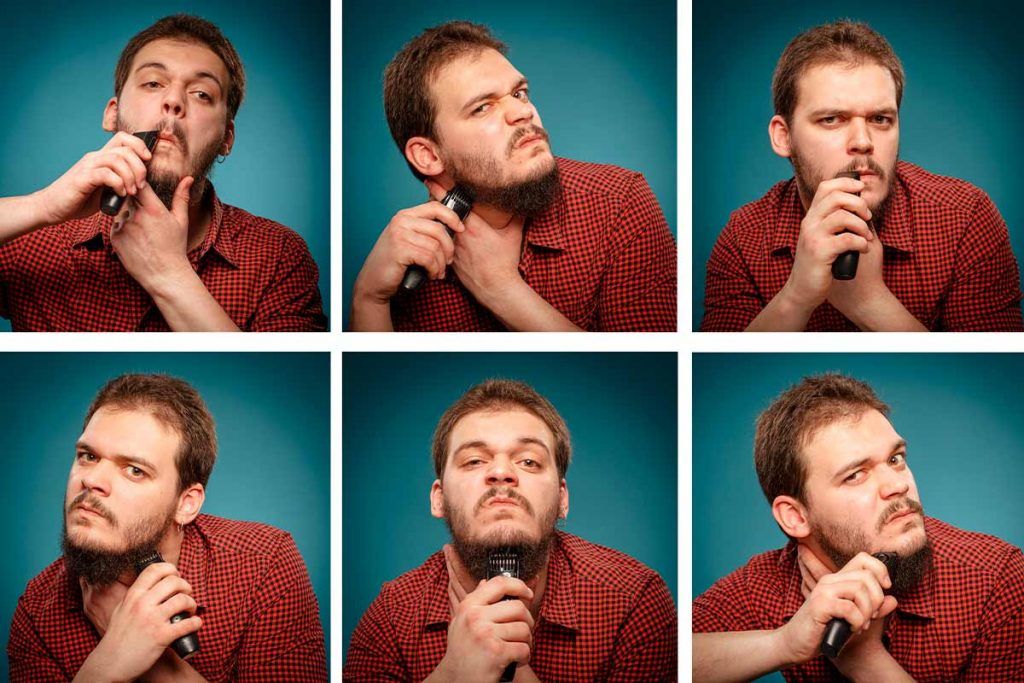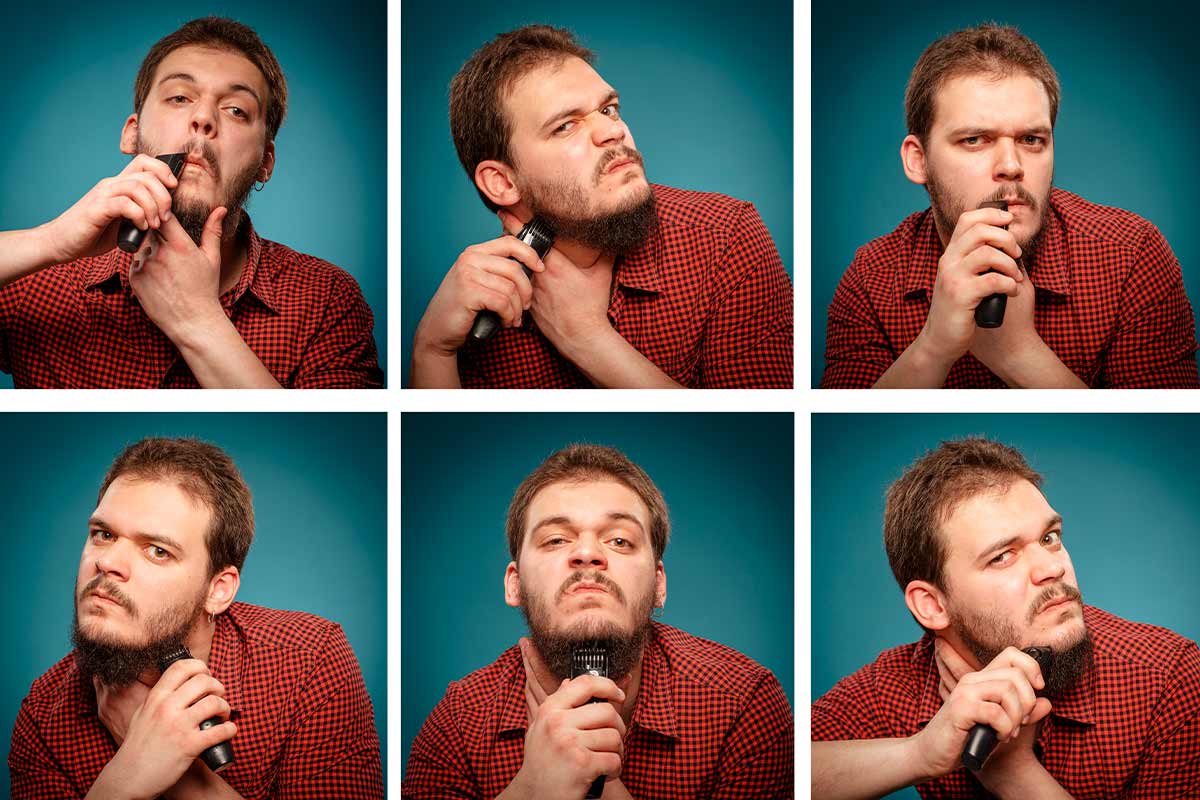 However, we would not recommend shaping a beard this way because it could bring you irritation with clogged pores and, of course, ingrowns. Go around all the area where the hair grows and stop at the neckline. This is basically all you need to know about how to trim a beard properly.
Step 1. Wash And Condition
Remember, to keep your beard in good condition, it is highly important to wash it thoroughly. In case you don't know how to wash your beard, here are some tips. Don't be a scrooge and buy a special beard shampoo; otherwise, you'll regret later on. After you have shampooed and rinsed your beard, apply some conditioner. It will make your facial hair soft and easily manageable.

Sop up the excess water with a towel and leave the beard dry or speed up the process with a blow-dryer. You may think you know how to brush a beard, but we will try to sow a seed of doubt in your knowledge. You simply need to brush in the opposite direction to your beard grain. This will lift the hairs and make it much easier to trim as well as correct any flaws. Hence, using a beard brush gives you a number of advantages.
Step 2. Brushing Up
Step 3. Cutting The Length
Use the beard trimmers to give you the desirable length. Don't use the small guard size at once. It's better to gradually reduce the size of it in order not to get a too short beard length by accident. Opt for a uniform length all over your beard if you choose a modest middle-length trim. If you would like something more sophisticated and expressive, process the chin with a bigger guard and the temples and cheeks with a smaller one. Don't make the difference too harsh, one or two indexes will be more than enough.
Step 4. Mustache Style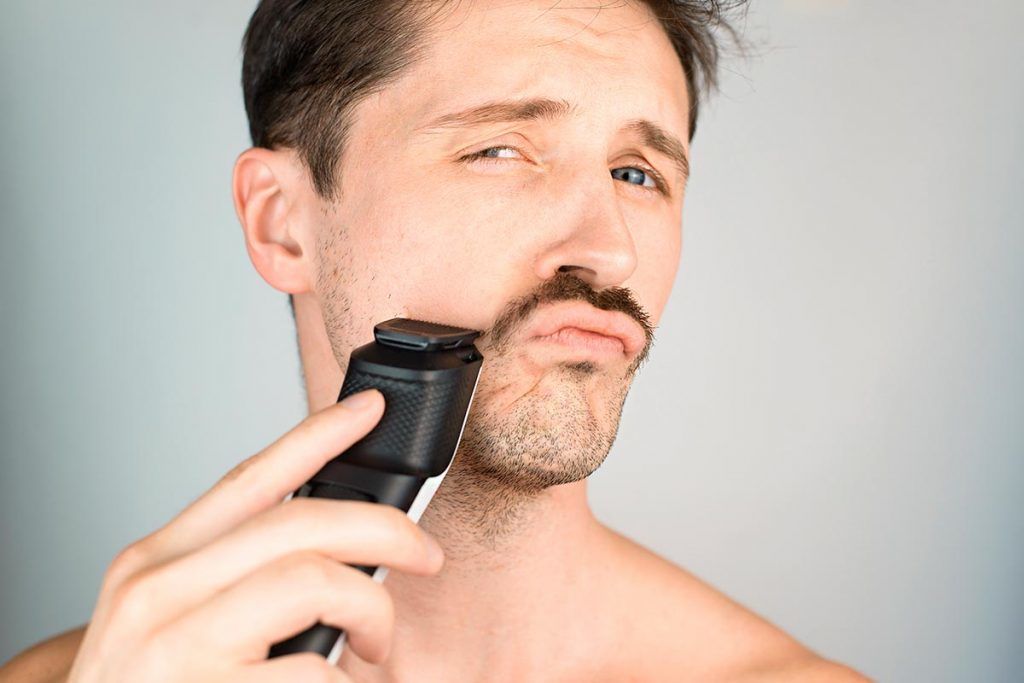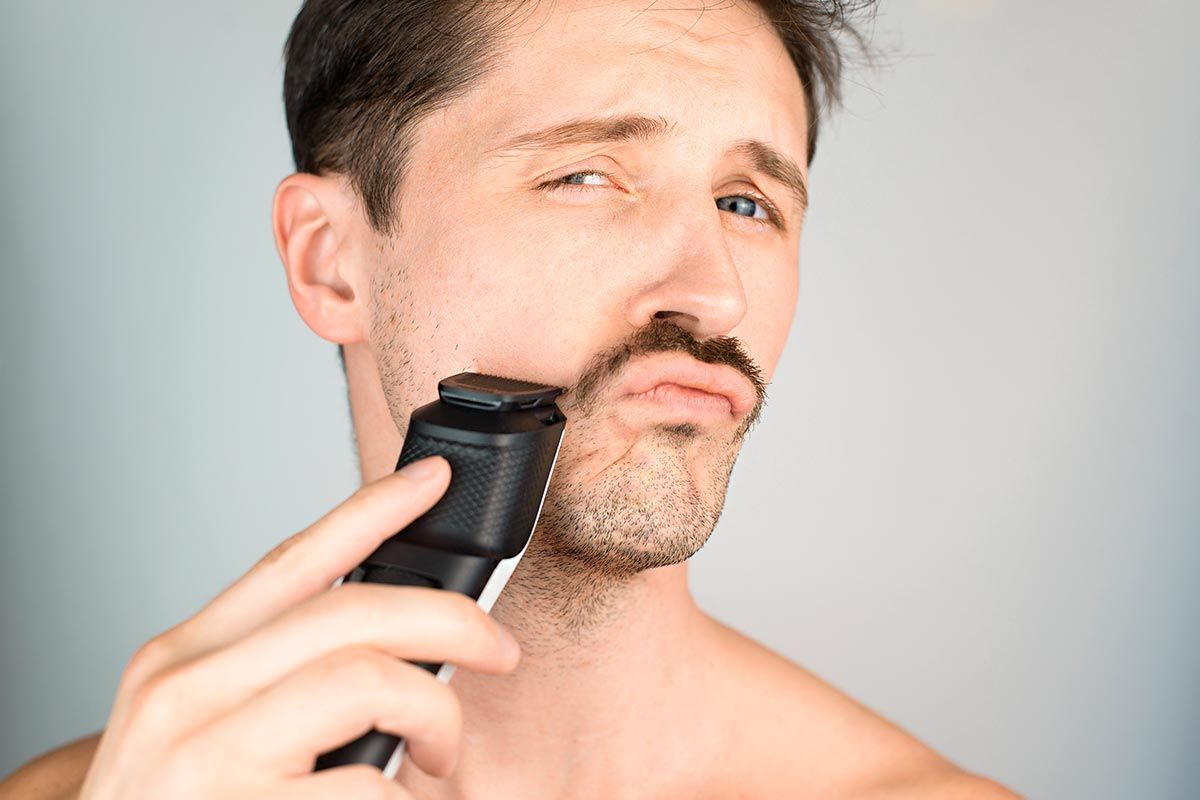 As for the mustache style, you definitely don't want it to be outweighed by the flawless look of your beard. Thus, you should be aware of how to trim a beard mustache. First of all, forget about the guard on the clippers; it's a totally thankless job. Go with bare trimmers after you have combed the mustache down and move away anything that goes over the upper lip. If you don't trust your the steadiness of your hands, use special scissors for a mustache.
Step 5. Beard Neck Line
Bet you didn't really care how to trim a beard at the neck. Most men believe that it does not require special intrusion; however, it does. The neck beard line shape greatly affects the overall impression the look gives. But don't start to panic, there is a good way how to find out where your neckline should be. The distance between your Adam's apple and the neckline should be equal to one finger. That's how you measure it. Also, don't rush; take your time to create the perfect outline and hedge your bets by estimating your success, using the mirror.
">
Tips To Shape Your Beard Neck Line
Such an approach to shaping the neckline is not a coincidence. If it is cut too high, the beard will not look as voluminous as it used to be before trimming. However, if it is cut correctly, your face will look balanced and elongated as well as your whole body will look slimmer. When you shave your jaw, your face looks smaller, even feminine, and it puts way too much attention to your neck. Keep in mind when shaping your beard neck line how to take advantage of it and not turn it into a disaster.
Step 6. Cheek Line
How to shape your cheek line is another crucial question that should be considered when trimming your beard. It is as important as a proper neckline. In essence, there are two ways how to shape and style your cheek line – natural and defined. The natural cheek line creates a nice look, whereas the defined cheek line makes your face look clean and outlined. So, it's totally up to you to decide what impression you want to give.
Step 7. Care Products
Finally, you need to know how to maintain your beard between the trimmings. You already know how to comb it; now add a drop of beard oil before the procedure and you'll get a nice, soft, easily-manageable beard. This step also helps to deal with any flyaways left after the trimming.
How To Trim Your Beard Without A Trip To The Barber (Tutorial)
How do you properly trim a beard? Here is a quick beard trimming guide, which will help you to do it properly:
Clean your facial hair and let it dry.
Alternating trimmer settings from the longest to the desired length, trim the hair on your whole face.
Trim around the edges of your beard with the trimmer first and then follow up with a razor for a cleaner look.
Decide if you want your cheek line to be defined or natural and either trim it or leave it like that.
Trim the hair above your top lip to give your mustache the shape.


Source: @roque_80 via Youtube
That's basically all you need to know in order to get the perfect beard trimming. As you can see, it's not as easy as it seems; however, it's totally manageable. Just remember our simple yet essential tips how to trim a beard!
Products And Tools
When it comes to trimming beard, it is not only about how to trim beard, but also what you use for it. So, take care to equip yourself with the following products and tools:
Beard shampoo and a beard conditioner to maintain good hygiene of your facial hair and keep it hydrated.
Beard and mustache brush and comb to get rid of tangles and make trimming beard easier.
A high quality beard trimmer with a set of guards to trim your facial hair to the desired length.
Beard or mustache shears to remove any hairs that you missed trimming.
A safety razor and a shaving set to create a clean outline.
Beard oil to moisturize your facial hair and give the beard a finishing touch.
Beard Soap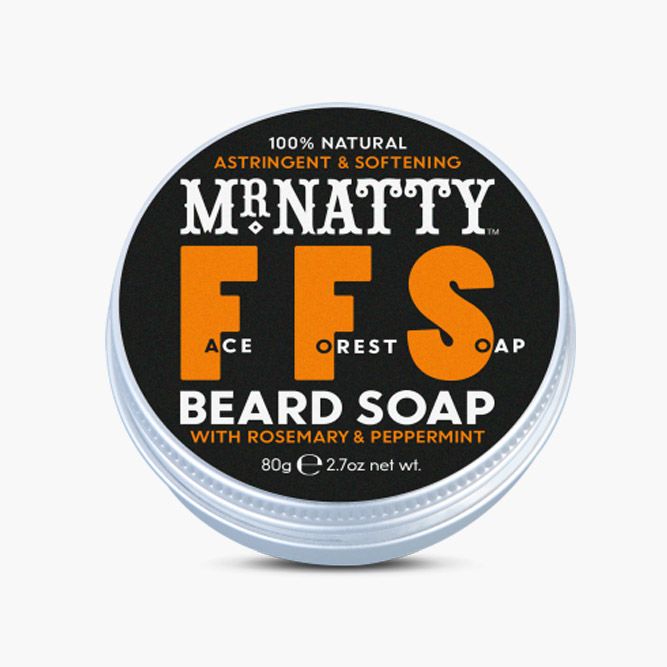 Courtesy of brand
To look its absolute best, your beard requires regular cleaning and moisturizing. This rule applies even stricter when it comes to trimming. For the best result, you want to wash your face first with a special product created to clean your facial hair and underlying skin, such as a beard shampoo or soap.
We like Mr Natty's Forest Face Beard Soap for this purpose. It cleanses your face thoroughly while leaving the skin moisturized and soft. Thus, it perfectly suits for everyday use.
Beard Conditioner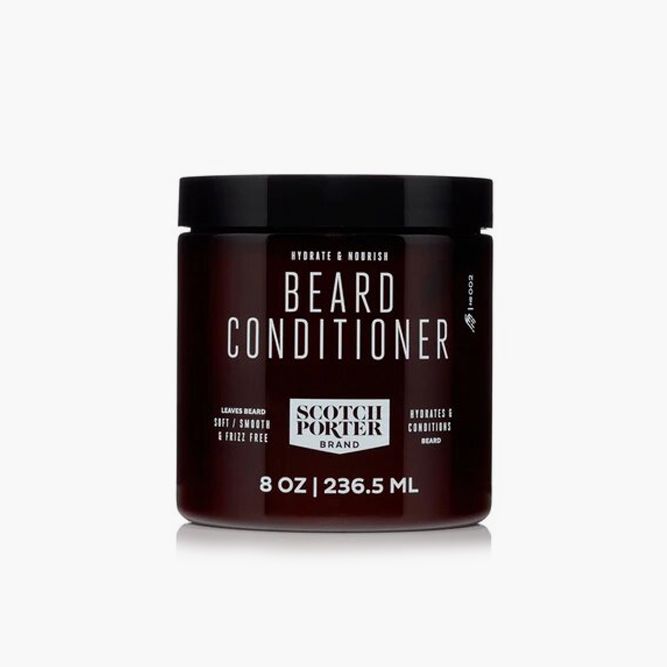 Courtesy of brand
After that, you will need to nourish and hydrate your beard with a conditioner. It will tame your facial hair and make it soft and smooth. Also, it will make your hair fibers stronger and help to get rid of beardruff and frizz.
And, one of the best conditioners to do this task is the Hydrate & Nourish Beard Conditioner from Scotch Porter.
Beard & Mustache Brush and Comb Kit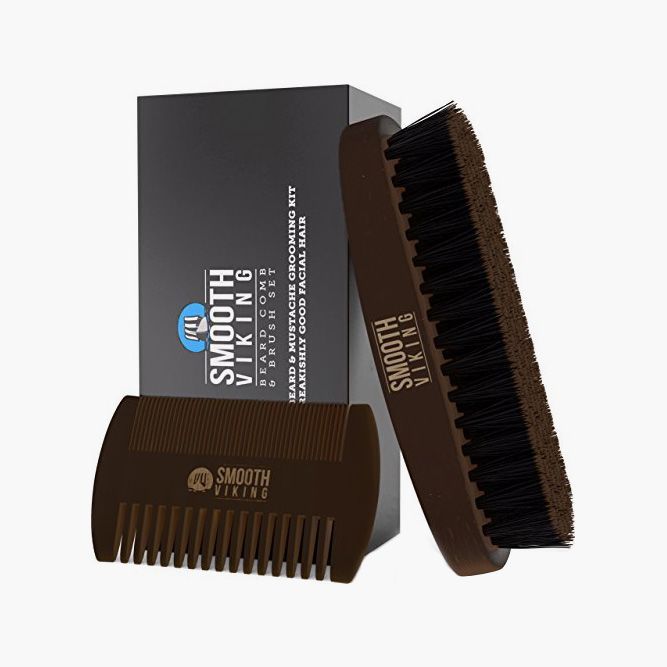 Courtesy of brand
Brushing is an essential step in beard trimming. You will need to brush your beard against the grain because you want to lift the hairs to ease the process and achieve an even length. Of course, you will need some quality tools to do this.
Smooth Viking offers a beard comb and brush set that will not only allow you to keep your beard and mustache under control but also eliminate beard dandruff and flaking.
Beard Trimmer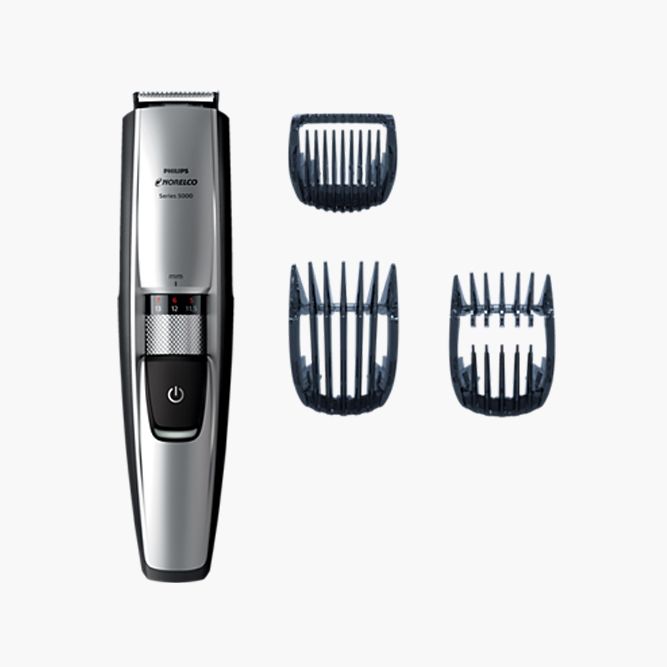 Courtesy of brand
Now, the time for trimming has come. For this purpose, you will need clippers. First, use the guard bigger than desired so that you will not cut extra by accident. Then, switch to a smaller guard. In case you are okay with a low-key beard style, you can stop right there. Yet, if you want to achieve a more elaborate look, you should go with different guard sizes on your chin and cheeks. And the right tool will make the implementation of all of your creative ideas possible.
Take, for instance, Norelco Beard Trimmer Series 5100 from Philips. It provides you with the most precise trim, as it features a special system that makes the hairs stand up and out as well as self-sharpening steel blades. Also, it offers you 17 precision lengths settings, so you will be able to achieve the beard style of your dreams easily. This trimmer is effortless when it comes not only to cutting but also to maintenance, as you can wash it under a tap.
Shears Razor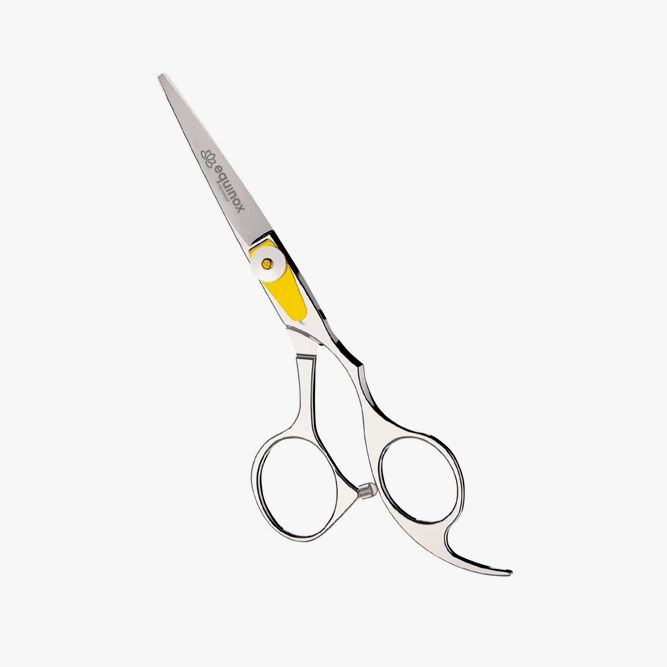 Courtesy of brand
Not only does your beard require regular trimming but the mustache as well. Using clippers can make it challenging. Thus, you should stock up on special mustache or beard scissors. Whether to cut high or low is completely up to you. As for the tool itself, it is not something you should skimp on.
Such haircutting shears as the ones Equinox Professional offers will provide you with the most efficient cut thanks to their ergonomic design, versatility and the sharpest razor edges.
Safety Razor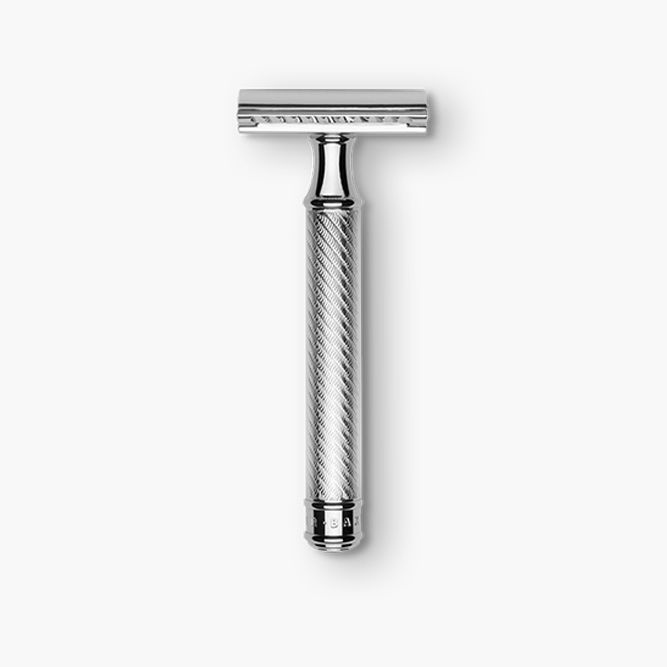 Courtesy of brand
A lot of men when trimming their beards somehow manage to leave out the neckline, which causes irreparable damage to the whole look. So that it will not happen to you, you should not forget about this area. It is also important how much hair you shave off. Not to go too far, it is a good idea to use your Adam's apple as a milestone. You should remove all the hair below it so that the neckline would have a "U" shape.
Sure thing, you will need a sharp razor for this purpose. We recommend the one from Baxter of California. Their safety razor will provide you with a clean shave without razor burns or ingrowns.
Shaving Brush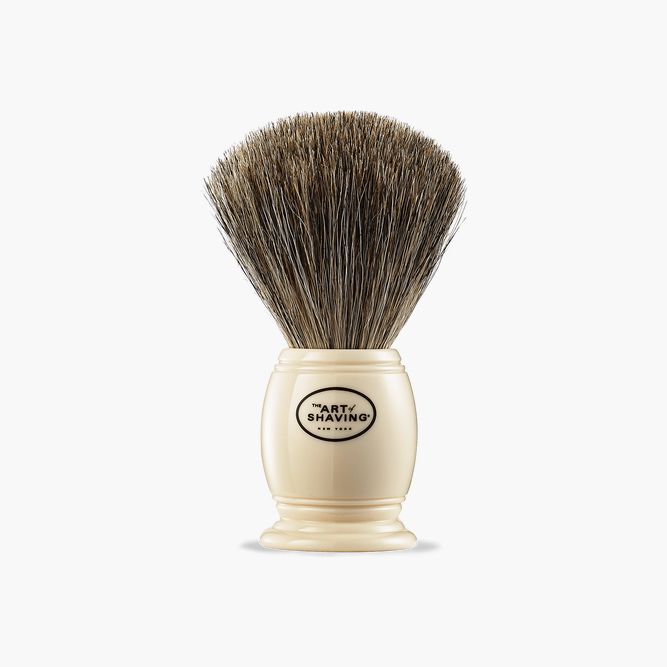 Courtesy of brand
To ensure that your neckline shaving goes smooth, you need to apply a good coat of shaving foam beforehand.
For a rich thick lather that makes your facial hair softer, use the shaving brush from The Art of Shaving. It manages to keep warm water inside so that it softens the hair on your face.
Shaving Soap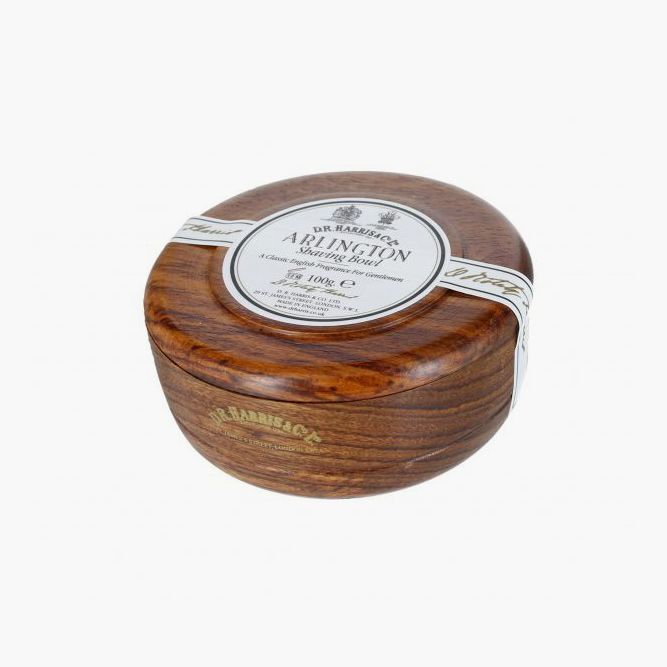 Courtesy of brand
It is easy to create a rich softening lather when you have such high-quality shaving soap and bowl as D.R. Harris & Co offer. The white soap bar is milled three times, which makes the lather even more abundant. The wood bowl is manually given a Mahogany effect. Together they provide you with comfortable and efficient lathering.
Shave Oil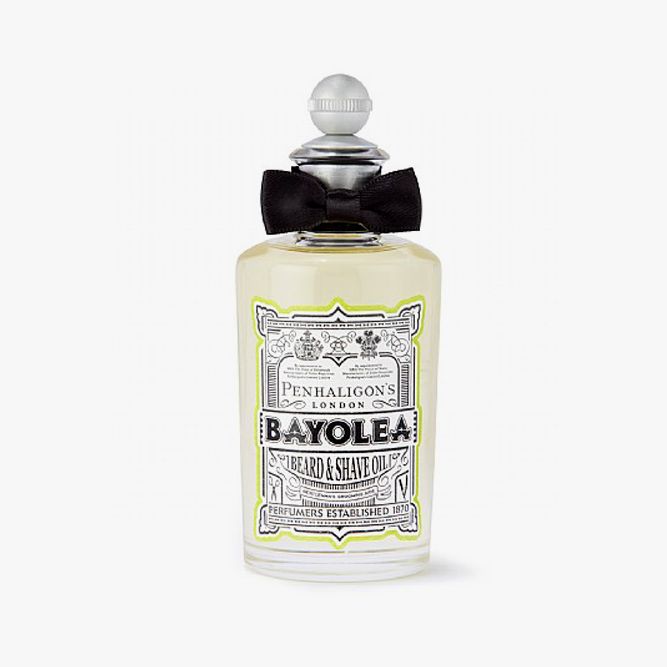 Courtesy of brand
The final step in your how to trim a beard process is applying beard oil. It will hydrate your facial hair as well as the skin beneath it so that it would look and feel healthy. Do not forget to spread the oil with a beard comb. This is also when you can give your beard the desired shape.
The Bayolea Beard and Shave Oil is a great option, as it will provide you with the closest and cleanest shave you can only imagine. Besides, it calms and comforts your skin thanks to wheat germ, sunflower and grape seed content. On top of that, you can use it to both prepare your face for shaving and take care of it afterward.
When you are unsure of what beard style to choose, it is always a great idea to draw some inspiration from celebrities. Surrounded by the army of the most talented barbers and stylists, they have no other option but to look their best. Here are the most attractive celebrity facial hair styles to give you some great ideas on how to trim a beard next time.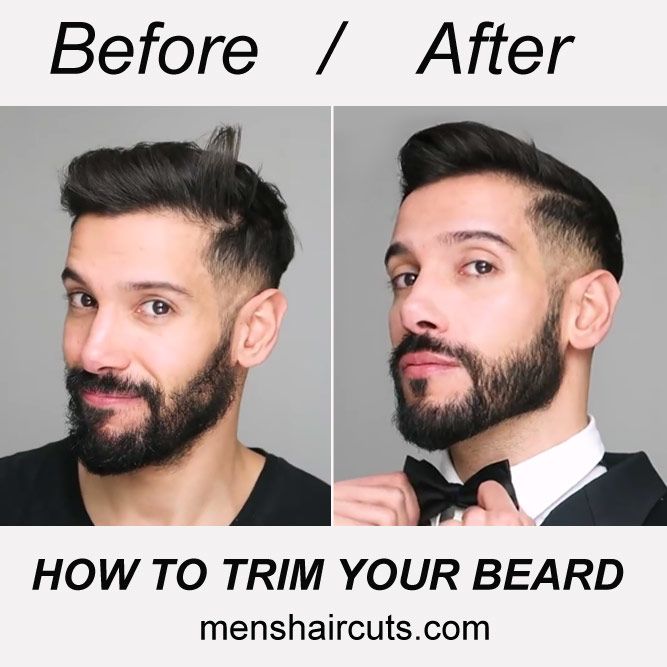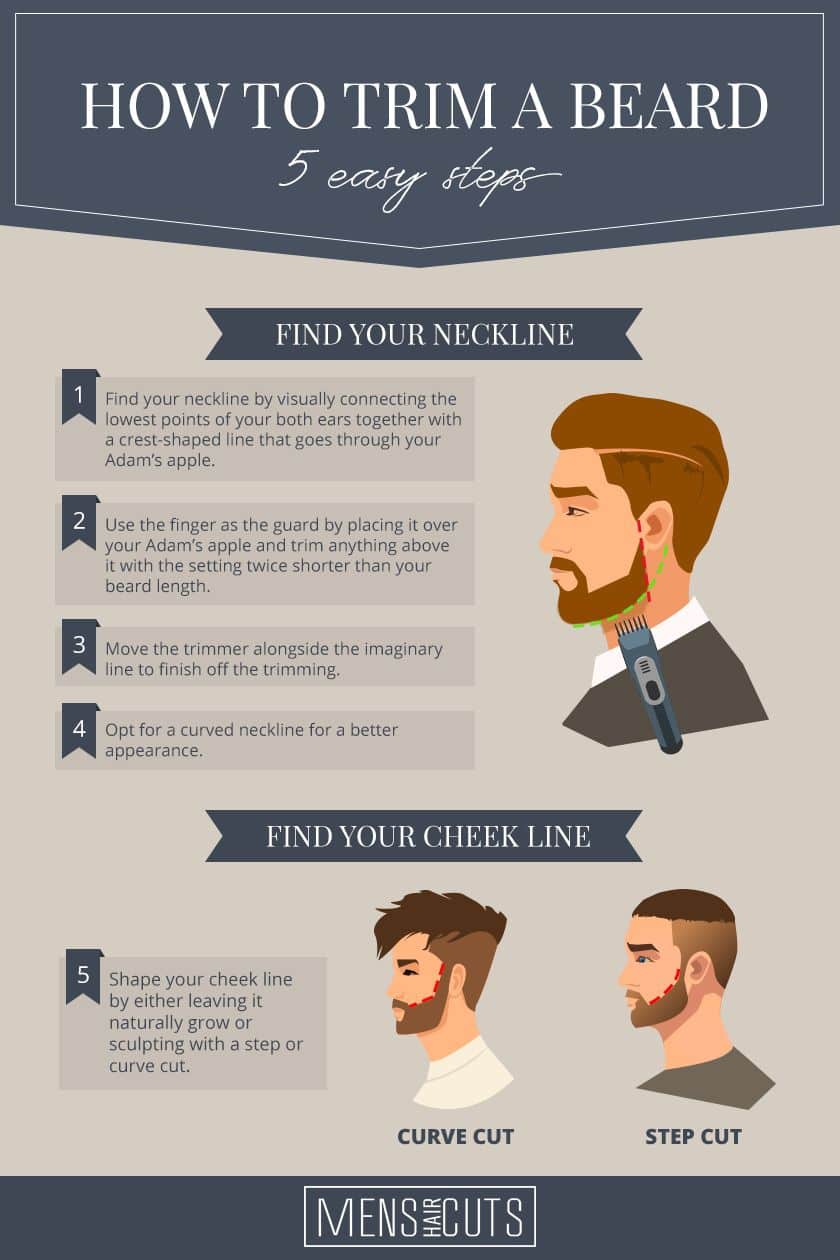 FAQs
Where should my beard neckline be?
To find your perfect beard neckline, you should draw in mind a semi circle through three points – two at the corners of your ears and one two finders higher than your Adam's apple.
Should you trim your beard wet or dry?
Ideally, you should trim beard when it is already dry. Wet hairs tend to stretch out, thus looking longer than when dry. So, you risk ending up with a shorter trimmed beard than desired.
How do you shape a long beard?
To learn how to shape your beard when it is long, check out these beard trimming tips:
– Wash your face before a beard trim to remove any dirt and buildup.
– Eliminate any tangles and knots from it using a comb with narrow teeth.
– Trimming a beard all over, you get the length even.
– To shape your facial hair, apply a sea salt spray to a damp beard and blow dry it for an added texture and fullness.
– Remove any hairs sticking out around the jaw.
– Define the cheek line and trim the mustache.
– Finish off with a tad of beard oil massaged into your facial hair and underlying skin.
What is a good beard length?
The perfect beard length depends on the look you want to achieve. If you are after a stubble, then your facial hair length can be anywhere between 0.5 and 3 mm long. A short beard length ranges from 10 to 20 mm, whereas anything longer than 20 mm is considered a long beard.
When should I first trim my beard?
Once beginning the journey, you will most likely come up with the question, when should I shave my beard. We highly recommend abandoning shaving for at least 3-4 weeks. This will be enough for your facial hair to grow sufficiently long. Otherwise, you can get an uneven or patchy pattern.
REFERENCES:
Was this article helpful?