Red hair men can basically do nothing to stand out from the crowd, as their flamboyant hair color does the job. Though, if you were blessed with ginger locks and want to bring your look to the highest level, we have some amazing ideas to try. From elegant and neat to ruffian and messy men's hairstyles, men with red hair can pull off any hairstyle. So, let's take a peek at your best options.
Cameron Monaghan's Buzz Cut
A ginger guy does not need to do anything special to make his hair stand out. So, if you prefer low maintenance buzz cut hairstyles, just take a look at Cameron Monaghan's red short hair.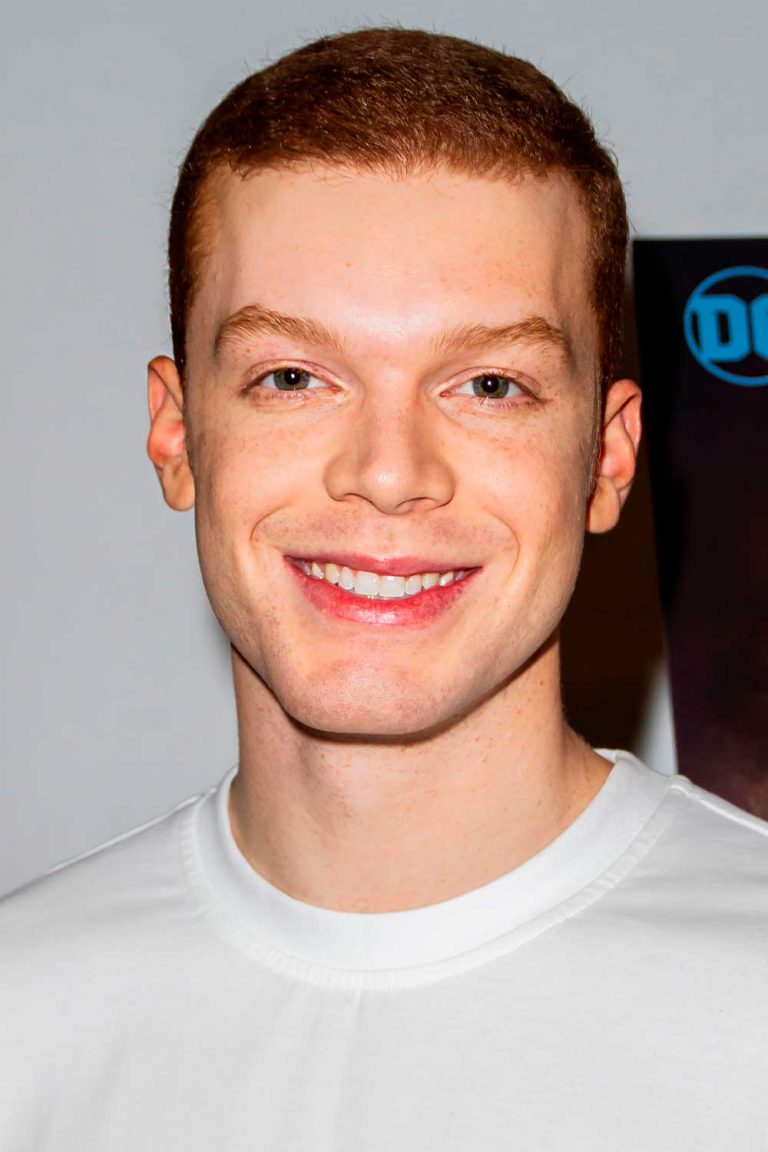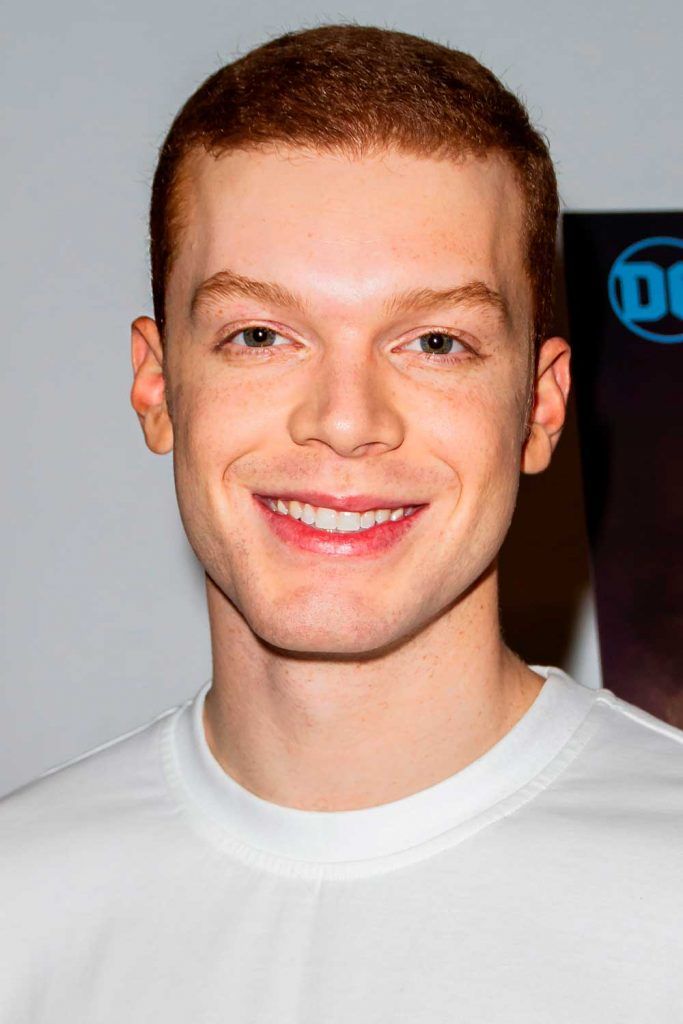 CarlaVanWagoner/Shutterstock
Messy Spikes
Red hair color was made for all kinds of experiments. Get the top spiked up and stack the thorns in a messy way. The sides can be used as a canvas for your creative endeavors. If you prefer to keep it at minimum, get them faded and shave in two parallel lines.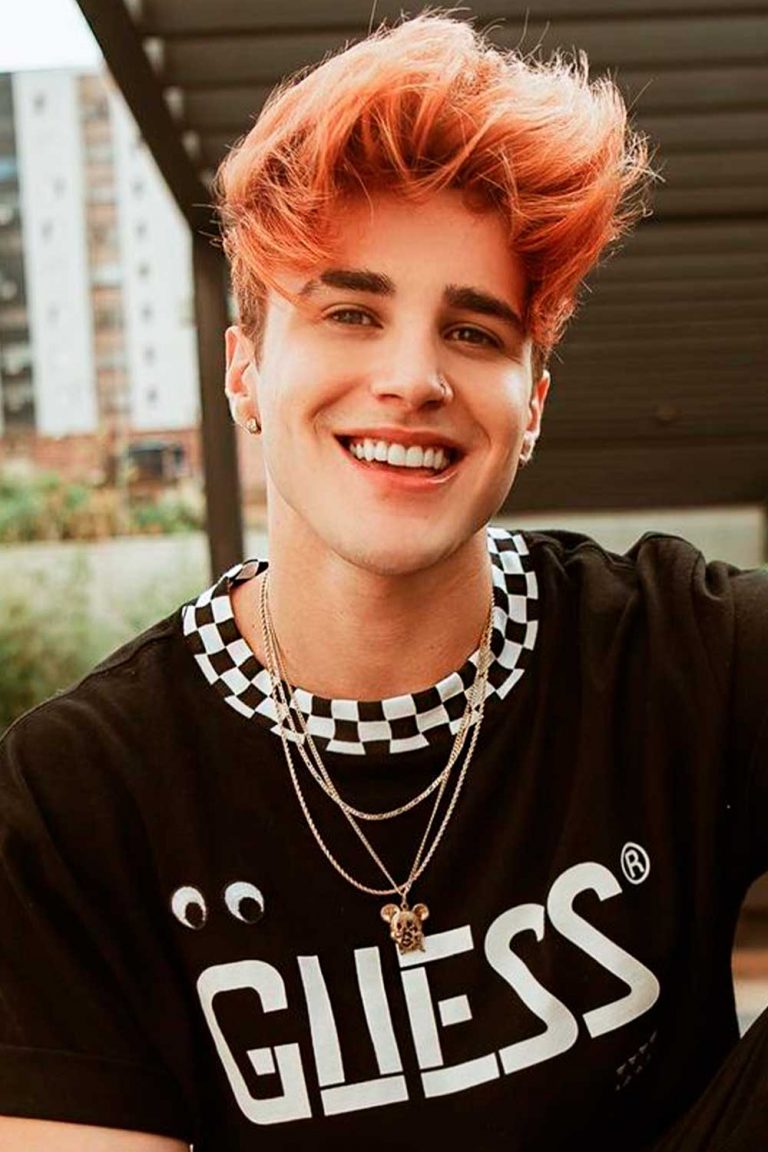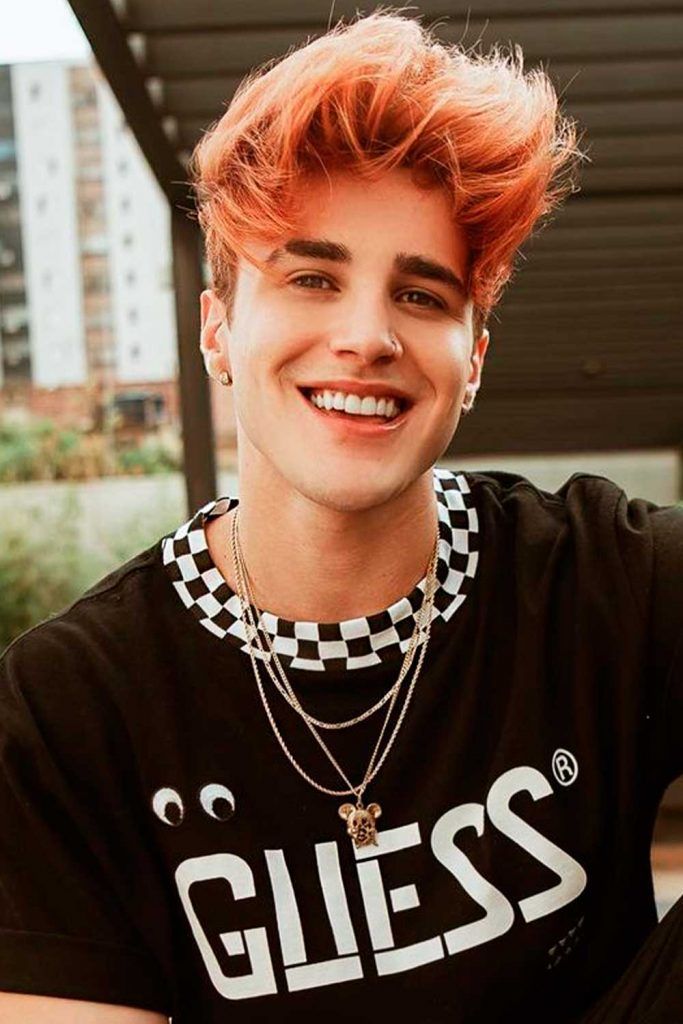 Source: @alexmapeli via Instagram
Benedict Cumberbatch's Curly Brushed Back
Yup. Our favorite Sherlock Holms is indeed a redhead man. A combo of ginger hair and blue green eyes Benedict Cumberbatch has cannot leave anyone indifferent.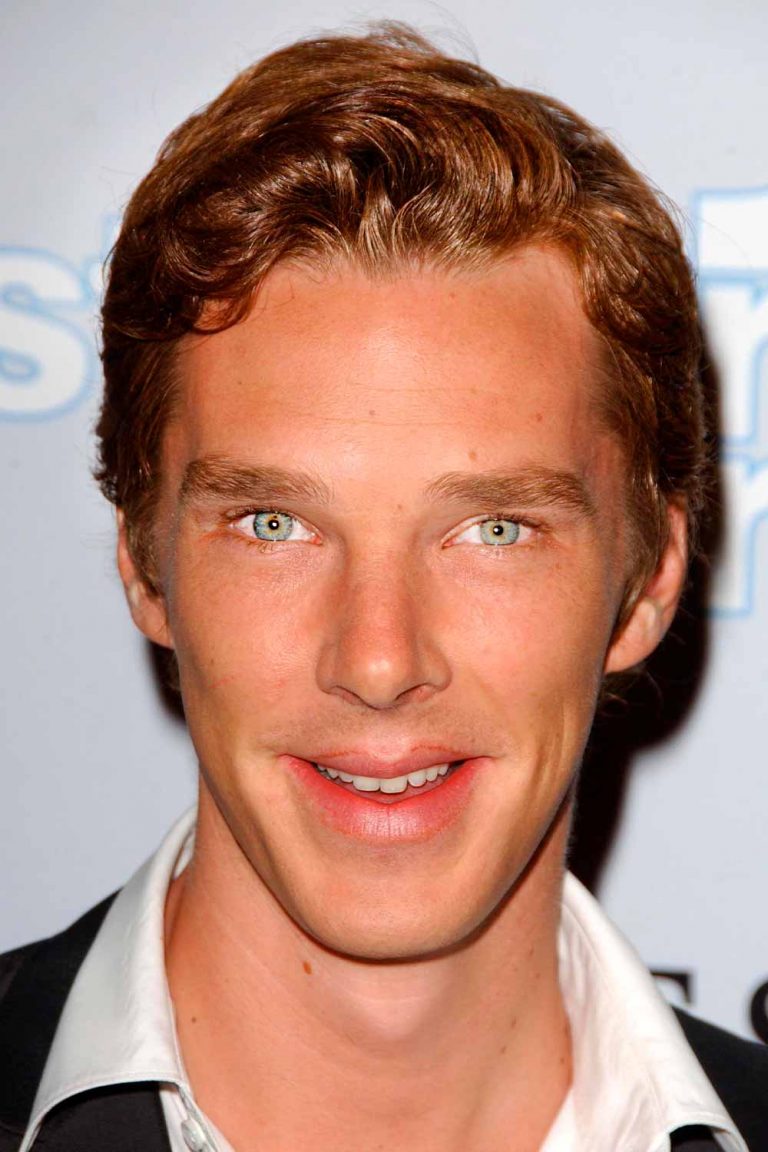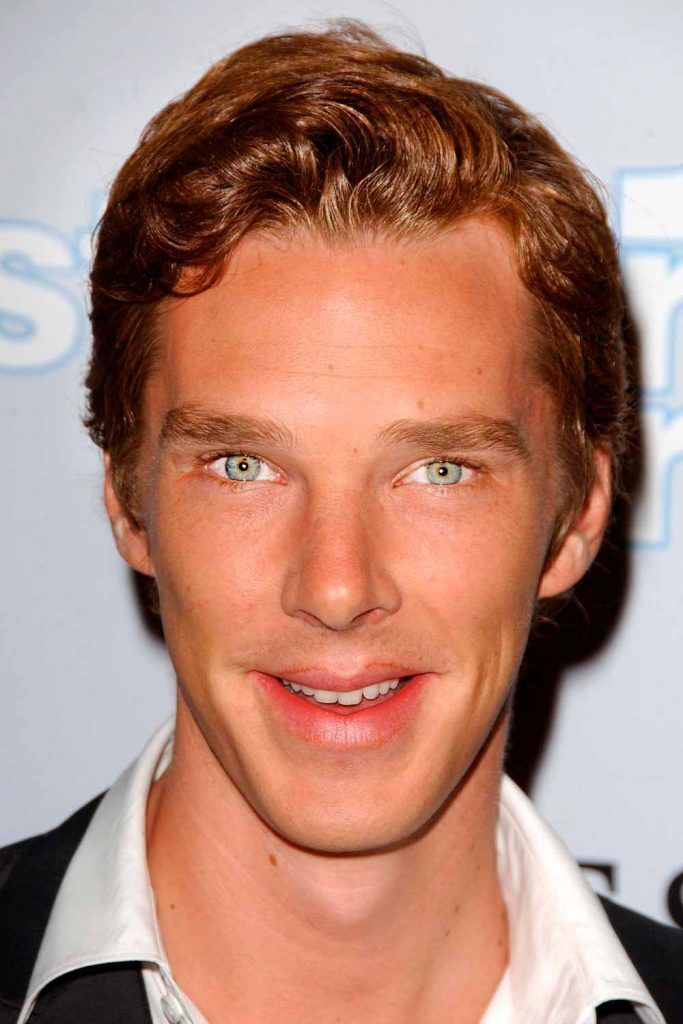 s_bukley/Shutterstock
Crew Cut
Although a crew cut hair style is quite short, it still allows you to flash your luxurious locks. A men's crew cut is popular among guys who value their time, thus choosing a low maintenance and utilitarian hairstyle. Besides, it exposes your facial features. Hence, if you want to emphasize them, opt for such a cut.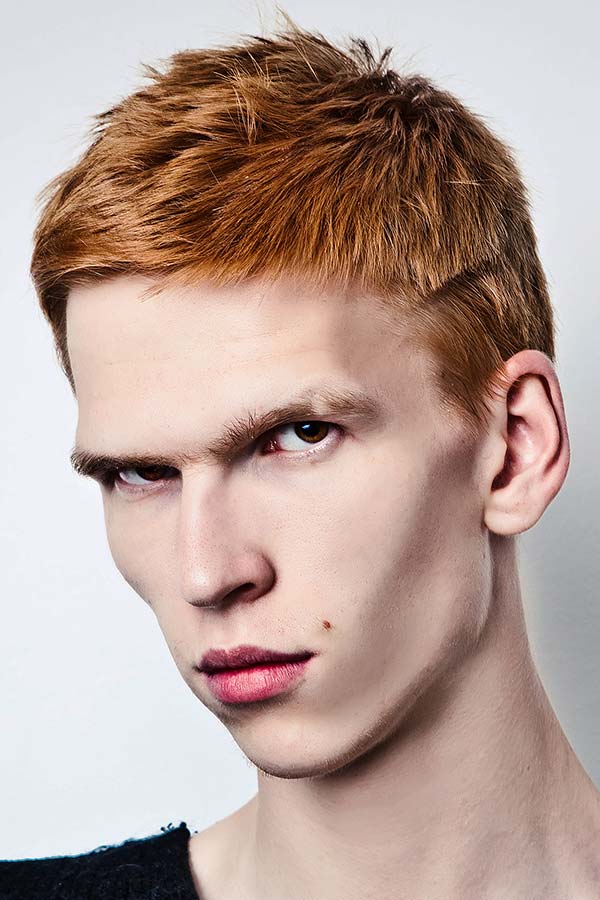 Sam Heughan's Brush Up
If you have seen Outlander, then you should definitely remember its character Jamie Fraser, played by Sam Heughan. This unbelievably hot red hair guy never goes unnoticed.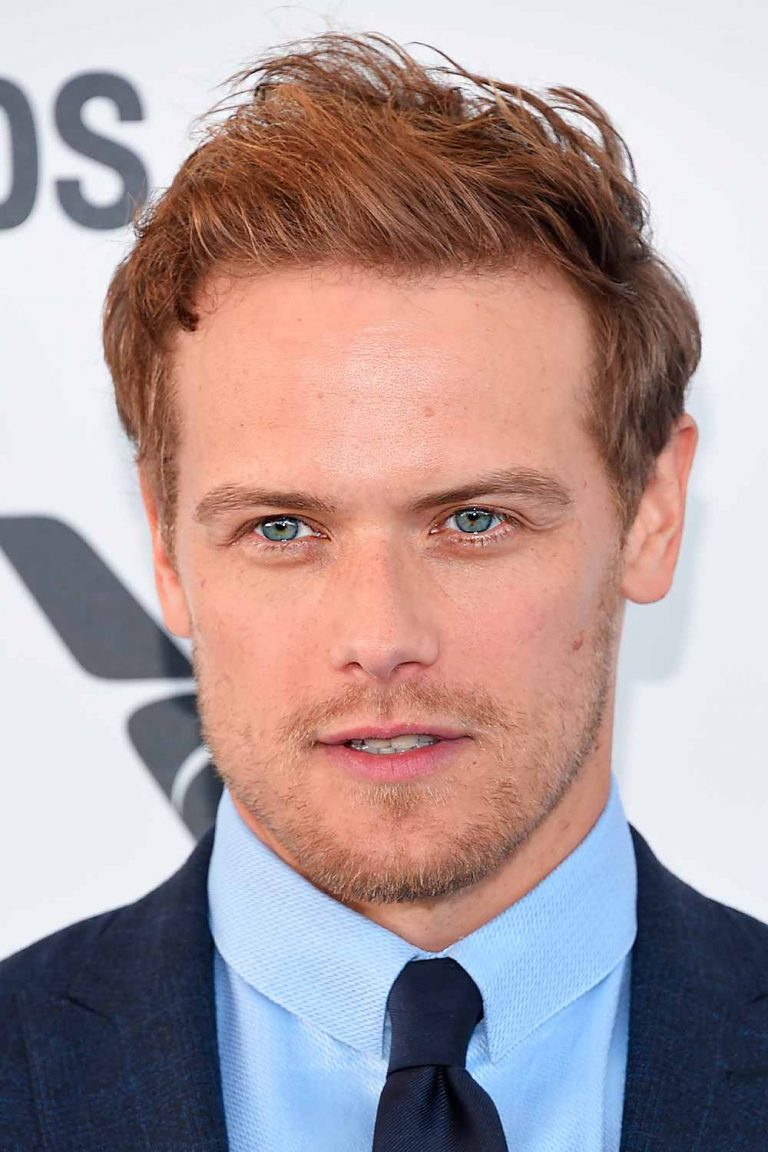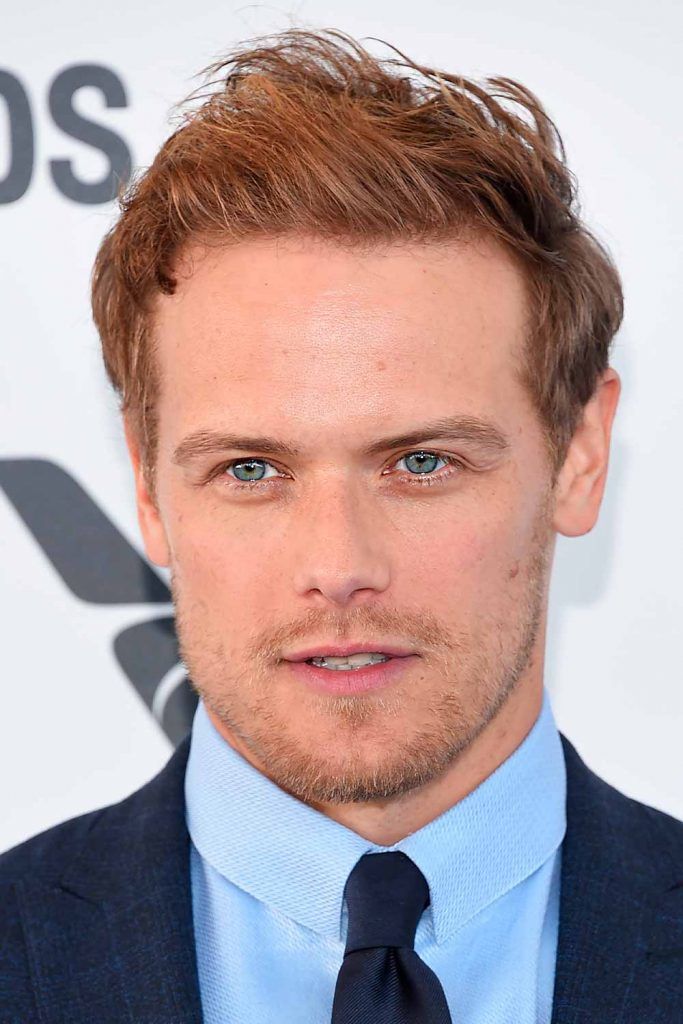 DFree/Shutterstock
Crop Top Fade
Copper hair, especially when it's curly, allows red hair men to sport several fashion trends at once. Get your curly locks cropped on top and complement them with a disconnected high taper fade. Add a beard as a final touch, and you rock!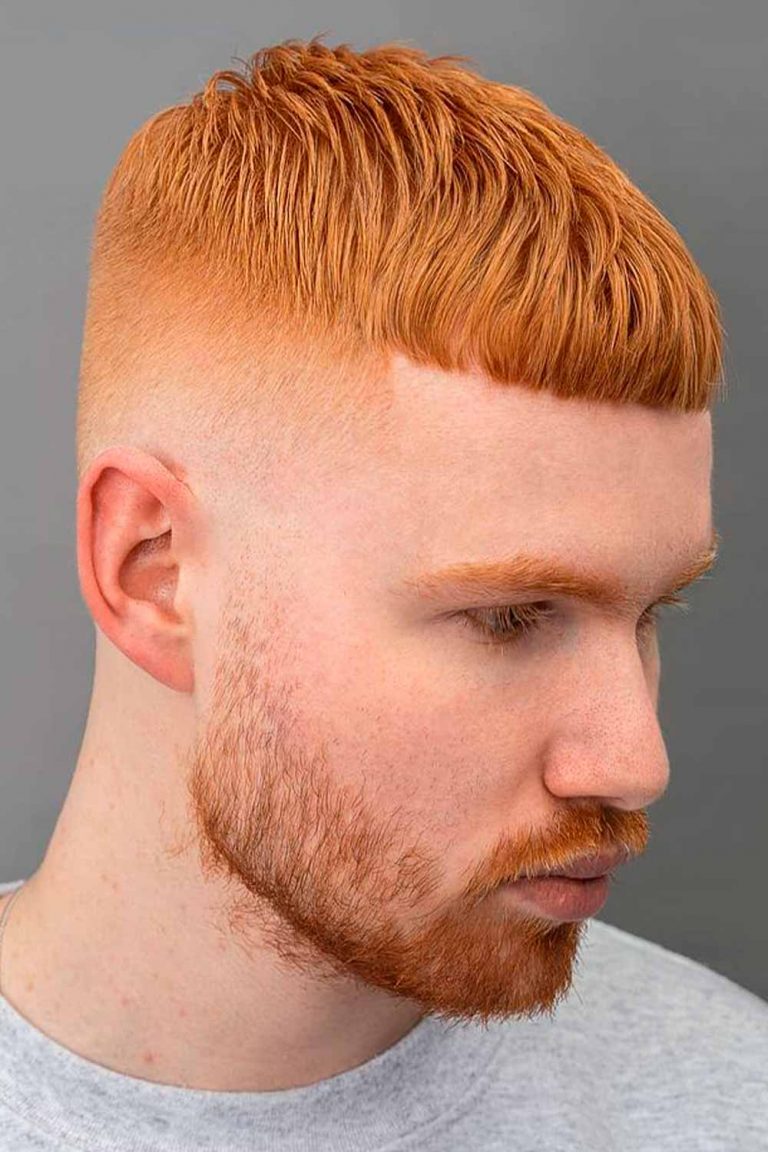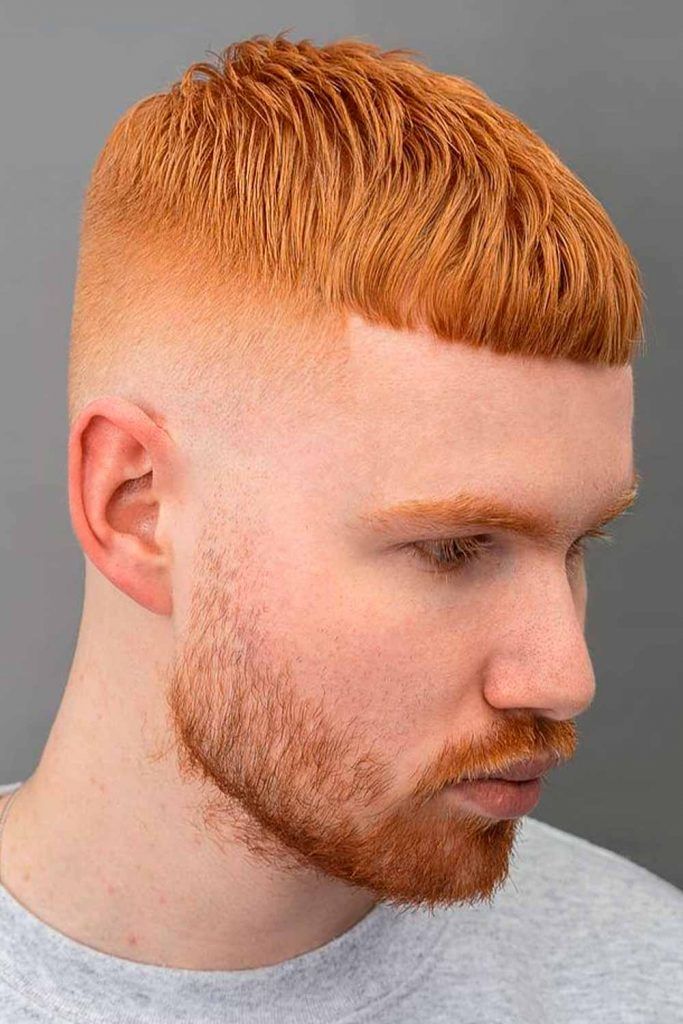 Source: @keller_konturen via Instagram
Bob Harper's Short Brushed Up
Bob Harper often chooses to wear his red hair very short, complementing it with trendy haircuts. Thus, his faded red hair cut makes a strong fashion statement.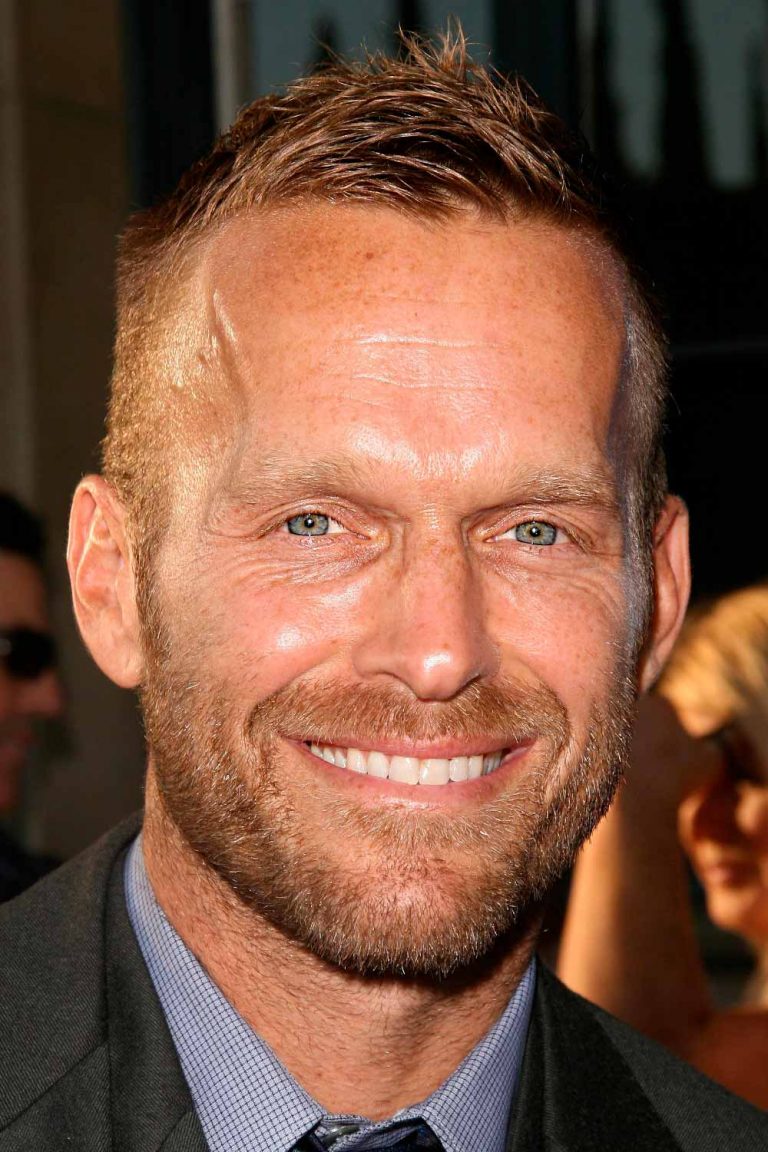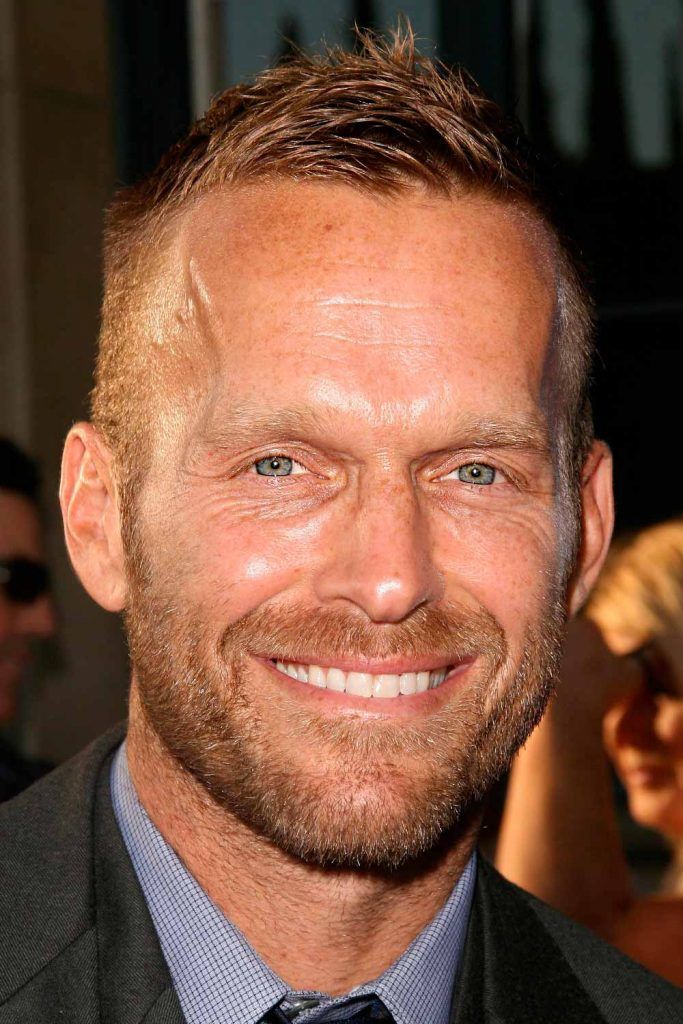 s_bukley/Shutterstock
Slicked Back Undercut
Slicked back hair looks stylish and elegant no matter what hair color you have. However, on red hair men, it seems even more flattering. If you want to add some contrast to your hairstyle, go for a mens undercut on the sides and back. A full coarse beard will become a trendy accompaniment to such a look.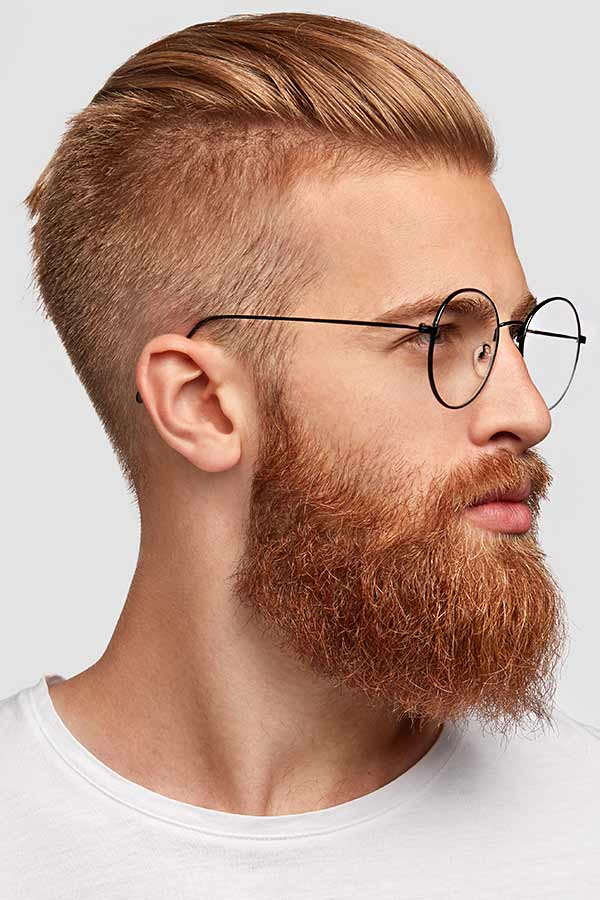 Loose Curly Hairstyle
Those guys who have curly red hair have won a genetic lottery twice. Both your hair texture and color will make you locks the talk of the town. Just wear them loose and be ready to get compliments left and right.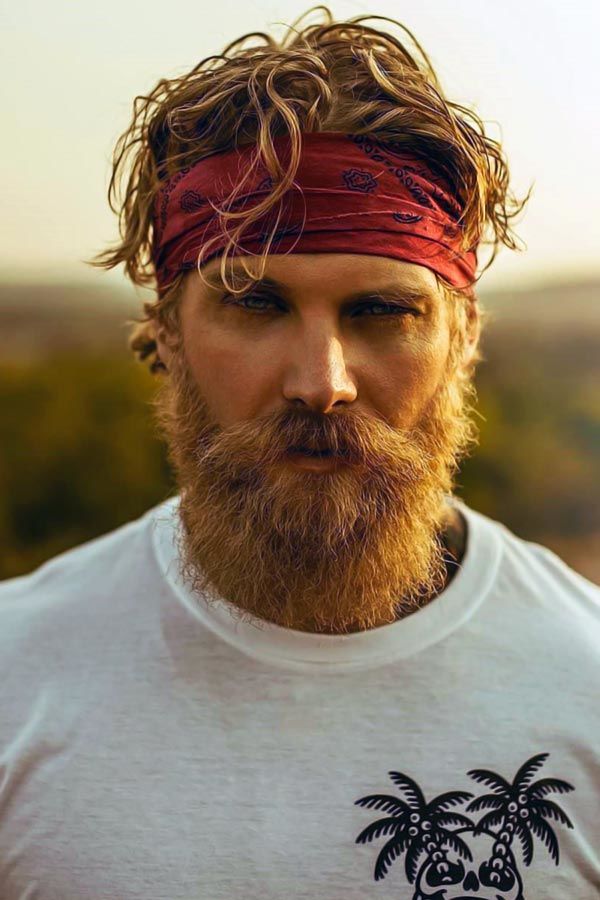 Source: @lanedorsey via Instagram
Tom Hiddleston's Slicked Back
While a guy with red hair usually looks eye catching, for the popular actor Tom Hiddleston, it works the other way around. As we are used to seeing him with a black mane playing Loki, his natural red hair makes him more difficult to recognize in public.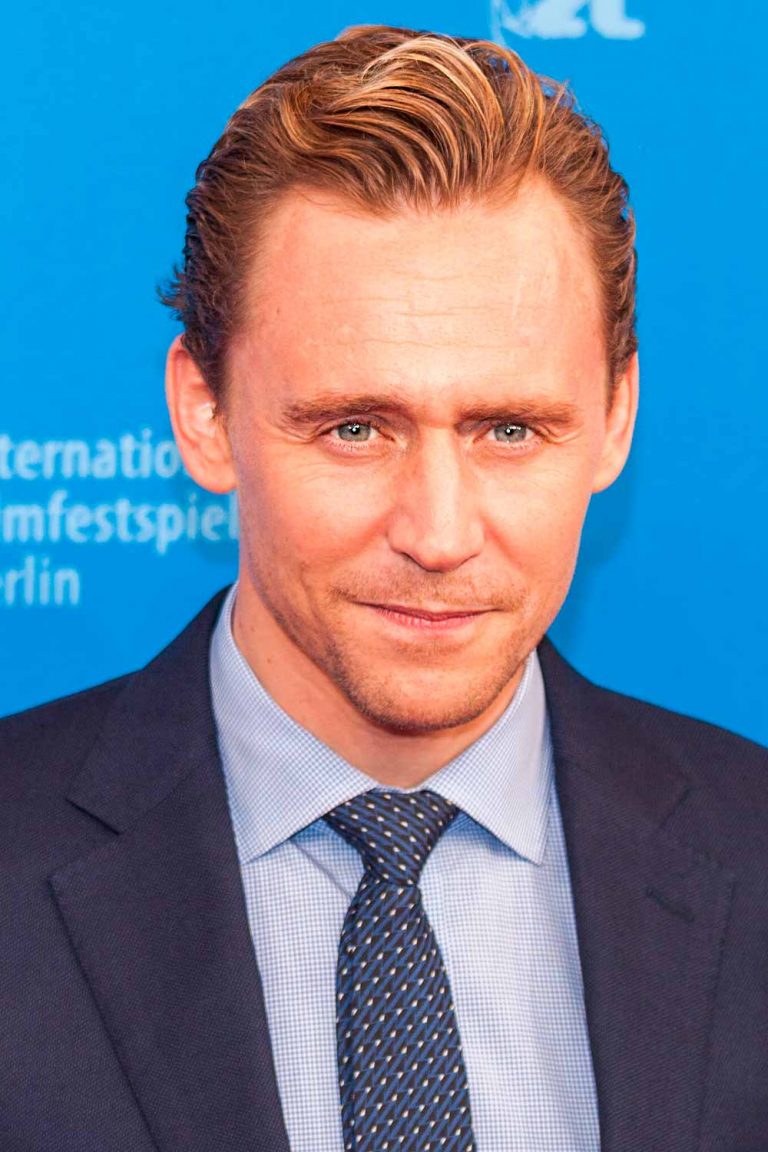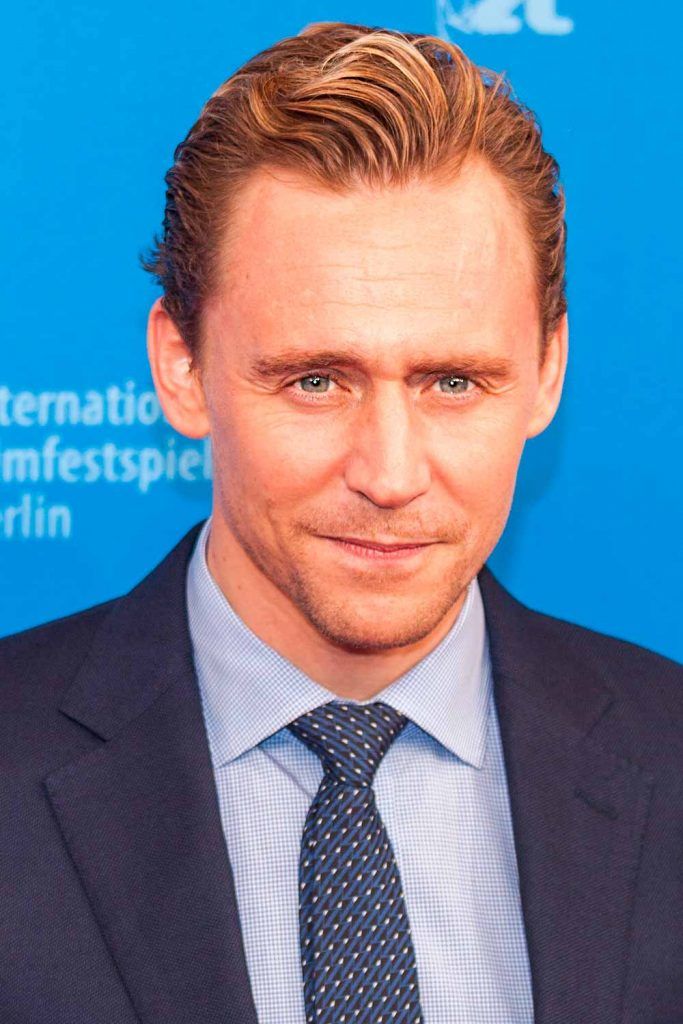 taniavolobueva/Shutterstock
Extreme Brush Up Hair
For this hairstyle, you'll need medium length ginger hair and a hairstyling product with a strong hold. Simply brush all your hair up and you'll get an edgy and bold look.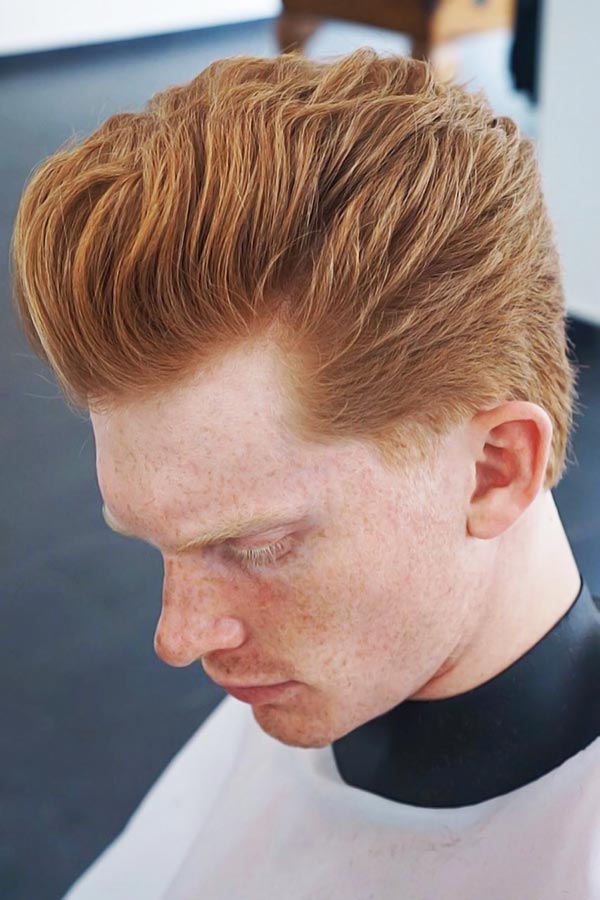 Source: @glassboxbarbershop via Instagram
Slicked Back Hairstyle
No matter whether you have light or dark red hair, if it's naturally thin the slicked back hairstyle is one of the best solutions for you. It's also a perfect formal 'do that suits any ambiance.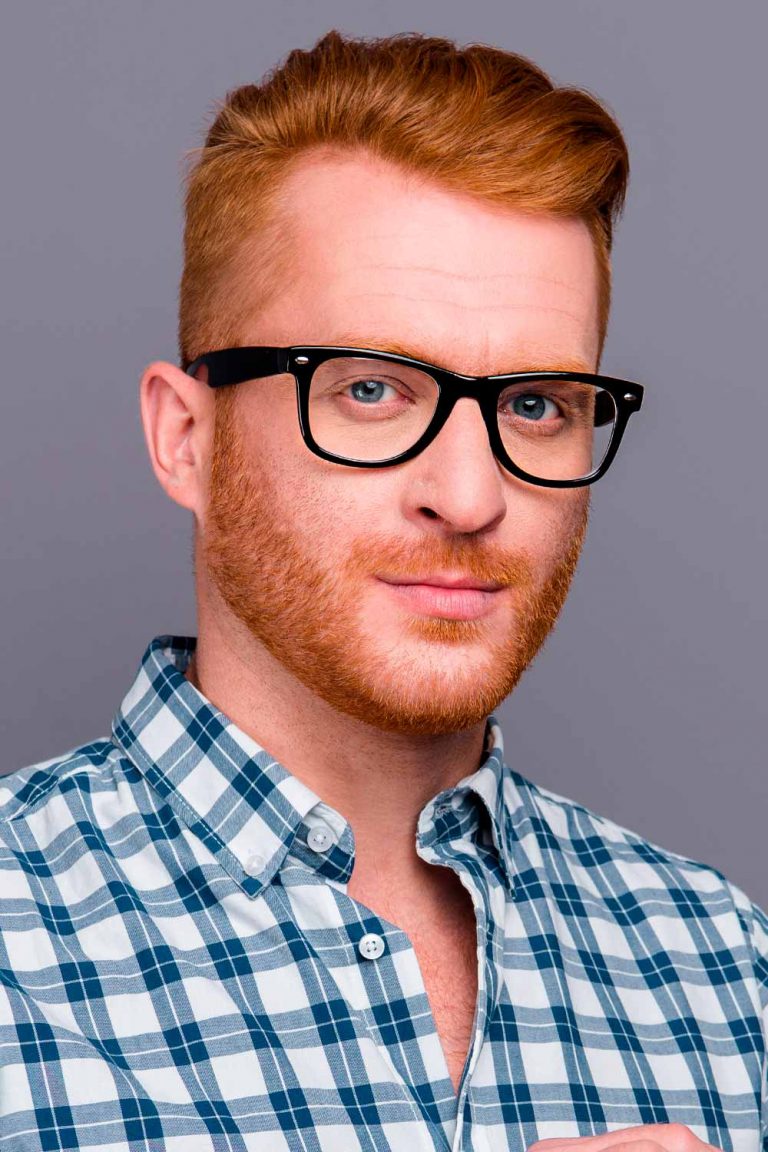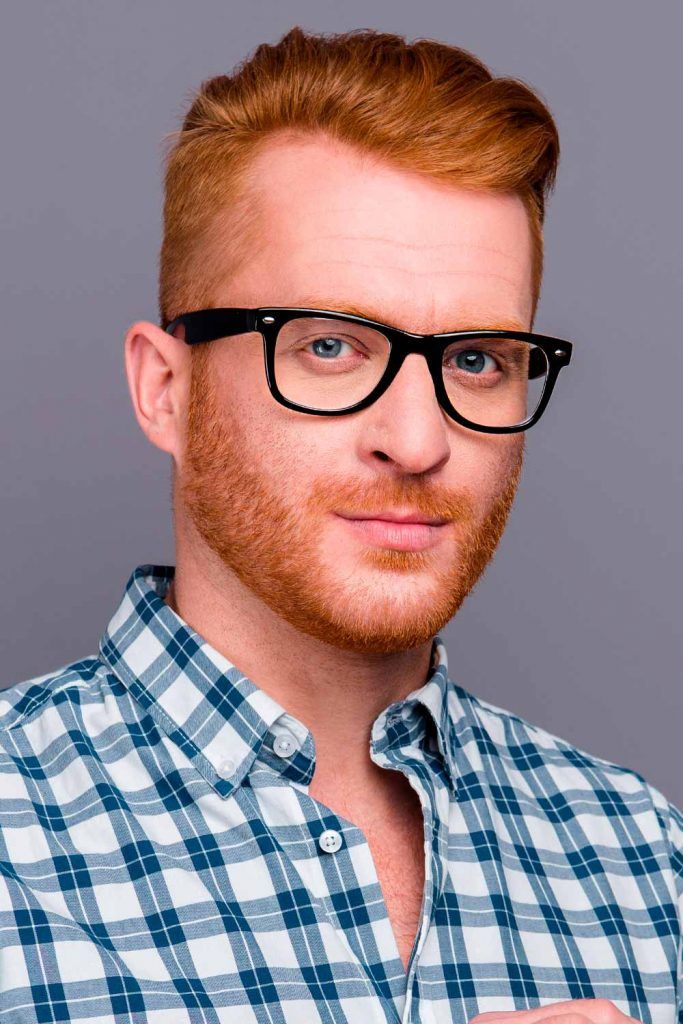 Rupert Grint's Thin Layers
Rupert Grint is arguably one of the most recognizable red hair men and no wonder. His role as Ron Weasley in Harry Potter has made him popular all over the world. And even though we love him not only for his fiery red hair, it still should not be overlooked.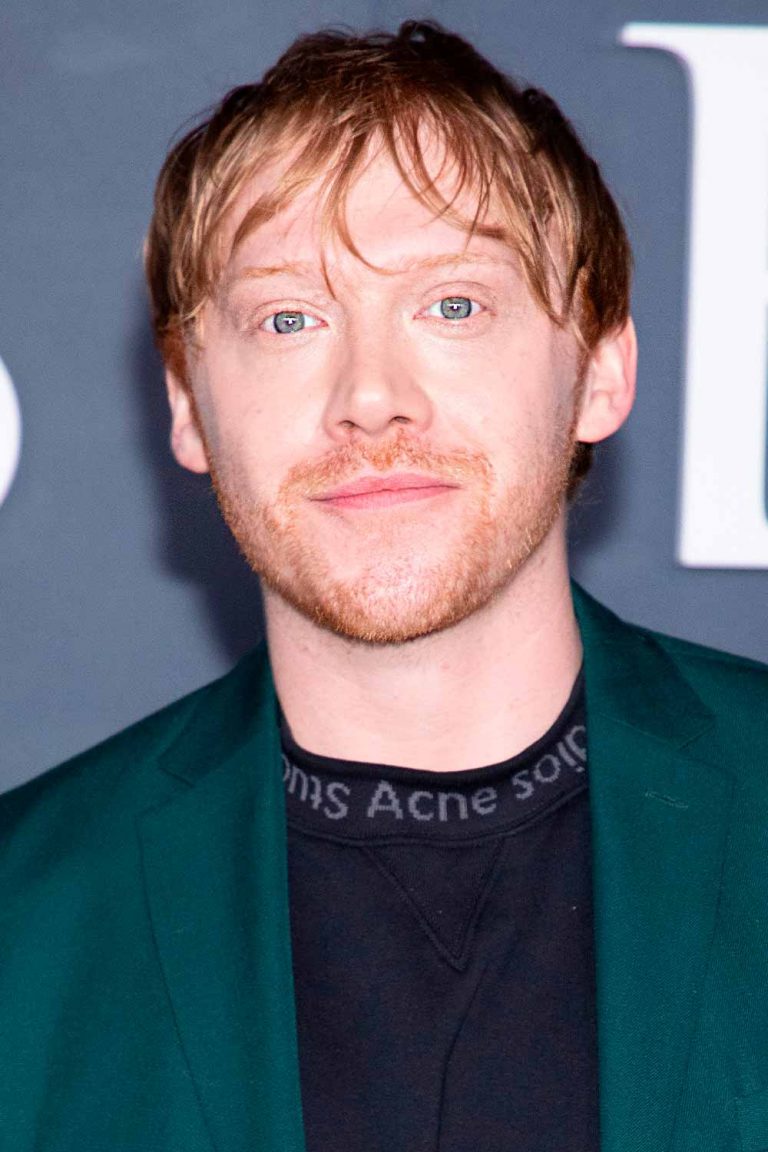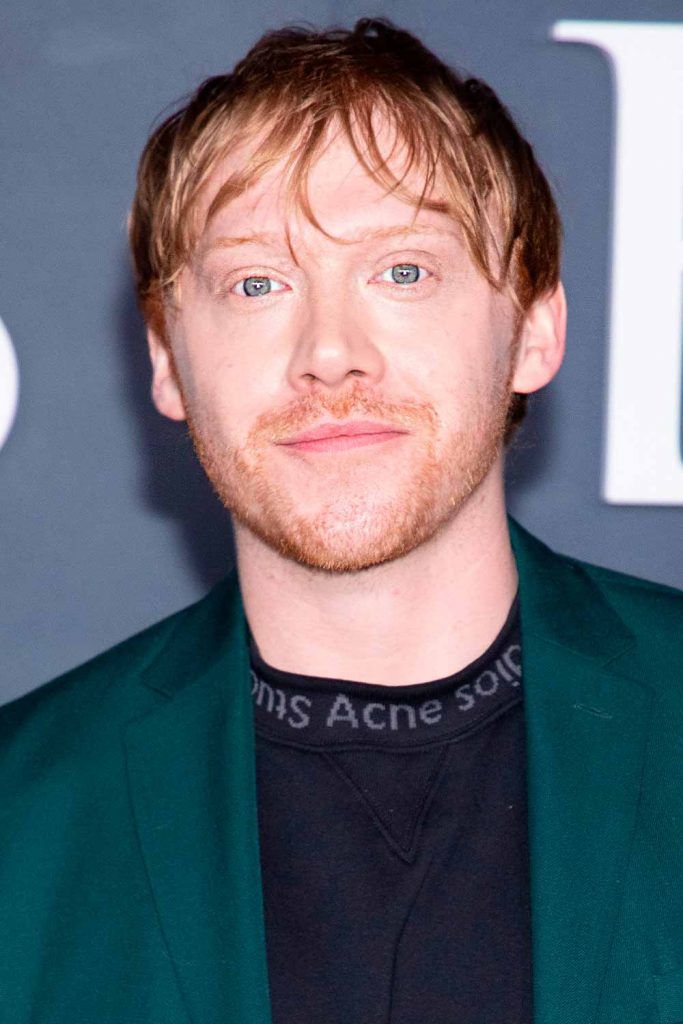 Sam Aronov/Shutterstock
Short Crop Style
For those guys who prefer short red hair to long, there's a trendy French crop cut. You can pair it with a high bold fade on the sides and back or even get it disconnected with a hard part for more definition.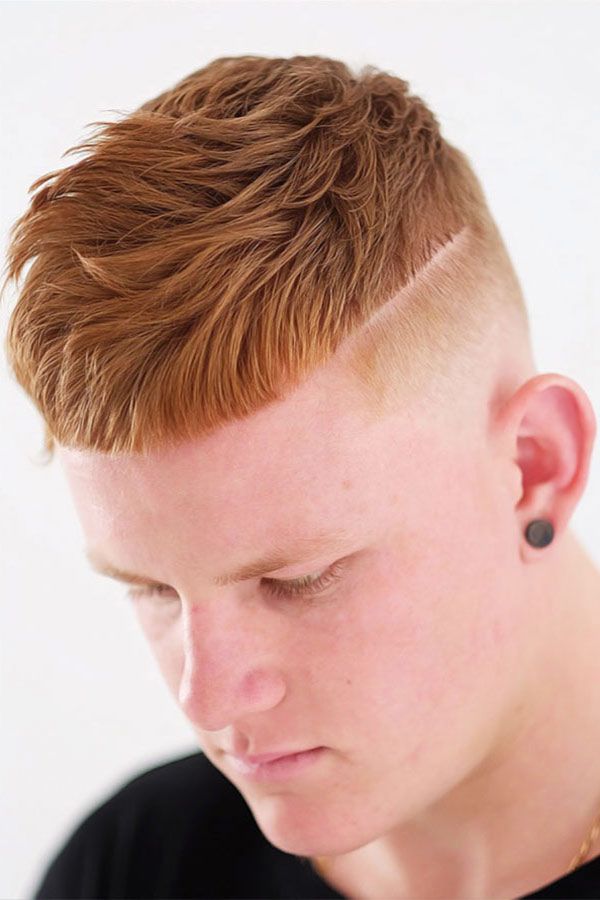 Source: @fernthebarber via Instagram
Wild Tousled Hairstyle
You can't argue with the fact that there's something rebellious in redheads. And the hairstyle is a great way to emphasize your ruffian and adventurous spirit. Tousle your deep red hair on top and complete it with a high taper fade and two deep set razor lines.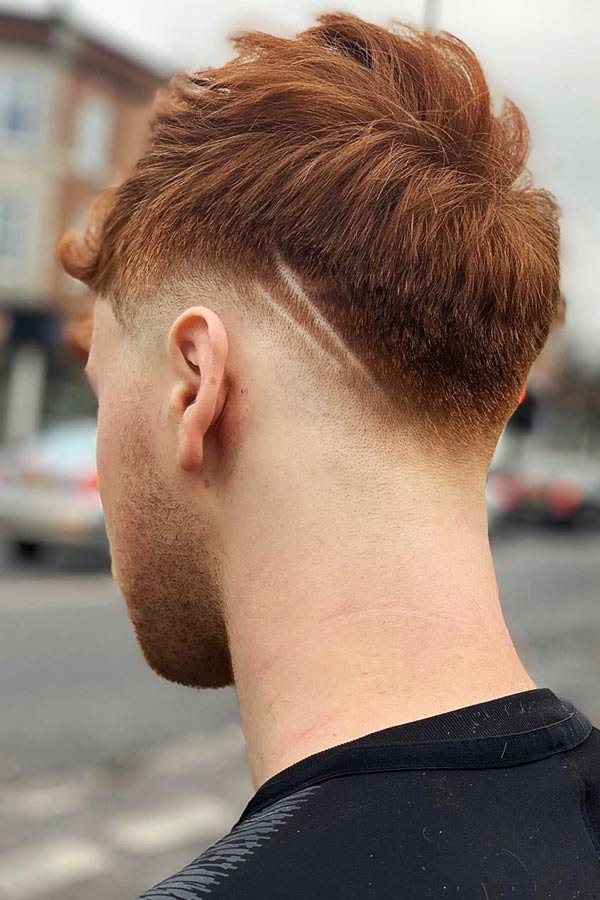 Source: @egobarbers via Instagram
Ed Sheeran's Bright Side Swept
Ed Sheeran is one of the most recognizable and popular red head men of late. His road to fame has been pretty rough and thorny, which is probably why he opts for mostly simple styling. Despite this, his hair always looks eye-catching and bold thanks to the fiery red color.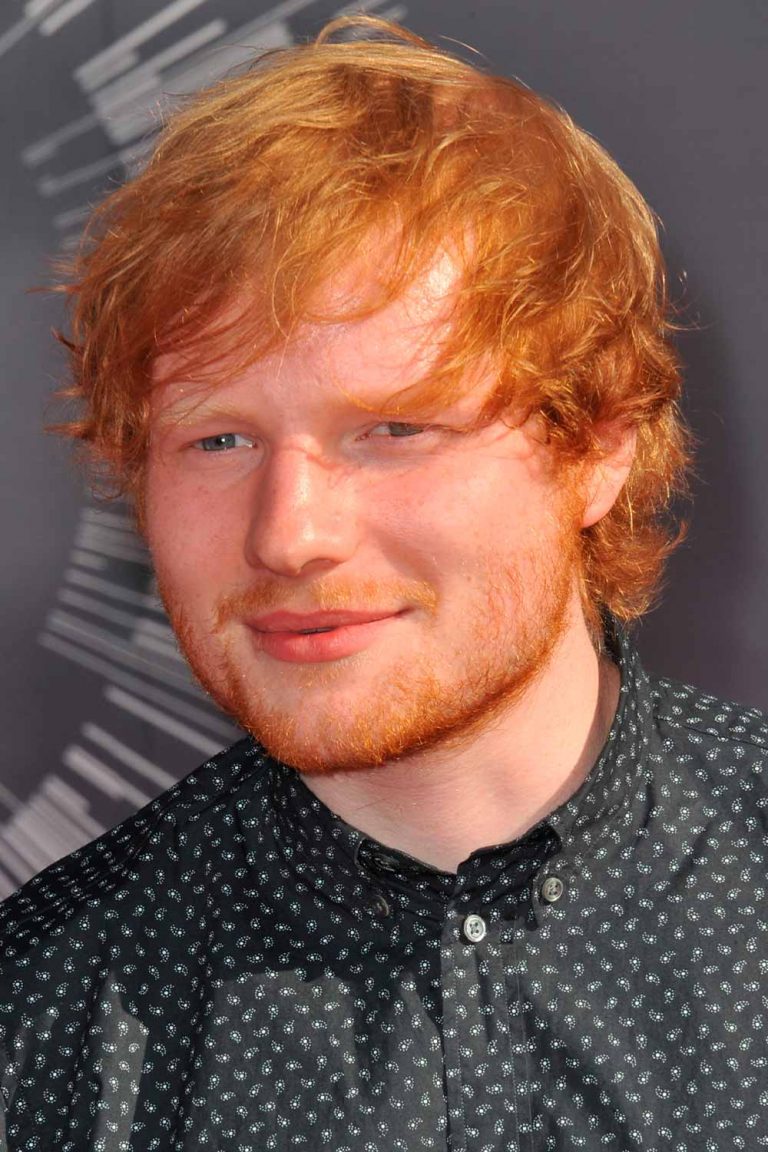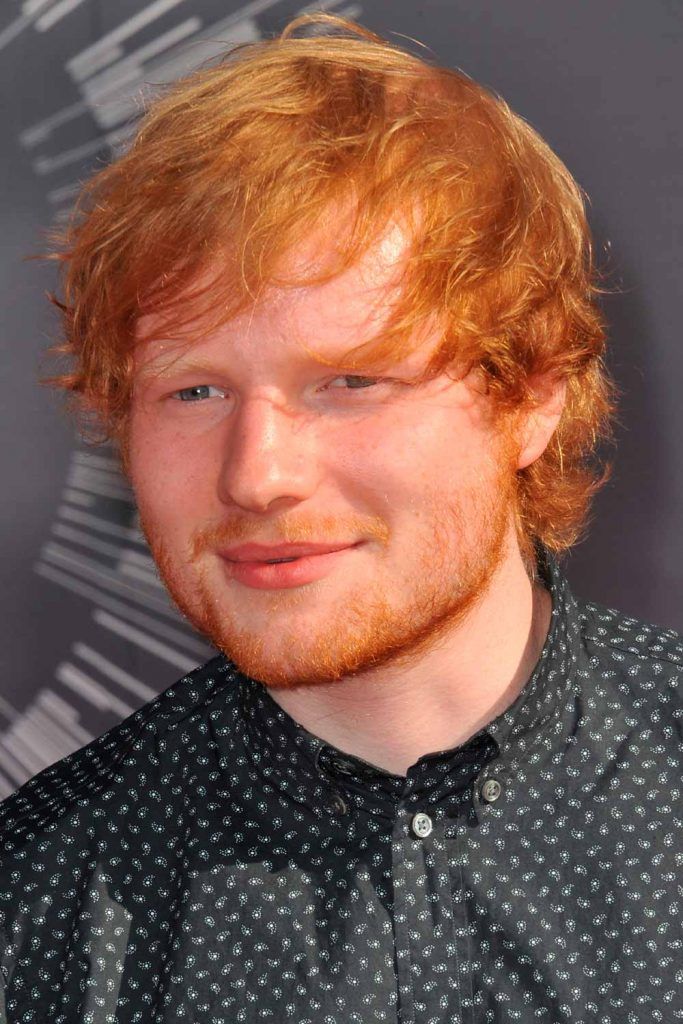 Jaguar PS/Shutterstock
Red Full Beard
Arguably, nothing looks as startling as natural red hair. And it doesn't really matter whether it's on your head or face. If you have light red hair, try to grow out a full coarse beard.
There's a big chance that it'll come out a couple of shades darker than your natural hair color, which will give an unusual twist to your look.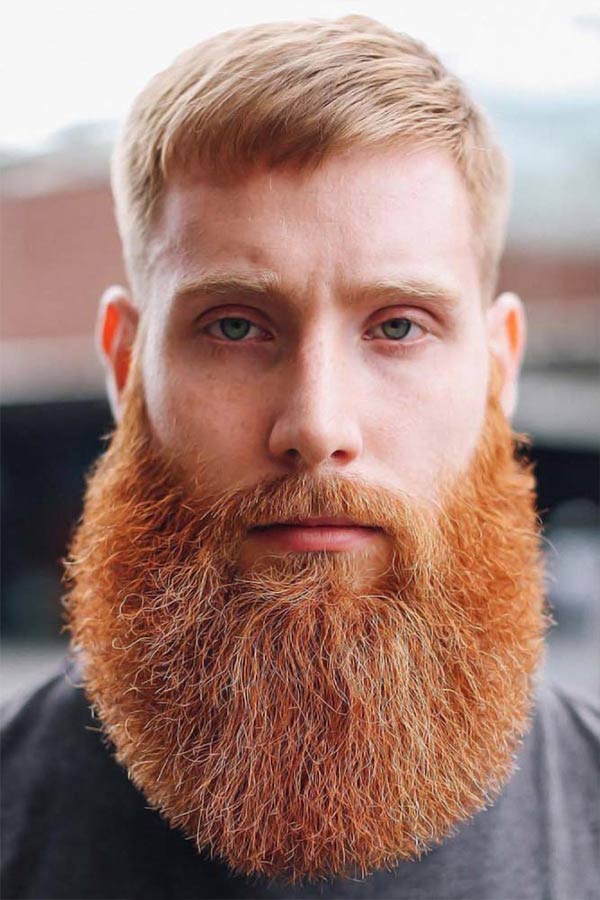 Source: @londonschoolofbarbering via Instagram
Short Faux Hawk
Ginger people are welcome to try on any hairstyle, as there's no doubt that they will be able to pull it off easily. Even if you have nothing to do with a punk rock style, a short faux hawk will sit perfectly on your red head.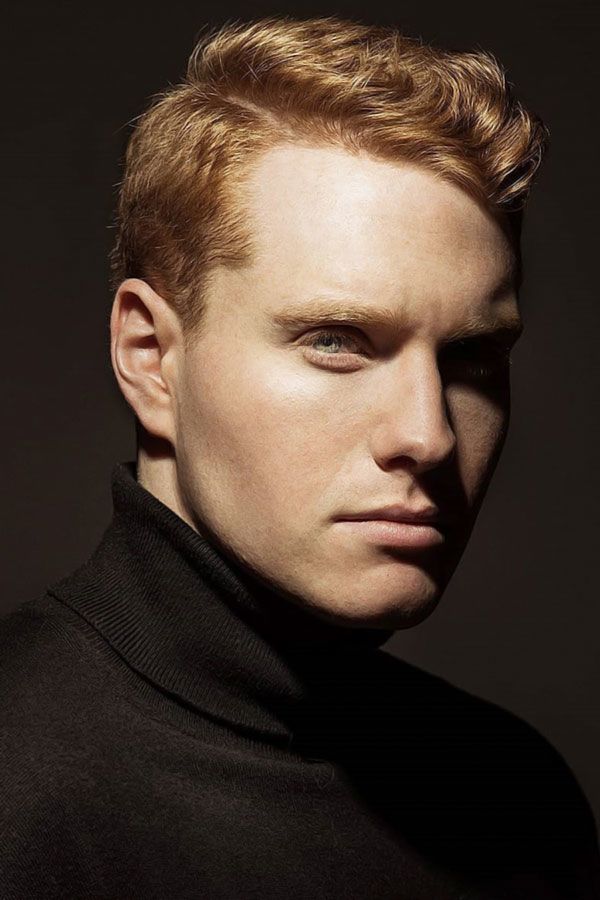 Source: @lanedorsey via Instagram
Short Tousled Hair
To don a trendy tousled hairstyle, your orange hair shouldn't necessarily be long. Short locks also work perfectly for such a haido. You can balance your look with a blunt quiff and high bald fade.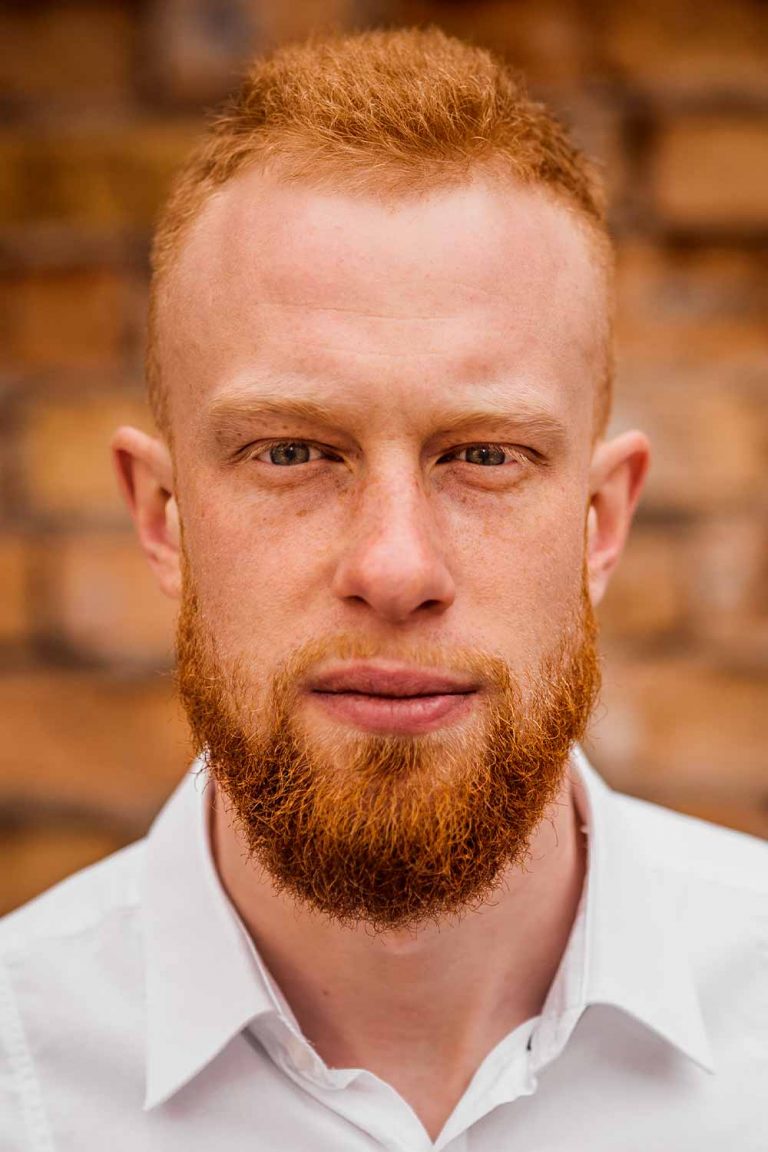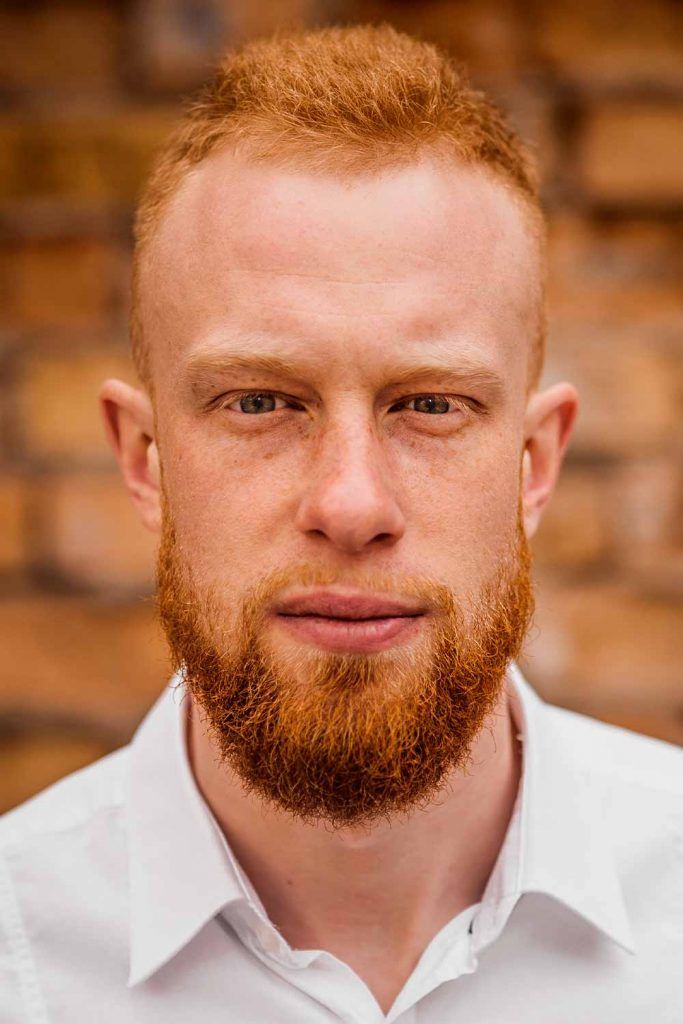 Damian Lewi's Parted Slick Back
One of the biggest advantages of being redhead men is that they stand out in the crowd without any effort. No matter what hairstyle or outfit they rock, their hair color is what guarantees them being in the spotlight. Damian Lewis, an actor from England whom you could have seen in Homeland and Band of Brothers, proves how little effort you should take to pull off a camera-ready hairstyle when you have red hair.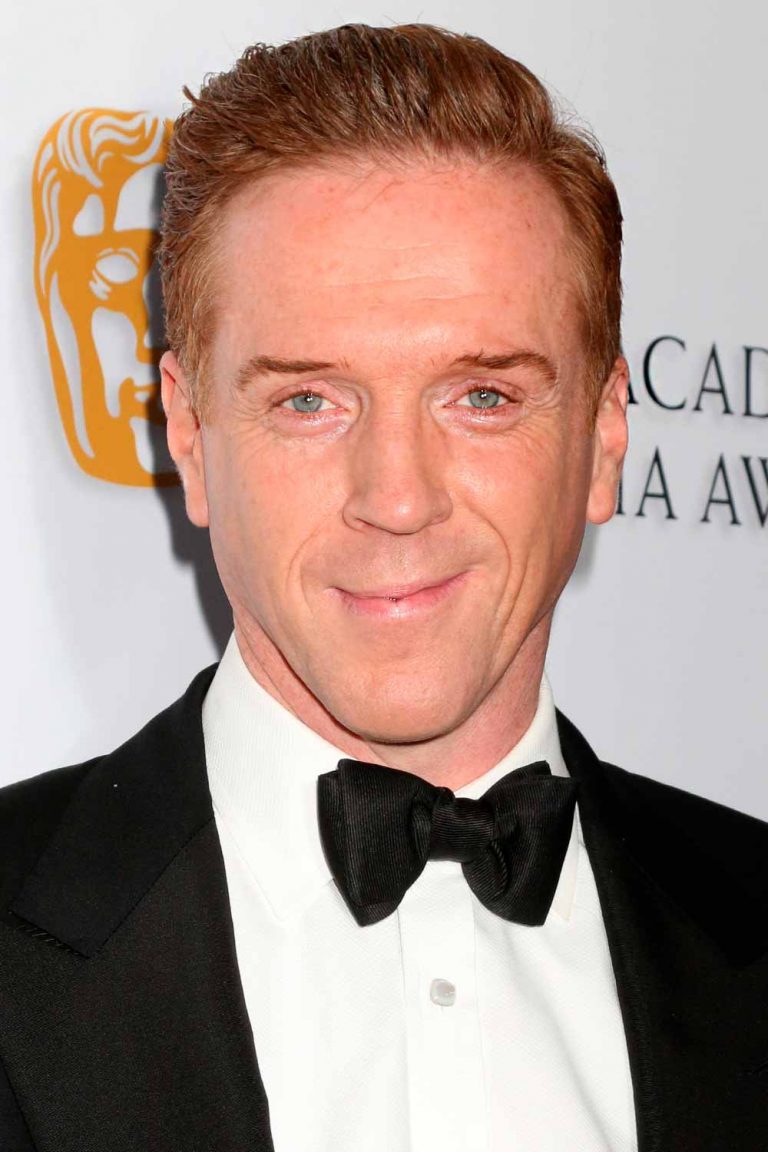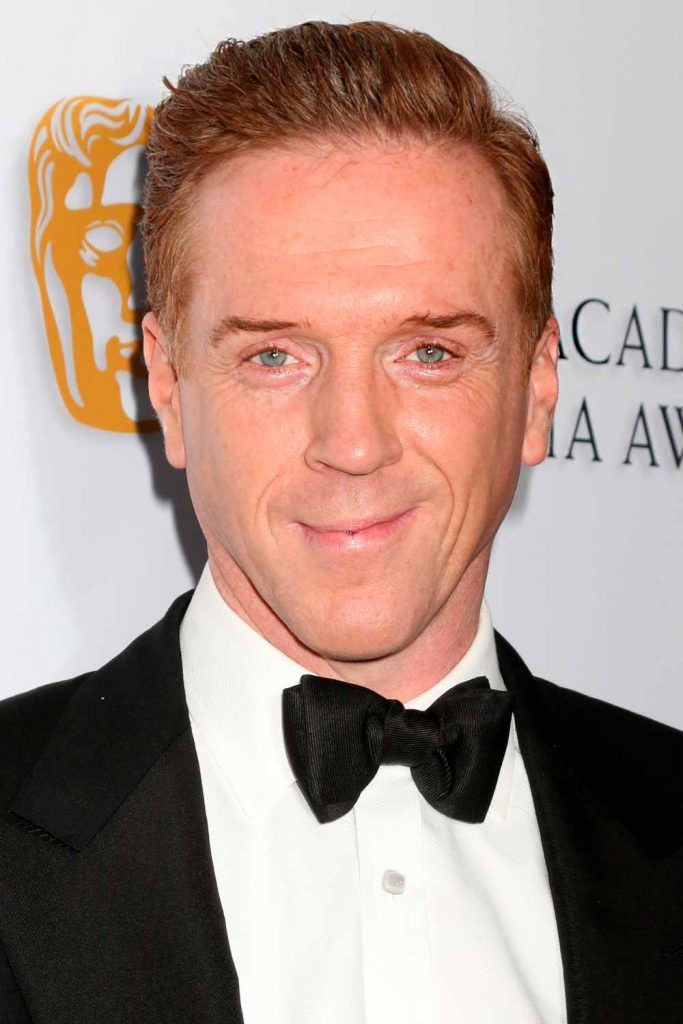 Source: Featureflash Photo Agency/Shutterstock
Short Side Swept Hairstyle
Even the shortest red hair can be styled in a sophisticated manner. It's all a matter of taste. Sweep your top hair to the side and the look to open all doors is done.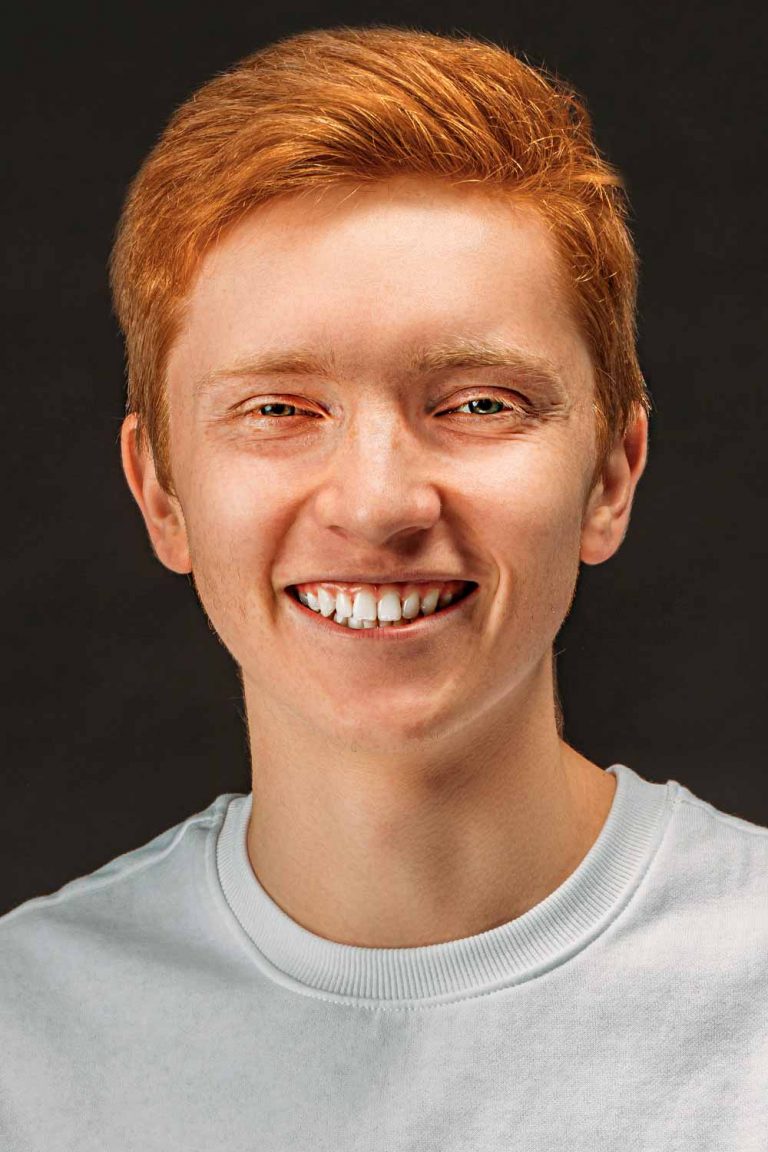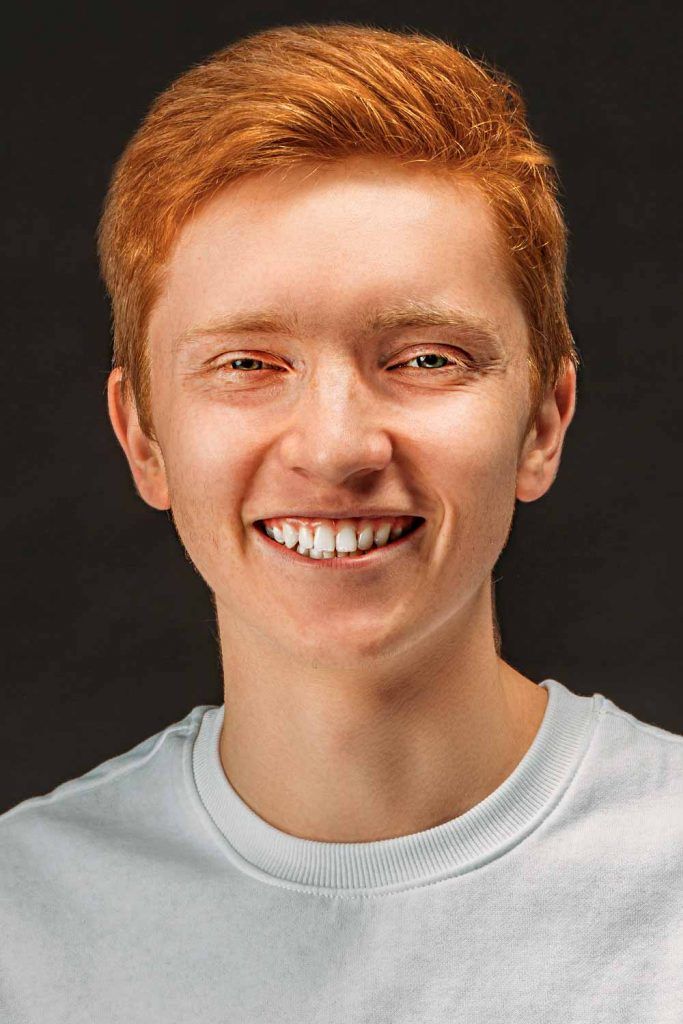 Wild Tousled Hairstyle
Your hairstyle is a great way to show off your personality. If you are wild and rebellious inside like most red hair men, then a brush up hairstyle is your way to go. To pull it off, you just need a powerful hair dryer and a strong hair styling product.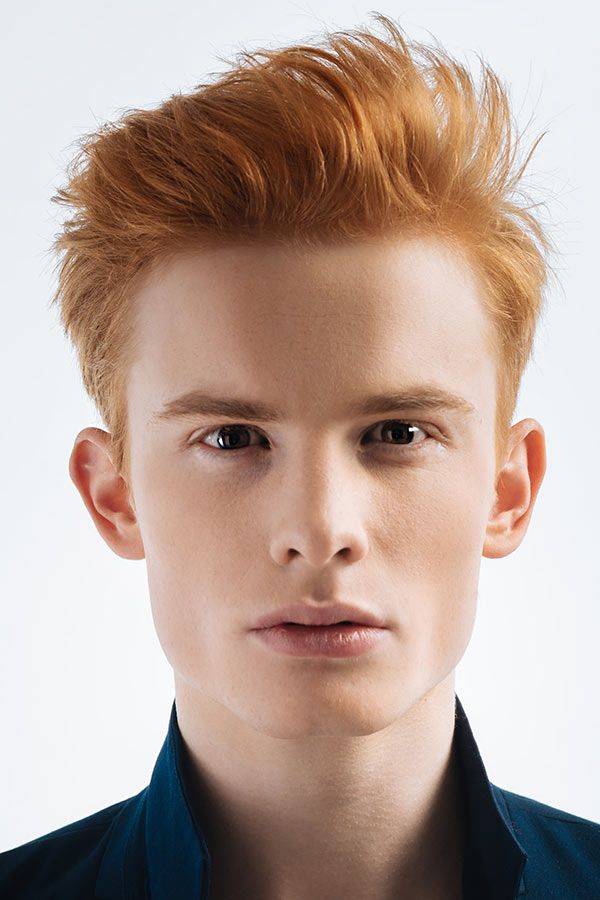 Short Brush Up Hair
The red hair blue eyes combo is so striking that you won't need to resort to elaborate long hairstyles. Just brush your short locks up and you're done!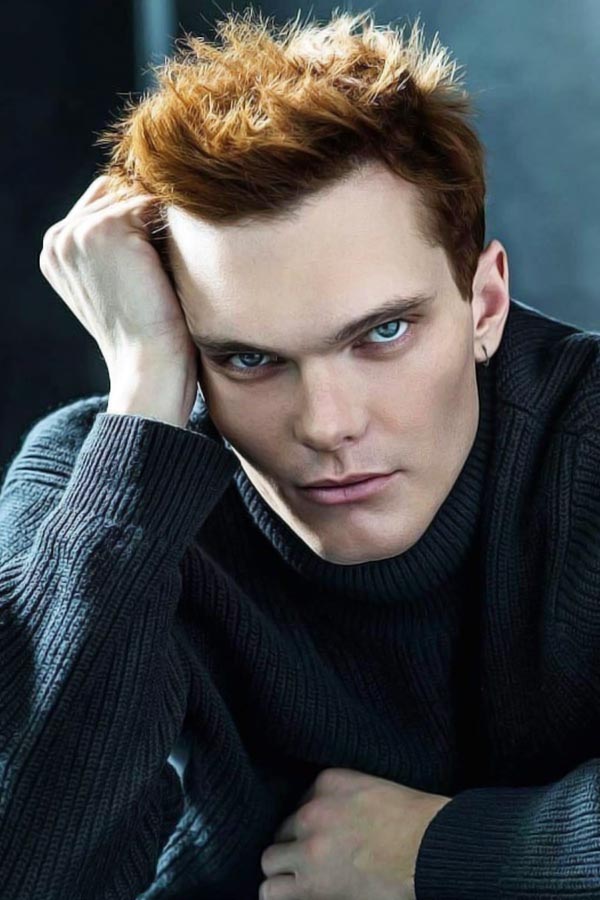 Source: @lanedorsey via Instagram
Side Swept Mid Length
If you're a redhead who gravitates to elegant hairstyles, then side swept hair should be your hairstyle of choice. A neat side part enhances the clean cut appearance of the 'do.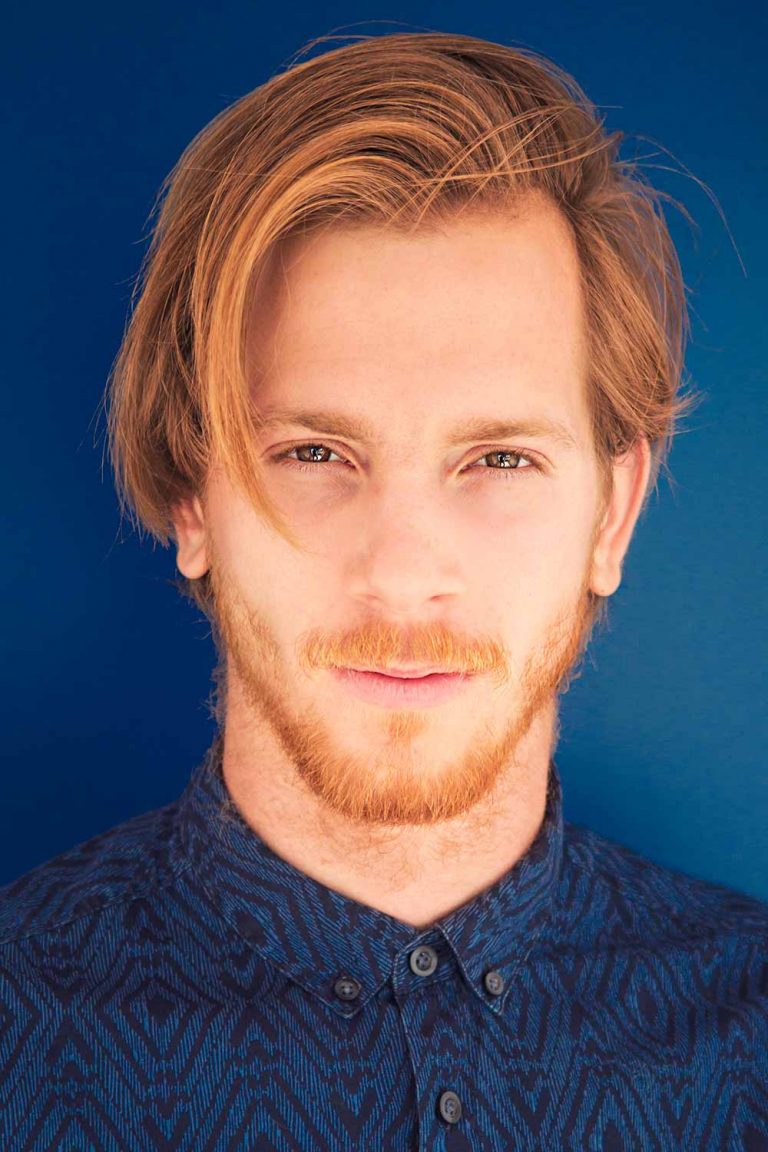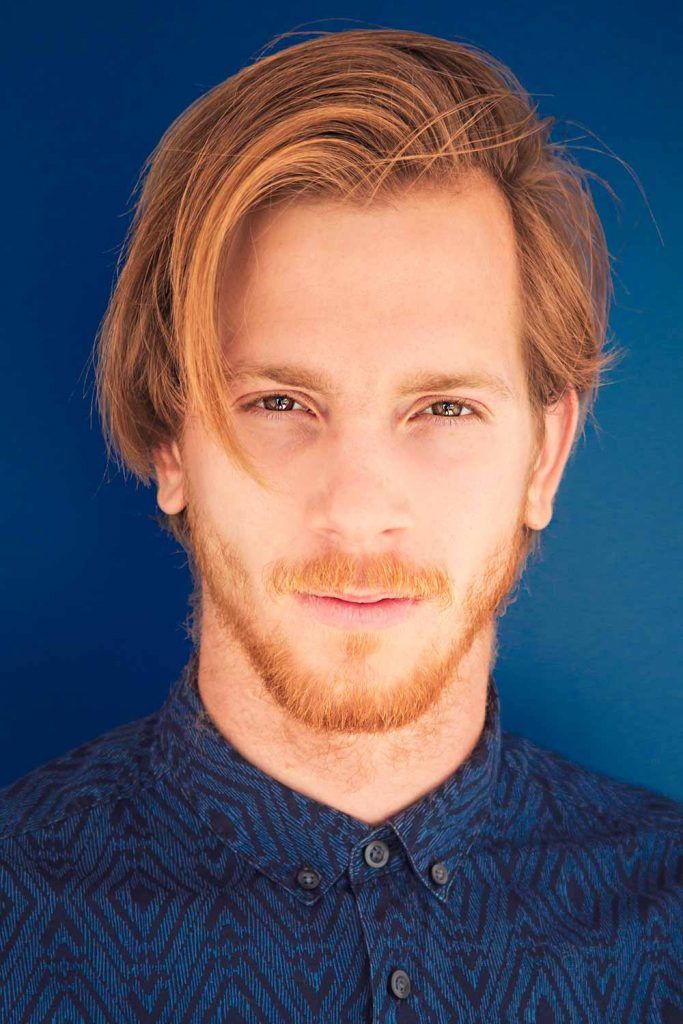 Side Swept + Slick Back + Undercut
Have you received the red hair green eyes combination from Mother Nature? Then you don't need to make much effort in order to instantly get all eyes on you. Just slick your locks atop back and get them undercut, which will bring a dose of elegance and style to your look.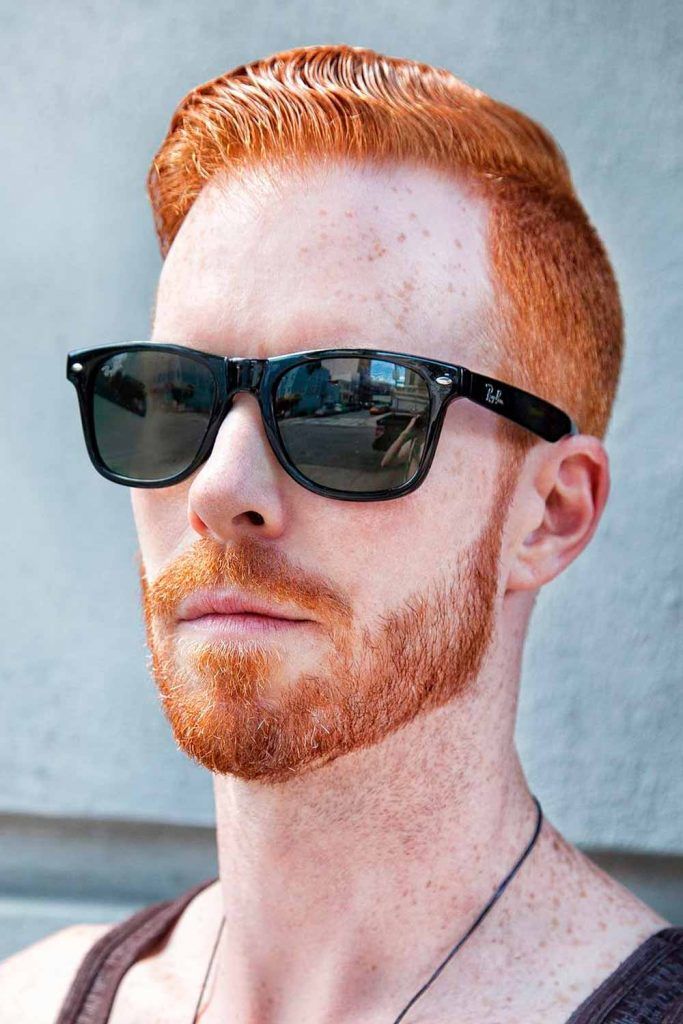 Source: @hairraribarber via Instagram
Undercut Man Bun
You like dapper and sharp looks? Pair a man bun hairstyle with an undercut if you want your copper red hair to get a new dimension.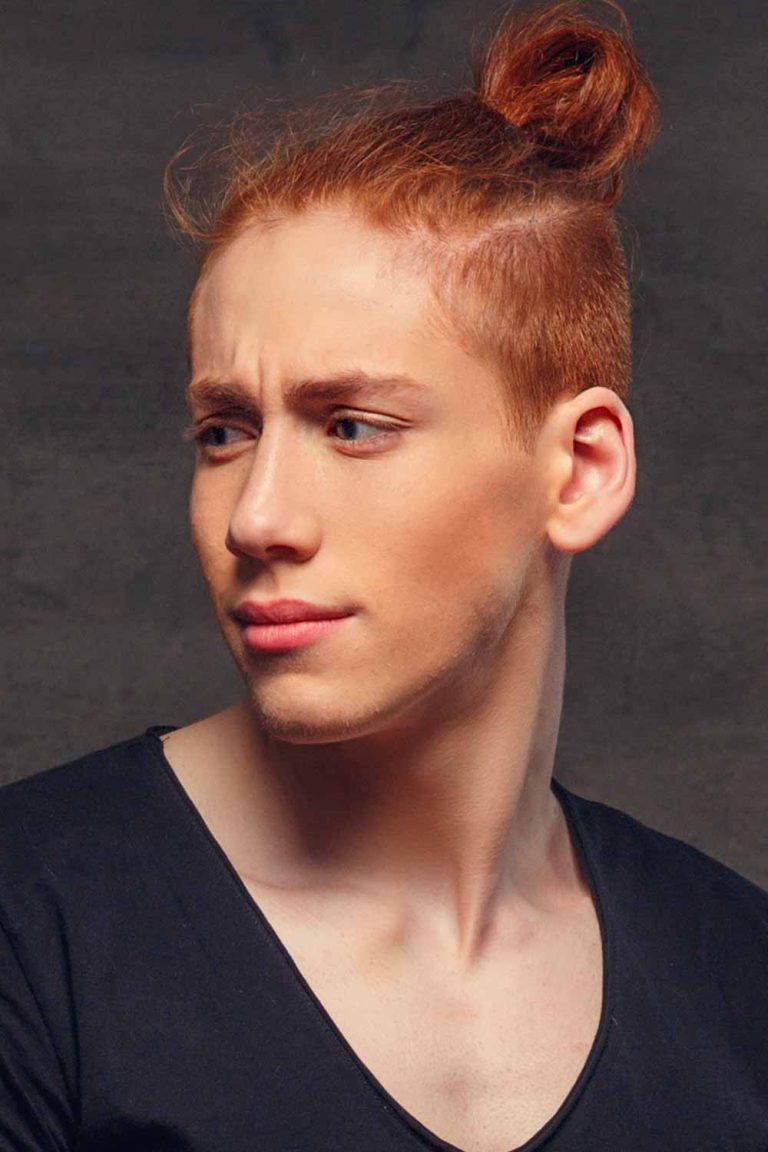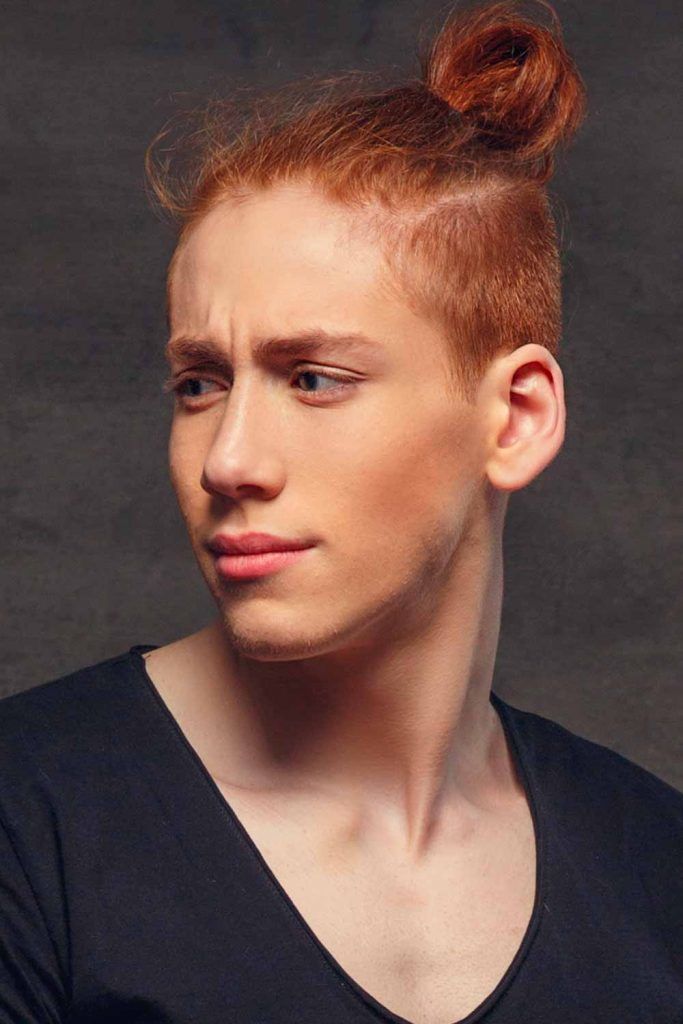 Alfie Allen's Short Layers
Of course, you recognize this guy. Playing Theon Greyjoy in the Game of Thrones series, he has won the hearts of thousands of ladies across the globe. Alfie belongs to those hot red head men who seem to look good with any hairstyle, from short and messy to long and polished. Though, when he grows out his hair a little, this allows us to appreciate his hair color fully.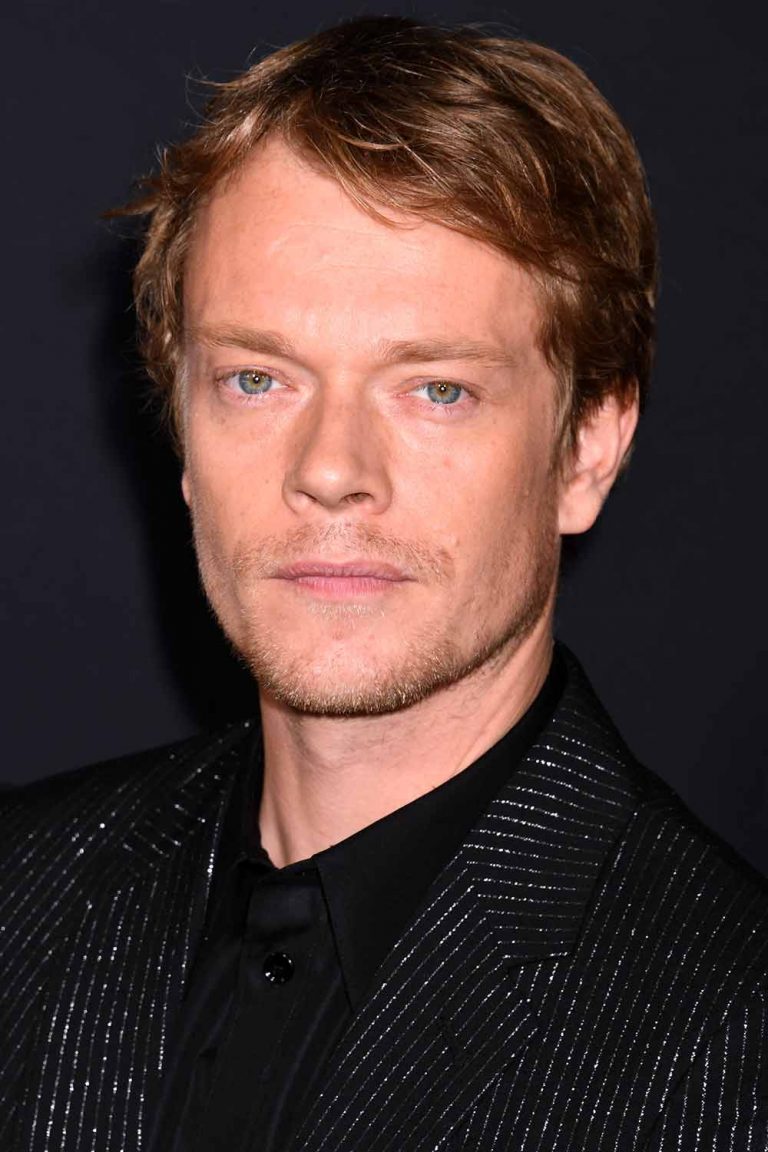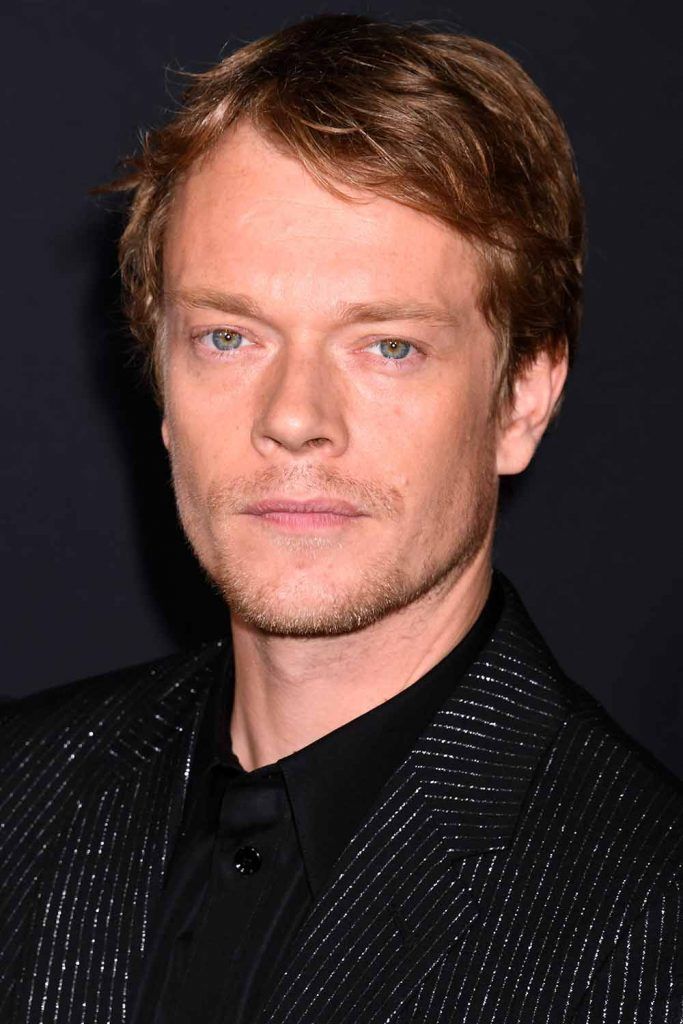 Featureflash Photo Agency/Shutterstock
Curly Brushed Back Hair
If your red hair has a curly texture, it doesn't mean that you can't wear it slicked back. In such a way, it gains an unusual and unique flair.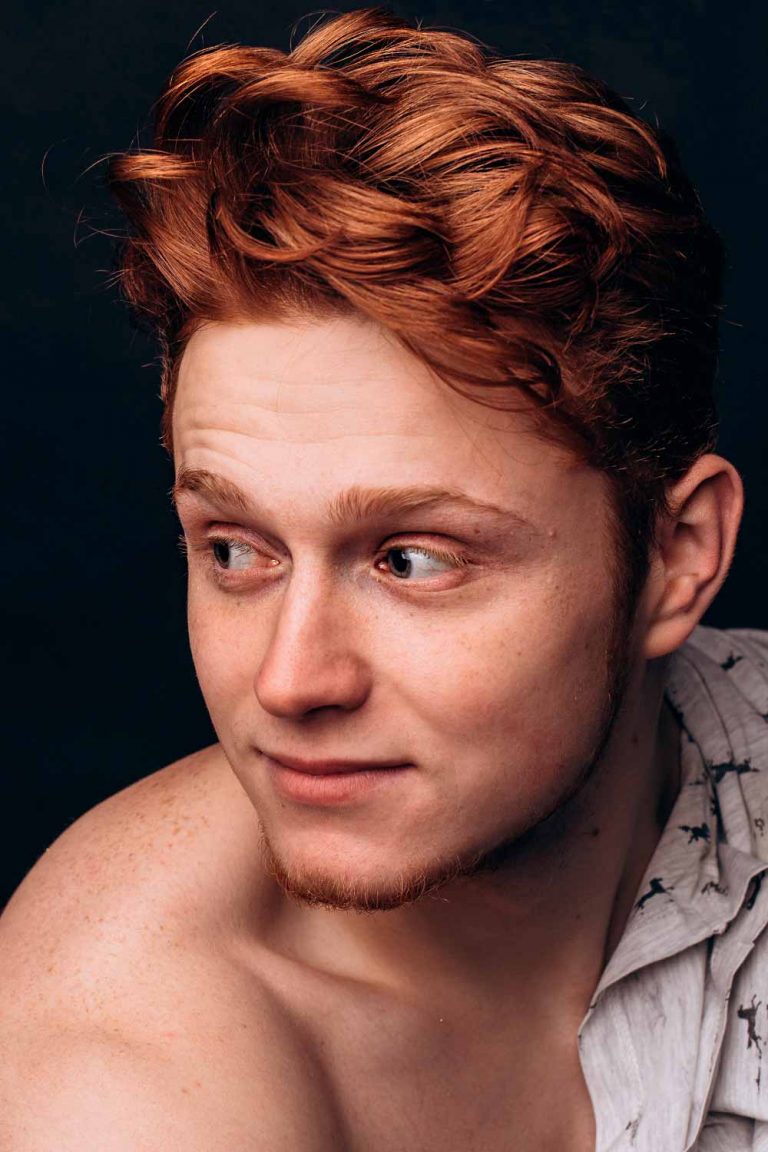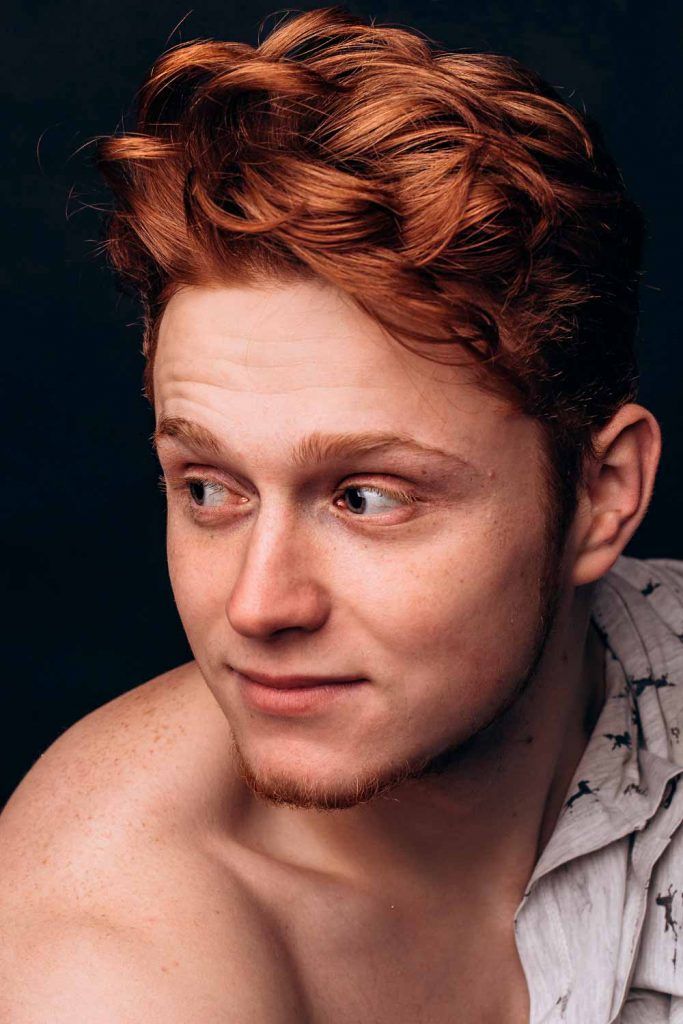 Red Curls
If Mother Nature was generous to you so much that in addition to red hair color you also got curly hair texture, then we can say that you are extremely lucky. Red curly hair men look ultimately attractive and do not have to do anything to stand out in the crowd.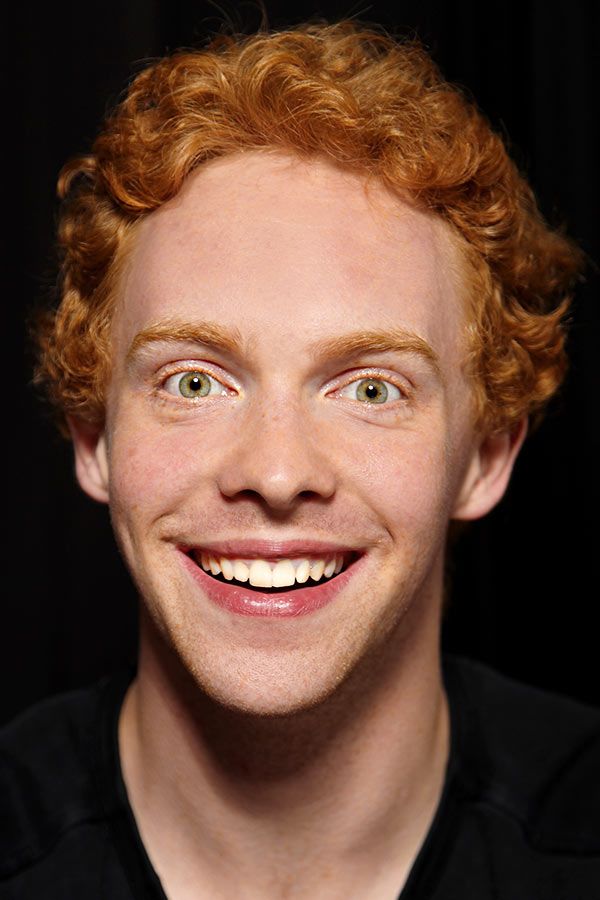 Cameron Monaghan's Elegant Part
Is it even legal to be so attractive as Cameron Monaghan? The actor, best known for his Joker role in the Gotham series, has a very rich, deep red hair color, which literally makes us feel jealous. His hairstyles are extremely versatile, depending on the ambiance or role he is pursuing. But one thing never changes – his hair always looks its best, which has earned him the name of one of the most handsome dark red hair men on the planet.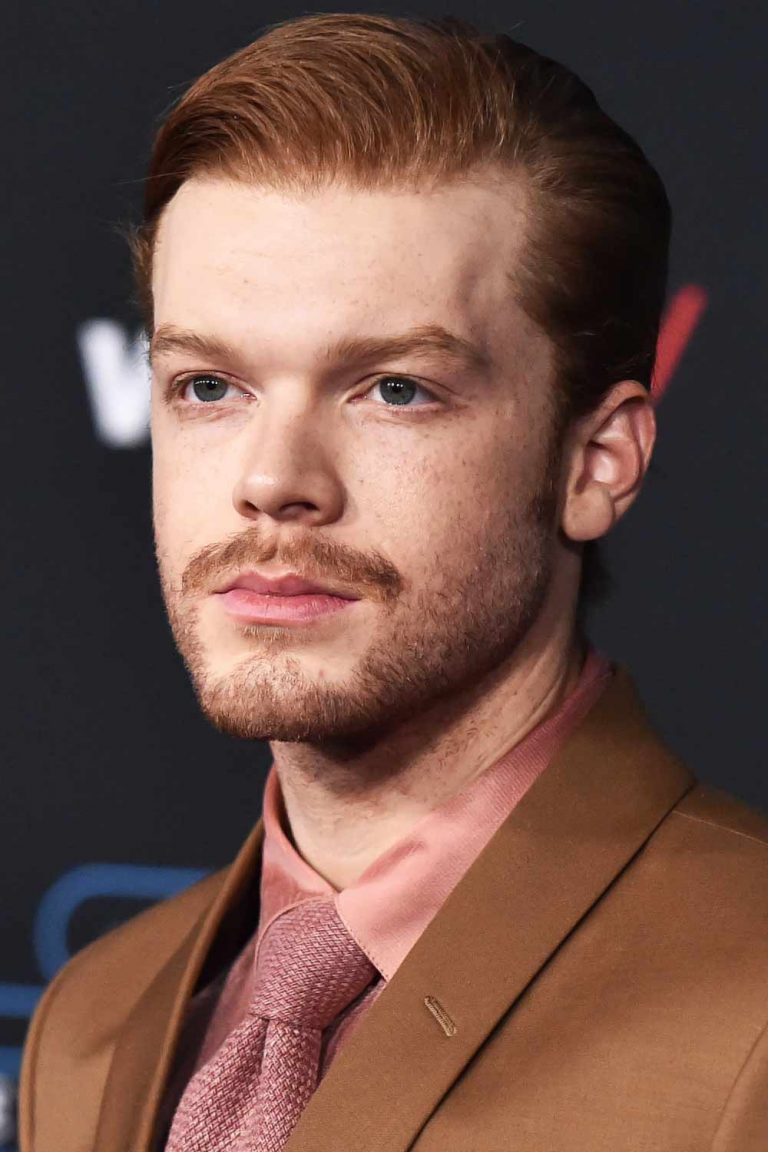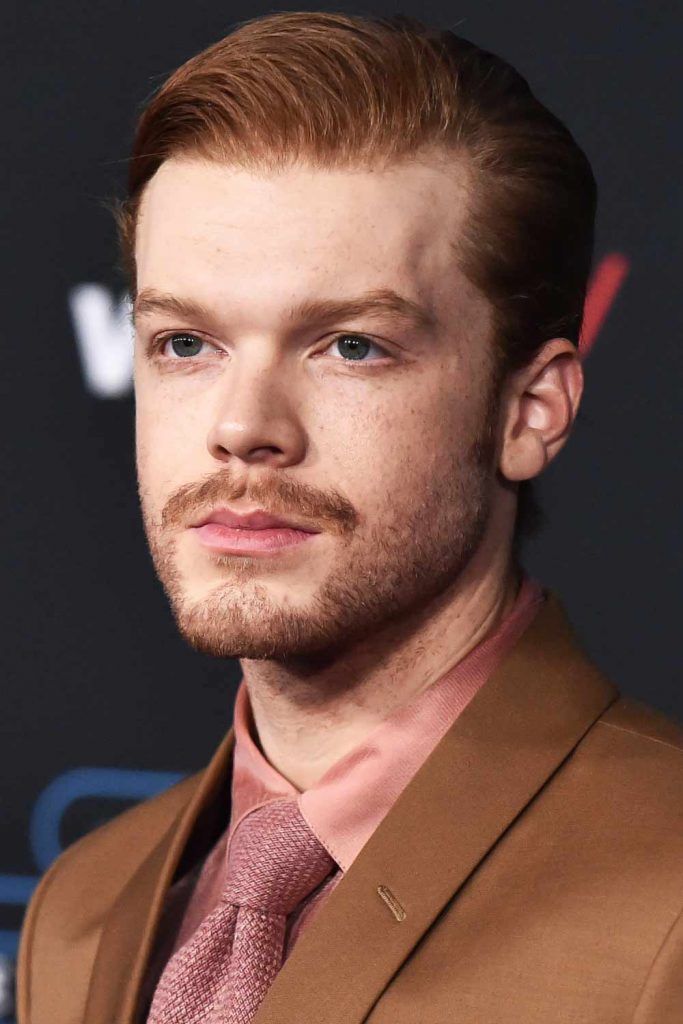 DFree/Shutterstock
Windblown Quiff
Our next hairstyle if for red hair men who choose to look a bit extravagant. To achieve it, you need to style your long red hair so that the quiff gives a windblown impression.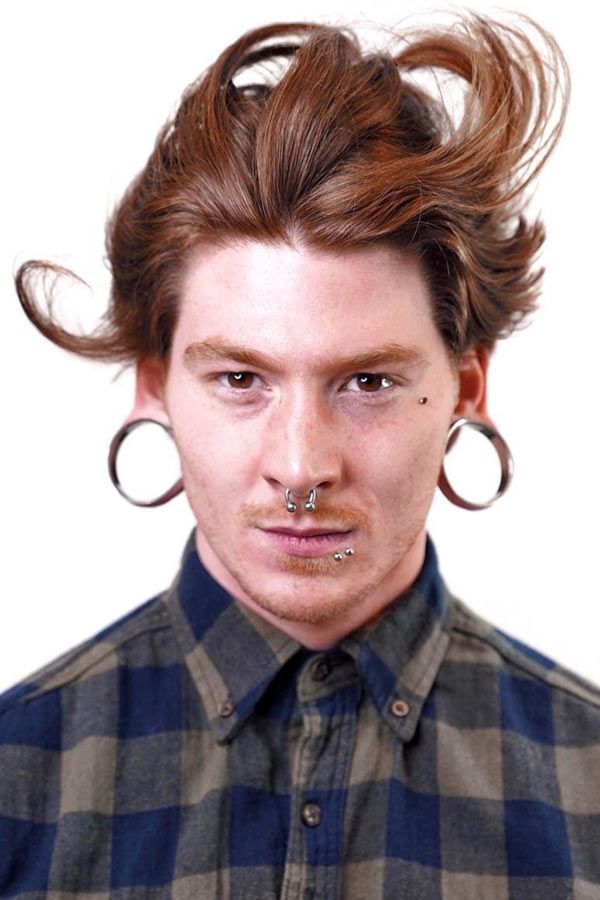 Source: @egobarbers via Instagram
Brush Up Quiff
For those red heads who have a quiff of any length, one of the best ways of styling is to brush it up. This looks especially vivid on guys with bright red hair.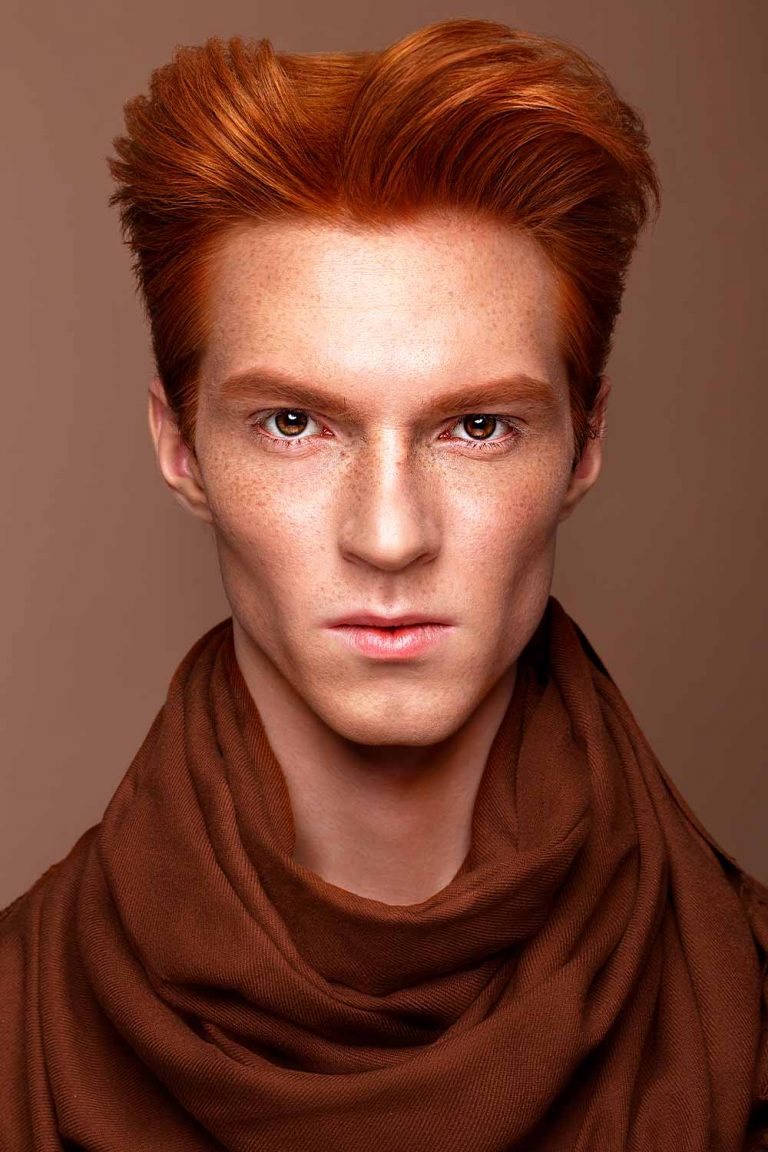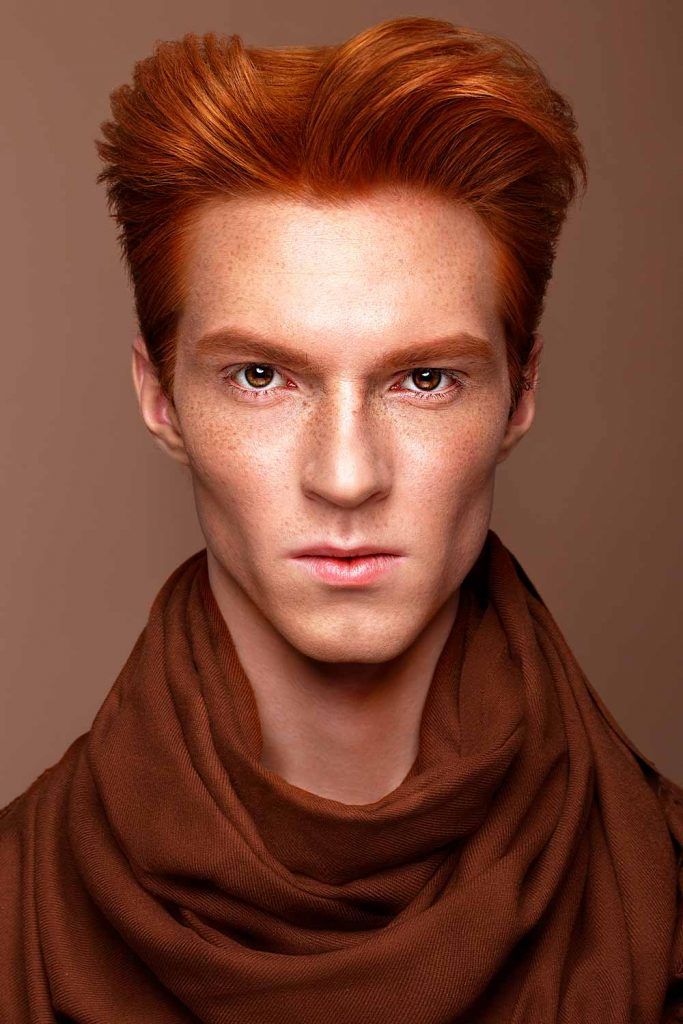 Source: @w_k_o via Instagram
Long & Straight Mens Red Hairstyles
There is hardly a better way to emphasize your stately red locks than growing them long. This is especially true for those guys who have straight hair, as it reflects light better than any other, thus making the strands shine bright.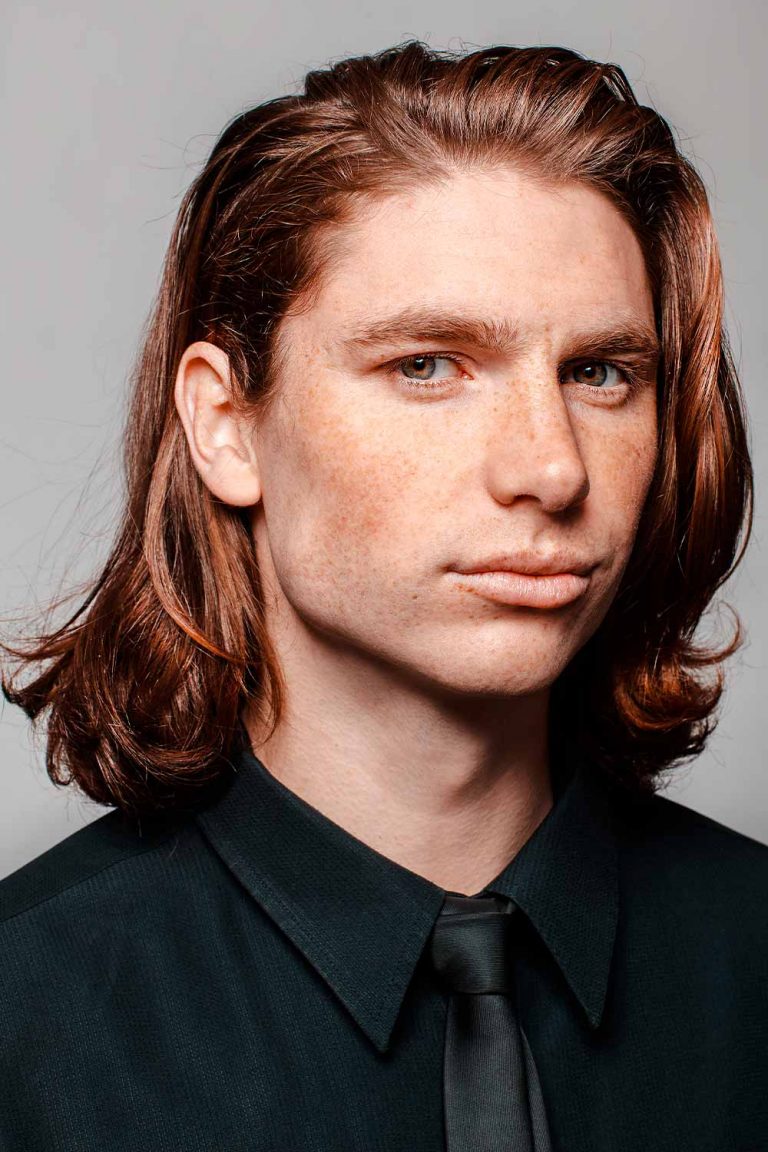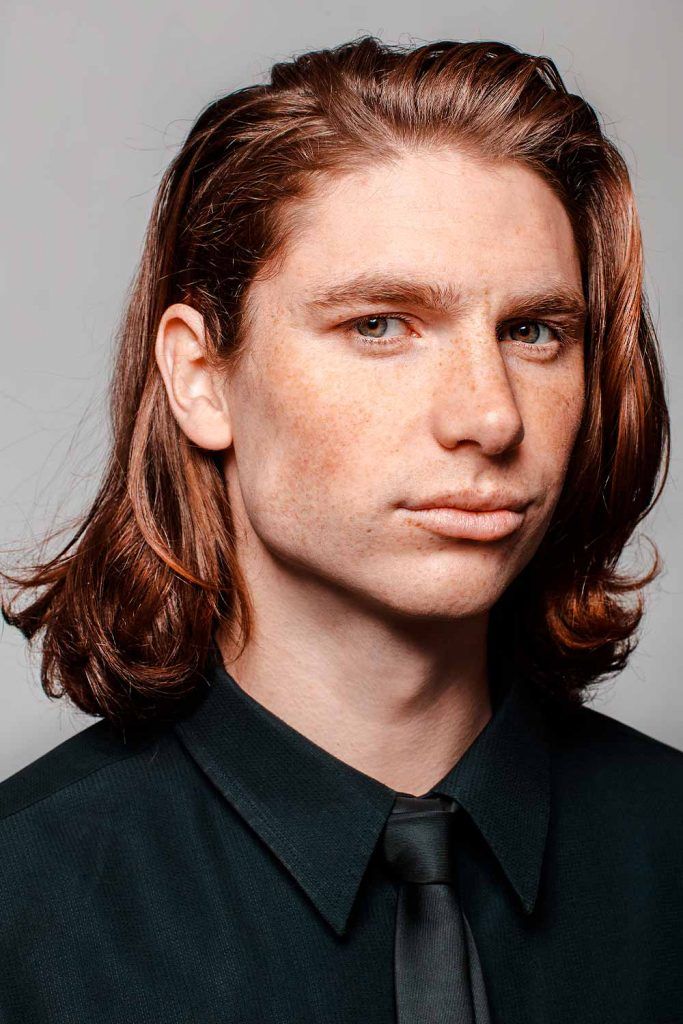 Curly Red Hair Boy
For a red head teen with curly hair, there is hardly a better hairstyle than long effortless locks. They may be not the easiest to maintain, yet the result is totally worth it.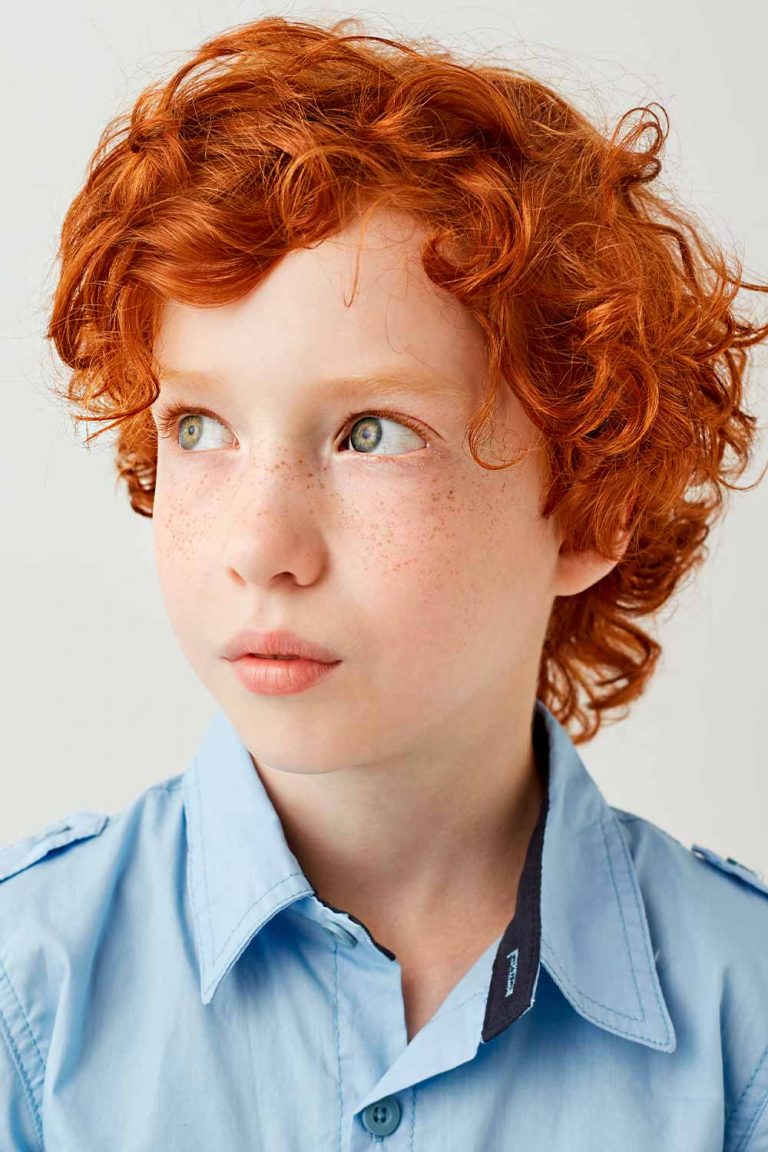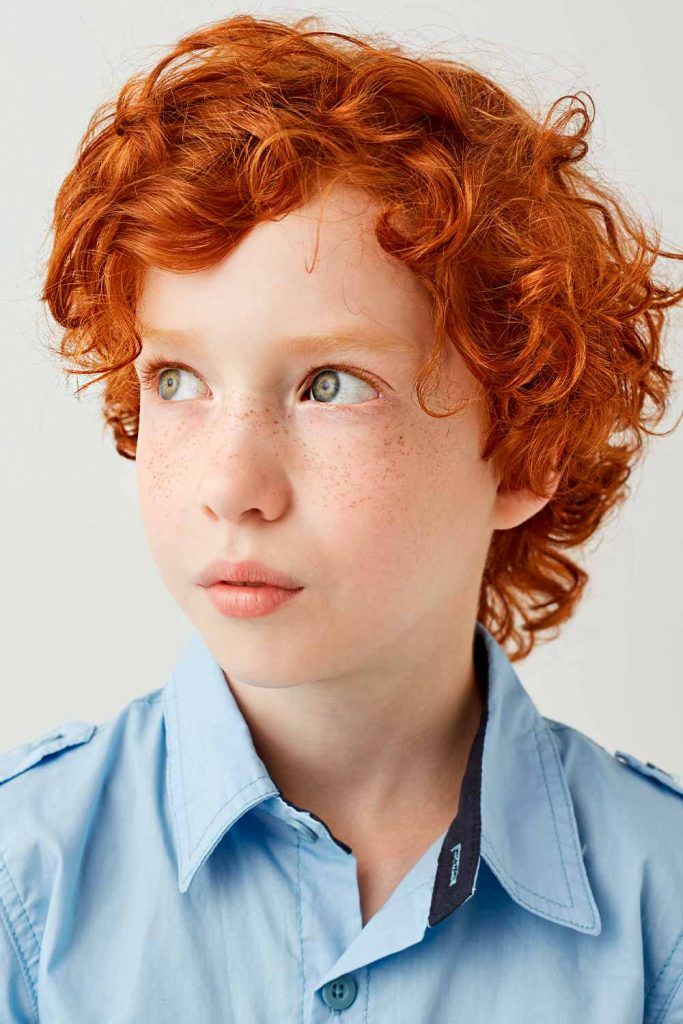 Long Undercut
Undercuts give red headed men a lot of benefits. While they remove bulk from your mane, they also add contrast and definition to your whole look.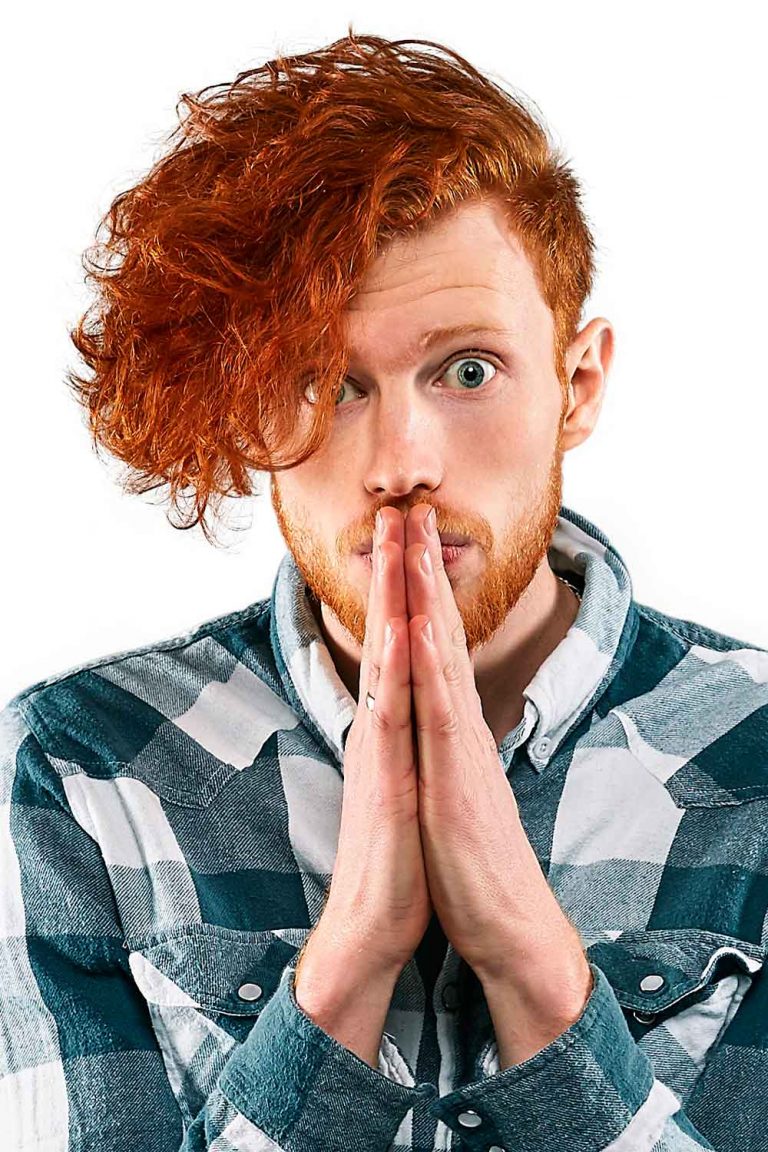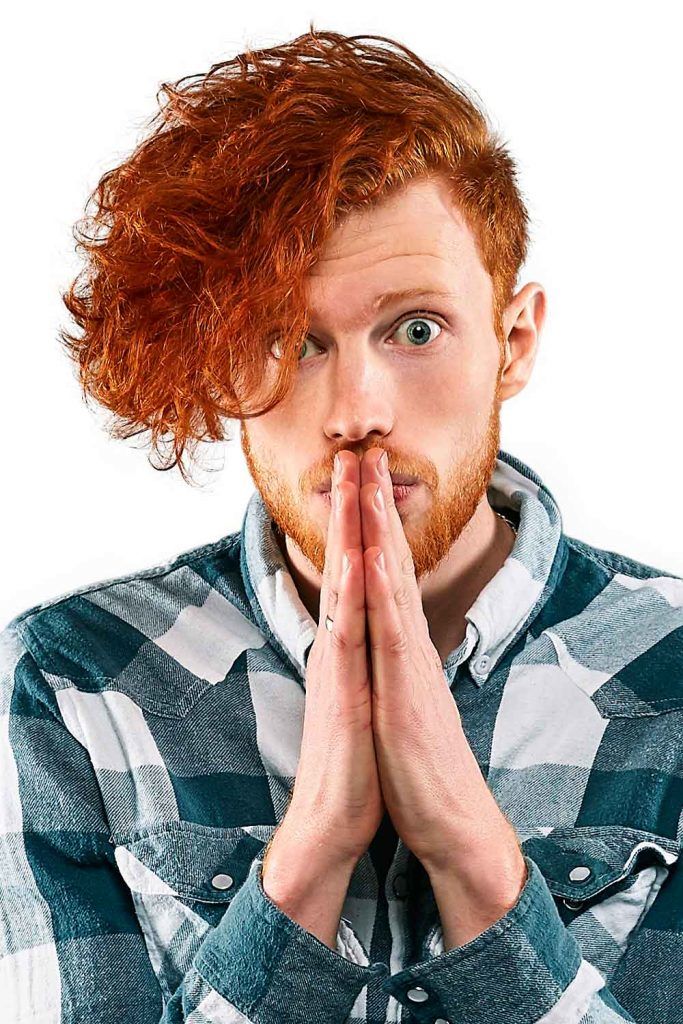 Long And Curly Redhead Guy
Curly ginger men who want to show off their hair color and type should definitely grow their locks long. In this way, everyone would be able to enjoy the beauty of their red curls.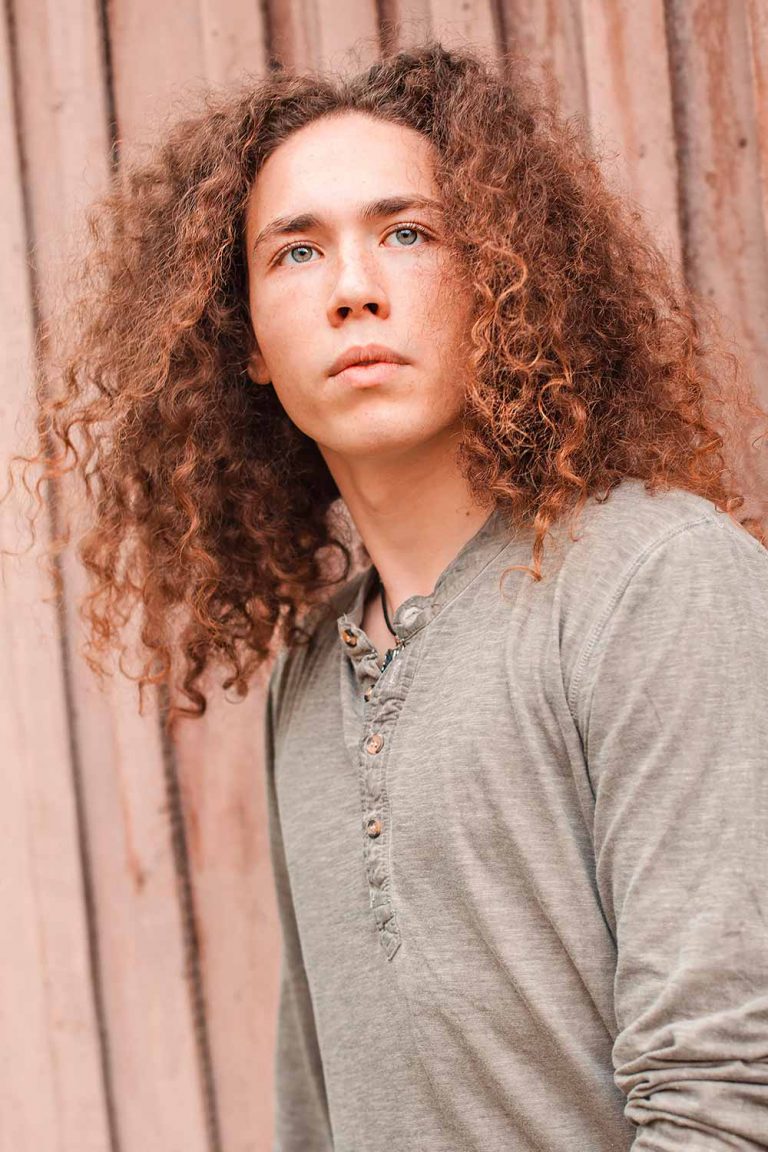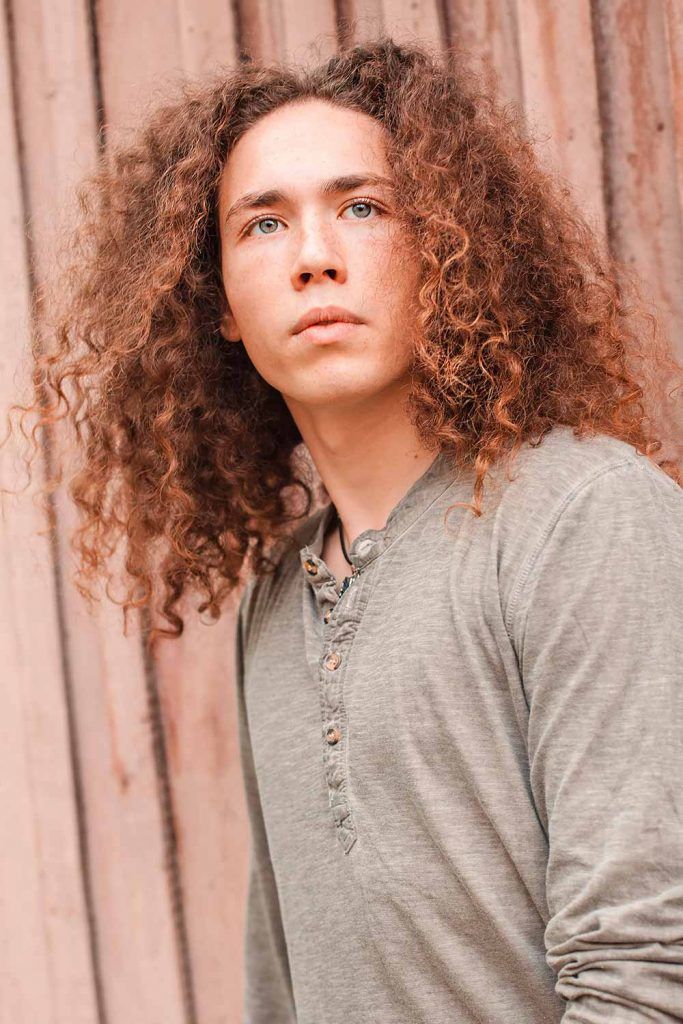 Seth Green's Medium Brushed Back
Seth Green is one of our favorite American comedian actors of all time. Even if you do not remember seeing him on screen, you have definitely heard his voice in the Robot Chicken TV series or the Family Guy sitcom. Not only is he a brilliant actor and voice artist but he is also one of the best-looking and charismatic long red hair men we have ever seen. Seth seems to be proud of his ginger color locks, as he prefers to show them off with the help of the most flattering hairstyles.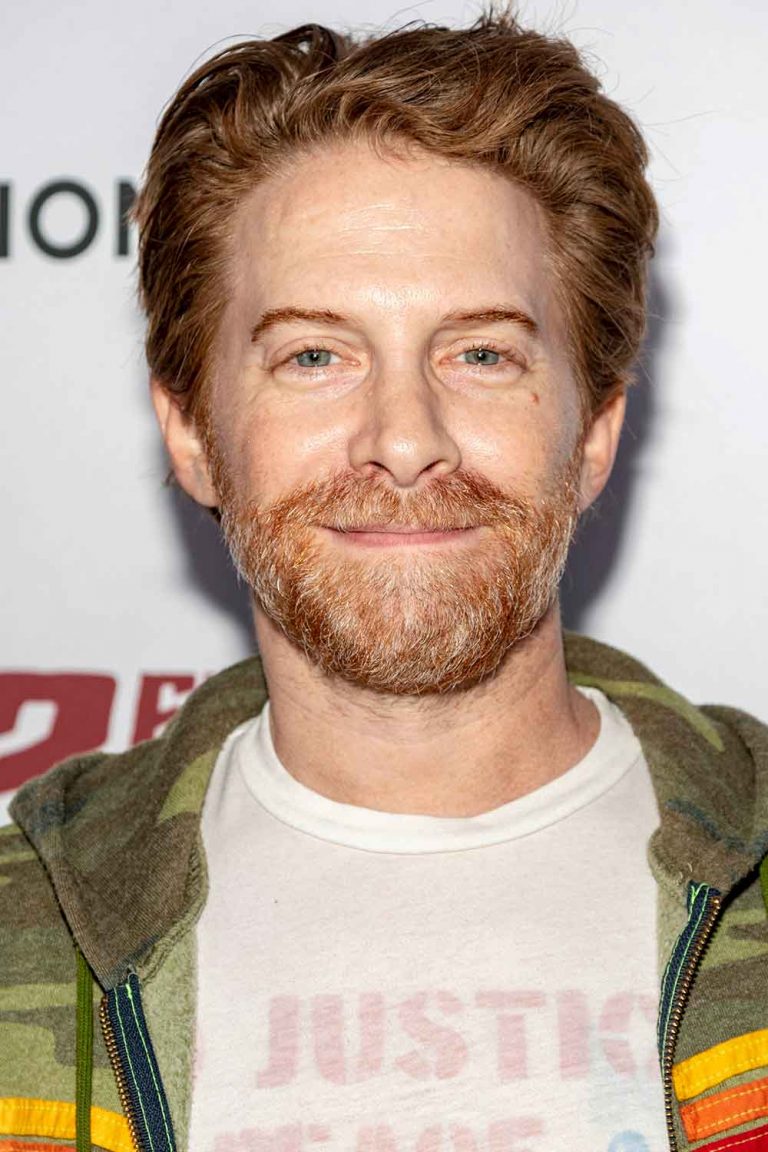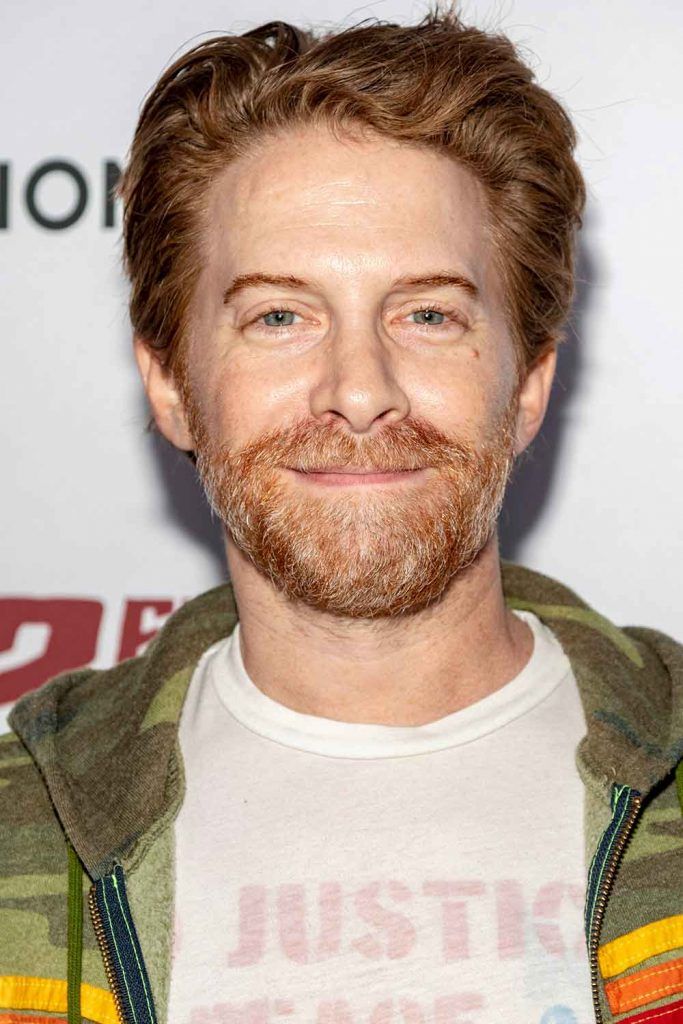 Eugene Powers/Shutterstock
Red hair men may not even know how many benefits they have over others. Their fiery locks don't require much maintenance or styling to look flawless and awe-inspiring. We're pretty sure that you've managed to find the hairstyle that meets your grooming preferences.
FAQs
Is red hair on guys attractive?
Ginger hair looks incredibly good on guys. They used to be mocked because of their striking hair color, which gave them a really hard time. But nowadays, a ginger man is considered unique and attractive.
What is red hair a sign of?
A redhead boy most likely has a mutation in MC1R, (the melanocortin 1 receptor), which is responsible for the pigmentation of your skin and the color of your hair. If you have ginger red hair, it means that one specific melanin type in your body prevails over another.
What are guys with red hair called?
A red hair man is often referred to as "gingy" or "ginger." Yet, there is some controversy about it, as not everyone likes these terms.
What ethnicity has red hair?
The Celts are known to have had red locks. You can find mention of this in Roman and Greek ancient records.