So many men all over the world are looking for advice on how to grow a beard, and we totally get why. Beards can change the appearance so easily, bringing in some mystery and style to your whole look. Don`t think that it is so easy, though. Why? Well, there are some obstacles that you may have to overcome. Would you like to experiment but have no idea how to do it correctly? Well, we are here to help you with providing you with the advice you need.
Beard Terminology
Let`s go through some common things that you for sure should know before starting the process of growing. What is a beard? It is facial hair that grows on your upper lip, cheeks, chin, and neck. Keep in mind that there are two types of facial hair. Vellus (youthful, thinner and lighter) and terminal (darker and thicker). Basically, through years, your vellus hair will turn into the terminal one. Many people have a stereotype in their head that beards can`t be short, but we are ready to break it.
Remember, any slight show of facial hair on your face is already a beard. The length of it depends on your own preferences. For example, some men prefer to wear a yeard which is a beard that hasn`t been cut for a year or a tweard that hasn`t been cut for twice of that time. A terminal or a full beard how it is usually called is the last stage of the growing process. The hair stops to grow noticeably and starts to shed.
Physical Aspects Of Beard Growing
Why don`t we go through some basics that will help you understand the beard growth stages better? Let`s start from the beginning, and that is the time when your facial hair will begin to appear on your face. That is usually from the teenage years to the 20s. For some men, it can be later. Unfortunately, we can`t know when you will have it, how long to grow a beard you will need or how thick, dark or light it may be. It is all in your DNA as well as your height and hair color. The process of growing and shaping a beard for some people may be easy while for some it may not. You must understand that time is your best friend in this situation so will need to be patient and wait.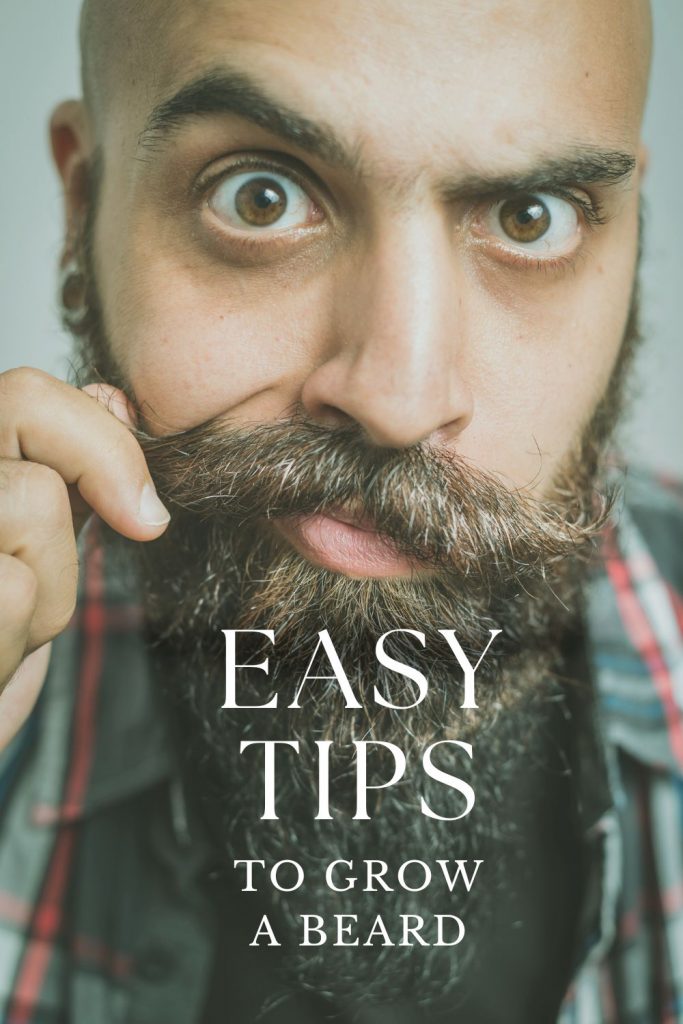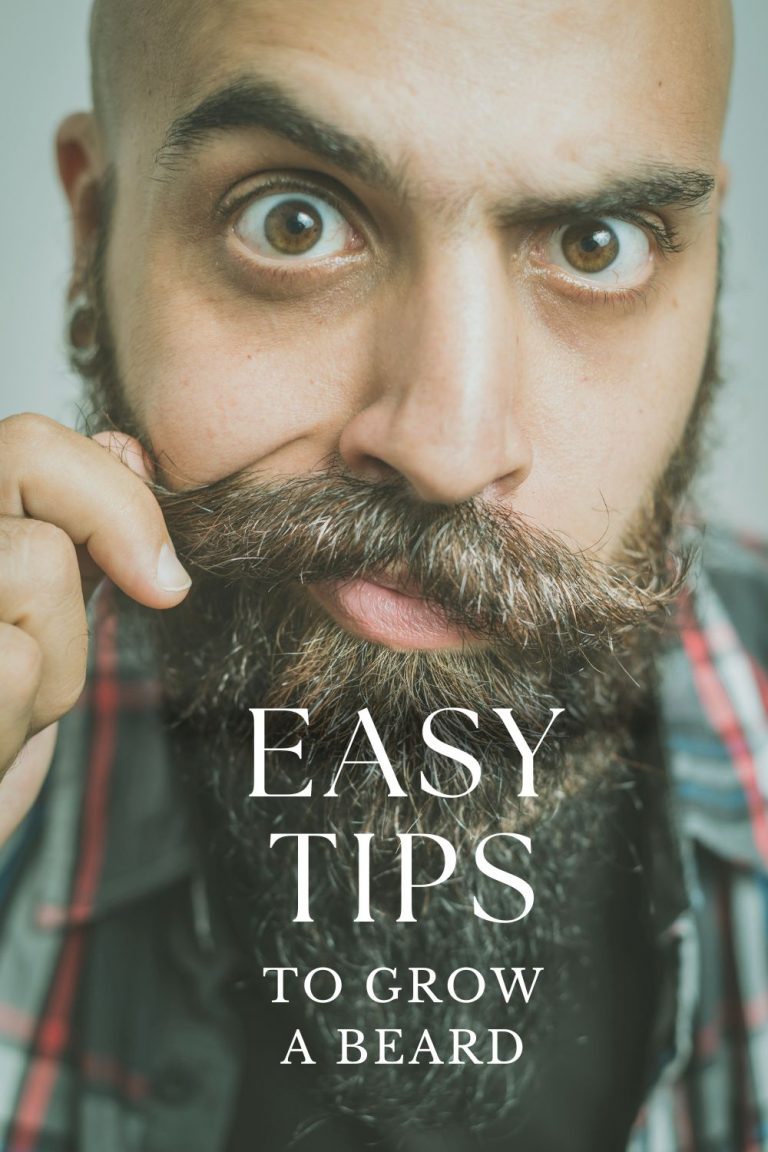 There are so many factors that the growing process depends on. For example, your physical health, hormones, and genres. These ones you can`t control in any way, so let`s talk about the ones you can actually work with.
The Hormones
Hormones are really important when it comes to the facial hair. There two of them that influence its appearance. Testosterone and dihydrotestosterone (DHS). The amount of DHS affects the hair growth and your facial hair in general. If you have a higher level of testosterone and DHS, you are more likely to have bigger amounts of hair than those who have a lower one. Well, there are some ways to naturally boost them without any additional supplement. Exercising and lifting heavy weights may help you. Also, don`t forget to eat healthy food rich in protein, carbs and good fats. Stress less and rest a bit more. This will not only help your body to produce two hormones you need to grow a beard, but will also give you a lot of energy.
Best Food For A Healthy Beard
How to grow a thicker beard? The answer lies in the food. That is why we advise you to choose a healthy and well-balanced diet for yourself. If you dream of long beard styles, you should definitely choose these products: sweet potatoes, eggs, spinach oysters, liver and cinnamon. Why? Protein, different minerals, and iron that they are rich in will not only be a healthy basis for your eating habits but will also influence you men`s health and of course the hair growth. The way your facial hair will look depends on the quality of the food you consume. Keep that in mind, and you will have the healthiest looking beard.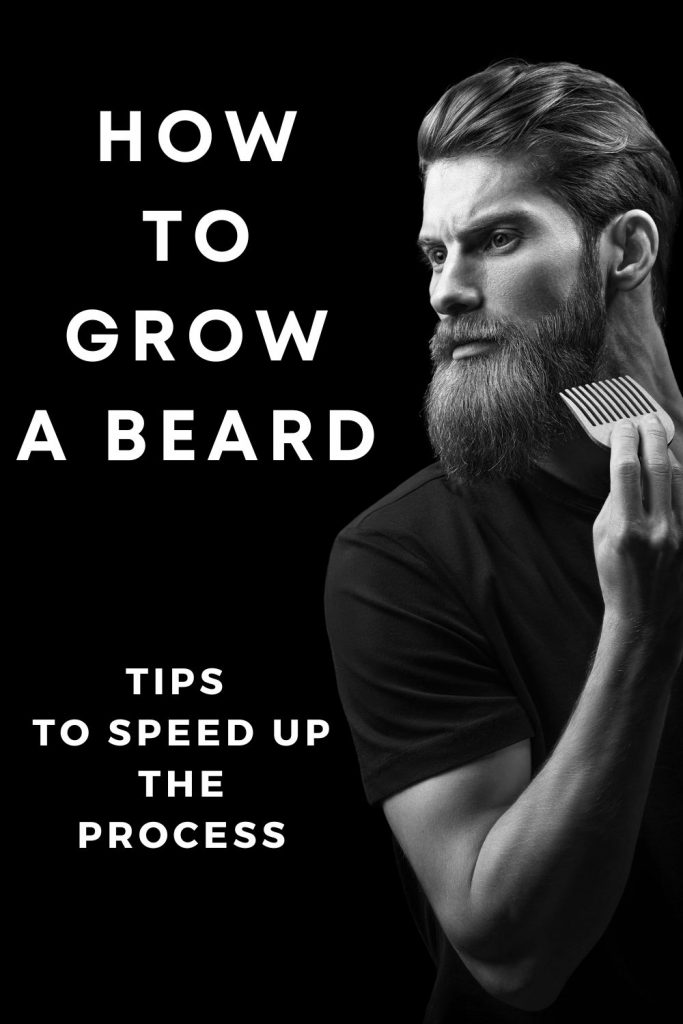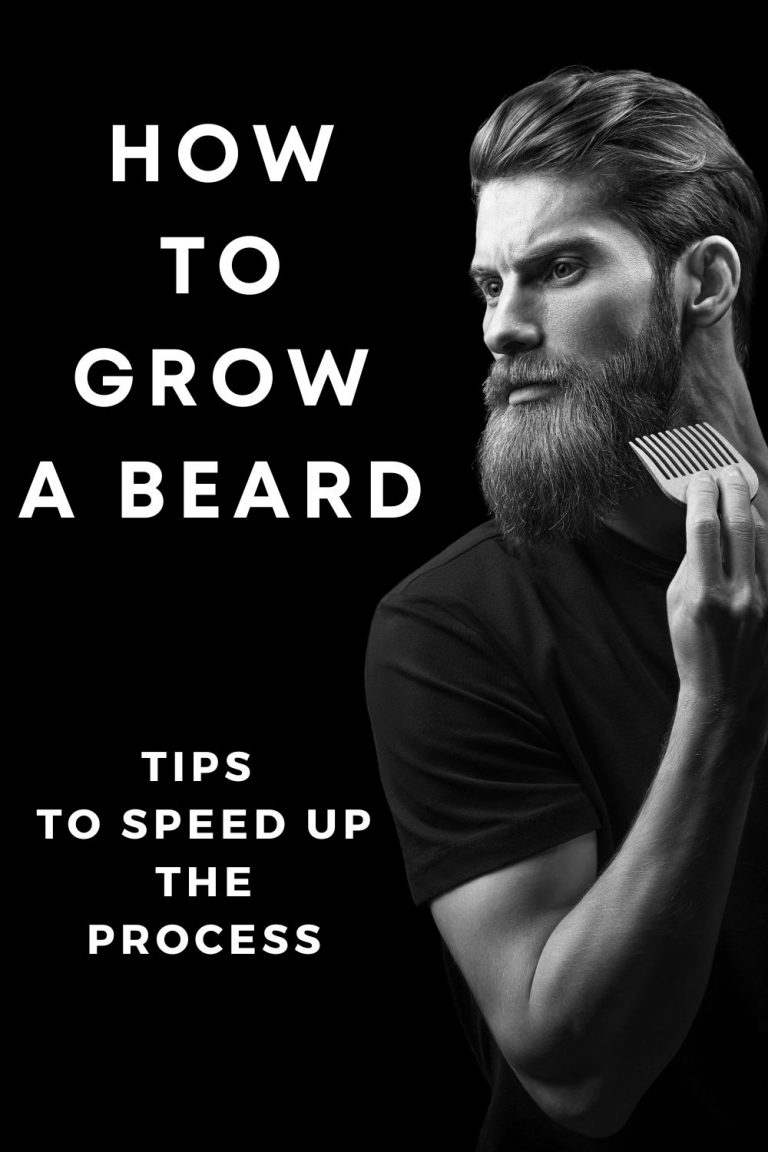 Best Exercises For Growing A Beard Faster
To boost the beard growth, try the resistance training and lifting weights. These exercises will help your body to produce more testosterone. A healthy diet, enough of sleep and regular exercising may give you the chance to grow out long beard styles.
How To Grow Your Beard In 3 Easy Steps
There are three steps that you should follow in order to get a healthy looking beard, are you ready?
Step 1. Give It Time
The most common question is how long does it take to grow a beard. As we have already stated, there is no right answer to this as it may differ for everybody. That is why our first step is to wait. Yes, you`ve understood correctly. Get patient as it may take some time for facial hair growth.
Step 2. Trim Your Beard
Beard trimming is the next step that you should definitely not skip in your routine. Do it regularly, and the results will be satisfying. Healthy looking hair and a neat look, what can be better? Bearded men recommend taking care of your facial hair with different products. A beard cream or oil can make your beard look much better.
Step 3. Enhance The Good Part Of Your Beard
Growing a beard means finding good ways to style it. There are so many different types of beard trims that you should definitely try. Our third step would be to find the ones that will make you look even better than you do already. Find your own preferences and keep up upgrading your look. Maybe a mustache will be your piece of cake one day.
Deal With Beards Issues
Along with some beard growing tips, we have prepared some advice for you if beards issues occur. We hope this will help to make them less uncomfortable for you.

Itchy Beard
An itchy beard is a normal reaction of your skin. After shaving and starting to grow the hair, the skin may get a bit irritated by the cut edge of your hair that bends and goes to your skin. What should you do? Firstly, focus on the fact that it is a temporary inconvenience. Secondly, applying some moisturizing may help your skin a lot.
How To Get Rid Of Beard Dandruff
Beard dandruff is a common problem that occurs to many men who have facial hair. What do we recommend? Use a beard brush to bring up all the dead skin pieces before going to shower and washing them out. Don`t forget to use a beard oil to nourish your skin, mustache, and beard after.
What To Do About A Patchy Beard
A patchy beard is not the biggest problem you may face while growing a beard. Beardmen state that long beards are stylish now, but patchy ones like goatee are never going out of style. Keep up a stubble, and you will love the look!
If You Have Split Ends
What is the tip on the split ends? Moisturizing of course. A beard oil is a must for you if you have such a problem. However, never pick on split ends as this may lead to patches. Is that what you want?
Losing Beard Hairs
Using your razor may lead to you losing your beard hairs, that is why be careful with the whole process of beard growing and shaving. If you don`t like the thought of losing facial hair, you better put your razor aside.
How To Grow A Beard – Quick Instructions
Does shaving make hair thicker? Yes, but it definitely doesn`t make it grow faster. That is a common myth that people are used to telling each other. What are the main steps you should keep up with? Don`t forget to shampoo your facial hair at least once a week when you shower. Always remember that taking care of your beard is a necessity now. That is why a beard brush and a beard oil should appear in your men kit. Eat healthily and exercise regularly to keep the level of testosterone and your beard will look healthy.
This guide on how to grow a beard will hopefully help you in this journey. Whether you are considering it or have already started to grow the facial hair, we are happy to share some great tips and advice we have found.
Products To Reach Your Fullest Beard Potential
Outline The Contour With Beard Stencils (Cut Buddy)
Courtesy of brand
So that your beard does not look shaggy and unkempt, you should always remember to define neck and cheek lines. No matter whether you are only trying to grow your beard or it has already reached the desired length, when you have it outlined, it makes a world of difference. If you find trimming your cheeks a daunting task, this Multiple Curve Trim & Shaping Guide from the Cut Buddy will come really in handy to you. It is basically a template for curving anything from a beard, mustache and neck to a hairline and sideburns. It will help you to create a perfect outline in the blink of an eye.
Encourage Your Facial Hair With Vitabeard Beard Supplements (Dovitamins)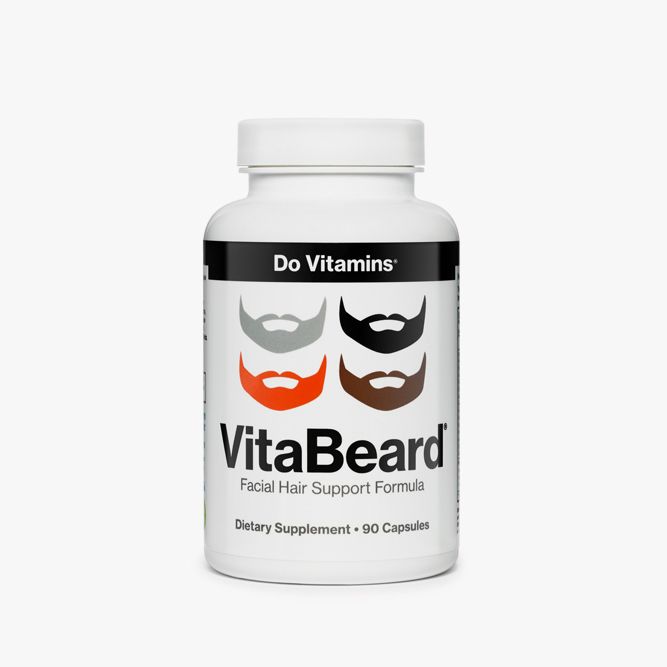 Courtesy of brand
It is vital to take care of your hair on the face not only from the outside but from the inside as well. Thus, you should add some vitamins to your beard grooming routine. Such beard supplements as Vitabeard offers will make your facial hair stronger, softer and thicker. Also, they are aimed at boosting its growth.
Never Stop Trimming With Beard Trimmer with Vacuum BT7225/49 Black (Philips )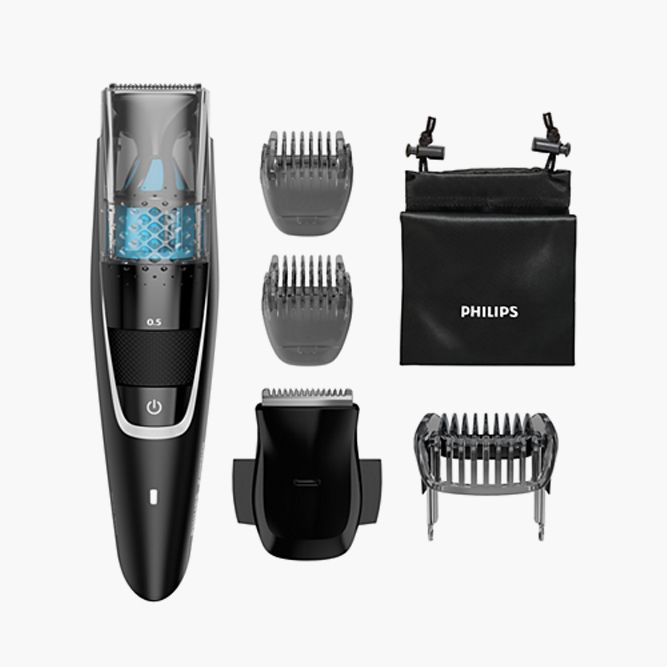 Courtesy of brand
To trim your beard, you should not wait until it is fully grown. While it goes through the mid-stages, it can make you look untidy and you do not want that to happen, do you? Thus, trim your facial hair every now and then with some really nice clippers. For instance, the Norelco Series 7200 Beard Trimmer from Philips will give you everything you may want from a beard trimming tool. It is cordless and goes with a vacuum cleaner for a comfortable and clean in all senses trimming. Besides, it features such elements as the precision trimmer with stainless steel blades and different precision combs that make it versatile.
Apply The Product That Helps Both To Condition And To Style
Premium Beard Oil (Stubble And Stache)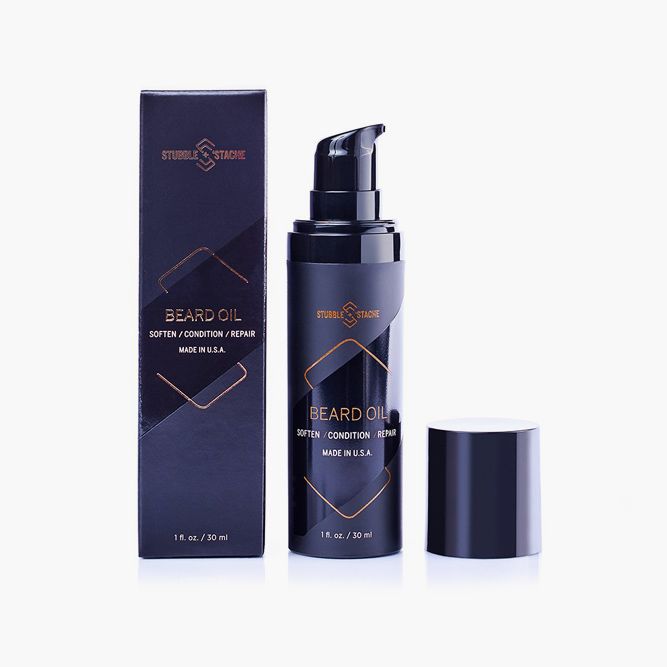 Courtesy of brand
You should never skip a beard conditioner, as it gives you so many benefits that outweigh everything. It makes your hairs softer, eliminates itch and adds to your beard's health. One of the best conditioners for your beard is arguably oil. However, creams and balms work fine too. We choose the Premium Beard Oil from Stubble & Stache. It is infused with argan, jojoba, sunflower, hemp and castor seed oils as well as Vitamin E to make your beard hydrated, soft, itch- and frizz-free. Also, it promotes hair growth, so it will not take you long to get a long bushy beard.
Beard Balm (Northern Fir)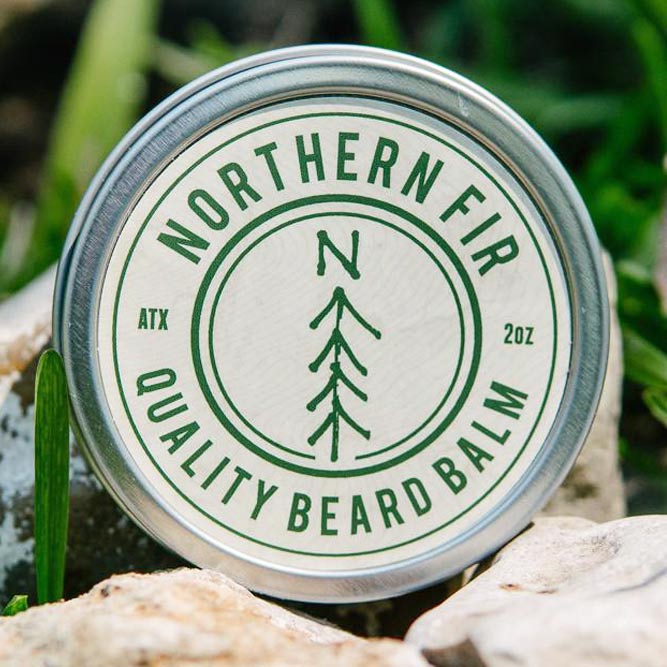 Courtesy of brand
The beard balm from Northern Fir contains all-natural ingredients, including jojoba and argan oils, pure beeswax, cocoa and shea butter as well as a mix of plant-based oils. Thanks to this, it makes your facial hair, smooth, soft, shiny and healthy and boosts its growth. Styling has never been so easy as with this beard balm. Besides, it will help you to eliminate beard dandruff, frizz and itch.
Beard Leave In Conditioner For Men (Old Spice)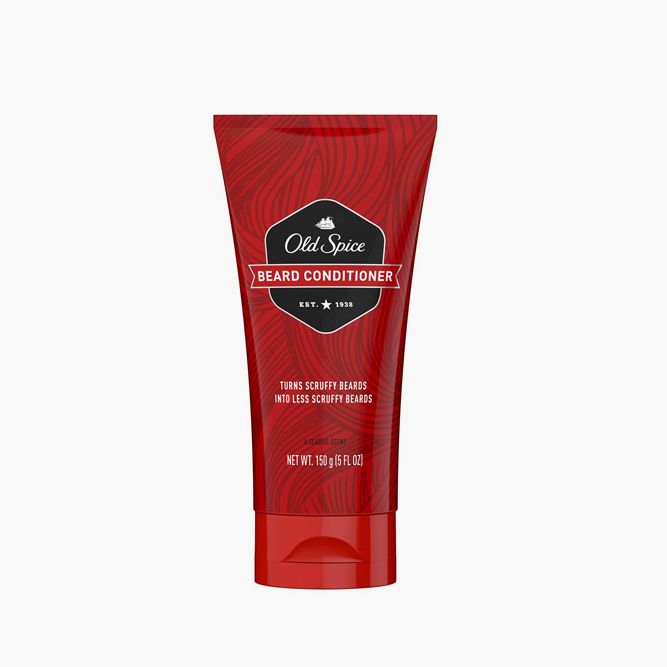 Courtesy of brand
If you prefer a conditioner formula, then we recommend taking a closer look at the Beard Leave In Conditioner from Old Spice. It effectively softens your beard, helps you to tame it effortlessly and style easily. One of the best things about it is that it suits any beard length and thickness.
Brushing Benefits Cannot Be Overlooked
Pocket Beard Brush (ZilberHaar)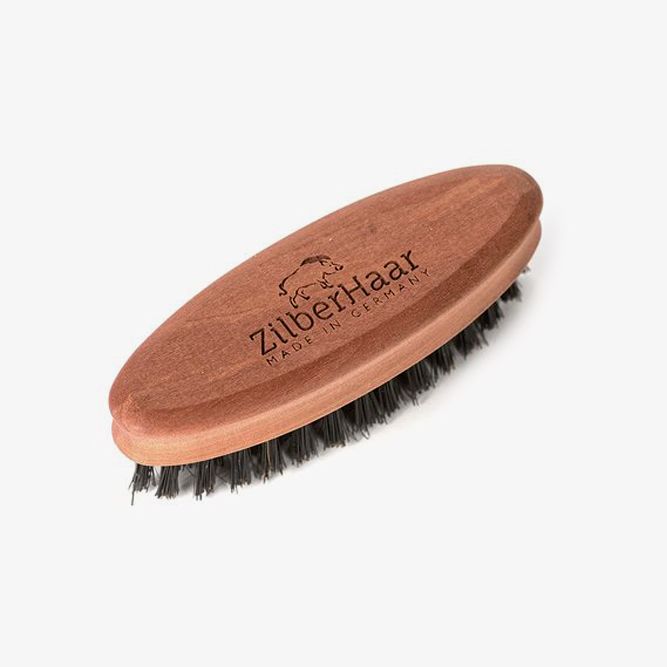 Courtesy of brand
Brushing your beard is crucial. This is not only about ease of taming the following day but also about nourishing it with your natural oils. If you brush it every day, your facial hair will break, frizz and split less. And the Pocket Beard Brush from ZilberHaar will surely help you out. It features 100% boar bristles that are stiff enough to handle any kind of a beard. Also, they help to spread your natural oils evenly and make your beard soft and clean. You can rest assured that the brush will stand in good stead, as the base is made of sturdy pear wood.
Beard Comb (Baxter Of California)
Courtesy of brand
The beard comb from Baxter of California is made manually to meet the highest quality standards. You can use it for any purpose – cut, sleek or shape your facial hair. The comb is made from cellulose acetate sheets and features rounded ends with tailored hitchless teeth for maximum comfort during use.
Using Minoxidil For Beard Growth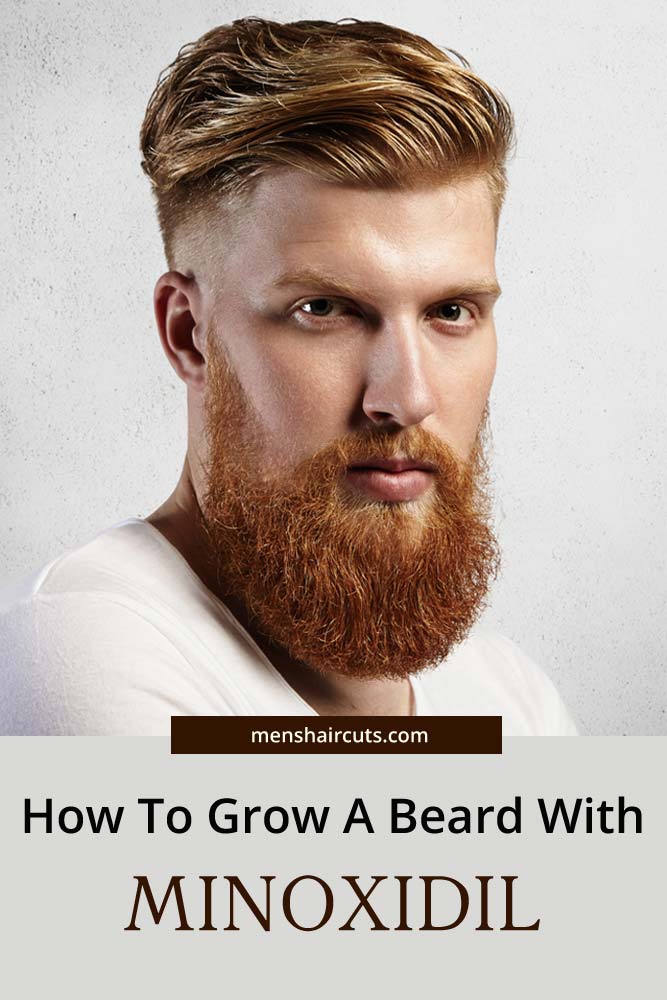 It is a known fact that one of the ways of how to grow a beard fast is using Minoxidil. You might also have heard of it as of Rogaine. However, a lot of men shy away from this drug because they apprehend side effects. Besides, Minoxidil is aimed at boosting your hair growth on the head, not on the face. But, will it work for your facial hair? Actually, it will. However, care should be taken when using this drug on your face so that it would really do you good.
To tell the truth, the side effects of Minoxidil are what causes hair growth. Originally, this drug was used to rectify hypertension. Thus, if your blood pressure is already high or you do not tolerate vasodilators, it is better to refrain from using this drug or be very careful with it. Also, if you are already using Minoxidil on your scalp, then do not apply it to your face, as there is a huge risk that too much of the drug will enter your bloodstream.
How Do You Use Minoxidil For A Beard?
At first, the dose should not exceed 1 ml once per day. Two weeks later, when your body has adjusted to Minoxidil, you can apply the same amount yet twice a day with an interval of 12 hours provided side effects are absent or minor.
What Minoxidil Is The Best To Grow My Beard?
There is no difference in the brand you are going to use, as they basically work the same. Just ensure that the product contains 5% of Minoxidil.
Should I Go For Foam Or Liquid Minoxidil?
It is actually up to you, as both kinds of formula work equally well. Yet, keep in mind that liquid formula contains propylene glycol, which can make the skin on your face dry. However, it costs less than foam. In its turn, foam formula is not as harsh as liquid and you may find that its application is easier.
How Often Should I Use Minoxidil On My Face?
For the best result, you should use it twice a day. However, according to some research, if you apply 5% Minoxidil once daily, it works better than 2% solution applied twice daily. As Minoxidil's half life is 22 hours, you can reapply it 12 hours after the application. Besides, remember not to wash it off either at all or at least for four hours.
How Should Minoxidil Be Applied To My Face?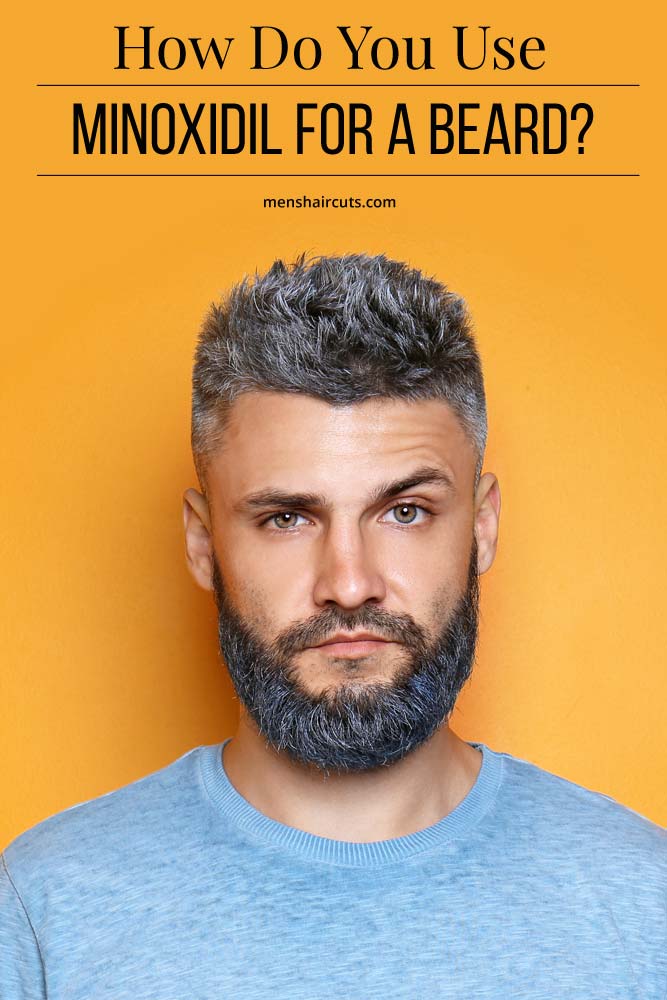 Before applying it, you should decide what 1 ml of the product looks like. Then, depending on the chosen formula, apply Minoxidil to the face and rub it in with your hands. Do not forget to wash them right away.
When Should I Expect The First Results?
Like with most things in our life, guys who struggle with how to grow a beard fast will need to stock up on patience. If you use Minoxidil properly and regularly, you might notice your beard growth boost for the tenth or thirteenth week.
What Should I Expect After I Quit Using Minoxidil?
When it comes to types of hairs, there are two of them – thin vellus and rooted terminal hairs. When you stop using Minoxidil, terminal hairs will stay in place while vellus will most likely fall out.
How Long Should I Use It?
As your hair on the face and head is rather different, you cannot use Minoxidil on your beard forever as you would normally do with the scalp hair. The length of the course is dependent on the final result you expect from it and the side effects you are going to experience. In general, it takes from two to three months for the majority of men to notice any changes. Based on this, you may need between 6 and 24 months to grow out your longest possible beard. When you achieve it, do not quit using Minoxidil at once. First, just reduce the number of times to once a day and only then stop applying it at all.
What Side Effects Of Minoxidil Are There?
Aside from expected hair growth, Minoxidil can bring you some other side effects, which are not as pleasant as a bushy beard or head. Minoxidil may retain water, so you will need to drink more of it and eat less salt. You can also experience headaches, heart palpitations and dizziness. If you notice any of these symptoms two weeks after the beginning of the course, either decrease the dosage or stop using it at all.
Also, you may notice an extensive fallout. This is not the reason to panic though. Rather, this is a normal stage of the whole process, as the new hairs will substitute the old ones. Unfortunately, not always can you control the areas where Minoxidil will boost hair growth and you may notice that you have become hairier all over. While those are not terminal hairs and they will most likely fall out after you quit applying Minoxidil, if they disrupt your life, just remove them with any convenient method.
Moreover, you can face such an unpleasant issue as acne. When your skin becomes drier, it starts to produce more sebum and as a result, you get acne. If you decide to use medication for acne treatment, then you should refrain from using Minoxidil. In case your undereye circles have become more noticeable, you can minimize them by applying concealer or Vitamin C cream. Finally, the issue that may stop many guys from using Minoxidil is erectile dysfunction. It is unlikely that this can be caused by the use of the drug, as scientific evidence that would prove that are absent.
FAQs
What stimulates beard growth?
Wondering how to grow more facial hair? Start with a healthy diet. Make sure you eat enough "good" carbs, whole grains, monounsaturated fats (can be found in avocados and fatty fish) and vitamins, such as A, B, C, D, E, as well as zinc (chickpeas, nuts, etc.).
Can everyone grow a beard?
No, there are a lot of men who can't grow a beard. Each of them has his own reasons for this, with genetics being one of the most common. So, how to grow a beard if you can't? Well, just don't. Or you can stick to a short stubble.
How can I grow my beard faster naturally?
One of the ways how to grow beard faster in a natural way is by following these simple tips:
1. Eat healthy and balanced.
2. Do some exercise.
3. Have enough sleep.
4. Keep your beard and underlying skin clean and hydrated.
5. Quit bad habits.
6. Massage and microneedle the face to encourage blood circulation.
How long does it take to grow a beard?
How fast does facial hair grow depends on the phase it is in at the moment. There are three commonly accepted phases of beard growth – Anagen, Catagen and Telogen. During the first phase, your facial hair gets 0.5 in. longer every month. This stage lasts for 3-4 years. The next phase is the shortest – it is around a couple of weeks. Although the hair growth continues, the follicles shrink. Finally, during the last stage, which can take several months, follicles do not show any activity first. And when the hair renews the process of growing, it is pushed out by the new hair, so the old one falls out.
Does beard grow by shaving?
There is a common myth that shaving your facial hair encourages it to grow faster or thicker. But does shaving help beard growth? No, it does not. Shaving does not affect the quality of your facial hair or the speed of its growth.
Was this article helpful?