If you have decided to venture out for a skullet, then we admire your fashion bravery. Not a lot of men would be able to pull it off. The party in the back, bald on the top haircut is way too impactful and attention grabbing to have even a bit of self doubt. To help you land the haircut of your dreams, we have picked out the most worth to try ideas and included them in our guide. So, grab your razor and get ready to upgrade your look.
What Is A Skullet?
The name skullet comes from the corruption of two words, a skull and a mullet. This is a daring hairstyle that features an absolutely bald top of the head, aka skull, and relatively long sides and back. As a result, it retains the aesthetic of a classic business in the front, party in the back hairstyle but with a bolder edge. While some guys get this haircut on purpose, others use it as a great way to disguise their thinning hairline. Although it is highly popular nowadays, a shullet hairstyle is not a new trend. It originates in Ancient Rome and could be spotted during the American Civil War. Since then, however, it has been a haircut of choice for many famous people, including Dustin Martin, Matt Damon, Hulk Hogan, to name a few.
View this post on Instagram
How To Rock The Skullet
While there are many ways to pull off a skullet hairstyle, all of them have one thing in common. The skullet should give off a messy and unkempt vibe. This is how rebels express their disobedience of social norms. For your convenience, we have put together the edgiest skull mullet hairstyles below.
Skullet + Clean Shave
To achieve an ultimately high contrast look, you can hardly think of a better option than a clean shaven skullet. Because it is a long hair bald on top style, it creates a striking difference between the sides and the crown. So, opting for it guarantees that you will never go unnoticed.
View this post on Instagram
Braids And Bald Top
Skullets are a great canvas for dreads and braids. So, if you are looking for a way to emphasize your individuality, look no further. The braiding can be just anything.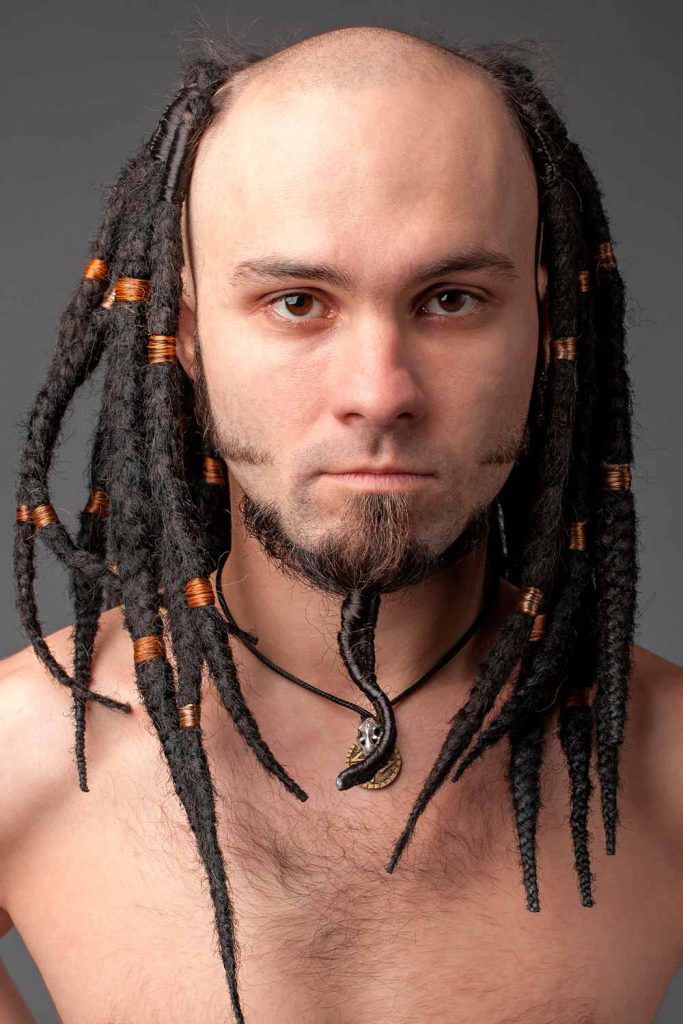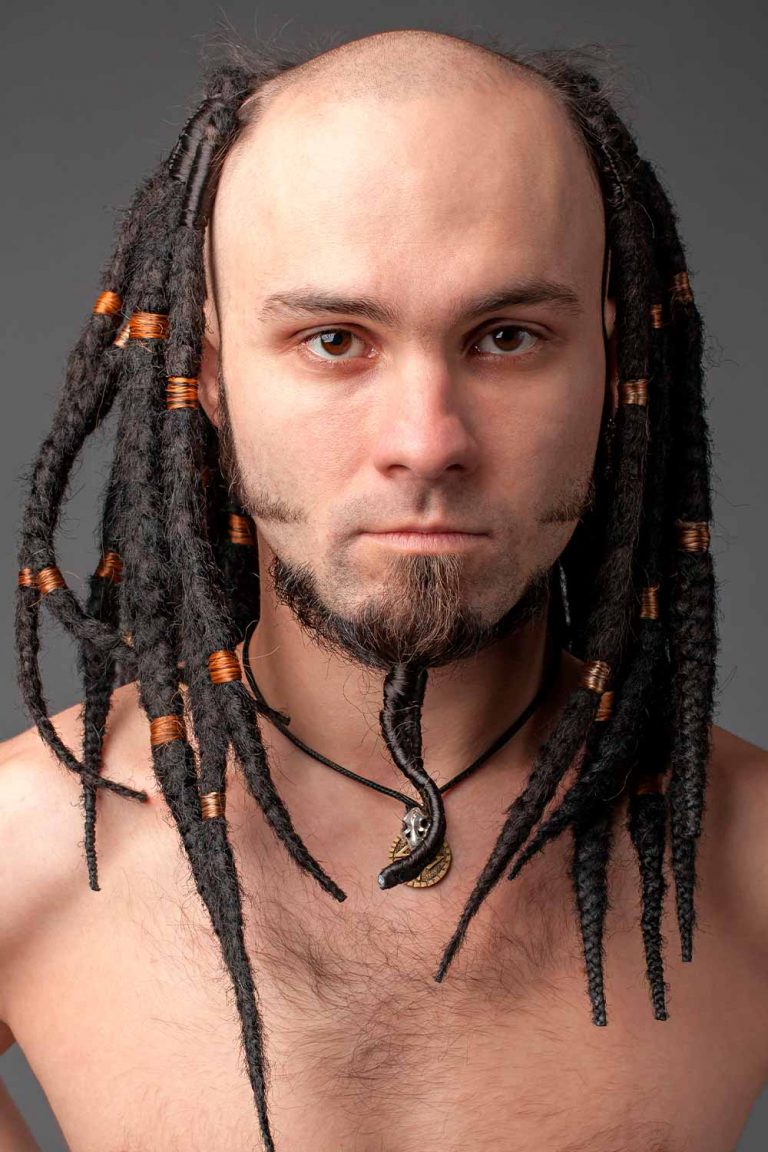 Skullet + Skin Fade
A bald mullet is a bit too much for you? You can start with something less daring, such as a skin fade mullet. While in the back, it still incorporates long hair, it leaves short stubble on the top that is faded into the skin on the sides.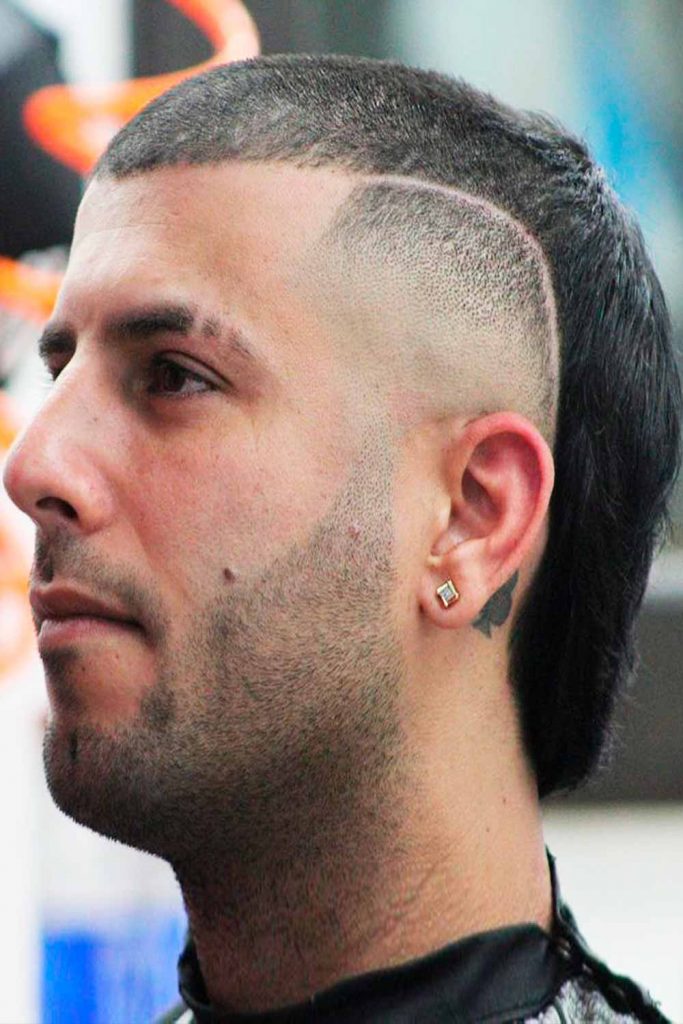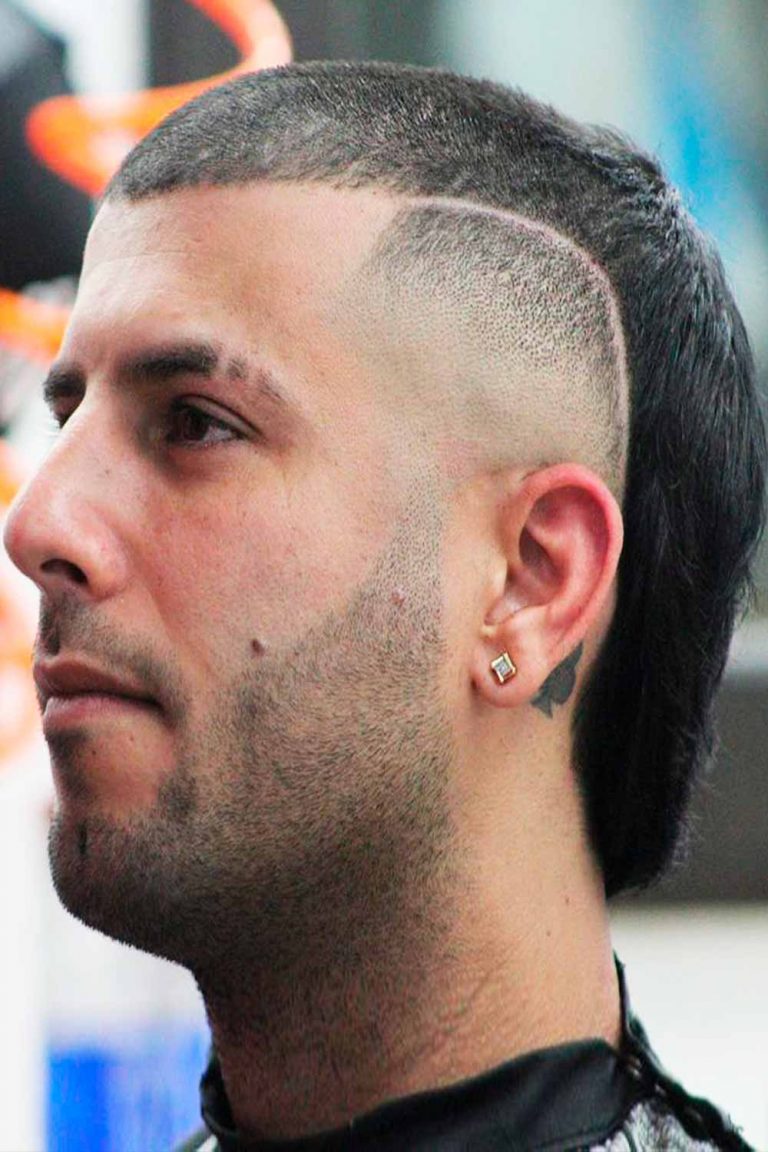 Source: @notorious.edd via Instagram
Skullet + Line Up
A line up is a nice accompaniment to a lot of mens hairstyles and a skullit is no exception. It creates a clean outline around your hairline and makes the hair on top the focal point of the whole look.
View this post on Instagram
Skullet + Red Hair
If you thought that you cannot make a skullet any bolder, we are here to prove you wrong. A brightly colored accent, such as a fiery red lock, will take your hairstyle to a whole new level.
View this post on Instagram
Skullet Haircut + Curly Hair
Guys with natural curly hair who want to accentuate its texture should take a closer look at a curly skullet. The top can be either buzz cut or shaven cleanly for more emphasis.
View this post on Instagram
Rat Tail Skullet
If you are not really keen on long hair, then you can get simply away with a narrow strand of hair in the back, which is known as a rat tail. The rest of the hair can either be shaved off or trimmed very short.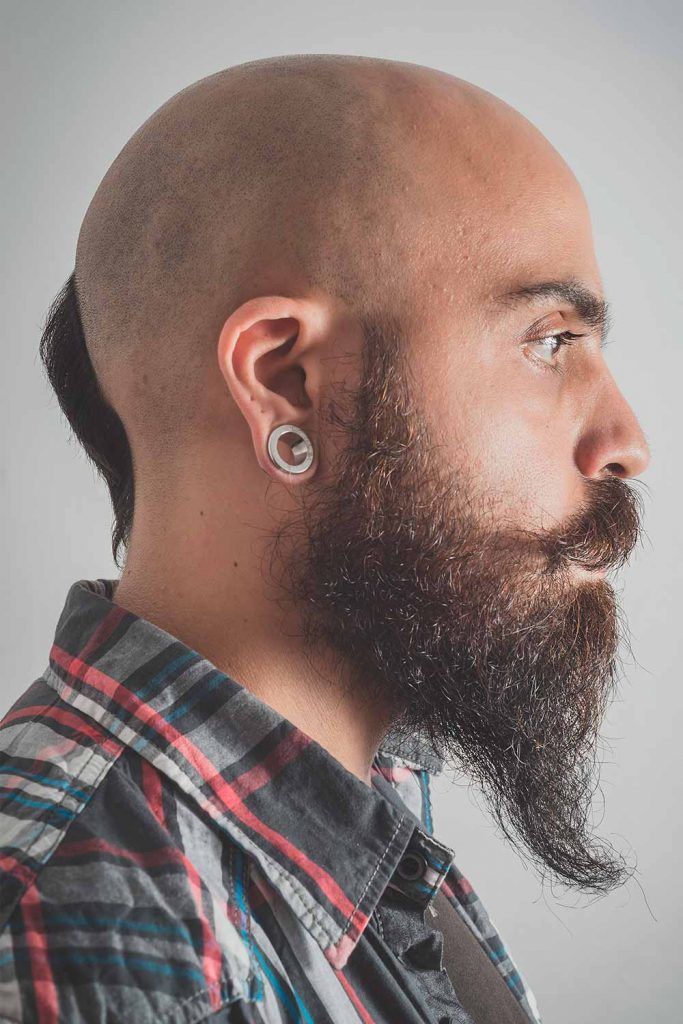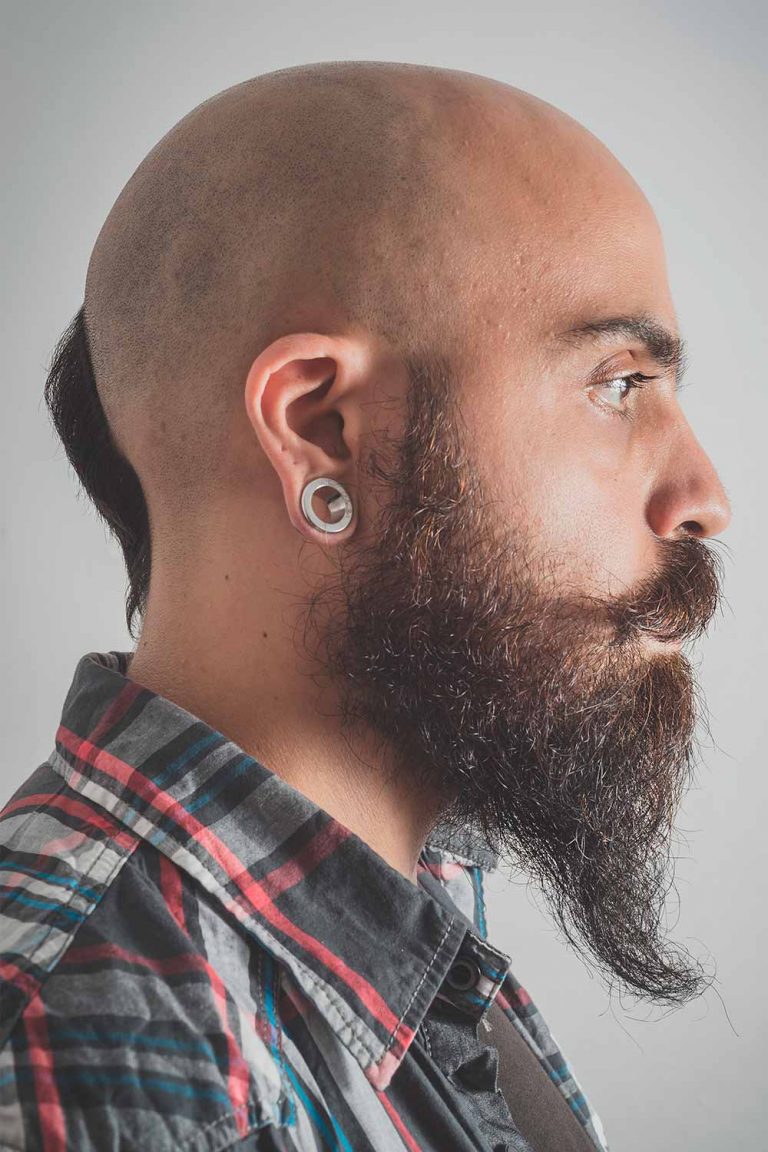 Skullet + Long Hair
Those who have enough patience to grow very long locks are usually very reluctant to get rid of them and no wonder. However, you can get tired of your luxuriant mane and that is when a long hair skullet comes into play.
View this post on Instagram
Permed Skullet
Skullet hair allows for various styling combos. If naturally you have straight locks but you feel like curls resonate with you, then why not get a perm? In addition to giving your hair a defined texture, it also offers low maintenance of your permed mullet.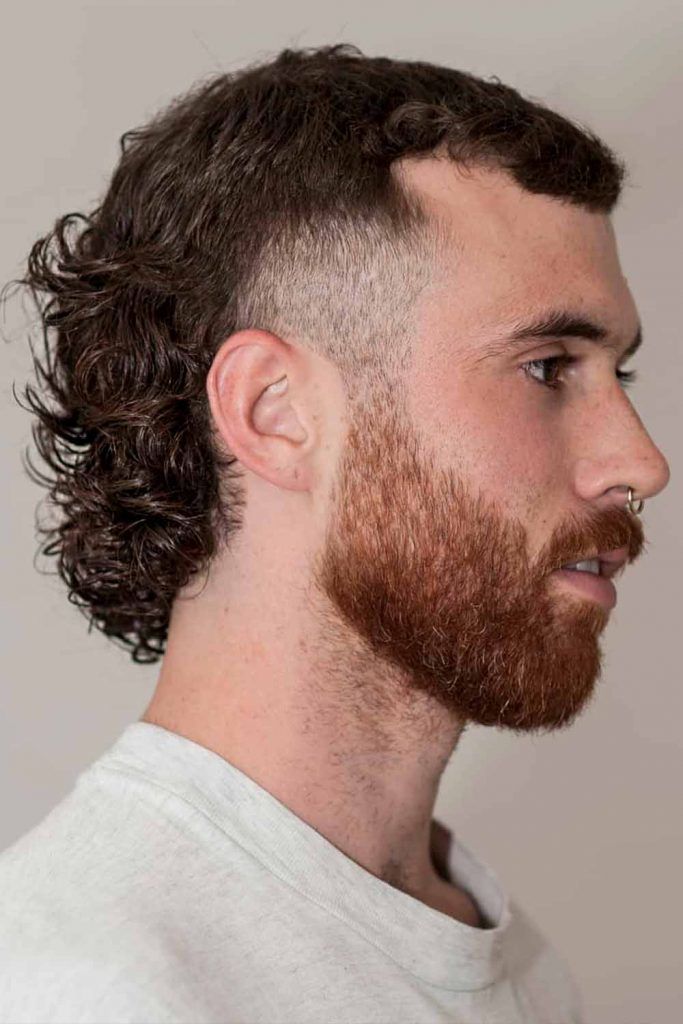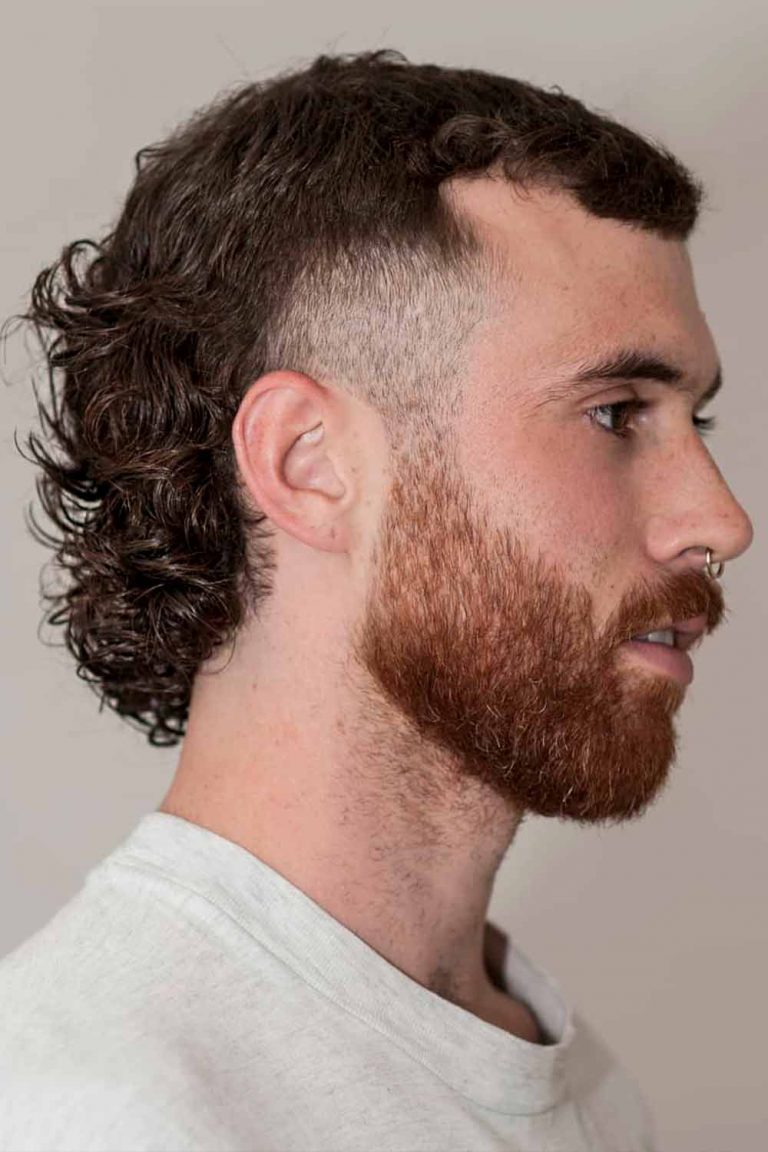 Source: @urednistvo.pricesk.robert via Instagram
Skullet + Waves
Because a crew cut skull haircut incorporates so little hair on the top, you are free to experiment with the rest of your locks however you like. Waves are a great addition to the look, as they bring texture and volume to your hairstyle.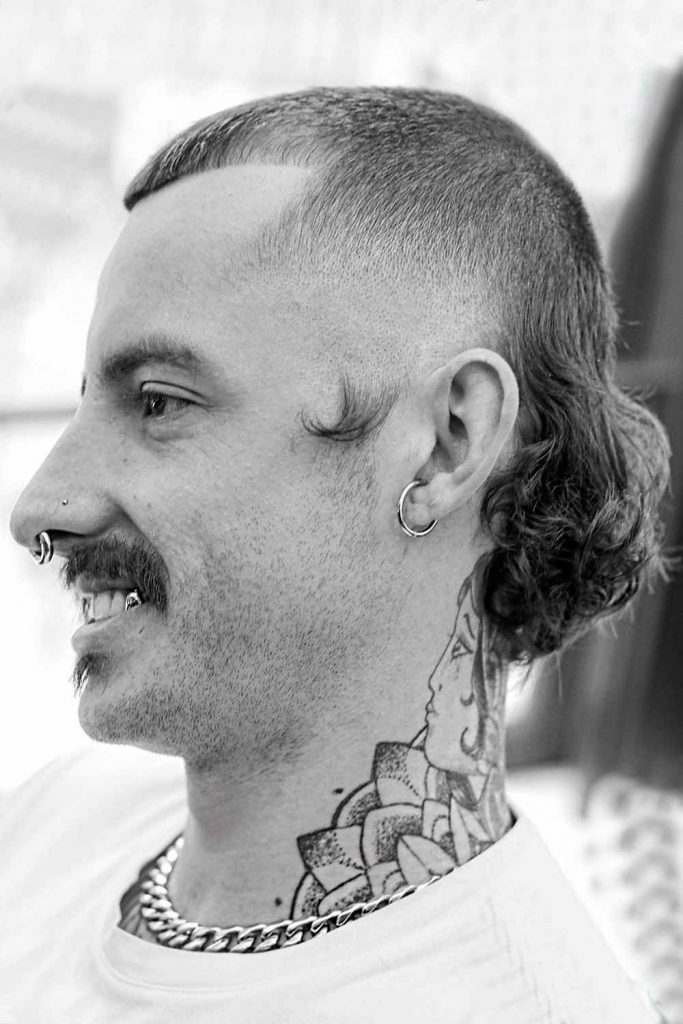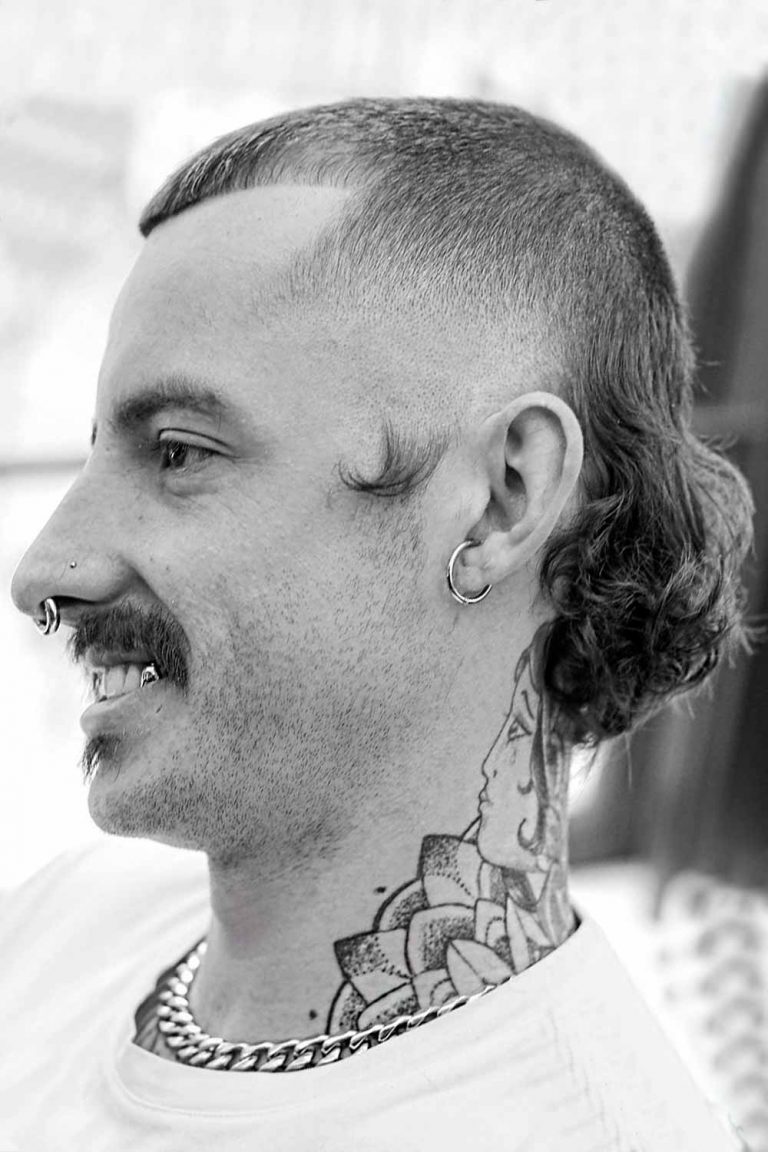 Source: @mikeyyyyyyy_ via Instagram
Skullet + Long Braid
Although a skullet already looks intense, you can pair it with other popular men hairstyles, such as a Samurai hair look. To pull it off, you need to buzz the hair on top, while styling the rest of the hair in a long braid.
View this post on Instagram
Skullet + Blunt Bang
Now, this haircut is obviously not for everyone. However, if you opt for it, you can rest assured that you will never go unnoticed. Also, a blunt bang is a way out for those who want to balance out their facial features, making the forehead less prominent.
View this post on Instagram
Messy Back
Give your skullet a rebellious feel by styling the back of the head messy. Since the rest of the head features short or no hair, you may not worry that you are going to look unkempt. This is a failsafe option for guys who have rather scarce locks on the head.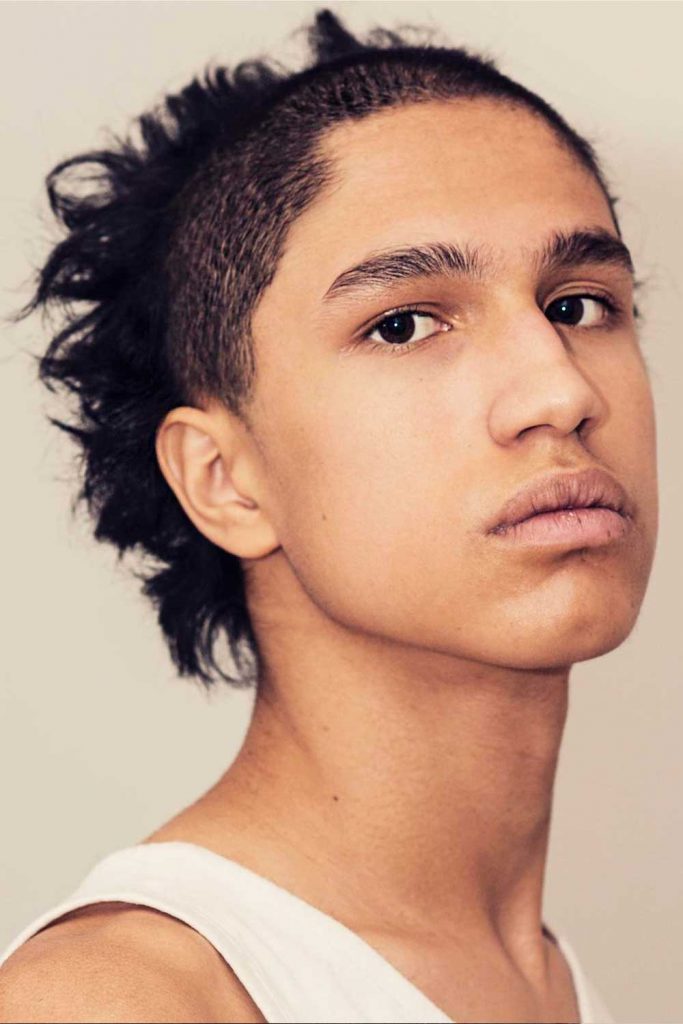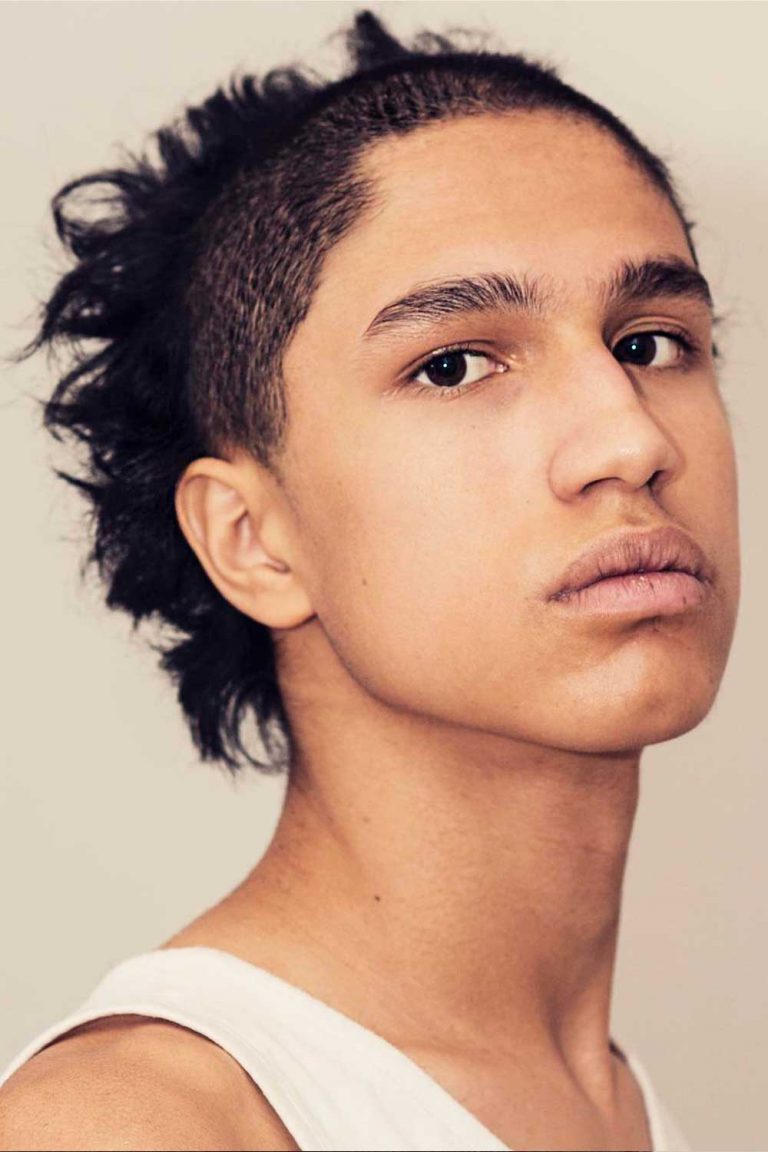 Source: @urednistvo.pricesk.robert via Instagram
Shaved Line
To boost the impact of your skullet mullet haircut, enhance it with a shaved in line on the side. Not only will it give a definition to your hair look, but it will also allow you to make a strong fashion statement.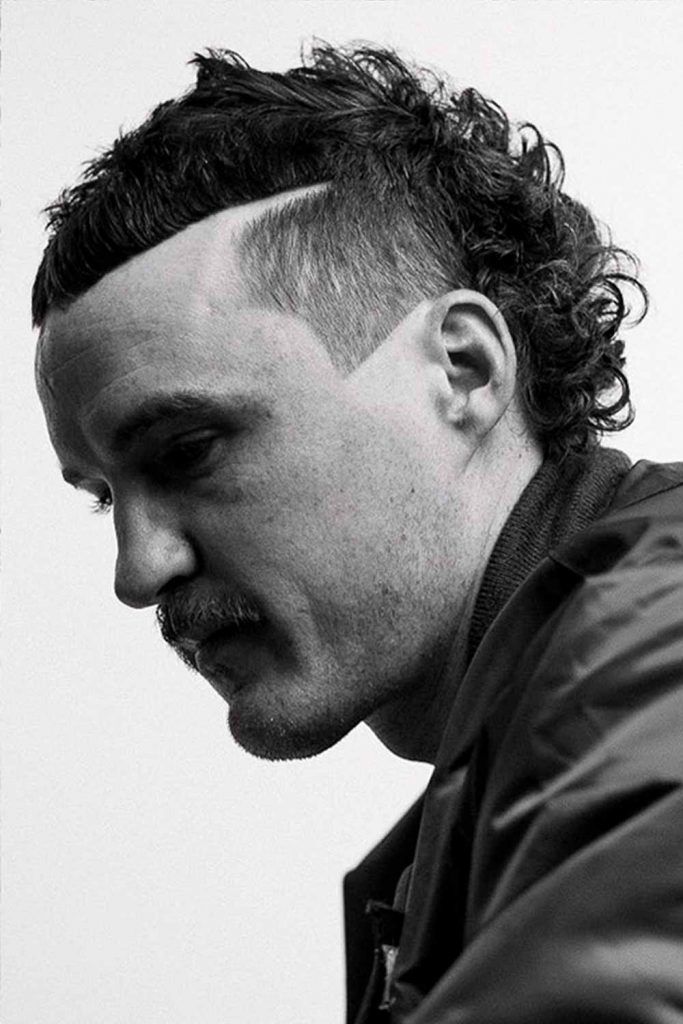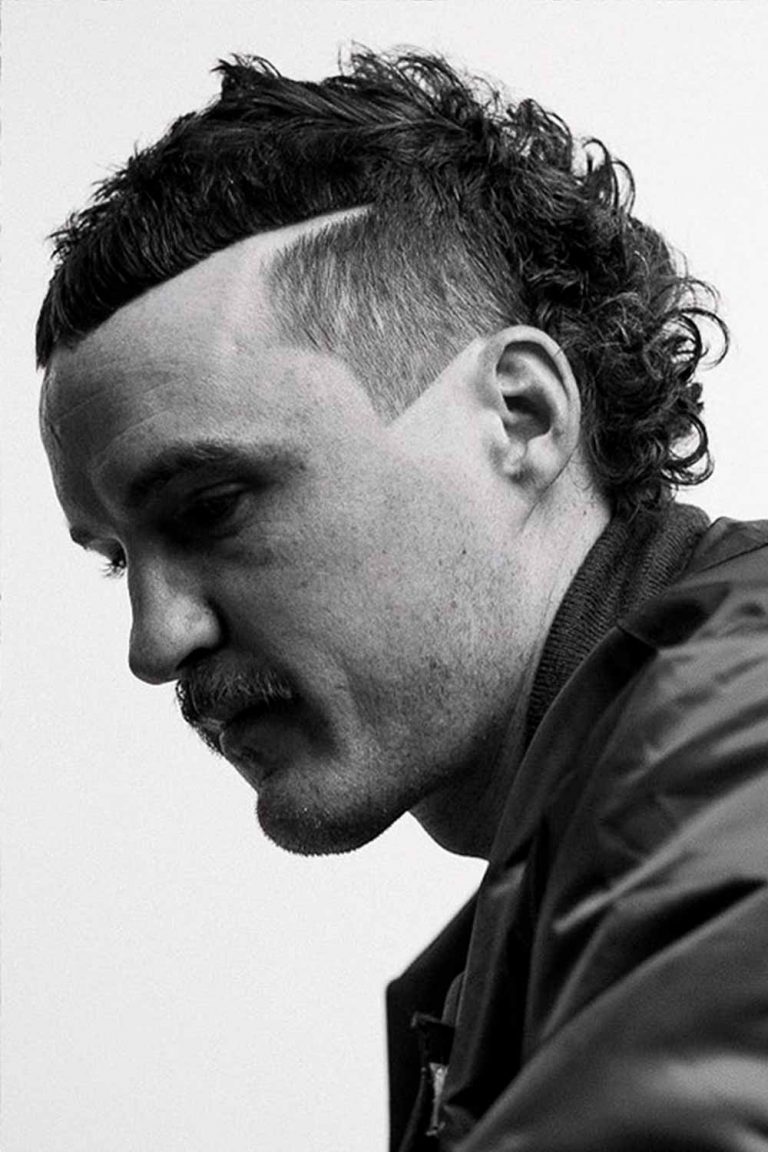 Source: @glassboxbarbershop via Instagram
Afro Skullet
Despite a common belief that a mullet works only for straight hair texture, this is far from the truth. There are plenty of mullet types for both waves and curls. An Afro skullet is a vivid proof of that. It is stylish and attractive. Besides, it easily tames your unruly kinks.
View this post on Instagram
Two-Toned Haircut
Bring an extra definition to your buzz cut mullet by dyeing it in an unusual way. Thus, a two toned skullet featuring complementary colors will easily take your hair look to the center of attention.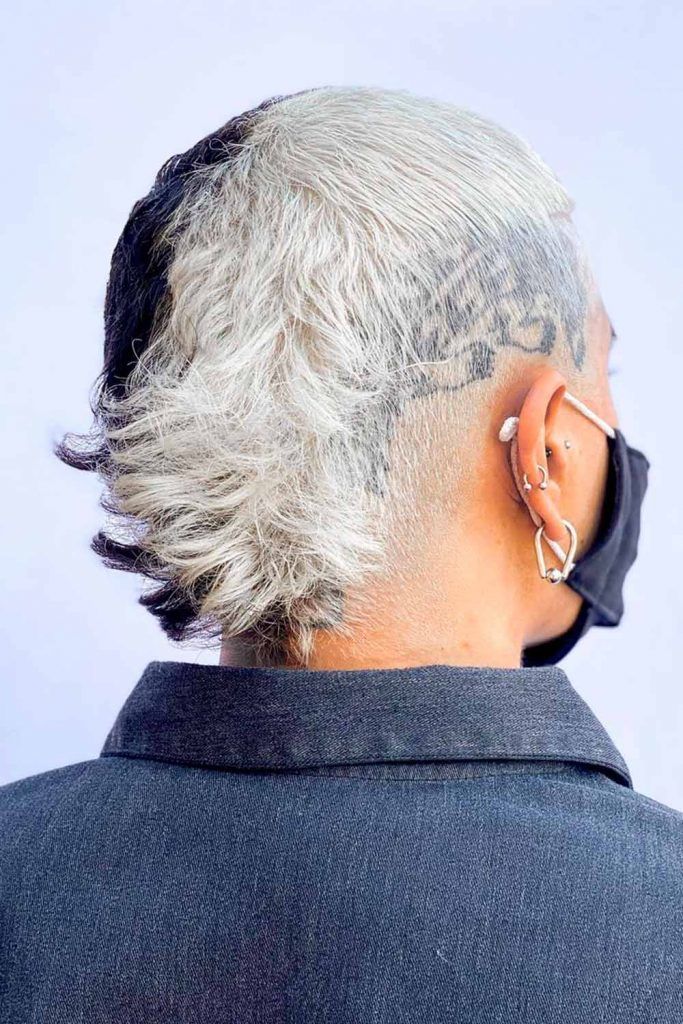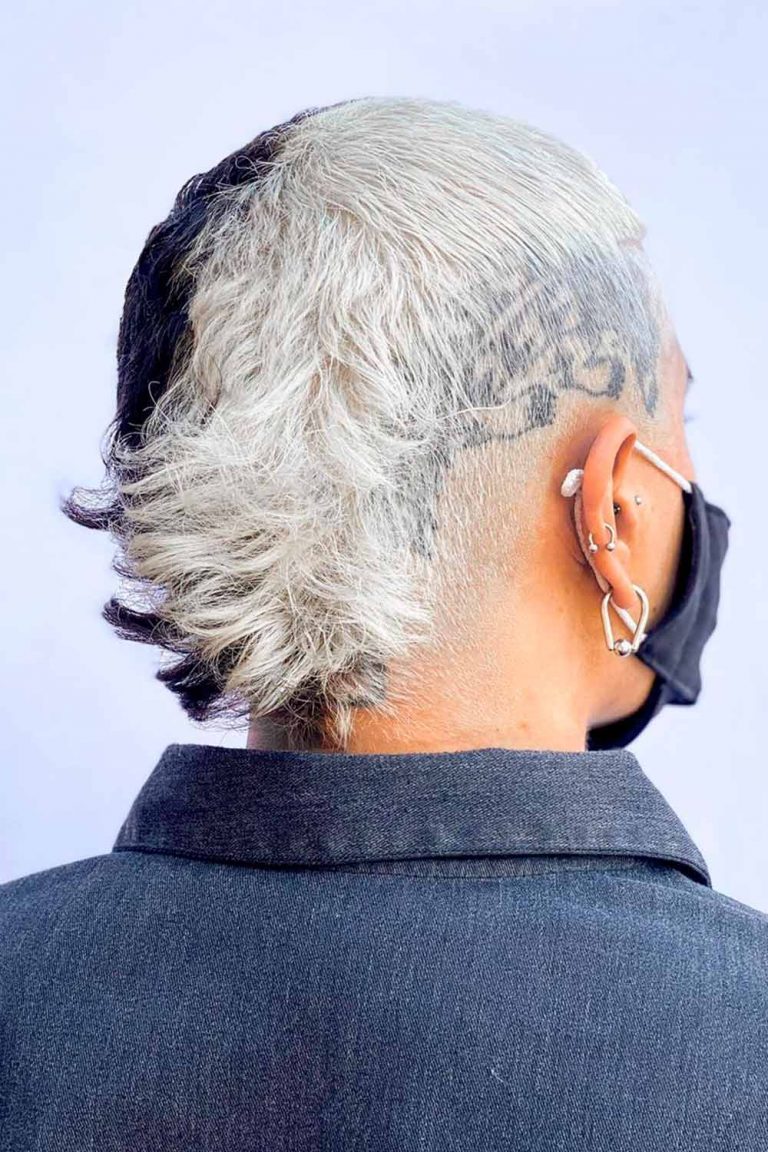 Source: @exotismos via Instagram
Clean Fade
For a mullet taper fade just works wonders. It gives your business in the front, party in the back haircut a clean and neat appearance. Besides, depending on your preferences, you can adjust the level of boldness.
View this post on Instagram
Long Ponytail
If you have really long locks and want to upgrade your hairstyle without sacrificing the length, then a skullet is your way to go. Trim the top of your head very short and tie the locks at the back in a majestic ponytail.
View this post on Instagram
Skullet Mullet
Although a scullete is basically a bald variation of a shaved head mullet, you can make it less quirky by leaving some hair on top and getting the sides faded. In this way, a scullet becomes wearable even for those guys who consider a bald head mullet odd or unattractive.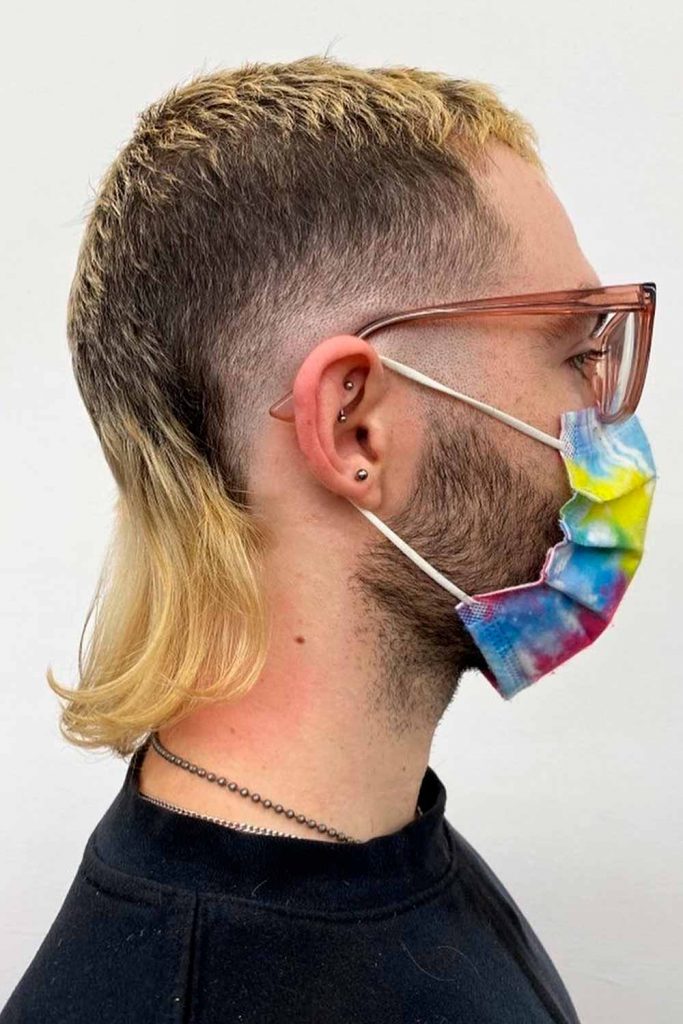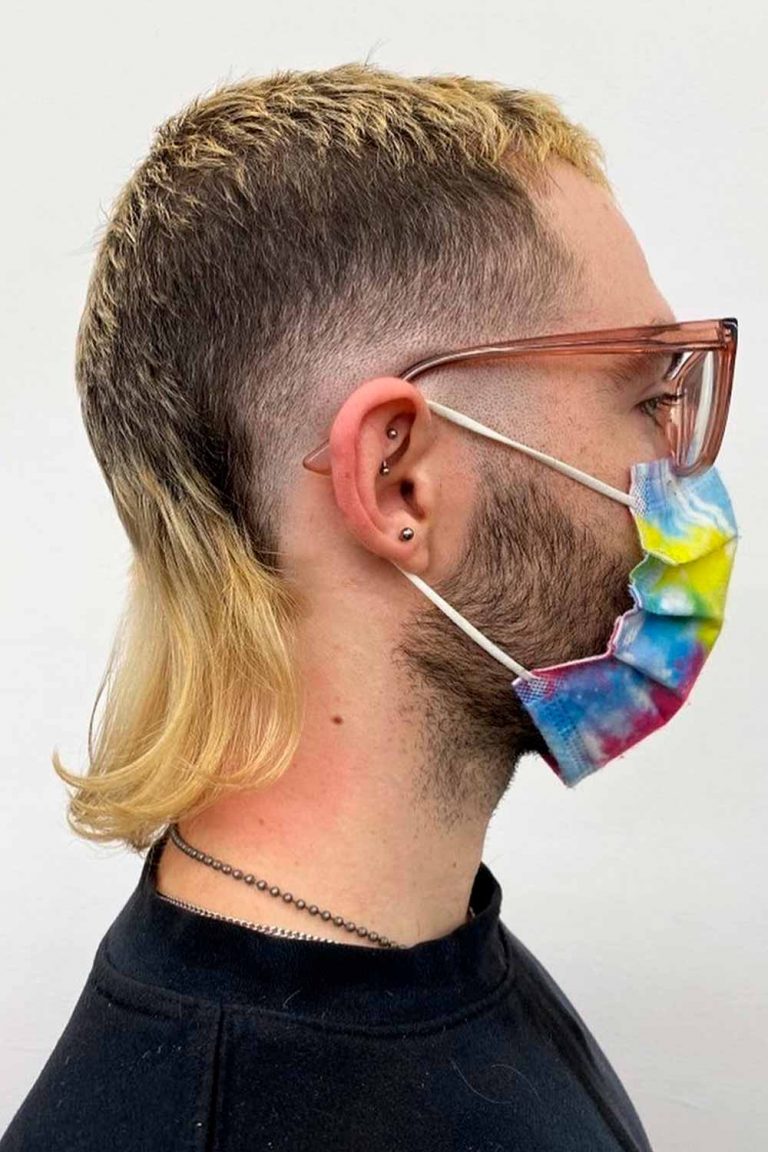 Source: @hairraribarber via Instagram
Braids & Beads
The fact that it is a bald mullet haircut does not mean that you cannot style it. To make it really stand out in the crowd, braid your hair in the back and adorn it with fancy beads. You can make this mullet bald on top or opt for a fade or taper cut.
Source: @dynasty_barbers via Instagram
A skullet is one of those haircuts that will make you stand out in the crowd wherever you go. If this is what you are aiming for, then wait no longer to give yourself a fresh cut. After all, if you change your mind, your hair will grow back soon. So, why not experiment with this head turning haircut?
FAQs
Why is it called a Skullet?
A skullet derives from the word "skull" and the haircut "mullet," which it takes inspiration from. David Spade's character, Joe Dirt, and a popular TV personality Duane Chapman are to be blamed for the popularity of the look. A skullett implies shaving the top of your head completely bald while leaving the hair on the sides at shoulder length.
What is the difference between a mullet and a skullet?
A mullet suggests keeping the hair on your head top several inches long. A skullet haircut, in its turn, calls for shaving it completely off.
What does a skullet hairstyle look like?
A skullet looks like a balding mullet with the top being clean shaven and the sides incorporating shoulder length hair.
What is Dustin Martins haircut called?
A signature Dustin Martin's haircut is known as a skullet, which is a mix of a bald skull and a mullet.
REFERENCES:
A more extreme form of the mullet hairstyle, in which the hair at the back is kept long, whilst the hair on the top and the sides is shaven in a buzzcut or skinhead style. Source
When the hair at one's forehead recedes giving way to more scalp. Source
Was this article helpful?