No matter how long or short your facial hair is, a beard brush is a must for you if you want to keep it looking groomed. There are plenty of various brushes for all kinds of beards. They can be big or small, with a handle or not as well as with synthetic or natural bristles. What kind of brush will become perfect for you depends on your beard length and type. So, check out our guide and make your best choice.
What It The Right Way To Brush The Beard?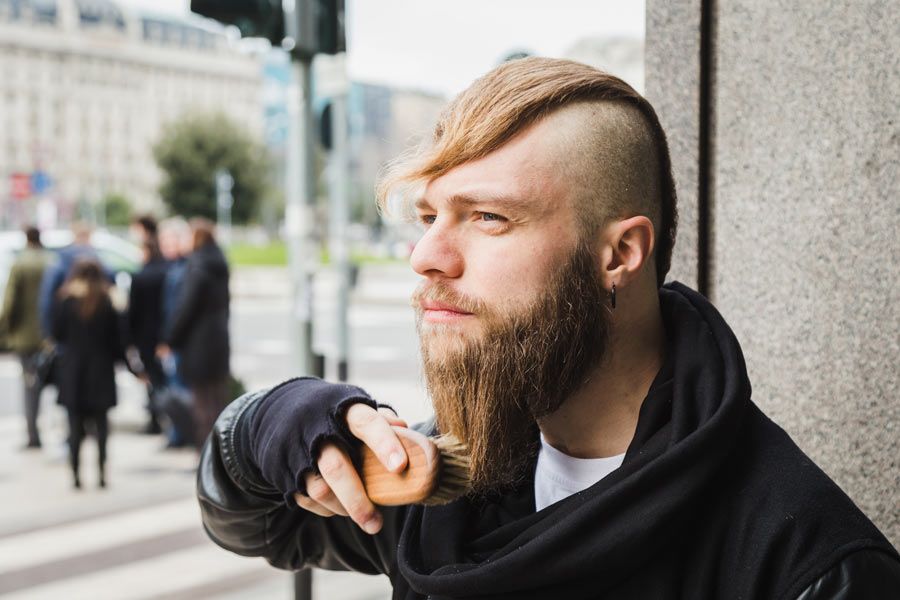 Source: Tinxi/Shutterstock
You might think that you already know how to brush your beard properly. However, remember to always wash it before brushing with a beard shampoo that has all-natural ingredients. Also, you need to condition your facial hair with a beard oil or balm. Now, you need to eliminate any tangles your beard may have, so you will start with brushing it outward. Finally, brush it in a normal direction.
How Do A Beard Brush And Comb Differ?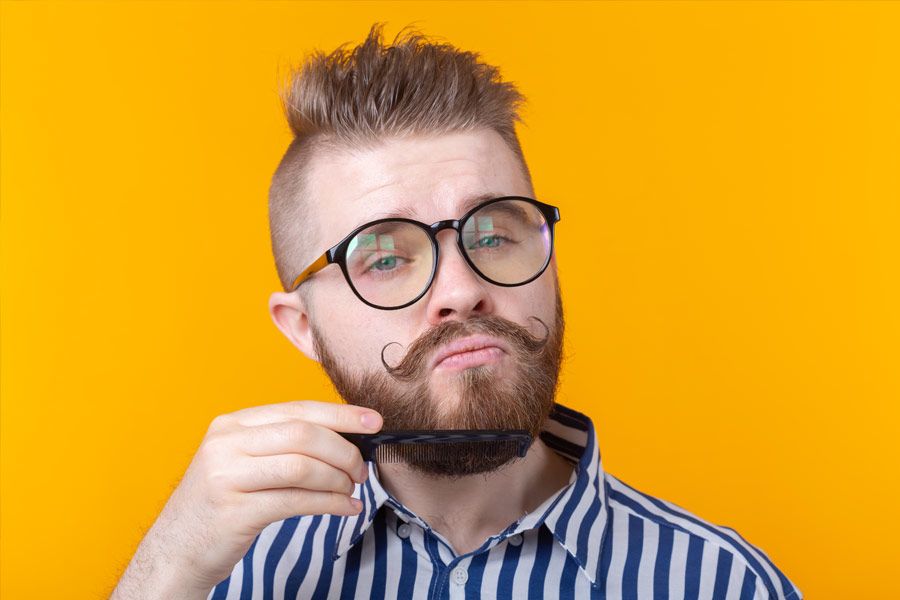 Source: Tatiana Chekryzhova/Shutterstock
Also, you may wonder how to comb a beard, and that is when we need to differentiate a beard brush vs comb. The main purpose of a beard comb is styling while a brush is aimed at untangling your facial hair strands. With a comb, you can achieve basically any beard style whereas a brush is perfect for creating a lot of volume and training the follicles of your beard. So, when choosing between a brush vs comb for your beard, you need to decide first what effect you want to achieve.
Before You Buy: 4 Things To Consider When Purchasing A Beard And Mustache Brush
So, what makes up a good beard brush? Here are four main points to take into consideration when going shopping for a brush for your facial hair:
Material
Brushes are usually made of plastic, bamboo or another wood type. While all of them have their benefits, a wooden brush has better quality than others.
Bristles
Beard brush bristles can be synthetic and natural. In their turn, natural bristles can be made of horse or boar hair. Even though you might find advantages to them all, we strongly recommend sticking to boar's hair brushes for a number of reasons.
Firmness
To help you eliminate knots and tangles as well as remove dirt from your beard, the brush should be stiff enough but still remain flexible when you put a little more pressure on it. So look for that.
Handle
As there are benefits of both types of brushes, with and without handles, it is up to you to decide whether your brush is going to have one or not.
Brush FAQs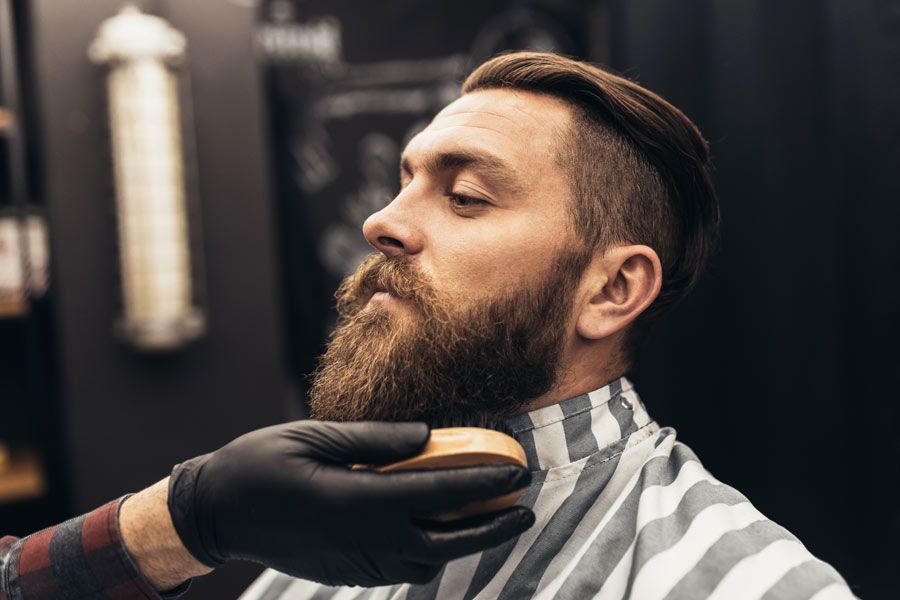 Source: hedgehog94/Shutterstock
Based on our experience, men are often concerned with the same questions when choosing their perfect brush. So here are they answered:
1. What beard brush is the best?
What is the best beard brush for you personally solely depends on your preferences and budget.
2. Where do I get it?
When shopping for a brush Target, Amazon, Walmart and similar online marketplaces are the best vendors.
3. Should I brush my beard often?
No. A couple of times a day are more than enough.
4. Does my hair brush work the same as a brush?
Absolutely not. They differ in bristle composition and density, which will impede detangling and a beard conditioner distribution.
The Top Brands Of 2020
Now that you have a general knowledge of the subject, it is time to overview the best beard and mustache brushes of 2020.
Brush For Men With 100% First Cut Boar Bristles (Seven Potions)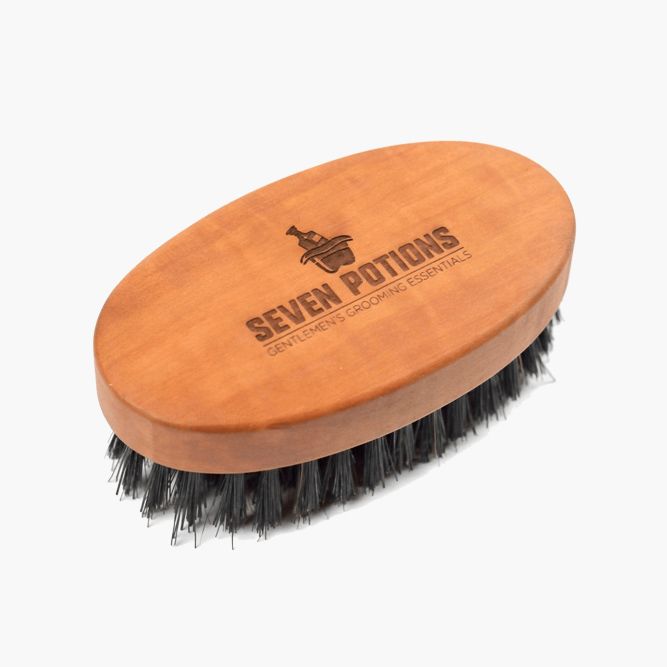 Courtesy of brand
The bristles of the brush from Seven Potions are first-cut from a boar, so it effortlessly detangles your facial hair. The handle is made of pear wood, which is nice to hold in your hand. Yet, in case your beard is very long and dense, you may find this brush stuck in it.
Beard Envy Refining Kit (Billy Jealousy)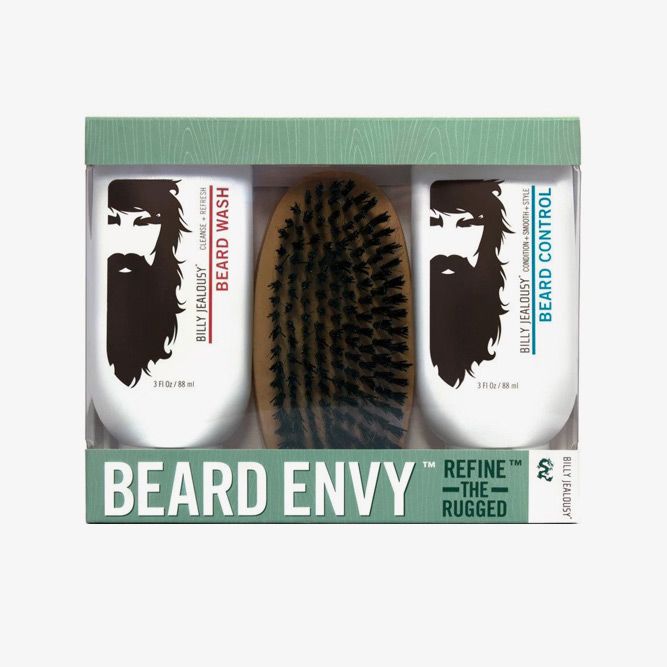 Courtesy of brand
This kit allows you to spread the product evenly and remove any knots and tangles your beard may have. Also, it is good for training your beard follicles. Still, it can feel a little stiff at the beginning.
Regular Brush (Stiff Bristles) (ZilberHaar)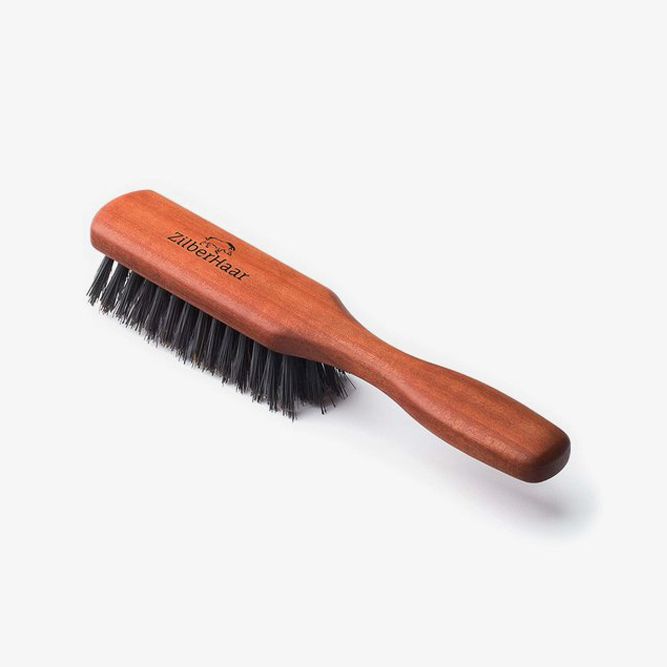 Courtesy of brand
This is a boar bristle brush for a beard that has a lifetime guarantee. It works perfectly for any length of a beard. However, you may find it a bit pricey for what you get.
Boar Hair Brush (Rocky Mountain Barber Company)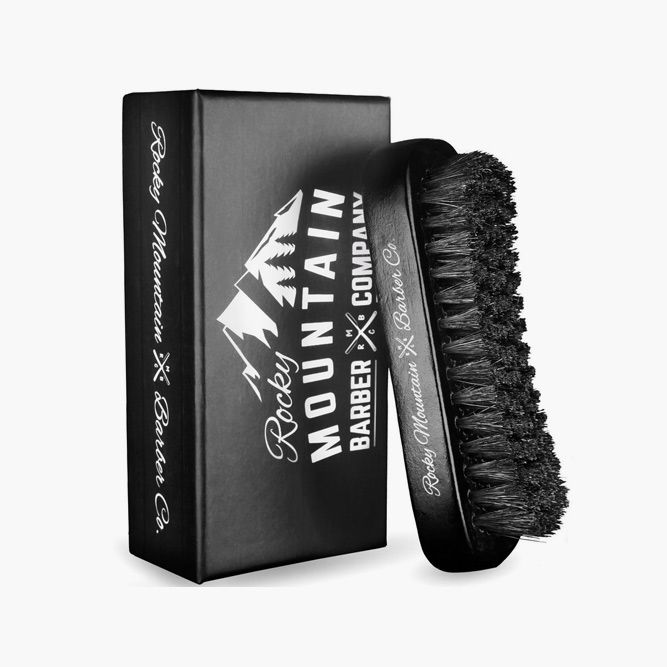 Courtesy of brand
The bristles of the brush from Rocky Mountain are well contoured and soft. They are all made of boar hair, which though can fall out a little at first. Yet, the design of the brush is sleek and attractive.
Boar Bristle Base Brush (Beard Captain)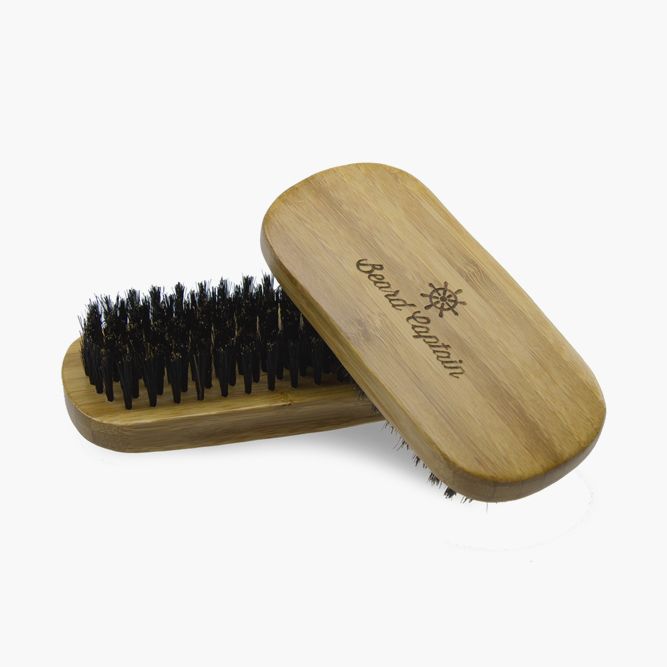 Courtesy of brand
The main advantage of this beard brush from Beard Captain is that it allows you to brush both dry and wet beard hair. Also, its design provides you with an easy grip. Although the bristles are 100% boar hair, some find them too short for guys with thick facial hair.
Beard & Mustache Brush And Comb Kit (Smooth Viking)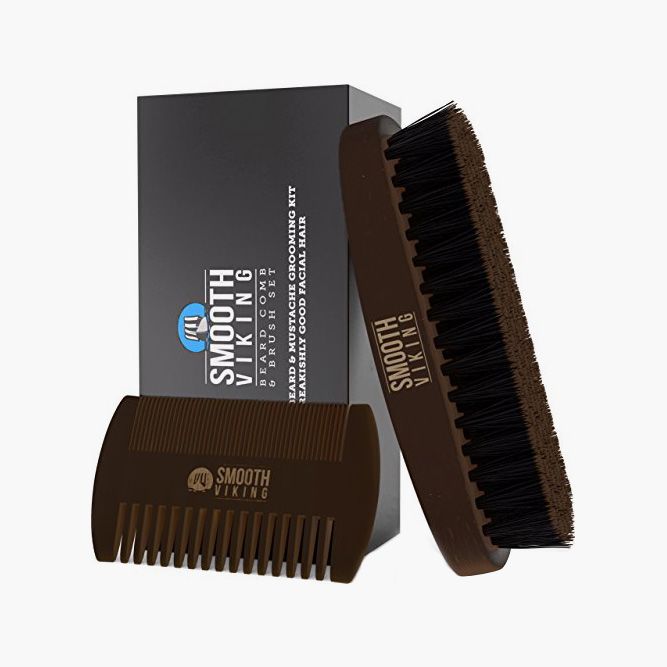 Courtesy of brand
Here is the kit that will give you everything you need at quite a moderate price. It contains both a beard and mustache brush and comb. It will help you to get rid of tangles and knots in your beard as well as evenly distribute the product. However, for a coarser beard, you might want to look for something else.
Beard And Moustache Brush (Beardoholic)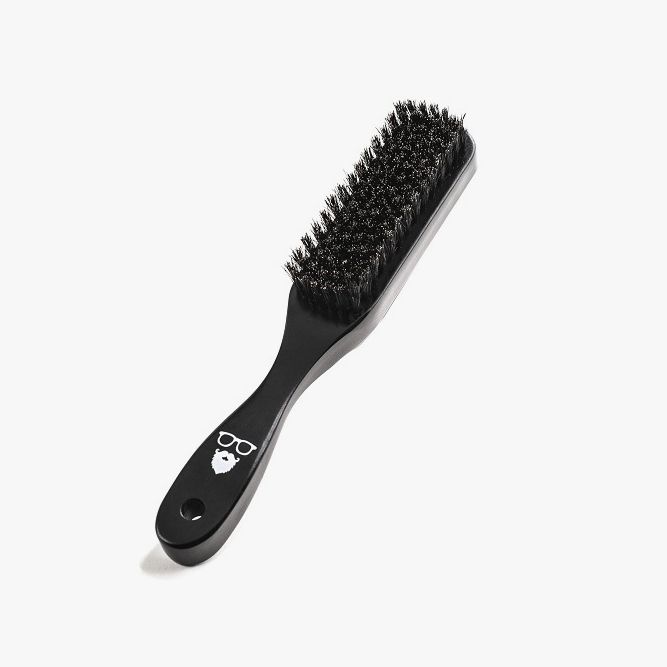 Courtesy of brand
This 100% boars hair brush not only helps you to eliminate knots and tangles but also is responsible for catching loose beard hairs. It is compact, so it will not take a lot of space in your bathroom. Still, for some guys, it is way too compact.
Beard Kit For Men 100% Boar Bristle (Hunter Jack)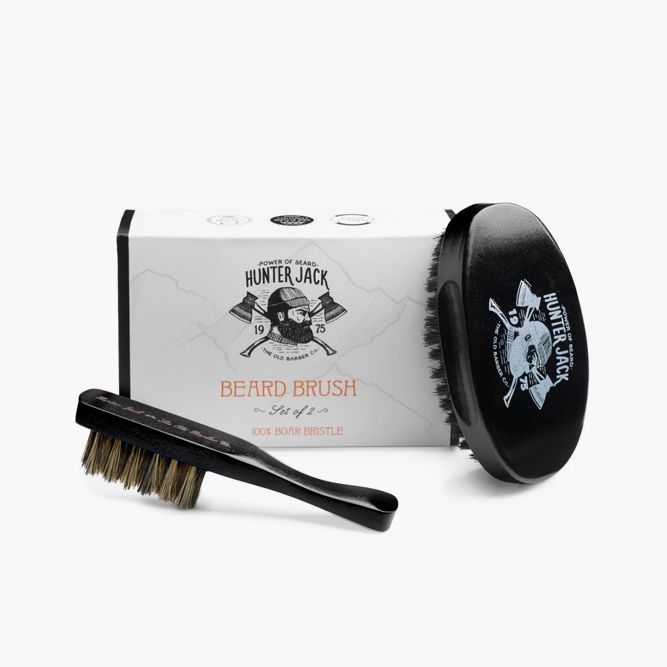 Courtesy of brand
With this kit, your beard is in good hands. It features two brushes of different sizes so that your beard grooming would be flexible. The price for it is quite moderate, so it will not break the bank. Also, you can carry it wherever you want, as this kit fits your pockets. However, if you have a coarse or thick beard, the soft bristles may not work for you. Also, the mustache brush bristles may feel overly stiff and long.
Beard And Moustache Brush (Beardeur)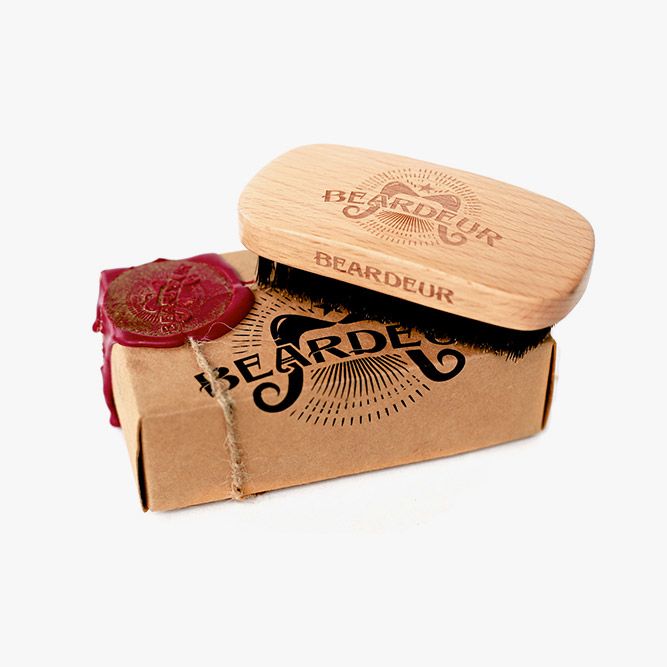 Courtesy of brand
The mens face brush from Beardeur allows you to clean your beard, condition it and generally improve its texture. It also helps to spread beard conditioner evenly with its top quality bristles made up of boar hair. Besides, the price is pocket-friendly. Yet, this is not the perfect brush for those who have greater beards, as its soft bristles cannot handle them.
Synthetic Brush (Tombstone)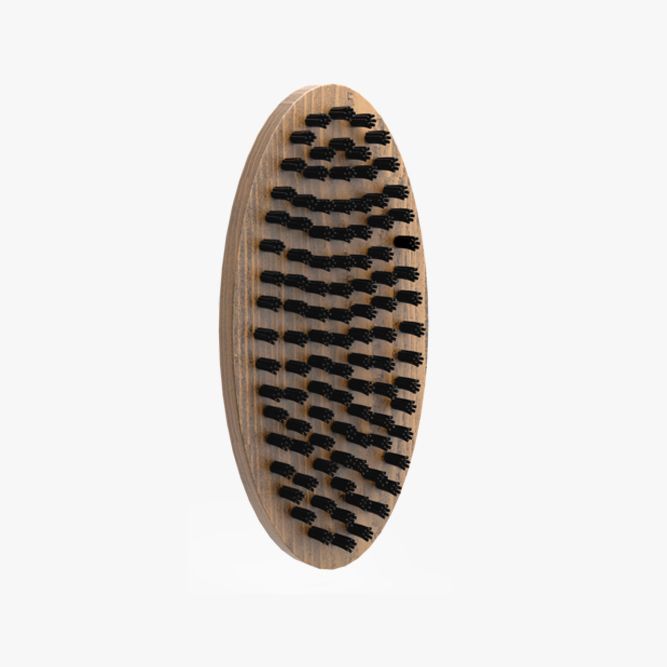 Courtesy of brand
For a beard and moustache brush that feels gentle on your skin, turn to the one from Tombstone. Its design is so sleek that you will find it extremely comfortable to hold. Also, the price is more than affordable for what you get, namely a comb, a pair of scissors, beard oil and balm. However, it is not aimed for coarse beards, as the bristles are too soft. Besides, they are not genuine boar hair but synthetic instead.
Professional Beard And Moustache Brush (Kingston Grooming)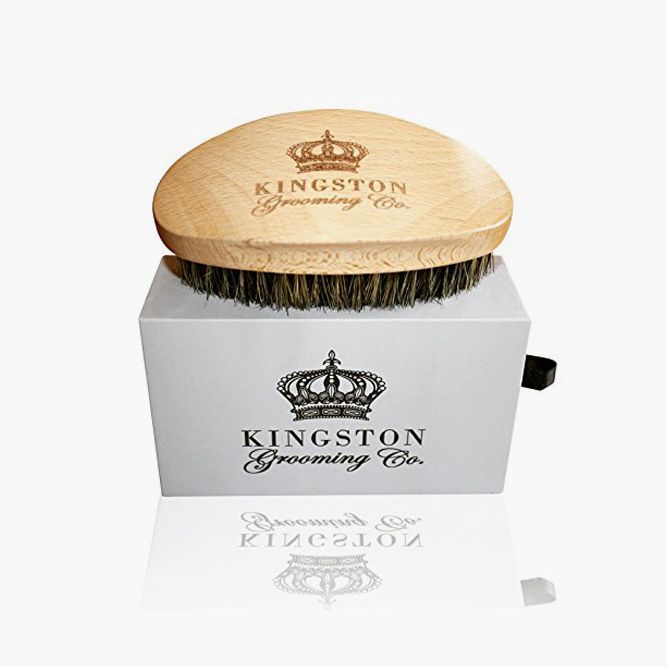 Courtesy of brand
The Kingston Grooming Brush features boar hair bristles and ergonomic design, so its quality will really please you. It is perfect for training your follicles and keeping the beard in check.
Oval Brush (Kent)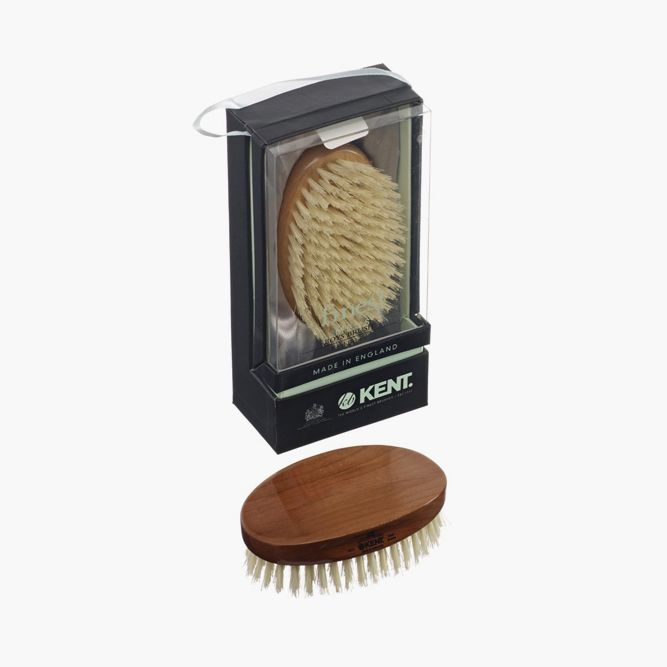 Courtesy of brand
The size of the Oval Brush from Kent allows you to take it with you when you travel, go to work or even gym. The bristles are both soft and firm, so you will not face any difficulties with untangling your facial hair.
Boar Bristle Brush (Beauty By Earth)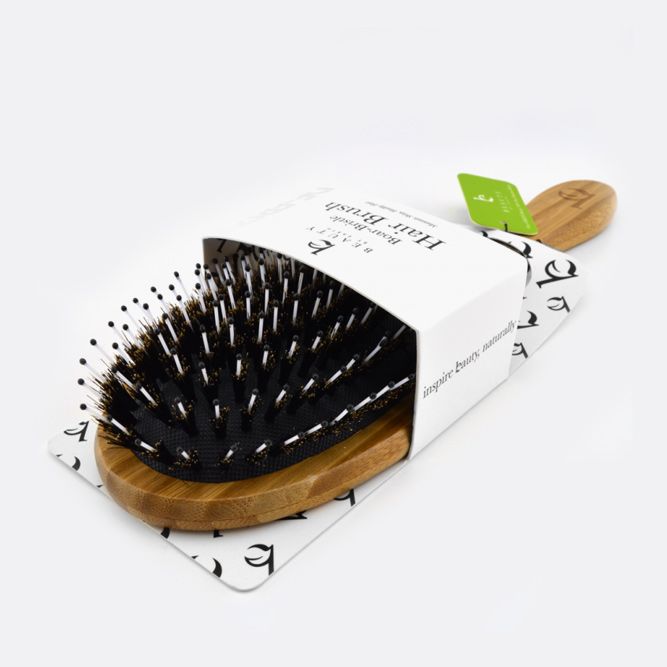 Courtesy of brand
If you are looking for a multipurpose hair and beard straightener brush, then this could be your best pick. It works wonders for both your head and facial hair thanks to the bristles made up of nylon mixed with boar hairs. So, you can set aside a heated brush if you have the one from Beauty by Earth.
Beard Oil Brush (Can-You-Handlebar)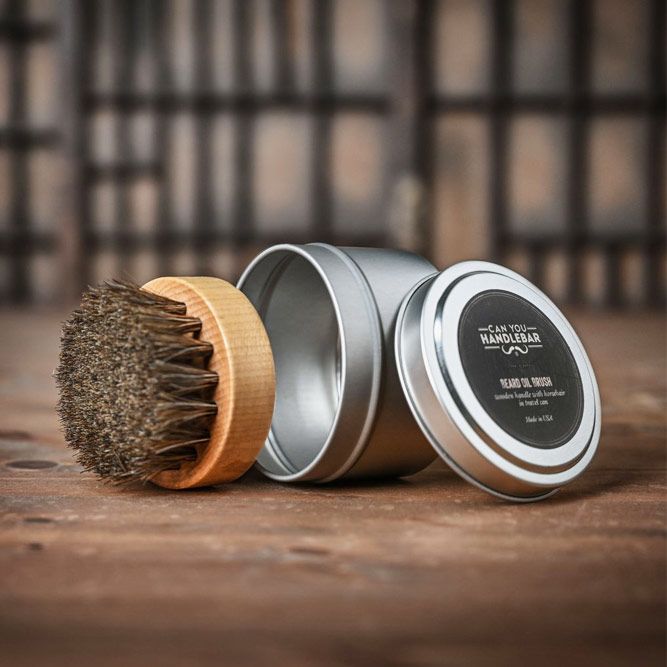 Courtesy of brand
Here is probably the best brush to spread beard conditioning products thanks to its natural bristles. It is compact and lightweight, which is perfect for traveling. Nevertheless, the price can be considered a little unreasonable. Also, due to the small size, larger beards may find it unsuitable.
Black Series – Brush With Handle (Badass Beard Care)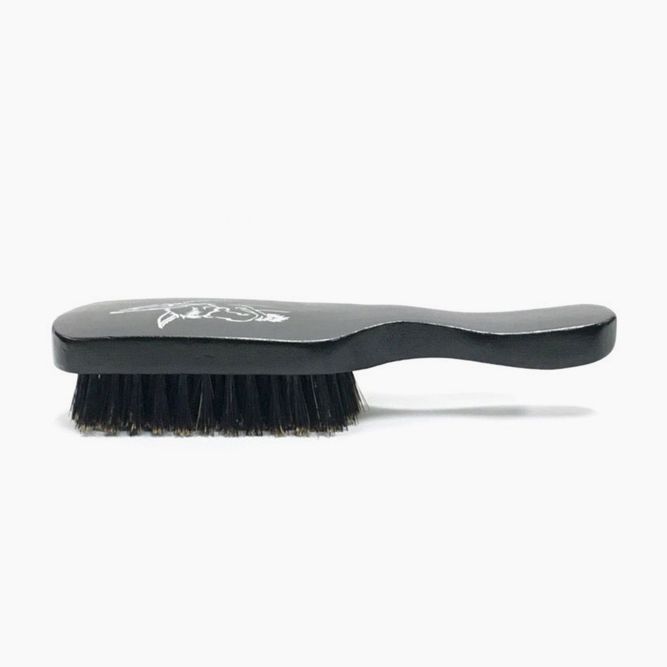 Courtesy of brand
The extended handle of the Badass Brush is strong and high-quality. It gives you sufficient control even when maintaining a long and coarse beard. The bristles are natural, so they also contribute to the perfect grooming of large beards. On top of that, the price will not hit your pocket. One downside is that it can be a bit too big to carry.
Beard And Moustache Brush (Cremo)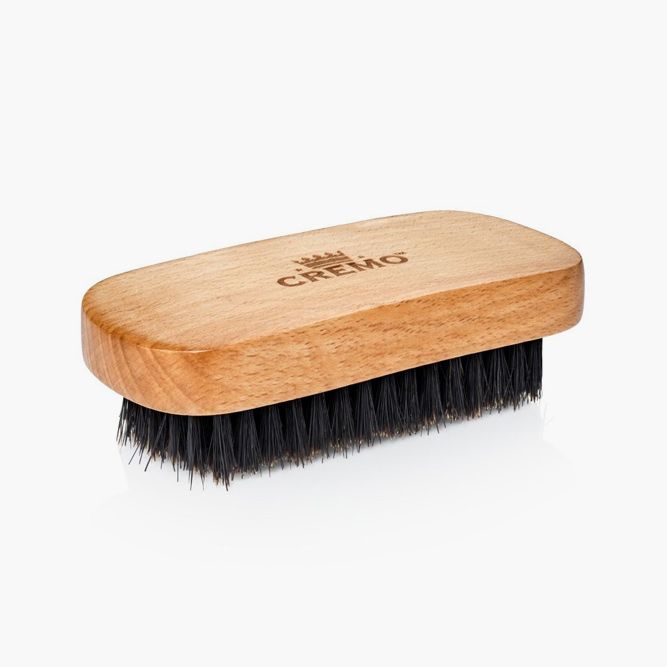 Courtesy of brand
The size of this brush from Cremo allows you to take it wherever you go. It is a great investment for newbies, as it has all the qualities of a high-end brush.
Handled Mustache & Beard Brush With Bag, 100% Boar Bristle (Zeus)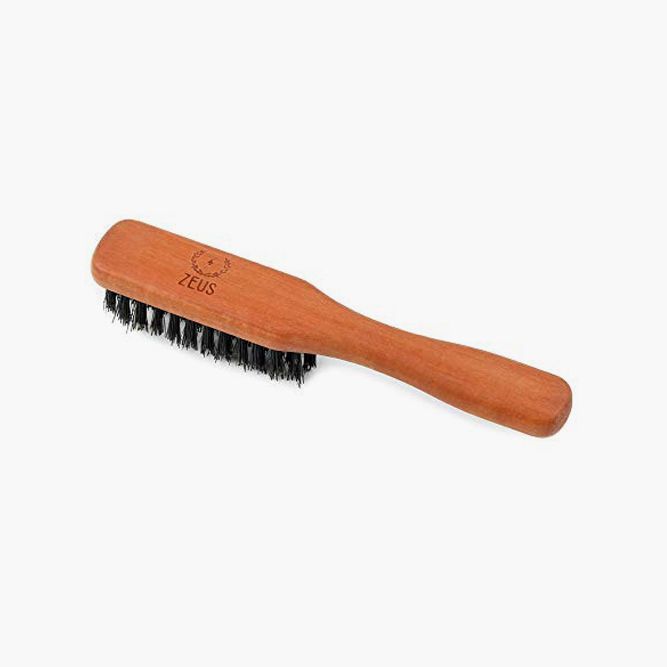 Courtesy of brand
In case you have an unruly long beard, this one will be ideal for maintaining it. The handle is made of pear wood, so it is sturdy and comfortable to hold. The bristles are quite soft not to irritate your skin yet firm enough to untangle beard knots.
Beard And Moustache Brush (Grave Before Shave)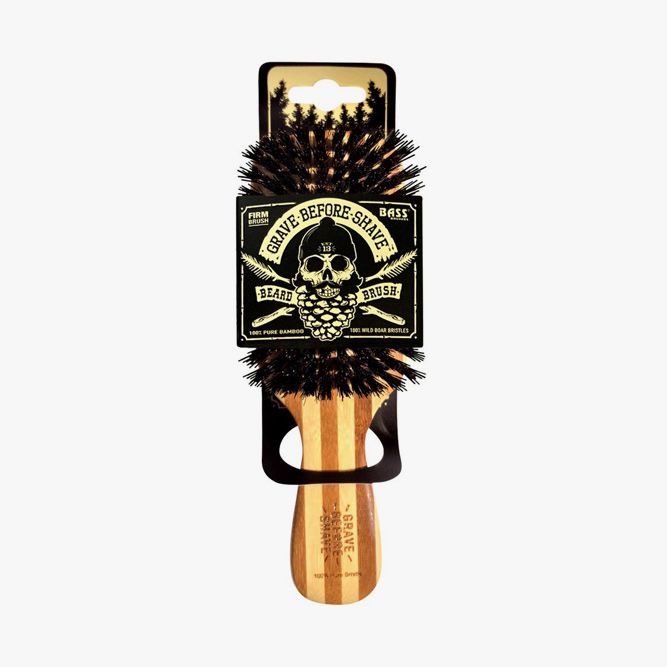 Courtesy of brand
For those who like to try out various beard styles, this is the best brush Walmart and other retailers offer. It has a strong handle that allows for maximum comfort and control. The materials it is made of are cruelty-free and eco-friendly. Note though that it may lose a couple of bristles at the beginning, so do not worry.
Hopefully, this guide has provided you with enough information on how to pick and use a beard brush. As you can see, there is a brush for different types and lengths of beards. So, which one will become your number one is up to you.
Frequently Asked Questions
What does a beard brush do?
A beard brush is one of the essential male grooming tools aimed at keeping your facial hair spick and span. Not only does it help you to tame unruly hairs and distribute a product evenly but it also keeps your beard healthy as well as rids it from product residue, dead skin cells and excess grease.
What is the best brush for your beard?
Although the idea to use any brush at your proximity on your beard sounds quite tempting, it is better to resist it. The thing is that a regular hair brush does not work the same as a beard brush. Thus, you should only opt for tools specially made for your facial hair.
When should I start brushing my beard?
Once you notice that after you wake up, your beard hairs are sticking in different directions, this is the telltale sign that it is time to start brushing your facial hair regularly to train it.
Why use boar bristle brush on beard?
There are plenty of advantages of boar bristle brushes compared to nylon and plastic ones. First, they allow you to reach even the shortest hairs, as the bristles are arranged densely with varying lengths. Also, natural brushes work much gentler on your beard and underlying skin, thus not causing damage, static or irritation.
Should you brush your beard up or down?
Actually, both. But it is important to brush your beard up first to separate the hairs and give it a healthy and full appearance and then brush it down to get the hairs back in place.
REFERENCES: