Have you ever given much thought to what the difference between beard balm vs oil is? And which of them do you need more? We bet you will not be able to tell that at once. To help you to sort the things out, we have prepared this essential guide. Here, you will find not only what the principal difference between beard oil and balm is but also the overview of the best products available on the market.
What Should I Choose – Beard Oil Or Balm?
When deciding between beard oil vs balm, you need to realize that it would be almost the same as if you had to choose between a hot dog and hamburger. There is no uniform solution for every case. The choice depends fully on a particular situation. In some instances, you will use beard oil, in the other – beard balm. Moreso, there are even cases when you will need to use them both, as they are an integral part of basically any beard grooming routine. So, let's take a peek at beard oils and balms, including their differences, attributes and more.
What Is Beard Oil?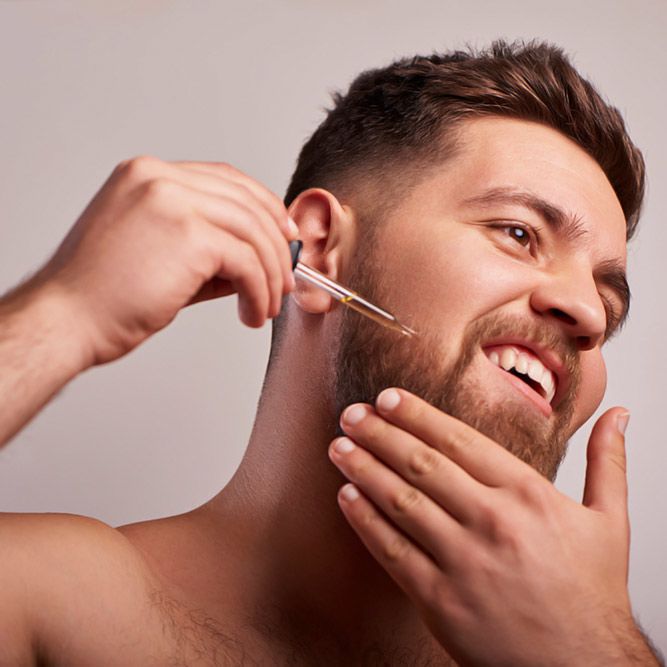 Source: Agave Studio/Shutterstock
To begin with, you might want to get the answers to a couple of major questions: what is beard oil and what does beard oil do? Any decent beard oil is a blend of essential and carrier oils. Essential oils, such as tea tree, sandalwood, eucalyptus and the like, are aimed at taming your facial hair while keeping it soft and beardruff free. Carrier oils, like grapeseed, jojoba, vitamin E and others, are responsible for moisturizing and nourishing of your beard and underlying skin. Working together, they provide your facial hair and the skin beneath it with a healthy and attractive appearance.
When To Apply Beard Oil?
If you still ask yourself how to maintain a beard so that it looks groomed not only after the visit to the barbershop, our immediate answer would be to incorporate beard oil into your morning and evening routine. After doing so, you will be able to see yourself how well does beard oil work.
The Use Of Beard Oil
Right, so we have decided on the time. Now, how to use beard oil? First, you need to wash your facial hair using special soap. Then, pour a couple of drops of oil into the hand and rub them between the palms. The amount actually depends on the length of your hair, so keep that in mind and add some more if needed. How to apply beard oil is mainly up to you. However, it is better to apply the oil to the skin below the facial hair first and only then to the hair itself.
Best Beard Oils
Now it is time to dive into our candid reviews of the best beard oils you can find on sale, as you have all the necessary information on the product itself.
Viking Revolution Beard Oil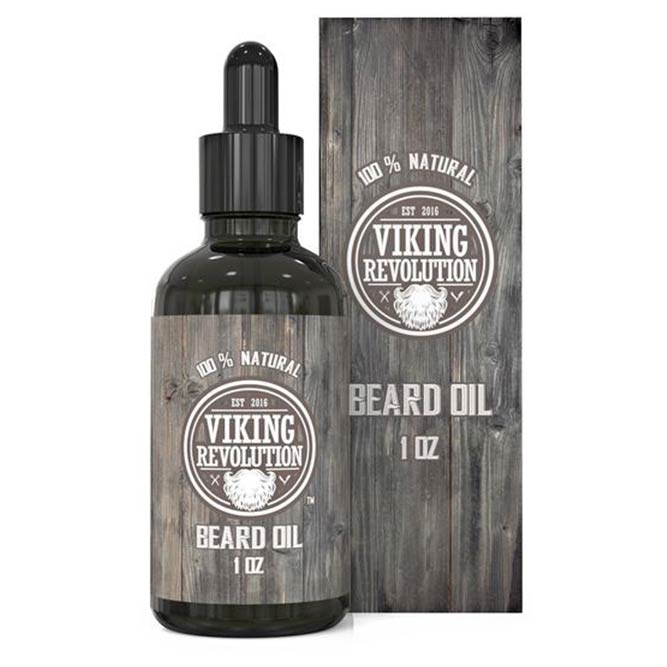 Courtesy of brand
BUY on Amazon
One of the biggest benefits of the Viking Revolution Beard Oil is that all of its ingredients are natural. Besides, it is odorless. Thus, you do not have to worry that it will clash with your fragrance. Though, you may find that it can make your beard a little dry. And also, the formula is rather liquid.
Honest Amish Classic Beard Oil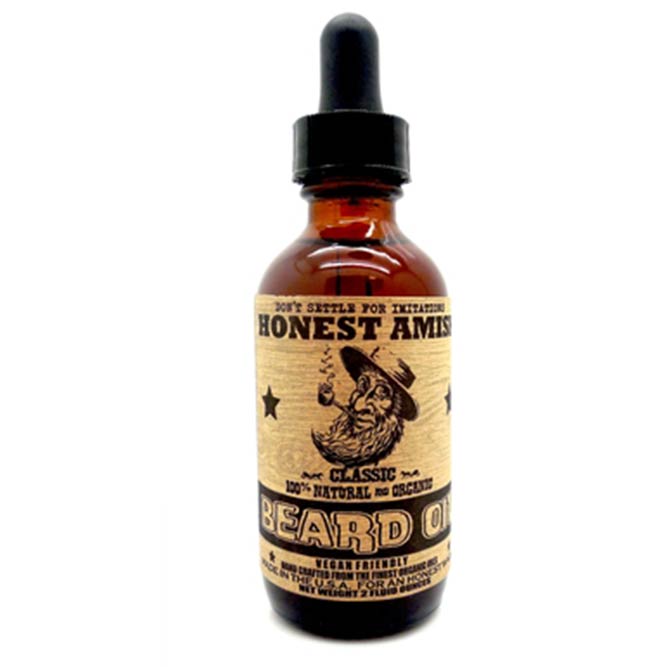 Courtesy of brand
BUY on Amazon
Honest Amish seems to know everything about how to groom a beard. Their Classic Beard Oil is a mix of seven essential and seven organic oils of premium quality. It does not take long to absorb and the formula is not too heavy. However, if you are not into strong scents, you might want to skip this one. Also, people with an allergy to nuts should be careful with it.
Mountaineer Brand Beard Oil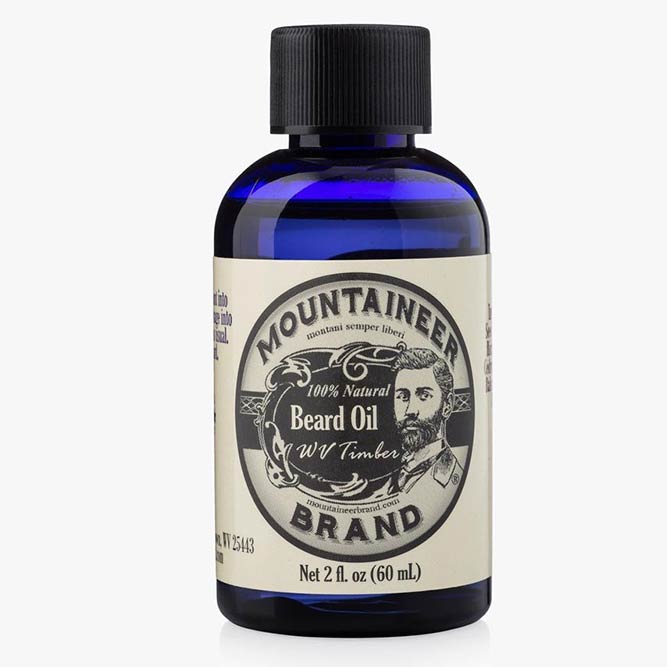 Courtesy of brand
BUY on Amazon
Mountaineer offers a high-quality natural-based product with a nice, mild yet not lasting scent. Although many will find it a real bargain, for those who like lightweight formula, this is probably not the best choice.
Smooth Viking Beard Oil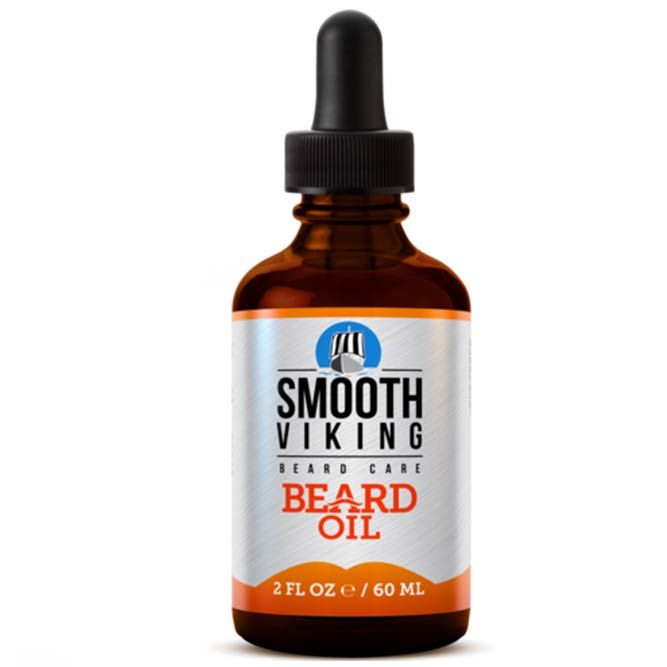 Courtesy of brand
BUY on Amazon
With Smooth Viking Beard Oil, your beard care becomes a real SPA-ritual. The formula is quite lightweight so it does not feel greasy. The woodsy scent is mild and pleasant. The ingredients are not only of the premium quality but also all-natural. And all of that is for quite a moderate price. Though, if your skin is sensitive, it is better to steer clear from this product, as it can make it irritated.
Ranger Grooming Co. Fragrance Free Oil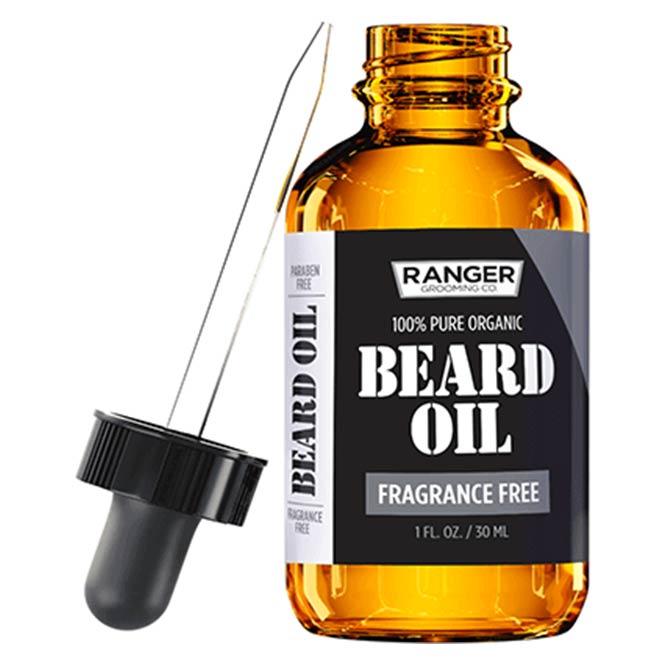 Courtesy of brand
BUY on Amazon
If you are looking for something simple yet efficient, the Ranger Grooming Co. Fragrance Free Oil is your way to go. It consists of two ingredients that are both natural and premium. As you can tell from the name, it is odorless, so you may not worry that the smell is overpowering. On top of that, this oil is vegan. The only downside is probably its price. However, the quality you get is totally worth every dollar.
What Is Beard Balm?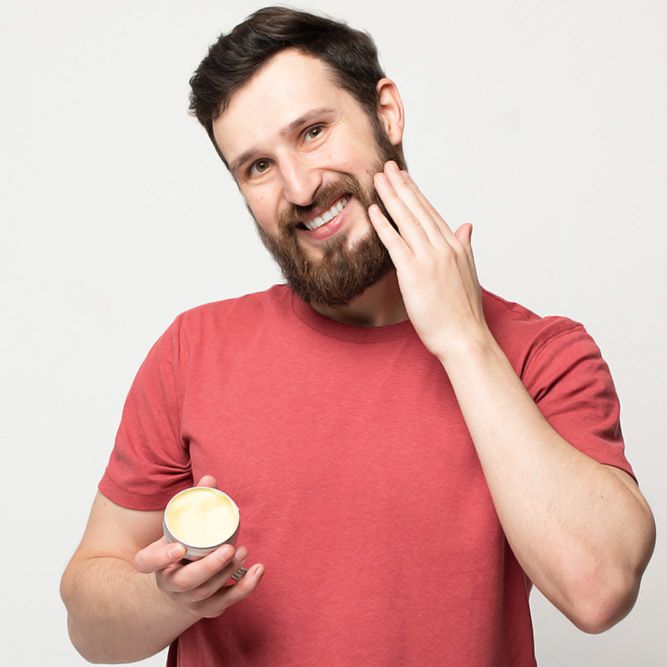 Source: LTim/Shutterstock
In our beard oil vs beard balm battle, it is time to move to the next round, which is the understanding of what is beard balm. In its essence, beard balm is something average between beard wax and oil. It has the moisturizing qualities of oil and the styling properties of wax.
When To Apply Beard Balm?
If you compare beard balm vs beard oil in terms of the best time for application, you will find subtle differences. The balm works better when applied right after you jumped out of the shower, as warm water opens your pores and not only your facial hair but also your skin benefits greatly from it. And also, you should apply balm after you have already had your beard oil on.
The Use Of Beard Balm
You may still wonder how to use beard balm. It is pretty easy, to tell the truth. Just dip your fingers into the tin and dig out a tad of balm. Spread it evenly across your fingers and apply starting from the roots and moving toward the ends. Then, repeat the process backward – from the ends to the roots.
Best Beard Balms
Now that you know all the basics of beard balm use and application, let's find the best beard balm for your facial hair.
Honest Amish Beard Balm Leave-In Conditioner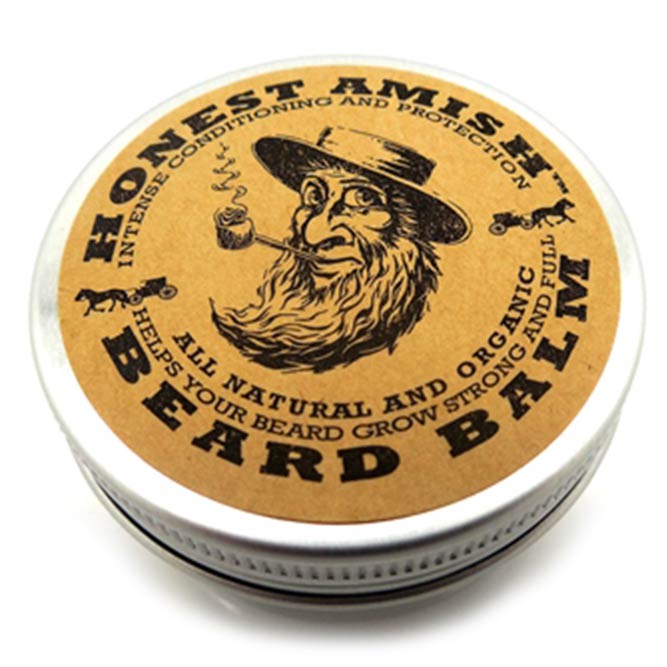 Courtesy of brand
BUY on Amazon
This product from Honest Amish, which by the way contains only organic and natural ingredients, reminds more of beard cream than balm. It is actually positioned as leave-in conditioner, so you can expect it to make your stiff facial hair softer. Also, if you suffer from an itchy beard or beardruff, this balm will surely help you out. But, in case you are allergic to nuts, it is better to refrain from this product.
Viking Revolution Beard Balm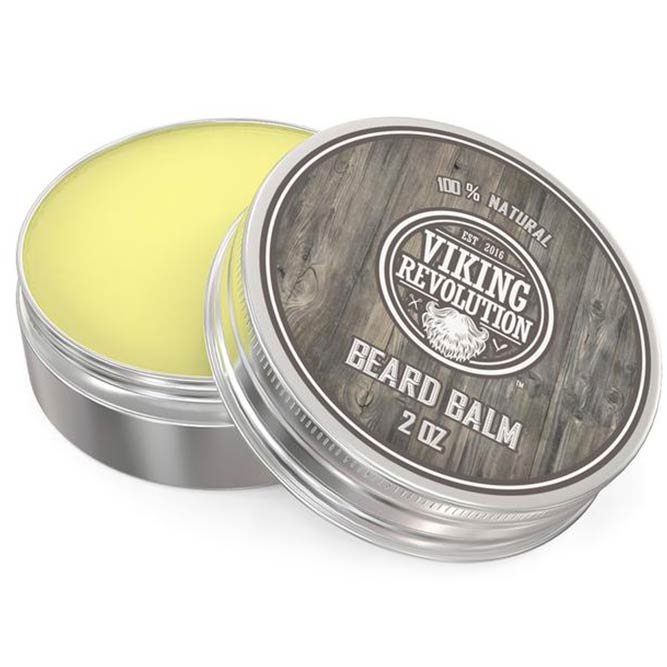 Courtesy of brand
BUY on Amazon
The Viking Revolution Beard Balm brings your understanding of how to care for a beard to the whole new level. Your facial hair will definitely appreciate its high quality. The formula is quite lightweight, so the product absorbs very fast without a greasy feel. Besides, all of the ingredients are natural. Yet, if you are looking for a product with a strong hold, it is definitely not about this balm.
Smooth Viking Beard Care Beard Balm
Courtesy of brand
BUY on Amazon
Obviously, what concerns the hold, the comparison of beard balm vs oil is completely irrelevant. The hold that the Smooth Viking Beard Balm provides is so strong that you will not need any additional styling products for sure. Although the formula is weightless, the consistency is quite thick. The ingredients are of top-notch quality, which provides your beard with softness and boosted hair growth. Yet, it also has some minor downsides, which are a bit greasy feel and rather unpleasant smell.
Rocky Mountain Barber Company Cedarwood Beard Balm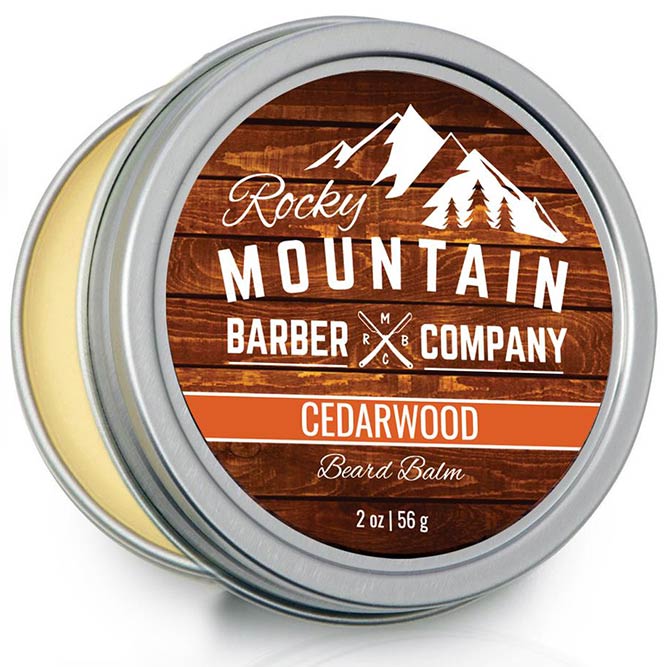 Courtesy of brand
BUY on Amazon
The beard balm from Rocky Mountain works perfectly as both beard moisturizer and styler. It offers you a strong hold yet makes your facial hair soft without greasy residue. The lightweight formula consists of essential oils, which are natural and pure. And the smell is amazing – subtle yet pleasing cedarwood.
Prophet And Tools Premium Beard Balm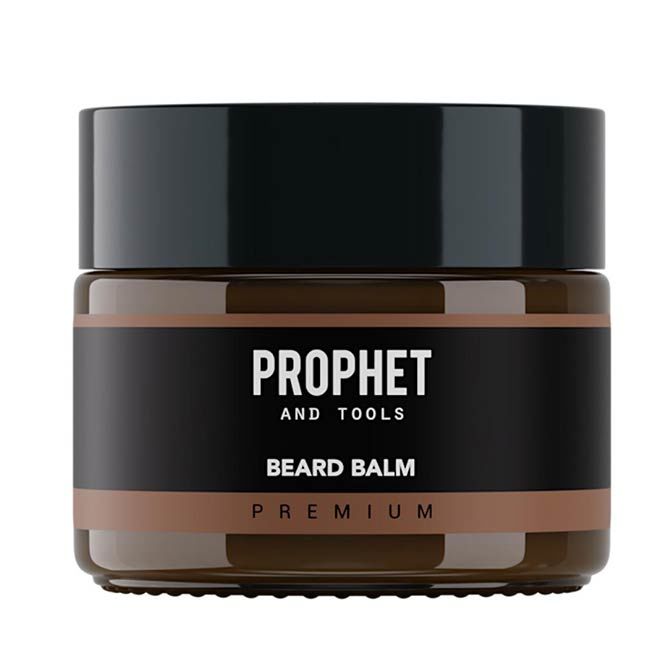 Courtesy of brand
BUY on Amazon
The Prophet and Tools Premium Beard Balm is quite a multipurpose product. It makes your facial hair thicker and promotes its growth. If you have beardruff and split ends or your skin is itchy and irritated, this balm will help you to tackle all of these issues. Also, it absorbs pretty quickly without giving you a greasy feel. In addition to all of that, the citrus smell is very nice. But, if you have an allergy to nuts, it is highly recommended to skip this product. And the hold is also not very satisfying.
Can I Use Both Beard Oil And Balm At The Same Time?
As you have probably understood, you should not choose whether to use beard oil or balm. You are welcome to use them both. Even though the effect they have on your beard is somewhat similar, there are differences thanks to which these two products perfectly complement each other. Beard oil is applied to both your beard and skin underneath it while balm is exclusively for your facial hair. Despite the fact that both of them soften your beard, the effect from balm lasts longer. Thus, one of our primary beard grooming tips for you beard balm vs oil struggle would be to apply beard oil first and then proceed with balm.
As you can see, there is no point to compare beard balm vs oil. These two products cannot be used interchangeably, as they are like two halves of a whole. We bet now you will upgrade your grooming routine with both of them and let your beard look its best.
Q: Do you use beard oil and beard balm together?
A: In short, yes, absolutely! Not only does the purpose of these two products differ but they also complement one another. A beard oil works as a moisturizer and conditioner. Thus, you apply it up to three times a day to keep your beard strong and boost its growth. In its turn, a beard balm, thanks to the content of such ingredients as bees wax and shea butter, enhances the conditioning effect from the oil and helps you keep your beard tamed. On that note, you can apply the beard oil once you have taken the shower and towel dried your facial hair, while the beard balm should be used as soon as the oil absorbs.
Who Should Use It?
If your facial hair is anywhere between a slight stubble and a mid-length beard, then a beard oil will work for you best. Yet, should you have longer facial hair, you can also benefit from this product. It is targeted at men with dry as well as normal and a bit oily skin type. While giving your facial hair and underlying skin enough hydration, a beard oil does not leave a greasy feel or clogged pores.
In case you are interested in styling and shaping your beard, then a beard balm should become your go-to grooming product no matter what facial hair length you have. The balm delivers a strong yet pliable hold with a glossy finish and can tame even the unruliest hairs. Besides, it adds to the thickness and fullness of your beard, making it something you can be proud of.
You Asked, We Answered
Q: What is the difference between beard balm and beard oil?
A: You may think that one of the biggest differences between these two beard care products is the list of ingredients. While you are right to some point, you will be surprised to find out that oil and balm have many similar ingredients. However, to give it a waxy, creamy formula, a beard balm is based on cocoa butter, shea butter and beeswax. Besides, in addition to conditioning your beard, a balm helps you to hold it in place thanks to its styling properties.
Q: Do you really need beard oil?
A: No matter how long your beard is or what type of facial hair you have, a beard oil is a must for you. Period. Provided, of course, you don't want to experience such issues as coarse and brittle hair, dry and itchy face, beardruff, rush and many others. A beard oil contributes not only to a groomed appearance of your beard but also to its health and growth.
REFERENCES: