Boys Halloween costumes are so fun and exciting to make that even parents can enjoy the process. Besides, in most cases, they do not require much effort or material. From skeletons and mummies to doctors and magicians, there is a wide range of options to choose from. So that you do not feel overwhelmed, we have put together the best Halloween costumes for boys and even explained how to make them at home. Just pick out the one that expresses your kid's personality best.
_We may earn money from affiliate links on this page. Please check out our disclosure policy for more details.

Pirate Boys Halloween Costumes
This is also a very popular boy costume for Halloween. And the good news about it is that you do not have to buy a whole costume. We are pretty sure you can find all the things needed at your home.
What you need: Put any striped T-shirt or sweater on your kid and tie a piece of red cloth around his waist instead of a belt. If you do not have a hat, you can get away with a bandana. Cut an eye patch out of a piece of paper or cardboard. The rest of the accessories are up to your imagination and props available. You can put a plush parrot on his shoulder, paint a mustache on his face, etc.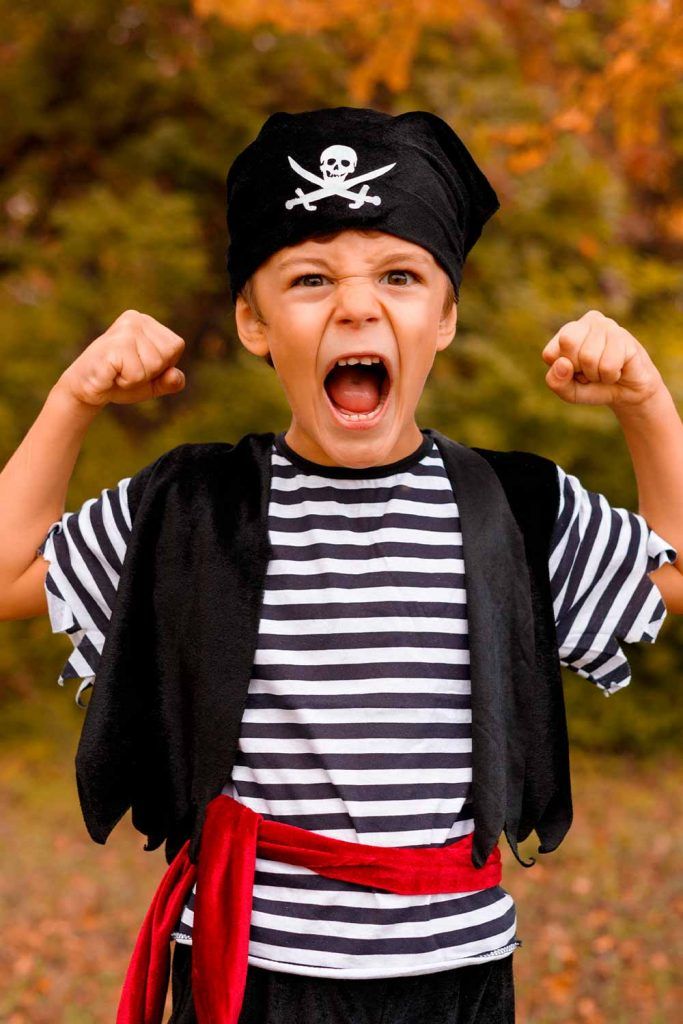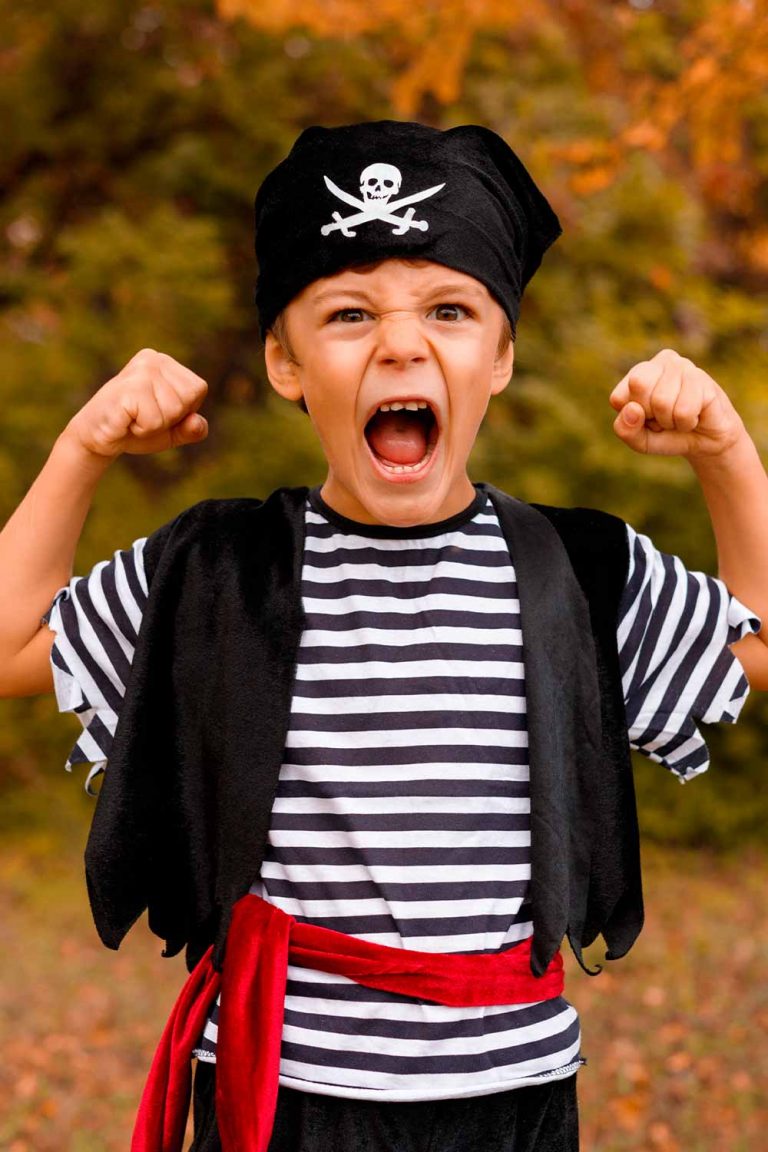 Harry Potter Boys Halloween Costumes
Who does not want to be a wizard? We do not know such people either, especially among children. That is why Harry Potter is still one of the most popular Halloween costumes boys of all ages choose.
What you need: Despite the high demand for it, a Harry Potter costume is not that difficult to make. A striped scarf and a pair of round spectacles are a must, while a black cloak and a broom are optional. Also, make sure to draw a lightning scar on his forehead. Though, you will need to keep an eye on your little wizard so that he does not run away to Hogwarts from you.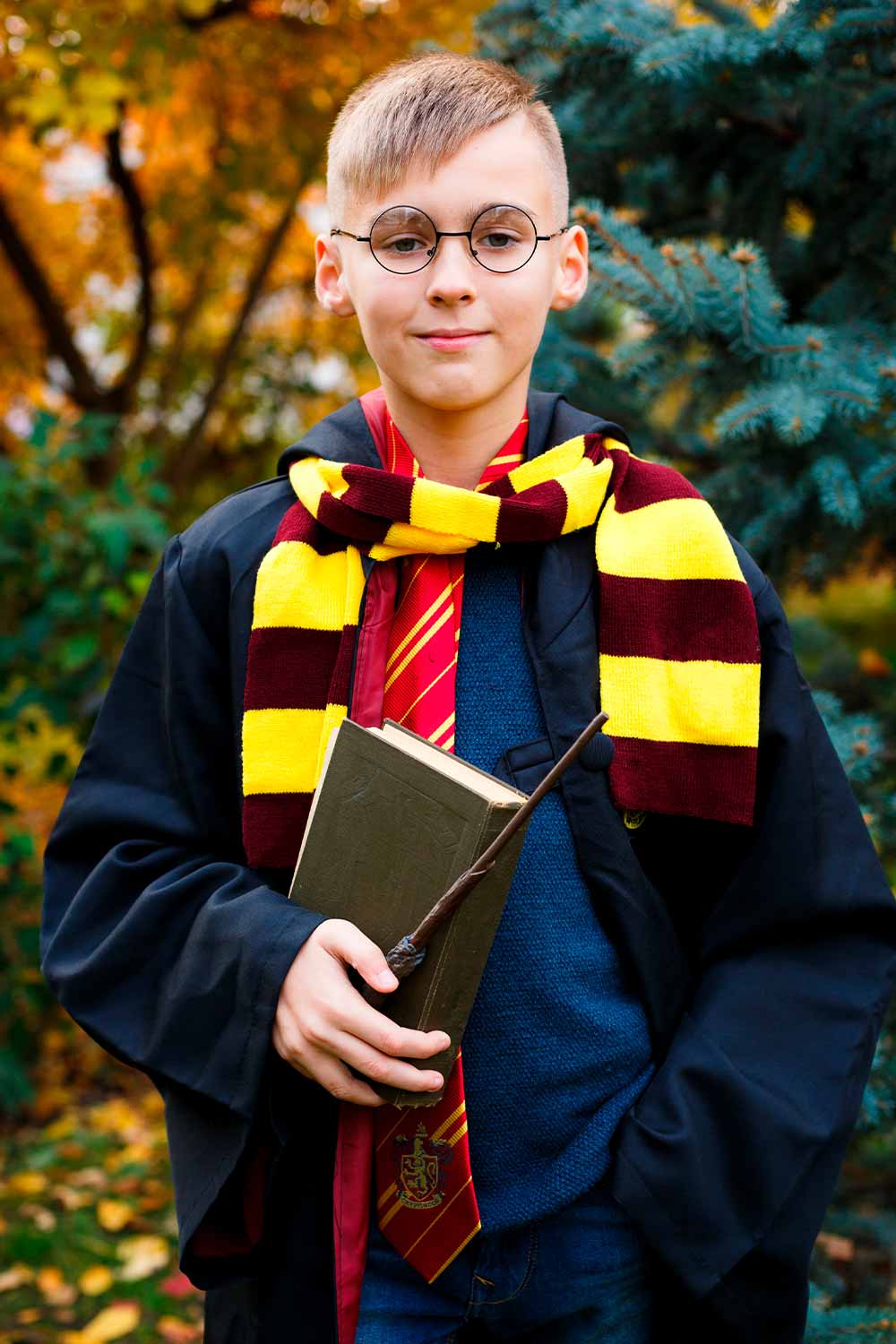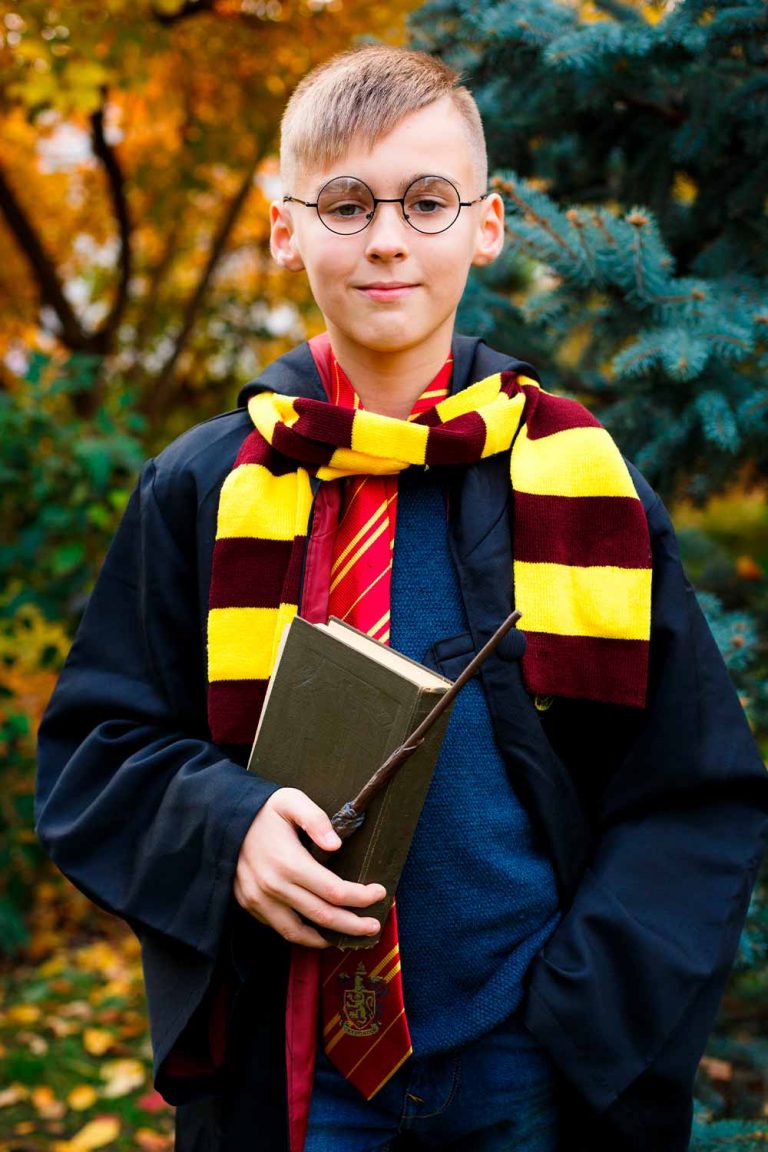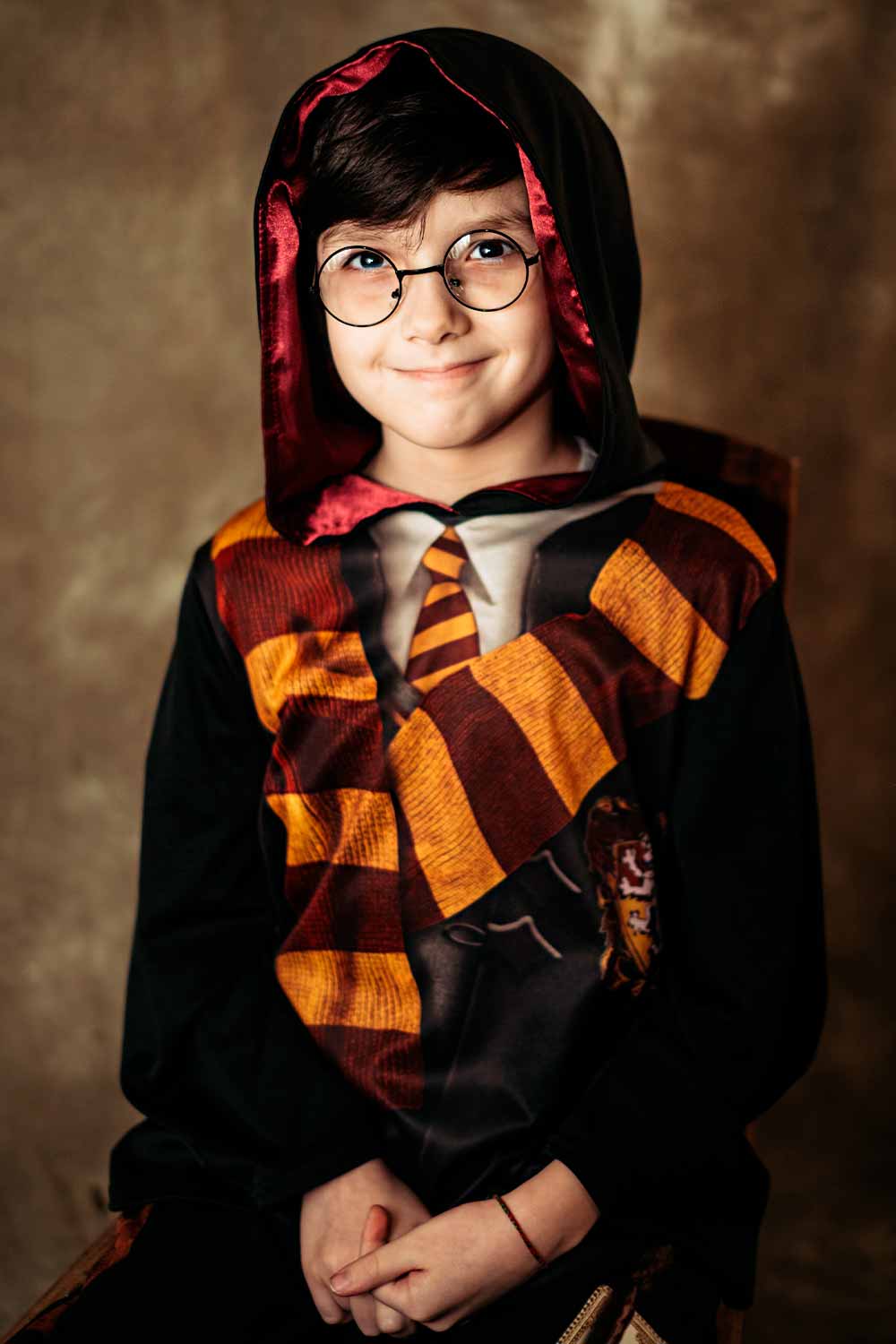 /
How can I choose the right Halloween costume for my son?
Are DIY costumes a good option for boys?
Devil Cool Costumes For Boy
If you often hear that your kid is a little devil, why not use it for his Halloween boy costume? After all, when you are forewarned, you are forearmed.
What you need: The devil likes to turn into mere mortals, so if you cannot be bothered with boy Halloween costumes, let your kid go as he is. However, should you be up to some low key handmaking, cover his face with a red Halloween face paint for boys and grace his head with a pair of horns. And do not forget about the tail.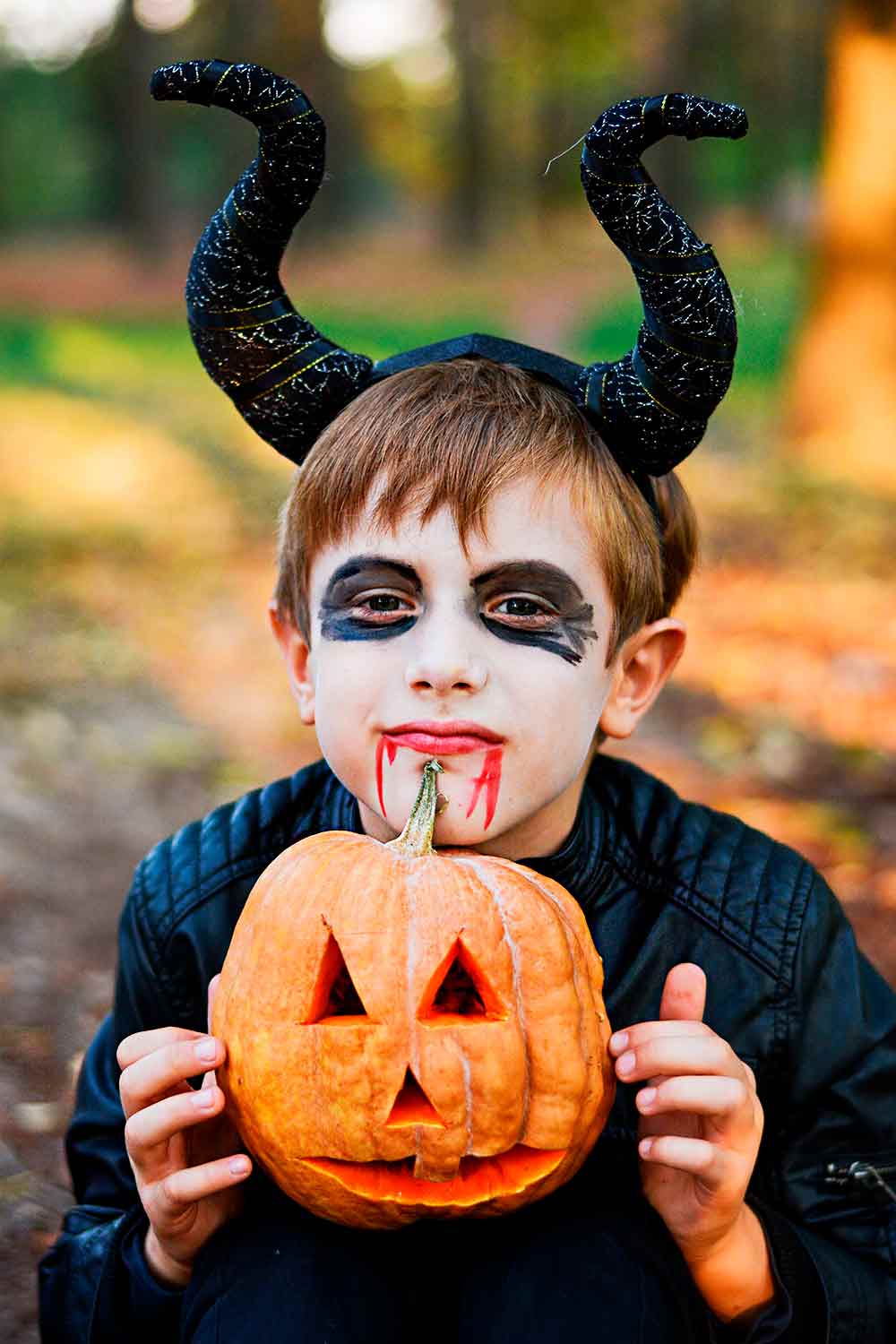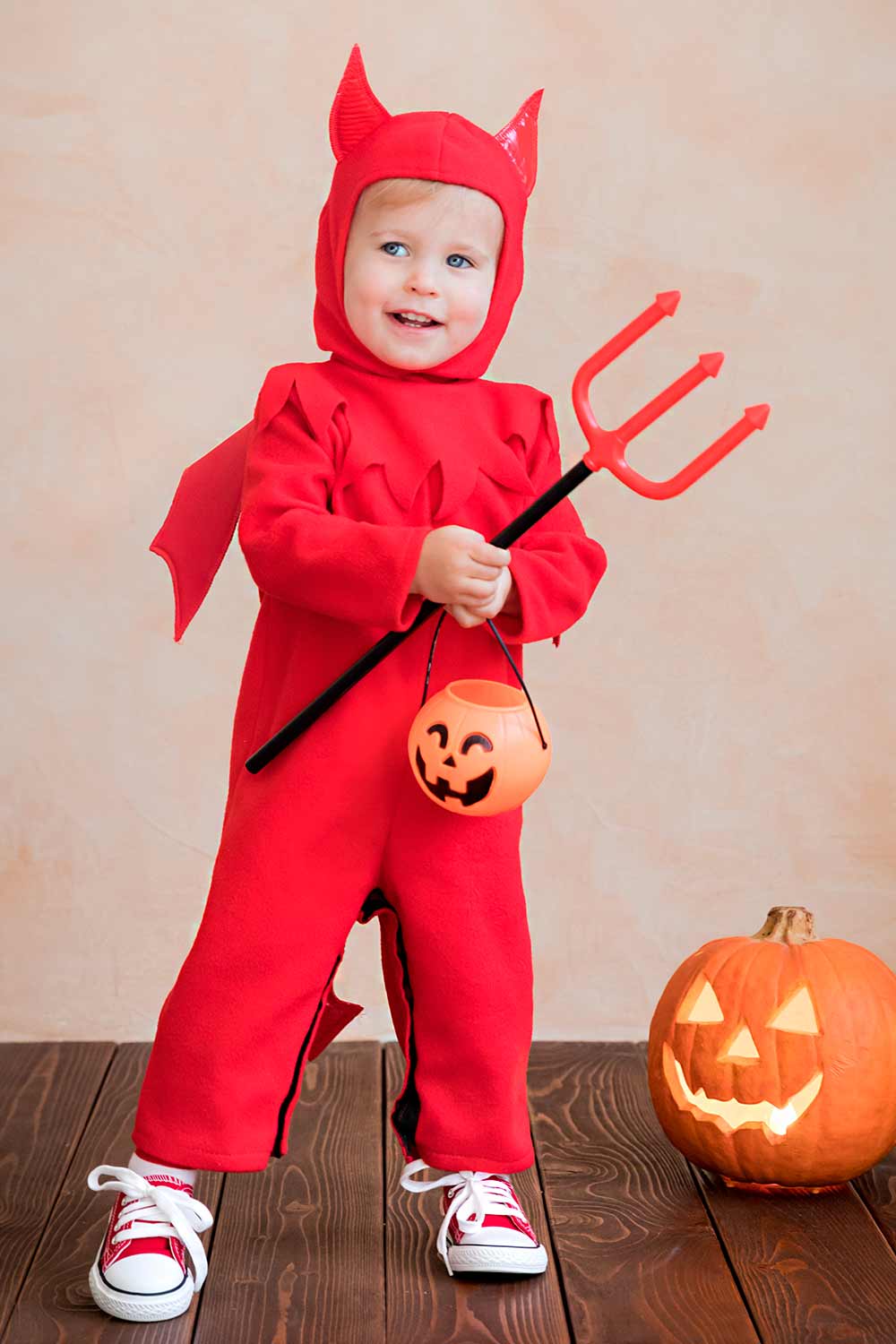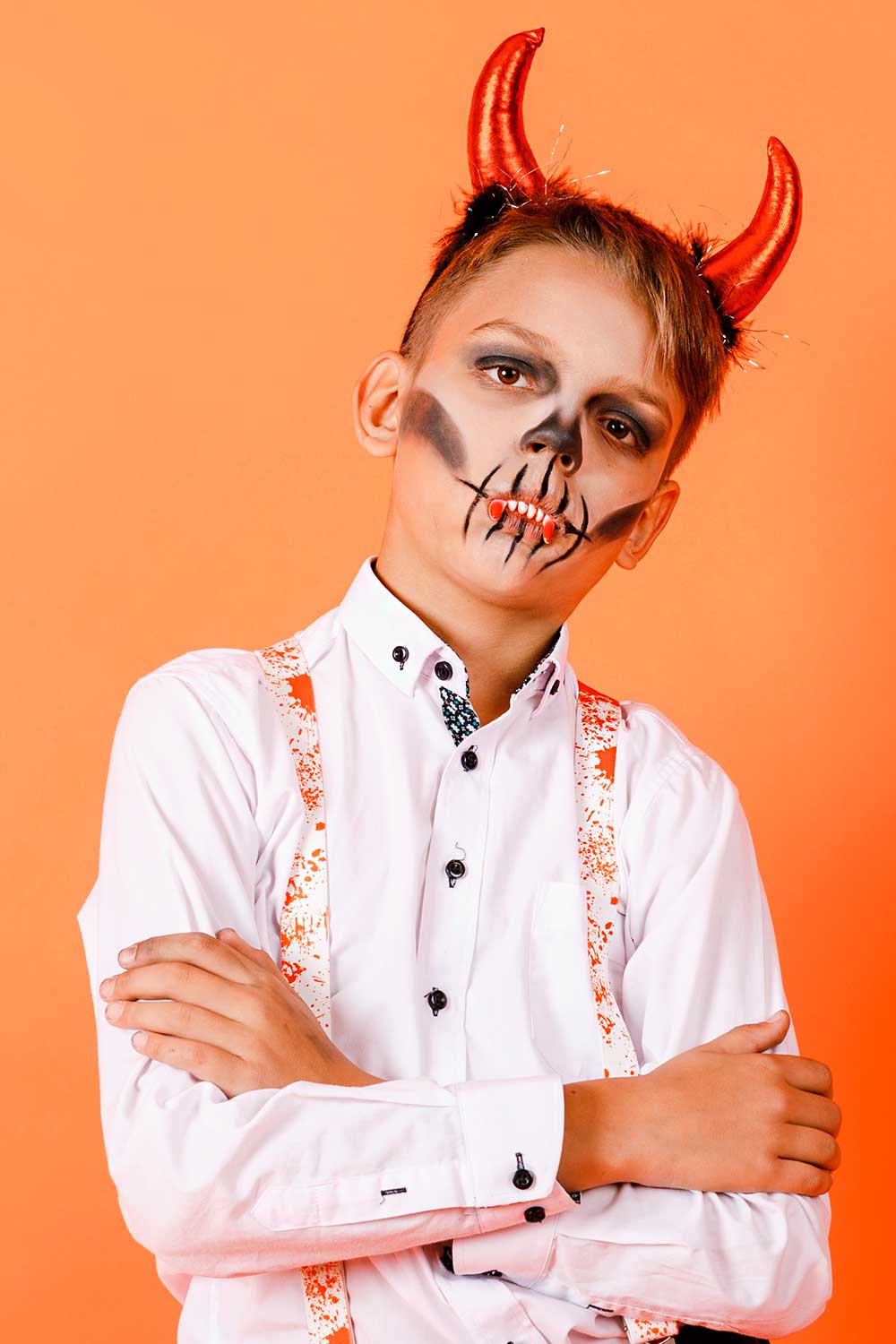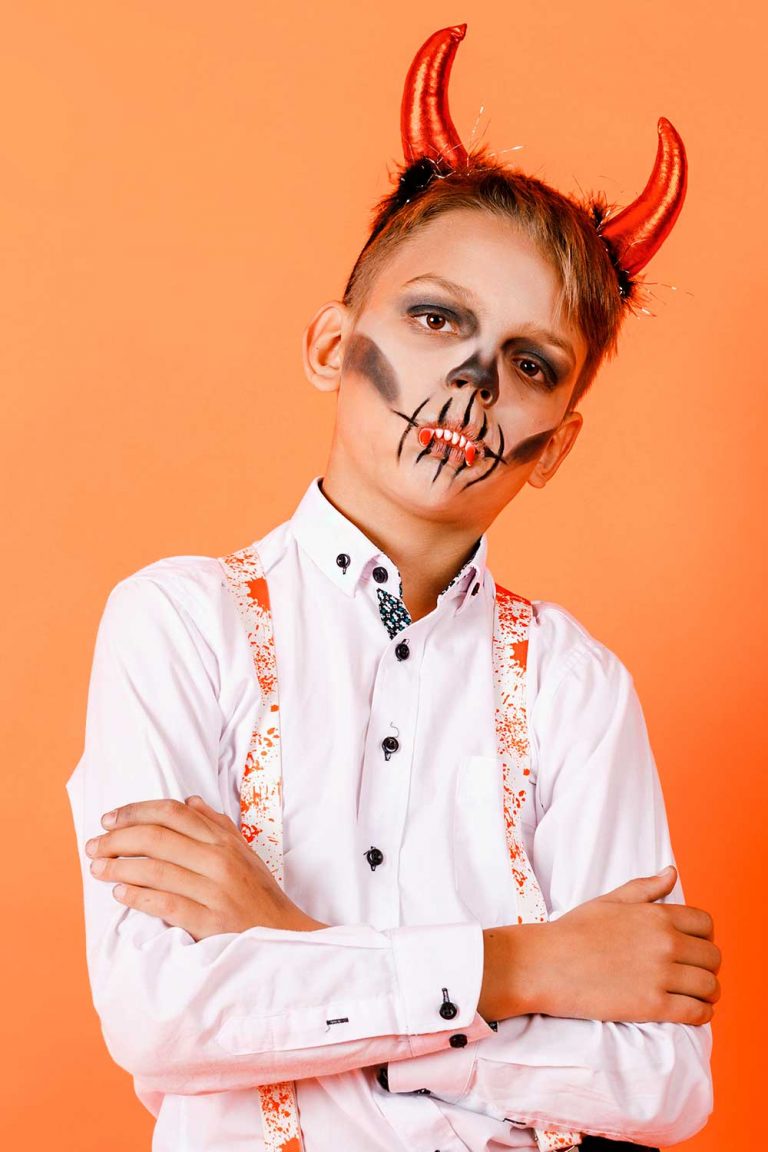 /
Repairer Boys Halloween Costumes
Those parents whose children tend to ruin everything around them may want to try to encourage them to do otherwise. And this is what makes a repairer one of the most practical boy Halloween costume ideas.
What you need: First and foremost, you need to provide your kid with a set of tools and a hard hat. The rest of the outfit is up to you.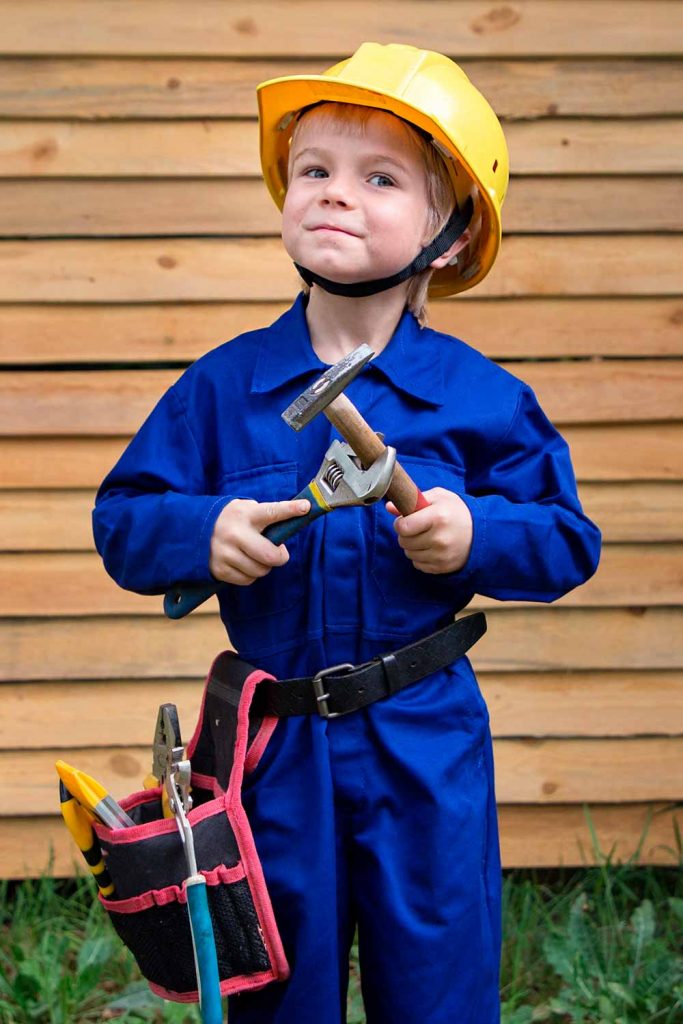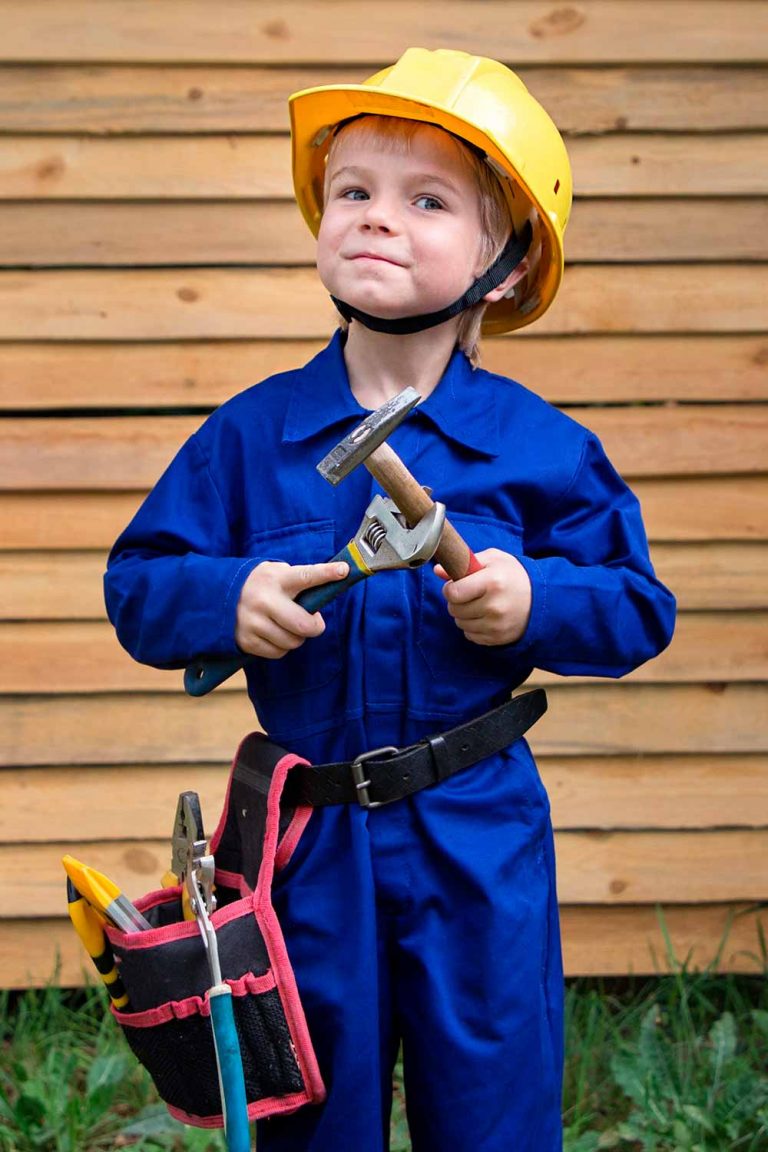 Zombie Boys Halloween Costumes
The state of being a zombie has been familiar to us since childhood. All those school tests and exams cannot go unnoticed. Something tells us that your child is no exception. So, a zombie toddler Halloween costume will suit him just right.
What you need: This is the case when his old T shirt torn during a football match will come in handy. You can also make it look worn out by applying white powder to it. As for makeup, apply a gray paint to his face and draw dark circles under the eyes using your black eyeliner.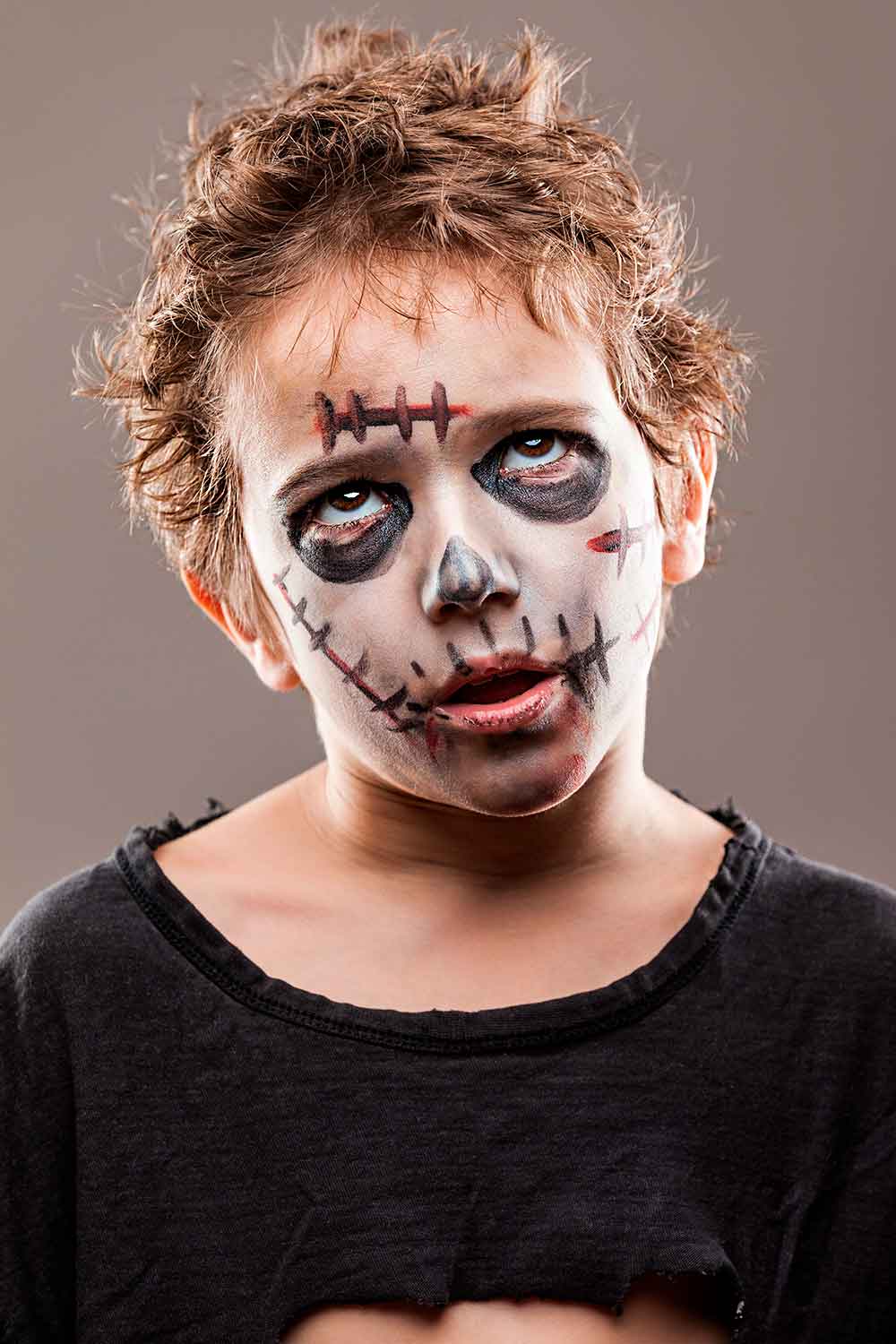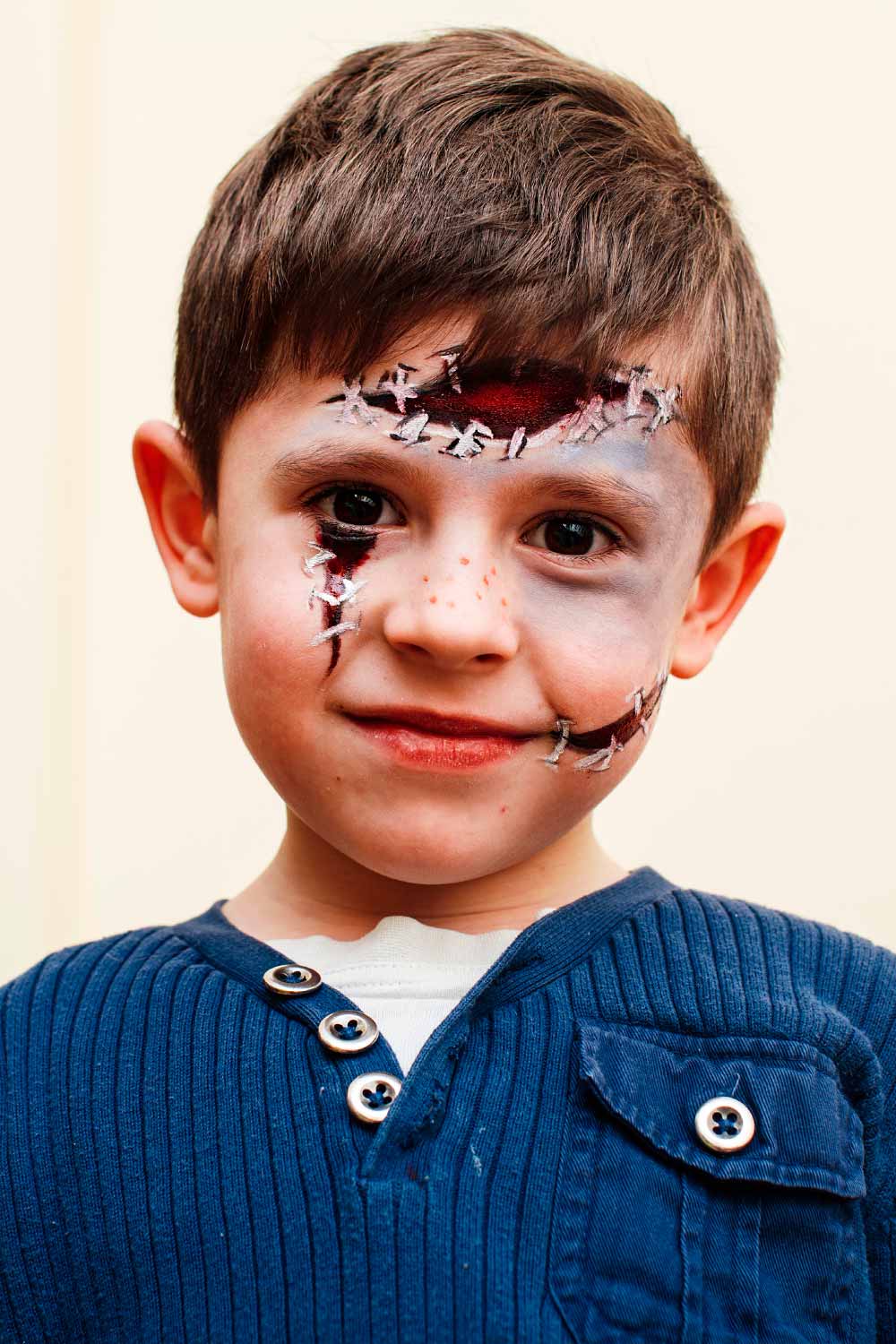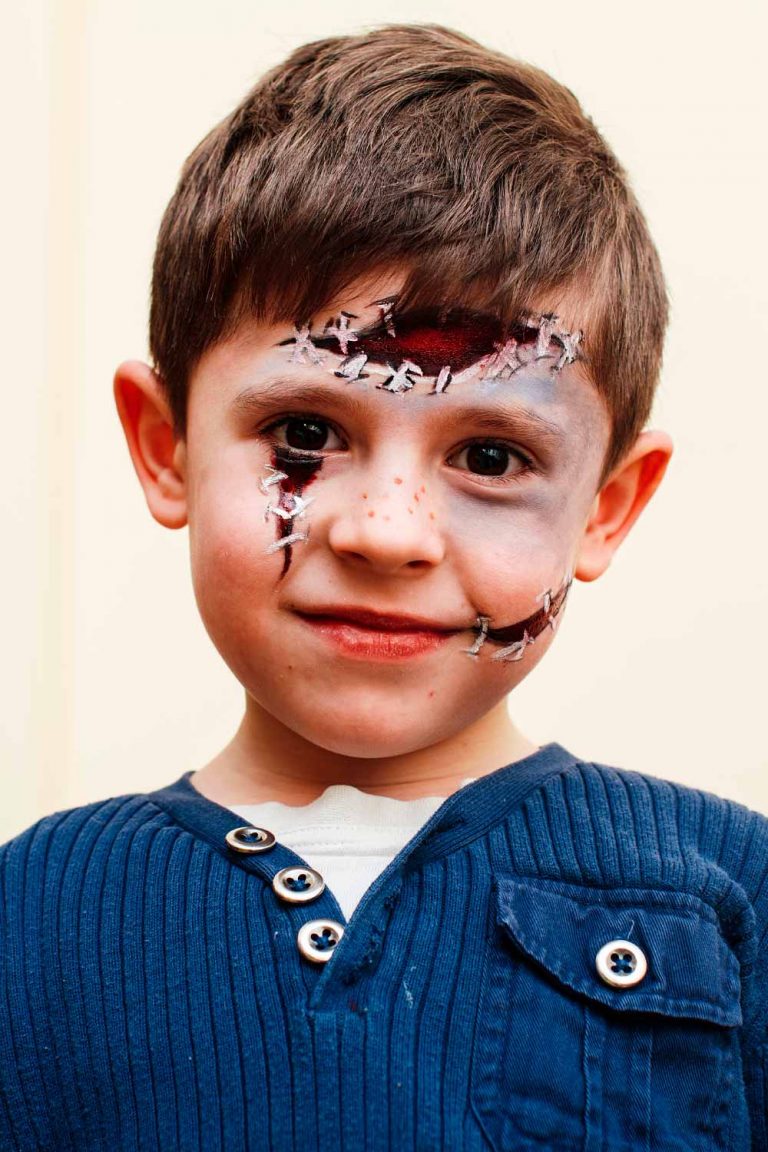 /
Vampire Kids Halloween Costume Ideas
We sometimes grumble that our kids suck the lifeblood out of us, so why not take advantage of it? A vampire boys Halloween costume is your way to go.
What you need: While you can unleash your creativity and find a genuine vampire costume, all you basically need is a pair of fangs and maybe a cloak, which can be made of a piece of tulle.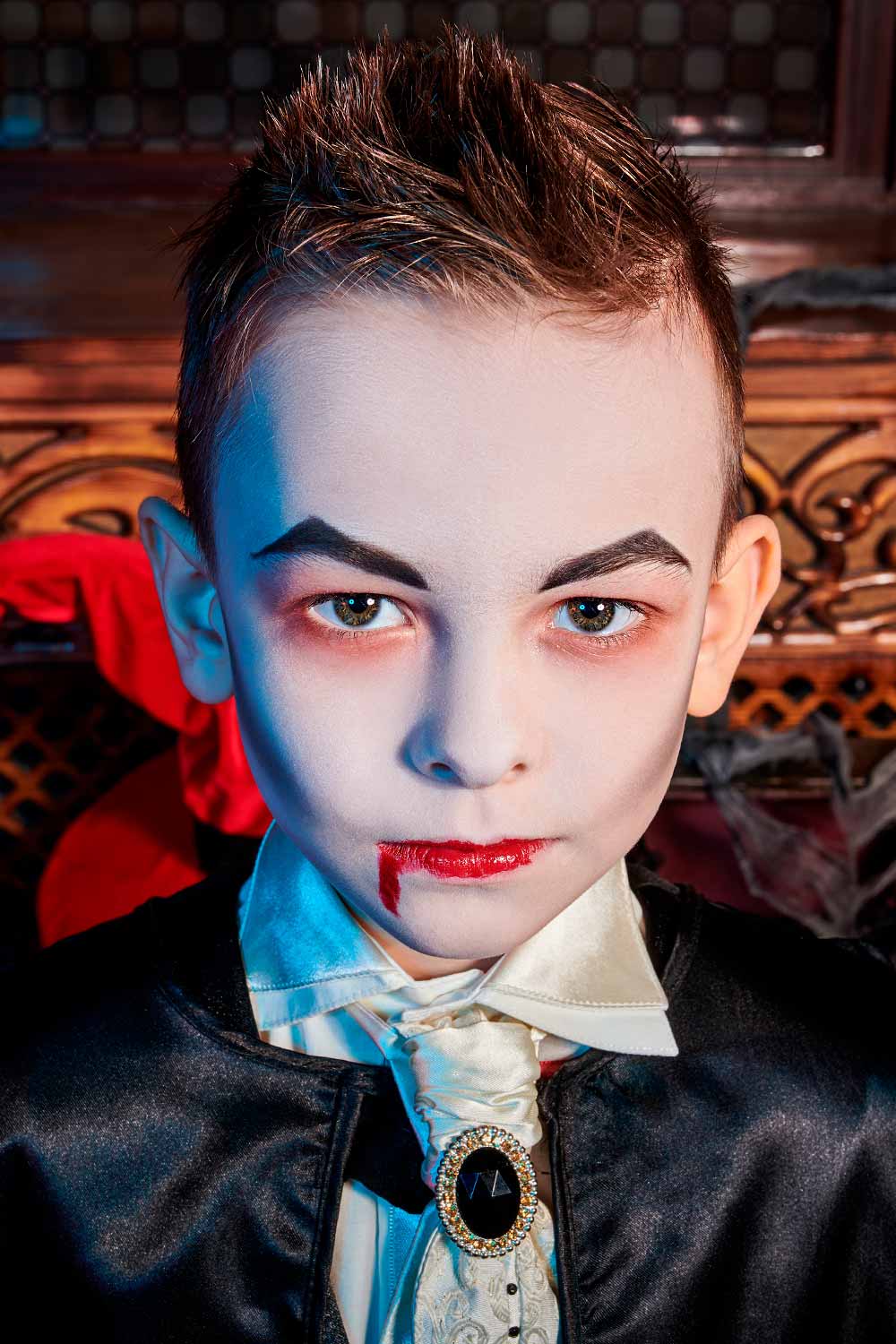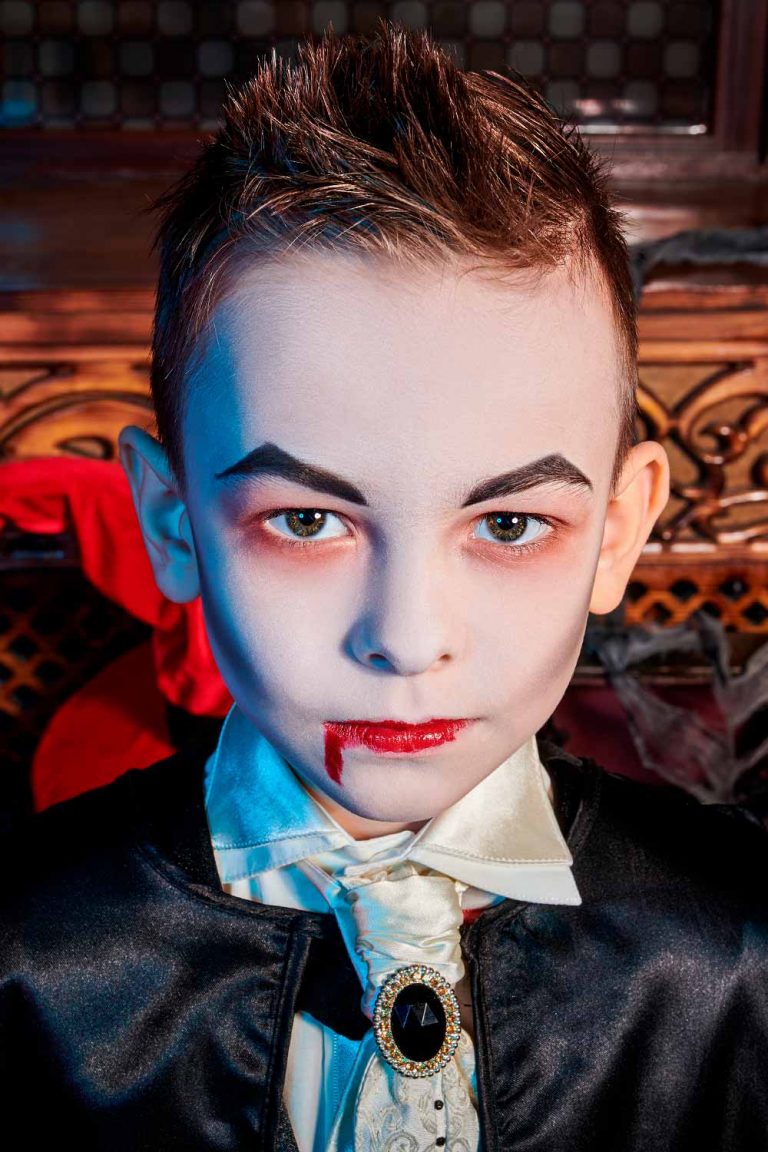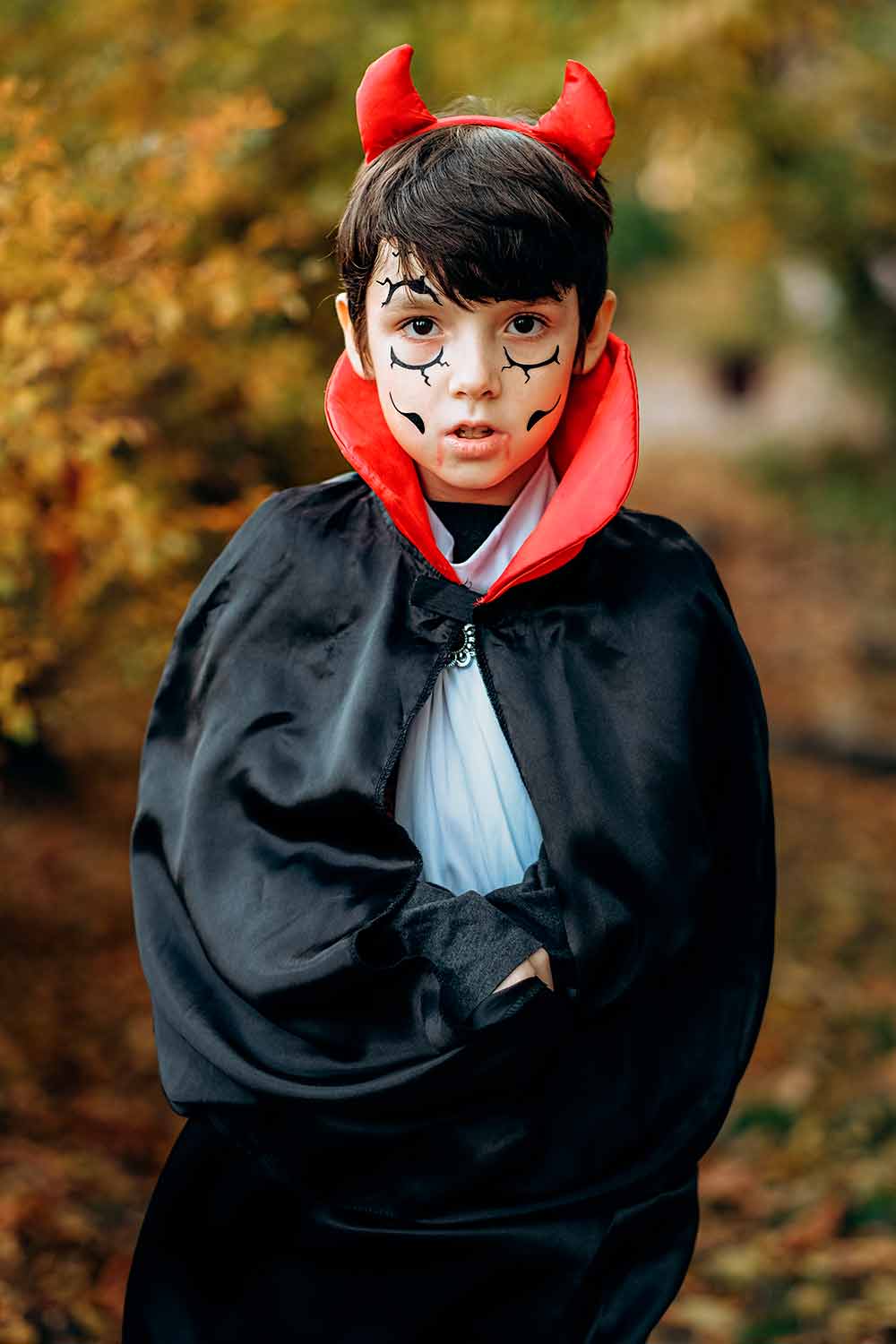 /
Post-Apocalyptic Warrior
For a Halloween costume that's both thrilling and imaginative, create a homemade post-apocalyptic warrior look for your child.
What you need: Start with a pair of old jeans and a worn-out shirt. These should have a distressed and rugged appearance to convey a post-apocalyptic vibe. Next, gather some belts, straps, and buckles from around the house or thrift stores. Use these to create a makeshift armor by attaching them to the shirt and pants. You can also use cardboard to craft armor pieces and paint them silver or black to give them a metallic appearance. To add an element of danger, create a prop weapon using cardboard or foam board. Shape it into a futuristic or makeshift weapon like a sword, axe, or blaster, and paint it with metallic colors for realism. For the post-apocalyptic headgear, consider using a motorcycle or welding helmet, a ski mask, or even a bandana to give your child's costume a rugged look. You can also attach small objects like nuts and bolts to the headgear to enhance the aesthetic.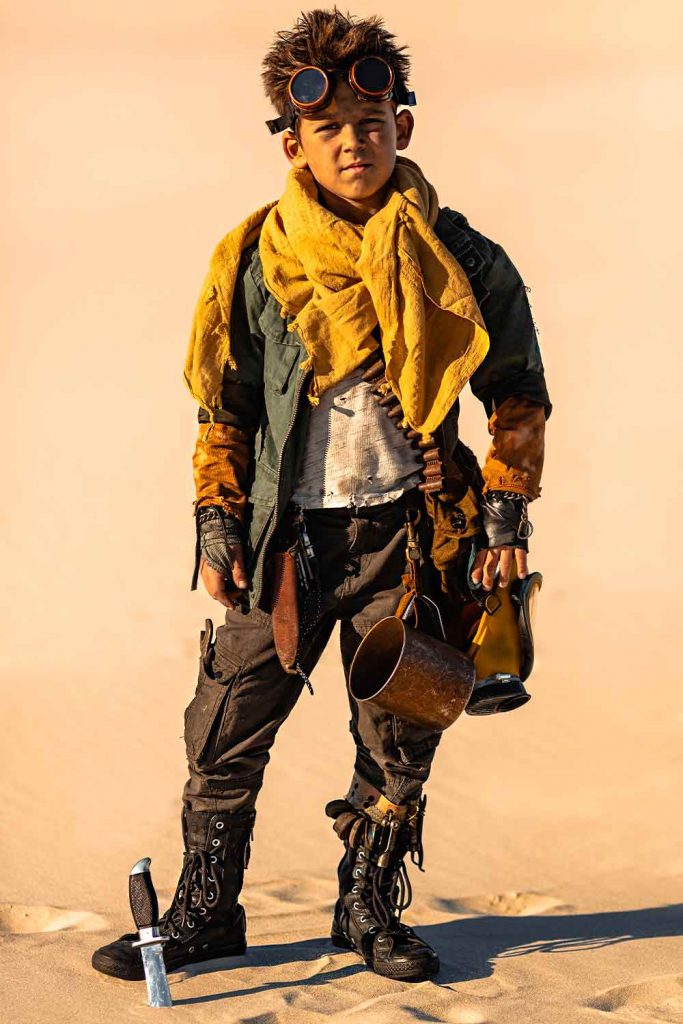 Ghost Halloween Costumes For 10 Year Olds Boy
Okay, this is arguably one of the easiest boys costumes, which does not make it any less scary or exciting. Keep in mind our parent's 101 though: make sure the ghost you are taking home is indeed your son, as in this cool boy costume, they all seem pretty the same.
What you need: A white sheet is all you need. And a pair of sharp scissors, of course, to cut out the openings for the eyes.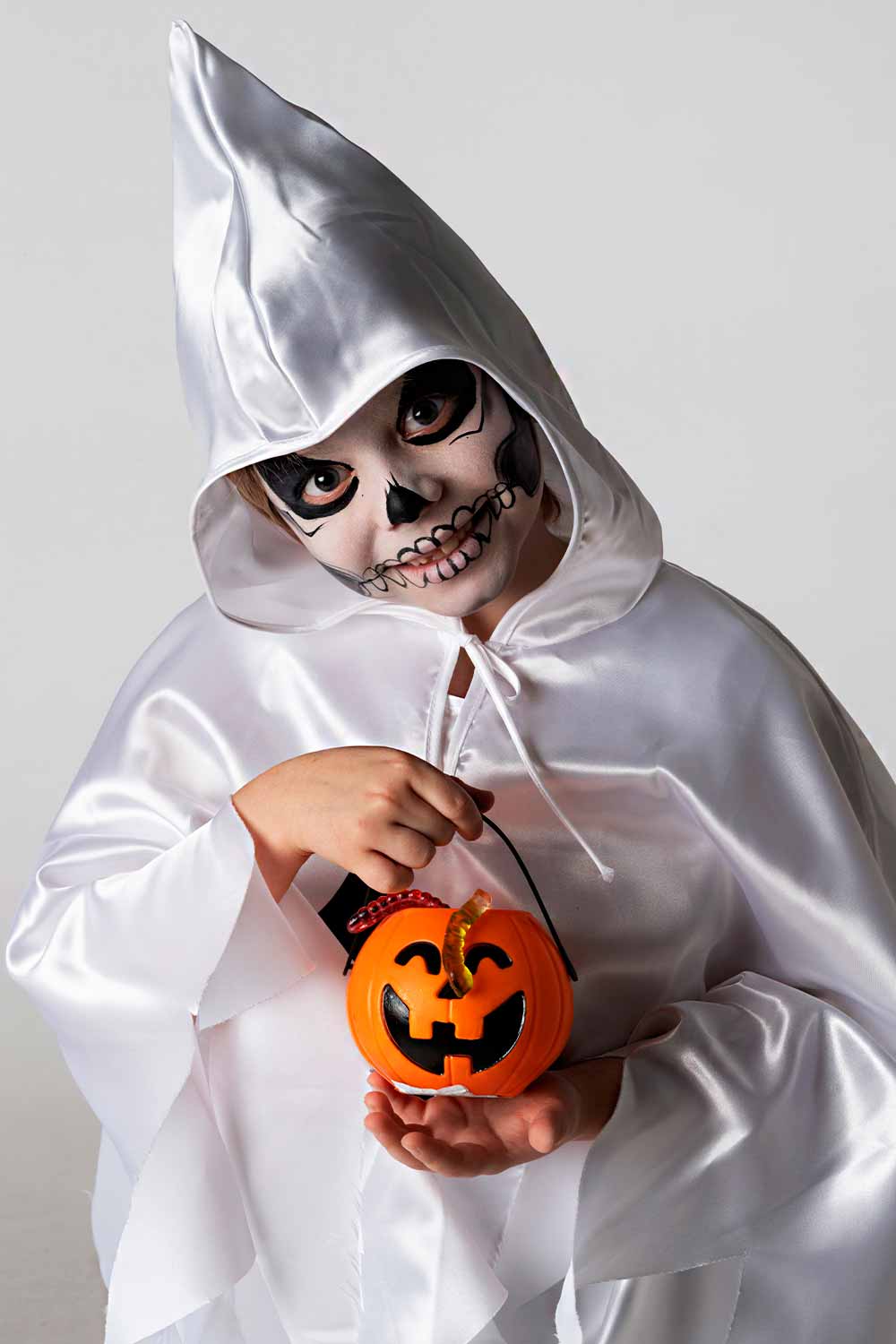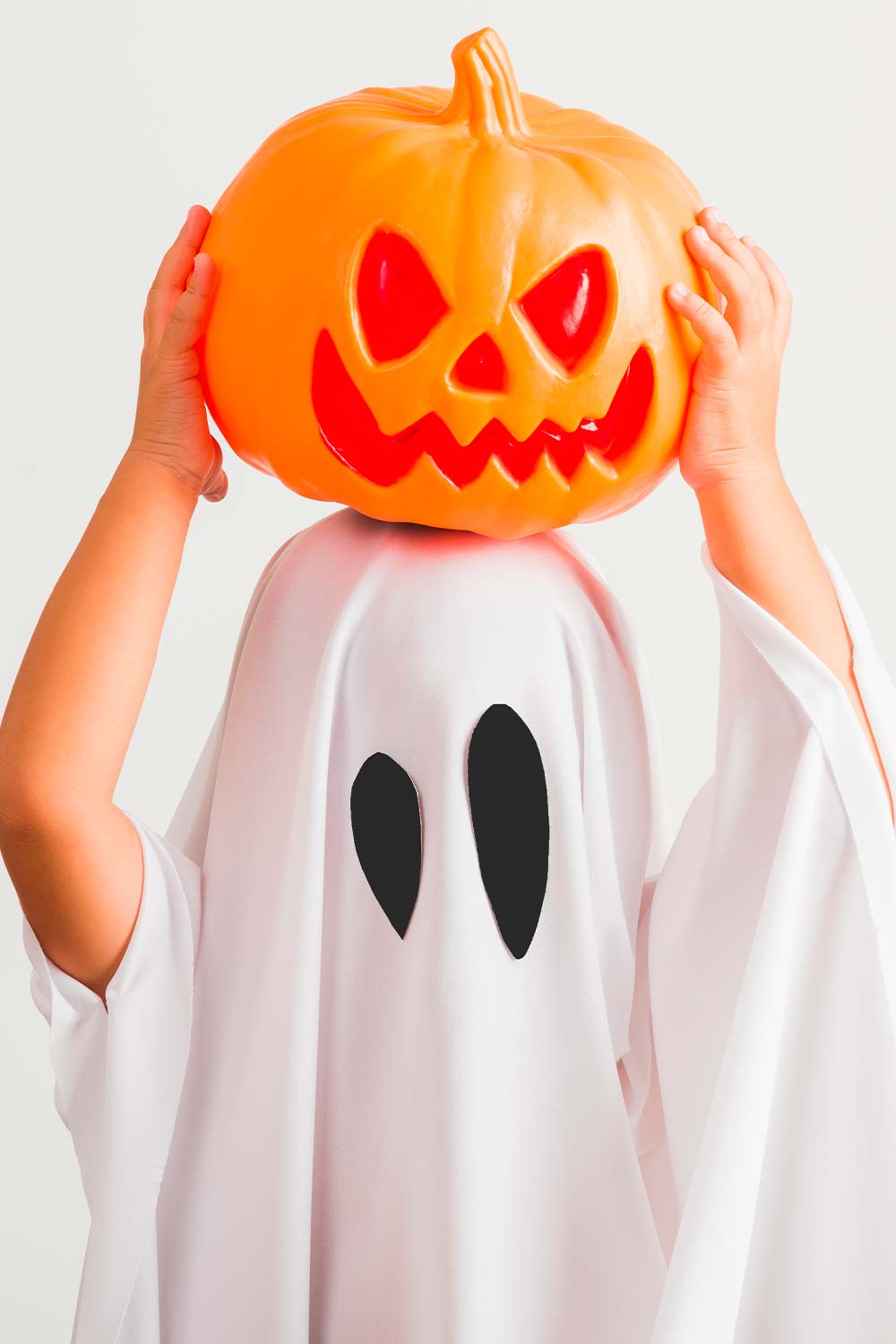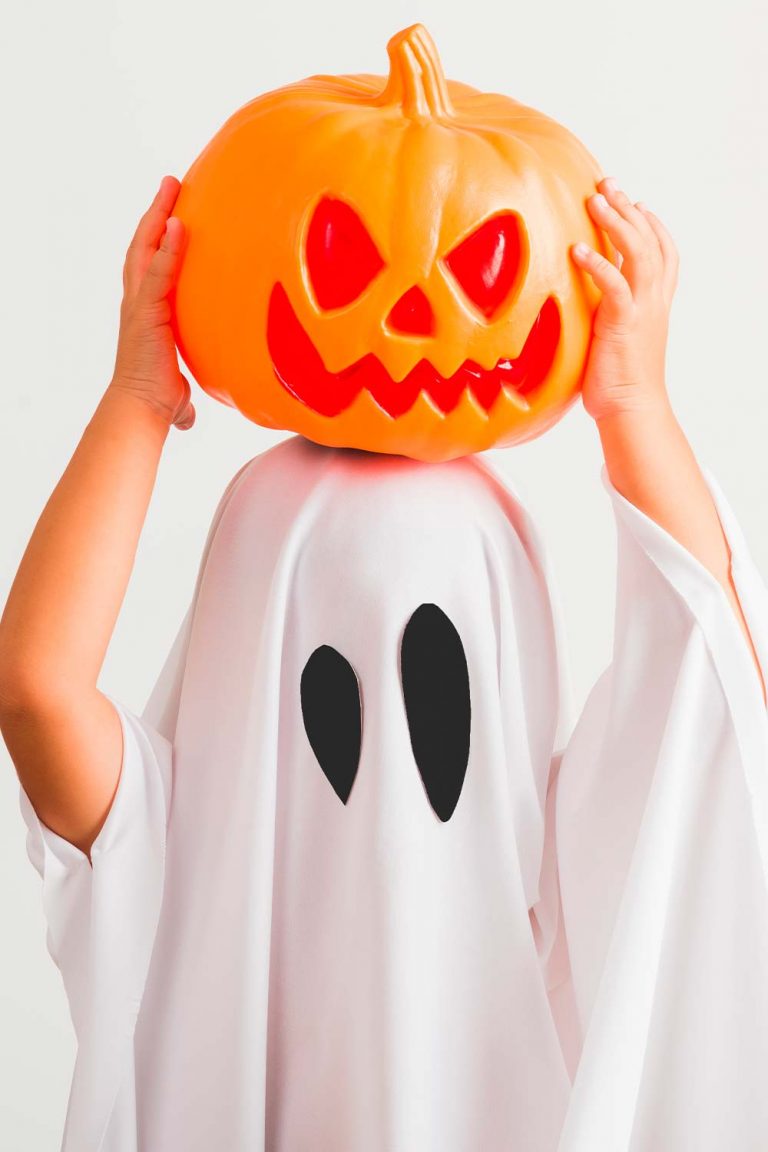 /
Skeleton Boys Halloween Costumes
If you are looking for a boy scary costume that is pretty easy to create, then you can never go wrong with a skeleton. No wonder it is so popular.
What you need: You will just need a black tracksuit and a white paint, ideally, a luminescent one, so that he could glow in the dark and scare the living daylights out of your neighbors!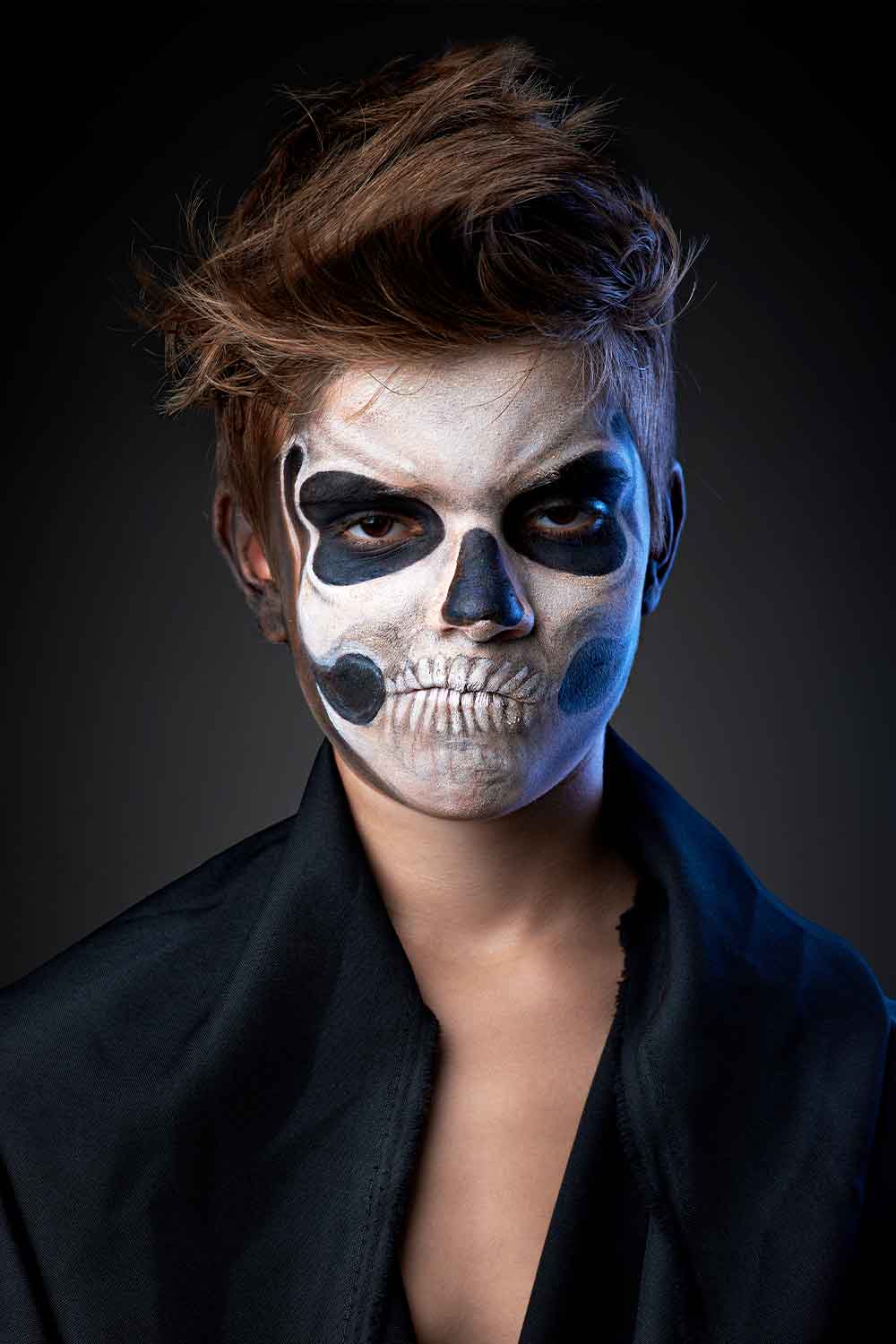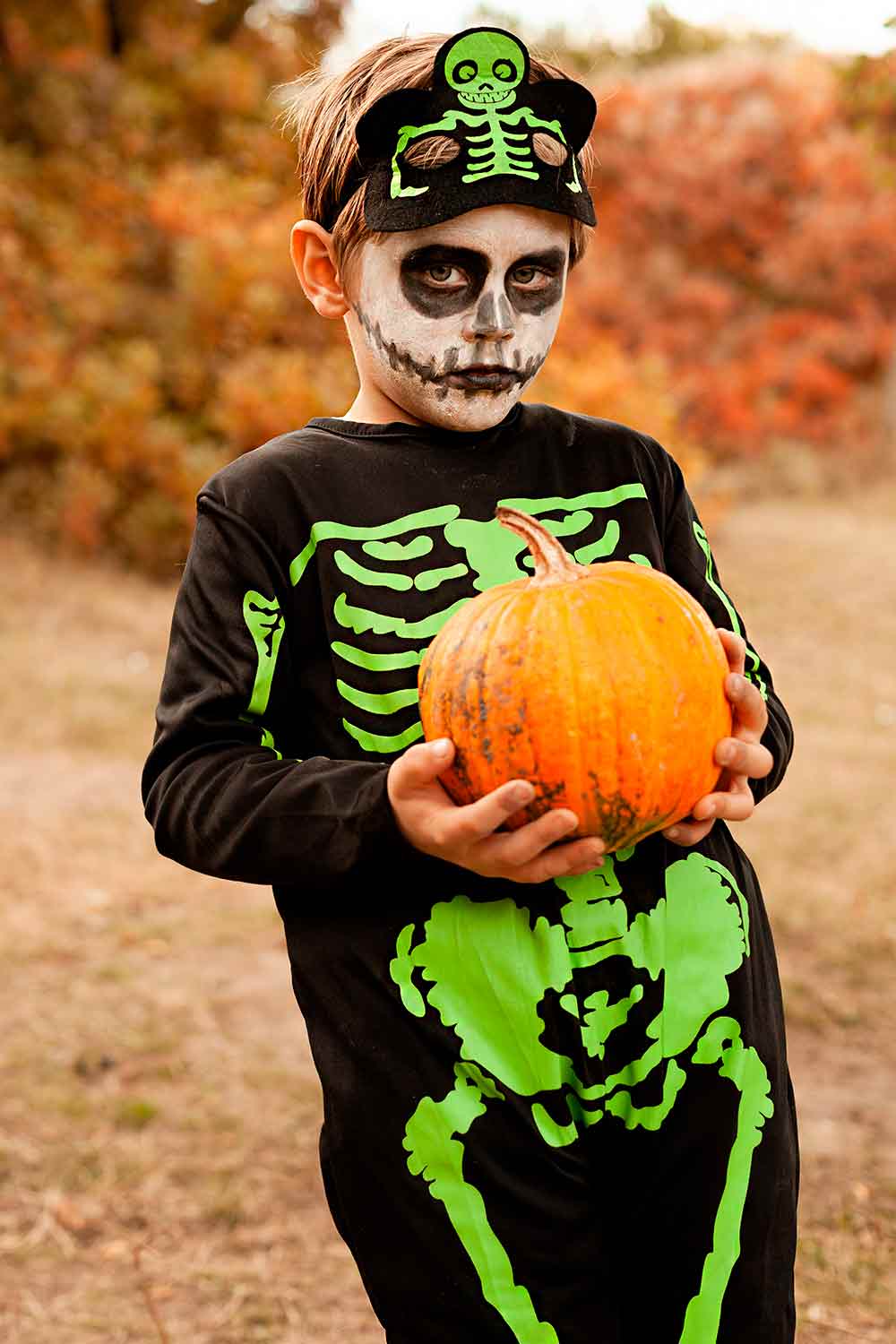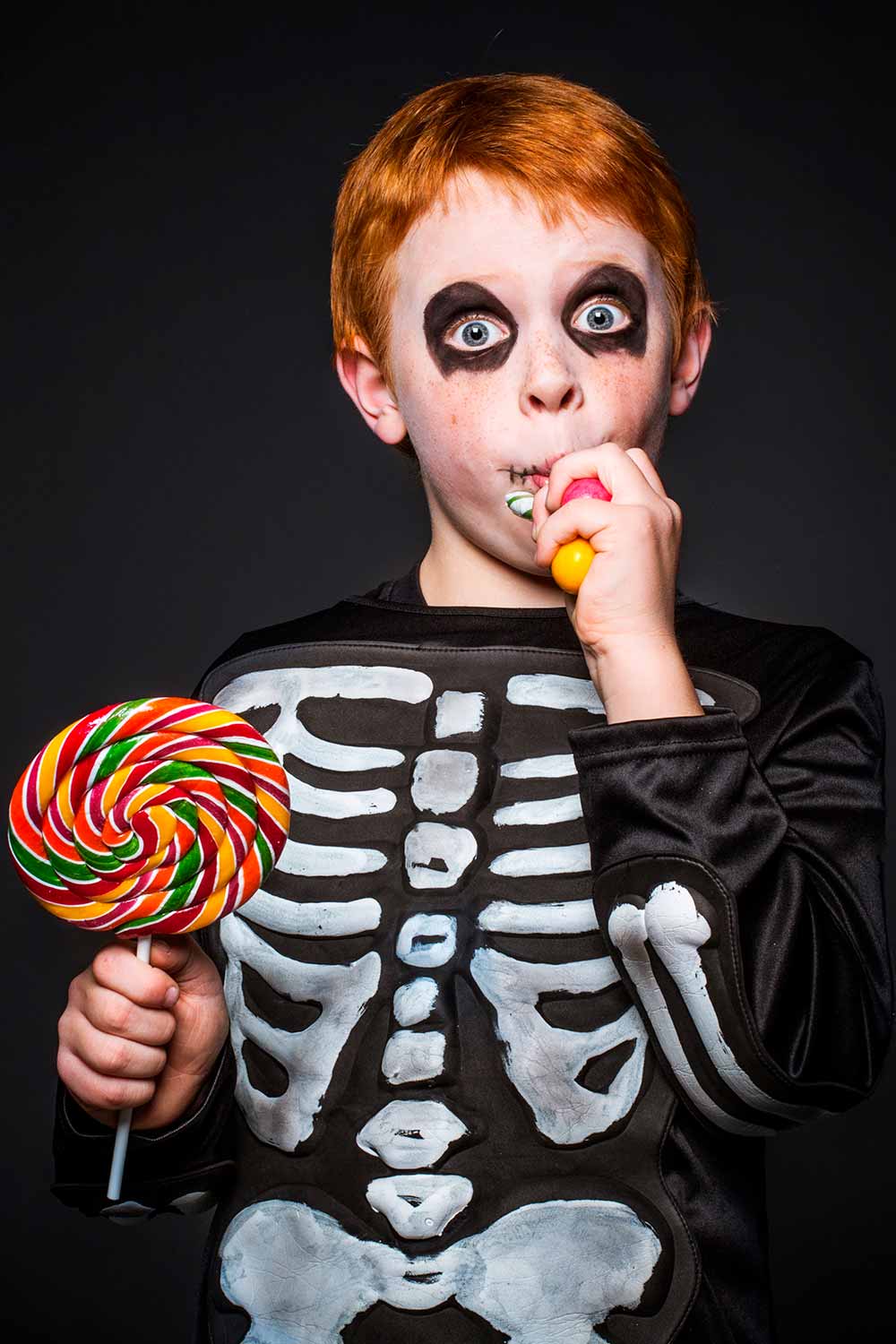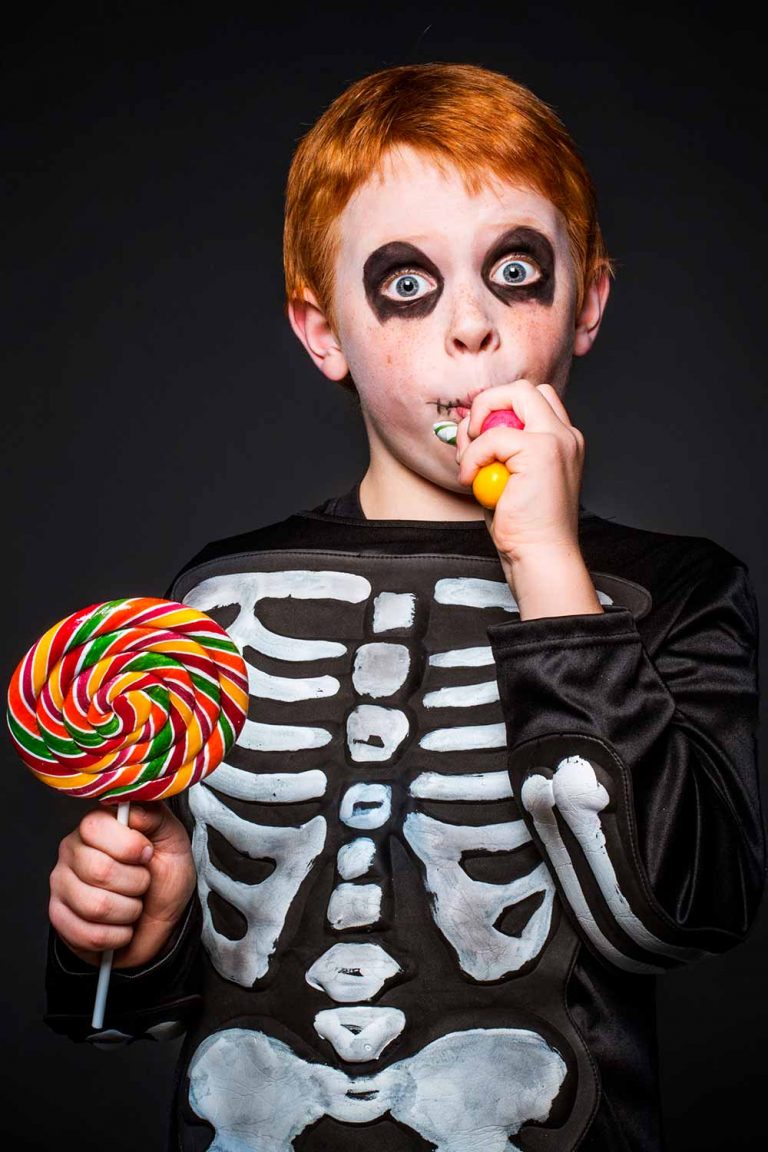 /
Rocket
It is a good idea if Halloween costumes for boys allow them to express their personalities. As such, if your little one is very energetic and fast, why not dress him as a rocket for trick or treating?
What you need: Of course, you can buy a costume, but that would not be as fun as making it together with your kid. To create a rocket Halloween costume, you will need an elongated cardboard box and scissors or a utility knife. Cut out a circle on one side and add triangular blades on the other.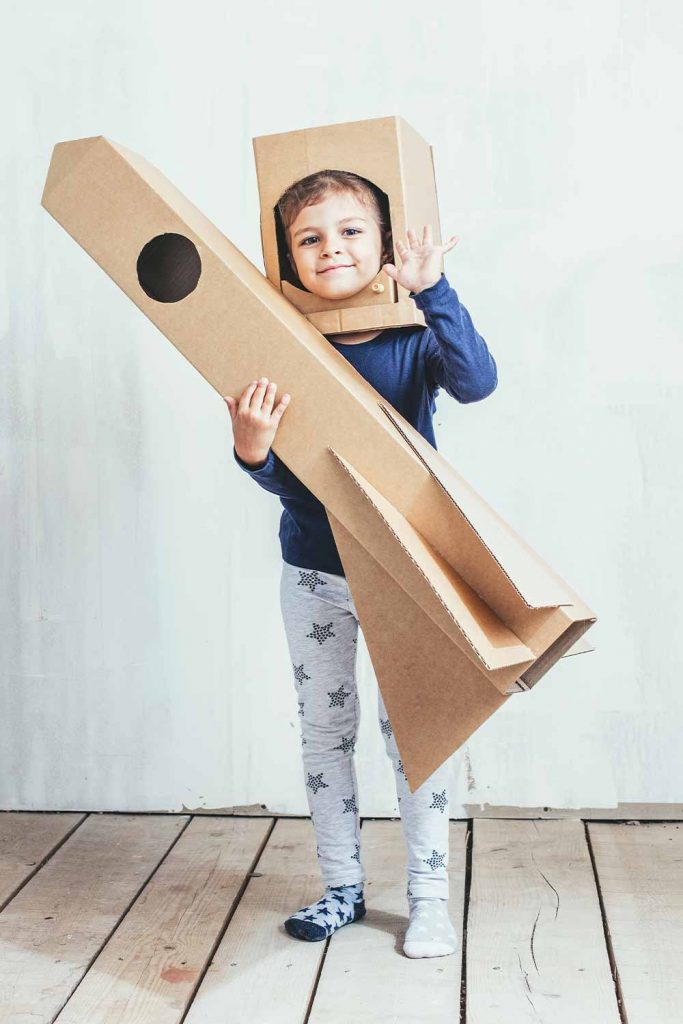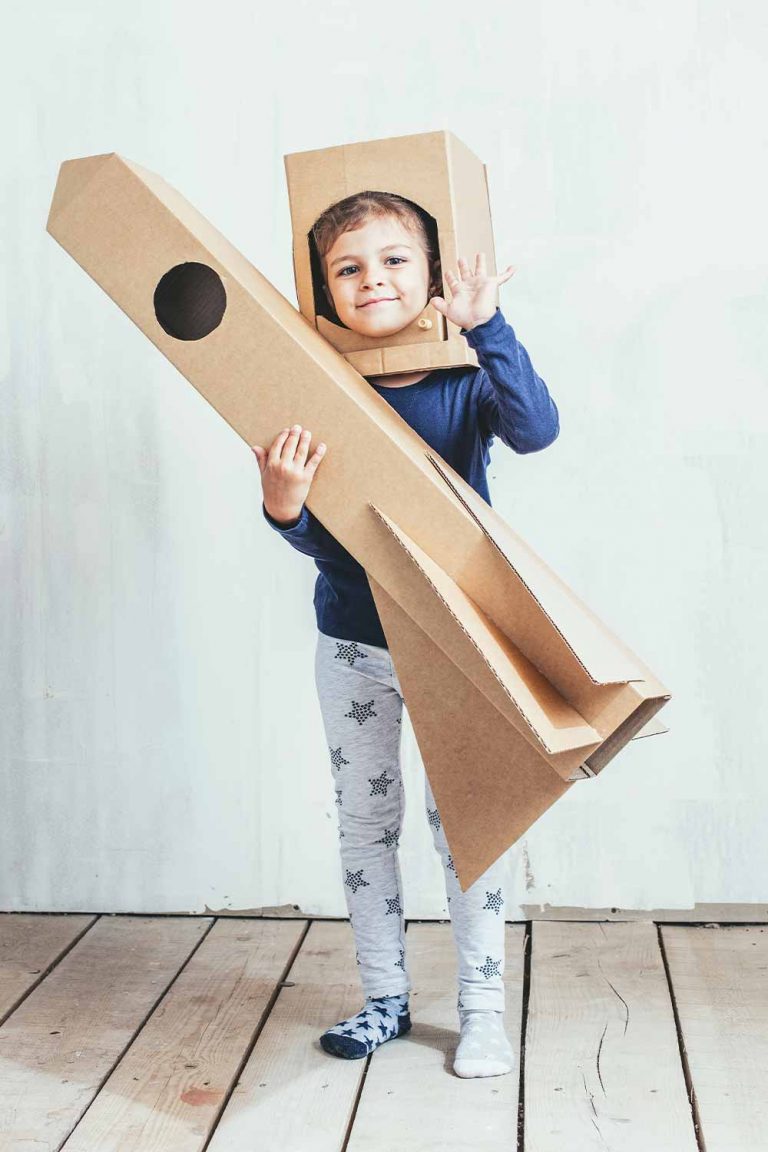 Mummy Cool Halloween Costumes For Boy
A Mummy is considered one of the most popular Halloween costumes for toddlers. While you do not need much stuff to create it, do not let it fool you. You will have to pay with your nerves for the ease of creating it.
What you need: Stock up on ten rolls of bandage and two hours of patience. It may also make sense to bind your son beforehand so that he does not wiggle waggle as usual while you are turning him into a mummy.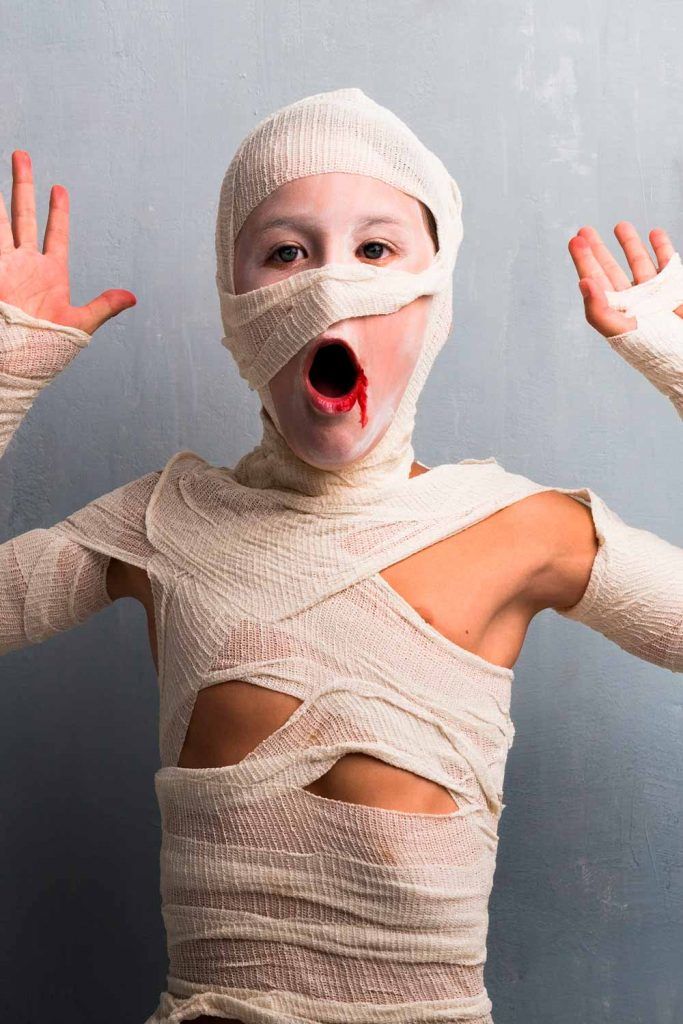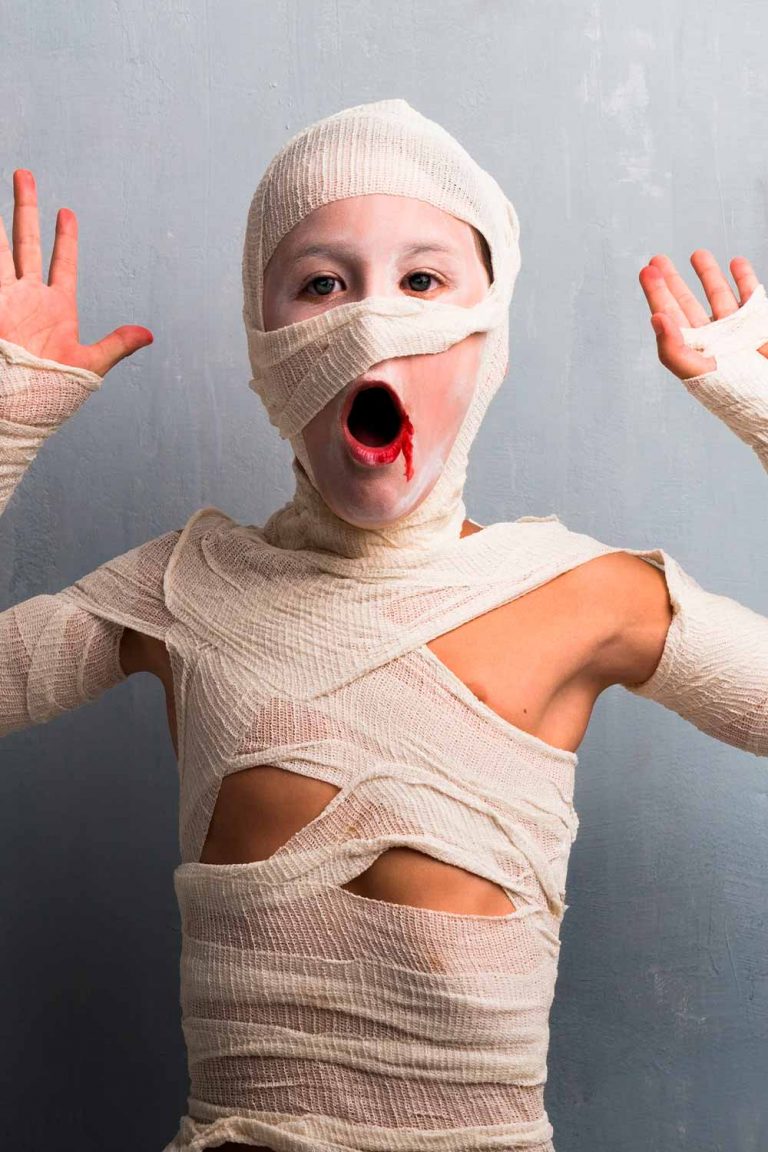 Ninja Kid Halloween Costumes
A popular choice for boys' Halloween costumes, the ninja costume is a classic and stealthy option. You can create this costume easily with items you likely have at home.
What you need: Dress your kid in black clothing, such as a black T-shirt and pants. Secure a piece of black cloth around his waist as a makeshift belt. If you don't have a ninja mask, a black bandana will do the trick. Cut a ninja eye mask out of black paper or cardboard. You can add other accessories like foam ninja weapons, face paint, or even a ninja headband for added authenticity. Let your imagination run wild for the finishing touches!
Bat Toddler Boy Halloween Costumes
The bat costume is a classic and spooky choice for boys on Halloween. You can easily put together this costume with items you might already have at home.
What you need: Dress your kid in black clothing, such as a black T-shirt and pants. Craft makeshift bat wings using black fabric, felt, or even an old black umbrella by cutting it into the shape of wings and attaching them to his back. For added flair, you can paint the wings with bat-like patterns. Create bat ears by cutting out bat ear shapes from black cardboard or felt and attaching them to a headband or a black beanie. Finally, add some dark face paint for a sinister touch. Your boy will be ready to take flight as a spooky bat!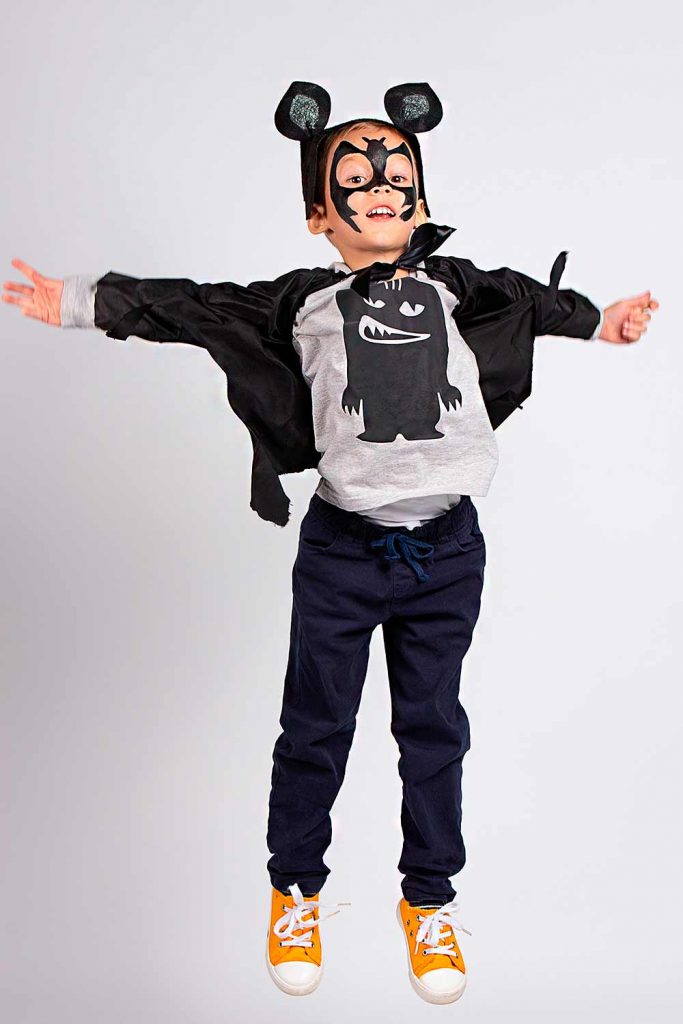 Mad Scientist
We all love chemistry experiments no matter our age. But this is especially true for children. So, when it comes to 10 year old Halloween costumes boy scientist is a surefire way to go. Yet, to give it an authentic festival vibe, you can go for a mad scientist version.
What you need: In addition to looking impactful and cool, it does not require much stuff. If you can find a white robe or overalls and fancy glasses, this is half the work. Add a white wig with tousled strands and a couple of test tubes with colored liquid and your kid is all set.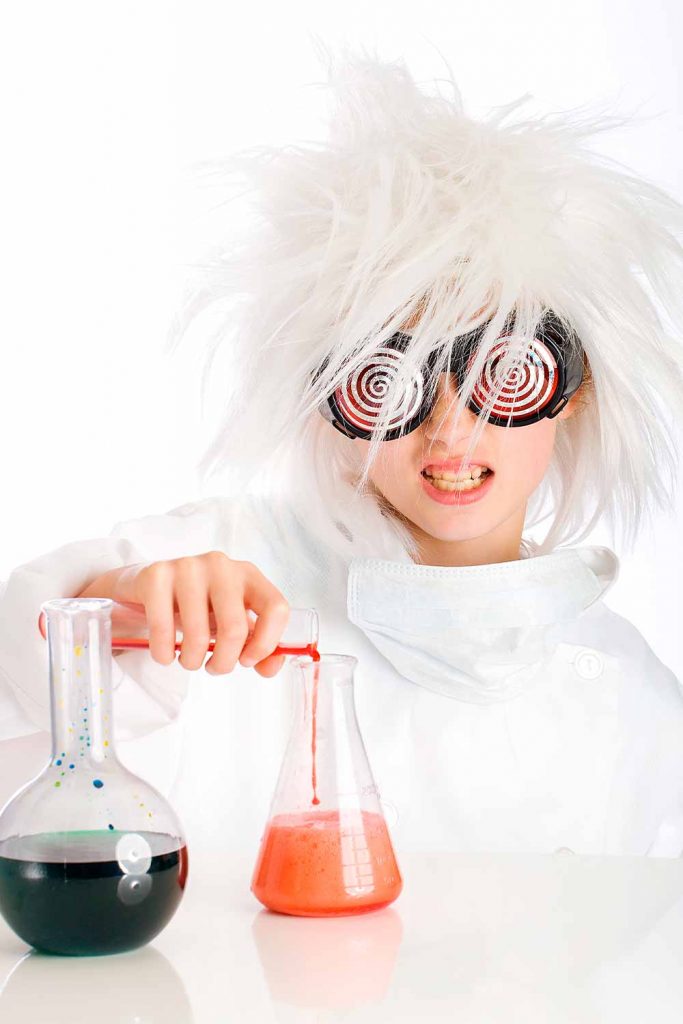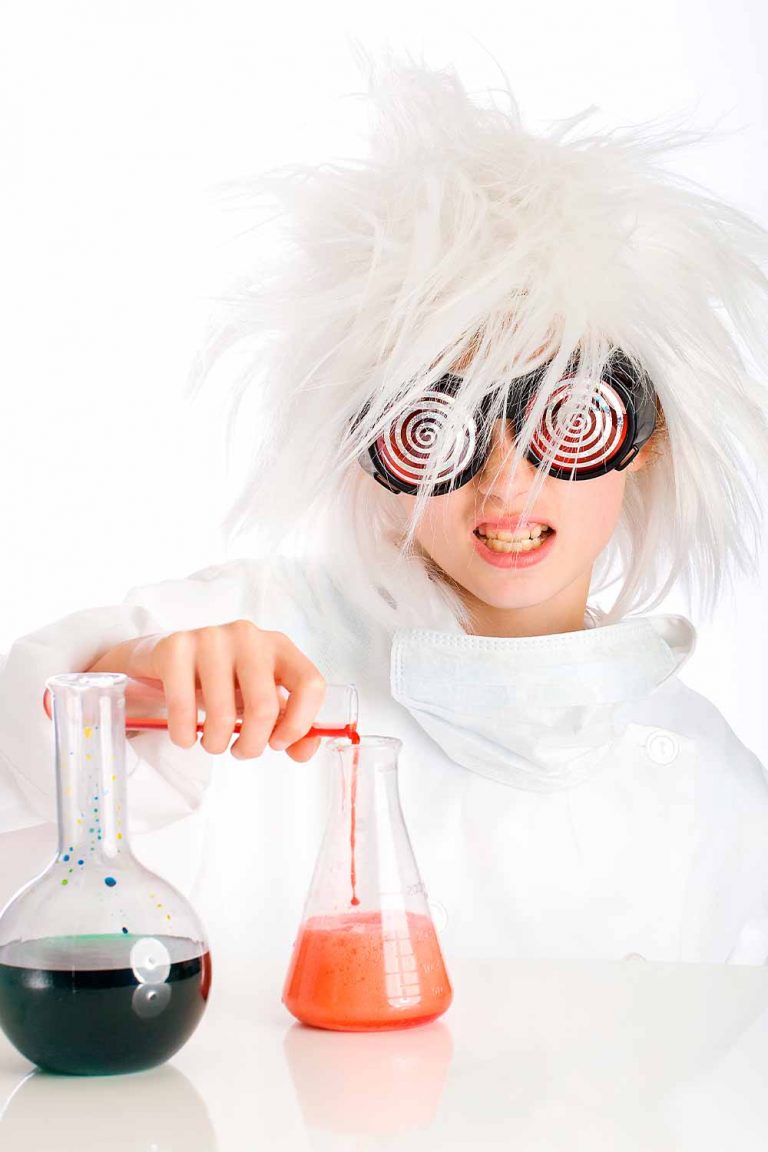 Jurassic Park
Dinosaur-themed costumes are always a hit for Halloween, and creating a homemade Jurassic Park-inspired costume can be a thrilling adventure for your child.
What you need: Start with a green or brown base for the costume, like a hoodie or sweatshirt with matching pants. To create the dinosaur element, you can make a simple dinosaur tail using green or brown fabric or felt. Attach it to the back of the pants with safety pins or by sewing it in place. For the dinosaur spikes, cut out triangular shapes from green or brown felt or fabric and attach them along the back of the hoodie or sweatshirt. You can craft a dinosaur mask by cutting out the shape of a dinosaur's head from cardboard or a cereal box. Paint it to resemble the skin of a dinosaur and cut out holes for the eyes. Add some teeth and menacing eyes using markers or paint.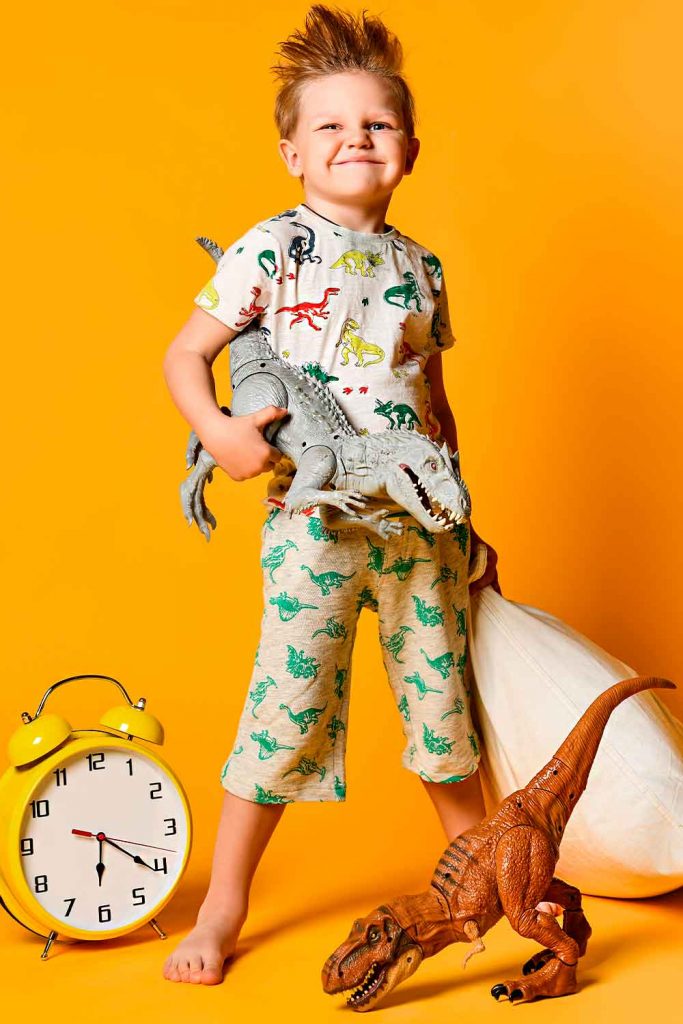 Dog
If your son and your dog are the best buds, then you may want to turn him into a furry friend for Halloween.
What you need: This is the kind of cool Halloween costume for boys that do not require any additional props but face paints. Draw a funny dog's face on your kid's face and you are good to go. Optionally, you may attach a homemade tail to his pants.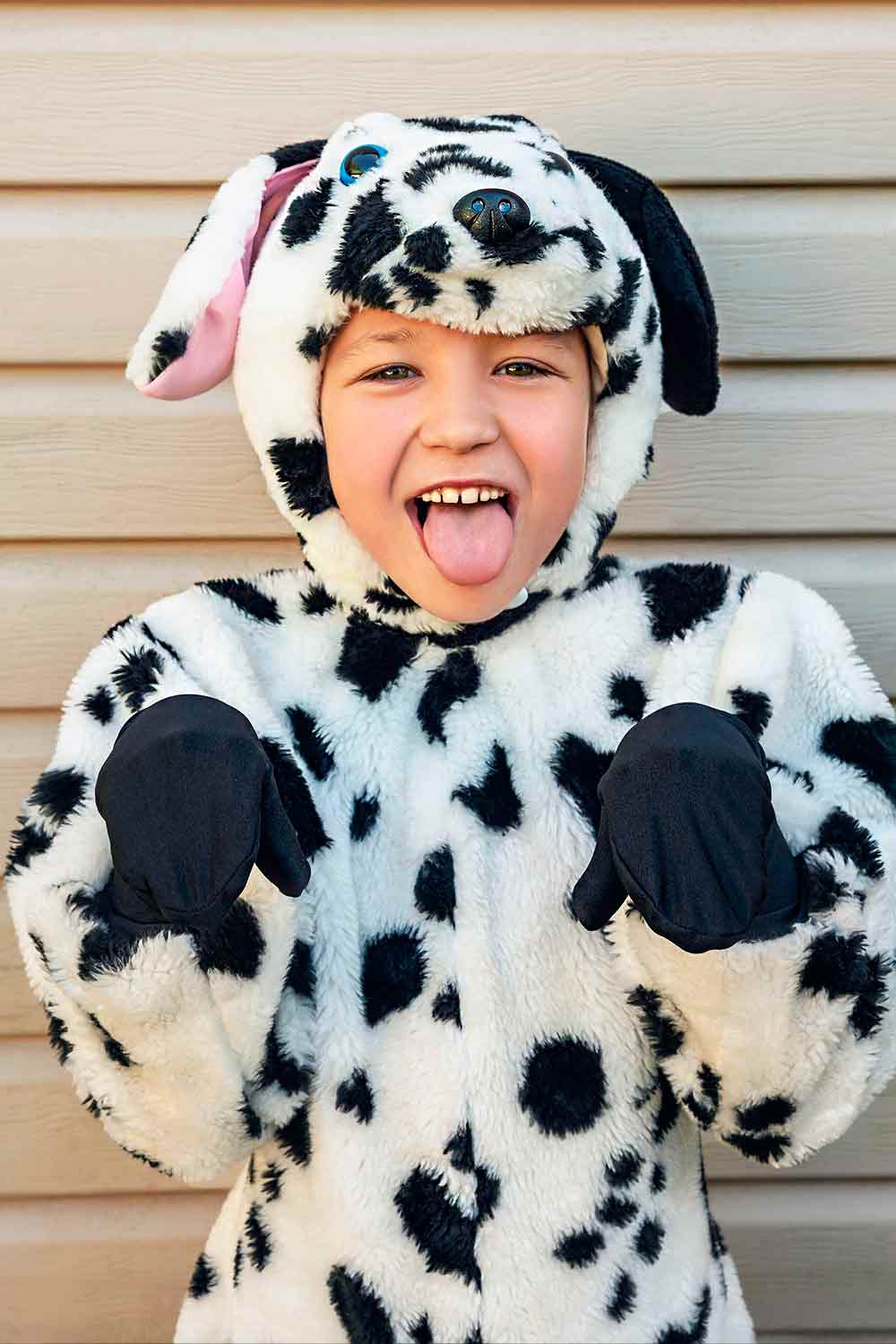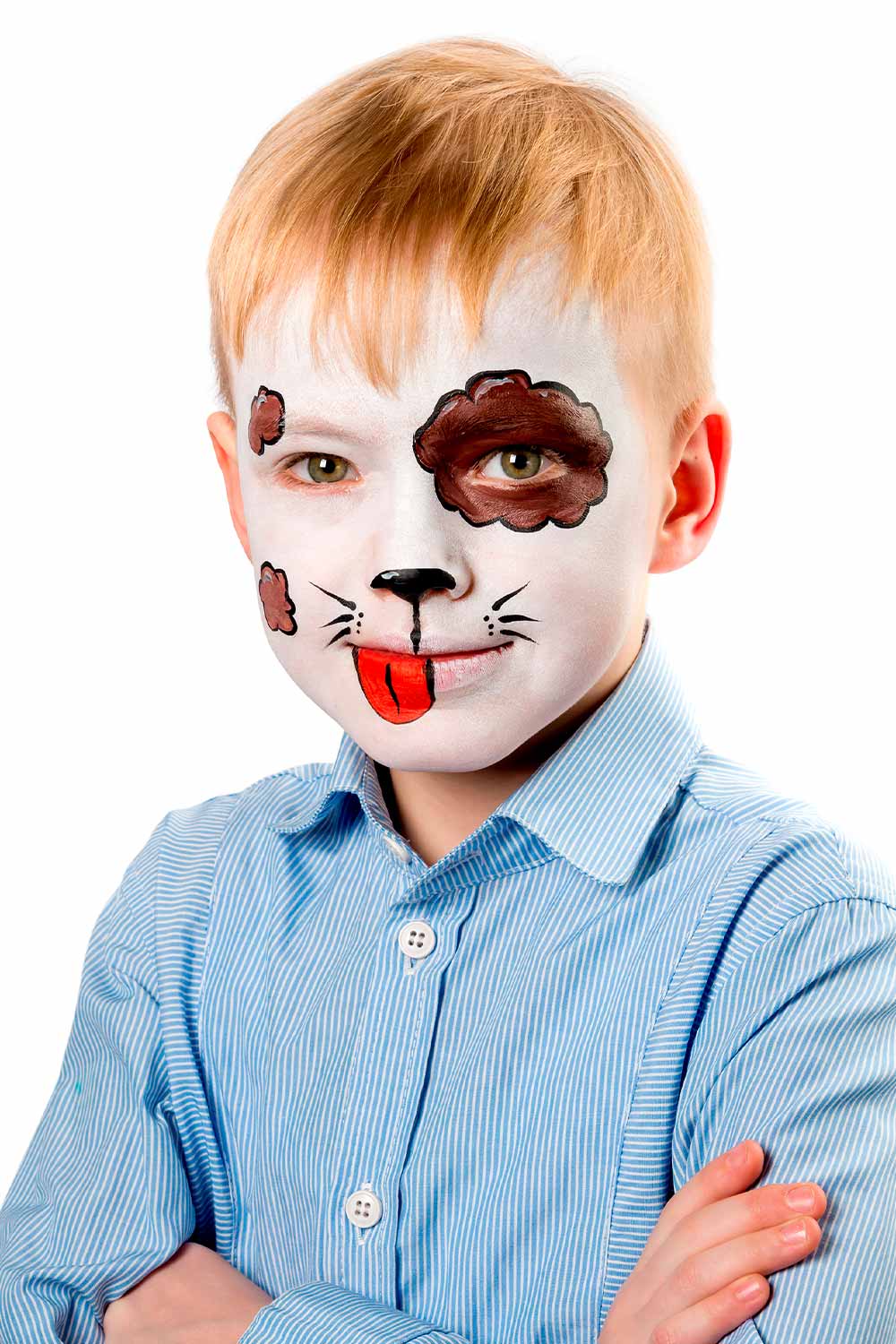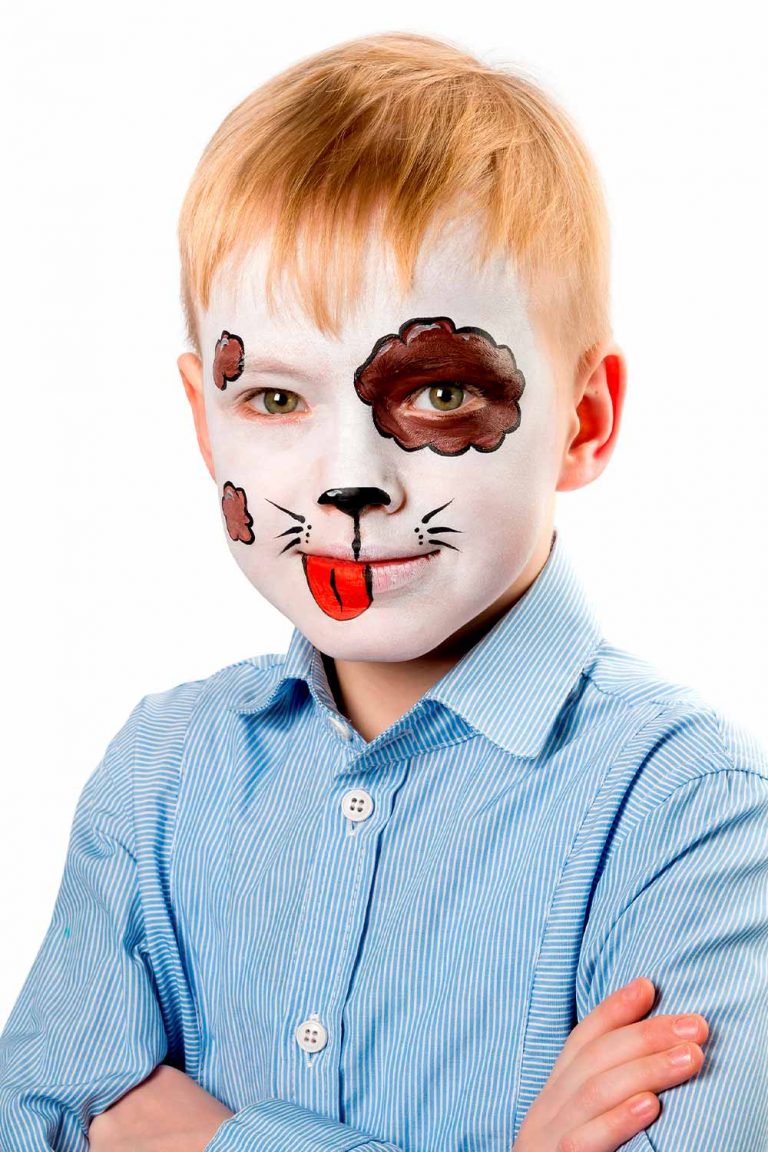 /
Crazy Doctor
Children often try on adult jobs, such as a doctor, which you can use as your source of inspiration for boys Halloween costumes. Yet, do not forget to give it a Halloween vibe, turning your kid into a crazy doc.
What you need: A white medical coat, a pair of gloves and a face mask make up a classic doctor's costume for Halloween. A syringe with red fluid is a perfect addition to the look. Though, as for safety reasons, use either a fake needle or take it off.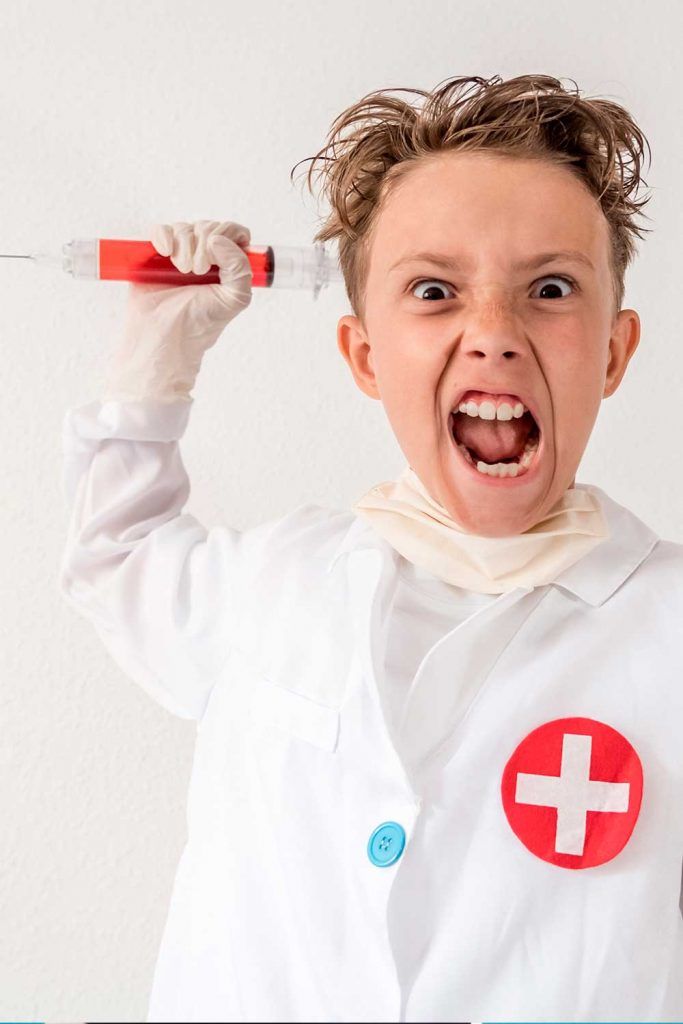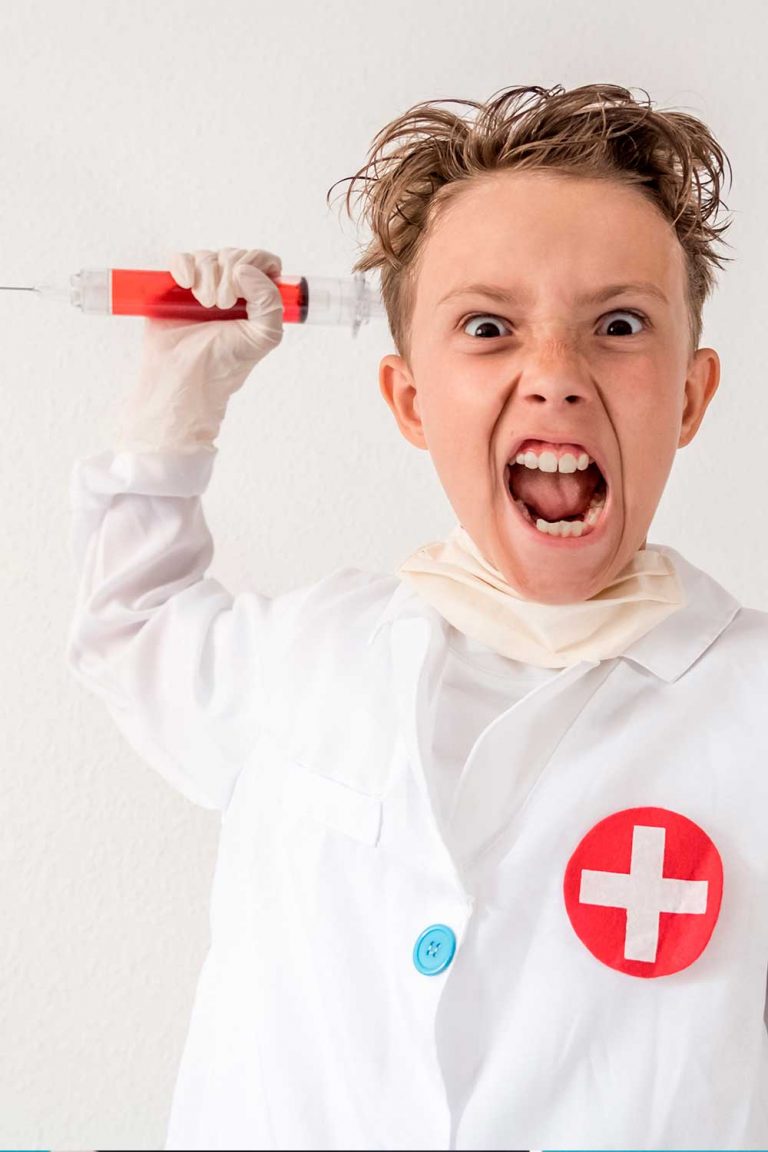 Prisoner Boys Halloween Costumes
Probably, every kid has been grounded at least once in their life and something tells us that your boy is no different. So, a prisoner boy costume for Halloween is a fair choice.
What you need: Nothing special. If he has striped pajamas, it will work just fine. To make the look complete, top it off with a matching hat, which you can create yourself.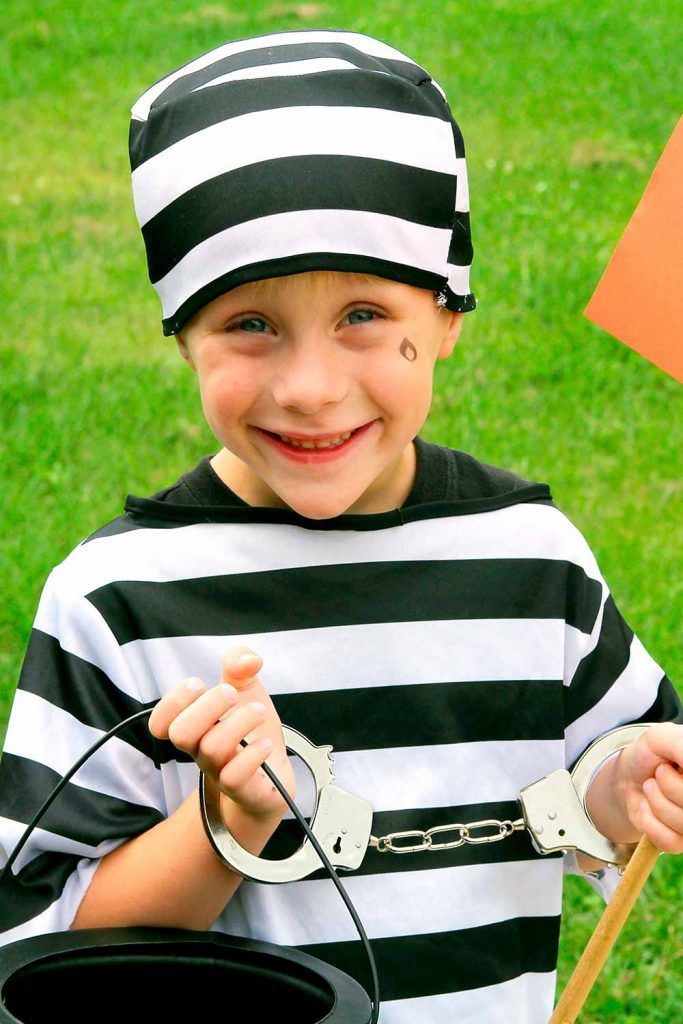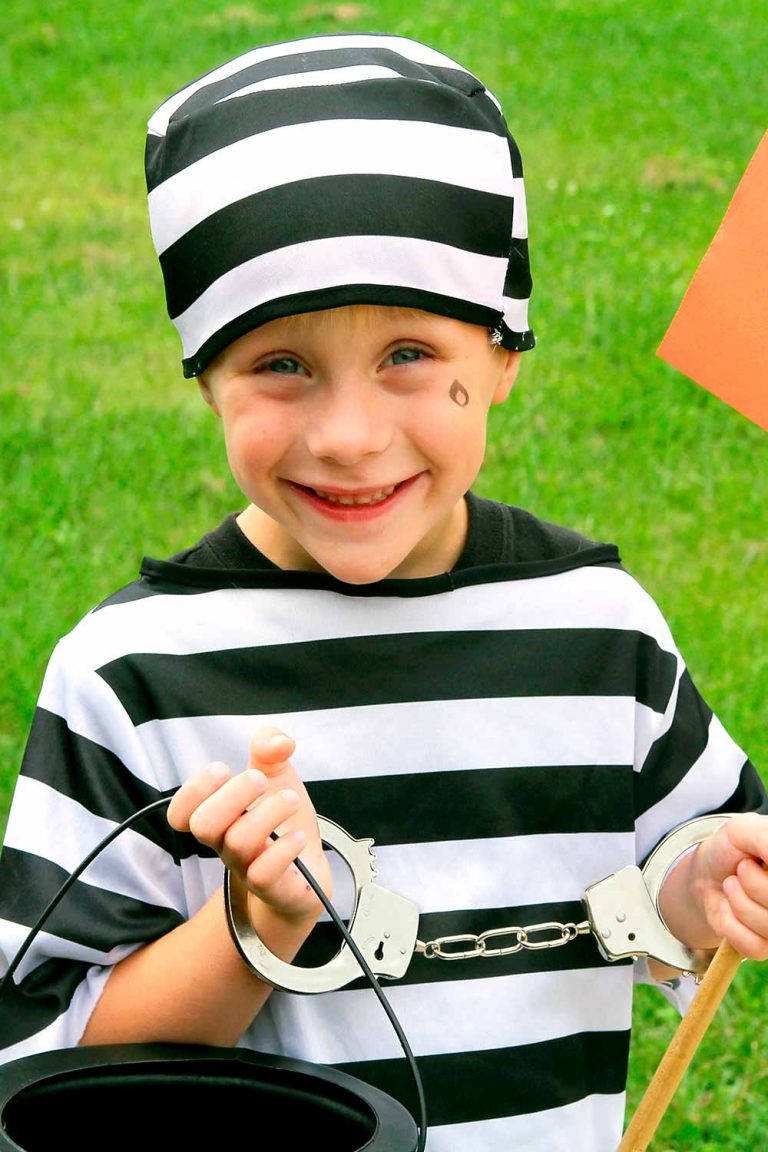 Pumpkin
Parents love to call their kids pumpkin. If you are one of them, then you already have a cool Halloween costume for boys.
What you need: Let him put on an orange jumpsuit or tracksuit, which you can adorn with the Jack O'Lantern's face, and do not forget to give him a carved pumpkin for candies.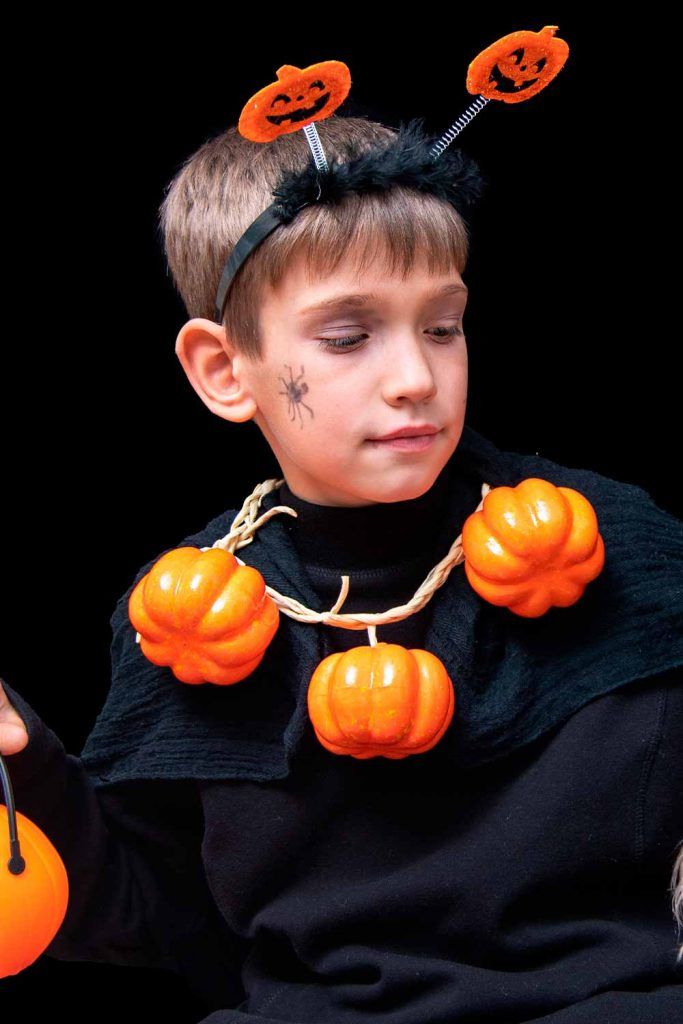 Hulk
Many kids want to be Hulk and if yours is no exception then let him feel powerful and strong with such a superhero costume. He may even keep this feeling after the holiday. So, this option has a long lasting effect.
What you need: A Hulk costume can be hardly considered one of kid cute Halloween costumes, as it is more about green skin and a fierce facial expression. You can help your kid to achieve both with the help of green body paint and makeup for Halloween. As for the rest, a green T shirt and cropped pants will do the job for you.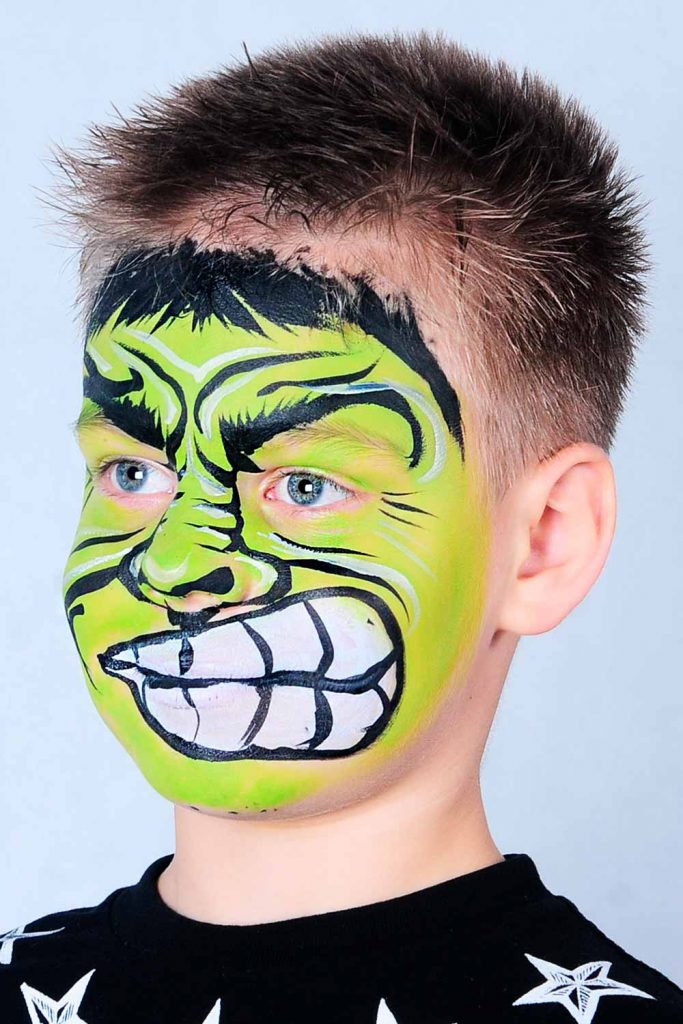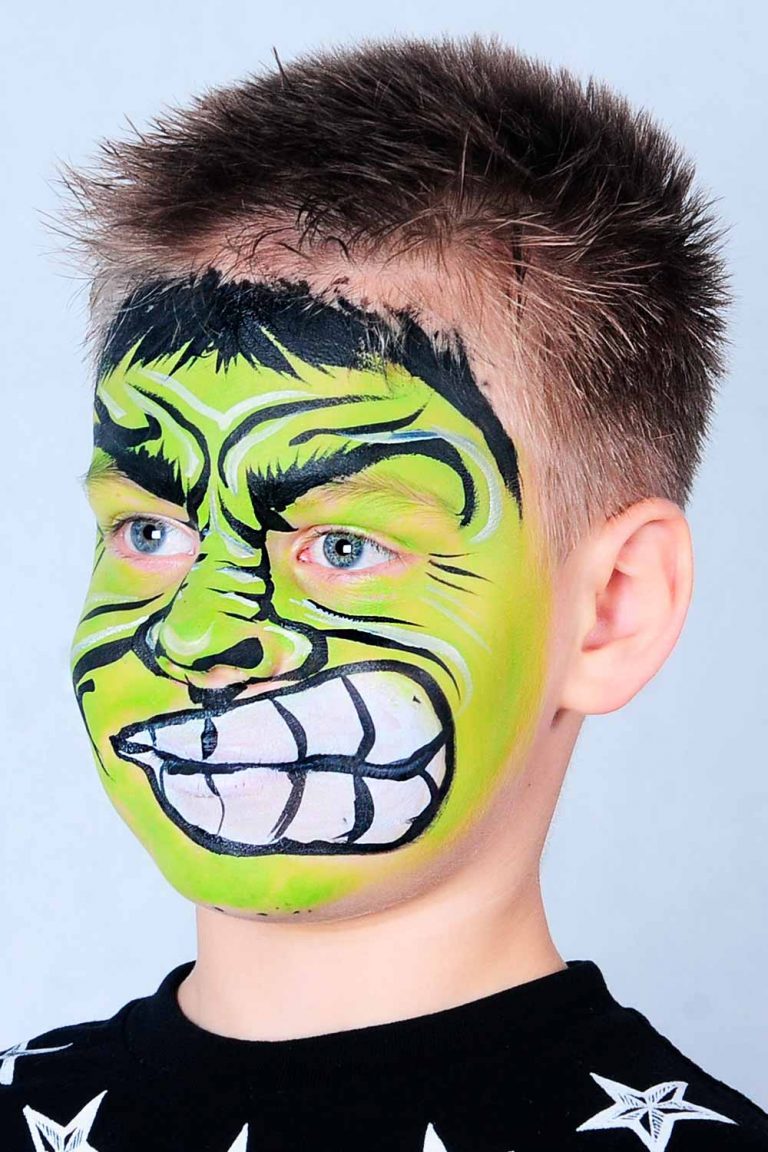 Superman Boys Halloween Costumes
Every kid is a superhero for their parents and it is a good idea to emphasize this fact with toddler Halloween costumes, such as Superman.
What you need: A blue T shirt, a piece of red cloth to make Superman's cape and a blue sleeping mask, where you will need to cut out eye holes. Super simple.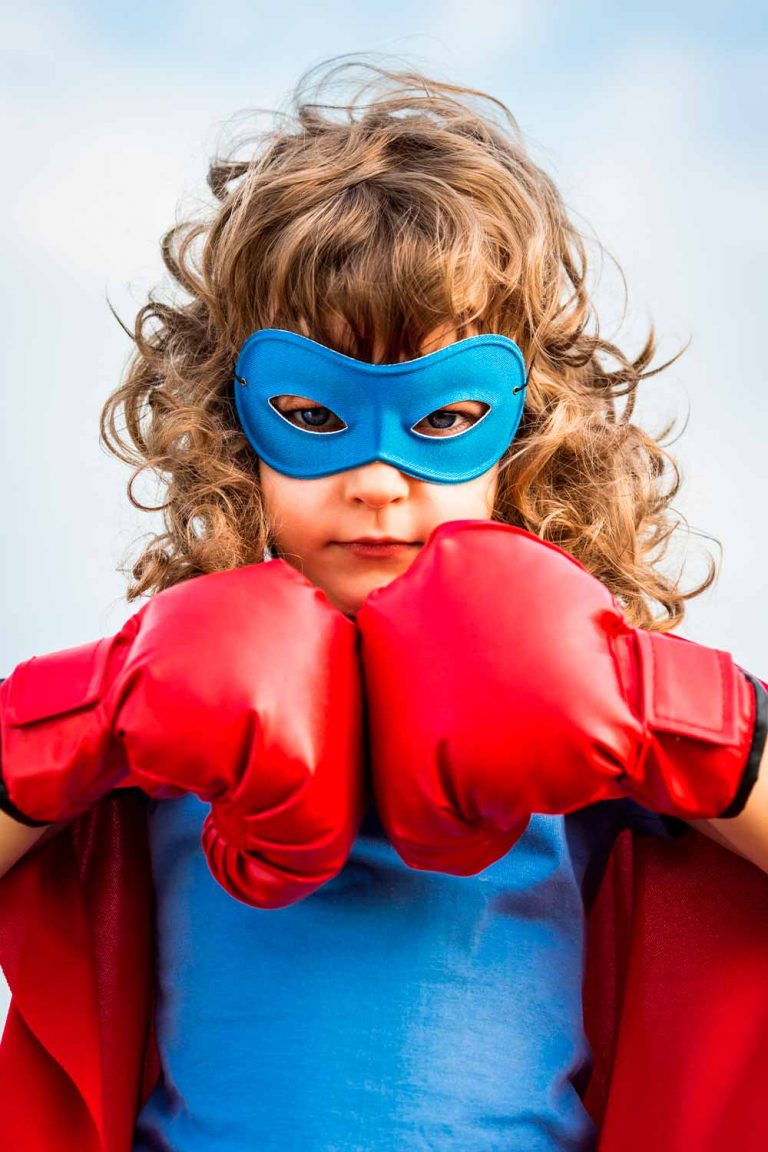 Joker Halloween Costumes For 7-Year-Old Boy
Joker is one of those good old Halloween costumes for boys that never lose their relevance. If your kid has a very specific sense of humor that almost no one but you understands, then you can hardly think of better boys costumes ideas than this one.
What you need: There are many ways to make Joker Halloween costumes for kids/boys, so your imagination is the only limit in this case. Yet, you should not forget about his signature smile from ear to ear and acid green hair.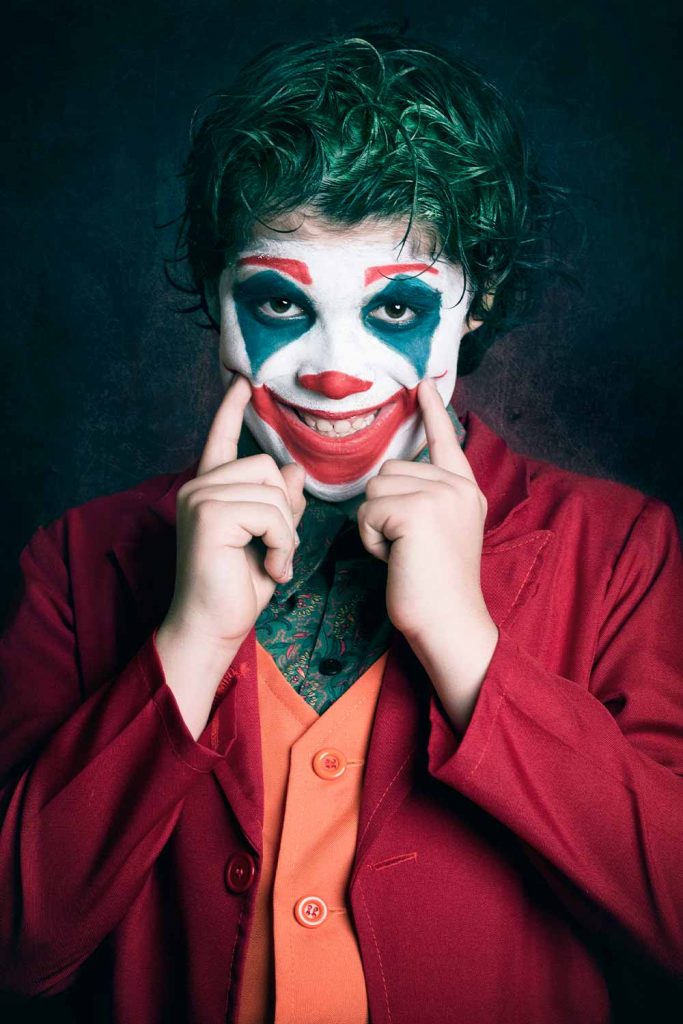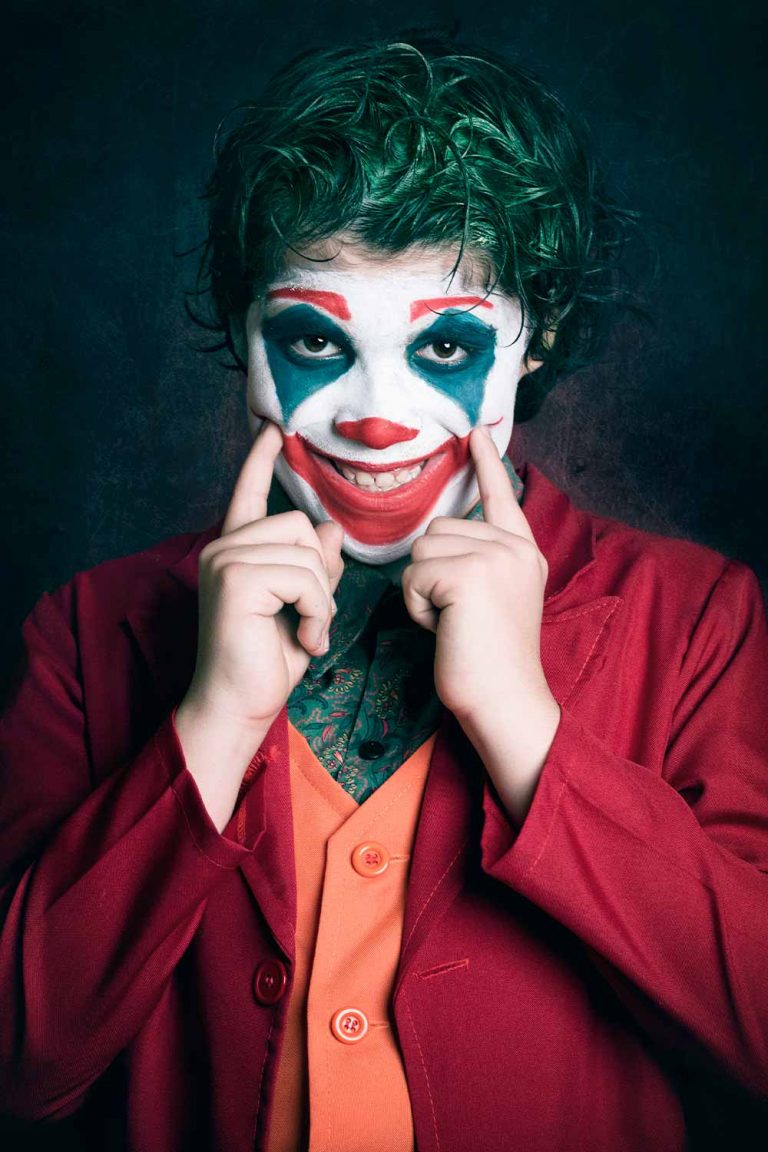 Clown Boys Halloween Costumes
A clown can be scary or funny, or both. And they are surely one of the best boy Halloween costume ideas.
What you need: A colorful wig and a piece of red foam rubber to use as a nose. Though, if you do not have one, you can just apply clown makeup to your kid's face. To make it more engaging, allow him to do it himself.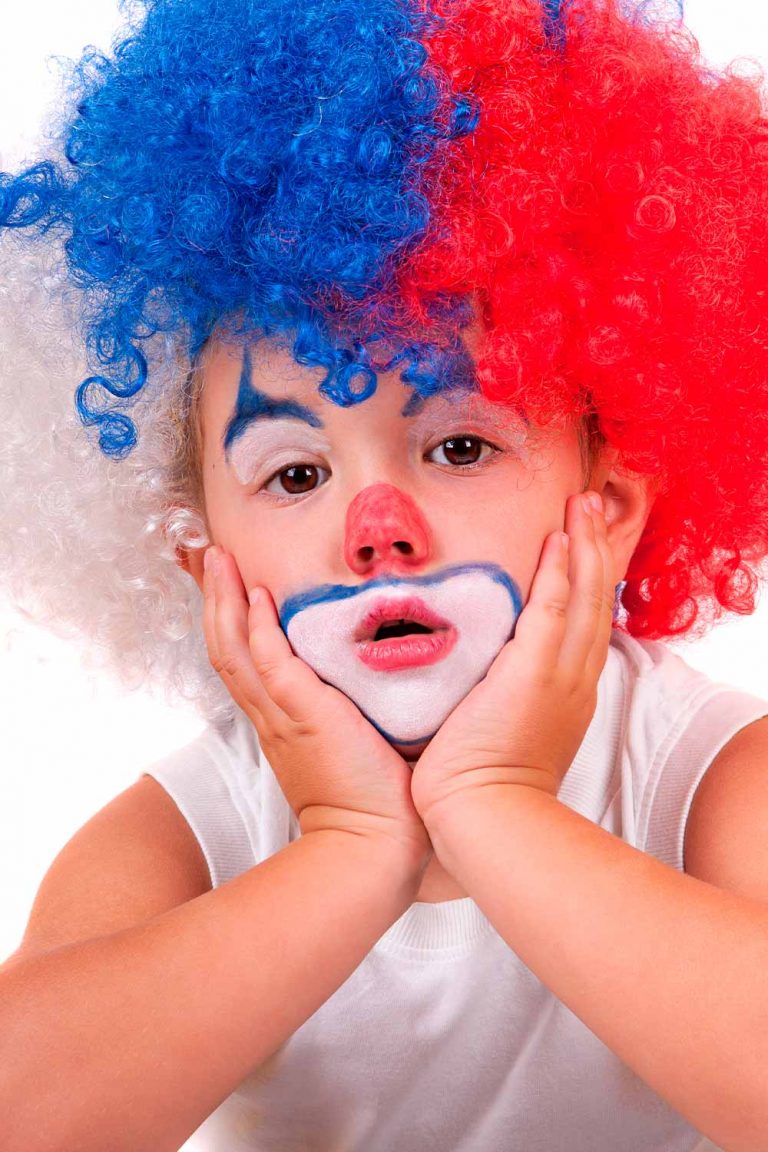 Gangster
Childhood is the time when you can try on any look without being compromised. So, gangsters may be just as cool Halloween costumes for boy as any other.
What you need: If you have a bit and chains, then it is time to get them out of the closet. Add a dad cap and a bracelet and your kid will have a killer Halloween costume in all senses.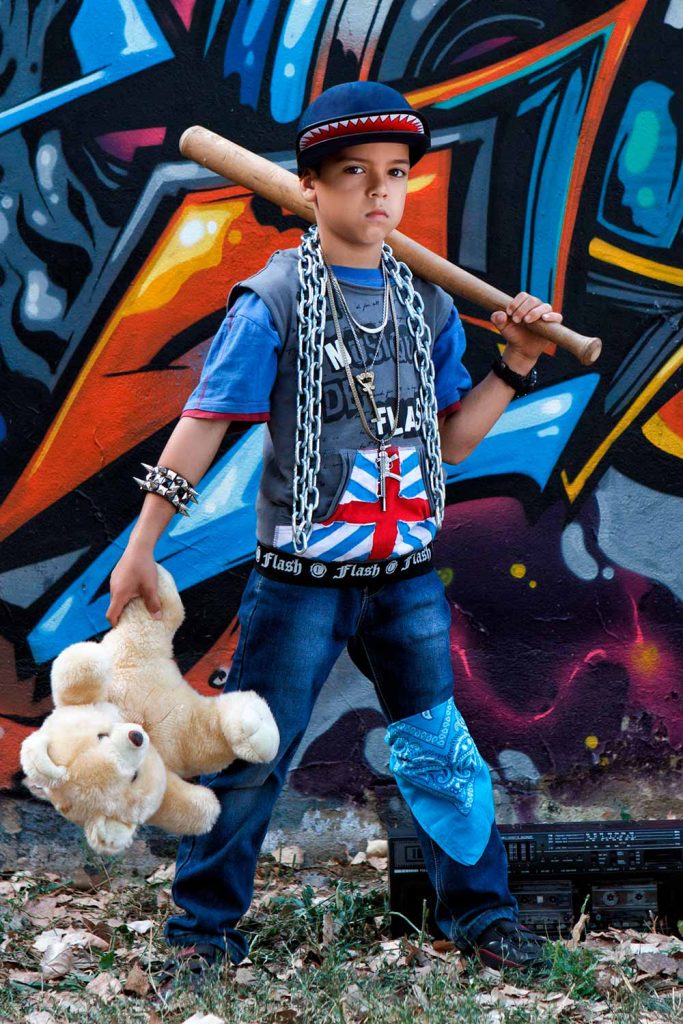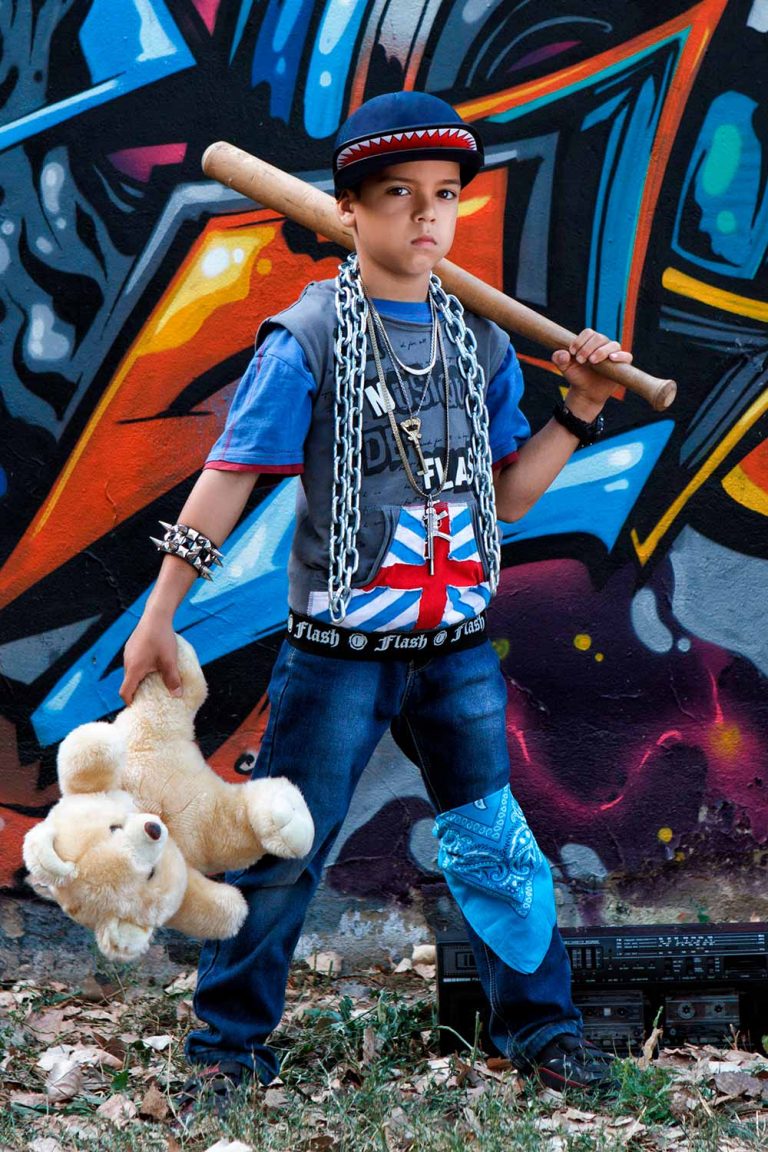 Magician
Kids adore magic tricks and you cannot take that away from them. But more than see magic, they will love to do magic. So, a magician is among the most enjoyable Halloween costumes boy can think of.
What you need: A magic wand, of course, is essential. Also, you can get a top hat and a bow tie to complete the look. His favorite rabbit may assist him in his tricks.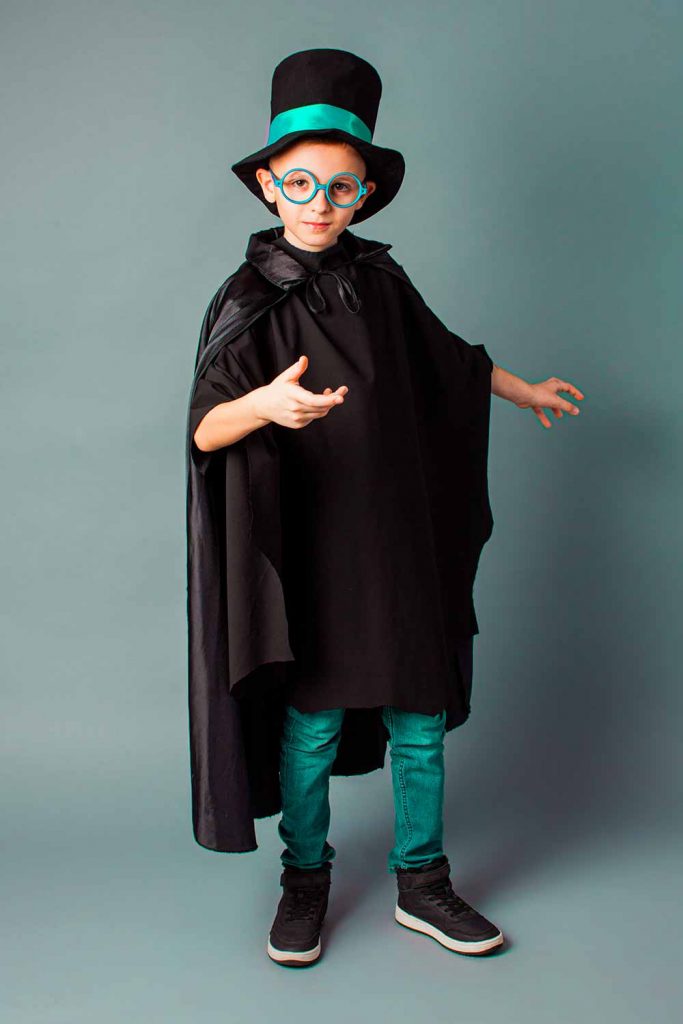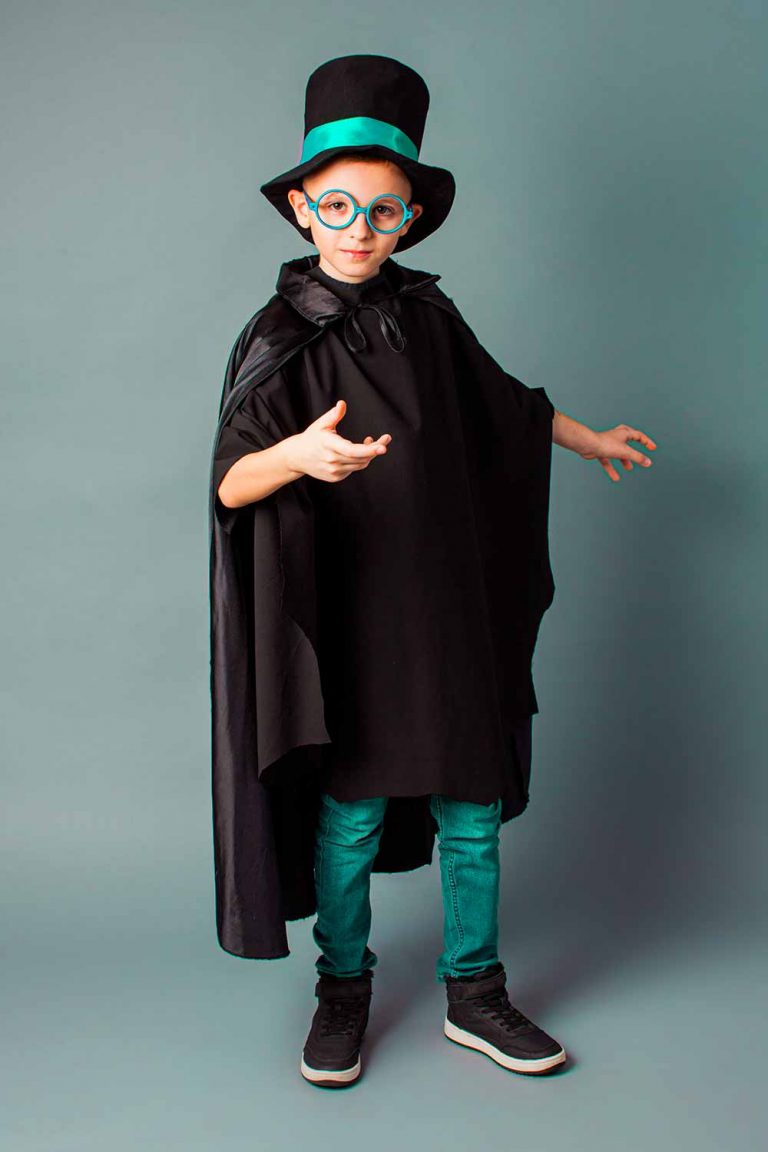 King
How many times have you told your kid that he is the King of the whole world for you? We bet thousands. Now it is time to show off his Royal Highness.
What you need: Every King needs a crown. You can either buy it to look realistic or just cut it out of cardboard. A mantle will also be a great accompaniment. So, not skimp on a piece of silk fabric.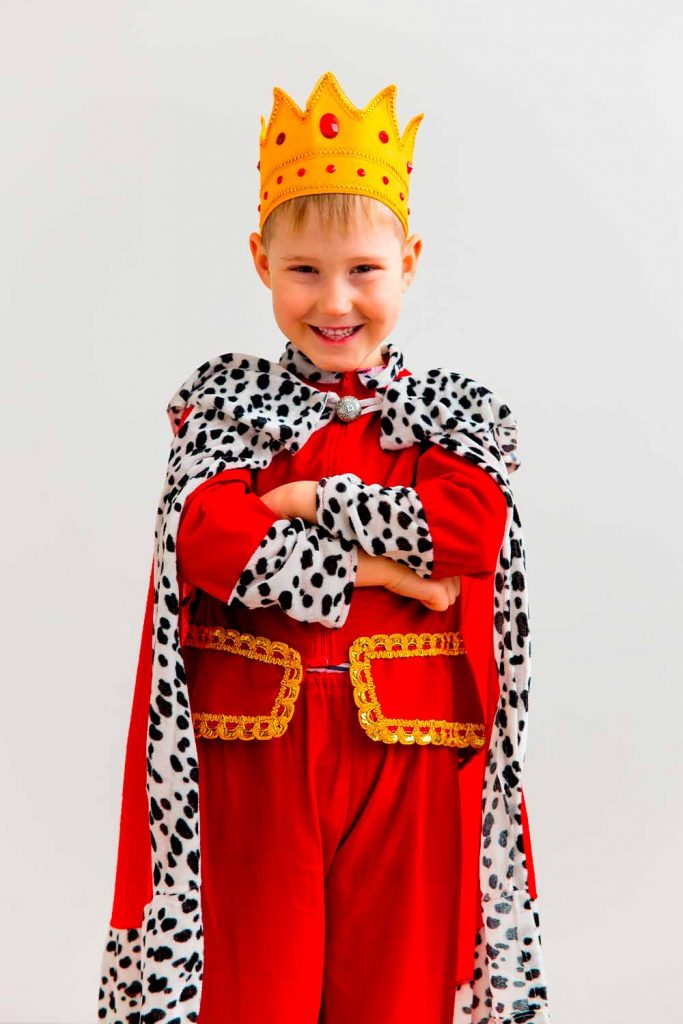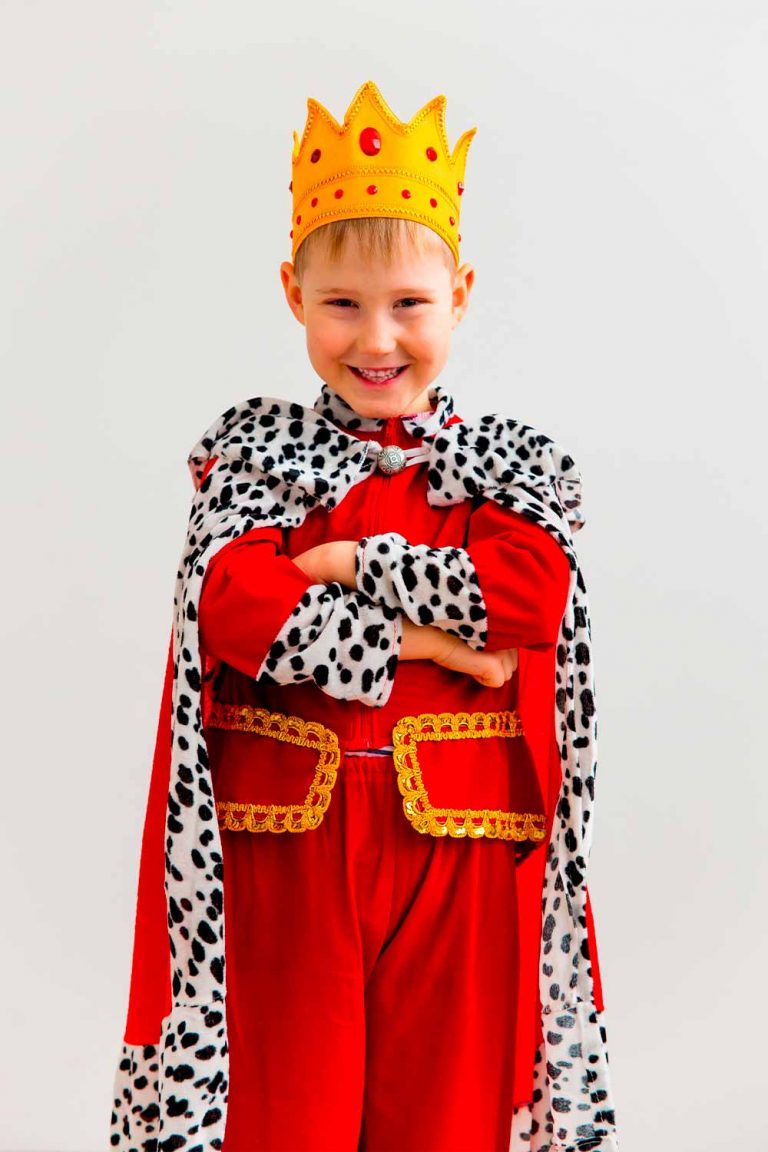 Werewolf
A werewolf is a very popular Halloween kid costume for boys. It is relatively easy to get while the impression it gives on passersby is pretty strong. So, your kid is guaranteed to collect a full bucket of candy.
What you need: For a werewolf costume you will need a piece of bear skin or any other piece of fur fabric. There is no need to get genuine fur though. Faux works pretty well in this case. You can throw it on your kid's shoulders and he is good to go. Also, it pays to complement the look with werewolf makeup or a costume mask.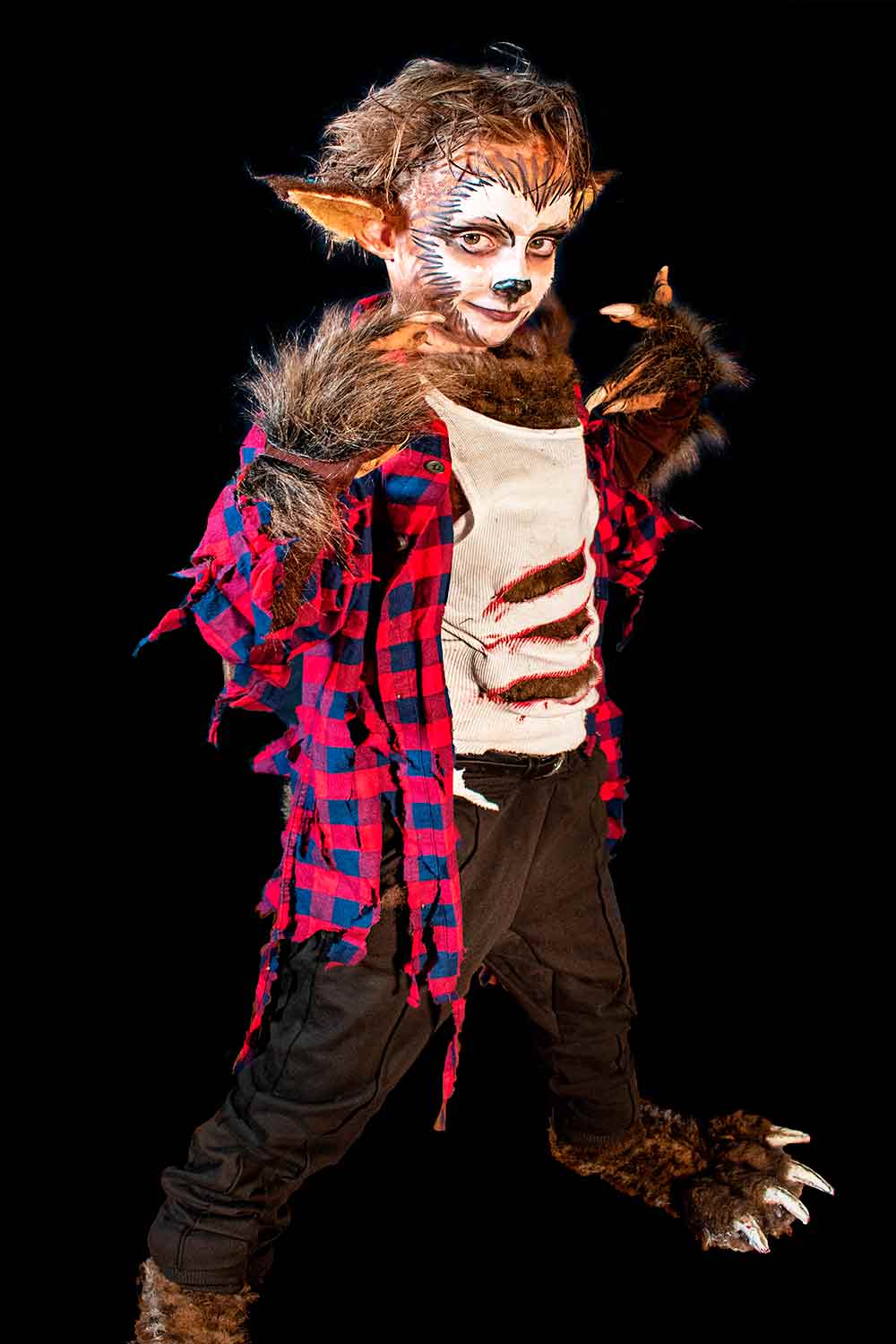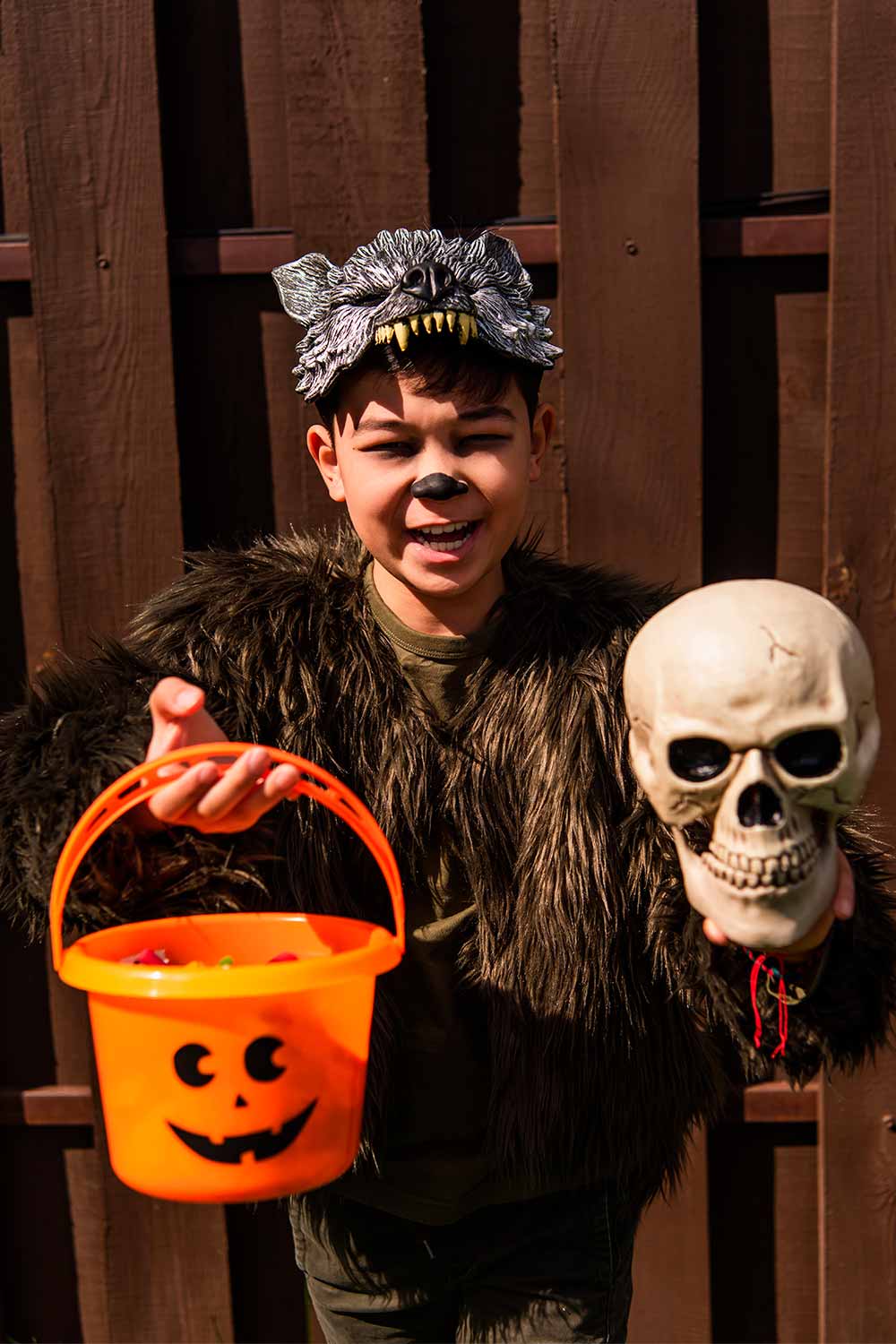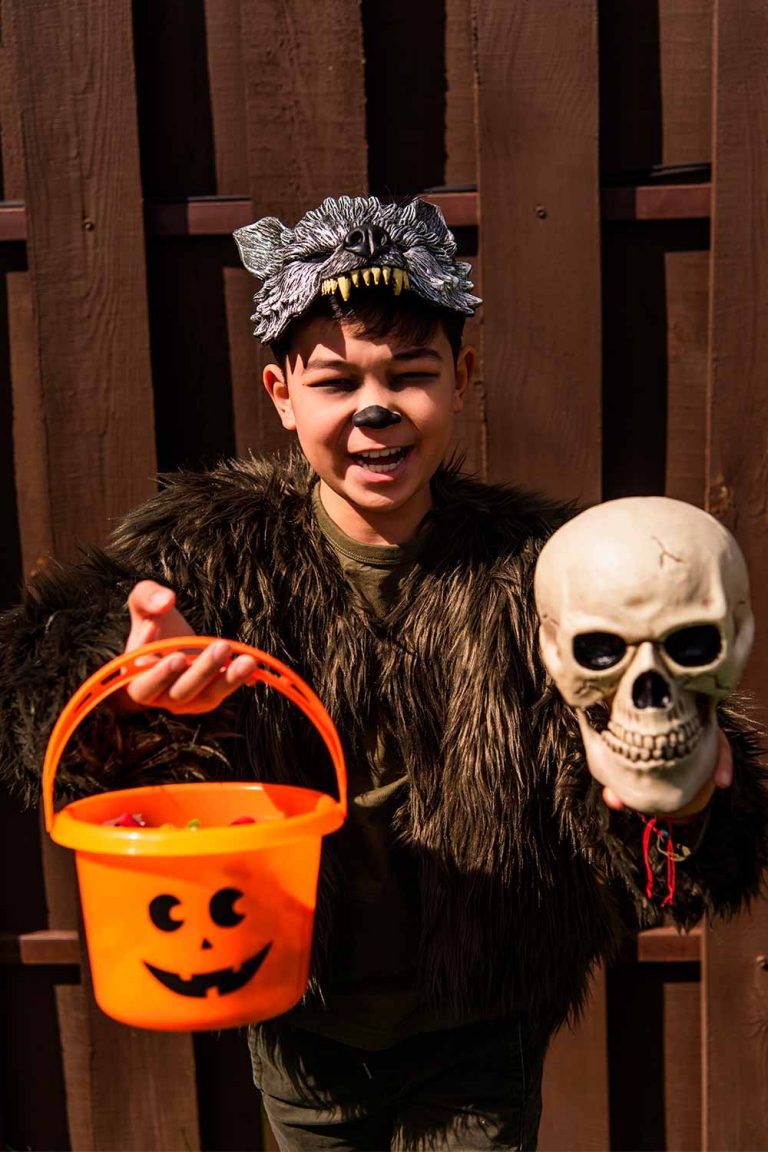 /
Crab Toddler Boy Costume
There are plenty of 12 year old Halloween costumes boy options to choose from. Though, if your kid wants to stand out in the crowd, let him pick something unusual, like a crab costume. It attracts attention not only thanks to its design but the bright color as well.
What you need: To make it look realistic, you should buy a ready-made crab costume, but it is not necessary. He can get away by wearing red sweat pants and a hoodie. Attach antennae to the hood and two white pompoms with black dots in the middle to represent eyes.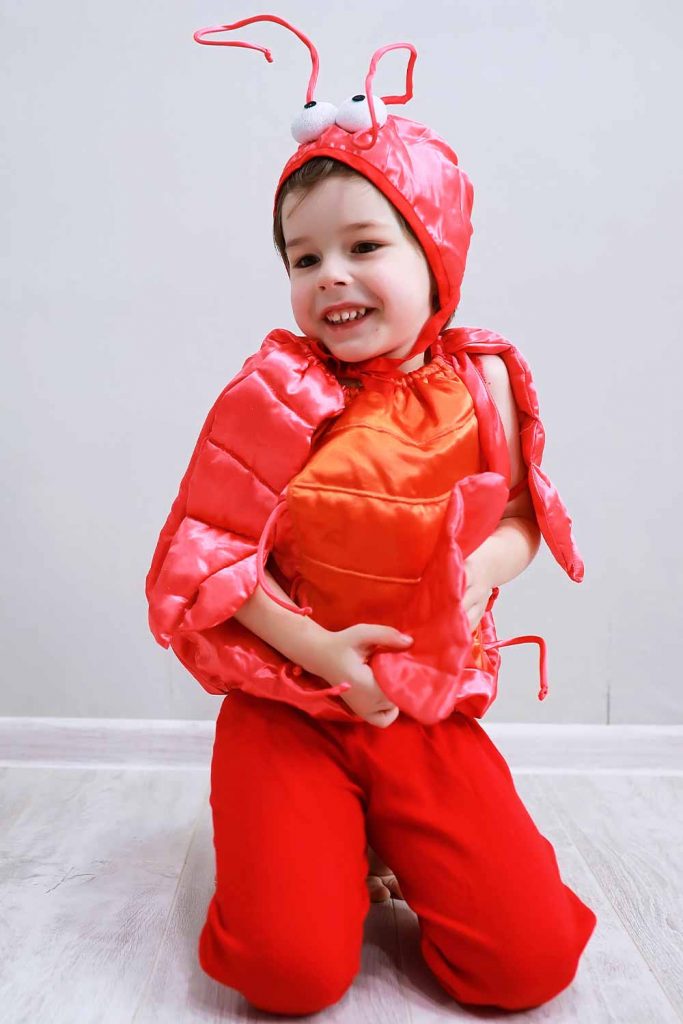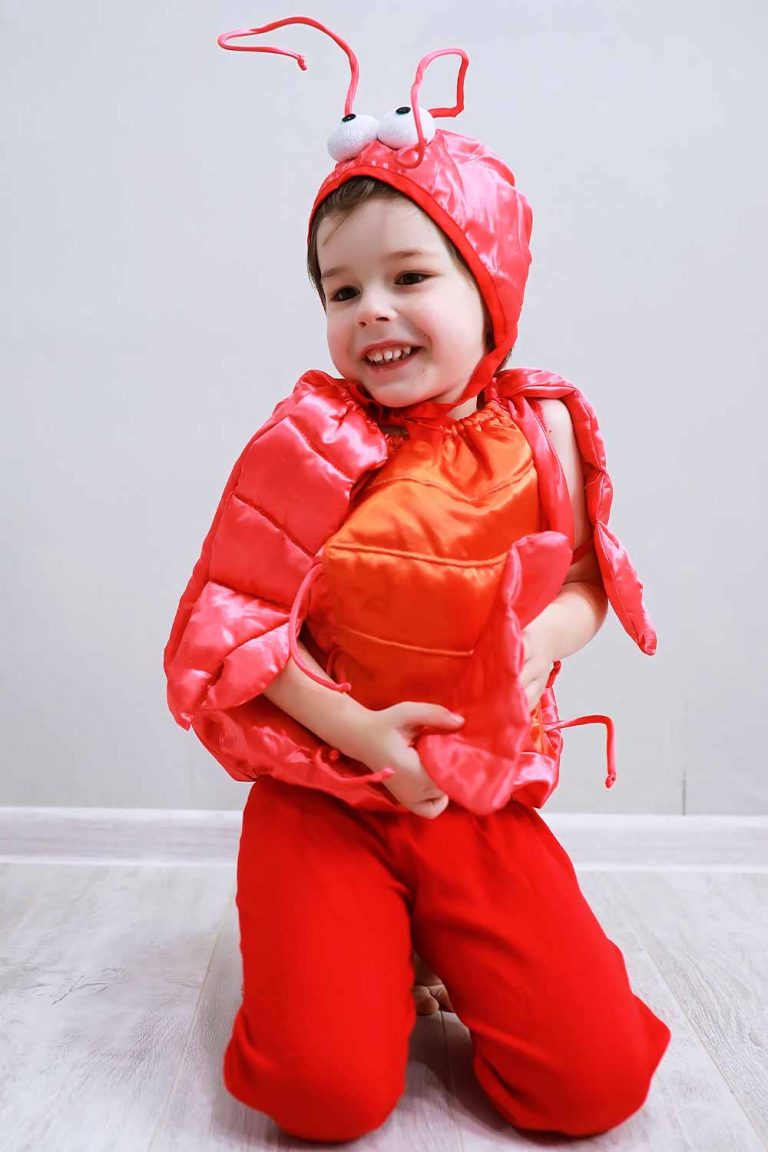 Toy Story
Boys love the Toy Story cartoon and if your kid is no exception, he may wish to dress as one of its characters for Halloween. Sheriff Woody is a very popular choice for DIY boys Halloween costumes. So, there is a big chance, your little champ would love it too.
What you need: A pair of jeans, a yellow checked shirt, a white vest and a cowboy hat are all your kid needs to pull off the Sheriff Woody look. You may also want to complete it with a toy gun and a holster.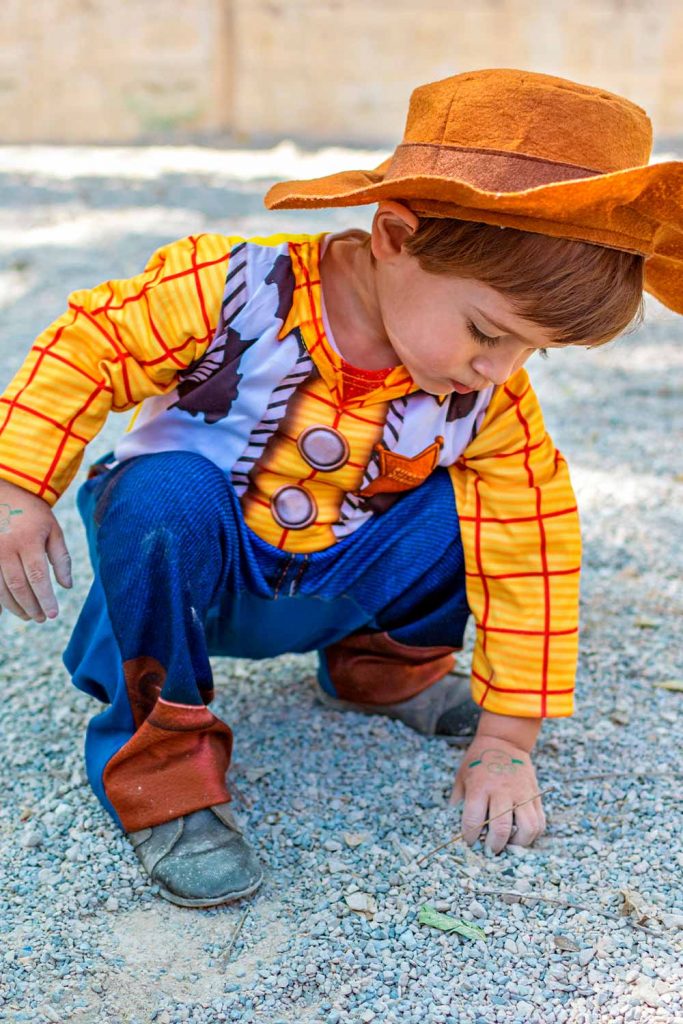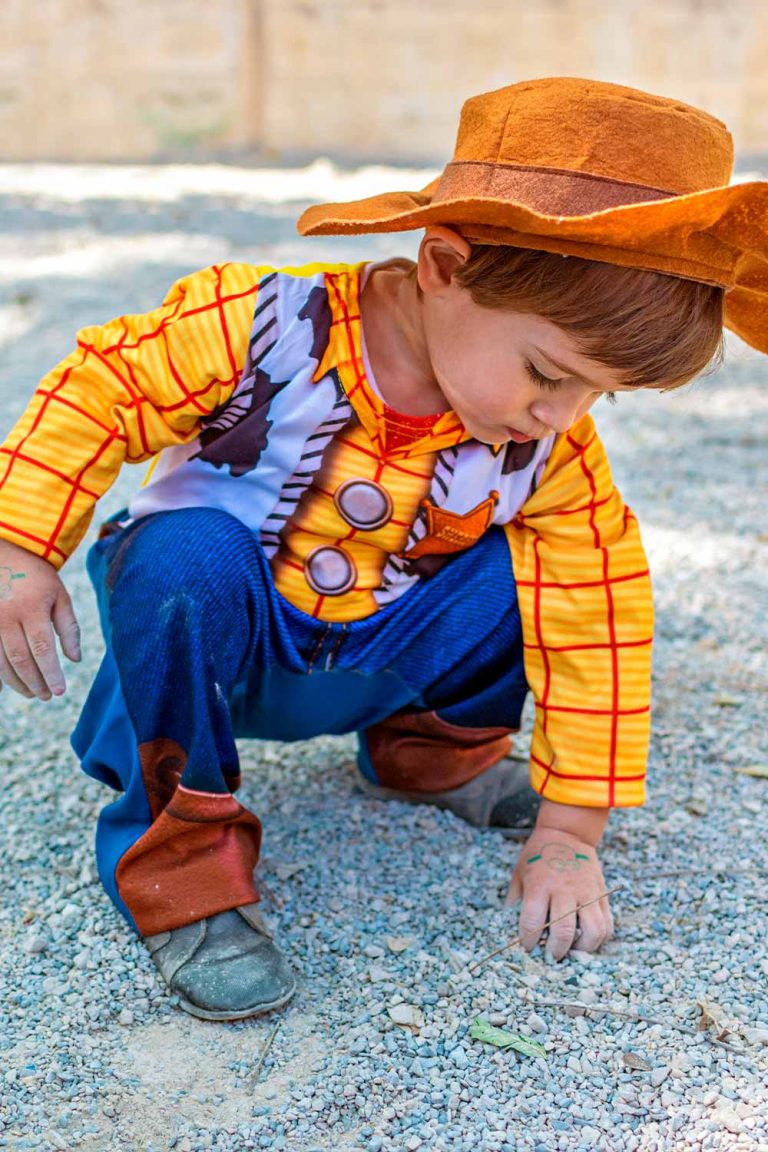 Spider-Man
Spider Man remains one of favorite boys costumes for Halloween. The superhero powers cannot leave any kid indifferent and the costume is quite easy to create. A failsafe combo for both parents and kids.
What you need: Ideally, you need to get a Spider Man costume, featuring a spandex jumpsuit and a mask. But you can easily make it yourself. Find a pair of blue sweatpants and a red sweatshirt in your kids wardrobe and finish off the look with a Spider Man face paint makeup.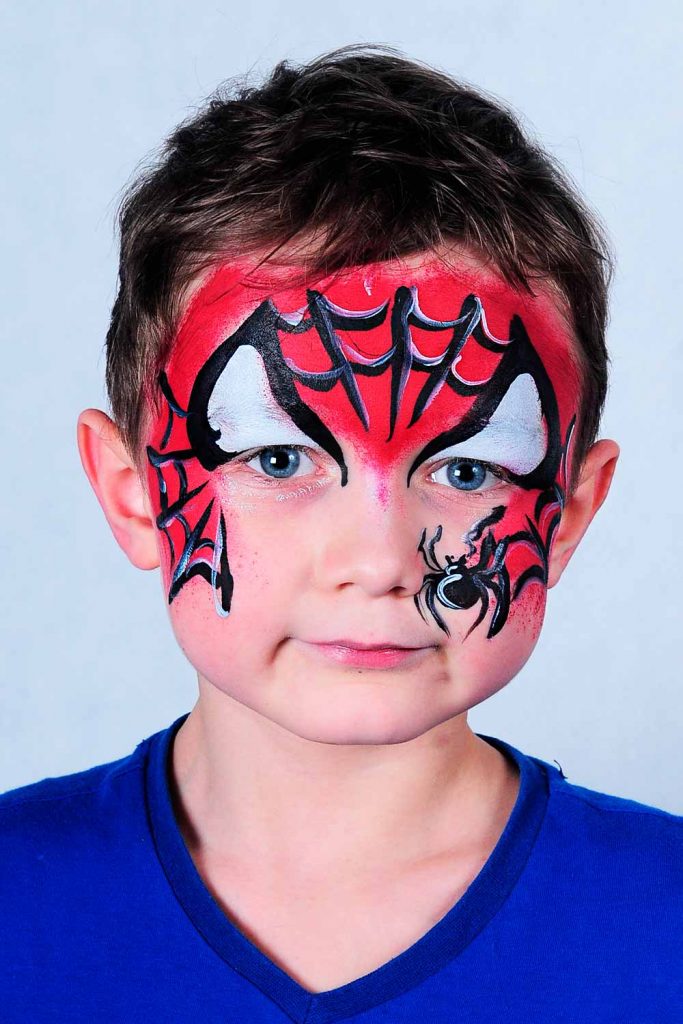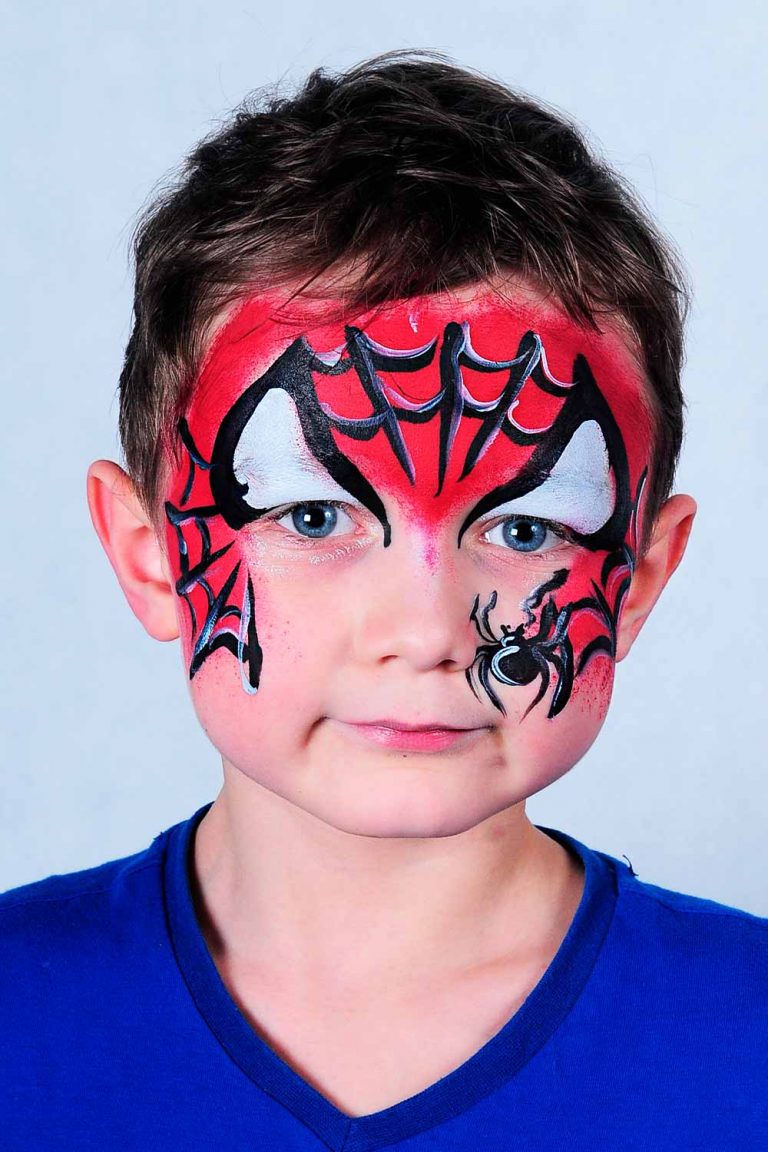 Astronaut Homemade Kids Halloween Costumes
Astronaut costumes are another classic and beloved choice for Halloween, and the best part is that you can easily create a homemade version with items you likely have at home.
Here's what you need: Dress your child in white or silver clothing, like a white sweatshirt and pants or even pajamas. To mimic the look of an astronaut's spacesuit, you can add silver or metallic duct tape stripes or shapes to the outfit. Create an astronaut badge using cardboard and markers, then attach it to the chest area. If you have any toy space accessories like a toy rocket or spaceship, those can be great additions to the costume as props.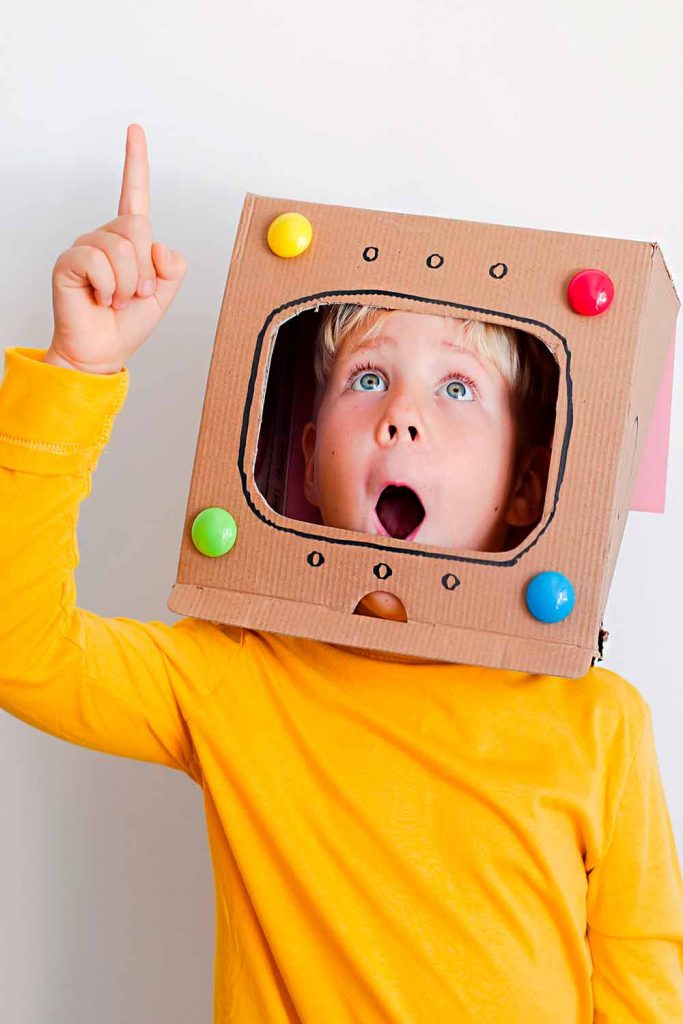 Viking Halloween Costume For Boy
Transport your child to the thrilling world of Vikings with a homemade Viking costume for Halloween.
What you need: Start with a tunic or long-sleeved shirt. Pair it with brown or black pants. The key is to create a rugged and earthy appearance that reflects the Viking spirit. To make a simple tunic, cut a V-shaped neckline in the shirt and add fringe or trim along the edges. Create a belt by using an old belt or making one from a strip of brown fabric. Attach a simple buckle or fastener, and let it hang loosely. For the cape, you can repurpose an old brown or red blanket or fabric. Attach it to the shoulders of the tunic using safety pins or by sewing it in place.
Craft a helmet using cardboard or a paper grocery bag. Shape it into a helmet with two horns on the sides. Give your Viking warrior a wooden sword or axe as a prop. These can be made from cardboard or foam board and painted to look like real Viking weaponry. For the finishing touches, consider adding Viking accessories like a beaded necklace, or even a toy shield.
Finally, use some face paint or washable markers to create Viking-style facial tattoos or war paint for added authenticity.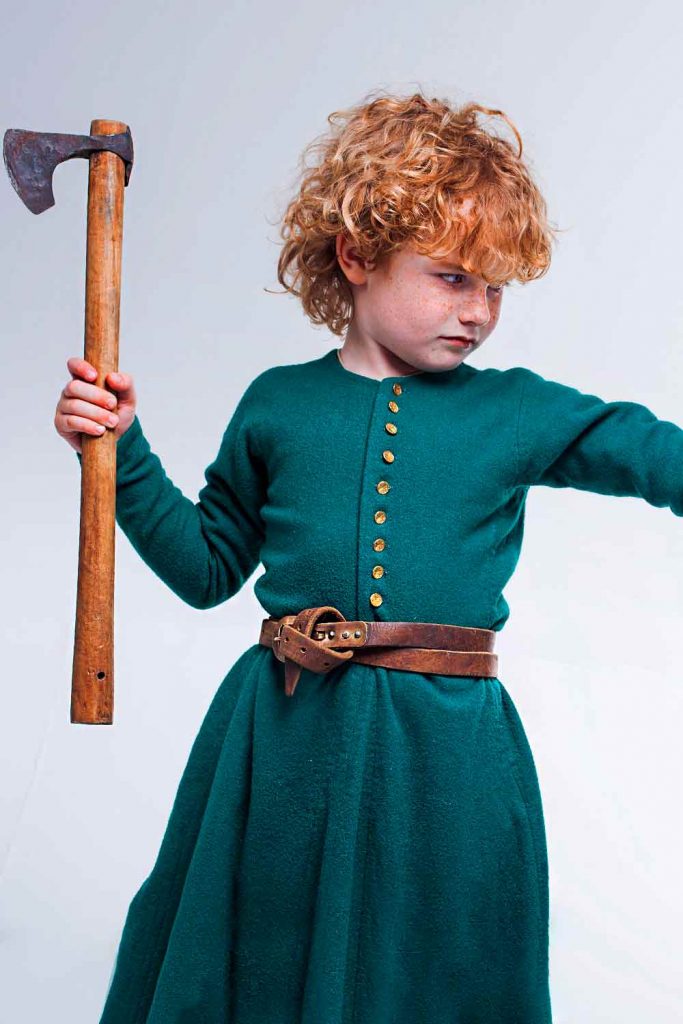 Tiger Boys Costume
Transform your child into a fierce and adorable tiger this Halloween with a homemade costume that's fun to create.
What you need: Start with a pair of orange or striped orange and black pants and a matching orange top. If you don't have orange clothing, consider using white clothes and adding orange stripes with fabric paint or markers.
Create the tiger's tail using a long strip of orange fabric or felt. Attach it to the back of the pants using safety pins or by sewing it in place. To make the stripes, cut black felt or fabric into strips or shapes and attach them to the orange shirt and pants using fabric glue or by sewing them on. For the paws, find some orange or black gloves or mittens. Attach small pieces of black felt or fabric to the fingertips to create tiger claws. Craft ears by cutting two triangles out of orange and black felt. Attach them to a headband or a hat so your child can wear them comfortably. Use face paint or washable markers to add tiger stripes to your child's face. Paint a cute tiger nose and whiskers for extra charm.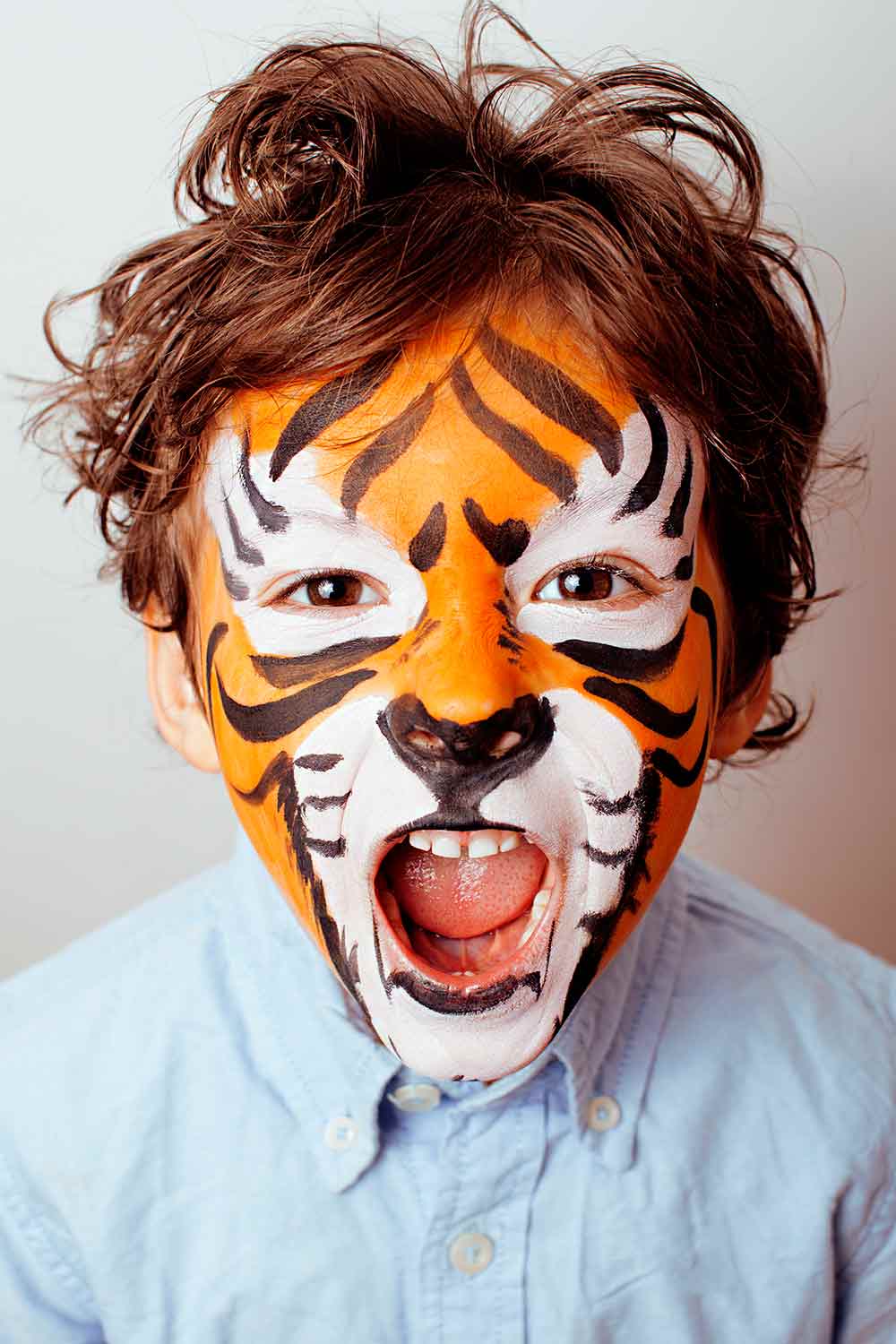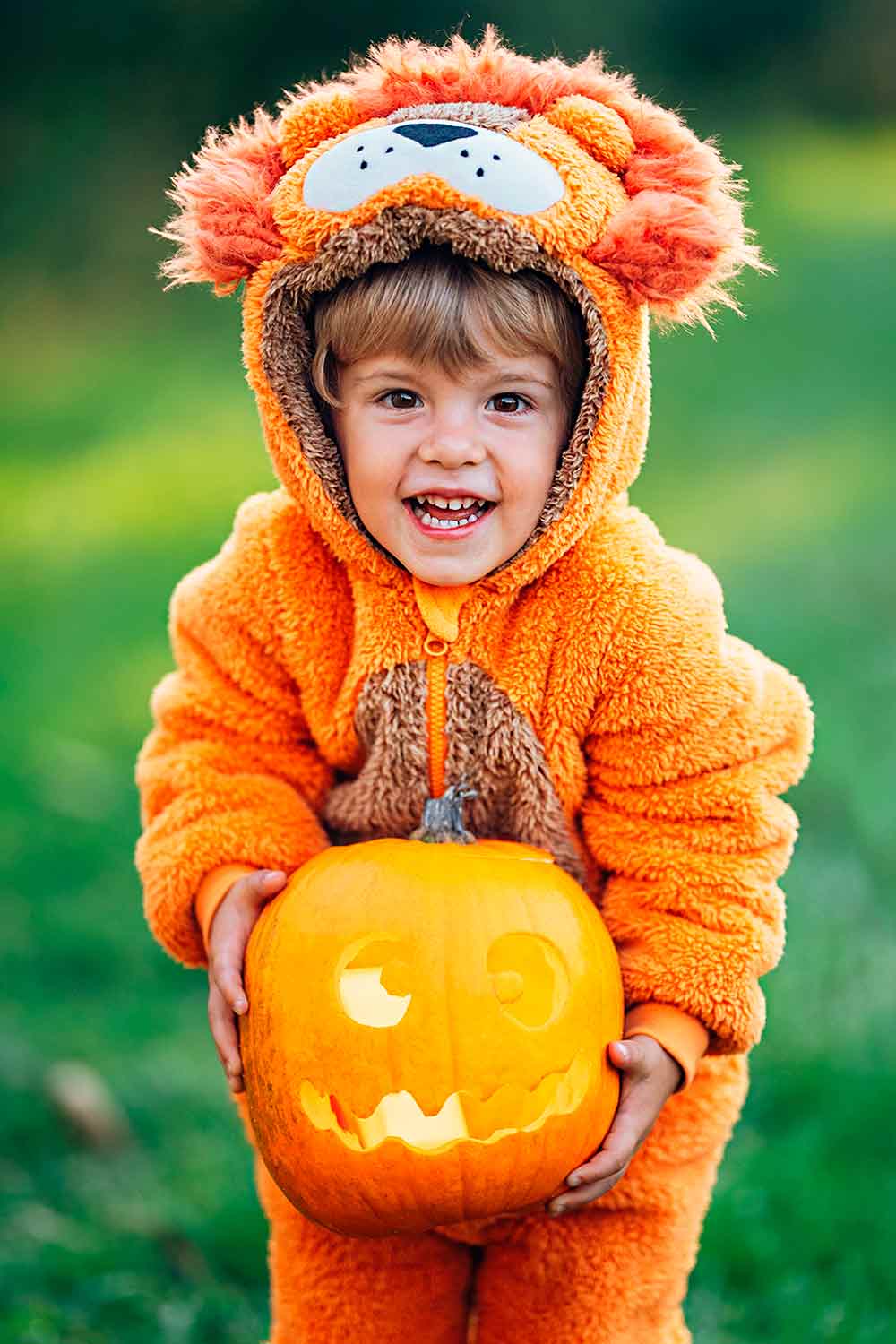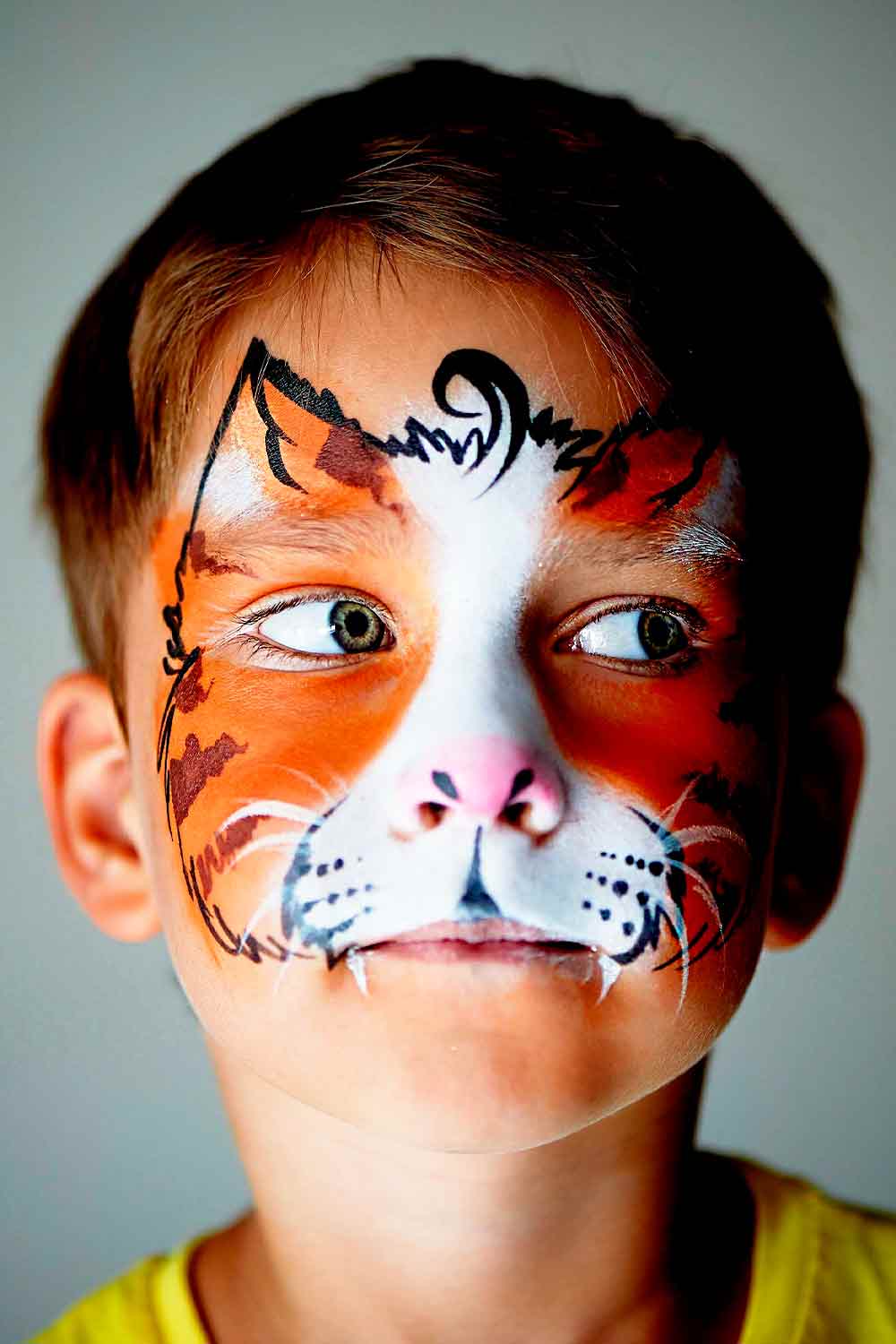 /
Skeleton-Vampire
If your kid cannot choose between a skeleton and a vampire, there is no need to. He can be both for Halloween. Moreover, a skeleton vampire is one of the most unique Halloween costume ideas for kids. So, your little champ is sure to be the center of attention.
What you need: Any skeleton costume will work just fine for this Halloween look. But if you do not have one at hand, just put a black jumpsuit on your kid and either draw a skeleton on it or cut out bones from paper and stick them to the fabric. Focus on the face makeup for this costume, as you need to draw not only a skull but also fangs.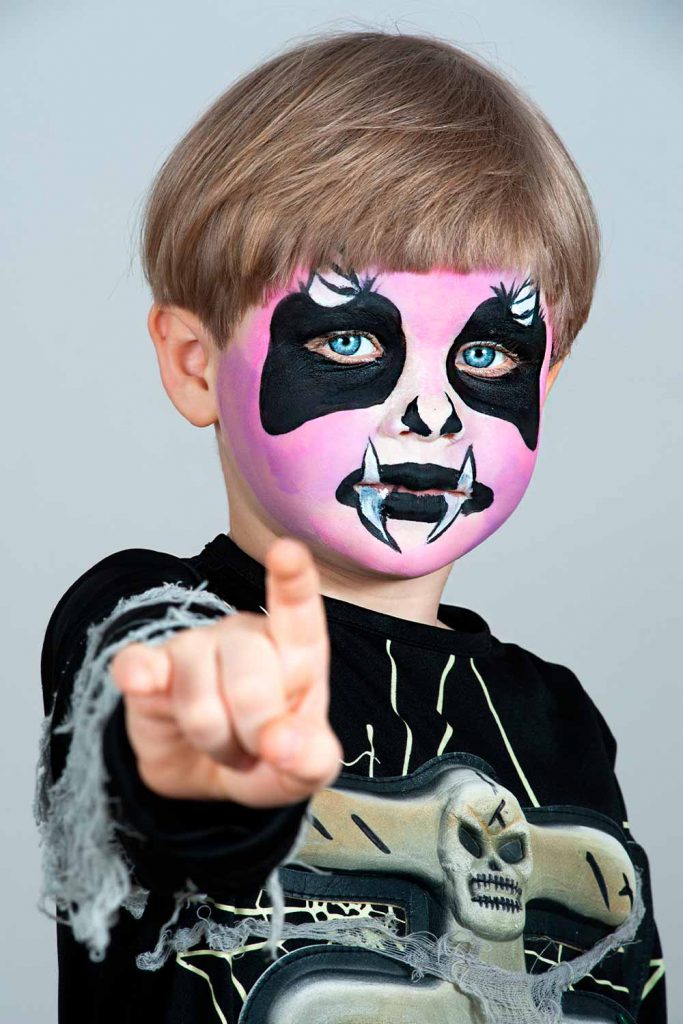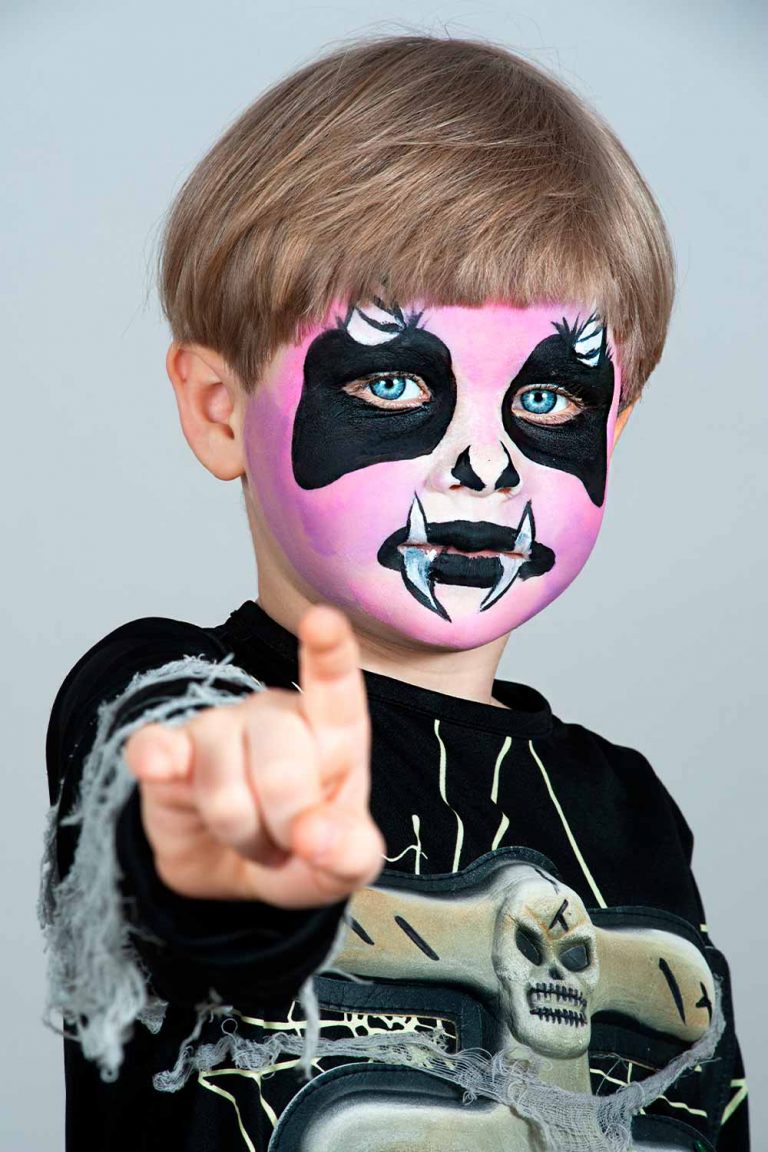 Frankenstein Halloween Costumes For Toddler Boy
Or Frankenstein's monster, to be more correct. Well, monster Halloween costumes for little boy monsters. Why reinvent the wheel, right?
What you need: The costume of Frankenstein's creature comes down to face makeup basically, as the outfit can be just anything. Cover your kid's face in a green paint and draw stitches all over.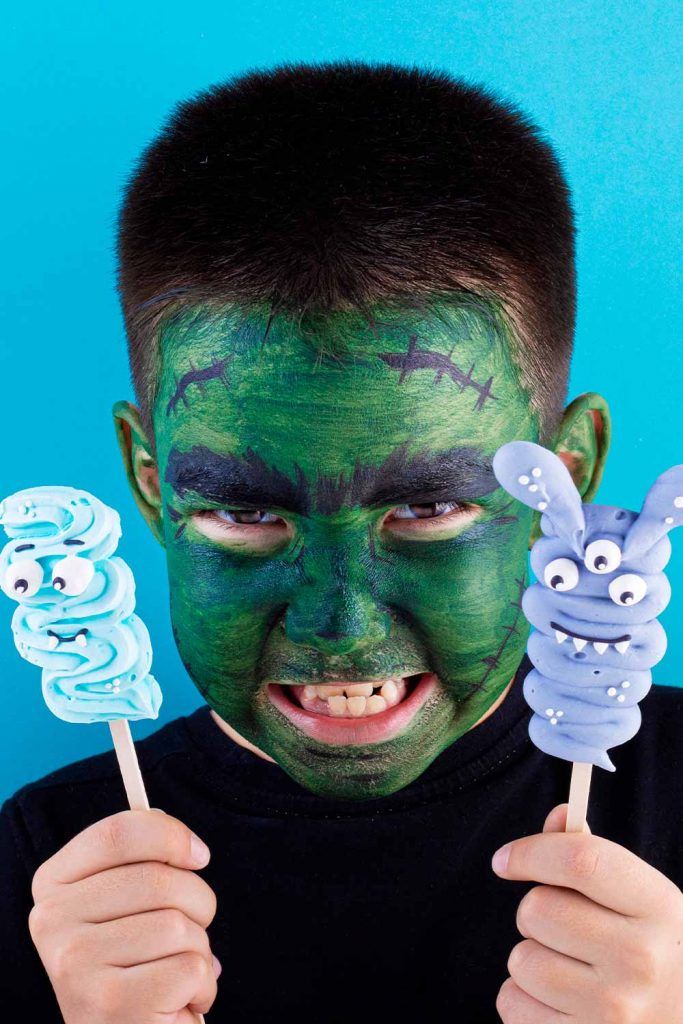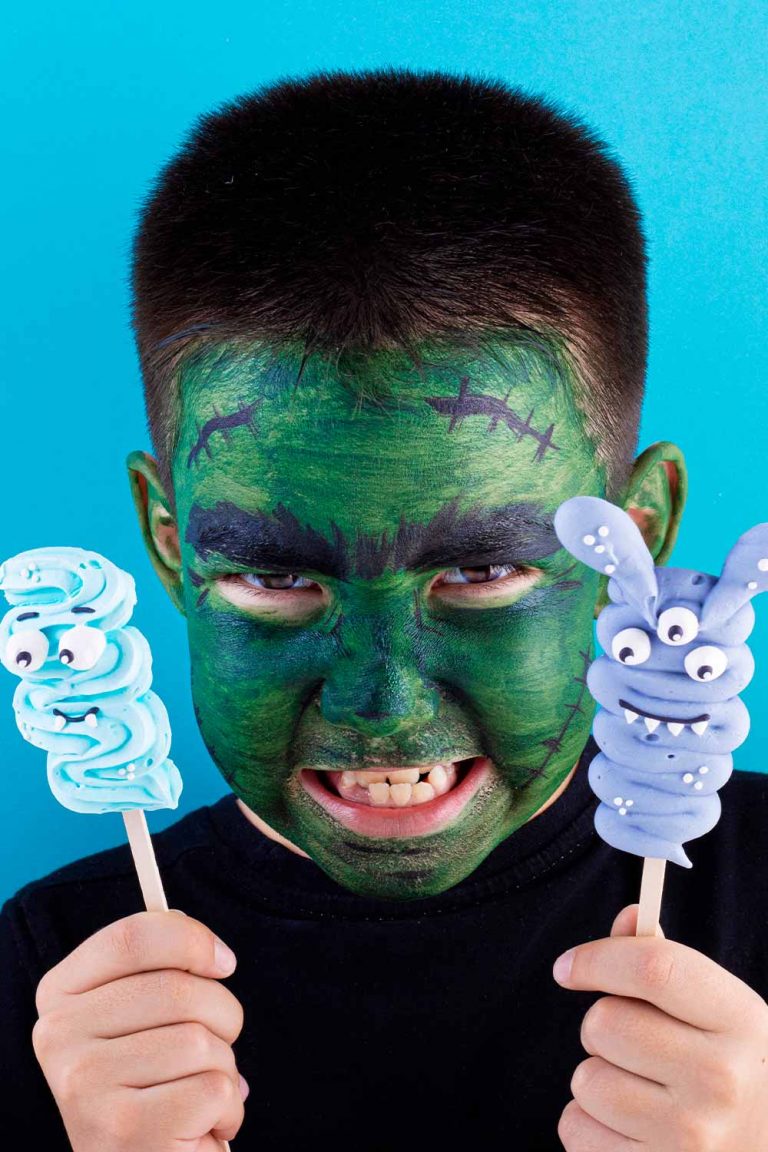 FAQs: Boys Halloween Costume Ideas
What are the top 10 Halloween costumes?
The top ten Halloween costumes include a vampire, Batman, a mummy, a ghost, Spider Man, a superhero, a dinosaur, a ninja, a clown and the devil.
What kids should wear for Halloween?
Best kids Halloween costumes are those that your kid loves, be it a pumpkin or Captain America. So that it is even more fun and pleasing for your child, why not make it together using what you can find at home?
What are the scariest Halloween costumes?
The scariest costumes for Halloween are an alien, an evil clown, a bat, a werewolf, Frankenstein, the devil, a ghost, a skeleton and a mummy.
What are traditional Halloween costumes?
Among traditional Halloween costumes, you can find a zombie, the devil, a superhero, a mummy, a vampire, a pirate, a clown and a ghost.
What are the most popular Halloween costumes 2023?
In 2023, the most popular costumes were a dinosaur, a rabbit, a clown, a ninja, the devil, Spider Man and a Fortnite character.
REFERENCES:
Halloween Costumes for Boys | HalloweenCostumes.com Source
Kids' Halloween Costumes – Cute Boys and Girls Costume Ideas. Source
Was this article helpful?