Apart from the costume, Halloween makeup for men is also an essential part of your look if you want to really pull it off. So that you will not struggle with the choice, we have put together the coolest ideas for Halloween makeup looks. There is an option for every choice and preference, from easy to elaborate and from funny to scary. Besides, we even backed you up with a full-look tutorial. So, allow your imagination to run free this Halloween and everybody will drop dead with your stunning look.
Check out the photo collection below.
_We may earn money from affiliate links on this page. Please check out our disclosure policy for more details.

Skeleton Makeup
A skull makeup look is one of the most popular Halloween makeup ideas for good reason. It does not require you any particular drawing skills to recreate, as it is quite an easy Halloween makeup. You will just need to sneak a black eye pencil from your girlfriend or sister, shade the areas around the eyes and the nose tip as well, and draw teeth on the skin using your jaws as a template. If you don't want to bother, choose the most traditional character possible skeleton face paint.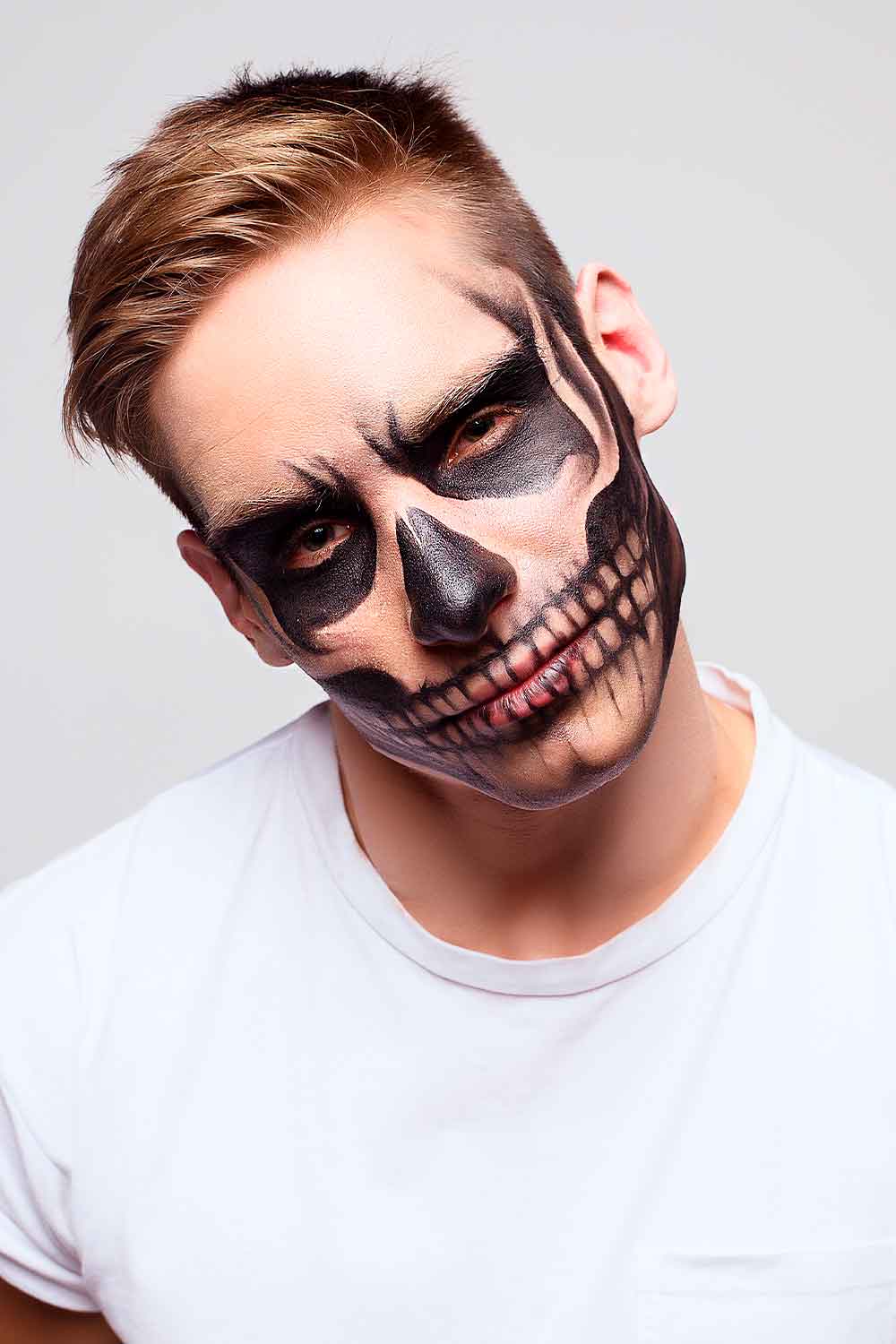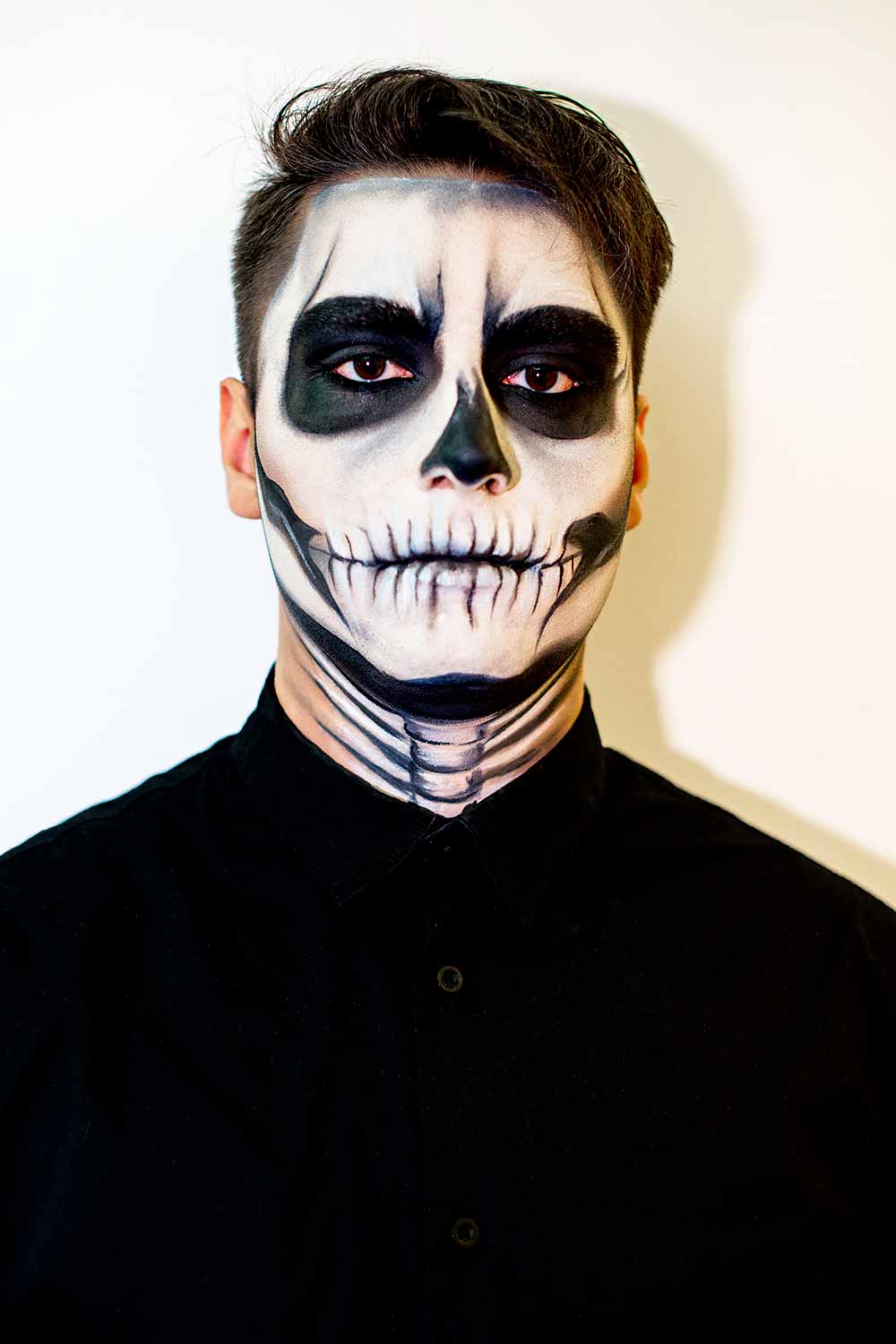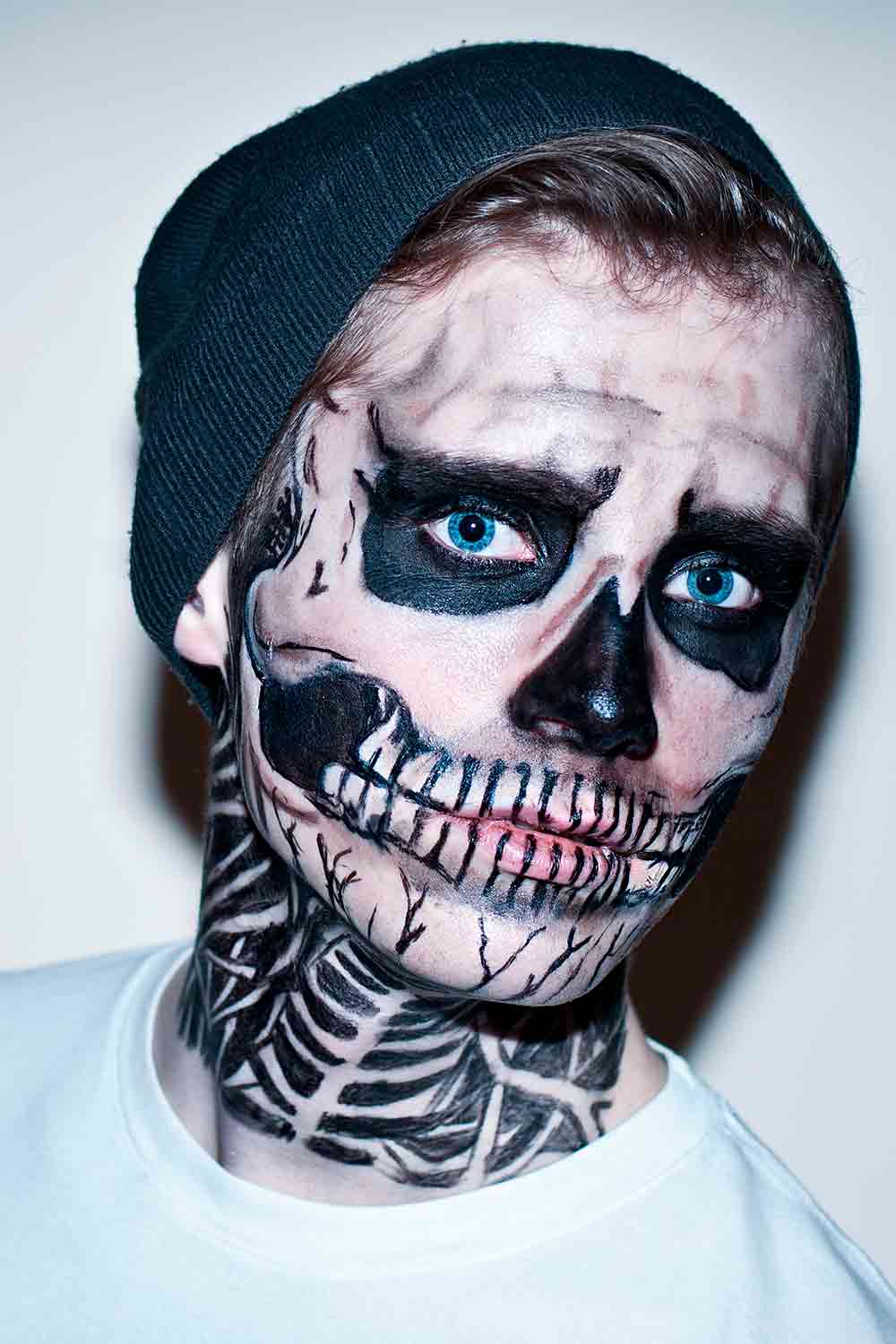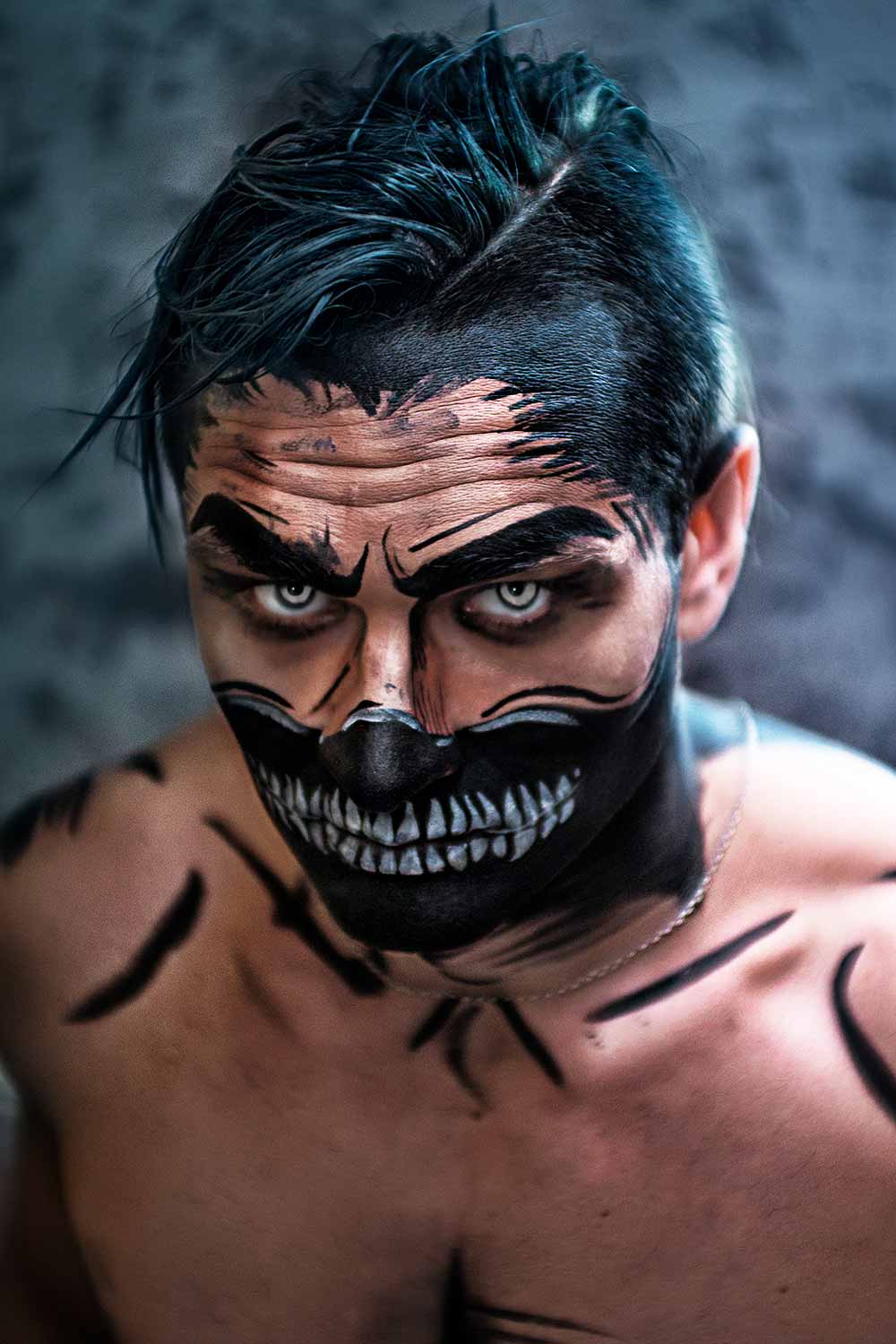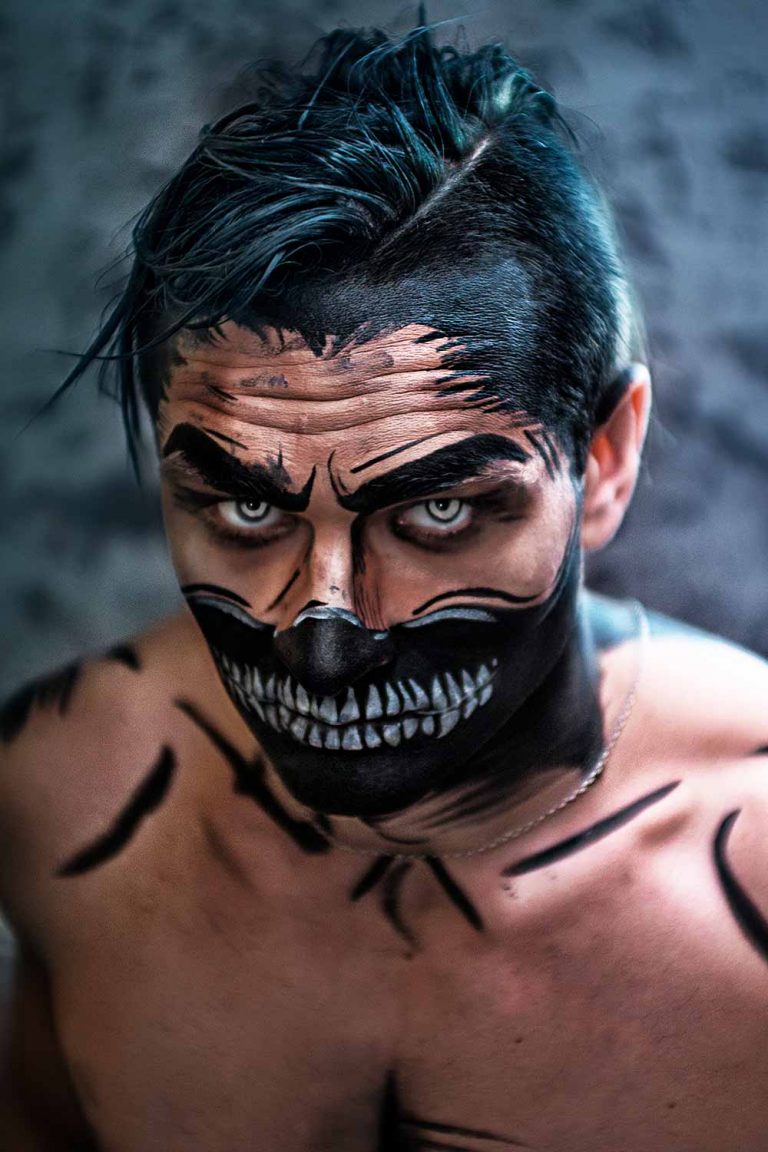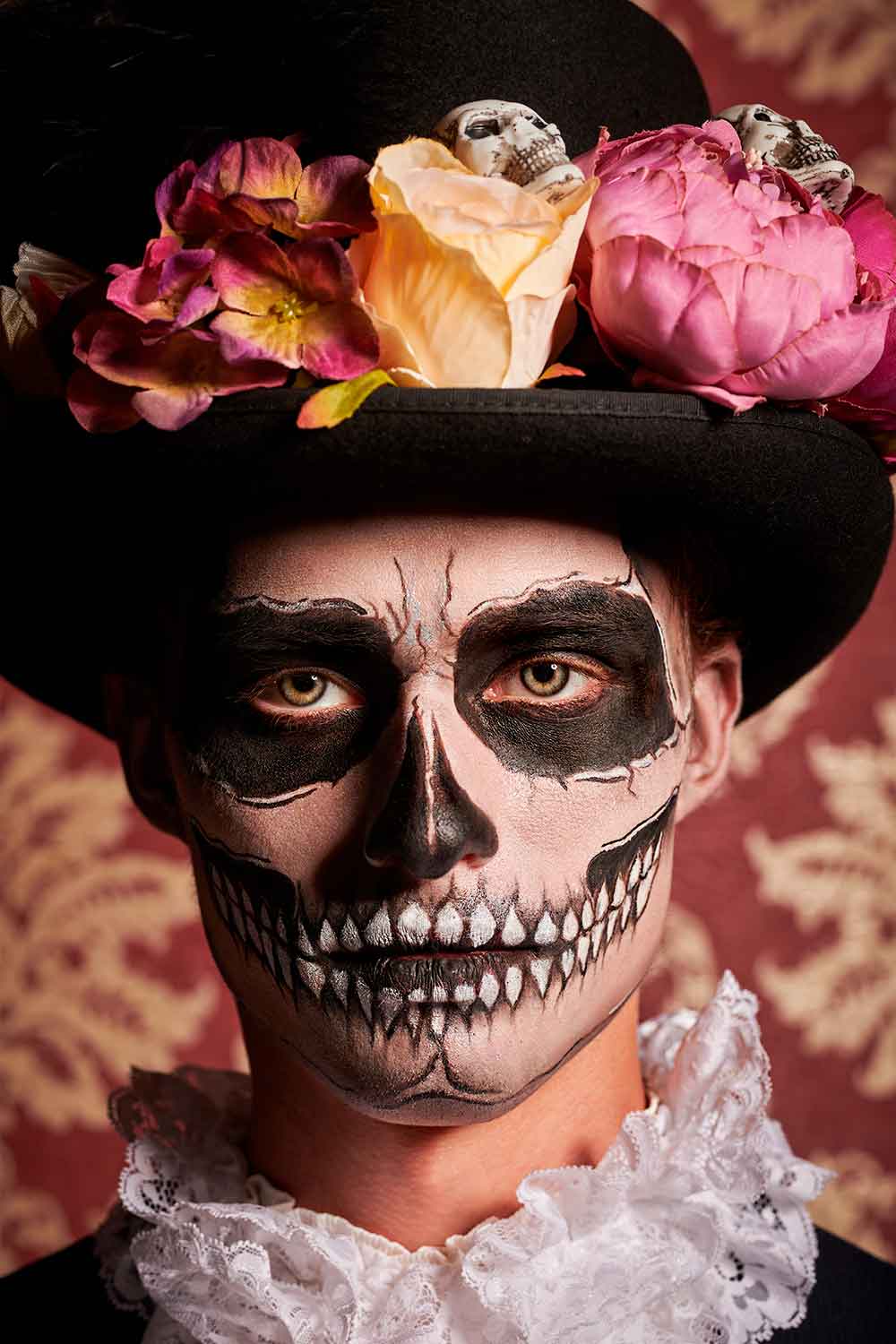 /
Pumpkin Makeup
What it is going to look like fully depends on your choice, as there are so many options that you will surely find a look to match your taste.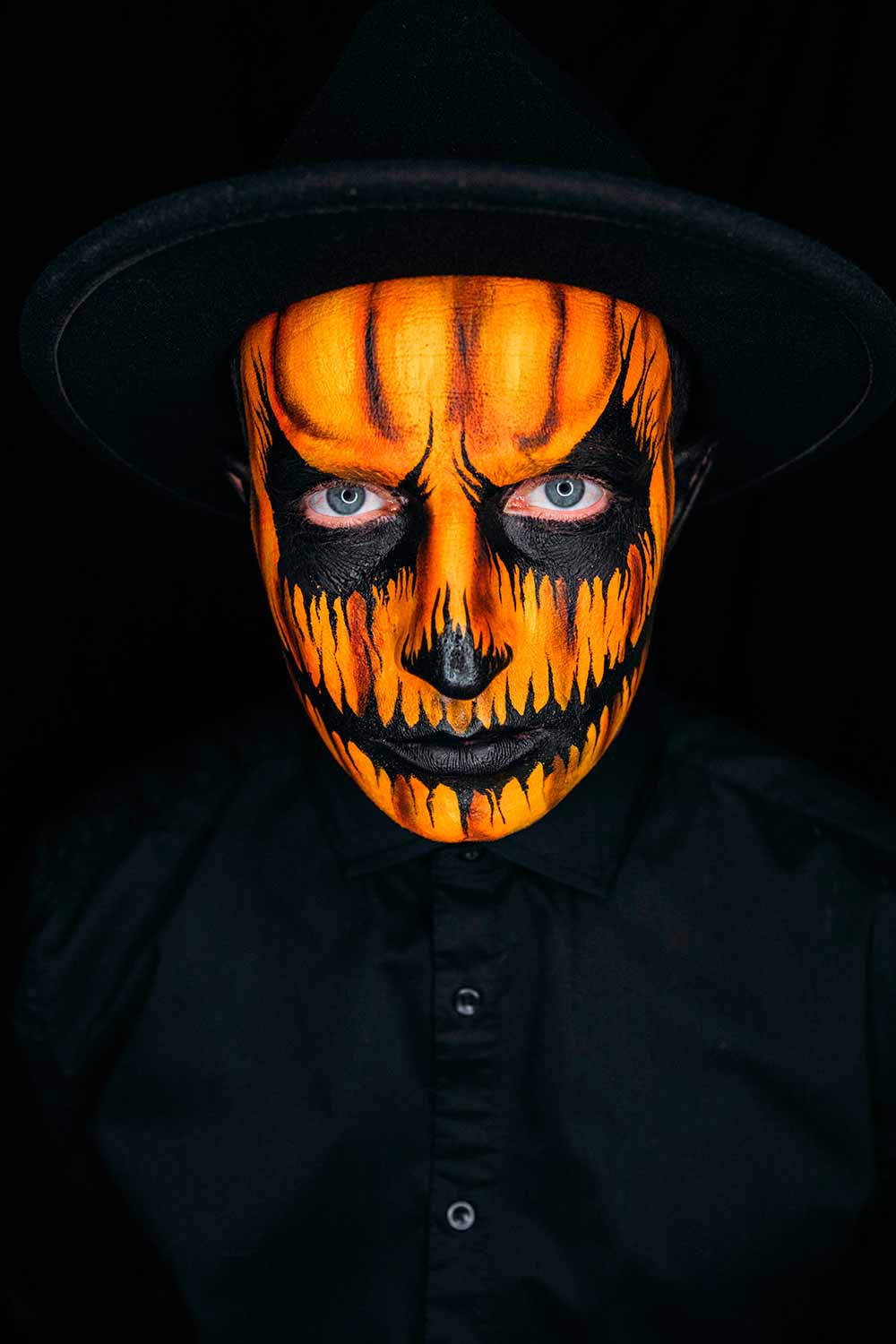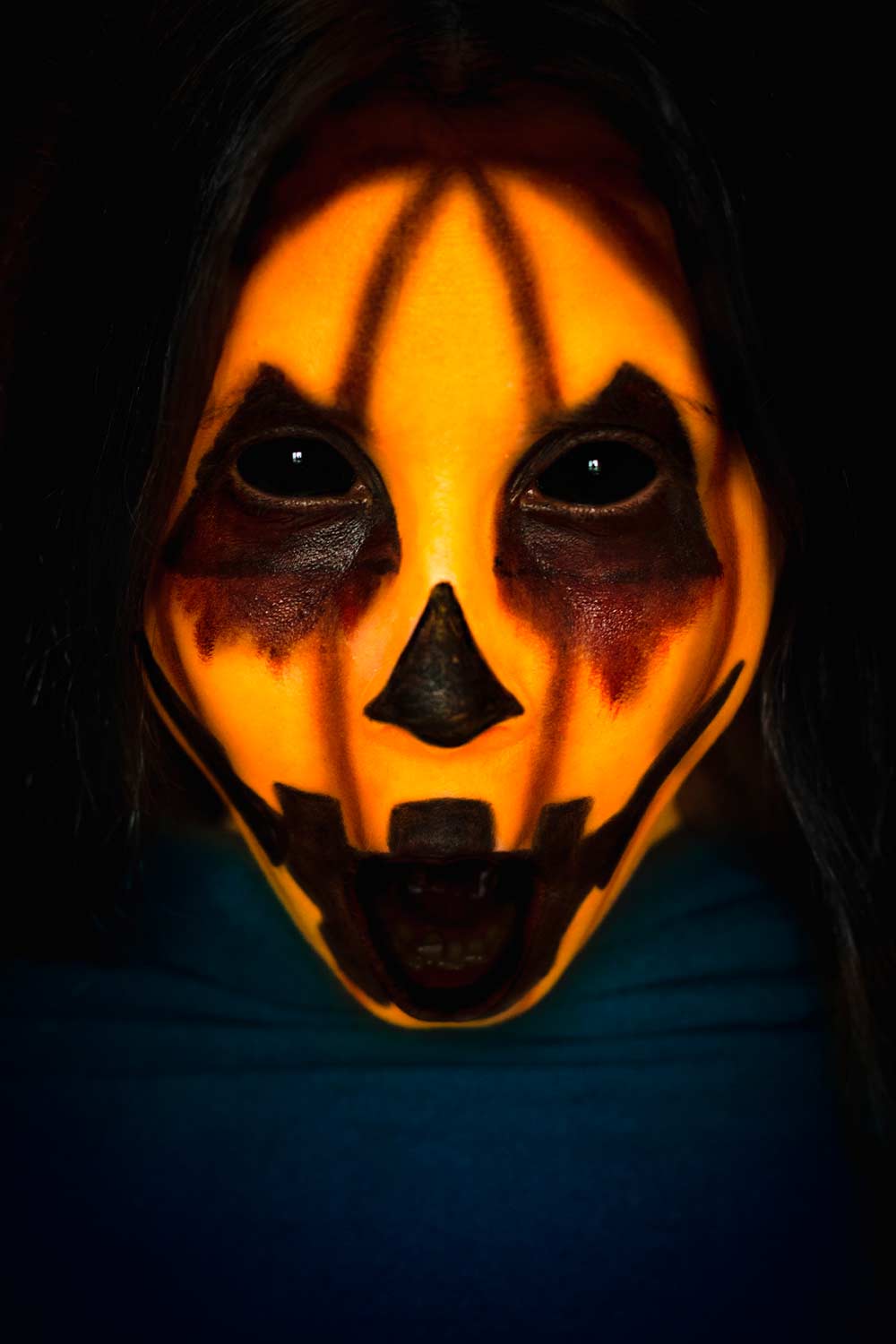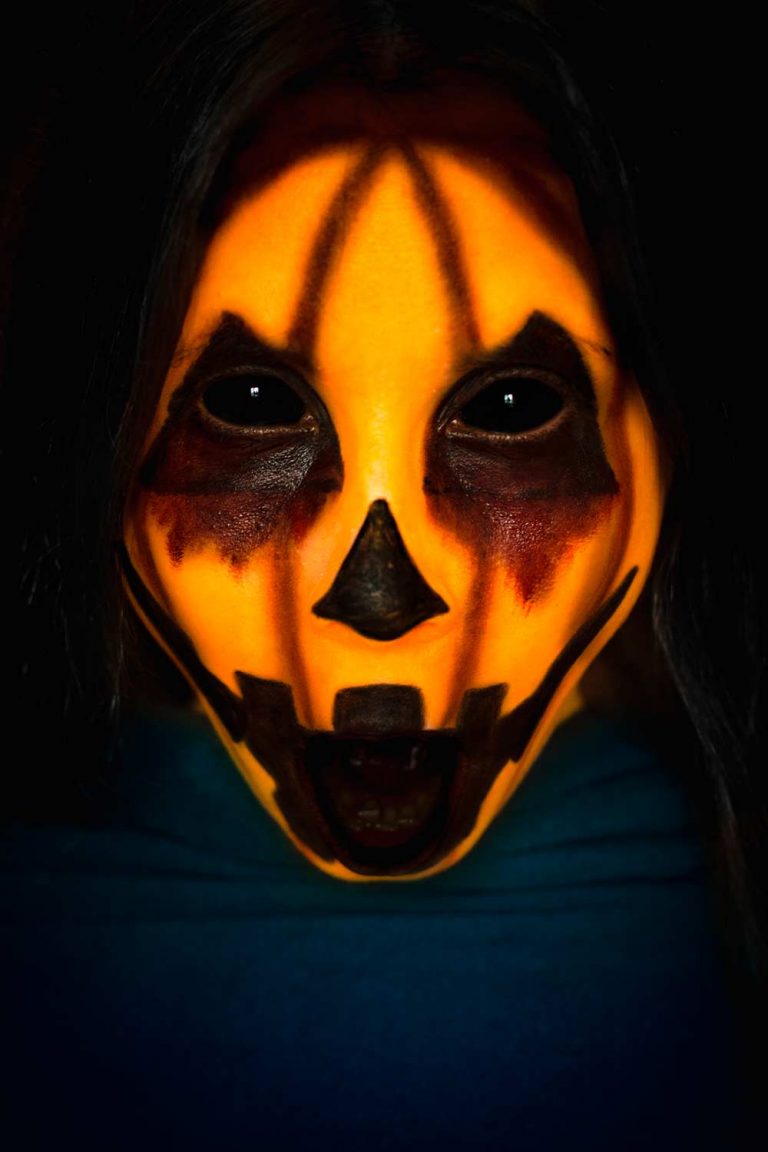 /
How do I achieve a clean and crisp superhero makeup look?
Any tips for removing Halloween makeup without causing skin irritation?
Scary Clown Makeup
It is actually hard to tell why a clown is one of the most horror makeup looks for Halloween. But, if you want to make people's blood run cold, you should definitely go for it. To pull off such elaborate Halloween makeup looks, you will need some additional equipment. In this case, for your Halloween hair, find a red curly wig and for the outfit, get a clown costume.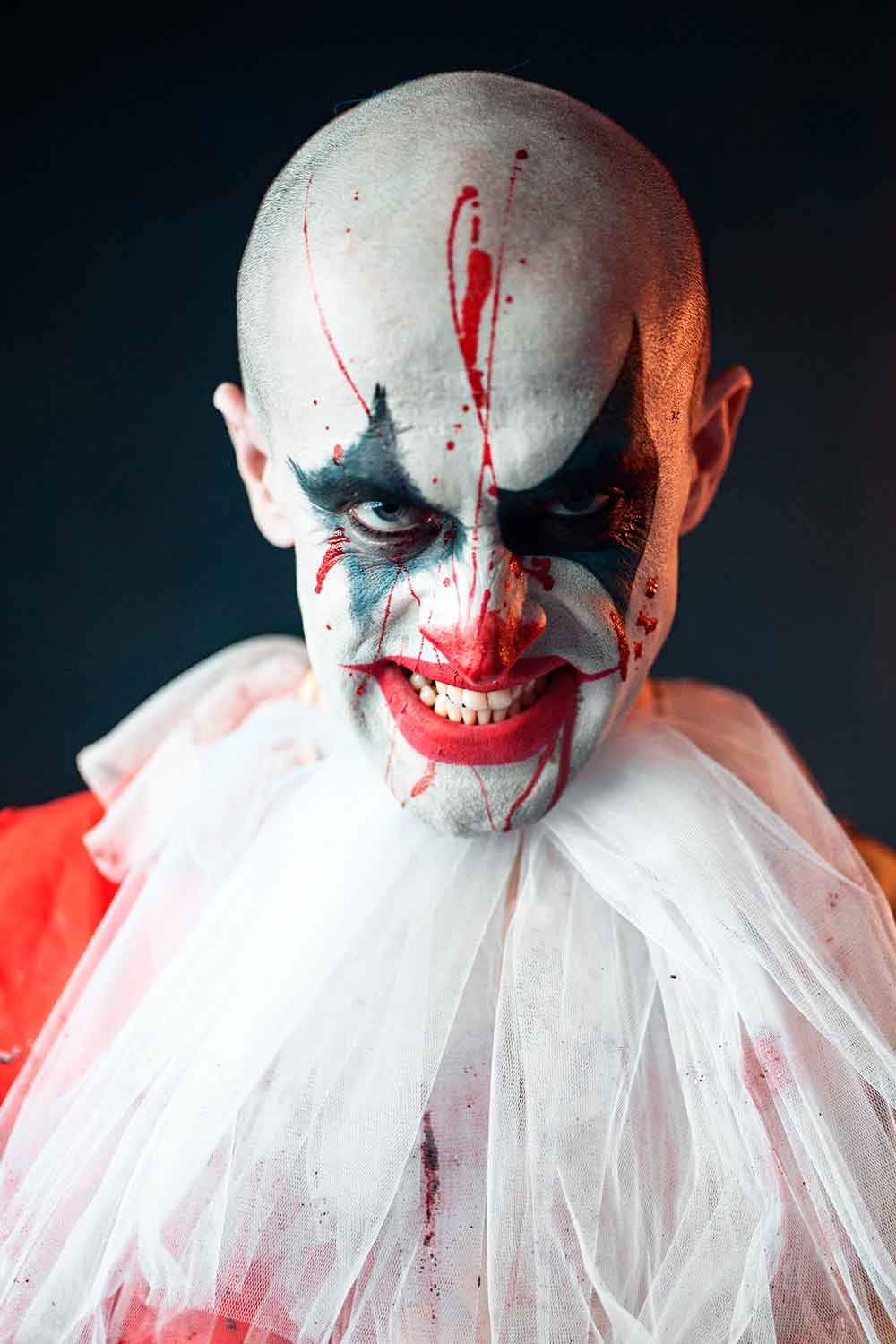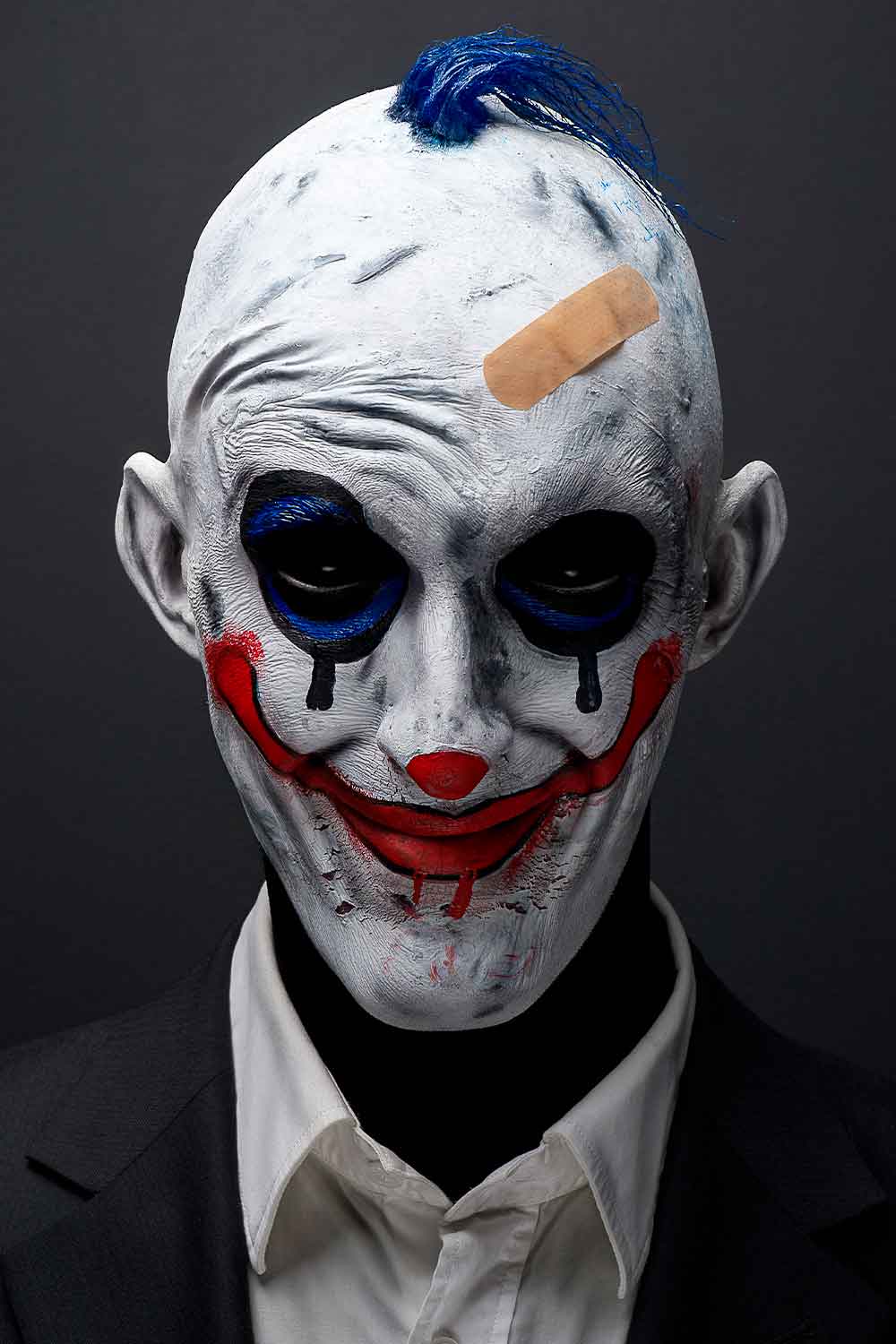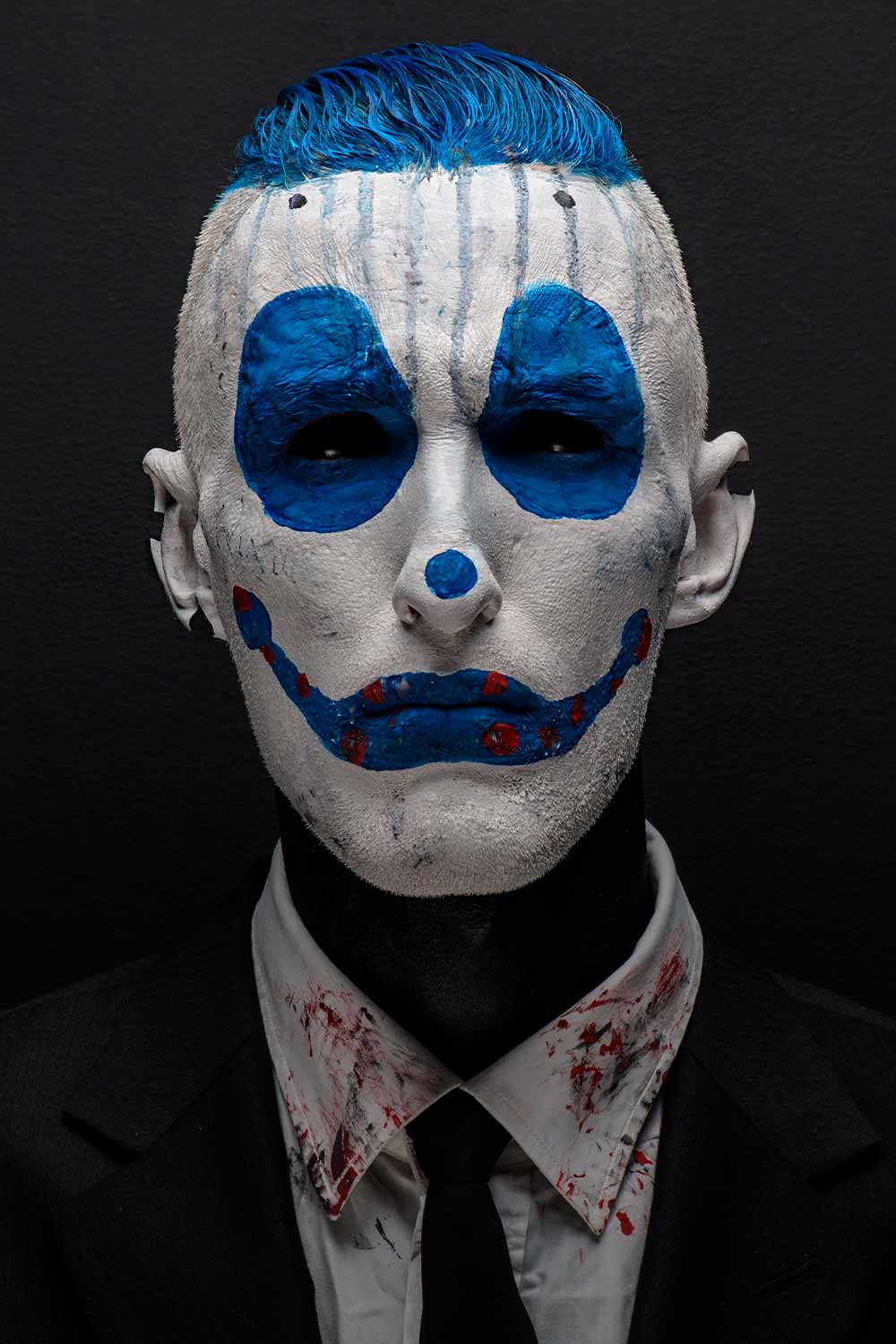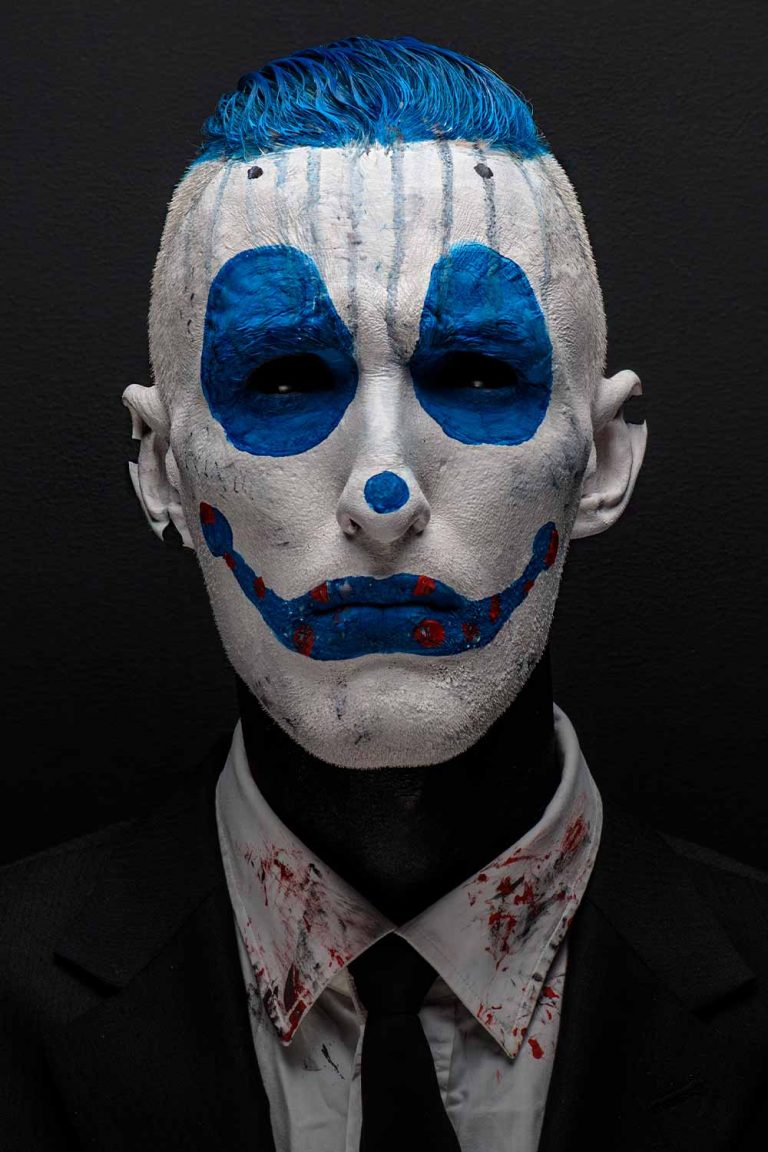 /
Cheshire Cat Makeup
A great opportunity to show off your playful nature is to pull off a Cheshire cat look for Halloween. Add lenses to complete the appereance. Obviously, horror movies provide us with the best Halloween costume and makeup ideas for men. Cheshire Cat are sexy and mystical. Women find them exceptionally attractive. Thus, opting for a cheshire cat Halloween face makeup look will give you quite a lot of perks.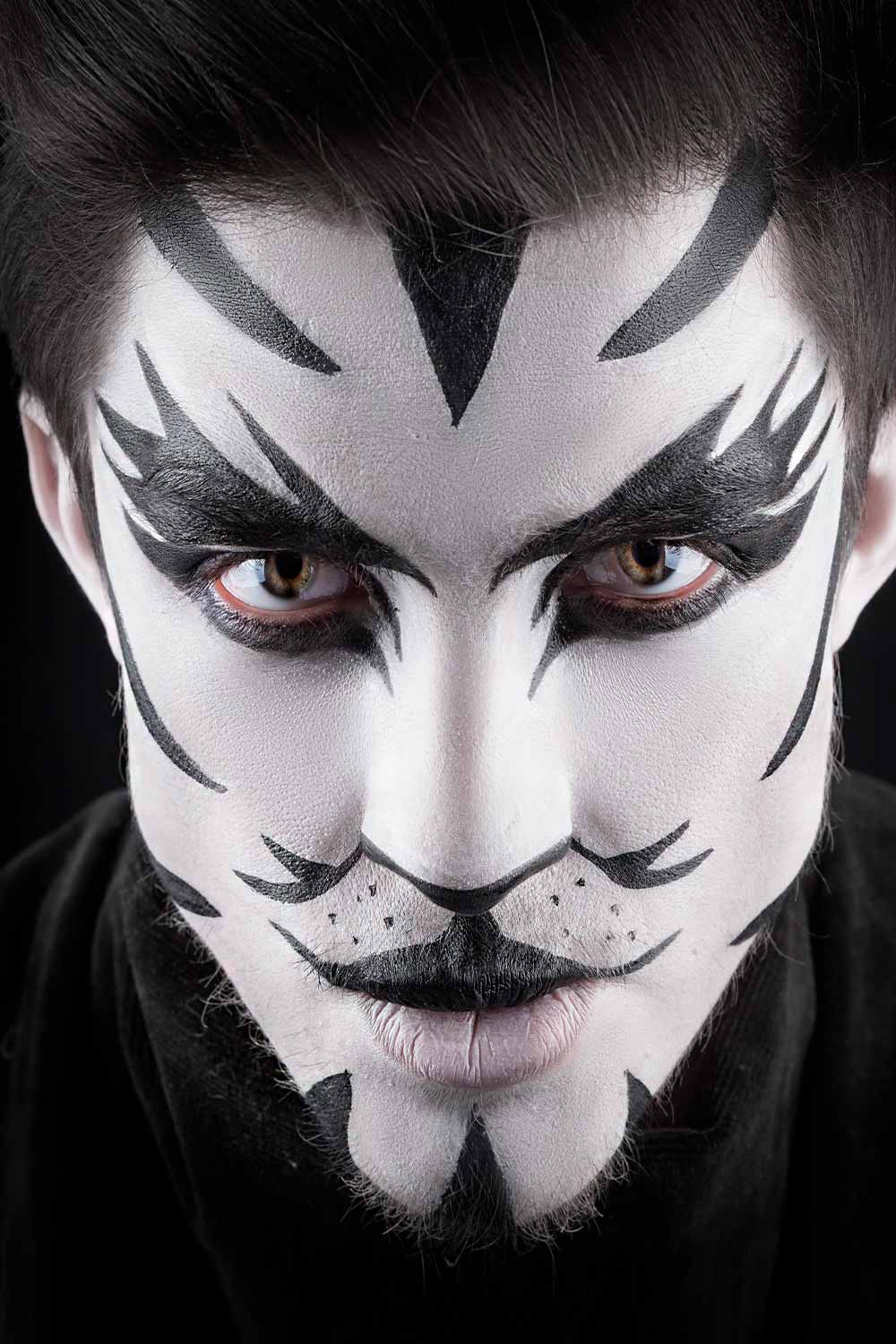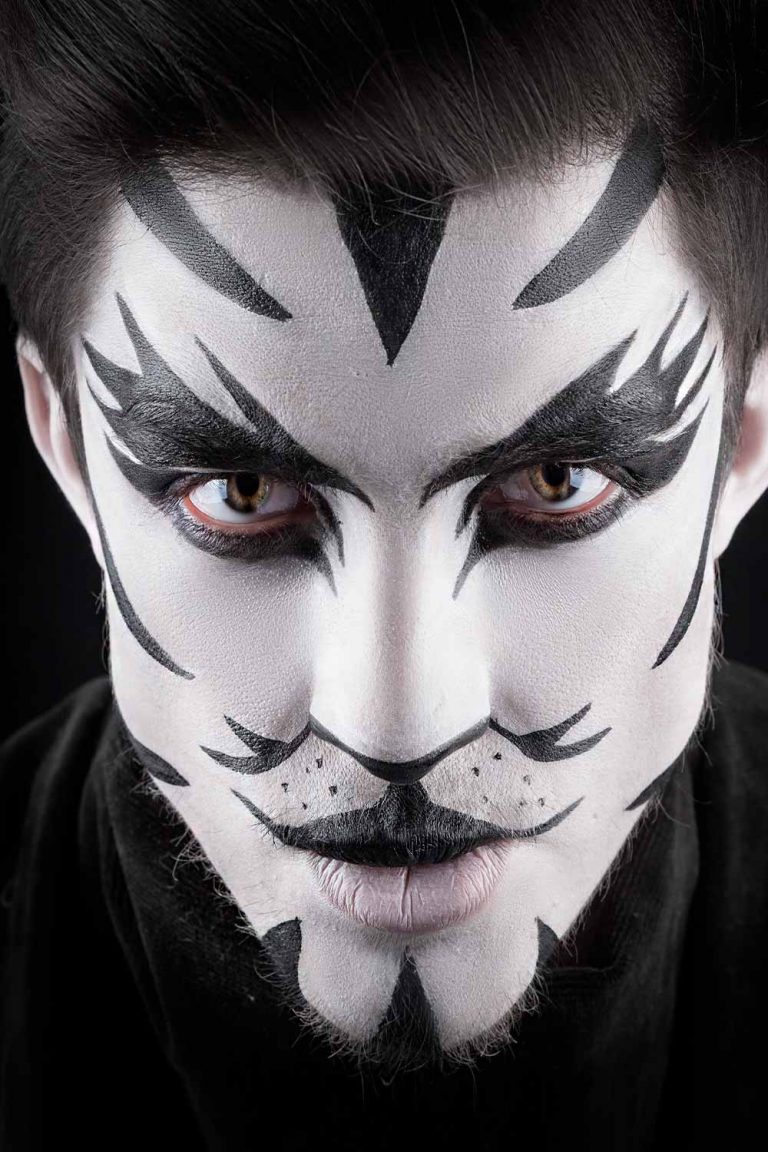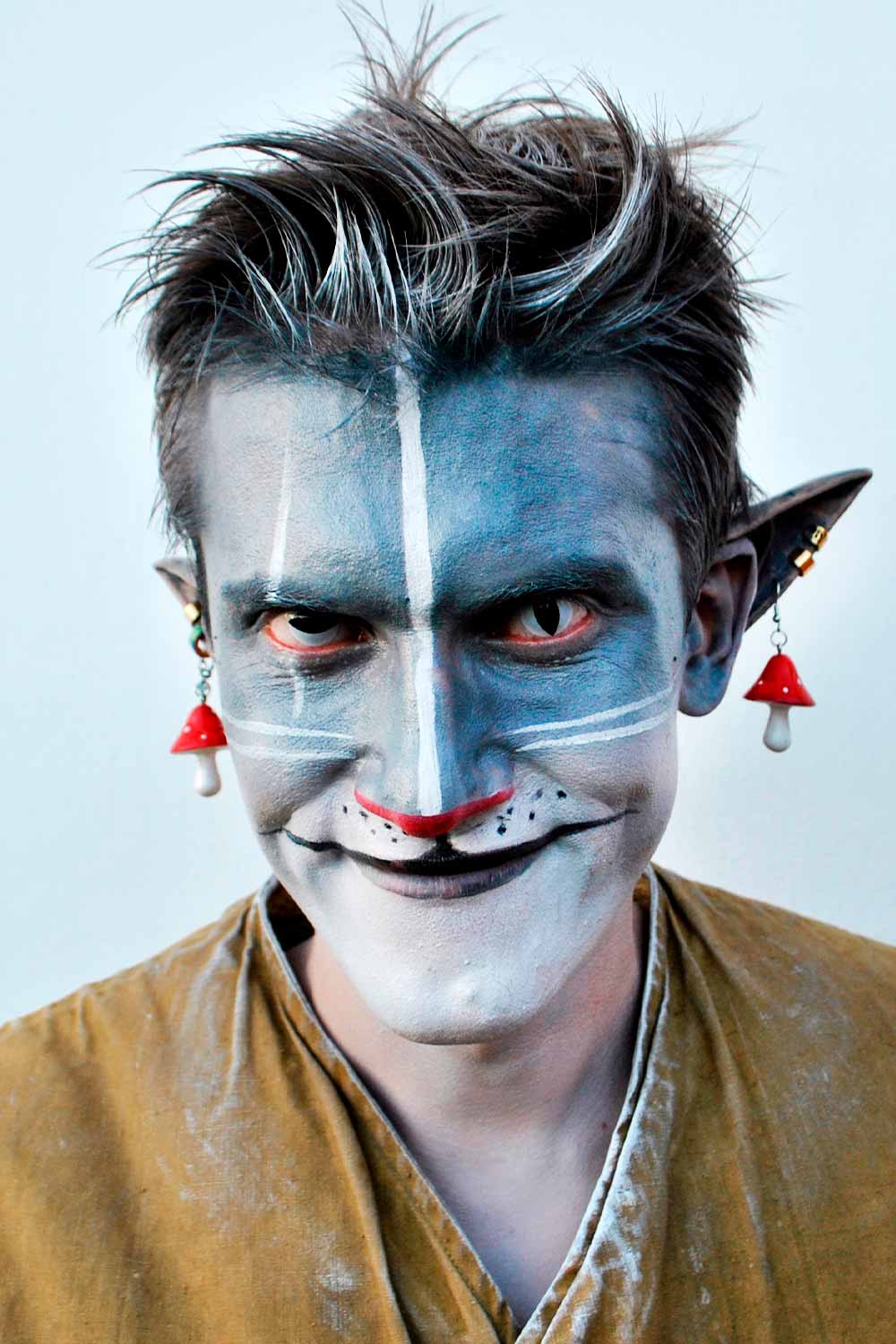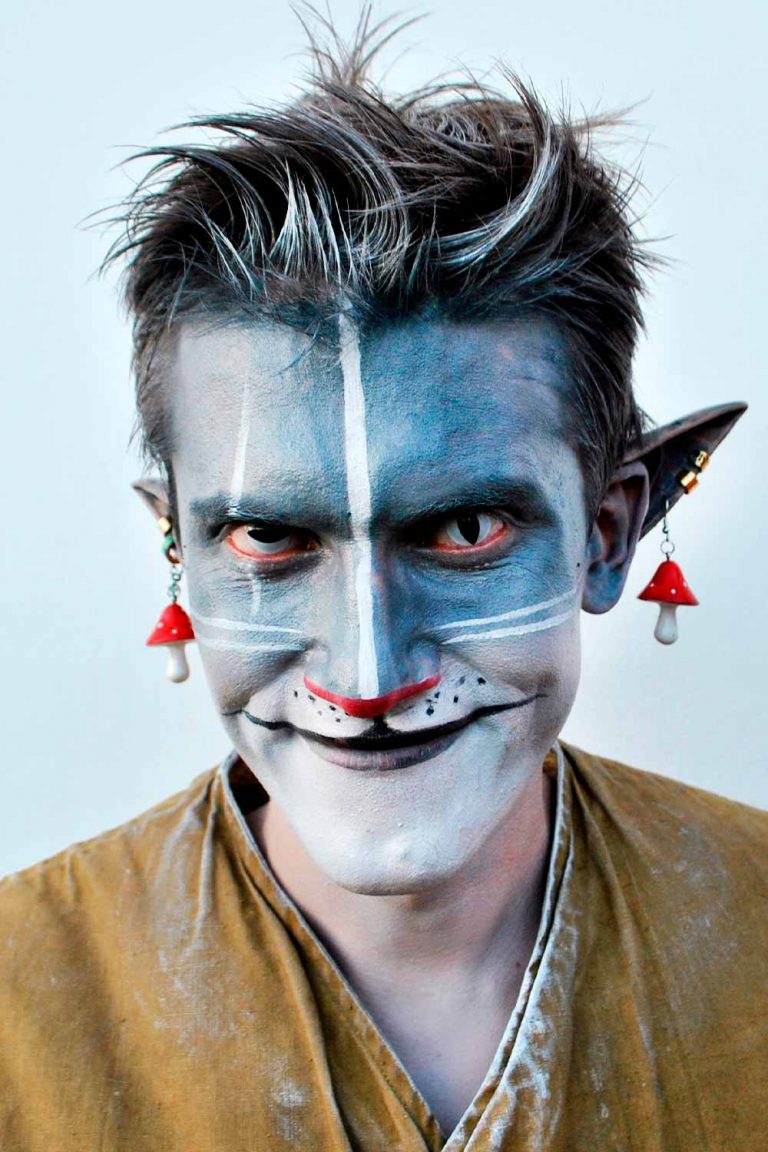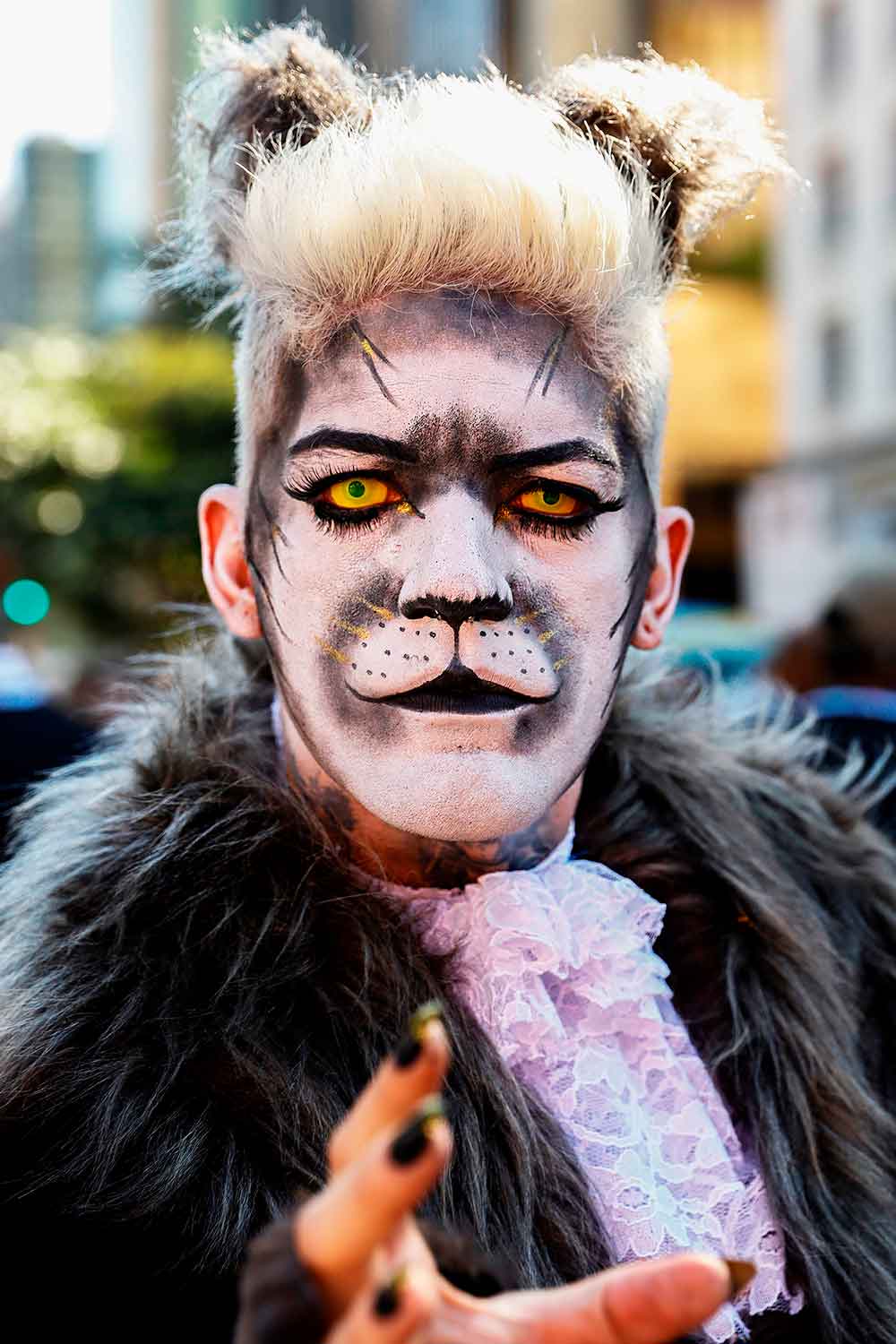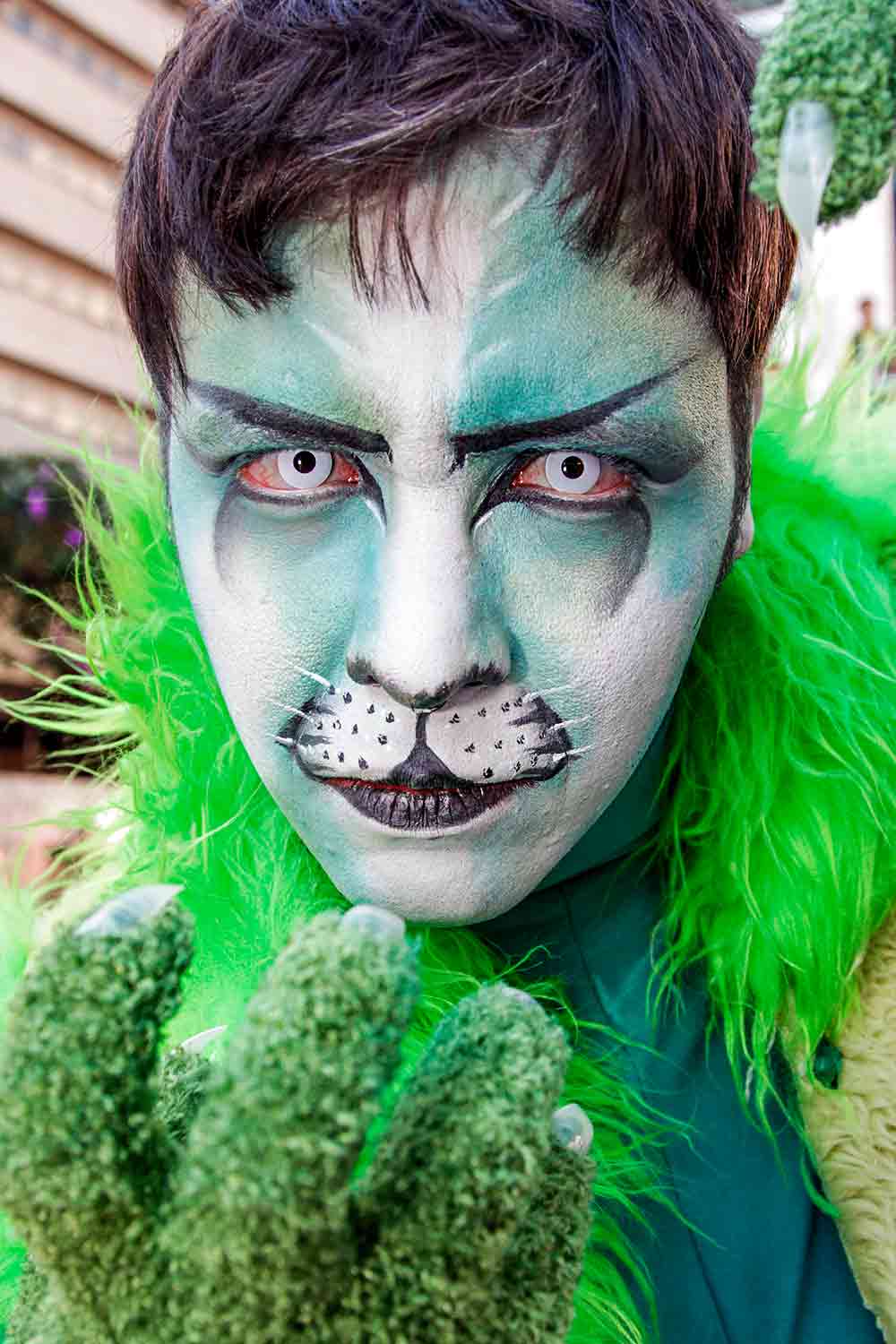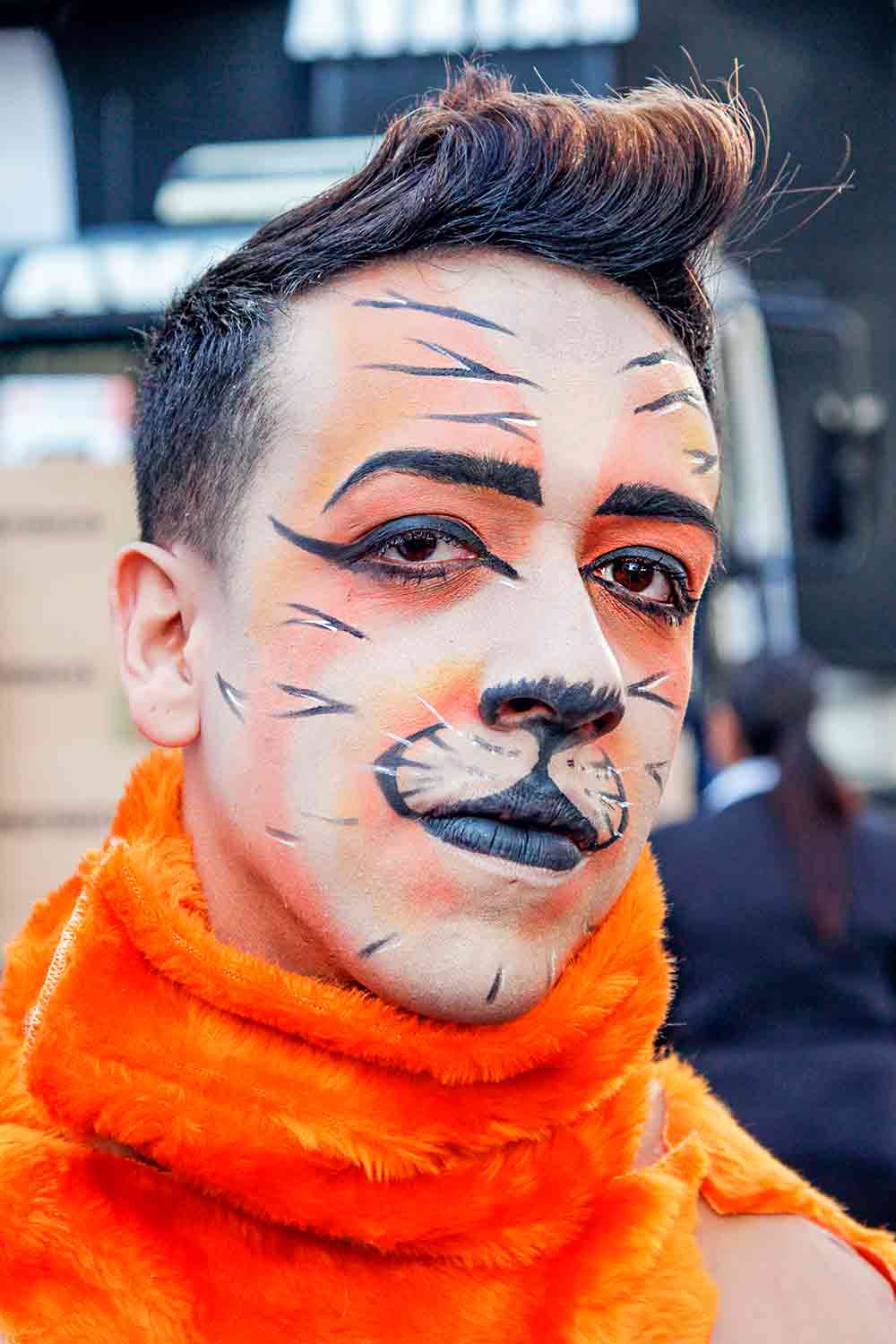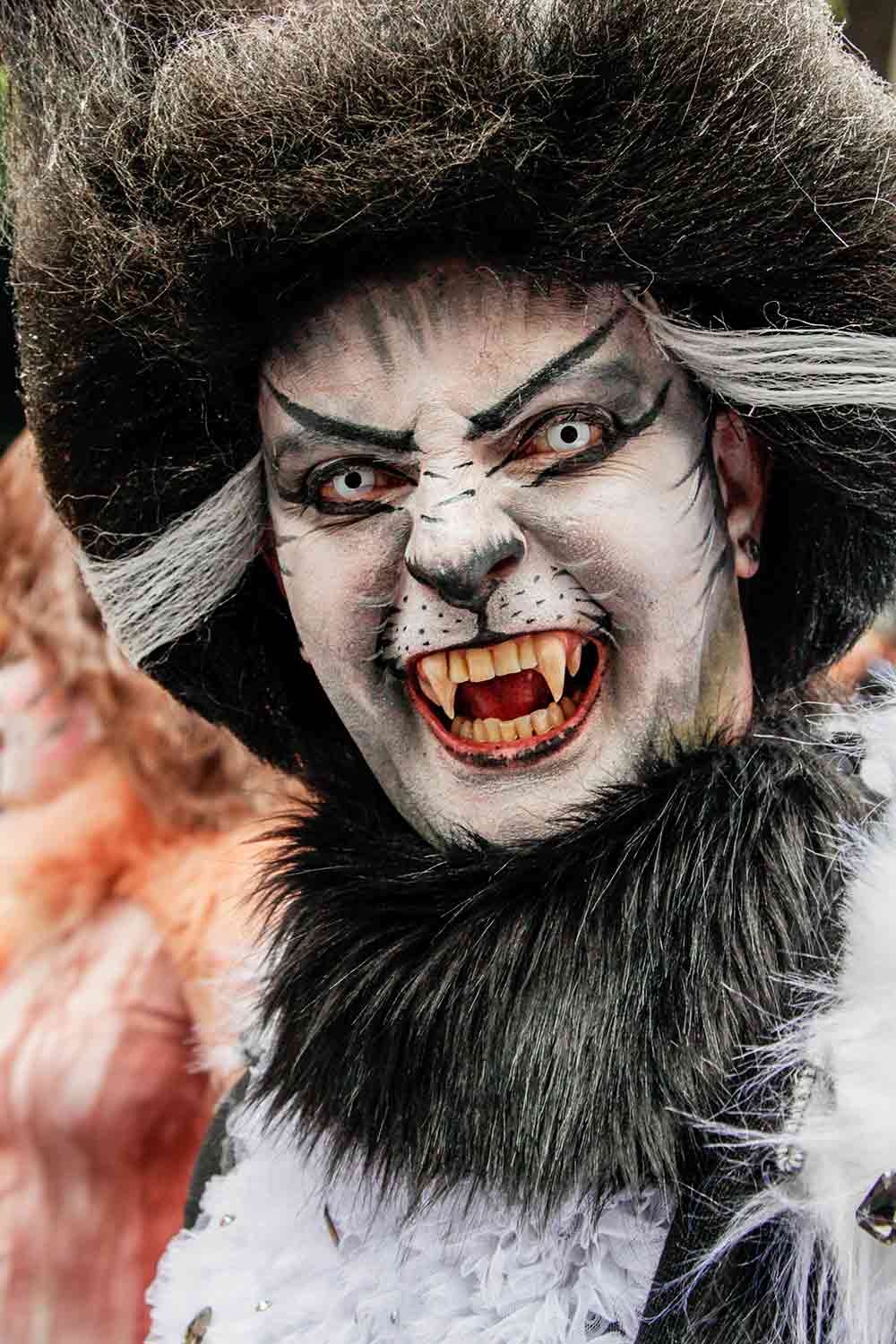 /
Mayan Death God
A surefire way to make your Halloween makeup scary is by adding bleeding wounds to it. For that reason, the mayan Gog of underwood is considered an exceptionally scary Halloween makeup for men.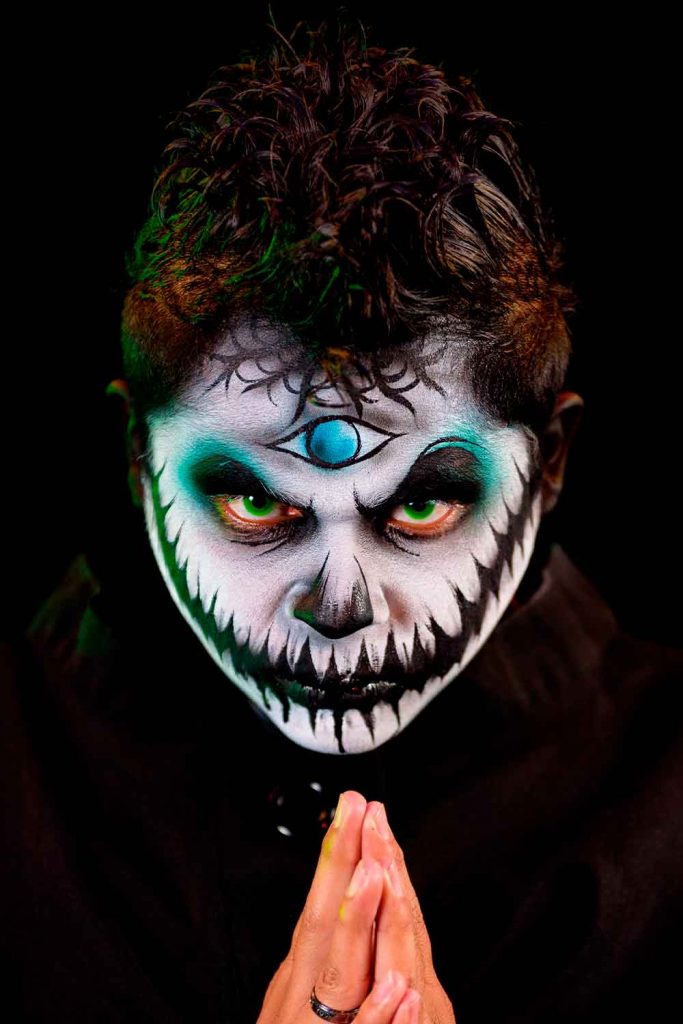 Vampire Face Paint
In the recent past, for their vampire Halloween makeup men used to choose the one and only Count Dracula. However, because of the unfading popularity of the Twilight saga, many opt for its main character Edward Cullen instead. Which exactly vampire makeup male look to go for is again your choice to make easy face paint ideas.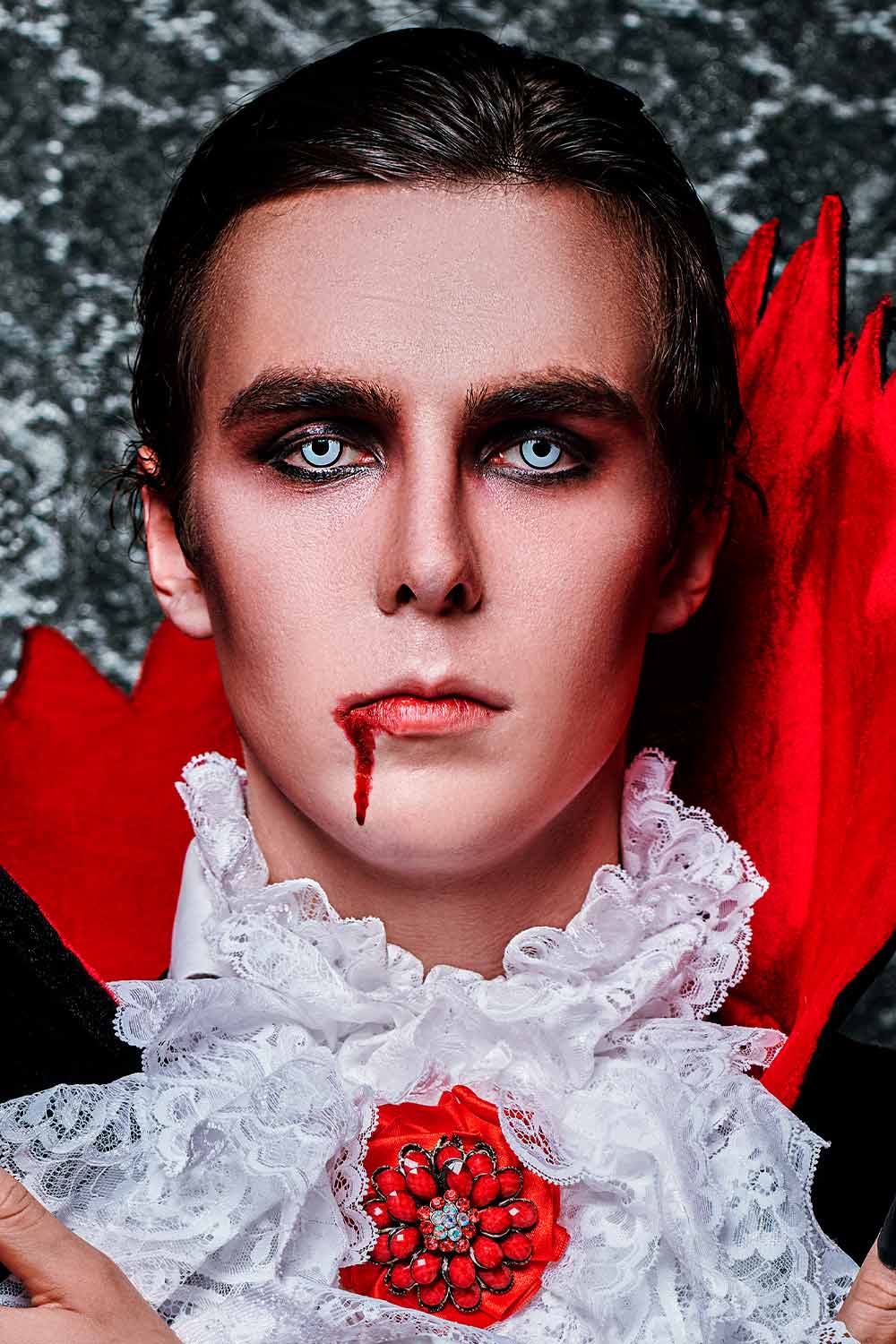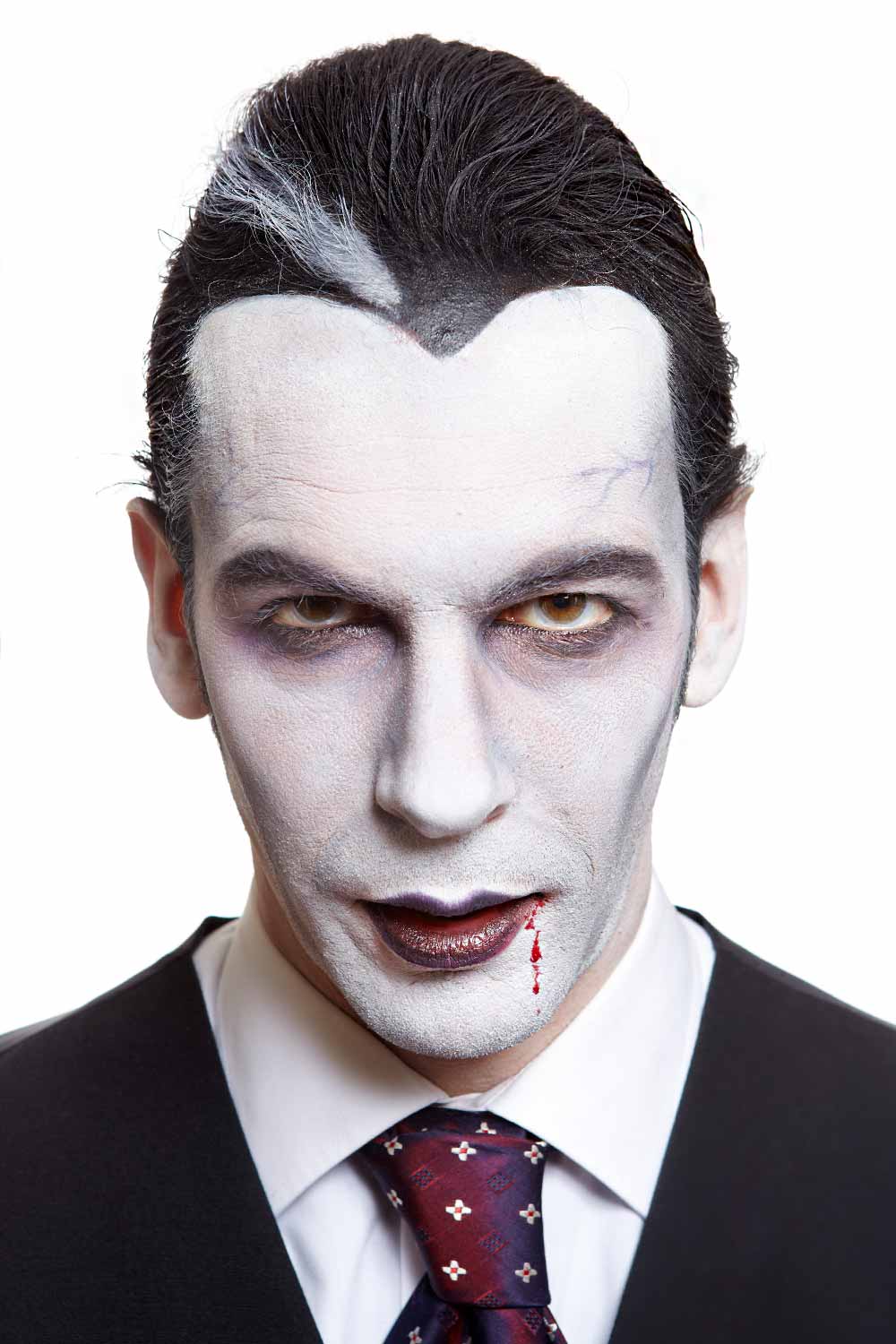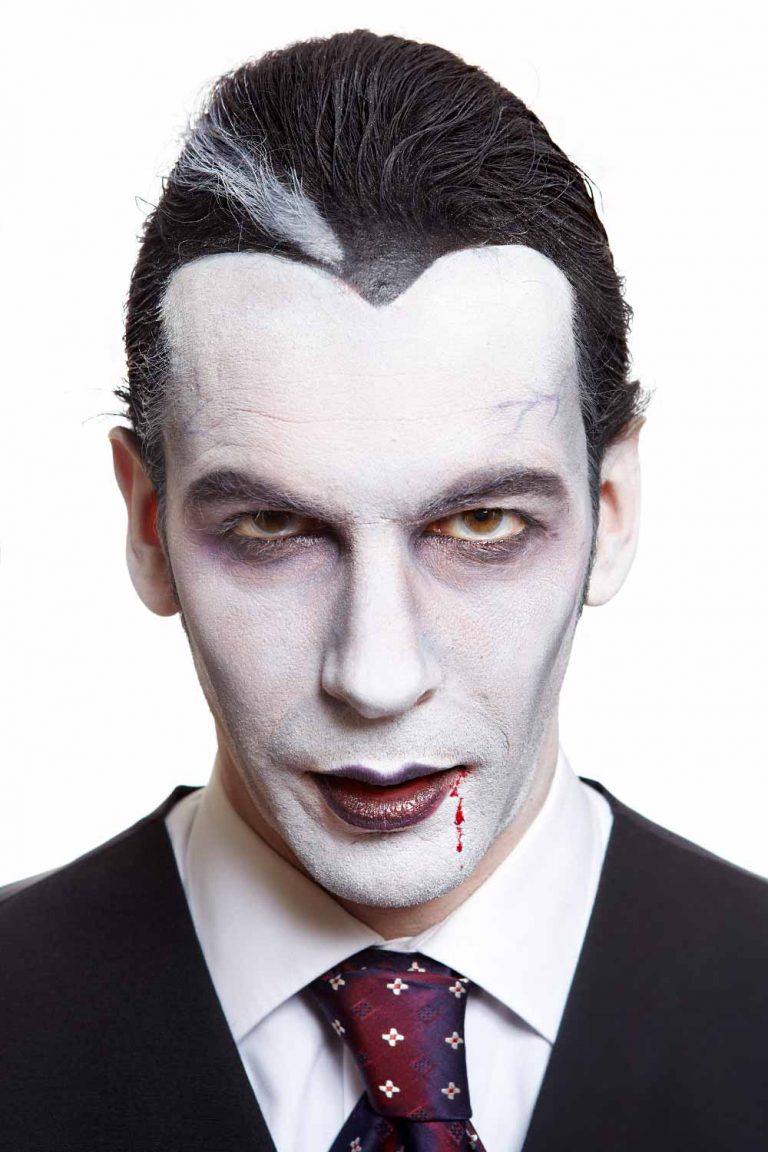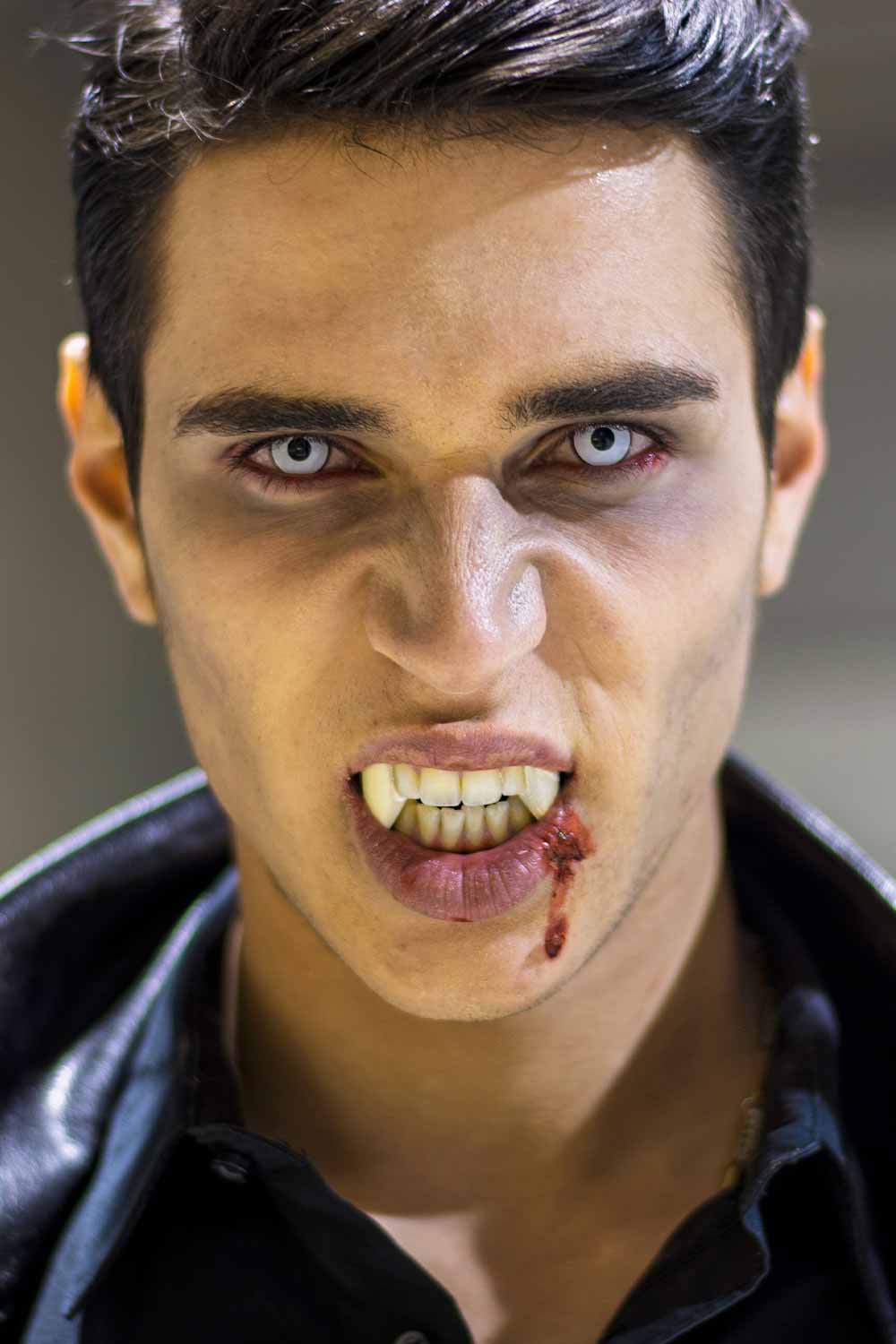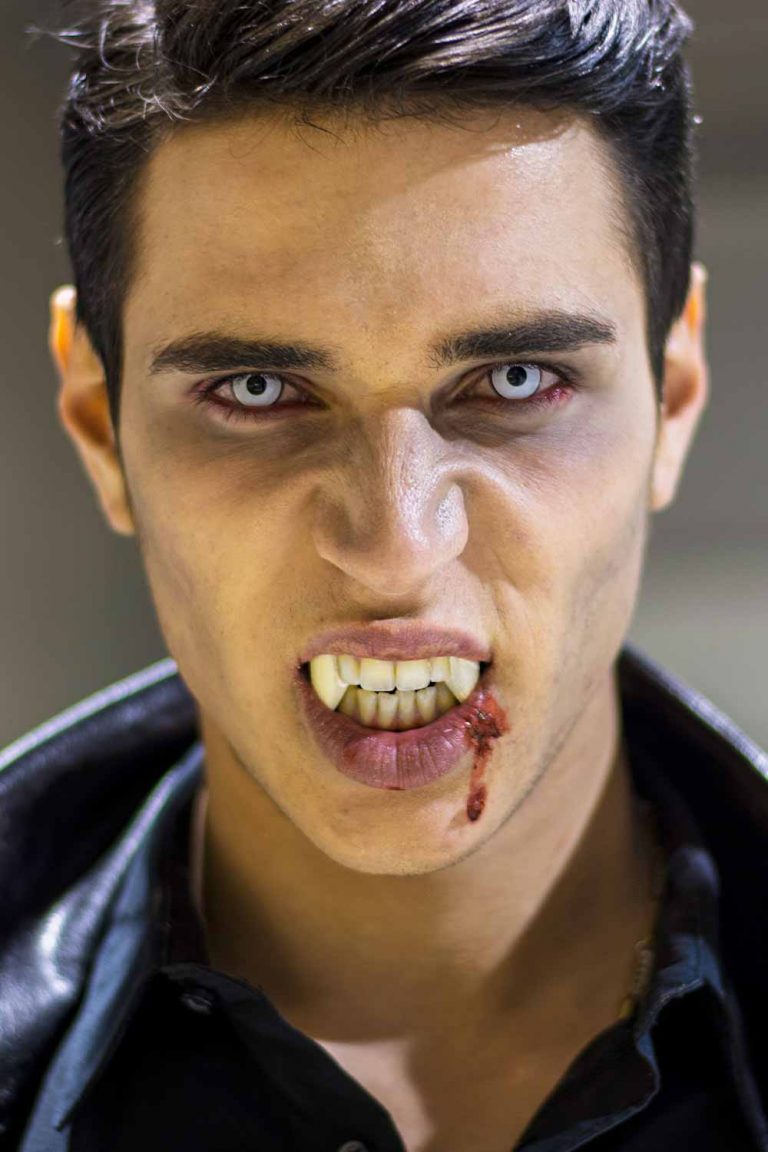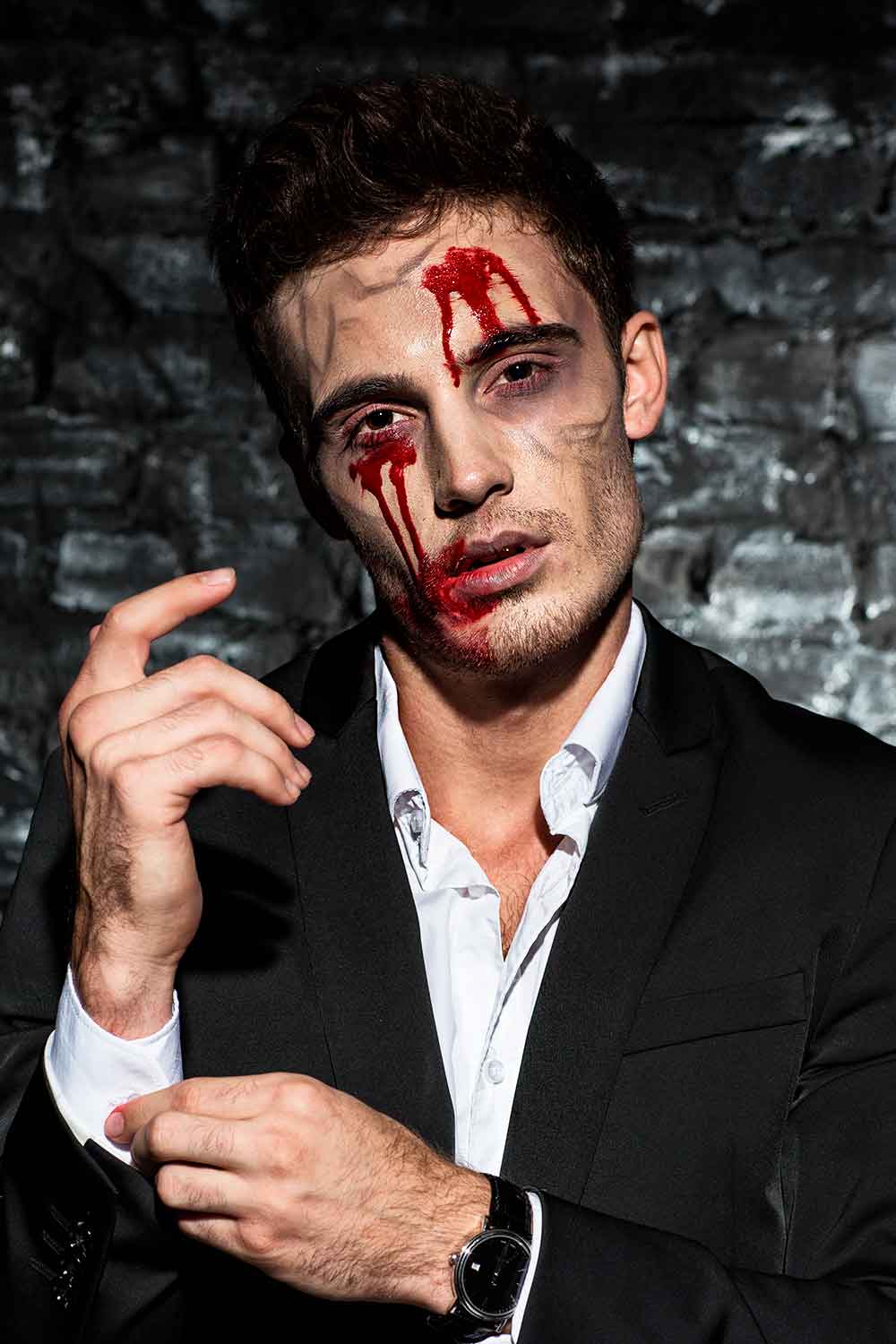 /
How can I make Halloween makeup last all night?
How can I create realistic scars and wounds with Halloween makeup?
Day Of The Dead Makeup
Calaveras are becoming more popular day after day, especially for Halloween. Inspired by the Day of the Dead, they have set off many different variations, from easy and plain to sophisticated and crazy makeup looks.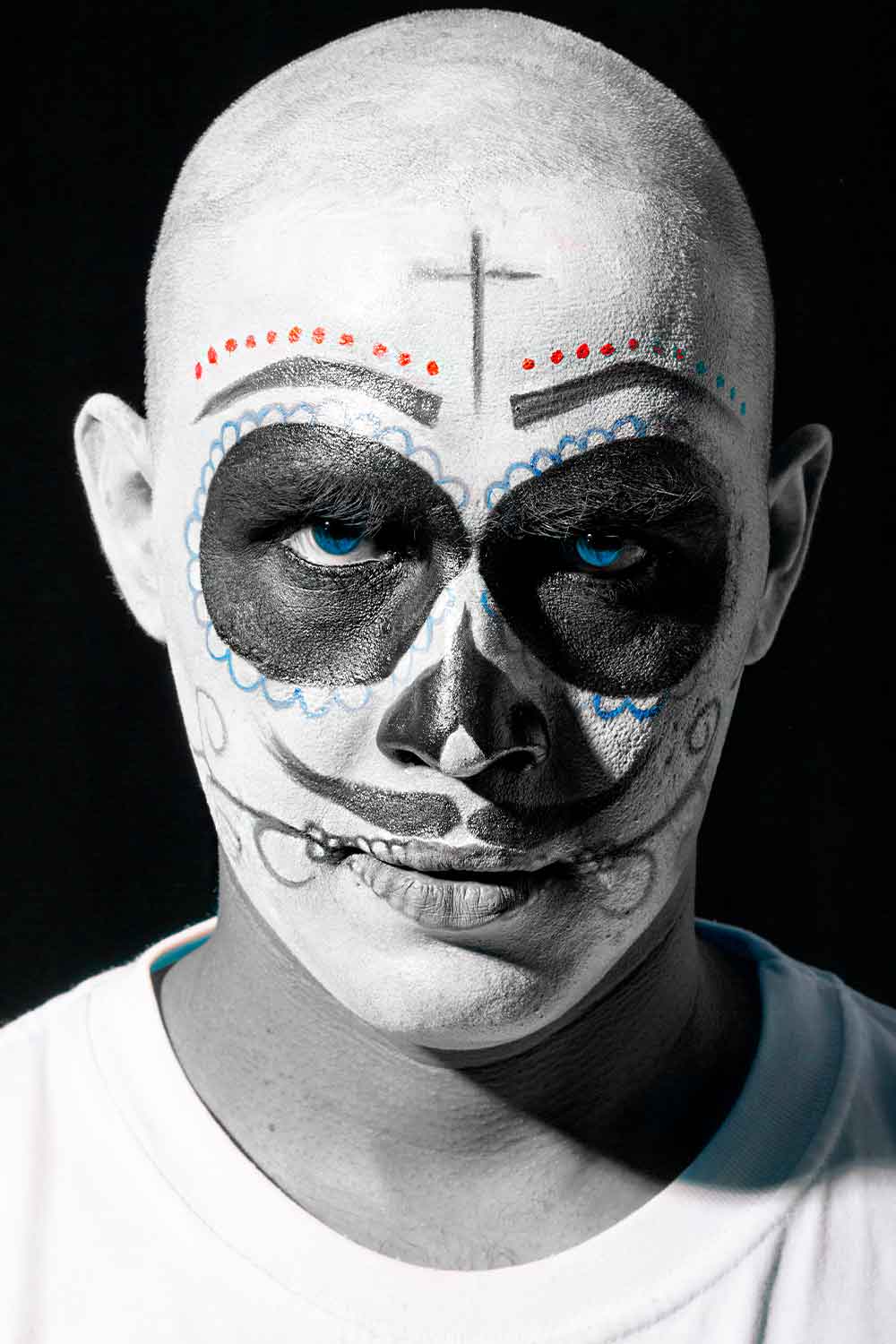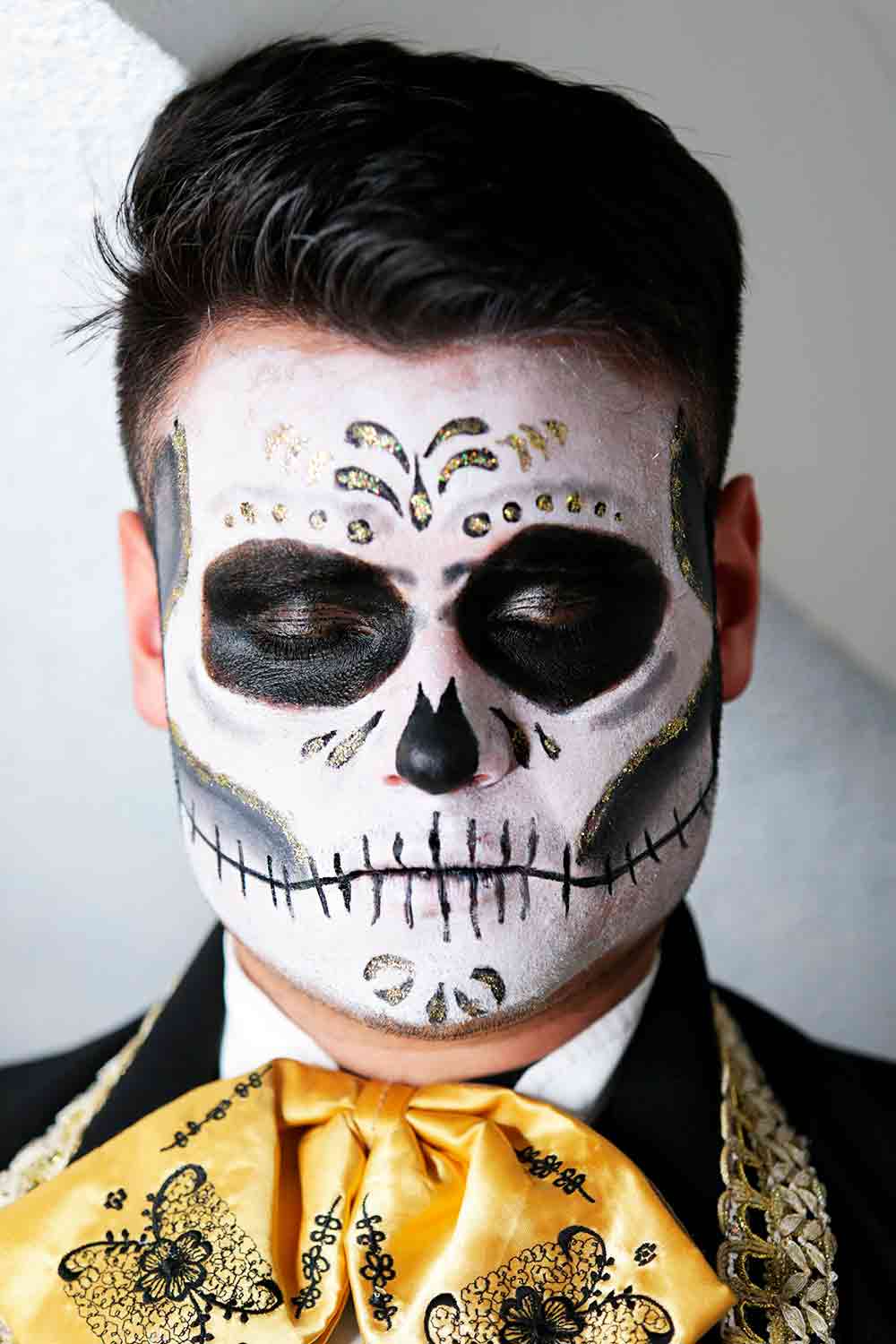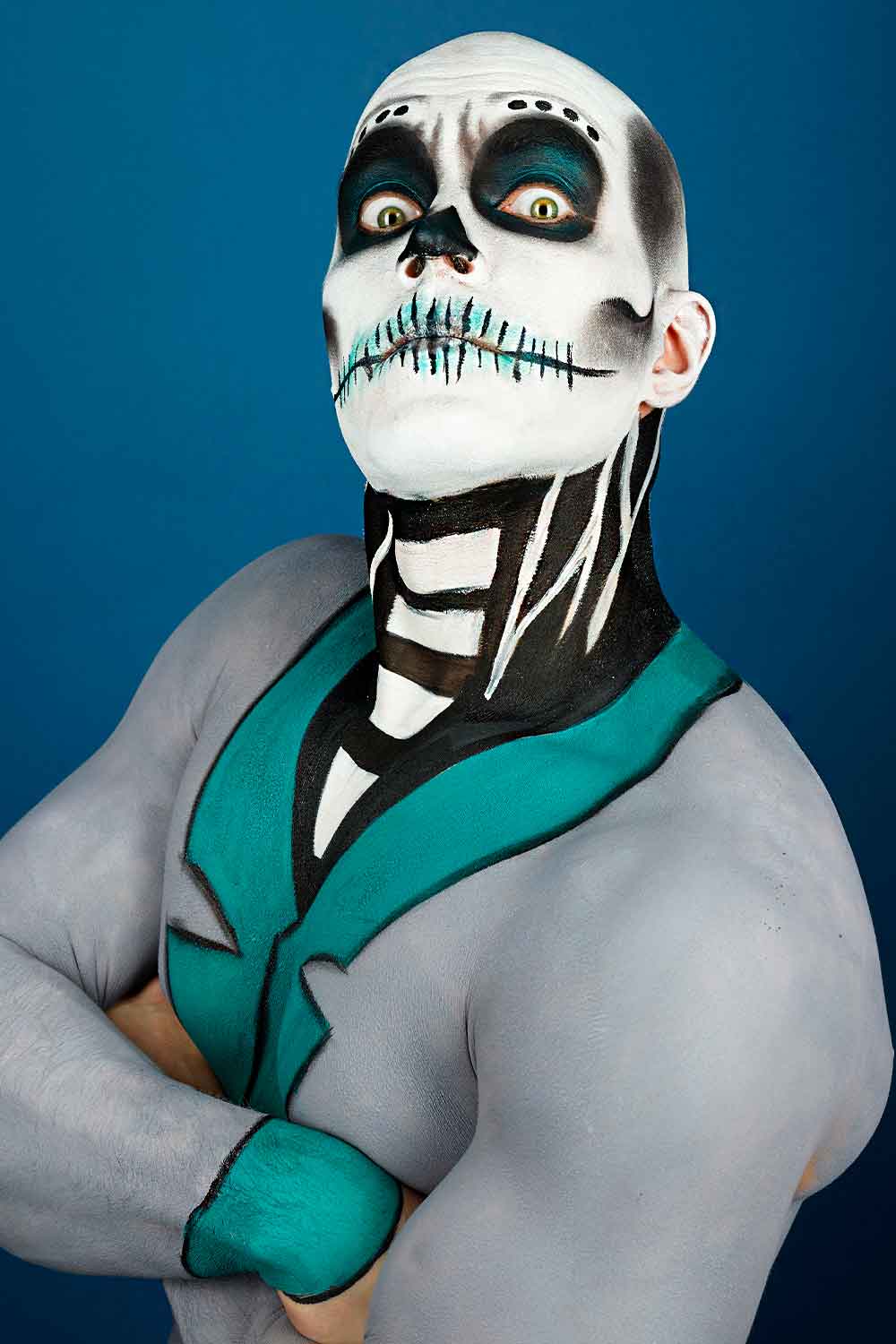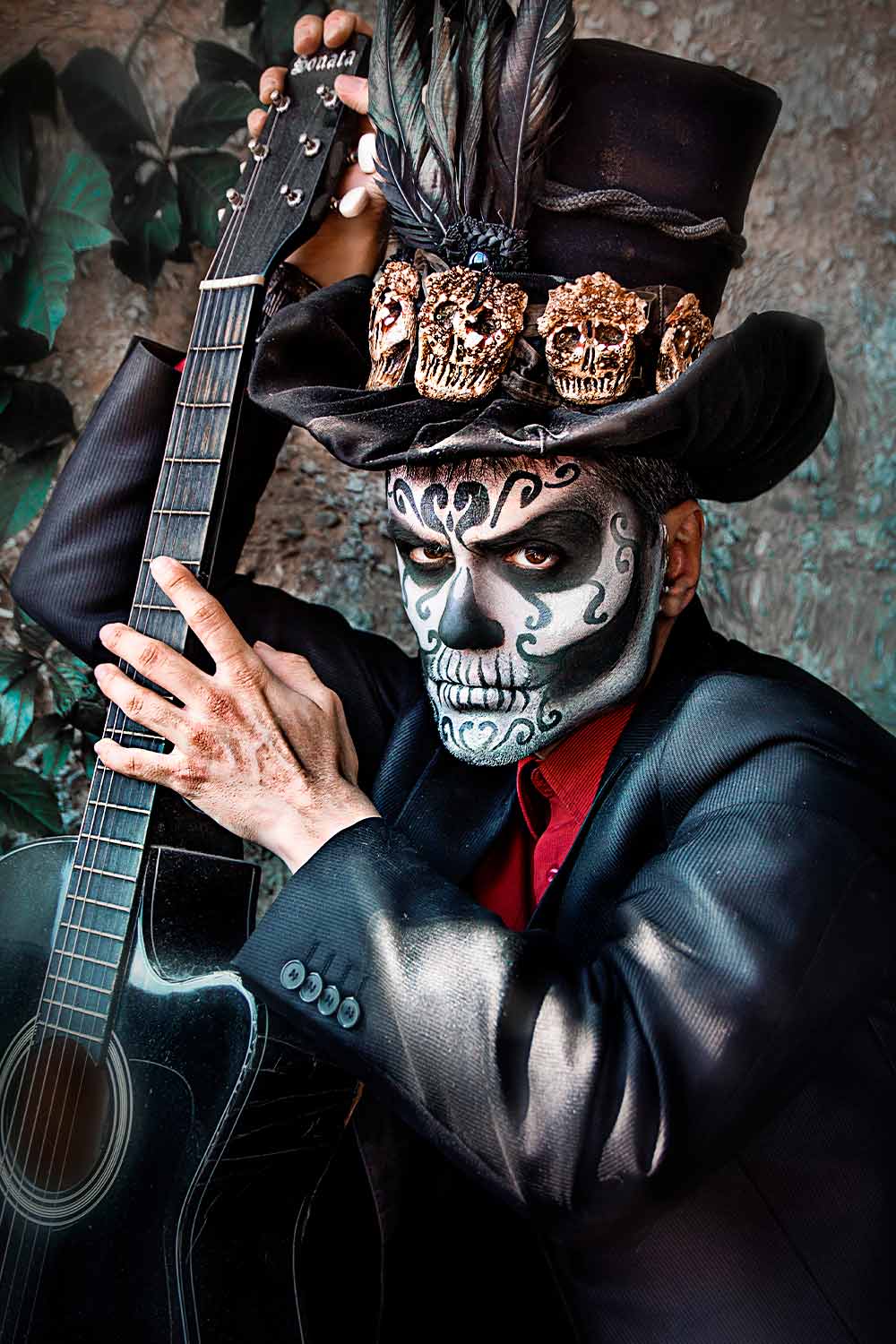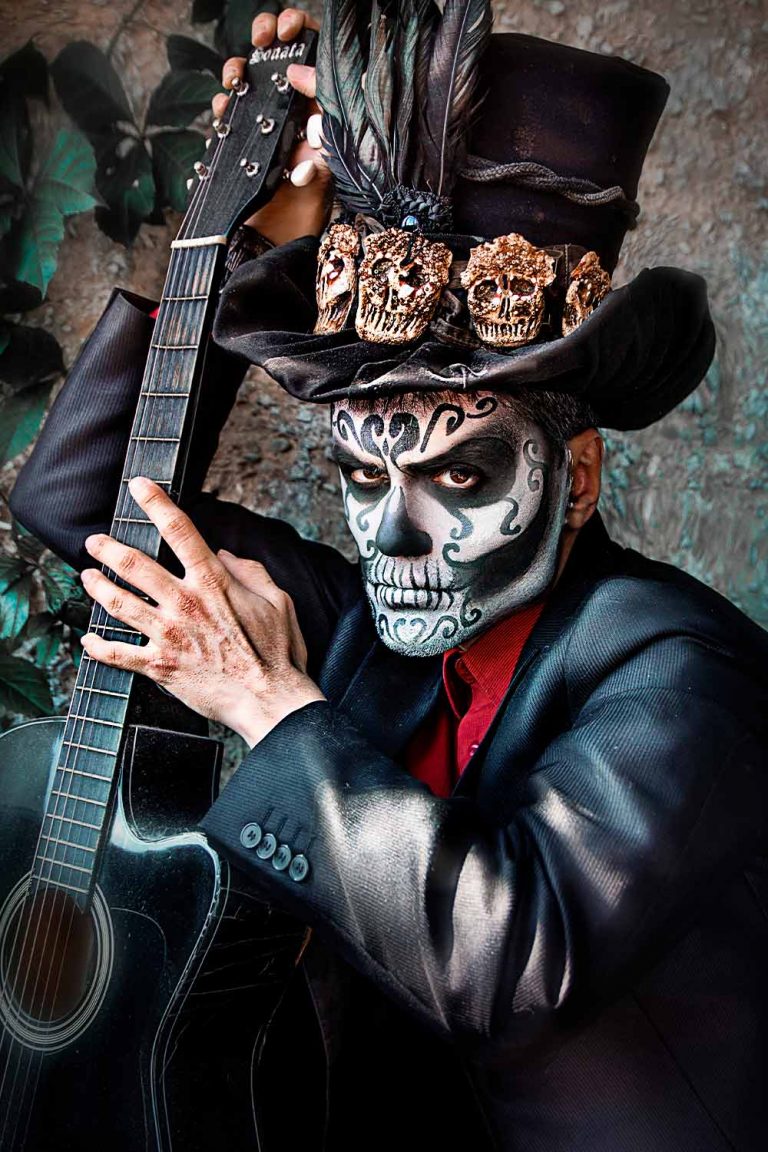 /
Joker Men's Halloween Makeup
After the world was introduced with the new depiction of Joker in the Suicide Squad movie, it has become one of the most popular Halloween face painting ideas. Although he is considered a villain, Joker's unfading popularity is breaking all records. To help you pull off this iconic look, we have prepared detailed hair and makeup tutorials.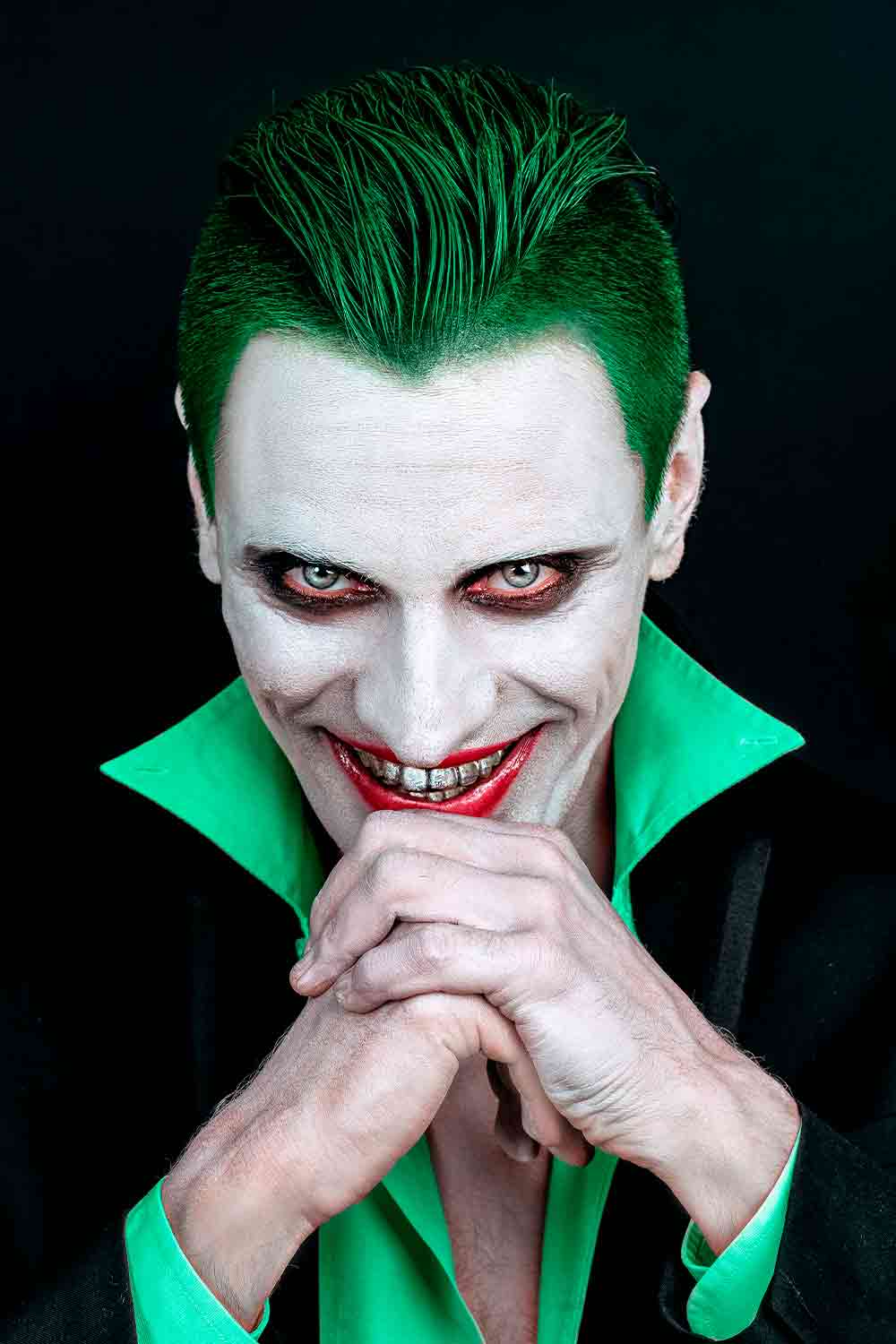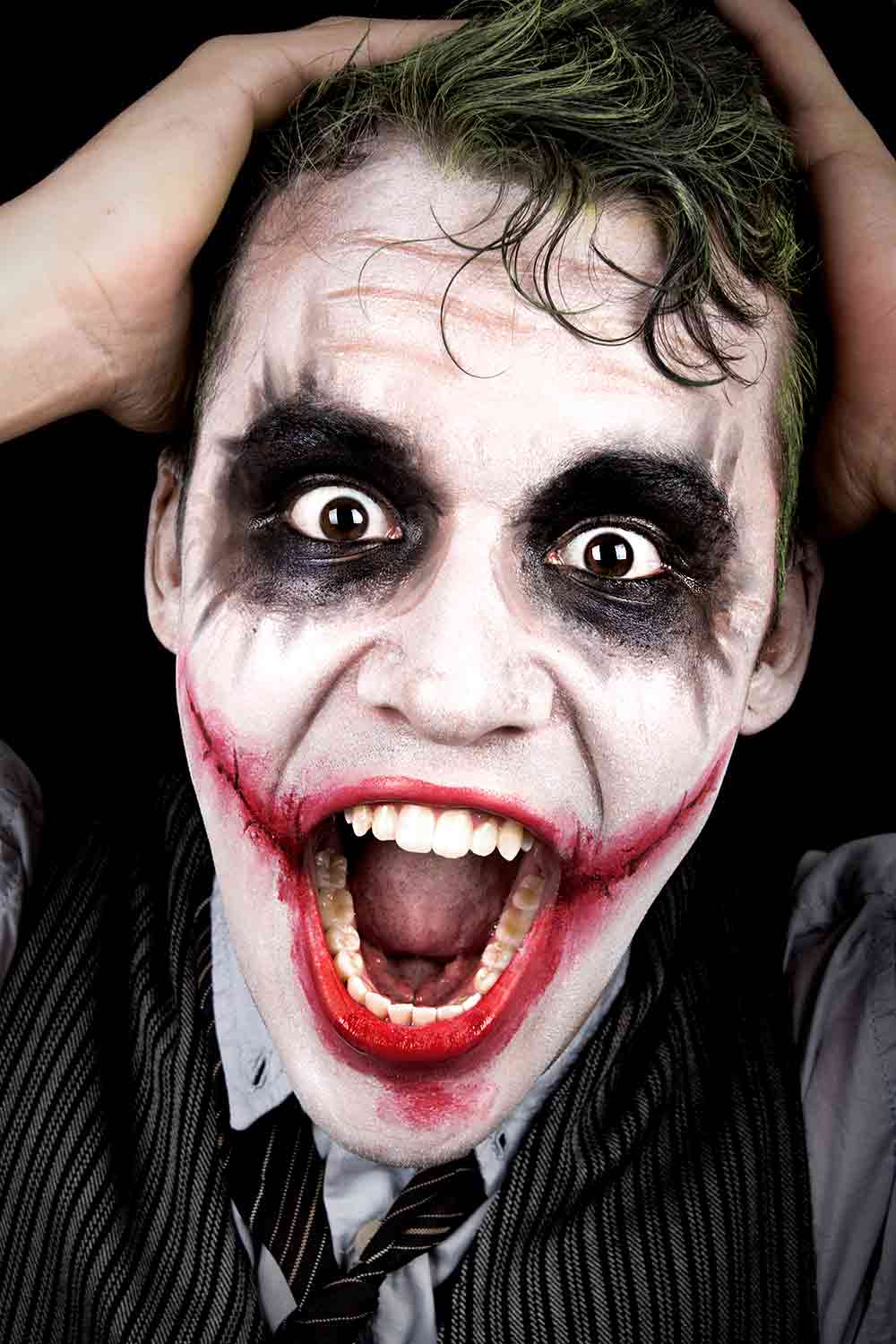 /
God Of War
Are you a creative person and want to express it through your Halloween look? Then do not limit your imagination! All sorts of wounds seem fierce. Try to achieve the ultimate realism and you will end up with one of the coolest makeup looks for Halloween.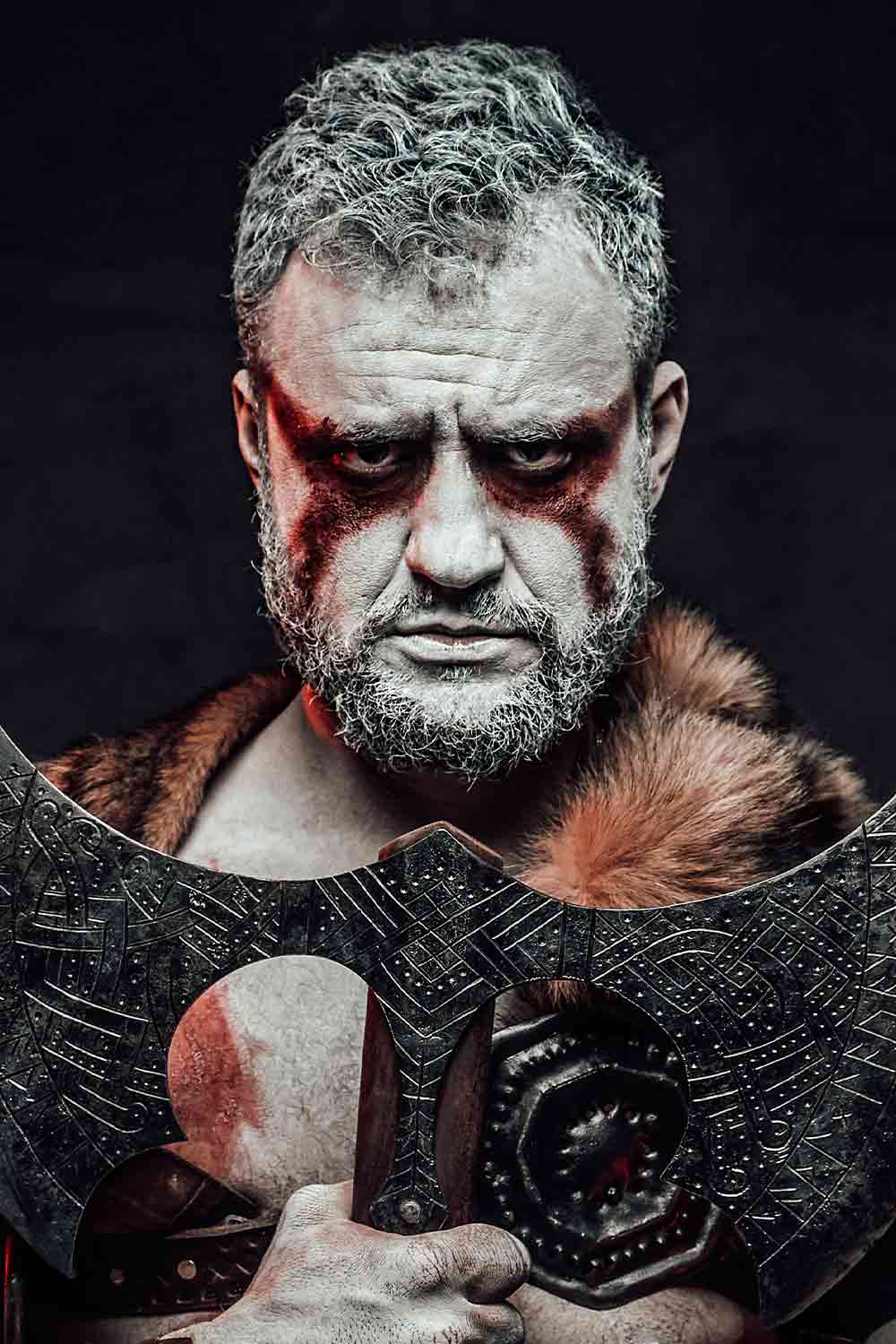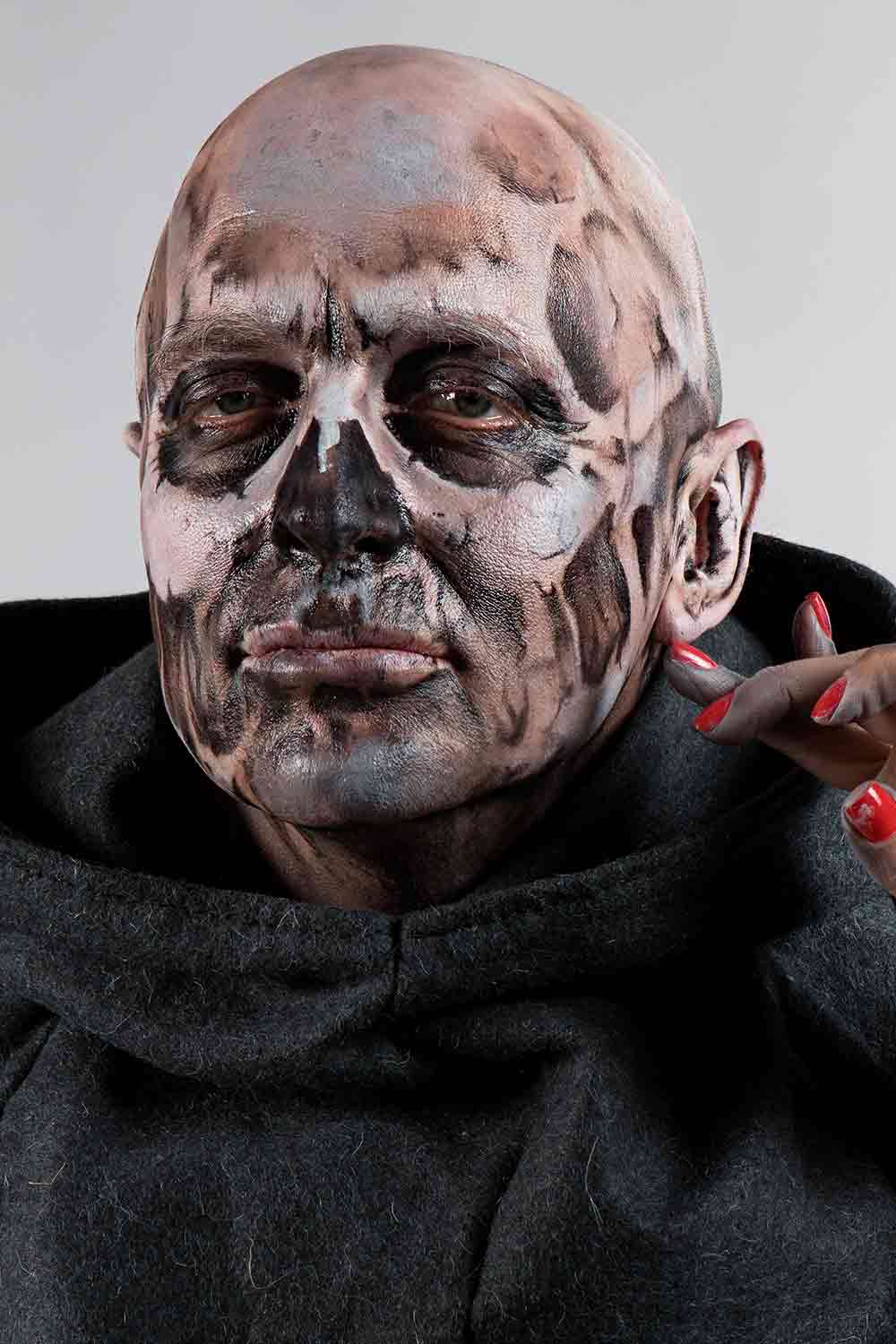 /
Pirate Makeup Men
To pull off pirate Halloween makeup easily and effortlessly, you just need to apply black eyes with streaks to your white face. Finish off the look with an eye patch and hat or bandana.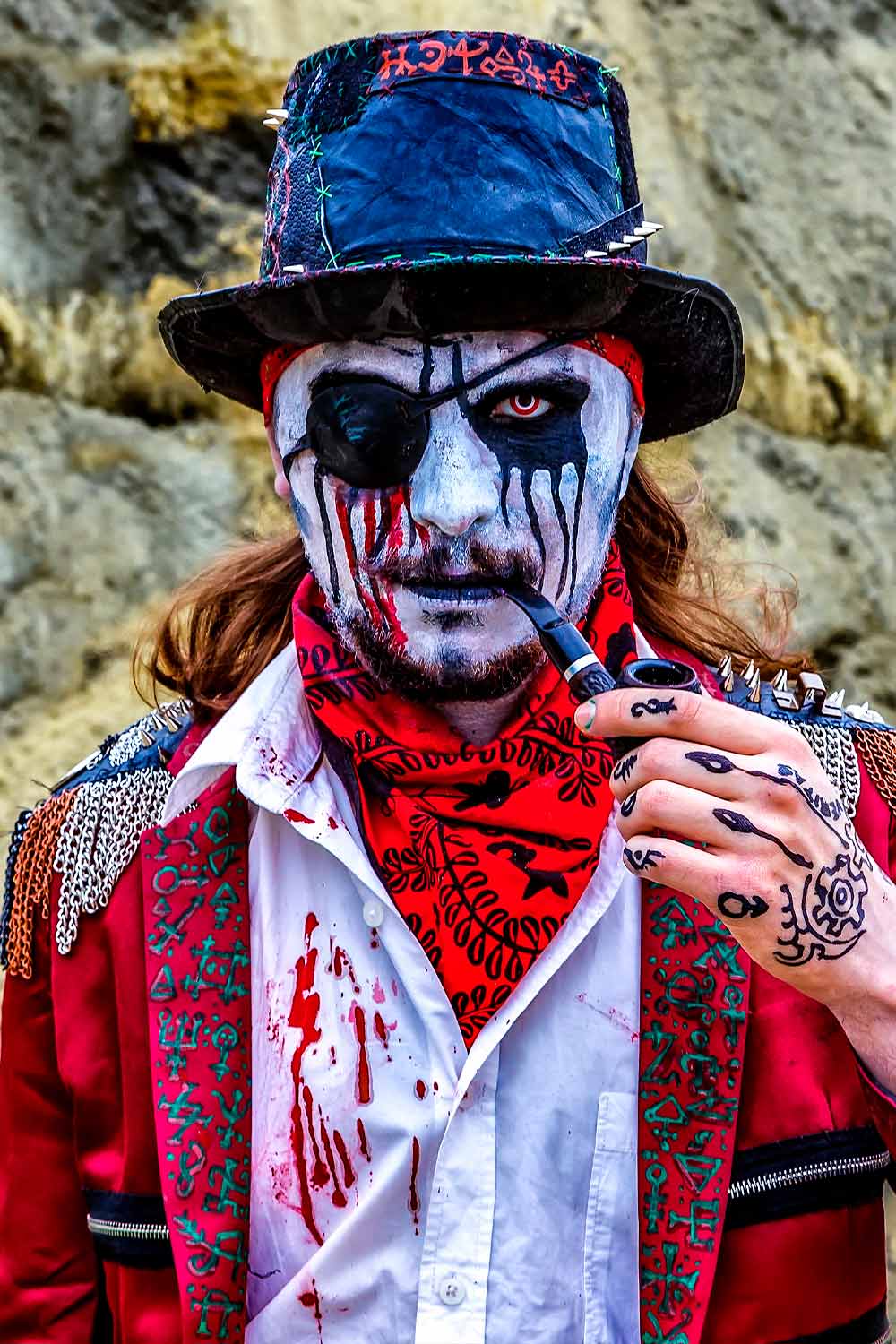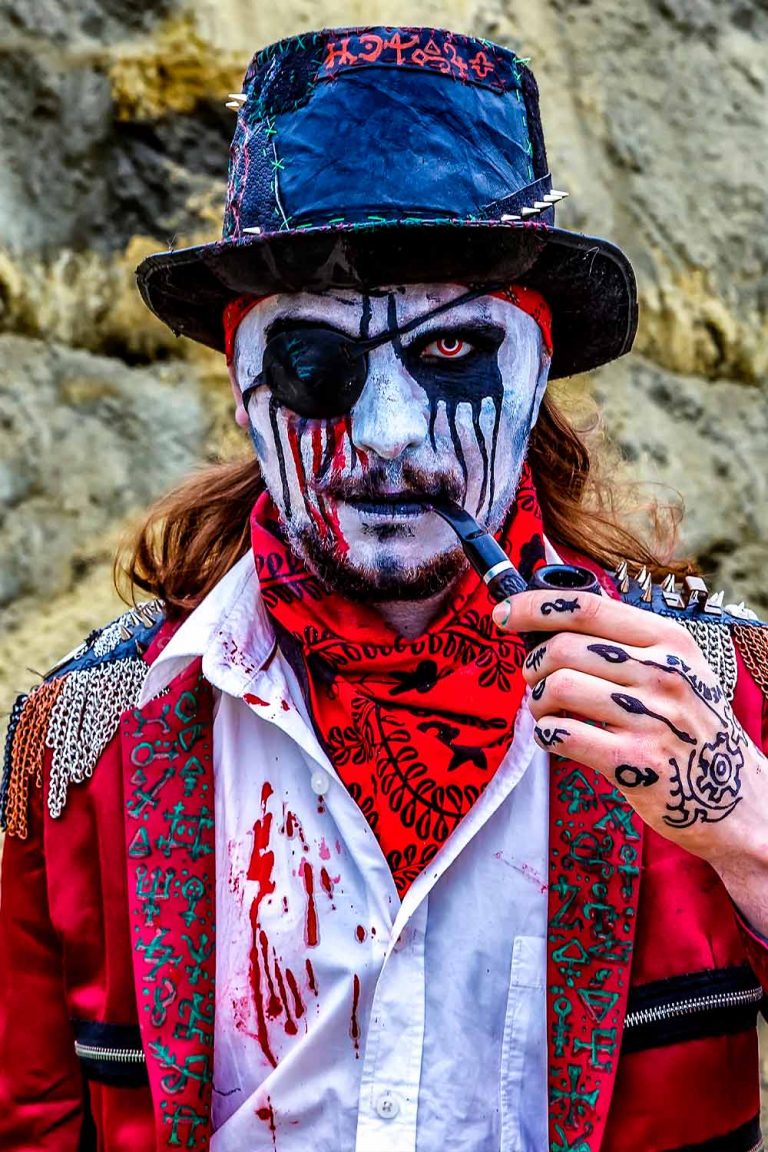 /
Uncle Fester Addams Family
Channel the lovable and eerie Uncle Fester from the Addams Family with these cool halloween face paint. Create his pale, bald head and mysterious persona using makeup and props for a spooky and entertaining costume that pays homage to this classic character.
Beetlejuice
Get quirky and ghostly with scary halloween faces paintings. Emulate the iconic character from the movie with wild hair, eerie pale skin, and distinctive black and white striped attire. Transform into this mischievous and unpredictable ghost for a fun and instantly recognizable costume that's sure to turn heads at your Halloween party.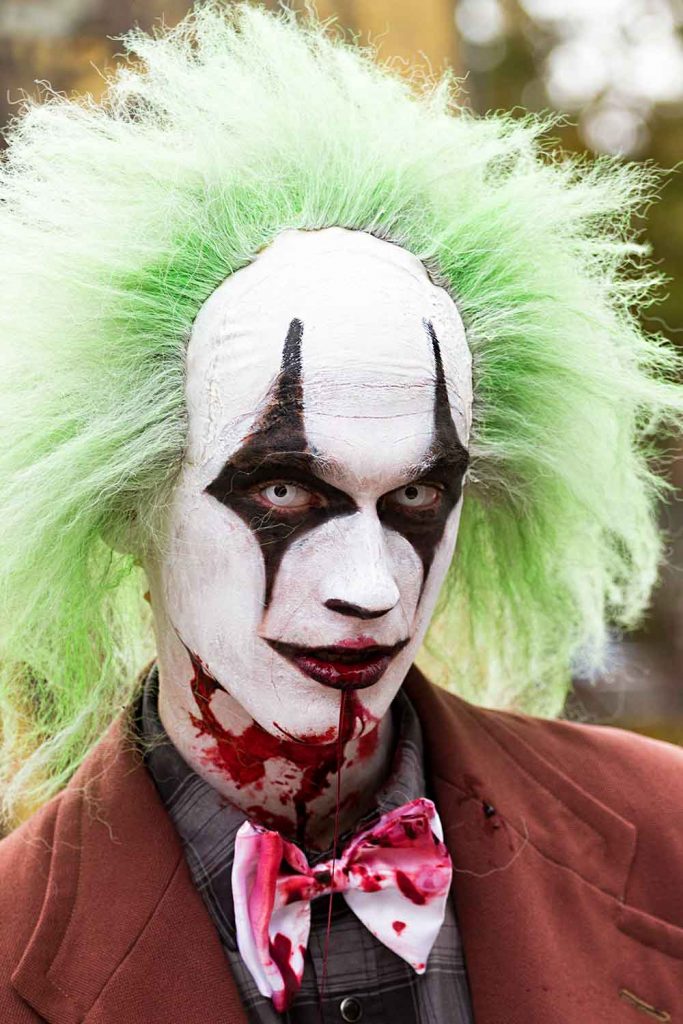 Sad Clown Makeup Ideas
Although this character is not new at all, the clown makeup easy remains one of the most recreated Halloween makeup looks. In addition to the charisma and flair of the clown, it owes its popularity to the fact that it is quite a simple Halloween makeup look. What else is cool about it is that it can be either funny or scary makeup, which is up to you to decide.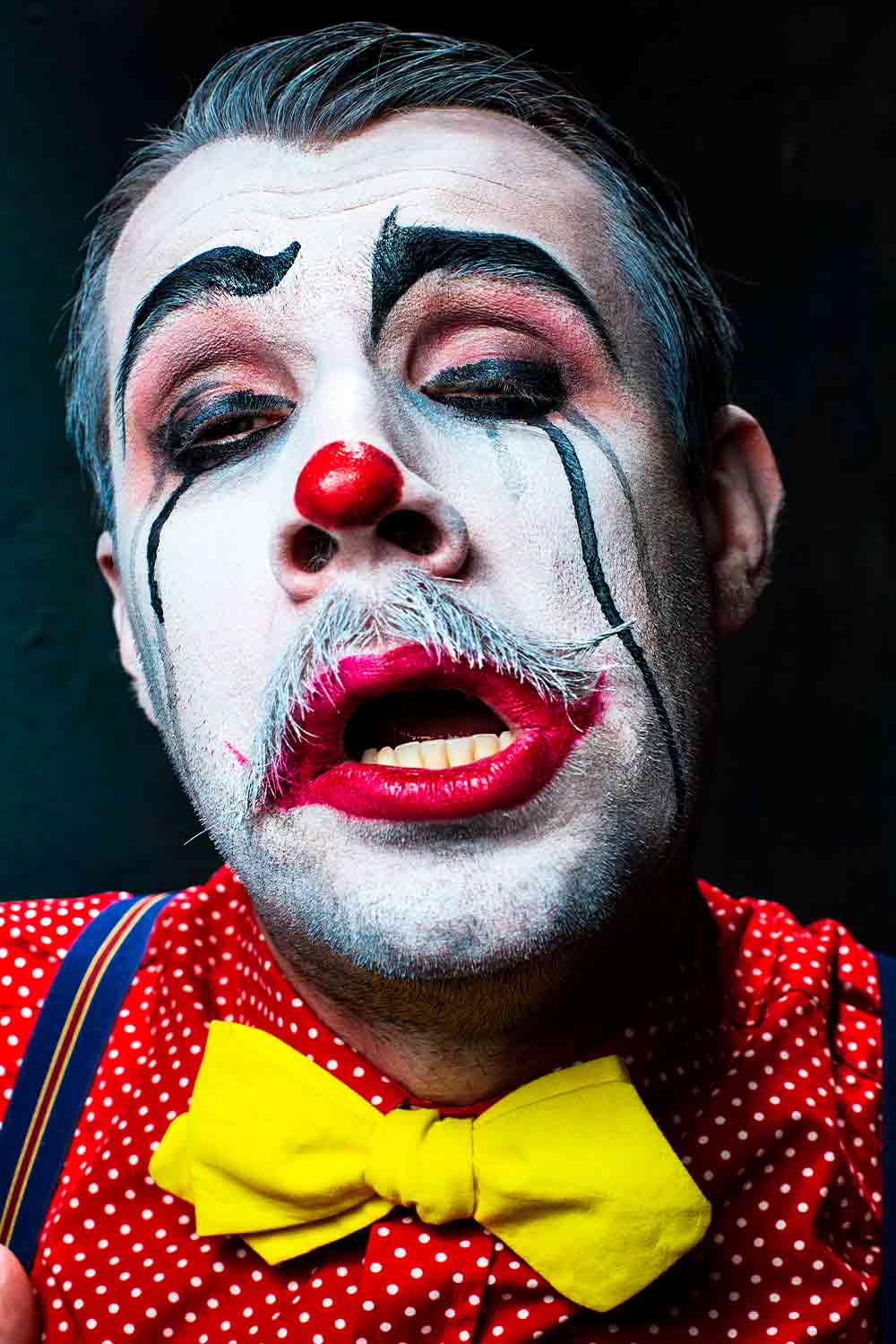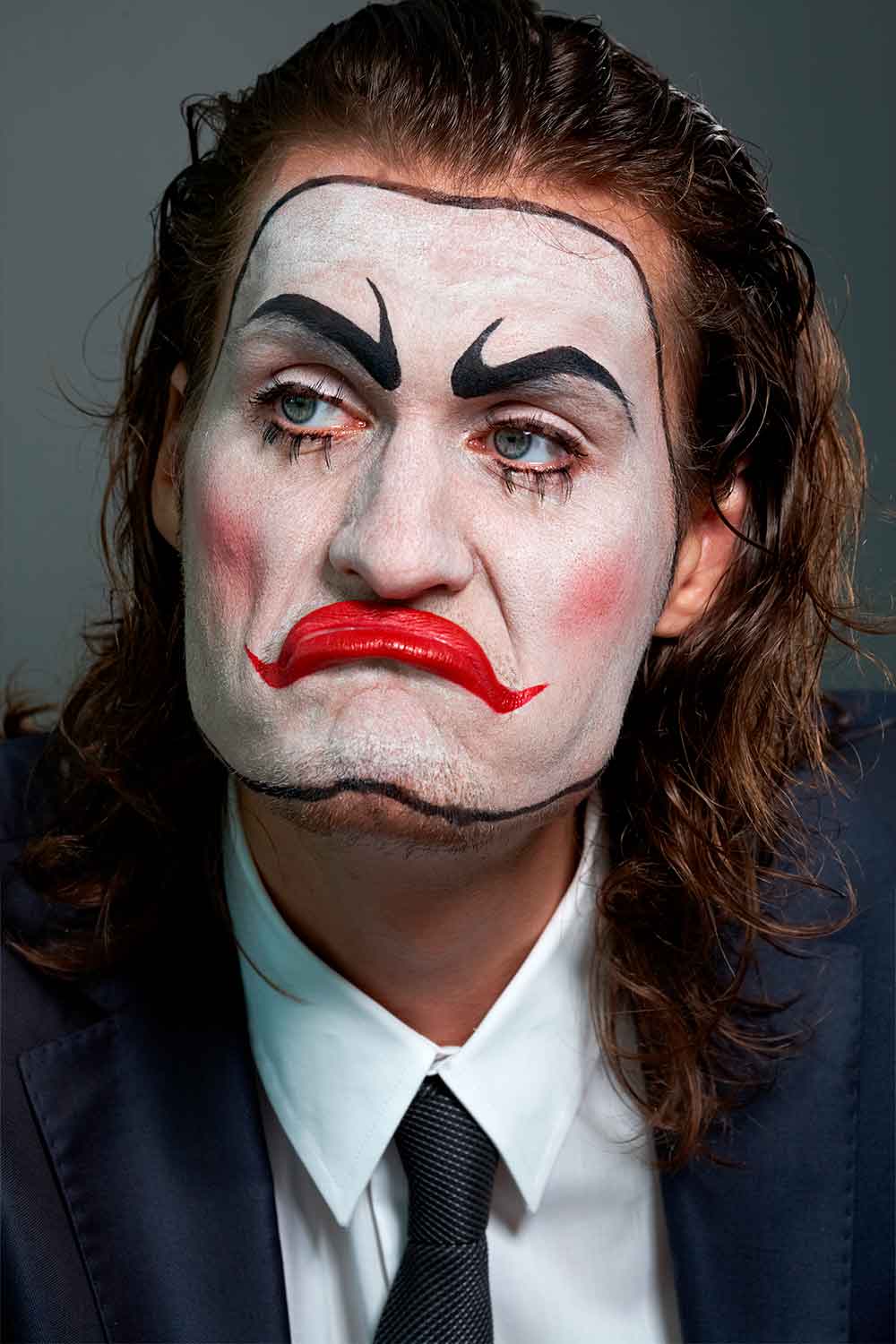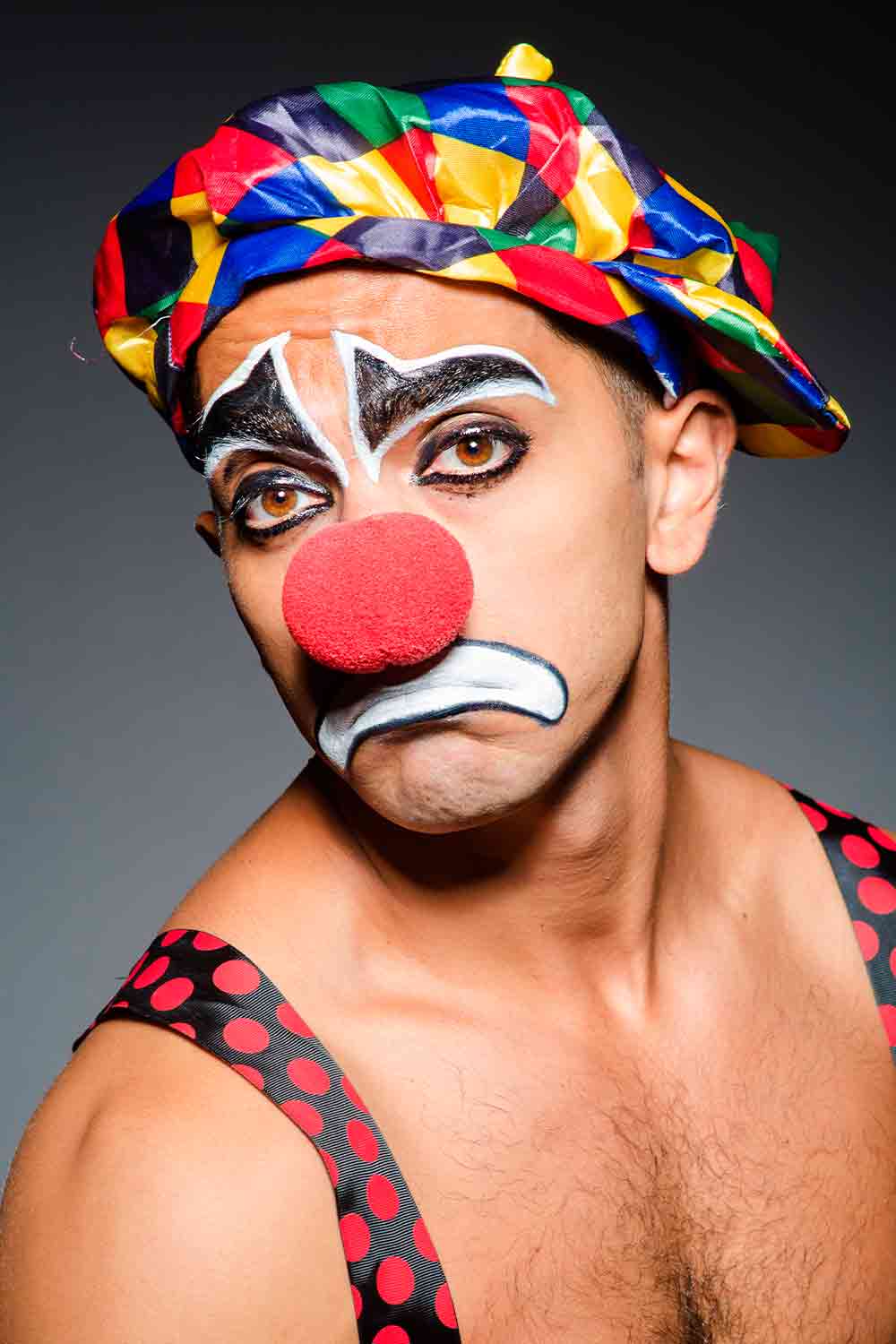 /
Pop Art Bright Men's Face Paint
If you do not want to spend much time on your Halloween preparations but still would like to pull off a decent look, go for simple yet classic skull makeup. Check out some simple and coll skull face makeup ideas for a Halloween party.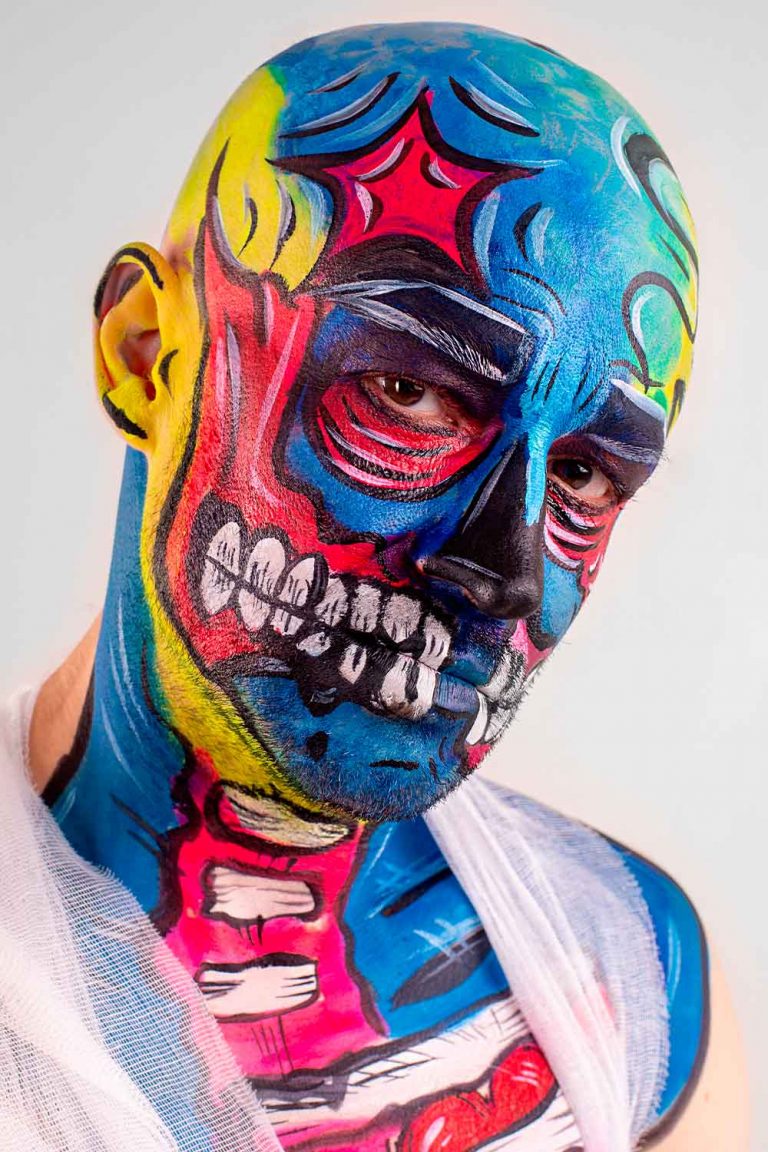 Darth Maul Star Wars
Unleash the dark side of the Force with Darth Maul Halloween makeup ideas. Recreate the menacing look of this iconic Star Wars character with striking red and black facial markings, menacing yellow eyes, and his signature double-bladed lightsaber. Transform into a Sith Lord and exude the sinister presence of Darth Maul for an unforgettable and powerful costume.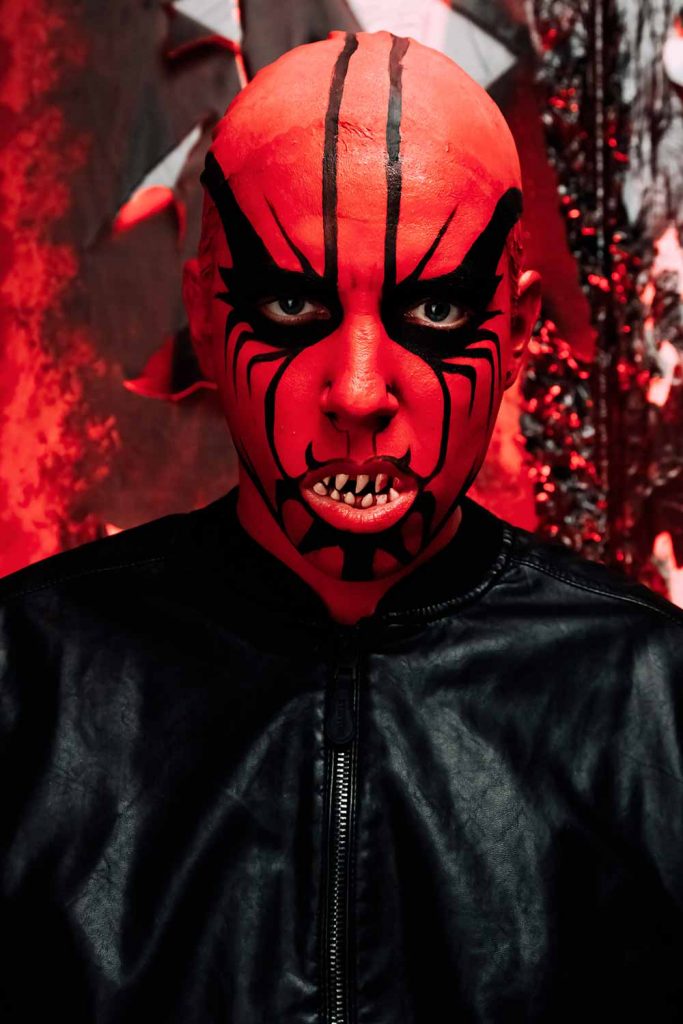 Face Stricks
Interesting and unusual make-up for Halloween. try it and make sure that at the party it is unlikely that someone will come with a similar pattern.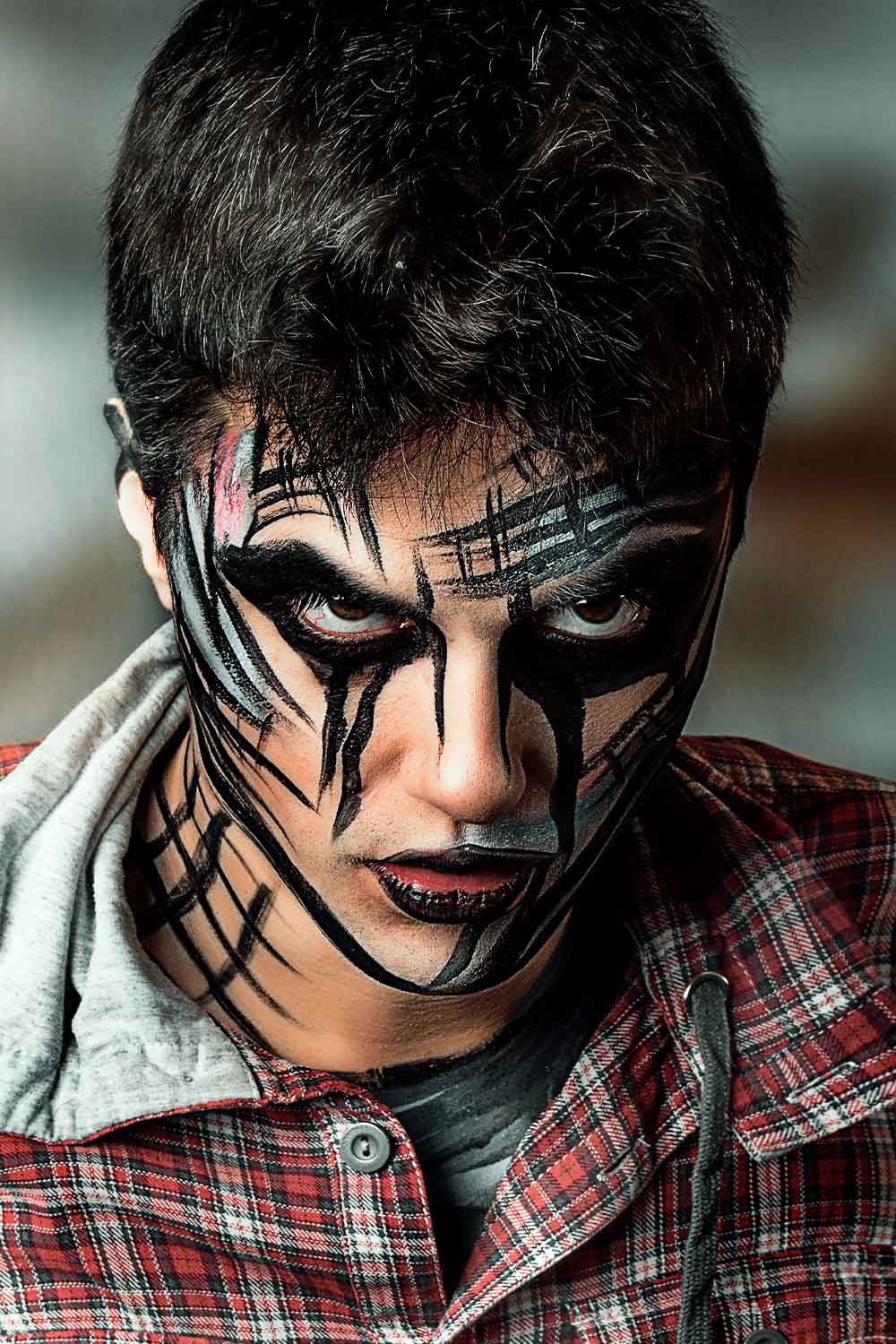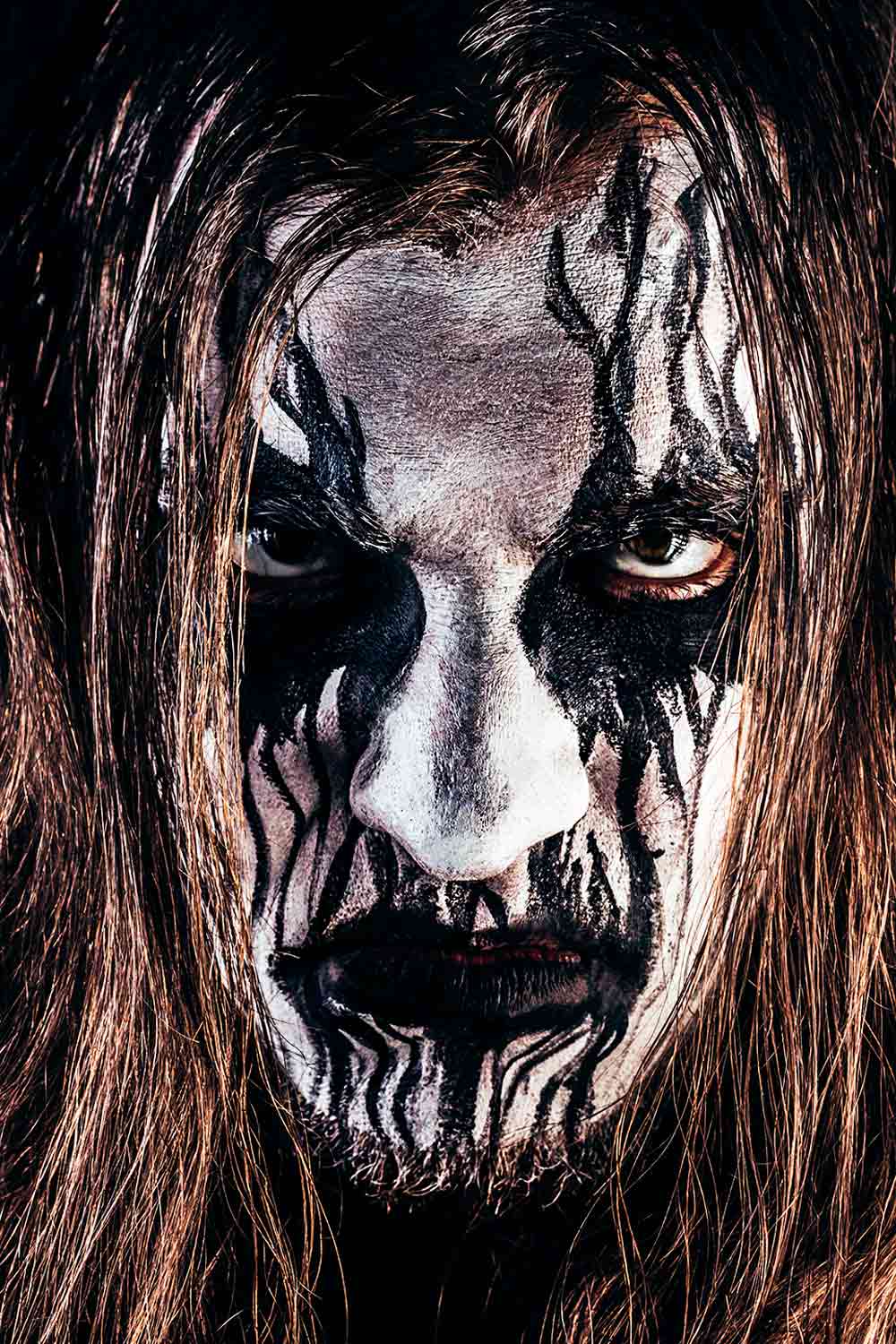 /
Tiger Face Art
If You Want something special, try out tiger face paint for men.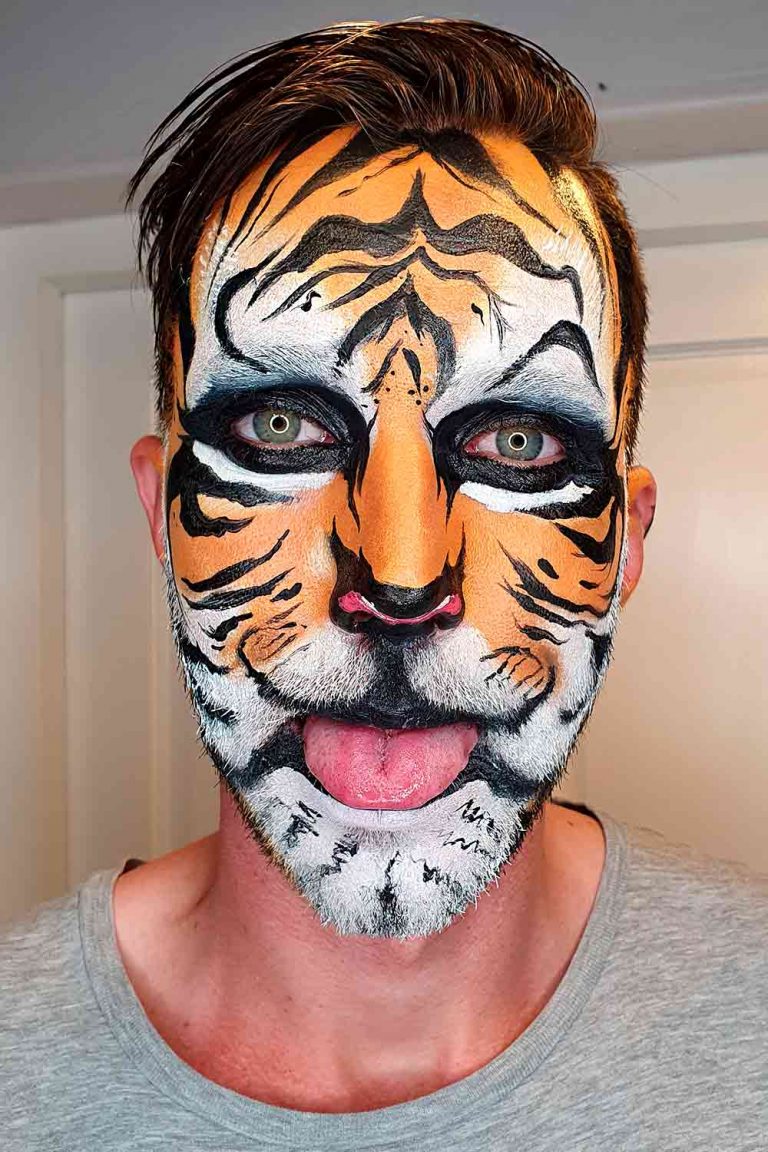 Devil Makeup
Do you want a really scary Halloween makeup? Then the Devil should be your look of choice. Depending on the time, skill and will you have, this DIY makeup can vary from easy to elaborate. You can add horns, contact lenses and claws if you like to make the look more realistic.
/
Zombie Mens Halloween Makeup
Real zombies are not as sweet and cheesy as the Zombieland tried to convince us. They are mean, scary, and dangerous, which makes mens vampire makeup one of the best Halloween makeup options. The DIY zombie makeup is probably the second most popular Halloween makeup for men after the Skeleton if not the first. You will also be able to pull it off no matter whether you are good at drawing or not. Easy zombie makeup can be awesome too.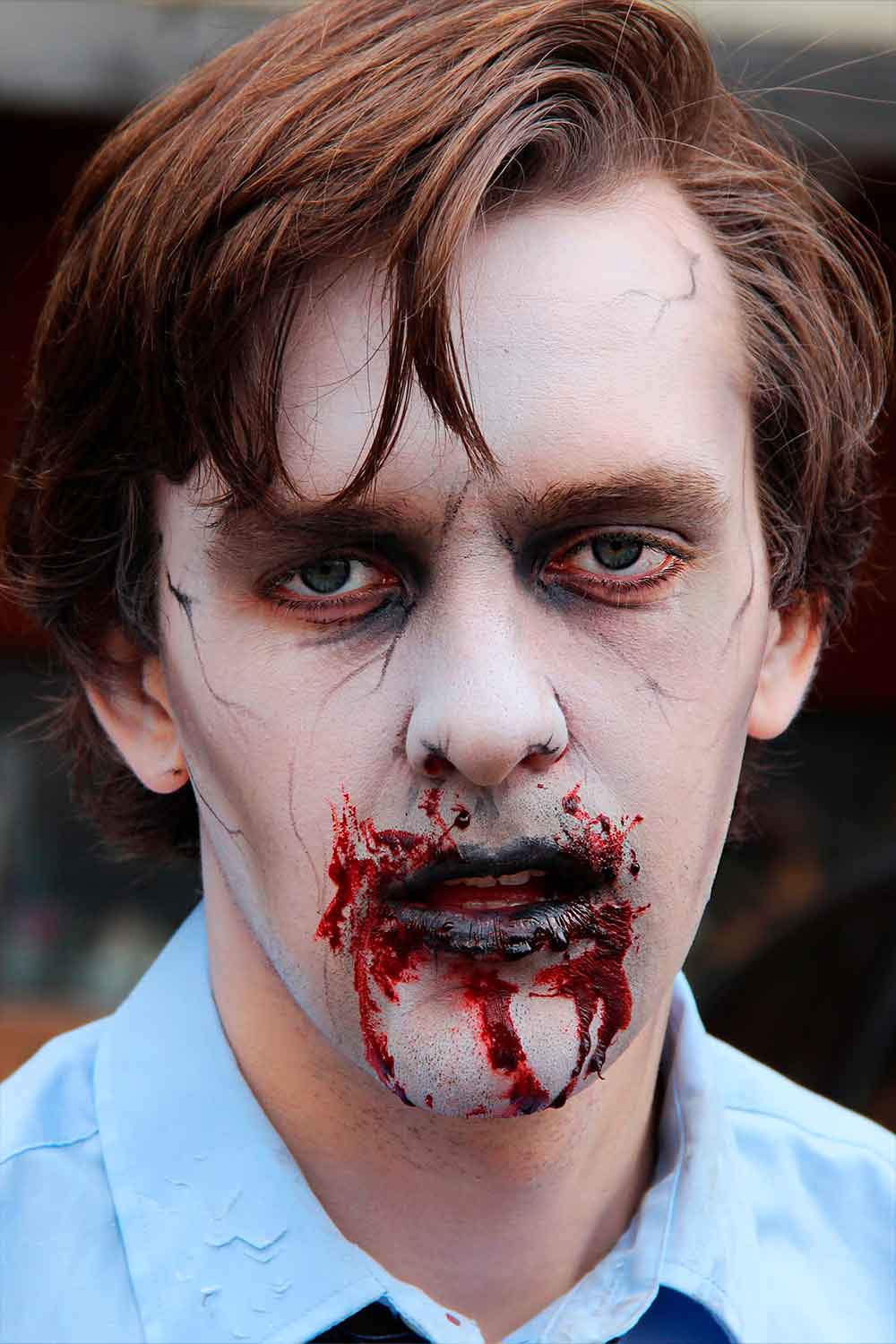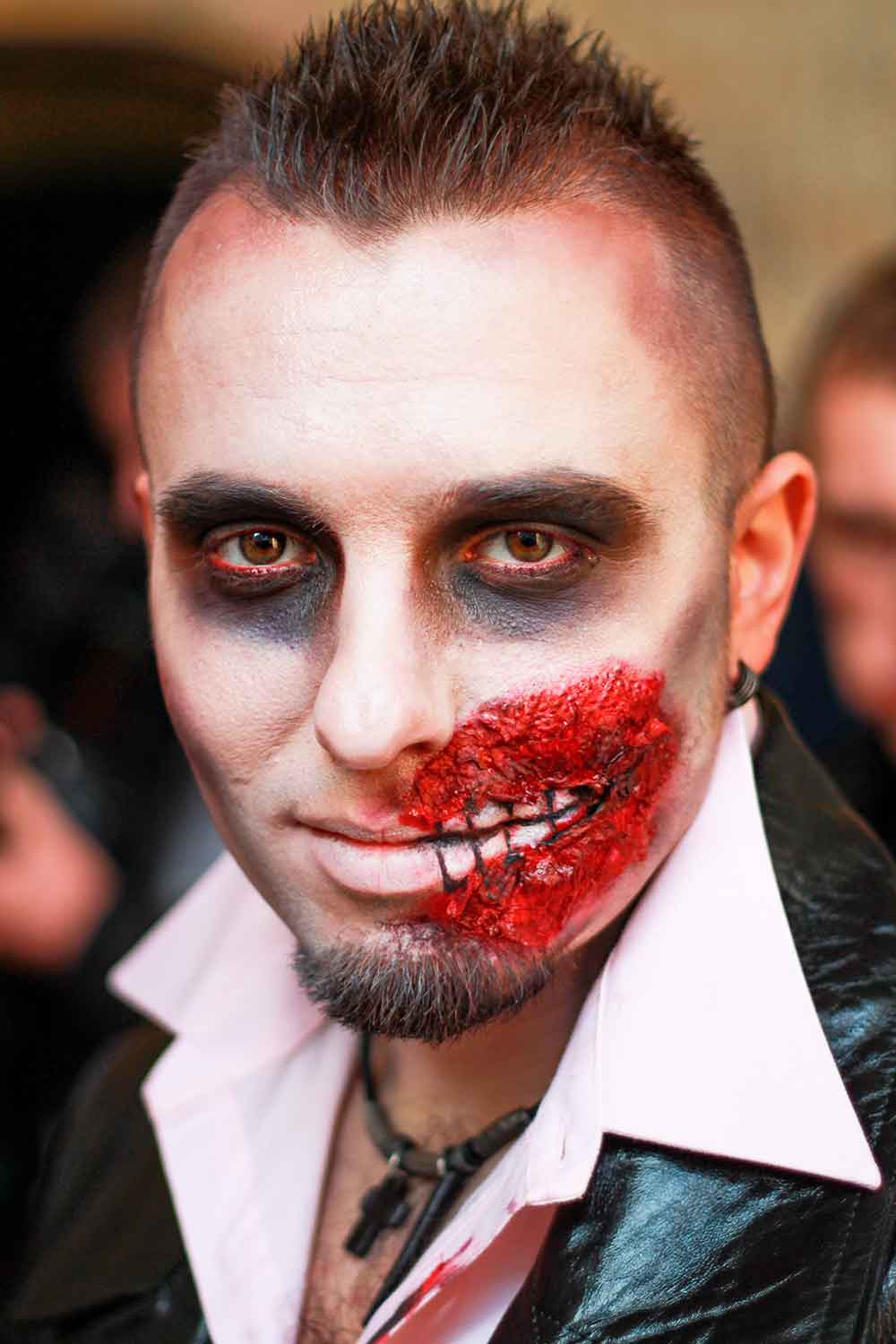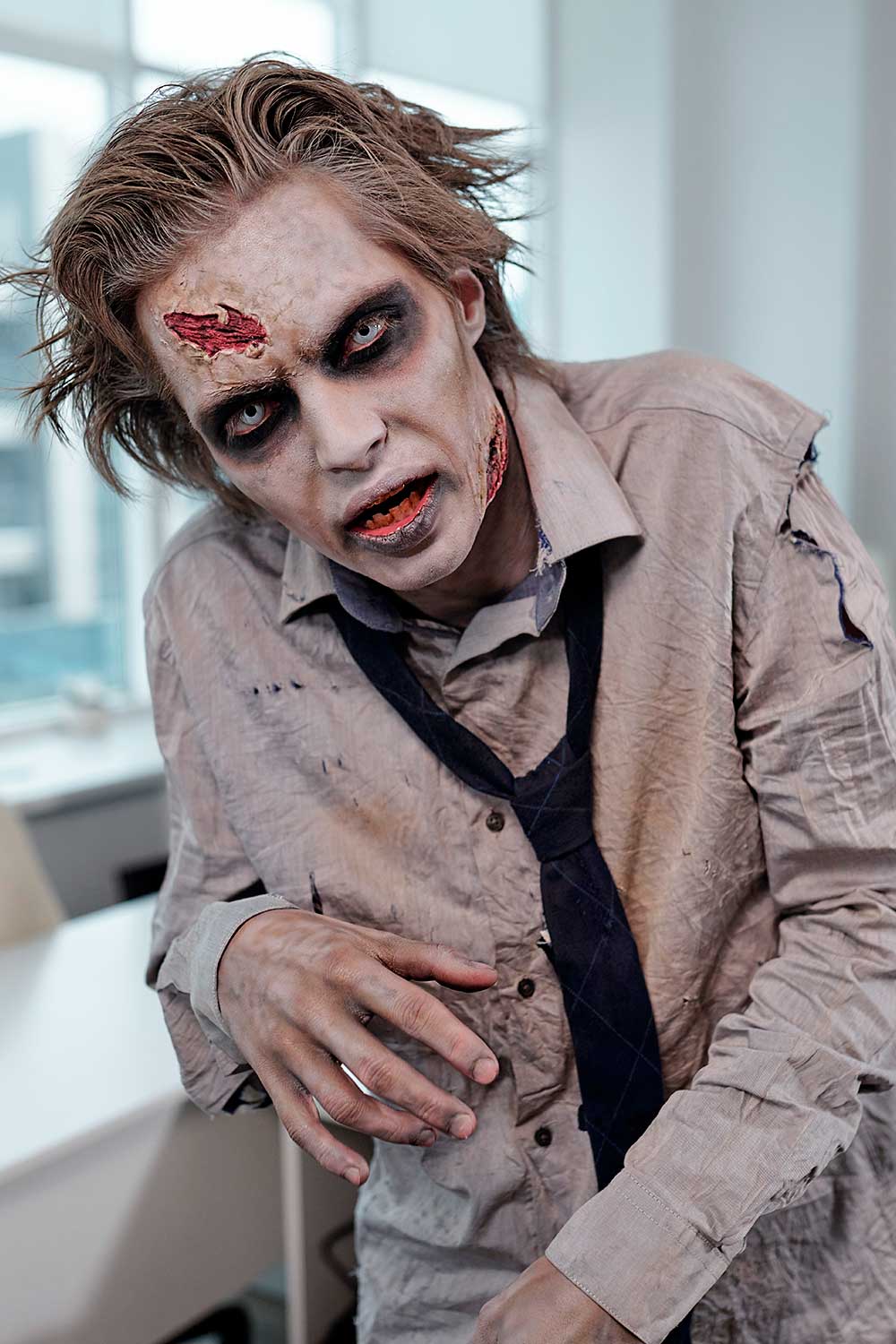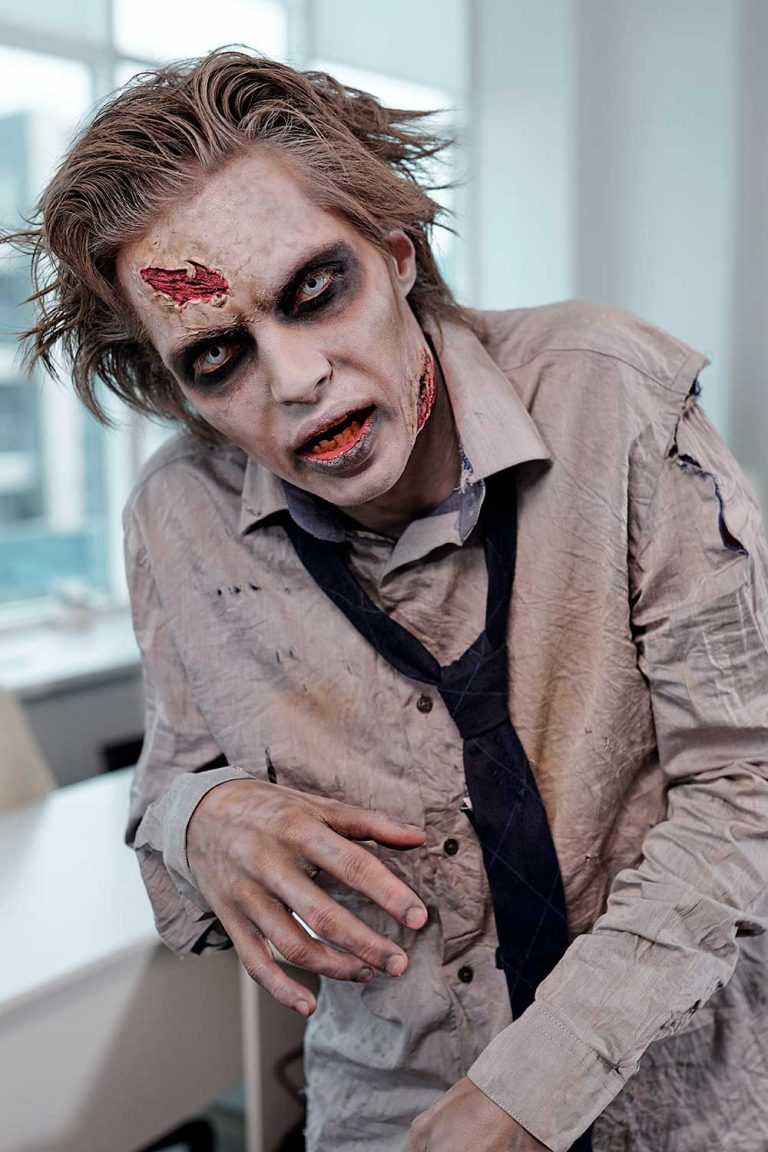 /
King Of The Night
Show everybody your dominance through your Halloween makeup. Try on the role of the King of the Night and who knows, maybe, you will want to carry on with the day too. The most interesting thing is that for this costume you don't even need to paint your face – just wrap it with a bandage.
Mortal Kombat Mens Makeup
Video games are a great source of inspiration for your Halloween look. That said, you can choose your favorite Mortal Combat character to win the day.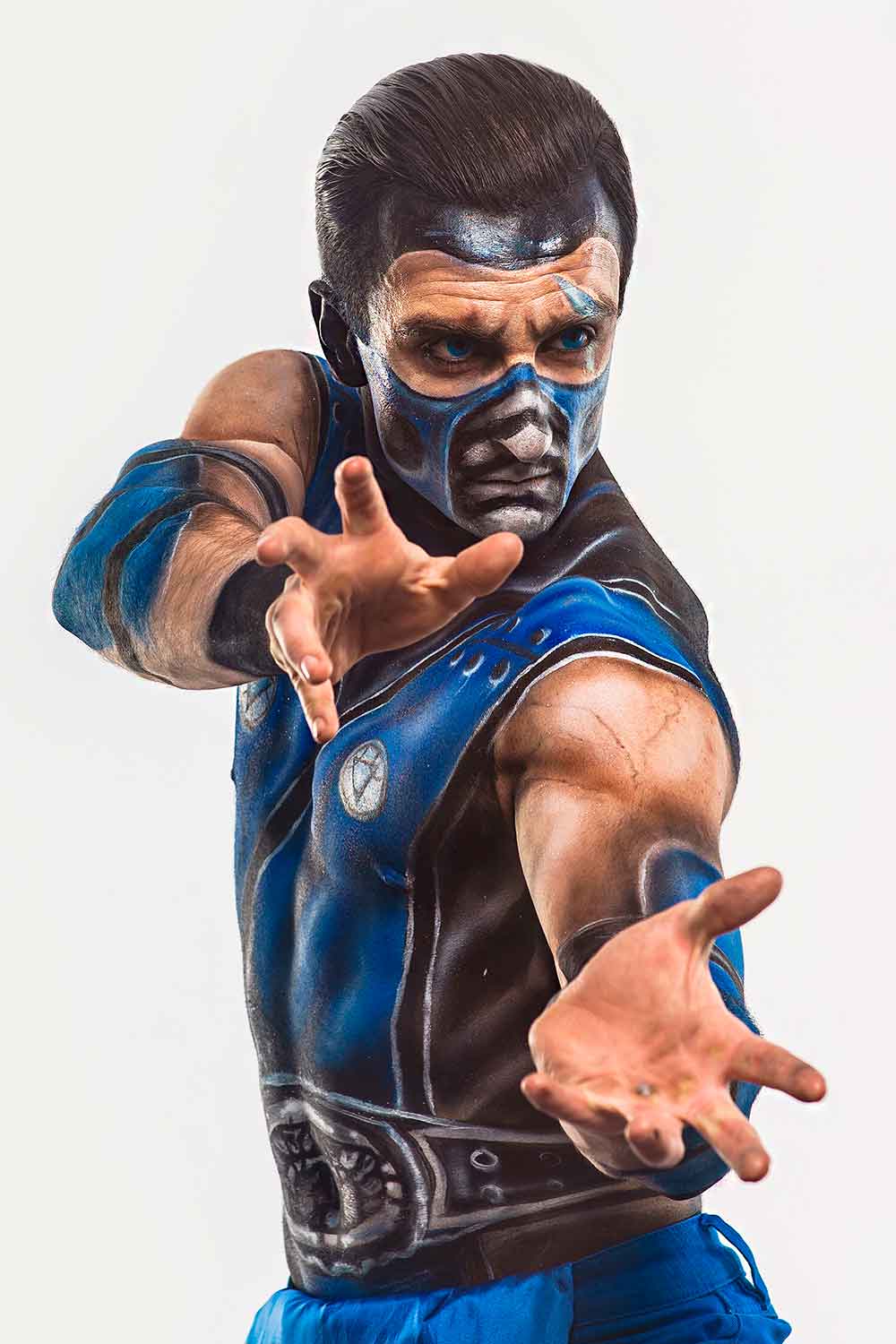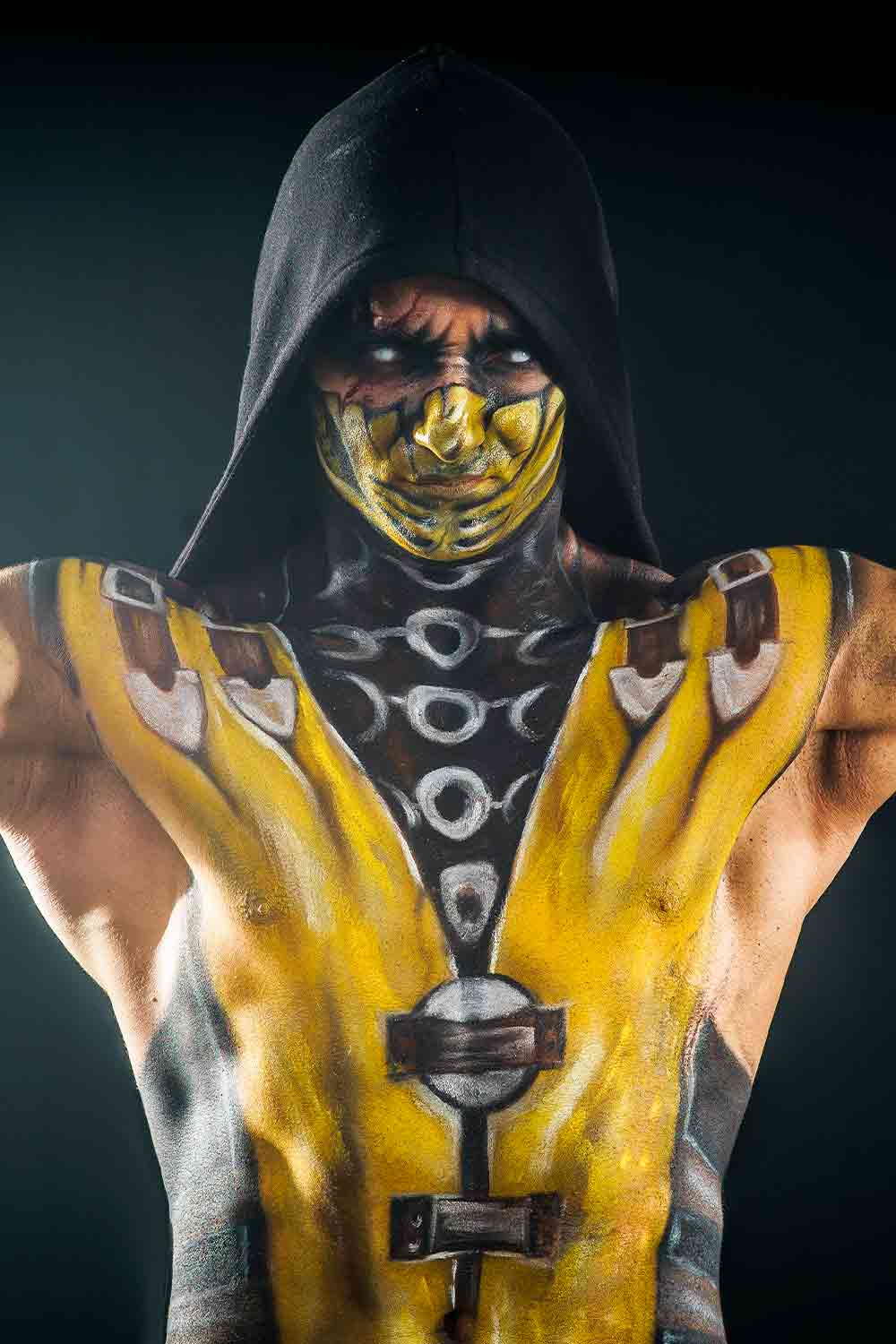 /
Druid Halloween Makeup For Men
Halloween costumes for boys can be quite intricate and elaborate and the druid look successfully proves it. Though, to pull it off, you may need some extra help.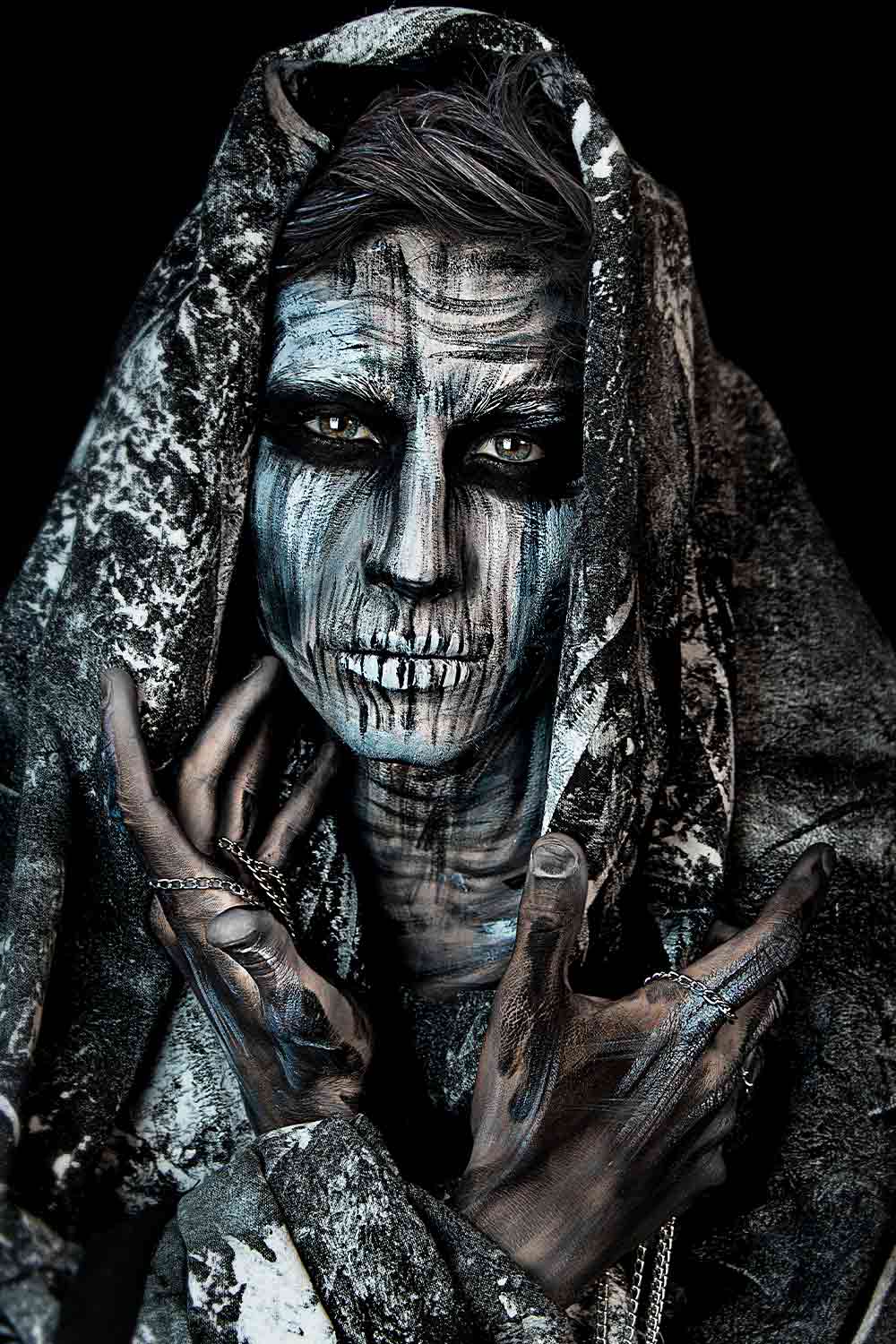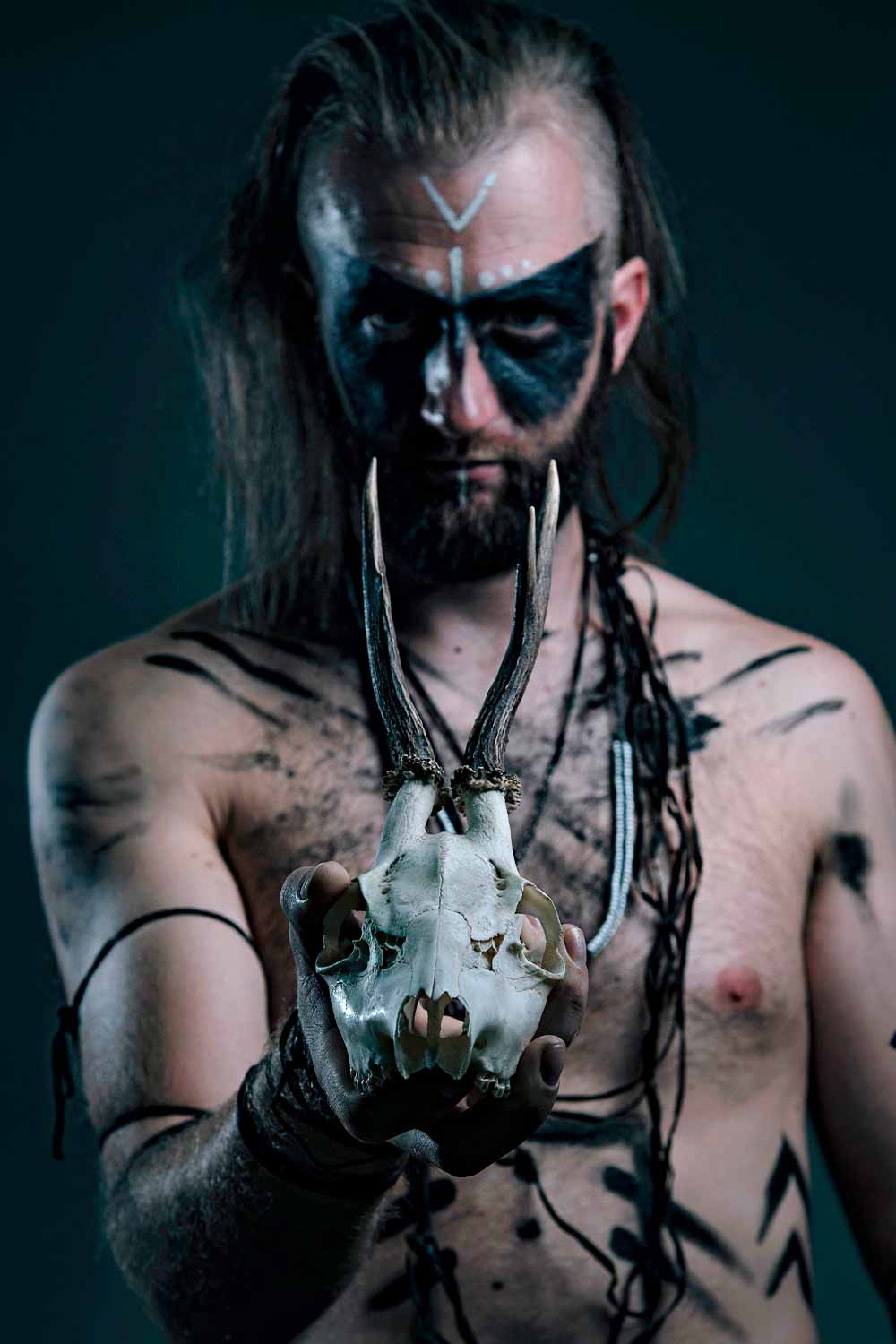 /
Papuan Halloween Make Up
If you want something more interesting than skeleton face makeup, try this crazy makeup and your effort will fully pay off with the amazed glares you are going to get from every quarter.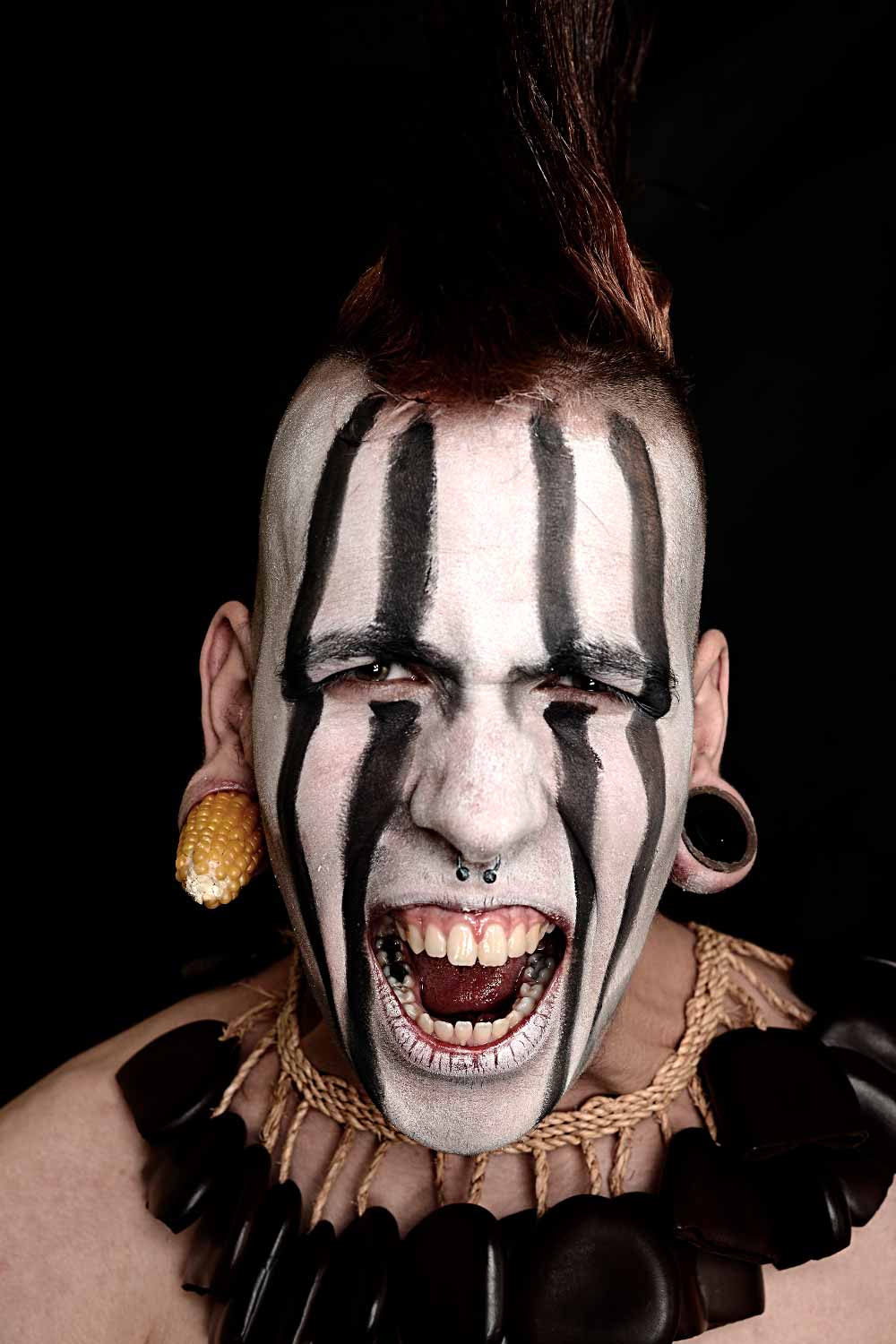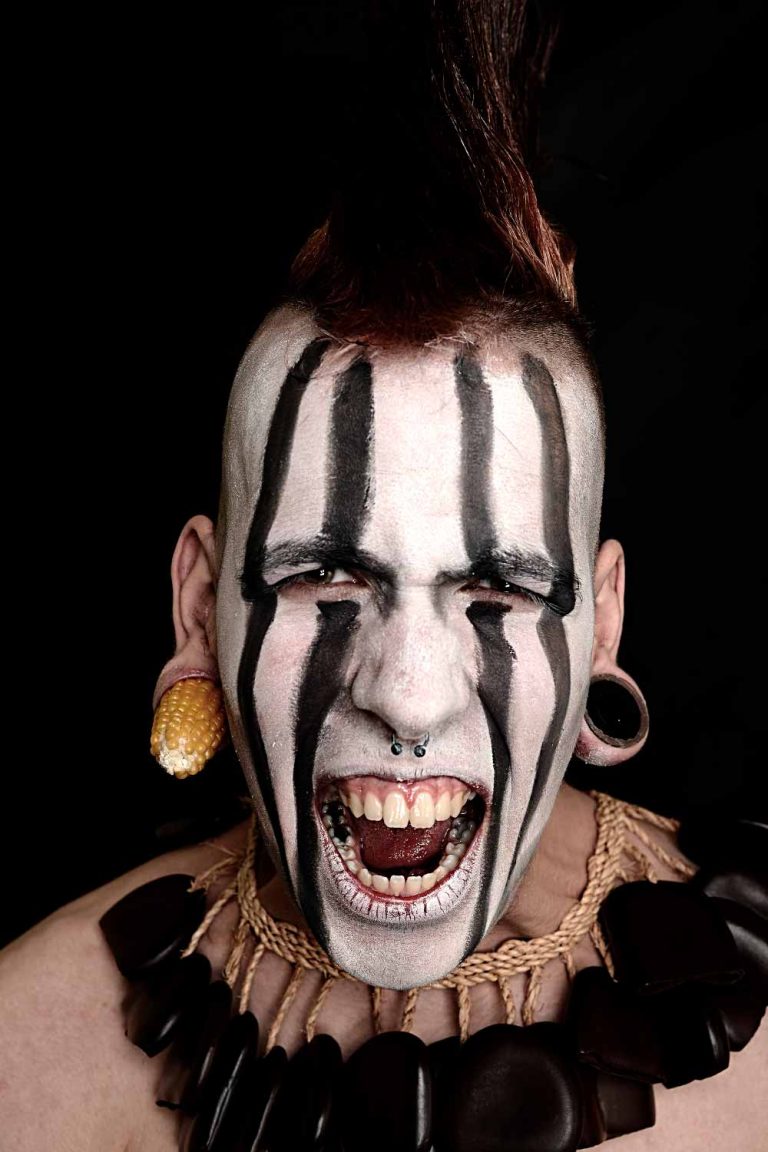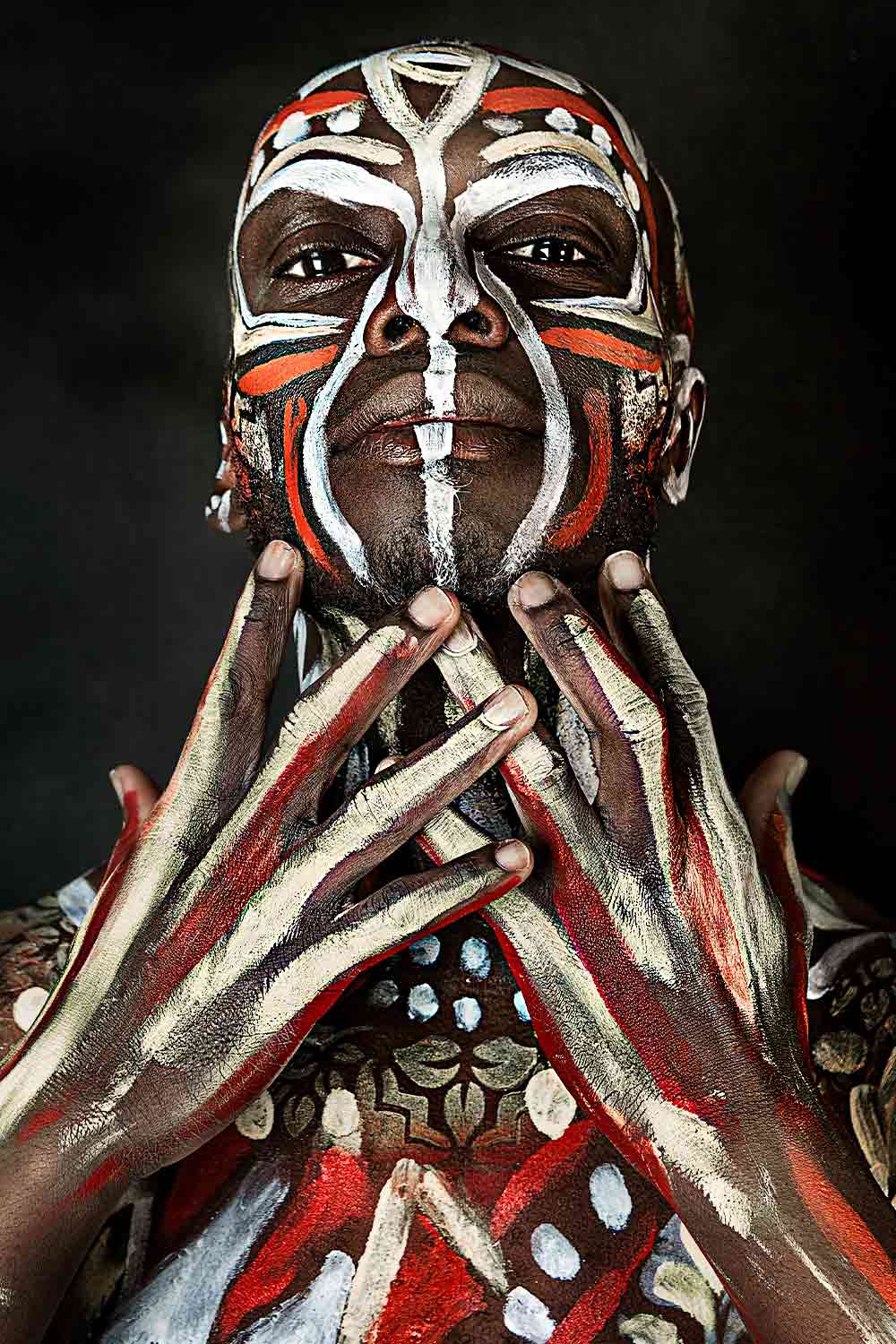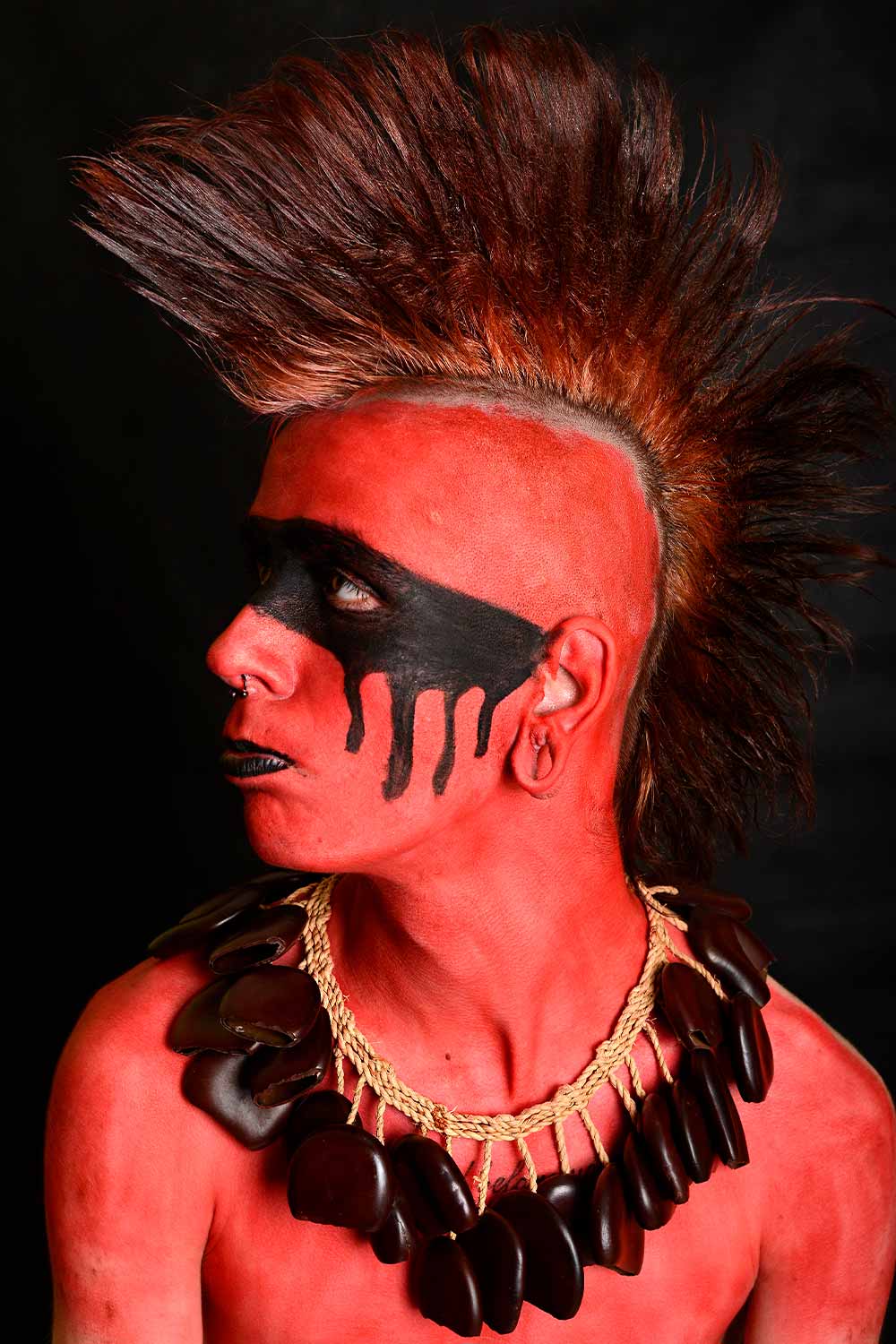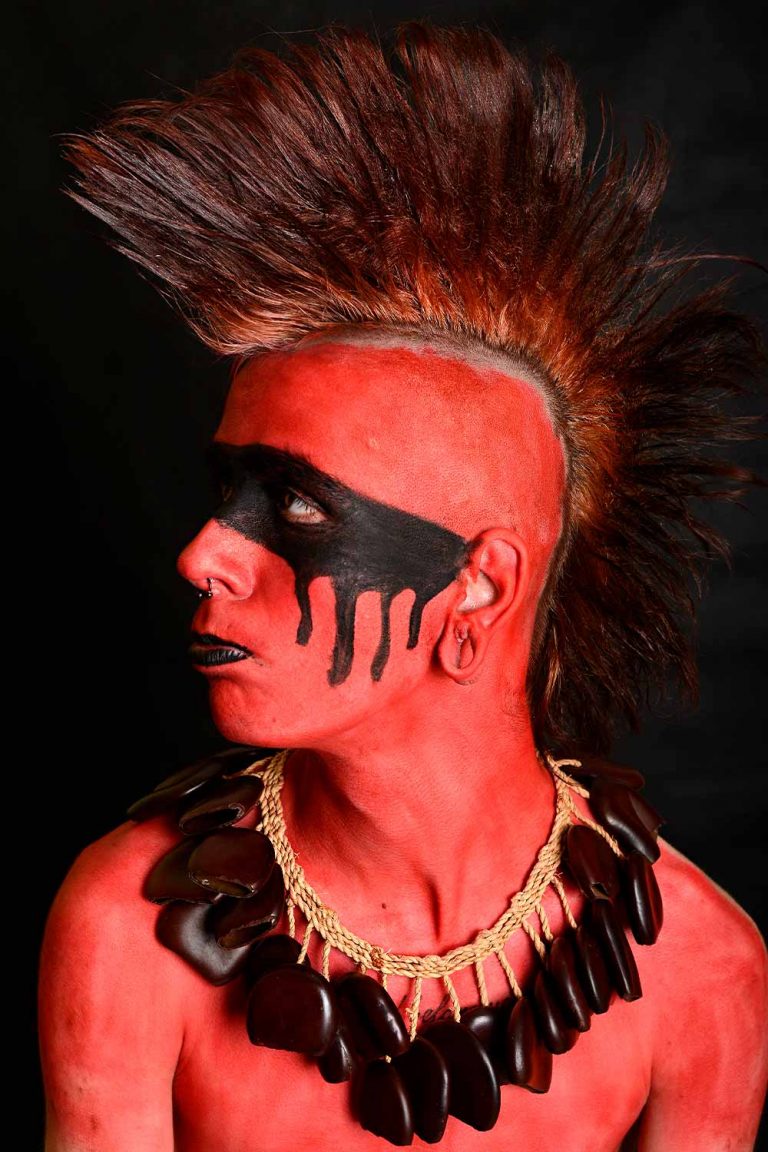 /
Military Makeup For Men
Another powerful yet simple Halloween makeup for guys is camouflage. It requires mens face paint in gray, green and brown colors. Then, do not hesitate to choose it as your Halloween look. The best thing about it is that the camouflage makeup can be created in a few strokes.
/
Rainbow Face
Yet, if you are looking for a simple makeup look, then you can choose a rainbow face, as you will only need to scatter some glitter over your skin.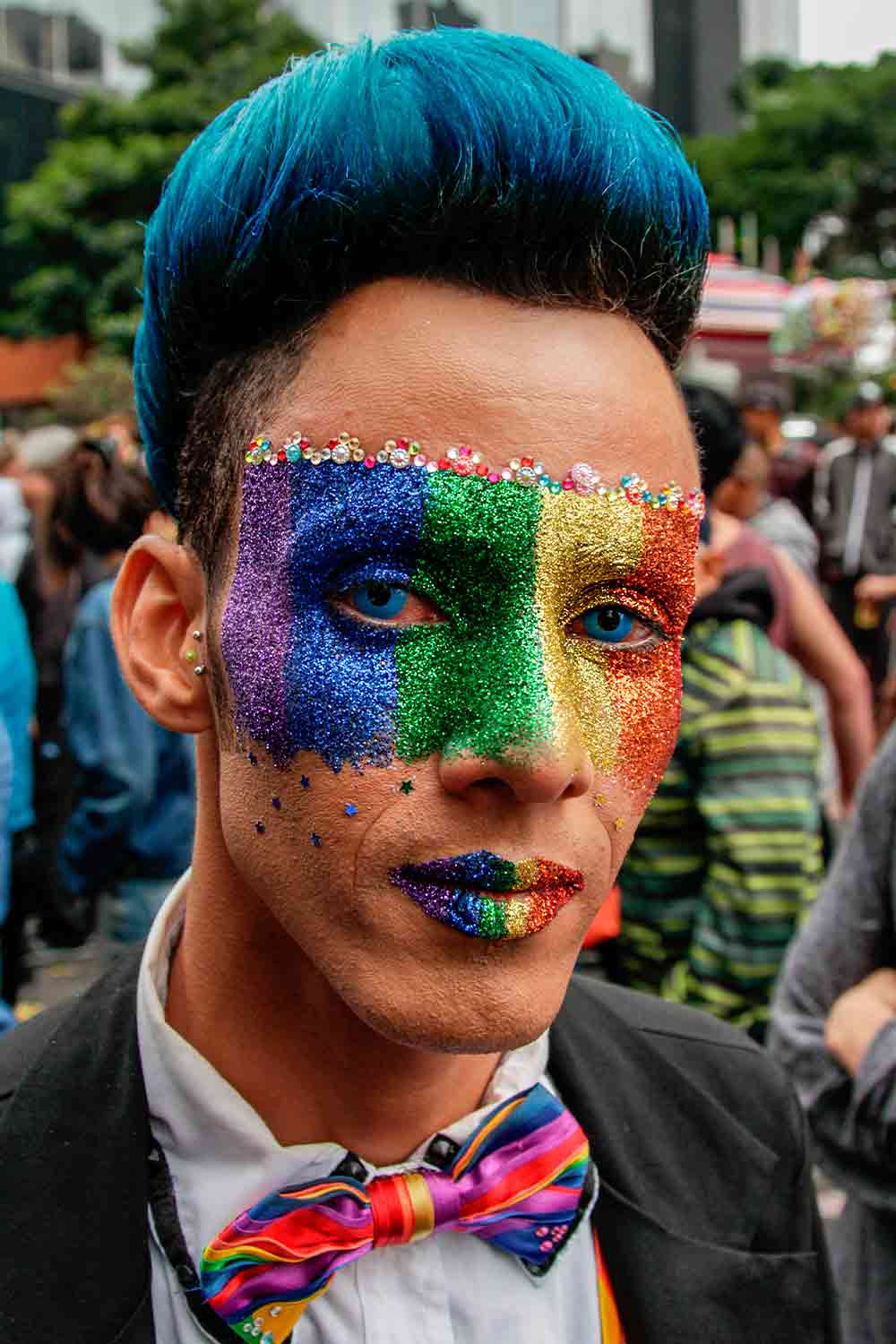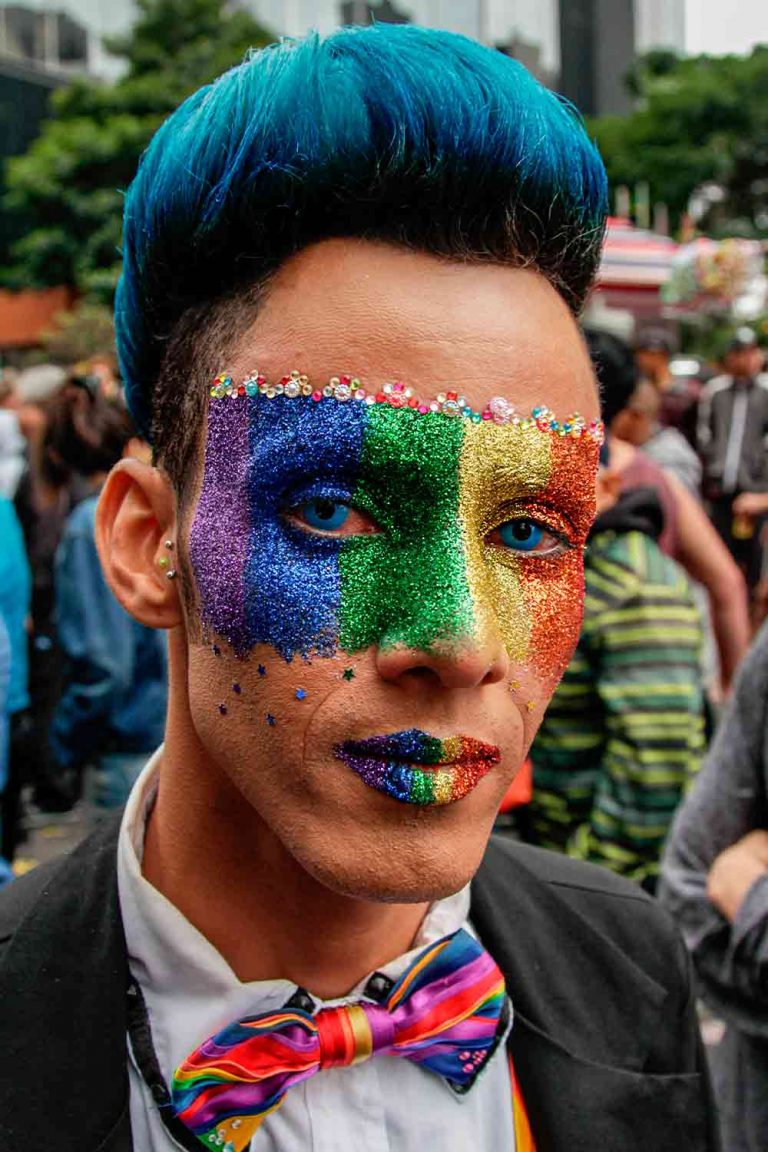 /
Black Eyes
Will hipsters ever go out of fashion? We do not think so. Nor do zombies. Thus, it is a great idea to join them together.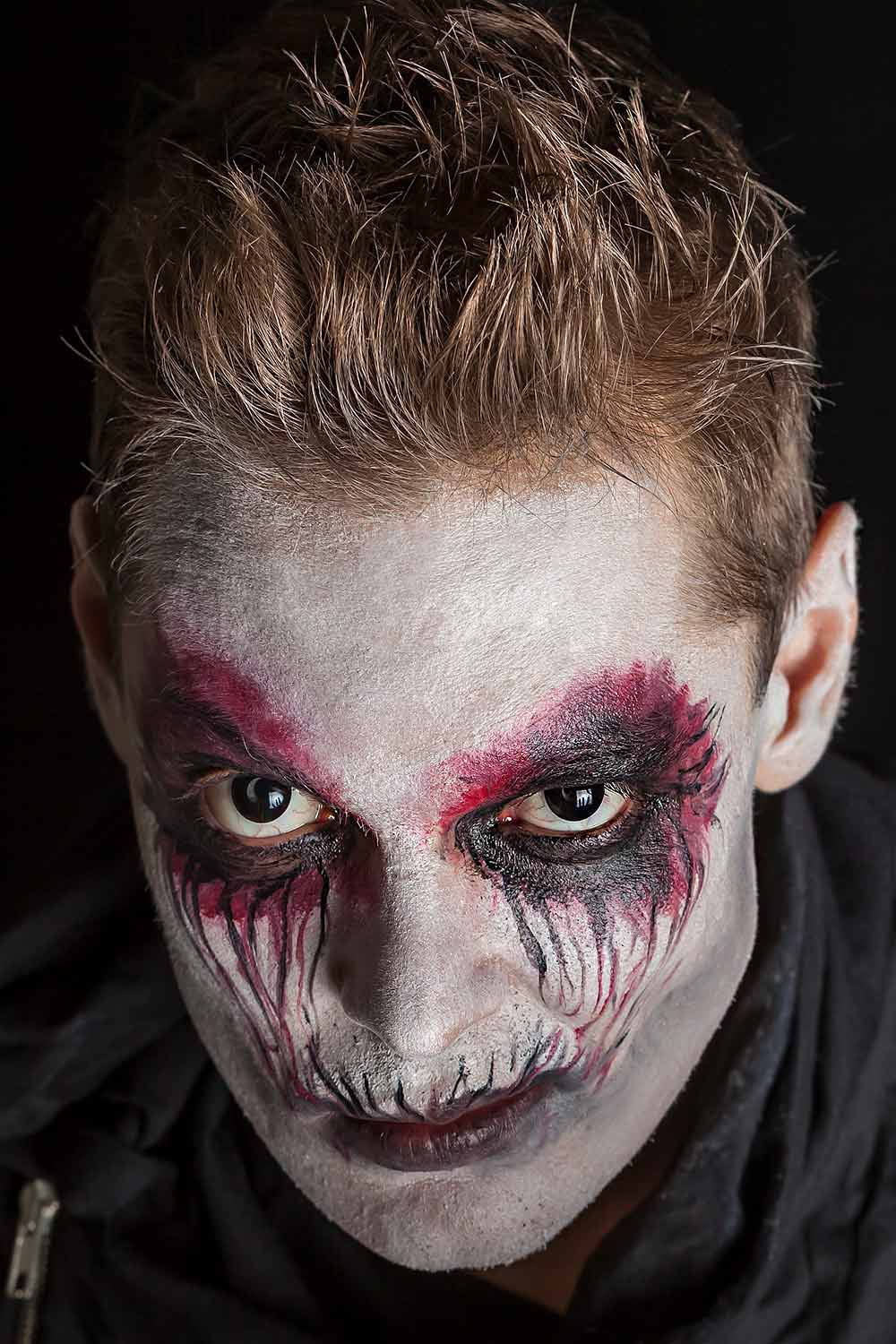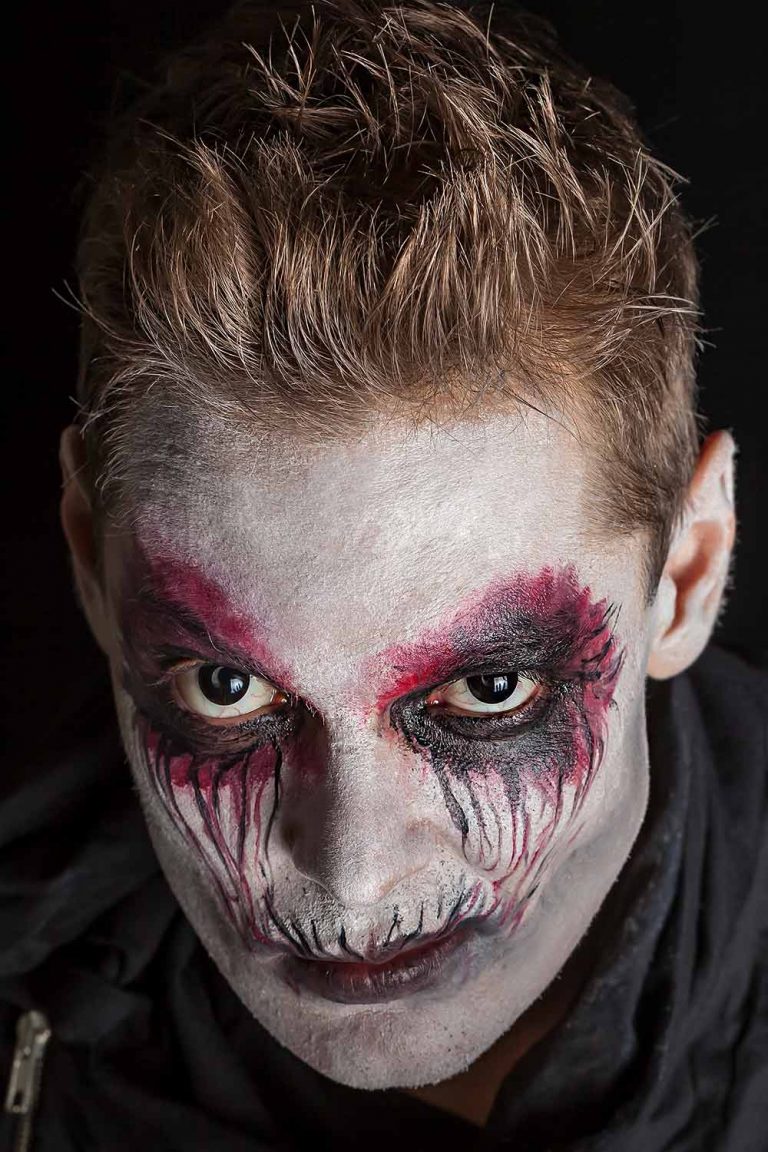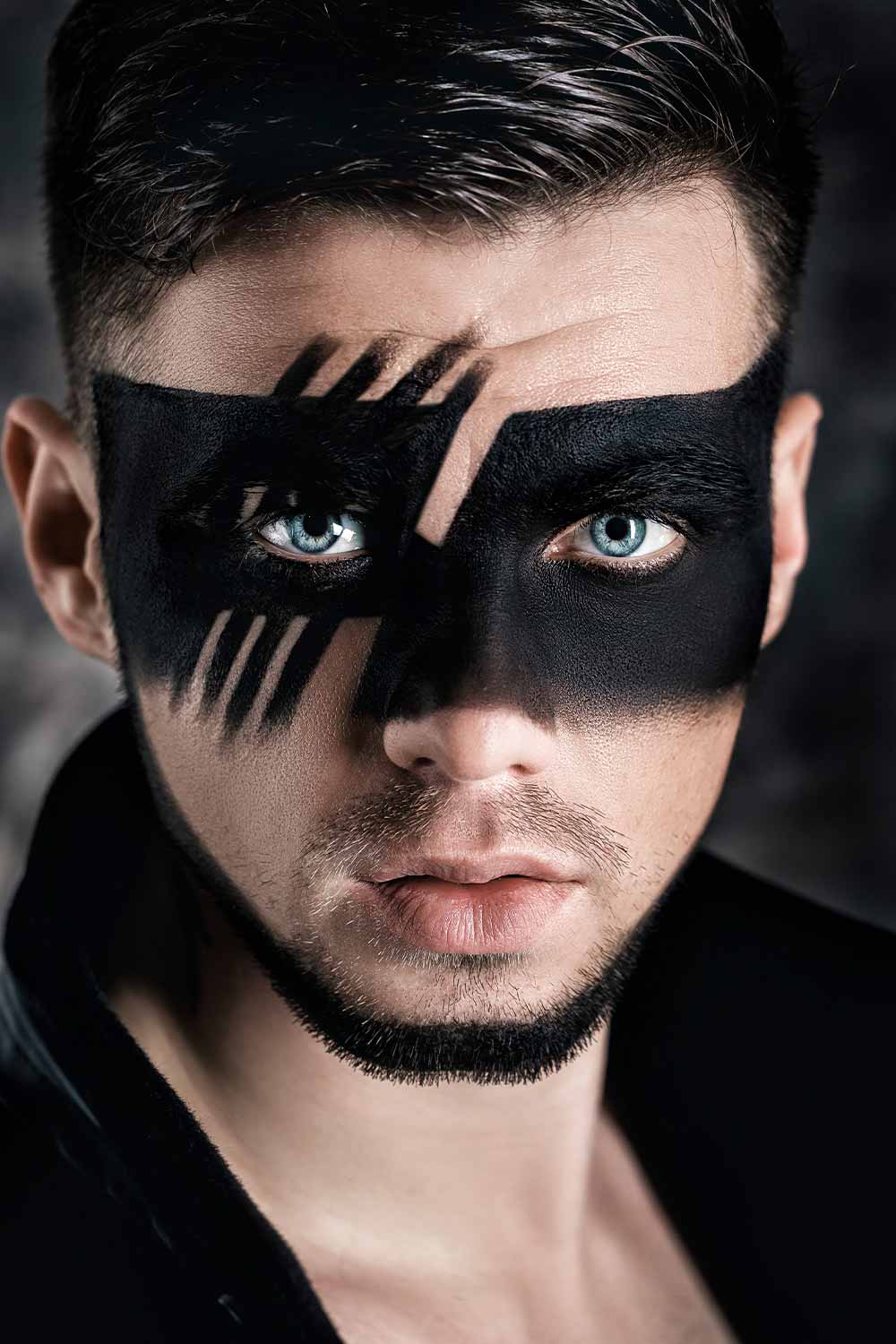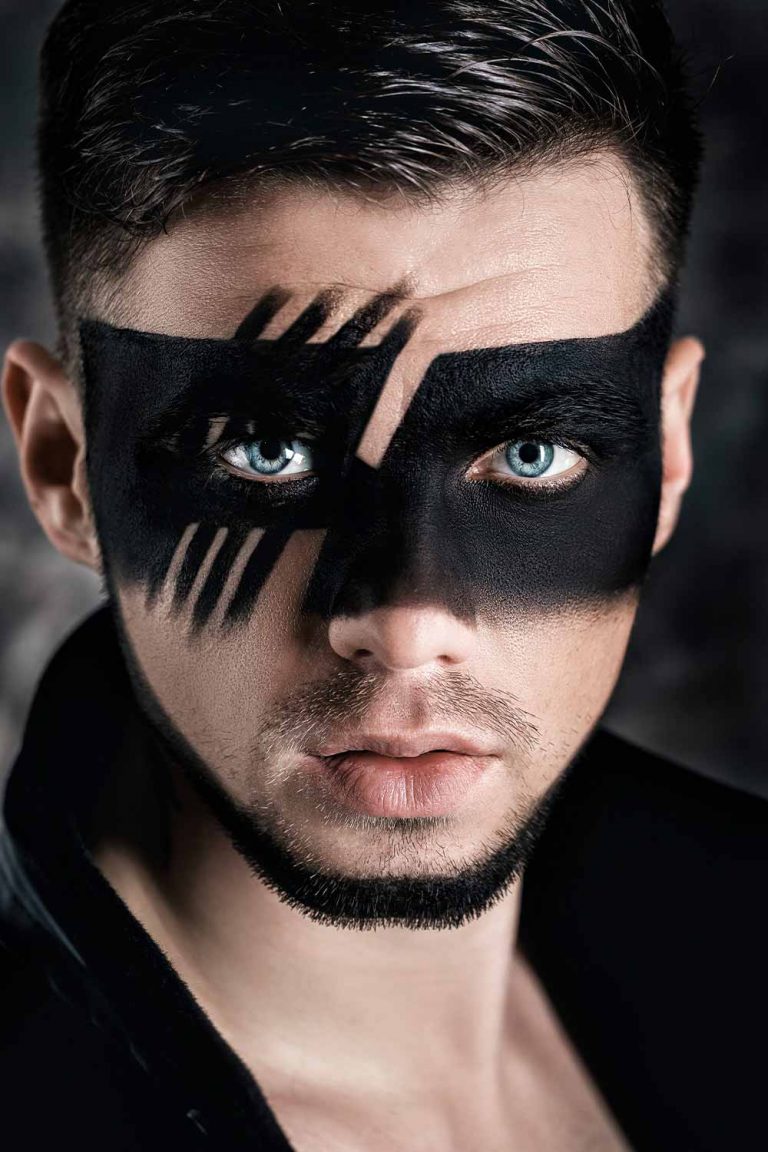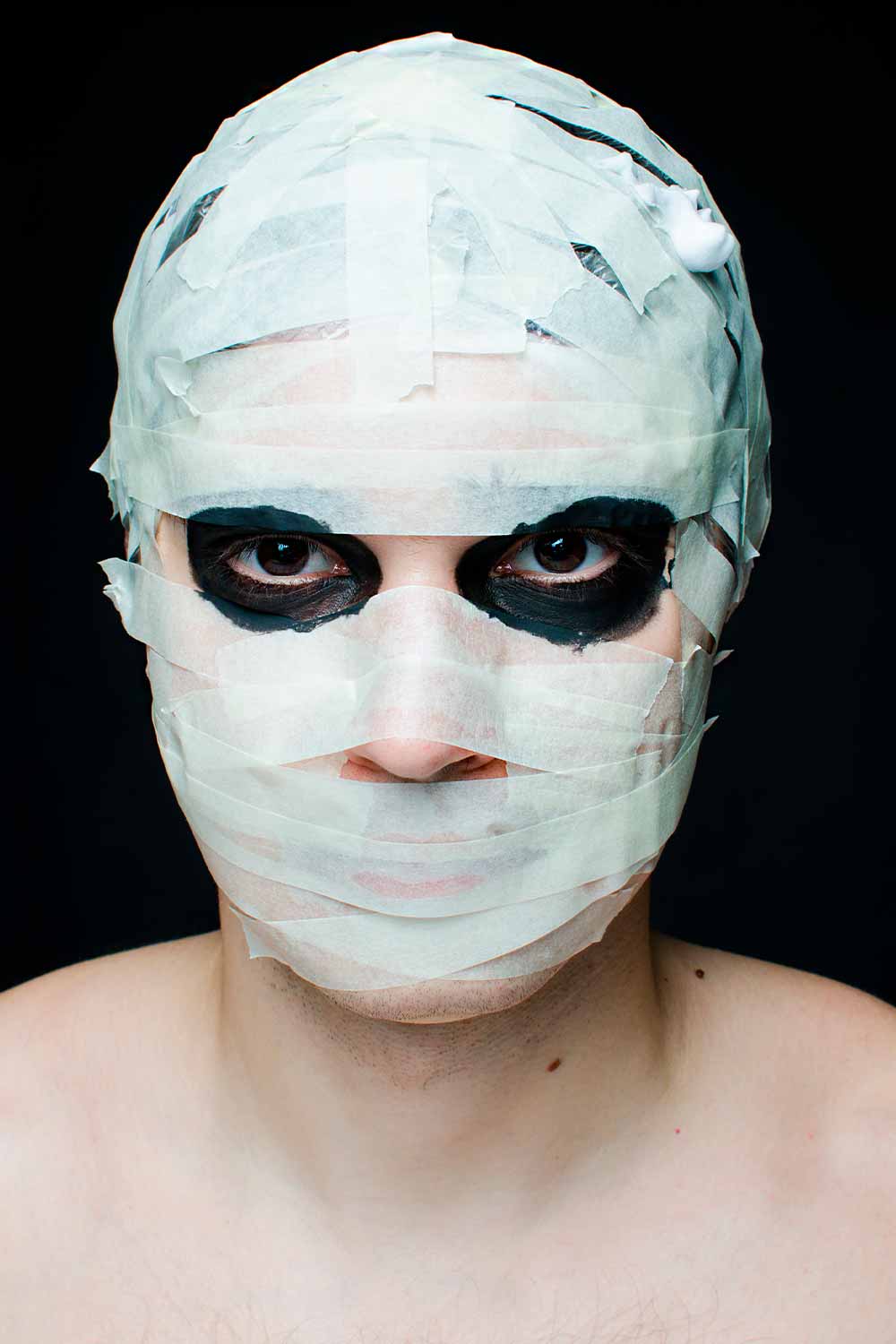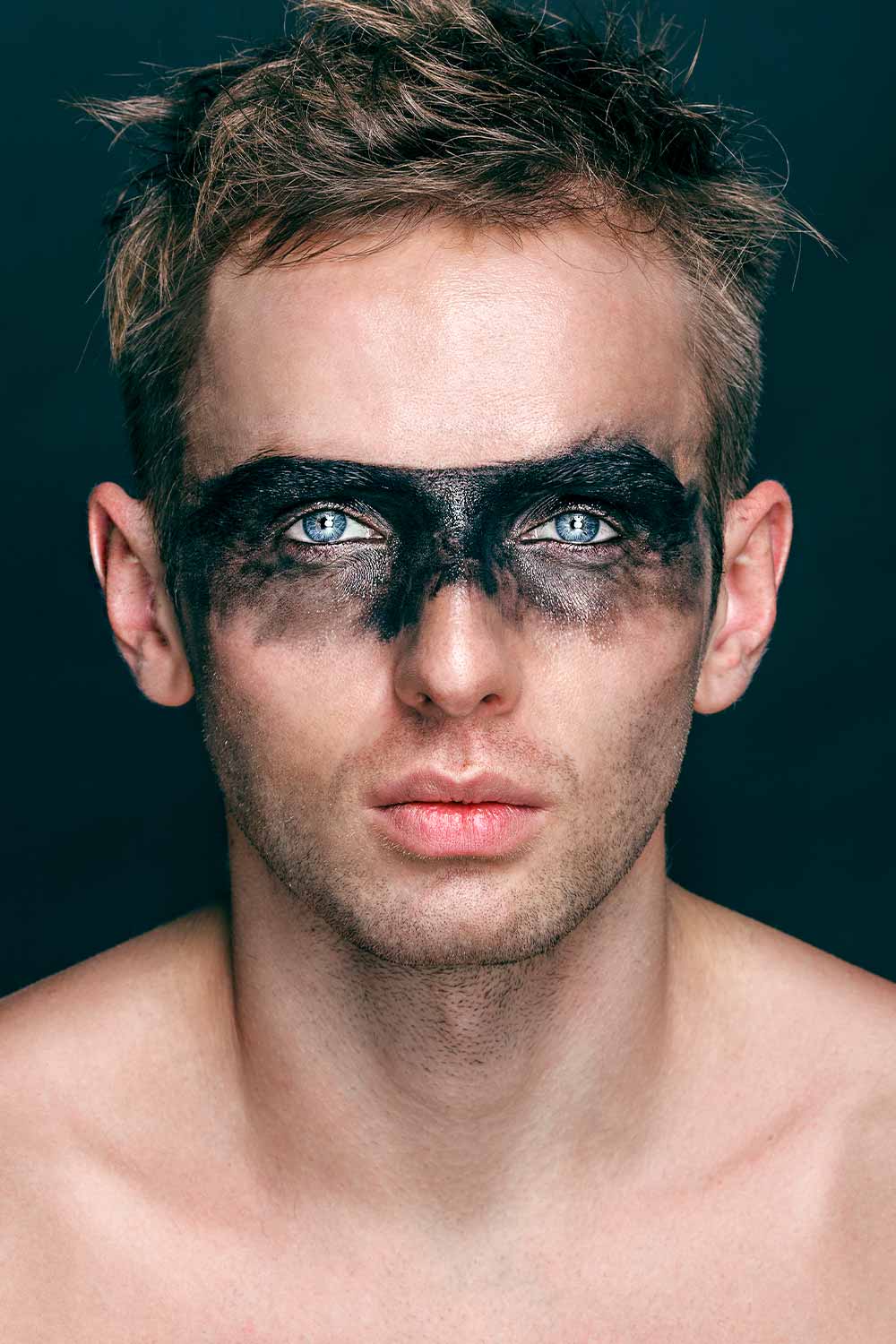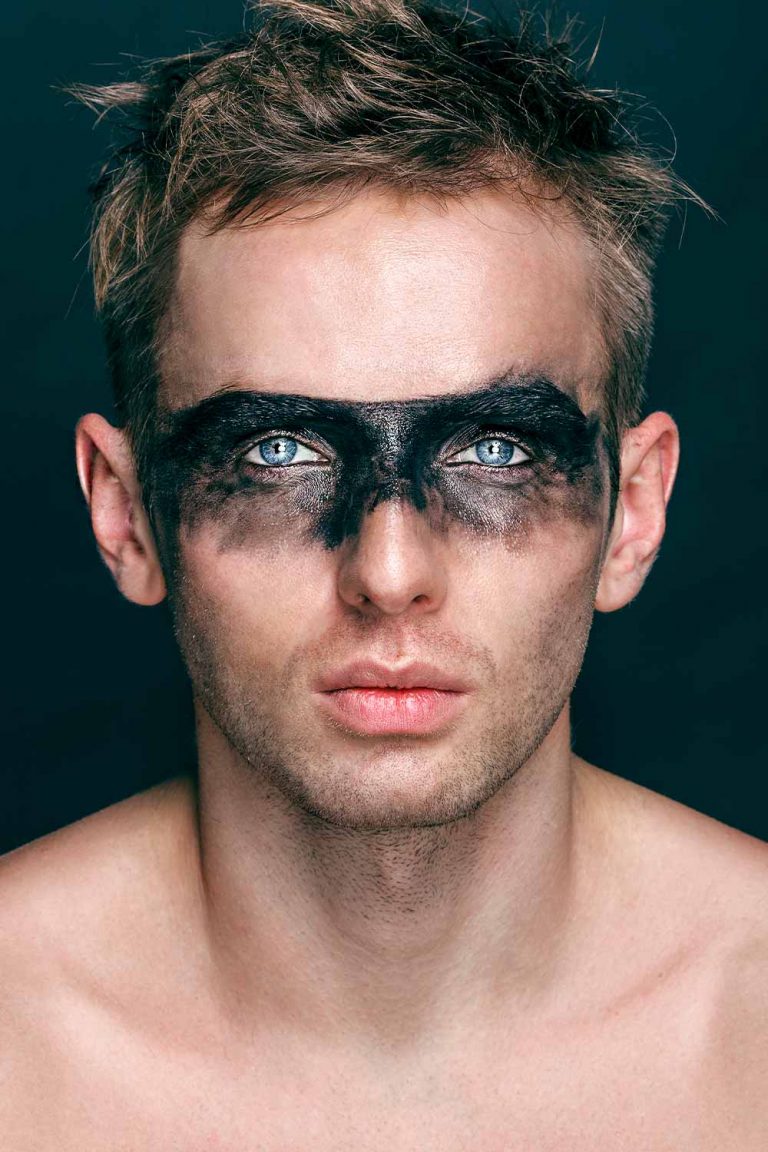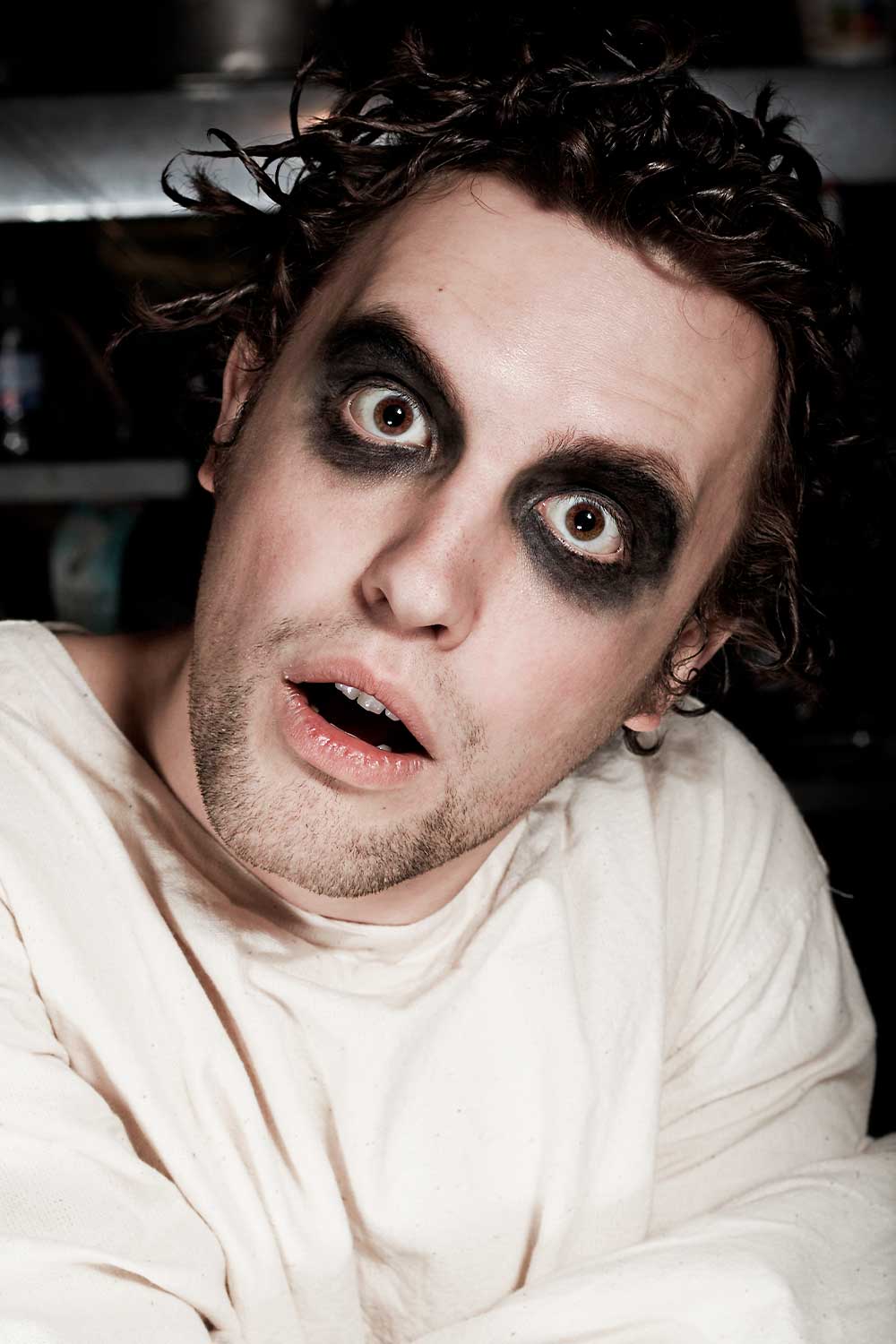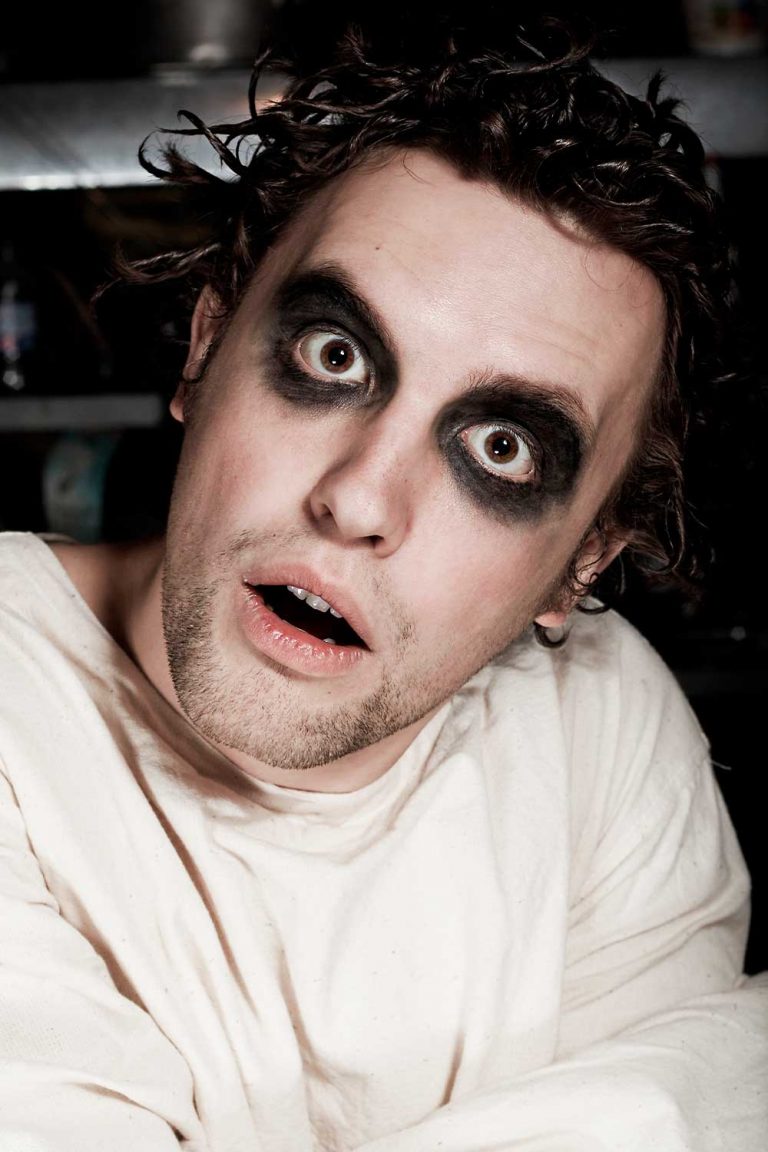 /
Post-Apocalyptic Warrior
What is life going to be after the Apocalypse? Who knows. What we do know though is what the urban warrior would look like. Want to try it on?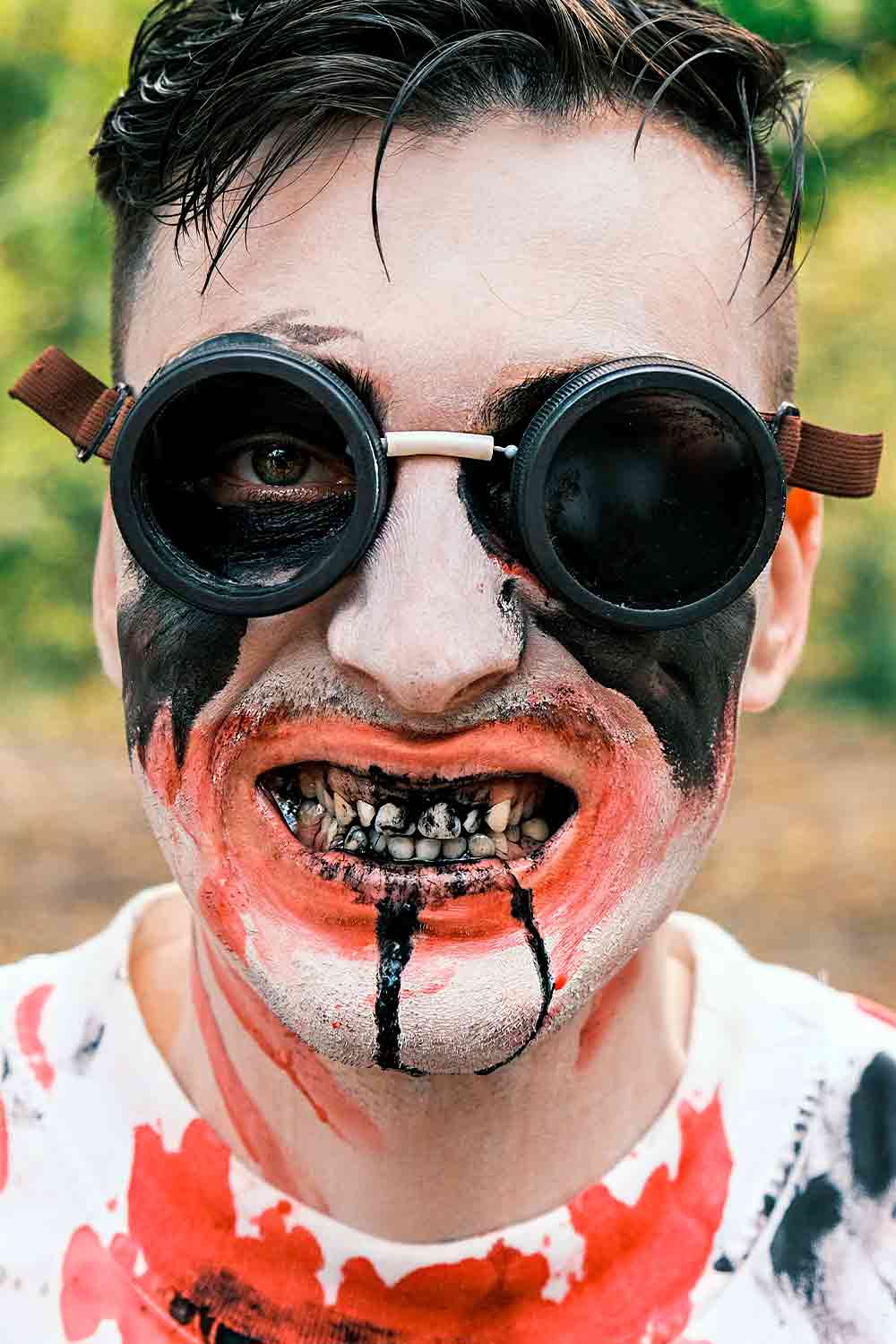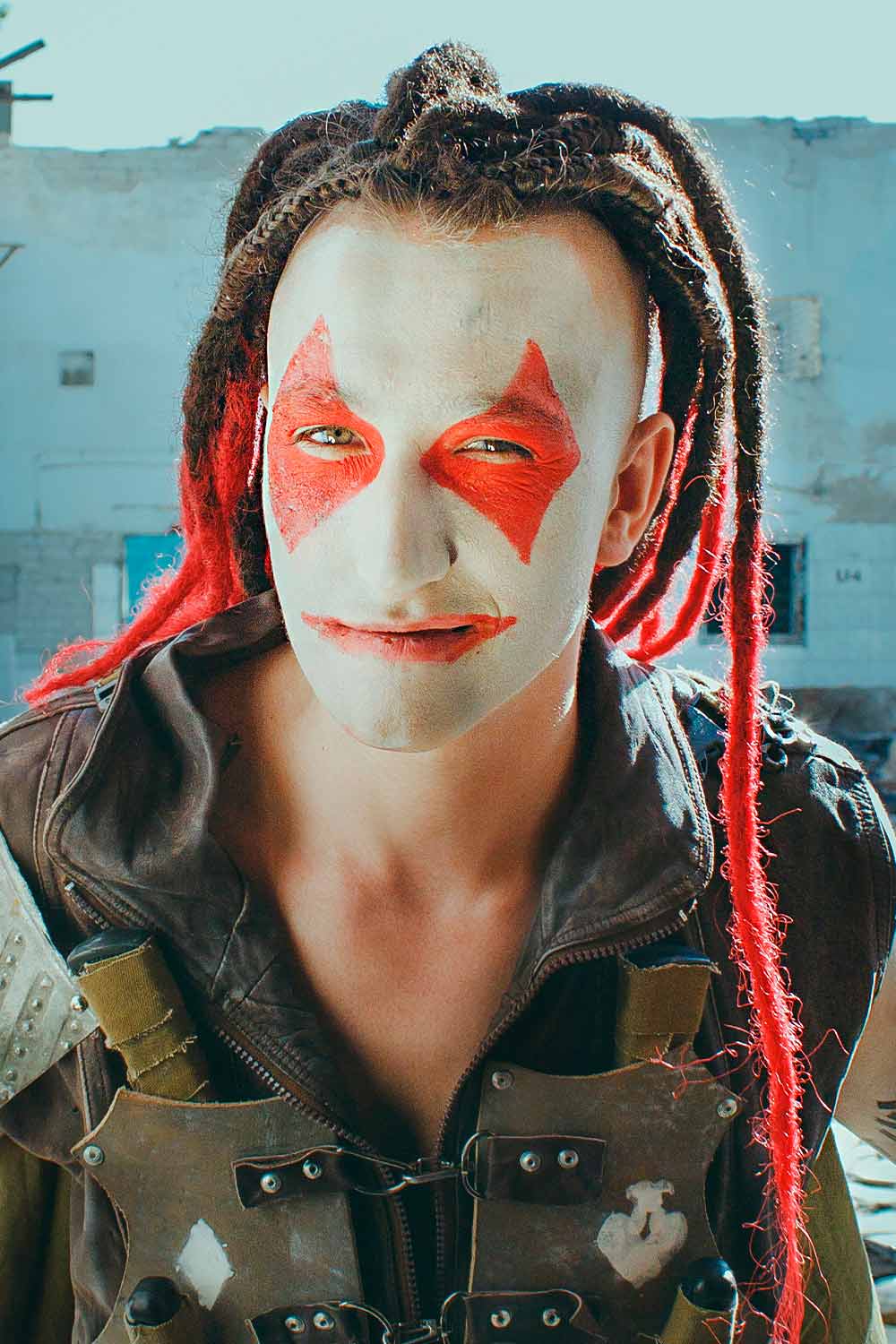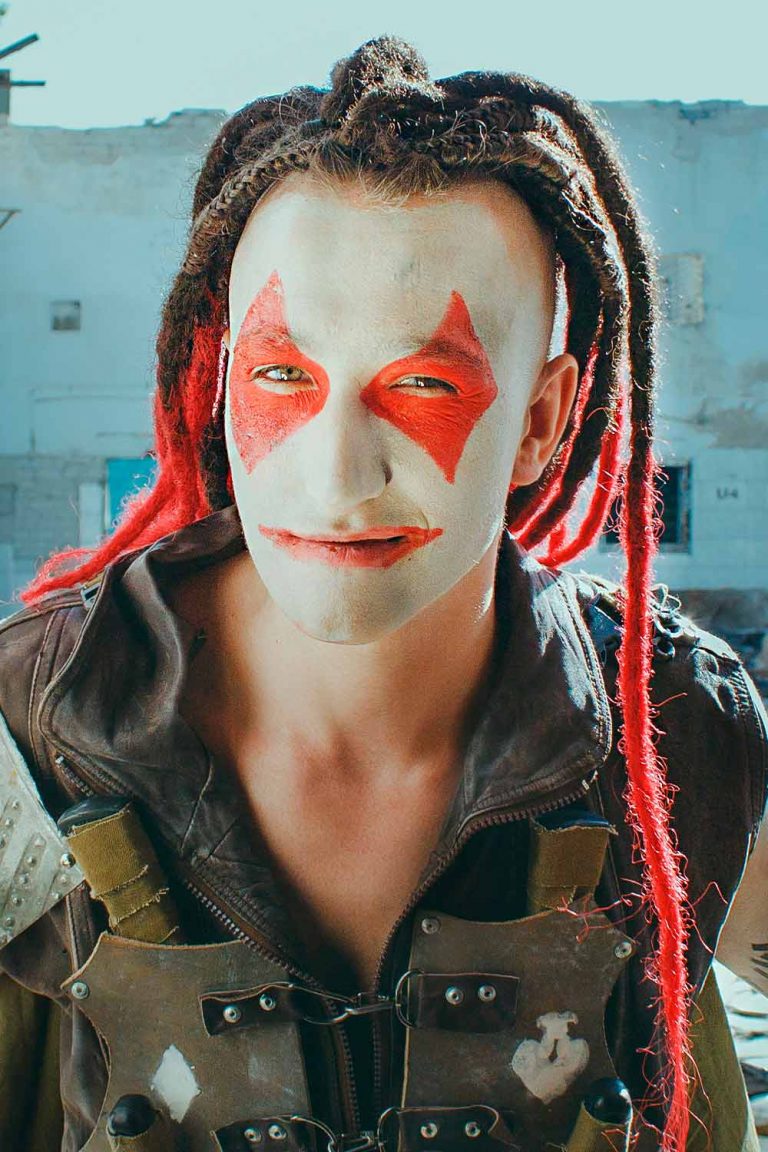 /
Dali Face Paint For A Halloween Party
If you want to channel Salvador Dali's look for Halloween, you do not necessarily have to grow out a mustache. You can simply paint it as part of your Halloween makeup.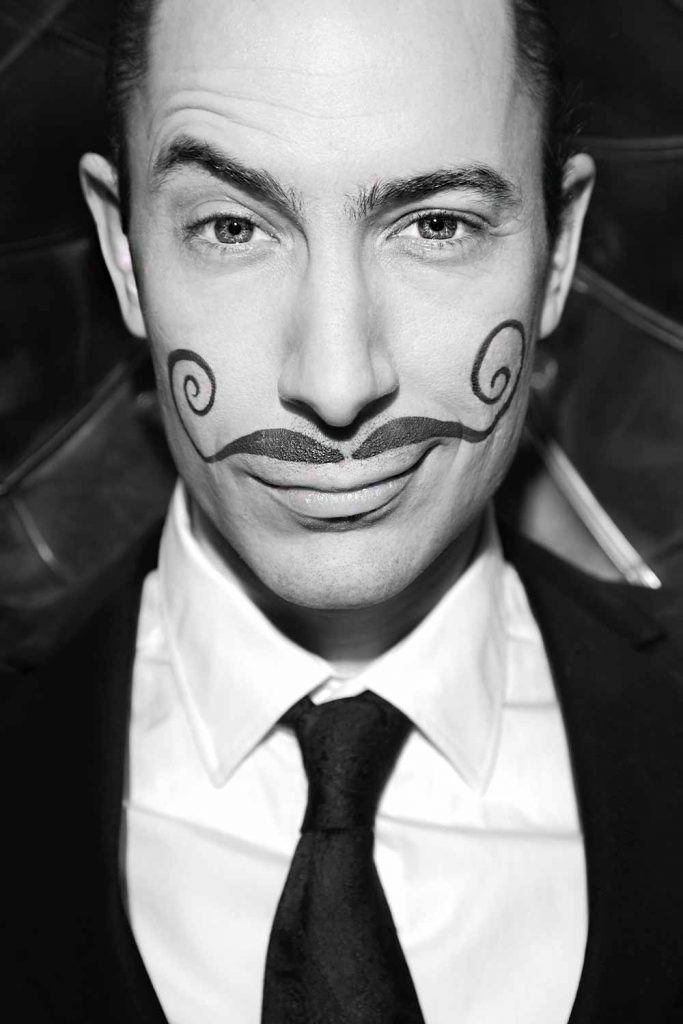 Mime Men's Makeup
There is something really blood-chilling in a mime Halloween make up look. This character will give you a mysterious appeal provided that you will not only create the right men Halloween makeup but also practice those precise moves.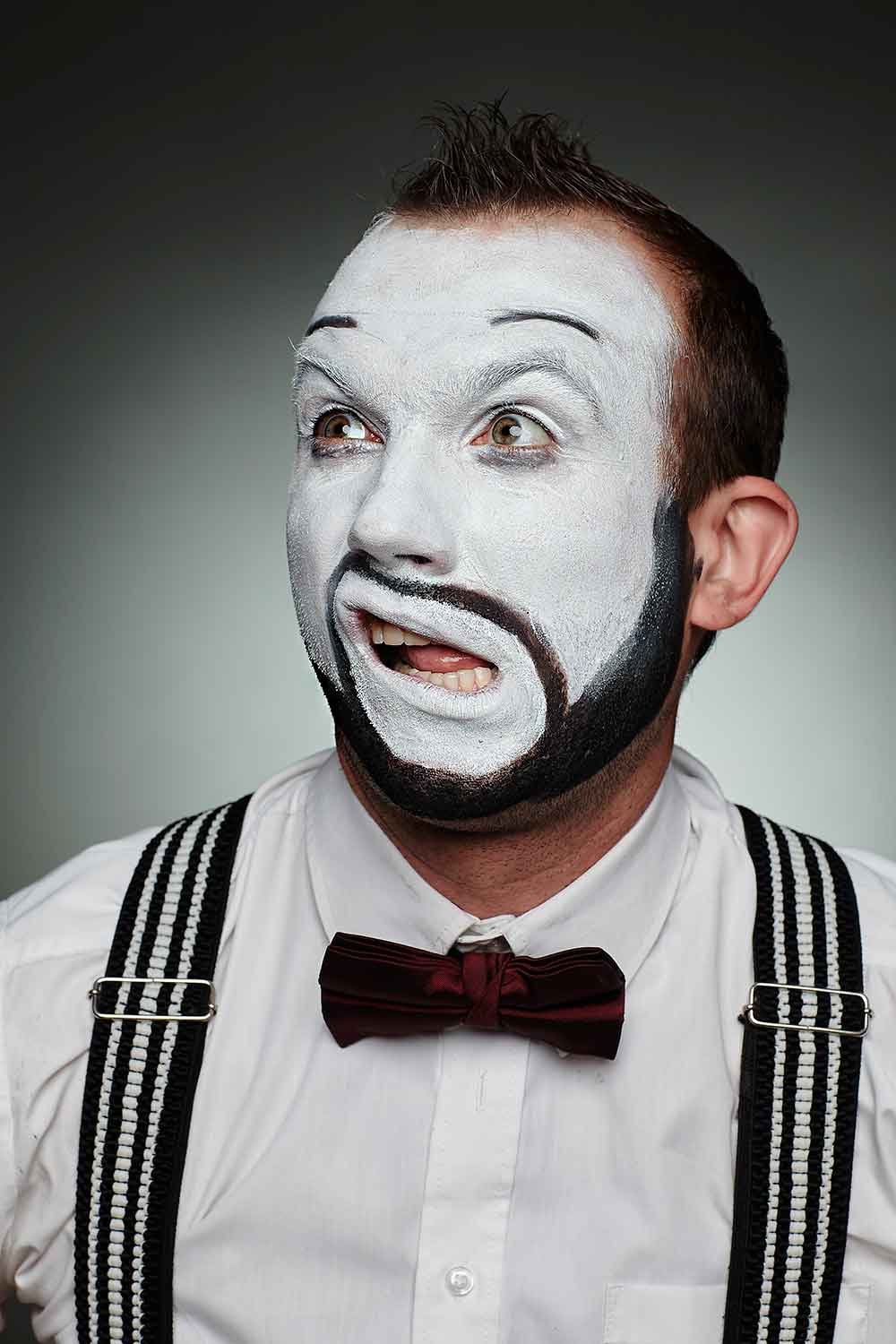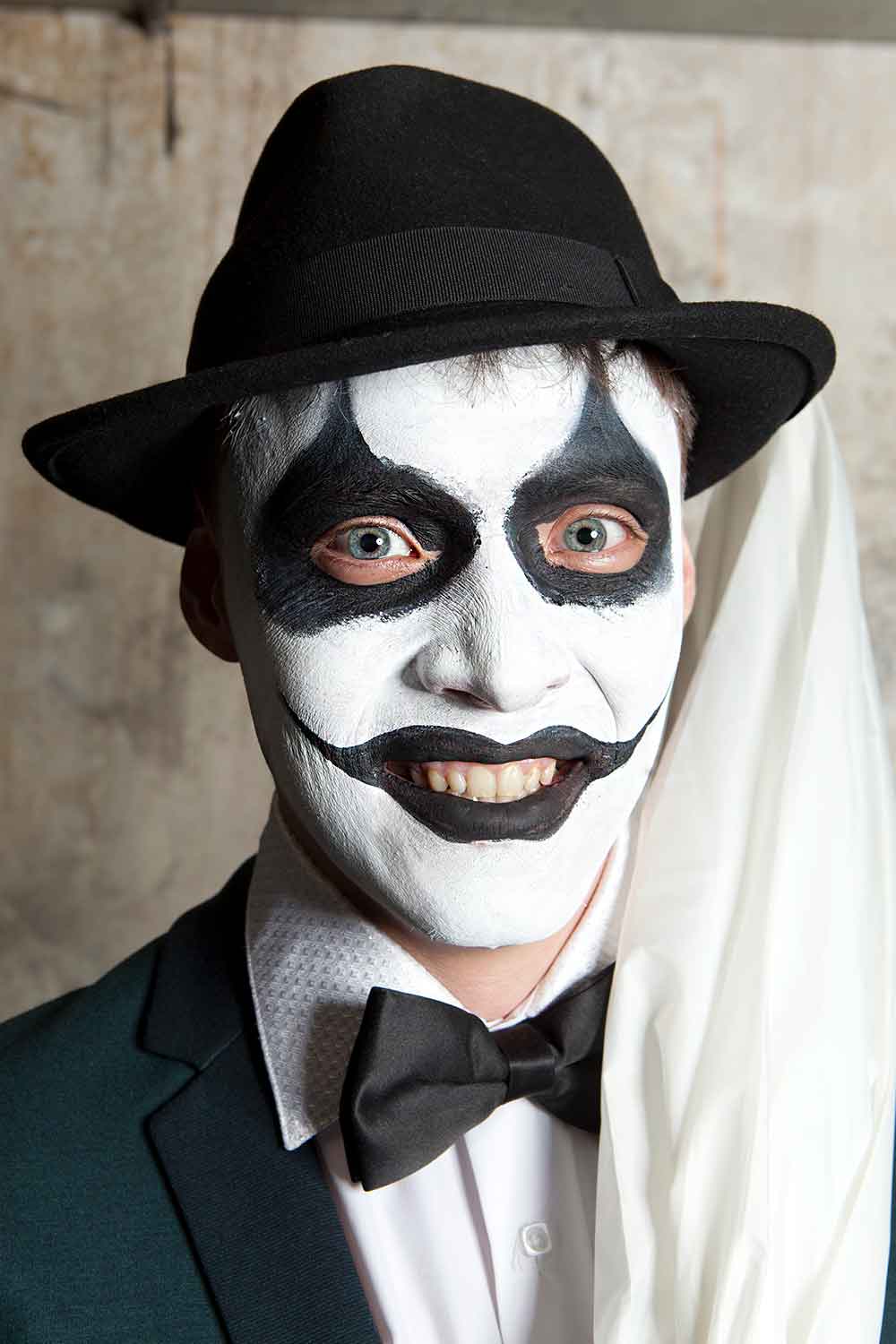 /
Leopard Man Makeup
Easy yet bold, the leopard makeup gives you plenty of options to create the Halloween look. Complite costume with long tail, cat ears and menacing roar.
Mad Hatter Makeup For Guys
The charisma of the Mad Hatter from Alice in Wonderland cannot leave you indifferent, especially after it was performed by one and only Johnny Depp.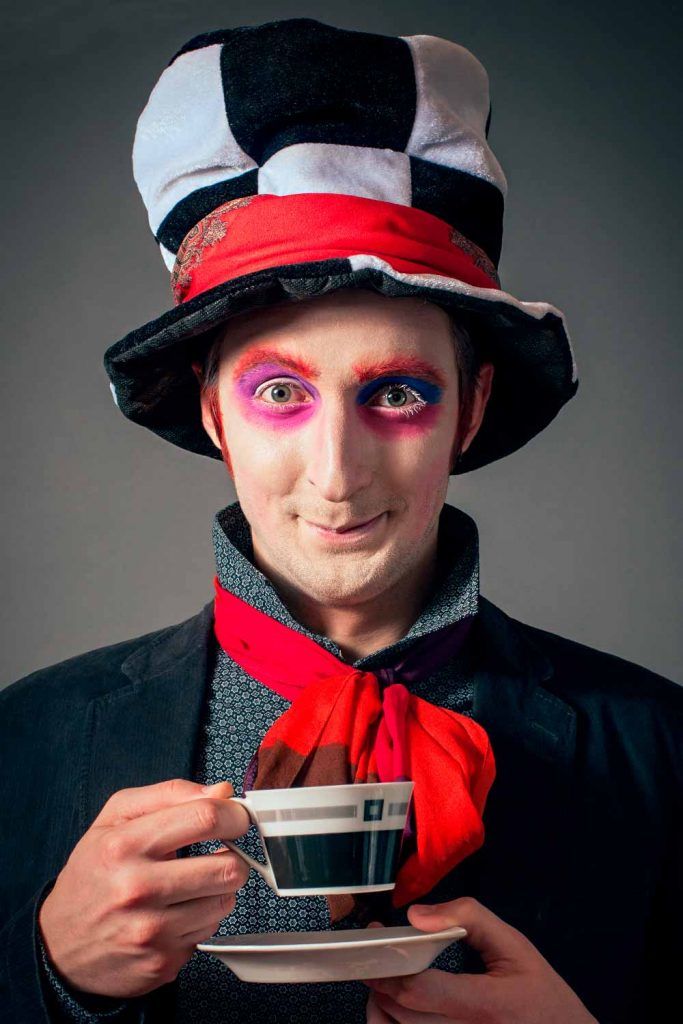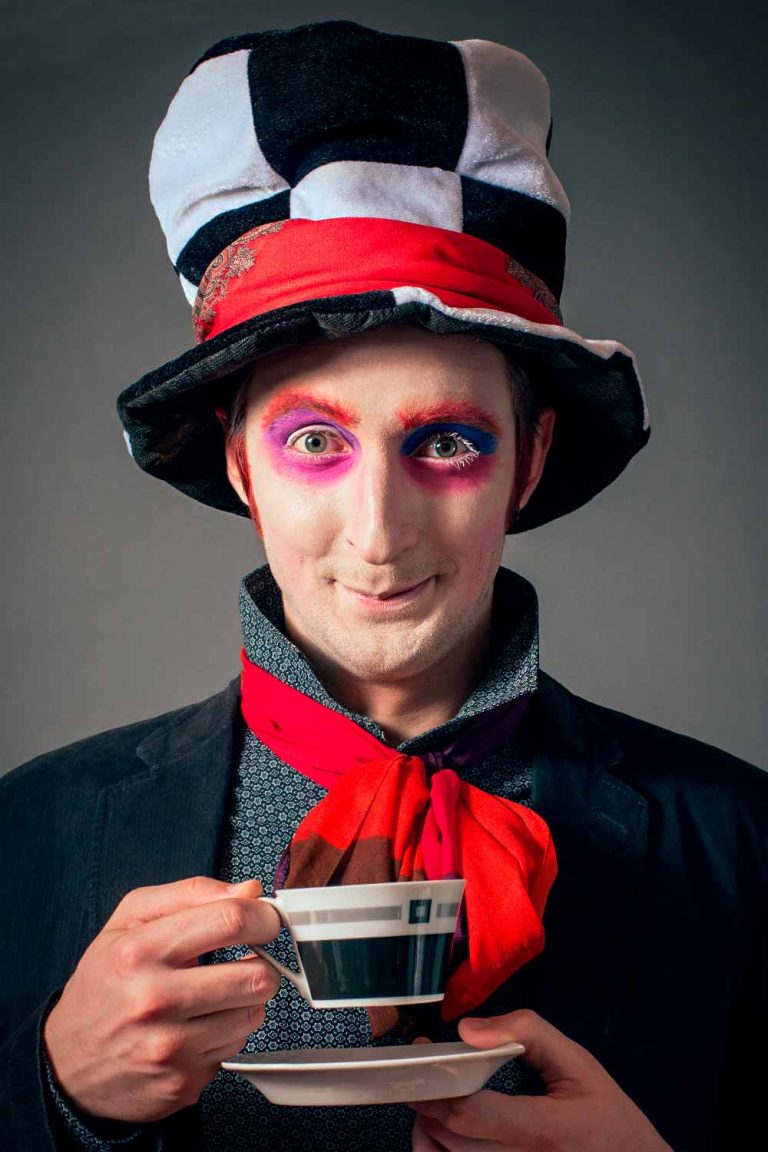 QR Code
The perfect look for lovers of modern technology.
Juggler
A creepy Juggler is one of those Halloween makeup looks that no one will ever forget. Thus, go for it if you want your costume to be carved in everyone's mind.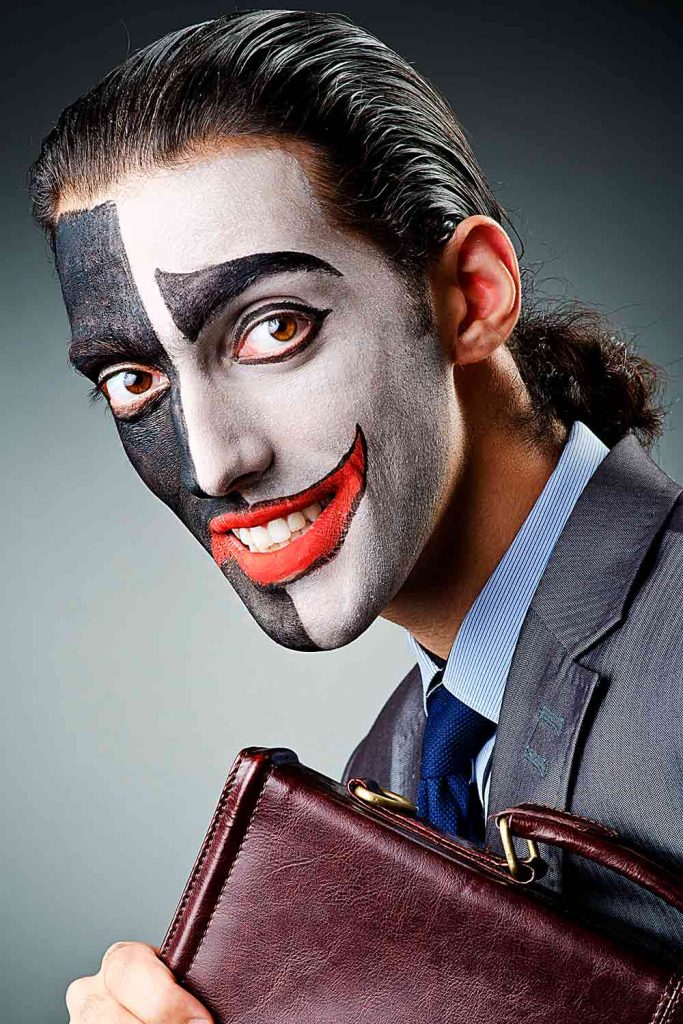 Kabuki
An interesting makeup look features fresh idea. Try yourself as a Japanese theater actor. To complete the look, you will have to get a kimono. If you want to enhance the look with more creepiness, add blood drips and gaping wounds.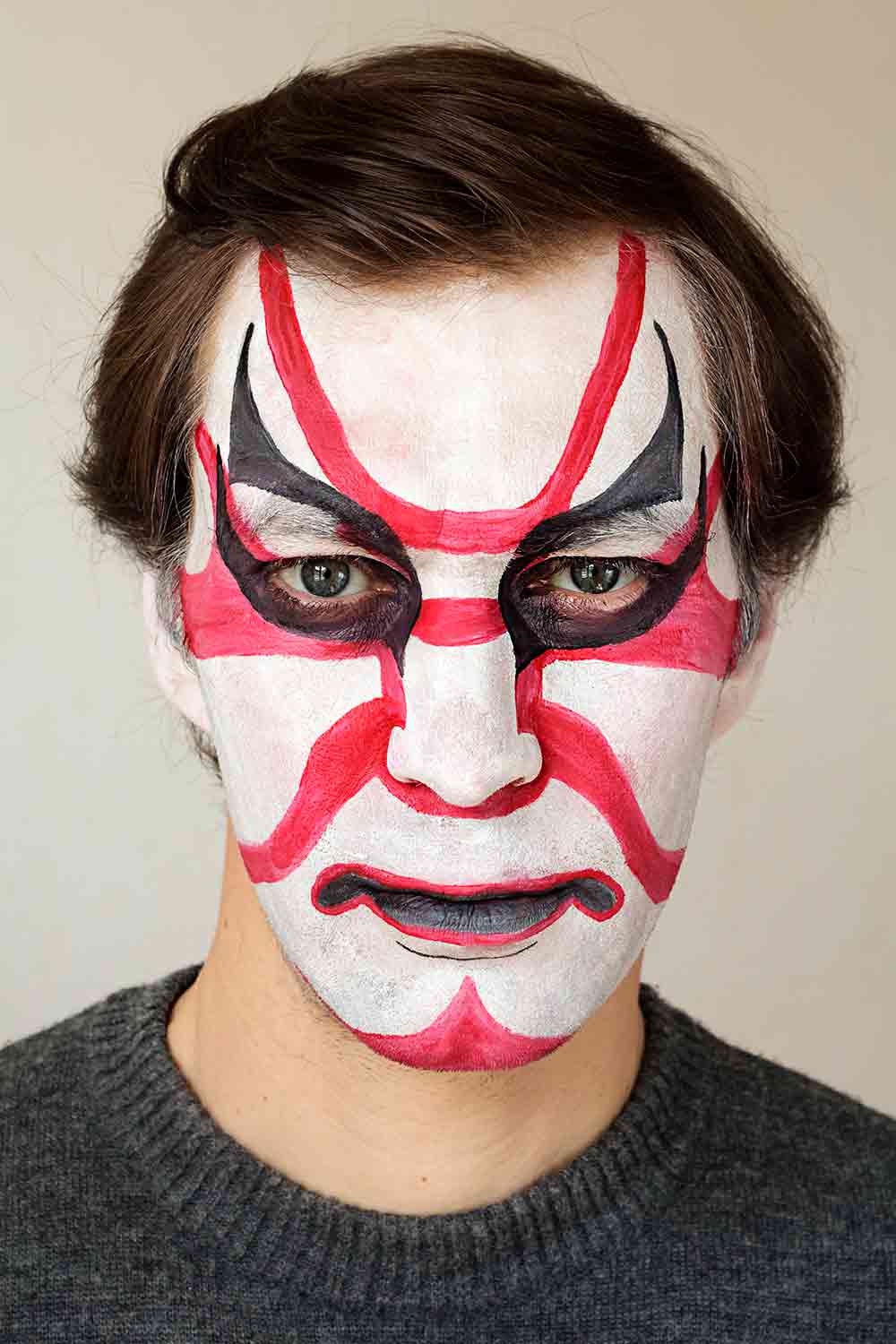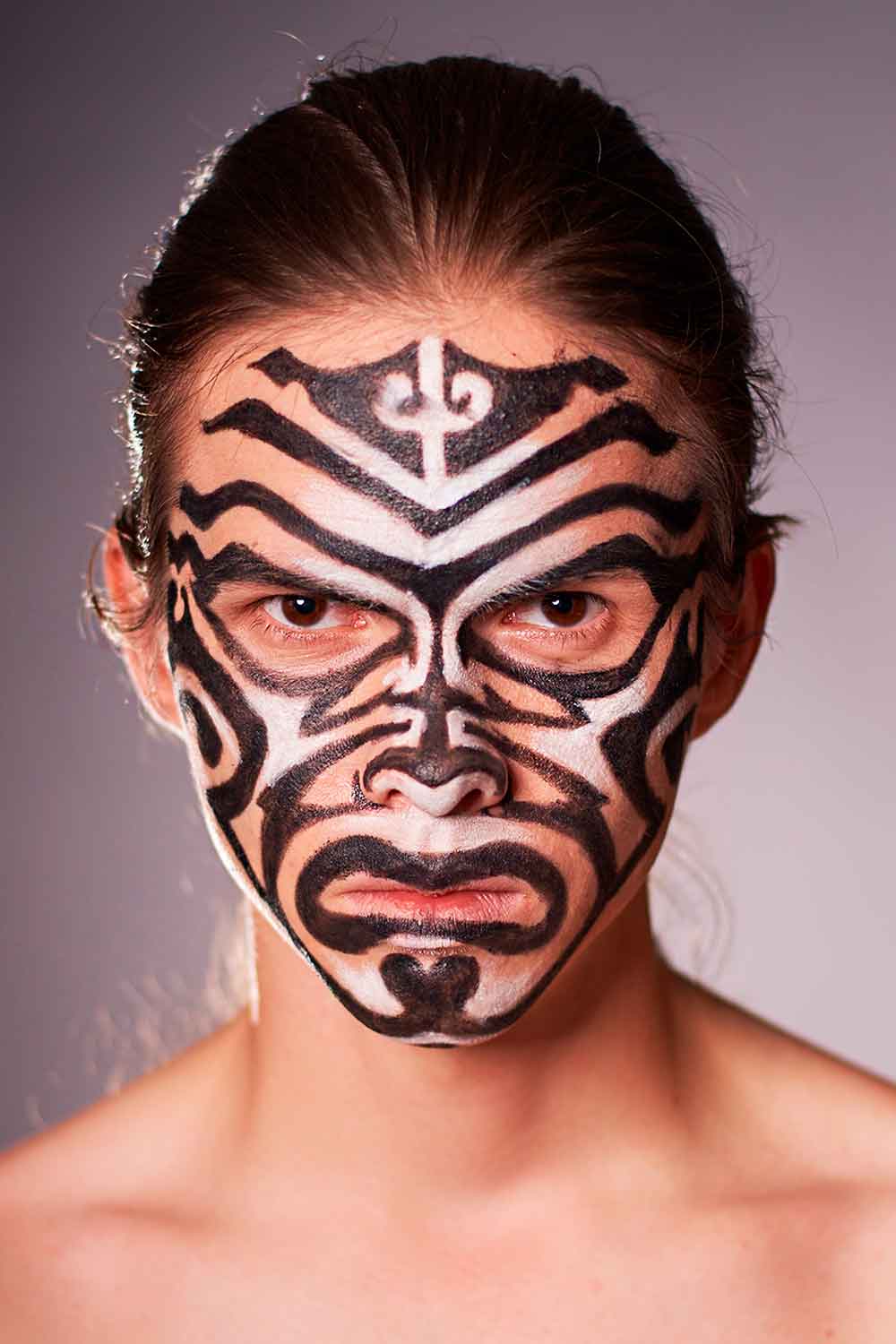 /
Pop Art
Do you want to sport a really cool Halloween makeup? Then choose a pop art look. It will require from you some skills in drawing, as you need to create the right shadows and lines.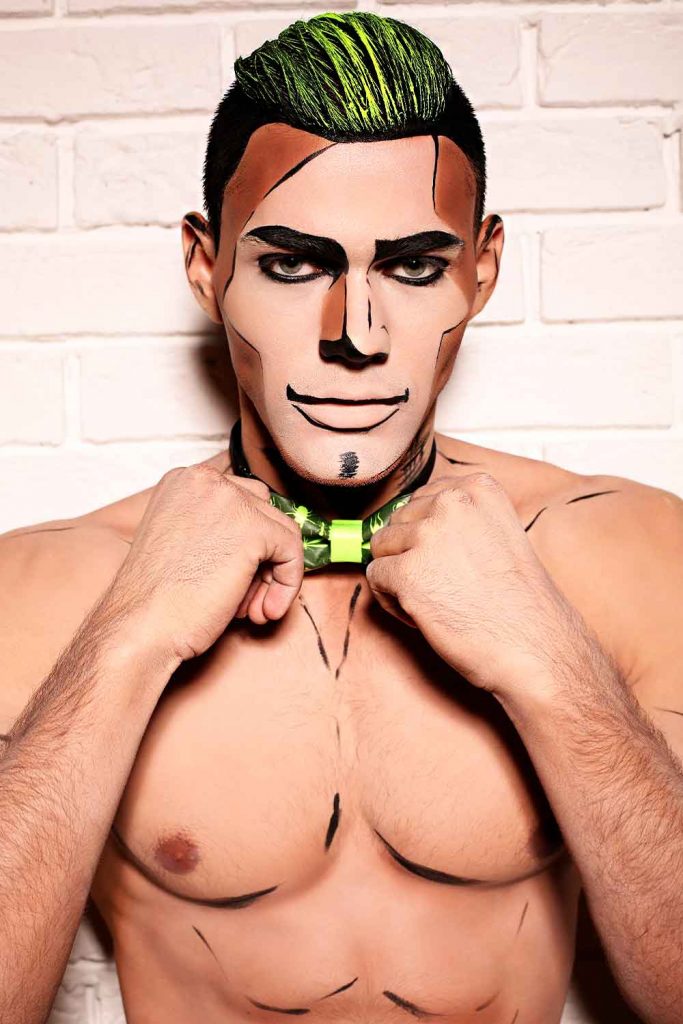 Werewolf Makeup Male
Unleash your inner beast with werewolf Halloween makeup ideas. Transform into a ferocious creature of the night with realistic fur, sharp fangs, and eerie yellow eyes. This classic wolf makeup male choice is perfect for those who want to embody the wild and menacing spirit of a werewolf during their Halloween festivities.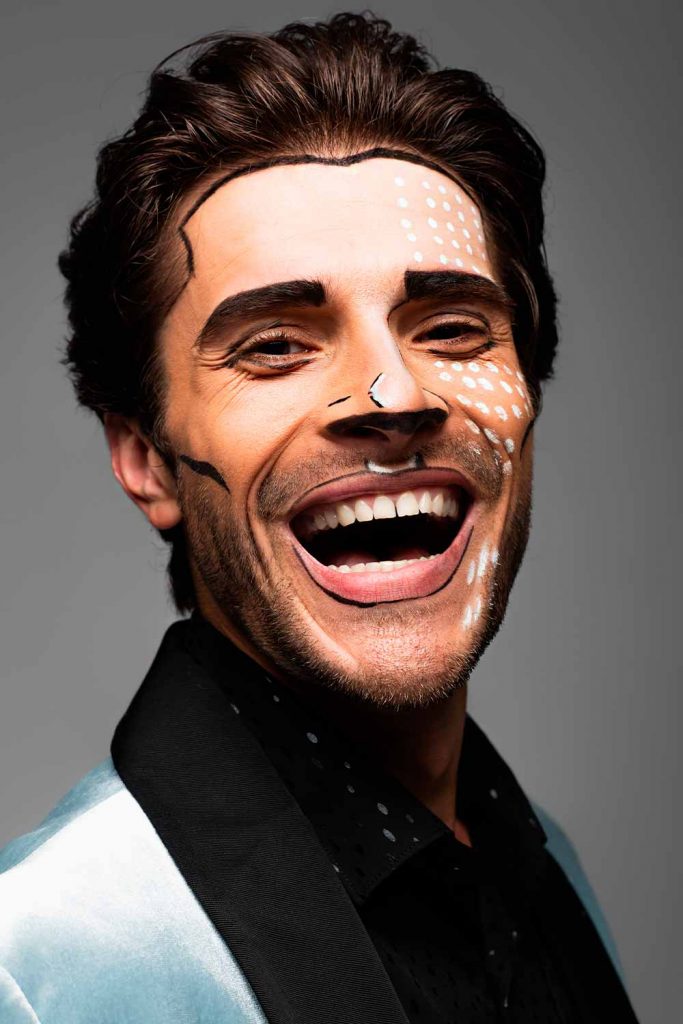 Robot
If you want to create a realistic look, then you will need to attach wires and gears to your body using special glue. The outfit can be just anything though. You can even go topless if you like.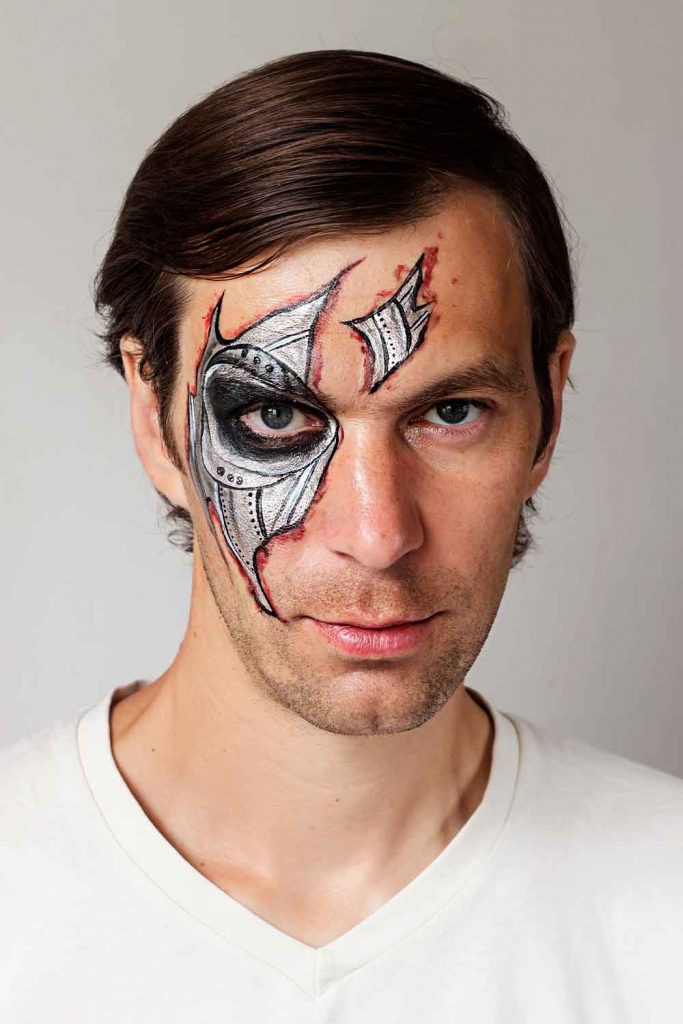 Lizard Men Halloween Makeup
Lizards are creepy, especially when you see the vivid details of their scaly body in man-size.
Monkey Makeup men
Hardly anyone can boast of strong mental health nowadays. If you are no exception, then the monkey costume may be the best way to express your current state without words. To boost the effect from the monkey face paint scary hairstyle is a must. Look for something crazy and messy then.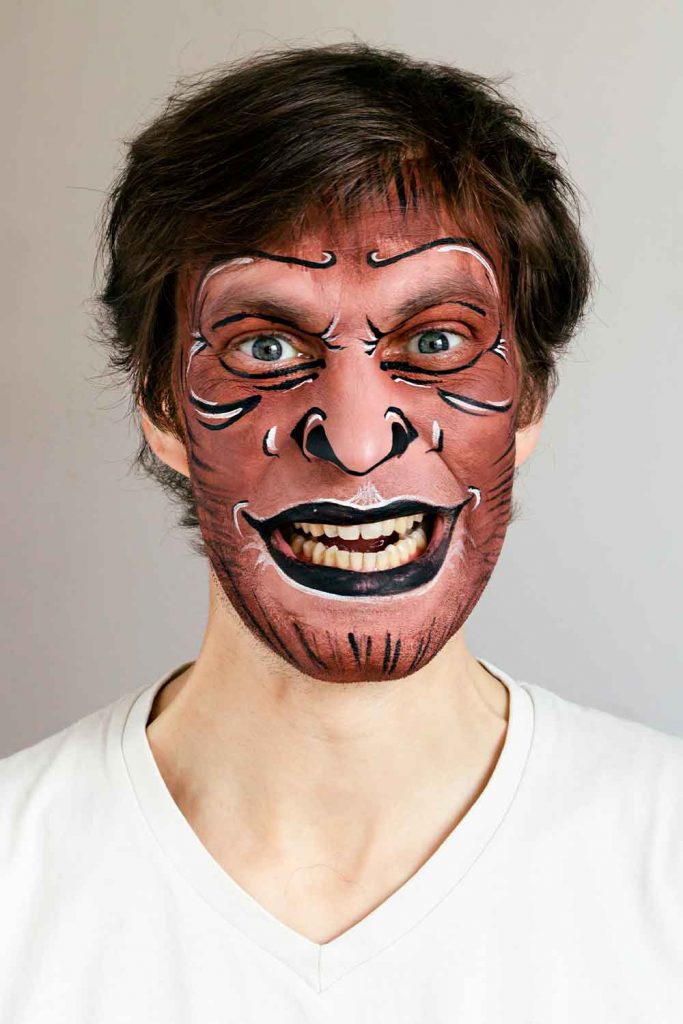 Samurai Japanese Makeup
Those who find usual makeups boring should try to pull off this samurai Halloween makeup look.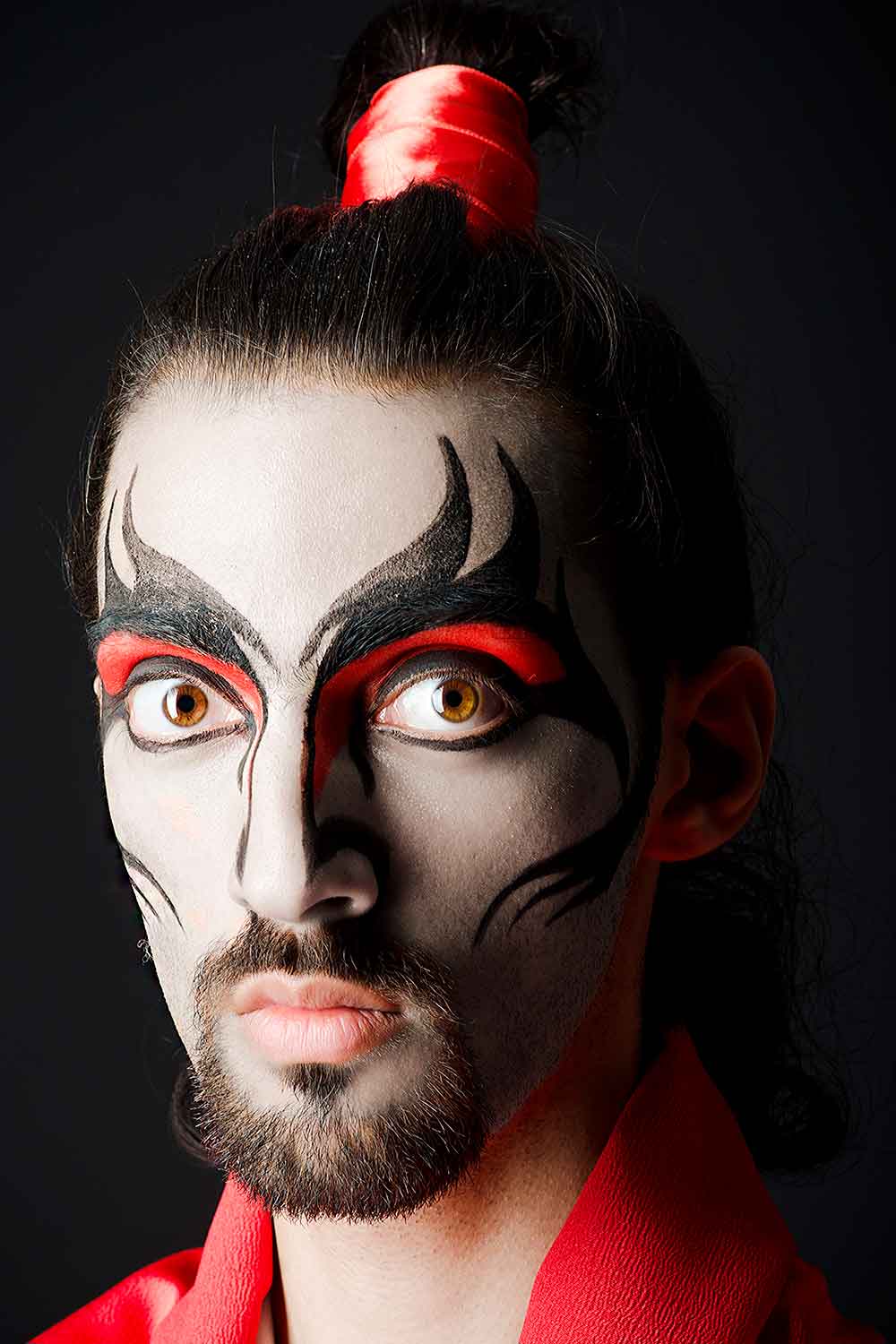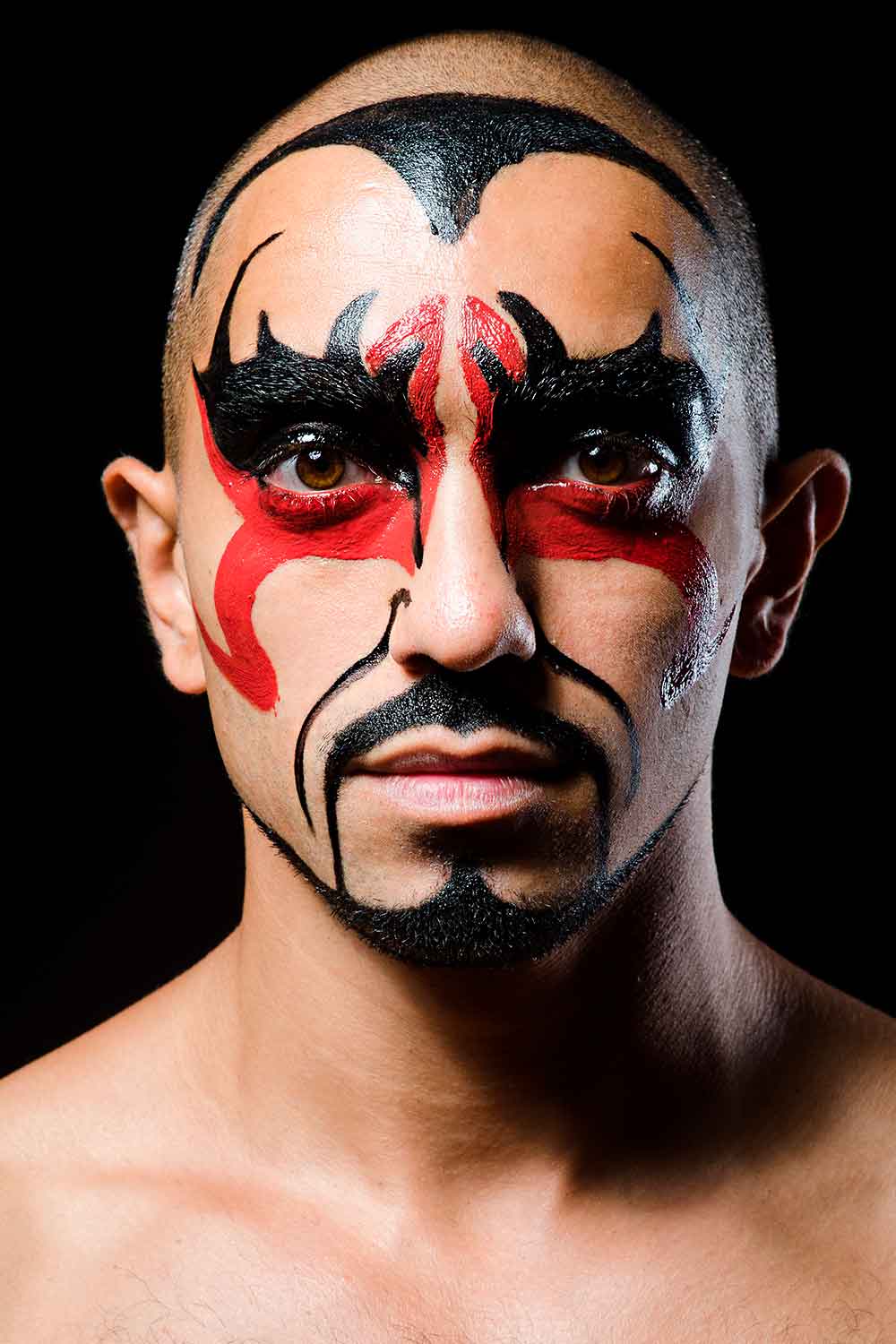 /
Injune Men's Makeup
Crown your head with Indian headdress and create the warrior makeup for an authentic look. This goes exceptionally well with a matching tattoo on your chest.
/
White Face Red Eyes
It is among the Halloween face paint ideas for beginners. All you need to do is to cover your face in white paint and emphasize your eyes and with red paint.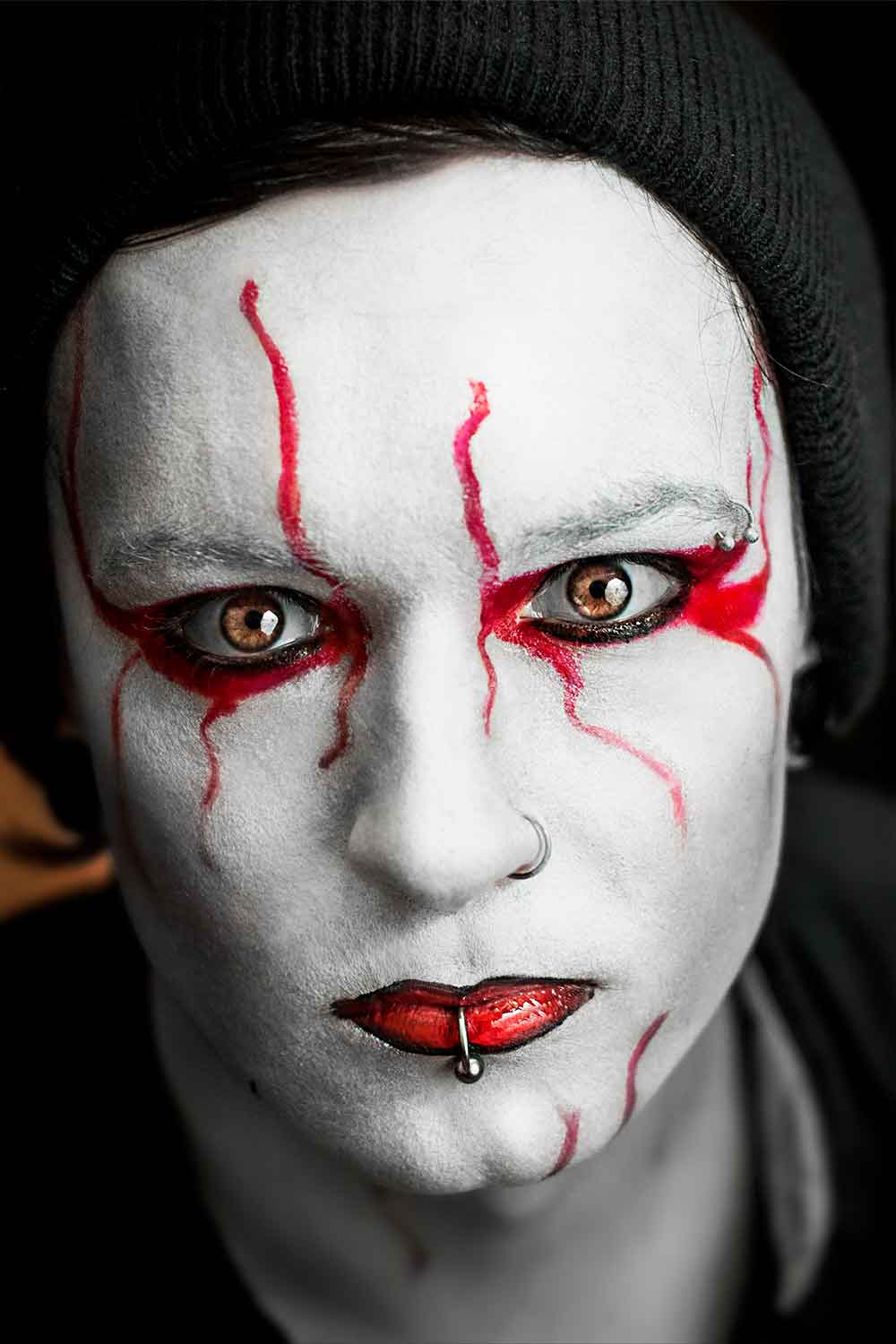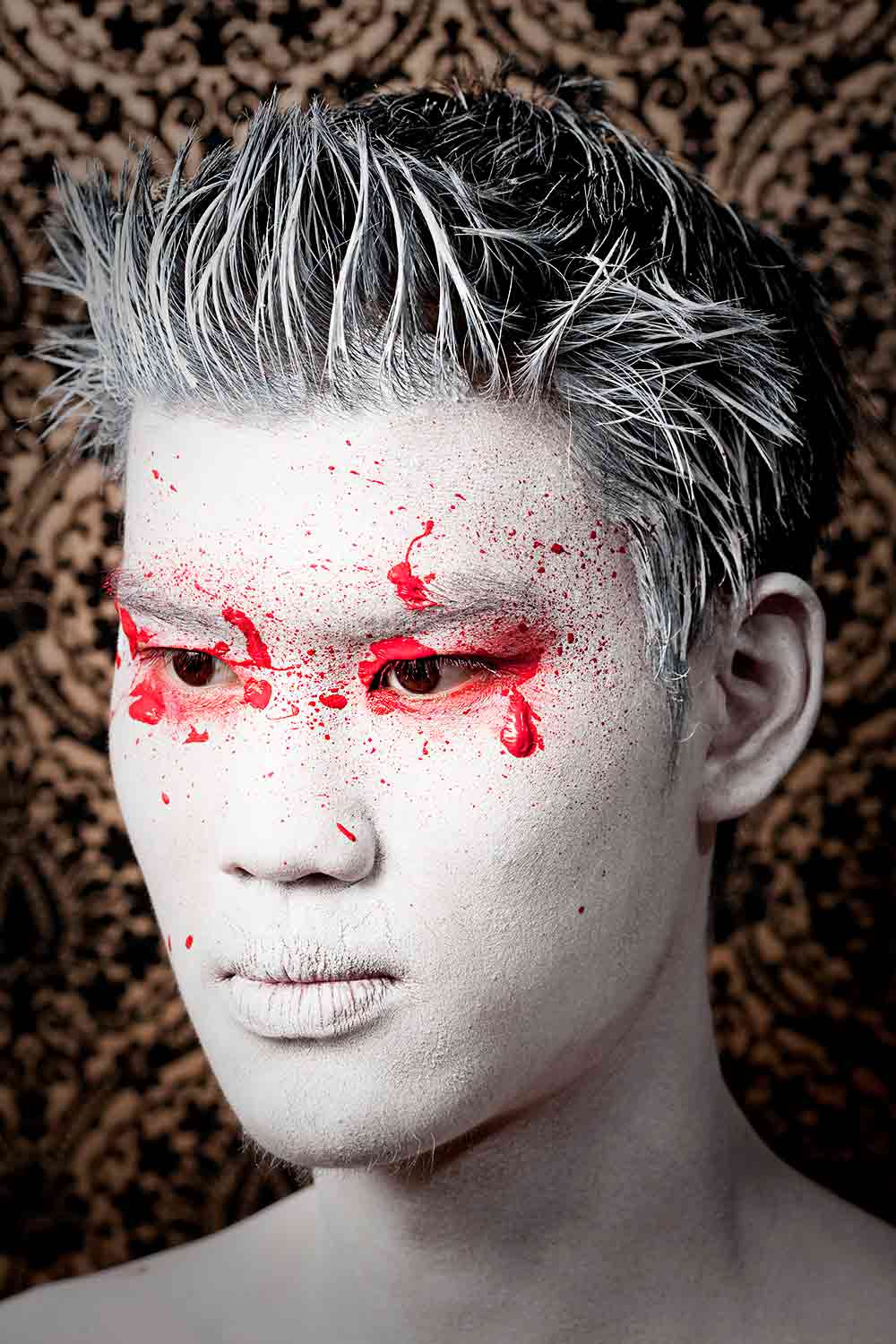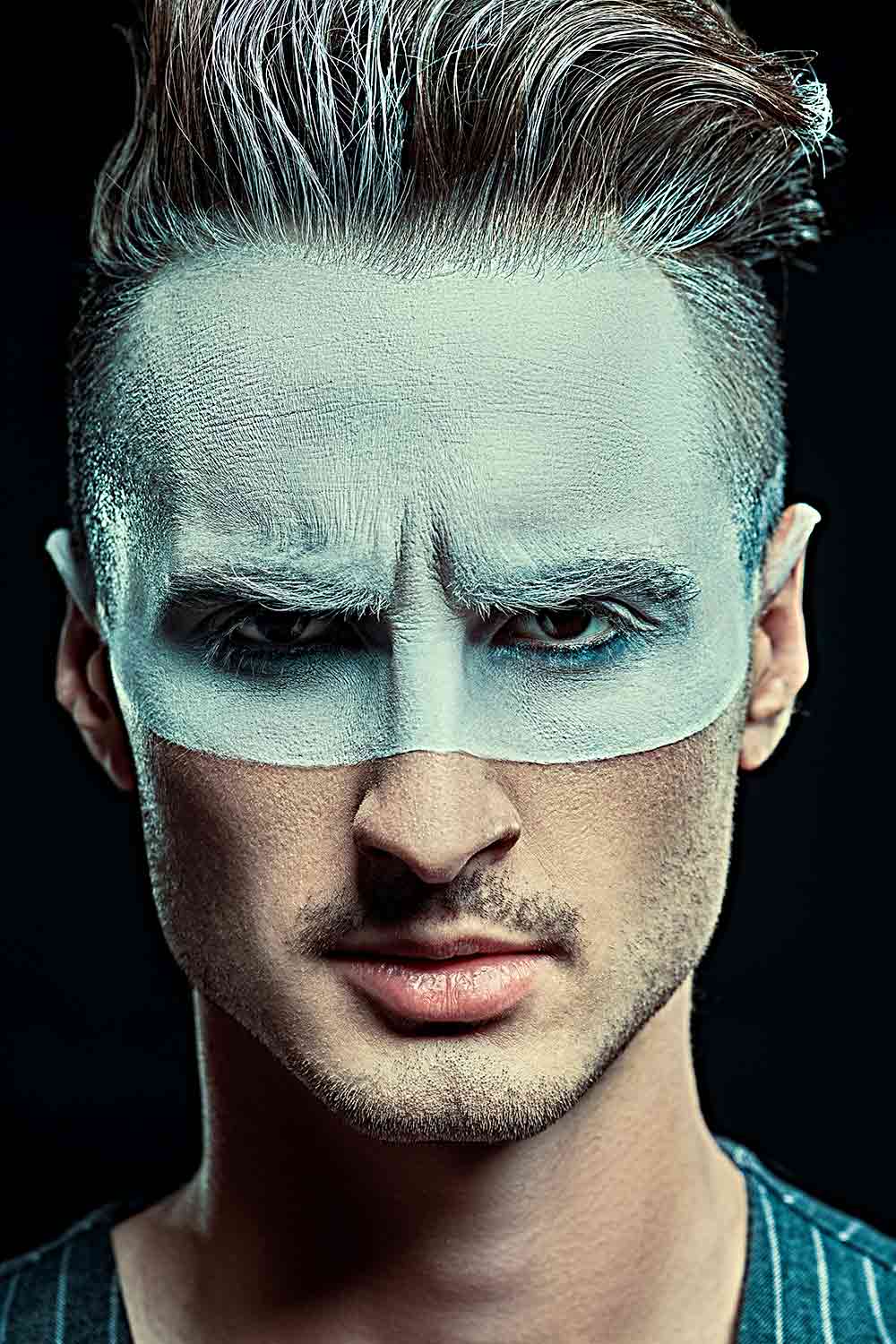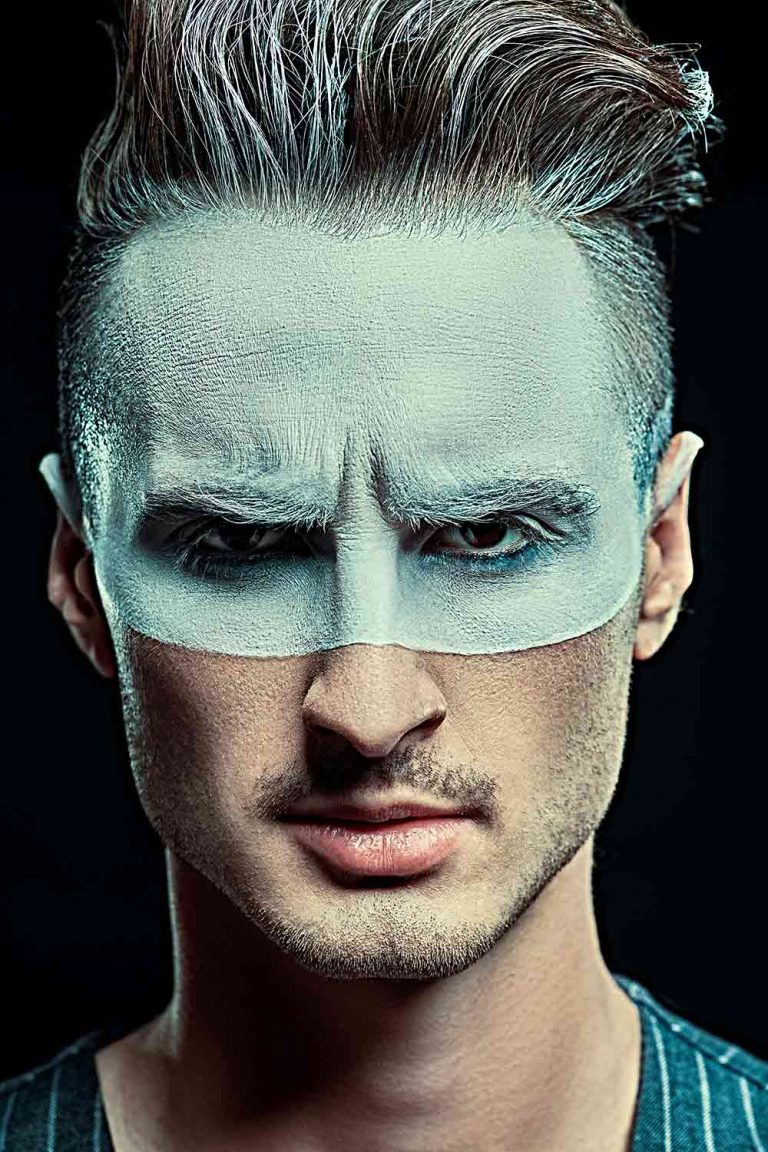 /
Viking
Sail back in time with Viking mens halloween makeup with beard. Channel the fierce and fearless spirit of these ancient warriors with rugged facial hair, braided hairstyles, and realistic battle scars. Whether you're aiming for a historically accurate look or a more mythic Viking warrior appearance, this costume choice allows you to embrace the strength and valor of these legendary seafarers.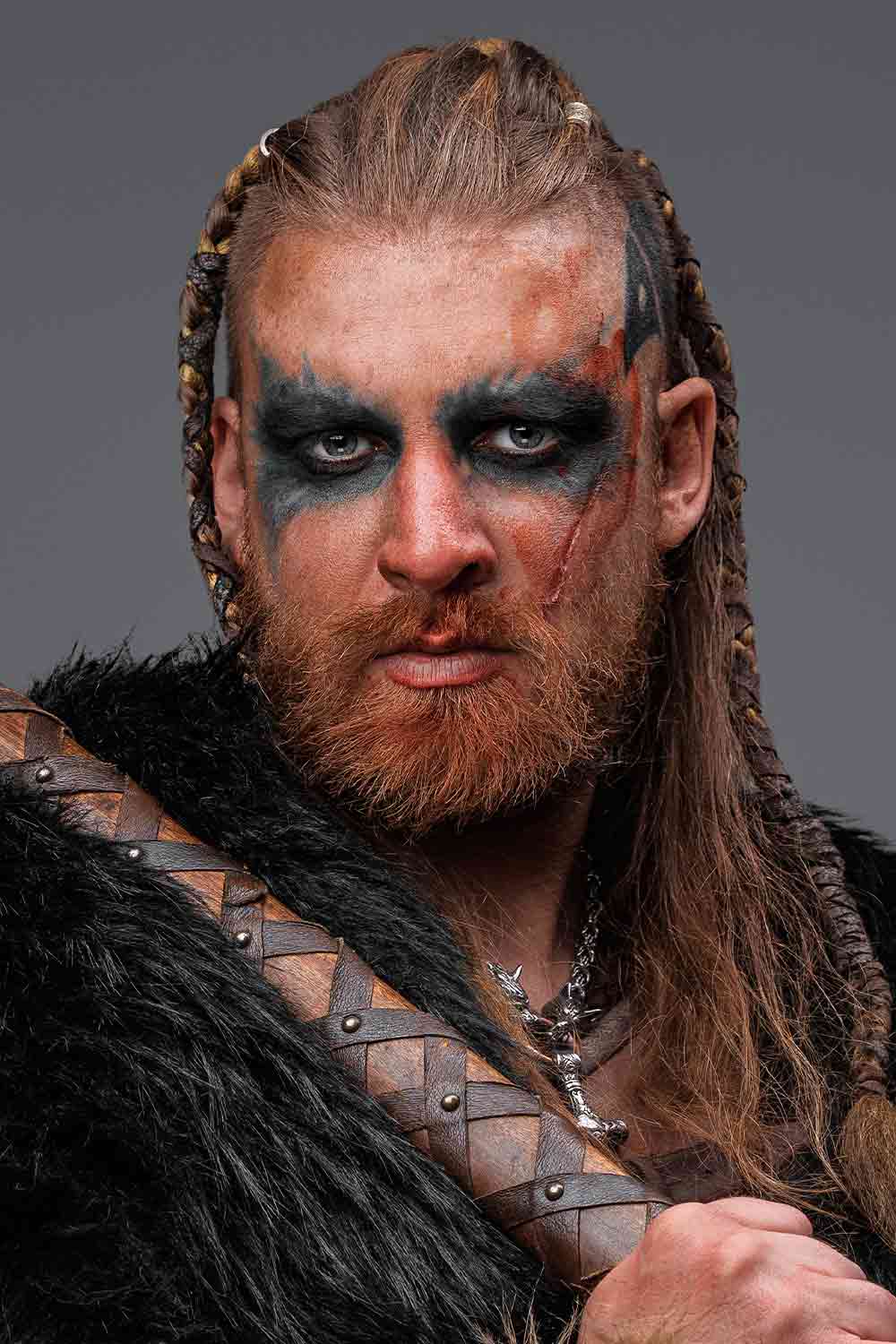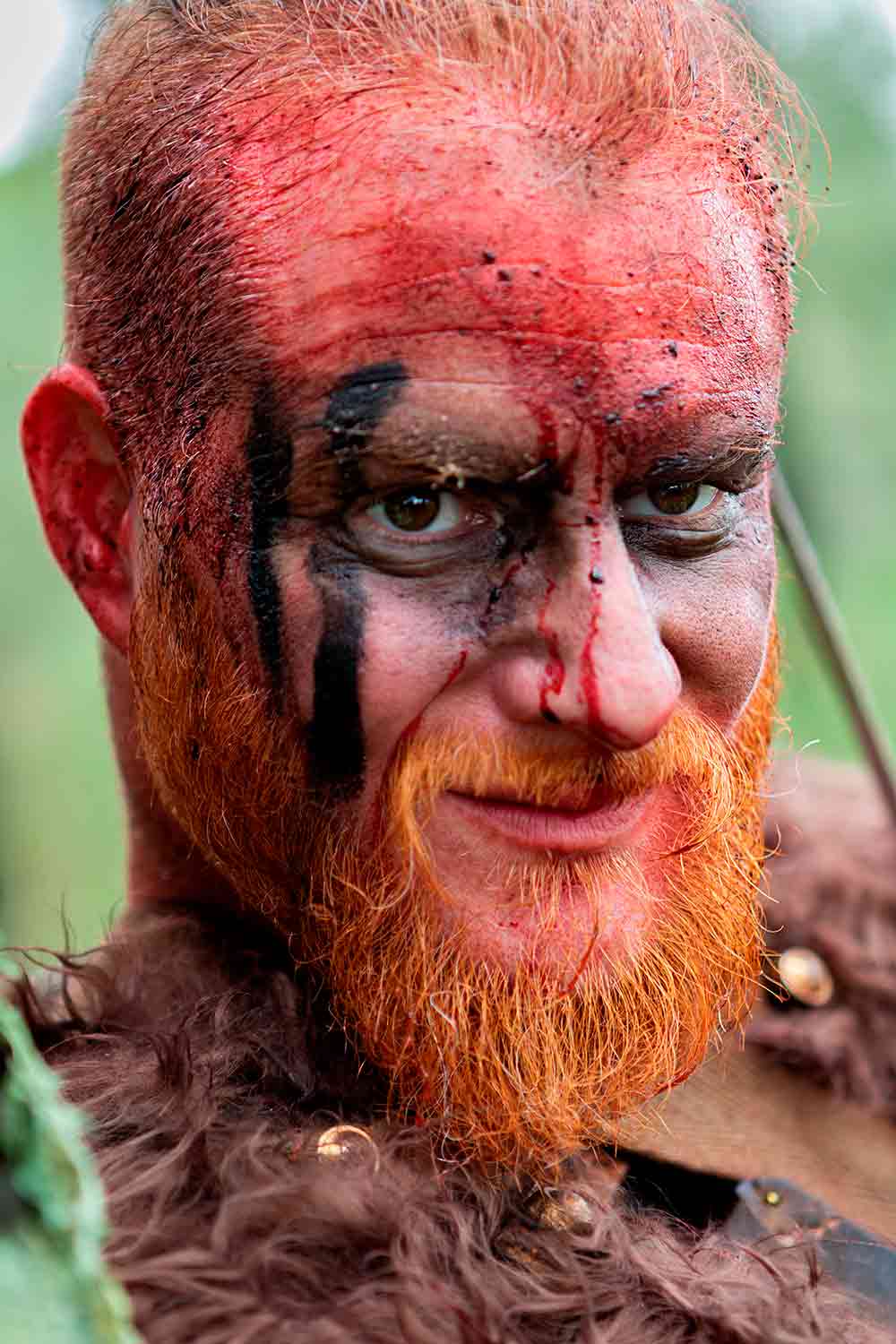 /
Witcher
Embrace the world of dark fantasy with Witcher Halloween makeup ideas. Bring Geralt of Rivia or another Witcher to life with intricate facial scars, yellow cat-like eyes, and detailed armor or leather clothing. Dive into the lore of monsters and magic as you become a monster hunter for the night, showcasing the iconic look of these skilled warriors from the Witcher series.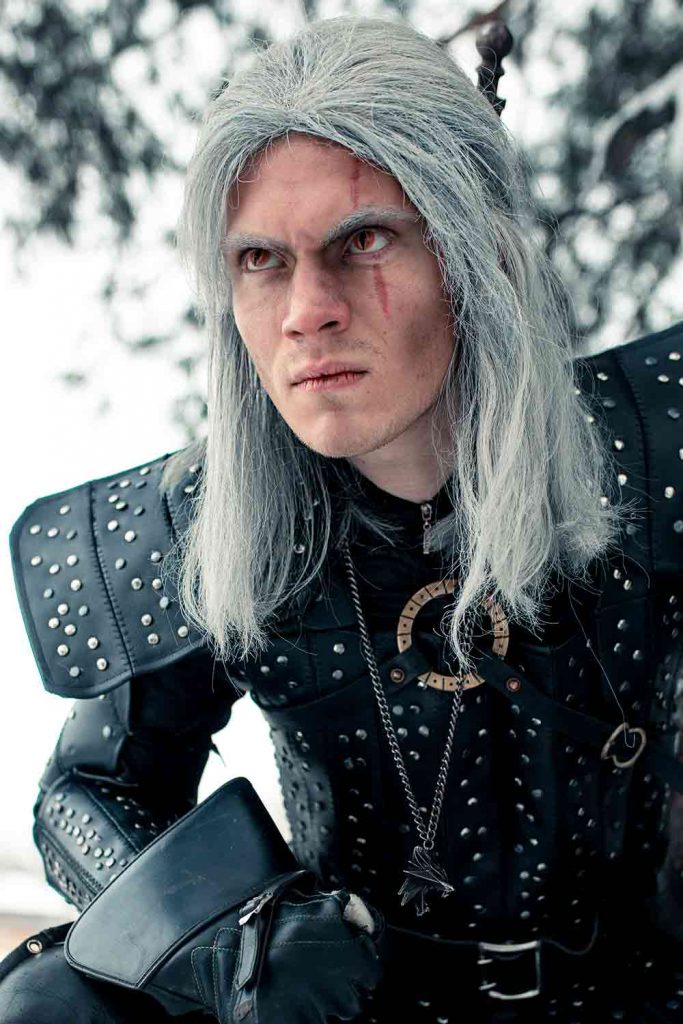 Member Of Mysterious Cult
Step into the shadows with a Halloween costume as a member of a mysterious cult. Enhance your mystique with dark and elaborate robes, symbols, and enigmatic facial markings. This costume and easy halloween makeup for guys allows you to embody the secretive and enigmatic aura of a cult member, making it an intriguing and unsettling choice for Halloween.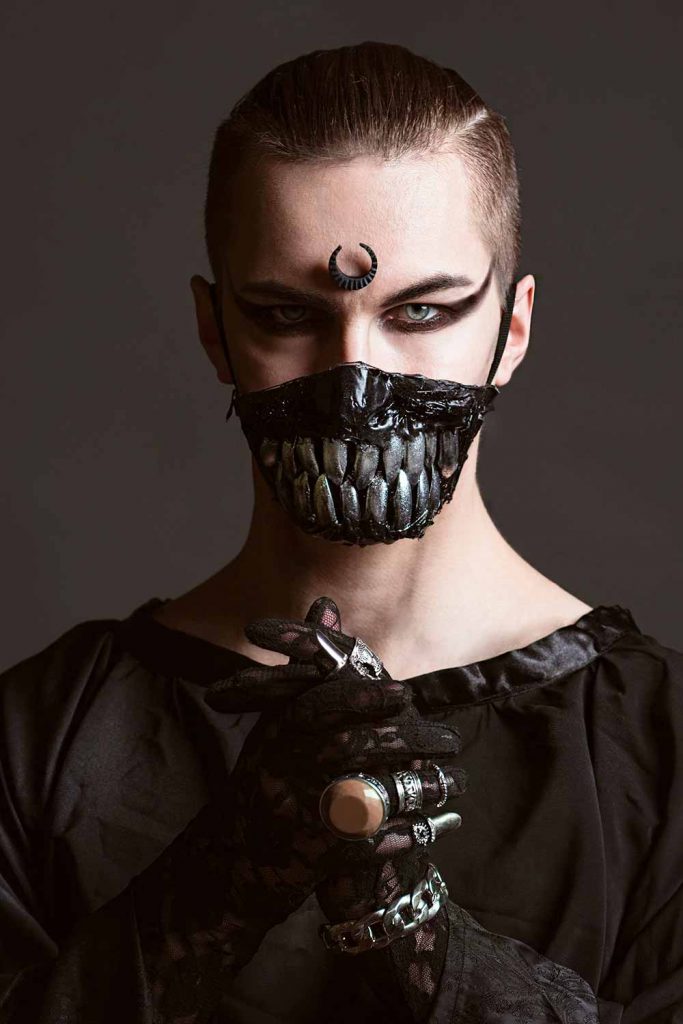 Paint Stain
Scary makeup looks usually feature a pale complexion, dark undereye circles and blood drips. So, if you are up for such Halloween face paint ideas for guys, then you will need white, black, and red Halloween face paint men can apply to their faces. Add a black cape to your look and you will get everyone who bumps into you stare in awe.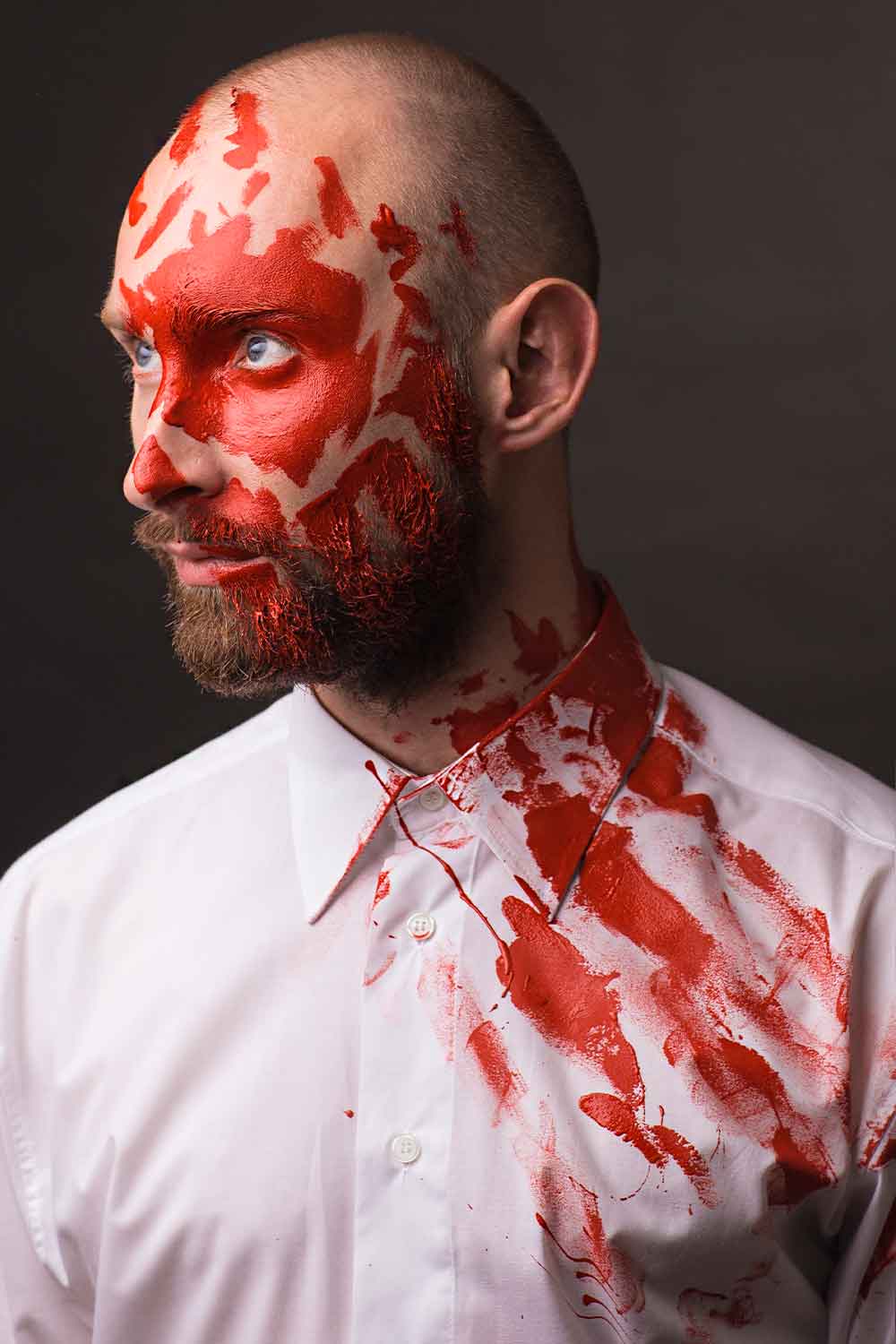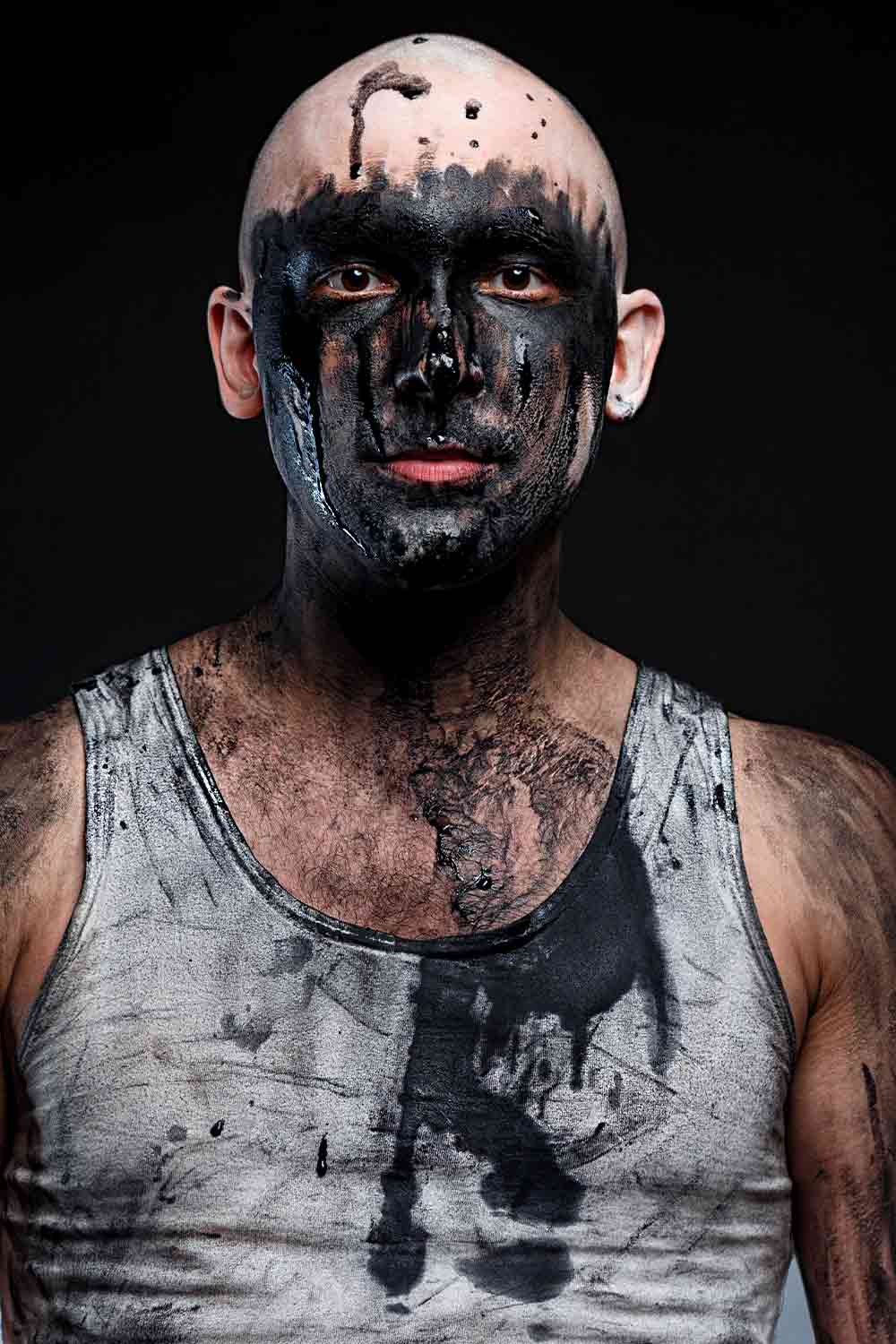 /
Watchmaker
Easy face paint makeup features minimum resources and requires little effort. That said, watchmaker face makeup serves as a perfect canvas for your creative endeavors, allowing you to implement even the most imaginative makeup ideas.
Monster
No matter what exact kind of monster you are going to choose, these creatures are always a surefire way to get a really scary Halloween costume.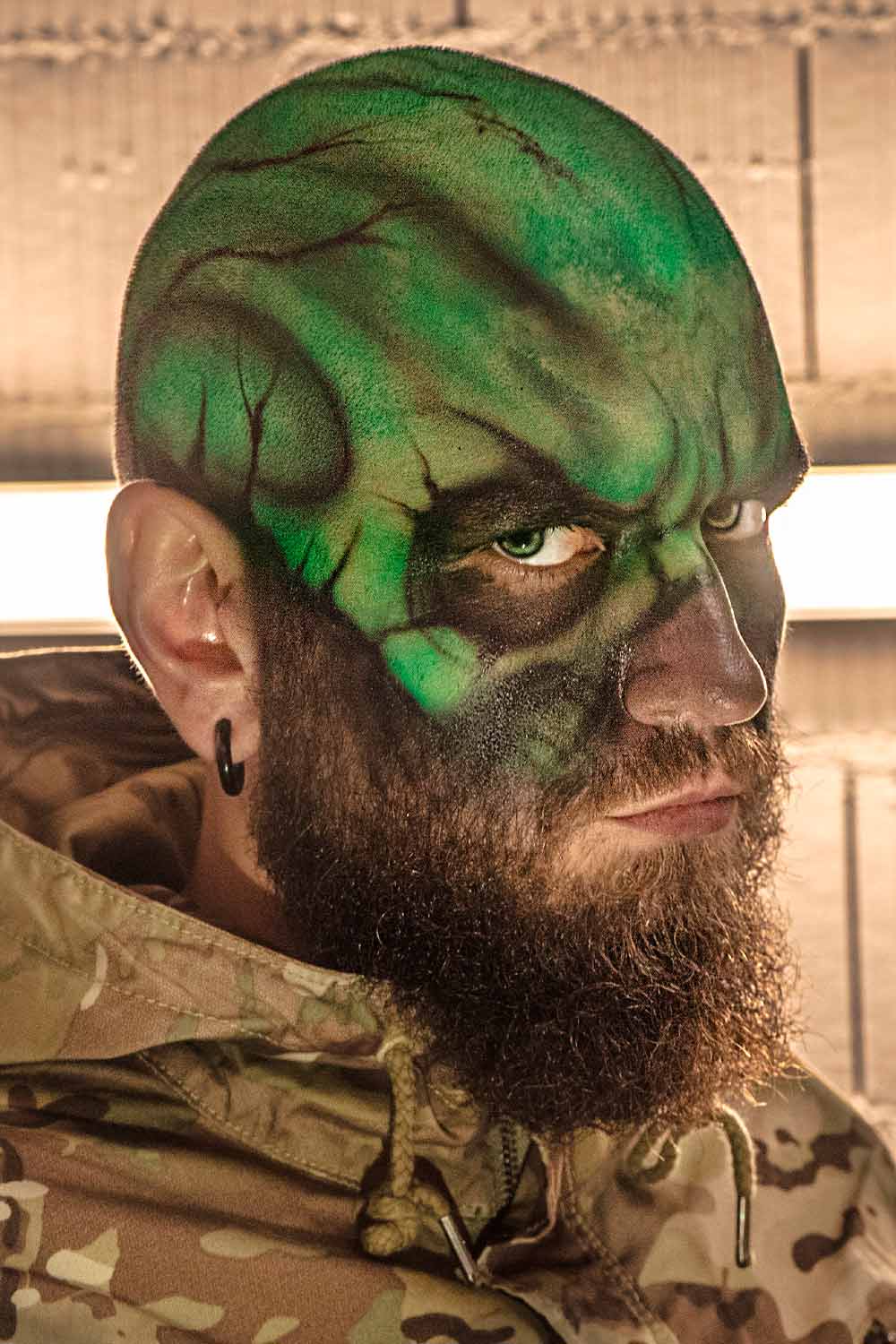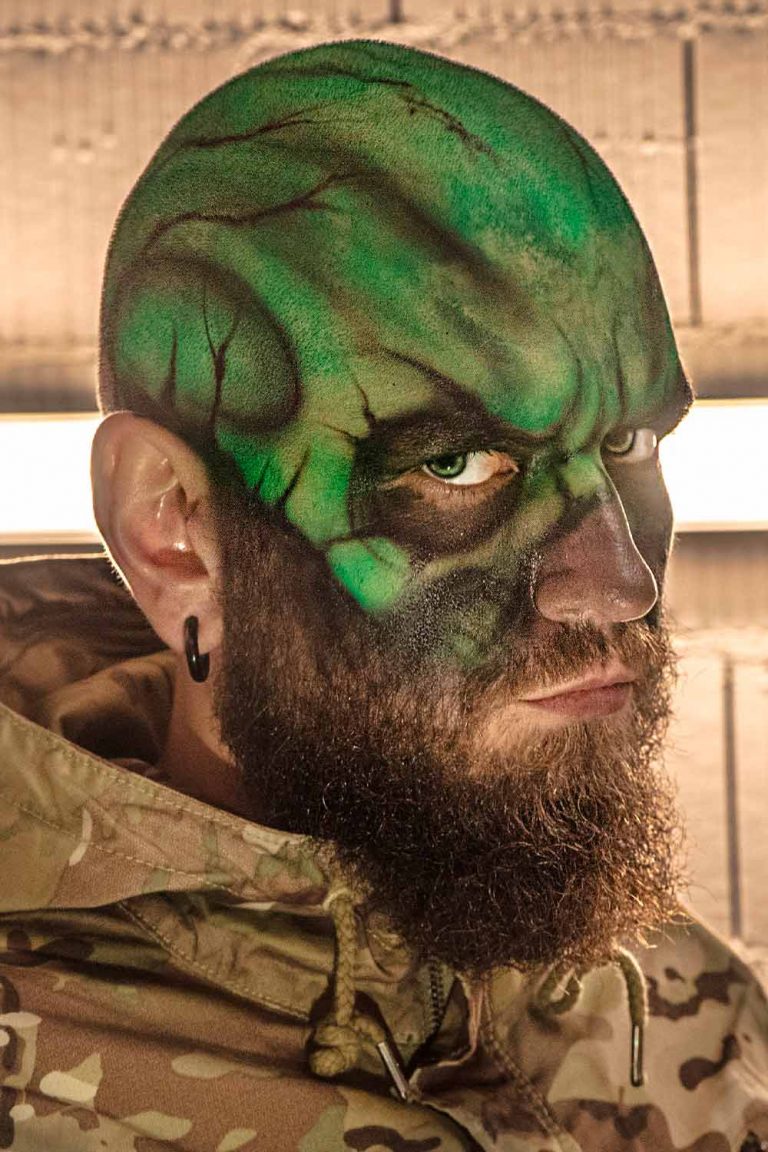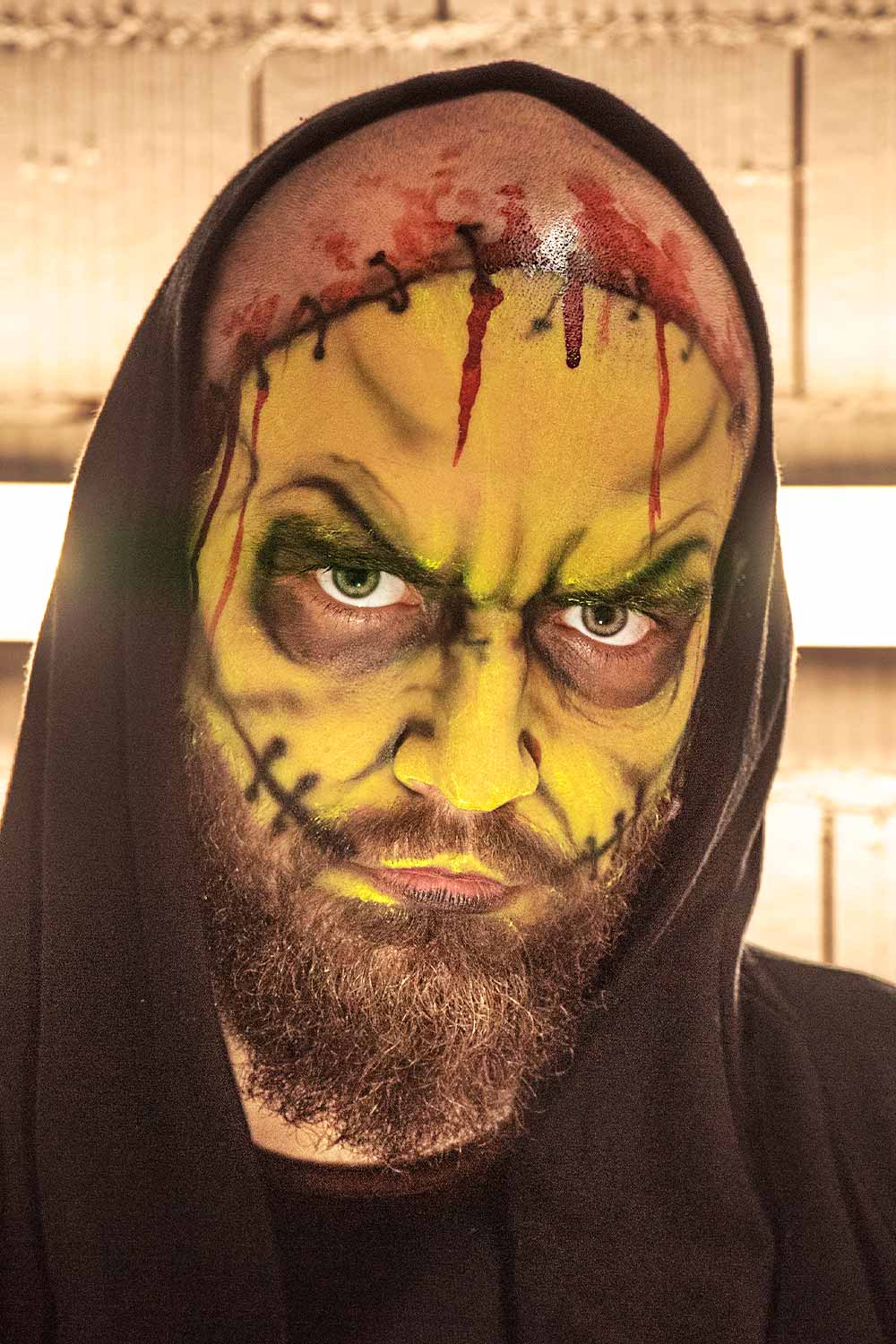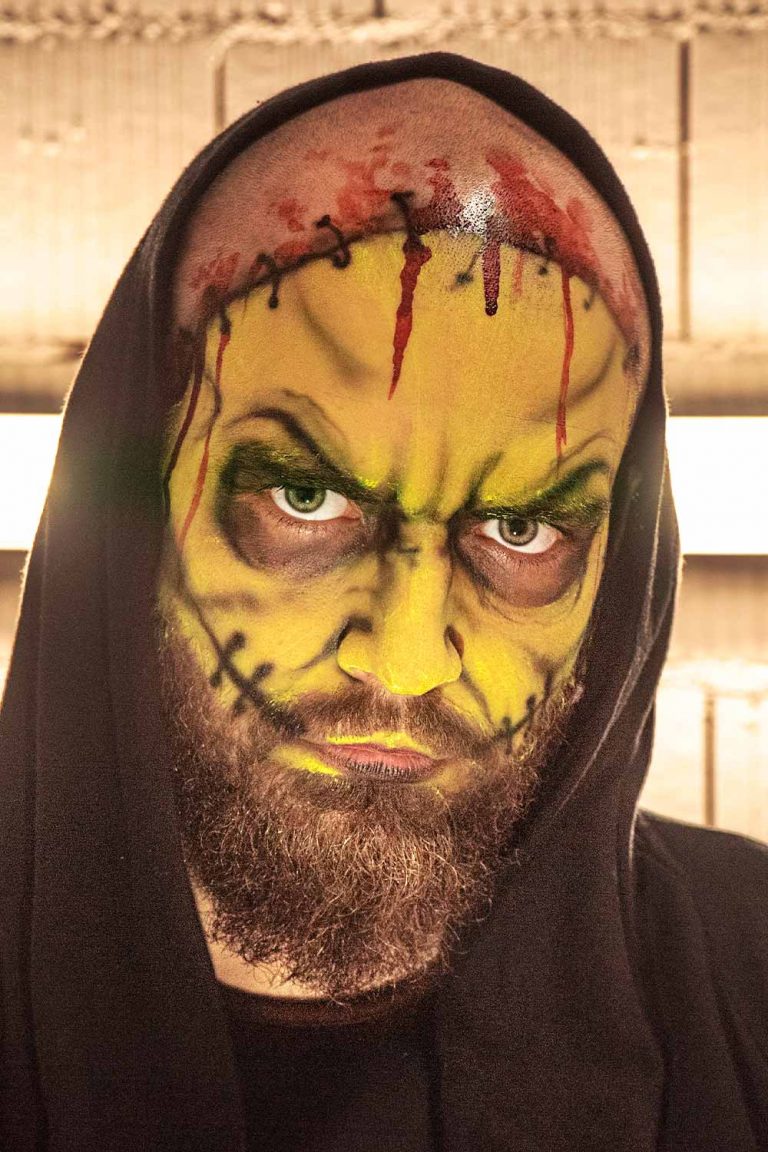 /
Captain Jack Sparrow
Transform into the iconic pirate makeup looks with these Halloween makeup ideas. Embrace the swashbuckling pirate's rugged charm and distinctive look with smudged eyeliner, beaded braids, and weathered skin effects for a truly authentic costume.
Face Palm
While you can hardly surprise with an ordinary costume today. But this look becomes one of the best and most unusual Halloween makeup ideas for guys!
Birdman
Now, this looks really creepy. Although you will need some extra equipment for the Birdman Halloween makeup look, the result you get is definitely worth the effort.
/
Icewman
This Iceman Halloween makeup arrives just in time for the cold season. Besides, the makeup does not require any special skills to create it.
/
Khal Drogo Halloween Makeup For Men
If you are looking for simple makeup looks for Halloween, then Khal Drogo is your way to go. Although it is not a scary makeup, it is still quite impactful.
Source: @reza_jax via Instagram
Hulk
Skeletons and superheroes are known to be one of the most popular Halloween costumes. Hence, why not combine them in this fascinating Superhero look?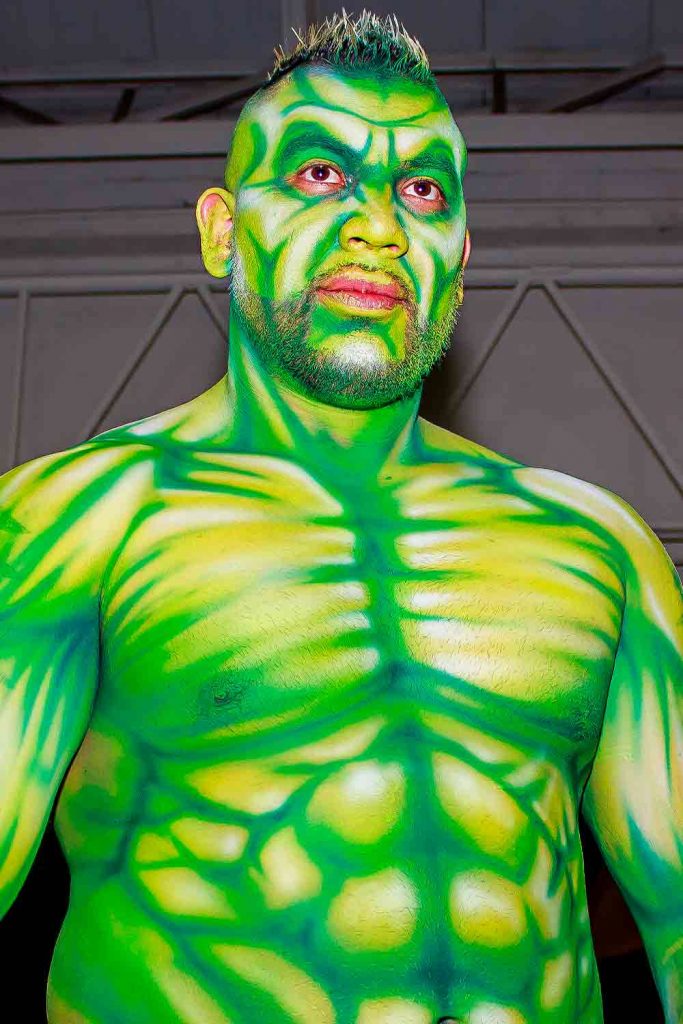 Joker Hair Tutorial
To get the right Halloween hair color and style, you need to follow these steps:
Spritz some water all over your hair to make it damp.
Squeeze a dollop of green neon gel and rub it between your palms.
Apply the gel to your hair with the hands.
Use a cotton pad to clean the edges.
Slick back your hair using a pin brush.
Secure the hairstyle with green hair spray.

Source: Slikhaar TV via YouTube
Joker Makeup Tutorial
Apply glue stick to your eyebrows so that they will not stick out and fix with translucent powder.
Mix white makeup face paint with foundation and apply to your face, neck and ears using a makeup sponge.
Blend it out with the help of a foundation brush.
To disguise the eyebrows completely, use a concealer with full coverage.
Apply taupe eyeshadows to the upper and lower eyelids.
Apply black and red eyeshadows mixed together along top and bottom lashlines.
Using a thin liner brush and black body paint, draw tattoos and worry lines on your face.
Apply red and purple lip colors to the lips unevenly.

Source: Slikhaar TV via YouTube
Hopefully, you have found our Halloween makeup tutorials useful and now you will not have any troubles creating your own look for the celebration. Yet, if you are not particularly good at doing makeup Halloween looks we have picked out for you are quite easy to recreate. So, if you have not made your decision yet, it is high time to do so.
FAQs: Halloween Makeup Ideas For Men
How do men do vampire makeup?
For a classic vampire male Halloween makeup look, follow the next steps:
1. Apply foundation that is two shades lighter than your natural skin tone all over your face as well as ears.
2. Using your finger, apply powder blush underneath your lower lash line.
3. Put red lip liner on your finger and apply it to the middle of your lips.
4. Using hair wax, style your brows so that they look more edgy.
How do you do zombie makeup?
Here is how you can achieve a perfect zombie face makeup look:
1. Apply gray paint to your face so that it looks patchy.
2. Apply black paint to the under-eye area, around the nose and under the bottom lip to create shadows.
3. Emphasize the cheekbones, temples as well as jawline with the same black paint.
4. Randomly, apply liquid latex to your face and allow it to dry.
5. Scarpe the latex to create holes for your future wounds.
6. Intensify the wound edges with the black paint you used before.
7. Apply fake wounds and scars to your neck and blend their edges into your skin using the gray paint.
8. Fill in the wounds with fake blood.
9. Apply black wax to your teeth to create a decayed look.
How can I look like a real vampire?
To create a realistic vampire Halloween makeup look, here is your checklist:
1. Make your skin look pale with white face makeup paint or light foundation.
2. Create dark circles around the eyes using purple and black eyeshadow.
3. Make sure your lips look blood red by applying red lipstick to them.
4. Sport dark and stylish clothes, be it modern or vintage.
5. Rock classy and formal shoes or better boots.
6. Put in fake fangs.
7. Wear a red or black cape.
8. Consider wearing shiny, red or black contacts for a more authentic look.
9. Style your hair in an unconventional way.
What color is zombie blood?
As zombies are dead, their blood is supposed to be coagulated. Thus, it is either black or dark red.
What color is zombie skin?
Yet again, because a zombie is a revived corpse, its skin looks like the skin of a dead person. Thus, when it comes to zombie makeup easy way to create it is to use mens Halloween face paint in gray, off-white, yellow, blue, purple and black colors.
REFERENCES:
Is a celebration observed in many countries on 31 October, the eve of the Western Christian feast of All Hallows' Day. Source
Easy Halloween Makeup Tutorials for Men – HalloweenCostumes.com Blog Source
Was this article helpful?