A reverse Mohawk is one of the coolest punk hairstyles existing. It owes its popularity to the modern punk movement, which continues to challenge everything that is considered normal and conventional. If you want to join it, then it is time for a fresh cut. No worries though, we have put together reverse hawk ideas for every taste and preference, from low key and barely there to cutting edge crests. All you have to do is to pick out the look that resonates with you most.
What Is A Reverse Mohawk
So, essentially, what is a reverse Mowhawk? This is a very bold and eye-catching hairstyle popular among punks and rock punks. As the name implies, it is a reverse version of a classic Mohawk. So, traditionally, you would remove all of the hair from the sides leaving a long narrow strip in the middle that is styled so that it creates a crest. In a reverse Mohawk haircut, you leave the sides intact while shaving off the center part of your hair.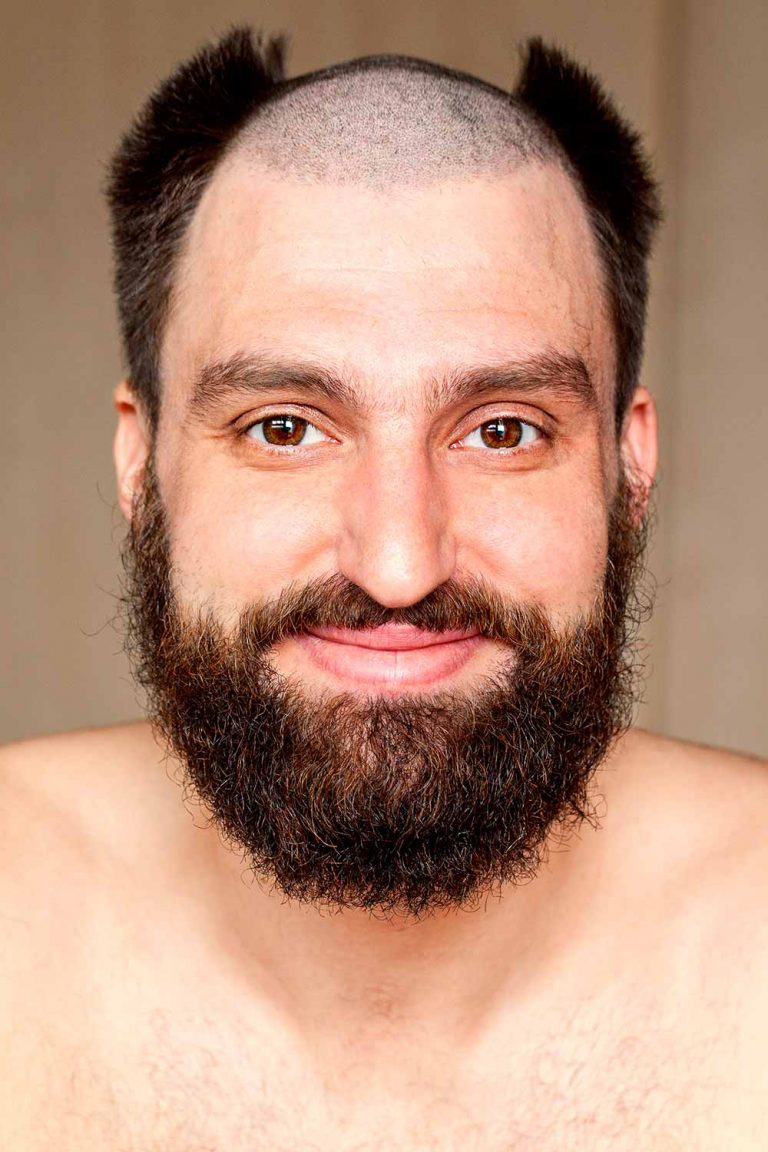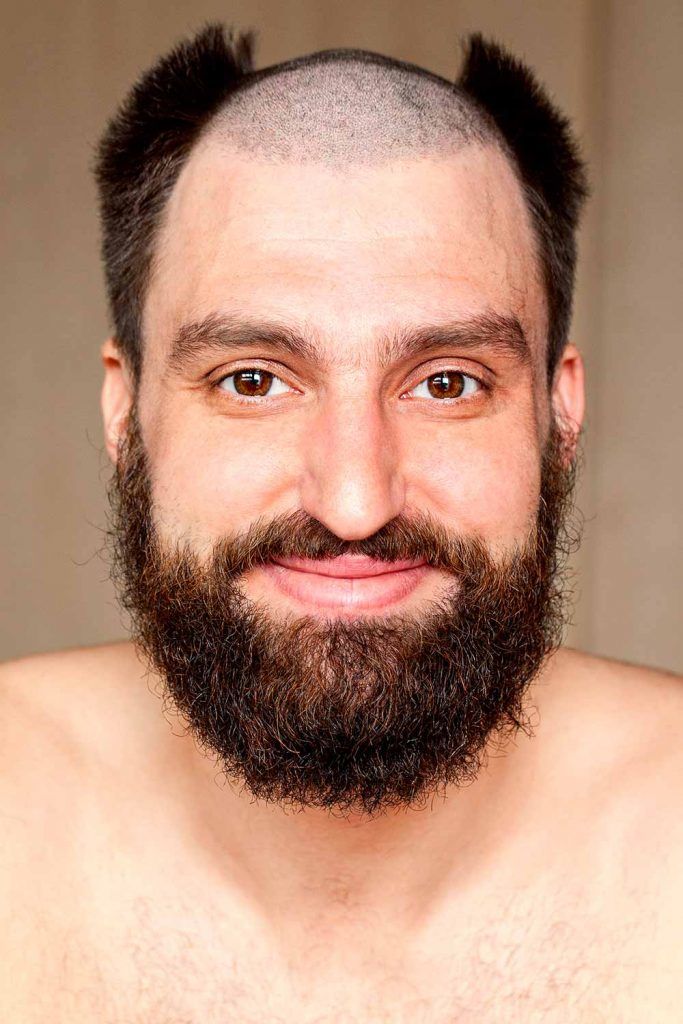 How To Style Inverted Mohawk
The styling of an inverse Mohawk varies from pretty simple to quite intricate. If you are not planning on a particularly elaborate look, then you can style it yourself. Just follow these steps:
1. Start with detangling your hair using a brush.
2. Separate the section of the hair in the middle of your head and brush it back.
3. For your convenience, you can mark up the outline of the section to be removed with the help of a trimmer.
4. Run the trimmer along your head from the forehead toward the nape.
5. Keep on trimming the narrow strip on the top of your head till you achieve the desired result.
6. Scoop a generous amount of a hair gel and style the hair on the sides spiked up.
The Photo Gallery Of Reverse Mohawk Haircuts
So that you could have a better idea of what an inverted Mohawk looks like, below we have put together the most popular and crazy Mohawk punk hairstyles cut the other way around.
Reverse & Design
Even though a reverse Mohawk is edgy and daring on its own, there are many ways to make it even bolder. For instance, you can enhance the look with an intricate hair design. It can be just anything, an abstract pattern or a specific image, depending on your preferences and the skill level of your barber.
View this post on Instagram
Buzz Cut Reverse Mohawk
To nail a reverse cool Mohawk, your hair should not necessarily be long. You can get away even with a buzz cut. Despite the contrast between the sides and the center being not particularly striking, you will end up with an eye catching and prominent hair look anyway.
View this post on Instagram
Thin & Curly Reverse Haircut
One of the best things about the opposite Mohawk is that it works for almost any hair type and texture. So, if you have naturally thin and curly hair, then you will still be able to pull off the look. Just make sure to style your locks on the sides a bit messy to make them look ampler and more defined.
View this post on Instagram
Peter Gabriel Reverse Mohawk
You can hardly forget a signature reverse Mohawk hairstyle introduced by Peter Gabriel, the leader of the rock group Genesis. After all, no one but him should be blamed for the popularity of the look. As his hair is pretty thick and long, the bald section makes a peekaboo appearance, which takes this arresting hairstyle to the next level.
View this post on Instagram
Spiky Dyed Short Hawk
A reverse Mohawk is a failsafe haircut option for folically challenged guys, as you do not need to have a full head of hair to pull it off. You can go for a short spiky reverse hawk and dye it in a bright color for an added emphasis.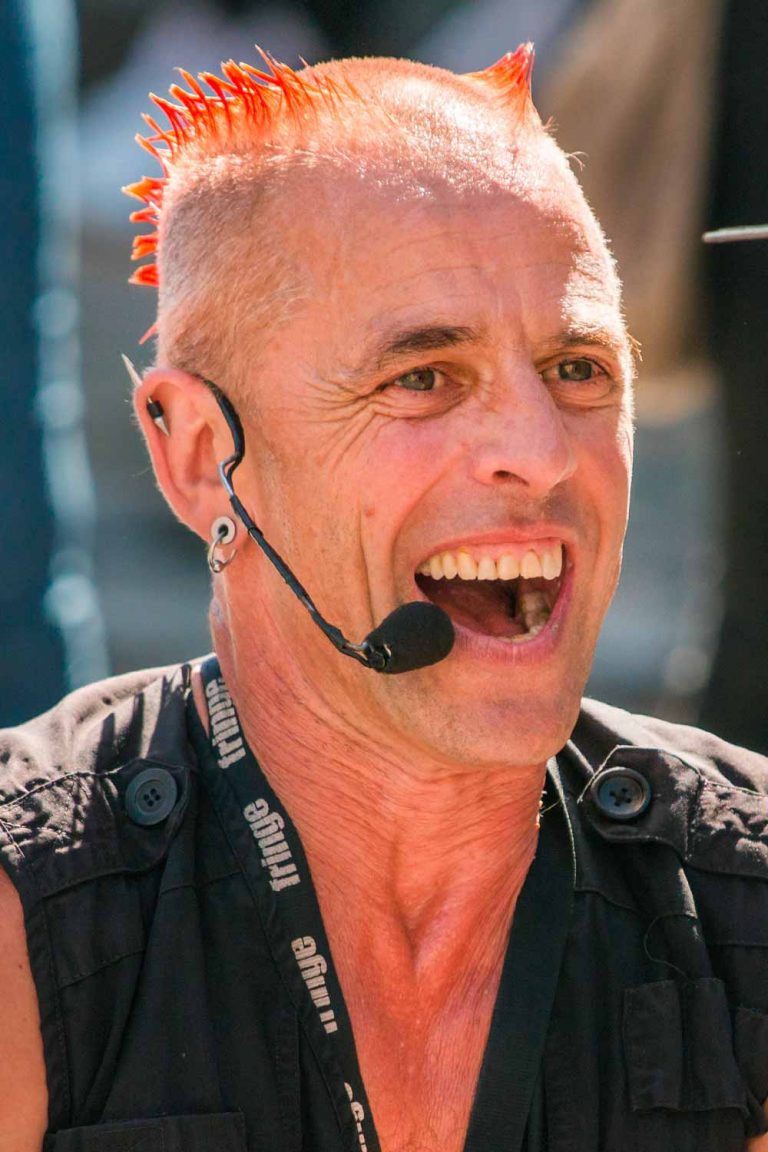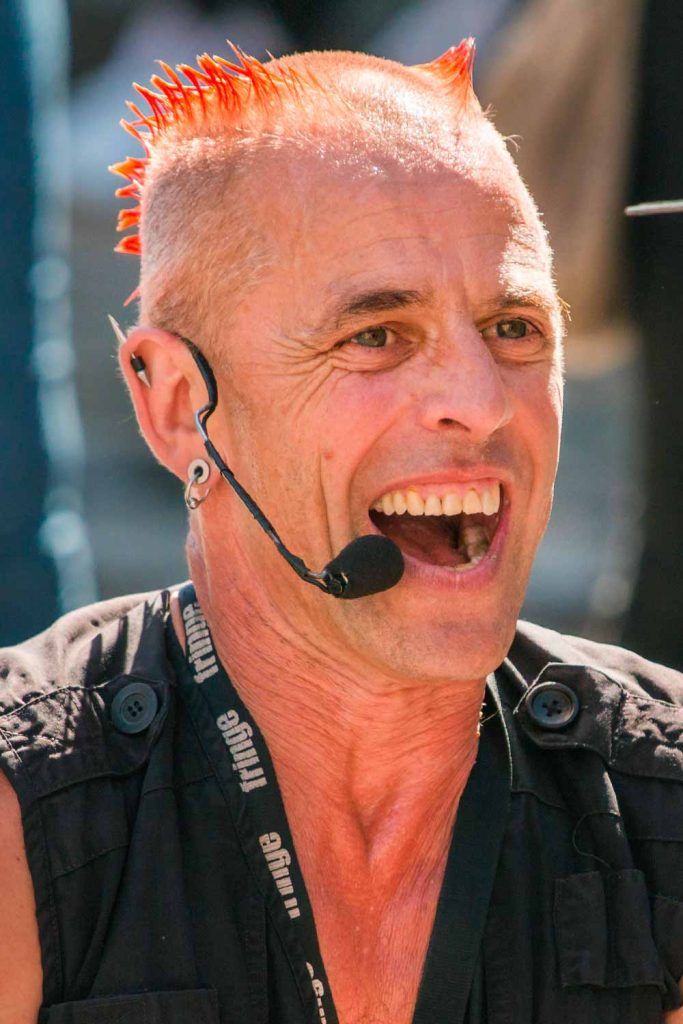 Pink & Striped
Pink is one of the most popular colors for punk rock haircuts for guys so you do not need to worry that it will make you any less masculine. Thus, do not hesitate to go for it if you feel like you are up to it. You can also add a cool twist to your hairstyle by making the center area not just bald but striped.
View this post on Instagram
Punk Skullet
If you prefer to really stand out in the crowd, then a punk skullet haircut is your way to go. Unlike a regular inverted Mohawk, it does not leave the hair on the sides. As a result, you get two defined ridges on the head that start from the forehead and go to the very back.
View this post on Instagram
Purple Spikes
Apart from pink, there are many other colors that you can dye your reversed Mohawk in. Purple also looks very cool and punkish, especially when you style your hair spiked up.
View this post on Instagram
Punk Reverse Mohawk
Reverse crazy Mohawks feature extraordinary styling, bizarre cuts and flamboyant colors. You can always play around with your punk hair look to make it unique and unusual. Remember, it is always up to you to decide how bold you want to look.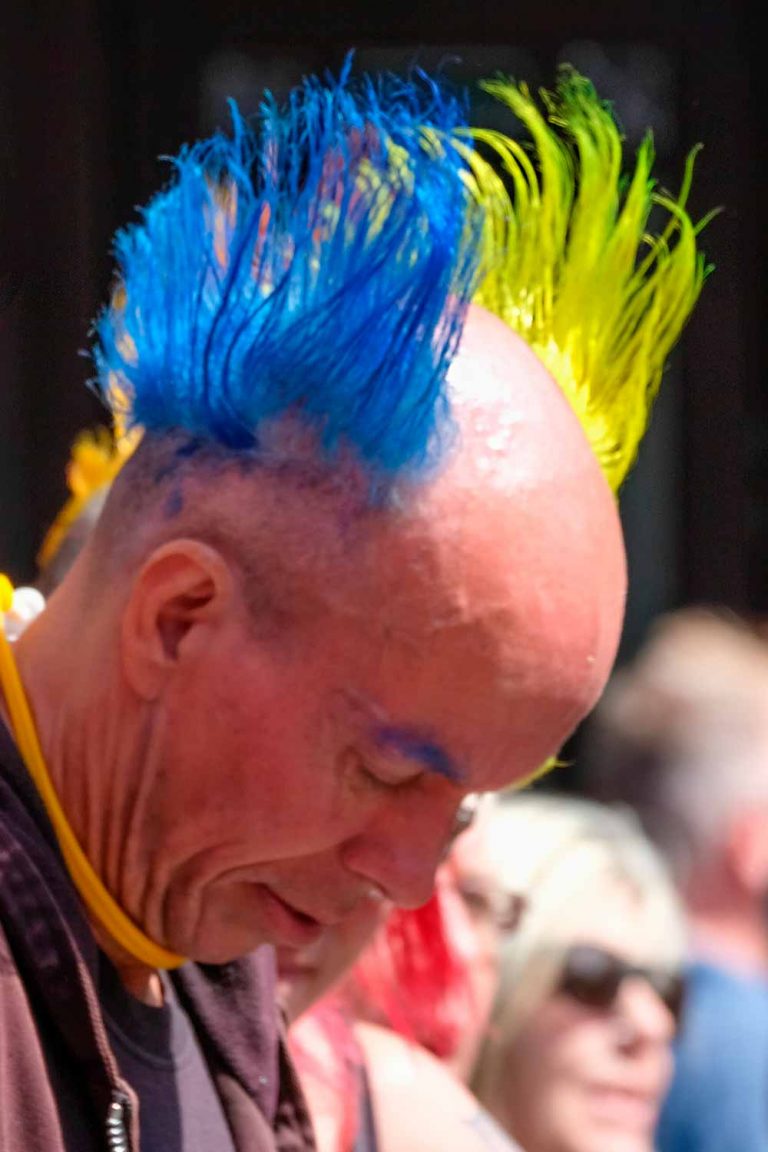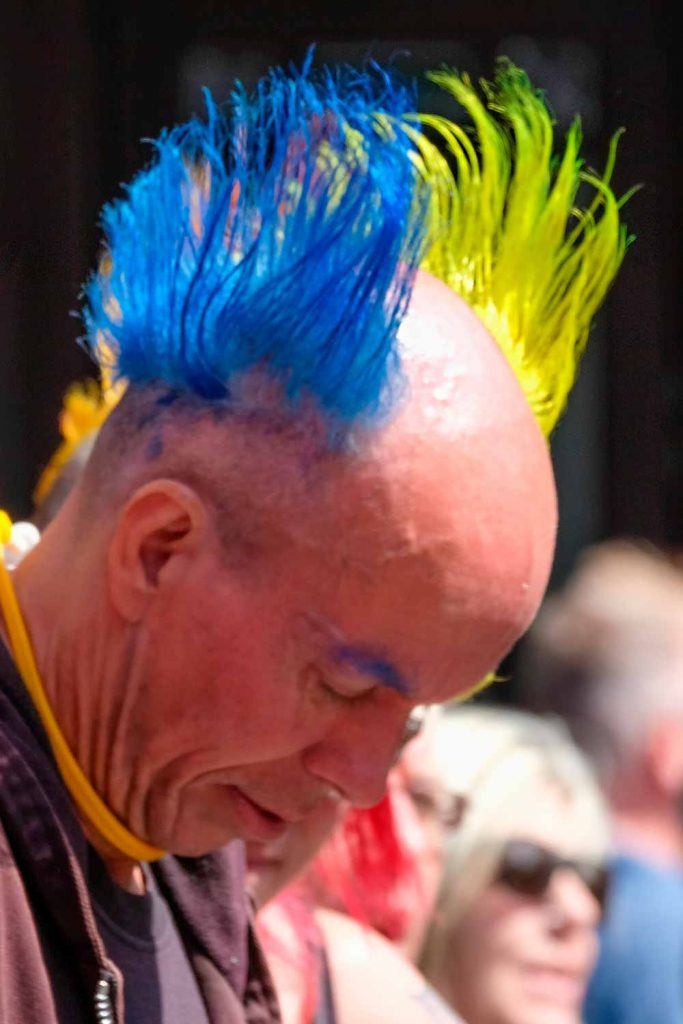 peter g lawson/Shutterstock
Arrow Middle Design & Rat Tail
The middle section of a reversed Mohawk allows for various hair designs. Thus, you can add an arrow print to create a really attention grabbing look. Also, why not pair it with another popular rock haircut, a rat tail? Together, they make up an unbelievably impactful hair look.
View this post on Instagram
Old Punk Nohawk
There are no age limits when it comes to punk hairstyles and a reverse hawk is no exception. So, if you are an old punk, then a couple of small patches on each side of the head is more than enough to nail the look. Accentuate it with a touch of color and show everyone that you still have fuel in the tank.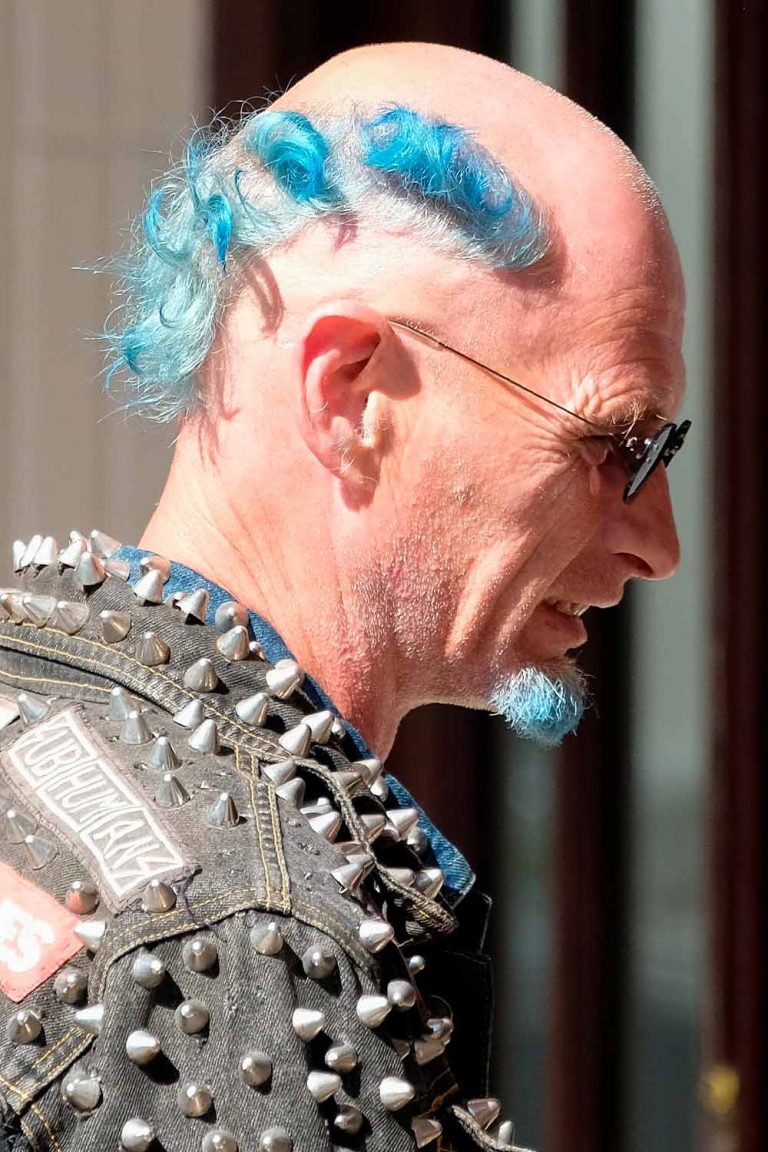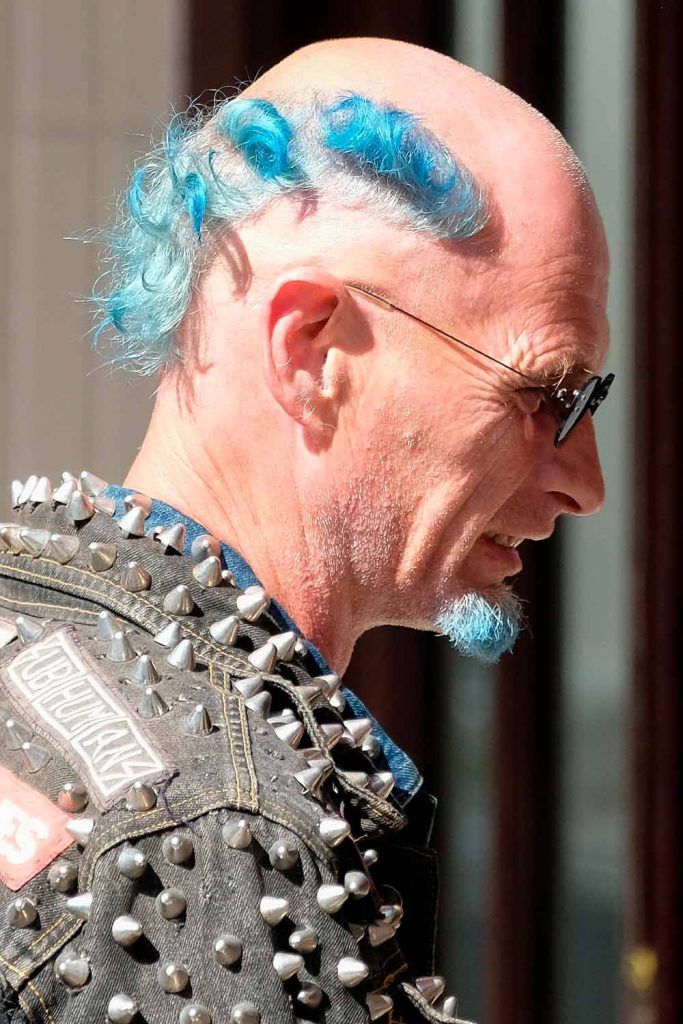 peter g lawson/Shutterstock
FAQs
What is a reverse Mohawk called?
A reverse Mohawk, which is a section of hair shaved off in the middle of the head, is also referred to as a hawkmo and nohawk.
Why do punks wear Mohawks?
A punk rock Mohawk takes its origin in the 70s, when the movement was at the peak of its popularity. It was a way of self expression for rebels who wanted to look and behave differently from what was thought to be normal.
REFERENCES:
Rather than the strip of longer hair in the center of the scalp, a reverse mohawk, also known as a nohawk or hawkmo, features a shaved strip from the forehead to the nape of the neck leaving hair on either side of the line. Source
A hairstyle where you have all your hair except for a strip down the middle (where a traditional mohawk would be). Source