Many people underestimate punk hairstyles, considering them a fleeting fashion trend. However, in reality, these hairstyles symbolize a whole subculture. Aggressive and irrepressible followers of punk have been committing to such a lifestyle for about fifty years. Though to be fair, many modern men sport punk haircuts without showing any inclination into the subculture. No matter what camp you belong to, have a look at our roundup of the most rockabilly punk hair looks.
Short Punk Mullet
Although a mullet is often considered an old-fashioned hairstyle, it can be upgraded to keep up with the current fashion. For instance, you can dye it in a really controversial and, at the same time, daring color, such as pink. Do not make it overly long though. Instead, a short pink mullet looks more decent than a long one.
Source: @r.braid via Instagram
i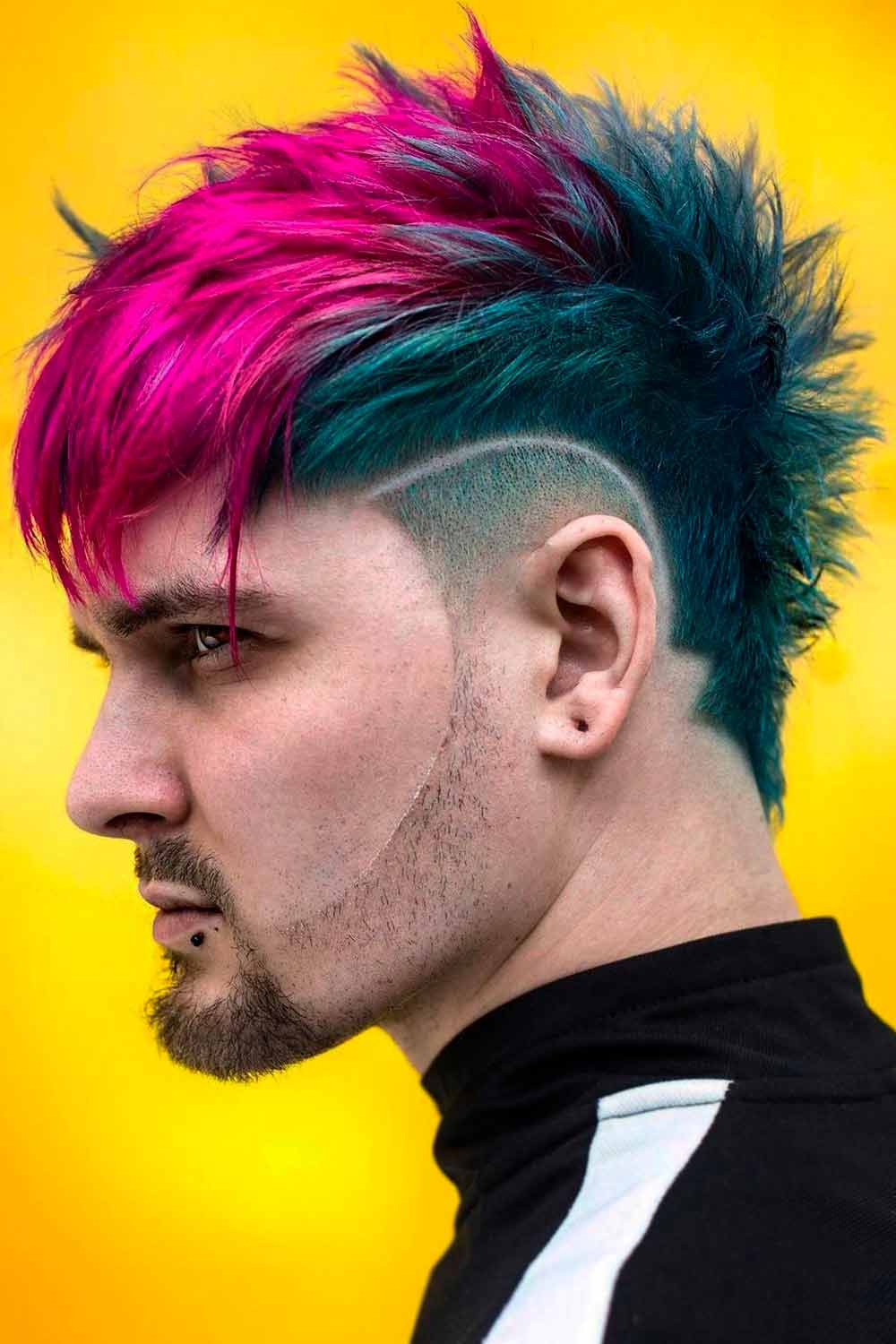 Source: @shrunknheads via Instagram
i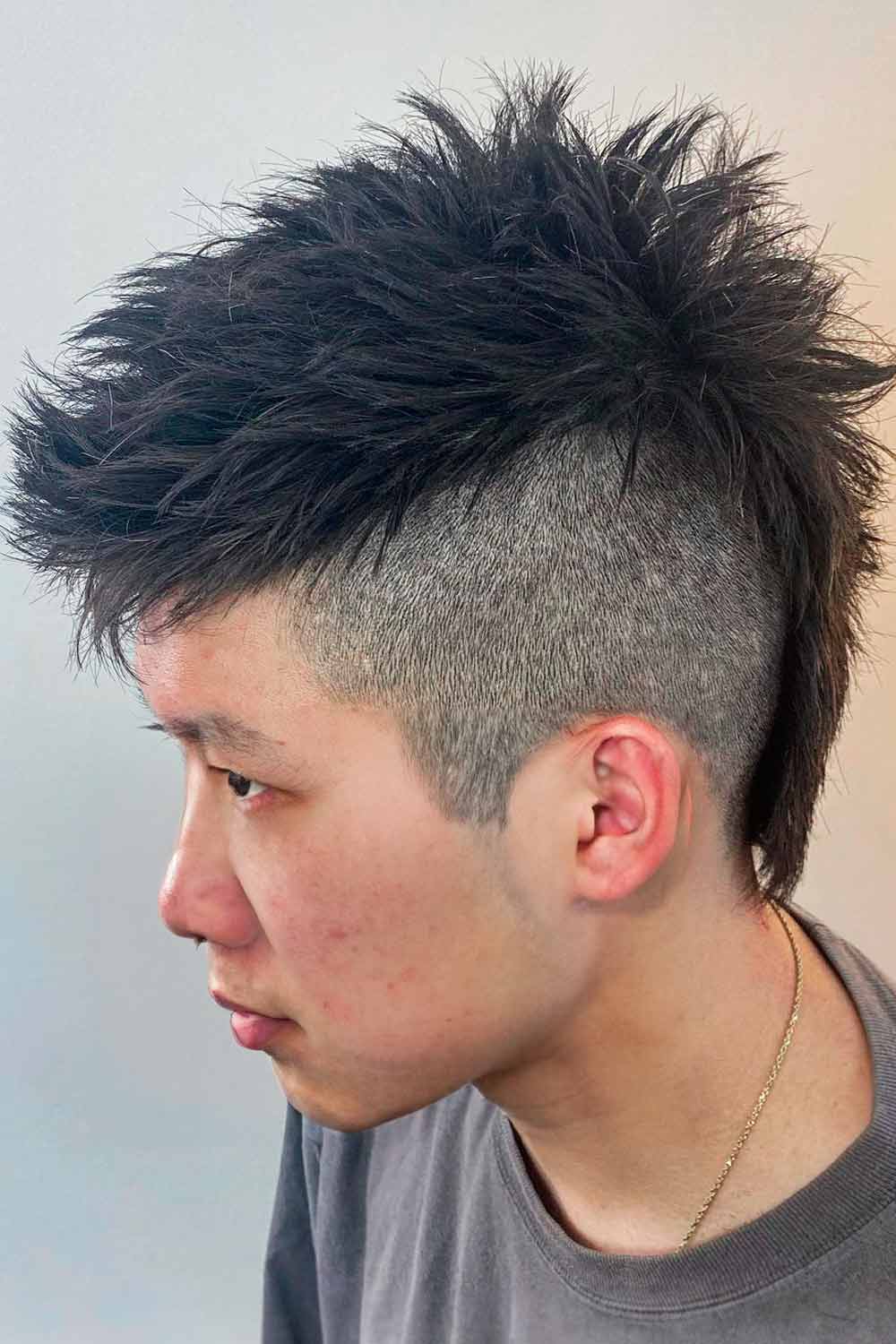 /
Slicked Back Undercut
Even though this haircut has slicked back undercut, it comes out bold and dramatic due to a long top and undercut skin fade sides, which shows off the tattoos. To style such short hair styles for men, apply a generous amount of gel and brush the hair on top back until you get the desired result.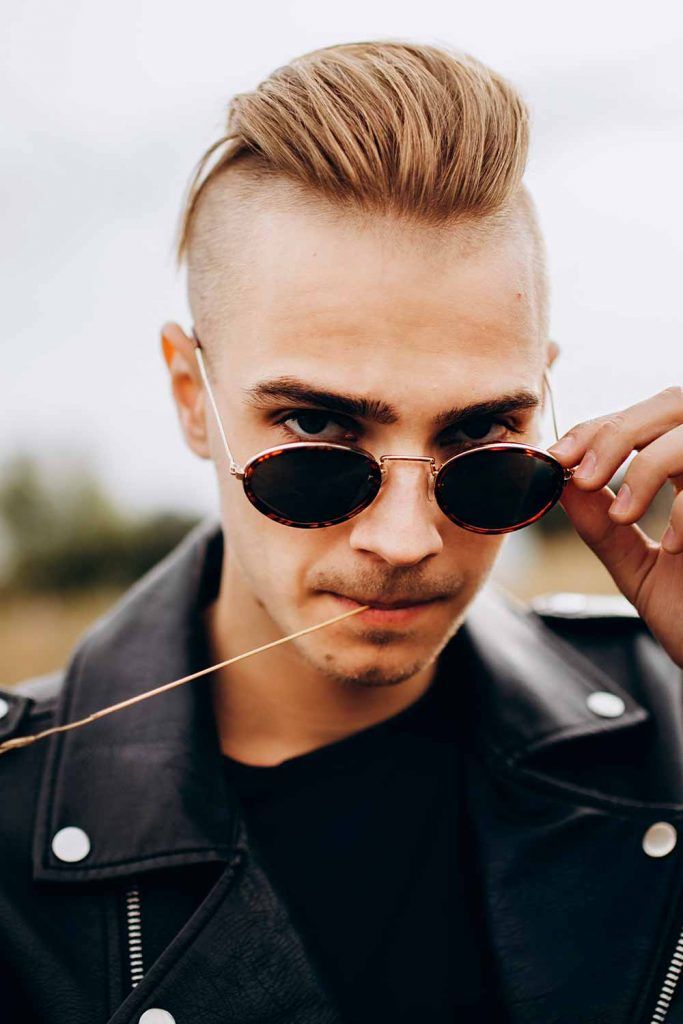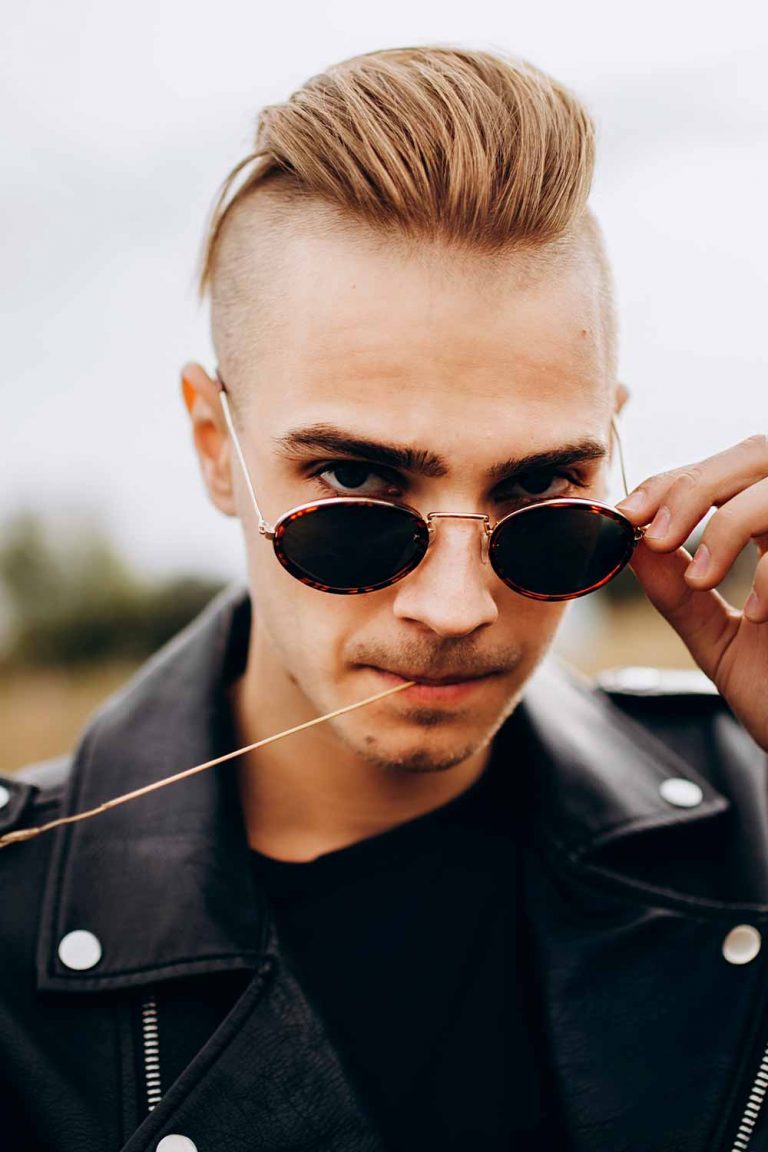 Punk Hairstyle For Curly Hair
Punk curly hairstyles are a great rarity. It doesn't mean though that they don't look as cool as the straight ones. The natural texture of your wiry locks brings a new twist into the punk fohawk style.
Source: @the_bloody_butcher via Instagram
i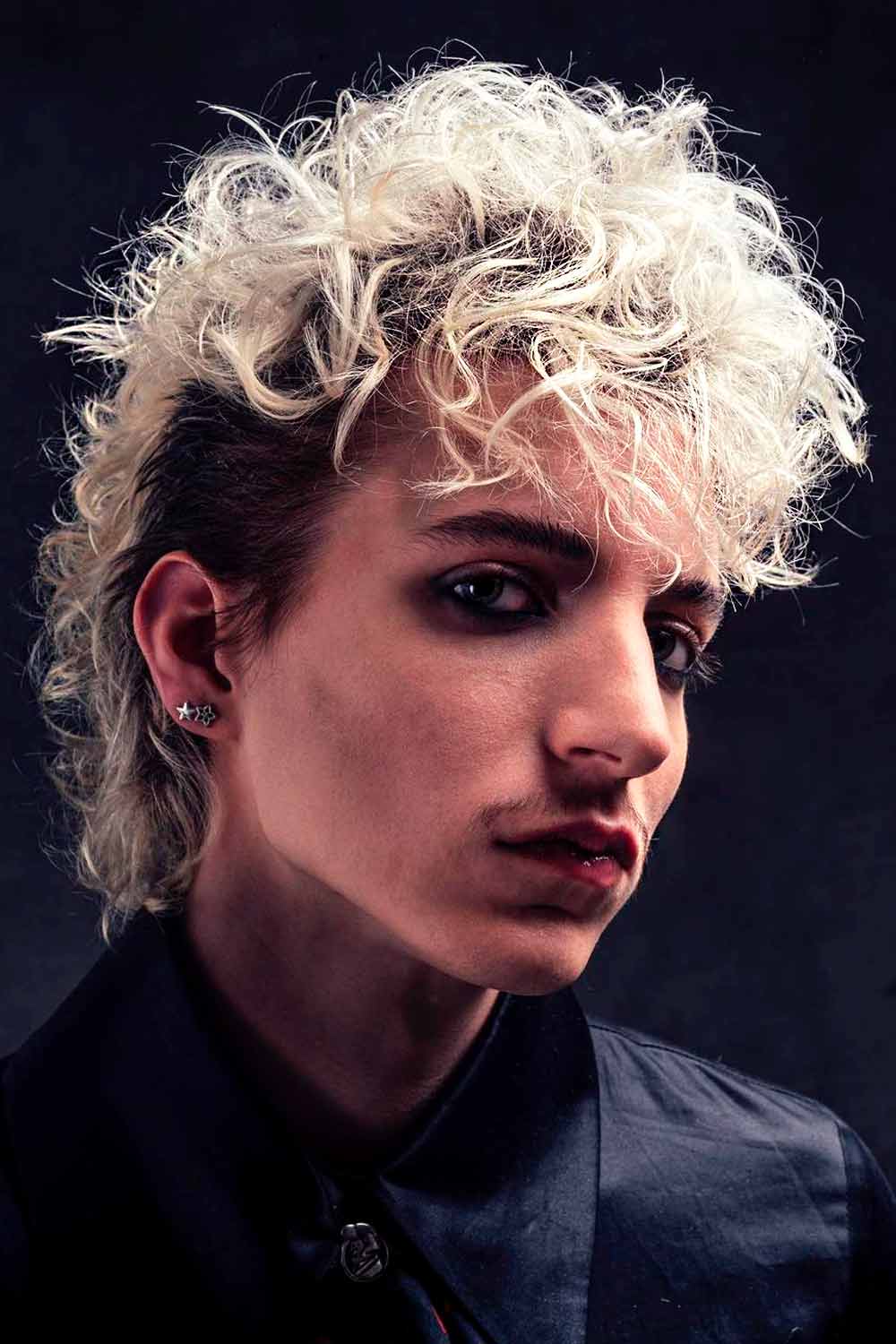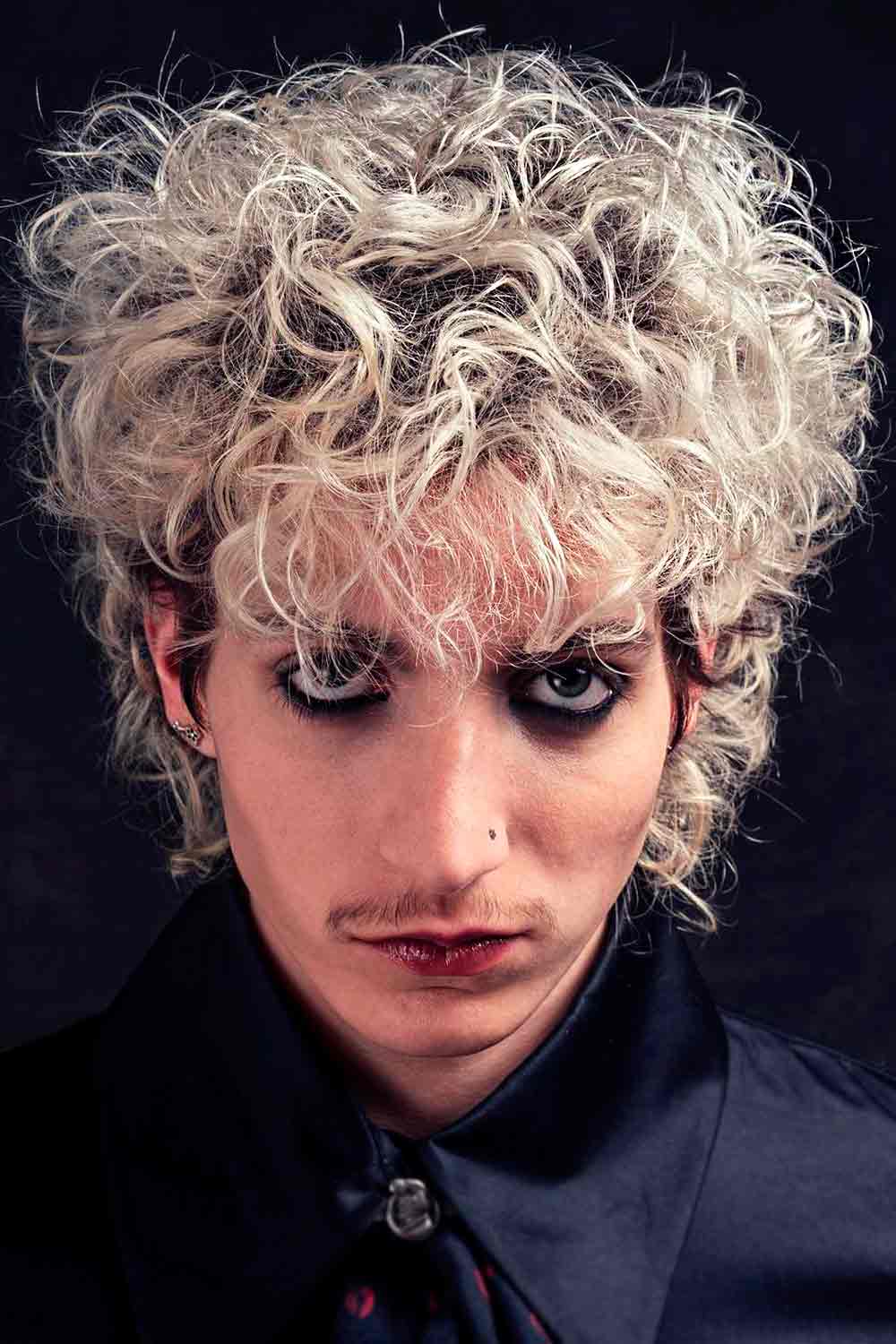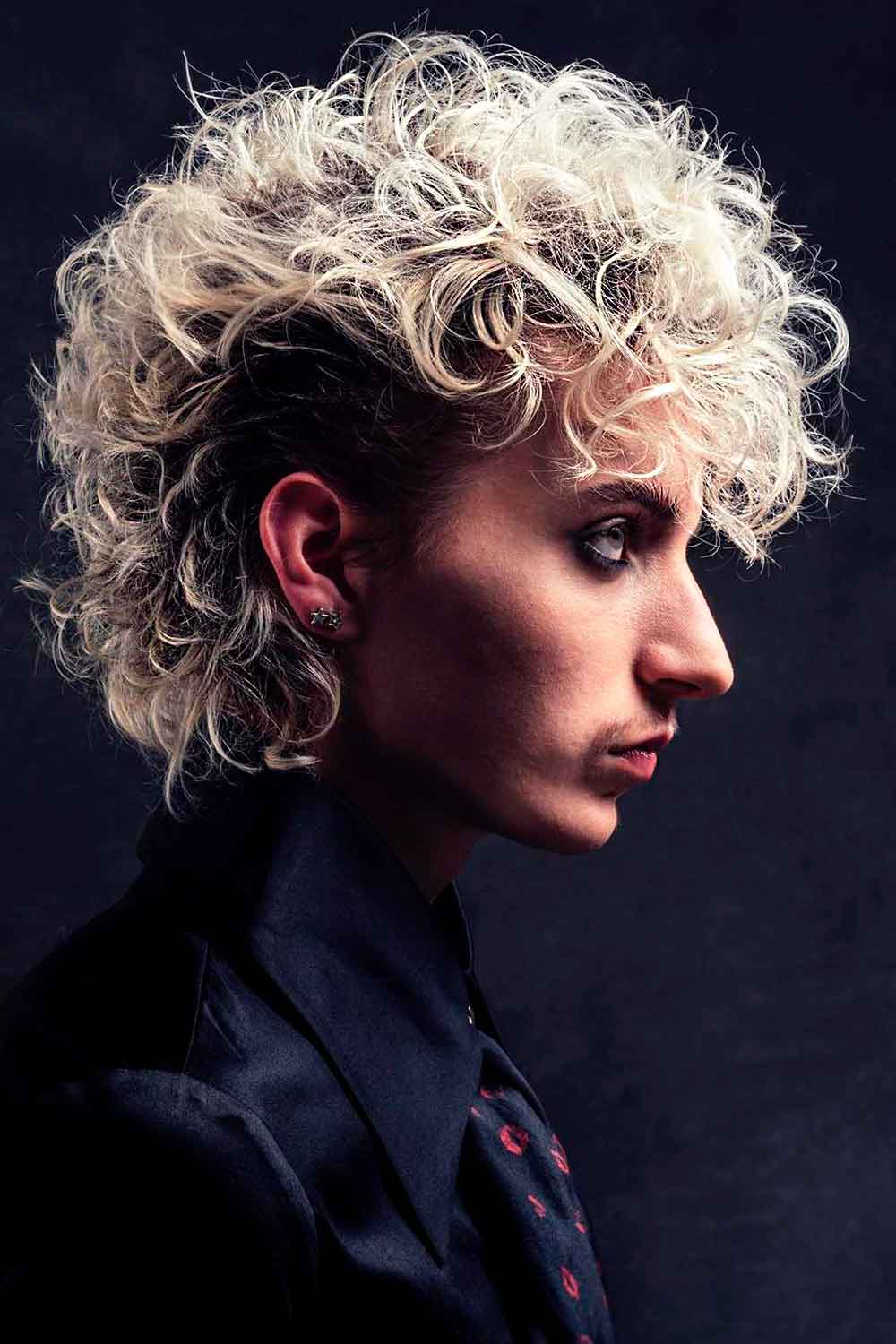 /
Punk Spikes Hair With Design
For lack of a full head of hair, short hair men would want to create fantasy rock hairstyle using different colors and side cuts. Tone your hair with a purple hue and have the sides tapered to the skin.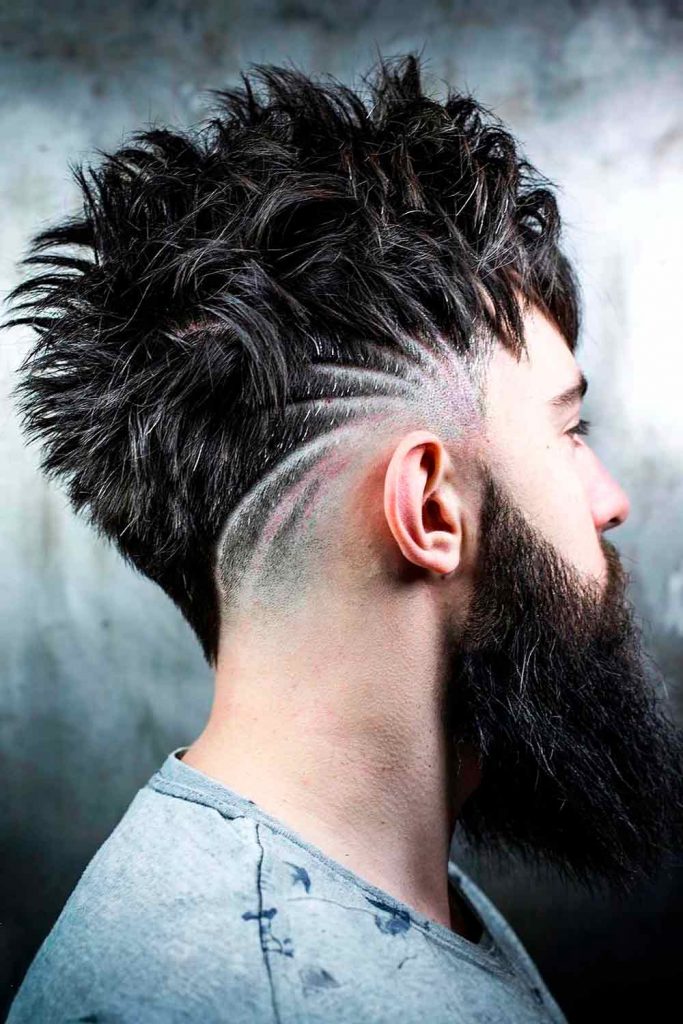 Source: @r.braid via Instagram
Short & Spiky Punk Hairstyles
Spikes are the kind of punk rock hairstyles you can never go wrong with. They show off the rebellious vibe of the punk rock movement like no other. You can go for all-over punk spiky hair or single pieces. You can rest assured that it will look awesome.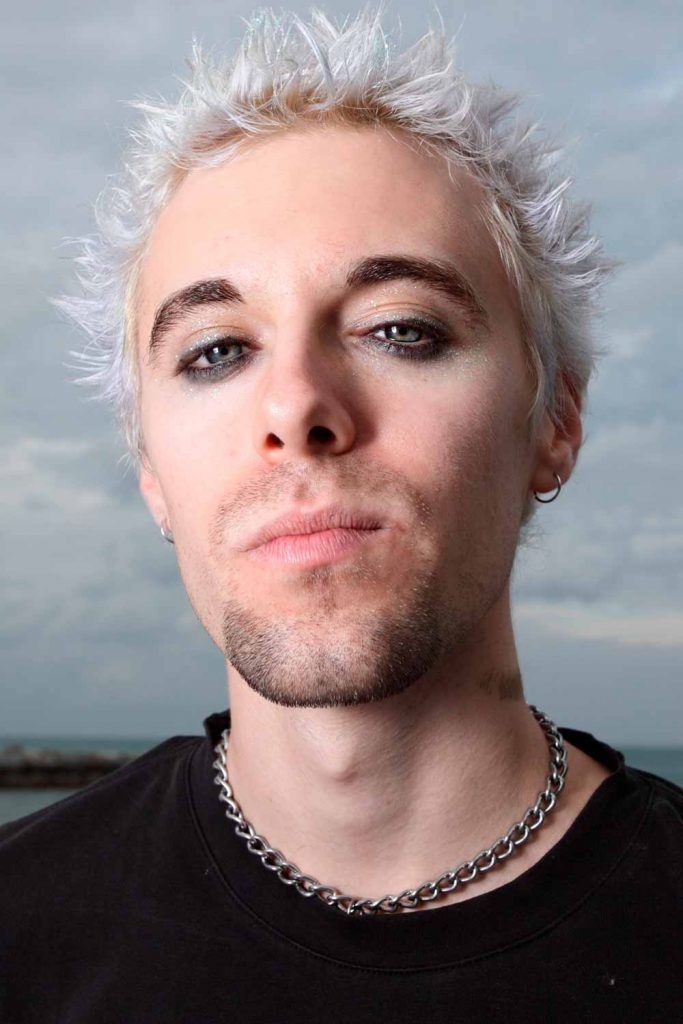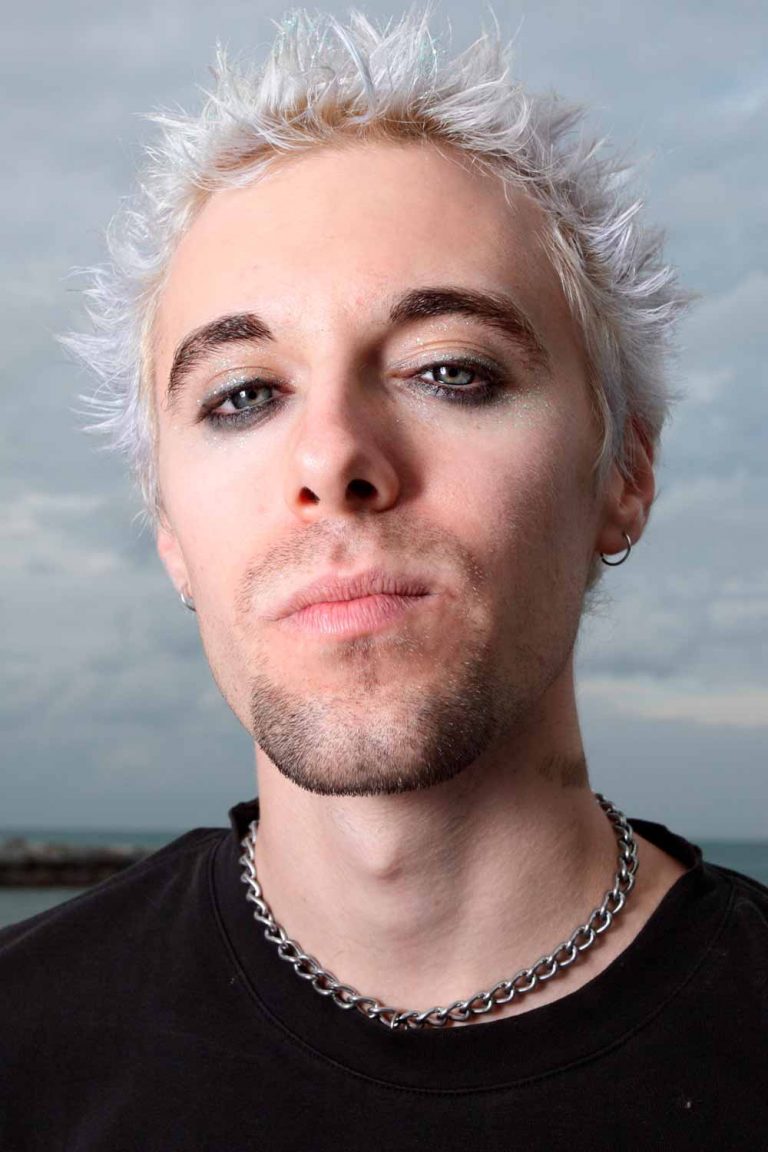 Flat Top Mullet Punk Haircut
To achieve this example of ultimate punk guys flat top haircuts, you'll need to make a little effort. The hair in the middle should be cut in a narrow but long strip. You'll have to apply a sheer amount of styling product and pull the hair up to secure the Mohawk.
Source: @the_bloody_butcher via Instagram
i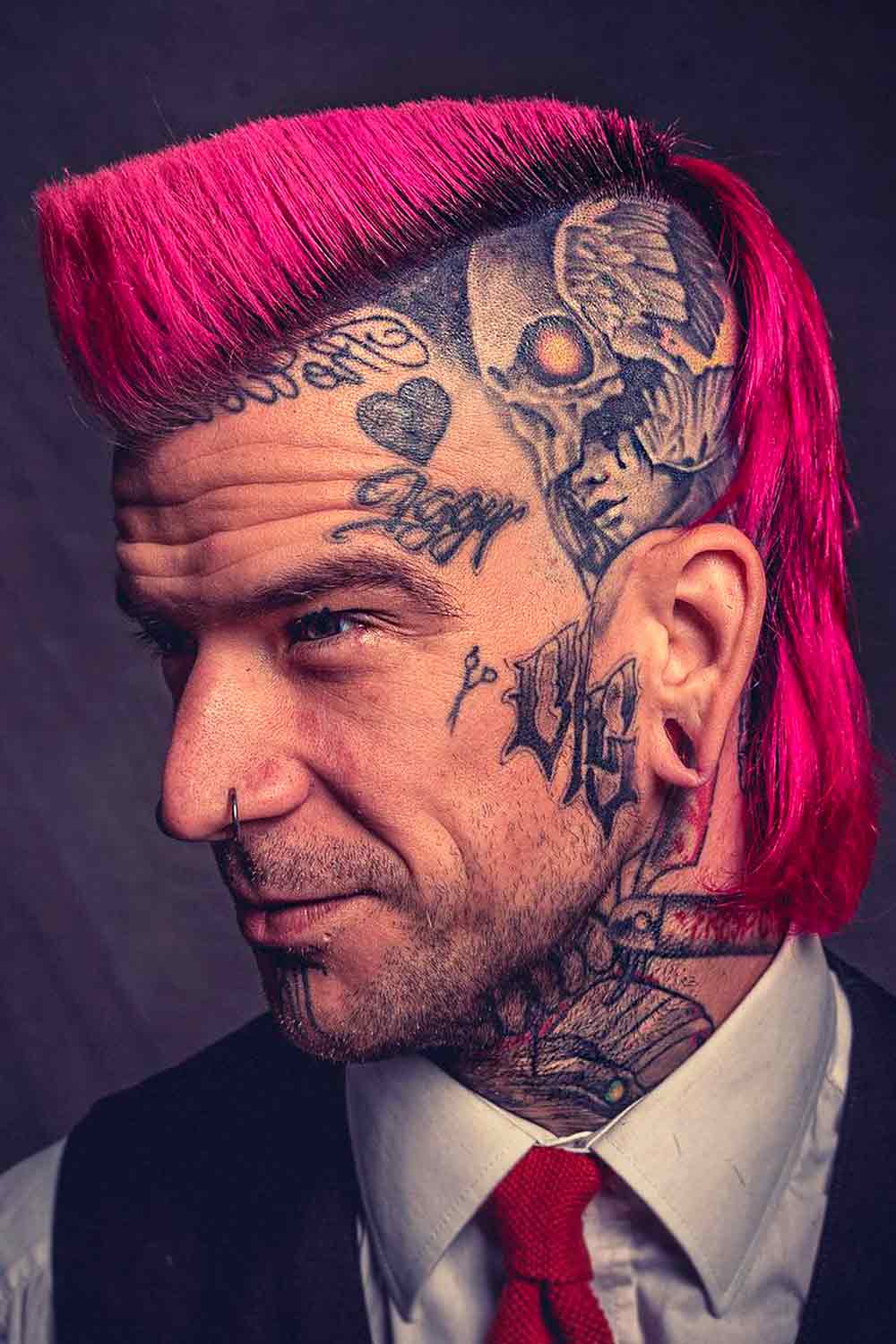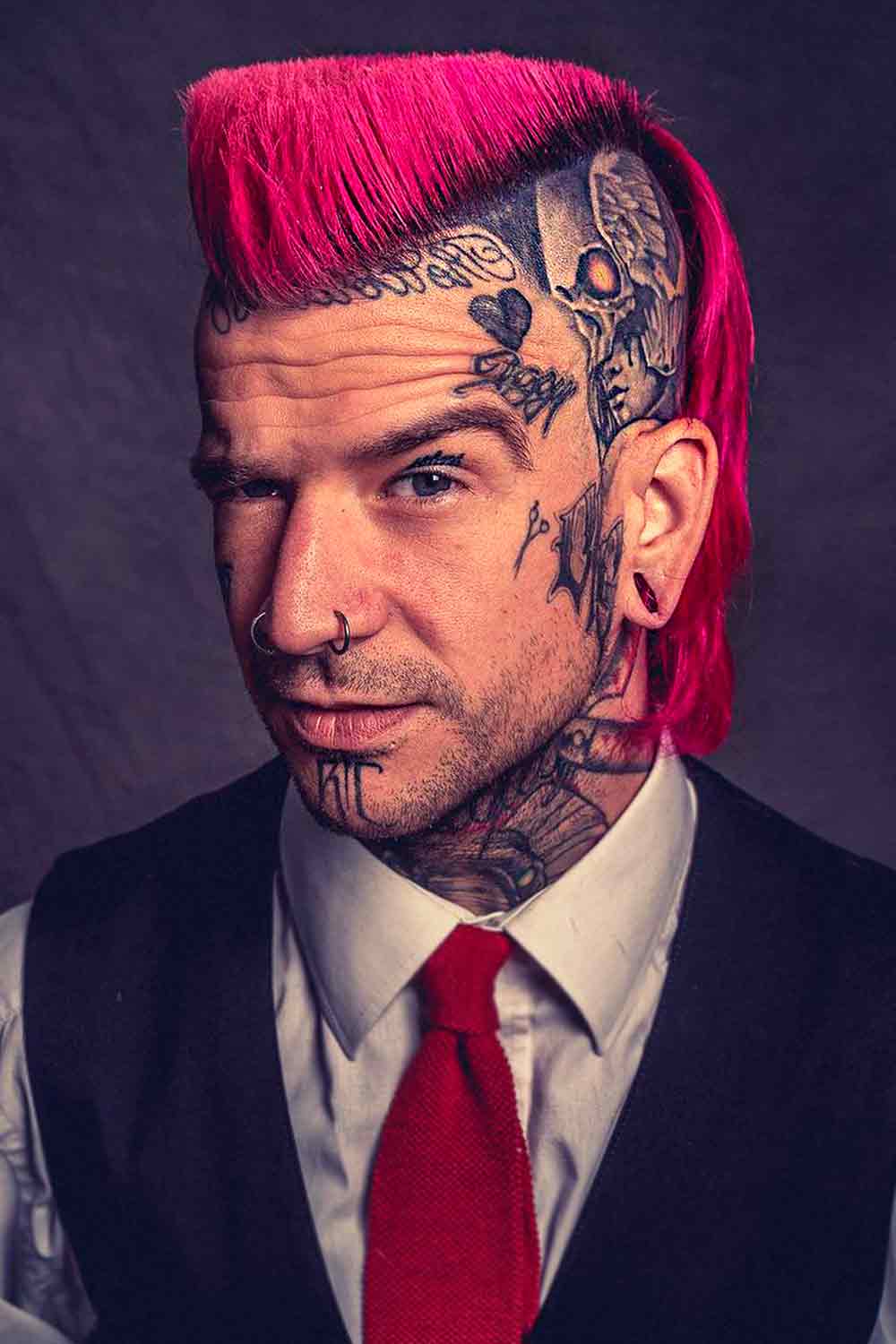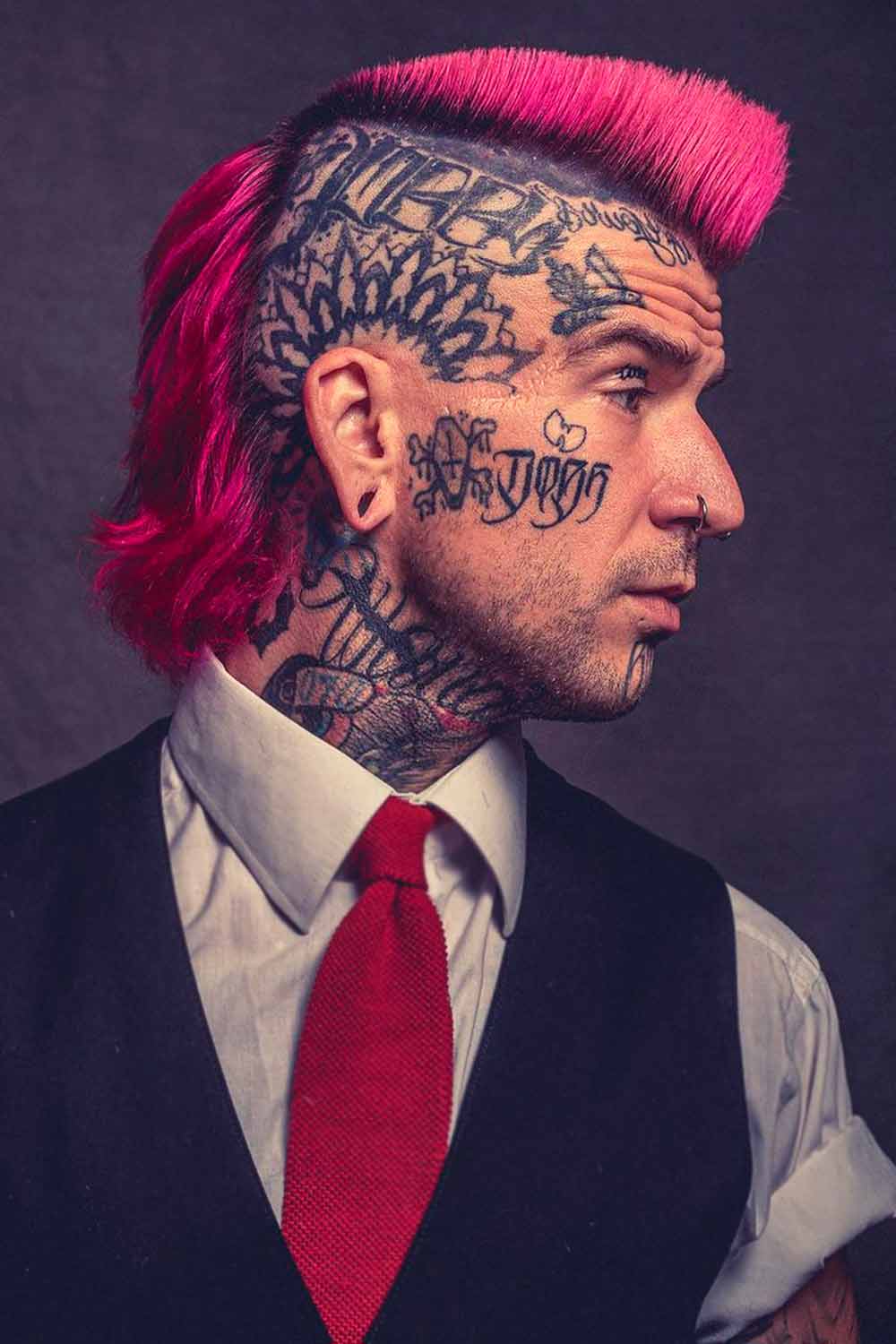 /
Shaggy And Tapered Haircut With Bangs
If you're looking for more ideas on how to style punk male hairstyles, we suggest making it shaggy. On the one hand, you get one of the trendy and low-maintenance mens haircuts, on the other hand, paired with textured bangs and tapered sides, it brings your look to the punk territory.
Source: @the_bloody_butcher via Instagram
i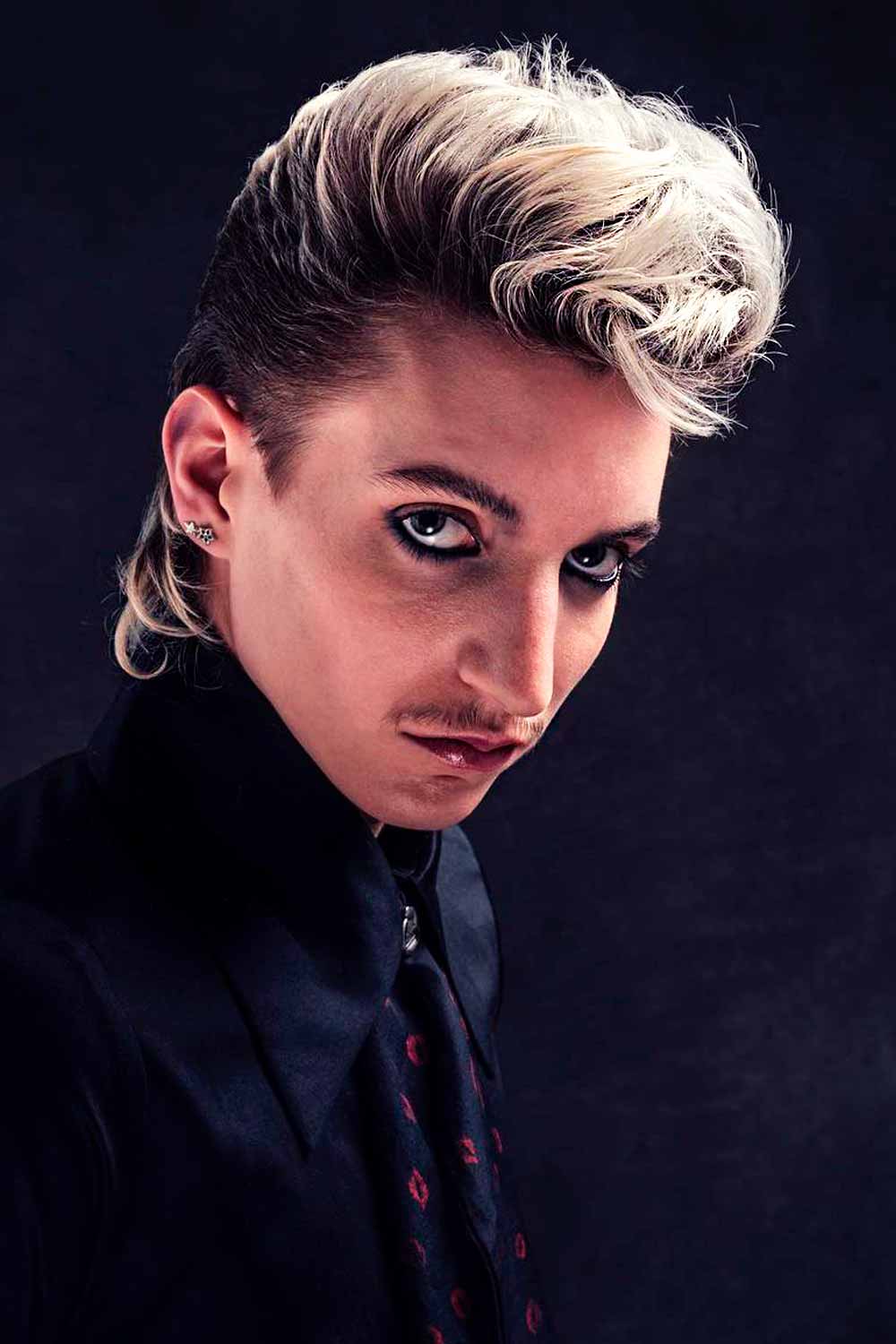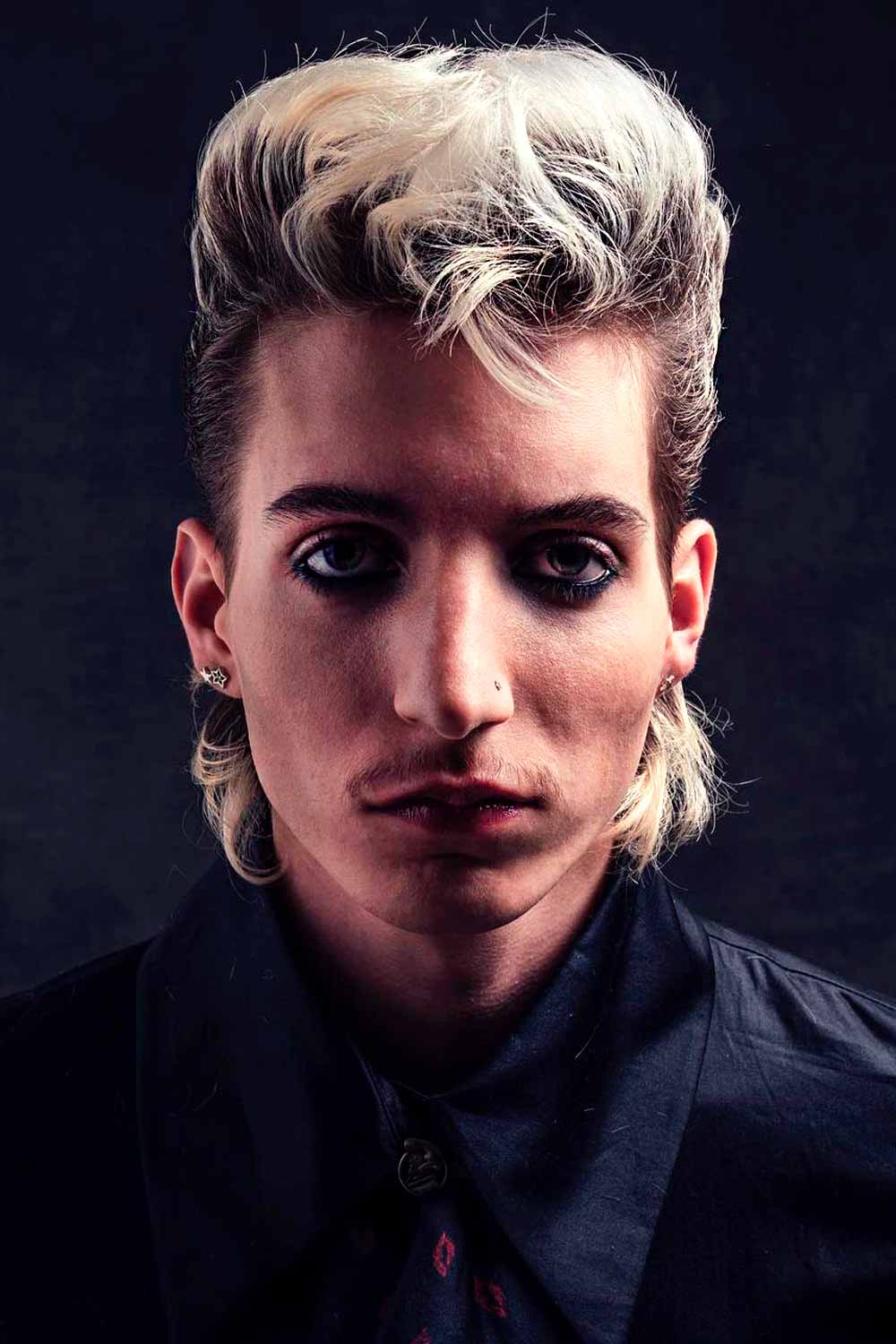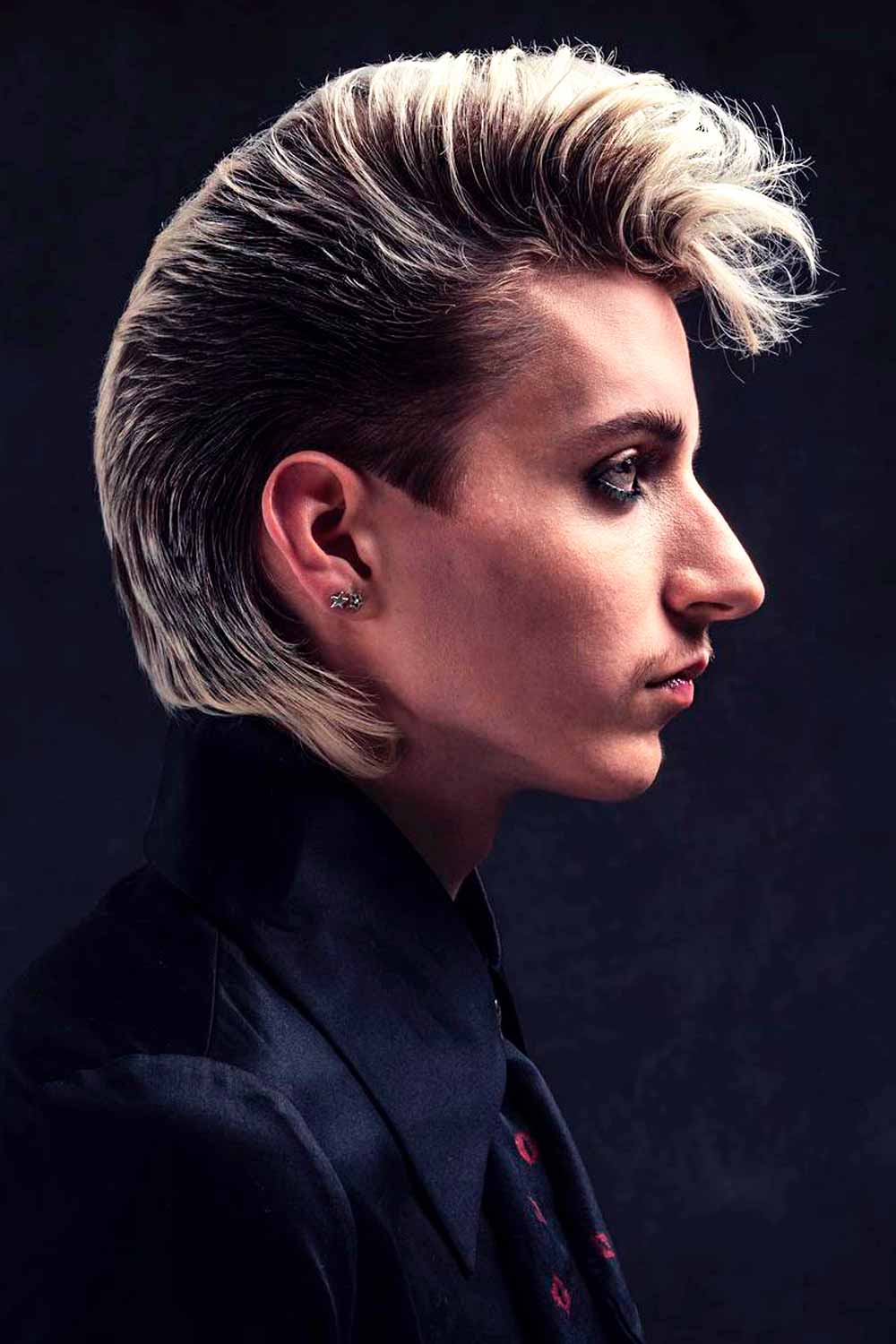 /
Flat Top Undercut Punk Rock Haircut
If you're a punk guy who's after neat and minimalistic haircuts, try out this flat top undercut punk male hairstyles. The hawk goes along the top of the head, gradually changing the length from the longest in the front and the shortest in the back. Ideally, the faux hawk should blend into the hair at the nape.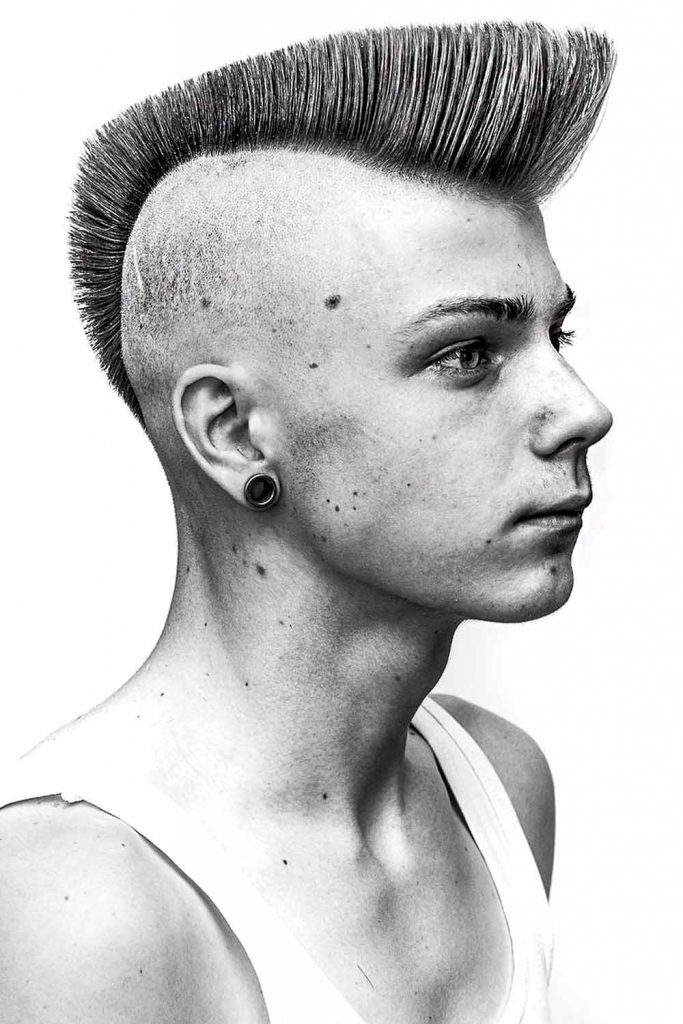 Source: @the_bloody_butcher via Instagram
Mohawk Spiky Punk Hair
When you combine a spiky haircut with a Mohawk, you get a true killer look. You need to find a really skillful barber though, as cutting and styling this punk hair style requires a very high precision. On the sides, you can go for a high skin fade and shaved-in design, such as two parallel curved lines.
Notably, to rock punk haircuts for guys, there's no need to go with a Mohawk. You can basically get any hairstyle that has the features of this subculture. For instance, you can have a high undercut top, styled in the way you would normally have your hawk styled, pushed up, and a little forward. For the most striking contrast, shave all the hair on the sides and back off. It's better to pair such bold mens hair cuts with a little facial hair.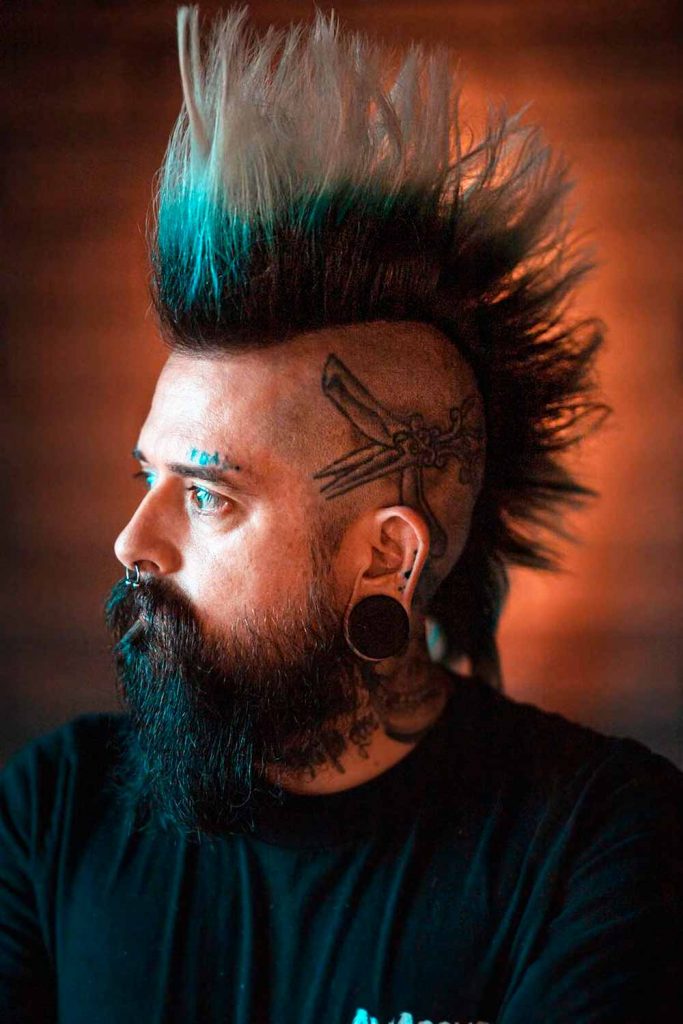 Source: @andrewdoeshair via Instagram
Viking Punk Rocker Hair
Viking hairstyles aren't related directly to the punk male hair styles. However, following the style that Norsemen used to sport, you can attain the look that reminds of the braided Mohawk. Ensure though that your hair is long enough to get it right.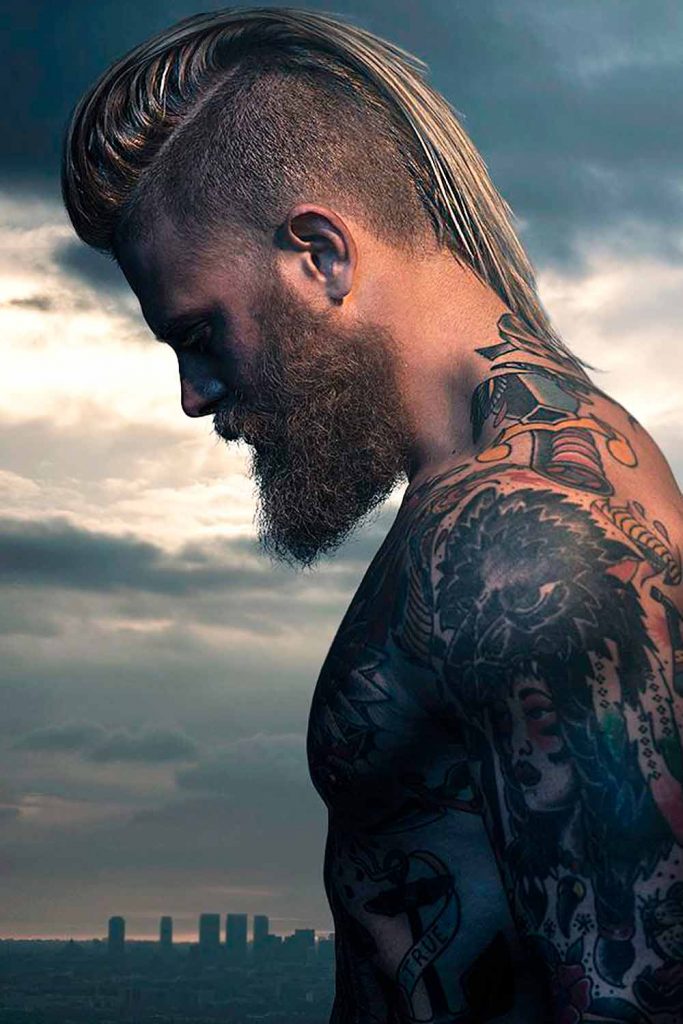 Source: @spizoiky via Instagram
Young Punk Hair Dye
To accentuate your top long hair shaved sides are a great choice. An undercut is also a nice alternative for those guys who want to create a contrasty punk look without getting a real Mohawk.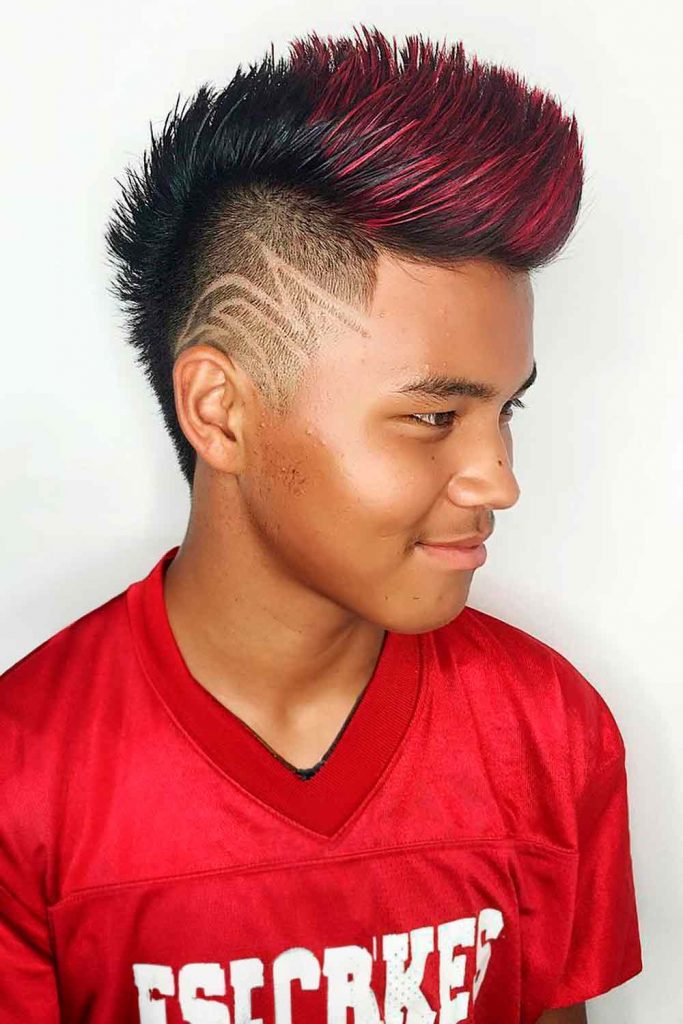 Source: @bleachedandblown via Instagram
Deathhawk Hair
To give your punk hairstyles a trendy twist, go for deathhawk punk spiked hair. In this way, it will not take you much effort to create a stylish and cool look. A top can give any vibes, from casual to professional. However, for a real punk style, dishevel the locks up top so that they seem messy.
Dreaded Mens Punk Haircuts
You may be actually surprised but dreadlocks can also make up a cool punk hairstyle male look. It is all in the attitude you wear your hairstyle with. So, make sure to arm yourself with one and you are going to rock.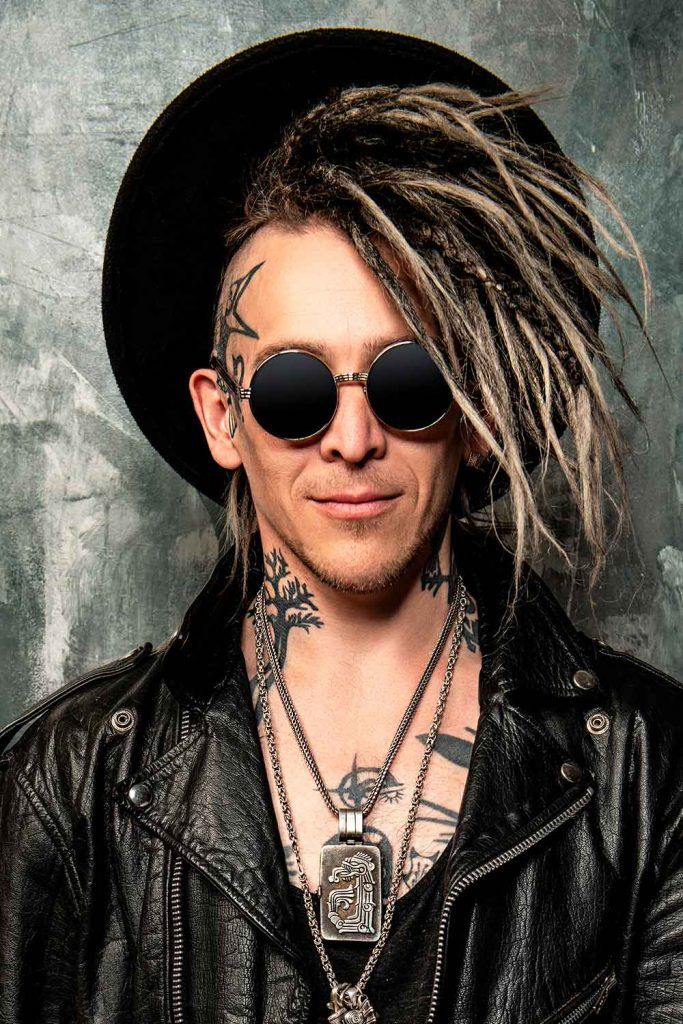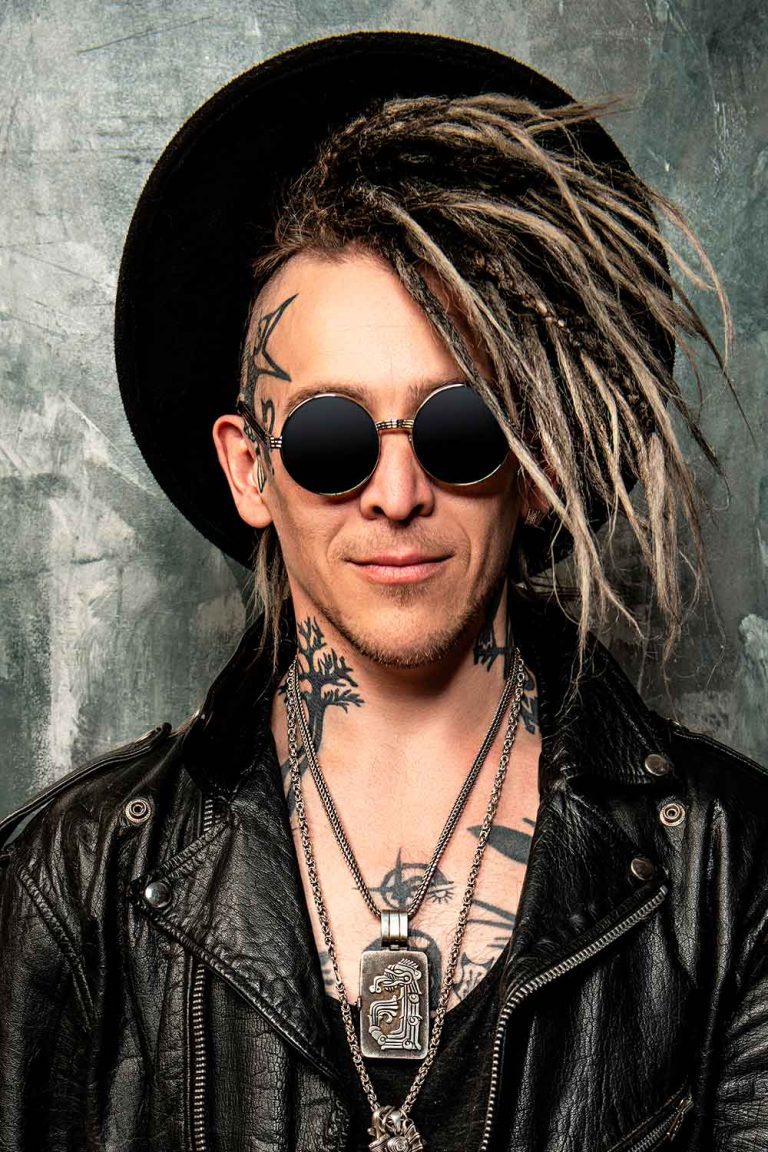 Undercut Mohawk Punk Rock Haircuts
A Mohawk is also a great option for guys who want to sport a punk hairstyle. It has been trending for a while now, thus setting off a myriad of other different styles. For example, you can get an undercut and end up with a bold and contrasty short punk hair.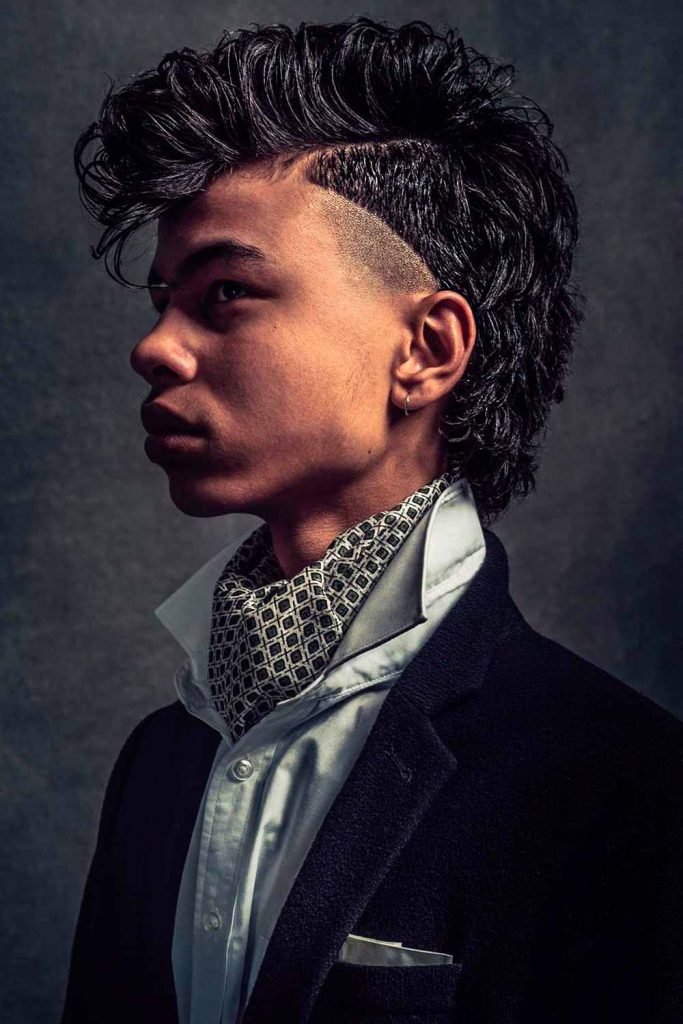 Source: @the_bloody_butcher via Instagram
Messy Faded Mullet
Many people frown upon a mullet fade, considering it an 80s hair men style. However, with the right attitude, you can easily transform it into one of the punk or even Goth hairstyles. First, you can cut it shorter than the classic one and fade the sides. Second, the strands on top can be made wavy and dyed as well as the rest of the hair. And third, you can complement it with a punk or Goth man makeup.
Source: @spukthebarber via Instagram
i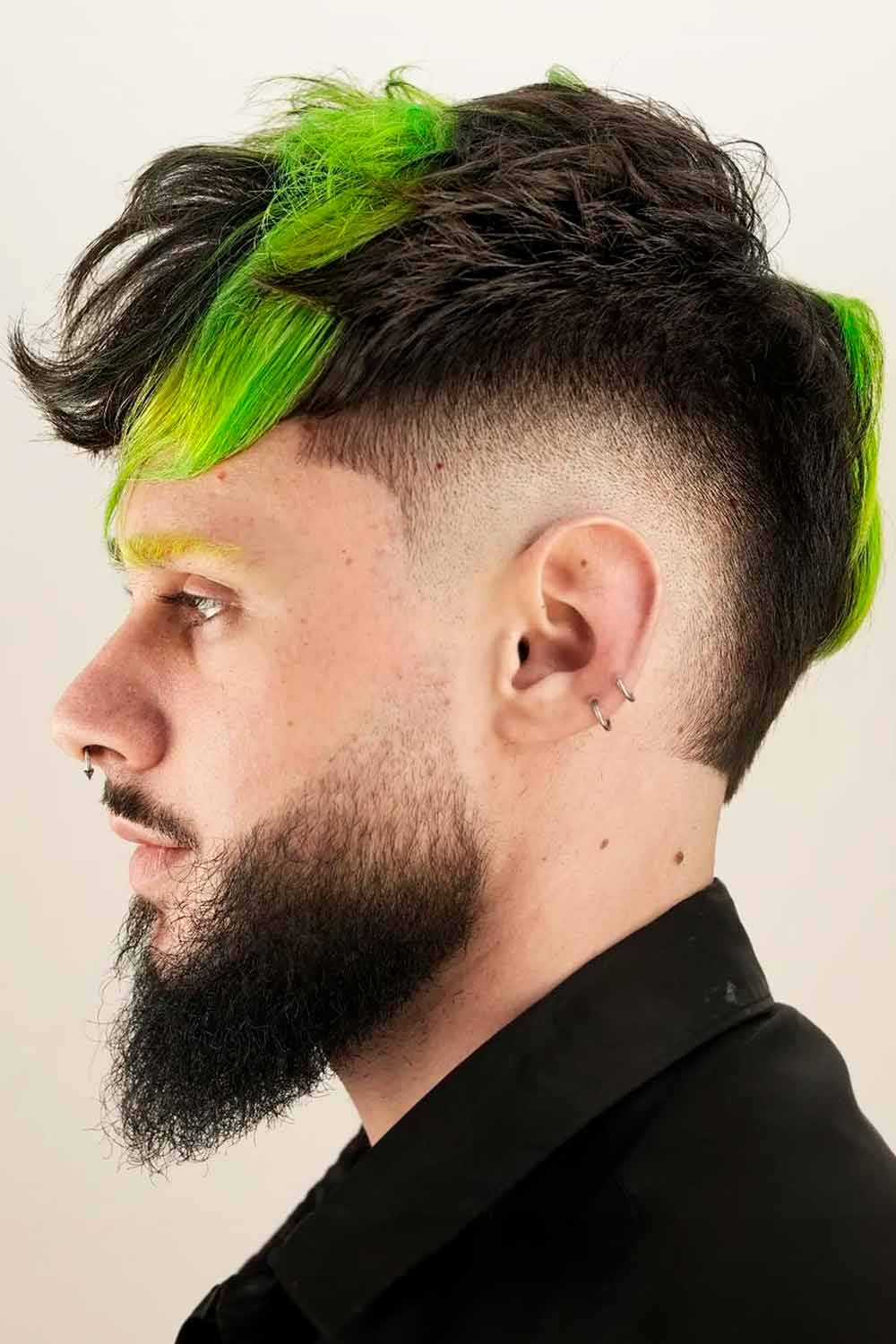 Source: @spukthebarber via Instagram
i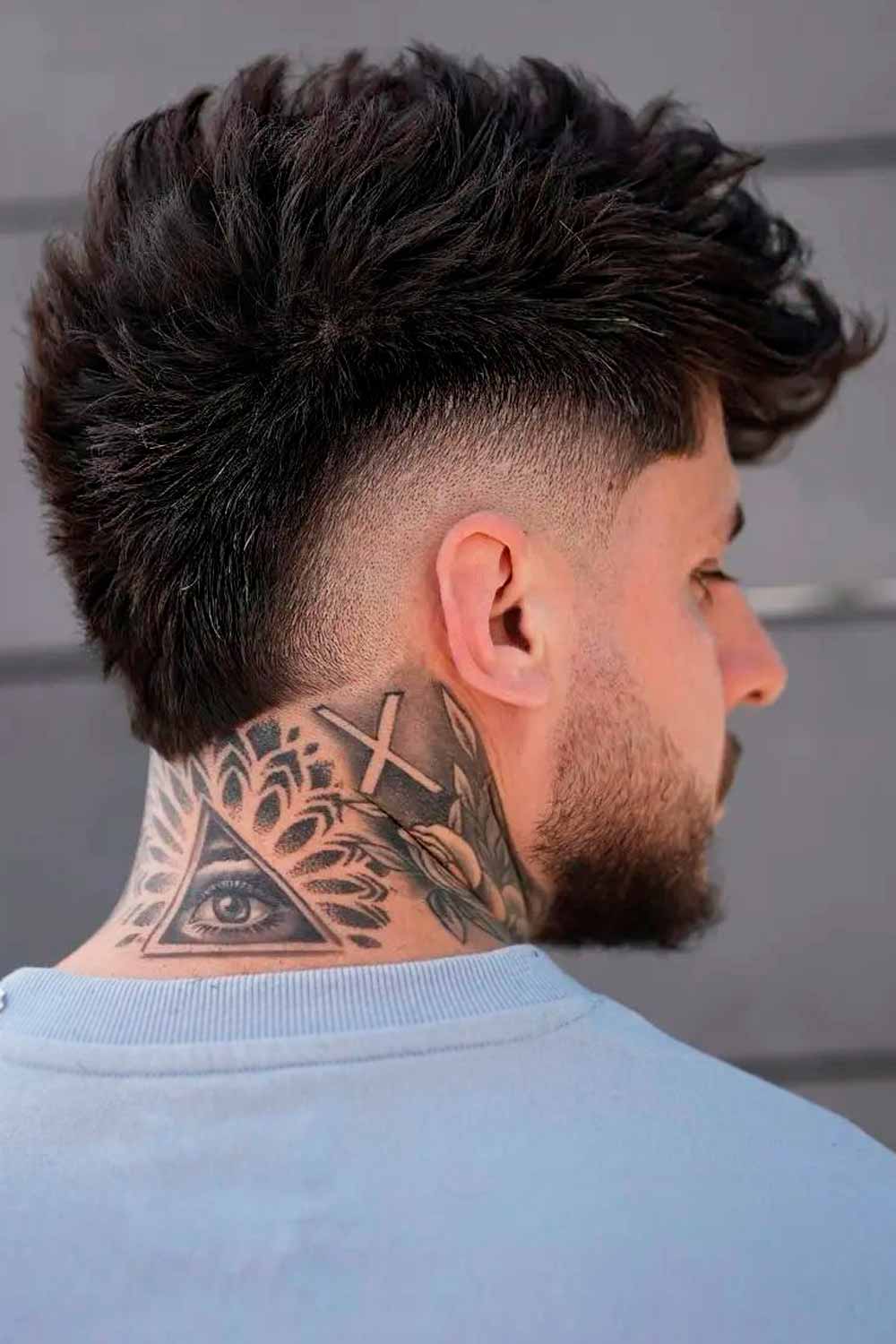 /
Dyed Spiky Hair Punk
If you want all eyes on you, go for a high punk Mohawk dyed in a bright color, let's say, pink. This punk staple of modern hairstyles for men does require quite a lot of maintenance and skills. However, it fully pays off with the constant attention of the public.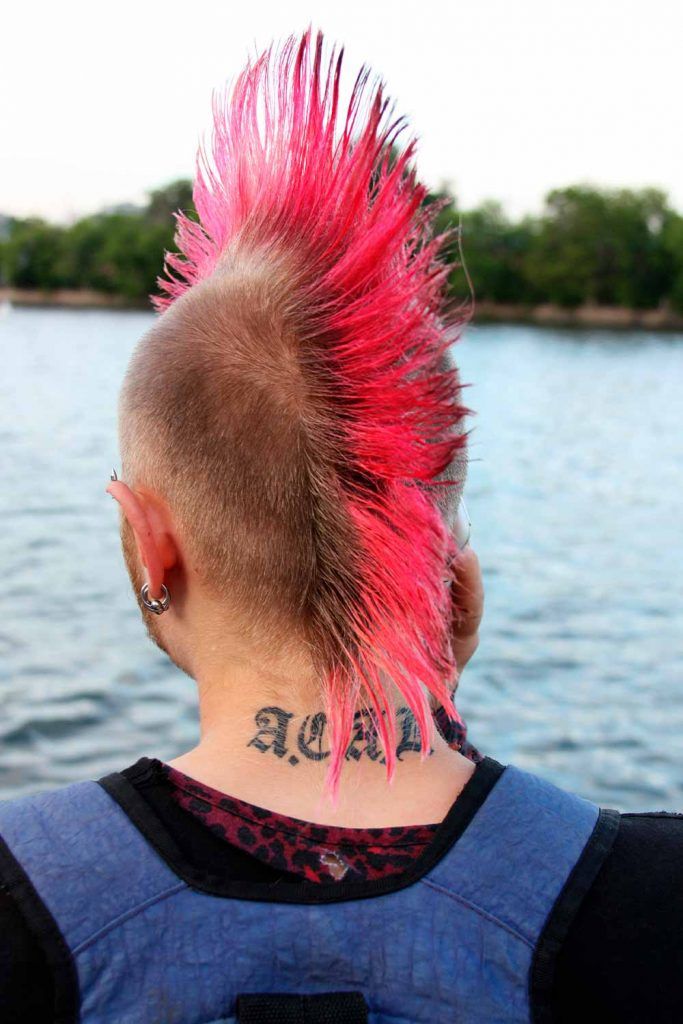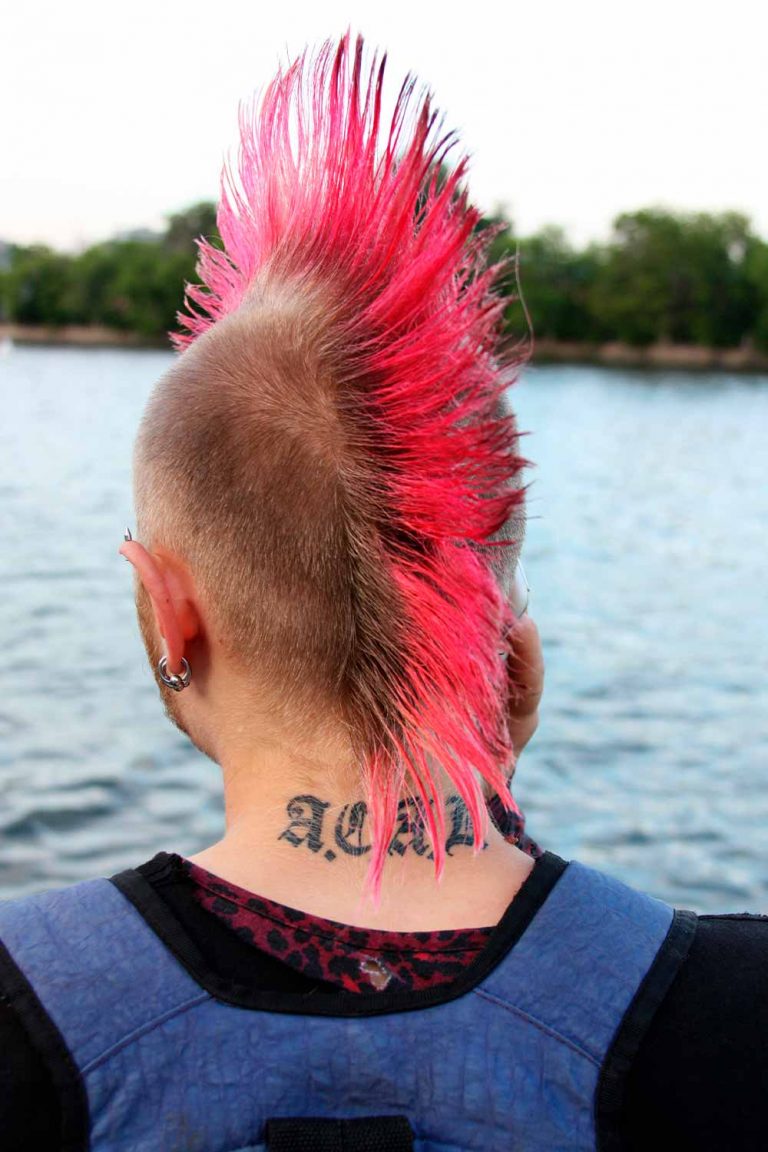 Liberty Spikes
You will not confuse this iconic hairstyle with any other. Liberty spikes are very defined and prominent. As the name implies, this punk rocker haircut resembles the crown on the Statue of Liberty. While it already comes out quite striking, you can make it even more eye catching by adding a touch of color.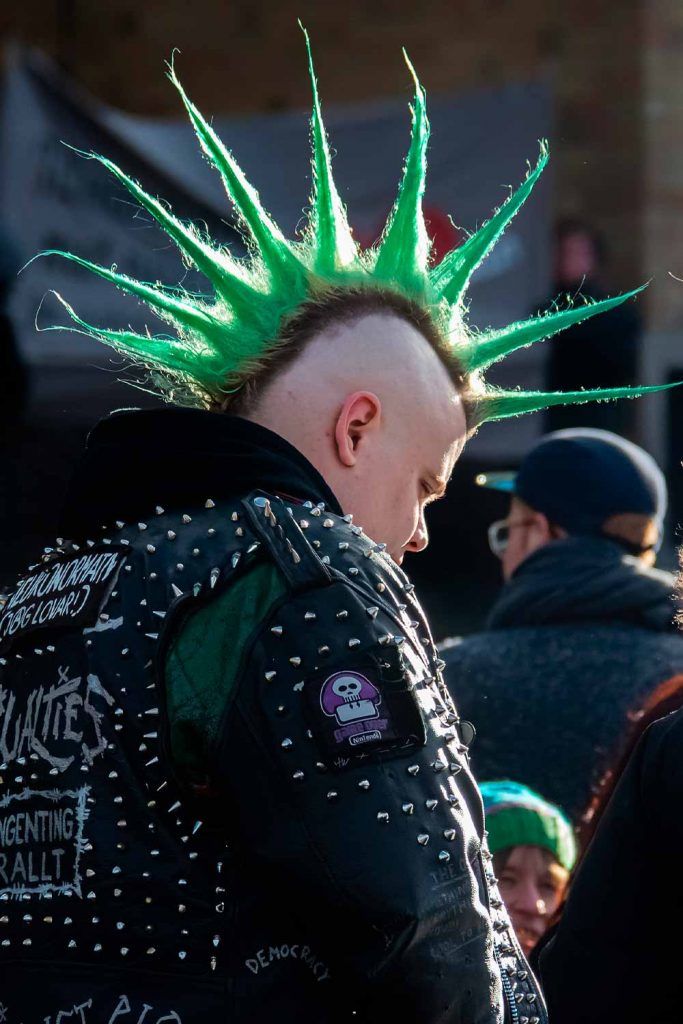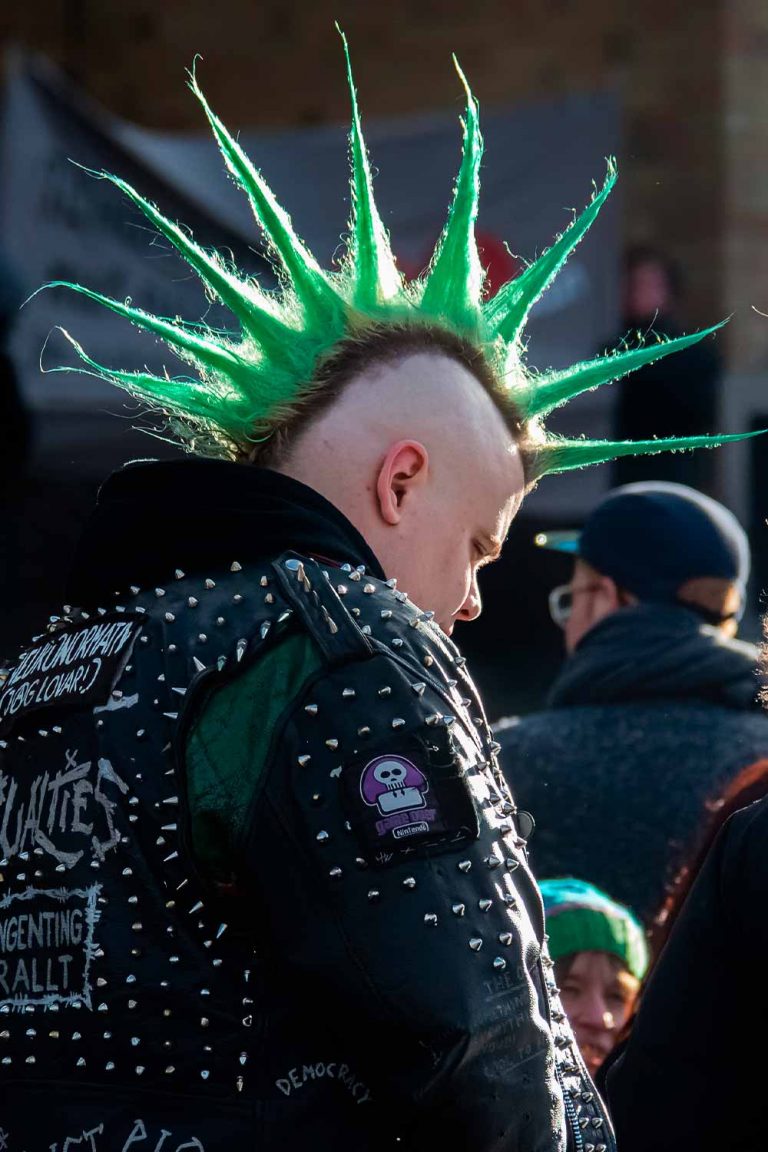 Buzz Cut Mohawk Punk Hair
If you think that punk rocker haircuts should necessarily feature a long mane, we are here to prove you wrong. There are plenty of short punk hairstyles to choose from. Take a look at a buzz cut mohawk, which while looking bold and daring, offers you the ease of maintenance and styling.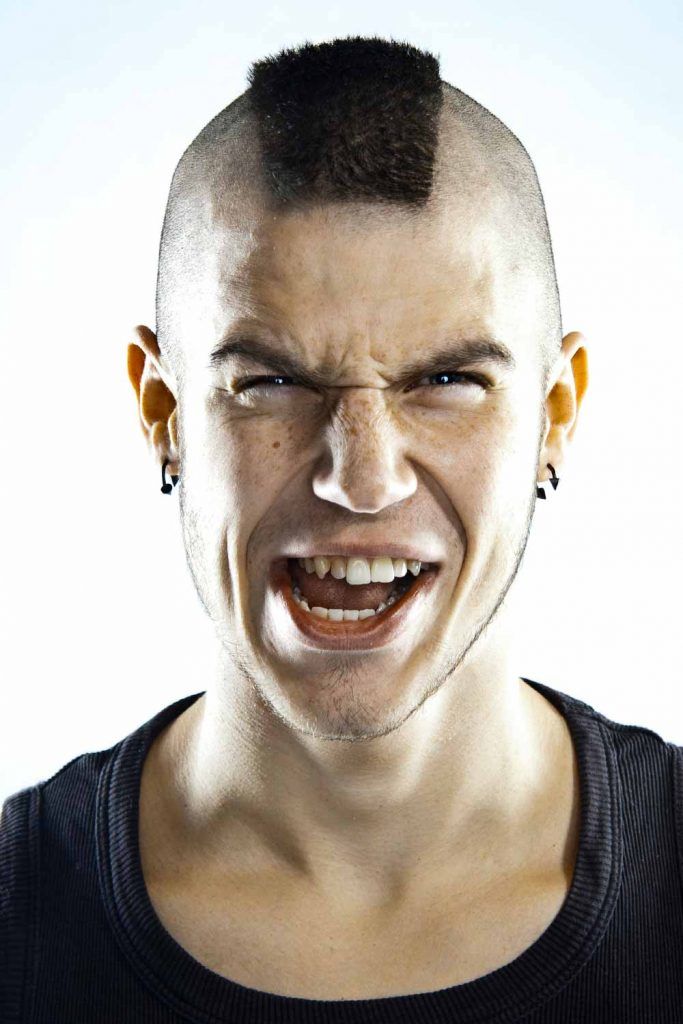 Emo Punk Hair
To accentuate your Emo hair cut on the sides is one of the best options. If you opt for short hair on top instead of a traditional long one, you'll get a dapper and clean gentleman's haircut look.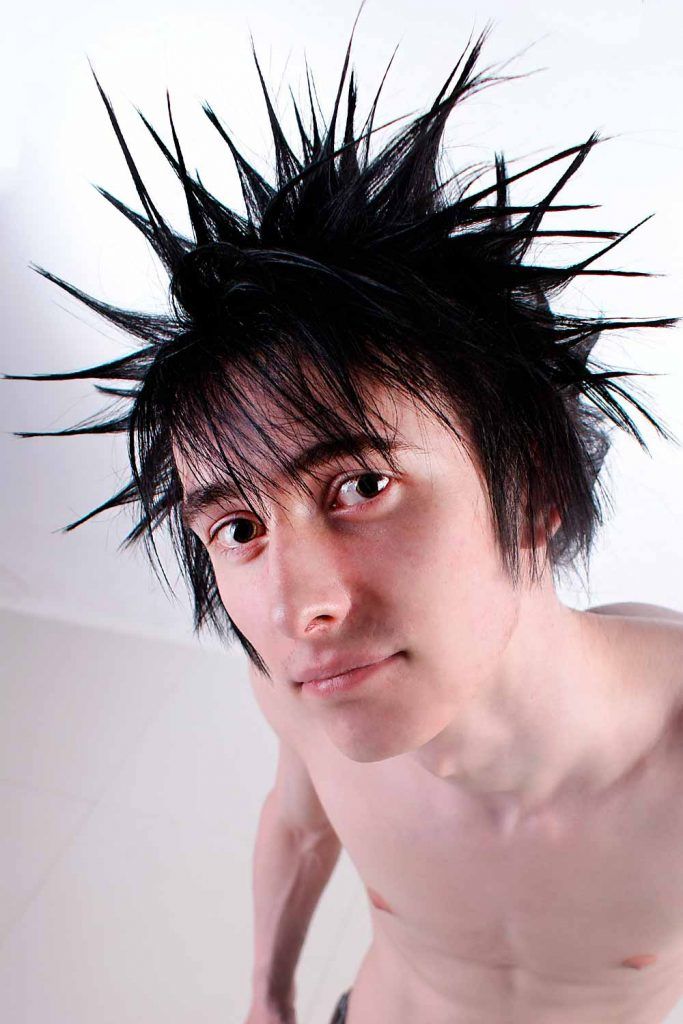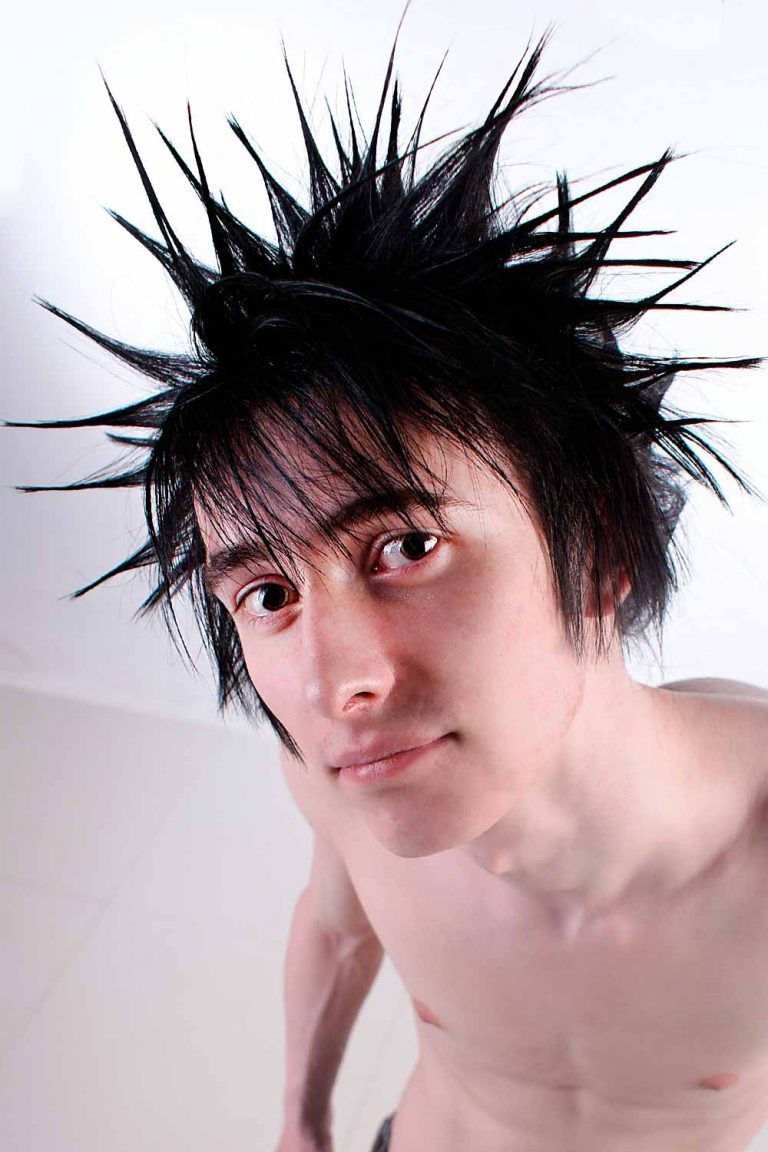 Blue Curls Rocker Hairstyles
In case you're not ready for drastic changes yet, you can try on one of the tribal punk haircuts instead. For such men hairstyles, tease the top of your head to make it seem like a curly texture and create the blue hair color look.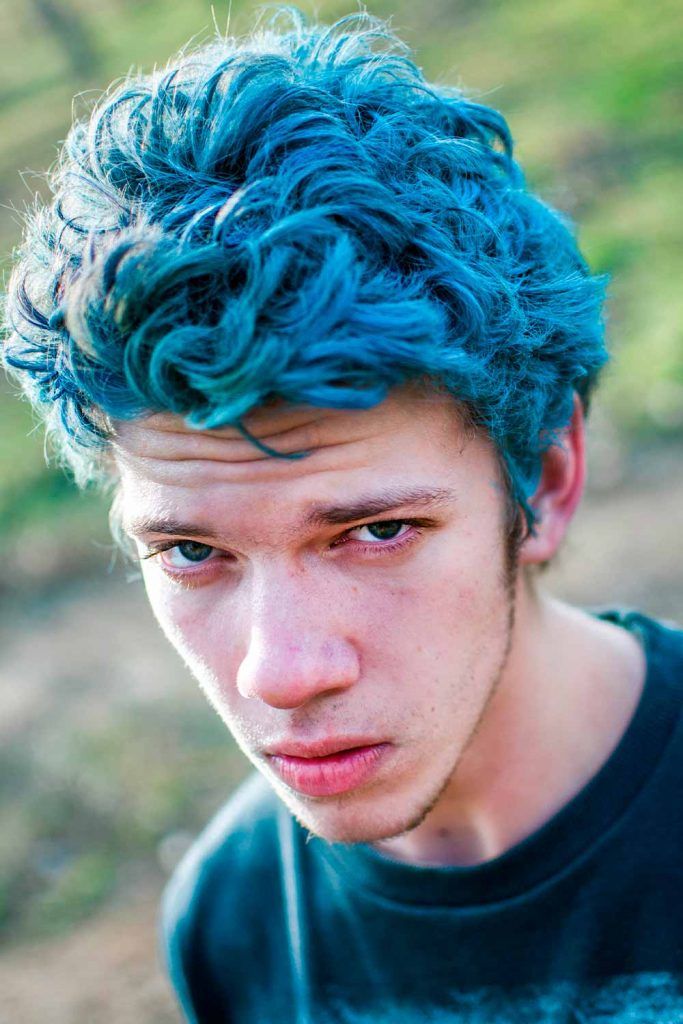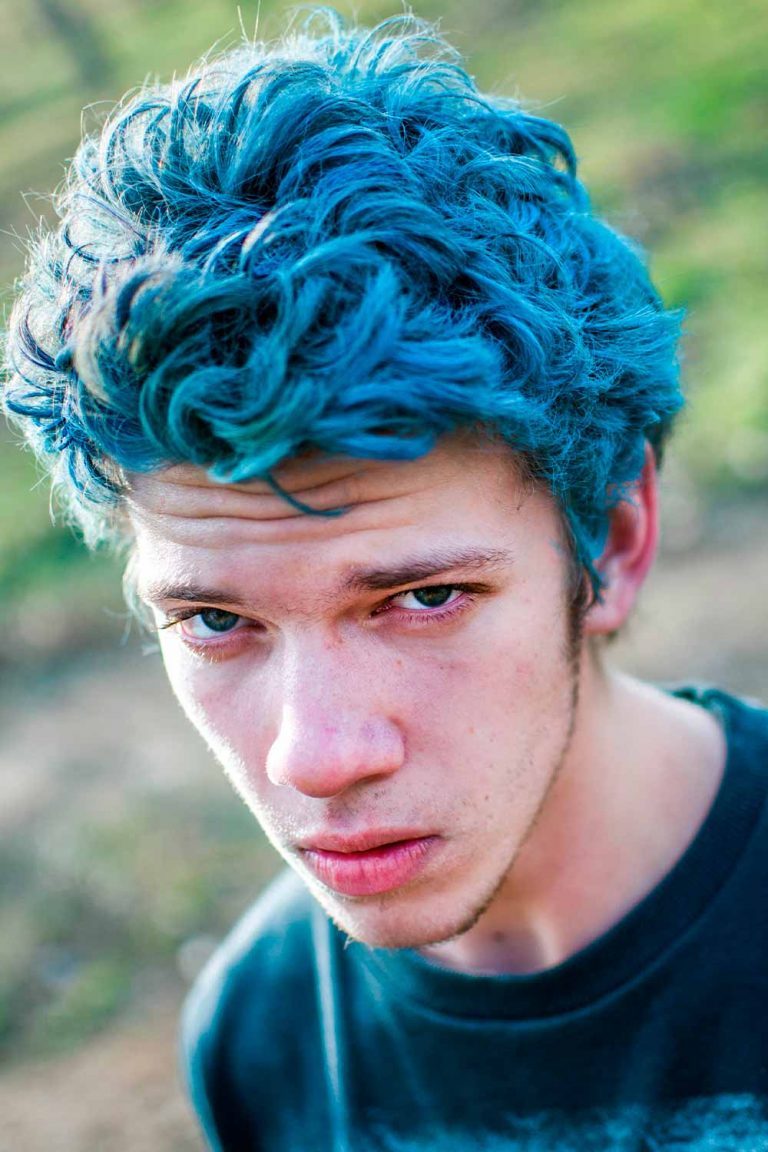 FAQs: Punk Hairstyles
What is punk hairstyle?
By punk hairstyles men usually imply any hair look popular among the members of the punk subculture. One of the most popular punk hairstyles is a mohawk and its low key version, a fohawk.
Is a mullet a punk hairstyle?
While a mullet takes origins in ancient times, its peak of popularity was in the 1980s, when punk rockers made it their signature hairstyle.
How do you get Sid Vicious hair?
Sid Vicious, who played the bass guitar for Sex Pistols, the popular punk rock band, wore his hair spiked up all over the head. To get it, you need to scoop a hair gel with the tips of your fingers and apply it to separate strands, defining and twisting them into spikes. For this hairstyle, which became a staple punk rock hair look, Sid was even called Spiky John.
How do you do a punk hairstyle?
To style a punk haircut, follow these steps:
1. Shave off all of the hair on the sides, leaving a long narrow strip in the middle of the head.
2. Take some hair gel, rub it between your palms and apply to the hair on top pushing it up and out so that it resembles a fan.
3. Secure the fan with a strong hold hair spray. Optionally, add some color to it.
REFERENCES:
Punk rock (or simply punk) is a music genre that emerged in the mid-1970s. Rooted in 1960s garage rock, punk bands rejected the perceived excesses of mainstream 1970s rock. Source
Was this article helpful?