There are many reasons why men turn to twist hairstyles. While being exceptionally versatile, they help not only to tame their unruly kinks but also to protect them from environmental aggressors as well as damage as a result of tangling and knotting. Thus, it is a really good idea to go for this amazing hairstyle if you want to keep your hair both healthy and groomed. To help you achieve this, we prepared the following guide.
What Is A Twist Hairstyles?
Twisted hair is one of the most common ways for black men hairstyles to tame their kinks. Yet, guys whose hair texture is other than Afro also choose this intricate hairstyle quite often. Usually, it is created by twisting one pre-twisted strand of hair around another.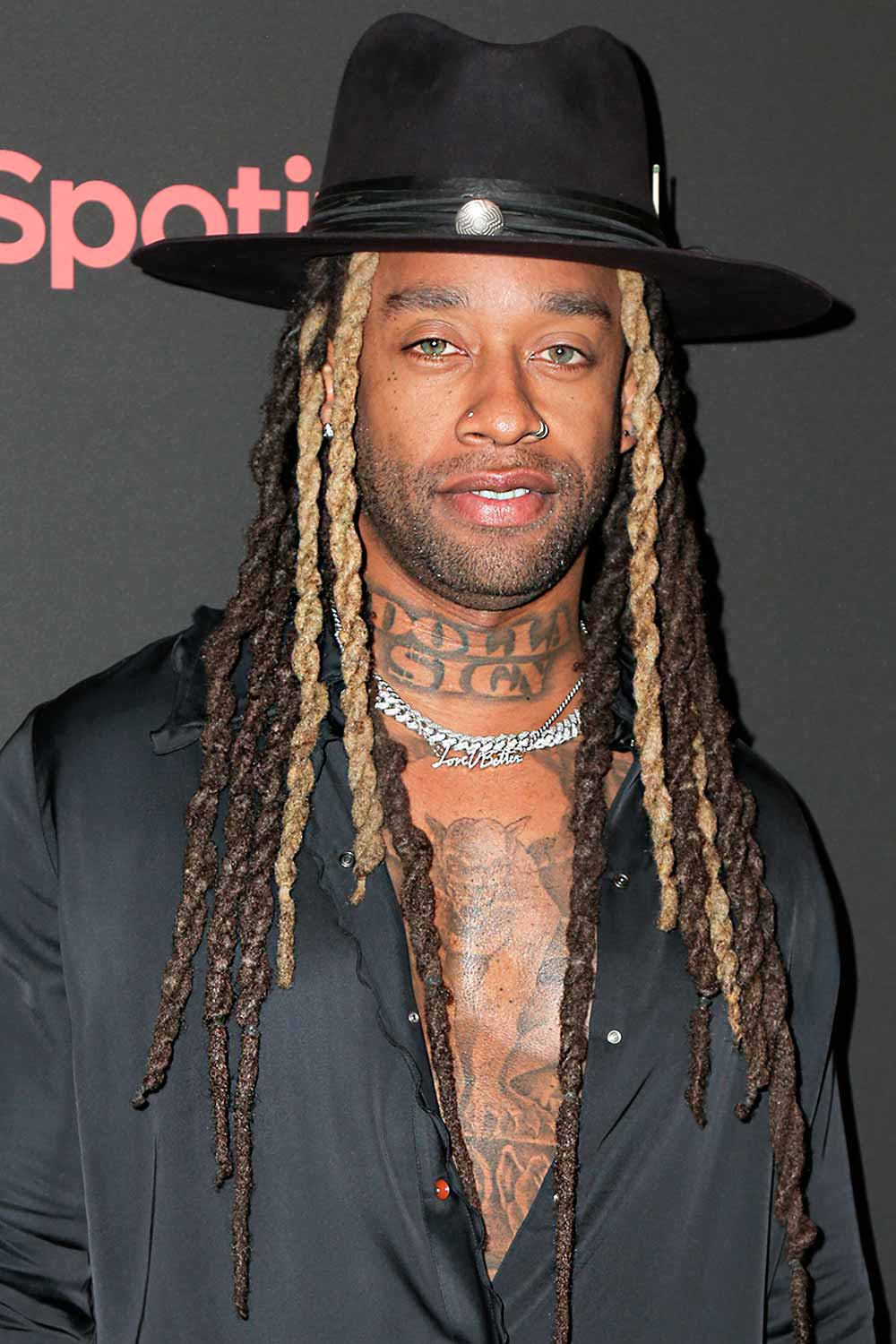 /
What Are The Different Types Of Twists For Men?
Being one of the most popular 4c hairstyles, a twisties hair look offers you multiple styling options. Below, you can find the trendiest black braids men.
Short Twist Hairstyles Men
It is noteworthy that to nail a natural hair twist style, you should not necessarily have particularly long tresses. Short natural hair twist styles look snazzy and offbeat, which makes them a perfect option for guys who choose to stand out in the crowd.
Source: @braidedroots via Instagram
i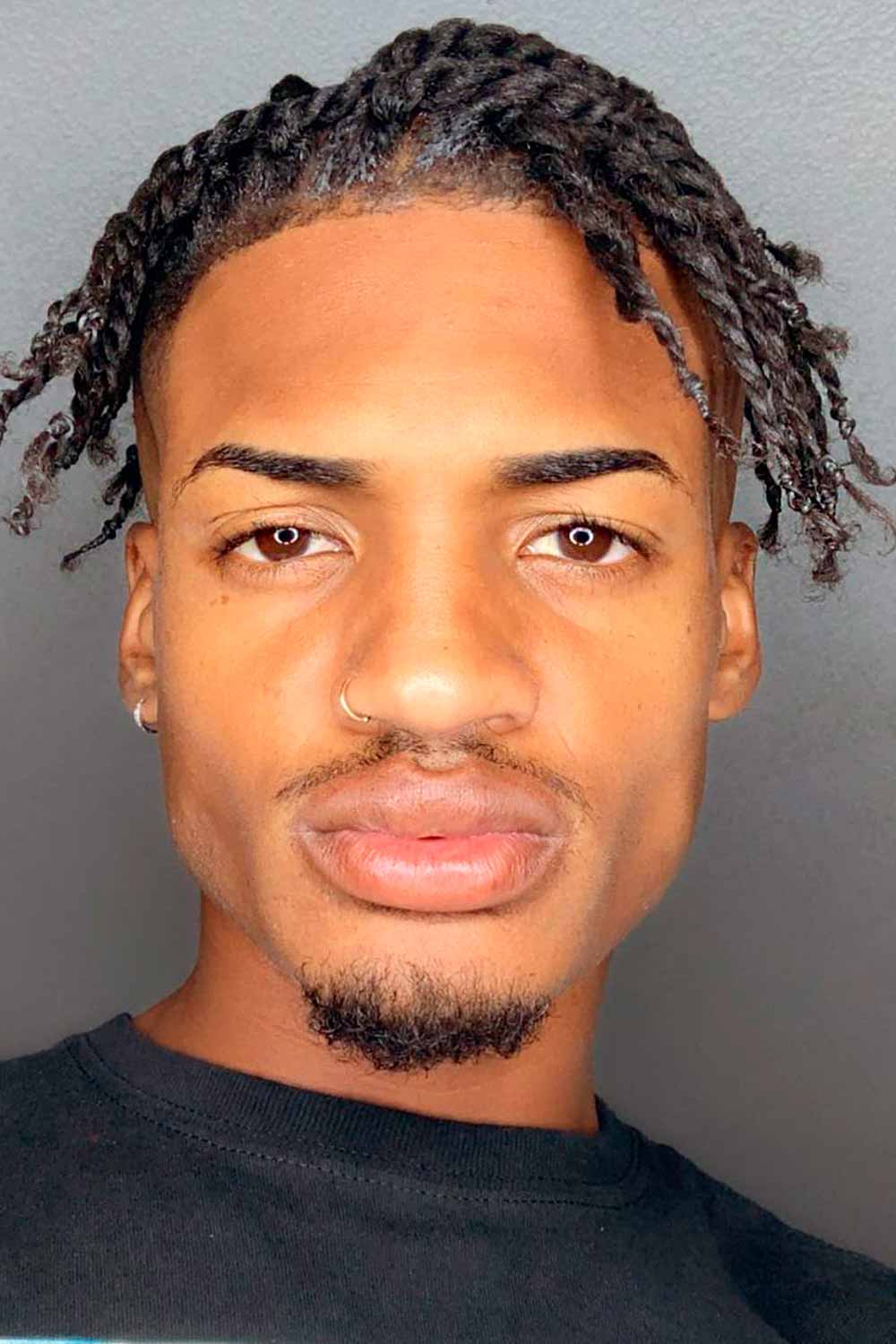 Source: @braidedroots via Instagram
i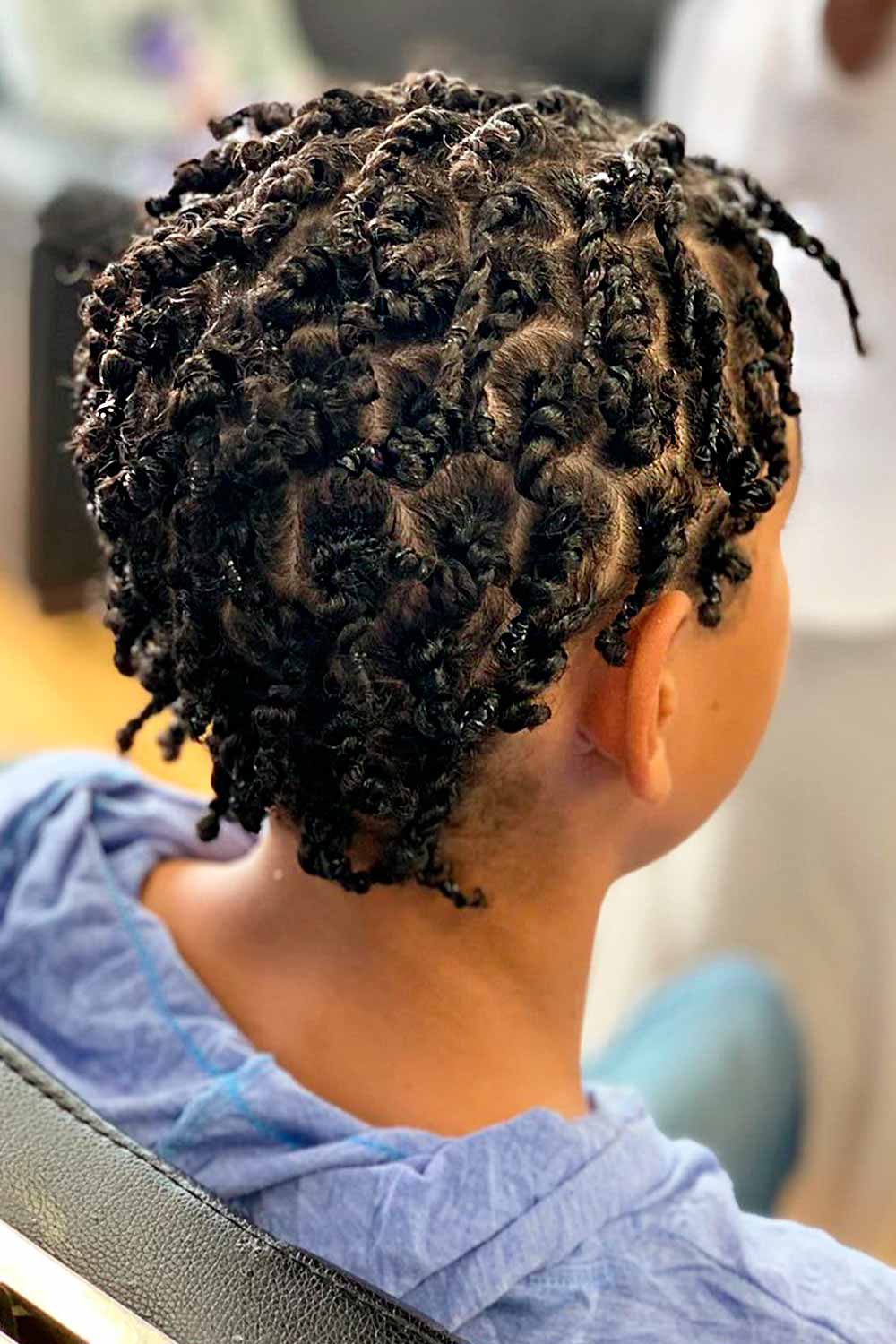 Source: @braidedroots via Instagram
i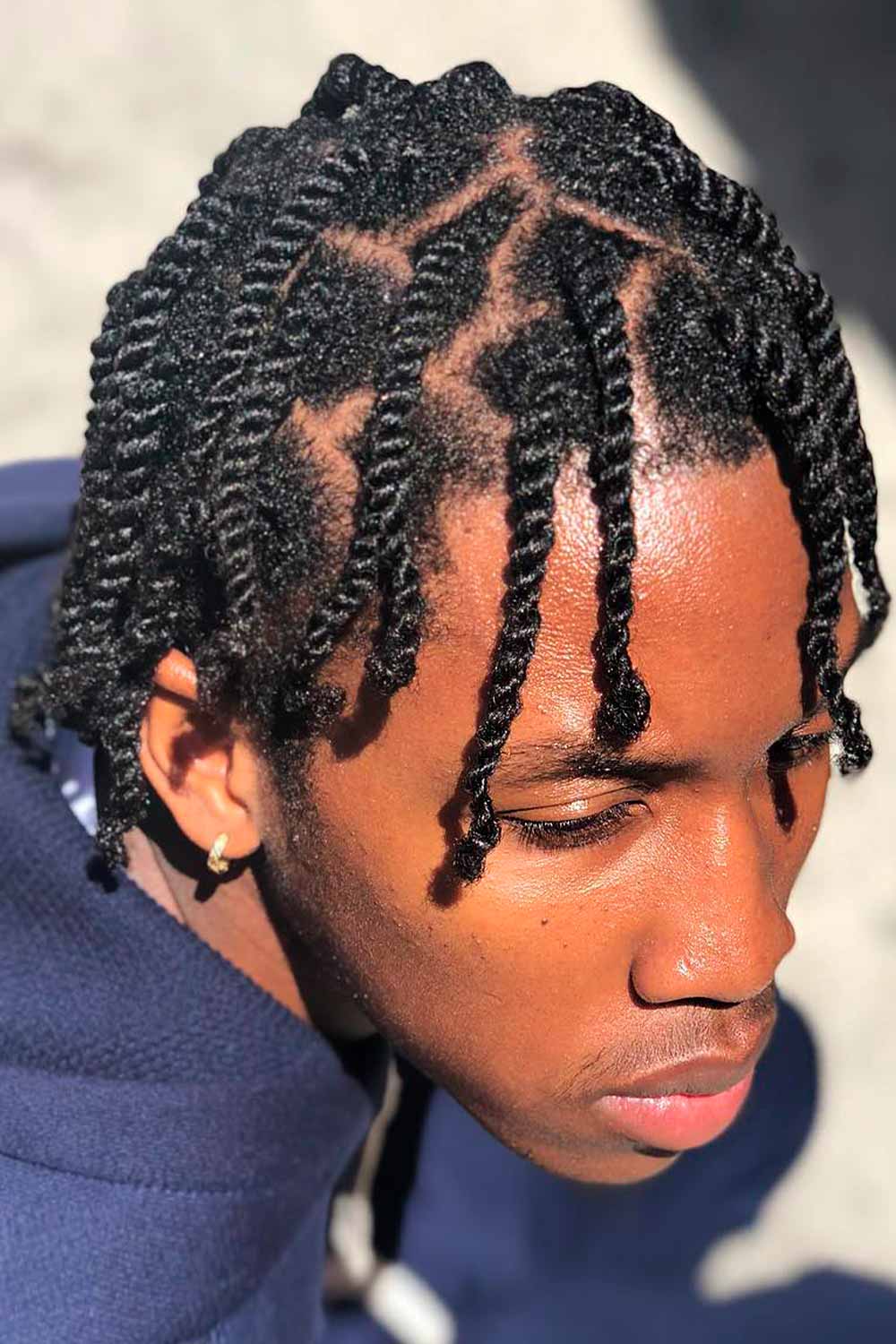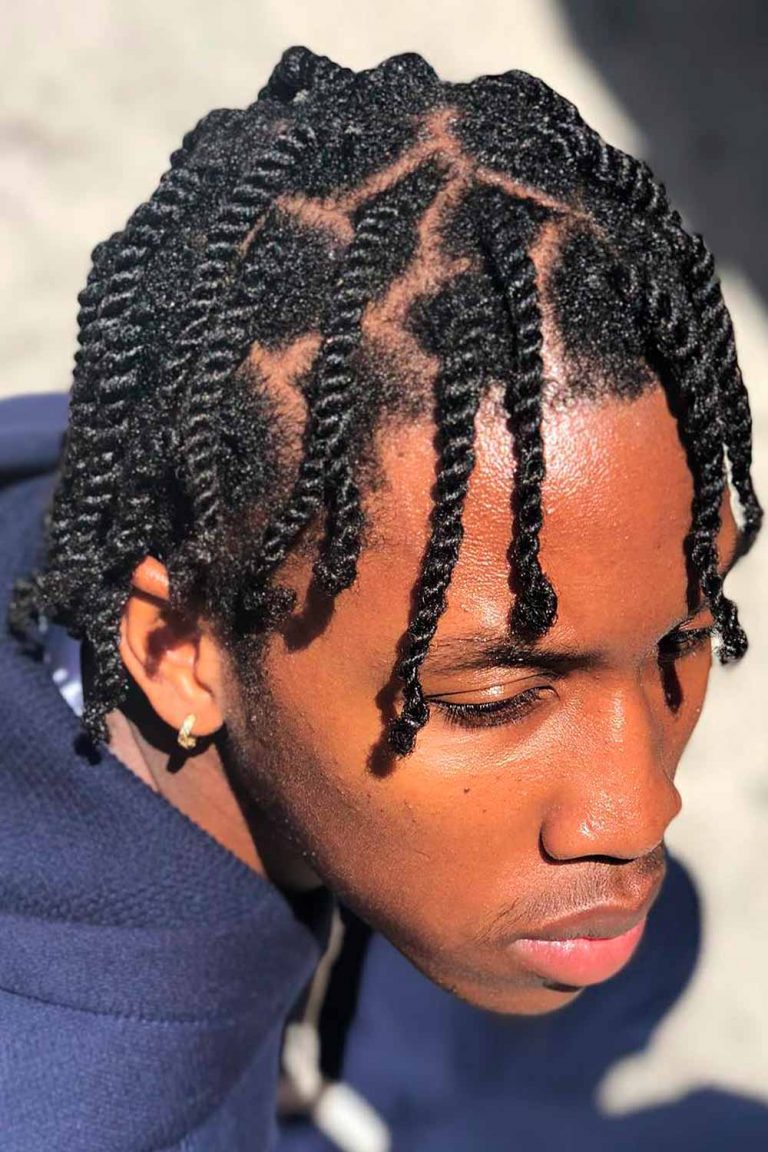 /
Medium Hair Twist
As we already mentioned, two strand twists have no limits in terms of hair length. Yet, they look incredibly flattering on mid length locks.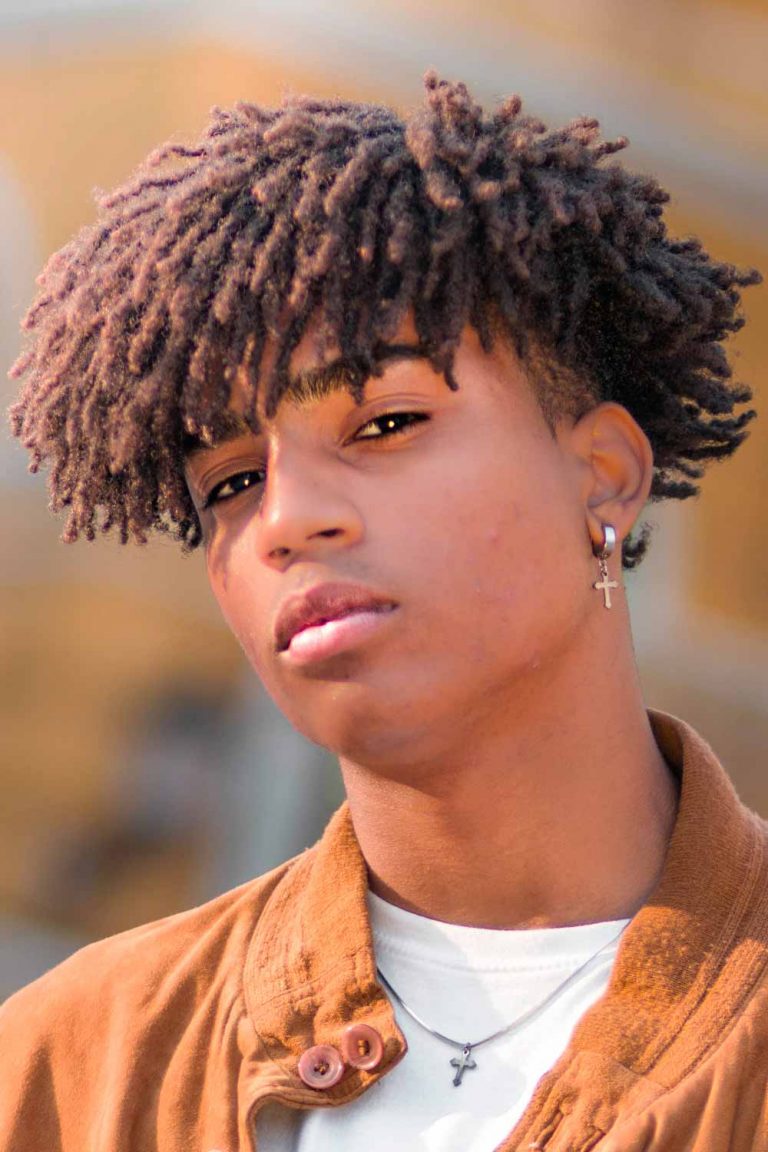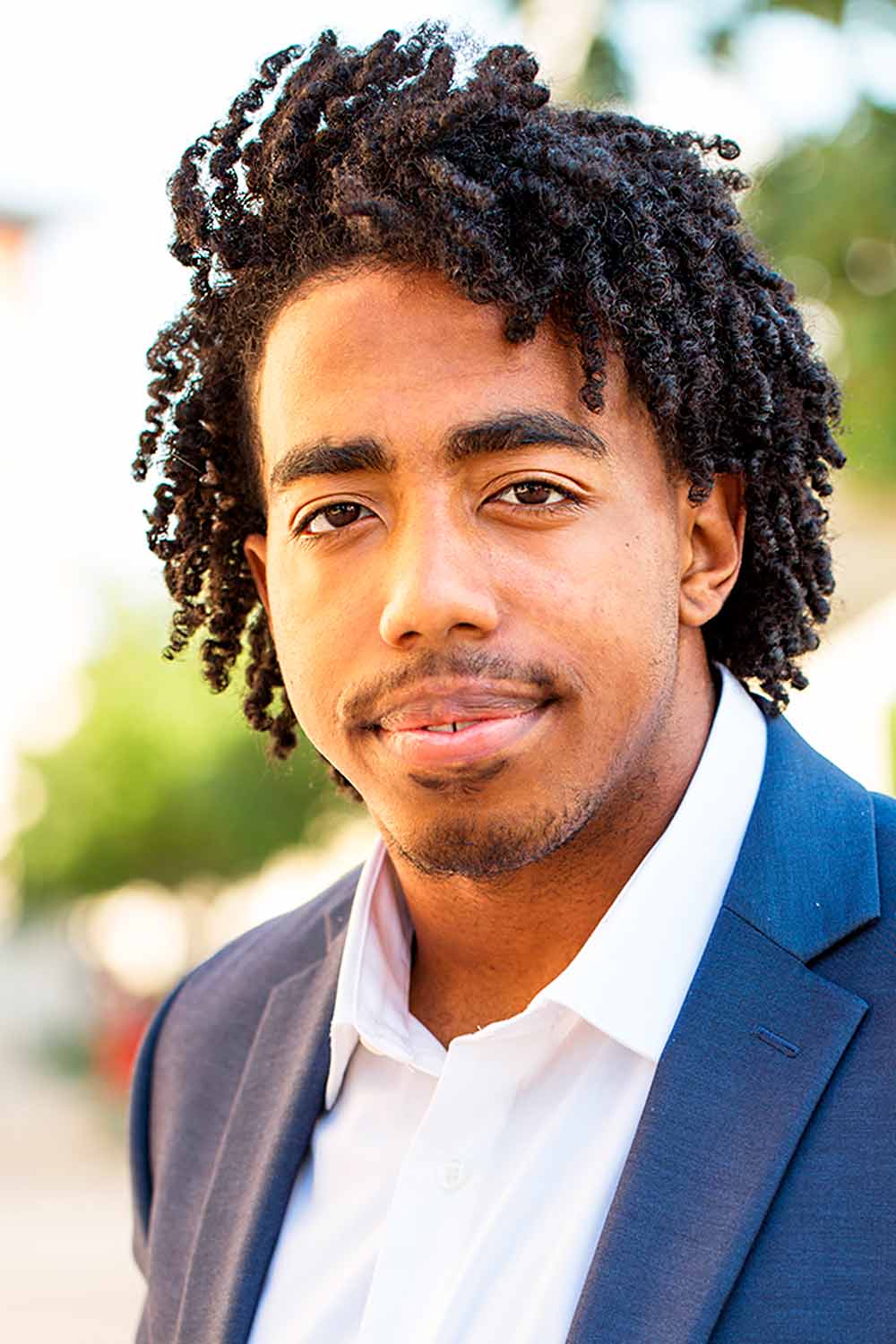 /
Long Hairstyles Twist
When opting for long hair twists, you can rest assured that your hair look will not go unnoticed. However, if you want to give it a more relaxed air for your long hairstyles for men, turn to one of passion twist styles.
Source: @adrianfanus via Instagram
i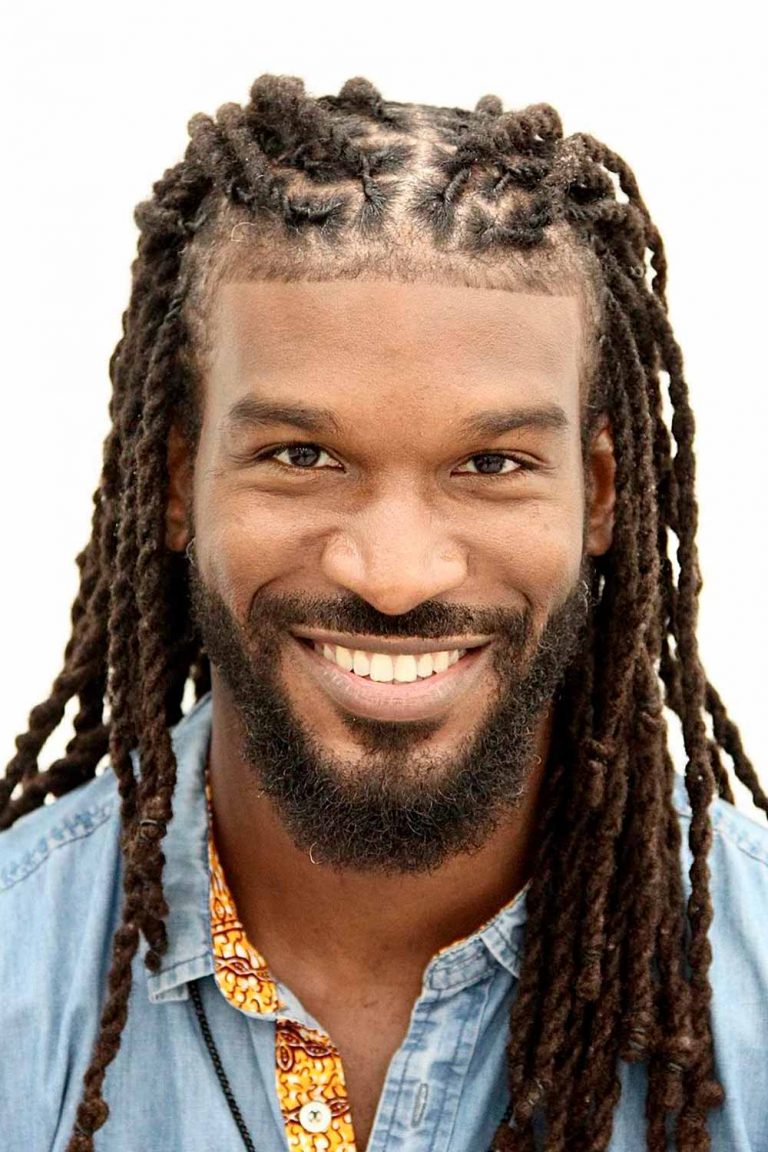 Source: @adrianfanus via Instagram
i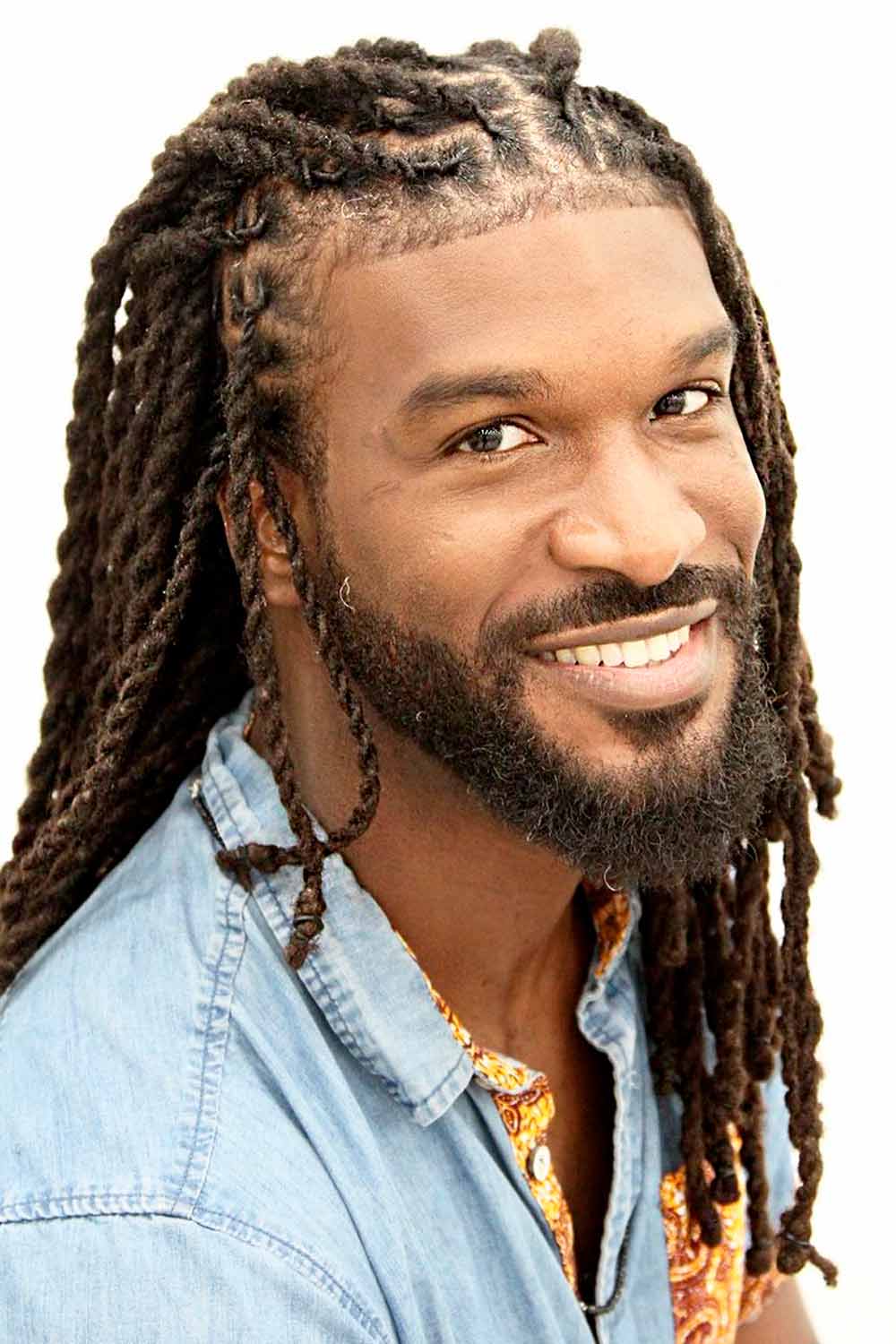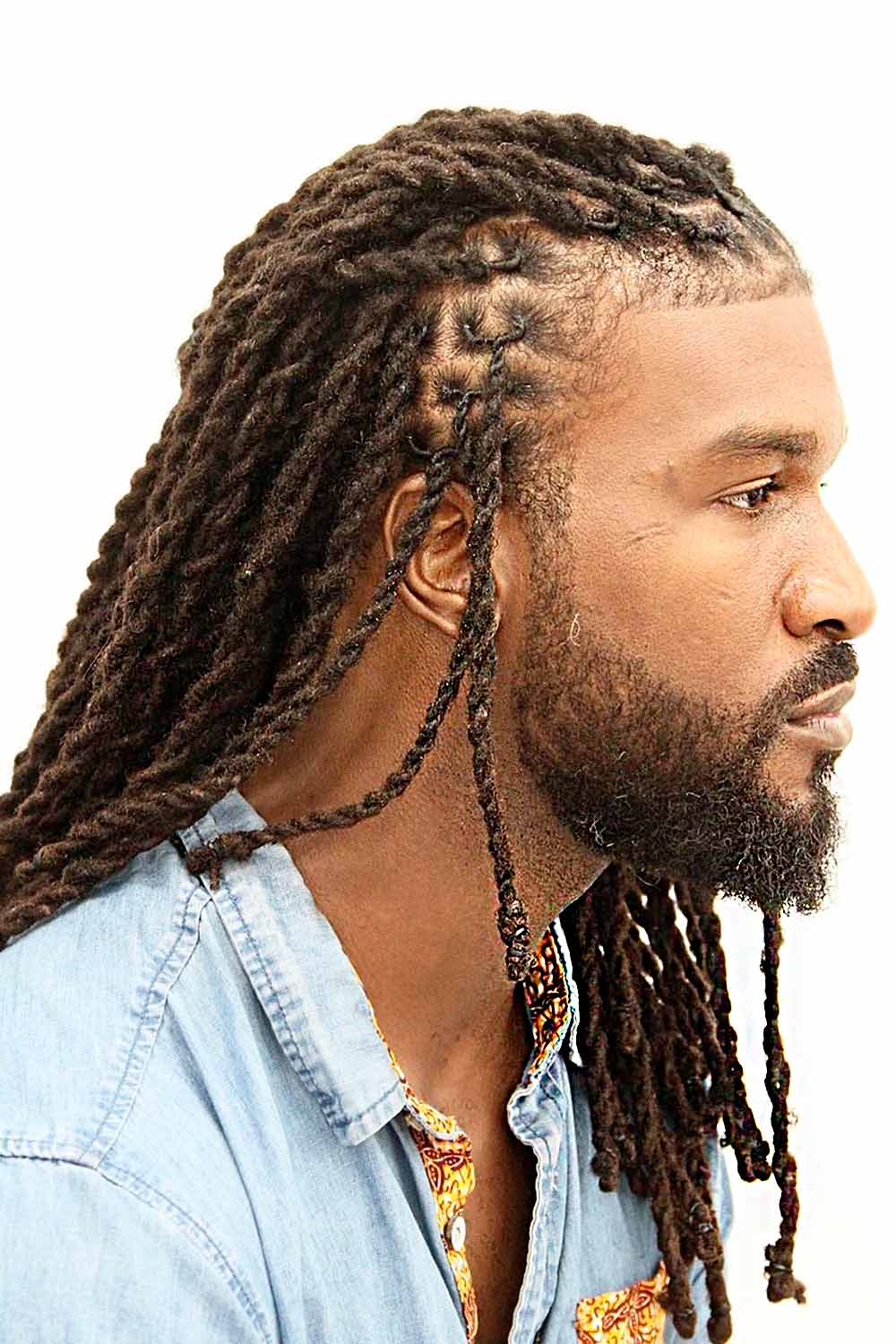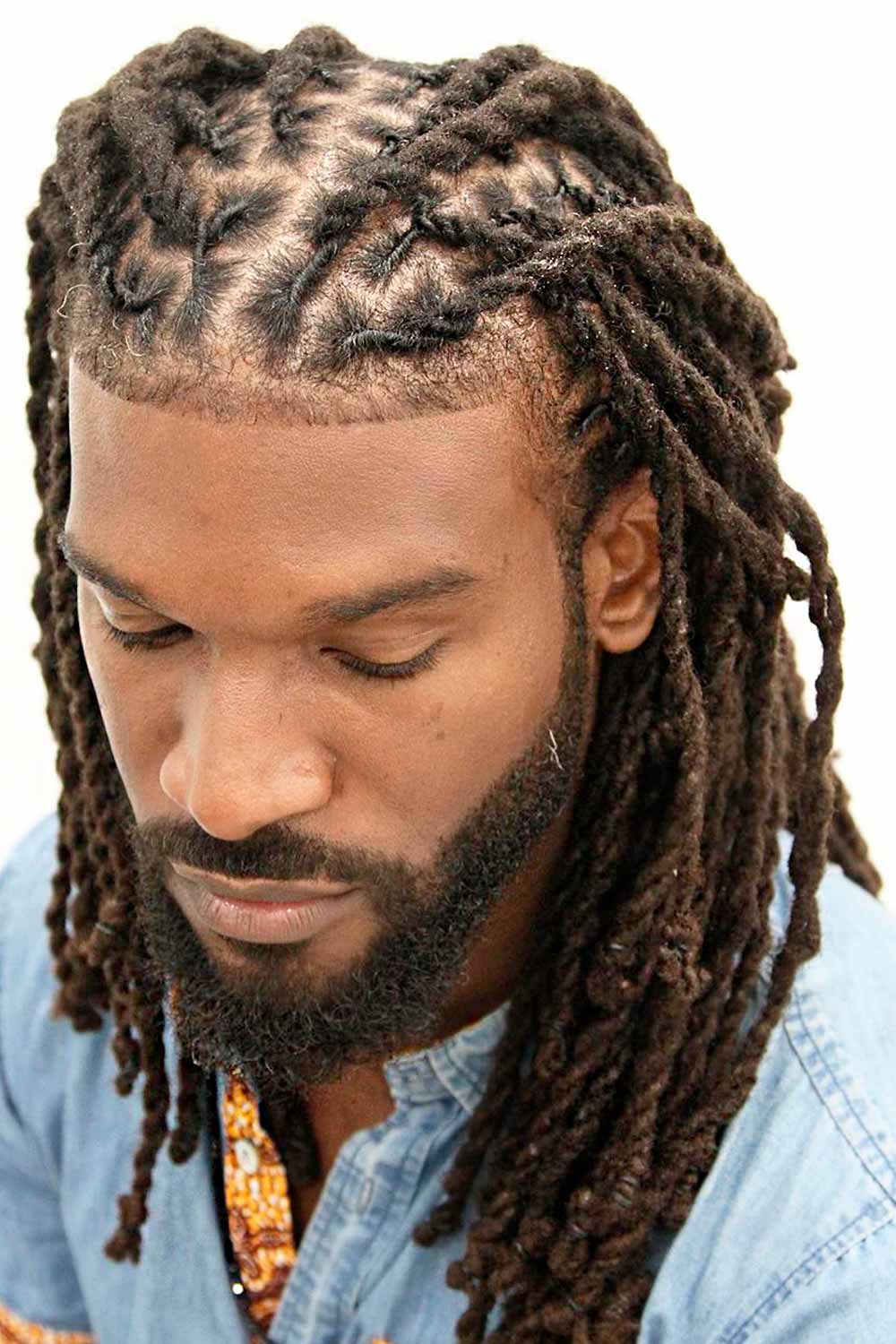 /
Two Strand Twist Men
Among all existing twist hairstyles, two strand twists are the most widespread. They are quite easy to create and maintain while giving your hair a stylish and kempt look.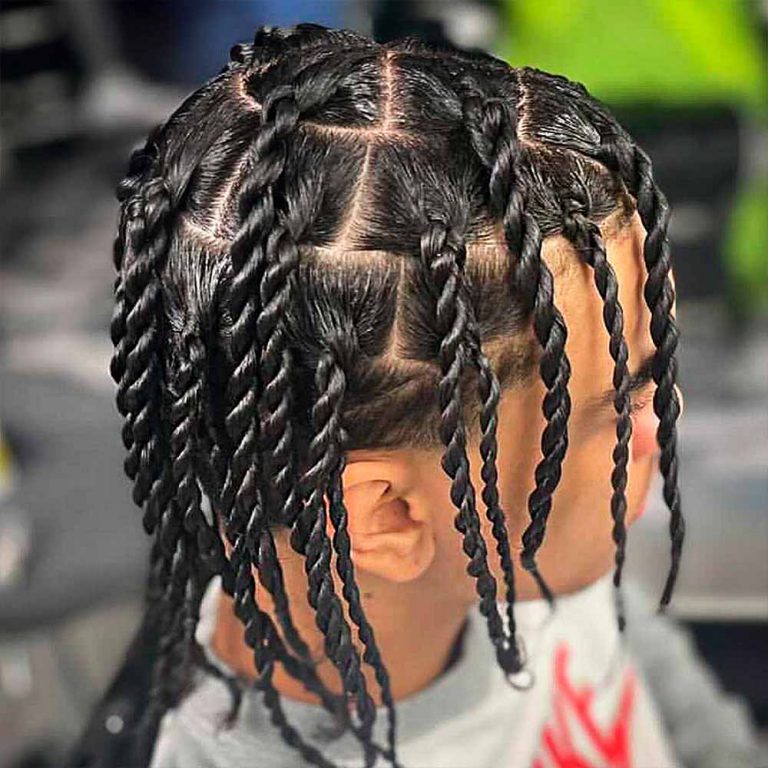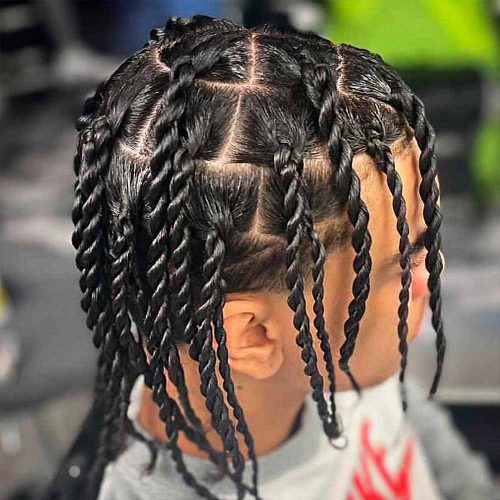 Source: @f4fade via Instagram
High Top Twist
Flat twist styles create a multitude of styling options for other men's hair looks. That said, a high top twist is a spiced up take on a classic high top haircut.
Source: @braidedroots via Instagram
i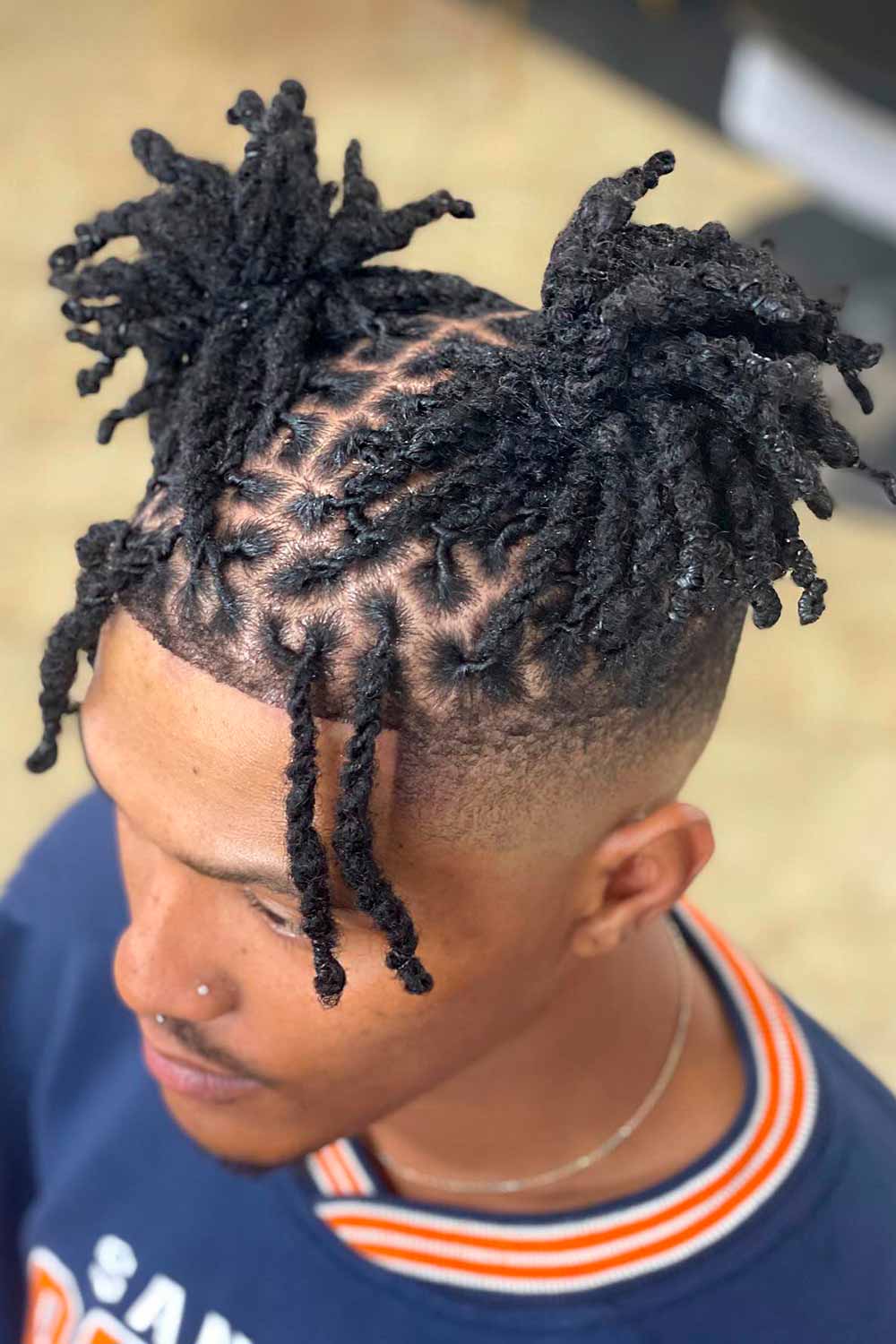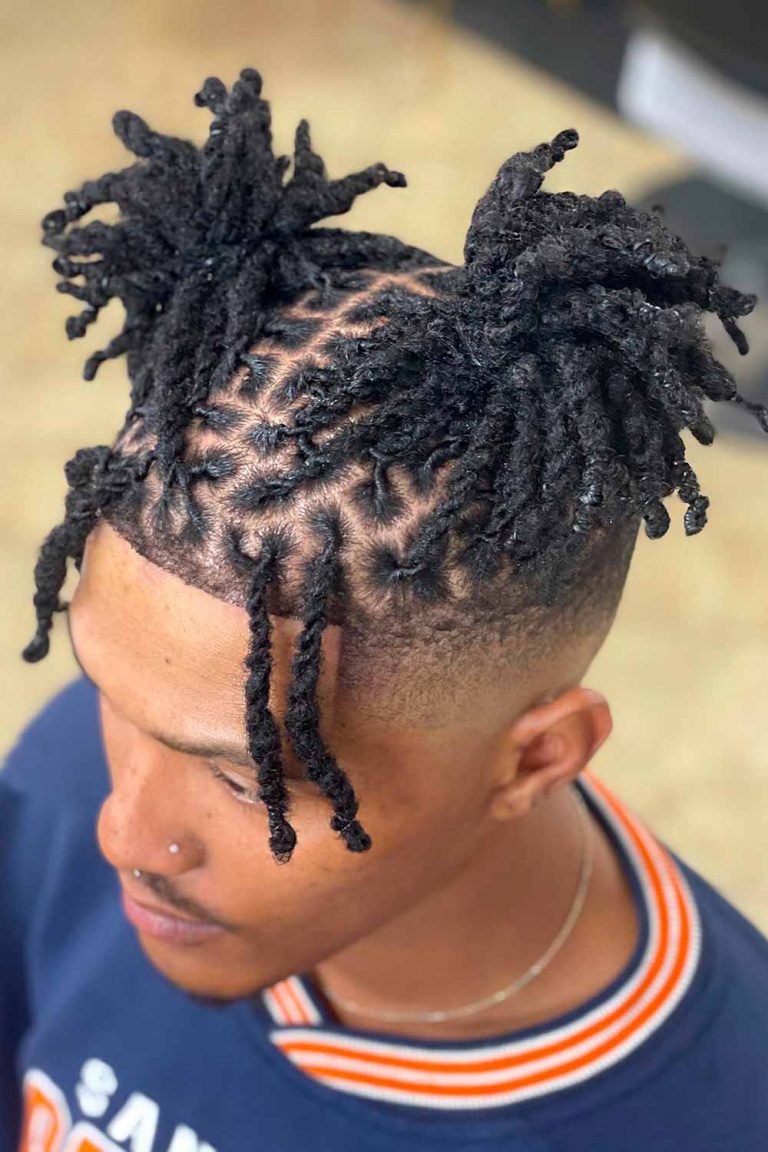 Source: @braidedroots via Instagram
i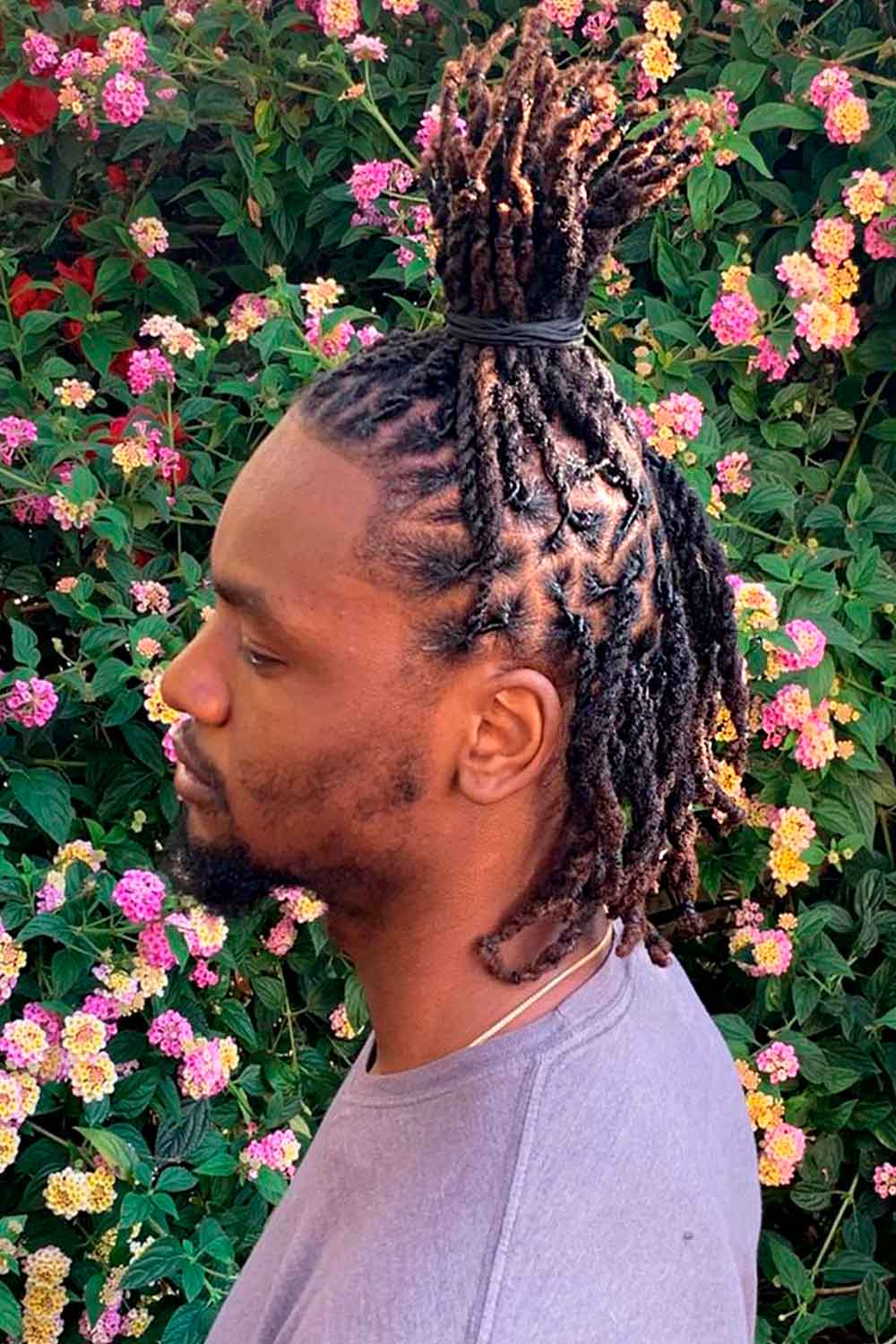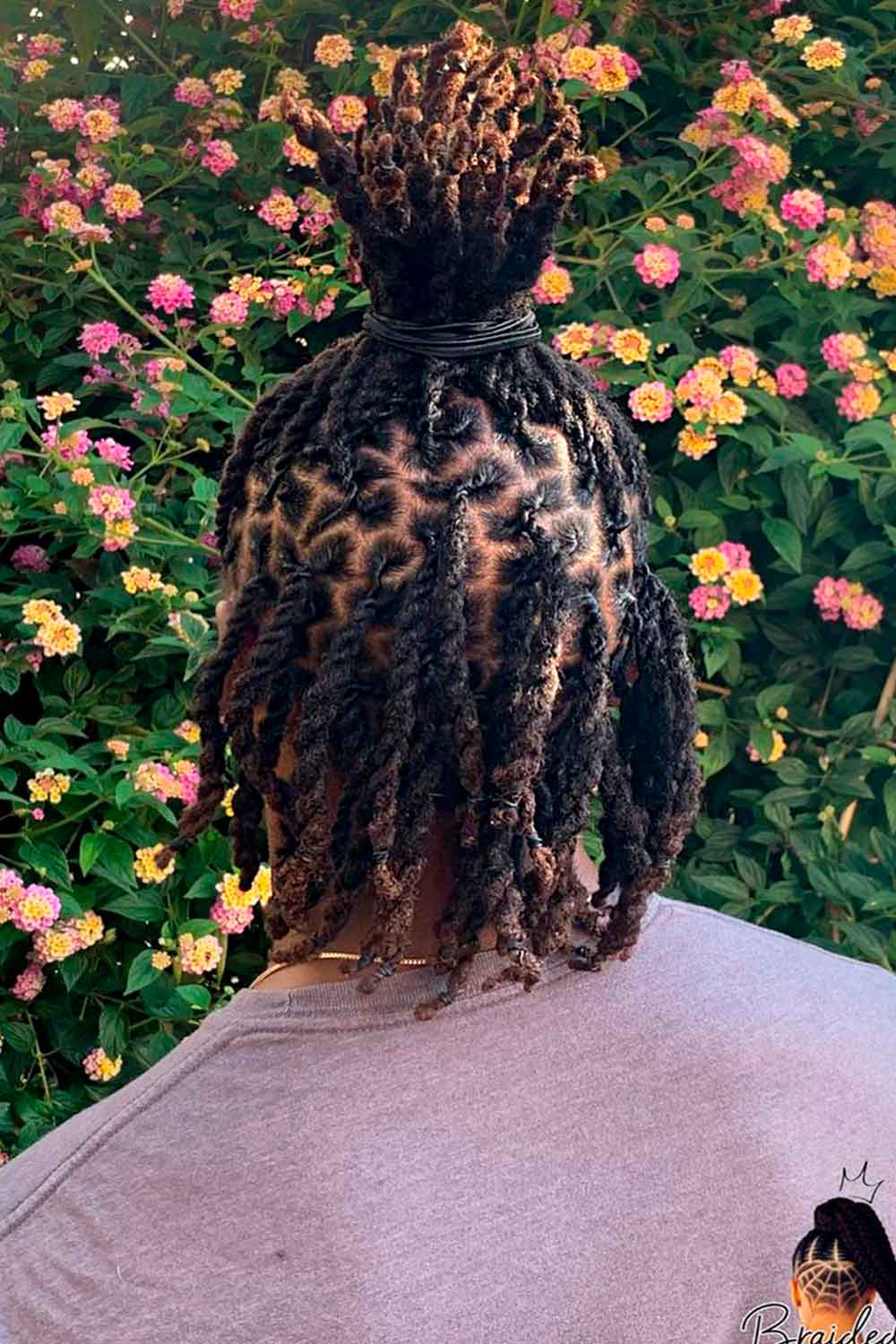 /
Twist Hairstyles With A Fade
You can easily complement flat twist hairstyles with popular men haircuts to get a unique and eye-catching hair look, such as a twist fade.
Source: @braidedroots via Instagram
i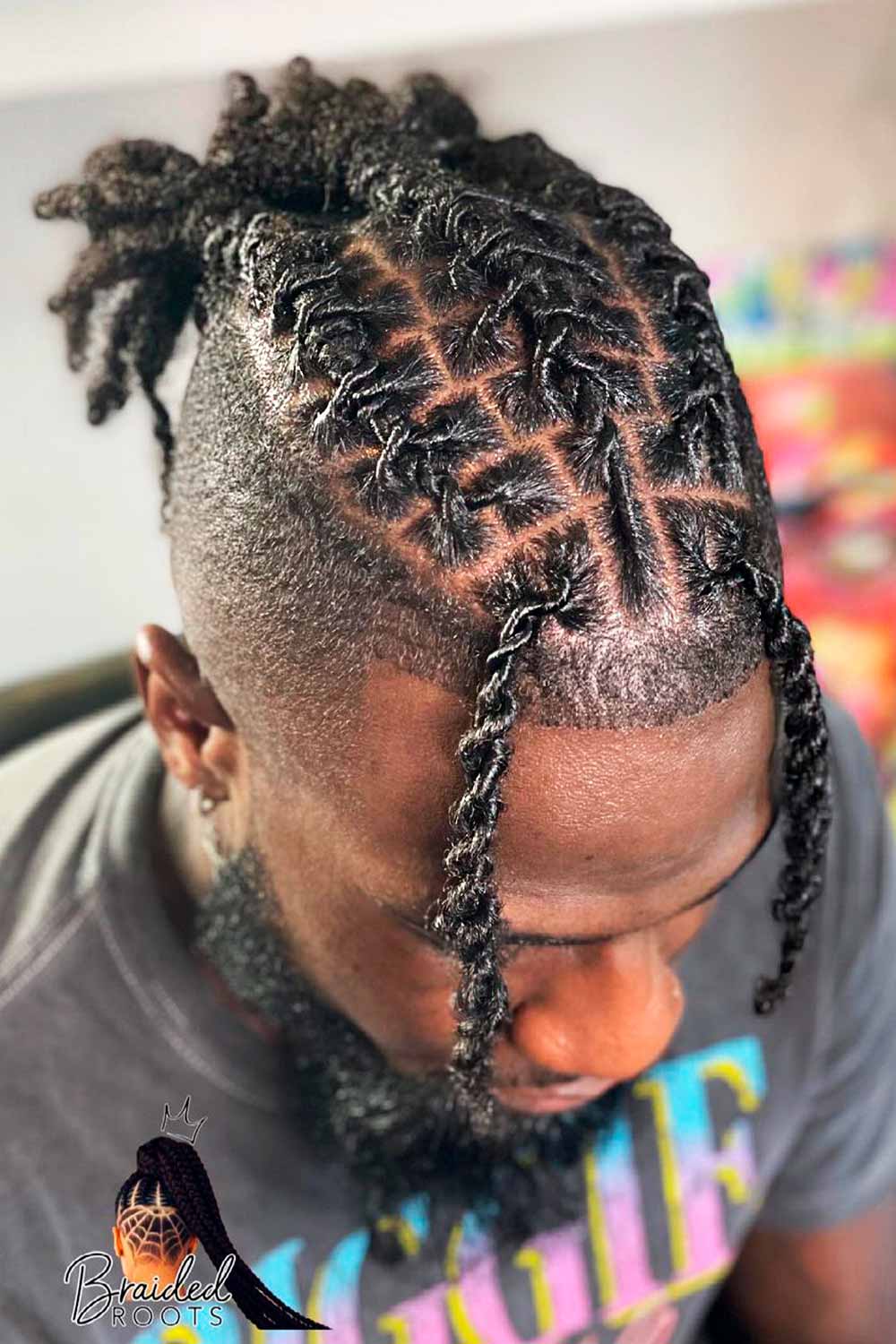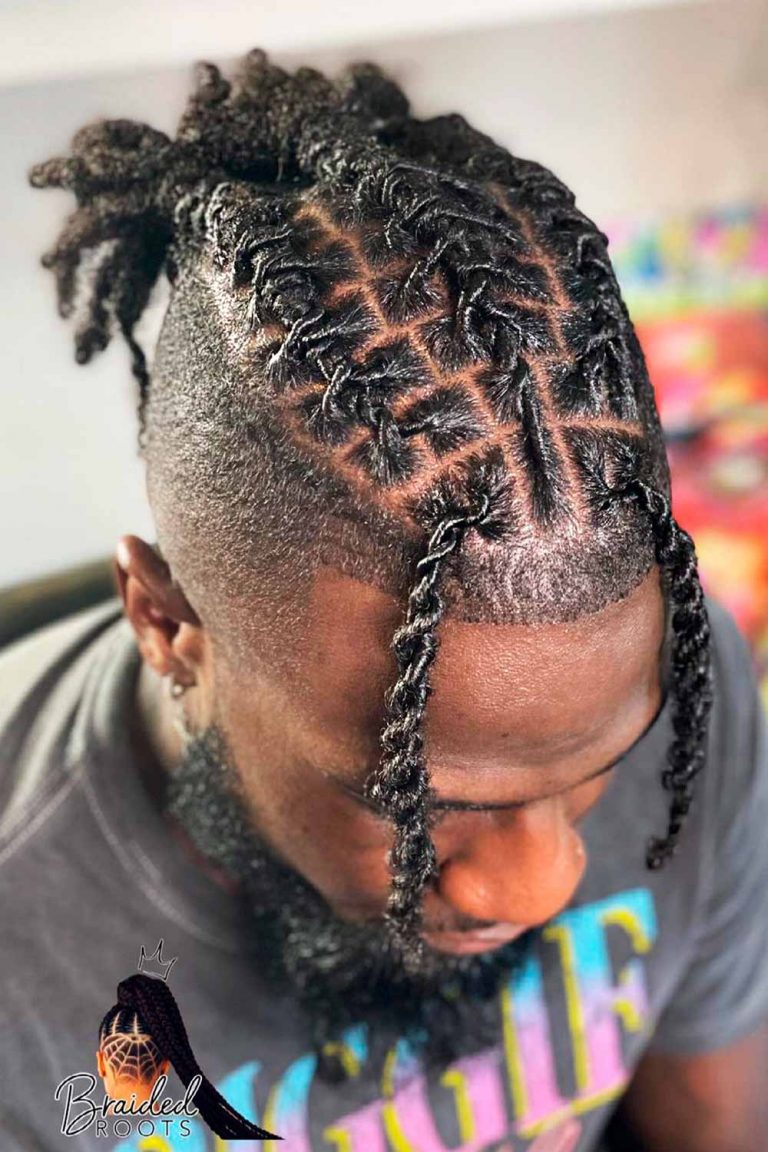 Source: @braidedroots via Instagram
i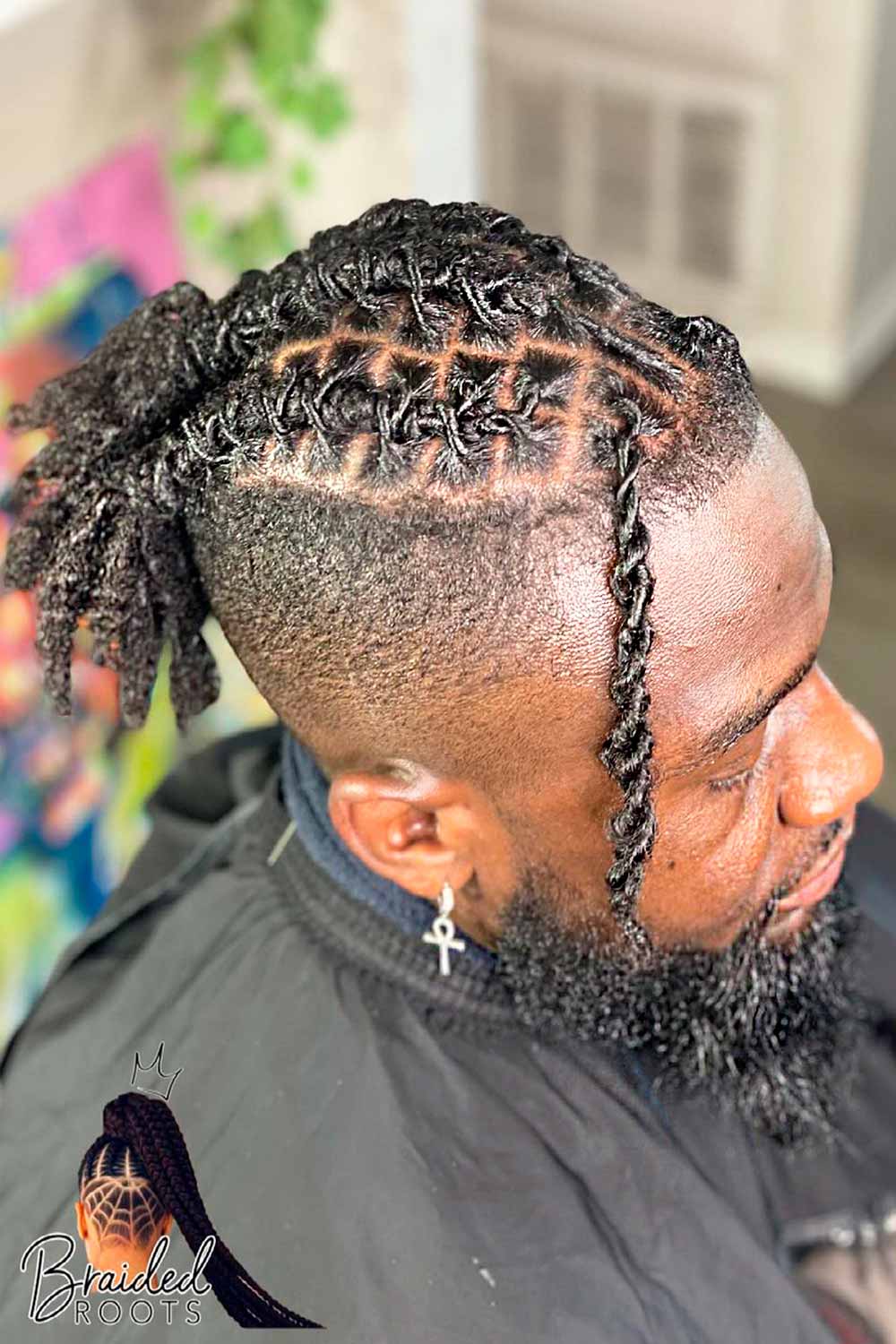 /
Sponge Twist
A twist sponge may be not that easy to achieve, yet all your effort fully pays off with a ton of compliments you are going to get.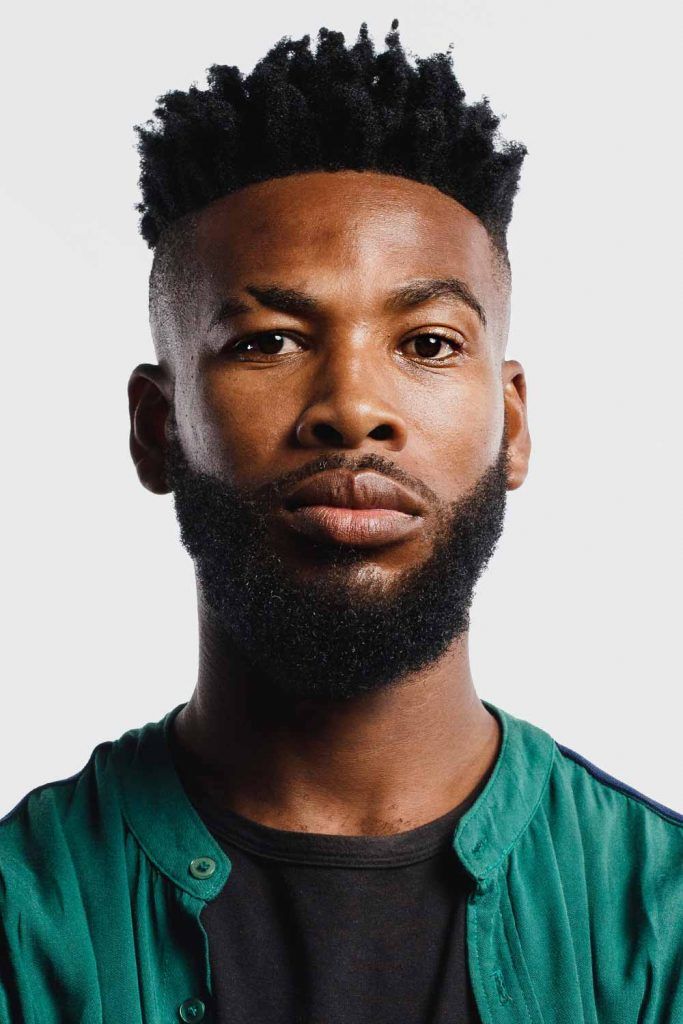 Comb Twist Men
If your hair is extremely kinky twist styles can be your real savior. Two strand twist styles allow you to tame your tresses while maintaining a fashionable look.
Source: @braidedroots via Instagram
i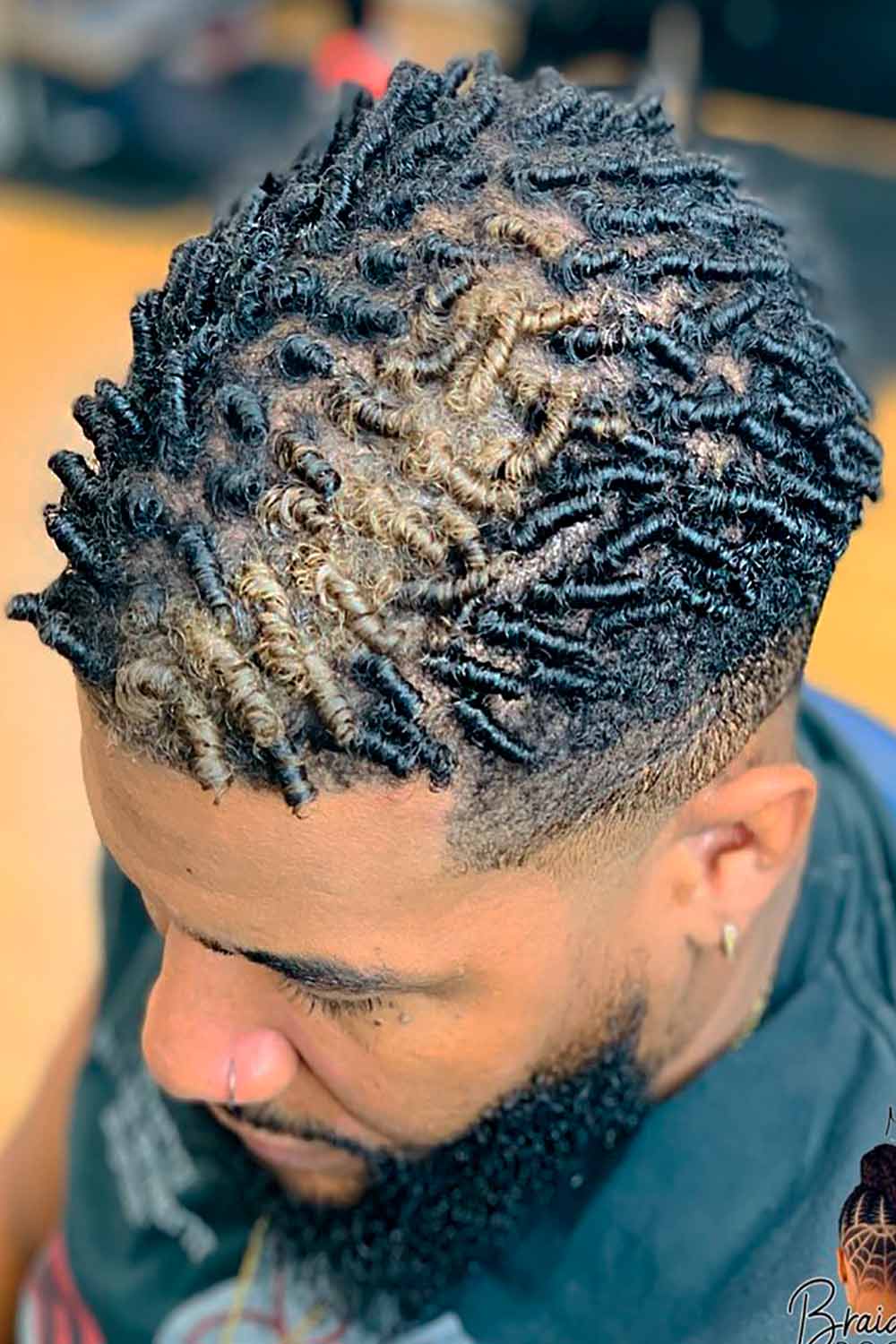 Source: @braidedroots via Instagram
i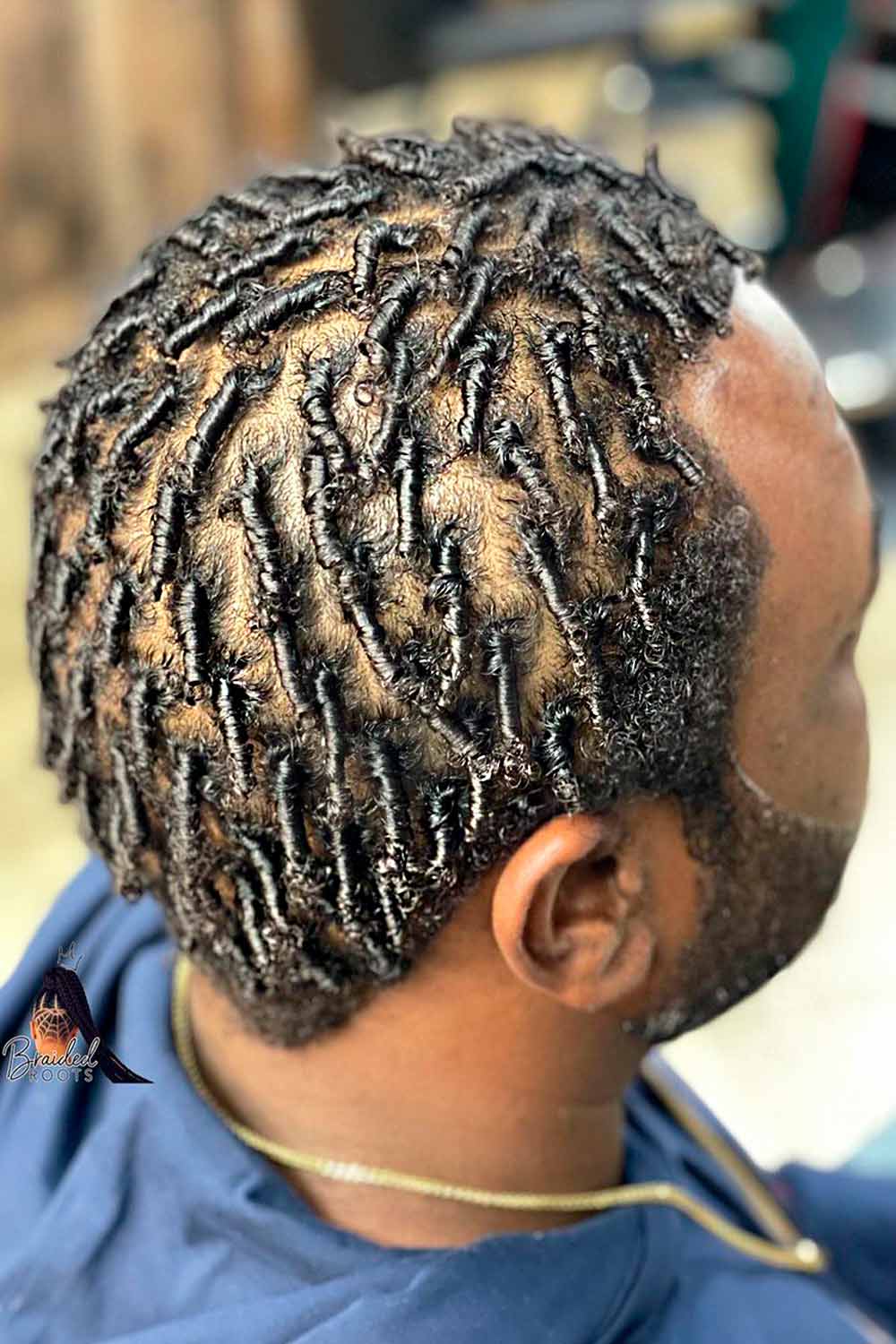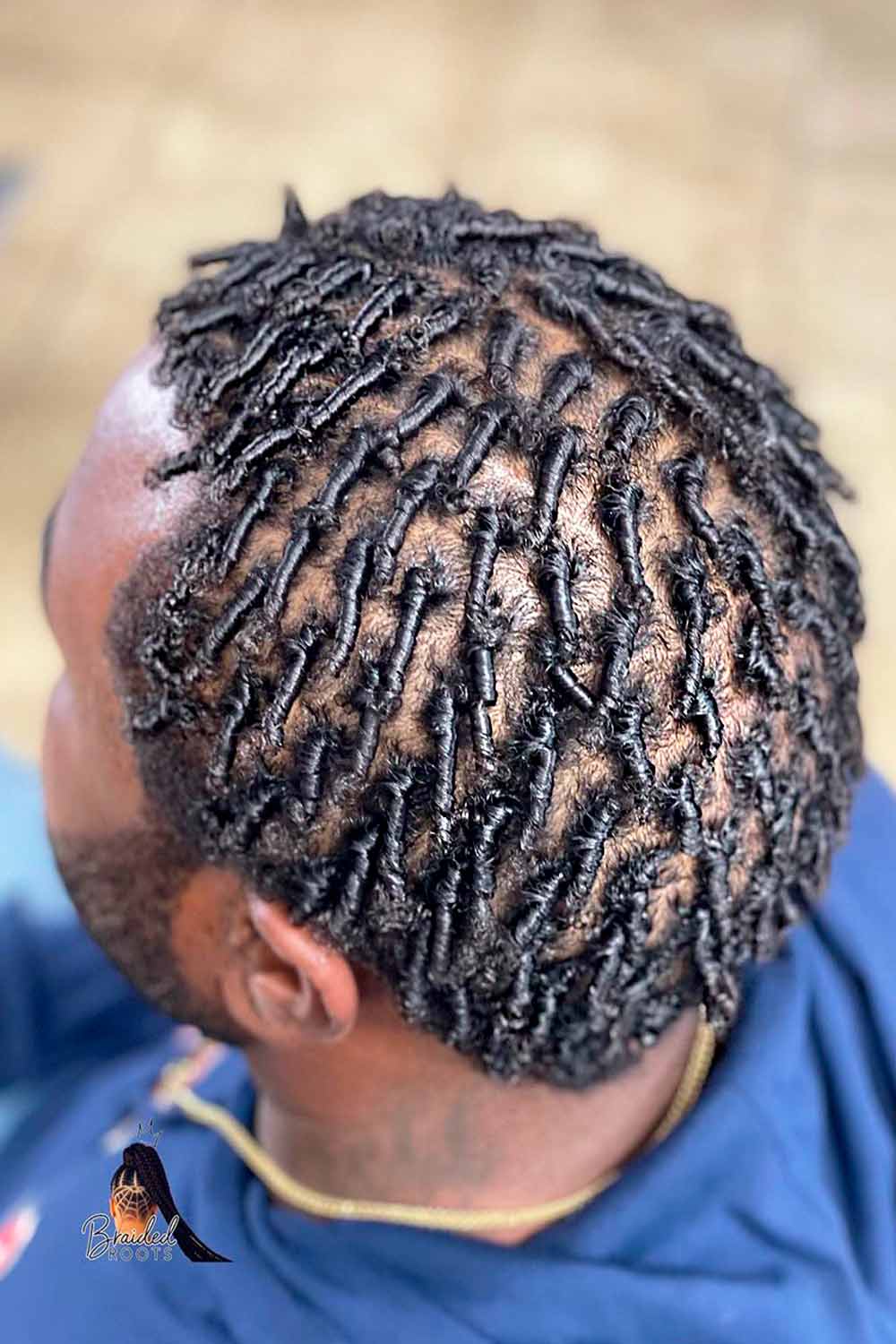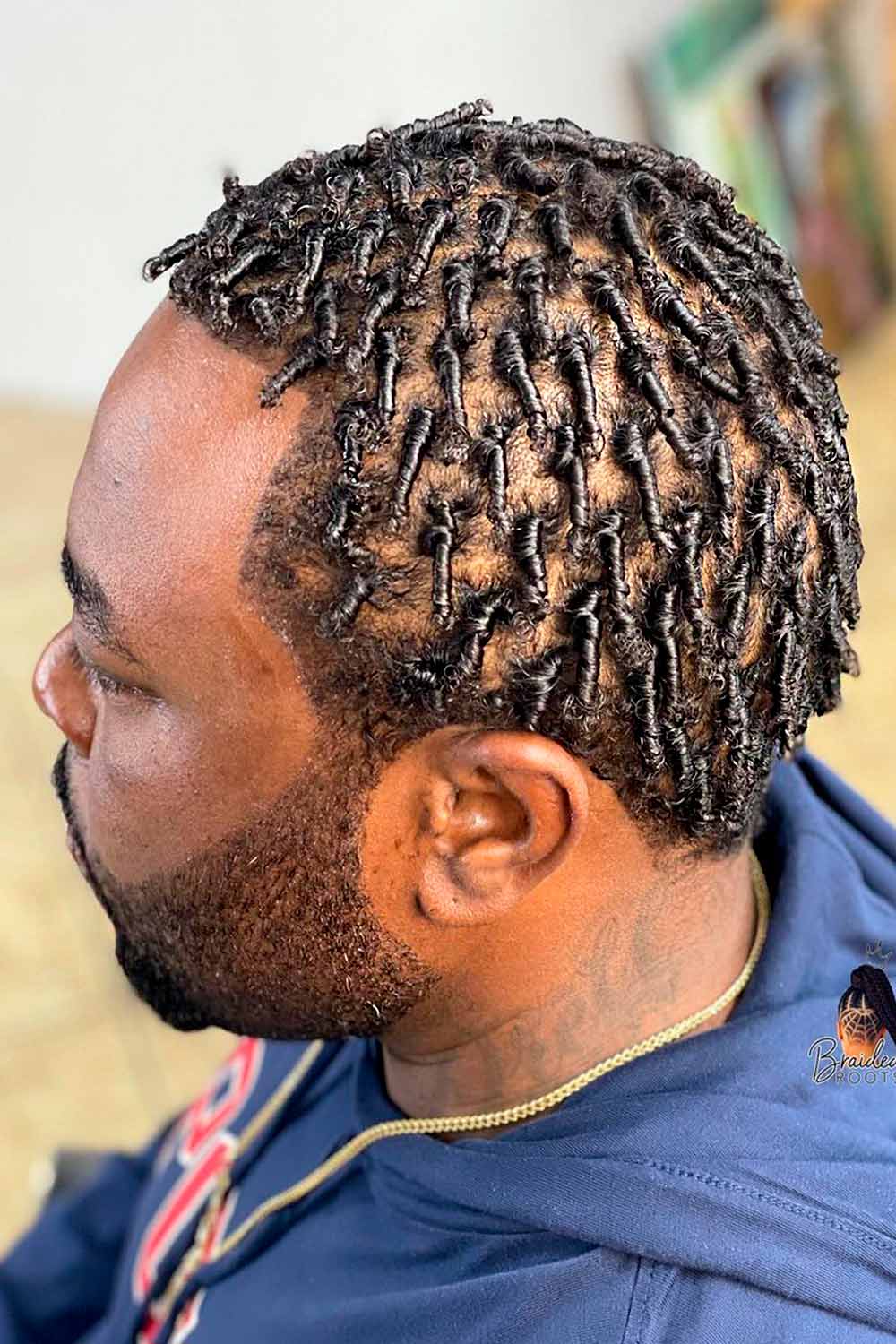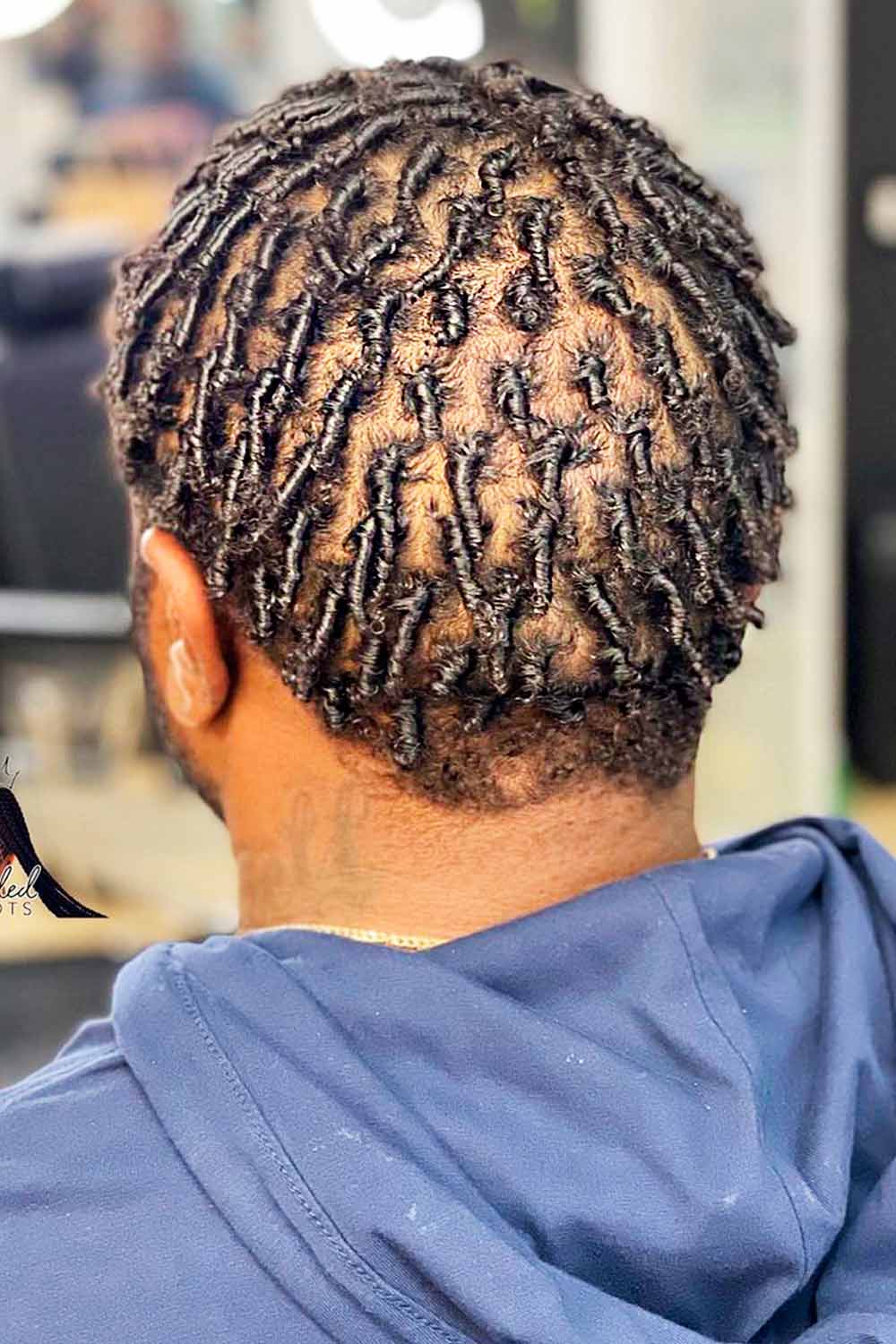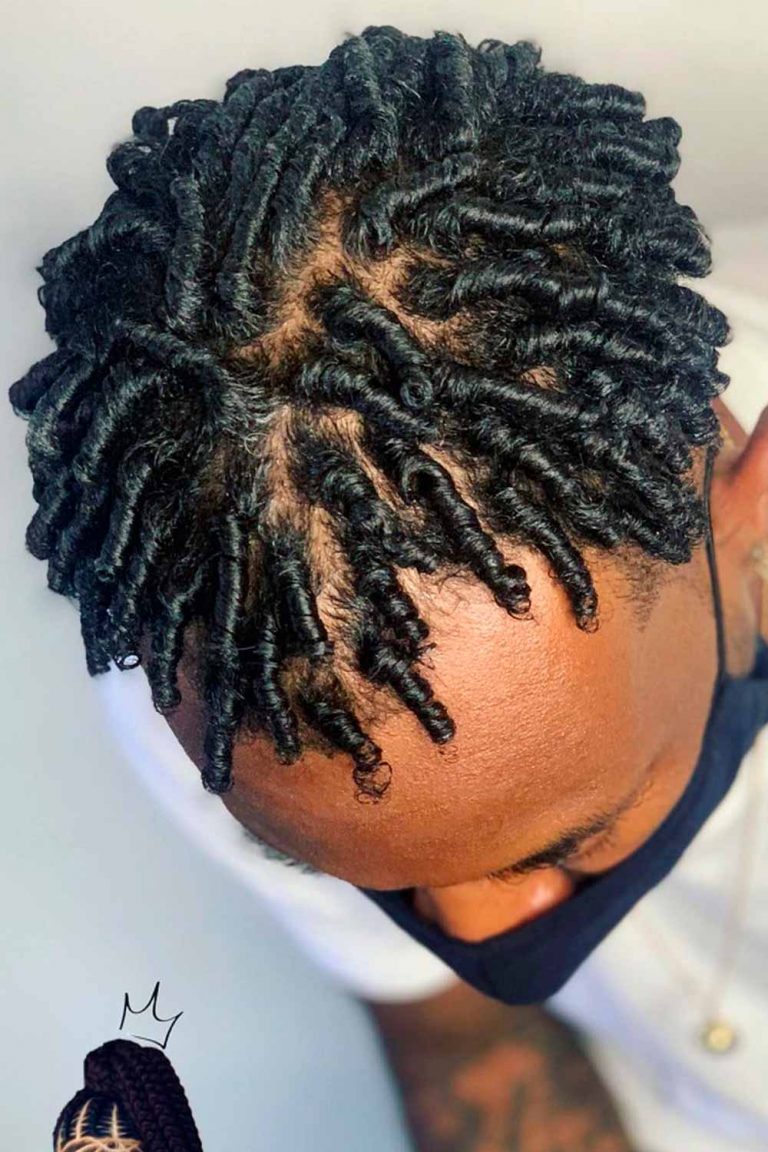 /
Twist Out With Undercut
To give your flat twist out an added emphasis, accompany it with an undercut haircut on the sides and back.
Source: @ledanieljames via Instagram
i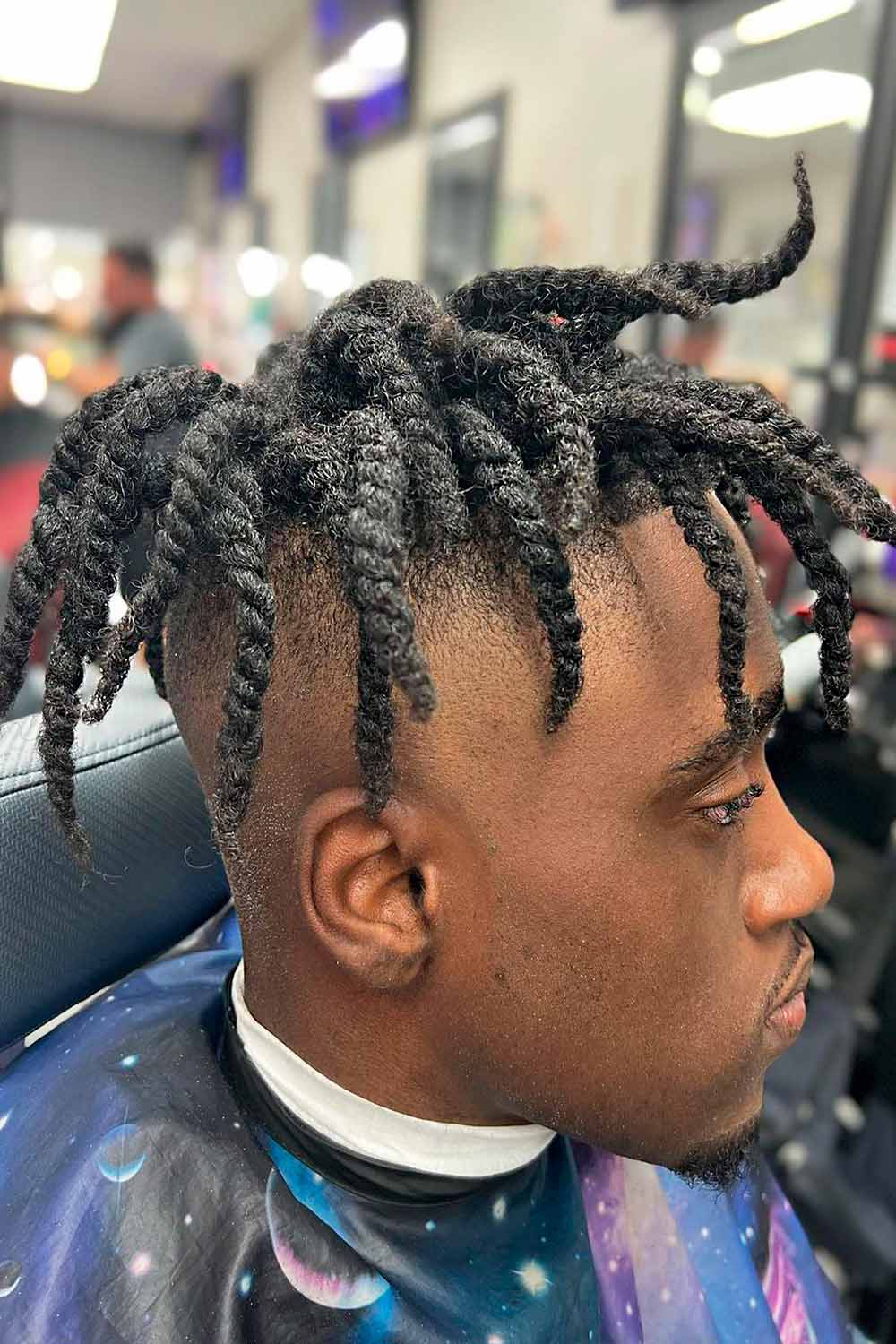 Source: @ledanieljames via Instagram
i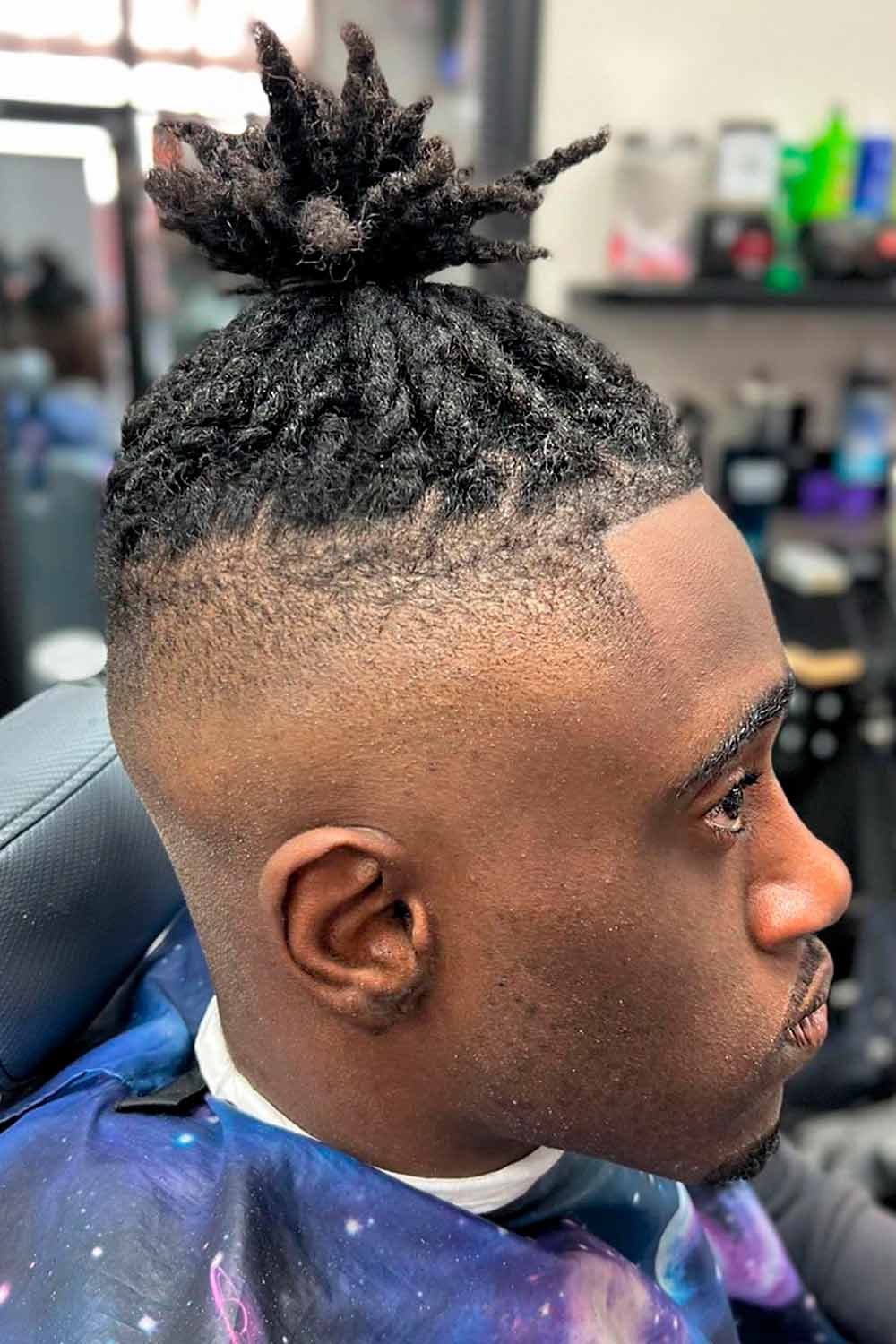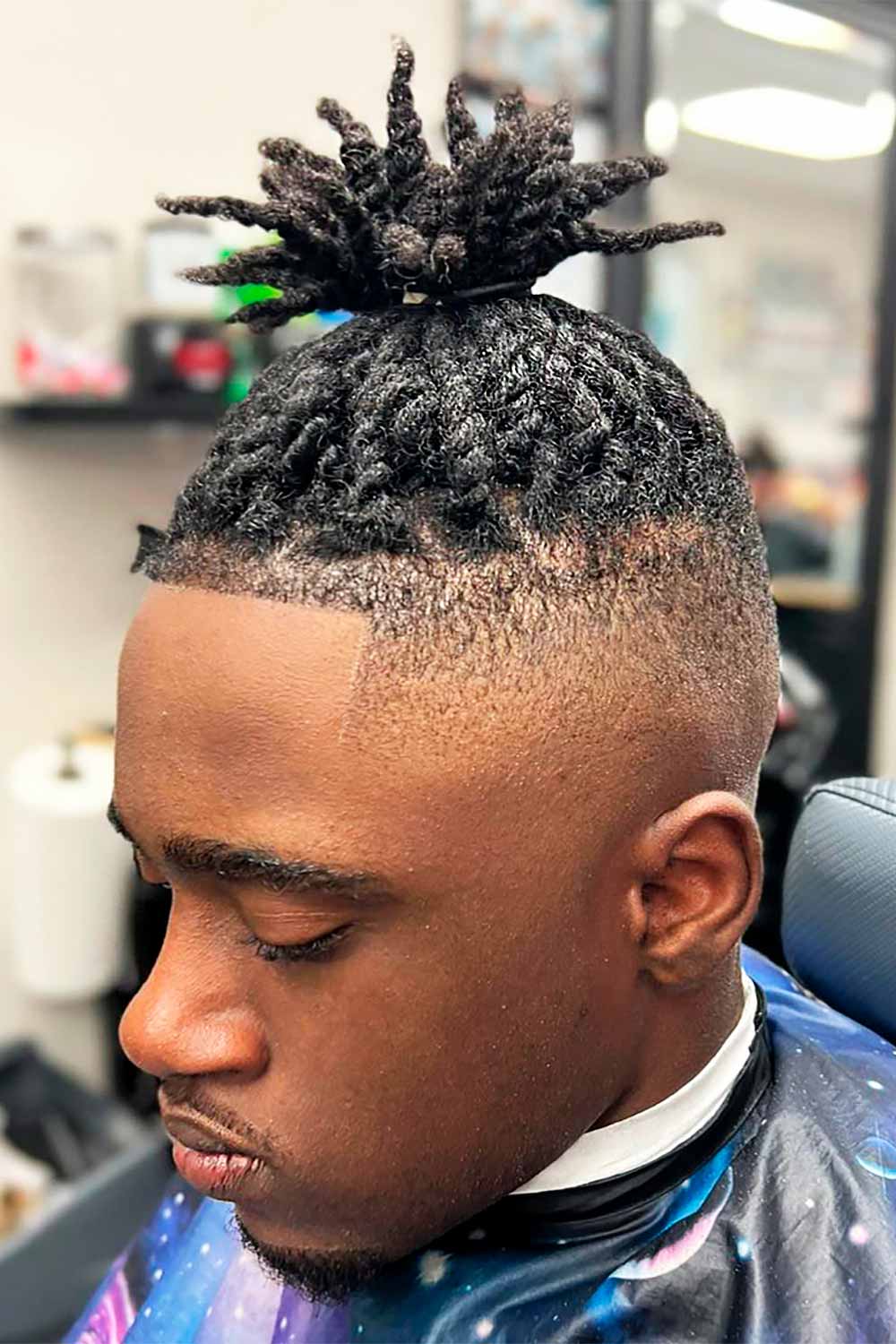 /
Twist Hairstyles Men Line Up
A surefire way to enhance Black men twist hairstyles is to add an edgy haircut to them. Do not feel like going for something too complex and elaborate? A simple yet sharp line up haircut will help you to achieve the desired effect without much effort.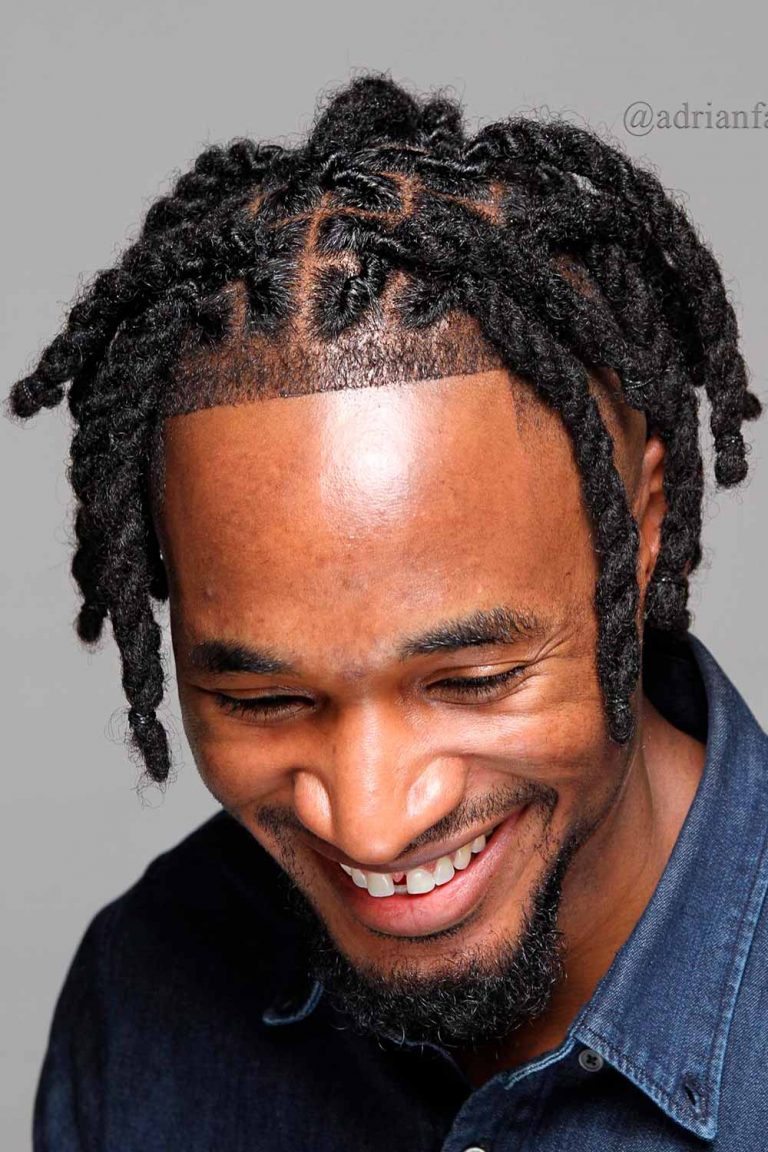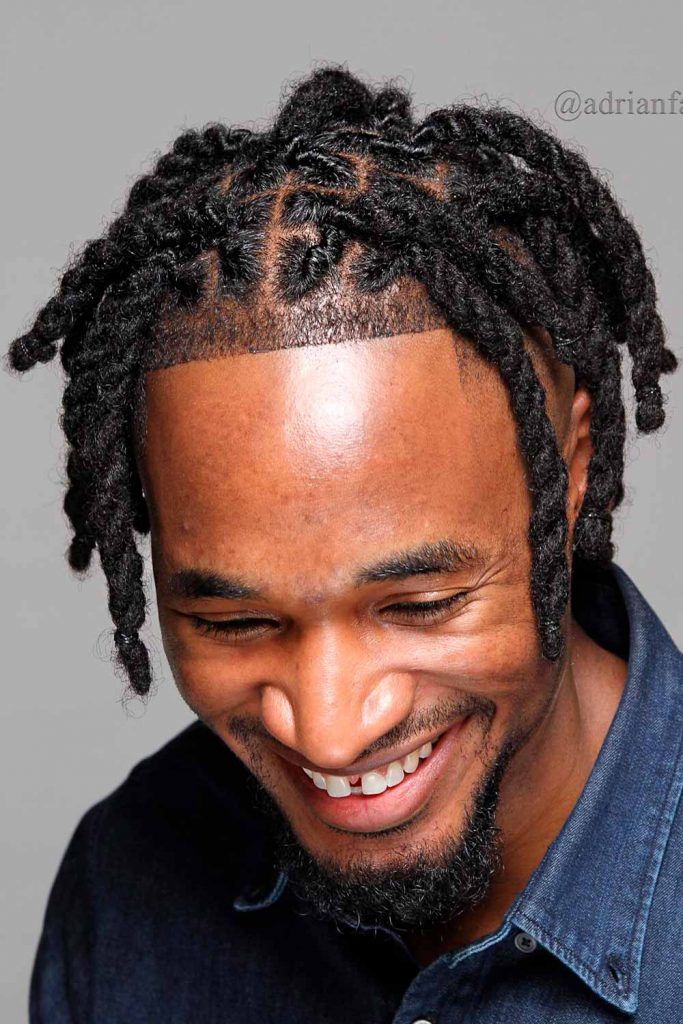 Source: @adrianfanus via Instagram
Dreadlocks Two Strand Twist
Two strand twist dreads combine a couple of popular men hairstyles – a 2 strand twist for men and dreadlocks. It will allow you not only to keep your kinks in order but also to make a strong fashion statement. If your natural hair lacks length or thickness for decent 2 strand twist styles male braiding hair can be added while or before twisting.
Source: @braidedroots via Instagram
i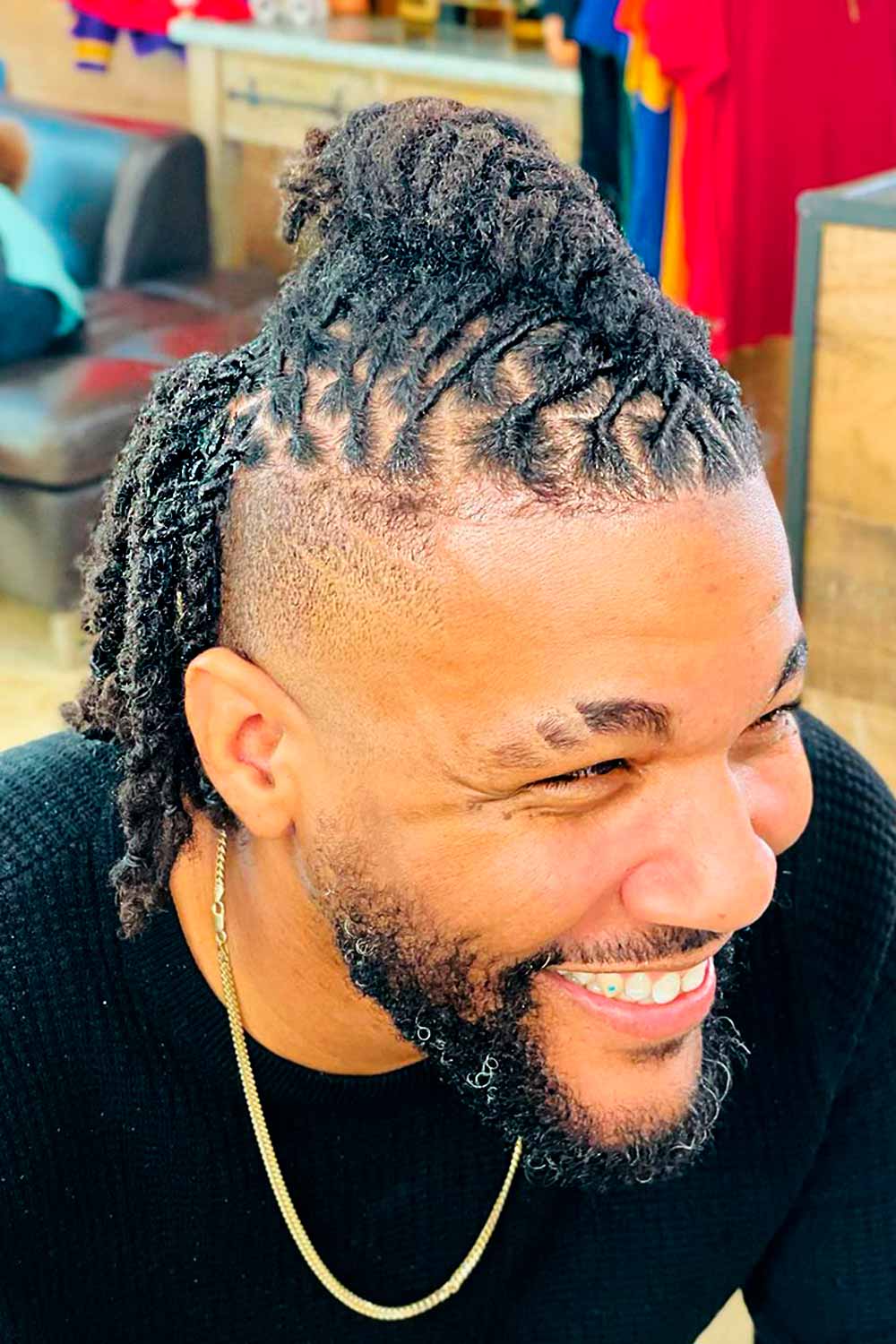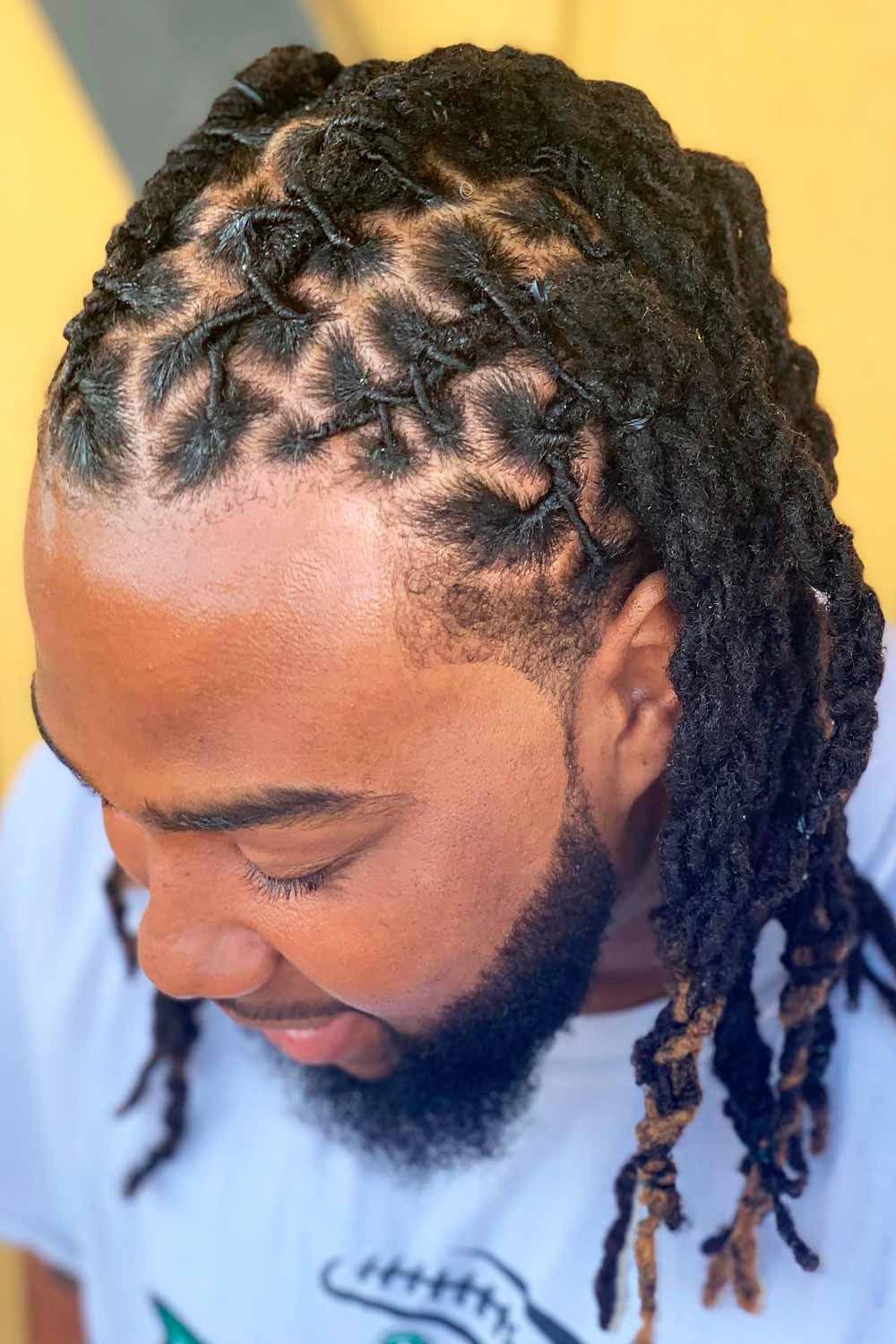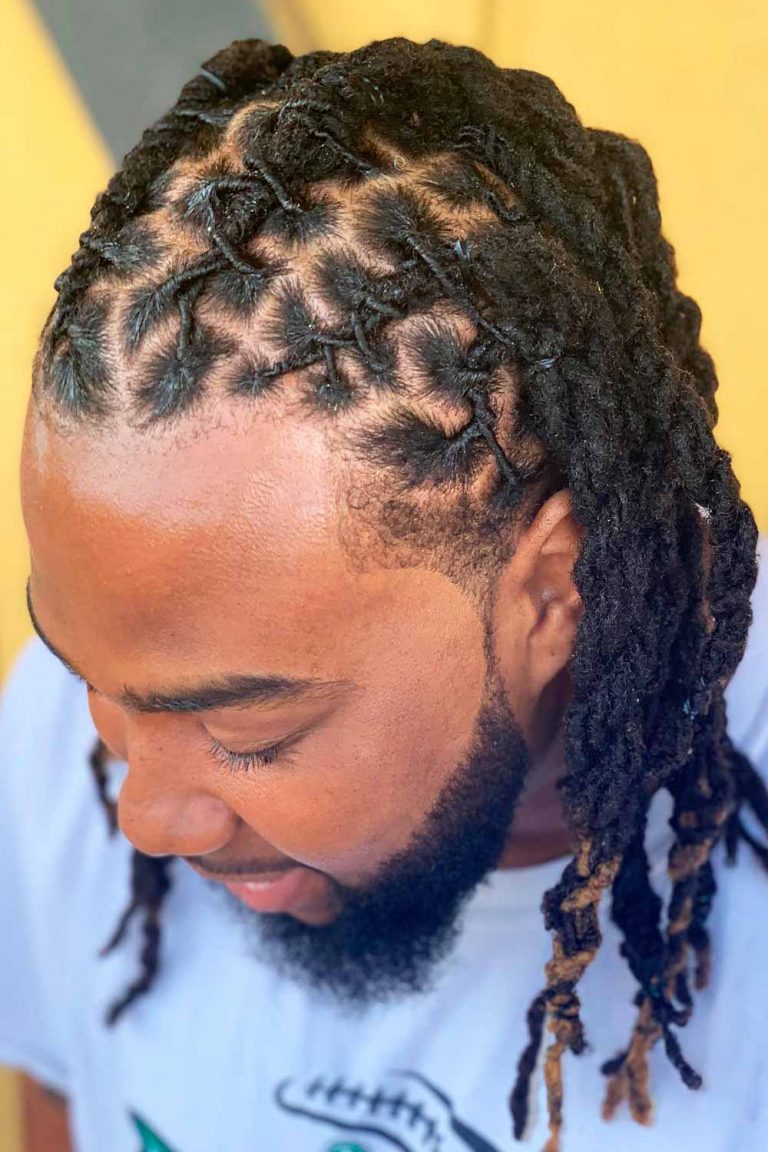 /
Blue Two Strand Twist Men Short Hair Fade
One of the main advantages of 2 strand twists for men is that they can be pulled off on any hair length. So, even if your kinks are relatively short, you may still twist them, divided into two strands. To accentuate the look, you can pair your Black mens twists with a fade or undercut on the back and sides.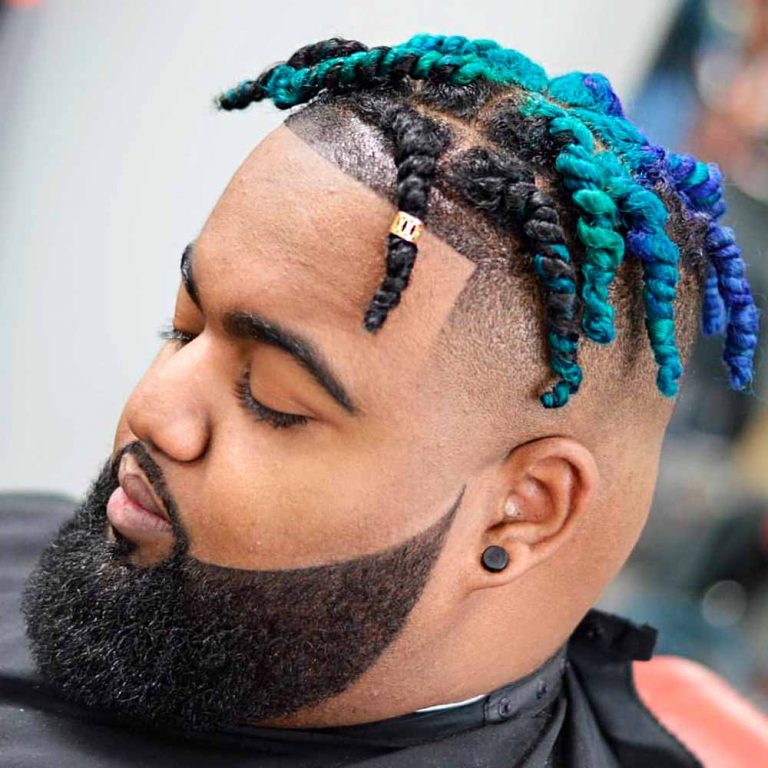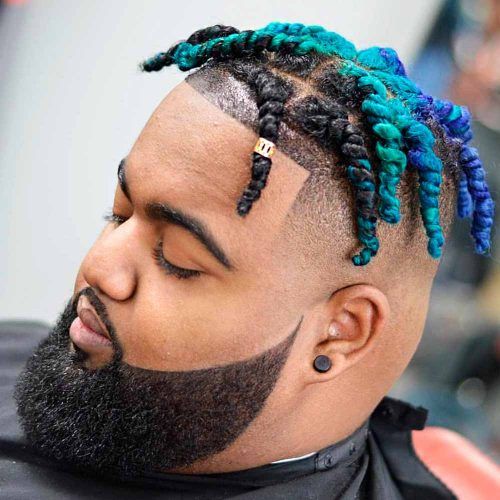 Source: @dynasty_barbers via Instagram
Half Up Twist Hairstyles Men
When mens twists are starting to get on your nerves, do not rush with undoing them. Try to take your hair away from your face first. To do so, pull the top twists together and tie them up in the back of your head. In this way, you are going to get a perfect half updo twist for men.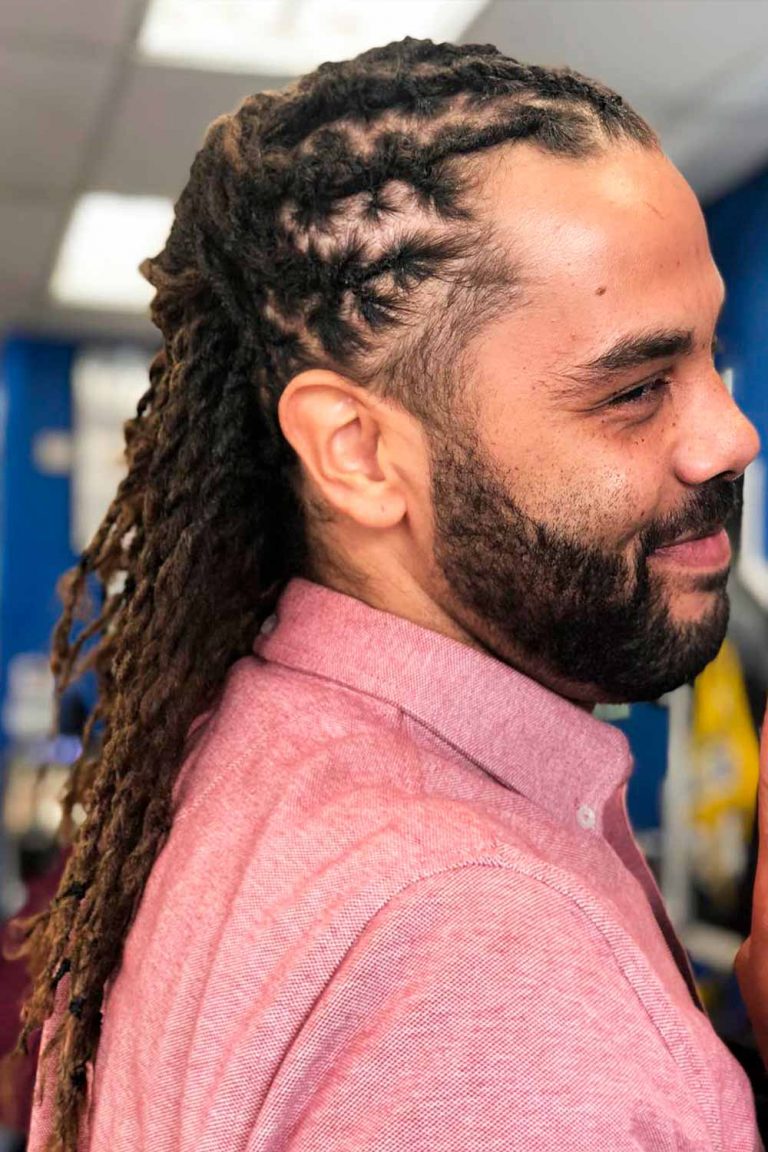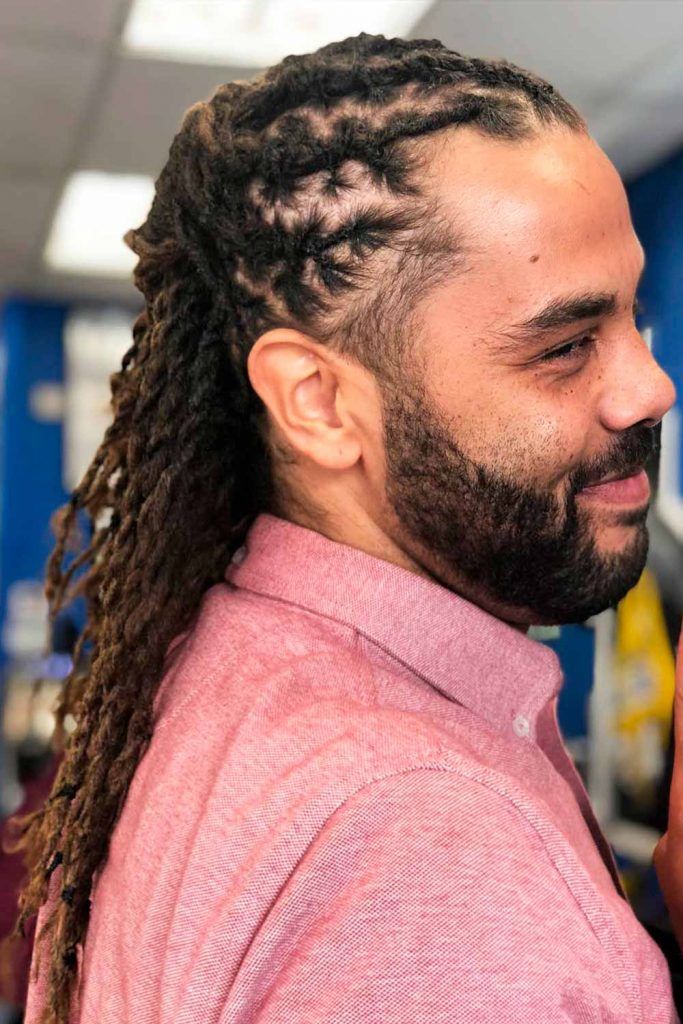 Source: @braidedroots via Instagram
Short 2 Strand Twist Men With Beads
If regular 2 strand twist styles for men do not seem bold enough for you, there are plenty of ways to upgrade the look. For instance, you can embellish your male twist hairstyle with various hair accessories, such as beads. They look especially good on short hair. So, if this description applies to you, then you can never go wrong with a short two strand twists men hairstyle.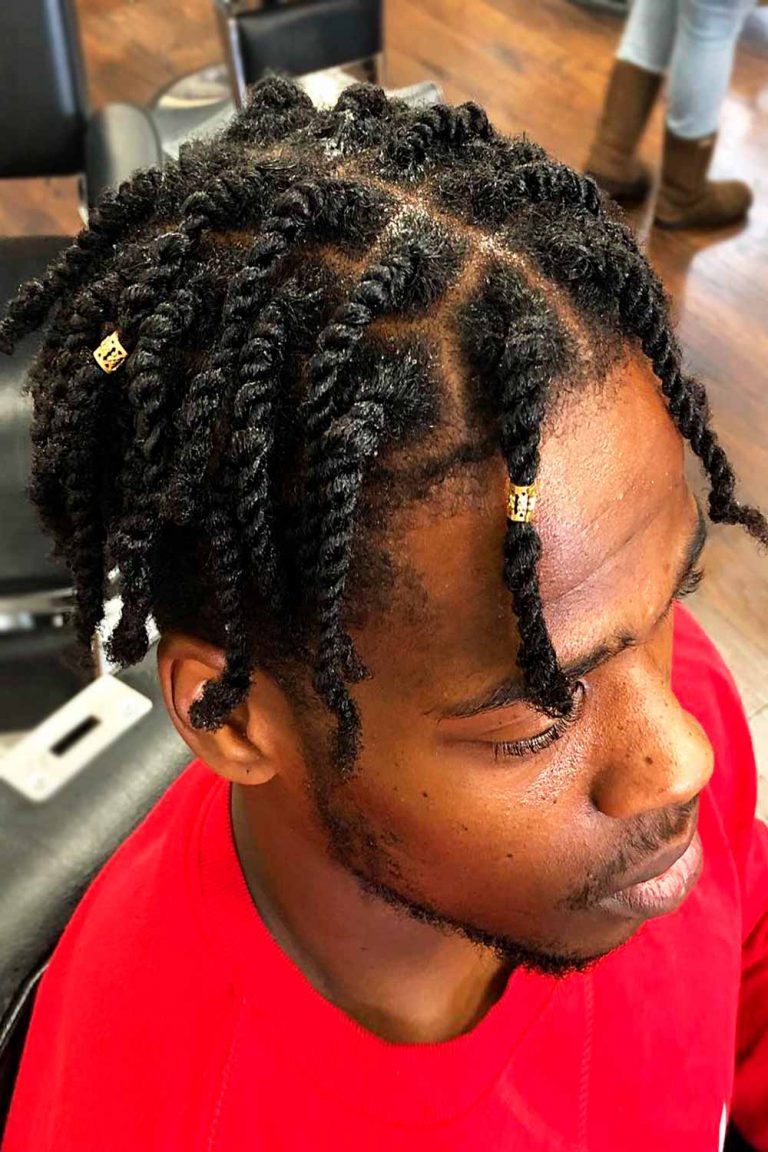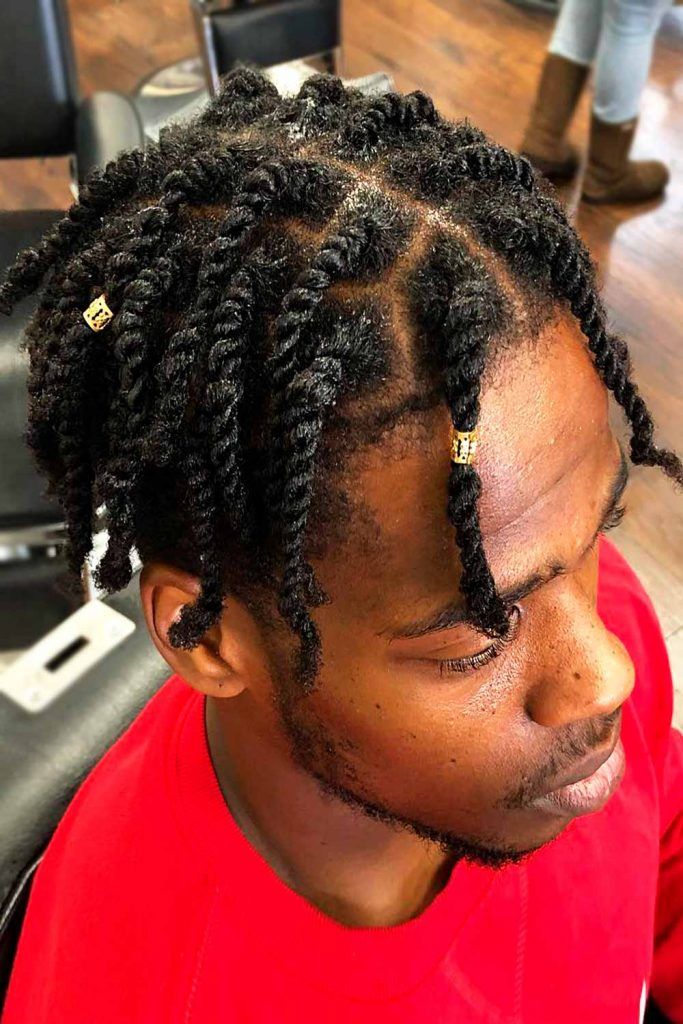 Source: @braidedroots via Instagram
Box & Red & Thick Twist Hairstyles Men
For men who like to be the center of attention, a red thick box men twist hairstyle is a sure bet. While it is not that difficult to achieve, the result exceeds all expectations. Thanks to its unusual appearance, this twist hair men style cannot leave anyone indifferent.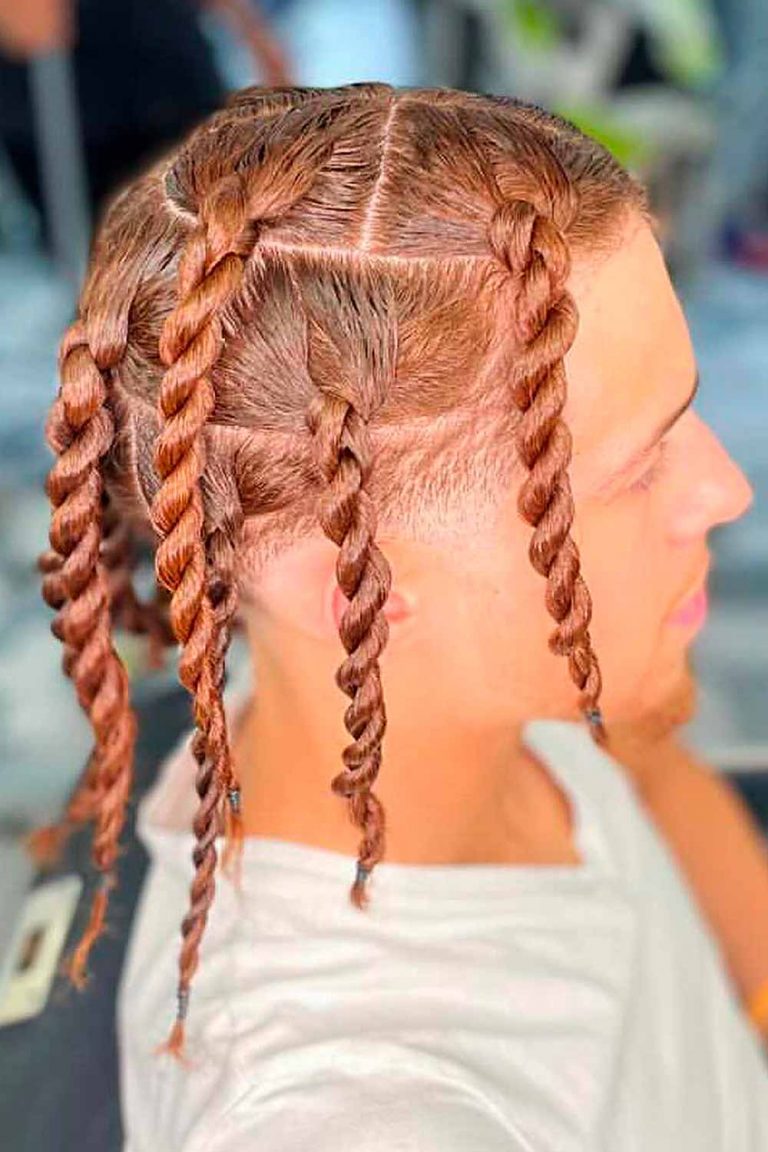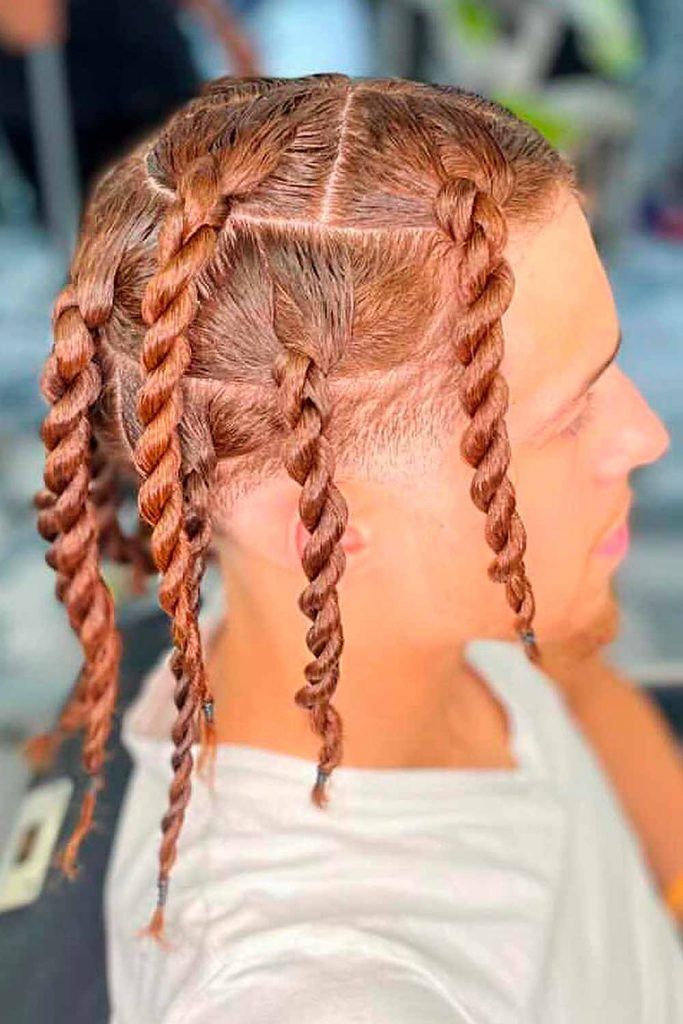 Source: @f4fade via Instagram
Brushed Back Twist Braids Men
If you believe that all Black men's hair twist styles will inevitably get into your way, we are here to prove you wrong. You can style your kinks brushed back so they not only stop bothering you but also open up your face, making your facial features stand out even more.
Source: @ledanieljames via Instagram
i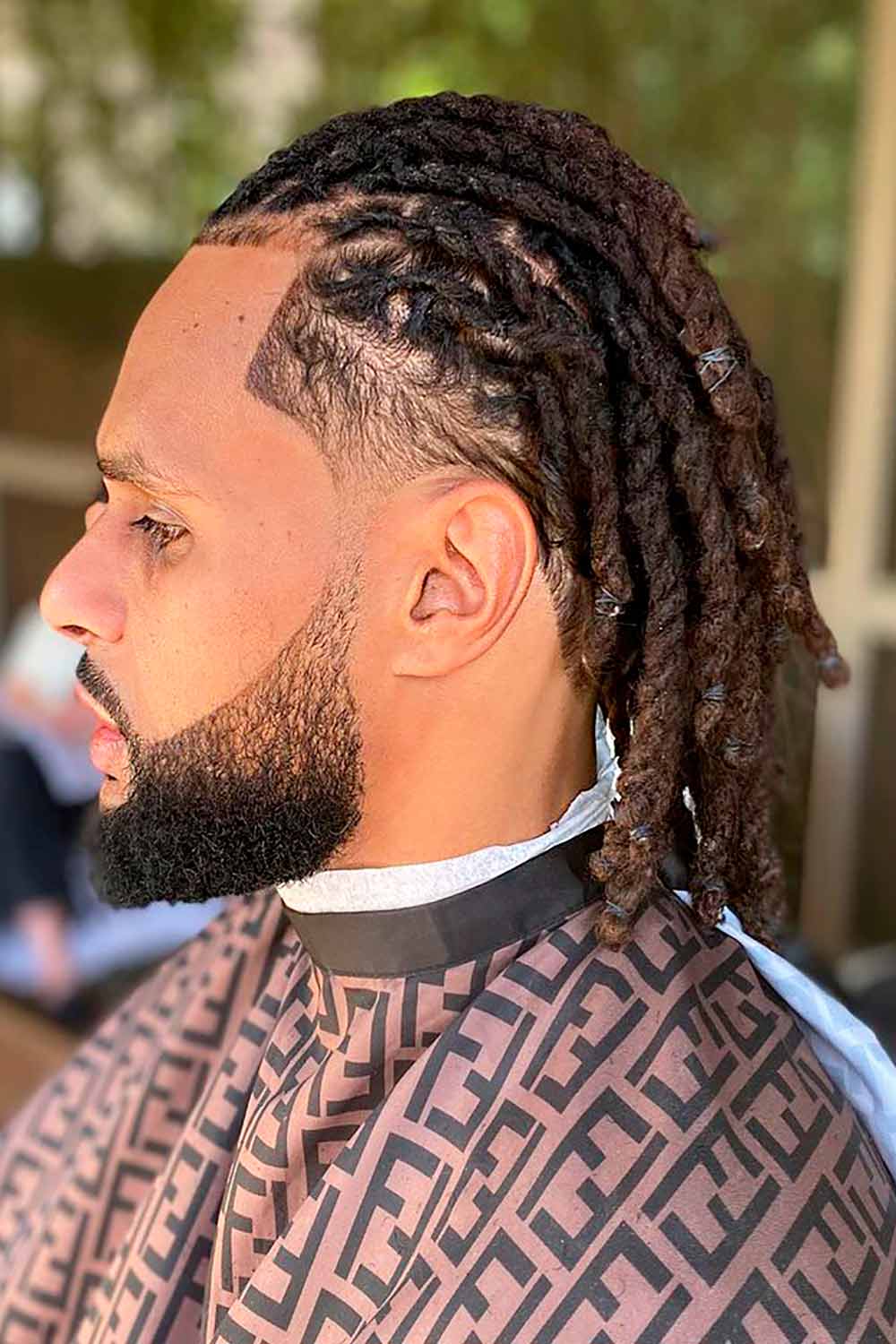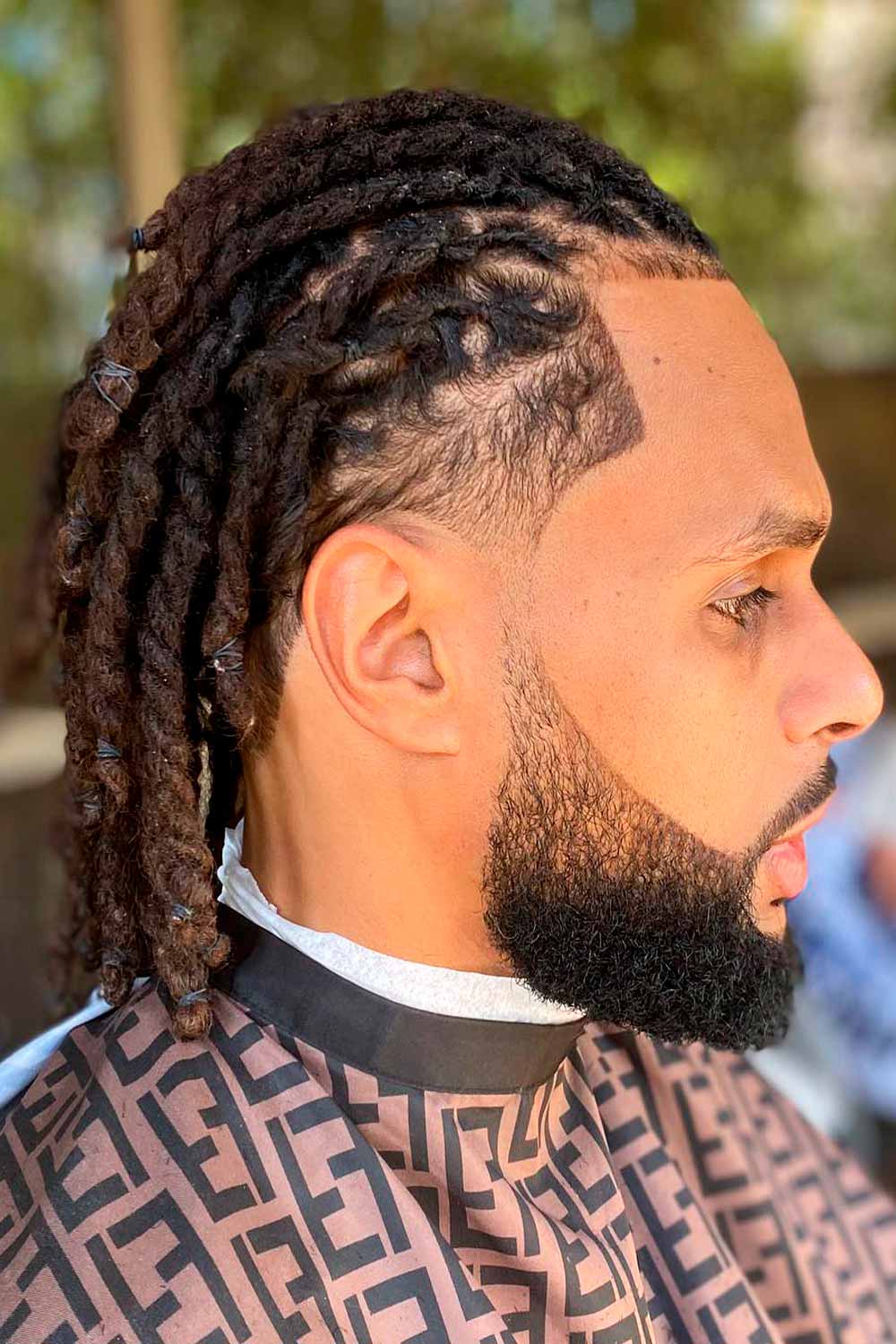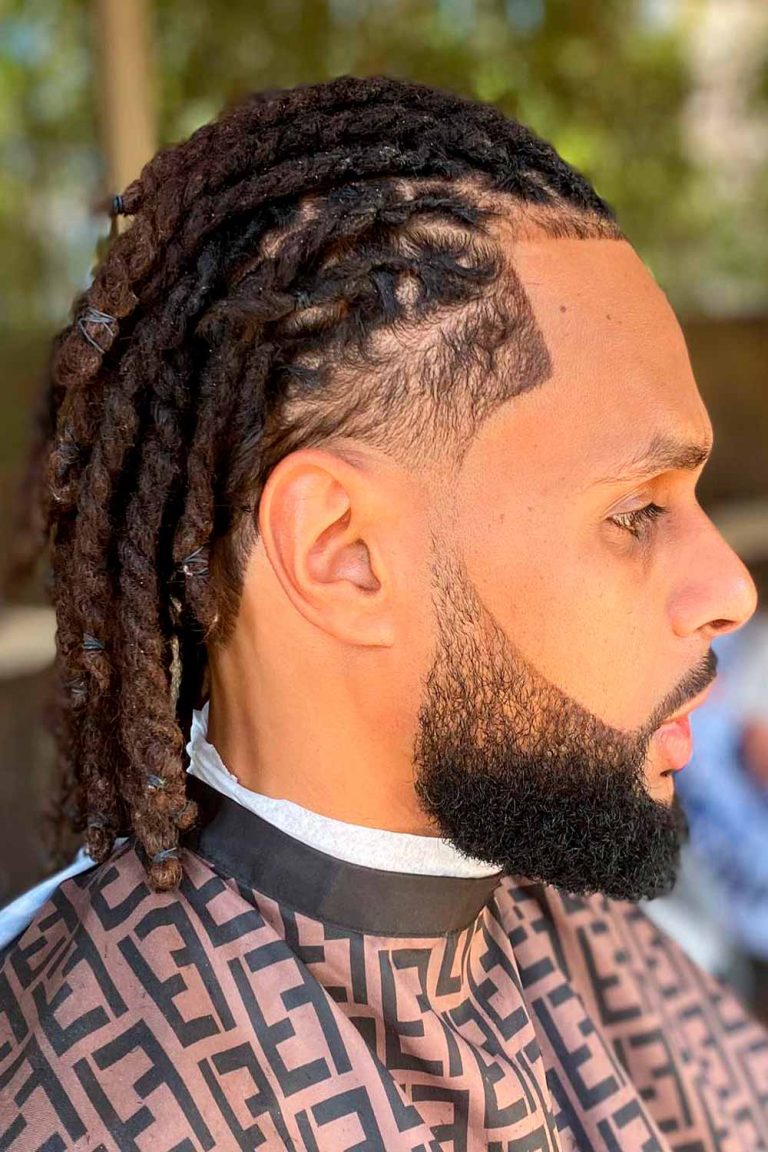 /
Short Boys Twist
To twist boy hair, you should not necessarily grow it very long. Twists work well on short hair too. Moreover, short men twist hairstyles may look appropriate in almost any ambiance, including semi formal or even formal in some cases. Finally, they are quite easy to manage, which is what boys usually look for in a perfect twists hair men style.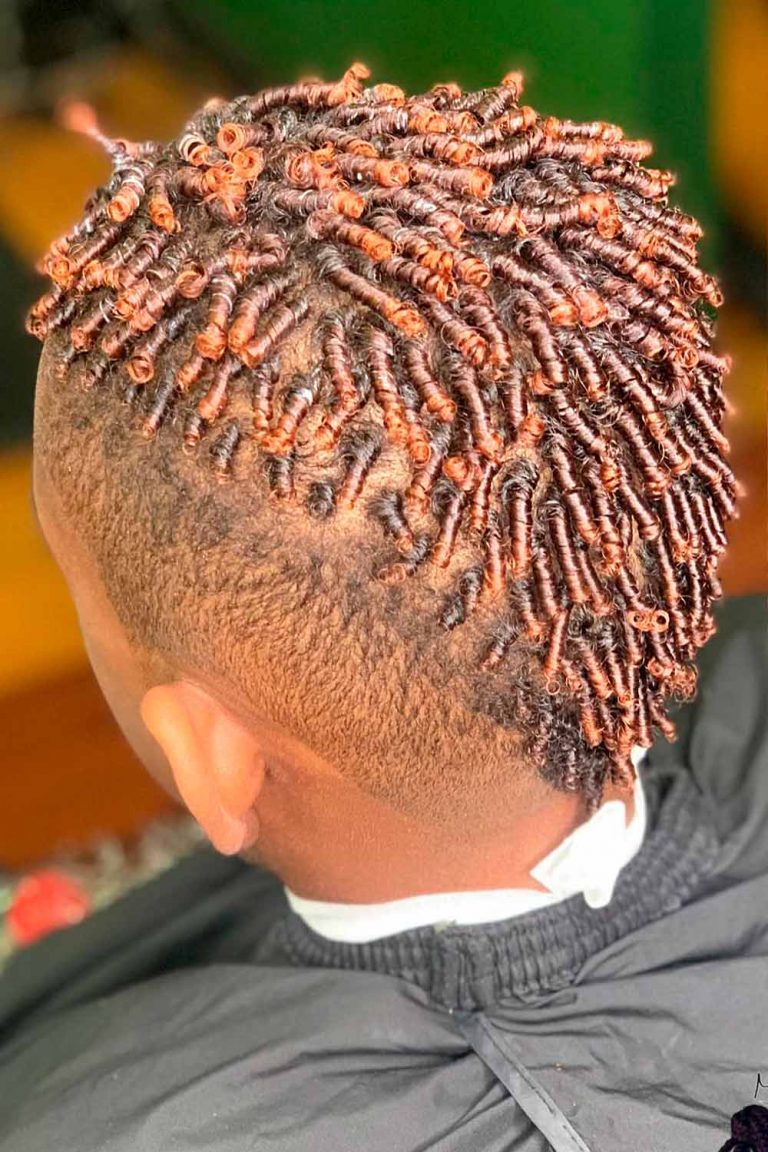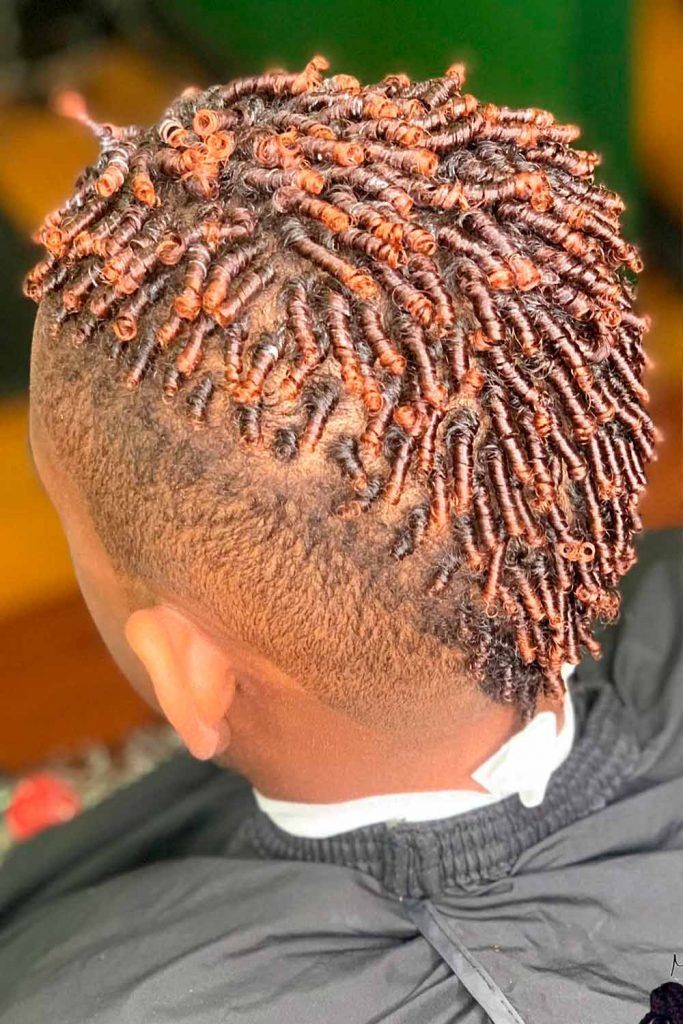 Source: @braidedroots via Instagram
Braided & Twisted
To bring a welcome change to their twist hairstyles men can take different approaches. Yet, arguably, one of the easiest ones is to braid the locks after twisting them. While the hairstyle comes out incredibly intricate and unusual, it will not take you much time to create.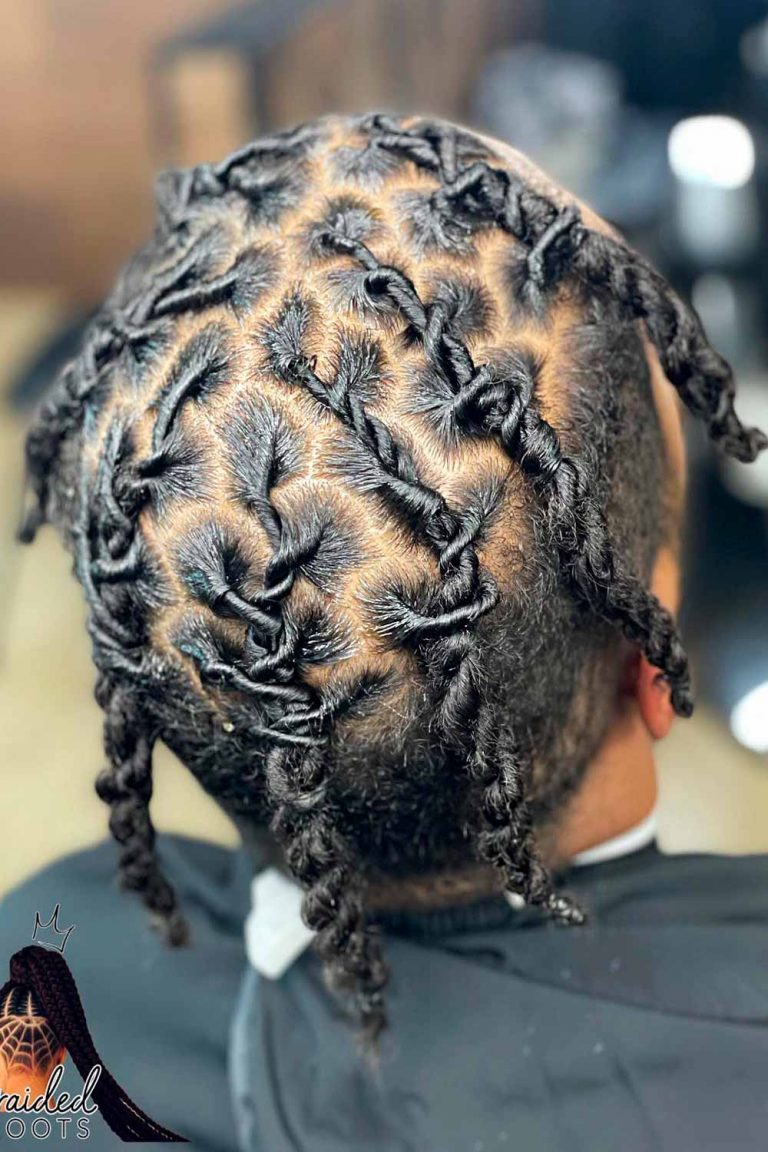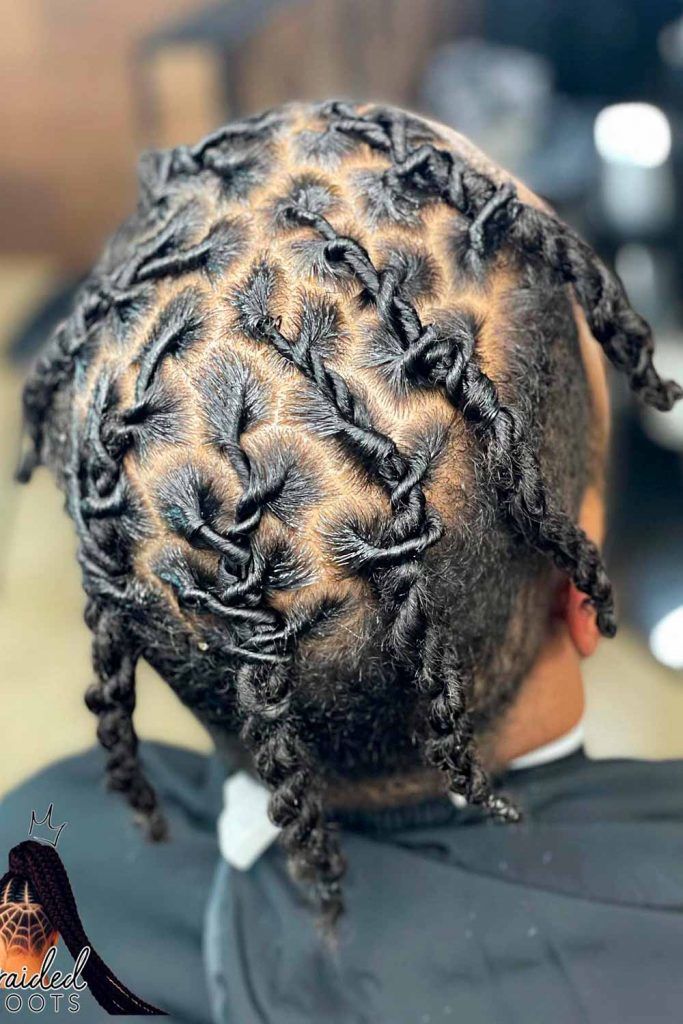 Source: @braidedroots via Instagram
Mens Hair Twist In Ponytail
When it looks like you have already seen all variations of twist hairstyles for men, here comes highlighted twists ponytail. This is actually one of the edgiest Black men's hair twist styles, as highlighted strands make the texture more defined, while the pony gives the look a clean silhouette.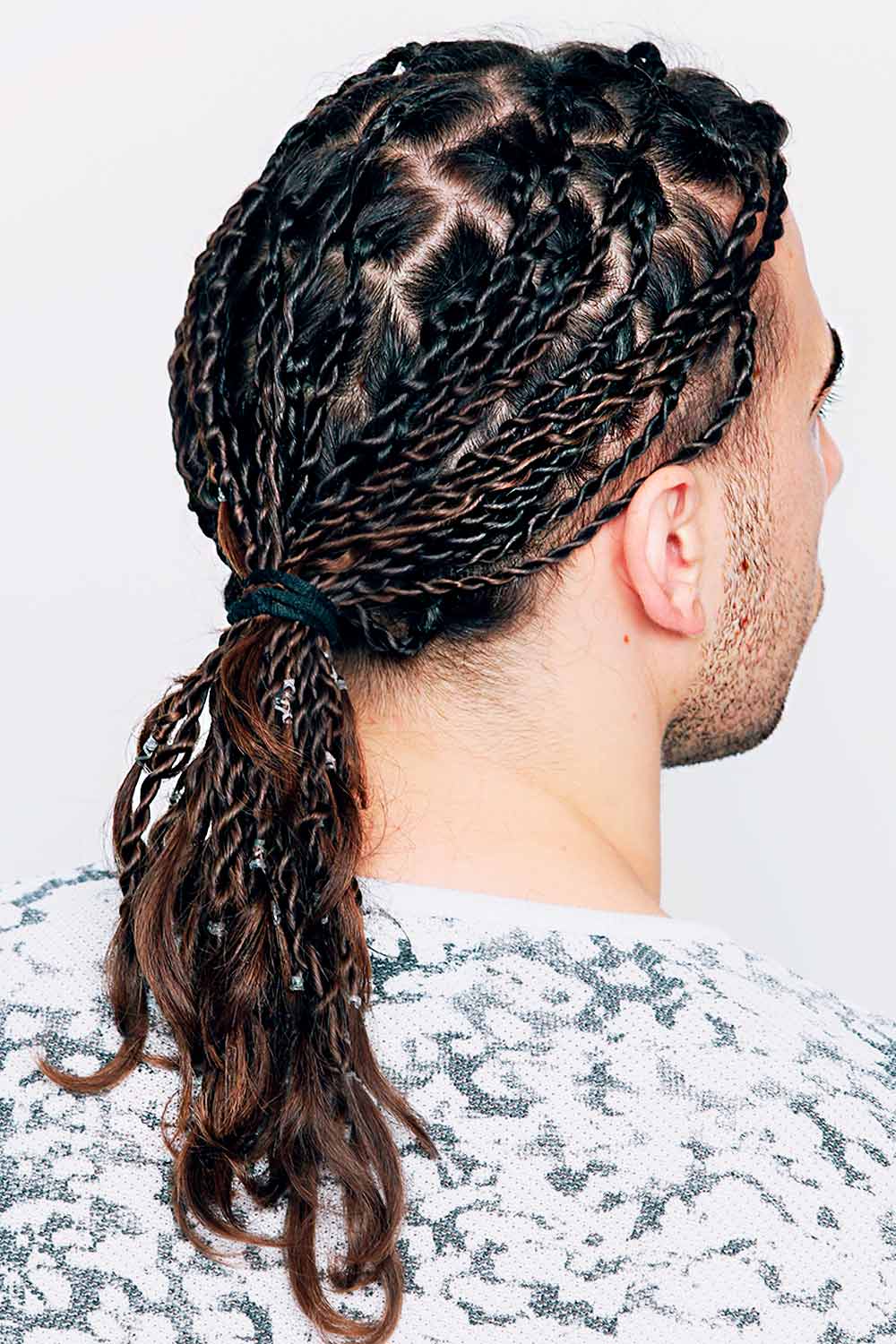 Source: @braidedroots via Instagram
i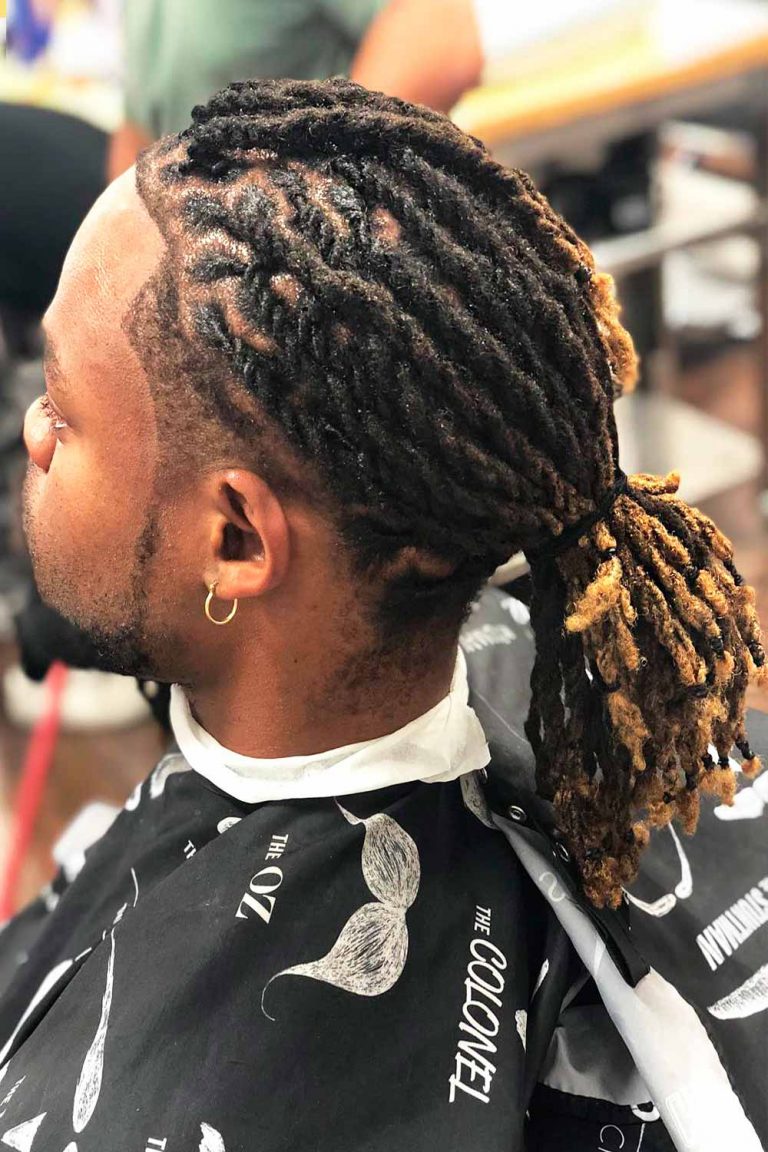 /
Twist Out
While with a twist out men hair does not appear as structured and intense as with other twist hairstyles, it still gives you a cool and trendy look. Besides, twist out styles come out unconditionally awesome on everyone, so feel free to go for it.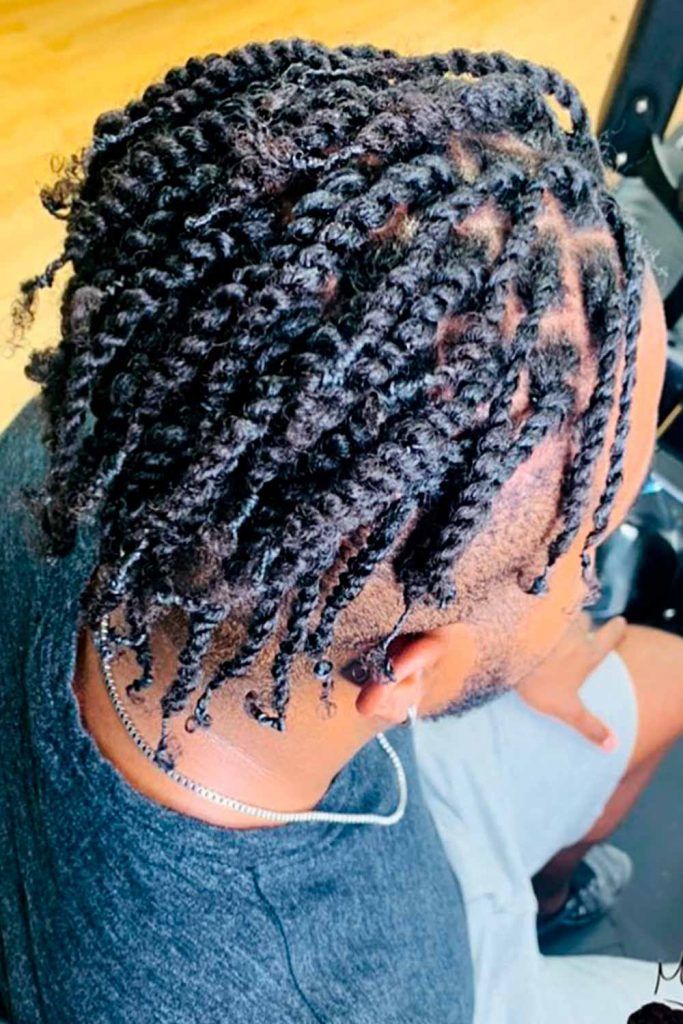 Source: @braidedroots via Instagram
A Step By Step Guide To Twisting Your Hair
Now that you have explored the most sought-after twist hairstyles, it is time to learn how to twist hair. To create a perfect hair twist men should follow the next steps:
Wash your hair and towel dry it so that it is almost dry.
Separate a small portion of hair that is going to be twisted. Optionally, you can apply several drops of hair oil for a touch of sheen to your locks.
Comb the hair through either using your fingers or a comb.
Divide the strand into two equal sections.
Twist each section of hair individually and then twist them around one another.
Secure the ends with an elastic band.
Continue steps 2-6 until there is no loose hair left.

Source: TpindellTV via YouTube
As you can tell, the variety of flat twist hairstyles is quite sheer. Hence, basically anyone can pick out a hairstyle to match their preferences and style. Long flat twists or short, simple or intricate, no matter what style you choose, you can rest assured that your hair will become the talk of the town.
FAQs
What is a twist hairstyle?
Hair twists are a type of hairstyle preferred mainly by men who have Afro hair texture. To create it, you need to twist hair strands separately and then twist them around each other.
What are the different types of twists?
There are many hair twist types out there, such as finger twists, a comb twist, a two strand twist style, a flat twist hair look, a three strand twists hair style, a twist out and many others.
Does twist braids grow hair?
Because twists for men serve as a protective hairstyle, they reduce the negative effect the environment has on your hair as well as keep tangles and knots to a minimum. Thus, your hair is offered better conditions to grow long and healthy.
How long can I wear two strand twists?
With a two strand twist men can forget about styling their locks for the period of time from two to six weeks. Yet, you should not forget to take care of your hair properly so that your 2 strand twist hairstyle looks its absolute best.
REFERENCES: