Men are as obsessed with their hairstyles as ladies are. However, there's a group of people that have invented so many braided hairstyles that it's challenging to list them all. It does not take long to guess that the variety of black braids men have access to these days is more than impressive. In case you are seeking new ways to experiment with black mens braided hairstyles – you have come to the right place. We have gathered here the styles that will hit the tops charts in 2022. Take a peek to get ahead of the others!
Cornrows Black Men Braids
One of the most popular braids men black choose is surely the cornrow. However, when you don't want to braid black men's hair in a classy way, you can set your imagination loose. As you can see, creative patterns of braids for men are welcome in 2022.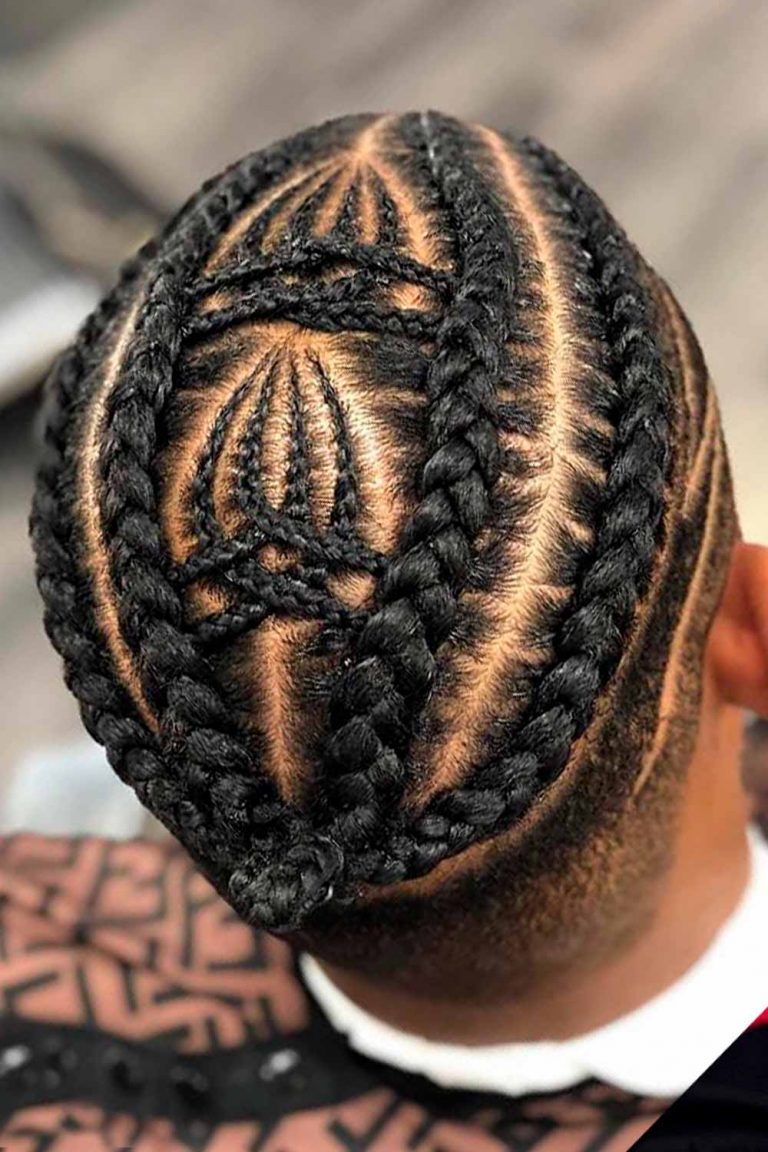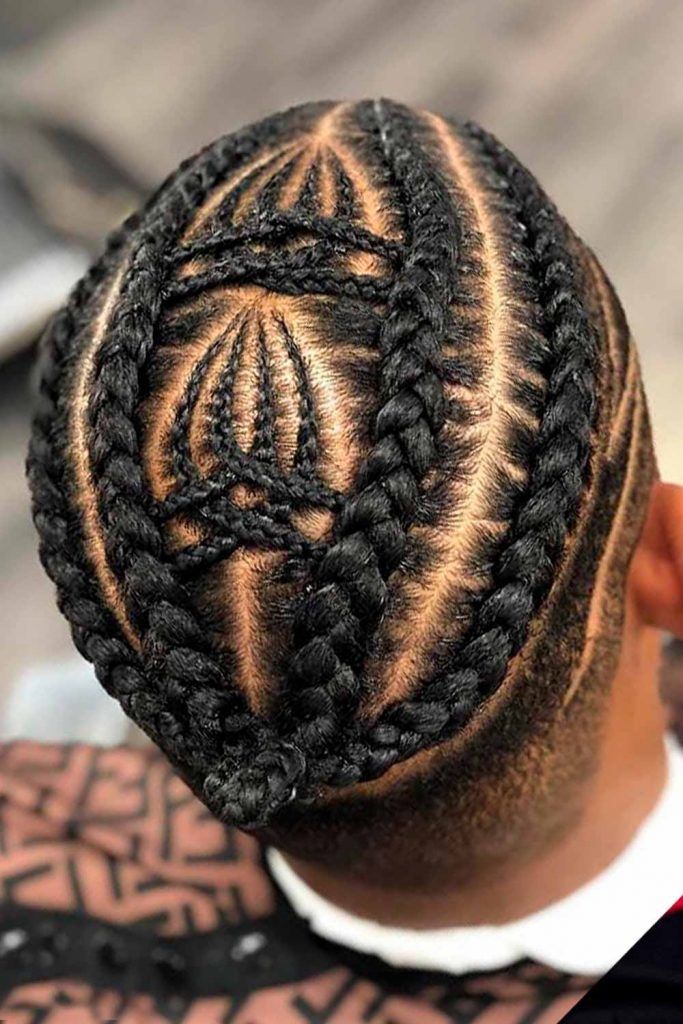 Source: @dynasty_barbers via Instagram
Box Braids + Undercut
Another trending option among black men braid styles is to mix and match. In case you don't want your box braids to get in the way during your daily activities, a stylish undercut will help you keep them under control. Besides, the combo seems to be an edgy and daring one.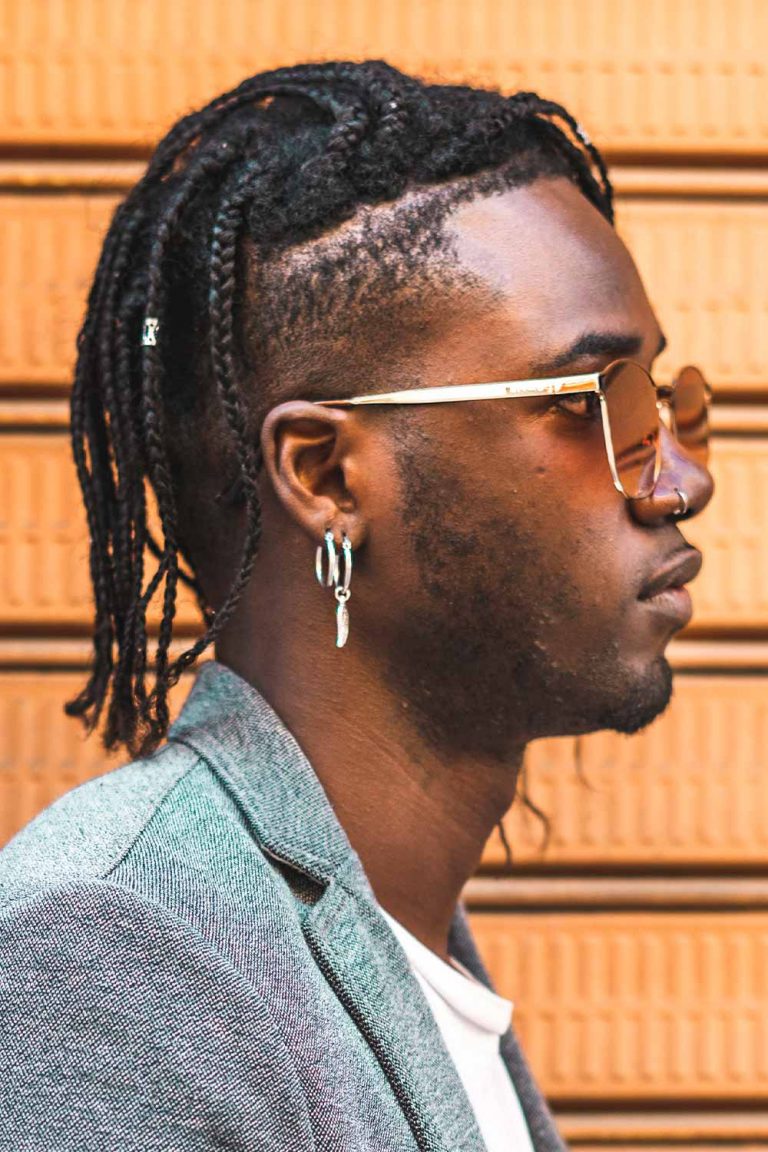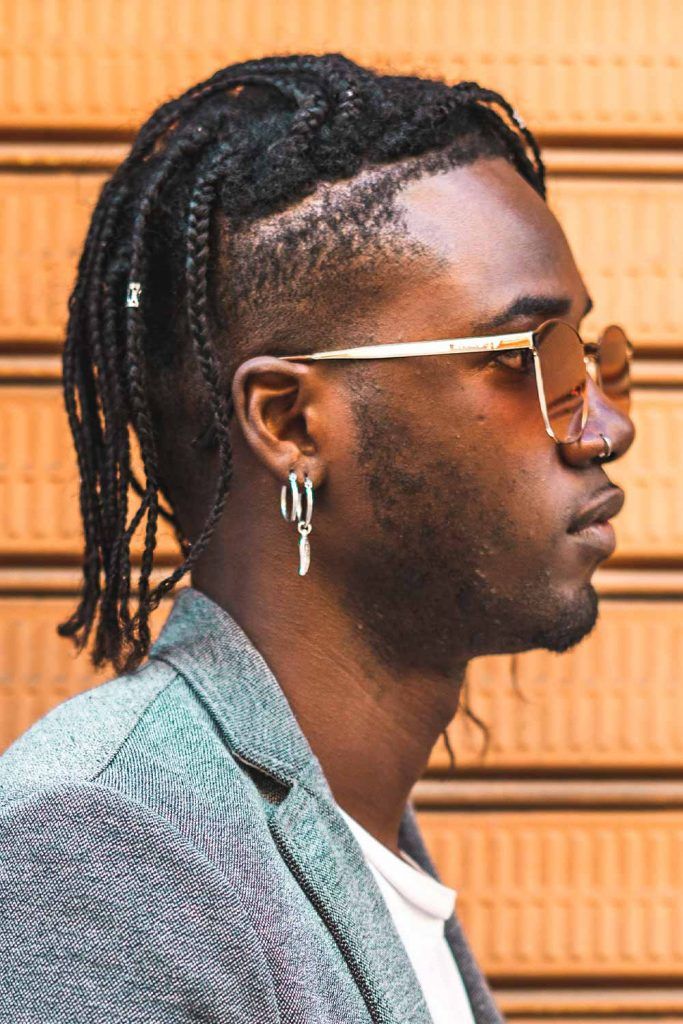 Man Bun Braids
When you decide to experiment with black braids for men, you should realize that there are no limits to be afraid of. The fact is that you can easily play around with other popular styles such as man bun braids and come up with yet another creative representation of your persona.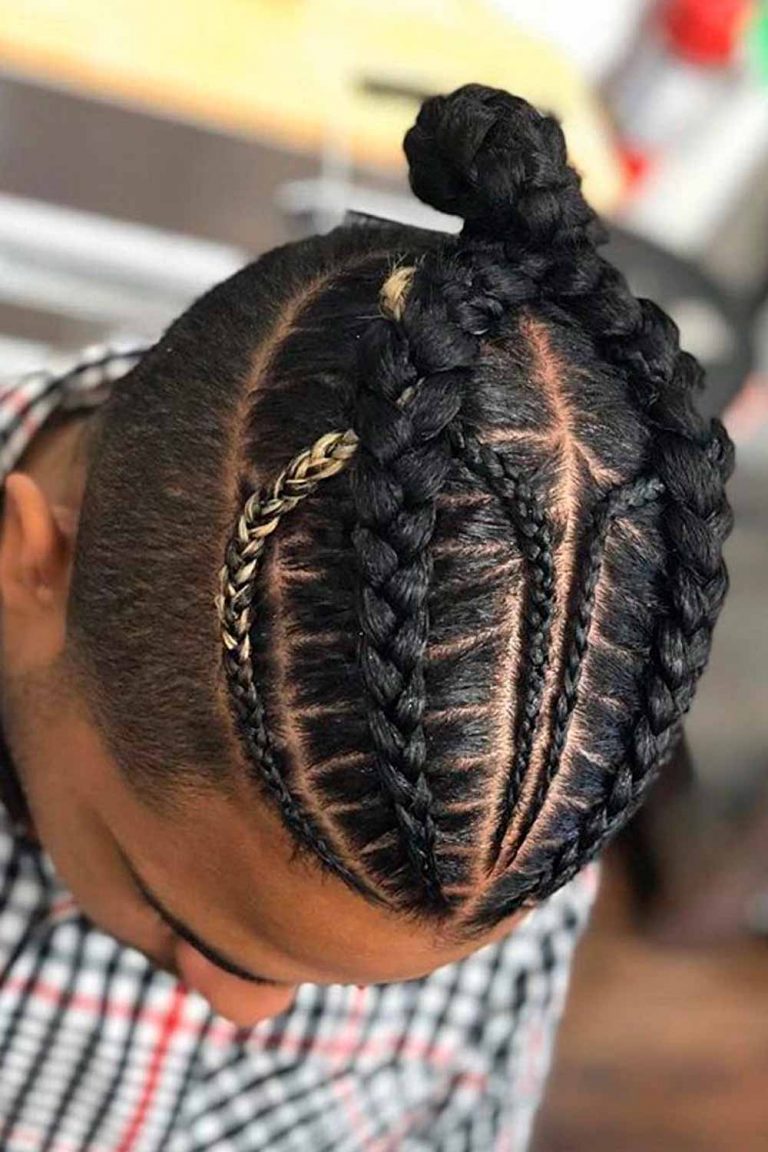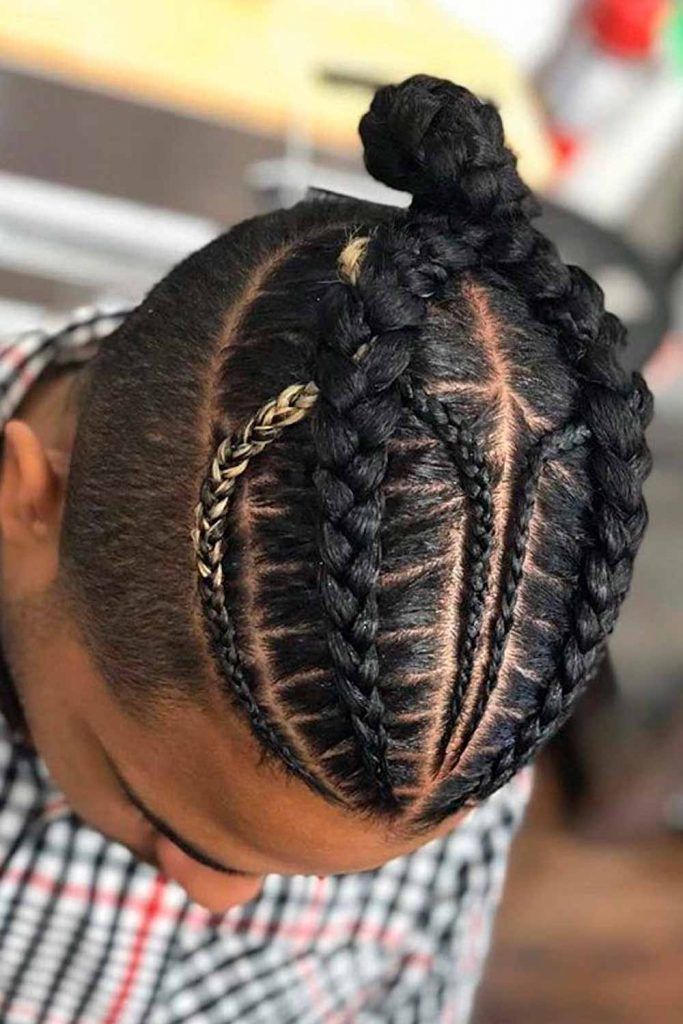 Source: @braidedroots via Instagram
Two Strand Twist
The versatility of black men's hair braid styles deserves the recognition it receives. The truth is, when a classy braid is a bit too dull for you, you can always step up a notch and introduce fancy two-strand twists into the look.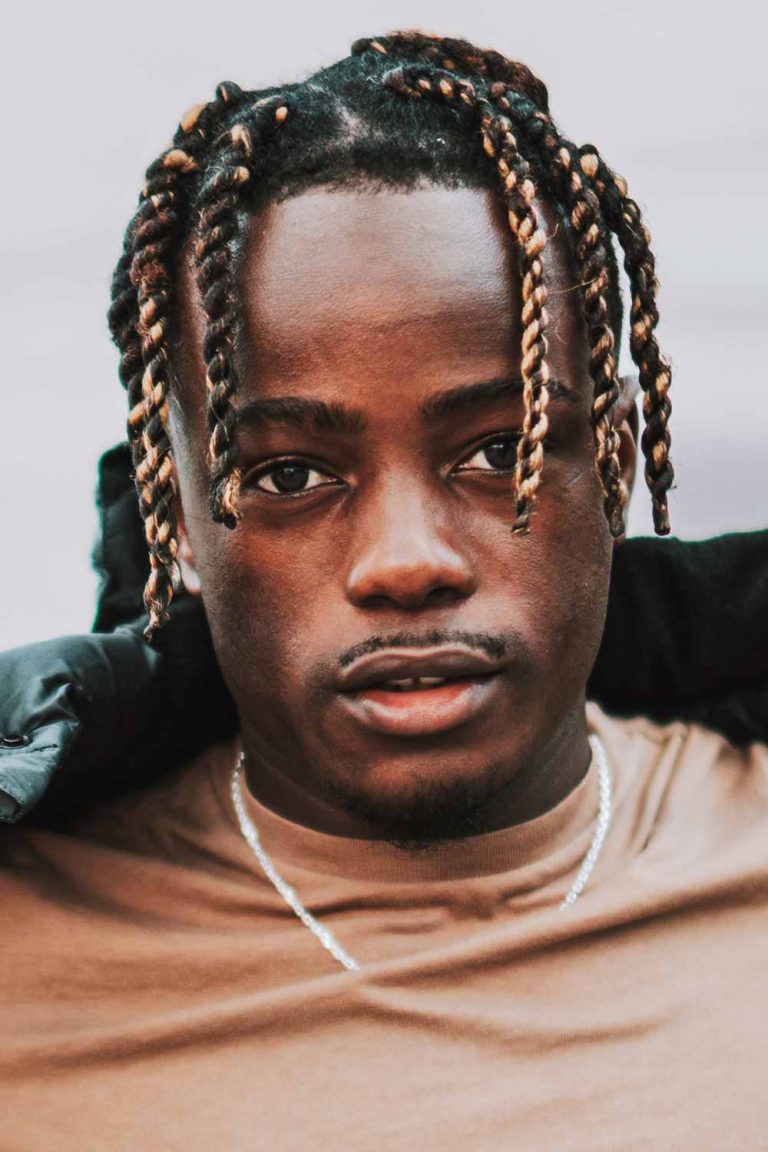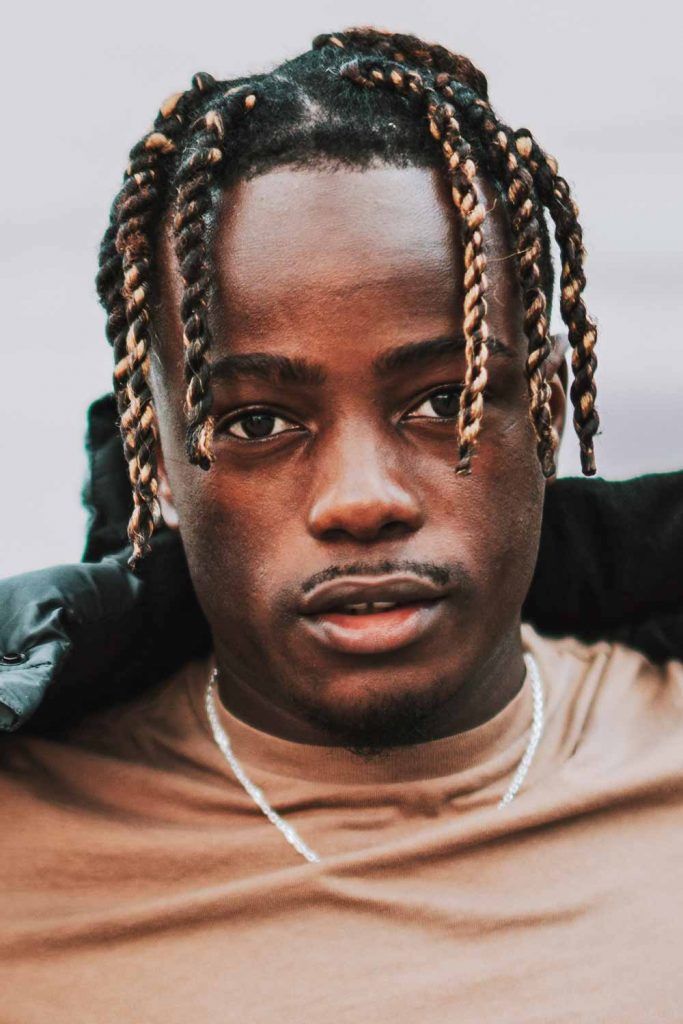 Artistic Beaded Corn Row
The notion of black male braids hairstyles 2022 is gaining tremendous popularity due to the skilled and creative approach most hairstylists offer. For instance, the stylist can spice the look up with trendy beads when a patterned cornrow isn't enough for you. An artistic hairstyle is what you get as an impressive result.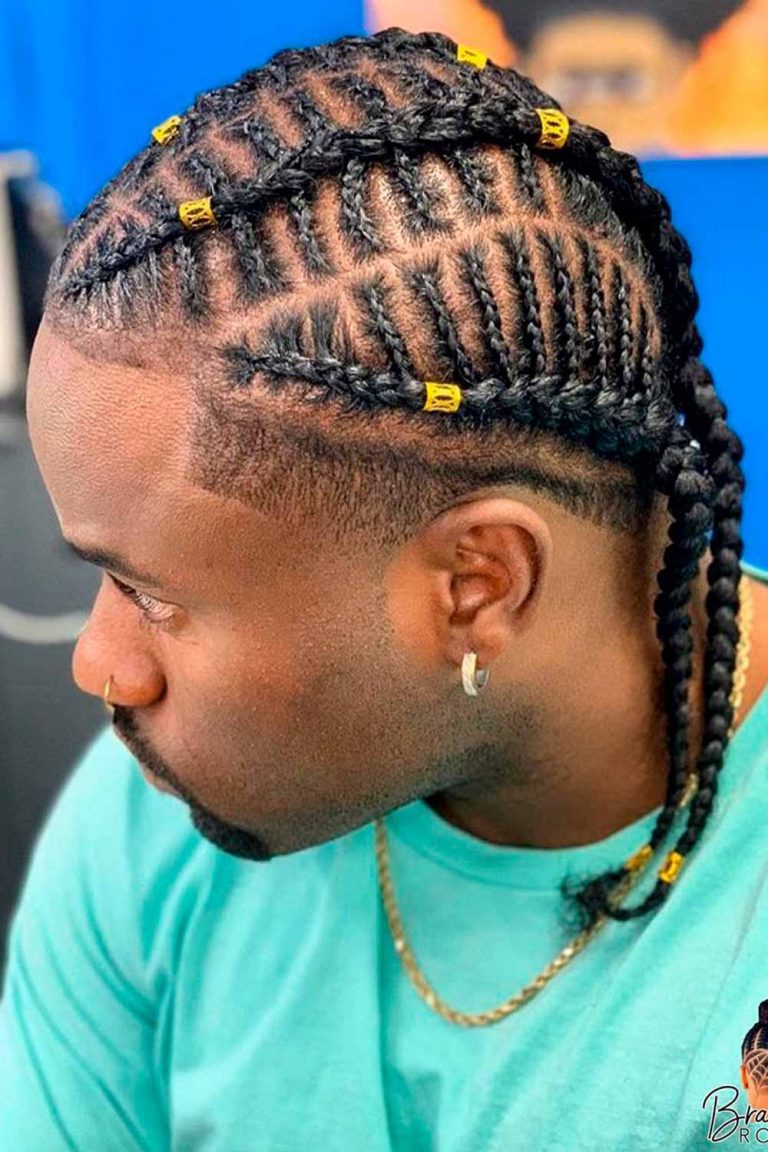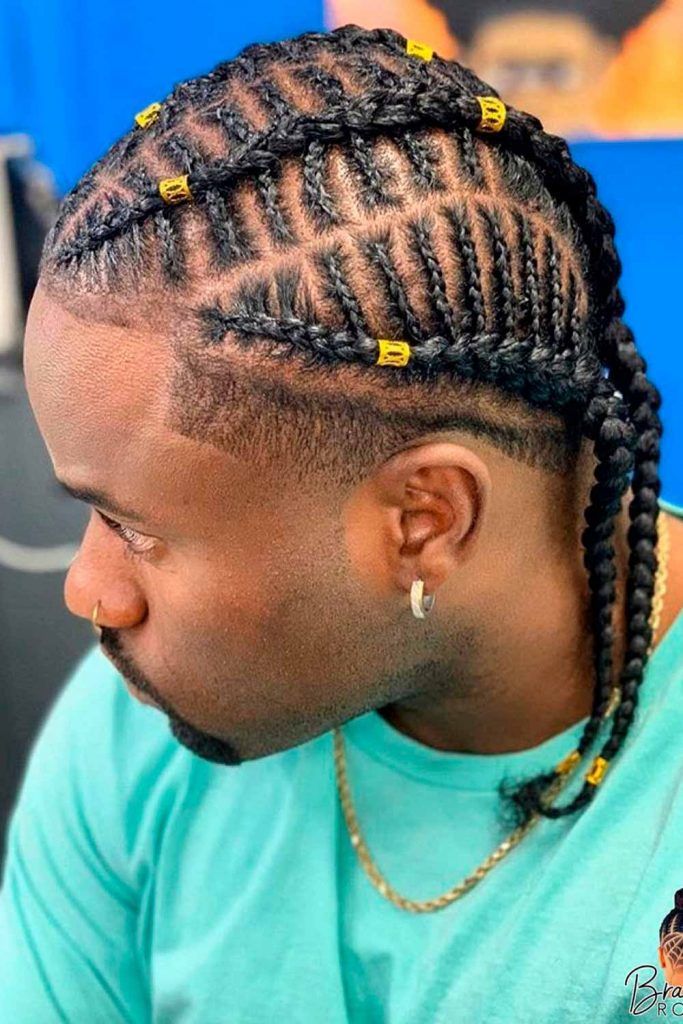 Source: @braidedroots via Instagram
Pop Smoke Braids
Pop Smoke braids are extremely popular among Black men and for a good reason. This neat hairstyle is quite easy to create, yet it makes a very strong fashion statement. What is more, it lasts for around two months, which is quite an impressive lifespan for a protective hairstyle.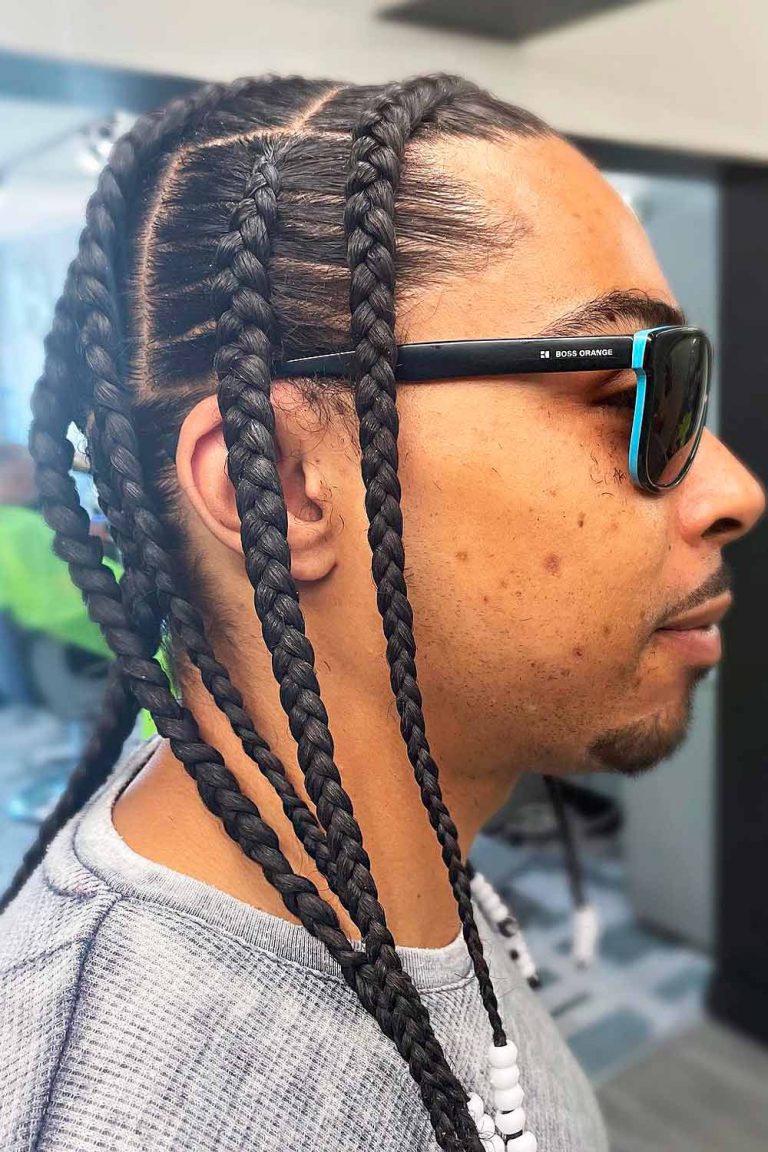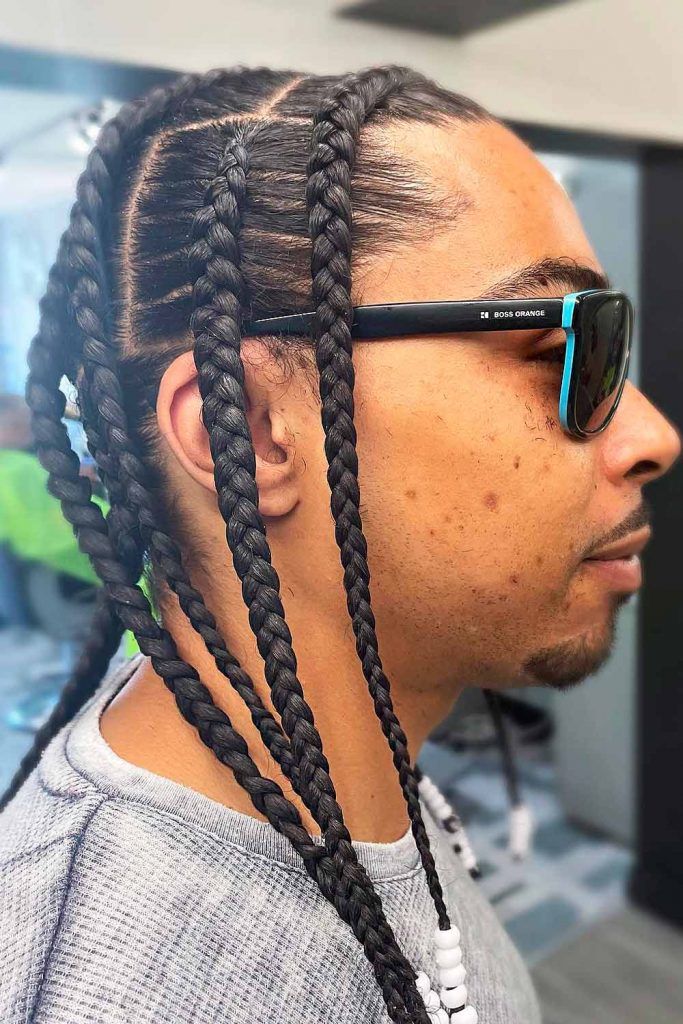 Source: @f4fade via Instagram
Clean Braiding
Not all the black male braids hairstyles are overly complex and time-consuming to attend to. You can opt for clean barding and adorn the final look with a popular fade. Besides, in case you sport longer tresses, you can always upgrade the style with a pony or man bun, let alone the top knot.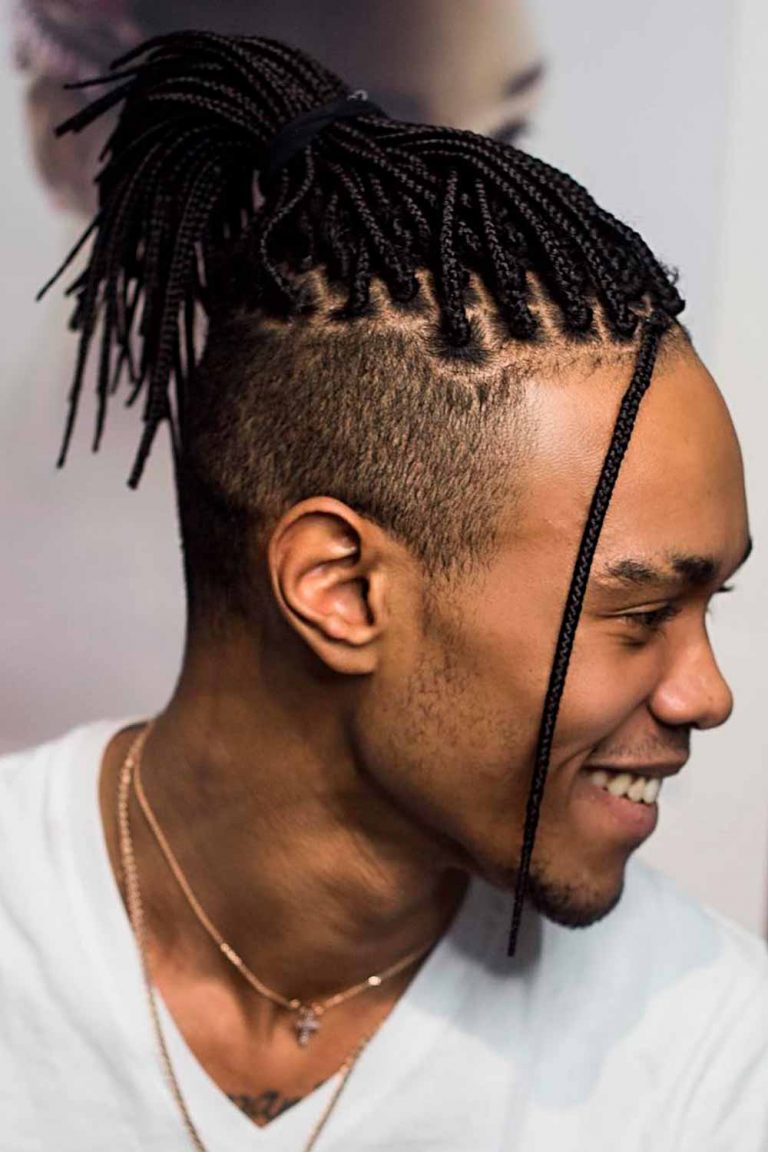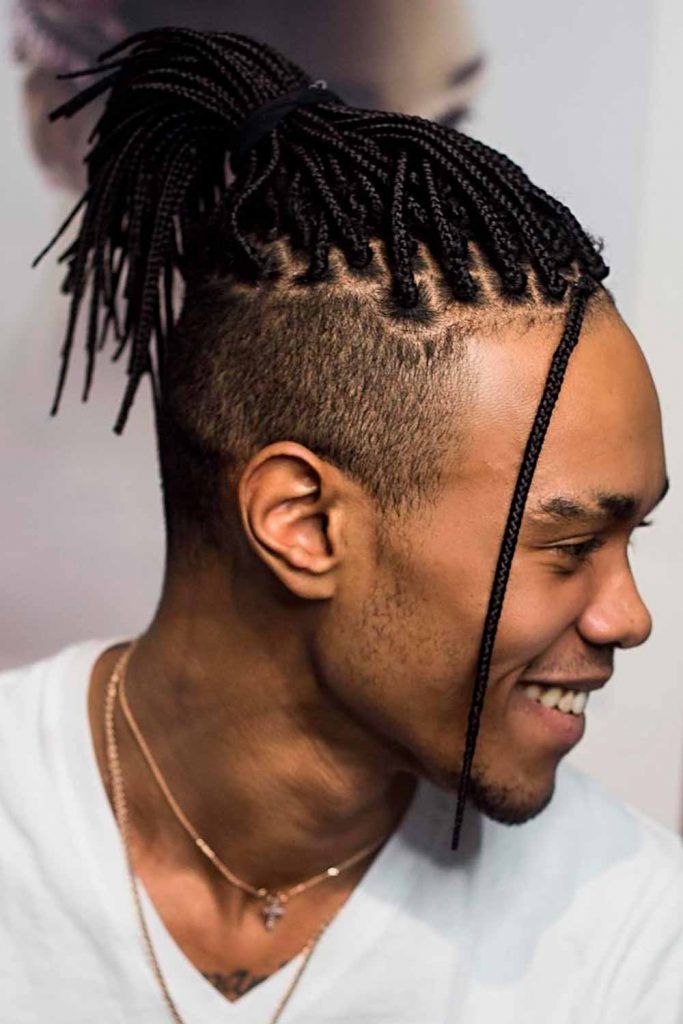 Source: @braidsvolna via Instagram
Spider Braids
The magical power of black men braids is that they can represent your inner qualities through the styling pattern. Should you feel as cautious and patient as a spider, a spider braid is an aisle to go down by.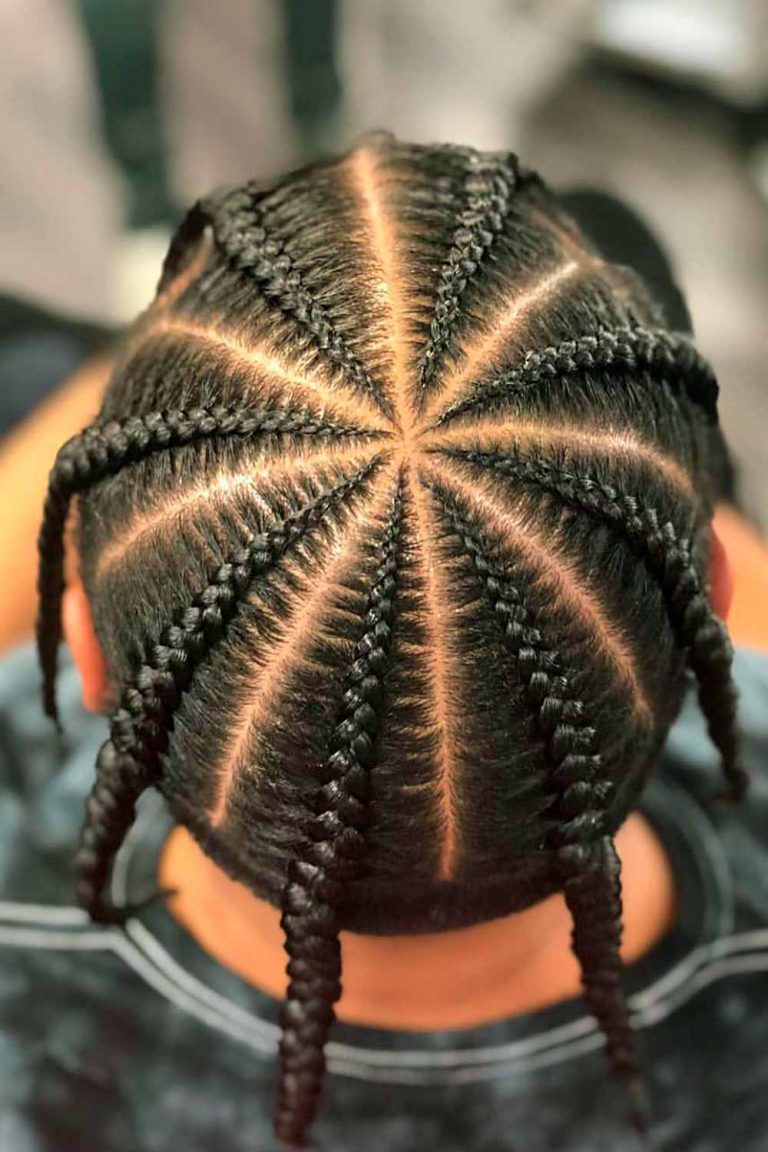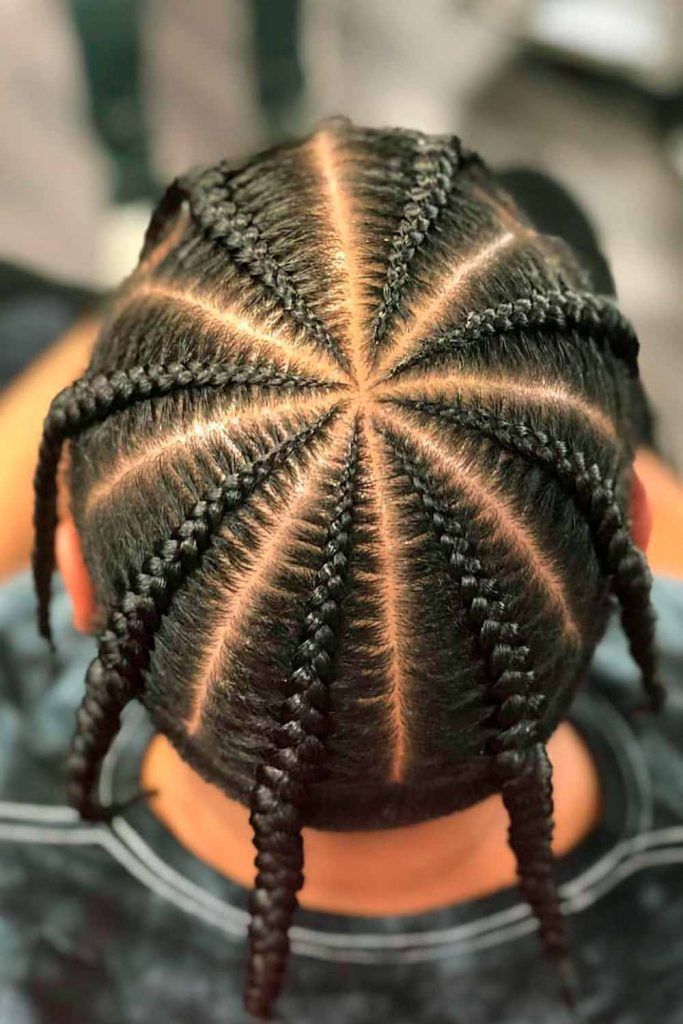 Source: @dynasty_barbers via Instagram
Spider Inspired Man Bun Braids
Should the spiderweb feel like not enough when you think about getting black male braids, you can always go for the spider replica. It does not take a lot of time to get the desired result, yet the outcome ranges as one of the best black mens braids hairstyles.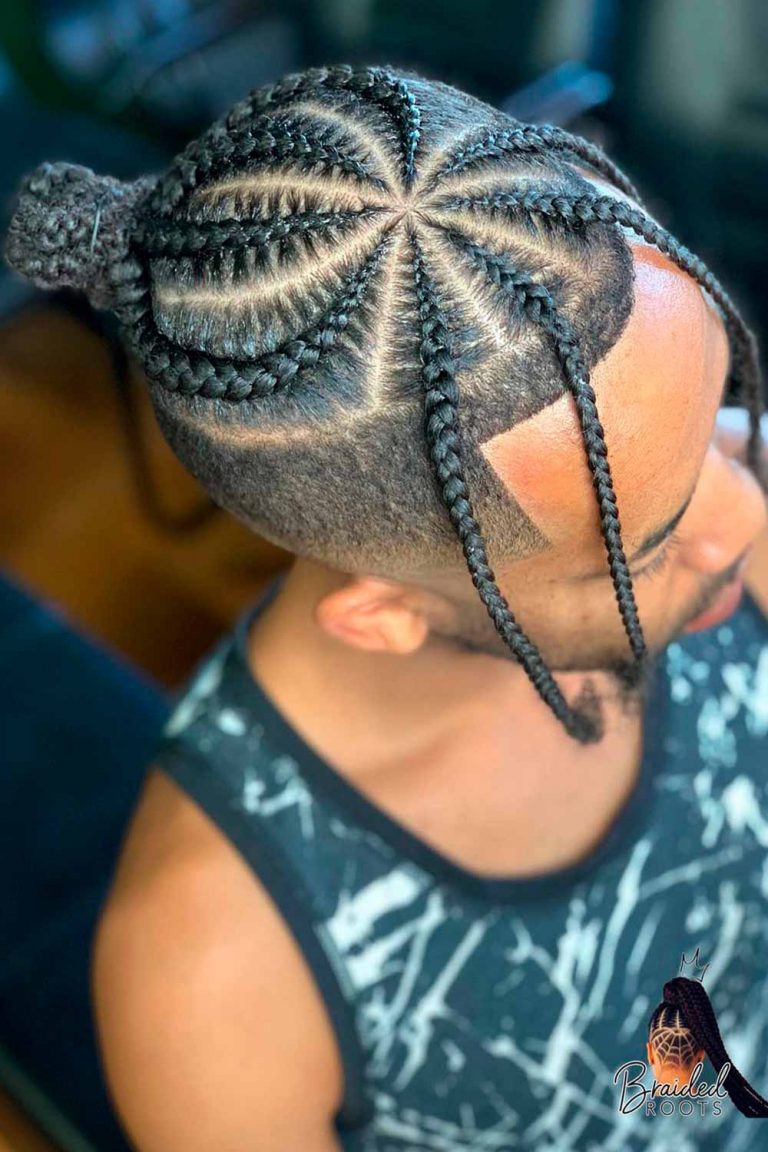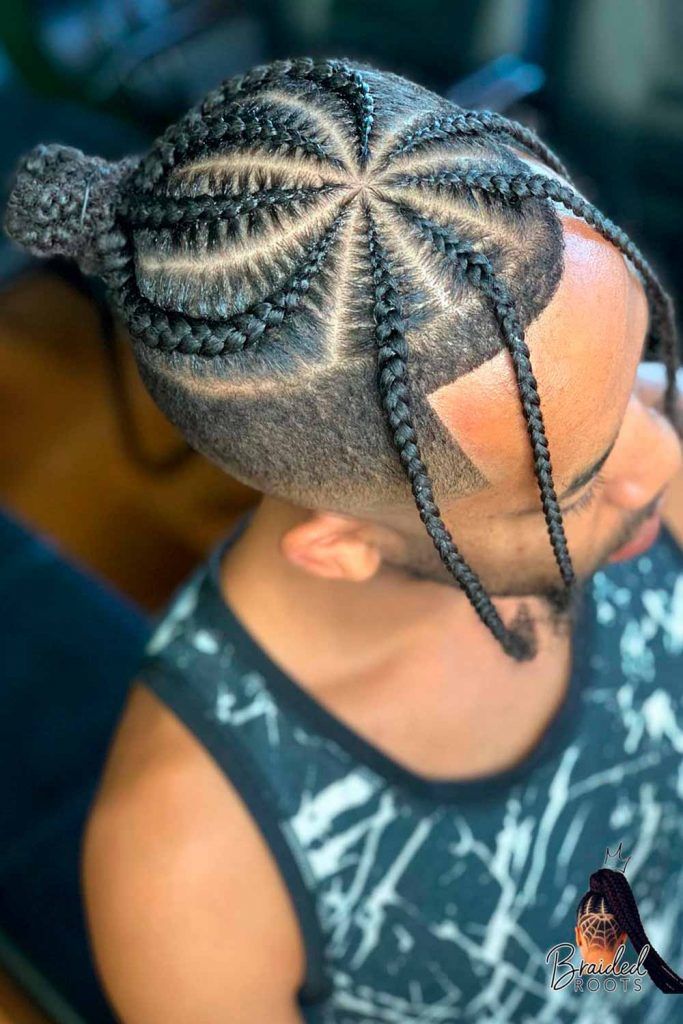 Source: @braidedroots via Instagram
Beads + Braided Design For A Black Men
It is much easier to experiment with braids for black men if you grow out the mane a little. Gents with mid-length hair can easily use the power of patterned designs to their benefit. What is more, you can always decorate the braids with stylish beads that will reflect your style and personality ultimately.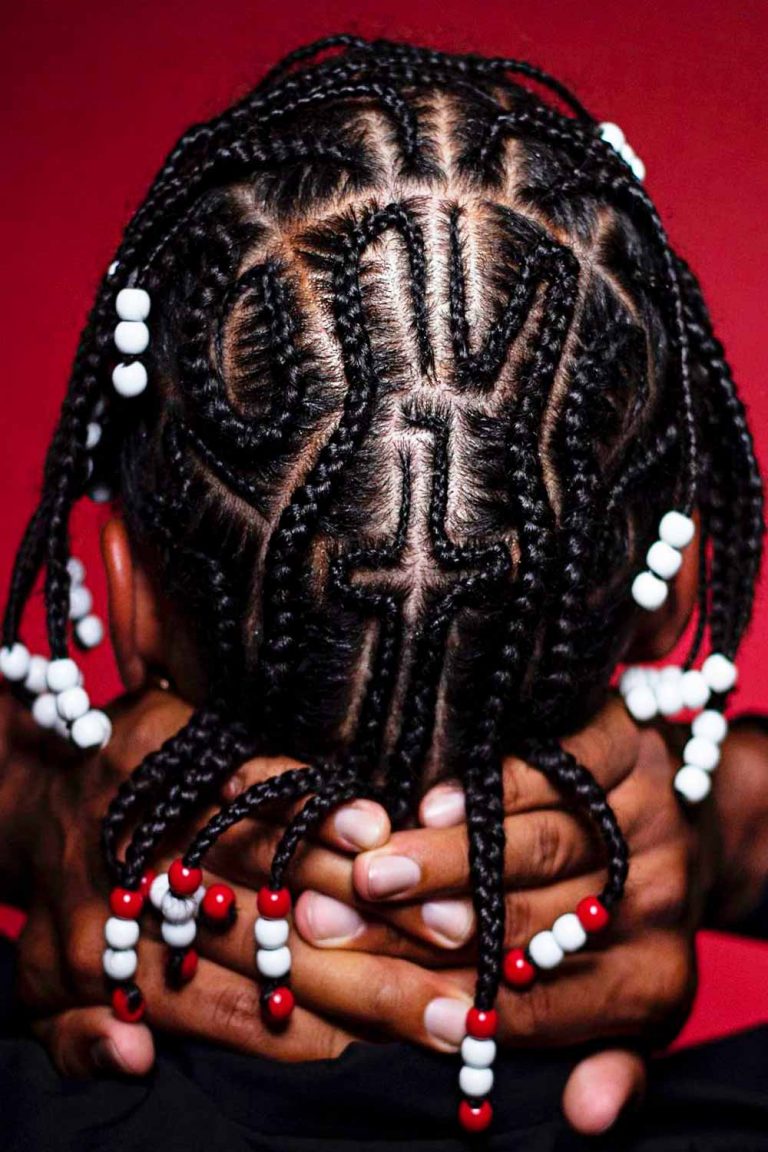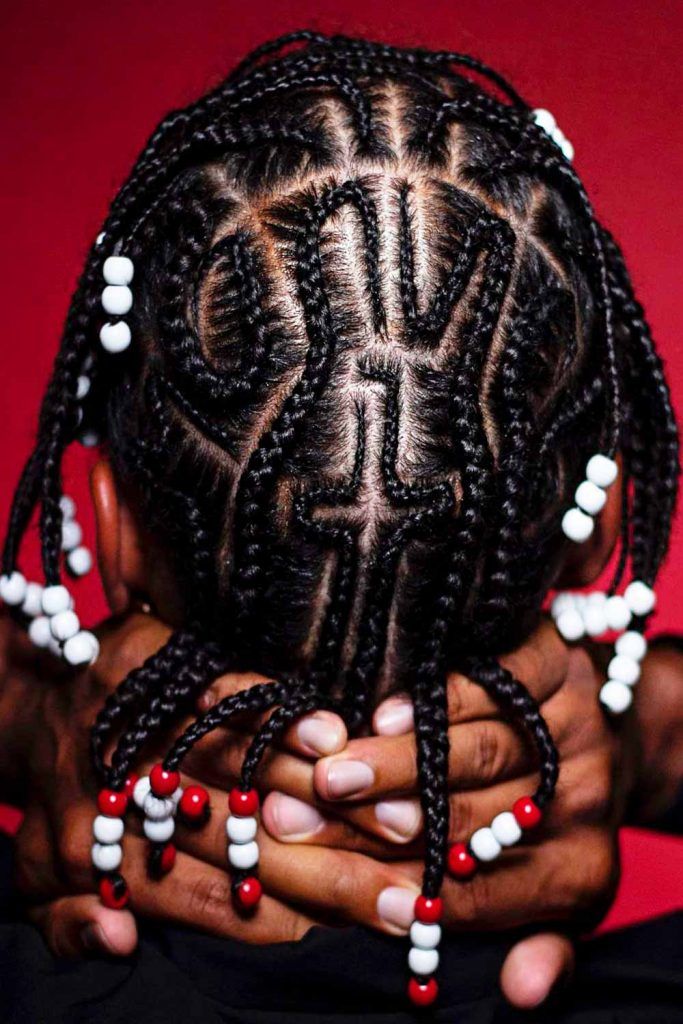 Source: @braidsvolna via Instagram
Inside Out Perfection
Most black male hairstyles braids are created to attract attention. However, you can always choose a more low-key alternative with no decrease in style. These sleek double cornrows are a definitive proof to the point.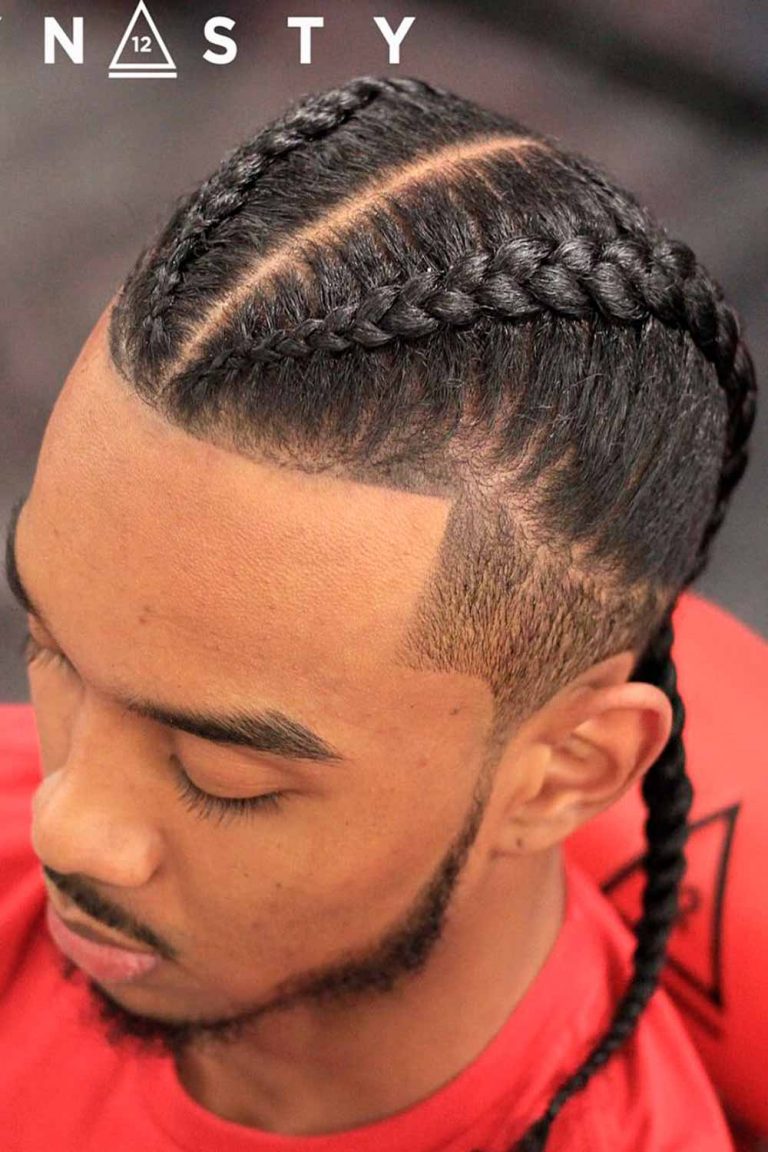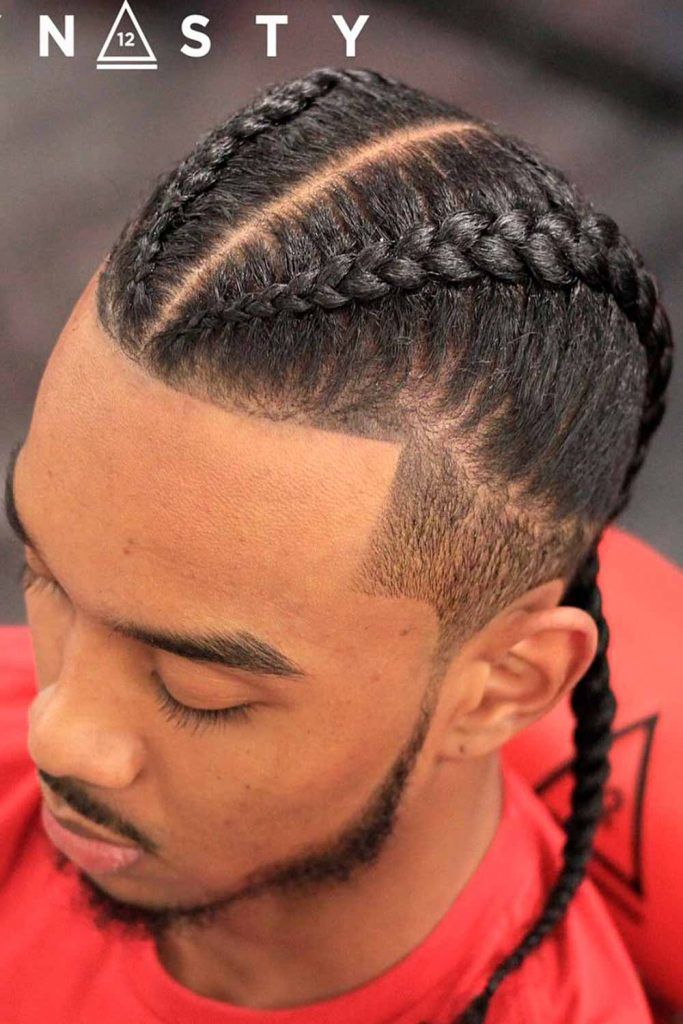 Source: @dynasty_barbers via Instagram
Fish Braids
Those of you who don't appreciate men braids with beads may falsely assume that there are no other routes to explore. The reality is different and presents multiple options to evaluate. For instance, elegant fish braids created out of tight twists are a new way to represent your uniqueness and sense of style.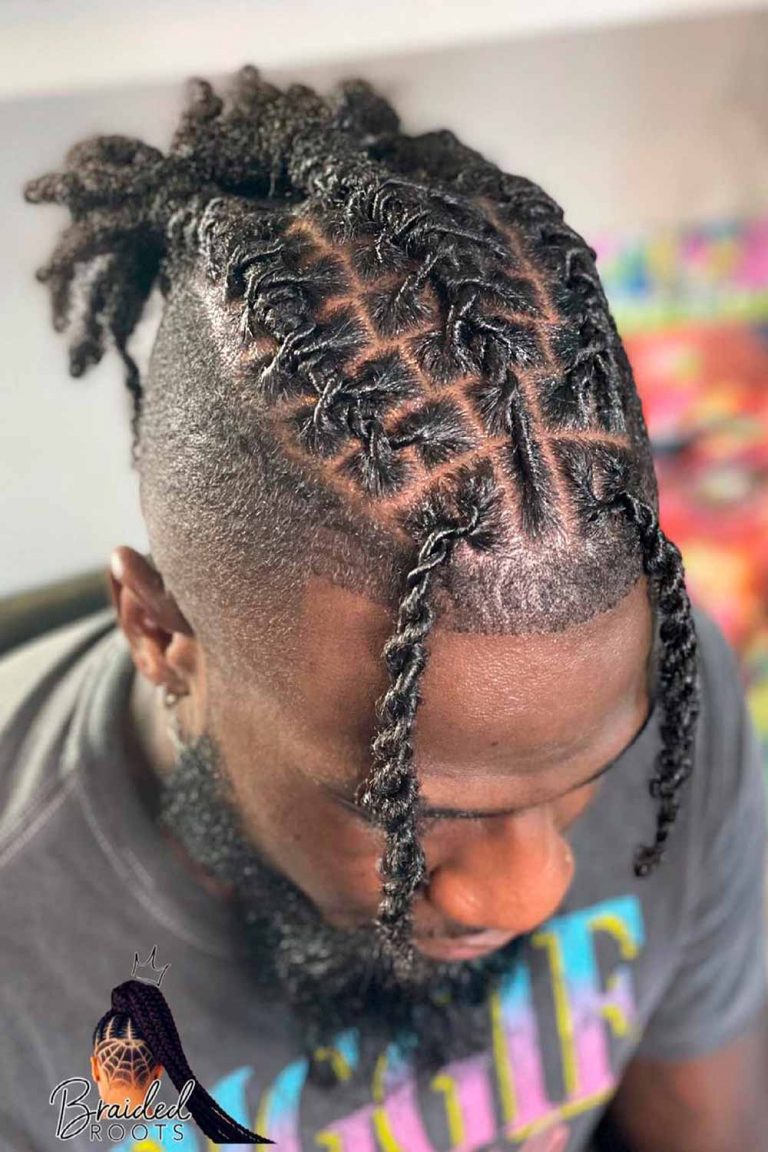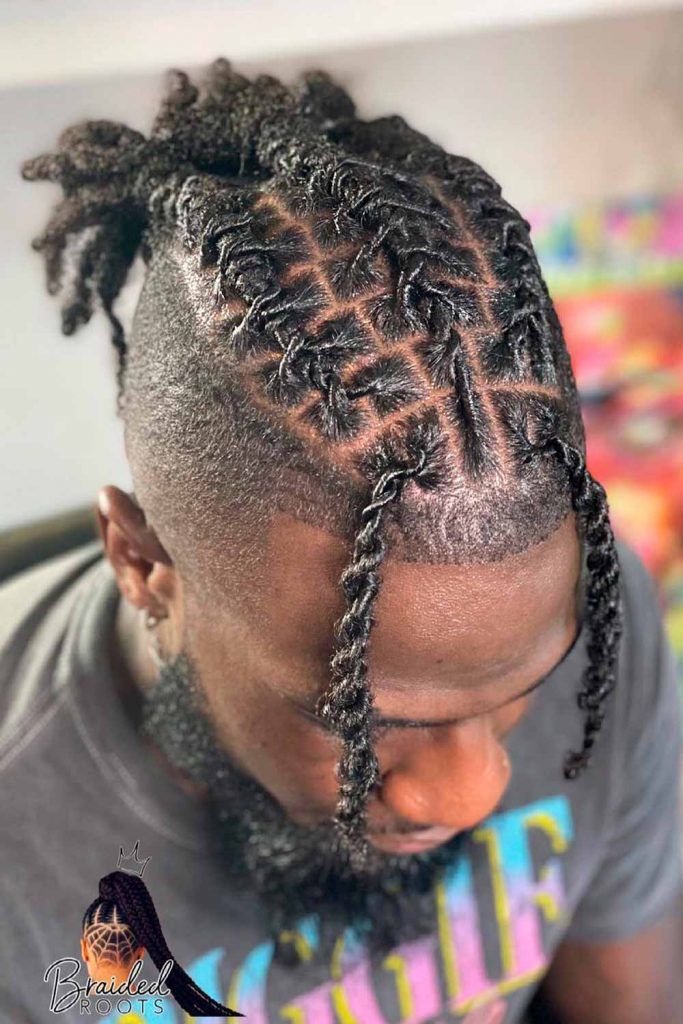 Source: @braidedroots via Instagram
Almost Labyrinth
Some black men braid hairstyles look like ultimate masterpieces with a hidden meaning to them. Not every hairstyle can show off such a profound quality. Thus, a labyrinth of cornrows is a perfect way to emphasize the enigma in you.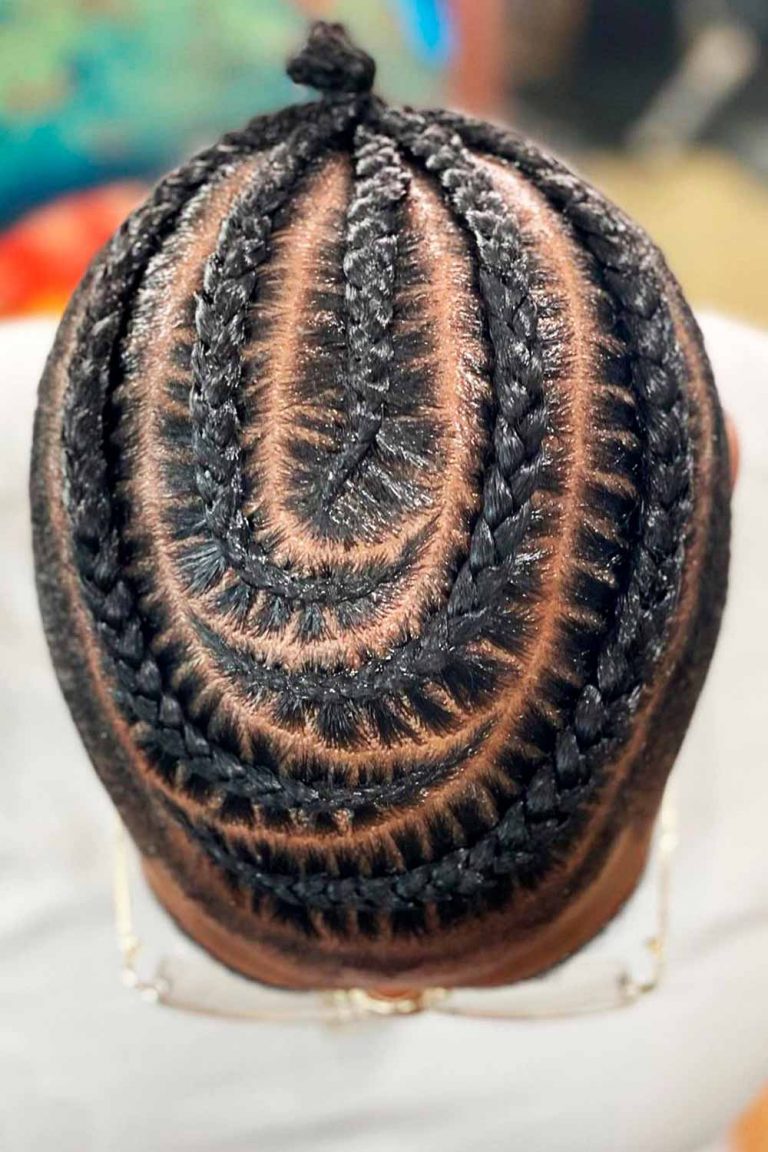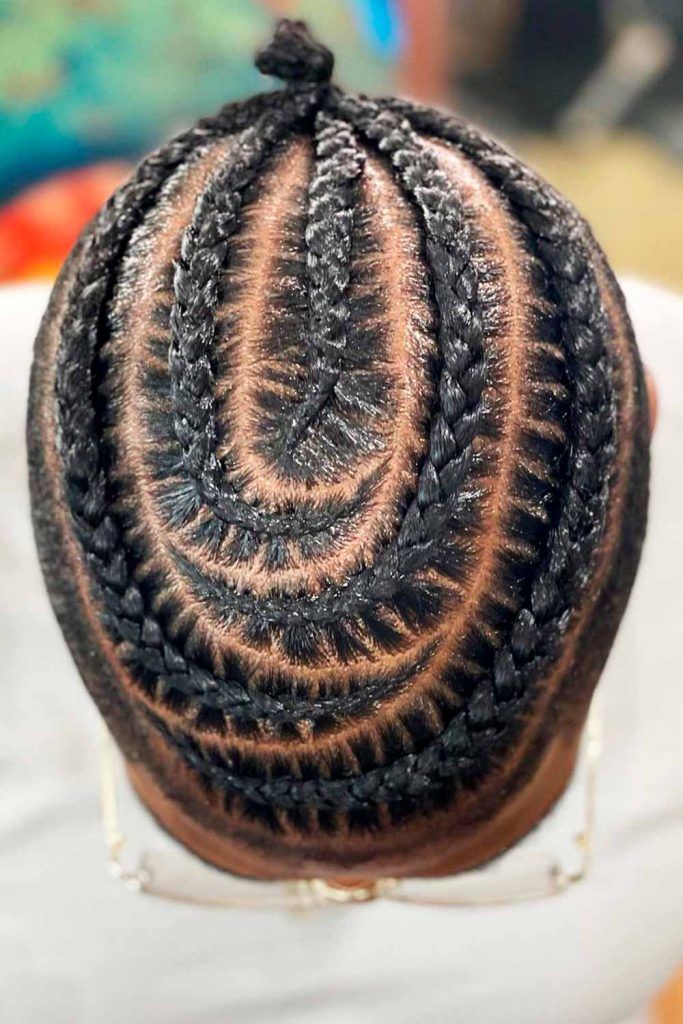 Source: @braidedroots via Instagram
Simple Twins
Afro twists hairstyles male variations aren't fit-for-all. In case you have to keep your locks out of the way all the time and simple cornrows are utterly outdated, you can test-drive such curvy twins of a braid!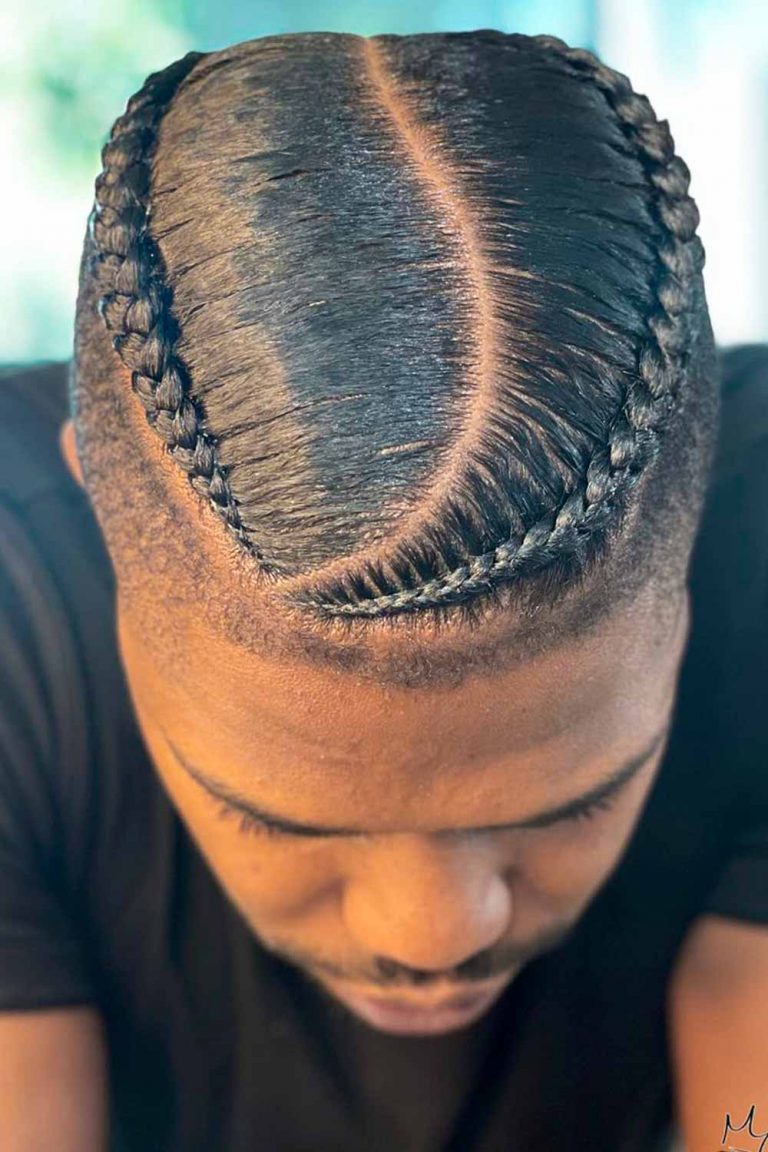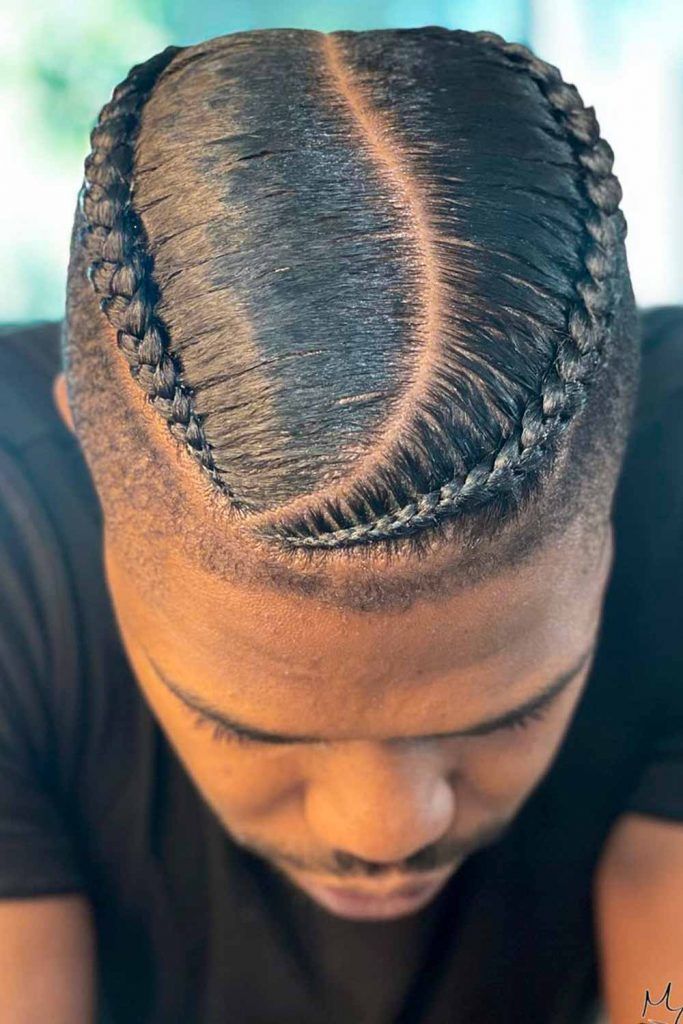 Source: @braidedroots via Instagram
Excellent Zig Zags
Excellent Zig Zags
It is true that black hair braids men choose more often than the known alternatives. That is why, if you want to accent your individuality, you can try colored zig-zags for a change. This is yet another great opportunity to try something new, especially if your hair is short and you may want to use some extensions to succeed with style.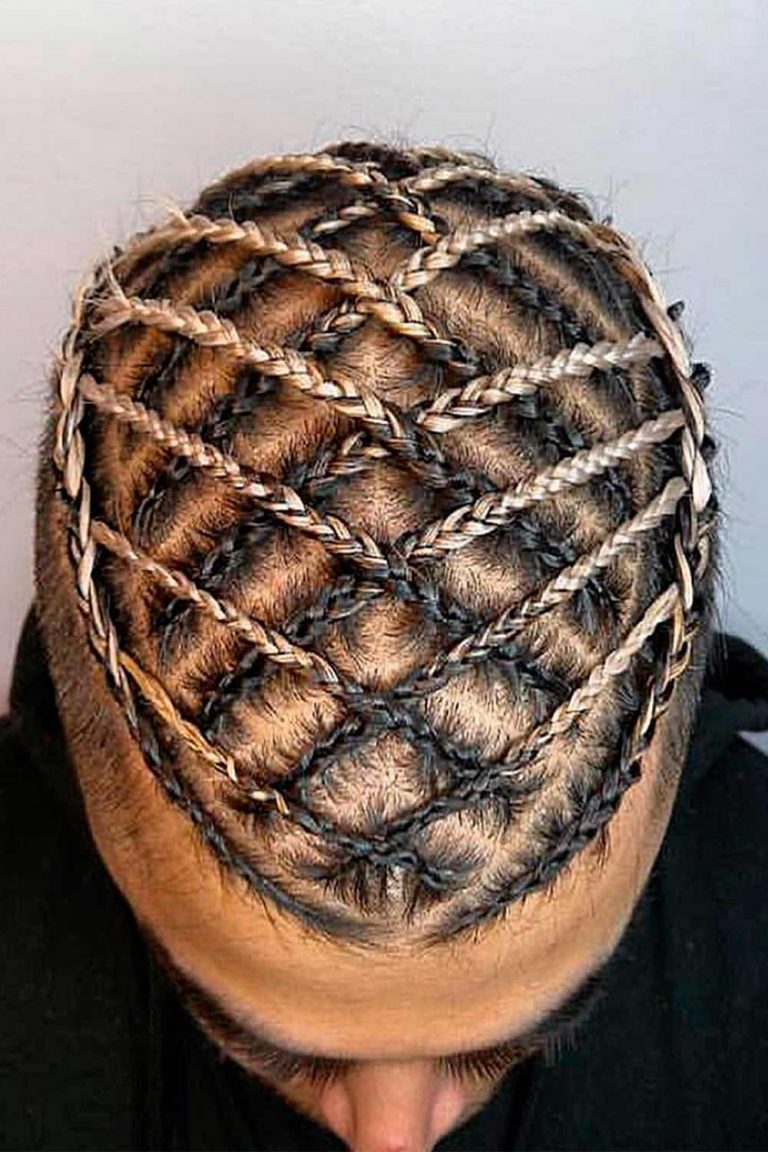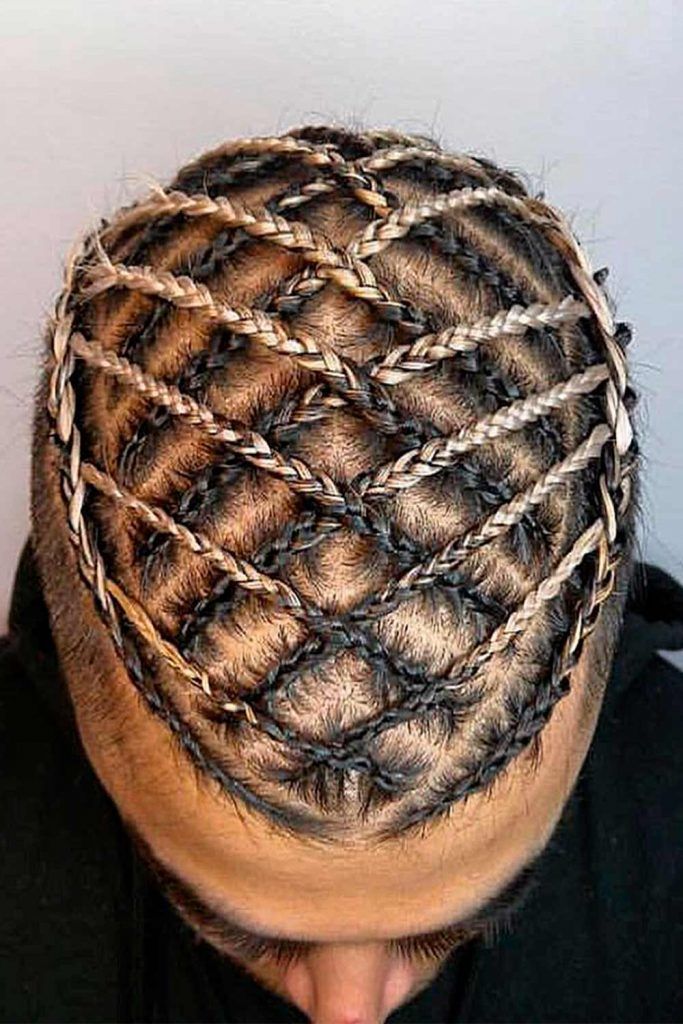 Source: @shawn_barbz via Instagram
Simple Cornrows For Long Hair
Black mens cornrows are the sole classics in the industry, and there is nothing wrong with it. You can sport simple cornrows on your long tresses without decreasing power projection and sense of style.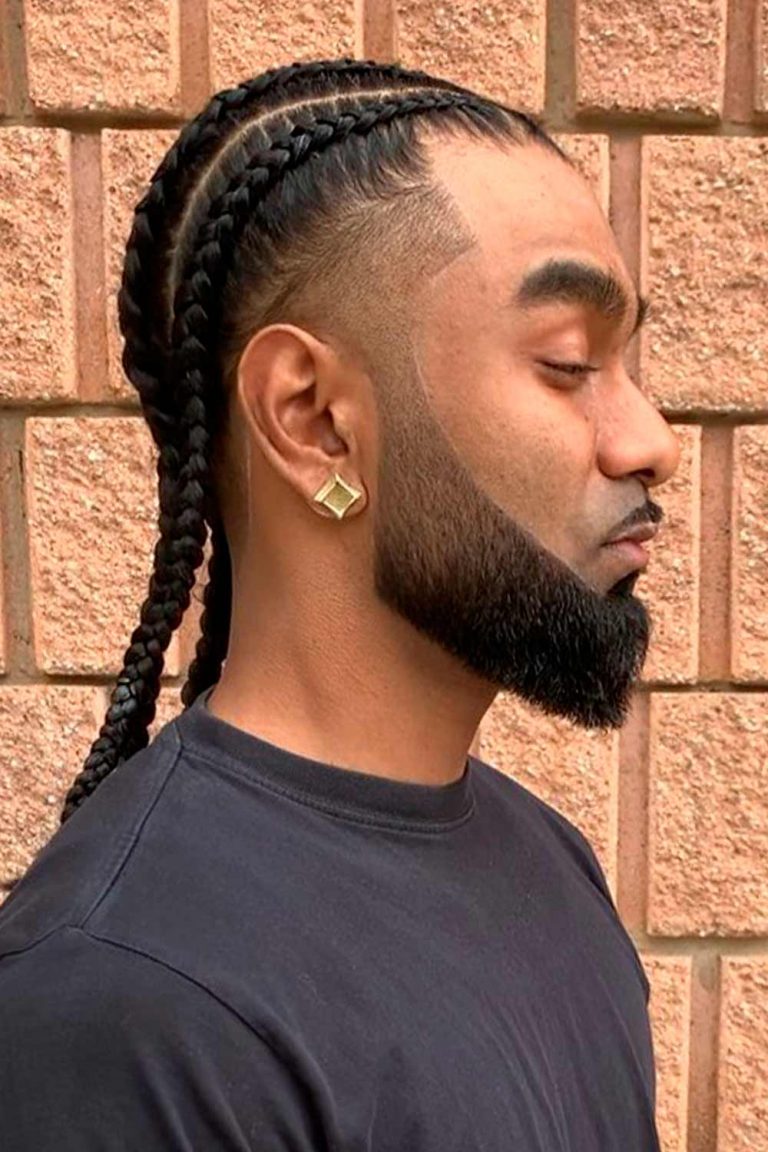 Source: @shawn_barbz via Instagram
Thick Black Men Braids
Not all black men hair braids are equally universal. Those with thick manes should consider a thick-braid alternative to classic cornrows. Not only will the effort have a positive impact on your style, but also will cut some styling time significantly.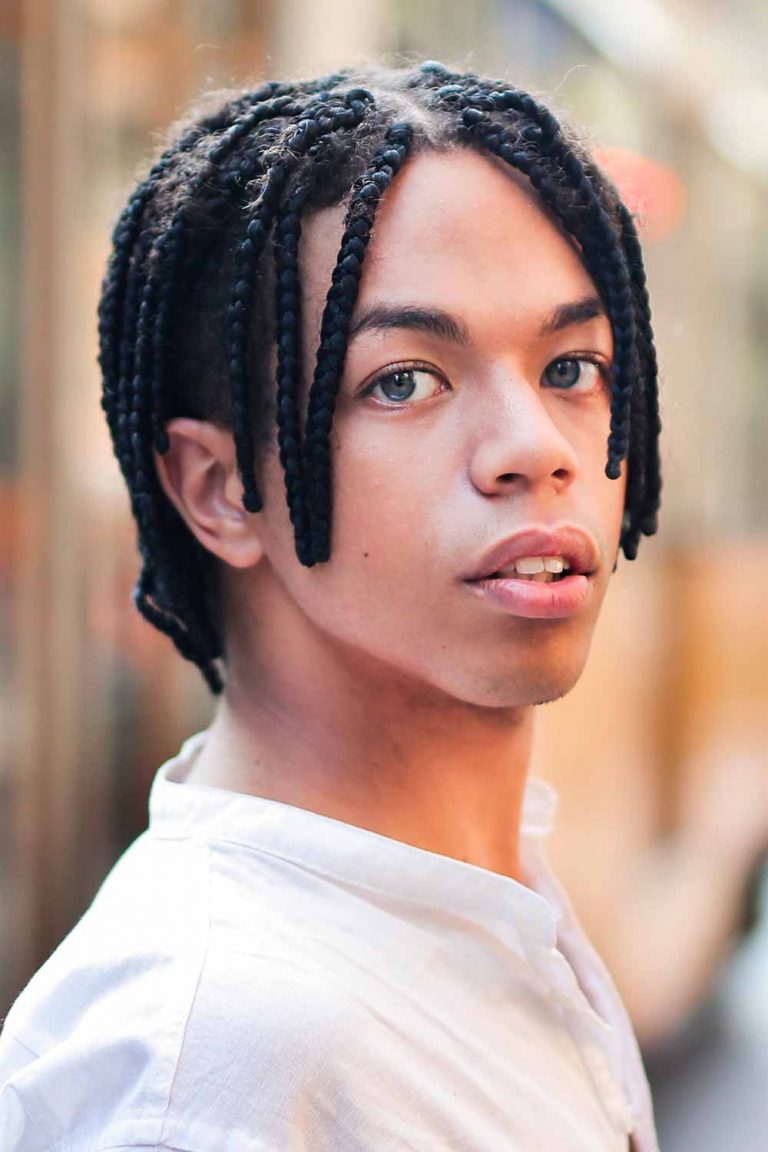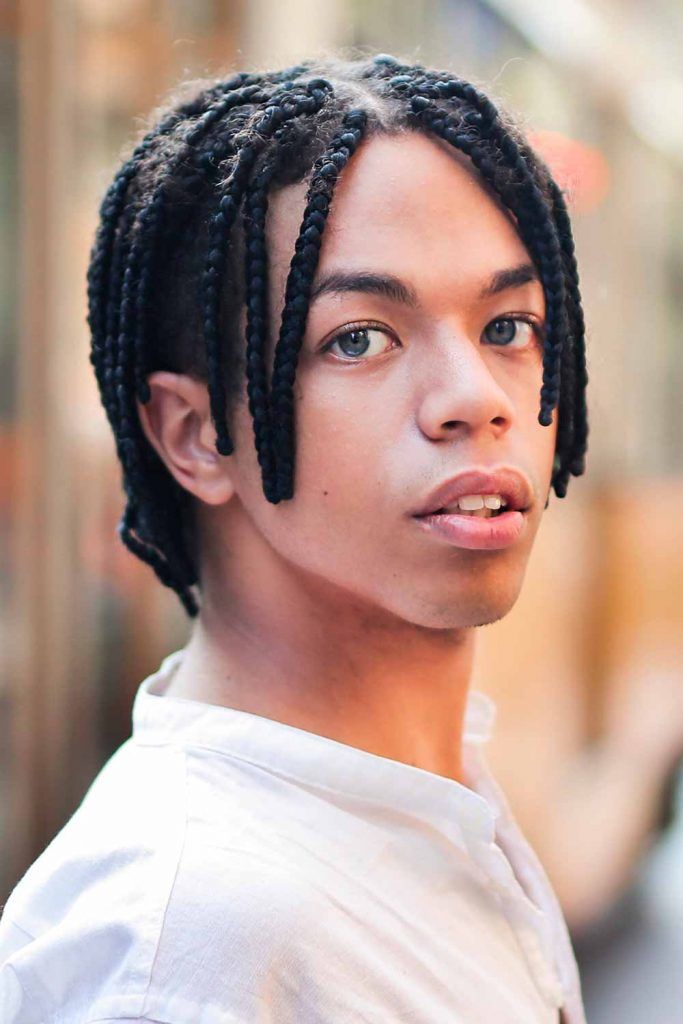 Braided Art
Braiding hairstyles for black men is a peculiar and exciting process, and it would be a foolish move to deny that. With as much as the difference in size and thickness of the braid, you can intertwine them in various manners, so the outcome is nothing but a masterpiece worthy of appraisal and adoration.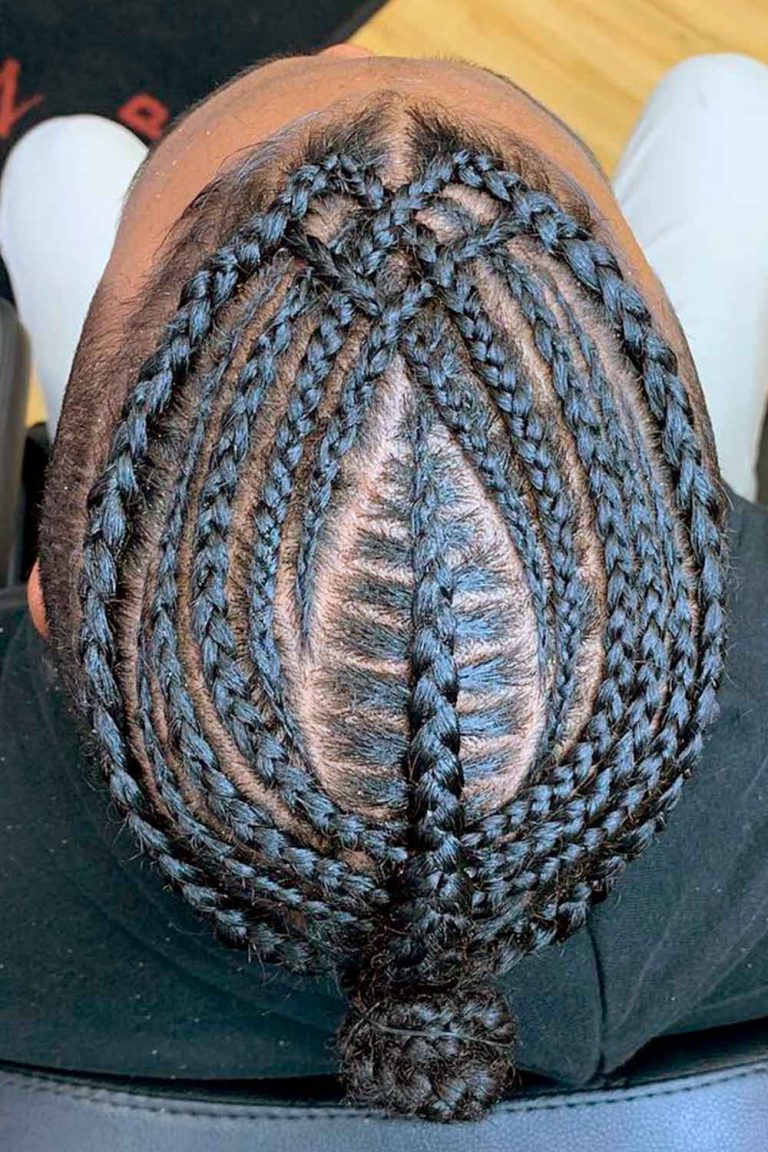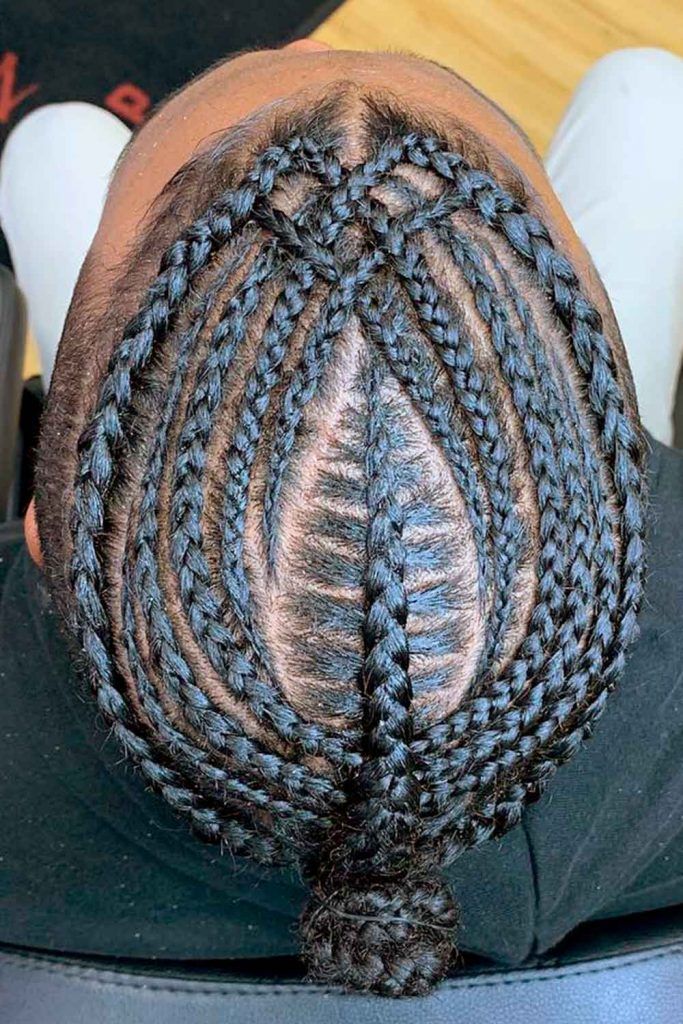 Source: @braidedroots via Instagram
Black Braids Men Weave
Some hairdressers choose to work on simple black men's hairstyles braids, but just a pinch of imagination makes these styles runaway-worthy. This braided weave speaks for itself. There is barely a person who wouldn't notice and appreciate the style.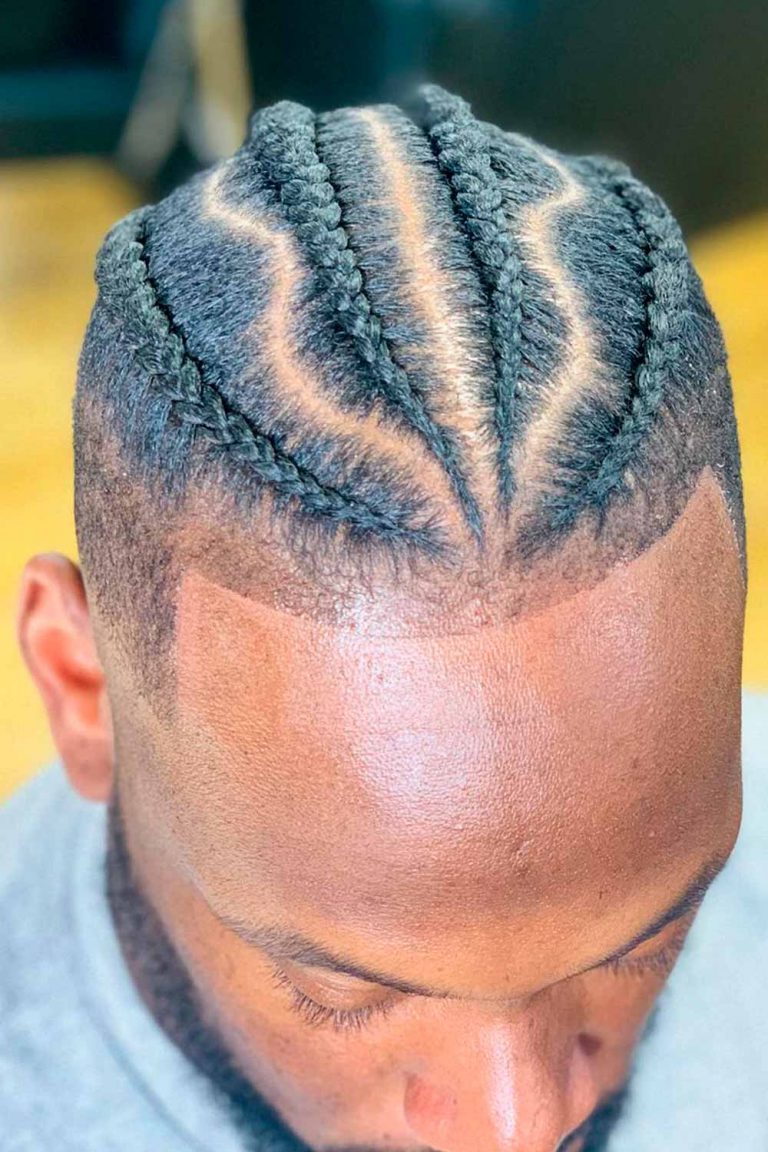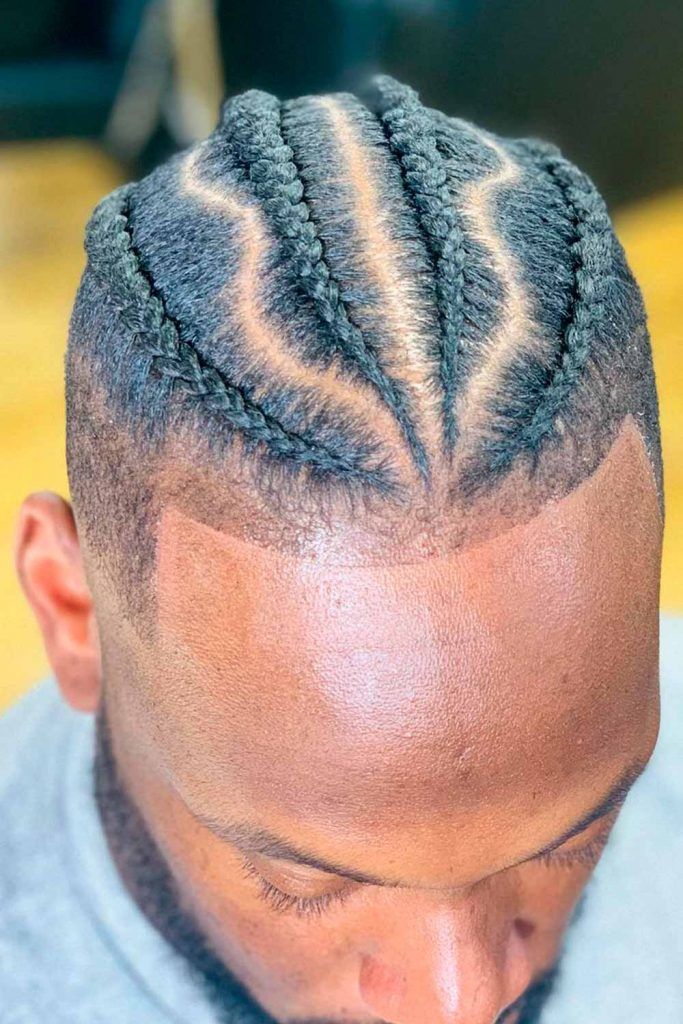 Source: @braidedroots via Instagram
Double Long Cornrows + Lines
Just like each river ends up in the ocean, so do African braids for men in the mentioned style. It is incredible how so many tiny rows form such luscious and magnetic double cornrows, don't you think?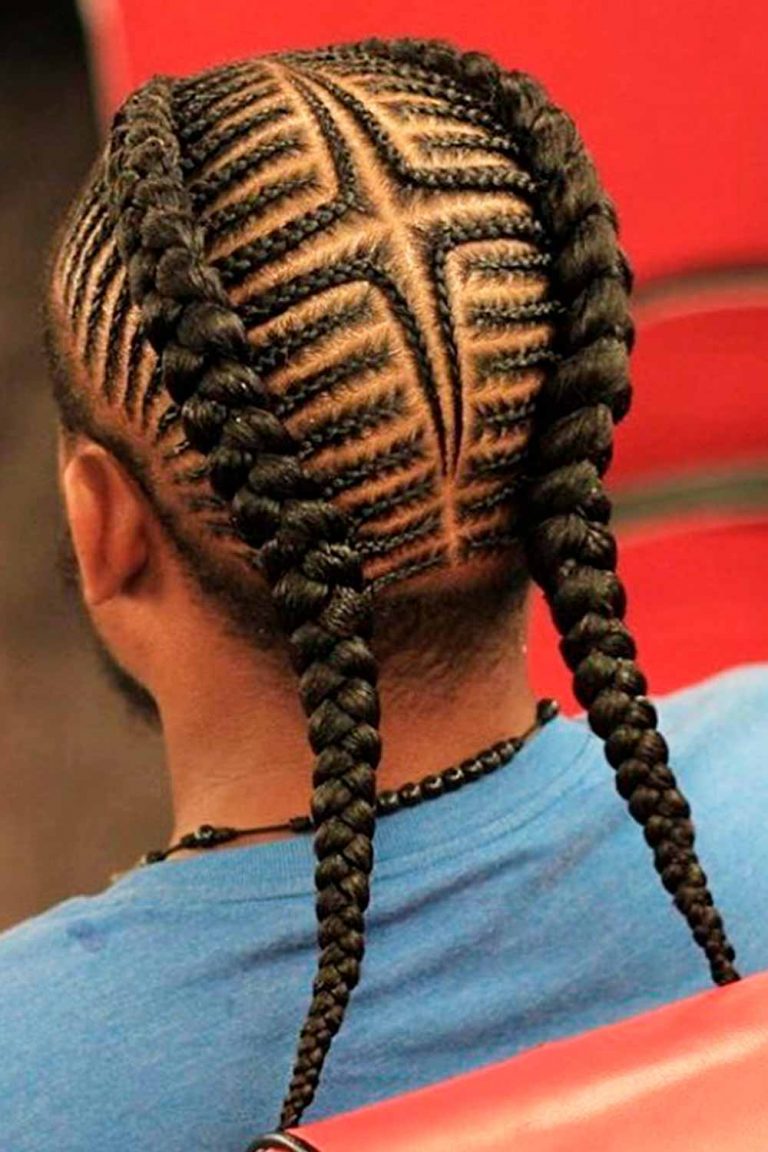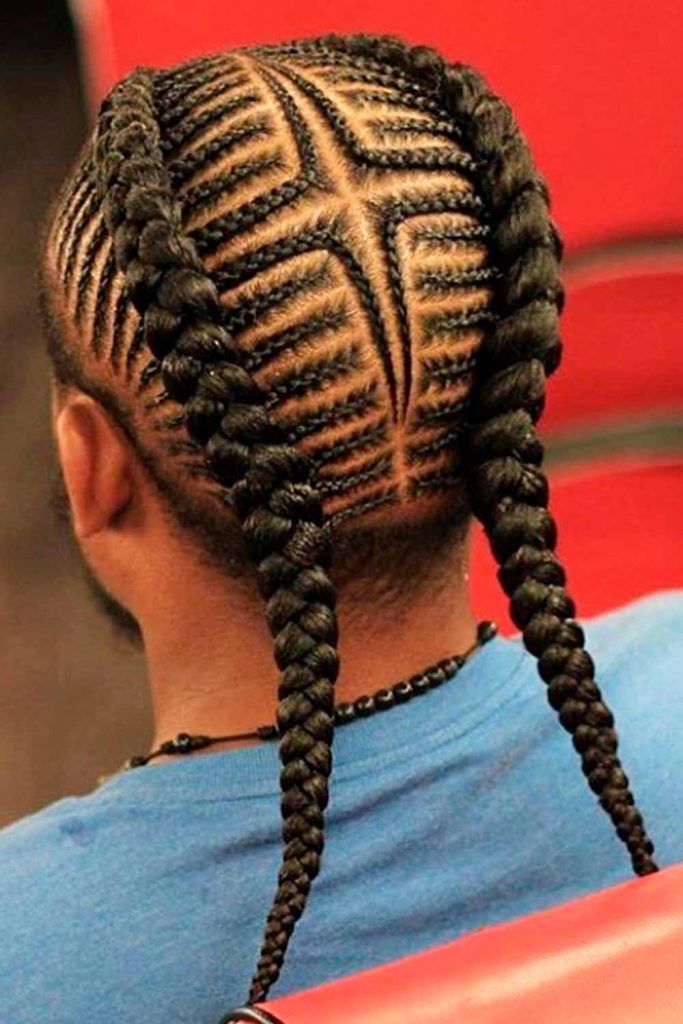 Source: @dynasty_barbers via Instagram
Zig Zag Black Braids Men
It seems that you can look at this hairstyle forever. The mesmerizing pull of zig-zag brads can't be underrated. Besides, the securing tie at the end creates the illusion of loose tresses while they are ultimately kept in place.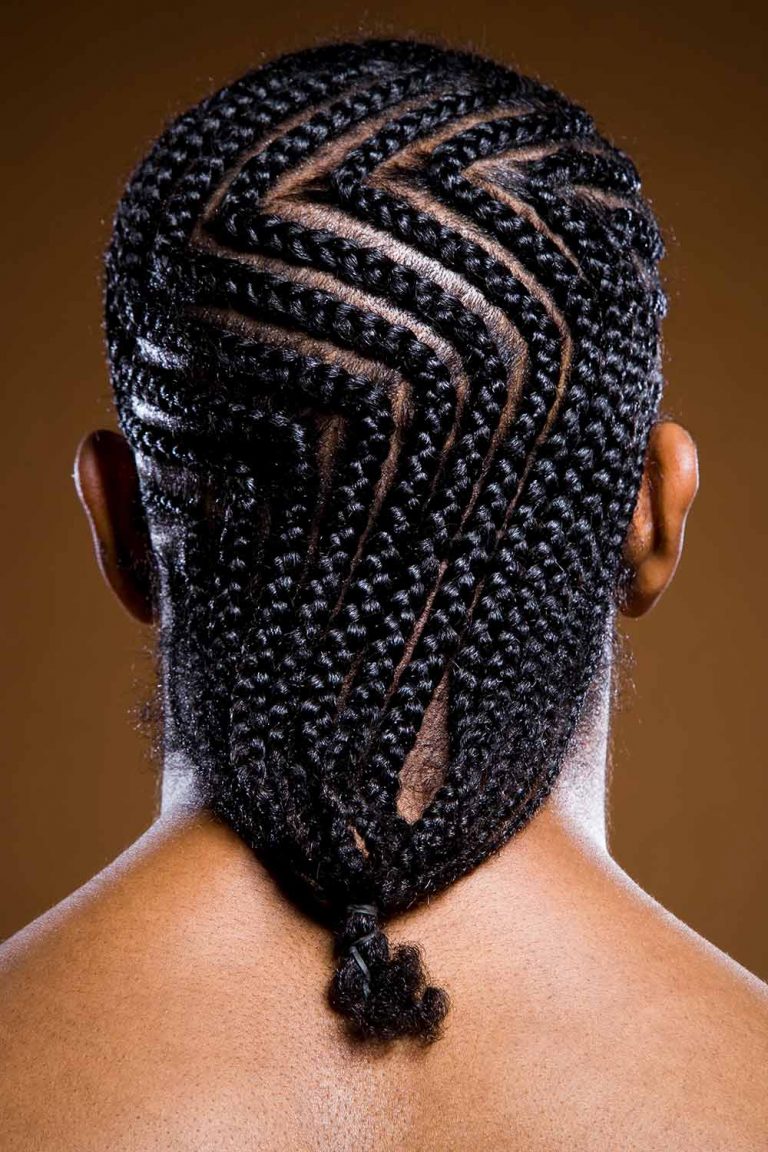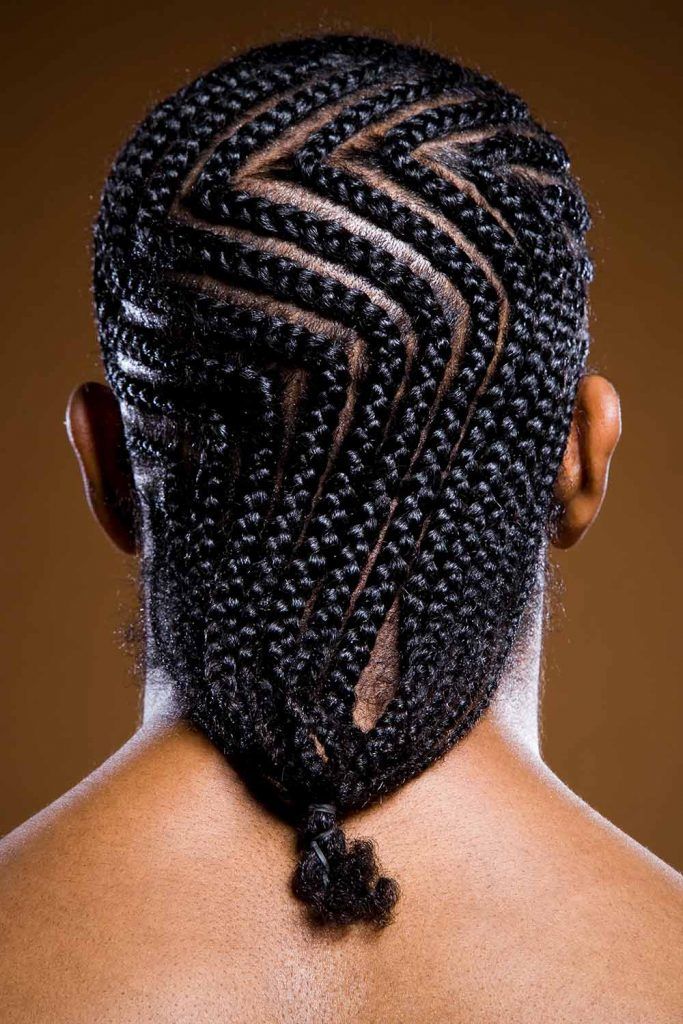 FAQs
Can black men braid their hair?
Black men braid their hair. What is more, the most popular braiding styles have been invented by these men. Fearless thirst for experimentation is what drives these folks.
Can Black men get box braids?
Black men can get a variety of box braids that cover short and long hair lengths. All it takes is to pick the style that accents the personality best.
How long does hair have to be to braid black men?
You don't have to grow out a full-scale mane to have it braided. However, a few inches of length would suffice for the braid to stand out.
REFERENCES: