The hard part haircut has many different names, such as a shaved part, razor line, side part line and others. This is basically a contemporary interpretation of the traditional side part, which gained a lot of popularity at the time. The shaved line haircut is highly versatile as it perfectly complements almost all men's hairstyles. Get inspired by the ideas we compiled in this ultimate guide to the carved sideline.
Hard Part Haircut – What Is It?
Q: What is the hard part haircut? What does it look like?
A: It's always a good practice to start off with an understanding of the concept. This haircut is shaved into the scalp line. It's aimed at visually sectioning your hair for added contrast in mens short haircuts. It's usually carved along your genuine part.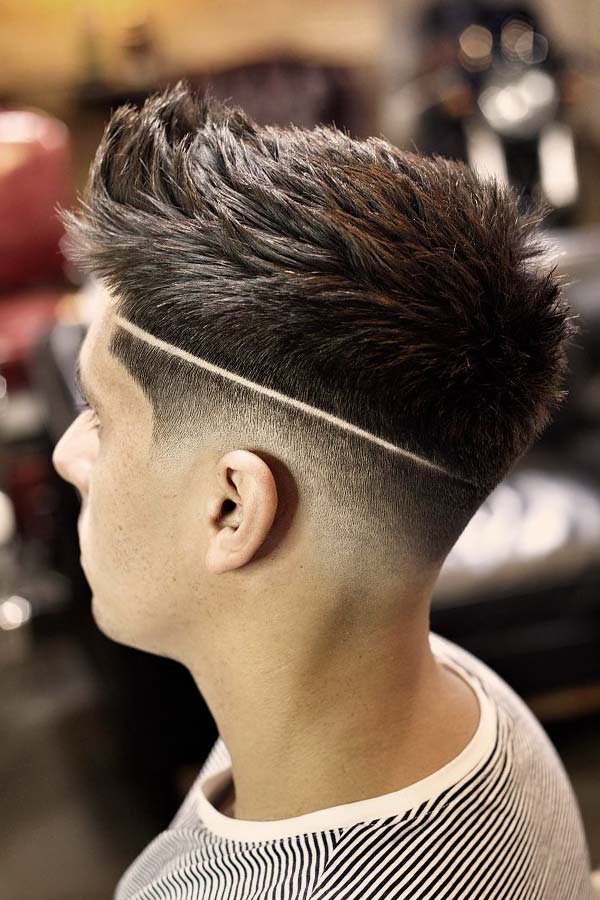 Source: @ryancullenhair via Instagram
How To Get It
To get one of these haircuts, you need to simply ask your barber or hairstylist for it. It's not a DIY cut as it requires a really steady and professional hand. Thus, don't even try to do it yourself because there's a risk to end up with the crew cut.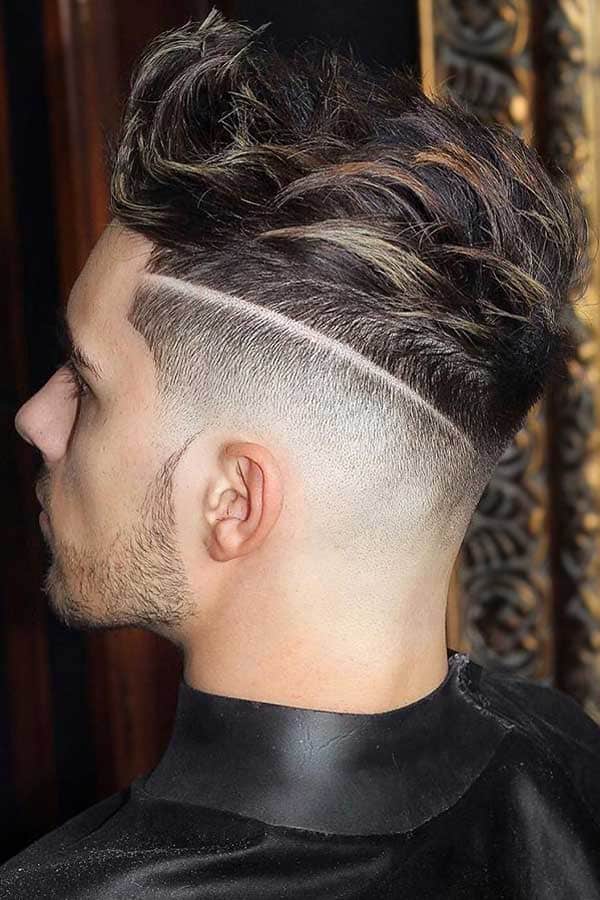 Source: @ryancullenhair via Instagram
How To Cut Haircuts Razor
Besides having a barber to give you the part haircut, ensure he or she has high-quality tools, namely a sharp razor. Also, the stylist should be skilled enough to cut a perfect line into your hair down to your scalp. As for the choice of the haircuts lines design can be complemented nicely with an undercut or fade.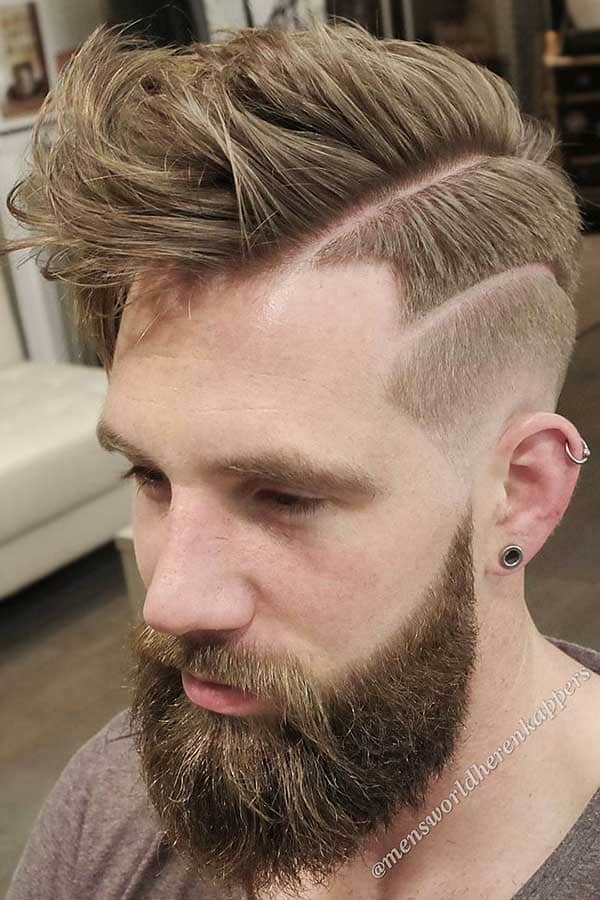 Source: @mensworldherenkappers via Instagram
How To Style The Hard Part
Q: How do I style my hair with a hard part?
A: Mens hard part, in essence, isn't a separate haircut. It complements other mens hairstyles to make them edgier and snugger. Hence, you can style it whatever suits you best. The most popular 'do though is to style the top hair away from the part using a hair product. Alternatively, you can comb the hair on top back an leave the side hair as it is.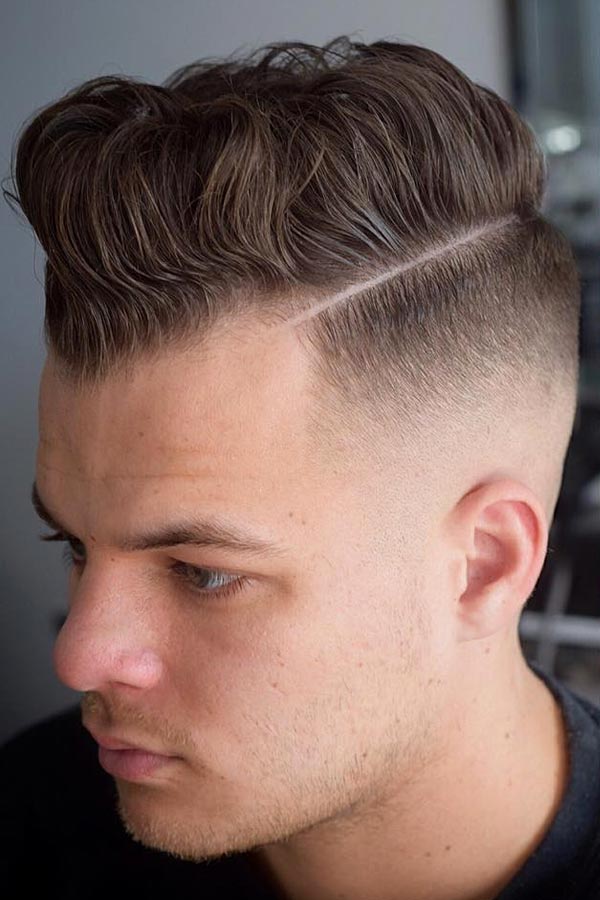 Source: @mikes_custom_kuts via Instagram
Best Hair Styles And Cuts For The Hard Part
Since the hard part is so adjustable, here are some cool hairstyle ideas to pair it with.
Hard Part Fade
If you want all eyes on you, the fade with part will give you this. Besides, the hard part fade is the primary way to attain the cut. You have many fade haircut options though – skin, low, mid, high and taper.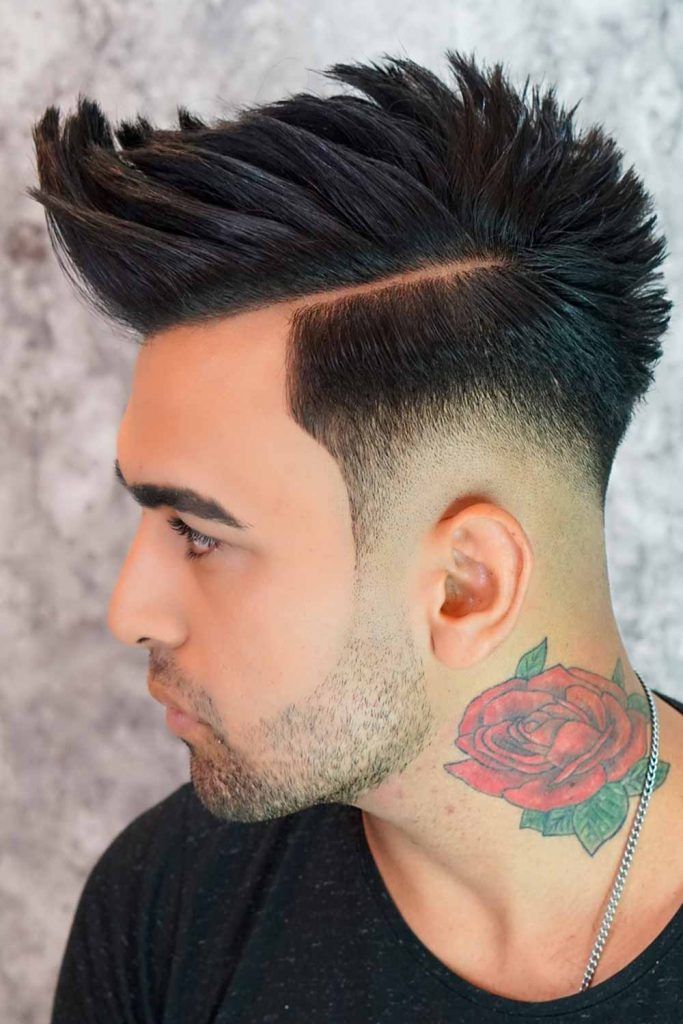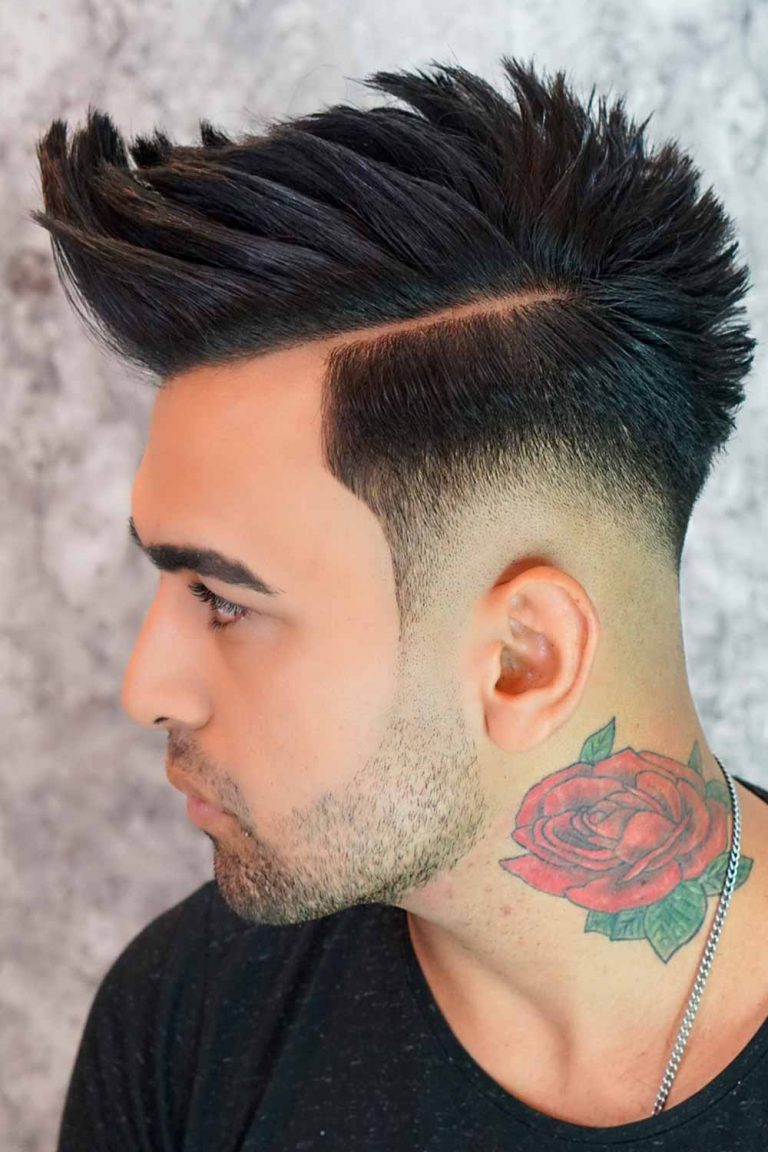 Source: @ahmetaslanhairsalon via Instagram
Hard Part Undercut
For those who don't feel like having a traditional fade, there's another excellent option – an undercut with hard part. The shaved undercut gives you the desired boldness while keeping the focus on the voluminous top hair. It's also very versatile as you can brush the hair back or comb it over.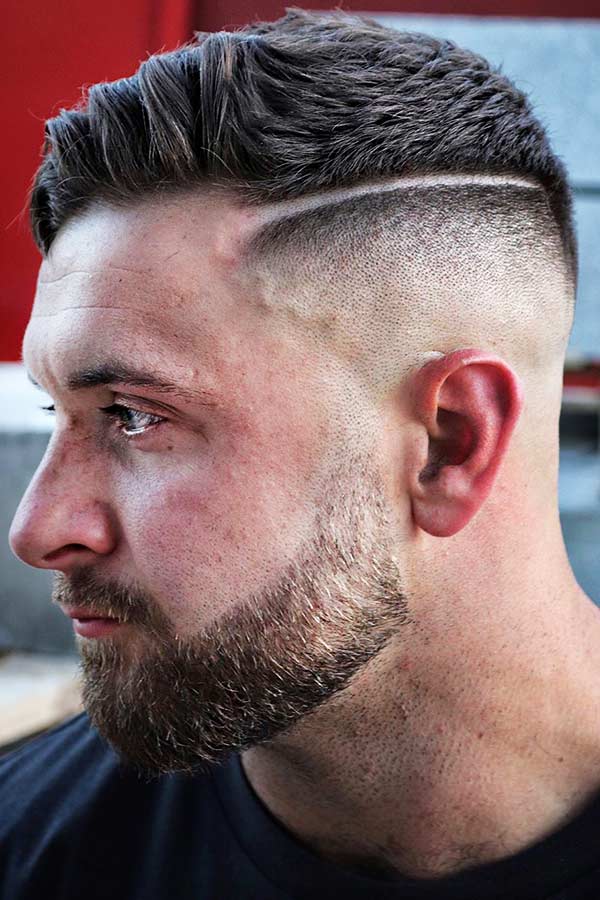 Source: @hayden_cassidy via Instagram
Buzz Hard Cut
Short haircuts for men, like the buzz cut, for example, can seem too plain sometimes. For a provocative twist, add a razor line that goes all the way down and around your head.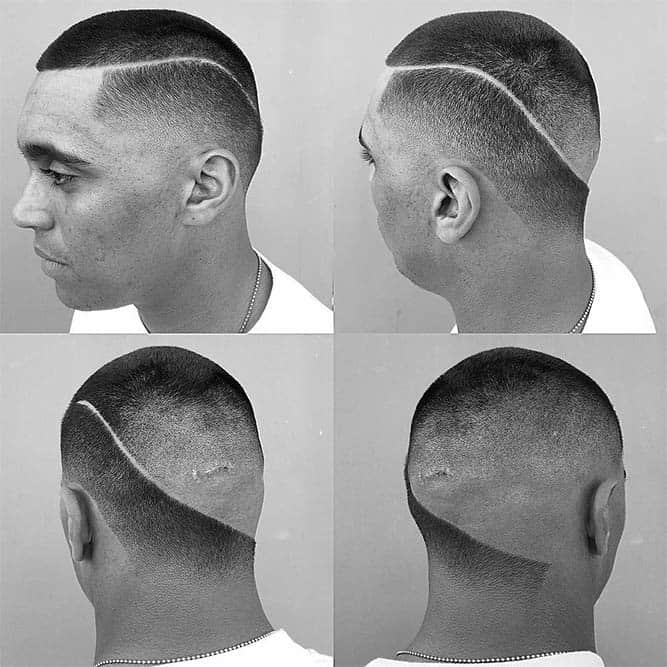 Source: @fernthebarber via Instagram
Comb Over Hair Part Men
The hard part comb over is a more exciting version of the traditional comb over. Though, the gents who like refined and dapper looks will still highly appreciate this hair style.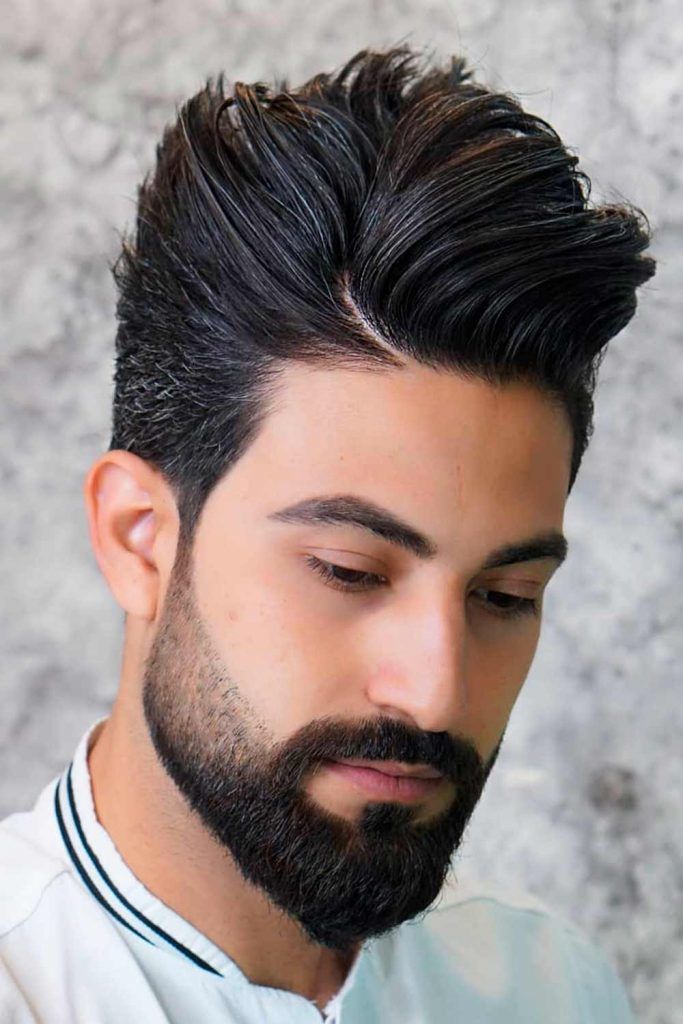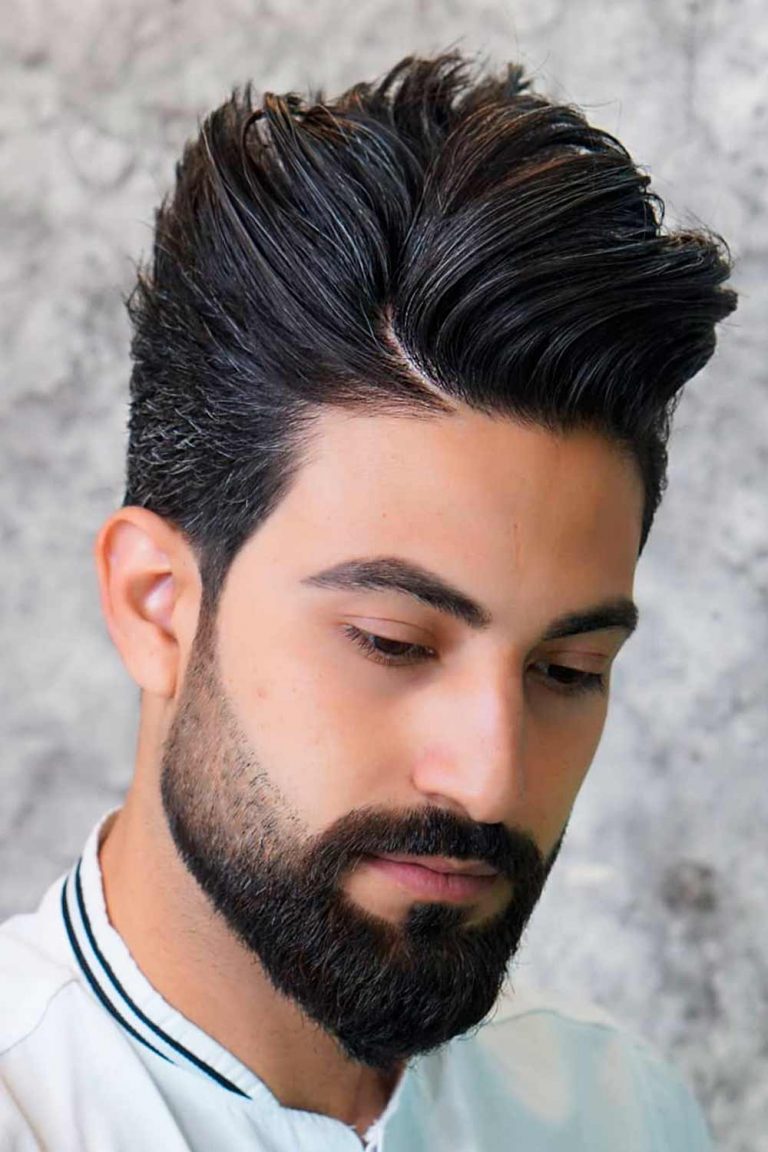 Source: @ahmetaslanhairsalon via Instagram
Quiff Top Hard Part Haircuts
The hard part looks particularly flattering for long top hairstyles. The quiff hair is definitely one of such instances. You can even resort to artistic elements and create a lightning bolt pattern with the razor line. The good news is it works flawlessly for brunet, blond, and red hair men.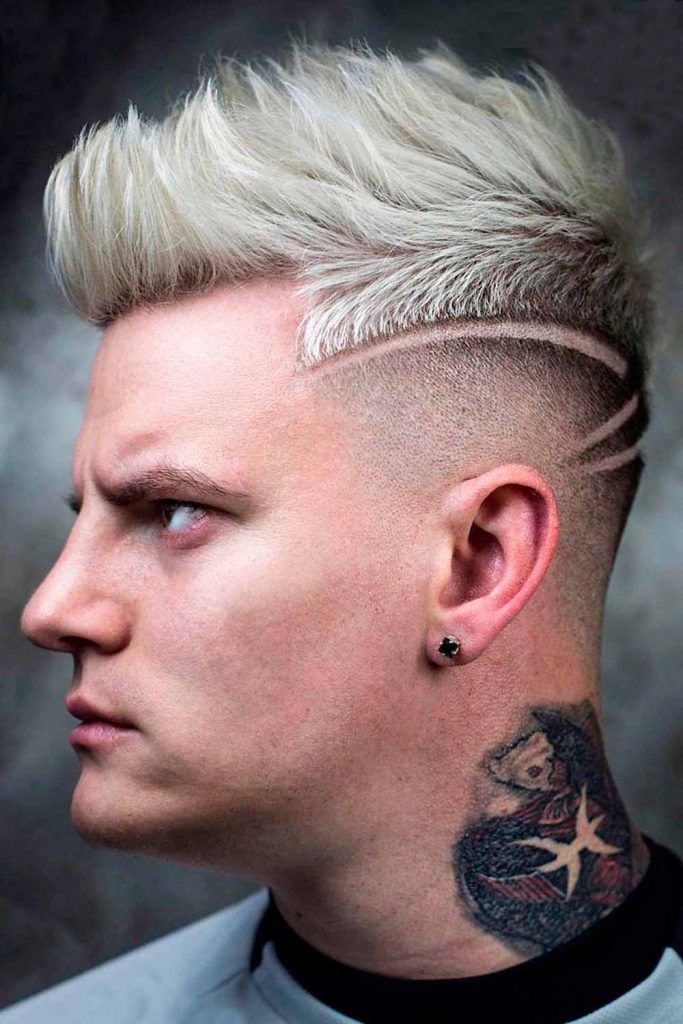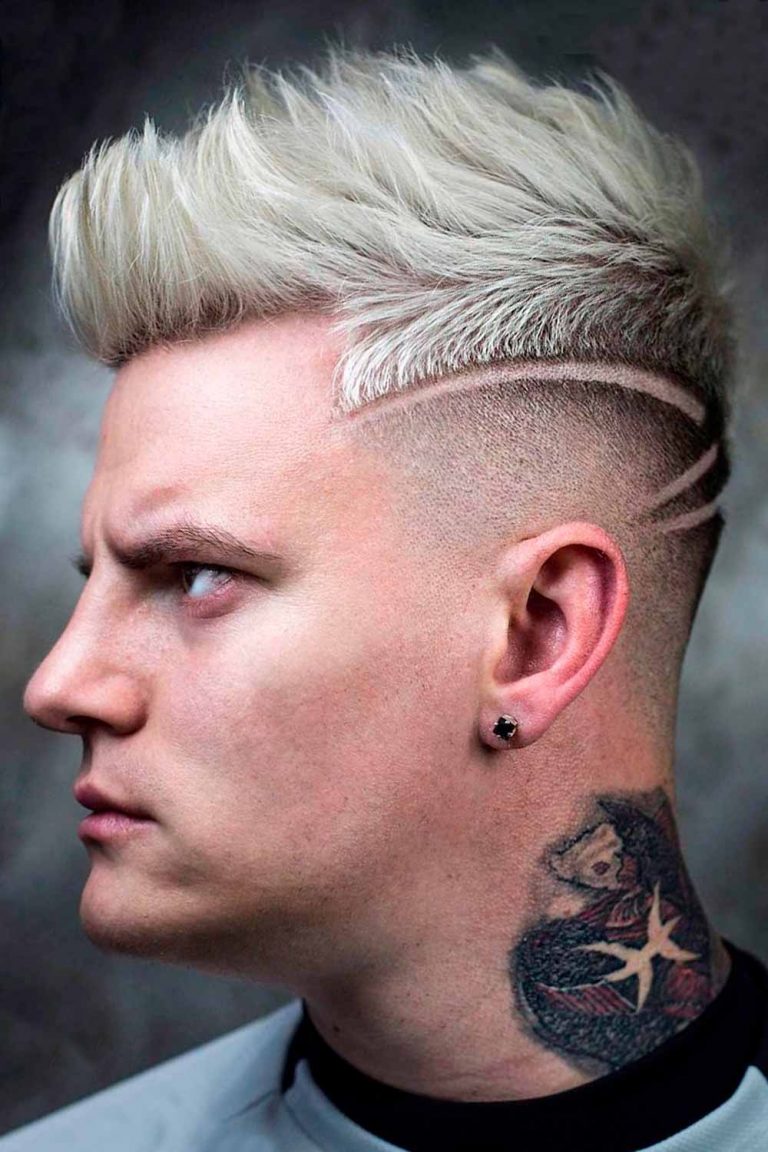 Source: @r.braid via Instagram
Pompadour Mens Hairstyles With Line
Here's another hairstyle with a long top and carved lightning bolt design. The pompadour hairstyle comes out exclusively stylish and neat. The pompadour hair is brushed up and away from the face while the pompadour fade goes very high.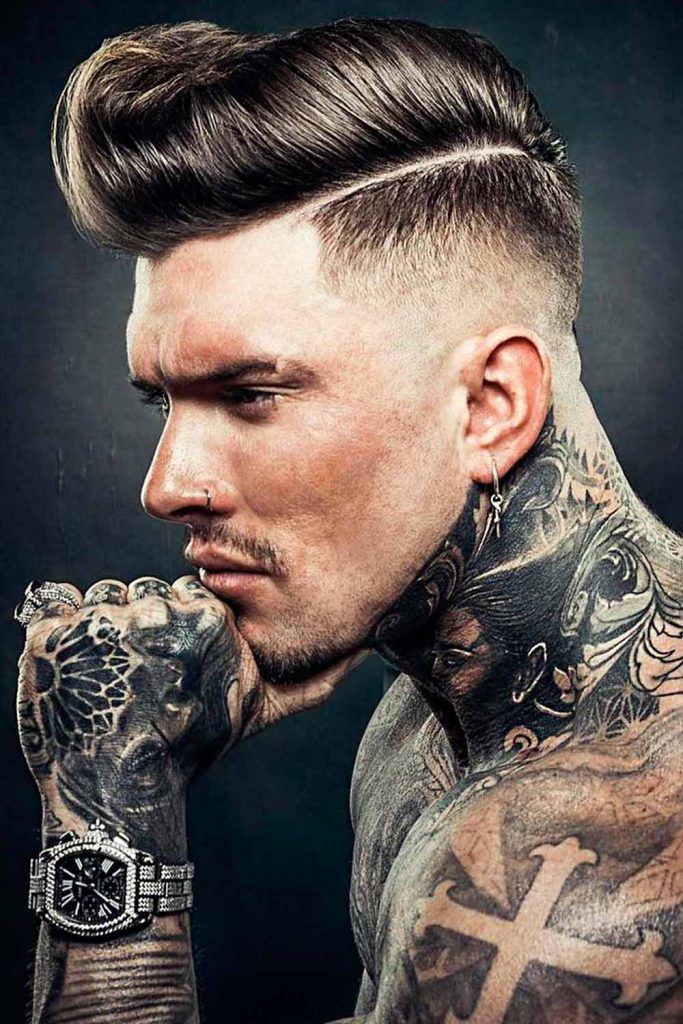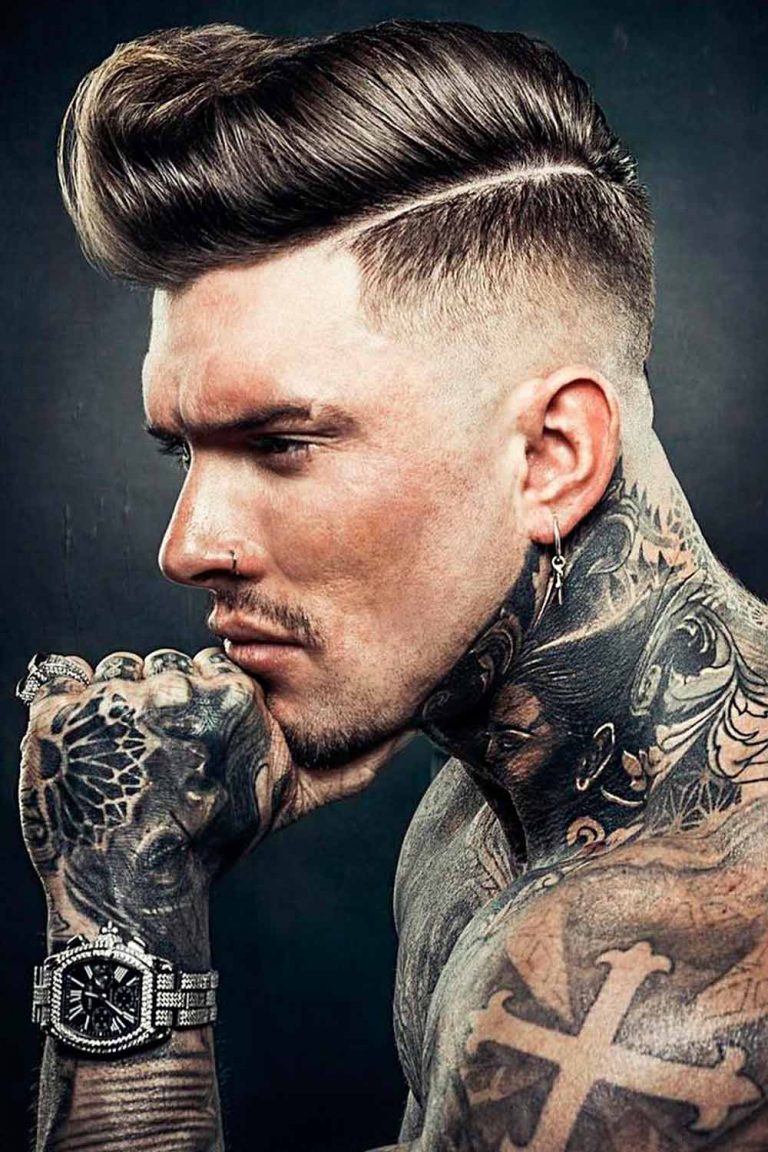 Source: @r.braid via Instagram
Curly Parting
The hard part can be cut into any hair texture, so the curly hair men aren't left behind too. The razor cut side part shows itself exquisitely on short curly hair men, paired with voluminous kinky pomp and high skin fade.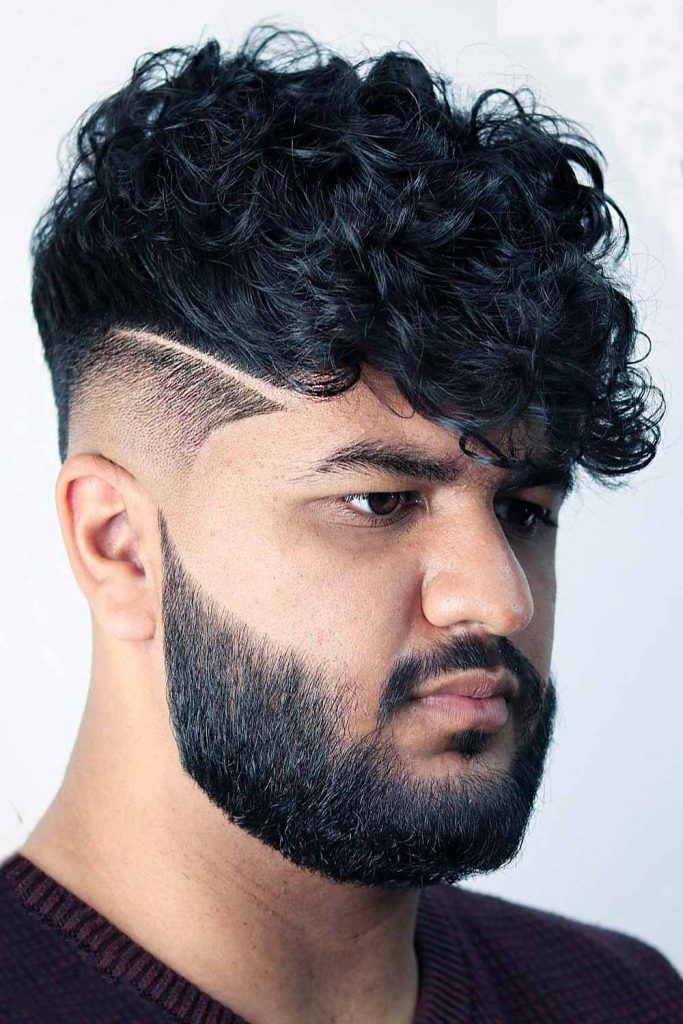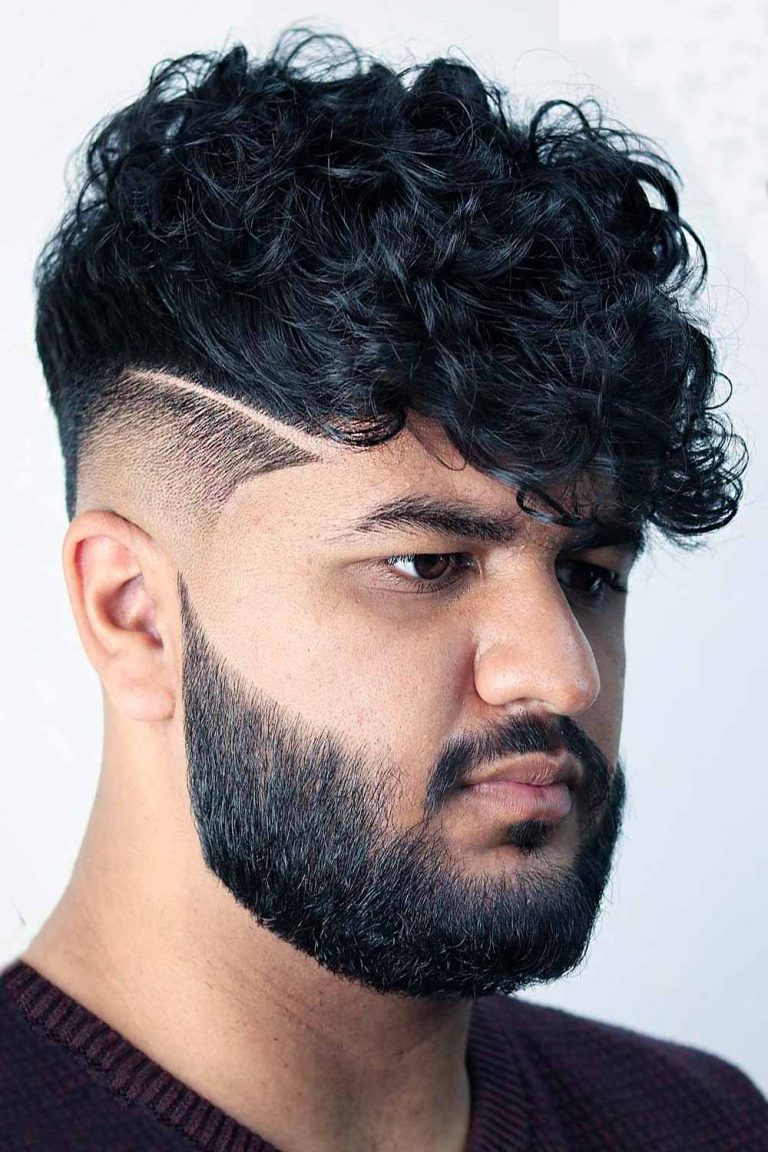 Source: @corneliucrihan via Instagram
High Fade With Hard Part
Although a high fade can already make your hairstyle look quite edgy and defined, you may want to give it an additional emphasis by complementing with a hard part. As for the hair on top, the range of hairstyle options is endless. You can go for a short and messy or long and neat hairstyle with equal success.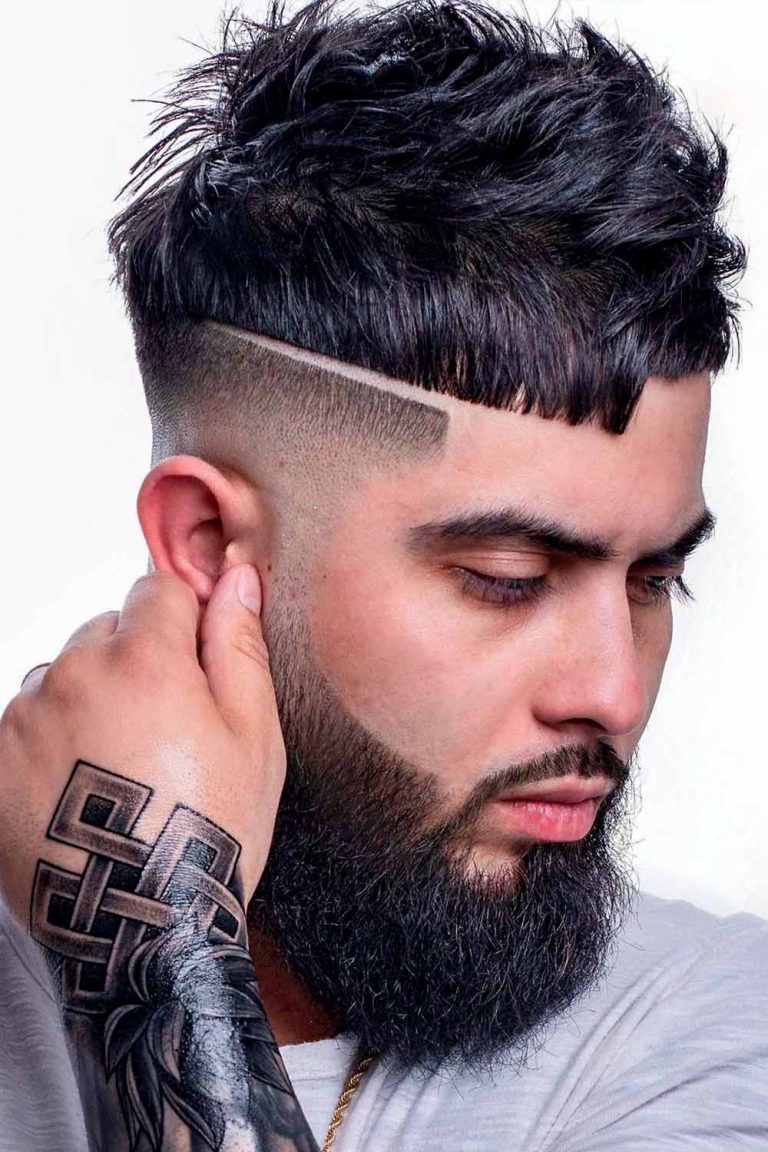 Source: @los_cut_it via Instagram
Hard Part With Undercut And Pompadour
A hard part can put a modern and stylish twist on a classic pompadour hairstyle. When paired together, they make up a really trendy and fashionable look. Thanks to the contrast and emphasis a hard part creates, the pomp looks even ampler and fuller. Just remember to give it regular upkeep and your hairstyle will be the talk of the town.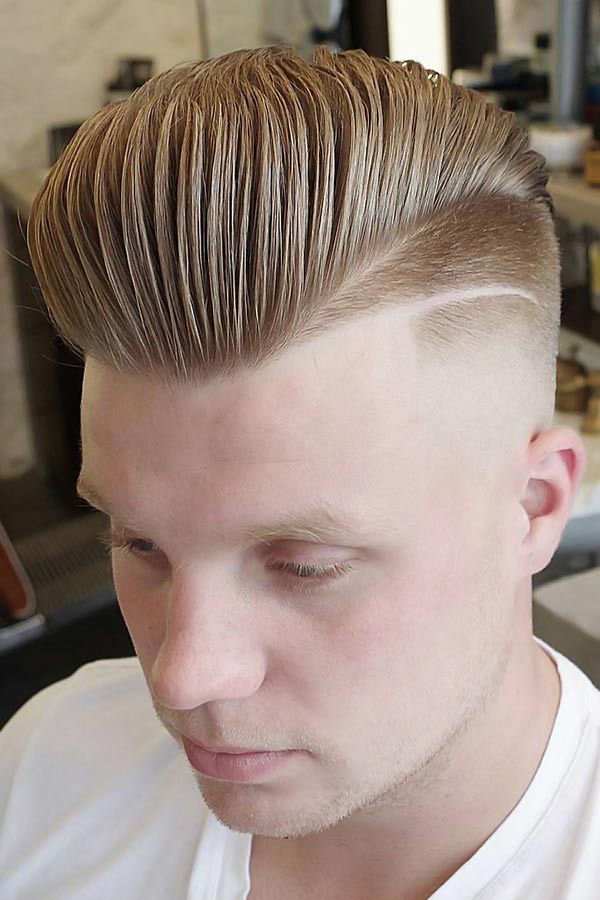 Source: @mensworldherenkappers via Instagram
Crew Cut With Hard Part
Even such a short style as a crew cut can be complemented with a hard part. This simple yet distinctive element can make any hairstyle look instantly bolder and edgier. On the sides though, you can go for a high skin fade for additional contrast and sharpness. This clean and neat look allows for any kind of a facial hair style, so feel free to go for one too.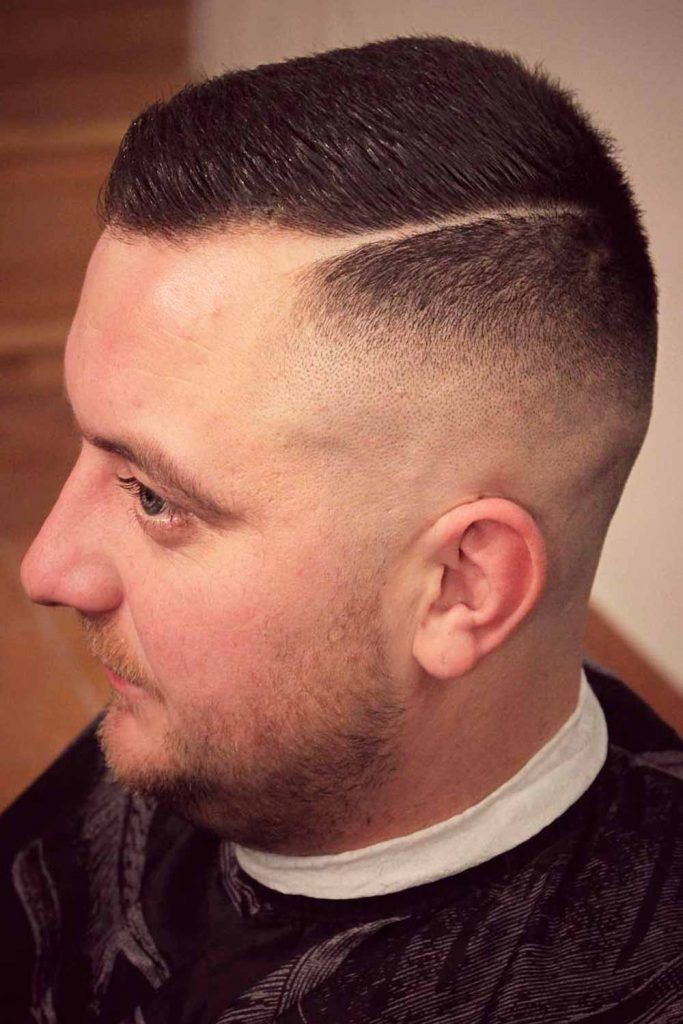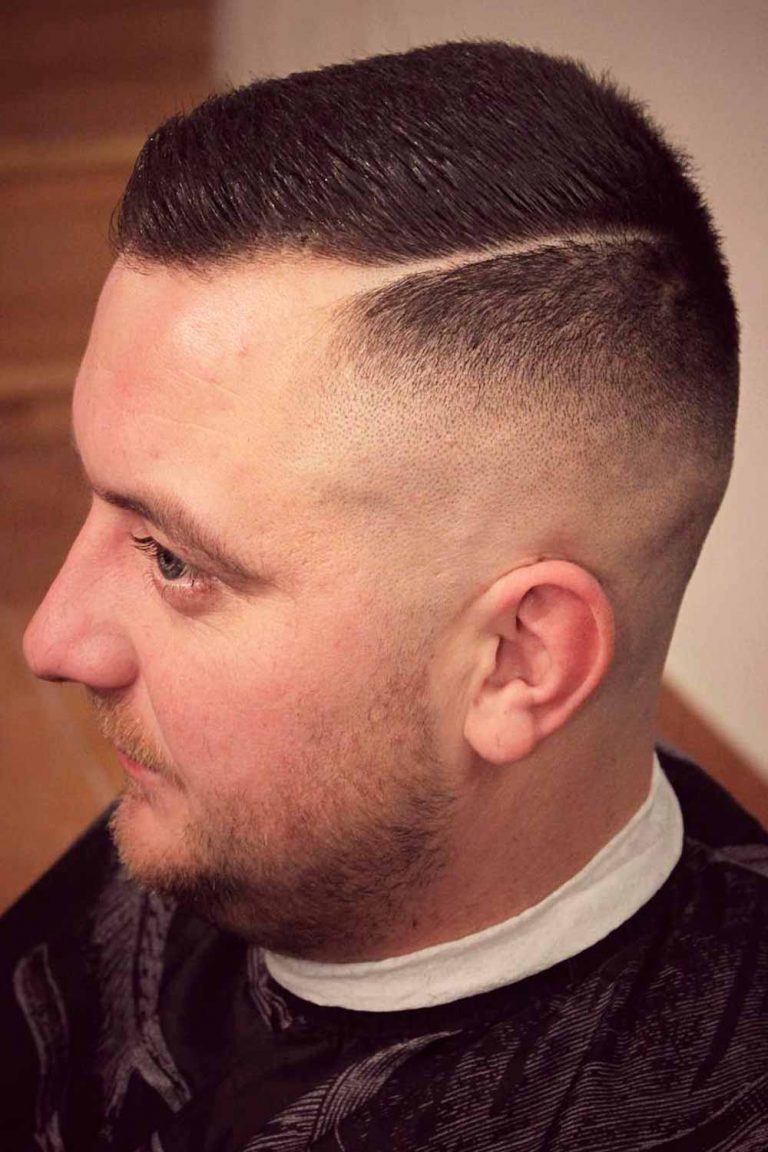 Source: @horatiuthebarber via Instagram
Hard Part + Beard
As the rule of thumb, when you take off the hair from the head, you can add it to the face. That is why a hard part looks well balanced when enhanced with a beard.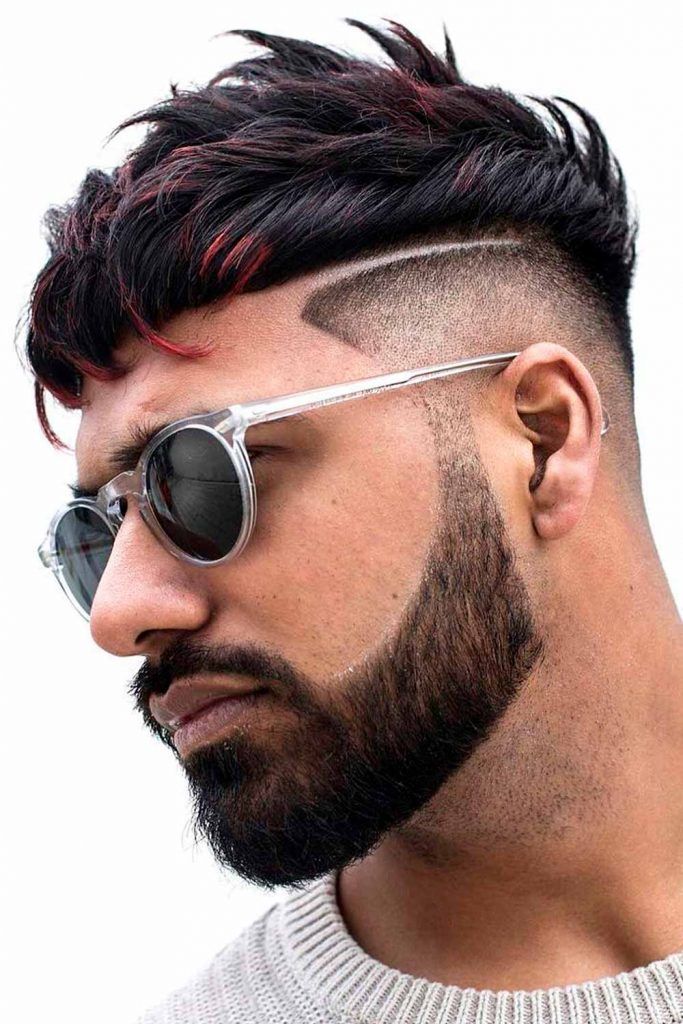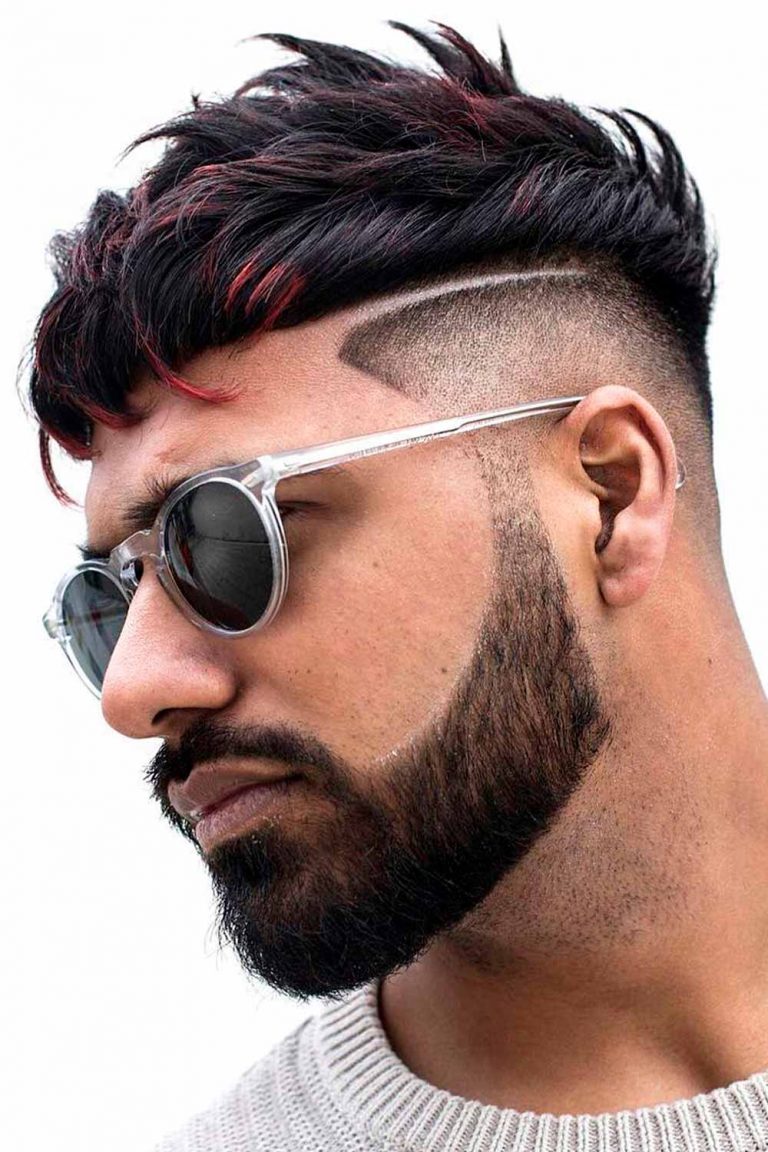 Source: @r.braid via Instagram
Afro Hard Part
A hard part is a surefire way to give an Afro hairstyle a clean-cut look. No matter how long or short your hairstyle is going to be, a hard part will bring it that very accent that will define and shape it up. If that does not seem enough for you, consider a line up along the forehead and temples for a clear outline.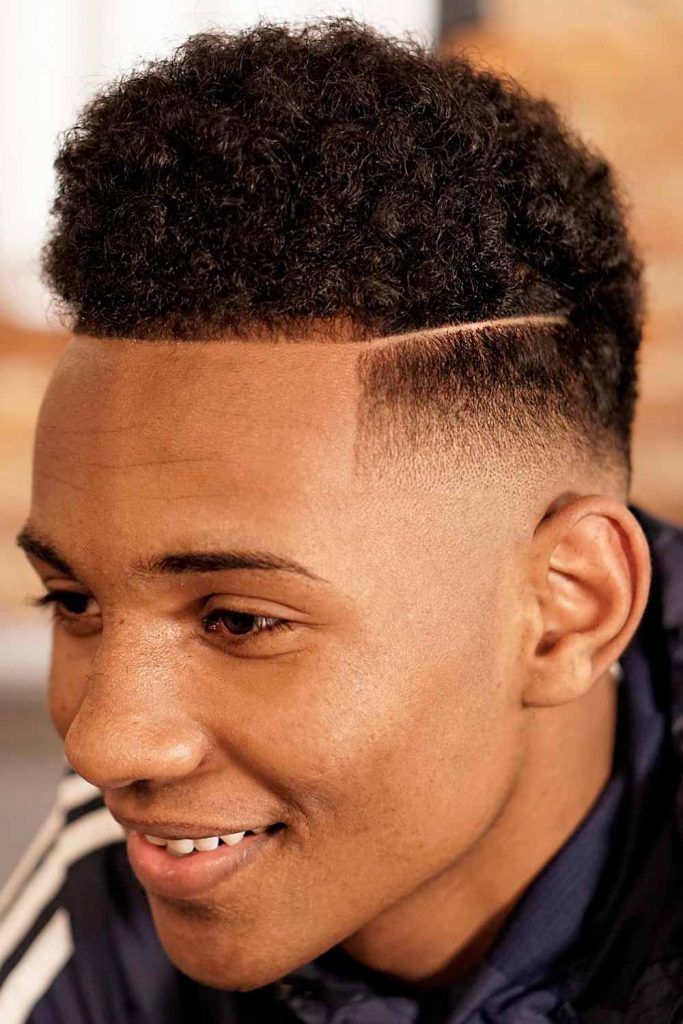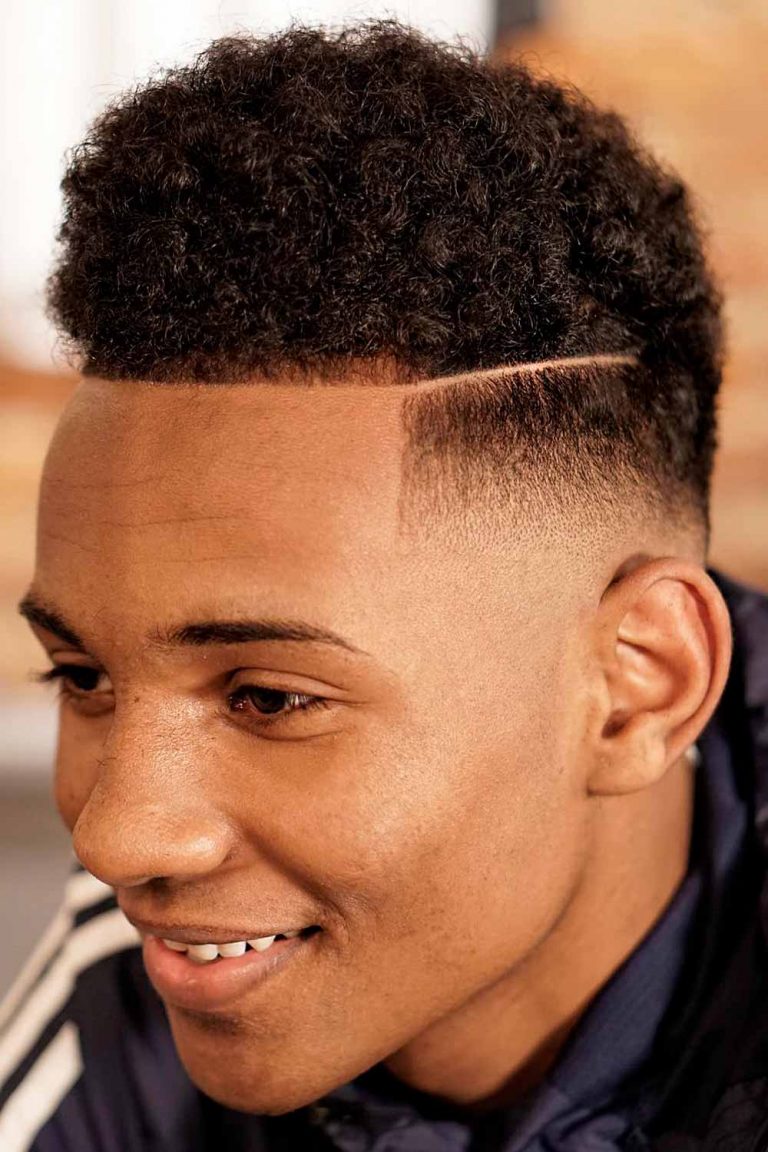 Source: @z_ramsey via Instagram
Pink Hair On Top
A hard part works for most hairstyles, making them instantly sharper and edgier. However, to achieve a really bold appearance, you can experiment not only with the hairstyle but also with the hair color. If you are a really fashion savvy guy, try to incorporate different complementary or matching colors in one look.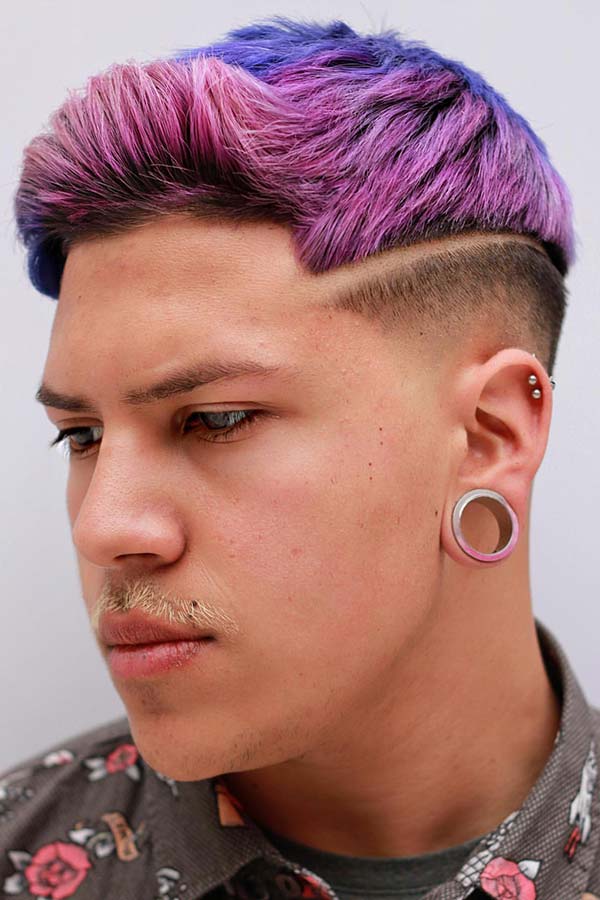 Source: @hayden_cassidy via Instagram
Arc Surgical Line
Although a classic hard part represents a sharp straight line, it does not always have to be like that. One of the best things about this cut is that it allows you to unleash your creativity. Thus, you are welcome to play around with the shape of the parting. For instance, an arc surgical line razor-shaved around your ear will give your hair look a frisky turn.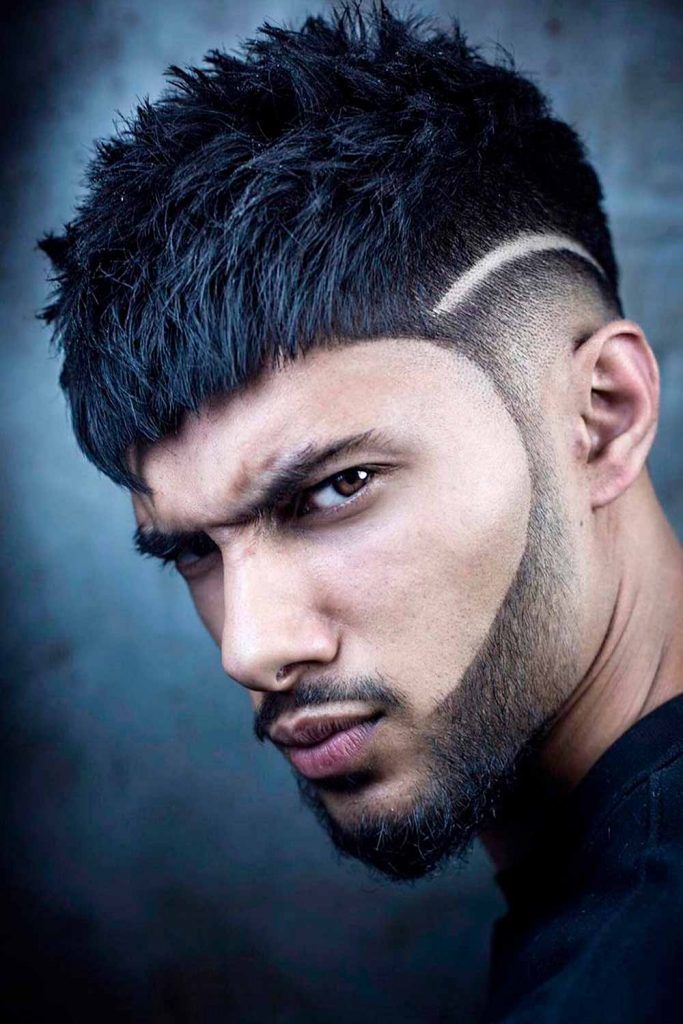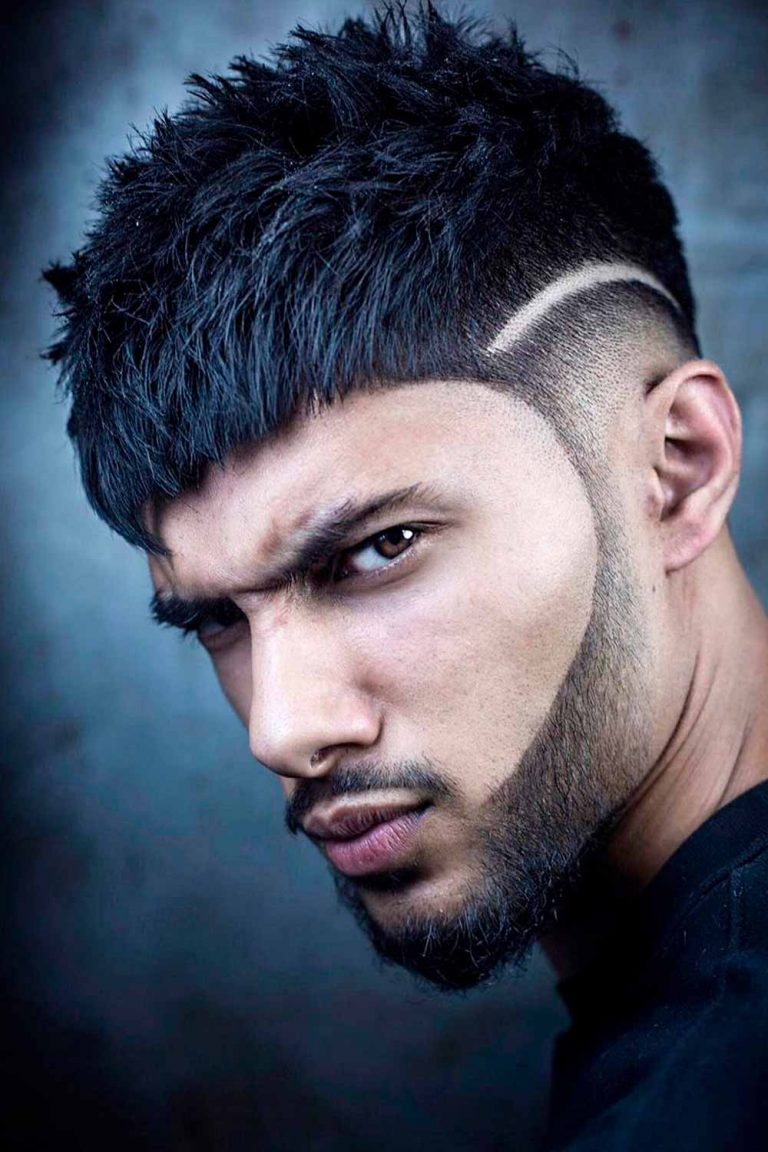 Source: @r.braid via Instagram
Parted Faux Hawk
There are many ways to complement a faux hawk and a hard part is one of the easiest and boldest. Thanks to the clean line that separates the hair on the top of the head from the sides, nothing distracts attention from your crest, making it the focal point of the whole look.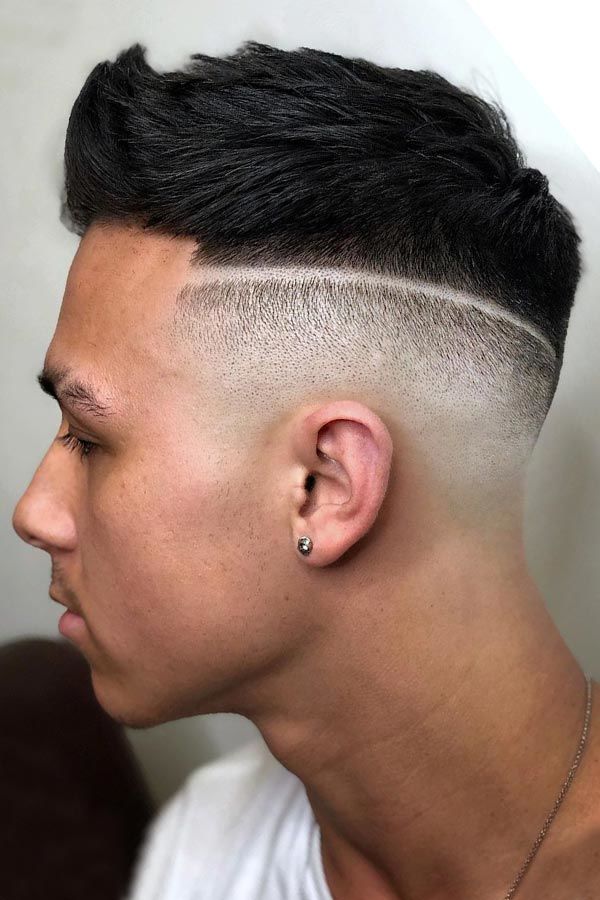 Source: @hayden_cassidy via Instagram
Double Parting
If a single hard part seems like not enough for you, feel free to duplicate it. A double parting is a fresh and modern take on the traditional hairstyle, which looks intricate and fun. Besides, it makes even the most classic hairstyle appear stylish and edgy.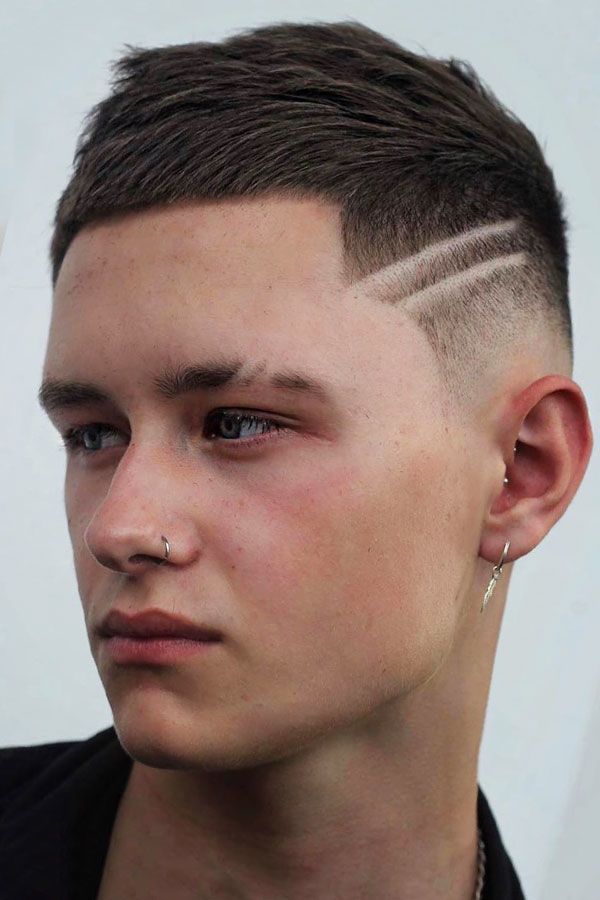 Source: @hayden_cassidy via Instagram
Tapered Hard Part
A tapered fade hard part is a low key way to create a high contrast hair look without actually a lot of effort. As it takes your hair on top to the center stage, you can play around with its style as much as you like.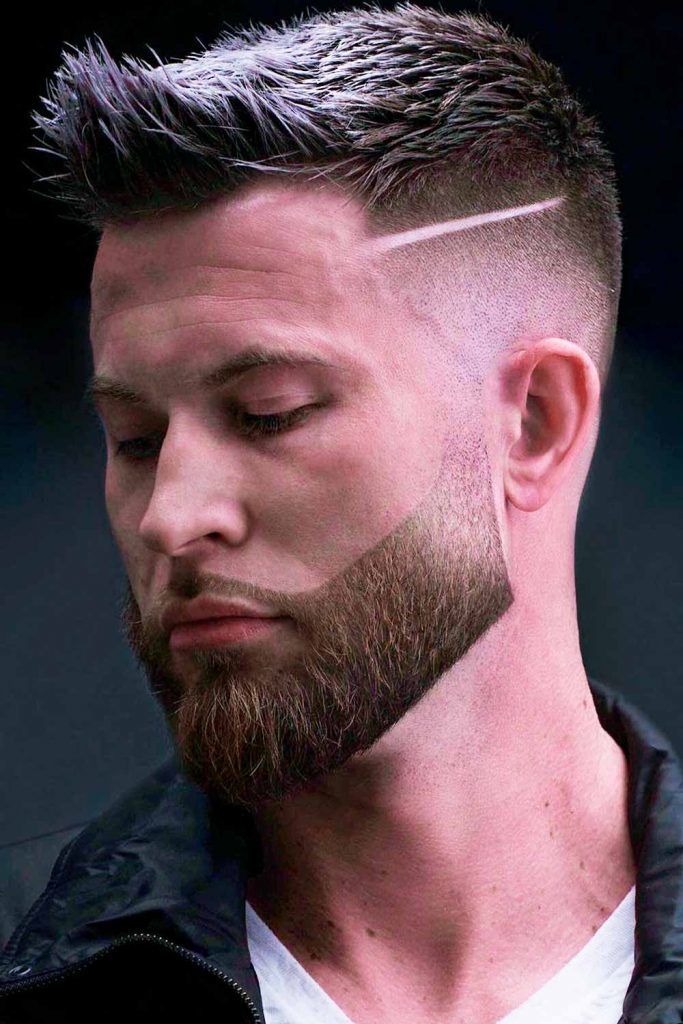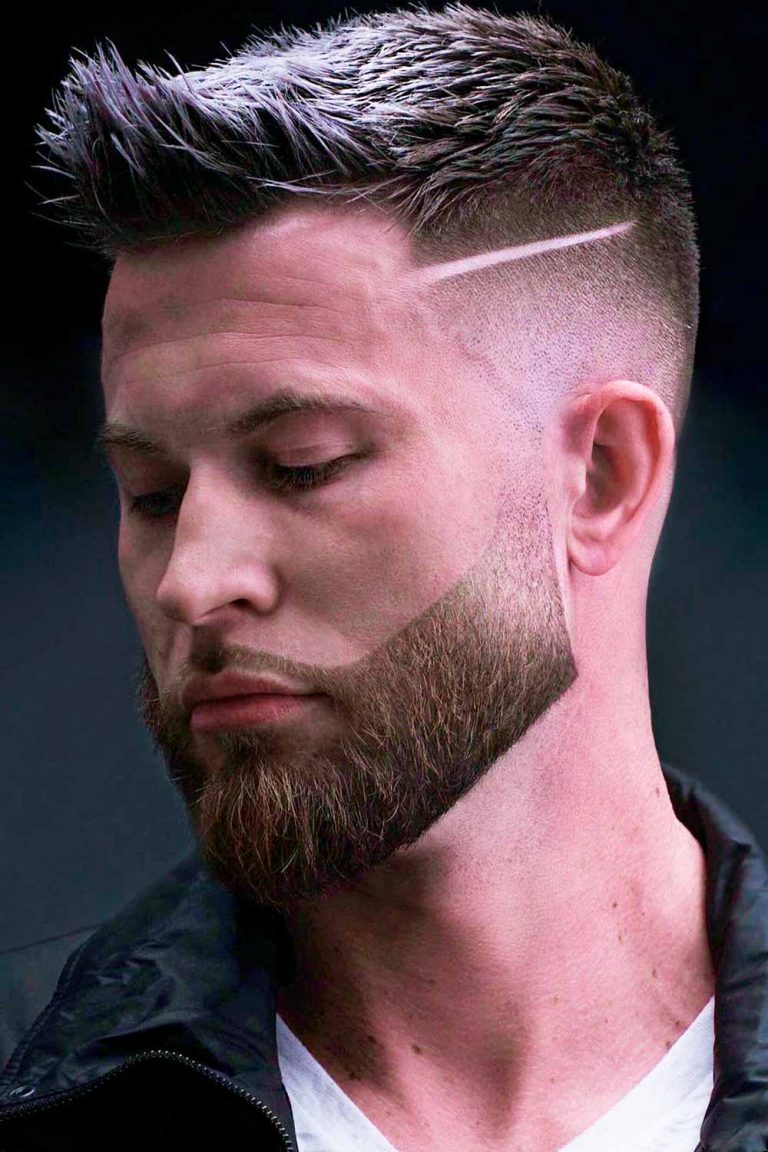 Source: @los_cut_it via Instagram
Hard Part Low Fade
Accentuate a low fade with a hard cut to give it a pronounced and bold appearance. One of the coolest things about this cut is that it is not overly intricate, so even conservative guys will love it.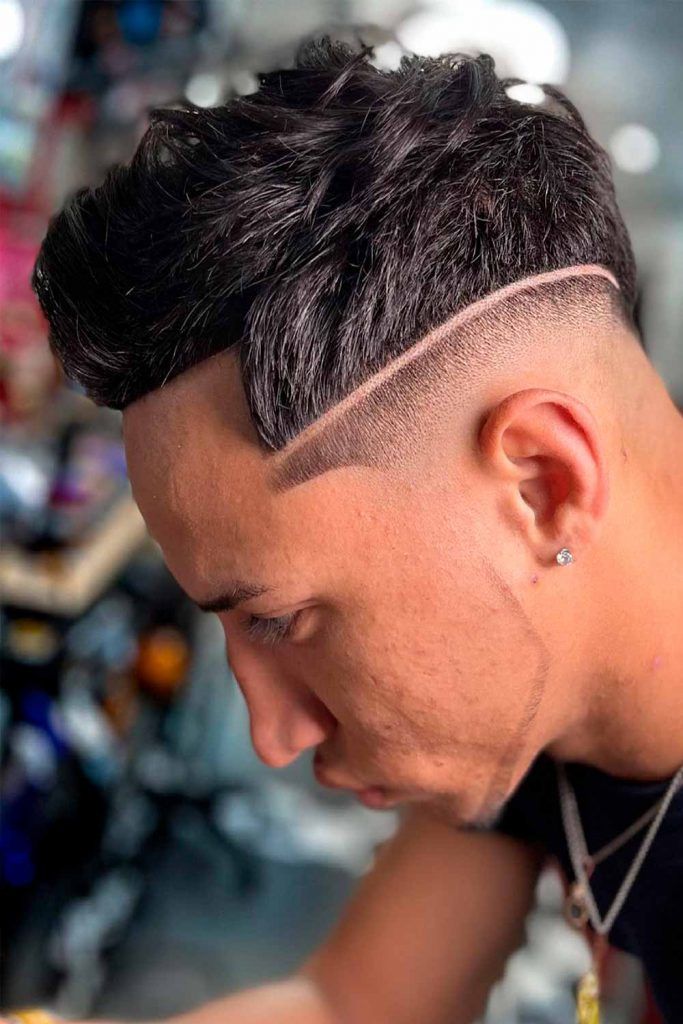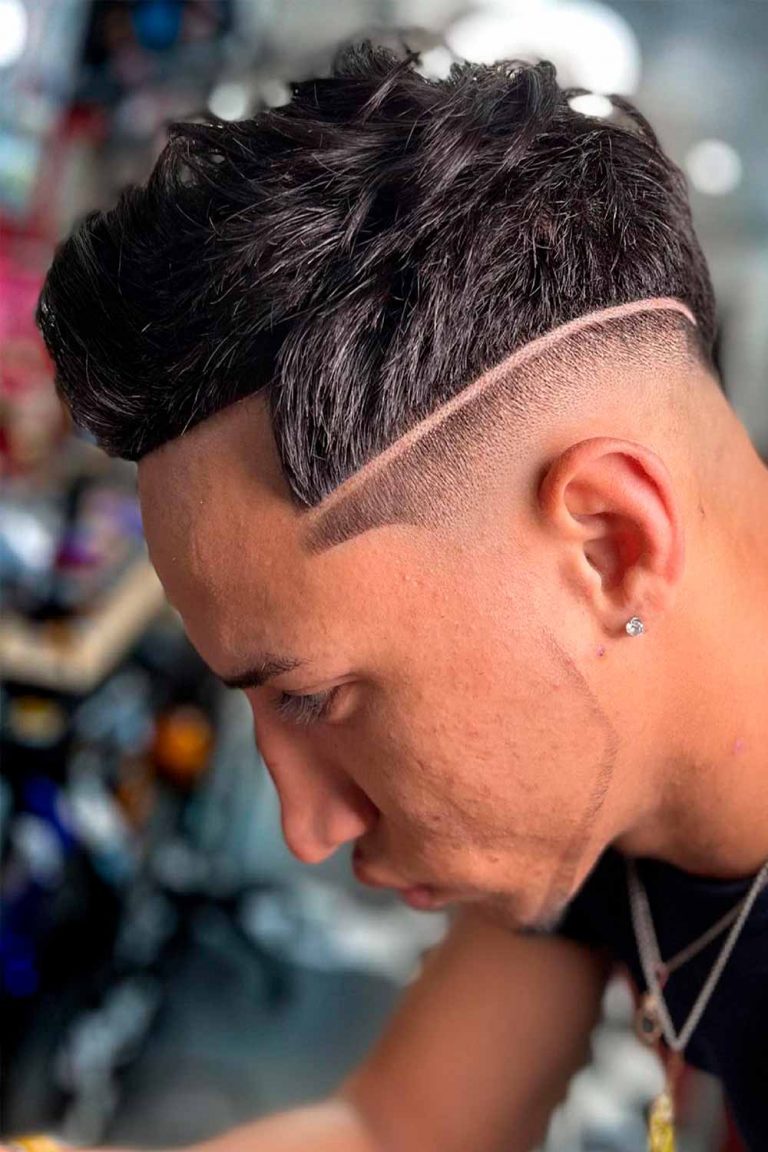 Source: @frankdabarber via Instagram
Messy Hair Hard Part
With a hard part hair ultimately looks neater and tidier, so feel free to style the locks on top messy. Just ruffle them with a tad of a hair styling product and you are good to go.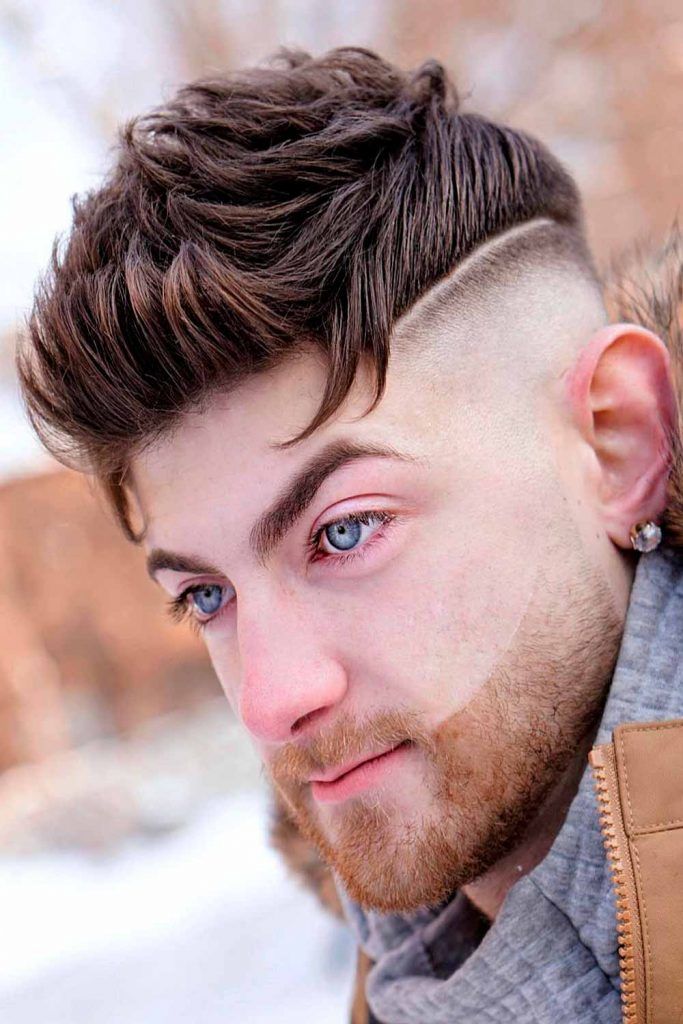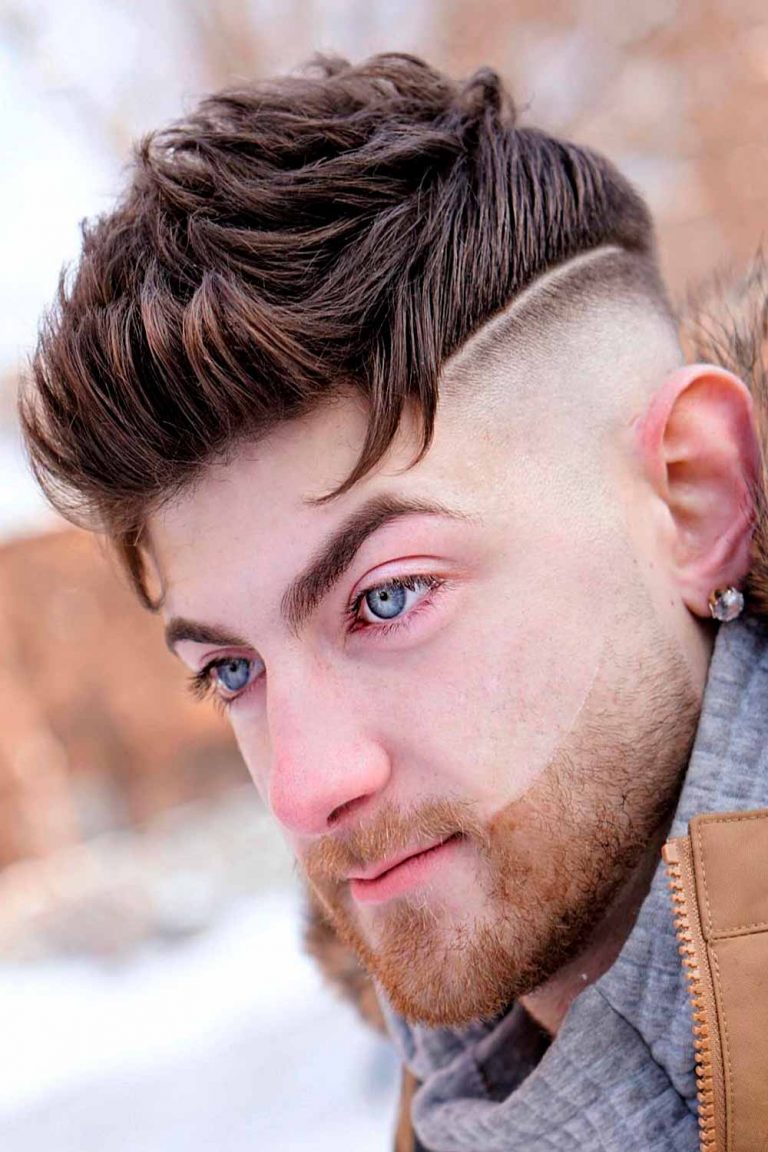 Source: @z_ramsey via Instagram
Hard Part + Short Asymmetrical Bang
Razor cut hairstyles are made for men who are not afraid to be in the center of attention. So, you can take it to another level of boldness by pairing a shaved line in hair with a short asymmetrical bang.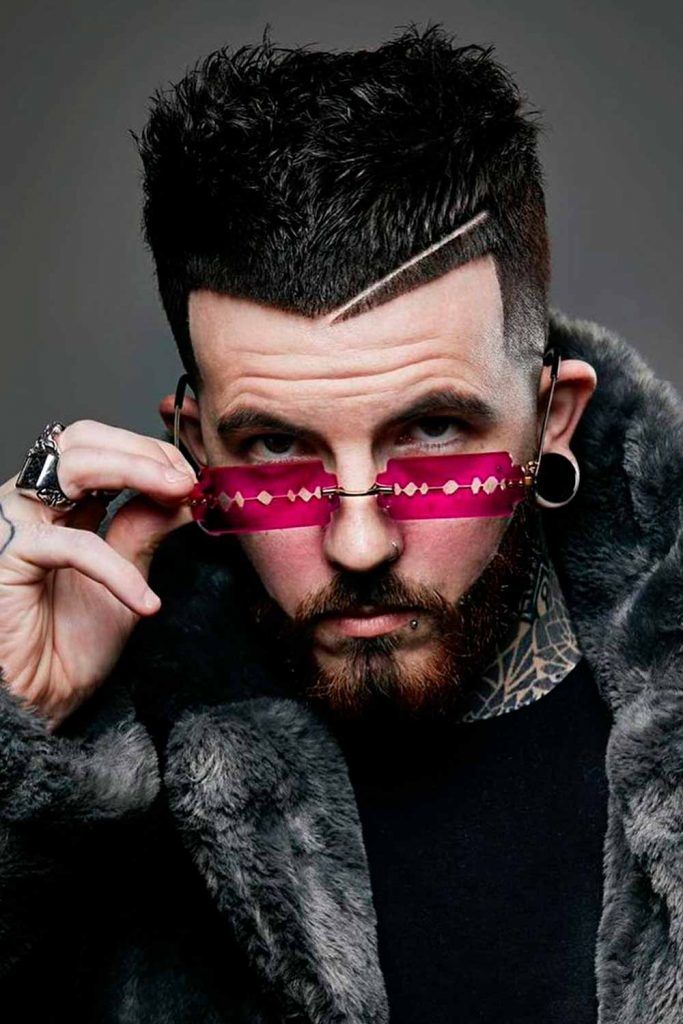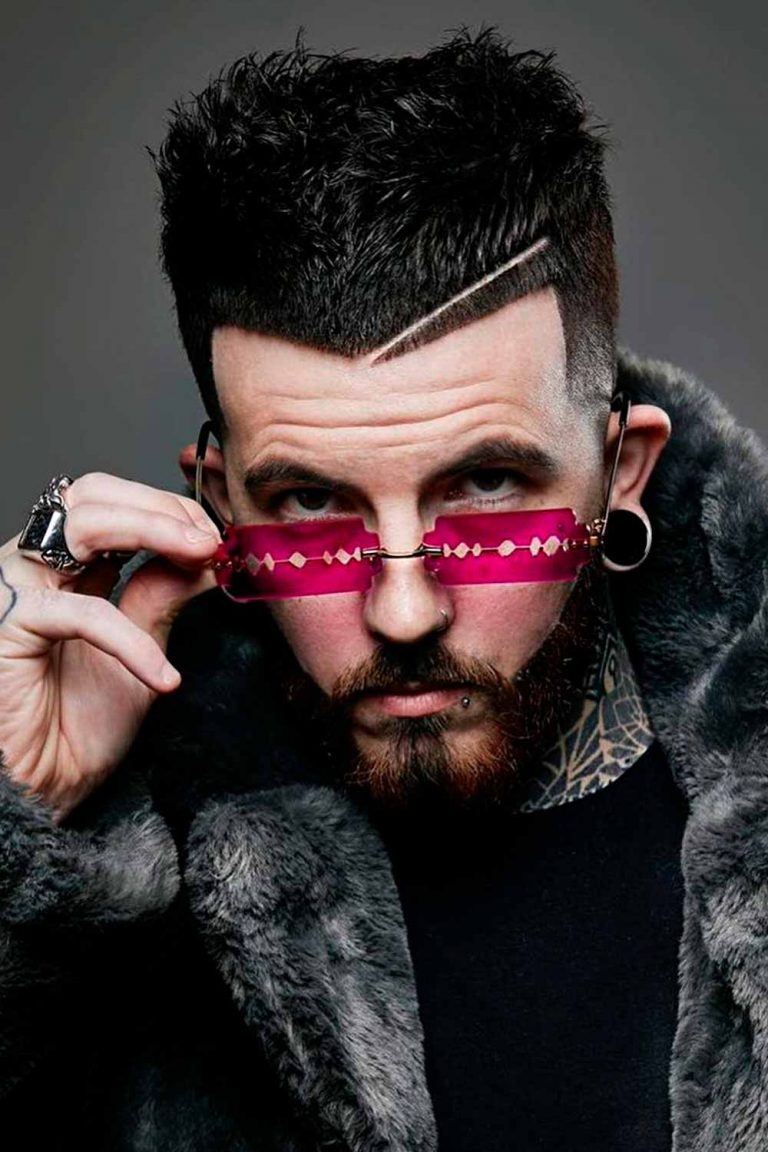 Source: @r.braid via Instagram
To get the most out of your hair, customize your very own men's hairstyle with a razor line. We hope that with our help, you'll find this task very easy to accomplish. So, make no stay and attain one of the edgiest hairstyles today!
FAQs
Does a hard part grow back?
Like any other haircut, a hard part will definitely grow back. Unless your hair has stopped growing for some reason, you will notice regrowth in a couple of days, while the surgical line will completely disappear in several weeks.
How do I style my hair with a hard part?
Because a hard part is not a hairstyle in its essence but a razor-shaved line on your head, you are free to choose how to style it. Yet, here are a couple of good suggestions for the best result:
Wait until your hair is long enough to pull off a hard part.
Wash your hair and rough dry it.
Trim the hair shortly to the skin using a trimmer with a sharp edge.
Work a hair gel or pomade into the top.
Carve the part on your head with the help of a sharp and straight edge razor.
Fashion the hair so that it does not impede the hard part.
Sleek any emerged tufts.
Using a comb, sweep your locks to the side.
Team your parting with a pomp, undercut or another hairstyle that flatters your face shape.
Add a couple of spins as a final touch to your look.
How do you cut a hard part line?
Choose the scalp area where you want your hard part to be and its thickness.
Wet the hair where you are going to shave in the hard part.
Indent a couple of inches from the center of your head and demarcate the line of the parting using a straight edge razor.
Mark the start and finish points of the parting.
Apply a hair gel to the area of the future hard part and work it into the hair.
Trim and shave your locks using a trimmer.
To achieve a defined look, smoothen and line up the hard part.
Choose a hairstyle that you will complement your hard part with.
Was this article helpful?