A comb over fade is one of the hottest hairstyles for men in the industry today. This is somewhat because of the Hollywood hotties flaunting the sexy style and also because it is a cool, simple-to-maintain style. Formerly, it was used for balding men to disguise their diminishing locks. Though today, the comb over has lost its original meaning and paired with such a popular cut as a fade, has become one of the trendiest hairstyles to sport. If you want to find out more about this hair trend and draw some inspiration from it, head over here.
_We may earn money from affiliate links on this page. Please check out our disclosure policy for more details.

What Is A Comb Over Fade?
So, what is a comb over fade? It features two popular hairstyles – a comb over on the top of the head and a fade on the sides. To get the look, the top section of the hair including some hair from the sides and back is combed forward, creating the illusion of an abundant mane. Due to this "combing", the hair is involuntarily divided by the side parting. A fade technique refers to the back of the head and sides. The fade goes from razor short or even bald to the desired length on top.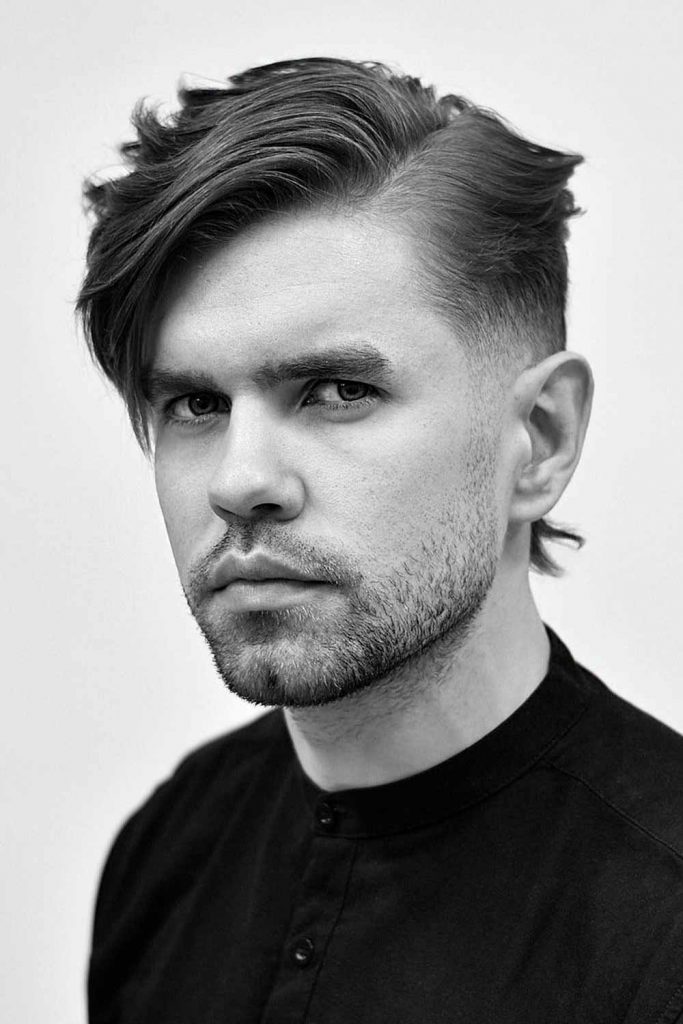 @instagram_iisakkinummi
What Makes A Comb Over Fade So Popular Today?
You may wonder why a comb over fade is so popular these days. It owes its popularity not only to TV shows and celebrities but also to the fact that it allows hairstylists to show off what they're capable of. A fade requires much precision, skill, and a firm hand. Thus, the more elaborate and clean-cut the fade is the higher level of expertise the barber has. On top of that, a fade complements such a classic and elegant hairstyle as a comb over perfectly adding a bit of contrast and modernity to it.
Is A Comb Over Fade The Right Hairstyle For Me?
Of course, you may want to know whether a comb over fade will work for you. The thing is that it's a highly versatile hairstyle and can be customized to flatter basically any face shape or hair texture. Guys with wide faces, round or square, will find it especially complimentary, as it can visually elongate your face and add some sharpness to it. Though, gents with a receding hairline or a widow's peak may want to refrain from a comb-over, as it can accentuate this fact. For narrow and long faces, it's better to go for a low fade in order not to enhance the length.
Now let's explore trendy and cool haircuts for men!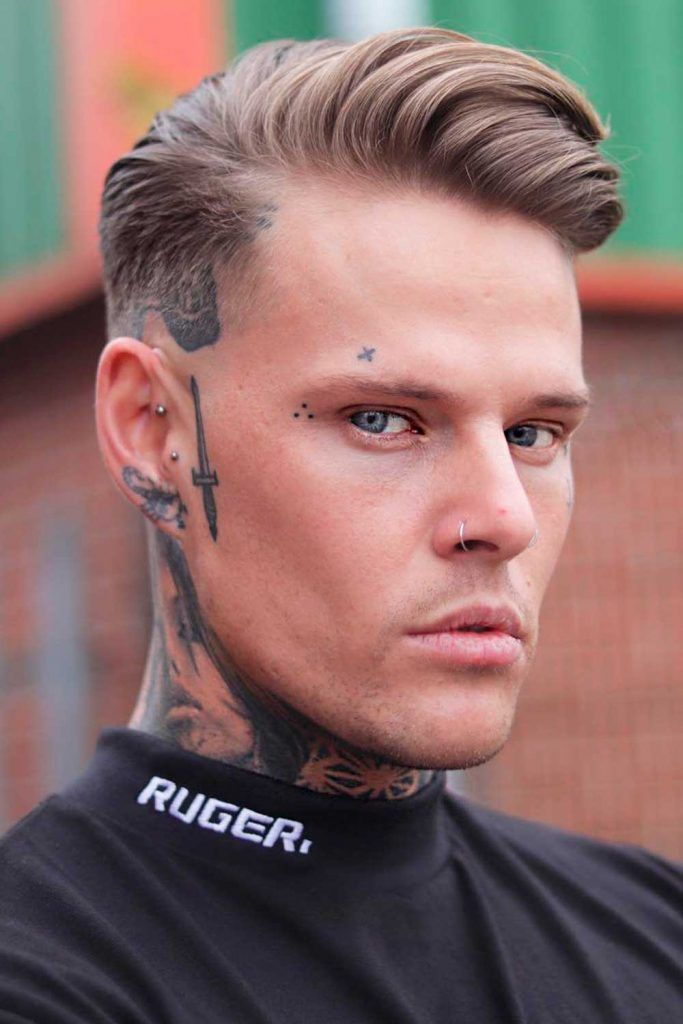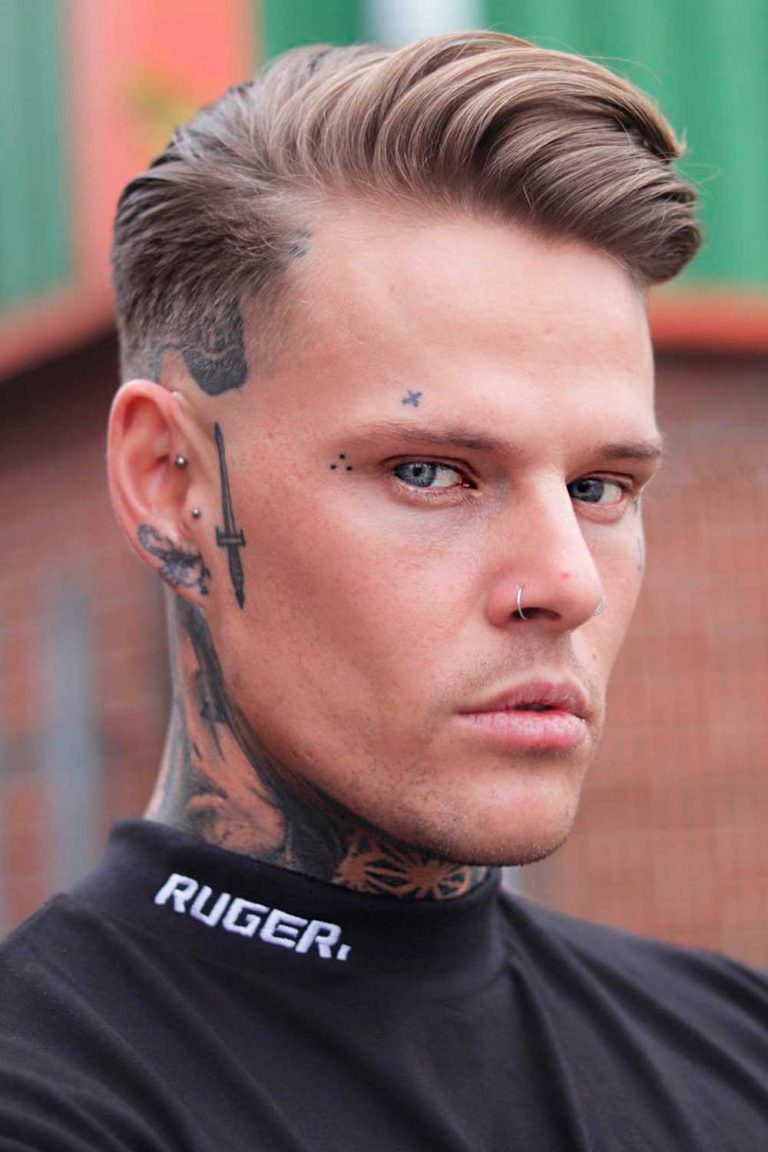 @instagram_alan_beak
The Best Comb Over Fade Variations
There are several variations of the fade haircut, and the best part is that these cuts don't require the use of scissors. These types of cuts are created with the use of clippers with various guards and, on occasion, a razor is used. Three of the main types of fades: are the skin, high and low fade, etc. About some of them, you can read below.
Being one of the greatest men's hairstyles, the comb over haircut with a fade transforms a traditional side part hairdo into a modern and stylish fade haircut. Run through our ultimate compilation of the best ideas for the comb over fade and choose the one that flatters you most. The first thing before going to a barber understands how the cut and fade combo will work with your face shape. Check out these variations on the top of the head for the comb over fade haircut.
High Fade Comb Over
This photo is a great example of a high fade comb over. The hair on the sides and back is shaven to the scalp very high up the head. Just below the length, you will notice some fade to blend the cut more subtly. This cut is also known as a high top fade due to the excessive length left on top. The bouffant look is achieved with the long hair styled high, making this style a little more labor intensive to acquire. The high fade haircut is very popular and originated and then evolved from the military style cuts.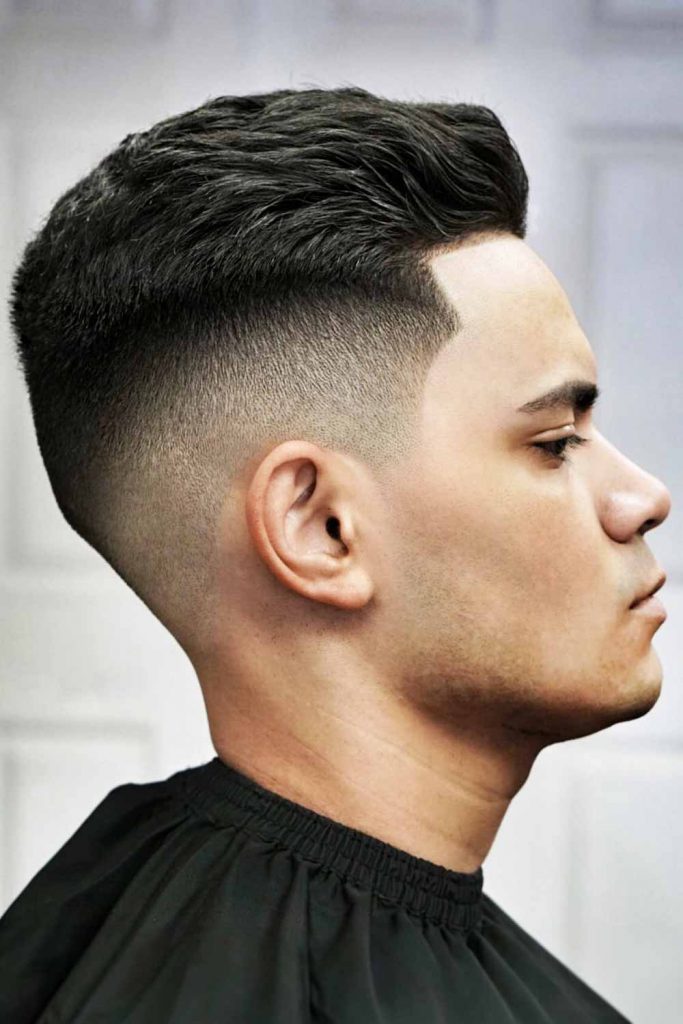 @instagram_xbigwesx
Mid Fade Comb Over
The mid fade is exactly what its title infers. It is not high toward the crown of the head, nor is it low toward the hairline. It falls in the middle of the hair. The mid fade haircut is more about the style of the length on top while maintaining a short tight length along the sides and back. Mid fade comb over is suitable for men who don't like to experiment and stay true to the classics.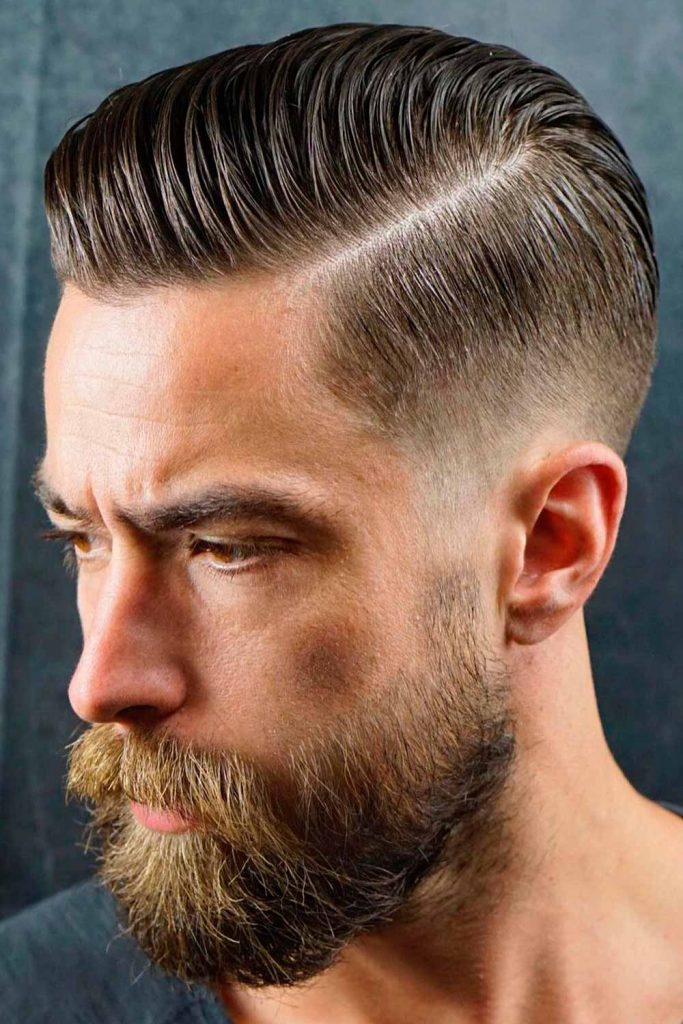 @instagram_blackfishbry
Low Fade Comb Over
If you have a longer style on top and you want to maintain some length or volume on the sides and back, then ask your barber for a low fade haircut. Low fade comb over will make the look seem fresh without having to go too short back and sides. This style can sometimes make your head look a bit more triangular, so make sure it suits your face shape.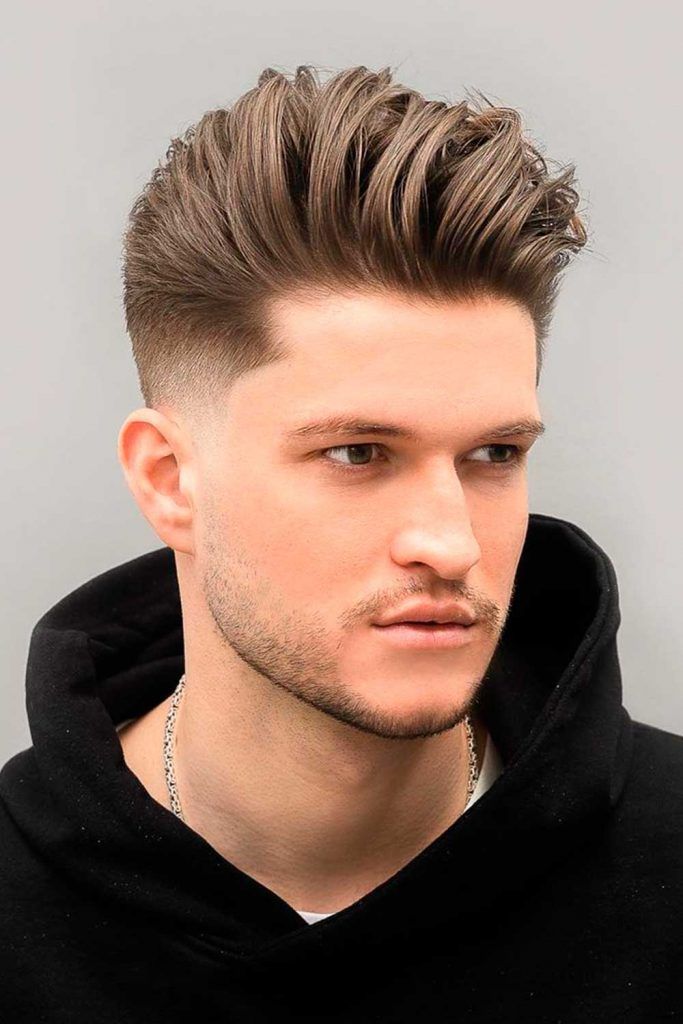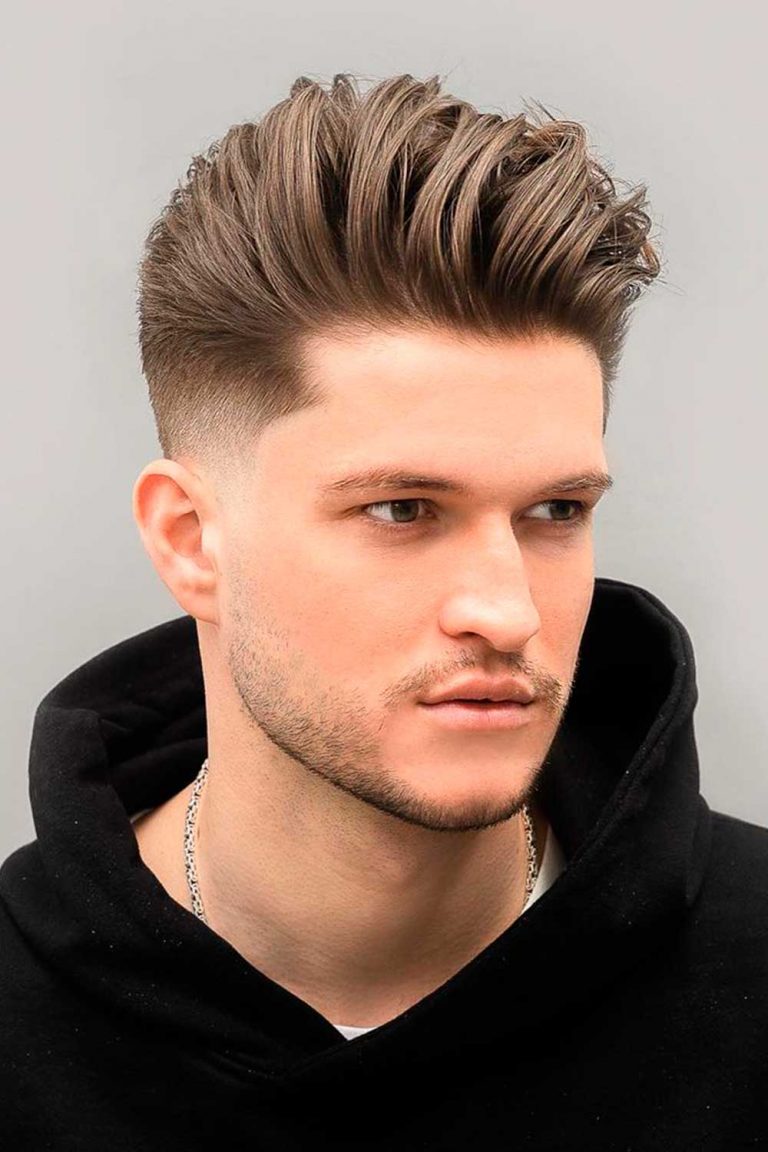 @instagram_keller_konturen
Skin Fade Comb Over
Skin fade will generally start with a zero blade. It can look a little harsh for a few days but also longer than a tapered or longer fade. Also referred to as a short and tight style, it originated from the military and has since evolved into the variations you see today. A bald fade comb over is ideal for someone who has a round face shape. However, in some cases, to prevent one from looking disproportional. The comb-over simply defines the style of the hair that is left on top.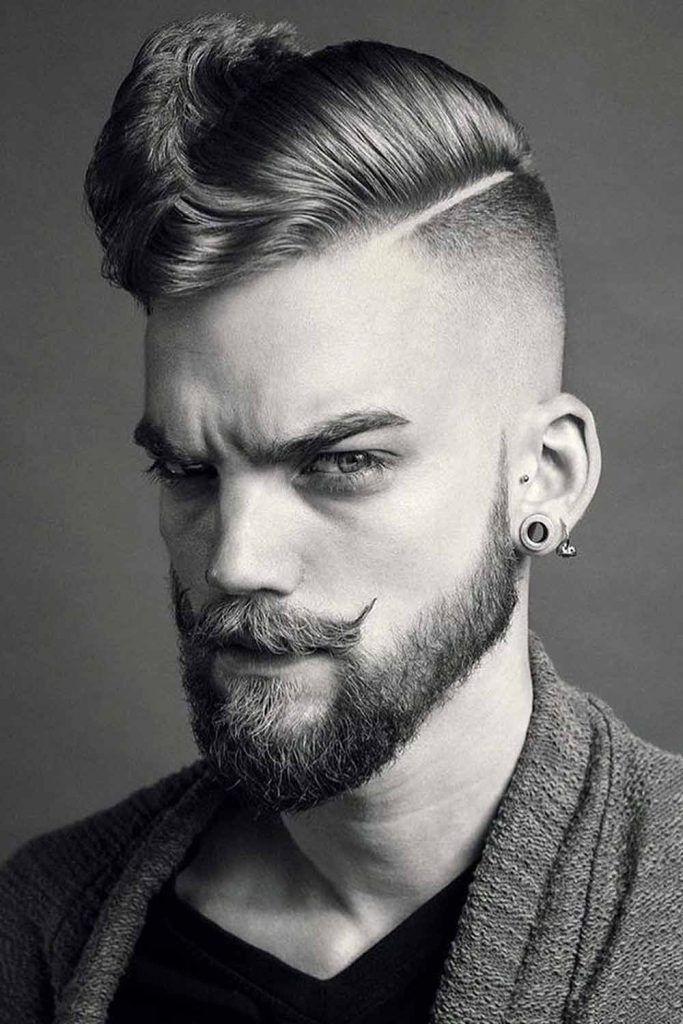 @instagram_r.braid
Short Hair Comb Over
The first good thing about this low fade haircut is that it can be easily maintained because it doesn't require much time for daily upkeep. The only thing that you need to do is ensure that your fades haircuts remain of the right length, the front hair is styled spiky and the top hair is combed over to one side. To perfect the look, apply a generous amount of hair styling product, like a gel or pomade, to the top.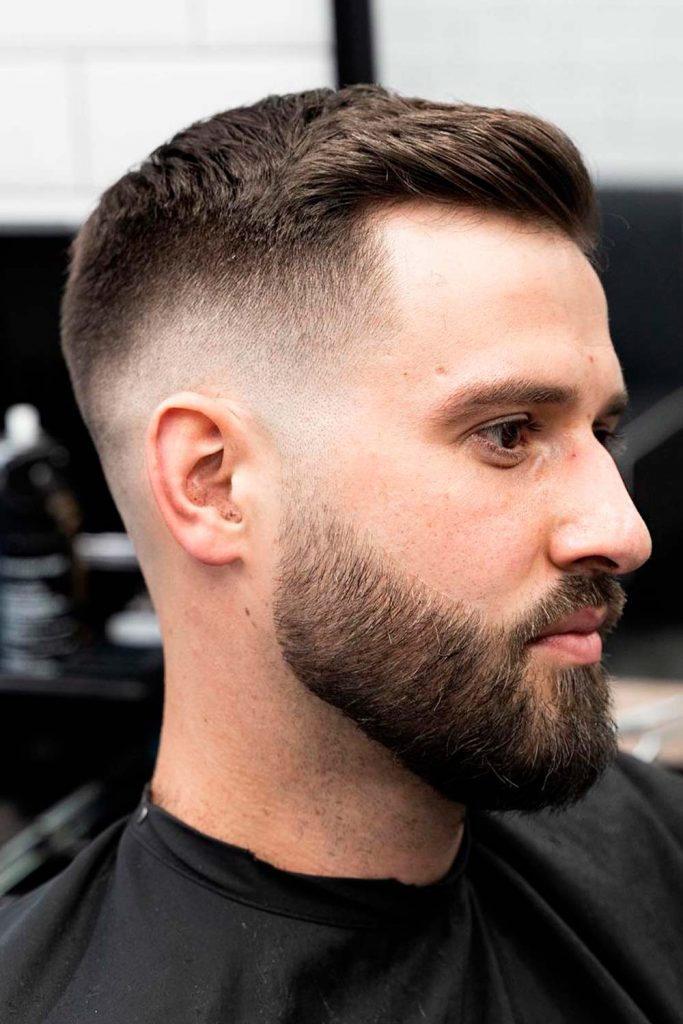 @instagram_birdcobarbers
Clean Parting Mens Comb Over Fade
When you pair a short comb over haircut with a fade, it already becomes looking bolder and edgier. But for added emphasis, why not define it with a hard part? The look is generally not low maintenance, especially if your hair grows out pretty fast. So, be prepared to visit the barber regularly to keep up the clean and sharp appearance of the cut.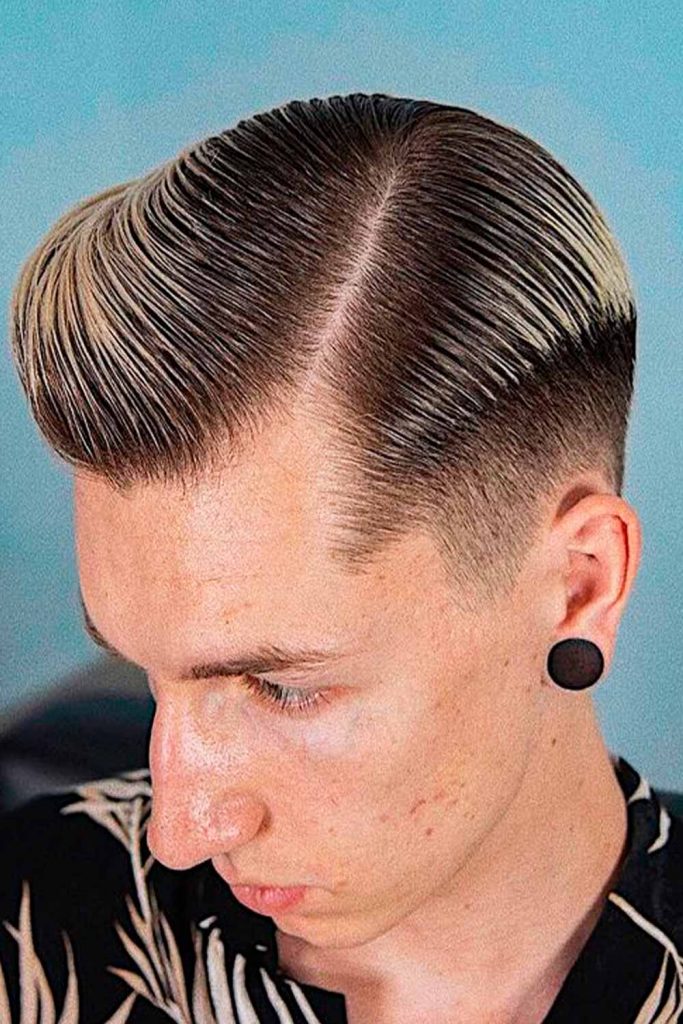 @instagram_dima_naiden
Comb Over Fade No Line
When adding to a comb over mid fade haircut, as well as high or low, it may leave a line between short and long hair. If you want to achieve a more gradual transition, blend the sides into the top seamlessly. In this way, the haircut will come out looking very smooth and polished.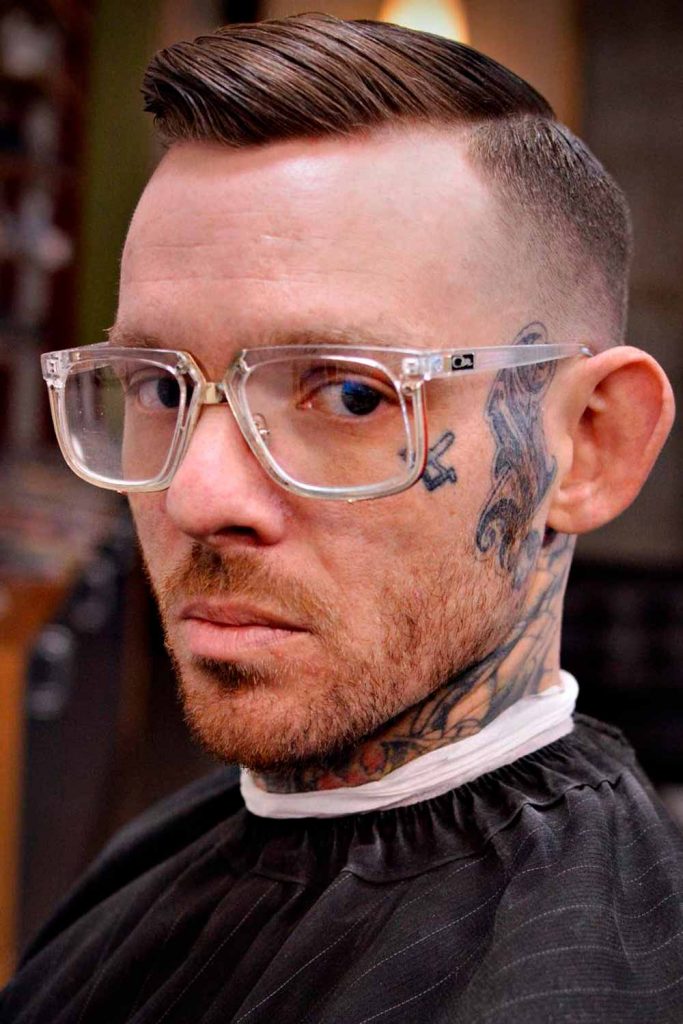 @instagram_blackfishbry
Long Comb Over
For those gents who prefer more classic yet sophisticated hairstyles, a long comb over with a low fade is a perfect way to go. Ask your barber to create a gradual transition between the hair on top and sides for a smooth and polished look.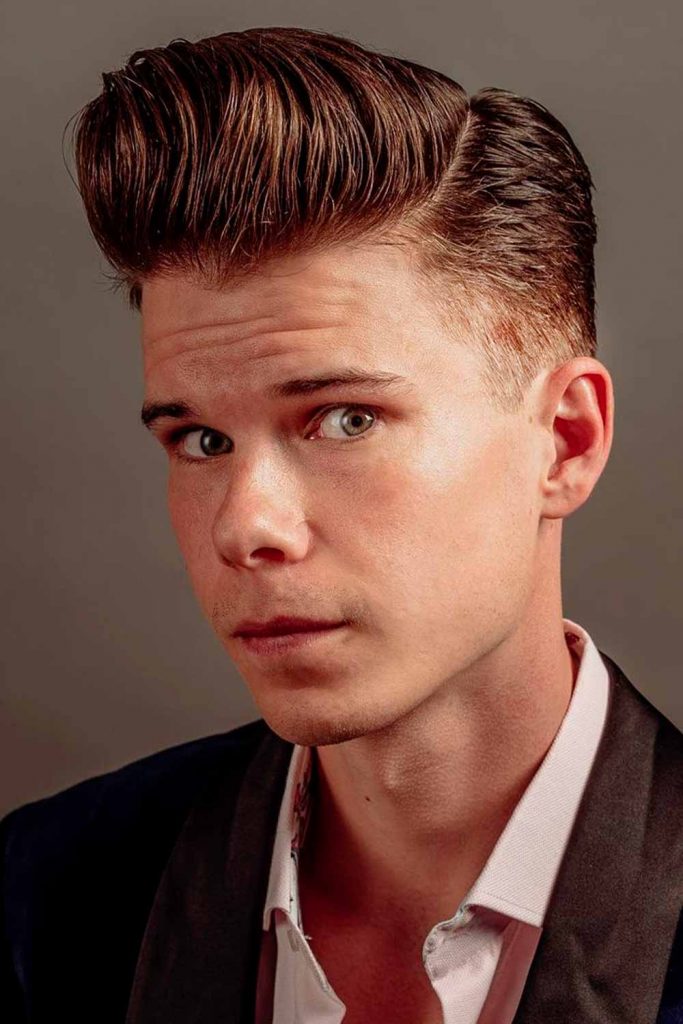 @instagram_the_bloody_butcher
Undercut Comb Over
Thanks to the prominent length of the hair on top, it doesn't take much effort to create a contrasty look with a comb over hairstyle. On the sides and back, go with a mid bald fade that is noticeably shorter that the top hair. Thus, you'll get a highly popular and trendy undercut comb over hairstyle, which you can enhance with blonde highlights and a line up along the temples. Tease the hair atop a little to add more volume and definition to the look.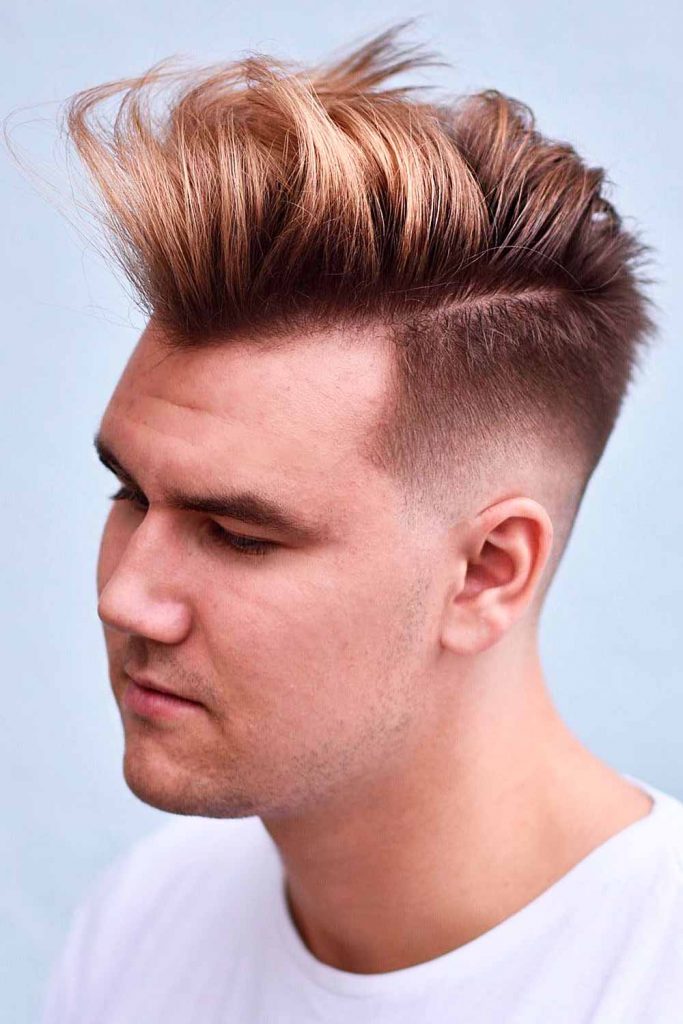 @instagram_iisakkinummi
Comb Over Taper Fade
We're almost sure you've already heard about such a men's hair masterpiece as a short pompadour. Being greatly popularized by the King of Rock 'n' Roll Elvis
Presley, it has come into our lives to stay. It's a very easy-manageable high fade haircut as after you've brushed back the top of the hair, you can use your hand to sweep it back again without destroying the hairdo.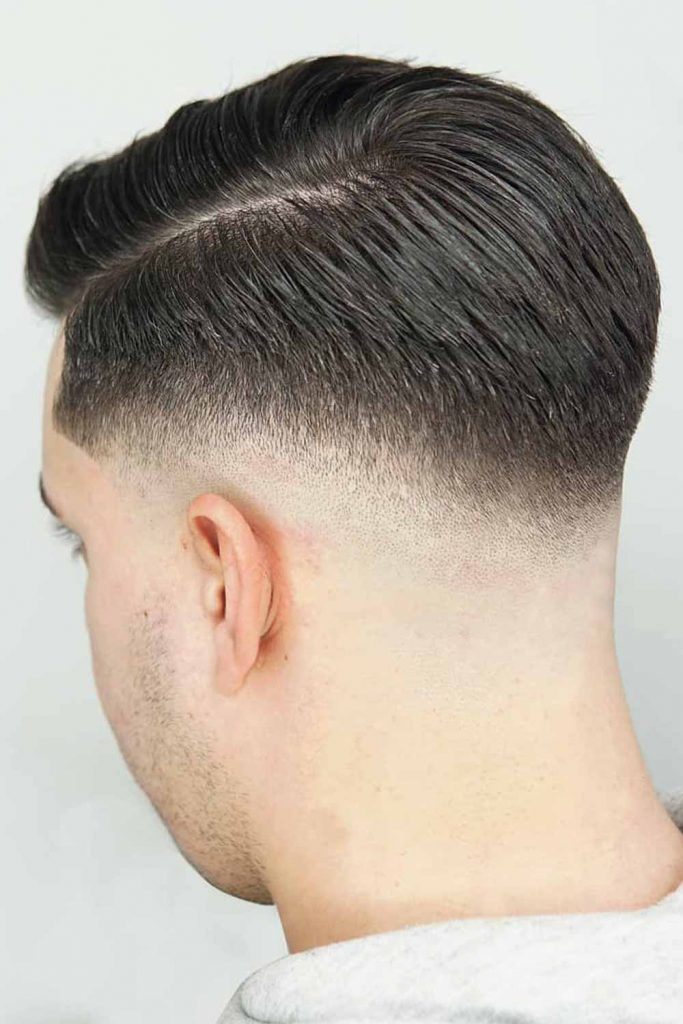 @instagram_keller_konturen
Side Part
A breakthrough in the styling scene that isn't really new at all is the side part fade. There are several variations of the side part hairstyles men choose on a regular basis. And it's really important to maintain the part. Also, with a men's side part, you want to assure that you maintain a clean look at the part. This is the focal point of the fade from the part downwards.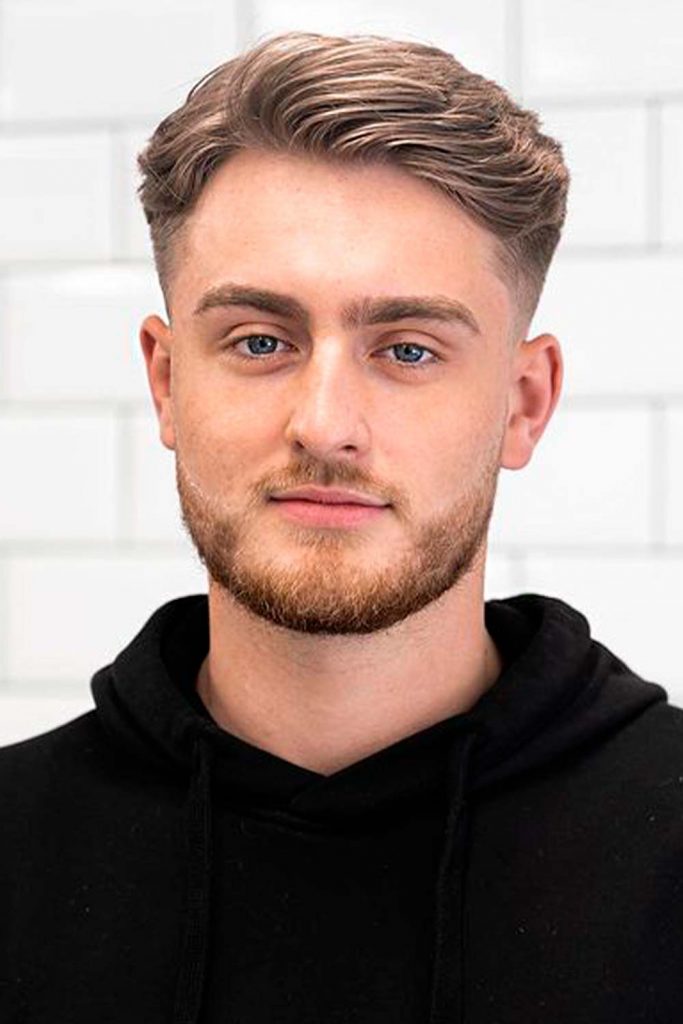 @instagram_birdcobarbers
Slick Back Mens Comb Over
One more popular men's style is the slick back hair that can be more difficult to achieve at longer lengths than at shorter ones. It is vitally important that you assure that you have a strong hairline in order to properly wear this style. A thinning hairline will almost certainly be a hairstyle tragedy if you attempt to pull off this style. The slick back fade is a classic cut that gives the face a square appearance. The slick back haircut is very close to a side part but works best for longer top hair lengths.
Pompadour Comb Over Fade
The next style that works well for long hair on top is a pompadour fade. The pompadour hairstyle is a style that is blown back. Pompadour hair became notoriously famous in the 90's and the time has not left the hearts of stylish and extravagant men.
Faux Hawk Comb Over Hair
If you're looking for a style that is more out there on the jagged edge, then the faux hawk fade may be the cut you desire. This edgy look has become famous in many cultures. Even business executives have chosen this version of look to appeal to a wider market of clientele. They do tend to lean more toward the short faux hawk version than the longer grungier version. This version of the cut is acceptable to a broad range of men from all walks of life.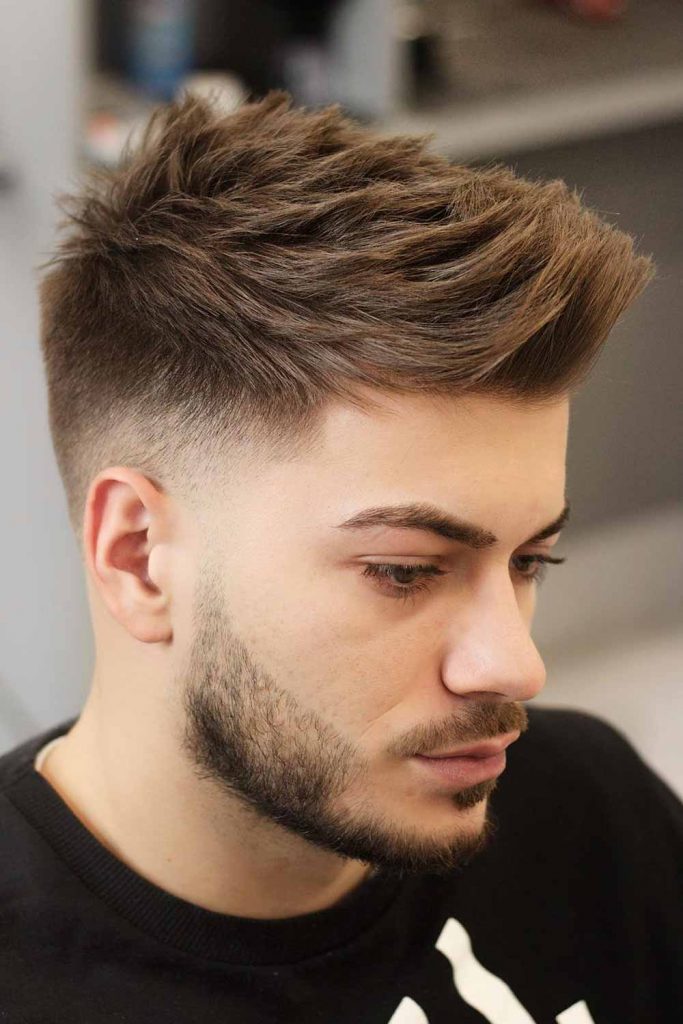 @instagram_horatiuthebarber
Wavy Top
If you think just because of your hair type you are excluded from being able to obtain a specific kind of cut, you'd be surprised at a wide variety of wavy hairstyles for men that are both easy and attractive. The trick to obtaining the perfect cut is having a stylist or barber who is familiar with your hair type and the wide variety of hairstyles for men with wavy hair.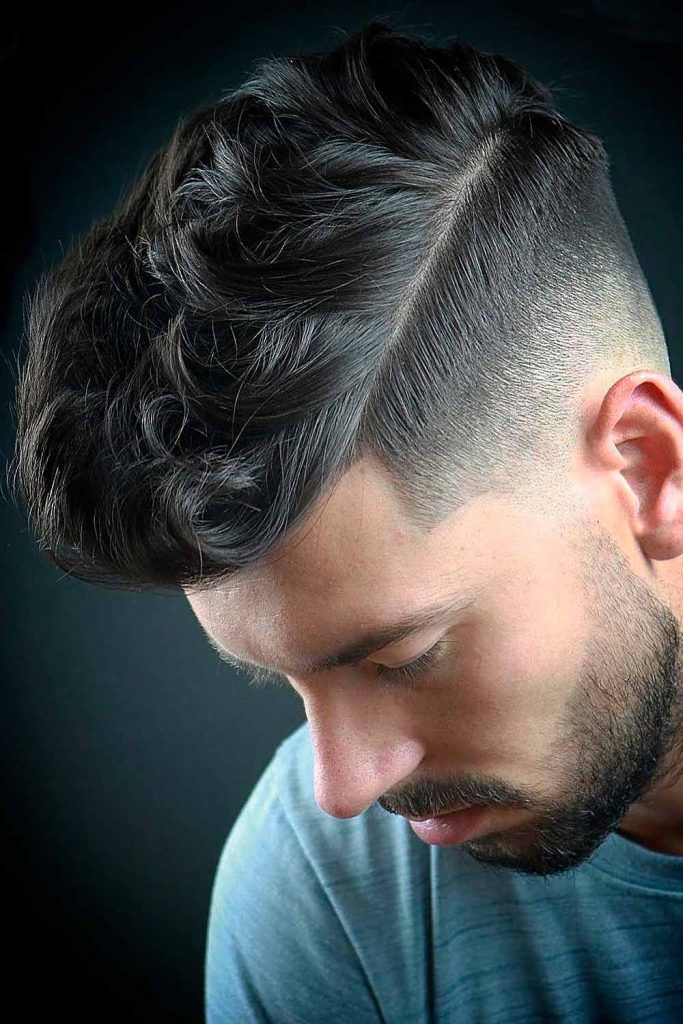 @instagram_corneliucrihan
Curly Top Comb Over Fade
There are even fade comb-overs that work for curly hairstyles for men. Men who have curly hair often keep it buzzed short, feeling that may be the only option to keep their curls tamed. But this example has become one of the curly hairstyles men love. There is a wide variety of hairstyles for curly hair men. But it is great to know that chopping all of your locks off is no longer the only option that you have.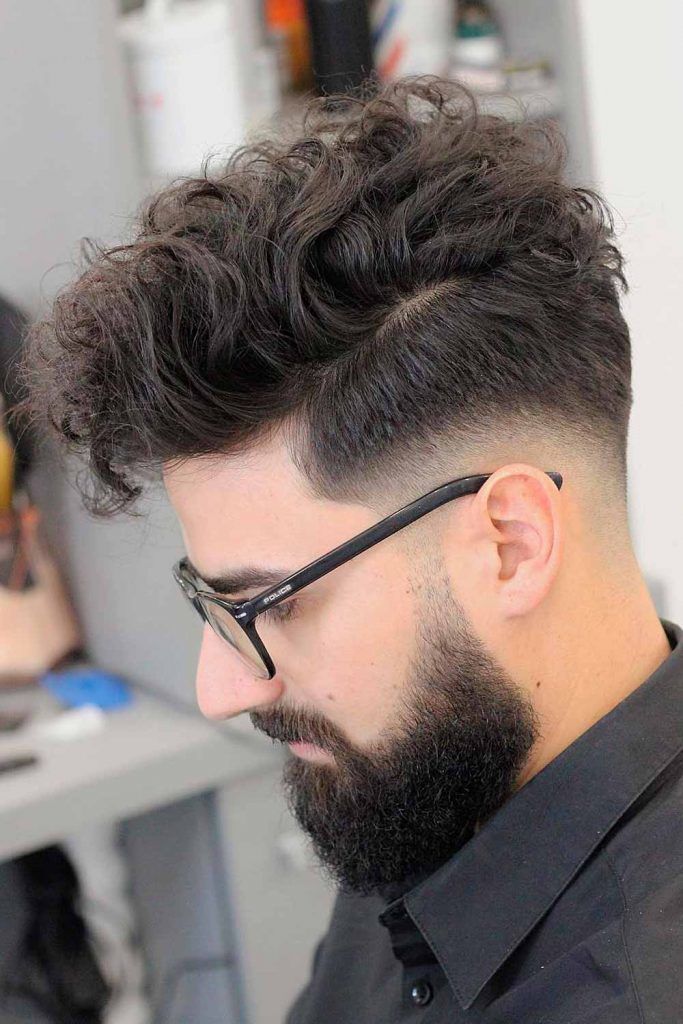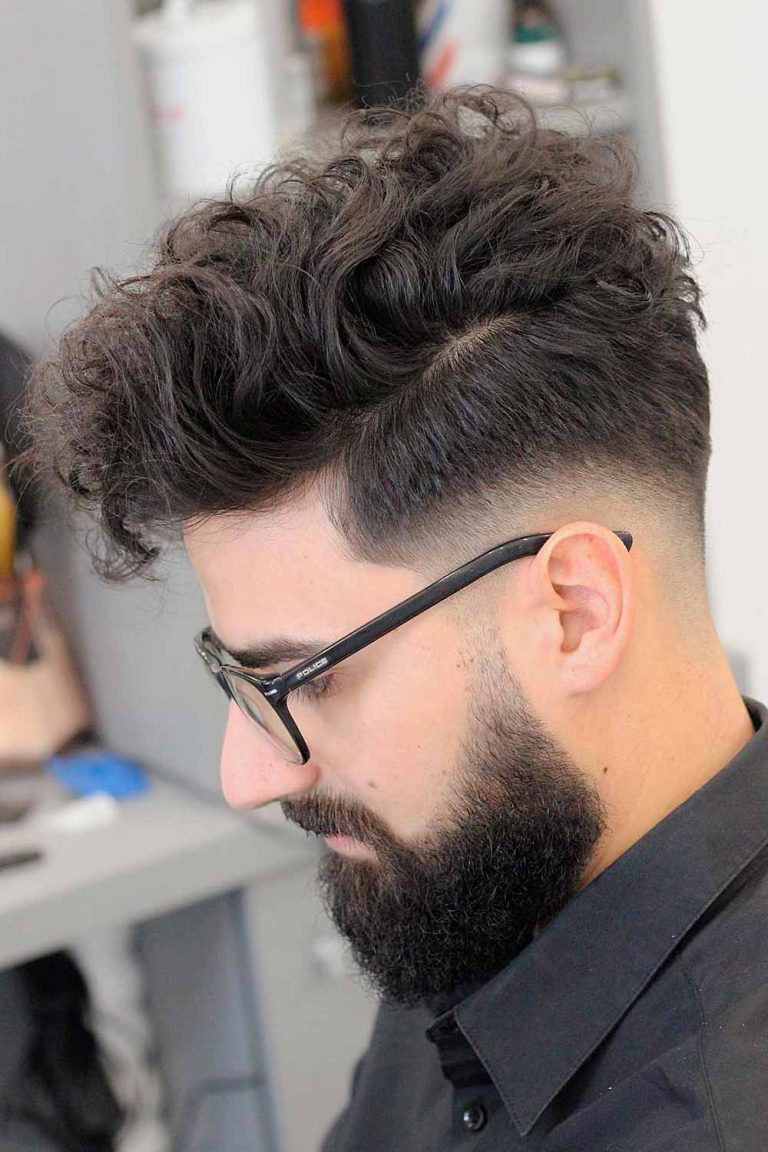 @instagram_horatiuthebarber
Pomp Quiff
Men comb over haircuts can be successfully paired with the majority of popular male hairstyles and even more than one at a time. With that in mind, a comb over with fade and pompadour quiff create a very bold and stylish look.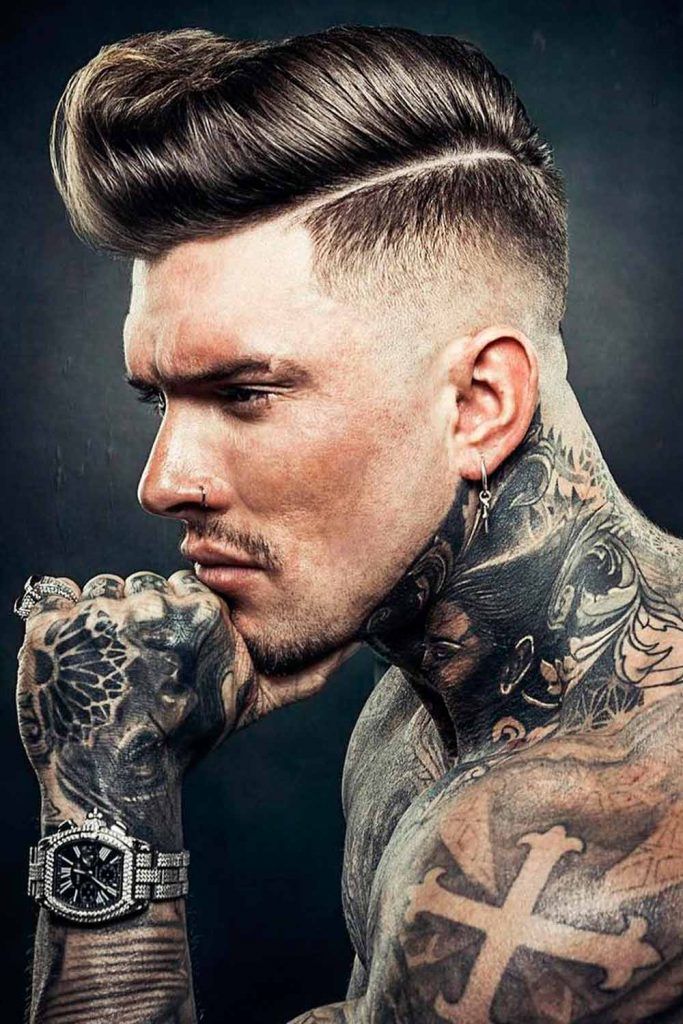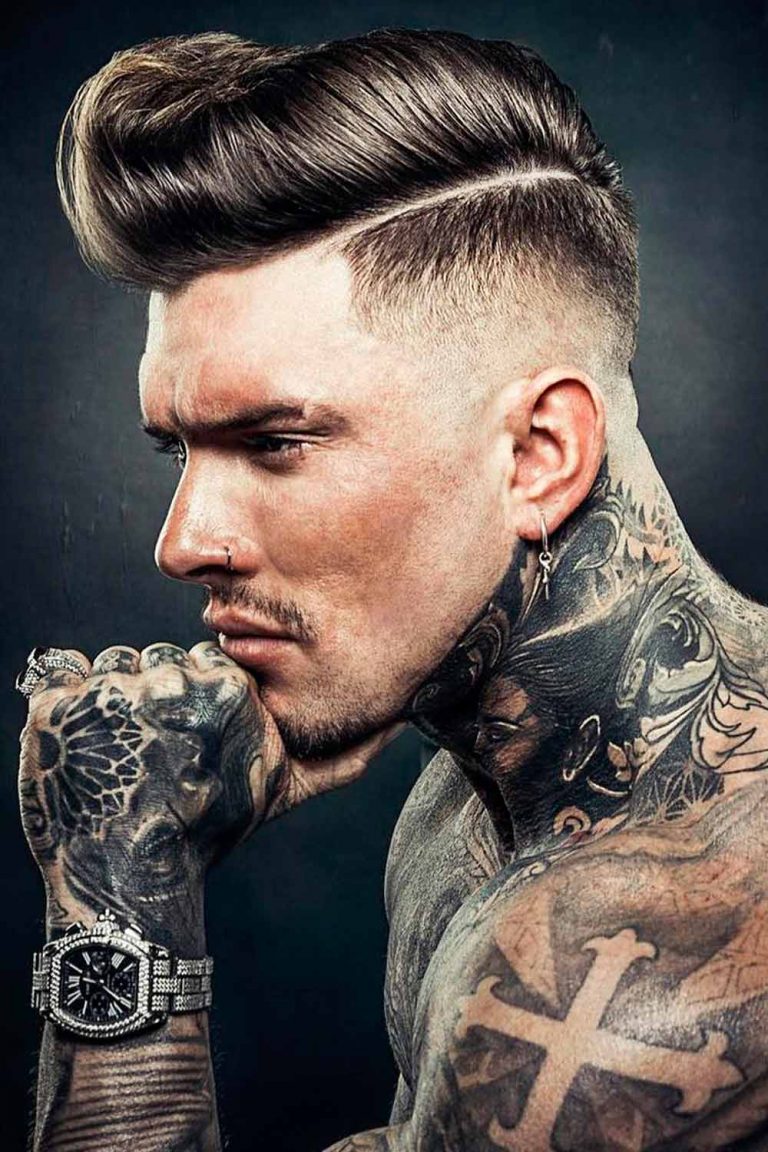 @instagram_r.braid
Ideal Side Part
Even a perfectionist would highly appreciate this impeccably shaped hairstyle. Define your comb over fade with a flawless side part and you are guaranteed to collect compliments left, right and center.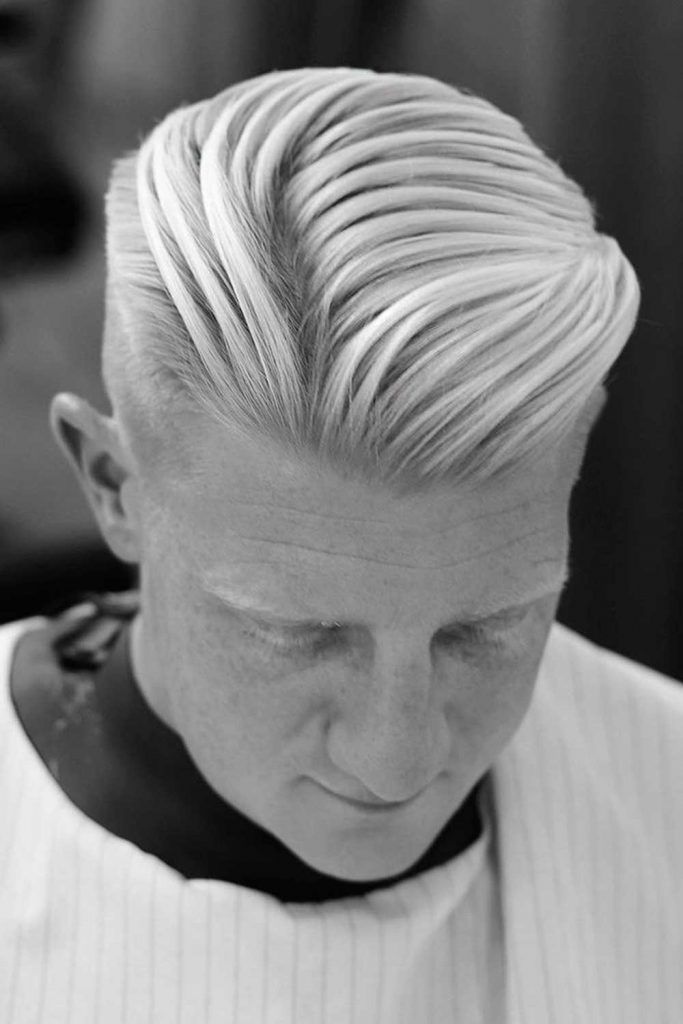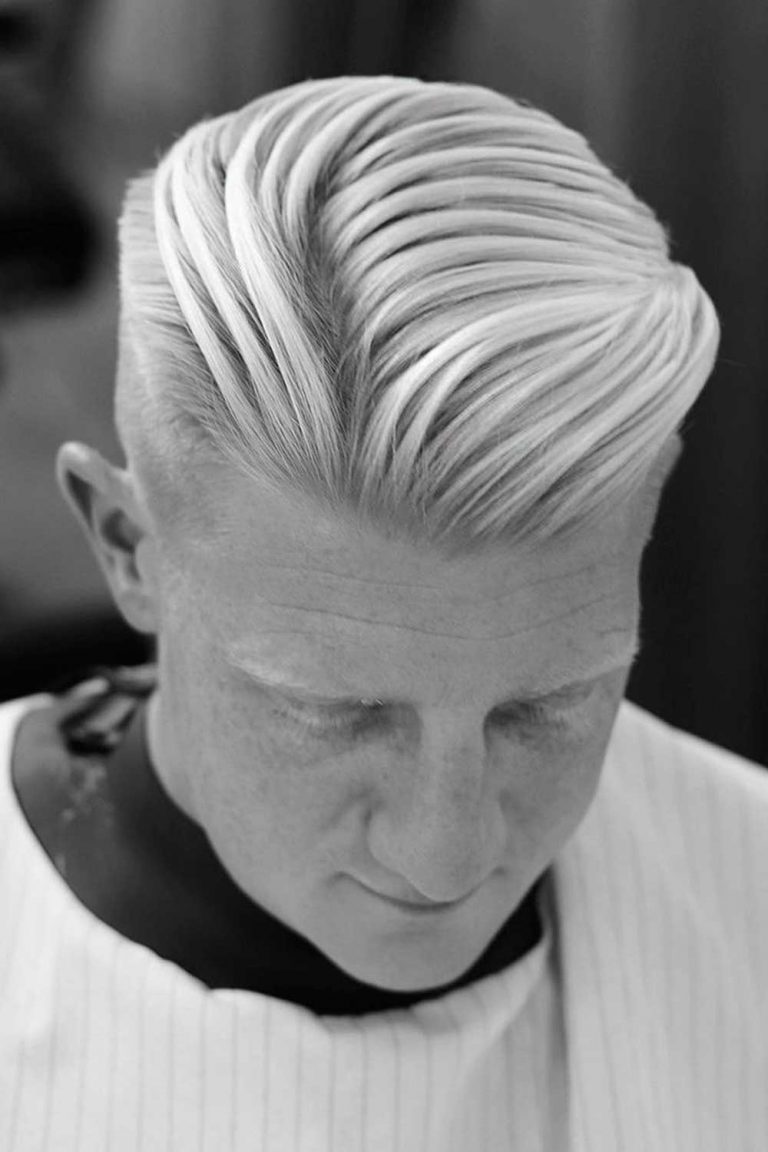 @instagram_alan_beak
Spiky Top
Looking for some funky men's haircuts? Try out this spiky top hairstyle with a medium skin fade. The hair on top should be brushed up with the help of a styling product, such as a hair gel or pomade. Scoop a generous amount of the product onto your finger, rub it into your fingers and palms and run them through the top section of hair from back to front, thus creating a spiky finish through the edges.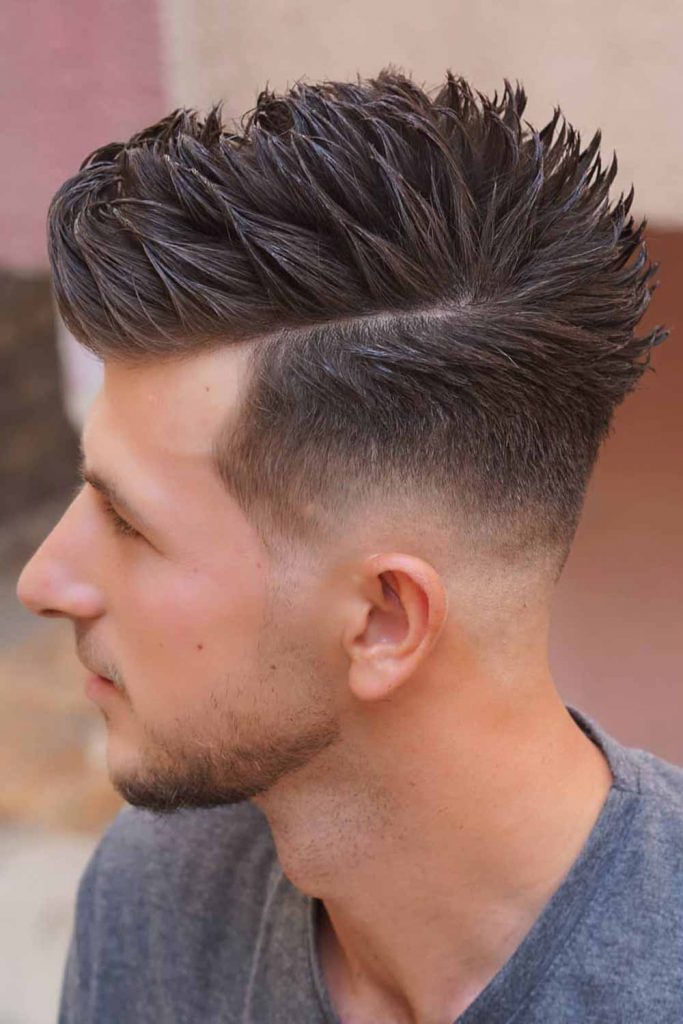 @instagram_ahmetaslanhairsalon
Brushed Back Comb Over
This variation of long hair fade is perfect for both, a formal occasion and a night out. It can be harnessed by all age groups, from young boys to respectful gentlemen. Another advantage of this true gem of mens hairstyles is that it's very low-maintained. To nail the look, you need to trim your sides and brush them to the back a bit. As for the top, curl it to the back a little so that you could run through it with your fingers for added texture. As an extra complementing element, you can style the haircut with a short beard or blonde highlights.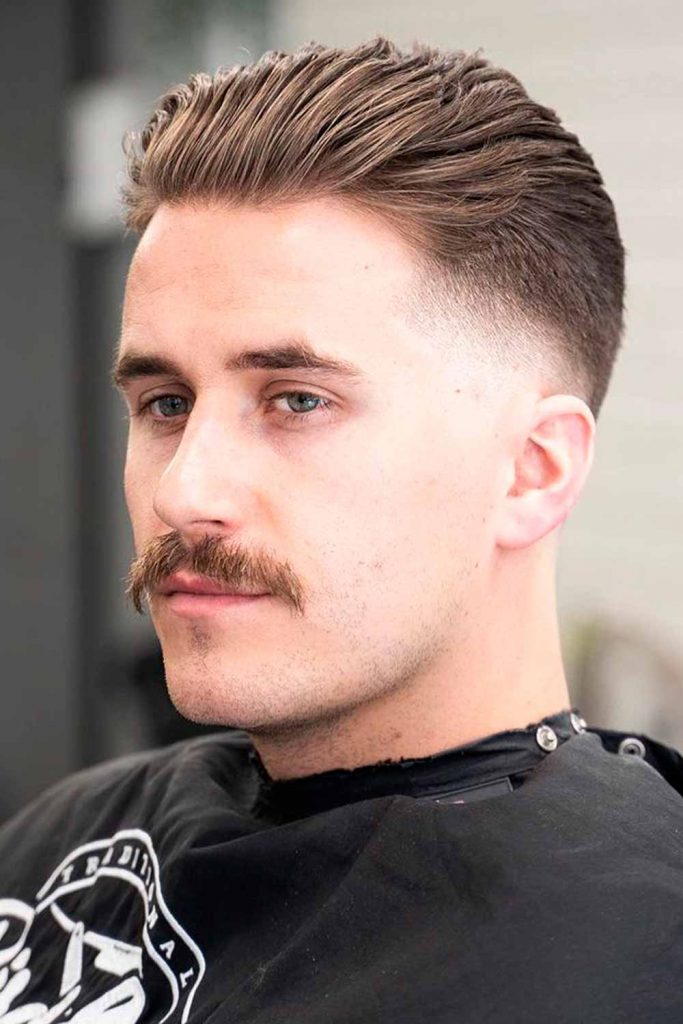 @instagram_birdcobarbers
Silver Combed Bang
Just look at this silver hairstyle! This look is suitable for self-confident, ready to experiment guys. A good stylist will dye your hair gray, even if you are not blond by nature. The texture will give the image even more wildness, so if you are brave, go ahead!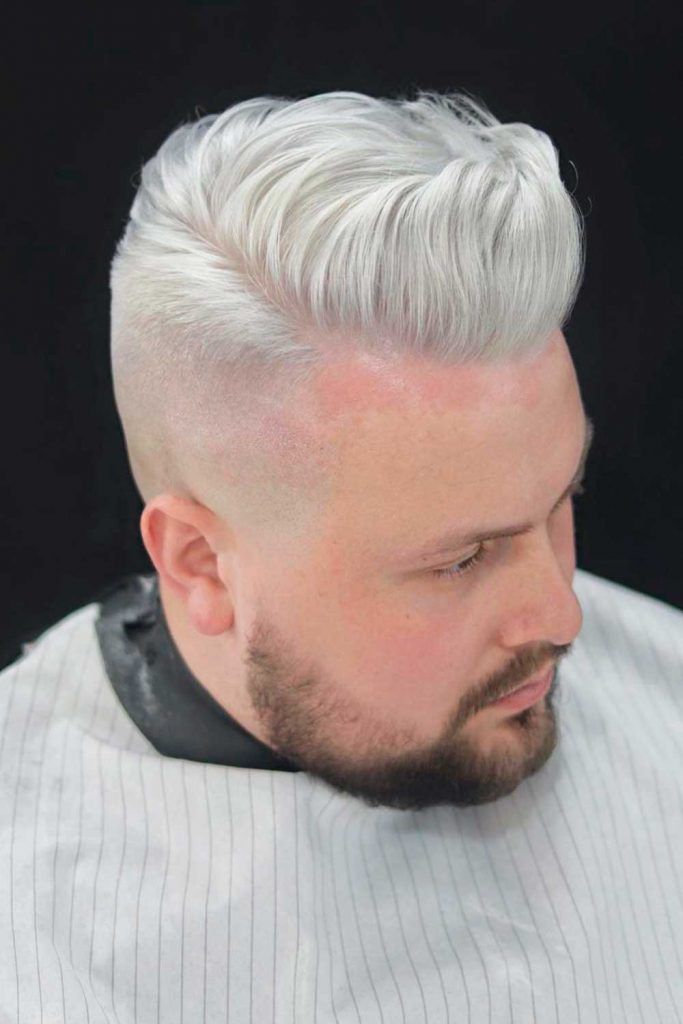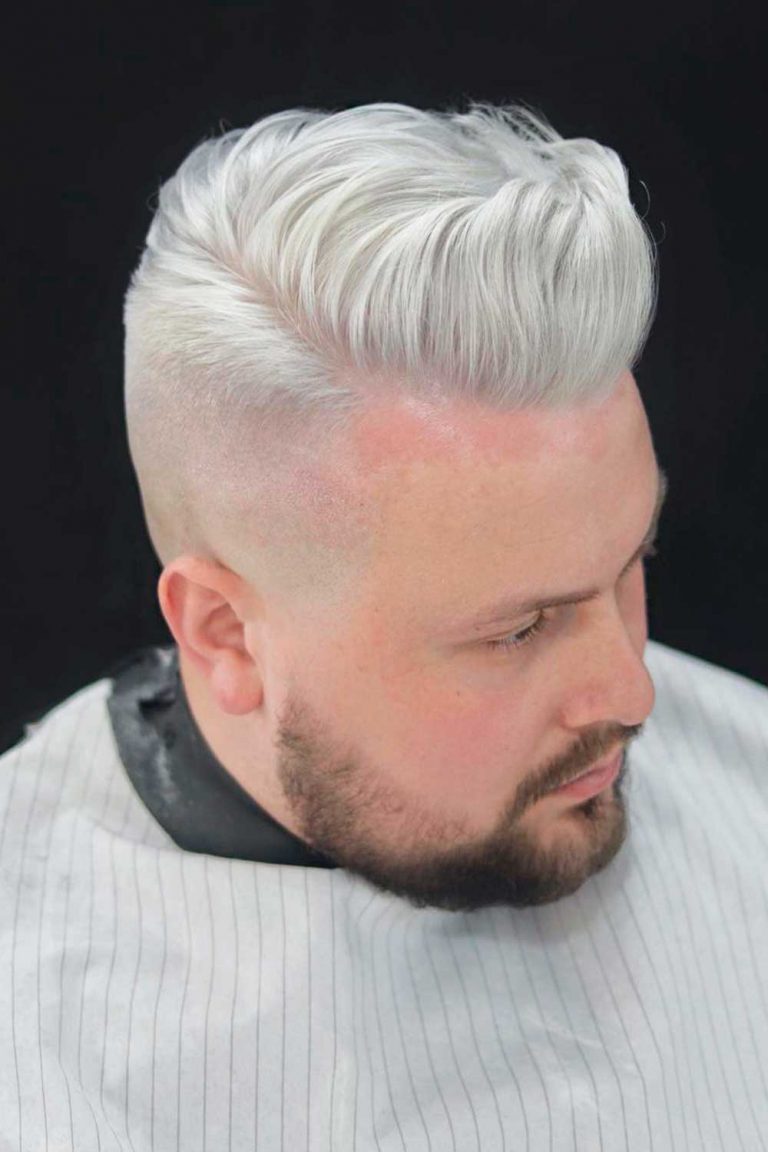 @instagram_alan_beak
Textured Longer Hair
If you'd like to try different hairstyles, opt for this more formal and defined short sides long top look. To style the top hair, use a blow-wave or a hot iron.
The pomp has to be long enough to sweep it to the side swept. For an added touch, make the hair fall over the forehead.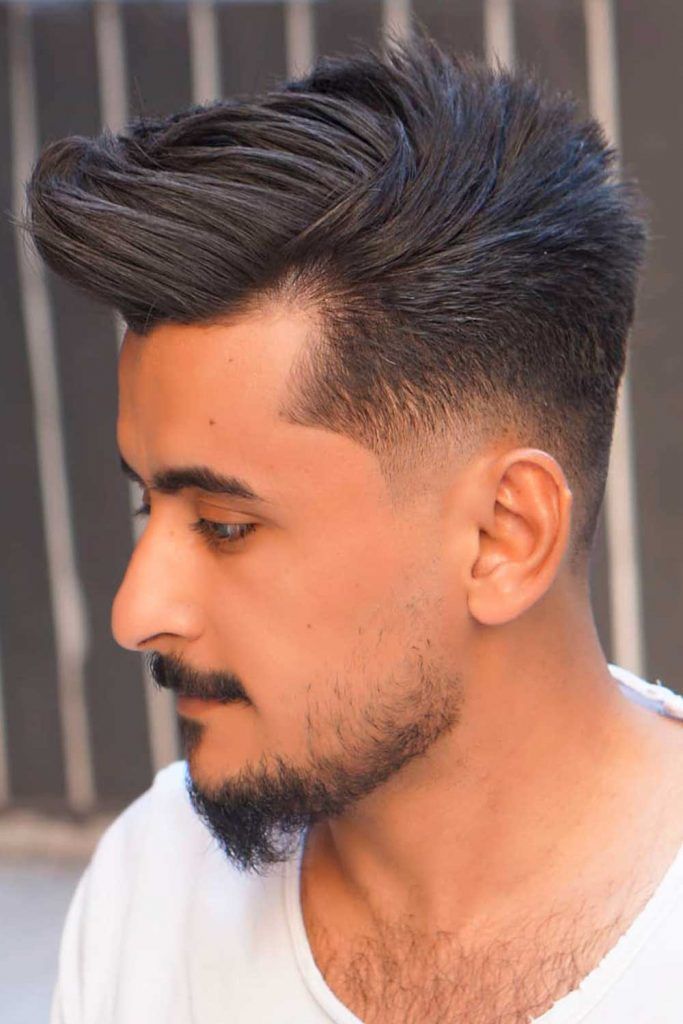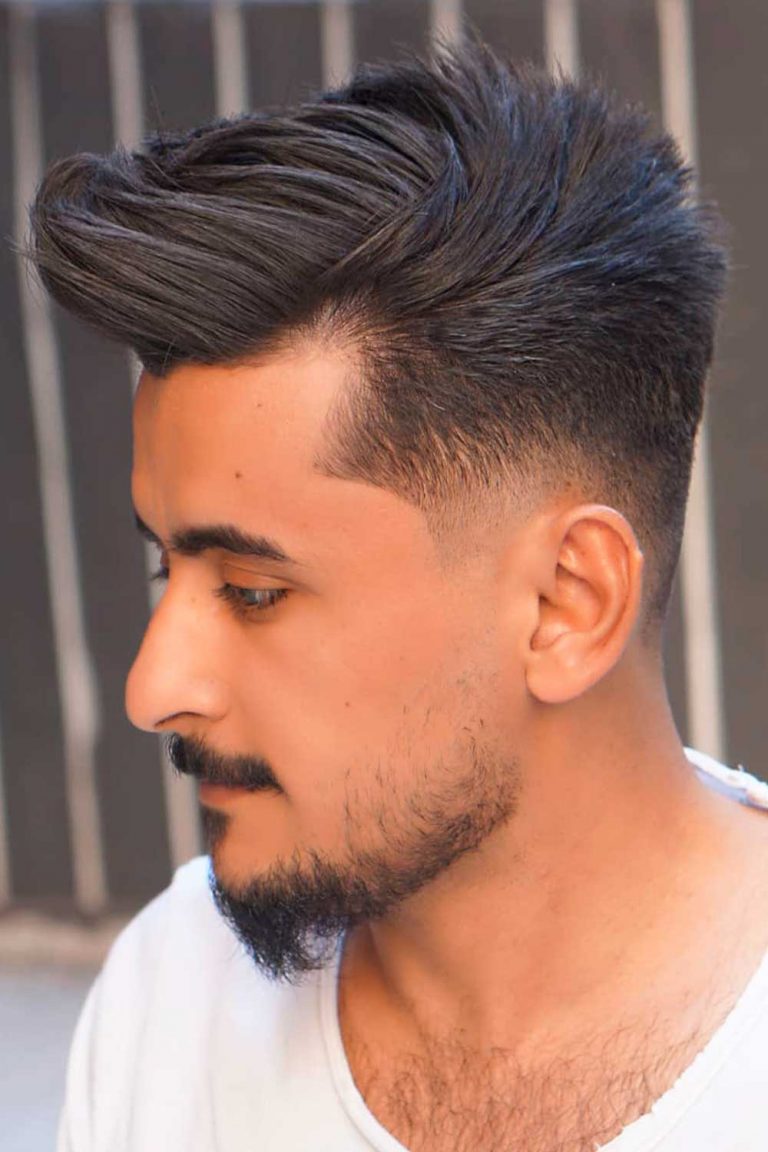 @instagram_ahmetaslanhairsalon
Short Comb Over Haircut
Everything is perfect in this side part fade with a short comb over. The rounded off back, the razor cut side part, the gradual fade and the slicked to the side hair create the look worth a million dollars.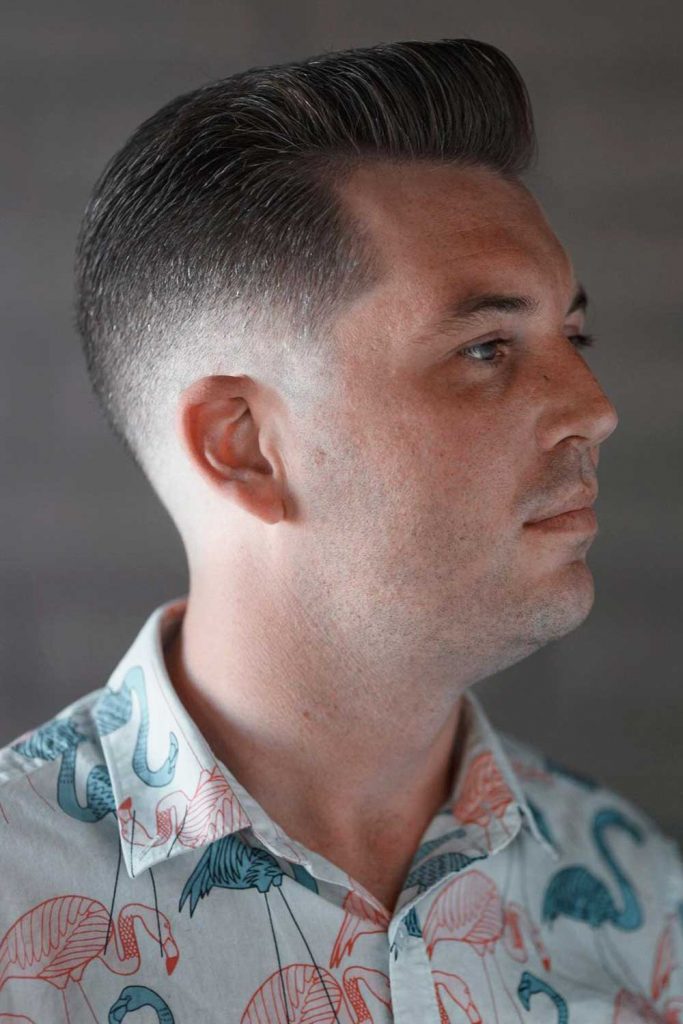 @instagram_andrewdoeshair
Hard Part Fade Comb Over
The hard part fade is made for virile and robust guys. The part is curved with the help of a razor and creates the impression of the skin fade undercut. Interestingly, the other side is styled with a tidy quiff, which gives the look much volume. The sides join together at the nape, creating a V-shape.
@instagram_alan_beak
Long Curls And Undercut
For curly hair men who want to show off their locks but still strive for looking neat, the skin faded undercut is the perfect option. On the one side, you use clippers to give it a gradual fade. While on the other, you leave the hair quite long.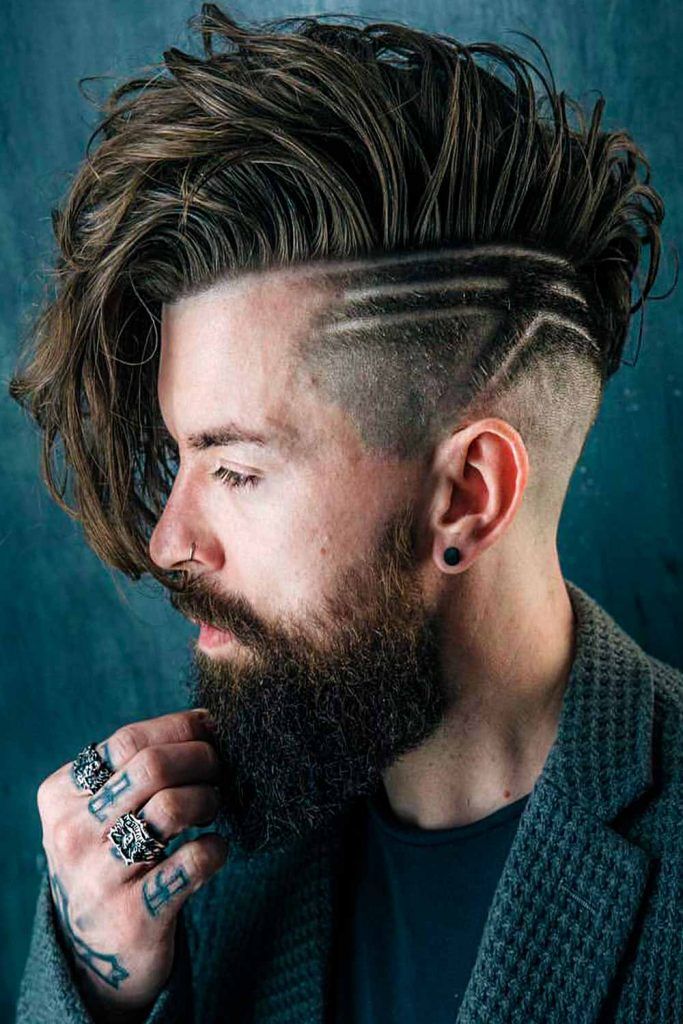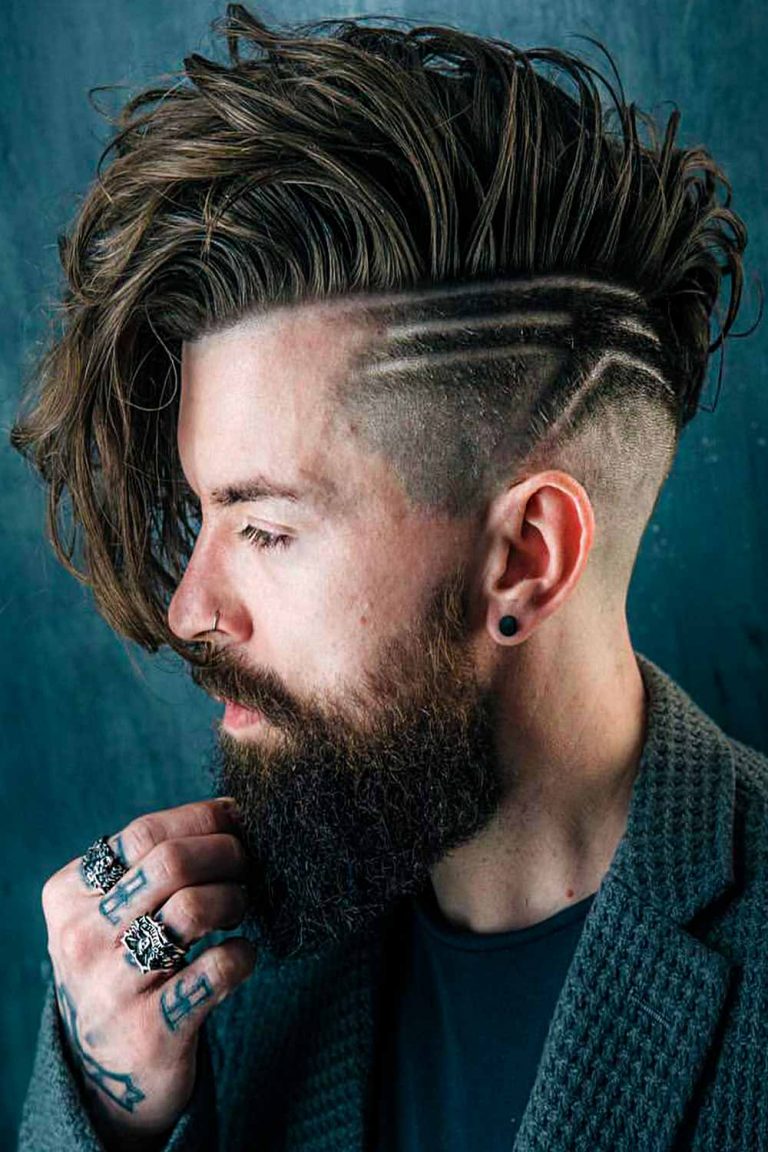 @instagram_r.braid
Straight Pomp Hair
We're almost sure you've already heard about such a men's hair masterpiece as a short pompadour. Being greatly popularized by the King of Rock 'n' Roll Elvis Presley, it has come into our lives to stay. It's a very easy-manageable high fade haircut as after you've brushed back the top of the hair. You can use your hand to sweep it back again without destroying the hairdo.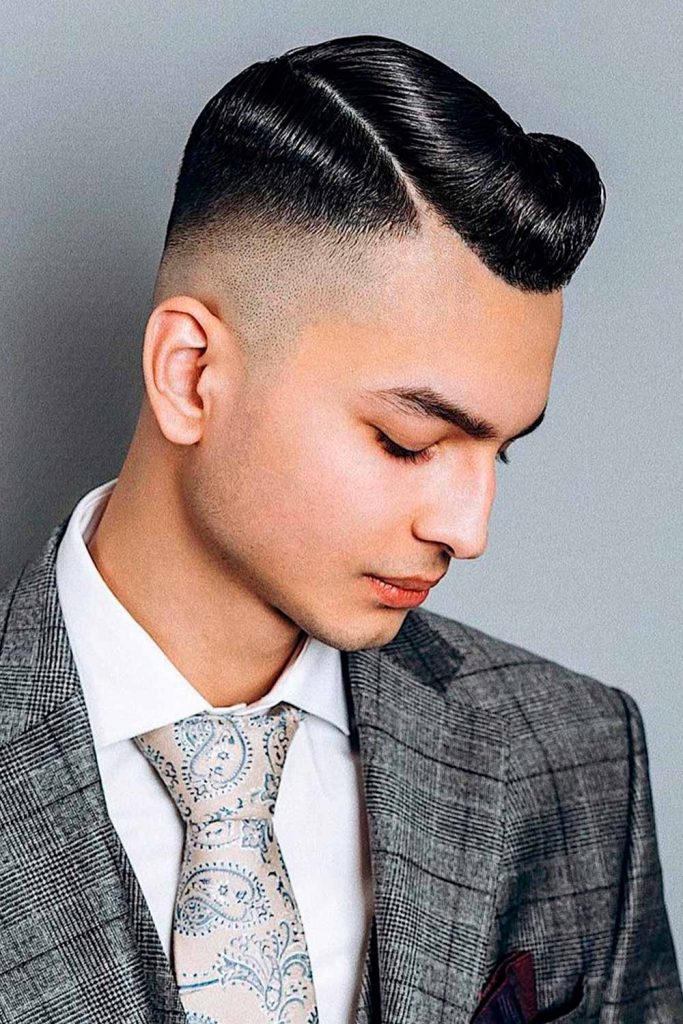 @instagram_dima_naiden
Long Combed Top And Beard
If you try to keep up with the latest fashion trends, then you're bound to mix haircuts of different styles to customize your personal, unique look. A combination of long combed over hair on top, a high clean fade on the sides and a coarse beard on the face comes out daring and eye-catching. Obviously, not everybody will be able to pull it off. However, if you will, you can be sure that you won't go unnoticed.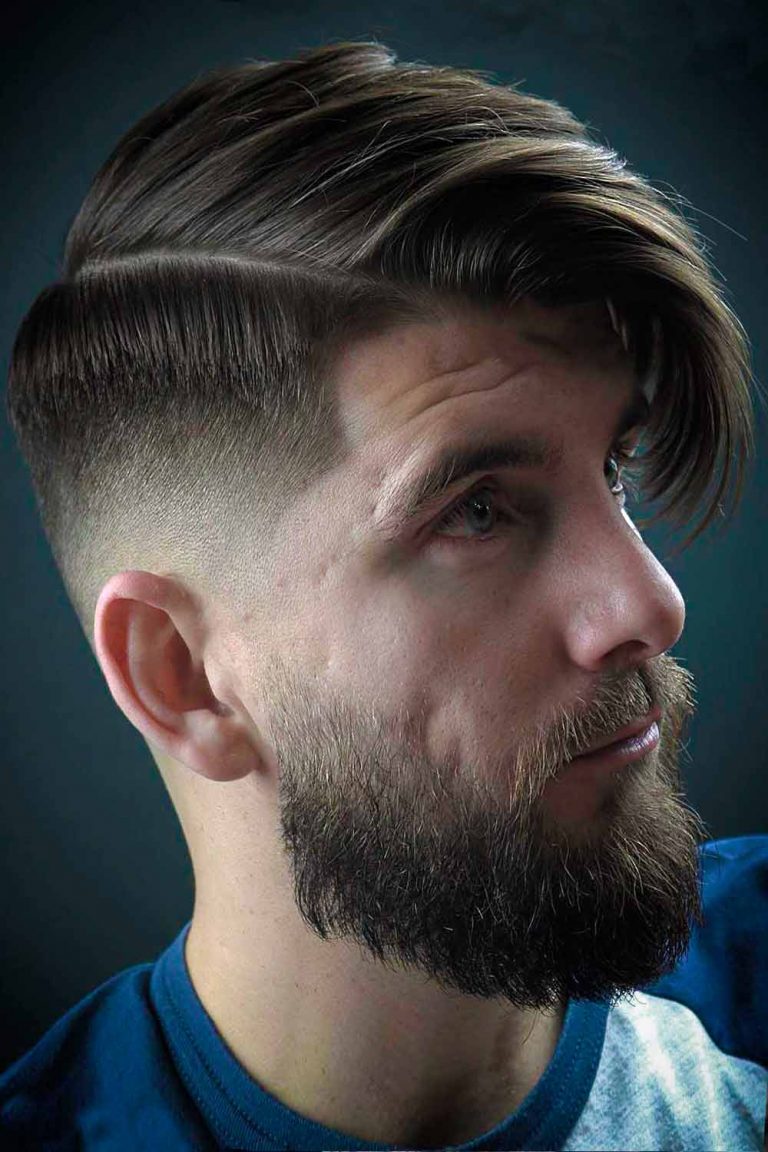 @instagram_corneliucrihan
Flow Low Taper Comb Over
In the modern world, where everybody and everything are moving so fast and changing quickly, men hairstyles also try to keep pace with it. Add movement and dynamics to your look, with a flow hairstyle. To get it done, your hairstylist should create enough volume and texture on your hair. Using a powerful blow dryer and a hair styling product. A neat and clean high or mid skin fade is a great accompaniment for such a breezy and careless hairstyle.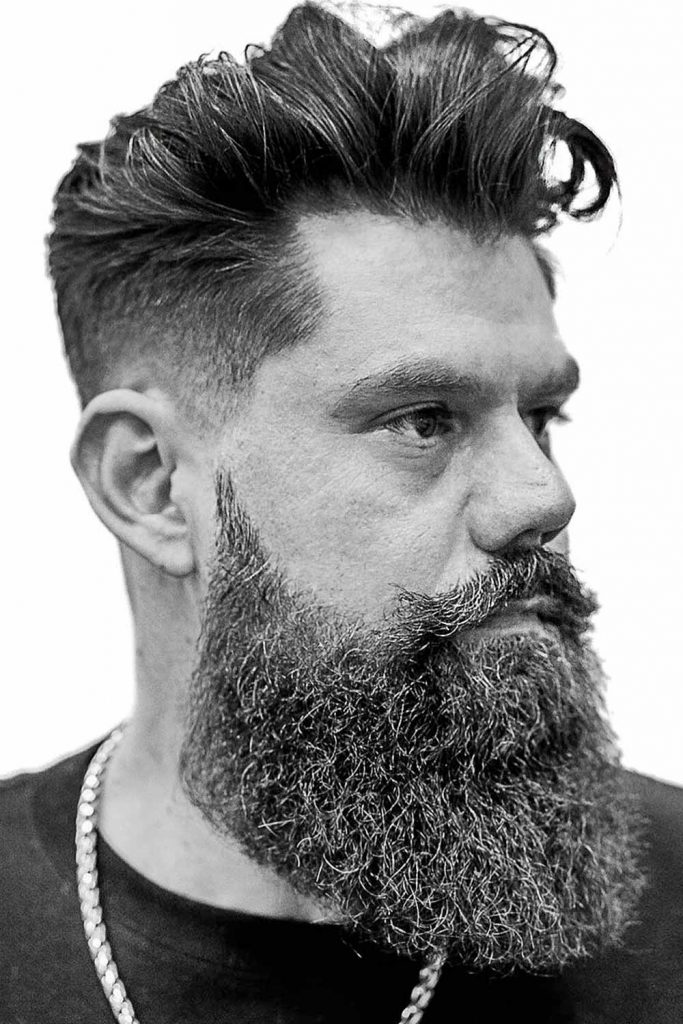 @instagram_mattyconrad
Undercut Layered Bang
Achieving an edgy hairstyle for short layered hair is a fairly hard process. A stylist needs the experience to make such smooth lines. There are tons of various straight hairstyles for men that will meet the expectations of almost all men. Whether you prefer a neat and tight style or tend to be more daring.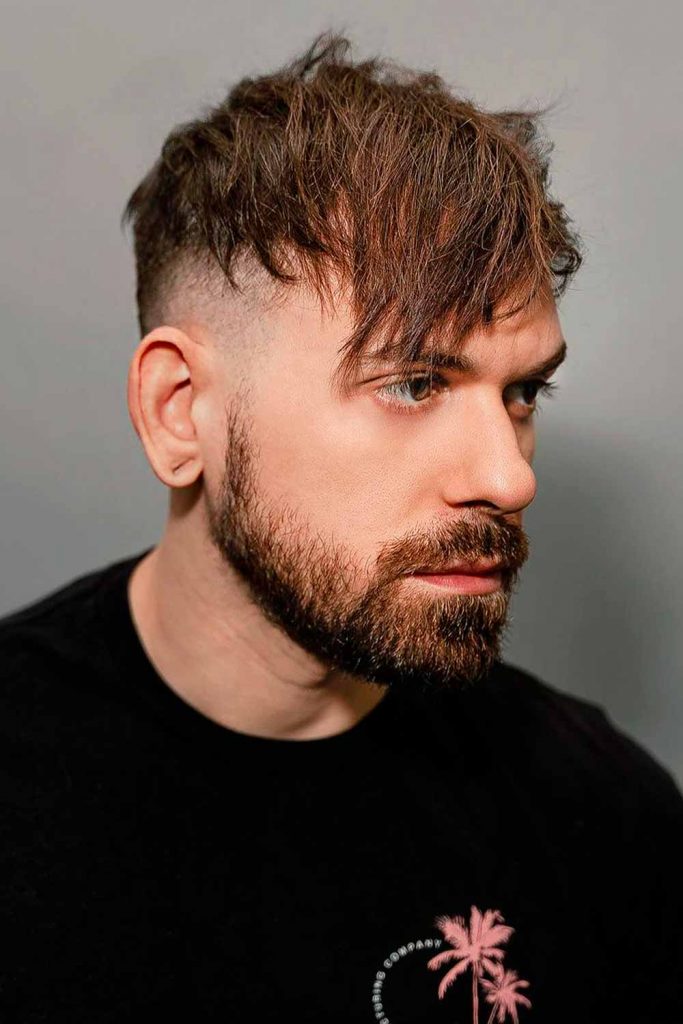 @instagram_johnny_snips
Hard Part Pompadour Comb Over
As comb over is so sleek and elegant, you can add some sharp lines to it for extra definition. A hard part is a perfect enhancement for such a style, as it makes it appear edgier and bolder. And a fade is aimed at balancing out the look and pulling it together.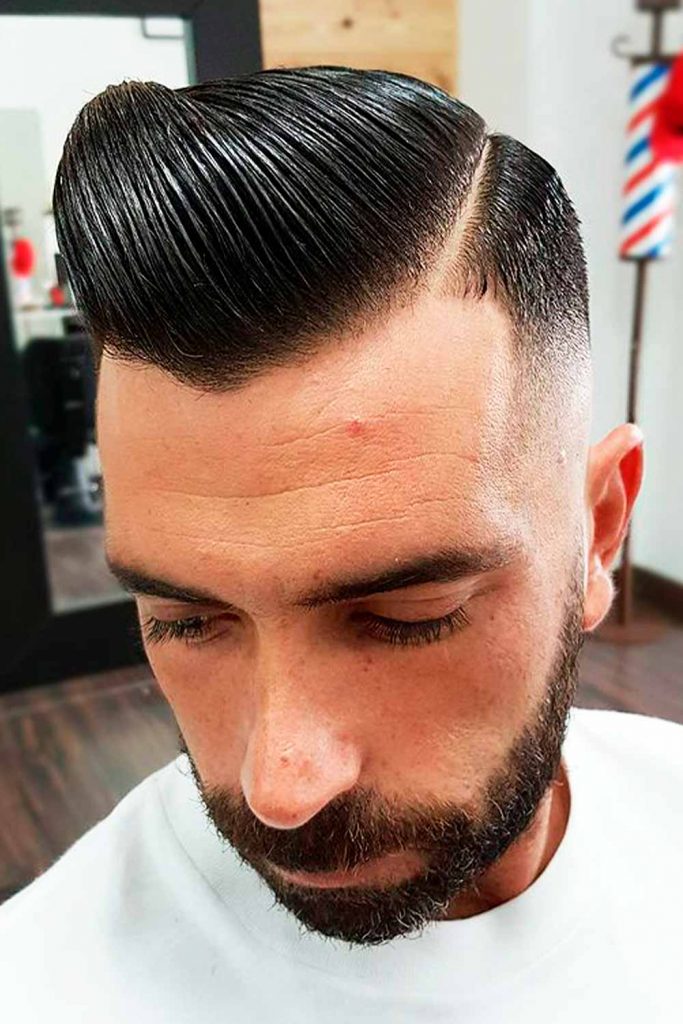 @instagram_ayozecastellano
Mid Drop Fade Comb Over
If you are looking for a hairstyle that follows all dress code rules yet gives away your fashionable style. Then a comb over taper fade is your sure way to go.
It looks quite low key on top thanks to the elegant comb over while the taper fade on the sides gives it a trendy and contemporary touch.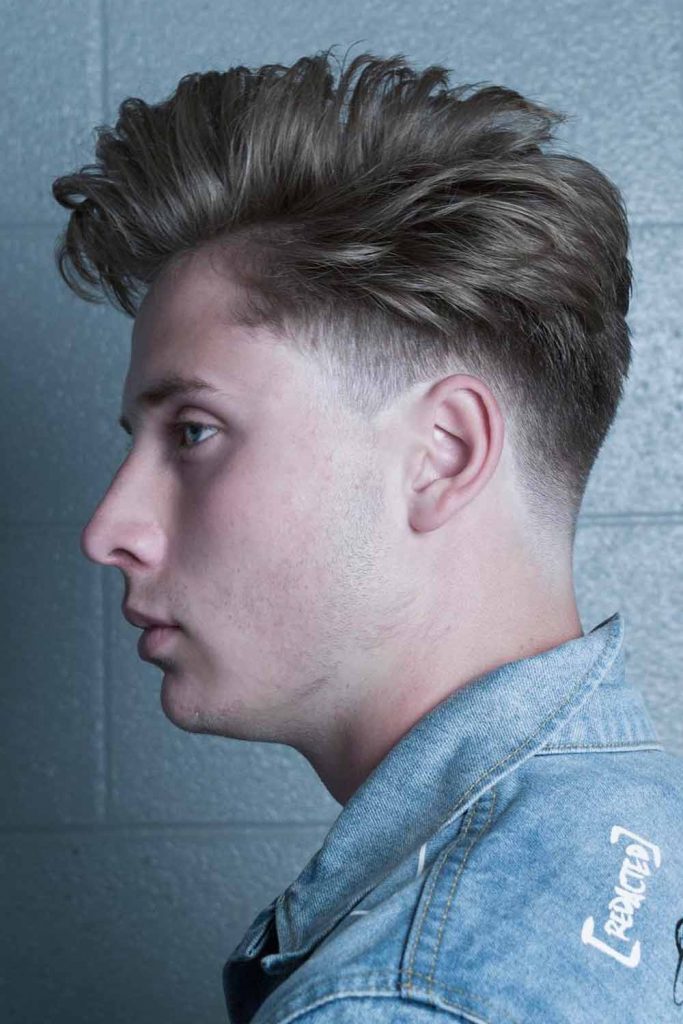 @instagram_johnny_snips
Long Hair With Undercut
A comb over fade can be pulled off on hair of any length. Instead, if you go for a longer top. Then the sides can be faded so that they look separated from the rest of the hair. Just push the upper locks to the side to give your hairstyle a relaxed and effortless appearance.
i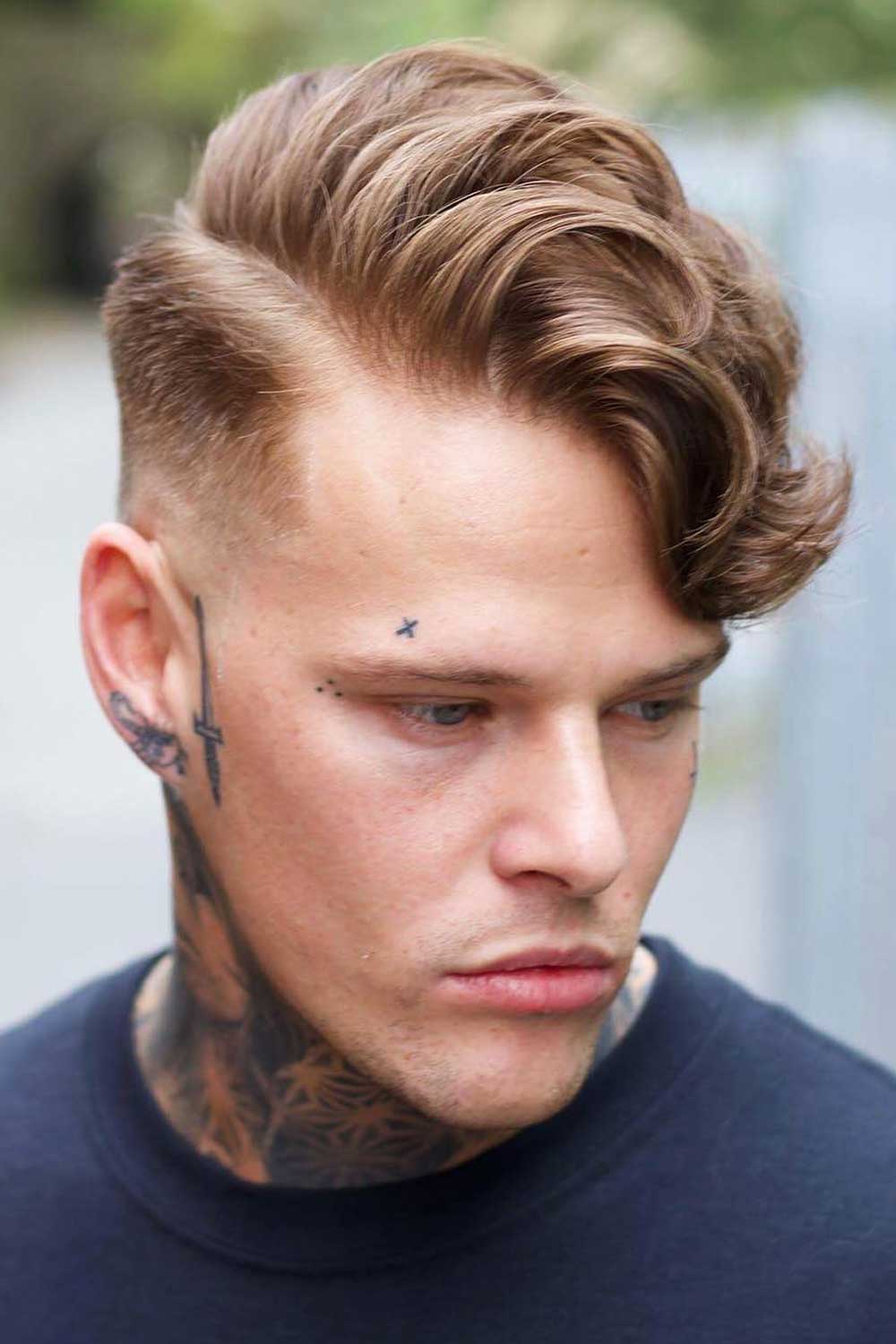 /
Textured Comb Over
When you opt for a comb over hairstyle, it does not always have to be sleek and polished. Instead, you can go for a more textured look. Especially when you complement it with a fade on the sides and back. The type of the fade is up to you. However, remember that the higher the fade, the bolder the look.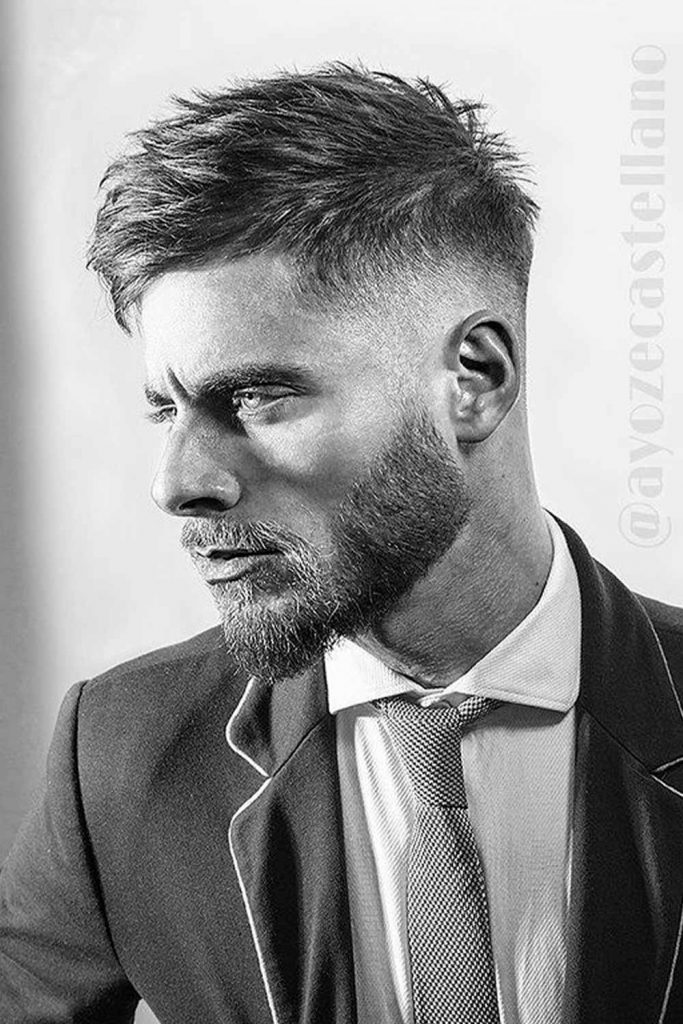 @instagram_ayozecastellano
Military High Fade Comb Over
For situations when you need to look refined and elegant, go for a slicked side swept comb over fade. It is so sophisticated that it will surely fit any ambiance while the fade gives your hairdo a modern and stylish flair. For more casual occasions, you can complement the look with a groomed beard.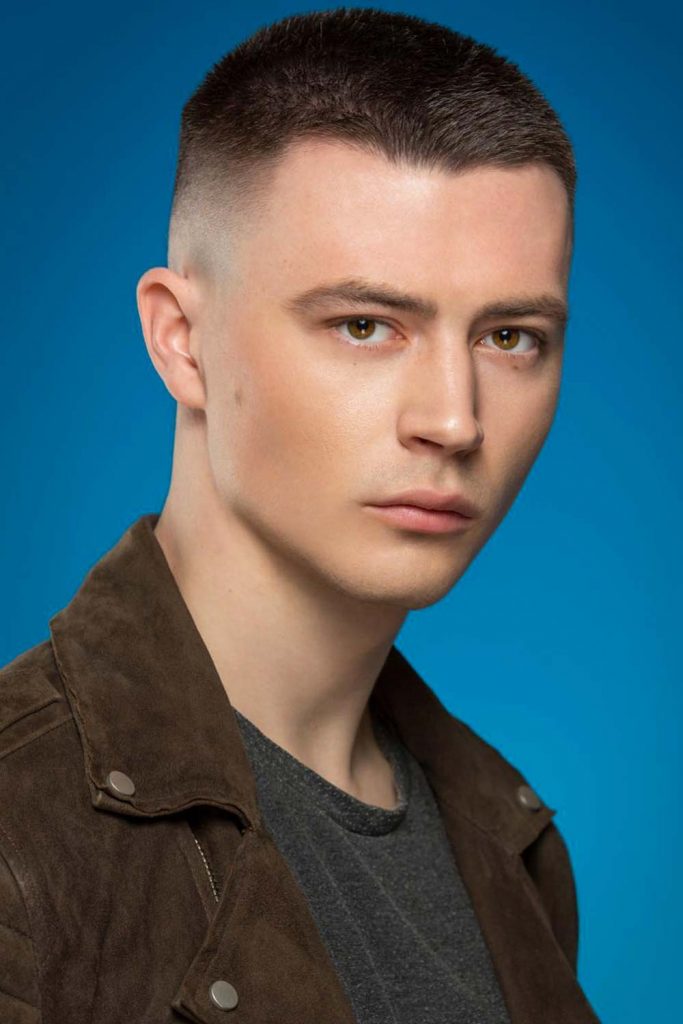 @instagram_dexterdapper
Comb Over With Shaved Faded Sides
To accentuate your hair on the top of the head. It is hard to think of a better option than complementing it with shaved faded sides. This simple step will allow you to pull off any style up top, be it a textured fringe or an ample pomp.
@instagram_the_bloody_butcher
Messy Comb Over Fade
Messy don't care! It's the common adage that even women are aware of, and men can relate too, especially on this messy comb over fade. It's perfect for teenagers who seek extra-stylish haircut. It looks upbeat without losing its class.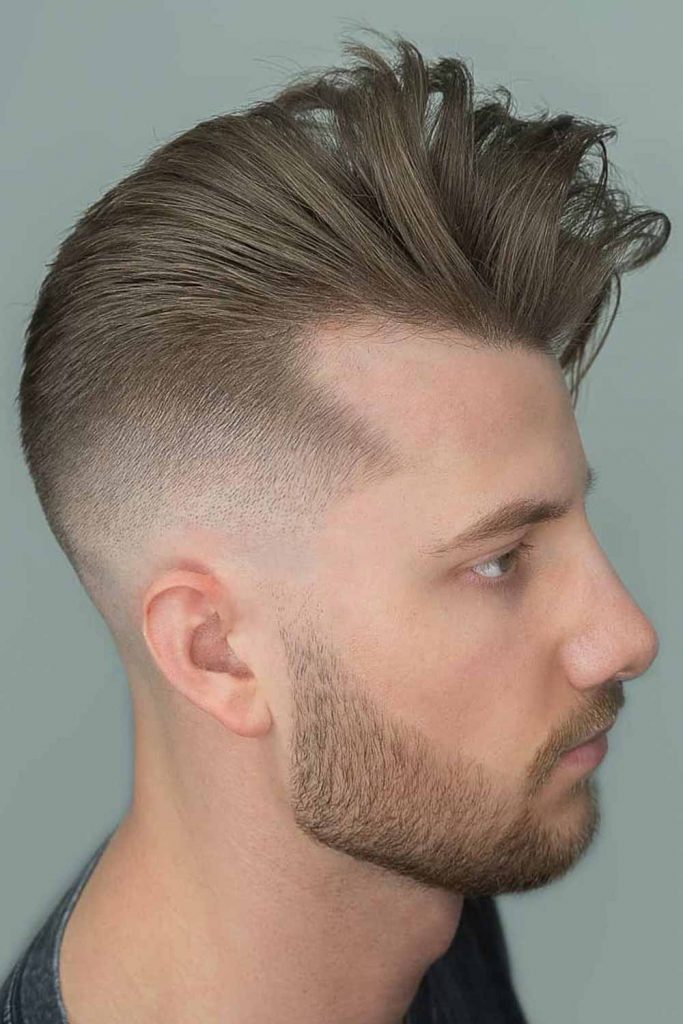 @instagram_keller_konturen
Burst Fade Comb Over
If you love getting comb over fade with a twist, the burst style is for you!
Whether your hair is short or long, you can have it styled with a hair design or a hard part comb over taper down in the skin.
High Skin Fade Comb Over
If you like adding a vibe of rebellion and fun to your hair game, you can try the undercut comb over style. Mature men love this high fade haircut, especially that it looks classic yet stylish.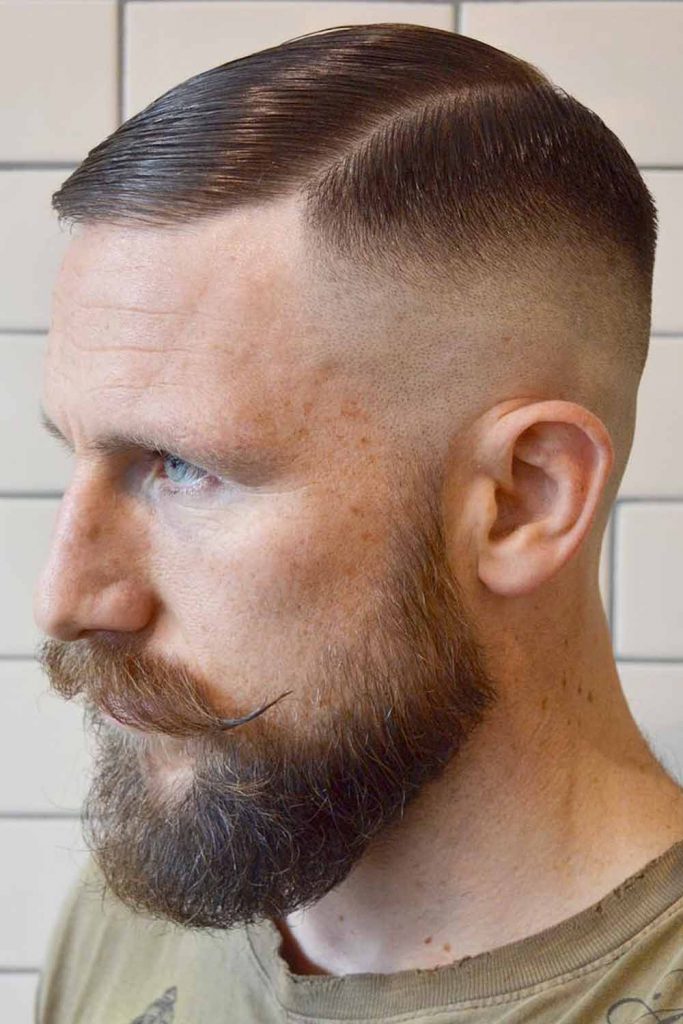 @instagram_joth_davies
Comb Over with Shaved Sides And Line
If you are the person who likes to grow a beard or a hard part, this comb over fade with shaved sides and lines can give enough room of whatever look you may want. It flatters your face shape too!
@instagram_hayden_cassidy
Mid Skin Fade Comb Over
Sharp and sleek side-swept style, the High and tight comb over and line up looks promising, especially for those who have thick hair. Although it requires some serious gel application, it would still look big and very stylish. It's definitely worth trying!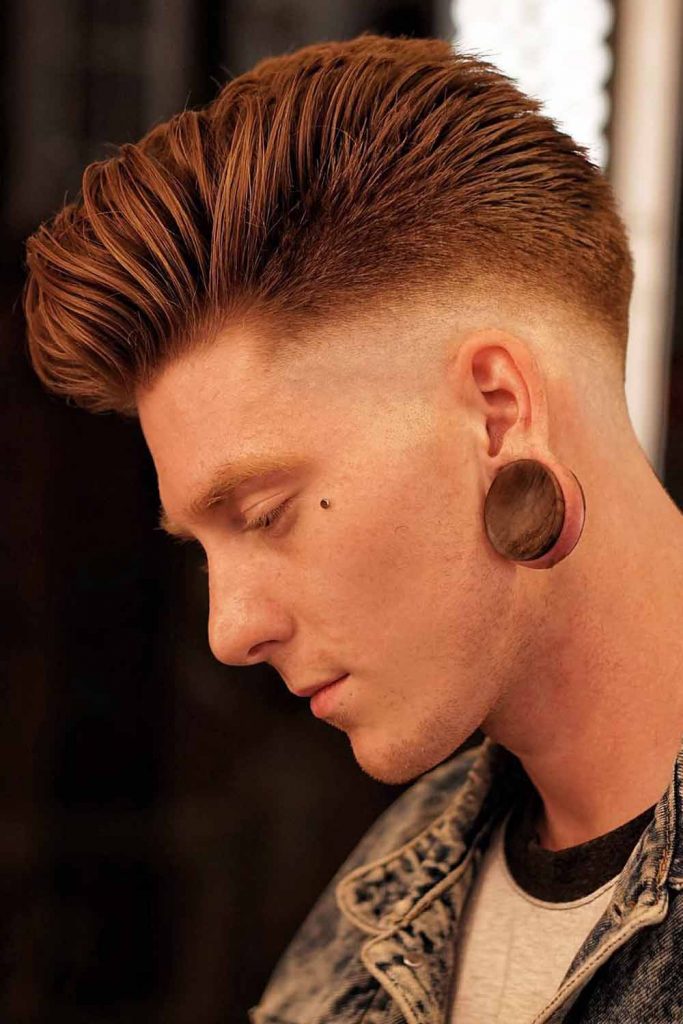 @instagram_z_ramsey
Taper Fade Comb Over No Line
Speaking of versatility, the comb over fade is on the top of it and this hairstyle makes it a statement.
A comb over undercut with beard style is definitely worth the try and is enough to give you a description of a classic and fashionable man!
Medium Comb Over
If you have thick hair, this comb over fade hairstyle will sharpen your looks without losing the trend and versatility. Men, from all walks of life, will absolutely go for this classic haircut with a modern twist. Yes, you deserve it!
Taper + Textured Combover Fade
If you go for a tapered style, this comb over fade haircut suits your comfort. Its texture and volume are stunning that any man wouldn't want to resist. You only need a proper styling for this and you're good!
High and Tight Comb Over
For men who are very fashionable, a textured spiky comb over fade is the best for you! Don't forget to match it with your trendy OOTD (outfit of the day) and stun the girls with your killer haircut!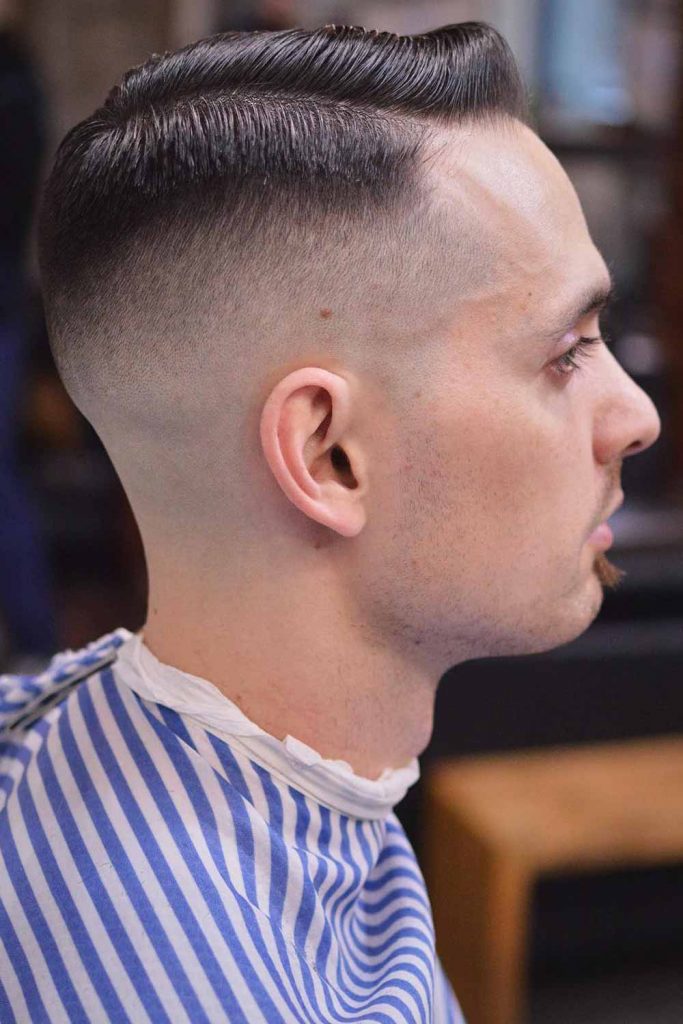 @instagram_blackfishbry
Side Part Combover
A sleek side part in a medium comb over fade haircut will definitely stun people around you with gorgeous styling. Men love this hairstyle, especially when they are in the fashion industry since it's ideal for modeling. It's very stylish without losing its clarity.
i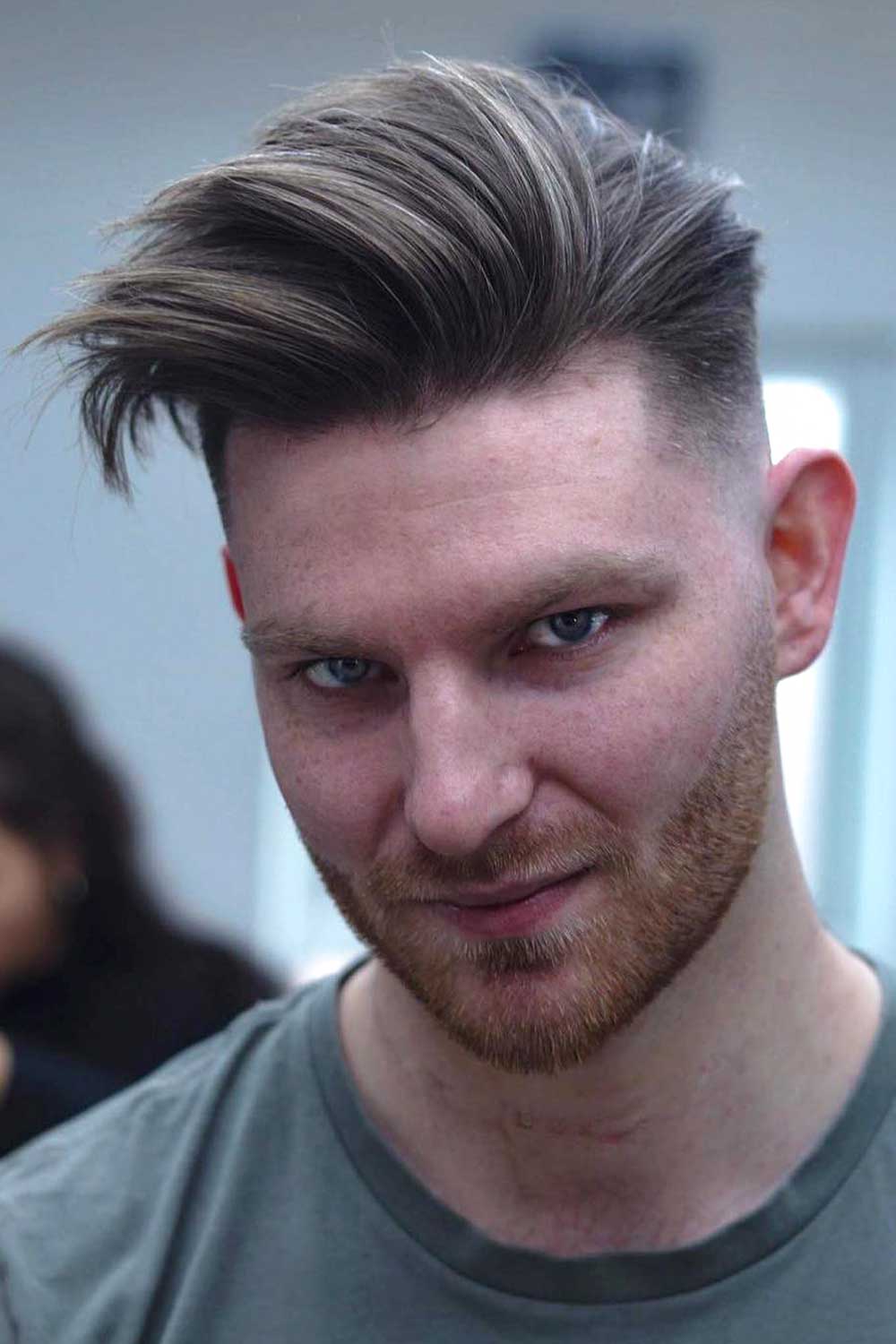 /
Low Taper Comb Over
A low taper comb-over is a classic and stylish hairstyle that combines a tapered cut on the sides and back of the head with longer hair on top, allowing for a smooth, gradual transition from short to long hair. The low taper ensures a neat and well-groomed appearance, making it suitable for various occasions, from formal business meetings to casual outings.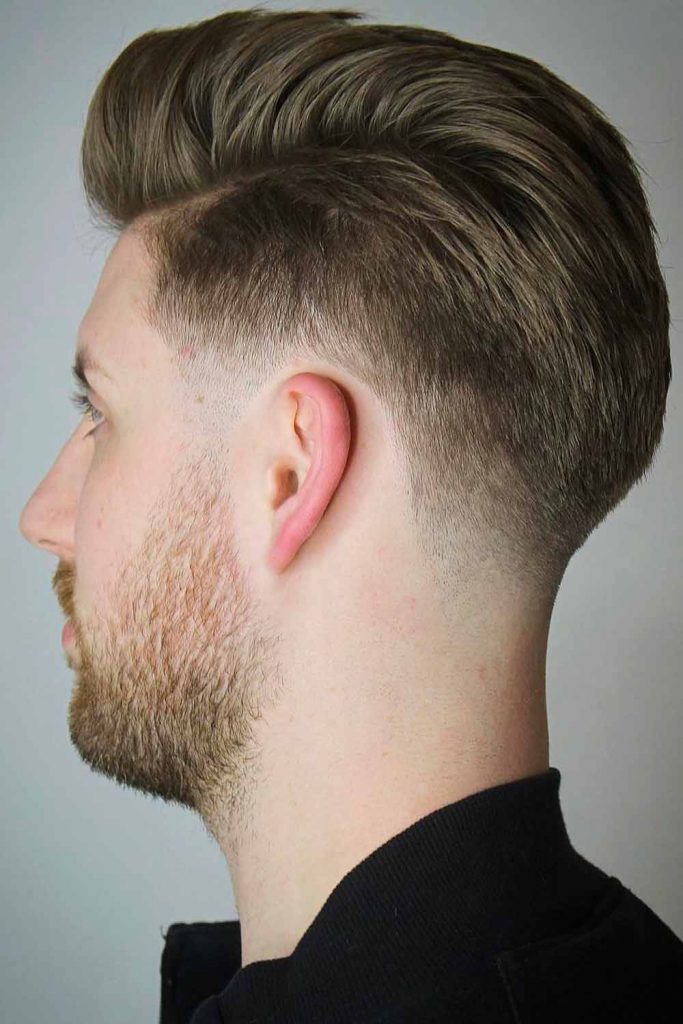 @instagram_alexthegreatvivar
Boys Comb Over Haircut
A boys' comb over haircut is a stylish and versatile choice for young gentlemen. This haircut typically features shorter sides and back, often with a slight taper, while leaving the hair on top longer to allow for combing over to one side.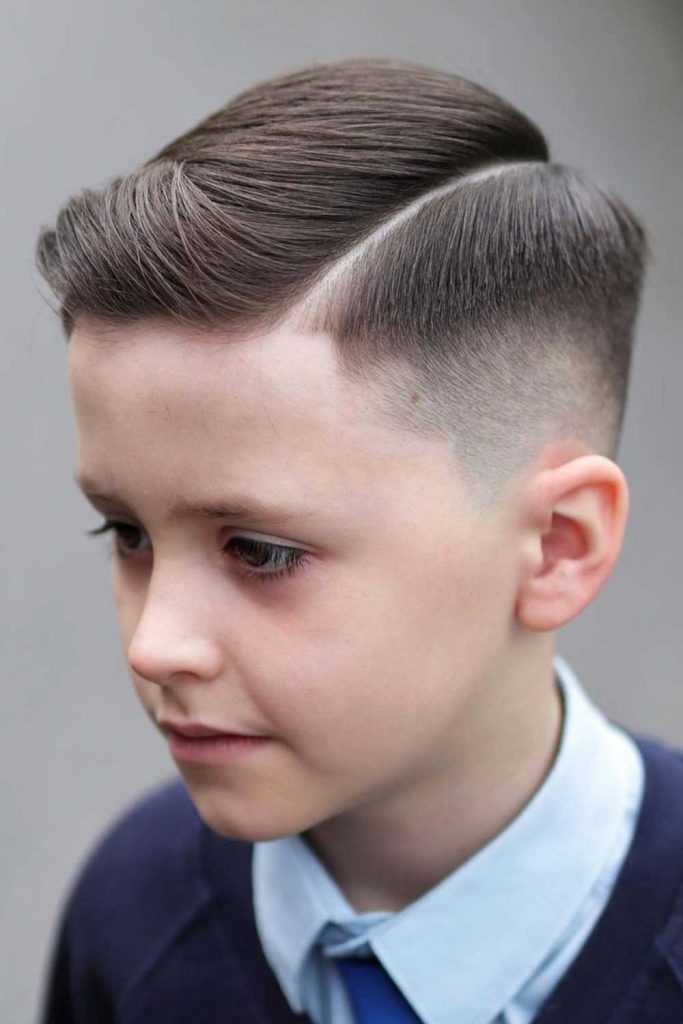 @instagram_alan_beak
Mid Taper Comb Over
A comb over with a mid taper is a modern and stylish haircut. This hairstyle combines longer hair on top, which is typically combed over to one side, with a mid taper on the sides and back. The mid taper creates a smooth and gradual transition from shorter to longer hair, offering a balanced and polished appearance.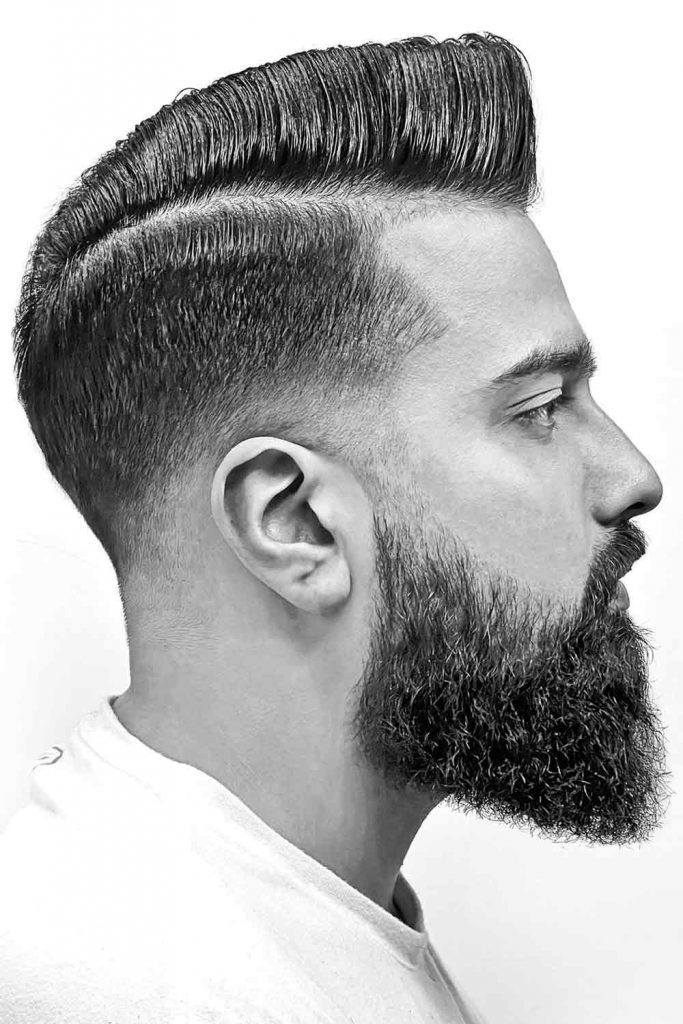 @instagram_mattyconrad
High Taper Comb Over
Preparing for a significant event and aiming for an elegant, refined look? Worry not; we've got the perfect solution. The taper fade comb-over is your reliable go-to choice. This style is popular among individuals who want a sharp and edgy look, as it offers a contemporary twist to the classic comb-over.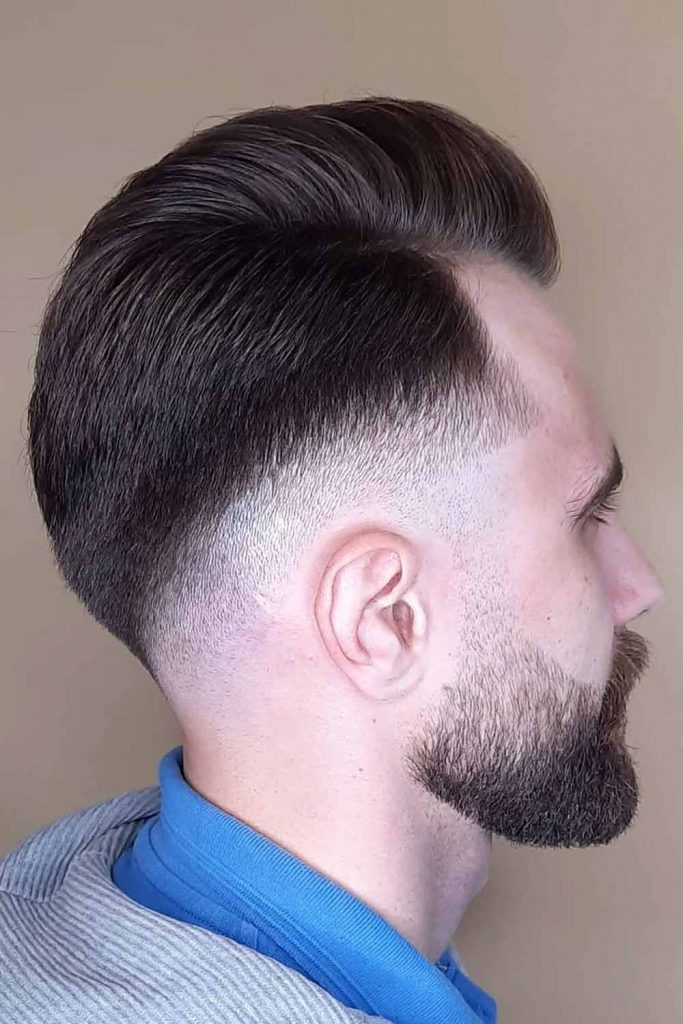 @instagram_nata_grigorovich
Middle Part Comb Over
The middle part comb over is a contemporary twist on the classic comb over hairstyle. Instead of parting the hair to the side, this style involves creating a distinct middle part, allowing the hair to fall evenly on both sides of the head.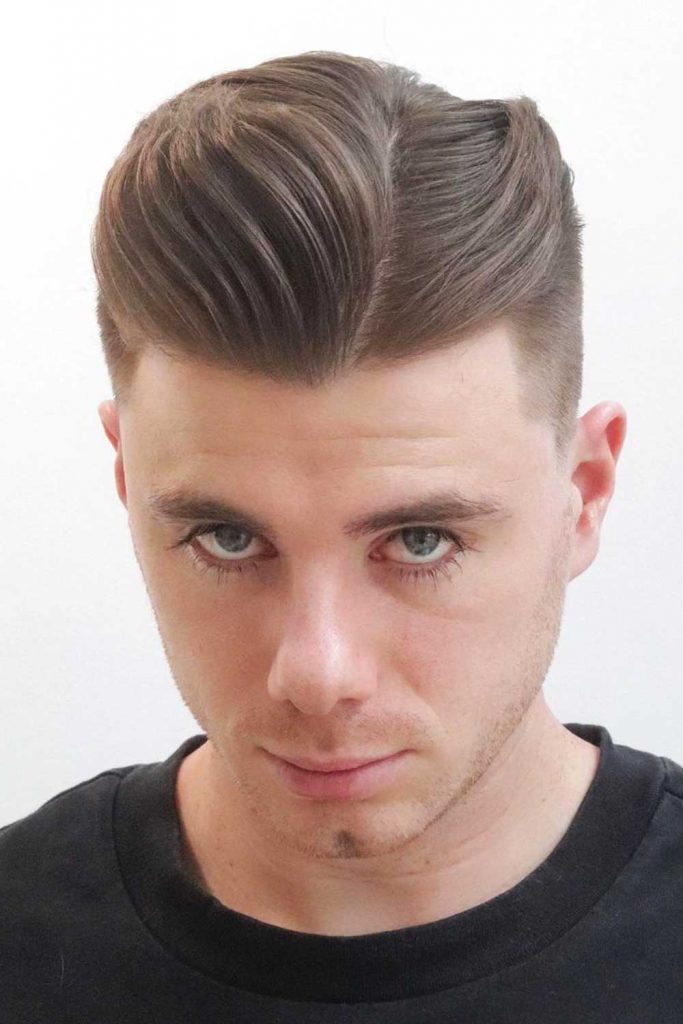 @instagram_alan_beak
There are hairstyles to literally every taste and type of individual. Oftentimes, the same haircut can look totally different on two separate people. The key to being satisfied with your haircut is to find the cut and style that works best for you and your lifestyle.
FAQs: Comb Over Fade
Are comb overs still in style?
A comb over hairstyle will never go out of fashion, as it is a timeless classic. It has undergone a transformation over time to adjust to current trends. As such, there is a comb over haircut fade, taper and even undercut.
What fade looks good with a comb over?
While all kinds of fade pair nicely with a comb over low fade is the most flattering option. This is also a great way to go for those who prefer longer hairstyles, as it suggests leaving quite a lot of hair on the sides and back.
Should I get a comb over fade?
Whether to complement a combover with fade or not is up to you. However, if you decide to get it, you are guaranteed to end up with a neat and polished hairstyle featuring a modern twist.
What is a comb over fade though?
Comb over haircuts fade can either be medium, high, or low depending on what you are most comfortable with. You can also choose to make it appear slicked back, side part, or textured style. Check out these inspirations if you are looking for a classic yet trendy haircut!
How do you comb a comb over fade?
You only have to comb it forward carefully and find your own side parting that you are you most comfortable with.
What side do you comb over?
Comb over fade is ideal for balding men. This is because you can comb your hair in three separate directions that hides the balding area of your head.
REFERENCES:
A comb-over or combover is a hairstyle commonly worn by balding men in which the hair is grown long and combed over the bald area to minimize the appearance of baldness. Source
A rearrangement of surrounding hair to cover a bald spot as completely as possible. Source
Was this article helpful?