Hipster haircut is the notion that all the trendy men are aware of. The thing is that these cuts have been trending for a while now but with every day there is a fresh twist added. That is why we want you to be ahead of all the others and suggest to your attention the most stylish cuts you should opt for to maintain a trendy look. Keep it in mind that you flawless image is worthless unless you complete it with proper cut!
Q: What's the hipster haircut called?
A: If you are unsure what you should ask your barber for to get a hipster haircut, here is a hint. Tell them to get your back and sides undercut and leave a sufficient amount of hair on top so that you would be able to style it in a corresponding way. Ideally, you would want to complement this cut with a beard for a total hipster look.
Neat Swept Long Bang
Source: @emilsebastiian via Instagram
If you are a real hipster guy you know how much your haircut means. In case you are all in for longer hair then we have something in store for you! The thing is that there are a lot of looks to pull off with backswept hair and all of them will grant you neat and sassy look. Try it out and you won't regret it, however it is important that you use some hair product to keep everything under control.
Skin Fade Pompadour Hipster Haircut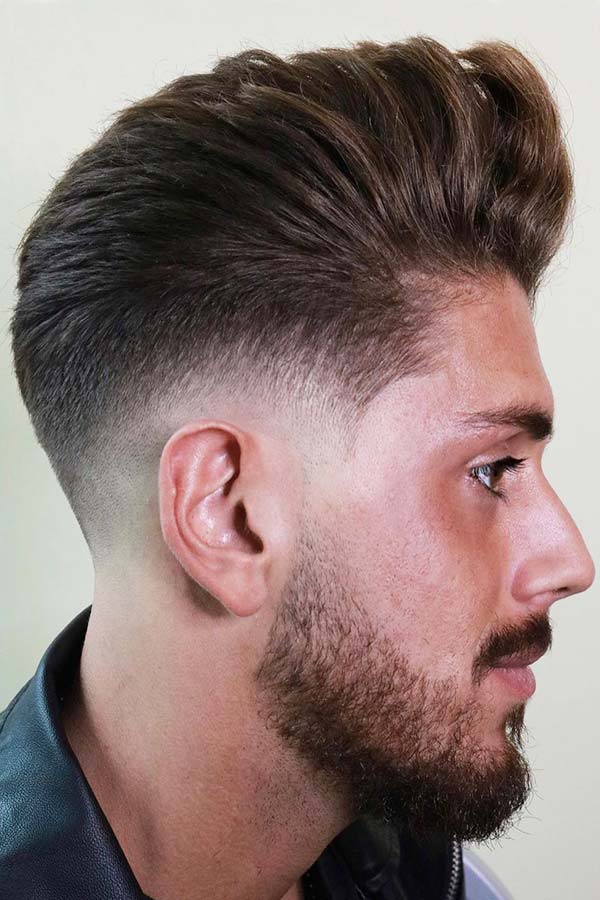 Source: @hayden_cassidy via Instagram
Picking both stylish and comfortable hair cut for men may be a little tricky but we always have a way out at hand. The combination of mid fade and pompadour is the perfect option for those of you who wish to kill two birds with one stone. What is more, there is barely any outfit that this cut wouldn't suit, anything on the scale from official look to a night out one will look perfect with this cut!
Modern Hipster Curly Top Haircut
Source: @sidsottungacademy via Instagram
If you combine classic hipster style with modern haircut this is the result you will get and we can't say that it is anything but exquisite. The thing is that the classy vibe matched with messy sassiness is something that all the men will appreciate. What do you think?
Perfect Mid Fade Haircut And Beard
Source: @patrickdossantosaveiro via Instagram
Very often hipster cut is combined with a short and trimmed beard and there is nothing wrong with it. The only thing is that there is always a need to disconnect the haircut and the beard and there is nothing better to do so than to opt for a mid fade cute.
Side Swept Haircut
Source: @hairraribarber via Instagram
When looking for hipster haircut men think not only style but also comfort not to mention suitability for various occasions, formal ones. Men with long textured hair may suffer the most since it is hard to deal with longer hair when it comes to official events. However, side swept haircut will help you manage with this uneasy task like a pro, you can trust us in that!
One Sharp Beard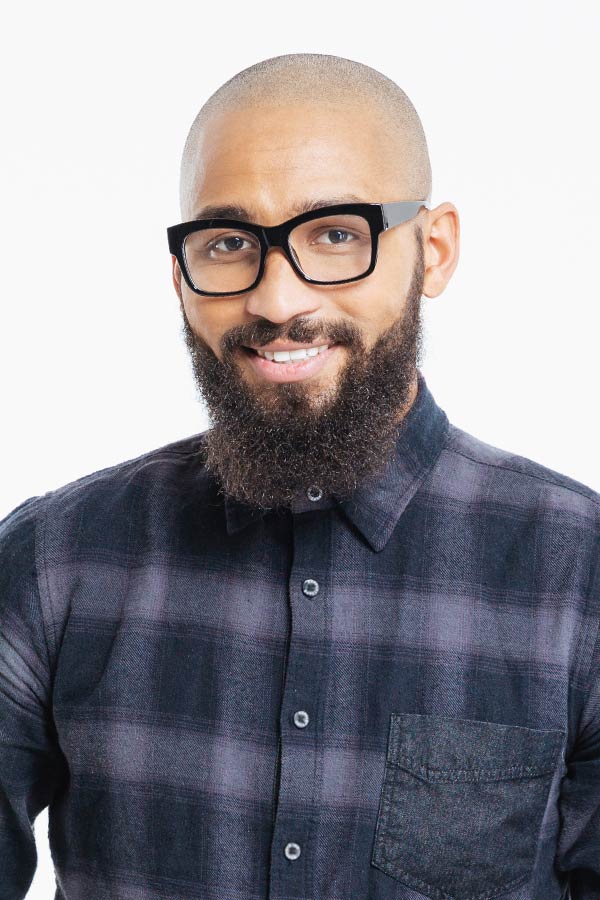 There are many situations why you can't grow out your hair but there is not need to fall into despair. You still can use your hipster beard to create that stylish and flawless image many can only dream of. See for yourself!
Medium Length Hair With Beard
Source: @spizoiky via Instagram
To tell you the truth there are almost no limits when it comes to hipster haircut for guys. But, one thing stands true mens medium haircut combined with beard are the sassiest thing that many women fall victims to. In case, you are afraid that your beard will take you too much time to take care of it, you couldn't be more wrong, you can just let it grow and enjoy that messy look.
Short Haircut With French Moustache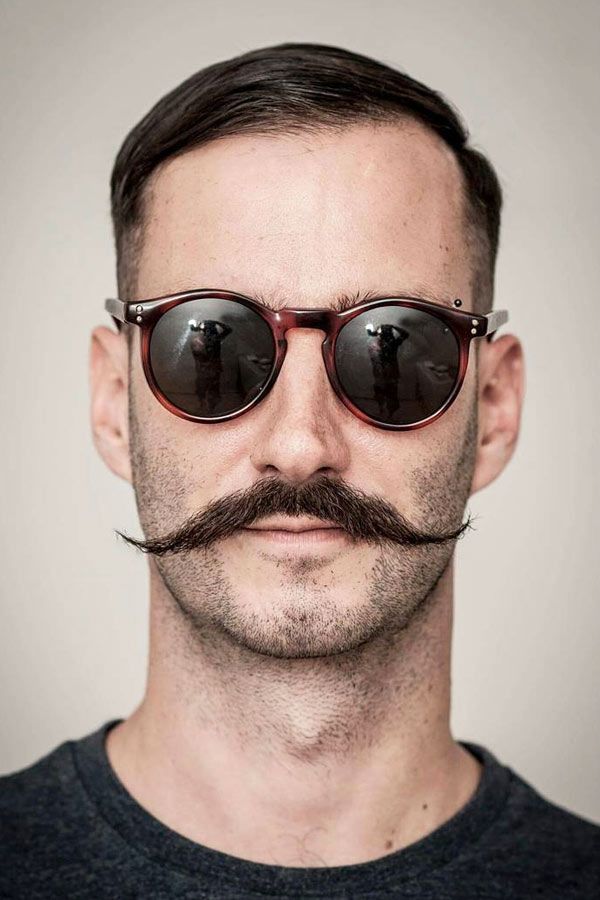 Source: @urednistvo.pricesk.robert via Instagram
There are many times when beard styles are that one thing that saves the haircut. You can wear the shortest and the simplest haircut but if your beard is trimmed well you will look just fabulous no matter what. What is shorter haircut with beard are very stylish and convenient, because your hair does not get in a way and there is not that much time and effort to be spent on styling. French moustache can also add an unforgettable vibe to your look. Overall, it is a win-win combo!
Spiky Top Hair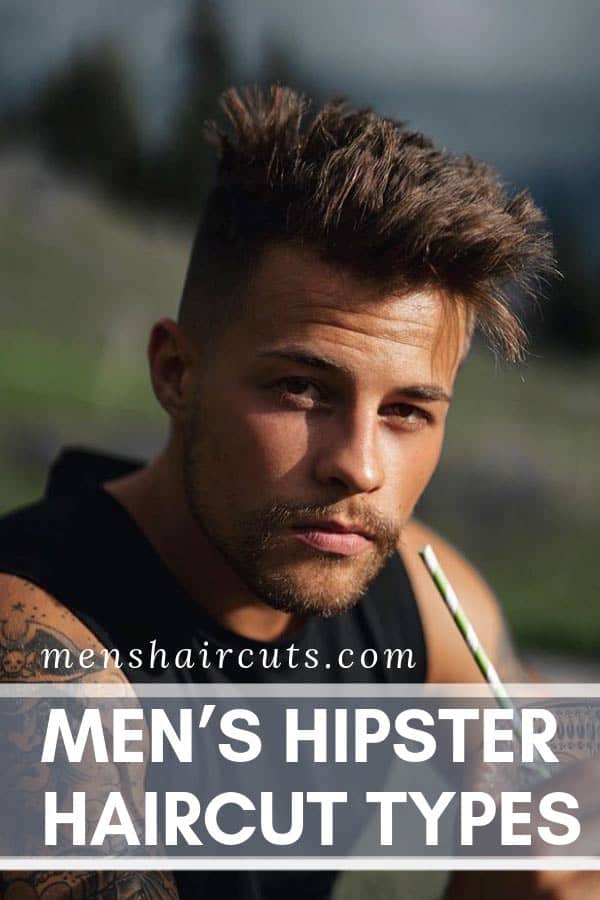 Source: @kevinelezaj via Instagram
There are some haircuts, which look great but are very easy to get and to maintain. Spiky hair is that type of hipster hair, which looks perfect in its simplicity. If you are the one who does not want to spend too much time on your hair then this cut is perfect for you!
The Partial Clean Shave
Source: @lorenzodenicola via Instagram
High fade haircut is that one perfect cut for textured hair. However, if you wish to add some spice to your hipster look we suggest you let your beard grow a little. There is nothing sassier than a cared for beard and messy hair!
Messy Top Spikes
Source: @alexmapeli via Instagram
You shouldn't be afraid of long hair if you are looking for a hipster haircut. The thing is that with longer hair there are many looks to play around with and versatility is that one thing that most men value. Style your mens bangs up and get ready to conquer the hearts!
Side Parted And Bearded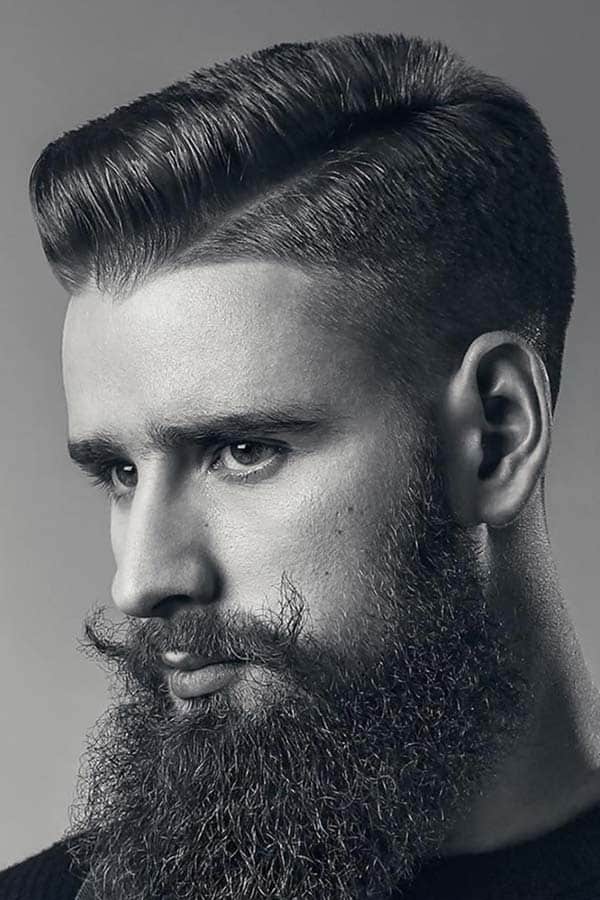 Source: @sidsottungacademy via Instagram
Every man should be a real gentleman not only in his heart but also outside. That is why you should pay great attention to your hair, however even the classiest and the simplest haircut can grant you that necessary gentleman's haircut look. All you need to do is to opt for a side parted hair, work some hair product in and your flawless look is ready. Of course, if you are also a lucky owner of beard and moustache you shouldn't leave the two out. French moustache style combined with long beard will grant you that classy charm that will melt all women's hearts!
Loose Curls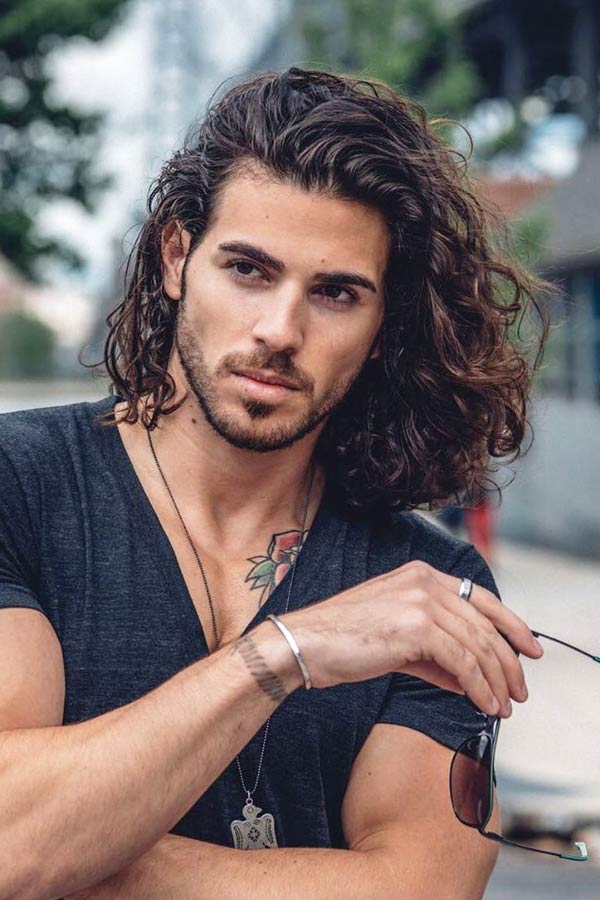 Source: @enrico.ravenna via Instagram
If you have naturally curly locks, then it will not take you much effort to pull off a hipster haircut. Yet, it will require some patience on your part. You just need to grow out your locks so that they reach your shoulders and then wear them simply loose. This carefree and breezy hairstyle perfectly resonates with the hipster values.
Man Bun
Source: @enrico.ravenna via Instagram
One of the most popular male hipster hairstyles is a man bun. In the modern era of gender equality, no one will ever tell you that it compromises your masculinity. Thus, you are free to tie your locks in a high or low bun and feel ultimately virile and stylish. For added manliness, you can complement your look with a short stubble of facial hair.
Pompadour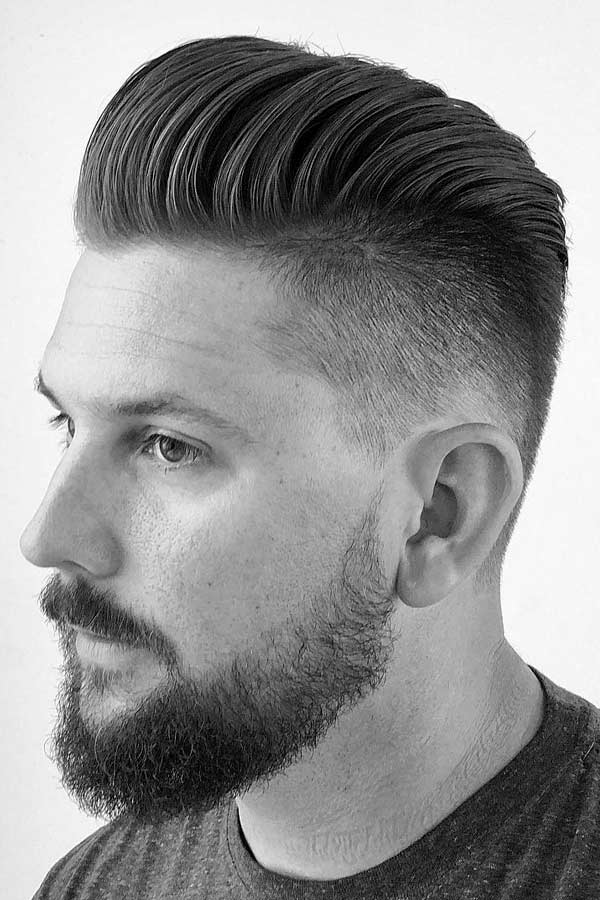 Source: @shrunknheads via Instagram
A pomp is a timeless classic hairstyle that will never go out of fashion. As following hipster trends implies incorporating a vintage style, then the choice of your next haircut is pretty obvious, don't you think? Just to give it a modern twist, ask your barber to enhance the style with a fade on the sides and back.
Disconnected Undercut with Pomp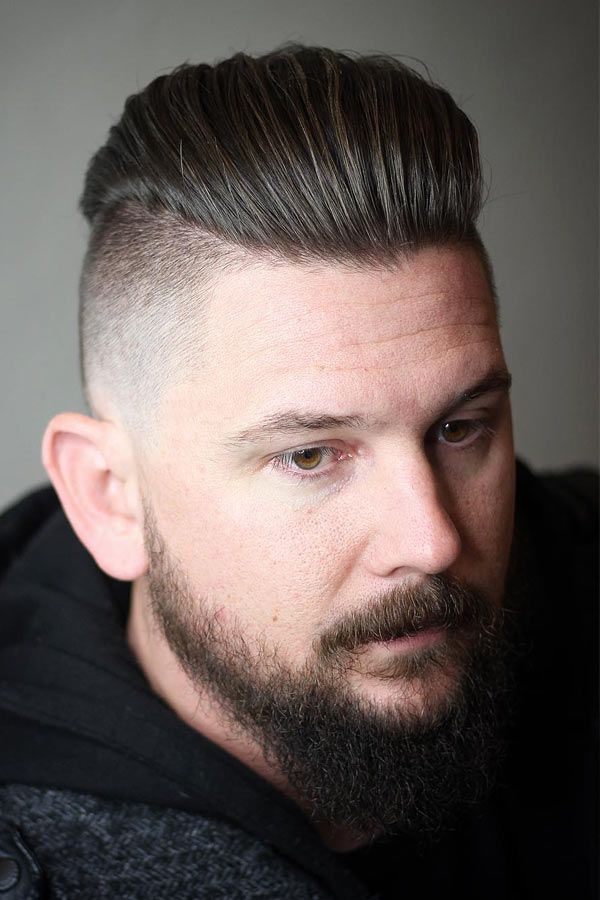 Source: @shrunknheads via Instagram
If you are aiming for an edgier and bolder look with an air of a retro style, then go for a pomp accompanied by a disconnected undercut on the back and sides. Thanks to a strong contrast between the long top and short sides, this hairstyle gives your appearance a sharp and fierce flair.
Long Waves
Source: @spizoiky via Instagram
It is okay to show off your gentle and romantic side of personality at times. It will not make you any less of a rough guy. Instead, exposing your soft traits of character means you have nothing to be ashamed of. Thus, styling your hair in long relaxed waves will only mean that you are a frank and straightforward person. If you are concerned that you will come out overly vulnerable, then restore the balance with a rugged beard.
Half Bun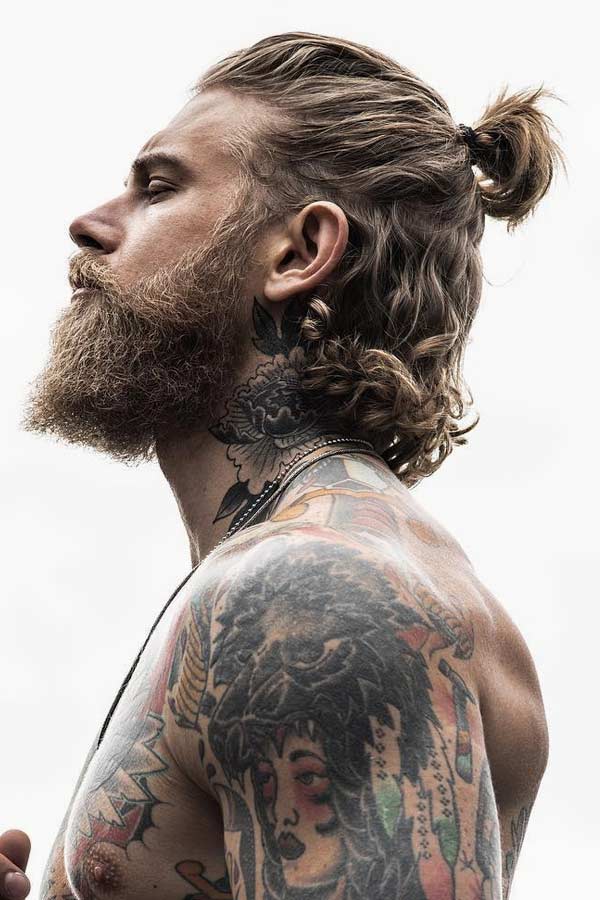 Source: @spizoiky via Instagram
A half bun is a great option for those guys who choose hairstyles that are both trendy and practical. The thing is it allows you to pull off a man bun, thus taking the hair away from your face, while still showing off your long locks. The sideburns that join the beard line to the hair will give you a complete hipster's look.
Shoulder-Length Strands
Source: @spizoiky via Instagram
Long hair requires quite a lot of patience, commitment and effort. Yet, it fully pays you off with tons of compliments you are going to get. Thus, when venturing on growing out long locks, ensure that you take enough care of them so that they look healthy and groomed. Yet, when you achieve the desired length, you will be able to style your strands on the go – just let them fall on your shoulders and you are guaranteed a stunning look.
Copper Messy Spiky Quiff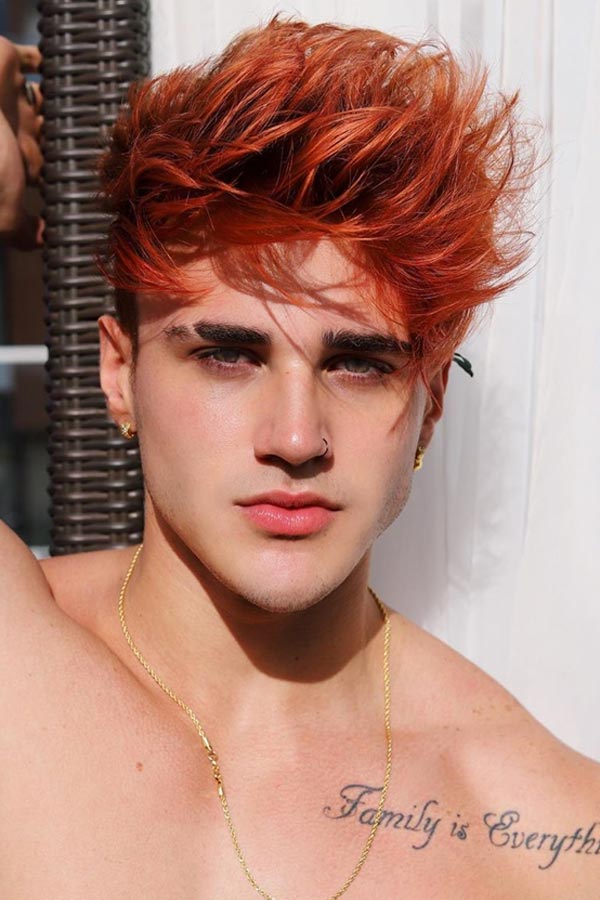 Source: @alexmapeli via Instagram
Guys who love to experiment with their appearance will just live for this hair look. It features a messy quiff that is styled with a generous amount of hairstyling product so that the strands are spiked up. For an added boldness and emphasis, dye your locks in a flamboyant shade, such as fiery copper.
Hipster haircut is not the newest notion but that does not mean that styles are not changing. That is why we suggest you have a look at this freshest and trendiest hipster haircuts compilation so that you look stylish and flawless no matter where you go!
REFERENCES:
How to Do a Hipster Haircut. Source
The 21st century hipster is a subculture that emphasizes style, authenticity and uniqueness. Source
Hipsters are people that try too hard to be different. Source
enable
Eugenio Marongiu/Shutterstock
enable
Eugenio Marongiu/Shutterstock
enable
Eugenio Marongiu/Shutterstock