The disconnected undercut looks highly defined and extremely posh. Your hair type doesn't make much difference because this haircut compliments almost everybody. Guys who choose to wear it are always considered stylish, elegant and head-turning. They make people's hearts race and take their breath away. By combining the stately pompadour with the refined quaff, this hairstyle makes a real breakthrough in the world of the men's haircuts.
What Is A Disconnected Undercut?
So, what is a disconnected undercut? Basically, this is the type of the mens undercut where the sides of the head look "disconnected" from the top hair. The thing is the longer top hair doesn't have a smooth transition to the short side hair, which gives this abrupt effect. More often, there is even a noticeable line that marks the end of the top hair and the beginning of the side hair. No wonder that it's become the undercut hairstyle men highly appreciate and go for over and over again.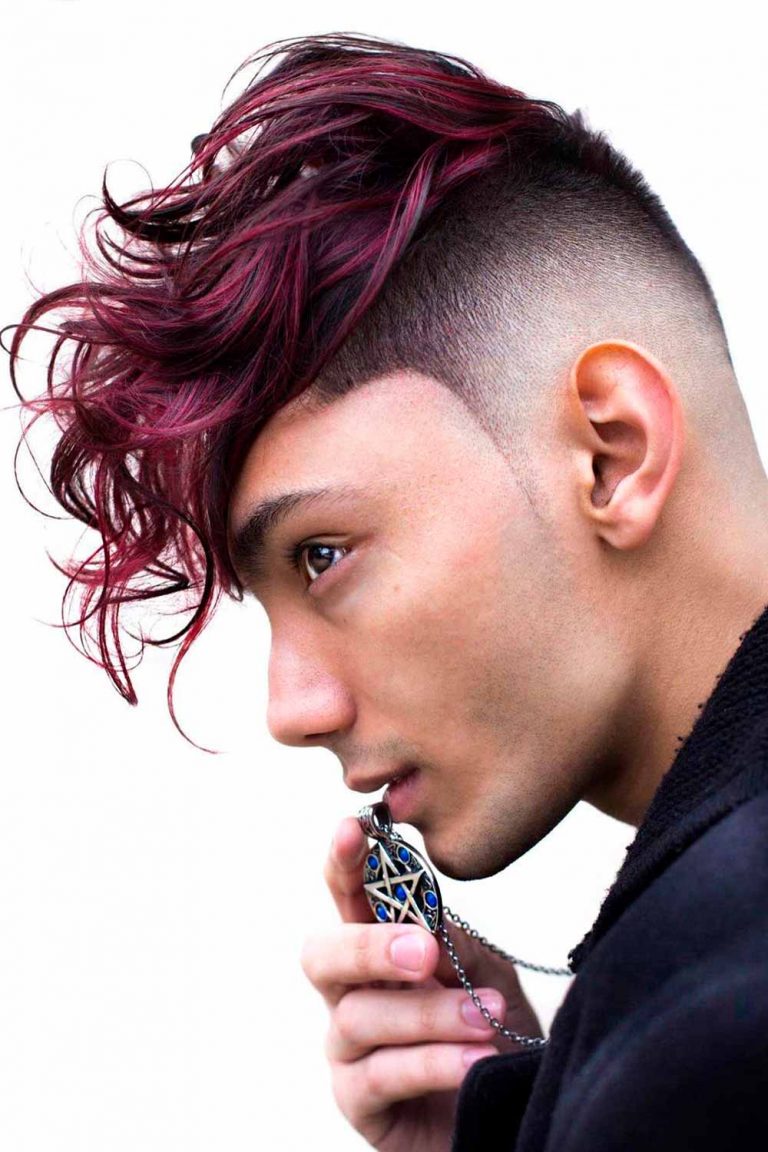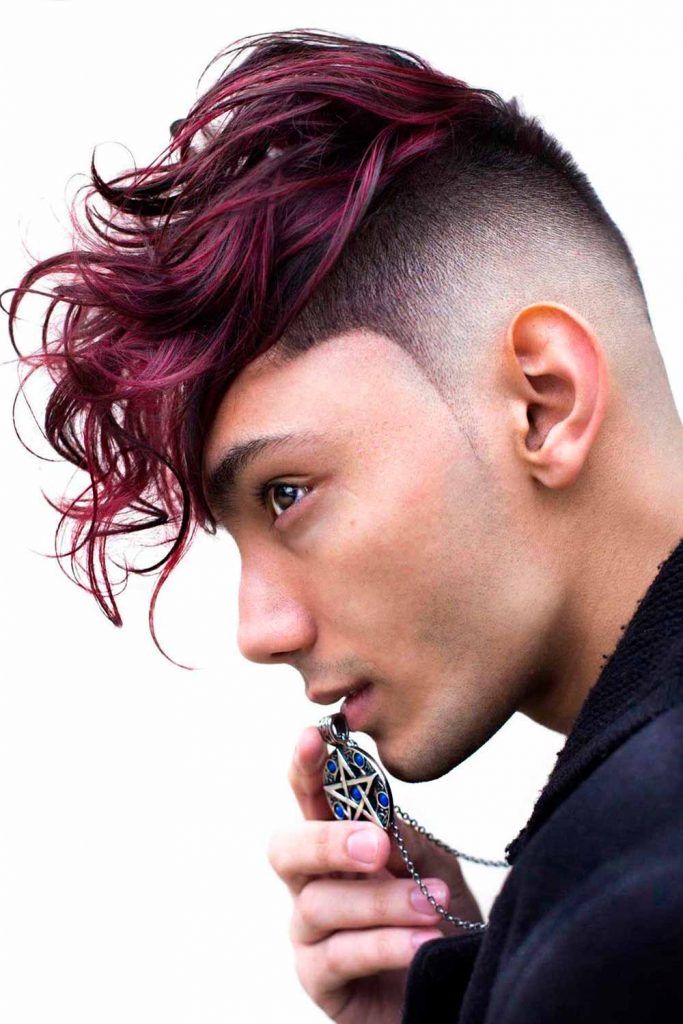 Source: @sr.braid via Instagram
How To Get A Disconnected Undercut
To get the mens disconnected undercut, your hair should be long enough to achieve the desired effect. Make sure that you have at least 2 inches on top of your head to make the contrast between the top and side hair striking. Use the clippers to give the hair on your sides a classic undercut. As for the hair on top, you don't need to cut it at all – just brush it back and it's done. What actually creates the contrast is the pompadour blended with the quiff.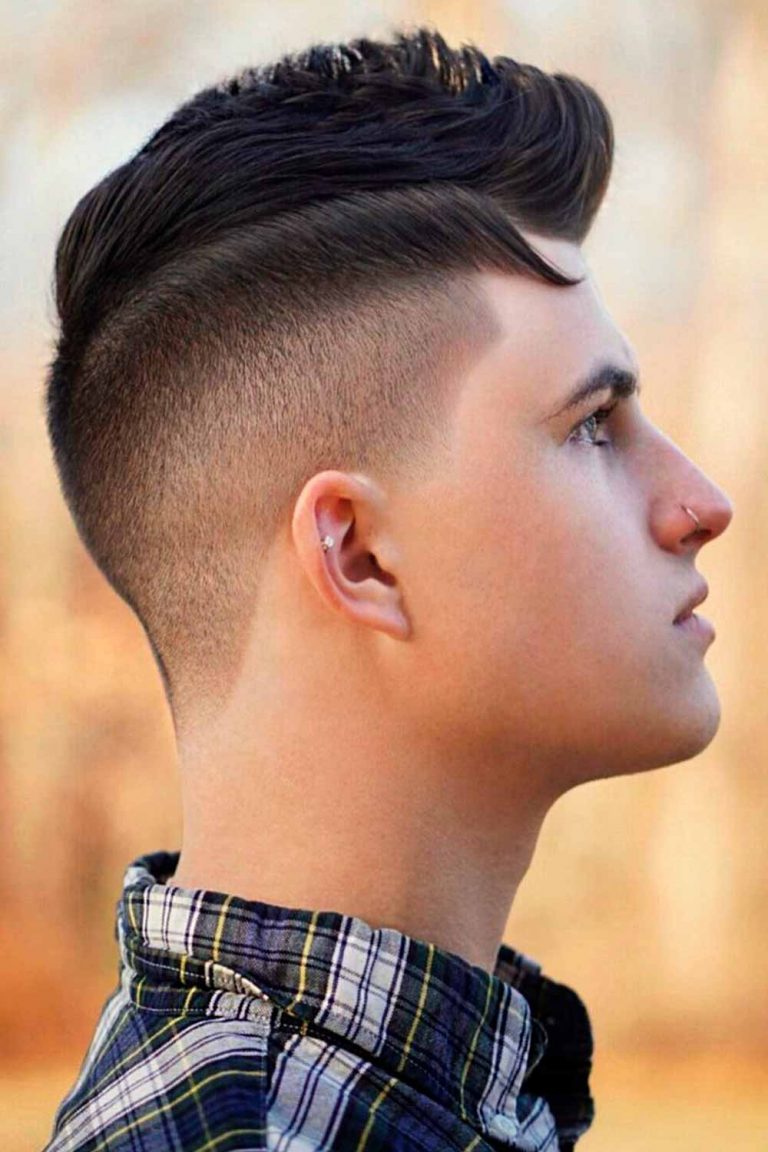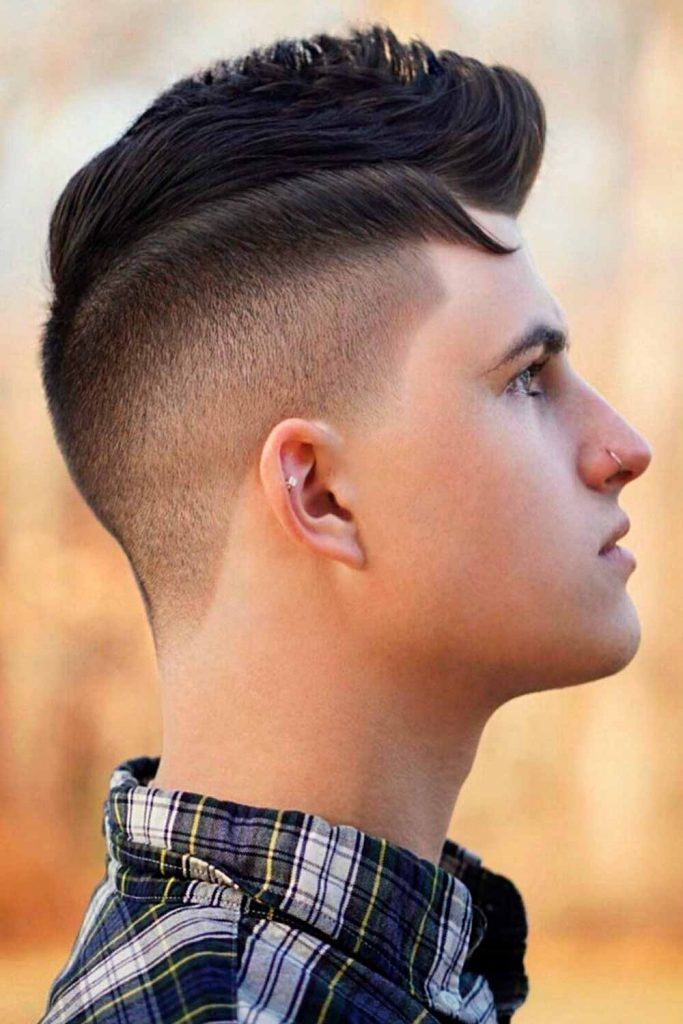 Source: @xbigwesx via Instagram
How To Style A Disconnected Undercut
Whichever long hair undercut men choose, it looks flattering only if it's styled properly. As long as you don't live in a barbershop or hair salon, you need to know how to style the disconnected undercut at home. The main focus will be, of course, on the top hair because you have multiple options on how to do it. First, decide whether your pomp is going to have a parting or you will comb it over to the side. Also, consider if it's going to be voluminous or sleek, curly or straight. Maybe you prefer something more exquisite and will go for a man bun or a ponytail? No matter what you choose, here are some hints on how to pull off the look:
After washing your hair, dry it with a towel.
Use the blow drier in the direction from the back to the front.
Run some wax or pomade through the top of your hair.
Take a brush and run it against the grain of your hair to create the volume. N.B. If you don't want a bulky top, skip this step.
Sweep your hair back either with fingers for a messier look or with a brush for a sleeker look.




Source: @alan_beak via Instagram

40 Top Picked Disconnected Men's Haircuts

The disconnected undercut is very versatile, and it can be tricky to choose the right hairstyle for you. However, with our guidance, we are sure you'll manage to pick the cut that will compliment you the most.

Disconnected Undercut Fade

If you want to achieve a very defined and edgy look, try to cut your hair in different levels of layers. Leave the hair on top relatively long and get the sides trimmed and faded. These men's hairstyles are actually very versatile since you can choose from a wide range of fades as well as style your hair atop in many different ways.




Source: @z_ramsey via Instagram

Hard Part Disconnected Haircut

Sometimes, you don't feel like doing something sophisticated on your head. A plain short haircut for men is the best you can do today? Don't get upset too soon. You can still look stylish by simply adding a low surgical part to either side. A side cutting hairstyle looks utterly startling and fancy, which will definitely cheer you up.




Source: @hayden_cassidy via Instagram

Slick Back Undercut

The slicked back undercut is the most popular and stylish type of undercut hairstyle now. With its high-contrast style "short on sides, long on top" haircut, slicked back hair offers the best of both all lifestyle – that works for businessman, looks hot and sexy on a party, or in any casual setting. Bleached your slicked back undercut to get a unique hairstyle.

Source: @barberking_kh via Instagram
Zero Fade And High Top
If you like living on the edge, the undercut with a zero fade and a high top is made for you. This undercut mens haircut takes the most advantage of the clean sides and a messy flip-up crown. Don't forget to use some light hair styling products to secure the quiff in its place.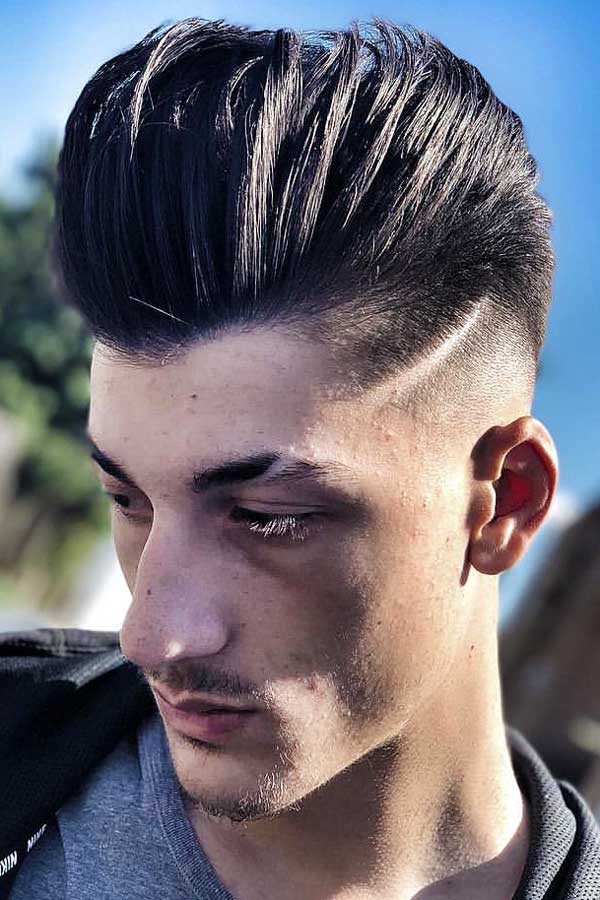 Source: @egobarbers via Instagram
Spiky Quiff With A Disconnected Undercut
Want to get the most out of your undercut quiff? Add a spiky finish through the edges of your crown. Keep the sides and back short and even though.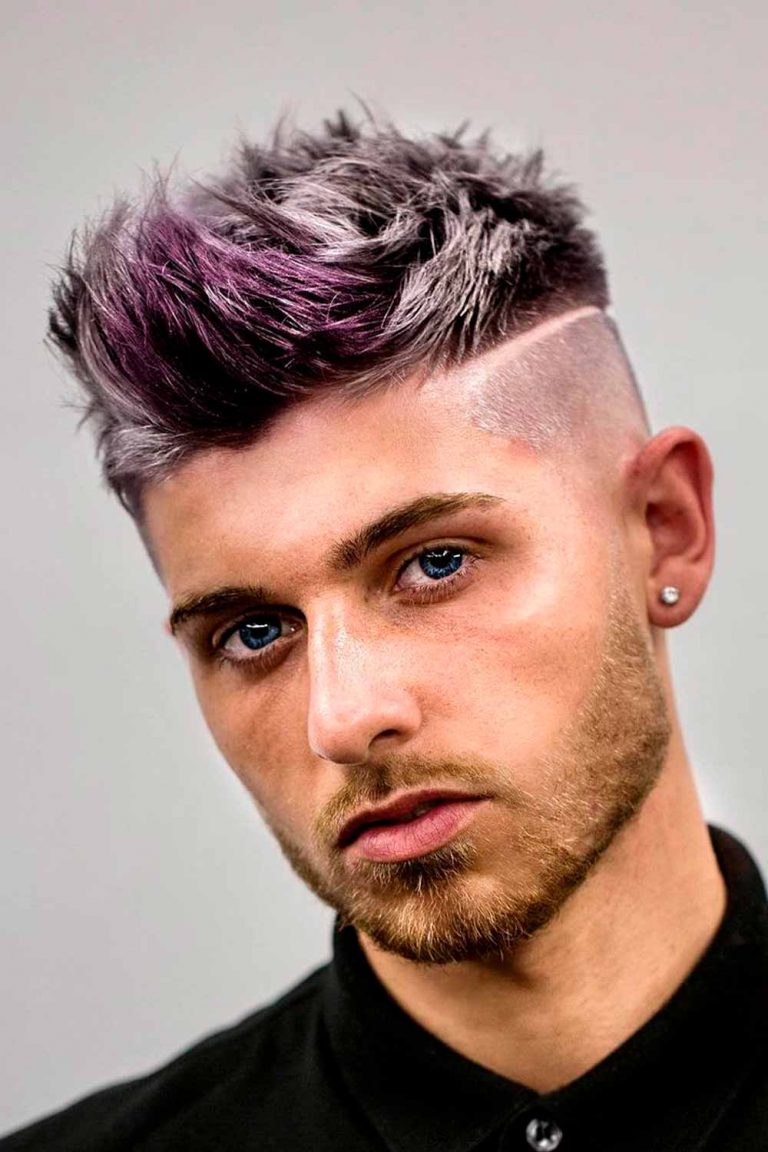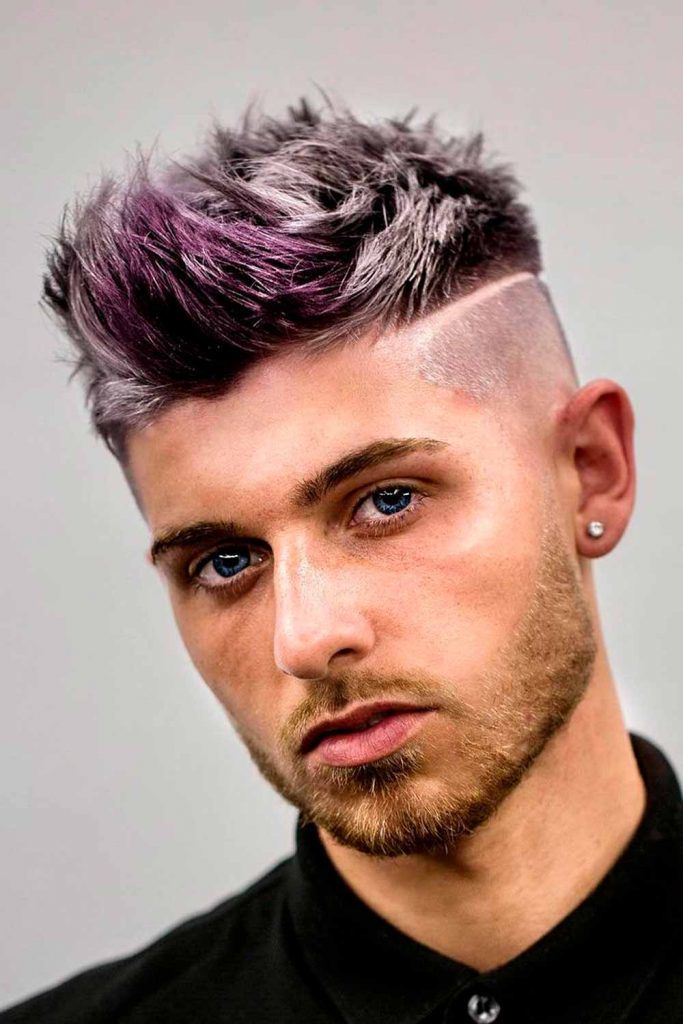 Source: @tombaxter_hair via Instagram
Disconnected Comb Over Style
Are you looking for some nice man haircuts? We have a really good option for you. The sides are buzzed cut and the top is styled the same way as the undercut comb over would be. But the top hair is flipped up at the forehead instead of being slicked. In this haircut undercut is really defined with a line of quite long hair on one side and a beard on the other side.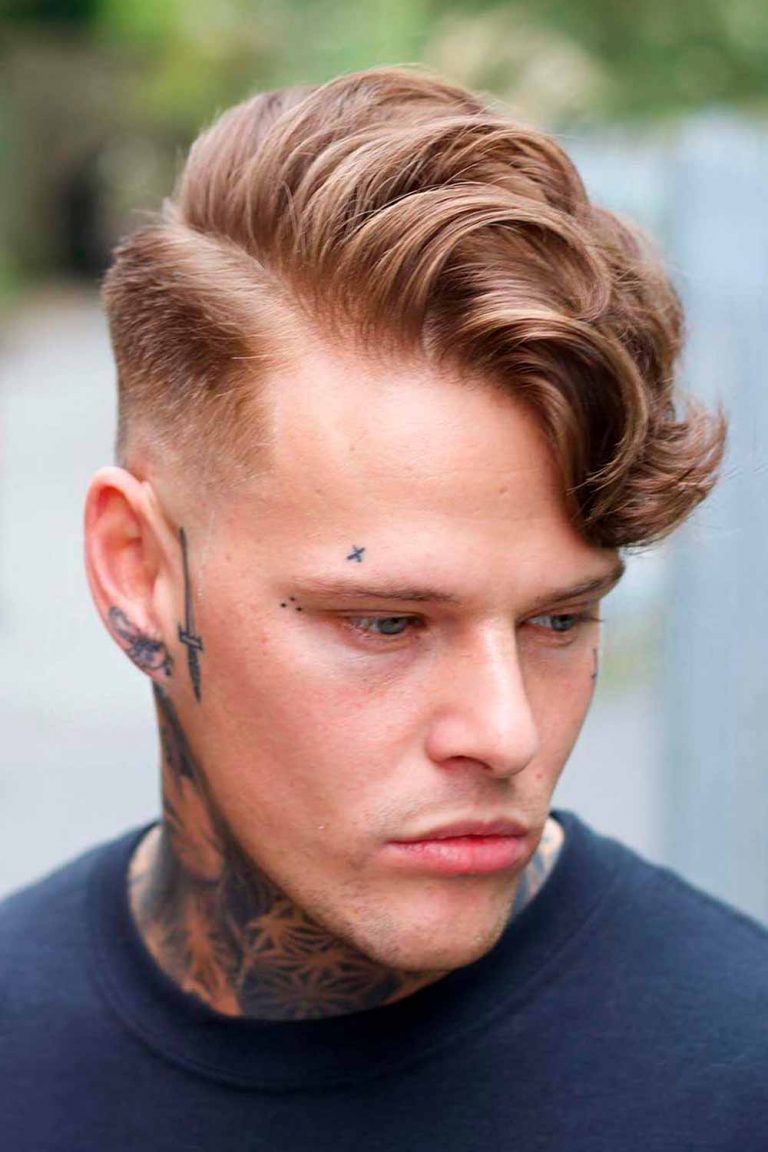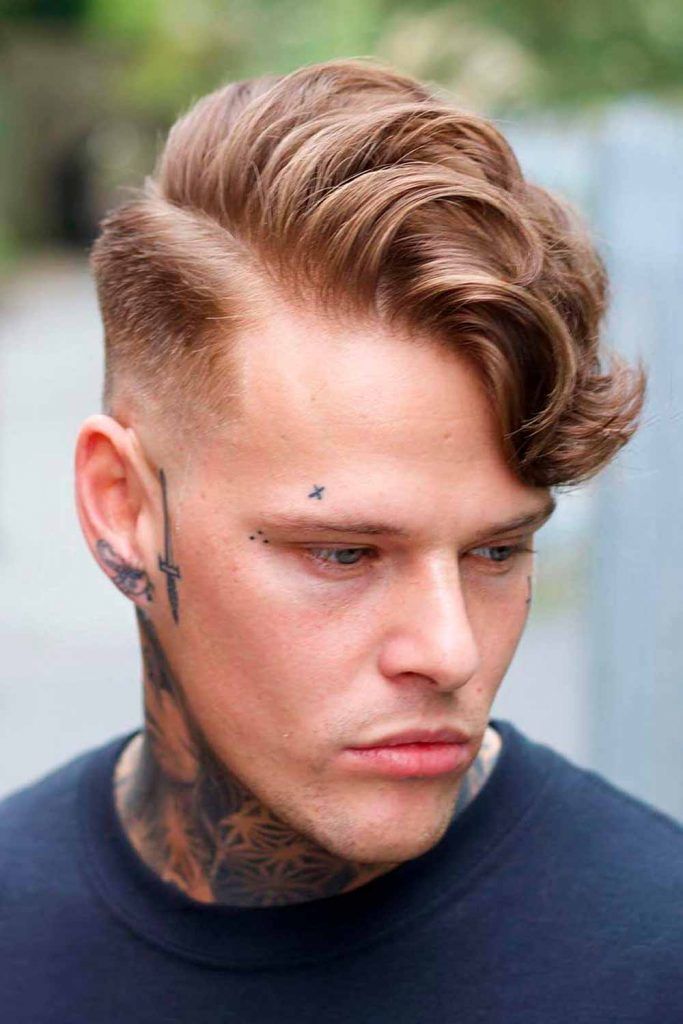 Source: @alan_beak via Instagram
Quiff Top
Those guys who are pretty tired of their ordinary quiff and looking for the ways to style it in a trendy manner may look no further. Get the taper fade on the sides with a line up to define your hair on top. As for the quiff, push it back and secure with a spritz of hair spray.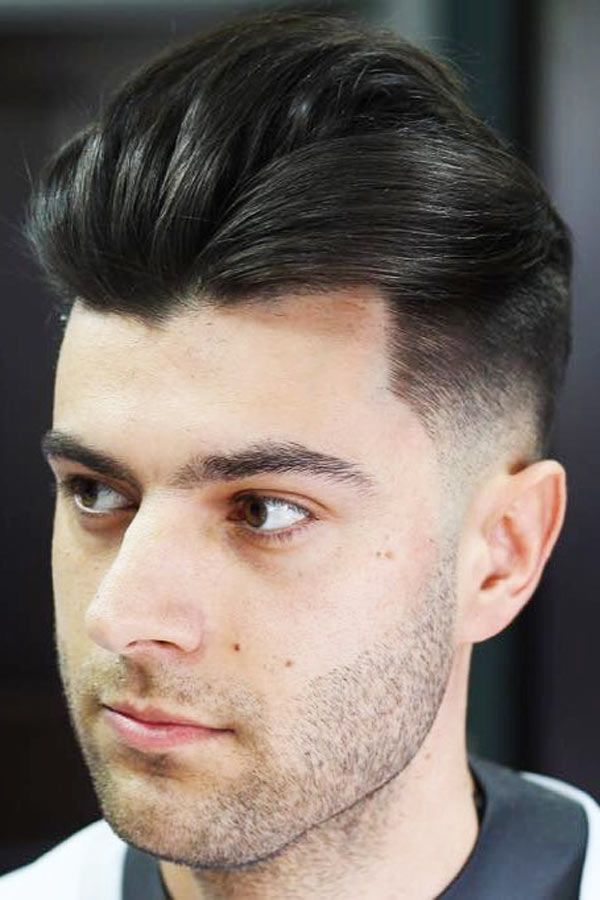 Source: @groomed_barber_club via Instagram
Disconnected Undercut On Long Hair
A disconnected undercut is a perfect solution for the guys who have long hair and want to turn it up a notch without sacrificing on the length. Ask your barber to trim the sides neatly, which will open you the doors to a myriad of such trendy hairstyles as a top knot.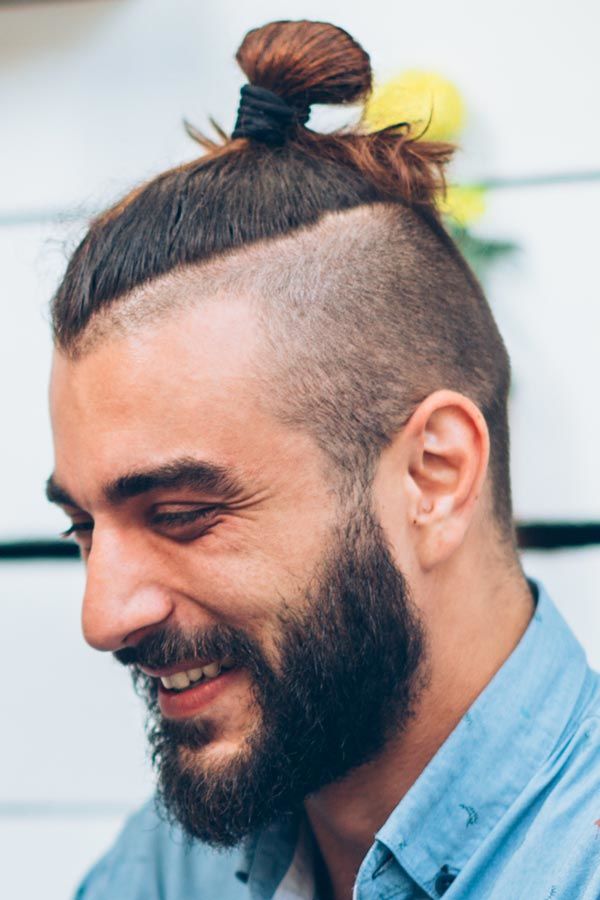 astarot/Shutterstock
Textured Top
If you're ready to spend a bit of time and effort on your hairstyle, then you're bound to try a textured top with a disconnected undercut. To achieve this look, the sides should be complemented with a high bald taper fade. For more contrast, enhance the undercut with a razor line that goes along the taper.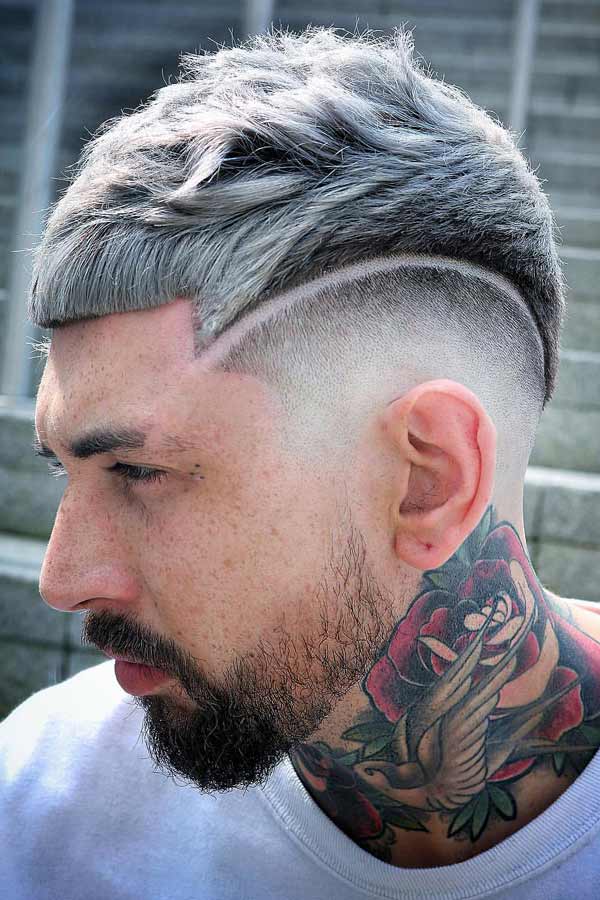 Source: @hayden_cassidy via Instagram
Two-Toned Undercut
The striking contrast can be gained not only with various levels of hair length but also with different hair color. For the utmost edgy and bold look, pair a disconnected undercut with hair coloring. Don't limit yourself when it comes to the color choice. You're welcome to be as creative as your imagination allows!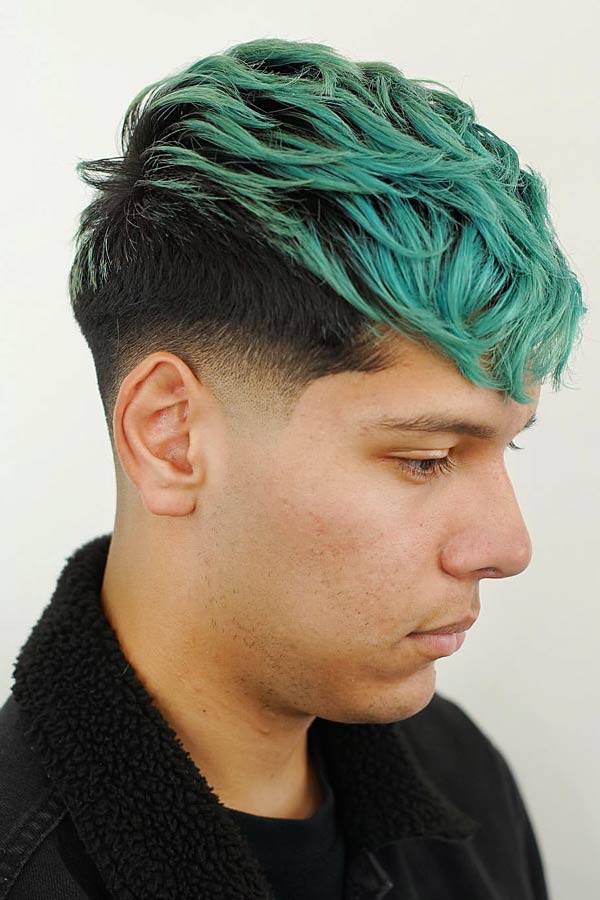 Source: @fernthebarber via Instagram
Full Volume Disconnected Undercut
This hairstyle is for the guys who like to stand out from the crowd. A disconnected undercut isn't the only one to create the whole contrast but an abundance of hair on top too. Style the hair in any way you like – side swept or pushed back. If this doesn't seem like enough for you, enhance the look with a funky mustache, such as handlebar, for example.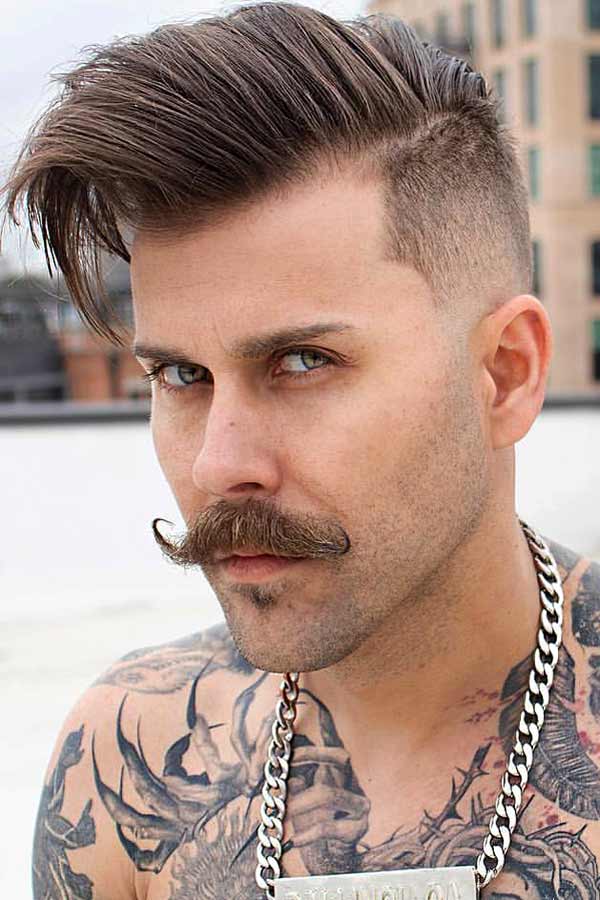 Source: @luiiisc_ via Instagram
Undercut Pompadour
Can you think of another hairstyle as awesome as an undercut pompadour? It successfully combines elegant classics with modern trends. Trim the sides or get them faded while cutting the hair on top gradually from the longest at the forehead to the shortest at the back. You can style your pomp in a traditional manner or play around with it to achieve a more salient effect.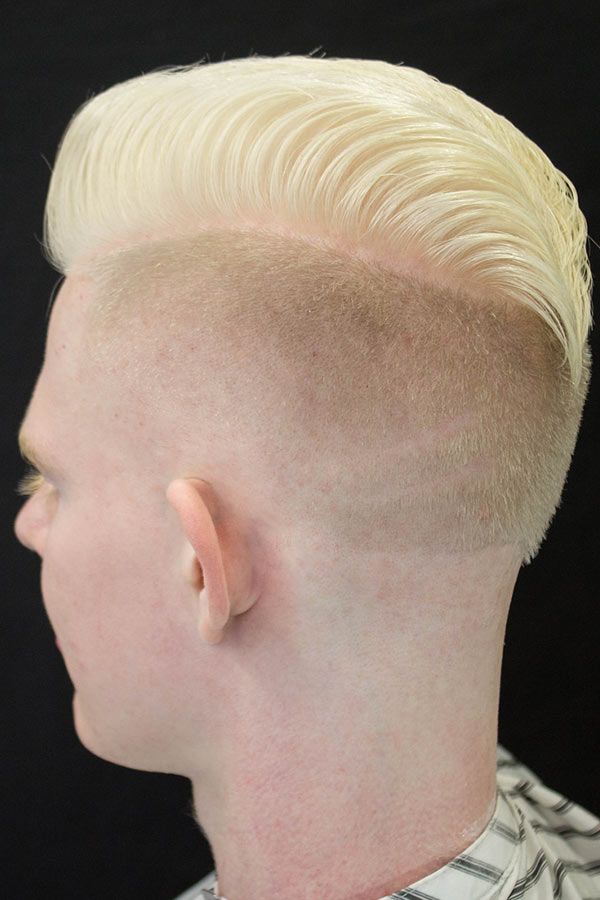 Source: @meha_barber via Instagram
Mohawk Disconnected Undercut With A Beard
We bet you're the guy who strives for some really cool undercuts. What's cooler than a disconnected undercut faux hawk? It's actually hard to tell. Note that the sides should be very short and clean so that the crest could have it all. To move this look to the high-end men undercut styles, pair the Mohawk with a beard.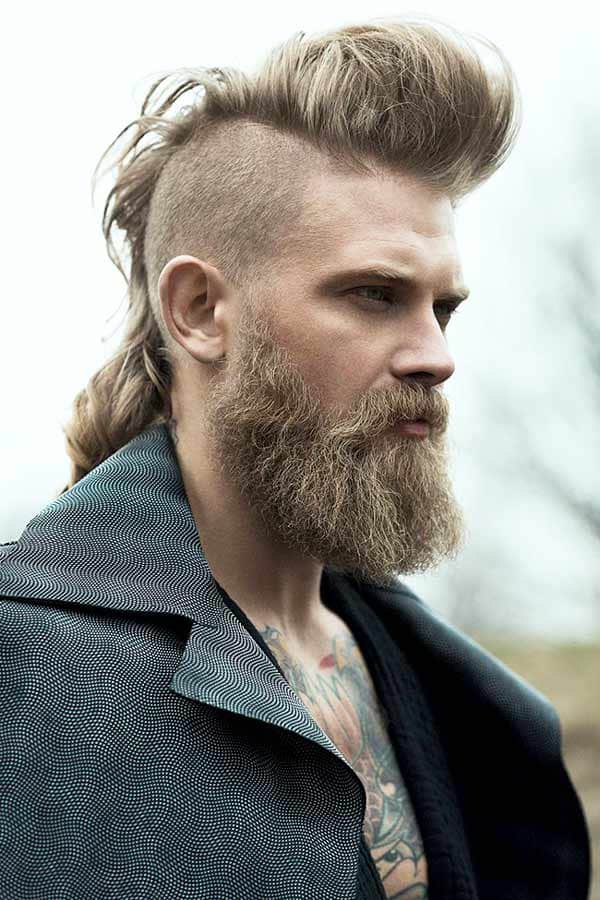 Source: @spizoiky via Instagram
Short Hair On Top
Even if you're not really after long hairstyles or the dress code at your work requires a neat and clean cut, you can still pull off a disconnected undercut. The barber will fade the sides and scissor cut the top leaving a bit of length at the forehead to add a flick to the look.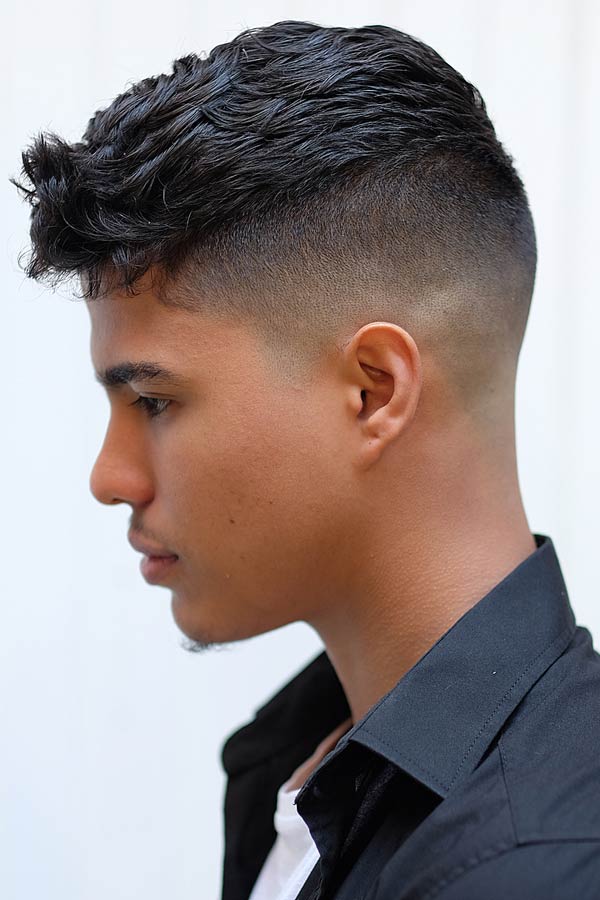 Source: @fernthebarber via Instagram
Side Swept Hair
Are you looking for ways to express your creative personality? Your hairstyle will give you this chance. Swipe your locks on top to side swept undercut add a touch of color to them. If you're daring enough, go for androgyne colors, such as pink, fuchsia or purple, which are all the rage now. The taper fade undercut will be a great accompaniment to this vivid look.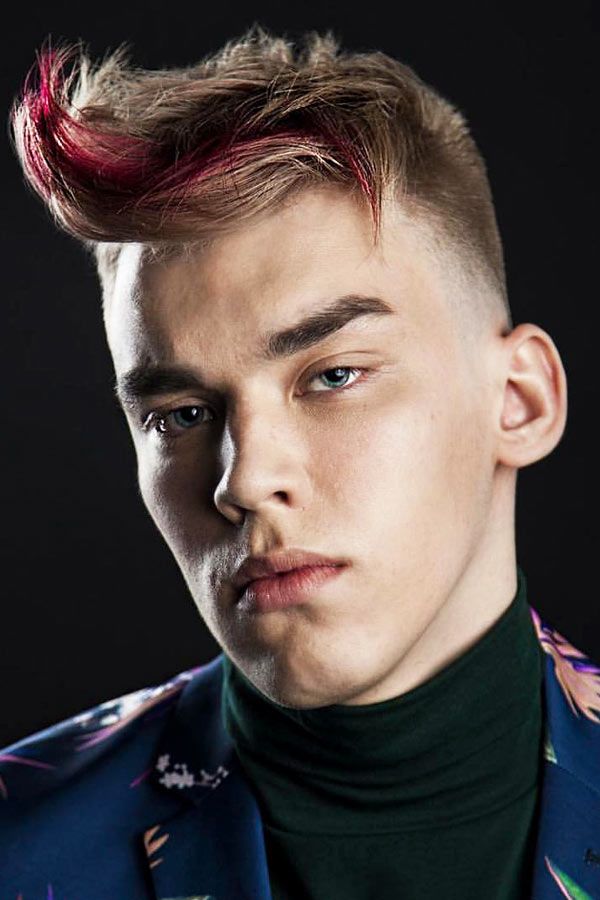 Source: @sidsottungacademy via Instagram
Afro Man Bun Disconnected Undercut
Have you ever noticed how swanky a black hair undercut can be? Sure you have. Even though it is rather hard to manage, a black disconnected undercut is definitely worth the effort. While the undercut goes high low fade perfectly balances the look. As you already have a disconnected element in your look, it would be better not to separate the beard from the sideburns.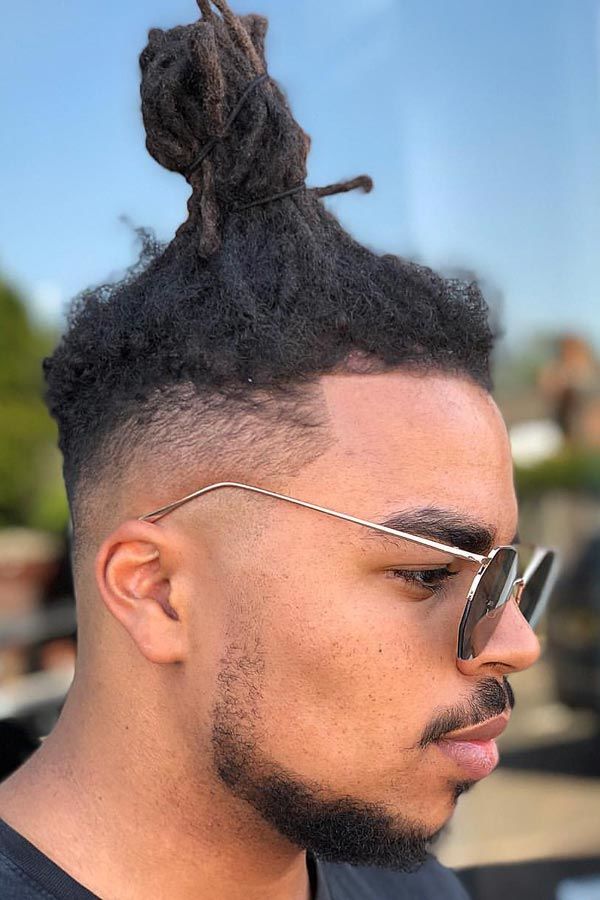 Source: @barberlessons via Instagram
Braided Top
This is the kind of a disconnected undercut hairstyle men would rarely dare to try. However, it is the quintessence of all the mens haircuts shaved sides long top type. The hair on the top and back of your head should be long enough to give you the chance to run wild. Braid the cornrows all the way down. Accentuate the haircut with a red hair color of braids for men.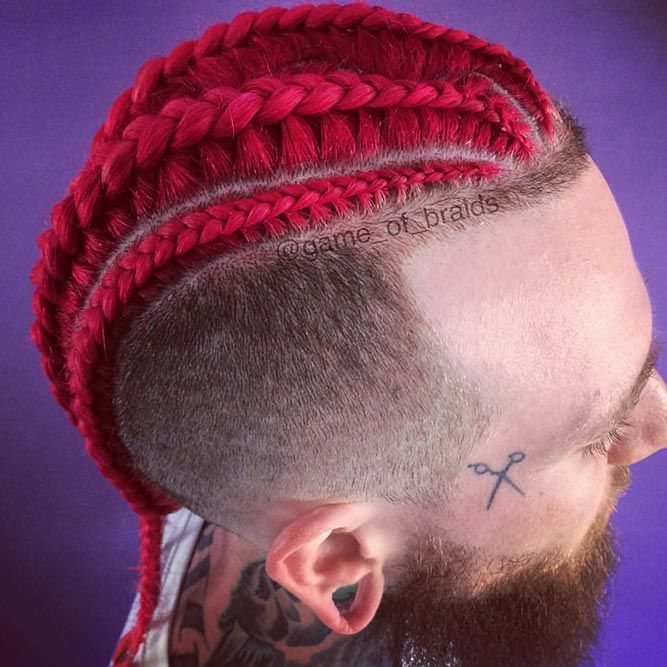 Source: @game_of_braids via Instagram
Casual Disconnected Undercut
Going for some more hairstyles with an undercut and beard? Try out this casual yet trendy look. You can make the top hair tapered, which will bring some natural flair to the look, or leave it even. Don't go too wild with the sides and back of your head. Just give them some simple buzzed haircuts and style the pomp in a slicked back manner. The full beard adds greatly to the look, so don't let the haircut drag all attention.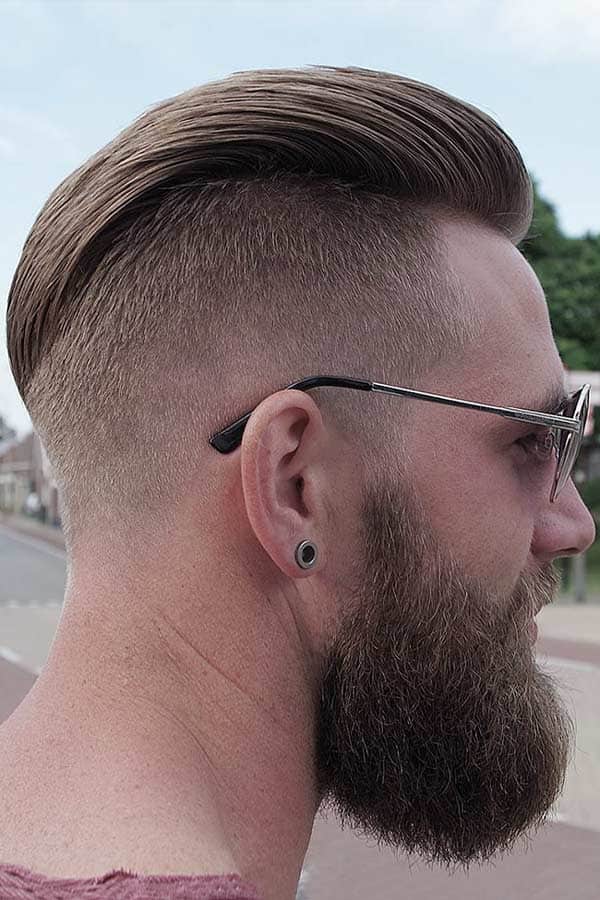 Source: @mensworldherenkappers via Instagram
Curly Top Undercut
Curly hair makes almost all of the hair cut styles stand out. The disconnected long undercut is no exception. To create this look, grab some hair styling product and rub it through until your hair is textured.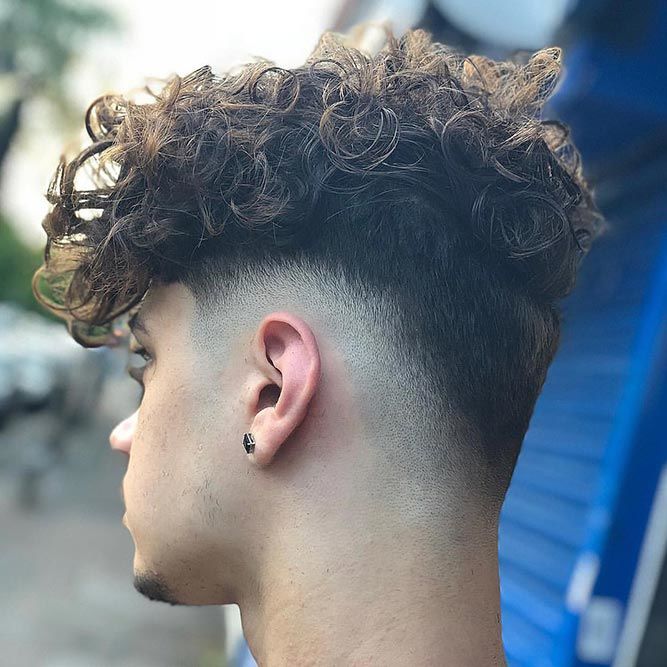 Source: @egobarbers via Instagram
Undercut With Side Part
Not enough definition? Why not add some more lines? A side part will complement the disconnected undercut nicely adding to the sharpness of the look. If you don't want to look too harsh, opt for a natural side part by simply letting your hair fall freely.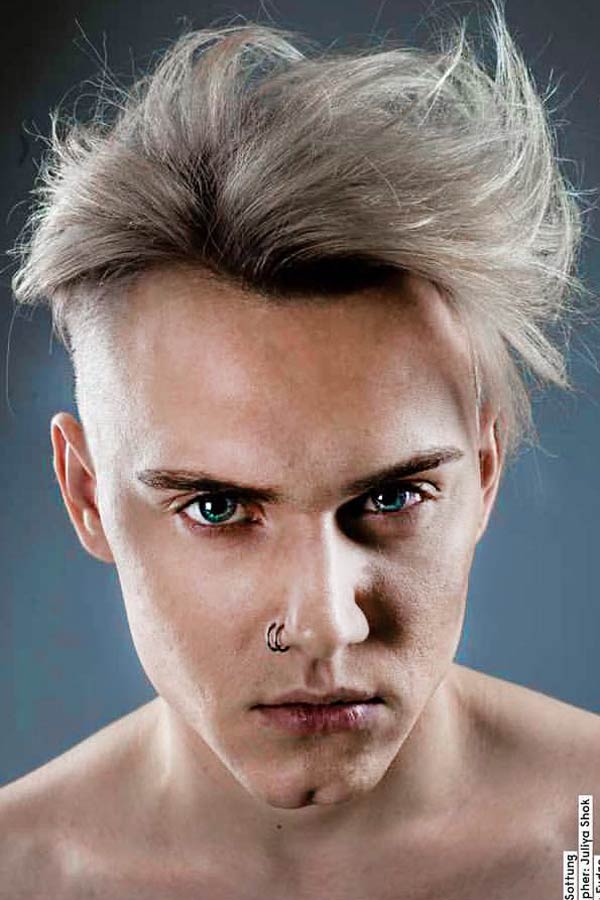 Source: @sidsottungacademy via Instagram
Disconnected Undercut And Hair Tattoo
Thanks to the short sides, a disconnected undercut allows you to adorn it with any kind of a hair tattoo. Remember, the higher the undercut, the more space you have to implement your most creative ideas. In case you do not want it to be overly elaborate, a lightning bolt that extends the hard part will work perfectly.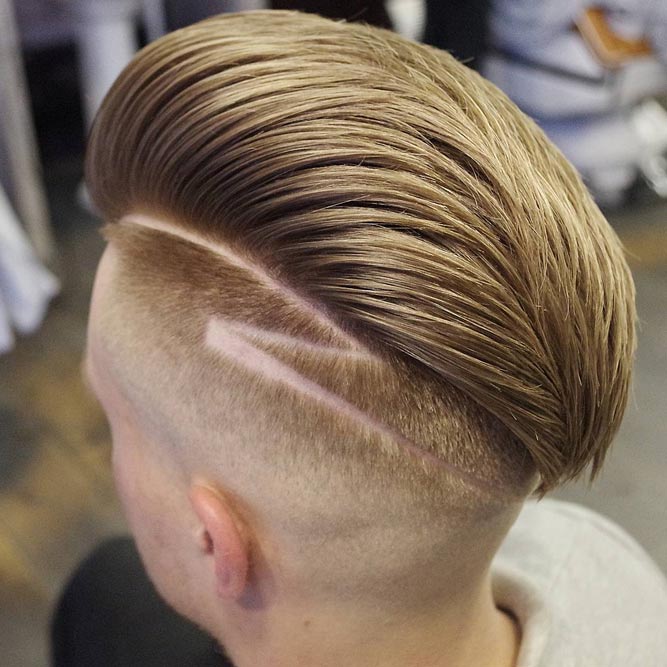 Source: @mensworldherenkappers via Instagram
Disconnected Undercut For Wavy Hair
A disconnected undercut is a wonderful hairstyle option for guys with wavy or even curly locks. As your hair may look unkempt at times, an undercut on the sides and back will help you to keep your appearance looking neat and clean. Also, it shifts the focus to the top, thus making your hair texture even more defined.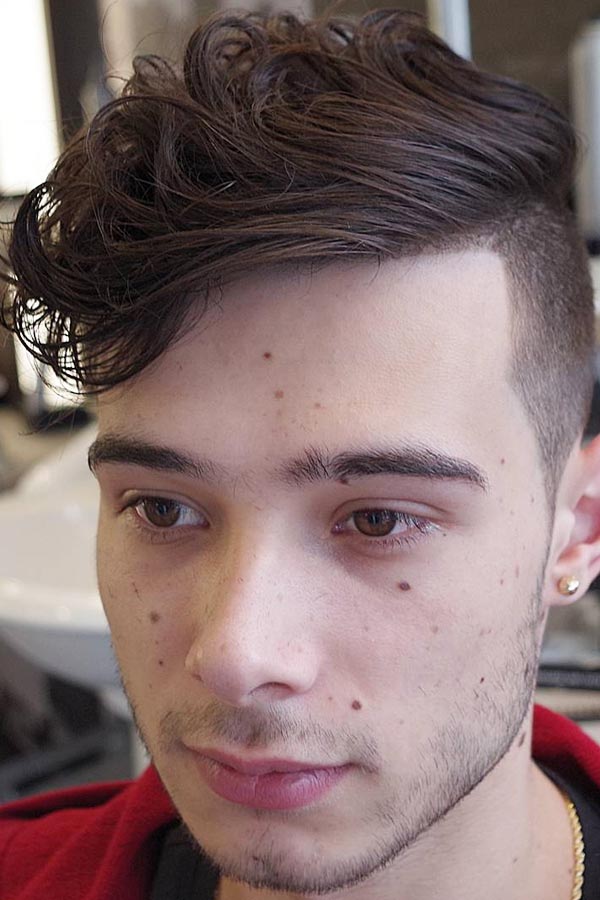 Source: @mensworldherenkappers via Instagram
Curly Side Part Faded Undercut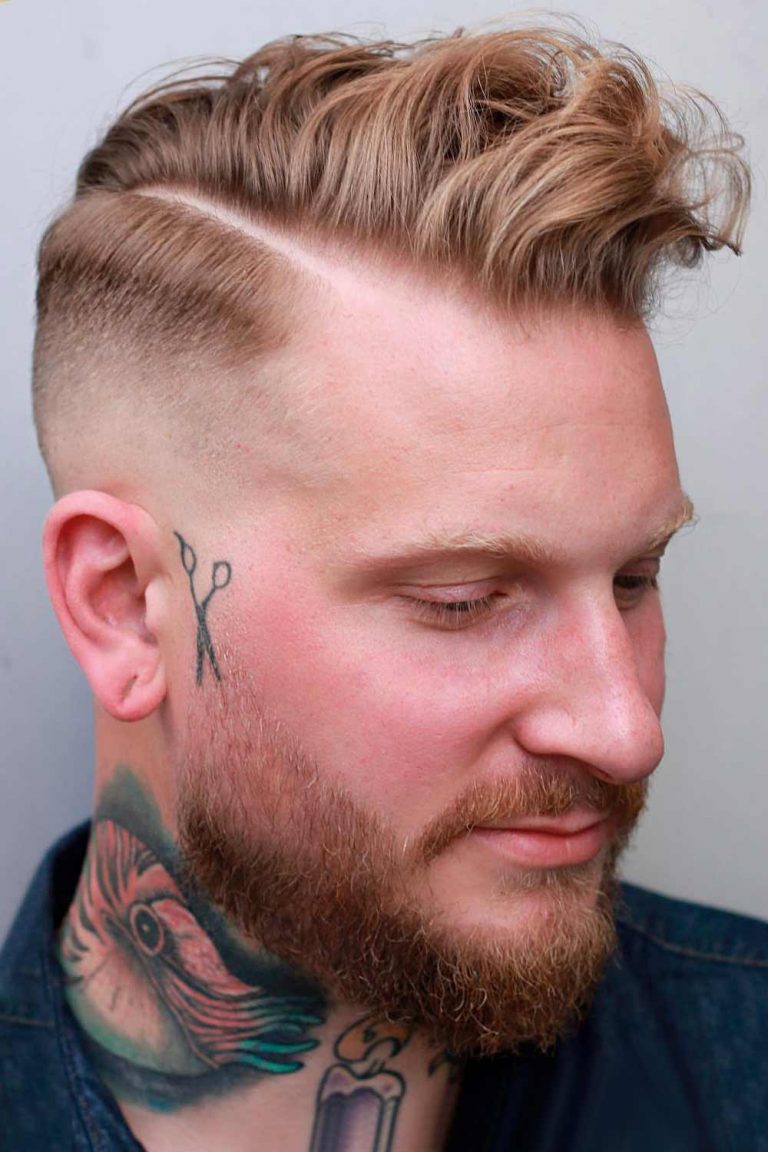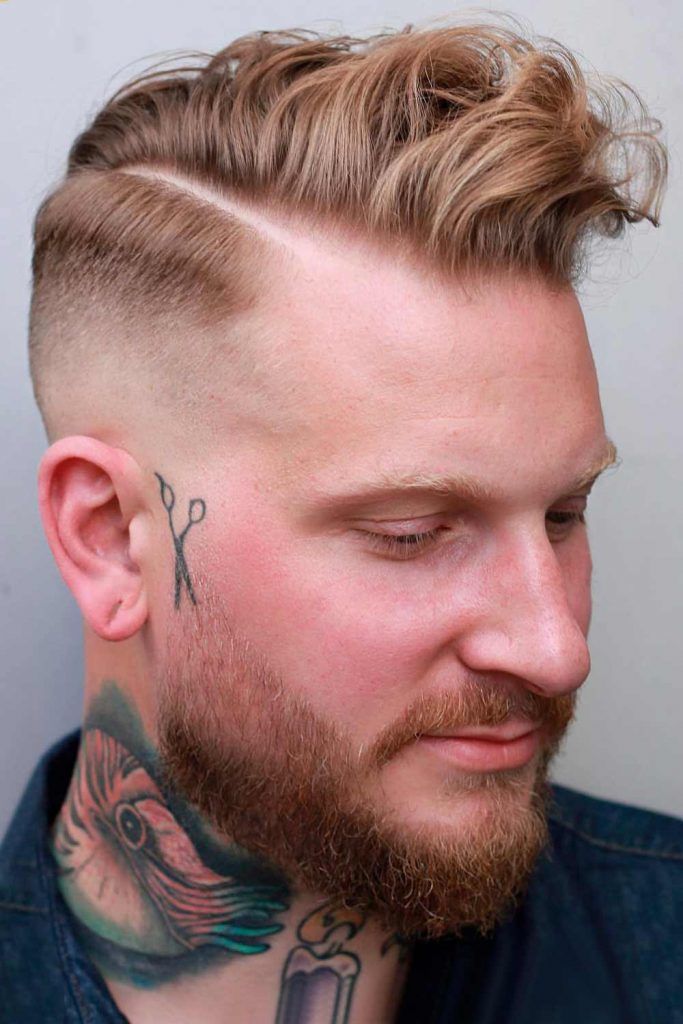 Source: @hayden_cassidy via Instagram
Peach Color Cropped Bang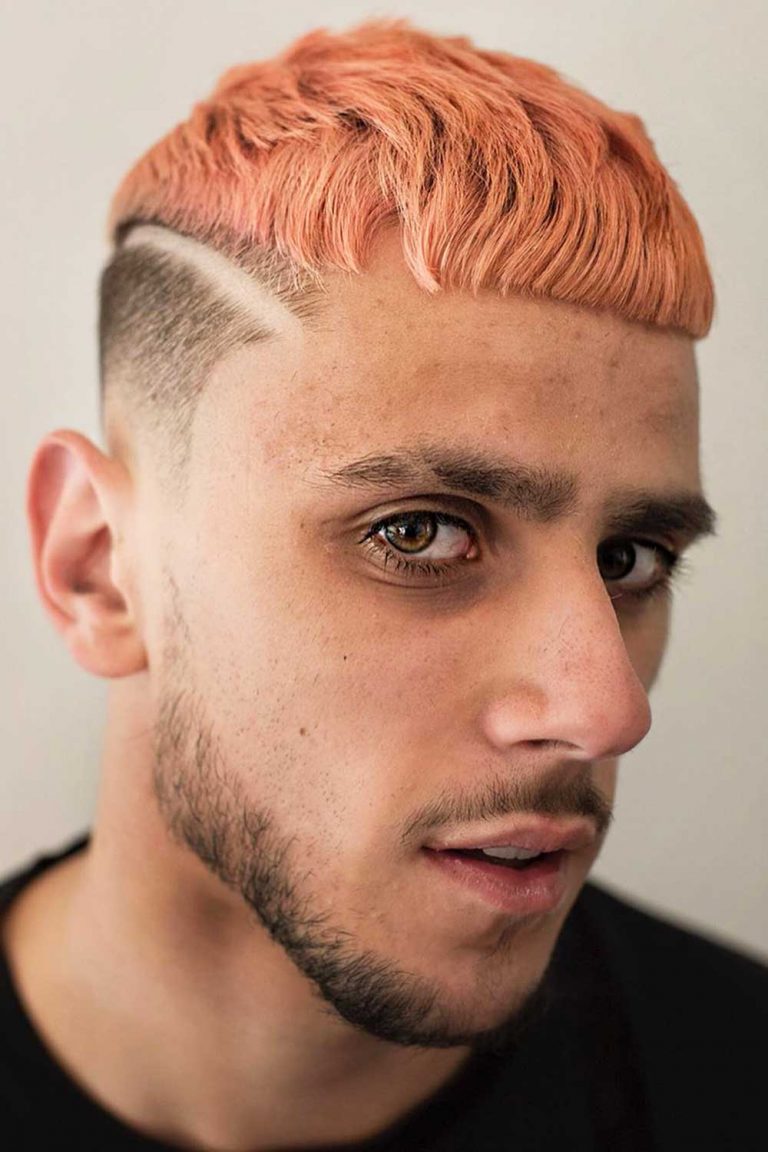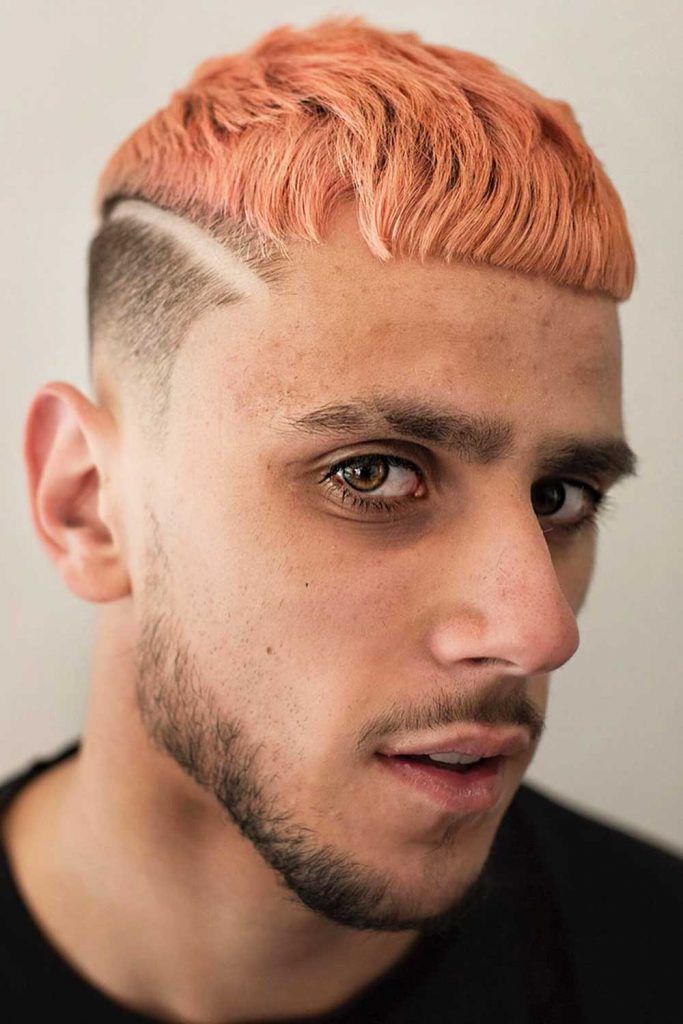 Source: @hayden_cassidy via Instagram
Disconnected Undercut With Styled Medium Curls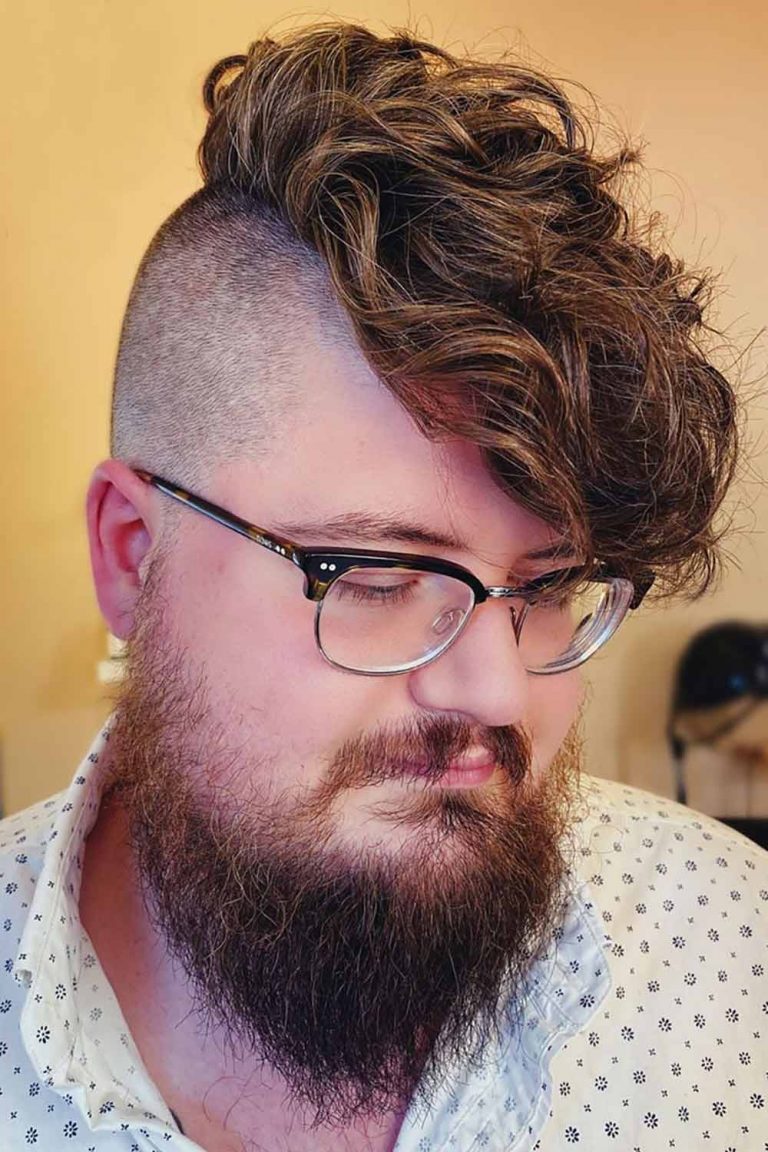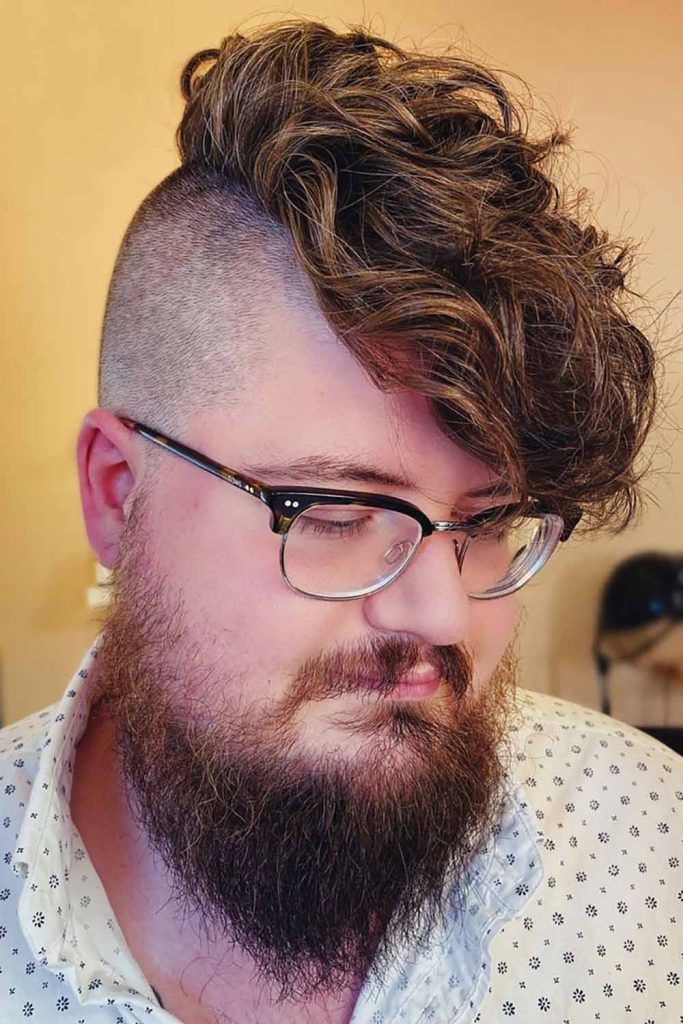 Source: @bangsandbalance via Instagram
Hard Part With Quiff Top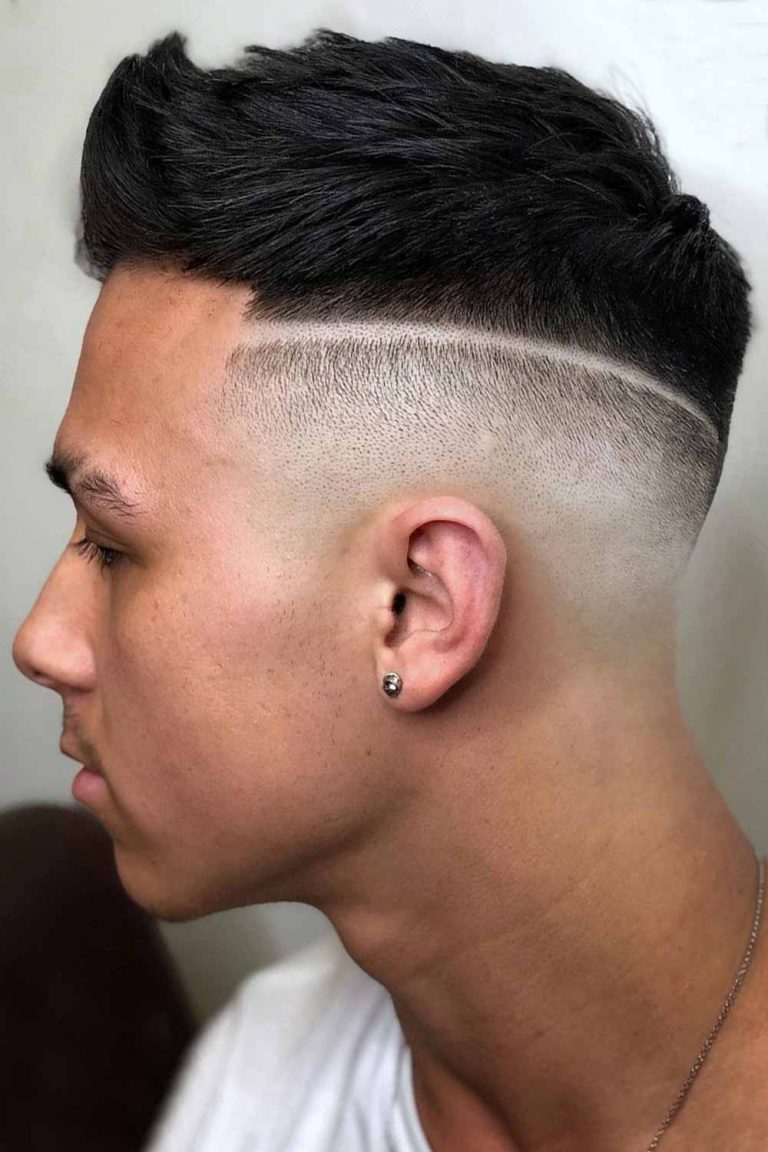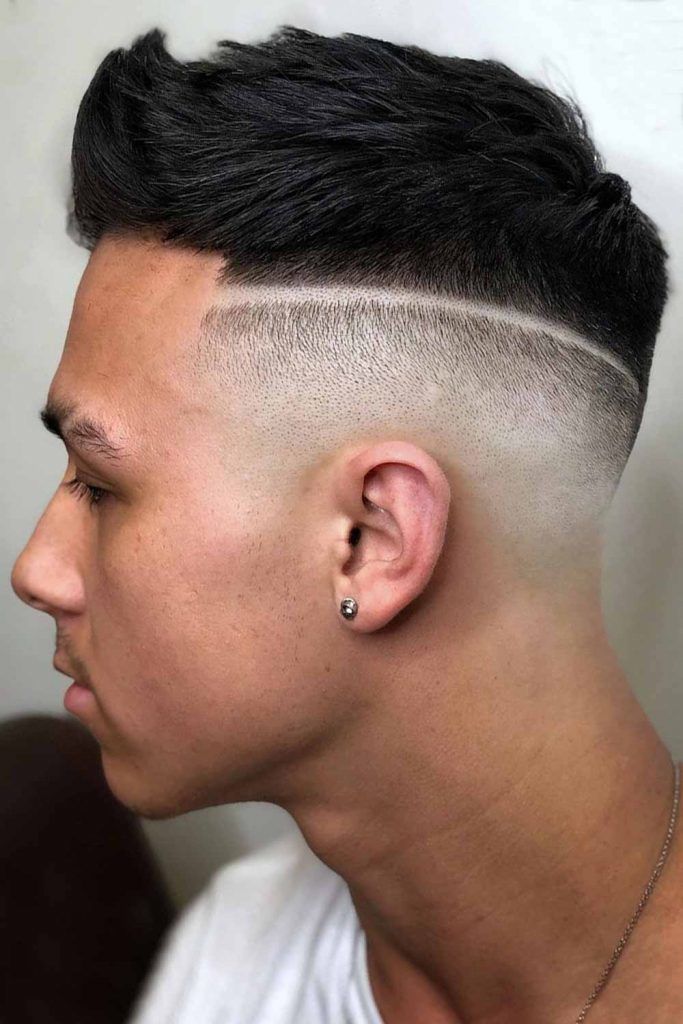 Source: @hayden_cassidy via Instagram
Disconnected Head Tattoo
To really impress everybody with your sense of style, go for a sophisticated hair tattoo on you undercut hair. To pull it off though, you will need a very skillful hairstylist with a firm hand. As for the pattern, it is up to you to decide what image would express your personality best.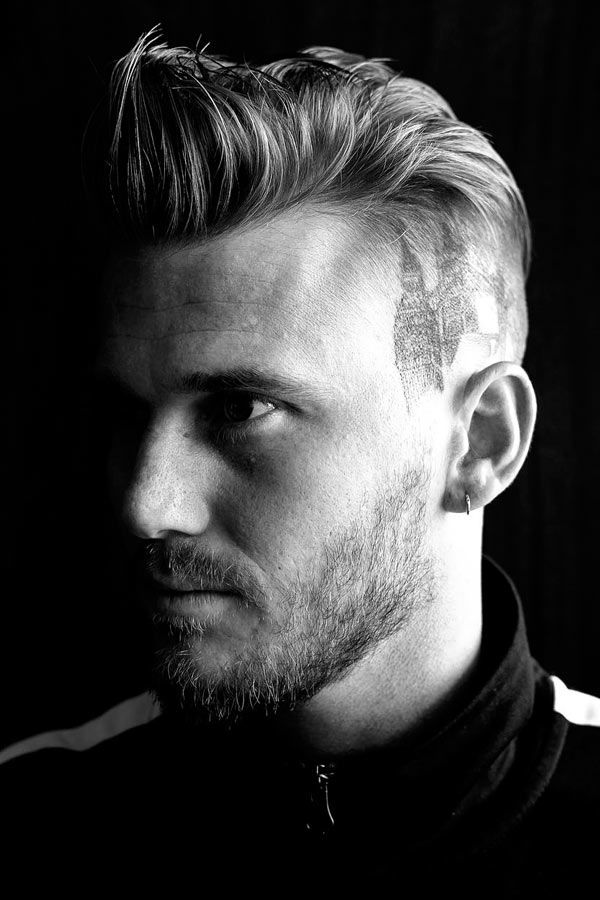 Source: @joeltorresstyle via Instagram
Two-Toned Box Braids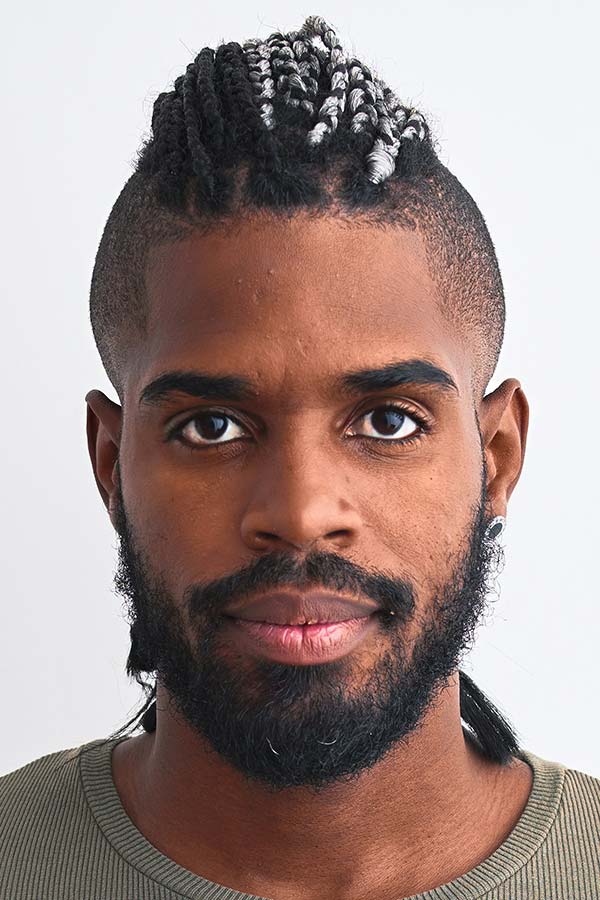 Side Styled Quiff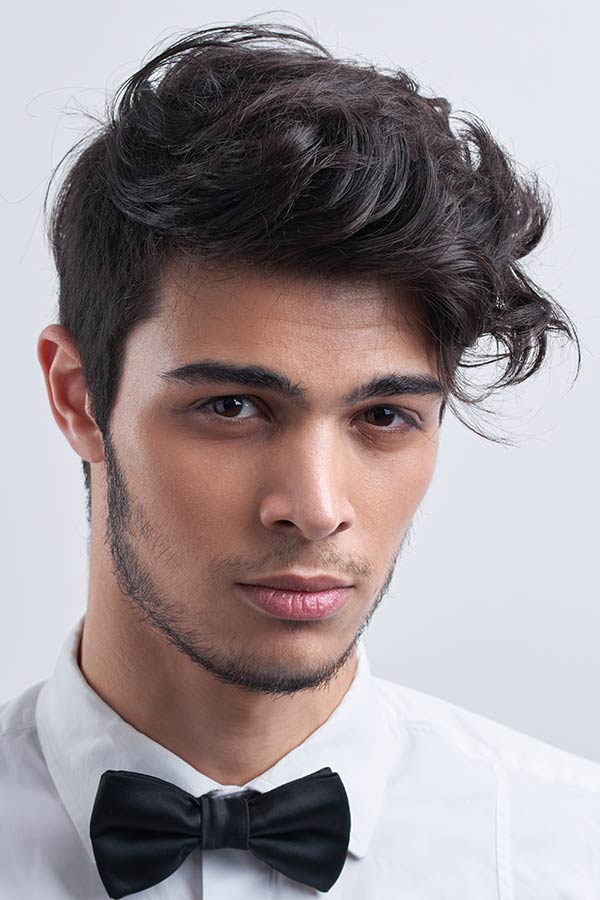 Asian Straight Top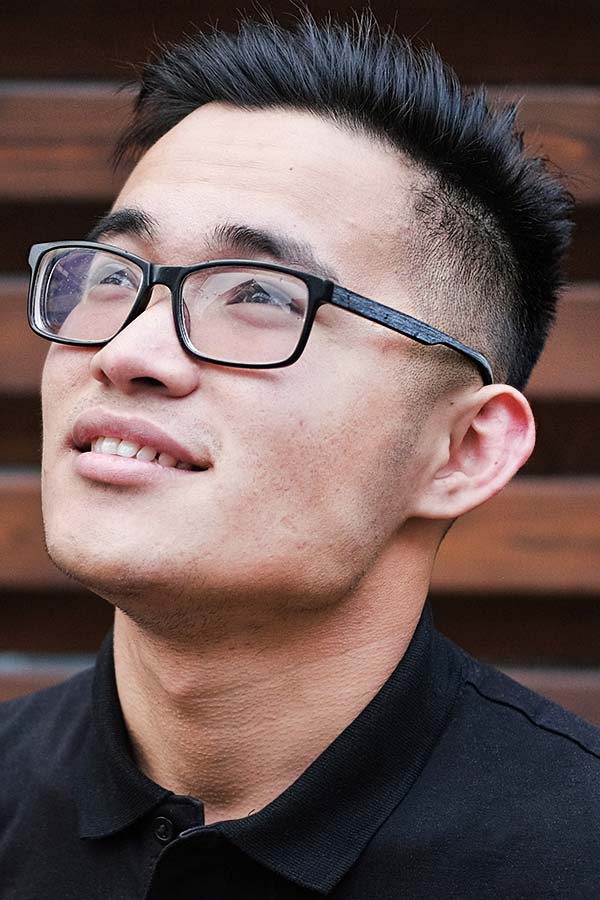 Afro Cornrows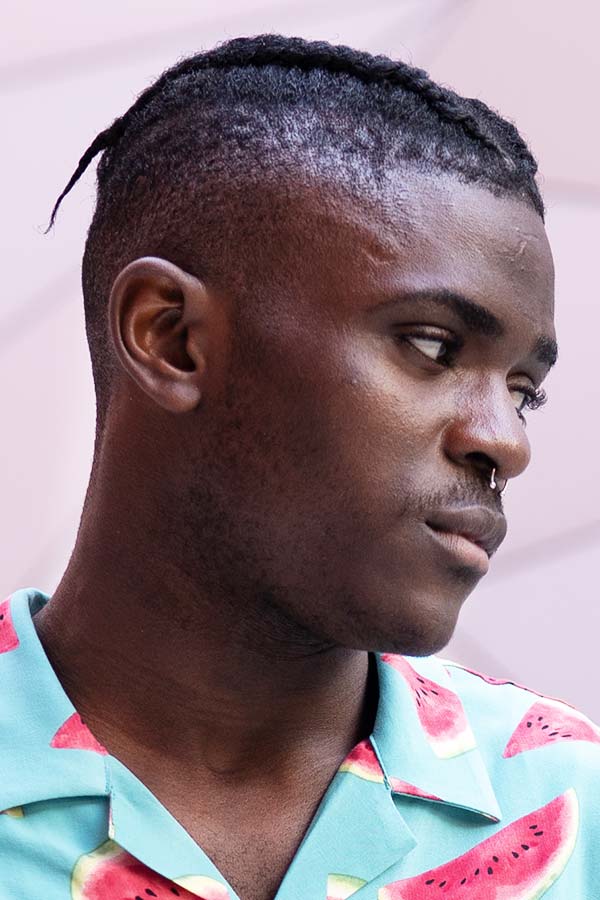 Braided Top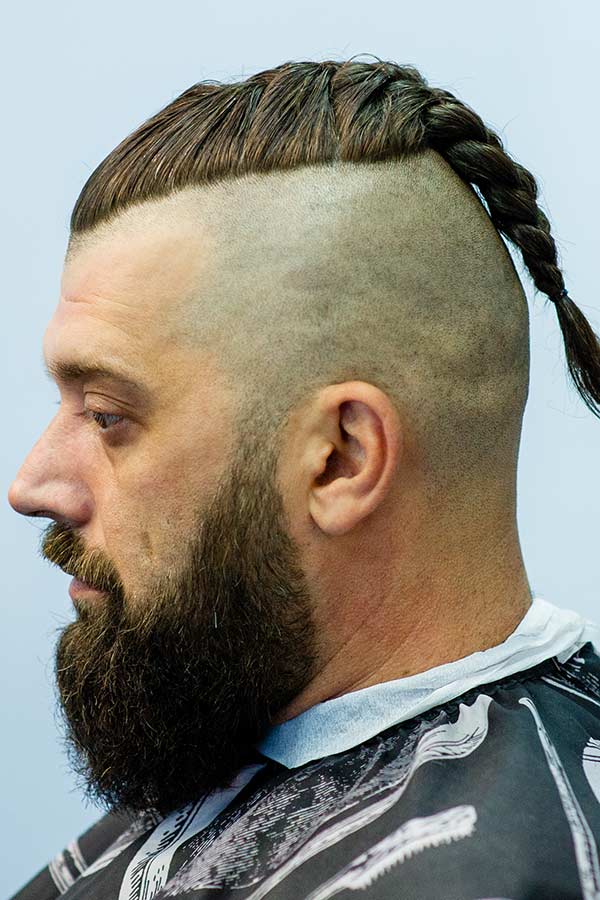 Comb Over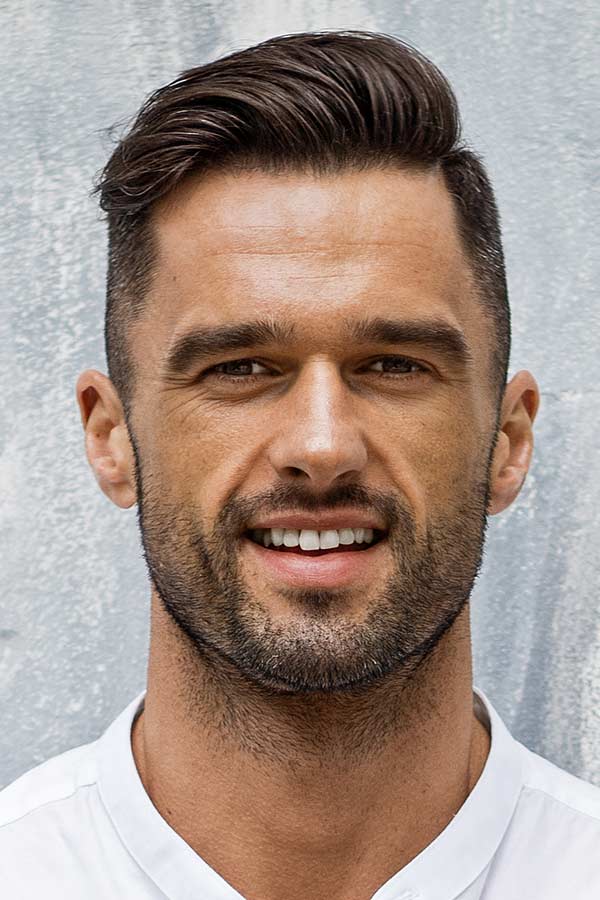 Red Slick Back Top And Beard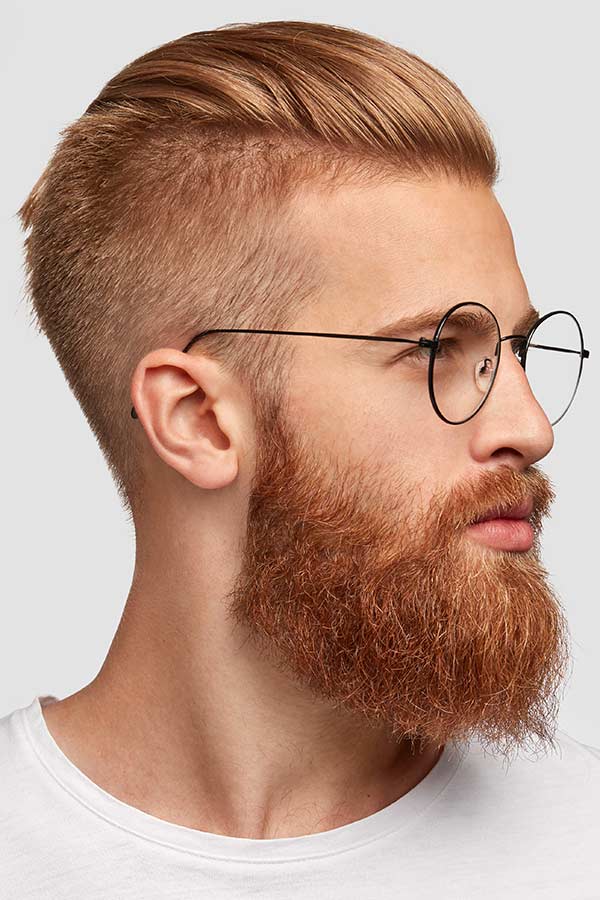 Silver Cropped Top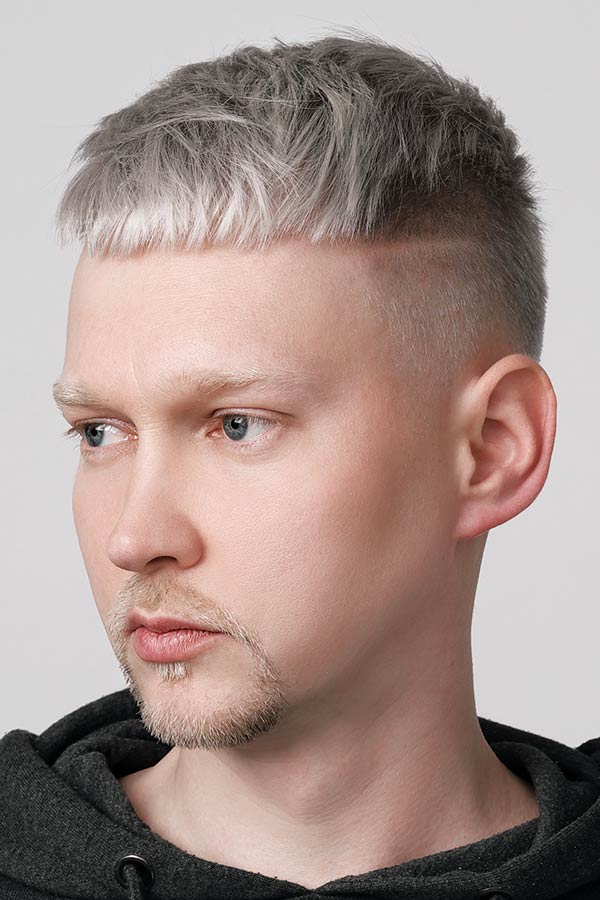 Ombre Dreads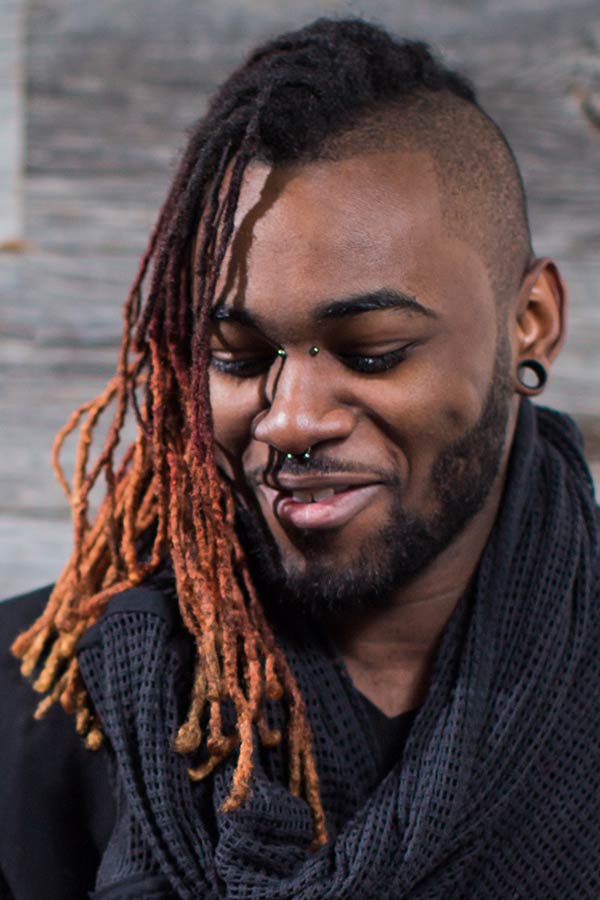 Undercut Mohawk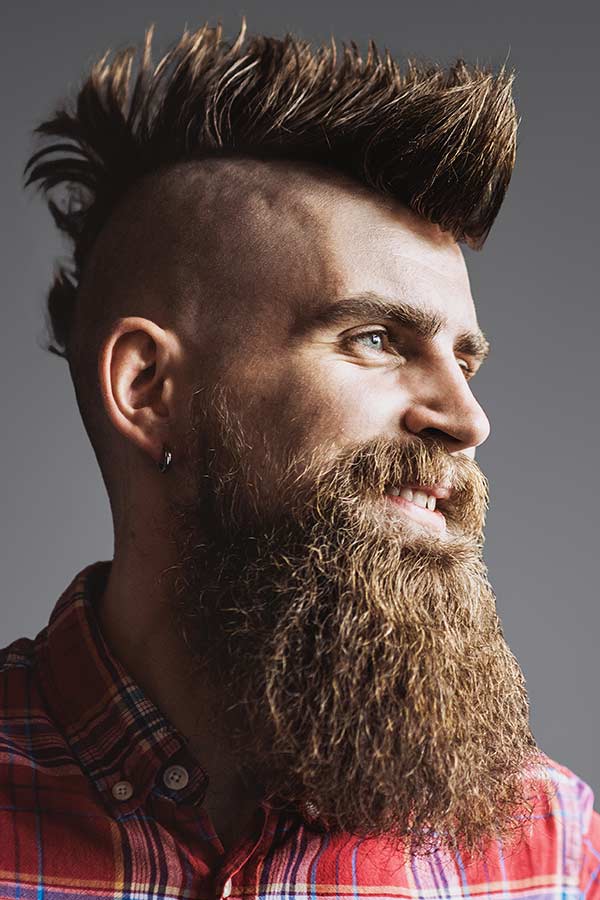 Top Knot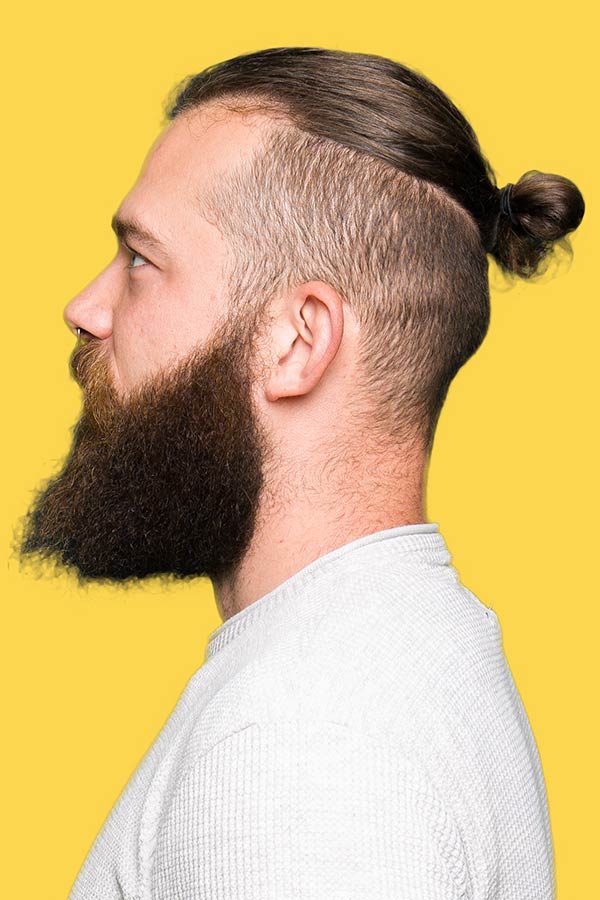 Twisted Long Braids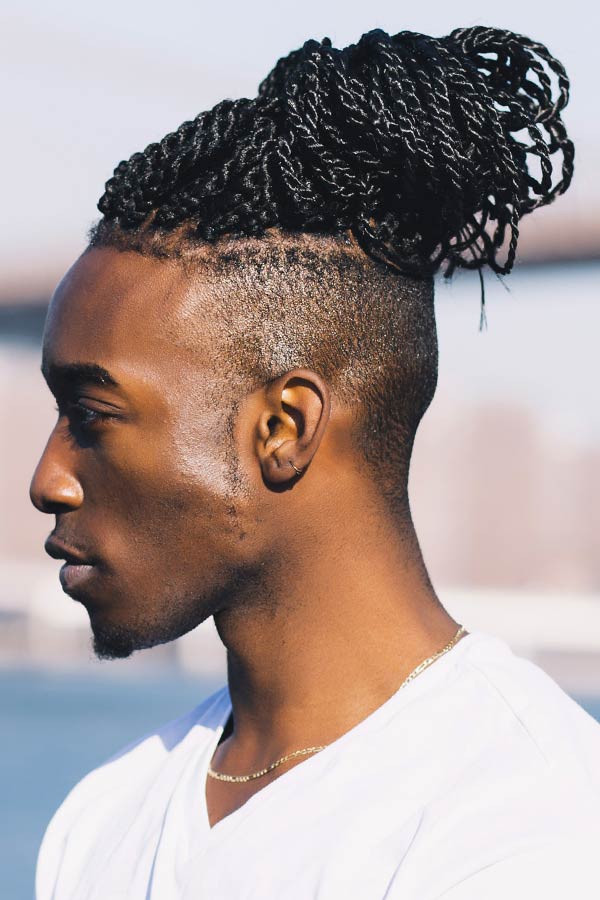 Undercut Fade + Man Ponytail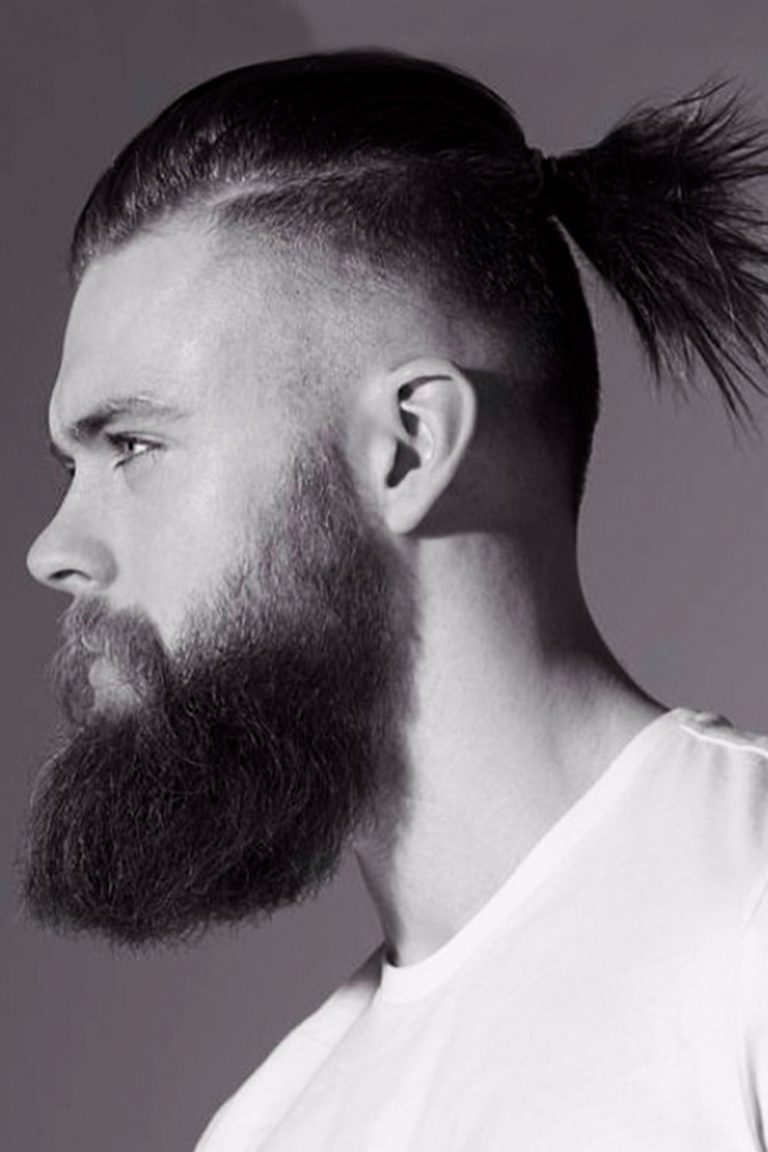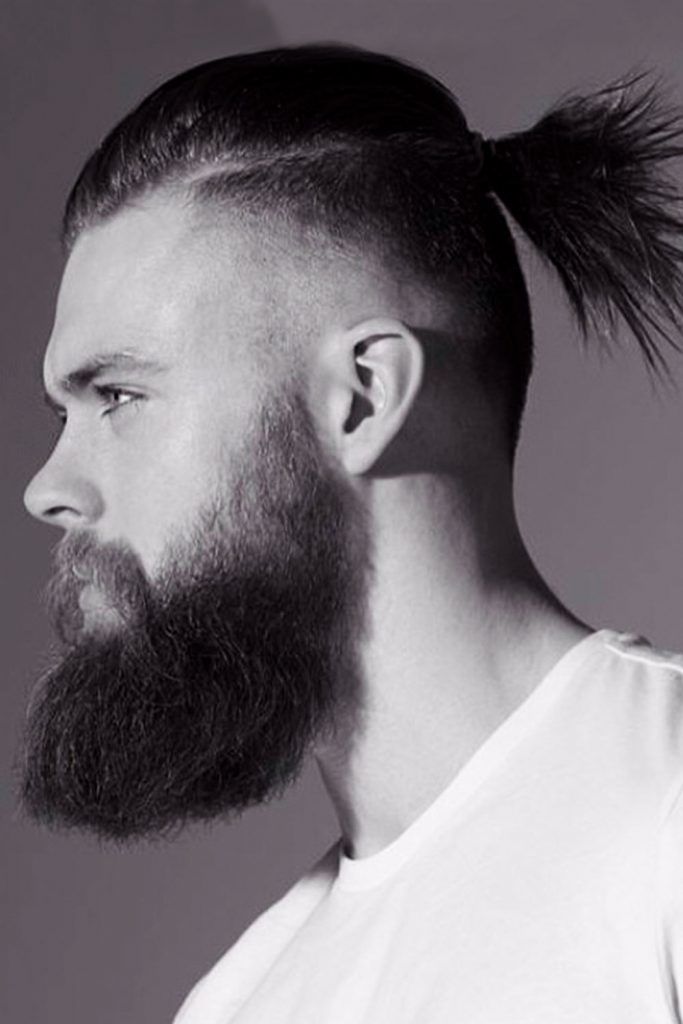 Source: @ flanagansbarbers via Instagram
The disconnected undercut is a timeless hairdo that is definitely here to stay. The possibilities to style your hair with it are endless. You can stick to one look or try all of them. No doubt, this is the haircut that is worth a shot.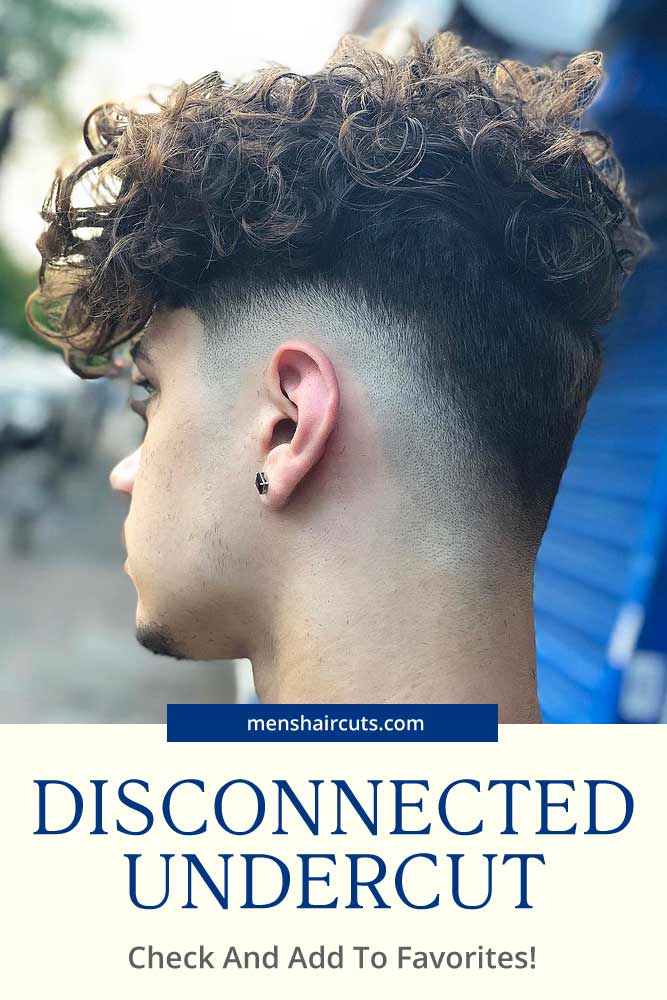 FAQs
What's the difference between disconnected undercut and undercut?
A men's disconnected undercut differs from a classic undercut in the steepness of the transition between long hair on top and short on the back and sides. A disconnected undercut suggests creating a noticeable contrast between a longer top and shorter undercut back and sides, whereas a classic version requires a much smoother transition.
How do you ask for a disconnected undercut?
If your barber is a pro, then they should know what a disconnected undercut is. However, to make sure they deliver exactly what you ask, tell them that you want the sides and back to be trimmed with the guard size between 2 and 3, while the top should be left longer so that it looks striking against the rest of the hair. Also, ask them to clean out the neckline and around the ears for a sharp outline.
What is disconnected fade?
A disconnected fade is a mens haircut that features the sides and back cut so that they are much shorter than the top with a gradual change in length and softer blending.
Are undercuts still in 2021?
An undercut haircut is still considered extremely trendy in 2021. That is one of the reasons why there are many cool ways of how to style an undercut today, from an undercut with beard to a disconnected undercut fade.
REFERENCES:
The undercut is a hairstyle that was fashionable from the 1910s to the 1940s… Source