The slick back hair is the ultimate choice for you if you wish to make your hair look swanky and chic. It has come a long way from the Red Carpet events to everyday occasions. Learn how to reward yourself with these simple and versatile mens hairstyles in a few steps.
Slicked Back Hair: What You Need To Know Beforehand
For many years, the slick back hair had an air of formality, which made it an extremely popular hair look. Due to this, men and hairstylists create its most sophisticated variations. Lately, slick back hair men used to wear to formal receptions. Hipsters prefer the undercut version as it makes a huge contrast. To soften up the look a little, you can get yourself a high, low or mid-fade. After you have decided on the sides and back, it is time to think about the top. If you think that the slicked back hairstyle works only for long hair, luckily, you have been misinformed. It is perfectly adjustable to almost any length. Basically, you are given carte blanche. Feel free to cut your hair the way you like, just make sure you can comb the top hair. As for the hair styling products, you can go for a shiny finish using gel, a matte look with the help of pomade or a natural effect by applying wax.
Source: @sidsottungacademy via Instagram
What Environment Is Appropriate
Even though the slicked back hair cut looks absolutely dazzling in almost any situation, there are still places and instances when you'd better pass on it. When you are jogging, for example, or working out, it will be not the most reasonable solution to style your hair slicked back men's hairstyles. At best, you are just going to look ridiculous. Thus, give it a go when you are attending some formal, semi-formal or solemn event.
Source: @travbeachboy via Instagram
What Are The Styling Alternatives
If you find the traditional slick back look too intense, add a side part to smooth it a bit. In case you feel like your slicked hair is too sleek, create a small bouffant at your quiff area to add it some volume.
When To Refresh The Cut
This hairstyle requires a very clean and neat cut. Your haircut should be as fresh as possible and your neck should be clean-shaved. If you have an undercut, which is an extremely defined haircut by default, it won't take you much effort to pull off the look. However, if your hair is quite long, don't forget to check it up from every angle. To accomplish this, you can use a looking glass or the front camera of your cell phone.
What Products To Buy
When it comes to choosing a hair styling product to secure a slick back haircut, opt for pomade because it will give you the required grit. Depending on the level of formality of the event, get either clay pomade for a matte finish or water- or oil-based pomade for light sheen. Thus, grab yourself both products. Note that the amount of shine increases evenly with the rise of the event formality degree.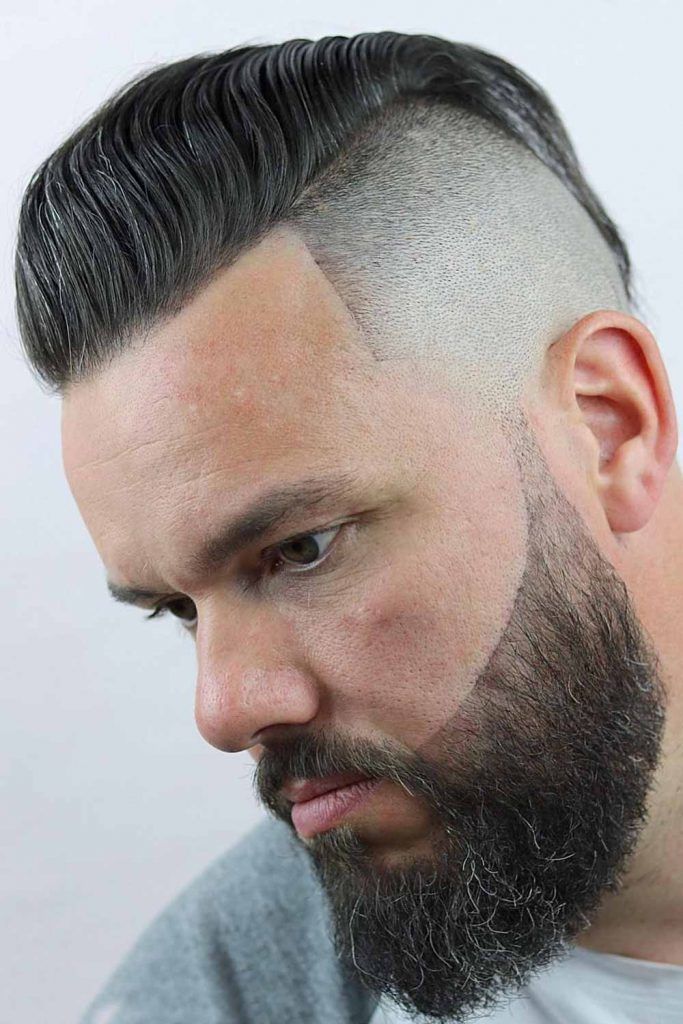 Source: @corneliucrihan via Instagram
How To Style The Slicked Back Hairstyle
Now you might wonder how to slick back. And, of course, we do have the answer. Because your hair is required to hold such elaborate styling, you shouldn't jump the gun and expect it to stay in place right off the bat. Give it some time no matter what your hair length is. Total beginners should start styling their haircut with stronger-hold products and provide it with extra combing. More so, keep an eye on it during the day as it may require restyling, which is possible with a water-based product.
Want to learn how to slick back hair? Then simply follow the next steps:
Start off with clean hair. Make sure to wash it with your favorite shampoo to remove the product you applied before and natural oils from your hair. Soak in excess moisture with a towel but do not dry it on the air completely.
Choose a product you are going to use and squeeze a sparing amount of it into your palms.
Rub your palms to emulsify the product and apply it to your locks with a patting motion avoiding the roots. Allow it to settle and massage into the hair to distribute evenly.
Using a comb with fine teeth, comb all of your hair back.
This is when you can try on different pushback hairstyles – add a natural part for some definition or enhance volume in the front for a slickback pompadour.
Secure the hair in place with the help of a hair spray.
Source: @ahmetaslanhairsalon via Instagram
How To Slick Back Curly Hair
It's no surprise that kinky hair is very difficult to style. However, slicked back curly hair looks totally fierce. You just need to know how to style hair with such a difficult temper. So, here are some easy steps to follow:
Wash your hair and dry it with a towel.
Comb or brush it back.
Use a hair styling product, such as pomade or wax, and distribute it with a comb.
Blow-dry the hair in the direction from the forehead to the nape and tame any flyaways with a brush.
Don't brush too intensely because this will cause the flattening of the locks.
Keep blow-drying until it is dry and stays in place, forming fancy waves.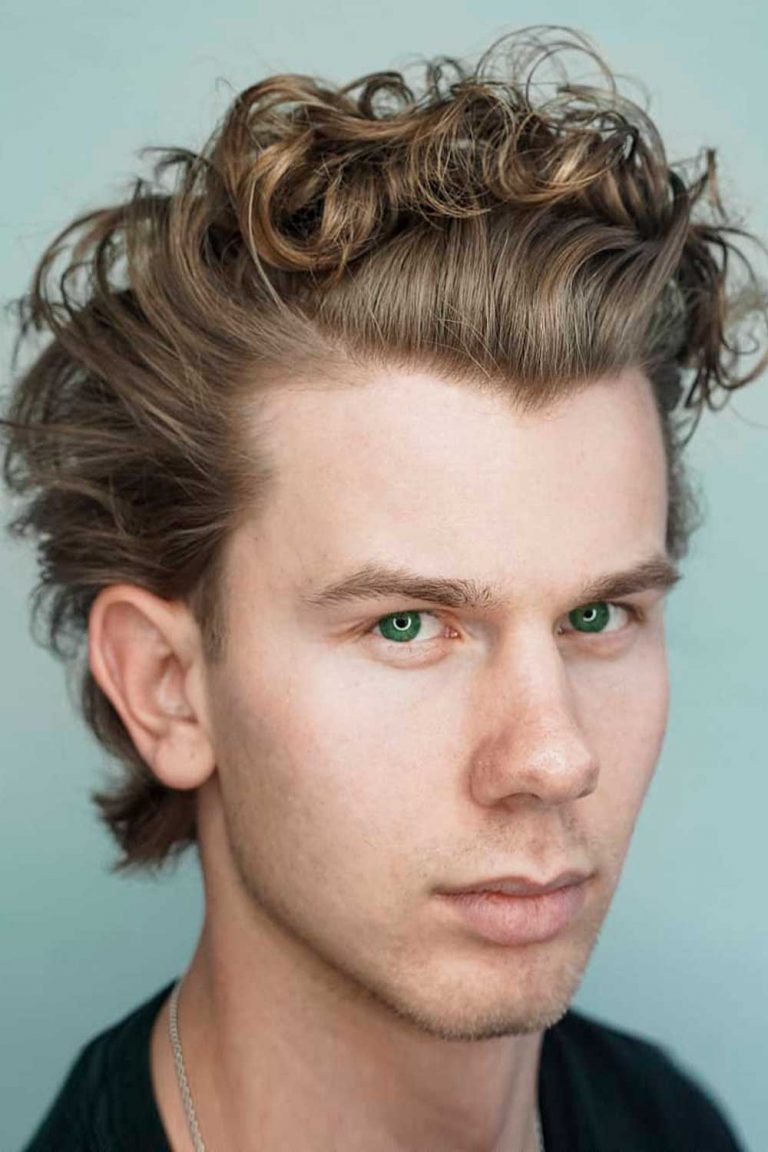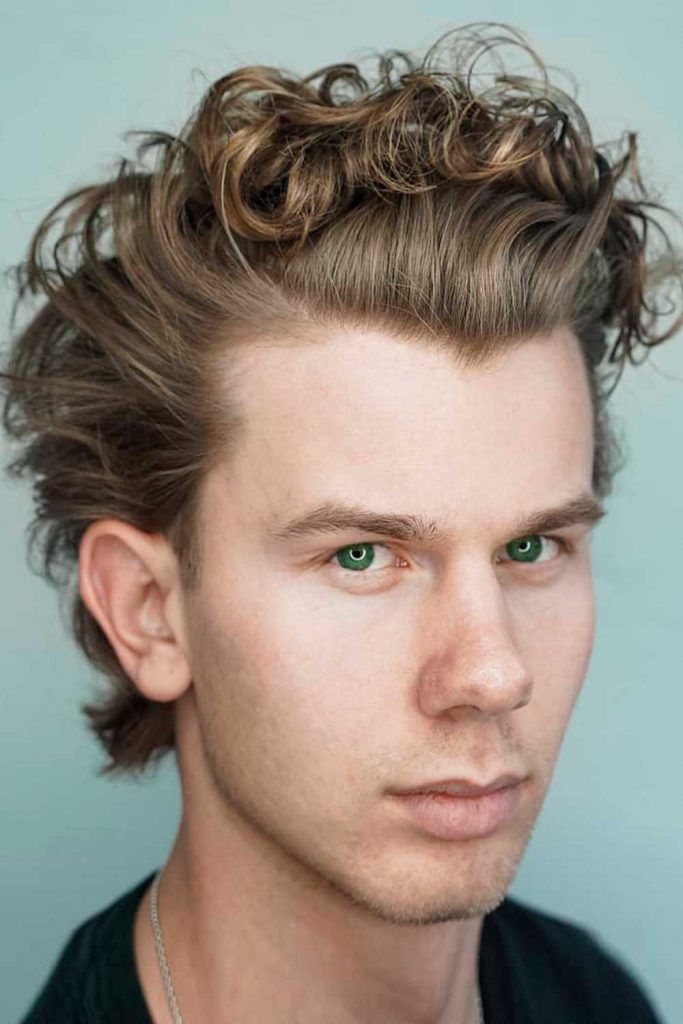 Source: @keller_konturen via Instagram
How To Slick Back Long Hair
Even though most mens long hairstyles are difficult to create and maintain, this issue doesn't concern the long slickback hair. The long hair men usually try to make voluminous because it creates the slick look naturally, holding the haircut with its weight. Just don't forget to use a brush with a hair dryer and apply some light hair styling product.
To style long hair slicked back, follow these steps:
Take a shower to ensure your hair is clean and buildup free.
Soak in excess moisture with a towel.
Apply a hydrating oil by spreading it all over your locks with your hands.
Take a brush and a hair dryer and while brushing all of your hair back, blow it dry.
Once it is completely dry, smooth out any sticking out hair using a hair pomade and your hands.
Finish off by combing your hair with the help of a hair comb with wide teeth.
Optionally, spritz the hairstyle with a hair spray a couple of times.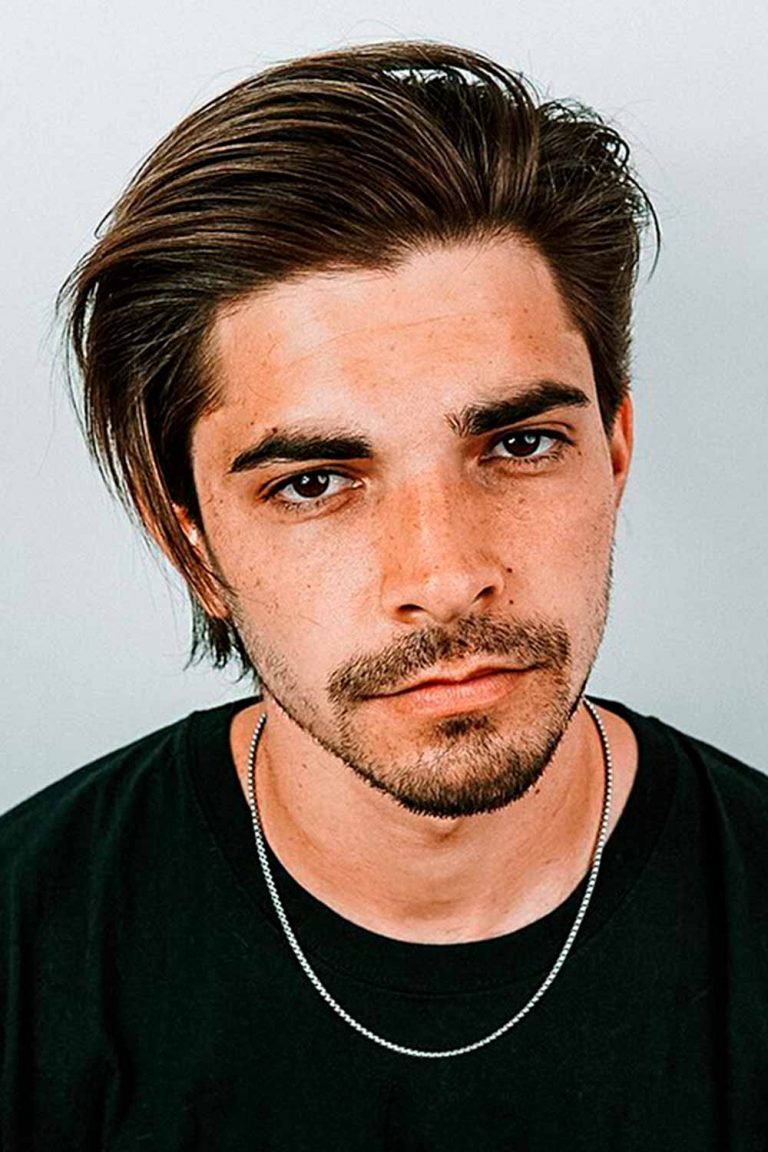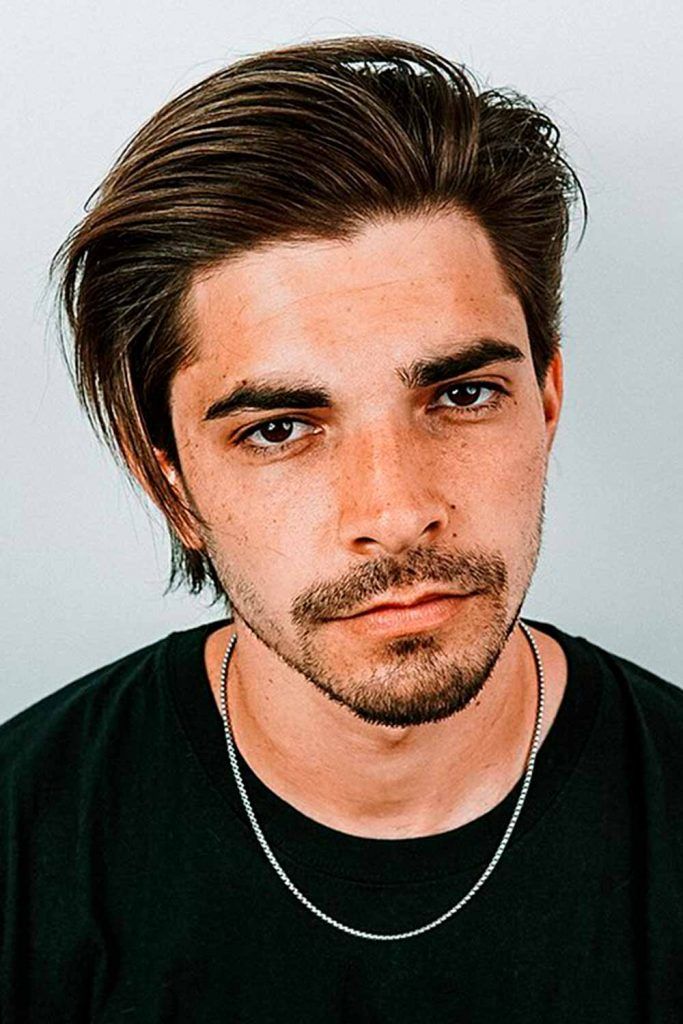 Source: @glassboxbarbershop via Instagram
How To Keep Your Hair Slick Back
In order to keep your slicked back hair in situ all day, you need to take care of it while styling it. That's why you should use a hair dryer and a brush together to sleek your hair back. The second important thing to remember is that you should use a high-quality product so that none of your locks would have a chance to get out.
Source: @tombaxter_hair via Instagram
Slicked Back Hairstyles
The time has come. Now you're more than ready to pick some trendy slick back hairstyles. So, fasten your belts and let's roll!
Classic Slick Back
Classic slick back hair is a failsafe look that you can knock on any door with. Elegant and sophisticated, it instantly creates a business appropriate look.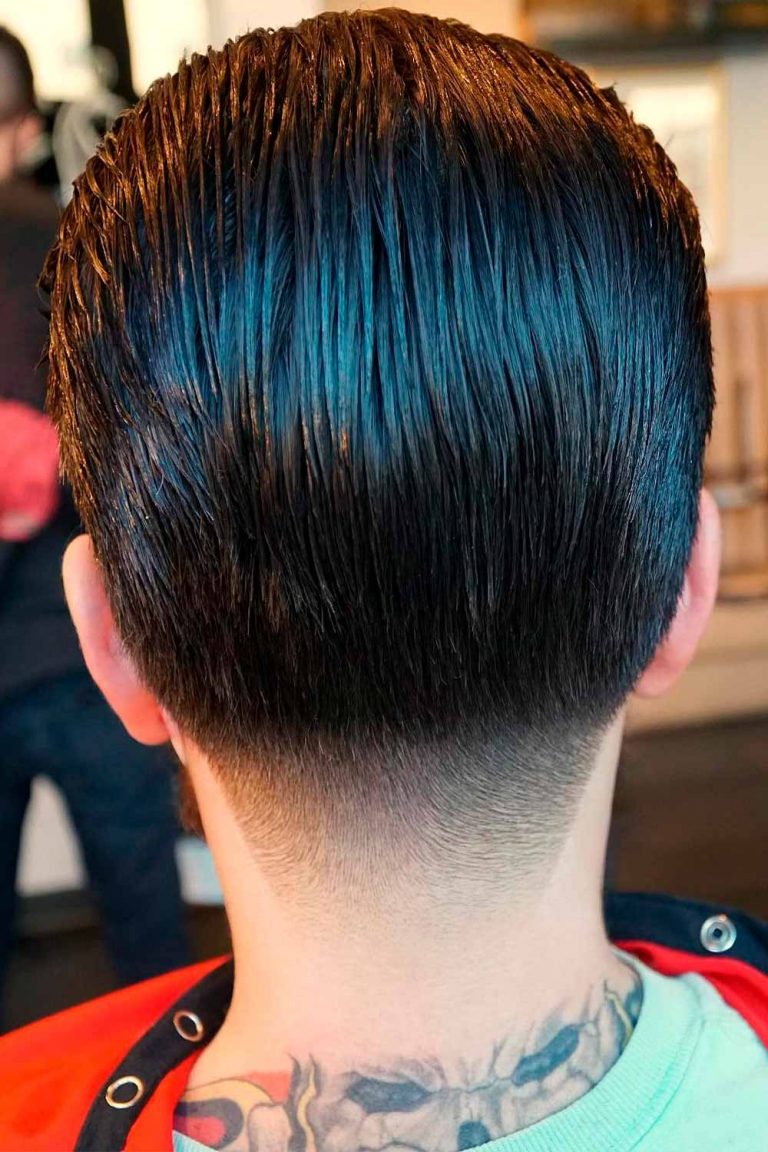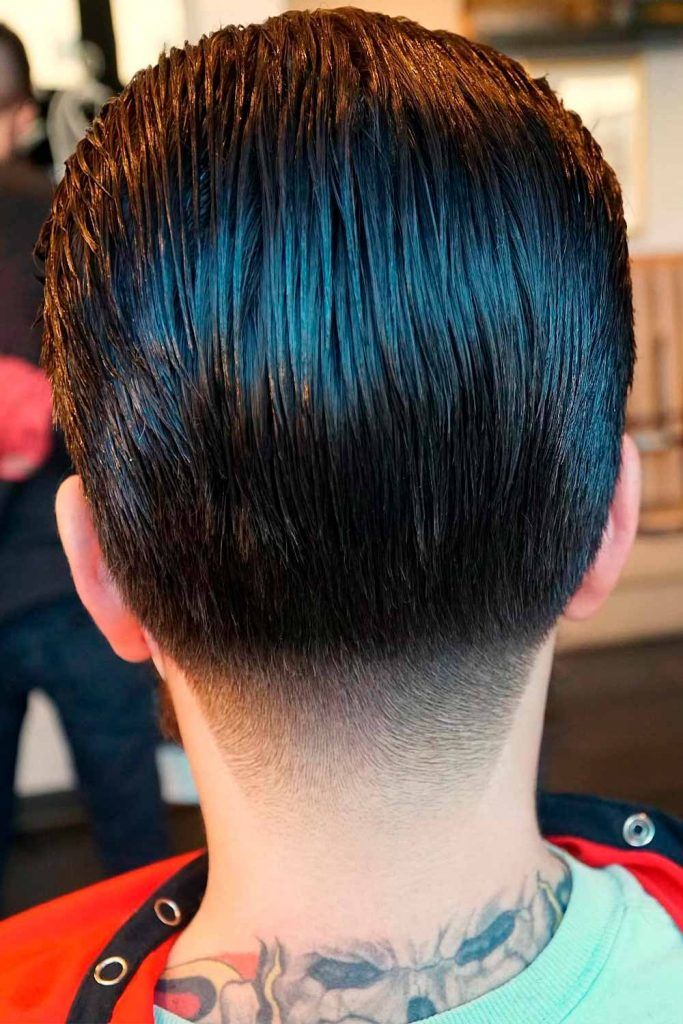 Source: @anthonythebarber916 via Instagram
Slicked Back Undercut
The slicked back undercut has been one of the most popular hairstyles in recent years. It's gained its popularity due to the striking contrast between the sides and the top. To achieve the slick back undercut, you need to grow your top hair quite long so that you would be able to brush it back. Then ask your barber to buzz the sides short and to trim the crown a little.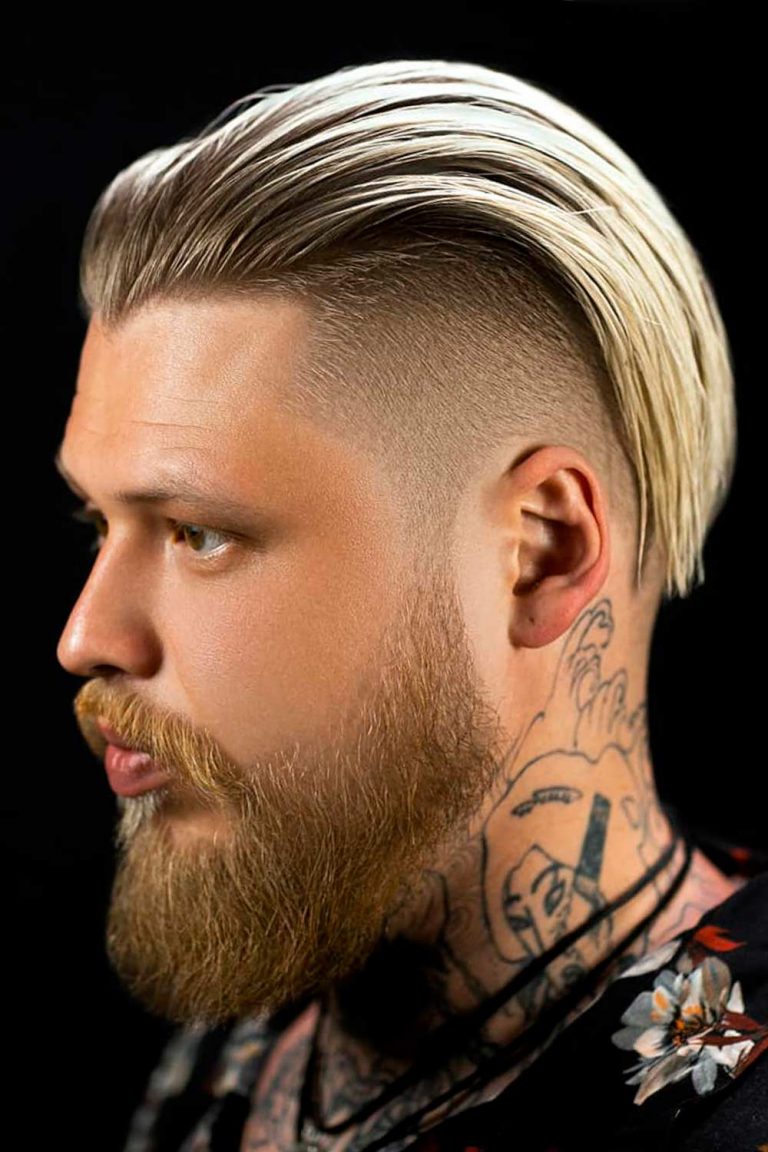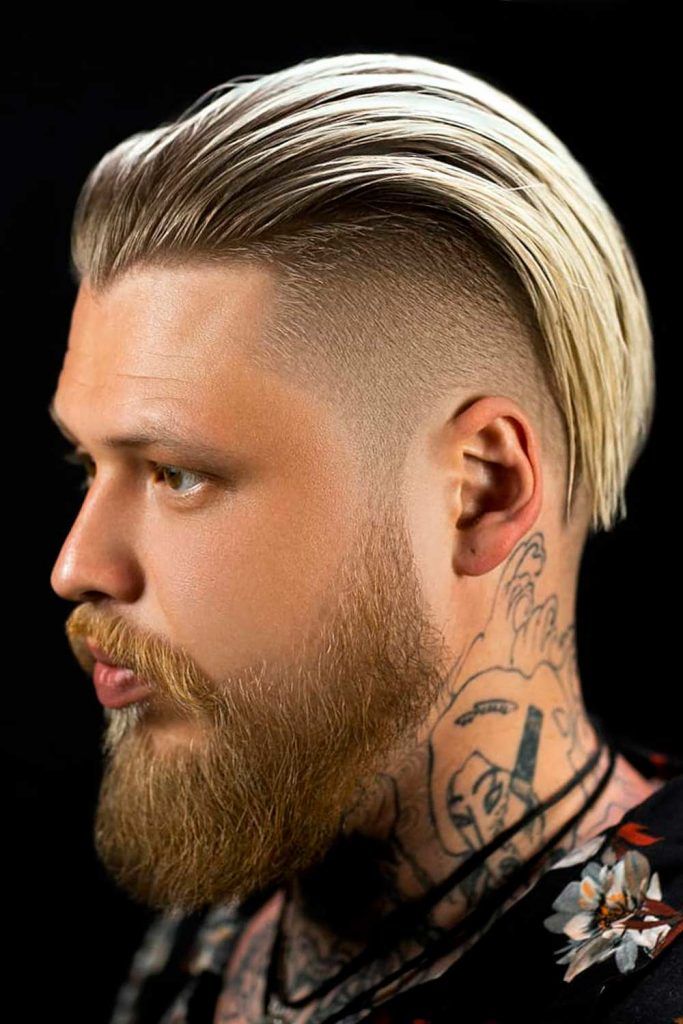 Source: @barberking_kh via Instagram
Slick Back Fade
The slick back fade haircut has a less harsh transition between the sides and the top because the brushed back top hair blends evenly into the faded side hair. There are several variations of the slick back hair fade. You can get it high, mid, low and bald.
Source: @xbigwesx via Instagram
Slick Back Short Hair
Even if your hair is quite short, you can still try a swept back hair look. Just arm yourself with a trusty styling product with a strong hold and you are good to go.
Source: @nickthebarber via Instagram
Long Slick Back Hair
Not all the guys with long hair manage to pull off this haircut even though all you need to do is keep your hair combed back thoroughly. Among all the long hairstyles for men, the slick back is the easiest, as the natural weight and texture of your hair really help out.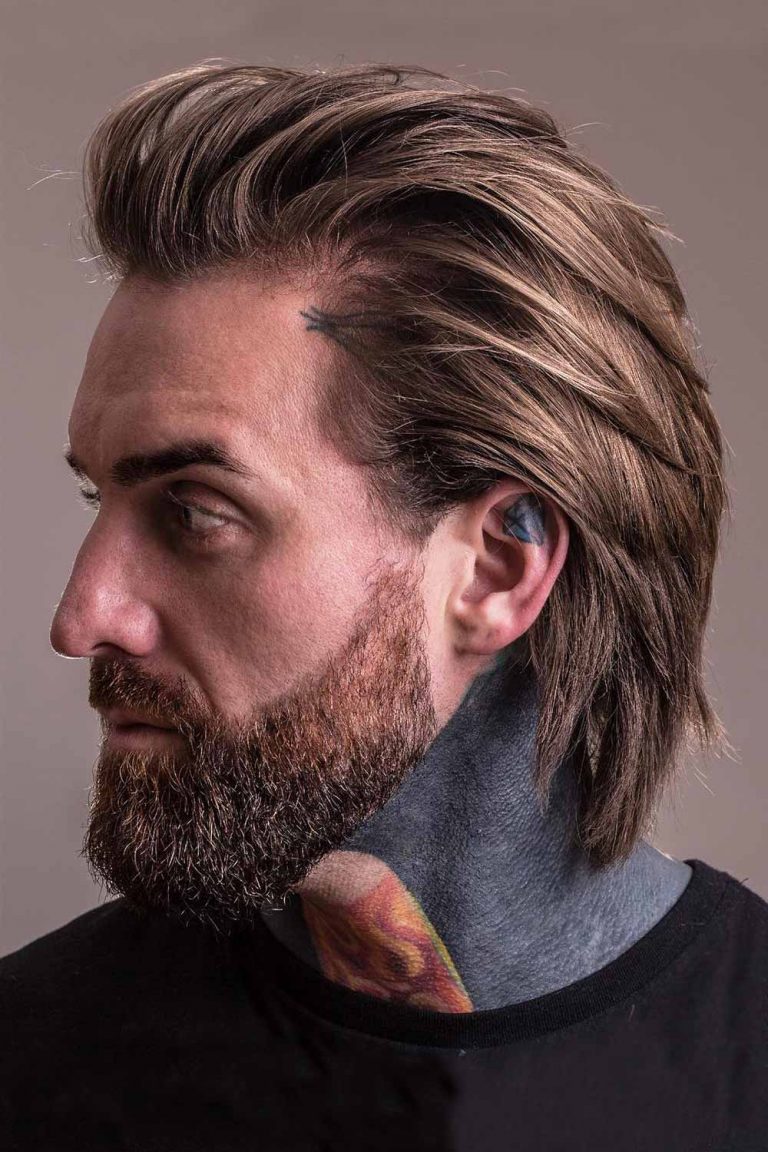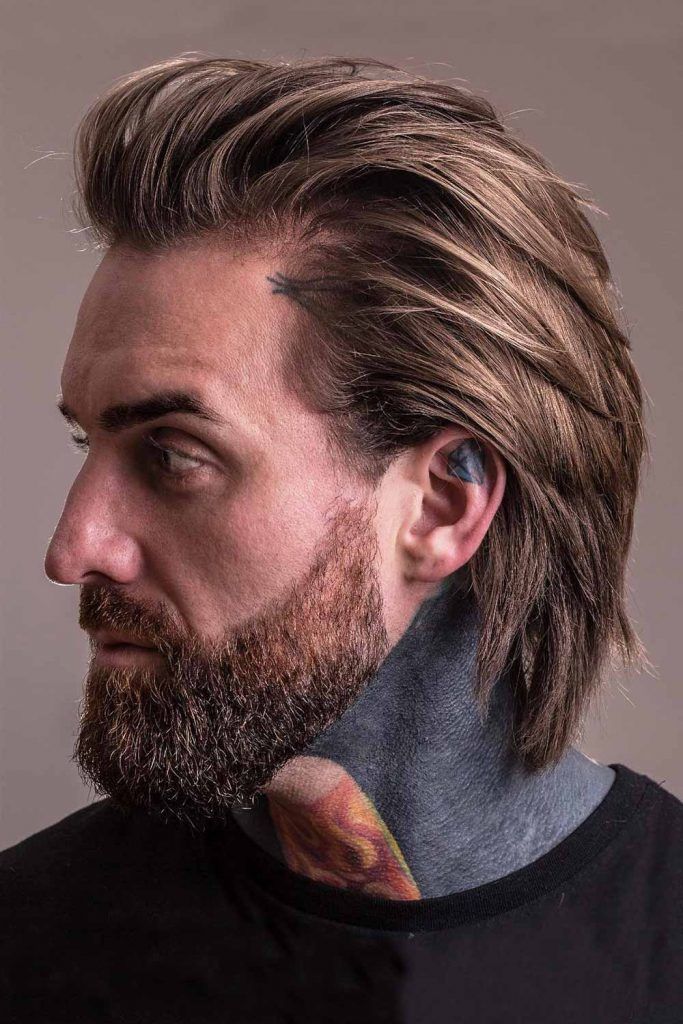 Source: @tombaxter_hair via Instagram
Slick Back Quiff
Kinky hair with a quiff looks very intriguing. So, if you have this amazing hair texture, give yourself a little treat and go for a slicked back curly hair look. Make the sides faded, using the clippers with a guard size #2 and #3. The front should be tapered to get the back shorter for about an inch.
Source: @sergeyshapochka via Instagram
Slicked Back Pompadour
Opting for the pompadour hairstyle, you can never misfire. The sides are not the main part of this haircut, so just make them simply fade. The pompadour is what it's all about, so focus on it. Give it a tapered cut and style it with pomade or wax, creating structured and secured top.
Source: @anthonythebarber916 via Instagram
Combed Back Hair
This comb over haircut is super cool. To score it, you need to comb over your hair, using a strong-hold styling product like gel, wax or pomade.
Slick Back Taper
To give your men slick back hairstyle a modern and trendy appearance, complement it with a taper on the back and sides. For an added boldness, you can go for a slicked back fade of any kind, from a low shadow fade to a high skin fade.
Source: @anthonythebarber916 via Instagram
Slick Back + Side Part
Whenever you feel like your hairstyle lacks definition, feel free to add a side part to it. Whether to make it natural or bold is up to you. But if you are after a really sharp look, then you can even go for a carved in line.
Slick Back With Volume
If you think that mens slicked back hair looks flat, this hairstyle will prove otherwise. Create an ample pomp in the front to make your hairstyle more voluminous.
Slick Back Curly Hair
An undercut slick back is a perfect hairstyle to show off your curly hair texture. As you remove the hair from the sides and back, the focus instantly shifts to your prominent top.
Source: @xbigwesx via Instagram
Short Sides Long Top
One of the best things about a slicked back hairstyle is that it works on any hair length. So, if your mane is not particularly long, you can still pull off the look. Moreover, short slicked back hair comes out dapper and clean, which makes it a perfect option for both work and everyday life.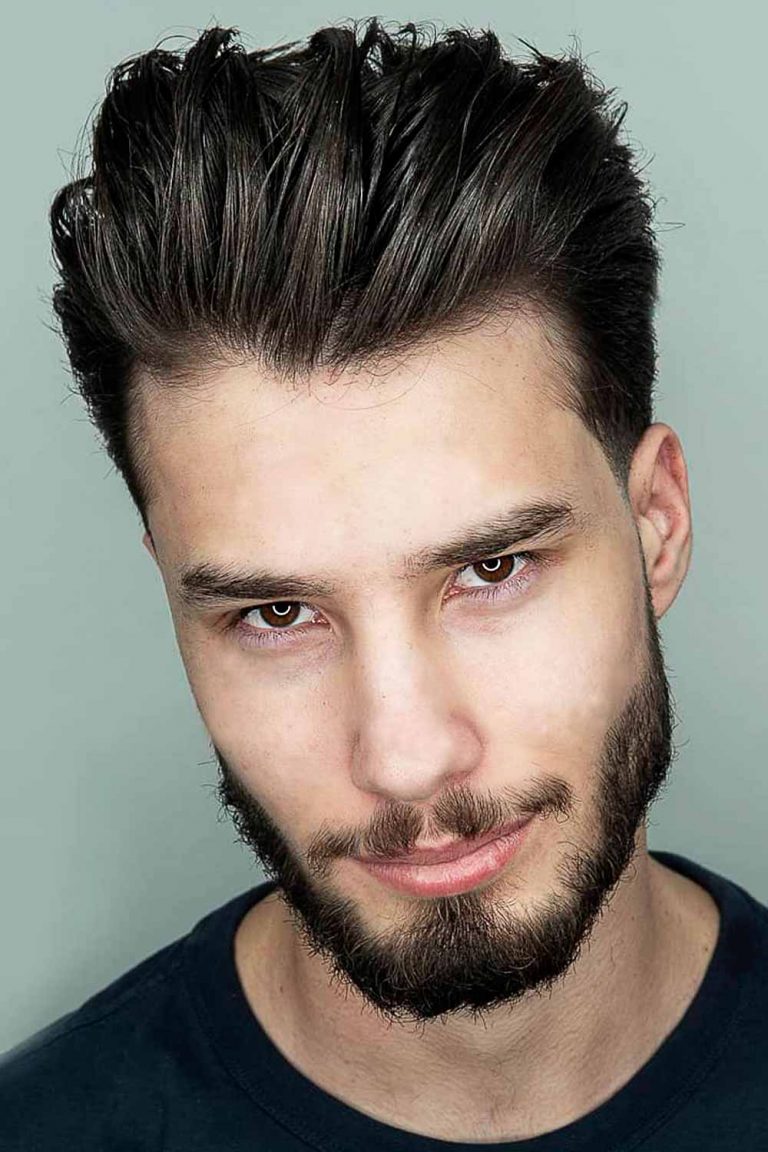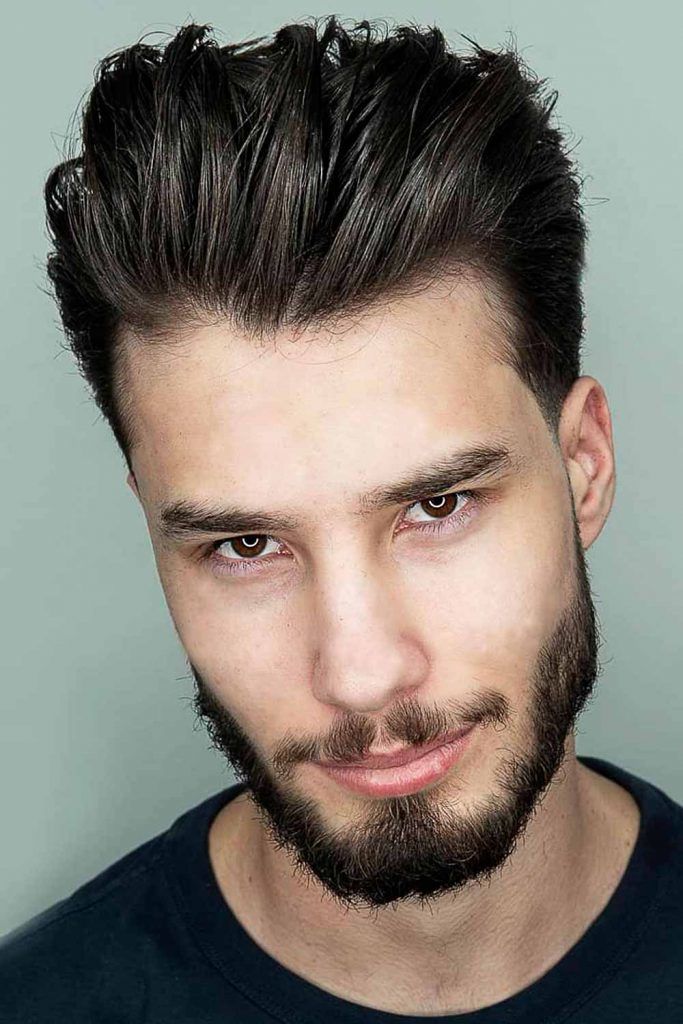 Source: @keller_konturen via Instagram
Messy Brushed Back
A slicked back hairstyle does not always have to be impeccably neat. If you prefer rather effortless and breezy hair looks, then a messy slicked back undercut is your way to go. Thanks to short trimmed sides, the haircut does not turn out unkempt. Yet, because of a disheveled top, it has a chill vibe.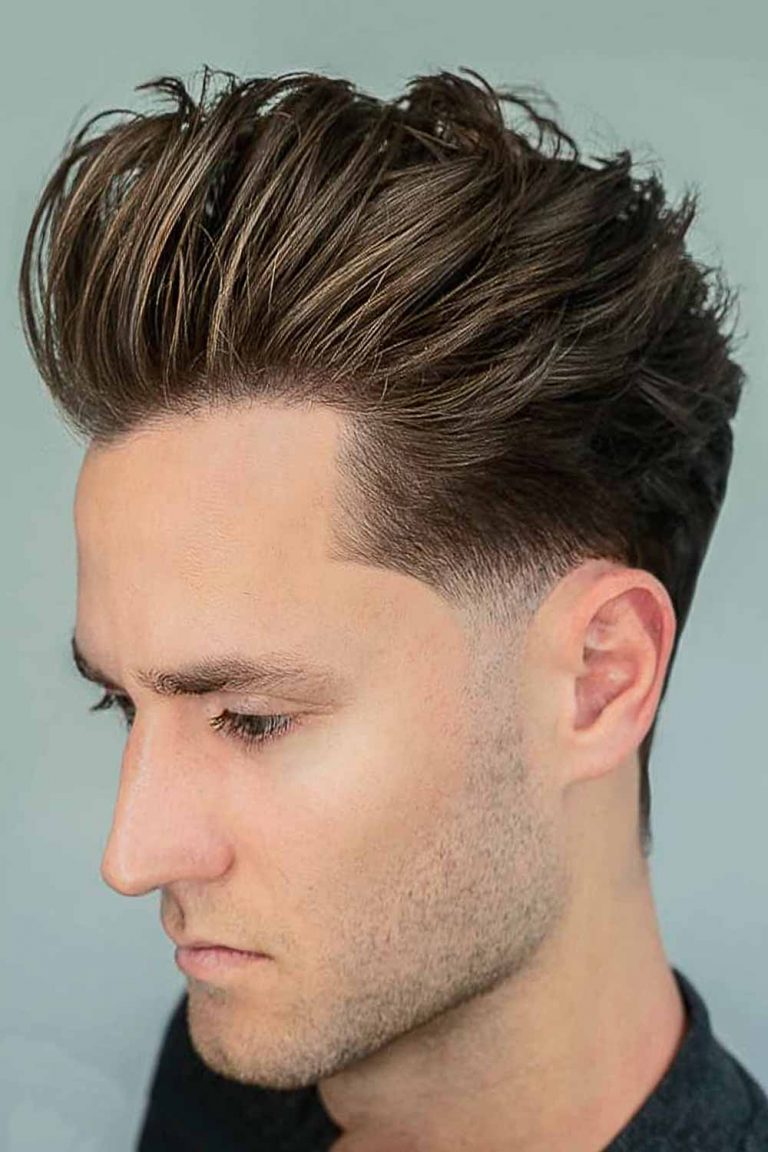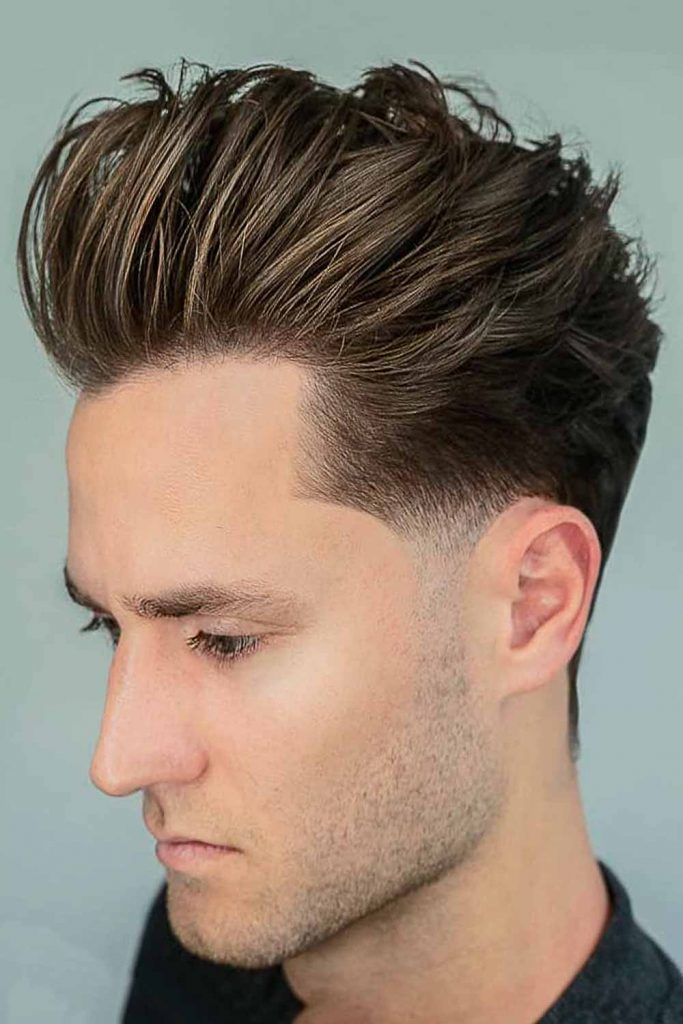 Source: @keller_konturen via Instagram
Modern Ducktail Haircut
A ducktail haircut is back in style but its modern variation is more defined and pronounced than its classic version. The look in its essence is a medium slicked back hair style. Though, to give it a modern flair, choose a low fade slick back ducktail or a short slicked back hair taper.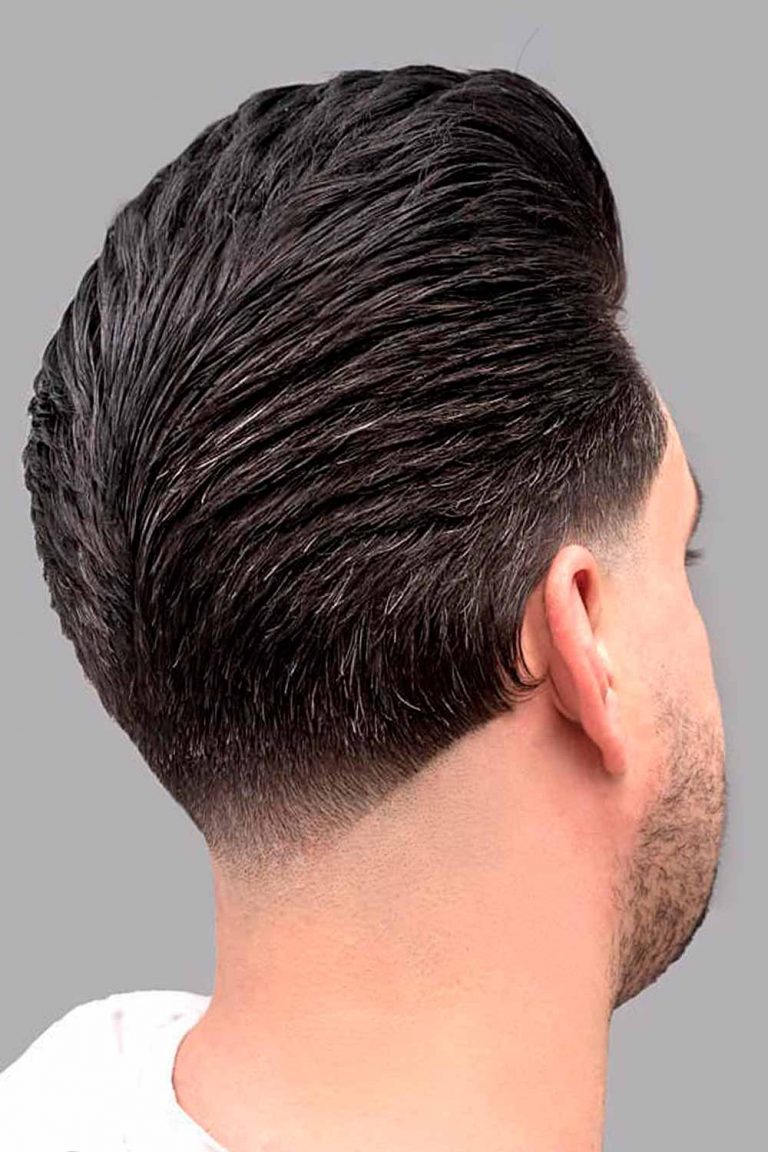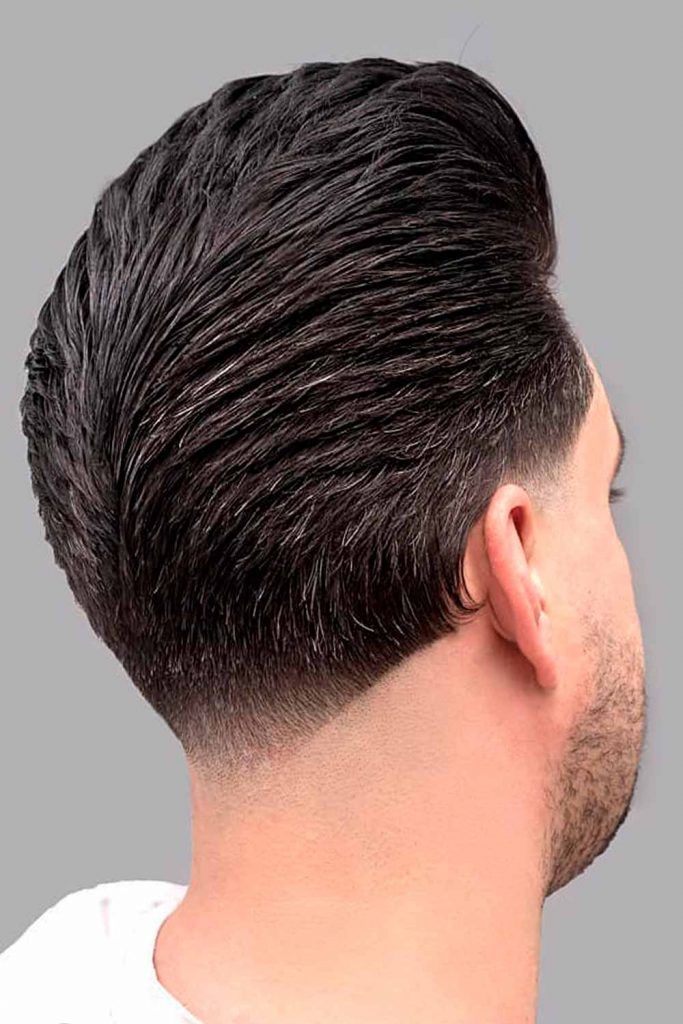 Source: @keller_konturen via Instagram
Source: Everett Collection/Shutterstock
Source: Featureflash Photo Agency/Shutterstock
Source: BAKOUNINE/Shutterstock
Source: Jaguar PS/Shutterstock
Source: Featureflash Photo Agency/Shutterstock
Source: Everett Collection/Shutterstock
Slick Hairstyles Tips
To keep your slick back cut nice and fresh, we've prepared some essential hair tips to remember.
Be ready to visit a barber shop every three weeks. Nothing looks worse than a regrown haircut, so keep it clean and neat.
In case Mother Nature complimented you with a gorgeous thick shag, ask your hairstylist to thin it out a little in order to make it controllable.
To maintain your haircut, the regular washing and reasonable pomading is a must.
Source: @chadius_maximus via Instagram
Best Hair Products For A Slick Back Hairstyle
To succeed in creating the slick back hair, consider using such hair styling products as wax or pomade as well as some tools, like a comb or a brush. Of course, to create mens slicked back hairstyles, you will need some hairstyling tools and products. So, make sure to stock up on the following:
One of the most essential products for all sleek hairstyles is hair pomade. Its main advantage over other styling products is that it allows you to secure your hair in place without being weighed down. Pomades can have two types of formula – based on oil and on water. Those whose hair is dry and dull will benefit from an oil based pomade, while guys with oily hair should opt for a water based pomade.
Versatility and ease of application are the main pros that wax has. Yet, you should not expect a specific shine from it, as the aim of wax is to keep your hair secured. Though, your hair remains voluminous and defined with it. So, if you have curly locks, you may not worry that they will be ruined.
Clay is a relatively new product in the hair styling game. Yet, barbers from all over the globe love it for good reason. It is a perfect option for oil haired main, as it absorbs extra grease, thus making your tresses appear drier. However, the finish it gives is natural and pliable.
To style slick back hair, you can use either fingers or a comb. But not every comb will do. The choice depends on the result you want to achieve. For a neat and smooth finish, go for a comb with fine teeth. If you are leaning toward a more relaxed feel, grab a wide tooth comb.
The slick back hair can look festive with some intense sheen or business-like with a matte finish. You are welcome to choose the most flattering variation of the cut, just consider the top hair length, the fade level and the pomp structure. And don't forget to grab your favorite hair product to finish the hair styling.
FAQs
What is a slick back hairstyle?
A slicked back hair men cut is a way to style your hair so it looks neat and elegant as a result. To get it, you usually comb back the hair on the top of your head and secure it in place with a styling product.
Is slicked back hair popular?
A mens slick back haircut is still extremely popular since it suits any ambiance and works for most face shapes and hair textures. Besides, it has plenty of variations, which makes it unbelievably versatile.
Is slicked back hair attractive?
There is no doubt that a men slicked back hairstyle is attractive. While being quite easy to get, it instantly adds to your maturity and virility. Besides, in addition to offering a wide range of styling options, it gives off a professional vibe.
Is slicking back hair bad?
Generally, slick back hair styles will not harm your hair in any way. However, if your hairline is receding or the hair is thinning, then slicking it back too often can make matters worse. So, just do not wear slick back hair styles too often and when you do, avoid brushing your hair too hard.
How long does hair have to be to slick back?
For a slicked back haircut, you need to grow your hair until it is at least 6 in. long. This guarantees that you would be able to sport your slicked hair back without the strands falling out.
What product do you use to slick back hair?
The product choice depends on many factors, for example, how long slicked back hair is or how unruly it is. Thus, for long slicked back hair, you can use a hair styling cream with a strong hold, whereas the best way of how to slick back thick hair is using a hair putty or wax.