You opt for neat and clean hair looks and have all the cards in your hands. But the idea of how to style short hair is still missing. Don't despair! There's some good news for you. We've collected the best short haircuts for men who value their time and want to look their best. We hope you'll get inspired by the ultimate collection of the mens short haircuts because it can make or break your total look at once.
How To Style Short Hair: The Quiff
If a fringe is still too much for you, go for its alternative version, a quiff. It differs from the fringe in the way that the former kinda looks down whereas the latter looks up. With a quiff, your short haircut will have an air of a retro style. It came to us from the 1950s, when the Rock 'n' Roll King Elvis Presley popularized it. However, today men's hairstyles have many different modifications, which helps to adapt it to modern times.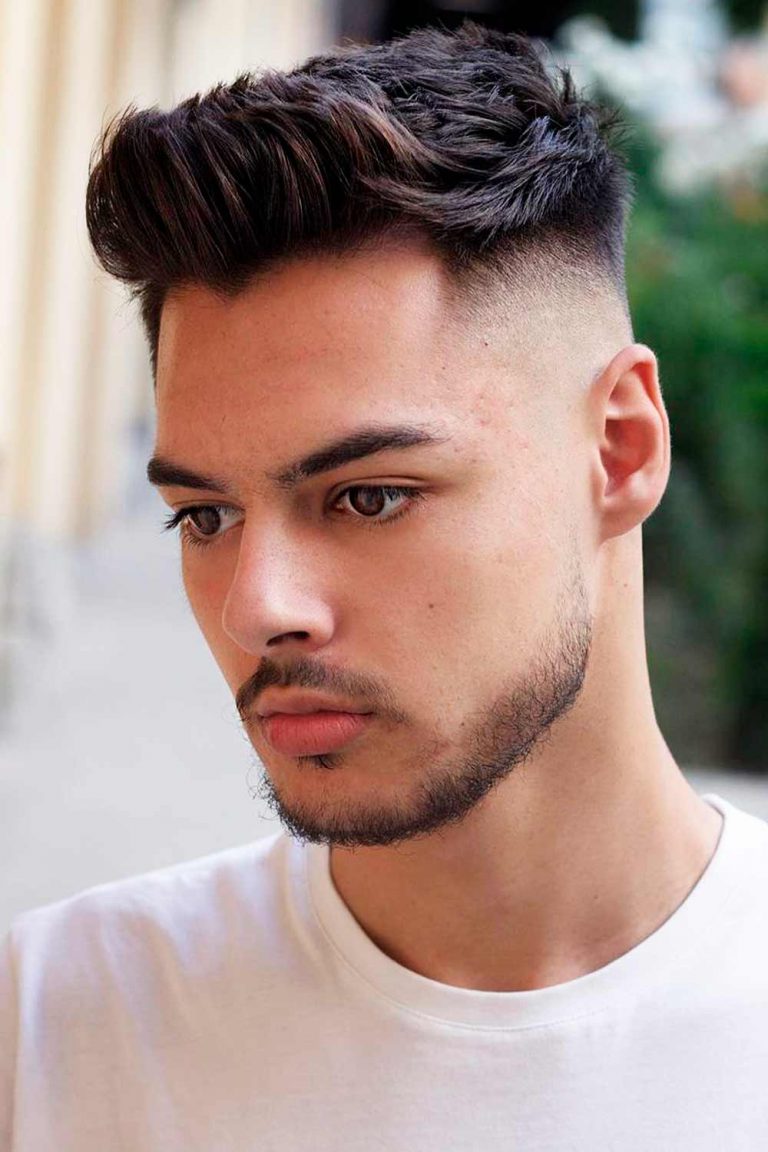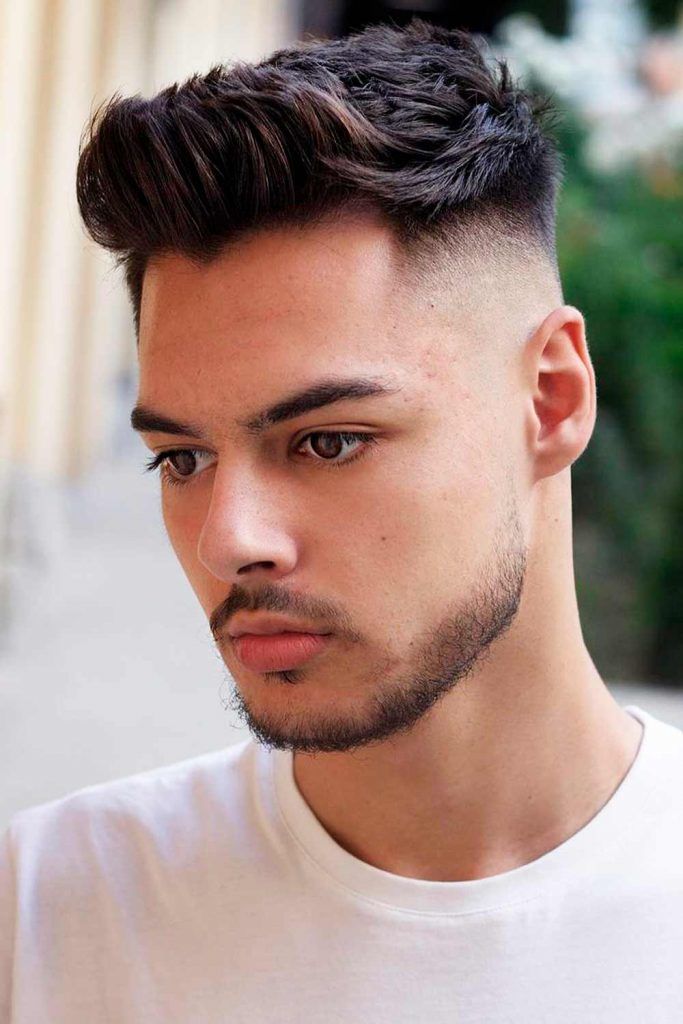 Source: @horatiuthebarber via Instagram
How To Style The Quiff
So, you have one of the most popular mens haircuts. What's next? How to style short hair with a quiff so that it would be out of competition? Here are some simple steps to follow:
Take your favorite pre-styler, for example, a voluminous mousse. You are going to use it in the same way how do you use pomade for men.
Spread it all over your hair.
Set the blow dryer to the medium temperature so that it won't damage your hair. Blow-dry your locks to your "better-looking" side. To add more volume, you can blow-dry it several times back-and-forth.
As soon as your hair is completely dry, scoop a bit of your trusty hair styling product, like a hair clay, wax or pomade.
Rub the product between your hands to warm it up a little.
Apply it to the top hair, starting from the back and moving forward to the front.
Style your quiff up to the "best" side. To give the look a little messy attraction, grab some more styling product and pierce together the hair at the side parting.
If you're looking for more breezy short hairstyles men with a quiff would do, here's a simple alternative. Skip the blow-drying part as well as the pre-styling product. Brush your fingers through the quiff and style it to the "best" side, creating a light wave. To finish the look up, pierce the hair at the front with your fingertips.
How To Style Short Hair: The Pompadour
Another popularized by Elvis Presley men's haircut is the pompadour or simply the pomp. To get the hairstyle, the top hair should be much longer than the side and back short hair men usually have buzzed cut. If you're wondering how to style the short hair pompadour, simply keep reading.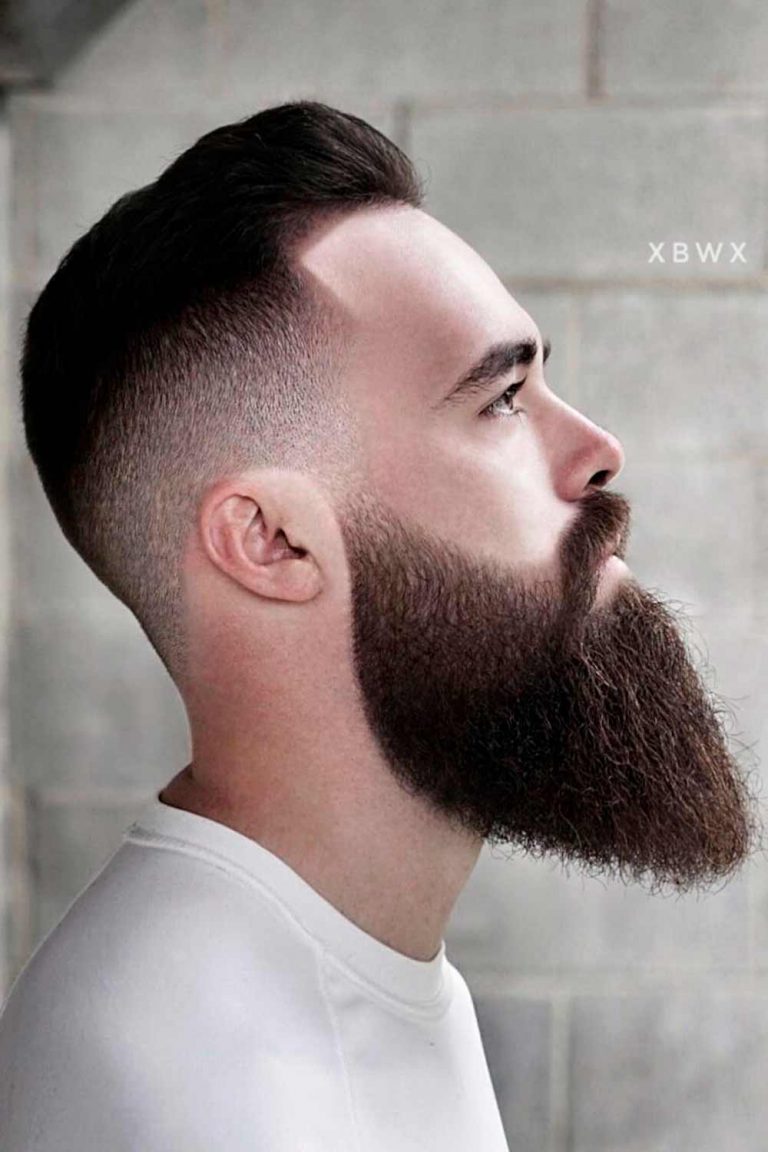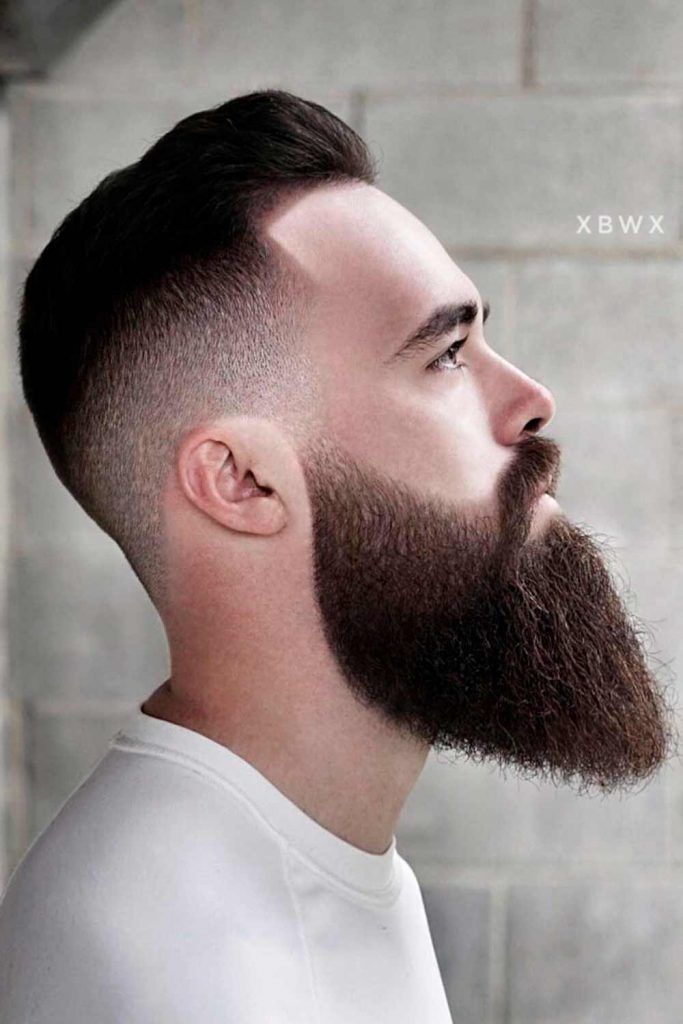 Source: @xbigwesx via Instagram
How To Style The Pompadour
If you've decided to pull off the modern pompadour, of course the matter the question of how to style short hair for men would bother you. So, here comes the first aid guide to help you out, which will also answer how do you style mens flat hair in case you are wondering:
First and foremost, you need to wash your hair.
Towel-dry it to soak the excessive water.
Apply some pre-styling product with the heat protection. Blow-dry the pomp to the side that looks best on you.
Take some hair styling product, like a cream or pomade, and spread it all over your hands.
Run your fingers with it through the top of your hair and rub through until your hair is textured.
How To Style Short Hair: The Slicked Back
Looking for some easy hairstyles for short hair? We have a great option for you. How about giving yourself the high and tight haircut? It's very easy to achieve. Just shave the hair on the sides and back and leave it longer on top. Keep in mind that the crown should be of equal length though. As for some additional hair ideas, you can style you high and tight with a low surgical part or a line-up.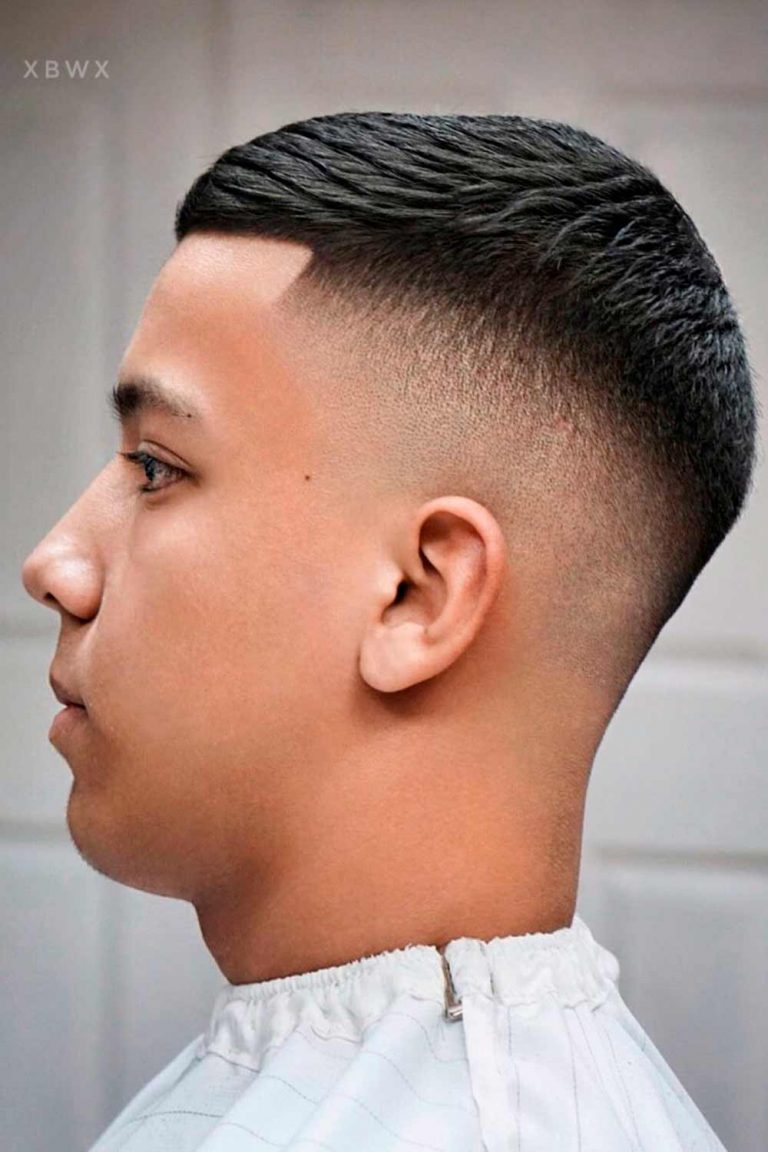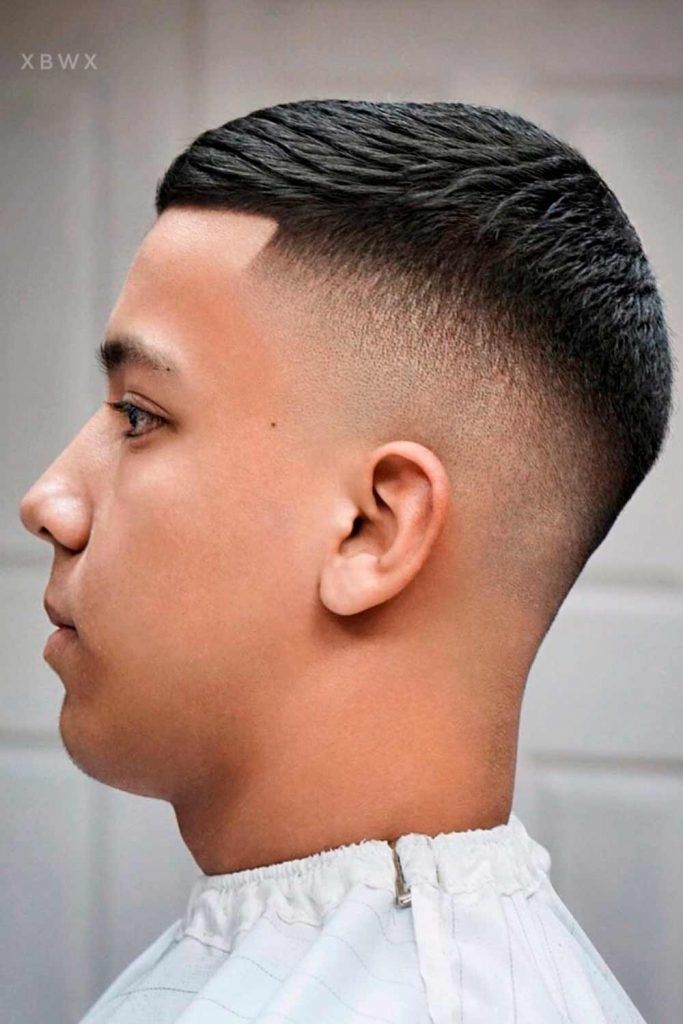 Source: @xbigwesx via Instagram
How To Style The Slicked Back Short Hair
Again, when you're wearing your hairstyles short, you need to know how to get them right. There are many questions to consider, such as how do you style short hair with paste or can I use a hair wax instead. So, for the perfect high and tight short hair style, you need to:
your finger into your go-to hair styling product.
Ensure that all your hands are covered with it.
Apply the product to your crown, moving towards the back.
Run your fingers through the top of your hair.
Use the fine-toothed comb to slick the hair back.
Help yourself with the other hand to place the hair where it supposed to be.
How To Style Short Hair: The Slicked Back Undercut
Men hair allows as many versatile layered short haircuts as you can only imagine. Don't worry, we'll shed the light on how to style short hair with an undercut.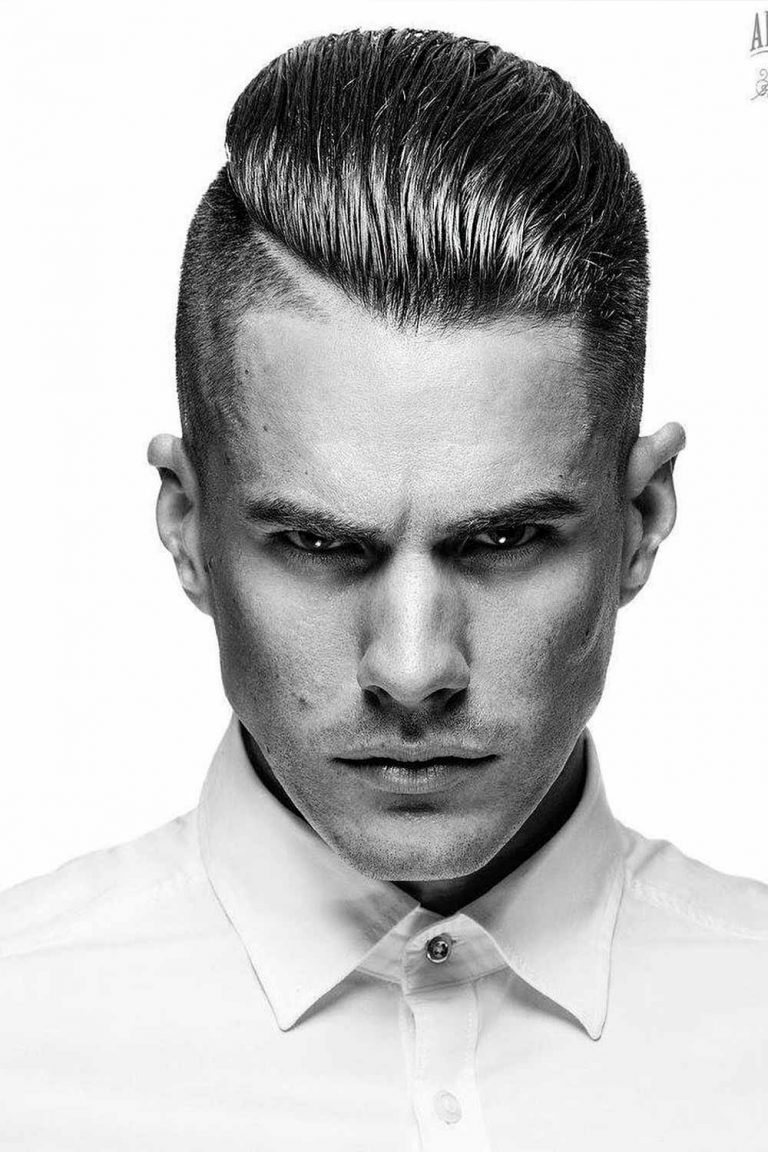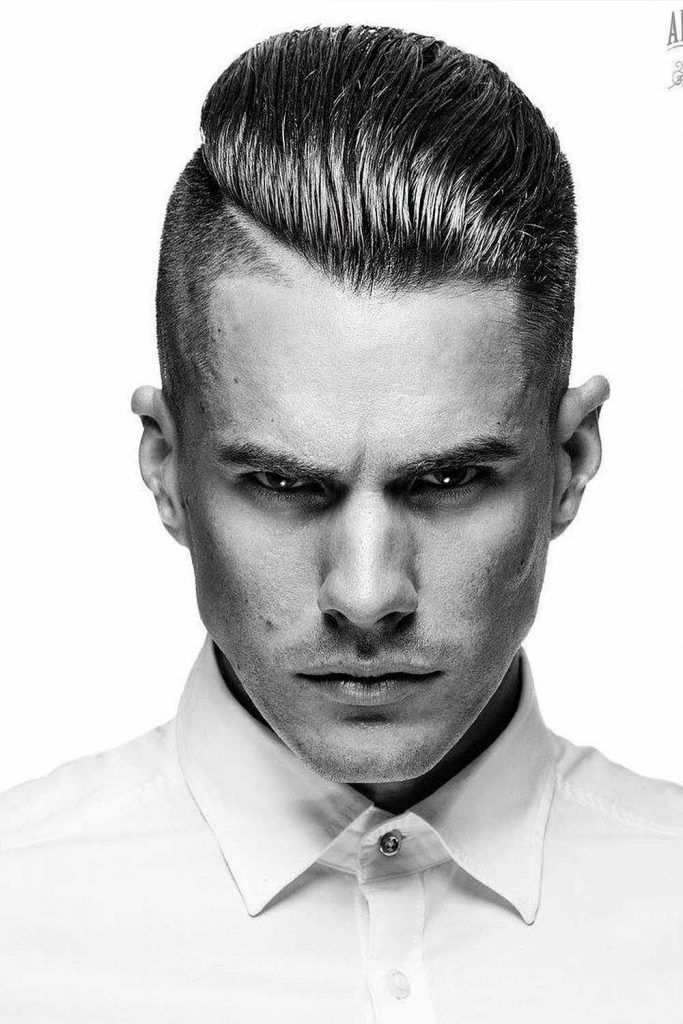 Source: @r.braid via Instagram
How To Style Short Hair With Undercut
Apply some of the pre-styling product to your previously washed and towel-dried hair.
Blow-dry your locks, moving front to back.
Use a comb with fine teeth to pull the hair back until it's smooth.
Press your man haircut into place with your palms, moving from the sides to the top.
Check out the look into the mirror and tame the flyaways if there are any.
And—bam! You're rocking the hairstyle men with the exquisite taste would highly appreciate wearing.
How To Style Short Hair: The Spikes
A spiky hairstyle is always the right choice, as it is trendy and versatile. You can choose a look to fit most situations, even quite formal. The styling itself is effortless. Besides, you can transform almost any short haircut to a spiky one. All you need to do is to use the right products.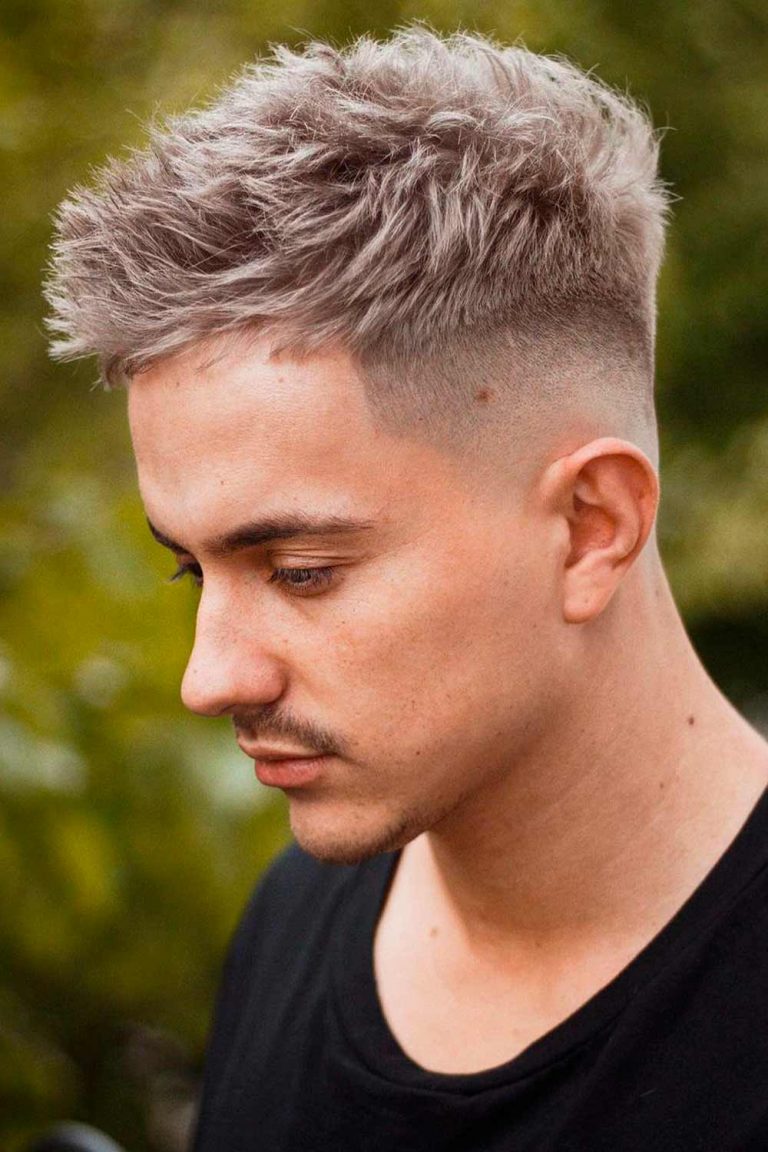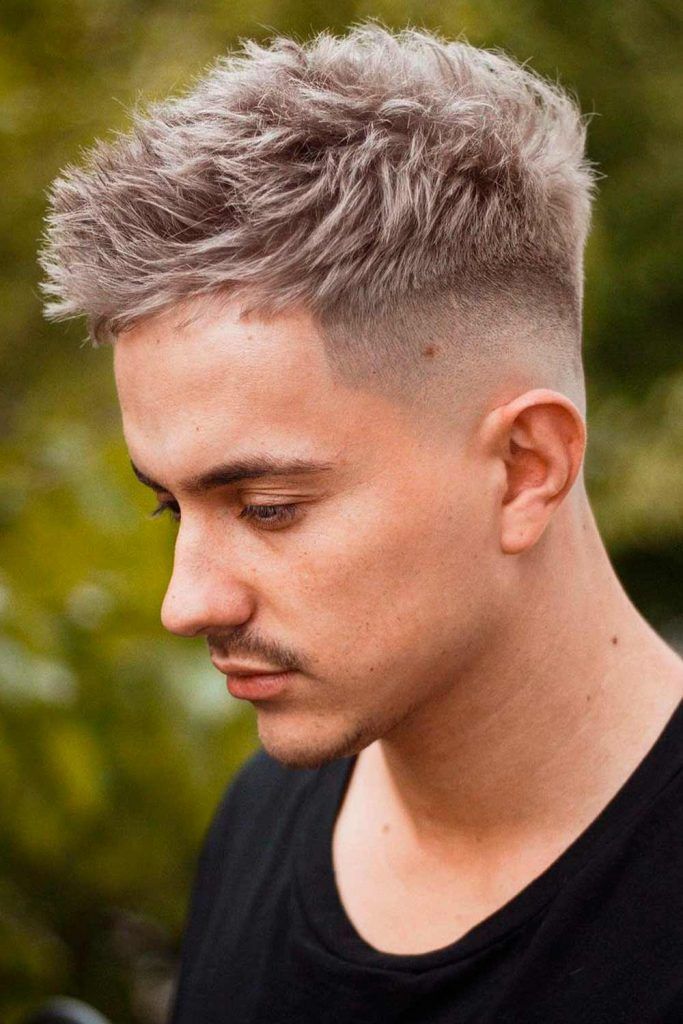 Source: @horatiuthebarber via Instagram
How To Style Spiky Hair
Wash your hair and towel dry it.
Spritz some hair oil into your hands and rub it between them to warm up.
Apply it to all of your hair to moisturize it and make more manageable.
Rub in the oil to make sure that you have covered all of the hair from the roots to the ends.
Dry it with a blow drier pointing it in different directions to create more volume.
Using a hair straightener, curl the strands of the hair in the front away from the face and toward the crown.
Scoop a blob of a sculpting clay, rub it between the hands and apply to the tips of the hair atop.
Secure the look with a strong hold hair spray.
How To Style Short Hair: The Side Part
A side part is among the most popular ways to style short hair male cuts. It does not require much effort or skill to create so anyone will be able to nail it. What is more, it flatters all face shapes and works for any hair texture. And thanks to its clean and elegant silhouette, you can rest assured that your hair will look appropriate in any ambiance.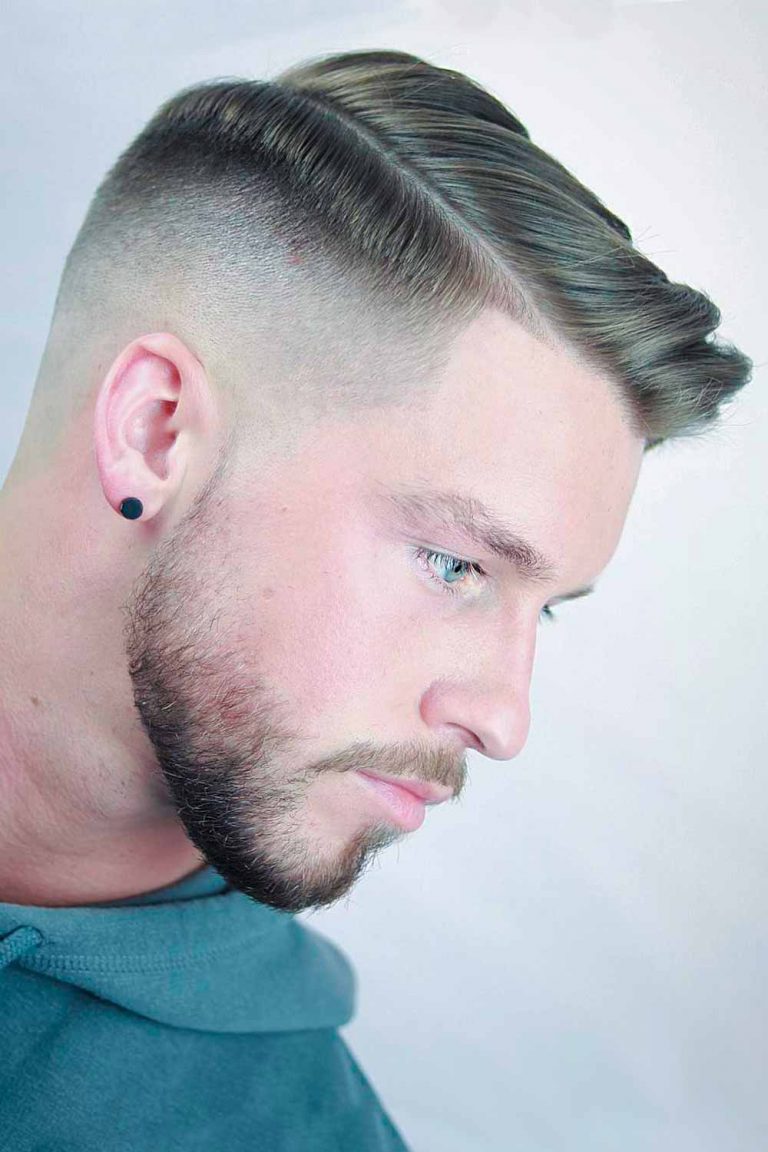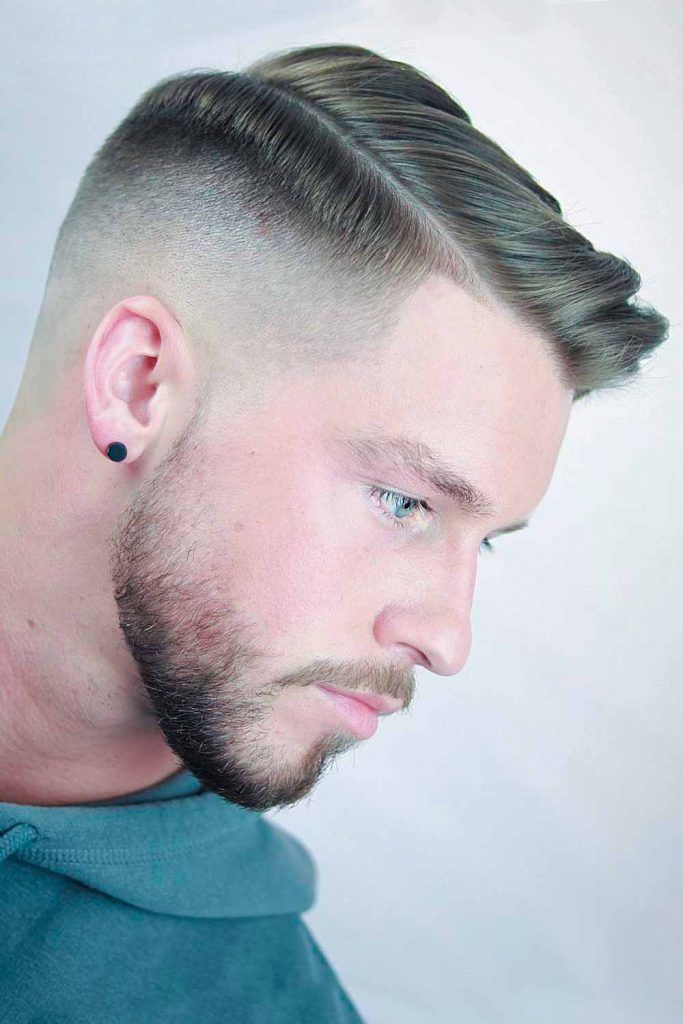 Source: @corneliucrihan via Instagram
How To Style The Side Part
Knowing for men how to style short hair is as essential as how to tie a tie. If you want to learn one of the quickest yet trendiest ways to style short hair male cut, which is a side part, then follow these steps:
Wash your hair and towel dry it.
Apply a hair pomade by distributing it all over your fingers first and then raking them through your damp strands.
Inspect where your hair falls naturally, which is going to define the location of your parting.
Divide the hair in the area of the natural parting with the help of your fingers into two uneven sections with one being noticeably bigger than the other.
Brush up the bigger section of the hair using your fingers again and then push it to the side.
With your palms covered in a thin layer of pomade, smooth out the hair on the back and sides.
Allow your hair to dry in the air.


Source: @BirchboxGrooming via Youtube
How To Style The Taper Fade
The tapered fade cut is among the leaders of the most popular haircuts for men. To achieve it, you need to create a gradual transition from the longer to the shorter hair on the sides and back of your head. As for the crown, however, you can basically try any variation of the top mens short haircuts. Guys with a strong jaw and square face shape would find this haircut exclusively flattering. What else is good about a taper fade is that being a short haircut, it works great on any hair type.
So, no matter what kind of hair you have, feel free to ask your barber for a nice tapered fade haircut. However, don't try to trim this haircut at home as it requires the special skills. What you can try at home is styling. Product-wise, go with the water-based product, such as pomade, because it won't give you a greasy look.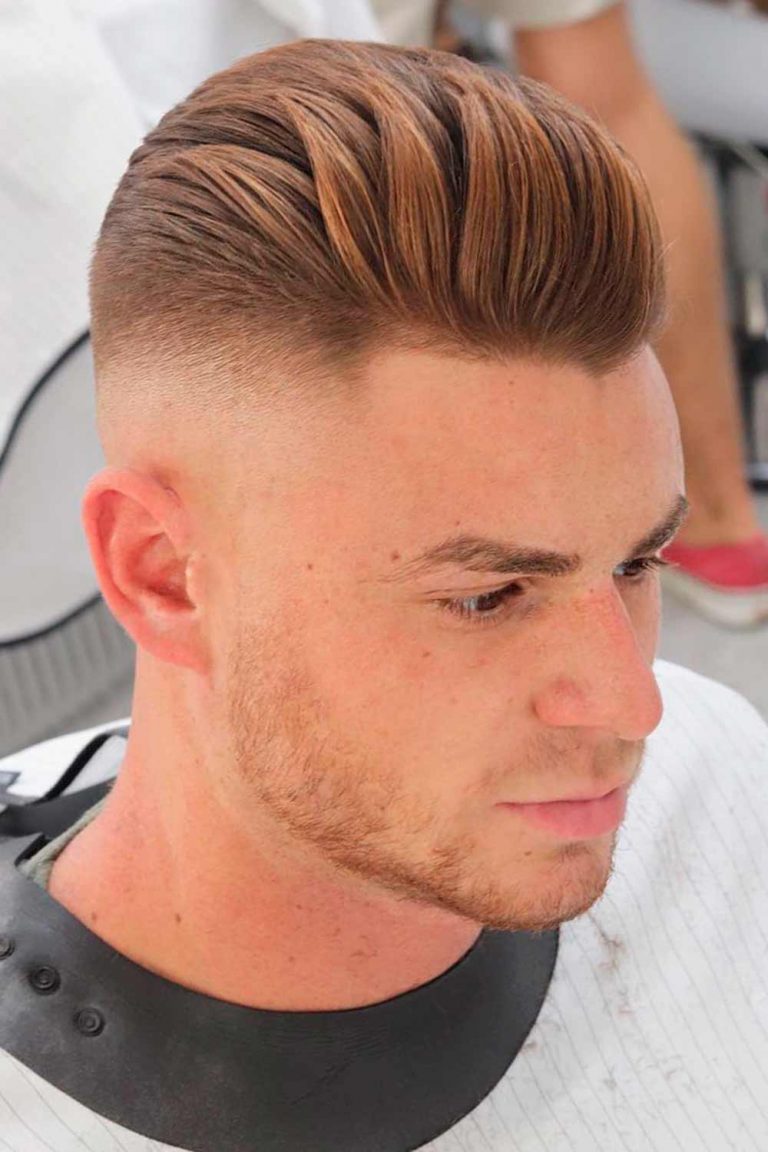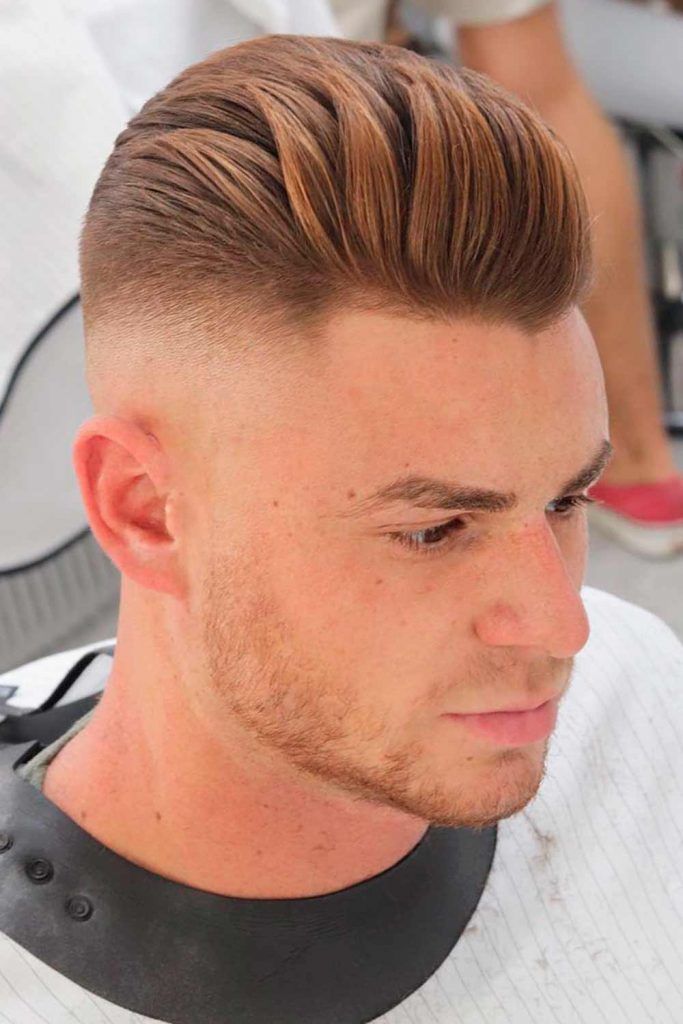 Source: @alan_beak via Instagram
How To Style Textured Taper Fade
The good news is you do not need to know how do you gel short hair, as for this hairstyle, you will use a hair spray and wax. Also, stock up on a fine-tooth brush as well as a hairdryer. And let the magic begin:
Apply a pre-styling spray all over your hair.
Brush it with s fine-toothed brush.
Dry your locks with a blow drier and a round brush.
Scoop a dollop of a hair wax and rub between your hands.
Apply the wax starting from the back and moving forward.
Style the locks in the front separating single strands to create more texture.
Finish off your hairstyle with a spritz of a hair spray.
How To Style The Tapered Skin Fade Short Haircut
Talking about styling the tapered skin fade short hair cut, we've already prepared a detailed manual for you.
Pre-wash your hair and dry it with a towel.
Apply a bit of the pre-styling product to the crown.
Blow-dry the hair, moving from the forehead to the nape. Use a brush for some additional volume.
Take a sheer volume of the styling product with a finger.
Spread it evenly across your palms and fingers.
Start by applying the product to the hair on top of your head, using your fingers and palms and moving front to back.
Work the product in with a flattened hand at the side sections.
Give your short haircut for men a natural look with the help of the fingers.
How To Style Short Hair: The Brushed Up
The short spiky hair looks amazingly hot and steamy. So why don't you give it a try? Primarily, it's based on the taper cut, which is one of the trendy haircuts with longer top and cropped hair on the sides. Just apply some hair styling product to the crown and create a spiky finish through the edges by twisting some random strands with the fingertips.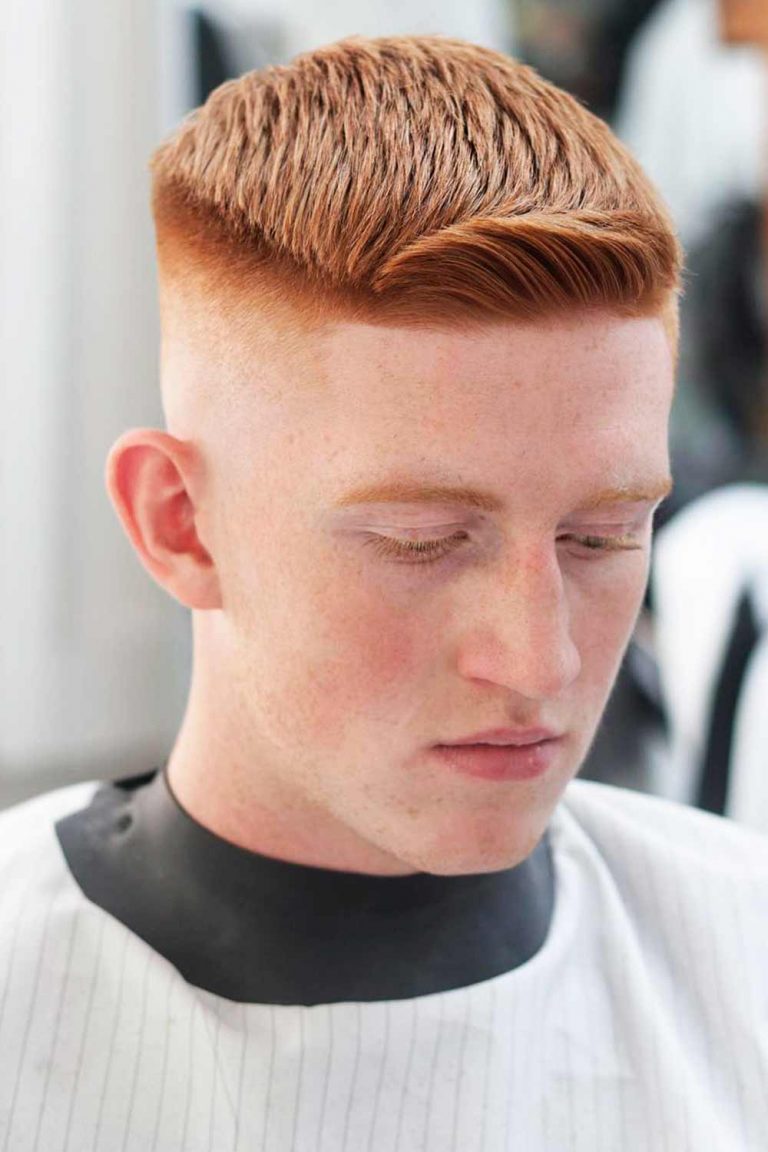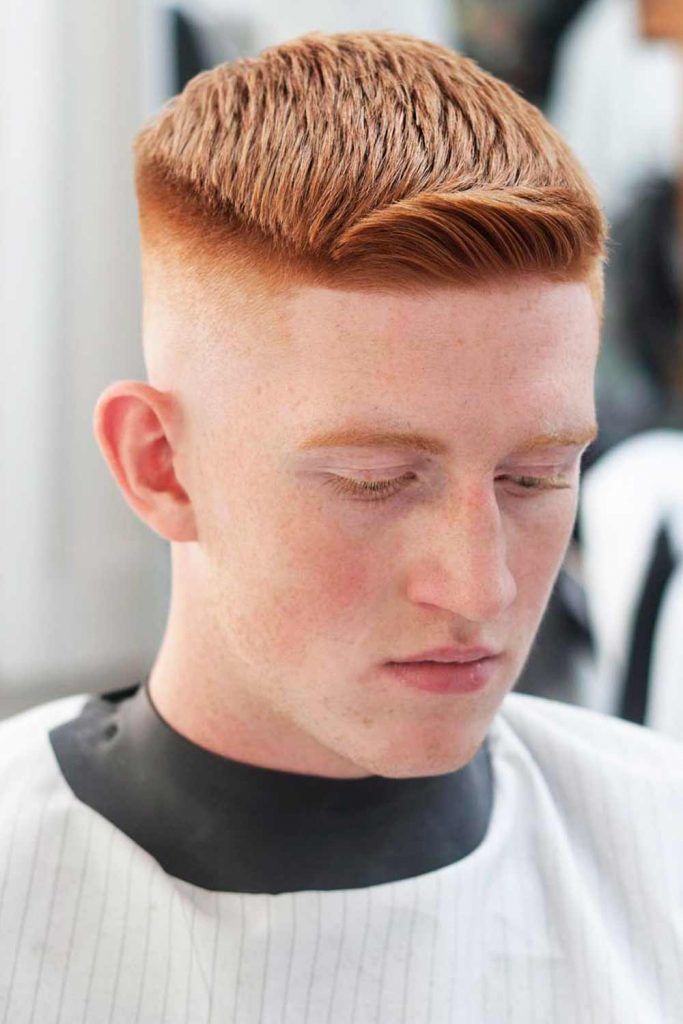 Source: @alan_beak via Instagram
We hope that after giving you some cool ideas on how to style short hair men cuts, you'll manage to decide easily on the hairdos you'd love to try. Having a ton of advantages, short haircuts remain one of the most requested styles. High five if you can't wait to pull off the look you've chosen.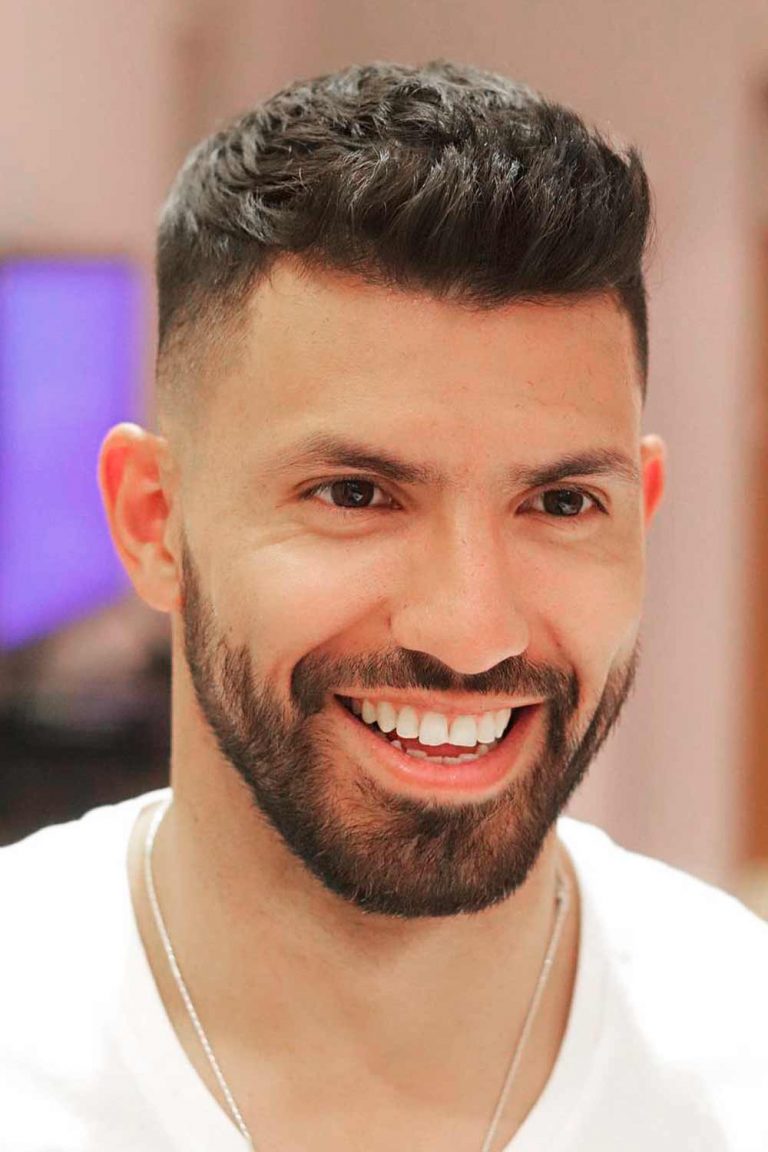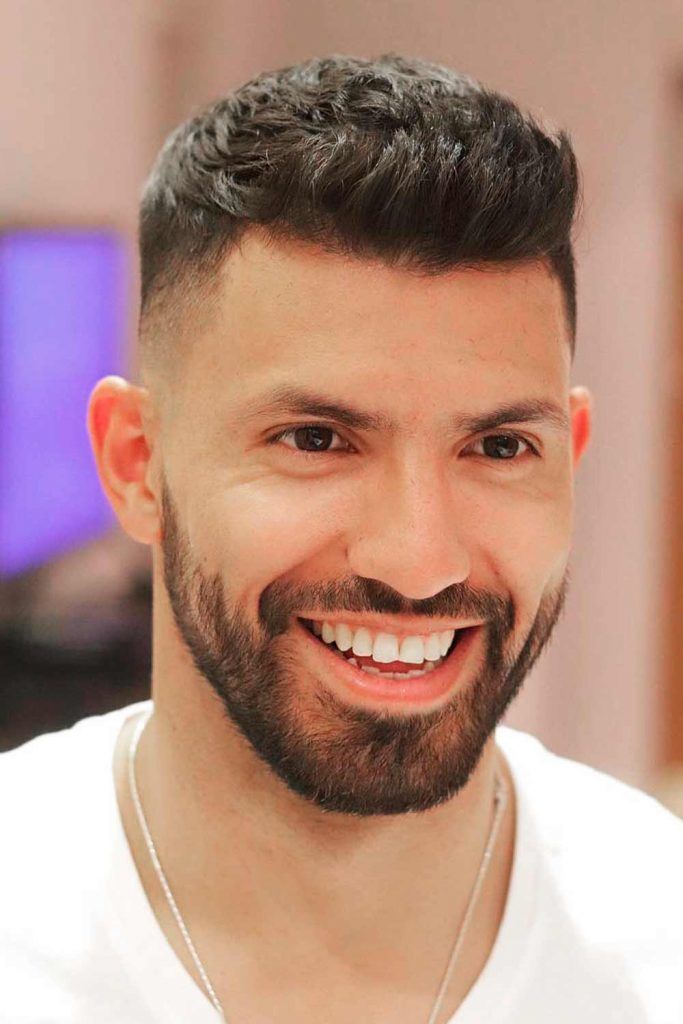 Source: @urednistvo.pricesk.robert via Instagram
How To Style The Fringe
Even though the mens hair cuts with a fringe may seem a bit feminine to you, this impression is deceiving. Everything depends on the way how to style short hair. What's good about the short hair cuts for men with a fringe is that it is highly versatile. You can wear it short or long, geometric or asymmetric, wavy or straight. Such a subtle element as a fringe can make a huge difference to your short hair. So, don't hesitate to try it!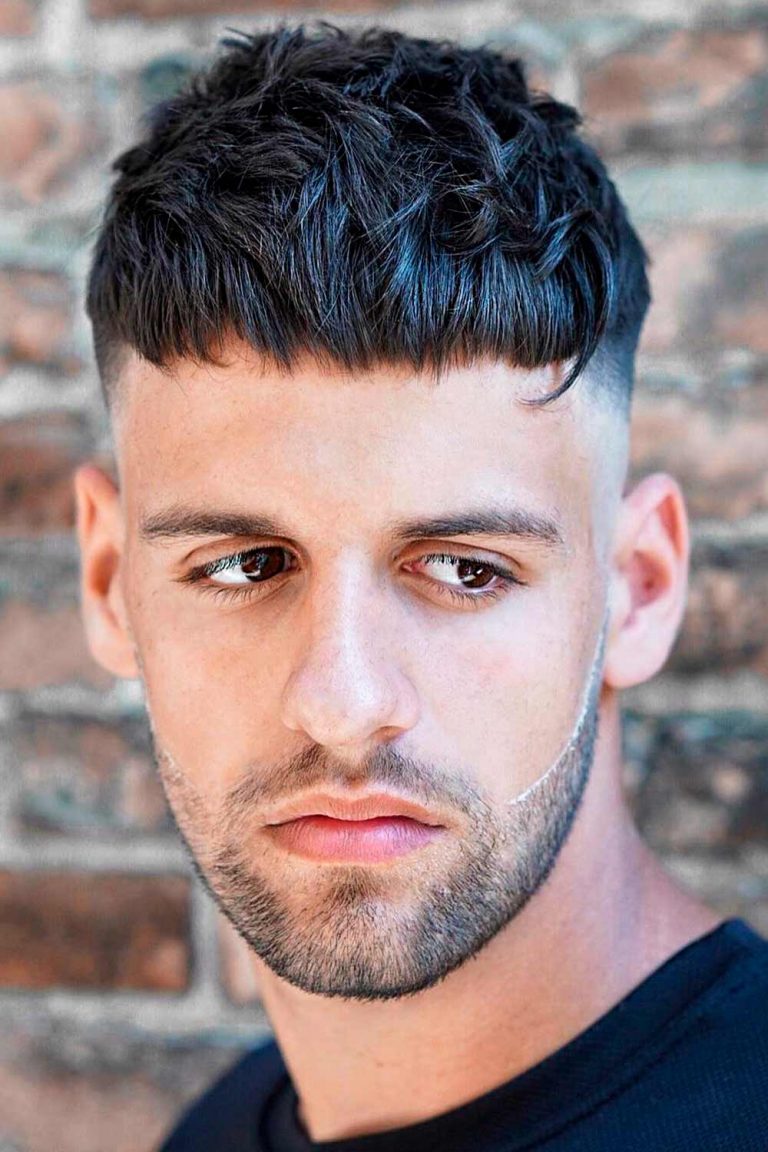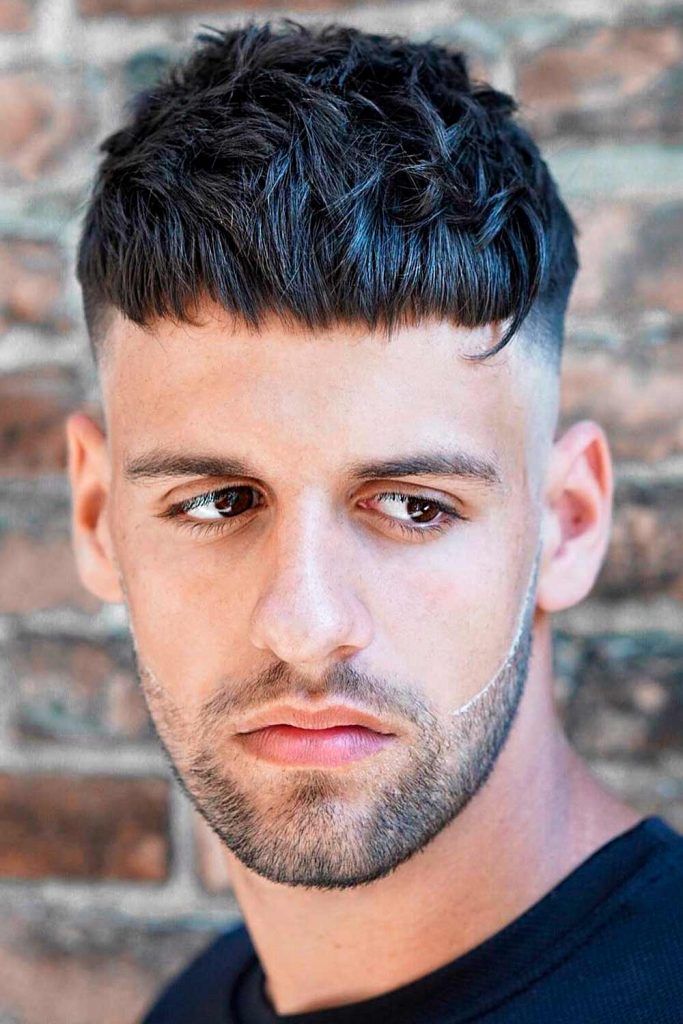 Source: @z_ramsey via Instagram
FAQs
How do guys deal with short hair?
Even though there are plenty of ways to style short hair, one of the best options is when it is cut short on the sides and relatively longer on top. While it makes you look neat and dapper, it still comes out bold and defined thanks to the difference in length between the top and the sides. For added contrast, you can complement the look with a fade.
How can I style my hair at home men?
So that your hair stays in place during the whole day, here is how you should style it:
1. Wash your hair and towel dry it.
2. Apply volumizing hair mousse to the top of the hair.
3. Blow dry the hair on top strand by strand with the help of a round hair brush and a blow dryer set to a mid or high temperature.
4. Switch the blow dryer to the cool temperature setting and blow dry the hair once again to help it fix in place.
5. Rub a dime sized amount of hair clay between the palms and shape up the hair on top with your hands.
6. Spritz the hair with a hair spray.
Is short hair attractive on guys?
As short hair opens your face, it allows you to show off your strong masculine facial features. Besides, it clearly demonstrates your confidence, as men with short hair do not try to hide behind their locks.
How do I add volume to my hair without a hair dryer men?
Take the following steps to make your hair voluminous without blow drying it:
1. Take a shower and wrap a towel around your head to soak excess water.
2. Spritz your hair on top with a sea salt spray 4-5 times, push the front section back and spritz it with a hair spray too.
3. Scoop a tad of a putty or another hair styling product with a strong hold, rub between your palms and work it into your locks on top.
4. Comb the hair to the side and let it air dry for around 20 mins.
5. Rake the hair with your fingers to dishevel it and allow it to air dry for another 20 mins.
6. Shape the hair in the way you like.
How do I style my hair forward?
1. After taking a shower, air dry your hair until it is almost completely dry.
2. Apply a heat protectant.
3. Blow dry the hair with a hair dryer, helping yourself with the opposite hand.
4. Comb the hair on top forward with the help of a wide tooth comb.
5. Take a nickel sized amount of a hair styling product, warm it with the tips of your fingers and apply it to the hair on top by working the product into the roots.
6. Blow dry your hair once again until it is completely dry.
7. Take a small amount of a hair cream with a shiny finish and after rubbing it between your fingers, apply it to your hair pushing it back and front, right and left.
8. Finish off by sleeking the sides and smoothing any sticking out hairs.
How do you add volume to thin hair?
To boost volume in your hair, you need to use a complex approach. Thus, you should rethink your diet, hair care habits and styling. So, make sure to:
– Consume enough nutrients and vitamins, necessary for hair growth.
– Drink at least 8 glasses of water a day.
– Incorporate a scalp massage into your daily routine.
– Use hair care products aimed at your very hair type and structure.
– Employ a volumizing hair shampoo and conditioner.
– Do not rub your hair when drying it with a towel.
– When styling, start lifting the hair from the roots.
– Use hair styling products that add volume to single tresses.
– Alternate the position of your side part.
– Try our waves or curls.
– Do not skimp on a hair brush.
– Opt for a haircut that visually gives your hair more volume.
REFERENCES:
How to Style Short Hair Men. Source
Short, wavy men's hairstyles can be hard to manage. Why not take some tips on how to achieve that perfect look. Source
Short hair doesn't have to mean a buzz cut. Get inspired by some of Hollywood's leading men, and learn expert styling tips and tricks for short thin or thick hair. Source