Such a prominent facial feature as a big forehead can give you quite a lot of hassle when choosing your best haircut. The wrong pick may not only show it off but also make it even more pronounced. Not to let you get into trouble, we have prepared this helpful guide for men with high foreheads. Here, you will find a style that matches your head shape, hair type and, most importantly, preferences. So, wait no longer to select the most flattering hairstyle for you personally.
Fringe Haircuts For Big Foreheads
What is the best haircut for big forehead? A fringe is one of the most popular hairstyles for big foreheads for good reason. It is quite easy to style and looks effortlessly trendy. You can make it more dimensional by adding layers of different levels. To draw attention completely away from your large forehead, you need to make the fringe the focal point of the whole look. Thus, get the sides faded to the skin or even undercut.
Source: @luiiisc_ via Instagram
Long Spiked Bang
Big forehead men should not shy away from bold and edgy haircuts. As such, consider something as sharp as a long bang brushed over your forehead with spiked tips. This hairstyle guarantees that you are going to be the center of attention wherever you go. Yet, your big forehead will be less noticeable.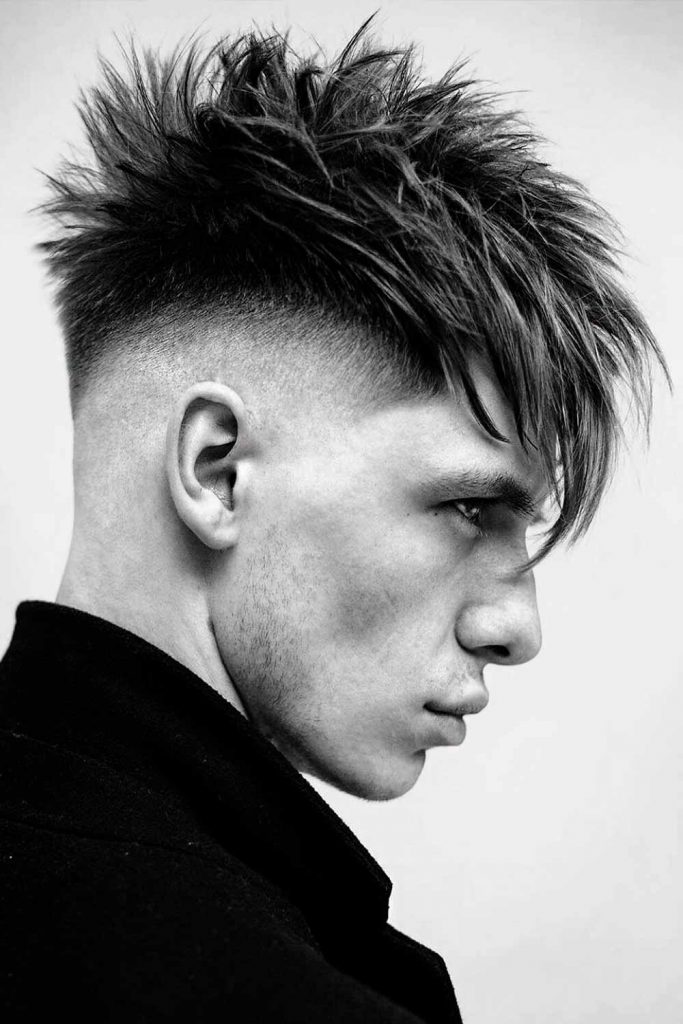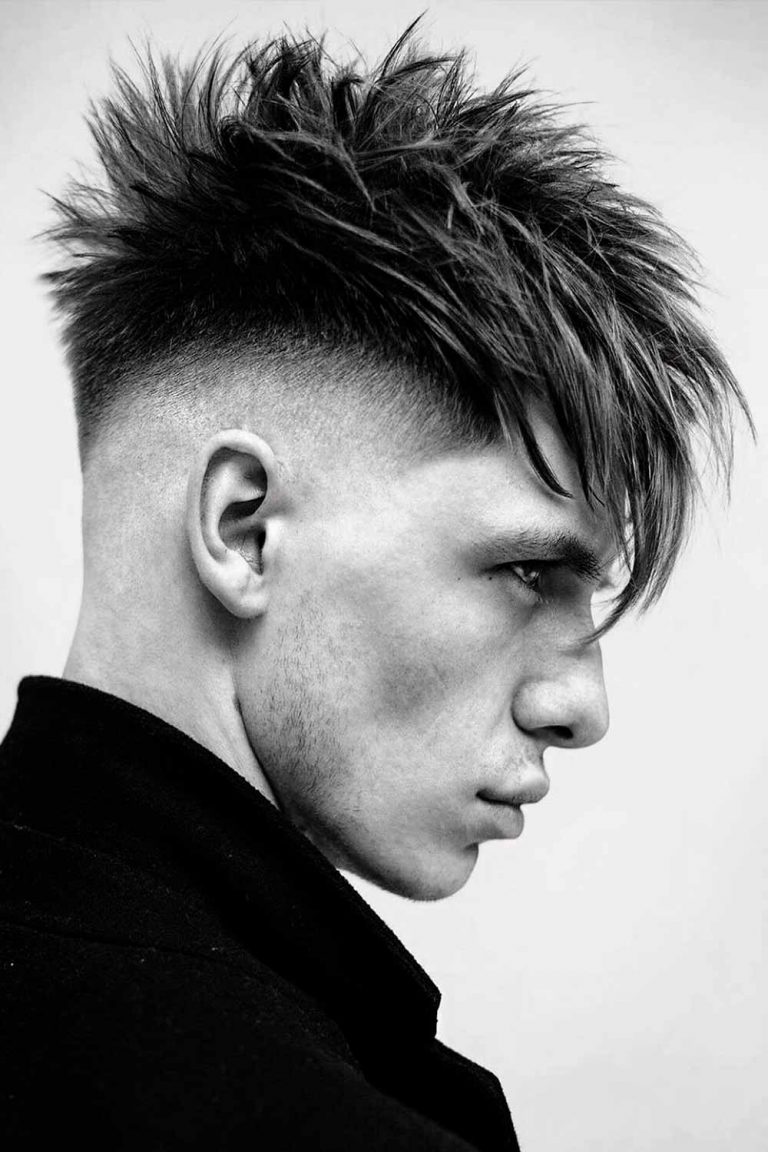 Source: @ r.braid via Instagram
Brushed Up
If you think that for a big forehead guy, brushing up your locks will make the forehead appear even bigger, we are here to prove you wrong. Because a brushed up hairstyle features quite a lot of length in the front, it becomes the focal point of the look instead of your forehead. So, everything is relative.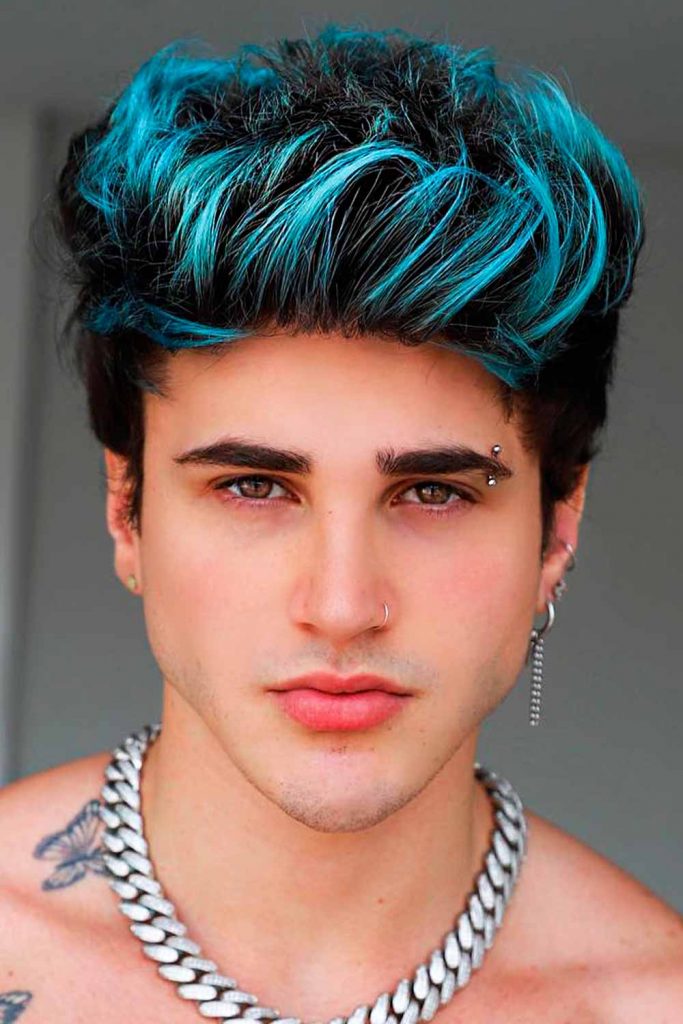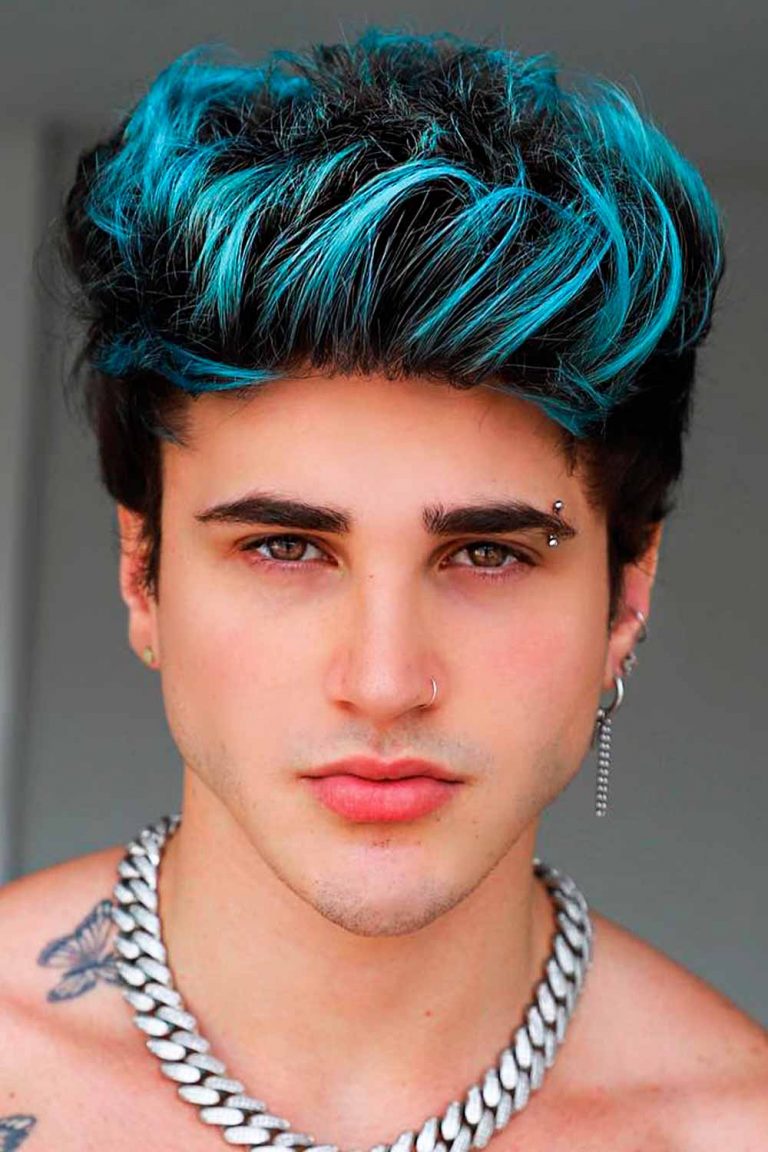 Source: @alexmapeli via Instagram
Medium Side Swept
Arguably, one of the easiest haircuts for big foreheads men is a side swept bang. To achieve it, you need to grow your hair at least medium long so that the locks in the front would be long enough to partially hide your forehead. Then, simply flip the bangs to the side, secure them with a hairspray and you are good to go.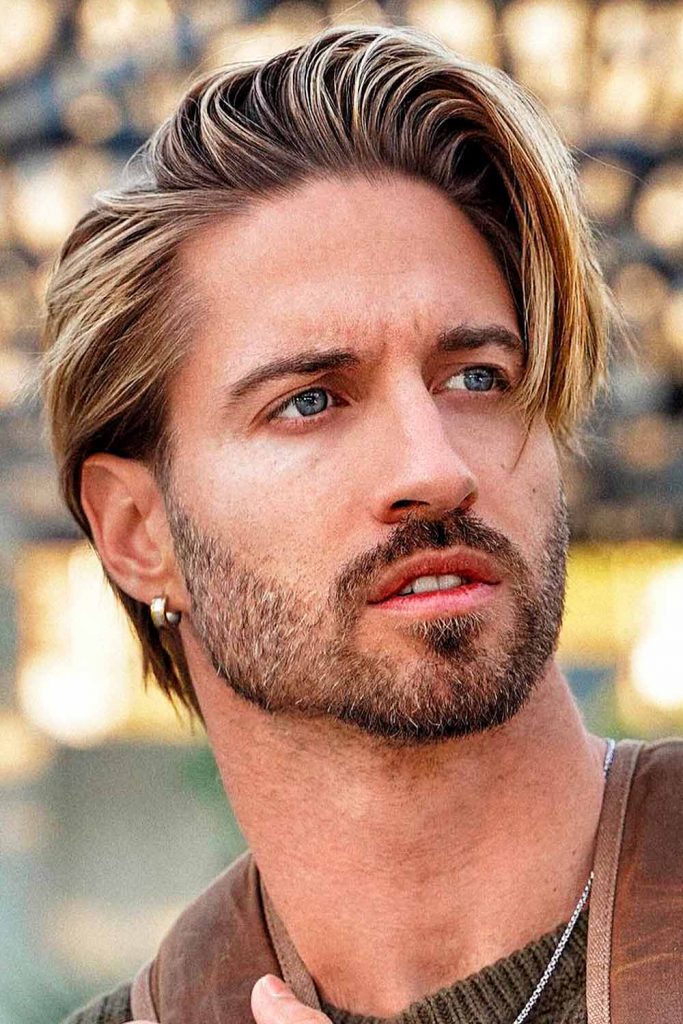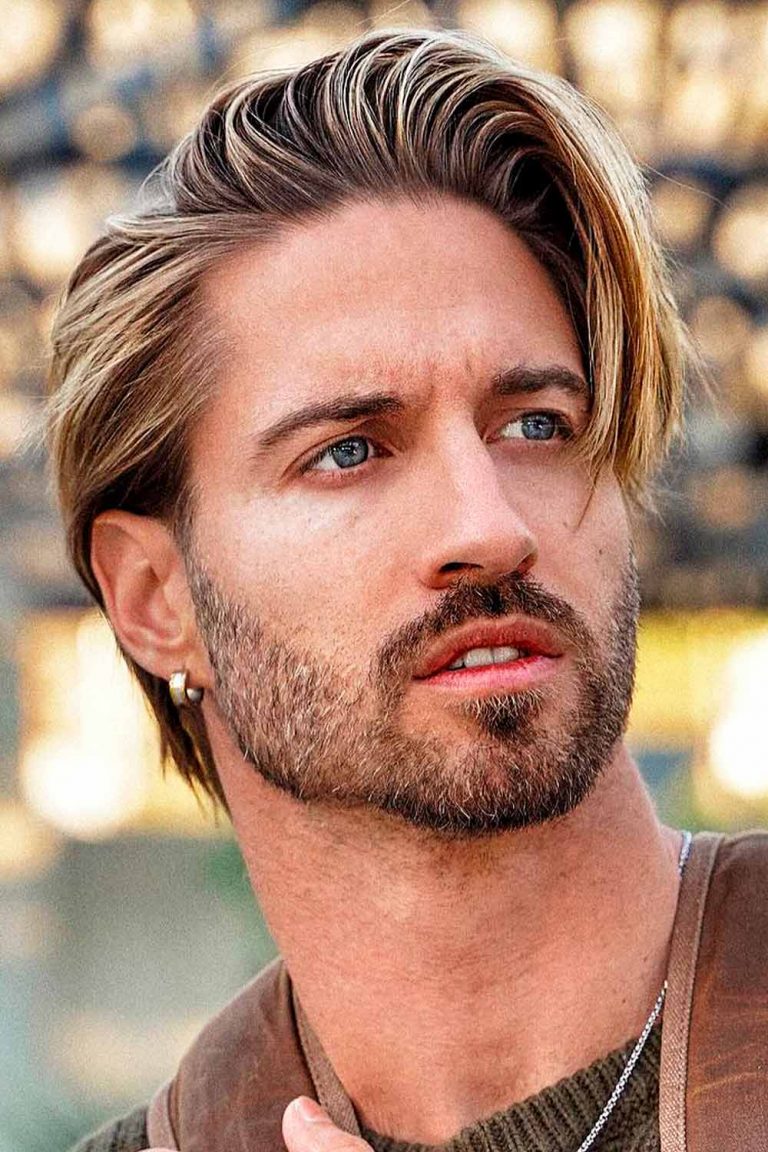 Source: @travbeachboy via Instagram
Low Taper Fade
What makes a low taper fade a great haircut for big forehead male hair is that it accentuates your mane on top without drawing attention to the forehead. As a result, it does not strike the eye as before. The top may be styled according to your preference though. It is only limited by your imagination.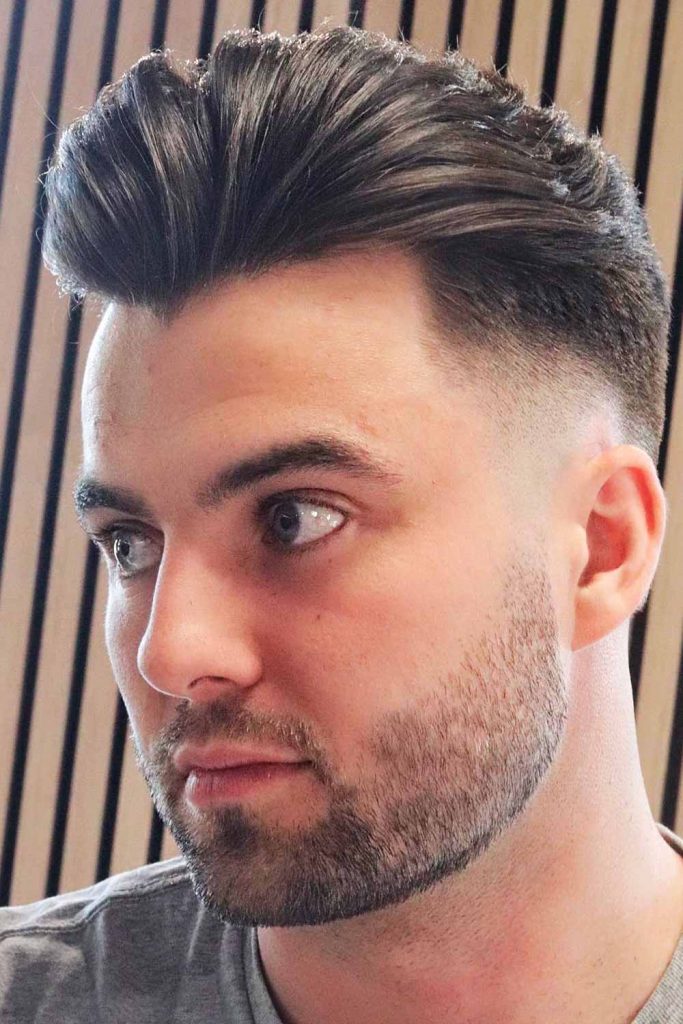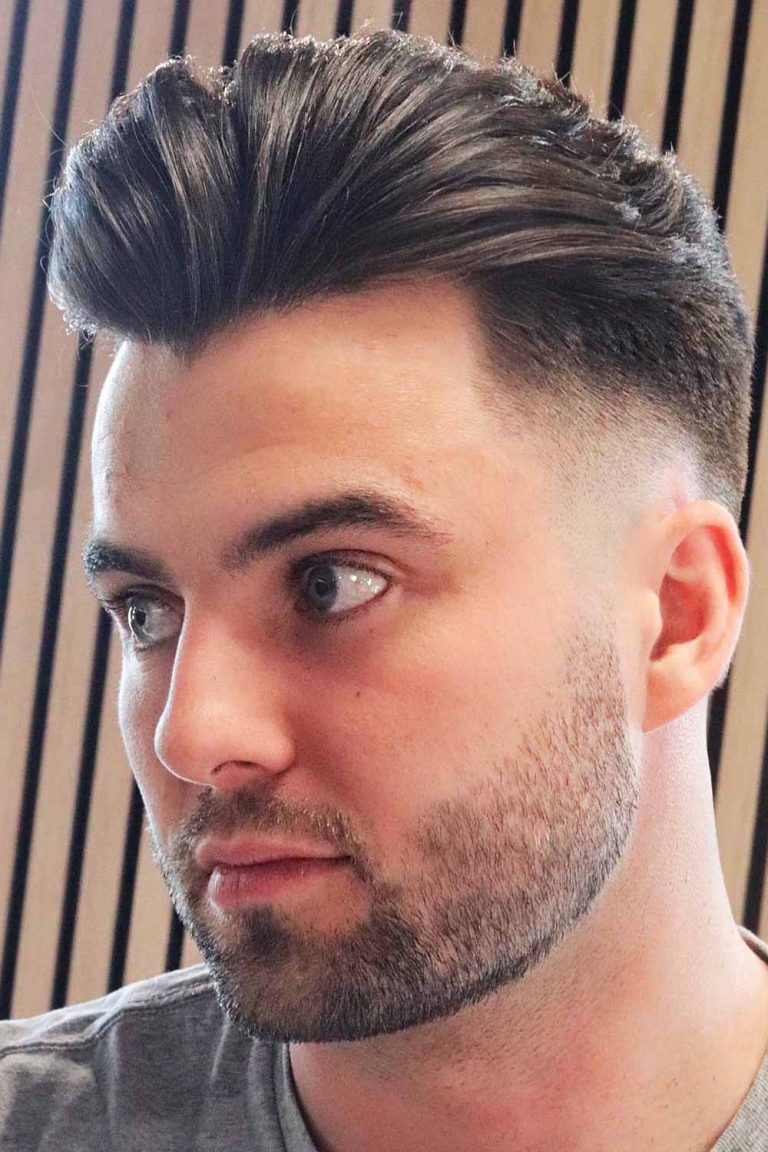 Source: @alan_beak via Instagram
Side Swept Bang
One of the best ways how to make your forehead smaller is by getting bangs. They can be styled in a number of different ways to suit the occasion and your personal style. For something elegant and chic, style your bangs swept to the side. No need to make the hairstyle overly neat. A slightly messy finish will not hurt.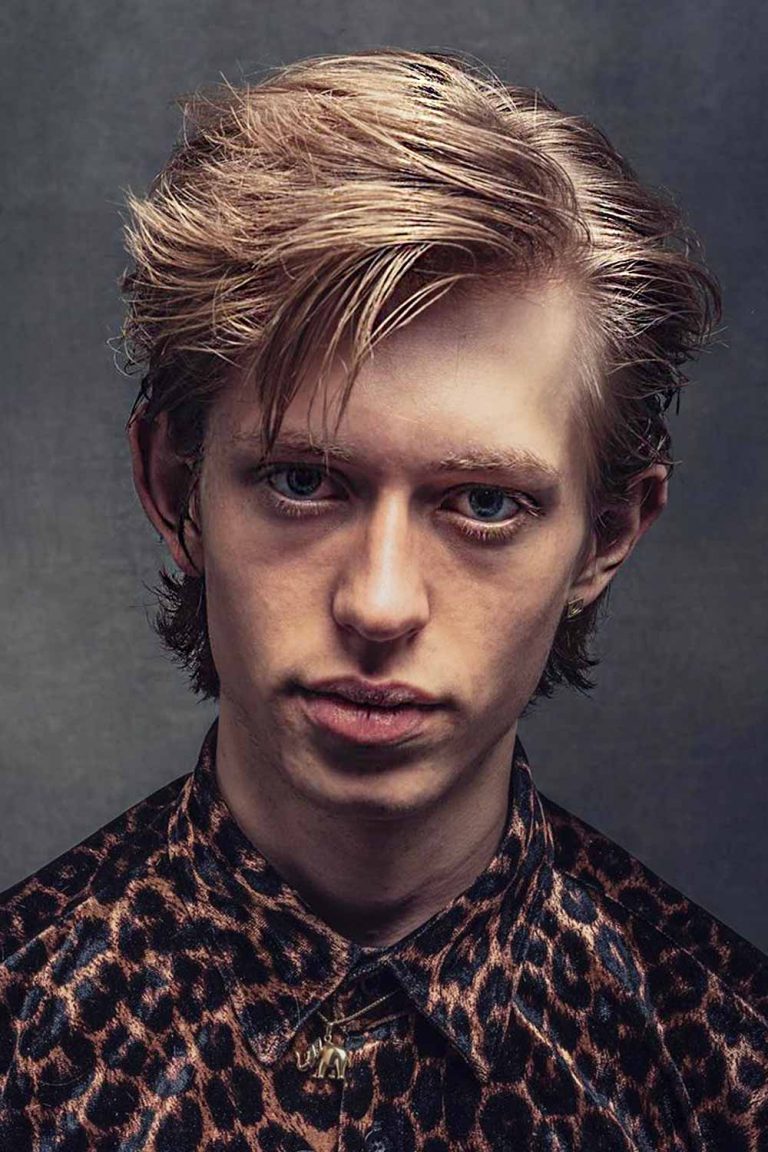 Source:@the_bloody_butcher via Instagram
Brushed Back Curls
There are many different haircuts for big foreheads men with curly locks. However, you do not have to be overly innovative. Just apply a texturizing product to your curls and brush them all back. This will bring them to the spotlight rather than your prominent forehead. Enhance the look with a fade or taper on the sides.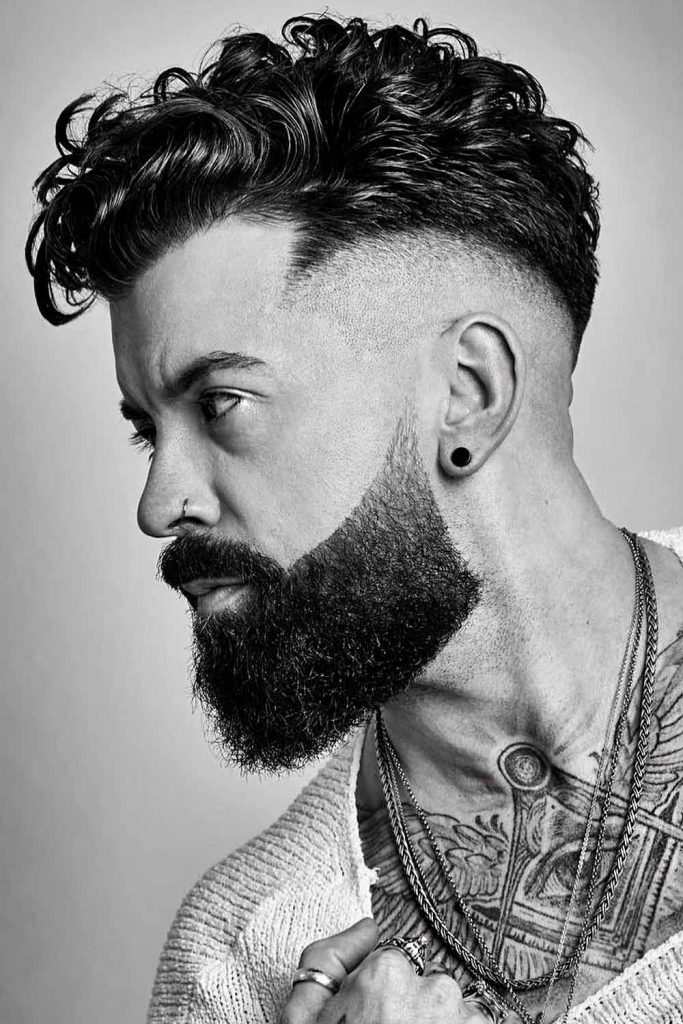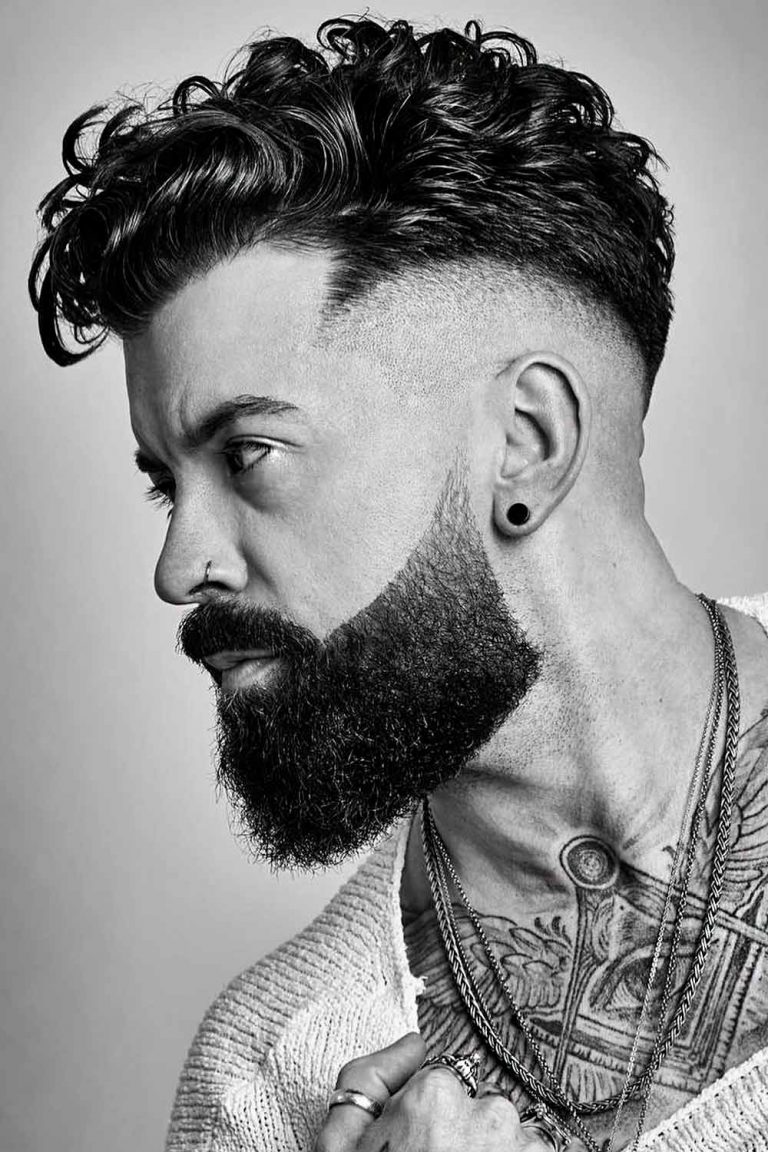 Source: @r.braid via Instagram
Short And Messy Hairstyles For Big Foreheads
A messy short hairstyle is a go-to option for people with big foreheads. Thanks to the dynamics and separation it creates, the forehead seems less prominent. For added distraction, get a textured cut and style it with the help of a matte-finish hair product.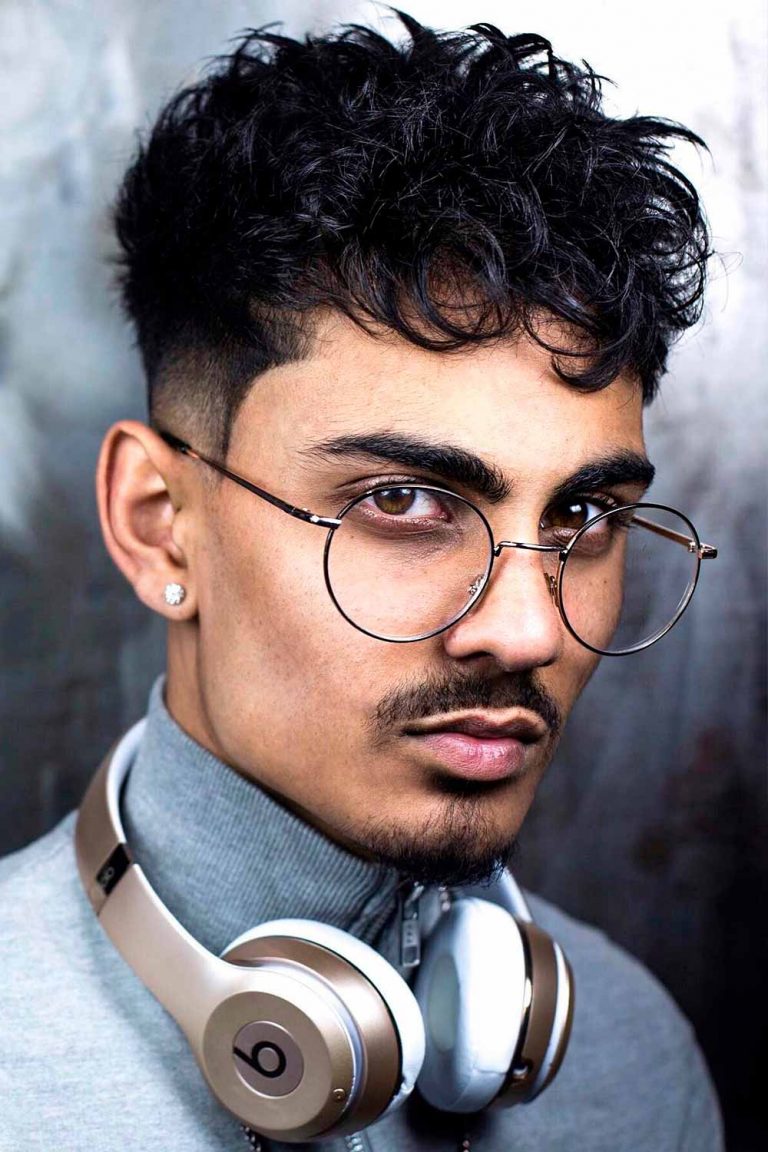 Source: @r.braid via Instagram
Bowl Cut
What can you do for a big forehead? You can hide it! The biggest advantage of a bowl cut for guys with big foreheads is that it does not look as if you are trying to disguise something. It is just a stylish haircut that makes a strong fashion statement. As the blunt thick fringe ends right in the middle of your forehead, it does not look as pronounced anymore. For an ultimately modern and defined look, complement it with an undercut haircut.
Source: @kevinelezaj via Instagram
Side Swept Undercut
A side swept undercut is one of those flattering hairstyles for high forhead guys that in addition to concealing your imperfections, make you look unbelievably stylish and cool. Besides, it works for any hair texture and length. All you need to do, it to push your hair to the side so that your fringe slightly covers your forehead and you are good to go.
Source: @reza_jax via Instagram
Long and Layered
You can never go wrong with a long layered hairstyle for guys with big foreheads. As it gives your appearance a grunge vibe, it will make you look badass and tough. For extra movement and definition, add short face-framing layers to the front and leave flowing long locks in the back.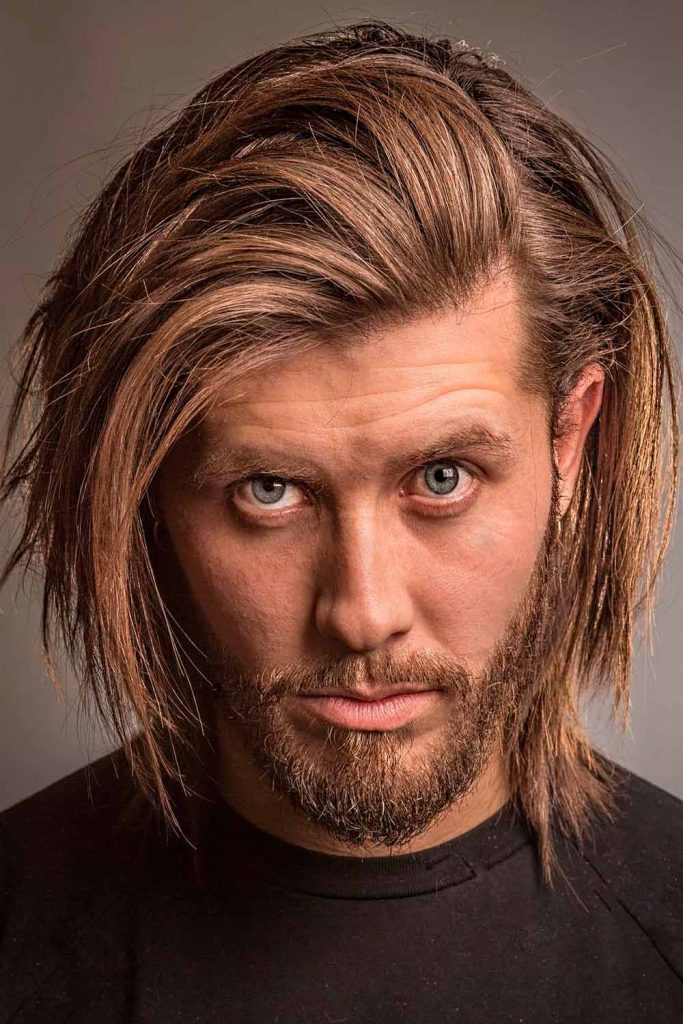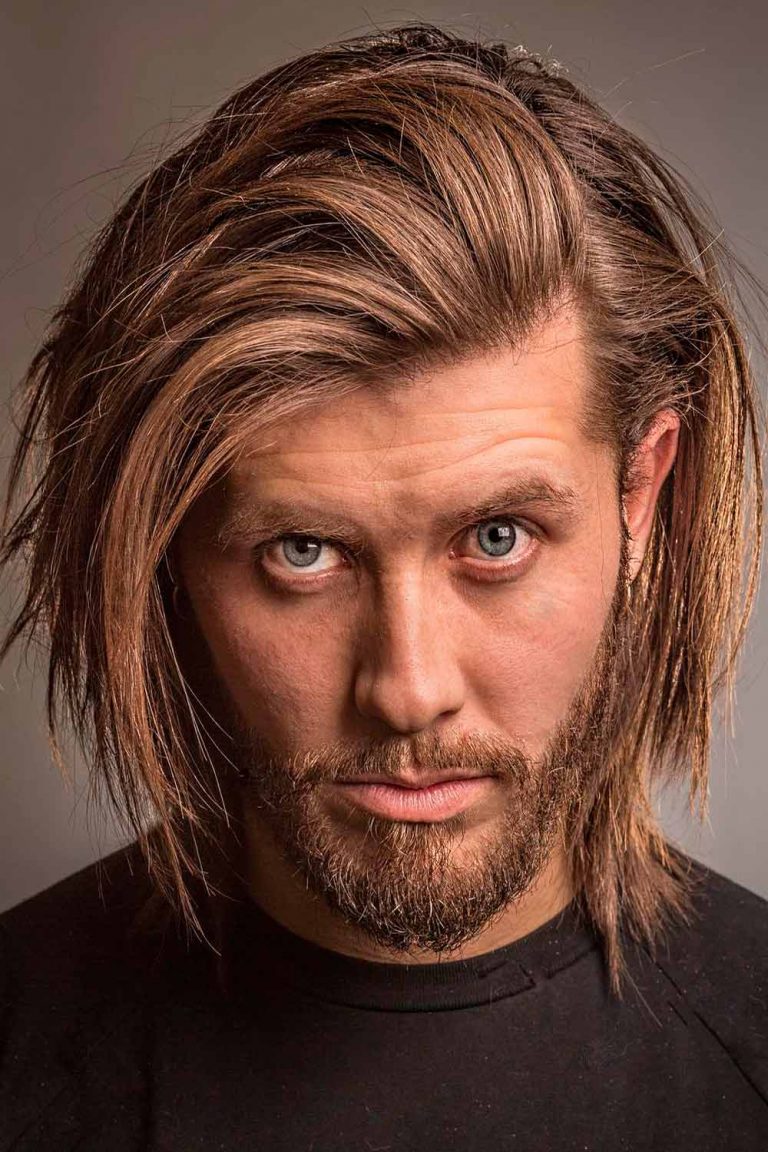 Source: @tombaxter_hair via Instagram
Side Part
The best hairstyles for large foreheads should not necessarily be overly elaborate and a side part successfully proves it. Simply defining your hair with this stylish element can make a world of difference to your big forhead. The asymmetry it creates shifts the focus from your forehead to your hair on top. If you want to give it more edginess, opt for a hard part haircut, which is usually performed using a razor.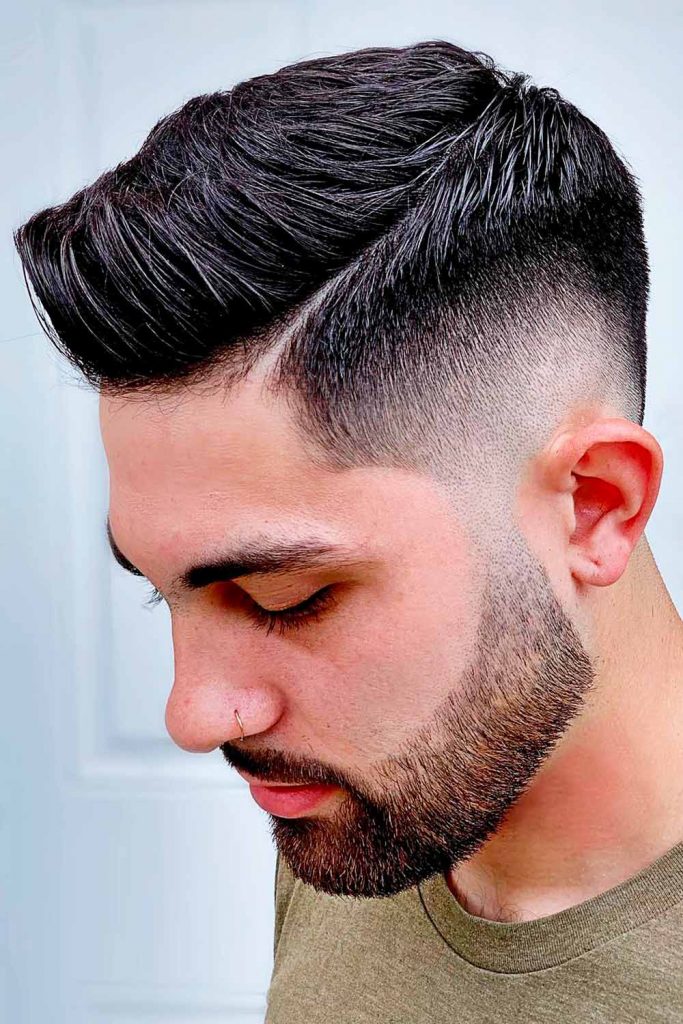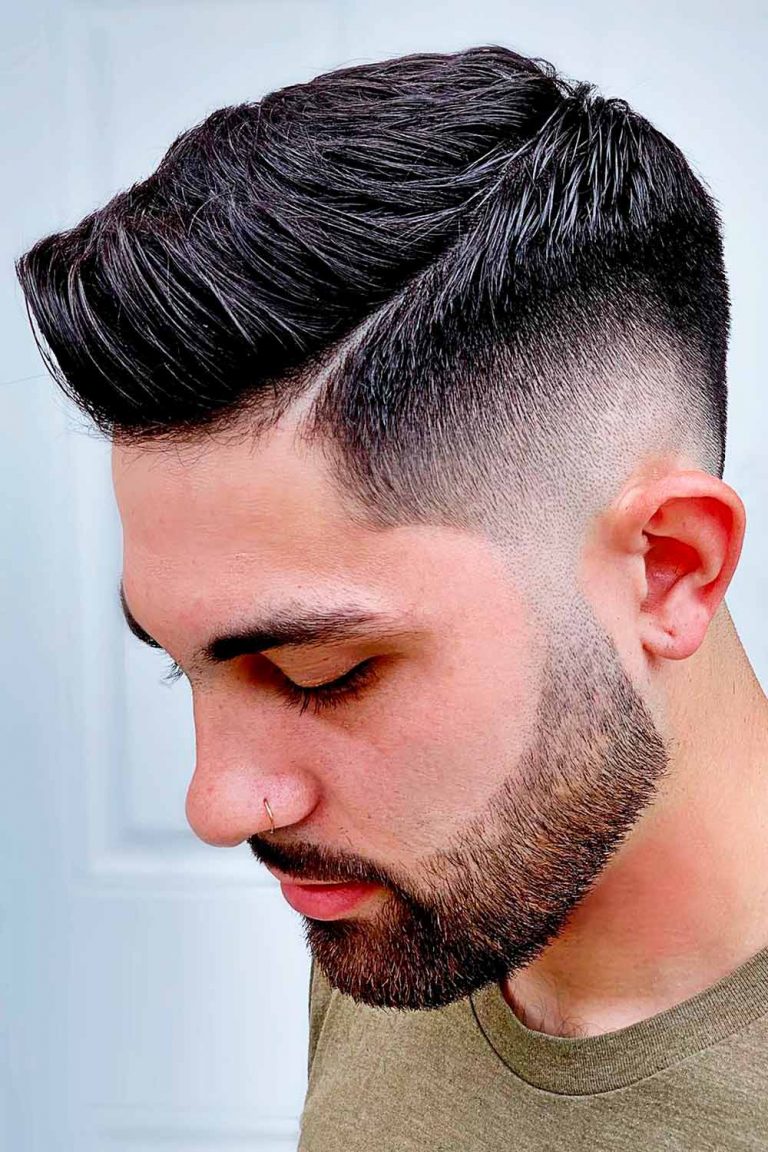 Source: @alexthegreatvivar via Instagram
Caesar Cut
Not only is a Caesar cut one of the best short haircuts for big foreheads, but it is also a great way to make your locks look thicker. Because the straight fringe covers quite a big portion of your forehead, it appears less noticeable while the textured top creates an impression of a full head of hair.
Source: @hayden_cassidy via Instagram
French Crop For A Big Forehead
Yet again, the biggest advantage of a French crop for a huge forehead is that it minimizes it by covering with a fringe. In addition, this hairstyle is particularly versatile. So, no matter what hair type you have, you can rest assured that it will look awesome on you.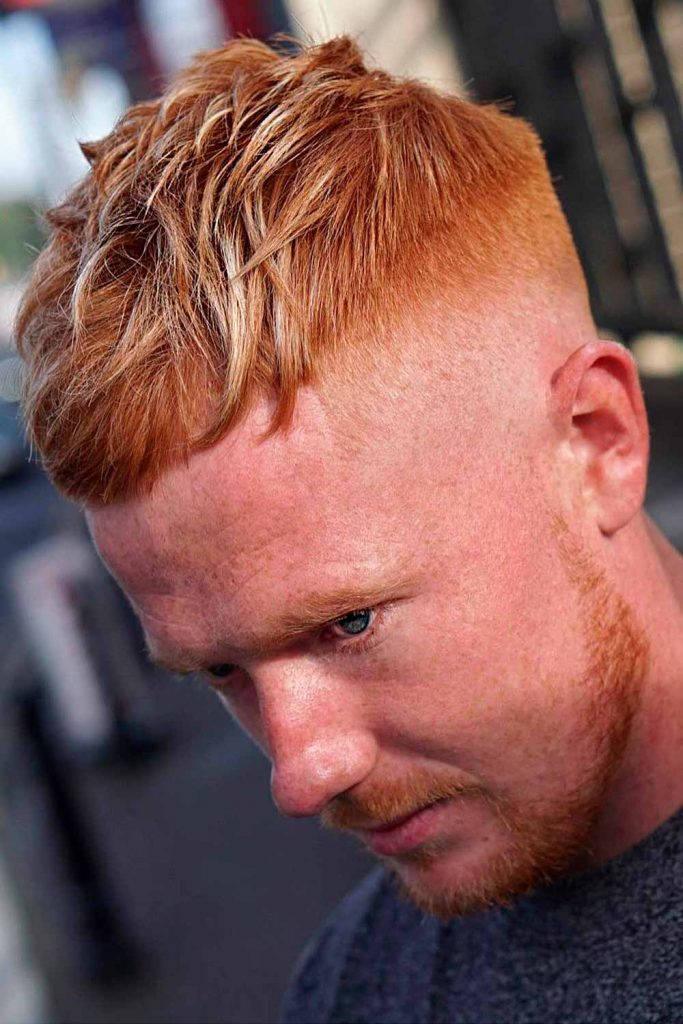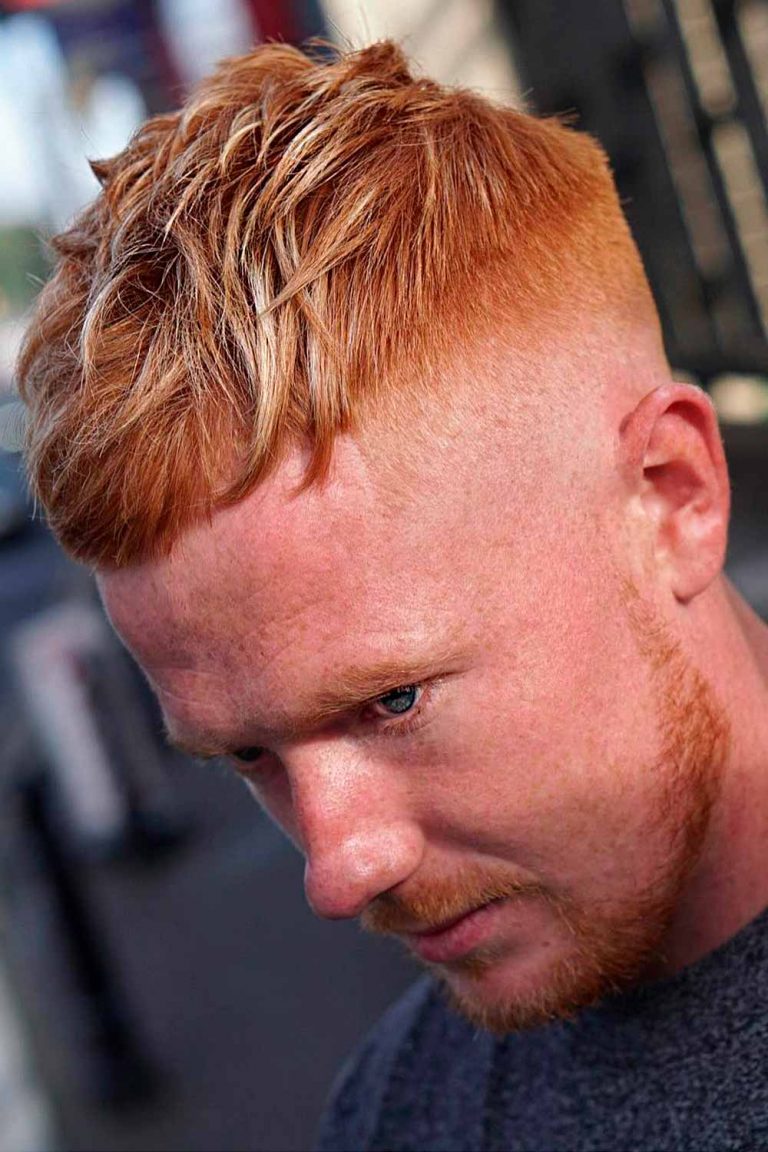 Source: @z_ramsey via Instagram
Crew Cut
A crew cut is a timeless classic that will never go out of style. As it comes out neat and dapper, it allows you to easily keep your kinks under control. Moreover, it flatters all face shapes and hair types, so opting for it is always a good idea. What makes it one of the best big forehead haircuts is the fact that it does not create much contrast, thus not attracting unnecessary attention to your big forehead.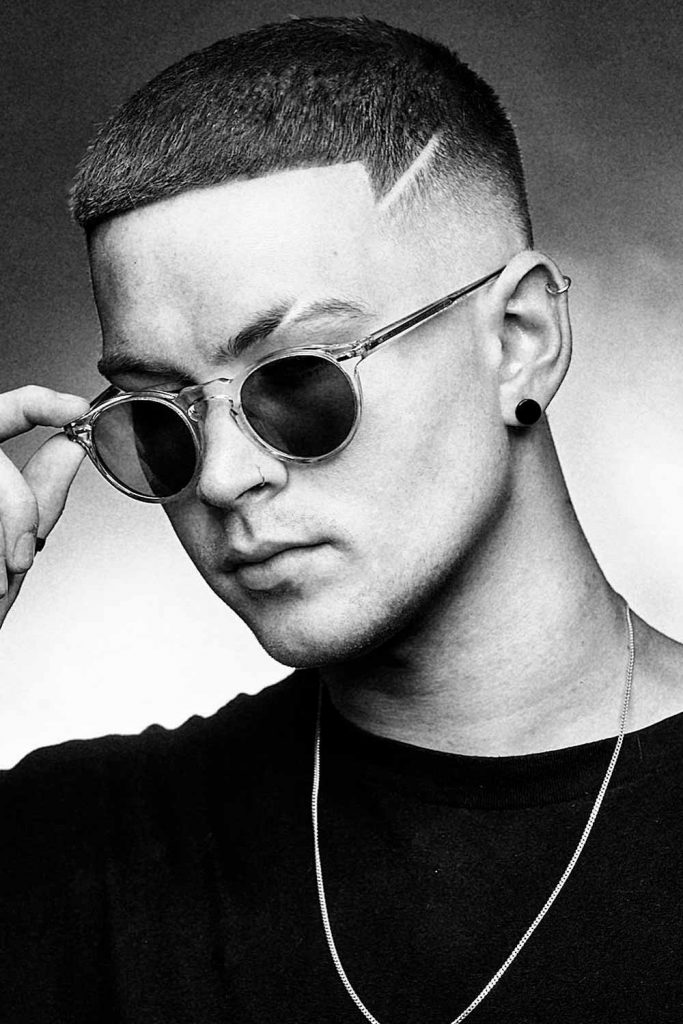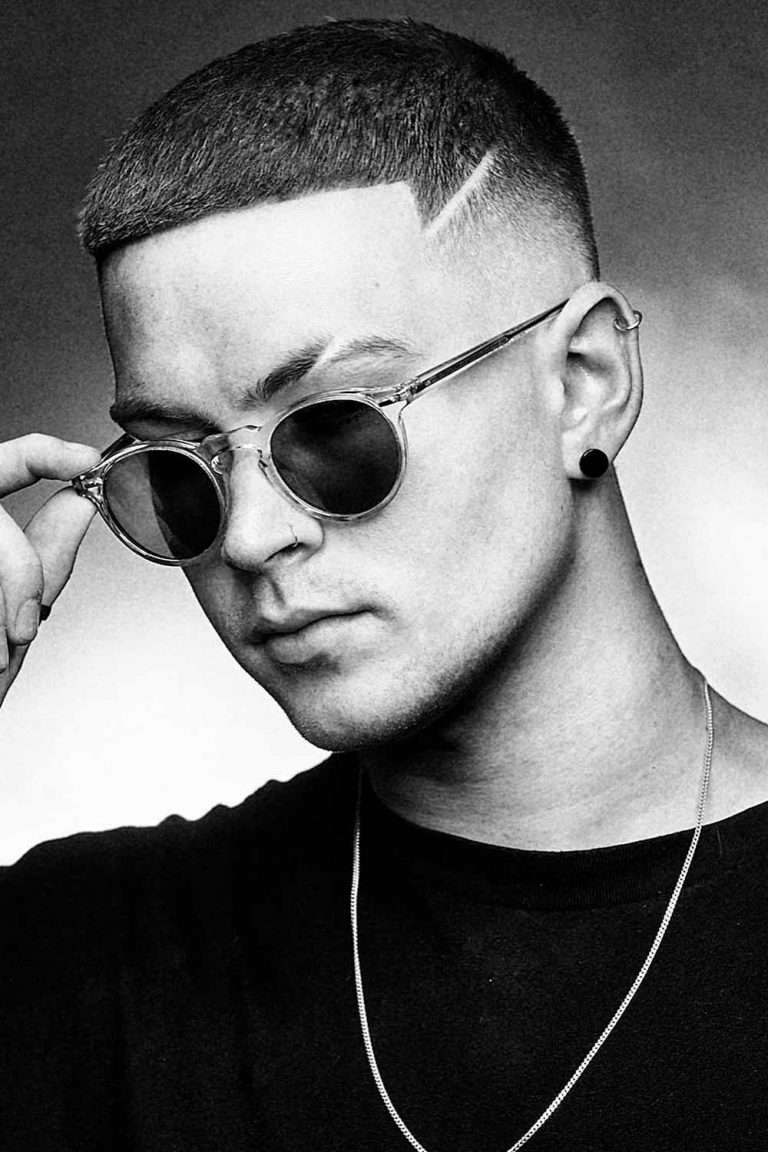 Source: @r.braid via Instagram
Medium Length Hair With A Fringe
How do men hide a big forehead? Using bangs! It goes without saying that a fringe is a very flattering hairstyle for big forehead male faces. As it usually hangs over your forehead, it makes it appear much smaller. Besides, you can pair it with a mid length hairstyle that frames your face, thus visually making it wider.
Side-Swept Fringe For A Big Forehead
As we mentioned earlier, because a fringe covers your forehead, it seems not as eye-catching. However, this concerns all kinds of fringes, not only straight. So, if you want to give your hairstyle a slight twist while concealing your expansive forehead, go for a side-swept fringe hair look.
Source: @hairraribarber via Instagram
Choppy Crop Top Fade
A choppy crop top fade has been highly popular lately and not only among men with a big forhead. Thanks to its stylish and elaborate appearance, it is a haircut of choice for many fashion-savvy guys. Yet, its ability to conceal a big forehead can't be overlooked.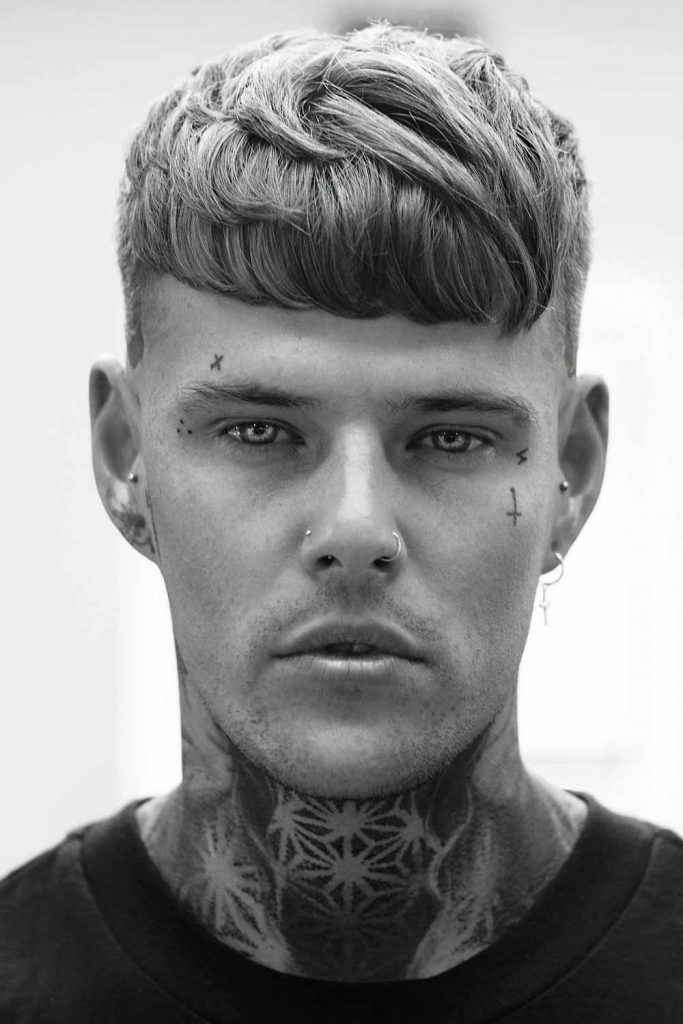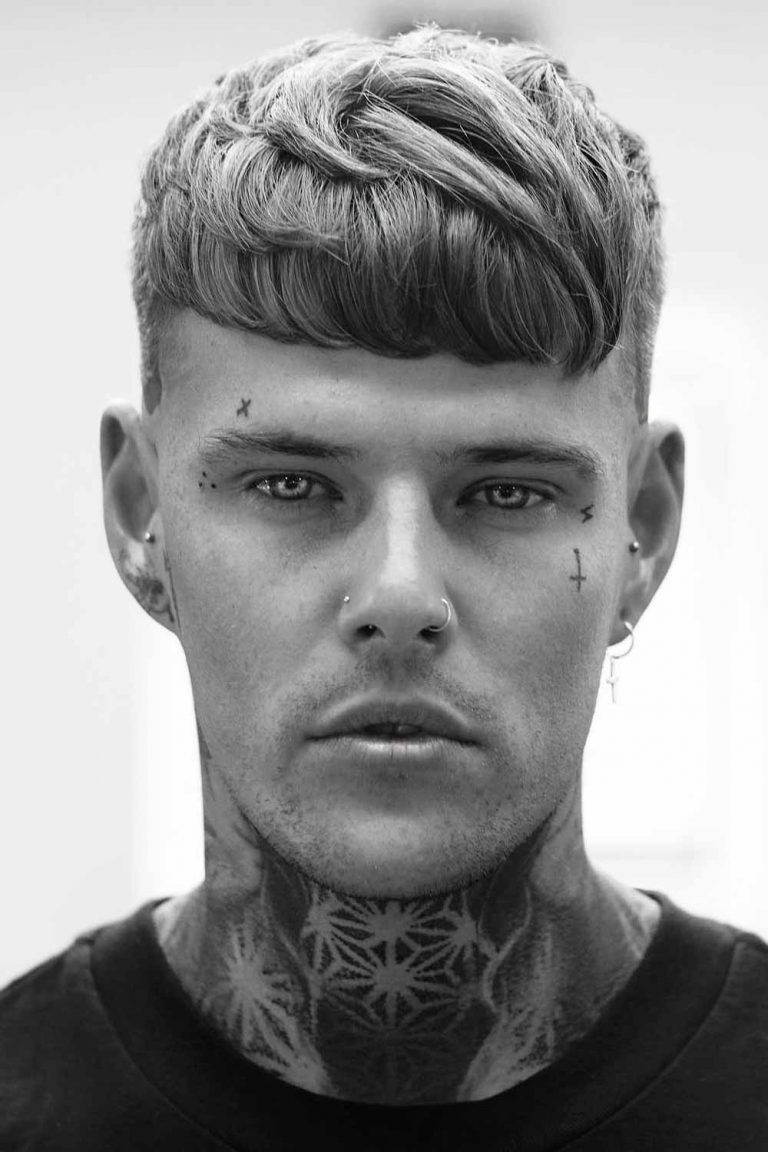 Source: @alan_beak via Instagram
Bro Flow
A bro flow is one of the trendiest hairstyles for men with big foreheads. It is highly popular nowadays. So, if you try to keep abreast of fashion, this is your way to go. Styling requires blow drying your hair with the help of a hair dryer and a texturizing product. Free falling strands in the front will keep the focus away from your forehead.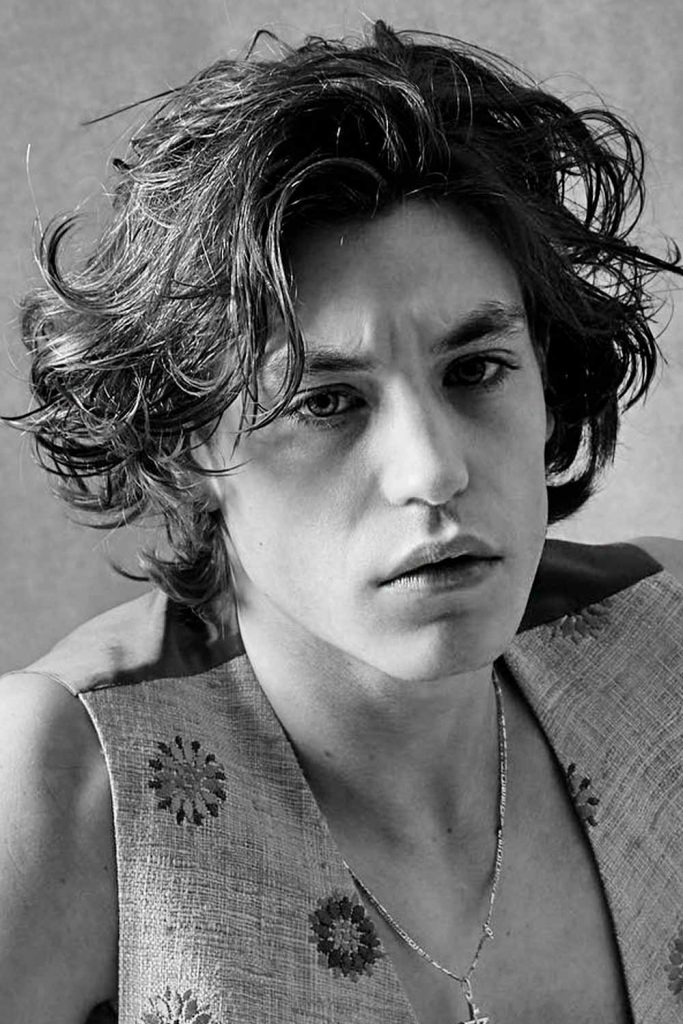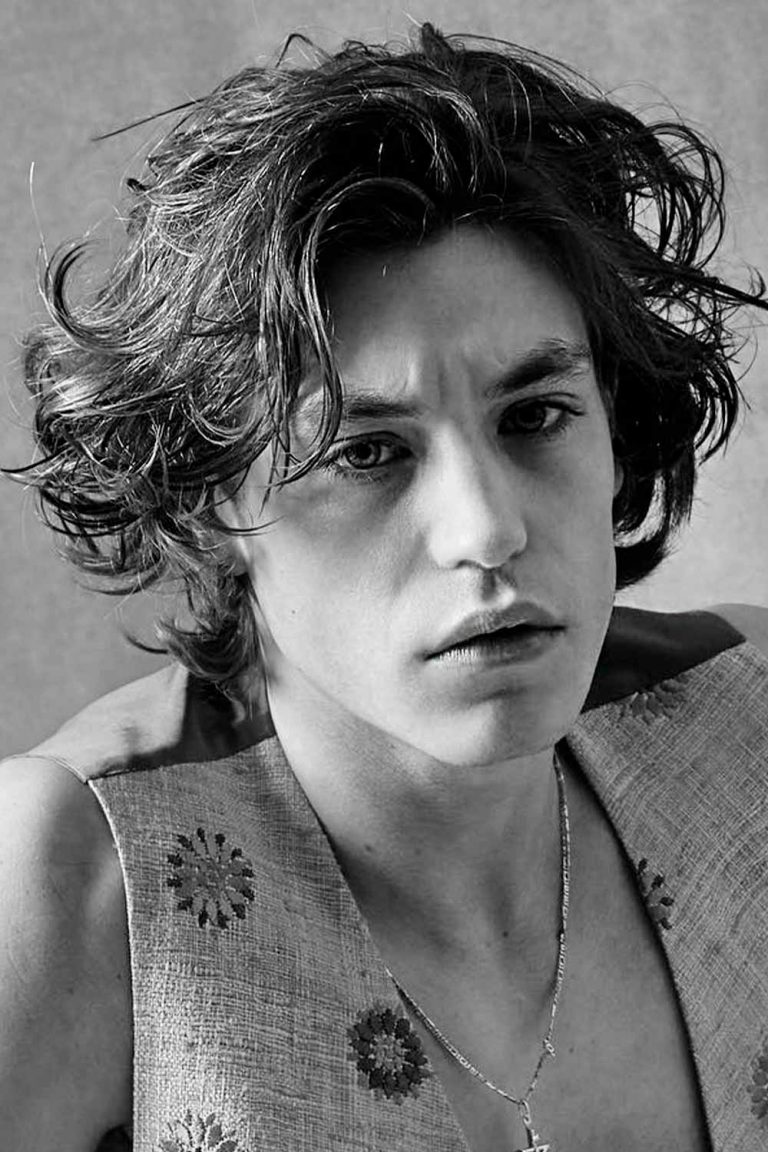 Source: @hayden_cassidy via Instagram
Clean Shave
If you think that a bald head will make your high forehead look even higher, we are here to prove you wrong. When you shave your scalp, your hairline dissolves, so it becomes hard to tell if you have a big forehead. This hairstyle looks particularly masculine and daring, so no matter whether you are a white or black guy with big forehead, we strongly recommend paying attention to it.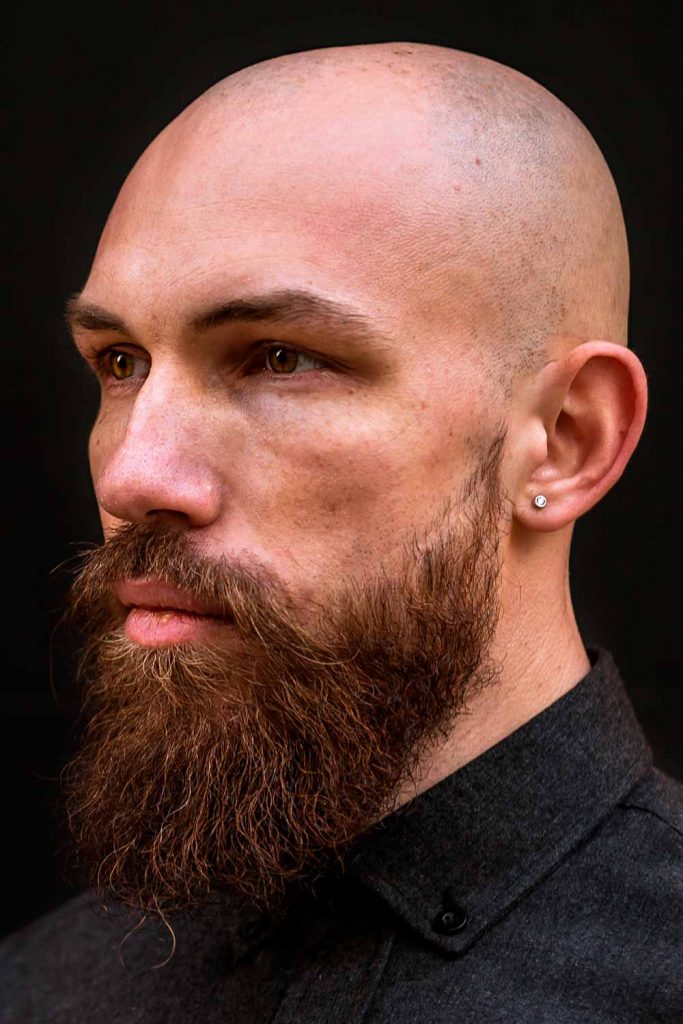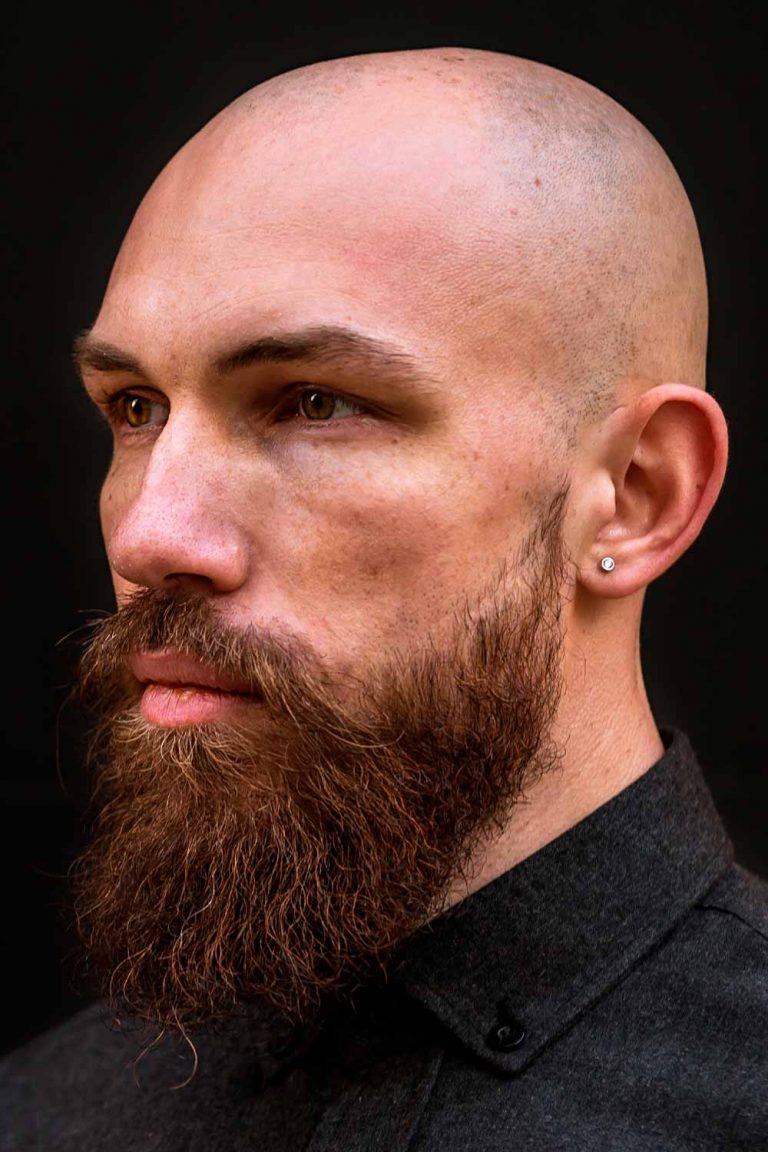 Layered Side Swept Fringe Can Hide Your Big Forehead
When you lack ideas, you can draw some inspiration from celebrities with big foreheads, such as Tom Cruise and Brad Pitt. If you explore their hairstyles closer, you will notice that a layered side-swept bangs graces their heads quite often. And there is a really good reason for this. Such a hair look distracts attention from a prominent forehead by covering it and bringing a layered cut to the spotlight.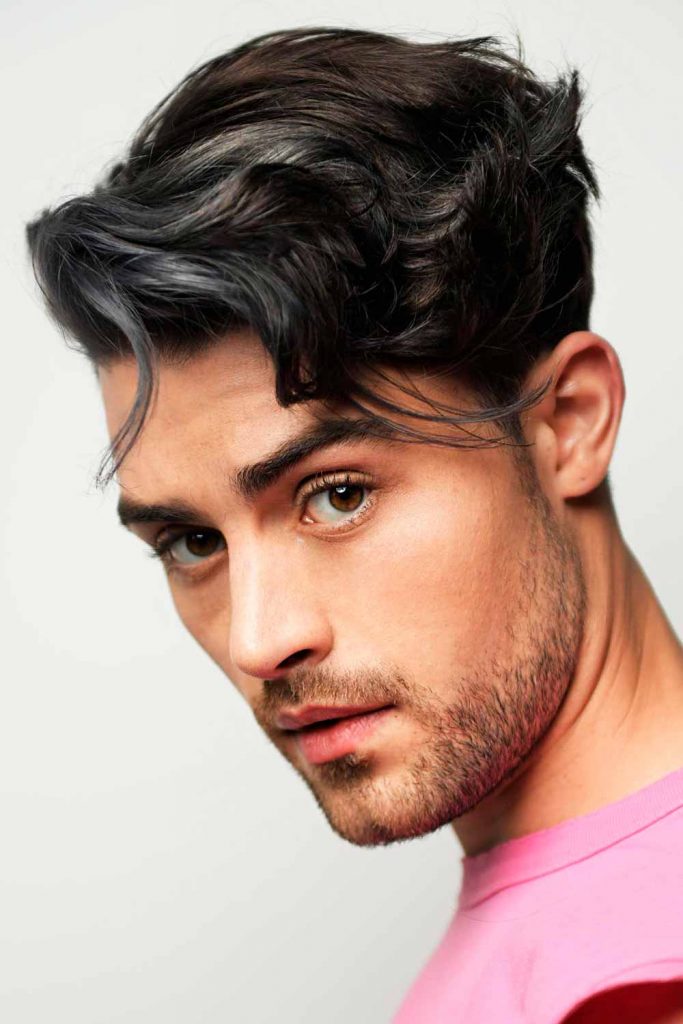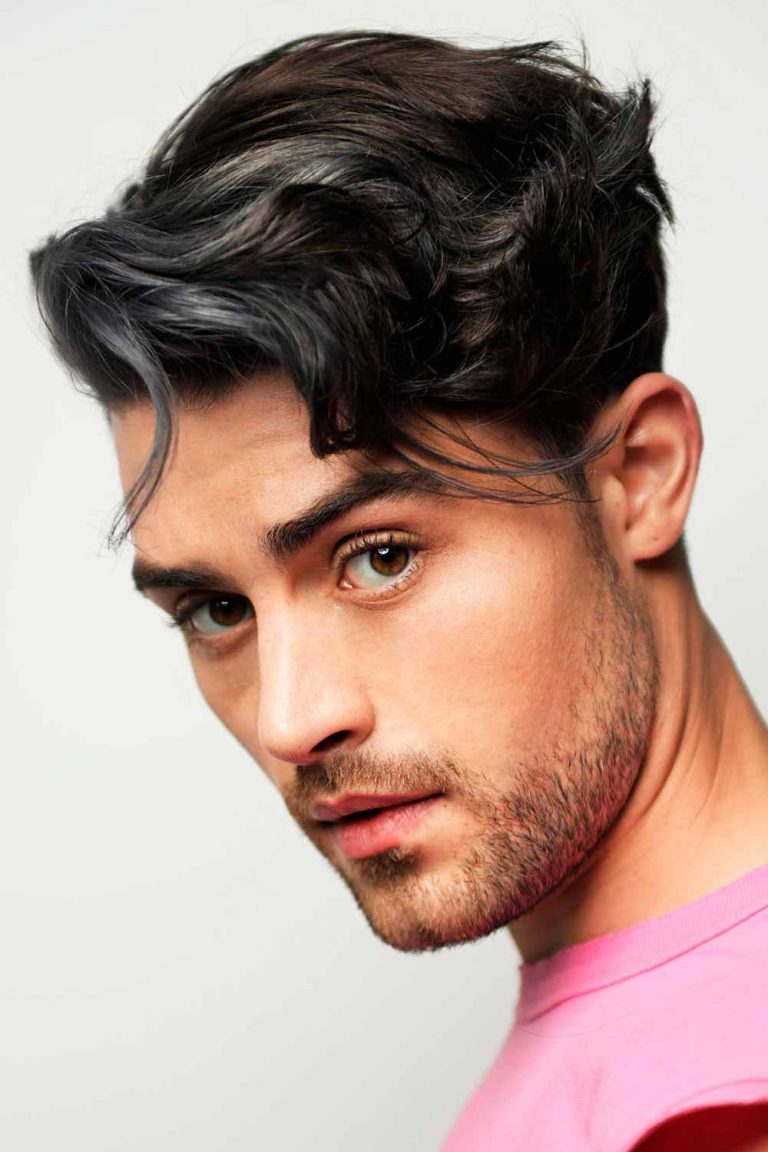 Source: @sidsottungacademy via Instagram
As you can tell, a big forehead is definitely not the reason to get upset. With the proper hairstyle, you can easily disguise this imperfection and end up looking classy and chic. Hopefully, our guide helped you make your best choice.
Comb Over
Another great example of haircuts for men with big foreheads is a comb over. It allows you to shift focus from your prominent forehead, drawing more attention to the sides. Complement it with a fade or taper to give your hair look a stylish touch. Yet, do not take off much hair from the sides, as you do not want to make your face more elongated.
Source: @joshconnollybarber via Instagram
i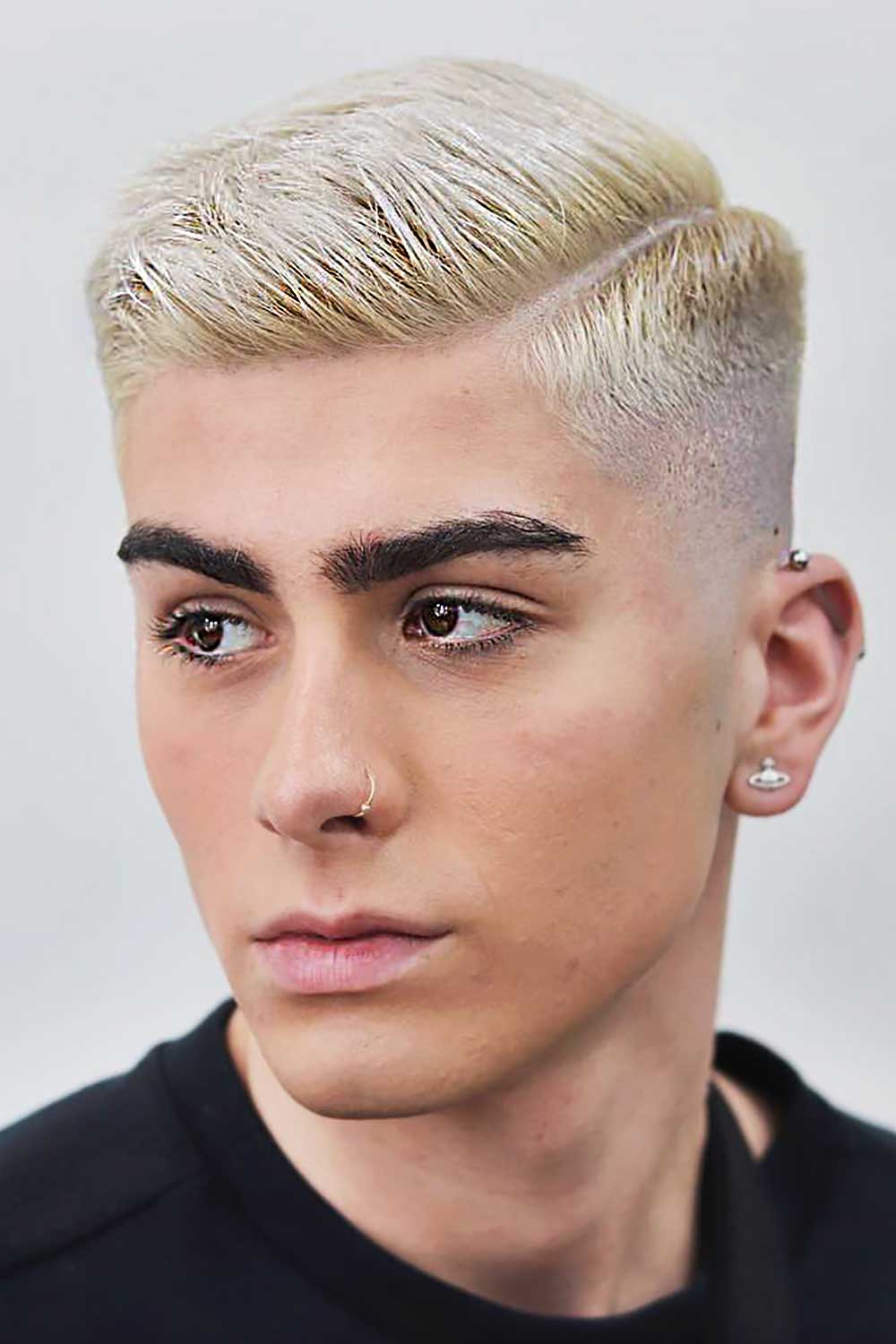 Source: @cheobarberpr via Instagram
i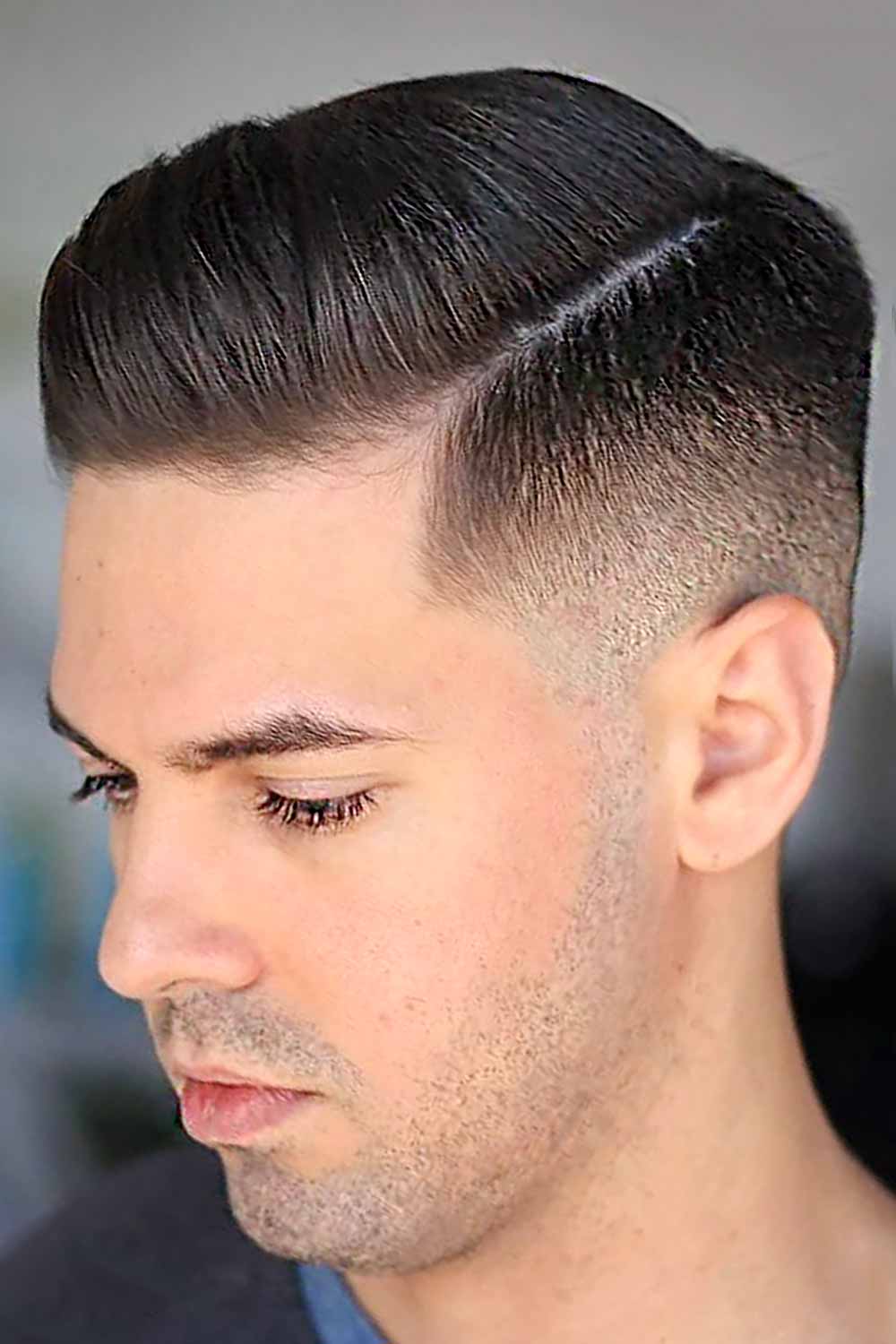 /
Short Textured Hairstyle
If you are considering short hairstyles for big foreheads men, make sure they feature a lot of texture on top. For extra emphasis, style your hair with a blob of a texturizing product by rubbing it into your locks. This will allow you to take your haircut to the spotlight without accentuating your forehead much.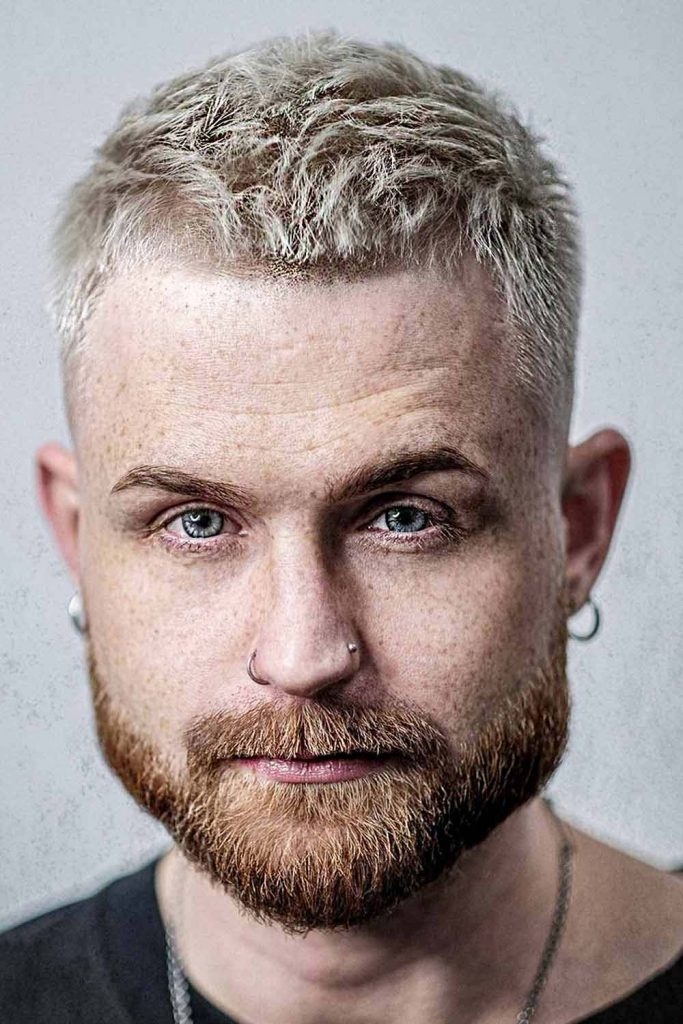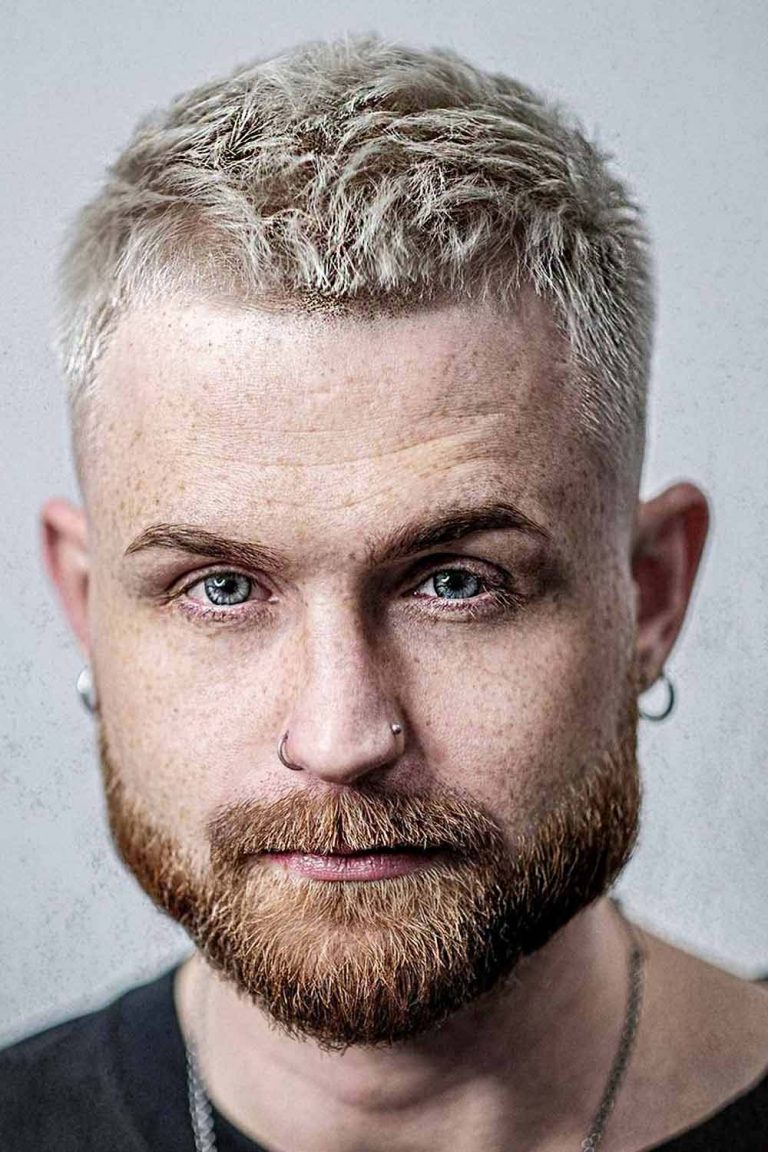 Source:@a.nizhnick via Instagram
Slicked Back
Slicked back hair is among the most popular haircuts for big foreheads and thin hair male combos. It is your surefire way out if your hair texture does not allow for many other styling ways. It is also suitable for any ambiance so you may not worry that your haircut is going to look inappropriate.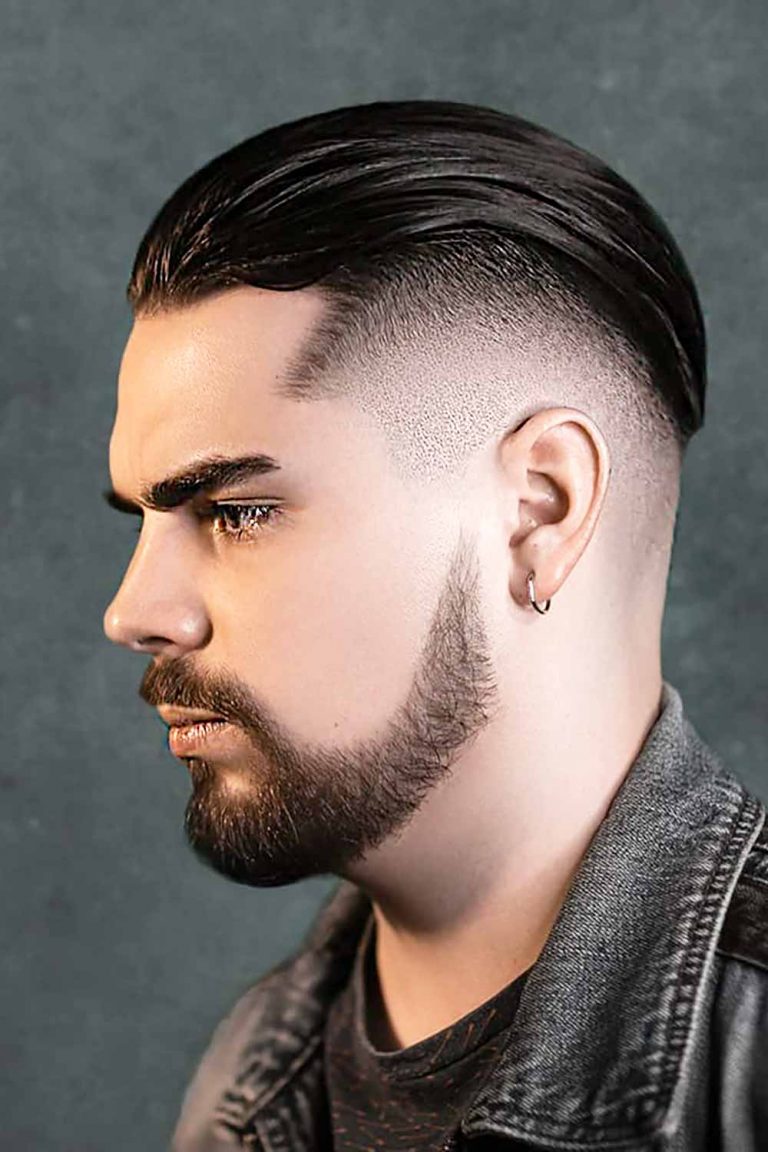 Source:@barberking_kh via Instagram
Side Swept Quiff
If you wear a quiff, do not style it straight up. It is better to sweep it to the side a bit so that your forehead does not look even bigger. The most flattering male haircuts for big foreheads are asymmetrical, so try to keep that in mind when styling your locks.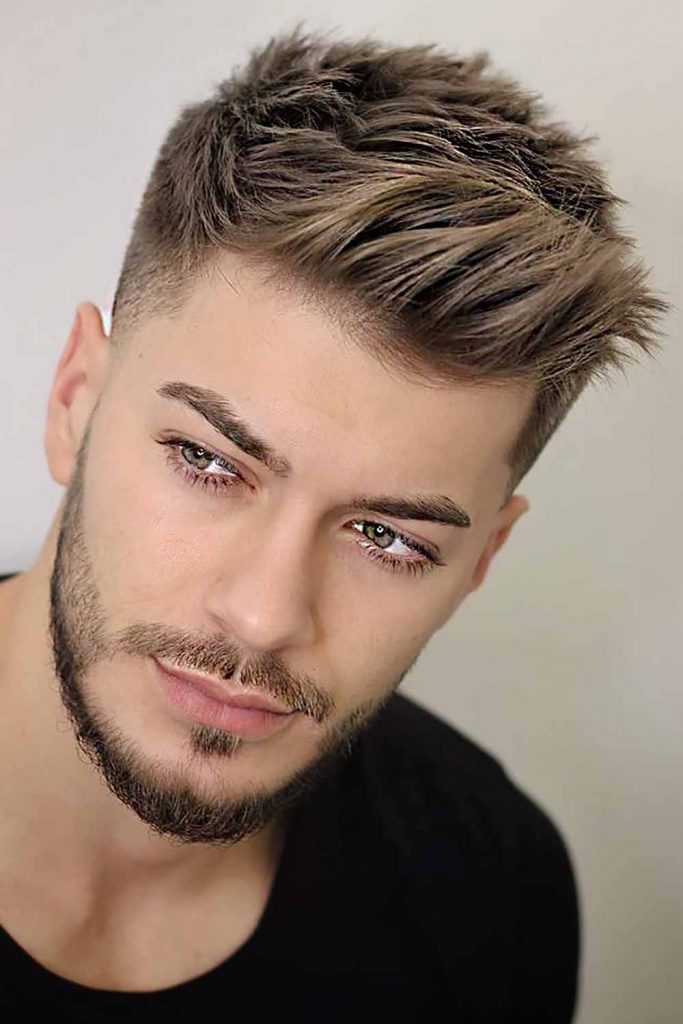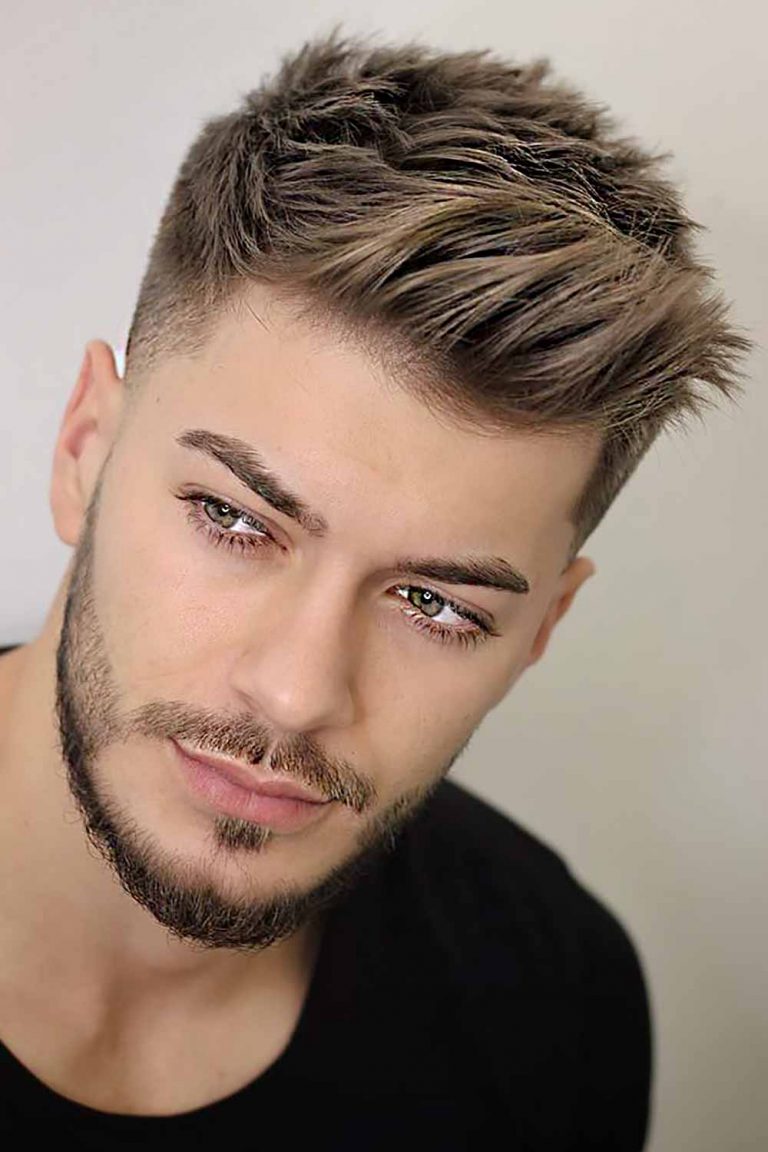 Source:@horatiuthebarber via Instagram
How Do You Style A Big Forehead Haircut At Home?
If you have a prominent forehead, you may be looking for the best way to make it look smaller. And that is when the right haircut comes into play. So, how to make forehead smaller with the help of a haircut? Those who do not want to be bothered with elaborate styling can get away by hiding their forehead under a fringe. Also, you can brush the hair outward or in any other way you find suitable for your face shape.
Always keep your hair clean and use hair products that are aimed at the type of your hair. For guys with straight locks, the majority of hair products work just fine. The only exception is a hair pomade, which is used for side parted and slicked back hairstyles, and you want to avoid them. Use a hair paste with a matte finish for styling anything from a Caesar haircut to a French crop.
Men with curly hair will benefit from a hair cream and a mousse, which will help to accentuate their hair texture. But it is also possible to ditch any hair product, as your tresses are already the center of attention. Thick hair guys should go with a styling clay and a hair pomade, whereas those with thin manes need to stick with hairstyling products that have a water base, like a mousse, a lotion, a hair spray, a cream and a hair gel.
FAQs
What hairstyle is good for big forehead male?
One of the best hairstyles for guys with big foreheads is a comb over. To get the look, you need to leave the hair on the top slightly longer than that on the rest of the head. Then, brush it to the side so that it covers your hairline, thus creating an illusion of a smaller forehead. A side parting and a fade will help you to make your hairstyle more modern.
Do big foreheads look good on men?
Although there is a common belief that having a big forehead is a flaw, the research shows that there are plenty of people who find this facial feature attractive.
How many fingers is a big forehead?
There is even a term that defines a big forehead, which is a "fivehead" also known as a five finger forehead. As it is not hard to guess, if the height of your forehead equals a five finger distance, then it is considered big.
How can I hide my big forehead?
While there is no need to hide this personal feature that makes you unique, if you do want to disguise it, there are multiple hairstyles for big foreheads. Their main aim is to draw attention away from your forehead. A textured haircut with bangs is a surefire way how to make your forehead smaller.
Was this article helpful?