If you still hesitate about whether to go for a fringe bangs hairstyle or not, then we will help you to make the right decision. A fringe is so versatile cut that you will surely find a style that will be flattering for your facial features and suitable for your preferences. From tousled and effortless to refined and polished, the range of styling options is endless. Wait no longer and check out our guide to these trendy men's hairstyles.
What Do We Call Fringe Bangs?
So, what is a fringe haircut? When you cut your sides short and leave the top front section of your hair long so that you could style it hanging over your forehead, it is called a fringe cut.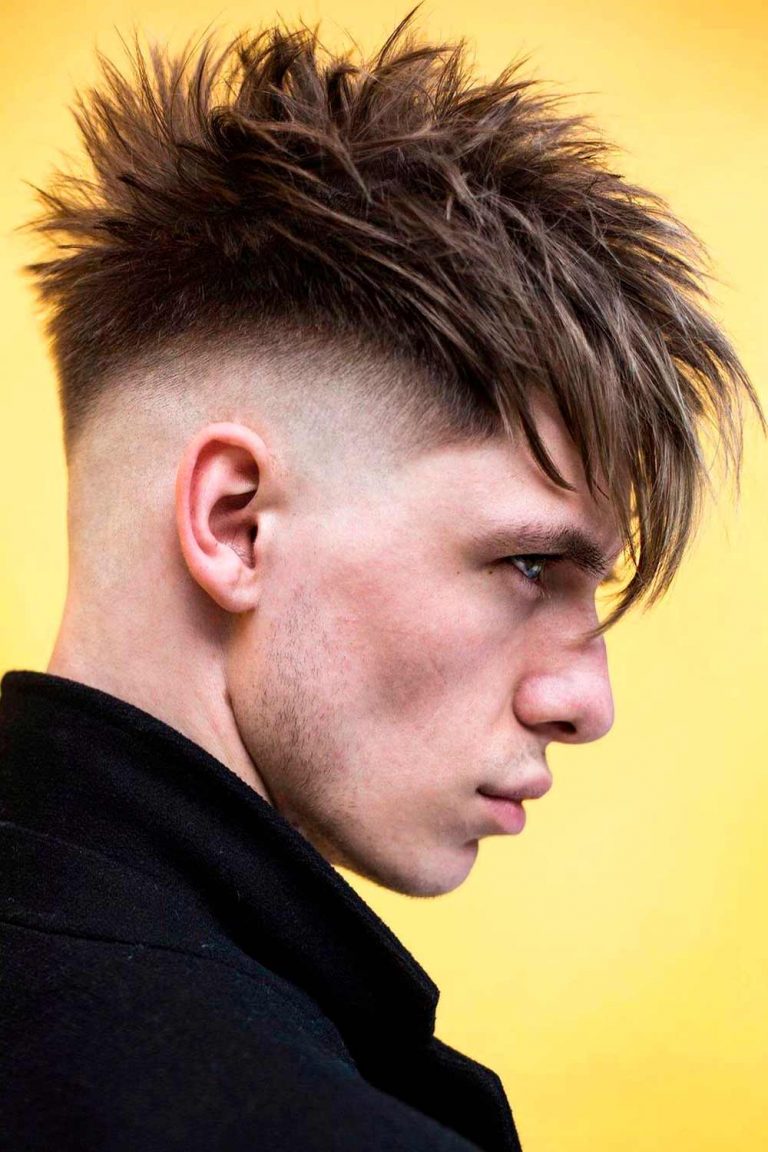 Source: @r.braid via Instagram
Best Fringe Hairstyles For Men
Of course, we could not leave you without a dose of inspiration and thus prepared this stunning collection of the most stylish hair cuts with bangs.
Side-Swept Fringe Bangs
Want a hairstyle that looks elegant while being effortless? With a side-swept fringe haircut men can achieve both and even more. It brings a dose of style to your appearance and looks flattering for your facial features.
Source: @los_cut_it via Instagram
Flowy Men Bang With Short Sides
With a flowy messy fringe men can create different stylish variations. However, to give it more emphasis and make the focal point of the look, pair the fringe with shortly trimmed sides. The variety of options is wide – a fade, a taper, an undercut, or any combination of them.
Source: @r.braid via Instagram
Textured Fringe Male
A textured fringe is your go-to option for occasions when you need to look elegant and sophisticated. It also allows you to enhance your hair structure if you have curly locks. Simply apply a blob of a hair styling product to your tresses and style them as you like.
Source: @r.braid via Instagram
Long Side Fringe Haircut Male
If you are ready to make a commitment to a long fringe, you will not regret it. The look comes out stylish and eye-catching no matter how you style it. So that your locks do not obstruct the view, push them to the side or even tuck behind the ear. Either way, it will look attractive and dapper.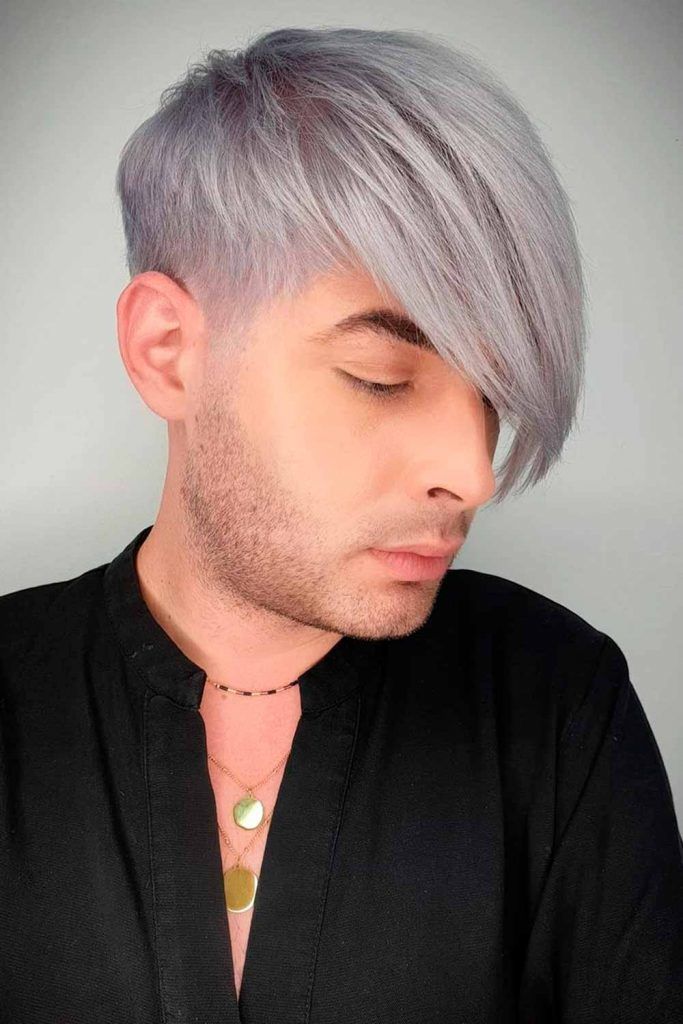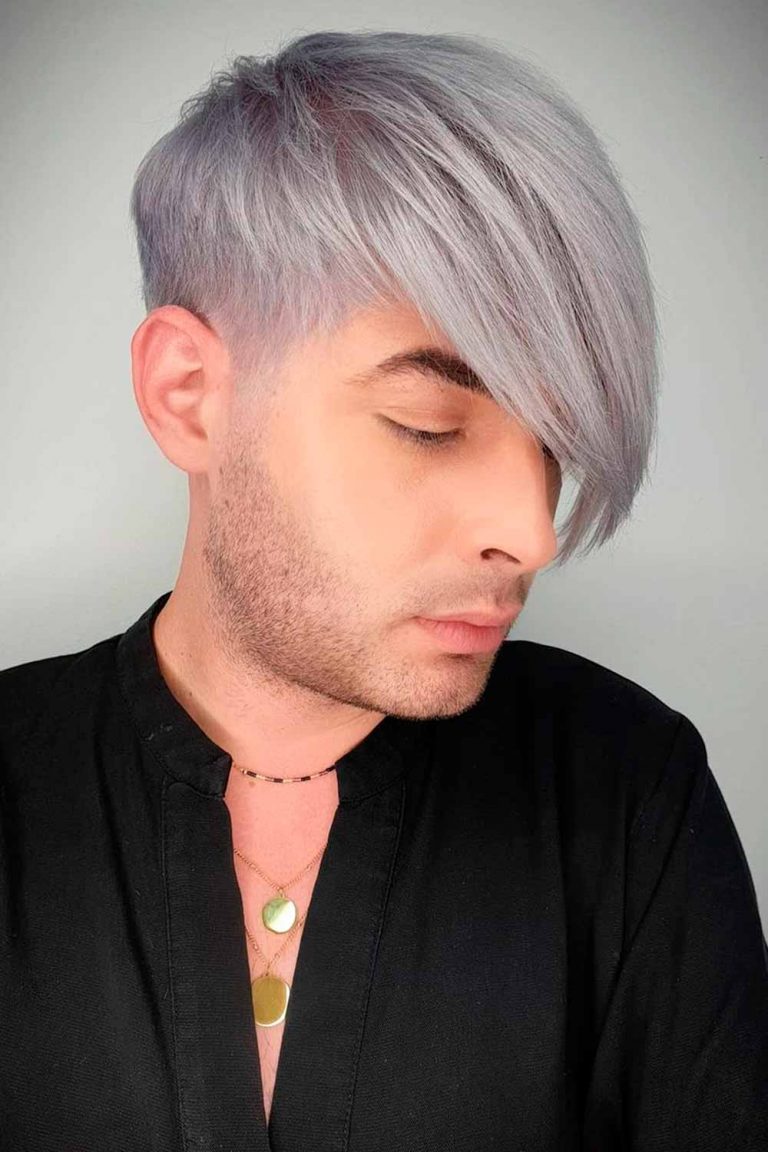 Source: @apostoldiana via Instagram
Angular Mens Haircuts With Bangs
An angular fringe hairstyle thanks to its asymmetrical appearance puts an intricate twist on your look. It generally features a long front section pushed to one side and shorter flanks.
Source: @r.braid via Instagram
Curtain Bangs
An eBoy haircut, also known as curtain bangs, has been on trend for several years already and not for nothing. This flagship of mens fringe hairstyles flatters almost anyone, giving their appearance a chic and fancy touch.
Source: @hayden_cassidy via Instagram
High Volume Mens Fringe Haircuts
To make yourself visually taller, you can add a little volume to your bangs haircut. To pull it off, you will need to employ some texturizing product and a dry shampoo. It does not necessarily have to look kempt. Messy bangs also work wonders for your height.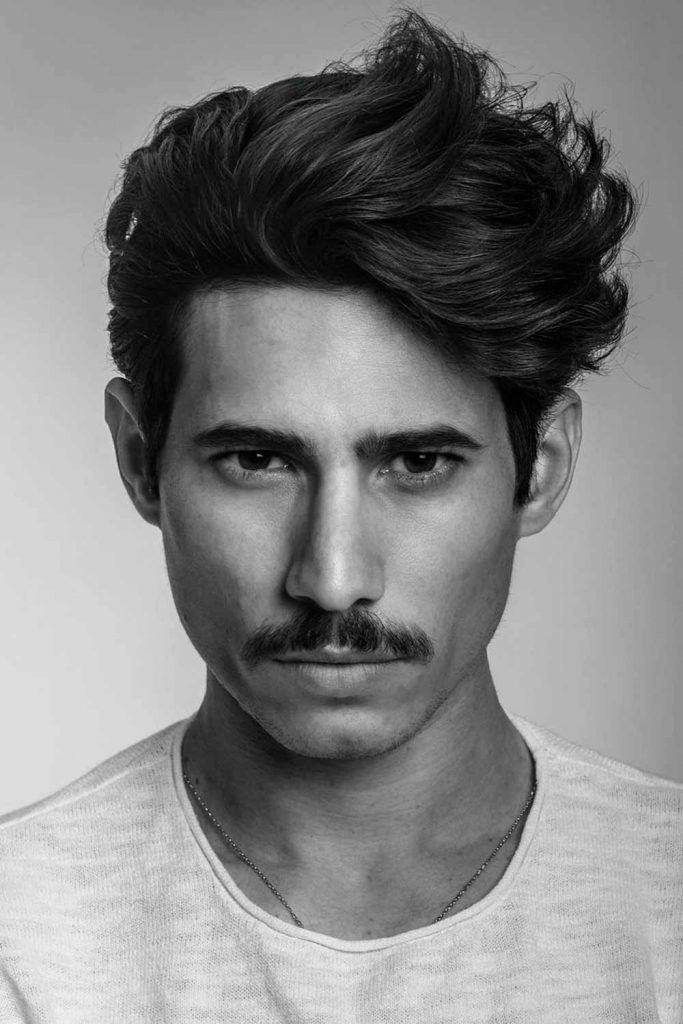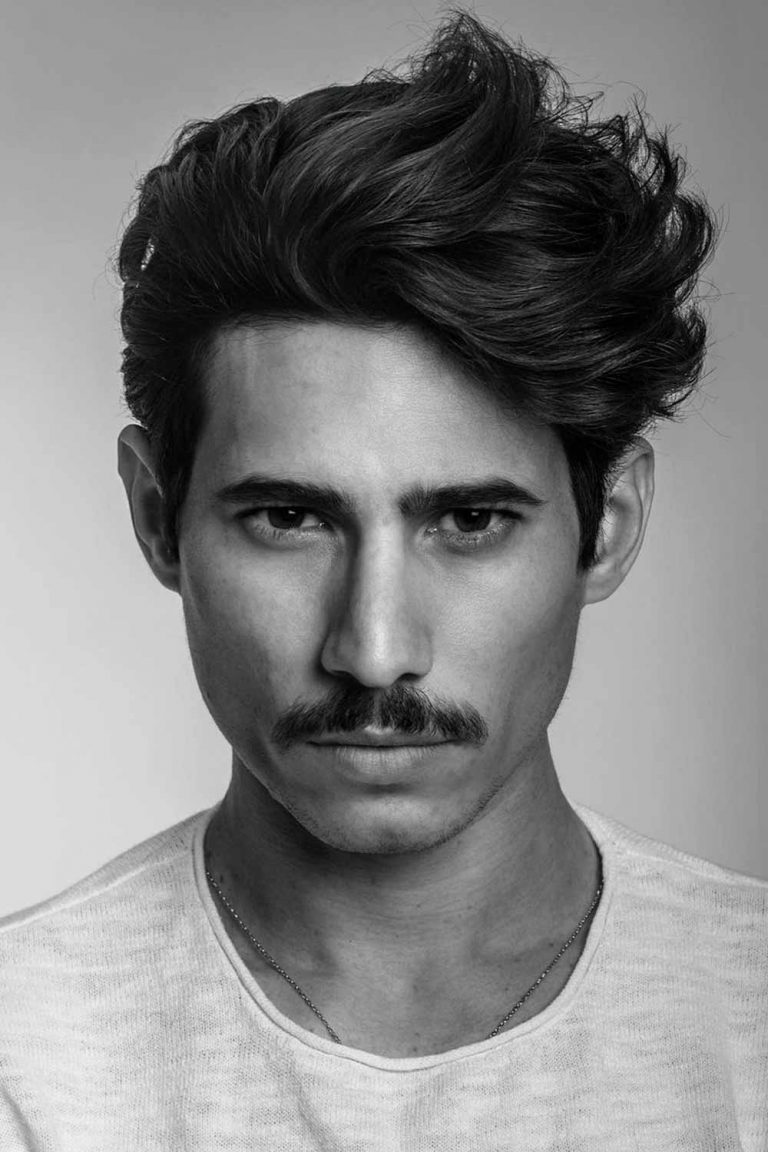 Source: @alan_beak via Instagram
Short Fringe Bangs
Not all fringe hairstyles are always long. If you prefer clean-cut looks, then you can still pull off man bangs. Just make them a little longer than the rest of your hair and add a drop of a hair product when styling.
Source: @a.nizhnick via Instagram
Downplayed Fringe Haircut
This fringe haircut is a modern take on a traditional style. Your forehead is also covered with hair, however, it is given a disheveled look for an added flair.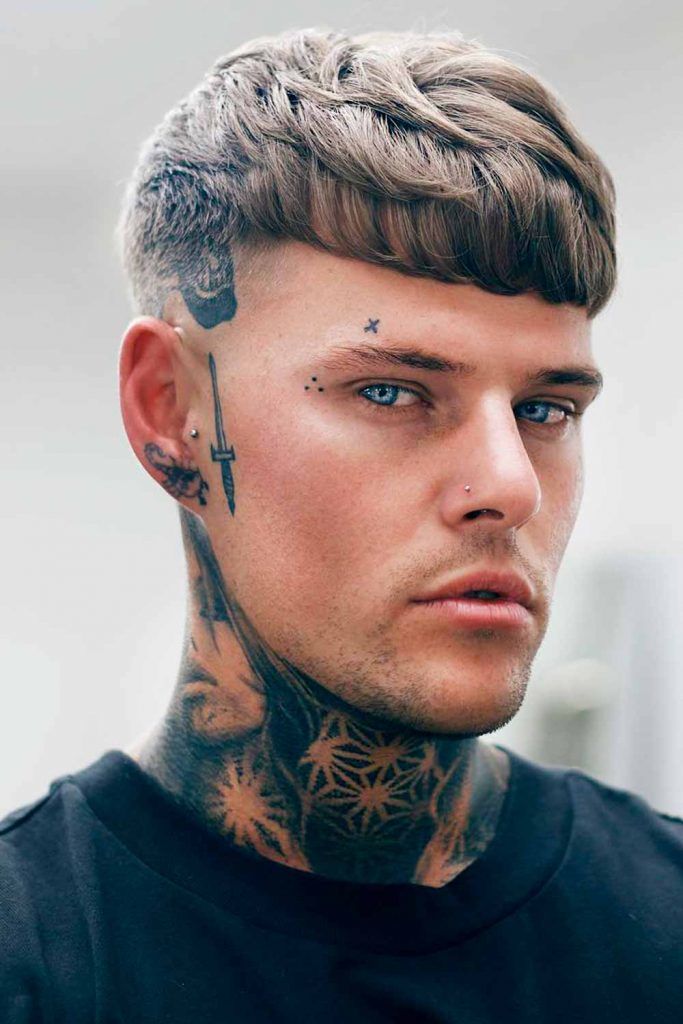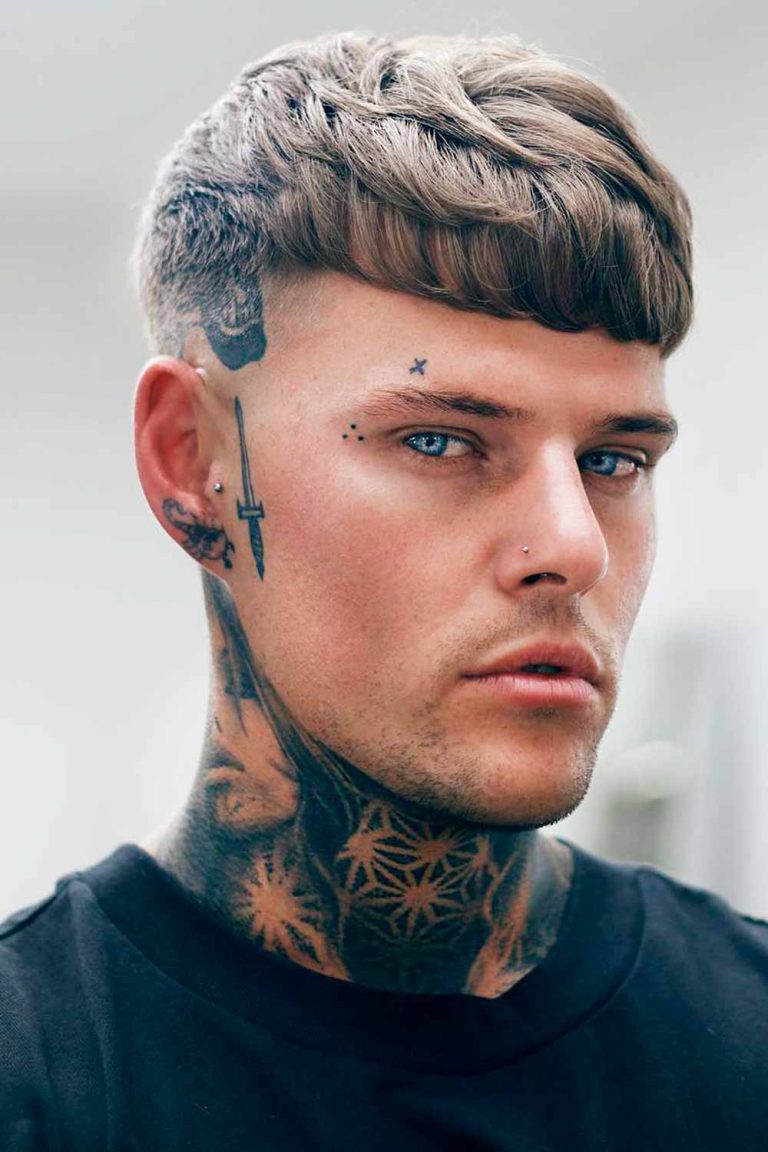 Source: @alan_beak via Instagram
Brushed Up & Back Fringe Bangs
Brushing up your fringe haircut gives you quite a lot of advantages. First, it looks stylish and modern. Second, it helps you to accentuate your facial features. And third, it is extremely easy to maintain.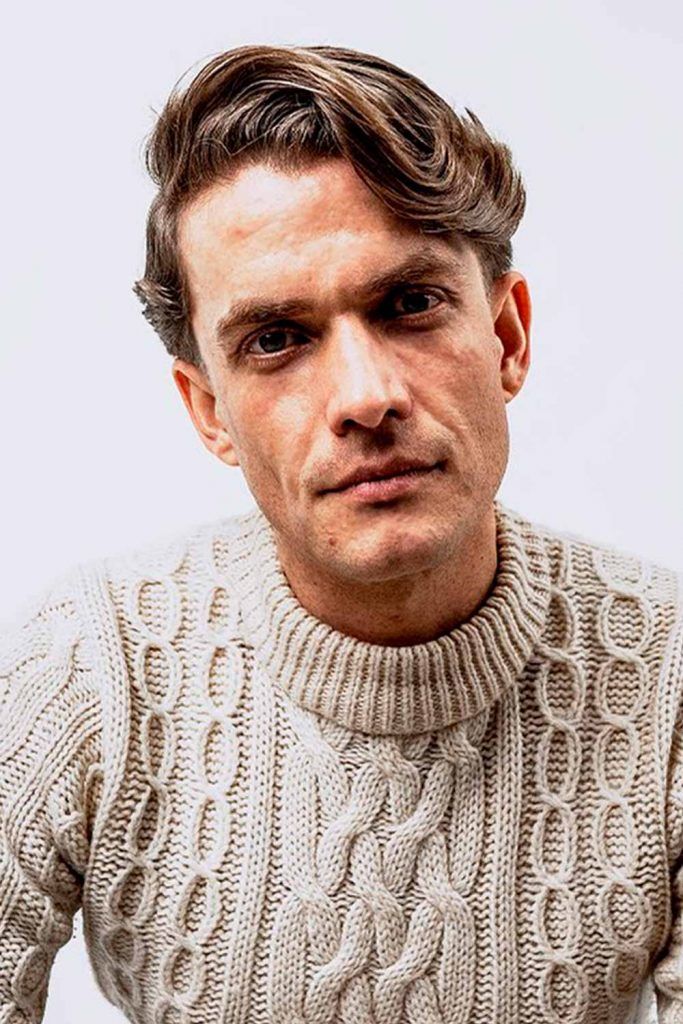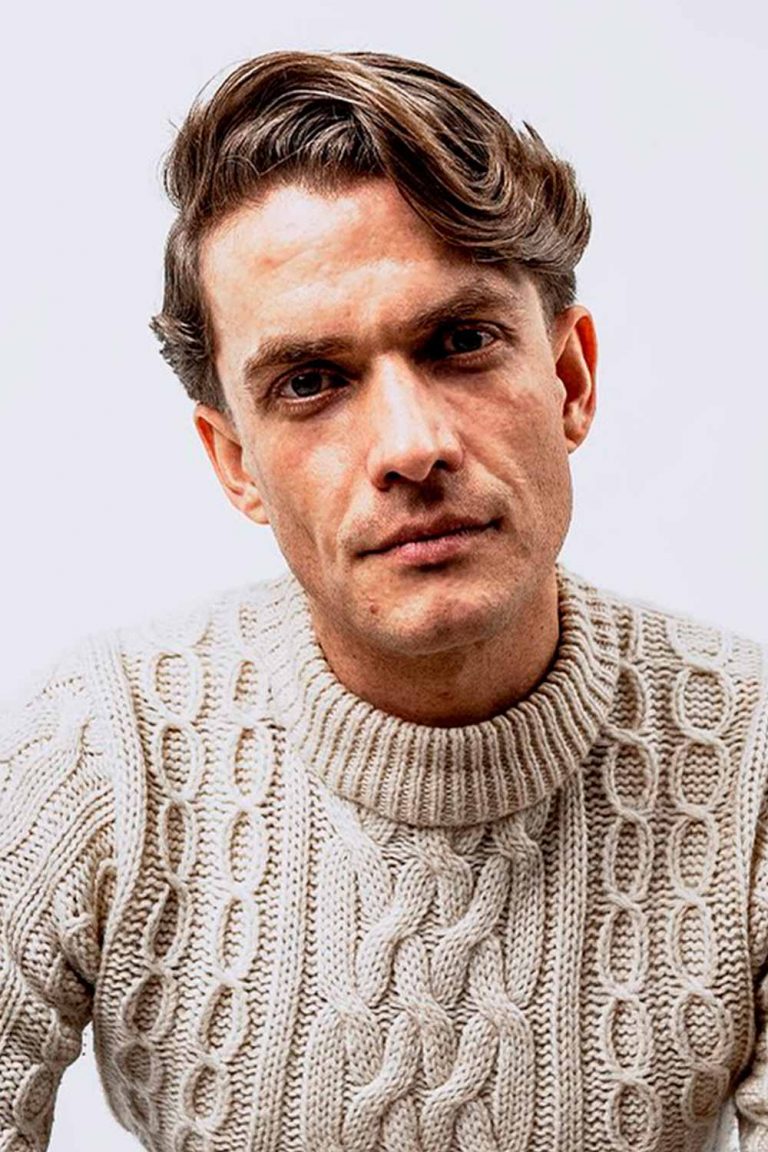 Source: @glassboxbarbershop via Instagram
Controlled Curly Fringe Male
Do you like to keep everything under control including your hair? Then this controlled curly fringe haircut male style is your go-to option. To get it, you will need to employ a substantial amount of a hair gel.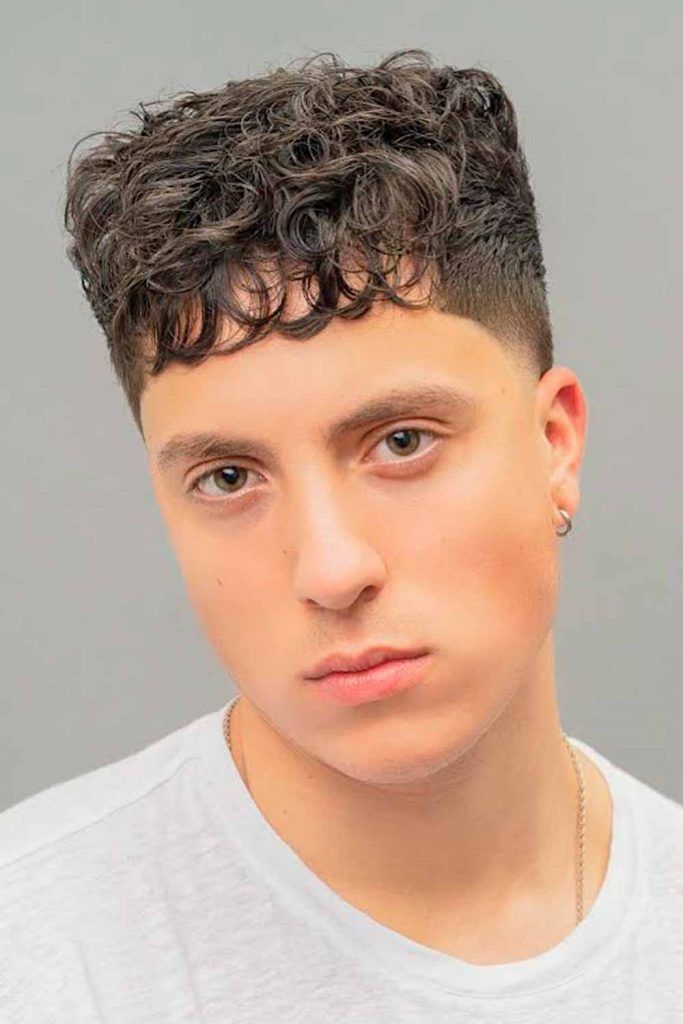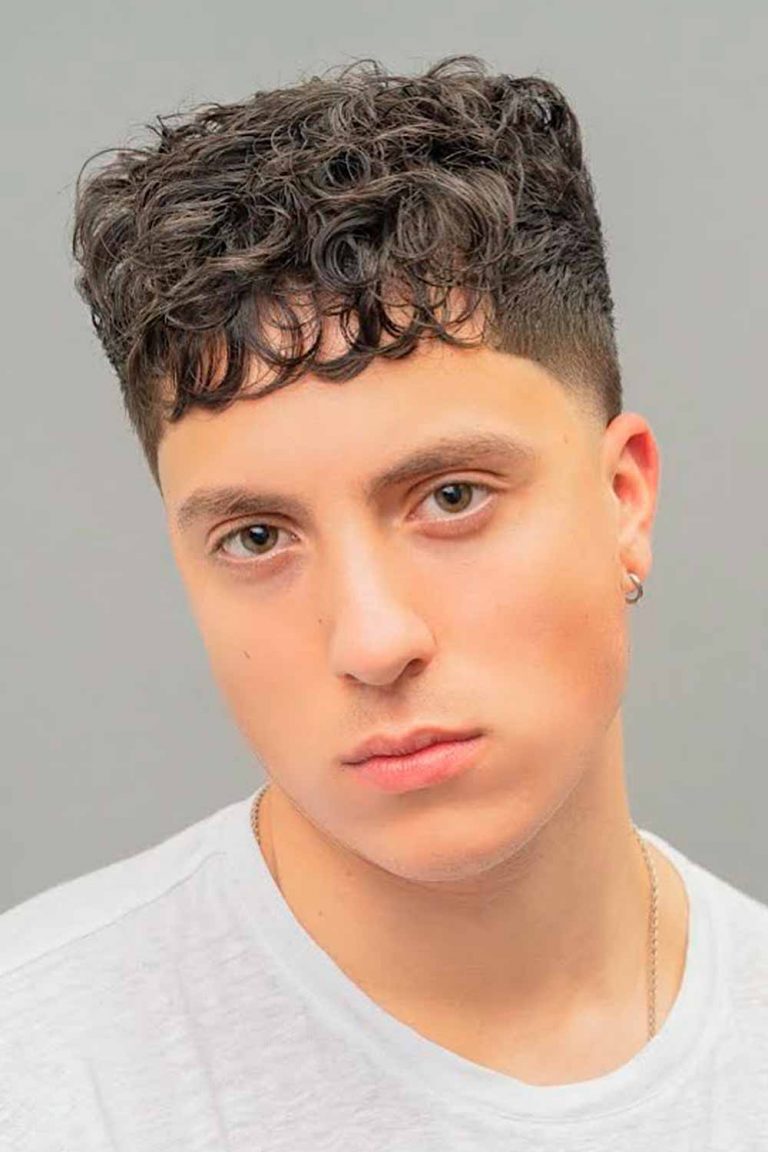 Source: @keller_konturen via Instagram
Short Tousled Men's Fringe
A great way to upgrade your fringe bangs is to tousle them with a dollop of a hair mousse. This will turn your hairstyle form classic to modern without great ado.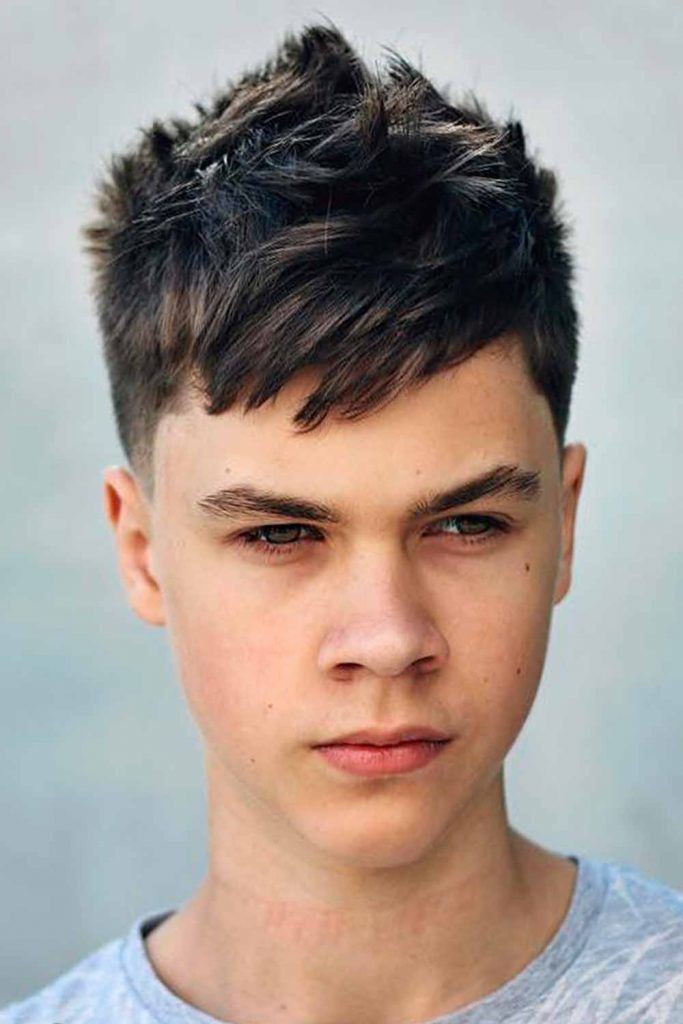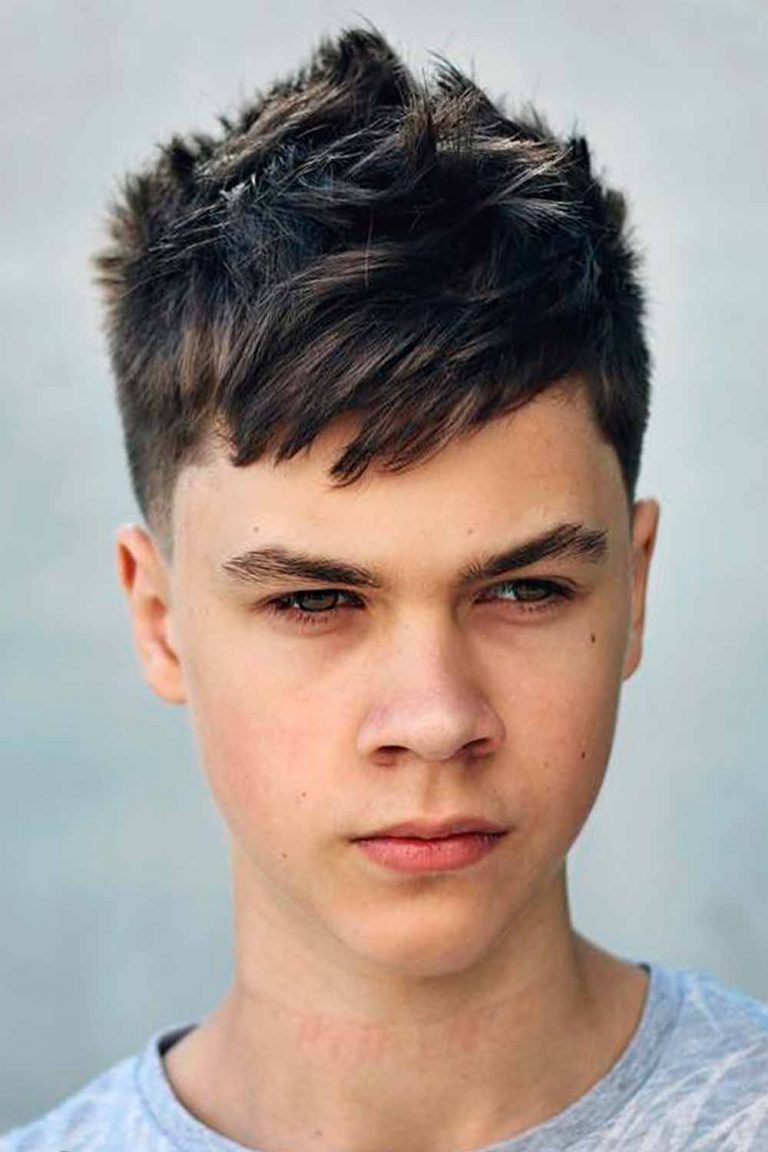 Source: @a.nizhnick via Instagram
Long Fringe Undercut
An undercut and a fringe go together like peanut butter and jelly. Because the sides are neatly trimmed, it makes the hair on top the focal point of the whole look. Thus, take care to style your fringe in the most elaborate way. Yet, should you decide to go for a simple and low-key hair look, it will still seem quite edgy and sharp.
Source: @r.braid via Instagram
Faux Hawk Men Bangs
Here is one of those cool haircuts for men who keep up with fashion. It is a fringe version of a faux hawk. The sides are trimmed much shorter than the remaining hair, which you will need to push up and forward.
Source: @r.braid via Instagram
Slicked-Over Fringe Haircut
Obviously, this is not a look for everybody. Only a really fashion forward guy would dare to channel it. The fringe here is slicked over your forehead with a generous amount of hair gel.
Source: @alan_beak via Instagram
Wind-Blown Mens Haircuts With Bangs
Give your fringe hair men style a relaxed and breezy feel by opting for a wind-blown look. This 'do can be achieved with the help of a hairdryer and styling product.
Source: @los_cut_it via Instagram
Short Textured Fringe Haircut
There are no specific length requirements when it comes to textured fringe bangs. Even if you have short hair, you can still define its structure by applying hair gel or wax.
Source: @meha_barber via Instagram
i
Source: @mattyconrad via Instagram
i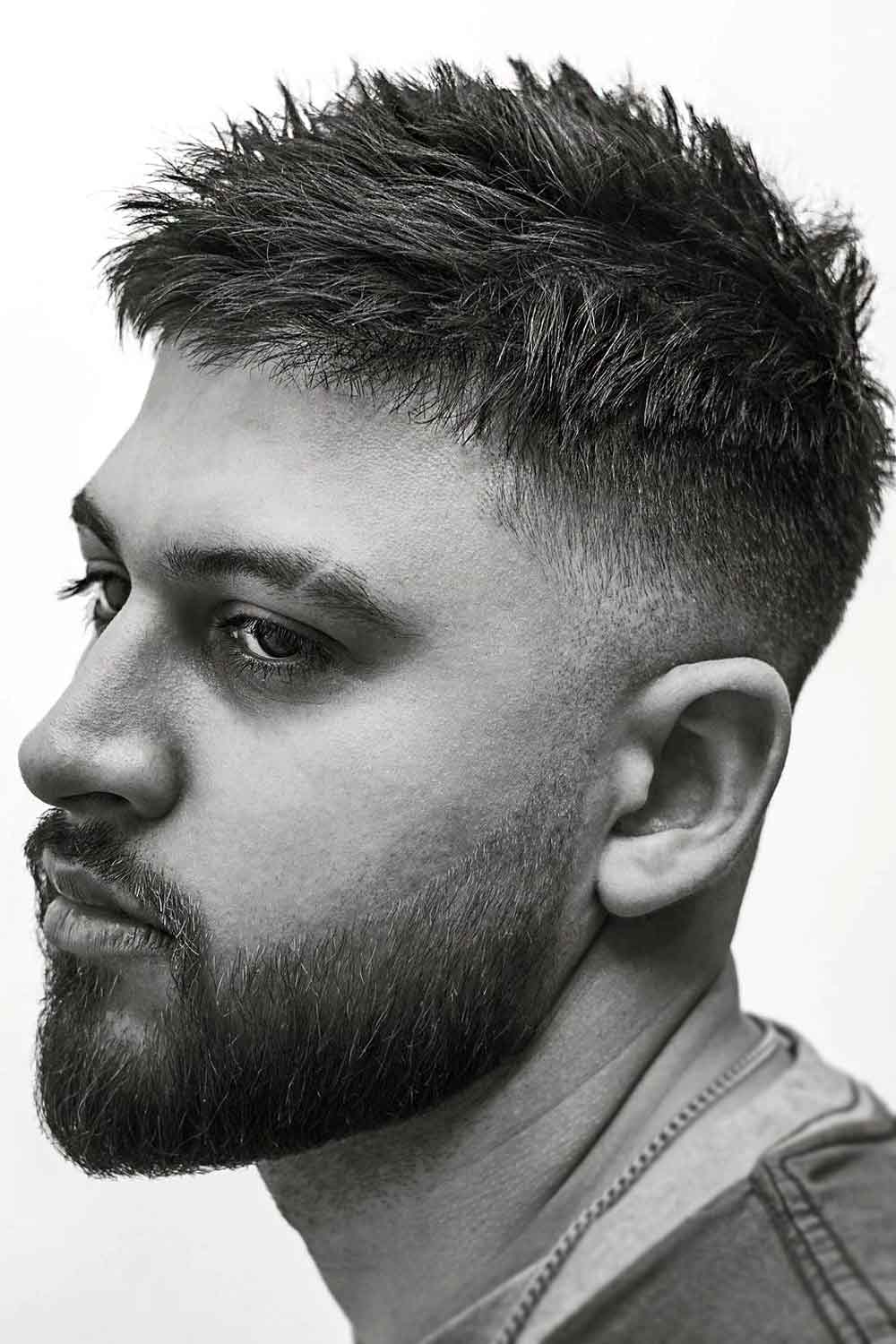 /
Curly Long Mens Bangs
This hairstyle is one of the best at showing off your curly locks structure. If you have enough will and patience, try to grow your fringe until it starts to cover your ears. One of the best things about it is that it will not require much maintenance.
Straight Bang
Should you decide to pull off a straight fringe, make sure that the rest of your look does not give the same preppy impression as your hairstyle. Otherwise, you will end up looking like a nerd, not a fashion savvy guy.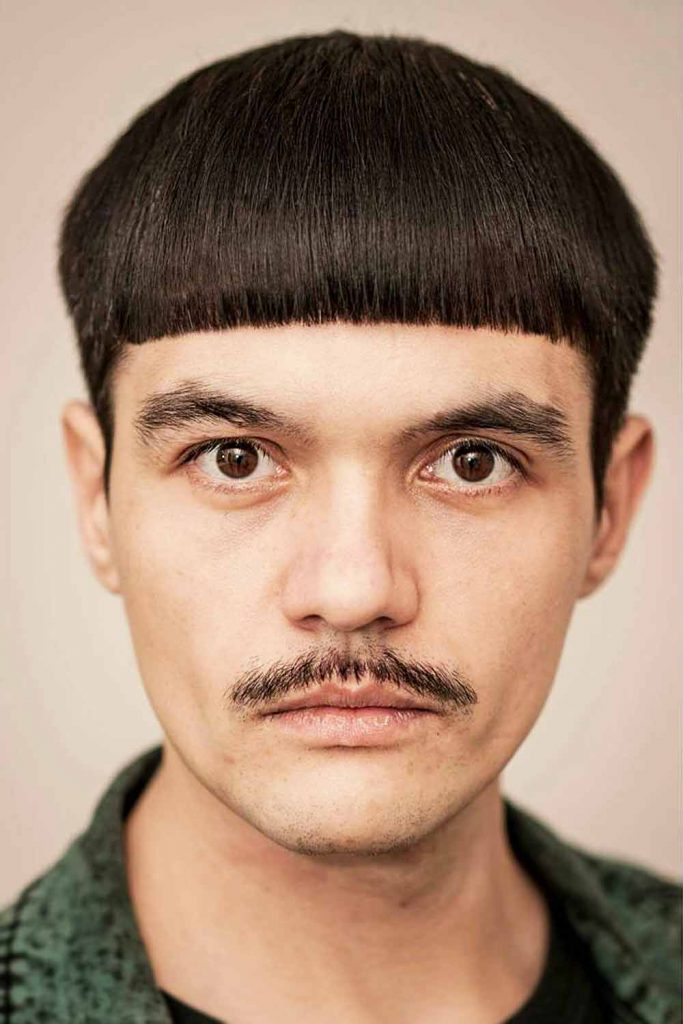 Source: @urednistvo.pricesk.robert via Instagram
All-Around Fringe Haircut
Although bang haircuts are generally known as those with short sides and long front, there are some unconventional styles that differ from this rule, for instance, this all-around fringe cut, which features hair of equal length all around the head.
Source: @r.braid via Instagram
Hipster Straight Fringe Bangs
Even though the era of hipster style has gone, it seems that their hair looks have stayed with us forever. Thus, a straight mens fringe haircut that is attributed to this subculture is still popular nowadays. It looks carefree and effortless while a soft fade on the sides makes a reference to modern times.
Source: @a.nizhnick via Instagram
Cropped Bang
French bangs style is a cropped cut with short sides and a long top. Its main benefit is that it suits everybody no matter their age and type of hair.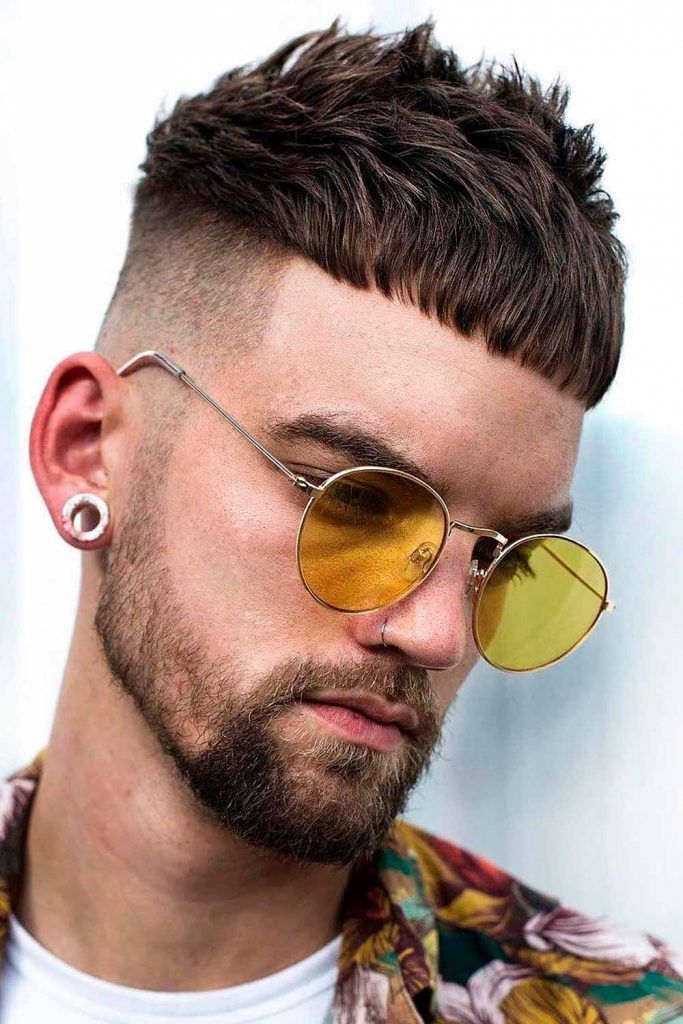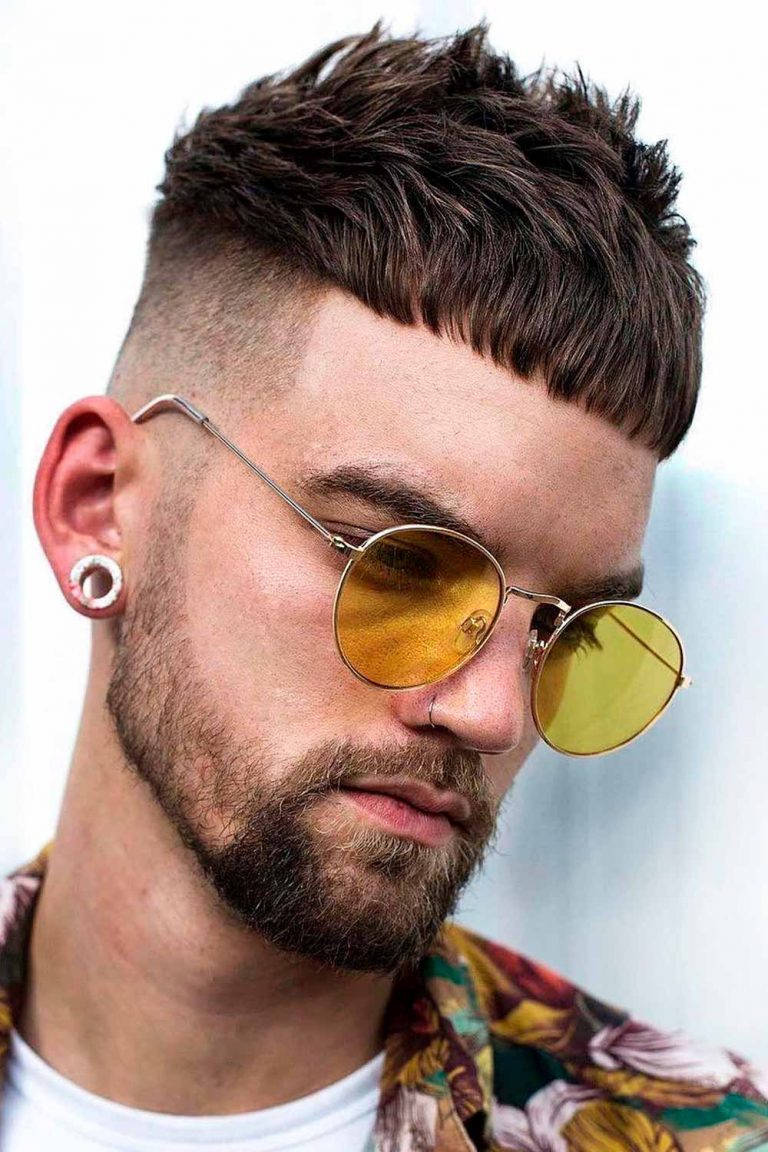 Source: @r.braid via Instagram
Side-Parted Medium Hair With Fringe
It is not a secret that you can wear a fringe in multiple different ways. And one of the most popular of them is to add side bangs medium hair. This look works best on medium length locks. However, even if you have short hair, you can still pull it off by going for a hard part.
Source: @urednistvo.pricesk.robert via Instagram
i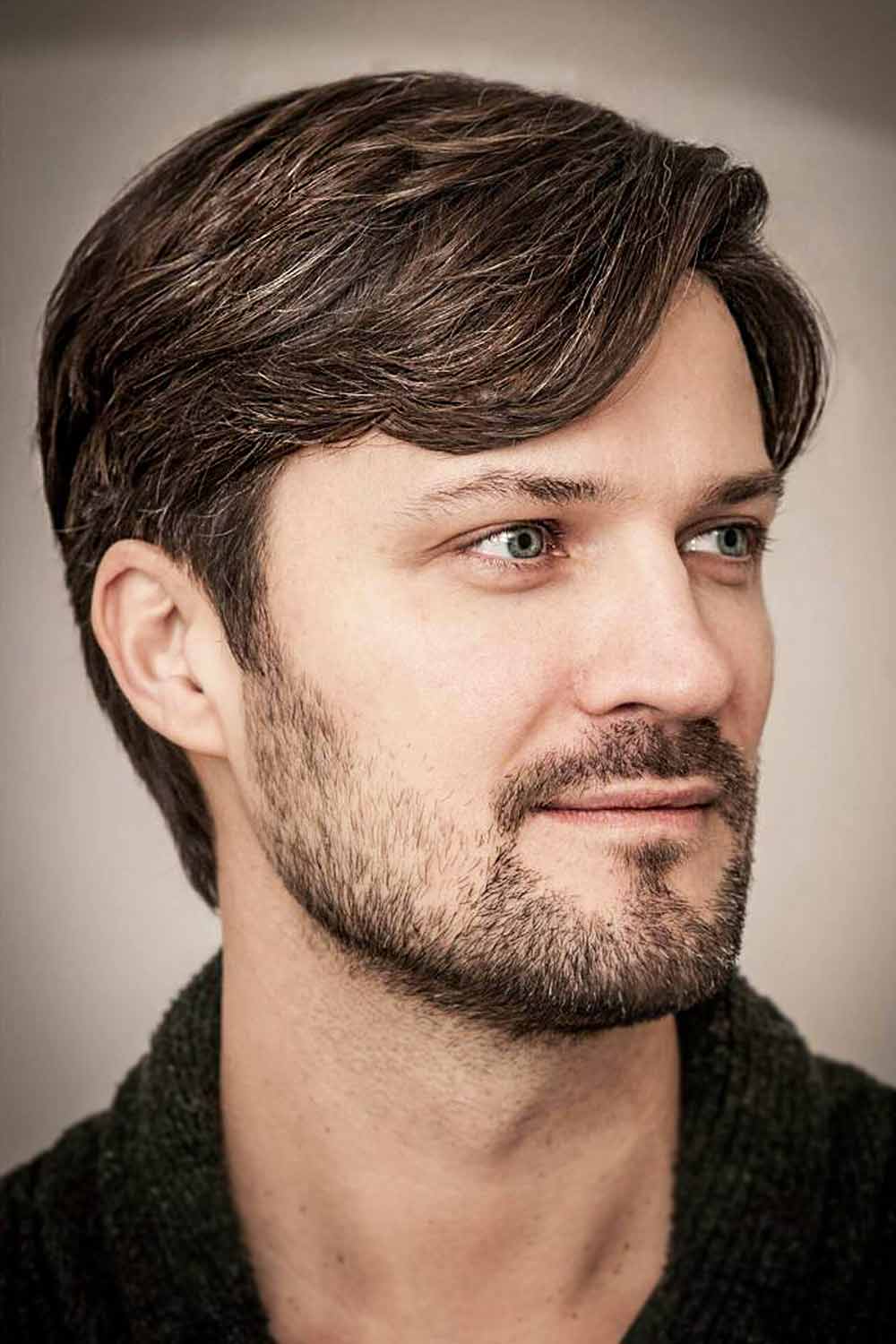 Source: @sidsottungacademy via Instagram
i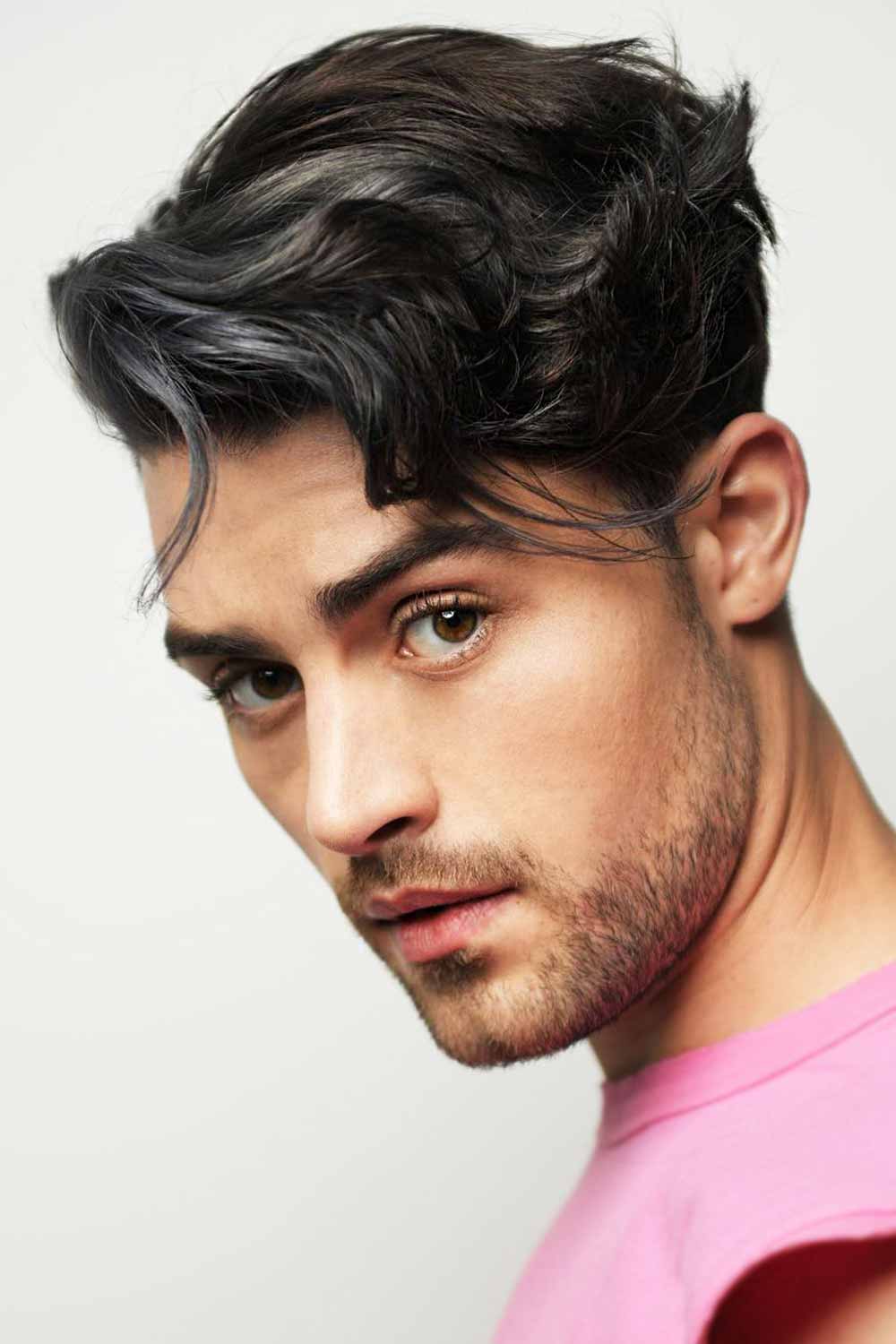 /
Quiffed Fringe Up Haircut
This hairstyle will be particularly beneficial for gents who want to look taller or elongate their faces. As you brush your fringe up, it creates extra volume, thus adding a couple of inches on top. For extra emphasis, complement it with a fade or taper on the back and sides.
Source: @ryancullenhair via Instagram
i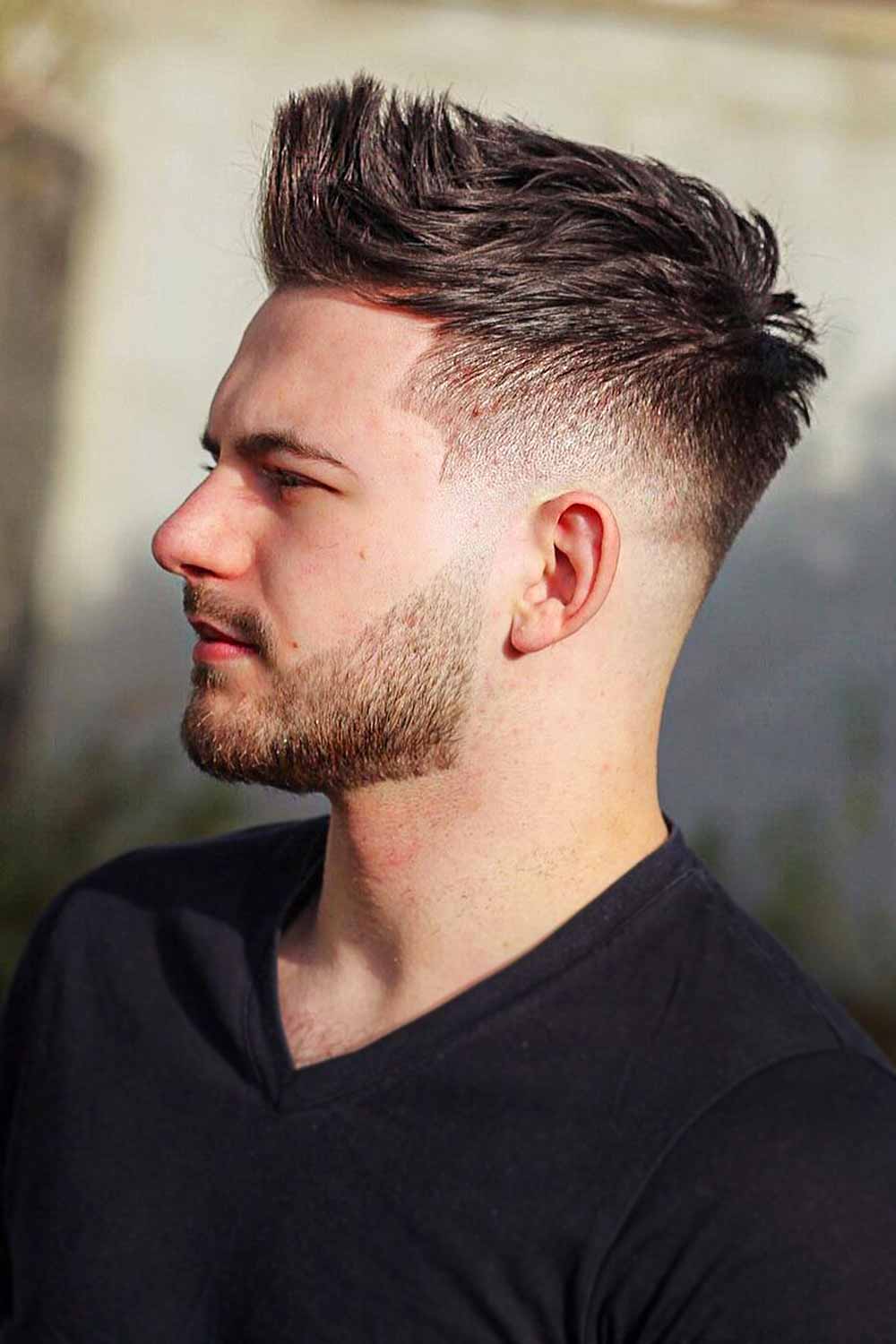 Source: @horatiuthebarber via Instagram
i
/
Short Cropped Fringe Hair Male
A cropped fringe comes in many shapes and lengths. You can wear it short and long, textured and blunt, soft and sharp. No matter what style you are going to choose, you can rest assured that it will come out trendy and chic. Yet, for guys who value their time and choose to look bold, a short cropped fringe is a perfect option.
Source: @r.braid via Instagram
i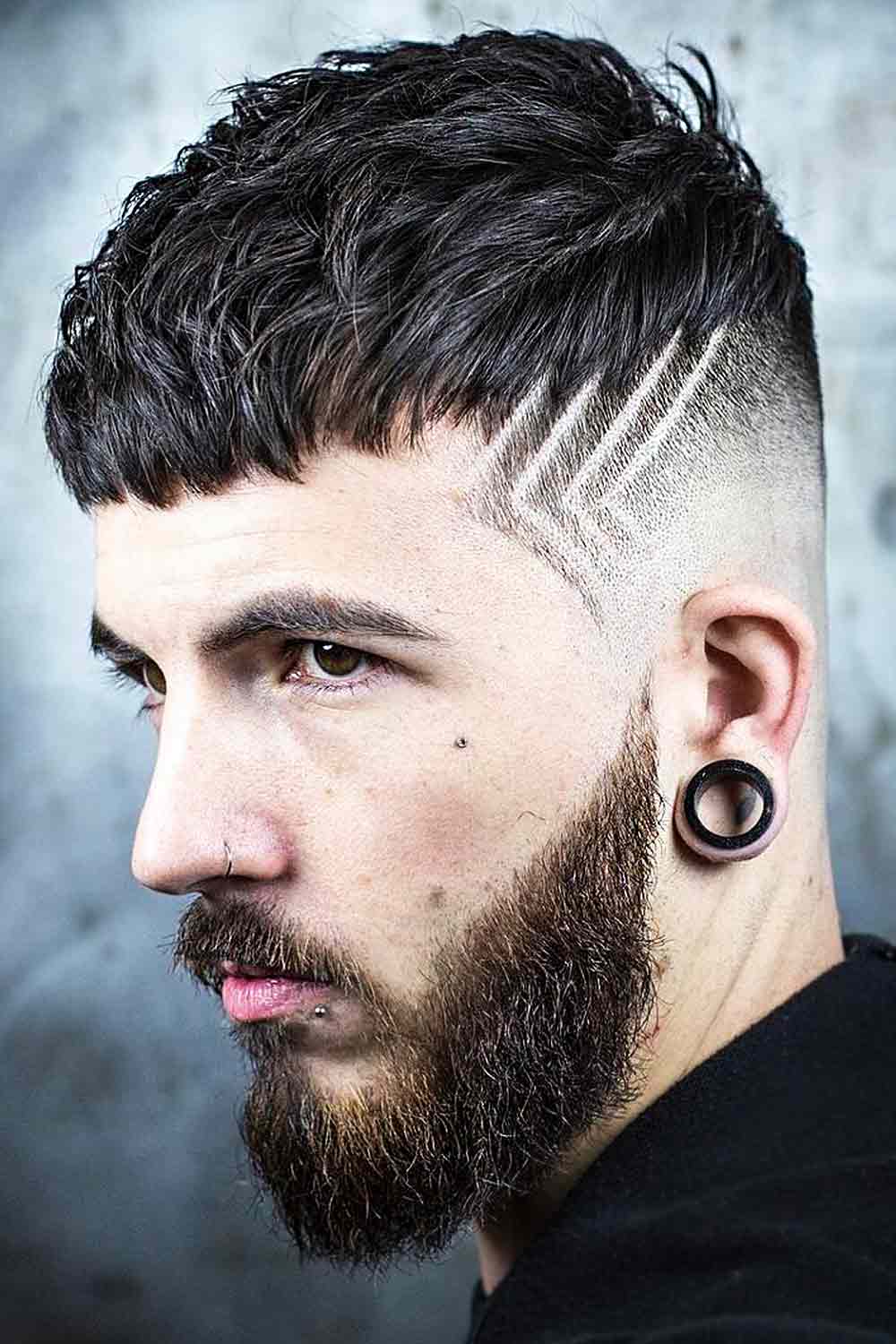 Source: @sirpaulcharles via Instagram
i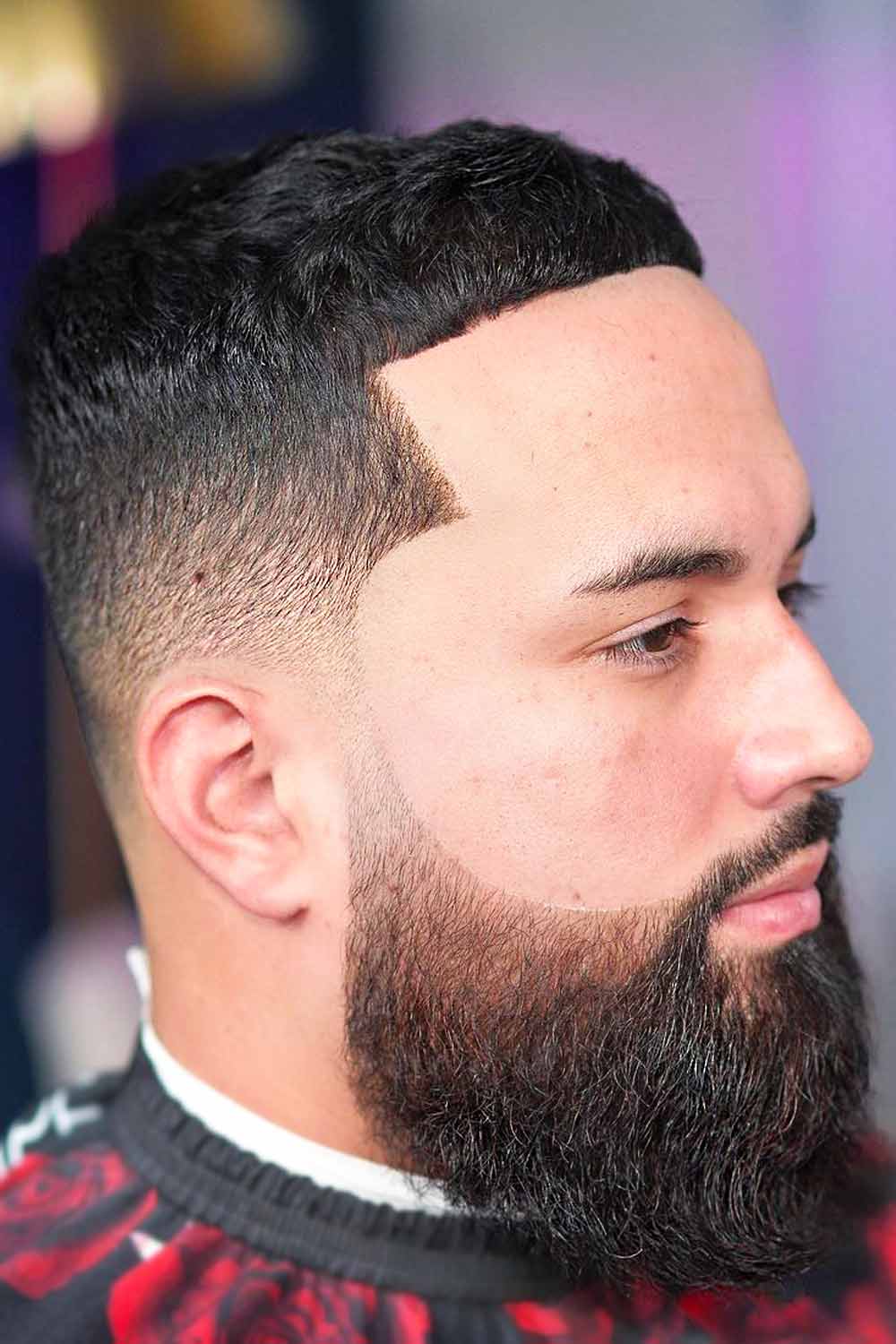 /
Long Bangs
To add a stylish twist to your fringe bangs, you can get them long and layered. Plus, it is better to get the fringe texture cut to reduce its weight and add structure.
Source: @urednistvo.pricesk.robert via Instagram
i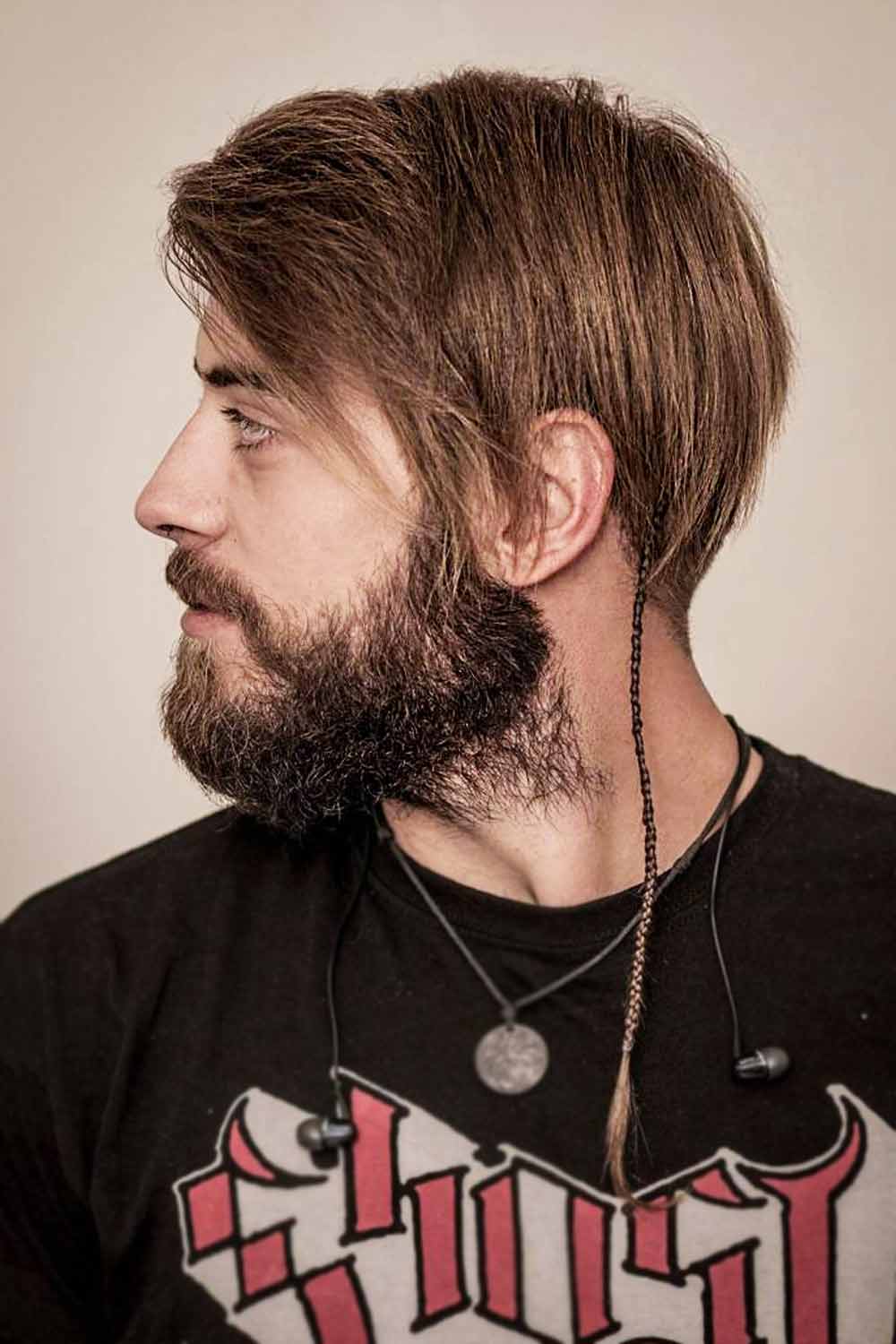 Source: @iamaustinbrody via Instagram
i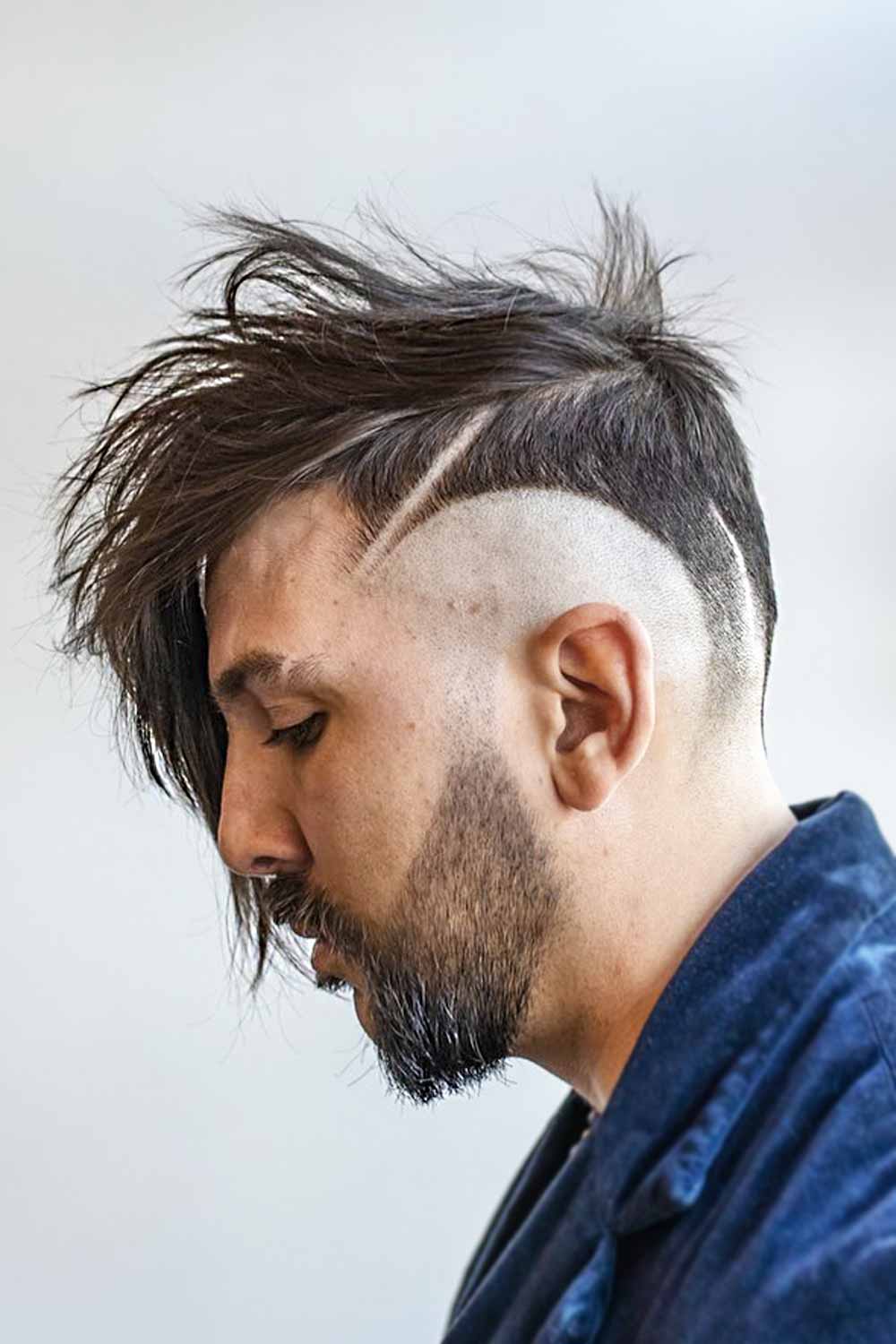 /
Short Curly Bang
If you think that you can only wear a fringe on straight tresses, we are here to prove you wrong. Men with curly locks can also nail this hairstyle. Moreover, thanks to its defined silhouette, it gains a unique and sophisticated air. Besides, to achieve a perfect look, there is no need to wait for your hair to get particularly long. Short curly bangs look equally amazing.
Source: @urednistvo.pricesk.robert via Instagram
i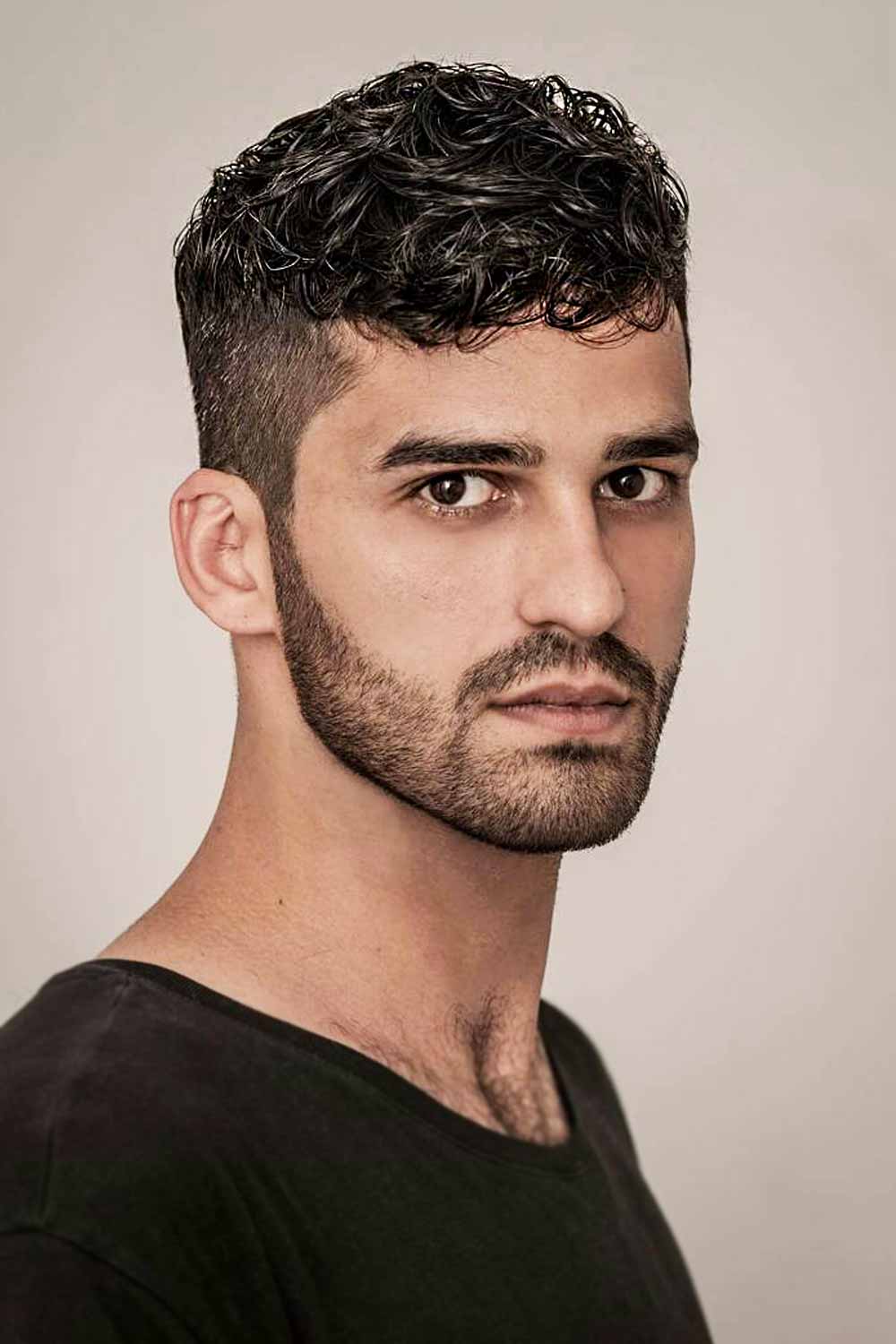 Source: @meha_barber via Instagram
i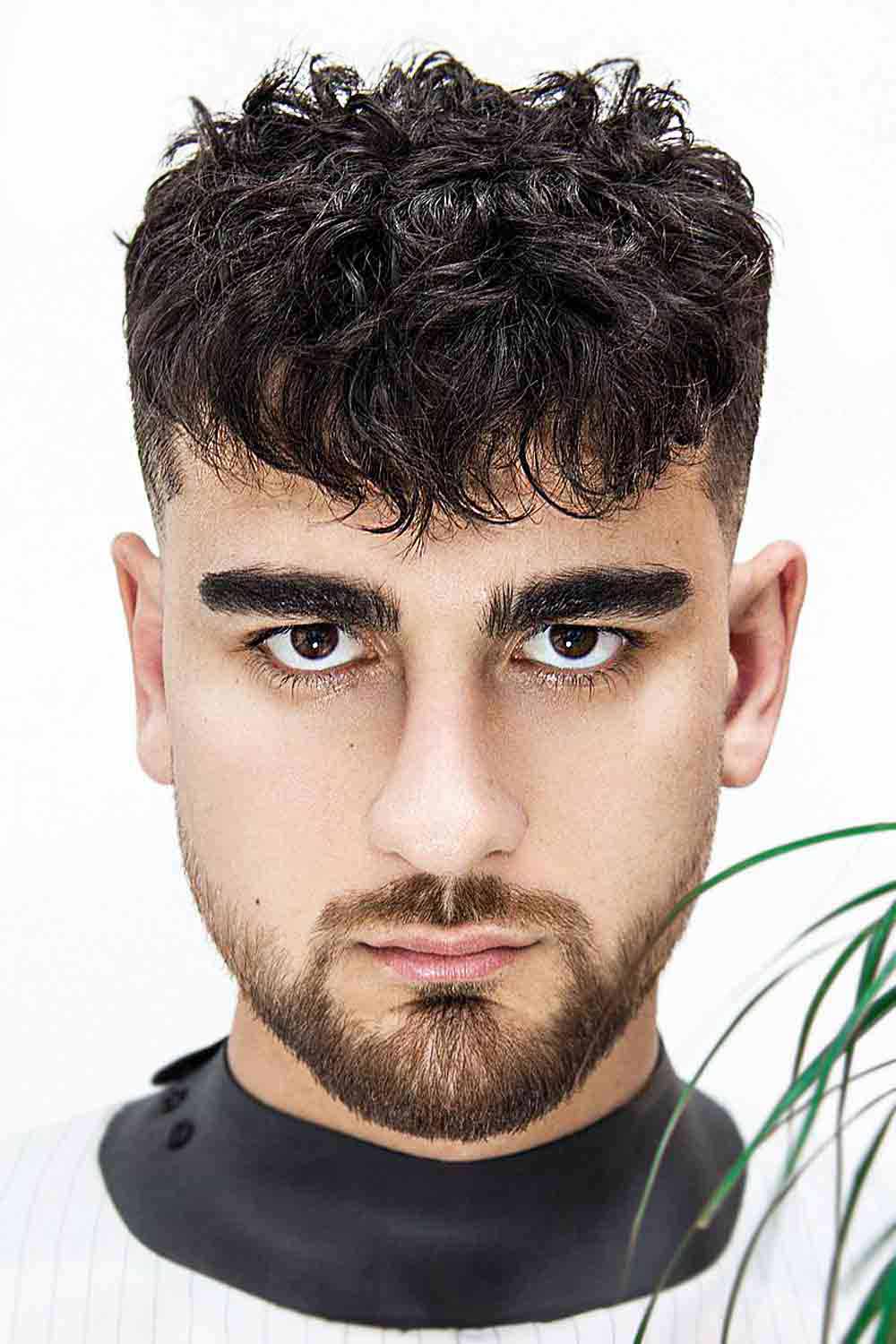 /
Messy Fringe Haircut
Did you know that there are many ways to style a bowl cut? Instead of brushing the bangs down, you can push them up. In this way, you will show off your strong masculine features and add some height, thus visually elongating the face. The sides and back can be faded, tapered, or even undercut for an ultimately contrasty look.
Source: @meha_barber via Instagram
i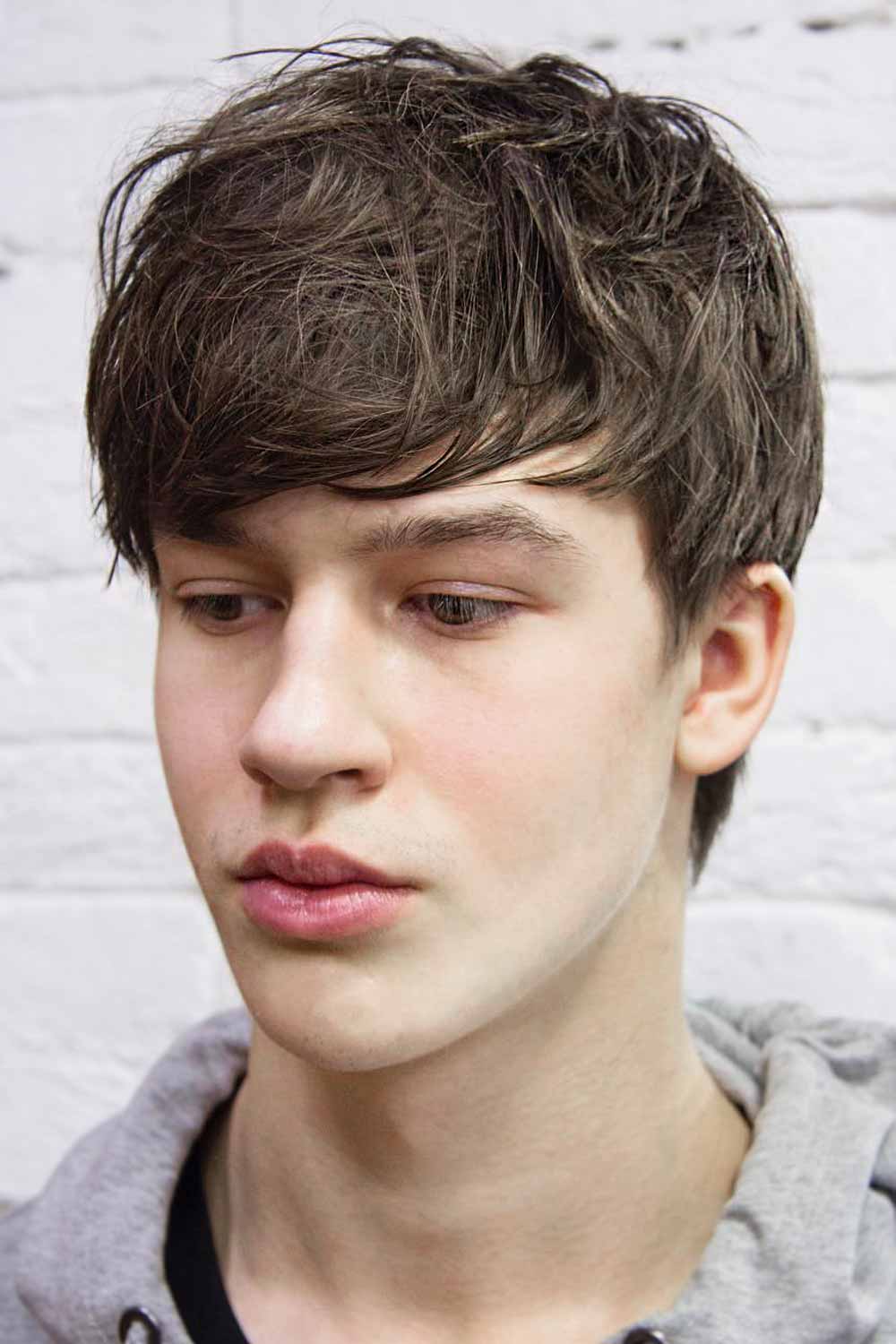 Source: @sidsottungacademy via Instagram
i
/
Layered Hair With Fringe Bangs
Regardless of how thin or thick your hair is, layering is what it needs. Adding layers to thin locks will create an impression of a full head of hair while for thick tresses, it will remove bulk. What is more, this is one of those haircuts that do not require much styling – just rub a blob of hair wax or pomade between your palms and run the fingers through the locks.
Source: @sidsottungacademy via Instagram
i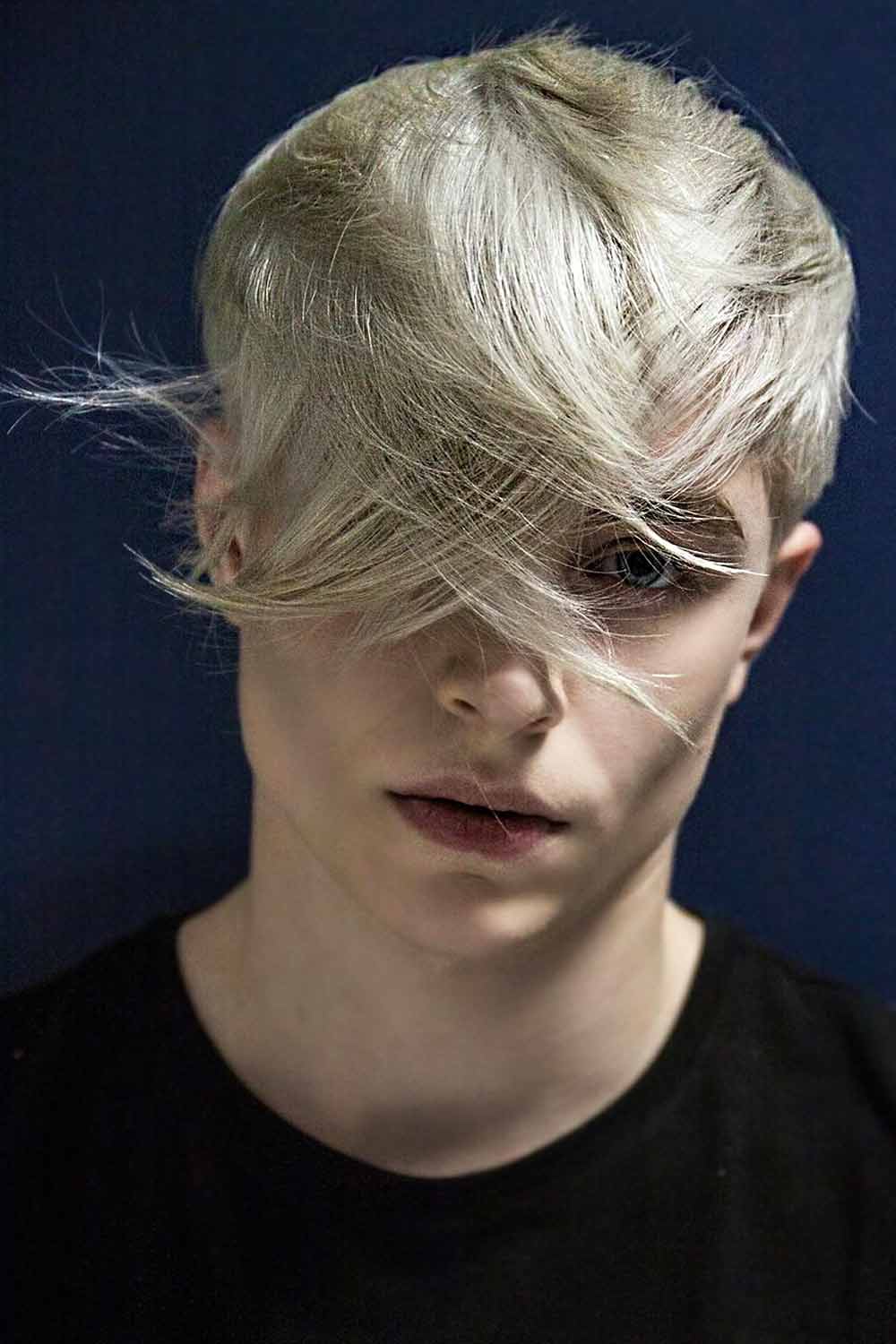 Source: @egobarbers via Instagram
i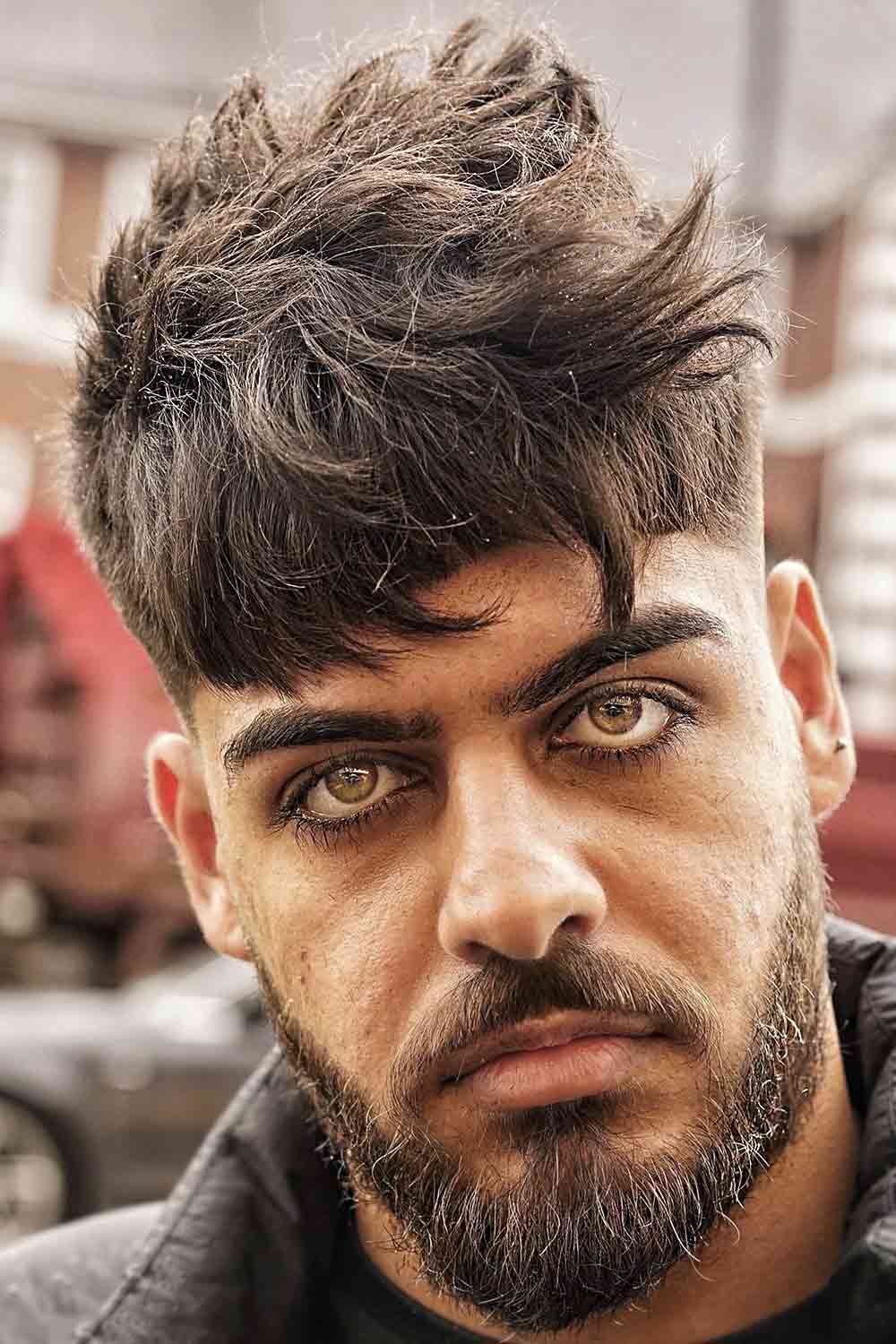 /
Medium Messy Hair
When you lack time for elaborate and sophisticated styling of your medium length hair, a messy fringe comes into play. To get it, you simply need to tousle the tresses on the top of your head with your hand and you are basically good to go. While it is extremely easy to maintain, this hair look gives your appearance a relaxed and breezy feel.
Source: @a.nizhnick via Instagram
i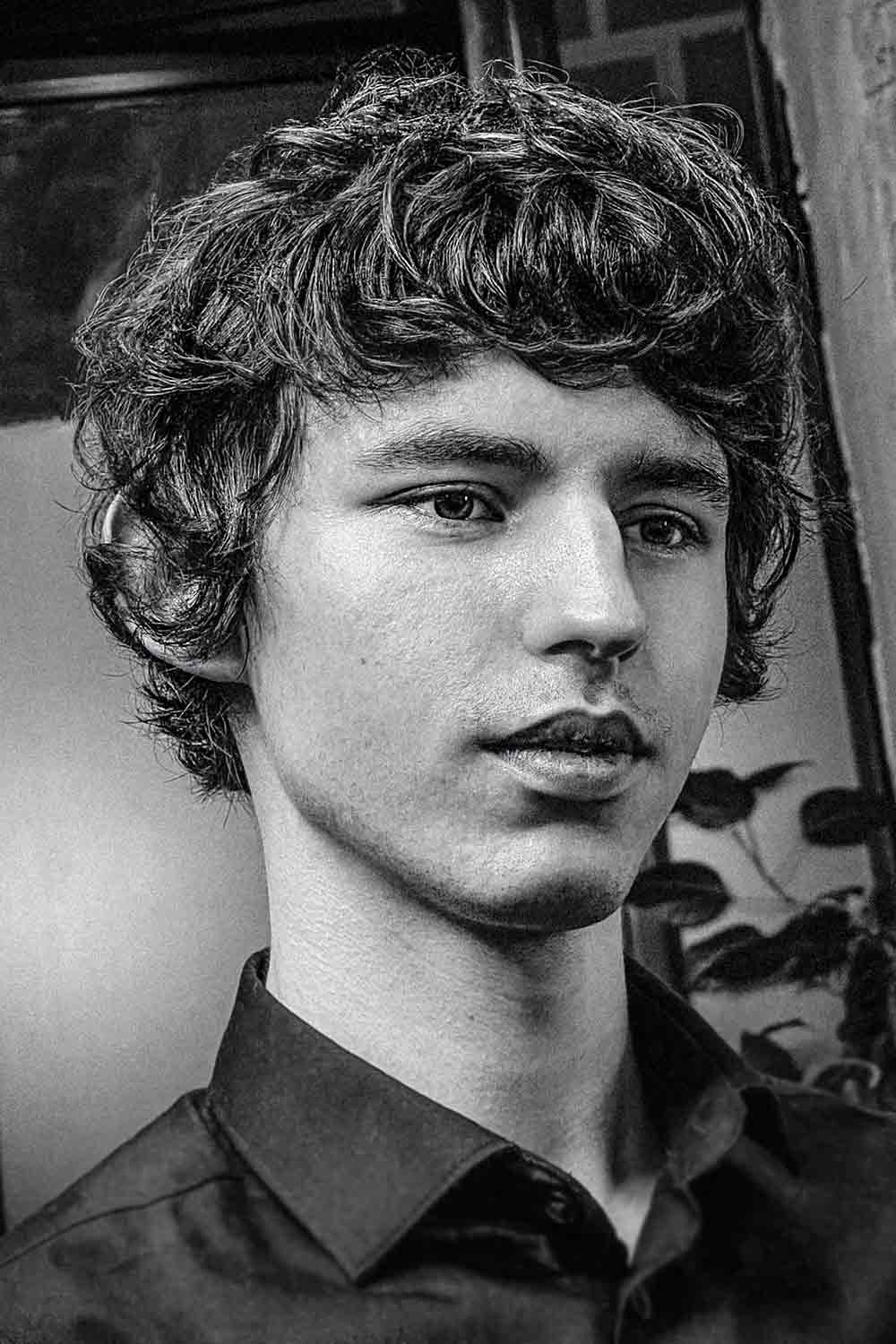 Source: @the_bloody_butcher via Instagram
i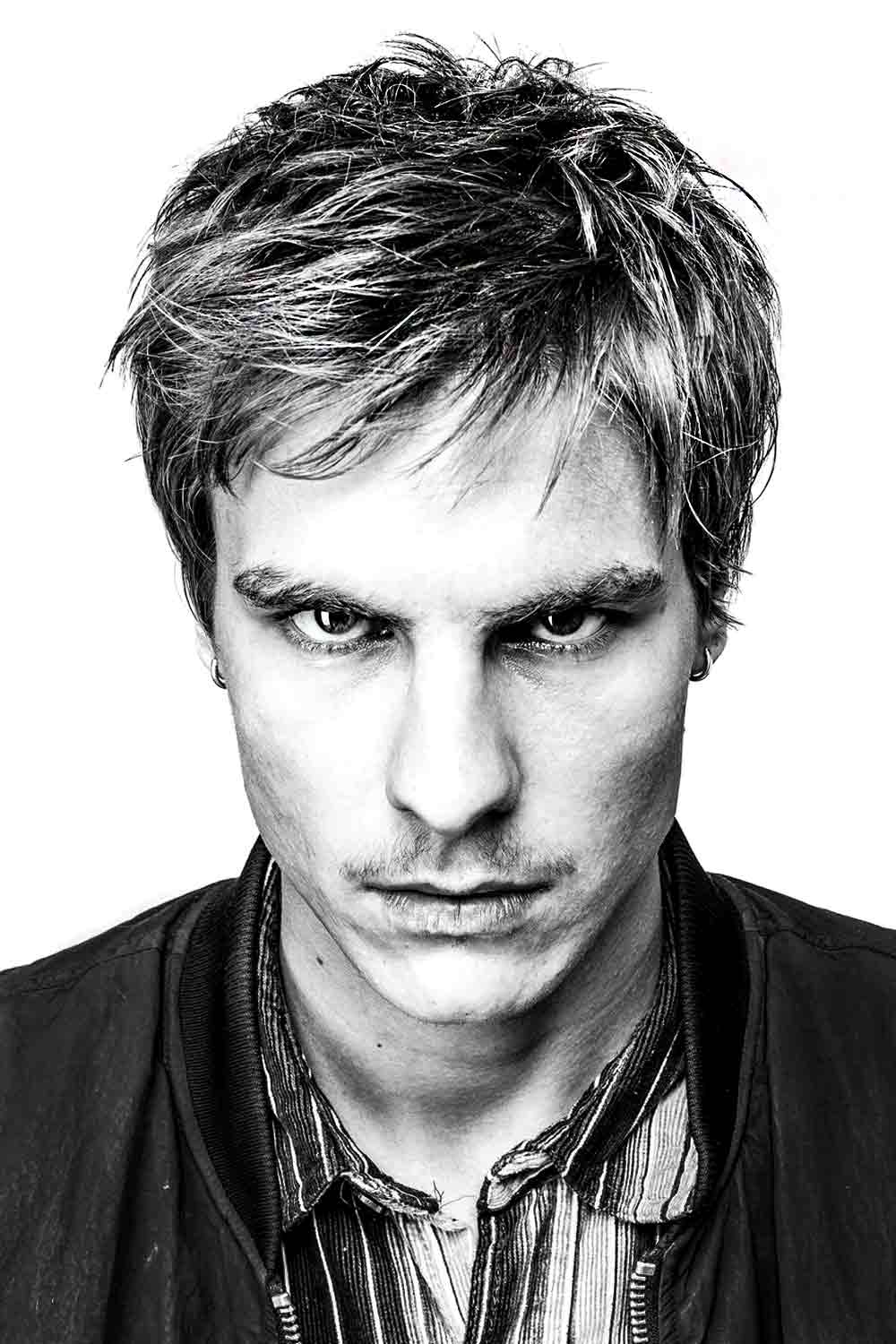 Source: @andrewdoeshair via Instagram
i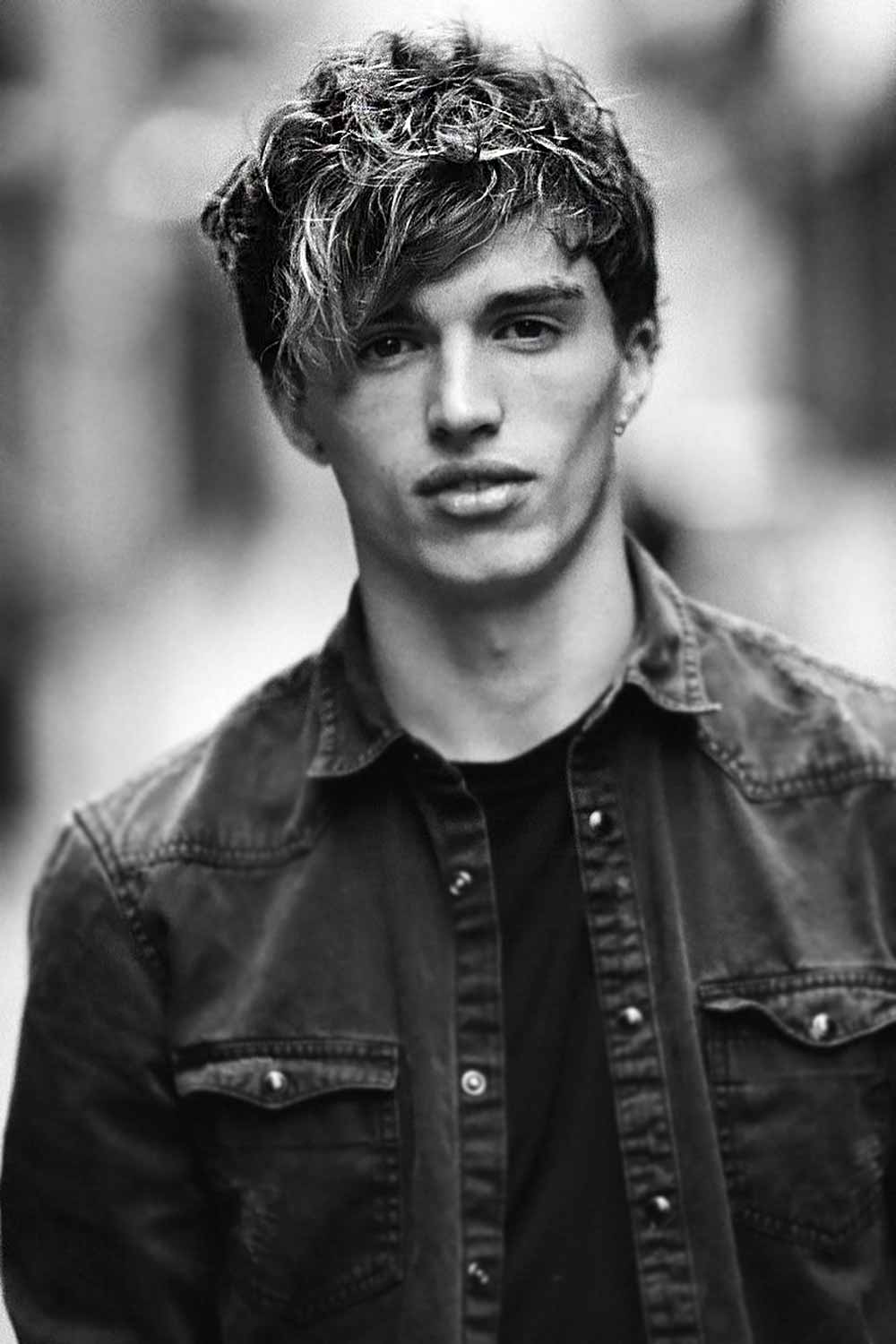 /
How To Cut And Fashion Fringe Haircut Men?
There are quite a lot of different types of bangs out there. To choose the right look for you, you need to consider such factors as the type of your hair, its texture and your personal style. If you are considering side swept bangs hairstyles or straight ones, your hair should be between 2 and 4 inches long. Ask your barber to give you an angular fringe in the front and any kind of fade or undercut on the sides. Curly guys with bangs should do even less to style their locks. In most cases, you just need to allow your front bangs to fall freely. In case you need your hairstyle to look appropriate for a formal ambiance, apply a bit of hair wax or gel and you will get textured bangs.
Source: @los_cut_it via Instagram
FAQs: Fringe Haircut Men
What is a fringe haircut?
A fringe cut male features a portion of hair in the front of the head that is styled so that it crosses the hairline and covers the forehead partially or completely. There exist many variations of mens fringes, such as a French crop, a Ceasar haircut, a choppy and short fringe haircut men look, side swept, textured, angular and curtain male bangs. Your hairstyle of choice depends on your current haircut as well as natural hair texture and its length.
How long does it take to grow a fringe?
To grow bangs men usually do not have to wait for ages provided their hair is not buzzed very short or shaved off. Usually, to get a fringe hairstyle men can simply brush their hair toward the front and trim it accordingly. Though in case they actually have their hair cropped very short, then to grow a fringe haircut men should wait for around 4-5 months.
Are fringes in for 2023?
Men with bangs are still considered very fashionable and stylish in 2023. One of the best things about the fringe bangs is that this hairstyle is timeless. It only adjusts to the ongoing trends. Among the trendiest hairstyles are short looks, curtain bangs and those heavily textured.
REFERENCES:
Bangs (also known as a fringe) are strands or locks of hair that fall over the scalp's front hairline to cover the forehead, usually just above the eyebrows, though can range to various lengths. Source
Was this article helpful?