Layered haircuts are perfect for any hair length that is longer than a crew cut. They are highly versatile and can easily be adjusted to any hair type and density. The key point in a layered cut is how you stack the layers, which directly affects your individual style. To get inspired, check out these pictures before your next visit to the barbershop. Go edgy, chic, and layered this season!
What Is Layered Hair For Men?
Source: @ninothenice via Instagram
Once layered hairstyles entered the world of men grooming, it has never been the same again. Barbers from all over the planet choose to add layers to conventional styles to give them more structure and definition. With layered hair men feel more confident and look more stylish. But what does layered haircut mean? To find it out, keep on reading.
What Is A Layered Undercut?
Source: @groomed_barber_club via Instagram
A layered undercut is one of the most popular men hairstyles for good reason. Not only is it versatile but it also erases a good couple of years from your face. No matter what type of hair you have, curly, wavy or straight, you can rest assured that this style will flatter you. All you need is to find the perfect option for your very preferences, which is not a daunting task if you know what you are looking for. So, how can guys get layers in their hair?
Short Layered Haircut For Men
Source: @chadius_maximus via Instagram
The basic haircut styles for men that anybody can pull off are short layered haircuts. The hair texture doesn't make any difference for such a look. To get the style, ask your barber to give you a usual cut and complement the hair on top of your head with several layers.
Mid Length Layered Hair
Source: @spizoiky via Instagram
Mid length hair is a perfect option for those guys who hesitate between short and long haircuts. Such a cut gives a chance to your style it the way you like while keeping the locks away from your face. Cut in layers, mid-length locks look relaxed and breezy, just like surfer hair.
Long Layered Haircut
Source: @enrico.ravenna via Instagram
One of the best ways for long hair men to show off their stately mane is to have a layered cut. This is also a great option for those guys who are up to having their long hair trimmed, however, afraid to regret it later. Adding some layers to your long locks will please your cravings for a change without resorting to drastic measures. On top of that, if you have curly thick hair, long layered haircuts can help you to lighten it up and keep under control.
Quiff Layered Hairstyles
Source: @patrickdossantosaveiro via Instagram
As a quiff has been among one of the most popular mens haircuts in recent years, we can't leave it out. Even though it gives you a very classy and bold edge, a quiff is a low-maintenance 'cut that doesn't require much styling. Hair layers, in addition to making it even more textured and defined, make the cut also easier to manage.
Layered Hair On The Top And Undercut
Source: @bradcanning via Instagram
By short haircuts for men, you shouldn't necessarily understand a completely short cut. It can combine trimmed sides and back with long hair on top. Though layers help to define the hair texture themselves, with an undercut, you can bring your hair to the ultimate level.
Haircut With Bang
Source: @ryancullenhair via Instagram
If you're into a bad boy style, layered hair haircuts with bangs can help you to pull off the look without a hitch. Bangs can make your face seem proportionate and disguise any flaws, like an expansive forehead, for example. On the sides, you can have one of the mens short haircuts, such as a fade or undercut, for an added edge.
Textured Side Part
Source: @sidsottungacademy via Instagram
Adding texture to the male haircuts, make them even more striking and dazzling. Go for a short on sides long on top haircut and style it combed over to one side, using a sufficient amount of a styling product with strong hold. A side part haircut makes your look more geometrically defined and bold. If you pair this hipster haircut with a handlebar mustache and a well-trimmed beard, you won't be able to overstate this look enough.
Tapered Haircut
Source: @Nfernthebarber via Instagram
For low-maintenance mens hair styles, consider tapered short hair cuts. They work for basically any hair type and can be adjusted to both casual and formal environment. Having the back and sides tapered while leaving the top hair long is the real savior when you have a night out after a long working day.
Layered Haircut With Widow's Peak
Source: @hairraribarber via Instagram
If you want to draw people's attention away from your widows peak, there's no better way than to have a layered cut. Trim the sides and back short and leave the top notably longer. Add a bit of a styling product and push the hair up. Such cool hairstyles come out great on everybody no matter what your hair texture is.
Layered Pomp
Source: @kamilnizinski via Instagram
If you think that it's impossible to make a pomp even bolder and edgier than it is, try to cut it layered. Although pompadour haircuts have a bit of vintage air, they can easily be given a modern turn with a few added layers. Pompadour mens hairstyles work best on wavy and straight hair. Though, curly-haired men shouldn't shy away from it too.
Straight Textured Hair
Source: @ryancullenhair via Instagram
Layered haircuts show up their texture best on straight hair. And what's interesting, it doesn't really matter what guy haircuts you go for because they always turn out defined. Just keep in mind that with the short sides and back, the top hair gains another dimension and stands out more.
Spiky Hair
Source: @kevinelezaj via Instagram
In case a layered pomp doesn't give you enough texture, why don't you try on a faux hawk? This haircut is made for daring and stylish men who are used to living on the edge. You can create a spiky finish on the edges by simply raking the fingers through them. Depending on the amount of a styling product, you can adjust how spiky hair on top you want to be.
Layered Comb Over
Source: @emilsebastiian via Instagram
Even if a comb over is traditionally a sleek and polished hairstyle, you can modernize this classic look by amping it up with layers, which takes the cut to the textured side. Another way to define the cut is to separate the sides from the top with a hard part. A mid fade on the sides and back will make the textured layered cut a focal point of the whole look.
Curly Hairstyles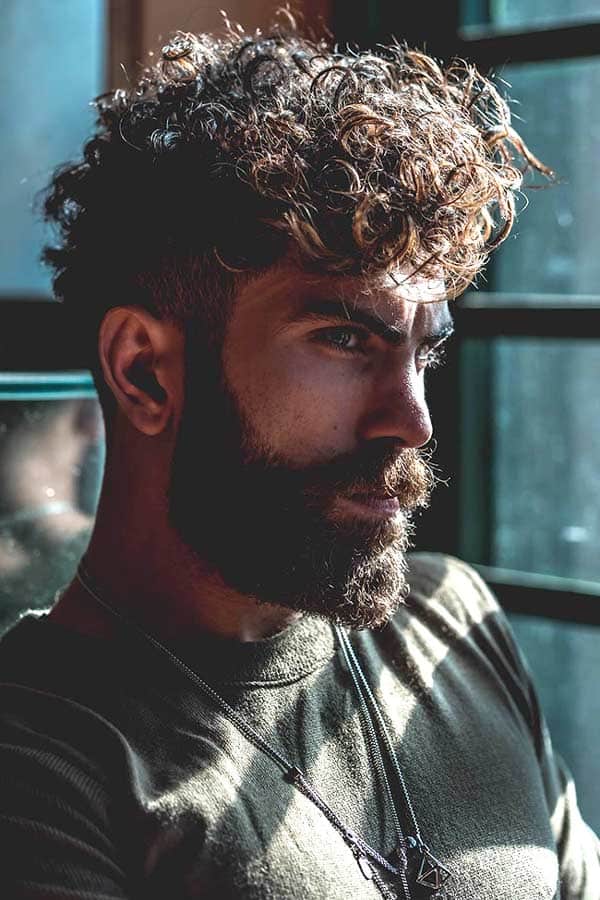 Source: @reza_jax via Instagram
Kinky hair is generally textured and bold without additional styling or a specific cut. Though, you may want not only to accentuate the texture of your curly hairstyles but also to lighten up the thatch, which will make it easier to style and manage.
Bowl Cut With Textured Hair
Source: @ryancullenhair via Instagram
A lot of people frown upon a bowl cut, considering it a vestige of the past. However, it has made its way to the modern hairstyles. One of the reasons that made a bowl cut so popular is its sheer versatility. Basically, all face shapes and hair types can pull off the look cut in a bowl.
Tapered Fade Haircut With Long Layers
Source: @fernthebarber via Instagram
Tapering or undercutting the sides give the short sides long top haircuts a striking contrast. When the sides and back are much shorter, the top pops up more. Also, this haircut allows you to sport long mane without any hassle, as thanks to a taper fade, it keeps most of your hair away from your face while giving the front sections a sharp edge.
Pompadour With Short Sides
Source: @ryancullenhair via Instagram
This modern take on a classic pompadour can be pulled off on any type of hair. Thanks to the textured top, it makes your locks seem ample and full while the short sides keep everything looking neat and clean. The styling entails slight disheveling of the pomp with a blob of a hair styling product, which makes it an effortless hairstyle.
Grown Out Layers
Source: @thomasdavenport via Instagram
If you prefer long hairstyles to short ones, you can spruce them up by adding different levels of layers. Although cut intentionally, it will give your hairstyle the appearance of grown out layers, which looks both carefree and stylish. Besides, this is a low maintenance cut that does not require much styling.
Medium Top Short Sides Hairstyle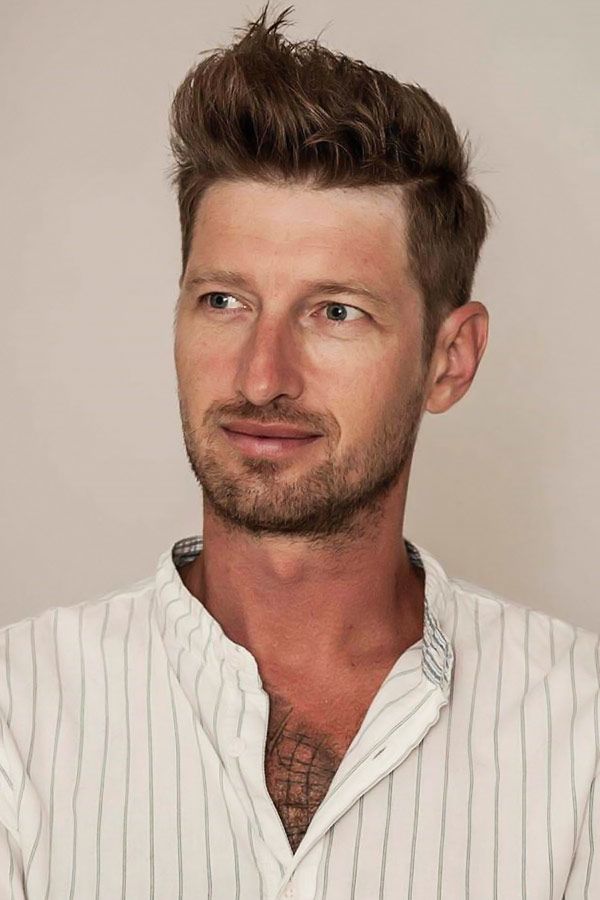 @urednistvo.pricesk.robert via Instagram
The golden mean is always a surefire way to go if you cannot decide whether you prefer a long or short hairstyle and what ambiance it should suit. In this case, go for a look medium on the top and short on the sides. Thanks to the difference in length not only between the sides and top but also in layers, it creates a very bold look.
It's hard to think of a better way to add texture and definition to your hair than cutting it in layers. Regardless of your hair type or face shape, you can always find a layered cut that will be flattering to your features. Have fun layering various styles, lengths and 'dos of your choice!