There are multiple reasons why single braids for men with kinky natural hair are a sure bet. This kind of braids for men works for any hair length and thickness, from quite short and thin to extremely long and luxurious. What is more, it can be enhanced with other popular mens haircuts, such as a fade, an undercut and a taper. Also, to accompany Black braids men can wear beads, rings and other hair embellishments. Want to know more about the style and get some inspiring ideas? You can find everything you are looking for in our guide.
Box Braids
Box braids are among the most popular ways to wear single braids for men and no wonder. Thanks to the intricate pattern it creates on your head, a single box braids male hairstyle takes you to the center of attention this instant. So, opting for it, you may rest assured that you will never go unnoticed.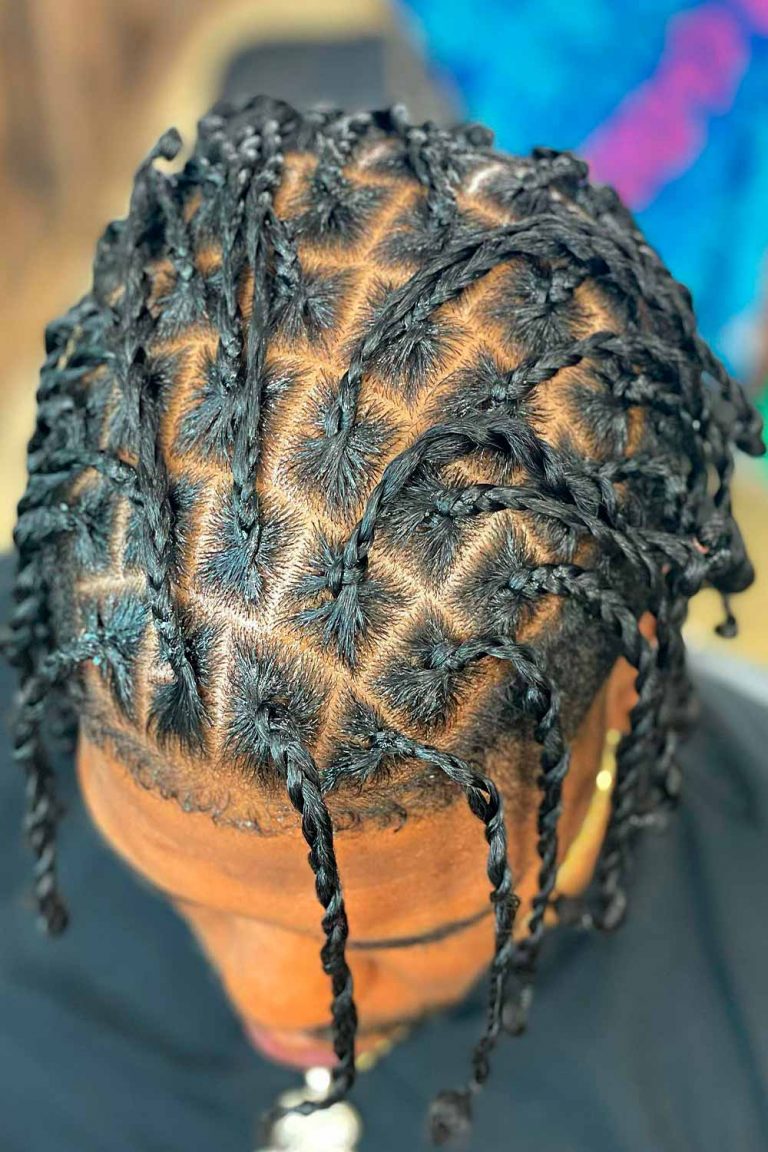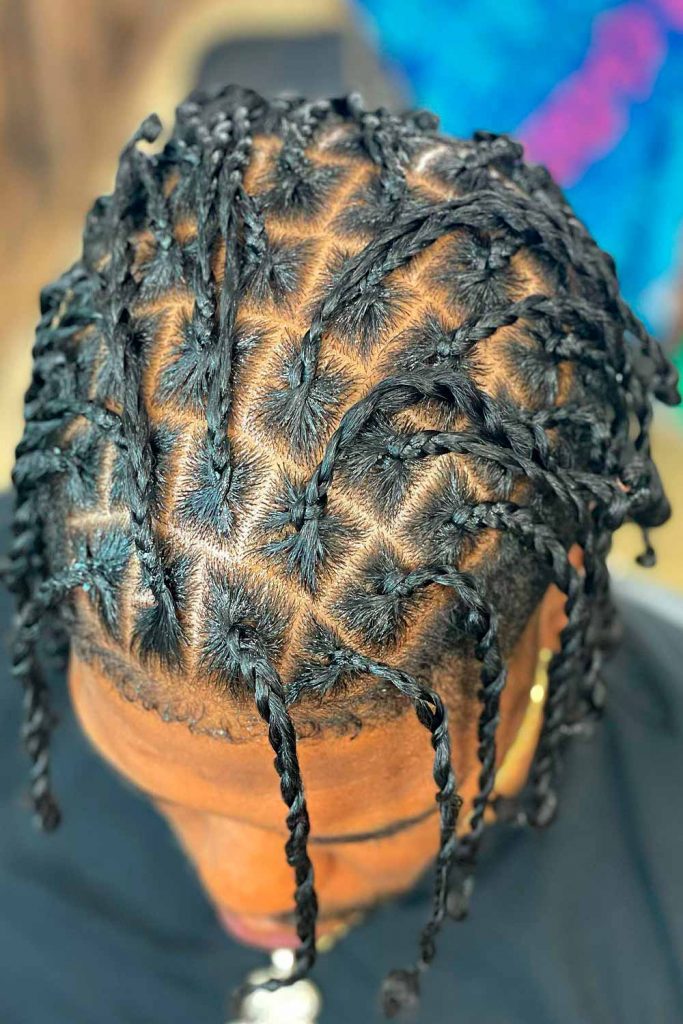 Source: @braidedroots via Instagram
Pop Smoke Braids
Pop Smoke braids are an iconic hairstyle that you would hardly confuse with any other. Their main feature is a distinct center parting and from 8 to 6 single braids cornrows that start from the middle of your head and go down toward the hairline. For this kind of male single braids, you should not necessarily use hair extensions. So, it is relatively easy to get and affordable.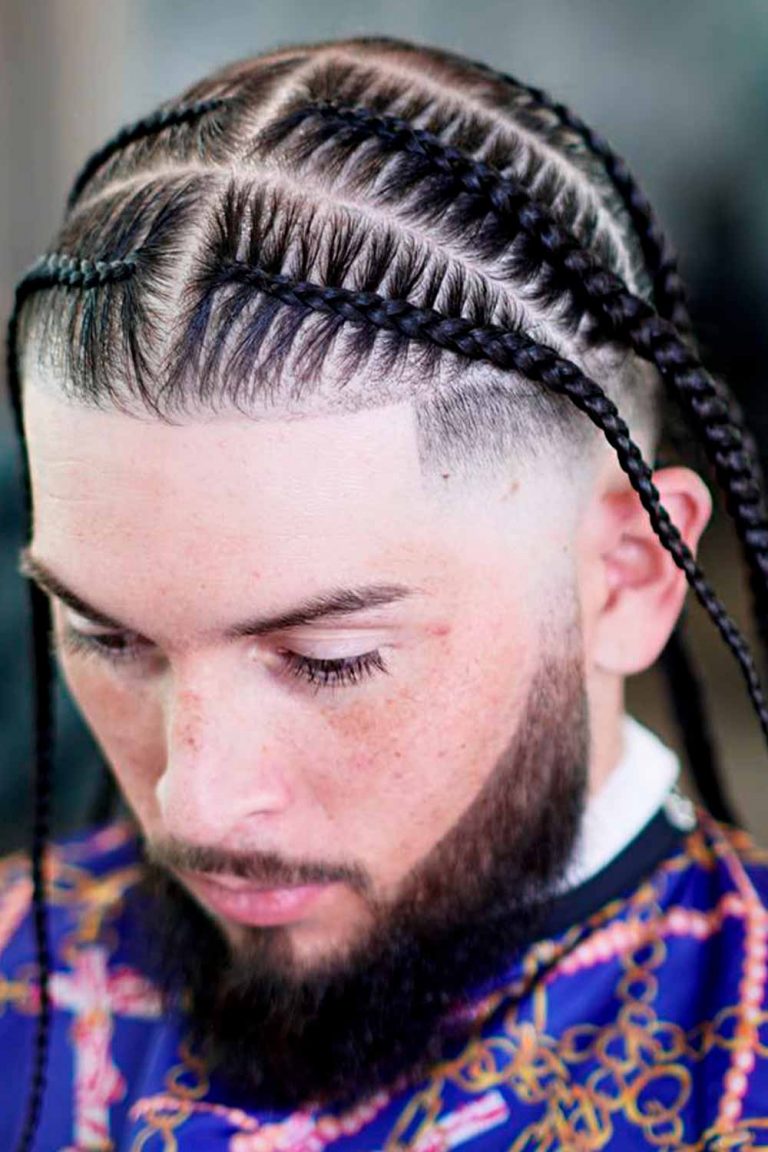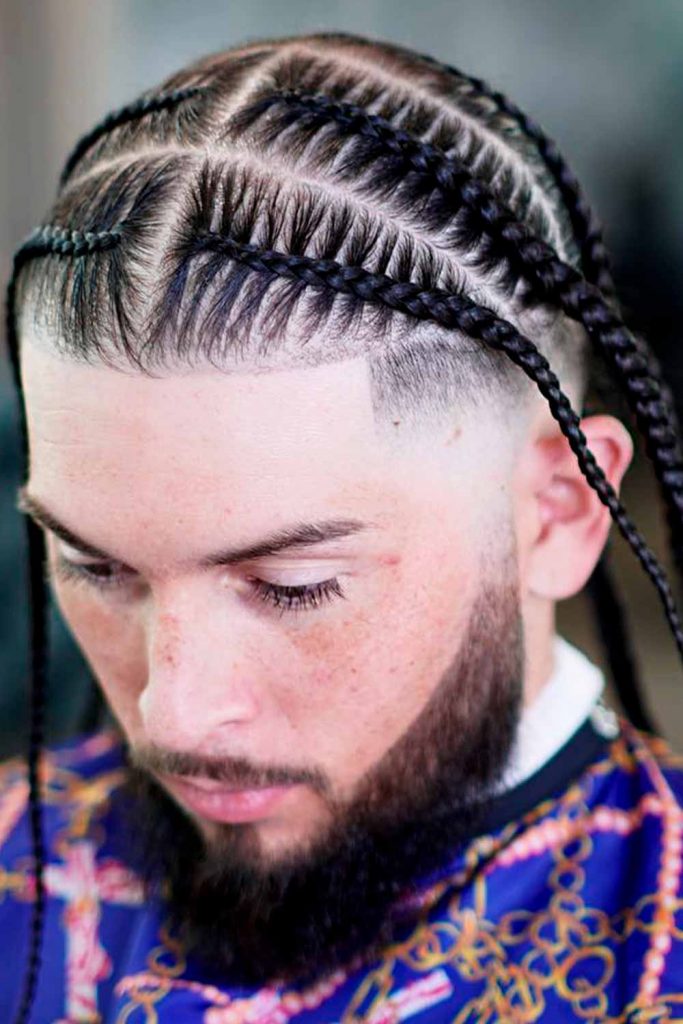 Source: @nickthebarber via Instagram
Single Braids With Undercut Design
With the help of single braids men can upgrade almost all long hairstyles for men. Looking for something high contrast and eye catching? Go for an undercut single braid style with a hair design. The pattern is up to you. However, if you are leaning toward something elaborate, you will need to find a barber with a steady hand.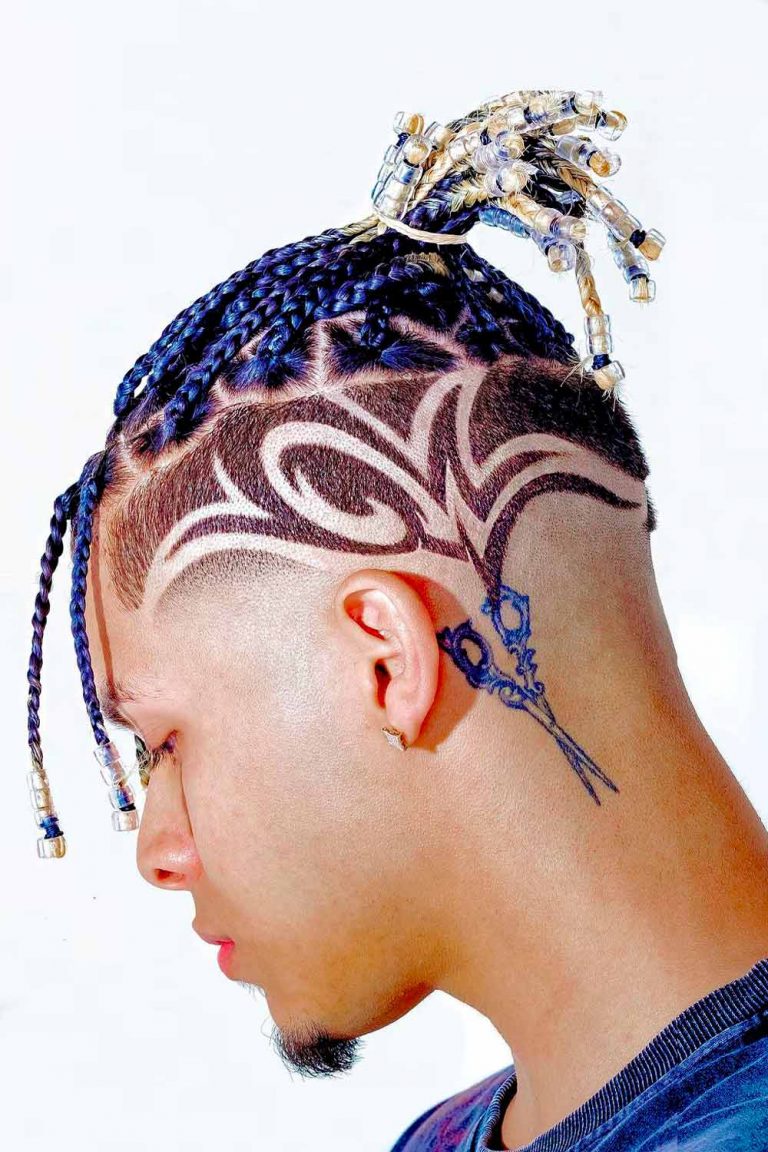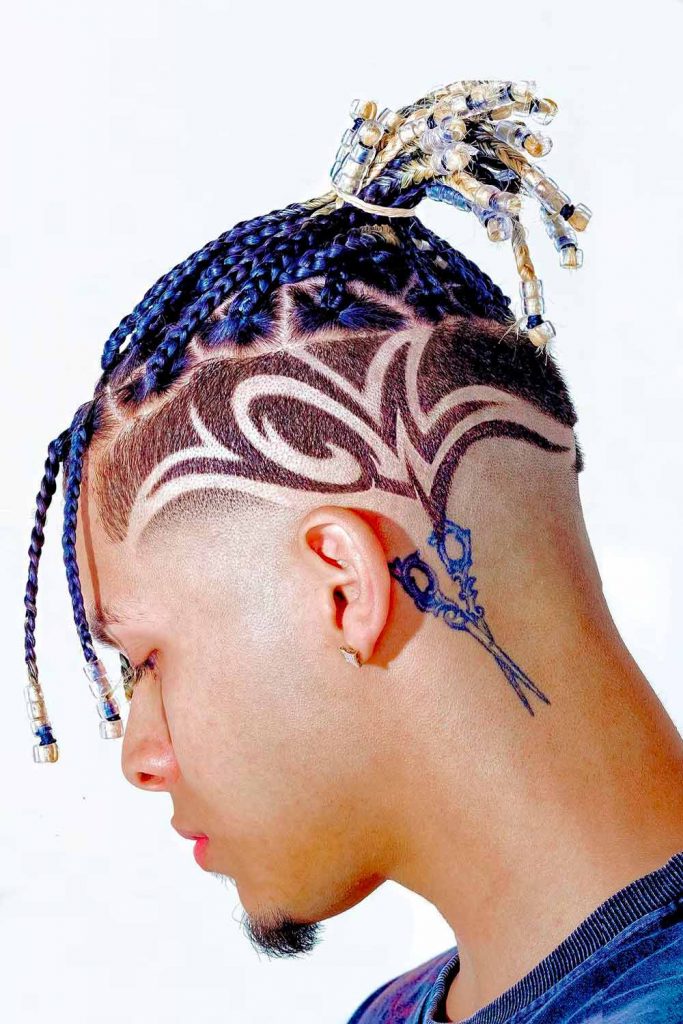 Source: @los_cut_it via Instagram
Triangle Braids
There are many ways to create men's single box braids. When dividing your hair into sections, make them triangular instead of square. The triangles then may form squares, or boxes, to retain the aesthetic of the original single braids men's style. Yet, this is not necessary, as it is you who decides what your hairstyle is going to look like in the end.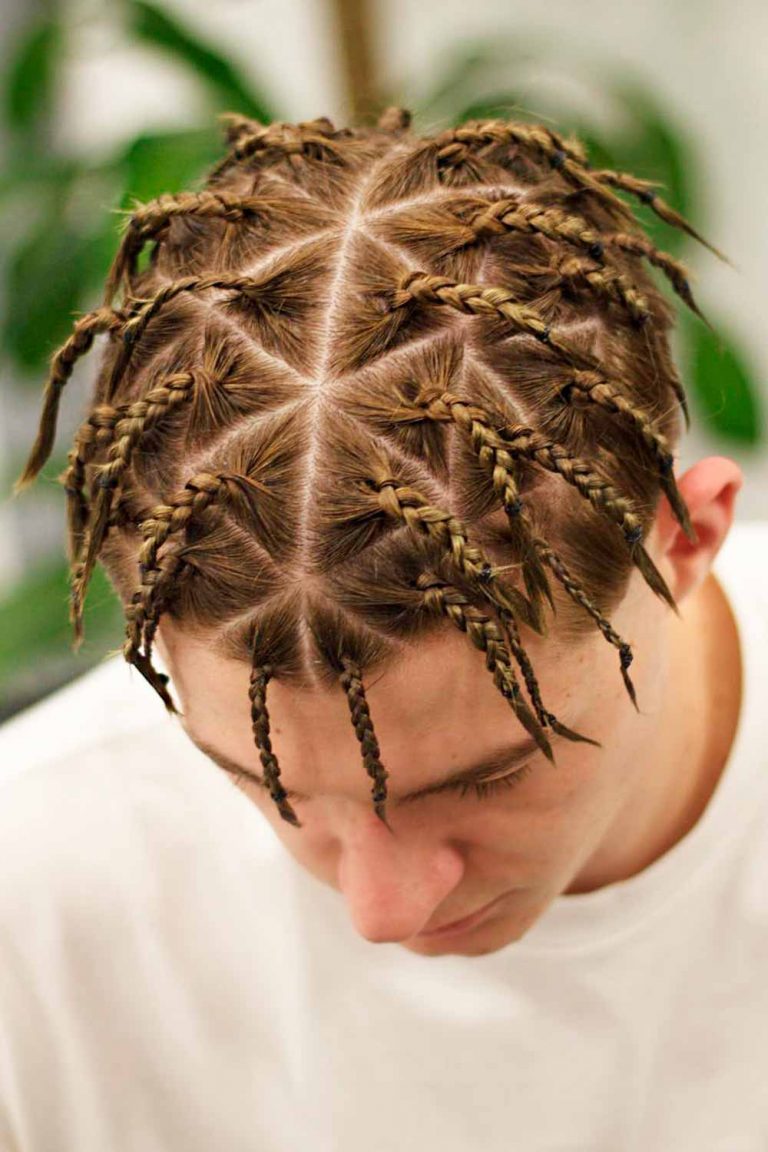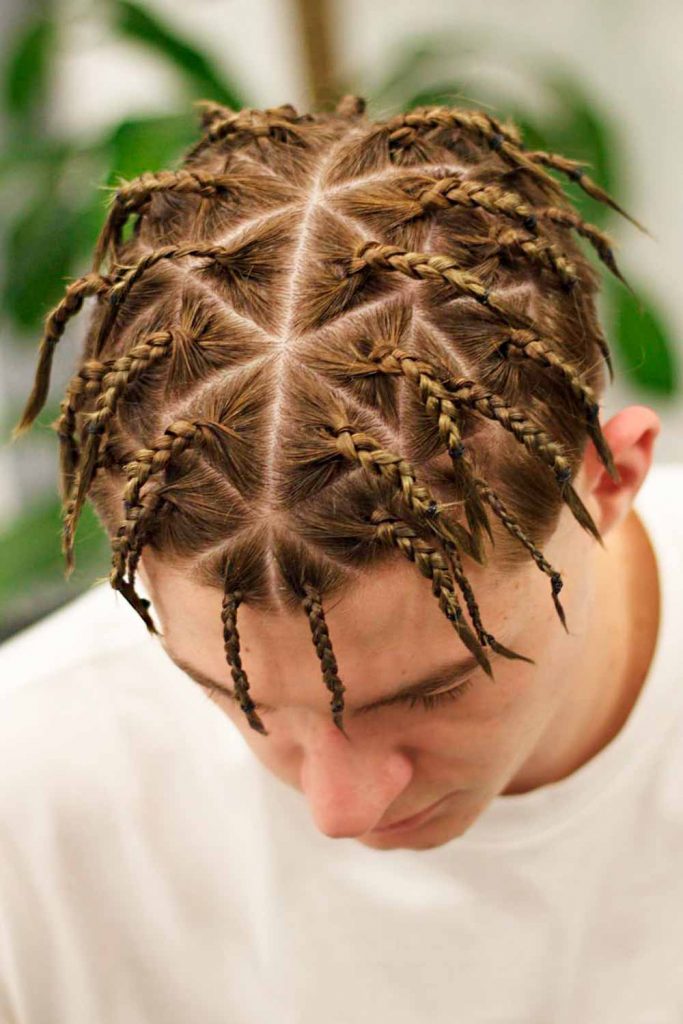 Source: @horatiuthebarber via Instagram
Two Strand Twist
Instead of a traditional three strand single braids mens style, you can opt for two strand twists. Twist hairstyles for men also look cool and trendy, yet require a bit less time to get. They may be not as long lasting as braids though and require slightly more maintenance, so keep that in mind before going for the look.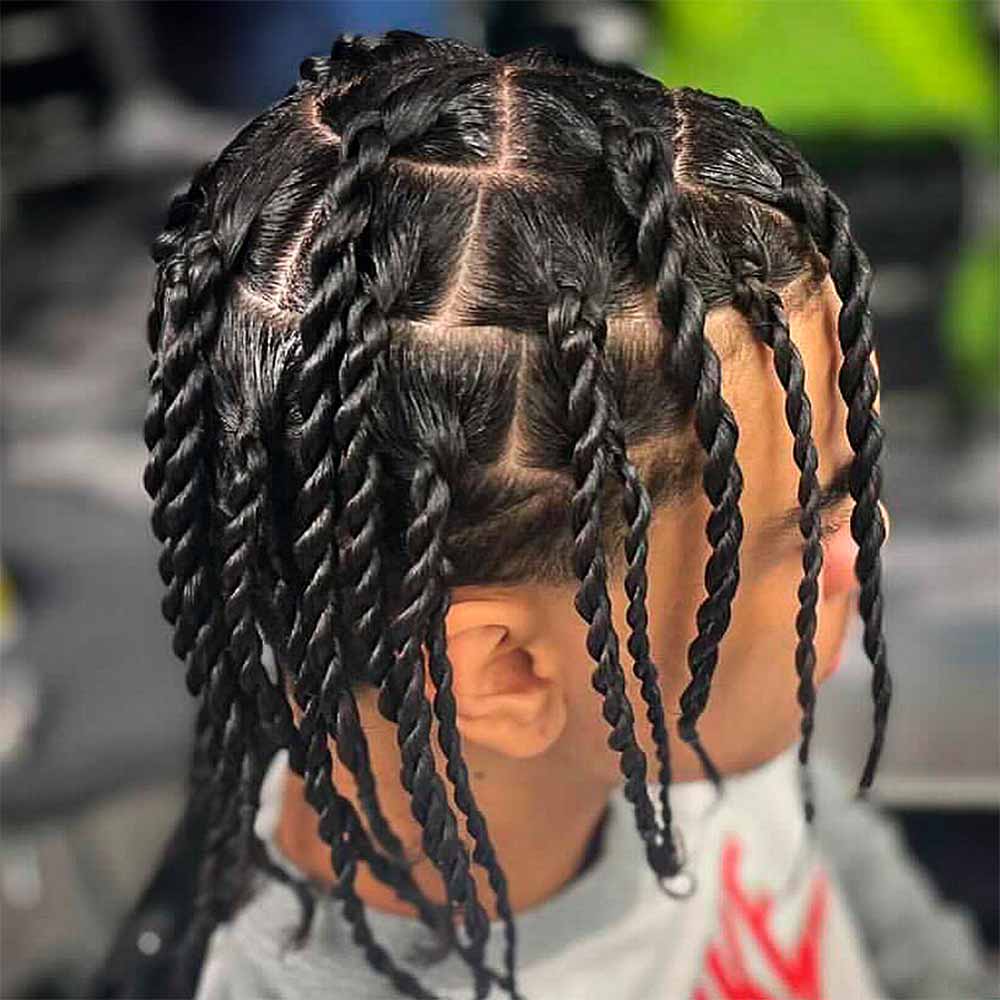 Source: @f4fade via Instagram
Thin Single Braids For Men
If you have enough patience and would like to get a really fancy braided hairstyle, then skinny single braids are your way to go. They may seem to take ages to create, yet the final result is so impactful that it is certainly worth the effort.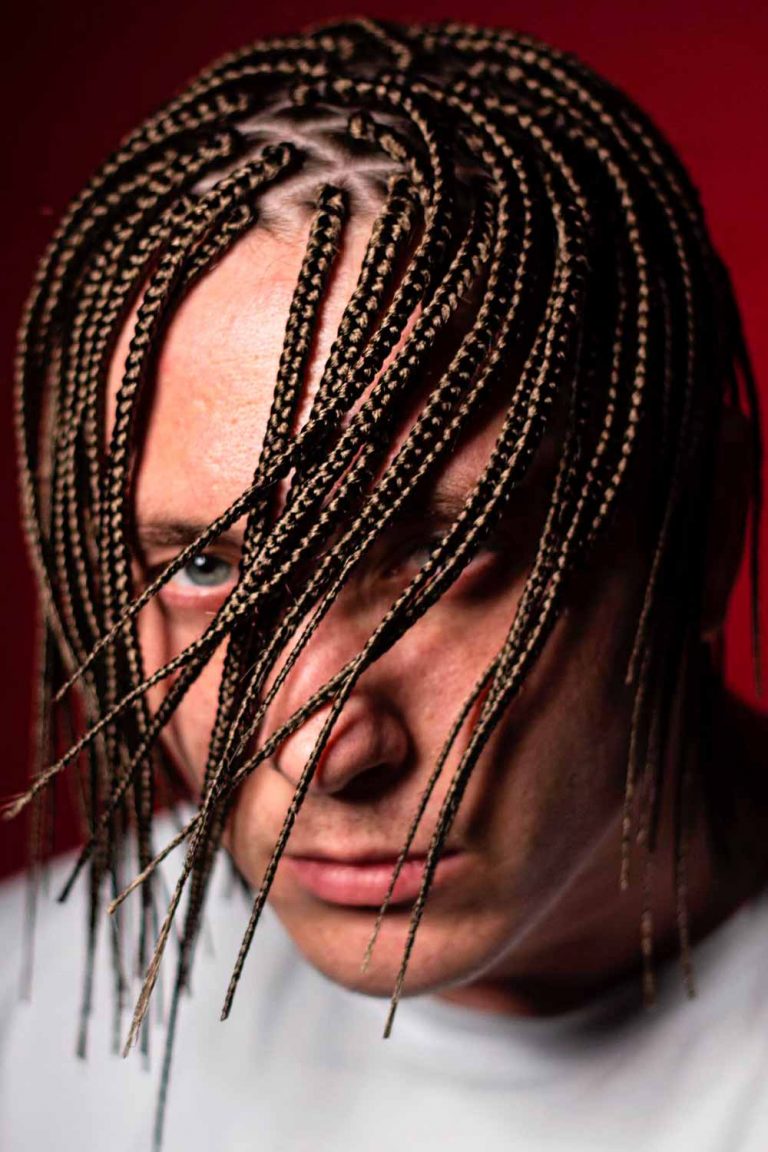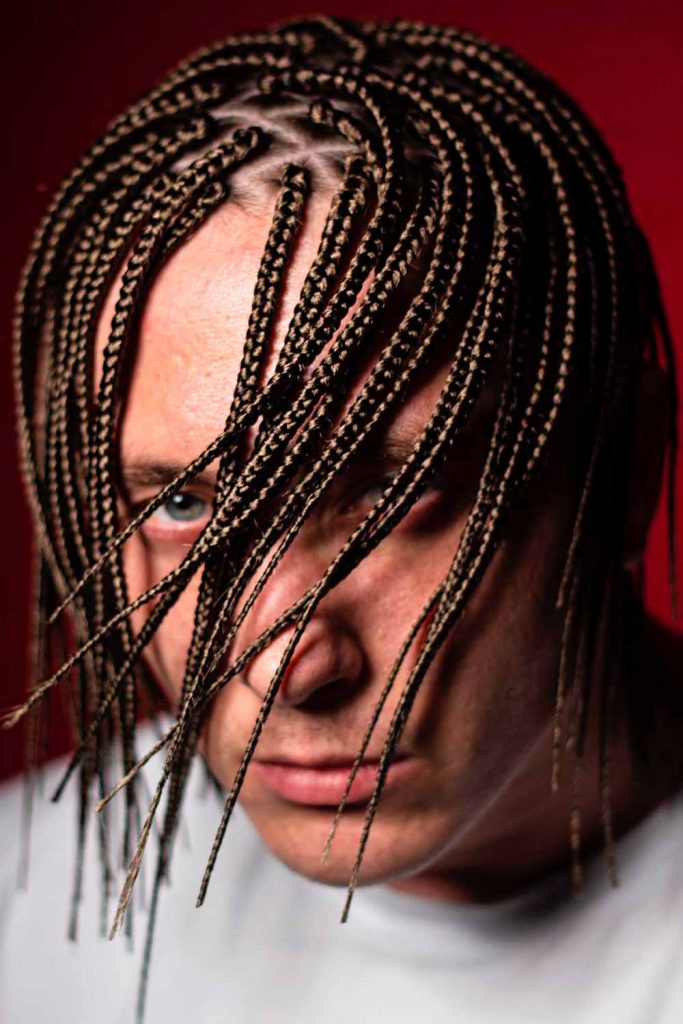 Source: @braidsvolna via Instagram
Long Single Braids With Undercut Fade
Extremely long single braids on guys may look a bit heavy and bulky. Though, do not worry. An undercut fade is your failsafe way out. As it takes off quite a lot of hair from the sides, the high top single braids become the focal point of the whole look.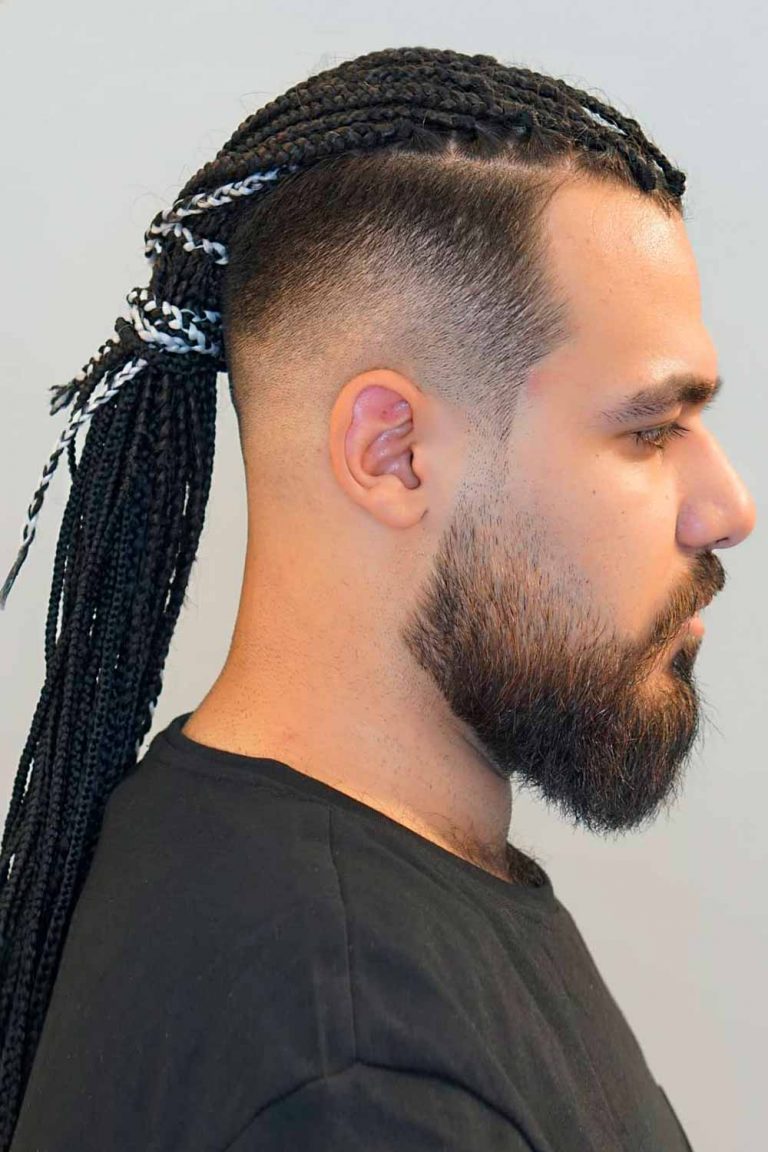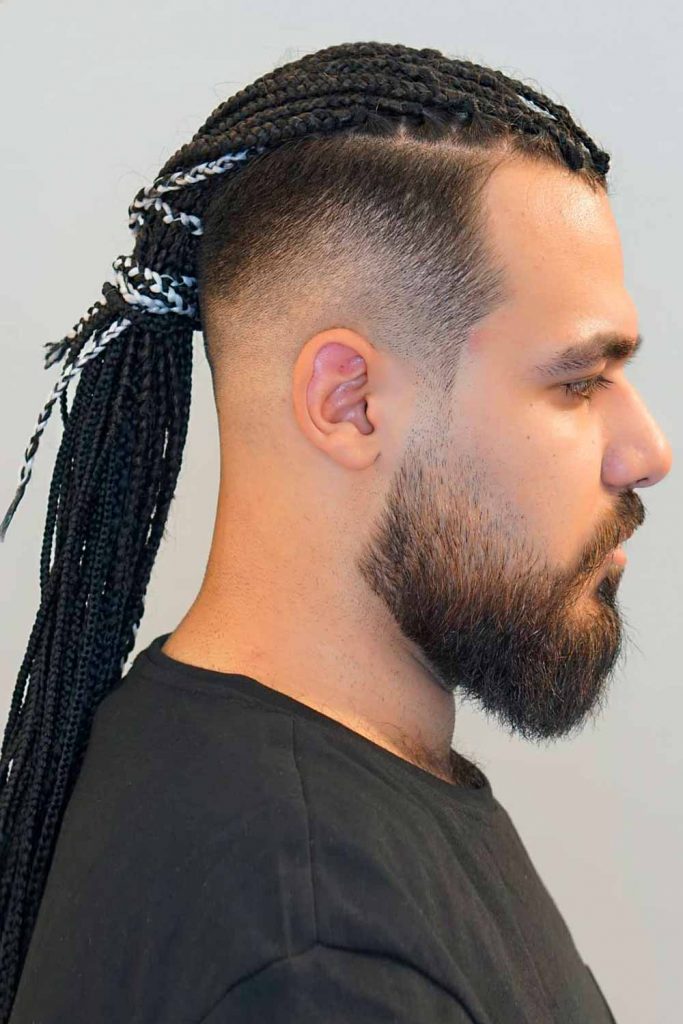 Source: @ahmetaslanhairsalon via Instagram
Single Braids For Man With Beads
There are arguably no such single braids hairstyles for men that would not allow for various hair accessories. As such, you can always enhance your boys single braids with beads. You are offered numerous options to choose from, like glass, plastic, wooden or even metal beads. The choice depends on your preferences and personal style.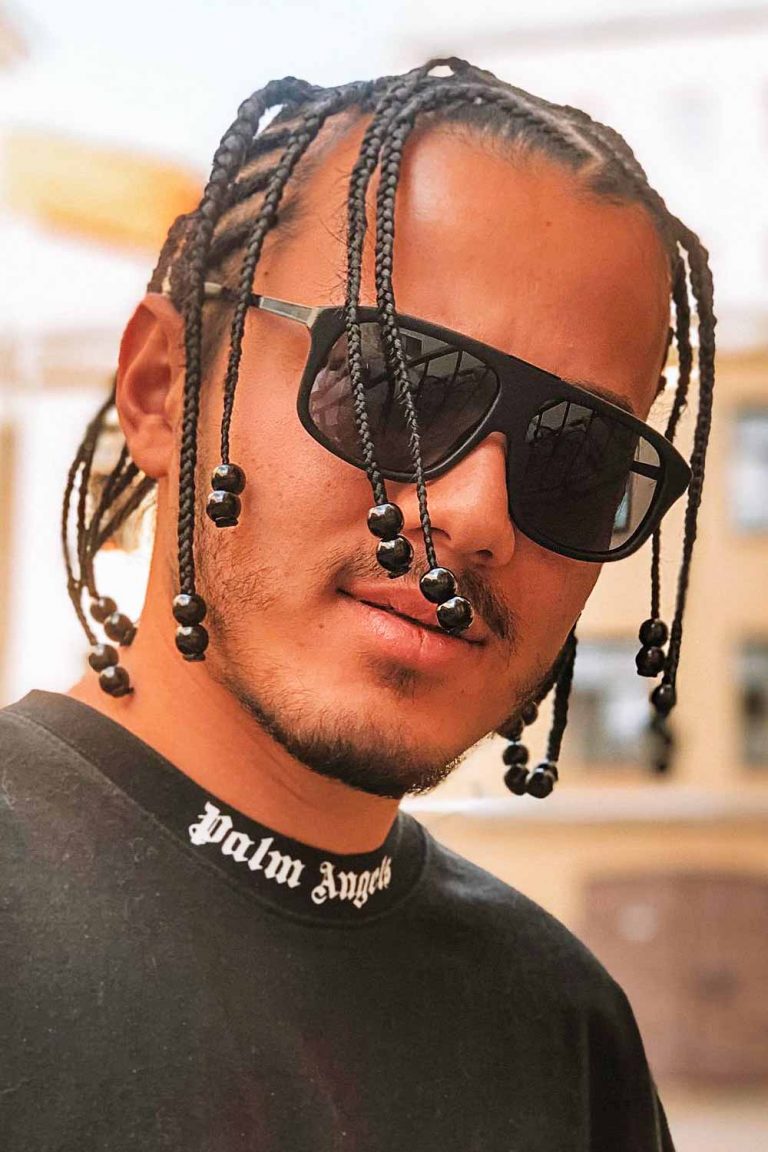 Source: @braidsvolna via Instagram
Braids In A Bun
Man bun single braids is a combo that does not leave anyone indifferent. It proves that both braids and buns can look ultimately masculine and hot. If you are not sure whether you will be able to pull it off, complement the look with a rugged beard.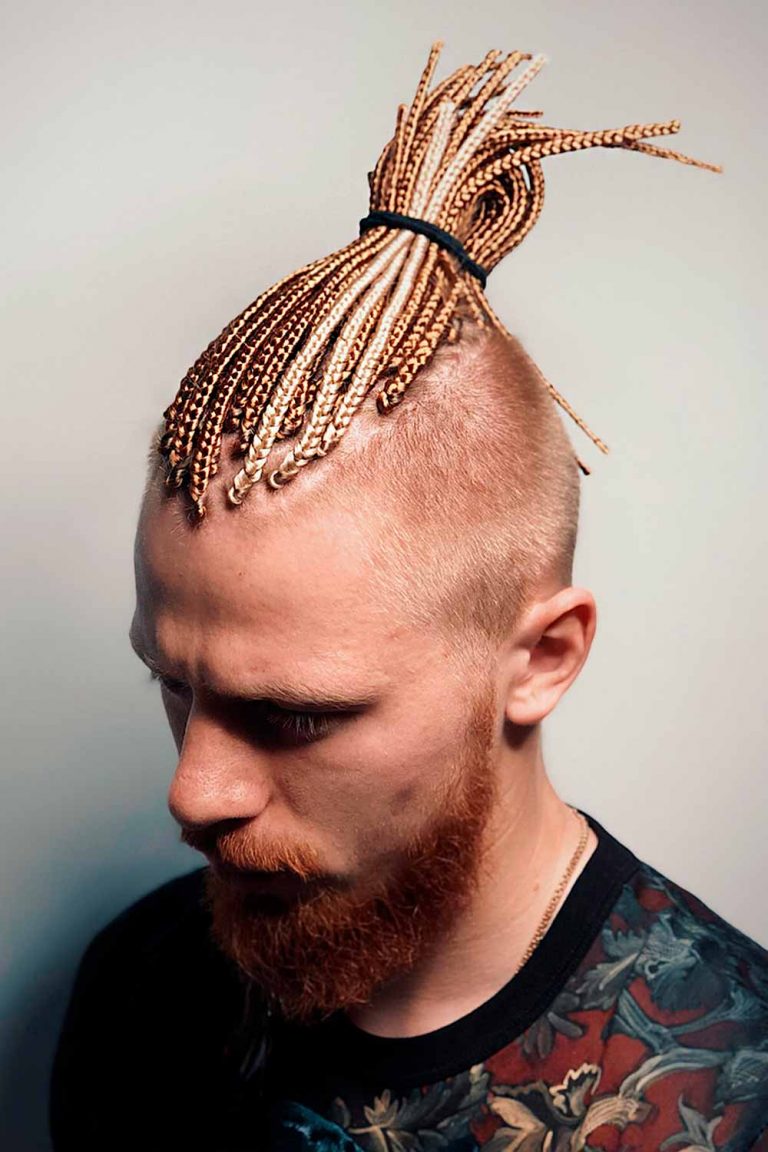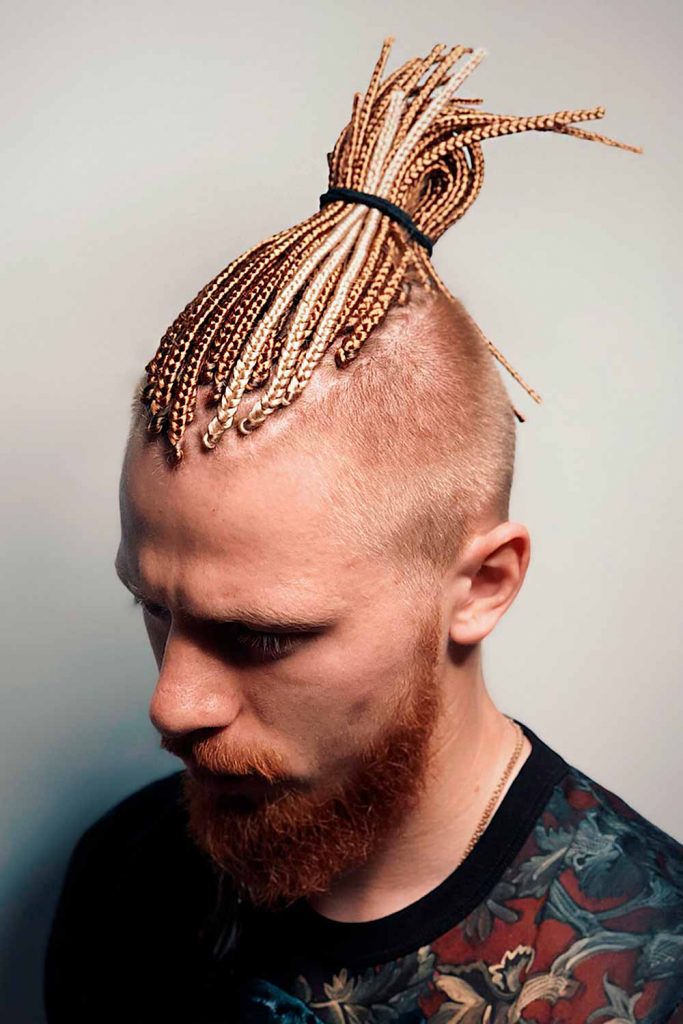 Source: @braidsvolna via Instagram
Long Purple Single Braids For Men
Take your long single braids for men to another level of boldness by dyeing them into a bright color. Alternatively, you can use colorful braiding hair if you are reluctant to permanently change your hair color. Purple or red single braids come out incredibly daring. So, if you like being the center of attention, this is your way to go.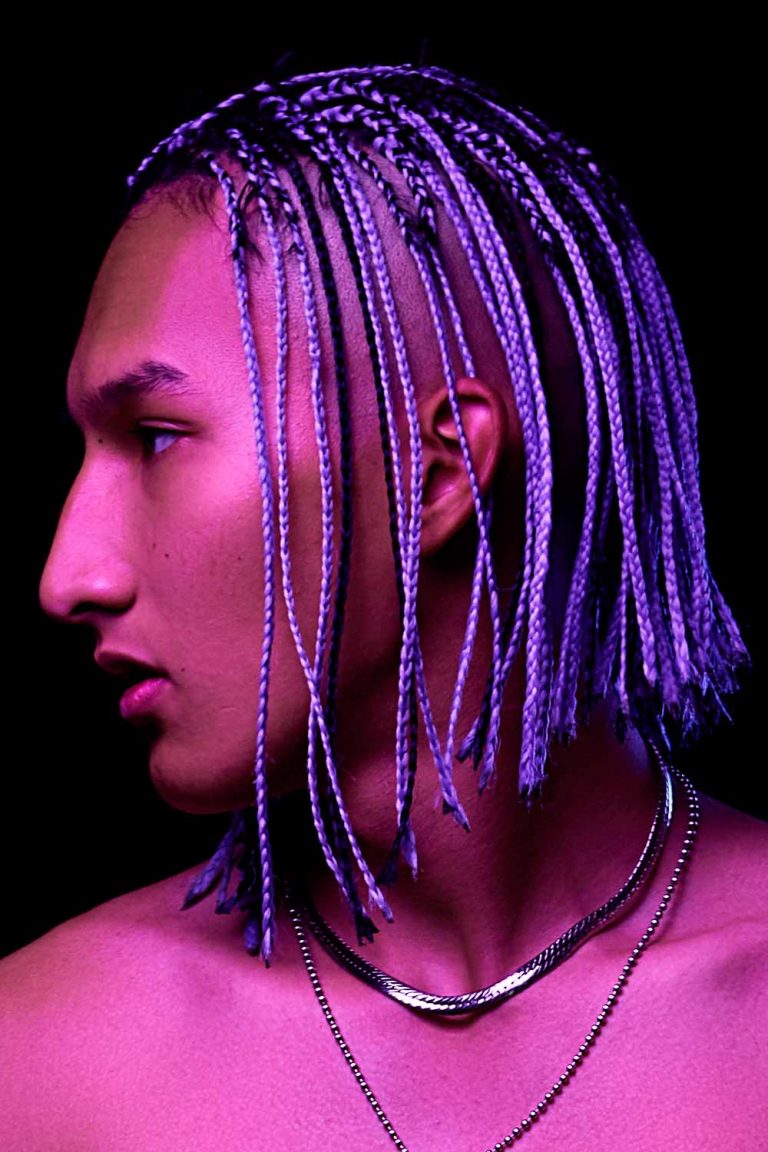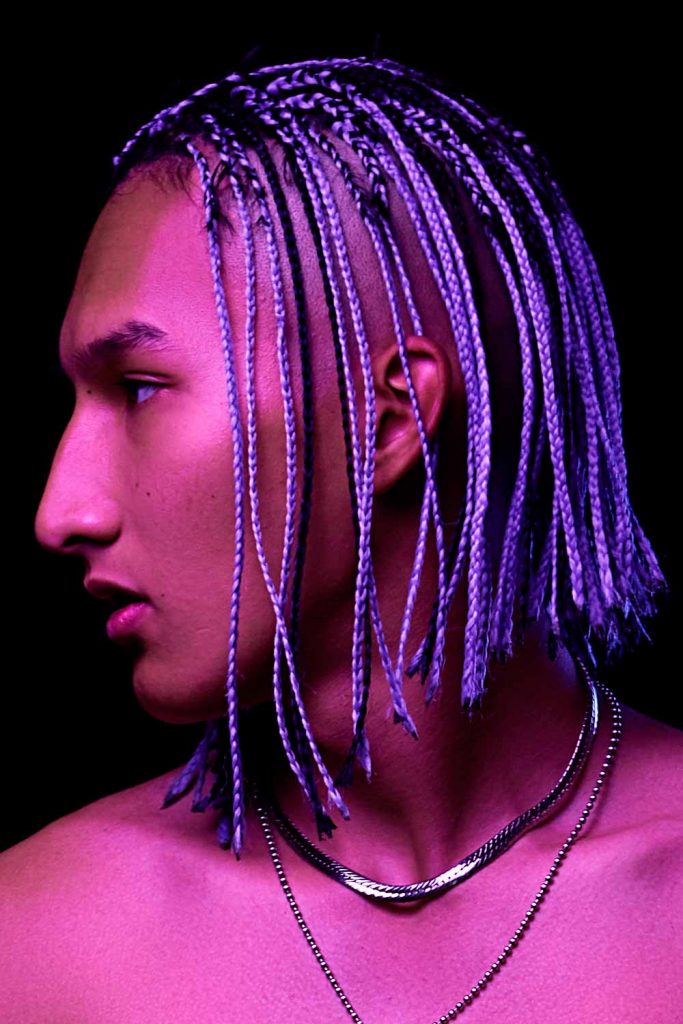 Single braids for men are at the peak of their popularity for good reason. If you have decided to commit to this fashionable hair look, then we hope our guide has come in really handy for you. And do not forget that we have selected only the crème de la crème of single braids styles for men. Each of them has plenty of variations to match every taste.
FAQs
How much are mens single braids?
Regular men single braids without using extension hair cost anywhere between $60 and $80, which depends on how thick and long your hair is. If you want a more complex single braid hairstyle, the price will rise up accordingly.
Are single braids good for your hair?
Feeding extension hair when getting male single braids takes the tension off your scalp and natural locks. As a result, it breaks off or falls out much less, which is definitely good for your hair.
Is it OK for men to braid their hair?
Mens braids are extremely trendy at the moment. They are not only an awesome solution for everyone who wants to keep their kinks in order but will also protect your natural hair from drying and frizz.