Pop smoke braids have long been considered one of the best protective hairstyles. But their popularity is rising day after day. So, if you have decided to hop on trend but were waiting for a sign, this is it. It is time to nail the awesome braided hairstyle that Pop Smoke introduced to us. Not sure where to begin? We will tell you everything you need to know, from how to create popsmoke braids to the best variations of the look.
What Are Pop Smoke Braids?
But first, let's define what are pop smoke braids for men. This is a protective hairstyle that features four feed in cornrows braided on each side of the head so that they have a distinct parting in the middle. It was popularized by Pop Smoke, a rapper, songwriter and singer from the USA who passed away at the age of 21. One of the coolest things about the style is that it is suitable for everyone no matter your gender, age or even type of hair. Yet, it is a more preferable option for natural kinky locks, as it helps not only to tame them but also to keep them protected from frizziness, brittleness and breakage. Besides, you can wear popsmoke braids for 4-6 weeks and with proper maintenance, even longer. To create the style, the braider will use the stitch in knot hair technique. Yet, the number of ways to pull it off is endless, so it is easy to find a style to your liking.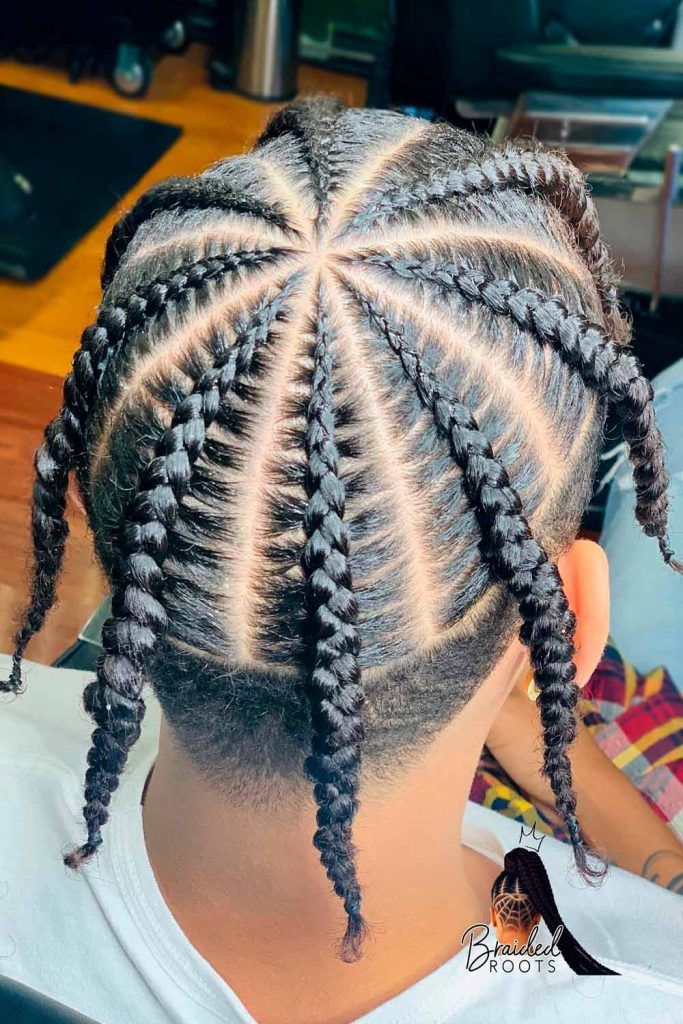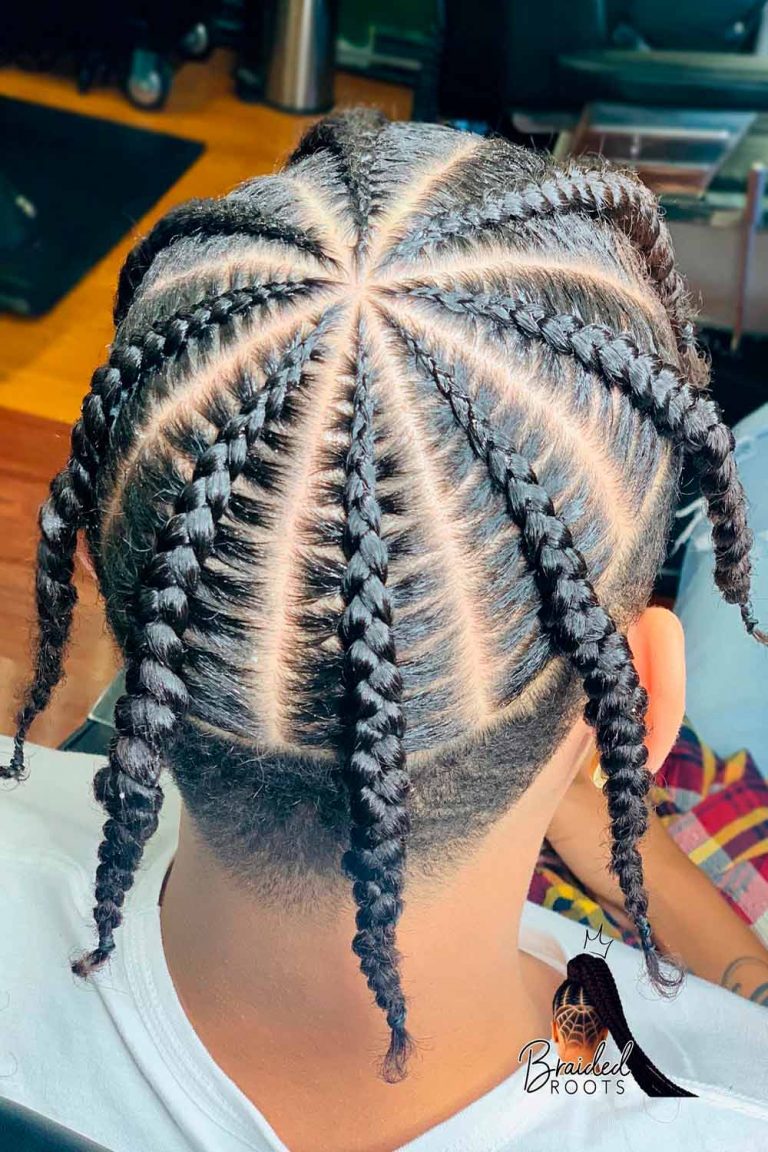 Source: @braidedroots via Instagram
Pop Smoke Braid Hairstyles
As pop smoke braids are one of the most popular Black men hairstyles, they have plenty of variations. Below, we have picked out the best ones for your inspo.
WOULD YOU LIKE TO TRY POP SMOKE BRAIDS?
Anonymous quiz
Yes, it's a mind-blowing hairstyle!
Are you kidding? Never
Thinking about it
Its already on my head
WOULD YOU LIKE TO TRY POP SMOKE BRAIDS?
Yes, it's a mind-blowing hairstyle!
58.41
Voted : 315
Classic Pop Smokes Braids
A classic pop smoke braids style is already incredibly intricate and bold. So, there is no need to come up with something extra. While it is relatively easy to get, the result exceeds all expectations. And the best part? You will not have to style your kinks for good several weeks.
Source: @f4fade via Instagram
i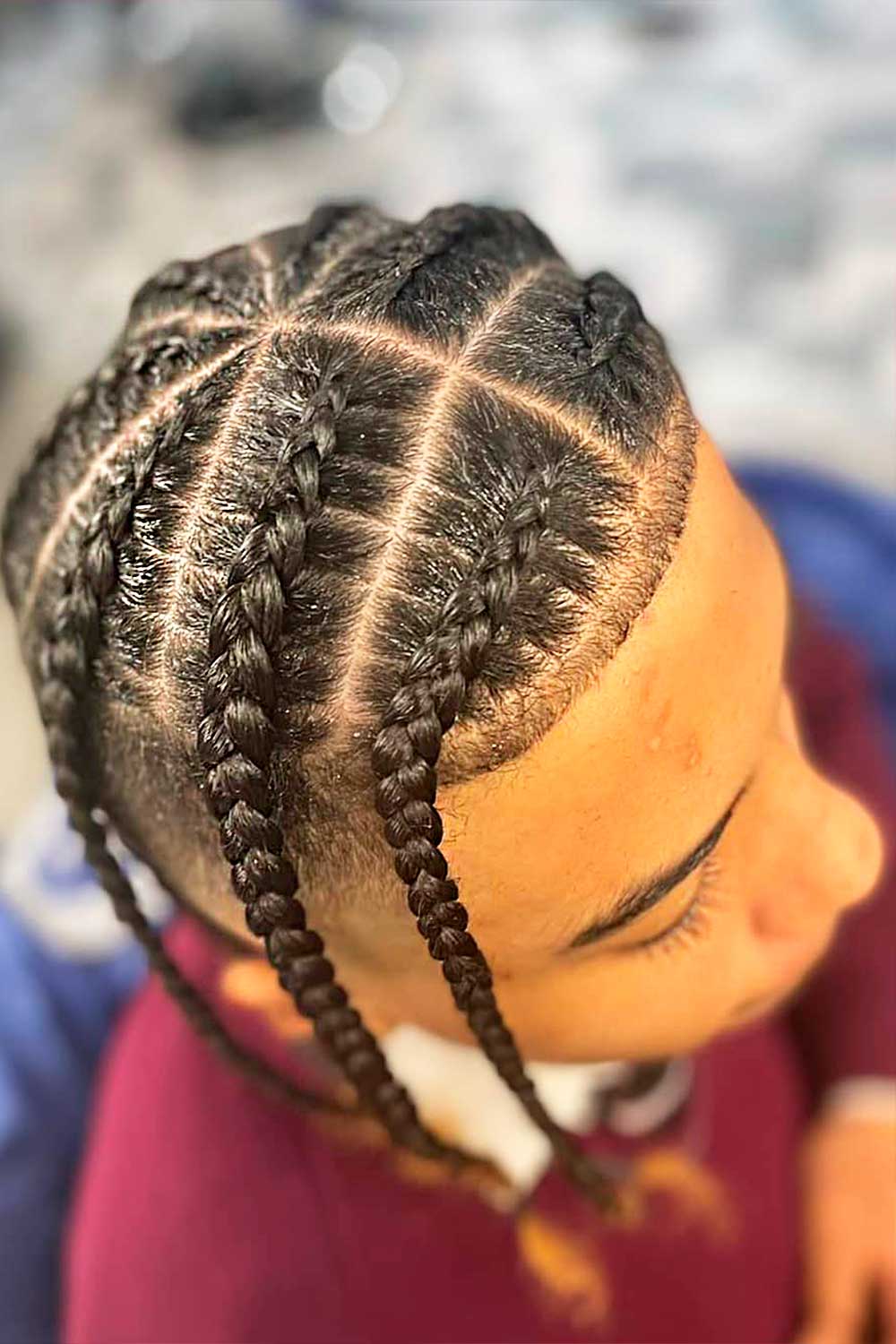 Source: @dynasty_barbers via Instagram
i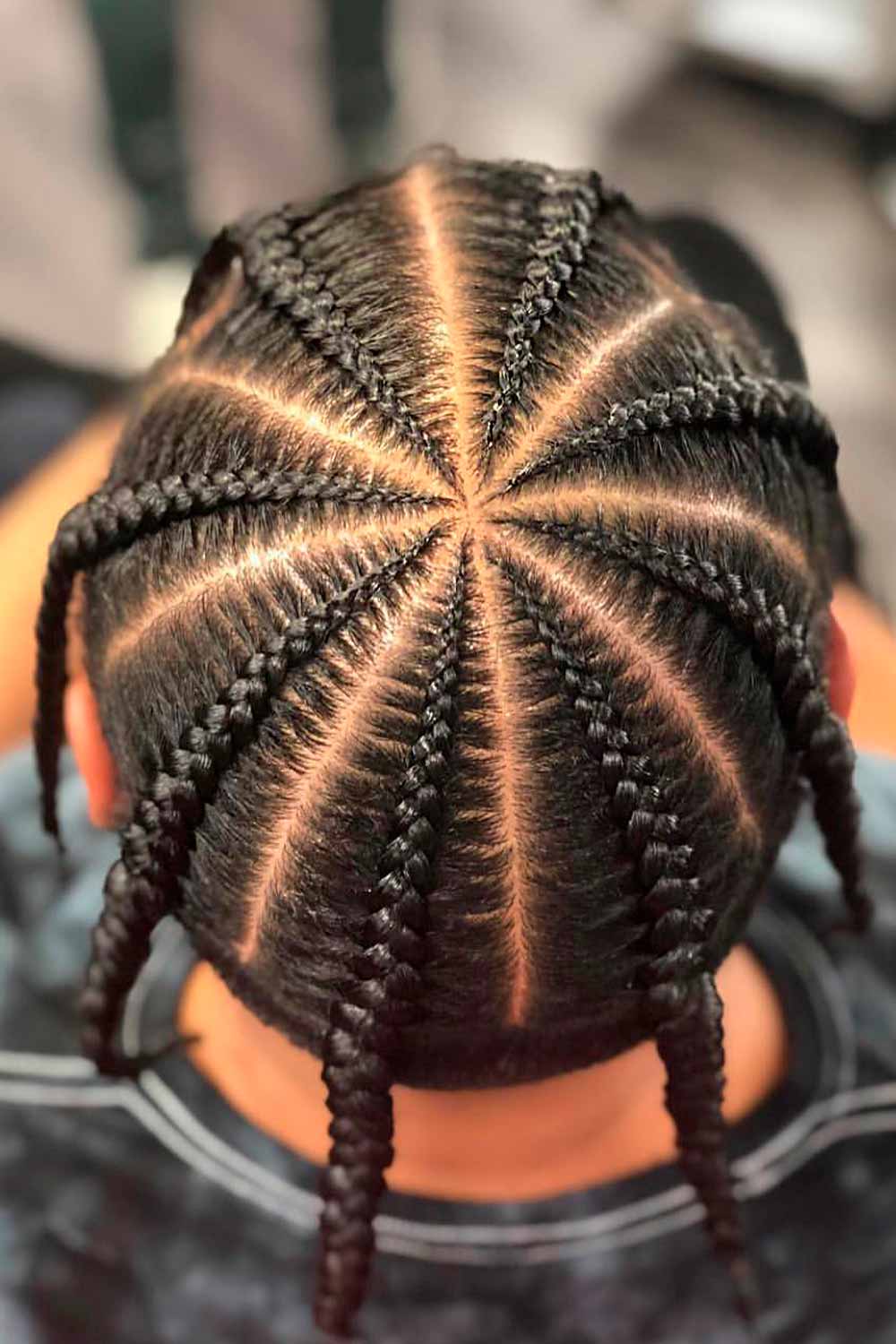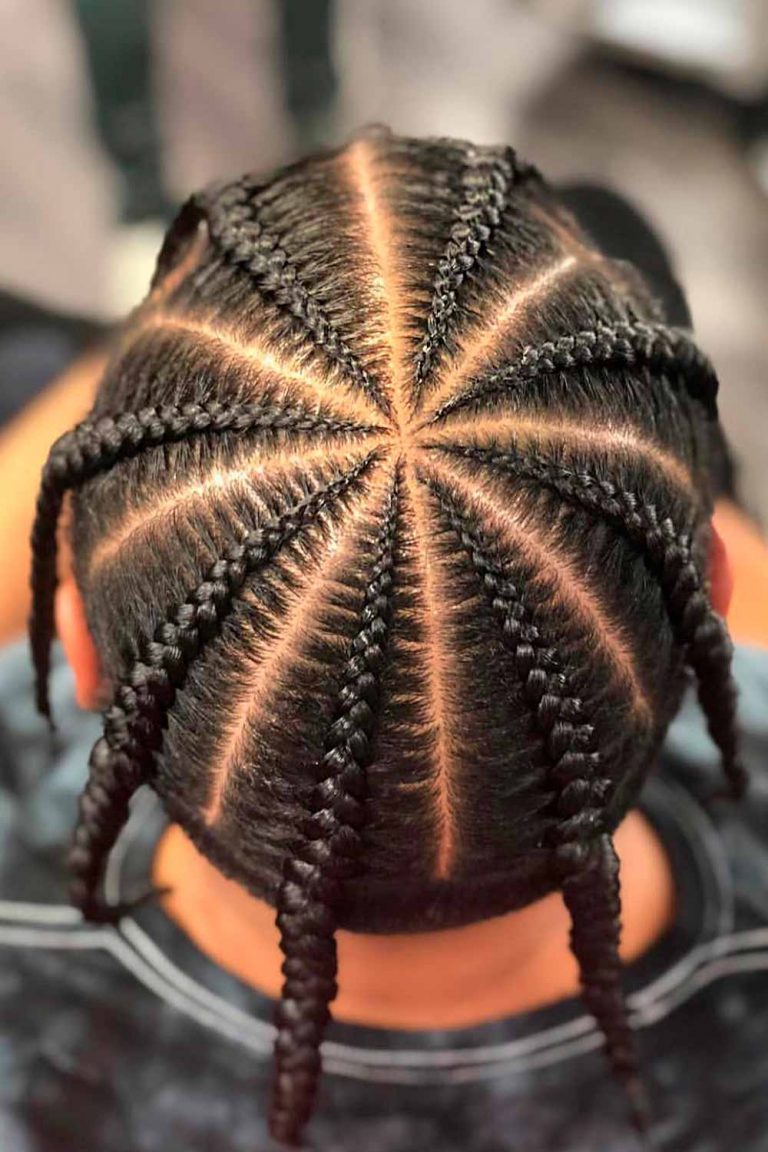 /
Long Pop Smoke Braids
Pop.smoke braids can be pulled off on any hair length. So, if you have had enough patience to grow your mane quite long, then you will end up with a very prominent pop smoke braids male hairstyle. For added emphasis, you can pair it with a line up haircut.
Source: @f4fade via Instagram
i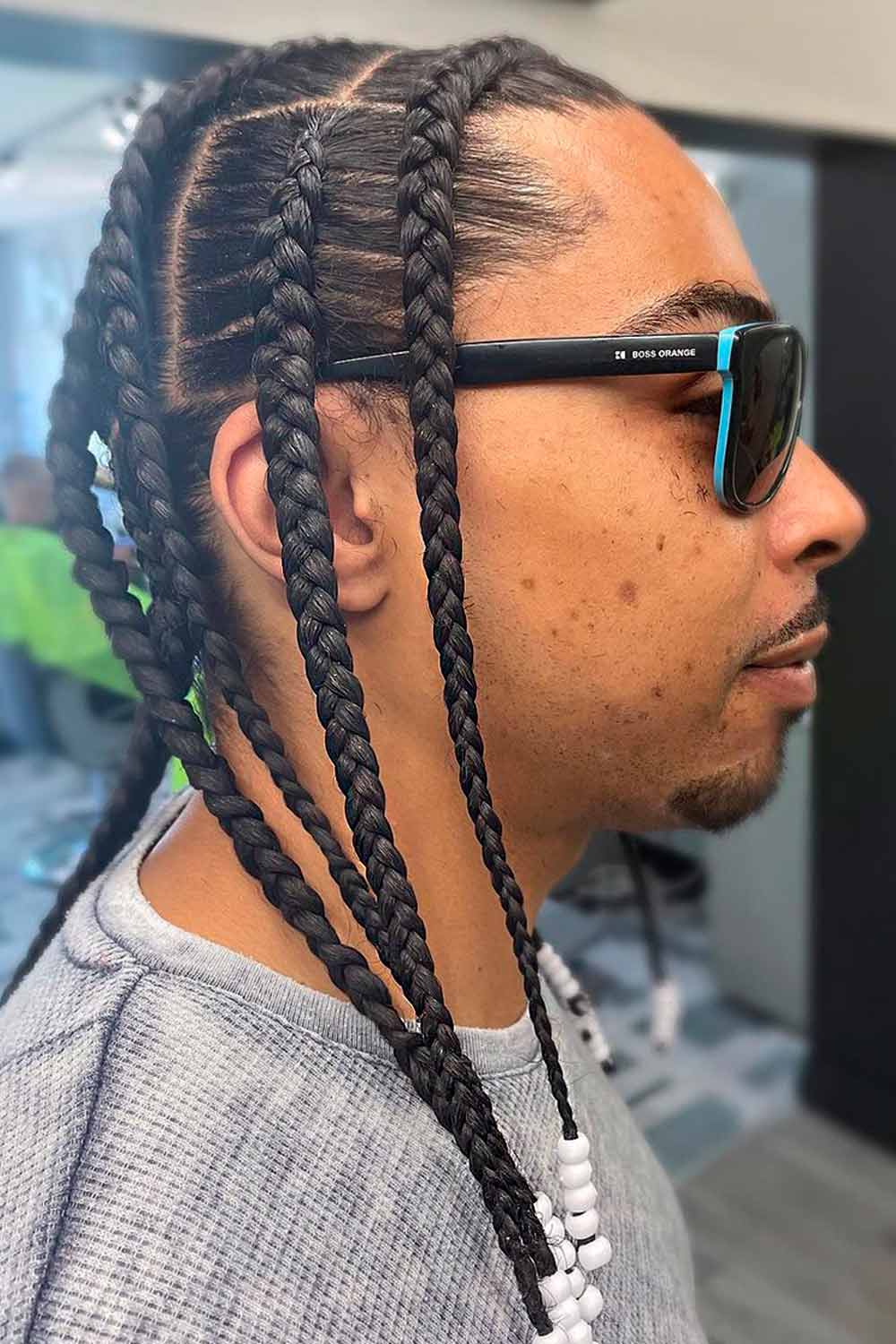 Source: @lovedbyloni via Instagram
i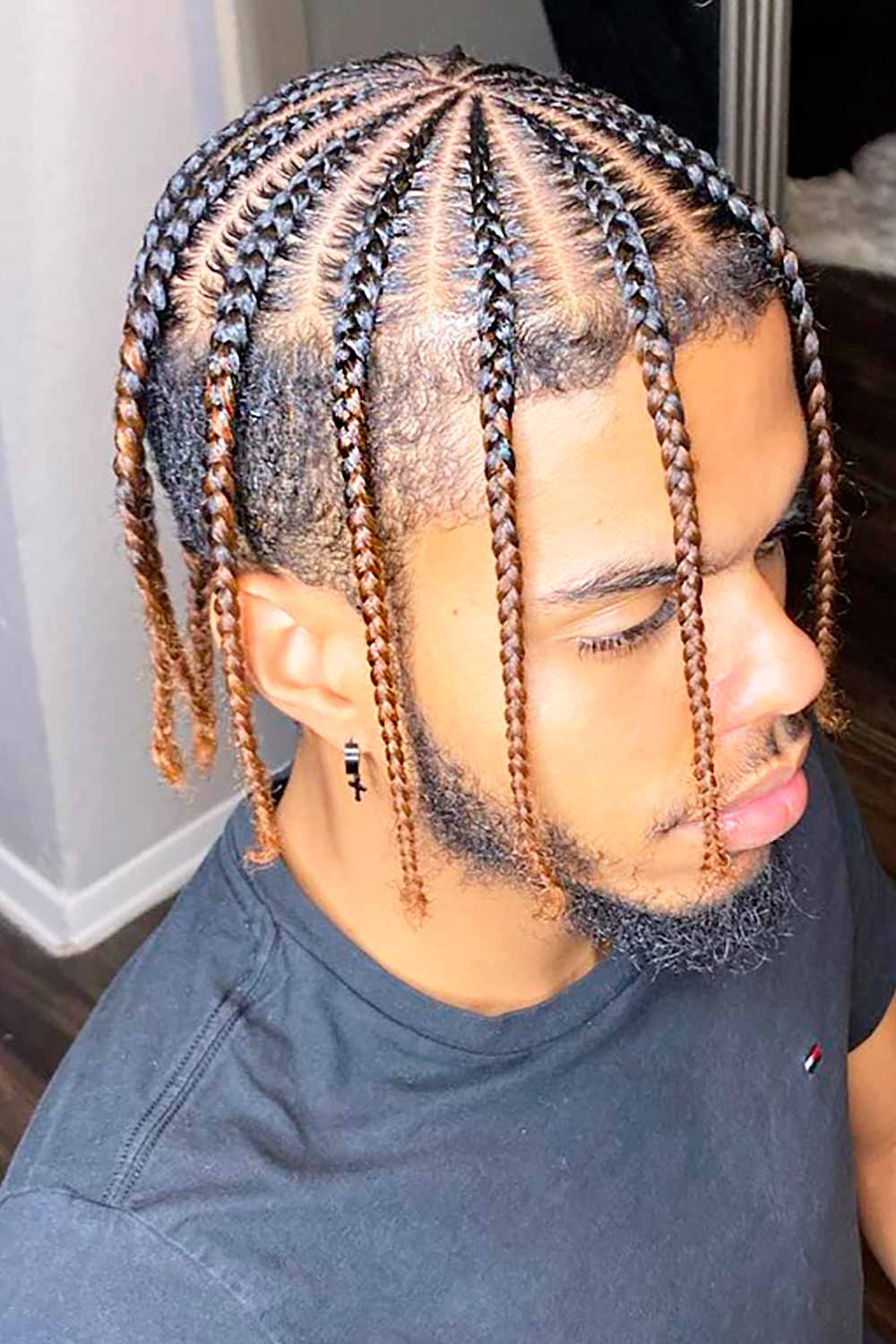 /
Braids For White Men
A White rapper with braids is almost as common as a Black one, which means that hairstyle knows no limits when it comes to hair texture. Even if your locks are not kinky or coily, they can nevertheless be braided according to your preference. If you are leaning toward a pop smoke hairstyle, no one can stop you.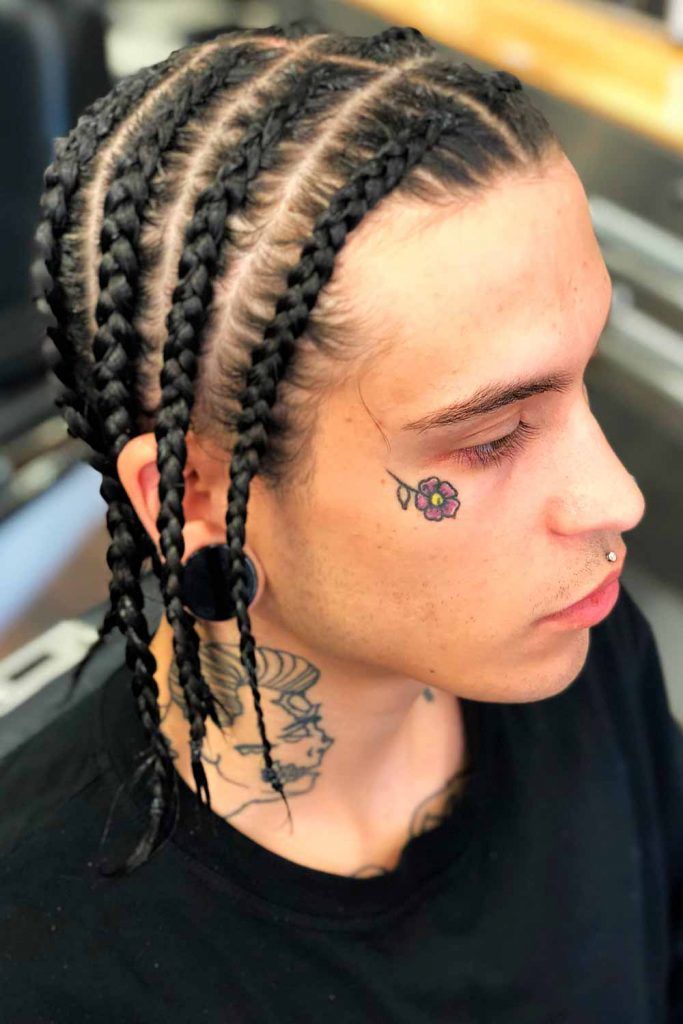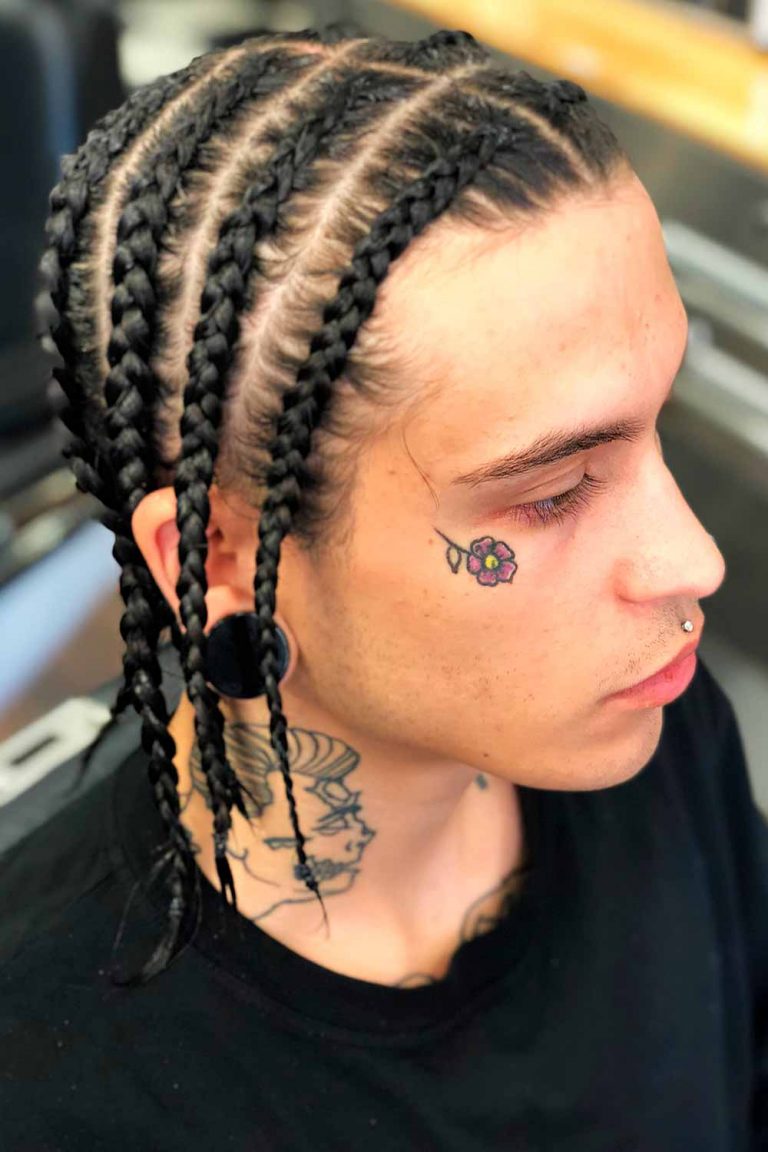 Source: @braidedroots via Instagram
Long Cornrow Pop Smoke Hairstyle
With long pop smoke cornrows, you will never go unnoticed. The look takes the best from both hairstyles – an elaborate pattern on the head and distinct center parted braids. Those who have shorter hair can add the missing length by incorporating braiding hair.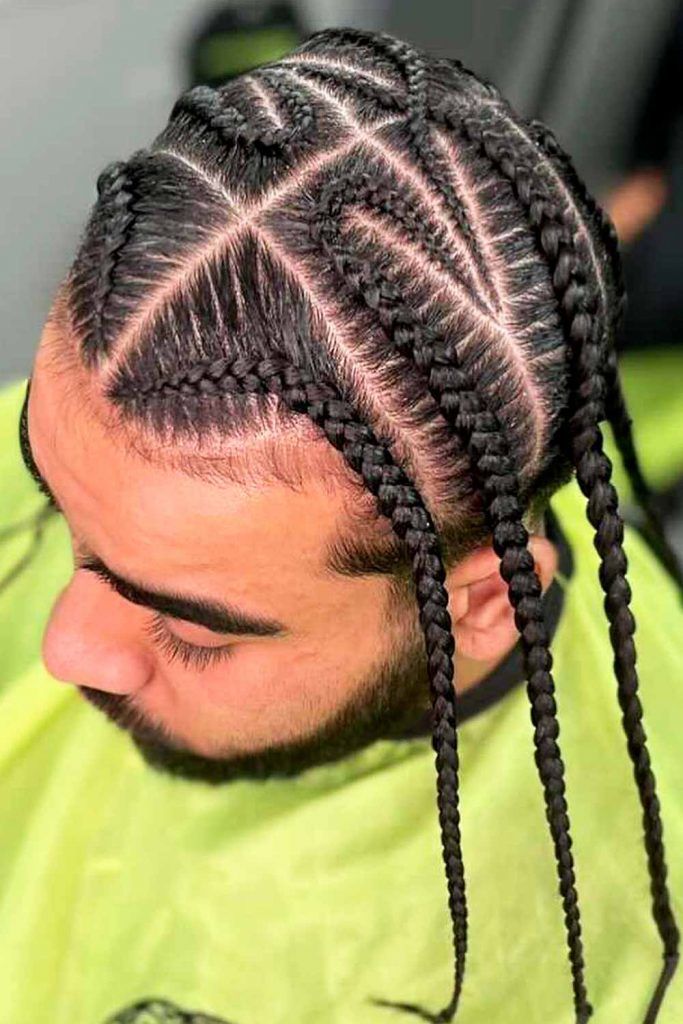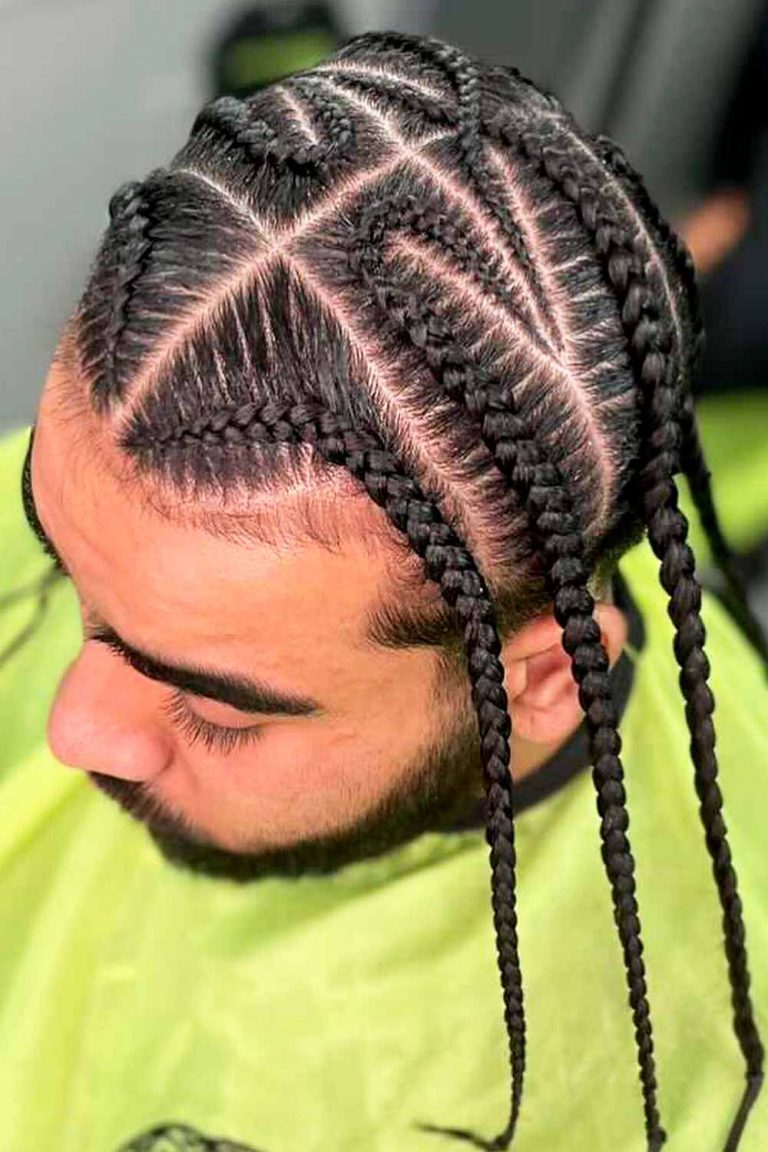 Source: @f4fade via Instagram
Pop Smoke Bang
Since the main feature of a pop smoke hairstyle is face framing braids divided with a center parting, sometimes it is enough to get only them to nail the look. Leave several braids in the front, which will resemble a bang, while braiding the rest of the hair back into a man bun or ponytail.
Source: @andyfadepro via Instagram
i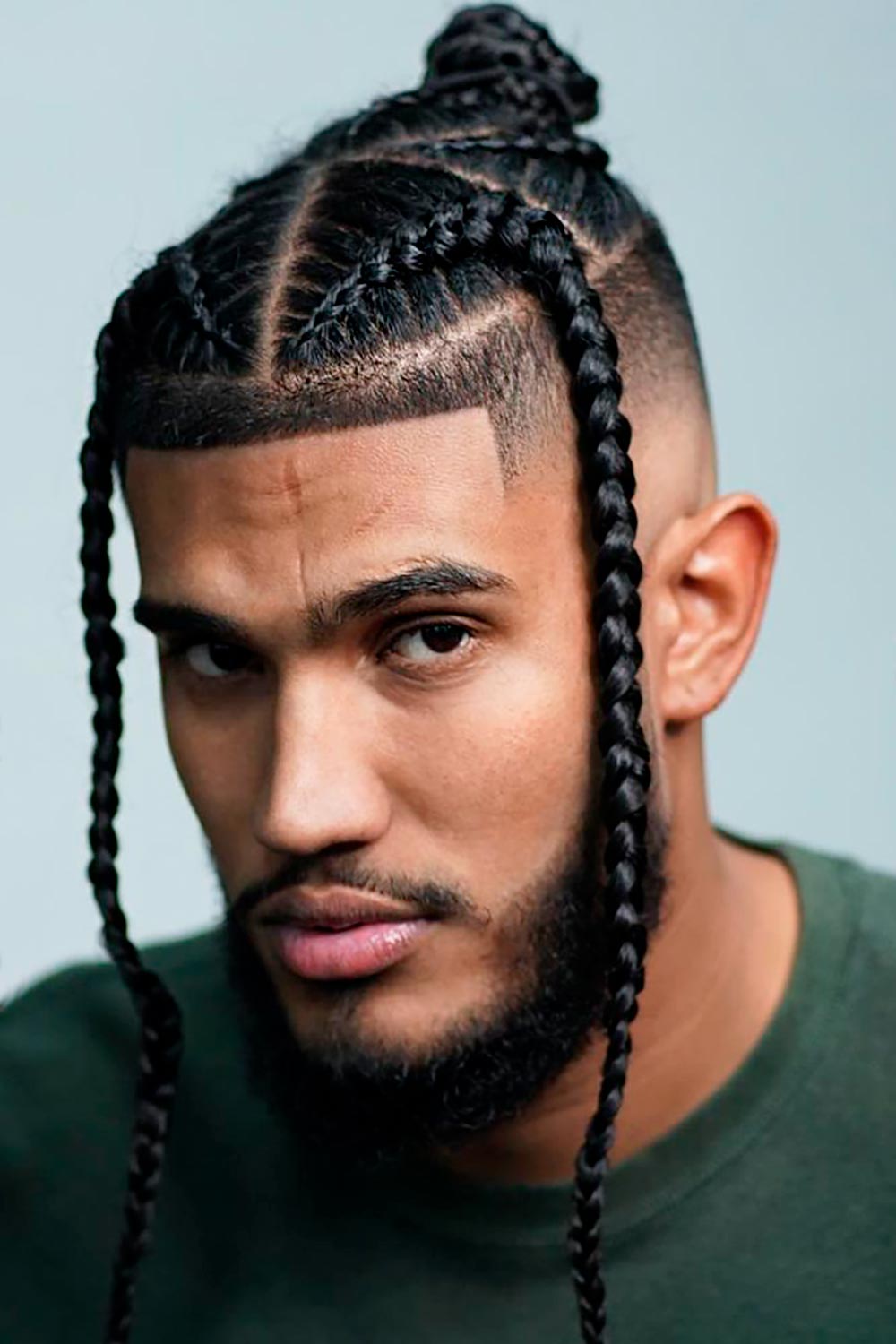 Source: @braidedroots via Instagram
i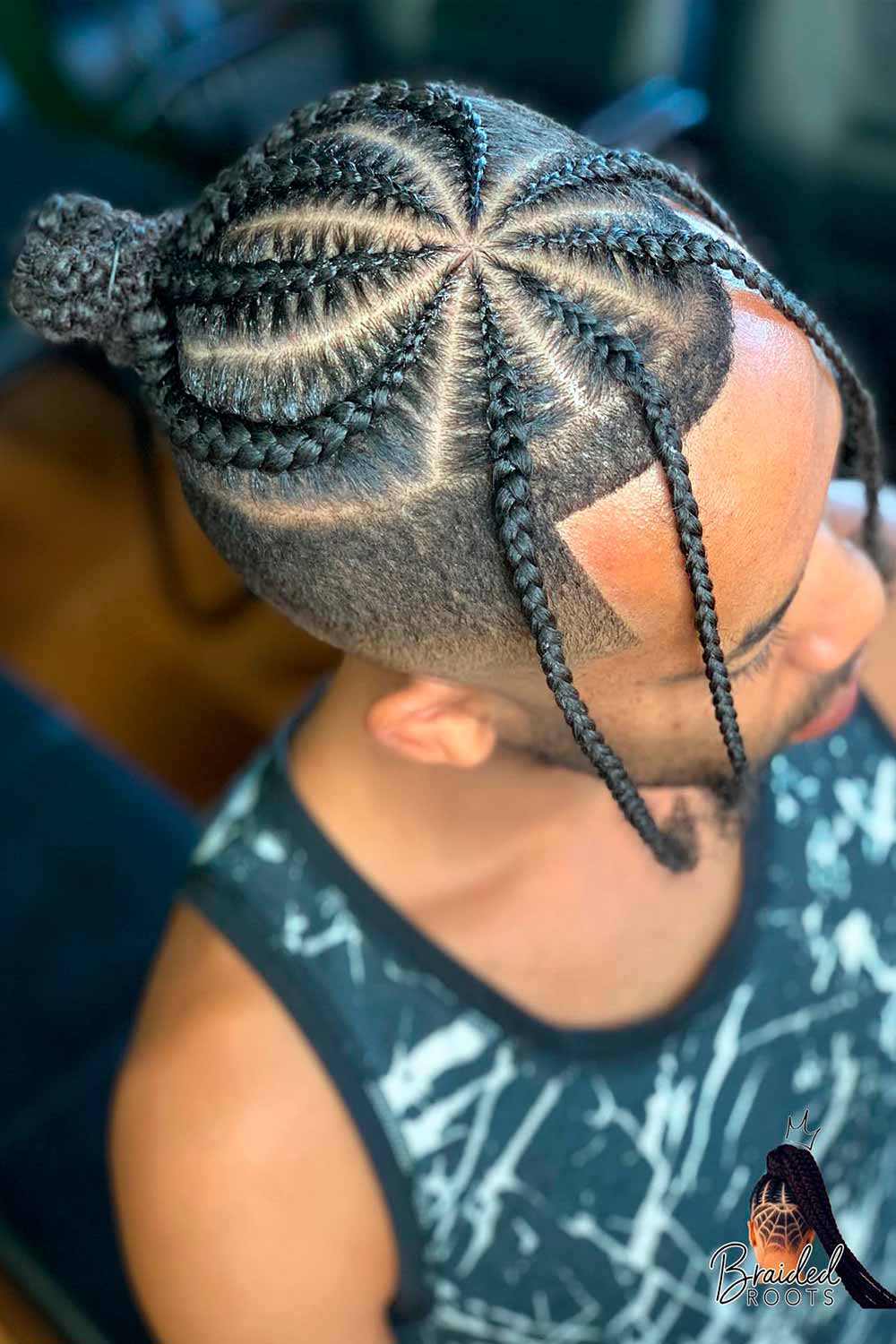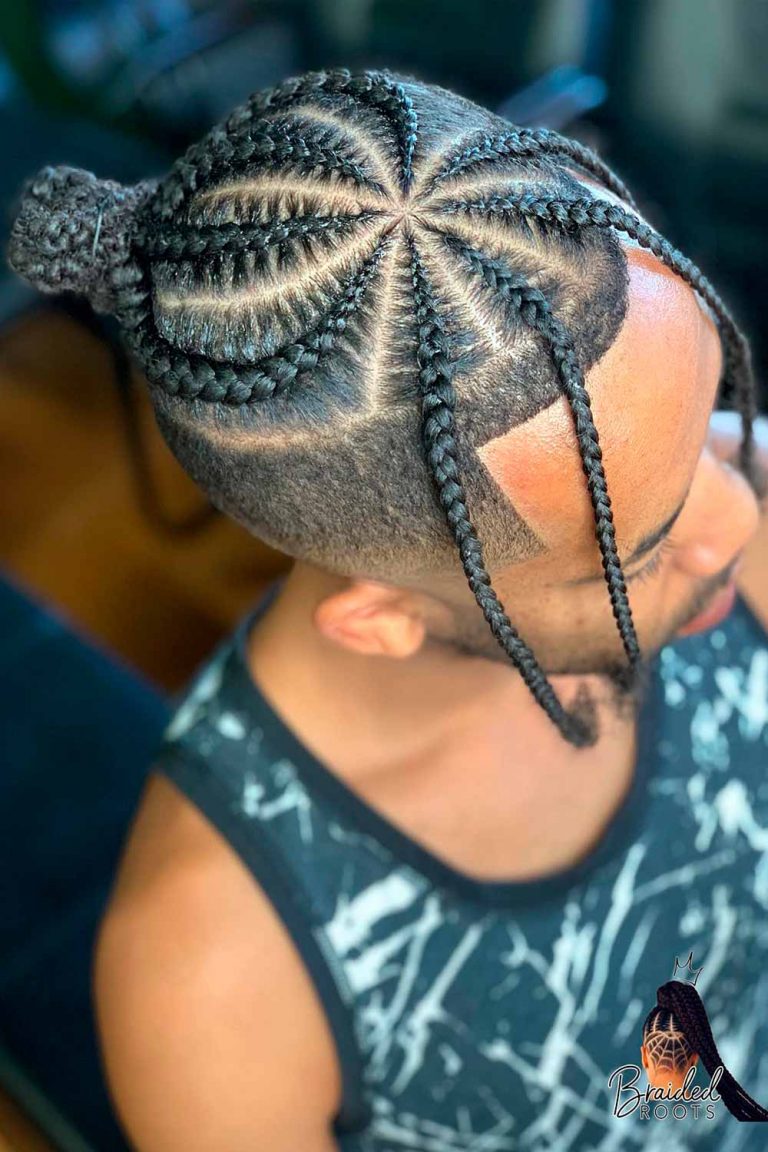 /
Pop Smoke Zig-Zag Part Braids
There are plenty of ways to take your Pop Smoke braid styles game to a whole new level of boldness. In case elaborate braiding is not your thing, why not try intricate partings? A zig zag part is pretty easy to create, while the impact it makes cannot be overlooked. Just make sure the lines are clean and defined.
Source: @braids_by_msnelly via Instagram
i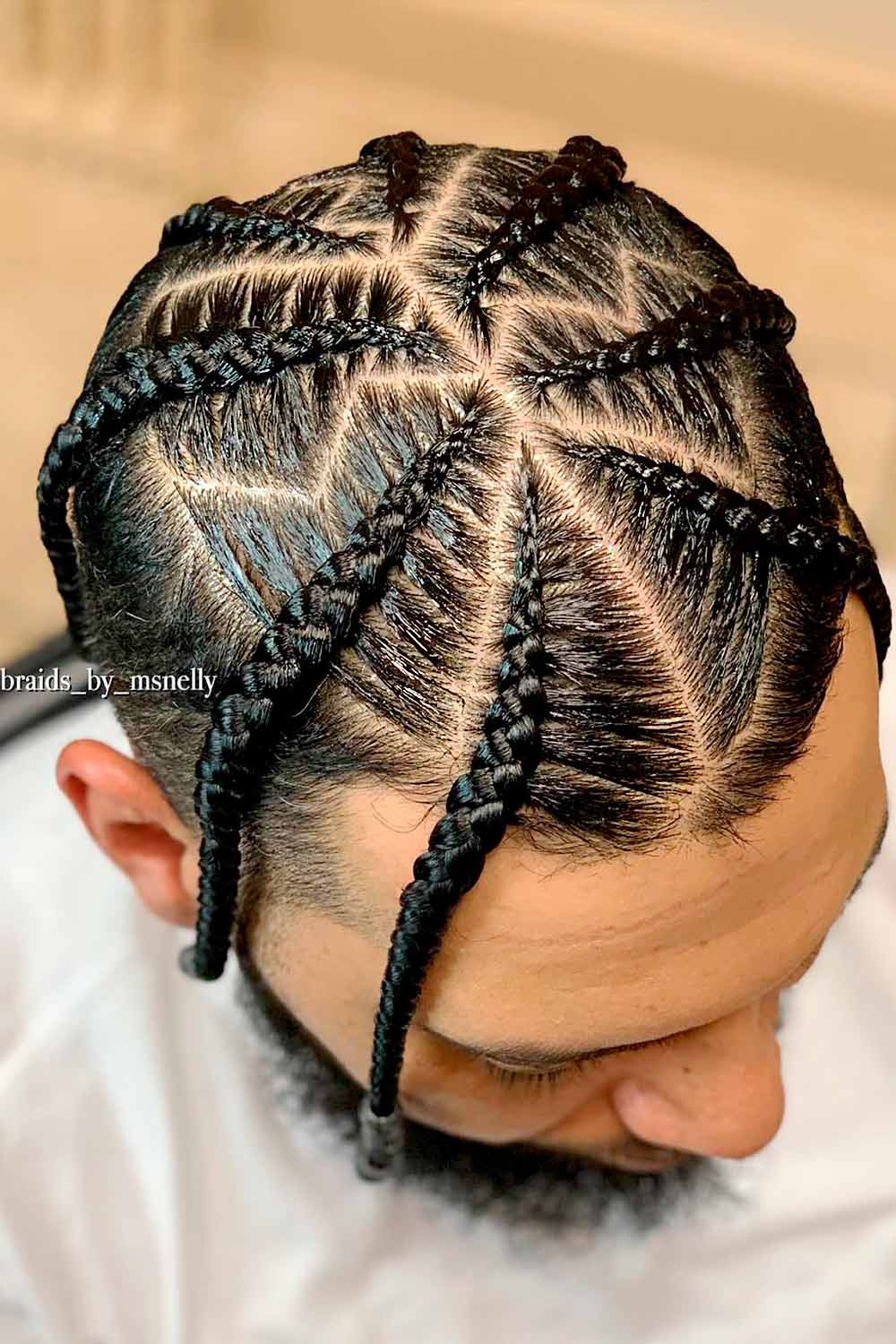 Source: @dynasty_barbers via Instagram
i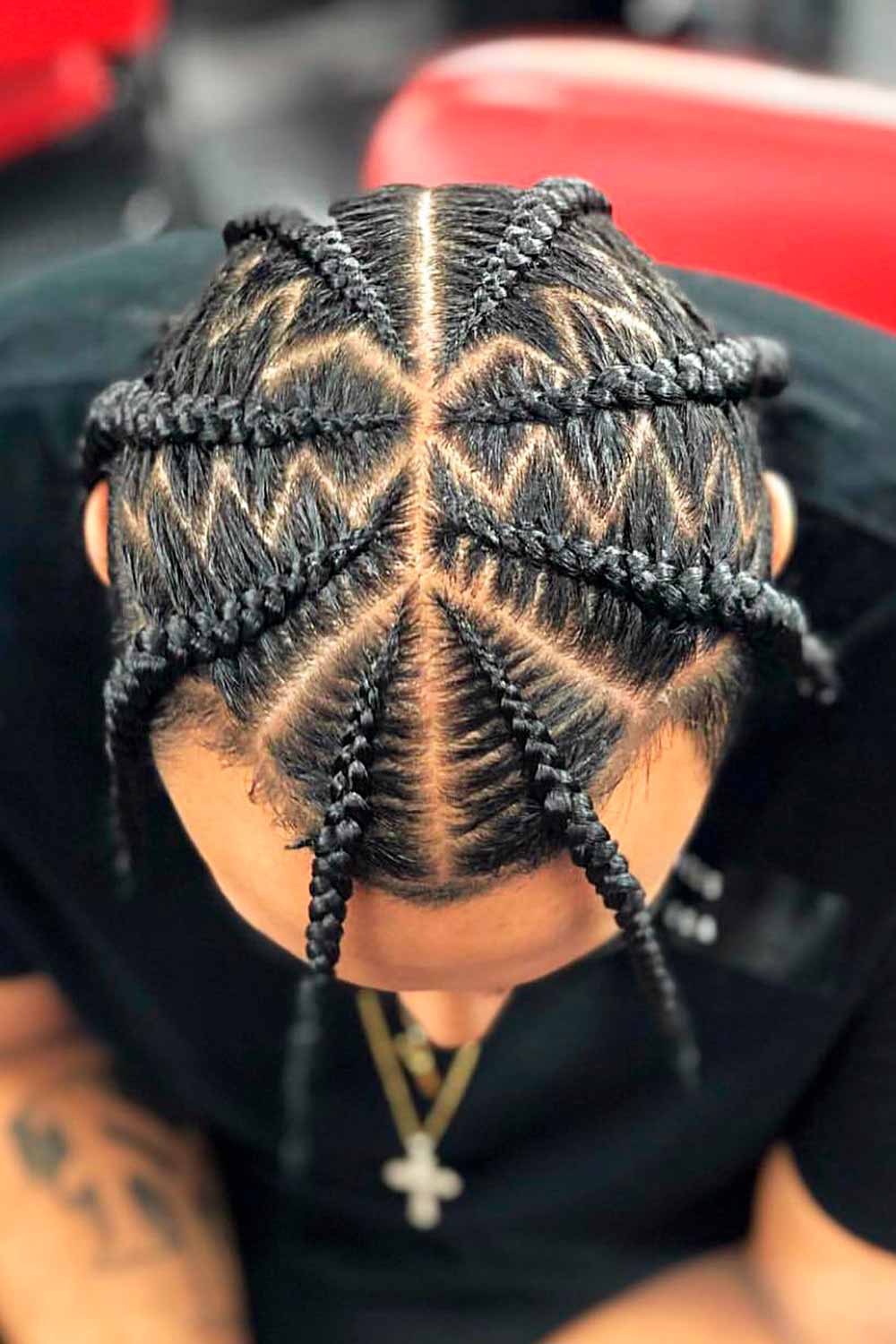 /
Short Pop Smoke Braids Men
Like we said, the hairstyle is unlimited in terms of length and this works both ways. So, for pop smoke braids short hair is not an obstacle, as it can still be braided. Pop smoke feed in braids are an amazing option for hair that is at least an inch long since you may weave in braiding hair for an added length.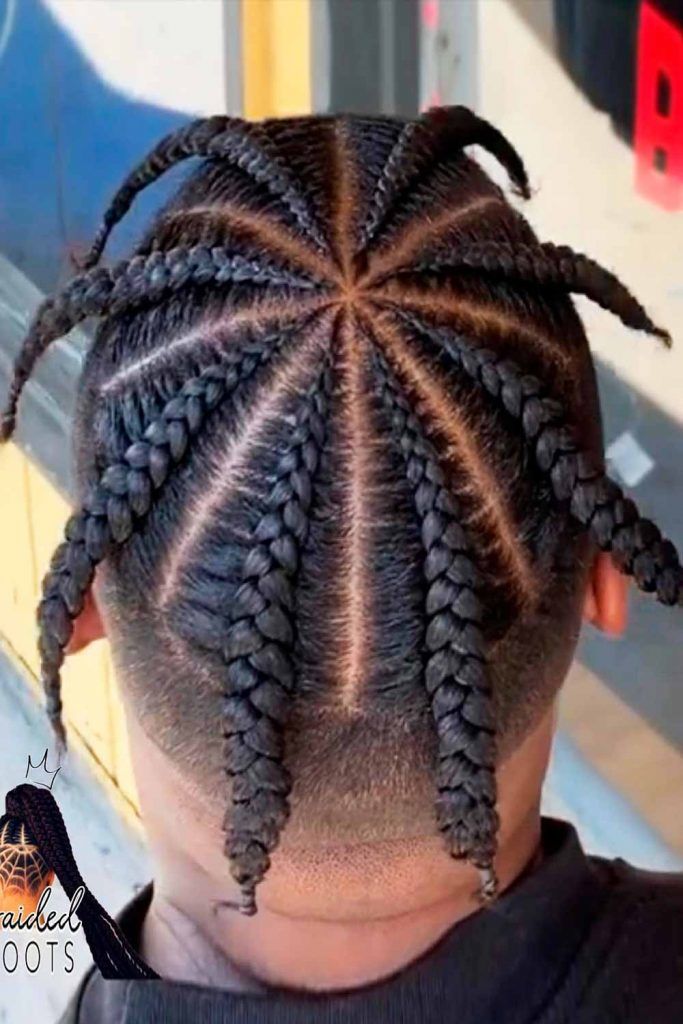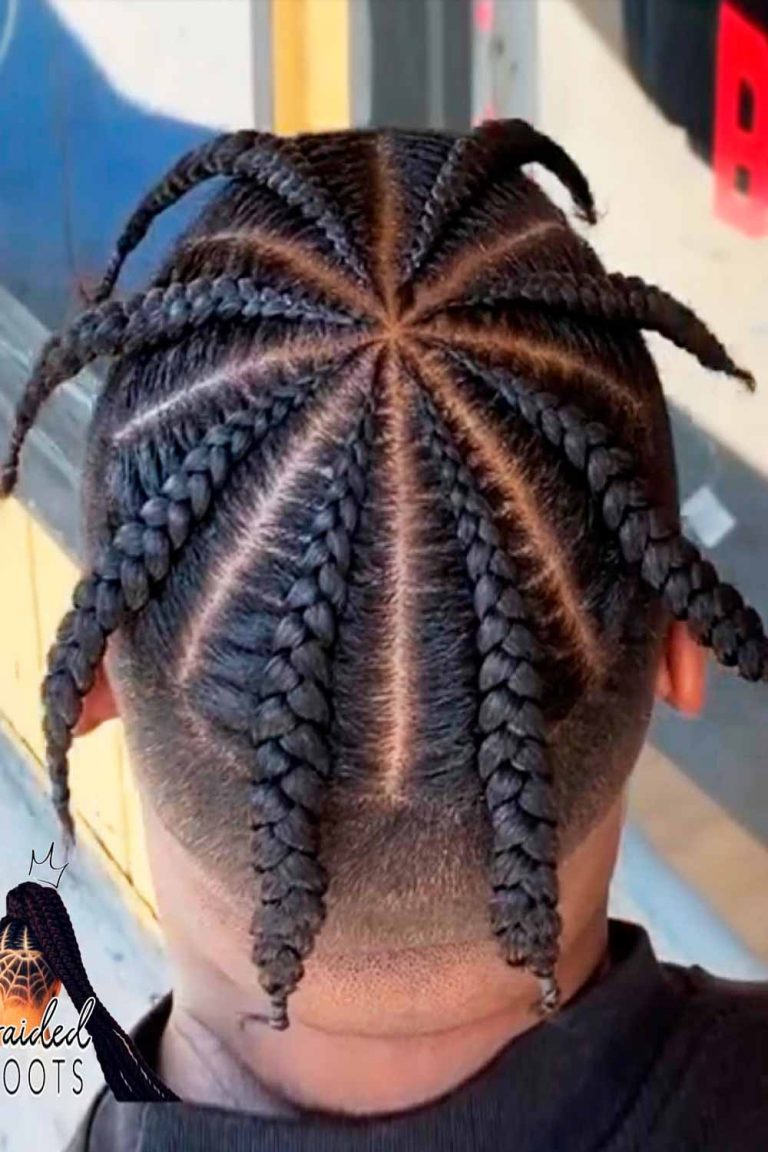 Source: @braidedroots via Instagram
Small Pop Smoke Braids
If you have thin hair or a receding hairline, pop smoke knotless braids may still work for you. They will just be smaller than regular ones. But it does not make them any less impactful. In the case of a receding hairline, the front hair can be braided following a curved pattern for the braid to look fuller.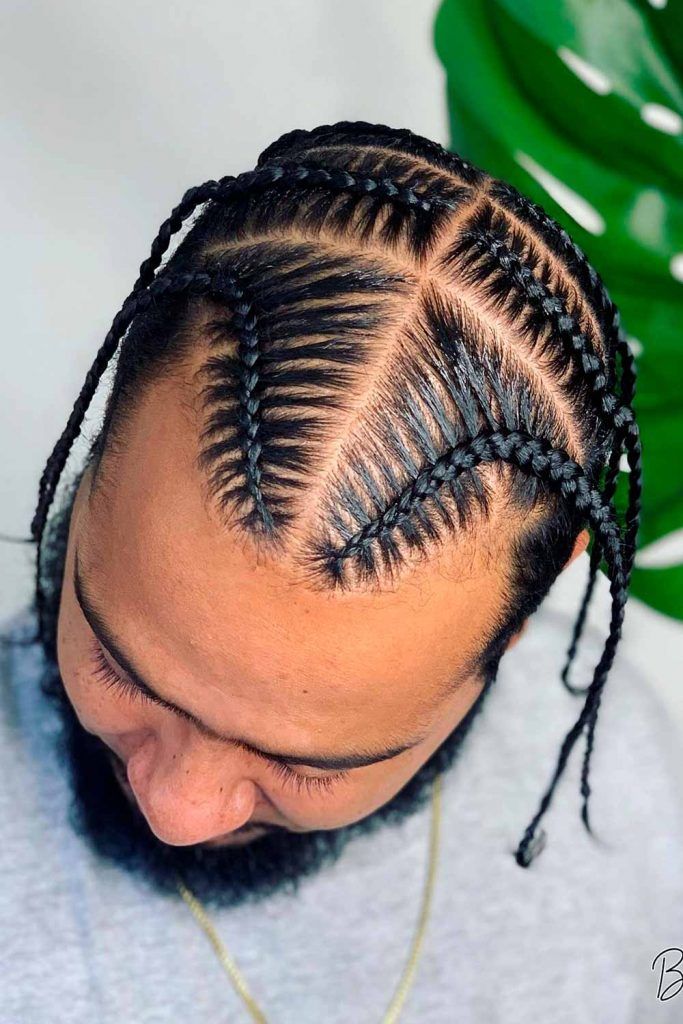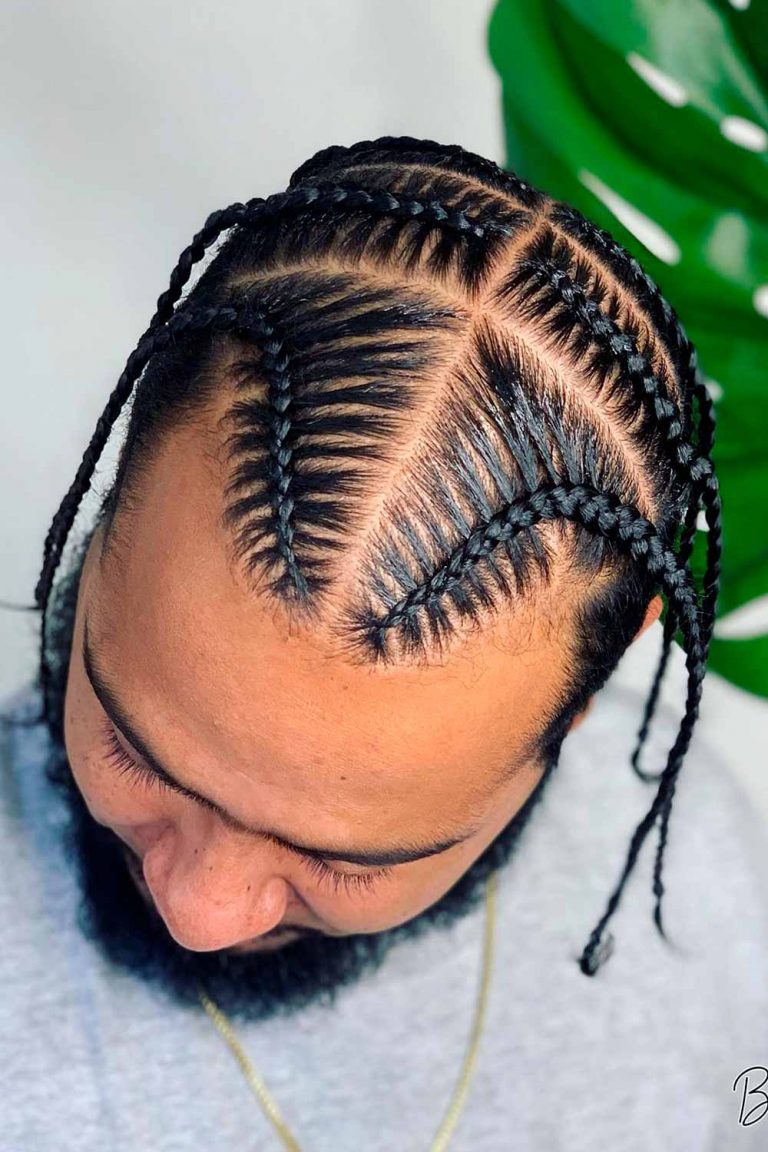 Source: @braidedroots via Instagram
Simple Pop Smoke Braids Men
Simple does not always mean boring or plain. Besides, even simple variation turn out looking unusual and attention grabbing. Just cut down on the number of braids and instead of traditional eight, get hairstyle front and back and center.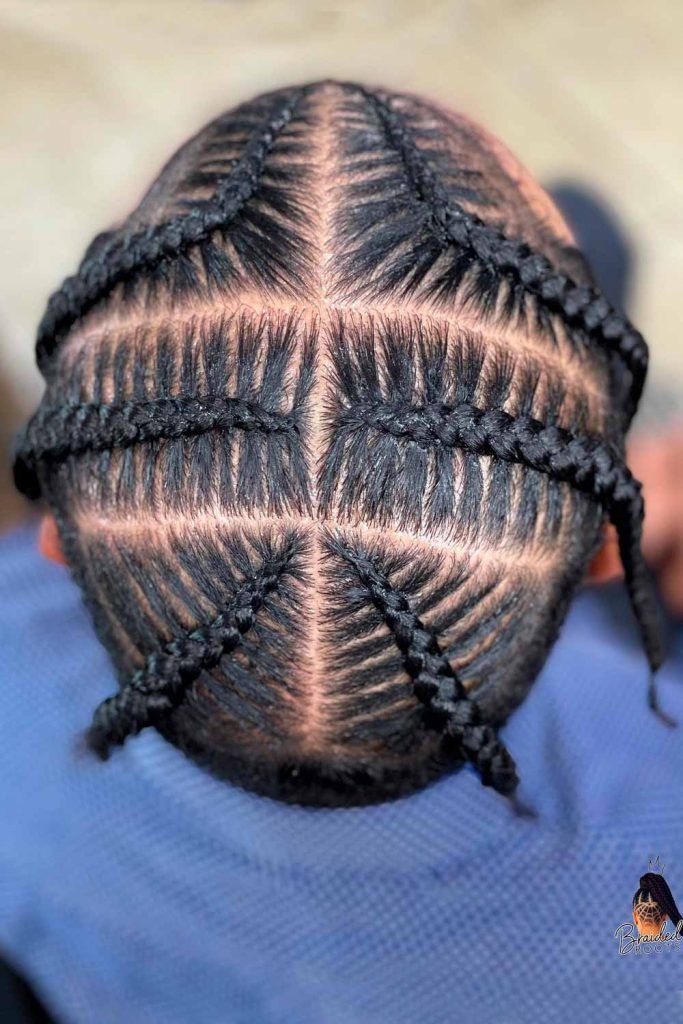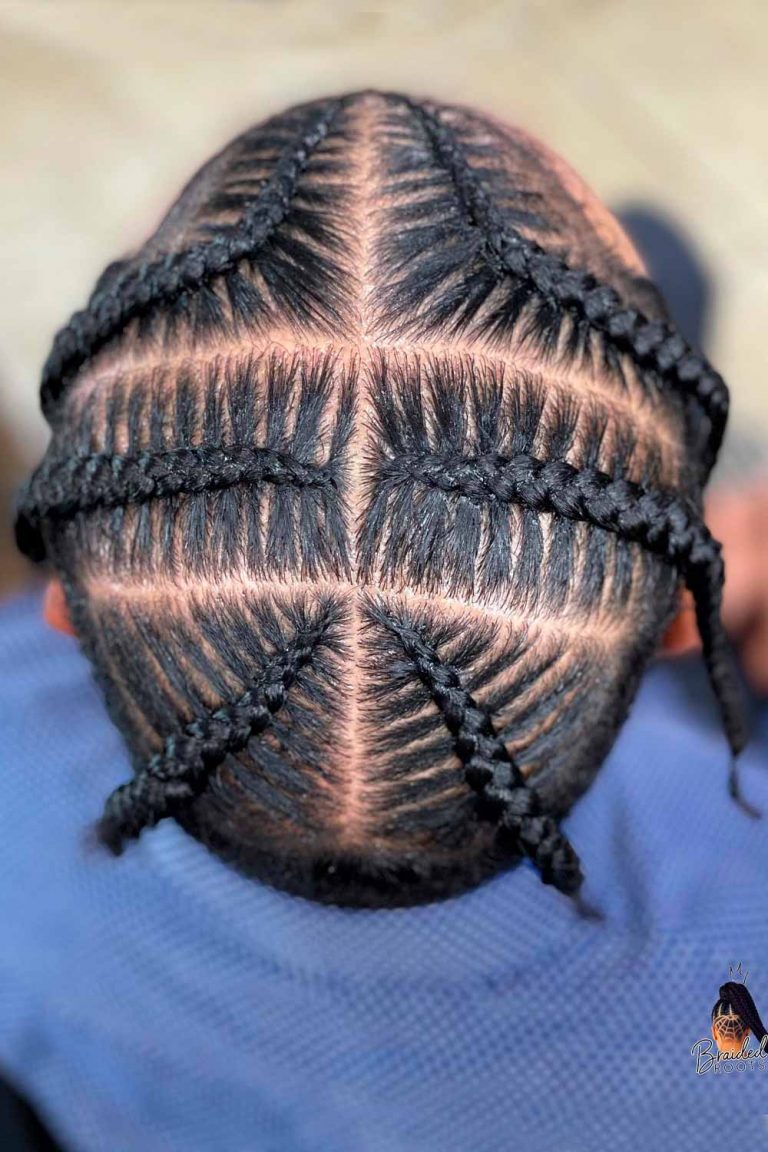 Source: @braidedroots via Instagram
Art Pop Smoke Hair
An artsy hairstyle is one of the best ways to express your creative personality. So, why not take up your stitch black braids men hairstyle a notch? You can play around not only with different braiding techniques but also with the pattern your parting creates. The complexity of the style depends on the skill level of the braider and your imagination.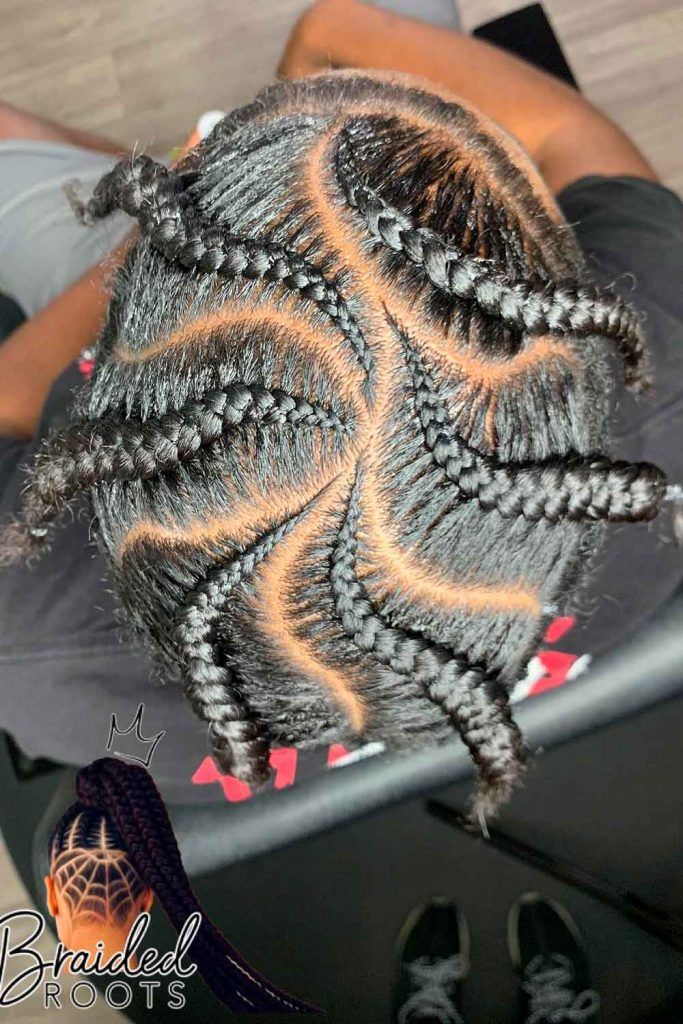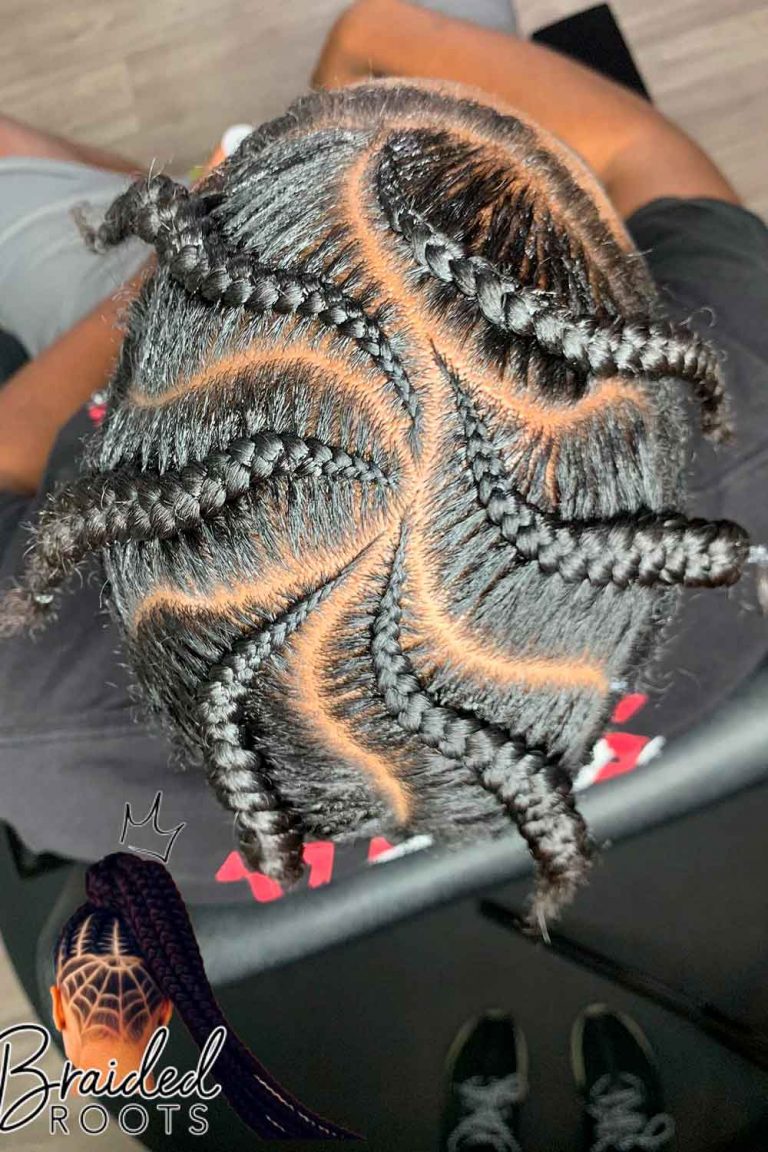 Source: @braidedroots via Instagram
Pop Smoke Braids With Beads
Pop smoke stitch braids allow for various hair accessories and beads are one of the most popular ones. Along with being an embellishment, they are a nod to the origin of tribal braids. What is more, you are offered so many options that you can end up with a unique men stitch braids style every time.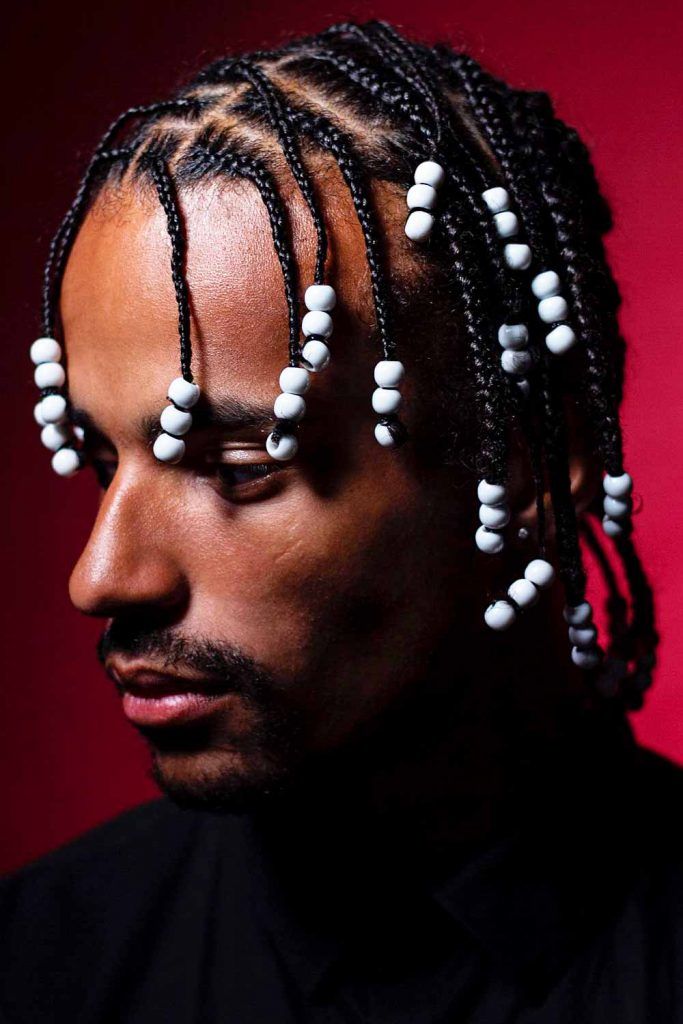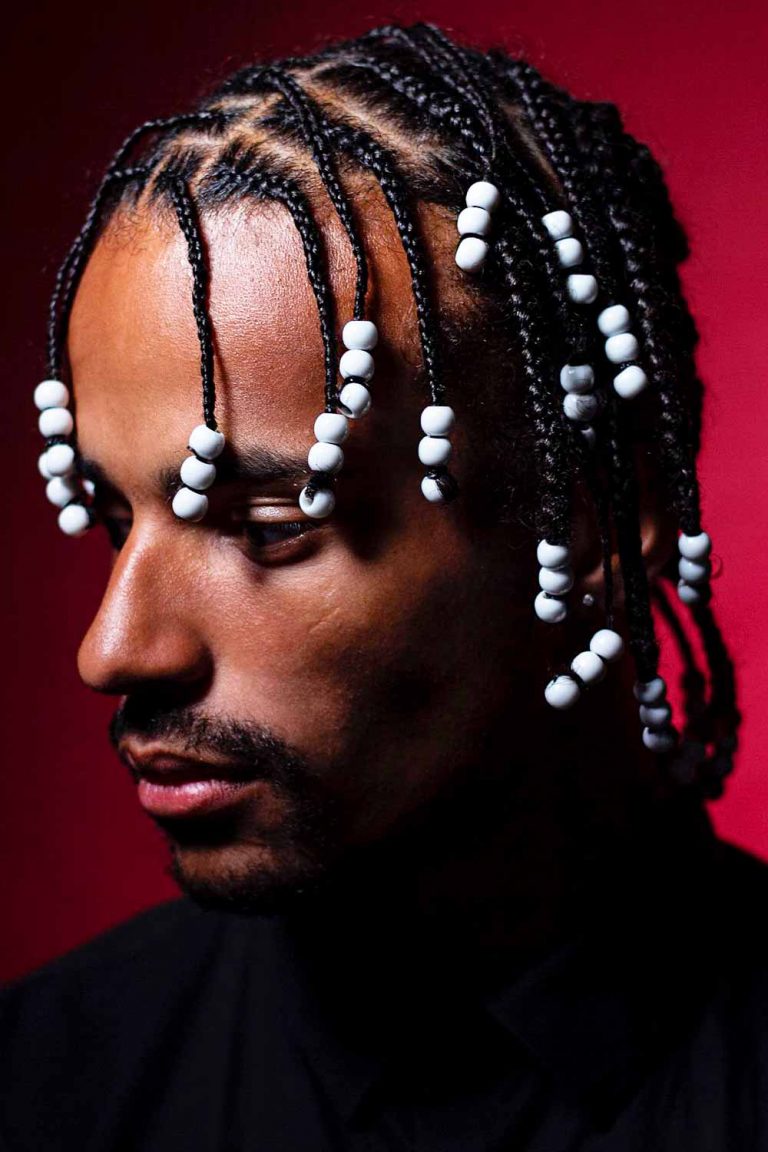 Source: @braidsvolna via Instagram
Pop Smoke Braids With Color
Rappers can hardly surprise anyone, even if it is braids, as this is a trademark rapper's look. Though, Lil Yachty has managed to take them to another level of dopeness by going for colored pop smoke briads. To achieve the look, he just got colorful pop smoke braids with weave.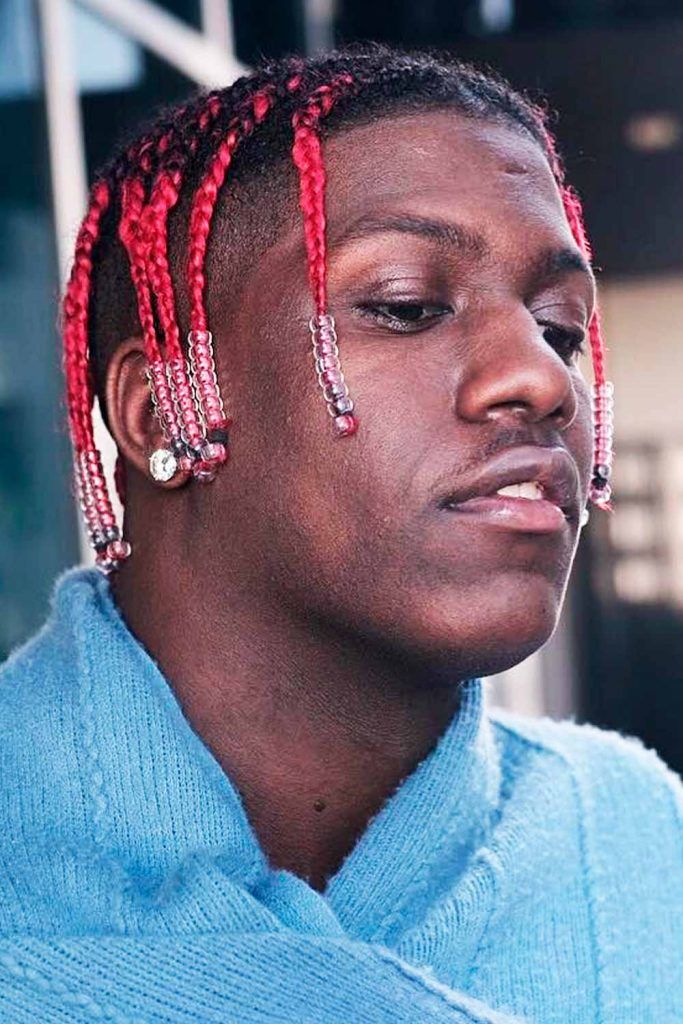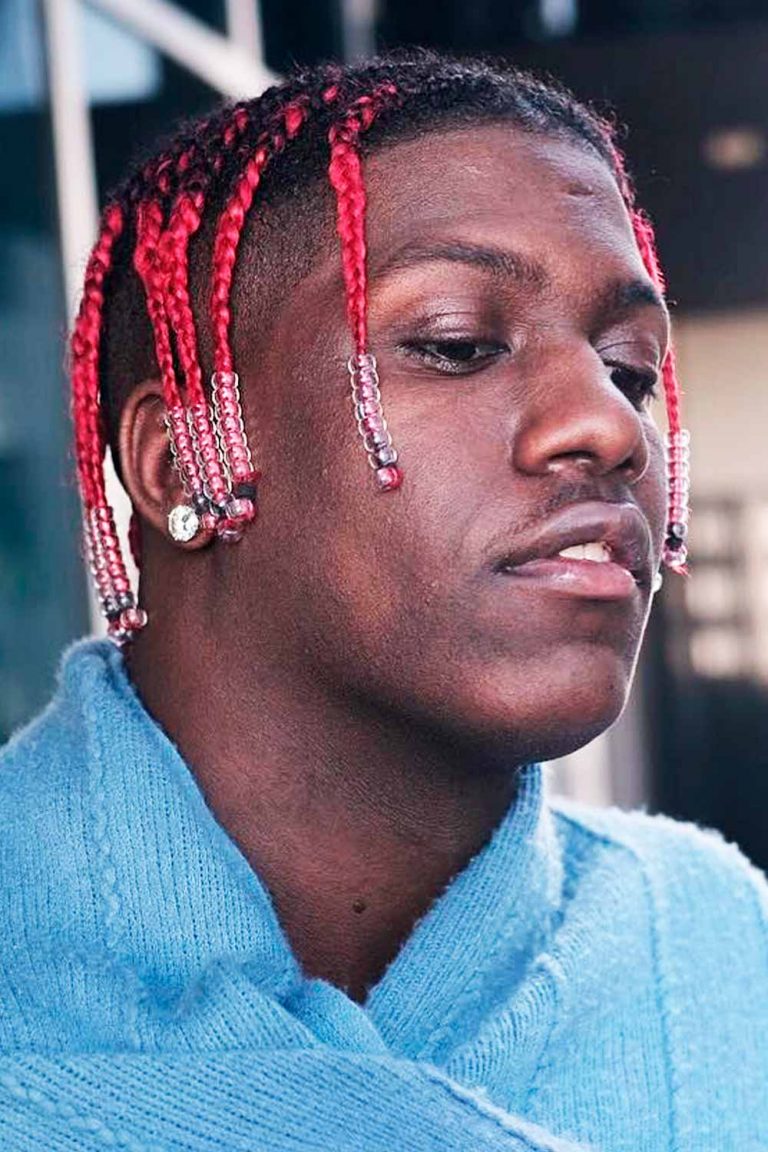 Source: @barbersdream via Instagram
Pop Smoke Dreads
Dreads and braids are one of the most common hip hop hairstyles. So, no wonder that pop smoke braids with dreads make up a really fantastic combo. In addition to looking eye catching and fashionable, the fusion of these protective hairstyles lasts much longer than each of them separately.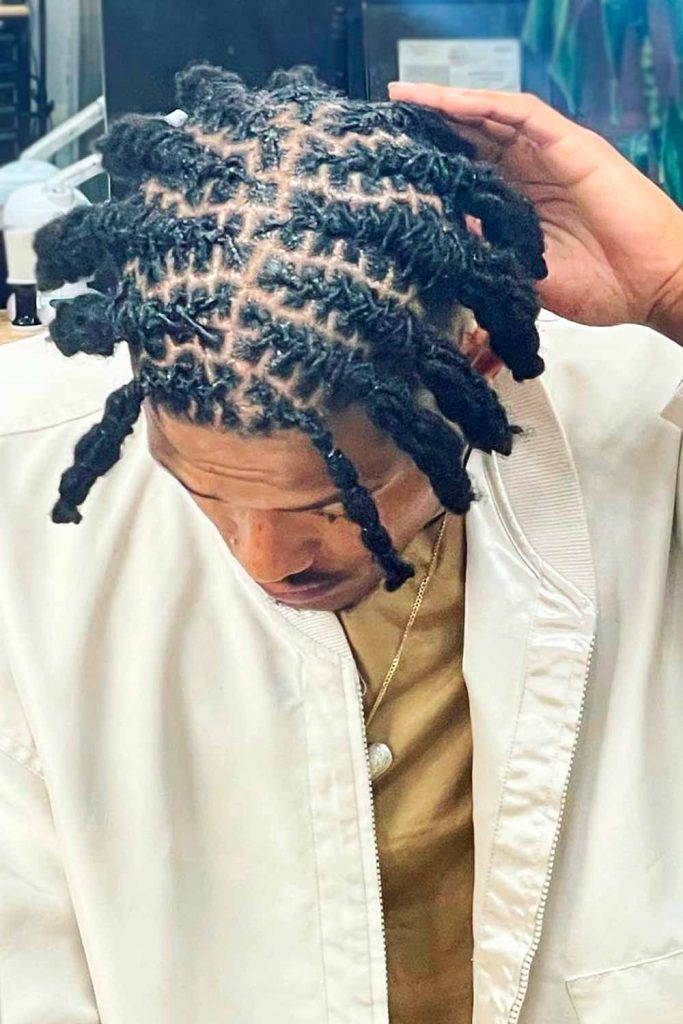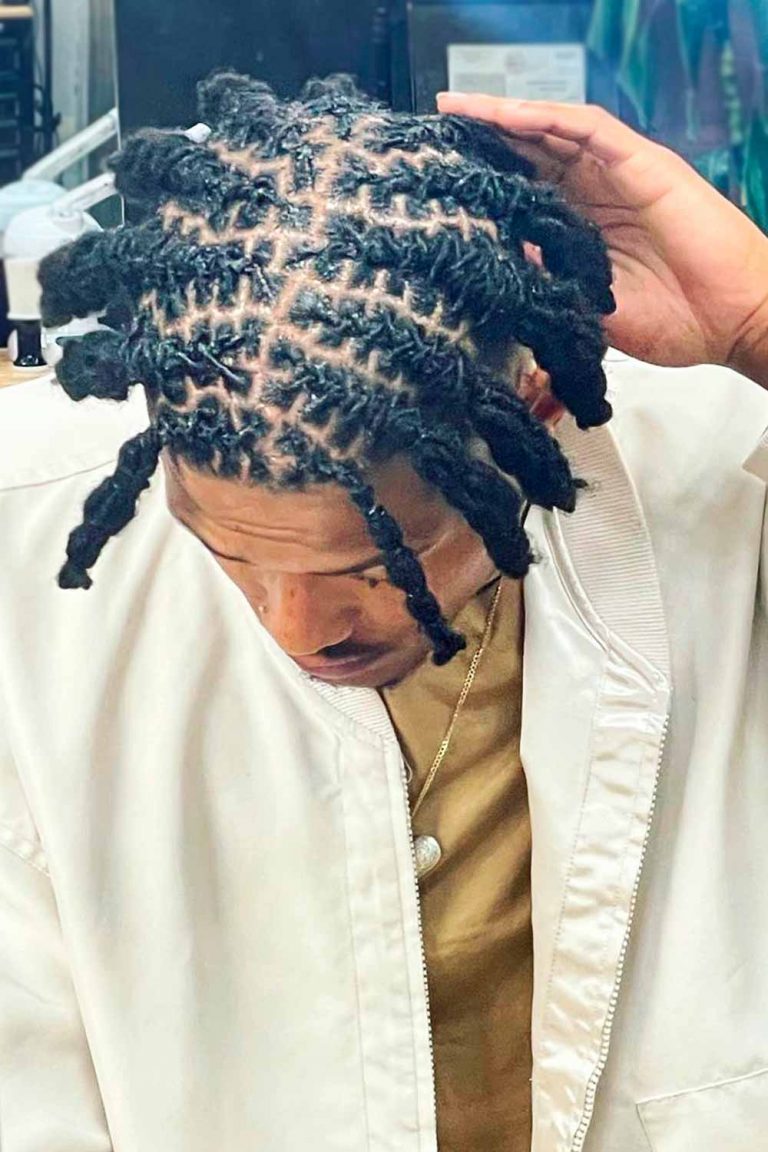 Source: @braidedroots via Instagram
Pop Smoke Box Braids
Pop smoke can easily be paired with other types of braids, such as box braids. Together, they create a one of a kind hairstyle that will make you instantly stand out in the crowd. Even though it looks so elaborate, it is not that difficult to get. When dividing the hair into square sections, ensure there is a parting in the middle of the head.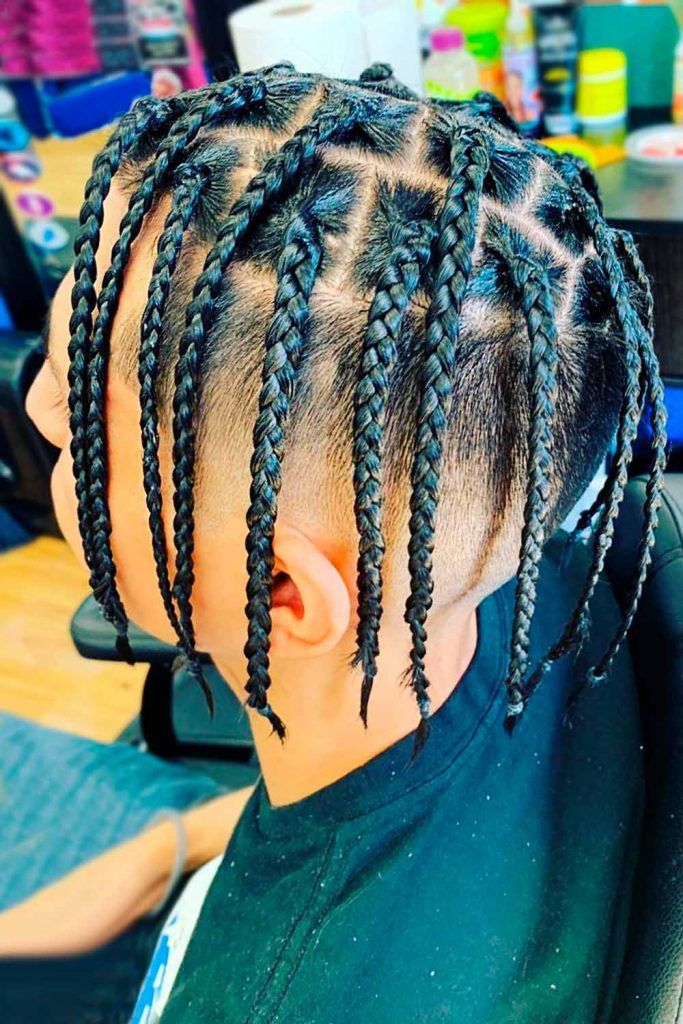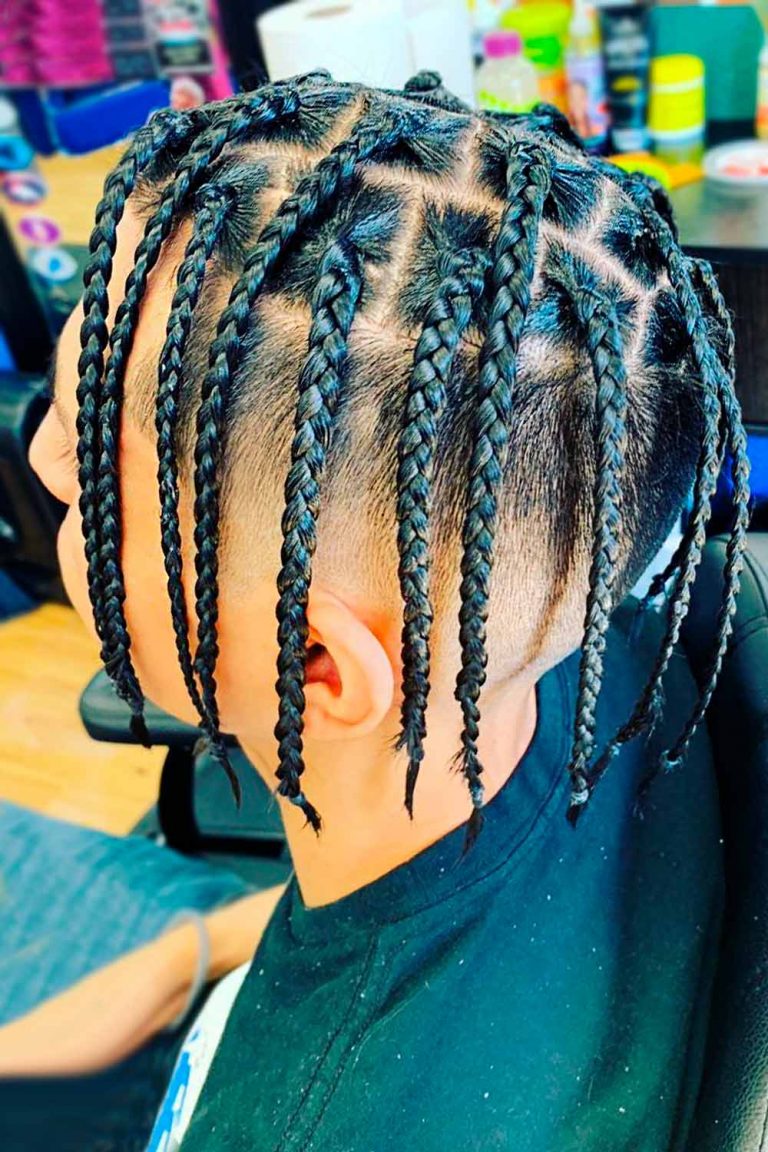 Source: @braidedroots via Instagram
Pop Smoke Braids Boys
Pop smoke braids for boys are a black boy hairstyle that will make your little champ the center of attention. So, if he wants to look cool and stylish, it is hard to think of a better option. Plus, you can accompany the look with a trendy haircut on the sides, such as a fade, which will give an ease of maintenance and keep a focus on the top.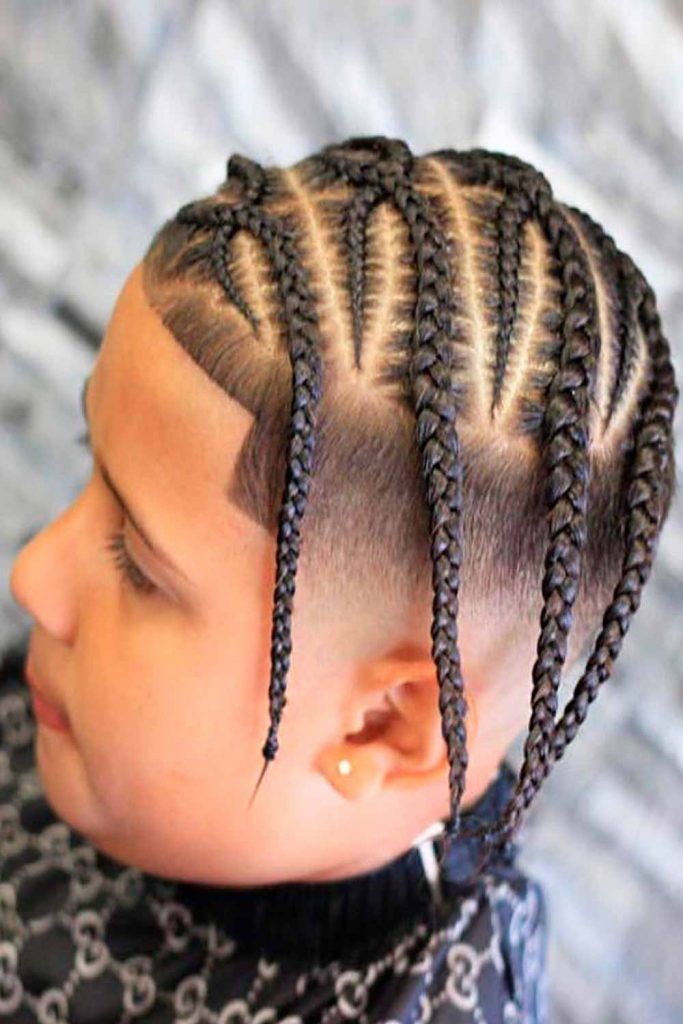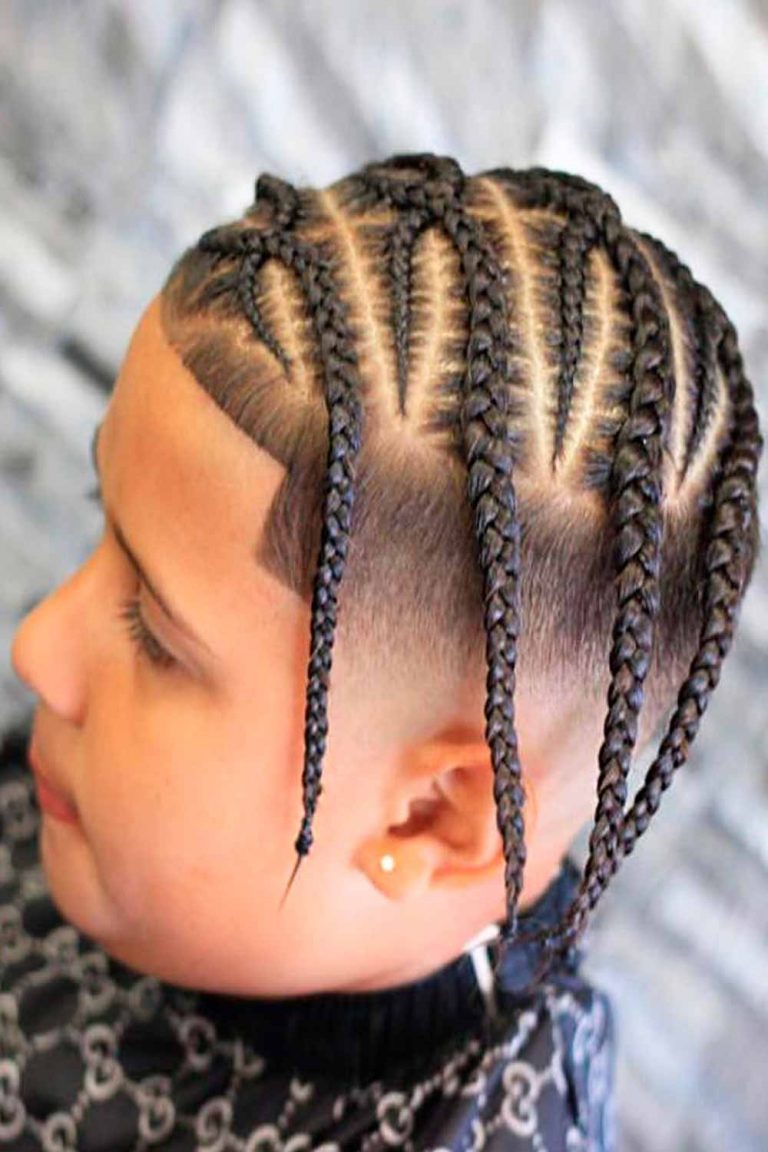 Source: @dynasty_barbers via Instagram
Parted Pop Smoke Hair
Do not feel like spending hours in the barber's chair for them to braid your hair? You do not have to. There are plenty of pop smoke varieties, which do not always require braiding. As such, you can get pop smoke without braids. The only condition is that the parting should be well defined.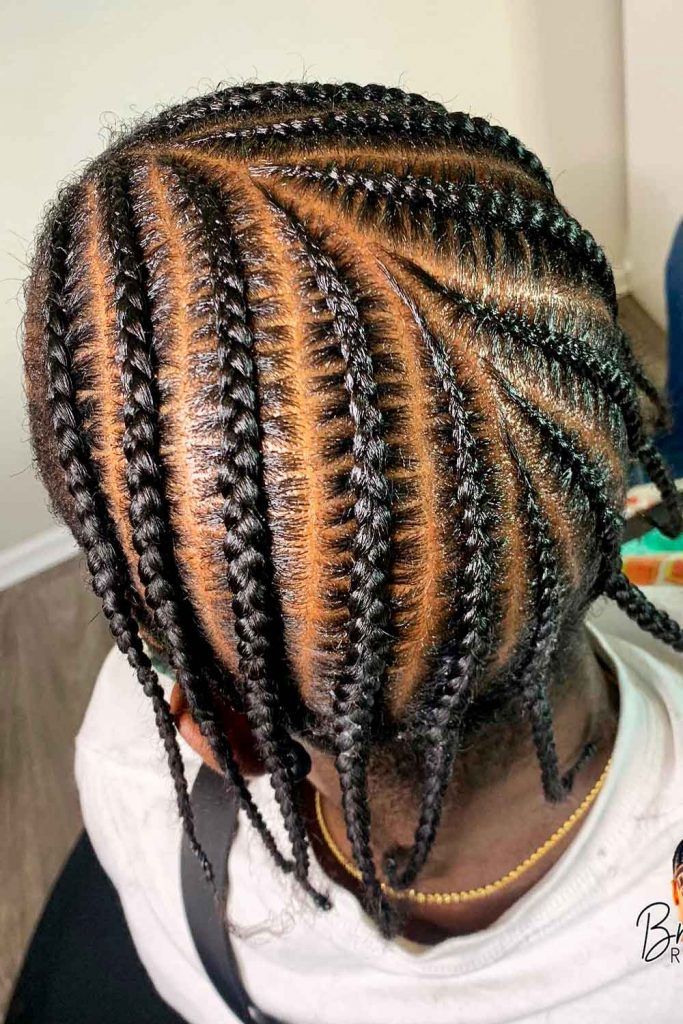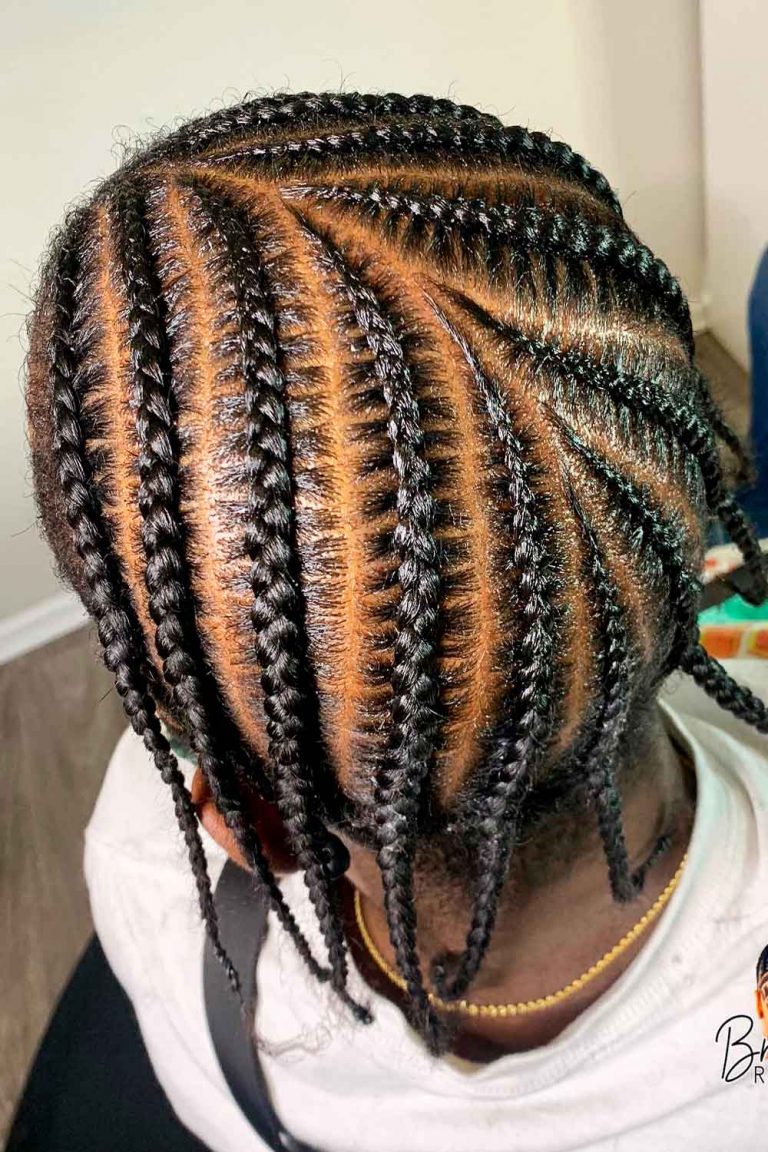 Source: @braidedroots via Instagram
Weave Braid
The hairstyle with weave are a surefire way out for guys whose hair is missing volume, body or length. You can also choose different colors and textures for a more fun and playful look. To take it even further, accentuate the style with an unconventional parting or cool hair accessories.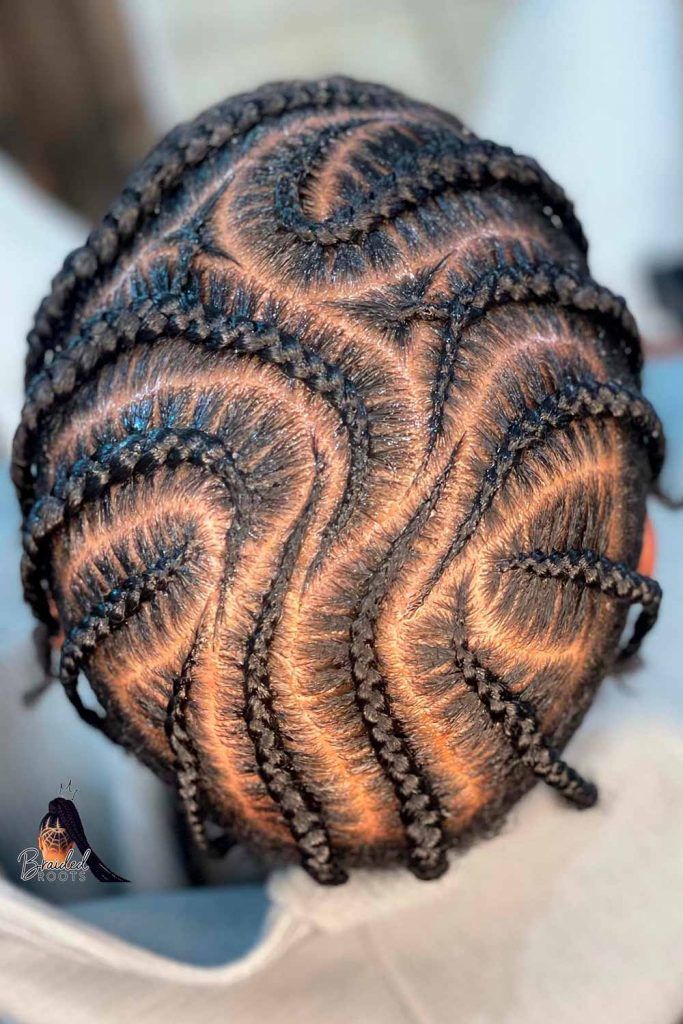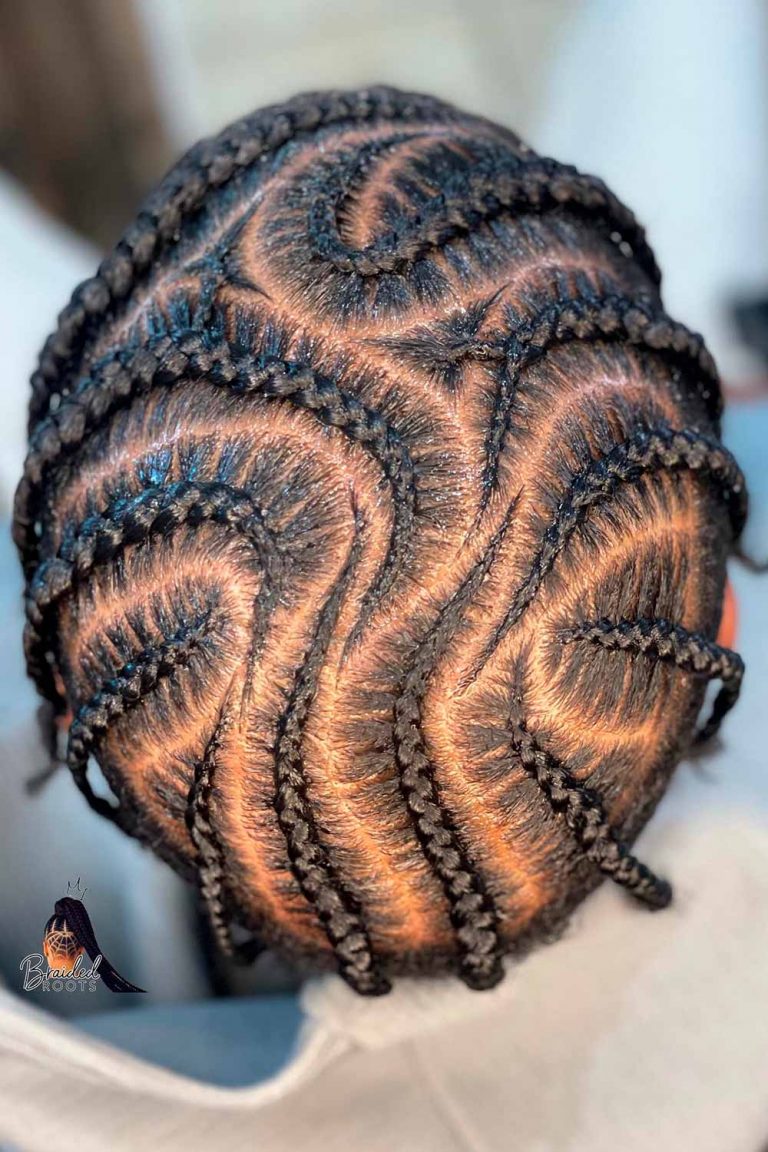 Source: @braidedroots via Instagram
Asap Rocky Hairstyle
A pop smoke braid hairstyle has become a great base for other hairstyle variations. Thus, Asap Rocky upgraded Pop Smoke's signature hair look to jumbo pop smoke braids. It still has a sharp middle part, yet the overall hairstyle has a more relaxed feel.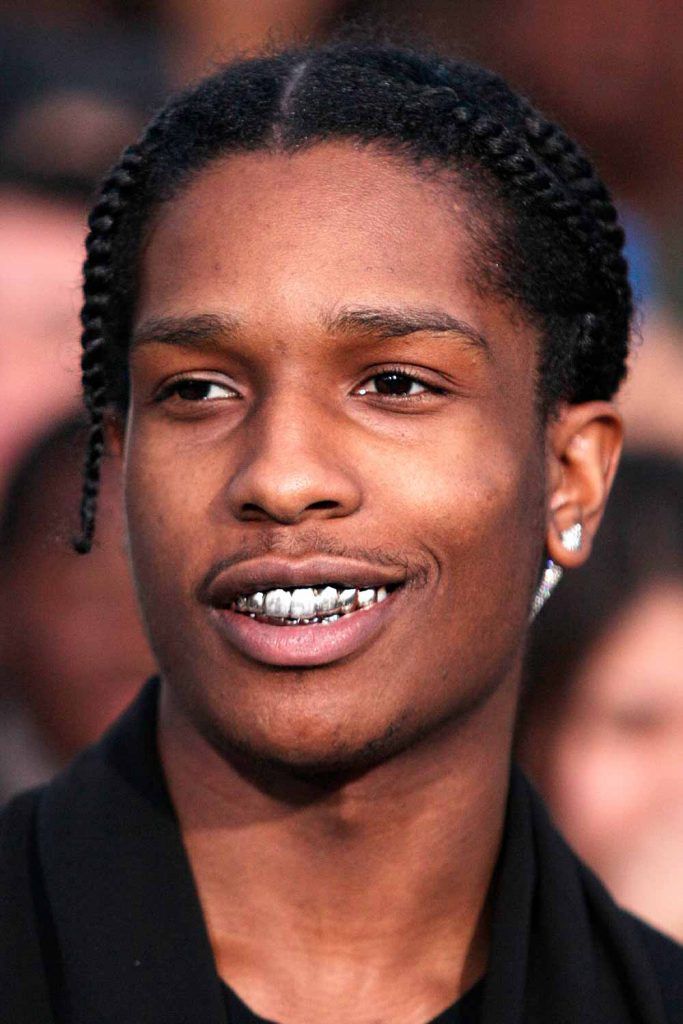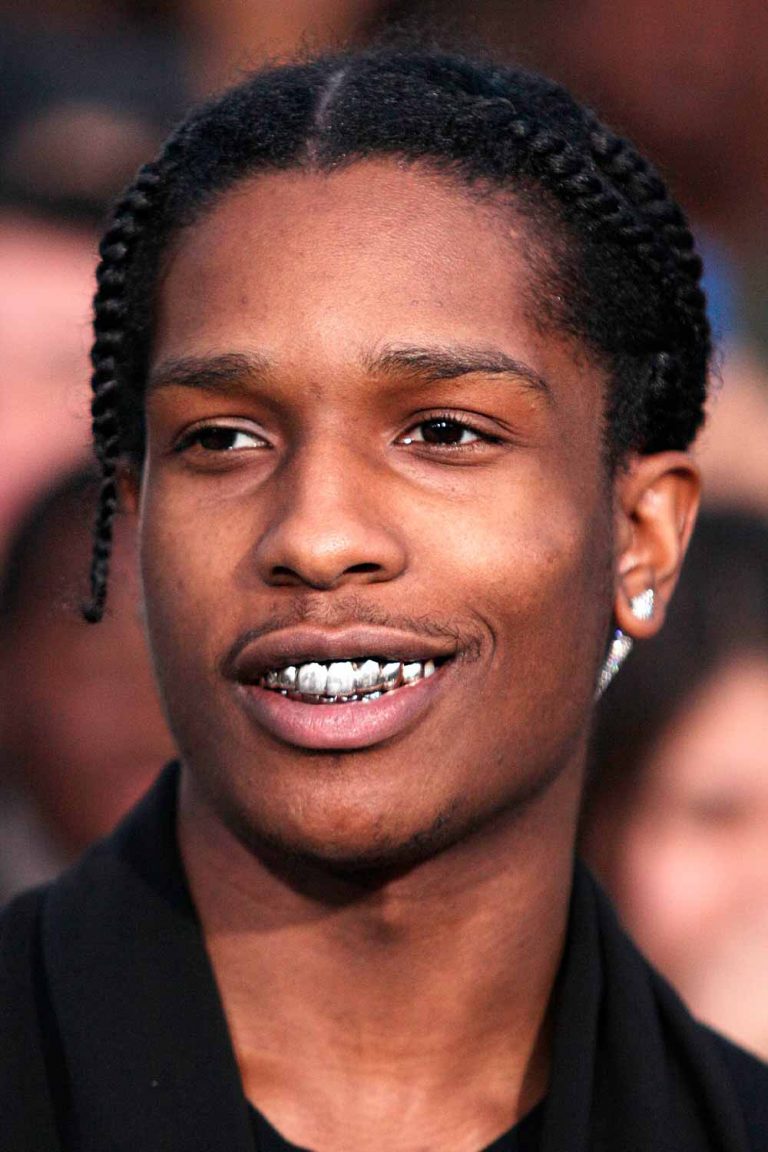 DFree/Shutterstock
Big Pop Smoke Braids
Pop Smoke style braids are not limited not only in length but in thickness as well. As such, if you do not have enough patience or time to sit in the braider's chair for too long, big chunky mens Pop Smoke braids are your way out. To accentuate the style, you can pair it with a line up and a bald fade.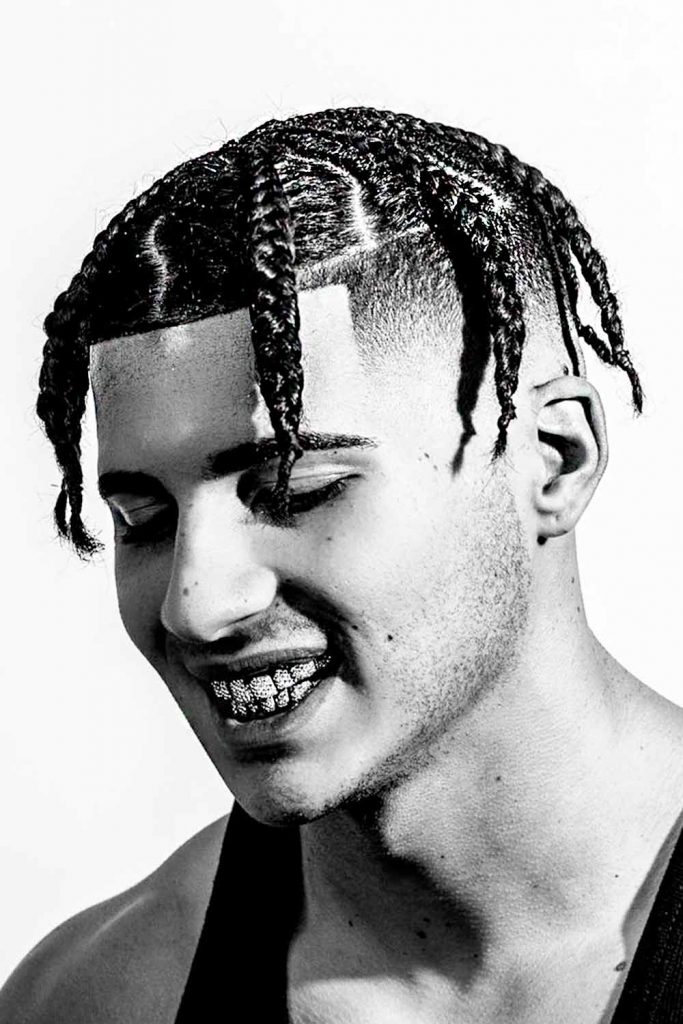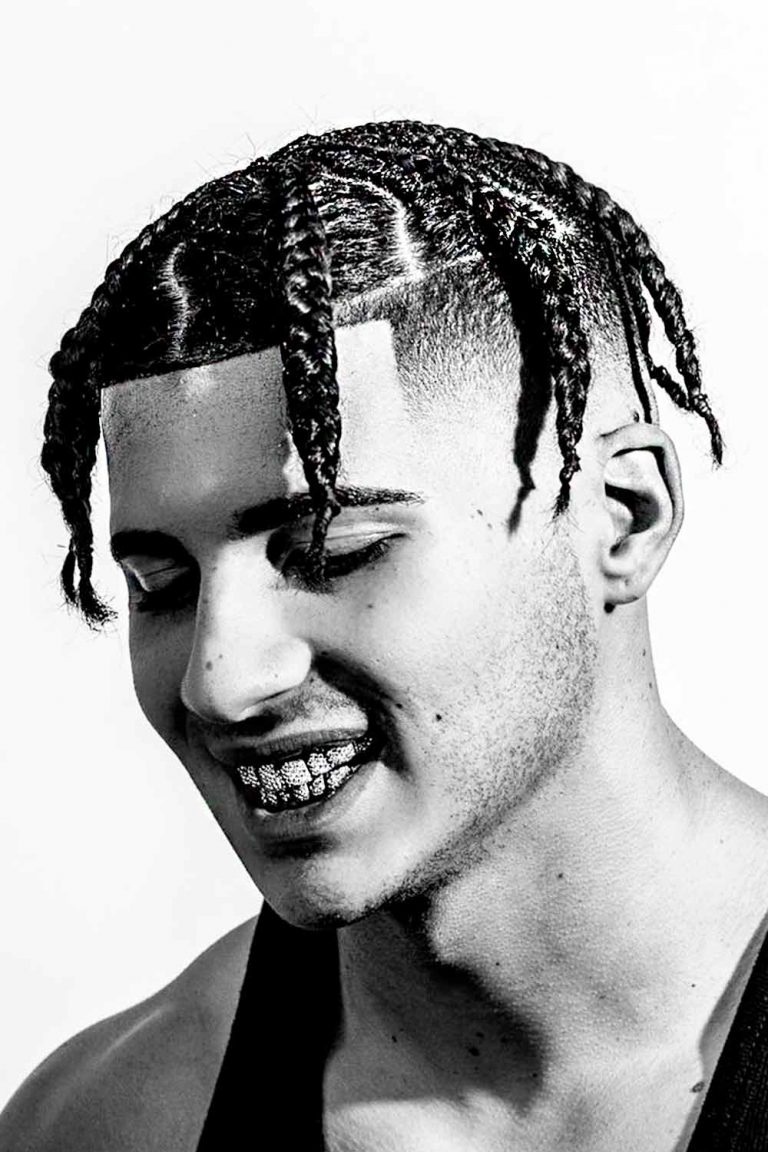 Source: @andyfadepro via Instagram
4 Pop Smoke Braids
This has got to be one of the most effortless Pop Smoke hairstyles existing. To achieve the look, you need to divide your hair into four parts and braid them so that two braids would frame your face and two braids would remain in the back. Optionally, feel free to play around with parting patterns and braiding techniques.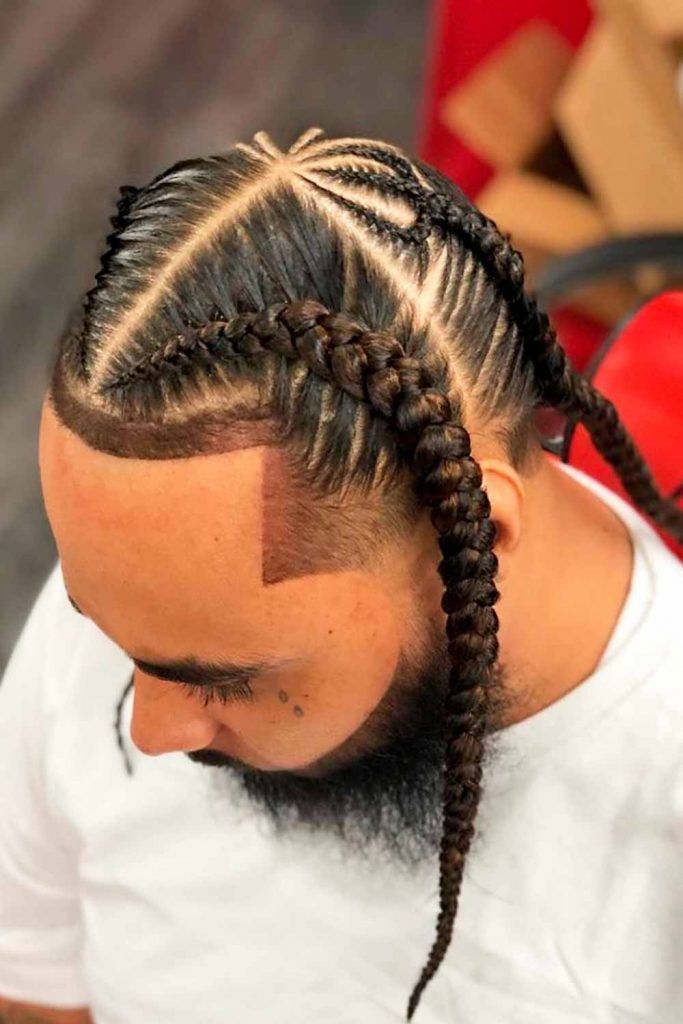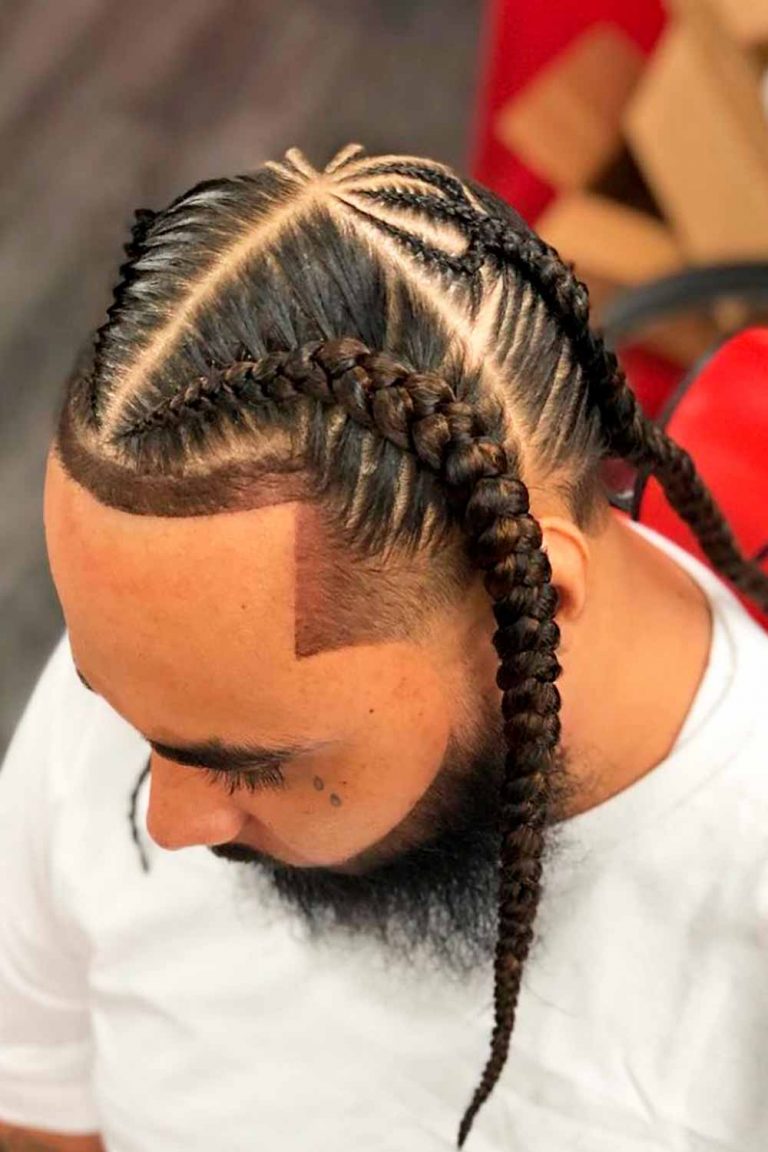 Source: @dynasty_barbers via Instagram
Medium Pop Smoke Braid
With men Pop Smoke braids, you do not need to reinvent the wheel. A classic medium version of the style already turns out bold and daring. Besides, it allows for such enhancements as high contrast fades and chiseled line ups, as you may not worry that your hairstyle is going to come out overly edgy.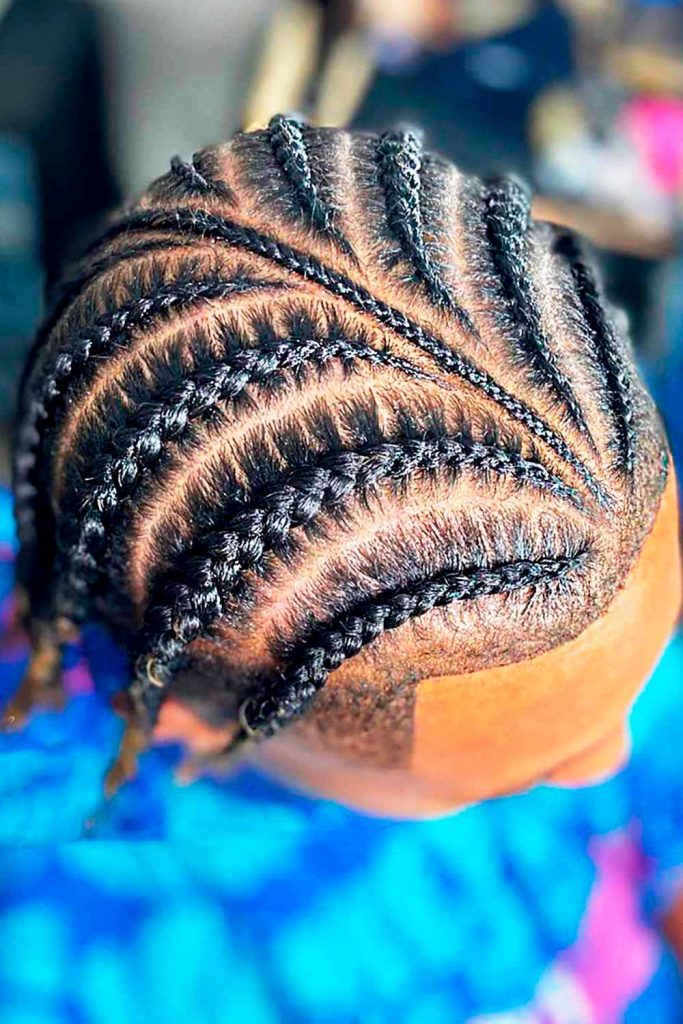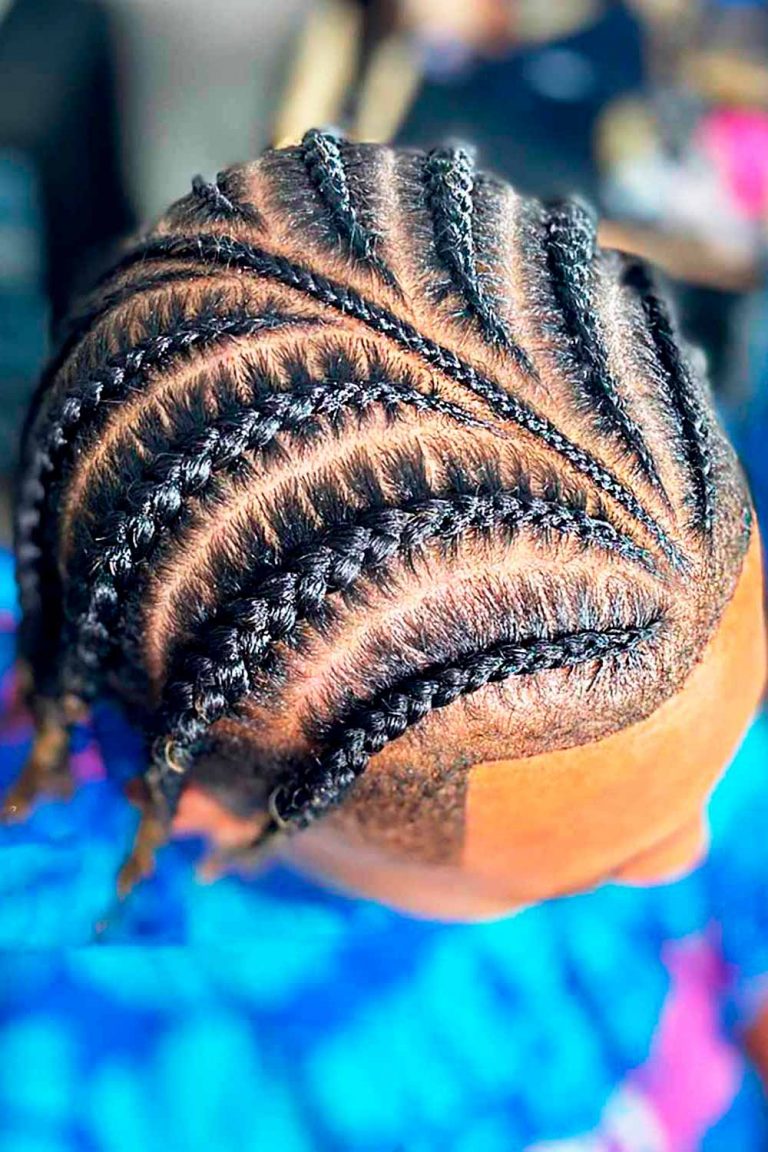 Source: @braidedroots via Instagram
How Do You Do Smoke Pop Braids?
Every braider has their own tips and tricks to do flawless braids. But here is a step by step tutorial on one of the easiest ways how to get a pop smoke braid hairstyle:
Brush the hair to remove any knots and tangles.
Divide it in half with a parting in the center of the head.
Divide each part into four equal sections and secure them with hair clips.
Apply a sparing amount of a braiding gel to the first section that you are going to braid and distribute the product evenly.
Take a small piece of hair on the top of the section, divide it into three equal strands and start braiding an inverted braid.
Add a thin piece of hair from the left side of the section to the left strand and do the same to the right strand.
Keep braiding until you reach the hairline. Braid a three strand braid with the remaining hair and secure it with a rubber band on the end.
Continue doing so for the rest of the sections. Make sure the hairstyle is symmetrical.
Pop smoke braids are a perfect hairstyle for those guys who try to keep up with fashion while looking classy. As they are defined, edgy and sassy, you can never go wrong with them. On top of that, the range of options allows everyone to match the style to their taste and needs. Hopefully, our guide has helped you to learn how to do pop smoke hairstyle and infused you with a portion of inspiration.
FAQs
What are the pop smoke braids called?
Pop smoke braids, which are a center parted protective braid hairstyle, are often called feed in jumbo braids and tribal braids.
How long do pop smoke braids last?
Because in their essence they are cornrows, pop smokes last anywhere between six and eight weeks. This period varies, as it is affected by the texture of your hair, the braiding style and proper maintenance.
Does Pop Smoke wear braids?
The signature hairstyle of Pop Smoke, a late American rapper, used to be cornrow feed in braids with a center parting. This hair look was so loved by the audience that it quickly became iconic and got the name pop smoke braids.
How much do pop smoke braids cost?
The price for pop smoke braids varies depending on many factors, such as the length and thickness of the braids, the type of braiding hair used, the complexity of the technique and suchlike. On average, it ranges between $65 and $150.
REFERENCES:
Bashar Barakah Jackson, known professionally as Pop Smoke, was an American rapper, singer, and songwriter. Source
Was this article helpful?