Surfer hair is one of those hairstyles that are referred to as tousled. The hair is intentionally made to look unkempt, disheveled and messy to create a relaxed impression. It appears as if you've spent long hours under the scorching tropical sun, with salty sea water and gentle breeze shaping your locks. Though, with the right styling products and approach, you can achieve such an appealing hairstyle without leaving home. Already feeling intrigued? Then check out our ultimate guide to the surfer's hair look.
How To Get Surfer Hair
Surfer's hair begins with medium shag haircuts, thus to nail the look, your hair should be of the neck length at the back, chin length on the sides and eye length at the front. Hence, when considering a beach hair style, ensure that you have enough will and patience to grow your locks. As for the texture, don't bother adding any waves or curls. They will come with length, so let nature do its business.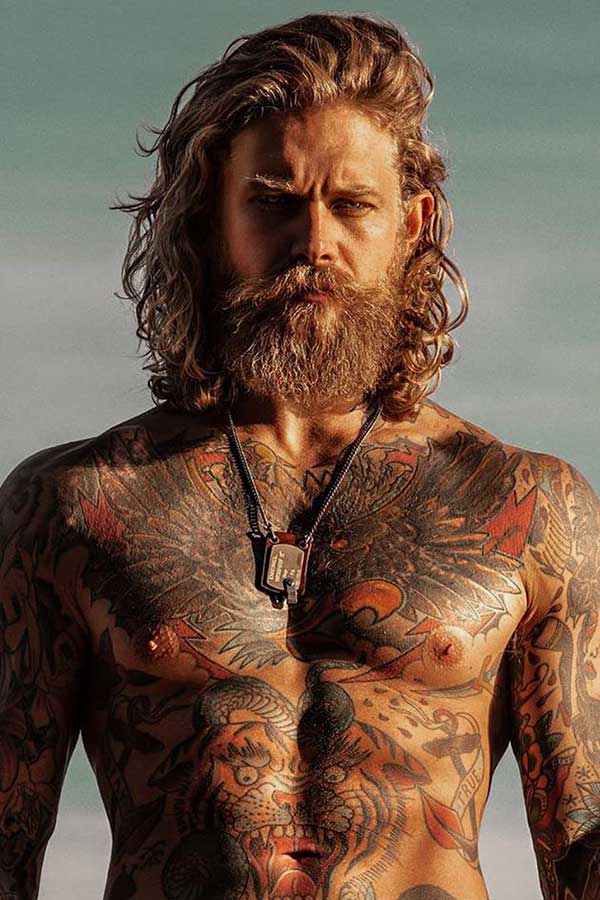 Source: @spizoiky via Instagram
How To Style The Haircut
When looking for the ways how to style long hairstyles for men often misjudge that because of its length, the styling of the surfer haircut requires a lot of time and effort. In reality, you can achieve the perfect surfer hair by simply going with a "bed-head". Although, for the added enhancement, follow these simple steps:
Wash your hair and dry it with a towel.
Apply a salt-infused product with a matte finish and either leave the hair air dry or blow dry with a diffuser.
Optionally, add a touch of shine with a pomade.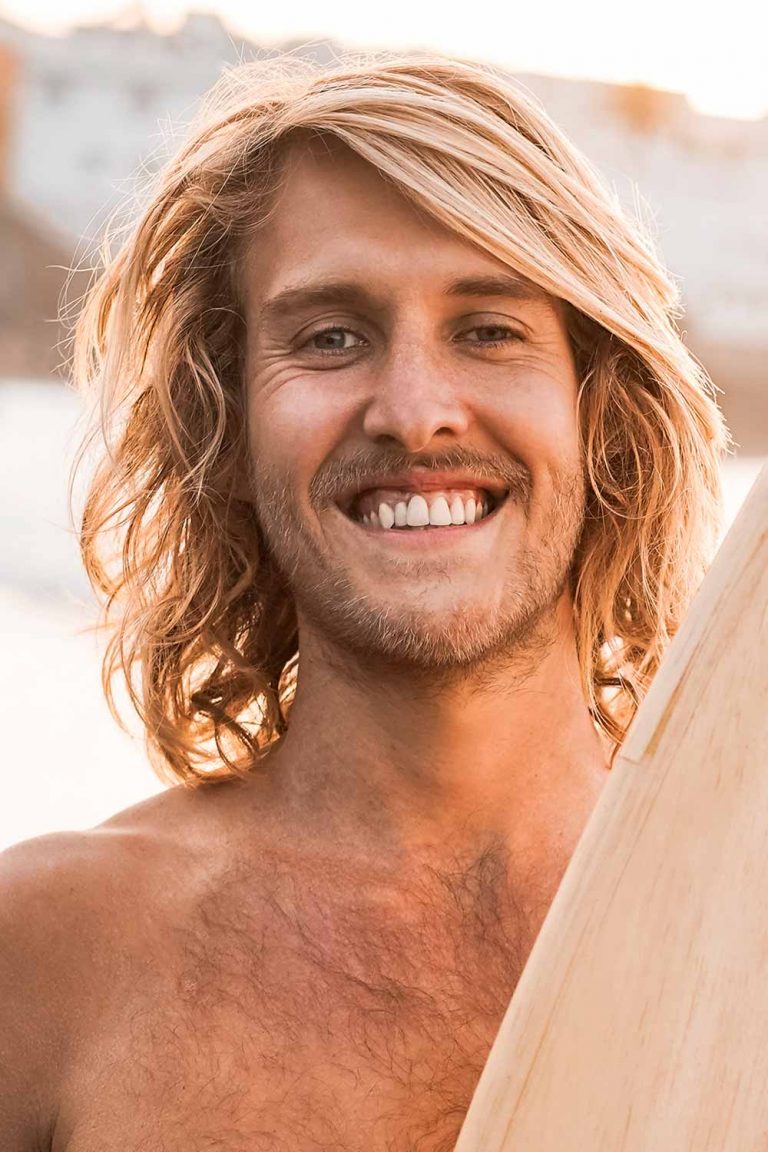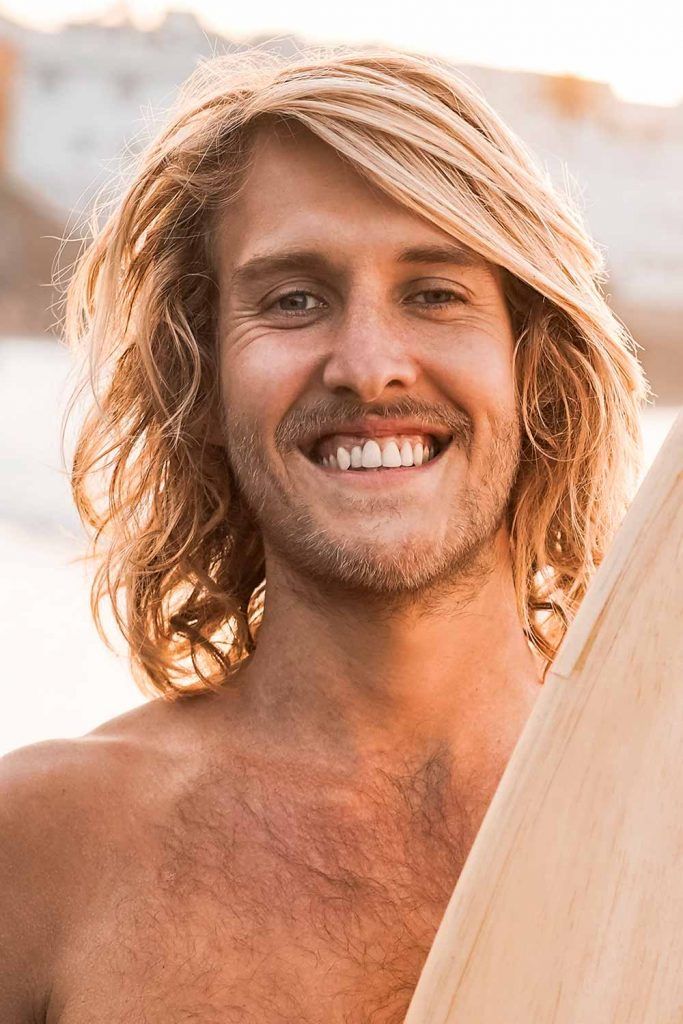 Men's Surfer Hair
One of the main advantages of a surfer hair style is its versatility. You can style it in naturally hanging loose locks or get a skater haircut and play with the hair on top. You can even add a formal air to it by brushing back with a blob of pomade. For more inspiration on the look, here's our handpicked gallery of the best surfer hairstyles.
Tousled Hairstyle
This short on sides long on top haircut is a modern take on classic surfer mens haircuts. Thanks to the cropped sides, you get a clean and defined look appropriate for different social occasions while the prominent sun bleached hair on top reminds of a tousled origin of this style.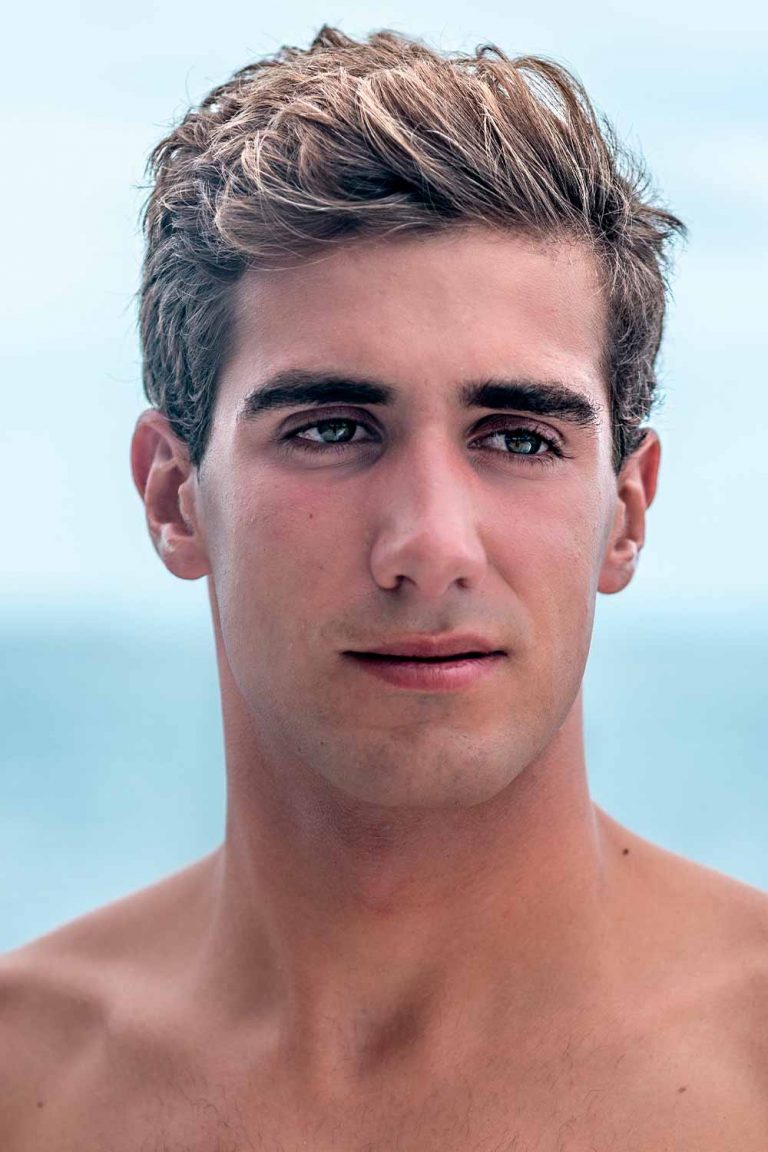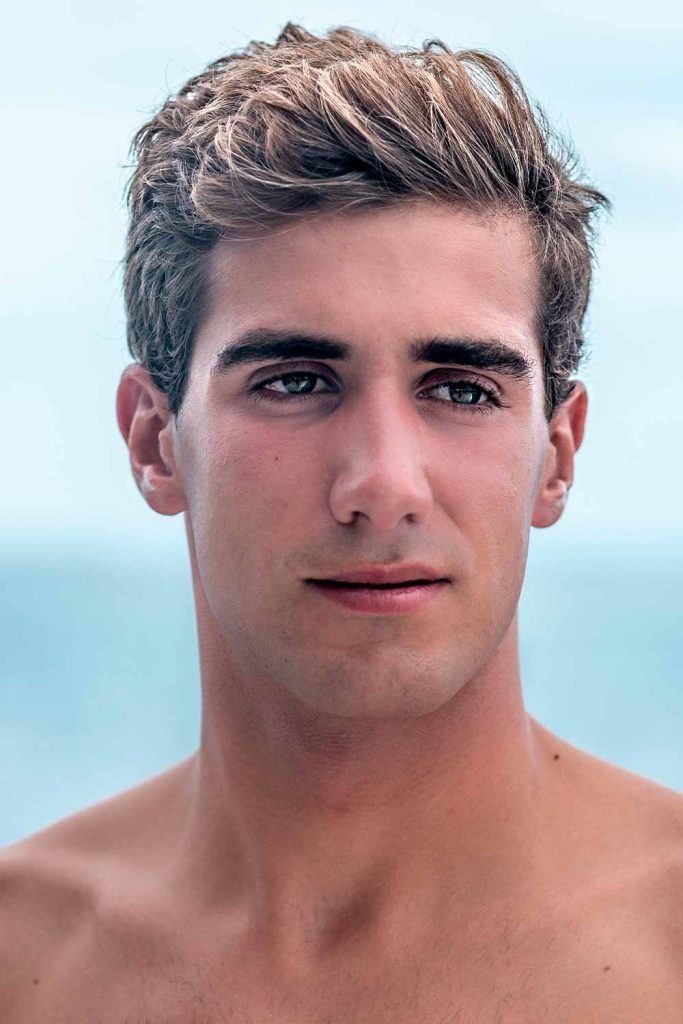 Long Surfer Hair Style
Long wavy haircuts are arguably the best option if you want to pull off a surfer hair style. Paired with a coarse full beard, these soft and mellow waves create a perfect merman look. All you need to do is to arm oneself with patience, as both the hair and beard require some time to grow.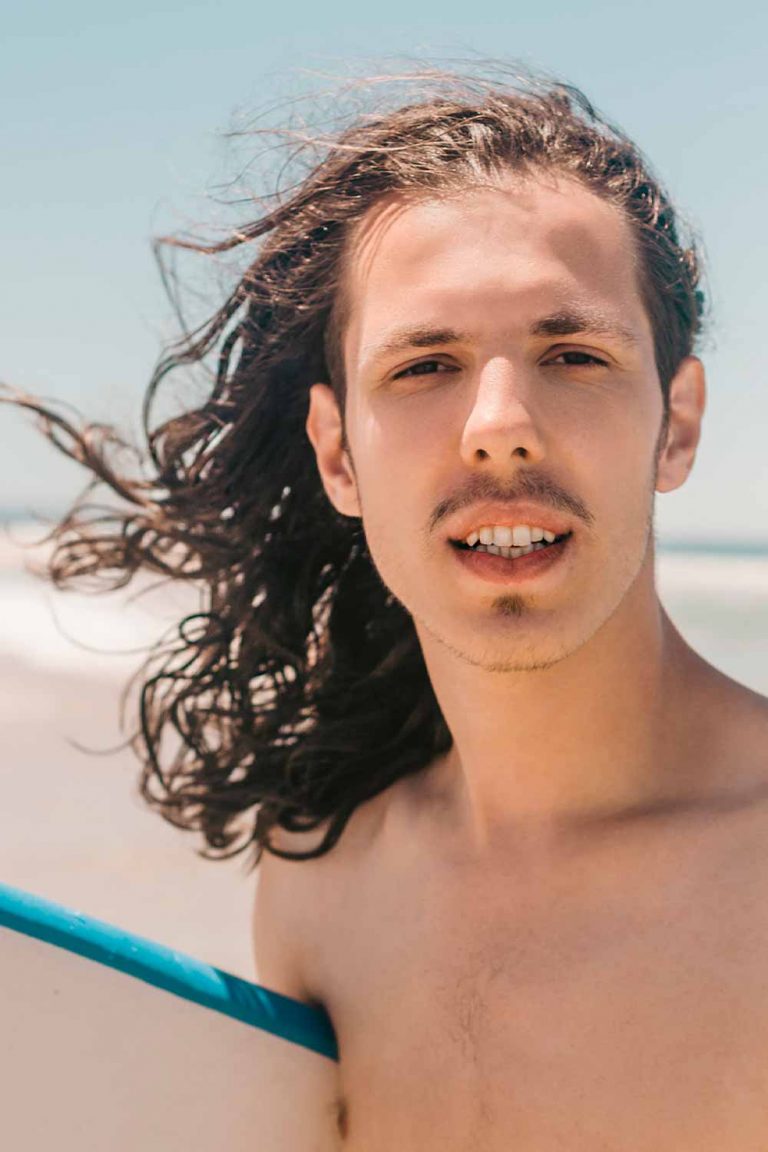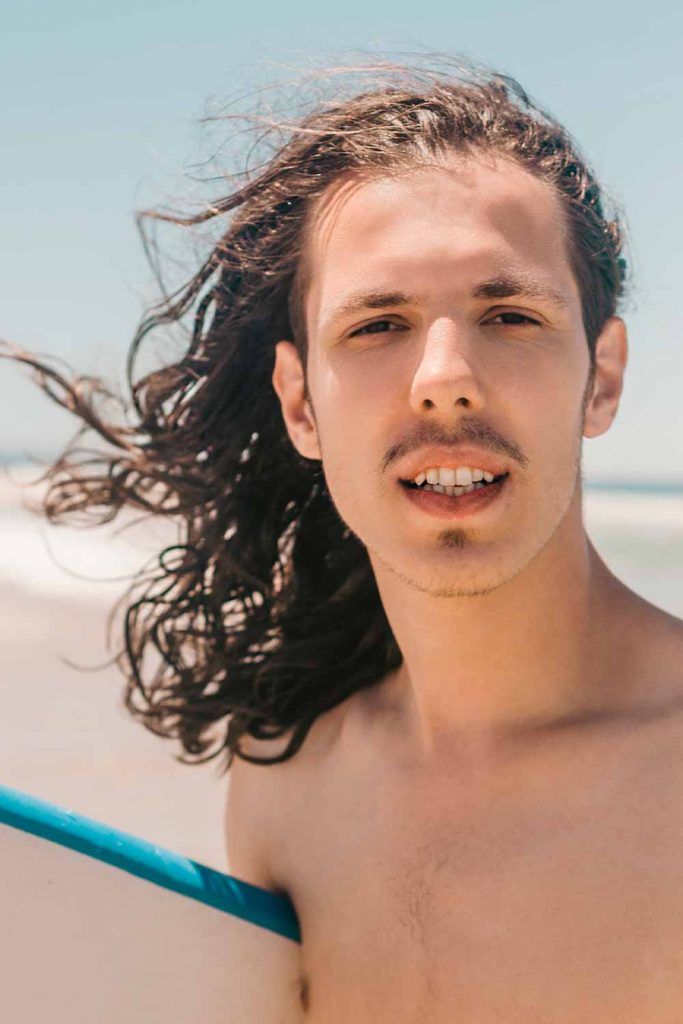 Curly Surfer Hair With Beard
If you're not after long mens haircut styles that much, go for a medium-length haircut then. The blonde highlights men usually add to random strands enhance the appearance of the sun-bleached hair for a more authentic look whereas the mid-length beard brings it a dose of masculinity.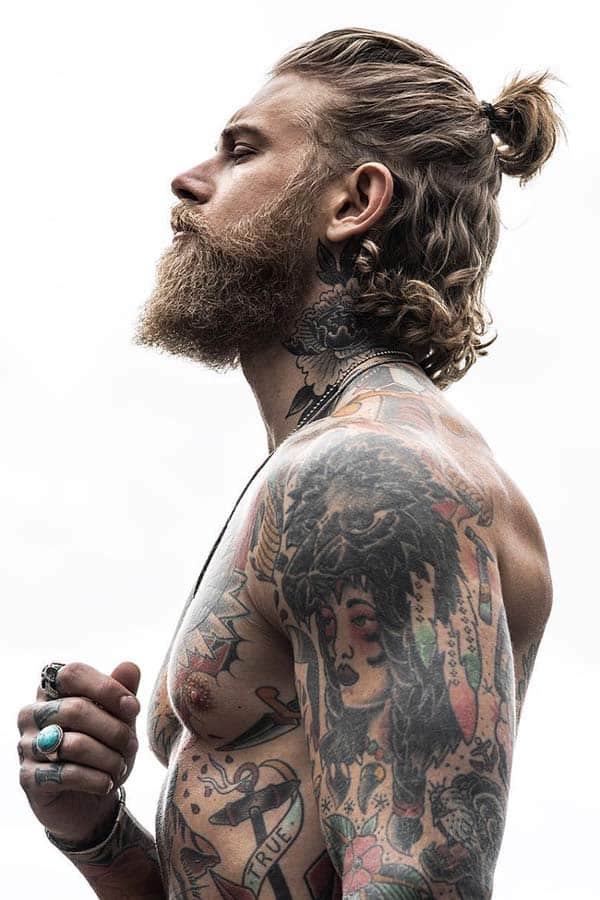 Source: @spizoiky via Instagram
Curly Medium Style
The beach hairstyles are most complimentary for those guys whose hair texture is naturally wavy or curly hairstyles for men. To ace the surfer hair style, they simply should let their hair grow until the coils begin to form and wear it loose. Several bleached streaks here and there won't hurt though.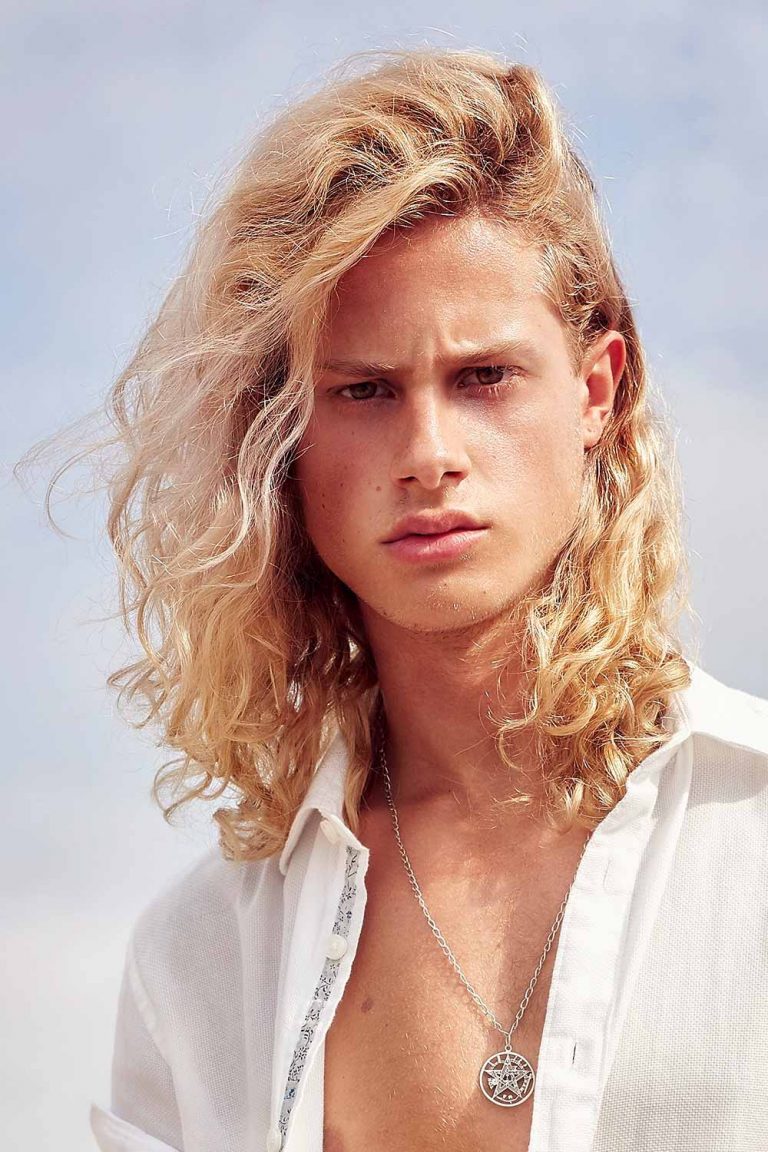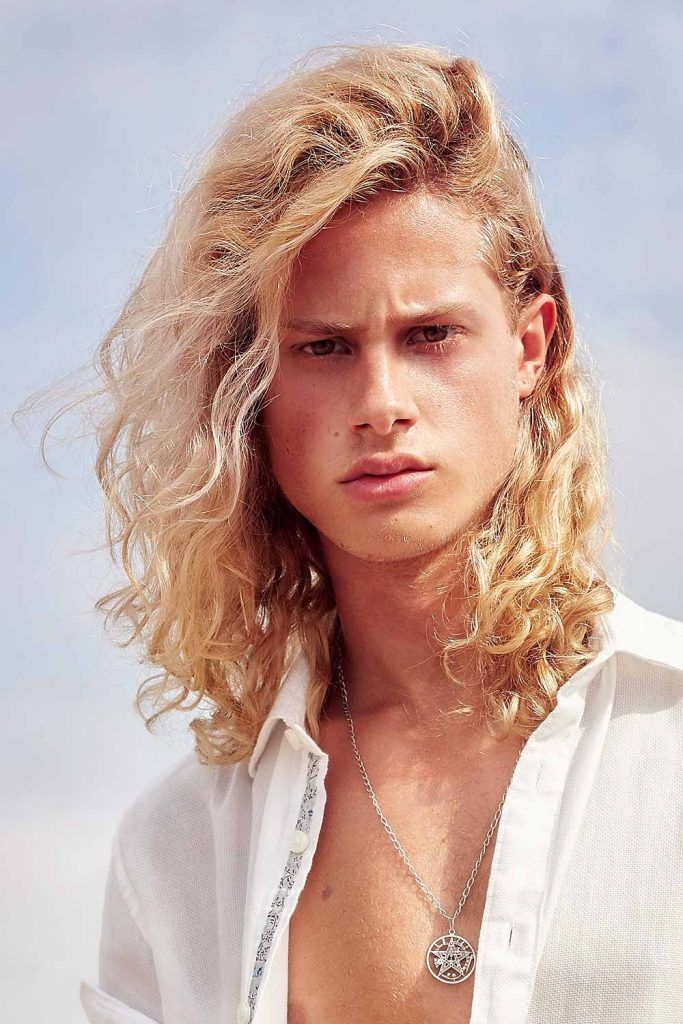 Parted Tousled Medium Hair
Here's another good example of medium-length guys haircuts for a surfer look. Similar to the undercut long hair on top, this mid-length hairstyle can be harnessed on any occasion, from casual to formal. You can add an elegant twist to the style by pushing the front section to the side, thus dividing the hair with a natural side part.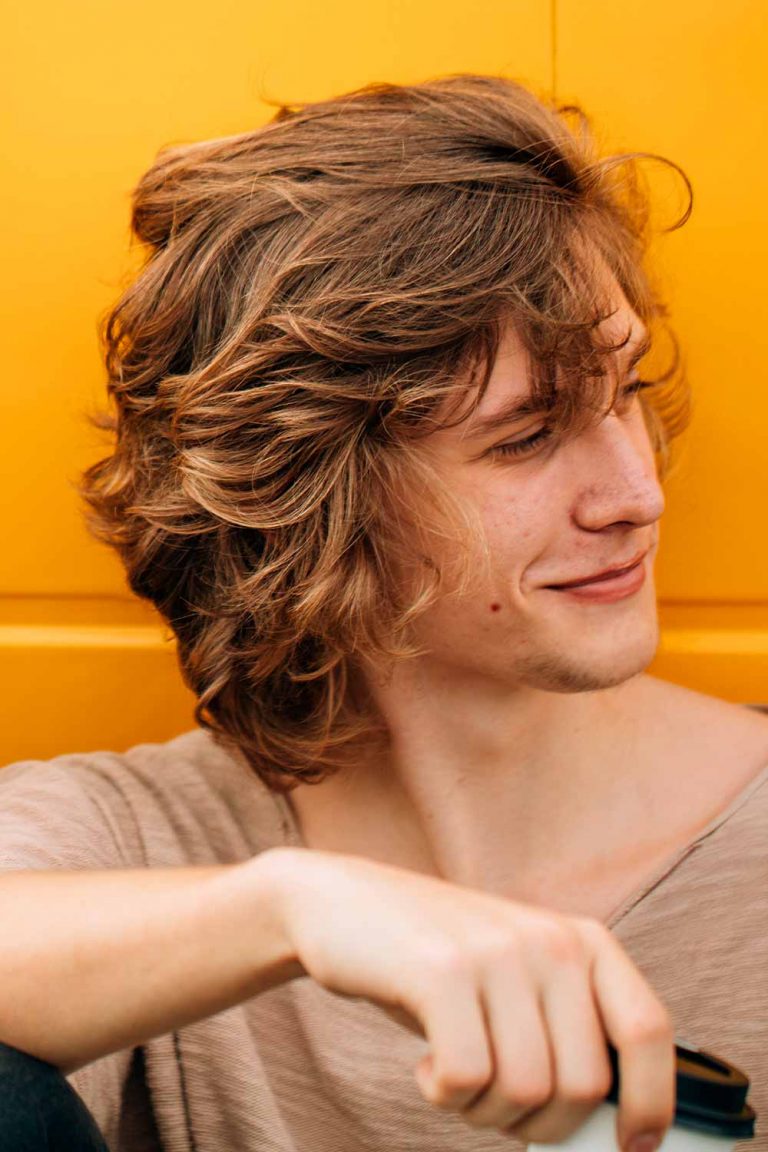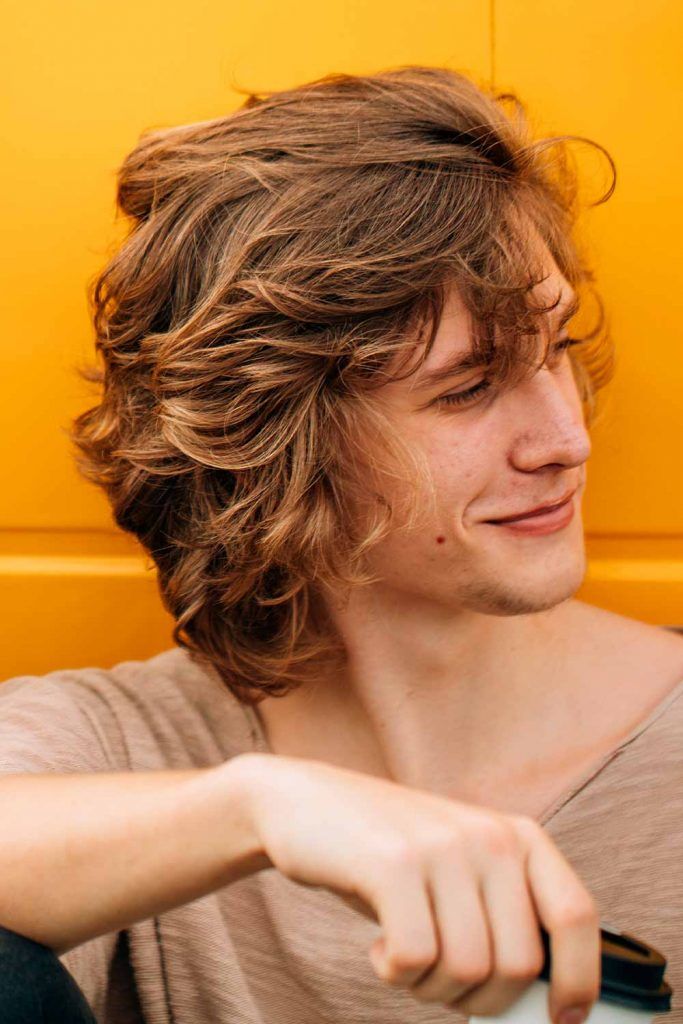 Straight Layered Blonde Hair
Blonde hair men are bound to try a surfer hairstyle at least once. They can skip on the dyeing job and simply get one of the shaggy haircuts to pull off the beach boy look.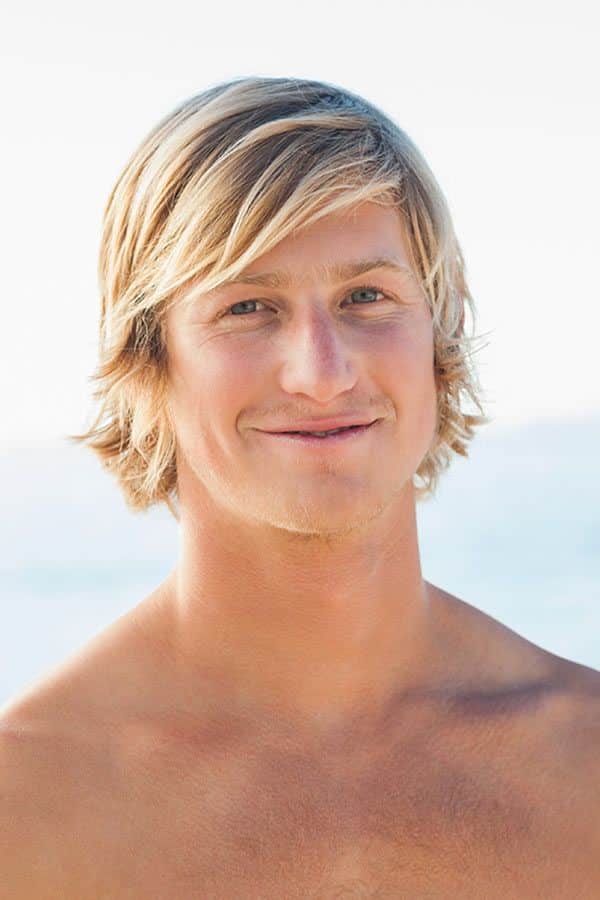 Long Flowing Hair
Shoulder length blonde hair styled falling on one side is a perfect fit for a beachy ambiance. To achieve more volume and texture, get one of the layered mens hair cuts all over the head.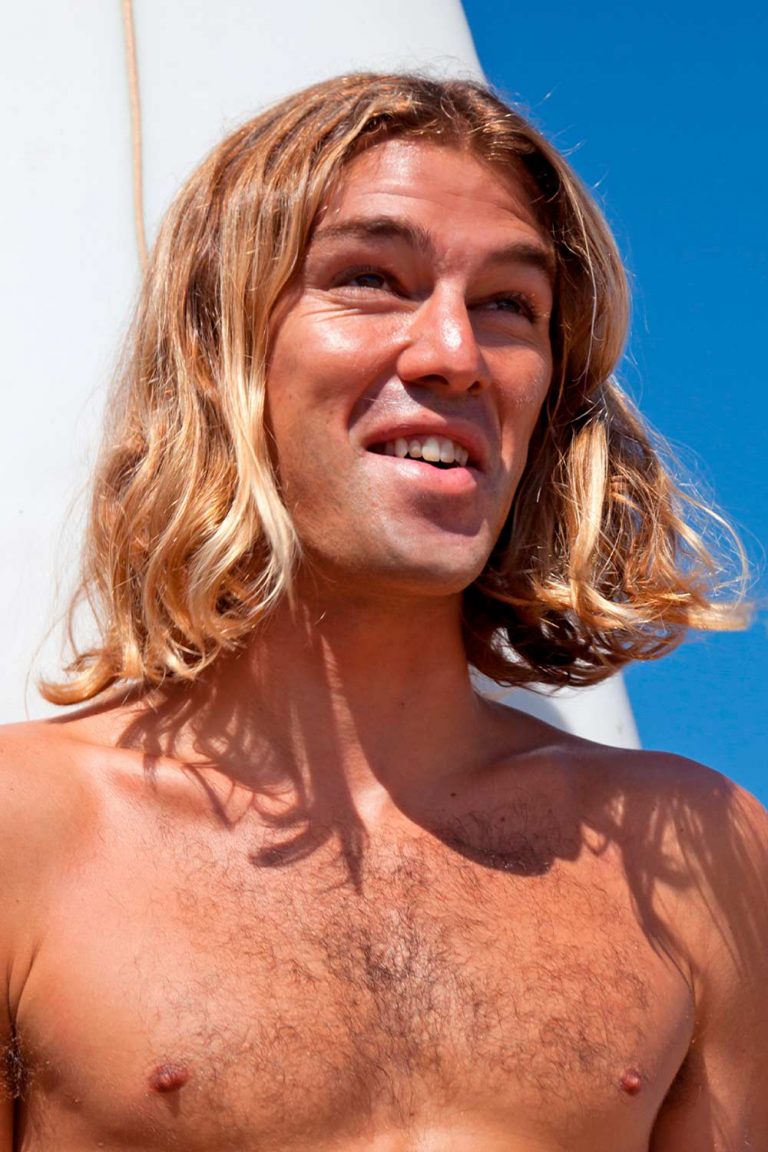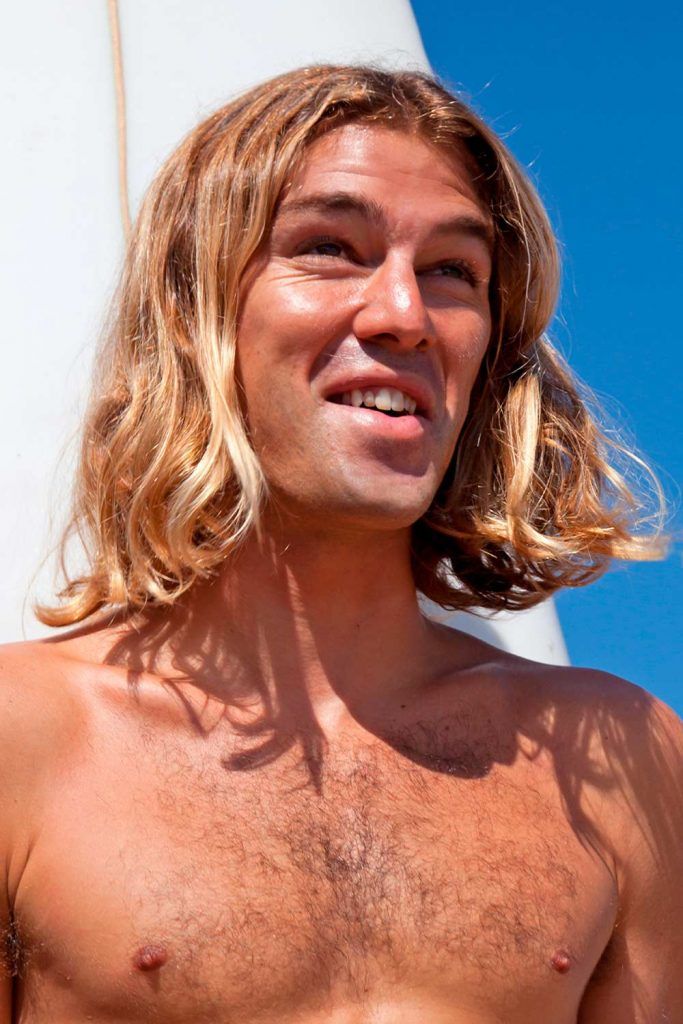 Surfer Short Hair Style
To get the surfer look right with the short haircut styles for men, you should focus on layering instead of growing. The best haircuts for men are stylish, low-maintenance and hassle-free, which is exactly what a short surfer hairstyle is about.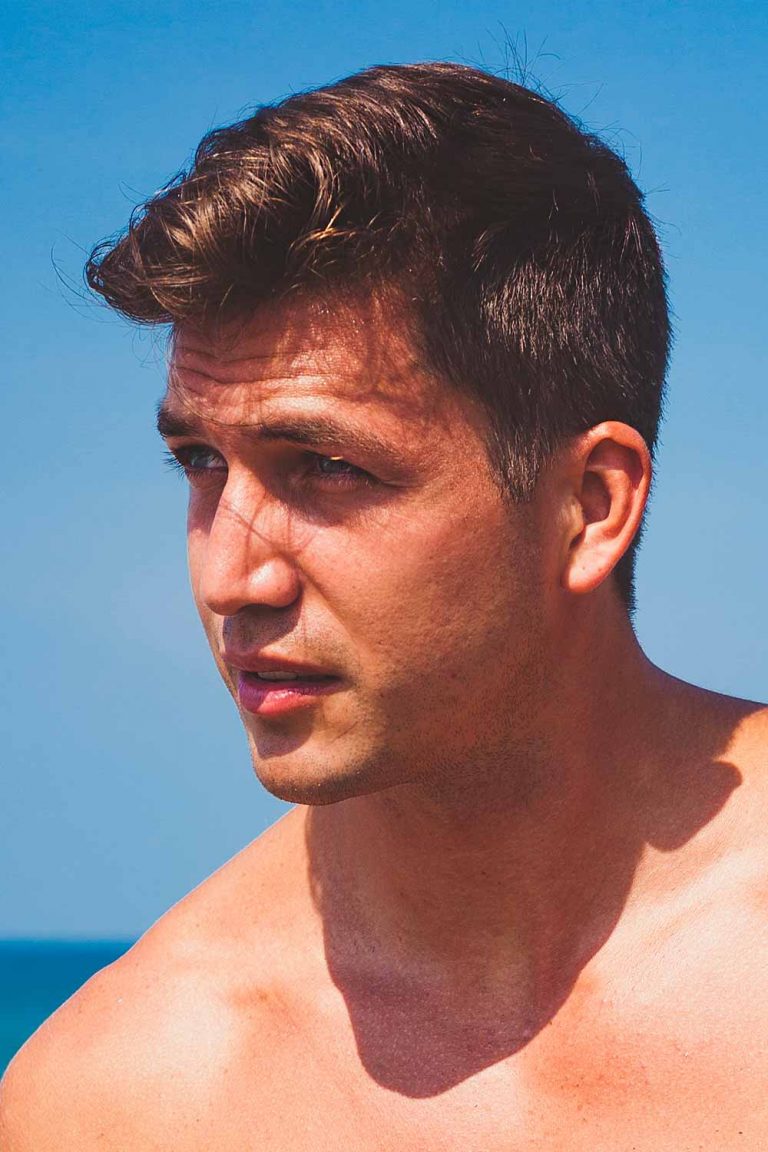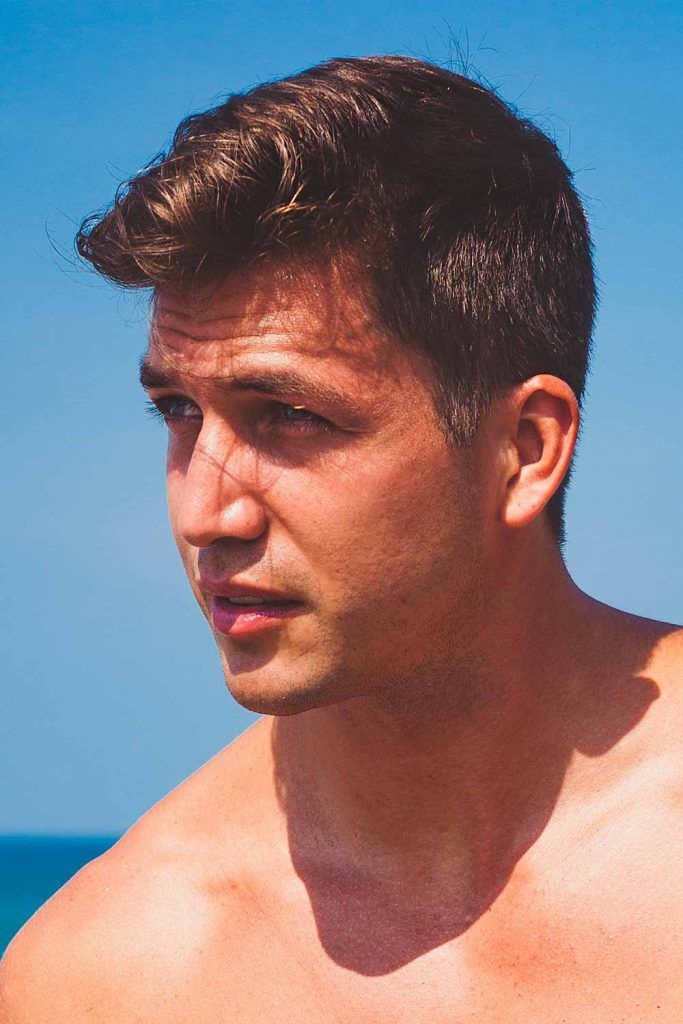 Man Bun
As mens beach hairstyles are usually long and loose, some guys may find them not very convenient for surfing. That is why they prefer to take their locks away from their face by tying them together. A man bun is one of the most popular surfer hair looks, as it is both stylish and practical.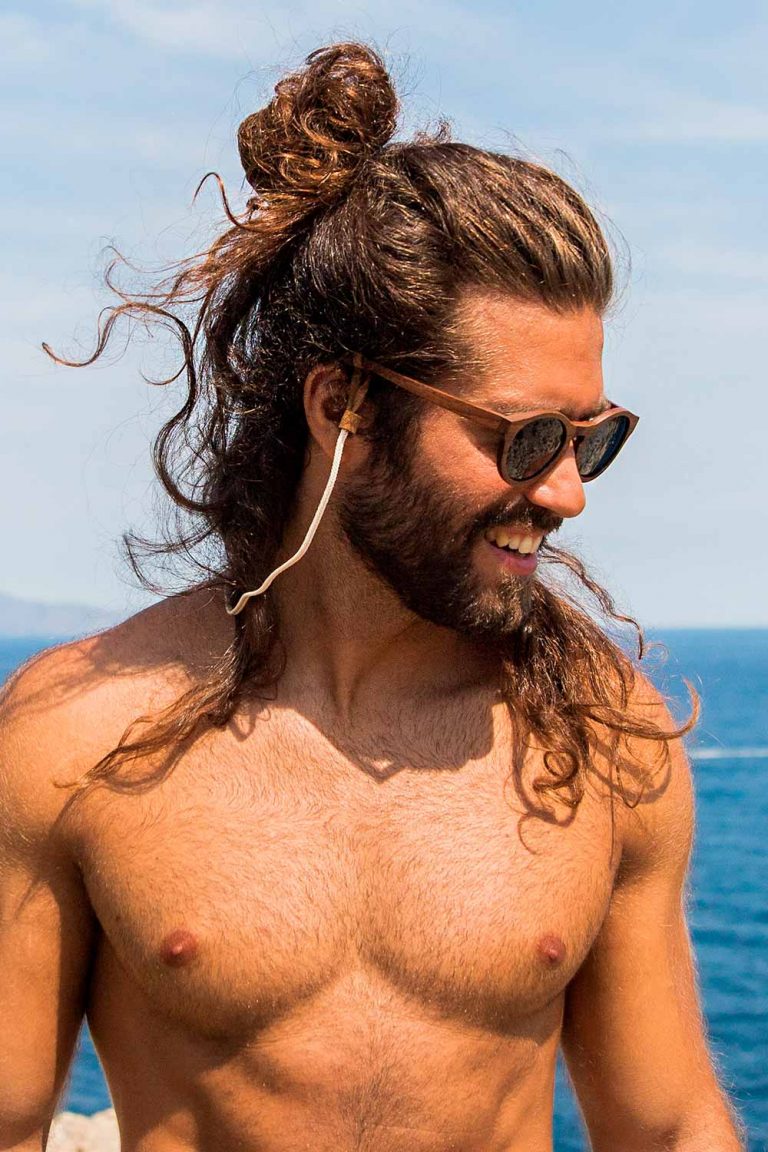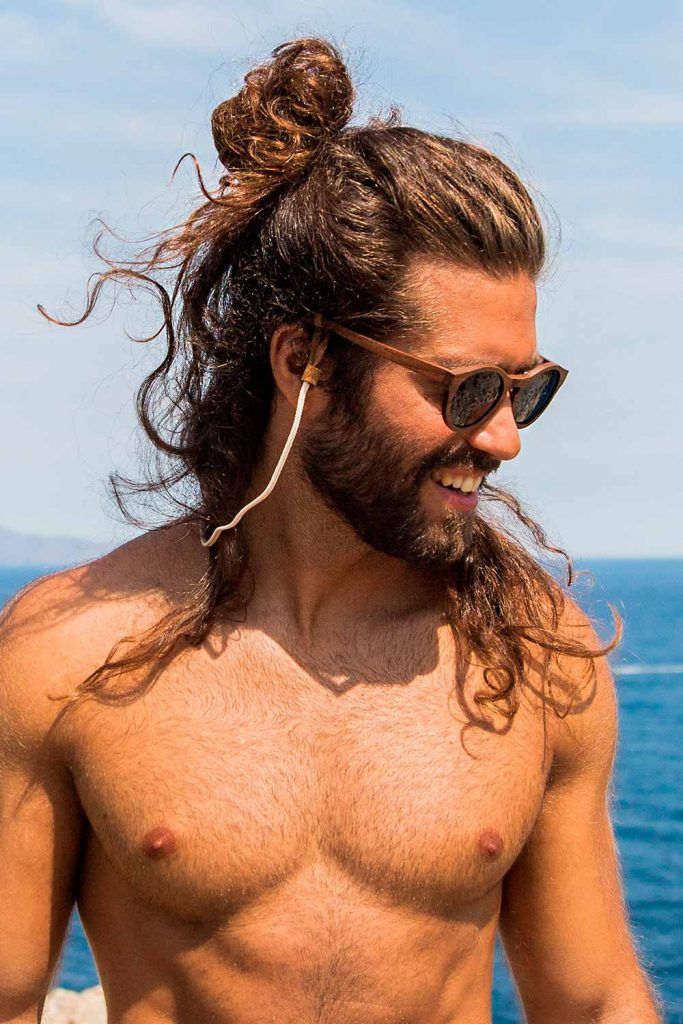 Short Sides Long Top Surfer Hair Men
Modern surfer cuts adjust to the current trends easily, which makes a short sides long top so popular. Thanks to the noticeable difference in length between the sides and top, it is much easier to achieve a high contrast and bold look. So that your haircut retains the surfer's aesthetics, give the hair on top a beach wave effect.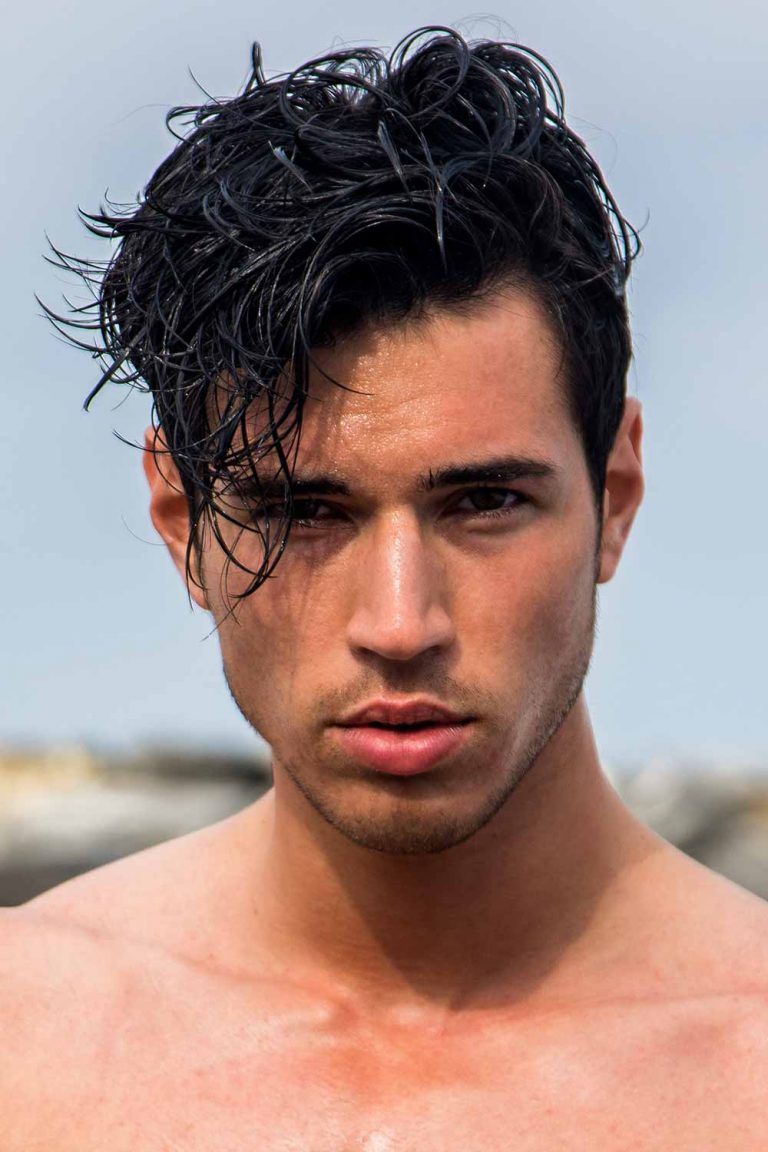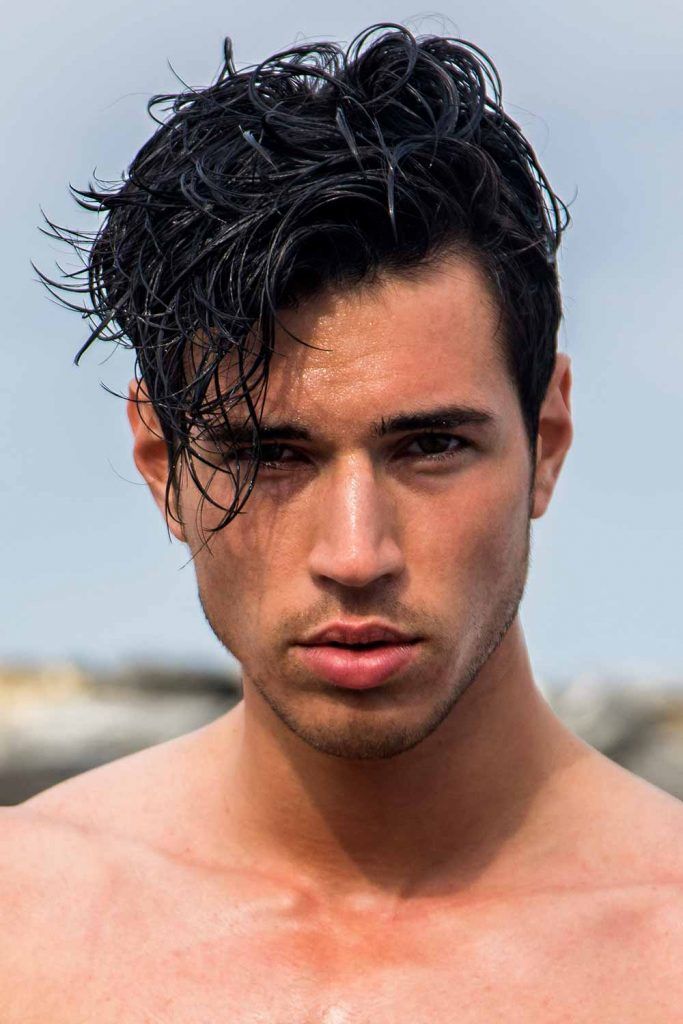 Shag Surfer Haircut
A shag is a staple surfer hair style. It is effortless, messy and relaxed. Although it works best for medium surfer hair, you can also try it with shorter or longer haircuts. One of the best things about it is that it works for any hair type and texture. So, if your tresses lack fullness, no worries. A shag will allow you to easily disguise it.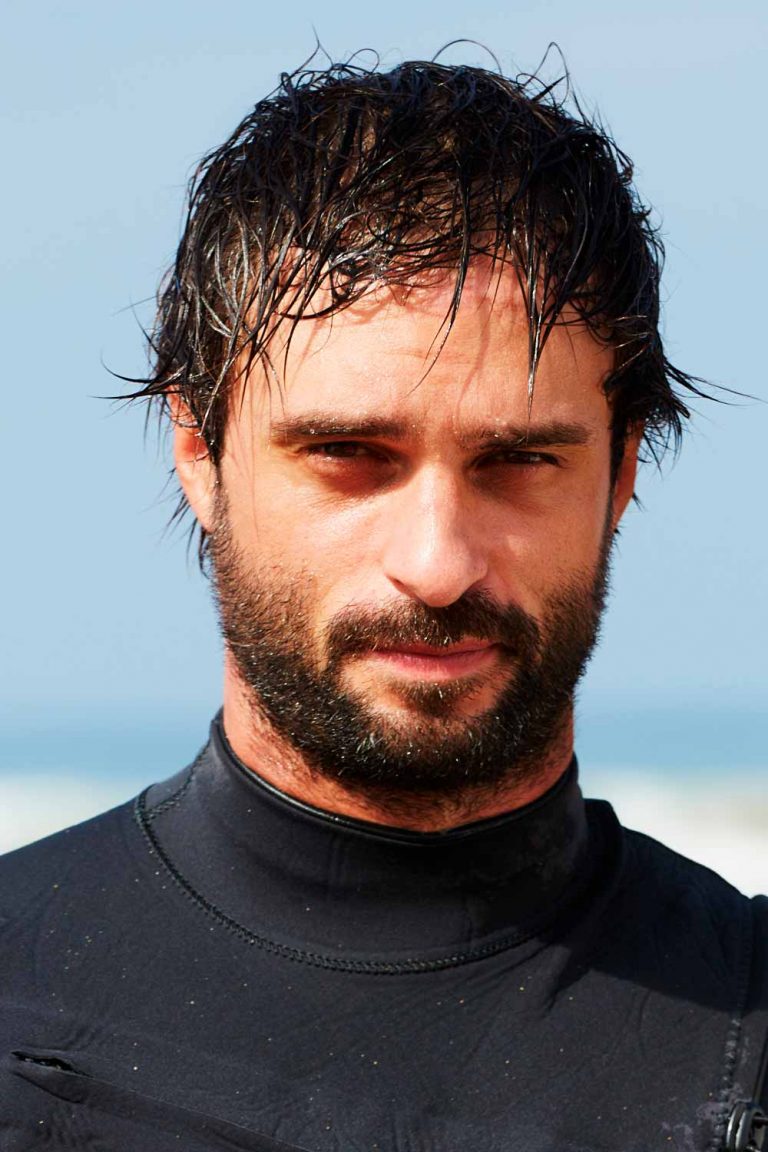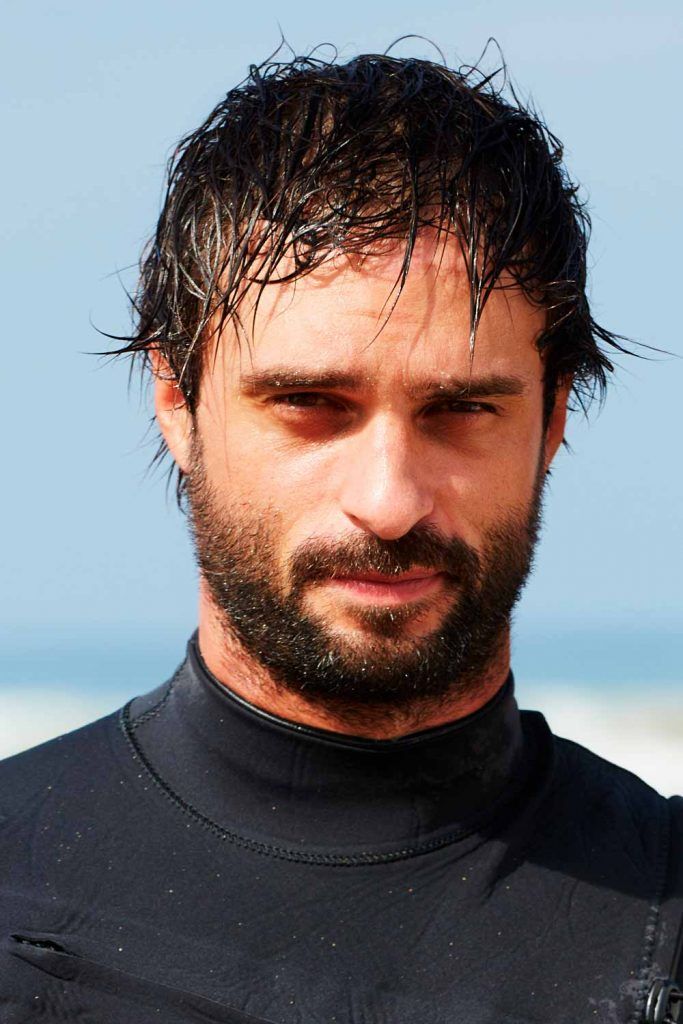 Dreaded Mens Surfer Hair
Surf boy haircuts come in all shapes and forms nowadays. So, if you wear dreads on daily basis, you should not sacrifice them for the sake of the surfer's hair look. Just put them in a man bun or tie them in a low pony and you are good to go.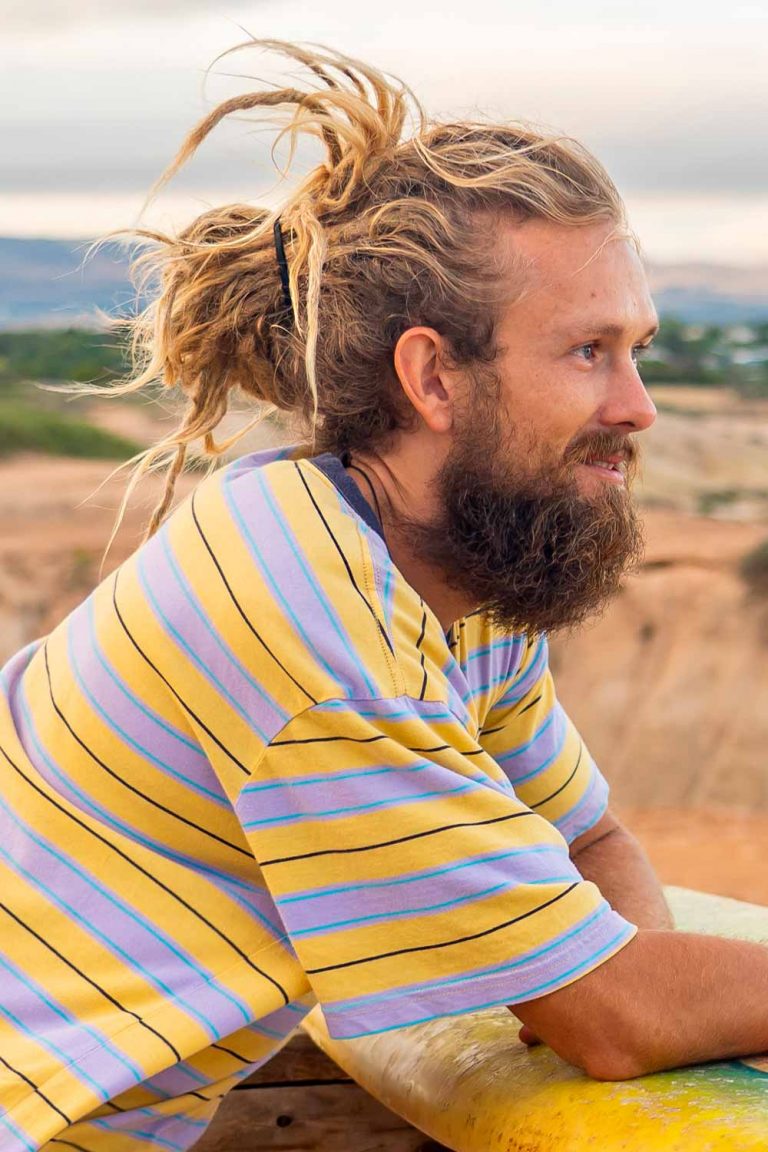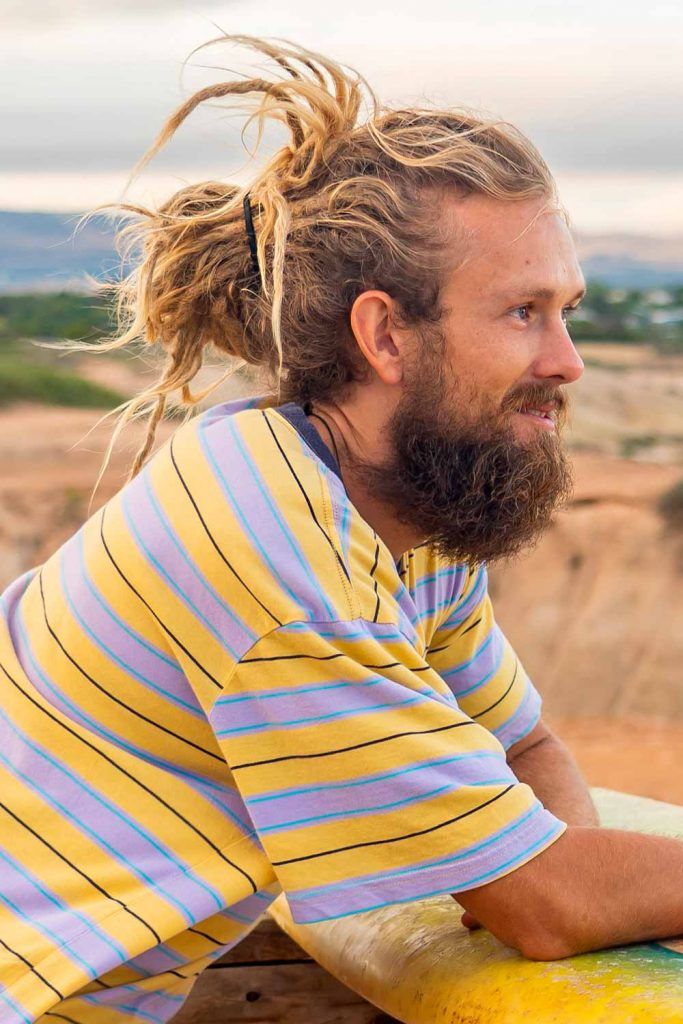 Curly Short Surfer Haircut
A curly surfer dude haircut is a real blessing, as you do not have to style your locks to achieve it. Moreover, your hair can be pretty short and you will still be able to pull off the surfer's look. Just make sure the curl is noticeable enough or enhance it with a texturizing product.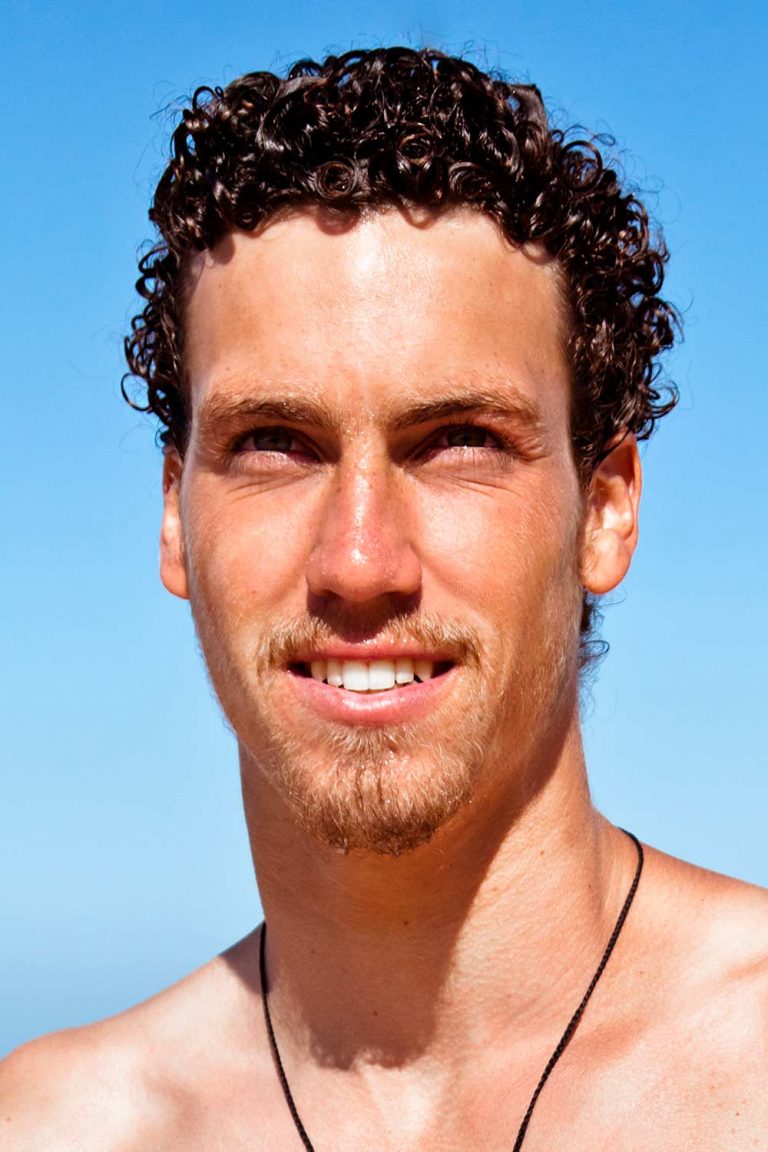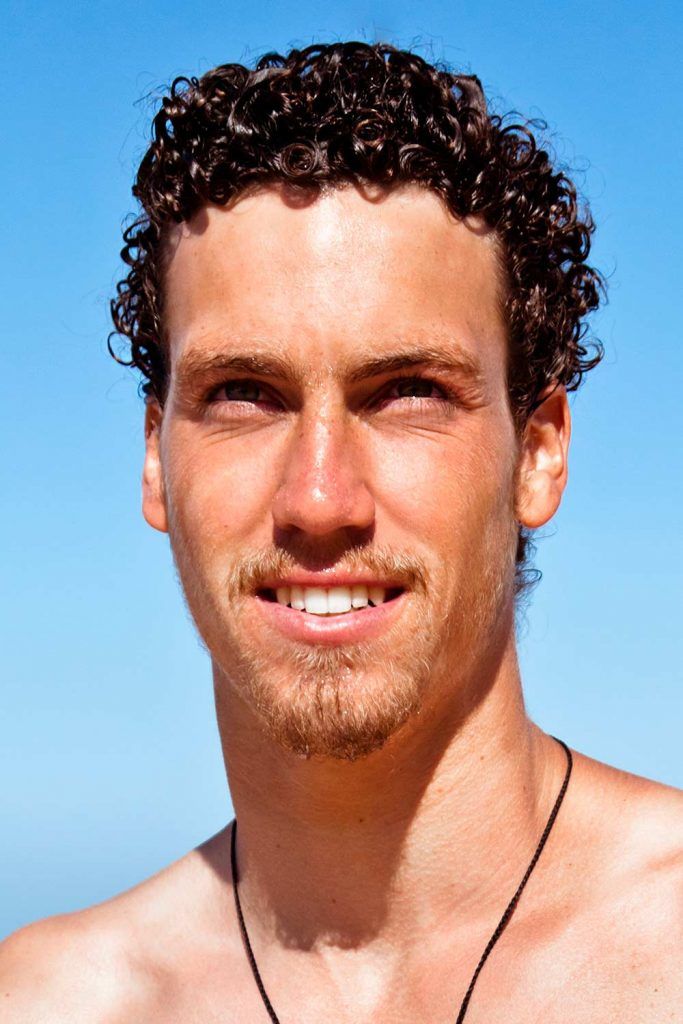 Timothee Chalamet's Brushed Up And Back Waves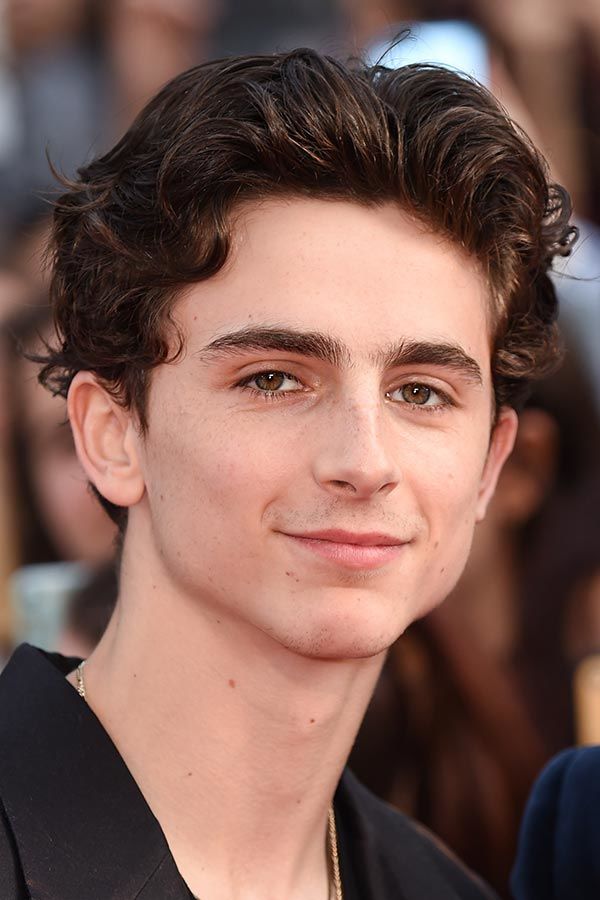 Featureflash Photo Agency/Shutterstock
Long Fluffy Surfer Hair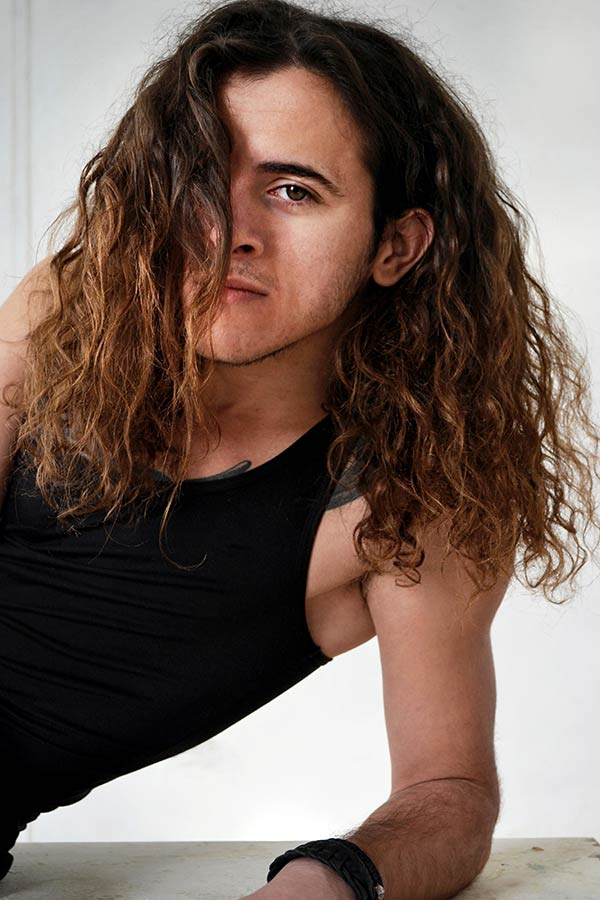 Joe Keery's Wet Mullet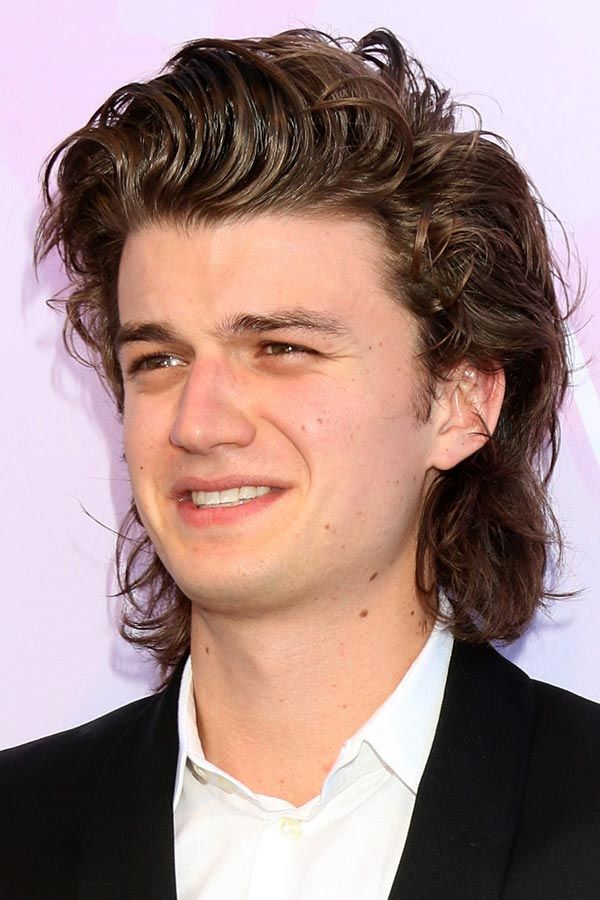 Kathy Hutchins/Shutterstock
Jordan Barrett's Messy Highlighted Locks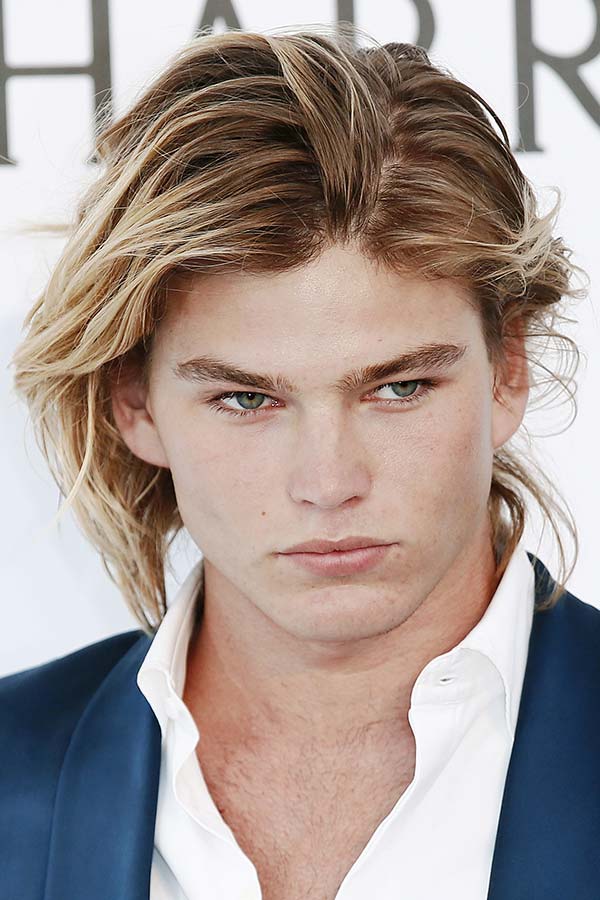 Andrea Raffin/Shutterstock
Kit Harington's Styled Back Curls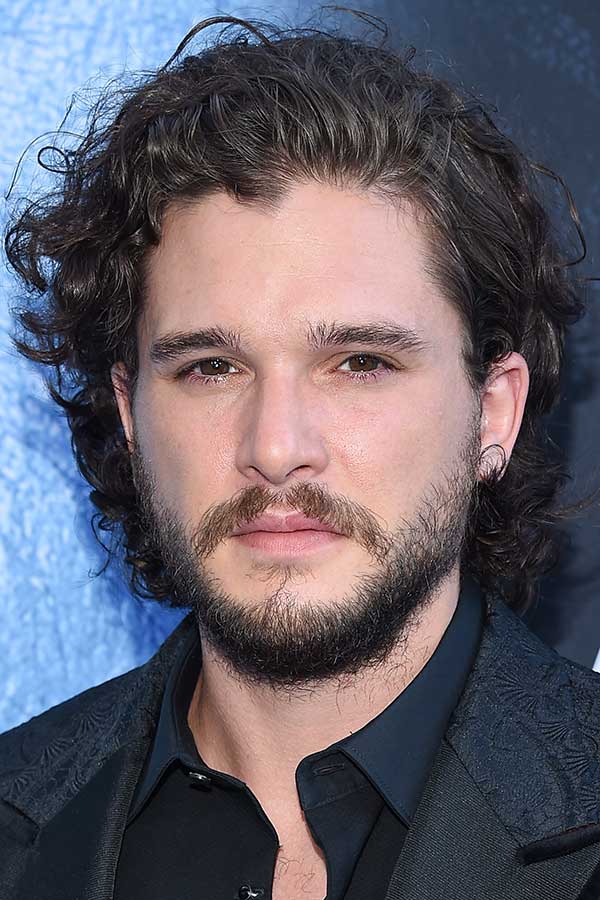 DFree/Shutterstock
Medium Choppy Hair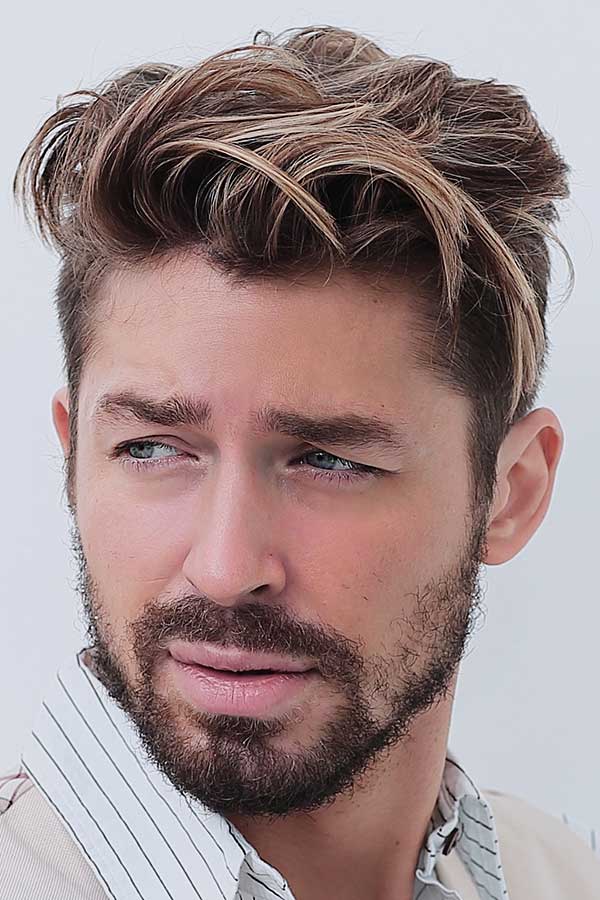 Jason Momoa's Long Curly Hair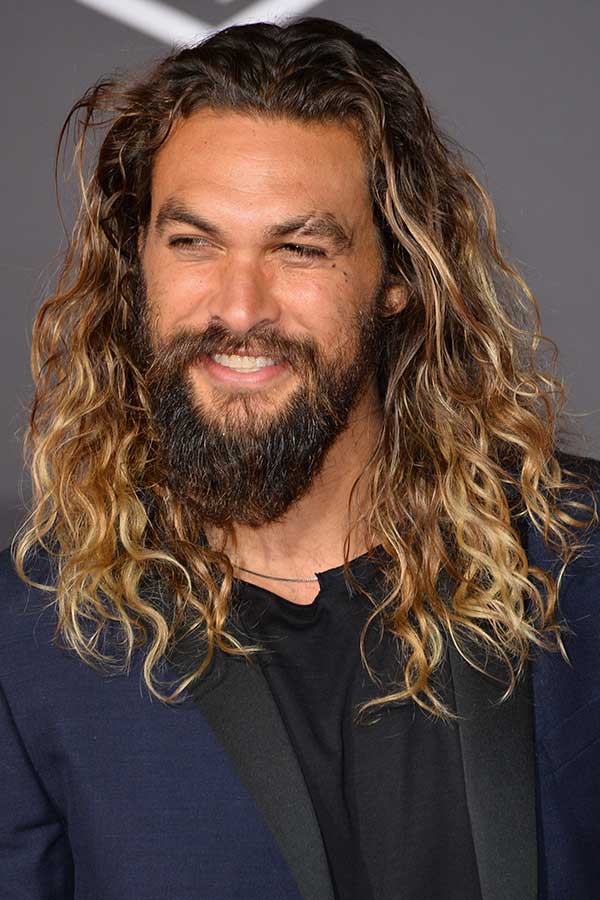 Featureflash Photo Agency/Shutterstock
Jewfro Curls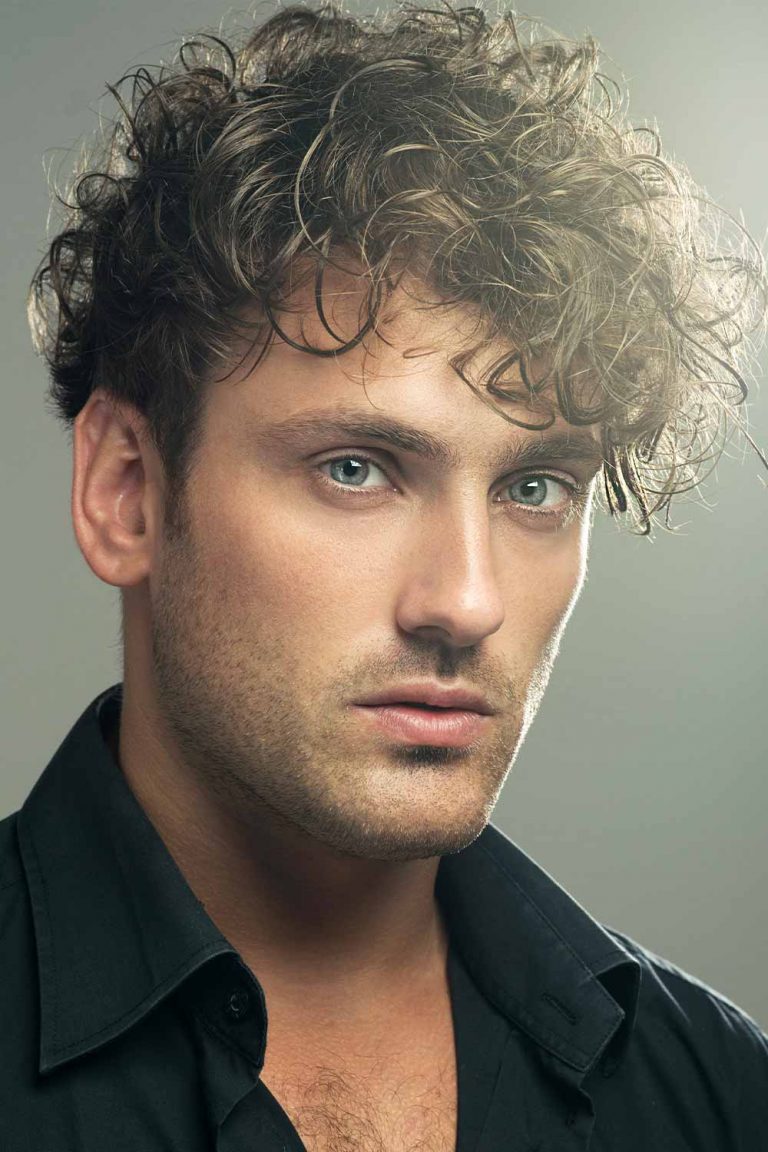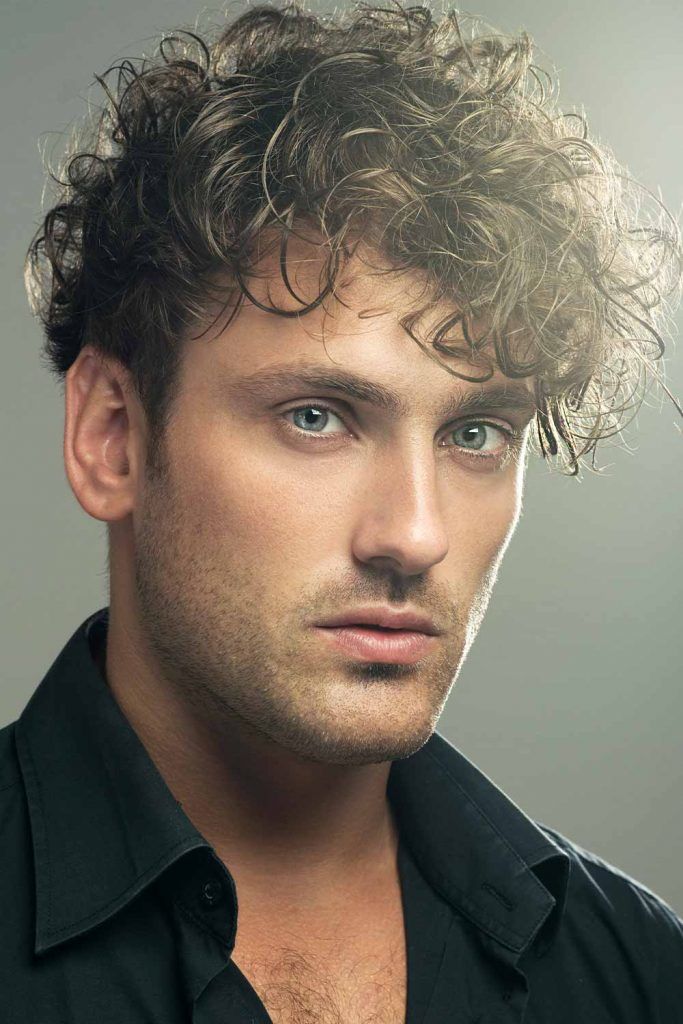 Mid Length Wet Hair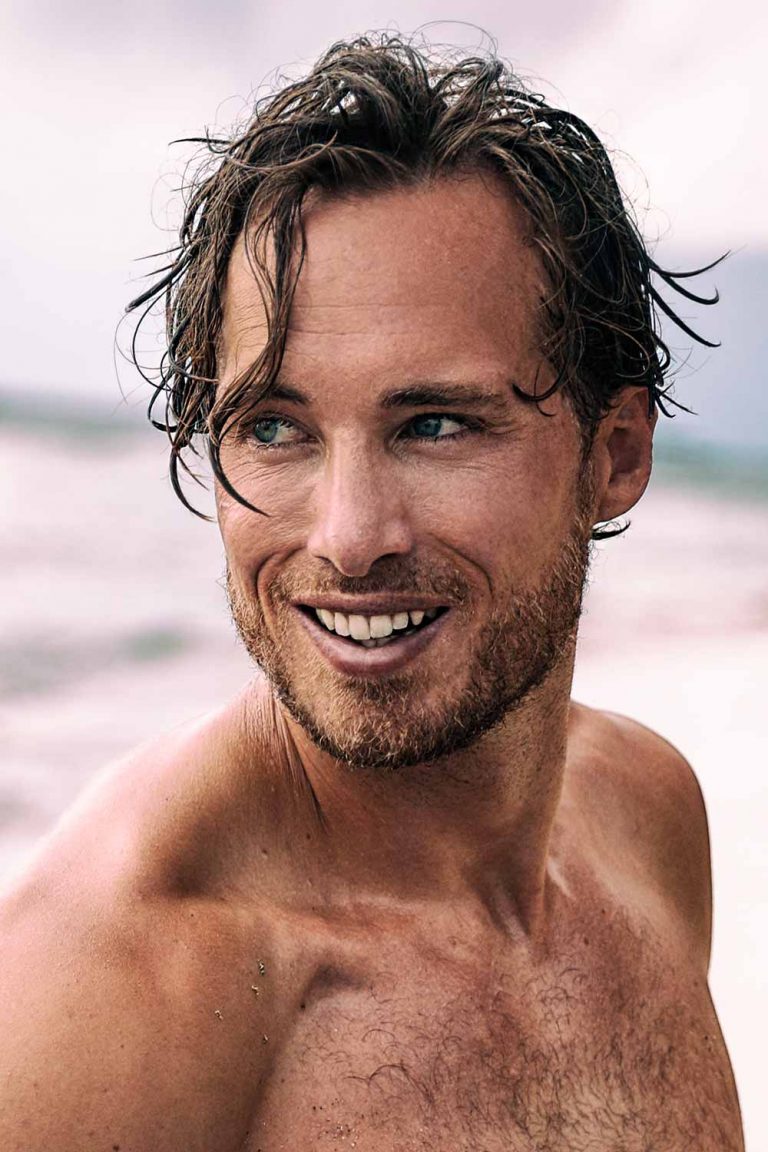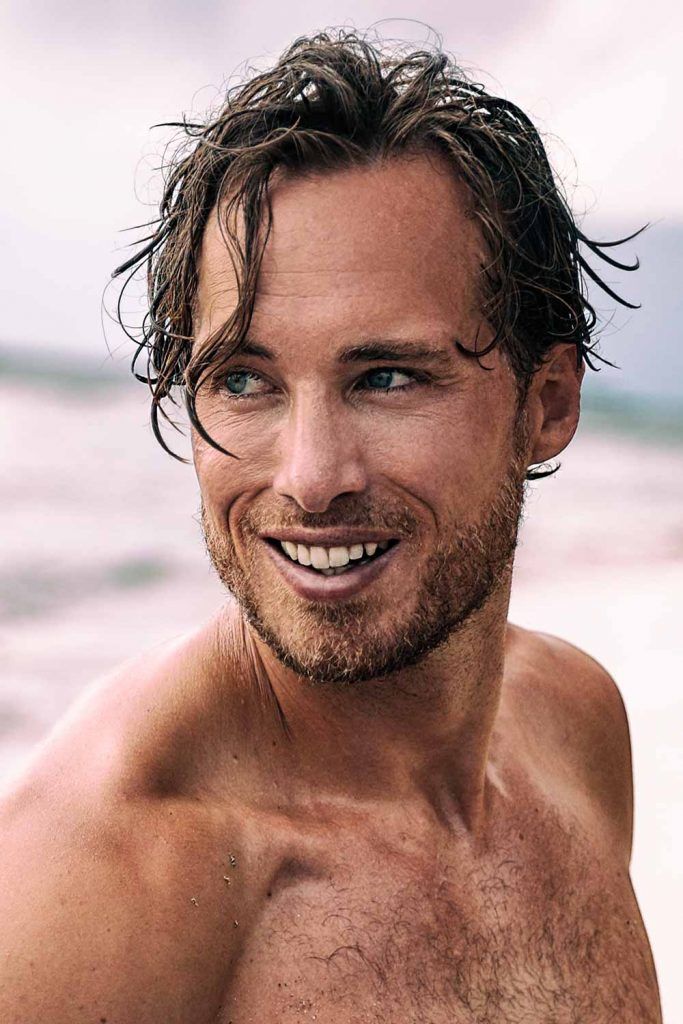 Jared Leto's Shiny Ombre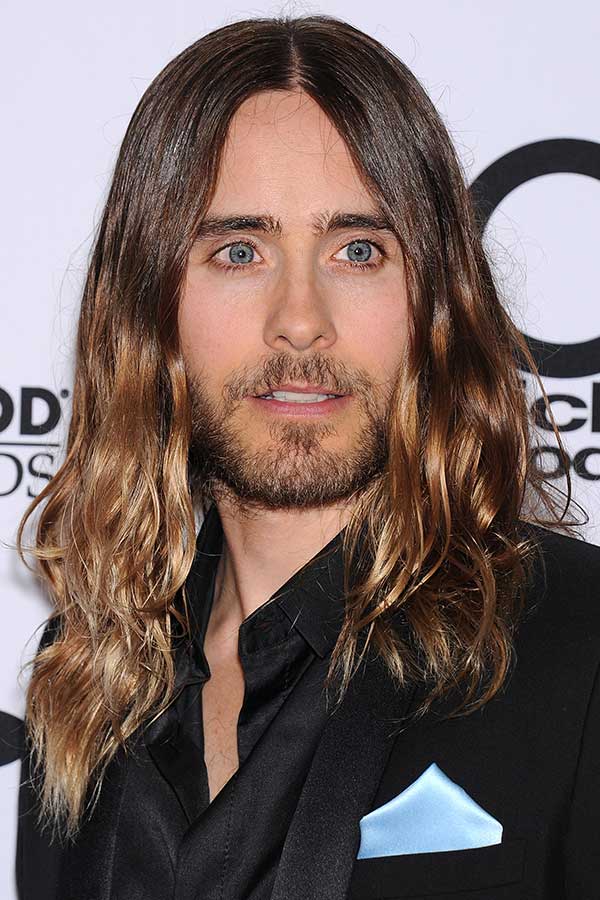 DFree/Shutterstock
Thick Short Curls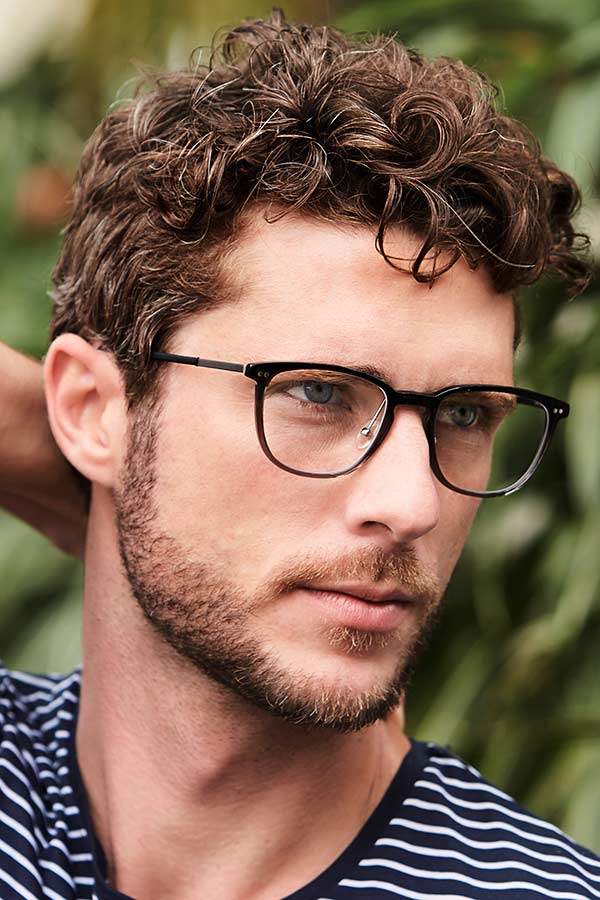 Finn Wolfhard's Medium To Long Unruly Locks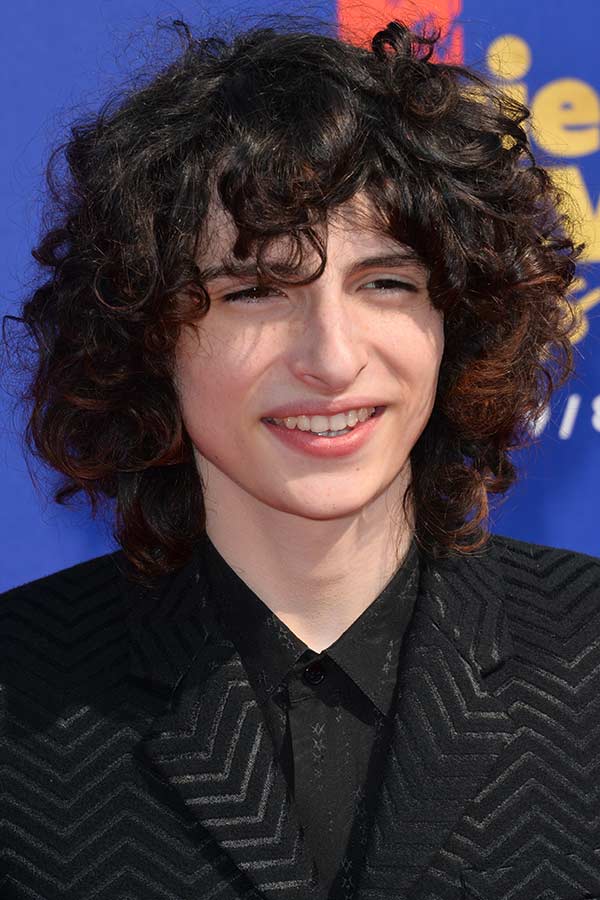 Featureflash Photo Agency/Shutterstock
The surfer hair style has been booming for a while now not for nothing. It's no longer a hairstyle associated only with long inconvenient locks. Modern trends have brought a welcome change in it, which we hope you fully enjoyed.
FAQs
What is surfer hair called?
The surf boy hair is one of the tousled hairstyle types. It has a messy and unkempt finish, which is achieved by disheveling the locks. Despite this, the overall appearance remains pretty neat. The hair is usually left quite long with a wavy or curly texture.
What causes surfer hair?
Surfer blonde hair is caused by several factors. Sun, salty water and ocean breeze contribute to your strands losing pigment and turning blonde as a result.
Why do surfers have wavy hair?
Water in the ocean is rich in sodium, sulfate, chloride, magnesium and other minerals. They interact with proteins in your hair, which results in a change in your hair texture. This is the main reason why surfer boy hair becomes wavy or even curly.
How do I give my hair a surfer look?
Here is how to style your locks for a surfer hair look:
1. Grow out the hair until it reaches your shoulders.
2. Apply several spritzes of water or sea salt spray so your strands are wet.
3. Scoop a tad of hair pomade, run your palms with it and apply the product to your locks.
4. Using scrunching motion, give the strands a wavy appearance.
5. Reapply the sea salt spray if needed.
Why do surfers wear long hair?
For surfer guys, long hair is a way to show off that they are free, independent and do not abide by commonly accepted social norms. Of course, in the modern world, men with long hair are considered absolutely normal. However, the perspective on the boys surfer haircut has not changed since.
REFERENCES:
Surfer hair is a tousled type of hairstyle, popularized by surfers from the 1950s onwards, traditionally long, thick and naturally bleached. Source
Whatever the occasion we have the inspiration you need to style your hair any which way. Source