Some people consider long hair men too feminine. Well, in modern realities, this isn't the case anymore. Today, the long healthy mane is the reason for envy, not mockery. And many male celebs have successfully proved that men long hair can look stylish, attractive and, more so, masculine. So, let's enjoy this exciting journey through the boldest long hair male celebrity looks together. Who knows, maybe it'll inspire you to grow hair yourself.
Brad Pitt's Brushed Back Layers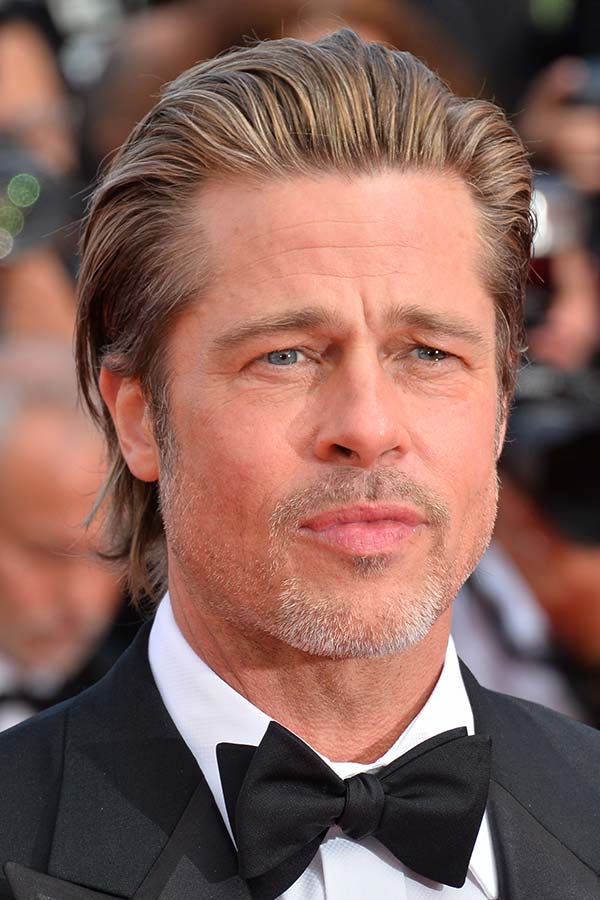 Featureflash Photo Agency/Shutterstock
When Brad Pitt started to wear his hair long, it instantly brought his style to the whole new level. His signature brushed back look has an elegant and refined flair, which makes it a perfect choice for Red Carpet events.
Orlando Bloom's Slick Back Curls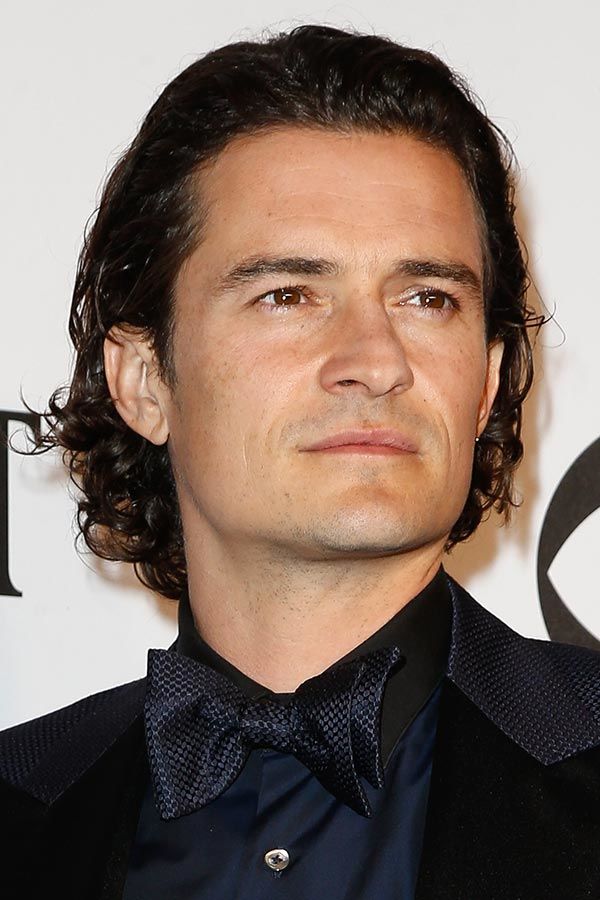 Debby Wong/Shutterstock
Orlando Bloom's hair proves that to look camera-ready, embracing your natural curl is more than enough. The actor simply wears his locks slick back in a slightly relaxed manner. Notably, that he chooses to pair his polished and refined hairstyle with a clean-shaven face. In this way, he looks even more dapper and elegant.
Avan Jogia's Wavy Shag Hairstyle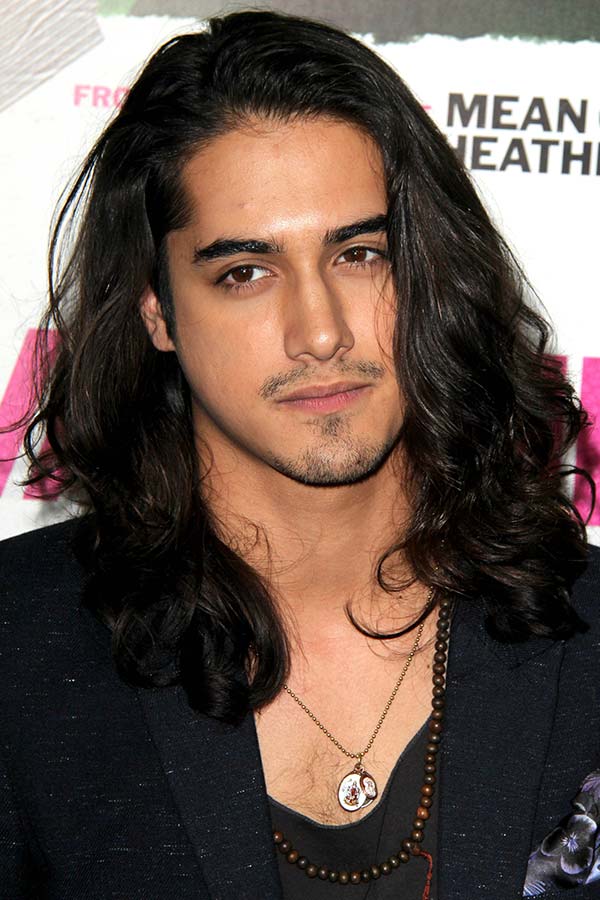 Kathy Hutchins/Shutterstock
That would be a real shame to hide such an ample mane as Avan Jogia's. Luckily, he seems to agree with us and thus never misses a chance to show it off. Although his thatch looks shaggy and disheveled, we know how much effort it actually takes to style and maintain such shiny and breathtaking locks.
Milo Ventimiglia's Side Part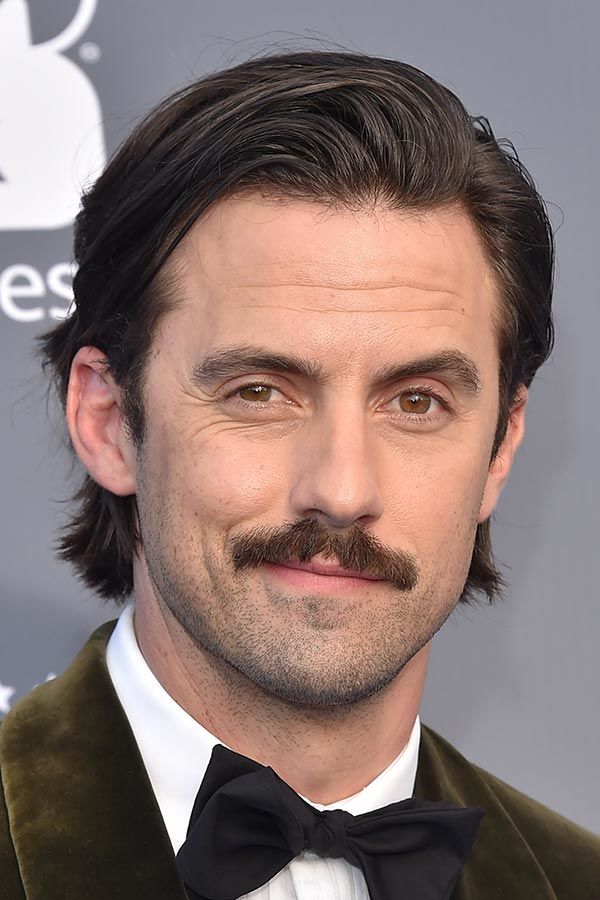 DFree/Shutterstock
No one but Milo Ventimiglia knows how to pull off a retro style without looking old-fashion. He complements his long smooth locks with a side part, which gives the hairstyle definition. To enhance the vintage air of the look, the actor pairs it with a full thick mustache.
Jared Leto's Long Locks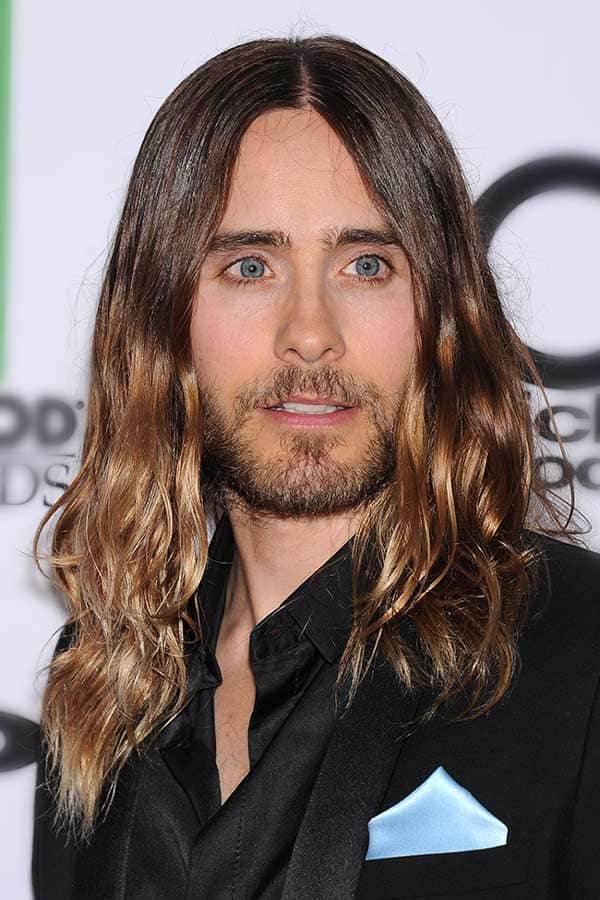 DFree/Shutterstock
If you want all eyes on you, you have to try on Jared Leto's center-parted chin-length haircut. Such a length of hairstyles for men helps to accentuate the jawline, as well as a well-trimmed beard does, thus bringing masculinity to the look. However, that's not what makes the locks of this unbelievably gifted actor, director, songwriter and singer eye-catching. To give all the mens long hairstyles Leto's sheen, you should take care of your mane properly, ensuring you use enough products that make the hair as glossy and shiny as Jared's.
Timothee Chalamet's Mid-Length Side Part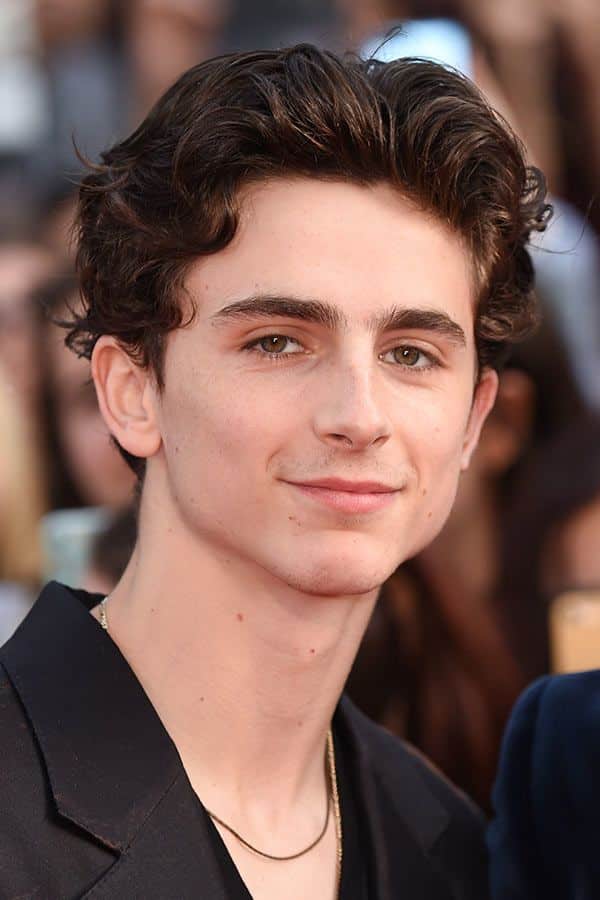 Featureflash Photo Agency/Shutterstock
Despite his young age, Timothée Chalamet has gained a lot of popularity due to his memorable parts in the series of hit movies. But his outstanding acting isn't the only thing that brands into the mind. His enchanting full head of chocolate hair is what makes us feel envy of his heavenly genetics. Notably, Timothée's hair is styled in soft locks, which, being one of the most elegant hairstyles for long hair men, balance out his edgy face shape. Thus, we can witness how flattering long hair men styles can complement facial features.
Bradley Cooper's Mid-Length Waves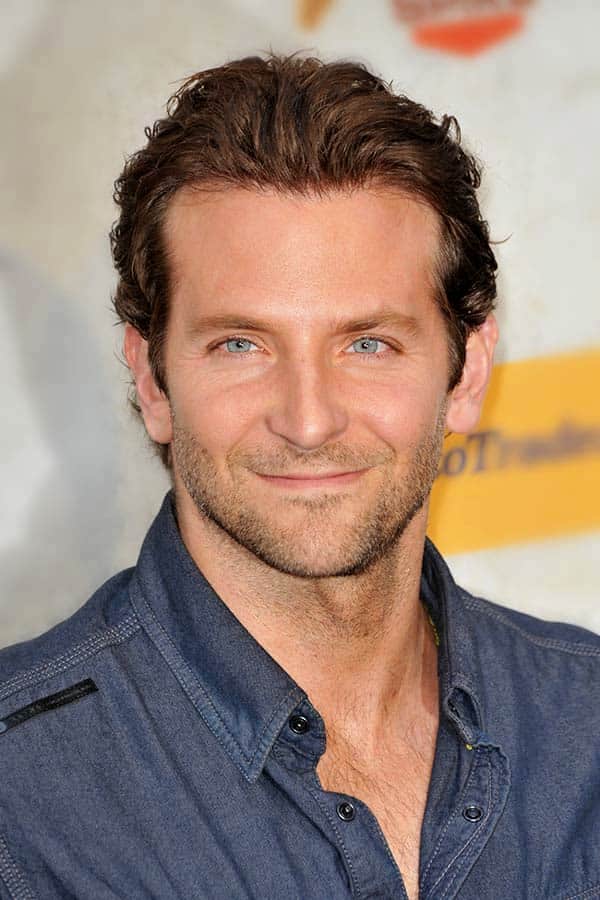 Featureflash Photo Agency/Shutterstock
What happens in Vegas, stays in Vegas. However, this Las Vegas marketing catchphrase doesn't concern Bradley Cooper's divine waves. They've stepped far beyond the City of Lights, for sure. Looking for the ways how to style long hair men should definitely try to recreate the look of our favorite best man. Apply a pomade to your hair by running the fingertips through it from front to back. Long curly hair men would pull off the look with ease, as their tresses are meant for such a style.
Dev Patel's Messy Textured Curls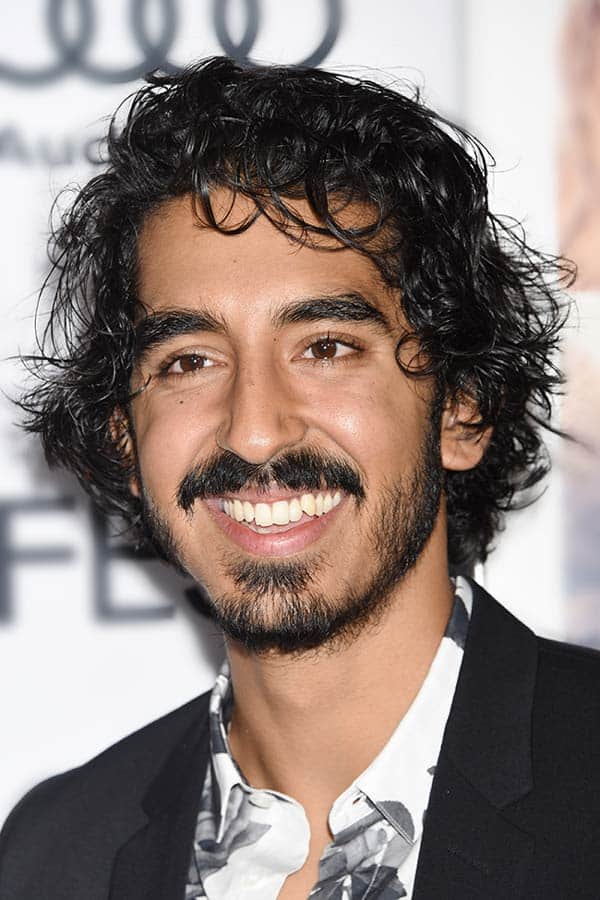 Ga Fullner/Shutterstock
Dev Patel's mens hairstyles have upgraded along with his career. Starting with a hotheaded teen on Skins, his career evolved into mature and serious parts, as well as his hair did. Patel's relaxed and slightly tousled style asserts that long hair on men can look classy and casual at the same time.
Justin Bieber's Beachy Dye Job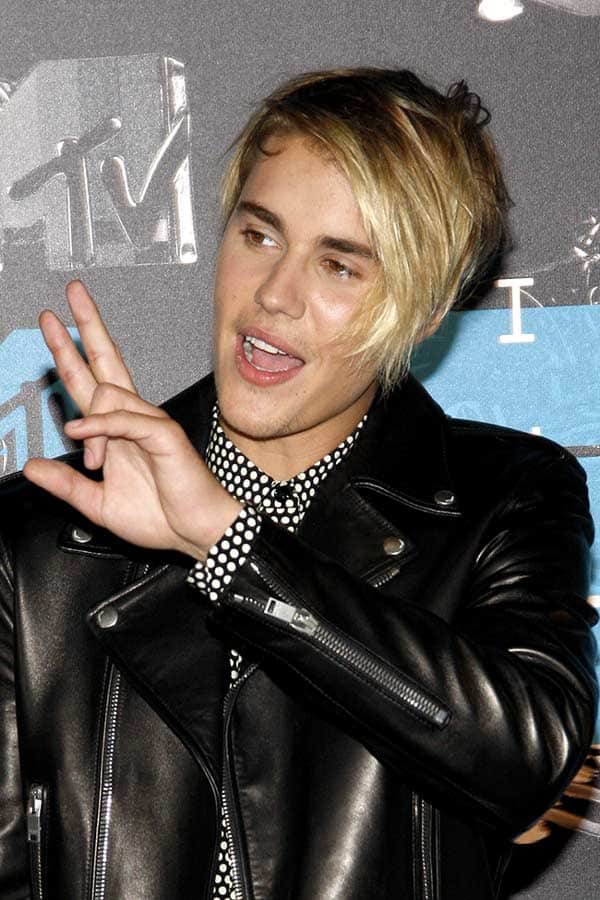 Tinseltown/Shutterstock
You can love him or hate him, but you can't ignore him. This phrase concerns not only Justin Bieber's artistic endeavors but also all his long hair styles for men. Luckily, he's sported recently one of the most popular mens hairstyles among rock music fans. Bleached mid-length natural mop, which he prefers to wear either brushed back or simply loose, has been highly appreciated by Kurt Cobain's followers.
Kit Harington's Wavy Slick-Back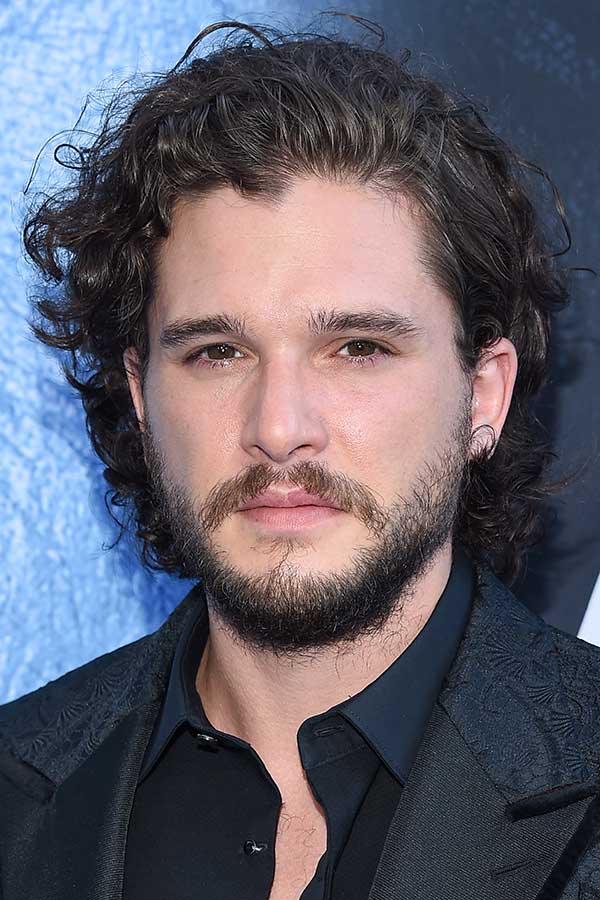 DFree/Shutterstock
Another Game of Thrones star Kit Harrington sports proudly his perfect example of mens messy hairstyles. Either he had a high-quality perm, or Mother Nature was generous to him, but Harrington's ringlets look nothing but flawless. Usually, curls are among the long hair styles men feel reluctant to do. However, Kit demonstrates how greatly they lose from it.
Harry Styles' Shaggy Style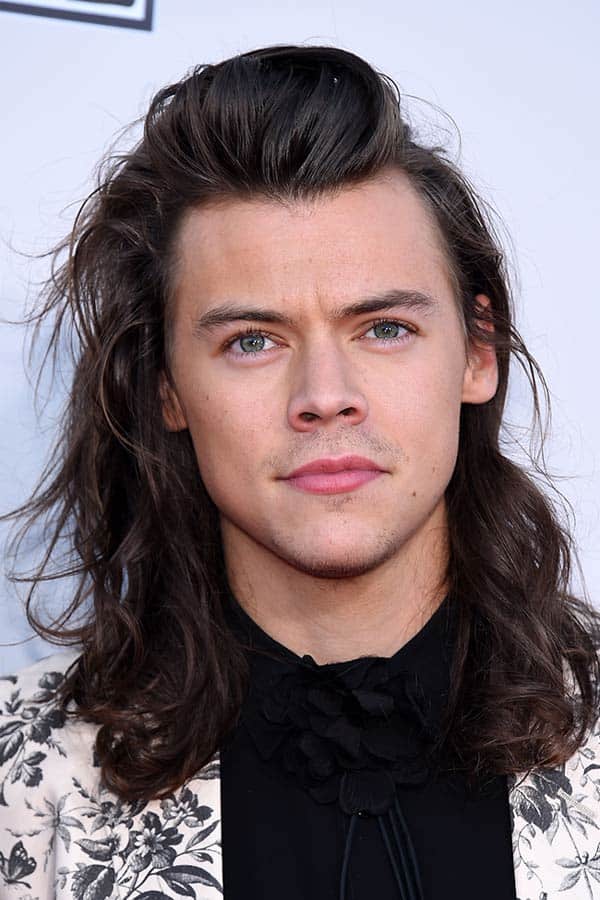 DFree/Shutterstock
As we agreed upon earlier, long hair for men often means much more than just a hairstyle. It can signify a turning point in the man's life or career. When an ex-member of the One Direction pop music band Harry Styles started wearing his mens hairstyles long, the public noticed a serious shift in his musical career toward the professional league.
Matthew McConaughey's Curly Bob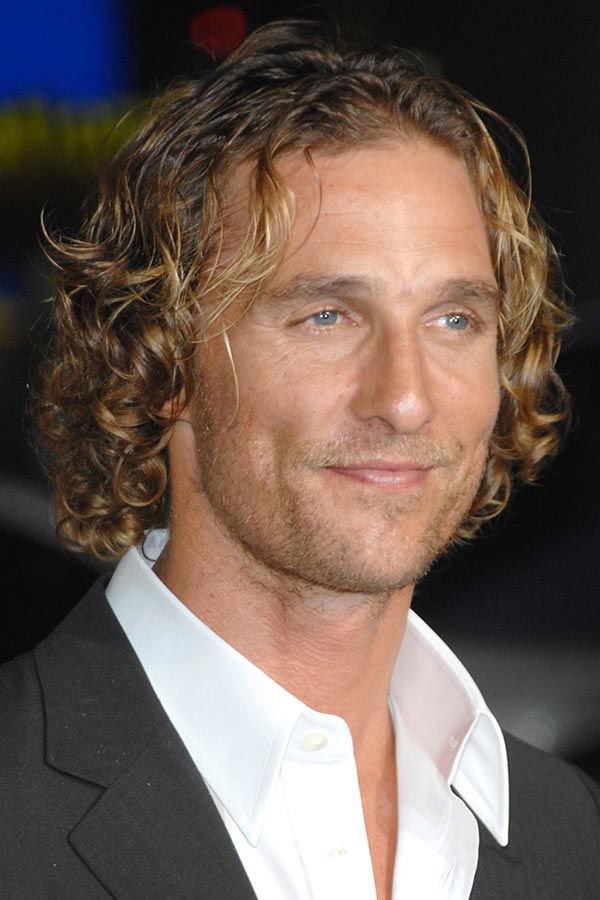 Featureflash Photo Agency/Shutterstock
Although literally, any hairstyle flatters Matthew McConaughey, his long soft curls are what make girls crazy. They give his appearance romantic and dreamy vibes, which makes the actor a real heartthrob. A slight stubble of facial hair adds to his appeal.
Jeff Bridges' Silver Hair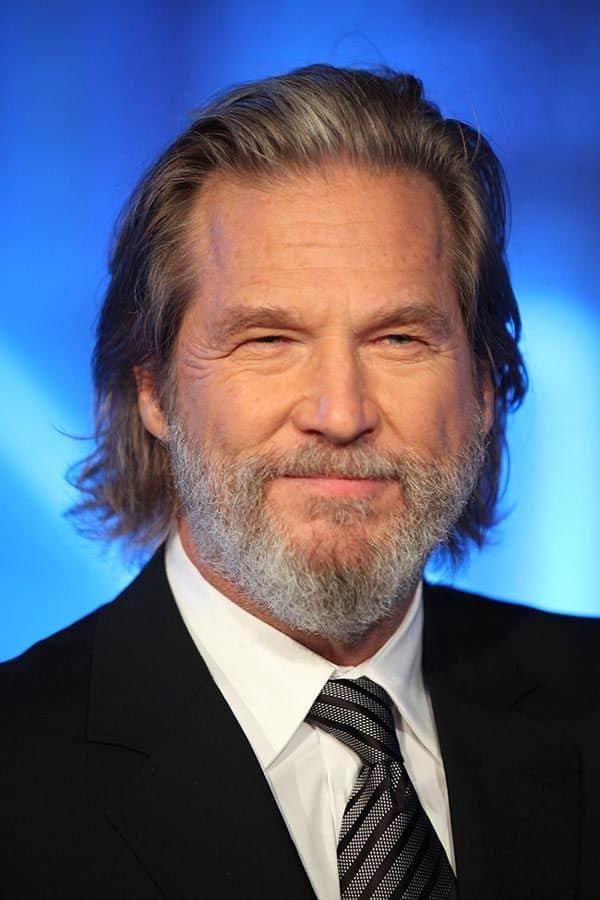 DFree/Shutterstock
Who said something about the age limit for guys with long hair? With Jeff Bridges' slicked-back silver hair and full silver beard combo, it sounds ridiculous. This famous American actor manifests that being long hair men is a state of mind, not the body.
If you've ever considered sporting long hair, the time has come. Our collection of the best long hair men celebrity styles proves that anyone can pull off the look with the right attitude. Wait no more and choose the hairstyle that resonates with you.
Chris Hemsworth's Layered Bob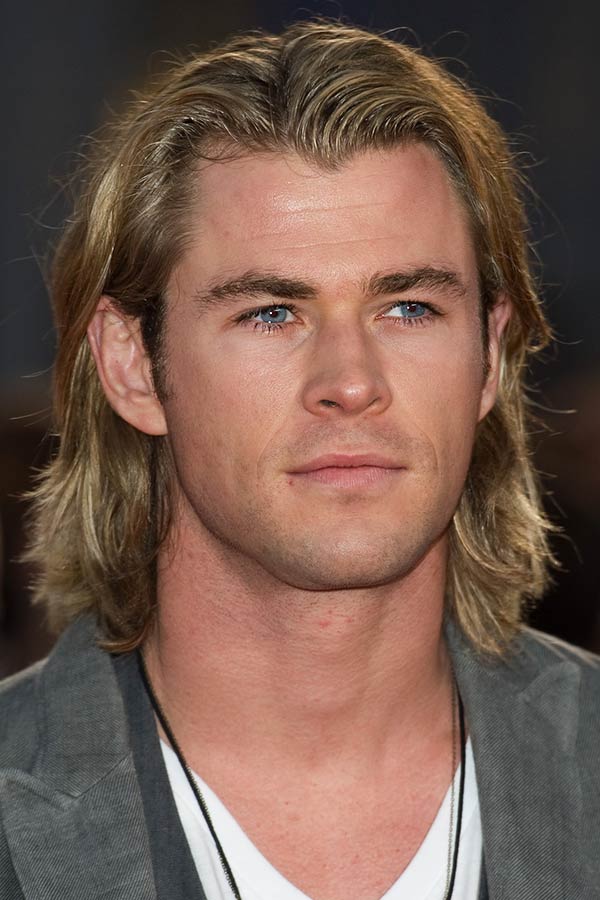 Featureflash Photo Agency/Shutterstock
Although we extremely loved Chris Hemsworth haircut when it was short, his new style looks exceptionally flattering for him. Chris Hemsworth long hair gives relaxed and breezy vibes, which adds to the casualness of his look. This is the case when his role of the God of Thunder, Thor, stood the actor in good stead in real life.
Ashton Kutcher's Mid-Parted Lob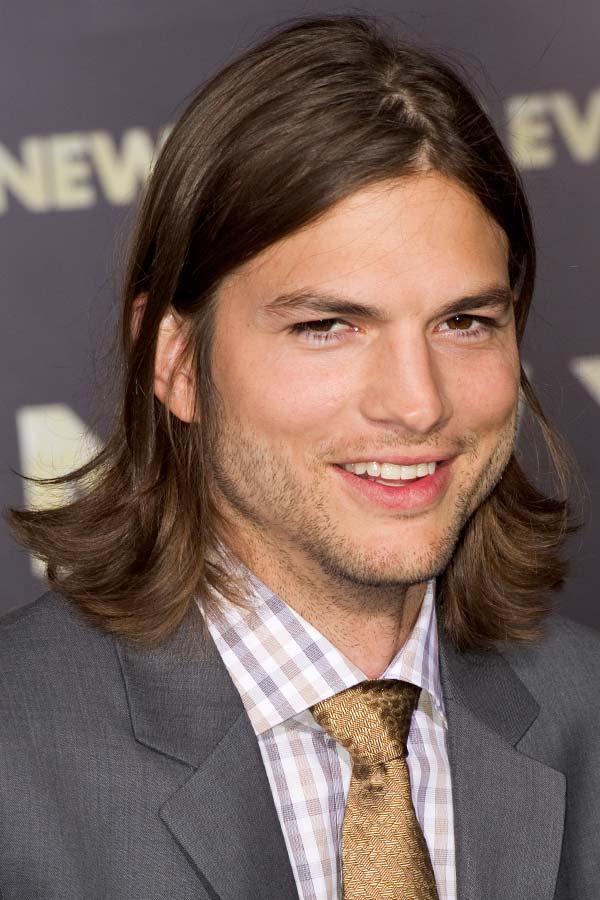 Christopher Halloran/Shutterstock
Ashton Kutcher hair has probably seen it all. There were times when the actor flaunted a rather unkempt take on a long bob with a natural mid part. We cannot say that it was his best hairstyle, yet, it deffo has the right to exist.
Jason Momoa's Man Bun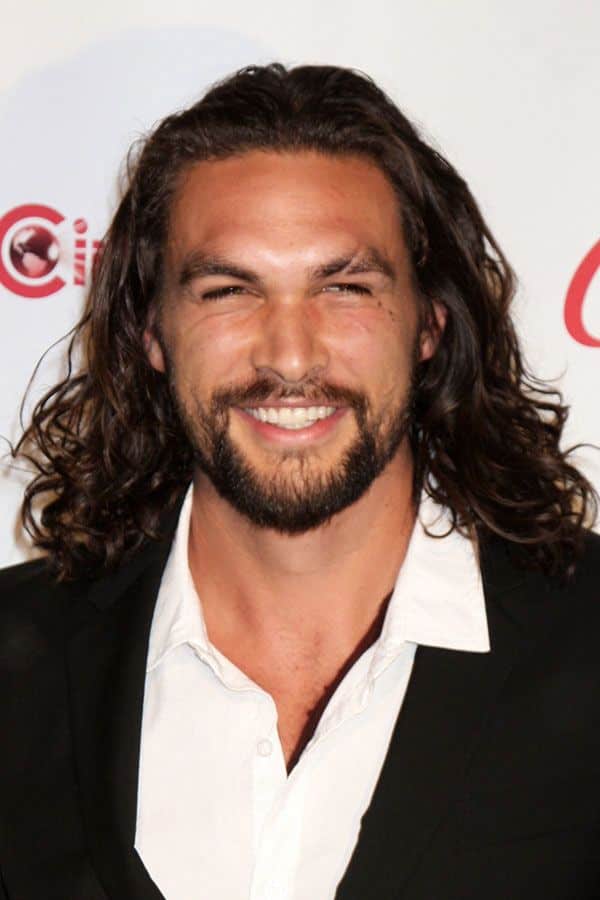 Kathy Hutchins/Shutterstock
A man bun is ultimately one of the trendiest and boldest hairstyles for men with long hair. Jason Momoa, playing the leader of the warlike tribe Dothraki, Khal Drogo, in Game of Thrones, gave the hairdo a virile and daring touch. For sure, this Hawaiian masher can take any hairstyle to the male territory.
Kendrick Lamar's Cornrows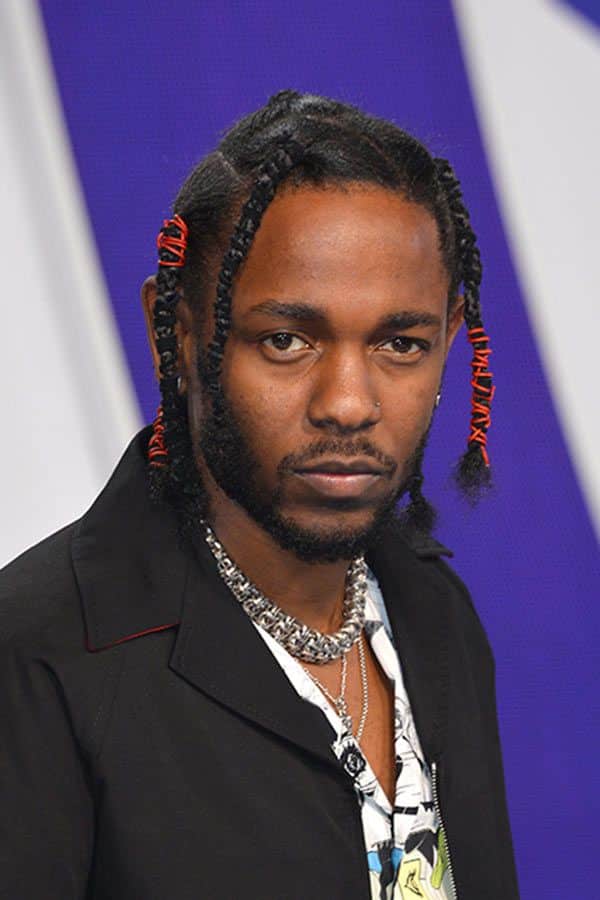 Featureflash Photo Agency/Shutterstock
Kendrick Lamar, one of the most talented and prosperous rappers of his generation, has brought cornrows to a whole new level, making them his signature hairstyle. Cornrows men work perfectly for kinky and messy black mens long hair. They allow taming the unruly locks while creating one of the most defined long haircuts for men. In addition to easy maintenance, the 'do helps to visually elongate the face, which will be highly appreciated by the men with a round shape.
Dave Grohl's Rockstar Mane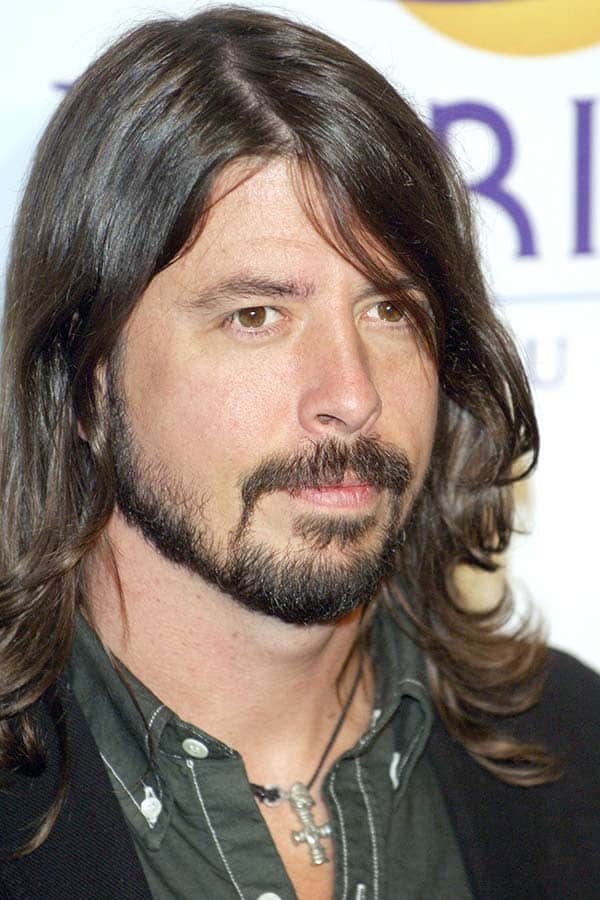 Everett Collection/Shutterstock
Who can rock mens long hairstyles in most cases find intimidating better than a rock star? Nobody. Dave Grohl is living proof of that. His natural and breezy hairstyle wins the hearts of his fans on a par with his work. Opting for such seemingly easy manageable hair styles men should keep in mind that in reality, they require quite a lot of care. Start with regular conditioning and trimming. This rockabilly look shouldn't cross the shaggy border either with the hair on the head or with the hair on the face.
Keanu Reeves' Sleek Layers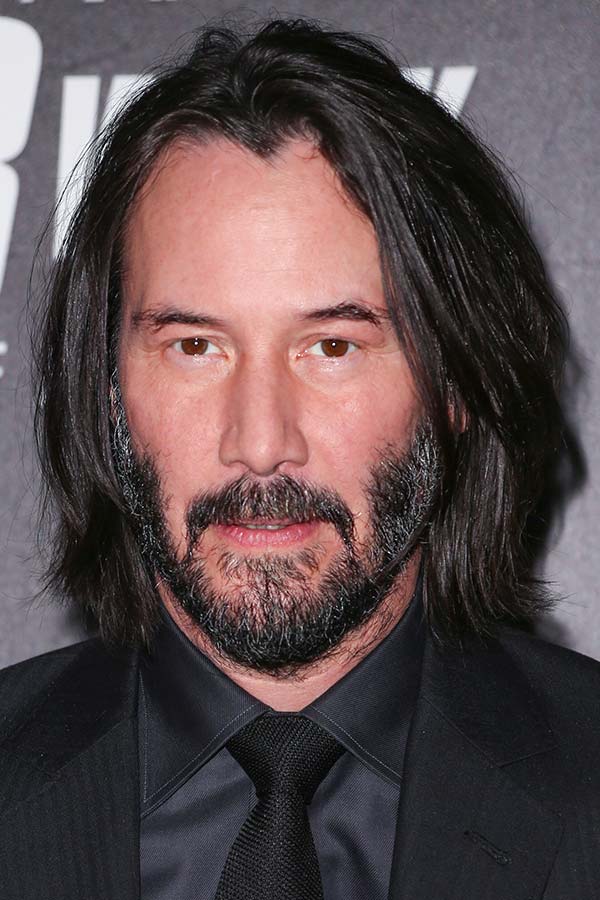 lev radin/Shutterstock
Can you name another guy who would look as hot and attractive in his mid-fifties? The face of the latest Yves Saint Laurent's fashion campaign is a quintessence of a modern man. And something makes us think that it largely thanks to the new Keanu Reeves hair style. Keanu Reeves long hair seems to complement his look perfectly by giving it a stylish and sophisticated touch.
Chris Pine's Slicked Back
Tinseltown/Shutterstock
Chris Pine hair seems to always look its absolute best. The actor manages to successfully pull off any hairstyle, from short to long, and add his signature refined touch to it. Chris Pine long hair is all about elegance and style. Besides, by brushing his golden locks back, he perfectly accentuates his masculine facial features.
REFERENCES:
Get the latest news about the 2020 Oscars, including nominations, winners, predictions and red carpet fashion. Source